The Amalfi Coast is one of the most lusted-after locations in Europe, and Positano is known as its "pearl." The town is famous for its laid-back nature, vivid buildings that dot the cliff face and world-class shopping for unique souvenirs.
Day trips to Positano from Naples are so easy that venturing to the sun-soaked coast is a must.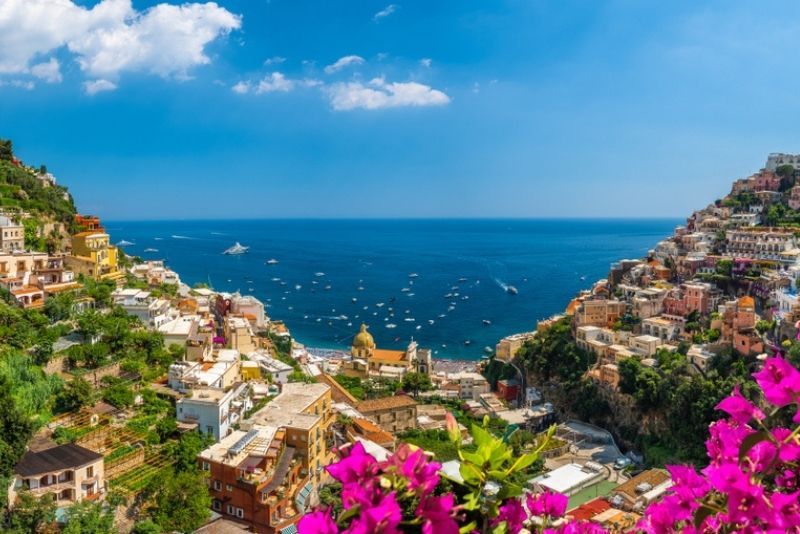 How to get to Positano from Naples?
The picturesque town of Positano can be found on Italy's scenic Amalfi Coast. At just under 60 kilometers away, it is one of the closest day trips from Naples and is a must-see when staying in the region.
From Naples to Positano by car
The journey to Positano by car takes around 1.5 hours. You'll travel south out of the city via the A3. After around 20 kilometers, you'll take the exit to Castellammare di Stabia and travel along the SS145. Follow signs for the SS163 towards Amalfi and travel along the road into Positano.
From Naples to Positano by public transport
One of the easiest ways to make the jaunt to Positano from Naples is by ferry. The journey starts at the Beverello port and takes between one and two hours, depending on the company you sail with. You can expect to pay between €18 and €28 for a one-way ticket.
Guided tour to Positano from Naples
Tours often have the option to select a hotel pickup or meet at a central spot in the city. Either way, you'll board the bus between 8 AM and 8:30 AM. Tours last around eight hours and you'll be back in Naples by 5 PM.
What is the typical itinerary of a day tour to Positano from Naples?
Day trips to Positano start either with a pickup from your hotel or at a conveniently located meeting point in the center of Naples. The vehicle you travel in differs between tours. If you're part of a small-group tour, it will be a minibus. Otherwise, expect to journey to the Amalfi Coast by coach.
You'll head to Positano, stopping at various neighboring towns or points of interest along the way, once again depending on which tour you book. Popular destinations to visit include Sorrento, Amalfi and Ravello. Once you've had your fill of sunshine and Aperol Spritz, you'll return to Naples in time for a Neapolitan pizza.
What kinds of tours are available to go to Positano?
There are a few different day tours to Positano and the surrounding region. You can visit several spots on the Amalfi Coast in just one day.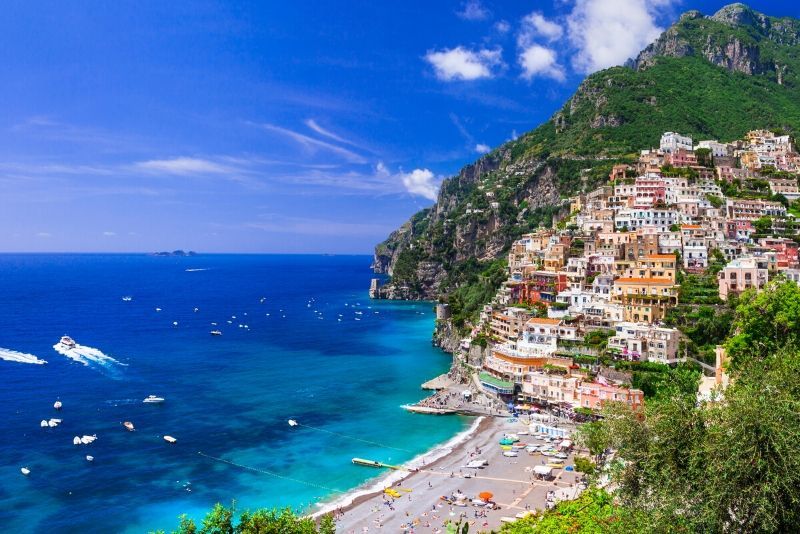 Guided tours to Positano plus Pompeii and Sorrento from Naples
Heading out of Naples, you'll travel to the archaeological site of Pompeii. The town has been exquisitely preserved since the eruption of Mount Vesuvius in the year 79. Highlights include the Temple of Apollo, the Amphitheater and the Stabian Baths.
You'll board your bus to continue on your day tour to Positano, via the home of Limoncello — Sorrento. Wander through the abundance of citrus trees or stop to try the local tipple before visiting your final destination, Positano.
You will have free time to browse the boutiques, capture the perfect photo of the idyllic town or amble down Via Fornillo to the beach. A day trip to Positano and Pompeii is the perfect balance between learning about local history and enjoying the views.
Day trip to Positano plus Sorrento and Amalfi from Naples
This day trip to Positano and the Amalfi Coast also stops at Sorrento along the way. You'll have the opportunity to try the local limoncello liqueur before exploring the charming town alone for an hour.
Positano is the next stop on this tour, where you'll spend an hour as you please, before enjoying traditional lunch at a beach-view terraced restaurant.
Lastly, you'll visit the main town of the Amalfi Coast, Amalfi itself. Here, you'll have 1.5 hours to absorb the breathtaking architecture of the cathedral or rest on the beach.
Boat tour to Positano plus Amalfi from Naples
Boat tours to Positano leave Naples by minibus in a group of 14 guests or less. You'll travel to the port, and jump onto a boat to continue the journey to Positano. As you sail along the Italian Coast, you'll spot ancient ruins, traditional villages and tumbling waterfalls.
You'll stop at Amalfi first where you'll have an hour or two to peruse the streets. To end the trip, you'll head to Positano, where again, you'll discover the streets at your own pace.
Day tour to Positano plus Amalfi and Ravello from Naples
This Positano and Ravello day tour stops at the "Pearl of the Amalfi Coast" first. While in Positano, you can see the iconic brightly-colored buildings that are world-famous or peek inside the Church of Santa Maria Assunta.
You'll take a quick jaunt from Positano to Amalfi where you'll see for yourself why the Amalfi Coast is such a bucket list destination. Finally, you'll travel to the lesser-known town of Ravello, which is home to the 11th-century Villa Cimbrone and its magnificent gardens.
How much does a tour to Positano from Naples cost?
If you wish to visit Pompeii on your Positano excursion, you can expect to pay €80 which includes hotel pickup and drop-off, and an English-speaking guide.
You'll pay €90 for a day tour to Positano, Sorrento and Amalfi. This includes pickup from your hotel in Rome, a light lunch and live commentary on board.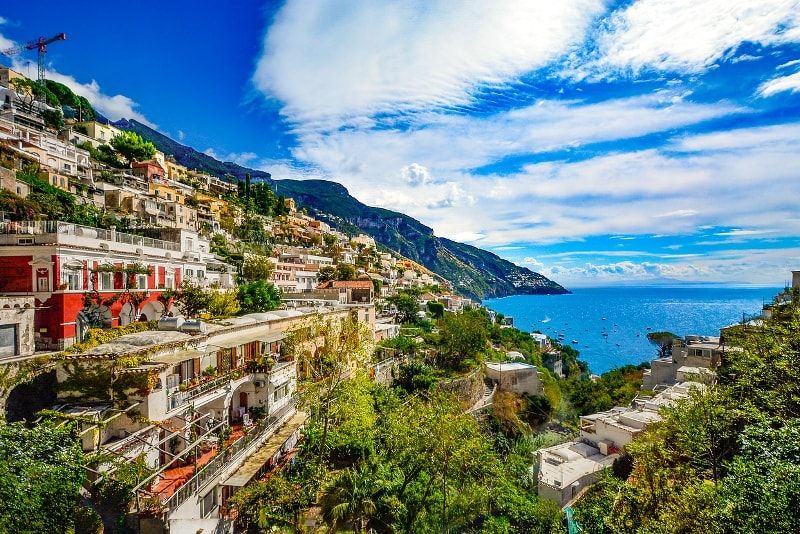 Boat tours include all transportation, snacks, water and alcoholic beverages. You'll have an English-speaking skipper to point out the sights and be part of a small group of 14 or fewer participants. You can expect to pay €150.
Day trips to Positano that visit Amalfi and Ravello cost approximately €80. The price includes round-trip transportation from Naples, as well as an English-speaking driver to provide a live commentary on board.
What will you see and do in Positano?
Positano is known for its long, sunny days, vibrant buildings and endless scenic spots to grab a glass of wine. It's the perfect place to laze around, strolling the streets or wandering the famous Fornillo Beach.
At the bay, you can catch the best views of the town from the comfort of a sun lounger or dip your toes into the warm Mediterranean Sea.
The Church of Santa Maria Assunta is worth popping into if you're interested in Byzantine history or Italian architecture. From afar, you can see the shimmering mosaics that create the grand dome.
If you're feeling extra active, you can walk the Path of Gods which is a scenic coastal walk that is 8 kilometers long and ends in Positano. On the route, you'll see tumbling hills, lush forests and unbeatable ocean vistas.
One final thing that Positano is known for is its shopping. The streets are lined with boutiques, selling everything from fine diamonds to linen frocks, lemon products and local ceramics.  If you wish you mark your Italian adventure with a few souvenirs, Positano is the place to purchase them.
When is the best time to visit Positano?
Positano is one of the most popular towns on the Amalfi Coast and can get extremely crowded during the heat of the summer. For this reason, it's recommended to visit the town between April and June.
During this time, you'll experience blissful warm days of between 22 and 31 degrees Celsius, and see the spring flowers blooming along the coast.
Are there any tours to Positano from other cities in Italy?
Yes, there are other tours departing from several other cities in Italy:
Travel tips
If you wish to explore the Amalfi Coast with fewer crowds, consider booking your Positano day trip during the months of April, May or early June.
The temperatures soar to highs of 34 degrees Celsius in the summer months. For this reason, ensure you have ample sunscreen, a sunhat and a bottle of water with you on your excursion.
If you're interested in exploring lesser-known regions of the Amalfi Coast, book a trip that includes the town of Ravello.