The Amalfi Coast is world-renowned for its stunning natural landscape and architectural beauty.
Nestled just below the city of Naples in southern Italy, the coast is dotted with charming and colorful villages that cling to rocky cliffs overlooking the Tyrrhenian Sea.
Experience the highlights of the region on an  Amalfi Coast day trip during your time in Naples.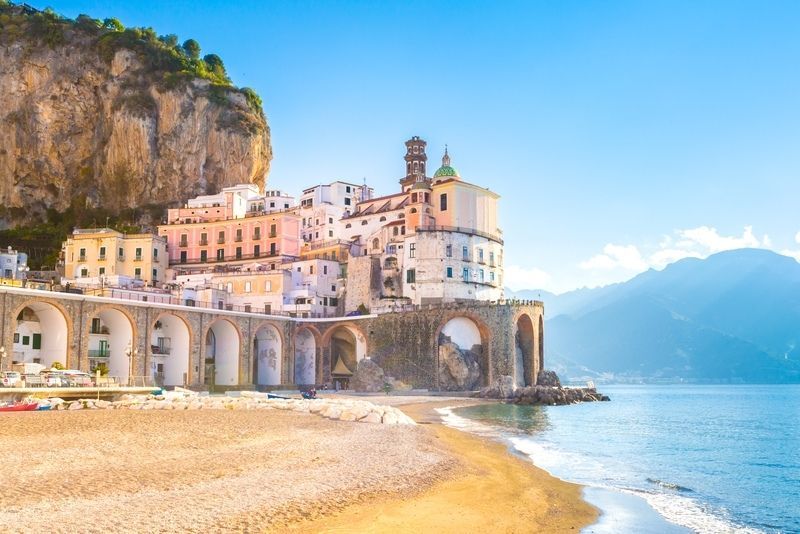 How to get to Amalfi from Naples?
The Amalfi Coast is a coastal region consisting of several towns. It stretches 50 kilometers along the southern tip of Italy's Sorrentine Peninsula within the Campania region.
From Naples to Amalfi by car
The drive from Naples to the Amalfi Coast (Vietri sul Mare) is less than 90 minutes depending on your route. The quickest way to reach the Amalfi Coast from Naples is via the E45 and then the A3 (this route has tolls).
From Naples to Amalfi by public transport
There are several public transport options when traveling between Naples and Amalfi. Prices and travel times vary depending on the routes selected.
Bus
Several buses travel between Amalfi and Naples, and the quickest routes take between one and two hours to complete. It is essential to note the fares may vary and buses are often full during peak seasons (July to August).
Train
Numerous trains run between Naples (Napoli Piazza Garibaldi) and Amalfi (Vietri sul Mare-Amalfi). Tickets cost between €4 and €5 if you book in advance and avoid rush hour times.
Ferry and boat
Ferries are also an effective way to travel from Naples to Amalfi for day trips. Choose between a scenic ferry or boat ride which takes takes just over an hour. Ticket prices cost between €15 and €30.
Guided tour to Amalfi from Naples
A guided tour is a hassle-free option that offers the most sightseeing opportunities. Get picked up at Naples city center and enjoy a short scenic journey to the Amalfi Coast in less than an hour.
The tours have various meeting points in Naples city center and can provide pickup and drop-off from your closest preferred point.
What is the typical itinerary of a day tour to Amalfi from Naples?
Start your scenic journey to the Amalfi Coast from a predetermined pickup point or your hotel in Naples. Make your way along the iconic stretch of coastline with a knowledgeable guide who will share interesting facts and information.
Depending on your preferred day tour to Amalfi, you may visit the villages of Sorrento, Positano, Amalfi, and Ravello, and even the historically-renowned town of Pompeii.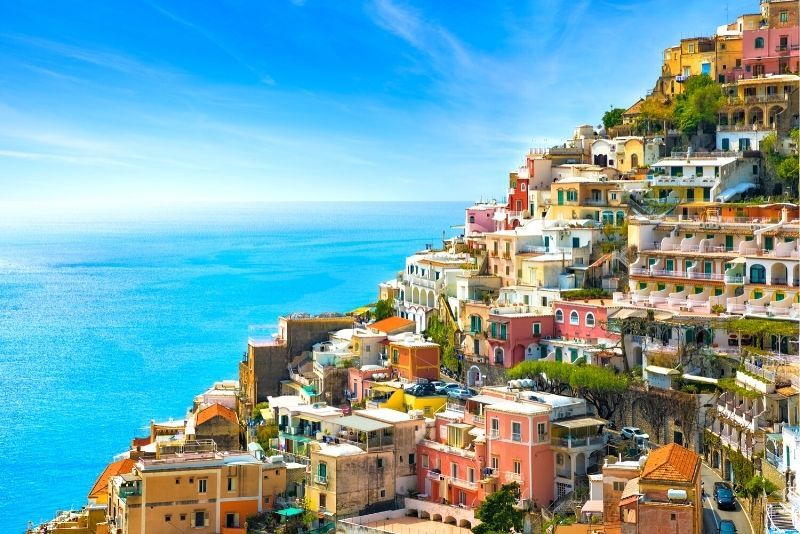 Sip on a limoncello in Sorrento and glimpse the dramatic staircases, pastel-colored houses and the Lattari mountains in Positano. Journey to Amalfi, the town that lends its name to the coastline, and enjoy a walking tour through the narrow alleys, where you can see clusters of colorful houses and the exquisite St. Andrews Cathedral.
Your Amalfi day tour may include a stop at Ravello. This quaint town offers picturesque views of ancient buildings, contrasting with more modern architecture. Take pictures from the Villa Cimbrone Belvedere, which is claimed to be one of the most famous views in the world.
While exploring the natural and historic wonders of the Amalfi coast, you can also enjoy the shops and restaurants for a taste of the authentic cuisine of the region.
What kinds of tours are available to go to Amalfi from Naples?
There are various day trips from Naples to the Amalfi Coast to choose from, including private excursions and luxury-car travel. Alternatively, there are guided small or larger group tours and trips that give you the freedom to explore the Amalfi Coast in your own way.
Full-day group tour to Amalfi Coast from Naples
Be whisked away on a full-day trip to Amalfi from Naples in an air-conditioned vehicle. Benefit from live commentary about the region, while taking in the famous views of the Amalfi coastline. Stop at the enchanting towns of Positano, Amalfi and Ravello.
During your Amalfi excursion, enjoy the winding streets, stairways, Italian shopping experiences, the beach and iconic views. The full-day Amalfi tour conveniently includes a pickup and drop-off at two central locations in Naples.
Private tour to Amalfi Coast from Naples
Private Amalfi Coast tours offer ultimate flexibility and customization. Journey to the Amalfi Coast from Naples in a private air-conditioned vehicle with a knowledgeable driver and guide. Save time with port pickup in Naples and be whisked off along the magnificent Amalfi coastline.
Enjoy free time in the charming villages of Ravello and Positano. After a full-day excursion along the Amalfi Coast, your driver will take you along a scenic route to your chosen destination in Naples.
Boat tour of Amalfi Coast from Naples
To travel the length of the Amalfi Coast in a totally different way, consider booking a leisurely boat tour from Naples. Take a trip down the coast in style, calling at its most important destinations, including the villages of Positano, Amalfi and Ravello.
See the the glamorous isle of Capri, the Sorrento coastline and fantastic views of Mount Vesuvius on the slow cruise back to Naples.
Group tours to Amalfi Coast and Sorrento from Naples
Enjoy the picturesque views of the Amalfi Coast on a full-day trip by coach. Experience the unique towns of Sorrento, Positano and Amalfi. Stop for an authentic Italian lunch, a stroll through winding streets and taking in the views of the Amalfi shoreline.
These round-trips from Naples include live commentary on board, as you make your way along the Amalfi Coast and Sorrentine Peninsula.
Full-day tour to Amalfi Coast, Pompeii and Sorrento from Naples
Join a full-day Amalfi Coast excursion from Naples in an air-conditioned minibus. Take in the picturesque views of the Amalfi Coast, as you stop and enjoy free time on the cliffs of Positano and Sorrento.
Then, step back in time with a guided tour of the archeological site of Pompeii. After a full day of sightseeing, make your way back along the scenic route of the Amalfi Coast to Naples. The full-day trip includes visiting two of Italy's UNESCO World Heritage sites.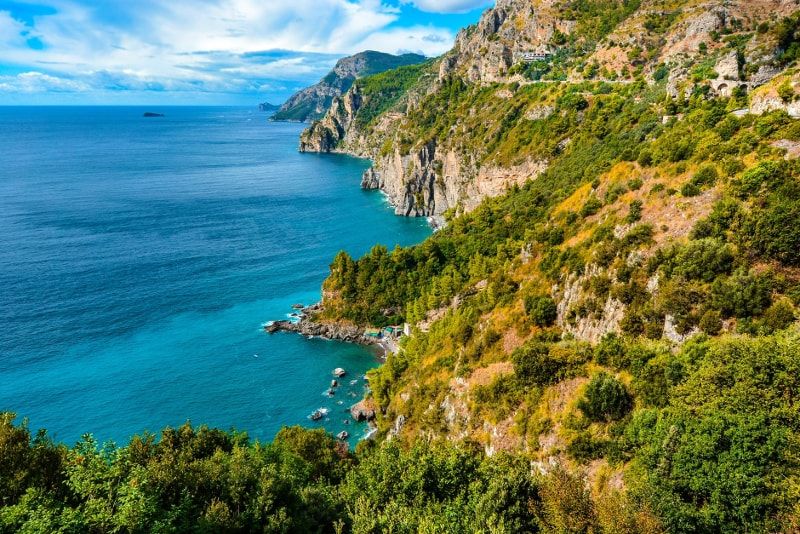 Exclusive Amalfi Coast day tour from Naples
One of the best private day trips from Naples, this exclusive tour travels in a luxury car with up to eight people and a knowledgeable guide. Get picked up at the port and be chauffeured around the magnificent Amalfi coastline, making unique stops along the way.
Bask in the views of the hilltops, stroll through the iconic streets and experience the charming bay towns of Positano, Amalfi and Ravello. Enjoy the freedom to make unplanned stops to take pictures and maximize your time with this Amalfi tour before being driven back to the port.
How much does a tour to Amalfi from Naples cost?
A full-day group trip to Amalfi from Naples usually costs from €70 to €120 per person. Some tours are more expensive as they include lunch, excursion fees and on-site guides in their price.
Private tours cost from €170 per person but fees can be lower when booked as a group. Though they are more expensive, on a private tour you get your guide's undivided attention, quick travel times and the option to customize your trip.
What will you see and do on an Amalfi day trip from Naples?
The Amalfi Coast is famous for its winding roads, magnificent seashore and cliff views, and pastel-colored houses and buildings clustered on the hillsides — plenty to do and see for any type of traveler.
Amalfi
Journey to the town of Amalfi and meander along the covered alleys and stairways. Visit the impressive St. Andrew Cathedral at the center of the town, and take photos at its long staircase and belltower. Shop in boutique stores or make a stop at the Handmade Paper Museum.
A walk to the Amalfi beach will give you the perfect opportunity to enjoy the blue waters that the region is famous for.
Ravello
Experience postcard-worthy views in Ravello and snap some pictures from the Villa Cimbrone Belvedere. Shop at the artisanal stores and boutiques and enjoy views of the town's famous gardens. Ravello hosts a number of music festivals at throughout the year which include eclectic musicians from all over the region.
Positano
Positano is one of the most famous places on the Amalfi coast. The town is known for its whitewashed houses, winding staircases and nature that forms part of the mountain. Purchase their famous handmade leather sandals or cotton clothes to take a piece of "Moda Positano" home with you after your Amalfi trip ends.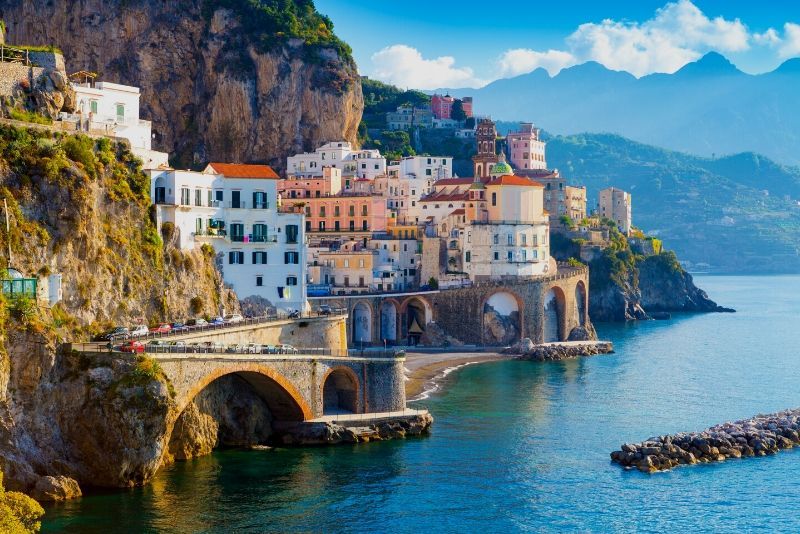 Sorrento
Travel to Sorrento and sip on some of the local limoncello made from the region's lemons. Make your way to the clear water's edge of the town and have lunch at the renowned Piazza Tasso, a cafe-lined square. Walk through the charming town and see the 14th-century church and cloister, Chiesa di San Francesco.
Pompeii
Make the most of your Amalfi tour and immerse yourself in the rich ancient history of Pompeii, as you explore the ancient ruins' houses, shops, bars and even a brothel. Embark on a guided excursion back in time at this archeological site.
When is the best time to visit Amalfi?
The best time to visit the Amalfi Coast is between April and June, during spring and the start of summer. The weather is warmer, and it's just before the summer high season.
Most tourists visit Amalfi during July and August when summer and all the events are in full swing.
September (autumn) is also an excellent time to visit when most crowds have left, but the weather is still mild.
Are there any tours to Amalfi from other cities in Italy?
Yes, there are tours departing from several other cities in Italy:
Travel tips
Most towns have many stairs, narrow walkways and plenty to see, which means a comfortable pair of shoes can be your greatest ally.
Be sure to book your Amalfi tour tickets in advance, especially in the peak season (July and August).
Don't forget your camera. The Amalfi Coast is the one place you don't need a filter or to edit your photos.