The volcanic island of Ischia is located in the Bay of Naples and is much larger and less busy than its famous neighbor, Capri. Check out the quieter side of the Mediterranean on an Ischia day trip from Naples.
Soak in the mineral waters of the island's thermal springs and visit the romantic Castello Aragonese d'Ischia. Discover picturesque seaside villages, tantalizing foods and exquisitely designed gardens just a short boat ride from Naples.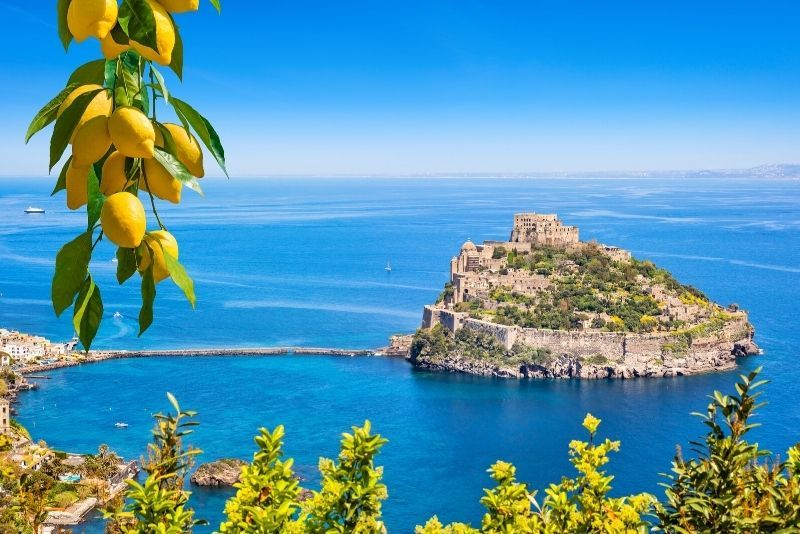 How to get to Ischia from Naples?
Ischia is an island located in the Bay of Naples around 30 kilometers west of Naples. It can be reached by ferry from either Naples or the town of Pozzuoli just to the north of Naples.
From Naples to Ischia by car
If you plan to drive when you get to Ischia, you can take your car on the ferry from Pozzuoli or Porta di Massa. The crossing takes around one hour from Pozzuoli and 1.5 hours from Porta di Massa and costs around €12-€13 per car.
From Naples to Ischia by hydrofoil
It is possible to take the hydrofoil as a foot passenger from Beverello docks in Naples to Ischia. The service runs hourly and takes from 55 minutes to one hour and 15 minutes depending on which Ischia port you dock at. The price is around €20 per passenger each way.
Guided tour to Ischia from Naples
The easiest way to travel to Ischia is to join one of the many day trips that are offered from Naples. These include pickup from your hotel/accommodation or a central meeting place and transport to and from the island.
What is the typical itinerary of a day tour to Ischia from Naples?
A typical Ischia day trip from Naples will begin with pickup from your hotel or accommodation by car or minivan. You will then make the short journey to the port and board the boat for Ischia. Enjoy the journey across the Bay of Naples and take in the sights along the way.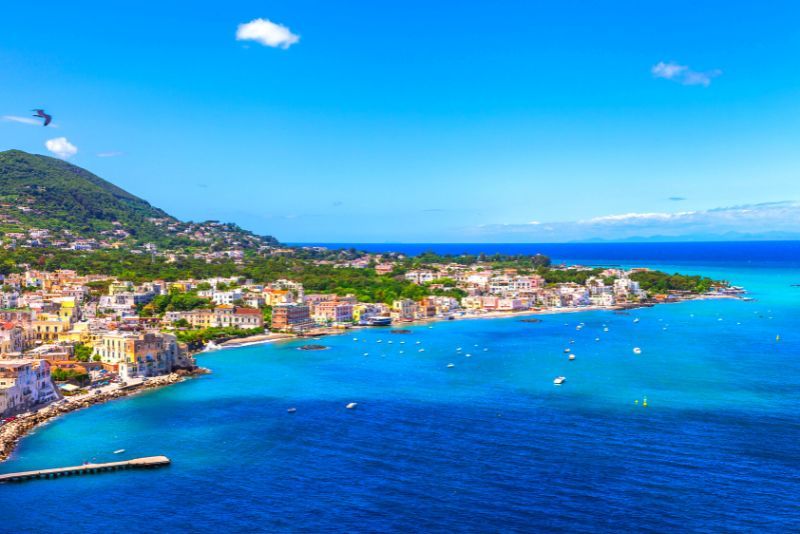 Boat tours are one of the most popular trips to take to Ischia and, as you approach the island, you will see the impressive Castello Aragonese d'Ischia, a castle perched on its own small islet. Tour the coast of Ischia and pass by the small island of Procida.
On land, you can visit the thermal spas of Casamicciola to unwind in the health-giving waters or hike up Mount Epomeo for dramatic views. Round off the day with a typical Italian meal in a local restaurant, followed by a stroll around the streets and boutiques of the picturesque fishing village of Forio.
What kinds of tours are available to go to Ischia?
There are a few different tours available when visiting Ischia from Naples. Most are boat tours or private tours with a local driver and guide to tour you around. There are also some self-guided tours with transport included from Naples.
Transfer without a guide to Ischia from Naples
Take a self-guided Ischia day tour with transport included and go at your own pace. Travel to the island on the hydrofoil and get lunch and drinks at a local restaurant included in the price. These tours do not include a guide, so they are well suited to those who enjoy their privacy and the freedom to explore.
Private guided tours to Ischia from Naples
Explore the Mediterranean island of Ischia with a driver and guide. See the scenic highlights of the island, including Castello Aragonese d'Ischia and Mount Epomeo. Visit the Church of Saccorso, the quaint village of Forio and much more with a knowledgeable local guide to show you around.
Boat tours to Ischia from Naples
By far one of the most common Ischia day trips is a boat tour from Naples. These tours take in the scenic coastline of the island and the smaller island of Procida. Visit the island's most attractive coastal villages, such as Sant'Angelo which can only be reached by boat or on foot, and swim in the bays and lagoons off the coast.
How much does a tour to Ischia from Naples cost?
There is a wide range of prices for Ischia day tours depending on what you choose to see and do.
Private tours are the most expensive and cost from around €220 to €350 per person.
Transfers without a guide range in price from around €70 to €160 per person.
Boat tours range in price from around €120 to €300 per person.
What will you see and do in Ischia?
Upon arriving in Ischia at Porto d'Ischia, you will be met with the impressive sight of the Castello Aragonese d'Ischia which is perched on a tiny islet off the east coast. The islet is joined to the main island by a narrow stone walkway and is open to tourists.
The castle itself has a bookshop and a couple of cafes with great views over Ischia's harbor. There are also regular guided tours given for anyone interested in the history of the castle which dates back to the 15th century.
A visit to the island's famous thermal hot springs is a must-do while on Ischia. You can check out one of the spa complexes such as Negombo Park and Poseidon Gardens, or visit the natural spas in the Bay of Sorgeto.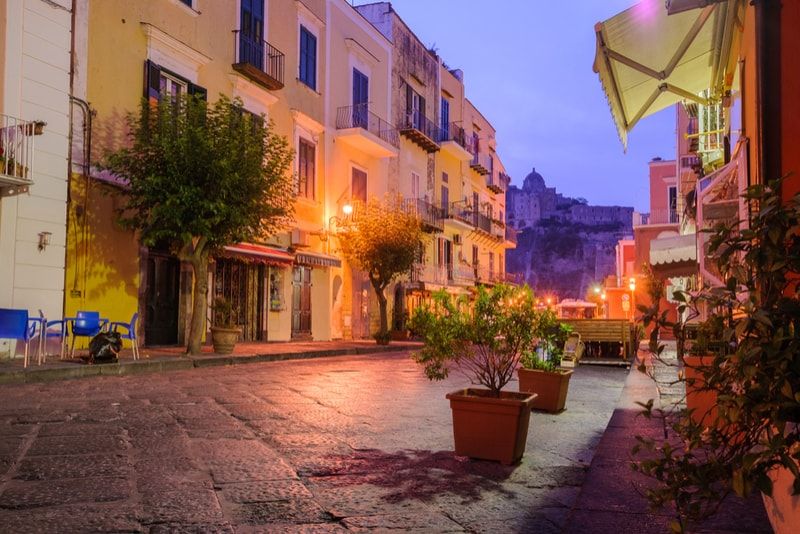 The island of Ischia is also known for its extravagant gardens with the Giardini La Mortella being one of its most enchanting places to visit. La Mortella is the former private garden of the composer William Walton and his wife Susanna and features a collection of expertly landscaped exotic and tropical plants.
The garden also has an amphitheater and hosts regular classical music concerts in the summer months.
When is the best time to visit Ischia?
The months of June to September are the best time to visit Ischia. It is much larger than the neighboring island of Capri and not nearly as busy. It is worth noting that some attractions such as thermal spas and restaurants may close for the winter season.
Are there any tours to Ischia from other cities in Italy?
Yes, there are other tours departing from other cities in Italy:
Travel tips
Try to book your Ischia day trips in advance to be sure of availability during your stay.
Remember sunscreen and a hat, as the summertime weather in Ischia is mostly dry and sunny.
Don't forget your swimwear and towels, as there is plenty of bathing opportunities on the island.
Wear comfortable shoes and clothing, as it is guaranteed to have some walking involved.