A Capri day trip is a perfect opportunity for tourists who love sea voyages, cruising the Gulf of Naples and swimming in the clear blue waters. The island of Capri is home to Capri town, part of the Metropolitan City of Naples, and accessible by ferry or hydrofoil from Naples.
Since the age of the Roman Empire, Capri has been a resort and a tourist location. Today, there are numerous tours allowing you to explore its coast.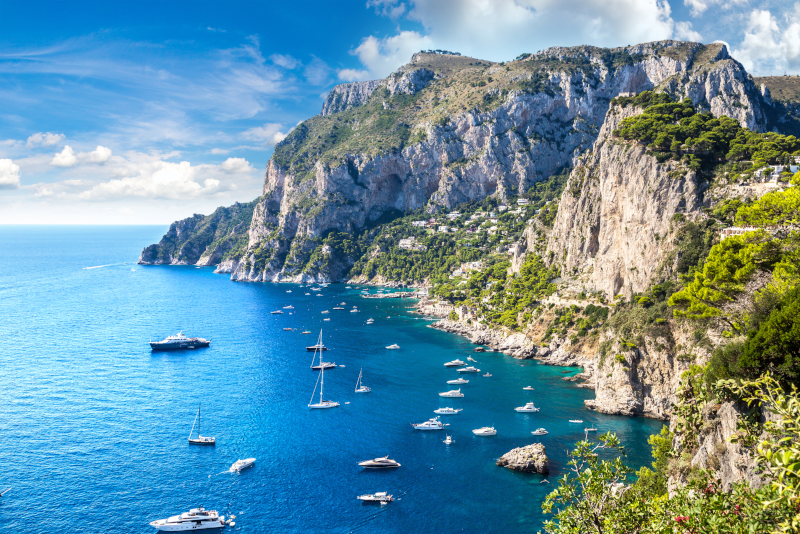 How to get to Capri from Naples?
Since Capri is an island, you can only reach it by a speedboat or a passenger ferry. Depending on your choice of transport, you can get from Naples to Capri in 45 minutes.
From Naples to Capri by ferry
It takes about 50 minutes to over an hour to reach Capri from Naples by ferry, depending on the speed covering the 35-kilometer distance. There are several transport providers to accommodate tourists, especially during summer.
Although there's a car ferry to Capri for visitors during specific months, it is not a practical option to bring a car to the island. It's easy to walk towards the main attractions and it has good public transportation.
Guided tour to Capri from Naples
You can skip the logistics and join a guided tour to Capri from Naples which takes around six hours. There are various kinds of tours and sizes that suit your preference.
How much does the entrance ticket to Capri cost?
There is no entrance fee to the island of Capri, but you need to pay for the ferry ride which costs from €15 to €24, depending on the type of boat. The faster ones cost more.
What is the typical itinerary of a day tour to Capri from Naples?
Most day tours from Naples to Capri start with a hotel pickup, at least for private tours. Another option is to wait for the tour guide at the harbor or the pier. Then, you'll start the tour by boat.
During about 45-minute boat ride, you'll explore the coast of Naples until you move to the coast of Capri. Then, you'll start exploring the town and the island's major attractions, including Grotto Azzurra, the Piazzetta, the Gardens of Augustus and Anacapri.
You'll learn from your tour guide about the history and fascinating facts and stories about these famous sights.
Once you're done exploring Capri, it's time to return to Naples, and you'll be dropped off to your hotel or accommodation.
What kinds of tours are available to go to Capri?
Capri day tours are specific since they focus on exploring the scenery of the Naples Gulf, while experiencing the culture and exploring sights in Capri.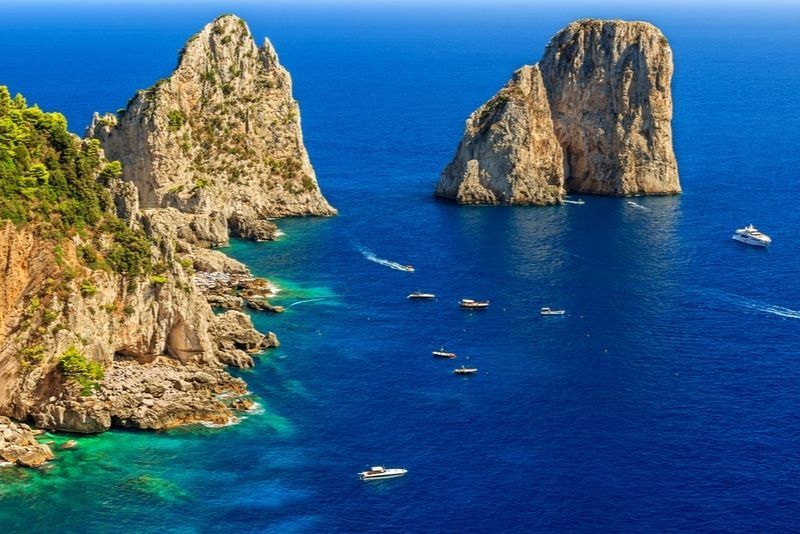 Private boat excursion to Capri from Naples
Start your six-hour private boat trip to Capri from Mergellina harbor and travel across the Gulf of Naples. Admire Mount Vesuvius and Faraglioni rocks during the cruise. Once you get close to Capri, the captain allows you to swim to the shore and later explore the groves of Capri.
Boat tour to Capri plus Gulf of Naples from Naples
Start your eight-hour trip from the harbor and visit Mt. Vesuvius and White and Green Grotto. Then, visit the Natural Arch, Villa of Curzio Malaparte, Punta Carena lighthouse and the Arch of Love. You can swim to the shore of Capri and enjoy a few hours of leisure time on the island.
Full-Day tour to Capri plus Anacapri from Naples
Start your eight-hour trip with a guide and explore the island of Capri. Visit the island of Marina Grande and take a minibus to Anacapri. Explore Piazzetta, Gardens of Augustus, Via Camerelle, and Via Tregare. Take a lunch break before you take the ride back to Naples.
Day trip to Capri plus Pompeii and Sorrento from Naples
Visit Amalfi Coast along with the Campania region and Capri island. Take two hours to explore the ancient Roman city Pompeii before you move to Capri with a hydrofoil boat. Explore Capri island before you return to Naples.
Day tour to Capri plus Blue Grotto from Naples
Take a full-day tour of Naples and Sorrento before you move to Capri. During the tour, you'll visit Anacapri, Capri and Blue Grotto. The day tour only takes small groups so it offers you a personalized experience.
How much does a tour to Capri from Naples cost?
The tours to Capri from Naples start at €120 and may cost up to €2,800. The difference between the tours is the personalized experience and the number of places you'll visit.
An average, low-cost trip to Capri involves sailing along the coast, and the higher-costing trip also allows you to land on other destinations such as Pompeii and Sorrento to explore them in detail.
What will you see and do in Capri?
Capri is a tourist location that focuses on sightseeing, while you can swim in the groves near the coast. If you have the time, you can visit Capri's mainland and do some shopping.
Bay of Naples
Bay of Naples offers you to explore Sorrento, Pompeii and ancient Roman ruins. This trip lets you explore the traditional lifestyles of Naples. Sorrento is perfect for experiencing Italian culture, cuisine and wine. It's also well-connected to Pompeii and Capri, so many day trips include it in their itinerary.  
Pompeii
A trip to Pompeii is your chance to explore ancient Roman culture and includes visiting the western part of town and exploring Basilica, the Forum and thermal baths.  
Capri Mainland
Capri day trips consist of exploring the coast and the mainland, dipping into cobalt blue waters, and swimming through White Grotto. You can also check out Faraglioni rocks and Punta Carena lighthouse. Move to the mainland and visit the town of Capri while enjoying local cuisine and wine.
When is the best time to visit Capri?
The best time to visit Capri is during the summer. It's also too cold to swim during other seasons, with late spring and early autumn being the exception.
Are there any tours to Capri from other cities in Italy?
Yes, there are other tours departing from several other cities in Italy:
Travel tips
Prepare to stay on the water for a few hours at least. The Capri day tour involves more time traveling on the boat until you visit the island.
Take your swimwear, sunscreen and spare clothes if you want to swim along the coast.
Pack some water. It can be pretty hot during the summer, so make hydration your top priority.