The Amalfi Coast is one of Italy's most sought-after summer destinations. Stretching for 50 kilometers along the Sorrentine Peninsula, this dreamy shoreline is famed for its colorful cliffside villages and hidden beaches.
Amalfi Coast tours from Sorrento take in the region's highlights, with visits to Positano and Ravello being particular highlights.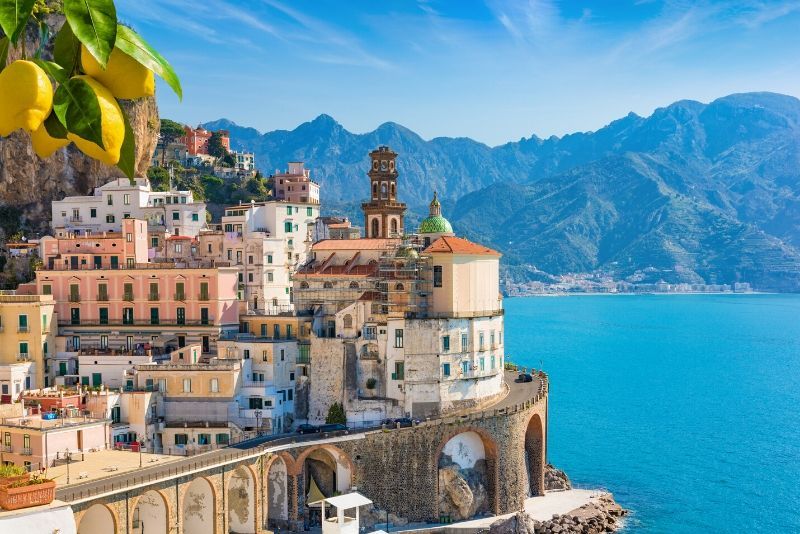 Here's all you need to know about Amalfi Coast, one of the most exciting day trips from Sorrento.
How to get to the Amalfi Coast from Sorrento?
The Amalfi Coast is located in Italy's Campania region, along the southern edge of the Sorrento Peninsula. This famous district encompasses several towns and villages, including Amalfi and Positano.
From Sorrento to the Amalfi Coast by car
The journey to the Amalfi Coast from Sorrento by car takes just over an hour, depending on your final destination.
It's an easy route, with picture-postcard scenery along the way. You'll need to follow the SS145 out of Sorrento, before taking the SS163 all the way to Amalfi.
Due to the nature of the terrain, parking is usually only available outside the towns and villages, with spaces filling up fast in peak season. Parking can be a stressful and expensive experience, so consider taking an Amalfi Coast guided tour instead.
From Sorrento to the Amalfi Coast by public transport
If you want to travel independently but don't fancy driving, it's easy to use public transport to get around the Amalfi Coast. Ferries and buses are the most convenient options – make sure you book tickets in advance during the summer.
By ferry
Regular ferries run between Sorrento and the Amalfi Coast, with the trip taking around 1 hour and 20 minutes. Faster rides are available on the hydrofoil – these last just 45 minutes. Single tickets start at around €16 per person.
By bus
Slower but no less scenic is the bus ride between Sorrento and the Amalfi Coast. The trip takes 90 minutes, stopping at multiple destinations on the way.
If you buy a 24-hour Unico Costiera bus ticket, you can hop on and off at different locations for a comprehensive day out. This costs about €6 per passenger.
Guided tour to the Amalfi Coast from Sorrento
By far the easiest way to travel is by joining a guided Amalfi Coast tour from Sorrento, with all transport logistics taken care of. Hotel pickups are provided, with the trips usually lasting between 7 and 8 hours.
This is the ultimate way to see as many sites as possible in a single day, with scenic drives or boat rides in between destinations.
What is the typical itinerary?
Your Amalfi Coast extravaganza begins with a convenient pickup from your hotel in Sorrento. Then you'll head off in an air-conditioned minivan, with land-based tours taking you along the coastal road to Amalfi.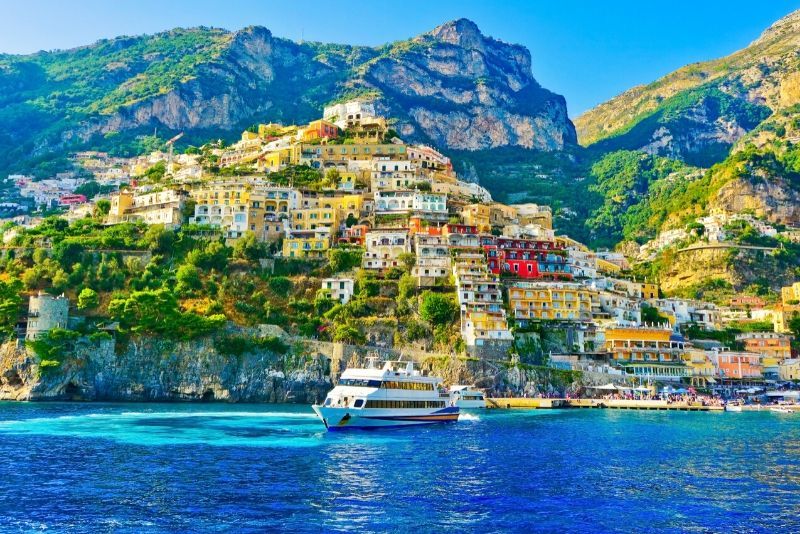 If you've booked a boat trip, then you'll be transferred to the dock in Massa Lubrense. Whether you journey by road or sea, the scenery is stunning, with rocky cliffs and traditional villages punctuating the route.
Most Amalfi Coast trips from Sorrento stop at multiple locations, to show you the best of the region. Positano and Amalfi are popular spots, with Ravello often being included on excursions by road.
You'll explore the colorful towns and villages on foot, stopping at cafés to sample the delicious local limoncello. Walking tours and independent explorations reveal hidden viewpoints and historical sites in each of the destinations.
For land excursions, lunch is usually at your own expense. There are plenty of restaurants to choose from in Positano and Amalfi.
If you're on a boat tour, you'll enjoy sunbathing on deck as you sail along the coast. Stops at secluded beaches for snorkeling and swimming are all part of the adventure, with a light lunch served on board.
Visits to Amalfi and Positano are included in the itinerary. You'll be returned to your Sorrento hotel in time for dinner in the early evening.
What kind of tours are available to go to the Amalfi Coast?
When it comes to Amalfi Coast tours from Sorrento, you have a lot of choice. Guided group tours are the most popular, with both road trips and boat excursions available. Private tours offer more exclusivity for a luxury experience.
Land-based group tour to the Amalfi Coast from Sorrento
If you want to keep costs down, then a group excursion to the Amalfi Coast from Sorrento ticks all the boxes. You'll travel in a comfortable minivan, stopping at various towns and villages along the Amalfi Coast.
There will be the chance to explore the cliffside settlements, spend time at the beach and enjoy some souvenir shopping. Round-trip transfers are included for a stress-free day out.
Boat tour to the Amalfi Coast from Sorrento
See the Amalfi Coast a little differently with a group boat tour from Sorrento. After being picked up from your hotel, you'll be driven to Massa Lubrense where your vessel will be waiting.
You'll cruise around the Bay of Salerno, passing Nerano, the Emerald Grotto and Li Galli Island on the way.
Sunbathing, swimming and snorkeling are the order of the day, with stops at coastal settlements providing opportunities for land-based sightseeing.
There will be free time for exploring in both Positano and Amalfi. A light lunch is often enjoyed on board the boat.
Private land-based day trip to the Amalfi Coast from Sorrento
Travel in style with your own luxury vehicle and driver-guide on this private tours to Amalfi Coast from Sorrento. It'll just be you and your group for the ultimate VIP experience.
There is usually room for up to eight participants on these trips, so this is the perfect option if you're traveling with friends.
The itinerary will be tailored to your interests, so if there's somewhere in particular that you'd like to visit, just ask. You will stop at all the main destinations along the coast, with time for historical sightseeing and shopping.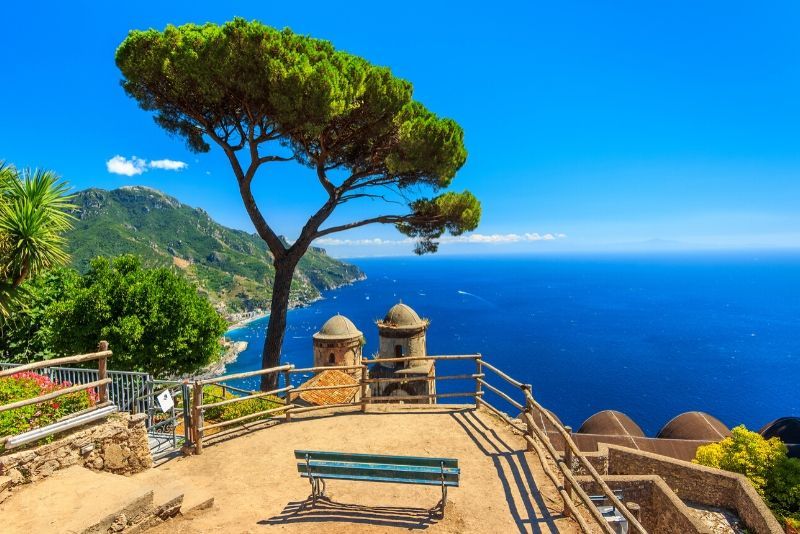 Private boat tour to the Amalfi Coast from Sorrento
If you fancy a private jaunt to the Amalfi Coast by boat, that's possible too. These trips tend to be more expensive, but you do get the vessel to yourself! Up to six passengers can take part in private boat excursions.
You'll be collected from your Sorrento hotel and transferred by minivan to the dock in Massa Lubrense. Then you'll cruise along the Amalfi Coast, with opportunities for swimming at secluded locations along the way.
Exploring Positano and Amalfi on foot are major highlights, as well as snorkeling at Li Galli Island.
How much does a day trip to the Amalfi Coast from Sorrento cost?
A land-based day trip to the Amalfi Coast in a group setting costs around €80 per person. This includes hotel transfers and transport throughout the day. Lunch will be at your own expense, and town and village visits are self-guided.
Group boat excursions from Sorrento start at €140 per passenger, with pickups and a guide provided. You will be offered a light lunch and drinks on board the boat. Snorkel equipment is often available to rent if required.
Private Amalfi Coast road trips with an exclusive vehicle and guide are priced at €200 per passenger, based on two people sharing. The cost per person decreases for larger groups.
You will be collected from your Sorrento hotel. Bottled water is provided, but you will need to purchase food separately.
The private boat tour to the Amalfi Coast from Sorrento costs €1200 for up to six participants. Road transfers between your accommodation and the dock are provided, as well as drinks and alcoholic beverages. Food is at your own expense.
What will you see and do?
A day tour to the Amalfi Coast from Sorrento covers multiple points of interest – these vary depending on whether you're traveling by land or sea. From exploring colorful villages to sunbathing on the beach, there's something here for all types of traveler.
Amalfi
The dramatic natural setting of Amalfi sets the town apart from many of its neighbors along the coast. There are winding streets to explore and charming cafés where you can while away a sunny afternoon.
Must-sees include the imposing St. Andrew's Cathedral, which boasts some of the most spectacular Byzantine architecture in the region. For something a bit different, pop into the Handmade Paper Museum or hike up to the cemetery for unmatched views over the town.
The jewel of the Amalfi Coast is a great place for souvenir shopping too, with plenty of boutique stores to catch your eye. Looking to spend time at the beach? Then you're in luck. Amalfi's beach is all about inviting blue water and golden sand.
Positano
Positano is one of the most-visited spots on the Amalfi Coast, famed for its pastel-colored houses and narrow alleyways. Built into the plunging cliffs, the village of Positano is the ultimate camera fodder. Ask your guide about the best viewpoints for photos.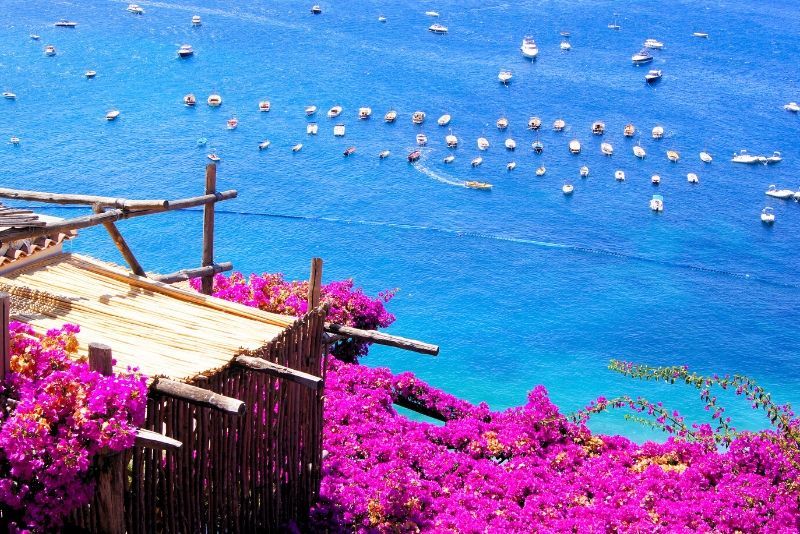 There's a small, pebble beach for strolling along the shore, and lots of independent shops and cafés to enjoy after your explorations. Visit the Church of Maria Assunta for a dose of architecture and religious icons and enjoy a bit of people-watching in pretty Piazza dei Mulini.
Ravello
The cliff-top town of Ravello is a highlight of many road trips around the Amalfi Coast. Sitting regally overlooking the Tyrrhenian Sea, Ravello is renowned for its terraced gardens and striking ocean panoramas.
You can visit the gardens at Villa Cimbrone or take in a summer concert at the 13th-century Villa Rufolo.
Ravello has long been a retreat for artists and intellectuals seeking inspiration from their surroundings. It's easy to see why composers and writers created some of their best works here in Ravello.
When is the best time to visit the Amalfi Coast?
For sunny weather and water that's warm enough for swimming, Amalfi Coast tours are best enjoyed between April and June. The peak summer season from July to August sees a huge influx of visitors, which can spoil the charm a little.
September and October are also good months to visit the Amalfi Coast when the crowds have dispersed, and the weather is still mild. Prices can be cheaper in fall than in summer too.
Are there any tours to the Amalfi Coast from other cities in Italy?
Yes, there are other tours departing from several other cities in Italy:
Travel tips
If you're visiting in summer, book your Amalfi Coast tour well in advance, as places fill up fast. By searching online, you can compare prices and find the cheapest tour deals.
Wear comfortable footwear for climbing the steep streets and stairs in Amalfi and Positano. A reasonable level of fitness is advised if you want to properly explore these cliffside towns.
Make sure your camera batteries are fully charged – the Amalfi Coast is one of Italy's most photogenic destinations.
Don't forget your swimwear, sunscreen and a towel if you are taking an Amalfi Coast boat tour from Sorrento.