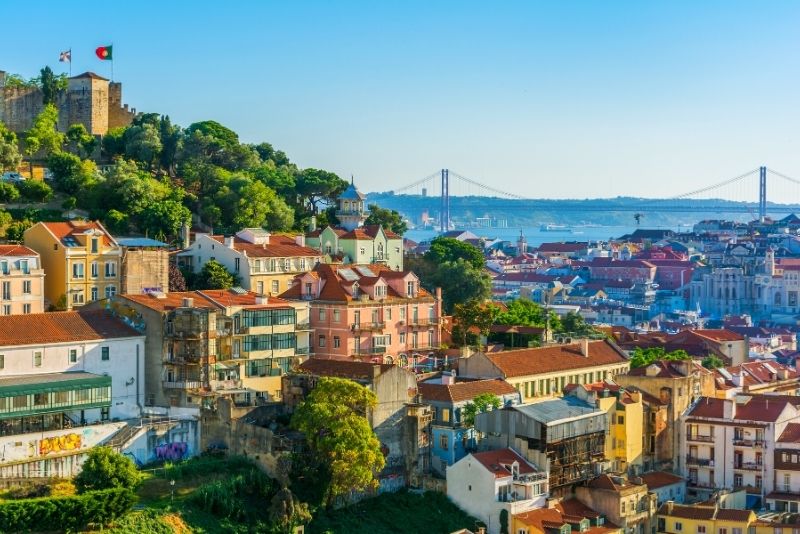 Steeped in old-world charm, the cosmopolitan capital of Portugal, known as the City of Seven Hills (so bring your walking shoes), delights with an allure that you won't find elsewhere in Europe.
With centuries-old street cars, quaint cafes, hilltop castles, and the time capsule that is the Alfama District, where grandmothers sell Ginja D'Alfama on the roadside, truly, a visit to Lisbon feels like a trip back in time.
On the one hand, Lisbon is a city rich in history, culture, and traditions — from the sounds of Fado ringing through the streets to multiple-century-old castles overlooking its districts, it's a historian's dream destination. However, on the other, Portugal's largest city is teeming with nightlife (Bairro Alto has more than 100 bars alone), adventure, parties, and oh-so-formidable food (it won't be long till you have some pasteis de nata in your hand), tantalizing the modern traveler with its diverse selection of activities.
And, beyond the city limits, curious travelers can find even more to do. Try your hand at surfing in the coastal town of Cascais; explore the stunning beaches, coves, hiking trails, and royal palaces of Sintra, or take a day trip to one of the nearby wine regions.
All this, at prices far more affordable than most of its western European counterparts. No matter what kind of traveler you are – culture vultures, nature lovers, history buffs, or art fans – there's a wide selection of things to do in Lisbon that will leave you both enchanted and amazed.
So, what are you waiting for? Start planning your trip to Lisbon today!
1 – Tantalize the tastebuds with a delicious food tour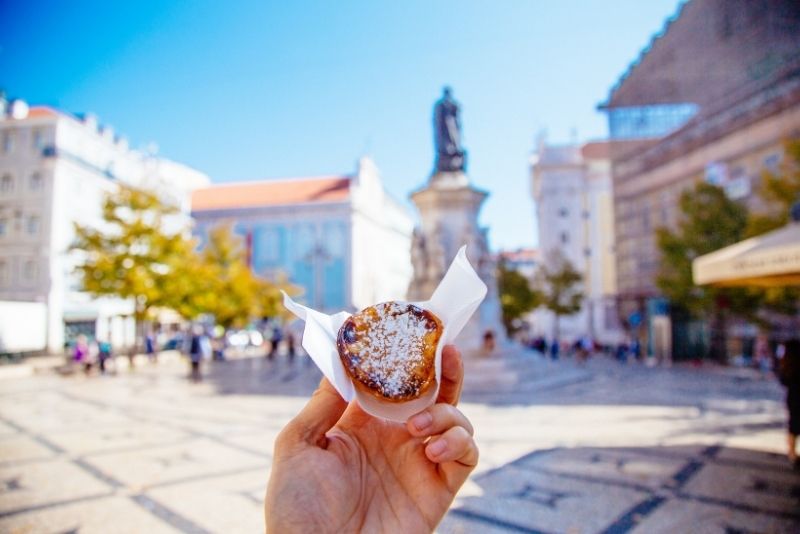 As a city known for its food, a culinary tour through the backstreets of Bairro Alto, Downtown Baixa, and Mouraria (or the maze of narrow, winding streets in Alfama) is easily one of the most fun things to do in Lisbon (not to mention the most delicious).
Whether you pick the walking tour or the Segway option, the array of seafood, desserts, wine, charcuterie, cheeses, and smoked meats is sure to delight the senses.
While each adventure is a little different, you can expect to hop between a handful of family-run restaurants, bakeries, and cafes, learning about Portugal's unique gastronomic culture along the way.
Sure to leave you craving more, some of the typical highlights include the quintessential pasties de Nata, seafood dishes like Bacalhau (dried and salted cod), Port wine, Bolinhos de bacalhau (a fried potato appetizer), and Ginjinha (a traditional cherry liqueur) – to name just a few.
And trust us, by the end of it, you'll be planning your next trip back just to eat your way through Lisbon all over again.
2 – Make your way down the river to the Belem Tower
The perfect bike or scooter distance west from the main areas of Lisbon, Belem is packed to the brim with noteworthy sights. To kickstart things, the Mosteiro dos Jerónimos (Jerónimos Monastery) is an architectural and cultural marvel, dating back to the turn of the 17th century. Step inside and you'll discover a vast, light-filled space, with beautiful cloisters, a church adorned with azulejo (hand-painted blue and white tiles), and a slew of intricate decorations that make this UNESCO World Heritage Site so picturesque.
Afterward, make your way to the Padrão dos Descobrimentos (Monument to the Discoveries), an impressive 52-meter tall monument artwork situated on the banks of the River Tejo, in honor of Portugal's great Age of Discovery. Head to the observation deck on the top for excellent views of the area, before strolling over to the area's main attraction next door: the 16th-century Belem Tower. Standing tall over the river at a height of 30 meters, this Manueline-style fortress was built as a ceremonial gateway and defense structure before becoming a prison, and a lighthouse, and today is one of Lisbon's most iconic landmarks and museums.
For anyone with a sweet tooth (or anyone at all, for that matter), make sure to stop in at the world-famous Pasteis de Belem for a little treat — home of the mouthwatering Portuguese tart.
While you can easily make your own way between the main haunts, a locally-led tour is always a great option if you want to learn more about the area's rich history and culture.
3 – Embark on a colorful street art tour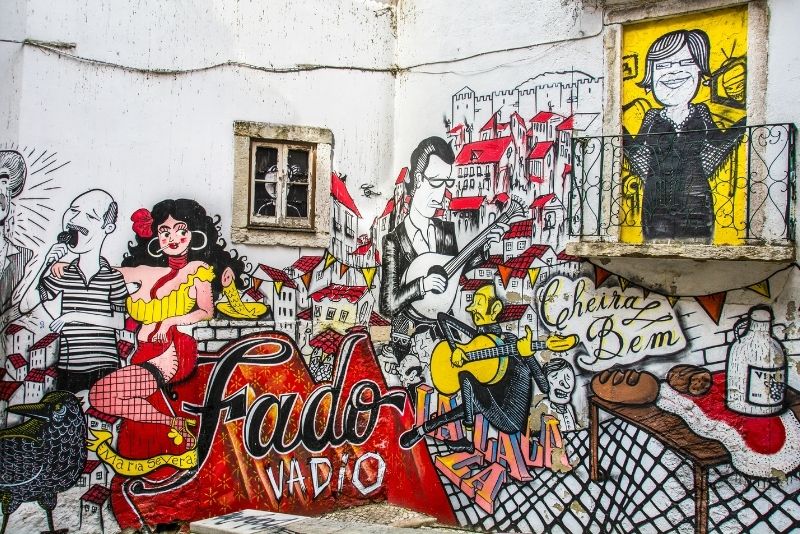 Home to some of the most fabulous, charming, and diverse street art in all of Europe, including murals dedicated to the ancient local Fado music, Lisbon sells itself as an art lover's paradise. While you'll find pockets of color spread all over the city; tucked inside alleyways and down side streets, some particularly vibrant areas include Alfama and Mouraria (great for fado-related art), Graça (where you can spot references to the Carnation Revolution), the bohemian district of Chiado, and the former textile factory turned modern culture locale that is LX Factory.
Throughout the city, you'll find a mix of local and international talent, with works by the likes of Vhils and Bordalo II on show. For a more in-depth look at Lisbon's urban art scene (and to avoid getting lost), book a tour with a local guide who can show you all the best bits, as well as share some insights into the city's vibrant street art culture.
While most travelers opt for the walking tour options, if you want to see more of the city, or simply have had enough of the cobblestoned streets, there are also options for tuk-tuk and minivan tours.
Hot tip: for that Insta-worthy snap, don't miss the Street Art Gallery by the iconic Glória funicular, likewise the mural of Marielle Franco at the Panorâmico de Monsanto.
4 – See thousands of diverse creatures at the Oceanário de Lisboa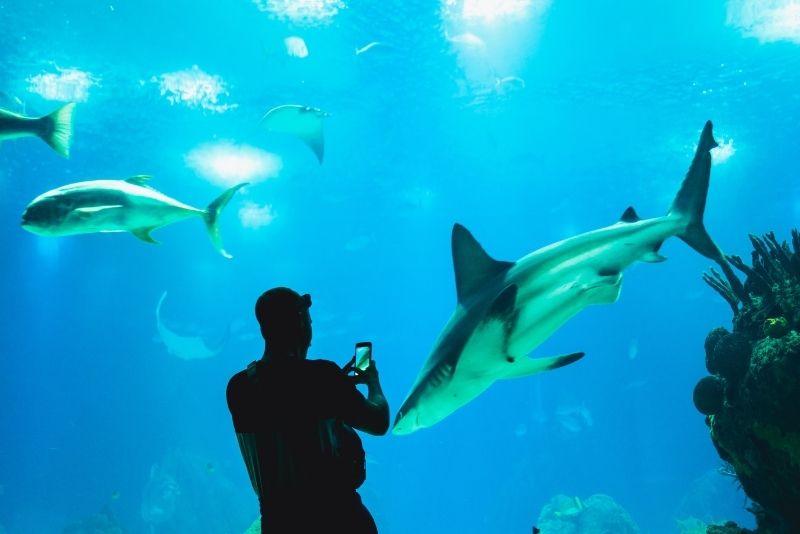 While this sprawling attraction is a justifiable magnet for traveling families, who says that aquariums are exclusively for kids?
The internationally-known Lisbon Oceanarium (Oceanário de Lisboa) plays host to more than 8,000 sea creatures from 4 different oceanic habitats, including the North Atlantic, Antarctic, Temperate Pacific, and Tropical Indian Ocean. Spread across the huge central tank is a series of smaller tanks and exhibits, where you can learn more about the different species on show, and see the likes of penguins, sea otters, sharks, and jellyfish up close.
There's also an educational element to the experience, with talks, workshops, and films shown throughout the day to help raise awareness about ocean conservation. All combined, it earns the coveted title of the largest saltwater oceanarium on the planet, and Europe's second largest aquarium!
The Oceanarium sits on the city's eastern shoreline, right next door to the Pavilhão do Conhecimento science museum, making for the perfect back-to-back itinerary.
Hot tip: for a unique mode of transport and a stellar panoramic view, jump on the Telecabine Lisbon cable car while you're in the area (South Station).
5 – Admire the historic Jeronimos Monastery in Belem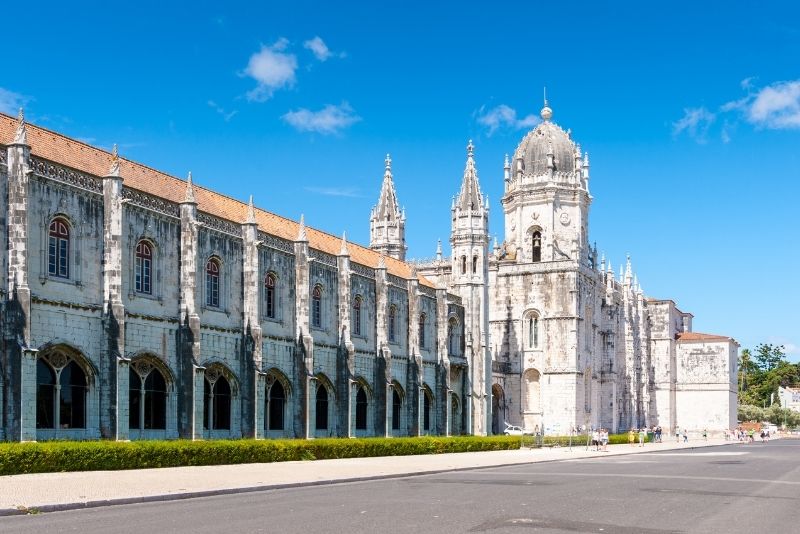 Sitting a stone's throw from the shimmering Tagus river, the sprawling Jeronimos Monastery is considered one of the most important tourist attractions in the city, justifiably holding UNESCO status.
With a rich history and marvelous architecture, it should sit high atop your list of things to do in Lisbon. Dating back to the early 1500s (and taking almost a century to complete), the monastery was constructed as a show of thanksgiving to Saint Jerome (the namesake), and in recognition of Portugal's (and Vasco Da Gama's) maritime successes under King Manuel I.
These days, it stands as a reminder of the country's glorious Age of Discovery, with an opulent blend of Late Gothic and Manueline styles on show throughout its many chambers.
While much of the monastery is now open to the public, certain areas (such as the monks' sleeping quarters) are off-limits. However, there's still plenty to see and do, including visiting the onsite Archaeology Museum, discovering the lavish royal tomb of King Manuel I and his wife Maria of Aragon, strolling through the peaceful cloisters, and marveling at the 16th-century nautical charts that adorn the walls.
While you're out in the Belem area, make sure to check out the Santa Maria de Belem Church next door and, of course, grab a snack at Pasteis de Belem.
6 – Tour the locker rooms at the enormous Benfica Stadium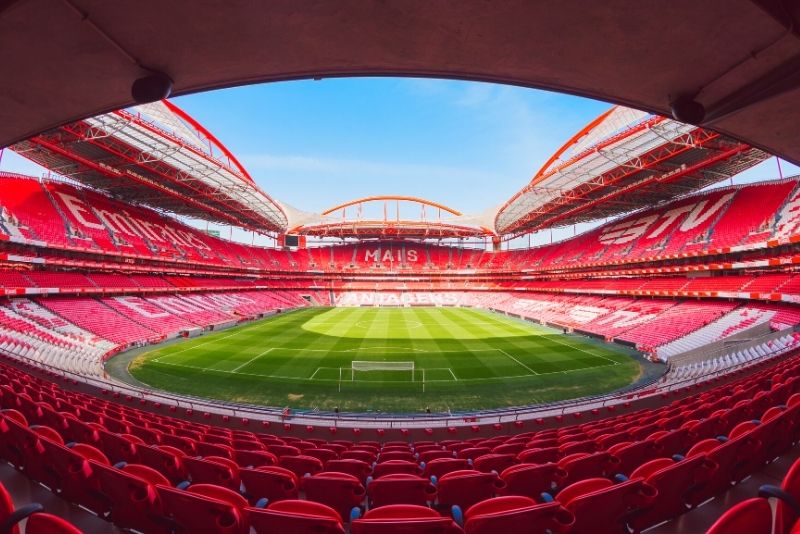 Nothing — and we mean nothing — can compare to the electric atmosphere of a Benfica FC (or Portugal national team) game. The Portuguese go mad for their soccer (futbol) and, as the most successful team in Portuguese history, Benfica enjoys a huge fan base both at home and abroad. And, as you can imagine, when the stadium is packed, the roar is deafening and the passion is palpable.
If you can't make it to a match during your time in Lisbon (or even if you can), one of the next best things to do is take a tour of Benfica's home ground, the Estádio da Luz.
One of Europe's largest stadiums, it has a capacity of over 65,000 and is unsurprisingly decked out in Benfica red from top to bottom. The tour includes access to the locker rooms (including a peek inside Cristiano Ronaldo's old one), the presidential box, the museum, and the broadcast rooms. With over 20,000 documents on display, plus the chance to even walk on the pitch, this is truly a must-do for sports fanatics.
7 – Use the trams to discover the city (and its charm)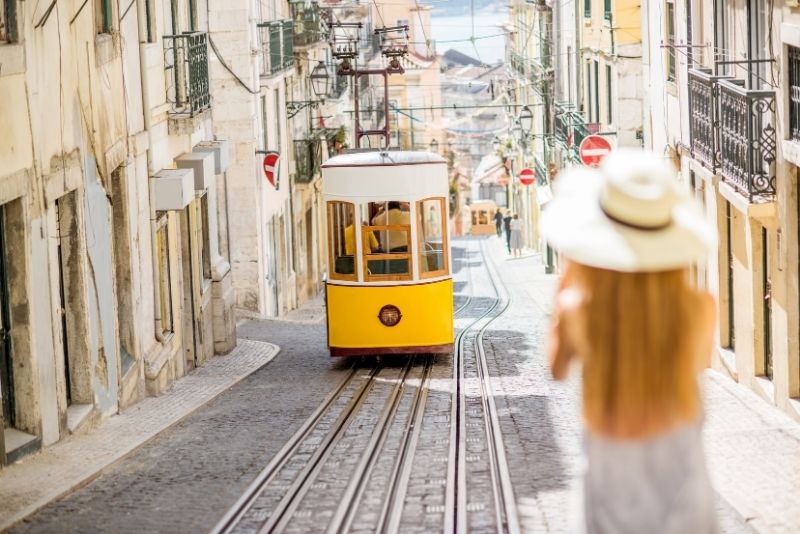 Synonymous with the city itself, Lisbon's trams are an essential part of any visit. These iconic yellow (and red) cars have been rattling their way around the hilly streets since 1873 and, while they might be a little slower than the metro, they offer a much more authentic (and picturesque) way to get around.
There are four main tram lines in Lisbon — including the E12, E24, E25, and E15 (which connects the city center to Belem) — all of which run different routes. However, the most popular with tourists is undoubtedly the historic tram 28. While tourists make a beeline for vintage 1920s Tram 28 — the infamous winding route that zips through the popular tourist districts of Graca, Alfama, Baixa, and Estrela — the entire city is littered with tramways, each as unique and intriguing as the last, and each worthy of checking out.
A hop-on, hop-off tram option (or the remodelado as the locals call it) provides the best flexibility, but for that essential Instagram selfie, head to the Elevador da Bica.
8 – Spend an afternoon at the Berardo Collection Museum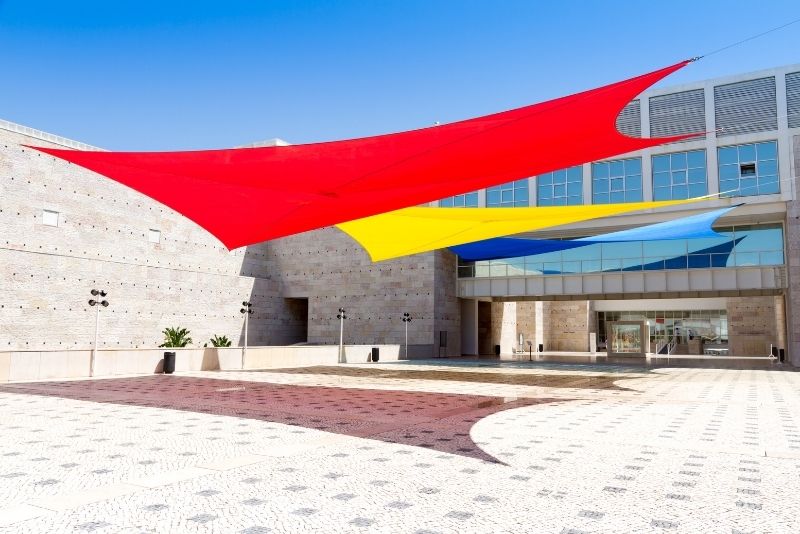 Art lovers, take note:
Showcasing exhibits of surrealism, pop art, hyper-realism, minimalist art, and conceptual art (essentially every variation of modern and contemporary work) the Berardo Collection Museum over in the Belem district is a must-visit for anyone remotely interested in the art world.
With pieces by the likes of Dali, Picasso, Joan Miró, Jeff Koons, Paula Rego, Andy Warhol, and Roy Lichtenstein on display (to name just a few), and a vast array of themes like Cubism, Dadaism, Constructivism, and Surrealism to explore, it's easy to spend an entire afternoon wandering around the two floors of this incredible museum. Plus, entry is free on Saturdays!
Far from your traditional museum, this popular locale also offers over 1000 insights into the world of Advertising Art; the now-taboo smoking era is particularly fascinating.
9 – See Alfama, Lapa, and everywhere in between on a hop-on-hop-off bus tour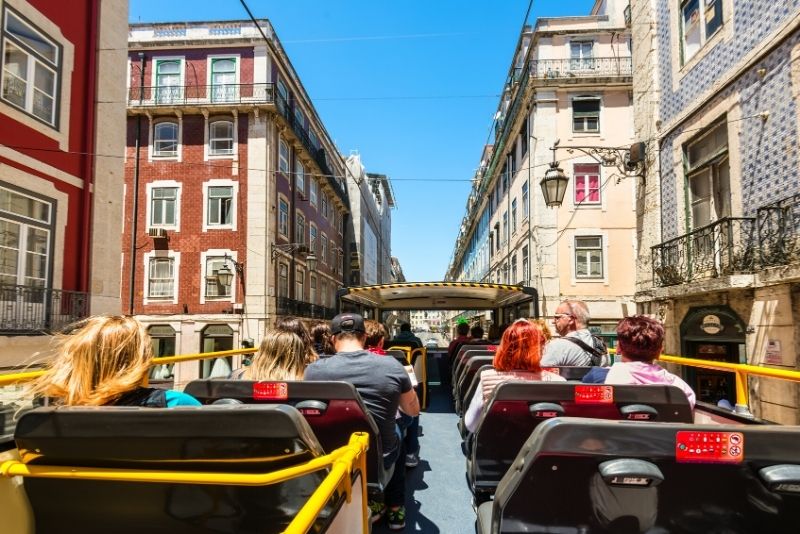 One of the best things to do in Lisbon for travelers looking to squeeze multiple attractions into a short amount of time (and avoid walking up and down the hilly, cobblestoned streets), a hop-on-hop-off bus tour skirts all over the city, with four routes servicing countless noteworthy stops and attractions.
Depending on which of the pre-organized routes you take, expect to pass by quintessential landmarks like the Se Cathedral, St. George's Castle, the Jeronimos Monastery, Rossio Square, and the Lisbon Oceanarium. You can also expect to see plenty of lesser-known (but still equally as fascinating) spots like the Fado Museum, the Gulbenkian Museum, and the National Tile Museum. And, of course, the Belem attractions are on the menu too: the Belem Tower, the Discoveries Monument, and the famed monastery.
As a bonus, passes also include access to public transport (Aerobus, trams, funiculars, and the Santa Justa Elevator), so you can still explore Lisbon the authentic way if that tickles your fancy.
With an insightful audio guide included and plenty of photo ops along the way (particularly from the open-air upper deck), a hop-on-hop-off bus tour is one of the most efficient (and enjoyable) way to get your bearings on this wonderful city.
10 – Spend a day in magical Sintra (seriously, do it)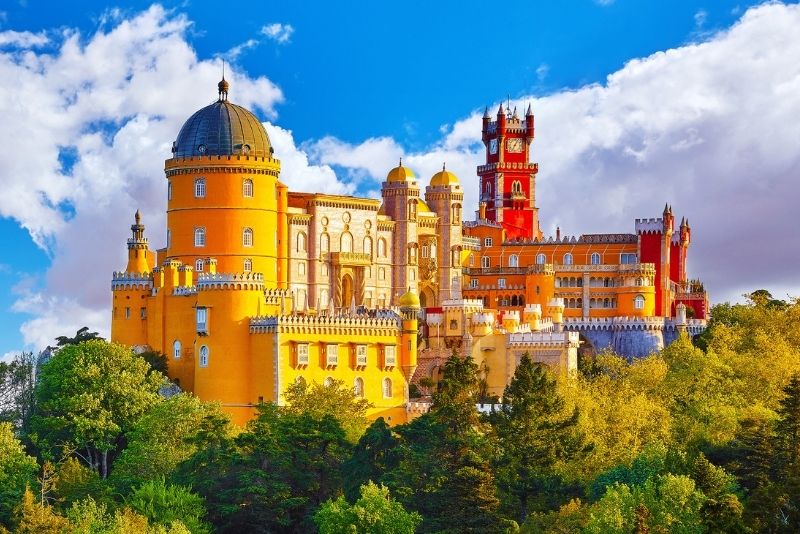 Get ready to step into a real-life fantasy land. About an hour outside of Lisbon lies the town of Sintra, a place so magical, so enchanting, it's practically impossible to believe it exists. And yet, it does — and you need to see it for yourself.
After admiring the Palácio Nacional de Sintra in the foothills, head up the mountain on the 434 bus to see where the magic truly begins.
From the moment you lay eyes on the pastel-colored Pena Palace atop a hill blanketed in greenery, you'll be smitten. The 19th-century, Romanticist Pena Palace; a hilltop castle surrounded by over 200 hectares of stunning plant life ready to explore is typically the highlight — but that's only the beginning. As you meander through the town's tiny streets — lined with colorful homes, quaint cafes, and charming shops — it feels as though you've been transported into a storybook.
And the best part? Sintra is easily accessible from Lisbon via train, making it the perfect day trip. Just be sure to give yourself enough time to explore everything this special place has to offer, including the Palácio Nacional de Sintra in the foothills, Quinta da Regaleira (a lavish estate with hidden tunnels and grottoes), the Castle of the Moors (a former fortress perched atop a hill with unbeatable views), the tri-towered Monserrate Palace, the peaceful, medieval Convent of the Capuchos that's slowly being taken back by nature, and of course, Pena Palace itself.
While you can technically hike or drive your way up, the most efficient method is the 434 bus. If there's only time for one day trip from Lisbon, make it Sintra.
Read here our article about Pena Palace tickets.
11 – Visit the coastal city of Cascais on a day trip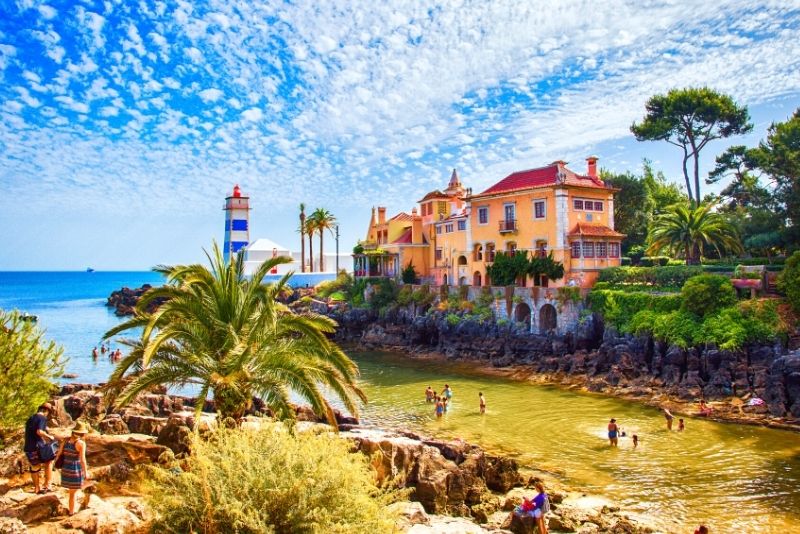 Often considered the most impressive resort town on the Lisbon coastline, Cascais is a regular hit amongst locals and travelers alike. While, at its core, Cascais is a charming (and still thriving) fishing town, it also boasts ornate mansions, delectable restaurants, intriguing museums, and, of course, pristine beaches that attract many a surfer. With a day to explore, make sure to hit u the following highlights:
In the old town, start at Cascais Bay, where you can admire the colorful boats before making your way to the 15th-century citadel of Cascais and the marina. From there, wander through winding streets lined with pastel-hued buildings and charming cafes, checking out the sleepy buildings, hidden alleyways, and surprising squares along the way. Don't miss a stop at the Church of St. Bartholomew, which dates back to the 13th century, or the Dom Luis I Foundation, a haven for contemporary art.
When you're ready for a break, head to Praia da Duquesa, Praia da Rainha, or the Cresmina Dunes for a refreshing dip in the Atlantic (or to simply soak up some rays). And then cap it all off with a stroll along the promenade (starting at the Farol de Santa Marta) for breathtaking ocean views as far as the eye can see.
While you're in the area (about 30 minutes west of Lisbon), allocate some time to head to Cabo de Roca — the westernmost point in Europe — for more sparkling ocean vistas. Speaking of… the Boca do Inferno natural archway and nearby cliffs are also definitely worth a visit!
12 – Let your hair down on a Lisbon boat party!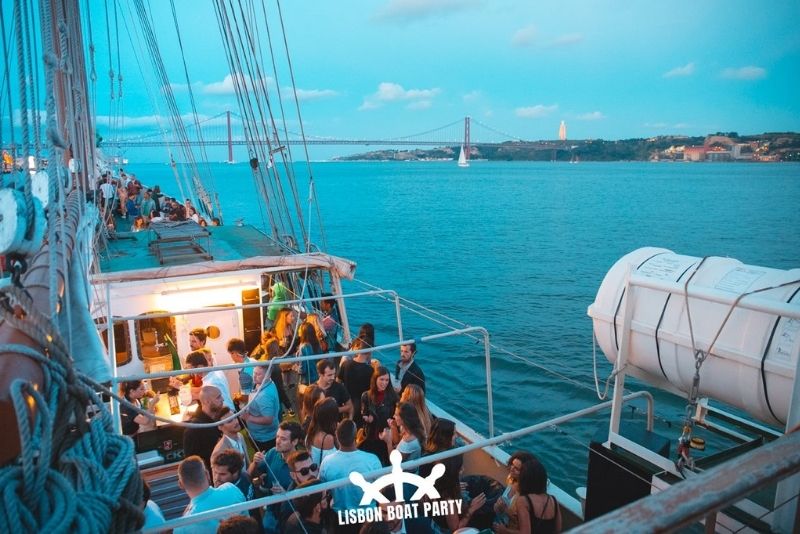 If you're on the hunt for an opportunity to unleash your wild side, then a boat party— especially during the summer months — is easily one of the most exciting things to do in Lisbon.
With DJs pumping out the tunes, bottomless drinks to get even the timidest travelers socializing, and unmatched views from departure to docking, it's a surefire hit for party-goers.
You'll find a handful of different options to choose from, depending on your budget: meet fellow thirsty travelers with a public tour on a sailboat, hire out an entire private catamaran for you and your dozen closest friends (ideal for weekend bachelor(ette) parties, birthdays, or group getaways), or go all-out with a booze cruise on board a luxurious yacht.
Typically departing from the Cais do Sodré docks, these Tagus River-straddling party boats operate by day and at dusk – if you can snag a ticket to the latter, as the sun sets over Lisbon's seven hills, you're in for an evening you won't soon forget.
13 – Wander the hilly and historic Alfama district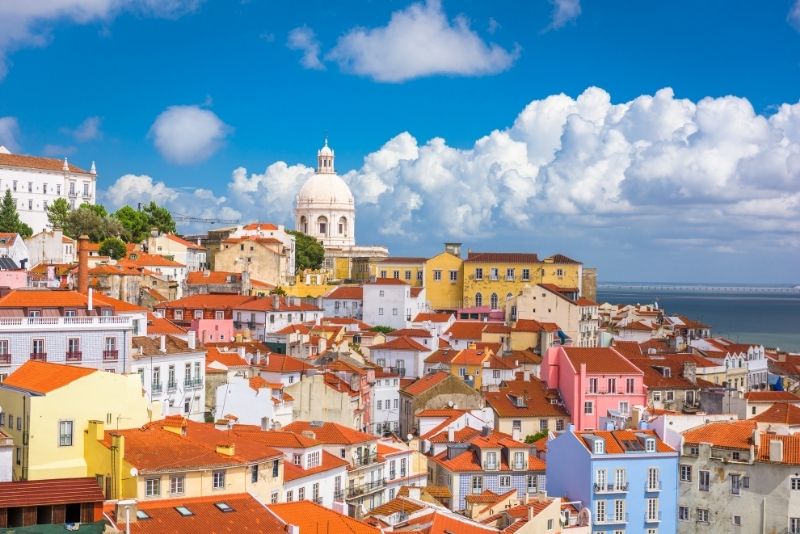 A visit to Lisbon would be incomplete without a wander through the city's most historic district, Alfama. With its steep, narrow streets and colorful buildings clinging to the hillside, it's no wonder this is one of Lisbon's most popular tourist attractions. And, with the 11th-century São Jorge Castle at its peak (a non-negotiable item for the itinerary), the winding, cobblestoned Alfama district is as postcard-worthy as they come.
As a beacon of history, culture, and tradition, there's something around every corner; no matter where you turn, delightful surprises await — be them grandmothers selling Ginjinha, street art murals covering entire buildings, or picturesque alleyways leading to hidden squares.
If you want to get off the beaten path, simply follow your nose (or ears): the scent of fresh baking drifts from doorways, fado music spills out onto sidewalks from open windows, and lively chatter beckons you into local taverns. The best way to explore is undoubtedly on foot, but if your legs start to tire (or you want to avoid the crowds), opt for a leisurely ride on one of Lisbon's iconic yellow trams.
Far more than just a pretty face, Alfama is steeped in traditions, with countless stories to tell. To learn all about the bygone decades (and get a few local recommendations while you're at it), past travelers suggest joining a walking tour or a free tour to make the most of this must-see locale.
14 – See what on at the Calouste Gulbenkian Museum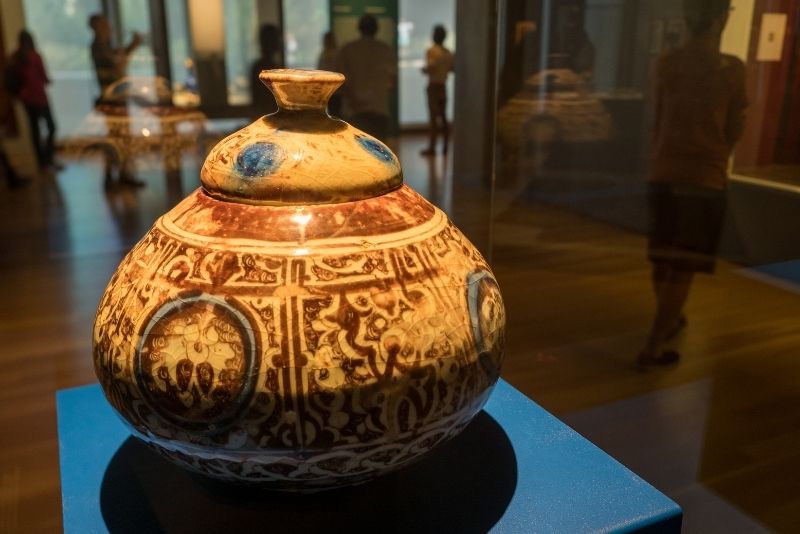 Widely spoken of as one of Europe's unsung treasures, the Calouste Gulbenkian Museum showcases a vast range of fascinating artwork and artifacts spanning from the 20th century all the way back to the Antiquity era. Spread across a complex of buildings and set in a garden covering an area of 7.5 hectares, the museum's diverse collection is a feast for the senses.
Highlights include Egyptian, Greek, and Roman sculptures; Byzantine art; medieval tapestries; Baroque paintings; Asian ceramics; Islamic art — all up, you can browse more than 1,000 works of art (still, a sliver of the 6,000+ in the private collection.
With famous names such as Rubens, Rembrandt, Turner, and Degas headlining the artistry, there's more than enough for every art aficionado to drool over.
Whether you're an art aficionado or simply appreciate the finer things in life, a visit to the Gulbenkian, which is just around the corner from the Parque Eduardo VII, not too far out of the way, deserves a quick stop on any morning walkabout. If you want to make the most of your experience, be sure to join one of the guided tours offered, and keep an eye out for the open-air concerts that take place in the lush greenery.
Visiting Lisbon on budget? Make sure to download the Gulbenkian Museum App, that includes a free audio guide allowing visitors to get to know this iconic collection in depth for no extra cost.
15 – Learn about martime history at the Museu de Marinha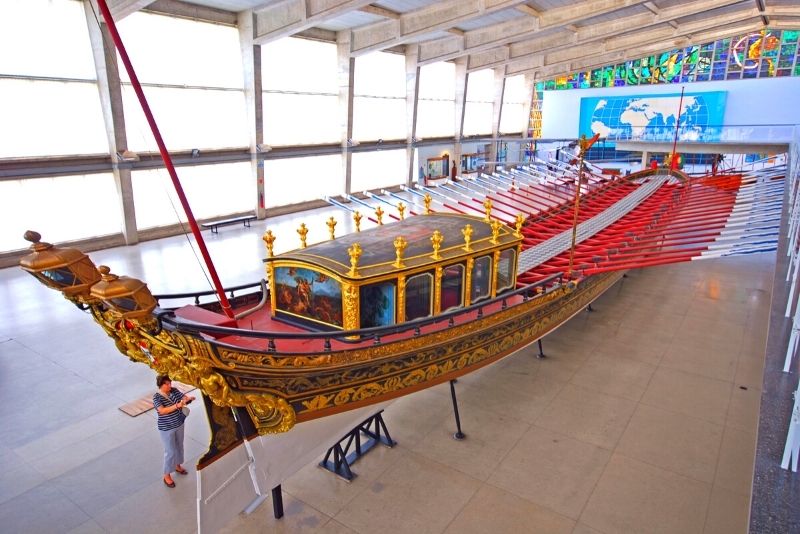 Otherwise known as the Navy Museum, the Museu de Marinha, which sits on the Avenida Infante Dom Henrique in Lisbon's Belém district, is always a delight for anyone with an appreciation for maritime history (or, frankly, anyone who considers themselves a boat lover).
Aptly located near the Jerónimos Monastery and Discoveries Monument (more on those in #2 and #5), this unassuming museum gives visitors an insight into Portugal's seafaring past, from its humble beginnings as a fishing nation to its contributions during the Age of Discoveries.
Inside, you'll find an array of exhibitions, from detailed ship models and nautical instruments to paintings and sculptures depicting Portugal's naval history and conveying the nation's fascinating history of marine navigation. And, ensuring that you don't leave without having learned a few new tidbits, the museum is also home to the country's largest maritime library.
At just €6,50 for an adult ticket, it's a steal.
16 – Race around the city with an interactive scavenger game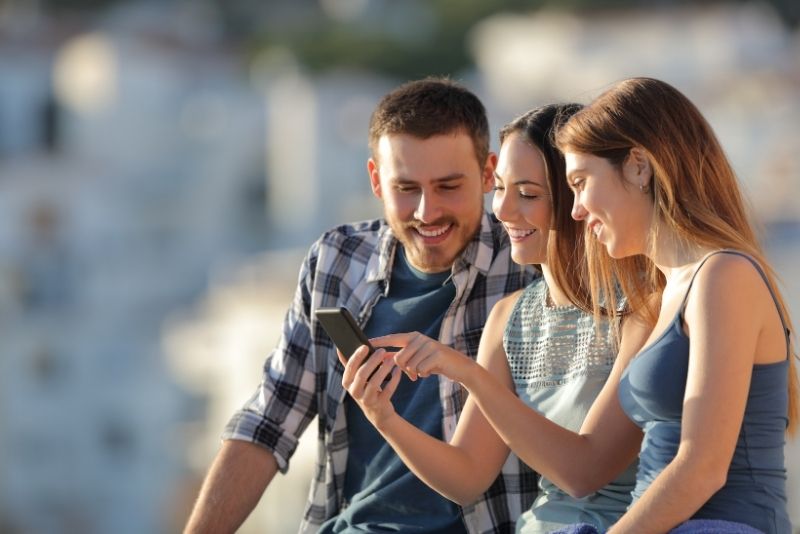 Walking around a city is so mainstream, right? Why not take it up a notch with a fast-paced, competitive, and highly interactive city-wide scavenger hunt?
With Amazing Race-style challenges at plenty of historic landmarks, plus a selection of games offered across Sintra, Belem, and central Lisbon, there's something for everyone. While every scavenger game is a little different, the premise is often the same: You and your team will be given a list of challenges to complete (taking photos, answering trivia questions, completing physical tasks, etc.), all while racing against the clock.
Not only is it a great way to see the city, but you'll also get some exercise in too and venture off the beaten path — and maybe even make some new friends along the way.
Often leading you to little-known gems throughout historic Alfama and lively Bairro Alto, colorful Baixa-Chiado, and the affluent Principe Real, these phone-led adventures bless participants with the chance to escape the crowds, discover treasures only the locals know about, and have a whole lot of competitive fun in the process.
17 – Head to Fatima for a wonderful day trip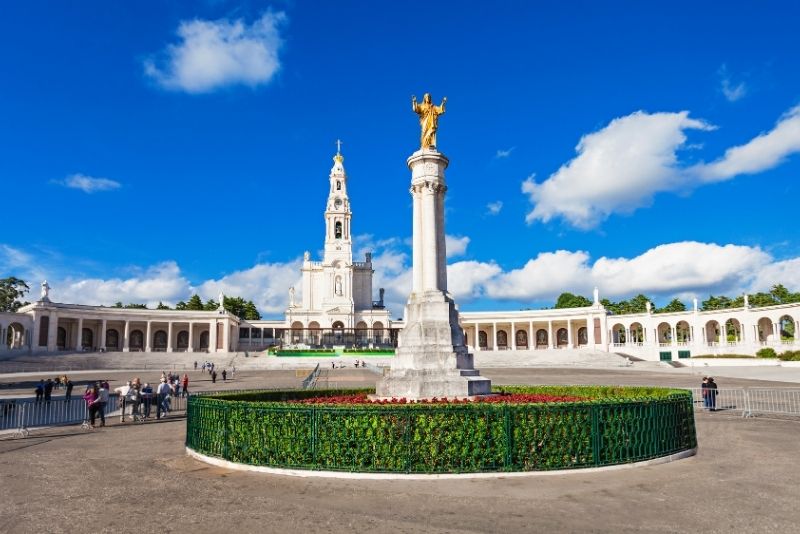 A couple of hours' drive north of Lisbon (88 miles or 142 km, to be exact), the religiously significant town of Fatima promises to be one of the most exciting day trip options — especially for those interested in history. With a storied past that dates back centuries, highlighted by the claim of the Virgin Mary appearing before three children in May 1917, it's no wonder that this small town has become a pilgrimage site for Catholics from all over the world.
But, regardless of your religious affiliation (or lack thereof), there's plenty to see and do in Fatima. From visiting the Sanctuary of Our Lady of Fatima, which is one of the largest Marian shrines in the world, to exploring the charming streets of the Old Town (where quaint little stores and cafes pop up around every corner), or even taking a 25-minute drive out to the nearby UNESCO-protected 12th-century Tomar, there's no shortage of things to see and do.
Not to mention, Fatima is also home to some of Portugal's best food. From traditional Portuguese dishes like bacalhau (dried and salted cod) and cozido à Portuguesa (a hearty stew made with a variety of meats and vegetables) to sweet pastries like queijadas de nata (large egg tartlets), there's something for everyone — and it's all delicious.
Hot tip: For the best bang for your buck, and the hassle-free option, choose a tour that also includes stops at the medieval village of Óbidos and the giant surf swells of Nazaré.
18 – Experience the stunning Arrábida Natural Park (with a speedboat tour)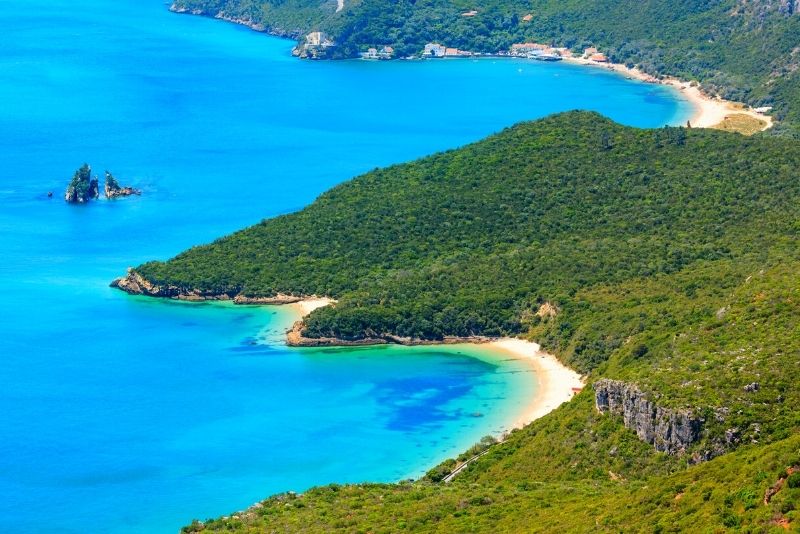 Adrenaline junkies, this one's for you! Covering a whopping 176 square kilometers (or over 68 square miles), the lush and expansive Arrábida Natural Park is chock-full of beautiful, all-encompassing nature. A visit to this pristine slice of mother nature feels like a world away from the busy streets of Lisbon proper, but that doesn't mean that it needs to be a peaceful experience. Thrill seekers will be just as pleased with what's on offer…
If you opt for a speedboat adventure, this pedal-to-the-metal experience will have your driver swerving, spinning, and drifting along the rivers, ensuring plenty of thrills and laughs! With wildlife aplenty (think: eagles, flamingos, and cliff-dwelling birds), as well as gorgeous cliffside views to boot, this activity is one that you won't want to miss.
That being said, if you're after something a little slower-paced, you can always rent a kayak or stand-up paddleboard, snorkel in the shallow waters, or simply chill out on one of the park's beautiful beaches.
19 – Go on a dolphin-watching adventure!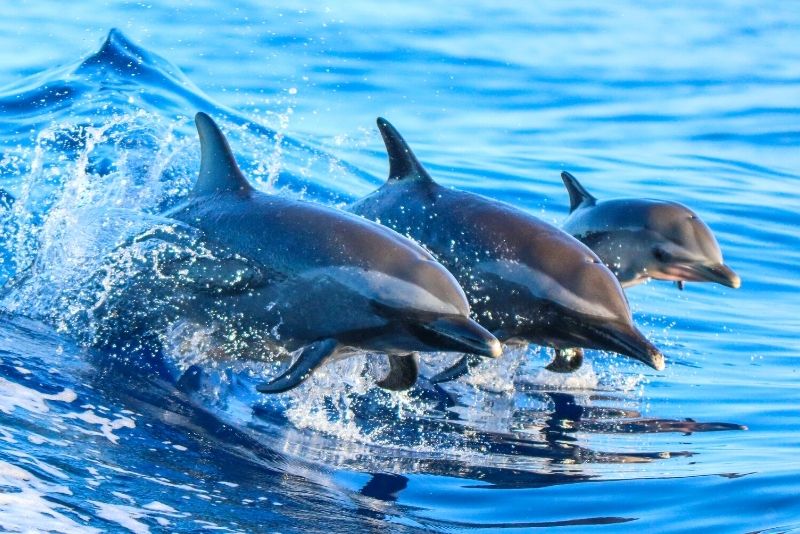 With thousands of miles of sparkling coastline, Portugal's shores are often littered with beautiful, vibrant wildlife — highlighted, of course, by friendly dolphins. These highly-intelligent creatures have long been a source of fascination for humans, and there's no better place to see them up close than on a dolphin-watching tour.
Operating out of Lisbon, as well as other coastal towns like Albufeira, Cascais, and Portimão, these boat tours promise an up-close encounter with some of nature's most majestic creatures.
Not to mention, these tours are also an excellent way to take in Portugal's stunning coastline, with its dramatic cliffs, hidden coves, and sandy beaches. With both full and half-day tours available (often offering an on-board lunch and refreshments, or some time to snorkel in the warm waters), including trips out to sea on luxury catamarans or high-speed powerboats, there's no excuse to miss out on seeing these bubbly creatures in their natural environment!
20 – Venture out to whitewashed Obidos for a day trip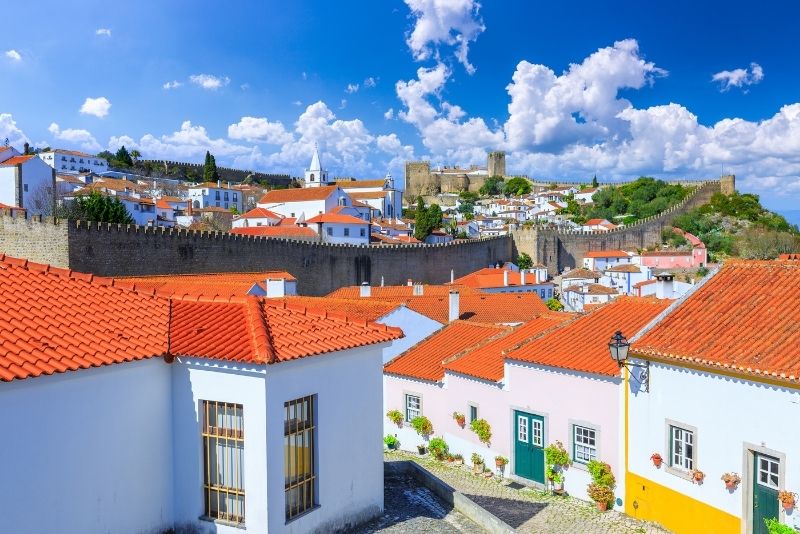 A small yet incredibly charming medieval town abundant with small whitewashed houses and narrow, cobblestoned streets, Obidos sells itself as one of the unmissable day trips from Lisbon. Offering a mix of history, culture, and plenty of photo-worthy spots, this walled town is the perfect place to while away an afternoon.
Upon arrival, be sure to snap a selfie in front of the iconic 8th-century castle gates (one of Portugal's most popular tourist attractions), before browsing the plethora of shops selling traditional Portuguese handicrafts, ceramics, and, of course, the town's famous ginjinha liqueur.
Rounding out the highlights are the picturesque 12th-century Santa Maria Church and the Museum of Obidos, sitting on the main street (Rua Direita). With its diverse and historic displays and tranquil gardens to boot, the museum is definitely worth a visit. And, notwithstanding its status as a UNESCO City of Literature, bookworms will be pleased to know that the population of 3,100 people is dwarfed by the collection of over half a million books.
While public transport between the pair is excellent, travelers looking for a hassle-free and convenient day out typically opt for the guided bus or minivan tours.
21 – Soar above the countryside in a hot air balloon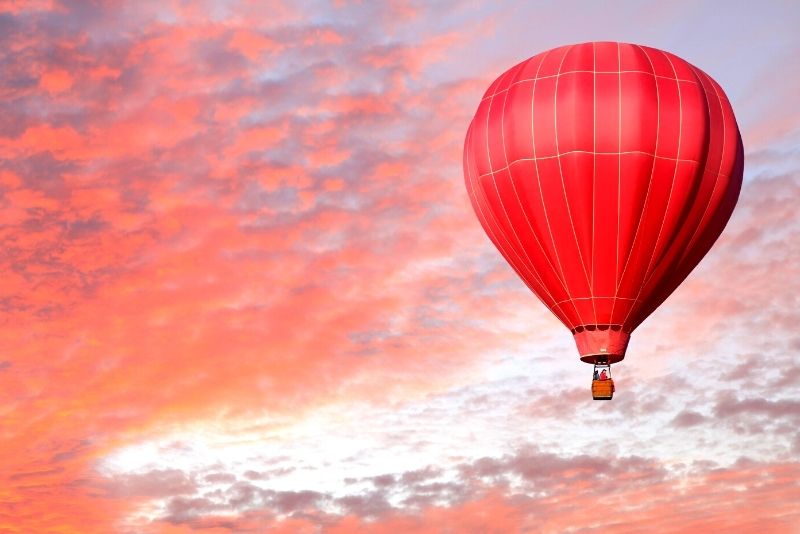 For views that are nothing short of astonishing, a hot air balloon ride manages to be both exhilarating and blissfully relaxing at the same time. With lift-off from Coruche – a town that sits about an hour's drive from Lisbon and is known for its lush surroundings and historical monuments – you'll be treated to 360-degree views of the surrounding countryside as you float effortlessly above it.
As you drift serenely through the air, your expert guide will provide commentary on the area below, pointing out landmarks and sharing interesting facts about Portugal's history, geography, and culture.
Despite the fact that the rides are typically scheduled in the wee hours of the morning, when riders are gifted the once-in-a-lifetime chance to see the expansive countryside light up under the sunrise, it makes braving that pre-dawn alarm clock all the more worthwhile.
To top it all off, a glass of bubble awaits upon landing.
22 – Step back in time by visiting the Templar Knights Region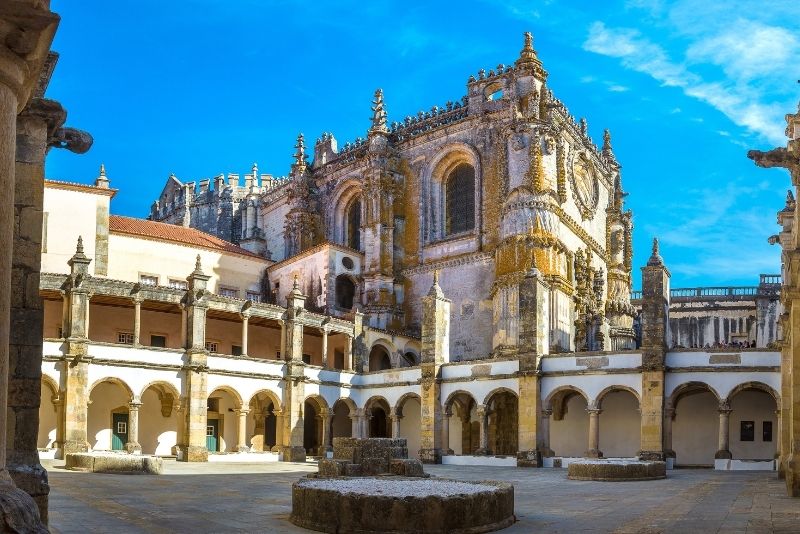 History buffs, look no further!
For the chance to walk in the footsteps of knights gone by, a full-day adventure out to the Templar Knights Region of Portugal — namely the City of Tomar, straddling the banks of the Nabão River — should sit high atop any visitor's list of things to do in Lisbon. Once you've arrived in Tomar, you'll be spoiled for choice in terms of Templar-related attractions.
First on the agenda is a stop at the UNESCO World Heritage-listed Convent of Christ, a former monastery that was once home to the Order of the Temple (a.k.a. the Knights Templar). Although parts of the convent date back to the 12th century, much of what stands today is a testament to the Manueline architectural style that was all the rage in Portugal during the early 1500s.
Next up is a visit to the Castle of Tomar (Castelo dos Templarios), another 12th-century UNESCO with Gothic and Renaissance influences that shows what life what like back in the ages (walk around the castle and you can still see some old houses). Perched atop a hill in the center of town, the landmark affords visitors sweeping views of Tomar and its rolling surroundings.
Pro tip: since both the Convent of Christ and Castle of Tomar fall within the Templar Knights Region, travelers can save money by opting for a combo ticket that grants access to both. And, for that oh-so-extra experience, opt for a tour that includes a boat ride for a wonderfully unique perspective of hilltop castles.
23 – Take to the skies with a paragliding adventure!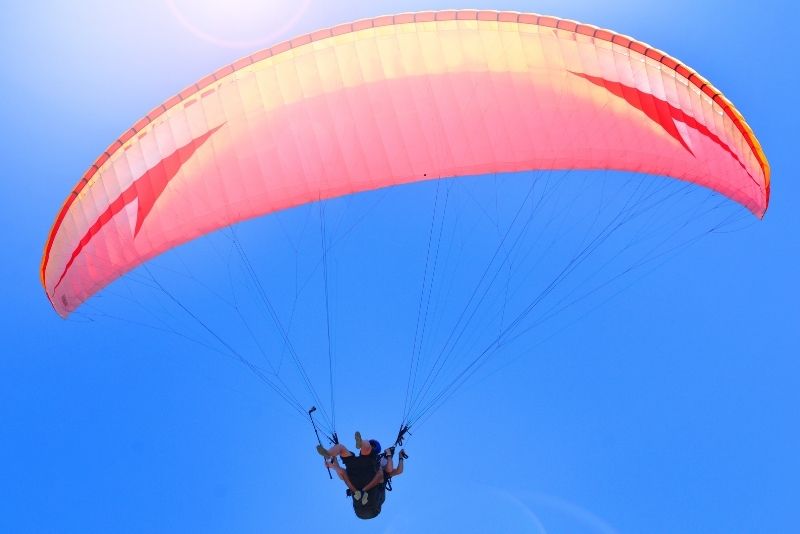 A unique blend of calming and thrilling, a paragliding adventure over the vibrant coastline is one of the best things to do in Lisbon for adventure enthusiasts. Even if you've never done it before, don't sweat it — you'll be in good hands with a professional tandem instructor who will take care of all the hard work (i.e., steering) while you simply enjoy the ride and take in the incredible views.
After a quick lesson on the ground, it'll be time to suit up and head to the top of the launch site. Once you've reached the top, it's time to take the plunge! As you glide through the air, take in panoramic views of some of Lisbon's most iconic landmarks, including the 25 de Abril Bridge and Cristo Rei statue.
If you've already seen most of Lisbon, there's also the chance to paraglide in Sintra, Cascais, or Pinhal Novo instead.
24 – Set sail at sunset (it's oh-so-romantic)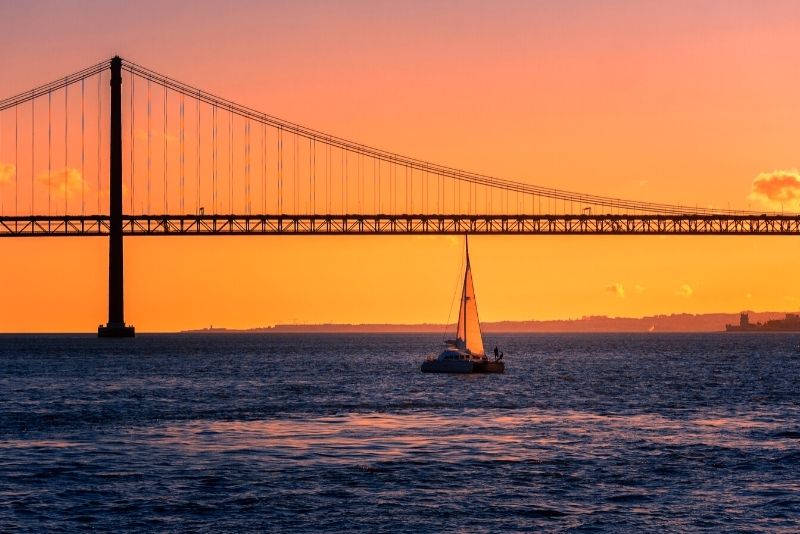 One for the romantics, there's no better way to whisk day into dusk than with a relaxing, picturesque tour aboard a relaxing, slow-moving yacht on the sparkling Tagus river. With a glass of wine in hand, and the glorious sunset bouncing off Lisbon's eccentric streets, it's an evening that will paint an ever-lasting memory.
Sunset tours are a dime a dozen, with options to suit every budget; some include a hearty multi-course meal, others are BYOB, and then, for all of you thirsty socialites, the boat party options where you can drink, dance, and sail the night away are popular for a reason.
Prefer to escape the crowds? If you're willing to splash a few extra euros, private sunset sails are also an option and make for a uniquely intimate evening.
Either way, after departing from the Terreiro do Paço ferry wharf (usually), you'll sail west under the 25 de Abril bridge, and out towards Lisbon's famous Cristo Rei statue. From there, it's smooth sailing as you take in views of the cityscape, its seven hills, the Castelo de S. Jorge, and the famed Belem Tower alongside the Monument of the Discoveries, all while sipping on a glass of something sparkling.
25 – Plan a trip to the picturesque Berlenga islands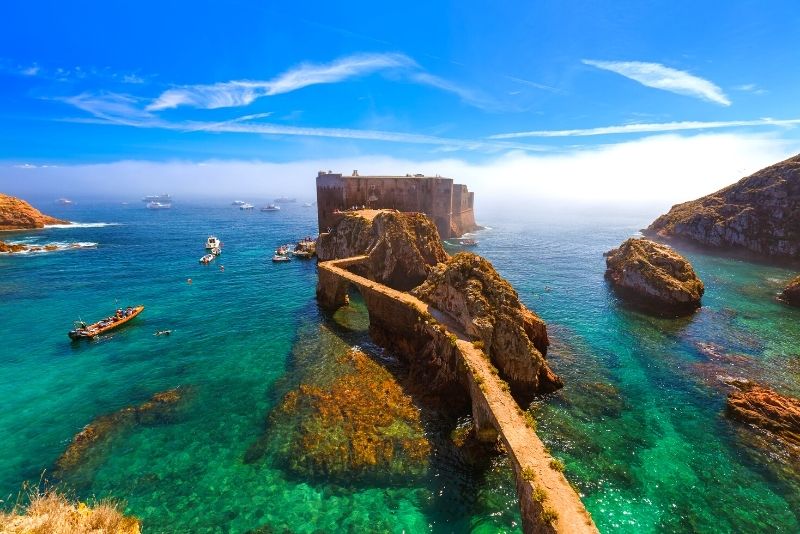 About as picture-perfect as any one place can get, the Berlenga islands are one of Portugal's best-kept secrets. Though only a short boat ride from the mainland (about 45 minutes), it feels like a world away with its rocky cliffs, secret coves, and sandy beaches.
A popular spot for scuba diving and snorkeling (the water visibility is incredible!), there's also plenty to keep landlubbers entertained. Take a stroll along the island's hiking trails, relax on the beach, or tackle the Insta-worthy walk toward the photogenic Fort of São João Baptista.
If you opt for a formal tour (as opposed to a water taxi or the ferry from Peniche harbor, for example), besides cruising past charming sea caves and foreboding rock formations, you'll also be given time to explore the UNESCO-listed Biosphere Reserve and snorkel in the translucent blue waters. Plus, with expert guides on board to wax lyrical about the history and geology of the islands, you're guaranteed to come away with a greater appreciation for this natural wonder.
26 – Learn to surf!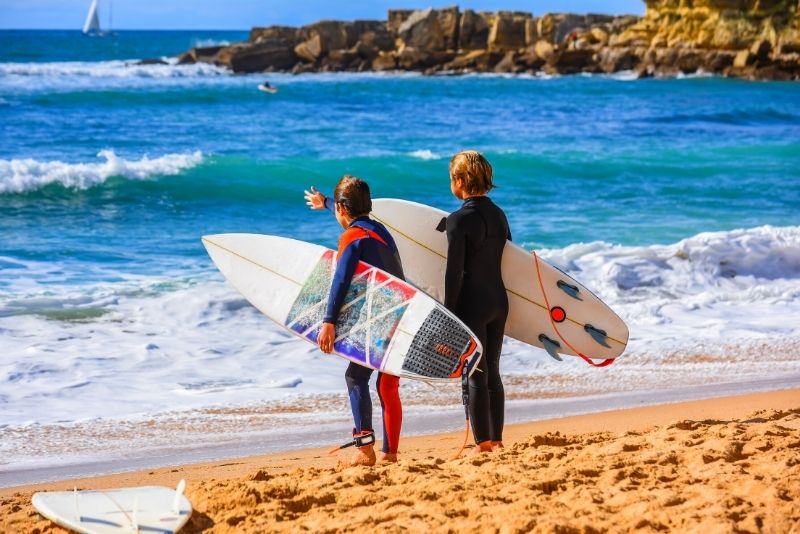 Portugal and surfing go together like peas in a pod. For beginners or intermediates who want to brush up on the fundamentals, a locally-led lesson at Carcavelos Beach is always a great option. As we make our way up along the coast, hidden gems like Mafra Beach, Ericeira, and Guincho are all superb spots to learn how to surf.
Thanks to its temperate water (it rarely gets too cold, even in winter), gentle waves, and plethora of beginner-friendly beaches (namely, Cascais), greater Lisbon is the perfect place to catch your first wave. Once you've gotten a hang of the basic techniques, you can start to explore some of Portugal's more challenging surf spots further north and south — not that you'd want to, but Nazare's mammoth swells are pretty epic.
With its enviable location on the Atlantic Ocean, it's no surprise that Lisbon boasts some seriously stunning beaches. But even if you never manage to stand up on your board, just lying on the beach and watching the surfers do their thing is a quintessential coastal experience in itself.
Or, for something even more challenging, try kitesurfing! Either way, as the perfect opportunity to rejuvenate the muscles post-surf, head to the yoga classes at Costa da Caparica.
27 – Gawk at the GIANT Nazare waves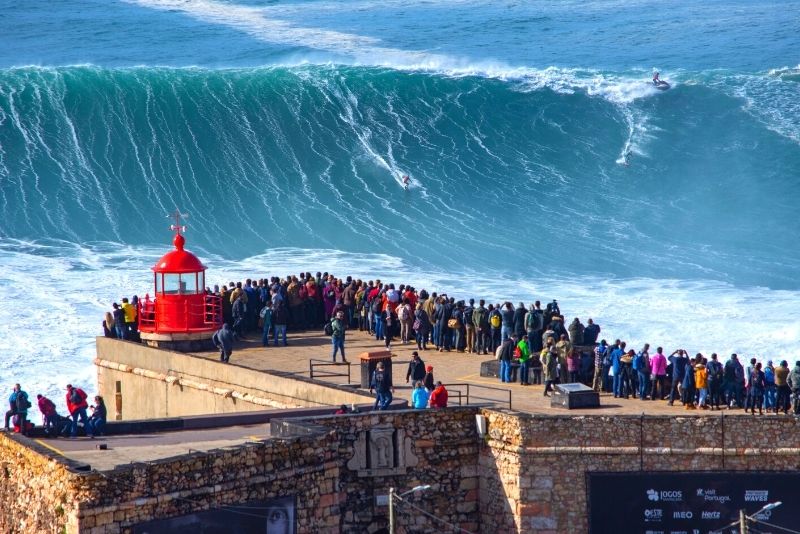 The polar opposite of Carcavelos Beach, Nazare is world-famous for hosting some of the most terrifyingly enormous swells not only in the country, but across the entire planet. With jaw-dropping waves crashing down from a staggering height of 100 feet (30 meters), it's no wonder that this spot is a Mecca for big-wave surfers.
Only the bravest of surfers tackle these waves, and while most travelers wouldn't dare go near them, there are plenty of viewing spots to see Mother Nature work her magic. The prime viewpoint is Sítio da Nazaré, right next to the picturesque lighthouse (Fort of São Miguel Arcanjo).
Hot tip: see if your visit aligns, try to attend one of the surfing competitions held here every year.
28 – Saddle up for a seaside horse riding session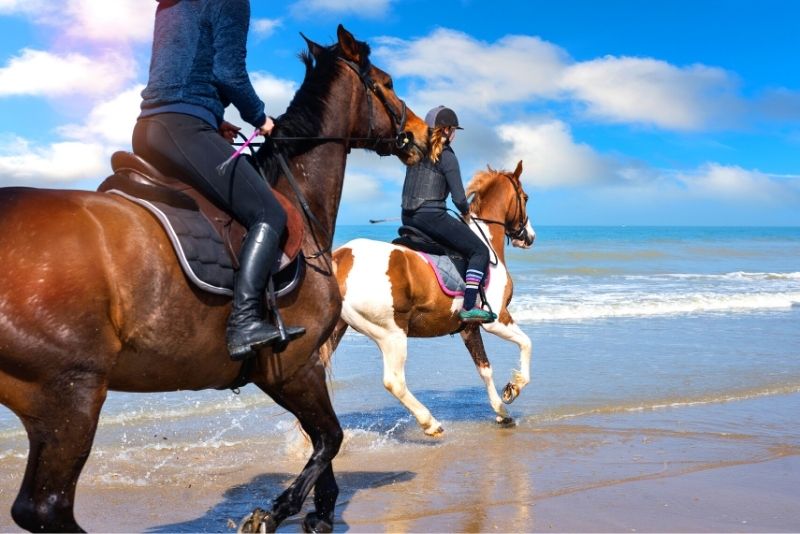 If you're searching for things to do in Lisbon that are a little out of the ordinary, why not consider a horse riding adventure? Besides the chance to wander along hiking trails, professionally-led horseback tours also explore soft, sandy beaches, and even include a delicious lunch to recharge the batteries.
With a stack of options to choose from, meaning down beaches like Ericeira, Guincho, and Cascais, or trotting down the white sands of Melides, there's always an opportunity to discover a new part of the region.
And while a coastal adventure is a surefire hit, it's not the only scenery available; thirsty travelers, consider a horseback ride through the Alentejo region, and nature-lovers, be sure to consider the excursions to the COmporta natural reserve.
29 – Fly above the city with a helicopter tour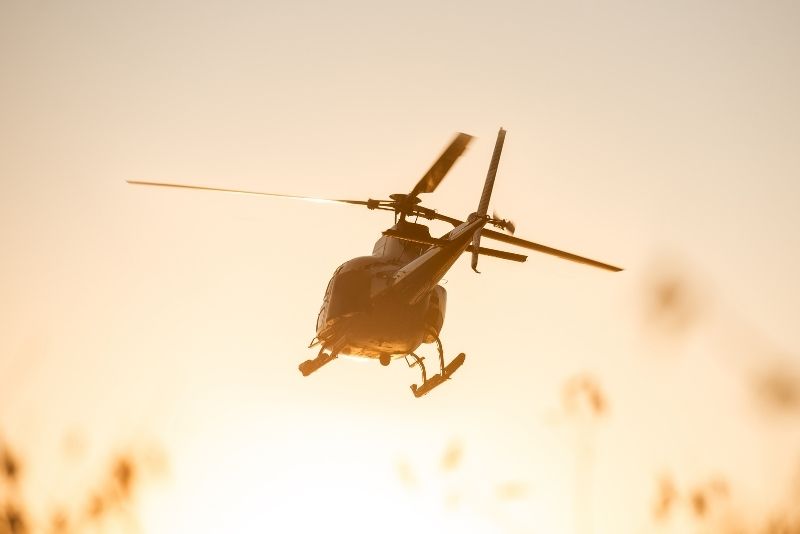 Wandering the vibrant Lisbon streets on foot, in a tram, or by car is one thing; you'll get to appreciate the rare cosmopolitan culture, the old-world charm, and the bustling city energy.
Flying over the city, its diverse districts, rolling hills, ancient fortifications, and the sparking Tagus river — well, that's another experience entirely.
Rising above Lisbon's red-tiled roofs and winding streets is an activity – best done in groups or couples – that will stay with you long after your return home. Gliding past some of the city's most iconic landmarks, including the 25th April Bridge, the historic Jeronimos Monastery, the foreboding Castle of Sao Jorge, and of course, the Tower of Belem, is an unforgettable way to see Lisbon. Plus, sure to be educational too, your guide will provide informative commentary (and a few local recommendations, if you ask nicely) along the way.
With shorter and longer flight options available not only over Lisbon, but also over the Sun Coast and the rolling hills of Sintra, there's something for everyone.
30 – Head to nearby Mafra and admire its beautiful palace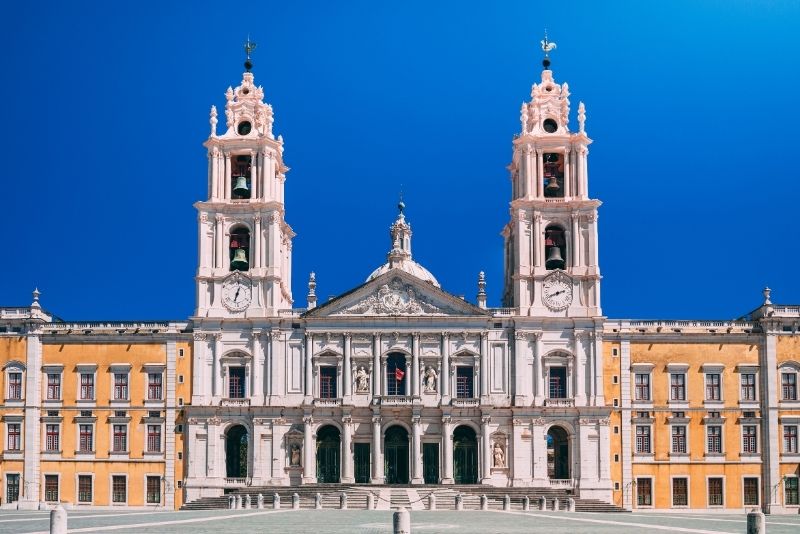 A wonderful change of scenery from Lisbon (not that you'll be tired of the city by this point by any means), Mafra is a small town located just an hour away that provides a slower lifestyle despite no shortage of activities and attractions.
While the western Portuguese town offers plenty of things to do, there's no skimming over its shining beacon: the Palacio de Mafra, one of Europe's largest and most extravagant palaces that boasts a 90-meter-long library among a host of fascinating architecture and art pieces.
The baroque masterpiece took literally decades to build, finally completed in 1755. The palace itself is absolutely massive, covering just shy of 40,000 square meters and containing more than 1200 rooms (not to mention 156 stairways and 4,700 doors and windows) — it's one of the largest royal palaces ever built in Europe.
In addition to the sheer scale of the building, perhaps most notably the 220-meter-long facade, be sure to admire the intricate details both inside and out, like the imposing double staircases, magnificent tapestries, and beautiful tiled floors. And don't forget to look up; the ceiling frescoes are beautifully detailed.
Easily accessible on guided tours that included pickup and dropoff in Lisbon, it's one of the most impressive and stress-free half-day activities.
31 – Meet the zebras at the esteemed Lisbon Zoo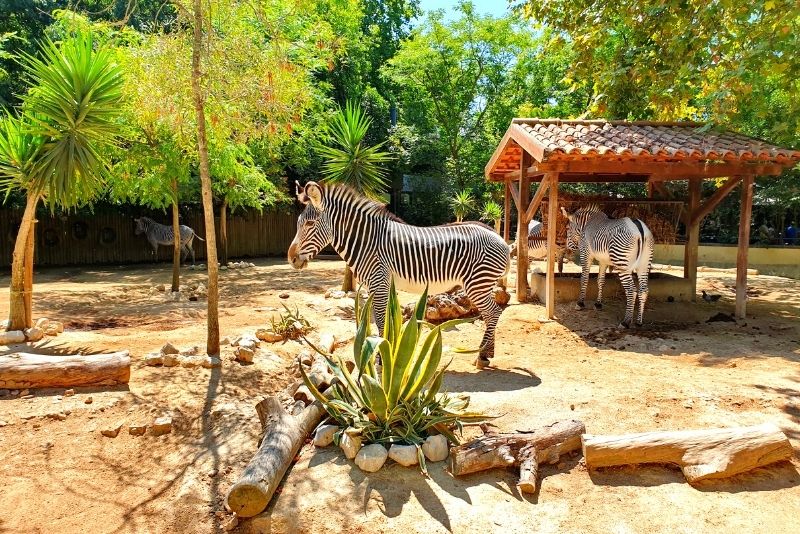 A perfect activity for traveling families (or anyone who loves animals, really), the Lisbon Zoo is a regular hit amongst international travelers.
Since originally opening its doors in 1884, the zoo (also known as the Jardim Zoologico), has grown its collection to over 2,000 animals, encompassing more than 350 different species of all shapes, sizes, and colors, from all different corners of the globe.
You'll see everything from native Portuguese species like Iberian lynxes, otters, and eagles, to more exotic animals like kangaroos, tigers, gorillas, and elephants. With a host of keeper talks, meet and greets, and feeding opportunities, the zoo offers plenty of ways to get up close and personal with your favorite animals.
With kids' playgrounds, restaurants, and cafes on-site, you can easily spend an entire day here if you want.
Easily accessible from most places in the city, Lisbon Zoo is also known for its research and conservation efforts, as well as its endangered rescue programs, so you can be sure that your visit will be educational as well as enjoyable – it's one of the most family-friendly activities in Lisbon, and you know that the cost of a ticket goes toward a good cause.
32 – Join a buggy tour for a new perspective of Sintra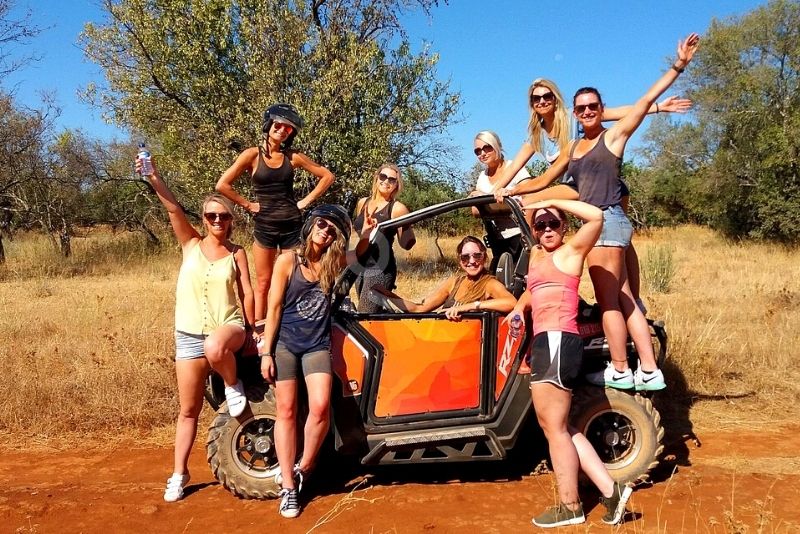 Thanks to its Insta-worthy landscapes, glorious palaces, spectacular hiking opportunities through lush forest, and rich history, Sintra is a non-negotiable in terms of a day trip from Lisbon.
The question, therefore, becomes how should we explore this UNESCO-listed region? Sure, you could take the 434 bus to the mountain top and stroll around at your own pace, but where's the thrill in that?
For an epic adrenaline rush that veers off-road, away from the beaten track, opt for an all-terrain buggy experience! Following a local guide, you'll tear up dirt paths and zoom down gravel roads in an action-packed exploration of the best that Sintra has to offer, making your way to top attractions like the Pena Palace, Moorish Castle, and the National Palace of Sintra.
An added bonus? While the palaces and monuments are synonymous with Sintra, the Sintra-Cascais Natural Park region is actually enormous, encompassing nearly 30,000 hectares of protected forest and countryside. That means that even if you've been to Sintra before, a buggy tour will give you the opportunity to explore parts of the region that you may have missed. What's not to love?
33 – Tick skydiving off the bucket list!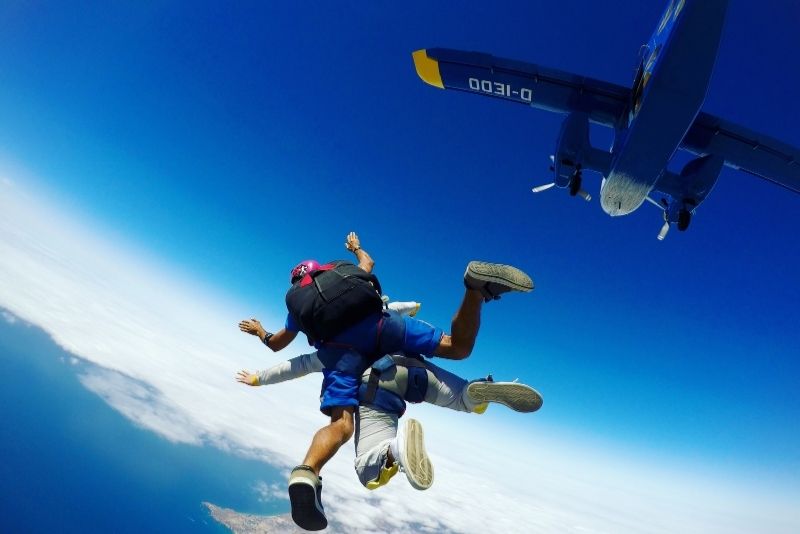 Ready for the thrill of a lifetime? From 9,000 feet above Figueira dos Cavaleiros, a region known for its stunning landscapes and excellent weather conditions, you can take the plunge with a tandem skydive.
After being kitted out in all the necessary gear and receiving some brief instruction from your certified instructor, you'll be strapped securely to their front before boarding the plane for takeoff. And then, it's time to jump! Once you roll out of that custom plane, the views are nothing short of phenomenal.
And, of course, nothing can quite compare to the feeling of utter freedom and weightlessness, plummeting toward Earth at terminal velocity with the wind in your face.
Want to make a day of it? Consider one of the Alentejo packages that include a visit to the Carthusian estate and the Esporão region for wine tasting (or Gin Sharish distillery for something stronger). Cap it all off with a hearty lunch and, if you want even more adventure, the buggy ride is a popular add-on.
34 – Play detective in an escape room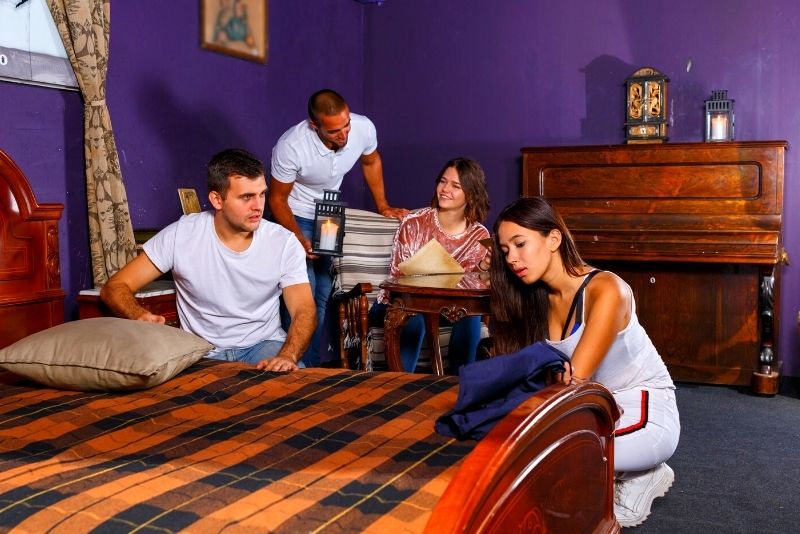 Detective hats on, people! Consider yourself a modern-day Hercule Poirot? Ready to put your puzzle-solving skills to the test? Then an escape room is a perfect activity for you.
Grab your friends, better halves, or those random strangers from the hostel and put your wit, intellect, and problem-solving skills to the test in one of Lisbon's many themed escape rooms.
Choose from the classic who-dun-it murder mysteries, prison breaks, and bank heists, or opt for something a little more niche like Hacker Invasion, a Modern Secret Society, the Templar's Codex, or James Bond and Indiana Jones-style adventures.
While each venue (Game Over Escape Rooms, Escape2Win, Safarka Escape Room, and Escape Hunt Lisbon, to name a few) offers different and unique experiences, they all have one thing in common: once you're locked in that room, it's up to you and your team to solve the clues and escape within the 60-minute time limit!
Don't forget to grab a photo dressed as Sherlock Holmes before you leave – a surefire hit for the 'gram!
35 – Cook up a storm with an authentic cooking class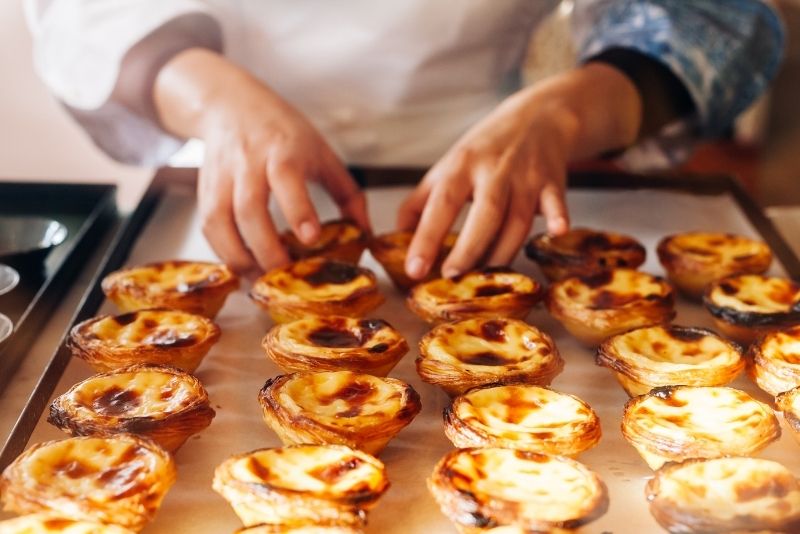 Iconic dishes aplenty; fresh, local ingredients; and passionate, knowledgable chefs – what's not to love about Portuguese cuisine?
Tasting all of Lisbon's delicacies is one thing — but for the authentic experience, you've got to experience cooking up a storm first-hand! As any foodie worth their salt knows, the best way to understand a culture is through its gastronomy. And what better way to learn about a country's food than by whipping up some of its most iconic dishes in an authentic cooking class?
With a Portuguese chef leading the class, keen foodies will learn how to prepare at least three different dishes, typically none more famous than Pastel de nata. And while each activity offers a slightly different menu depending on the season and the chef, rest assured that you'll be able to feast on your hard work at the end of the class!
Besides the delicious meals at the end (everything from Bacalhau to Bifana), a cooking class is also a wonderful way to meet fellow travelers (and the wine certainly helps to ease any social jitters).
36 – Get a little buzzed on a wine tour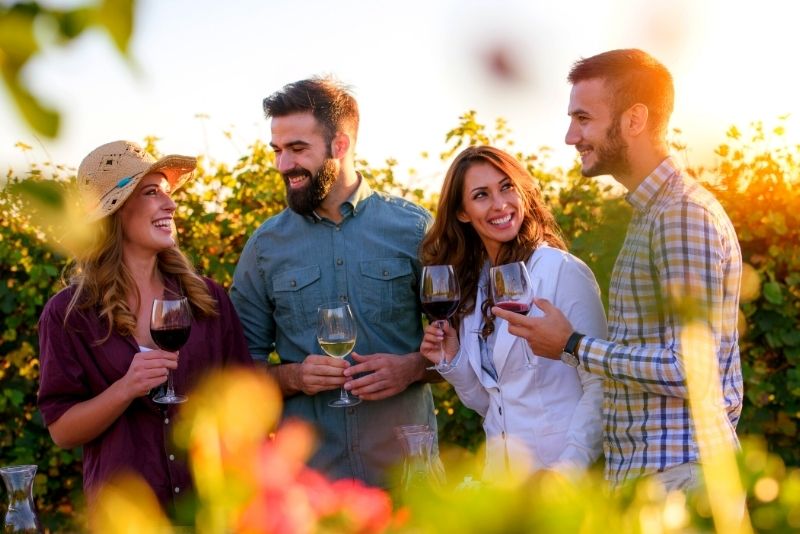 It was only a matter of time before we poured ourselves a glass or two — we are in Portugal, after all! While Lisbon certainly has no shortage of incredible bars and licensed restaurants, for the prime wine experience, you need to visit the source: the vineyards themselves.
When most travelers think of Portuguese wine, their mind drifts straight to Porto. But, thanks to the expansive winemaking region of Alentejo, Lisbon has so much more to offer oenophiles!
Situated just over an hour's drive from Lisbon, the Alentejo wine region (the county's largest) is home to more than 260 different wineries. During a tour of the area, you'll have the chance to explore a handful of these, learning all about the wine-making process as you go.
Alentejo is one of the largest wine regions in Portugal and produces some of the country's finest red wines. The region has a long tradition of winemaking, with some vines dating back hundreds of years. And while Alentejo may not be as famous as its Port-producing neighbor, the Douro Valley, it's quickly making a name for itself on the international wine scene.
Still, despite Alentego's allure, it's far from the only wine hub near Lisbon: Keen oenophiles can embark on wine-centric tours, visiting places like Setubal or the Arrabida Natural Park (the former is famous for its Moscatel wines, while the latter is all blending fine reds with brilliant scenery), or go on a tour of the picturesque Extremadura wine region.
No matter which route you take, make sure to stop by one of Lisbon's many wine bars afterward to compare notes (and wines) with fellow travelers! With choices to suit every style of travel, wine tastings can also be paired with food tours, tapas tastings, and bike tours — there's something for everyone.
37 – Spend a day wandering around historic Evora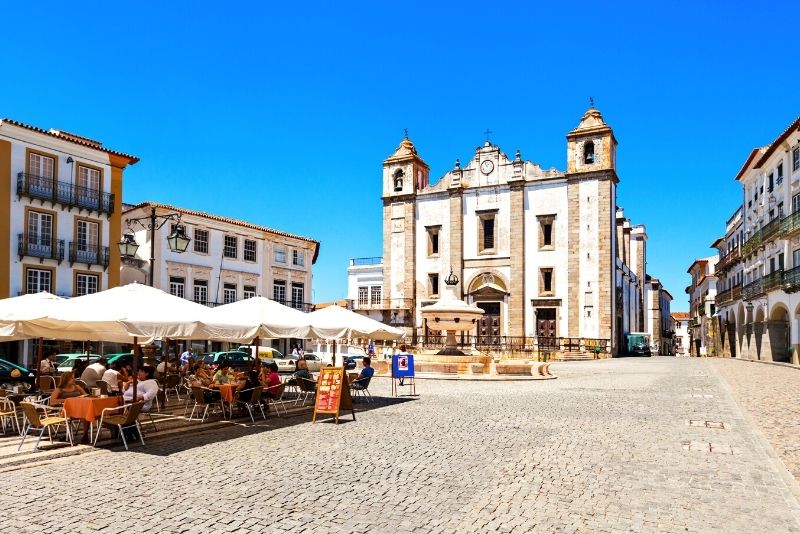 Boasting over 2000 years of history (hence its nickname of 'The Museum City'), the popular day trip destination of Evora is always a hit with Lisbon visitors. Sitting about 90 minutes east of the capital by car or train, this UNESCO World Heritage-listed city is home to a stunning medieval old town, a Roman temple, and an impressive cathedral.
But Evora's real claim to fame is its abundance of well-preserved bones and skulls – over 5000 of them, in fact! The macabre collection can be found in the Chapel of Bones, a small church built out of – you guessed it – bones. The chapel was constructed by Franciscan monks in the 16th century as a way to warn visitors of their own mortality.
A visit to Evora wouldn't be complete without admiring the city's beautiful architecture, and there are plenty of photo-worthy buildings to choose from. The 14th-century Manueline-style Palace of the Dukes of Cadaval is a must-see, as is the 16th-century aqueduct and the Gothic Evora Cathedral.
As one of the oldest and most charming cities in the nation, Evora is overflowing with notable sites — few more impressive than its focal point, Giraldo Square, the ideal spot to grab a coffee and people-watch.
38 – Learn about a quaint art form at the Museu Nacional do Azulejo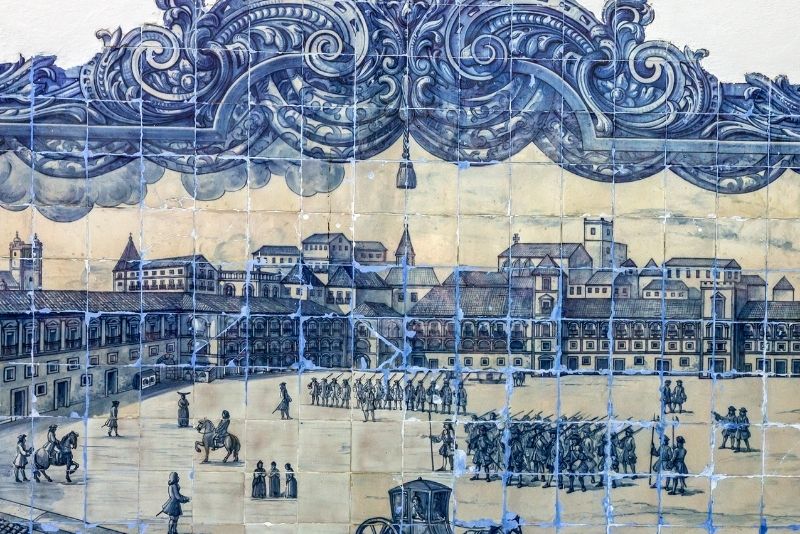 Housed in the 500-year-old Convent of Madre de Deus, the Museu Nacional do Azulejo
is one of Europe's more distinctive museums, focusing specifically on hand-painted tiles — a motif you'll find repeated again and again throughout Lisbon; decorating train stations, old houses in the Alfama district, and even the city's sidewalks.
Azulejo is a form of Portuguese decorative art that dates back to the 15th century, when Moorish influences first began to appear in Portugal. The museum's collection includes tiles from every era since then (and includes both Portuguese and foreign-made tiles; both religious and secular works), making it the perfect place to learn about the evolution of this unique art form.
While you're there, make sure to check out the interactive tour of the Azulejos Workshop and learn how craftsmen create these stunning tile mosaic pieces.
39 – Hit land, then water on an amphibious tour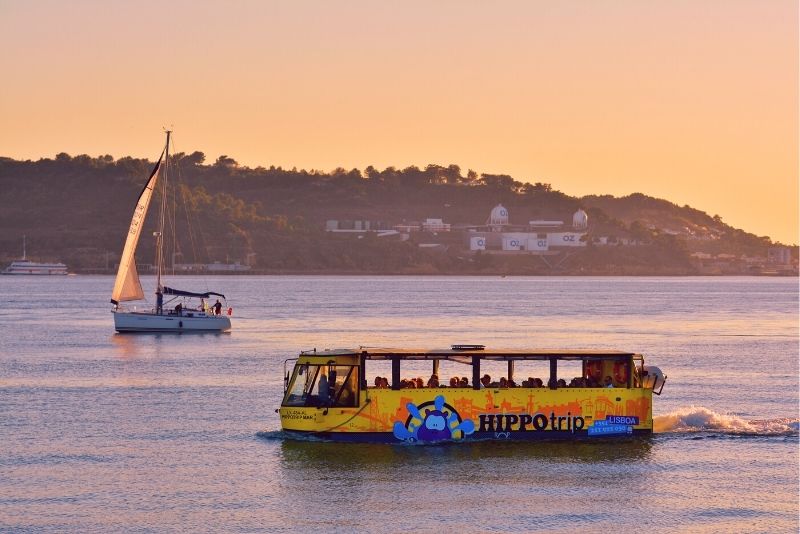 Who says you need to choose between a land tour and a boat tour? For a memorable, unique way to explore Lisbon, an amphibious tour shows off the best of both worlds.
From the water of the Tagus river, you'll watch Lisbon's hilly districts pass by with comical, informative narration along the way. In the foreground, the river sparkles with the reflection of the city's pastel-colored buildings; in the distance, you'll see the towering Cristo Rei statue, the 25 de Abril bridge, and plenty more.
Once you reach land, your vehicle will take you on a tour of a handful of Lisbon's most esteemed areas; from the historic Belem district (home of the Jeronimos Monastery and the Tower of Belem) to the modern Parque das Nacoes (a former Expo site that's now one of Lisbon's most popular areas for shopping, dining, and nightlife) and the ever-buzzing area of Bairro Alto.
Very affordable (usually between 15 and 30 euros depending on your preferred route) and operating daily, these highlight-reel tours are great for first-time visitors who want to get a feel for all that Lisbon has to offer.
40 – Drive around the city with a self-guided electric car tour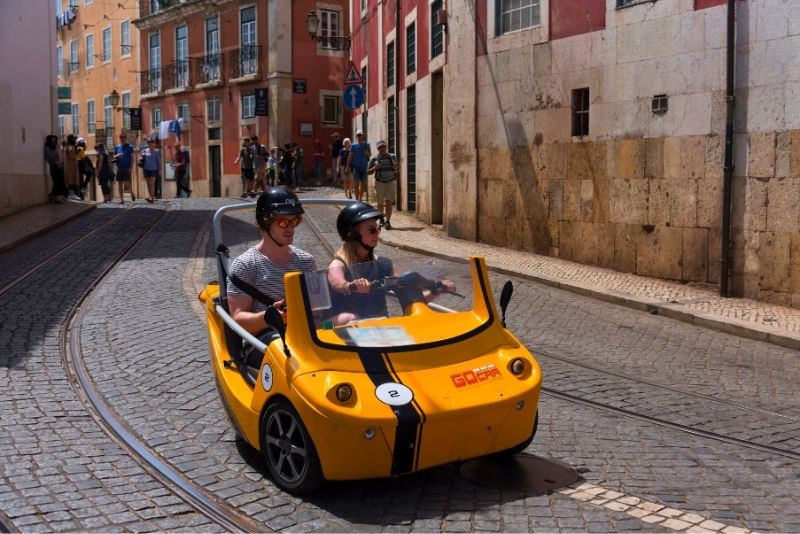 For anyone wanting to explore Lisbon's charm on a guided tour, without the need to interact with tour guides or fellow travelers, an electric car rental is a great choice.
While the GPS-directed suggested route includes stops at places like Cathedral Sé, Miradouro da Graça, and Alfama, there is, of course, the option to follow your instincts and explore off a whim.
As a city known for its hills, walking around Lisbon can be quite a workout — but in an electric car, you won't even have to think about it. And with the added bonus of being eco-friendly and emission-free, this is a great option for those who want to do their part to help the environment.
Prices vary depending on the company you choose, but you can expect to pay around 30-40 euros for a half-day rental (enough time to explore most of the city's highlights).
41 –  Snap a couple selfies at the Praca do Comercio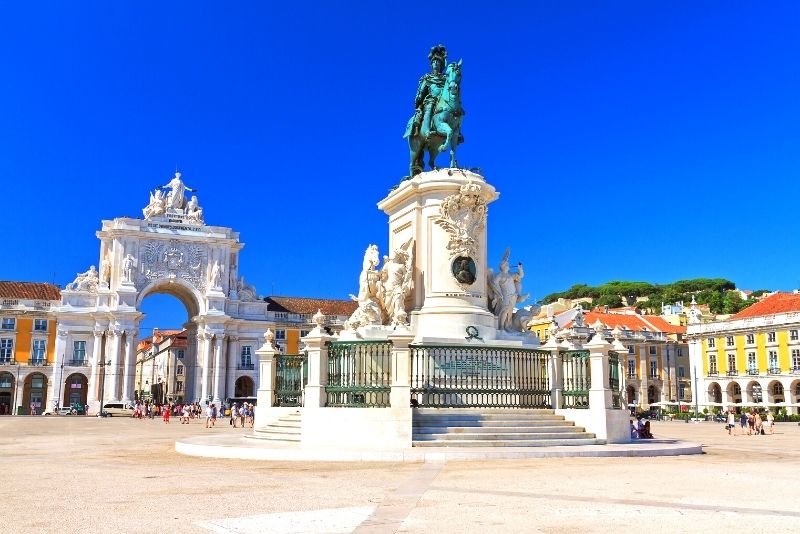 As the city's main square — one that is picturesque, popular, historic, and absolutely enormous — a visit to Praca do Comercio is hands-down one of the essential things to do in Lisbon. Sporting a beautiful view of the river, as well as a rich backstory and a smattering of architectural highlights, this is the perfect place to take a selfie (or group photo) to capture your time in Lisbon.
After checking out the two main landmarks (the Rua Augusta Arch and the bronze equestrian statue of Joseph I of Portugal), enjoy a drink at one of the terraces and soak in the views of the Tagus river below.
If you want to learn more about the square's past, there are plenty of guided tours available (both walking and Segway). Or, for a more unique experience, try one of the city's food tours that typically start in the harbor-facing square, where you can enjoy a glass of Portuguese wine or a freshly-made pastel de nata.
42 – Soak in the panromaric views from the various miradouros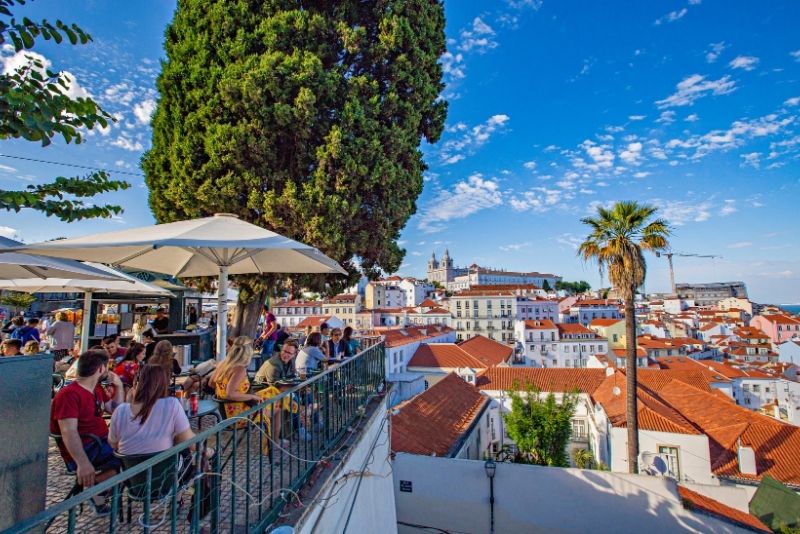 With so many steep streets lining this charming city (one of its nicknames is, after all, 'the City of the Seven Hills'), the list of fantastic lookouts is second to none — or, as the locals call them, miradouros.
If you don't know where to start, search for Miradouro da Senhora do Monte, Miradouro da Graca, Miradouro de Santa Luzia, or Miradouro de São Pedro de Alcântara. Each of these viewpoints comes with its own unique charm, but they all offer breathtaking views of the cityscape below. Be sure to bring your camera (and maybe a picnic lunch) to enjoy the scenery in peace.
While these are all free to visit, arguably the best view of the bunch comes from the hilltop Sao Jorge Castle – the small entry fee is definitely worthwhile.
Keep in mind: For something a little different, definitely check out Edward VII Park.
43 – Jump in the historic (and convenient) Santa Justa Lift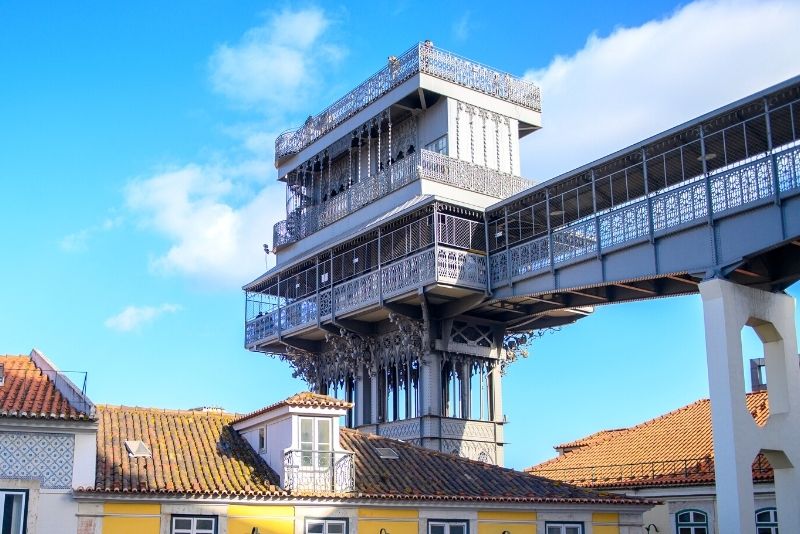 A slice of industrial-looking engineering that stands out in an otherwise historic city, the Santa Justa Lift is one of Lisbon's most unique — and Instagram-worthy — attractions.
Found between the Baixa-Chiado and Rossio metro stops, this 'vertical street car' was built in 1902 and offers stunning views of the city from its outdoor platforms. Not only does the ever-popular Santa Justa Lift connect the lower streets of Baixa with the overhead streets of Largo do Carmo (seven stories above), but it also provides some of the most unobstructed views of Lisbon.
While you're in the area, be sure to also check out Carmo Convent, a beautifully-preserved 14th-century monastery that was partially destroyed in the 1755 earthquake; and see what's on at the buzzing Estátua do Rei Dom Pedro IV central plaza – a hotspot for buskers and street performers.
Hot tip: For the prime photo ops, head up the wrought-iron lift just before sunset.
44 – Walk through history at the Carmo Convent ruins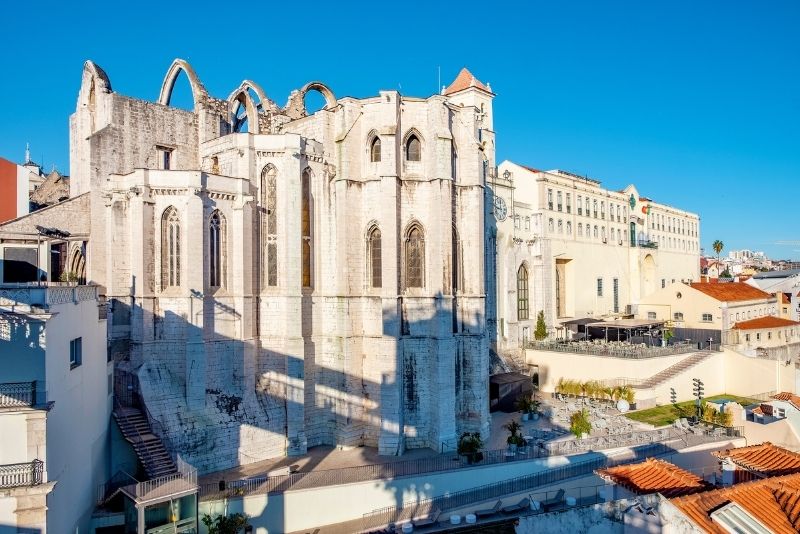 Just a minute around the corner from the Santa Justa Lift is the Carmo Convent — sporting a long history, the underrated Lisbon attraction today stands as an atmospheric ruin, with only its grand arches remaining.
Founded in the 14th century, Carmo Convent was one of the largest and most influential monasteries in Portugal. However, much of it was destroyed in the devastating 1755 earthquake, leaving behind only these hauntingly beautiful traces — still, the skeleton of Carmo Convent remains a beacon of Lisbon's history and resilience, serving today as a museum space. Step inside and you'll find a slew of archaeological treasures, including the Sarcophagus of the Muses, tombs of King Ferdinand I (gothic style) and Queen Maria Anna of Austria (baroque style), and mummies from Egypt and South America.
And, for a quick oversight of the building's six centuries worth of history, be sure to grab a seat for the insightful 15-minute film.
Visiting in the summertime? The ruins often serve as a theatrical backdrop for open-air concerts.
45 – Enjoy the view from the National Pantheon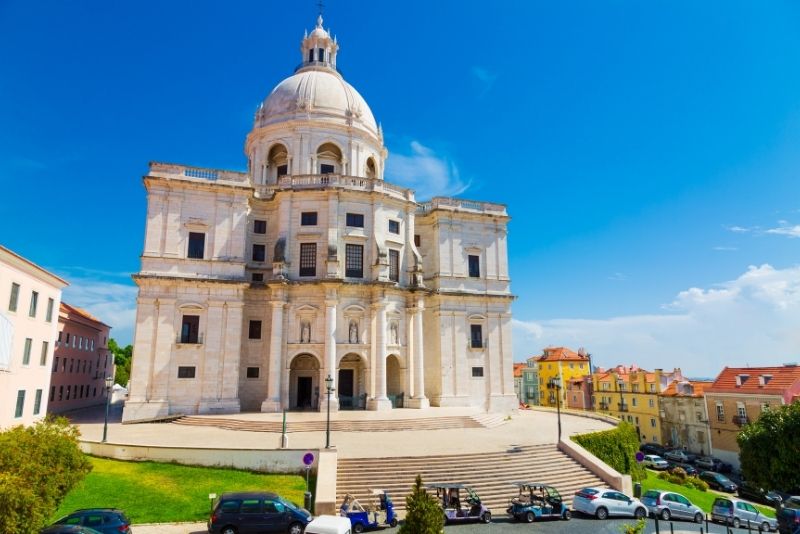 Housing the tombs of some of Portugal's most historic celebrities, the beautiful and unique 17th-century church that is the National Pantheonis a regular feature of visitors' list of things to do in Lisbon.
Besides its impressive, centuries-old architecture, which is highlighted by a magnificent central cupola, the Pantheon also boasts one of Lisbon's best miradouros (viewpoints).
Climb to the top of the stairs for a breathtaking panorama that takes in not only the castle but also much of downtown Lisbon, overlooking both the city and the river Tagus.
And, if you time your visit right, you can enjoy a choral concert in the Pantheon's stunning main hall. Check the schedule in advance to see what's on during your stay.
You'll find the Pantheon (otherwise known as the Church of Santa Engrácia) in the charming Alfama neighborhood, where you can also explore Lisbon Cathedral and the Castle of Sao Jorge – two bucket-list Lisbon attractions.
46 – Appreciate the hipster vibes of the LX Factory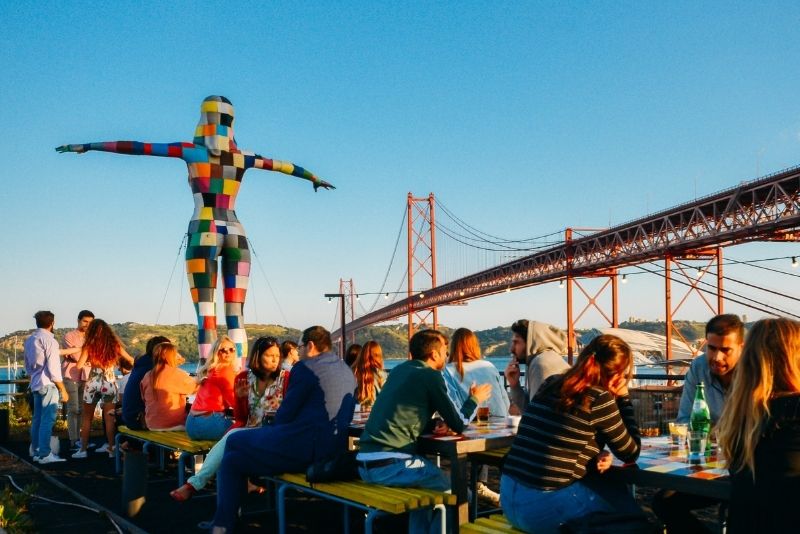 Undeniably one of Lisbon's more hipster, urban, and vibrant areas, the LX Factory in the Alcantara district – which sits about 20 minutes from downtown – is a popular spot among locals and visitors alike.
A former mid-1800s textile factory that was revitalized in the early 2000s, LX Factory is now home to a range of creative businesses, from design studios and advertising agencies to art galleries, record labels, and independent shops. Collectively, with its modern, gentrified flare, it acts as a wonderful change of scenery from the historic streets of places like Alfama and Bairro Alto.
Make sure to pop into the Ler Devagar bookstore, where books old (10,000) and new (40,000) are stacked up to the ceiling; check out the Sunday Flea Market; see what's on at the Village Underground (while technically not part of LX Factory proper, it's just a minute down the road), an arts and performance space set in renovated shipping containers.
And, with colorful murals aplenty, you're sure to find a new profile pic here. For all your party animals, in addition to the lengthy list of shopping, eating, and drinking options, the area also hosts an electro festival during the summer months.
47 – Wander the halls of the National Museum of Ancient Art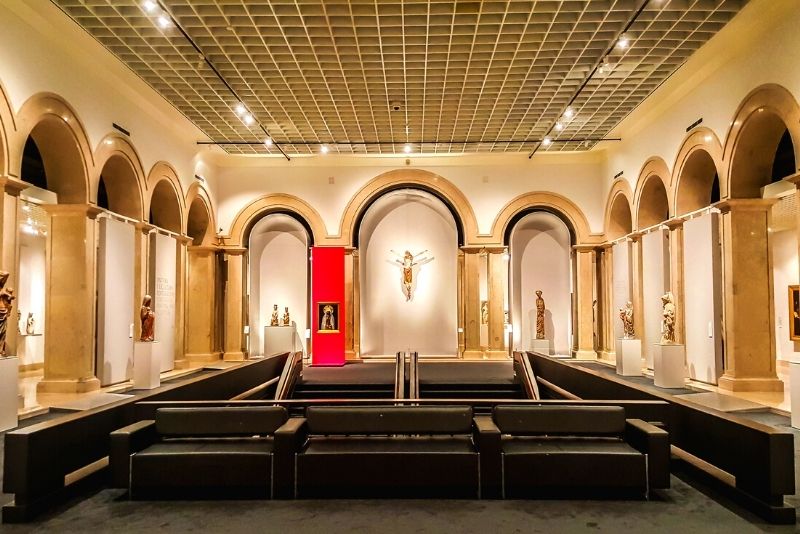 Art lovers, take note: a stone's throw from the banks of the Tagus, the National Museum of Ancient Art
sports a diverse collection of paintings, sculptures, ceramics, gold and silver jewelry, decorative arts, prints, and Portuguese furniture spanning all the way from the middle ages (roughly from the 12th century) until the mid-19th century.
With tens of thousands of pieces on display in its permanent collection, plus rotating seasonal exhibits that tap into a diverse range of on-the-nose topics and themes, there's something for everyone.
Covering notable works like Jeroen Bosch's Altarpiece, 17th-century Flemish tapestries, impressive, paintings spanning generations by the likes of Gonclaves, Bosch, Lucas Cranach, Raphael, and more, and an impressive Portuguese-Japan exhibition, the National Museum of Ancient Art is a must for anyone interested in Lisbon's – and Portugal's, and for that matter, Europe's – rich cultural history.
Once you've finished browsing the halls, take a stroll through the magnificent garden, or pop into the onsite restaurant for a top-notch mean overlooking the River Tagus.
48 – Add the Castelo de São Jorge to the top of the list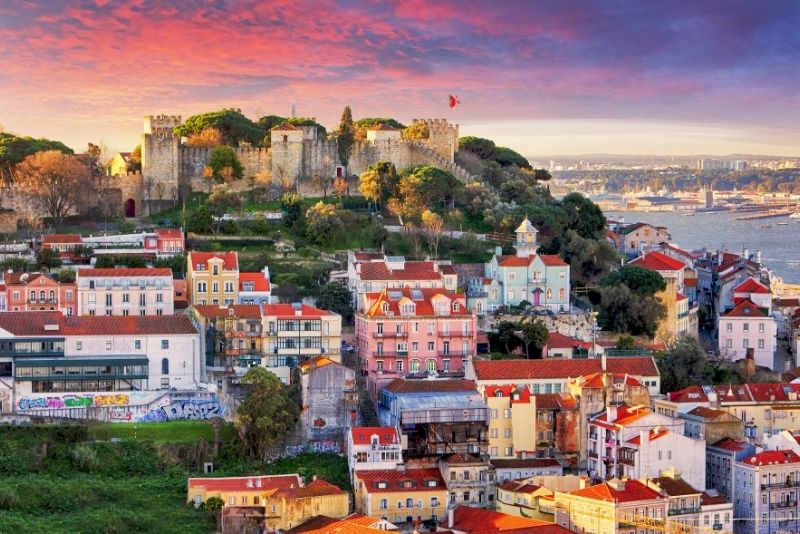 Perched high above Alfama on the city's highest hill, and viewable from almost anywhere in the city is one of Lisbon's most well-known landmarks — imposing itself as the dominant and emblematic part of the city skyline, the Castelo de S. Jorge is an absolute must-see.
The castle, built during the Moorish occupation of Portugal in the 11th century, has undergone several facelifts over the centuries; today, it stands as a well-preserved example of medieval military architecture.
Within the castle walls, you'll find a small chapel, an interpretative center, a cafe, and — of course — sweeping panoramas of Lisbon. The castle's walls, towers, and history (having served multiple purposes as a royal palace, military barracks, the Torre do Tombo National Archive, and a museum) are exceptional; the views, simply breathtaking.
Make sure to wear your walking shoes — plenty of stairs and hills await!
49 – Spend a morning at the Pavilhão do Conhecimento Science Museum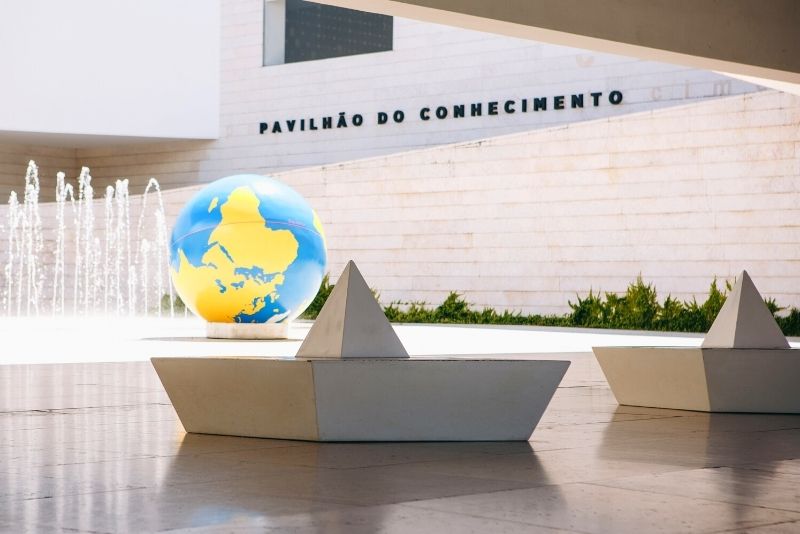 A prime afternoon activity on those days that are either too hot or too cold to explore Lisbon's streets, the Pavilhão do Conhecimento
hosts a vast range of immersive and interactive displays that promise both fun and learning for kids and adults alike. Diving into themes like space, the human body, sound, and light, the museum's multiple floors of exhibitions are designed to educate and entertain in equal measure.
While the entire museum overflows with fascinating insights into the world around us, a few particular standouts include the chance to drive a car with square wheels, don a velcro suit and jump on a sticky surface, observe a forming tornado, tackle the climbing wall, and engage with a robot! The marble and scribble machines are a regular hit with youngsters, likewise the Electrical Circuits exhibition.
Open every day bar Monday, Lisbon's Pavilhão do Conhecimento is one of Europe's largest science museums, and a must for anyone traveling with kids. And, thanks to its location next to the Oceanarium (see #4) and the Telecabine Lisbon cable car, it's easy to make an entire day of exploring this coastal eastern part of the city.
50 – Zoom through the city streets in a VW Beetle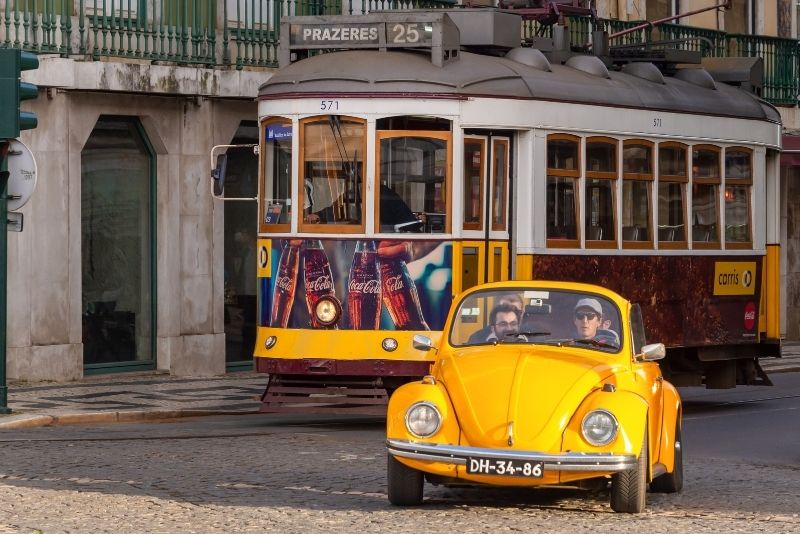 As a city that oozes old-world charm, where every area (bar, perhaps LX Factory) feels like a step back in time, few methods of exploring Lisbon can feel more authentic than that of a vintage VW Beetle.
These iconic cars, which have been restored to their former glory and always turn heads as they roll down the atmospheric streets, come with their own friendly drivers, who double as city tour guides; collectively, the experience sells itself as a great way to see the best of Lisbon in style, learning all about what comes before you.
Whether you're planning on staying local and discovering the famous Alfama and Belem districts, or whether you're about to set off on a day trip to sun-kissed Cascais or infamous Sintra (home of the Pena Palace and the Sintra National Palace), there's arguably no better way to do so than seated comfortably in the back of an old-school (often convertible) Beetle.
Departing from central locations like Praça do Comércio, these tours (which are available in both English and Portuguese) can last up to 6 hours, taking in all of Lisbon's major landmarks.
51 – Check out the always-changing Museum of Art, Architecture, and Technology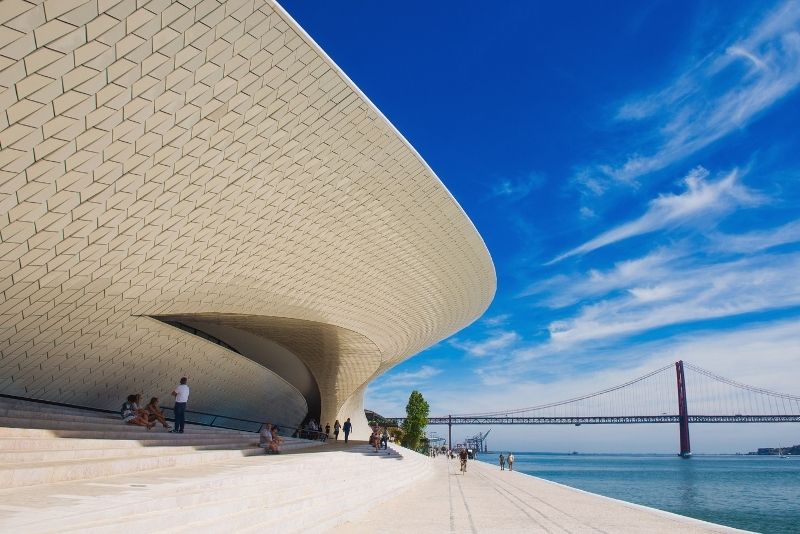 Known as the MAAT for short, this captivating cultural institution is one of Lisbon's newest and most architecturally impressive museums. Housed in a renovated 19th-century power plant on the banks of the Tagus River, and spanning 3000 square meters, the museum boasts a stunning contemporary exterior that's impossible to miss; inside, an array of thought-provoking temporary exhibitions await.
With past displays featuring works by the likes of Joana Vasconcelos (just one of countless famous names), and covering all kinds of themes like architecture, technology, sound art, and fashion, the MAAT is a must for anyone with even a passing interest in the arts.
Besides being one of Lisbon's most cutting-edge museums; it's also one of its most diverse. So if you're in the city for more than a few days, be sure to check the website and see what's on during your stay.
Besides the incredible collection of national and international exhibitions within its walls, the MAAT's rooftop also often hosts live DJs — with the sparkling Tagus meters away, and plenty of local places to grab a drink, it's a wonderful place to dance as the sun goes down.
And, being just a stone's throw from the Jerónimos Monastery, the Belém Tower, the Berardo Collection Museum, and the Padrão dos Descobrimentos, it's easy to make a day of exploring this exciting waterside area of Lisbon.
52 – Roll the dice (literally) at the Estoril Casino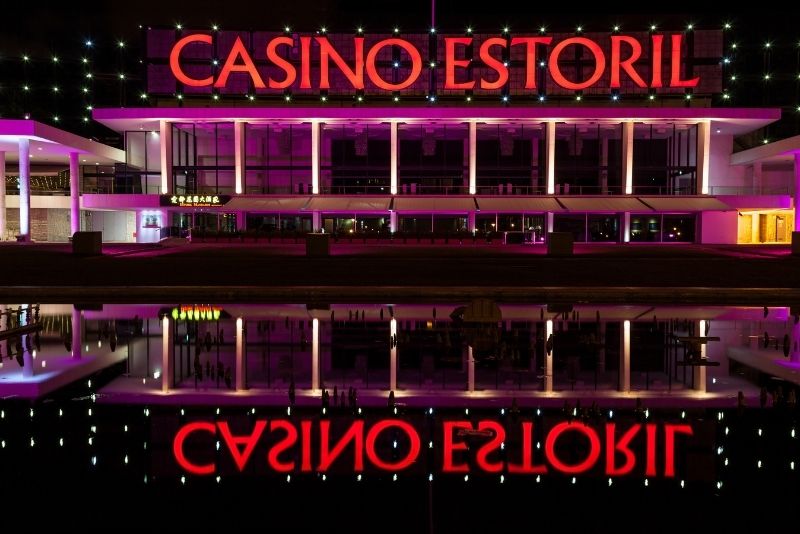 Hidden away between Lisbon and Cascais, the Estoril Casino might not sport the same neon signs or high-roller suites as the Las Vegas casinos, but it does hold the claim as both the inspiration for James Bond's Casino Royale, and one of the top five largest casinos in all of Europe! Originally built to rival the grandeur of the infamous Monte Carlo casino in Monaco, Estoril's gaming hub is decked out with all the bells and whistles you'd expect: think chandeliers, marble staircases, and plenty of glamour.
As well as offering all the classic games like poker, blackjack, roulette, and baccarat; the Estoril also has over 700 slot machines to try your luck on. With a dress code that's smart but not too formal, it's easy to while away an evening here, enjoying the glamorous surroundings, sipping on cocktails, and enjoying the regular live entertainment as you go.
And if gambling's not really your thing? The Estoril Casino is still worth a visit for its beautiful gardens. Tucked away in a picturesque corner of Portugal, and not too far from the sun-kissed Praia do Tamariz beach (as well as the beaches of Poça and Azarujinha), you could do far worse than a day trip that combines Estoril and Cascais.
53 – Spend the day at Cabo da Roca – Europe's westernmost point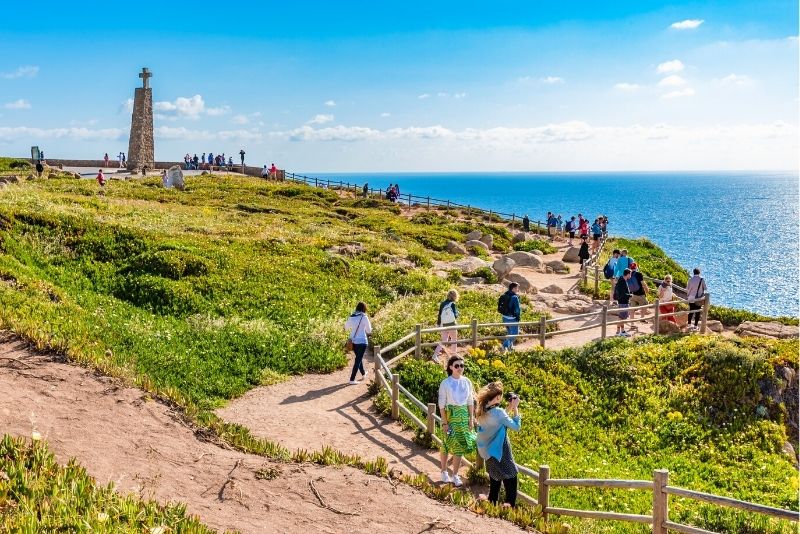 Whether you combine a Cabo da Roca day trip with Cascais (a hot spot for surfing lessons), Sintra (where colorful castles await), or do it solo, it remains one of the best things to do in Lisbon's surrounding area. Famous for being the westernmost point of mainland Europe, Cabo da Roca is a spectacular spot that's well worth the hour-long journey from the city center.
Cabo da Roca translates to 'Rocky Cape', and it's easy to see why — towering cliffs, dramatic headlands, and the wild blue Atlantic waves make this a truly breathtaking place. Once you arrive and snap a few landscape shots, you'll quickly understand how this slice of nature has been dubbed "the edge of the world". Bring your walking shoes to spend some time walking the easy coastal path; take in the sweeping views from the lighthouse, and enjoy a spot of lunch or coffee at one of the quaint cafes that line the nearby streets.
Nature lovers, rejoice: this place offers unmatched panoramic views – you won't find a better sunset spot.
54 – Grab a bargain or two at the Feira da Ladra market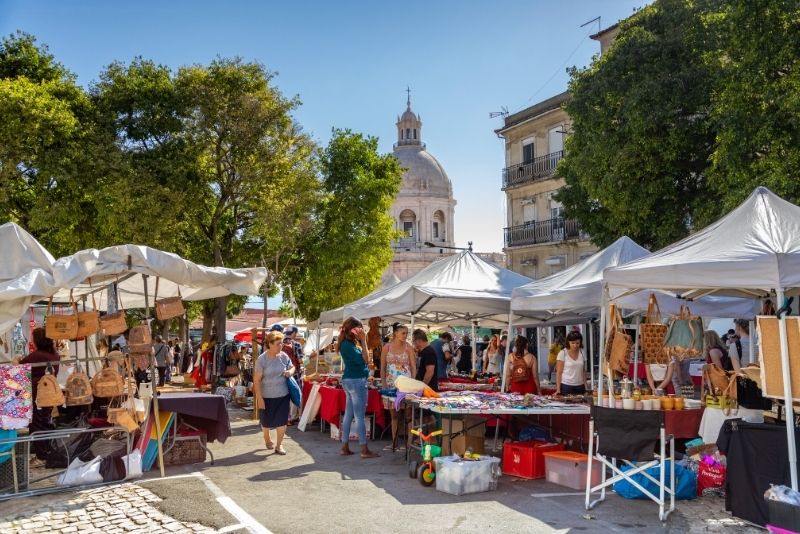 Hunting for Lisbon souvenirs, or just want to browse for something unique? The Feira da Ladra, a bric-a-brac market, has a reputation of being one of the best places to go in Lisbon for second-hand goods for both locals and tourists alike, not to mention being one of the city's oldest markets (a stark contrast from the modern TimeOut market, for instance – see #57).
Held every Tuesday and Saturday on Campo de Santa Clara in the historic Alfama district, this huge flea market is a treasure trove of antiques, vintage clothes, handmade goods, books, coins, intricate azulejo tiles, and pretty much anything else you can think of. With hundreds of stalls to explore, it's easy to spend an hour (or more!) browsing the wares on offer before meandering down to the Fado Museum or Lisbon Military Museum (or up to the Miradouro da Graça lookout terrace).
Otherwise known as Mercado de Santa Clara, a quick visit here is a brilliant and authentic insight into the local customs. And, if you're feeling peckish after all that shopping, stop by one of the many food trucks for a quick bite to eat
55 – Learn about Eastern art and influence at the Museu do Oriente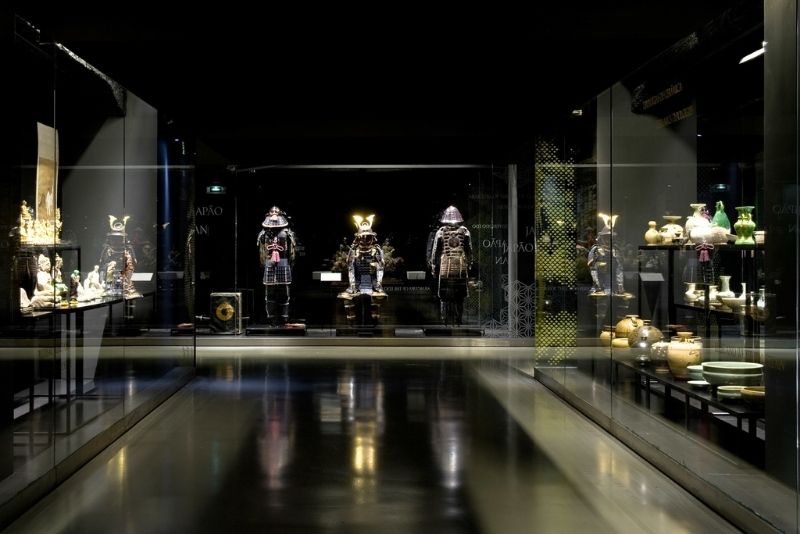 A small yet high-quality collection of mostly Asian artwork, ceramics, porcelain constructions, and historic artifacts, the Museu do Oriente is a wonderful way to wash away an hour or two. Housed in an old-school former warehouse, with a collection that spans Japanese, Chinese, Indian, and Vietnamese cultures (among others), this is one of the best places in Lisbon to get a taste of some of Asia's most iconic art forms while understanding the relationship between Portugal and its eastern neighbors.
While the diverse collection caters to all interests, the star of the show is the museum's first floor dedicated to Portuguese Presence in Asia, showcasing thought-provoking photos, maps, artwork, and documents that recount Portugal's rich colonial history.
With free entry on Friday evenings (from 6pm to 10pm), this is also one of the best value museums in Lisbon. Plus, thanks to its location on the Alcântara waterfront near the LX Factory, there's no shortage of things to do, see, or eat in the area — namely, the delicious seafood at the nearby Five Oceans.
56 – Eat till you're absolutely stuffed at the Time Out Market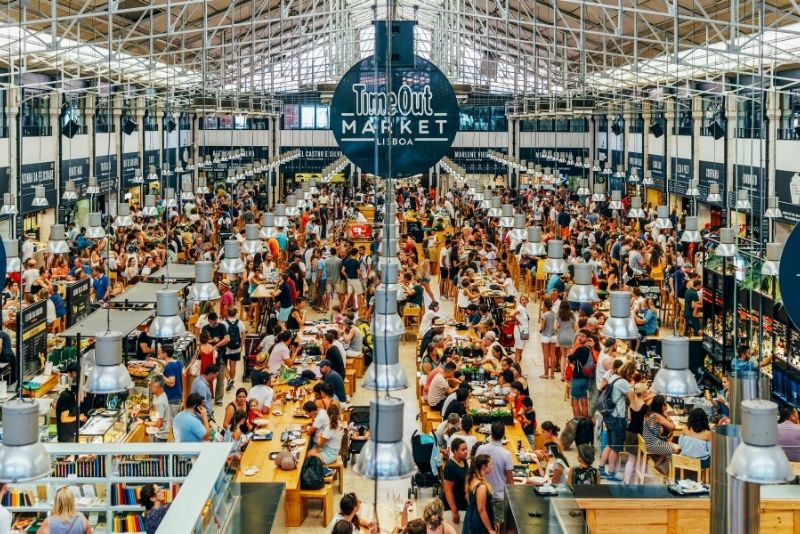 Attention, foodies! Lisbon's newest foodie hotspot, the Time Out Market, is without a doubt one of the best places to go in Lisbon if you're looking for a tasty meal. Housed in an enormous former marketplace, this food court has been taken over by some of the city's best chefs, bakers, bartenders, and more — so you know you're in for a treat.
With over 40 different stalls to choose from (and plenty of seating), you could easily spend an entire day here sampling all the deliciousness on offer (so long as you pace yourself).
Otherwise known as the Mercado da Ribeira, thanks to its shoreline location, the market itself (beyond just the food) is also quite a sight. Recently renovated and opening to widespread acclaim back in 2014, it's now one of the country's most popular tourist attractions, and certainly up there among the top things to do in Lisbon for foodies – especially given its prime location near other top attractions like Pink Street and the Elevador da Bica.
Serving up everything from curated cod to croquettes and Pasteis de Nata, there's something here to suit every taste. Just be warned: it can get pretty crowded, so come early or be prepared to wait in line for a bit (particularly on weekends).
57 – Hop on the ferry from Cais do Sodre to Cacilhas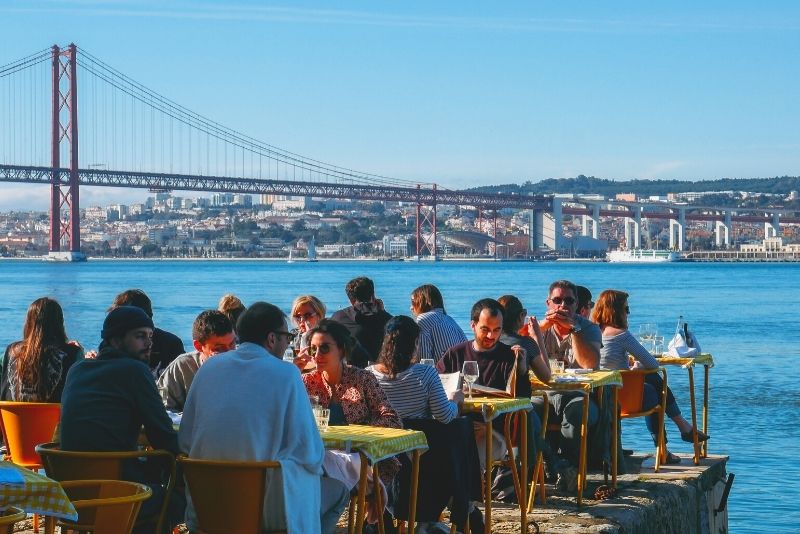 Situated on the other side of the Tagus, Cacilhas is an underrated yet vibrant slice of Lisbon. Full of twisting, charming streets, and surrounded by hills, with plenty of restaurants ready to impress (check out the Ponto Final restaurant if you're after a truly memorable meal), Cacilhas – as well as the Almada area next door – boasts all the charm of Lisbon without the crowds.
The best way to get there is by ferry from Cais do Sodre, which only takes around 15 minutes and costs just a few euros. Beyond its convenience, better yet, the ferry ride across from Cais do Sodre is also one of the most scenic in Lisbon, offering up-close vistas of the 25 de Abril bridge.
Leaving every 10 minutes or so, it's the perfect way to get out of the city center and explore another side of Lisbon – one that's often overlooked by tourists.
Suggested itinerary: once you've disembarked on the southern side of the river, walk over to the Christ Statue — towering at over 130 meters above sea level, and inspired by Rio de Janeiro's Christ the Redeemer statue, this colossal landmark deserves a visit. From there, continue your exploration of Cacilhas' vibrant streets before recharging the batteries with a succulent lunch or dinner at Ponto Final or Atira-te ao Rio – a couple of beloves locales to admire Lisbon from across the Tagus.
58 – Dig in for a meal at the Hard Rock Cafe Lisbon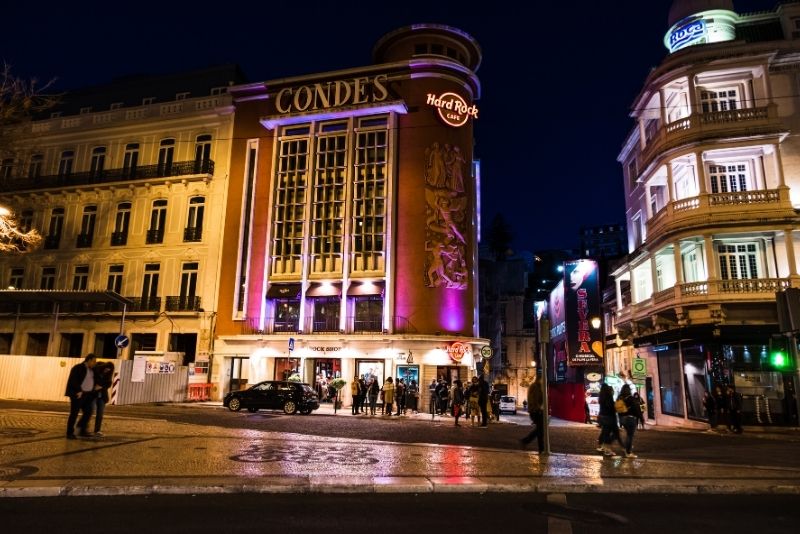 It's hard (no pun intended) to go wrong with a visit to this chain eatery, and Lisbon's franchise is no exception. Offering a collection of delicious meals (with both your classic American pub grub to a few meals with a local twist), this Rock N Roll restaurant on Av. da Liberdade in the heart of downtown is a top place to go if you're after a hearty meal.
The real drawcard, however, is the impressive collection of memorabilia on display throughout the restaurant. From photos of legends like Jimi Hendrix and Elvis Presley, to myriad souvenirs, instruments, and more, it's a veritable shrine to all things rock. Plus, with strong drinks, and an ever-exciting roster of live entertainment to boot, it's more than just a dinner – it's an evening of excitement.
So, if you've stuffed your face with too many Pasteis de Nata and are simply craving an American meal, this is the place to go.
59 – Witness Lisbon's soulful sound — grab a table for a Fado dinner show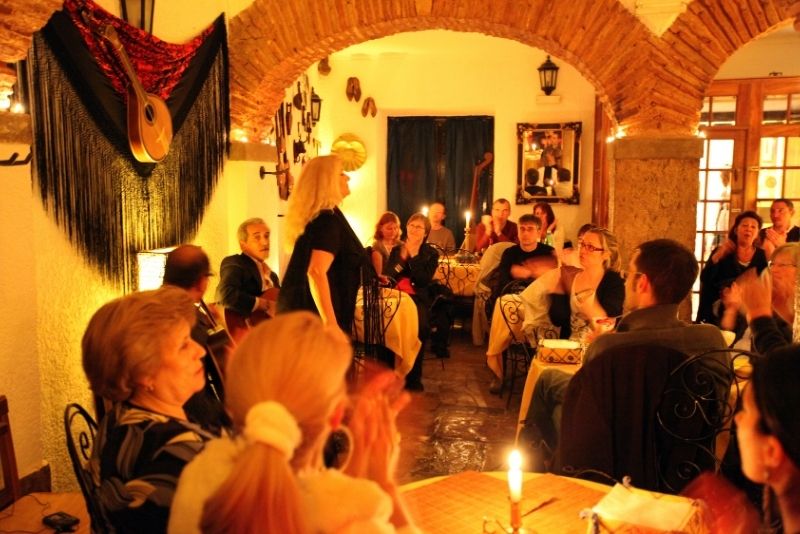 The unofficial anthem of Lisbon, Fado music — a type of live singing often taking place in pubs, cafés, and restaurants — is the true heartbeat of the city.
An immersive, passionate performance, the 200-year-old genre has become so ingrained within the local culture that, in 2011, it was recognized by UNESCO and put on its Intangible Cultural Heritage List.
A unique style that loosely could be described as a somber and classical cross between blues and Portuguese folk, the music is often melancholic and always deeply moving.
And, while it's possible to chance upon a Fado show in any number of cafés and bars across the city, for a truly authentic and memorable experience, it's well worth seeking out one of Lisbon's many Fado dinner shows.
Fado in Chiado is one such example, offering up nightly performances that take a pair of singers and a pair of guitarists to perform in an intimate setting, while guests feast on a delicious multi-course Portuguese meal (wine included, obviously).
Other reputable venues include: Fado ao Carmo, Tasca do Chico, A Severa, Fama d'Alfama, and Parreirinha de Alfama – each of which offers an authentic slice of Lisbon's musical culture.
Want to learn more about this unique musical genre? Check out the Fado Museum at the foot of the Alfama district or join a cultural walking tour.
60 – Sip a cocktail or two at locally-beloved Casa Independente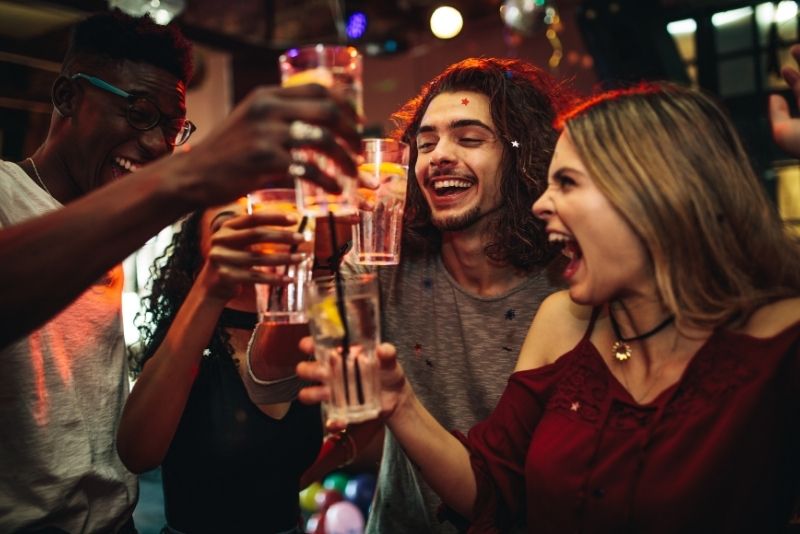 Accredited with single-handedly transforming Intendente from a residential district to a partying district, Casa Independente is a magical bar fitted with a plant-filled back patio that serves up an ever-lively, always-fun night out; despite slowly gaining traction in visitor circles, it still remains one of Lisbon's best-kept secrets.
Overlooking a sleepy plaza and created within an old apartment (which means multiple floors, quirkily decorated rooms, and plenty of bohemian furnishings), Casa Independente serves up a range of tasty cocktails and classic Portuguese beers and wines, as well as a menu of hearty (yet authentically local) eats like hummus, soup, and monkfish for those who get a little peckish with a drink in hand.
And, if you're feeling adventurous, be sure to stick around for one of their themed parties – or, at the very least for the DJs who grace the upstairs on Friday and Saturday nights. Simply check their social media to see what's on.
So, if you're after a great night out in a place that oozes the beloved old-world flair synonymous with the city (and if you aren't quite ready for the chaos of Bairro Alto), this hidden gem is a perfect place to start.
61 – Down a few beers with fellow travelers on a pub crawl!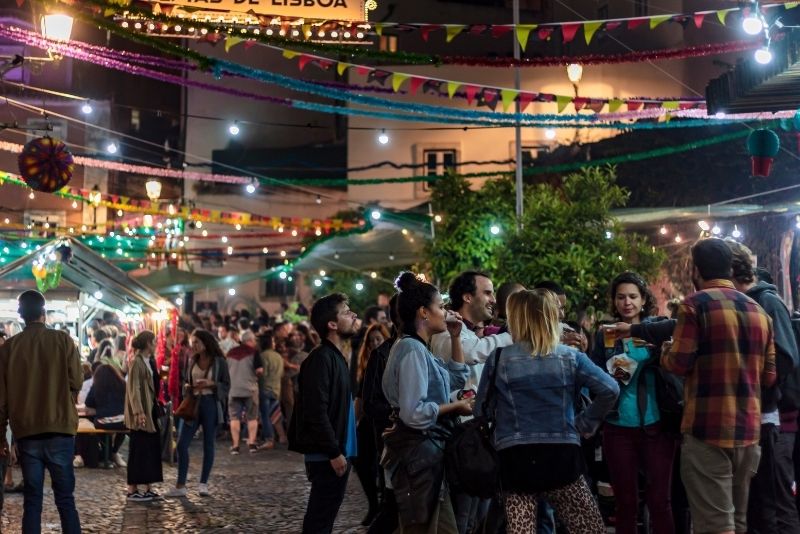 Ready for a night out you'll never forget (or, in reality, potentially forget parts of)? Lined with all kinds of bars, clubs, and pubs; the steep, cobbled streets of Bairro Alto are the go-to for wild nights, big parties, and strong drinks.
For solo travelers or those looking to expand social circles, why not join an official pub crawl? Led by friendly and knowledgeable guides, these pub crawls are an ideal way to hit all the best spots in one night while learning a little bit about Lisbon's bar scene along the way. As part of an official crawl (as opposed to just hopping around at your own pace) you'll also generally skip any lines and a few free drinks along the way (not to mention the fun icebreaker games).
While each night is a little different, crawls typically start around Bairro Alto before making their way down to Pink Street in Cais do Sodré (famous for its vibrant nightlife and as the birthplace of electronic music in Lisbon), then on to Docas for some late-night dancing.
Looking for a Lisbon hotel?
Regardless of your budget; whether you're pinching pennies and are looking for social hostels, or want to splash out on ultimate 5-star luxury, we've got you covered!
Lisbon has a great range of accommodation to suit all preferences. For those on a tight budget, there are plenty of social hostels dotted around the city center which offer great value for money; while those looking to pamper can choose from opulent hotels with top-notch facilities and stunning rooms like the Pousada de Lisboa, the Four Seasons Ritz, or the Altis Belém Hotel & Spa (to name a few).
If you want to stay in the thick of the action, anything on Av. da Liberdade (like the 5-star Valverde Hotel – Relais & Chateaux) is a great option; for those who want to be in an area that's a little quieter, somewhere like the InterContinental Lisbon on the which sits next to the leafy Eduardo VII Park is a solid choice. Meanwhile, those looking for a more authentic Lisbon experience should stay in one of the quaint, colorful neighborhoods like Alfama or Chiado.
Where to next?
Thanks to Europe's fantastic rail network, and proximity by air, essentially all of your typical bucket list-worthy destinations (think: London, Paris, Nice, Rome, etc) are just a short journey away from Lisbon, usually within 2-3 hours by plane.
Unlike other European nations, Portugal only has one neighbor: Spain. So, if you're looking for a change of scenery but don't want to go too far, the sun-kissed next-door neighbor oozes history, culture, and some of the best food you'll ever eat. Seville, Granada, and Malaga are all excellent (and relatively accessible by train or bus) options, while Barcelona and Madrid, both short flights away, overwhelm with opportunities.
If you're looking to stay within Portugal however, there are plenty of other great cities and towns to explore. Porto, which sits up in the north of the country and is famous for its port wine, is the obvious choice. Make sure to check out our comprehensive list of all the fun things to do in Porto before you go.
For the ones looking for a seaside destination, travel to Algarve and enjoy the resort towns of Albufeira, Faro, and Lagos.
Or, if you fancy a island getaway, head west and discover Madeira and the Azores Islands.
Final Thoughts
If you are arriving in Lisbon by plane, it's a good idea to reserve an airport transfer to get the smoothest arrival in the city.
Take a look at the shore excursions if you reach Lisbon by cruise and you have limited time to spend in the city.
We hope you've enjoyed this selection of things to do in Lisbon, Portugal! If you'd like to add anything, don't hesitate to leave a comment below.
As always, happy and safe travels!