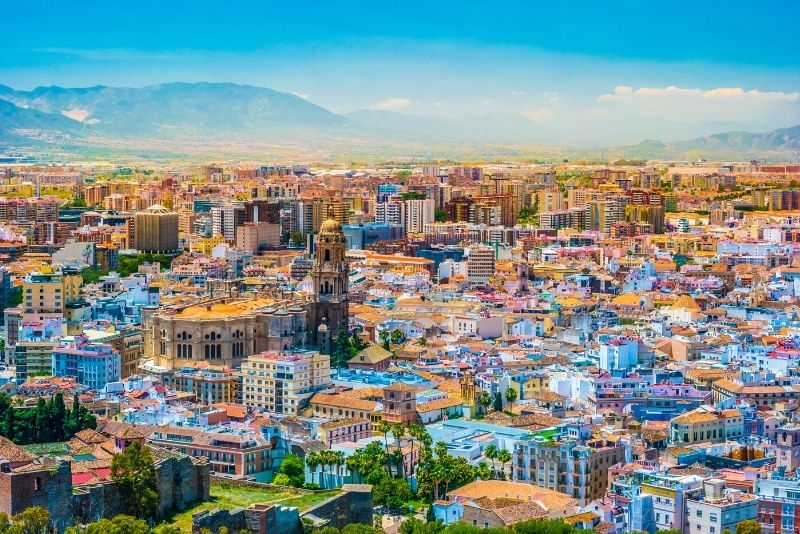 Straddling the golden sands of Spain's Costa del Sol, Málaga is a vibrant, outdoor paradise that fuses ancient history with modern flair and an extra serving of lip-smacking tapas.
As the birthplace of Pablo Picasso, the art and culture scene is second to none; and with not one, not two, but sixteen sun-kissed beaches along its sparkling shoreline — and countless hikes, hills, and historical landmarks tucked away inland — this Andalusian city dishes up something for everyone.
Not only limited to the creative, get served a bowl of adrenaline during off-road quad ventures through the rocky mountain ranges, feel the thrills as you parasail over the deep blue, or explore underwater when snorkeling (or scuba diving) its clear ocean.
The town forms part of the Málaga Province, and 11 districts comprise the city. Dotted in local villages, there are fabulous day trips to venture on for a taste of the authentic, Spanish lifestyle.
From the labyrinth of Old Town streets to its contemporary, chirpy seafront promenade, Málaga has all bases covered. So, what are you waiting for? With 65 unique and unusual things to do in Málaga (and that's just the tip of the iceberg), it's time to start planning your next getaway!
Want to dive straight in? Browse our catalog now!
1 – Take a tour of the foreboding Alcazaba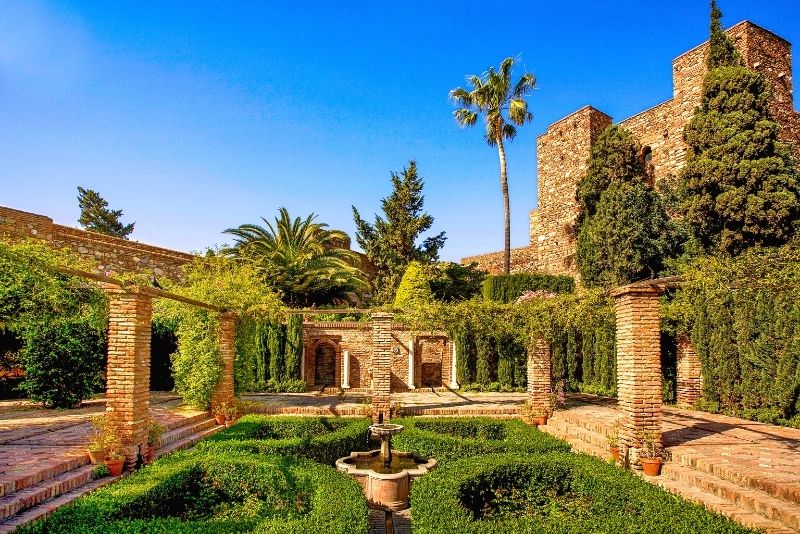 Perched on the slopes of the lush and green Gibralfaro Mountain, this palace meets fortress is truly a sight to behold.
With a chaptered history that dates back to the 11th century beginning with the Moorish era, the hilltop Málaga icon is known for its remains of Roman walls, its mix of architectural styles (Roman, Moorish, Renaissance), and most of all, its amazing panoramic view of the city and its skyline.
While you're there, don't miss this often-overlooked Airón well which stretches some 40 meters deep!
2 – Step back in time at the Roman Theatre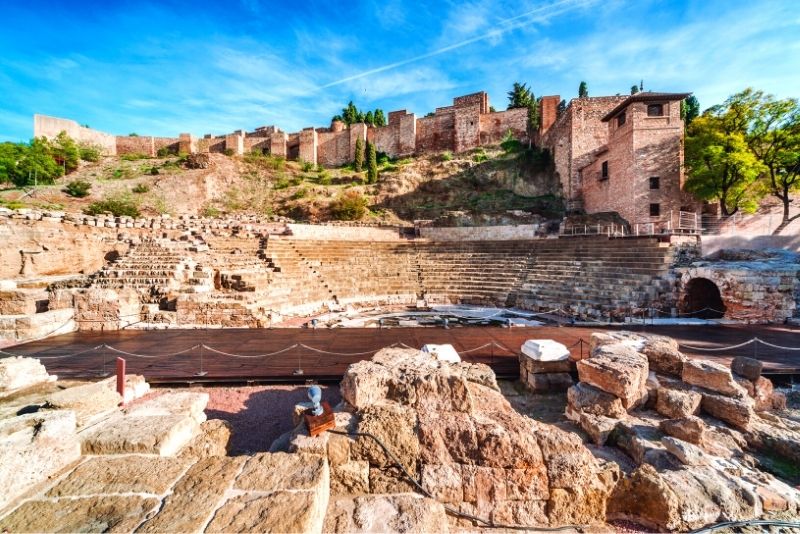 Sitting at the base of the dramatic Alcazaba, this historical monument is just one of the many jewels that adorn this Mediterranean city. Steeped in historical and archeological significance, with its origins in Moorish and Roman times, it is believed to be among Europe's oldest theaters, loosely dating back to the first century A.D.
Whether you join a guided tour or explore solo, there are plenty of unique artifacts and educational displays to check out.
Hot tip: If you're pinching pennies, a range of free walking tours explore both the Roman Theatre and Alcazaba fortress — just make sure to leave a tip for your friendly guide.
3 – Check off all the main attractions with the hop-on-hop-off bus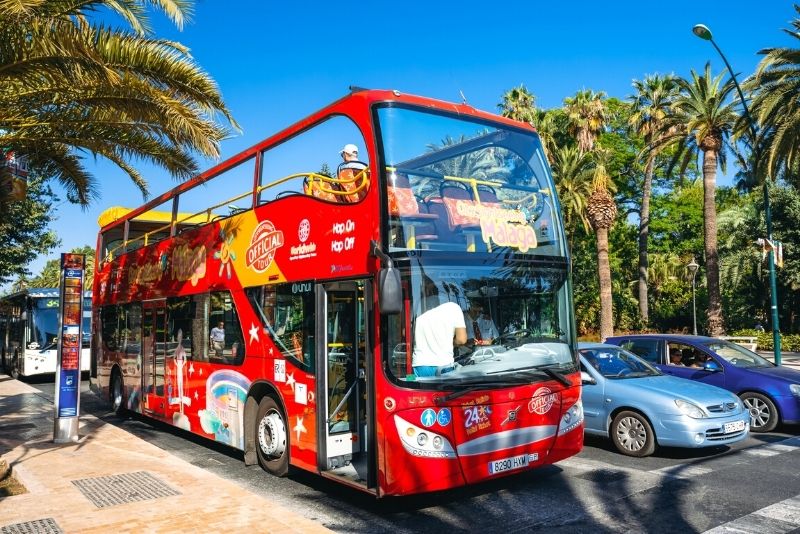 Short or time or don't feel like walking all around town? Don't worry, Málaga has got your back. With the hop-on-hop-off bus service, you'll see all of the city's sights with ease and comfort without having to go out of your way or break a sweat getting there!
Hop onto one of their double-deckers for an open-air experience that lets you take in Málaga views like never before, stopping at over a dozen essential landmarks like Gibralfaro Castle, the Roman Theatre, Mercado Central de Atarazanas (central market), Málaga Cathedral, and, of course, the sandy sunkissed beach.
4 – Soak in the view from the Gibralfaro Castle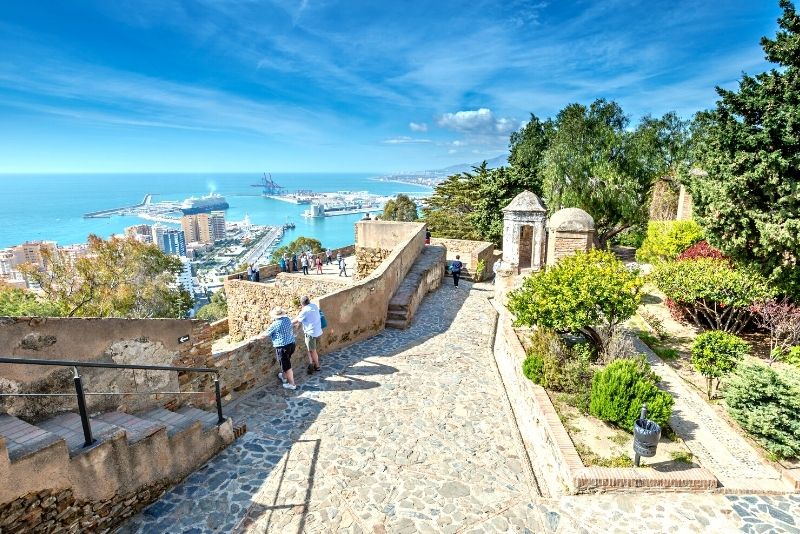 A highly photographed ancient landmark and easily one of the essential things to do in Málaga (whether you're a history buff or not), the Gibralfaro Castle is a citadel perched atop the hill for which it takes its name.
Looming over Málaga city, this Moorish castle was originally constructed in the 14th century and later reconstructed during the Renaissance period to what you see today — all of which have been well-preserved thanks to their inclusion on Spain's list of national monuments!
History and architecture aside, if you are after killer views — particularly as the sun goes down — make a beeline for the Mirador de Gibralfaro (translating to Gibralfaro lookout). At 132 meters above sea level, you'll be hard-pressed to find a better sunset spot.
5 – Stroll around La Concepción Historical Botanical Gardens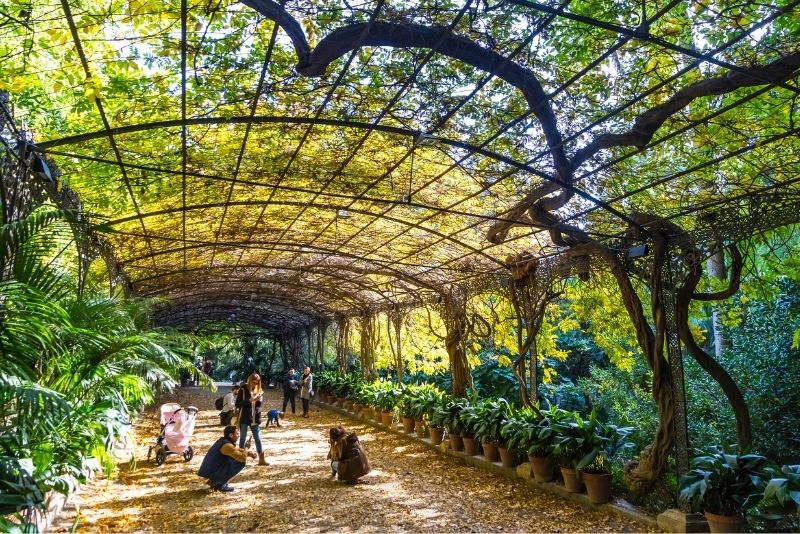 If you're a plant lover, this peaceful haven is the perfect way to spend an afternoon.
With 50,000 plants spread across acres of pristinely kept gardens and orchards, La Concepción boasts over 2,000 species from around the world — including plants from Chile, Europe, and North America as well as some rare specimens that are indigenous only to the area.
And as if that wasn't enough, you'll also find a fascinating set of sculptures by local artists dotted around the site; more than 100 species of palms and bamboo; and a history that dates back over 150 years!
Hot tip: the best time to visit the Garden is spring and summer, but be sure to check the Garden's website to see when specific plants will be in bloom.
6 – Get inspired by the bold and revolutionary cubist paintings at the Picasso Museum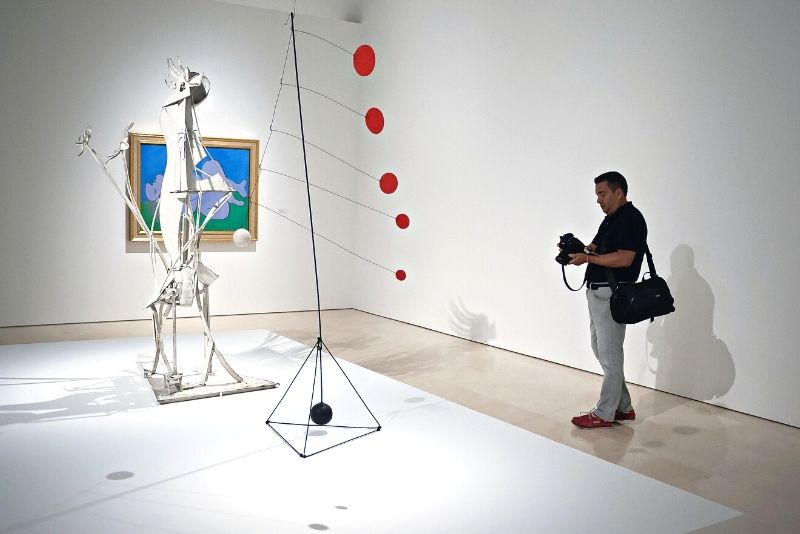 Art aficionados, listen up! One of the must-see museums in Málaga is none other than Picasso's birthplace, a fascinating, art-filled space dedicated to showcasing some of this celebrated artist's most divine work.
As you'd expect, there are plenty of paintings and sketches on display (over 285 works in total) that date back to the late 1800s and early 1900s, with many never seen before by the public!
And if Picasso's collection wasn't exciting enough, the Museum itself is housed within a stunning restored 16th-century palace!
7 – Zoom around Málaga Park on a Segway tour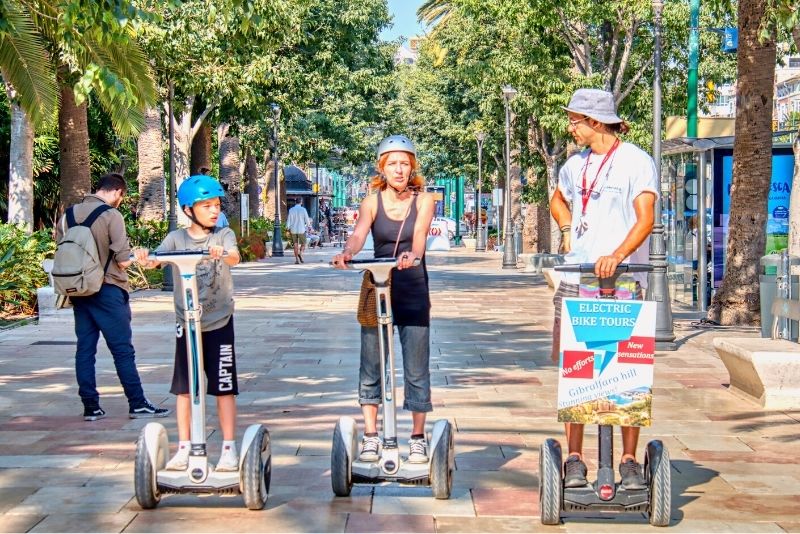 Can't be bothered walking? For a fun and new way to experience the city, consider booking yourself on one of the Segway tours!
On these guided tours — some as short as just as 30 minutes, others up to 2 hours — you'll cover at least a few miles as your knowledgeable guide leads you through Málaga's most famous sights.
From the ornate fountains and leafy botanical gardens in Málaga Park to the city's main historic monuments and Málaga's very own Picasso museum, a two-wheel tour will give you the lowdown on all that this stunning city has to offer.
8 – Make your way through the rugged limestone cliffs of a dramatic gorge as you hike along the Caminito del Rey trail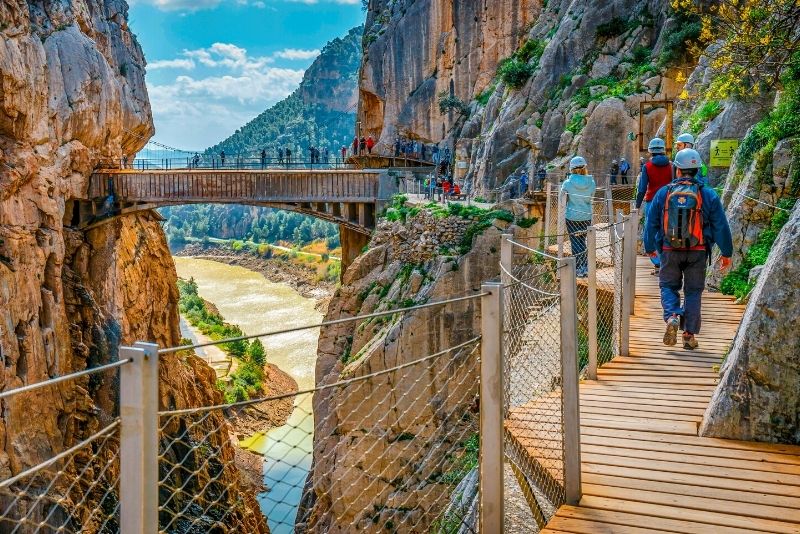 Not for those afraid of heights, the 7.7km-long Caminito del Rey is an iconic series of ridge trails and precarious bridges that cling to the steep cliffs along Málaga's Guadalhorce Valley.
A UNESCO World Heritage Site, this dramatic walkway was originally created in the early 20th by King Alfonso XIII to connect the opposing sides of the gorge; over time it was updated to become the stunning trails we know and love today.
While the hike takes about three hours, because of its one-way nature, it's best to visit on a guided tour where transport and logistics are all taken care of.
9 – Enjoy the melodies during dreamy candlelight concerts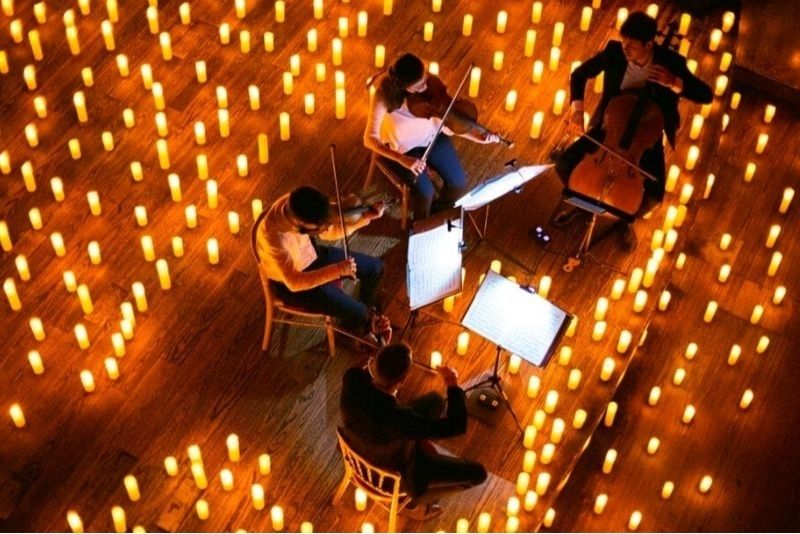 What is it about candlelight that's so whimsical and magical to us 21st-century humans? Whenever there are candles, romance fills the air; with that being said, these candlelight concerts in Málaga are mightily special.
Arriving at a unique and unusual location for a concert, enter the venue space where hundreds of candles are placed around the room, lighting up an intimate setting and creating the perfect scene for a show.
There are a few candlelight concerts to choose from in Málaga … Step back in time and appreciate the classical sounds of Italian composer, Antonio Vivaldi, and his 'Four Seasons' compositions, performed by a string quartet at the Carmen Thyssen Museum.
Also at the same location is a tribute candlelight concert to ABBA as interpreted by the Melissando Quartet.
From "Bohemian Rhapsody" to "I Want to Break Free" to "Killer Queen," enjoy the sounds of all your favorite Queen hits at Unicaja María Cristina Concert Hall, or instead of one artist, enjoy a melody of all the greatest rock bands like Zeppelin, Pink Floyd, AC/DC and more.
10 – Head off-road and rumble around the natural wonders of Andalusia on a Jeep tour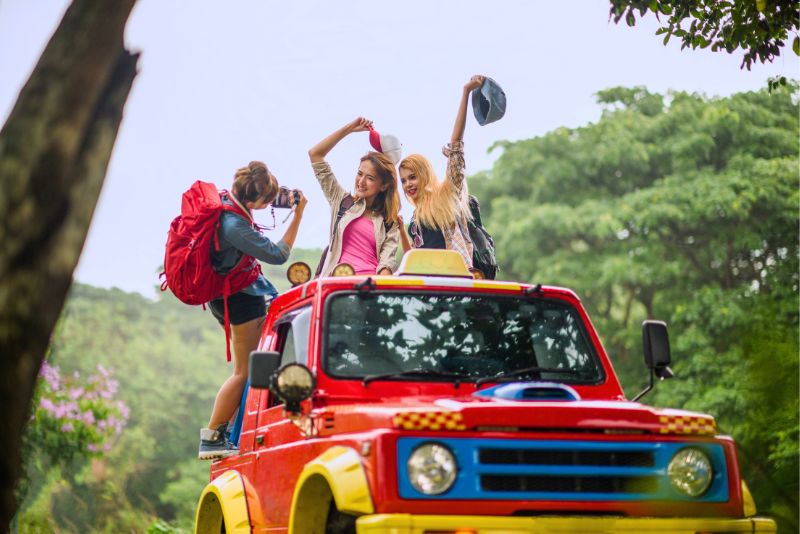 Fancy taking a break from the bustle of central Málaga and the sun-kissed beaches? Get off the beaten track and into the natural scenery of the Sierra De Las Nieves National Park on the back of a fast-paced jeep and look out for wildlife and stunning wild flora. Stop off to take a dip in a cooling river and cruise on to discover typical white-washed villages so characteristic of the region.
Other jeep adventures include discovering the gorgeous town of Istan, surrounded by lush Mediterranean forests for some views of the emerald waters of the Rio Verde.
Archeology enthusiasts will have a field day during an archeological jeep tour to discover some Neolithic sites hidden away in the Sierra de Málaga. Uncover the fascinating city of Acinipo before learning more at the museum.
11 – Marvel at the palaces and mosque during a Seville Cordoba day trip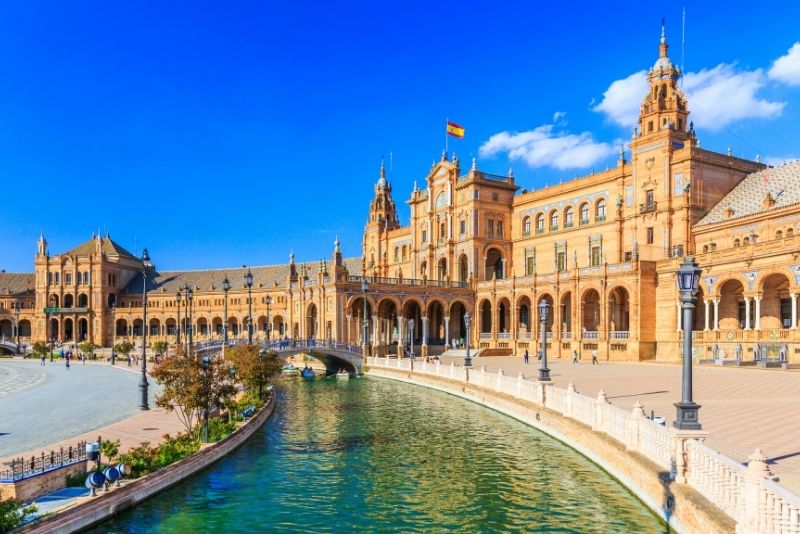 Looking to head inland for a day and experience more of what Andalusia has to offer? Seville and Córdoba are two of the most beautiful cities in Spain that you can easily visit from Málaga — and typically both on the same day!
Bustling with old-world charm, both destinations have a little something for everyone — from vibrant flamenco shows to lively tapas bars. In Seville especially, don't miss the famous Cathedral and sprawling Maria Luisa Park; while in Cordoba, be sure to check out the immense La Mezquita mosque, a beautiful symbol of ancient architecture dating back to the 700s!
See Also: Mezquita de Córdoba Tickets – Everything You Should Know
12 – Admire the art at the Carmen Thyssen Museum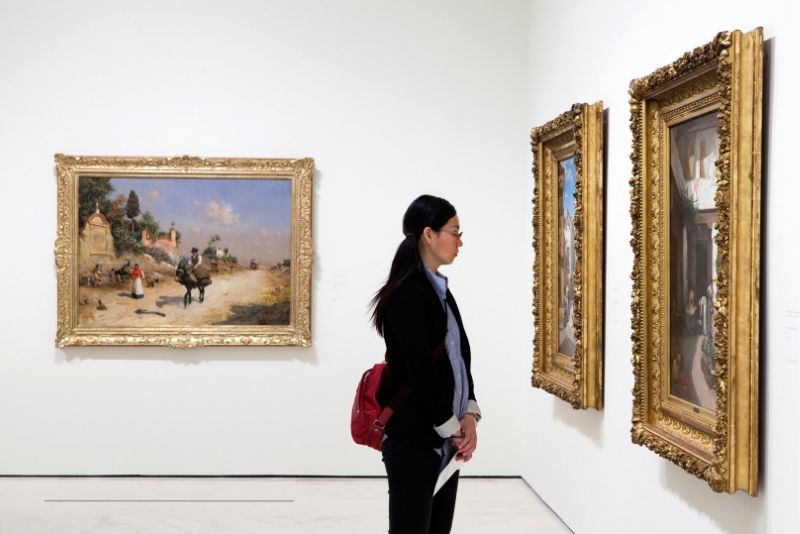 One for the culture vultures, the Carmen Thyssen Museum houses a world-class collection of 19th and 20th-century Spanish paintings (although with some as old as the 1500s), including works by Raimundo Madrazo, Emilio Sánchez-Perrier and Martín Rico Ortega among many others.
Tickets for the museum include access to the temporary exhibition hall where you'll find modern contemporary pieces from Spain's finest artists to complement the three permanent displays.
To top it off, even the building which houses the museum — a 16th-century Renaissance palace — is a work of art!
13 – Pass by Plaza de la Merced on a walking tour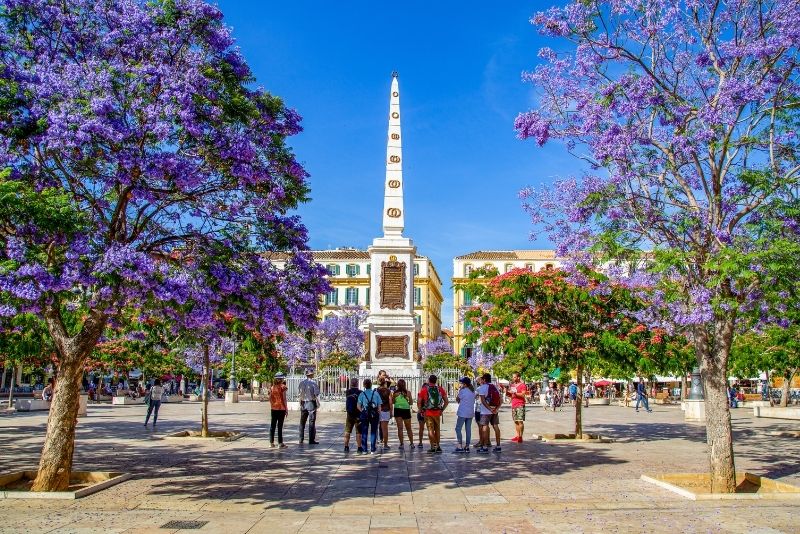 Led by a friendly local, walking tours resort you through the winding streets of Málaga's historic center, uncovering a treasure trove of architectural gems.
None more important to the city's history, located at the top end of Calle Granada, the Plaza de la Merced is where you'll find a centuries-old market (a good time to practice your Spanish haggling!), Pablo Picasso's childhood home, and an endless list of busy cafes and energetic bars.
A cool way to document your moments in Málaga City is by booking a professional photoshoot. Have candid snaps photographed of you as you explore the streets and sites by a pro, and if you're an up-and-coming influencer you might wanna consider this one.
Or, you can choose a designated location around Málaga to shoot.
(These shoots are fabulous for travelers celebrating special occasions like engagements, honeymoons and anniversaries, or even for families to capture an unforgettable family holiday.)
14 – Tour round the magnificent Renaissance gem of Málaga Cathedral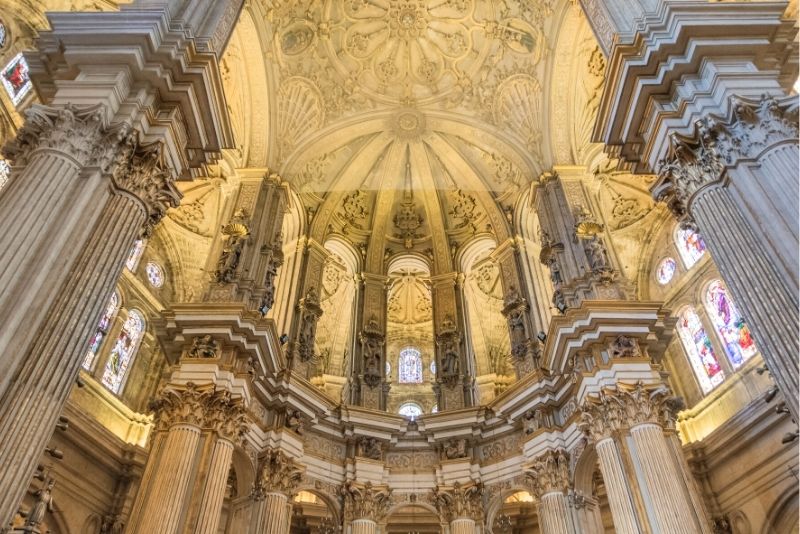 The postcards simply don't do it justice; few churches in the world can compare to Málaga Cathedral.
Towering 84 meters above the former site of a 15th-century mosque, the famed Renaissance church is an enormous, awe-inspiring monument to the city's long history.
A UNESCO World Heritage Site, it has seen more than its fair share of drama (stories of which are told on guided tours); but its beauty, through its sprawling courtyard, ornately decorated chapels, and marvelous frescoes prevail.
Seeking a great view? Consider the rooftop tour as well!
15 – Discover the town via a tuk tuk city tour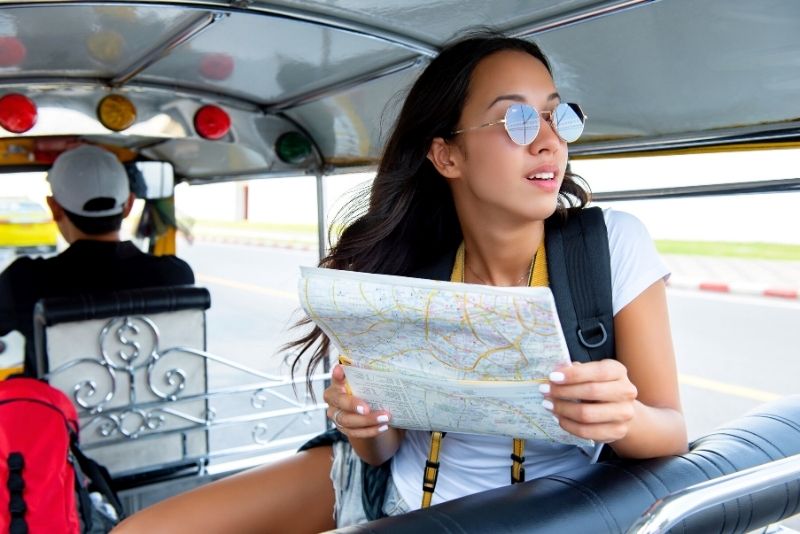 If you want to explore the ins and outs of Málaga for a day, but your feet have already had their fair share of walking, you can always opt for a fun tuk-tuk city tour instead.
Whether you've been in town for a few days already, or have only just arrived, you're bound to learn something new during these eco-friendly drives. You have the option to book a one, 1.5 or two-hour tour.
Be personally driven around the city, passing by important monuments with your driver sharing historical background and local insights for each, stop by some of the most iconic city sites and enjoy rounds of photo-taking.
There are normal tuk-tuk tours as well as private options if you just want to venture as a small group.
Some of the places to visit on the agenda include Gibralfaro castle, Málaga Cathedral, Centre Pompidou, La Malagueta Beach, La Farola de Málaga lighthouse and more!
16 – Soak in the sun at Costa del Sol's best beaches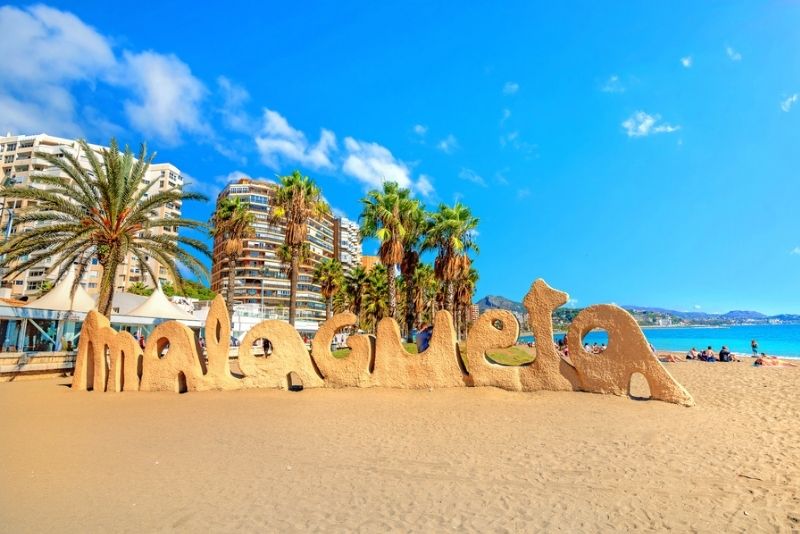 As you'd expect from a Mediterranean coastline, the beaches that line Málaga's southern side are super popular with locals and tourists alike — and with barely any rain year-round, there's seldom a bad time to work on the tan.
Whether it's for sunbathing, stand-up paddleboarding, or kitesurfing that takes your fancy; there is truly something to suit all tastes on this stretch of Costa del Sol!
A beloved spot for locals, the clean and manmade Playa la Malagueta is easily Málaga's most famous urban beach, never shy of activity or excitement. A little further from the city center and therefore not as crowded, Playa Peñon del Cuervo is known for its characteristic rock formation (Raven Rock) and nighttime bonfire parties.
For those who prefer a little more easy-going, Playa de el Palo boasts shallow waters that make it ideal for a family-friendly day out; but with plenty of waterfront beach bars, the partygoers can find plenty of fun here too.
17 – Get artsy at the Centre Pompidou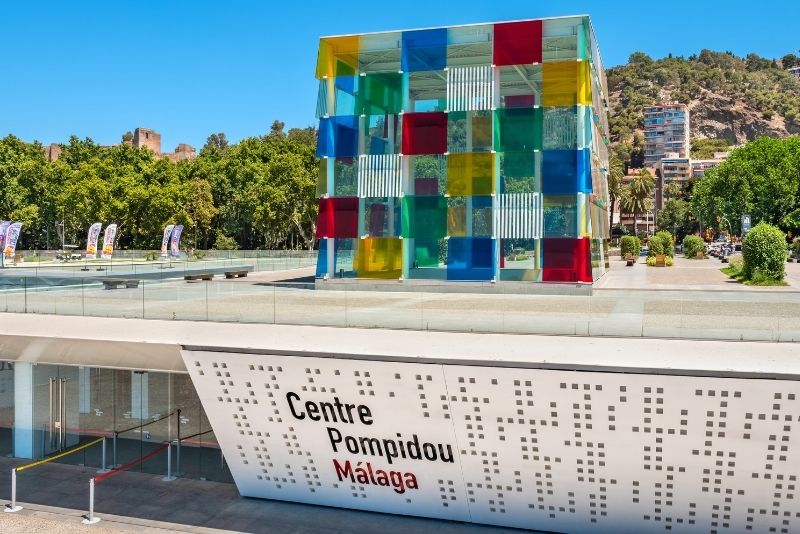 The sister museum to the iconic eponymous Parisian institute, Málaga's Centre Pompidou is the first affiliate outside of France and therefore a must-see for those eager to see some of the most cutting-edge contemporary art around!
Anchored by permanent Impressionist exhibits, there's plenty to explore from works by the likes of Picasso and Warhol to a variety of modern works by up-and-coming contemporary artists. Plus, with two to three temporary exhibits per year, there's always something new to discover.
18 – Stuff your face on a food tour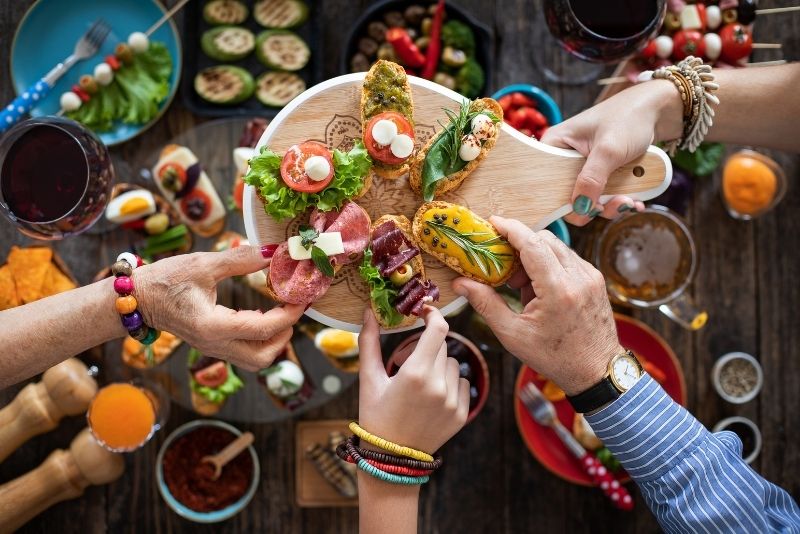 With so much of the local culture surrounding food, dedicated tasting tours are a great way to get an introduction to Spanish cuisine — we're talkin' tapas, Fritura Malaguena, paella, sherry, and a whole lot more
Whether you opt for a bike tour, walking tour, or even one that includes a flamenco show (and, of course, how could we forget about wine tasting!), you'll be absolutely stuffed by the time it comes to finish up.
19 – Check off two attractions at once at the Málaga Museum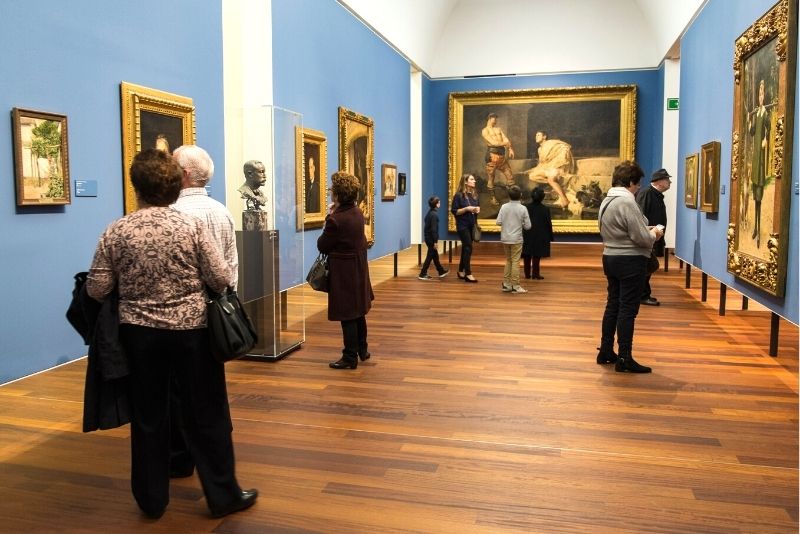 Despite being the biggest museum in Andalusia and the 5th in Spain altogether, the Málaga museum remains underrated, often overlooked in favor of Picasso.
Still, the Museum of Fine Arts and the Provincial Archaeological Museum hold centuries' worth of beautiful art and fascinating history in their halls through two separate collections.
Art aficionados are delighted by the Spanish Fine Arts collection (think Luis de Morales, Velázquez, Goya and Zurbarán) while history buffs certainly appreciate the building in which it sits: the 18th-century Palacio de la Aduana de Málaga.
20 – Stand up on your board and ride those waves in style during surf lessons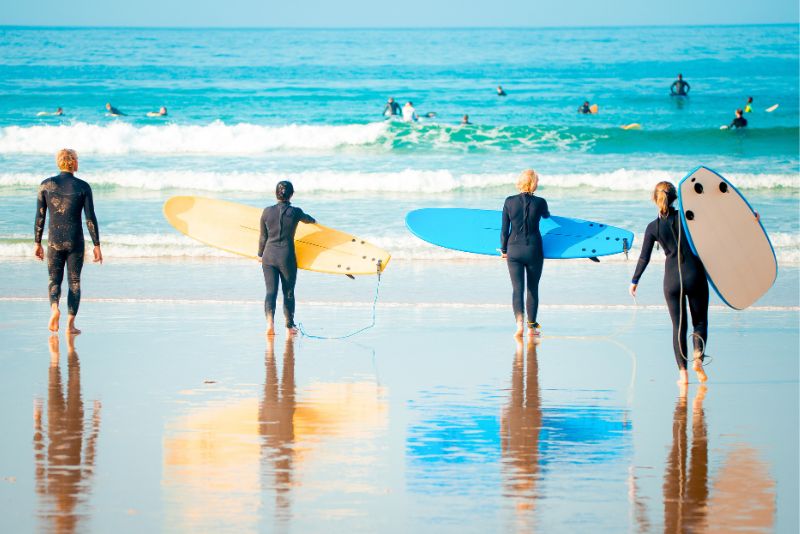 Ever dreamed of becoming a surfer? Make your dreams become reality with a fun beginner session on the stunning beaches of Málaga. With the help of a qualified instructor, master the technique of how to pop up and get in the correct position to catch that perfect wave.
Whether you fancy just an hour of class to build up your confidence or a full-on surf course over a period of several days, there's something available for everyone.
There is even the possibility of a class using an electric surfboard if you want to try something super innovative and edgy! Pick up speed, get the adrenaline pumping, and glide across the ocean surface using your electric board!
21 – Explore the Port of Málaga with a bike tour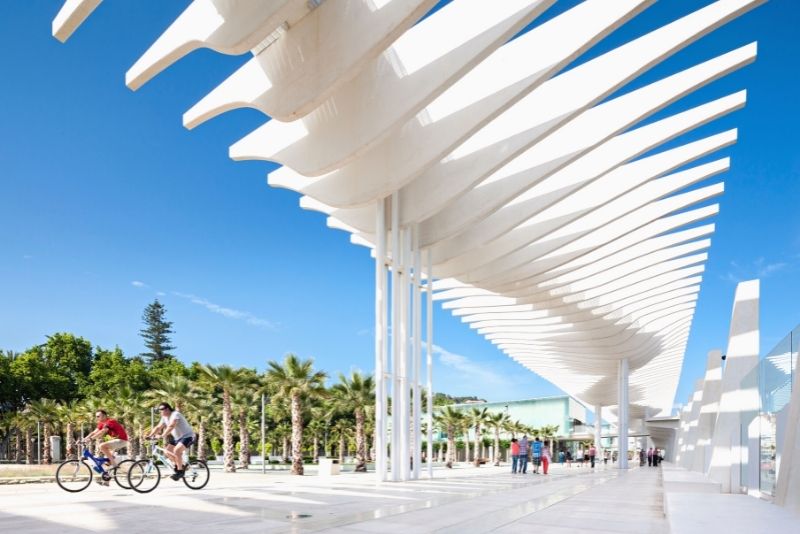 Explore the city like a local on two wheels; to get your heart racing and tick off not only the iconic landmarks but also must-see hidden gems off the beaten track, Málaga's bike tours come highly recommended.
Whether you're after something leisurely or a little more thrilling, there are several different bike tours to choose from — including short and sweet highlights tours; rides around the stunning Port of Málaga that roll through the Palm Grove of Surprises; tapas and wine-themed tours, and even mountain biking trips through the beautiful Montes de Málaga National Park!
22 – Spend a day or two exploring the White Towns of Andalusia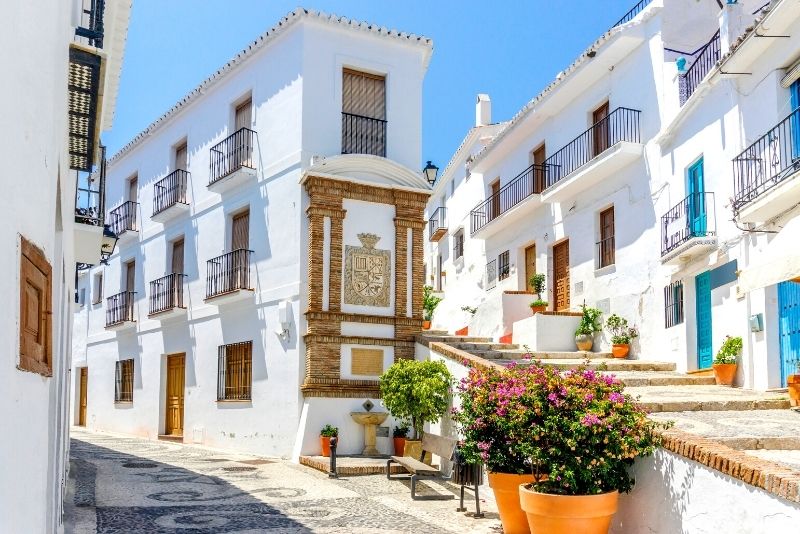 On the cusp of Málaga's Province, a series of 'White Towns' — small rural villages with a Moorish influence and a whitewashed heritage that lend it their name — are within easy reach from the city.
The White towns feature highly amongst some of the best places to visit in Andalusia due to their attractive and historic architecture, winding cobbled streets, and often elevated hilltop positions providing stunning views over the surrounding natural countryside.
The beautiful and historical Ronda, whose two halves are divided by the dramatic El Tajo gorge, is actually the third most-visited area in southern Spain (and for good reason). Setenil de las Bodegas boasts a geography as unique as they come, literally built into the rockface with cliffs acting as a dramatic backdrop for the main streets; while the two-section town of Frigiliana is a labyrinth of white-washed streets and Moorish architecture worthy of countless photos.
And, if you're after one more, Zahara de la Sierra sits perched on a former border fortification, dramatically overlooking the valley from its dominating hilltop position.
Hot tip: for the best bang for your buck, consider a tour that visits multiple White Villages in one day (and includes lunch).
23 – Embrace the refreshing Mediterranean breeze and the coastline of golden sands on a scenic boat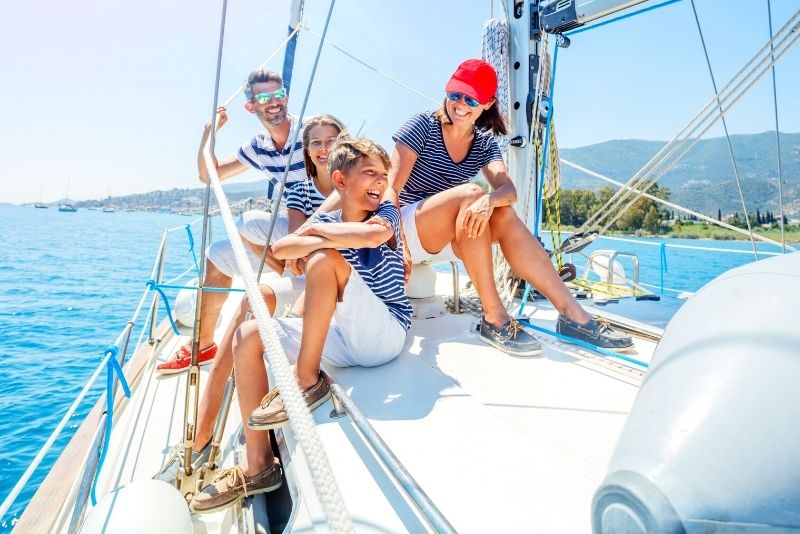 With the 47-kilometer-long Guadalmadina River running through Málaga's core, and the shores of the warm Alboran Sea greeting its southern beaches, water activities are never too far away.
Whether it's sightseeing and sunbathing on board; or snorkeling, scuba diving, and even dolphin watching (yes — in Spain!) that tickles your fancy; the possibilities are endless on a Málaga boat tour. Plus, with food and free-flowing drinks typically included, it's a great way to meet and mingle with fellow travelers.
For something a little more subdued, why not consider a romantic dinner cruise or sunset sail, or even rent your own boat for a day?
24 – Go horse riding through the mountains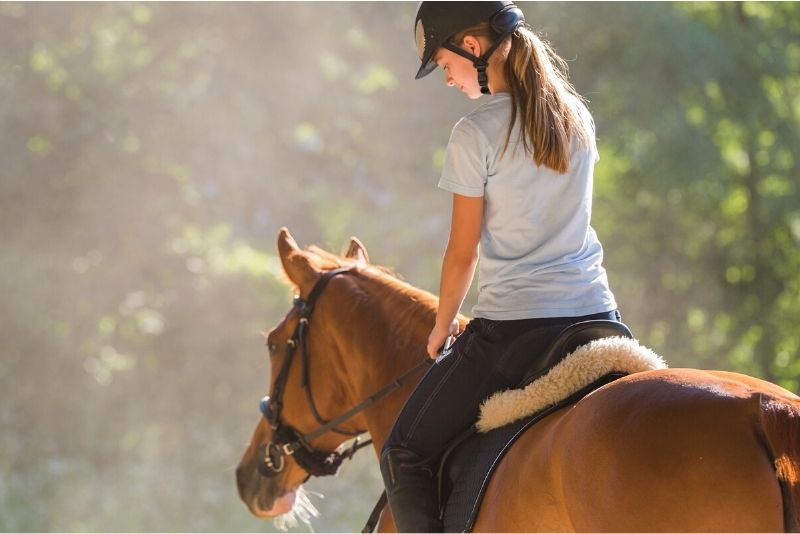 Brimming with mountains, rolling rocky hillsides and coastal pathways, if horse riding is one of your favorite pastimes, the Málaga landscape creates postcard-worthy scenes to trot through.
There is a multitude of guided horse riding experiences to take your pick from.
Keen on a long ride? Enjoy a two-hour expedition through the Sierra de las Nieves National Park starting from El Burgo in Málaga province. Pass by a farmhouse, through oak forests and sweep in the all-round views. Suitable for ages four years and older, there are also one-hour trails in the park if two hours is too much.
Looking for romantic things to do in Málaga? You can't beat a dreamy horseback ride along the beach (in the Torremolinos area). Appreciate this gorgeous coastline, and trails start at Los Álamos Beach.
If you've never ridden before, opt for horseback rides in Los Borbollones. Starting in open fields, trot around the private area filled with olive tree vineyards and running streams.
Or, head to the Club Hípico El Roble (El Roble Equestrian Club) where you can enjoy practice time before the ride. You will also be given a horse suitable for you based on your height, experience, age, etc.
The connection between horse and human is quite special, able to connect on a much deeper level than you think possible; remember to always treat these majestic creatures with the utmost respect.
25 – Uncover the historic Moorish quarters and stunning Islamic architecture during a Granada day trip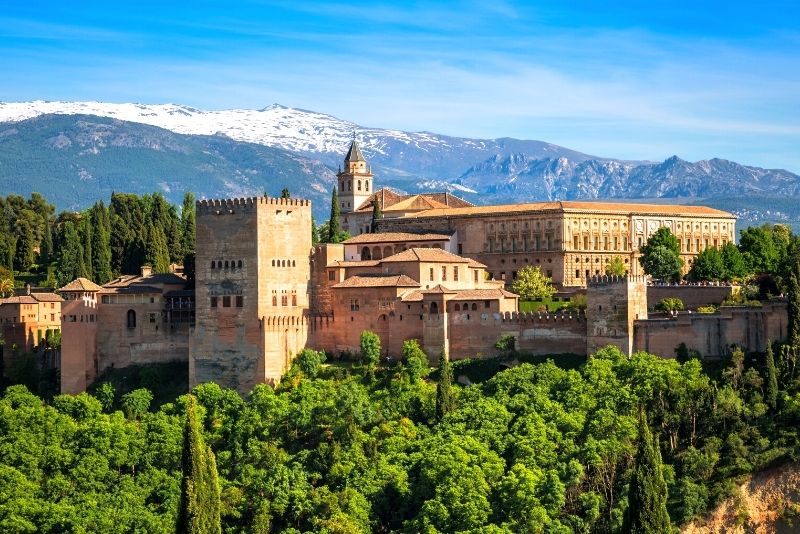 Despite being only an hour and a half away, many travelers tend to forget about Granada because of its inland location. But with its Alhambra Palace and stunning cathedral alone making it worth the visit (not to mention the vibrant culture and thriving foodie scene) you'll soon find yourself wondering why this place isn't on everyone's Spanish itinerary!
The city itself is surprisingly lively; hilly streets are lined with quaint cottages and an abundance of secret gardens, while the main square – Plaza Bib-Rambla – is always bustling with locals and tourists alike.
See Also: Alhambra Tickets Price – All you Need to Know
26 – Set sail on an exciting whale watching expedition to spot some awesome marine life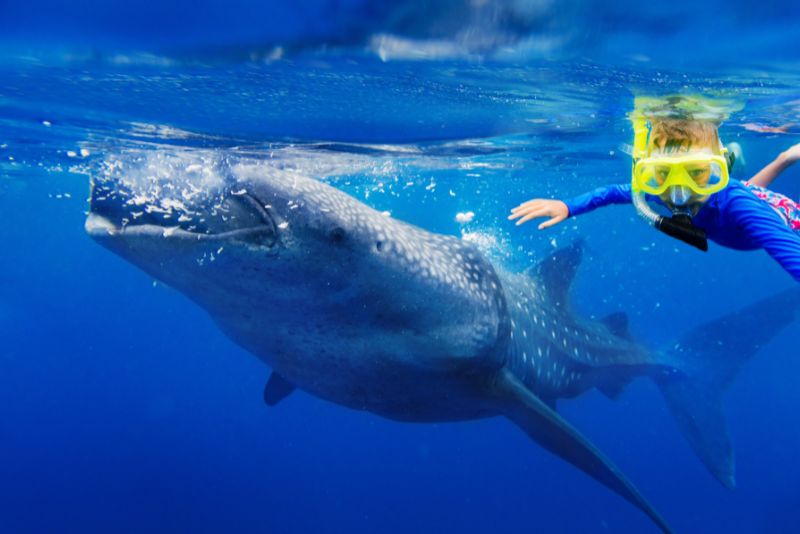 Set sail on an exciting expedition from Benalmádena (slightly south of Málaga) to try and glimpse some fascinating Short-Finned Pilot Whales, characteristic for their round head shape! It is very common to see dolphins who enjoy swimming alongside the boats and there are many different species in the Mediterranean waters such as playful common dolphins, gray Risso's dolphin, and the curious Bottlenose dolphin.
It is also possible to sometimes see graceful turtles swimming through the turquoise sea. The turtles tend to be spotted more frequently during the summer months where they come closer to the shore to play around in the warm waters and forage for food.
Further down the coast there are also whale-watching trips that disembark from Estepona and Sotogrande.
27 – Feel the thrills during parasailing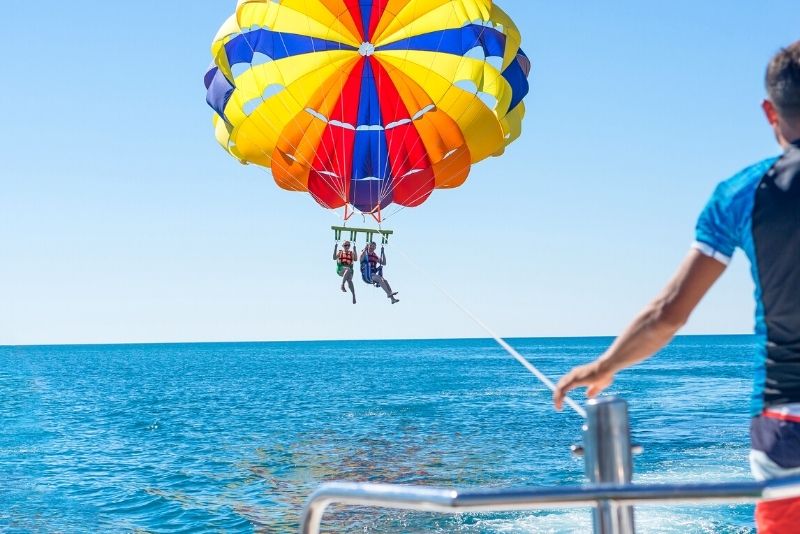 Not to be confused with paragliding (explore more later), if there is a body of water nearby, you might hit the jackpot with a parasailing adventure — just like the ones in Málaga!
Harnessed in and attached by a mechanical rope to the back of a speedboat, prepare to be pulled up into the air by your parachute as you cruise 200 meters above the Mediterranean ocean, with bird's eye views of the local topography.
With a few options to choose from, different parasailing ventures take their guests to varied locations around Málaga. Important to note; the sky ride only begins once you're out at sea and away from crowds of people and other boats.
For example, some start from the beach in Fuengirola, and others in Benalmadena or Estepona. For this endeavor, you will need to travel between 30 minutes to one hour to reach either three locations. Benalmadena is closest, whilst the furthest is Estepona.
28 – Step inside a fairytale castle at the Colomares Monument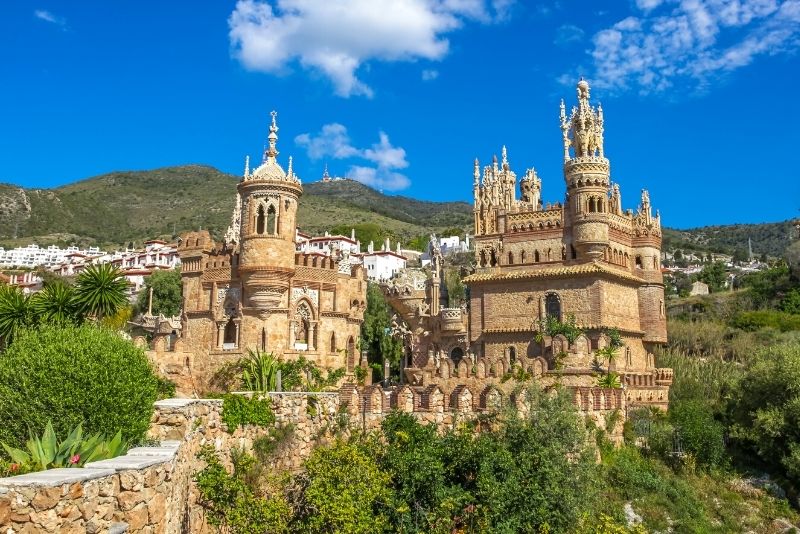 The Colomares Monument is a striking structure — part castle, part ship sculpture — that proudly covers more than 1,500 meters near the town of Rancho Domingo.
Very much a fairytale-looking castle, the monument was constructed in 1994 to commemorate Christopher Columbus's arrival in the New World (and his supposed final resting place), it has since become one of Andalusia's most iconic sights.
Admire the soaring arches, the towering turrets, elegant battlements, and extraordinary sculptural decorations. You will be utterly astonished by the eclectic blend of architectural styles merging Neo-Gothic, Neo-Renaissance, and Neo-Mudejar elements!
Keep in mind: while open all year, it's only accessible from Wednesday to Sunday.
29 – Grab some fresh produce at the Atarazanas Market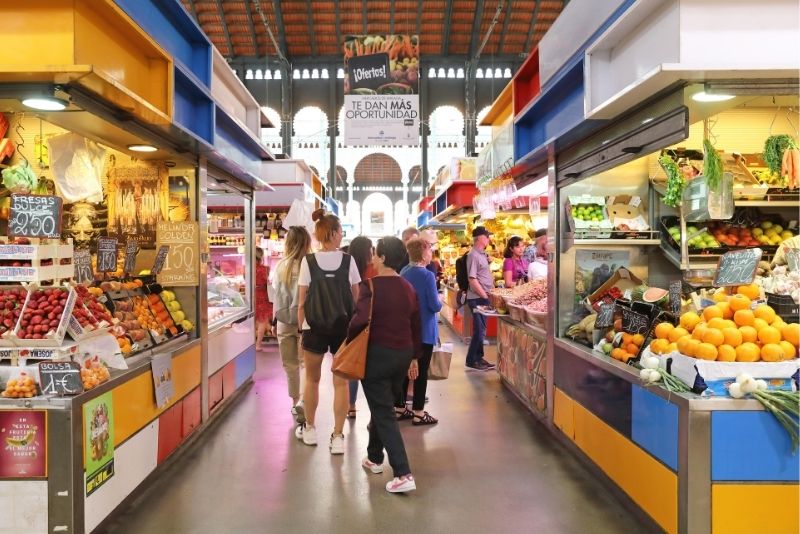 The Atarazanas market, also known as the 'Central Market', is a vibrant and bustling hub of activity. Formerly a 14th-century Moorish shipyard, these days it acts as a beacon for locals and tourists alike; its rows brim with everything from local produce (think fish, meat, cheese, and fresh fruit) to clothing and souvenirs. It's a great place to do some shopping or just people-watch!
The market is typically open Monday to Saturday, from 8 am to around 3 pm, so there's plenty of time to pop by — however, why not opt for a real local experience and join a guided tour instead?
30 – Enjoy an airplane flight's unique views and scenery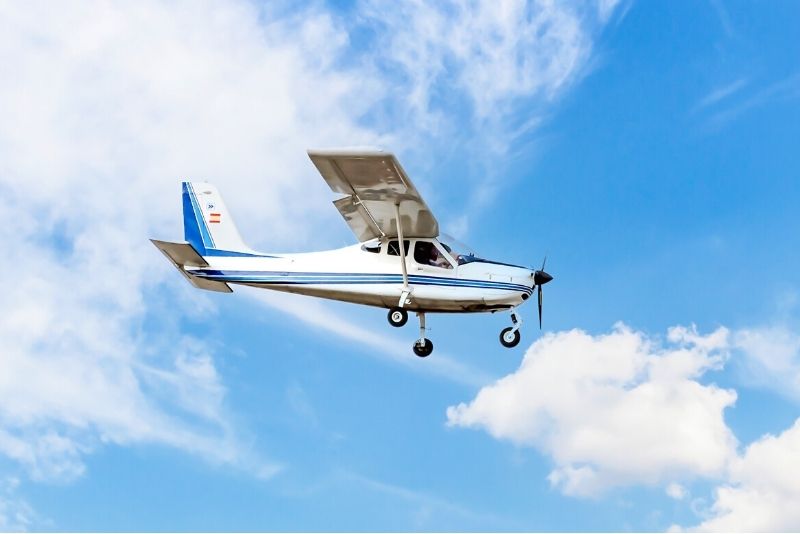 From land to sea to air, what can't you try out in this city? More affordable than you think, feel extra fancy with a private airplane flight around Málaga.
Leisurely flights start in Vélez-Málaga (and end in Málaga) and the planes take off from the Axarquía Airport. Reaching heights of up to 350 meters, soar over tiny villages and coastal towns including Caleta de Velez, Algarrobo, and Torre del Mar.
Have you always felt stuck in the wrong profession? As an alternative, you can live out your lifelong aviation dreams and opt for an airplane flight that includes an entire briefing on how the plane works and is operated.
Once in the sky, you can even copilot and get to fly the plane yourself! Of course, this is only under the guidance of an actual pilot — sitting right next to you!
Some shorter flights choose to hover around Málaga town itself, which is great for sightseeing from above, swooping over the Málaga Cathedral, for example. These flights start at the Málaga-Costa del Sol Airport.
31 – Race around town in a scavenger game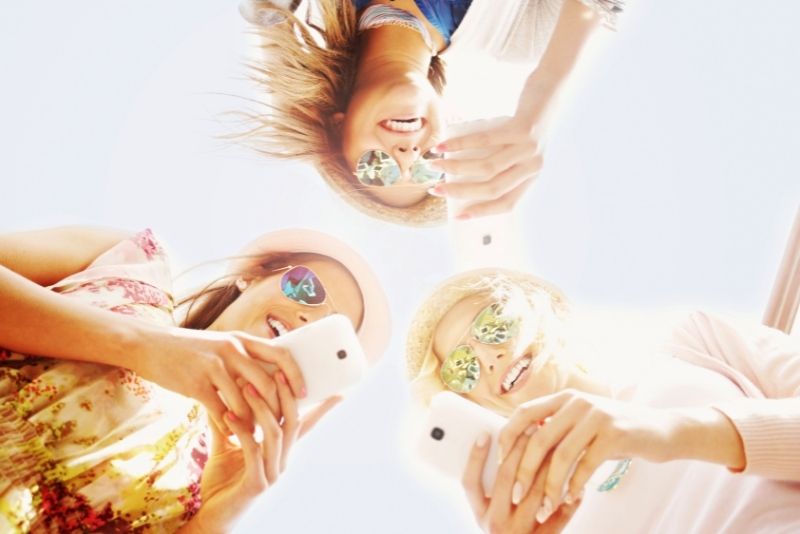 Sick of slow-paced walking tours? Why not take it up a notch with an Amazing Race-style scavenger hunt that'll have you exploring the city, discovering new places, and having a blast with friends?
Led from the convenience of your phone, the array of interactive games will have you cracking codes, solving riddles, and ticking off must-see landmarks the whole way through.
There's also a treasure hunt scavenger game for children to keep the kids fully entertained and engaged. Come together as a family as you search for hidden treasure among emblematic landmarks such as the central market, the grand Calle Larios, or the leafy Málaga park.
Traveling with the gals? Consider a fun-filled, far-from-G-rated Hens Night or bachelorette tour!
32 – Take a day trip to Marbella and spot dolphins!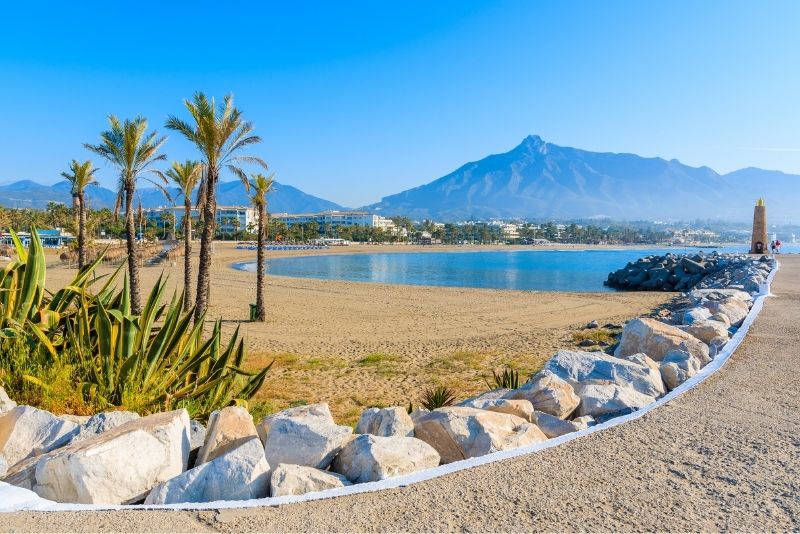 This white-washed Andalusian village in the shadows of the Sierra Blanca Mountains is quickly becoming one of southern Spain's most popular tourist destinations, but that doesn't mean you should miss out on visiting while it retains its quaint charm.
While famous for its pristine beaches, pumping nightclubs, and luxury venues, thanks to its proximity to the water, it's also a hot spot for dolphin watching!
Spend the morning watching the pods jump above the surface before exploring the port and grabbing some tantalizing tapas at one of Marbella's many beachfront cafes.
Some of the best things to do in Marbella include admiring the luxurious yachts in the Puerto Banús marina, passing over the ancient Roman bridge, or engaging in a round of golf on one of the widely renowned courses.
33 – Hop around the city's best tapas bars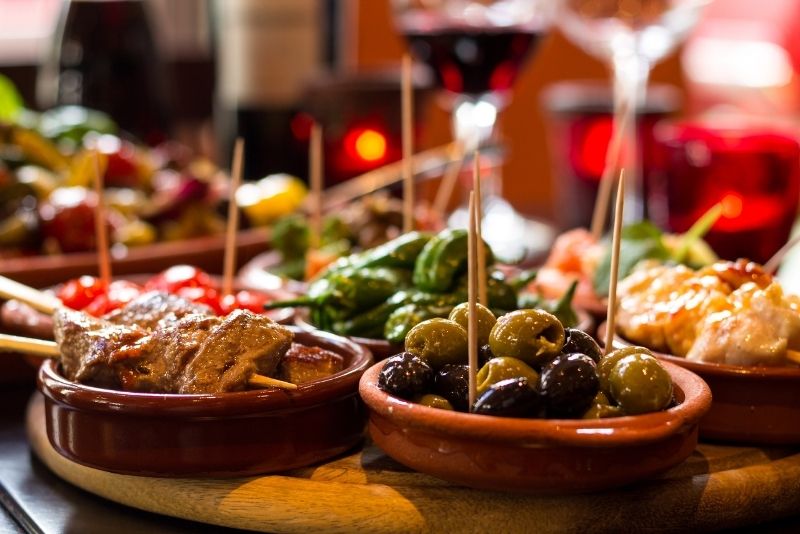 Looking for the best tapas bars in Málaga? You're not alone. In search of all-time classics and modern favorites, people from across the globe flock here every year looking for a slice of Spain.
And with good reason too! As well as being famous for its seafood and traditional dishes such as paella or gazpacho, Málaga has developed a reputation for its eclectic selection of tapas bars.
Next to the Picasso Museum, El Pimpi is wildly popular for both locals and tourists alike; La Recova is a quirky spot known for its breakfast; El Tapeo de Cervantes is small but mighty, and calling ahead to reserve a spot is highly recommended; the Anyway Wine Bar provides plenty of wine by the glass options along with gourmet cheeses and classic Spanish charcuterie; and if it's empanadas you're after, look no further than La Tranca!
34 – Come face to face with striking stalactite formations at the mystical and ancient Nerja Caves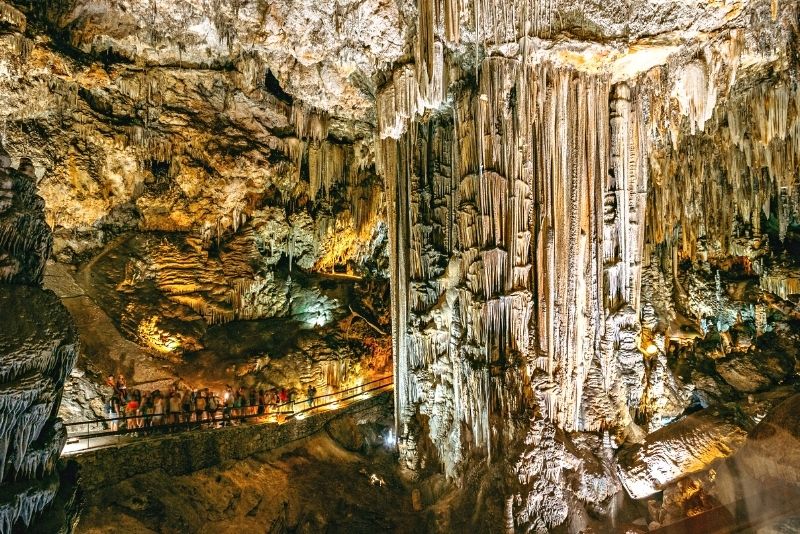 A spellbinding natural attraction, Nerja is famous for its labyrinthine caves that stretch for almost 5 kilometers, found about 40 minutes east of Málaga proper.
Explore this ancient network of caverns and underground passageways on a guided tour before retreating to the nearby Mediterranean shore for a swim.
It is incredible to think that these spellbinding cave tunnels and passages were only discovered in such recent history back in 1959!
A trip around the caves is a perfect activity to avoid the strong Andalucian sun during the hottest summer months! Embrace the cool, shaded underground chambers such as the enormous 32-meter-high cave known as the 'Cataclysm Chamber' and gawk at the awe-inspiring stalactites and stalagmites dangling down and glistening from the ceilings.
Hot tip: to save a few bucks as well as the hassle, some travelers opt to combine a Nerja trip with a stop at Frigiliana.
35 – Take a journey through time at the Automobile Museum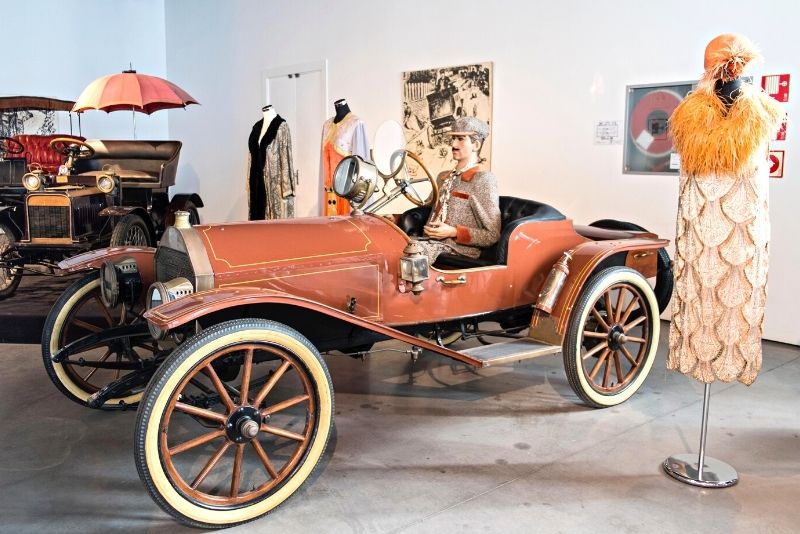 Any petrolheads out there? Whether you're into classic cars or modern marvels, this museum has it all. Housed in an original former tobacco factory, this spacious building provides the perfect space to showcase some fantastic automobile models!
With over 90 fabulously maintained classic cars on display, together with showing the fascinating evolution of the industry, this museum is a must-see for anyone with an interest in the automotive world. Look out for the private vintage car collection of Joao Magalhaes, one of the most important vintage car collections worldwide!
Classic cars aside, the Museum also showcases a rather impressive fashion section; you'll discover exuberant dresses, sparkling jewelry, rare head-turning hats, and a whole lot more.
36 – Go canyoning down waterfalls!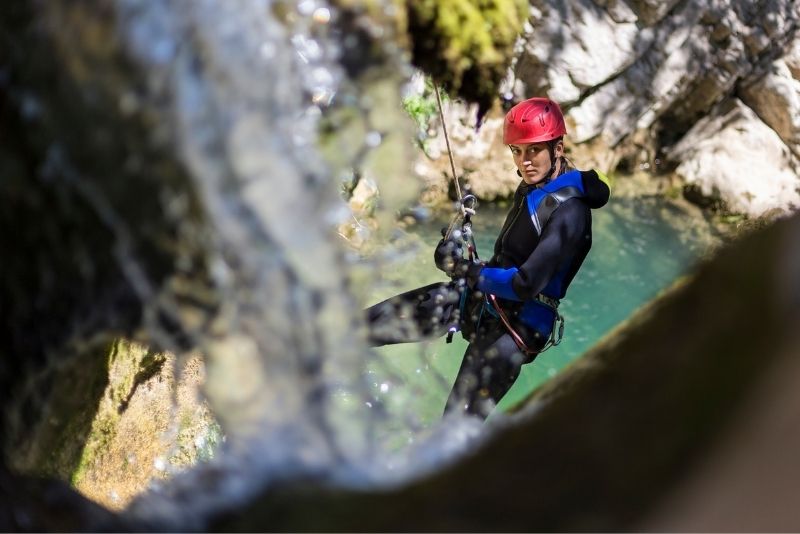 A must-consider for fearless thrill-seekers, canyoning is simply walking, jumping, and swimming your way down a river gorge…with ropes.
While the experience might seem frightening at first, with experienced guides to help you through the stunning scenery of the Rio Verde Gorge or Zarzalones, you can be assured that utmost safety (and adrenaline) is guaranteed.
Discover the Zarzalones Gorge in the heart of the Sierra de las Nieves National Park full of crystal clear waters, rocky pools, and magnificent waterfalls! If you opt for the Rio Verde Gorge expect bright emerald green waters (hence the name in Spanish), steep limestone cliffs, and lush vegetation providing the backdrop for some epic action-packed photographs!
After all, is there any better way to experience Aldalucia's most amazing waterfalls and canyons than from the inside?
37 – Marvel at marine creatures when scuba diving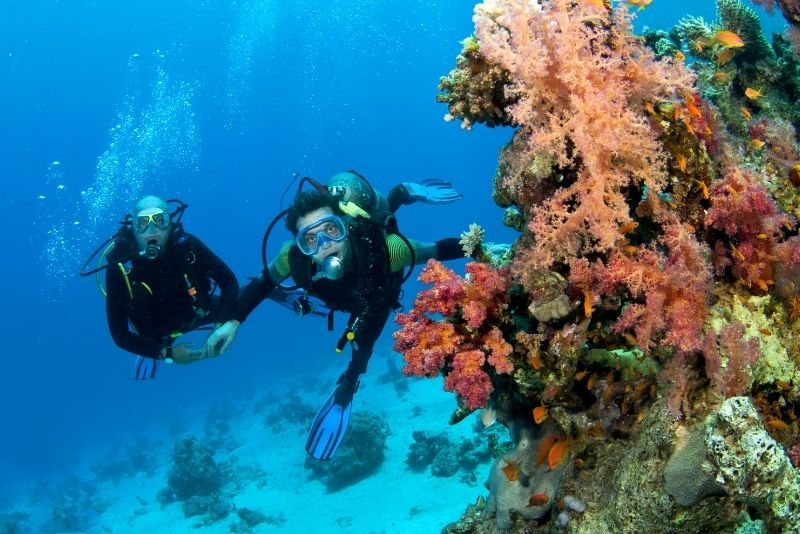 Instead of just admiring the deep blue from the shorelines, discover its underwater paradise for yourself when scuba diving!
If you've never gone scuba diving, don't worry, scuba operators offer courses for first-timers, conjoined with a scuba diving experience afterward in the space of a few hours. With great instructors who make everything easy to understand, you'll be exploring the depths of the ocean in no time!
(If this isn't your first rodeo, there are advanced open-water PADI courses available too.)
Different scuba expeditions introduce divers to varied spots and seabeds. Some tours take off from Punta de la Mona Beach or Playa La Herradura (also known as the Horseshoe Beach).
Others travel east of Málaga to La Cala del Moral beach, or to one of the other beach bays also situated along the Rincón de la Victoria coastal trail.
38 – Immerse yourself with the animals at Bioparc Fuengirola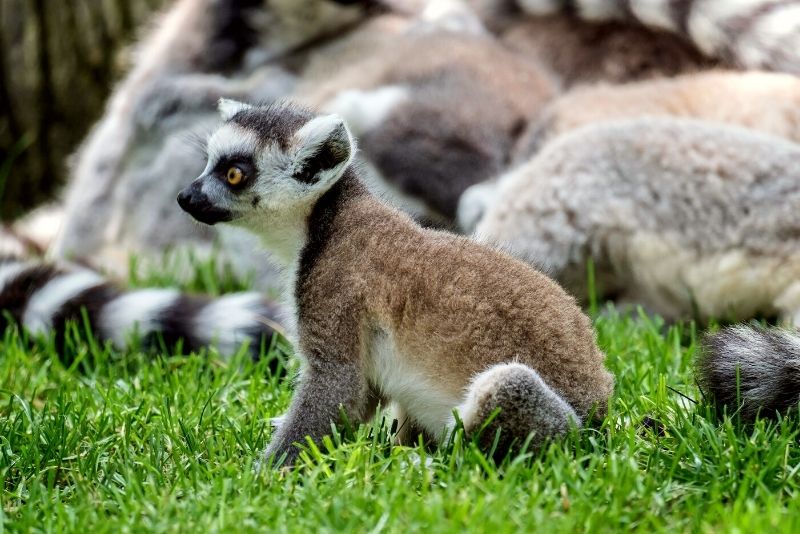 For a day of fun and learning, head to the Bioparc Fuengirola – easily one of the more enjoyable things to do in Málaga for anyone traveling with kids in tow.
A large part zoo and animal park, this expansive space is filled with various themed exhibits where you'll come face-to-face with hundreds of different species from all across the world!
Far from your typical zoo, however, the Bioparc is arranged with various zoo-immersion zones that put visitors (safely) in the animal's environment to make visitors feel like they're surrounded by the wilderness from which the animals originate — yes, you're actually thrown into the jungle!
39 – Relax and unwind at Hammam Al Andalus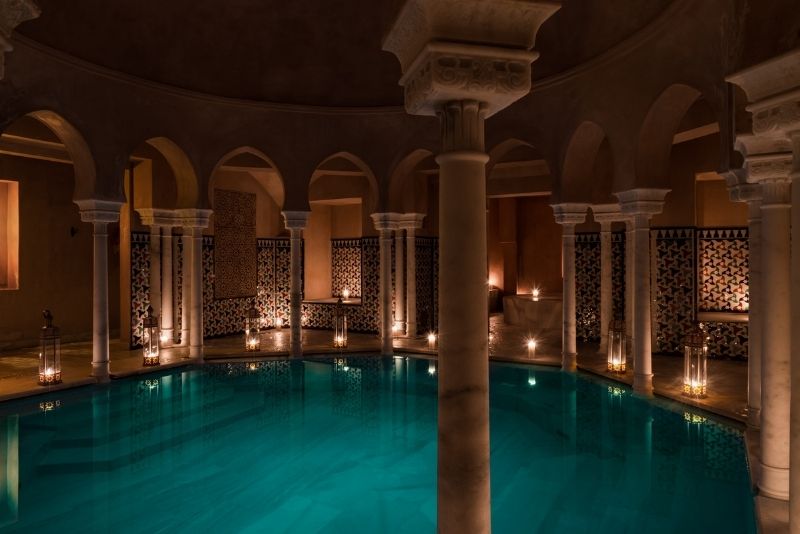 Hammam Al Andalus is a relaxing oasis, hidden away in the city center of Málaga — close enough to walk to all the main attractions, but secluded enough for a quiet and peaceful pampering.
The opulent Arabian baths' interior boasts beautiful mosaics and pillars made from marble.
Transport yourself back to the Moorish times as you gaze up at the beautiful skylights and intricate lattice work that reflect the light and water patterns. Watch the geometric tiles flicker in the candlelight and sip on cleansing herbal mint tea.
Open your pores in the warming steam room to soften your skin and lie back in the relaxing rest room as the gentle rhythms of Andalusian music wash over your mind and body.
A beautiful atmosphere to complement the wide range of treatments and massages on offer: choose from hot and cold baths, deep tissue massages, scrubs, and more.
40 – Check out the rock formations at El Torcal de Antequera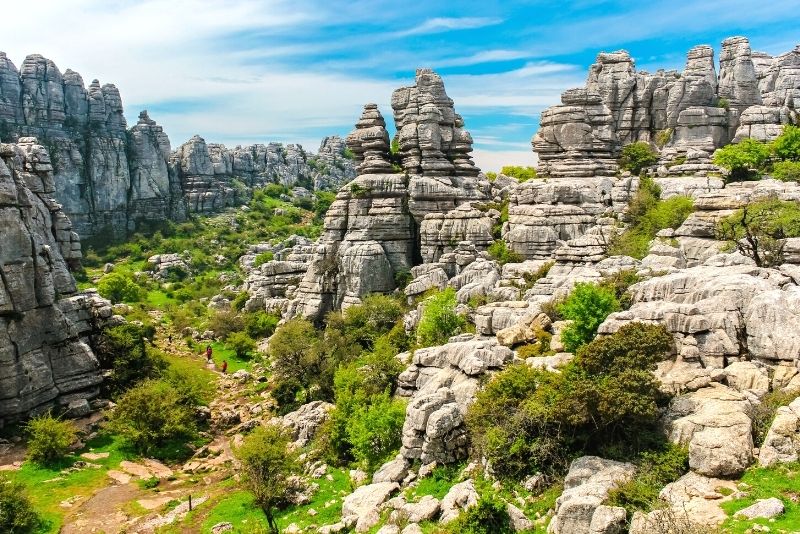 One of Andalusia's most unique natural attractions, El Torcal de Antequera is a nature reserve located about an hour's drive north of Málaga renowned for its series of enormous limestone towers jutting out from the cliffside.
These jaw-dropping limestone formations are estimated to be around 150 million years old meaning that they date back to the Jurassic period!
A perfect getaway for photographers and hikers alike, visitors can choose to hike along the three main trails (Green, Yellow, and Orange), with different lengths and difficulties to suit all ages.
When hiking through El Torcal make sure to keep your eyes peeled for the limestone formations that have been given names due to their incredible shade such as the Sphinx or the Star!
Hikers can try and spot impressive birds of prey circling overhead or perched among the rock faces such as the glorious Bonelli eagle, the speedy Peregrine falcon, or the large Griffon vulture!
41 – Soar high through the sky during an early morning magical hot air balloon experience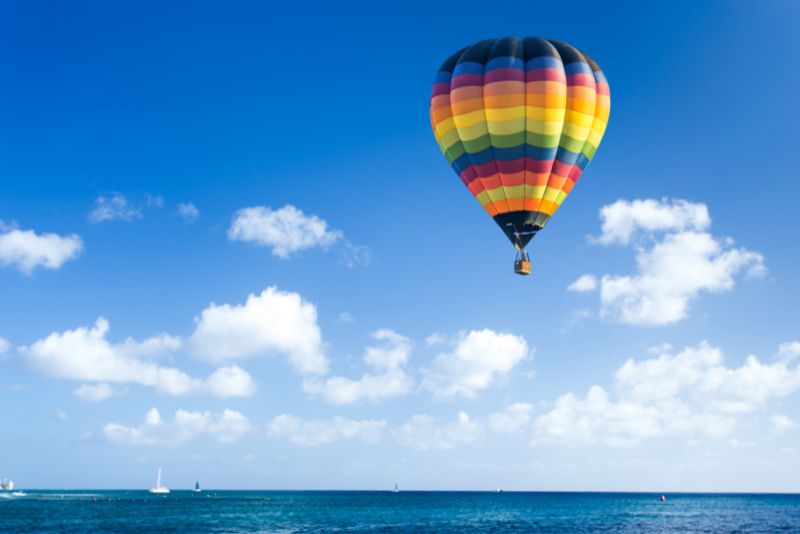 Head inland and set off on a thrilling hot air balloon ride near the city of Antequera. Fly across this spectacular landscape full of rolling hills and fertile valleys with the impressive Sierra de las Cabras mountain range in the far background. Look out for the 11th-century Moorish fort known as the Alcazaba that overlooks the city of Antequera.
The hot air balloon journey lasts an hour and upon landing, top off the experience with a complimentary bottle of Champagne washed down with some Iberian cold meats. You will also get to take home your very own flight certificate as a memorable souvenir!
In order to participate in the hot air balloon experience you must have a minimum group of six people.
42 – Unleash your creativity for some hilarious photo opportunities at the quirky Museum of Imagination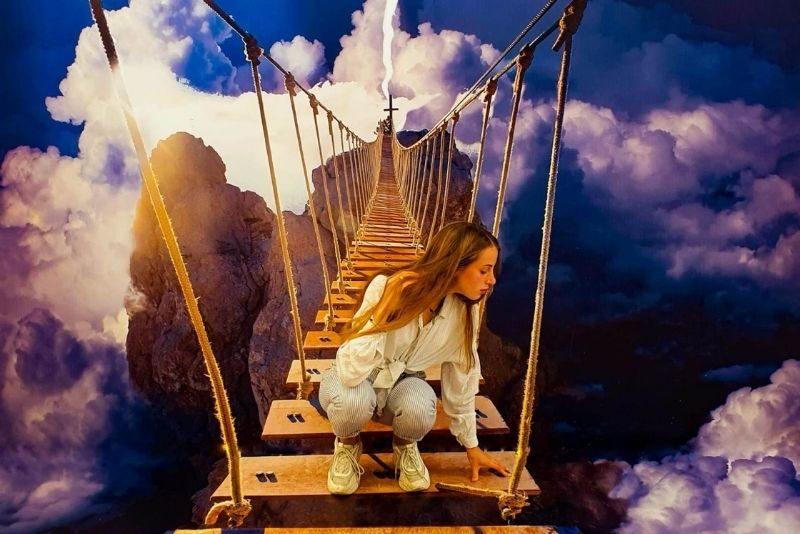 Combining the worlds of imagination, play, and learning in a unique educational space, this museum is perfect for kids (and kids at heart) who are eager to learn about science and creativity.
Above all else, it's about enjoyment here; with lots of fun activities designed to stimulate children's minds through interactive sessions, optical illusions, hands-on displays, and wonderful photo opportunities sure to puzzle the onlookers at home.
Play around with lights and shadows and snap some quirky family photos using the different scenario backdrops! Have a laugh and get inventive with your poses. Remember that on Wednesdays the museum is closed.
43 – Strum along at the Interactive Music Museum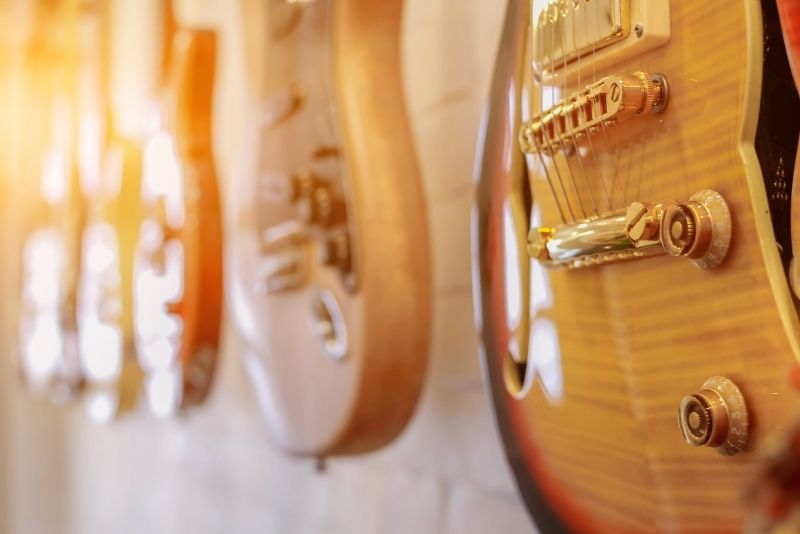 For music lovers, the city's interactive museum sells itself as one of the coolest things to do in Málaga!
Found tucked away inside the 18th-century Palacio del Conde Navas, the Interactive Music Museum, with no shortage of playable instruments and hands-on experiences that embrace the rhythm, is a great way for younger children (or even adults) to get acquainted with various musical genres and styles.
A notable walk down memory lane too, the Museum showcases a diverse collection of global instruments dating back decades and centuries!
44 – Whizz around the waters on a jet ski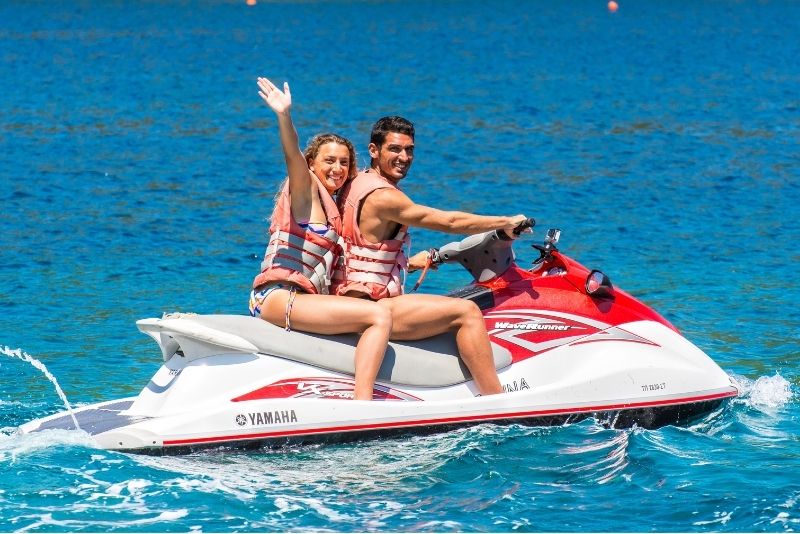 Not only limited to within the inner city bounds, as you can see the outdoor activities in Málaga are boundless. If adventure is your middle name or you're a water baby, go jet skiing across the ocean!
A super popular watersport to try, there are many jet skiing operators based around Málaga. Depending on your location, rent a jet ski or pick a guided jet ski tour that suits you best.
Rent out a two-seater for 15 minutes of water time in Marbella, a Yamaha water motorcycle in Mijas, or cruise around the Med in Estepona.
Instead of the usual boat tours, or kayaking expeditions, you can opt to tour around the ocean via jet ski! How epic does that sound?
Lasting between one to two hours, journey from one beach area to the next on water, traveling to Costa del Sol or Gibraltar for example, or make your way to the famous cliffs in Maro.
There are some shorter jet ski tours, such as a 30-minute guided route to Torrox Lighthouse.
45 – Take the controls during helicopter tours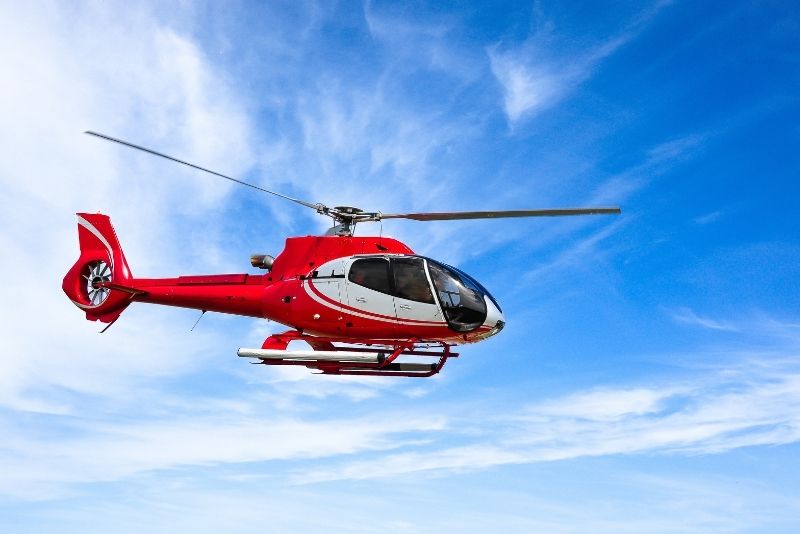 Photographers, honeymoon-goers or travelers looking for a ride of a lifetime, you can't go wrong with a helicopter tour — unless you suffer from aerophobia!
Departing from the Axarquía Airport, revel in 20 to 30 minutes of air time while still being close enough to the landscapes and sights so you can shoot incredibly clear imagery!
A brief safety instruction is mandatory before the flight. If you prefer a longer stint, go for the one-hour flight option. Leaving the Málaga coastline behind, fly over the Sierra de Almijara mountain range, cross over rural Almáchar and spot all the white village houses on the hill in El Borge.
For these flights, you have the option to copilot the plane.
46 – Check out something different at the Russian Museum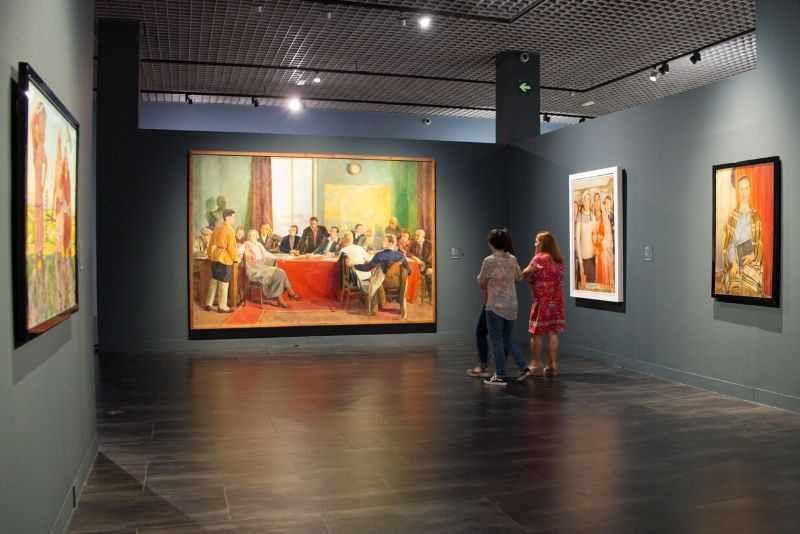 While it might seem a little odd to have a Russian museum in the heart of southern Spain, this small collection in the city's old tobacco factory is well worth an hour or two of your time.
The exhibits are surprisingly fascinating; from traditional costumes to beautiful paintings by famed artists such as Levitan and Repin, you'll be left with a whole new appreciation for Russian culture and art (a surefire change of pace from the Spanish museums).
All up, nine different themed permanent exhibitions line the halls: old Russian art, 18th century, romanticism, realism, Russian realism, neoprimitivism, avant-garde, Socialist Realism, and art after Stalin) — and with countless film screenings and educational workshops, there's plenty to be learned here!
47 – Go behind the scenes at Mayan Monkey Mijas chocolate factory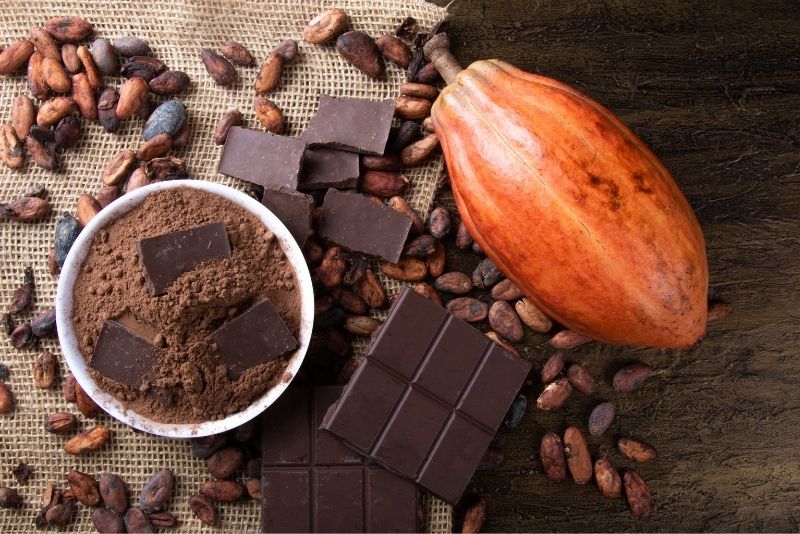 Any sweet-toothed travelers out there?
Far from your ordinary chocolate factory, Mayan Monkey Mijas offers visitors the opportunity to learn about chocolate making (and eating, of course) in an interactive environment through its daily and delicious chocolate-making workshops!
To cap it off, you'll find a good selection of vegan sorbet, exotic cocoa powders, and delectable hot chocolate.
And after stuffing your face full of sweet goodness, thanks to its location in the busy Plaza de la Constitución, there's plenty to do to pass the time without venturing too far.
48 – Set eyes on the iconic Rock of Gibraltar or cross the legendary straits to discover the wonders of nearby Morocco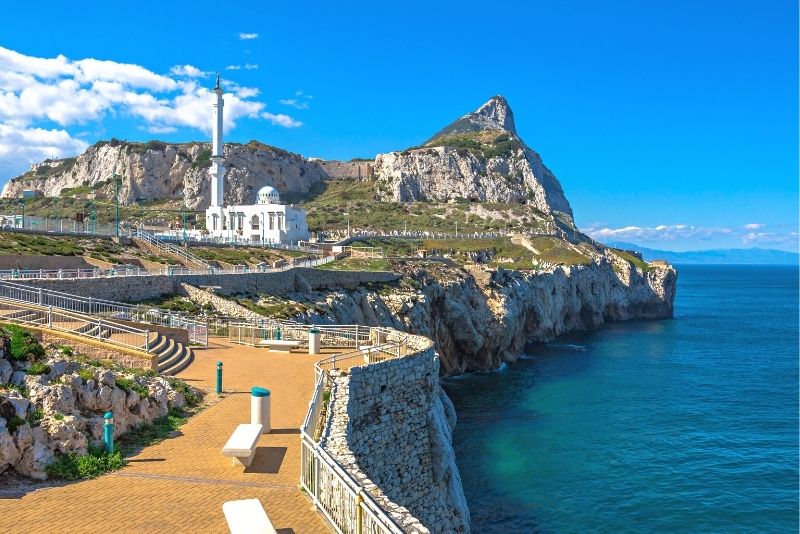 About as far south as you can go in Europe, it's hard to miss the British territory of Gibraltar. Defined by its towering rock formation and famous Barbary apes (which are actually tailless monkeys), this area is steeped not only with history but also with an eclectic mix of cultures.
After seeing what Gilbraltar has to offer, why not head even further on another popular day trip to Morocco? As the only African nation with direct access to Europe by land, its closest major city, Tangier, with its whitewashed hillside houses, is a popular bucket-list destination.
Looking to experience more of what Morocco has to offer? The likes of Casablanca, Marrakesh (famed for its bazaar), Fez (a colorful city known for its religious significance), and Rabat can all be visited as part of a hassle-free, pre-organized intercontinental tour!
49 – Experiment using intense Spanish flavors and homegrown ingredients during a cooking class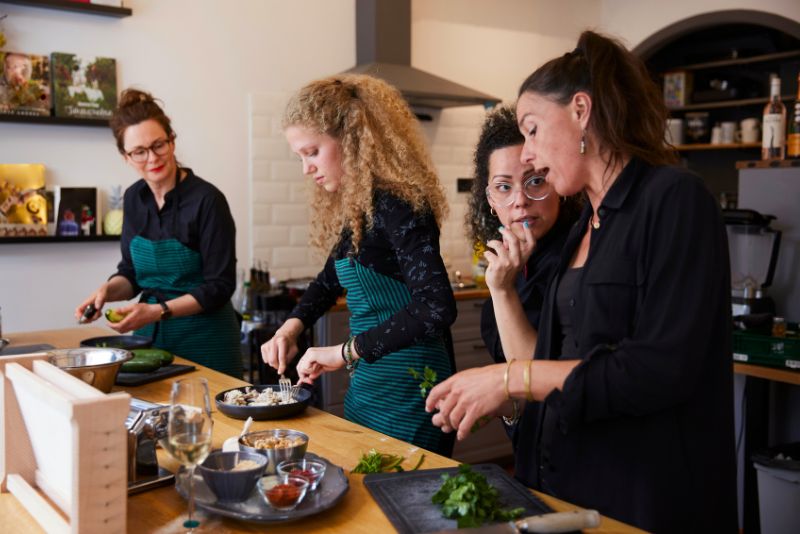 Learn about the culinary secrets in the rural area of the Montes de Málaga at a cooking class based on an authentic olive and almond farm. Meet your local hosts and chefs who will guide you through the cooking processes and make you feel at ease.
Create a four-course lunch consisting of tapas dishes and a tasty Arroz campesino (countryside rice dish). Sip on sherry as you dive into preparing the dishes and taste the fresh velvety olive oil produced onsite.
Sit out on the terrace under the shade of the pergola vines to enjoy the meal with outstanding views across the mountains and the scents of the pine trees.
50 – Soak in the view from the Cliffs of Maro-Cerro Gordo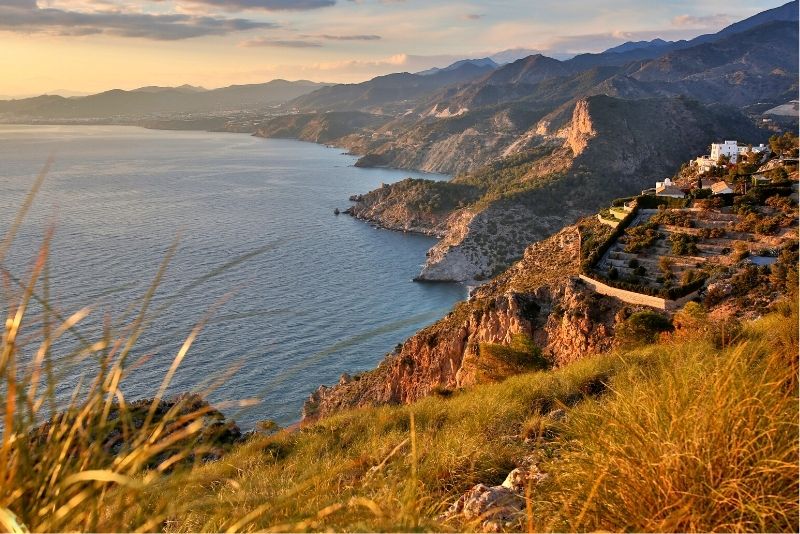 Tranquillity reigns supreme at these windswept cliffs, which rise up to a height of 30 meters and offer phenomenal views down onto the turquoise Mediterranean below.
The spectacular spot is located just an hour's drive from Málaga city center and can be easily accessed by foot or car – but for those looking for something a bit more off-the-beaten-track, Maro offers up several secluded coves, perfect for a kayaking tour, and quiet beaches that are perfect for sunbathing or picnics.
All up, the coastal path runs some 12 kilometers parallel to the cliff, making for a wonderful and mildly strenuous day hike.
51 – Sign up for an offroad buggy tour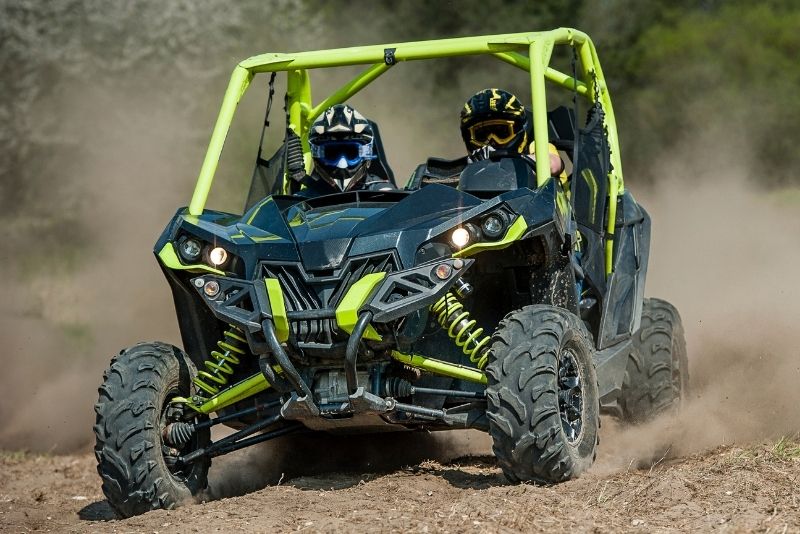 Experience the stunning mountains of Málaga from a unique perspective aboard an open-topped, four-wheeled buggy!
Explore nearby hillsides like Almunecar or Moclinejo to discover hidden gems and secluded coves usually only visited by locals, or venture into the depths of the foreboding Tajo de Ronda gorge.
For those looking for something more relaxing than adrenaline-inducing, head out on a more sedate buggy safari that explores one of the most beautiful villages in Andalucía: Mijas.
On that note, if you are in the mood for a thrill-inducing off-road adventure, consider epic quad tours instead. Take control of the quad bike yourself, or play passenger as one of the experienced drivers leads the way.
Generally, buggy expeditions are more suitable for families than quad ventures.
52 – Take dozens of photos during street art tours to Soho and Lagunillas Districts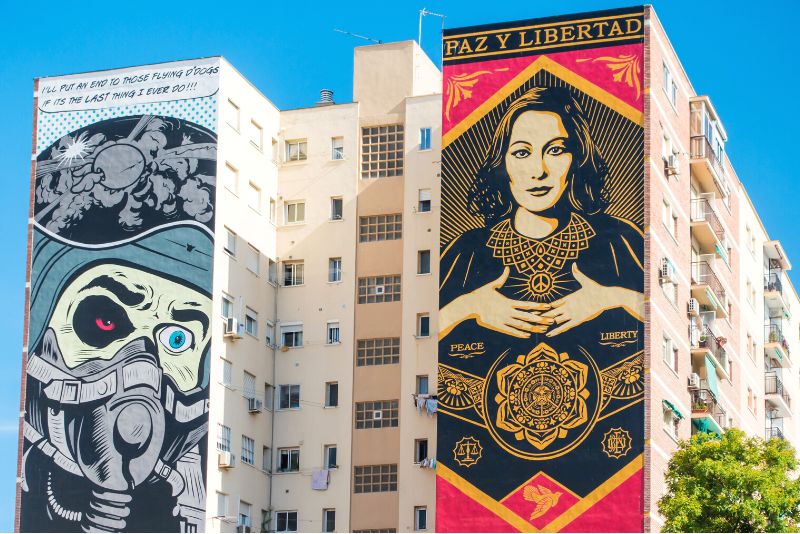 As the home of Picasso, this city drips in creativity — naturally. If you've got an obsession with taking photos of street art, you can't go wrong with a designated tour through the Soho and Lagunillas Districts!
Beginning at the CAC Málaga (Center of Contemporary Art of Málaga), venture off to the Soho neighborhood where your expert art guide will show you some of the hottest murals and graffiti around.
Learn about the artists, with both local and international names coloring the walls, buildings and corners like D*Face, ROA and BoaMistura.
Moving from Soho to Lagunillas, the different neighborhoods each have their own unique art scene. Be shown hidden street art spots in Lagunillas, but you can't help but notice art everywhere! Graffiti and stunning murals sprawl alleyways, staircases and derelict buildings from small to large scale!
53 – Put your brains to the test playing escape rooms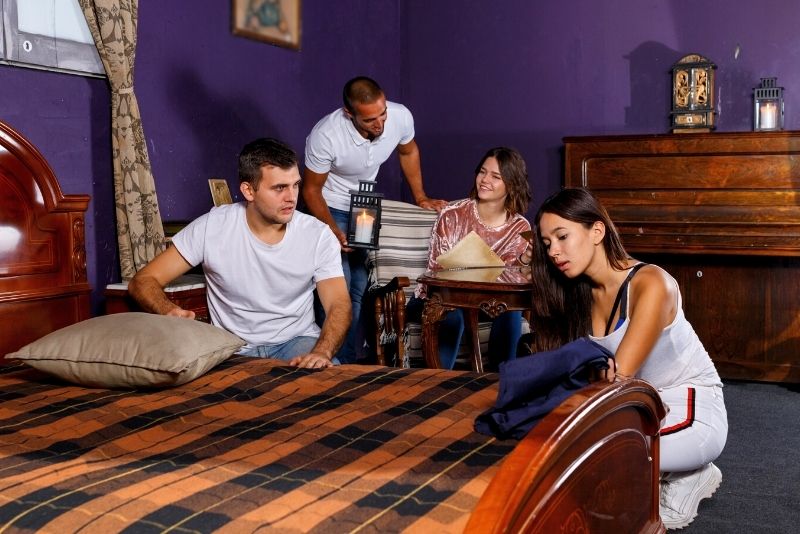 Think you have what it takes to be the next Sherlock Holmes?
Tick an Escape Room in Málaga off your worldwide city-conquering bucket list — if you've ever played an escape room and tried to beat a high score, you'll know this is totally a thing!
Requiring a whole lot of brains, problem-solving skills, and teamwork, escape rooms are super fun, and there are quite a few to choose from in this city, depending on the game you're after.
Most escape rooms last one hour, however, some escape rooms offer two-hour stints.
Choose your theme/room/mission and begin! Crack one clue in order to move on to the next, unlocking keys one by one.
Pretend to be FBI agents solving a case … Try figuring out the mystery of a missing girl inside Finca Jurado Estate … Or make your great escape from prison!
From magic portals to cursed pirate caves, there's a themed room for everyone. Games vary in difficulty, as well as age requirements and group numbers.
54 – Cruise down the refreshing lazy rivers and slip down the slides at some of Malaga's exciting waterparks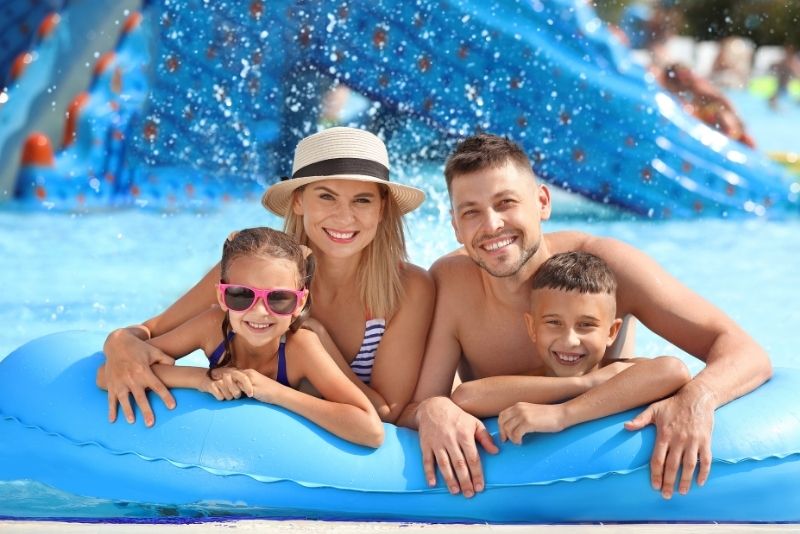 With the sun blaring down from above, what better way to cool down from the heat than a jaunt around one of Málaga's many waterparks?
From slides and wave pools to lazy rivers and themed areas for kids, there is an abundance of wet-and-wild fun waiting at the city's long list of family-friendly splash parks:
About 20 minutes from the hustle and bustle, Aqualand Torremolinos is one of the biggest and offers a unique surf simulator. A little more low-key and ideal for families with a range of basic slides, Aquavelis Water Park sits in the nearby town of Vélez-Málaga, making for a great day trip.
Over between the beaches of Velilla and Puerta del Mar, Aquatropic Aqua Park has the claim to fame of being the only saltwater water park in Spain, while Aquamijas in the town of Mijas is a small and simple destination to get away from the big crowds of the others.
Last but not least, CostaWaterPark takes adventure and literally throws it into the ocean with inflatable obstacle courses that the whole family will love!
Remember to bear in mind that the water parks do not remain open during the cooler winter months so remember to check each schedule online!
55 – Admire the sharp teeth of a Nile Crocodile and watch American alligators wallowing at the Crocodile Park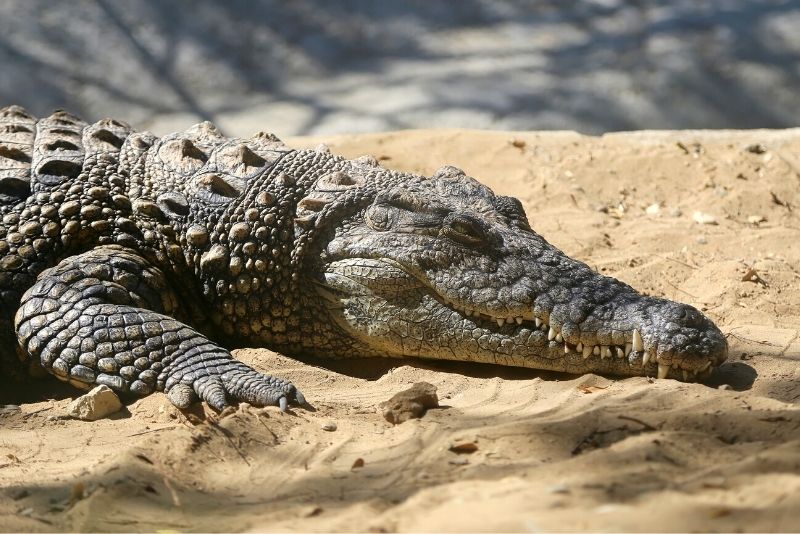 Whether you're traveling with enthusiastic kids in tow or are just young at heart, looking for a family-friendly activity, Crocodile Park is a day out that's sure to be an adventure.
From feeding the animals and getting up close with iguanas to exploring a maze of tunnels and caves — this place has it all! Spread across some 16,000 square meters, with plenty of space for the imposing reptiles to play, you'll be greeted by over 200 different species including Marginatas turtles, colorful veiled chameleons, and the spikey bearded dragon.
Looking for an incredible souvenir? Grab a photo at the feeding zone with a baby croc!
56 – Take in fantastic views of the Costa del Sol from the Benalmádena Cable Car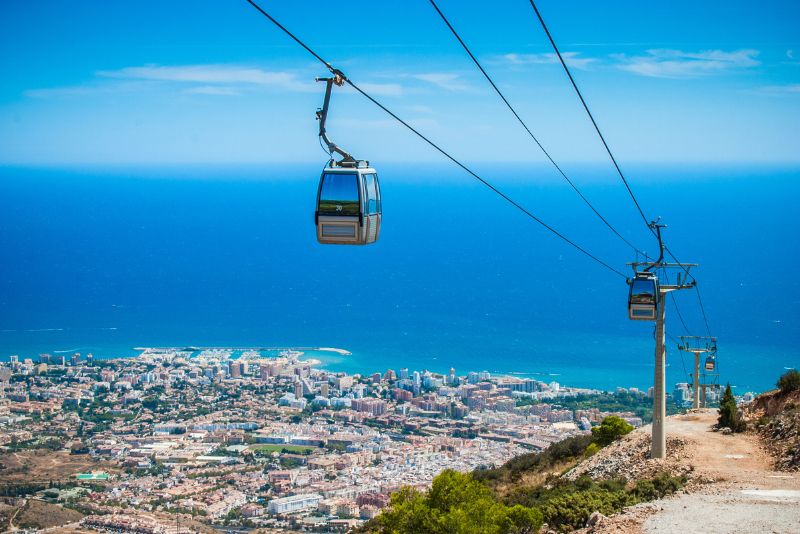 Jump on the Benalmádena Cable Car and take a 15-minute ride up into the hills for some fresh countryside air. Once at the top of Mount Calamorro mountain, absorb the sweeping vistas which even include the distant Sierra Nevada mountain range as well as the blue sea waters.
In the summer visitors can enjoy an impressive falconry show where you can see eagles and owls in flight.
Explore some of the different hiking trails and enjoy the cooling shade of the Mediterranean pines. The summit also has a panoramic restaurant to get a bite to eat and a large picnic area if you bring your own snacks.
57 – Test your endurance when rafting along rivers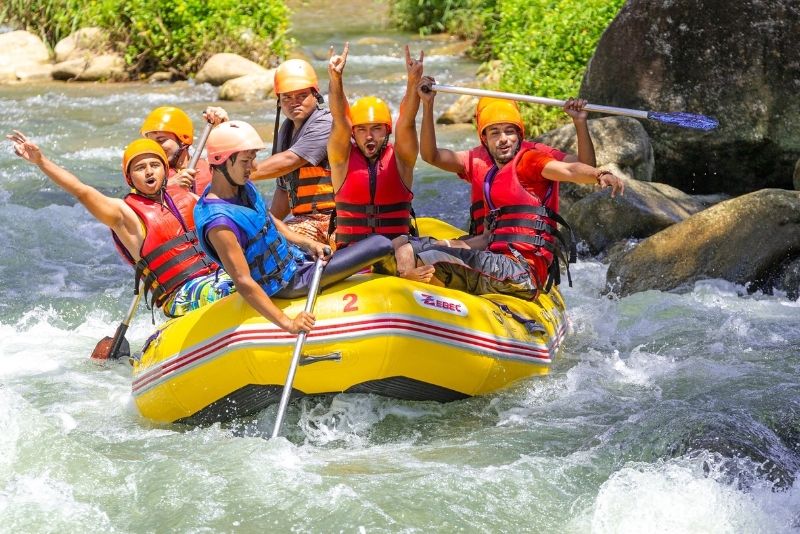 Swish, steer, and cruise down the Genil River at rampant speeds when embarking on a whitewater rafting adventure!
Joined by a professional guide who stays on board your boat the whole way; squeal, laugh, and enjoy all the fun as you make your way down the river over the span of three hours, encountering a few rapids along the way.
Swapping a regular inflatable rafting boat, try something different like rafting in pneumatic canoes known as a Canoa-raft; basically an inflatable kayak-style boat that seats two.
Whilst rafting on the Genil River is most popular, there are expeditions that travel down the Guadalfeo River instead.
All safety equipment and boating gear are provided.
58 – Step into the exciting and mind-blowing realm of virtual reality technology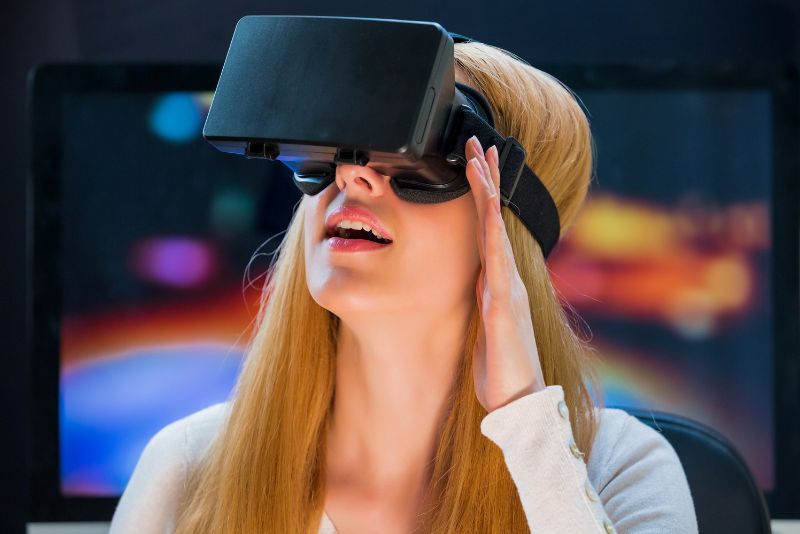 Thanks to the state-of-the-art virtual reality technology you can become a professional racing driver and wizz around a range of different circuits, take an action-packed ride on a virtual roller coaster, or simply immerse yourself in alternative reality such as an underwater marine adventure to gaze at colorful fish and spectacular coral!
Challenge yourself to a virtual reality zombie quest at VRFun or try out the VR Escape rooms to push your problem-solving skills to the limit! Experiment with making 360-degree movements thanks to the completely immersive and innovative state-of-the-art technology.
59 – Move like a monkey along via ferratas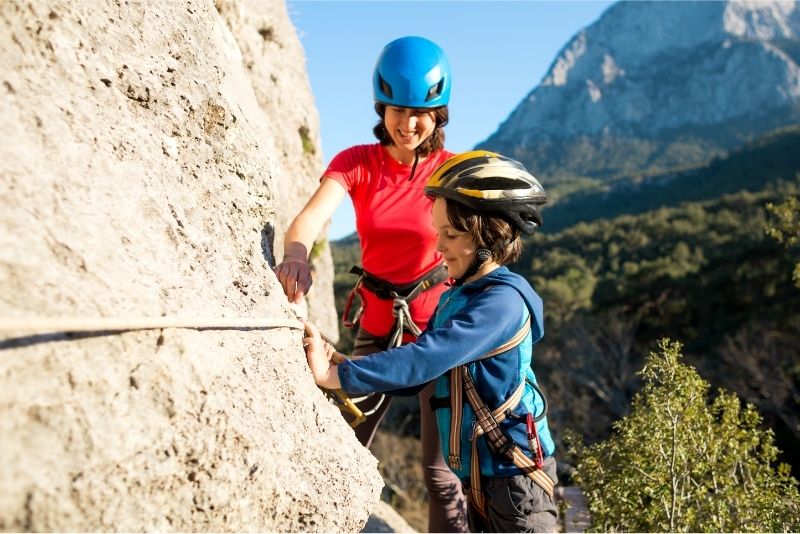 Somewhere between a climbing gym and an outdoor obstacle course, via ferratas offer the chance to explore the local rock formations with ease!
Along with some traditional climbing, you can enjoy other outdoor activities like zip-lining, tightrope walking, and some wonderfully wobbly journeys on suspended bridges.
Climbing beginners can opt for an excursion to the Tara de Ronda for some spectacular views of the new bridge of Ronda!
Those with a bit more confidence can embark on the via ferrata in the area of El Chorro. Cross over a fun zip line, monkey pass, and Tibetan bridge whilst absorbing the breathtaking views of El Chorro Lake! Or head to the rugged mountainous area of the Caminito del Rey for spellbinding vistas of the Encantada reservoir and the Gaitanes Gorge!
And with all the best safety gear in place, you can really cut loose and enjoy the wildness!
60 – Feel the raw emotion, the intricate chords of the guitar, and the rapid footwork of the dancers during a live flamenco show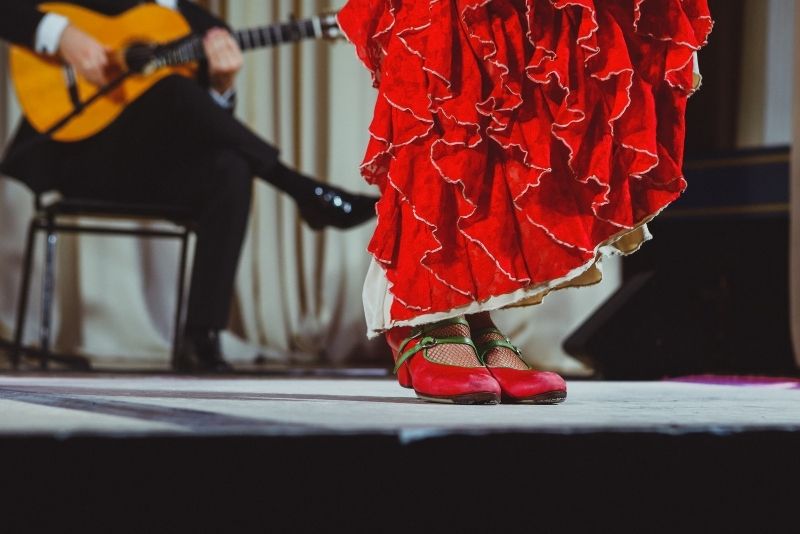 Undoubtedly one of the more energetic Málaga nightlife activities guaranteed to give you goosebumps with its raw energy and vibrant passion, watching these skilled dancers perform is like stepping into a world where the senses are heightened and time stands still.
Flamenco shows typically begin with a solo guitarist, who will then be joined by singers and dancers in what is an enchanting fusion of music, movement and storytelling.
If you are planning to catch a live show, look no further than the KELIPÉ Theater & Flamenco Art Center, an intimate venue that plays host to one of the finest flamenco agencies in the province of Málaga.
61 – Get romantic on a sunset cruise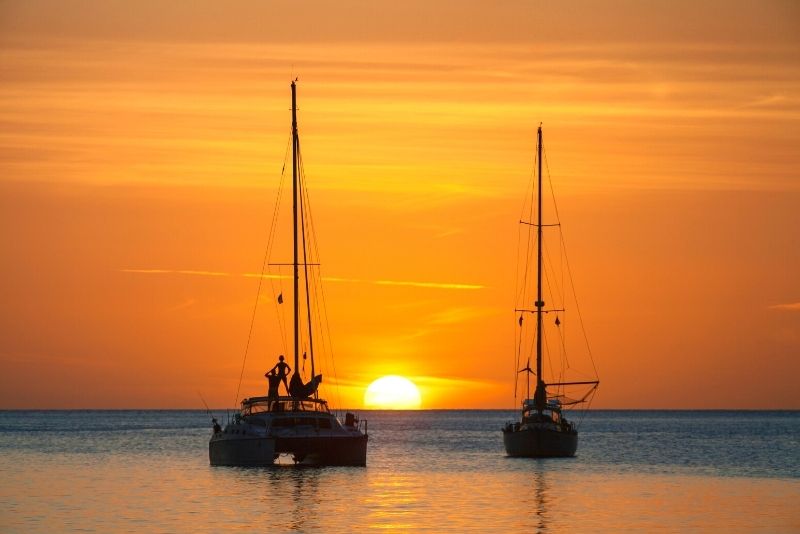 Whether you're one half of a romantic couple looking for a cute date night or simply someone who appreciates a spellbinding view, sunset cruises are a magical way to finish the day. As dusk hits and bounces off the historic city skyline, it's only natural to feel enchanted by the timeless beauty of it all.
What's more, many companies offer a range of dinner and drinks options during your cruise — that way you can enjoy some quiet time outside with just the two of you or kick back and get a little tipsy before an evening out on the town!
62 – Enter into the exquisite world of elaborate glassware at the Museo del Vidrio y Cristal de Málaga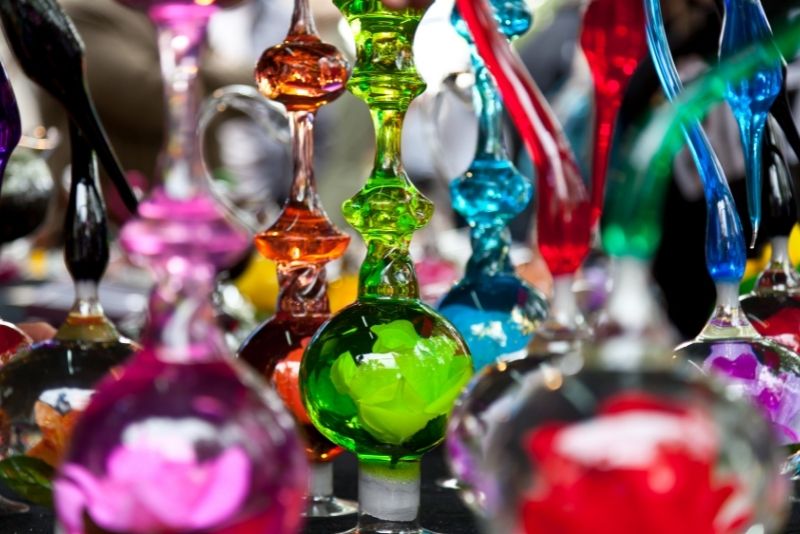 An enchanting museum featuring glass and crystal exhibits, as well as a rare collection of precious minerals, the Museo del Vidrio y Cristal de Málaga is an underrated delight.
Throughout the stately, three-story, 18th-century mansion (a work of art in its own right) you'll wander across 16 rooms containing more than 1000 glassware artifacts spanning from Phoenician times to the modern day.
Throw in a rare display of antique furniture, exquisite carpets, stained-glass windows and more, and you have an unsurpassable museum experience.
63 – Take a day trip to Gibraltar to pick up some great deals on a shopping tour
Check out the duty-free stores in Gibraltar and grab some excellent discounts on luxury branded items, perfumes, cosmetics, and electronics.
Stroll down the pedestrianized lively Main Street of Gibraltar where many boutique and shopping outlets are housed in colorful traditional buildings with balconies and wooden shutters.
You will also have time to admire the iconic Gibraltar Rock and stop off at Europa Point to soak in the beautiful ocean panoramas and even the coast of Africa in the distance!
Pause in the historic Grand Casemates Square to watch local artisans perform glass blowing and stock up on some unique and handcrafted souvenirs.
64 – Experience the dazzling Chamber of Secrets show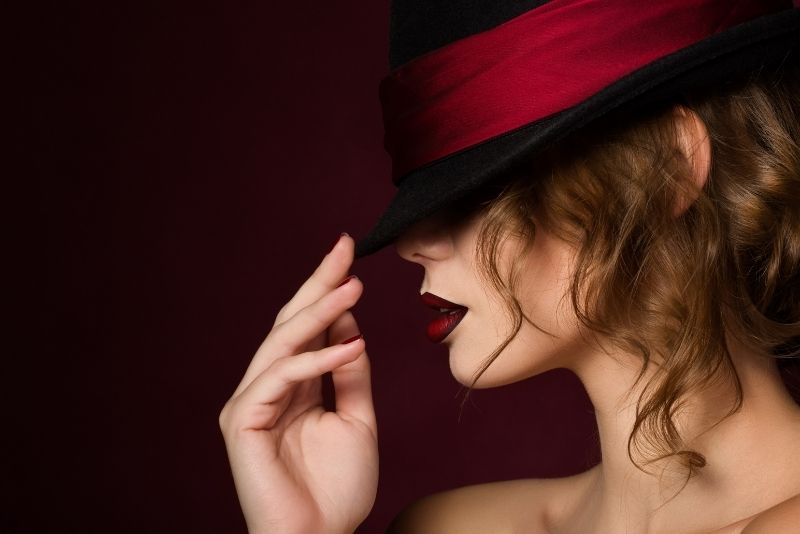 Nope, not the off-limits Harry Potter room at Hogwarts. In Málaga, we're talking about a real-world secret: the magical Chamber of Secrets cabaret show! The show takes place in the coastal resort town of Torremolinos, an 18-minute drive south from the city center of Málaga.
A singing and dancing cast of world-class performers has gathered to present a night of music, comedy, magic, mind-reading, illusion, escapes, and puppetry. Prepare to have your mind blown thanks to the conjuring tricks of the multi-award-winning magician Matthew Wright and get ready for a range of special guest appearances!
You'll be pampered with lager and sangria (or soft drinks for the kids), as well as invited onto the stage to participate in the show!
65 – Sample a selection of ice-cold beers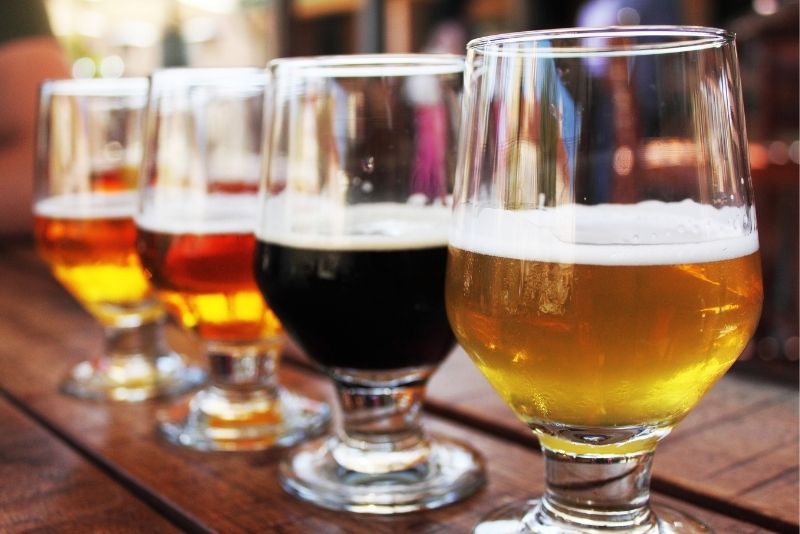 Beer tasting in Málaga? Yes, please! Despite the nation being stereotypically famous for its sangria and red wine, it doesn't disappoint in the beer department.
From classic German beers to homemade brews and everything else in between, Málaga's wide range of breweries will have you licking your lips in no time.
For an authentic craft brewery in what's dubbed 'the most artistic neighborhood in the city' (Soho), head to Cruzcampo Fábrica: here, you'll find all sorts of homemade brews including gluten-free styles and beers made from cereal!
Or, for something a little more, well, central to the old town, stop into Central Beer. With usually around 30 varieties on tap — not to mention 150 bottled beers to boot — varying between Spanish and international styles, as well as a highly-respected menu, it's a must for the thirsty traveler.
Consider yourself a connoisseur in the category of crafts? Go behind the scenes and boost your knowledge, or learn something new, at Victoria Brewery during an insightful guided tour. Top it off with a beer-tasting session afterward, followed by a professional beer-pouring lesson!
66 – Obtain magnificent aerial views of the Málaga during a paragliding journey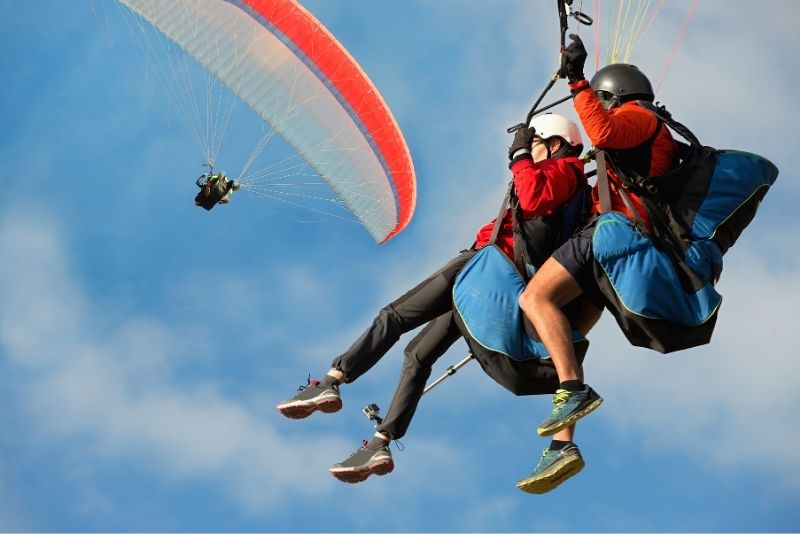 Have you always admired birds gliding and swooping so effortlessly through the air? One of the closest things that humans can do to feel like our winged friends flying in the sky is paragliding.
If you have always wanted to try the heart-palpitating outdoor activity, now is your chance in Málaga!
Flights last around 20 minutes, crossing Sierra de las Nieves National Park, over tiny towns, and with Málaga city center in the distance.
For those who haven't tried paragliding before, there's no need to worry. All rides are accompanied by a trained professional, and you will be strapped and harnessed in tandem on a glider with one of the pros.
Wear comfortable clothing for this one, as well as closed shoes!
67 – See where the traditional bullfighting action unfolds at the iconic La Malagueta Bullring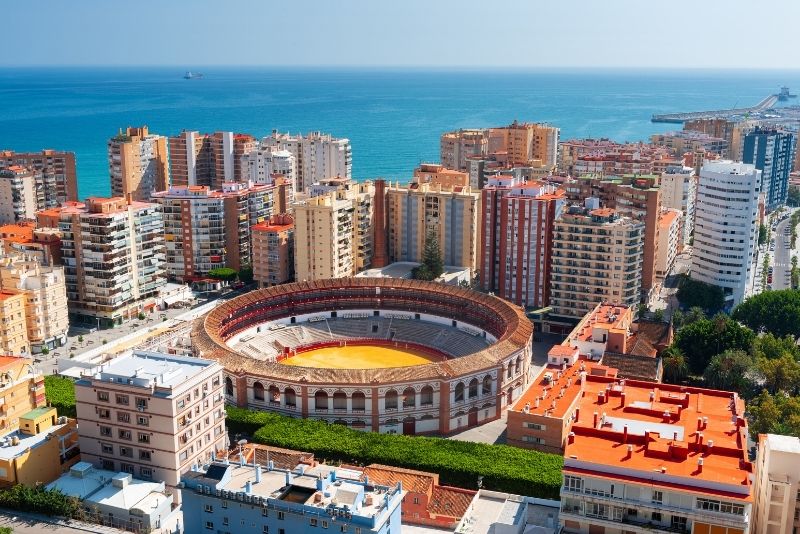 Even though Madrid and Seville are the most renowned cities for bullfighting, the Malagueta Bullring opened in 1876, hosting bullfights and welcoming the most famous Spanish bullfighters since then. Declared both a Historic-Artistic and Cultural Interest Site, the Plaza de Toros de La Malagueta is a stunning 52-meter wide ring in the heart of Málaga.
Throughout the year, multiple events are hosted there, with the most remarkable ones being the Picassian bullfight, held during the Holy Week, where bullfighters dress in costumes inspired by Pablo Picasso; and the annual Bullfighting Fair, during Feria de Málaga (#75) in August. Visitors can also stop by the Museo Taurino, a museum dedicated to the bulls and bullfighting tradition in Spain, exhibiting multiple objects and pictures.
Since 2020, it has also become home to the La Malagueta Cultural Centre, a venue dedicated to promoting the city's culture and tourism, with 2 exhibition areas, 2 conference halls, and the capacity to accommodate 280 participants.
68 – Sit in the ensemble at Teatro Cervantes de Malaga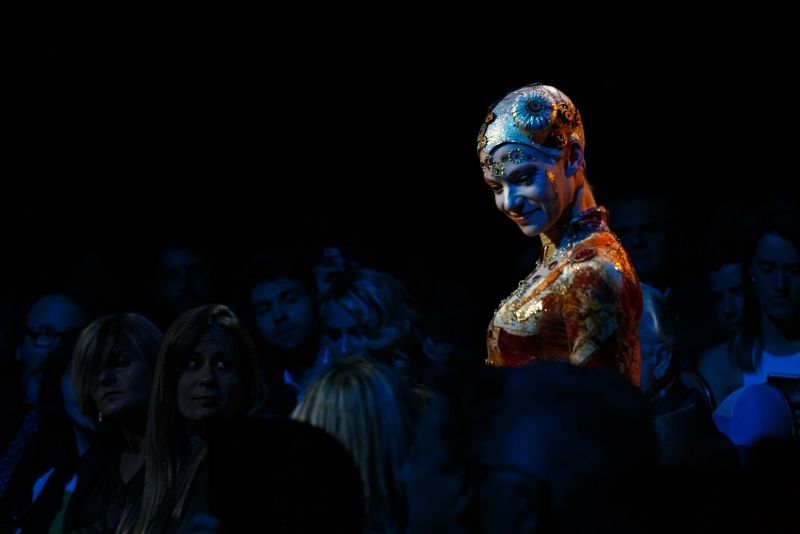 There's no better way to celebrate the art of theater than watching a show at Teatro Cervantes de Malaga, this ornately decorated and historic (dating back to 1870!) space.
Once you've found your seat and settled in, marvel at the stunning decor: from golden statues that line the balcony seats, to intricate wooden carvings on every pillar throughout the room — it really is quite something!
Whether you grab a ticket for an English classic like West Side Story or something a little more authentically Spanish, you're in for one helluva show — just check the website to see what's on during your trip.
69 – Immerse yourself in nature at Montes de Malaga Natural Park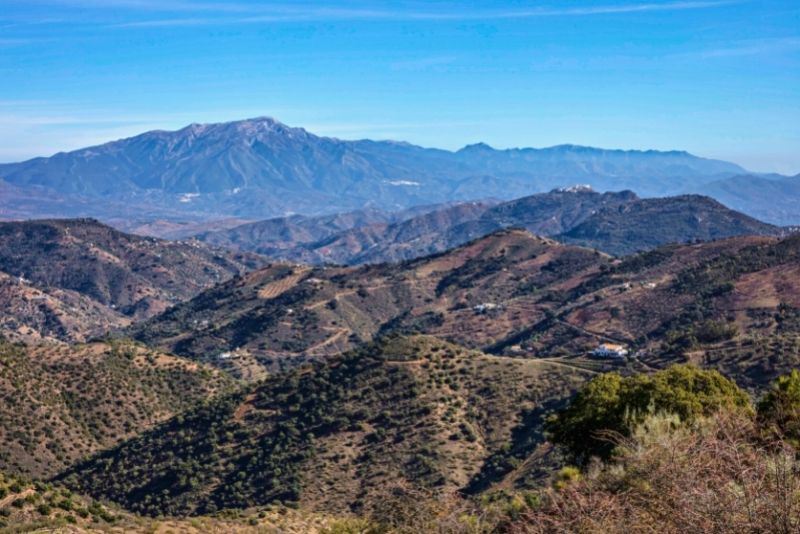 The perfect excuse to get out and about, the Montes de Malaga Natural Park is a relatively undiscovered area of natural beauty that's well worth exploring, whether that's on two wheels or simply two feet.
With its rolling hills, lush green meadows, and dramatic mountains as far as the eye can see, the almost 5,000-hectare wide Natural Park is a bucket-list-worthy destination for any nature lover.
70 – Sip on a cocktail at a rooftop bar
With its year-round mild weather and never-ending sunshine, it's no wonder Málaga is home to an abundance of rooftop bars. From the swanky venues at luxury hotels to hidden gems scattered across the cityscape, there's plenty for everyone here no matter your budget.
While a little pricy (by Spanish standards, still affordable for Western standards), the Àtico Bar & Restaurant on the 15th floor of the AC Hotel Malaga Palacio dishes up stunning panoramic views, a lovely open-air terrace, and a refreshing pool ideal for those toasty summer days!
While the infinity pool is reserved for the use of hotel guests, visitors can lap up the breathtaking views while sipping on cocktails and refreshments served at the roof bar of the Lolita Skyview Pool & Lounge. Located on the 8th floor of the Only YOU Hotel Málaga, visitors can gaze out over the harbor and shimmering sea or admire the vistas of the Alcazaba and Gibralfaro castle.
For exquisite views of the tower of the San Juan Church right in the buzzing center of the city, look no further than the Terraza de San Juan. Hang out on one of the comfy sofas on the wooden decked flooring and peek out over the rooftops. The terrace is located on the 5th floor of the boutique Hotel Málaga Premium. Try a tasty Manhattan San Juan cocktail and tuck into their selection of tapas bites and burgers.
71 – Venture inside the 145 million-year-old cave of the Cueva del Tesoro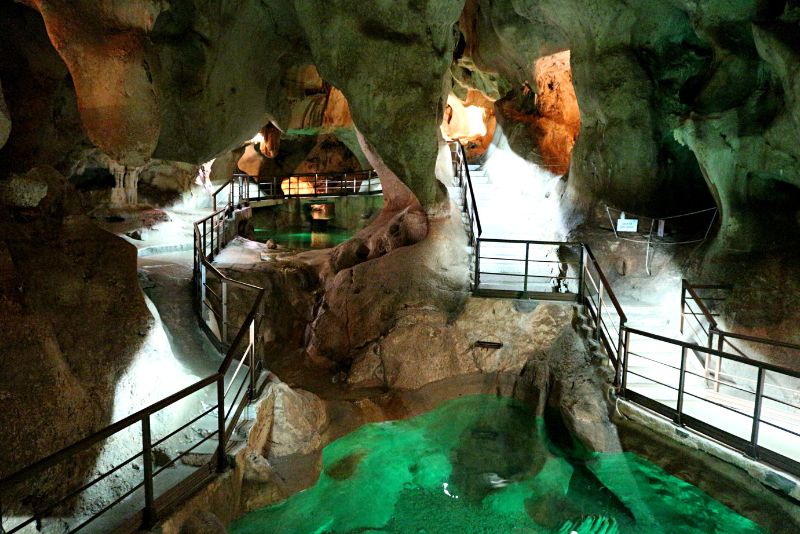 A short 20-minute drive away from the center of Málaga, visitors can come across the extraordinary Cueva del Tesoro or Treasure Cave in Rincón de la Victoria!
Make your way through this mysterious underground grotto complex with the help of an audio guide and come face to face with cave art from the Palaeolithic Age! Distinguish depictions of early hunting scenes and daily rituals, transporting yourself back thousands of years!
The Cueva del Tesoro stands out because it is one of the very few underwater caves in the world to have both marine and access from land! Don't forget to gaze up at the incredible stalactites and stalagmites formations that plaster the ceilings!
72 – Cheer on the home team at Estádio La Rosaleda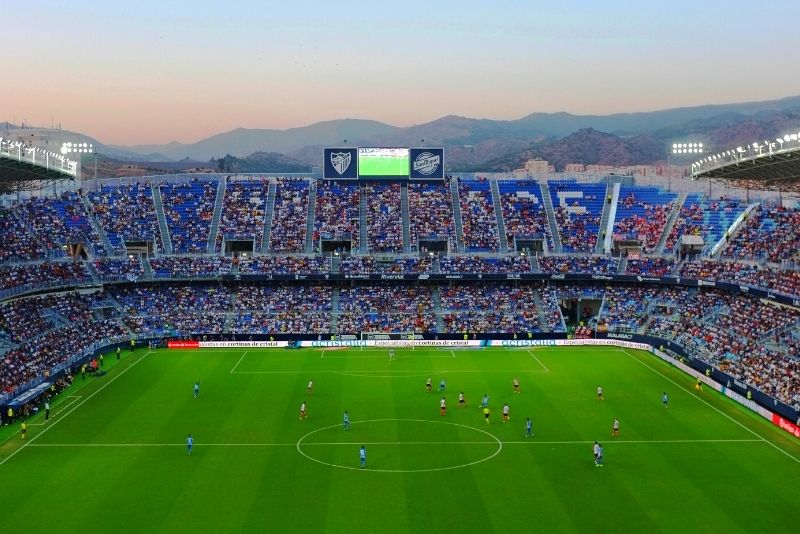 Sports nuts, listen up! Home of the Malaga CF soccer team — whose fans are as proud and rowdy as any — Estádio La Rosaleda is one of the most beloved stadiums in all of Spain!
Built in 1941, this iconic stadium (which translates to 'The Rose Garden') sits adjacent to the Guadalmedina and seats just over 35,000 people; as you can imagine, the energy and volume are second to none.
Besides the matches, the stadium is also open for tours that include locker rooms and a museum dedicated to the history of Málaga's beloved soccer team!
73 – Get a little loose on a pub crawl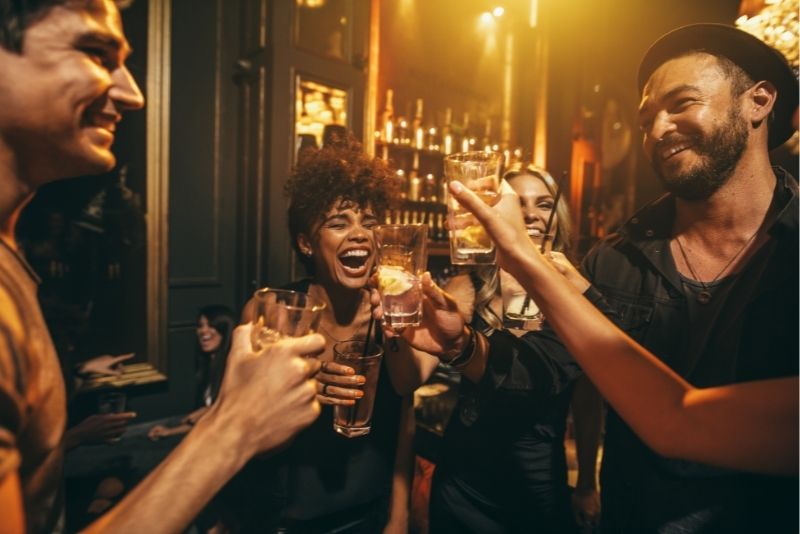 When the sun goes down, Málaga comes to life! With its eclectic music scene and impressive party scene, this is one city that knows how to get a crowd going.
Whether you want to dance the night away with locals or enjoy some more relaxed drinks with friends in an atmospheric setting, there's plenty of options when it comes to nightlife.
For those who like to live life on the edge, Málaga's pub crawls are an absolute blast! Featuring a whole host of bars and clubs, it'll take you all over the city in one evening; perfect for celebrating with friends or trying new places out with fellow thirsty strangers.
74 – Capture the city of Málaga in a different light during a romantic or a rather spooky night tour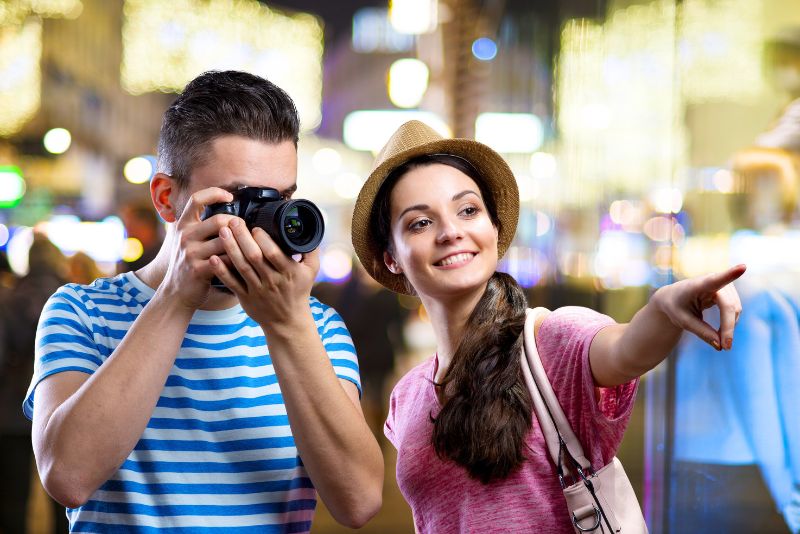 Make the most of the sunset and explore the city by night during a fun electric car-guided tour! Drive around the most iconic parts of the city following your guide and pass by the gorgeous Málaga Park, Málga Cathedral, the waterfront, Port, and El Palo beach.
There are also free walking tours that allow you to soak up the atmosphere of the city at dusk. Important iconic sites such as the Roman theater and the Alcazaba have a slightly different feel as the sun begins to go down and the night shadows start to engulf the city!
Learn more about the darker history of the Málaga during a thrilling legends and mysteries of Málaga tour that will give you goosebumps! Listen to secret tales about the atrocities of the Holy Inquisition, the devastation of the plague, gruesome executions, and plenty of murder.
75 – Align your trip with the annual Feria de Agosto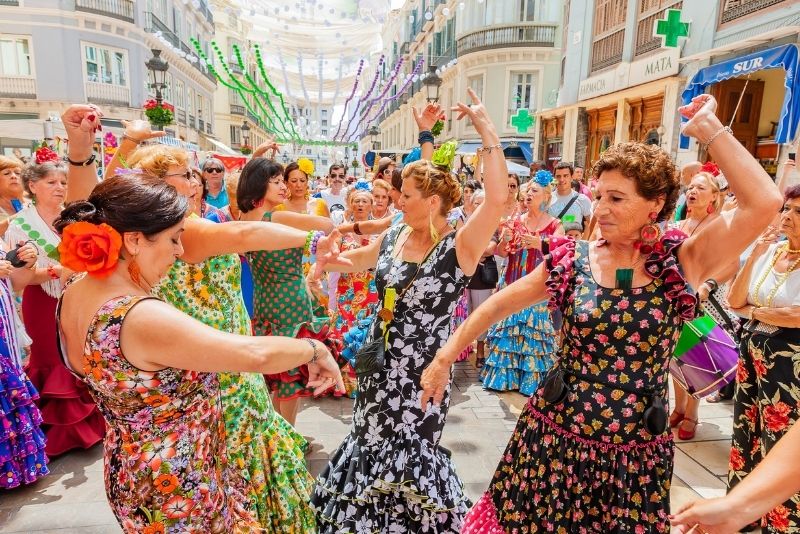 If you're in Málaga in August, make sure to catch one of Spain's biggest annual fairs. The Feria de Agosto is a ten-nights, nine-day street party that lights up the city: by day, folk music and dancing spills into the streets; by night, head to the purpose-built El Real fairground to find flamenco shows, food stalls, live music, free-flowing drinks, and plenty of other entertainment.
And don't forget to check out the firework display in the Paseo del Parque (the best viewpoints are the port area or one of the rooftop bars mentioned in #70).
How to get to Málaga?
We've all been there: stepping off a plane, jetlagged and grumpy. There's nothing worse than trying to decipher a totally foreign transport system or haggling with a local taxi driver.
Instead of the hassle and stress, why not go for a pre-arranged airport transfer instead? They're convenient, they're fun, and if traveling as a group they are more affordable than multiple transport tickets.
If you are arriving in Málaga on a cruise boat, make sure to check out the list of fun shore excursions in Málaga to maximize your precious time available. Discover the city center on a segway tour, head inland for a fun rural panoramic buggy tour complete with wine tasting, or visit some of the attractive white-washed villages.
Where to stay in Málaga?
No matter if you're hunting for luxury or satisfied with a no-frills hostel that serves breakfast, there are plenty of places to lay your head in Málaga — from 5-star hotels built in old palaces to family-friendly affordable BNBs and party hostels for the social traveler.
Need some suggestions? For splendid luxury, consider the beachfront Gran Hotel Miramar GL. Sitting just 30 feet from La Malagueta Beach, it's ideal for the sunseekers. Not to be overlooked, however, the Parador de Malaga Gibralfaro with its own tapas bar and Hotel Soho Boutique Castillo de Santa Catalina (built atop a castle) both ooze sophistication.
For something a little more affordable, yet still with all the modern touches you could ask for, any of the Only YOU Hotel Malaga, Sol Malaga Guadalmar by Melia, or Palacio Solecio ought to do the trick.
Pinching pennies? It's hard to look past the Picnic Dreams Boutique Hostel and Urban Jungle Rooftop Hostel for a no-frills, all-fun hostel experience.
Visiting Málaga on a budget?
As you might imagine in the birthplace of Picasso, art and culture are a big deal. And there's no better way to be immersed in it than by getting out on foot — which is exactly why we recommend taking one (or more!) of Malaga's famous FREE walks!
With energetic, charismatic, and kind-hearted locals leading the way, you'll pass by hidden gems, enjoy a cultural exchange over tapas, and learn where the best local spots are to eat, drink, and explore.
A range of free walking tours are available, covering different themes and locations — just remember to leave a tip for your guide.
Where to go next?
The beauty about the South of Spain is cities are within easy reach of one another, suitable for day trips or overnight stays.
Once you're done exploring the town of Málaga and the dozens of villages in between, check out some of the other destinations nearby, such as Marbella, Cádiz, Granada, Córdoba, and Seville. If you are looking for a general overview of what to see within the different Spanish regions, take a look at our article on the best places to visit in Spain for plenty of travel inspiration and top tourist tips.
Located east of Málaga, Almeria boasts a wealth of cultural and natural attractions. Visit the impressive Alcazaba fortress, the stunning Cathedral of Almeria, and enjoy the outdoors at the Cabo de Gata-Nijar Natural Park. Relaxing on the beautiful beach La Playa de los Muertos or taking an excursion to the desert to see where they once filmed spaghetti Westerns are some of the essential things to do in Almería.
There are many other fun things to do in Cádiz — one of the oldest cities in Europe. Venture through its historic old town, join the locals after a siesta down at the playa for sunset swims, or spend hours along the cobbled streets grabbing tapas or shopping tiny boutiques full of charms.
Also located on the coastline, but further down in the south, the drive from Málaga to Cadiz is 2.5 hours.
Granada on the other hand is further up inland and is a bohemian melting pot of cultures and activities. It's closer to Málaga, only 1.5 hours away. There are many things to do in Granada such as admiring the exquisite tilework and manicured gardens of the UNESCO Alhambra Palace or bargaining in the Alcaicería historic silk market.
Once an important Roman city, Córdoba is past Granada and is a great area for history buffs. Discovering where King Ferdinand and Queen Isabella used to reside at the Alcázar de los Reyes Cristianos, strolling through the 12 beautiful patios at the 14th century Palace de Viana, or weaving in and out of the forest of columns at the Mezquita Cathedral are some of the many captivating things to do in Córdoba.
Calling all couples! Honestly, Seville is just pure magic. It has a naturally romantic atmosphere, some of the best tapas, and of course, the iconic UNESCO-listed Royal Alcázar of Seville palace! Travel time between both cities is two hours. There are plenty of romantic things to do in Seville such as assisting a passionate flamenco show or hopping on a horse-drawn carriage ride.
If your time is limited, consider multi-day trips from Málaga. There are even some tours that travel from Spain to Morocco!
Uncover the delights of Morocco and embark on a multi-day trip to Fez and Meknes. Fez is often described as the 'Athens of Africa' since it has been a center of trade and learning for centuries. Be blown away by the Medina of Meknes which is designated as UNESCO World Heritage and nicknamed 'the Versailles of Morocco' due to its lavish architecture.
If you head North along the coast, past the charming port city of Almería and the region of Murcia, you eventually arrive in Alicante. There are many things to do in Alicante such as hiking up to the impressive Santa Bárbara Castle for breathtaking views or strolling along the gorgeous palm-lined waterfront promenade the Explanada de España.
When in Spain, it is a shame to leave the country without discovering what the buzzing and dynamic capital has to offer. There are plenty of fun things to do in Madrid such as paying homage to extraordinary artists such as Goya, Velazquez, and Murillo in the Prado Museum or tucking into some traditional tapas or churros in the gourmet San Miguel Market.
Final thoughts
From art and culture to the coastline to its rocky mountain ranges with picturesque villages in between; there is much to see and many things to do in Málaga that you might find it a hard time leaving.
Have you traveled to this part of the south of Spain before? What were some of your highlights and favored places to visit? Let us know in the comments.
As always, happy travels!