Nestled between rocky mountains and electric blue waters sits Nerja, a town along Costa del Sol in southern Spain. The town came into existence thousands of years ago, and it has drastically changed throughout that time.
What was once a hub for agricultural and silk products in the Muslim world has become a popular resort town for visitors and locals alike.
Nerja offers visitors a unique experience that combines historical and modern elements. It is the perfect place to soak up the sun, explore an ancient cave system or take in the stunning scenery. You won't run out of things to do, making it a great day trip from Málaga.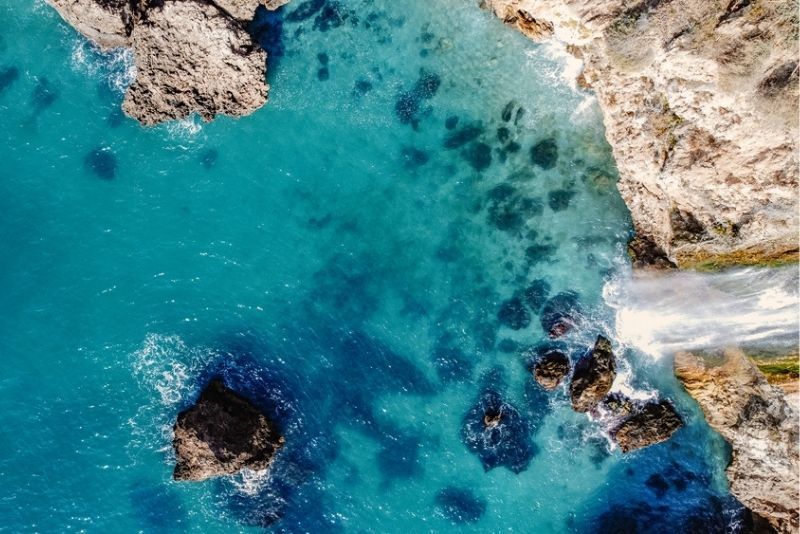 How to get to Nerja from Málaga?
Nerja lies just about 50 kilometers east of Málaga, so it is the perfect distance for a full or half-day tour. You can easily travel to Nerja on your own by car, bus or with a guided tour from Málaga. Whichever way you go, you'll be treated to beautiful views along the coast of the Mediterranean.
From Málaga to Nerja by car
Traveling by car is the fastest option available for a journey to Nerja from Málaga . You can drive along the coast towards Nerja on the A-7. You only need to budget about 50 minutes each way.
From Málaga to Nerja by bus/public transport
If you don't want to drive, the route from Málaga to Nerja is easily accessible by bus. The ride lasts approximately 1.5 hours from Málaga to Nerja. The bus provides a cheap and convenient option for those who don't want to worry about driving themselves and parking.
Guided tour to Nerja from Málaga
If you want to completely remove travel planning-related stress, a guided tour is the perfect option for you! You can book a guided tour to Nerja from Málaga.
The tours typically come with a guide to provide you with historical context about the area and time to explore popular tourist attractions. Day trips give you a convenient way to add a stop in Nerja to your next trip to southern Spain!
How much does the entrance ticket to Nerja cost?
Nerja offers visitors plenty of unique natural attractions and activities for free. You do not have to pay to enter the town itself, but you may have to pay entrance fees to various attractions. You should also budget for transportation expenses (if you travel on your own), food and shopping.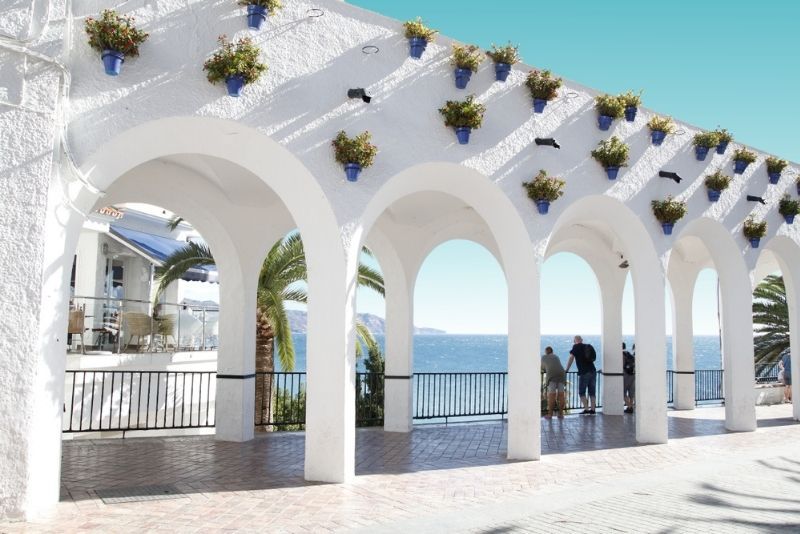 What is the typical itinerary of a day tour to Nerja from Málaga?
Tours from Málaga to Nerja begin by meeting at a common location in Málaga, or with a member of the tour company picking you up from your hotel. You will make your way towards Nerja, but the itinerary varies depending on what your tour includes.
Most tours head directly towards Nerja and give you either free time to explore or take you to the Caves of Nerja. You will have time to take in the amazing scenery at multiple vantage points and make your way around the old fishing town. If it's included, you may also be able to explore the stunning blue waters that surround Nerja.
From there, some tours also include a stop at the neighboring town of Frigiliana. You can explore the whitewashed houses while marveling at the Moorish architecture. Your tour may even take you to the historic fort or Europe's only cane honey factory.
After a day of exploring the Costa del Sol, you will make a quick journey back to Málaga. Your tour operator may drop you off directly at your accommodation, but it is best to confirm with them in advance.
What kinds of tours are available to go to Nerja?
Traveling to Nerja on a day tour is a great option. You don't have to deal with travel logistics, but you still get to take advantage of all that Nerja has to offer. You will find various types of day tours, including private tours, regular day tours and outdoor activity tours.
Private tour to Nerja plus Frigiliana from Málaga
Private tours allow you to travel with ease, especially if you are traveling with a small group of people. You usually pay per group, not per person. Private tours typically follow the same itineraries as day tours, but they also come with flexibility and privacy.
You will visit both Nerja and Frigiliana along the way, and some tours even make a stop at the Caves of Nerja. Most of these tours give you ample free time to explore and take in the popular attractions, so you can plan to be gone all day.
The cost typically includes travel expenses, a guide, a driver, some entrance fees and door-to-door transportation. Before booking, you should confirm whether or not they provide meals and plan accordingly.
Day tour to Nerja plus Frigiliana from Málaga
Day tours are great for solo travelers and small groups alike! These tours follow the same schedule as most private tours, but they allow you to meet other visitors in your group.
These day tours to Nerja also take you to Frigiliana, and you may also stop at the Caves of Nerja. You can make new friends while exploring all that southern Spain has to offer!
Outdoor activity tours in Nerja from Málaga
If you want to add a little adventure to your day tour, look no further! Tour operators offer a variety of tours that will get you outside.
You can see the area on a beautiful boat ride along the coast, explore the crystal-clear waters while paddleboarding or snorkeling, or take a ride on a kayak under the Maro Waterfall. Nerja is a nature lover's paradise, and these tours allow you to explore a different side of the city.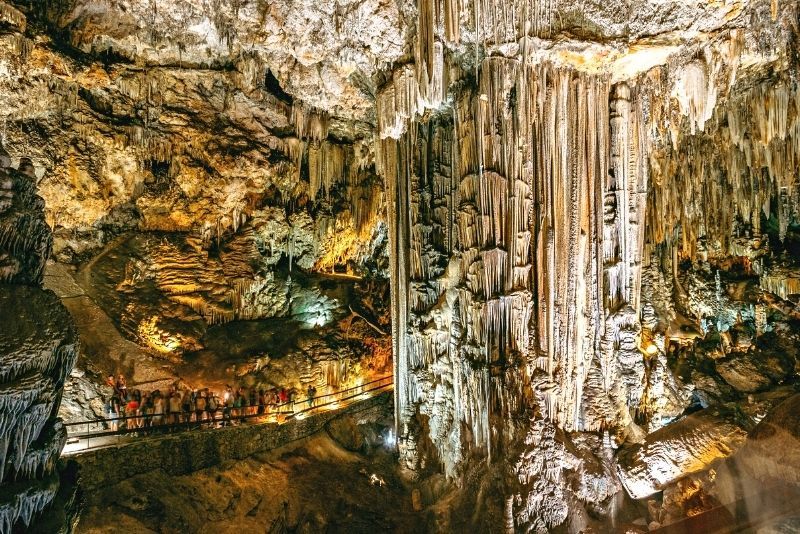 How much does a tour to Nerja from Málaga cost?
Every tour from Málaga to Nerja offers you a unique experience. Some pick you up directly in Málaga, while others require you to meet at a common location. Some take you to the Caves of Nerja, while others give you free time to explore.
Some transport you from Málaga, while others only gather once you are in Nerja. That said, the cost of each tour ranges from €25 to €397 for a day trip to Nerja.
If you want to travel to Nerja on your own and join a tour in the city, you can expect to pay as little as €25. You can join a variety of outdoor activity tours once you are in the city.
If you want transportation to and from Málaga, you can book a day tour for €36 - €150. Private tours cost a bit more and range from €129 to €397.
What will you see and do in Nerja?
Nerja boasts a variety of attractions, so there is something for everyone! Most notably, many visitors explore the Nerja Caves. You can view primitive paintings on the wall while visiting one of the most unexplored systems of sinkholes in Europe.
Because of its unique geographic location, Nerja also offers visitors endless outdoor sights and activities. You can have fun in the sun on popular beaches like Playa Burriana or Playa El Salón, or swim to the stunning Maro Waterfall.
Hike the Pico del Cielo, walk along the Chillar River, admire the architecture of the Aqueduct Eagle or take in the breathtaking views from the Balcony of Europe. You can even get in touch with nature at the Sierras of Tejeda, Almijara and Alhama Natural Park.
If you book a day tour, it may even include the option to do water activities like kayaking, a boat ride or stand-up paddleboarding.
When is Nerja open over the year?
As a residential area, Nerja remains open all year. You can visit any day you would like, but keep in mind that local attractions and tours may not operate on select holidays.
What are the opening times?
You can visit Nerja at any time of the day, but some attractions and tours may only operate during daytime hours. If you want to explore the local nighttime scene, consider booking an extended stay in the city.
When is the best time to visit Nerja?
While there is no bad time of the year to visit Nerja, you should plan your trip according to your weather preferences if possible.
If you want to take advantage of all that the Costa del Sol has to offer, you should consider visiting during the warmer and sunnier parts of the year. You can soak up the rays from June to August, but July is typically the hottest month of the year.
July is also typically the driest month of the year, while November sees the most rainfall. February is the coldest month of the year with average temperatures reaching a low of 3 degrees Celsius.
Travel tips
Pack your swimsuit and sunscreen for the beach!
Bring a camera to take pictures of the stunning scenery.
Wear comfortable shoes to hike in.
Book your bus ticket in advance to save money.