The clear waters of the Mediterranean Sea are home to a multitude of marine plant and animal species. Thanks to its location, the water temperature along the Costa del Sol is pleasant, making it ideal for water sports, including scuba diving.
Once you have mastered the art of diving with breathing apparatus, and received the required certification, the Costa del Sol offers a wealth of diving experiences, including wrecks and submerged statues and sculptures.
Dive centers in Málaga and other coastal locations offer scuba diving training and excursions. Make a plan to enjoy scuba diving in Málaga, whether you are a complete novice, or an experienced diver.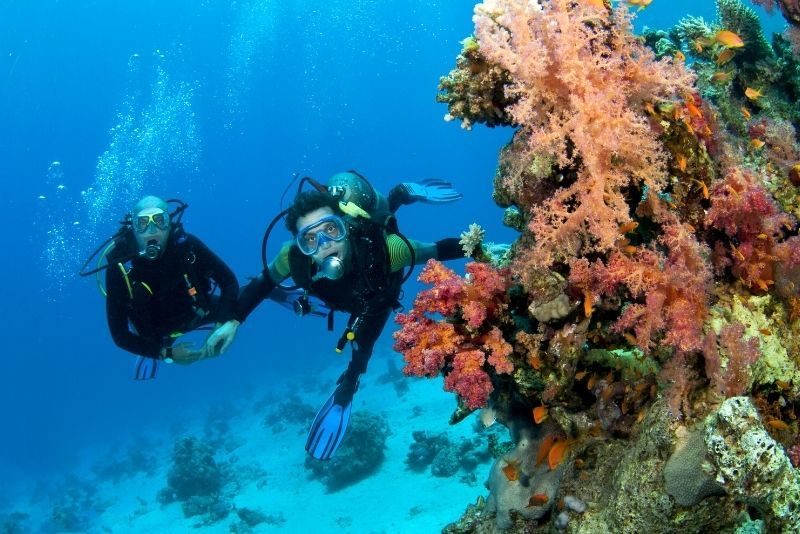 Here's all you need to know about scuba diving, one of the most exhilarating outdoor activities in Málaga.
What are the best scuba diving tours in Málaga?
Introductory dives and scuba diving courses are among the most popular scuba diving activities in Málaga.
Introductory scuba diving experience in Málaga
Dubbed a "diving baptism", your first experience of the underwater world of scuba diving is considered a moment worth celebrating and Málaga is the perfect place to submerge beneath the waters off the Costa del Sol.

This type of activity begins with a theory lesson, followed by exercises in shallow waters. Once you have mastered the fundamentals of using scuba equipment, you will join your guide on a short supervised submersion.

Longer diving baptism experiences are a starting point for a PADI qualification and include more intensive theoretical components, practice dives in confined waters and open sea dives at depths of up to 12 meters.
PADI scuba diving courses in Málaga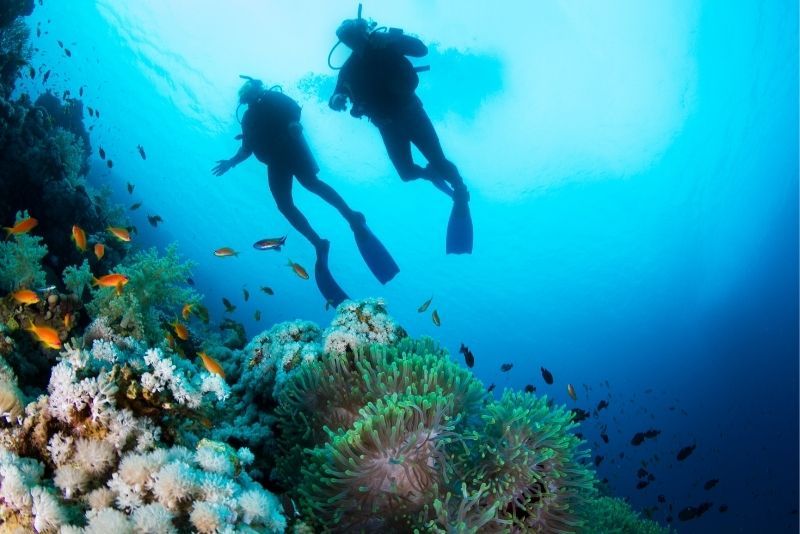 Málaga is perfect for novice divers in that it has many shallow and calm beach-accessible areas that can be used to train and become comfortable underwater using the breathing apparatus.
PADI Scuba diving courses offered in Málaga include the PADI beginner's scuba diving course, a PADI advanced open water diving course and a PADI review scuba diving course.
A 2-day scuba diving course covers the theory and practical aspects. For a head start, you can enroll for the course and complete the theory online at home before applying your knowledge with the instructors. This course includes 3 confined water dives and 2 dives in the open sea up to a depth of 12 meters.
If you already have a PADI Open Water Diver certification, you can enroll for the advanced open water diving course. On this practical training, you will be accompanied by your professional instructors to submerge to as deep as 30 meters in the Estepona area. The theoretical component of the training as well as 2 dives in open water are included in the course. You will still need a further 3 diving practices thereafter to receive your certification. You can book these in conjunction with this course or finalize them later.
A PADI open water diving refresher course is recommended for anyone who completed their original training a while back. This type of activity includes a revision of all the theory, and plenty of time in the dive center swimming pool under the supervision of your professional instructors.
How much do scuba diving tours in Málaga cost?
Introductory scuba dives in Málaga start at €30 per person excluding equipment hire. Experiences that include the equipment rental cost between €90 and €200 per person for activities between 2 and 3 hours long.
Refresher PADI scuba diving courses cost around €60 per person, while a 2-day PADI scuba diving courses are priced from €325 per participant.
Advanced PADI open water diving certificate courses cost from €450 per person. An open water diving certificate is a prerequisite for this tour, and an additional 3 practice dives need to be paid for and completed to receive the advanced certificate.
What is included?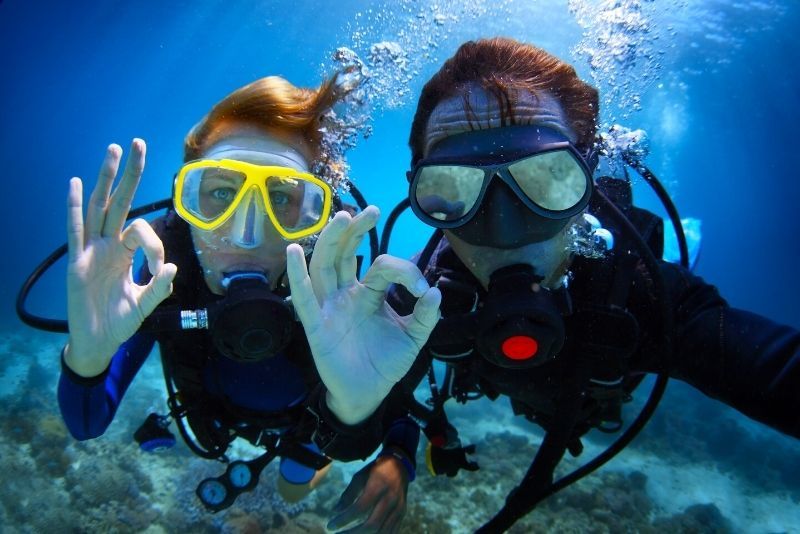 The most basic scuba diving baptism experience includes instruction and supervision by an accredited PADI dive instructor. Equipment costs are extra. Typically though, equipment rental is included for the duration of the activity. Some tours also include transfers.

Training courses include all the equipment, training material, the supervision of a certified instructor, and where applicable, certification upon completion of the training.
Where does it start?
The calm waters along the Costa del Sol are the perfect place to experience your first scuba dive. Scuba diving baptisms and introductions take place at various locations along the Málaga shores, including Torremolinos Beach, Rincón de la Victoria, and La Herradura.

Scuba diving courses typically take place at the Club Deportivo Babylon calle del Naranjo. Training dives happen in the swimming pool, with open sea dives taking place nearby.
How long does it last?
Introductory scuba dive courses average 2 to 3 hours including the theory, instruction and dive experience. A scuba diving refresher course takes a few hours, while a full course takes 2 days and an advanced open water certification lasts 3 to 5 days, depending on the participant.
Is it wheelchair friendly?
Yes, there are scuba diving tours in Málaga that are wheelchair-friendly. Make sure to discuss your specific needs with your tour operator before booking.
When is the best time for a scuba diving tour in Málaga?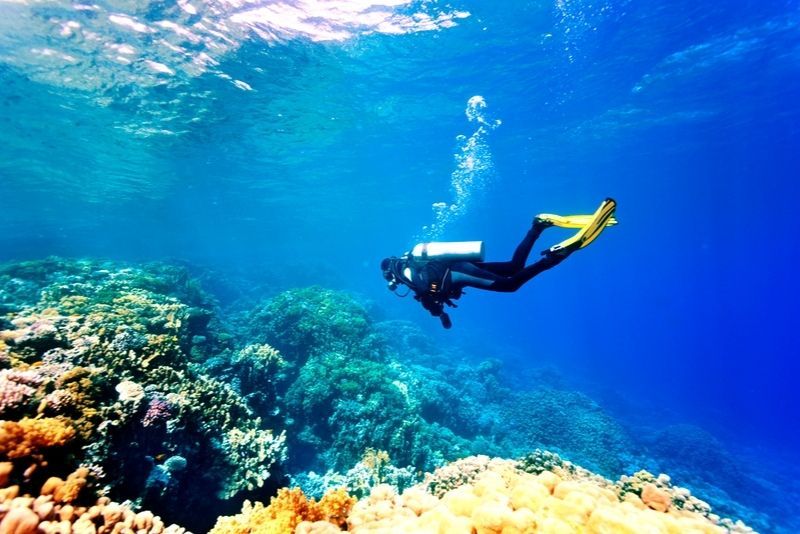 The best time for a scuba diving tour in Málaga is between late spring and early autumn months, from May to October. During this period, the Mediterranean Sea is warm and offers improved visibility, reaching up to 30 meters. Marine life is also more active and diverse.
July and August are the peak months, offering the warmest waters, but they are also the busiest. For a mix of good conditions and fewer crowds, consider diving in June or September.
Which other water activities can be done in Málaga?
Travel tips
Safety comes first, so always dive within your limits. If renting equipment, ensure it's well-maintained and familiarize yourself with it.
Avoid touching or disturbing the marine creatures and corals. Remember, you're a visitor in their home.
The Spanish sun can be intense. Drink plenty of water before and after your dive.
Remember to wait at least 24 hours after diving before flying, to avoid decompression sickness.