While most cities in the Andalusia region are located near the ocean, this Spanish city is rather special from the rest.
If you've never traveled to a city built on top of a mountain (and then further split into two from natural phenomena), revel in the spectacular ancient Moorish architecture and unusual location that you'll find only in Ronda.
The town is perched above a swooping gorge that splits the city into two, and for adrenaline junkies, a popular activity on a day trip is to abseil the 120-meter-high stonewall.
Just an hour from Malaga, spend hours visiting Ronda's famous attractions, like one of the oldest bullrings in Spain and spots that inspired even Ernest Hemingway!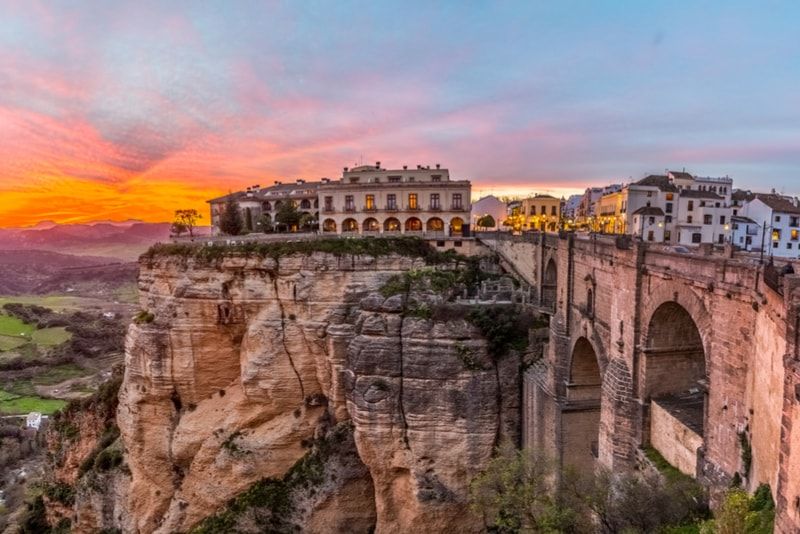 How to get to Ronda from Málaga?
Ronda sits over 100 kilometers west of Malaga, and both are situated within the Malaga province along the Andalusian coast.
From Malaga to Ronda by car
Ronda is about 1.5-hour drive from Malaga. Heading west of Malaga, the fastest route is to travel the A-357 and A-367 roads to Ronda.
From Malaga to Ronda by bus/public transport
Multiple local bus companies operate direct trips between Malaga and Ronda, and there are rides a few times a day. Buses depart from the Malaga bus station and arrive at the Ronda bus station. The journey is around 2.5 hours.
From Malaga to Ronda by train
There is only one train that travels directly from Malaga to Ronda every day from the Maria Zambrano Station. The train journey is two hours and departs Malaga in the morning, and Ronda in the afternoon.
Guided tour to Ronda from Malaga
Begin the day with an organized pickup from your accommodation in Malaga, or start your day trip to Ronda from one of the designated meeting points. A common meeting point is outside the Hotel Vincci Posada del Patio. Enjoy traveling by private vehicle and take in the Mediterranean landscapes.
Explore Ronda with a guide, take photos and learn about the town's different sites and local attractions. In the afternoon, travel comfortably back to Malaga.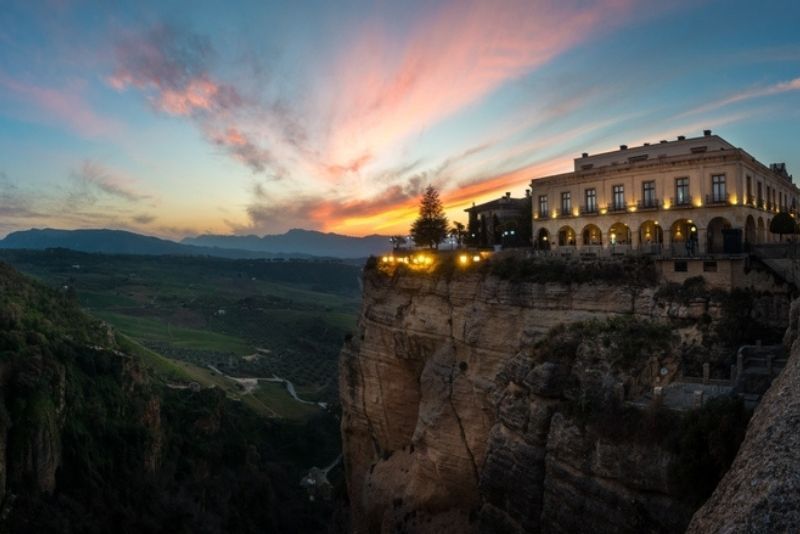 What is the typical itinerary of a day tour to Ronda from Málaga?
Start the day trip to Ronda in the morning with a hotel pickup or head to a designated meeting point in Malaga's city center. Visually take in the scenes surrounding you as your guide drives you from Malaga to Ronda just over an hour long.
Entering the mountain city, pit stop at the El Tajo de Ronda — a gorge that splits the city into two, and the two parts are joined by a gigantic bridge.
Stop at must-see attractions like one of the oldest bullrings in Spain or venture around the Mondragón Palace. Wander the streets of the Old Town or visit Ronda's Arabs Baths (locally known as Baños Arabes).
After four hours of exploring Ronda, travel back to Malaga and transfer to your accommodation or end the tour back at the meeting point.
What kind of tours are available to go to Ronda?
Day trip to Ronda from Málaga
Spend seven to eight hours day-tripping around the unique mountain city of Ronda. Once arriving, hop from one historical point of interest to the next, learning facts from your local guide.
Visit the parts of Ronda in both the new and old towns, take photographs of architecture dating hundreds of years back in time, and gasp at the viewpoints from atop of the hillside city. You will have some free time at Ronda for shopping or to grab lunch (most tours do not include lunch).
Half-day tour to Ronda from Málaga
Starting at 8 AM, take a private transfer from your hotel or meeting point in Malaga, and head to Ronda for a few hours. A guided tour will take you around to the most famous city attractions.
A half-day trip is great for travelers with limited time, as it starts early in the morning and lasts five hours in total. You will end back at your hotel or starting point in Malaga.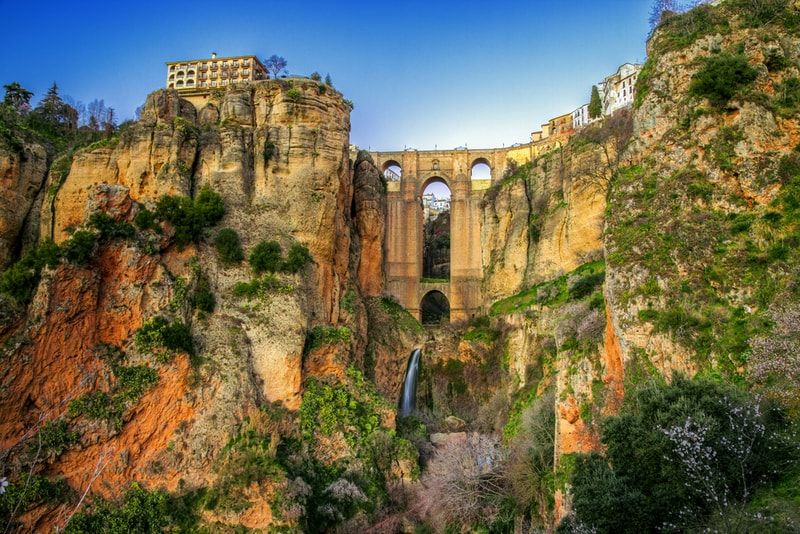 Day trip to Ronda plus Setenil from Málaga
Instead of touring just one city along the Andalusian coastline, visit two towns in one day. Starting early at 7:30 AM, travel from Malaga to the Cadiz region in a private air-conditioned vehicle and visit Setenil de las Bodegas town.
From the town filled with white-washed buildings, journey further on to Ronda. Spend a few hours sightseeing the ancient city with your tour guide, and enjoy some free time for lunch here. The whole tour can take up to 10 hours until it's time to return to Malaga.
There are multiple day trips to Ronda that also stop off at different destinations other than Setenil. Some tours include a day trip to Ronda plus Mijas or a tour to Ronda plus Marbella from Malaga.
Specialized day trips to Ronda from Málaga
Looking for something extraordinary? There are many unique tours from Malaga to Ronda to choose from. Take a trip from Malaga to Ronda and abseil the Tajo de Ronda gorge, or enjoy a winery tasting at a vineyard and a tour of Ronda in one day.
Tours depart from Malaga and once the trip is over, transfer back to your accommodation or drop-off point in Malaga city center.
How much does a tour to Ronda from Málaga cost?
A full-day excursion to Ronda from Malaga costs €150 to €340 per person. The pricier trips offer guests private tours where the only people joining the tour are the ones in your privately booked group. These private day tours also have flexible departure and return hours.
Half-day trips are shorter, lasting five hours, and cost €150 per person. If visiting more than one city other than Ronda, day tours are from €55 to €260 per person.
The price varies depending on the destinations you visit, for example, a tour to Ronda and Setenil is cheaper than a trip to Ronda and Marbella. The price also changes for small and larger group tours.
A specialized trip from Malaga to Ronda to abseil the Tajo de Ronda gorge is €33 per person and a day tour to Ronda and a local winery is €442 per person.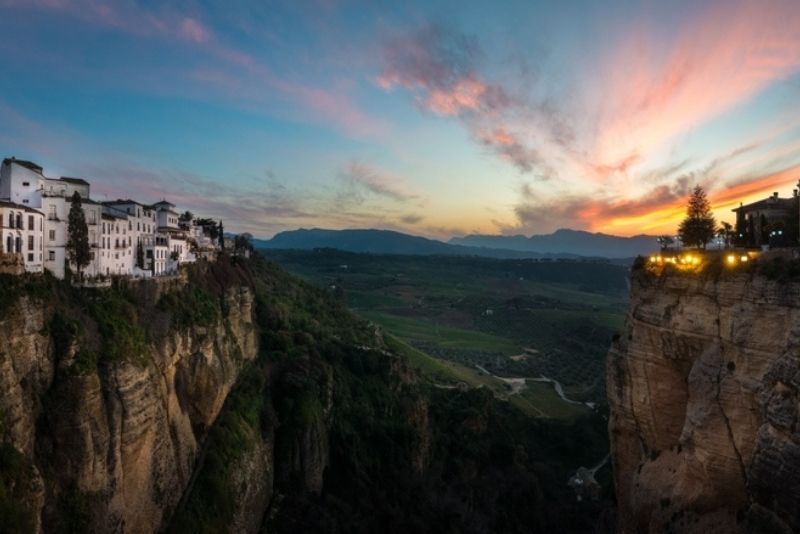 What will you see and do in Ronda?
Ronda is a cultural dream and there are many attractions to check out in both the old and new town areas. Spend the day learning about foregone eras, and explore the old town and imagine life hundreds of years ago.
Take photographs of Moorish architecture and wander along the streets where buildings seem to pop up in the clouds, thanks to Ronda's mountaintop location.
El Tajo de Ronda
It's hard to miss the two plateaus that divide the city of Ronda. Created by natural forces some thousands of years ago, the national monument has some of the best views in Ronda, and you can abseil the rockery too.
Puente Nuevo
Although commonly known as the New Bridge, it was in fact the last bridge built in Ronda in 1759 and it was completed in 1793. Built across the El Tajo de Ronda gorge, the stone bridge is one of three in the city and it connects the old and new towns.
Walk the bridge and snap a billion photos of not just the historical site, but the views too.
Old Town
One of the oldest cities in Spain, Ronda was originally named Arunda by the Celts (the first to settle here). It was later conquered by the Romans and then the Moors. It was finally occupied by the Spanish in 1485.
You can spot remains from its rich past all over the old town. Visit Iglesia de Santa Maria la Mayor, also known as Santa Maria Church, next to the town square.
Plaza de Toros de Ronda
As one of the oldest bullrings in Spain, check out the building's unique architecture constructed completely from stone. Many famous matadors in their time have ridden the ring. Today, you can visit the bullring and there is also a small museum here.
When is the best time to visit Ronda?
Open and accessible all year round, the magical hillside town is great at any time of year. However, Spain's highest tourist season is in summer and during this season, Ronda is very busy. To avoid waiting in lines, visit the city in April, May or September.
Are there any tours to Ronda from other cities in Spain?
Yes, there are other tours departing from several other cities in Spain:
Travel tips
Wear comfortable walking shoes and clothing.
Bring spending money for lunch and shopping.
Day trips usually depart from Malaga to Ronda in the morning, so it's best to book your tickets 24 hours in advance.
Don't forget your camera or a fully charged mobile.