Suspended over 100 meters up a gorge sits Caminito del Rey in El Chorro, Spain. The 8-kilometer suspended footpath attracts hundreds of thousands of visitors each year.
The aerial path offers visitors stunning views of cliffs, canyons, a large valley and wildlife while journeying on what was once considered the most dangerous suspended footpath in the world.
Caminito del Rey is the perfect day trip from Málaga for those adventurous enough to try it!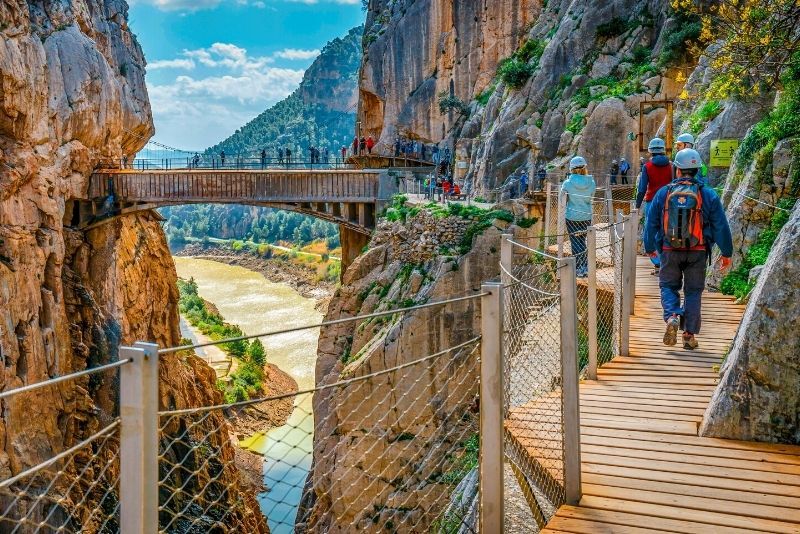 How to get to Caminito del Rey from Málaga?
The Caminito del Rey resides in El Charro, just about 60 kilometers northwest of Málaga. Whether you make the journey on your own or a tour, you have plenty of transportation options.
From Málaga to Caminito del Rey by car
The drive from Málaga to Caminito del Rey takes just under one hour via the A357. Upon arrival, you park in the designated car park for visitors which costs €2.
From Málaga to Caminito del Rey by train
If you do not want to drive, you can always make the quick jaunt from Málaga to El Chorro by train! The ride lasts anywhere from one to three hours, depending on the number of connections you have.
Once you arrive in El Chorro, you can either walk or take a taxi to Caminito del Rey. Ticket costs vary depending on when you book them, so we recommend checking in advance.
Guided tour to Caminito del Rey from Málaga
If you would rather have someone else take care of all your travel planning, you can book a guided tour from Málaga to Caminito del Rey.
Most tours pick you up from your accommodation or a neutral meeting spot in Málaga, transport you to El Chorro and make sure you return safely to Málaga. The overall cost of the day tour includes all transportation expenses.
How much does the entrance ticket to Caminito del Rey cost?
You can expect to pay €10 to enter Caminito del Rey if you visit on your own. You can pay a bit extra and get a guided visit for just €18. The guides speak both English and Spanish, and you can have up to 30 people in a group.
If you book a day tour, the overall cost should include your entrance ticket. Be sure to confirm this with your tour operator.
What is the typical itinerary of a day tour to Caminito del Rey from Málaga?
All Málaga to Caminito del Rey tours begin with a pickup in Málaga or a meeting at a common location. The tours depart and head northwest towards El Charro.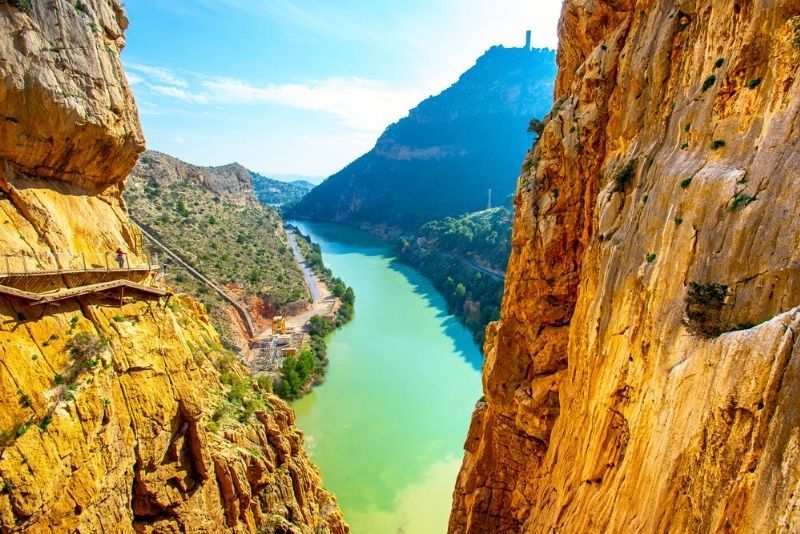 Each tour will take you directly to Caminito del Rey where you will start a guided tour of the footpath. After approximately three to four hours, the tour will finish. If your tour includes food, you may stop to eat after the walk. Some tours even offer an optional chance to swim in a nearby lake.
After spending the day at the Caminito del Rey, you will journey back to Málaga. Your tour operator may drop you off directly at your accommodation, so be sure to confirm with them ahead of time.
What kinds of tours are available to go to Caminito del Rey?
Since Caminito del Rey is such a popular tourist attraction, you will find a variety of tours that suit your budget and must-haves!
Private tour to Caminito del Rey from Málaga
Private tours provide a more intimate setting while still exploring all that Caminito del Rey has to offer. A private tour is usually the most cost-effective option if you are traveling in a group because they are not priced per person.
At Caminito del Rey, some private tours even offer extra time to complete a guided hike around the area. The cost includes transportation, a tour guide, a driver, food (usually) and hotel pick-up and drop-off.
Day tour to Caminito del Rey from Málaga
Day tours to Caminito del Rey from Málaga have similar itineraries to private day tours, but they cost less and allow for less privacy. Be prepared to make new friends and spend the day with other visitors in your group from all over the world!
Day tour options to Caminito del Rey from Málaga vary depending on how much you want to spend. Basic tours will take you there and bring you back. Other operators may offer food, time to swim in a lake, free time to explore the area or door-to-door transportation.
With so many day tour options, read the fine print to find a tour that offers what you are looking for!
How much does a tour to Caminito del Rey from Málaga cost?
The cost of the tour varies based on which operator you select and the attractions the tour includes. Typically, the prices range anywhere from €48 to €1,280. You can pick a more budget-friendly option and pay for a guided, full-day tour from Málaga for €48-85. Private tours cost a bit more and range from €275 to €1,280.
Some tours include breakfast, lunch or tapas for each guest in the overall cost. Others require guests to pay for their food along the way, so confirm with your tour operator in advance. You can always pack sandwiches to eat along the walk, but be sure to clean up after yourself!
What will you see and do in Caminito del Rey?
Caminito del Rey offers visitors picturesque, natural views while walking along the footpath. You can explore a variety of trails, tunnels, canyons, valleys, dams, flora and fauna while suspended 100 meters in the air.
The walk lasts approximately three to four hours, and you can walk slowly along the way to admire the area's beauty. If time permits, you can explore El Charro and enjoy the local cuisine.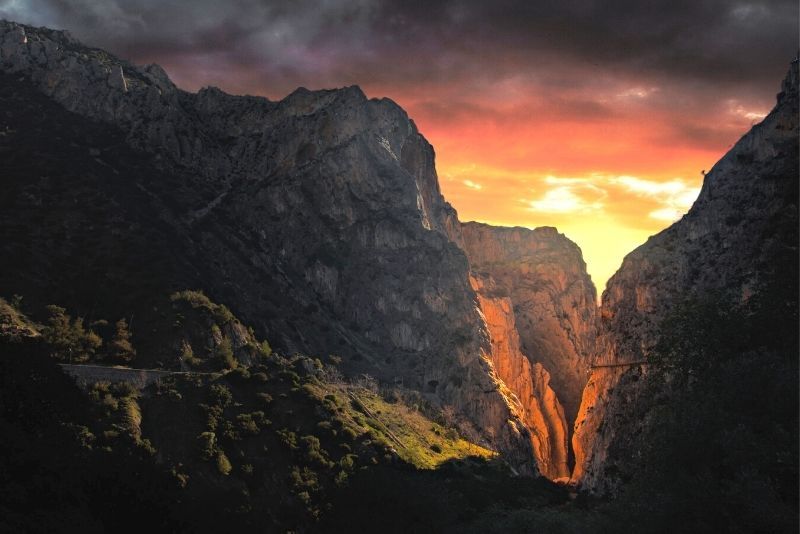 When is Caminito del Rey open over the year?
For the most part, Caminito del Rey is open to visitors all year. They close the path each year on Dec. 24, Dec. 25, Dec. 31 and Jan. 1. Except for those dates, you can visit any time of the year.
What are the opening times?
Caminito del Rey opens at 9 AM and closes at 3:30 PM every Tuesday through Sunday. Groups can access the footpath every 10 minutes.
When is the best time to visit Caminito del Rey?
Since walking along the footpath requires you to be outdoors, you want to try and visit when the weather is nice. The month of November typically sees the most rainfall, so it is best to avoid visiting then. December frequently sees low temperatures, as well as high levels of rainfall.
The rain levels drop in January, but the temperatures are still cold. From February onwards, you should be safe from the rain. The path is more crowded during the summer, and temperatures reach 30-40 degrees Celsius.
All of this is to say that the best times of the year to visit are September-October and April-May. You will mostly avoid rainfall, large crowds and high temperatures.
You should receive communication up to 24 hours in advance if the path is closed.
Are there any tours to Caminito del Rey from other cities in Spain?
Yes, there are other tours departing from other cities in Spain:
Travel tips
If you drive yourself to Caminito del Rey, prepare to take a shuttle bus to return to your car. It costs €1.55 per person.
Pack a rain jacket! The tour will go on as normal during periods of light rain.
Wear comfortable walking shoes since it is an 8-kilometer path.
Since you will be outside the entire time, make sure to drink water and reapply sunscreen as you go.
You can pack a sandwich and snacks to give yourself extra fuel to complete the walk!