Córdoba is a city in southern Spain's Andalusia region. Steeped in a rich tapestry of history that includes Roman, Islamic, Jewish, and Christian influences, it's a living monument to the ages.
In antiquity, the city served as a critical center for Western Islamic culture and learning, and later as a vital hub during the Spanish Reconquista. Every year, the city hosts the Festival of Patios, a UNESCO-recognized event that celebrates its tradition of flower-filled courtyards.
Fusing past and present, Córdoba is a must-see destination for anyone interested in the cultural and historical kaleidoscope of Spain, and a day trip from Málaga provides the perfect sightseeing opportunity.
Here's all you need to know about Cordoba, one of the most exciting day trips from Málaga.
How to get to Cordoba from Málaga?
The city of Cordoba lies on the right bank of the Guadalquivir River in the province of Andalusia on Spain's Iberian Peninsula. It is within easy traveling distance from Málaga as well as other towns alongthe Costa del Sol.
From Málaga to Cordoba by car
To reach Cordoba by car from Málaga, you travel north along the A-45 for approximately 163 kilometers. The drive takes around 1 hour and 45 minutes in normal traffic conditions.
For a more indirect route, you can travel along the A-4 or divert onto the N-432, in which case you will arrive in Cordoba in 2 to 2.5 hours.
From Málaga to Cordoba by train
There are daily train services between Málaga and Cordoba. The 169 kilometer trip takes about an hour on the express service.
Guided tour to Cordoba from Málaga
As a city that is jam-packed with historical and cultural locations and attractions, Cordoba is best experienced in the company of a knowledgeable guide. A guided tour to Cordoba from Malaga is possible on a small group and private basis, and typically lasts from 7 to 9 hours.
What is the typical itinerary?
A typical day tour from Málaga to Córdoba includes a combination of guided sightseeing and free time, allowing you to explore the essential landmarks and lesser-known spots at your own pace. The itinerary usually starts with an early morning departure from Málaga.
Upon arrival, many guided tours begin at La Mezquita, Córdoba's famous mosque-cathedral. From the mosque-cathedral, the tour often proceeds to the Jewish Quarter, known for its narrow, winding streets and historic synagogues. A local guide typically provides insights into the city's multicultural past during this leg of the tour.
Some itineraries also include a visit to the Alcázar de los Reyes Cristianos, a fortress with beautiful gardens, or the Roman Bridge, offering excellent views of the city.
After the guided portion, there is usually free time to explore on your own. This is an opportunity to explore local shops, try Córdoba's famous cuisine, or perhaps visit attractions like the Calahorra Tower or the Archaeological Museum.
The day typically concludes with a late afternoon or early evening return to Málaga. Overall, a day tour to Córdoba from Málaga offers a balanced mix of structured sightseeing and personal exploration.
What kinds of tours are available to go to Cordoba?
As one of the world's most culturally rich locations, Cordoba is a must on any traveler's itinerary. A variety of tours ensure that a trip to Cordoba is possible, even on a tight budget.
Escorted tours to Cordoba from Málaga with independent sightseeing
The most budget-friendly tour option from Málaga to Cordoba is an escorted coach tour. You will enjoy the benefit of a guide for the duration of your trips to and from Cordoba, but will spend the day exploring the city independently.
You can choose whether or not to enter any of the sites, allowing you to manage your trip expenses yourself.
This full day tour option combines the freedom of sightseeing on your own, with the perk of getting valuable information and insights from your guide.
Guided day tours to Cordoba from Málaga
On a guided day tour, you and your group are accompanied by your guide as you view several of Cordoba's top attractions. There is a stop in the town of Lucena in the morning, and you will also have time to explore the sights further on your own once your guided tour has concluded.
Some guided tours take place in small groups, while other trips are offered with transpost on a larger coach. Food and drinks are for your own account, but some entrance fees are covered in the tour price.
Private full day tours from Málaga to Cordoba
To make the utmost of your sightseeing time in Cordoba, consider splurging on a private tour which includes your own guide and private transportation.
On a private tour, you benefit from your insightful guide's undivided attention and can tailor your itinerary to ensure that you spend your time viewing the attractions that appeal to you the most.
How much does a day trip to Cordoba from Malaga cost?
Escorted tours to Cordoba from Málaga with independent sightseeing include a guide during your coach trips and start from €30 per person. No entrance tickets or guided city tour is included in this price.
A guided day tour to Cordoba from Málaga costs from €80 per person. This includes certain entrance tickets and a guided tour in the city.
Private full day tours from Málaga to Cordoba accommodate a maximum of 8 people and cost from €490 per person.
What will you see and do?
Cordoba has more UNESCO World Heritage Sites than any other city in the world and there is plenty to see and do while visiting. These are just a few of the landmarks and sites that may be included on your tour:
Roman Bridge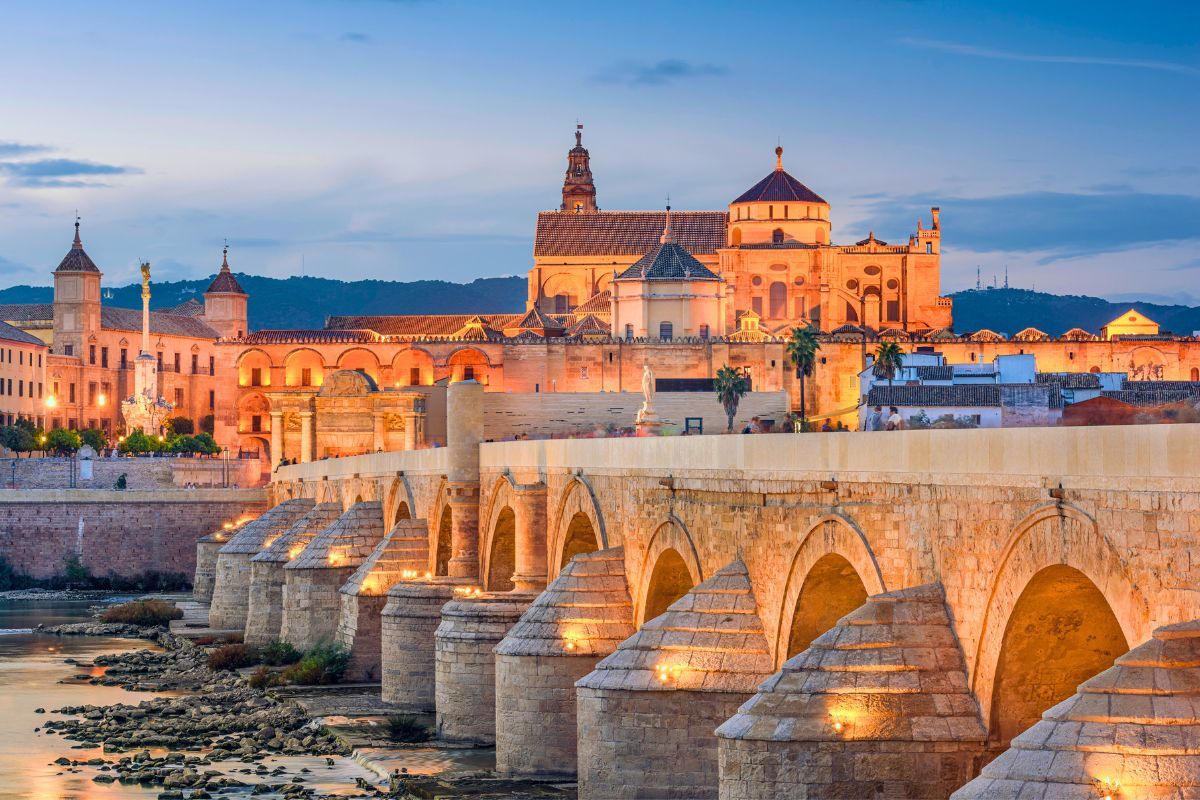 The Roman bridge is around 2,000 years old and crosses the Guadalquivir River. The 250 meter long bridge has 16 arches and is one of several structures that date back to Roman times.
Jewish Quarter
The Jewish Quarter is part of Cordoba's historic center and houses the ancient synagogue that was saved when the Jews in Andalusia were expelled in 1492. The labyrinthine district has narrow, winding streets and flower-adorned patios.
The Plaza Maimónides is located in the quarter and you can see the bronze statue that honors the Cordobian Jewish physician and philosopher.
La Mezquita
Also known as the Mosque-Cathedral, the UNESCO listed site has served as both a mosque and cathedral during its centuries long existence.
Alcázar de los Reyes Cristianos
A 700-year old medieval castle that served as a site for trials during the Spanish Inquisition. The watchtowers offer spectacular views.
When is the best time to visit Cordoba?
The best time to visit Córdoba is during from April to June in spring and, from September to November in autumn, avoiding the intense heat of the summer.
Spring is especially beautiful with blooming flowers and festivals like the May Crosses.
Are there any tours to Cordoba from other cities in Spain?
Yes, there are tours departing from other cities in Spain:
Travel tips
Plan your itinerary and prioritize the attractions you want to visit in Córdoba to make the most of your day.
If you plan to visit popular sites like the Mezquita, consider booking tickets in advance to skip the lines.
Consider a train travel as an option and take a high-speed train (AVE) from Málaga to Córdoba for a convenient and quick journey.
Wear comfortable walking shoes, as you'll likely do a lot of exploring on foot.
Immerse yourself in the culture and local cuisine of Córdoba and savor traditional Andalusian dishes at local restaurants.