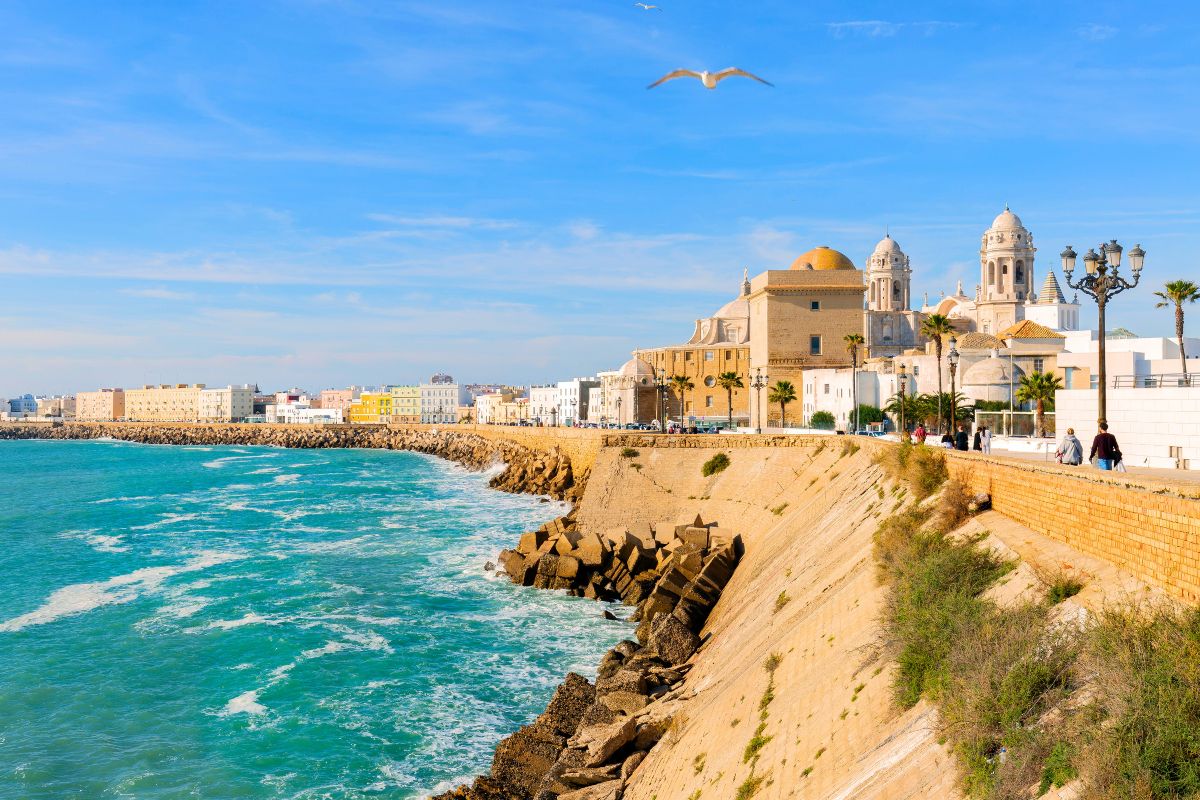 Endless days of sunshine, the originators of tapas (arguably so) and dripping in so much history it's hard to ignore, ladies and gents we introduce to you Western Europe's oldest city; Cadiz, straddling the Atlantic Ocean along the Andalusia coastline.
With its origins traced as far back as the Phoenician times, its multiple fortresses have each seen their fair share of battles, wars and conquests, and the preserved city buildings echo its rich past — whether you're investigating ancient cathedrals, geological ruin sites or watchtowers.
Regarded as a thriving port city since its earliest inception, the ocean makes a major appearance on the list of things to do in Cadiz…
Feast on the freshest seafood, idle away the hours on soft sandy beaches, knock back glasses of sangria at a beach bar along the promenade and enjoy people-watching from squares lined with palm trees parallel to the harbor.
Charming visitors with its distinctive southern Spanish flair, savor traditional flavors from this part of Spain during food tours or visits to the local market. Day trip to nearby Jerez for authentic sherry tastings, or head over to romantic Seville — this city's position is perfect!
1 – Snap endless photos of Cadiz Cathedral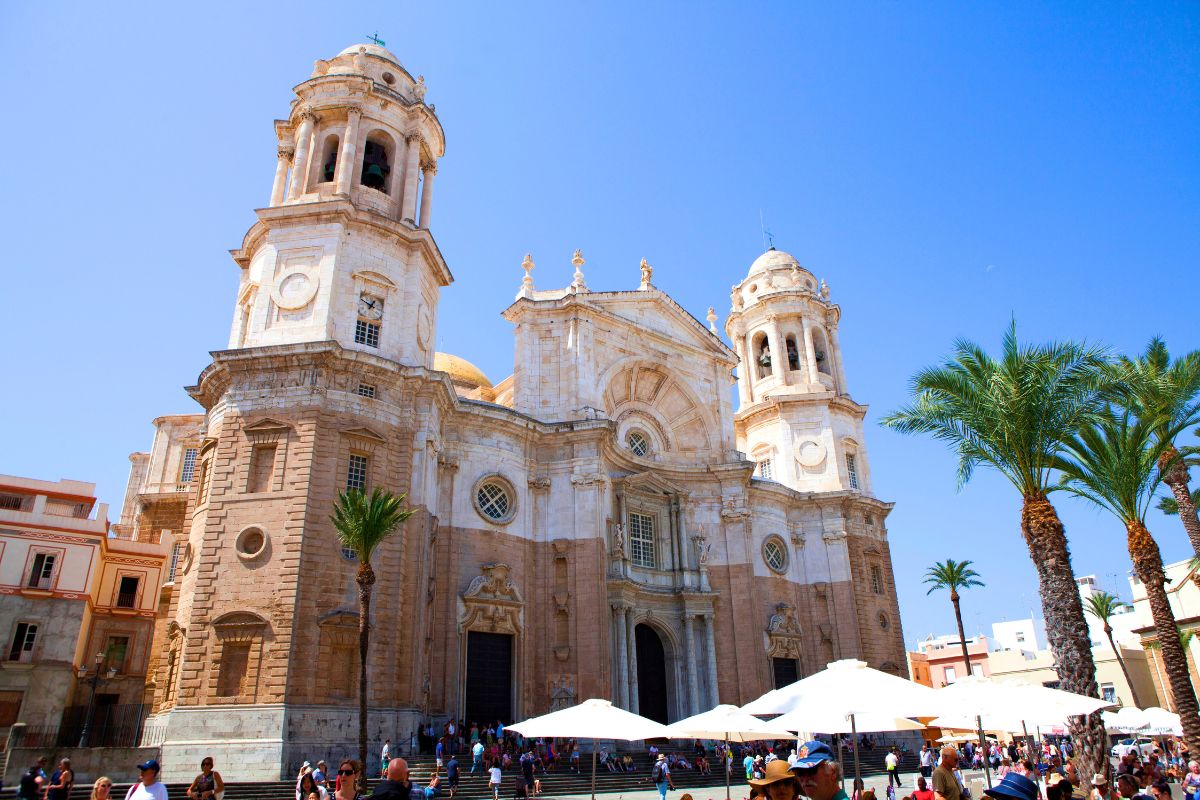 Thanks to its interesting history, the Cadiz Cathedral is an architectural delight, and hundreds of visitors have gravitated toward the historical structure when visiting the city to glimpse the building in person.
Combining a variety of different design styles, the results are intriguing.
Fun fact: The cathedral took 116 years to complete its final build, but some say it wasn't by choice, but rather the constant changing of architects, designers and directors.
This is what led to its conflux of varying styles, starting out in a Baroque fashion, changing to the Rococo style (both styles using dramatic, stylized and poetical elements) and finally ending off the interiors and exteriors in a Neoclassical design — moving from the ornate to a more classic and clean appearance.
(The towers, dome and the building's façade are prime examples of its Neoclassical influence.)
Housing one of Spain's oldest clocks, Torre de Poniente was constructed in synergy with the cathedral but was one of the last features to be added. Today, you can head up the bell tower and sweep in the city views from above.
Not only visually appealing from the outside, the church's interiors are magnificent too. There are multiple chapels, known as 'capillas' in Spanish, and the oyster stone crypt is where a few prominent figures have been buried to rest.
2 – Climb to the top of Tavira Tower
Watchtowers aren't as significant as they once were centuries ago, acting as a protection station against intruders when wars were constantly raging. Perhaps this is what makes these antiquated structures so fascinating to us in the 21st century …
Officially Cadiz's most important tower back in the day, the Tavira Tower was the city's first, built in 1778, standing 45 meters above sea level.
Whilst it's no longer used for wading off armies, the tower is still utilized as one of the best viewpoints in Cadiz.
Not only boasting gorgeous vistas, but the tower is equipped with an old-school camera obscura — the first one ever to arrive in Spain.
Climbing 170 steps, you will reach the top of the tower where a terrace allows visitors to clock in the vistas, and the special camera obscura is located here too.
Looking through its lens, objects and buildings far off in the distance appear much closer than they are. These are then projected onto a screen so you can get a close-up view of landscapes far away — think of it like a mix between a telescope and a camera.
There are daily guided 20-minute shows using the instrument where an expert provides information and history behind the various landmarks that you will see.
On the lower levels are two exhibition halls to learn more about the city of Cadiz, as well as the Tavira Tower and the Camera Obscura.
3 – Explore the ins and outs of the charming Old Town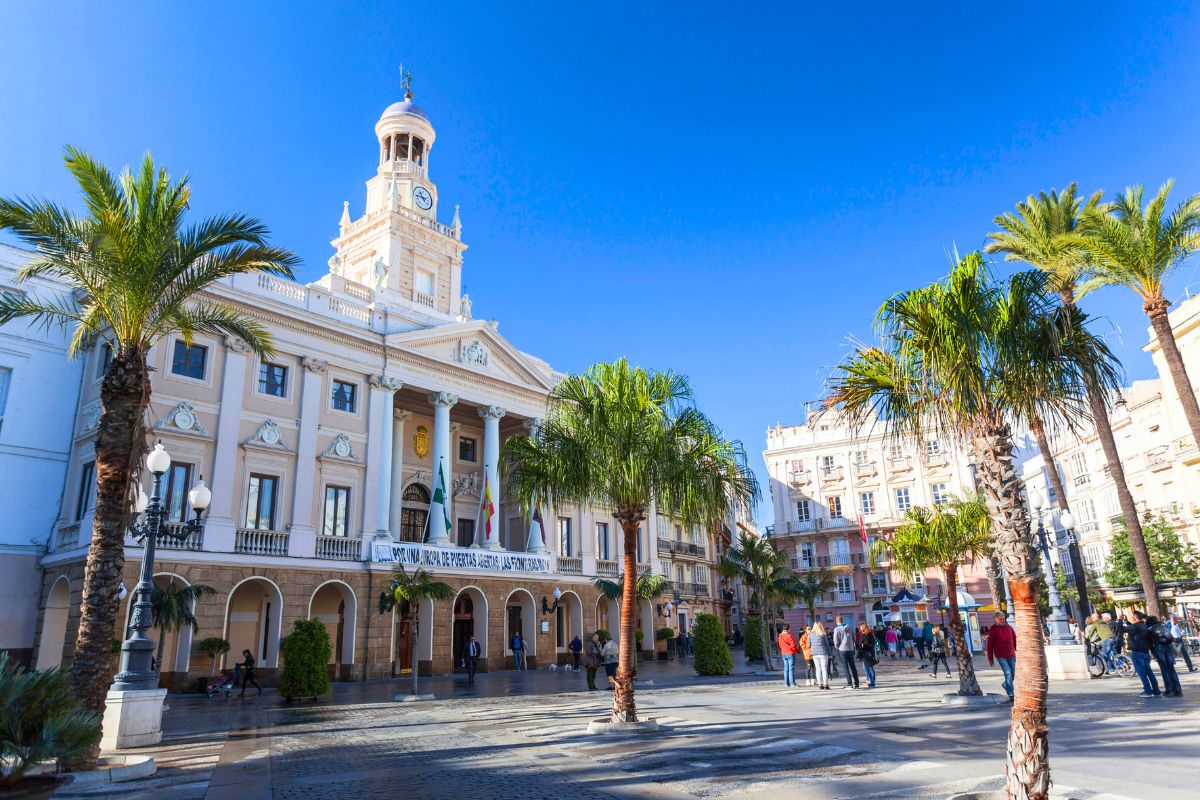 If there's one area you should always add to your bucket list when visiting any city is its old town; the place where you can get a real sense of what the locale was like before modernization.
Considered as the heart and soul of this city, Cadiz's Old Town is not only picturesque but many of its must-see landmarks are situated in this part, with the beach just around the corner.
Stroll the cobbled streets, grab a sangria and light Spanish plates at a traditional tapas bar, photograph the pretty light-washed buildings, shop for souvenirs from a bohemian boutique or watch an authentic Flamenco show at one of the theaters.
Not-to-miss sites and monuments around the Old Town include the Cathedral of Cadiz, the Roman Theatre of Cadiz, Castillo de Santa Catalina castle, Iglesia de Santa Cruz church, Oratorio of San Felipe Neri church, the Plaza de España, the Monument to the Constitution of 1812 and the Plaza de San Juan de Dios.
(This popular square is lined with restaurants and bars, with the harbor port on one side. The Town Hall is here too, as well as the Iglesia de San Juan de Dios catholic church.)
The area between the plaza and the Cadiz Cathedral is known as Barrio del Pópulo — officially the city's oldest surviving (and thriving) neighborhood! Dating as far back as the 13th century, it's another architectural treat, this time boasting Gothic influences.
4 – To see captivating gardens visit Parque Genovés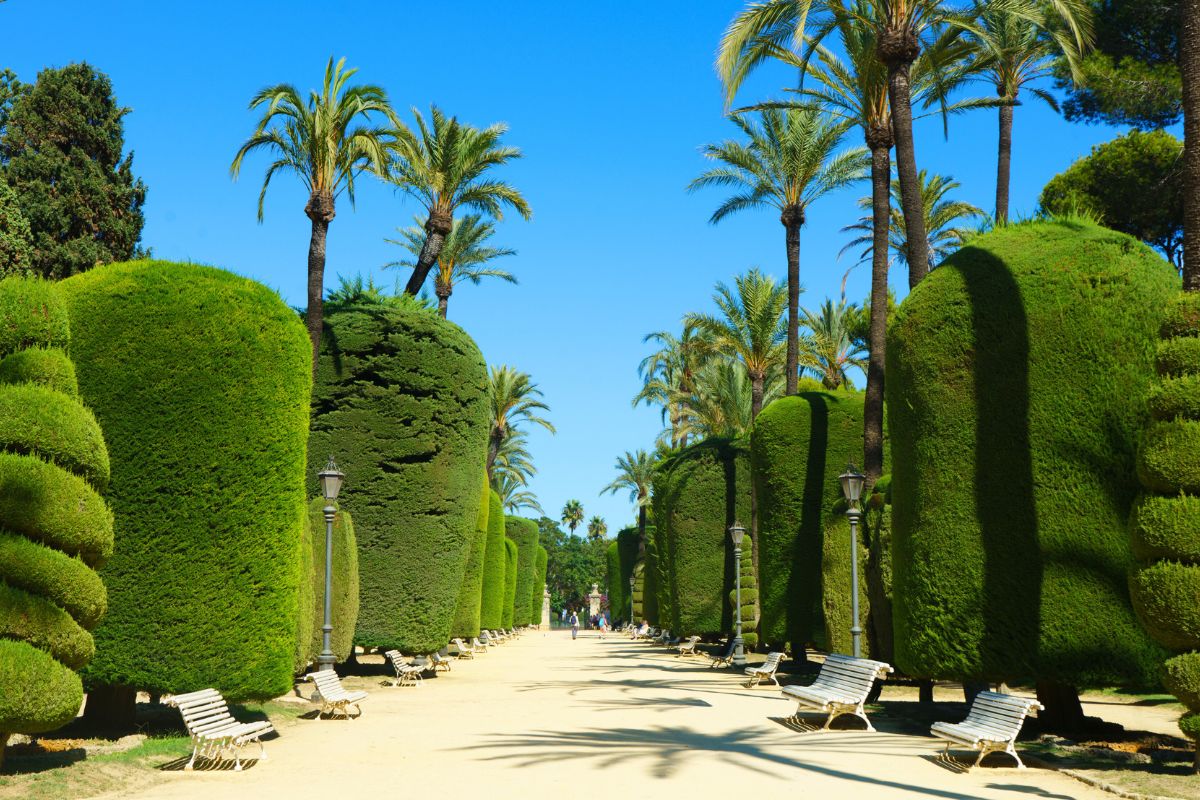 Horticulturists, botanists and any green-fingered traveler, your heart might just skip a beat entering Parque Genovés — a far cry from your ordinary park green.
Opening to the public in 1892, its unique design and unusual features make it stand out, exemplifying the Romantic style prominent in the 19th century.
Stroll pathways lined with tall Cypress trees, manicured bushes (some shaped into obscure forms), organized flower beds and palm trees, and the grounds straddle both the city and the ocean.
Thanks to Cadiz's climate, plenty of foreign plants are able to thrive, and Parque Genovés boasts more than 150 types of trees and shrubs, many of which are exotic species.
In the center of the park is a large man-made pond with its very own waterfall and cave towered by life-size dinosaur replicas, with a large bridge walkway running above the water feature.
Plenty of sculptures and other creative elements are dotted throughout the grounds. Some to look out for include the fountain titled 'Children under the umbrella' (Niños bajo el paraguas) and a sculpture in honor of the patron saint of gardeners, Saint Rosa de Lima (Saint Rose of Lima).
The José María Pemán Summer Theatre is located within the park too.
5 – Gag over the Gran Teatro Falla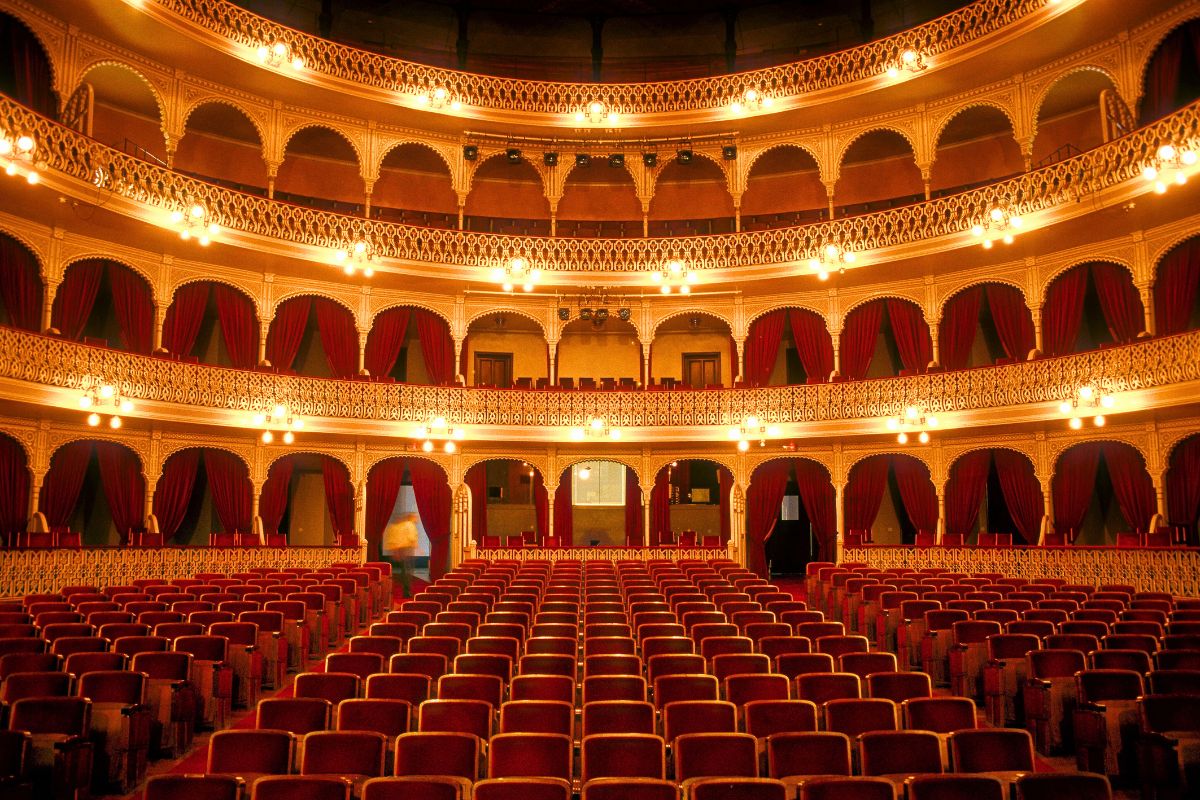 How familiar are you with Neo-Mudéjar architecture? Springing to popularity circa the 19th and 20th centuries, it's a post-modern take on the original Mudéjar style used in design between the 12th to 17th centuries.
Employed by the Spanish in aid to set their buildings apart with a unique architectural look, after a fire burnt down the city's original theater, it was decided to rebuild a new one in this particular design.
Constructed between 1885 and 1905, the Gran Teatro Falla opened its doors for the first time in 1910, turning heads in the right direction thanks to its Moorish-style architecture.
It continues to fascinate and allure visitors closer, especially those with an affinity for design, displaying the typical elements of Neo-Mudéjar, from its soft red-brick facade to the three horseshoe arches to its red and white voussoirs covering these entrances.
Still operating as a concert hall, multiple events are showcased here throughout the year. Don't miss carnival season toward the start of the year when traditional Comparsas (performance groups including singers, dancers and musicians) competitions take place.
Or, catch another local show like a concert of flamenco and sweet jazz, fusing singing, guitar-playing and dance.
6 – Put the pedal to the metal during bike tours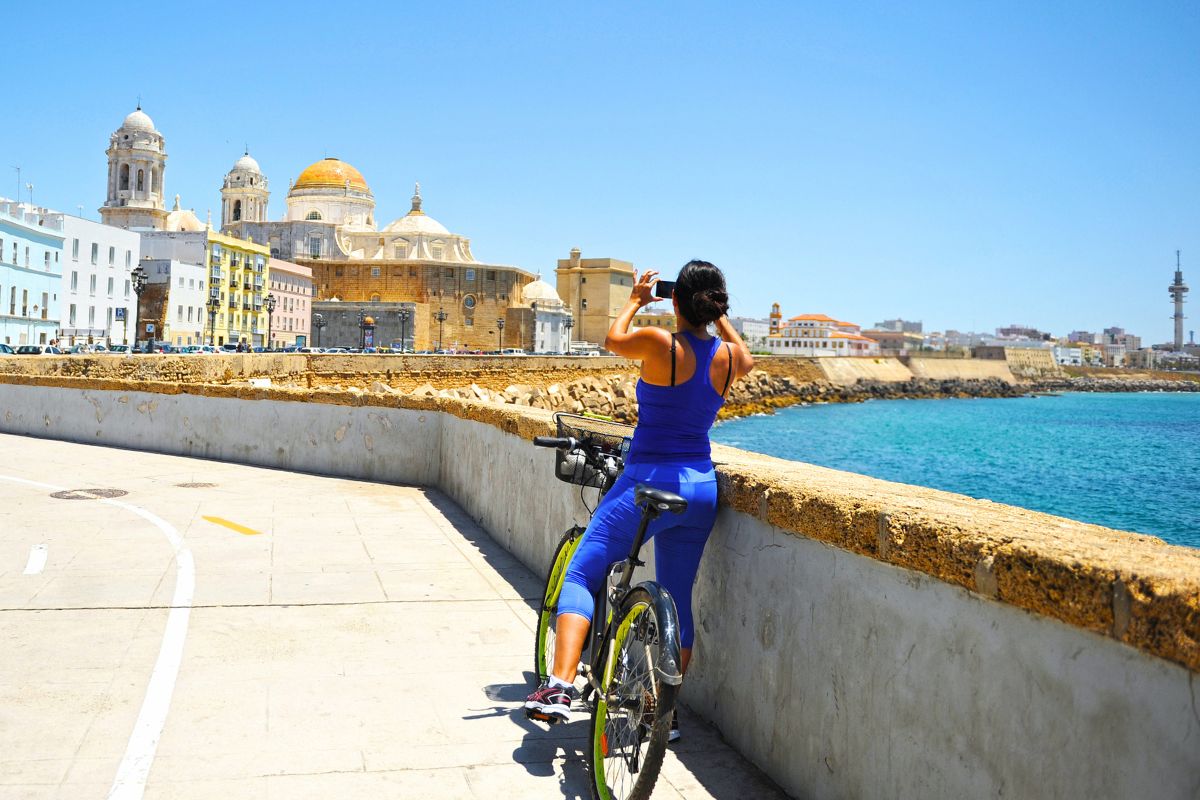 Avid cyclists and biking enthusiasts, instead of missioning around Cadiz on foot, spend a couple of hours discovering the city with one of the epic bike tours available.
If you only have a few days to spare, this is also a fabulous alternative, racking up more kilometers in a short space of time as you cycle from one attraction to the next.
The typical bike adventures are around 2.5 hours, guiding you to all the must-see city landmarks, monuments and sites. Examples of places on the itinerary are the Cadiz Cathedral, Gran Teatro Falla, Parque Genovés, Puertas de Tierra, Castillo de Santa Catalina and La Caleta Beach.
As you cruise from one spot to the next, step behind the scenes learning a bit about the history of each place.
Longer bike tours lasting around three hours also speed off to areas like Playa de Santa Maria del Mar, Puerto America and the El Pópulo (Barrio del Pópulo) and La Viña neighborhoods, plus sites such as Mercado Central and the Roman Theatre of Cadiz.
Looking for things to do in Cadiz for couples? How romantic does a bike tour at sunset sound? The palm trees around the city look extra pretty as they turn to silhouettes at Golden Hour.
Or, if you take your cycling super seriously, there are even mountain-biking tours just outside the city to embark on, veering around the Province of Cadiz (some even suitable for kids).
7 – See the star-shaped Castle of Santa Catalina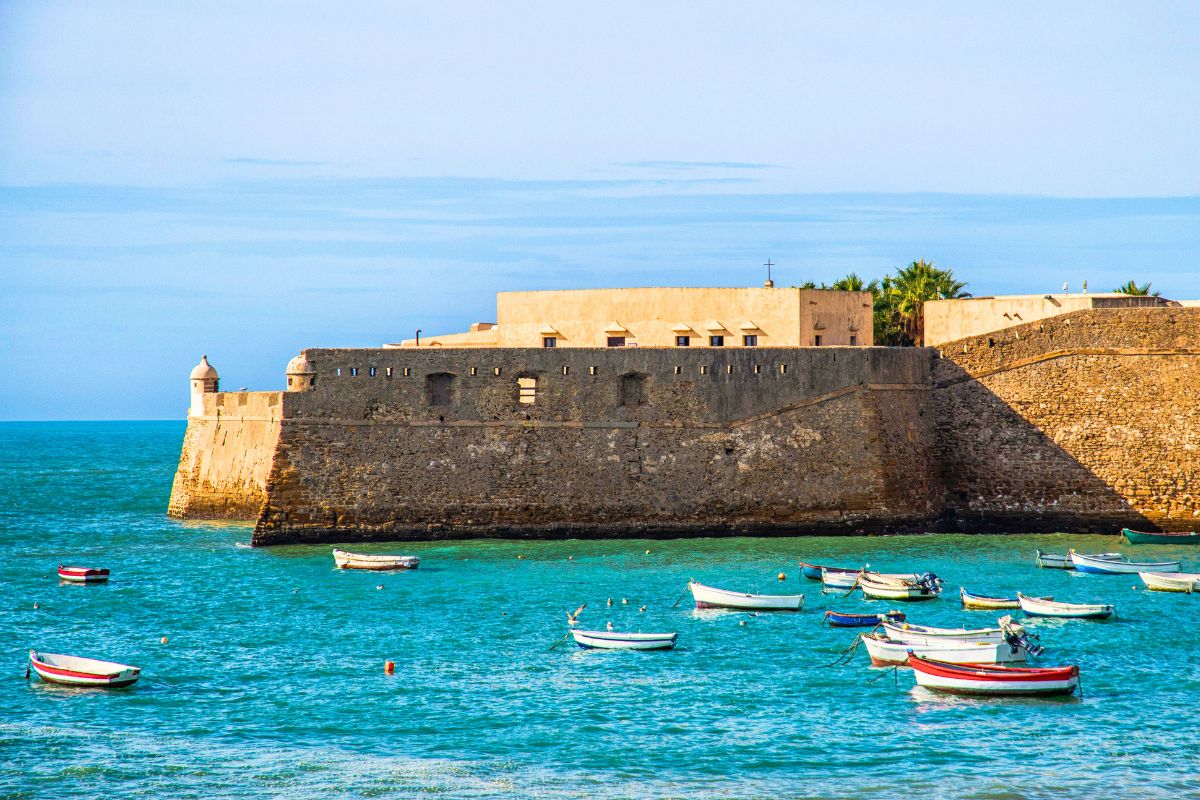 From a city fortress to military prison to a recreational and cultural events center, the Castle of Santa Catalina has certainly seen its fair share of history over the last five hundred-odd years, and as the city's oldest military structure, its preservation efforts are always in full toll.
Overlooking the ocean — particularly Playa de la Caleta, which back in the day, is where enemies and pirates would sail in from — it's a great place to plunge into more of Cadiz's interesting history.
Architecture wise it boasts some interesting features, particularly its star-shaped fort floor and Chapel of Santa Catalina (added to the castle roughly 100 years after its first build).
Dating to 1598, the fortress took more than 20 years to complete and today is officially a 'Bien de Interés Cultural' (Asset of Cultural Interest).
Scope out the structure for yourself during city tours in Cadiz and hunt down typical old-school fort features like its two half-bastions, moat and bridges. There are also temporary exhibition rooms to visit and sometimes creative workshops are held here.
8 – Chill out on La Caleta (Playa de la Caleta)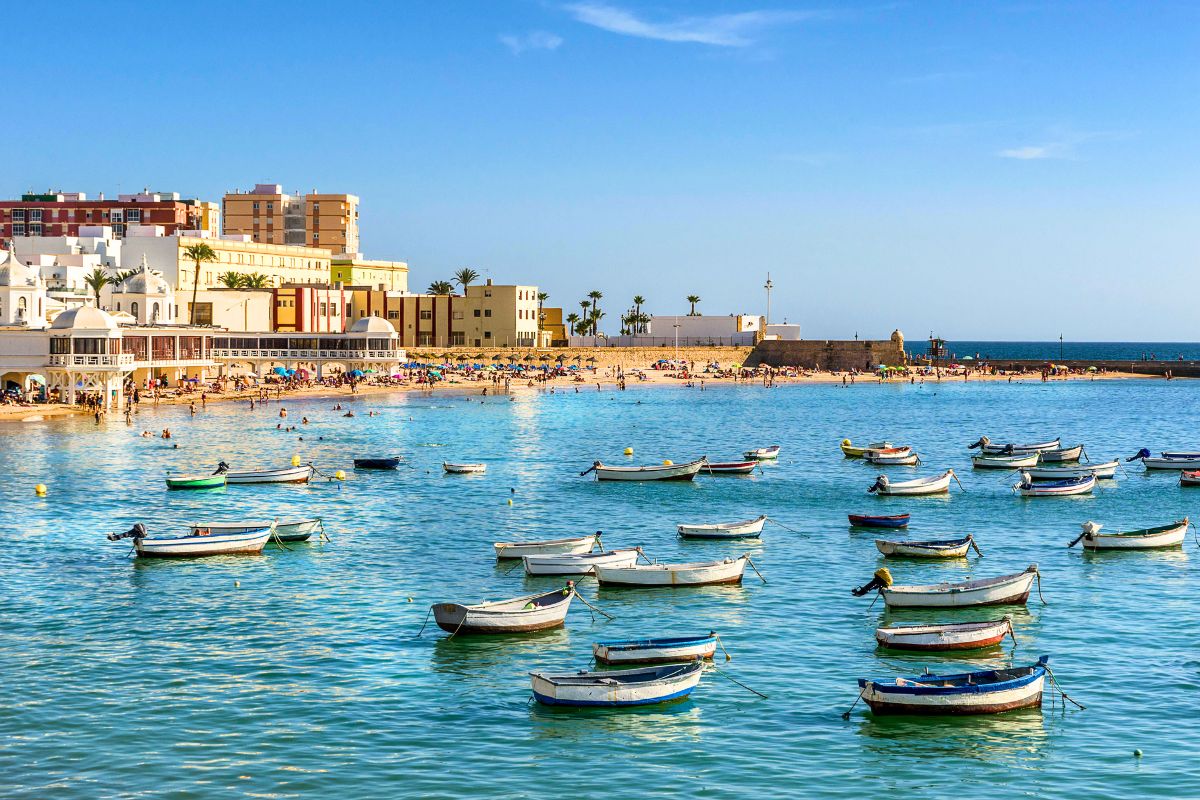 One of the most charming locations to be for sunset, La Caleta beach (as it's locally known) is always bustling with locals and tourists, and is steeped in history, dubbing it a must-see area of Cadiz.
Pack your bags for a beach day and spend hours chilling on its 450-meter stretch of soft sand, or arrive here following your afternoon siesta and join the local families eating sandwiches and drinking beer.
Need a break from the sunshine? Ditch the shoreline and explore two significant city landmarks framing Playa de la Caleta: the fortresses of the Castle of Santa Catalina and the Castle of San Sebastián.
The all-white Spa of Our Lady of Palma and the Royal sits on the beach, but this Bien de Interés Cultural site is no longer in operation.
Special enough to be featured in multiple movies, including the 007 blockbuster film, Die Another Day, its bay also holds its name in the history books. Thousands of years ago during the times of the Phoenicians, the Carthaginians and the Romans, La Caleta was utilized as a docking port.
Peckish? Grab tapas and drinks in La Viña afterward — the old town neighborhood just behind the beach.
9 – Walk over the ocean to the Castle of San Sebastián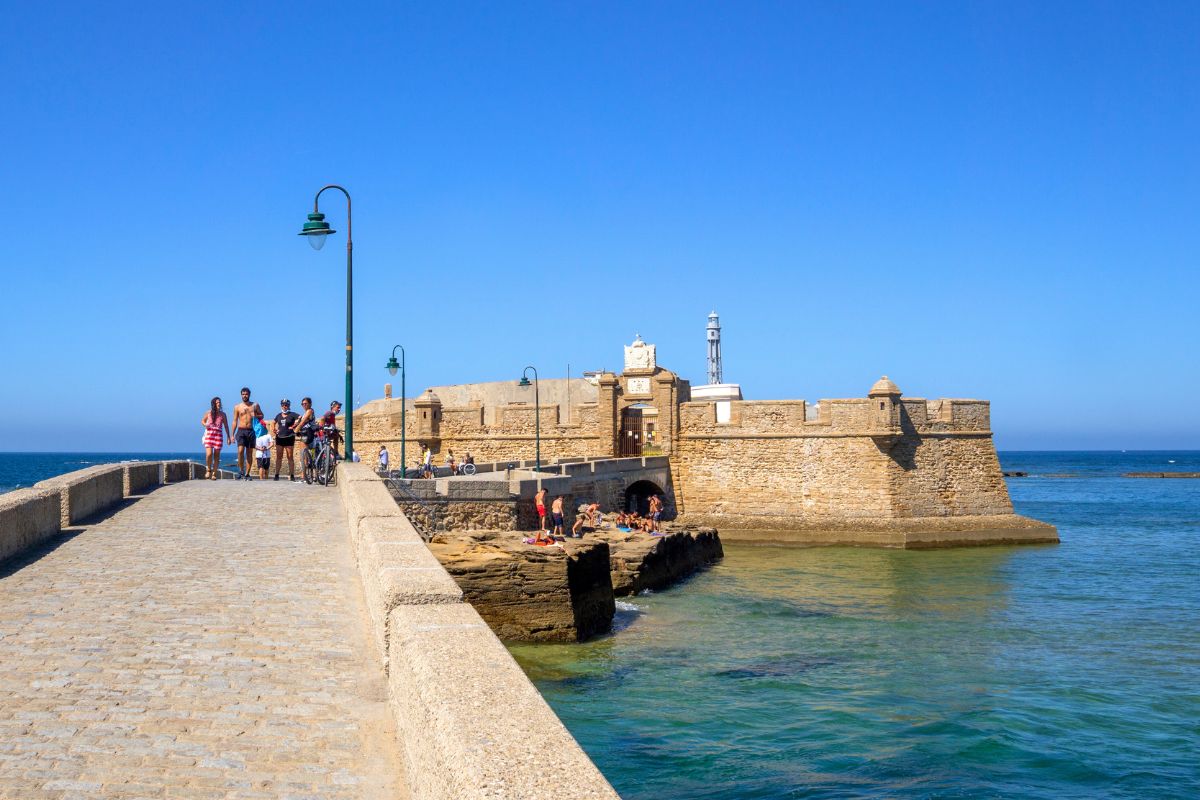 Cadiz's history pot is constantly overflowing with gems from the past, and according to legend, it's believed that the Castle of San Sebastián had its beginnings with the Greek Gods, rumored to have been a temple of Kronos.
Not just one interesting facet; the ancient fortress is connected to the mainland by a causeway above the shoreline at La Caleta beach (known as the Paseo Fernando Quinones walkway), starting from Plaza Canal de Ponce.
The construction of the castle complex has its roots in the 15th century, but numerous changes were inflicted until its final work in 1706 (when the building of the current castle started).
A chapel was added to an existing Moorish-style watchtower around the year 1457, and the original tower was rebuilt in 1613. It wasn't till 1706 that the Castillo de San Sebastian we see today began to take shape.
Later on, the stone pathway leading from Cadiz to the castle was added for easier access. The current lighthouse was erected just over 100 years ago in 1908.
Another one of Cadiz's' 'Asset of Cultural Interest,' the castle complex is closed, but you can stroll over the causeway right up to the fort's exteriors.
10 – People-watch from the Plaza de las Flores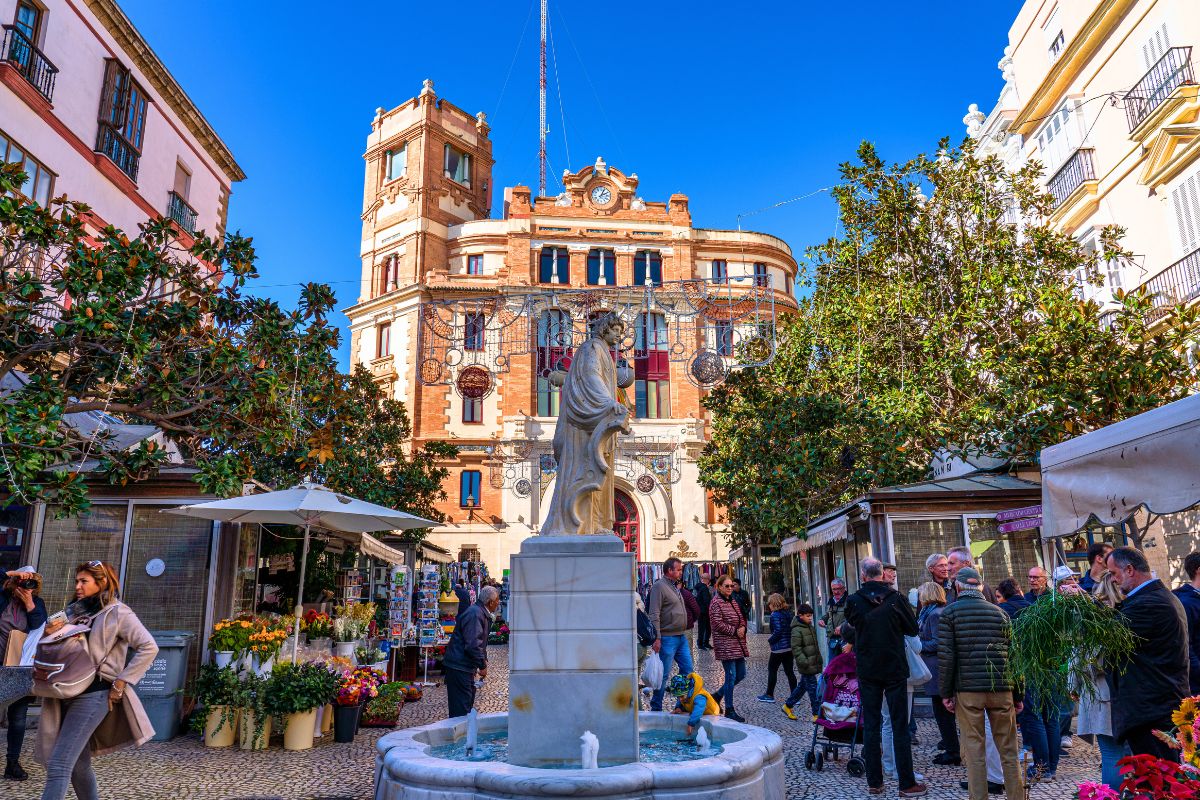 Locals dipping churros into their coffee in the early morning, vendors selling bright bunches of fresh florals and tourists flowing through as they meander from one historic landmark to the next, you'll find yourself in the Plaza de las Flores at least once during your time in Cadiz.
Considered one of the main squares in the city, enter the plaza from Calle Columela street following a round of shopping, or after you've exited the Mercado Central (the fresh food market).
Forming part of the historic center, tick attractions such as the Cadiz Cathedral, the Torre Tower and the 1930s Post Office off of your sightseeing itinerary — all located within Plaza de las Flores.
Apart from the must-see landmarks, there are some beautiful antiquated buildings to photograph in Plaza Topete (its official name). To find them, hunt down the building numbers which forms half the fun.
Standouts include a Baroque-style building dating to 1746 at number 1 Plaza Topete and a Neoclassical example at number 12 Plaza Topete.
Fabulous cafes and restaurants in the square include Freiduría Marisquería Las Flores (for the yummiest fried fish), Café Bar La Marina and Heladeria El Mantecao (a gelateria).
During Carnival (a massive 11-day street party in Cadiz), the area transforms into a flurry of celebration, color and festivities.
11 – Go sightseeing during segway tours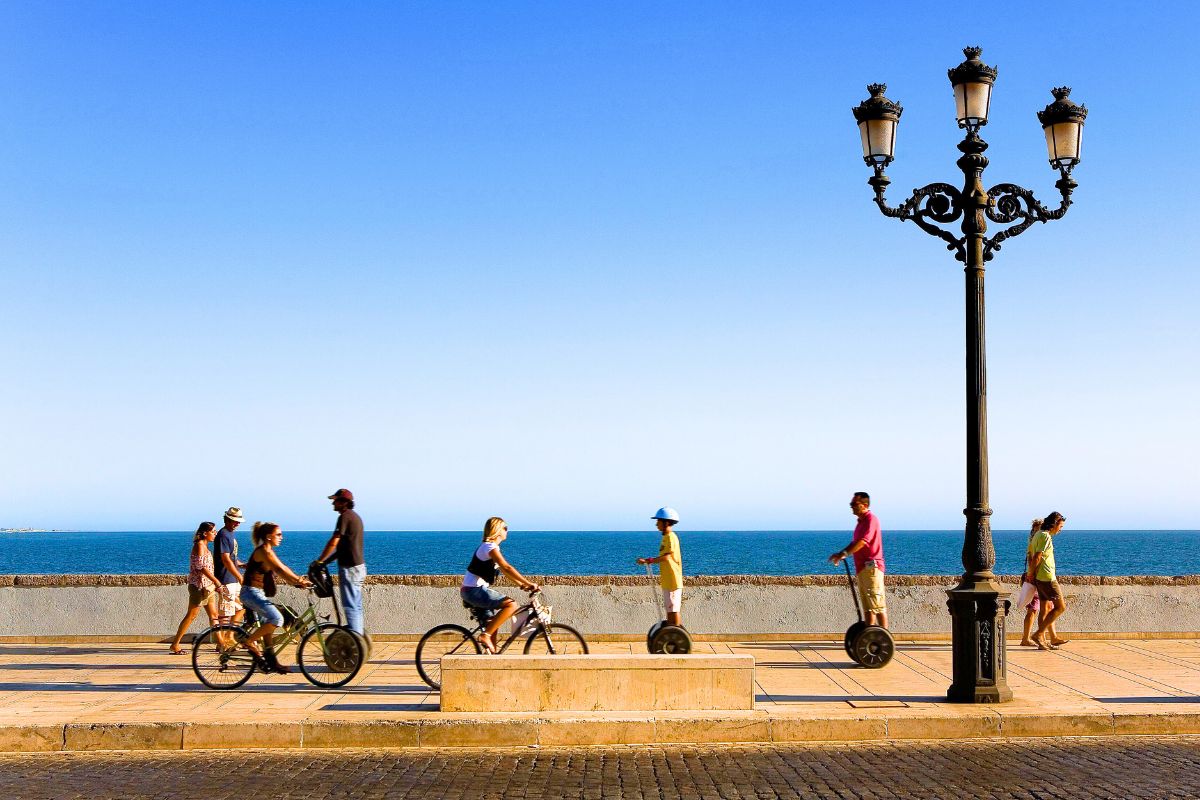 Whether you've got 30 minutes or two hours to spare, are fascinated with history, or are more of a beach-loving soul, discover super fun Segway tours for all in Cadiz — and if you've never ridden the two-wheeler before, we suggest you get in on the action ASAP.
Interested in getting to know the ancient city a bit better? Choose between a quick half an hour Segway ride or if you'd prefer a longer route, there are one to 1.5-hour options.
(It may seem like a short amount of time for a city tour, but speeding around on the motorized vehicle you cover tons more ground than on foot or even bicycle.)
You can rent a Segway for 30 minutes and tour around on your own, or one-hour options include an expert guide leading the way through the heart of Cadiz.
Prefer something more in-depth? Opt for dedicated Segway History tours lasting nearly two hours where your Segway leader will direct you to iconic ancient buildings, structures and forts, sharing facts and stories about each place.
If you've done all of your sightseeing in the Old Town already, book a 1.5-hour beach and photo tour where you'll actually get to ride your Segway on the sand! How cool!
12 – Shop, eat and repeat at Mercado Central Cadiz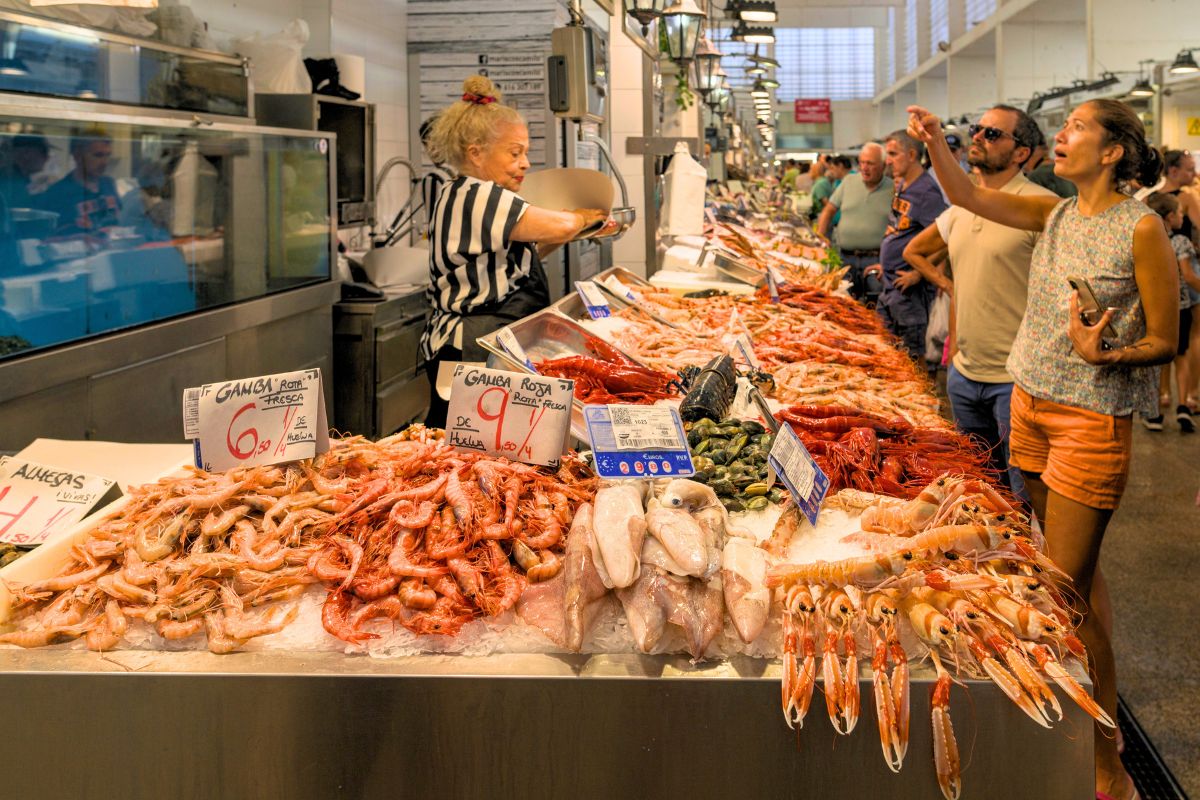 The ripest fruit and brightest veggies, seafood of all kinds, plump meats, masses of green and black olives, pastries, baked breads, Spanish snacks and, and, and … Foodies; the Mercado Central is heaven — and the place to shop for anything fresh-food related!
This sensory overload is a real treat, with vendors displaying their goods either over ice or brimming on tables, and the market is set up as an open-air venue. Fresh and raw products are sold in the indoor covered sections, and you'll find cooks selling homemade treats and made-to-order meals in the Rincón Gastronómico space.
Top bars and vendors to stop by for a glass of vino or something to eat are La Tapería de Lula, La Sartén, Gadisushi, El Colmado (for wine and cold cuts), Queso 360° and Gadesbeer.
Opening daily from 9 AM to 4 PM and again from 8 PM until 11 PM, you can't leave the market without trying a traditional Spanish omelet, also known as a Spanish tortilla, made from potatoes. When a local brings you to the market just to taste the morning dish, you know it's a goodie …
Thanks to the port city's positioning, the produce that arrives in Cadiz is as fresh as it gets, especially when it comes to seafood, whether talking fish, crustaceans or mollusks.
Discover over 54 seafood stalls, 57 fruit and vegetable stands, 44 vendors selling meat, seven general grocery stalls, and four stands for all sorts of breads and baked goods.
Top tip: If you plan on buying seafood, arrive as soon as the market opens for the freshest selection.
This market has been serving residents and visitors since 1838.
13 – Explore the city with hop on and hop off bus tours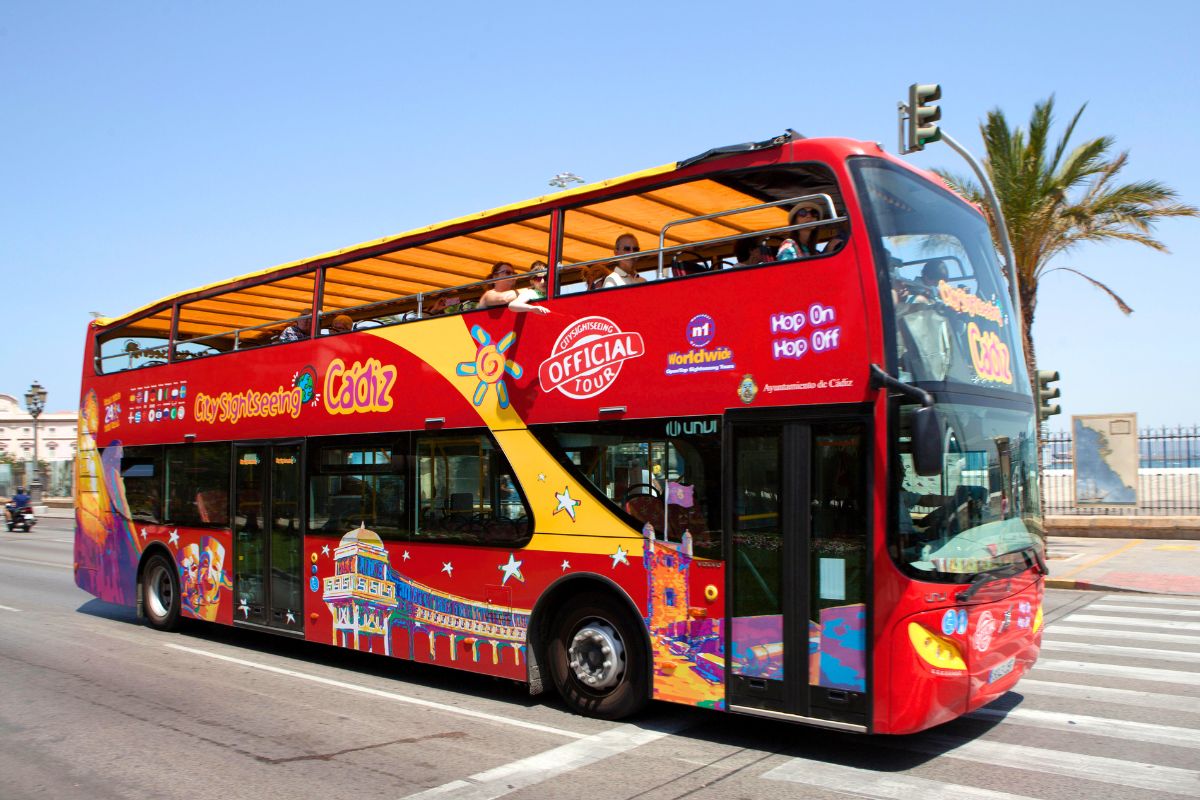 Before you begin any of your tours and excursions, it could be a wise move to first buy tickets for hop-on hop-off bus tours —  especially if you're planning on days brimming with city exploring.
How does it work? Onboard an open-air double-decker bus, navigate your way around the city without getting lost or having to book multiple taxis throughout the day to get from A to Z.
There is a specific route that the tour bus follows, however, you have the freedom to hop on and off, and then back on again, at any of these designated stops at your own leisure. Do your sightseeing, shopping and eating and when you're ready, board the bus again.
Offered as a 24 or 48-hour pass, visit as many of the tour stops as you like, even if multiple times in one day.
These include Avenida del Puerto, Plaza de la Hispanidad, Puertas de Tierra, Catedral de Cadiz, Playa La Caleta, Hotel Parador/Parque Genoves, Iglesia del Carmen, Plaza de España, Playa de Santa Maria, Playa Victoria and Plaza de Sevilla.
14 – Feel like a bird when paragliding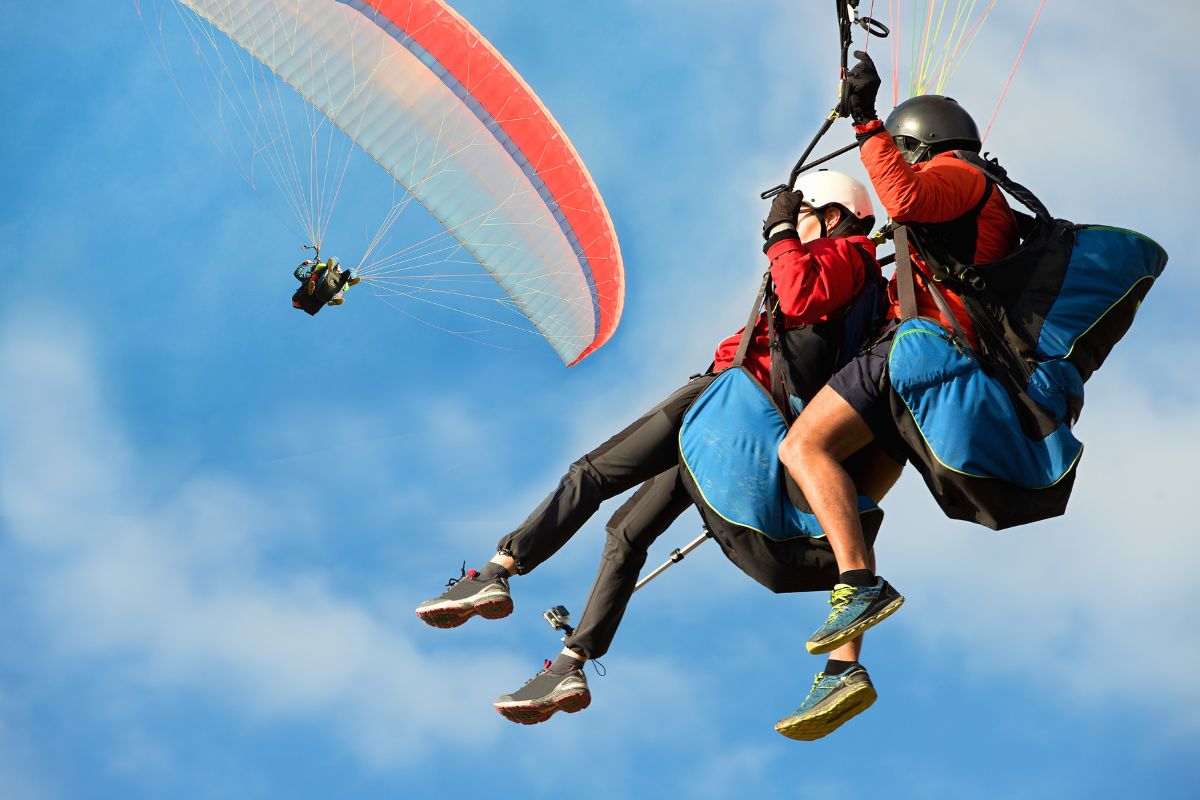 Feel the adrenaline caressing through your body and the wind in your hair during an insane paragliding adventure! This is definitely a lifetime bucket-lister for many.
Soaring 370 meters above the ground (at a location called 'Cotton Fields'), or 298 meters above around 'The Forest,' revel in a 30-minute air journey (and this paragliding experience also includes a video with footage from your flight).
20-minute ventures will have you flying over the ocean and above the coastline of Costa de la Luz i.e. the "Coast of Light," situated in the Conil de la Frontera area just south of Cadiz — famed for its soft-sand beaches.
If you're not sure how you feel about paragliding just yet, there are short 10-minute flights for you to test the waters, well, in this case, the air. Or, join your honey and book a tandem flight for couples and make even more memories to last a lifetime!
All paragliding expeditions are accompanied by professional flight instructors.
15 – Check out the oldest theater in Spain, the Roman Theatre of Cadiz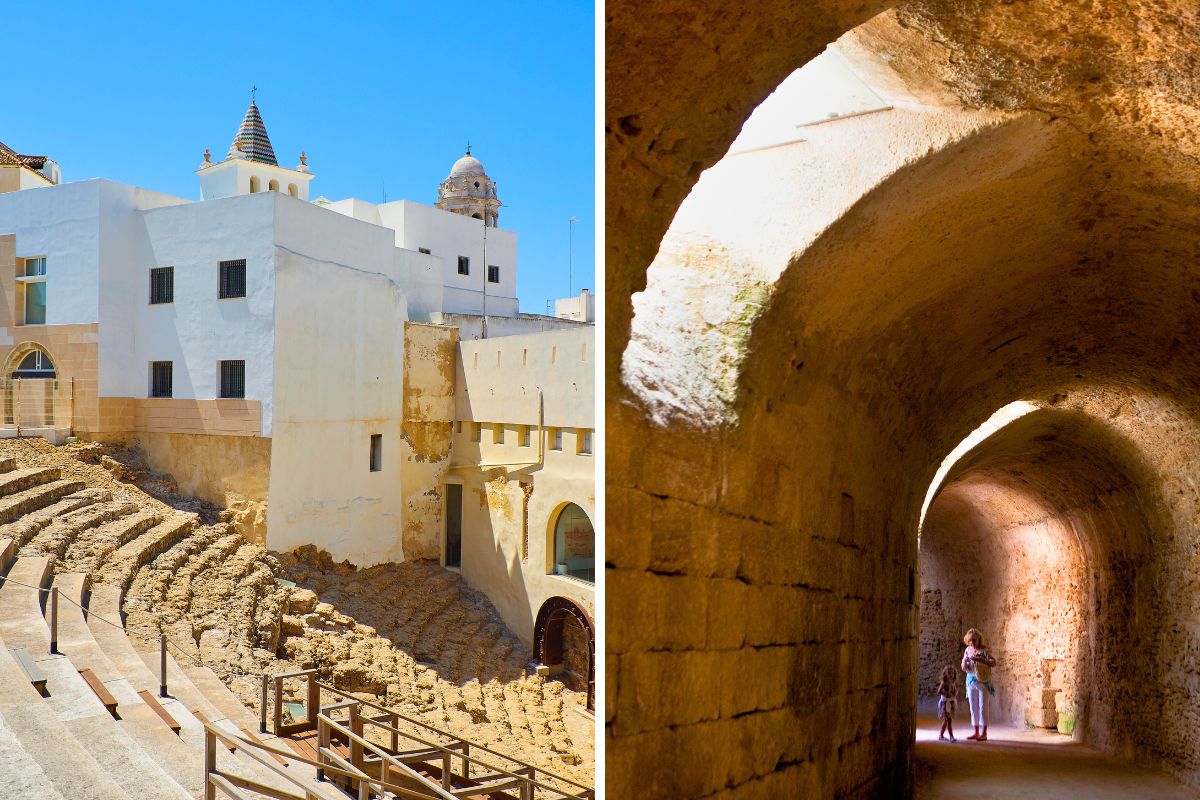 It's wild to think that in a city as old as Cadiz, there are still discoveries being made that show even more evidence of its primeval past.
Located underneath what is now known as the El Pópulo neighborhood, it wasn't until 1980 that the ancient Roman Theatre of Cadiz was uncovered — literally and figuratively.
Unbeknown to all, a prehistoric structure dating to the Romans had been sitting right under everyone's noses, believed to have been constructed around 70 BCE!
Titled the 'Balbo Theatre' (Theatrum Balbi), after in-depth excavation efforts, it's believed that the theater was built by one of Julius Caesar's advisors and close confidants, Lucius Cornelius Balbo — hence its name.
Evidence points out that the grand amphitheater could seat up to 10,000 people and was purposed up until the third century. Following this era, the outmoded structure was utilized during wars and invasions until it was left derelict and the city began to eat it up.
Arrive here and make your way to the on-site museum to learn more about its architectural and historical feats, and follow modernized glass walkways over certain parts of the Roman horseshoe-shaped auditorium.
16 – Day trip to dreamy Seville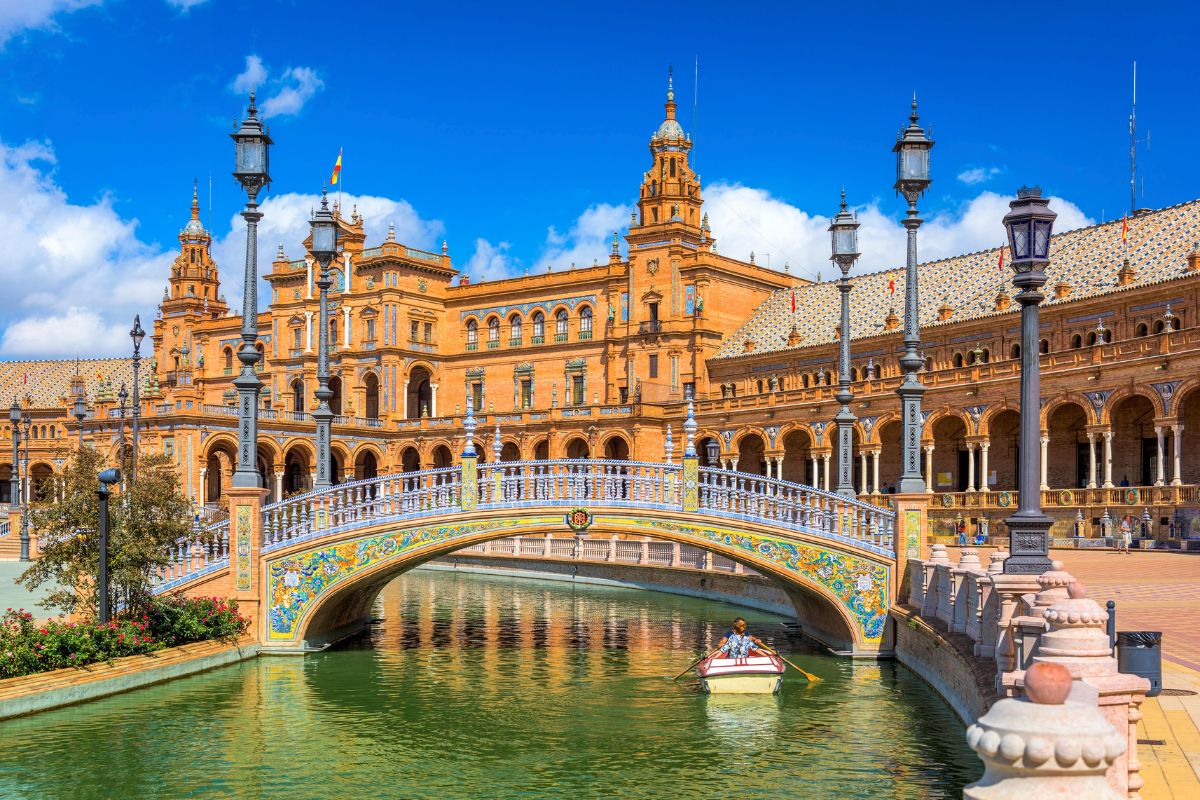 Calling all couples, there's something about the southern Spanish city of Seville that is so utterly romantic … Perhaps it's the cobbled streets, cafes lit up in dazzling fairy lights at night and grand palaces that help add the effect.
Rent a bicycle and set off sightseeing, breaking in between for a (massive) glass of sangria, or to shop for gemstones spread out on the ground in park squares.
Barrio Santa Cruz is the vibiest neighborhood in this historical city, and plenty of the not-to-miss sites are located in this area, like the stunning Real Alcázar of Seville palace and the Seville Cathedral (the world's largest Gothic-style cathedral) — both UNESCO World Heritage Sites.
Snap plenty of photographs inside the Plaza de España, posing in front of its huge fountains,  and then grab some architectural shots inside the 18th-century Iglesia Colegial del Divino Salvador church.
Spend the day visiting plenty of museums, for example, the Museo de Bellas Artes, the Archeological Museum of Seville, the Flamenco Dance Museum and the Museum of Popular Arts and Traditions, plus plenty others!
Boat trip down the Guadalquivir River, enjoy a food tour and sample the best tapas in town, or picnic inside the exquisite Maria Luisa Park.
Ideal for a day trip, Seville is 1.5 hours away from Cadiz.
17 – Get cultured at the Cadiz Museum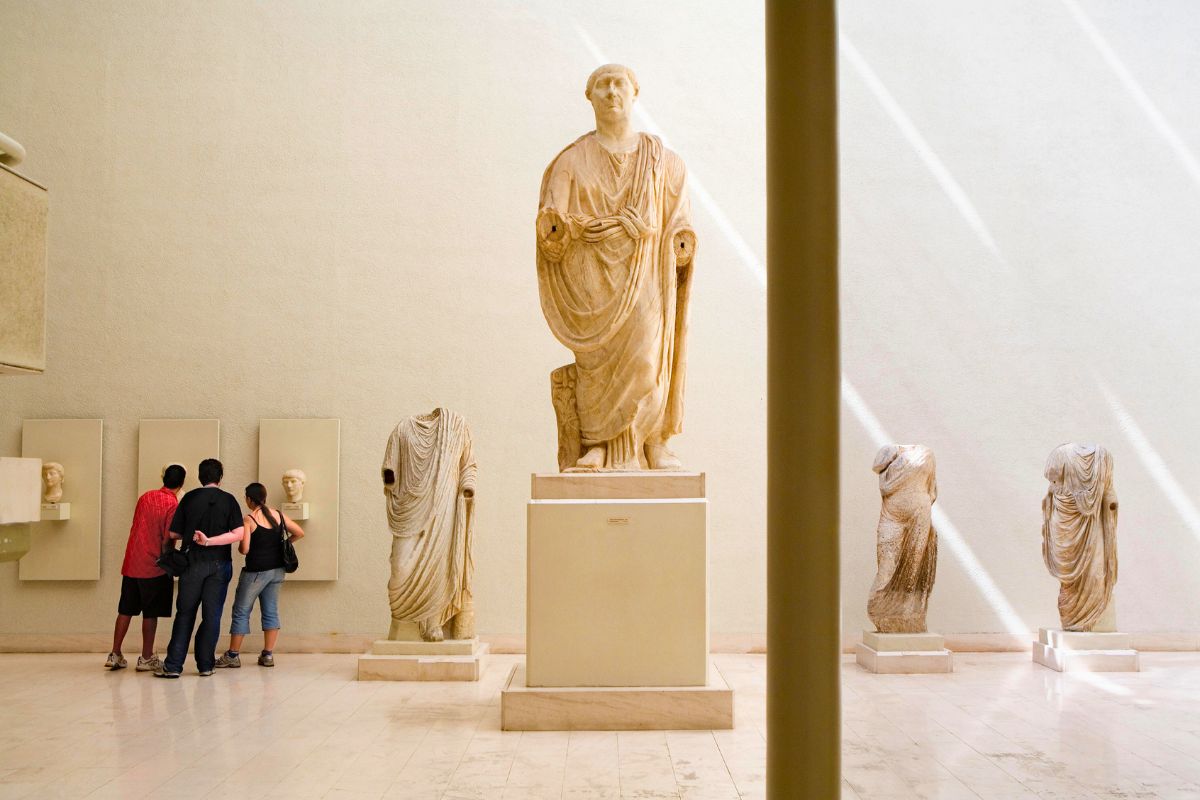 Uniting two museums under one roof, investigate both the Museum of Fine Arts and the Archaeological Museum inside the Cadiz Museum.
The building is divided into two floors with the first floor dedicated to the archaeology section and the upper floor housing the fine art collections.
Its archaeology department is spread across eight different rooms containing artifacts and fossils from the times of the Phoenicians to the Romans. There are even excavated elements from the Roman Theatre of Cadis displayed here! The oldest relics date to the 5th century BCE …
The Department of Fine Arts is also divided into eight rooms featuring paintings and artwork from the last couple hundred centuries, with three rooms solely displaying Baroque-influenced pieces.
Marvel over art from the Spanish Golden Age; 16th and 17th-century period pieces, and work from the 18th century to the early 20th.
Split into two by these predominant galleries, there is a third category presented at the Cadiz Museum. Located in the Fine Arts department, there is an ethnography section with traditional Tía Norica puppets on display.
18 – Embark on a romantic hot air balloon ride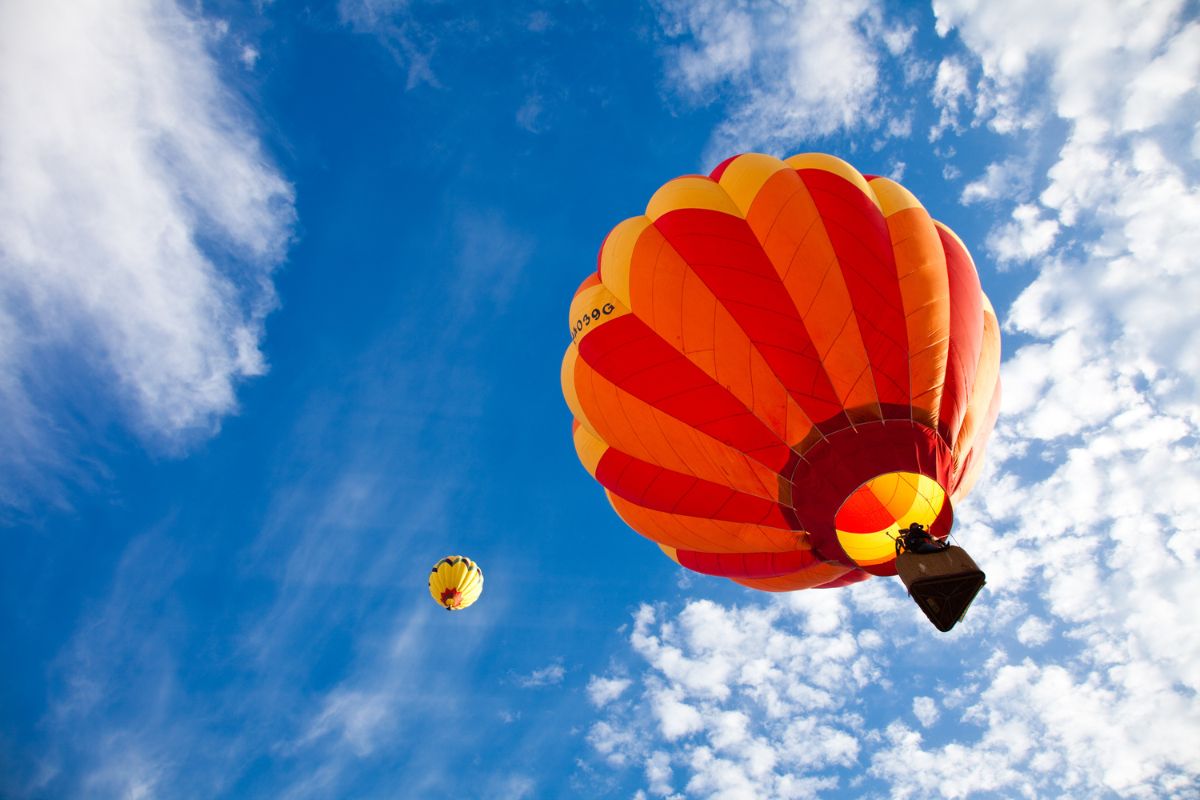 End off your holiday (or kickstart things) on a high note as you float across the Andalusian skyline during a magical hot air balloon ride.
Flying over the picturesque town of Arcos de la Frontera and the Sierra de Cadiz area, look below where you'll cover its flurry of white houses on the hillsides, the Guadalete River, its castles and hanging cliffs.
Are you in Cadiz with your little ones? There are hot air balloon rides available for parents and children (not all operators allow youngsters to fly). Get hands-on and let the kids help to inflate the balloon!
Planning on popping the big question anytime soon, or searching for a romantic date idea in general? A special private hot air balloon ride for couples where it's just you and your darling doesn't get better. Cheers with a glass of champagne once the flight is done.
These excursions also include a traditional breakfast upon landing back on solid ground, and in total the activity lasts around three hours including your mandatory safety briefing, flight time and brekkie.
19 – Go horse riding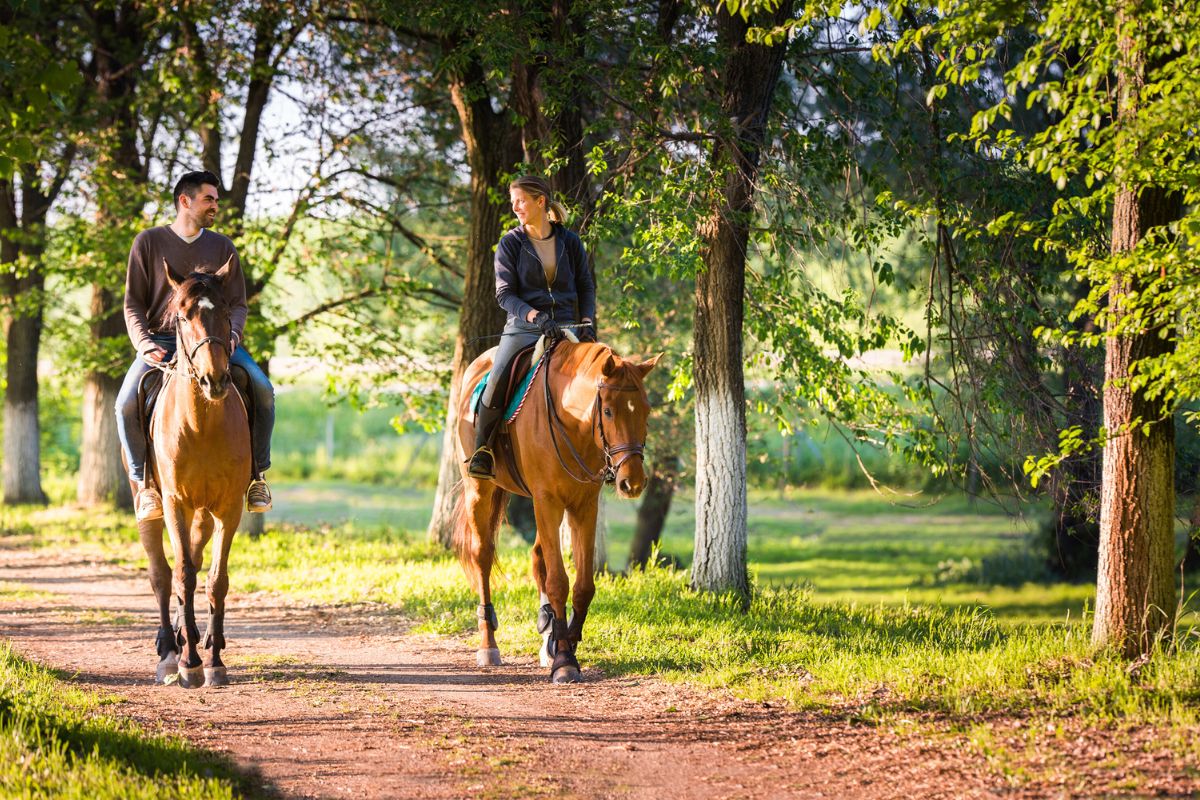 As an esteemed part of Spanish heritage for hundreds of years, a horse riding venture in the country's oldest town is as authentic as it gets!
From beach settings to mountain back rides, there are some fantastic opportunities here.
For those keen on trotting along the seaside, three beaches within the Province of Cadiz are frequented for horseback. Your one-hour journey will begin before Golden Hour so you're just in time to catch the sun setting over the ocean — how dreamy? There's no denying its romantic feels …
The coastlines of Playa Mangueta, Trafalgar Lighthouse Beach and Playa de Zahara de los Atunes have endless stretches of soft sands, making them the perfectly chosen destinations for these panoramic tours.
Heading off into the mountain ranges instead, set aside half a morning or afternoon and gallop through the foothills of the Sierra de Grazalema National Park, gaping at the stunning natural beauty encapsulating you.
There's no need to worry about being a beginner rider or pro, different rides are suited for varying levels. First-timers and kids can start out at the equestrian center in the national park.
20 – Stop by the Monument to the Constitution of 1812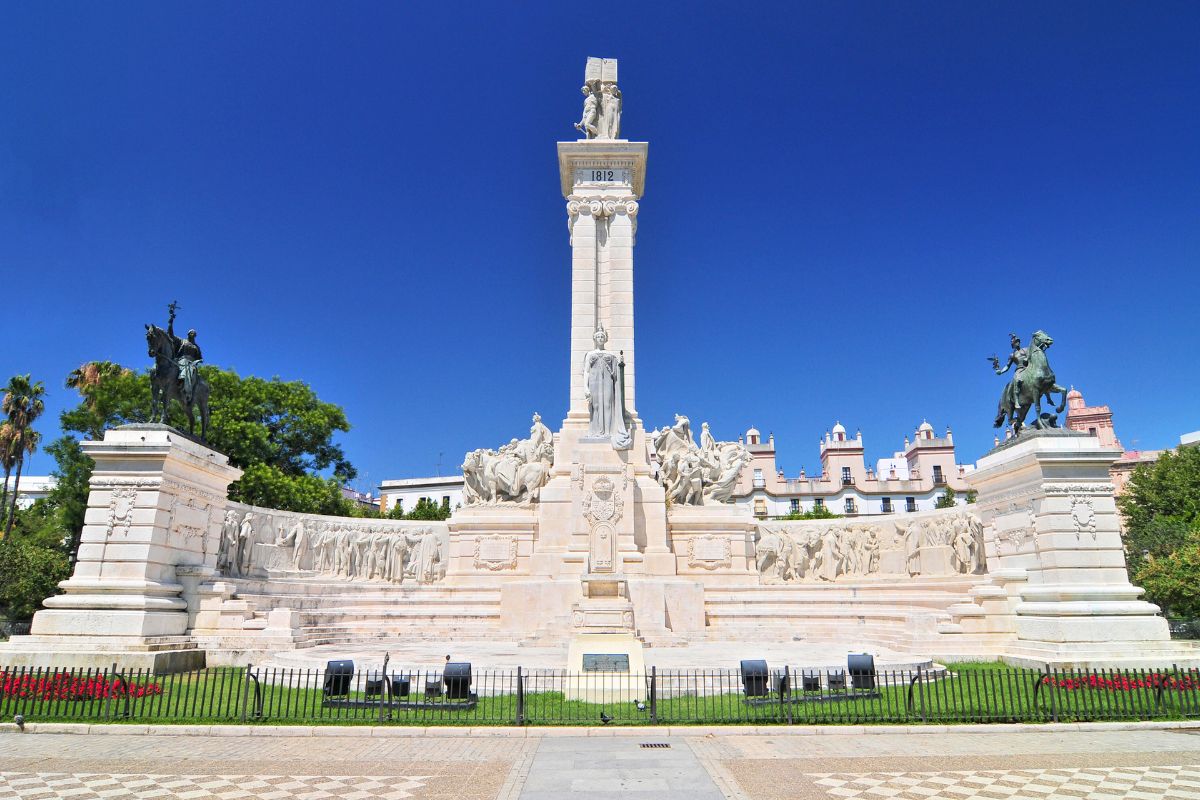 Not only is Cadiz a historical hotspot because it's the oldest town in Spain and one of the oldest in all of Western Europe, but plenty of other important events for the country have taken place here.
The signing of Spain's new constitution at the time (which ultimately led to its independence) is a perfect example, and the momentous occasion took place in Cadiz on 19 March 1812.
Commemorating the country's liberation, precisely 100 years after the signing, the Monument to the Constitution of 1812  was erected in Cadiz's Plaza de España in 1912. The finished project was completed by 1929.
Protruding 32 meters into the sky, the lower half of the monument depicts a female figure representing Spain and the Constitution and shows an empty presidential chair.
Designed and envisioned by the Spanish architect Modesto López Otero, and sculptor Aniceto Marina, on either side of the middle tower pillar sit two bronze statues depicting men on horseback. These equestrian figurines are symbolic of peace and war.
21 – Swim, surf and play at the best beaches in Cadiz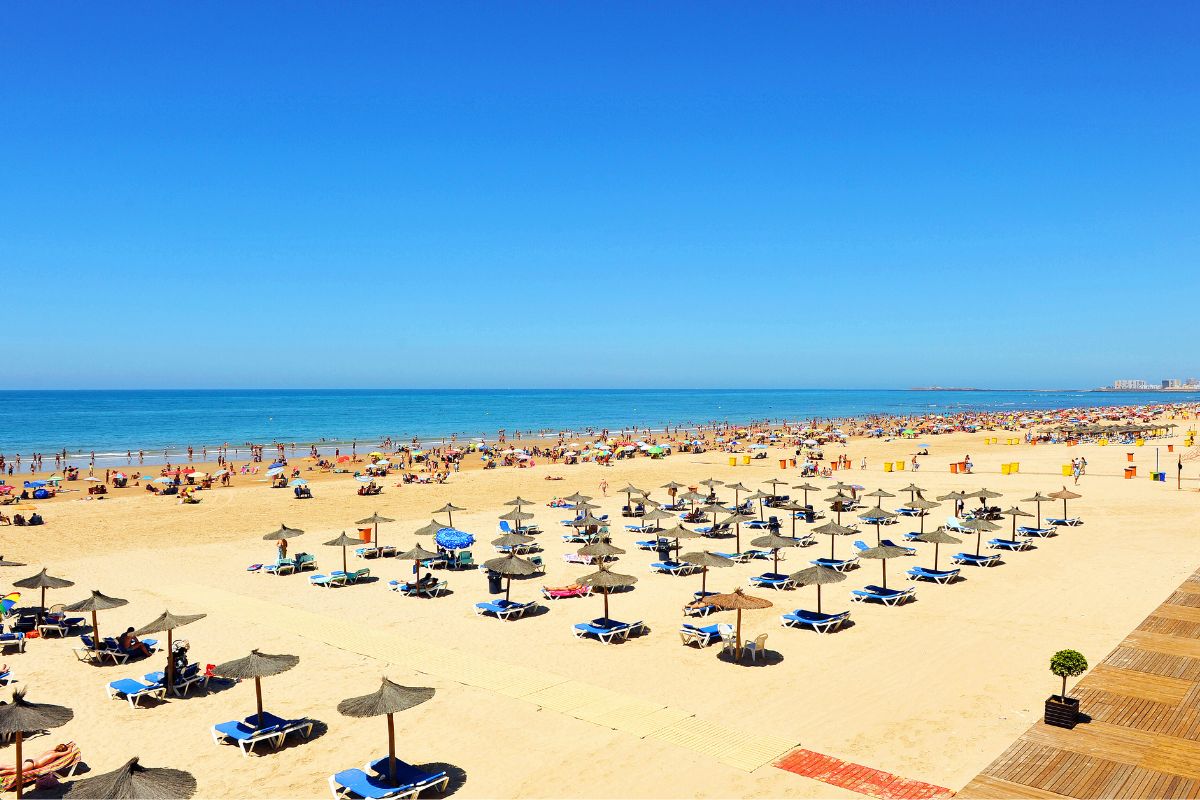 Yes, many flock to the ancient city to take a deep dive into European civilization, but, there's also a sun-seeking crowd that arrives in town, especially amongst the youthful travelers, who know all about Cadiz's ocean-filled days — and are here for it!
The surf's up at Playa de Santa María del Mar, a small but busy beach close to Old Town. Walking up the alleyways, you'll arrive at the promenade which follows the edge of the beach up above.
Follow the staircase or ramps to access the beach, and learning how to surf is popular here, particularly longboarding. Families build sandcastles, couples lounge in one another's arms and groups of mates splash about in the usually-calm waters.
Favored more by tourists after a "fancier" beach locale, Playa de la Victoria is further down the way from Playa de Santa María del Mar and the historic district of Cadiz. Surrounded by hotels, restaurants and bars, after you're done at the beach get a bite to eat and some drinks.
Umbrellas and sunbeds are available to rent down here.
For the true beach babes; Las Playas de Caños de Meca is the perfect choice for travelers who prefer to be away from the crowds. Situated outside the city, the 45-minute drive here is totally worth it and hotels, hostels and surf schools often frequent the area during day trips.
Next door to the Trafalgar Lighthouse, its coastline is split into smaller bays. The most popular is Playa del Pirata. Take caution when swimming here, and because of its positioning, kitesurfing and windsurfing activities thrive.
22 – Journey the seas during boat tours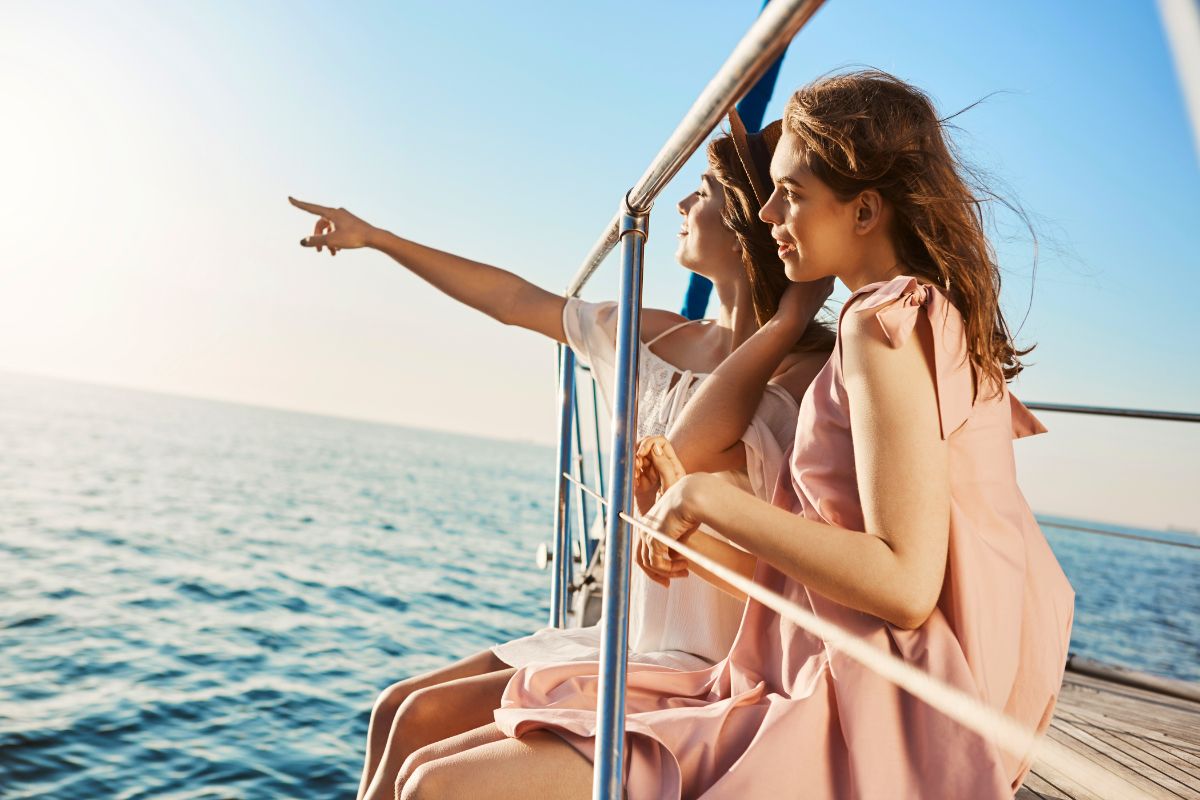 What is it about the idea of sailing on a boat for the day that's just so alluring? Whether it's the closer connection to the ocean, or because you're in the mood to get a little fancy, boat tours are never a bad idea!
Here, you have the option to charter your own private vessel for the day (with a skipper included to captain the seas for you), or join a small-group boat tour.
Couples; you can't go wrong with a sunset sail for just the two of you around the bay of Cadiz, with traditional Spanish aperitivos and wine included. The cruise is around two hours.
Skip the groups altogether and book a private three-hour boat trip and sightsee out on the bay, passing sites like the 1812 Constitution Bridge, Arsenal de la Carraca (a Spanish naval base) and Valdelagrana beach — breaking here for playtime in the water.
Instead of a tour around the harbor and the Bay of Cadiz, charter a private boat for four or eight hours and decide what you'd best like to do. Are you in the mood for a fun sunset cruise? Or does an afternoon of tanning and beach hopping tickle your fancy? There is even time to cruise to Rota if you're up for it!
23 – Spend the day in El Puerto de Santa María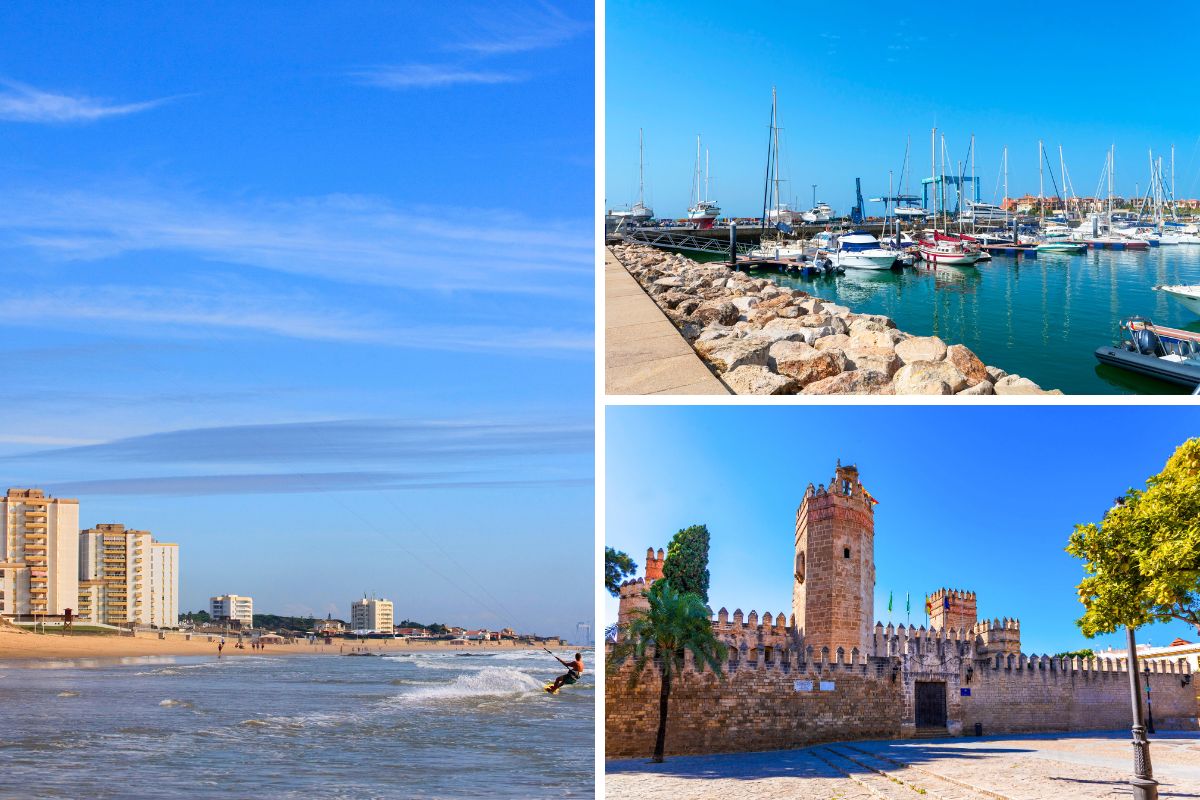 From dining on the freshest seafood to its seaport frequented by Christopher Columbus, El Puerto de Santa María has always been about its marine-centric endeavors.
Less than 30 minutes from Cadiz, sun worshippers and fans of water sports you'll love this area! Blessed with a handful of gorgeous soft-sand beaches, Valdelagrana Beach and Levante Beach are two examples enjoyed by both locals and visitors.
Tan, swim, surf, kayak, play beach football and top it off with a feast of prawns, fish and tapas at a local joint.
Often referred to as simply 'El Puerto,' swap the ocean for history lessons and delve into the city's long past. Originally named Puerto Gaditano; after Ferdinand III conquered the city circa the 13th century, a few years afterward Alfonso X (the King of Castile) renamed the town to Santa Maria del Puerto.
(Stop by Castillo De San Marcos, also known as the Castle of San Marcos, built by the King in 1264.)
In the years to follow its port harbor was extensively utilized by those voyaging from Europe to America, fell under French siege, before becoming a major exporter of wines in the 20th and 21st centuries.
Speaking of wines, don't miss out on authentic tastings down at the Puerto Sherry marina. The city forms part of the "Sherry Triangle" and fun fact, the alcohol originates from the Andalusia Region. Enjoy a 1.5-hour behind-the-scenes tour with Osborne Bodega, sampling four glasses of sherry.
Other points of interest and landmarks to explore are the Basilica of Our Lady of the Miracles (i.e. the Basilica de Nuestra Señora de los Milagros), the Monasterio de la Victoria and the Museo Fundación Rafael Alberti.
24 – Take up a new hobby and try out surf lessons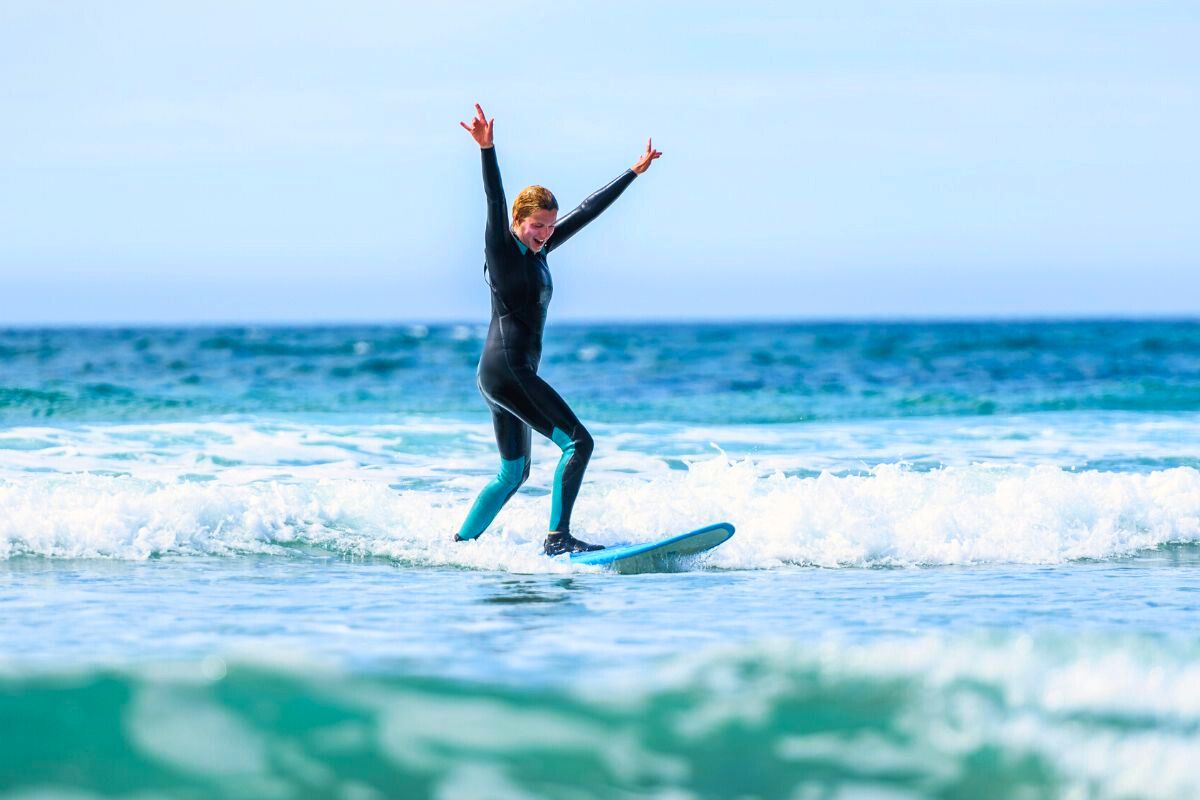 The surf is banging in Cadiz — not just around the local town beaches, but also all around the Province of Cadiz are some dank surfing opportunities. If you're still a rookie, there are multiple surf lesson options available.
For those that haven't stood on a board before, hit up a 1.5-hour beginner's lesson and learn the very basics, from how to position yourself correctly on the board, discover if you ride left or right-footed, how to paddle, and how to stand.
There are also two-hour classes available, with a 35-minute crash course in theory as part of the deal.
How epic does a surf class at sunset sound? Don't just envision it, live it out here in Cadiz, or, it gets better, there are even evening classes every full moon! These are usually suited for surfers with some surfing experience.
If you're super serious about the water sport, book a two-hour private one-on-one lesson, or surf with a local expert during a lesson at Arcos de la Frontera (around 40 minutes outside the city center) and there are surfing camps in this area.
25 – Investigate the Gadir Archaeological Site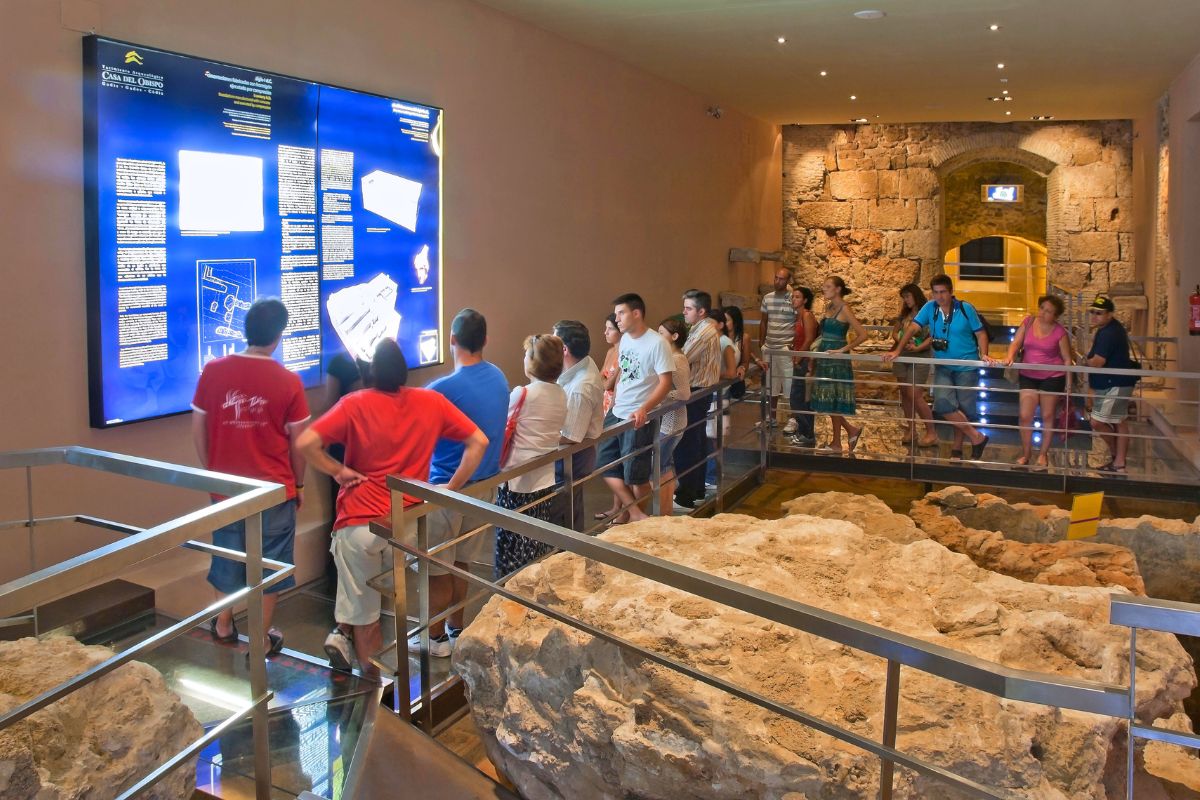 Did you know that before the city was Cadiz, it was titled Gadir when the Phoenicians first discovered and founded the site in the 7th century BCE? Later ruled by the Moors, they changed the name to Qādis and then the Spanish settled on Cadiz.
Considered one of the oldest Phoenician settlements in the western Mediterranean, investigate its very beginnings at the Gadir Archaeological Site (Yacimiento Arqueológico Gadir).
It's pretty awe-inspiring inspecting excavated artifacts, ruins and architectural remains dating to this time period some thousands of years ago.
Unreal seeing it all in person, the museum site showcases the remnants of eight houses and two roads from the Phoenicians as well as a Roman fish factory.
Chronicle timelines from the Phoenicians to the Romans as you tour the site spread out across multiple levels. A 12-minute film helps you understand things in more depth and inscriptions next to each archaeological discovery provide background info.
Other interesting features to see dating to these time periods are antiquated utensils and equipment, and even skeletonized animal bones and fossils.
26 – Eat your heart out during authentic food tours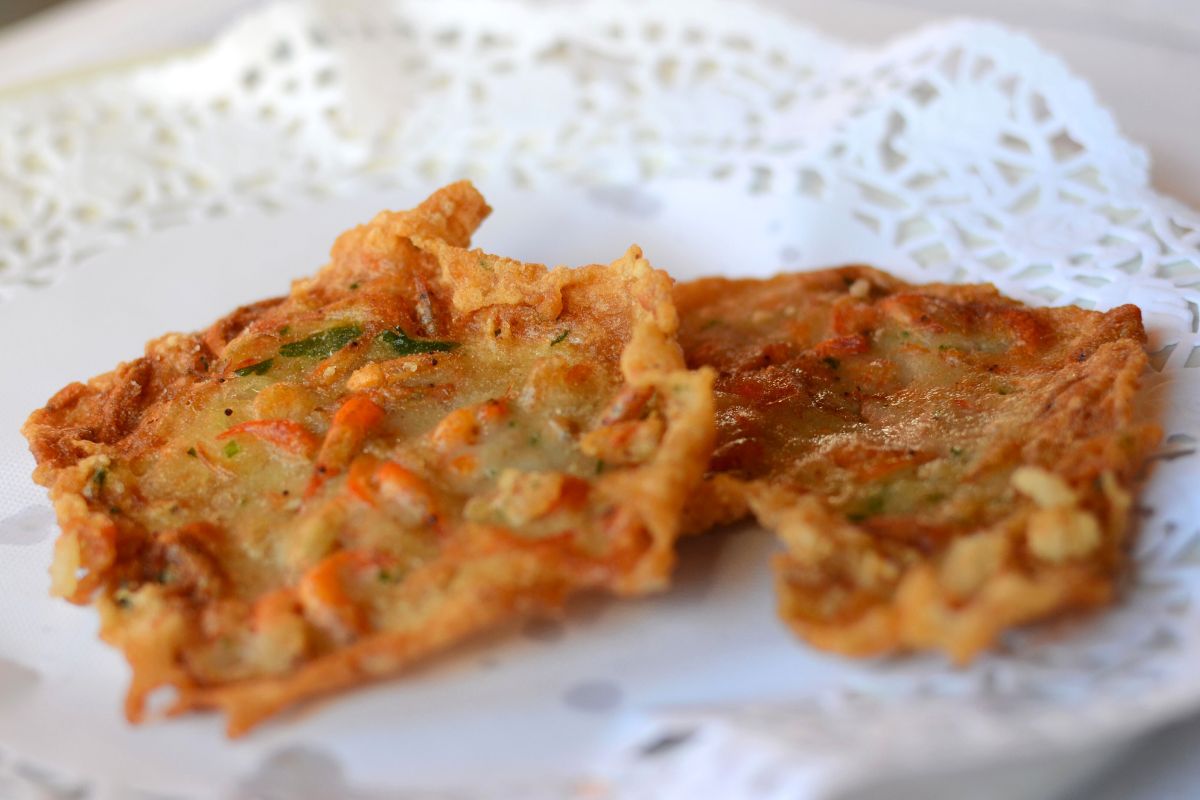 Personally testifying to this one, the food in Cadiz is delicious — especially if you're a fan of Spanish cuisine. Yes, it may not be an overly massive city, but whether you're buying goods from the local market or indulging in tapas, you're always treated to impressive flavors and the freshest ingredients.
Discover all this for yourself during food tours, made for foodies and anyone with an appetite!
During a typical three-hour food tour, walk and eat your way through the city, passing by iconic landmarks and attractions as you move from one local tapas bar to the next specialty store.
The expedition includes tasting three tapas dishes like fried fish, prawns, red tuna and Iberian cold cuts, three different Spanish wines and desserts too.
Certain food-induced extravaganzas are a little longer, including a visit to the city's famous fresh market.
Slightly different from the rest, there is a three-hour private tapas and history walking tour that, as the name suggests, incorporates both into the experience. Not only taste new things, but learn something new too!
27 – Walk to Trafalgar Lighthouse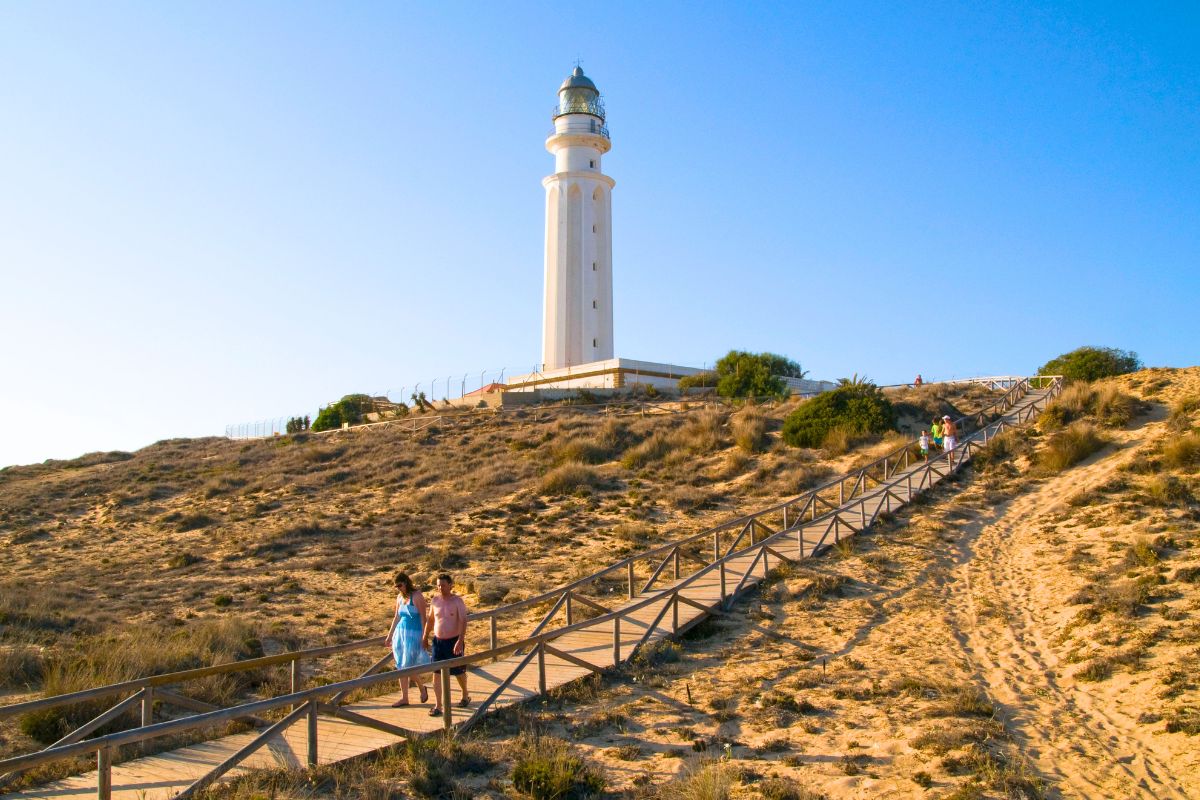 On your way to Las Playas de Caños de Meca it would be silly to miss scoping out the Trafalgar Lighthouse, and you can reach the lighthouse perched amidst sand dunes from the beach along a footpath.
Constructed at 34 meters tall, the white watchtower was built in 1862 following the infamous Battle of Trafalgar in 1805 between the British Royal Navy and both the French and Spanish Navies who were working together.
Some scuba divers have even spotted remains of the sunken vessels from this battle in the ocean in front of the lighthouse!
Hoping to get married soon? Visit the lighthouse for a bit of extra luck from the Roman god, Juno — the goddess of marriage, and keeping women safe.
After recent archaeological efforts, the site of a former Roman temple was discovered right here and the temple is believed to be dedicated to Juno.
28 – Pretend to be a mermaid and go scuba diving
Now that you've explored all the things to do in Cadiz on land, swap typographies and roam the underwater world surrounding you during magnificent scuba diving trips.
The beaches around Cadiz town get super crowded, with tons of surfing tearing up the waves. For scuba, you need clear water visibility and so the tours take place in the waters further out and away from the city center.
Suitable for those aged 10 years old and up, if you've never tried the watersport before, there are beginner classes in a pool. First, learn all the basics like communication techniques and how to control and use a pressure regulator.
Already qualified and have your scuba license? Diving operators rent out equipment, with the option to book out a boat and have it captained to your preferred diving locale of choice.
Or, follow the professionals and pick a scuba diving excursion at a specific predetermined spot.
For example, enjoy 35 minutes of underwater time around the cliffy bays of Torre del Tajo in Barbate, suitable for all levels.
There are both small group and solo dives with a guide available in Tarifa, spending one hour under the sea. Discover a parade of marine life and species and keep your eyes open for turtles, rays and even the super-intelligent octopus.
29 – Enjoy time outdoors when kayaking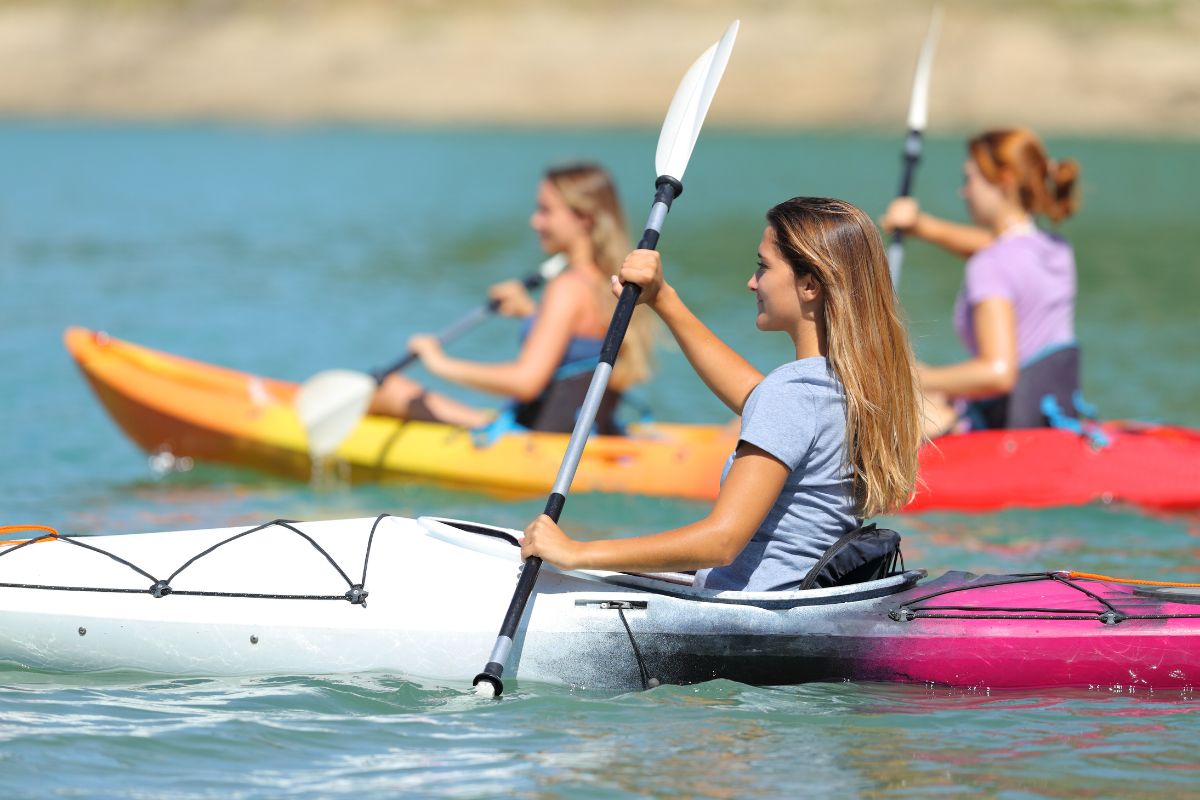 Weather in this part of Spain is simply sublime and the sunshine seems to never stop shining. If you're a big fan of watersports, being outdoors or lapping up the sunshine, you can't go wrong with a kayaking venture!
If you're down at the beaches in Cadiz, you will be able to find operators renting out kayaks, or there are guided excursions for a real-time adventure.
Veering into the Arcos de la Frontera Reservoir, decide if you'd prefer a one or two-seater boat to maneuver. Spanning one to two hours (you decide), paddle over to the Mississippi boat, the Arcos Press, mangroves and a few beaches.
Look out for local fauna and flora as you kayak across the tail of the Arcos de la Frontera Reservoir during a three-hour excursion. Cruise the Guadalete River and then into the Bornos Reservoir.
Or, forget everything and book a magical kayaking tour under the light of the full moon and twinkling stars. The kayaking fun kicks off at 11 PM and lasts two hours.
Keen to see oceanic landscapes? There are dedicated guided tours on Isla de Las Palomas (sitting opposite Tarifa), and this route is roughly two hours.
30 – Inspect a historic military bastion, Baluarte de la Candelaria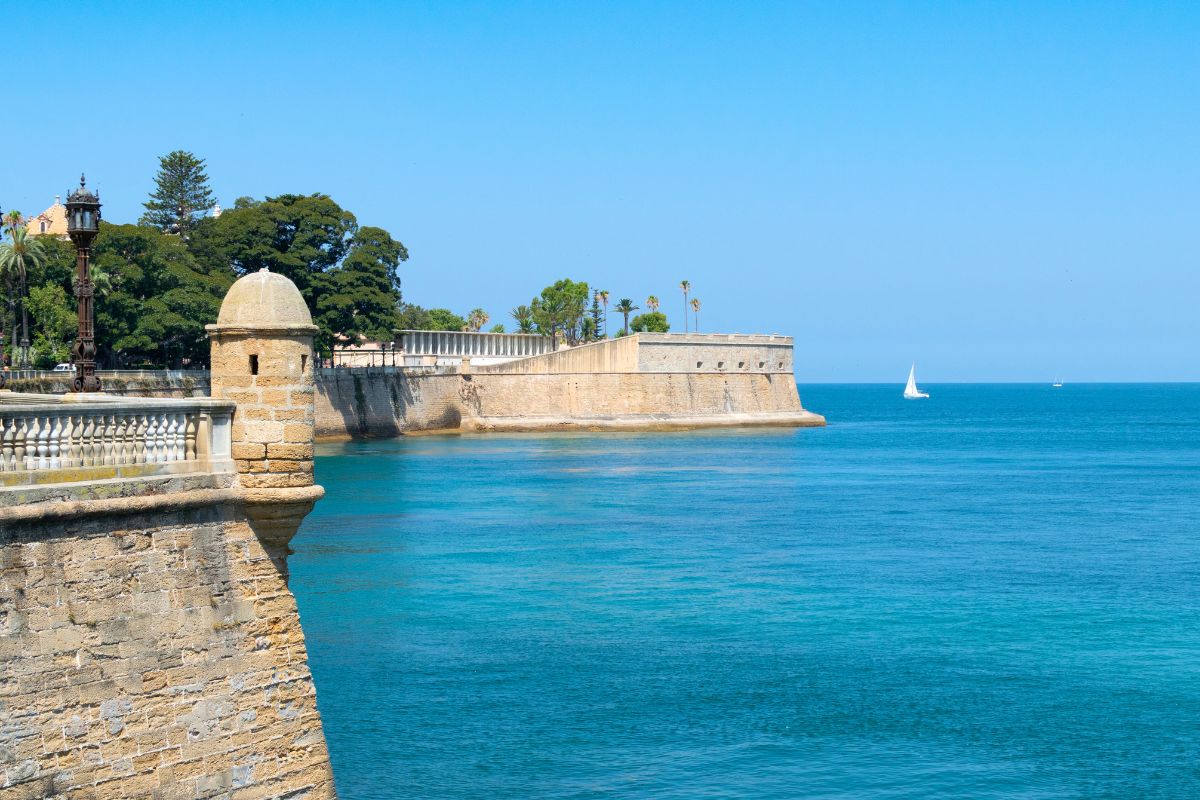 Erected in 1672 on the city's western end in a further attempt to protect Cadiz's port and growing maritime economy, Baluarte de la Candelaria is one other fortress worth seeing.
Its features from the casemates to walls have been preserved throughout the centuries making it a hotspot for history buffs and architecture aficionados.
Irregular in shape, the barracks were designed in a freeform-pointed design overseeing the Atlantic Ocean.
A walkway running parallel to the sea leads to the fort and a few centuries after its construction, two pavilions were added to the Baluarte de la Candelaria once the fort no longer had use as a military watchpoint.
Within the historic complex today, the former casemates have been converted and host exhibitions (in the Tia Norica room) as well as a space for cultural events.
There are even concerts held on the terrace, and with palm trees swaying overhead and the ocean breeze, it's a super pretty little spot.
31 – Conquer your fears and go bungee jumping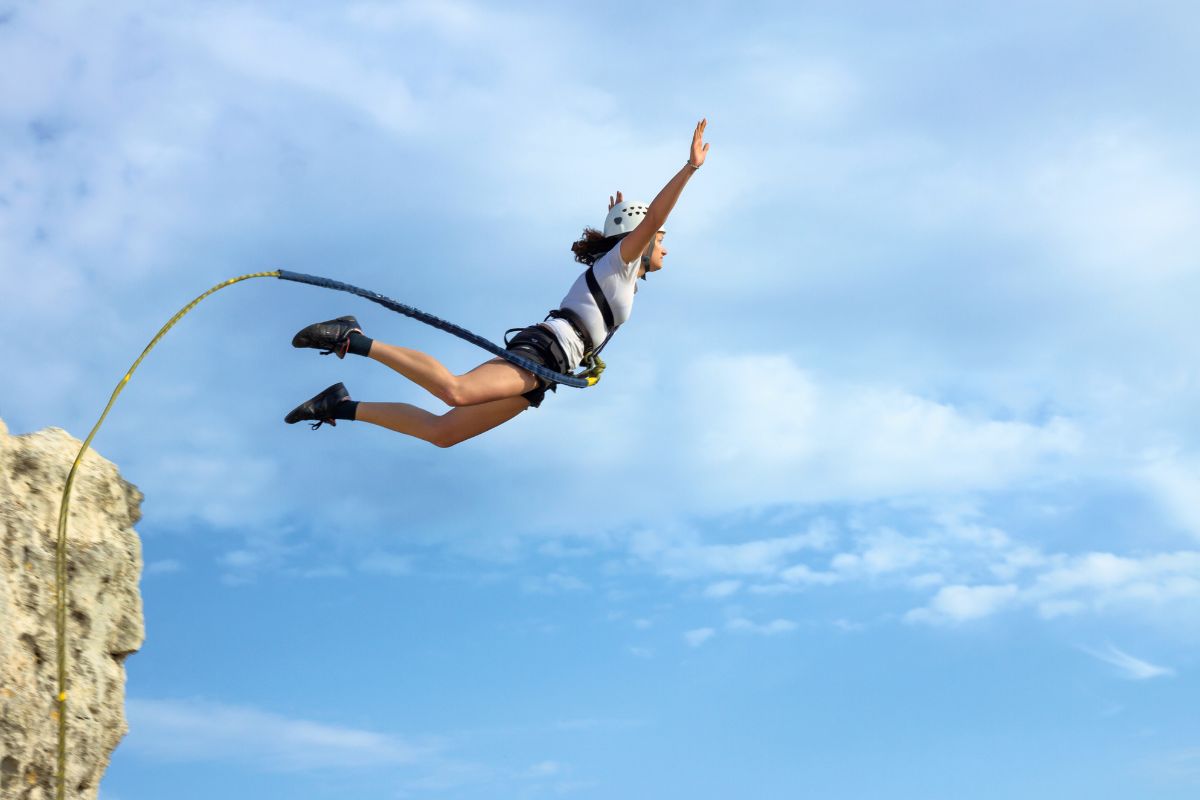 Three, two, one and JUMP! Muster up the courage and take a leap of faith (off the side of a bridge) with an adrenaline-inducing activity like bungee jumping!
Enshrouded by rocky limestone mountain terrain — plus famed as a hotspot for hang gliding and paragliding — Algodonales is where the exciting activity takes place.
Following a mandatory safety briefing and instructions on the best way to make the jump, amble your way up to the top of a bridge, constructed 30 meters from the ground. It's here that you will make the plunge, and once you're up there, there's no turning back.
Book a once-off jump, or if fear isn't your middle name, there is also a two-jump option affording you two bungee jumps in one day — so you can keep chasing that rush!
Relive the moment afterward with photographic evidence (included in this outdoor adventure package).
Important to know beforehand to avoid disappointment, this activity is not suitable for anyone under 40 kilograms, and for young children.
Just be careful, one jump and you might find yourself addicted to the thrill … Enjoy!
32 – Travel to mysterious Gibraltar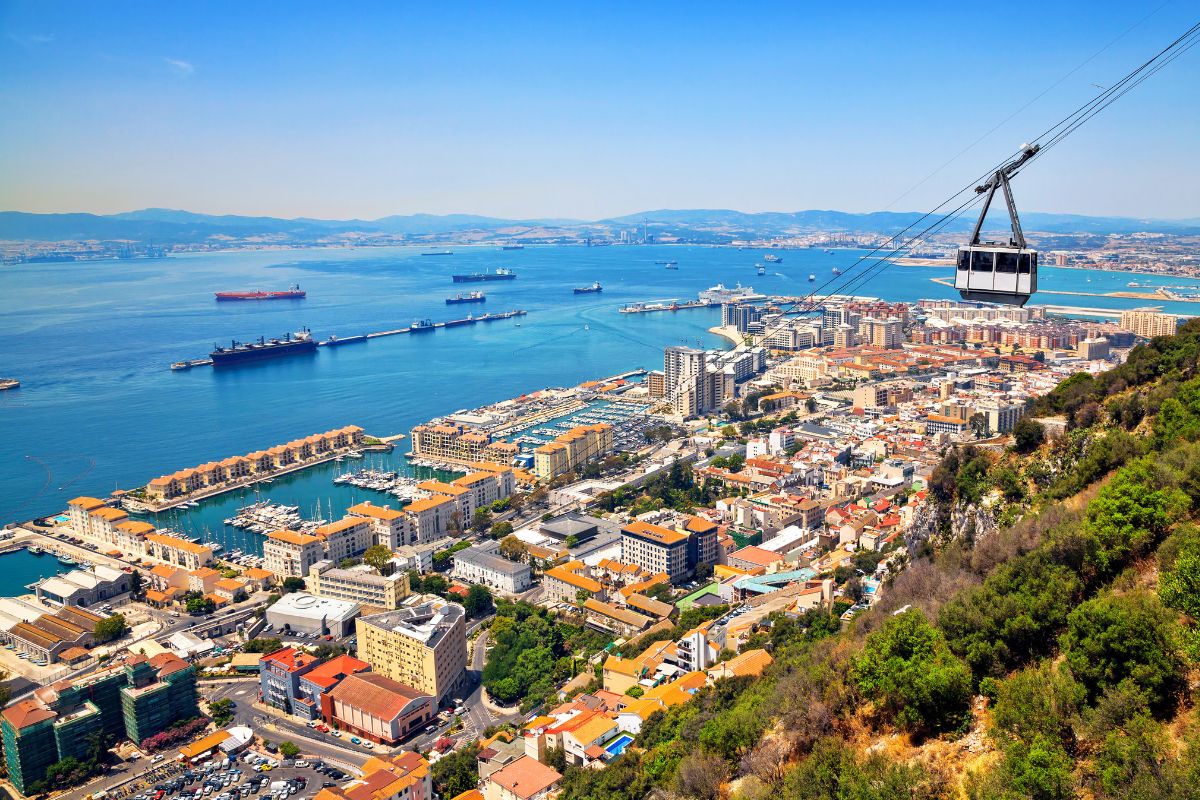 Would you believe that just 1.5 hours away is an entirely new "country," well perhaps not a country, but Gibraltar is a British Overseas Territory, and therefore, falls under Britain's rule and not Spain.
Reaching the headland is pretty straightforward and you can either drive here yourself, catch a local taxi or join a group tour — but very important to know, you will need an applicable visa/passport to enter.
Once you're here, there are loads to see and do. Navigate your way to Europa Point — the southernmost point of the Gibraltar Peninsula — and head into the Upper Rock Nature Reserve where you'll stumble upon the famous St Michael's Cave where stalactites drip from the ceiling and a flurry of neon lights put on a show.
Reach 412 meters above sea level during a six-minute ride on the Gibraltar Cable Car, taking advantage of the views from above.
Famed as a shopping destination, Gibraltar is a tax-free city! Instead of euros, pounds are your local currency and the official language here is English.
33 – Sample Spanish vino during wine tours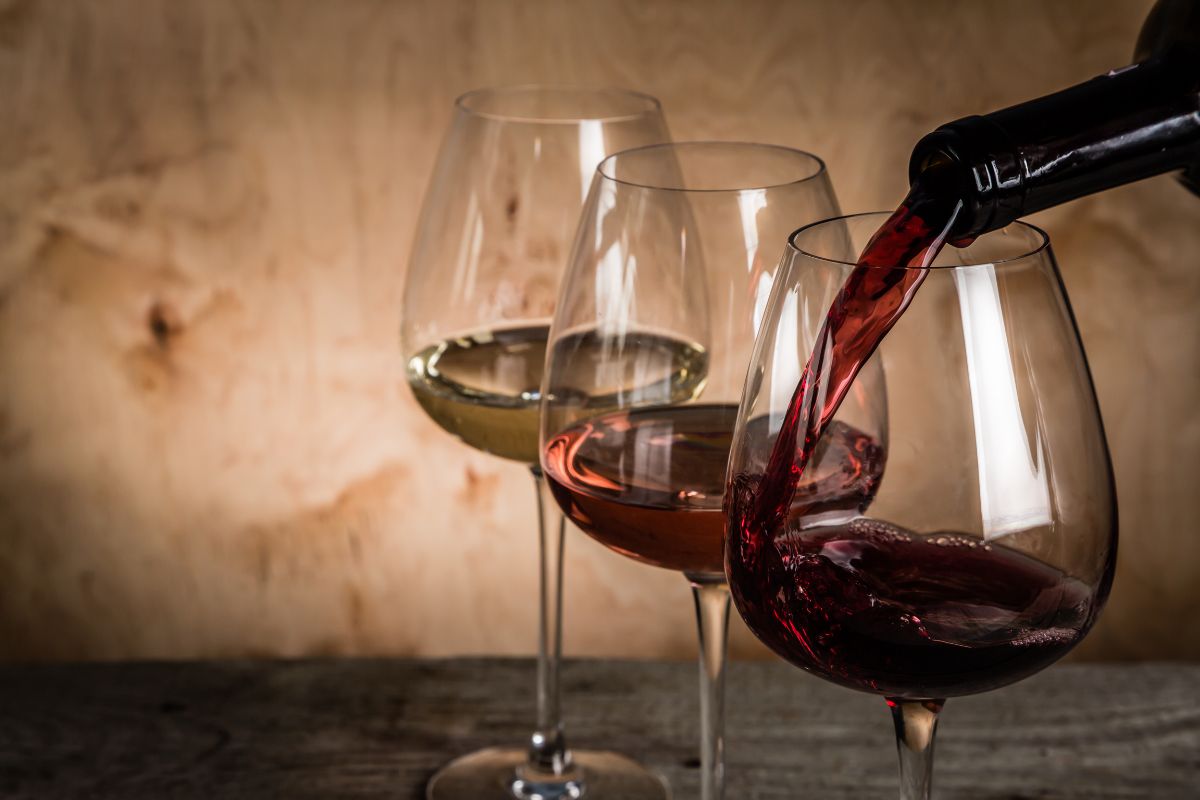 Fun fact: There are over 1 million hectares of vineyards found across the country and Spain has built itself as one of the top countries for wine production. Sample its offerings for yourself and be your own judge on quality during wine tours in and around Cadiz.
Traveling 40 minutes outside of the city, traverse into the Arcos de la Frontera region for a 1.5-hour to two-hour wine-tasting stint, touring vineyards and wineries where you'll sample the region's finest. The area is particularly known for its merlot and pinot noir varieties — so red-wine drinkers, you're in for a treat!
Bodega Tesalia, for example, is popular for these guided wine tours.
Swapping grapes, don't miss the opportunity to taste sherry in the town where it originated, right here in the Andalusia region. Known as the 'sherry capital of the world,' an authentic sherry-tasting tour in Jerez is a must!
There are more sherry-tasting experiences in Vejer de la Frontera with the expertise of a WSET-wine-certified professional.
If you'd rather keep things extra local, there's no need to travel outside the city. Indulge in a gourmet tapas and wine-tasting tour. Over the course of three hours, experience a helping of all sorts of yummy traditional small plates and Spanish wine, sweeping through the top wine bars in Cadiz city.
34 – See an Andalusian horse show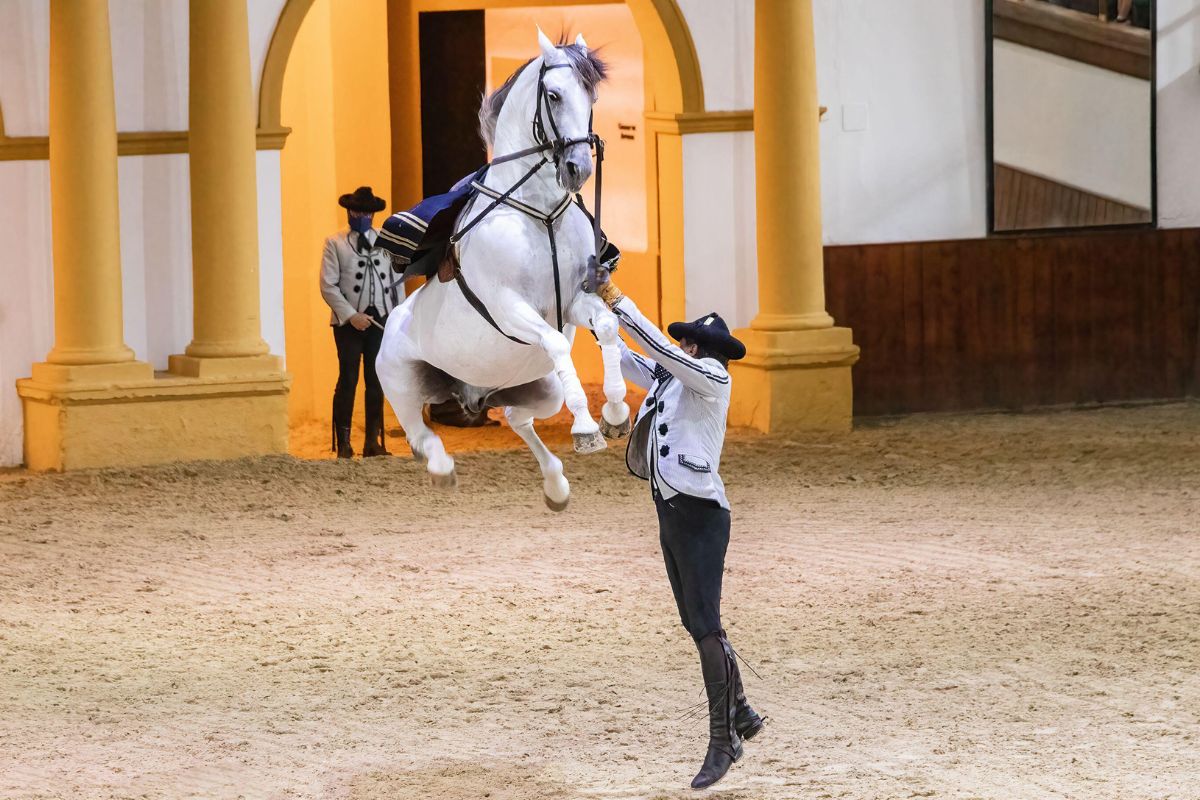 Horses have been revered in Spain for centuries, so much so, there is even a special breed of horse originating from the Iberian Peninsula, known as the Andalusian (also called the Pure Spanish Horse).
As authentic as it gets, catch an Andalusian horse show at the Royal School of Andalusian Equestrian Art in Jerez.
Its famous "How the Andalusian Horses Dance" show gives you a glimpse at these creatures' magnificence and is all about horsemanship.
There are two museums worth investigating to learn more about the relationship between horse and humans and to understand the importance of the animals' role in Spain stretching back hundreds of years.
These two museums are the Recreo de Las Cadenas Museum of Equestrian Art and the Carriage Museum.
Note: Animal cruelty of any kind should not be tolerated in our world. Although this is considered an ancient traditional sport in Spain, please feel free to report any animal cruelty noticed during horse shows. These animals are super sentient beings and should be treated with the utmost love and respect at all times.
35 – Enjoy sundowners at the best bars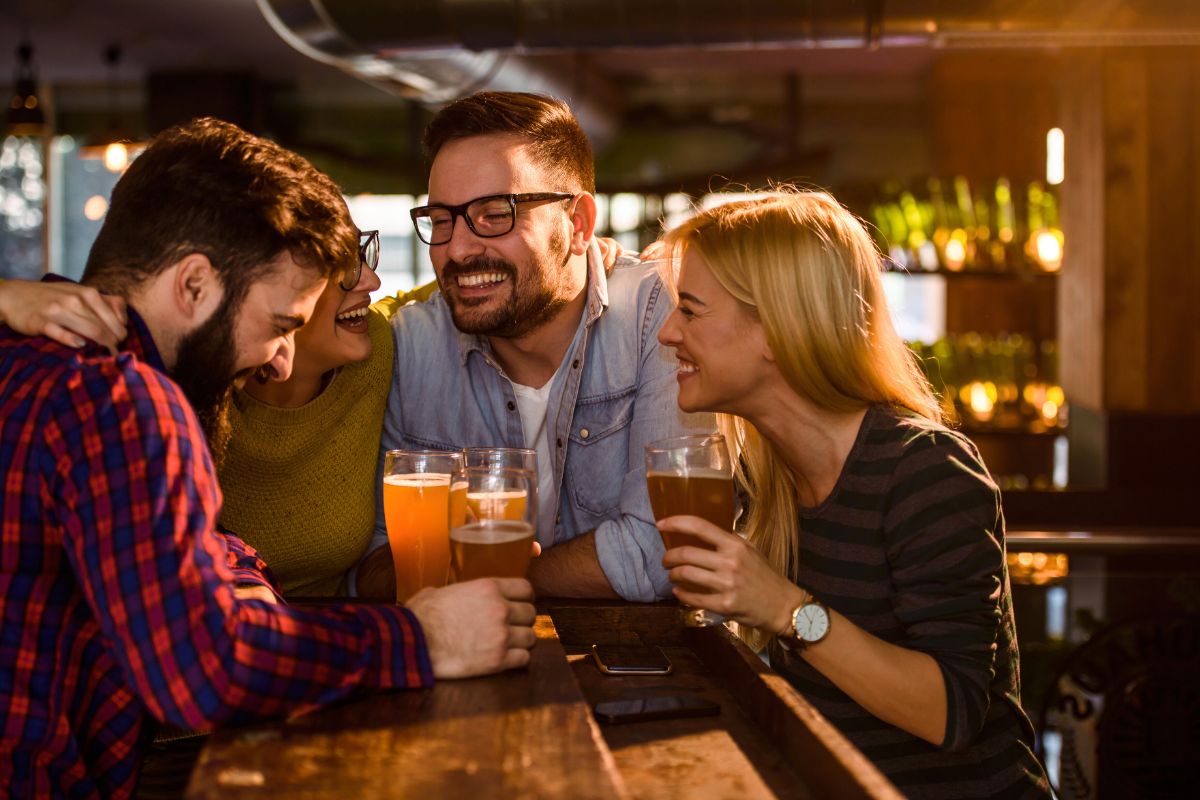 Sangria, cocktails or a glass of red wine, here are the best bars to grab a drink in town.
With its old-school cool charm, Habana Cafe Cadiz is a super ambient little bar for a nightcap. Pull up a chair and table outside on the cobbled streetside, or cozy up indoors.
In a perfect position in Barrio del Pópulo, Archivo De Indias always has a crowd. They also make a mean cocktail.
Chupiteria is a super fun and funky shooter bar! Beat your friends in a game of pool, and sing the night away. This spot typically draws in the younger crowds.
Right across from the beach is Marama, with more of an upmarket feel. Their cocktails are winners too and it also serves hubbly bubbly hookah.
36 – Dine at the best tapas bars and restaurants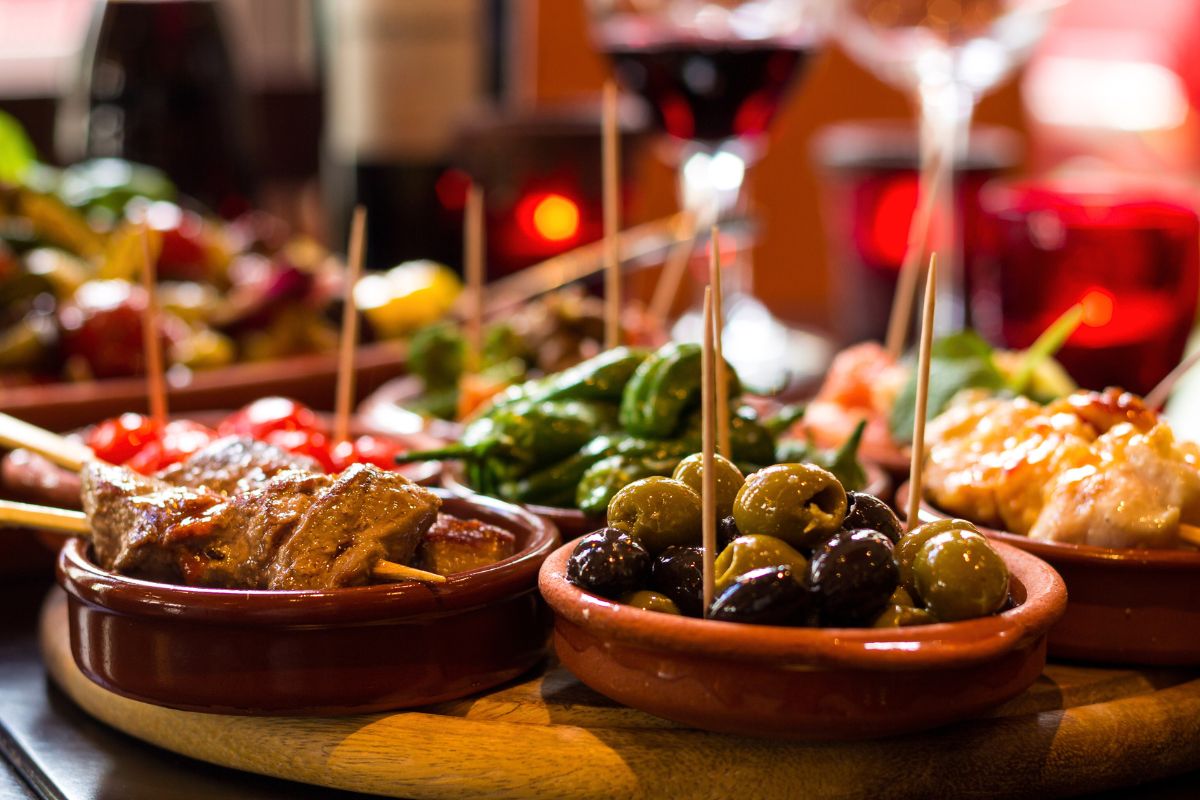 In the homeland of tapas, it would be a sin not to take advantage of some of the best tapas bars (and restaurants) in Cadiz — as one of the oldest cities, can you just imagine the sort of culinary delights you'll taste!
Michelin award-winning La Curiosidad de Mauro Barreiro is sublime. It's all about the flavors of Spain with a little bit of personality and pizazz.
The plates from Almarcen Taverna will have your mouth watering from the moment they land on the table. It's a showcasing of local ingredients and all your traditional flavors, but spruced up a tad.
Casa Lazo is a fabulous spot, with a hearty Spanish menu serving up a great balance between proteins and seafood.
Pukka Spanish tapa plates at its best; La Taperia de Columela has an extensive, tasty menu featuring cold cuts, appetizers, hot plates, montaditos, toasts, preserves and desserts.
Swapping traditional dishes from Spain for Mexican vibes instead, get ready for a taco night and all the other scrumptious classics from quesadillas to fajitas at Santa Catrina.
How to get to Cadiz?
Useful to know, there is no airport in Cadiz, and the nearest to the city is Jerez Airport (a 30-minute drive) or Sevilla-San Pablo Airport in Seville (an hour and 20-minute car ride).
If your end destination is Cadiz, a convenient way to get to the city is with pre-organized airport transfers. Once you have landed, your private driver will be waiting for you at the airport, holding a placard with your name on it.
Bags loaded and packed, travel comfortably and be transported directly to your stay — no need to hassle with taxis or try convert prices in a foreign language on the day that you arrive.
Transfers are available to and from the airports.
Where to stay in Cadiz?
Whether you prefer to spend the night in the heart of the old city or waking up to the sound of the ocean, here are some of the top places to stay in Cadiz.
With historical buildings surrounding you, the romantic Hotel Bodega Tio Pepe is situated in the Old Town. The interiors are light, bright and inviting with a great design aesthetic.
For travelers who prefer an entire place to themselves, the apartment at Candelaria10 is less than one kilometer from the beach. It's comfy, well-equipped and has stylish interiors, with a guest rooftop terrace too.
Boasting ocean views, an outdoor pool overseeing the beachfront and super spacious rooms (and beds), Hotel Cadiz Bahía is bright, clean and contemporary.
Rich in charm and character, Hotel Casa de las Cuatro Torres has all the traditional Spanish feels. Enjoy ocean views, a terrace, certain room options have balconies, and with a studio and apartment available too.
Just a five-minute walk from the beach and away from the bustle of the city center, Parador de Cadiz has a wonderful Junior Suite with sea views.
Tastefully decorated and with everything you need in your home-away-from-home; Plaza Mina Suites is an awesome aparthotel, and offers guests a rooftop terrace!
Visiting Cadiz on budget?
If you're looking to save a few extra euros here and there, or snag an extra sightseeing excursion with no price tag, there are free walking tours in Cadiz.
Plus, you're in luck in this city as there are a variety to choose from.
The traditional tours will guide you on a two-hour walk through Cadiz, showing you its most precious sites. Some of these typically include Cadiz Cathedral, the Roman Theatre of Cadiz, Barrio del Pópulo in the Old Town, Plaza de la Cruz Verde, La Caleta Beach and plenty of other must-see city highlights.
Touring the historic center, opt for a more in-depth 2.5-tour that focuses on the detailed history of Cadiz, dating back to thousands of centuries ago.
Or, for an option that's slightly different, imagine how beautiful a bike tour at sunset must be! Over the course of two hours, cycle through the city as the sky changes color, and learn more about its culture, history and most famous landmarks.
Where to go next?
So, where's next after Cadiz? Spain is littered with amazing cities and towns; being in the Andalusia region already, here are some fantastic destinations to check out not far from Cadiz.
Just under 1.5 hours away, there are many other fun things to do in unique Gibraltar (a one hour and 25-minute drive to be exact) and in romantic Seville (one hour and 17 minutes away).
While in Seville, don't miss sights like the Real Alcázar of Seville, Seville Cathedral, Plaza de España and Colegial del Divino Salvador, and check out its vibey Santa Cruz district. Sip on sangria and stroll the endless cobbled streets.
Málaga is 2.5 hours away from Cadiz — renowned because it's Pablo Picasso's birthplace, the city is a gorgeous fusion of art, creativity and beach vibes.
Under two hours from Cadiz is Marbella with a distinct seaside feel. Spend your days exploring its ruins and ancient settlements, or eating your way through the town. Enjoy live music in the evenings or switch it up and go dancing on the beach instead.
Apart from the Andalusia Region; Barcelona, Madrid, Alicante, San Sebastian, Marbella, Valencia and the Spanish Pyrenees are just the tip of some of the other best places to visit in Spain.
Final thoughts
Whether you're seeking a history-laden holiday or a vacation of endless sunshine and lazy beach days, there are plenty of things to do in Cadiz. With its magic in the air, you'll wish you had more time here.
Have you ever traveled to the ancient city before? What were some of your fondest memories or favorite historical attractions? Share with us in the comments below, we love to hear from our readers.
As always, happy travels!