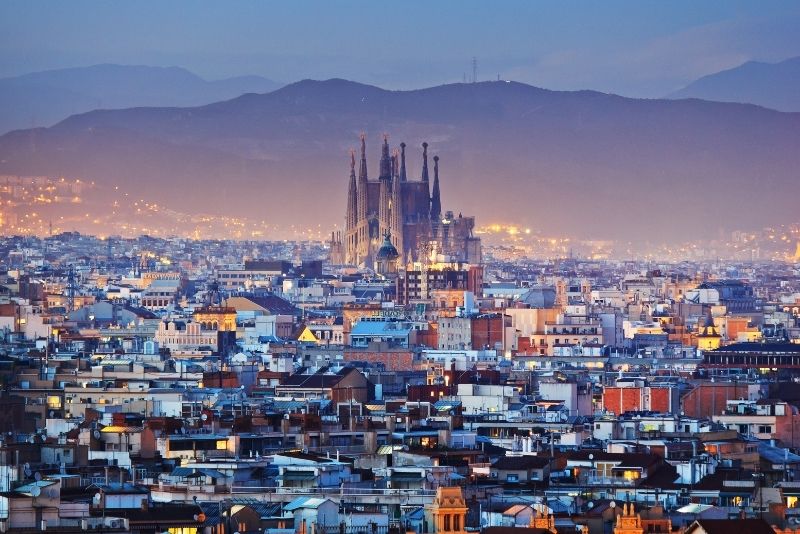 It's chaotic. It's festive. It's the Barcelona we all know and love so dearly.
Thanks to its warm Mediterranean air, vibrant culture, deep connection to art and history, and capacity to throw a helluva good party, the Catalonian capital has been a mainstay on Eurotrip bucket lists for decades.
But with so many exciting things to do in Barcelona, and plenty more within arm's length, planning an itinerary isn't as easy as it sounds.
Luckily, we've done the work for you! So grab your glass of sangria and start planning that next adventure!
1 – Hear flamenco guitar at the Palau De La Musica Catalana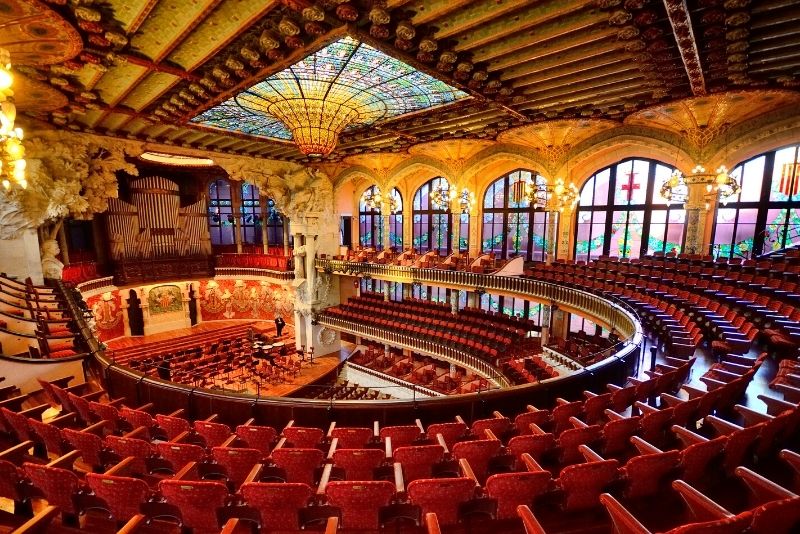 The Palau De La Musica Catalana is considered to be the center of the Catalan culture movement, now officially designated as a UNESCO World Heritage Site (so you know it's worthy of a visit).
Despite being over 100 years old, it continues to host concerts and orchestras to this day, none more famous than the Orfeo Catala Choir.
Even if you're not catching a show, a backstage guided tour is certainly worthwhile for theater lovers.
2 – Snap a selfie at Park Guell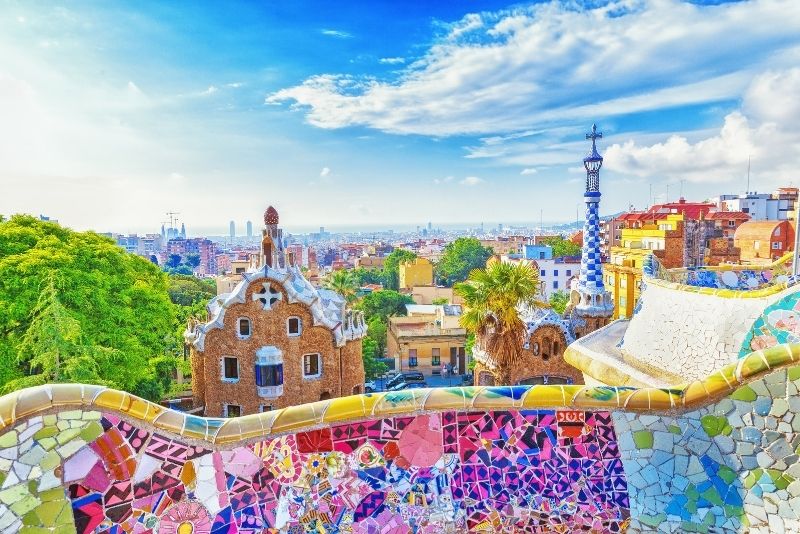 Park Guell was first intended to be a gated community for the aristocrats in Barcelona; today, the vibrant, colorful locale holds its own as one of the most famous UNESCO World Heritage Sites in the world!
The Gaudi House Museum — the first piece of architecture that catapulted Gaudi to fame — is also located close by, with a range of walking tours covering both must-see destinations.
3 – Admire modern architecture at Casa Batllo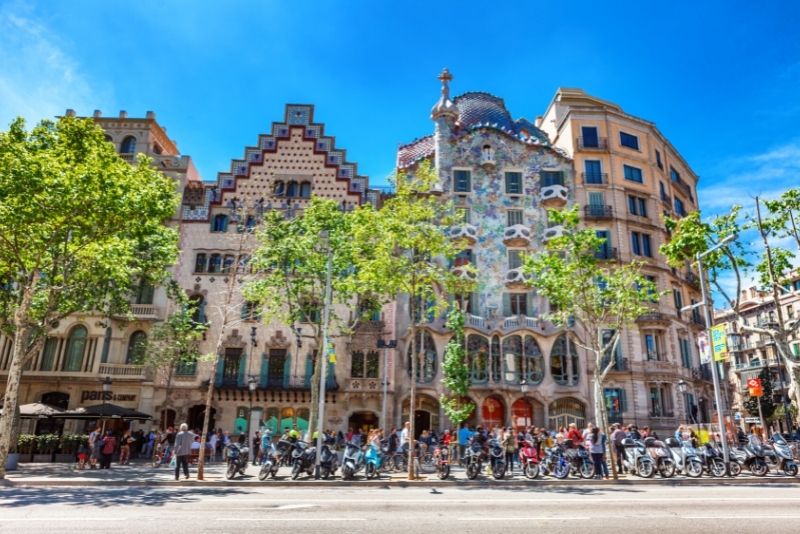 Speaking of Gaudi, Casa Batllo (designed and created by the great architect, of course) is considered to be one of his best works.
It was built between 1904 to 1906 and is considered to be one of the best displays of modernist architecture, still a regular hit with locals and tourists alike.
For anyone who appreciates architecture, visiting this iconic monument is essential.
Hot tip: during peak tourist season, a skip-the-line ticket is well worth the extra few bucks.
4 – Hike (or drive) to the summit of Montserrat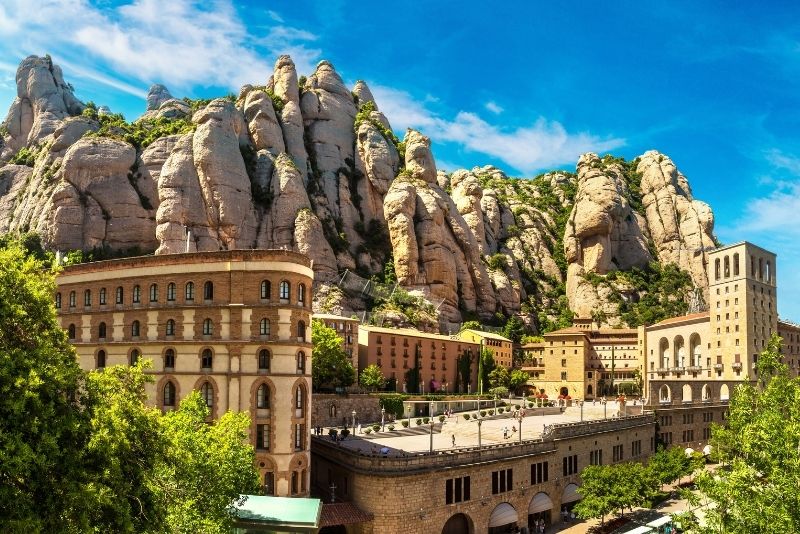 Get outside of the hustle and bustle of the city and visit the stunning mountain that is Montserrat, located about an hour's drive inland.
There, among the countryside, visitors will find a mountaintop sanctuary that gives offers a welcomed breath of fresh air.
While convenient tours do arrange all the transport, for those looking to stretch their legs, there's also a range of hiking routes that ascend the mountain.
5 – Step inside the football fortress that is Camp Nou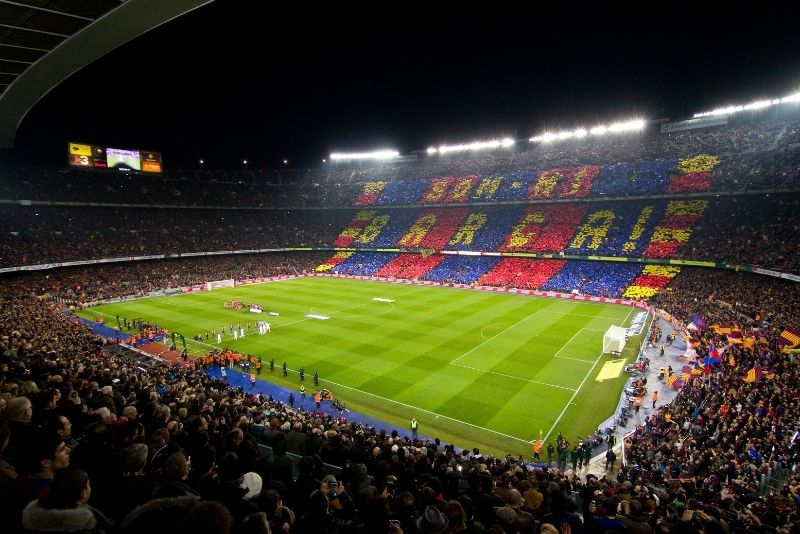 If there's one non-negotiable for football fans, it's a visit to the home of FC Barcelona.
At Camp Nou, guests can see first-hand the pitch where legends such as Maradona and Ronaldinho once played.
After seeing Lionel Messi in the flesh in a roaring, packed-out 99,000-seat stadium, consider taking your experience to the next level with a guided behind-the-scenes tour with access to the places like the dressing rooms and broadcast booth.
6 – Take the cable car up to the historic Montjuic Castle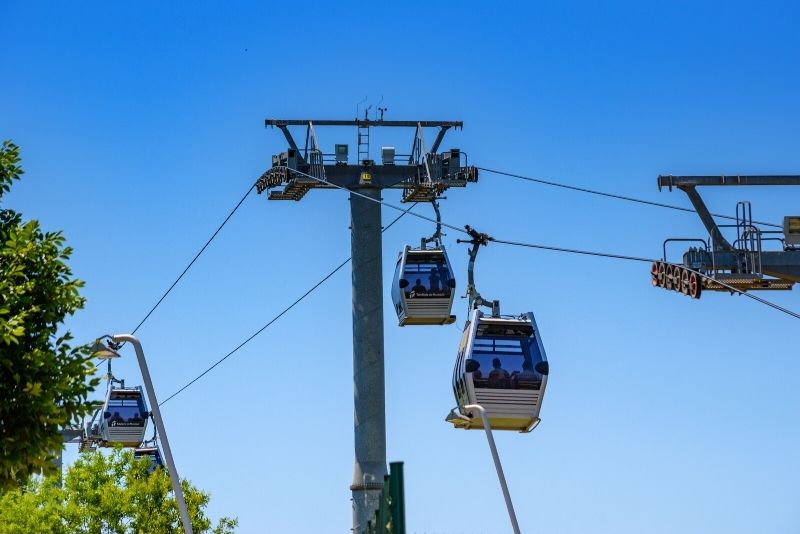 With an incredible vantage point of the horizon, plus a range of educational exhibits on display, the17th-century Montjuic Castle is something that every Barcelona tourist should check out.
While hiking up to the postcard-worthy fortress is an option (albeit a tiring one), it isn't nearly as fun as taking the cable car, which travels over 752 meters at a relaxing pace, with nonstop panoramic views the whole way through!
7 – Roam the Sant Pau Art Nouveau Site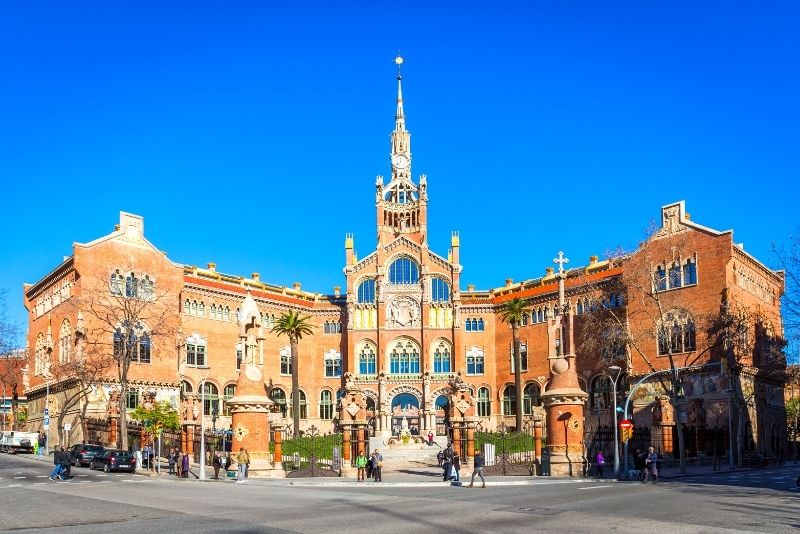 Discover one of the world's largest Art Nouveau sites at the Sant Pau Recinte Modernista!
At nearly a century old, the site is still considered to be a modern masterpiece. While visitors are more than welcome to stroll around the grounds at their own pace, a guided tour is the best way to learn about the facility's fascinating history.
8 – Visit Barcelona's most iconic monument the Sagrada Familia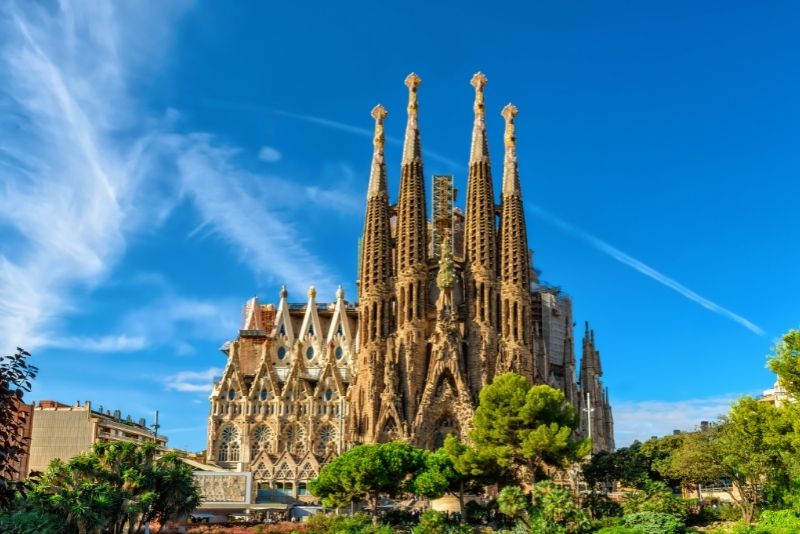 The Sagrada Familia is considered to be one of Barcelona's most iconic monuments. Designed and created by the esteemed visionary Gaudi, the foreboding has been left unfinished for decades, but don't let that deter you from visiting!
Every inch of this place has wow-factor! From the stained glass windows to the towering spires, this is architecture at its finest, and it's all best seen on a locally-led guided tour.
Read more about Sagrada Familia tickets price and the best Sagrada Familia tours.
Sold out? Learn how to book Sagrada Familia last-minute tickets.
9 – Sip a 100% natural beer at the Estrella Damm Brewery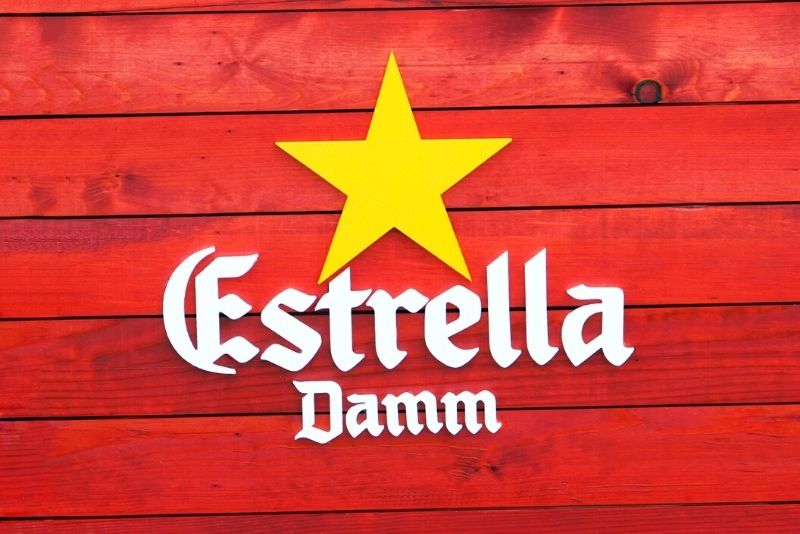 Do you enjoy a cold beer or two? How about beers with a Mediterranean twist? Then a trip to the Estrella Damm Brewery presents as the perfect day out!
With guided tours and tastings available on-site (which include learning about the production and brewing process, and viewings of the Kettle Room and Historical Archive), it's both refreshing and educational!
10 – Learn about Antoni Gaudi at the Gaudi Crypt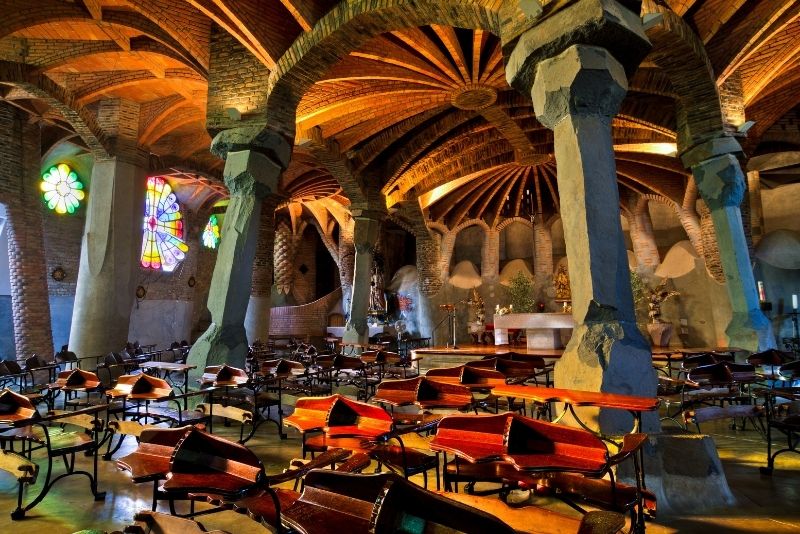 Antoni Gaudi intended to build a place of worship for the former residents of Santa Coloma de Cervelló: The Church of Colonia Guell.
Much like the iconic Sagrada La Familia, the Gaudi Crypt, which is found just outside the city,  remains unfinished to this day.
The spiraling columns are twisted arches are sights to behold, with plenty to be learned on a guided walking tour of the area.
11 – Let your hair down on a boat party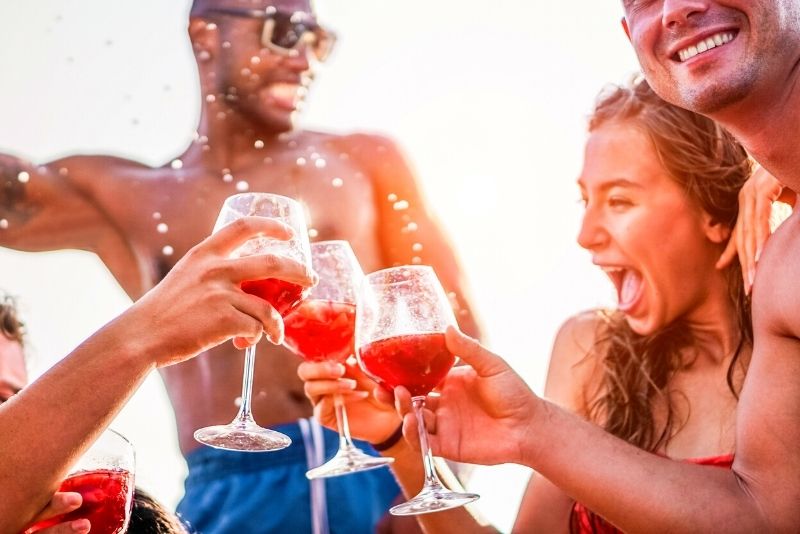 Put on your dancing shoes and get ready to party the day away on a boat party cruise!
Step onboard, find your groove next to the DJ, and be sure to make the most of all the delicious food, fruity cocktails, and sparkling champagne on board.
With splendid views from departure to docking, it's a great way to celebrate being on vacation!
12 – Learn about the modernist movement at Casa de las Punxes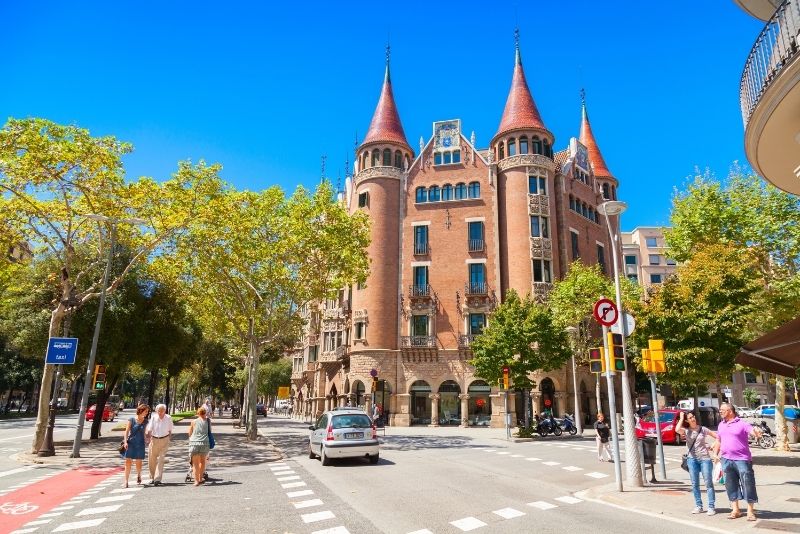 If you're looking for things to do in Barcelona, discovering one of the great figures in Catalan modernism (Josep Puig i Cadafalch) should be on the list — and there's no better place to do so than at Casa de las Punxes.
Besides the fascinating history, it's also a visual delight — the gothic towers are marvelous, each one decorated in its own unique theme.
13 – Walk around a mansion at Palau Baró de Quadras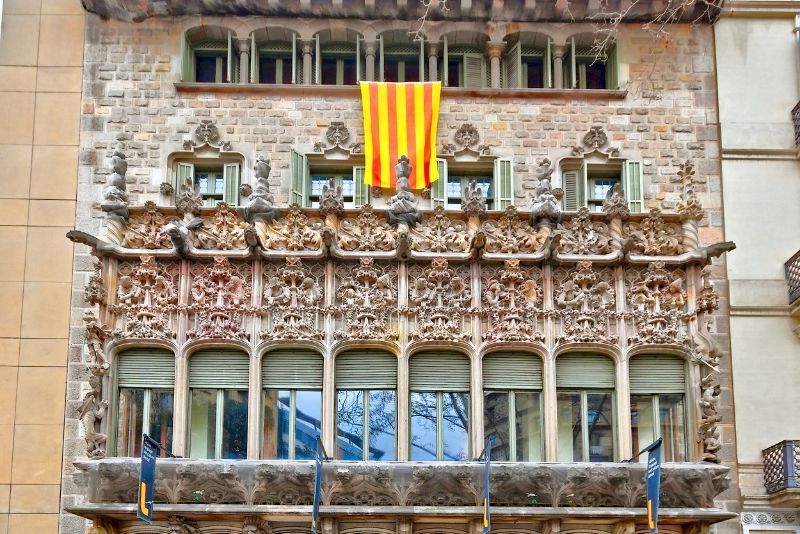 From the wrought-iron entrance to the gothic staircase and intricately decorated walls, this place has many fascinating medieval touches, all the work of the revered modernist architect, Cadafalch.
Thanks to its location on the Avinguda Diagonal, after checking out the elegant palace, consider making your way to the popular Passeig de Gracia, home to an array of high-end designer stores.
14 – Step into history at Casa Amatller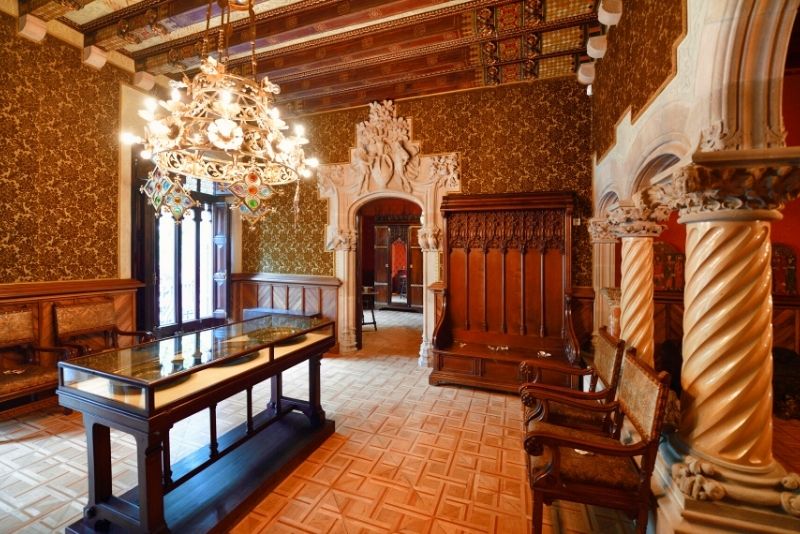 For visitors who love architecture above all else, Casa Amatller —  a fantastic blend of Romanesque and Baroque styles that was designed by Josep Puig i Cadafalch — is one of Barcelona's best-kept secrets.
At Casa Amatller, guests can learn all about its history, with plenty of stories about the owners' chocolate-making and globe-trotting.
15 – Admire the art collection at Casa Rocamora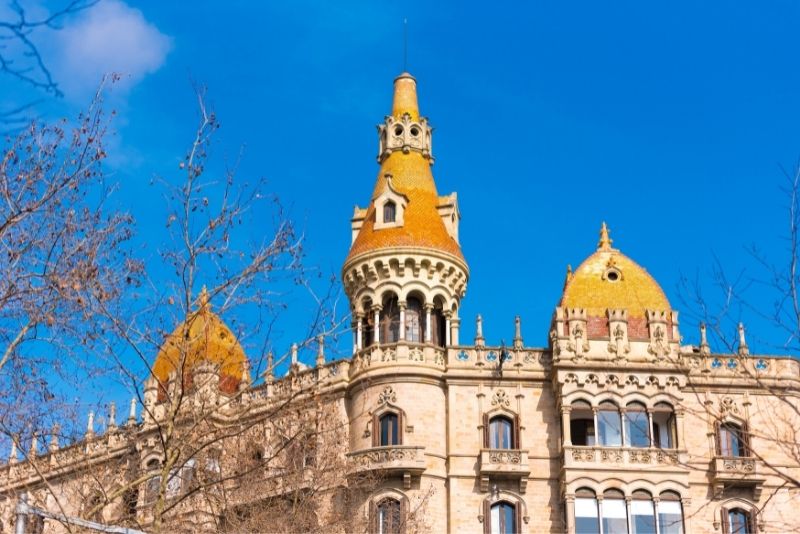 Art lovers, take note! For an undisputed great day out, why not visit the home of Manuel Rocamora and indulge in his huge art collection?
Over his lifetime, Rocamora managed to collect over 4000 pieces spanning ancient clothing to sculptures, paintings, scriptures, ceramics, and plenty more — and some of the most exquisite of them are on display here, nestled in the uptown district of El Putxet.
16 – Catch a show at the Liceu Opera Barcelona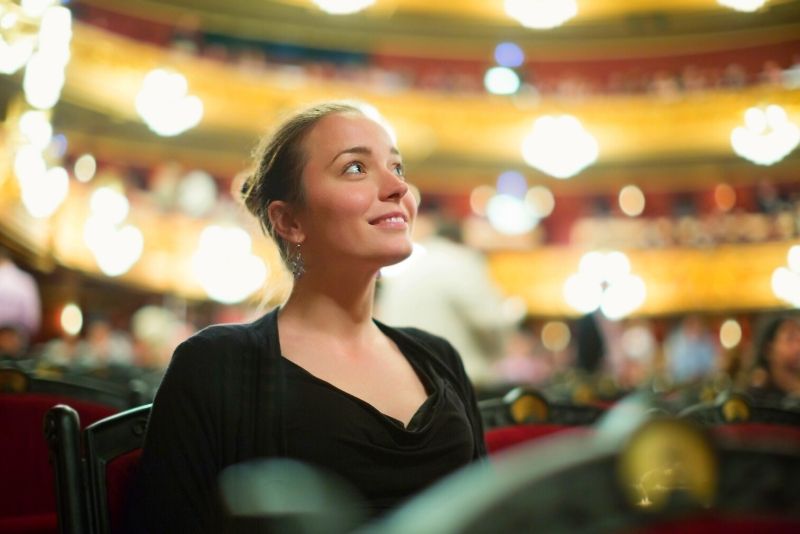 As, remarkably, what is the oldest opera house in all of Europe, The Liceu Opera Barcelona still showcases its original decor, an aesthetic that dates all the way back to 1847!
The nearly-3000-seat opera house has seen some of the biggest names in performing grace its stage, but even if you don't attend a show, the decor itself is worth the visit on its own.
With an expert-led tour, visitors can go backstage and discover the main auditorium, the hall of mirrors, and the private on-site Cercle del Liceu club.
17 – Climb the tower at Basílica de Santa Maria del Pi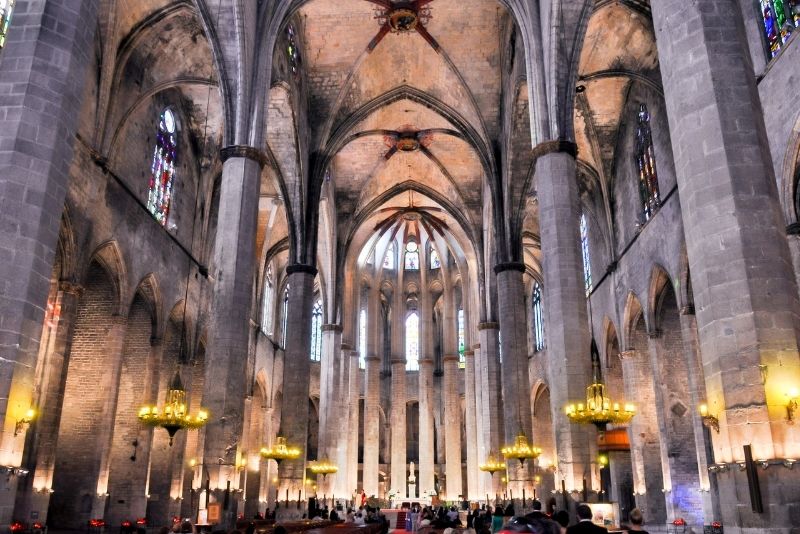 A Catalan Gothic cathedral located in the old town of Barcelona, this notable landmark is a regular hit for visitors on the hunt for panoramic city views.
It boasts the tallest tower in the old town; tourists are welcome to climb to the top where sweeping, breathtaking views await.
As if that weren't enough, the architecture is magnificent in its own right, particularly the stained glass windows.
18 – Make a stop at the Món Sant Benet Monastery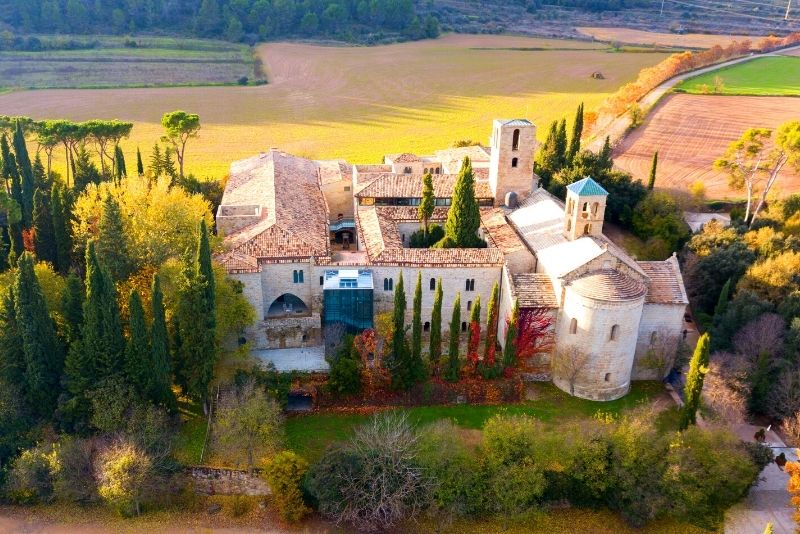 For visitors who seek to learn a little bit about monastery life, Món Sant Benet is the place to do it.
Tour the medieval monastery (which dates back to over 1000 years ago) and see how its residents once lived; learn about Catalan history and the cultural evolution; and be sure to tour the cellars, church, and cells!
19 – Wander around the charming Gothic Quarter
A regular crowd favorite, Barcelona's Gothic Quarter is made up of narrow medieval streets.
However, despite the aesthetic, it's far from ancient — trendy restaurants, bars, clubs, shops, cafes, and art galleries line the streets!
Hot tip: Check it out during the day to admire the architecture, then come back at night for a wild night out on the town!
20 – Zip around town on a Segway tour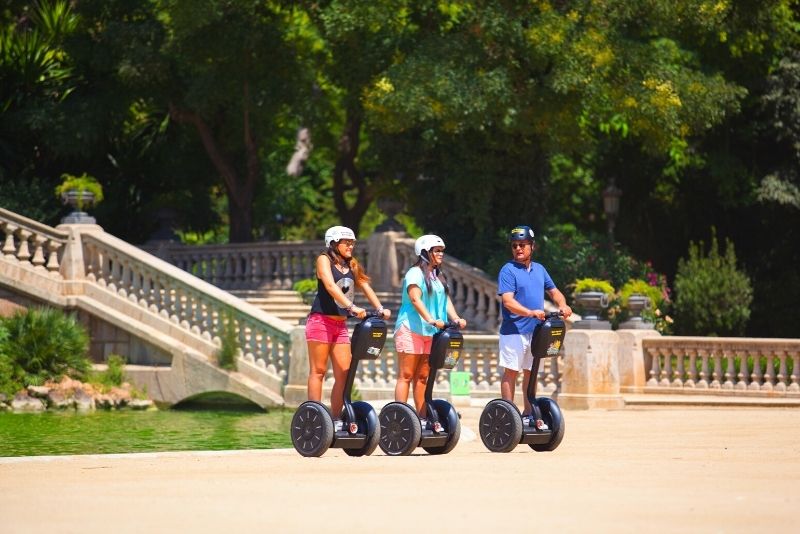 As a huge metropolis, there's no shortage of things to do in Barcelona — so trying to see them all on foot can get tiring very quickly!
Thankfully, a smooth Segway tour is a great way to see all the sights without exhausting yourself.
Marvel at the new buildings, as well as the old; zoom along the coastline, and take a break at Ciutadella Park!
21 – See the sights on a hop-on hop-off bus tour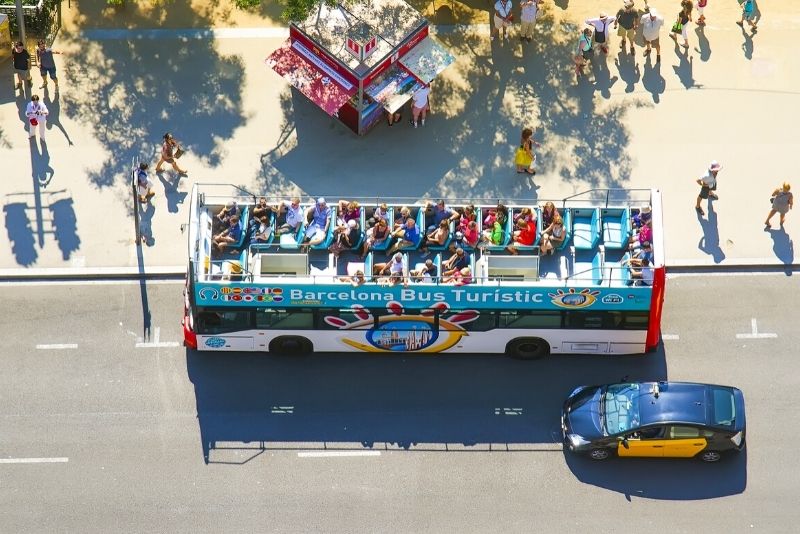 A hop-on hop-off bus tour is the perfect way to tick off the essential sights for those whose trip is short and sweet.
Simply grab a seat on the open-air deck or the air-conditioned lower level, and let the driver take you to landmarks such as Sagrada Familia, Park Guell, Port Olimpic, the Barcelona Cathedral, and plenty more!
Learn more about the best hop-on hop-off bus tours in Barcelona.
22 – Join a free walking tour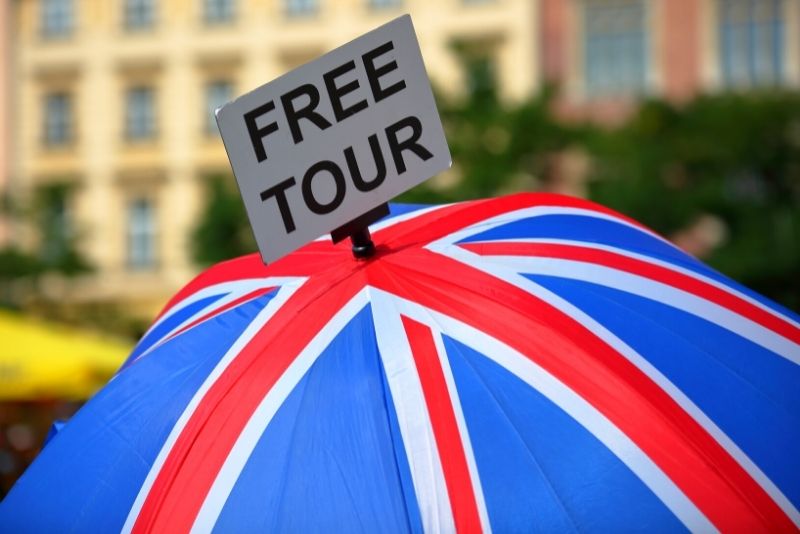 There are many tour guides around Barcelona that offer free tours to tourists and sight-seers, covering wonderful places like Old Town, the Gothic Quarter, Art Play and the Sagrada Familia (usually combined), and much more.
It's important to remember, however, that even though these tours are free, most people are expected to tip their tour guides at the end.
Read more about the best free walking tours in Barcelona.
23 – See the bustling street art scene!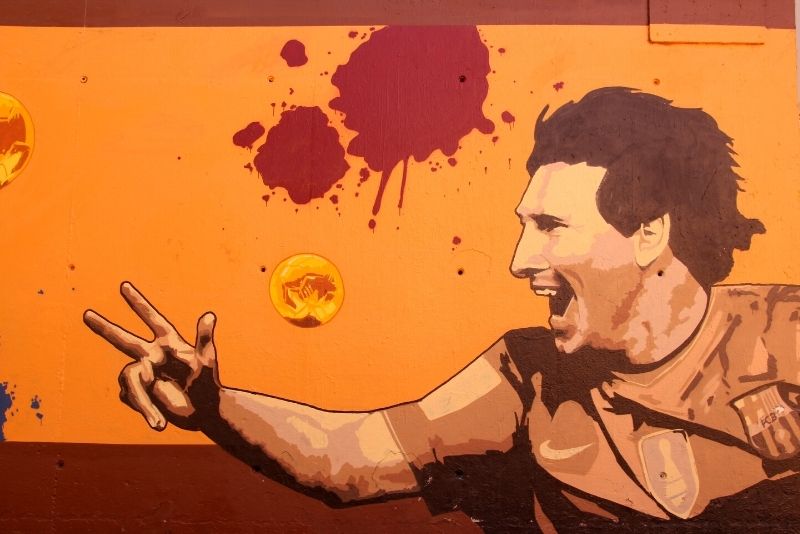 Barcelona has a huge street art scene, with many local artists adding their flair to the already vibrant streets.
Most of the more famous street murals can be found in Poble Nou, an area known as a reminder of the industrial revolution.
As you'll see on a locally-led walking tour, these young Catalonian artists have taken it upon themselves to spruce up the area, and they've done a mighty fine job!
24 – Explore the city in style… on a Vespa!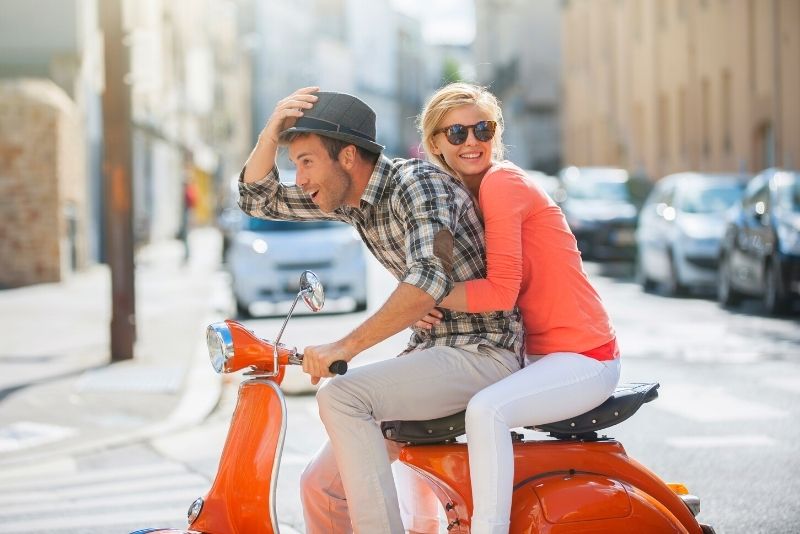 While group tours can be fun, some tourists might prefer to explore the city at their own pace — that's where a Vespa tour can come in handy!
A straightforward process, guests don't even need a map of the streets, since most rental scooters come with a GPS that has the city's main attractions already saved.
25 – Race against the clock in an escape room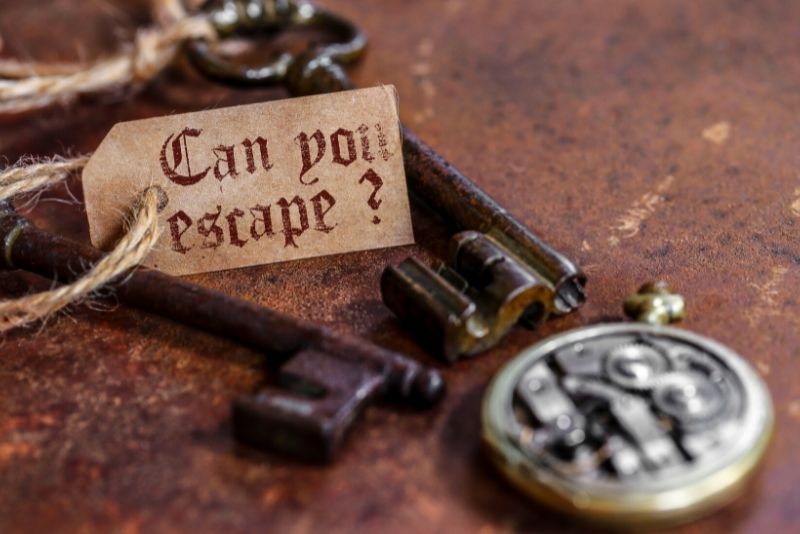 Calling any Sherlock Holmes in the making!
Escape rooms have become exceedingly popular in recent years, so why not try the exciting escape rooms in Barcelona?
A wide selection of centers offers many different themes, including the monastery escape, murder house who-dun-it, sailing challenge, art heist, and more.
So grab your friends, put your detective skills to the test, and see who can crack the clues the fastest.
26 – Solve puzzles in a scavenger game
Slow-paced tours are a dime a dozen — instead, spice things up with a scavenger game, probably the fun way to explore Barcelona!
With challenges that take participants off the beaten track, it's a great way to discover spots of the buzzing city that most tourists miss out on.
The objective is to solve clues at different spots around town; if you're quick enough, a prize at the end awaits!
27 – Get lost in Casa Mila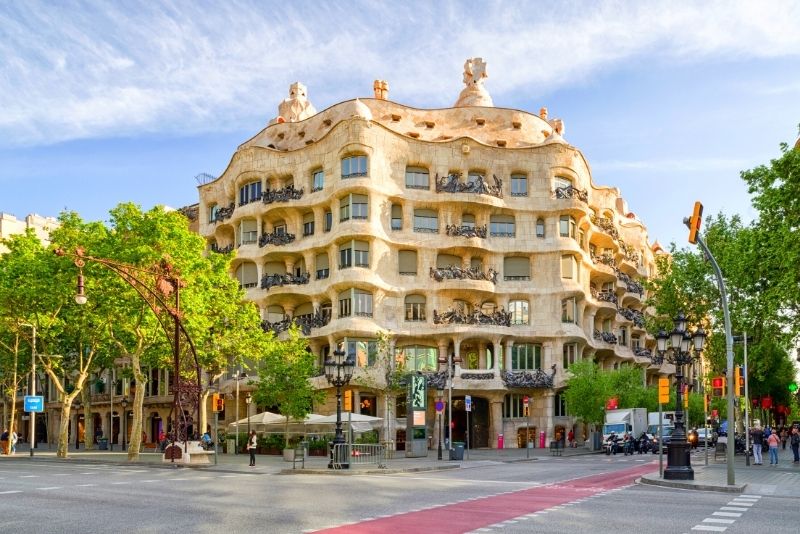 Ask any local and they'll agree: Casa Mila (also known as the stone quarry) is something that everyone needs to see at least once in their lifetimes.
Guests have the option to go on an audio-guided tour in the daytime, or explore Casa Mila by moonlight.
The night experience includes visual effects, special lighting, and an accompanying soundtrack, all combining to deliver a truly unforgettable experience.
28 – Take a dip in the water at Costa Brava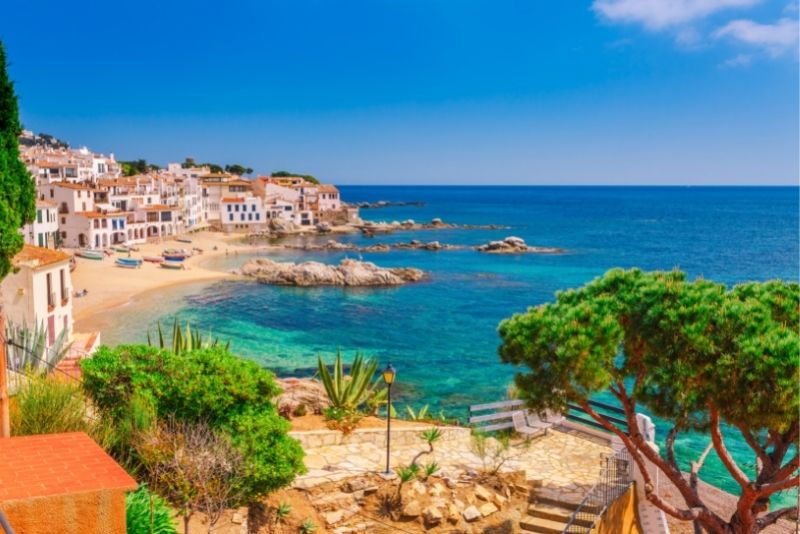 Costa Brava is the coastal region of Catalonia and stretches over 200 miles, with soft sands, warm waters, and plenty of quaint seaside towns on offer.
The pristine blue waters are a treat for those who want to cool down on a hot day (which, in Barcelona, there's no shortage of), while there's plenty of kayaking tours and snorkeling tours too.
Pre-arranged tours provide all the transport equipment; just bring yourself and a can-do attitude!
Read more about the best day trips from Barcelona.
29 – Take a day trip to Girona (featured in Game of Thrones)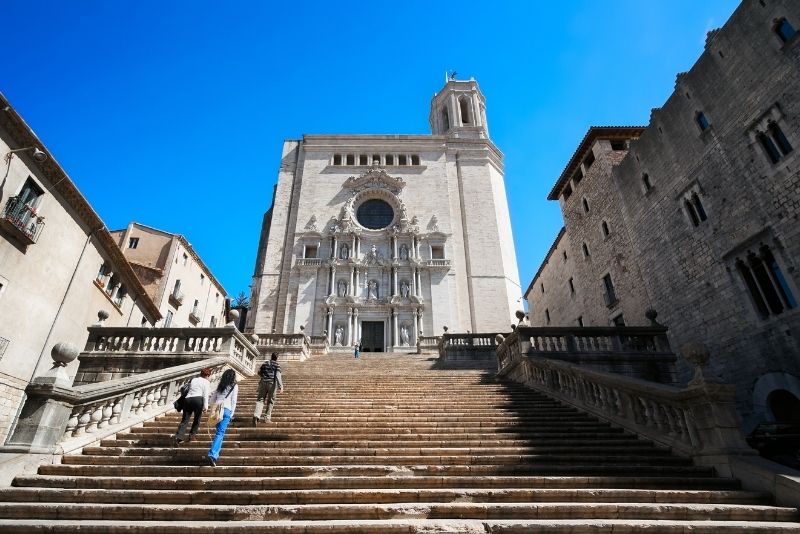 While Girona is, undoubtedly, a magical town filled with stunning monuments and exciting places to discover, it's most famous for its role as the backdrop in Game of Thrones!
Choose from a range of tours dedicated to the show (which stop at places like the historic cathedral), or a more generic adventure, which dives into the history and culture of this wondrous cobblestoned town.
Either way, be sure to take a walk down La Rambla — you won't regret it!
30 – Get artsy at the Barcelona Museum of Contemporary Art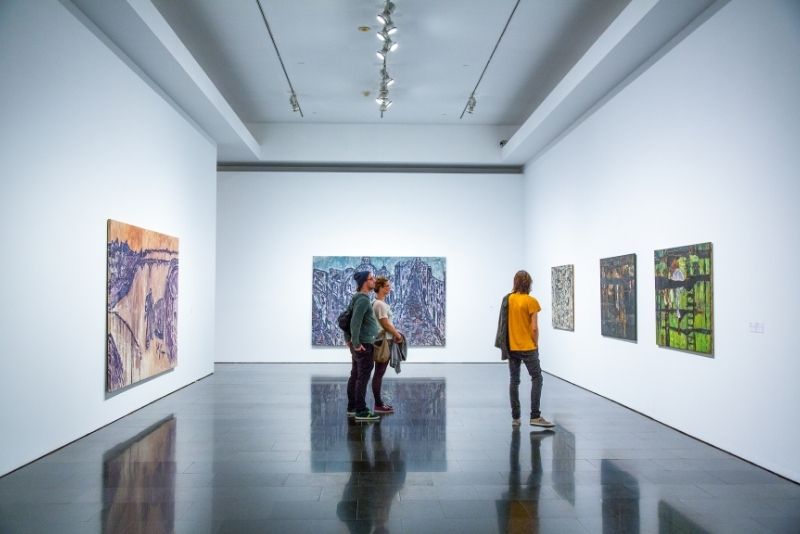 With the greatest collection of contemporary art in all of Barcelona under its roof, BMCA boasts over 3000 different art pieces from the 1940s through to the modern-day.
Spend the day letting your mind unscramble the meanings of works by Tàpies and Fontana; marvel at the fantastic (yet often obscure) collections of Saura and Klee, and wrap up the day at a nearby cafe.
31 – Visit Dali Museum at Figueres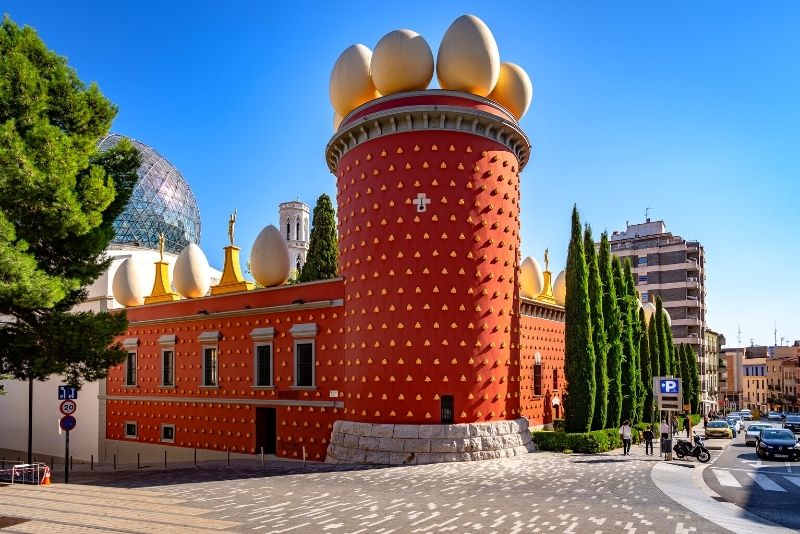 The hometown of none other than Salvador Dali sits about an hour and a half drive from Barcelona. While you can rent a car, the easiest way to wander the streets of Figueres and see the Dali Museum is with a pre-arranged tour.
The museum was opened in 1994 and today showcases the largest Dali collection of anywhere in the world — here, art-lovers can learn about his life, upbringing, and most famous works.
32 – Quench that thirst for speed at Ferrari Land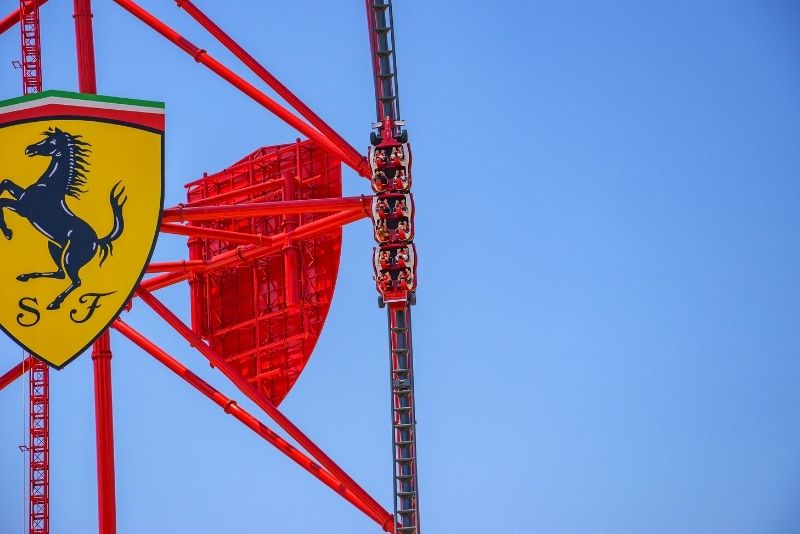 Trying to find ways to get your adrenaline pumping? Then slide Ferrari Land to the top of the bucket list. Seriously.
While there are plenty of rides and no shortage of Ferrari memorabilia, the shining beacon of this theme park is, without a doubt, "Red Force".
Officially the fastest rollercoaster in all of Europe, Red Force can reach dizzying speeds of 180km per hour.
33 – Escape the city and head to the Pyrenees mountains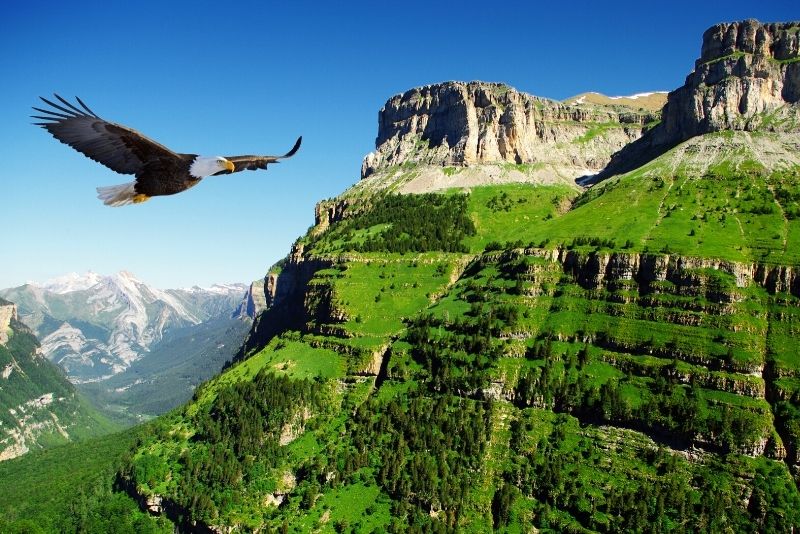 For the chance to see an unexpected side of Catalonia, head over to the Pyrenees Mountains.
An array of hiking tours are available (or snow activities in the winter) to suit every fitness level, many of which have transport included and stop at the quaint mountain village of Rupit.
If hiking isn't your thing, the nearby country towns also offer family-friendly experiences like horse riding or boating.
34 – Go back in time at Besalu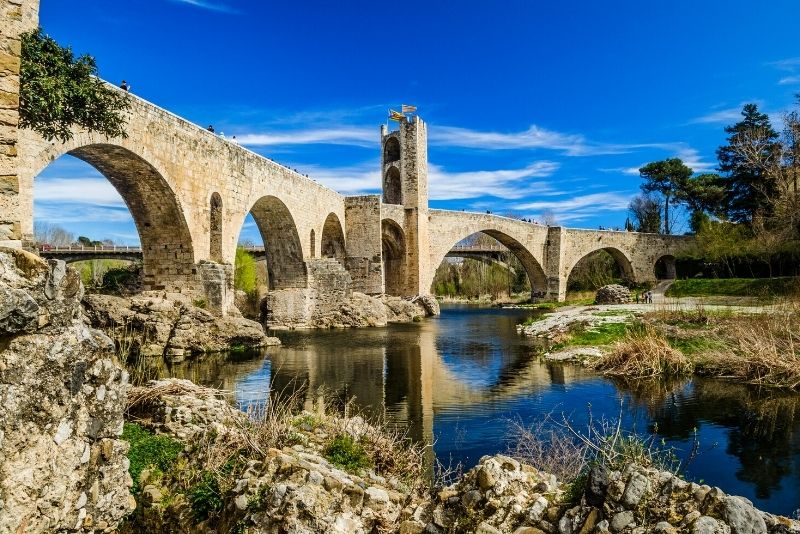 A wonderful opportunity to discover the medieval heritage of Catalonia, the beautifully preserved small town of Besalu magically transports visitors all the way back to Medieval times.
Camera at the ready, folks; the town dazzles with centuries-old stone bridges, Roman temples, and massive Cathedrals.
With so many pre-organized tours on offer, it makes for an easy day trip addition!
35 – Cruise through the city streets on a bike tour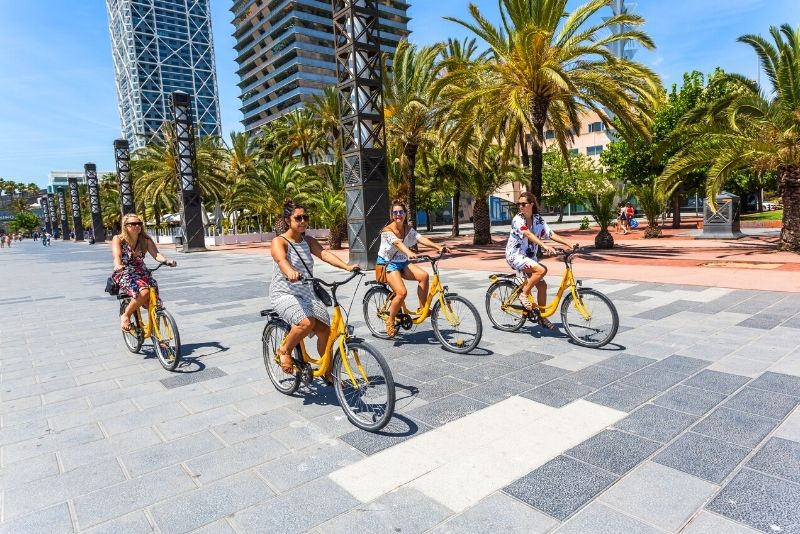 Barcelona is MASSIVE, so if you're planning to see everything on foot, think again. Instead, why not tick off all the main attractions with a relaxing bike tour?
Not only is the two-wheeled day out a fun way to see all the main sights like the Barcelona Cathedral, Arc De Triomf, and Basilica of the Sagrada Familia, but it's a great workout as well!
To all the foodies out there, a tapas bike tour is exactly what the doctor ordered.
36 – Stare in awe at the natural wonders of La Garrotxa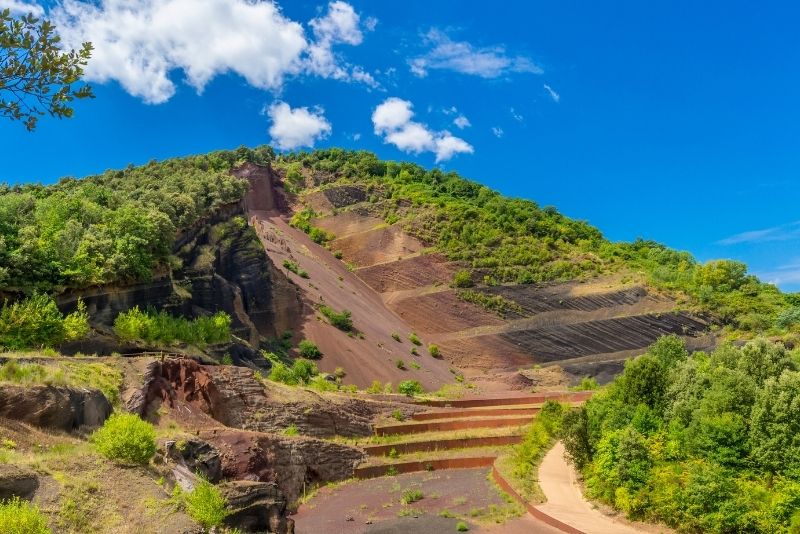 On any trip to the geological wonder that is La Garrotxa, visitors are blessed with the chance to get to know the volcanoes that shaped the area's rolling hills and valleys.
The national park is surrounded by hikeable lush forest dotted with unique lava remnants that visitors can see up close — reminders of just how powerful Mother Nature can be.
37 – Hop aboard a sailboat!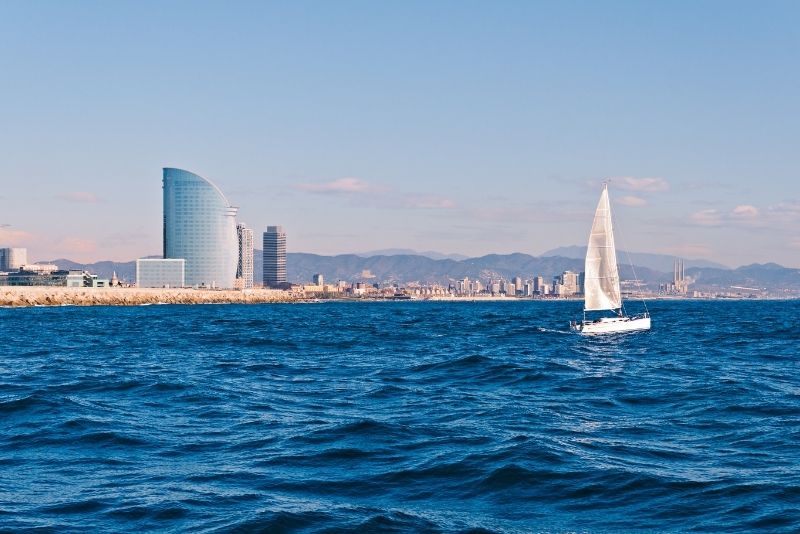 Ditch the road traffic; see the sights from a different perspective with a cruise along the Barcelona coastline!
Tours can be arranged for small or large groups at sunset or sunrise, and often include live entertainment, free-flowing cocktails, or a belly-stuffing buffet, depending on which cruise you choose.
38 – Soar above the city in a hot air balloon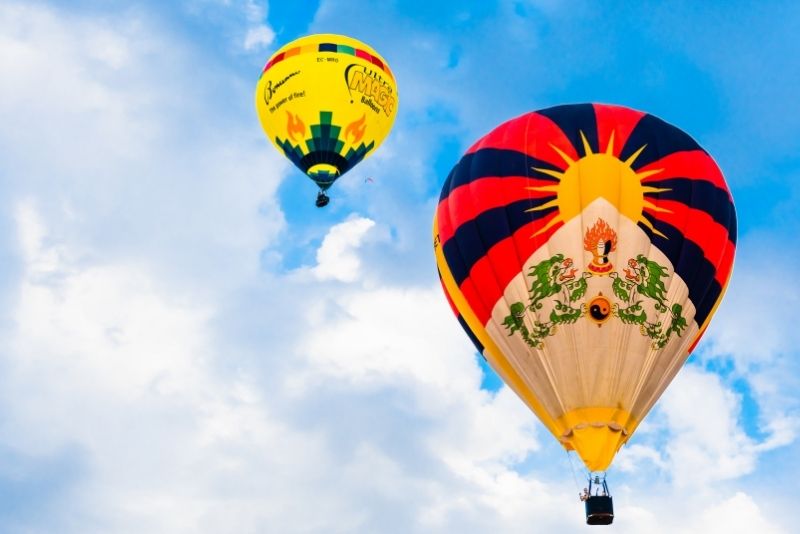 For a photo op unlike any other, a hot air balloon experience — either in a small group or a private booking — dishes up unparalleled views of the rolling valleys, mountain peaks, and shimmering coastline.
With rides typically lasting about an hour, there's plenty of time to pick the brain of your pilot and learn a little more about the area from a local's perspective.
39 – Saddle up for a horse riding adventure!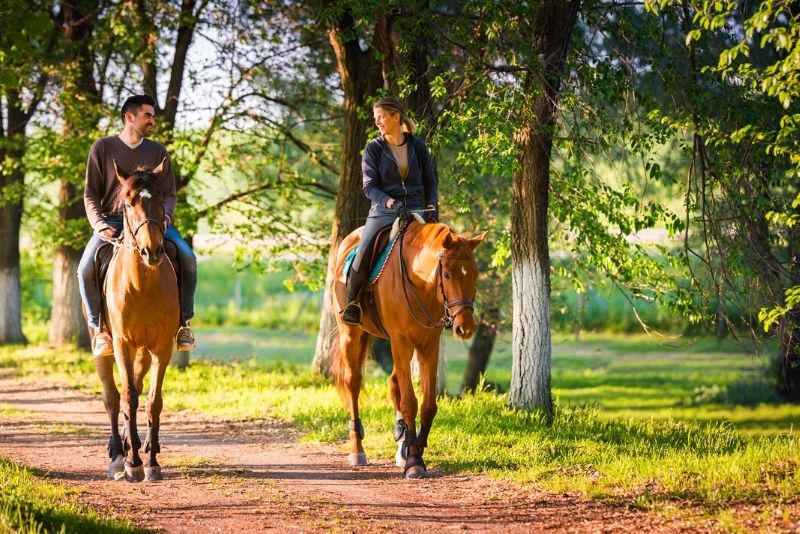 Catalonia is home to an infinite list of parklands, so why not explore them the way our ancestors did by going horseback riding?
Experienced instructors lead guests through some of the most breathtaking scenery in the region, with tours trekking through places like Montserrat and the Penedes vineyards.
Even if you've never so much as ridden a pony, no experience is needed, making this a perfect day out for families.
40 – Ride shotgun in a helicopter!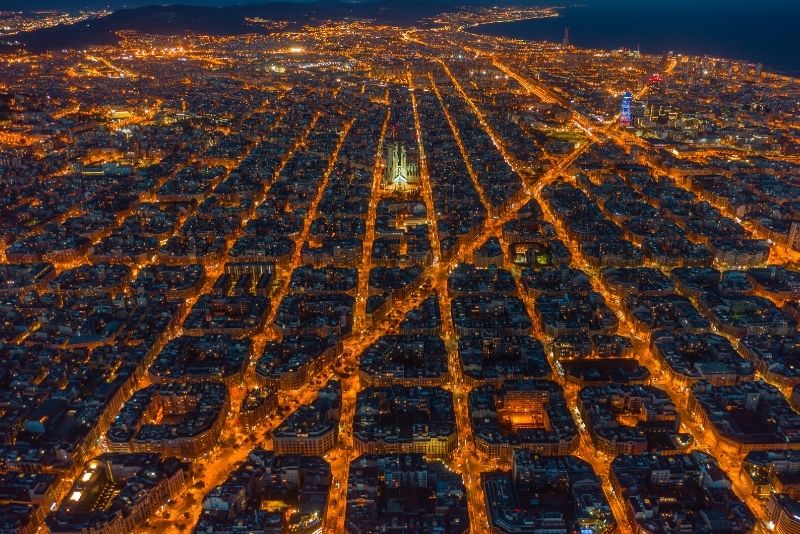 Experience the best views of Barcelona's stunning architecture, the array of fishing boats along the coast, and the unique octagonal city block structure with a quick helicopter tour!
To appreciate the city from a range of perspectives, combine the flight with a Ferrari rental or sailing trip (the combination experiences are cheaper than individual bookings).
Read more about the best helicopter tours in Barcelona.
41 – Carve some waves on a jet ski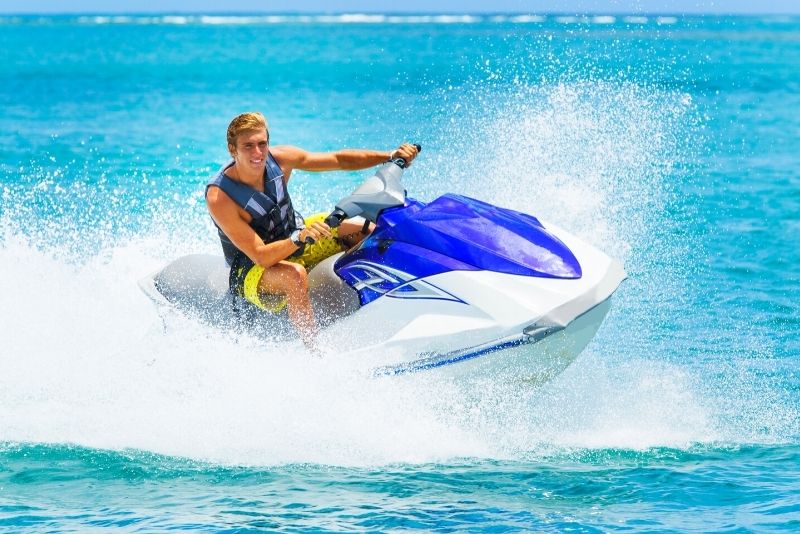 A high-priority activity for the thrillseekers out there, a jet ski ride gives visitors the chance to zoom down the coast of Barcelona at top speed and appreciate the skyline from a new angle.
Most rentals are hourly, all equipment is provided, and even if you're a total newbie, it's completely safe (as long as you stick to the rules, of course), with an experienced instructor keeping watch.
42 – Take a leap of faith!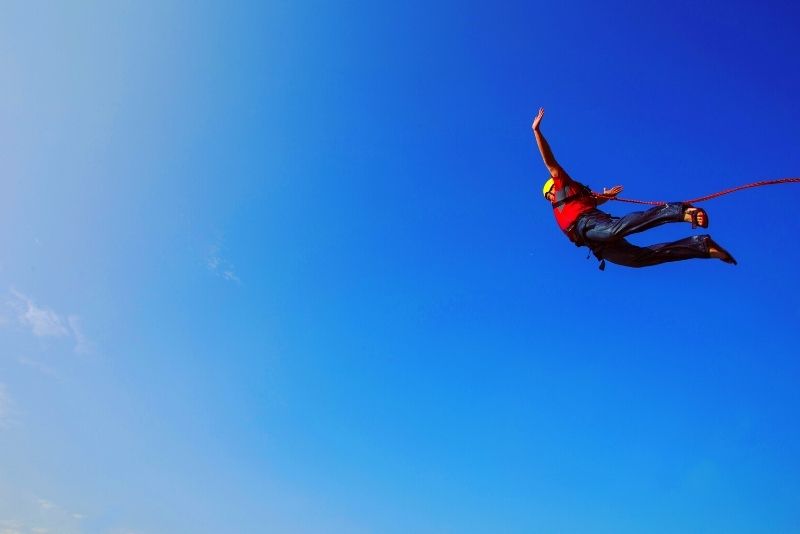 Is bungee jumping on your bucket list? Then why not do it in beautiful Barcelona!
At the Sant Sadurní d'Anoia bridge, located about 50km out of Barcelona, a 25-meter death-defying drop awaits.
Warning: this is only for travelers with nerves of steel.
43 – Try a few watersports in La Barceloneta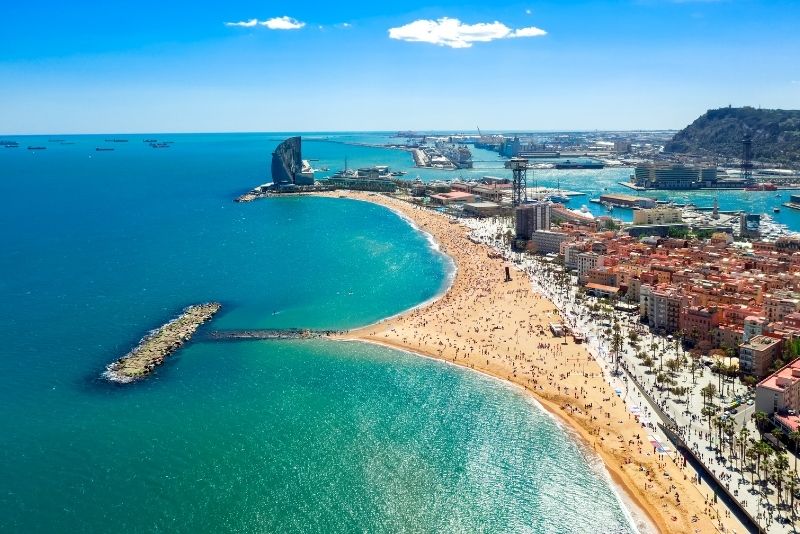 Looking for active ways to have a fun day on the coast? Then why not give water sports a try!
At the popular Sant Sebastia Beach in La Barceloneta (an area definitely worth exploring on foot), there is no shortage of classic and modern water sports to try.
Take your pick from surfing, paddleboarding, flyboarding, parasailing, windsurfing, and scuba diving!
44 – Spend an hour at the Casa Vicens Gaudí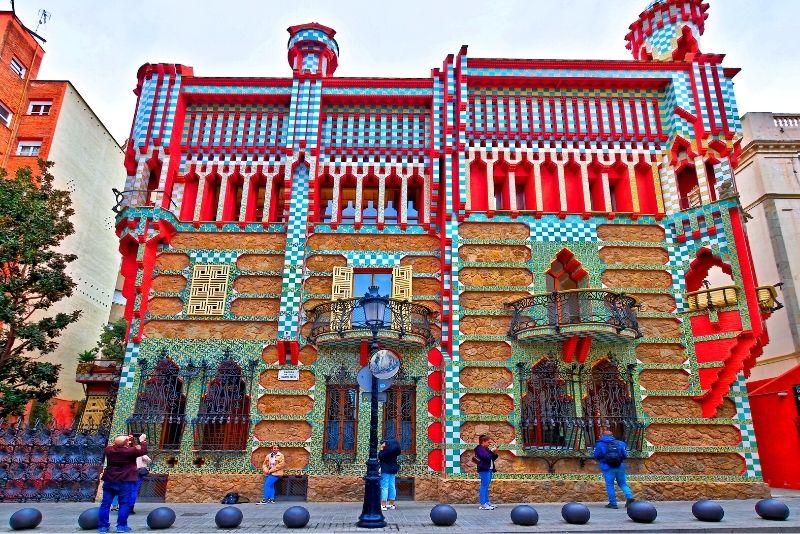 The inaugural house designed by Gaudí himself, Casa Vicens Gaudi in the Gràcia neighborhood still stands to this day.
However, it has since been turned into an art museum, with its shell restored as much as possible to its original state.
To complement the permanent Gaudi collection on display, the museum also showcases a rotating roster of temporary exhibitions as well.
45 – Head to the Old Town's Picasso Museum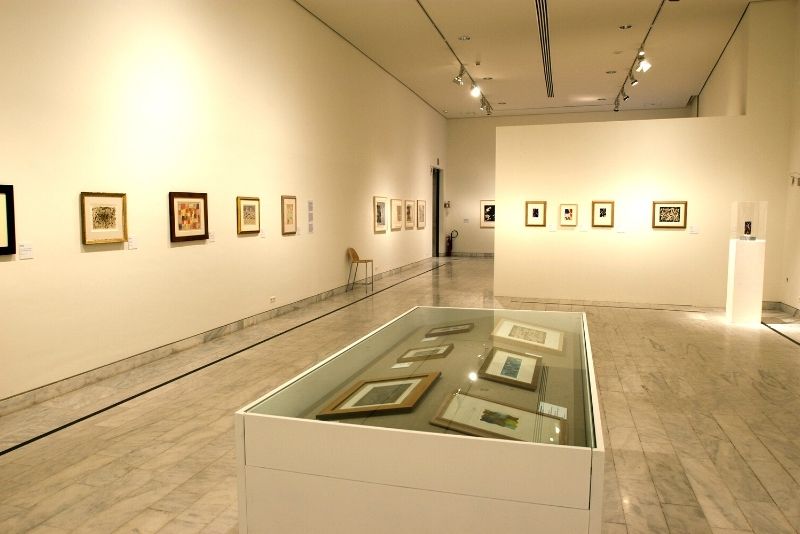 With an astonishing collection of over 4000 paintings showcasing Picasso's earliest and most formative works, there is no place more qualified to teach about this incredible artist.
Through both artwork and informative exhibits, guests can see how the artist's style evolved over the years and slowly transformed into the figure we know and love today.
46 – Immerse yourself in Spanish heritage at Poble Espanyol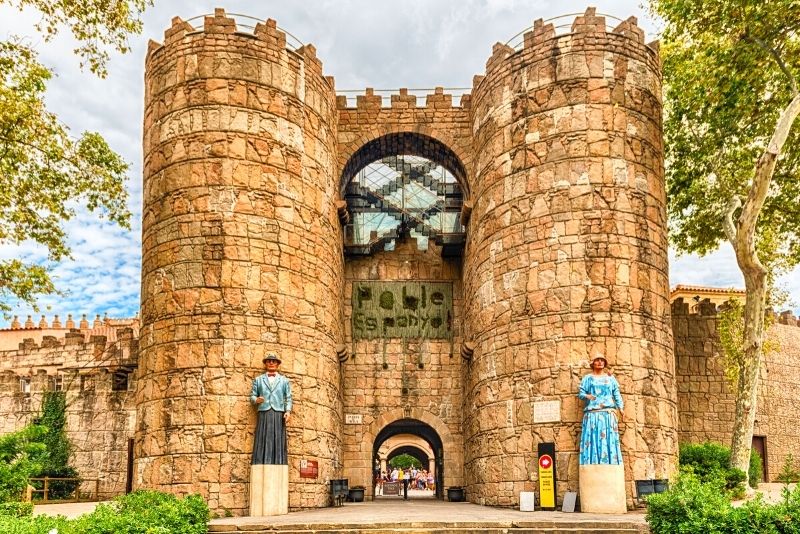 If you're hoping to dive deep into local traditions and heritage then the peaceful village of Poble Espanyol is the place to do it.
Poble Espanyol stretches over 49,000 square meters and is a melting pot of architecture, food, culture, and shopping.
For anyone souvenir shopping, there are usually a couple of dozen streetside artisans selling all sorts of hand-made goods.
47 – Enter the world of Joan Miró at the Fundació Joan Miró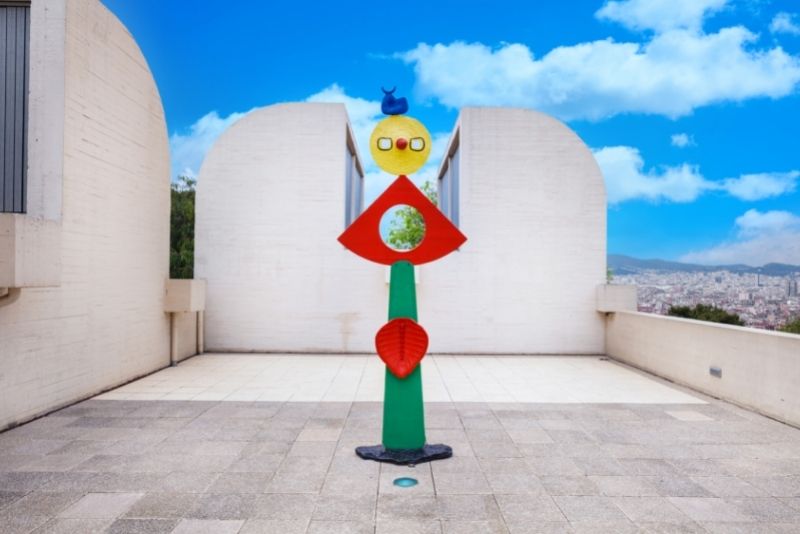 Dedicated to its namesake, Fundació Joan Miró not only showcases the works of the highly talented Miro, but also gives young artists a platform to showcase their work as well.
Check out the space dedicated to new and upcoming artists — decked out with paintings, drawings, sculptures, and more — and be sure to take a stroll through the nearby Parc de Montjuïc.
Hot tip: book online to skip the queues upon arrival.
48 – Get frisky at the Erotic Museum
A perfect outing for couples, the distinctive Erotic Museum is home to over 800 unique pieces that showcase how sexuality has been used as a source of imagination and inspiration through the ages.
Centrally located on the Rambla de Barcelona, it's a one-of-a-kind place seamlessly worked into any itinerary.
49 – Snap a picture with your fave celeb at the Wax Museum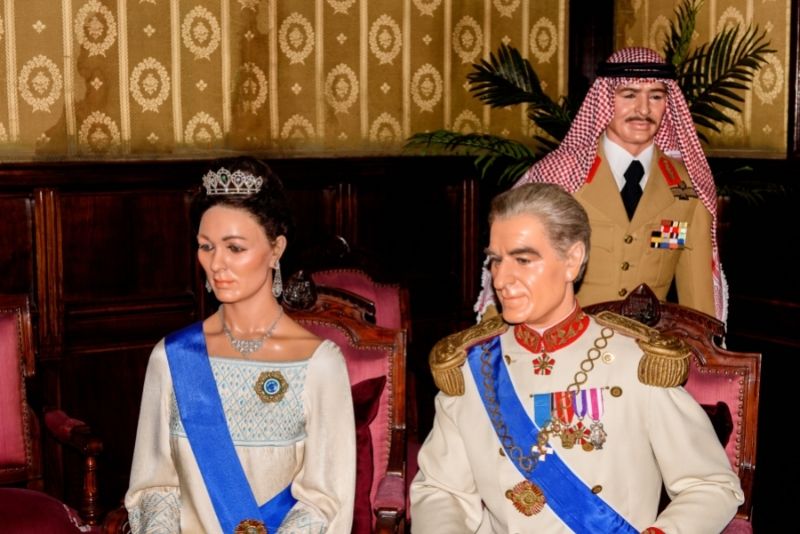 The new wax museum in Barcelona has over 200 different wax figures just waiting for you to take a selfie with!
From royalty to singers, actors, and fictional characters, it's a chance to get up close and personal with your heroes and learn a little about their lives.
After making all your Instagram friends jealous, grab a coffee at the fantasy fairy forest cafe!
50 – Admire masterpieces at the Museu Nacional d'Art de Catalunya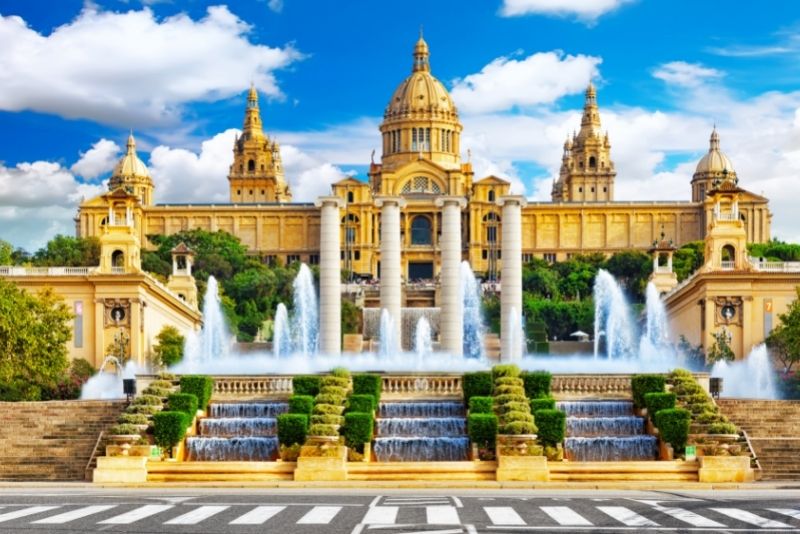 The Museu Nacional d'Art de Catalunya is a must-see museum for all of those out there who live and breathe art.
Offering a wide variety of styles and eras, they house pieces and collections from great artists from Catalonia such as Gaudi and Casas, as well as collections from Renaissance figures like Tiziano and Velazquez.
51 – Hop across the border to Andorra!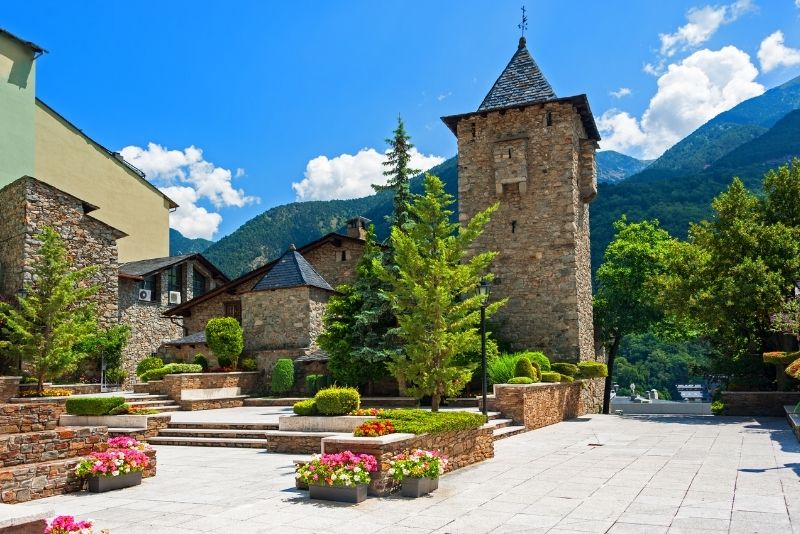 The independent nation of Andorra — nestled between France and Spain in the Pyrenees mountains — might be tiny, but with its endless valleys and stunning architecture, it's as beautiful and as charming as any!
Since its border is so close to Barcelona, it makes for an easy (and well-worthwhile) detour for travelers.
There are many day-trip tours available that transport you to and from the Catalonian capital. Just remember to bring your passport!
52 – Pig out at the Chocolate Museum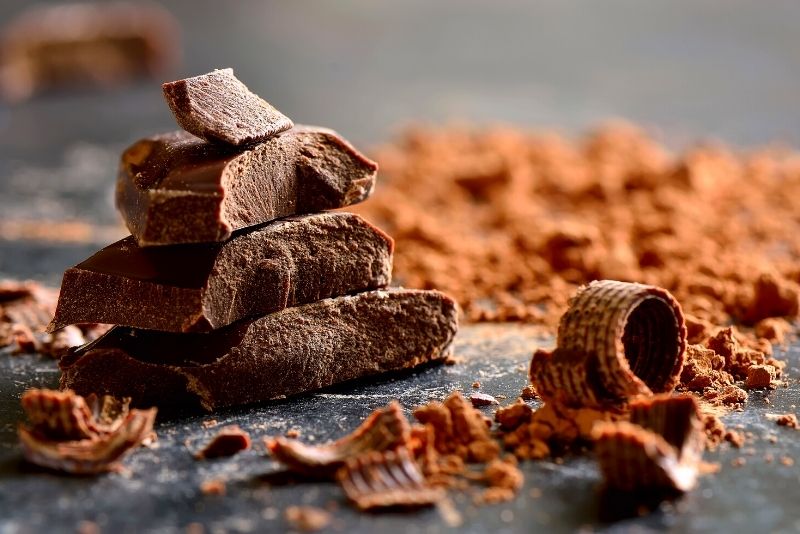 For anyone with an insatiable appetite for sweets, if you're looking for things to do in Barcelona then the chocolate museum is an absolute must!
With a block of chocolate in hand, you'll not only get to stuff your face, but also see how the history of this sweet treat shaped the social and economic growth of Barcelona.
53 – Fill your belly on a food tour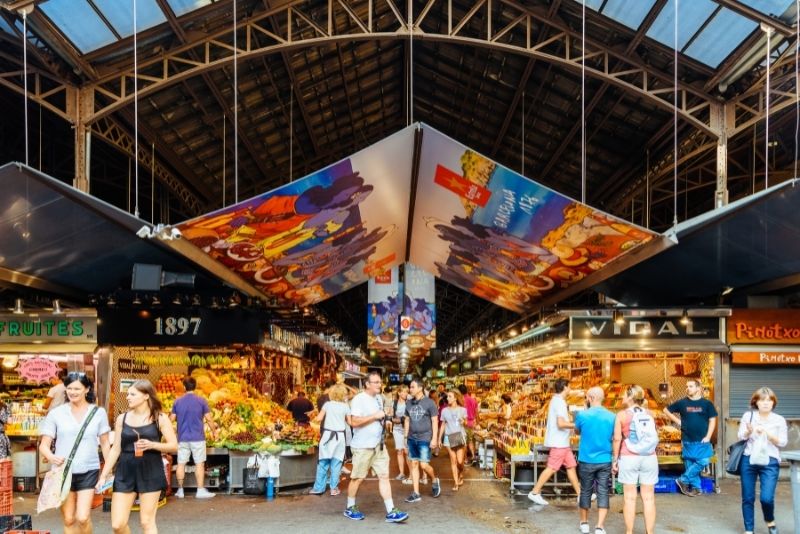 Team up with local foodies and try all the delicacies that Barcelona has to offer on a food tour!
Try different treats at La Boqueria Market, enjoy delicious tapas, sip local blends on a wine tasting walk, sample delightful local cheeses, and down a craft beer or two — as you can see, there are plenty of traditional and new foods throughout the city just waiting to be eaten.
54 – Put on your chef's hat for a cooking class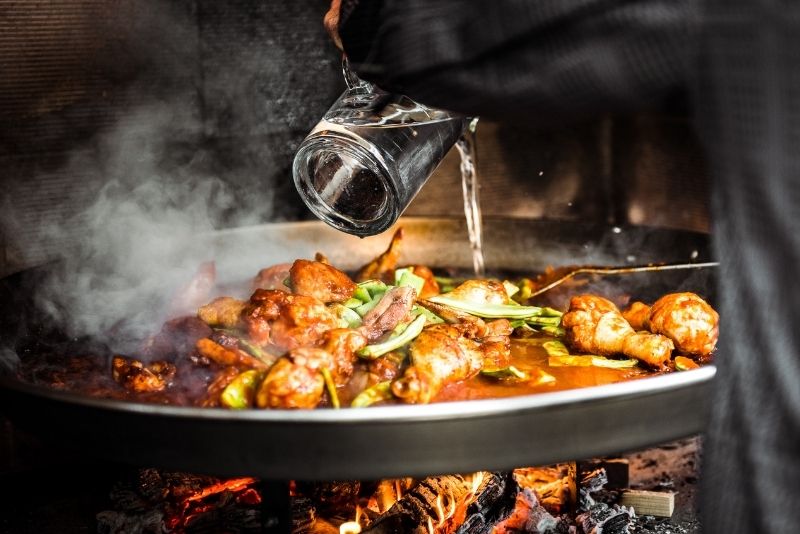 Do we have any budding restauranteurs in the house?
If you want to bring the flavors of Barcelona back home with you, why not learn how to cook a couple of traditional Spanish dishes by taking a cooking class?
Choose from classes designed for large groups, small groups, join a home-cook, or sign up for a VIP experience with a professional chef!
55 – Cool down at Icebar Barcelona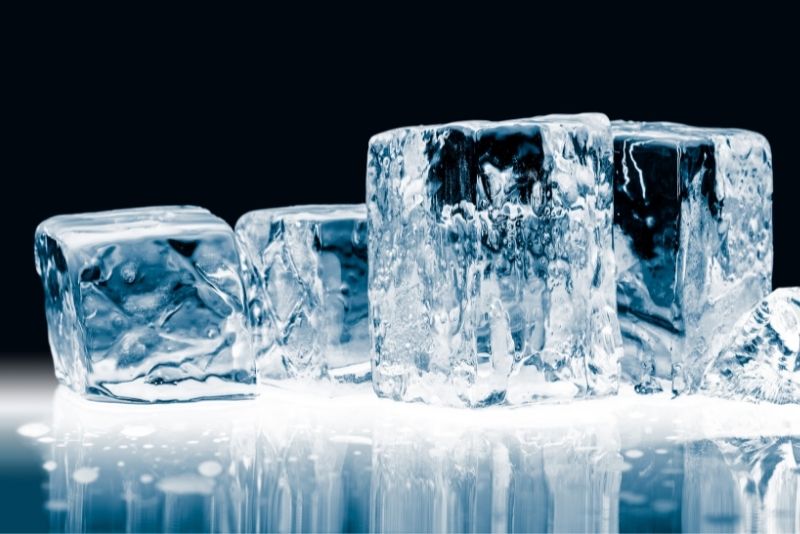 Looking for ways to cool down after a hot day at the beach? Then the Icebar is just what the doctor ordered!
True to its name, Icebar offers guests a completely new drinking experience, with the temperature inside a bone-chilling -5 degrees celsius.
Besides the ice bar, ice sculptures made by local artists line the room — it's a great way to grab a drink and try something new.
56 – See the passion of Flamenco!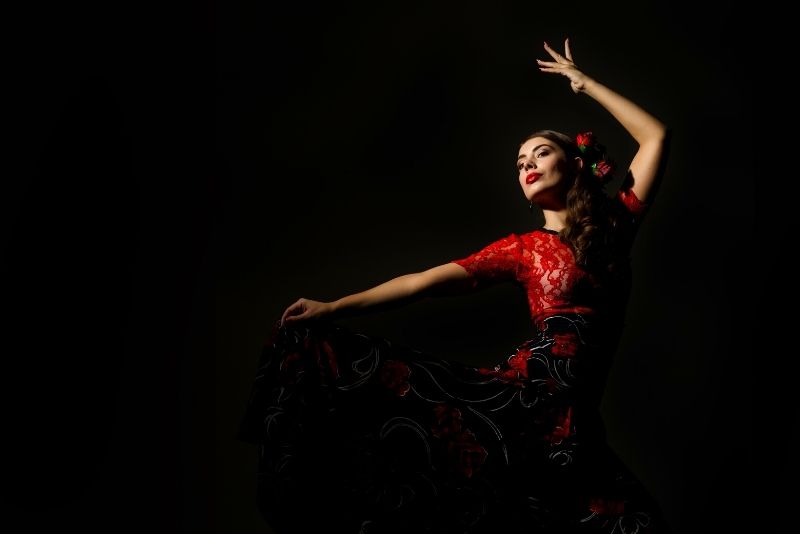 Take a night to revel in some live music, brilliant singing, and energetic dancing — staples of any Flamenco show.
Watch as dancers leave their passion on the stage and see the intricacies of Flamenco dancing to light; meanwhile, sit back with a cocktail (or four) and enjoy the tapas!
57 – Lose yourself in the Parc del Laberint d'Horta
A surefire hit for youngsters and adults alike, this well-manicured labyrinth consists of close to 750 meters of cypress hedge.
But the park is far more than just a hedge maze; the gorgeous 9.1-hectare garden features two small temples dedicated to Artemis and Danae, a range of flora, and a beautiful Moorish castle.
It's off the beaten track in the mountainside Horta-Guinardó District, offering a much-needed slice of relaxation and fresh air (especially compared to Las Ramblas).
58 – Be amazed by the Montjuic Magic Fountain night show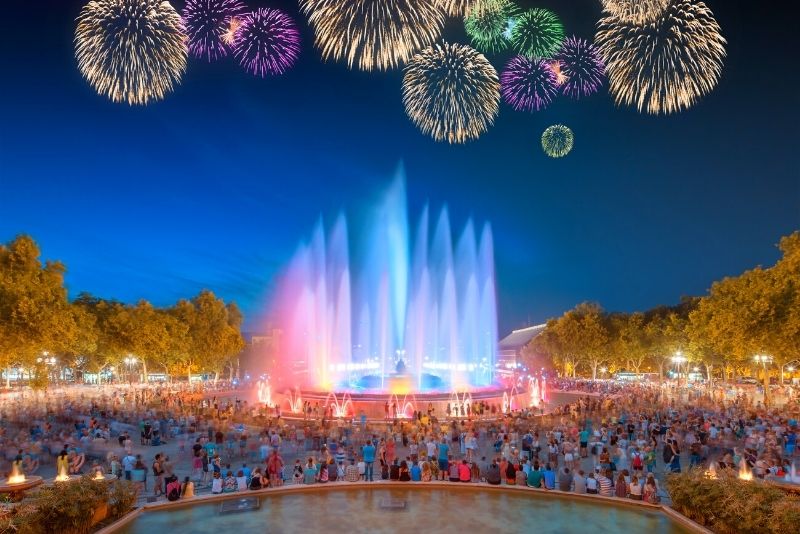 There is a reason why people say that Barcelona comes alive at night, and that reason is (at least partially) the Montjuic Magic Fountain night show!
The original show was constructed for an exhibit way back in 1929 and was only meant to be temporary, however, the people of Barcelona loved it so much that it has now become a permanent feature.
59 – Go back in time at a Requesens Palace dinner with Medieval Show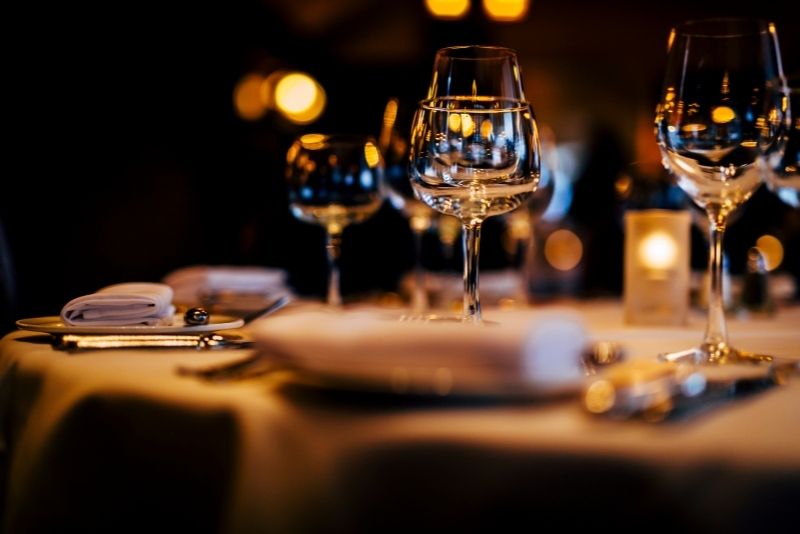 The Requesens Palace is one of the largest medieval palaces in all of Europe, and luckily for us, it's open to the public.
Guests can sit and indulge in a 4-course feast inspired by meals of the era, take a tour of the castle, and enjoy an entertaining medieval show — all combined, it's an unbeatable night out.
60 – See 11,000 animals at the Barcelona Aquarium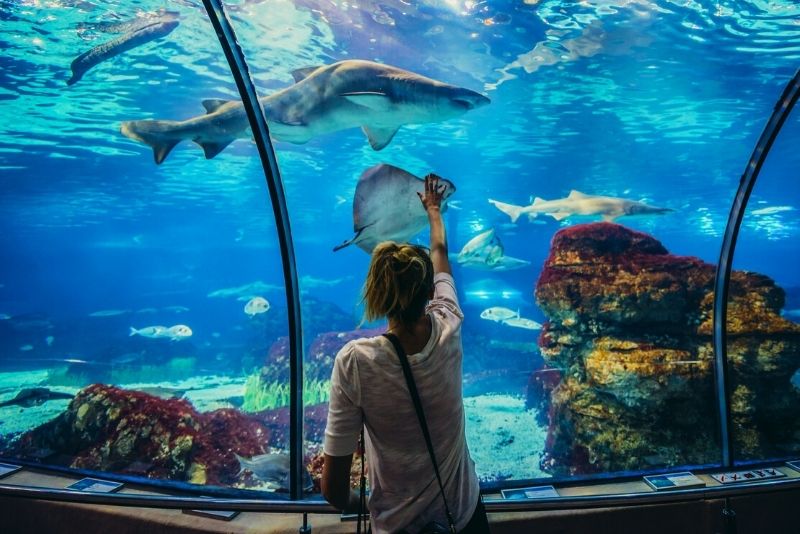 The Barcelona Aquarium is home to over 450 different species of marine life, so it's no wonder that over 14 million people walk through its doors year after year.
While the octopus and jellyfish are always a hit, the 80-foot long tunnel full of sharks, fish, and rays is the highlight.
61 – Ride upside-down at PortAventura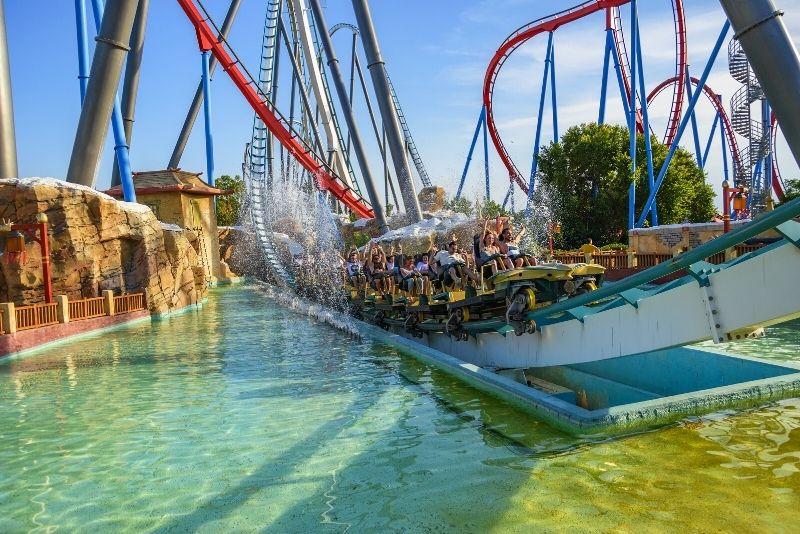 PortAventura is the most popular theme park in Spain, and it's not hard to see why: it has six uniquely themed worlds, encompassing over 40 different thrill rides.
Not only does it have the highest rollercoaster in all of Europe (Shambhala), as well as the heartstopping Furious Baco (which goes from zero to 135km/h in three seconds) but there are over 40 daily live performances.
62 – Hear lions roar at the Barcelona Zoo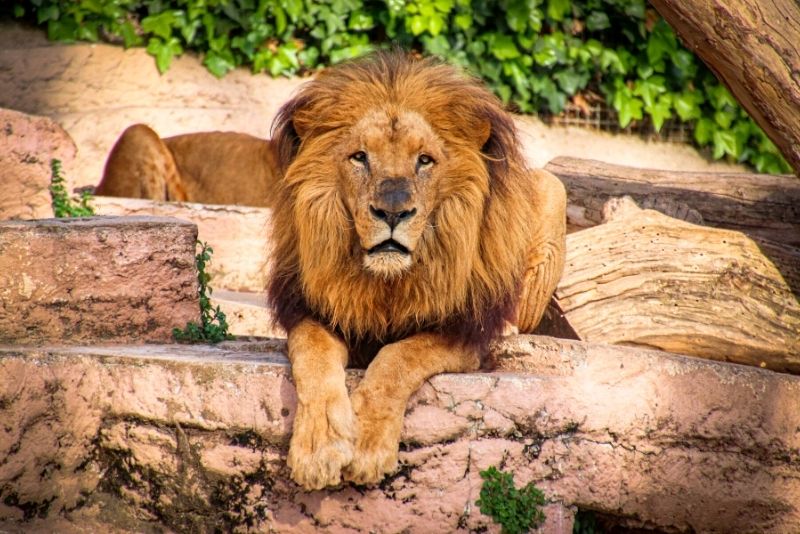 A constant delight for both kids and adults, the Barcelona Zoo is the perfect place to spend the day learning and admiring exotic animals.
Within its walls, you'll find over 4000 animals including big cats, birds of prey, ancient reptiles, exciting primates, and so much more.
Hot tip: take note of the session times for live encounters and feedings.
63 – Hike through the scenic Sitges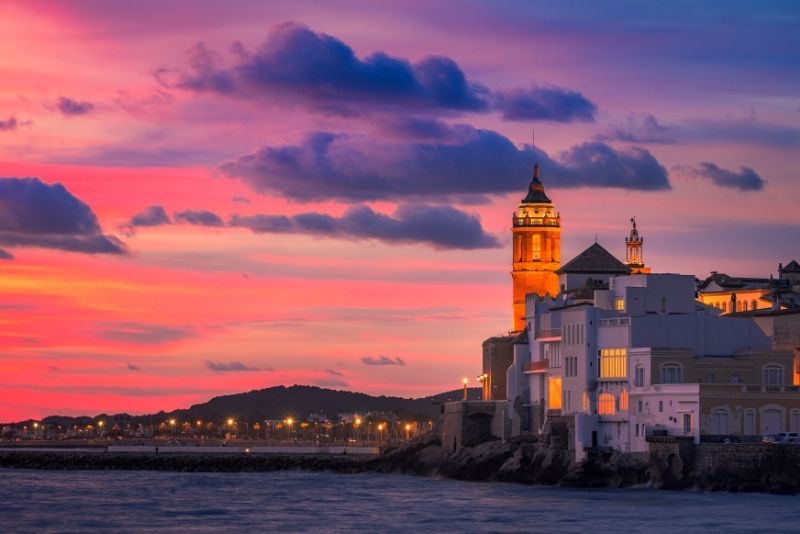 If you're after a break from the busy Barca streets, look no further.
The seafront city of Sitges is a traditional fisherman's town blessed with a modern, bohemian charm.
Stay local, and check out the local boutiques, restaurants, artists, and live music in the town center; or spend the day hiking up the rocky cliffs and watching the waves crash below.
64 – Make a splash at Caribe Aquatic Park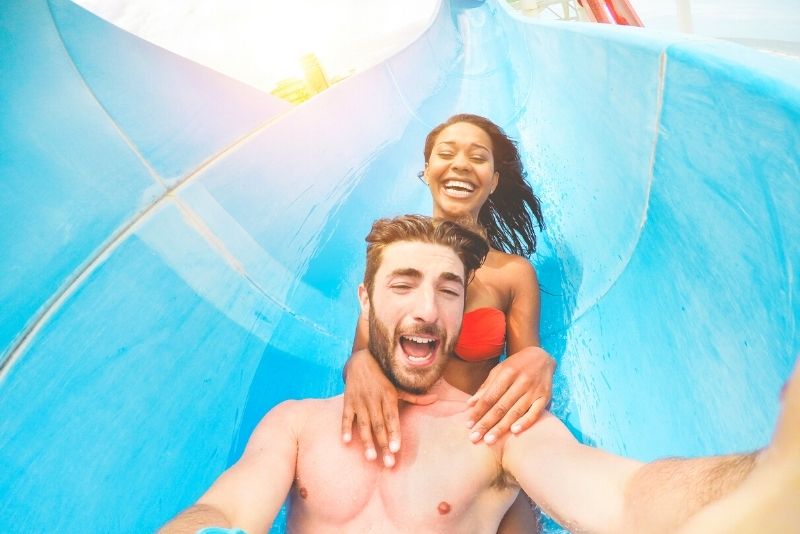 As part of PortAventura, the Caribe Aquatic Park offers a day full of water-themed fun to complement any trip to the larger theme park next door.
While there are more than enough adrenaline-fueled rides (including a whirlpool), if you're after something a little more relaxing, there's also a Jamaican-themed beach that plays reggae music all day long!
65 – Get the best views of Barcelona at Tibidabo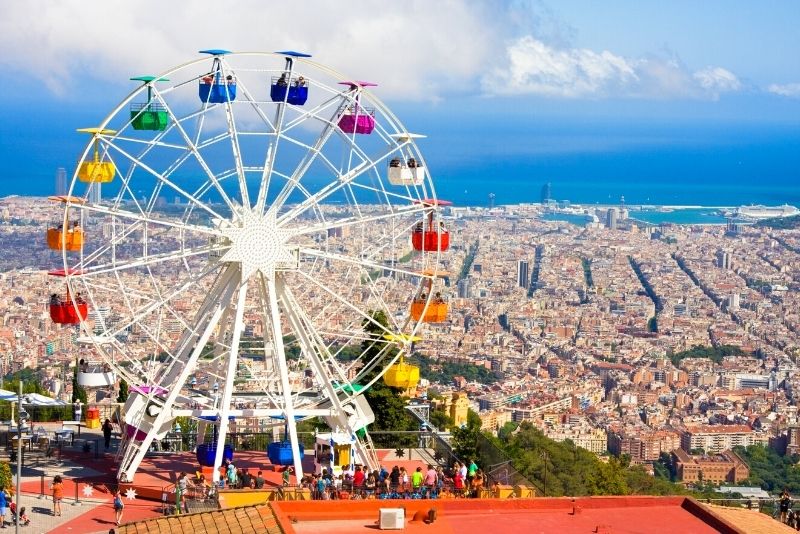 Offering the highest viewpoint in the city at 512 meters above sea level, Tibidabo is a photographer's paradise — it's one of the best places to get an unobstructed view over Barcelona.
Moreover, at the top, you'll find Parc d'Atraccions Tibidabo, Spain's oldest amusement park, and the third oldest in Europe.
Jump on the Ferris wheel for awesome panoramas, and don't forget to check out the fairytale-esque Sagrat Cor church.
66 – Splash around at Illa Fantasia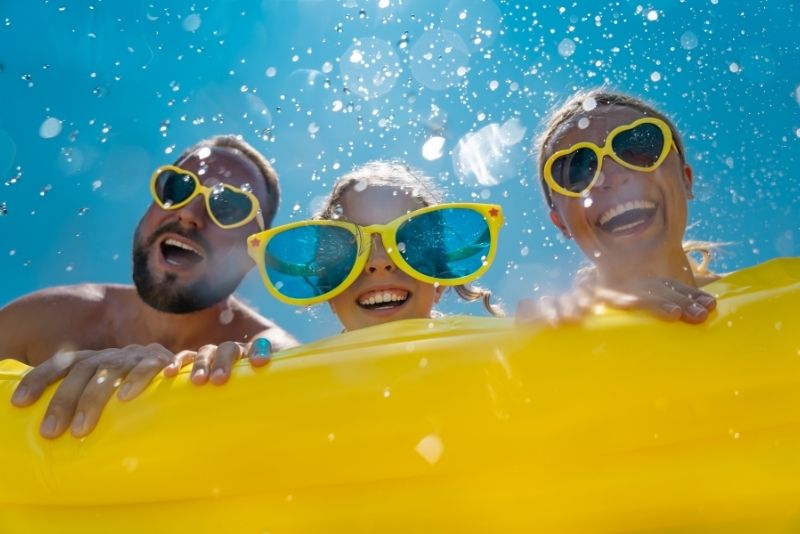 Found in the wonderful seaside town of Vilassar de Dalt, the child-adored Illa Fantasia offers 22 waterslides and 3 swimming pools, not to mention a large picnic area and 9 different kinds of restaurants!
While a pre-organized tour is the simplest option, you can also hop on the train to Premia de Mar train station where a free shuttle bus service awaits.
67 – Go on a shopping spree at Roca Village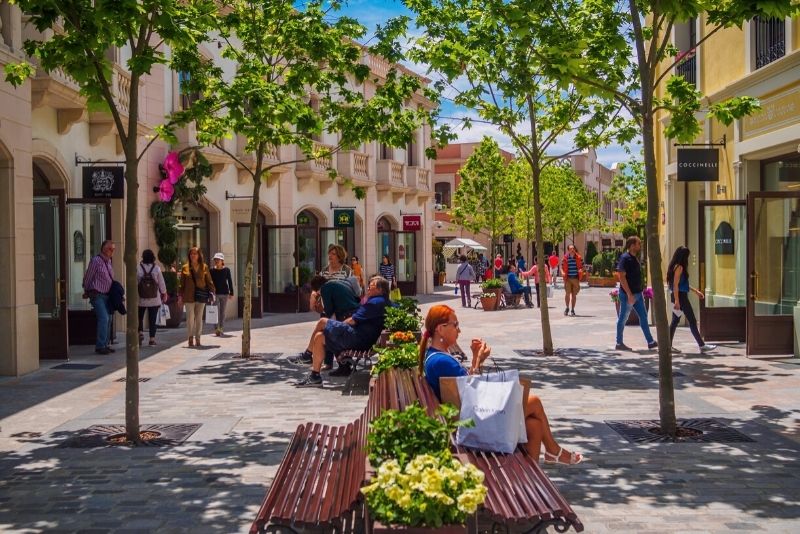 Over 100 luxury brand name stores, as well as plenty of restaurants, line this ever-popular shopping complex, so it's no wonder that it's popular with both the tourists and the locals.
Because it's such a large complex, promotions and live entertainment are regular occurrences — the best way to scope it all out, of course, is with a locally-led shopping tour with your very own chauffeur!
68 – Venture into a medieval castle at Torre Bellesguard!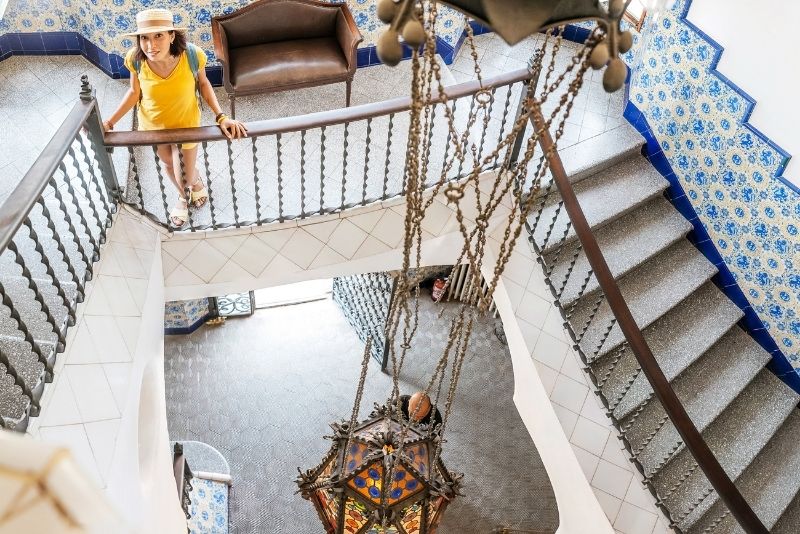 Another famous landmark designed by — yep, you guessed it — Antoni Gaudi, this
early-20th-century castle promises some of the best views of Barcelona.
As you step inside, the hall of bricks and the smoking room are stunning, while first-time visitors are encouraged to explore the luscious gardens surrounding it as well.
69 – Discover the Jewish Quarter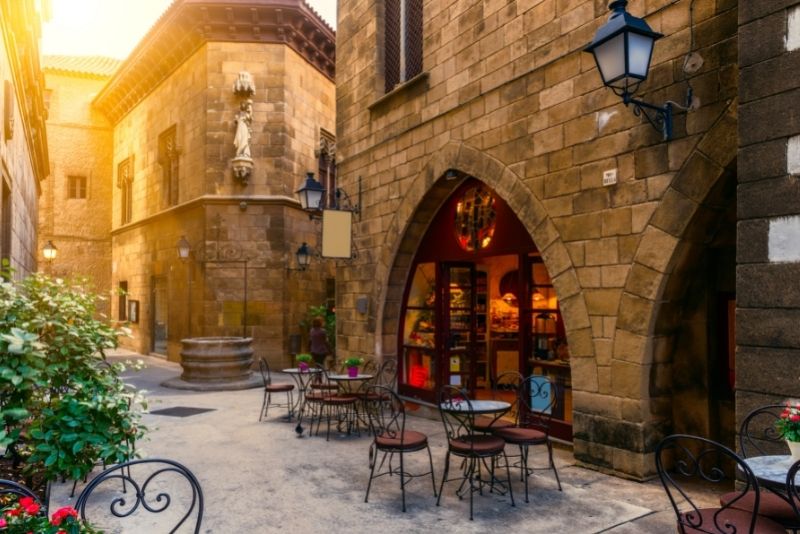 Barcelona was once home to one of Europe's largest Jewish communities and so much of that history — through buildings, synagogues, cemeteries, shops, and restaurants — still stands in the middle of the city, teeming with stories to be told.
After ticking off a walking tour, consider a trip out to the Medieval town of Girona, another area with significant Jewish heritage.
70 – Wander around the Barcelona Egyptian Museum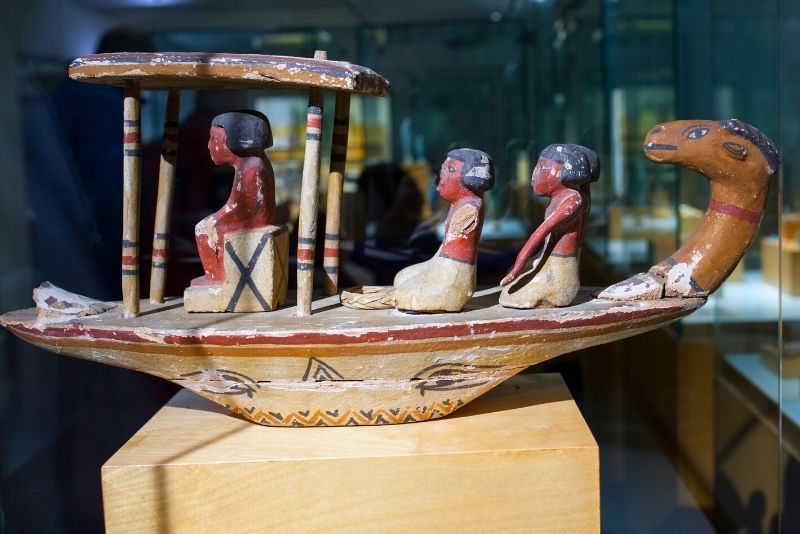 If you are someone who is fascinated by Egyptian history then it's a must-see! Why? Because this 2,000-square-meter facility is home to one of the largest private collections of Egyptian artifacts in all of Europe.
With over 1000 relics in the collection, the jewels, amulets, and mummies are guaranteed to excite and intrigue you!
71 – Race against the elite at the Olympic and Sports Museum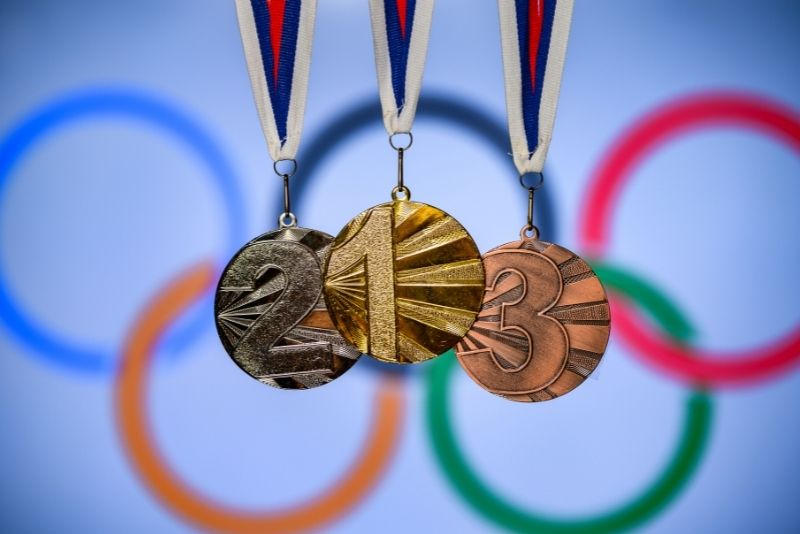 Sitting in the shadow of the Lluís Companys Olympic Stadium, the popular Olympic and Sports Museum brilliantly showcases the unwavering passion that this city has for competitive sport.
While, of course, the museum displays hundreds of artifacts and stories from the 1992 Olympics, it also offers interactive elements, such as the chance to run against American athlete, Carl Lewis.
The museum's permanent exhibit delves into all previous Olympic hosts (not just Barcelona), so there's plenty to be learned. Sports fanatics, add this one to the bucket list!
72 – Head out to sea for a fishing trip!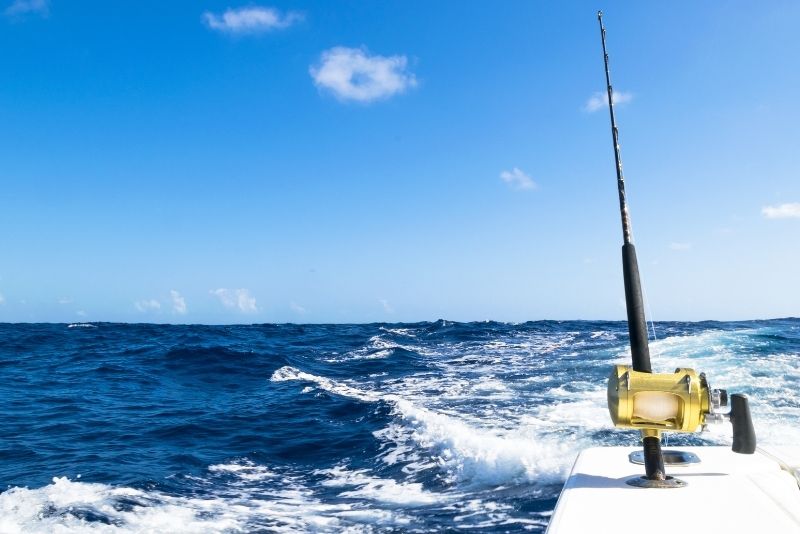 Whether you're a seasoned pro or a total novice, with an expert captain on board your boat, reeling in a bucketful of fish is all but guaranteed.
Snapper, serrano, and tuna are common in the area and, if you're lucky, you might even catch a swordfish or imperial needlefish!
Tours take into account motorboat rental, a private guide/captain, equipment, and food (for the fish, and a proper meal for you), making for an enjoyable, hassle-free day on the water.
73 – Explore the darker side of Barcelona with a ghost tour
If you're on the hunt for things to do in Barcelona that are a little obscure, a little peculiar, or, perhaps a little spooky, then allow us to point you in the direction of a Gothic Quarter ghost tour — made all the more creepy under the moonlight.
Most travelers opt for the straightforward walking tour that uncovers the secrets of places like the Pont del Bisbe, however, to take it to the next level, why not consider an interactive scavenger game?
74 – Get behind the wheel of a Ferrari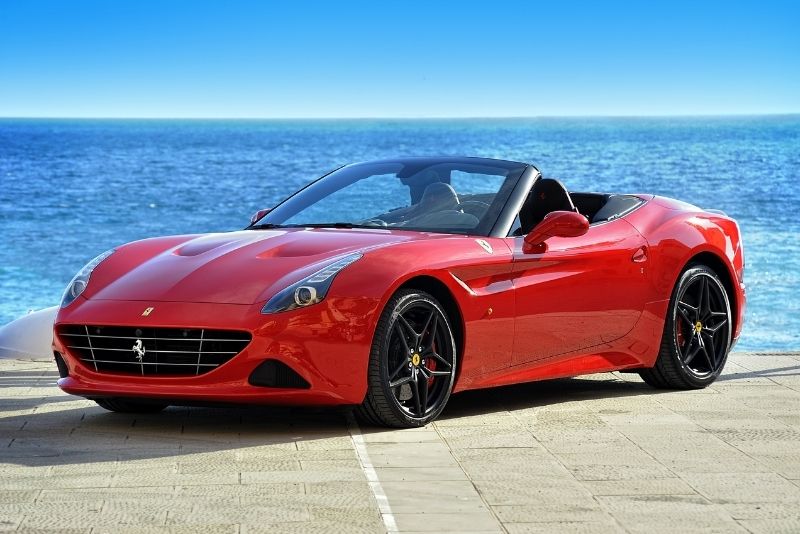 Imagine this: the roof of your very own red Ferrari California is down, the Mediterranean sun is shining, and the ocean scent is wafting through the air.
Well, dream no longer! In Barcelona, getting behind the wheel of a supercar is possible!
Depending on your budget and appetite for speed, the supercars can be hired for anywhere between 20 and 90 minutes (and beyond).
For the ultimate day of adventure, consider some of the combination-style activities that also include a jet ski ride, sailboat trip, or scenic helicopter flight.
75 – Step inside the historic Barcelona Cathedral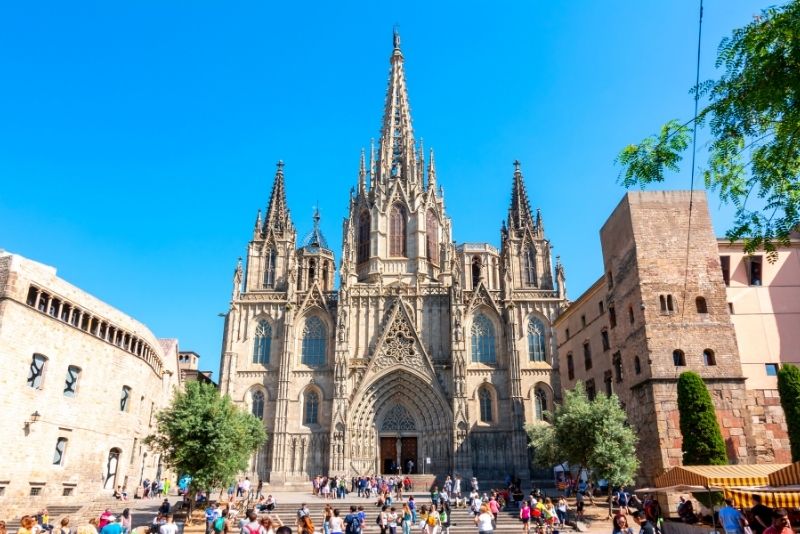 Found smack-bang in the middle of the Gothic Quarter, it should come as no surprise that the beautiful Barcelona Cathedral is a shining beacon of gothic architecture.
While its spired facade is spectacular, the interior is just as impressive, thanks largely to the 500-year-old stained glass windows. Be sure to take the elevator to the roof for a great city view.
Hot tip: for an extra 4 euros, the audio guide provides excellent historical insights.
76 – Get scientific at CosmoCaixa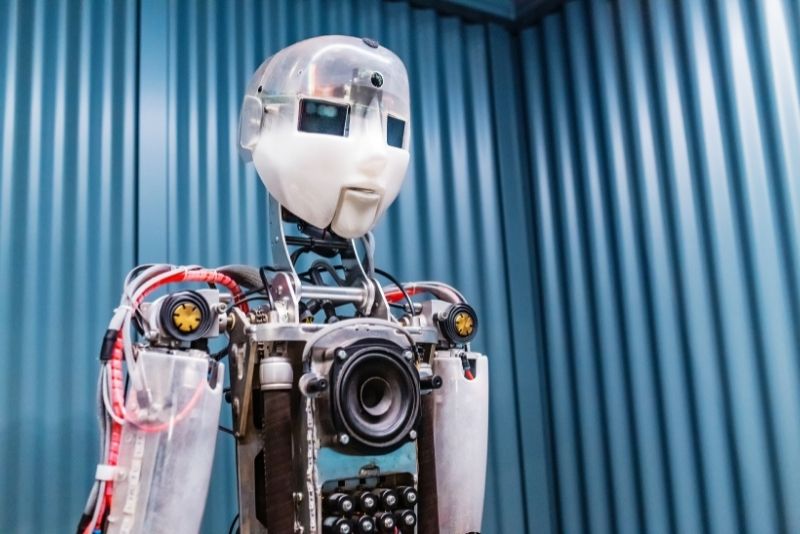 As one of Europe's most renowned museums, the CosmoCaixa science center is an essential Barcelona activity — a perfect option for a rainy day.
Check out the Flooded Forest, an intriguing replica of the Amazon Rainforest (frogs, snakes, steam, and all); be hypnotized by the 40-meter-long pendulum; study the Geological Wall to learn what lies beneath the surface, and so much more.
77 – Walk down the cliché yet essential Las Ramblas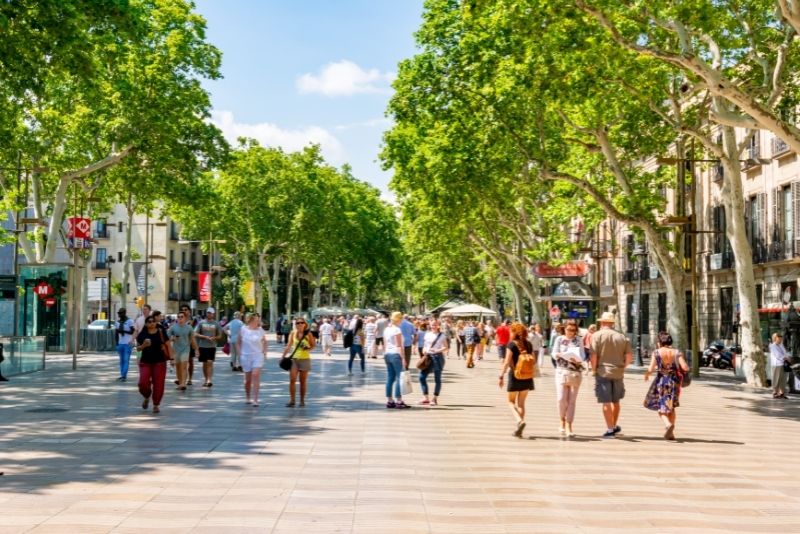 It's chaotic, it's busy, it's full of tourists, and it's easily the most famous street in the city!
Stretching for approximately 1.2km, this colorful pedestrian-only walkway connects Port Vell with Placa Catalunya, with no shortage of sights along the way.
With an endless choice of shops, outdoor cafes, restaurants, galleries, markets (make a note of La Boqueria), and museums (step inside the Museu de l'Erotica if you're feeling frisky), it's no surprise that this tree-line boulevard is one of the most visited areas in the city.
78 – Go green at the Hash Marihuana & Hemp Museum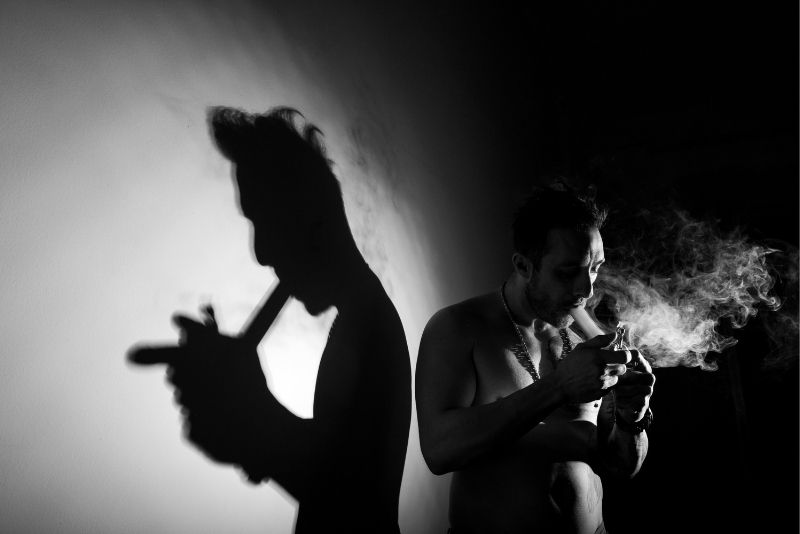 Situated in a former palace near the Gothic Quarter, this unique museum dives into a subject that remains touchy to this day: weed.
Since opening in the late 1980s it's become an iconic attraction, welcoming over two million visitors who walk away having learned about the cultivation, use, and medical benefits of the famous plant.
Since you're probably wondering, the oft-taboo plant is decriminalized in Barcelona: consumption is allowed in the privacy of your home but will incur a fine if used in public.
79 – Wander around the Maritime Museum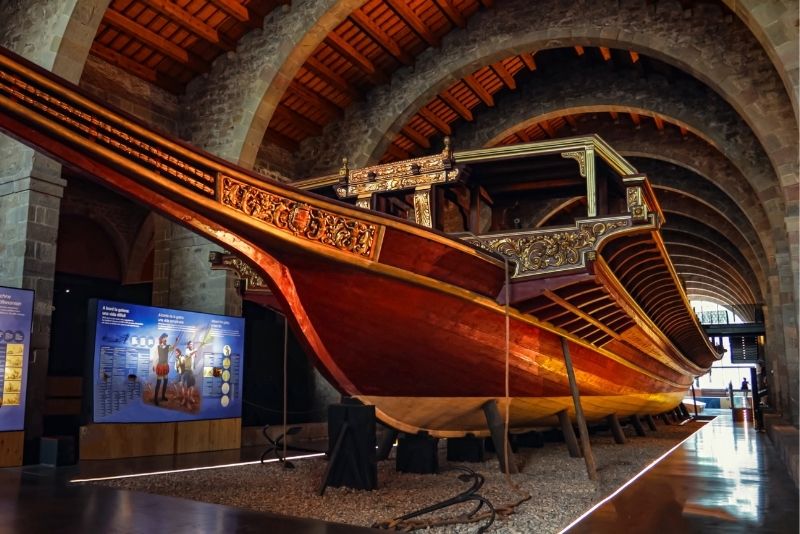 Sitting inside the Barcelona Royal Shipyard (which is over 700 years old), the Maritime Museum delivers an astounding amount of information dedicated to shipbuilding between the 13th and 18th centuries.
The museum offers a range of informative videos, an audio experience, a giant galleon and plenty of ancient vessels and artifacts.
80 – Get a little weird on a pub crawl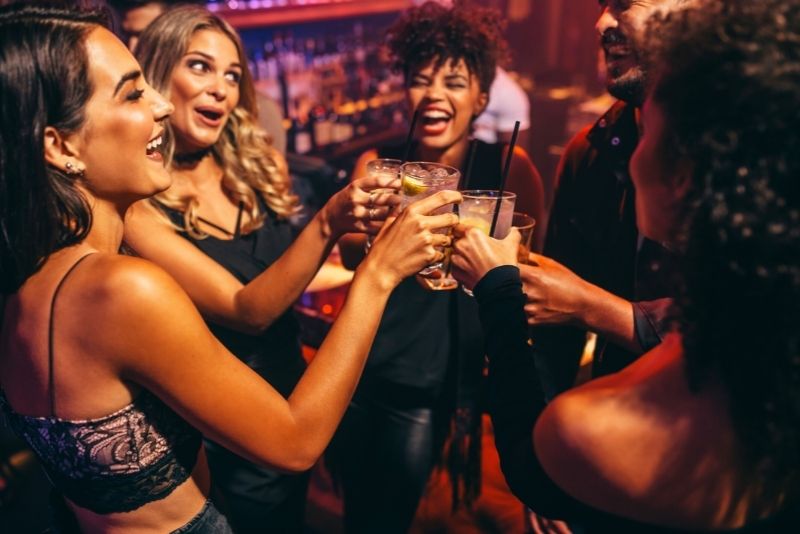 An undisputed great way to break the ice, mingle with the locals, and discover all the local hotspots, the best nightlife in Barcelona is on offer with a locally-guided pub crawl.
If you're traveling solo or with a couple of friends who like to party, and you're on the hunt for fun things to do in Barcelona that involve plenty of sangria or cava, then a pub crawl is a night of debauchery you won't (or might) forget.
81 – Party the day away at the W Hotel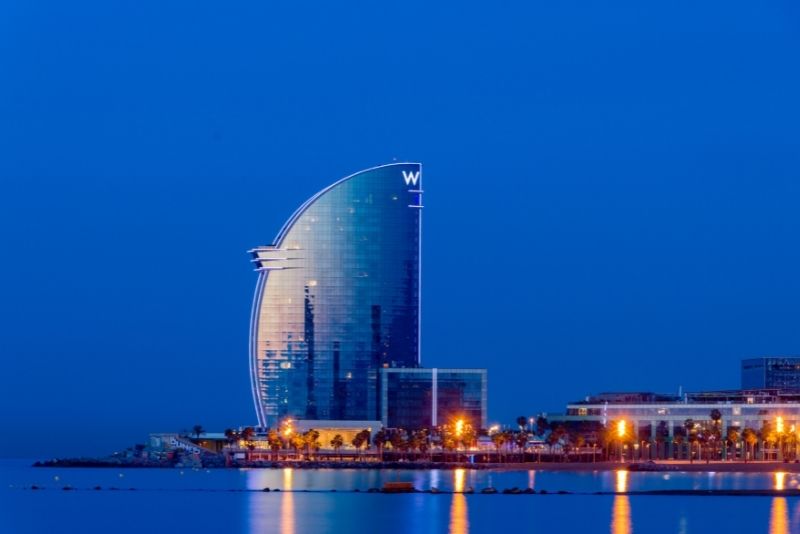 Barcelona has a festive reputation that precedes it, so why not embrace its wild side?
Listen to the renowned DJs spin the tunes, dig into mouthwatering tapas, take a dip in the pool, and down more cervezas than you can count, all at the W Hotel's esteemed Wet Deck Beach Club.
For a change of scenery, the Eclipse Barcelona rooftop bar is equally spectacular, with stunning views that make the hand-crafted Negronis go down even smoother.
Love museums? Grab the official Museum Pass
By far the more affordable option if you plan on visiting a few of Barcelona's world-class museums, the Museum Pass grants skip-the-line entry to six different attractions, all for one low price.
Choose any or all of the National Art Museum of Catalonia, Barcelona Museum of Contemporary Art, Fundació Joan Miró, Fundacio Antoni Tapies, Picasso Museum, and the
CCCB Museum.
Don't scramble for a taxi at the airport
After just getting off a plane, cramped in a middle seat, there's nothing worse than trying to find your way to the bus or train station.
While it might cost an extra couple bucks, a pre-arranged airport transfer takes all of the stress and worry out of arrival.
The friendly driver will take you straight to your hotel and even give you some recommendations along the way!
Arriving on a cruise ship?
The port of Barcelona is a mainstay for Mediterranian cruises. Even if you're not sticking around town for long, there's no shortage of shore excursions and full-day or half-day activities.
Private transfers are also available from the airport to and from the cruise port.
Need somewhere to stay?
Whether you plan on staying in Barri Gòtic (the heart of the action), surrounded by the small-town atmosphere in Gràcia, or by the water at one of many revered resorts, there's ample choice when it comes to accommodation.
For the best deals (sometimes discounted up to 40% off), check out the best hotels in Barcelona.
We hope you've enjoyed our selection of things to do in Barcelona! If you have any other must-see suggestions, feel free to let us know in the comments!
As always, happy travels!