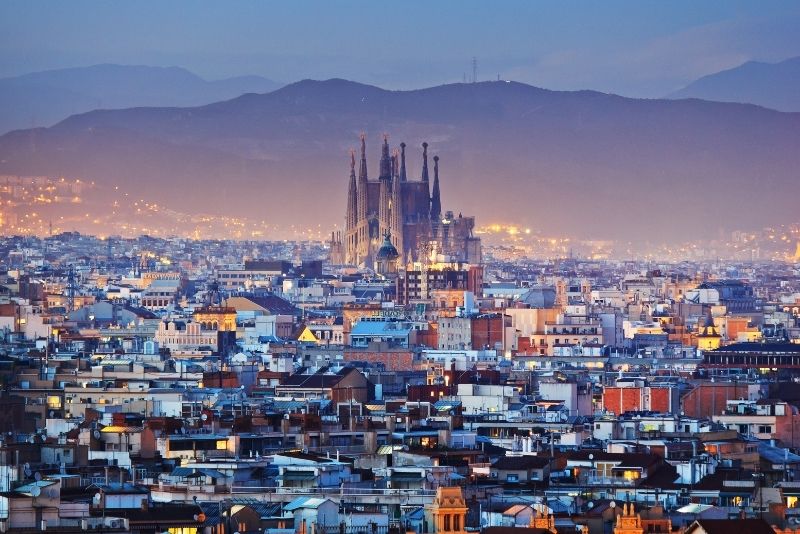 It's chaotic. It's festive. It's the Barcelona we all know and love so dearly.
Thanks to its warm Mediterranean air, vibrant culture, deep connection to art and history, and capacity to throw a helluva good party, the Catalonian capital has been a mainstay on Eurotrip bucket lists for decades.
From the colorful streets of La Rambla and bohemian vibe of El Raval to world-renowned museums and delectable Spanish eats (did someone say paella?), there's something for everyone in gorgeous Barcelona. Throw in world-class shopping, stunning architecture, golden beaches, a sporting-mad culture, and a whole host of adventure-focused activities, and you've got one jam-packed city teeming with memory-making opportunities for every kind of traveler: backpackers, culture vultures, sports snobs, foodies, beach bums, and everyone in between.
But with so many exciting things to do in Barcelona, and plenty more within arm's length, planning an itinerary isn't as easy as it sounds. That's why we've put together a list of 81 fun things to do in Barcelona, to help you make the most of your time in this incredible city.
1 – Check out Barcelona's most iconic monument: La Sagrada Familia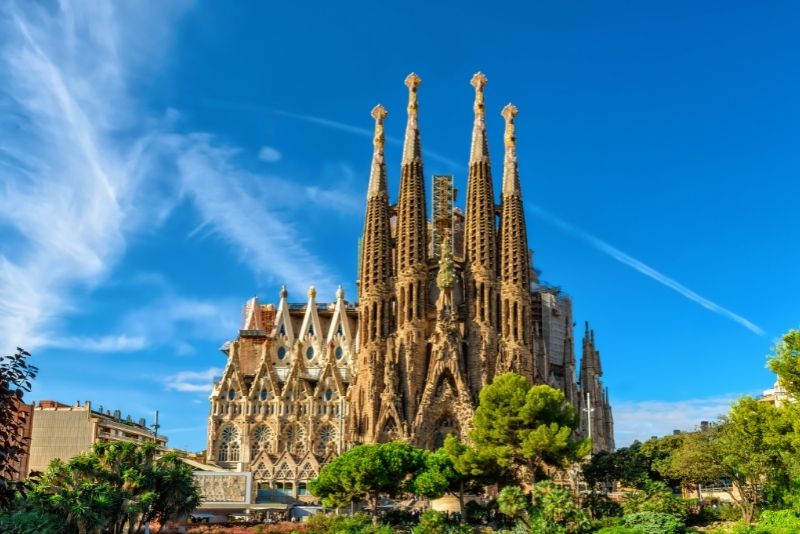 Jutting into the sky, towering above the rest of the city at 170 meters tall, the Sagrada Familia is the posterchild of this thriving city. Designed and created by the esteemed visionary Gaudi, the foreboding has been left unfinished for decades, but don't let that deter you from visiting! Despite construction starting back in 1882, the church is still not completed, with an estimated completion date of 2026 – and an estimated finished height of 560 feet.
Known around the world, the imposing basilica has been deemed a UNESCO world heritage site and is one of the most visited monuments in Spain, if not Europe. With its intricate details and unique design, both inside and out, it's easy to see why this is one of the most popular tourist attractions in Barcelona.
There is an entrance fee to enter, but it's worth every euro! Once inside, take some time to explore the nave and marvel at Gaudi's genius before heading up one of the towers for incredible views over the city.
As you'll discover, every inch of this place oozes wow-factor! From the stained glass windows to the towering spires, the carved stone features, and the three main facades — Glory facade, Nativity Facade, and Passion Facade — this is architecture at its finest, and it's all best seen on a locally-led guided tour.
Read more about Sagrada Familia tickets price and the best Sagrada Familia tours.
Sold out? Learn how to book Sagrada Familia last-minute tickets.
2 – Snap a selfie at colorful Park Guell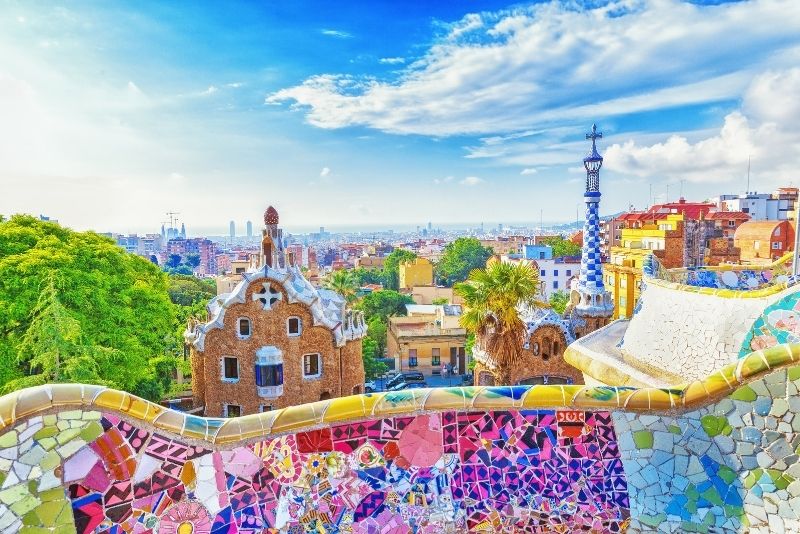 Park Guell was first intended to be a gated community for the aristocrats in Barcelona; today, the vibrant, colorful locale holds its own as one of the most famous UNESCO World Heritage Sites in the world!
The Gaudi House Museum — the first piece of architecture that catapulted Gaudi to fame — is also located close by, with a range of walking tours covering both must-see destinations.
With dazzling mosaics that shimmer in the sunlight, undulating benches that resemble a sea of snakes, and an incredible panoramic view of the cityscape below, Park Guell is one spot in Barcelona you really can't afford to miss.
Pro tip: arrive early to avoid the crowds (it opens at 09:30), and don't forget to bring your camera! And don't forget to snap a selfie in front of the world-famous mosaic lizard at the entrance of the park (it's become somewhat of an icon).
3 – Admire the quirky, modern architecture of Casa Batllo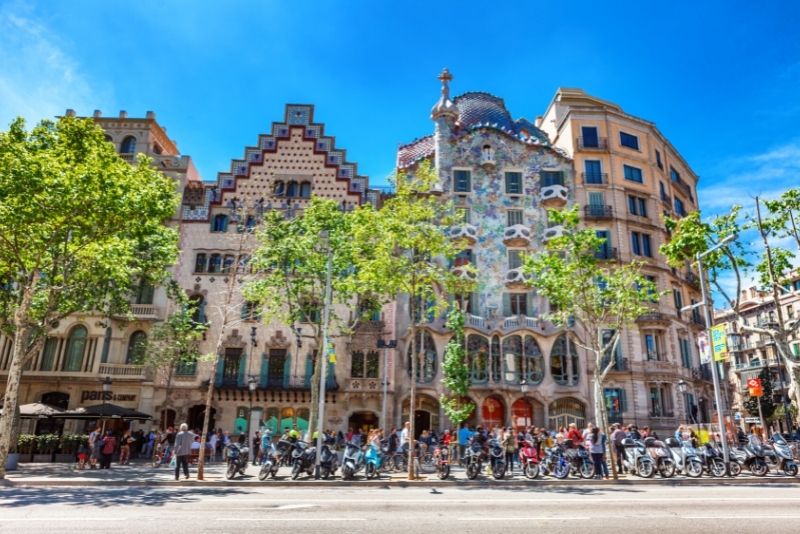 Speaking of Gaudi, Casa Batllo (designed and created by the great architect, of course) is considered to be one of his best works.
UNESCO declared the building a World Heritage Site in 2005, and it's not hard to see why.
From the outside, it looks like something out of a fairytale, with its colorful facade and dragon-like roof. But step inside and you'll find an even more incredible world waiting for you, with Gaudi's signature style around every corner.
The postcard-worthy building was built between 1904 to 1906 and is considered to be one of the best displays of modernist architecture – over a century later, it remains a regular hit with locals and tourists alike.
For anyone who appreciates architecture, visiting this iconic monument is one of the essential things to do in Barcelona. And while you're in the area, make sure to check out some of the other incredible modernist buildings dotted around the city, like Casa Mila and Illa de la Discòrdia.
Hot tip: during peak tourist season, a skip-the-line ticket is well worth the extra few bucks.
Read more about the Best Barcelona Tours.
4 – Listen to flamenco guitar at the Palau De La Musica Catalana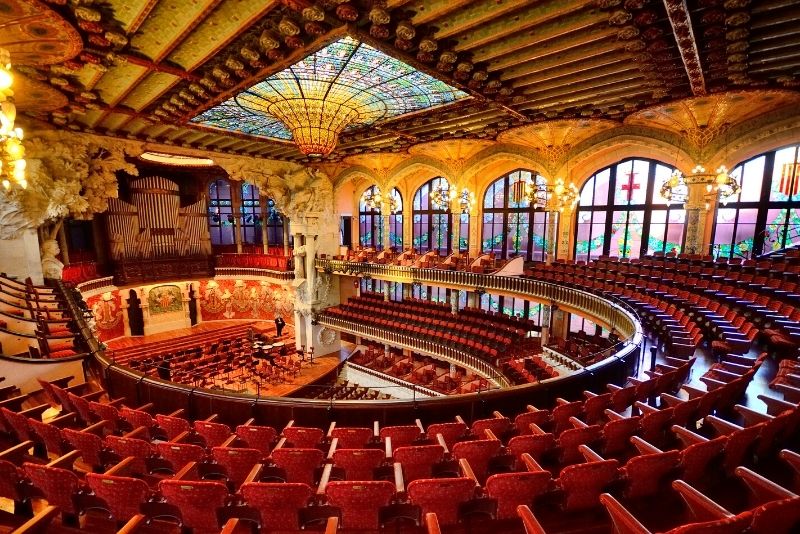 The Palau De La Musica Catalana is considered to be the center of the Catalan culture movement, now officially designated as a UNESCO World Heritage Site (so you know it's worthy of a visit).
Despite being over 100 years old, it continues to host concerts and orchestras to this day, none more famous than the Orfeo Catala Choir.
Even if you're not catching a show, a backstage guided tour (be that self-guided with an audio narration or following along with a local guide) is certainly worthwhile for theater lovers.
While you'll find a slew of performances on the roster – everything from jazz concerts to ballets – the locals recommend you try and catch a traditional flamenco show. Often considered Spain's national dance, flamenco is a passionate, emotional affair that will stay with you long after the curtain falls.
There are plenty of great places to see flamenco in Barcelona (like the Tablao de Carmen), however, this historical theater takes the cake.
5 – Hike (or drive) to the peaceful summit of Montserrat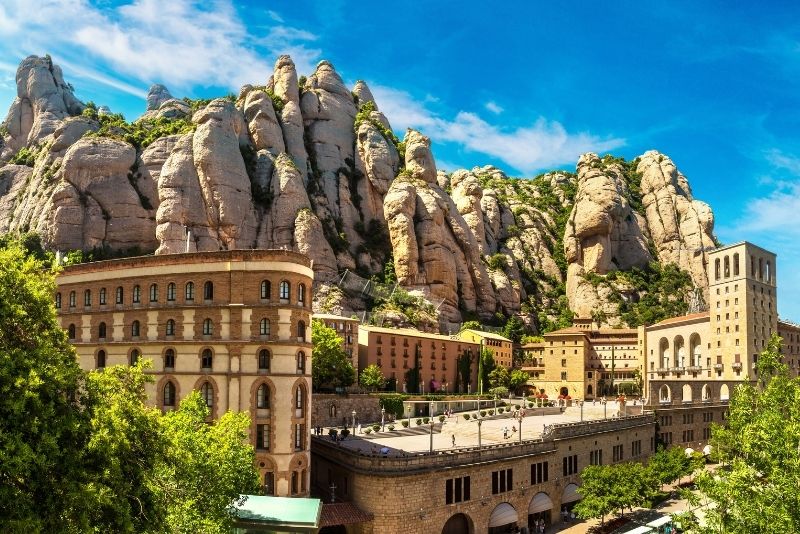 Get outside of the hustle and bustle of the city and visit the stunning mountain that is Montserrat, located about an hour's drive inland.
There, among the countryside, visitors will find a mountaintop sanctuary that gives offers a welcomed breath of fresh air.
While convenient tours do arrange all the transport, for those looking to stretch their legs, there's also a range of hiking routes that ascend the mountain.
Towering some 1236 meters above the valley, once at the top – where you'll find the spectacular monastery – visitors are rewarded with incredible views that extend for miles in every direction. Not surprising, considering it's the highest point of the Catalan lowlands. At just 45km away from the city, a day trip to Montserrat is the perfect excuse to get out of town.
6 – Walk down the atmospheric Las Ramblas pedestrian street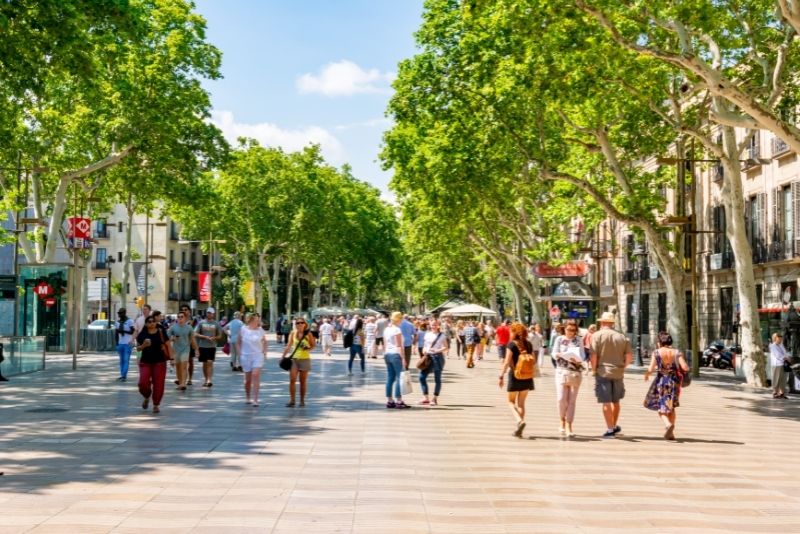 It's chaotic, it's busy, it's full of tourists, and it's easily the most famous street in the city!
Stretching for approximately 1.2km, this colorful pedestrian-only walkway connects Port Vell with Placa Catalunya, with no shortage of sights along the way. On one side, you have the Liceu opera house; on the other, the Jamboree Jazz & Dance Club; and beyond, a seemingly endless supply of cafes, restaurants, and kiosks.
Always full of life and energy, a stroll down Las Ramblas will reveal human statues, living art exhibitions, fortune tellers, buskers and so much more. It's all very touristy and cliche, but it would be criminal to come to Barcelona and not take a stroll down Las Ramblas.
With an endless choice of shops, outdoor cafes, restaurants, galleries, markets (make a note of La Boqueria), and museums (step inside the Museu de l'Erotica if you're feeling frisky), it's no surprise that this tree-line boulevard is one of the most visited areas in the city.
Hot tip: be on the lookout for the Palau Guell, a stunning mansion designed by Antoni Gaudi, located just off Las Ramblas.
7 – Ride the cable car up to the historic Montjuic Castle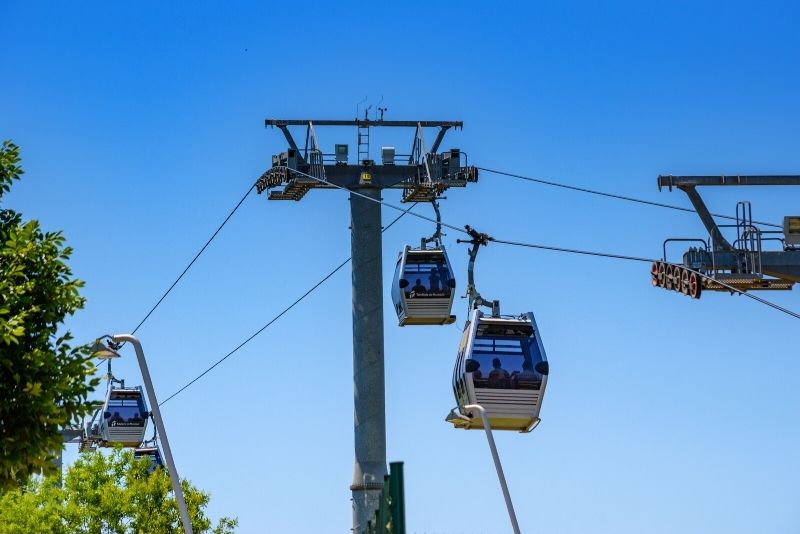 With an incredible vantage point of the horizon, plus a range of educational exhibits on display, the 17th-century Montjuic Castle is something that every Barcelona tourist should check out.
Perched atop the hill of the same name, this former military fortress provides an excellent opportunity to catch your breath after ticking a few things off your Barcelona bucket list.
While hiking up to the postcard-worthy fortress is an option (albeit a tiring one), it isn't nearly as fun as taking the cable car, which travels over 752 meters at a relaxing pace, with nonstop panoramic views the whole way through!
Once you arrive at the top, make sure to explore the castle grounds, check out the Montjuïc Lighthouse, and meander down to the Mirador de Montjuic to take in the sweeping city views. And, if you've got an hour or two to spare, pop into the Barcelona Botanical Garden next door.
8 – Wander around the Sant Pau Art Nouveau Site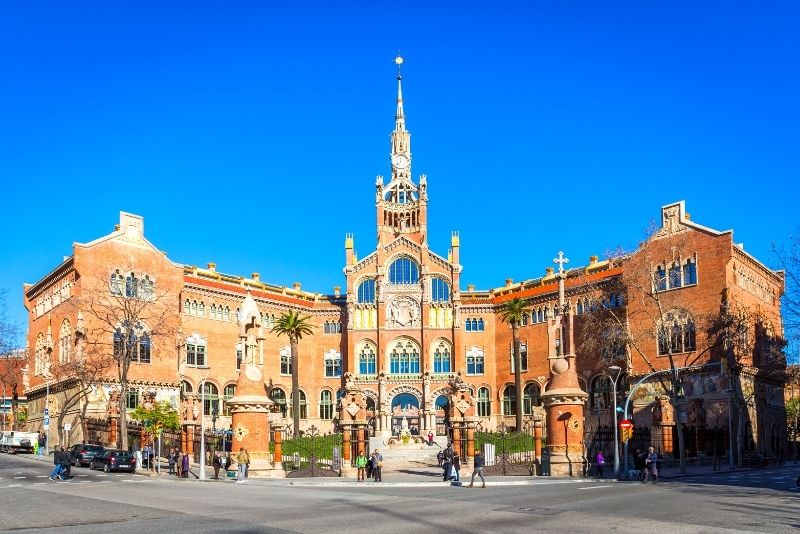 Architecture buffs, this one is reserved for you! Discover one of the world's largest Art Nouveau sites at the Sant Pau Recinte Modernista, a former hospital-turned-cultural center, and now a popular UNESCO World Heritage Site.
All up, the Sant Pau Art Nouveau Site is comprised of nearly 30 buildings, all designed by renowned Catalan architect Lluís Domènech i Montaner. While some of the structures are still used for medical purposes today, others have been converted into event spaces and museums, and are open to the public.
At nearly a century old, the site is still considered to be a modern masterpiece. While visitors are more than welcome to stroll around the grounds at their own pace, a guided tour is the best way to learn about the facility's fascinating history.
9 – Immerse yourself in modern art at Moco Museum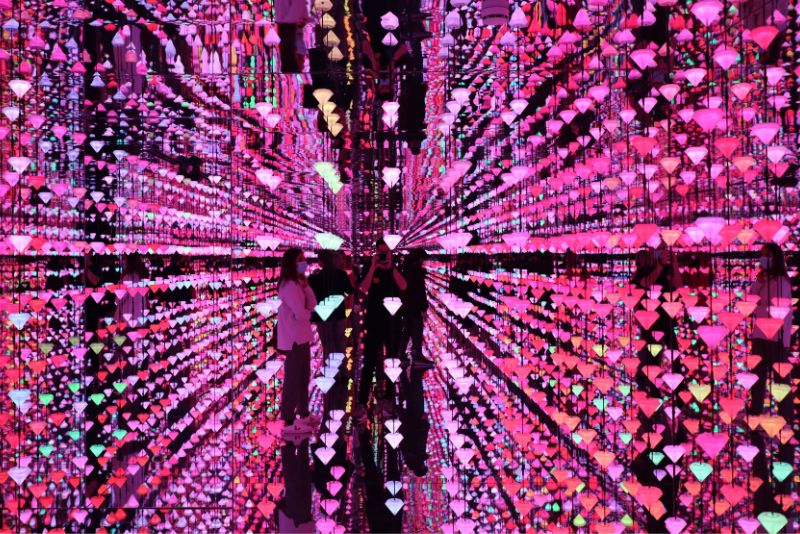 Step into the heart of modern and contemporary art at the Moco Museum. From Andy Warhol to KAWS, the major artists of the past decades can be appreciated and explored at this museum, cleverly located in a 16th-century palace in Barcelona.
An offshoot of the Moco Museum based in Amsterdam, the Barcelona Moco Museum sees over one million visitors a year. It's committed to making art accessible, using it to spark conversation and challenge cultural norms. Delve into the groundbreaking work of artists such as Keith Haring, Jean-Michel Basquiat and Yayoi Kusama, who have laid the foundations for contemporary artists.
With permanent exhibitions featuring the likes of Damien Hirst, Kehinde Wiley and Takashi Murakami, a day here is sure to stimulate your mind. There is also a permanent exhibition dedicated to the street art of the renowned anonymous artist Banksy.
You can even revel in the immersive art experience developed by teamLab that has spread worldwide. Moco Museum has everything and more to satisfy your cultural tastes!
10 – Get up close to Banksy's artworks at the Banksy Museum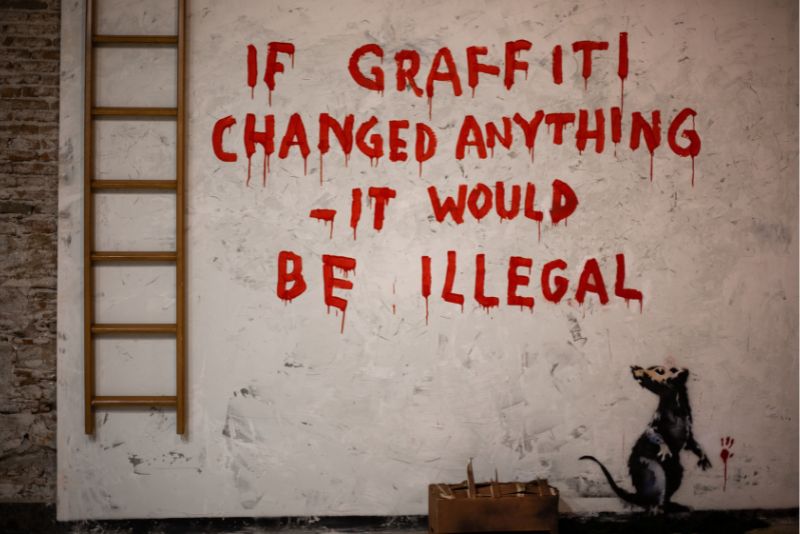 Are you a big fan of Banksy? Well, at the Banksy Museum in Barcelona, you can get up close to the artist's work. Enter the mysterious creative's mind at this permanent exhibition at Espacio Trafalgar.
See over 100 of Banksy's artworks, and gain an understanding and appreciation of his unique style and voice. Since becoming active in the 1990s, Banksy has captivated the world with his satirical, emotive pieces and street art. While believed to be from Bristol, Banksy has managed to remain anonymous throughout his career and continues to disrupt the art and graffiti world.
At the Banksy Museum, you have the opportunity to join an informative, guided tour on Mondays. The exhibition is otherwise open every day of the week from 10 AM to 8 PM. Take your time to appreciate some of his most notable works, including Flower Thrower, Girl Frisking Soldier and Kissing Coppers.
Sponsored placement
A Dragon Odyssey of Modernist Barcelona
Delve into the imaginative world of modernist Barcelona with an immersive experience at the digital museum Casa Amatller, where dragons take center stage. As you step back in time to the year 1900, be prepared to marvel at 360º projections, virtual reality adventures, and a host of technological marvels. Want to fly over historic Casa Amatller on dragon back? Thanks to virtual reality, you can!
11 – Get lost in the beauty of Casa Mila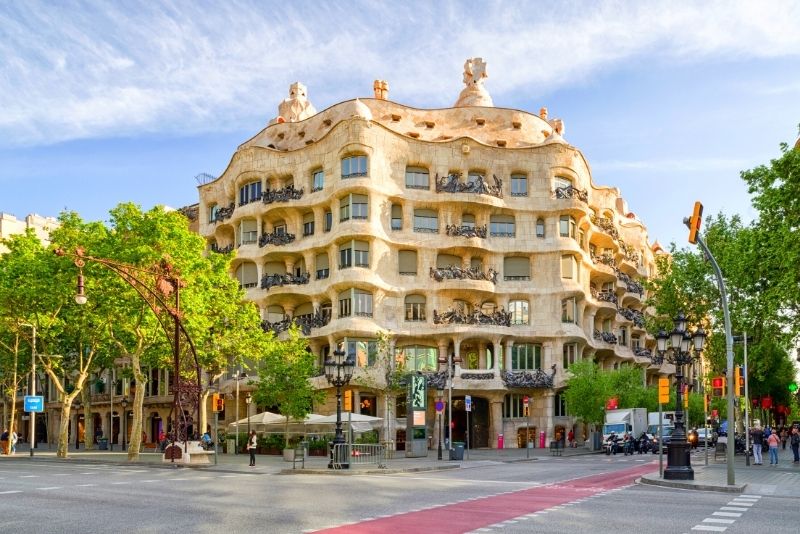 Ask any local and they'll agree: Casa Mila (also known as the stone quarry) is something that everyone needs to see at least once in their lifetimes.
Dating back to the early 1900s, the iconic building is most known for its lack of straight lines — instead, in typical Gaudi style, it's full of vivid decorative shapes and sleek curves.
Guests have the option to go on an audio-guided tour in the daytime, or explore Casa Mila by moonlight — each experience is magnificent in its own unique way.
Most popular with visitors, the night experience includes high-tech visual effects, special lighting, and a dramatic accompanying soundtrack, all combined to deliver a truly unforgettable experience.
Around the corner sits Casa Enric Batlló, another one of Gaudi's masterpieces that's definitely worth a visit while you're in the area.
12 – Wander around the charming, cobblestoned Gothic Quarter
A regular crowd favorite, Barcelona's Gothic Quarter is made up of narrow medieval streets that twist and turn their way through the heart of the city's old town. Centuries-old buildings line the cobbled streets, making the area feel like a journey make through time to the Middle Ages.
However, despite the dusty aesthetic, it's far from ancient — trendy restaurants, bars, clubs, shops, cafes, and art galleries are a dime a dozen, many of which have popped up within the old buildings, creating a beautiful cultural contrast of old and new.
Hot tip: Check it out during the day to admire the architecture, then come back at night for a wild night out on the town.
13 – Take a dip in the azure waters of Costa Brava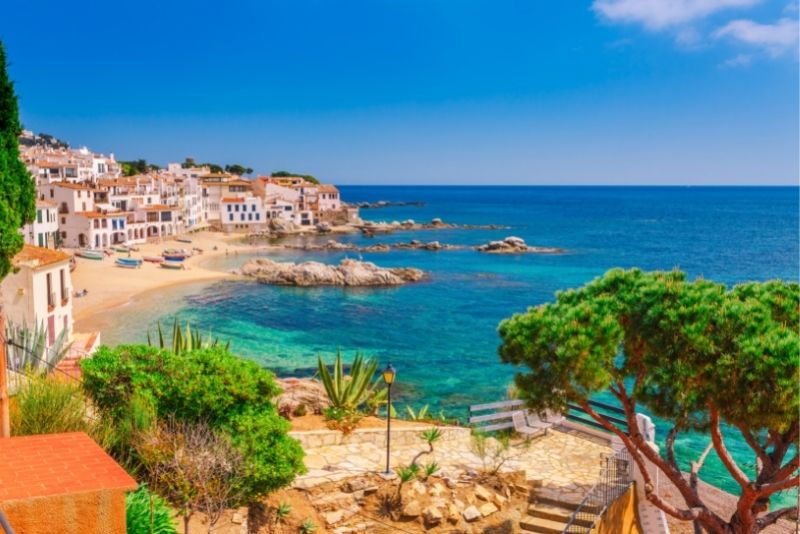 Now, that's what we call vacation living! Looking like something stolen straight out of a postcard, Costa Brava is the coastal region of Catalonia and stretches over 200 miles, with soft sands, warm waters, and plenty of quaint seaside towns on offer.
The pristine blue waters are a treat for those who want to cool down on a hot day (which, in Barcelona, there's no shortage of), while there are plenty of kayaking tours and snorkeling tours too if you're on the hunt for something a little more active.
Hot tip: Check out our list of fun things to do in Costa Brava.
If you prefer to stay dry, the winding streets of Girona make for a lovely afternoon stroll, or you can take a drive along the scenic coastal roads before discovering the hidden beauty of the Cap de Creus Natural Park or tucking into some fresh seafood.
Pre-arranged tours provide all the transport equipment; just bring yourself and a can-do attitude!
Read more about the best day trips from Barcelona.
14 – Immerse yourself in the thrill of a Formula One race at the Spanish Grand Prix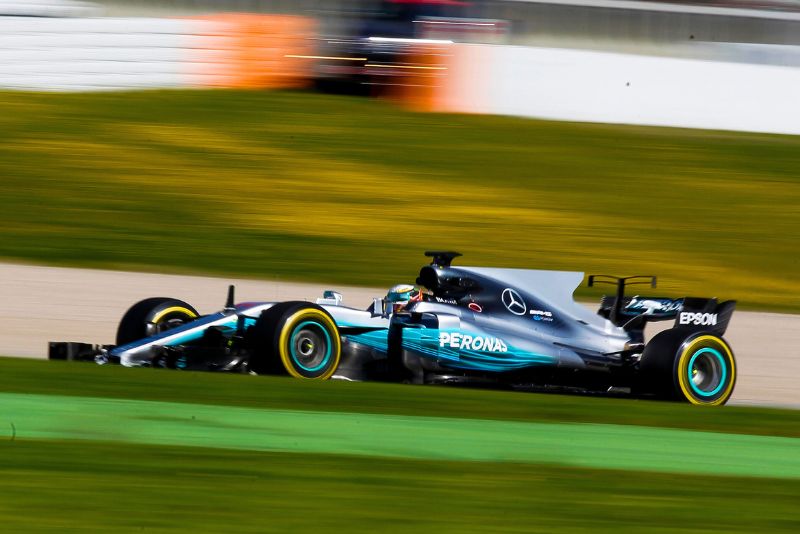 Held every June, the Spanish Grand Prix is one of the most awaited events in the F1 calendar, and Barcelona's high energy makes this sun-kissed city the perfect place to host it.
Over the F1 weekend, visitors can experience the thrilling race at the Circuit de Barcelona-Catalunya. Along with that, concerts and parties are happening around the city, with fireworks, an overhead air show and plenty of live music to keep you entertained.
Grab your Barcelona F1 GP tickets – and join nearly 140,000 fans across 9 unique viewing grandstands – to witness one of the most spectacular events in the motorsport world.
Whether you're team Red Bull, Mercedes, Alpine, or Aston Martin, this is one show-stopper you won't want to miss.
15 – Unwind and absorb some Candlelight Concerts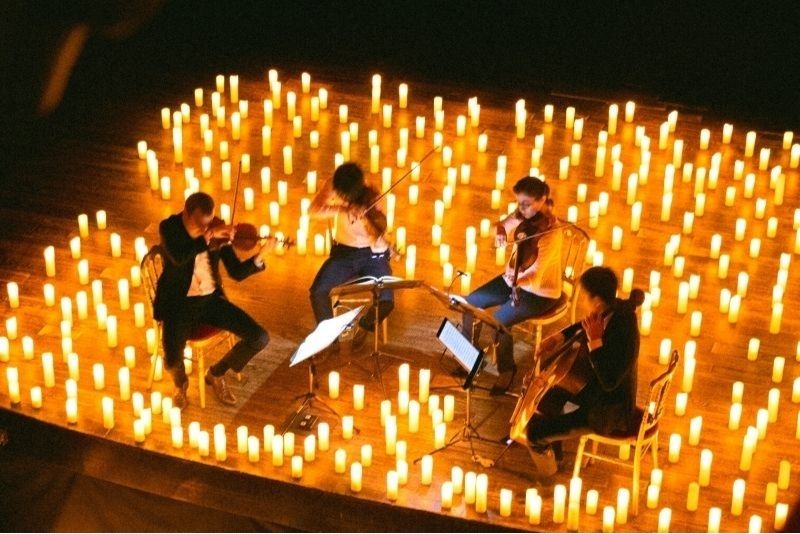 Music is great no matter where you listen to it; but there's something about hearing it by candlelight that makes the whole experience transcendent. And as the name suggests, the Candlelight Concerts series adopts this idea as a framework – and the results are magical!
Settle into some of the finest venues in town, and enjoy the lush sounds of professional orchestras, with a roomful of candles creating a relaxing atmosphere. But if you think that your options are limited to sedate symphonies, think again!
The series features a diverse catalog of works and projects, spanning the breadth and depth of musical culture. Tribute concerts are extremely popular, with gorgeous reinterpretations of works by such modern artists as Queen, ABBA, Shakira, and Ed Sheeran.
There are also some excellent holiday programs as well, so swing by during the winter season for an extra dose of joy!
16 – Walk around a mansion at Palau Baró de Quadras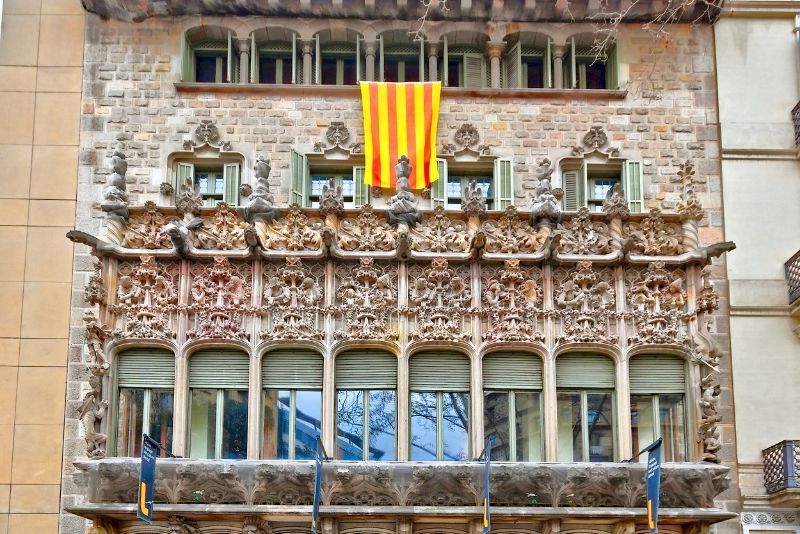 From the wrought-iron entrance to the gothic staircase and intricately decorated walls, this place has many fascinating medieval touches, all the work of the revered modernist architect, Cadafalch.
Since its inception, the building has served as the Music Museum of Barcelona and the main offices of the Institut Ramon Llull. These days, it's open to the public as a museum, providing visitors with an insight into how the other half lived back in Barcelona's golden years. Highlights include the stunning stained-glass windows, the imposing fireplace in the dining room, and the beautiful tiled floor in the main hall.
Thanks to its location on the Avinguda Diagonal, after checking out the elegant palace, consider making your way to the popular Passeig de Gracia, home to an array of high-end designer stores.
17 – Stuff your belly on a food tour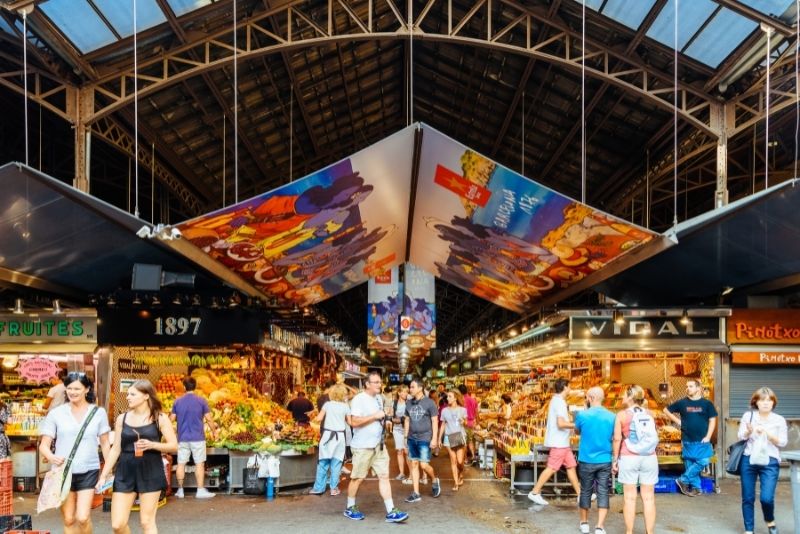 As a nation infamous for its love of food, it would be criminal to visit Spain and not go on a food tour! And Barcelona is no exception — the city offers a chance to team up with local foodies, meander around the markets, and sample some of the tastiest dishes around.
From traditional Catalan cuisine to more modern gastronomic fare, there's something to tantalize everyone's taste buds. And what's more, you'll get to see the city through the eyes of a local as you explore off-the-beaten-path neighborhoods and markets.
Try different treats at La Boqueria Market, enjoy delicious tapas, sip local blends on a wine tasting walk, sample delightful local cheeses, and down a craft beer or two — as you can see, there are plenty of traditional and new foods throughout the city just waiting to be eaten.
18 – Learn about infamous architect Antoni Gaudi at the Gaudi Crypt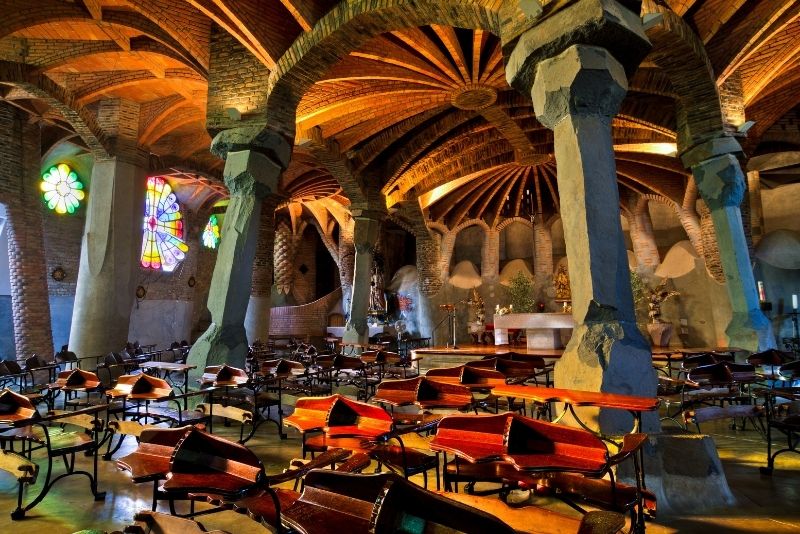 This next activity is a must for all fans of Antoni Gaudi! The Gaudi Crypt in Colonia Guell is one of the architect's earliest works and was actually his first public commission.
Although the building itself is quite small, it packs a mighty punch and contains all the elements that would go on to make Gaudi's work so distinctive and world-renowned. From the undulating columns to the colorful tiled roof, this is a real treat for the senses.
The crypt was originally designed as a chapel and a meeting place for the former residents of Santa Coloma de Cervelló: The Church of Colonia Guell.
Much like the iconic Sagrada La Familia, the Gaudi Crypt, which is found just outside the city, remains unfinished to this day. The spiraling columns are twisted arches are sights to behold, with plenty to be learned on a guided walking tour of the area.
19 – See the main sights on a hop-on hop-off bus tour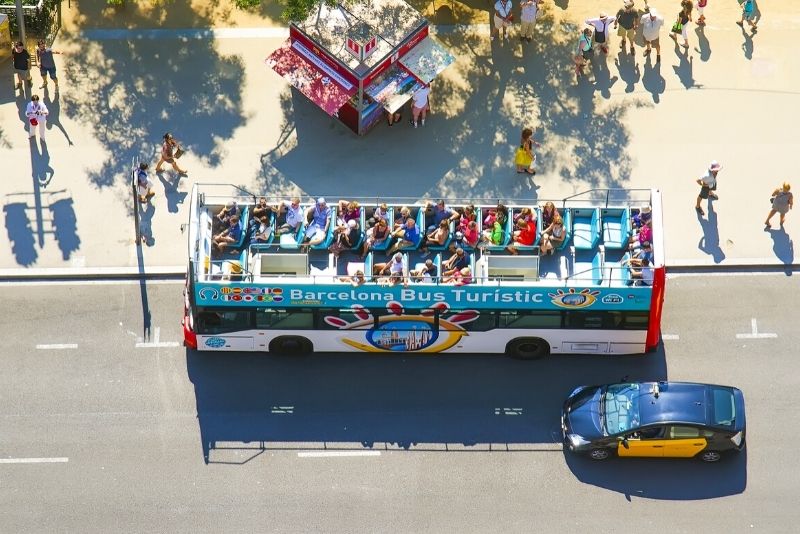 Short or time or don't want to arrange your own transport between attractions? A hop-on hop-off bus tour is the solution!
Ideal for first-time visitors, these types of tours allow you to see all the major landmarks and attractions without having to plan a thing. And, with multiple routes covering different areas of the city, you can tailor your experience to match your interests.
Simply grab a seat on the open-air deck or the air-conditioned lower level, and let the driver take you to landmarks such as Sagrada Familia, Camp Nou, Park Guell, Port Olimpic, the Barcelona Cathedral, Casa Batlló, La Pedrera, and plenty more!
Plus, with audio commentary the whole way, you'll uncover a treasure trove of interesting facts and stories about each stop as you go.
Learn more about the best hop-on hop-off bus tours in Barcelona.
20 – Pop into the whimsical Casa Vicens Gaudí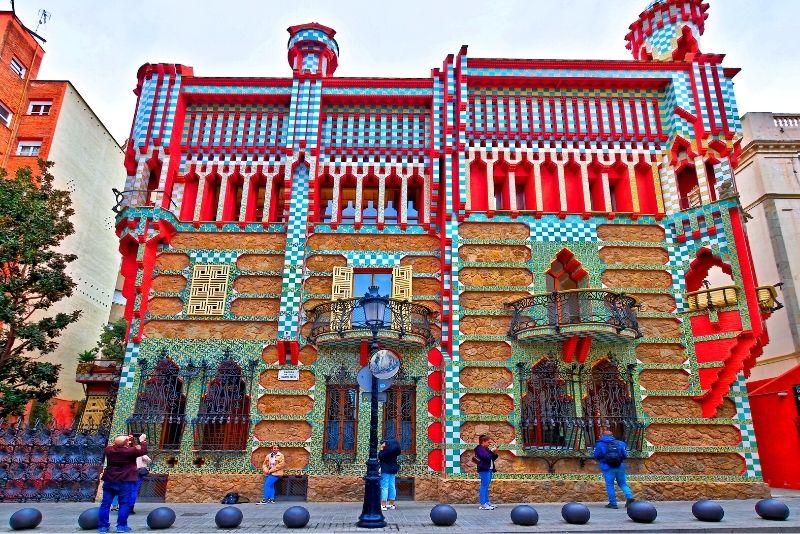 The inaugural house designed by Gaudí himself, Casa Vicens Gaudi in the Gràcia neighborhood still stands as a Barcalonian icon today.
An unsurprising Unesco World Heritage site, this three-floor colorful creation is one of Gaudi's earlier works, constructed between 1883 and 1888 as a summer home for a wealthy Vincens family.
Overflowing with picturesque touches, from the stained glass windows to the intricate tile work, and the dozens upon dozens of flora and fauna-inspired paintings (plus, of course, the obviously brilliant facade), it makes perfect sense that it finally opened to the public in 2017 as a museum dedicated to the great architect's life and work, with its shell restored as much as possible to its original state.
To complement the permanent Gaudi collection on display, the museum also showcases a rotating roster of temporary exhibitions as well, ranging from broad insights into artistic, social, and cultural topics, to peculiar deep dives into themes like smell as an artistic inspiration.
21 – Head to Girona on a day trip (featured in Game of Thrones)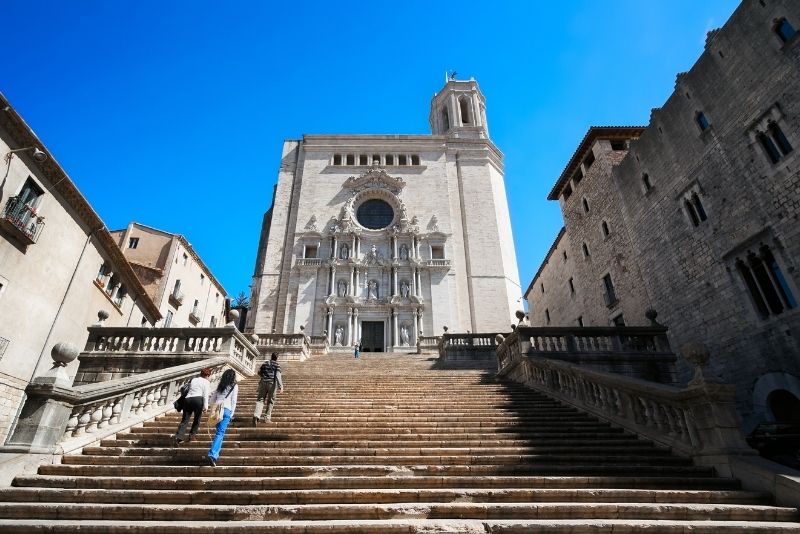 While Girona is, undoubtedly, a magical town filled with stunning monuments and exciting places to discover, it's most famous for its role as the backdrop in Game of Thrones! Recognize it? The picturesque backdrop is featured heavily in several scenes throughout season six (as the setting of Braavos and King's Landing).
Although it's just an hour away from Barcelona by train (or car), Girona feels like a world away. With its medieval architecture, labyrinthine streets, and Jewish Quarter (which dates back to the 12th century and is one of the best-preserved in Europe), it's easy to see why the producers of the hit show chose it as a filming location.
Choose from a range of tours dedicated to the show (which stop at places like the historic cathedral), or a more generic adventure, which dives into the history and culture of this wondrous cobblestoned town. Either way, no trip to Girona is complete without a visit to the famous Arab Baths, or taking in the sweeping views from Pont de Pedra – and be sure to take a walk down La Rambla. You won't regret it!
22 – Learn all about the modernist movement at Casa de les Punxes (AKA Casa Terradas)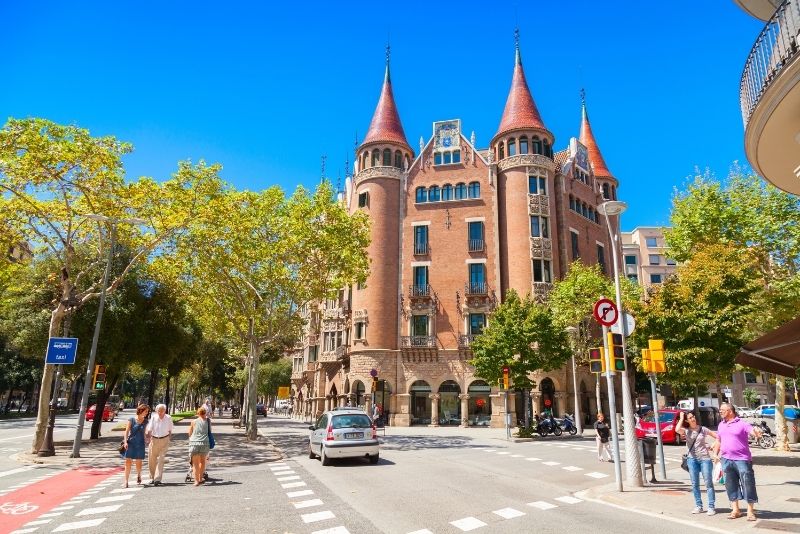 If you're looking for things to do in Barcelona that are a little bit different, then a visit to Casa de les Punxes (The House of Spikes) is well worth consideration. A symbol of (and masterful work by) one of the great figures in Catalan modernism (Josep Puig i Cadafalch), this building is a real treat for the eyes.
Inspired by Gothic architecture and shaped like a medieval castle, with a sprinkling of fairy-tale magic thrown in for good measure, the Casa de les Punxes is one of the most original and interesting buildings in Barcelona. The gothic towers, in particular, are marvelous, each one decorated in its own unique theme.
Besides the whimsical decorations, Casa de las Punxes also boasts a rich history (designed by none other than Antoni Gaudí and built between 1904 and 1906), which you can learn all about on a guided tour of the building.
23 – Solve puzzles around town with a scavenger game
Slow-paced tours are a dime a dozen — instead, spice things up with a scavenger game, probably the fun way to explore Barcelona!
With challenges that take participants off the beaten track, it's a great way to discover spots of the buzzing city that most tourists miss out on.
Much like The Amazing Race, the objective of these interactive adventures is to solve clues at different spots around town, cracking codes and learning plenty of fun facts along the way. Not only are they super entertaining, but these scavenger games also double as brilliant team-building exercises.
24 – Step into the quirky world of Joan Miró at the Fundació Joan Miró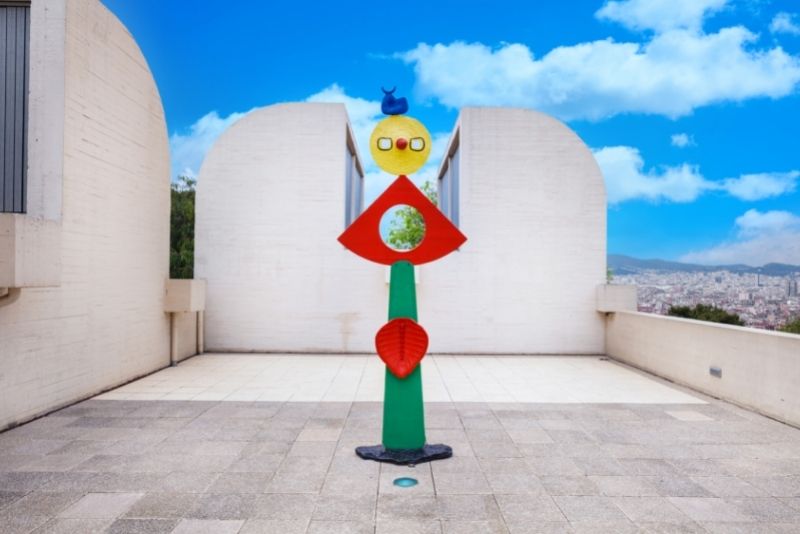 Dedicated to its namesake, the hilltop Fundació Joan Miró museum (AKA the Joan Miró Foundation) not only showcases the works of the highly talented painter, sculptor, and ceramicist, but also gives young artists a platform to showcase their work as well.
Check out the space dedicated to new and upcoming artists — decked out with paintings, drawings, sculptures, and more — and be sure to take a stroll through the nearby Parc de Montjuïc, where the likes of the Catalan Museum of Archaeology and Museu Etnològic de Barcelona (as well as myriad green spaces and walking trails) await.
Camera at the ready: The museum also has an impressive rooftop terrace that offers up stunning panoramic views of the city, as well as a cafe-restaurant.
Hot tip: book online to skip the queues upon arrival.
25 – Immerse yourself in ancient Spanish heritage at Poble Espanyol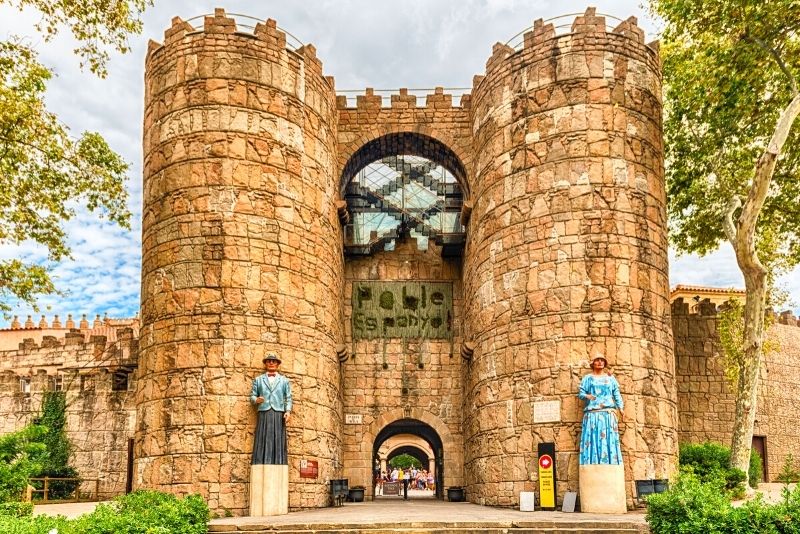 If you're hoping to dive deep into local traditions and heritage then the peaceful village of Poble Espanyol is the place to do it.
Located right around the corner from the Magic Fountain of Montjuïc and the Barcelona Botanical Garden, this open-air architectural museum is made up of replicas of Spanish buildings and landmarks from all over the country.
You can explore a total of 117 different structures, including an Andalusian courtyard, a Catalan farmhouse, and even a Galician stone house — all set against the stunning backdrop of the Montjuïc mountain. More than just a history lesson, it's transformed into a modern-day melting pot of architecture, food, culture, and shopping too.
Hot tip: For anyone souvenir shopping, a couple of dozen streetside artisans are usually selling all sorts of hand-made goods.
26 – See over 11,000 animals at the Barcelona Aquarium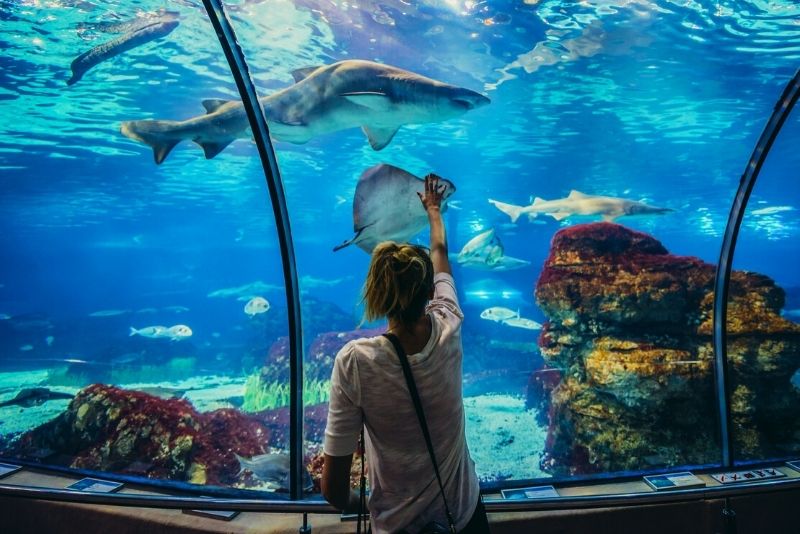 A wonderful option for traveling families, tucked away on the waterfront in the Port Vell area of the city, the Barcelona Aquarium is home to some 11,000 animals (and 450 different species), including sharks, seahorses, penguins, octopus, jellyfish, and sea turtles.
Themed around the world's different oceans and bio-regions, with a significant focus on the Mediterranean, the aquarium has a total of 66 tanks, each more impressive than the last and teeming with marine life.
But that's not all; the Barcelona Aquarium also has interactive touch tanks; an 80-foot long tunnel full of sharks, fish, and rays; a shark diving and sleeping with sharks experience, and a range of educational programs for kids (like the Planeta Aqua and Explora! shows) — so it's no wonder that over 14 million people walk through its doors year after year.
27 – Step back in time at Casa Amatller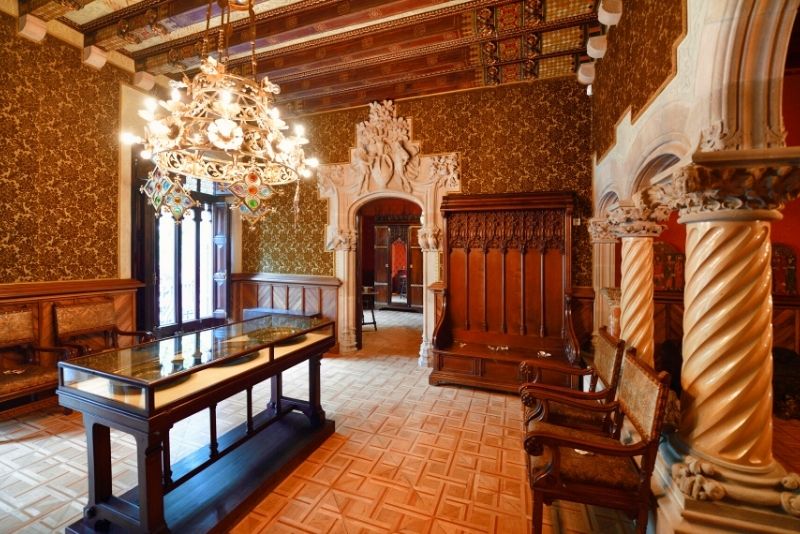 For visitors who love architecture above all else, Casa Amatller — a fantastic blend of Romanesque and Baroque styles that was designed by Josep Puig i Cadafalch — is one of Barcelona's best-kept secrets.
At Casa Amatller, guests can learn all about its history, with plenty of stories about the owners' chocolate-making and globe-trotting. You'll find this opulent mansion on the Passeig de Gracia, one of Barcelona's most famous streets, and an area that plays host to some of Gaudi's most iconic buildings too.
While the facade is rather understated, the inside of Casa Amatller is a real treat for the senses, with beautiful stained glass windows, an ornate staircase, and an incredible collection of art on display. And, since it's right next to Casa Batlló, the duo serves as the perfect place to visit if you're interested in learning more about Catalan modernism.
28 – Climb the tower for amazing views at Basílica de Santa Maria del Pi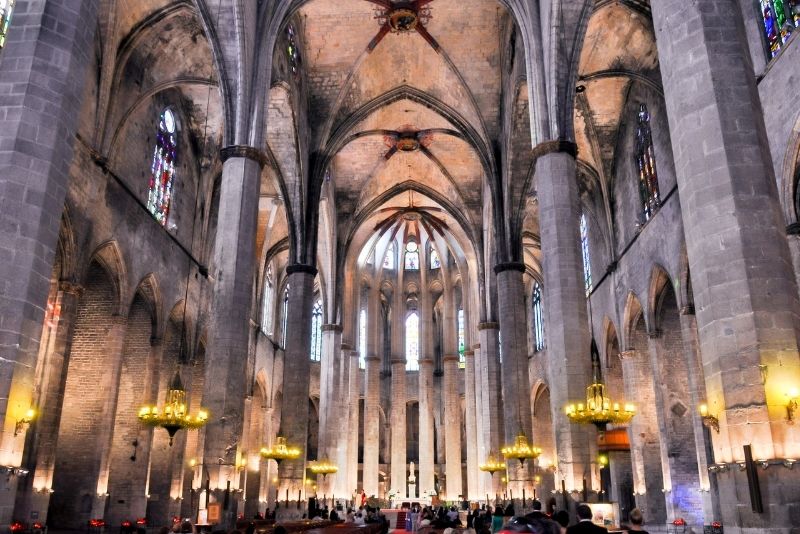 A Catalan Gothic cathedral located in the old town of Barcelona, this notable landmark is a regular hit for visitors on the hunt for panoramic city views.
It boasts the tallest tower in the old town, scraping the sky at almost 55 meters tall; tourists are welcome to climb to the top where sweeping, breathtaking views over Barcelona's Gothic Quarter await.
As if that weren't enough, the architecture is magnificent in its own right, particularly the stained glass rose windows (an exact copy of the 14th-century original), depicting scenes from the life of Christ. Built during the 14th century, it's as historic as it is beautiful, and deserves a spot on your Barcelona itinerary, especially if you're already planning a visit to the Cathedral of Barcelona around the corner.
And while you're in the area, be sure to check out the Spanish guitar concerts! The cathedral's towering interiors provide ideal acoustics for the gorgeous melodies, as the Maestros de la Guitarra ensemble performs classic hits from some of Spain's most renowned composers.
Although the performance itself only lasts an hour, you'll feel utterly transported by the melodies!
29 – Glide around town on a Segway tour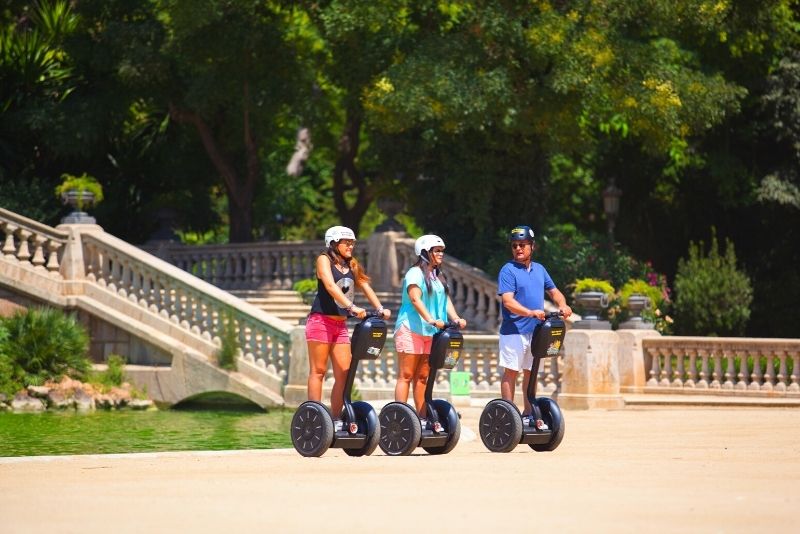 As a huge metropolis, there's no shortage of things to do in Barcelona — so trying to see them all on foot can get tiring very quickly!
Thankfully, a smooth Segway tour is a great way to see all the sights without exhausting yourself.
Led by a friendly local tour guide, you'll zip past all the major landmarks (and some hidden gems too!) while learning interesting facts and stories along the way.
And, since you don't have to worry about getting lost, you can just relax and soak up the views as you cruise through Barcelona's streets on your two-wheeled machine.
While each tour is a little different, lasting anywhere from 1 to 3 hours, expect to marvel at the new buildings, as well as the old; zoom along the coastline, and take a break at picturesque Ciutadella Park!
Looking for something off the beaten track? You'll also find a handful of off-road adventure tours that glide their way through nature-soaked areas like Can Jalpi Park or Can Catà.
30 – Head to the Old Town's insightful Picasso Museum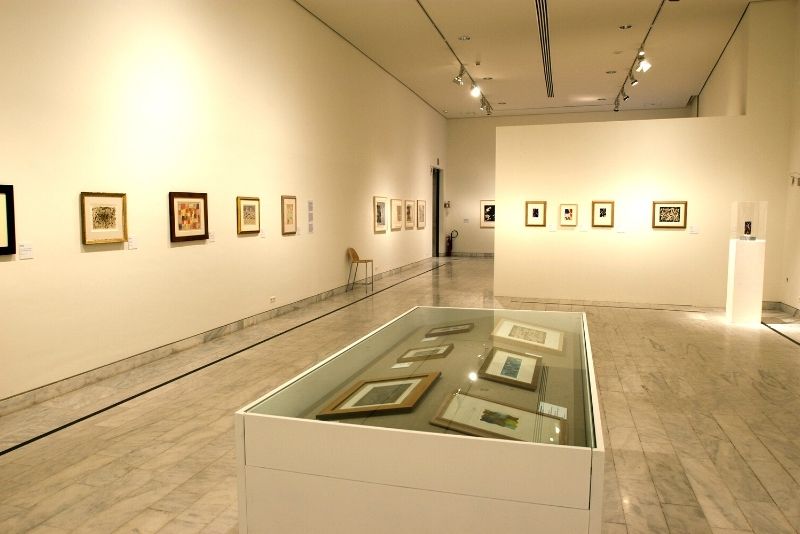 With an astonishing collection of over 4000 paintings showcasing Picasso's earliest and most formative works — ranging from the time he was a student in Barcelona, to his Blue and Rose periods, up until the time he left for Paris in 1904 — this is one of the most important museums in Picasso's oeuvre.
You'll see paintings from some of his most famous series on display here, like Science and Charity, The First Communion, and the Blue Period's La Vie.
Through both artwork and informative exhibits, guests can see how the artist's style evolved over the years and slowly transformed into the figure we know and love today, peppered with insights into Picasso's relationship with the city of Barcelona — there is no place more qualified to teach about this incredible artist.
31 – Visit the colorful Dali Museum at Figueres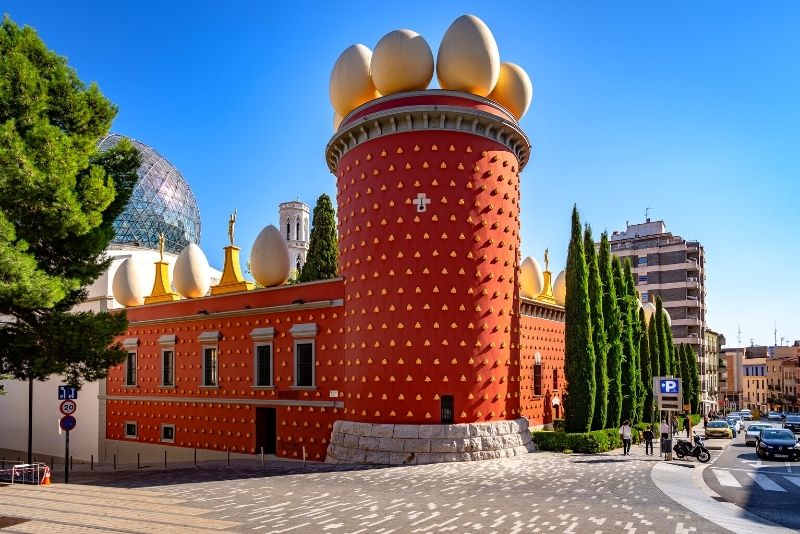 Looking like something out of a Dr. Seuss novel, tucked away in the small town of Figueres (just an hour and a half away from Barcelona by train) is the Dali Museum, which is dedicated to one of Spain's most famous – and eccentric – painters, Salvador Dali.
A must-see for all art lovers (and those who appreciate quirkiness ), the museum was designed by Josep Azemar and is located in the former municipal theatre, which was destroyed by fire during the Spanish Civil War. Today, it houses the largest collection of works by Dali in the world; over 1500 paintings, drawings, sculptures, films, and more.
From his early artistic endeavors as a teenager, to his later and more famous surrealist masterpieces, the museum (which was officially opened in 1994) spans Dali's entire career – giving visitors a comprehensive insight into the mind of one of history's most enigmatic artists.
While you can rent a car, the easiest way to wander the streets of Figueres and see the Dali Museum is with a pre-arranged tour.
32 – Cycle through the city streets on a bike tour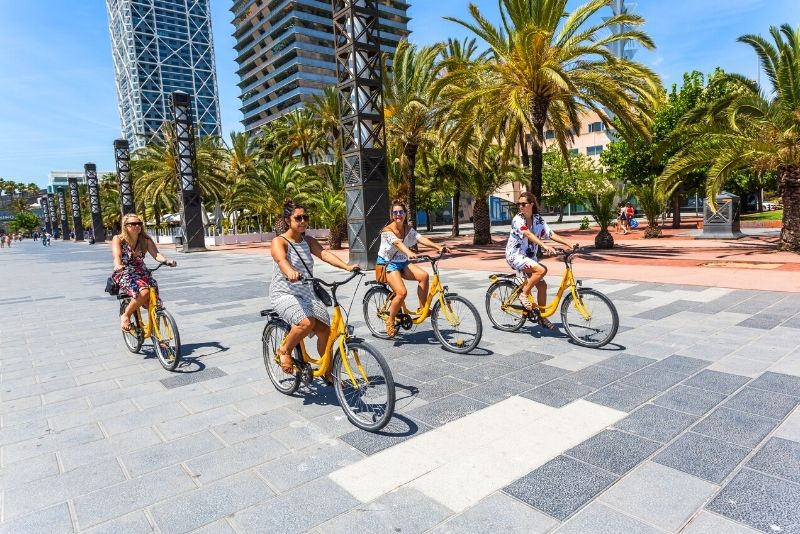 Barcelona is MASSIVE, so if you're planning to see everything on foot, think again. Instead, why not tick off all the main attractions with a relaxing bike tour?
Not only is the two-wheeled day out a fun way to see all the main sights like the Barcelona Cathedral, Arc De Triomf (the main access gate for the 1888 Barcelona World Fair), and Basilica of the Sagrada Familia, but it's a great workout as well!
Most two-wheeled adventures last between two and hour hours, themed around particular areas (like the Old Town, the Alella Wine Region, or the beachfront) and end with a refreshing drink or bite to eat.
Some even offer the opportunity to combine your sightseeing with other activities like kayaking, a cable car ride, a boat cruise, or a Segway session – making for a fun-filled day out that the whole family can enjoy!
And, to all of you foodies out there, a tapas bike tour is exactly what the doctor ordered.
33 – Zoom upside-down and loop the loop at PortAventura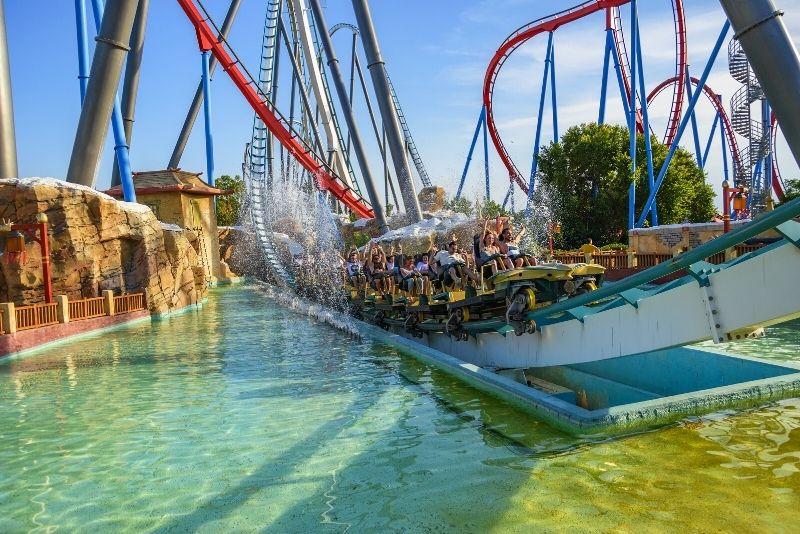 PortAventura is the most popular theme park in Spain, and it's not hard to see why: it has six uniquely themed worlds, encompassing over 40 different thrill rides.
One of the most popular rides is Shambhala, the highest rollercoaster in all of Europe; an adrenaline-pumping rollercoaster that reaches speeds of up to 83 miles per hour and culminates in a 256-foot plunge — it's not for the faint of heart!
Other top attractions include Furius Baco (a hydraulically launched coaster that goes from 0 to 83 miles per hour in just three seconds), Dragon Khan (with 8 heart-racing inversions), and the Stampida racing wooden coaster.
Throw in over 40 daily live performances, a water park (uniquely themed around the Italian motor racing team), and a host of other family-friendly activities, and it's easy to see why PortAventura is one of the most popular things to do in Barcelona.
34 – Try out a few new watersports in La Barceloneta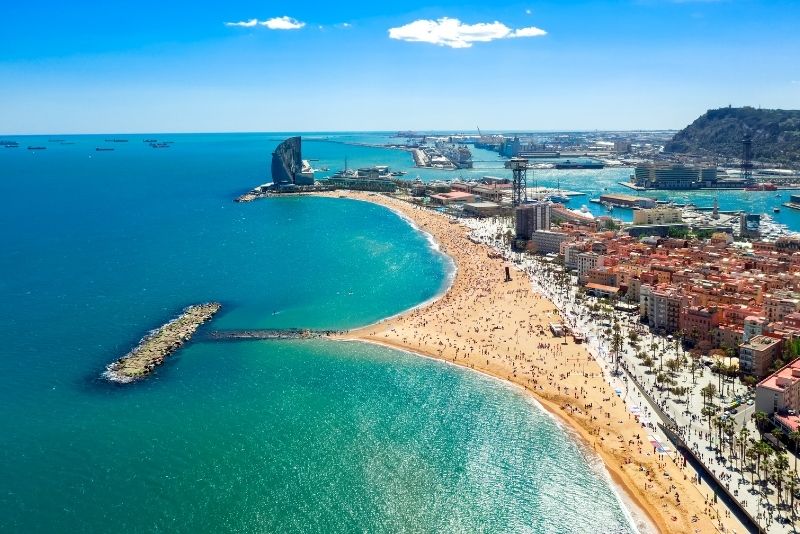 Looking for active ways to have a fun day on the coast? Then why not give water sports a try!
At the popular Sant Sebastia Beach in La Barceloneta (an area definitely worth exploring on foot, thanks to its vibrant atmosphere, lovely views, and abundance of seafood restaurants) you can find a range of beach equipment rentals, from jet skis to parasailing gear. Take your pick from surfing, paddleboarding, flyboarding, parasailing, windsurfing, and scuba diving!
And if you want to try your hand at something a little more traditional, there are plenty of sailing schools located along the Barcelona coastline where you can learn the ropes (quite literally) under the watchful eye of a seasoned captain.
The best part is that many of these can be enjoyed without any prior experience — all you need is a sense of adventure! There are plenty of reputable companies offering equipment rental and lessons.
35 – Make an out-of-town stop at the Món Sant Benet Monastery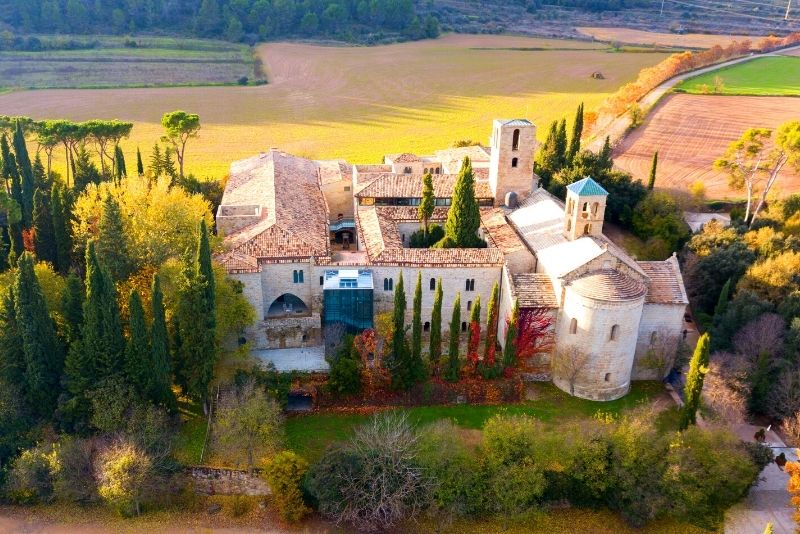 For visitors who seek to learn a little bit about monastery life, the 10th-century Món Sant Benet is the place to do it.
On insightful tours of the medieval monastery (which dates back to over 1000 years ago), you can see firsthand how its residents once lived, checking out the cellars, church, and cells, and walking in the footsteps of the monks who called it home.
The monastery is located in a stunning location — an oasis of calm in the Catalan countryside, just an hour outside of Barcelona. With its rolling hills, winding rivers, and peaceful forests, it's the perfect place to unwind and escape the hustle and bustle of the city.
Once the day's said and done, you'll walk away having learned all about Catalan history and the area's cultural evolution, and, depending on the day, experience one of the several gastronomy, art, and leisure activities on offer.
36 – Feel like you've stepped back in time at Besalu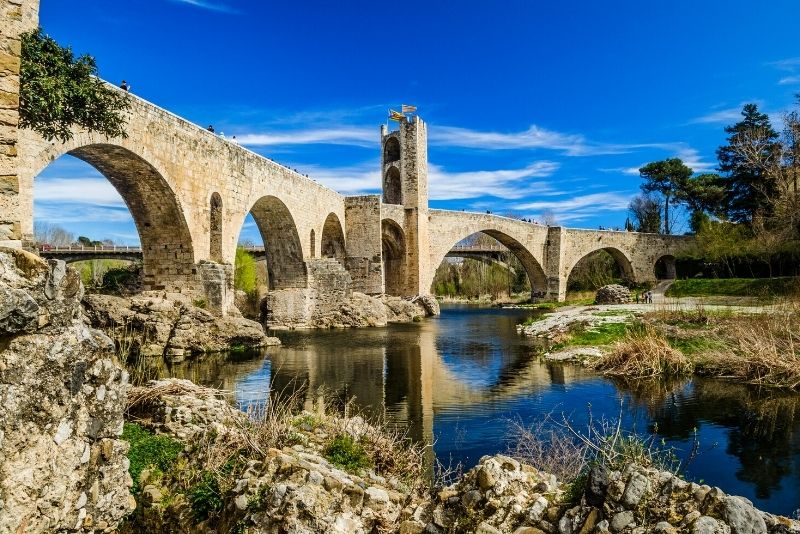 A wonderful opportunity to discover the medieval heritage of Catalonia, the beautifully preserved small town of Besalu magically transports visitors all the way back to Medieval times.
Camera at the ready, folks; the town dazzles with centuries-old stone bridges, Roman temples, and massive Cathedrals. As you meander through the quaint cobblestone streets, you'll want to photograph everything in sight – particularly The Monastery of Sant Pere (founded in the 10th century) and the medieval bridge which crosses the sparkling River Fluvia.
Besalu is also home to a number of excellent museums, including the Museum of Miniatures and CIRCUSLAND, the International Circus Palace, both of which are bound to captivate and fascinate visitors of all ages.
With so many pre-organized tours on offer, which include transport to and from Barcelona (as well as lunch and admission to any attractions), it makes for an easy day trip addition!
37 – Sip 100% natural beer at the Estrella Damm Brewery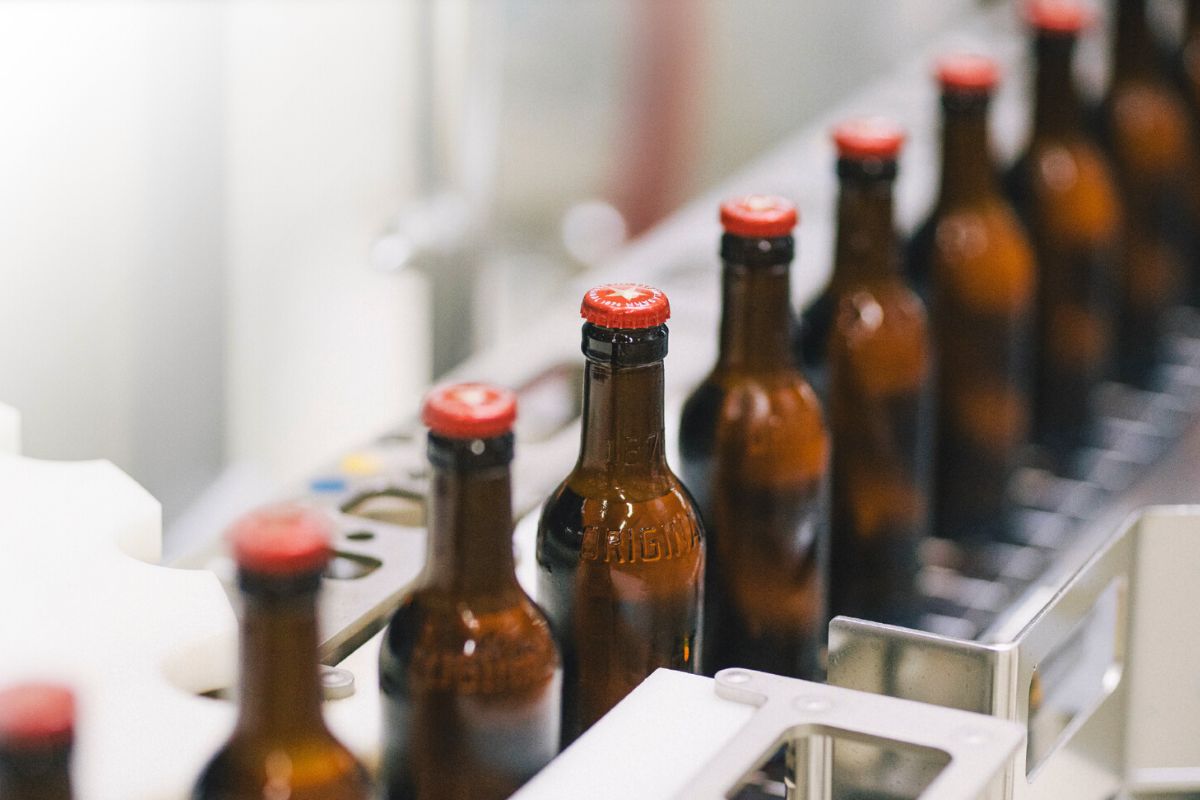 Do you enjoy a cold beer or two? How about beers with a Mediterranean twist? Then a trip to the Estrella Damm Brewery presents as the perfect day out!
With guided tours and tastings available on-site (which include learning about the production and brewing process, and viewings of the Kettle Room and Historical Archive), it's both refreshing and educational!
At this family-run business, everything is done in-house to guarantee that the final product is of the highest quality and 100% natural — no artificial ingredients are used whatsoever. The end result is a light, crisp beer with subtle citrus notes that's perfect for enjoying on a hot summer day.
Tours of Estrella Damm Brewery pop into the Power Generator Room, and the bottling plant (and the bar, of course); typically last around an hour and a half, and are best booked in advance.
38 – Snap selfies with your heroes at the Wax Museum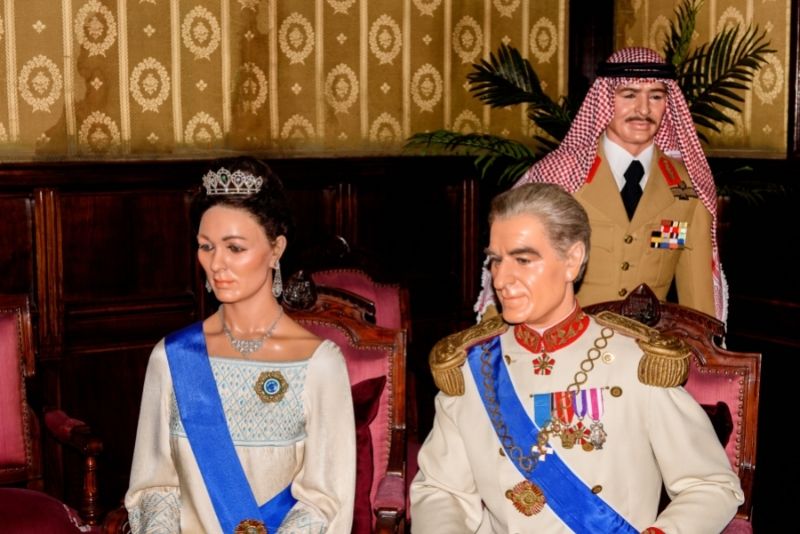 The closest thing you'll get to a star-studded red carpet event in Barcelona, the Wax Museum is one of the city's most popular tourist attractions.
Home to over 200 incredibly lifelike wax figures of some of the world's most famous faces — think Marilyn Monroe, Audrey Hepburn, Pope Francis, Lionel Messi, Leonardo DiCaprio, and Barack Obama — it's an A-list affair from start to finish. From royalty to singers, actors, and fictional characters, it's a chance to get up close and personal with your heroes and learn a little about their lives.
Aside from the obvious selfie ops, there are also a few interactive exhibits (tailormade for selfies with the cast of Money Heist and Star Wars, among others) that make for a fun-filled day out.
After making all your Instagram friends jealous, grab a coffee at the fantasy fairy forest cafe.
39 – Admire artful masterpieces at the Museu Nacional d'Art de Catalunya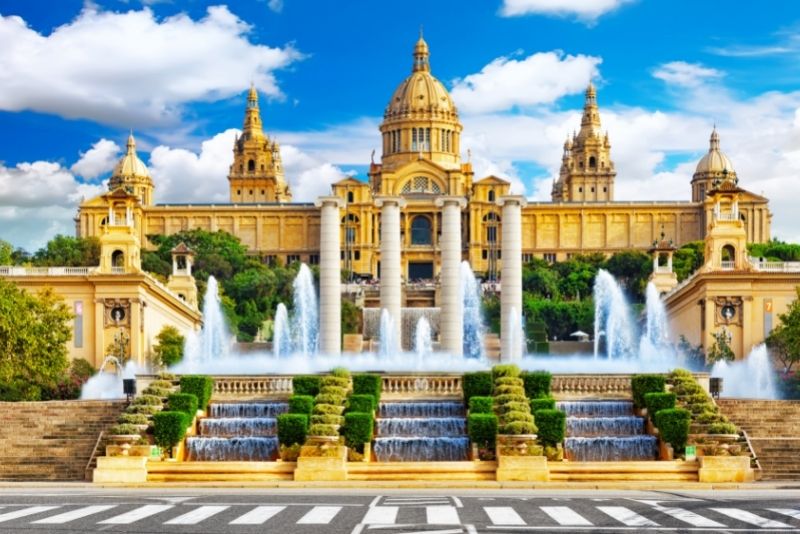 An art museum whose Italian-style building is as much of a work of art as the treasure trove of paintings that line its walls, The Museu Nacional d'Art de Catalunya in the heart of Parc de Montjuïc is a must-see locale for all of those out there who live and breathe creative expression.
Offering a wide variety of styles and eras, they house pieces and collections from great artists from Catalonia such as Gaudi and Casas, as well as collections from Renaissance figures like Tiziano and Velazquez.
All up, spread across its three floors and many rooms, the museum has over 290,000 works of art on display — making it the largest and arguably most important in the city — so you could easily spend an entire day here and still not see it all!
Looking to save a pretty penny? Head to the museum on Saturdays after 3pm, or the every first Sunday of the month, when admission's free.
Hot tip: make sure to download the app to make use of the free audio guide (available in several languages) and learn more about each piece as you go.
40 – Admire the impressive art collection at Casa Rocamora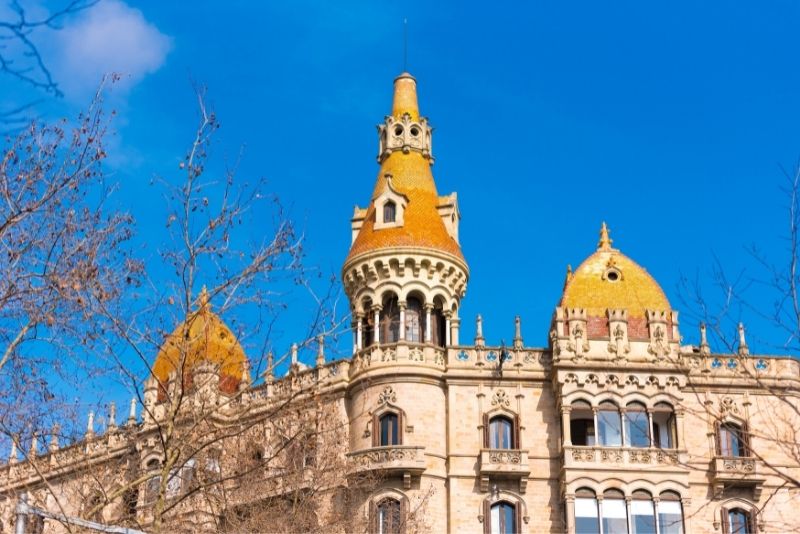 Art lovers, take note! For an undisputed great day out, why not visit the home of Manuel Rocamora and indulge in his huge art collection?
Over his lifetime, Rocamora managed to collect over 4000 pieces spanning ancient clothing to sculptures, paintings, scriptures, ceramics, and plenty more — and some of the most exquisite of them are on display here, flanking the walls of this Spanish-Elizabethan building nestled in the uptown district of El Putxet.
Among the expansive collection, there's an envied collection of Alcora pottery, several Mudejar-style tapestries, as well as a mobile by Picasso, and works by Manolo Hugué, Agapit Vallmitjana, and Ramon Casas, to name just a few.
41 – See the bustling Barcelona street art scene!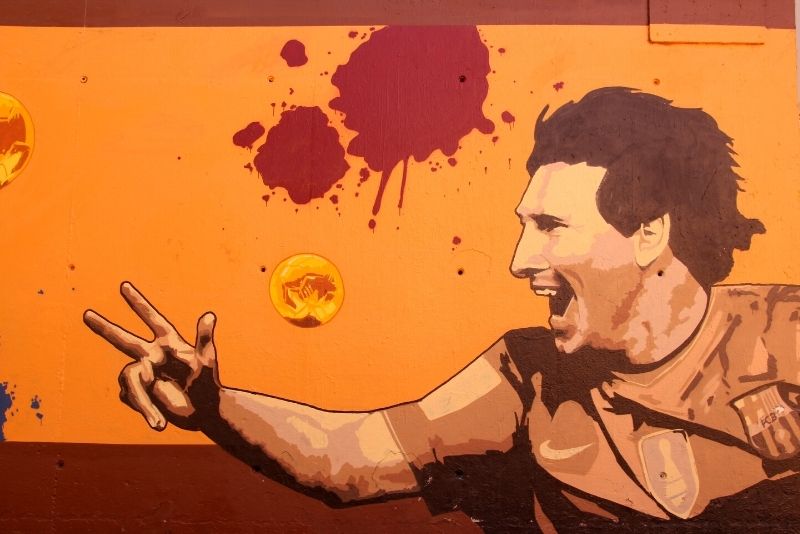 Overflowing with color, creativity, and personality, the street art scene in Barcelona is not to be missed, with many local artists adding their flair to the already vibrant streets regularly.
And, whether you're a long-time fan or are just discovering your love for graffiti and murals, there's no better place to immerse yourself in all things street art than on an undergrad Barcelona art adventure.
From world-famous pieces by artists like Banksy to lesser-known local treasures, you'll see it all on this jam-packed tour. Most of the more famous street murals can be found in Poble Nou, an area known as a reminder of the industrial revolution, but the Gothic Quarter, Raval area, and Born district are all worth exploring too.
And, not only will you get to explore some of the coolest neighborhoods in Barcelona while admiring amazing art (on foot or on two wheels), but you'll also learn about the stories and meanings behind each piece from your passionate and knowledgeable guide.
42 – Let your hair down on a lively boat party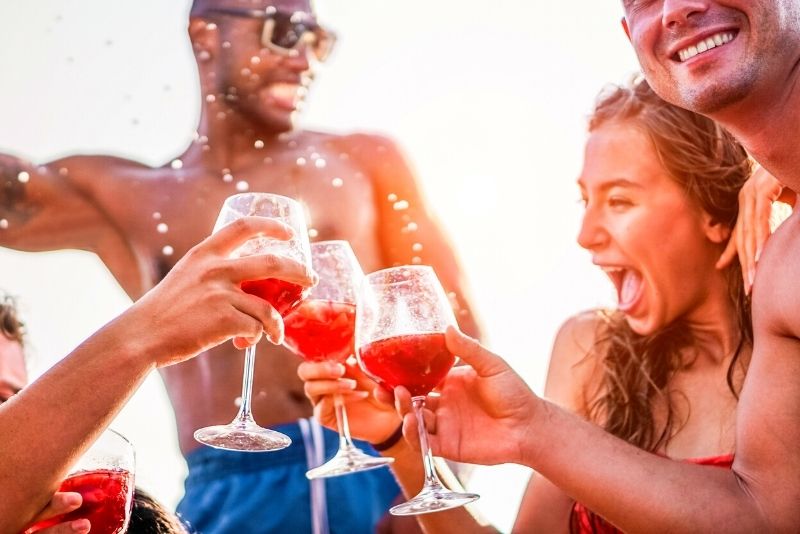 Put on your dancing shoes and get ready to party the day away on a boat party cruise!
With splendid views from departure to docking, dishing up a shiny new perspective of Catalonia, it's a great way to celebrate being on vacation!
You'll find a myriad of options available to suit every level or reveler; from BBQ feasts to open bars, and seaside fiestas dedicated to younger travelers (the perfect way to meet fellow party-loving backpackers). Usually lasting around 3 hours, with water sports often included, your catamaran or sailboat party will be one to remember.
43 – Stare in awe at the natural wonders of La Garrotxa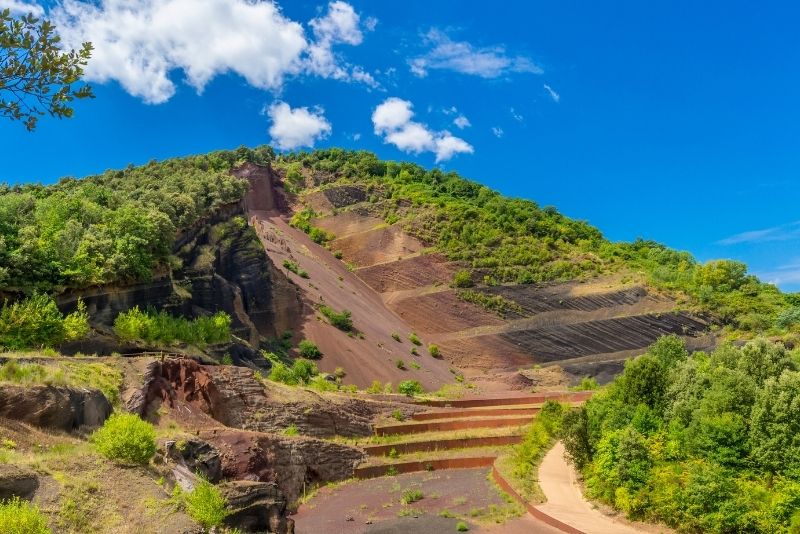 On any trip to the geological wonder that is La Garrotxa, a hidden slice of Catalonian nature between the Pyrenees and the Costa Brava, visitors are blessed with the chance to get to know the volcanoes that shaped the area's stunning rolling hills and valleys.
With over 40 volcanic cones and more than 20 lava flows throughout the Natural Park, it's a reminder of the sheer power of Mother Nature. Towering above the picturesque town of Olot, Montsacopa is one of the most popular peaks to climb for those seeking incredible views.
La Garrotxa is also home to some natural hot springs, bubbling mud pools, and even a lava cave! The area's many hiking trails are the perfect way to explore all of its natural beauty – and, with so many different routes on offer (some even beginning in Olot), there's something to suit all fitness levels.
For those looking for a truly unique experience, a visit to the Fageda d'en Jorda – a beech forest that was actually created by past volcanic eruptions – is a must. While the medieval villages of Santa Pau, Besalú, Sant Joan les Fonts, and Sant Feliu de Pallerols are priorities.
And even though the national park is surrounded by hikeable lush forest, arguably the best vantage point is from above, with a romantic and exhilarating hot air balloon flight.
44 – Speed through the city's landmarks on a jet boat ride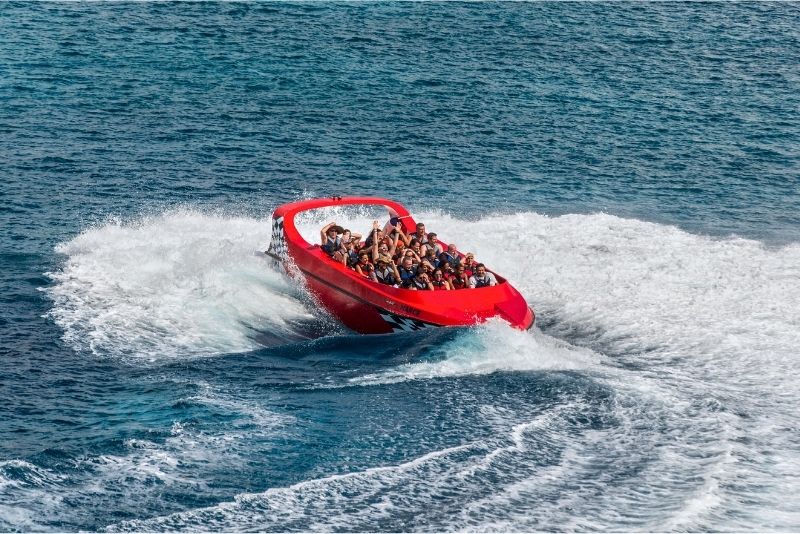 Capture stunning snapshots of Barcelona's iconic landmarks while embarking on an exhilarating jet boat ride. The routes for jet boat tours in Barcelona usually take you along the city's scenic coastline, passing famous landmarks such as Barceloneta Beach, Port Vell, and the iconic W Hotel.
You might also get to explore areas like Nova Icaria Beach, Bogatell Beach, and the Olympic Port, depending on the specific tour.
45 – Quench that thirst for speed over at Ferrari Land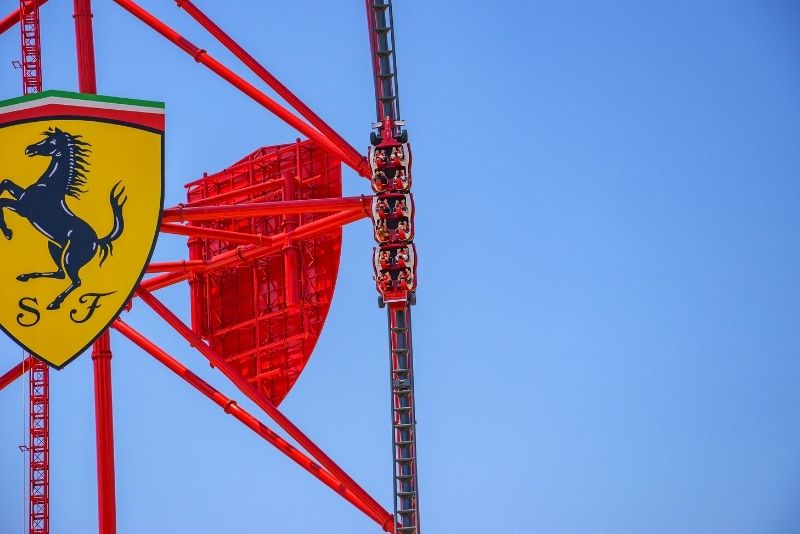 Trying to find ways to get your adrenaline pumping? Then slide Ferrari Land to the top of the bucket list. Seriously.
While there are plenty of rides and no shortage of Ferrari memorabilia, the shining beacon of this theme park is, without a doubt, "Red Force".
Officially the fastest and tallest rollercoaster in all of Europe, Red Force can reach dizzying speeds of 180km per hour. Strap yourself in for a 39-second ride that will take you from 0 to 112km/h in just five seconds – and leave you feeling like your stomach is somewhere back at the station.
Not one for the faint of heart, Red Force is definitely not for small children or those who don't do well with heights (it peaks at 112 meters!).
While it's the most famous ride, it's far from the only; a handful of other park highlights include the "Racing Legends" car simulator, the "Flying Dreams" virtual reality experience, the Acrobatic Show in the Ferrari Land pits, and the "Junior Championship" – a mini VR circuit designed for young petrolheads.
46 – Explore the city in style… on a Vespa!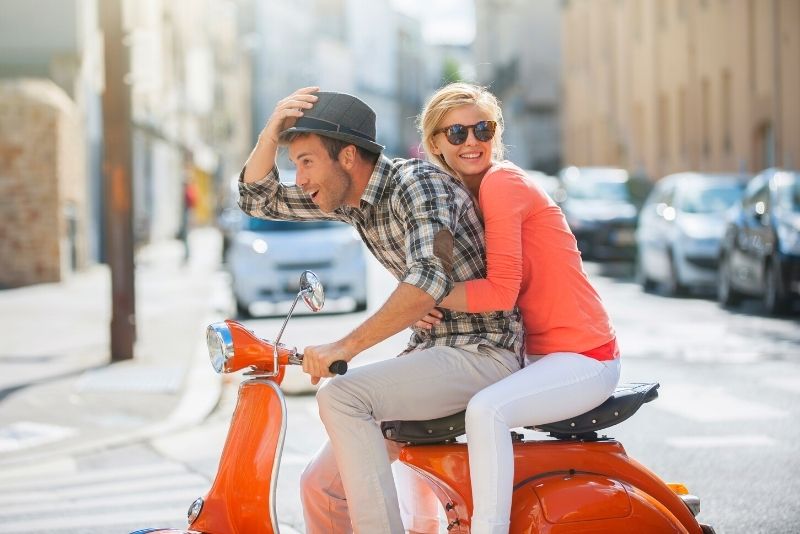 While group tours can be fun, some tourists might prefer to explore the city at their own pace — that's where a Vespa tour (on an e-scooter tour) can come in handy!
A straightforward process, guests don't even need a map of the streets, since most rental scooters come with a GPS that has the city's main attractions already saved.
Among the sights you can explore on your own are Park Guell, Tibidabo Mountain, the Gothic Quarter, La Rambla, and much more.
Not only is this a unique way to see Barcelona (we can guarantee you'll stand out from the rest of the tourists!), but it's also a sustainable way of getting around, which is an added bonus.
47 – Lose yourself in the beautiful Parc del Laberint d'Horta
A surefire hit for youngsters and adults alike, this well-manicured labyrinth consists of close to 750 meters of cypress hedge.
But the park is far more than just a hedge maze; the gorgeous 9.1-hectare garden features two small temples dedicated to Artemis and Danae, a range of flora, and a beautiful Moorish castle. As you stroll through the grounds, you'll feel as though you've been transported to a bygone era.
The Parc del Laberint d'Horta is one of the oldest gardens in Europe (designed in 1792), and, having stood the test of time, it's as historic as it is enchanting.
It's off the beaten track in the mountainside Horta-Guinardó District, offering a much-needed slice of relaxation and fresh air (especially compared to Las Ramblas).
48 – Get a little frisky at the Erotic Museum
A stimulating outing for couples, the distinctive Erotic Museum is home to over 800 unique pieces that showcase how sexuality has been used as a source of imagination and inspiration through the ages.
Spread throughout the 9 rooms and airy courtyard of this one-of-a-kind museum (the first and only in Spain), you'll find all manner of cheeky relics on display, some diving into the fascinating world of the Kama Sutra, others showcasing the rarely-seen Japanese "shunga", with several displays details the history of Spanish-Catalan adult content, dating all the way back to the 1920s.
Throw in a couple of Picasso paintings for good measure, and no shortage of nude statues, and you're left with an eclectic range of pieces that cover a huge spectrum of time periods — all with one naughty thing in common.
Centrally located on the Rambla de Barcelona, it's an insightful place to visit that seamlessly works into any itinerary.
49 – Don the chef's hat for a cooking class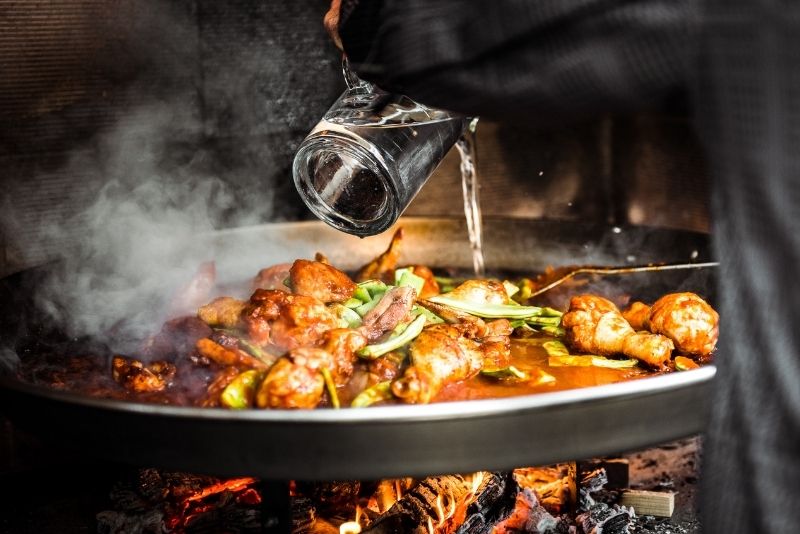 Do we have any budding restauranteurs in the house?
If you want to bring the flavors of Barcelona back home with you, why not learn how to cook a couple of traditional Spanish dishes by taking a cooking class?
Choose from classes designed for large groups, small groups, join a home cook, or sign up for a VIP experience with a professional chef! Either way, you'll get hands-on experience in the kitchen, learning about different techniques, flavors, and ingredients used in Spanish cuisine.
And of course, you'll also get to eat what you make — always a bonus. While every experience has its unique dishes, expect to learn (and eat) things like gazpacho, paella, Catalan cream, a host of tapas, and much more in multi-course meals with plenty of wine or sangria along the way.
50 – Get out of town; head to the Pyrenees mountains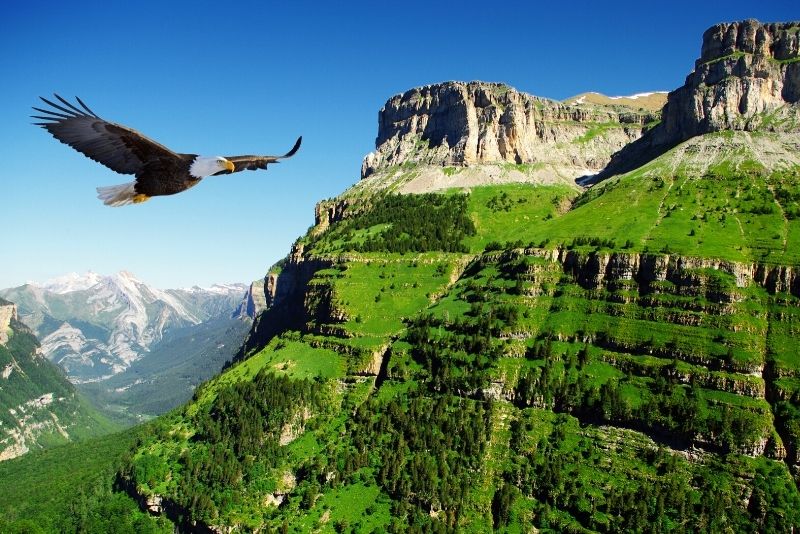 Seeking a dose of nature? Fancy getting away from the hustle and bustle of Barcelona for a day or two? Then add a Pyrenees mountain escape to the top of your list!
Boasting towering peaks, pristine forests, and quaint mountain villages, the Pyrenees mountains offer some of the most breathtaking scenery in all of Spain.
One of the most popular destinations is Nuria Valley, a mountain resort (great for winter skiing) and an important historic place of pilgrimage. Once you arrive in the valley, there are plenty of hiking trails to choose from – ranging from easy walks that are suitable for all fitness levels, to more challenging routes that will test your endurance.
And if hiking isn't your thing, the nearby country towns also offer family-friendly experiences like horse riding or boating.
No trip to the Pyrenees would be complete without a visit to one of its many thermal baths; after all, what could be better than soaking in a natural hot spring while surrounded by some of the most stunning scenery in Spain?
Keep in mind: while there are several different ways to explore the mountains, one of the most popular is taking the Little Yellow Train of the Pyrenees. Accessible from Barcelona, and running from Villefranche de Conflent to Latour de Carol near the Spanish town of Puigcerda, this historic and picturesque train journey is an experience in itself.
51 – Spend an afternoon aboard a sailboat!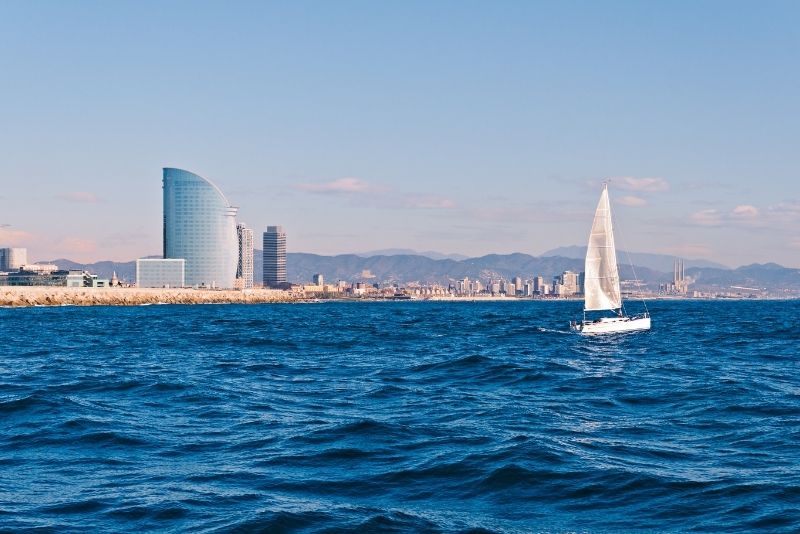 Ditch the road traffic; see the sights from a different perspective with a cruise along the remarkable Barcelona coastline!
As you kick back on the bow of the boat with the Mediterranean sun on your face, you'll get to enjoy unobstructed views of some of Barcelona's most impressive architecture from afar, admiring the stark contrasts between the old and new that make this city so unique.
Tours can be arranged for small or large groups at sunset or sunrise, and often include live entertainment, free-flowing cocktails, or a belly-stuffing buffet, depending on which cruise you choose. If you like a little bit of music with your sailing, there are some great jazz cruises available!
As your catamaran navigates the seas, you'll get treated to a phenomenal performance of live music, courtesy of some of the best performers in town.
Timeless tunes and gorgeous views of the skyline make for an unforgettable afternoon out! And if you're more of a night owl, try the evening cruise, which comes with an extra benefit: a beautiful sunset!
52 – Scream and laugh on a banana boat ride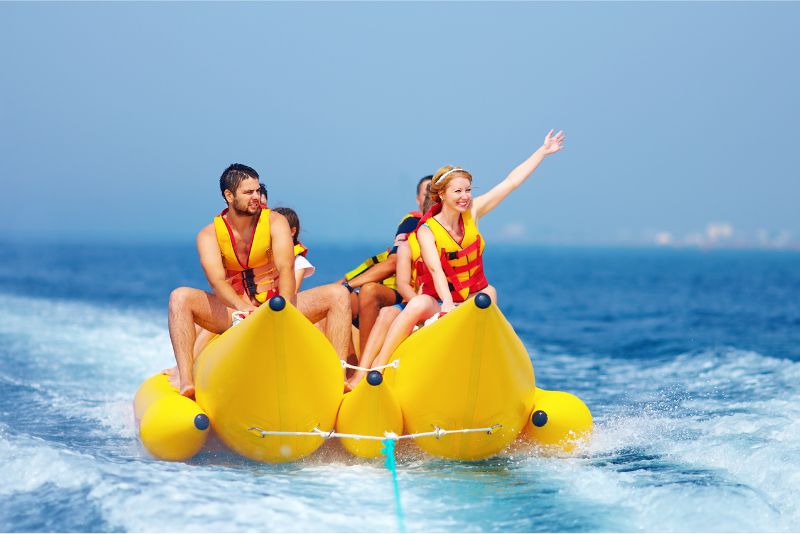 Share an exciting experience with your family and friends aboard an inflatable banana-shaped boat in Barcelona! Hold on tight with each other, as you glide across the sparkling waters of the Mediterranean Sea.
Expect screams of joy and laughter, with an overall sense of adventure, in this thrilling ride as you bounce over the waves. Barcelona's warm climate and striking coastline provide an ideal setting for this water activity.
53 – Saddle up for an outdoor horse-riding adventure!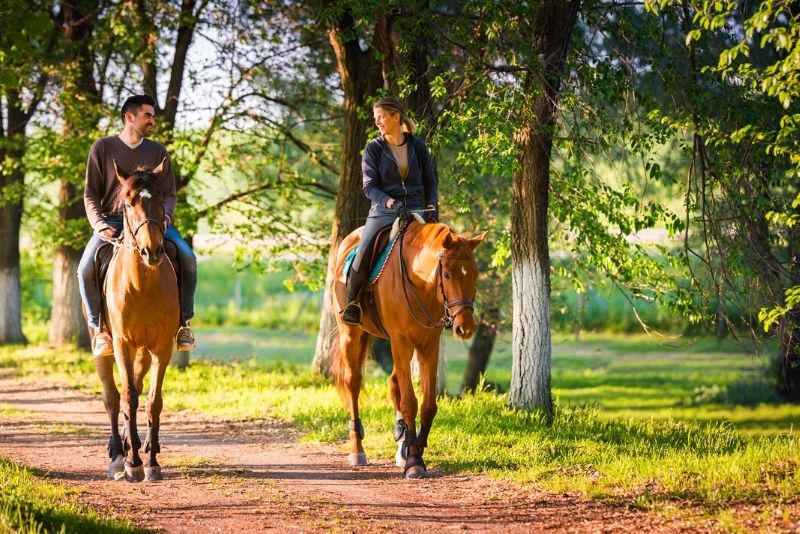 Catalonia is home to an infinite list of parklands, so why not explore them the way our ancestors did by going horseback riding?
Experienced instructors lead guests through some of the most breathtaking scenery in the region, with tours trekking through places like Montserrat, the Natural Park of Montseny, and the Penedes vineyards — each delivering its own unique escape from the hustle and bustle of city life.
If you prefer to stay local, Collserola, the largest green space in metropolitan Barcelona, also welcomes its fair share of hoofed visitors. The park is massive, with dozens of kilometers of trails to explore, so it's best to go with a guide who knows the terrain like the back of their hand. However you choose to do it, horseback riding in Barcelona is an unforgettable way to connect with nature and feel like a true cowboy (or cowgirl!).
Even if you've never so much as ridden a pony, no experience is needed, making horseback adventures (particularly when combined with other activities like an authentic Catalan countryside lunch) a perfect day out for families.
54 – Step inside the historic Barcelona Cathedral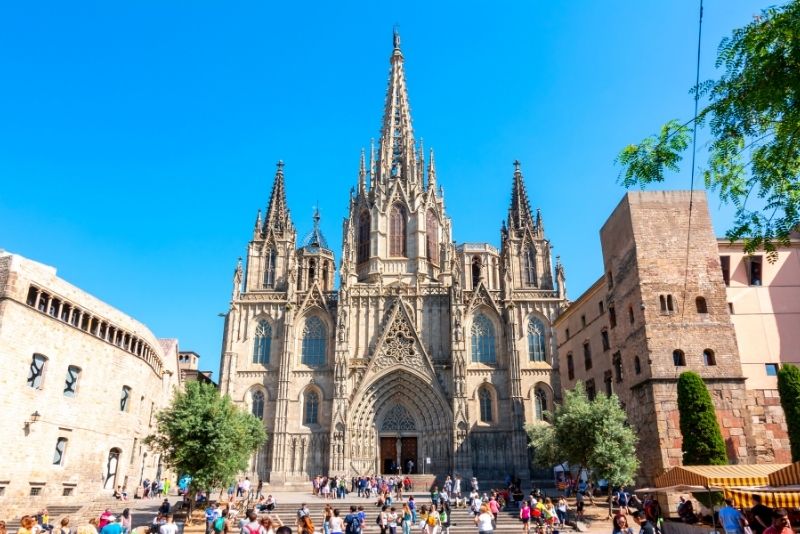 Found smack-bang in the middle of the Gothic Quarter, it should come as no surprise that the beautiful Barcelona Cathedral is a shining beacon of Gothic architecture. Despite being less known than its unfinished (and taller) counterpart, La Sagrada Familia, the cathedral holds its own as a poster child of the Gothic style.
While its spired facade is spectacular, the interior is just as impressive, thanks largely to the 500-year-old stained glass windows. Dating back to the 13th century (and taking about 150 years to actually finish building), a visit here is like taking a step back in time. Inside, you'll find dramatic vaulted ceilings, an abundance of finely detailed sculptures and carvings, and a presence that can only be described as imposing.
Hot tip: Be sure to take the elevator to the roof for a great city view, and for an extra 4 euros, the audio guide provides excellent historical insights.
55 – Meet the kings of the jungle at the Barcelona Zoo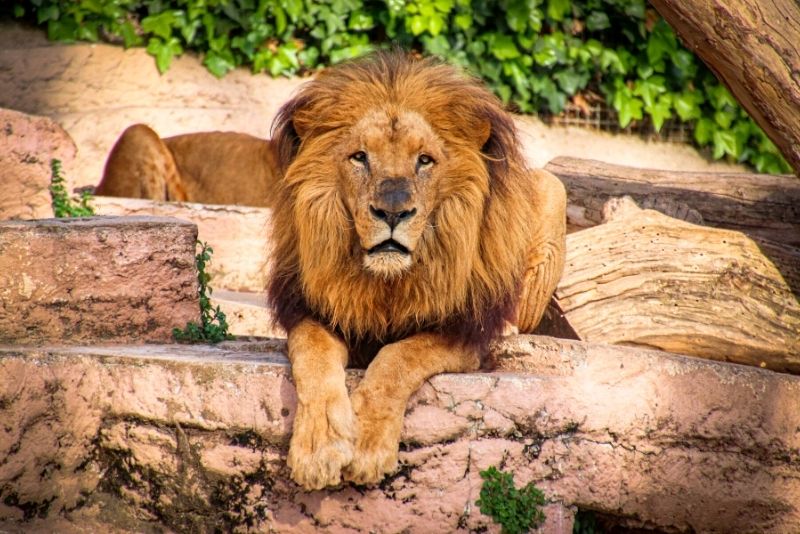 A constant delight for both kids and adults, the Barcelona Zoo in Ciutadella Park is the perfect place to spend the day learning and admiring exotic animals. Within its walls, you'll find over 4000 animals including big cats, birds of prey, ancient reptiles, exciting primates, and so much more.
Spread out over 14 hectares and split into some 11 different areas, the zoo is also home to myriad plant species, a restaurant, a picnic area, and a playground (in front of the Cuban flamingo exhibit)— making it the perfect place to spend a day in Barcelona.
And if you want to get even closer to the animals, there are special keeper talks and VIP encounters available where you can meet giraffes, meet penguins, and tigers!
Hot tip: don't miss the dolphin shows, and after visiting the zoo, Barceloneta Beach is just a stone's throw away.
56 – Soar above the city with a hot air balloon ride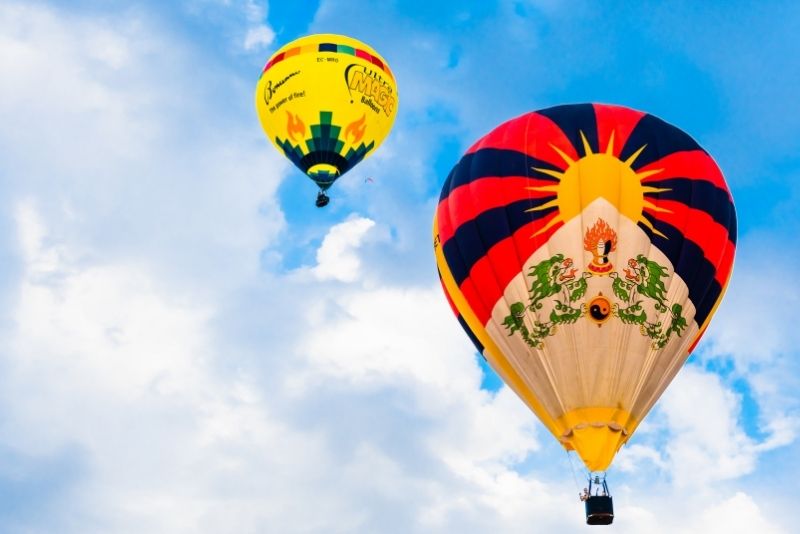 For a photo op unlike any other, a hot air balloon experience — either in a small group or a private booking — dishes up unparalleled views of the rolling valleys, mountain peaks, and shimmering coastline.
With rides typically lasting about an hour, there's plenty of time to pick the brain of your pilot and learn a little more about the area from a local's perspective, with a traditional Catalan breakfast afterward for the cherry on top
If you can brave the early pre-dawn alarm, spectacular sunrise flights operate both near and far from the city. Prefer to stay local? Within an hour's drive is the Natural Park of Montseny (a UNESCO Biosphere Reserve) and the dramatic peaks of Montserrat mountain (with transport included, of course).
Otherwise, a little further from the city are the Pyrenees mountain range, the village of Vic, and the Conca d'Odena – all unique landscapes that you can soar over in a hot air balloon.
57 – Get artsy at BMCA (Barcelona Museum of Contemporary Art)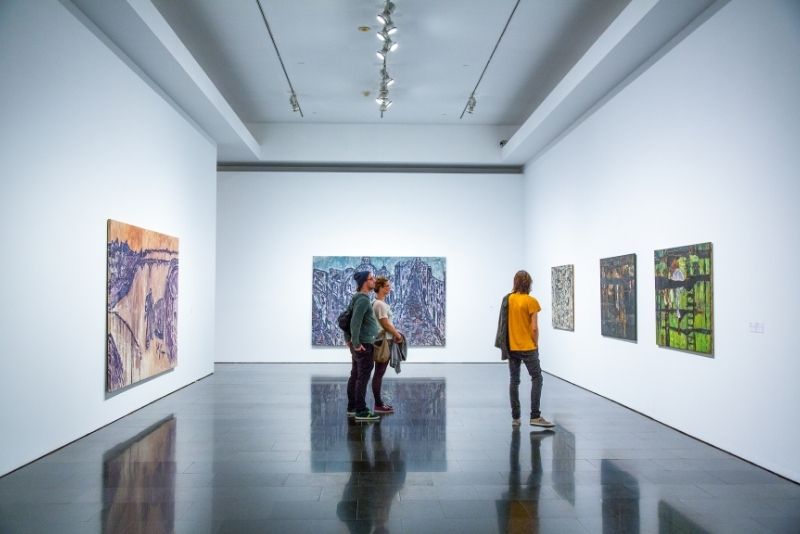 With the greatest collection of contemporary art in all of Barcelona under its roof, BMCA boasts over 3000 different art pieces from the 1920s through to the modern day.
Spend the day letting your mind unscramble the meanings of works by Tàpies and Fontana; marvel at the fantastic (yet often obscure) collections of Saura and Klee, and wrap up the day at a nearby cafe.
Complementing the diverse permanent collection – which spans across 11 different rooms and takes the viewer on a chronological journey starting from the late 1920s – are the regular temporary exhibitions, which cover a broad range of topics and themes ranging from the avant-garde to post-war pieces, modernism, and much more.
The museum is easily reachable by public transport, so there's no excuse not to go and explore one of the most important contemporary art collections in Europe! Perfect for a sizzling summer day when you need some reprieve, the artsy institution is open every day except Tuesday, from 11am to 7.30pm most days with the exception of the weekend (19-8 on Saturday, 10-3 on Sunday).
Hot tip: Admission is free Thursday afternoons from 6.00pm to 9.30pm and on the first Sunday of each month.
58 – Witness the raw passion of Flamenco!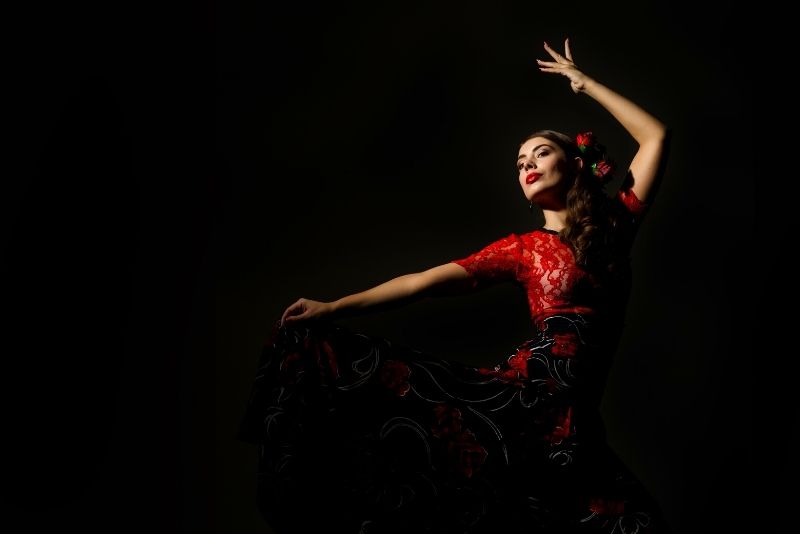 Take a night to revel in some live music, brilliant singing, and energetic dancing — staples of any Flamenco show.
Watch as dancers leave their passion on the stage and see the intricacies of Flamenco dancing to light; meanwhile, sit back with a cocktail (or four) and enjoy the tapas!
Entertainment aside, Flamenco is a beloved tradition drenched in history: The music, dance, and fashion have been passed down from generation to generation for centuries, making it one of the more authentic cultural experiences on offer in Barcelona.
59 – Feel like a giant at Catalonia in Miniature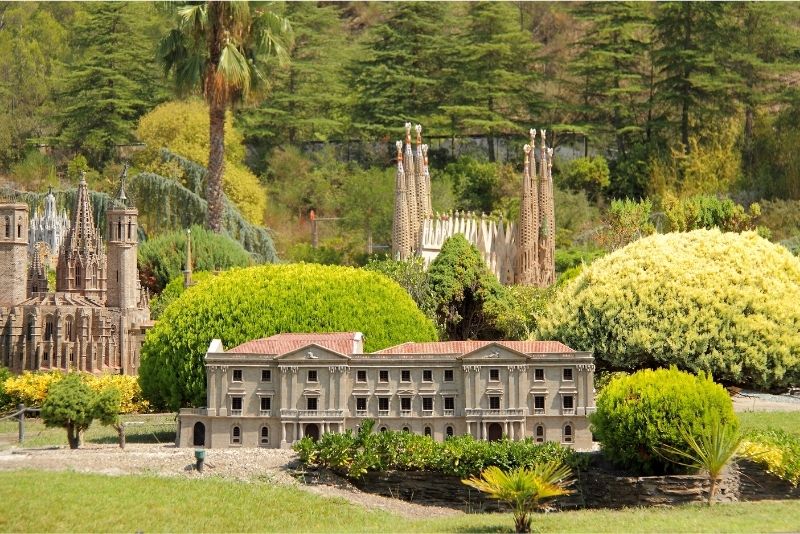 La Sagrada Familia, Parc Guell, and Montserrat are all must-dos when visiting Barcelona… but how nice would it be to walk in between them in a matter of minutes?
At Catalonia in Miniature, you can make that dream a reality, and see plenty of other landmarks along the way!
This delightful little park features 48 1:25 and 1:33 scale models of famous Catalonian buildings, from churches and monuments to daring architectural landmarks.
Best of all, the pieces aren't just limited to Barcelona; you can also see models of the balearic Isles and other parts of the region.
It's the perfect option for architecture buffs and model fans… and anyone wondering how they'll fit all the top attractions into one visit!
60 – Get the best views of Barcelona at hilltop Tibidabo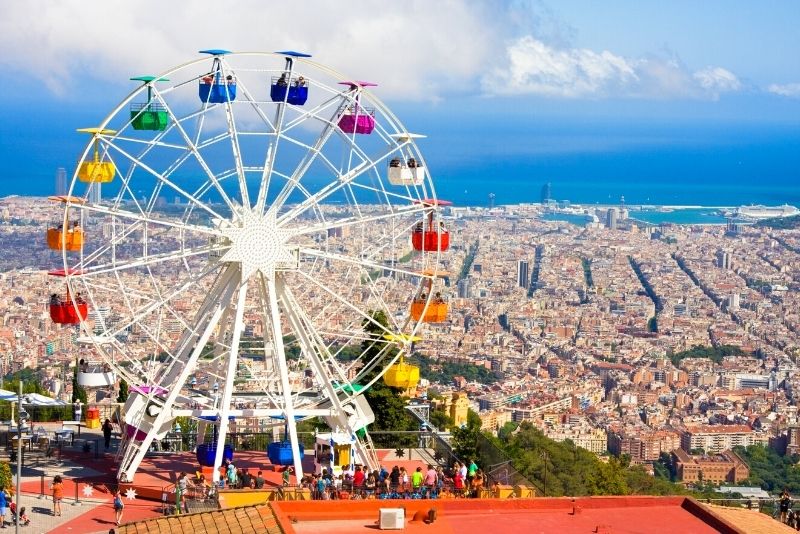 Offering the highest viewpoint in the city at 512 meters above sea level, the Tibidabo mountain (the highest hill in the Serra de Collserola mountain range) is a photographer's paradise — thanks to its location on the outskirts of town, it's one of the best places to get an unobstructed view over Barcelona.
Moreover, at the top, you'll find the vintage Parc d'Atraccions Tibidabo, Spain's oldest amusement park (built in 1899), and the third oldest in Europe, where you can take a spin on a handful of rides old and new — jump on the vintage carousel, pop into the Automaton Museum to uncover some historic treasure, scream your way through The Big Lever, or simply enjoy the stellar views from the Giradabo Ferris wheel.
Don't forget to check out the fairytale-esque Sagrat Cor church, and if you're feeling up for it, walk the whole way up — it takes around an hour.
61 – Cross the border to underrated Andorra!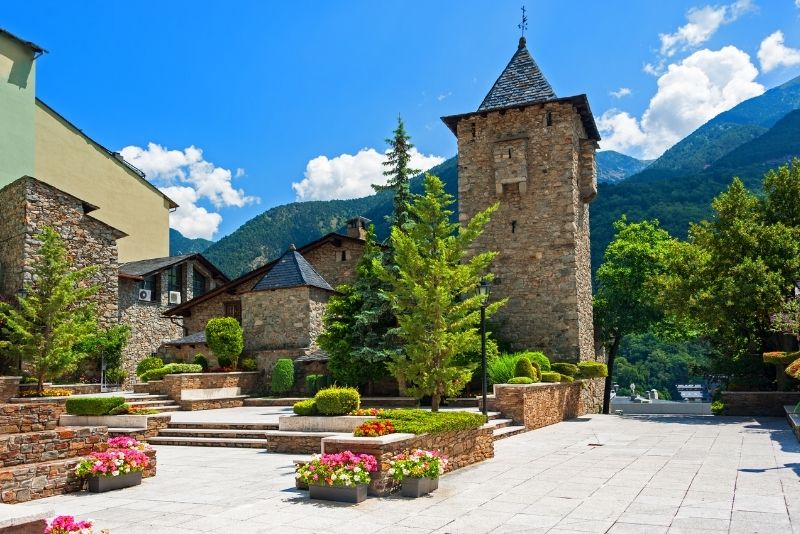 The independent nation of Andorra — nestled between France and Spain in the Pyrenees mountains — might be tiny, but with its endless valleys and stunning architecture, it's as beautiful and as charming as any! Small enough to see in a day but with enough to do to warrant an overnight stay, it's the perfect place for a quick getaway.
Full of unique beauty and historic charm, there are four main towns in Andorra — Andorra La Vella, Escaldes-Engordany, Encamp, and La Massana — that offer a variety of activities and sights.
In the mountain resort of Andorra La Vella, check out the historic La Casa de la Vall and stroll through the Plaça del Poble. In Escaldes-Engordany, you'll find the Caldea Spa Complex, where you can enjoy a day of thermal relaxation with great views of the mountains.
In Encamp, visit the Museum of Electricity or Museum of Automobiles for two very different history lessons, or take a cable car up to the top of the Funicamp for incredible views. And in La Massana, go hiking or mountain biking in the nature parks, or visit the Església de Sant Cristòfol d'Anyós Church.
And, during winter, Andorra is transformed into a winter wonderland, making it the perfect place to go skiing or snowboarding!
Since its border is so close to Barcelona, it makes for an easy (and well-worthwhile) detour for travelers. Day trip tours are aplenty, conveniently transporting you to and from the Catalonian capital. Just remember to bring your passport!
62 – Venture into a medieval castle at Torre Bellesguard!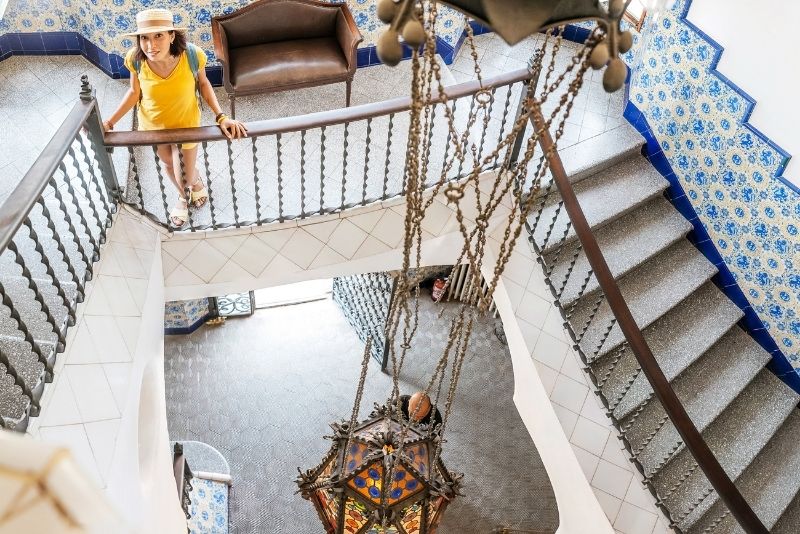 Another famous landmark designed by — yep, you guessed it — Antoni Gaudi, this
early-20th-century castle promises some of the best views of Barcelona. Known for its fusion of medieval and modern architecture, the castle was inspired by the former medieval home of the Catalan king, Martin the Humane.
While you're here, make sure to check out the interior too, where you can learn all about the history and architecture of this intriguing building through an audio guide (available in several languages).
As you step inside, the hall of bricks and the smoking room are stunning, while first-time visitors are encouraged to explore the luscious gardens surrounding it as well.
Situated in the wealthy Sarrià-Sant Gervasi district of Barcelona, getting to Bellesguard is easy — just jump on the metro and get off at Buenas Migas, then it's just a short 10-to-15-minute walk to the castle.
63 – Crack the code in an escape room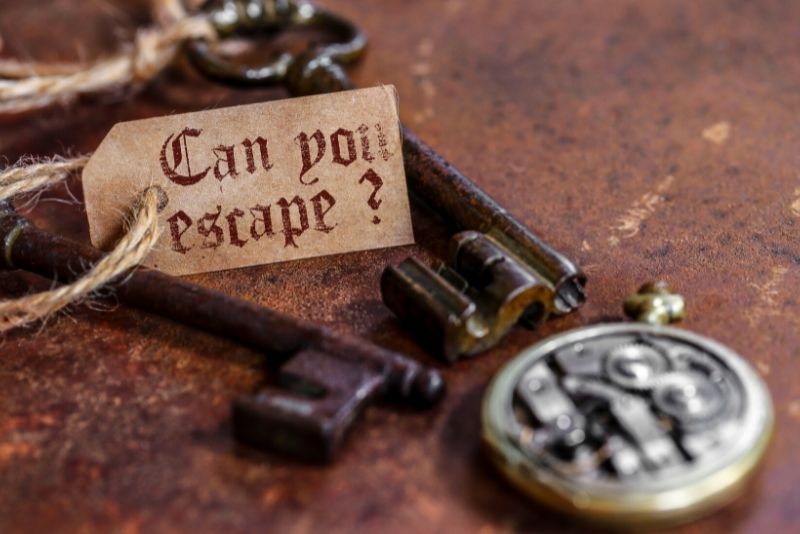 Calling any Sherlock Holmes in the making!
Escape rooms have become exceedingly popular in recent years, so why not try the exciting escape rooms in Barcelona?
A wide selection of centers offers many different themes, including the monastery escape, murder house who-dun-it, sailing challenge, art heist, and more.
With just 60 minutes in the clock, you'll need to muster up all of your wit, teamwork, problem-solving, and outside-of-the-box thinking if you want to crack the code before time runs out.
So grab your friends, put your detective skills to the test, and see who can crack the clues the fastest.
64 – Discover the stories of the Jewish Quarter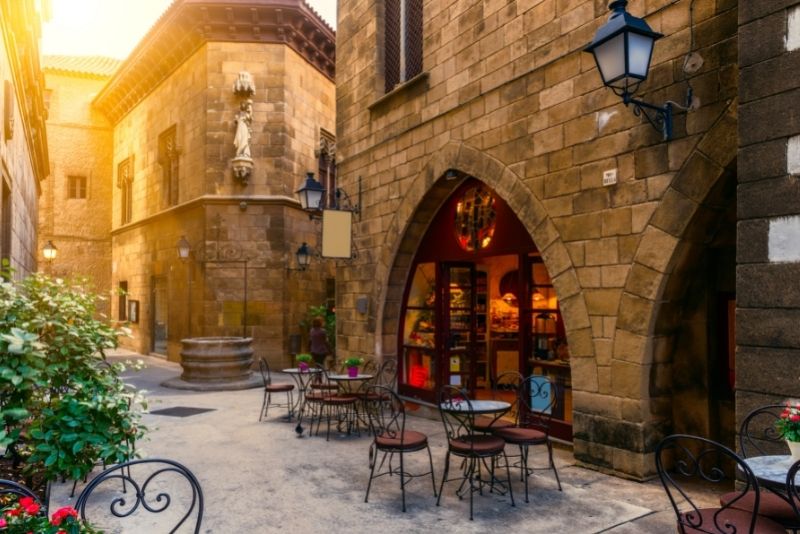 Barcelona was once home to one of Europe's largest Jewish communities and so much of that history — through buildings, synagogues, cemeteries, shops, and restaurants — still stands in the middle of the city, teeming with stories to be told.
The most educational and entertaining way to soak up the area's atmosphere and history is on a walking tour with a knowledgeable guide.
On this tour, you'll wander around the stunning stress of El Call, the former Jewish ghetto, see the oldest synagogue in Spain (the Sinagoga Mayor Barcelona, which now houses a museum), the Old Synagogue (Shlomo Ben Adret), a medieval Mikve, and hear stories of the Inquisition and how the city's transformed over bygone centuries.
After ticking off a walking tour, consider a trip out to the Medieval town of Girona, another area with significant Jewish heritage.
65 – Go on a discounted shopping spree at Roca Village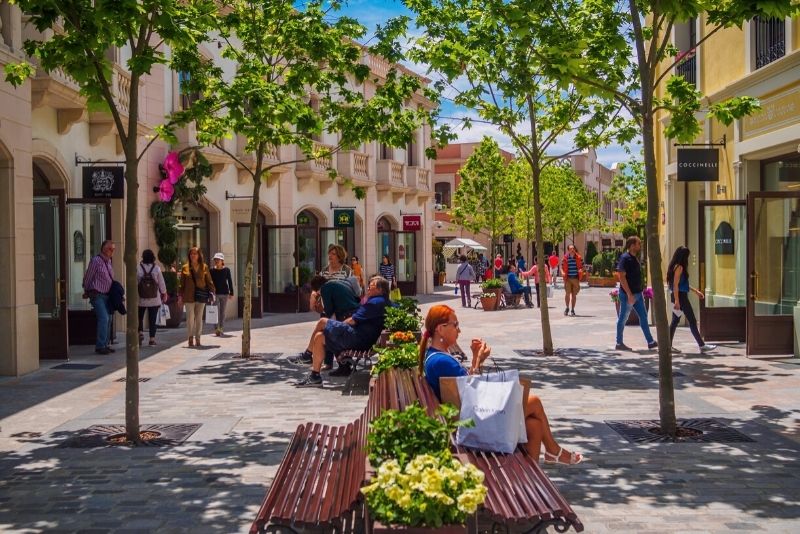 Shopaholics, listen up! Over 100 luxury brand name stores, as well as plenty of restaurants, line this ever-popular shopping complex, so it's no wonder that it's popular with both the tourists and the locals.
With big name brands like Nike, Michael Kors, Gucci, and Calvin Klein all in one charming open-air shopping mall. Plus, with several favorites like Mango, Zara, and Desigual discounted up to 60% of RRP, you're sure to find what you're looking for (and then some).
Because it's such a large complex, promotions and live entertainment are regular occurrences — the best way to scope it all out, of course, is with a locally-led shopping tour with your very own chauffeur!
Roca Village is located just outside of Barcelona in the town of Santa Agnès de Malanyanes, and can be easily reached by car or bus. If you'd rather not battle with the Barcelona traffic, there are also plenty of tour options that will whisk you out here from your Barcelona hotel for a day of maxing out the credit card.
66 – Adventure through Montnegre Natural Park on a quad or buggy tours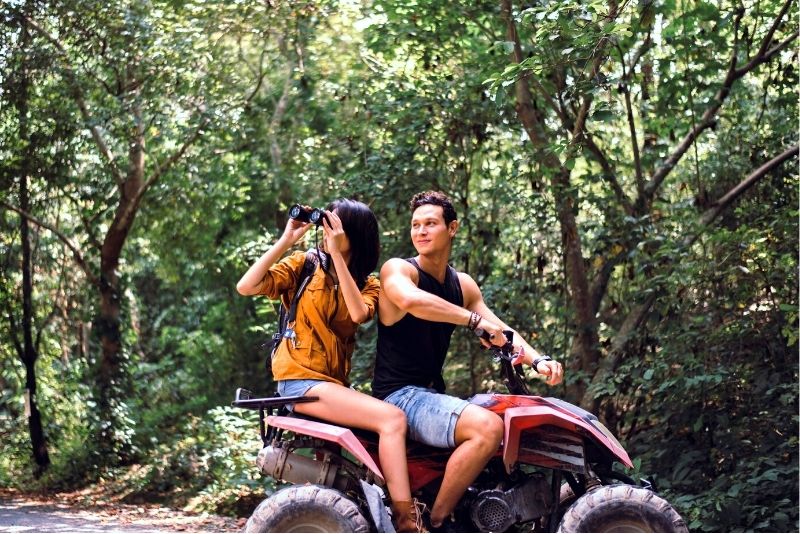 Just an hour from the bustling city, you'll find yourself in a natural oasis: Montnegre Natural Park. This splendid land is packed with history, culture, and ecological gems, with human habitation stretching back thousands of years.
Indeed, a trip to this forested oasis is like a walk through the region's whole history, from Neolithic settlements to religious buildings from the medieval era. Along with some wonderfully preserved ruins, you can also explore the lush terrain, keeping an eye out for birds and other wildlife.
ATV tours are a perfect way to see the space; guide your awesome quad through the off-road trails and wild spaces, all in an eco-friendly manner. There are also plenty of excellent buggy tours across the same terrain, where you can take your off-roading to the next level!
67 – Take the kids to the Illa Fantasia water park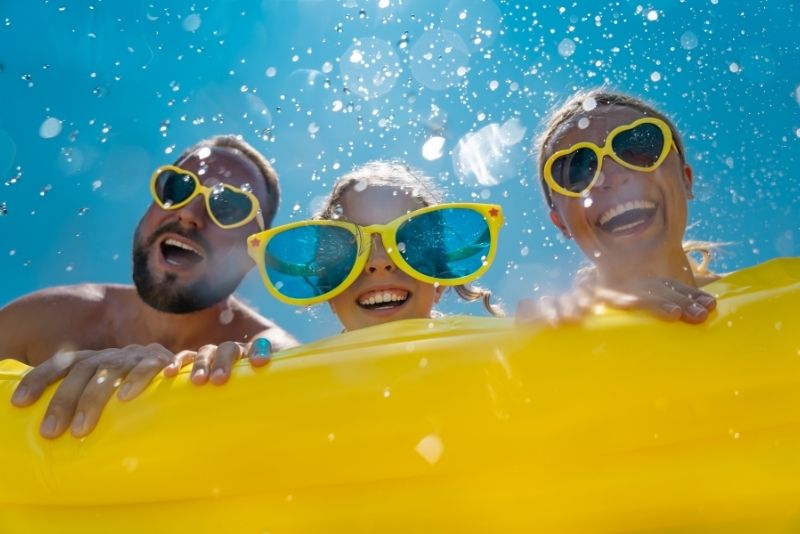 Found in the wonderful seaside town of Vilassar de Dalt, about 30 minutes outside of Barcelona, Illa Fantasia is the perfect place to cool down on a hot day.
With more than 22 different waterslides, 3 pools (including a wave pool), an aqua tower with slides and chutes, and even activities such as mini-golf and the pirate ship for those wanting to stay dry, not to mention a large picnic area and 9 different kinds of restaurants! there's something for everyone at this family-adored water park
While a pre-organized tour is the simplest option, you can also hop on the train to Premia de Mar train station where a free shuttle bus service awaits.
Keep in mind: as you might expect, it's only open in the summer months.
68 – Satisfy your sweet tooth at the Chocolate Museum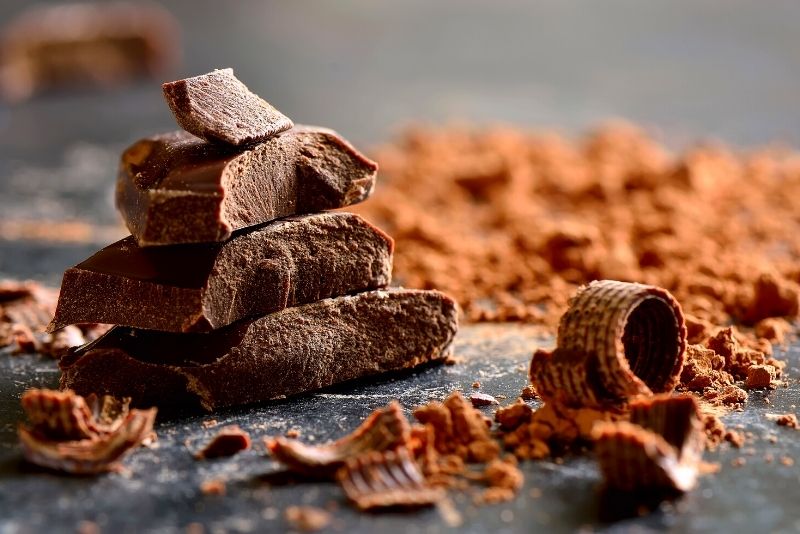 For anyone with an insatiable appetite for sweets, if you're looking for things to do in Barcelona then the chocolate museum is an absolute must!
With a block of chocolate in hand, you'll not only get to stuff your face, but also see how the history of this sweet treat shaped the social and economic growth of Barcelona. The mouth-watering museum is found in the old monastery of Sant Agustí, in the Gothic Quarter, and documents the origins of chocolate all the way back to the Aztecs.
You'll get to see how it was originally made, as well as how production methods have changed over time, before indulging in a delicious hot chocolate at the cafe. With tastings and workshops (like learning how to make sculptures from chocolate) also on offer, this is one museum that's sure to leave you with a smile (and some crumbs) on your face.
69 – Pay a visit to the Maritime Museum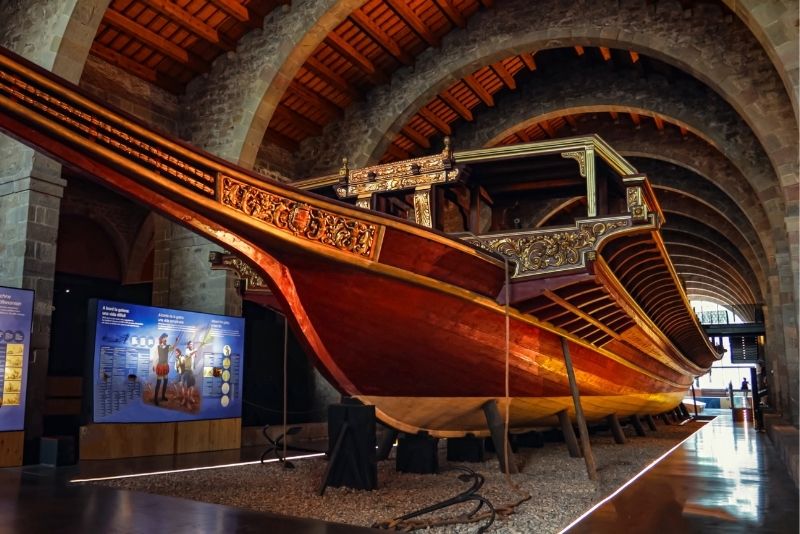 Sitting inside the Barcelona Royal Shipyard (which is over 700 years old), the Maritime Museum delivers an astounding amount of information dedicated to shipbuilding between the 13th and 18th centuries.
With interactive displays, ancient ship models, an audio experience, informative videos, and an impressive collection of maritime paintings and drawings (and models), the museum does an excellent job of transporting visitors back in time and providing insight into an essential part of Catalan history.
And, if you're a fan of boats, be sure to check out the full-size replica of the La Real galley, an enormous vessel that, built in 1568, served as the flagship in the Spanish fleet and was the largest galley of its time.
The Maritime Museum is located in the Barceloneta neighborhood, just a short walk from the Barcelona Aquarium.
70 – Rev the engine on a jet ski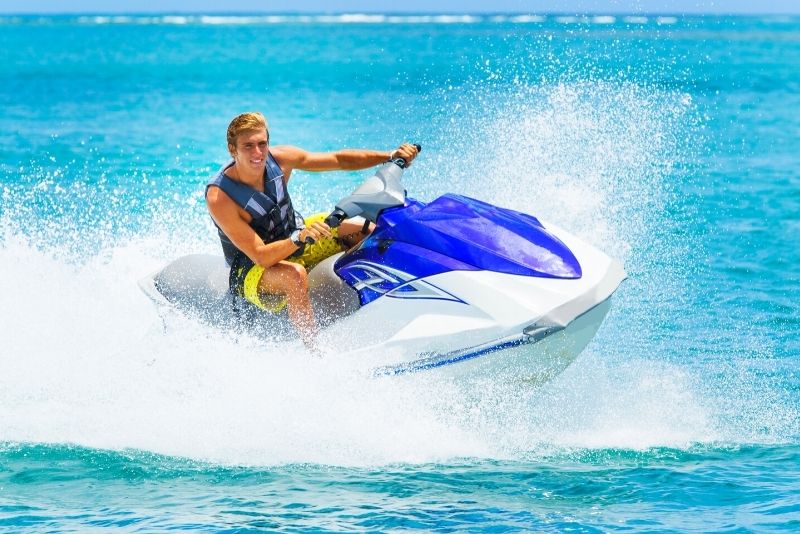 A high-priority activity for the thrillseekers out there, a jet ski ride gives visitors the chance to zoom down the coast of Barcelona at top speed and appreciate the skyline from a new angle.
Most rentals are hourly, all equipment is provided, and even if you're a total newbie, it's completely safe (as long as you stick to the rules, of course), with an experienced instructor keeping watch.
You can snag a heart-racing jet ski at the Forum Port, as well as alternative places like the beachside resort town of Calella (45 minutes north of Barcelona), the lively party city of Sitges (30 mins south), or anywhere along the coastline, for that matter.
71 – Wander around the sprawling Barcelona Egyptian Museum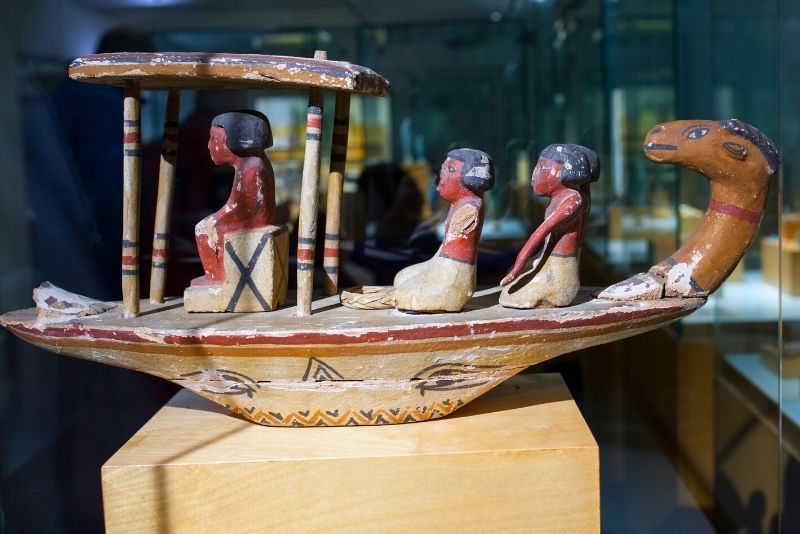 If you are someone who is fascinated by Egyptian history then it's a must-see! Why? Because this 2,000-square-meter facility is home to one of the largest private collections of Egyptian artifacts in all of Europe.
With over 1000 relics in the collection, the jewels, amulets, and mummies are guaranteed to excite and intrigue you!
As you walk through the fascinating displays, you'll discover how Egyptian art and culture have evolved over the changing times. The collection includes pieces from the Pre-Dynastic period all the way through to the Roman era and beyond — making it one of the most complete exhibitions of Egyptian artifacts in Europe.
The Barcelona Egyptian Museum is located just a couple of minutes from the Passeig de Gràci metro, just a short walk from the Gaudi masterpieces Casa Milà and Casa Batlló, making it easy to add on to your itinerary.
72 – Learn a thing or two about science at CosmoCaixa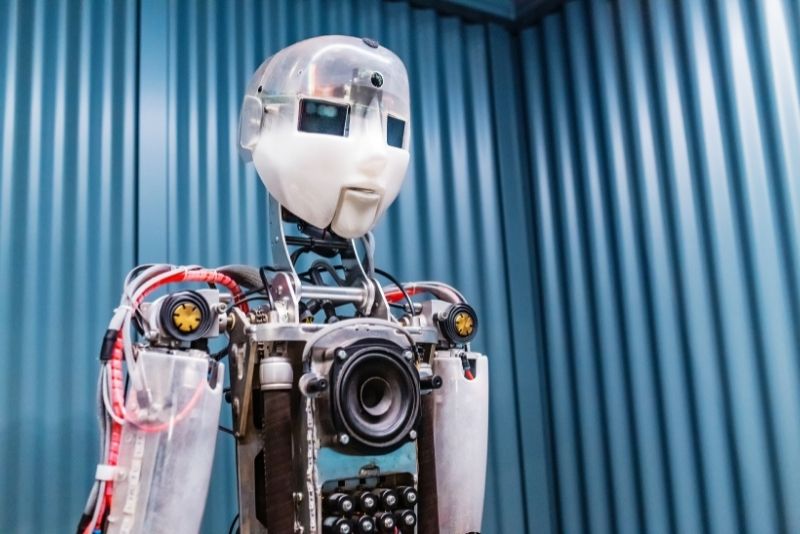 As one of Europe's most renowned museums, the CosmoCaixa science center is an essential Barcelona activity — a perfect option for a rainy day that fuses creativity with interactive learning (plus lightning bolts and a fair chunk of slime!).
Check out the Flooded Forest, an intriguing replica of the Amazon Rainforest (frogs, snakes, steam, and all); be hypnotized by the 40-meter-long pendulum; study the Geological Wall to learn what lies beneath the surface; meet the animal residents Mediterranean animals at Touch, Touch!, and so much more.
With every exhibit in Spanish, French, and English, and more than 30,000 square meters of space, plus a planetarium, bookstore, cafe, and a slew of temporary exhibits (to complement the permanent collection) there is plenty to see and do here.
Hot tip: if traveling with kids in tow, make sure to check out the Clik and Flash and Bubble Planetarium exhibits – the former uses games to encourage learning, while the latter teaches about astronomy to kids between 3 and 8.
73 – Make a splash at Caribe Aquatic Park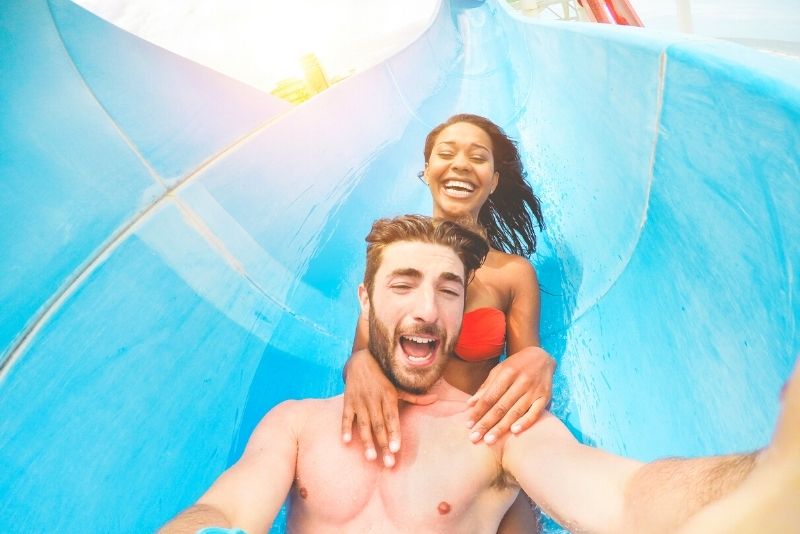 As part of PortAventura, the Caribe Aquatic Park offers a day full of water-themed fun to complement any trip to the larger theme park next door.
While there are more than enough adrenaline-fueled rides (including a whirlpool; a 31m free fall slide, King Khajuna; and the intense El Tifón water slide), if you're after something a little more relaxing, there's also a Jamaican-themed beach that plays reggae music all day long!
Open from late May to early September, the park also has a kids' play area with shallow pools and water cannons, as well as the Reggae Cafe for when you need to refuel.
74 – Delve into Catalonia's outdoor playground on a via ferrata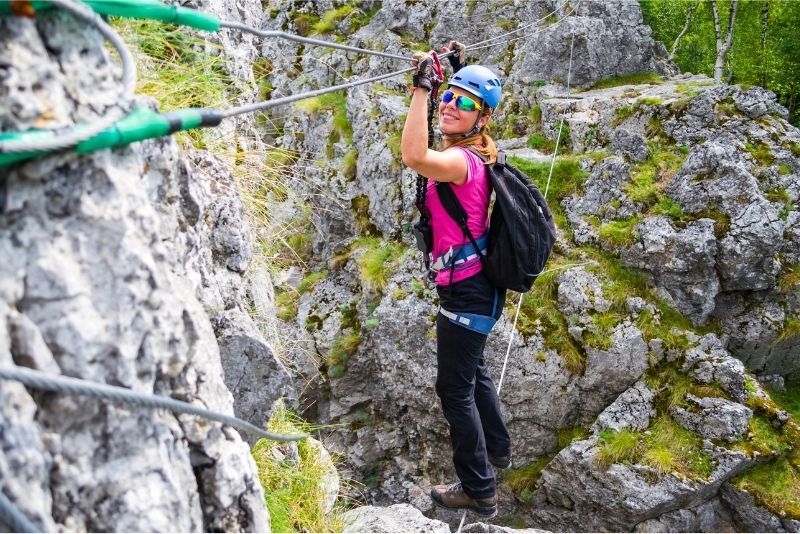 Immerse yourself in the captivating natural beauty and diverse terrains that surround Barcelona on a via ferrata adventure. Via Ferrata Teresina in Montserrat offers thrilling sections and suspended bridges, just an hour away.
Another option is Via Ferrata Les Roques d'Empalomar near Vallcebre, less than 2 hours away. Baumes Corcades via ferrata is Catalonia's most famous, with vertical slopes, waterfalls, and a 70m Tibetan bridge, providing a thrilling 4-hour adventure.
75 – Peer into the paranormal; Explore the darker side of Barcelona with a ghost tour
If you're on the hunt for things to do in Barcelona that are a little obscure, a little peculiar, or, perhaps a little spooky, then allow us to point you in the direction of a Gothic Quarter ghost tour — made all the more creepy under the moonlight.
Most travelers opt for the eerie walking tour that uncovers the secrets of places like the Pont del Bisbe, Mercat de Santa Caterina, Rocafort Metro Station, Gran Teatre del Liceu, Carrer dels Mirallers (said to have hosted exorcisms), and the Mercat de Sant Antoni (built on a site made for executions).
With tales of demonic spirits, public executions, ghost sightings, and even cursed hotels, these nighttime tours which delve into the city's more macabre past can leave quite the impression.
Want to dial your fear factor up a notch? To take our ghost tour to the next level, why not consider an interactive scavenger game?
76 – Explore the oft-taboo at the Hash Marihuana & Hemp Museum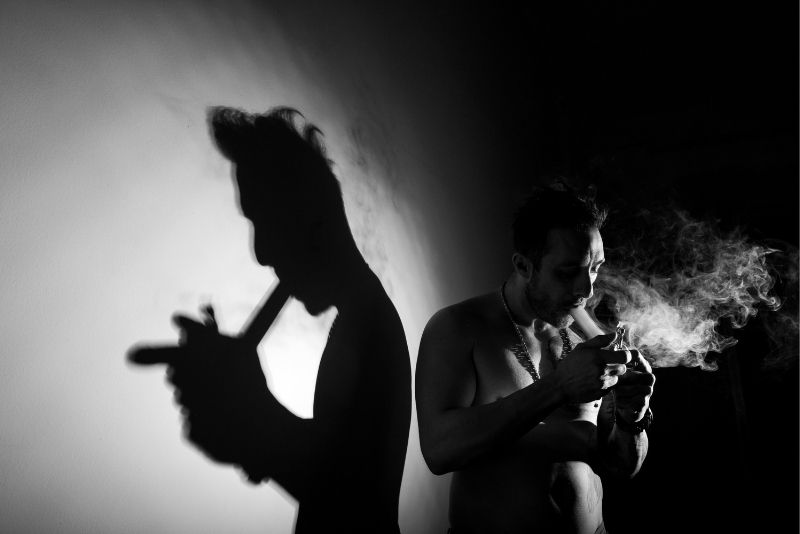 Situated in a former 15th-century palace near the Gothic Quarter, this unique museum dives into a subject that remains touchy to this day: weed. Since opening in the late 1980s it's become an iconic attraction, welcoming over two million visitors who walk away having learned about the cultivation, use, and medical benefits of the famous plant.
With exhibits on the cultivation of hemp (a strain of cannabis with negligible THC content), as well as its wide range of uses from food and clothing, to rope and fuel, the museum does an excellent job of Normalizing hemp and educating visitors about a plant that has been controversially maligned for generations.
You'll find this off-beat attraction just a few minutes from Las Ramblas, and within walking distance of the Barceloneta marina.
Oh, and since you're probably wondering, the oft-taboo plant is decriminalized in Barcelona: consumption is allowed in the privacy of your home but will incur a fine if used in public.
77 – Get classy at the best rooftop bars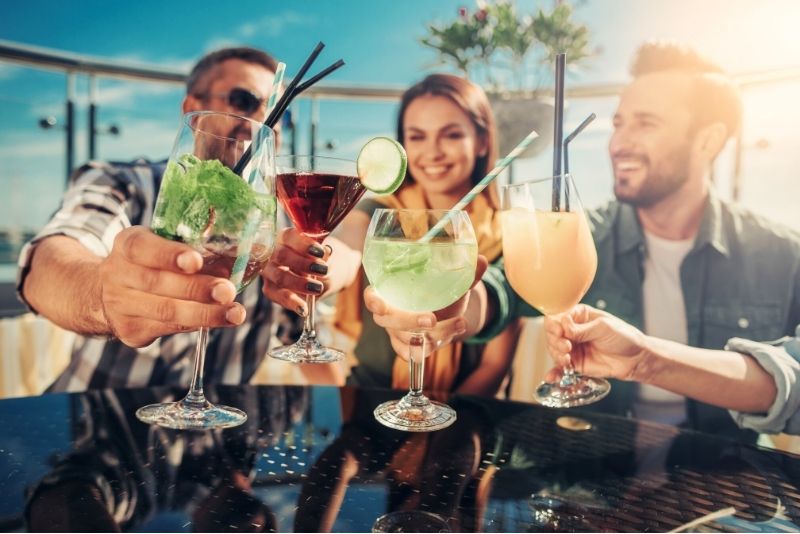 Great weather, marvleous scenery, and memorable drinks and bites… Barcelona was made for rooftop bars! And while there are no wrong choices when it comes to wear you post up for the evening, there are some spots that are particularly excellent.
From the pool and sunbeds to the marvelous cocktail selection, Sky Bar at Grand Central Hotel offers charm in spades. And if variety is your style, head to Arenas de Barcelona Shopping Center's top floor, where you have seven restaurants to choose from, all offering spectacular views.
Eleven BCN Bar & Terrace is perfect for drink aficionados, with its unique selections and renowned gin lineup. And Azimuth Rooftop Bar offers another chance to swim in style, with a beautiful pool that perfectly complements the lounge atmosphere.
78 – Ride in style! Get behind the wheel of a Ferrari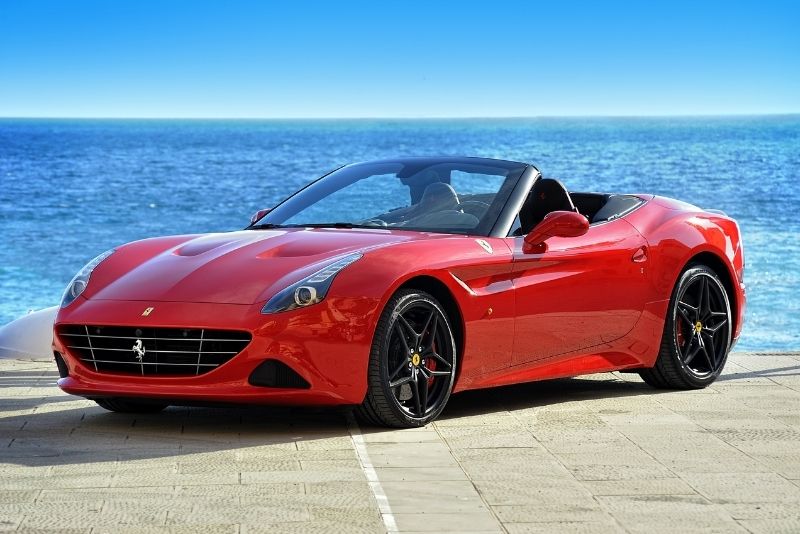 Imagine this: the roof of your very own red Ferrari California is down, the Mediterranean sun is shining, and the ocean scent is wafting through the air.
Well, dream no longer! In Barcelona, getting behind the wheel of a supercar is possible! Depending on your budget and appetite for speed, the supercars can be hired for anywhere between 20 and 90 minutes (and beyond).
For the ultimate day of adventure, consider some of the combination-style activities that also include a jet ski ride, sailboat trip, or scenic helicopter flight.
Hot tip: once you've got the keys, take the coastal southern route, which twists and turns its way through charming villages, secluded coves, and some of the most incredible cliffside views you'll ever see.
79 – Catch an enchanting show at the Liceu Opera Barcelona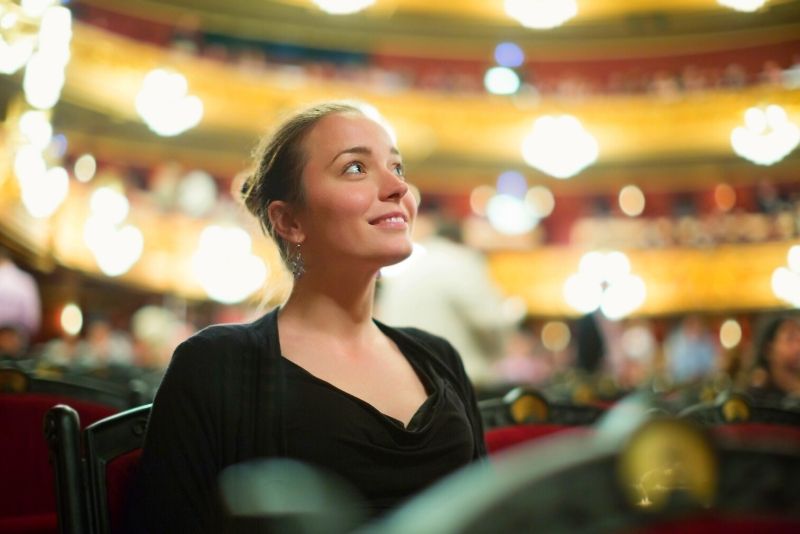 As, remarkably, what is the oldest opera house in all of Europe, The Liceu Opera Barcelona still showcases its original decor, an aesthetic that dates all the way back to 1847!
The nearly-3000-seat opera house has seen some of the biggest names in performing grace its stage, but even if you don't attend a show, the decor itself is worth the visit on its own.
With an expert-led tour, visitors can go backstage and discover the main auditorium, the hall of mirrors, and the private on-site Cercle del Liceu club.
Of course, you'll find no shortage of talent gracing the stage at the Liceu, with regular opera, Zarzuela (Spanish light opera), and ballet performances. Check the schedule in advance to see what's on during your stay! Past performances have included opera renditions of plays like Macbeth, Carmen, and La Bohème.
80 – Step inside Barcelona's football fortress that is Camp Nou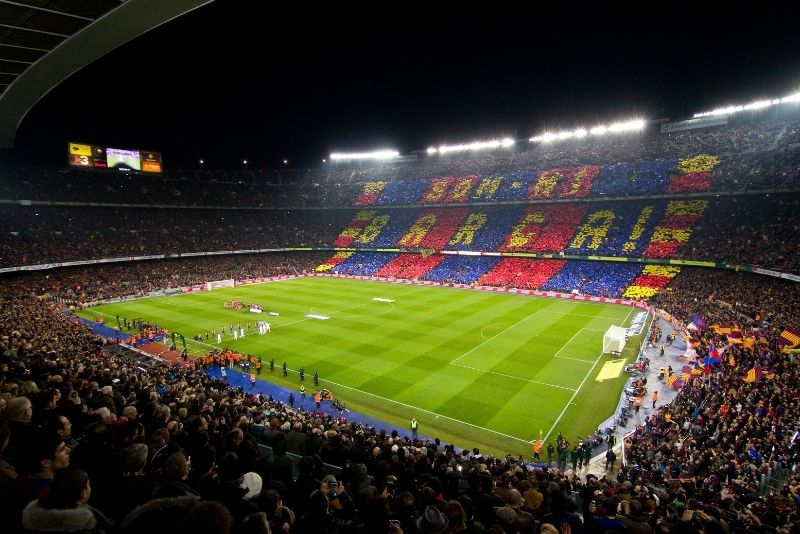 If there's one non-negotiable for football fans, it's a visit to the home of FC Barcelona. At Camp Nou, guests can see first-hand the pitch where legends such as Maradona and Ronaldinho once played.
After seeing Lionel Messi in the flesh in a roaring, packed-out 99,000-seat stadium (one of the biggest in Europe), consider taking your experience to the next level with a guided behind-the-scenes tour with access to the places like the dressing rooms and broadcast booth, as well as the high-tech museum.
Led by a knowledgeable guide, these behind-the-scenes tours are a great way to learn more about one of the most popular sports teams in the world – all wrapped up within about 90 minutes.
And, if you do plan on attending a game, make sure to book in advance and wear the team colors (Blaugrana) to show your support!
81 – Be amazed by the nighly Montjuic Magic Fountain show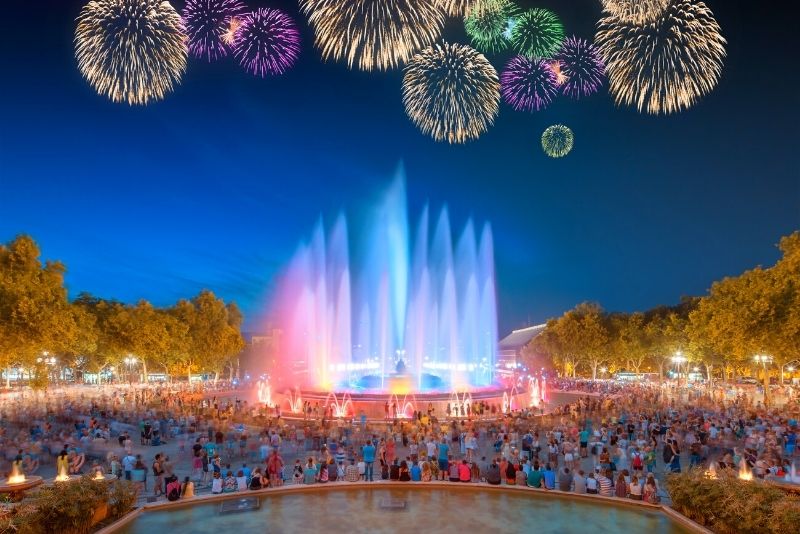 By day, the vibrant streets seldom disappoint with their art and architecture, but at night is when Barcelona really comes alive.
And there's a reason why people say exactly that — that reason is (at least partially) the captivating Montjuic Magic Fountain night show! A stunning performance of water, light, color, and music that transports viewers to another world, the show is an experience everyone should have at least once.
The original show was constructed for an exhibit way back in 1929 and was only meant to be temporary, however, the people of Barcelona loved it so much that it has now become a permanent feature. And, to this day, it beckons some 2.5 million visitors a year.
The best part? It's completely free! The 20-minute shows take place on Wednesdays through to Sundays from 9.30pm to 10.30pm throughout the spring and summer months (with extra dates added during special holidays). Just be sure to arrive early for the best vantage point.
82 – Race against the elite at the interactive Olympic and Sports Museum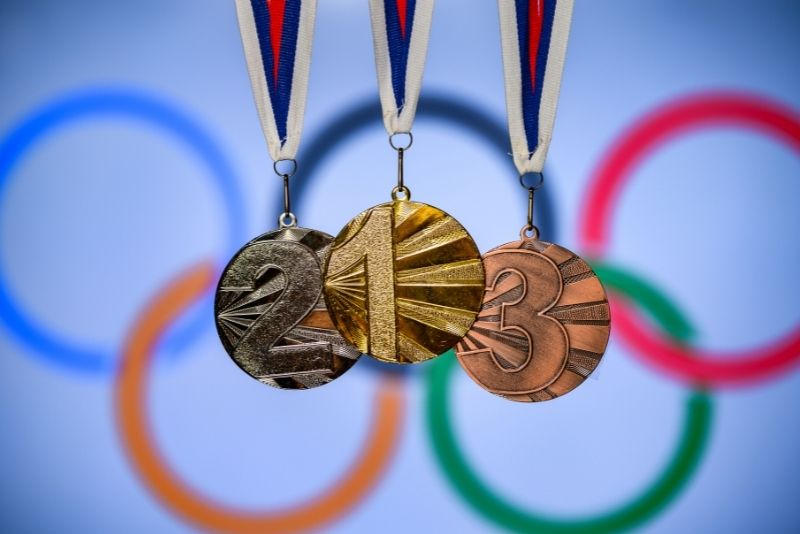 Sitting in the shadow of the Lluís Companys Olympic Stadium, the popular Olympic and Sports Museum brilliantly showcases the unwavering passion that this city has for competitive sport.
While, of course, the museum displays hundreds of artifacts and stories from the 1992 Olympics, it also offers interactive elements, such as the chance to run against American athlete, Carl Lewis.
Despite only opening in 2007, the exhibition covers thousands of years of sporting history, dating back to 776 BC: the year in which the first Olympic Games took place.
The museum's permanent exhibit delves into all previous Olympic hosts (not just Barcelona), so there's plenty to be learned. Sports fanatics, make sure to watch the film about Barcelona as a sports city, and add this one to the bucket list!
Tucked away on the top of Montjuic Park, this is one for those who love to be active and outdoors.
83 – Get a new perspective with a helicopter tour!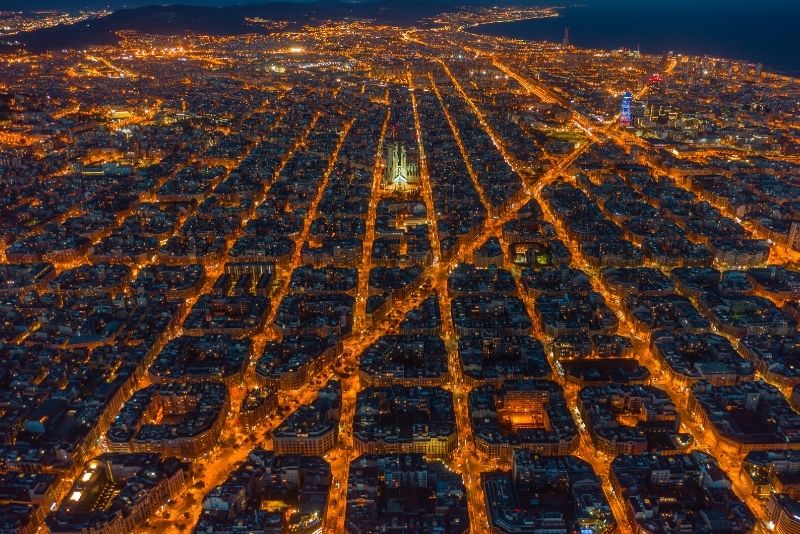 From street level, enchanting Barcelona appears to be a medieval city frozen in time. But take to the skies in a helicopter and you'll see just how much this place has changed — and continues to change — with modern architecture dotting the landscape as far as the eye can see.
Ascend above some of Europe's most incredible buildings, including Antoni Gaudi's La Sagrada Familia, the towering Agbar Tower, the Olympic Ring, and the array of fishing boats bobbing along the coastline. Then, enjoy a bird's eye view of the idyllic Catalan countryside as you make your way to the coast for unbeatable views of the Mediterranean Sea.
What sets this locality apart from most is that it portrays a near-perfect study in symmetry, with long avenues and neat rows of identical buildings arranged in a convenient grid system. From above, it's even more special, looking almost like a piece of abstract art come to life.
Hot tip: To appreciate the city from a range of perspectives, combine the flight with a Ferrari rental or sailing trip (the combination experiences are cheaper than individual bookings).
Read more about the best helicopter tours in Barcelona.
84 – Party the day away at the elegant W Hotel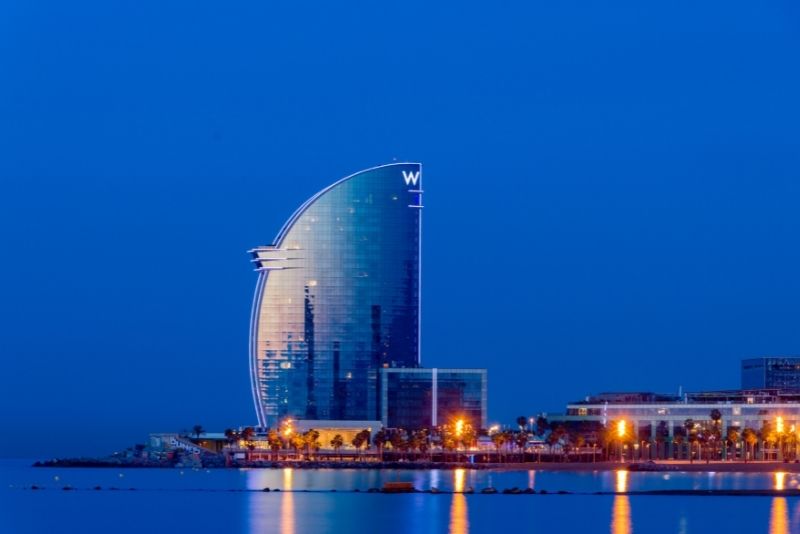 Barcelona has a festive reputation that precedes it, so why not embrace its wild side?
Listen to the renowned DJs spin the tunes, dig into mouthwatering tapas, take a dip in the pool, and down more cervezas than you can count, all at the W Hotel's esteemed Wet Deck Beach Club.
A 5-star hotel sitting at the southern end of San Sebastian Beach, the W Hotel is a magnet for luxury-seeking visitors (for its opulent rooms) and voyaging partygoers (for its energetic beach club). So if you're looking for something lively, trendy, and peppered with plenty of sophistication, with excellent food, beachside views, and pools and cabanas aplenty, then the W is where it's at.
For a change of scenery, the Eclipse Barcelona rooftop bar is equally spectacular, with stunning views that make the hand-crafted Negronis go down even smoother.
85 – Head out to the open waters for a fishing trip!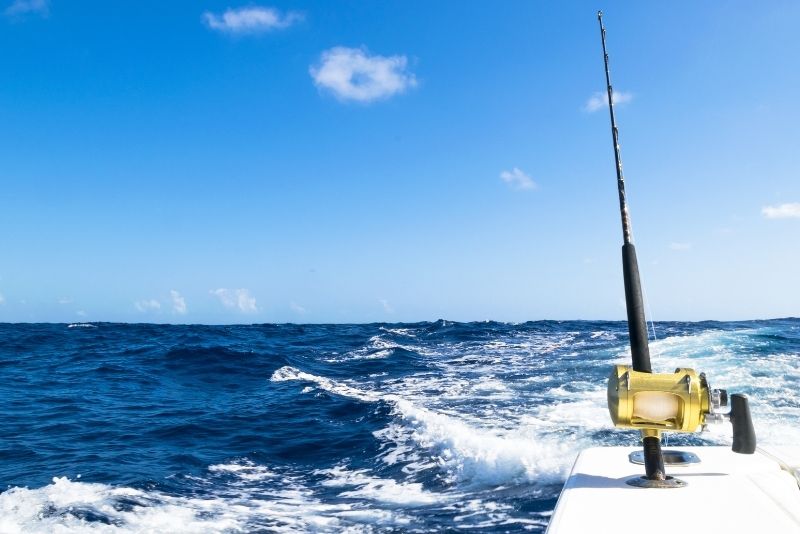 Whether you're a seasoned pro or a total novice, with an expert captain on board your boat, reeling in a bucketful of fish is all but guaranteed.
Snapper, serrano, and tuna are common in the area and, if you're lucky, you might even catch a swordfish or imperial needlefish!
Tours take into account motorboat rental, a private guide/captain, equipment, and food (for the fish, and a proper meal for you), making for an enjoyable, hassle-free day on the water.
Adventures typically depart from Sant Adrià de Besòs and last anywhere between 4 and 8 hours, with shorter trips better suited for those with less experience.
86 – Make your way to the scenic seaside town of Sitges (for a hike)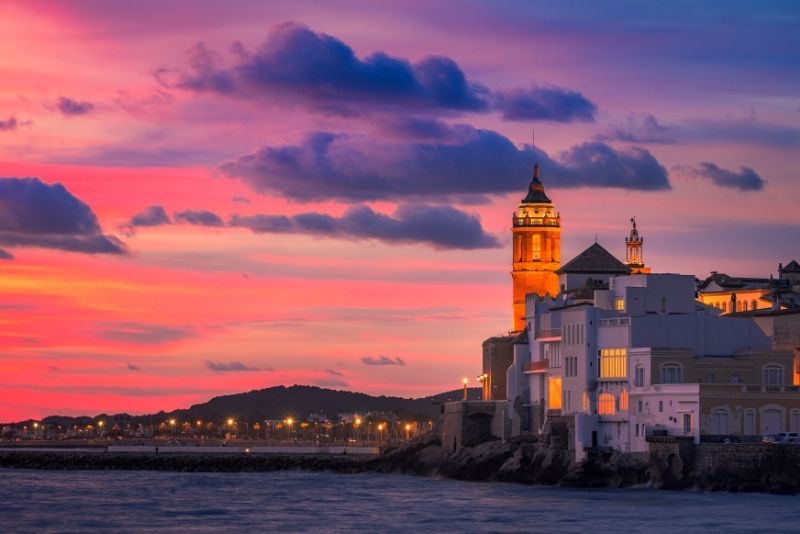 If you're after a break from the busy Barca streets, look no further. The seafront city of Sitges is a traditional fisherman's town blessed with a modern, bohemian charm. About 35 kilometers outside of Barcelona, this hidden gem is famous for its 17th-century architecture, quaint Mediterranean streets, and bubbling nightlife scene.
The best way to see it all is by foot; strolling through the narrow alleys you'll find hidden plazas, colorful murals, and secret staircases that lead to breathtaking panoramic views from the rocky cliffs with the crashing waves below, with local boutiques, live music, and street artists popping up around many a corner.
Make your way to the seafront promenade for a cooling swim, or stop by one of the many beach bars lining the shore (i.e. Crol Beach Bar). In the evening, grab a table at one of Sitges' outdoor restaurants (Restaurante Costa Dorada and Vivero are both top choices) and enjoy the sunset.
Whether you join a hassle-free tour that transports you to and from Barcelona, or prefer to venture solo, as a city renowned for its artistic community, the Cau Ferrat Museum and Maricel Museum should be high on the list.
Some day trips also mention Tarragona.
87 – Stop for a cold drink at Icebar Barcelona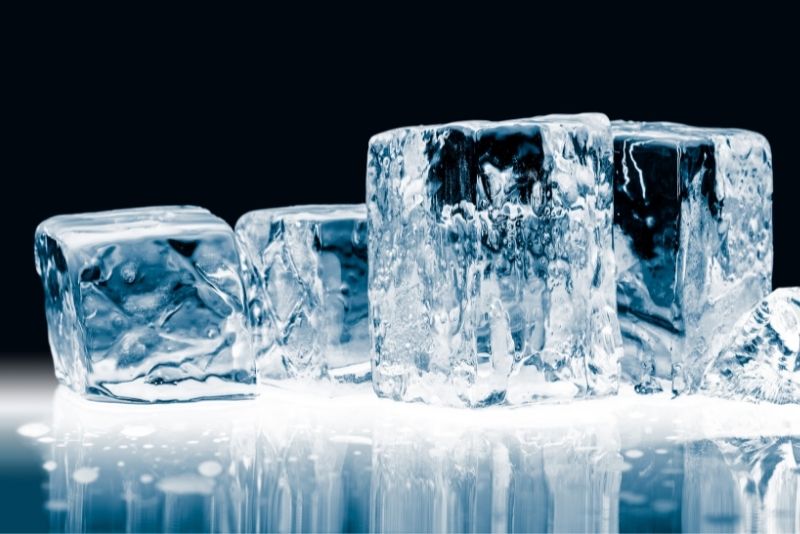 Looking for ways to cool down after a hot day at the beach? Then the Icebar is just what the doctor ordered! True to its name, Icebar offers guests a completely new drinking experience, with the temperature inside a bone-chilling -5 degrees celsius.
Besides the ice bar, ice sculptures made by local artists line the room — it's a great way to grab a drink and try something new.
This chilly watering hole is located smack-bang on the sands of Barceloneta beach, just a short walk from some of the beachside suburb's most popular restaurants and bars, making for a great way to break up any sizzling summer's day.
88 – Take a dramatic bungee leap of faith!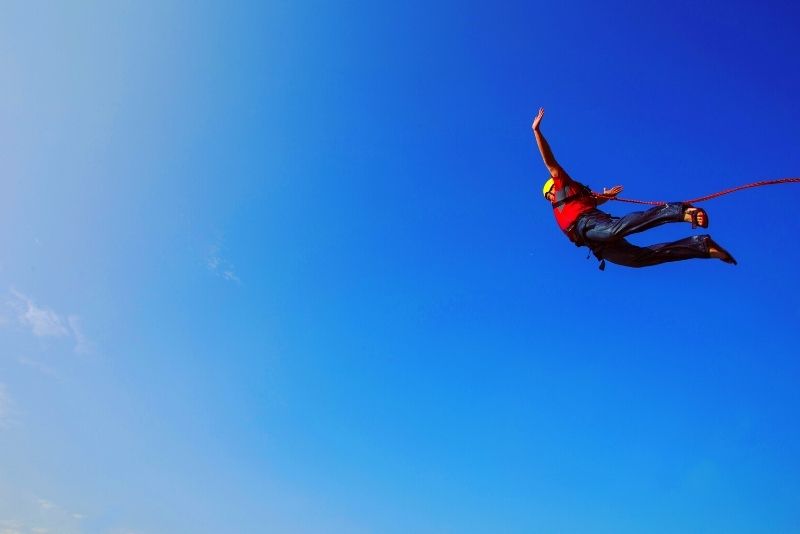 Adreniline junkies, take note. Is bungee jumping on your bucket list? Then why not do it in beautiful Barcelona!
At the Sant Sadurní d'Anoia bridge, located about 50km out of Barcelona, a 25-meter death-defying drop awaits. After you're securely harnessed, it's time to take the plunge into the unknown.
But don't worry, you're in good hands — the team behind this operation has been running successful bungee jumping excursions for years and will make sure you're kitted out with all the right gear.
And if you're not feeling so brave, you can always watch from the sidelines as your friends and family take the plunge.
Craving more thrills? The highest bungee jump in Spain (70m) is in Lloret de Mar, in Costa Brava (an hour's drive north), where a 5-second freefall awaits.
Warning: this is only for travelers with nerves of steel.
89 – Step back in time with a Requesens Palace Medieval Show dinner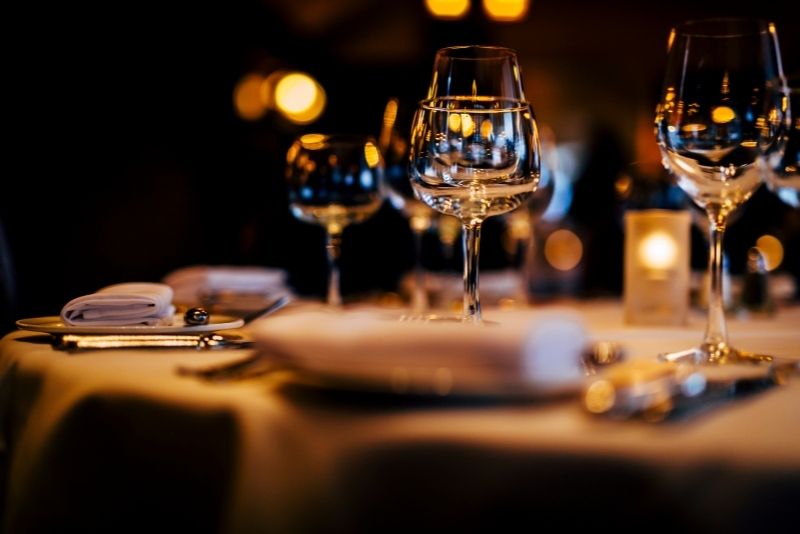 Thought to date back to the 14th century (making it the oldest historical building in the city), with its historic touches and medieval architecture still firmly on display, The Requesens Palace is one of the largest Medieval palaces in all of Europe.
And what better way to experience the grandeur of this historic building than with a dinner and show?
Set in the heart of the Gothic Quarter and open to the public, the Requesens Palace is now home to a range of cultural events, including this one-of-a-kind Medieval Show. Guests can sit and indulge in a 4-course feast inspired by meals of the era, take a tour of the castle, and enjoy an entertaining medieval show — all combined, it's an unbeatable night out.
90 – Let your hair down with a boozy pub crawl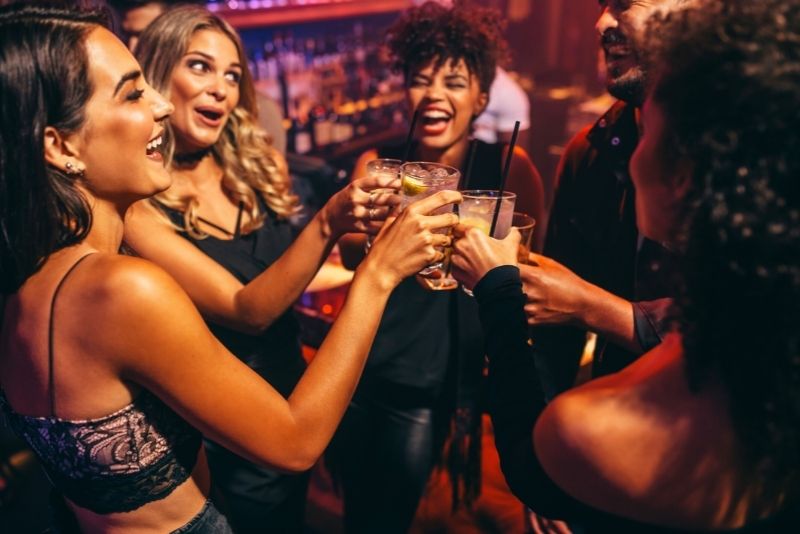 An undisputed great way to break the ice, mingle with the locals, and discover all the local hotspots, the best nightlife in Barcelona is on offer with a locally-guided pub crawl.
If you're traveling solo or with a couple of friends who like to party, and you're on the hunt for fun things to do in Barcelona that involve plenty of sangria or cava, then a pub crawl is a night of debauchery you won't (or might) forget.
While each crawl has its own flair and list of hit-up bars, you can generally expect a group of around 15 people, free shots, occasional open bars, icebreaker games, the chance to mingle with fellow thirsty out-of-towners, and entrance fees to some of the most popular clubs in Barcelona.
How to get to Barcelona?
After just getting off a plane, cramped in a middle seat, there's nothing worse than trying to find your way to the bus or train station.
While it might cost an extra couple of euros, a pre-arranged airport transfer takes all of the stress and worry out of arrival.
The friendly driver will take you straight to your hotel and even give you some recommendations along the way!
Where to stay in Barcelona?
Whether you plan on staying in Barri Gòtic (the heart of the action), surrounded by the small-town atmosphere in Gràcia, or by the water at one of many revered resorts, there's ample choice when it comes to accommodation.
For the best deals (sometimes discounted up to 40% off), check out the best hotels in Barcelona.
Fans of Gaudi will adore Ohla Eixample, which is walking distance from Casa Batlló and La Pedrera, and features a Michelin-starred restaurant and a stunning outdoor pool that can be savored in every season.
And at Hotel Casa Elliot, you can head straight out the door to the Metro station, then come back after a day of adventures to enjoy the lounge and library.
Olivia Plaza Hotel is perfect for people seeking everything; it's right near La Rambla and the Gothic Quarter, offering easy access to shops, scenery, and street performances.
And at Praktik Vinoteca, you can enjoy cozy, contemporary surroundings and easy access to hotspots like Paseo de Garcia.
Visiting Barcelona on a budget?
By far the more affordable option if you plan on visiting a few of Barcelona's world-class museums, the Museum Pass grants skip-the-line entry to six different attractions, all for one low price.
Choose any or all of the National Art Museum of Catalonia, Barcelona Museum of Contemporary Art, Fundació Joan Miró, Fundacio Antoni Tapies, Picasso Museum, and the
CCCB Museum.
The Barcelona Pass is another excellent option for combining several activities, while the Transport Pass offers great discounts for getting around.
Still undecided? Check out our City Passes Comparison.
Free walking tours are another wonderful way to see the area, with enthusiastic guides and unique perspectives. Take a look at the best free walking tours for some inspiration!
Where to go next?
After checking off all of the mandatory attractions from your Barcelona bucket list, you might be wondering what's next.
Only a 3-hour drive from Barcelona, you will find Zaragoza, situated in the heart of Spain's Aragon region. From awe-inspiring architectural wonders to delectable culinary experiences, it is a fun destination to explore.
Just a short drive or train ride away is the beautiful, bustling city of Madrid, where you can explore more of Spain's world-renowned art, architecture, and cuisine.
Or, if you're looking to stay closer to the beach, consider heading to one of Barcelona's nearby coastal towns like Sitges or Tossa de Mar.
Both make for a great day trip from Barcelona and offer a completely different vibe than the big city. Less than three hours away by train, the coastal city of Valencia is famous for its quirky festivals, golden sandy beaches, and delectable paella.
If you wish to get a taste of France, Toulouse is a great destination for foodies. Savour the city's gastronomic delights, from the classic cassoulet to local wines, while strolling through its bustling markets and quaint bistros. Or venture to Montpellier and explore the beautiful architecture, bustling markets and sunny squares of this young city.
Want to really party? Ibiza is just a short boat ride away, while Porto and Lisbon (less than 1 hour by plane) each provide a fascinating insight into Portugal's unique culture and stunningly well-preserved architecture.
Final thoughts
So, what are you waiting for? Start planning your Barcelona getaway today!
There's so much to see and do in this amazing city. We hope you've enjoyed our selection of things to do in Barcelona!
If you have any other must-see suggestions, feel free to let us know in the comments!
As always, happy travels!