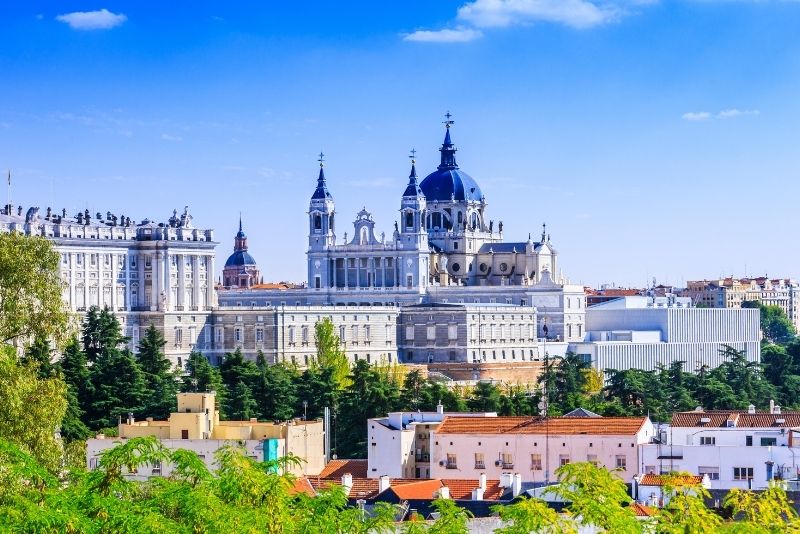 A sprawling metropolis rich in history, culture, and nightlife — not to mention the tantalizing tapas — the Spanish capital welcomes over 6 million tourists each year, all of whom walk away with nothing but amazing memories.
From a football match to a cooking class or wine-tasting tour, there's no shortage of things to do in Madrid. So, what are you waiting for?
1 – Visit the Royal Palace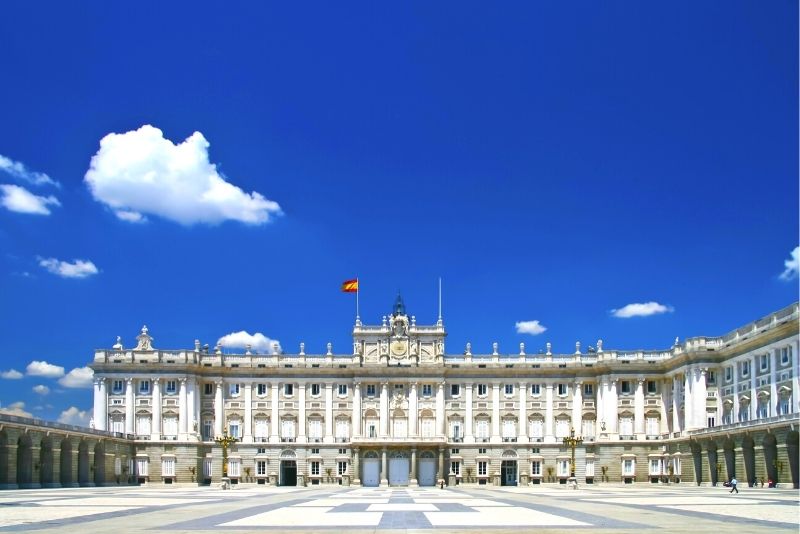 Mi casa es tu casa?
Check out the place the Spanish Royal Family calls home; complete with historical artifacts and endless works of art, this 3,418-room abode comprises the Grand Staircase, Library, Armory, Chapel, Crown Room, and so much more!
Any tour brings to life the rich history of Spanish leaders going as far back as the 18th century.
Read more about Royal Palace of Madrid tickets price.
2 – Choose your side at the Bernabeu or Wanda Metropolitano stadiums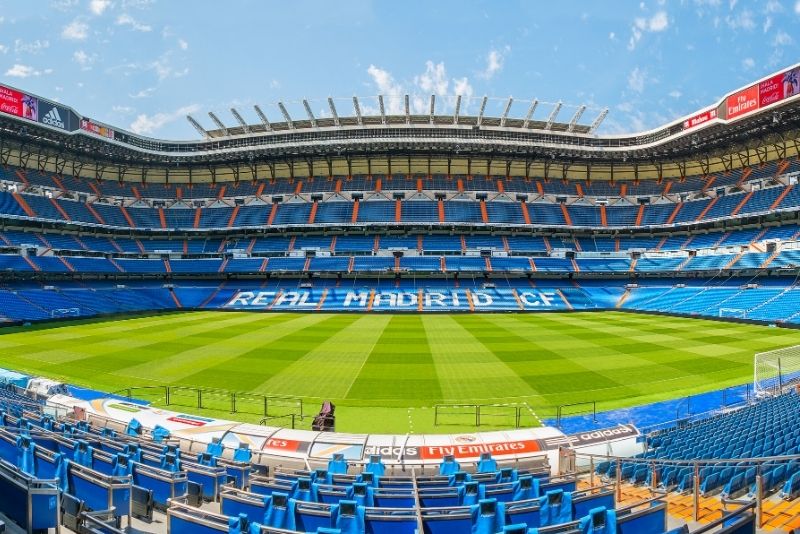 Two of football's European heavyweights square off against each other in the Madrid Derby: Real Madrid and Atletico Madrid, who play at the Bernabeu and Wanda Metropolitano respectively.
The energy at these teams' home games is nothing short of electric; meanwhile, for an up-close and personal look at the life and history of the local teams, both venues offer world-class tours of their stadiums and trophy cabinets!
Read more about the Santiago Bernabeu Stadium Tour.
3 – Tour the Las Ventas Bullring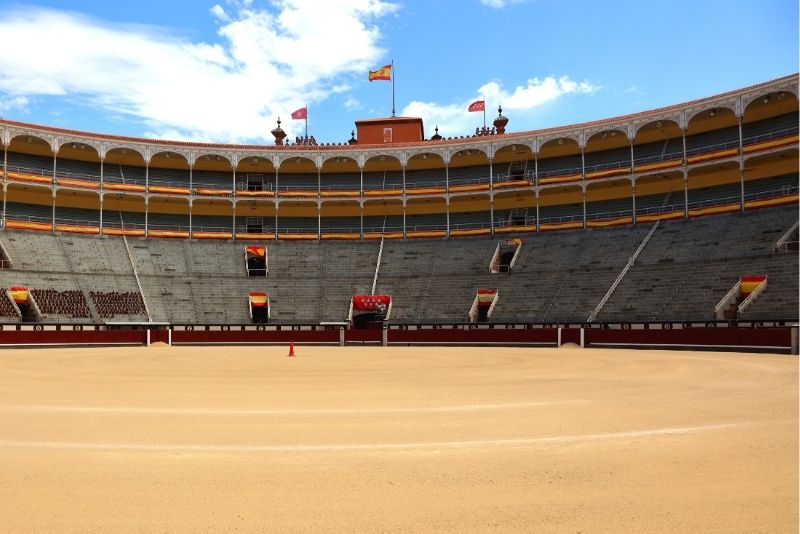 Discover one of Spain's most infamous traditions: Corrida de Toros!
An in-depth look at the Bullring, ceremonial entrance, and stands will take you on a journey into Spanish culture, while the nearby museum offers intriguing bullfighting artwork and dresses to boot.
Whether you stay for an hour or an afternoon, it's a great way to hear the legends of Spain's most famous bullfighters!
4 – Ride a Segway through beautiful Retiro Park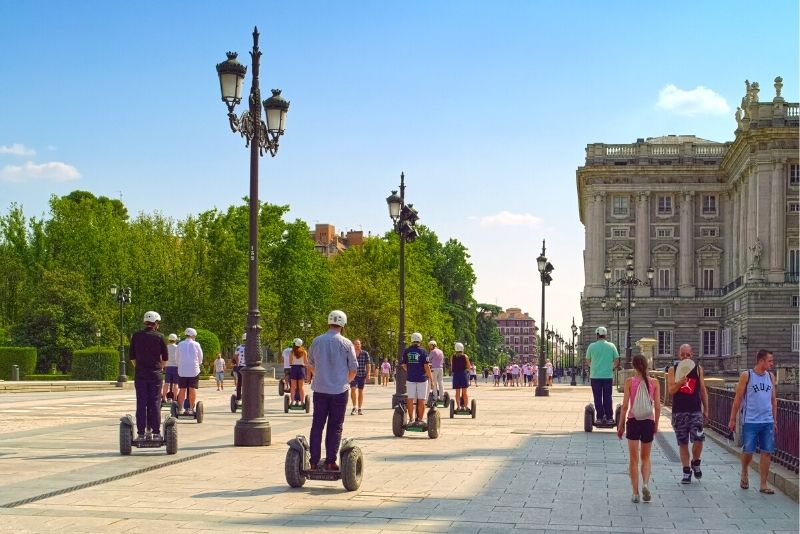 Explore the expansive 125-hectare Retiro Park with the breeze in your hair and the Spanish sun on your neck, without getting your legs tired!
Catch the vibrant Rosaleda rose garden, a large lake where you can hire a rowboat, and the dazzling Palacio de Cristal with an exterior of almost entirely glass!
5 – See the highlights on a hop-on hop-off bus tour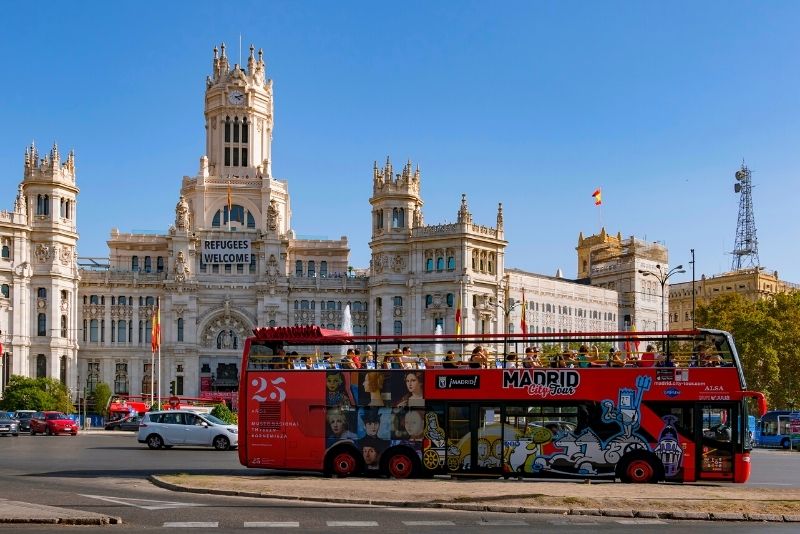 With so many things to do in Madrid, the hop-on/hop-off bus tour is a great way to get the major beats of the city in 1 or 2 days!
The perks include an onboard audio tour and an open-top so that you can see the city unobstructed as you ride around town.
The buses also leave regularly, so there's rarely any waiting!
6 – Browse through 800 years of art at Prado Museum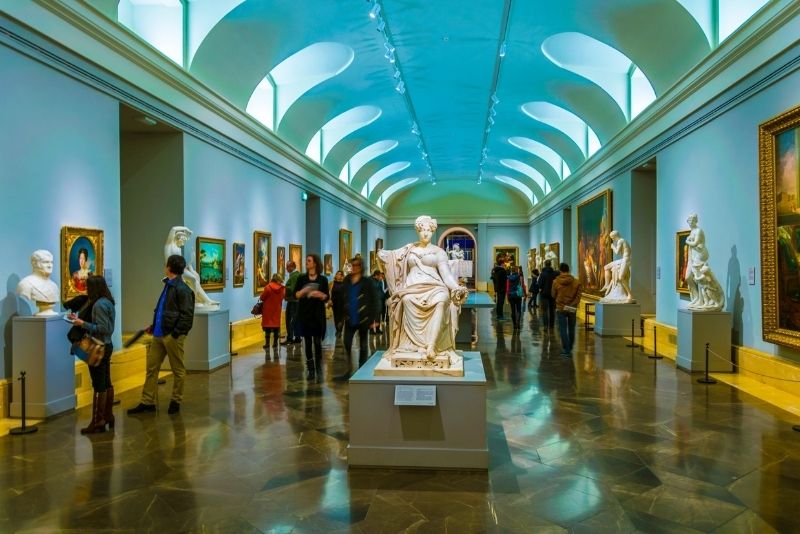 Arguably Europe's finest art museum, the Prado's display of tens of thousands of works including paintings, sculptures, prints, drawings, and historic documents from famous artists spanning the 12th to the 20th century!
Visitors love Francisco Goya, whose works of portraits, battles, and myths inspired both Picasso and Dali.
Read more about Prado Museum tickets price.
7 – Do an escape room!
Leave present-day Madrid behind and walk into the Cold War, Death Row, or the Midnight Train… with only 60 minutes to escape and nothing but your wits and problem-solving ability!
A popular pick is the 'Art Merchant', where players must investigate the priceless art disappearing from Spanish museums.
8 – Drive yourself around Madrid in a GoCar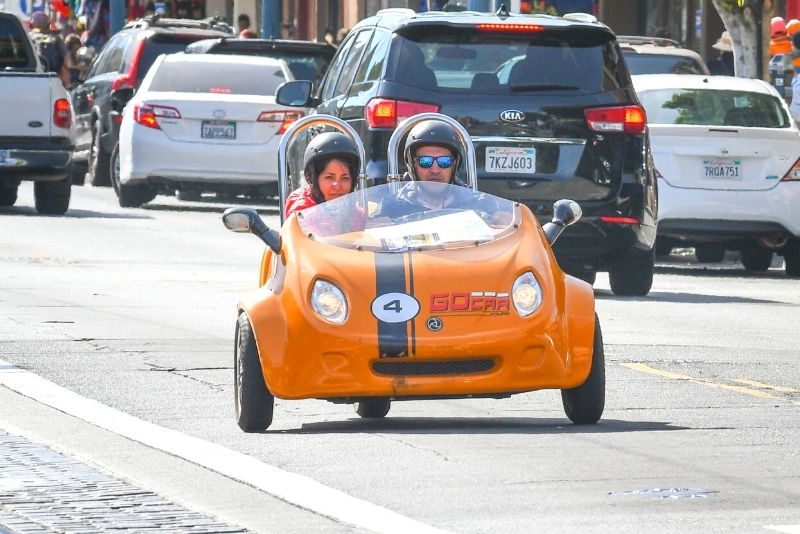 Unlimited miles? Check. Full tank of gas? Check. Itinerary? Choose your own!
With Madrid's best attractions saved into your GPS, zipping around at your own pace in your modern GoCar lets you take control of your tour instead of anything predetermined or packed with people!
You drive to your schedule and go at your own pace — exactly what vacation should be!
9 – Go on a scavenger game around Madrid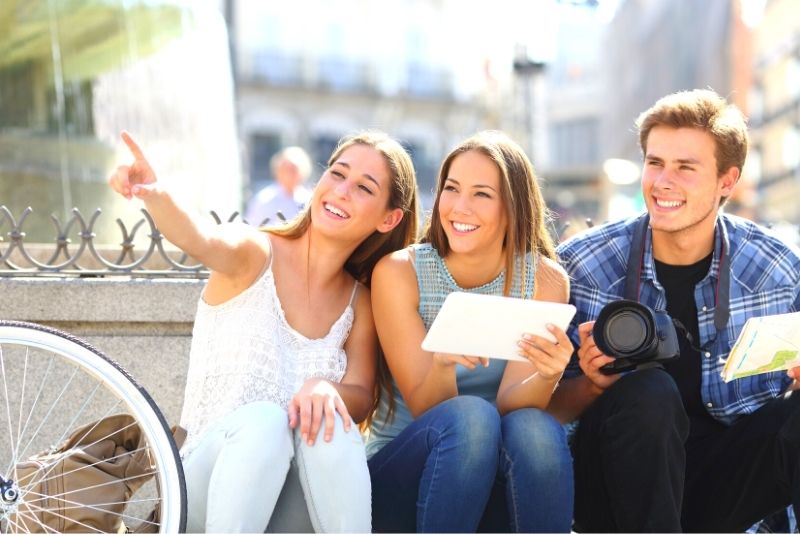 Get your National Treasure on! With your smartphone treasure map, you and your teammates are led around Madrid's major attractions and hidden gems on a high-octane scavenger hunt!
Find your way around Madrid, complete the challenges, and answer the trivia questions — each player on the team gets a different role in the game.
10 – Take a day-trip to magical Toledo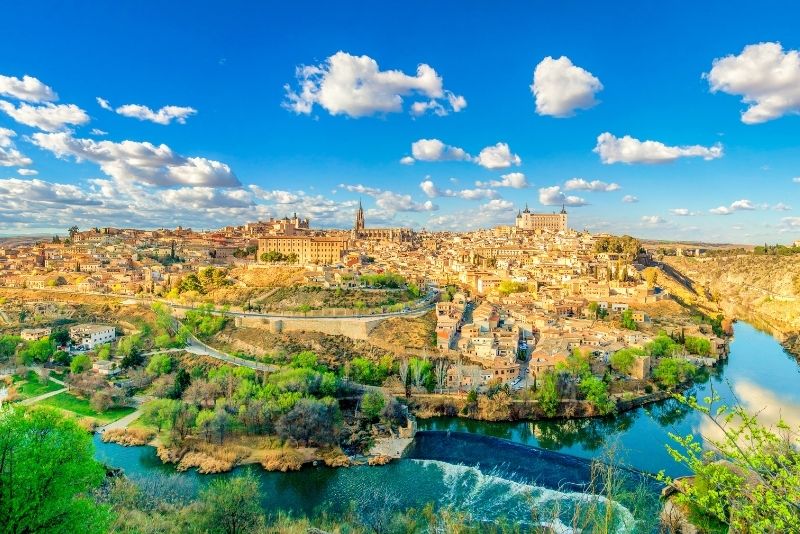 The grand Imperial City of Toledo is renowned for its stunning architecture, narrow stony streets, its rich history, and its cultural diversity.
Whether you want a historical deep dive, scenic zip-lining, or just a beer on one of the many terraces, Toledo has plenty to offer for visitors of all ages!
Learn more about Toledo day trip from Madrid, or read more about the best day trips from Madrid.
11 – Meet your favorite celebs at the Wax Museum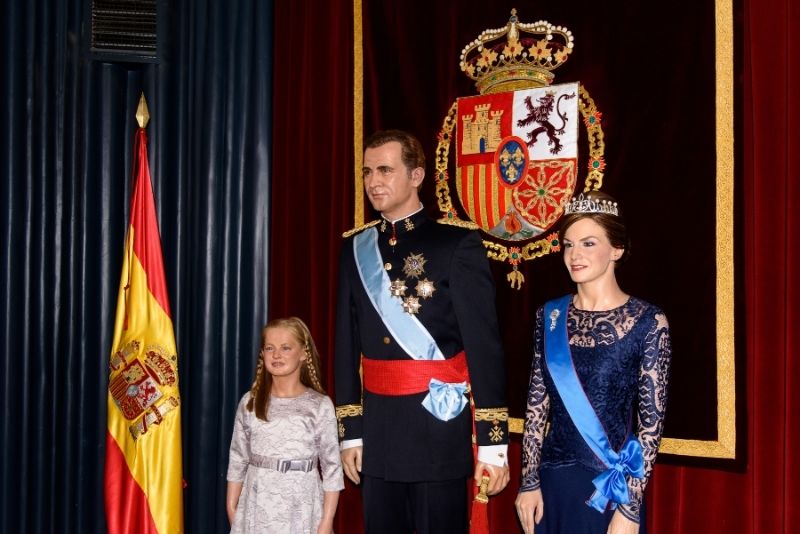 Where else can you find Napoleon, Cristiano Ronaldo, Brad Pitt, and Snoopy all in one place?
You'll be able to take selfies with a myriad of lifelike historical and famous figures, and they'll stand courteously still for you!
Visitors also love the rooms full of horror movie protagonists like Freddy Krueger and Dracula.
12 – Conquer the canyon at Somosierra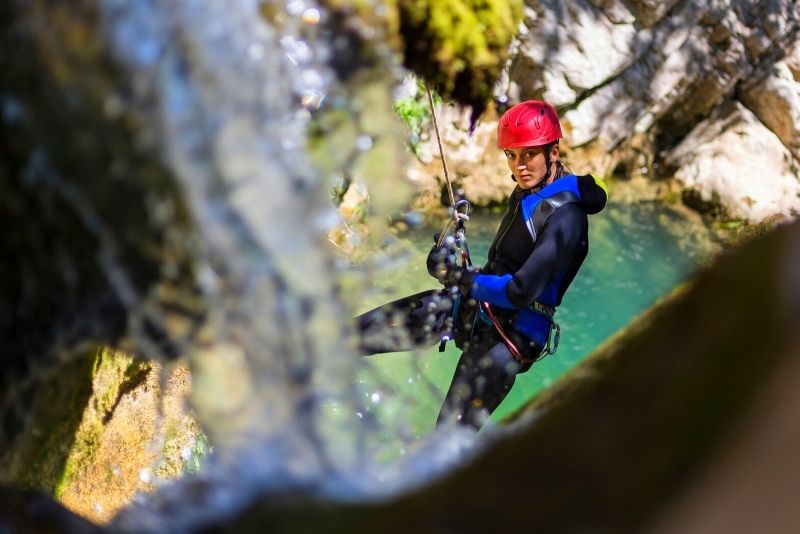 Canyoning is the ultimate adventure! Conquer the canyon by combining hiking, climbing, swimming – whatever it takes!
In the gorgeous Duratón gorges you'll find Madrid's only open canyon complete with waterfalls, pools, slides, vertical abseils, and even a fun slide where you get the perfect mix of adventure and spectacular views!
13 – Sit on Philip II's throne at El Escorial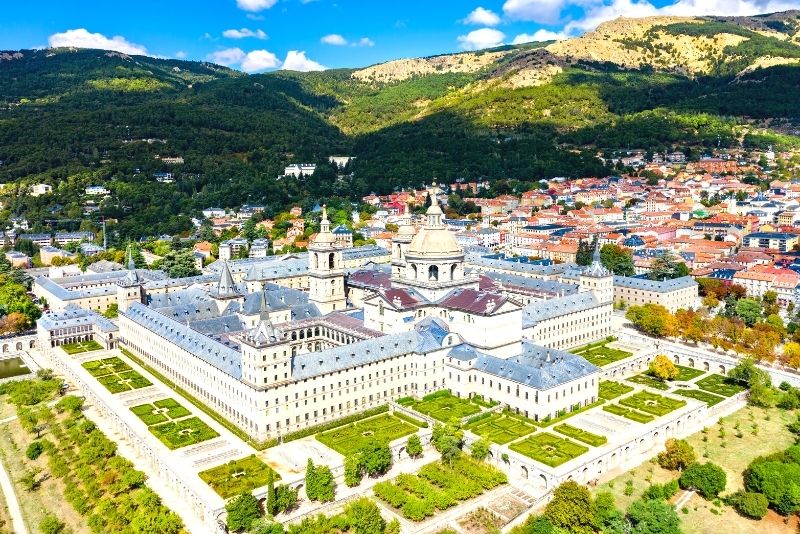 The King sat on a throne at El Escorial, gazing over both the gorgeous city and the infamous monastery — which now stands as one of Spain's finest and grandest buildings!
Travelers love the Pantheon of Kings with Charles V's extravagant marble tomb and other royal relics in the palace.
For history buffs, it's not to be missed!
14 – Dive into Spanish history at the Naval Museum of Madrid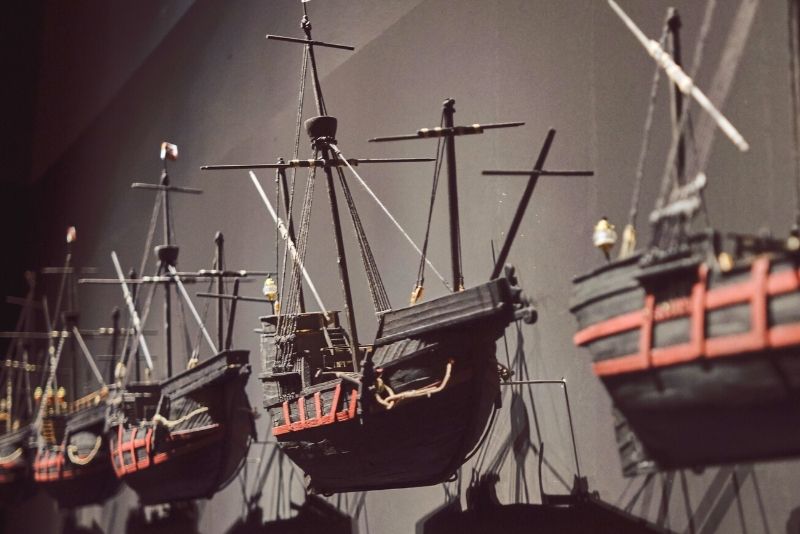 At its height, the Spanish navy colonized the world from Asia to Argentina!
How did they become so big and powerful?
Let the interactive museum take you through Spanish exploration from Juan de la Cosa's original map of the Americas when he traveled with Christopher Columbus, to original flags, weapons, and model ships!
15 – Try the wines in the Ribera del Duero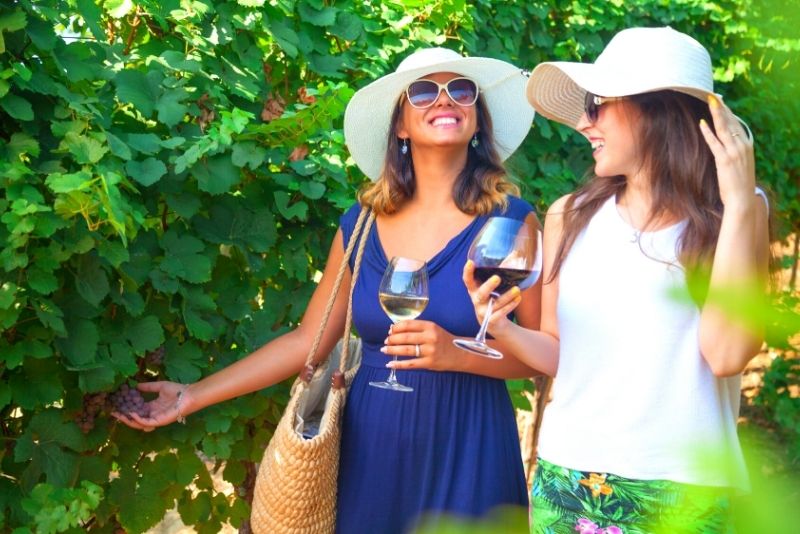 Anyone thirsty?
Learn how the world-famous wines from this region have endured the harsh weather for hundreds of years.
Besides the abundance of tasty blends, the countryside is peppered with beautiful vineyards, villages, and castles — all of which are delightful to drive past.
Most wine from the area is a deep red with a dark, fruity aroma; but be sure to try a few different types!
16 – Explore the city on a bike!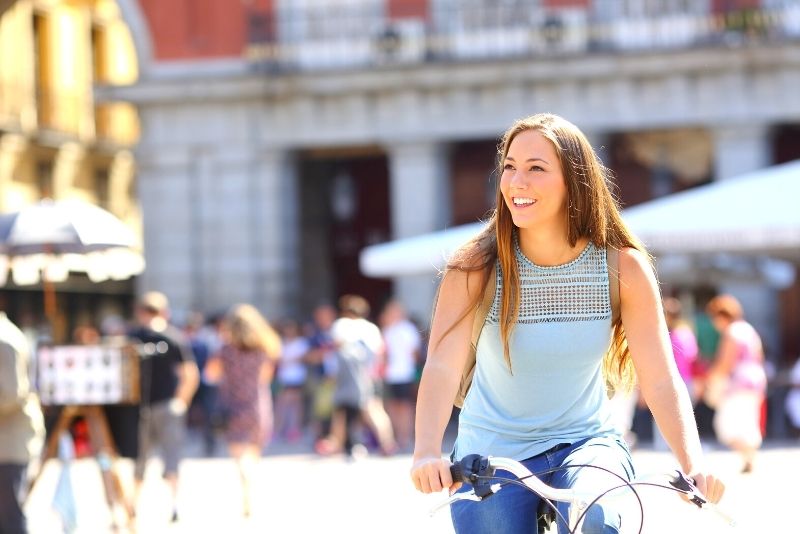 Travelers can't get enough of the guided bicycle tours of Madrid; locally-led adventures cover a lot of Madrid without being stuck behind glass windows in buses, while informative guides go through the history, sights, folklore, and gastronomy of the city as you stop and rest at its attractions.
So grab your spandex, helmet, and water bottle — a great day on two wheels awaits!
17 – Enjoy a hot-air balloon brunch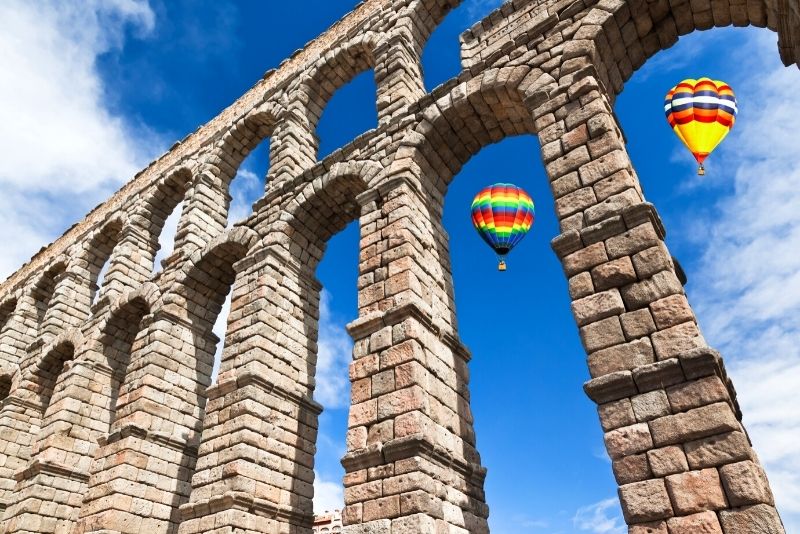 One of the most wonderful (and simplest) things to do in Spain is to watch the colorful sunrises — for the best views, you can't go past a hot-air balloon!
See the sunrise's unforgettable light show over Madrid, the rocky landscape around Toledo, or Segovia's granite buildings!
No matter the trip, it always ends in a delectable and well-earned brunch.
18 – Ride a horse through Guadarrama National Park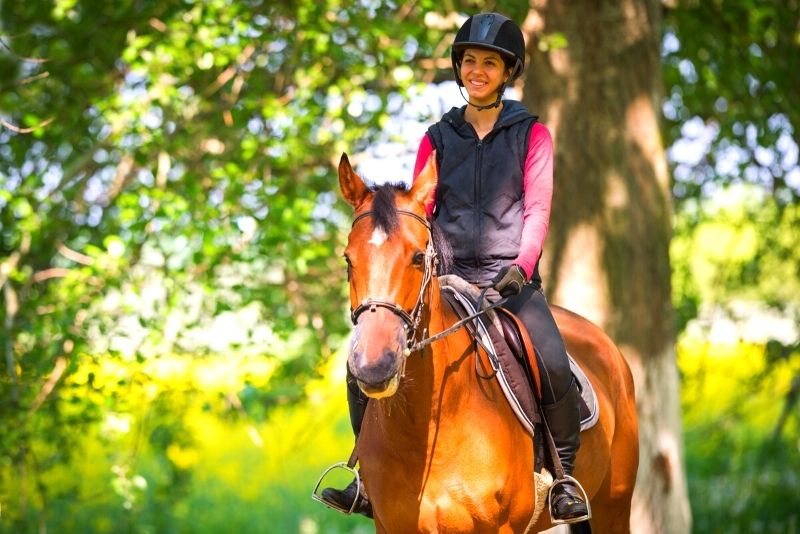 The unspoiled forests of Guadarrama National Park feel a world away from the energetic Spanish capital!
On horseback, you can trek through the rugged landscapes and admire the natural beauty as you spot the eagles, wolves, vultures, boars, and deer who call the forest home – all without tiring out those legs!
19 – Watch a Wild West shoot-out at Parque Warner Madrid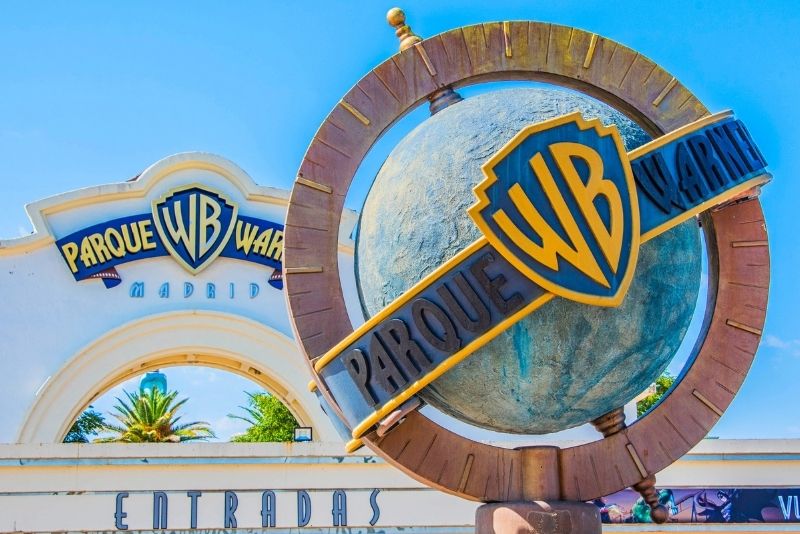 Here you can meet the Looney Tunes in the flesh (or fur, or feathers); scream with the twists and turns as you fly like Superman on a roller coaster; walk the Hollywood Walk of Fame, and stare through the saloon doors at two cowboys in a ferocious duel!
Whether you're young of age or young at heart, it's a fun day out for anyone!
20 – Walk the walls of Avila's Old Town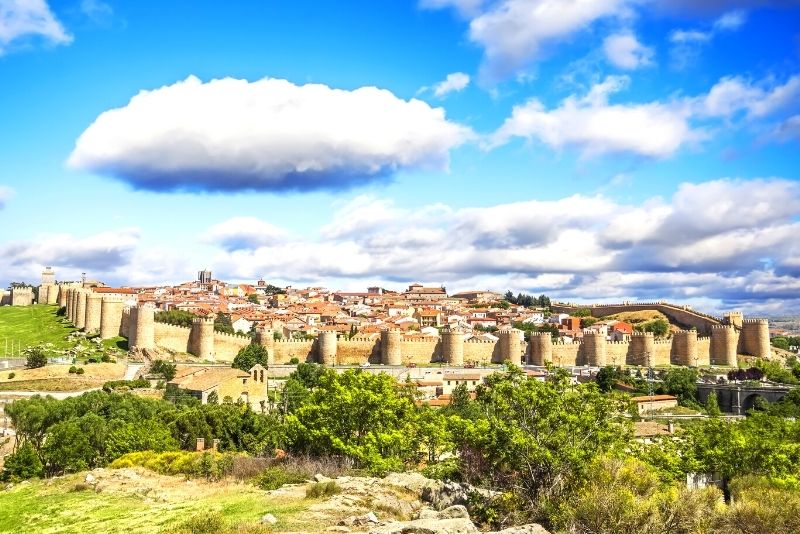 The striking 11th-century Walls of Avila are the largest illuminated structure in the world which you can trek on for incredible views of the city!
Spot the monolithic, granite Cathedral of Avila; then dine on a famous Chuletón de Avila T-bone steak and have a sweet Yemas de Santa Teresa pastry for dessert.
21 – Hire a kayak for a relaxing afternoon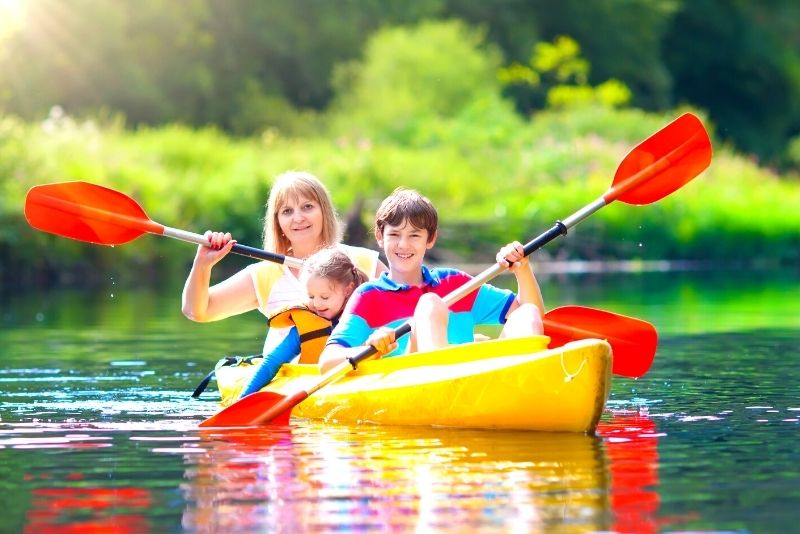 Despite being an enormous metropolis, there are a few great spots to kayak around Madrid!
The coves and beaches make San Juan Reservoir a great place to explore by kayak before stopping to sunbathe; meanwhile, the water at Duratón Natural Reserve is a bird-spotters paradise with 100-meter high limestone walls and the nearby Monasterio de la Hoz.
22 – Get that adrenaline hit with indoor or outdoor skydiving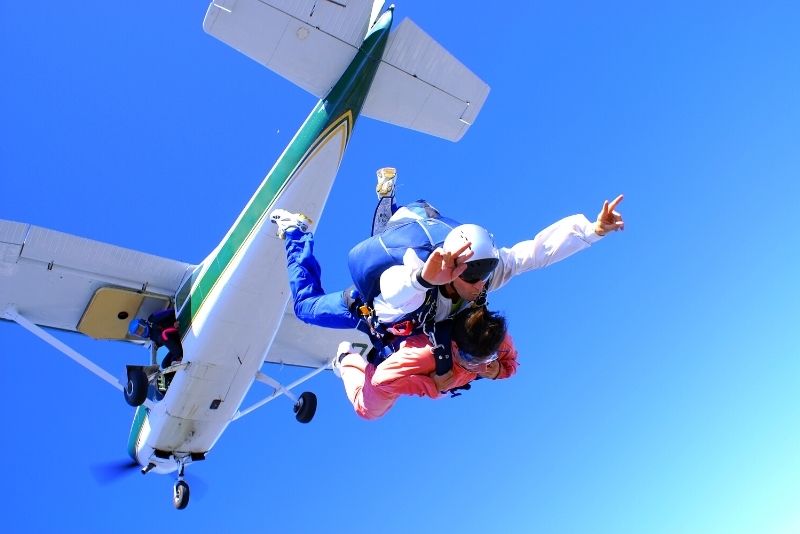 It's not flying, it's falling with style!
A 4000-meter tandem skydive with plenty of free-fall will send the adrenaline pulsing through your body and delight the eyes with panoramic views of Madrid and the Spanish countryside!
For something a little closer time, experience the thrills without the intimidating heights at an indoor skydiving venue!
23 – Taste-test tapas and wine on a food tour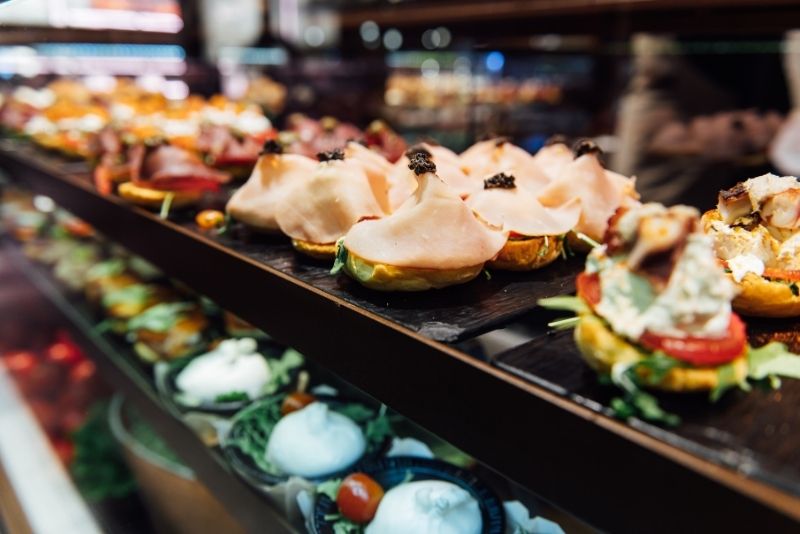 Get that taste of the Madrid that only the locals know!
As your guide gives you the gastronomic lowdown, you're whisked away to some of the city's best places for free tastings — expect to try the best of Spanish wines, Iberian ham, garlic shrimp, and so much more in the most authentic and lively of eateries!
24 – Go bungee jumping from Buitrago Bridge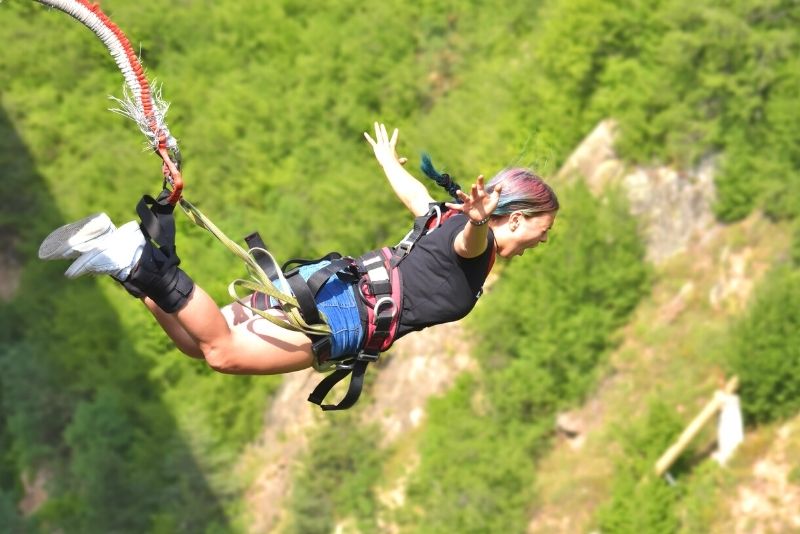 The ultimate bucket list item! Thrill-seekers will love standing on the edge of the 'desire bridge', looking down 45 meters into the canyon below.
Conquer your fears, ignore your limits, and jump! The only thing more powerful than the adrenaline surge is the personal satisfaction of having conquered bungee jumping!
25 – See Madrid's incredible street art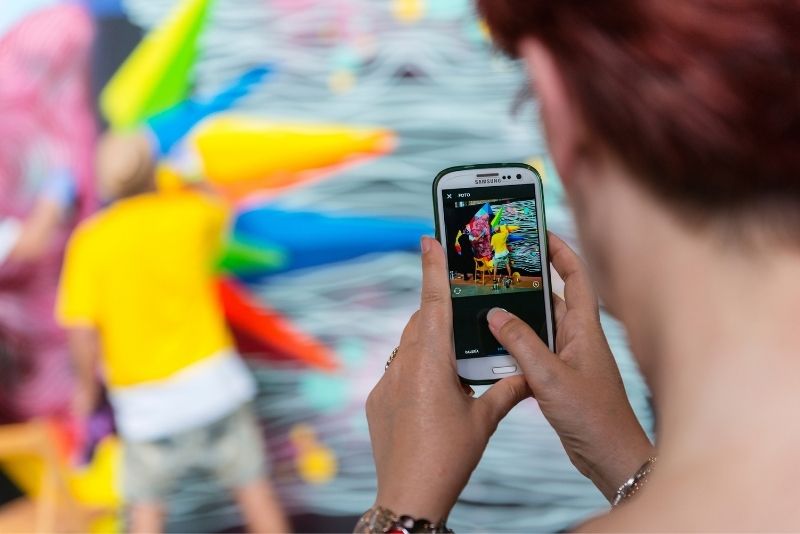 Seeing Madrid's incredibly evocative street art is a great way to learn about its culture!
While there's a near-endless list of artistic things to do in Madrid, travelers particularly love the big-headed babies statue at Atocha train station, the Neomudéjar power plant reclaimed by street-artists who protest anti-graffiti laws, and the underground art gallery at La Tabacalera — a former tobacco warehouse whose walls are lined with stencil art!
26 – See Picasso's Guernica at Reina Sofia Museum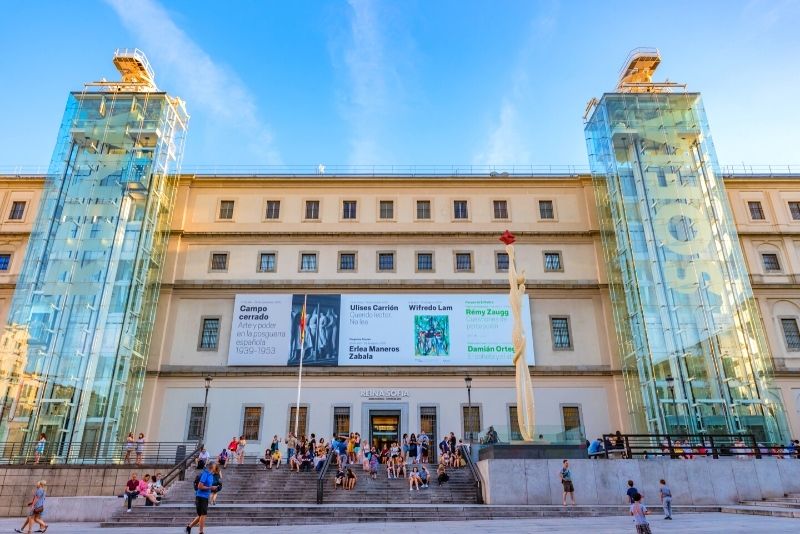 This museum dedicated to 20th-century (mostly Spanish) art is highlighted by works from two homegrown heroes: Picasso and Dali!
There are plenty of eye-catching pieces, but Guernica is the most famous.
Painted in response to an attack on Spain in WW2, it ended up raising awareness of the Spanish Civil War.
Read more about Reina Sofia Museum tickets price.
27 – Get that perfect view from Faro de Moncloa
Some say the only place that can top Madrid is heaven itself!
The Faro de Moncloa won't quite take you that high, but the views of Madrid from 92 meters up with the backdrop of the Sierra de Guadarrama mountains are certainly something to behold.
With history tidbits never too far away, there are also information boards detailing how Madrid has grown and expanded over time.
28 – Trick your mind at the Museum of Illusions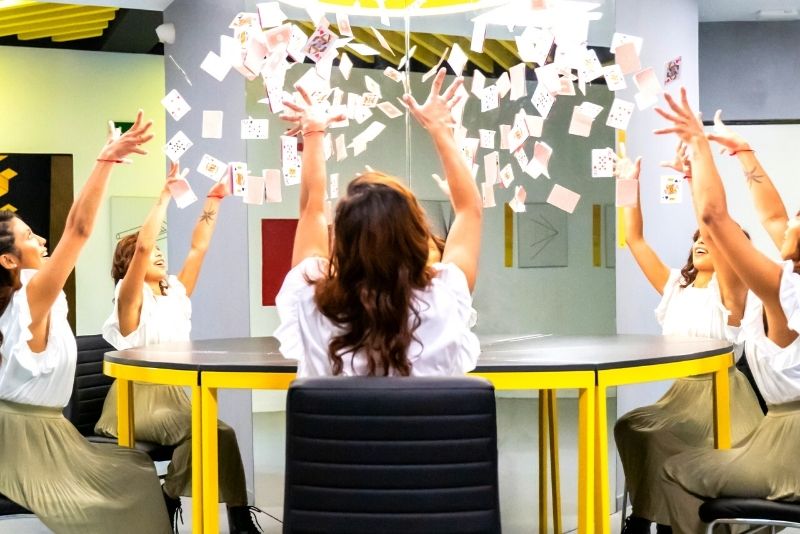 See the impossible with your very own eyes!
Travelers of all ages will love this one as they're forced to think twice at every turn, considering how the brain and senses see the world!
Bring a camera to capture your head on a plate, your friend as a giant, and 3D mirages appearing out of nowhere.
29 – Explore Segovia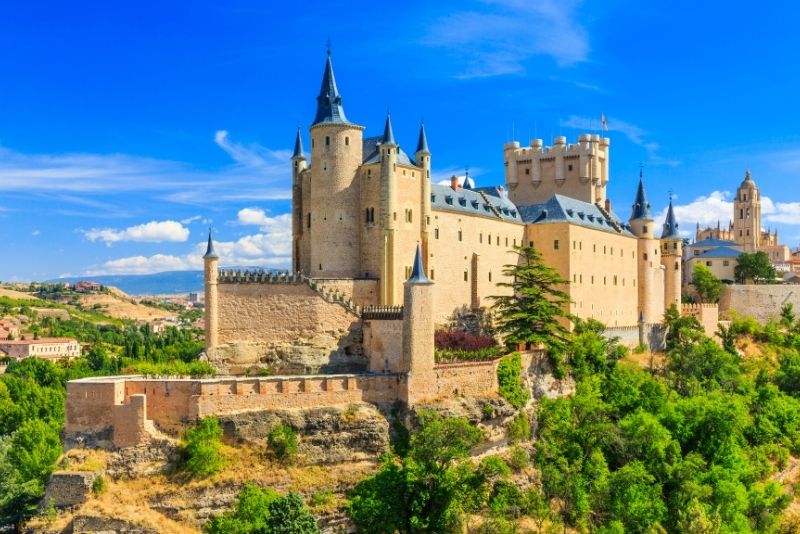 Travelers are enamored with charming Segovia!
A day-trip to the narrow streets and winding corridors of Segovia's old town, its Romanesque cathedrals, and the 2,000-year-old aqueduct is nothing short of enchanting.
For the foodies, culinary adventures await; make sure to try the famous leg of lamb and white bean stew!
Meanwhile, for architecture buffs, the monolithic Alcázar (or fortress) rises from Segovia and captures the eye.
30 – See Madrid from above on a scenic airplane tour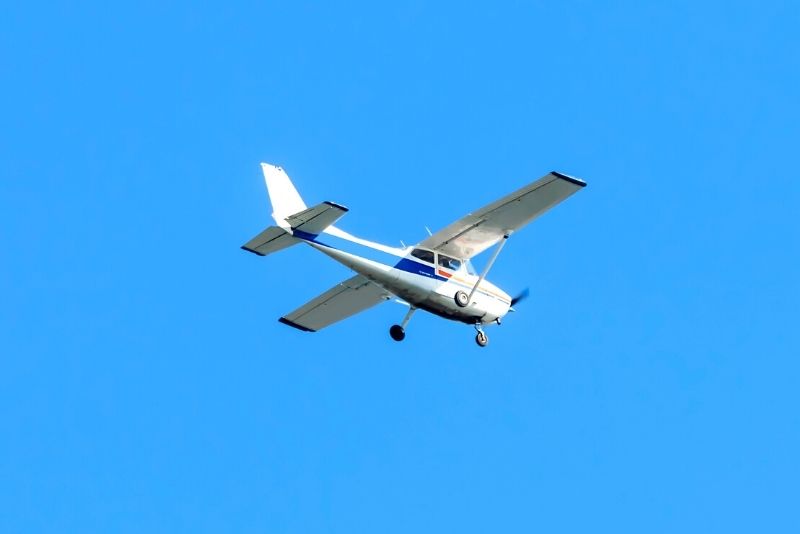 Get that birds-eye view like no other on your choice of tour!
The Castle Route flies by the striking Coca and Arévalo Castles to appreciate their size and scale; the Nature Route takes you through beautiful mountains, lakes, and glacial cirques; and the City Route soars over the nearby historical and glamorous towns!
31 – Take a cooking class with a local chef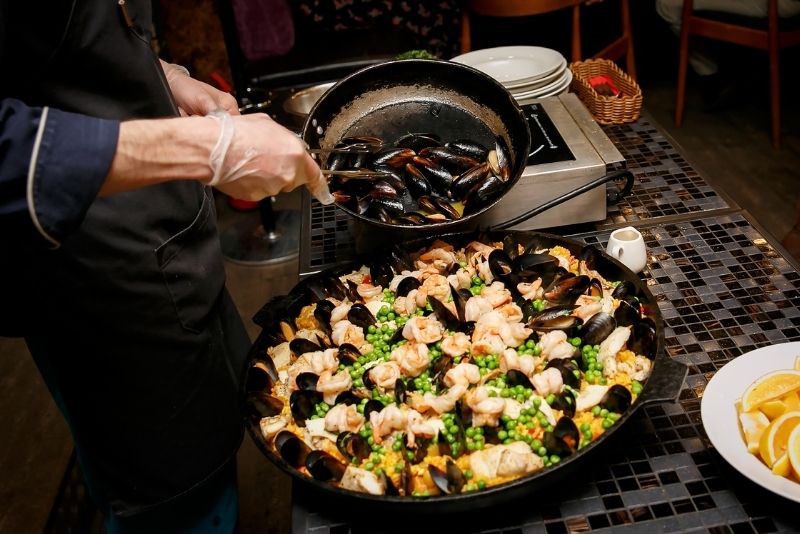 Okay, so you've been through all the things to do in Madrid and eaten all the tapas and paella you can handle — but now the question arises: how can we eat these great dishes back home?
It's easy: take a cooking class!
With a local chef calling the shots, you'll learn to make the nation's tastiest, most authentic dishes — and, of course, there'll be a glass of sangria or two to wash it all down.
32 – Watch a fiery Flamenco show at Torres Bermejas tablao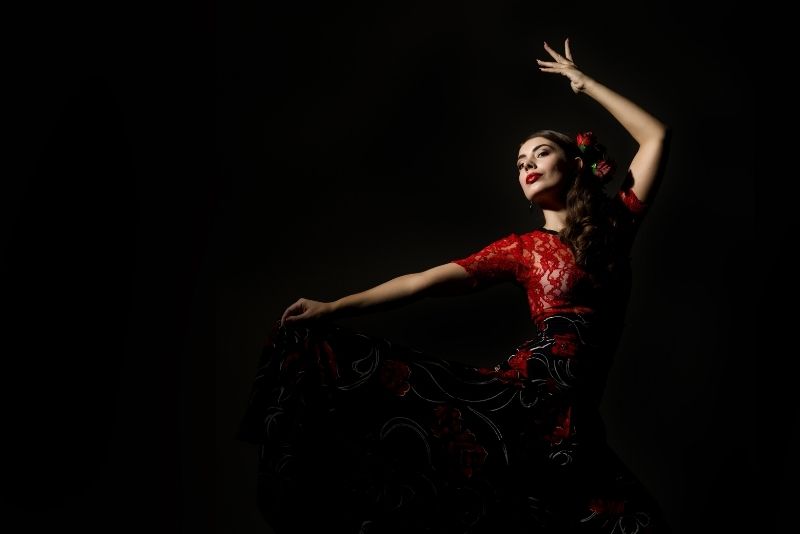 The passionate Flamenco art form is synonymous with Spain, so catching a show is a must!
Travelers love the historic Torres Bermejas which hosts Spain's most iconic flamenco show, combining the traditional Flamenco with some contemporary flair!
Look out for the venue's wood-carved ceilings and fancy tiles, alongside walls of Arabic motifs.
33 – Make new friends on a pub crawl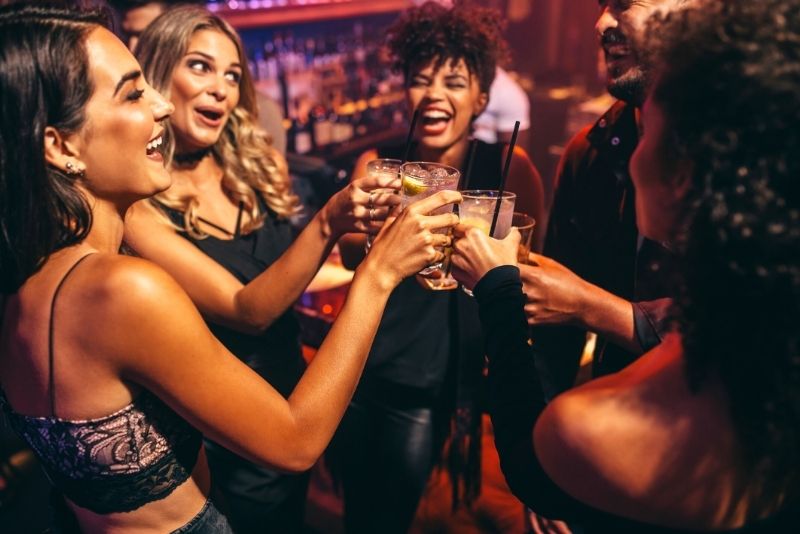 It's fiesta time!
Experience Madrid's pumping nightlife with a local guide who knows the best venues, with a free shot and discounted drinks at each bar!
Along the way, you'll meet other like-minded travelers and backpackers, and have the chance to ask your guide for recommendations on things to do in Madrid.
It'll make for a fun night and (almost certainly) a groggy morning!
34 – See everything from pandas to sharks at Zoo Aquarium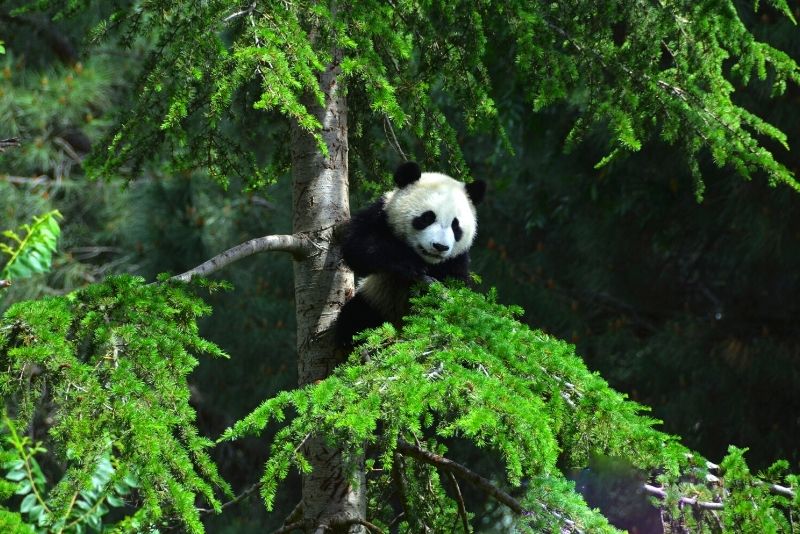 Finally, you don't have to choose between zoos and aquariums!
This is one of the biggest, and oldest, zoos on Earth — with any animal you can think of calling this place home!
Visitors of all ages love catching the daily interactive shows, as well as the regular dolphin, sea lion, and bird feedings.
Camera at the ready; these animals love to strut their stuff for audiences.
35 – Go paragliding through the mountains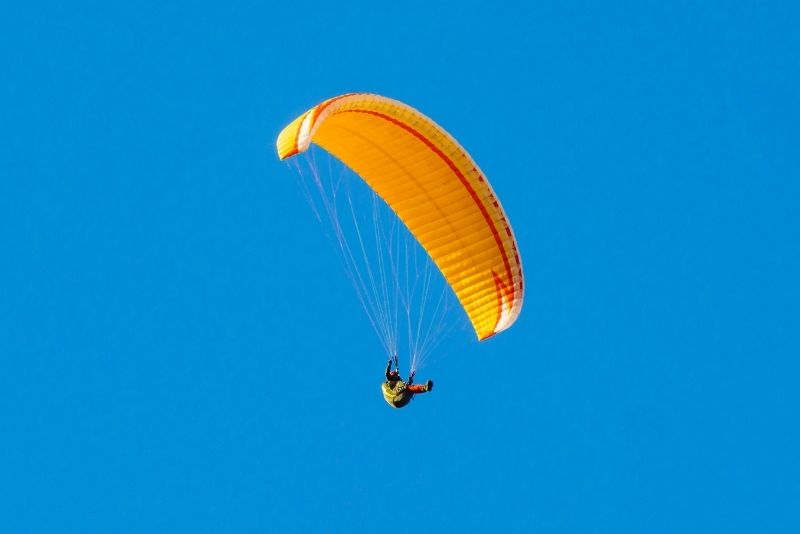 Fly like an eagle through the towering Sierra de Guadarrama mountain range!
First-timers might want to start with tandem paragliding, where you can sit back, relax, and enjoy the views as your pilot does all the hard work!
Then to relive the experience, there's an HD camera to film your whole flight.
36 – Meet SpongeBob at Parque de Atracciones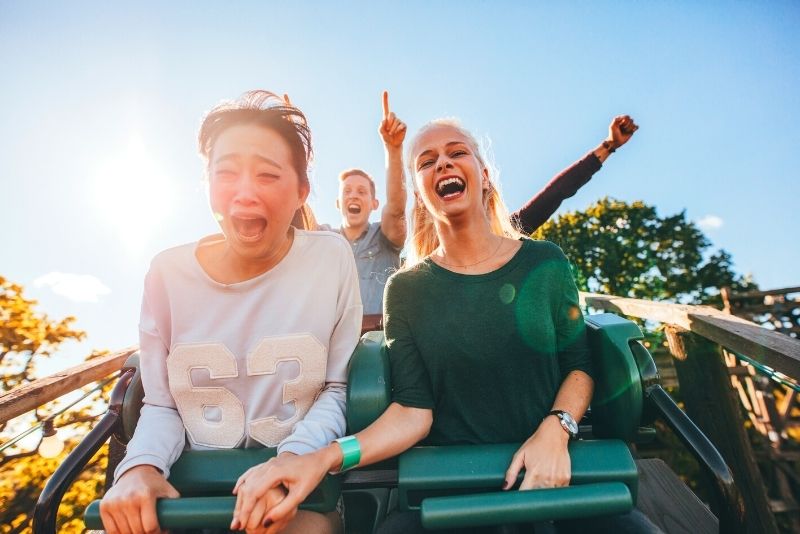 This eclectic theme park has it all!
You can meet Dora the Explorer and SpongeBob in Nickelodeon-Land, ride white-water cascades and whirlpool rides for hot days, go motorbike riding on the Tifón, and chase those thrills on either the Abismo roller coaster or La Lanzadera — a 63-meter freefall bungee jump experience!
37 – Splash around at Aquopolis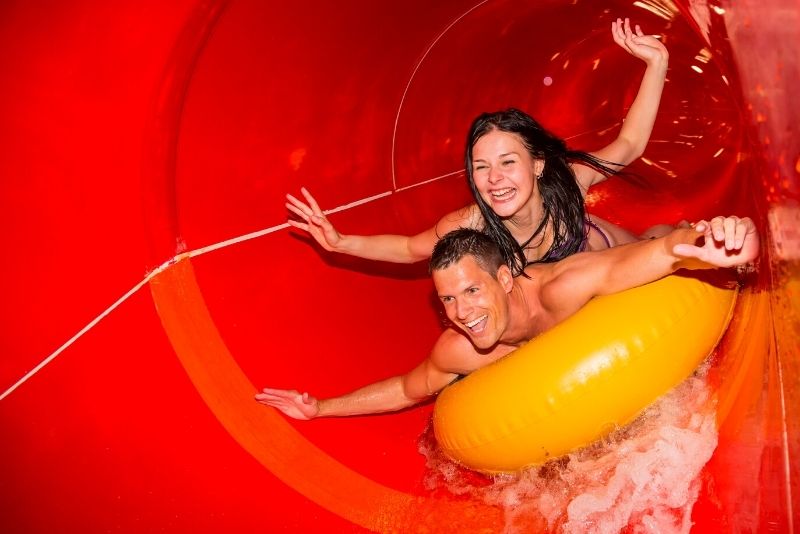 One of Spain's premium water parks has attractions for all ages.
Younger travelers typically love shooting water pistols, frolicking through the wave pool or water jets, and the mini-slides on offer.
Older travelers, those after a little more adventure, will enjoy the three-person inflatable rafts at Waikiki Jungle and the winding toboggans!
38 – Treat yourself at the Arabian Spas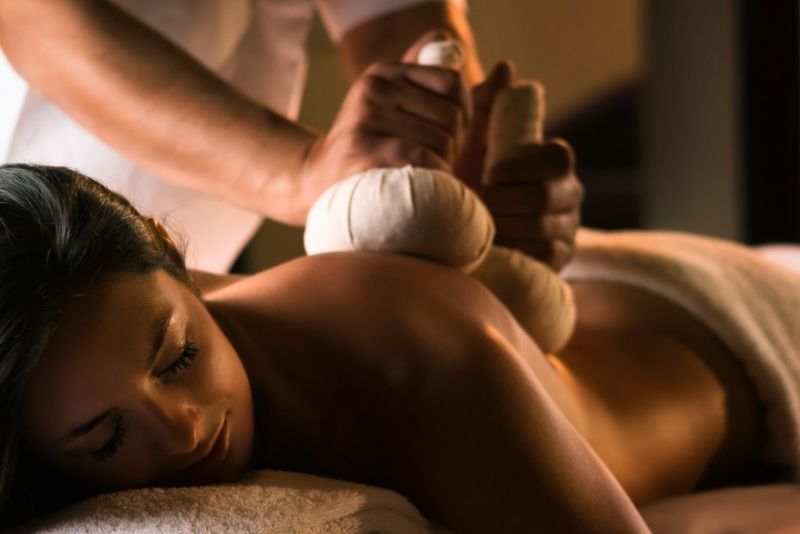 Need to unwind after all that adventure?
Take a day to yourself at Hamman Al Ándalus with a massage that relaxes the soul as well as the body!
After refreshing mint tea, ambient candle-light, and soothing water set the mood, choose your aromatic oil and let those magic hands do their thing.
39 – Shop till you drop at Las Rozas Village
You can justify all that shopping with discounts of up to 60% on over 100 boutique stores including Hugo Boss, Montblanc, and Karl Lagerfeld!
Stick around for sunset over the Sierra de Madrid and dine at some of Madrid's leading eateries!
To get the bags back to the hotel, you can get a chauffeured ride.
40 – Travel the world's habitats at Faunia Nature Park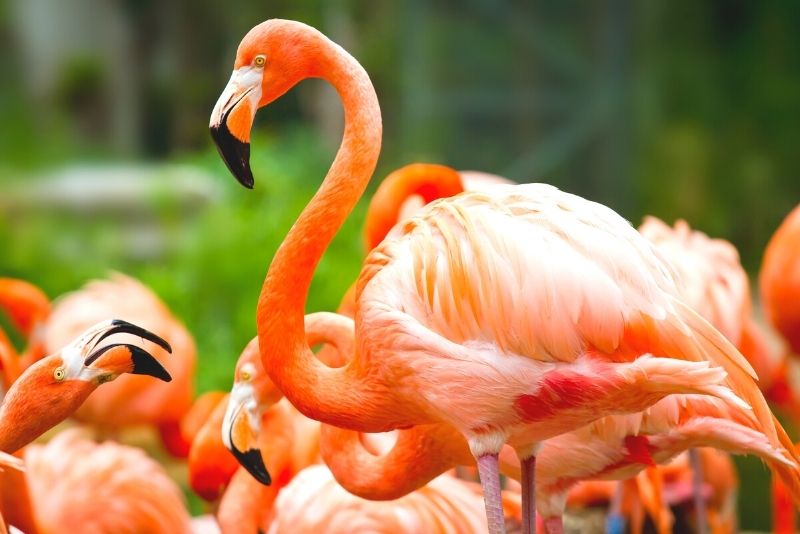 Hidden in the countryside just outside Madrid, Faunia Nature Park boasts 8 ecosystems spanning over 140,000 square-meters, which contain more than 3,000 free-roaming animals!
The scale cannot be overstated — visitors will step from the South Pole to the jungles of the Amazon and everywhere in between!
For a couple of crowd favorites, check out the monkey-filled trees and the flamingo lake!
41 – Be inspired to decorate your house Aranjuez Royal Palace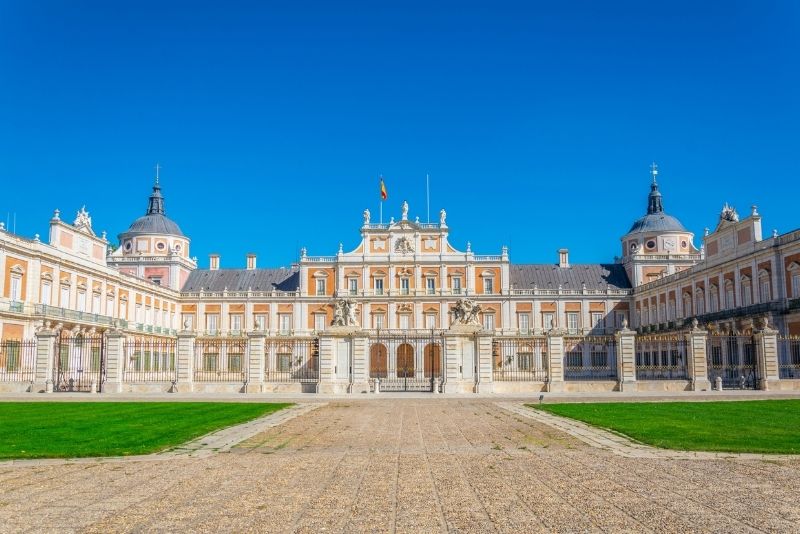 This is not your ordinary house inspection!
The Royal Family's old home is decked out with fine frescoes, natural light, and crystal chandeliers!
See the Throne Room, Ballroom, Porcelain Room, and Dining Room fit for a king and queen; get a guided tour and learn about the history, and discover the story of how this palace helped establish Madrid as Spain's capital.
42 – Try your hand at ax-throwing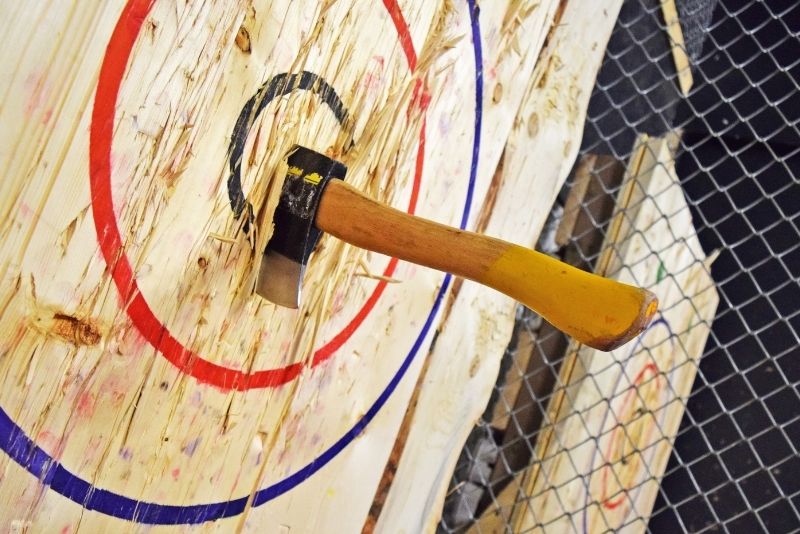 Bullseye!
After a quick briefing to make sure you know your blade from your handle, put on your Viking helmet and sling some serious steel with your friends!
Try different challenges with your friends, score points and get competitive – but don't forget to bury the hatchet after you're done (so to speak).
43 – Bring Sorolla to life at the Sorolla Museum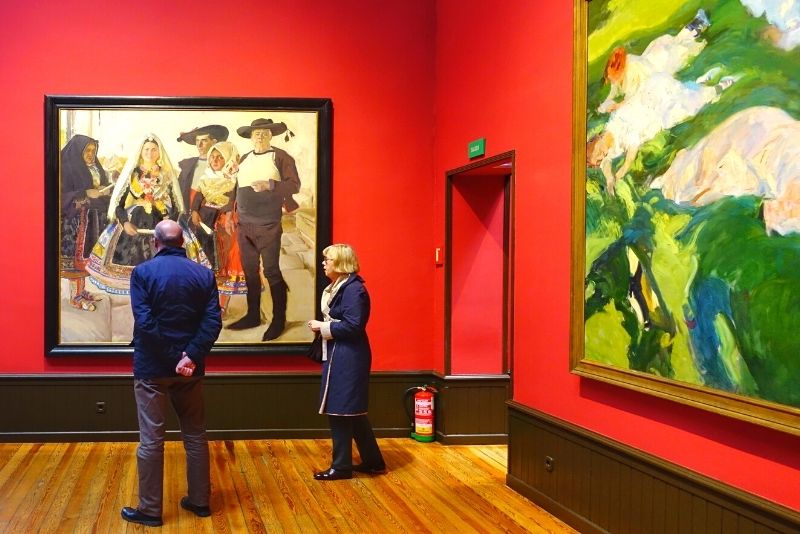 The Sorolla Museum is the home and workshop of 20th-century painter, Joaquín Sorolla, where you can get a glimpse into the life and mind of the man behind the art!
Sit where he sat and view the world through his eyes, then see his paintings displayed in a whole new light.
44 – Wander through Plaza Mayor and Puerta del Sol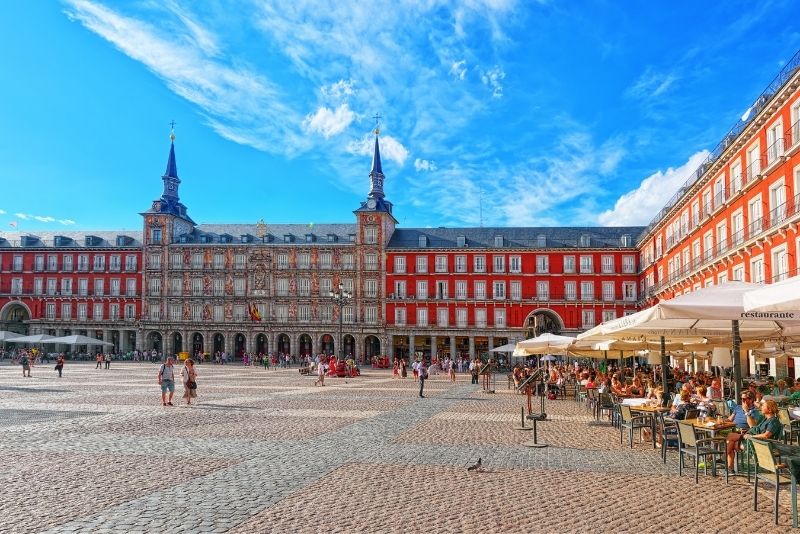 As you'll quickly realize, Madrid's bustling main squares are the city's heartbeat.
The famous clock at Puerta del Sol marks the annual eating of the Twelve Grapes as the clock strikes midnight on New Year's Eve, while the Plaza Mayor's charming Greek columns make for the perfect photo backdrop — moreover, there's always plenty of shopping and dining options!
45 – See the Lady of Elche at the National Archaeological Museum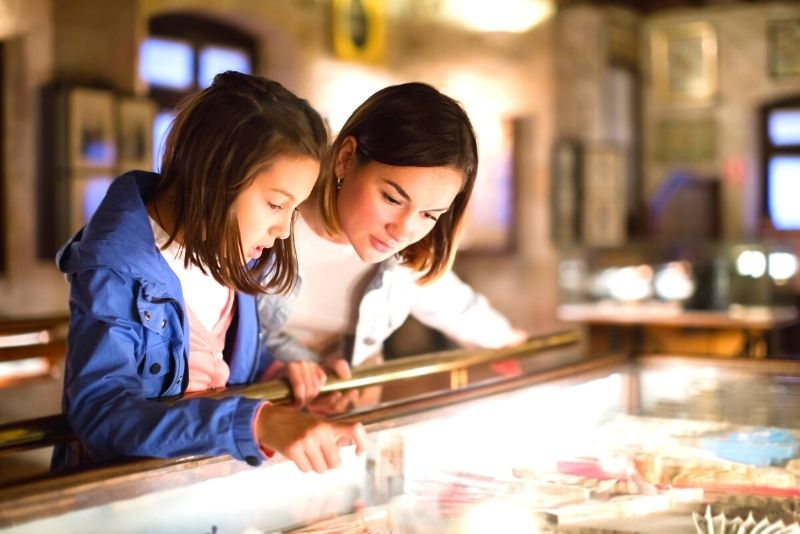 This huge display of antique collections from prehistoric finds, all the way through to 19th-century figurines even has mockups and replicas of their items to hold and admire!
Visitors love the delicate and mysterious Lady of Elche, the golden Treasure of Guarrazar, and the Pot from Zamora which is one of the best Greek vases ever found!
46 – Buy the best tapas at San Miguel Market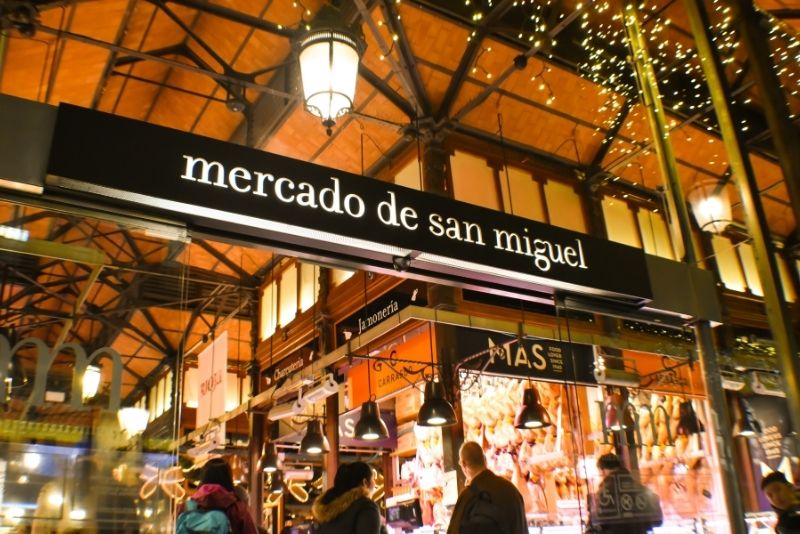 For over 100 years, this gastronomic paradise has brought together the best of all corners of Spanish food, under its original iron structure!
Follow your nose and eyes through the cold meats, seafood, rice, cheese, wine, tapas, baked goods, and beer on offer. Fill up a picnic basket and enjoy it at a park or in your hotel!
47 – Be the guest of the Marquis of Cerralbo at Cerralbo Museum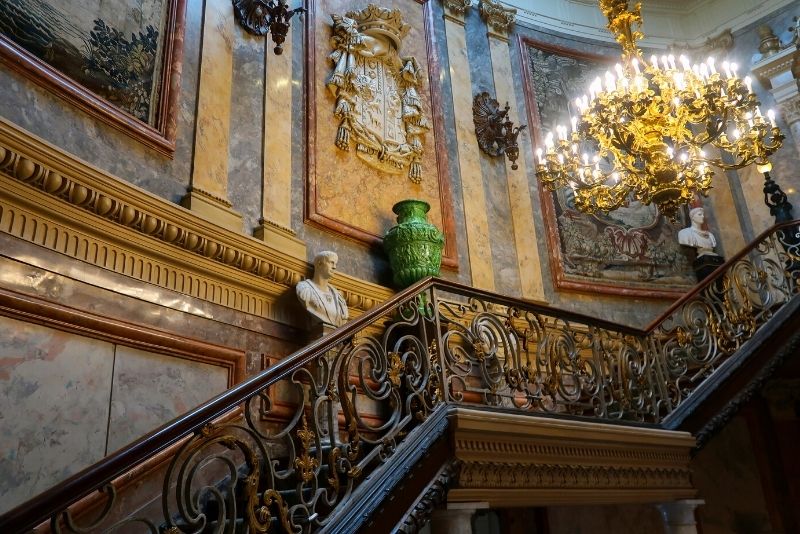 May we take your coat?
Step back in time into a house of nobility, perfectly preserved, to see how they lived during the late 19th century!
It houses over 50,000 objects including furniture, paintings, carpets, antiques, clocks, and weapons owned by the Marquis – with one of Madrid's only flushing toilets at that time!
48 – Take a trip to Ancient Egypt at the Temple of Debod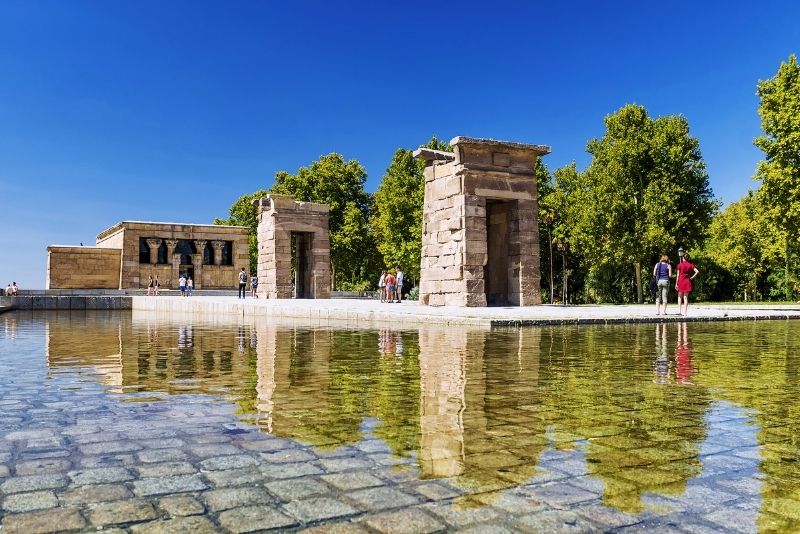 This 2,000-year-old temple was donated by the Egyptian government to Spain to save it from flooding!
Stone by stone, it was transported and built precisely as it stood in Egypt but in the Parque del Oeste and surrounded by water!
Photography buffs love experimenting with light, reflection, and water for the perfect shot.
49 – Pay respects at the Valley of the Fallen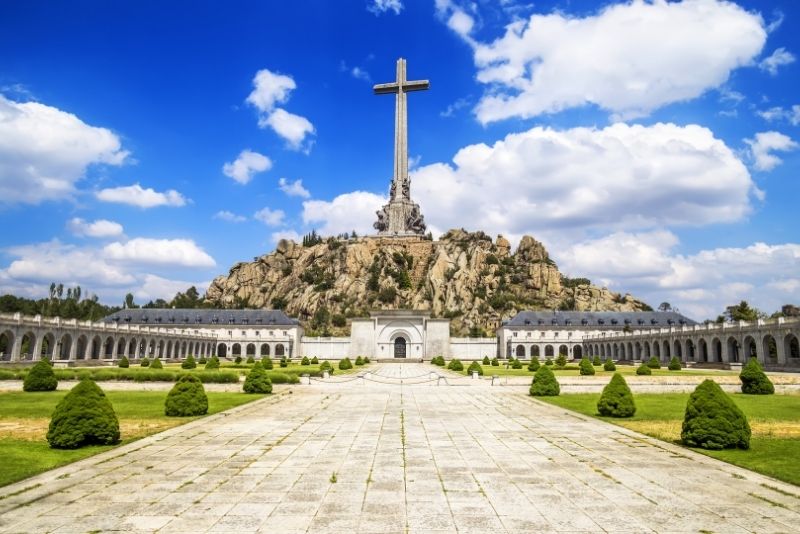 Carved into a mountain by El Escorial lies a towering basilica with a colossal granite cross.
Due to the Valley of the Fallen's location in the middle of the peaceful Spanish countryside, The stone angel-lined crypt is particularly eerie when quiet.
As a monument dedicated to the Spanish Civil War and the nation's rocky 20th century, it's a fascinating attraction.
50 – Complete the Golden Triangle at Thyssen-Bornemisza Museum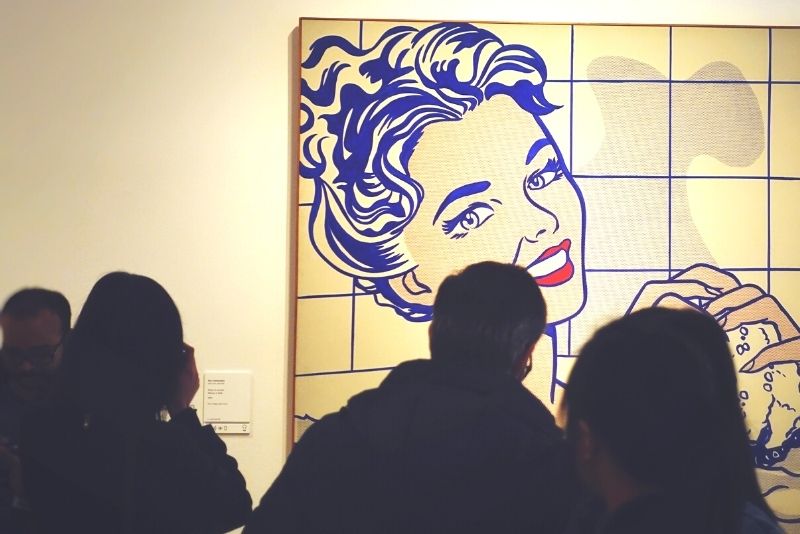 Madrid's 'Golden Triangle of Art' is made of the Prado, Reina Sofia, and the Thyssen.
The Thyssen has an extraordinary collection, once the world's second-largest private collection, spanning 700 years and filling the gaps left by the other two museums in the triangle — each with plenty to offer in their own right!
51 – Listen to the Spanish National Orchestra at the National Music Auditorium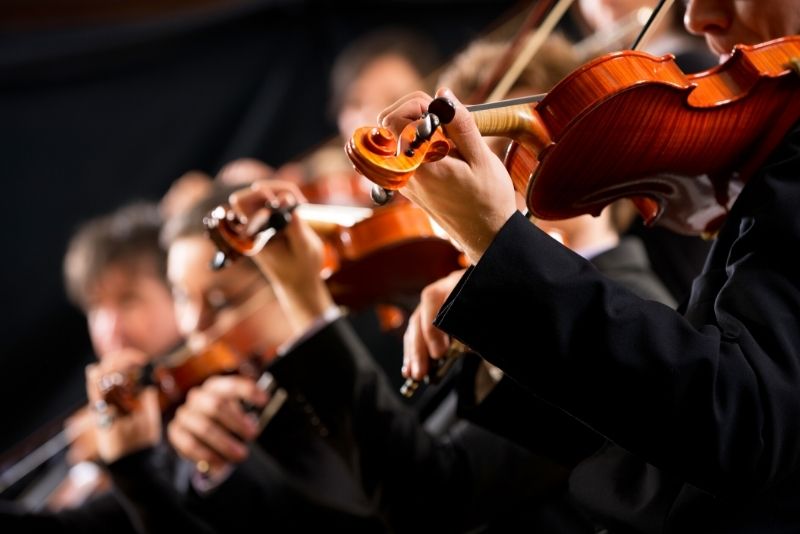 Spain prides itself on its music, both classic and contemporary, so it'd be remiss of us to not mention the audible delight that is the Spanish National Orchestra.
With its mesmerizing modern design and courtyard area, travelers love walking by the auditorium when lit up at night.
However, the true beauty lies within; be sure to check out the interior and its amazing acoustics when the Orchestra is playing!
There are regular concerts that showcase the Spanish classical music talent.
52 – Dream of being a train driver at the Railway Museum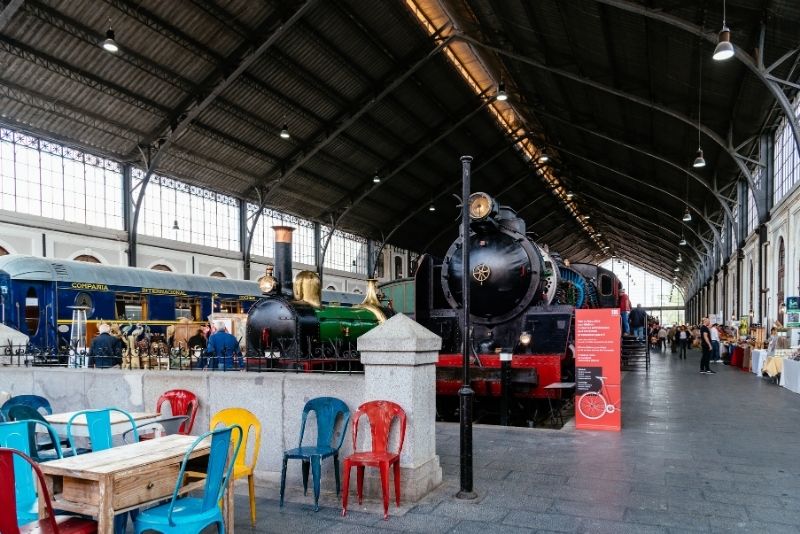 Who didn't dream of being a train driver when they were young?
In a retro cast-iron railway station, this museum is full of recreations and locomotives through the ages!
Train-lovers can take the vintage Tren de la Fesa train-ride between Madrid and Aranjuez, and hungry visitors can dine in a 1930s restaurant car! All aboard!
53 – Have a perfect picnic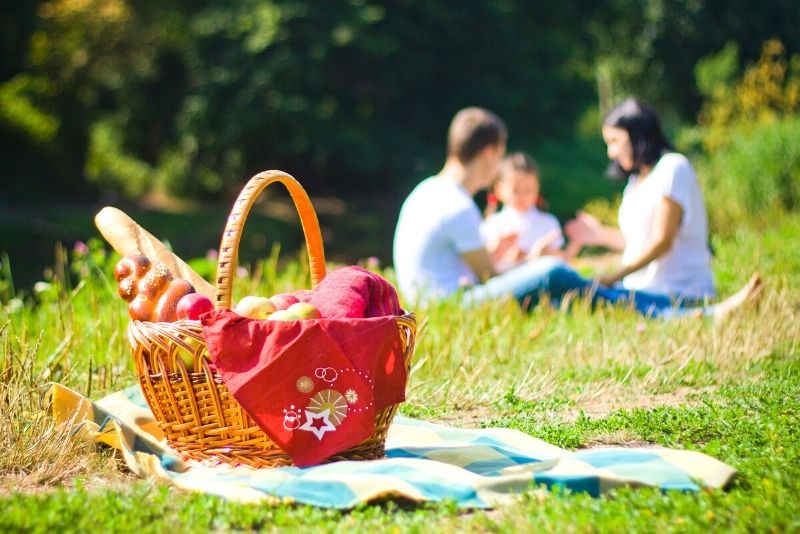 In a city with huge parks, where it rarely rains and the sun's always shining, a picnic is the best way to enjoy Madrid's great outdoors!
Choose where you want to hang out, then let Picnic Madrid handle the rest!
They'll pack plenty of high-quality food so no one goes hungry and deliver it to you at the time and place you choose.
54 – Try the chocolate churros at Chocolatería San Ginés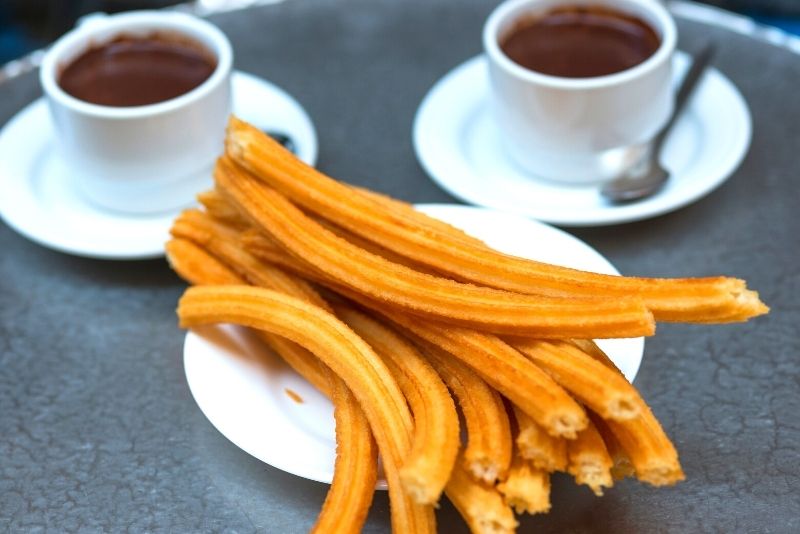 Who's ready for a treat?
This chocoholic cafe has been slinging churros, remarkably, since 1894!
Along the way, it's managed to keep its decor and traditional 'on the shoulder' preparation methods intact, and visitors have flocked for its signature churros — even in the early hours of the morning — ever since.
Open 365 days a year, they also serve plenty of other delectable pastries and soft drinks.
55 – Throw a coin into Cibeles Fountain at Plaza de Cibeles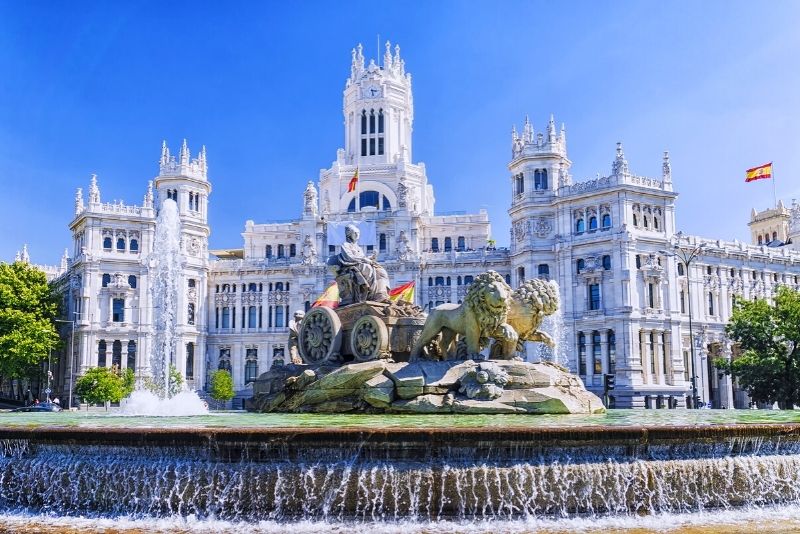 The apex of this gorgeous marble square under Cybele Palace is the fountain — a Roman Goddess Cybele riding a lion-pulled chariot!
It used to provide drinking water for the locals, but now it acts as the iconic spot where the captain of the Real Madrid football side drapes a scarf over Cybele to celebrate big wins!
56 – Feast at the Four Seasons at Dani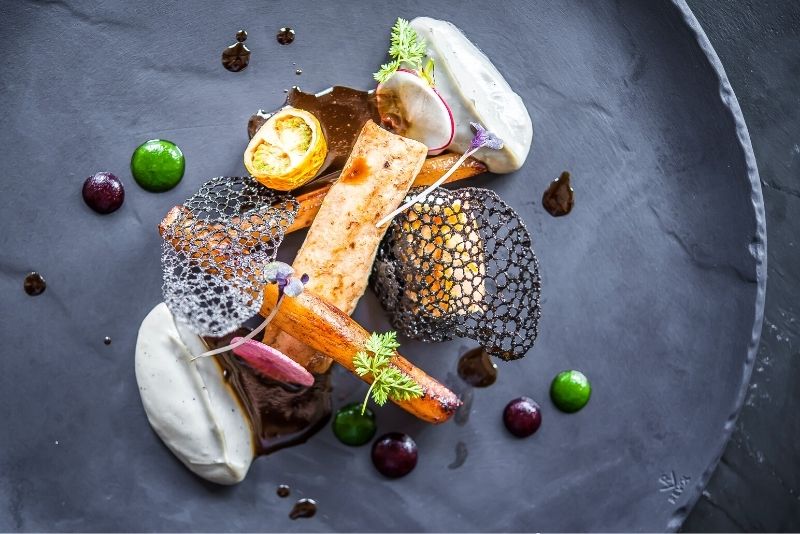 Michelin star-winning chef Dani Garcia has compiled his best dishes in a relaxed restaurant on the 7th floor of the Four Seasons hotel, complete with stellar rooftop views!
Dani has sittings for lunch, dinner, and snacks at the bar — with the aim of democratizing his best dishes and serving up the best of local cuisine.
57 – Stimulate all your senses at Ikono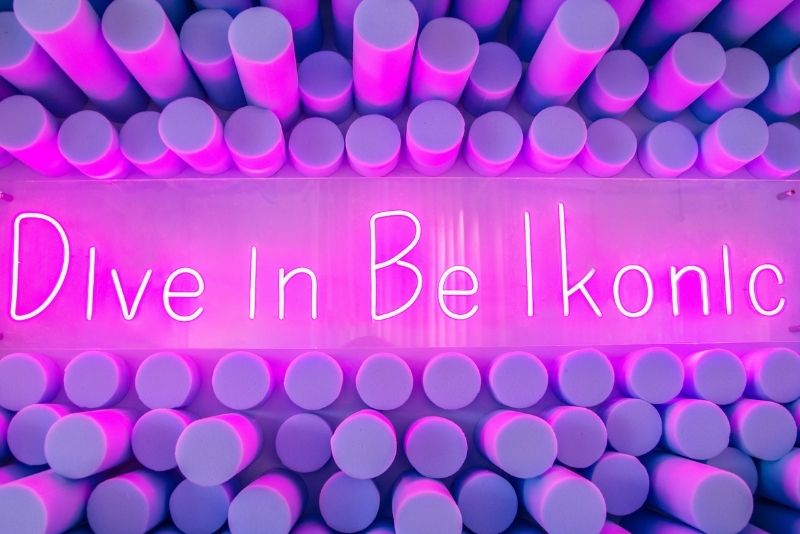 Imagine a modern-art gallery for all the senses — that's the innovative and immersive Ikono in a nutshell.
With rooms full of activities, colors, smells, and textures, the venue creates a sensory journey aimed to disconnect visitors from reality!
Spread over 15 rooms and 3 floors, this is one of the most unique things to do in Madrid.
58 – Get to the rooftop at Círculo de Bellas Artes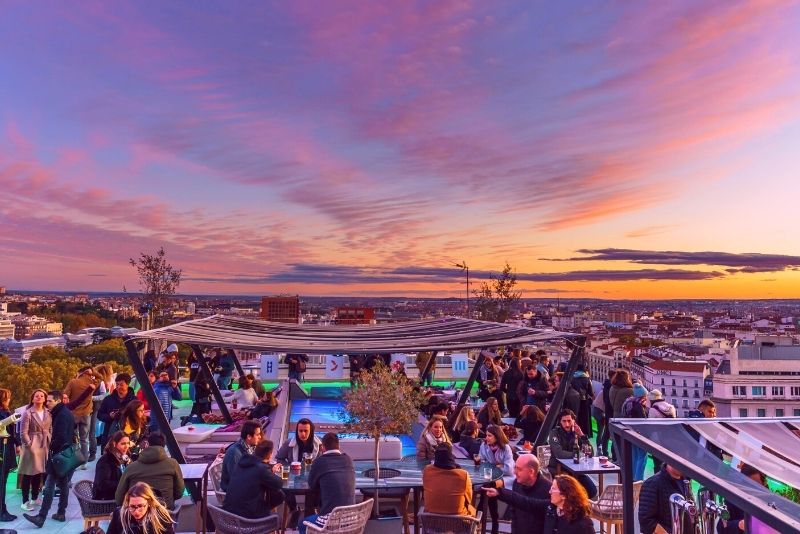 With plays, concerts, films, conferences, and exhibitions of all kinds of art, this is one of the great cultural centers in the city!
Always pushing cultural trends and innovative art, anyone interested can walk into a workshop or session; otherwise, head to the rooftop terrace for the bar and restaurant with views to die for.
59 – Admire avant-garde art at La Casa Encendida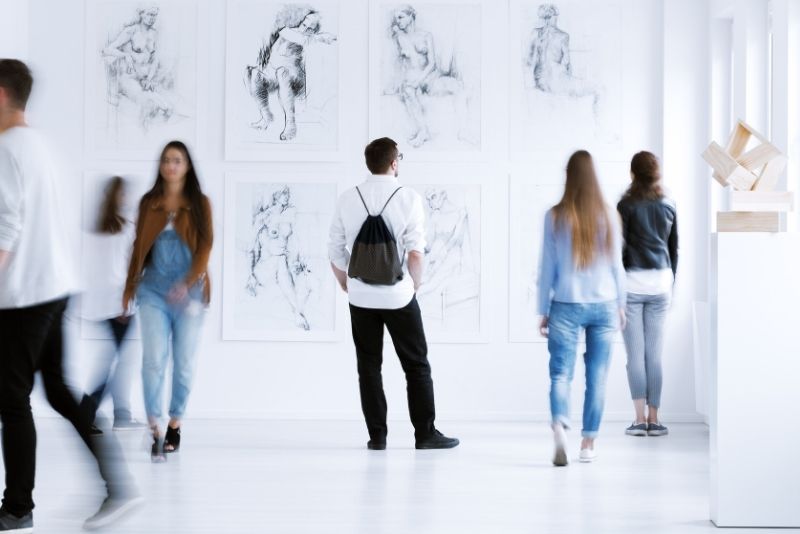 Inside the classical grand building, this museum pioneers innovation and creativity of young people and provides a place to display their art, as well as to conduct workshops on environmental and local issues!
The result is brilliant experimental art, capped off with an open-air rooftop theatre showing avant-garde films with drinks to boot!
60 – Visit Madrid's theatres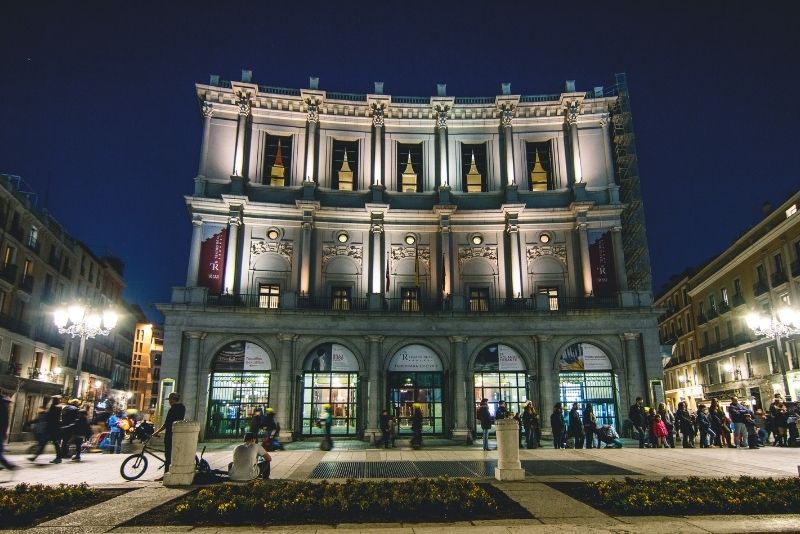 As you'll discover, Madrid's smorgasbord of theatres has plenty to offer!
With over 150 years of history, Teatro Real is the main opera house; Teatro Español has red velvet seating, a gold-framed stage, and playwrights engraved into the theatre; Teatro Lara hides in a narrow street but boasts golden balconies and a huge mural, while Teatro Circo Price specializes in circus and acrobatics!
61 – Go window shopping at Gran Via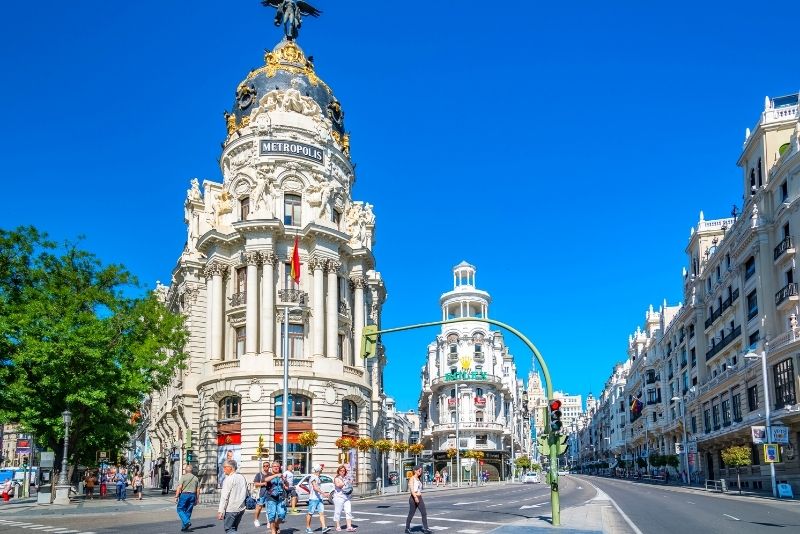 The 'Spanish Broadway' is Madrid's focal point!
There are theatres, restaurants, bars, and churches to explore – but shopping is a favorite for travelers and locals alike!
There are bountiful places to pick up the latest in high-fashion and street-fashion at affordable prices, but don't miss El Corte Inglés for famous and local labels!
62 – Try the suckling pig or lamb at the Sobrino de Botín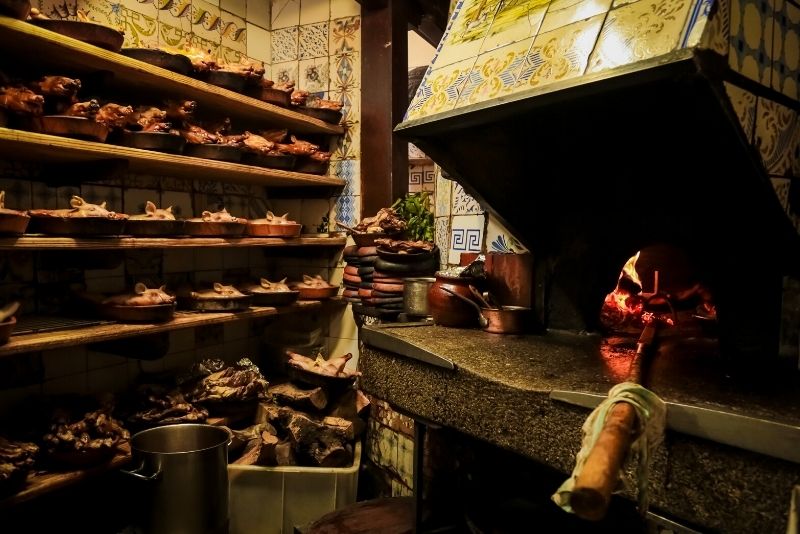 The world's oldest restaurant, founded in 1725, is also one of the world's best!
3-4 times per week, the best suckling pigs and lambs are prepared and roasted in the traditional Castilian way in their 18th-century oven!
The meat is not just dripping with juices, but with history. Of course, don't forget to wash it down with a glass (or three) of wine from the Sobrino de Botín cellar.
63 – Watch Spanish folklore come to life at Puy du Fou España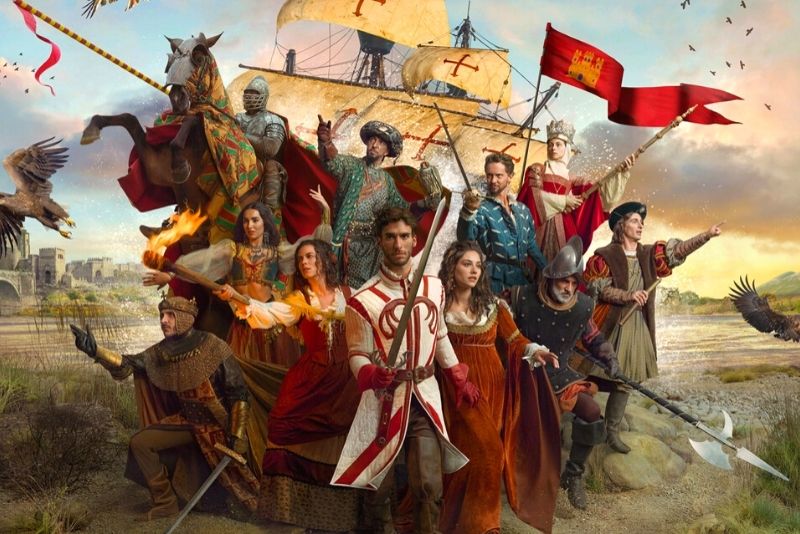 Visitors wade through 4 themed historic villages with a play at the center of each — from royals seeking a truce with birds of prey to Columbus' crew on the Santa Maria, there's plenty to experience here.
Then, at sunset, it all climaxes at The Toledo Dream which takes the audience through over 1,500 years of Spanish history with incredible special effects.
Thanks for checking out our collection of amazing things to do in Madrid!
If you have anything else that you'd like to add to the list, feel free to leave a comment below.
As always, safe and happy travels!