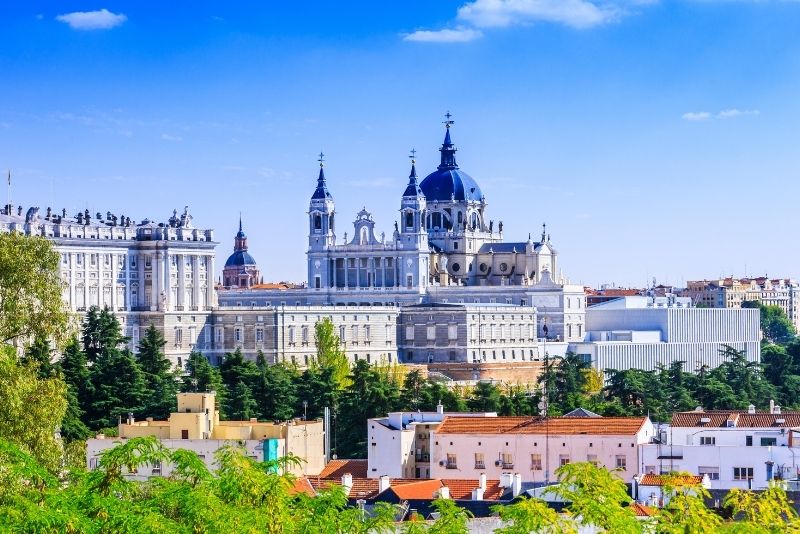 A sprawling metropolis rich in history, culture, and nightlife — not to mention the tantalizing tapas — the Spanish capital welcomes over 6 million tourists each year, all of whom walk away with nothing but amazing memories.
Large in both size and character, this bustling inland city packs a punch, whether that's through its historic architecture, insightful museums, buzzing party scene (the Huertas area is never shy of a fiesta), or its phenomenal menu — dishes of which are widely considered to be some of the best in Europe.
Throw in a slew of adventure activities within arm's reach of the city (from hiking in the spectacular Sierra de Guadarrama to kayaking along the streams in the Duratón Natural Reserve – and, when winter strikes, skiing in the Sierra Nevada) and you have a destination of many hats that's truly hard to beat.
And within the city limits, culture vultures will have a field day; visit one of Madrid's world-famous museums in the 'Golden Triangle – Prado Museum, Reina Sofia Museum, or Thyssen-Bornemisza Museum – or explore some of the city's many beautiful parks, such as El Retiro and Casa de Campo.
Top it off with a football match (you'll rarely find a crowd more passionate than those of Real Madrid) a cooking class or a wine-tasting tour, and you'll soon see why Madrid is one of Europe's most beloved capitals.
With so much to see and do, it can be hard to know where to start — which is why we've put together this list of 63 fun things to do in Madrid.
1 – Start your trip at the stunning Royal Palace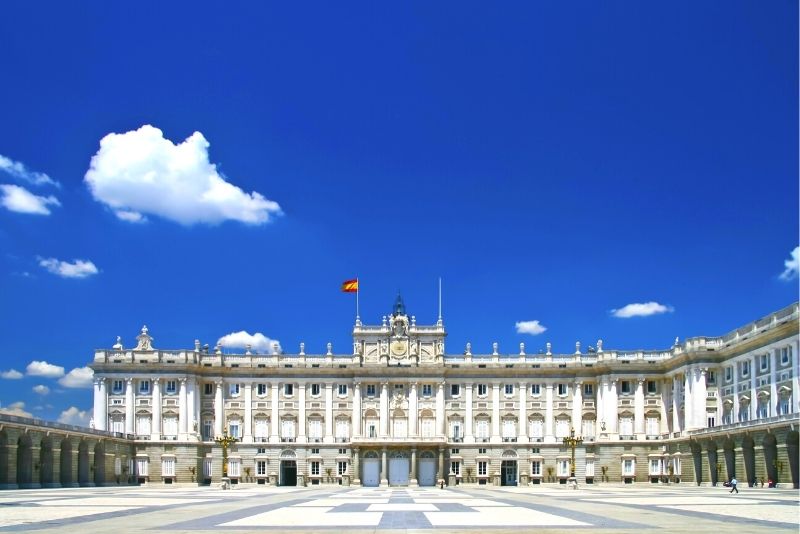 The posterchild of the city, and often the starting point for many a history and architecture-loving traveler, this is the foreboding place that the Spanish Royal Family calls home; complete with historical artifacts and endless works of art, the 3,418-room abode comprises the Grand Staircase, Library, Armory, Chapel, Crown Room, and so much more.
Within the walls, lavish decorations and grandiose architecture provide a window into how the other half once lived, making this one of Madrid's most popular tourist attractions.
Any tour, led by history experts who can wax stories about the Palace's past occupants, is sure to be fascinating, bringing to life the rich history of Spanish leaders going as far back as the 18th century.
You'll find this enormous (not used lightly – at 135,000 square meters, it's the largest functioning royal palace in Europe) slice of Madrid royalty a short stroll from the city center, with the lush surrounding Campo del Moro gardens certainly worth 30 minutes of exploring too.
Read more about the Royal Palace of Madrid tickets price.
2 – Cheer or Real Madrid (the Bernabeu stadium) or Atlético de Madrid (Wanda Metropolitano stadium)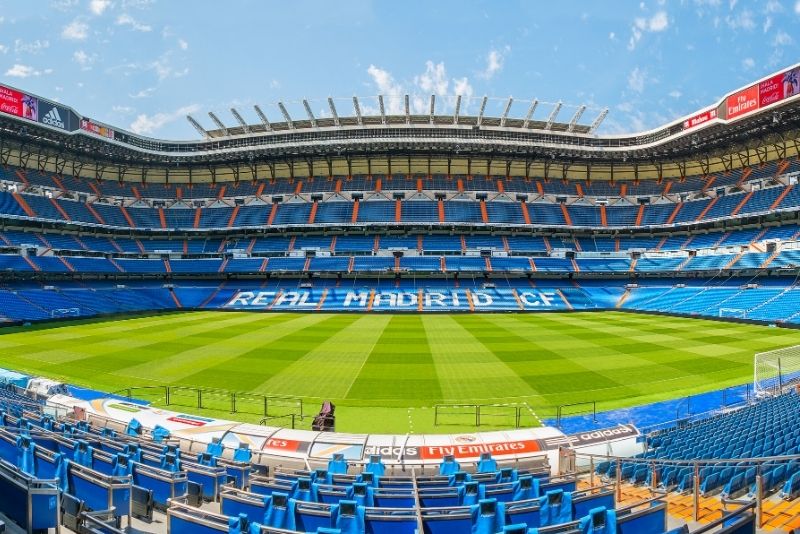 Calling all sports fanatics! Two of football's European heavyweights square off against each other in the Madrid Derby: Real Madrid and Atletico Madrid, who play at the Bernabeu and Wanda Metropolitano respectively. The former stadium, which sits in the northern suburbs and can hold an utterly electric crowd of over 80,000 diehard fans, exudes a gameday atmosphere unmatched by any other.
Meanwhile, the Wanda Metropolitano — Atletico's home since 2017 and located in the south of Madrid — offers a brand-new, state-of-the-art matchday experience that any football fan is sure to enjoy.
Whether you're cheering on Los Blancos or Los Rojiblancos, the energy at these teams' home games is nothing short of electric; meanwhile, for an up-close and personal look at the life and history of the local teams, both venues offer world-class tours of their stadiums and trophy cabinets.
Read more about the Santiago Bernabeu Stadium Tour.
3 – Tour the traditional Las Ventas Bullring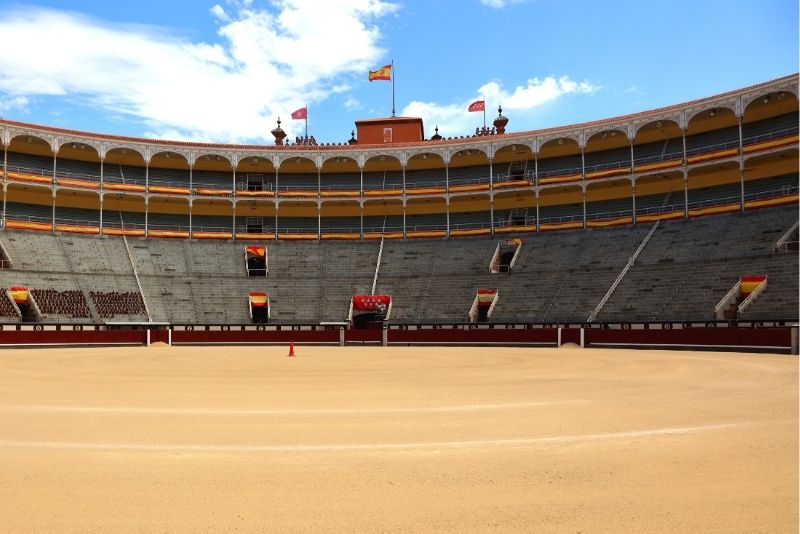 Like stepping back in time to an era of Spanish culture that is synonymous with the country's spirit, passion, and dare, a visit to the Las Ventas bullring is an experience not soon forgotten.
One of the most popular tourist attractions in Madrid, this grand arena (the largest of its kind in the country) has been hosting some of Spain's most prestigious bullfights since 1931; today, it remains one of the main venues for this controversial bloodsport and infamous tradition: Corrida de Toros!
An in-depth look at the Bullring, ceremonial entrance, and stands will take you on a journey into Spanish culture, while the nearby museum offers intriguing bullfighting artwork and dresses to boot. Whether you stay for an hour or an afternoon, it's a great way to hear the legends of Spain's most famous bullfighters and soak in a unique atmosphere.
You'll find this authentic attraction in the Salamanca District, easily accessible by the metro (Ventas station) from anywhere in the main part of town.
4 – Glide on a Segway through beautiful Retiro Park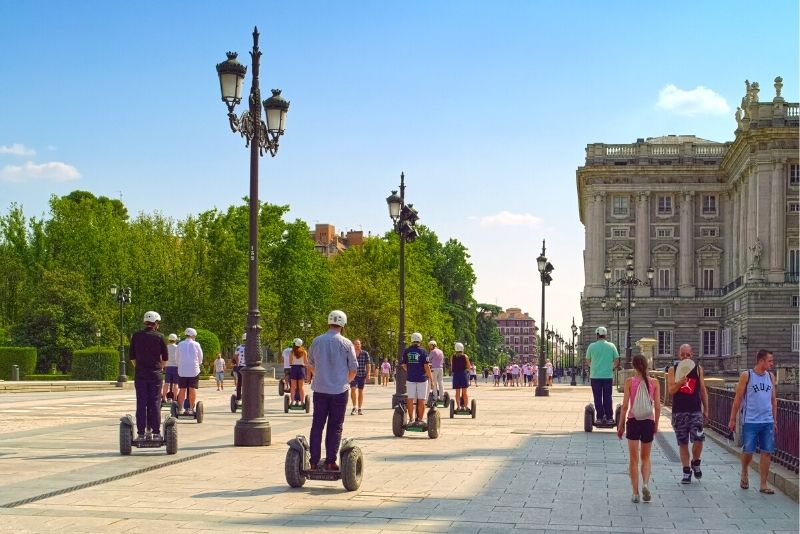 Despite being a certified bustling metropolis, with a jam-packed calendar of events and an unending list of things to see and do, Madrid boasts a surprising number of green spaces in which to relax, unwind, and escape the hustle and bustle for a few hours.
One such oasis is the large Retiro Park, located just a stone's throw from the city center. This sprawling park is perfect for a leisurely stroll, a game of paddle tennis, or even a romantic picnic lunch; it's also home to the dazzling (Palacio de Cristal) Crystal Palace, a beautiful glass building that deserves a visit in its own right.
But the best way to see the expansive 125-hectare Retiro Park? Undoubtedly with the breeze in your hair and the Spanish sun on your neck on a Segway! These two-wheeled, self-balancing scooters offer a unique and fun way to explore the park's many nooks and crannies (without getting your legs tired), with knowledgeable guides leading the way and pointing out all the must-sees along the way.
Catch the vibrant Rosaleda rose garden, a large lake where you can hire a rowboat, and consider popping into the Velázquez Palace, an exhibition hall that's part of the Reina Sofía Museum.
5 – See all of Milan's highlights on a convenient hop-on hop-off bus tour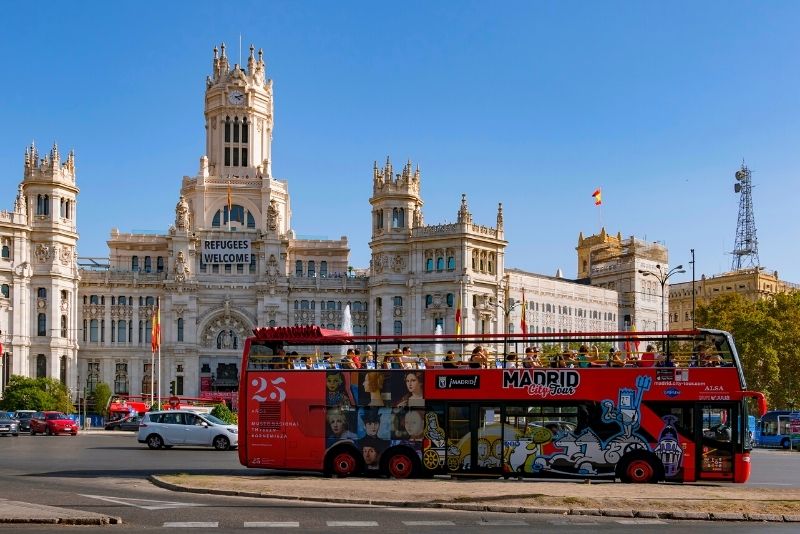 With so many things to do in Madrid, the hop-on/hop-off bus tour is a great way to get the major beats of the city in 1 or 2 days! Zooming all the way around the city center in an open-top, double-decker bus, you'll get to see all of Madrid's top sights as you listen to commentary about the history and culture of each one.
Start at any of the dozens of stops on the tour (including Gran Vía, Atocha Train Station, Jardín Botánico, Puerta del Sol, the Royal Palace, and the absolutely stunning Plaza de España, to name but a few), then sit back and relax as you make your way around to each of the other postcard-worthy landmarks, squares, museums, and parks through either historic Madrid or modern Madrid (or both).
Hop off at any point that interests you, then simply re-board the bus when you're ready to move on. With ticket options for 48 hours (usually 24), you can even break up the tour into two days if you want to explore Madrid at a more leisurely pace.
On those warm summer days, the top deck of the bus is the perfect spot to enjoy the breeze and snap some photos of Madrid's incredible architecture as you go, while the air-conditioned lower deck is ideal for when the sun gets a bit too strong.
6 – Wander through 800 years of art at the esteemed Prado Museum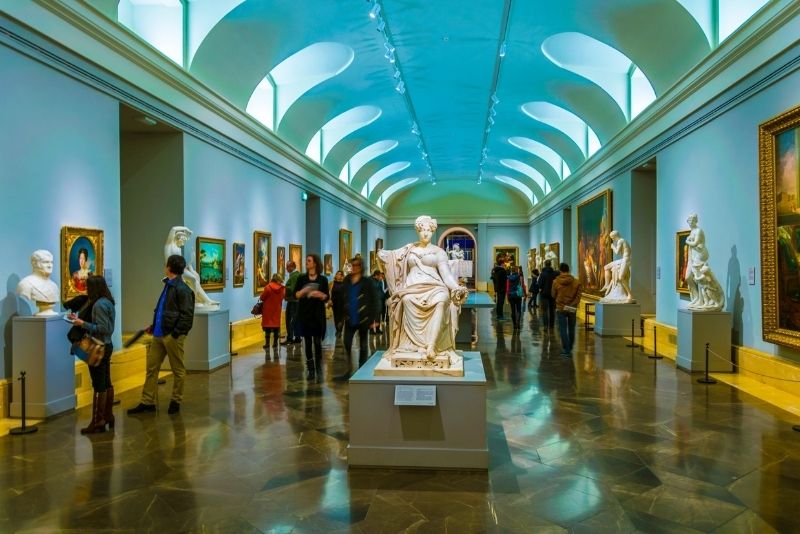 Art lovers (and history buffs), listen up!
Arguably Europe's finest art museum, the Prado's display of tens of thousands of works is guaranteed to leave you thoroughly impressed (by both sheer quantity and exquisite quality).
From the 12th century all the way up to the early 20th, the Prado's massive collection of exquisite paintings, detailed sculptures, ancient prints, raw sketch drawings, and historic documents from famous artists chronicle both Spanish history and the development of Western art as a whole.
Holding the title of the world's largest Spanish art collection, the esteemed institution showcases notable artwork from masters such as Caravaggio, Raphael, Bosch, Titian, and Velázquez, as well as a formidable assembly of Italian and Flemish art. Visitors typically love the Francisco Goya collection, whose works of portraits, battles, and myths inspired both Picasso and Dali.
With a building that spans over 235,000 square feet (22,000 square meters), it would be easy to spend an entire day here; luckily, there's a cafeteria on-site if you need to refuel.
If you want to get the most out of your visit, it's worth considering a guided tour (offered in English), which covers all the unmissable bits and provides interesting anecdotes and context for each piece.
Hot tip: download the free Prado Museum app before you go to make the most of your visit, as it includes an interactive map of the museum's collection as well as a handy 'highlights' tour.
Read more about Prado Museum tickets price.
7 – Crack the codes in an escape room!
Fancy yourself somewhat of a Sherlock Holmes in the making? Or maybe you and your friends are just keen to test your wits (and teamwork skills) in a fun and unique way.
Either way, an escape room is a perfect activity for groups of friends or family visiting Madrid.
For those who don't know, an escape room – a phenomenon that's taken the world by storm in the past decade – is basically a physical adventure game in which players are locked in a room (or series of rooms) and have to use elements of the room to solve a series of puzzles, find clues, and ultimately escape the room within a set time limit.
With different themes, difficulty levels, and time limits on offer, there's an escape room to suit everyone in this city; Leave present-day Madrid behind and walk into the Cold War, Death Row, or the Midnight Train… with only 60 minutes to escape and nothing but your problem-solving ability and out-of-the-box thinking!
Not sure which one to choose? A justifiably popular pick is the 'Art Merchant', where players must investigate the priceless art disappearing from Spanish museums.
8 – Drive yourself around Madrid in a fun little GoCar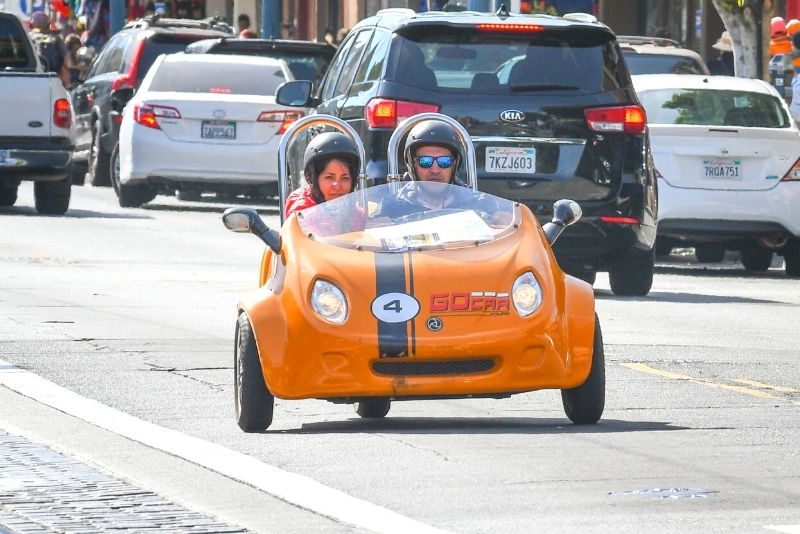 Unlimited miles? Check. Full tank of gas? Check. Itinerary? Choose your own!
While it might look a little touristy from afar, once you're strapped into the driver's seat of your very own GoCar, you'll be having too much fun behind the wheel to care.
Essentially a computer on wheels, these two-seater, electric vehicles come equipped with an onboard GPS system and audio guide that takes you on a pre-determined route (but hey, nobody's saying you can't venture off the beaten track a little) and provides interesting facts and commentary about all the main postcard-worthy sights along the way.
Rather than being stuck on the schedule of the hop-on-hop-off bus, and elbowing your way through crowds, zipping around town at your own pace lets you drive to your schedule and go at your own pace — exactly what vacation should be!
9 – Race around town with an interactive scavenger game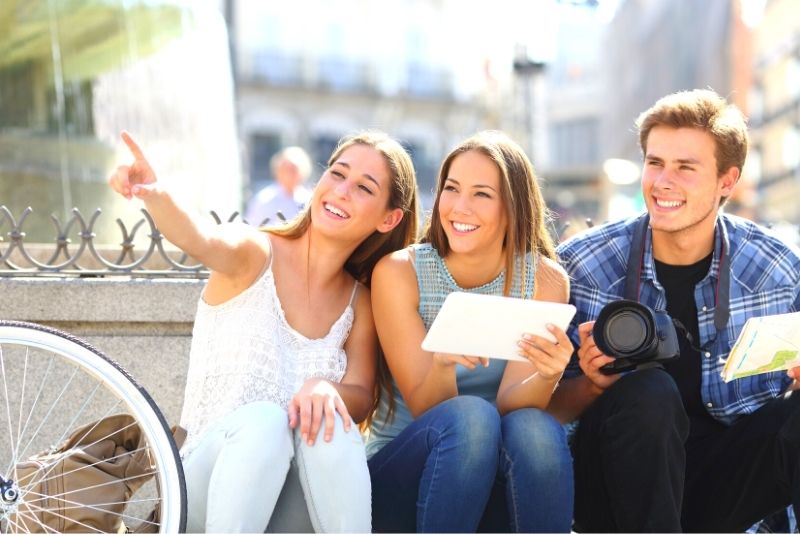 Fed up with slow-paced walking tours and run-of-the-mill sightseeing? Why not put your sense of adventure and discovery to the test with a fun scavenger game around Madrid?
The aim of the game is simple: using only your wits, intuition, and a little help from some friends (or strangers), plus the game's app at your fingertips, you have to find your way around the city and complete various challenges within a set amount of time.
Not only is it a great way to explore Madrid's nooks and crannies, as well as the main haunts (like the Royal Palace and Puerta del Sol), but it's also a fun way to bond with your fellow teammates and learn some interesting facts about the city along the way.
Depending on which game you choose (Treasure Hunt, Haunted Madrid, Madrid's Wild West, and the La Latina Quarter adventure, to name a few) each player on the team can have a different role in the game. Even if you don't solve all the clues, it's a wonderful way to see the city of the "Bear and the Strawberry Tree" from a different perspective.
10 – Head on a day trip to magical Toledo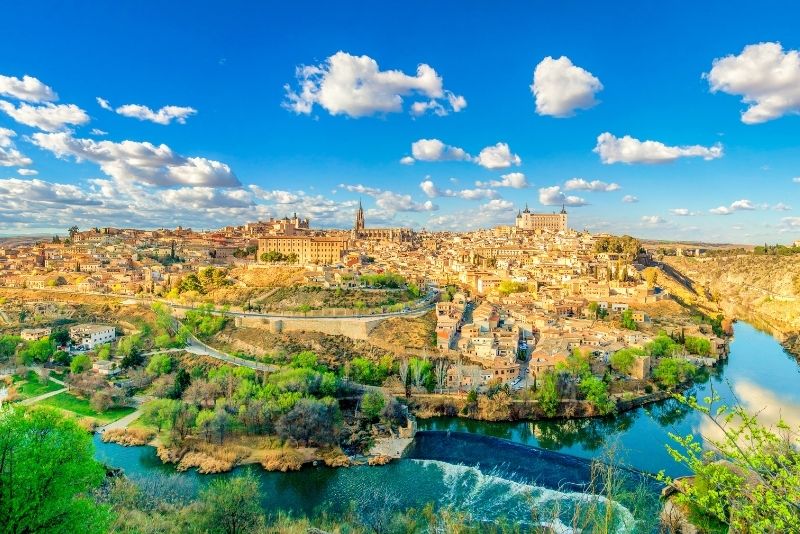 Famed for its picturesque setting and well-preserved medieval architecture, a day trip to the stunning city of Toledo sells itself as one of the quintessential things to do in Madrid (well, from Madrid, technically).
Just a short drive from the nation's modern capital, this UNESCO World Heritage site was actually once the capital of Spain itself, and played an important role in the country's political and cultural development.
Finding itself on many a postcard and Instagram story, the grand and picturesque Imperial City of Toledo is renowned for its brilliant buildings, narrow stone streets, its rich history, and its cultural diversity.
So whether you want a historical deep dive, some scenic zip-lining, or just an ice-cold beer on one of the many rooftop terraces, Toledo has plenty to offer for visitors of all ages!
Hot tip: don't miss the awe-inspiring Toledo Cathedral, one of the most impressive Gothic buildings in all of Europe (dating back to the 13th century), likewise the Alcázar, a vast and imposing former royal palace that today houses the city's Army Museum.
Learn more about Toledo day trips from Madrid, or read more about the best day trips from Madrid.
11 – Meet some of your favorite celebs at the Wax Museum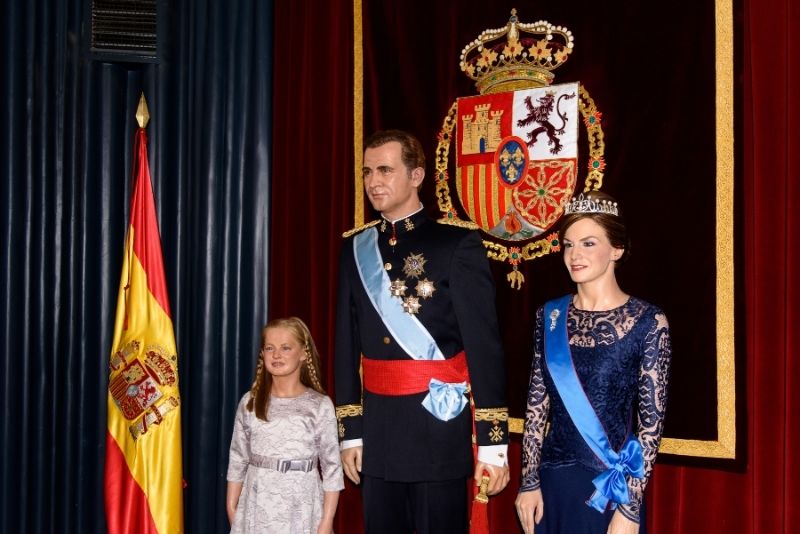 Where else can you find Napoleon, Cristiano Ronaldo, Brad Pitt, and Snoopy all in one place?
The closest you'll get to meeting your heroes in the flesh (or at least, their doppelgangers), the Wax Museum (or Museo de Cera, as known by the locals) in Madrid showcases over 450 life-size wax figures of the world's most famous and influential people, from sports stars and musicians to politicians and movie icons.
With both Spanish and international celebrities on display, there's something for everyone at this top Madrid attraction. Plus, it's not just a bunch of wax heads on sticks — each figure is incredibly realistic and set up in dynamic scenes, so it's almost like you're seeing them come to life right before your eyes!
Several selfies aside, thrill-seeking visitors typically also love the rooms full of horror movie protagonists like Freddy Krueger and Dracula.
The family-friendly attraction sits just a 10-minute walk from the triumphant Puerta de Alcalá arch and the sprawling El Retiro Park, the ideal spot for a post-wax museum picnic lunch,
12 – Try your hand at canyoning at Somosierra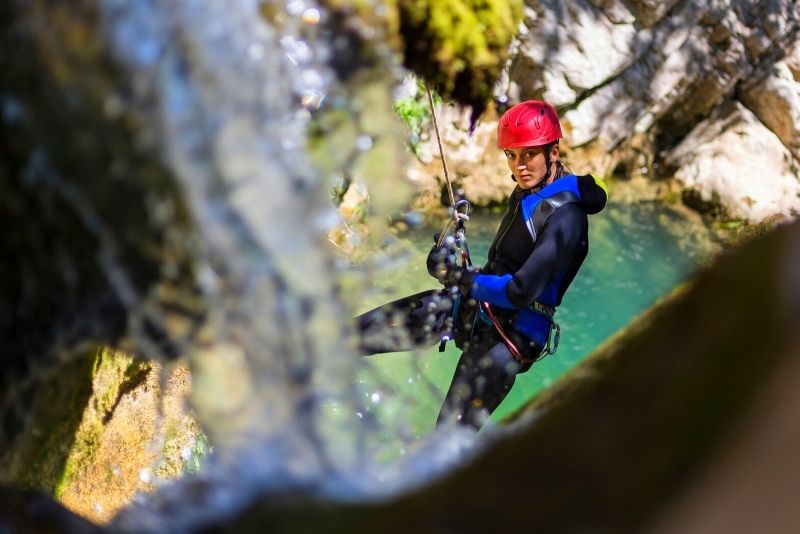 Sure, the city of Madrid is stacked with buildings and urban sprawl as far as the eye can see, but that doesn't mean there aren't any outdoor adventures to be had!
In fact, just a short drive from the city center lies one of Spain's most popular (and challenging) adventure locales: Somosierra.
A dramatic landscape, this mountain pass region is a hot spot for outdoor activity; with hiking, climbing, swimming, and, of course, canyoning all part of the Somosierra experience.
For the uninitiated, canyoning is basically rappelling down the face of a cliff (sometimes called abseiling) — and it's an absolute adrenaline rush!
In the gorgeous Duratón gorges you'll find Madrid's only open canyon complete with waterfalls, pools, slides, vertical abseils, and even a fun slide where you get the perfect mix of adventure and spectacular views!
After making the hour-long drive north (transport often included in tours), and then being kitted out in all the necessary gear (likely including a wetsuit to protect you from the fresh mountain water), your group will make your way down the canyon, conquering each waterfall and natural obstacle as you go.
13 – Sit on Philip II's throne at El Escorial (a great day trip option)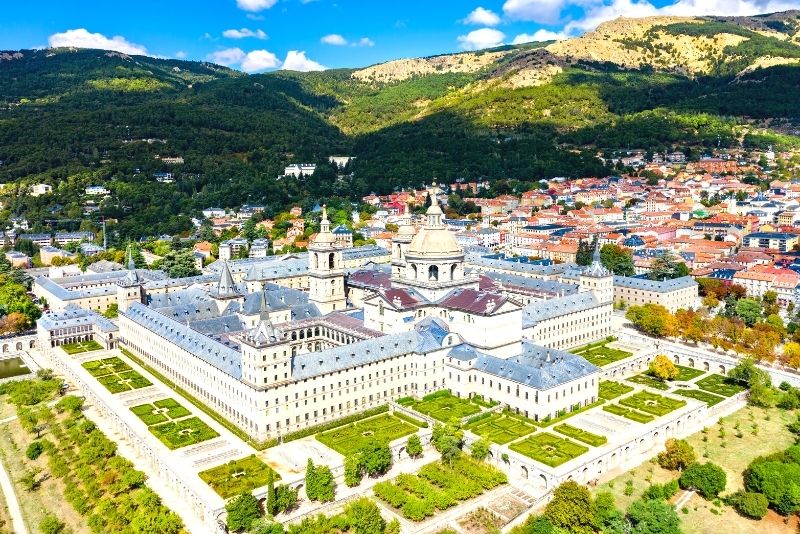 Just under an hour's drive northwest of Madrid sits the UNESCO-listed Royal Site of San Lorenzo de El Escorial, one of Spain's grandest and most significant royal palaces.
A vast complex that includes a monastery, a basilica, a pantheon, a royal palace, a hospital, three libraries, the stunning Gardens of the Friars, and even its own village (San Lorenzo de El Escorial), this is a quintessential day trip for anyone interested in Spanish history (or architecture).
El Escorial was built in the 16th century by King Philip II as a mausoleum for himself and his family, and today it's one of the country's most popular tourist attractions.
As history tells it, the King sat on a throne at El Escorial, gazing over both the gorgeous city and the infamous monastery — which now finds itself on many a postcard! Travelers love the Pantheon of Kings with Charles V's extravagant marble tomb and other royal relics in the palace, while the library is also a top spot, with over 40,000 ancient books and manuscripts.
To get there solo, you can take the Cercanías regional train, however, for history buffs looking to squeeze the most out of their trip, a guided tour from Madrid that includes transport comes highly recommended.
14 – Dive into Spanish history at the fascinating Naval Museum of Madrid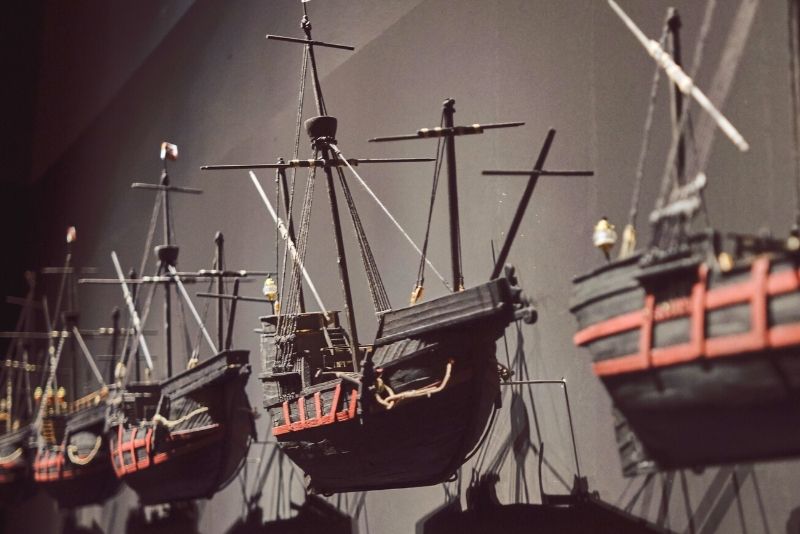 At its height, the Spanish navy colonized the world from Asia to Argentina! How did they become so big and powerful? Let the interactive museum (which sits inside the Navy Headquarters) take you chronologically through Spanish exploration; from Juan de la Cosa's original map of the Americas when he traveled with Christopher Columbus, to original flags, weapons, and model ships.
Covering half a millennia's worth of oceanic exploration, the Naval Museum dives into themes like maritime voyages, groundbreaking discoveries, underwater archaeology, conflict and colonization, and maritime heritage, delivering an impressive perspective of Spain's role in the world.
Highlights include insights into Ferdinand Magellan's circumnavigation of the globe (the first to do so!), a look at how Spanish galleons were used to transport goods and treasures from their colonies, and an exploration of modern-day naval technology.
With plenty of interactive exhibitions, and a vast collection that includes over 12,000 objects on display, it's easy to while away a good two or three hours in this popular institution. The unsung museum is located on Paseo del Prado next to the Atocha train station and El Retiro Park, making it easy to add to any city center itinerary.
15 – Sample all the rich wines in the Ribera del Duero region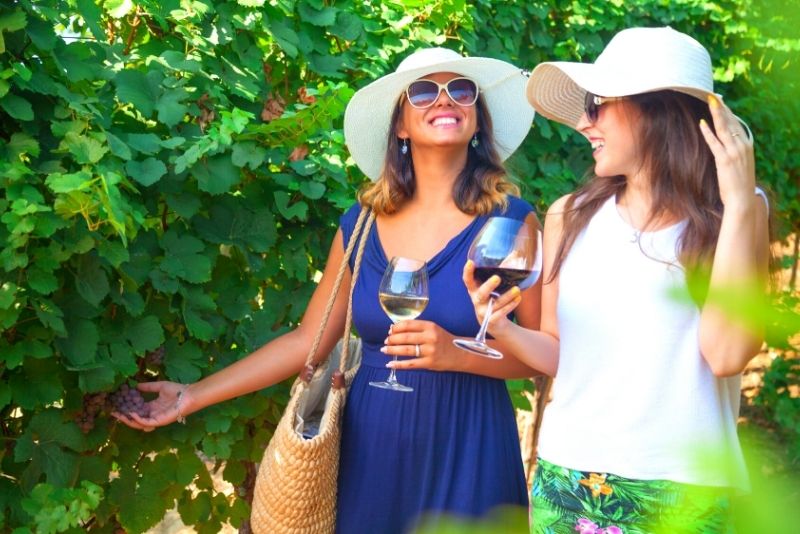 Anyone thirsty? You're on vacation, so it's time to try some of Spain's world-renowned wines! And what better place to start than in the Ribera del Duero, one of the country's most important (not to mention beautiful) wine regions?
Known for its deeply colored, full-bodied reds, the Ribera del Duero is located just under two hours northwest of Madrid (hot tip: combine it with a visit to the city of Valladolid) and is home to some of Spain's most celebrated wineries, including Dominio de Atauta, Bodegas Rodero, and Finca Villacreces, to name a few.
The region's wines are made predominantly from the Tempranillo grape, and while most bodegas offer tours and tastings, there's also an underground wine museum where you can learn all about the history and production of these fine Spanish wines.
On guided tours from Madrid (driver included!), oenophile travelers can learn how the world-famous wines from this region have endured the harsh weather for hundreds of years, and go behind the scenes at a handful of different wineries (changes depending on your tour of choice), Epitomising the essence of holiday, you'll try the abundance of tasty blends (especially those with dark, fruity aromas), and admire the countryside peppered with beautiful vineyards, villages, and castles as you drive through the sun-kissed region.
16 – Zoom around the city on a bike tour!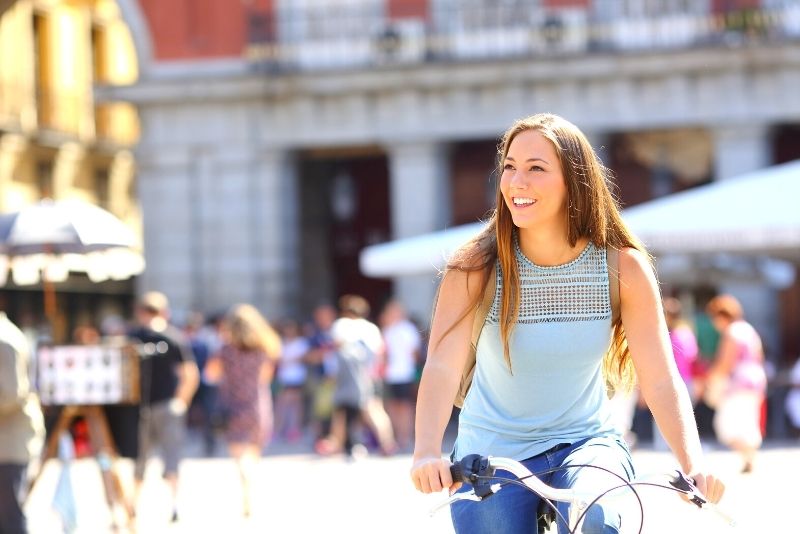 Travelers can't get enough of the guided bicycle tours of Madrid; locally-led adventures cover a lot of Madrid without being stuck behind glass windows in buses, while informative guides go through the history, sights, folklore, and gastronomy of the city as you stop and rest at its attractions.
With a slew of different itineraries to choose from, travelers can explore Madrid's Old Town, catching famous landmarks like the Royal Palace, the Cathedral of La Almudena, and Plaza Mayor, or go on longer full-day trips that take in sights like El Rastro (Madrid's world-famous flea market), the Golden Triangle of Art (which includes the Prado Museum, Reina Sofia Museum, and Thyssen-Bornemisza Museum). Other two-wheeled adventures provide an insider look at the city's street art scene before meandering down the riverside, while others take in the buzzing nightlife or combine a ride with a sampling of beer or sangria.
And, of course, if you want to get off the beaten track, you'll find a handful of off-road mountain biking trails on the outskirts of Madrid (in places like Lozoya) where you can explore Spain's picturesque countryside.
No matter which tour you choose, you'll be able to see Madrid from a new perspective, and maybe even make some friends (and burn some calories) along the way! And with plenty of stops for photos and rest, these tours are perfect for travelers of all ages and fitness levels (especially considering the e-bike options).
So grab your spandex, helmet, and water bottle — a great day on two wheels awaits!
17 – Soar over the city or the countryside in a hot air balloon (with brunch)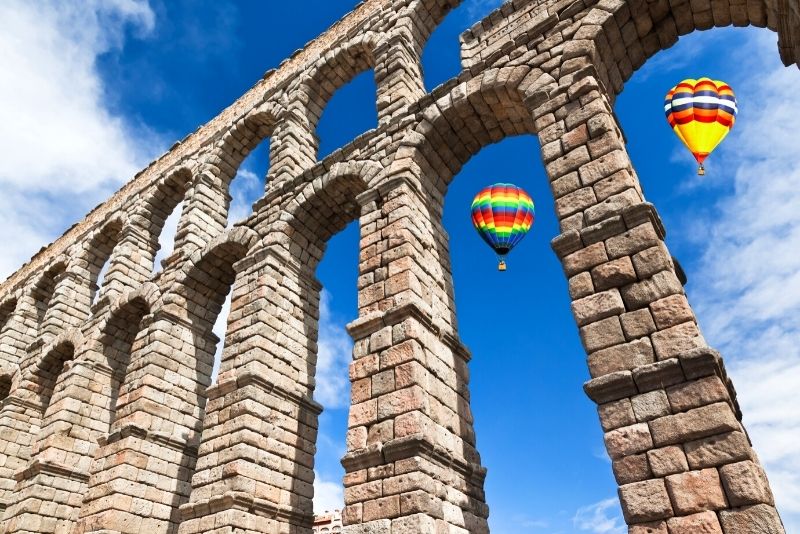 From street level, Madrid's skyline doesn't look all that different from any other large European city. But take to the skies in a hot air balloon, and you'll be rewarded with breathtaking views of Madrid's red-tiled roofs, verdant parks, and grand boulevards — not to mention the chance to enjoy a delicious gourmet brunch as you float high above the city and its lush surroundings.
This unique experience is offered by a handful of companies, and while the price tag isn't cheap, it's definitely a once-in-a-lifetime opportunity to see Madrid from a whole new perspective. And what could be more romantic than sipping champagne as you drift peacefully above one of Europe's most beautiful cities?
It's not just the city that's on offer though. Sky-seeking tourists can glide above the rocky landscape around Toledo, the hilly surroundings of Guadarrama, or over Segovia's granite buildings. No matter the location, the sunrise vistas are well worth the early wake-up.
18 – Trot through Guadarrama National Park on horseback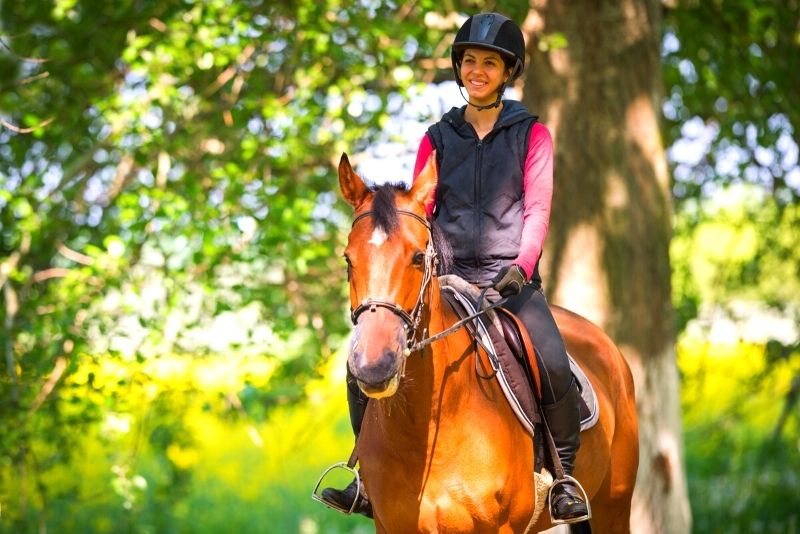 A wonderful way to get back to Mother Nature and explore Madrid's stunning surroundings is to go on a horseback riding tour through Guadarrama National Park. These tours are suitable for all levels, and no experience is necessary as you'll be given a brief lesson before setting off on your ride.
As you trot along the park's trails, you'll be surrounded by nothing but fresh air and stunning scenery. And if you're lucky, you might even spot some of the park's local resident wildlife, including eagles, wolves, vultures, boars, and deer.
Covering some 34,000 hectares, with mountains that jut some 2,000 meters up into the clouds, Guadarrama National Park welcomes many a nature-seeking traveler — and, thanks to its location just an hour from Madrid, making it the perfect day trip for travelers who want to get away from the hustle and bustle of the big smoke. Despite its proximity, the unspoiled forests of Guadarrama National Park feel a world away from the energetic Spanish capital.
19 – Meet Bugs and Batman at Parque Warner Madrid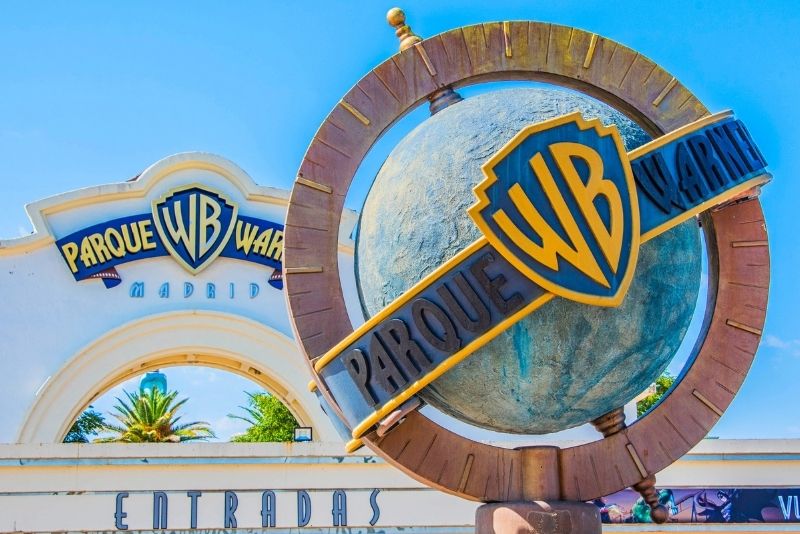 One of the fan-favorite things to do in Madrid for traveling families, Parque Warner Madrid is a unique theme park that's based on our classic, beloved Warner Bros. cartoons and movies.
Here you can meet the Looney Tunes in the flesh (or fur, or feathers); scream with the twists and turns as you fly like Superman on a roller coaster; make your way down the Hollywood Walk of Fame, and stare through the saloon doors at two cowboys in a ferocious duel!
One of the most popular shows is the 'Loca Academia de Policía', a high-octane car chase stunt show which sees the dramatic scenes of a Hollywood action movie brought to life. With plenty of pyrotechnics, drifting cars, and a peppering of audience interaction, this is one show that's not to be missed!
If thrills are more your style, make a beeline for the Batman Coaster, the Superman Coaster, the Stunt Fall, and the Coaster Express; if you're traveling with younger tots, on the other hand, the Tom & Jerry Attraction and the daily meet-and-greets with characters like Batman, Superman, Bugs Bunny, Daffy Duck, The Joker, Harley Quinn, and Marty the Martian, are sure to be a big hit.
Parque Warner Madrid is located just 30 minutes outside of the city, and it's best to dedicate an entire day to the whimsical theme park — because whether you're young of age or young at heart, it's a fun day out for anyone.
20 – Walk along the historic walls of Avila's Old Town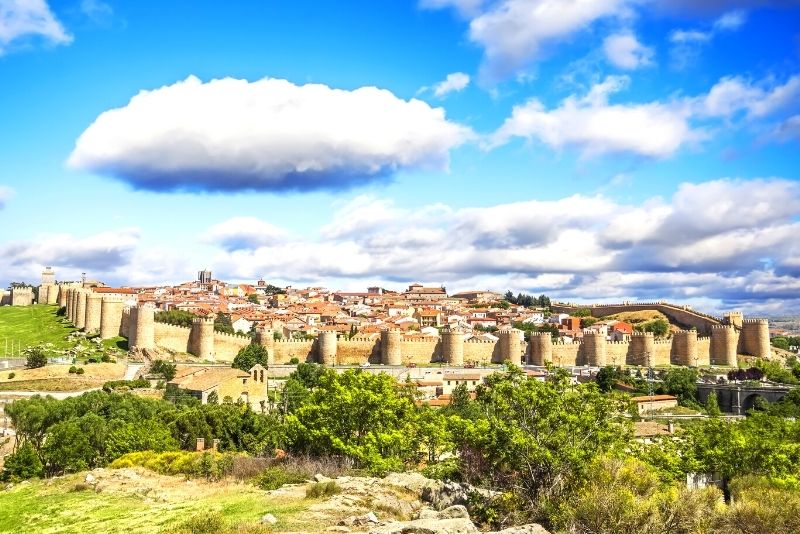 Looking like something straight out of a Game of Thrones setting, the striking 11th-century Walls of Avila are one of Spain's most iconic landmarks. The walls, which are the best-preserved medieval fortifications in Europe, stretch for close to two miles around the Old Town, and they're flanked by no less than 88 imposing towers.
Visitors can walk along the top of the walls (illuminated for extra dramatic beauty after dusk), taking in sweeping views of the city below, before descending into Avila's atmospheric Old Town to explore its maze-like streets and hidden squares.
Spot the monolithic, granite Cathedral of Avila; then dine on a famous Chuletón de Avila T-bone steak and have a sweet Yemas de Santa Teresa pastry for dessert. With tantalizing restaurants a dime a dozen, atmospheric bars, and plenty of pretty plazas to explore, Avila Old Town is a lovely place to while away an afternoon.
Hot tip: rather than making your own way to the ancient city, book a day trip from Madrid that includes a guided tour of the walls and plenty of free time to explore the Old Town at your leisure (with recommendations of hidden gems and local favorites, not tourist traps). And, for the best bang for your buck, combine the trip with Segovia (another of Spain's most beautiful small towns), for a full day of castles, culture, and cuisine.
21 – Paddle around in a kayak for a relaxing afternoon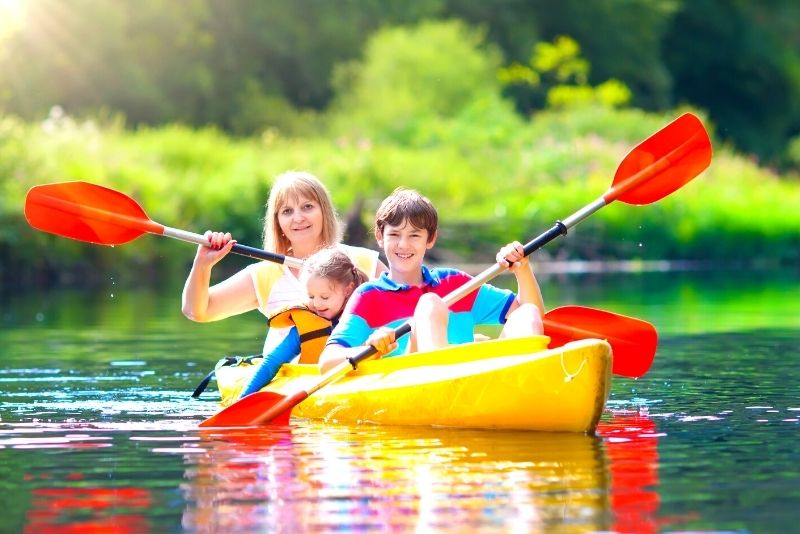 Despite being an enormous metropolis, there are a few great spots to kayak around Madrid!
The flat waters, shady coves and 14 kilometers worth of beaches make San Juan Reservoir a great place to explore by kayak before stopping to sunbathe; meanwhile, the water at Duratón Natural Reserve is a bird-spotters paradise with 100-meter high limestone walls, and the nearby Monasterio de la Hoz.
While paddling at your own pace is great, if you're new to kayaking or want to explore further afield, it's worth booking a guided tour. With kayaks, paddles, and lifejackets provided, all you need to do is show up and paddle!
Tours typically last around three hours and, depending on which package you book, often include a hearty lunch, transport from Madrid, or a combination of activities like canyoning, archery, or hiking.
22 – Get that hit of adrenaline with indoor or outdoor skydiving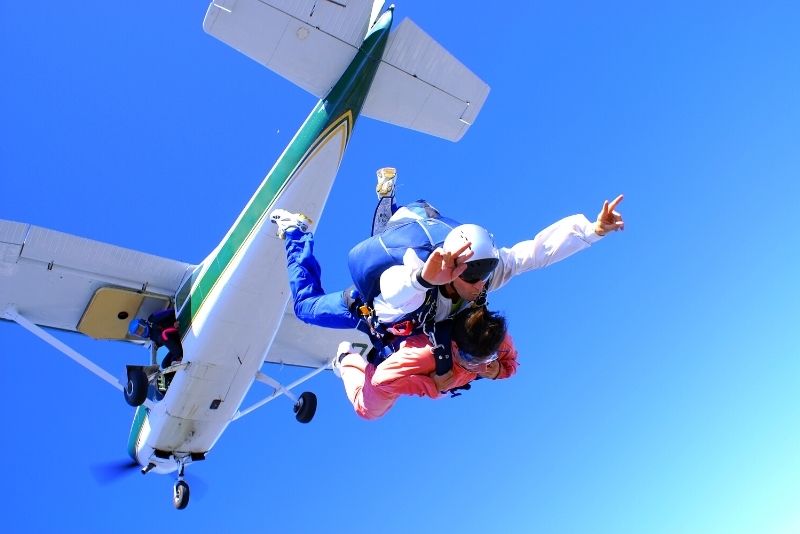 The ultimate thrill-seekers activity, skydiving is an unforgettable experience that everyone should try at least once in their life. And what better place to tick it off your bucket list than Madrid?
A 4000-meter tandem skydive with plenty of free-fall will send the adrenaline pulsing through your body and delight the eyes with panoramic views of Madrid, the Spanish countryside, and the Tagus river! Departing from places like Ocaña, Toledo, and Cuatro Vientos Airport, there are plenty of skydiving operators to choose from.
Typically, you'll freefall for about 60 seconds; once the parachute opens, it's 4 to 5 minutes of gentle gliding before making a soft landing back on Earth.
For the indoor option, Madrid Fly (the biggest wind tunnel in Europe) is a state-of-the-art skydiving simulator that's perfect for first-timers – likewise WINDOBONA Indoor Skydiving. After completing a short briefing, you'll be fitted into a jumpsuit and given all the gear before taking to the wind tunnel for an unforgettable experience. It's the best way to experience the thrills of a freefall without the intimidating heights or need to actually jump out of a plane (not to mention it's significantly more affordable)!
23 – Taste-test tantalizing tapas and wine on a food tour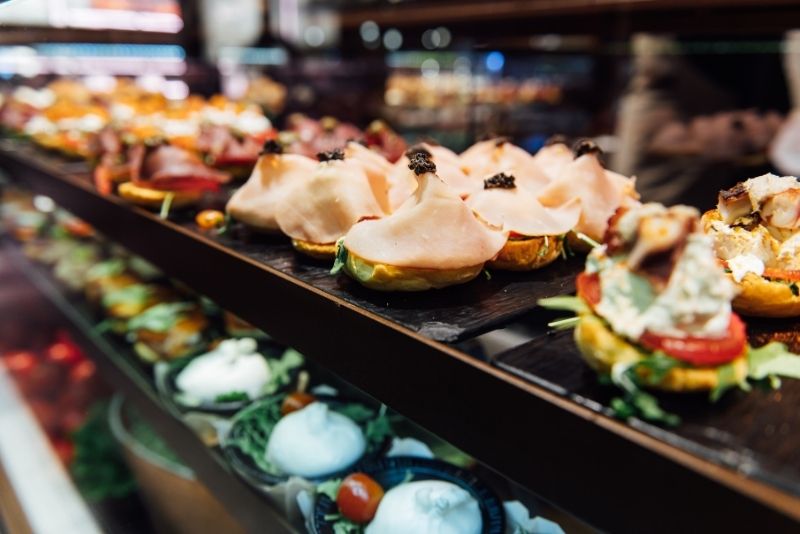 Get that taste of Madrid that only the locals know!
A tapas crawl is a mouthwatering must; a chance to try a little bit of everything (and we mean everything) Madrid has to offer, all while learning about the city's rich history and culture. From famous Spanish dishes like jamón ibérico (cured ham), paella, and churros, to lesser-known local favorites like garlic shrimp and cocido madrileño (a traditional chickpea stew), there's something for everyone – even the pickiest of eaters.
Wash it all down with some of the finest Spanish wines, cervezas (beers), or even a refreshing glass of sangria.
As your guide gives you the gastronomic lowdown, you're whisked away to some of the city's best restaurants, cafes, and marketers for free tastings. While making your way around town (on foot, or on two wheels, depending on your preference), you'll likely pass by a handful of Madrid's top attractions, like the Royal Palace, Puerta del Sol, and Gran Vía.
For something a little different, consider combining your foodie feast with a Flamenco show, or discover a new kind of souvenir that's sure to impress the folks back home with an authentic cooking class.
24 – Tick bungee jumping off the bucket list at the Buitrago Bridge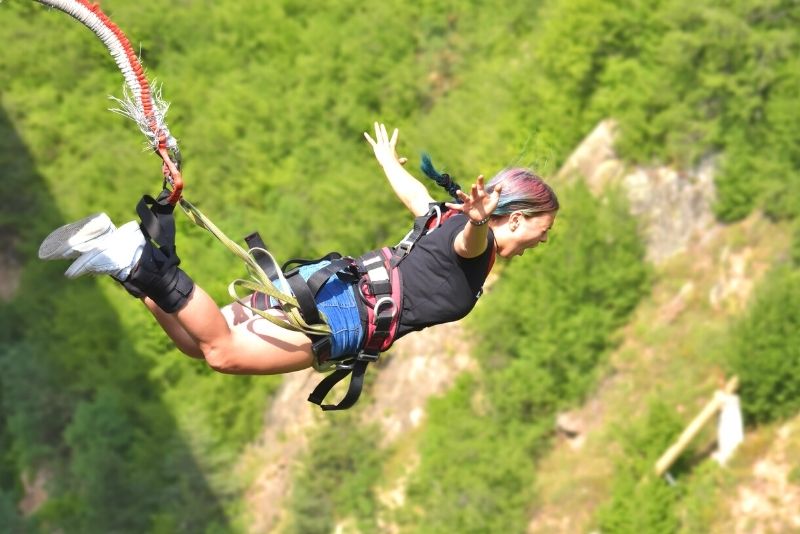 The ultimate bucket list item! Thrill-seekers will love standing on the edge of the 'Desire Bridge', looking down 45 meters into the canyon below. Located over in the picturesque town of Buitrago del Lozoya, around an hour's drive north from Madrid, it's a tempting day trip for those looking for adventure.
After being securely harnessed, it's just a matter of taking that leap of faith… and enjoying the ride! The jump lasts around 30 seconds, but it's an experience you'll never forget – especially if you opt for a photo package.
Once you've conquered your fears and checked off bungee jumping from the bucket list, take a stroll around the quaint town of Buitrago del Lozoya and grab a bite to eat (El Espolon comes highly recommended) before making your way back to Madrid. The medieval Castle of Buitrago, the historic hilltop ruins of the Palacio del Bosque, the myriad nature walks in the area, and the Museum Picasso Eugenio Arias' Collection combines to make this off-the-beaten-path small town well worth an entire day of exploring.
25 – Appreciate Madrid's incredible street art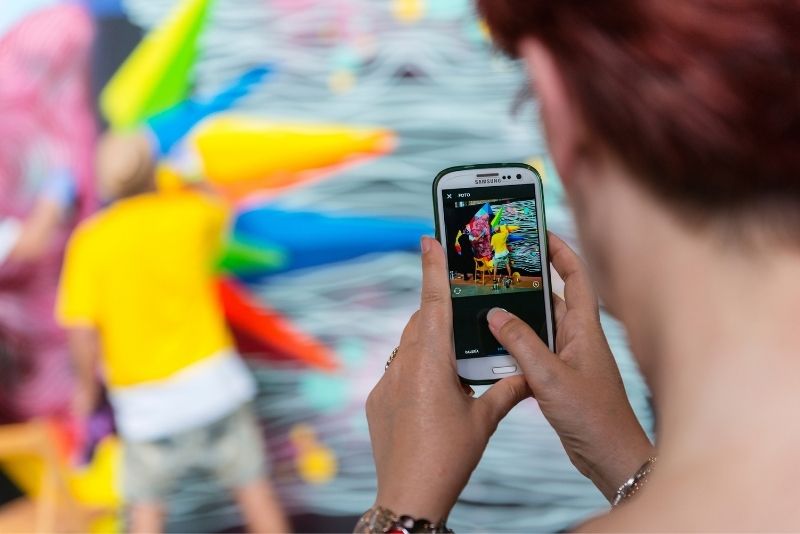 Seeing Madrid's incredibly evocative street art is a great way to learn about its culture!
While there's a near-endless list of artistic things to do in Madrid, travelers particularly love the big-headed babies statue at Atocha train station, the Neomudéjar power plant reclaimed by street artists who protest anti-graffiti laws, and the underground art gallery at La Tabacalera — a former tobacco warehouse whose walls are lined with stencil art!
As a city known for such diverse and world-renowned artists as Diego Velázquez and Francisco Goya, it's no surprise that Madrid's street art scene would be just as vibrant.
With a little help from a knowledgeable guide (great tours are aplenty), you'll discover all the hidden gems and best pieces of street art in Madrid, venturing off the main tourist trails into surprisingly cool and hip neighborhoods like Embajadores (where you'll find the aforementioned La Tabacalera), the Mercado de la Cebada, and student-friendly Malasaña.
26 – Marvel at Picasso's infamous Guernica at the Reina Sofia Museum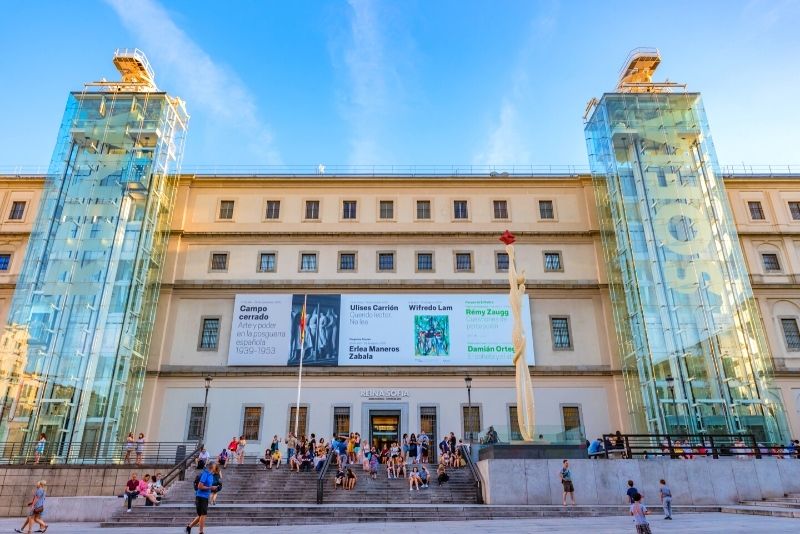 A quintessential stop for anyone who truly considers themself an art lover, the Museo Nacional Centro de Arte Reina Sofía is one of Madrid's top museums and home to an impressive collection of 20th-century contemporary (and mostly Spaning) art.
One of the most famous pieces on display at the museum is Picasso's Guernica – a large-scale canvas that was painted in response to the bombing of the Basque town of Guernica during the Spanish Civil War. The painting is an incredibly moving and powerful piece of art, and viewing it in person is sure to leave a lasting impression.
In addition to Picasso's Guernica, the Museo Nacional Centro de Arte Reina Sofía houses renowned work by the likes of Salvador Dalí and Joan Miró, as well as temporary exhibitions featuring up-and-coming contemporary artists.
With a little advance planning (tickets can be booked online), you can also take a guided tour of the museum which includes skip-the-line access – definitely worth it given the often long queues.
Read more about Reina Sofia Museum tickets price.
27 – Head to the top of the Faro de Moncloa for that perfect view
A peculiar structure towering some 92 meters (about 302 feet) over Madrid's skyline, the Faro de Moncloa is a communications tower that also happens to sport one of the best views in the city!
Head up to the observation deck for 360-degree panoramas of Madrid, appreciating landmarks like the Royal Palace, La Almudena Cathedral, and the Telefónica building on Gran Vía from an entirely new birds-eye perspective – on a clear day, you can even see as far as the Sierra de Guadarrama mountains. But even if the weather isn't cooperating, the views from Faro de Moncloa are still well worth the price of admission.
After taking in the views, be sure to check out the Museum of the Americas next door – diving into Madrid's history and culture, as well as that of wider Spain, plus hosting the famous Quimbaya Treasure communications industry, it details how marvelous Madrid has grown and modernized over time.
Make sure to pop into the souvenir shop for a handful of Madrid-inspired products, and, if your schedule allows it, try to time to your visit just before sunset!
28 – Trick your mind (and your social media followers) at the Museum of Illusions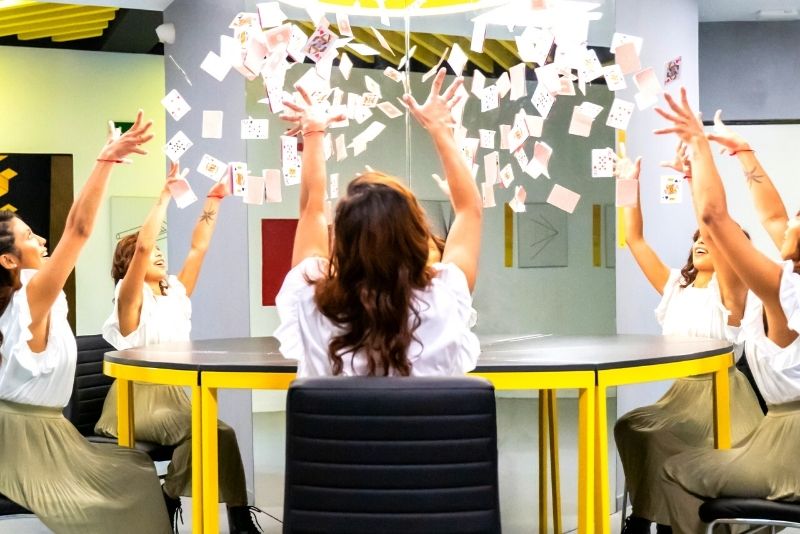 See the impossible with your very own eyes! Travelers of all ages will love this one as they're forced to think twice at every turn, considering how the brain and senses see the world! A surefire way to light up the social media feed, this family-friendly attraction showcases more than 80 exhibits that will trick your mind.
Having opened recently in 2020, with one of the largest collections of optical illusions in Europe, the head-scratching museum beckons curious-minded travelers to explore some of the science behind how we see (and don't see) things. From holograms and stereograms to Ames rooms, anti-gravity rooms, and disorientating vortex tunnels, and no shortage of interactive exhibits that put you in the thick of the action, entertainment and education come together perfectly at the Museum of Illusions.
Bring a camera to capture your head on a plate, your friend as a giant, and 3D mirages appearing out of nowhere.
You'll find this affordable and quirky spot in the heart of Madrid's historic center, between Lavapiés and the Puerta del Sol, and close to other top attractions like the Royal Palace and Plaza Mayor, making it a quick reprieve from the sun on those toasty summer days.
29 – Explore fairytale-esque Segovia on a day trip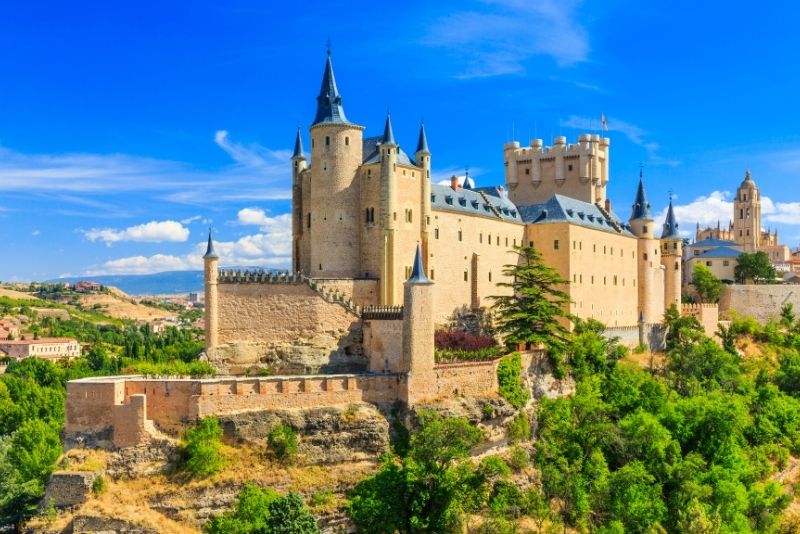 Oozing charm, and feeling like a fairytale city from centuries gone by, Segovia is one of Spain's most beautiful historic towns – and it's only about an hour away from Madrid by train!
Famous for its 2,000-year-old Roman aqueduct (one of the best-preserved in the world), as well as its imposing and monolithic Alcázar (or fortress) perched atop a rocky crag, its Romanesque cathedrals, Segovia makes for a formidable day trip. Beyond its obvious architectural brilliance, its quaint cobblestone streets and atmospheric plazas give it an old-world feel that regularly leaves visitors enamored.
Strolling around the town is a delight, especially if you can time your visit with one of Segovia's many festivals (like the annual literary Hay Festival or the Music Festival of Segovia). For foodies, there's also no shortage of excellent restaurants serving up regional specialties like leg of lamb and white bean stew – a dish that Segovia is particularly famous for.
If you're short on time, consider booking a tour from Madrid that will take care of all the logistics for you, leaving you free to simply enjoy this magical city. On the other hand, if you've got a little more time to spare, a multi-town tour that also hits up nearby Avila and Toledo makes for an excellent option.
History aside, as a university city nowadays, Segovia is regularly thriving with a young and vibrant energy, giving it a unique edge compared to your typical ancient village.
30 – See marvelous Madrid from above on a scenic airplane tour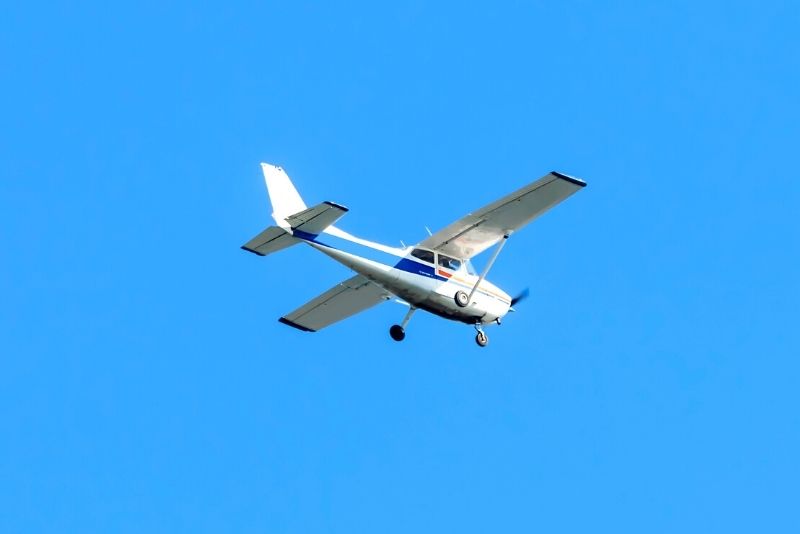 On your typical walking and bus tours of Madrid, you'll get to see the Spanish capital from street level. Sure, it's impressive, but it's also crowded, and hot, if you visit during the summer! So why not see Madrid from a different perspective and take to the skies on a scenic airplane tour?
You'll get unparalleled views of some of Madrid's most iconic landmarks, like the Royal Palace, Almudena Cathedral, Retiro Park, and many more, all while enjoying the cool breeze up in the clouds. You can typically choose between a 20-minute, 30-minute, or hour-long tour, so there's an option for every budget and schedule.
You'll find no shortage of options, but just to name a few… The Castle Route flies by the striking Coca and Arévalo Castles to appreciate their size and scale; the Nature Route takes you through beautiful mountains, lakes, and glacial cirques; and the City Route soars over the nearby historical and glamorous towns!
Just be sure to book your tour in advance as they do tend to fill up quickly, especially during the peak summer months.
31 – Learn about the Madrid foodie scene; take a cooking class with a local chef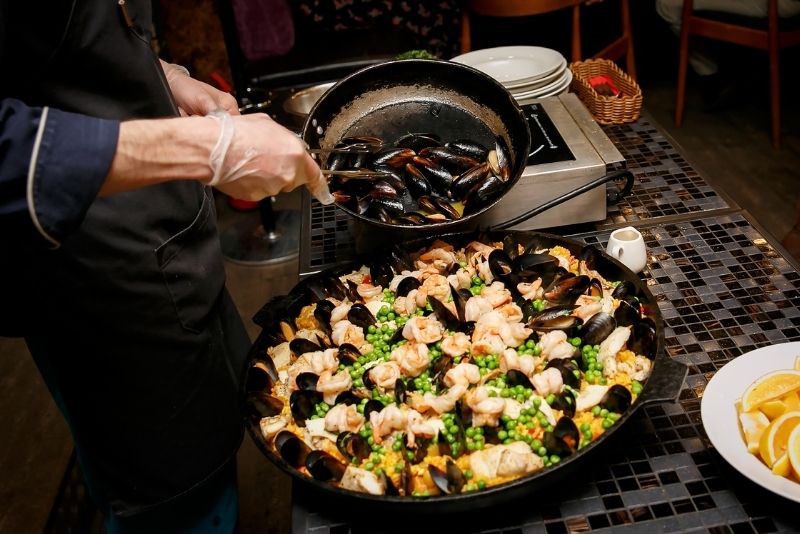 Okay, so you've been through all the things to do in Madrid and eaten all the tapas and paella you can handle — but now the question arises: how can we eat these great dishes back home?
It's easy: take a cooking class!
With a local chef calling the shots, you'll learn to make the nation's tastiest, most authentic dishes — and, of course, there'll be a glass of sangria or two to wash it all down. Depending on the tour, it can start with a visit to the local market to pick out the freshest ingredients, followed by a fun-filled cooking session in a professional kitchen with a small group of fellow budding chefs.
And the best part is that at the end of it all, you get to sit down and enjoy your very own multi-course Spanish feast with your new friends – whether that's tapas, paella, gazpacho, or something else entirely.
It's an interactive, delicious way to spend an afternoon in Madrid, and you'll even get a recipe sheet to take home with you. So what are you waiting for? Book a cooking class today and start whipping up some Spanish magic in your own kitchen.
32 – Catch a fiery Flamenco show at Torres Bermejas tablao o (or anywhere, really)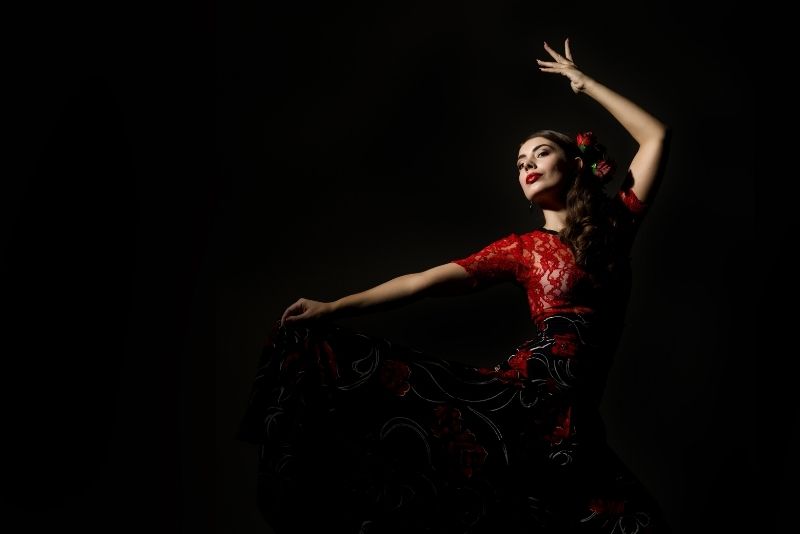 The passionate Flamenco art form is synonymous with Spain, so catching a show is considered one of the non-negotiable things to do in Madrid – or anywhere in Spain (like Barcelona, Valencia, or Seville) for that matter!
Travelers love the historic Torres Bermejas which hosts Spain's most iconic flamenco show, combining the traditional Flamenco with some contemporary flair! If you can turn your head away from the dancers for a few minutes, look out for the venue's wood-carved ceilings and fancy tiles, alongside walls of Arabic motifs.
You'll find these high-energy, high-passion shows all over the city, from grand theaters to more intimate tablaos (traditional flamenco clubs). But regardless of where you watch it, the millions of tourists who've experienced the artform all agree – a Flamenco show will be an unforgettable experience during your time in Madrid.
Hot tip: why not tick off two staples in one evening by combining a show with an authentic Spanish dinner?
33 – Make a few new friends on a pub crawl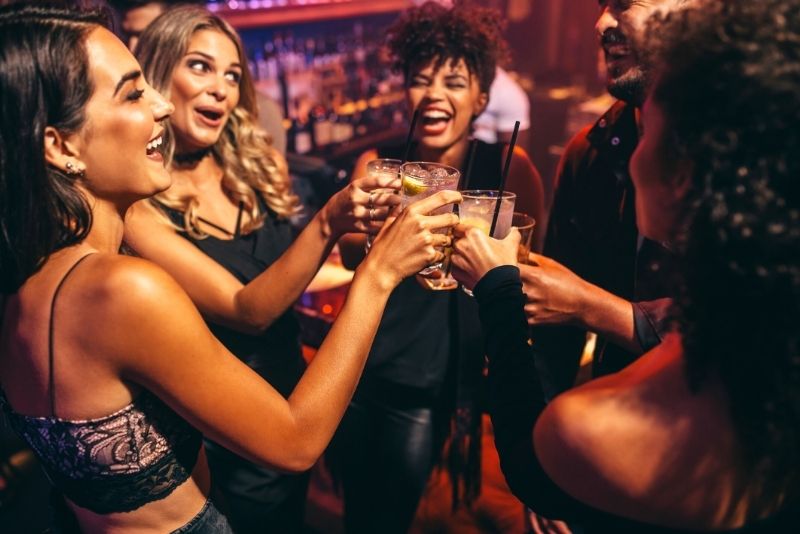 Ready to let your hair down? Once the afternoon siestas are done and night falls over Madrid, it's time to party! And what better way to do that than on a pub crawl with a group of new friends from all over the world?
You'll start off at one of Madrid's most popular bars for a few free drinks, before making your way to a couple more watering holes – the destinations change depending on the crawl company and the night, but it's always exciting and energetic – and usually finishing at a club where you can dance the night away. In between stops, your group will be led by fun guides who are full of tips about the best places to eat, drink, and party, and who'll orchestrate icebreaker games to help everyone get to know each other.
So if you're looking for a fun, social way to see Madrid's nightlife scene, alongside like-minded travelers and backpackers, then a pub crawl is definitely for you! It'll make for a fun night and (almost certainly) a groggy morning.
34 – Meet pandas, penguins, and pelicans at the Madrid Zoo Aquarium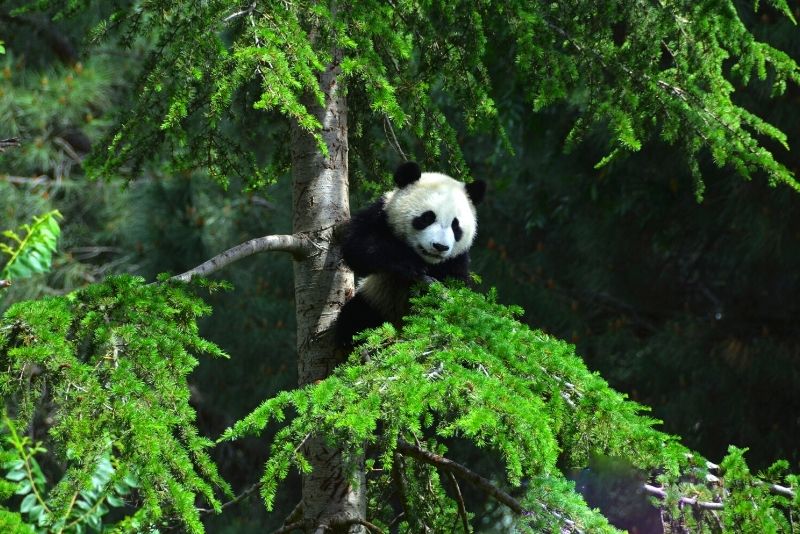 Finally, you don't have to choose between zoos and aquariums!
At a sprawling 20 hectares This is one of the biggest, and oldest (dating back to 1770), zoos on Earth — with any animal you can think of calling this place home! From the mighty kings of the jungles, the lions, to the biggest reptiles on Earth, the crocodiles, and everything in between. You'll see elephants, rhinos, giraffes, tigers, meerkats, monkeys, and more – with 6,000 creatures from more than 500 species calling this place home, it's easy to spend an entire day here bouncing from desert to jungle to rainforest to shorelines.
You can even see some of Spain's most iconic animals like the Iberian lynx and the Spanish imperial eagle – rare critters you'll seldom find elsewhere.
And the best part is that it's not just land animals — the zoo is also home to one of Europe's most exciting aquariums. With countless different species of fish, plus sharks, rays, penguins, and more, the underwater wonderland alone is worthy of a trip. So whether you're a fan of the furry or the scaly, you'll find something to love at Zoo Aquarium.
Located over in the Casa de Campo, this is one of Madrid's most family-friendly attractions, and it's perfect for a day out with the kids. But even if you don't have children, it's still a great place to learn about and see some of Earth's most incredible creatures up close, with visitors of all ages delighted by the interactive shows, as well as the regular dolphin, sea lion, and bird feedings.
35 – Go paragliding through the rugged nearby mountains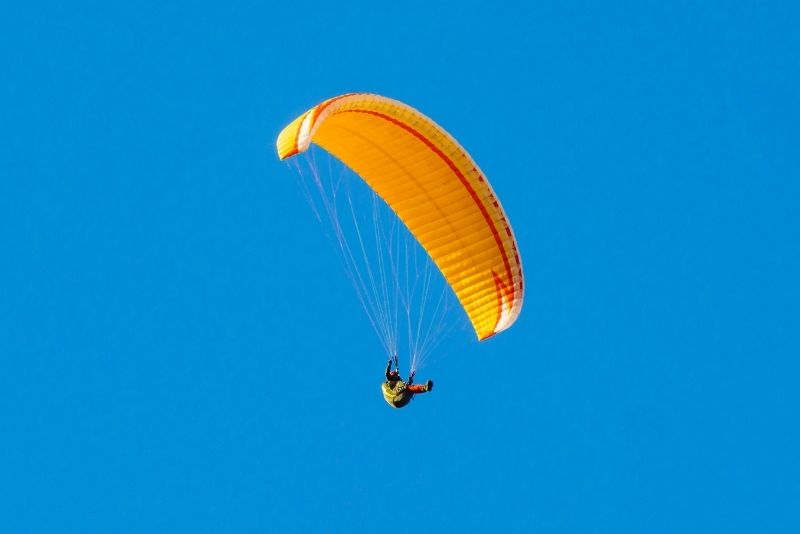 Striking the balance between adventure and sightseeing, paragliding is a top-notch way to see the Madrid countryside from above while getting your heart pumping.
After being kitted out in all the necessary gear, you'll take off with your instructor from a mountain top, and then it's just you and the open sky as you soar through the air, taking in panoramic views of the towering Sierra de Guadarrama mountain range!
If you prefer urban vistas, flights operate over the quaint villages of Segovia and Avila (to name just a couple), where the twisting streets juxtapose brilliantly with the rolling hills which surround them.
First-timers might want to start with tandem paragliding, where you can sit back, relax, and enjoy the views as your pilot does all the hard work! Then, to relive the experience, there's an HD camera to film your whole flight.
36 – Meet SpongeBob and ride coasters at Parque de Atracciones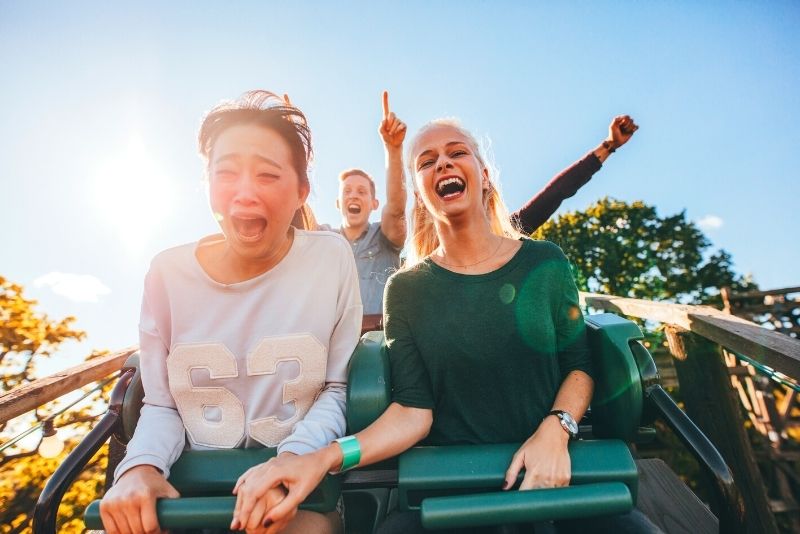 A hot topic for galavanting families, Parque de Atracciones is Madrid's very own amusement park!
Spread across 49 acres and holding the title of the city's oldest theme park, this huge green space in the Casa de Campo is home to over 35 different attractions, from high-octane roller coasters to more relaxed family rides, plus a water park for cooling off on hot summer days.
For the young of age (or young at heart – we're not judging) you can meet Dora the Explorer and SpongeBob in Nickelodeon-Land (or the Paw Patrol gang), ride white-water cascades and whirlpool rides on the sizzling summer days, go motorbike riding on the Tifón, and chase those thrills on either the Abismo roller coaster or La Lanzadera — a 63-meter freefall bungee jump experience!
With myriad eateries, a handful of shops to pick up some branded souvenirs, and the ever-popular Walking Dead Experience, it's sure to be a day well spent.
Hot tip: during the summer months, a skip-the-line ticket will be your best friend, as the queues here can get pretty long.
37 – Splash around at the Aquopolis water park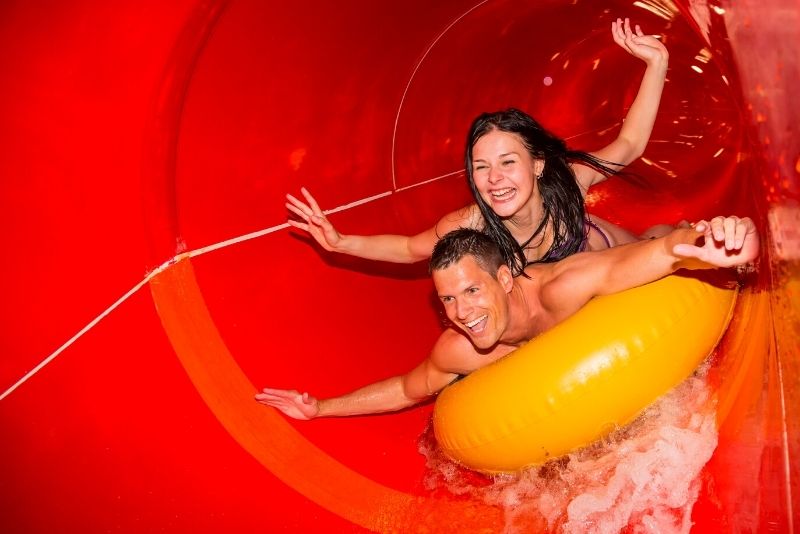 Need some reprieve from the Madrid heat? Then Aquopolis – one of Spain's premium water parks – is the place for you!
A refreshing and adreniline-soaking water park located a short drive from the city center in the nearby town of Villanueva de la Cañada (where you'll also find the castle of Aulencia), Aquopolis is packed with slides, pools, and splash pads to keep the whole family entertained (and cool).
Kickstart your day on the manmade Miami Beach, before zooming down slides like the terrifying Black Hole, and the high-octane Kangaroa racers. There are also plenty of options for those who want to take it easy, like the Lazy River and the Wave Pool, where you can just float around and relax.
Younger travelers typically love shooting water pistols, frolicking through the wave pool or water jets, and the mini-slides on offer (almost every adult ride has a miniaturized kids version). Older travelers, on the other hand – those after a little more adventure – will enjoy the three-person inflatable rafts at Waikiki Jungle and the winding toboggans.
38 – Treat yourself to a day of pampering at the Arabian Spas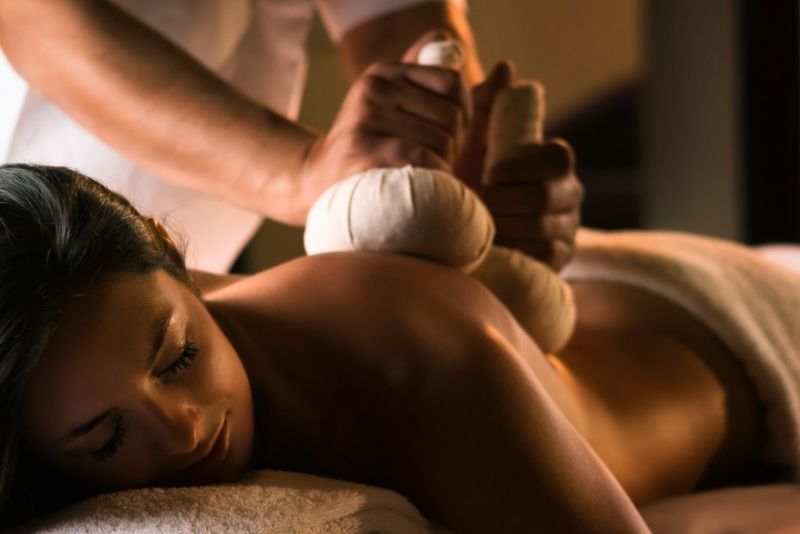 Need to unwind after all that adventure? Epitomizing the definition of vacation, the diverse pampering opportunities around Madrid are guaranteed to put some pep back in your step.
With several oases spread through both the heart of Madrid and the outskirts, these spa centers combine both Eastern and Western philosophies to provide an all-encompassing wellness experience. Thanks to dozens of different treatments on offer, from traditional Thai massages to facials and aromatherapy, you're sure to find something to suit your needs.
Despite countless options, a crowd favorite is a day at Hammam Al Ándalus, a spa center as relaxing as it is anciently beautiful. Let the ambient candlelight and soothing water set the mood, then choose your aromatic oil and let those magic hands do their thing. With several different plunge pools and spas, it's perfect if you're looking for a more traditional experience.
With a massage that relaxes the soul as well as the body, followed by calming mint tea, you'll leave feeling like you're on a cloud.
39 – Shop till you drop at the discounted Las Rozas Village
Shopaholics, listen up! Sitting about 20 kilometers northwest of Madrid is the luxurious open-air shopping center, Las Rozas Village.
A favorite amongst locals and tourists alike, this designer outlet is home to over 110 international brands, including Tory Burch, Hugo Boss, Montblanc, Karl Lagerfeld, Guess, Nike, and Furla. With both high-end and high street labels on offer at a fraction of the original price (sometimes up to 60% off), it's easy to see why this place is so popular!
What's more, if you're looking for a bit of respite from all that retail therapy, restaurants and cafes are dotted around the complex. On that note, if you plan on grabbing a table, try to stick around for dinner – the sunset over the Sierra de Madrid is hard to beat.
Hot tip: to get the bags back to the hotel, why not shop in style and opt for a chauffeured ride or a personalized shopping tour with hands-free shopping.
40 – Travel between the world's habitats at peaceful Faunia Nature Park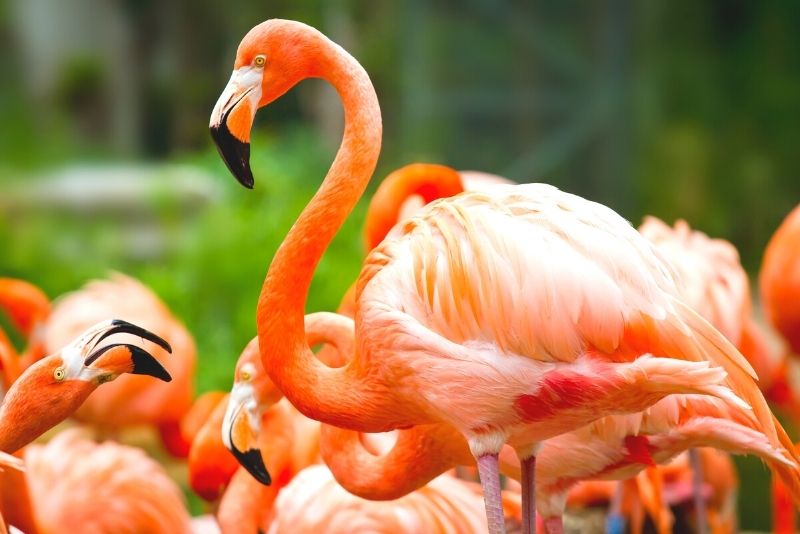 Hidden in the countryside just outside Madrid, Faunia Nature Park boasts 8 ecosystems spanning over 140,000 square meters, which contain more than 4,000 free-roaming animals from 500 different species of all shapes and sizes!
The scale cannot be overstated — visitors will step from the South Pole to the jungles of the Amazon and everywhere in between, meandering between mangroves, waterfalls, and caves – created in both indoor and outdoor areas. For a couple of crowd favorites, check out the monkey-filled trees, and the flamingo lake, and pass by the bubbly sea lions, playful penguins, and hefty Komodo dragons!
Sure to leave you with a few fun facts to wax too, the park puts on daily interactive shows (a chance to meet the manatees and penguins up close), which the kids will love. And for those who want to learn more about conservation, a handful of educational talks unpack the importance of taking care of our planet and its many inhabitants.
With so much to see and do (not to mention several bars and restaurants throughout), Faunia Nature Park sells itself as one of the top-level things to do in Madrid for animal lovers of all ages.
41 – Step inside the opulent Aranjuez Royal Palace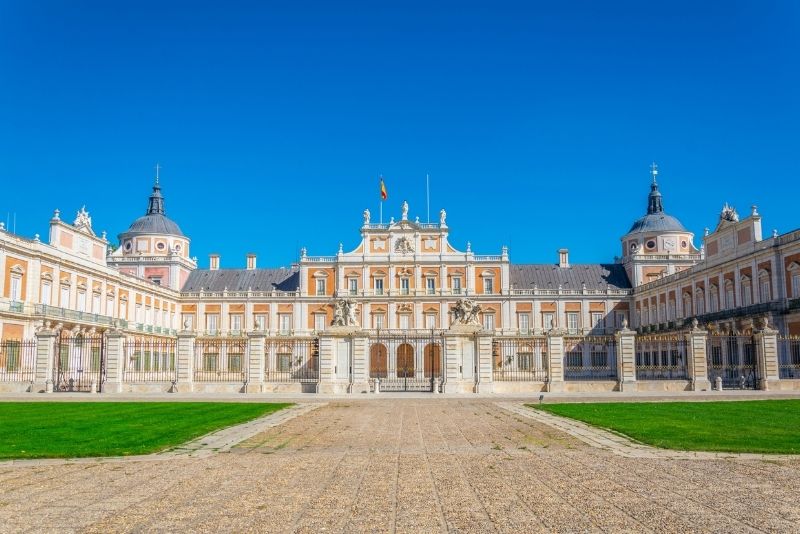 This is not your ordinary house inspection! Spanning several centuries, the Aranjuez Royal Palace is one of the largest and most grandiose palaces in all of Europe.
Now listed as a UNESCO World Heritage Site, Aranjuez was once the country retreat for Spanish royalty and as such, no expense was spared on its construction or decoration. From gilded ceilings, crystal chandeliers, and walls adorned with priceless works of art, to lush gardens and pristine courtyards, this place is, unsurprisingly, fit for a king and queen).
These days, the palace is open to the public and there are several ways to explore it. Take a self-guided tour (about 40 minutes) of the main rooms and learn about the palace's history, or opt for a more intimate visit with an expert guide. Either way, you'll get to see some of the most incredible rooms in the palace, including the King's Bedroom, the Porcelain Room, Throne Room, Ballroom, and Dining Room, and the stunning Royal Chapel.
And if that wasn't enough, outside you'll find an abundance of green spaces (the gardens are a must-see!), as well as a few museums and cafes.
While you're in the area, keep an hour spare to wander around the Isla del Ermitaño, a stunning slice of greenery that flanks the Tagus river.
42 – Try your hand at ax-throwing!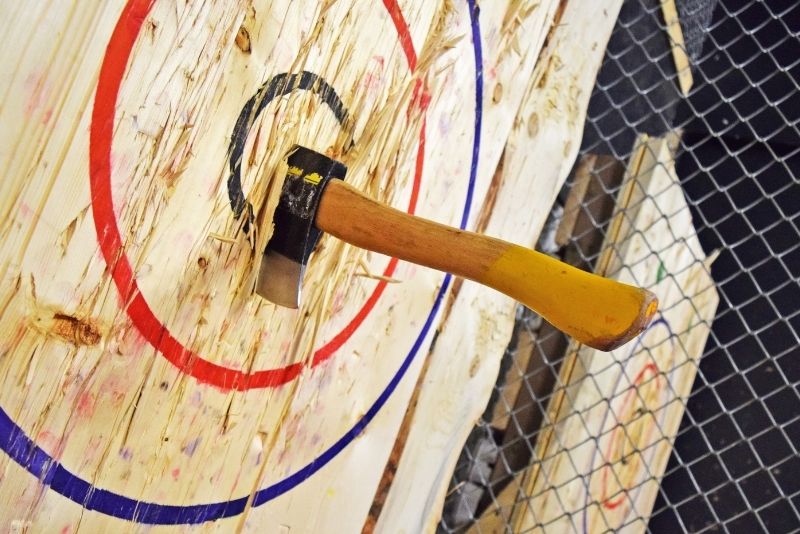 A thrilling entertainment sport that's taken the world by storm in recent years, with outlets popping up all over Spain and beyond, ax-throwing is precisely what it sounds like: throwing an ax at a target!
Don't worry, you'll be given plenty of instruction and practice before you're let loose in one of the many purpose-built arenas around Madrid. And with beer on tap, plenty of pub grub, and a typically lively atmosphere, it makes for a great group activity before heading out on the town for the evening.
Try different challenges with your friends, score points and get competitive – but don't forget to bury the hatchet after you're done (so to speak).
43 – See genuine Sorolla works up close at the Sorolla Museum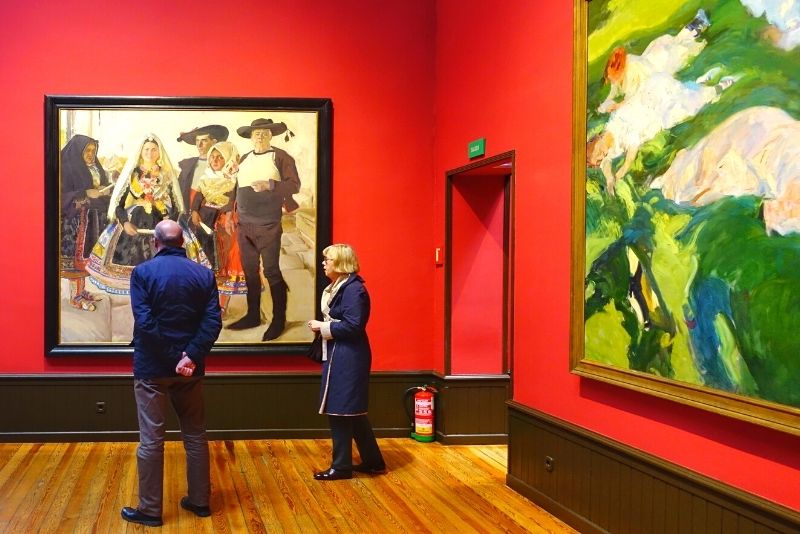 A beloved Spanish artist from the late 19th/early 20th century, Joaquín Sorolla is often referred to as the 'master of light'. And it's easy to see why.
Sorolla was a realist painter and his work is characterized by its luminous colors and Mediterranean influence. While he was born in Valencia, the famed painter spent much of his time in Madrid. This house, his former family home, has since been turned into a museum, and is now home to the largest collection of Sorolla's paintings, drawings, and personal belongings – made all the more engaging by the fact that you can actually visit his studio.
The museum itself is relatively small (you can easily see everything in under an hour), but it's beautifully presented and, making the experience a little different from most museums, you can actually visit his studio – get a glimpse into the life and mind of the man behind the art, sit where he sat and view the world through his eyes, and you'll appreciate his paintings in a whole new light.
44 – Wander through both the Plaza Mayor and Puerta del Sol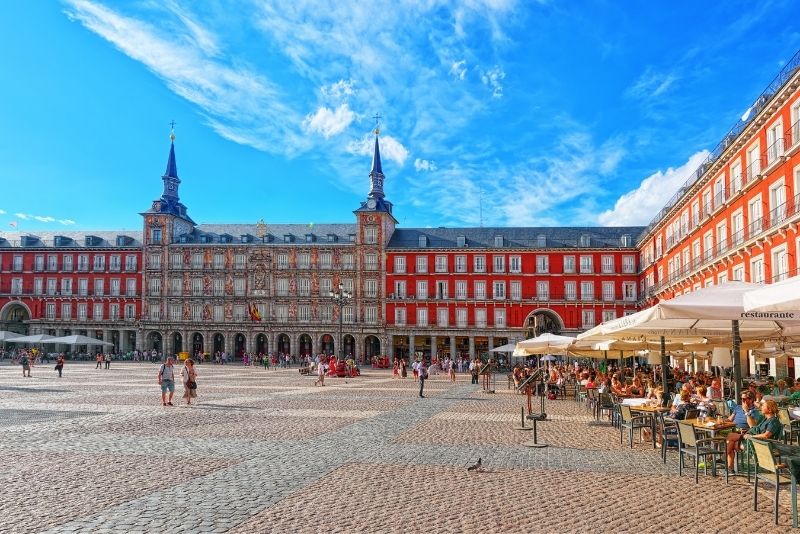 As you'll quickly realize, Madrid's bustling main squares are the city's heartbeat.
The famous clock at Puerta del Sol marks the annual eating of the Twelve Grapes as the clock strikes midnight on New Year's Eve, while the Plaza Mayor's charming Greek columns make for the perfect photo backdrop — moreover, there's always plenty of shopping and dining options!
The bigger of the two, Plaza Mayor (129 meters long by 94 meters wide) was originally built in the 1500s as a marketplace but has since been used for bullfights, public executions, and even Coronations.
Puerta del Sol ("Gate of the Sun"), on the other hand, is more of a transport hub — it's where you'll find the city's zero kilometer point (all distances in Spain are measured from this spot), as well as the famous statue of a bear eating fruit from a strawberry tree (the unique, albeit official symbol of the city).
No matter the time of day, these squares are always lively, with tourists, street performers, quick eats, people-watchers, and more. If you can, try to visit both during your time in Madrid.
45 – Check out the Lady of Elche at the National Archaeological Museum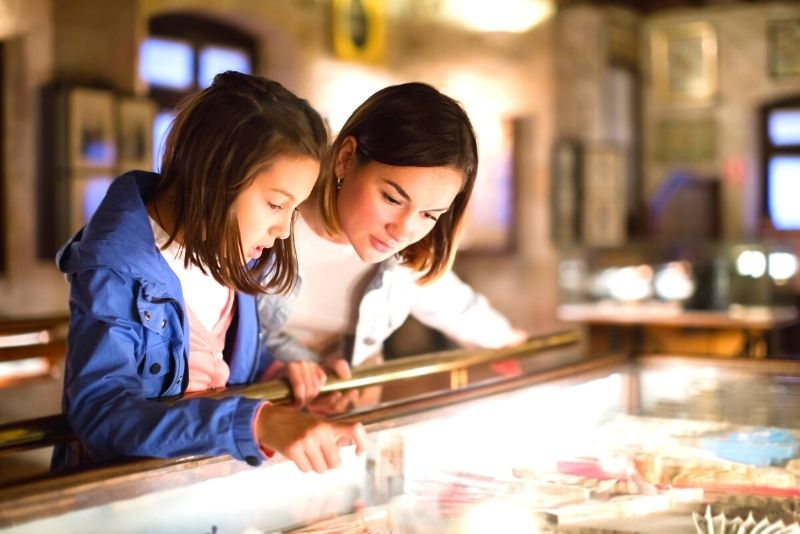 Tucked away in the city center, right around the corner from the Puerta de Alcalá and the entrance to Retiro Park, most people accidentally stumble across this lesser-known museum while wandering around the main drag.
But if you have even a passing interest in history or archaeology, it's definitely worth popping inside for an hour or two. With over 13,000 different items on show, it's one of the largest collections of Spanish (and beyond) artifacts in the world.
This huge display of antique collections spans from prehistoric finds all the way through to 19th-century figurines, and unlike most 'do not touch' museums, even has mockups and replicas of their items to hold and admire!
Always a stand-out, visitors love the delicate and mysterious Lady of Elche, the golden Treasure of Guarrazar, and the Pot from Zamora which is considered one of the best Greek vases ever found!
Rounding out the highlights is the Bear of Porcuna, an extensive collection of Roman and Greek sculptures, and an entire room dedicated to Egyptian antiquities.
And the best part? At just 3€, it's a helluva bargain, Of course, if you want a more in-depth understanding of what's on show, guided tours in English are also available for a small fee.
46 – Sample the city's best tapas at San Miguel Market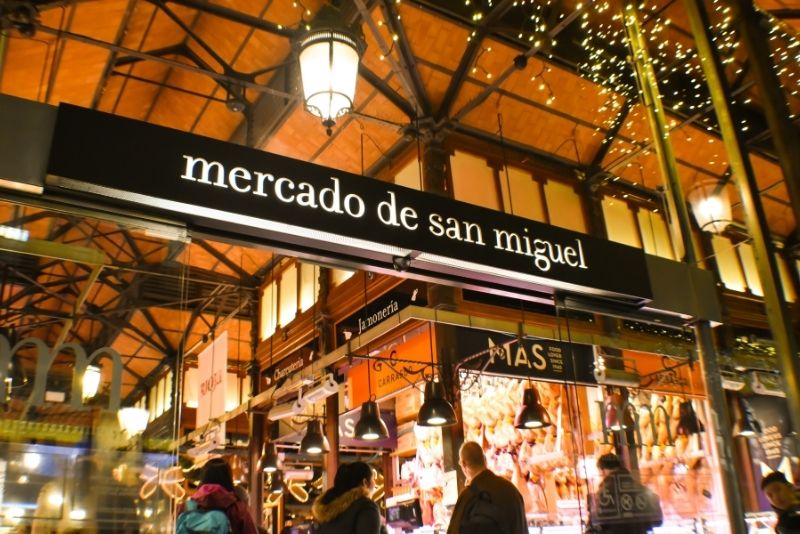 One for the galavanting foodies, a visit to the indoor San Miguel Market is hands-down one of the best things to do in Madrid for anyone who loves to eat.
As one of the oldest markets in Madrid (it was inaugurated way back in 1916), it's steeped in history and character, sitting on the site of the former San Miguel de Octoes church, with its beautiful wrought-iron exterior delighting the 10-million-plus annual (hungry) visitors.
But it's the food that really makes this place special — with over 30 different vendors offering up traditional Spanish cuisine, it's the perfect place to graze and try a little bit of everything.
There are plenty of delicious seafood options (including paella, which you can watch them make right in front of you). Follow your nose as you wander through the halls, picking up bits and pieces of cold meats, seafood, rice, cheese, wine, tapas, baked goods, and perhaps a cheeky beer. Fill up a picnic basket and enjoy it at a park or in your hotel, or take a seat at the market itself and dive into tapas created by renowned Michelin Star chefs.
Hot tip: rather than wandering around aimlessly, join one of the many local-led food tours that operate within the market to make the most of your visit.
47 – Learn all about the Marquis of Cerralbo at the Cerralbo Museum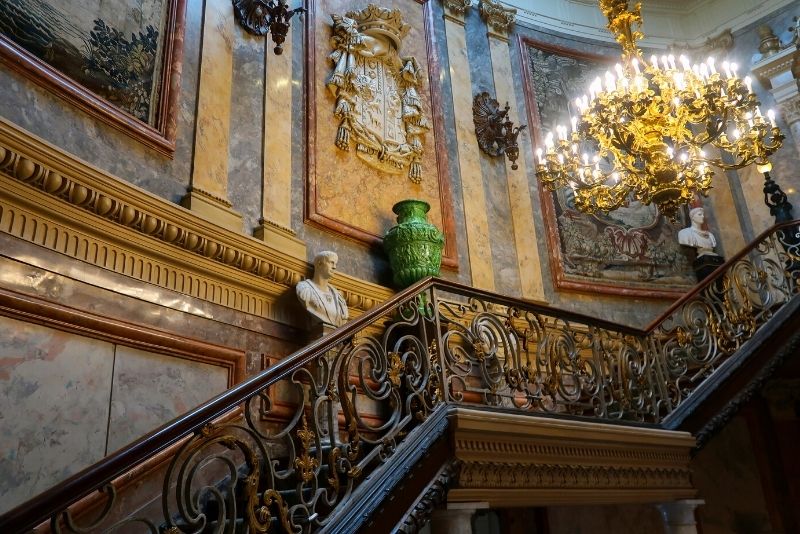 Criminally underrated, yet a surefire delight for art and history lovers, the Cerralbo Museum is one of Madrid's best-kept secrets.
Housed in an opulent 19th-century palace that once belonged to the Marquis of Cerralbo — one of Spain's most important aristocrats — the museum offers a fascinating insight into how the country's elite lived during the height of the Spanish Empire.
Wander through lavishly decorated rooms, gawk at priceless art and furniture, get lost in the 50,000-strong collection, and learn all about Cerralbo himself through interactive displays.
As you wander the opulent rooms, you'll have the chance to check out rarely-seen furniture, paintings, carpets, antiques, clocks, and weapons owned by the Marquis – as well as one of Madrid's only flushing toilets at the time!
While the countless artifacts and artworks are guaranteed to impress, even the building itself is a world of art; so if you're looking to step back in time into a house of nobility, perfectly preserved, you won't find one any better.
48 – Take a trip to Ancient Egypt (without leaving Madrid) at the Temple of Debod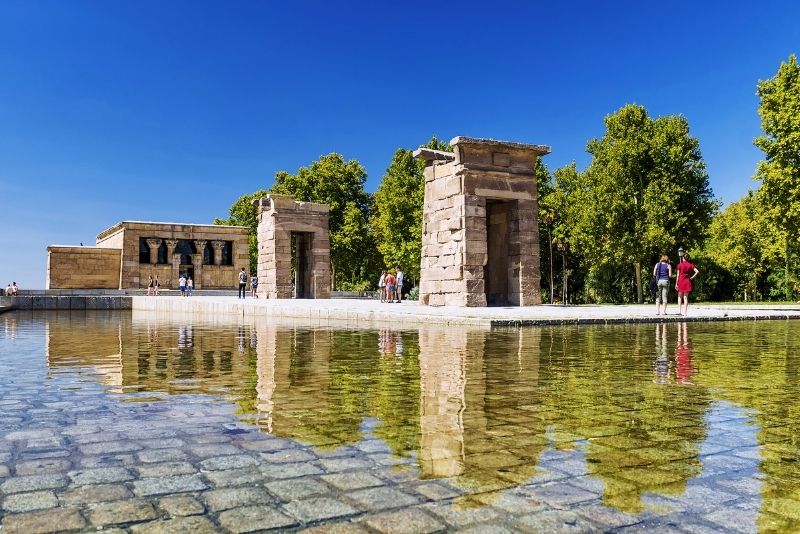 Finally making its way over to Madrid after a long history that dates as far back as the 2nd century BC, where it spent most of its life on Egyptian soil, the Temple of Debod is one of the most unique cross-cultures experiences in the region.
A gift from the Egyptian government to the Spanish people in 1968 as a gesture of gratitude for all the help they provided during the construction of the Aswan Dam (which saved the Abu Simbel temple) today it stands as a monument to international friendship – and as one of Madrid's most popular tourist attractions.
Stone by stone, it was painstakingly transported and rebuilt in the Parque del Oeste precisely as it stood in Egypt, with its surrounding flat waters to boot.
Free to enter, the temple is an unusual sight in the bustling city, and offers a welcome respite from the hustle and bustle. Climb to the top of the platform for panoramic views over Madrid, or explore the small on-site museum for more information about Ancient Egyptian culture.
Something to consider: Photography buffs love experimenting with light, reflection, and water for the perfect shot.
49 – Pay your respects at the imposing Valley of the Fallen monument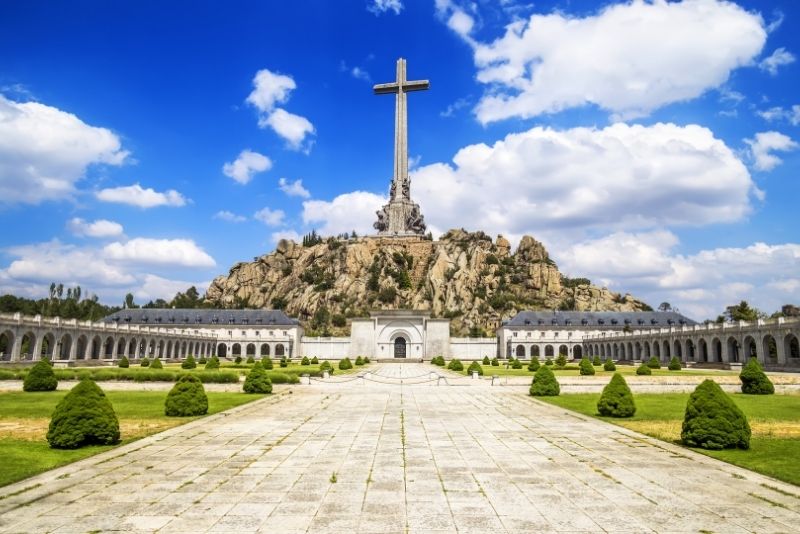 A postcard-worthy monument that dwarfs everything around it, the Valley of the Fallen stands as a sobering reminder of Spain's turbulent past.
Carved into a mountain in the middle of the peaceful Spanish countryside, about an hour outside of Madrid, the Valley consists of a basilica and a memorial dedicated to those who lost their lives during the country's civil war. An imposing site, particularly when quiet, it was commissioned by Francisco Franco and designed by architect Diego Mendez in 1941, standing above an underground church and tomb.
The Valley is home to the world's largest cross, which at 500 feet tall, can be seen from miles away. Although it's a popular tourist attraction, the Valley of the Fallen is a controversial site due to its close association with Franco's dictatorship (many believe it to be Franco's shrine to victory, rather than a memorial in its traditional sense).
As such, it remains a deeply divisive symbol for many Spaniards, and visitors are advised to respect the views of those who lost loved ones during the civil war.
50 – Complete the Golden Triangle with a visit to the Thyssen-Bornemisza Museum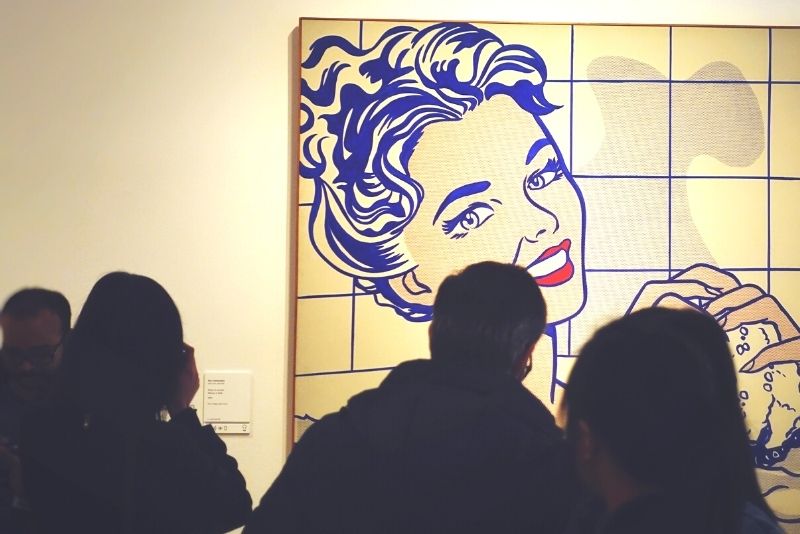 Madrid's 'Golden Triangle of Art' is made of three of the city's most popular art museums: the Museo del Prado, the Reina Sofia Museum, and the Thyssen-Bornemisza Museum.
A private collection turned public museum in 1992, the Thyssen is the newest of Madrid's big three art institutions – but it's by no means the least interesting.
Located in a gorgeous renovated palace on the edge of Madrid's historic center, the Thyssen boasts an impressive collection of over 1600 paintings (once the world's second-largest private collection), spanning from the 13th century all the way to contemporary art. Some of their most famous works include pieces by Vincent van Gogh, Paul Cézanne, Claude Monet, Pablo Picasso, and Edward Hopper.
With a focus on European art from the 13th to 20th centuries, the Thyssen is the perfect place to round out your art education – and complete Madrid's Golden Triangle of Art.
If you're still frothing museums, the little-known Naval Museum sits just across the road too.
51 – Hear the magical Spanish National Orchestra play at the National Music Auditorium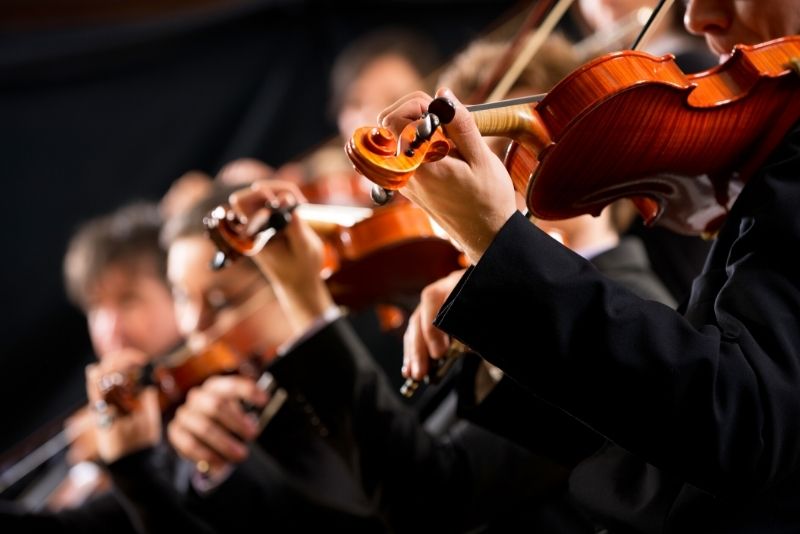 Spain prides itself on its music, both classic and contemporary, so it'd be remiss of us to not mention the audible delight that is the Spanish National Orchestra.
With its mesmerizing modern design and courtyard area, travelers love walking by the auditorium when lit up at night.
However, the true beauty lies within; the concert hall itself – the main hall in the Madrid area, capable of holding nearly 2,400 esteemed guests – is acoustically incredible, and has been host to some of the world's most talented musicians.
As for the Orchestra itself, with a long history dating all the way back to 1937, it's no surprise that the Spanish National Orchestra is one of the best in Europe. They perform over 180 concerts per year, with a repertoire that encompasses everything from classical and baroque music, to contemporary pieces, with violins, cellos, flutes, basses, trumpets, and more rounding out the sound.
The Orchestra has won numerous awards and accolades over the years, and continues to wow audiences with its skill and artistry. So if you're in Madrid and looking for a truly special experience, snag some tickets to one of their concerts at the National Music Auditorium – simply check the website to see what's playing during your stay.
52 – Climb aboard old-school trains at the Railway Museum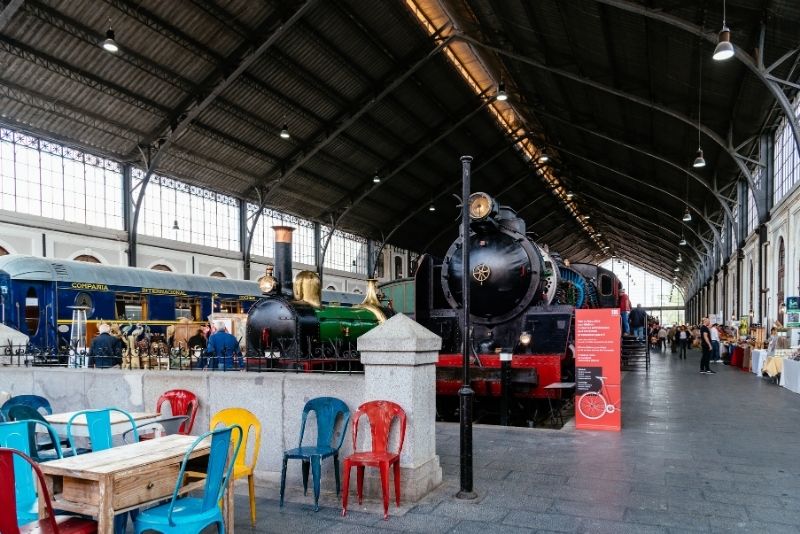 Who didn't dream of being a train driver when they were young? In a retro cast-iron railway station, this museum is full of recreations and locomotives through the ages!
As you wander around, you can explore different locomotives (steam, diesel, and rolling stock) from different periods in Spanish history, and even get a glimpse of what it was like to be a train driver back in the day.
There are interactive exhibits too, making it the perfect place to take the kids for an afternoon of fun and learning. And when you're done exploring the museum, train-lovers can take the vintage Tren de la Fesa (Strawberry Train) train ride between Madrid and Aranjuez, and hungry visitors can dine in a 1930s restaurant car! All aboard!
Located in the former Delicias railway station (which, having been built in the 1880s, can be argued that it's an attraction in its own right), Madrid's Railway Museum is located in the city's Delicias district, and is easily accessible by public transportation.
Hot tip: While you're in the area, wander over to the planetarium and take a stroll around the serene Enrique Tierno Galván Park.
53 – Roll out the rug for a perfect picnic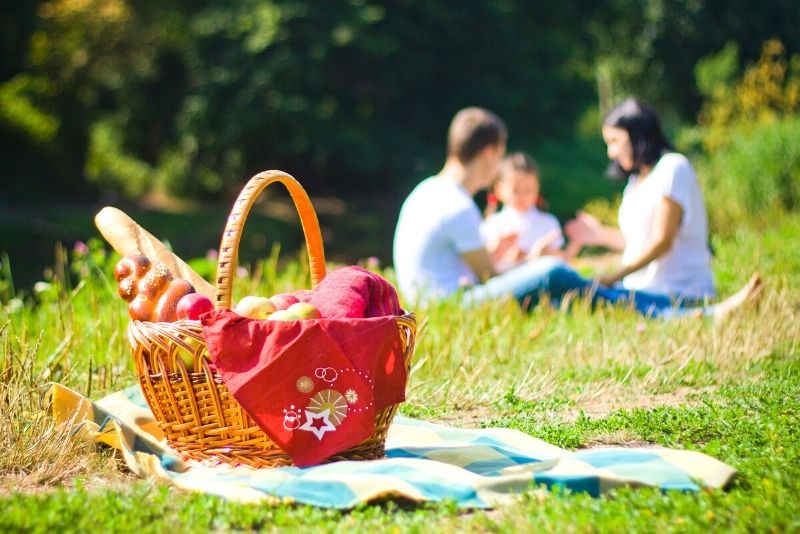 In a city with huge parks, where it rarely rains and the sun's always shining, a picnic is the best way to enjoy Madrid's great outdoors!
No matter where you're staying in this marvelous metropolis, a slice of greenery is never too far away. The obvious choice for a picnic is Madrid's world-famous Retiro Park, where you can sunbathe on the grass, row a boat on the tranquil man-made lake, or simply enjoy some peace and quiet with a good book.
For something a little different, try Campo del Moro Gardens – located right next to the Royal Palace, these gardens offer gorgeous views of the palace and stunning fountains. Or, for a more urban picnic spot, check out Parque de El Capricho – an 18th-century park with beautiful landscaping, bridges, grottoes, and pavilions.
As Madrid's largest green space, Casa de Campo complements its sprawling lawns with a zoo, an amusement park, a cable car, and even a water park! Meanwhile, for wonderful skyline views, Cerro del Tío Pío is hard to beat.
And when it comes to what to pack for your picnic, Madrid has got you covered – just head to one of the many markets or gourmet food shops for some delicious Spanish snacks and drinks. Buen provecho!
Don't feel like organizing snacks? No worries! Once you've chosen your spot, let Picnic Madrid handle the rest!
They'll pack plenty of high-quality food so no one goes hungry and deliver it to you at the time and place you choose.
54 – Try the world-famous chocolate churros at Chocolatería San Ginés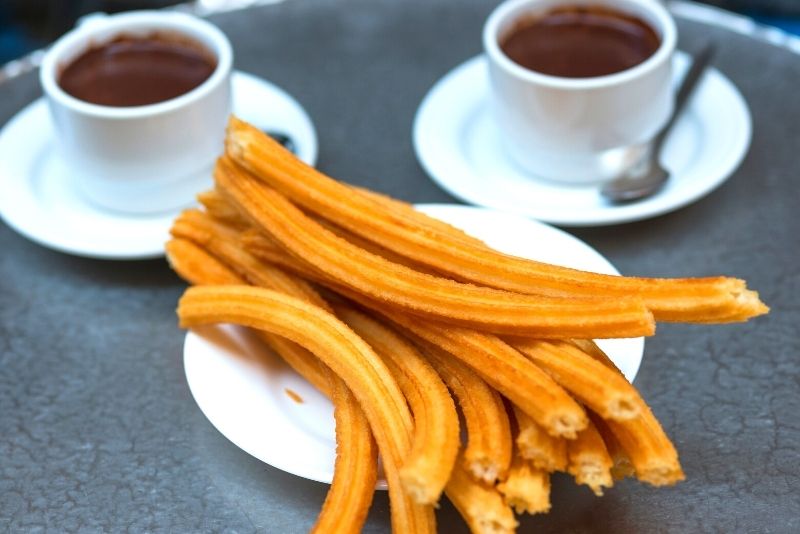 Who's ready for a treat?
This chocoholic cafe has been slinging churros, remarkably, since 1894!
Along the way, it's managed to keep its decor and traditional 'on the shoulder' preparation methods intact, and visitors have flocked for its signature churros and decadent chocolate dipping sauce — even in the early hours of the morning — ever since.
Open 365 days a year, they also serve plenty of other delectable pastries and soft drinks. With many celebrities' pictures on the wall, plus snappy service and a relatively affordable menu, it's worth a visit just for the reputation alone.
You'll find this sweet tooth paradise right around the corner from the Plaza Mayor, making it a perfect stopping point to break up a day of inner-city wanderings.
Hot tip: Don't forget to try fresh Spanish orange juice, and (unless you're getting take-out) ask for a table out outside to get the full people-watching experience.
55 – Visit the Plaza de Cibeles and throw a coin into the Cibeles Fountain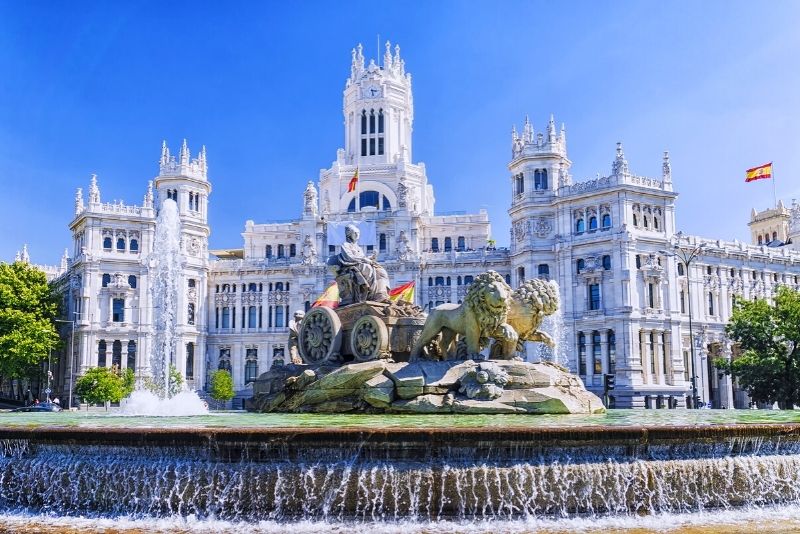 Looking like a castle from a fairytale novella, with its white spires and turreted walls, the Cibeles Palace (now home to the Madrid City Council) is one of Madrid's most iconic buildings, acting as a fine example of Modernismo Spanish architecture.
Now over 100 years old, the former communications palace and once a central post office has opened its lavish doors to the public, with art events, exhibitions, and those top-notch city views from its 8th-floor terrace drawing in the crowds.
Even if you don't go inside, the building is worth a quick walk-by to marvel at its beauty, particularly when illuminated at night. If you want to take the time for a closer look, however, guided tours are also offered.
Sitting in the shadow of the towering building, the beautiful fountain, which depicts Cybele (the Greek goddess of nature) riding a lion-drawn chariot, is an equally popular spot for tourists, long-standing as a symbol of the city.
It used to provide drinking water for the locals, but these days acts as the iconic spot where the captain of the Real Madrid football side drapes a scarf over Cybele to celebrate big wins.
56 – Dive into a feast fit for a king at the Four Seasons' Dani restaurant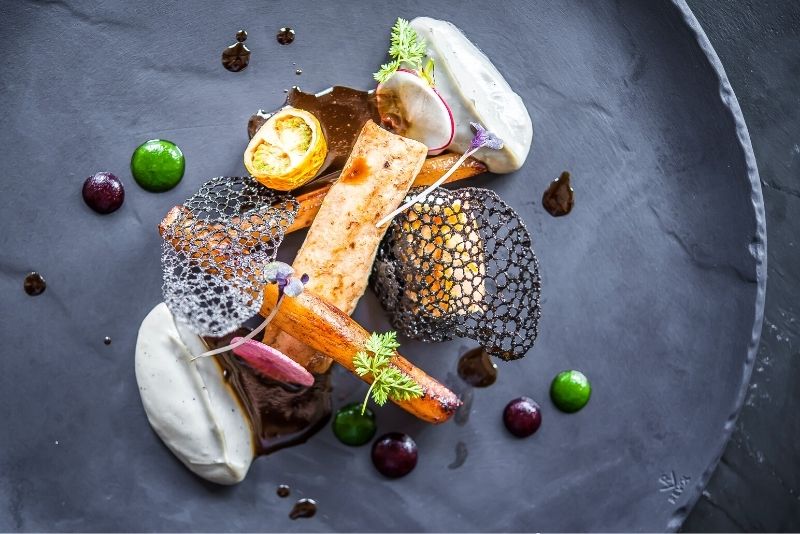 Foodies, listen up! Michelin star-winning chef Dani Garcia has compiled his best dishes in a relaxed restaurant on the 7th floor of the Four Seasons hotel, complete with stellar rooftop views!
As you tuck into one of the multi-course offerings, sampling delectable dishes like Iberian ham, fresh seafood, caviar, risottos, and homemade desserts, you'll be glad you made the trek to this bustling inner-city neighborhood (right next to the Sol metro).
Garcia's inventive take on classic Spanish fare has garnered him much critical acclaim over the years, and a meal at Dani is definitely an experience not to be missed. Just make sure to book ahead as reservations fill up fast!
Dani has sittings for lunch, dinner, and snacks at the bar — and, as a brasserie by nature, the drinks menu is also impressive. So, whether you come for the views or the food (or both!), you'll be sure to leave satisfied.
57 – Stimulate the senses at the Ikono gallery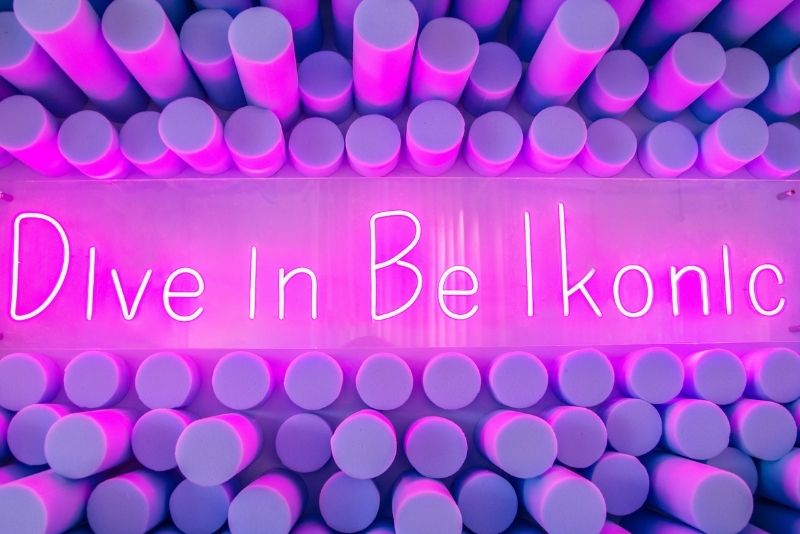 Imagine a modern-art gallery for all the senses — that's the innovative and immersive Ikono in a nutshell.
Overflowing with neon, light, and sound installations from artists all over the world, Ikono is a feast for the senses that's perfect for art lovers and anyone looking to explore beyond the traditional museum setting.
With exhibits that range from soothing to chaotic, there's something here for everyone. You might find yourself standing in front of a wall of lights that react to your movement, looking up at a ceiling teeming with romantic lanterns, or jumping into a ball pit and reliving that childhood wonder.
Make no mistake, photo ops are aplenty. From superimposing neon angel wings onto yourself, to snapping selfies in front of massive avant-garde wall art installations, you'll want to bring your camera (or phone) for this one.
Collectively, the family-friendly activities, colors, smells, and textures create a sensory journey aimed to disconnect visitors from reality.
Spread over 15 rooms and 3 floors, and conveniently located a short walk from the famous fountains of Neptuno and Cibeles, this is one of the most unique things to do in Madrid.
58 – Head to the rooftop at the Círculo de Bellas Artes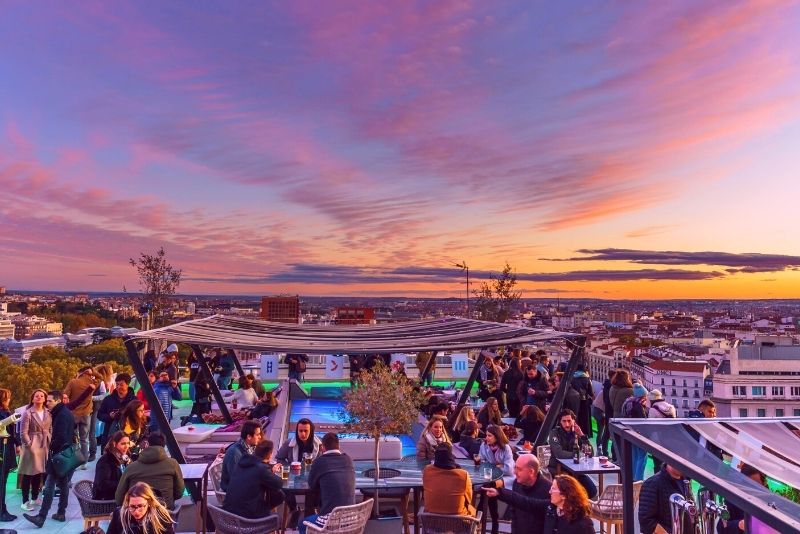 With plays, concerts, films, conferences, and exhibitions of all kinds of art, the Círculo de Bellas Artes – a 150-year-old institution – is one of Madrid's most important and popular cultural hubs.
Always pushing cultural trends and innovative art, anyone interested can walk into a workshop, lecture, or hands-on activity that dives into the latest artistic, musical,  cinematic, multicultural, or immersive topic.
But the real star of the show here is the rooftop terrace, which boasts some of the best views in all of Madrid.
On a clear day, you can see for miles and miles — right out to the Sierra de Guadarrama mountains. Admire the stunning architecture of Madrid's skyline, spot some of the city's most famous landmarks, and soak up those rays!
The terrace also has a bar and restaurant if you want to make a day (or night) of it. So, whether you come for the art or just want to enjoy one of Madrid's most breathtaking vantage points, the Círculo de Bellas Artes is definitely worth a visit.
59 – Admire avant-garde art at La Casa Encendida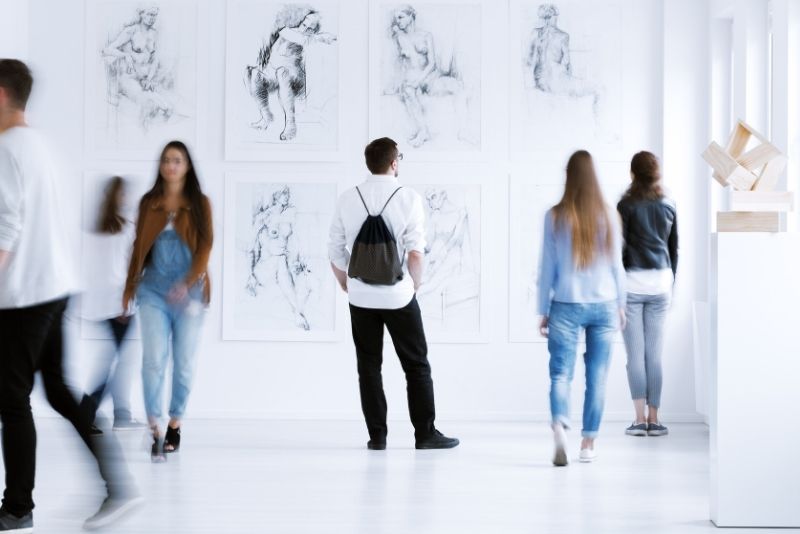 From art exhibitions and installations, to music concerts and performances, to film screenings, courses, and workshops for kids, there's always something going on at this cultural mecca.
Inside the classical, 100-year-old grand Neo-Mudejar style building, this underrated museum often plays second fiddle to those in the Golden Triangle. However, as a free-entry attraction that not only shows off an array of thought-provoking contemporary art, but also has a calendar full of fantastic free events, it's well worth a visit if you're looking to learn a thing or two.
Overall, the slew of events fit into one of four different categories: Culture, Solidarity, Environment and Education. Meanwhile, the museum makes a point of pioneering the innovation and creativity of young people, providing a place to display their art, as well as conducting workshops on environmental and local issues. Check the website to see what's on
The result is brilliant experimental art, capped off with an open-air rooftop theatre showing avant-garde films with drinks to boot!
60 – Catch a show at one (or more) of Madrid's theatres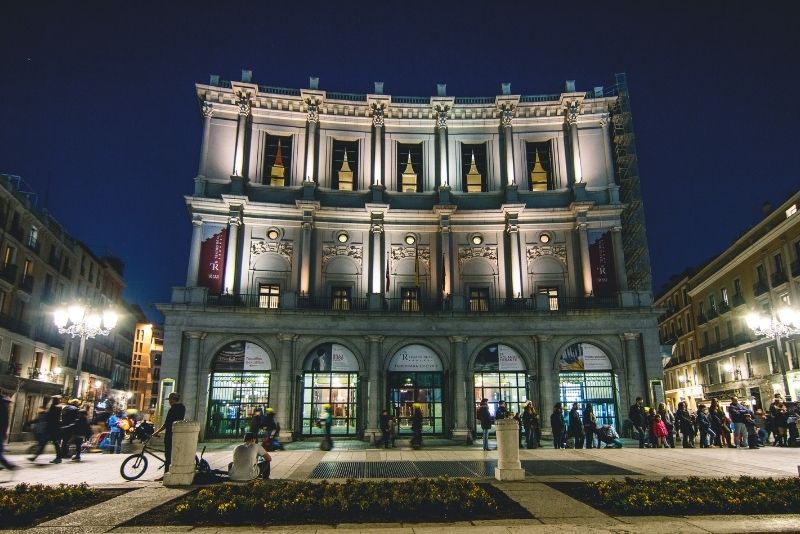 As you'll discover, Madrid's smorgasbord of theatres has plenty to offer!
With over 150 years of history, Teatro Real is the main opera house; Teatro Español has red velvet seating, a gold-framed stage, and playwrights engraved into the theatre; Teatro Lara hides in a narrow street but boasts golden balconies and a huge mural, while Teatro Circo Price specializes in circus and acrobatics!
No matter which you visit, each theatre provides an intimate and enriching experience that's sure to be one of the highlights of your Madrid itinerary.
With a rotation of plays, musicals, ballets, and operas, as well as an array of world-renowned performers and up-and-comers, you're spoilt for choice when it comes to evening (or matinee) entertainment.
Don't forget to check out the schedules in advance and snag your tickets early — especially if you want to catch a performance by one of Spain's most celebrated playwrights.
61 – Go window shopping along the ever-buzzing Gran Via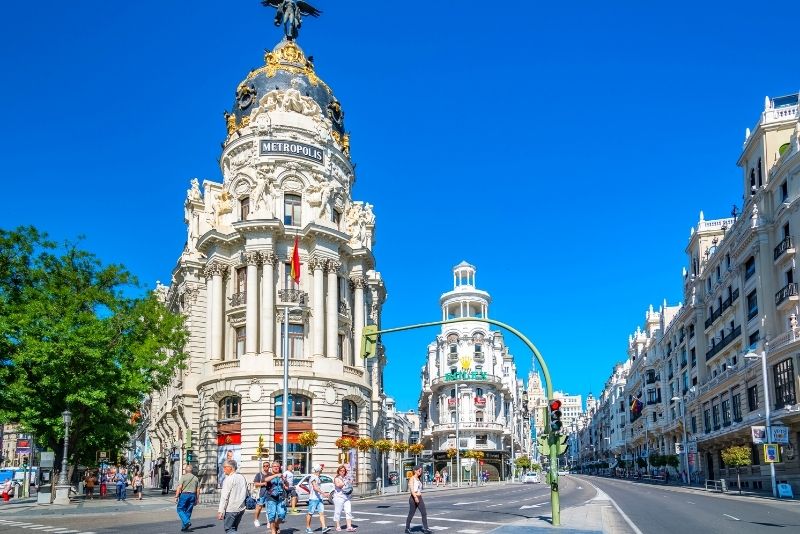 The 'Spanish Broadway', as the locals have crowned it, is one of Madrid's most iconic streets.
Stretching over a mile long, this grand thoroughfare is home to some of the city's most impressive architecture, as well as high-end shops, theatres, restaurants, bars, churches, and hotels.
Whether you want to window shop at luxury stores, soak in the ever-buzzing atmosphere and check out the street performers, or simply admire the stunning Art Deco and Neo-Mudéjar facades (don't miss the Telefonica Building), Gran Via is a quintessential stop on any Madrid itinerary.
And if you happen to be visiting in December, don't miss the opportunity to see the street all decked out in lights for Christmas!
For shopaholics, myriad places line the street to pick up the latest in high-fashion and street fashion at affordable prices, but, above all, don't miss El Corte Inglés for famous and local labels.
Visiting after dark? For stand-up comedy, head to La Chocita del Loro; for a tipple with a view, head to a rooftop terrace; or for the latest films (in original languages), head to the Cine Renoir Princesa cinema.
62 – Book a table at the Sobrino de Botín for the best suckling pig and lamb in town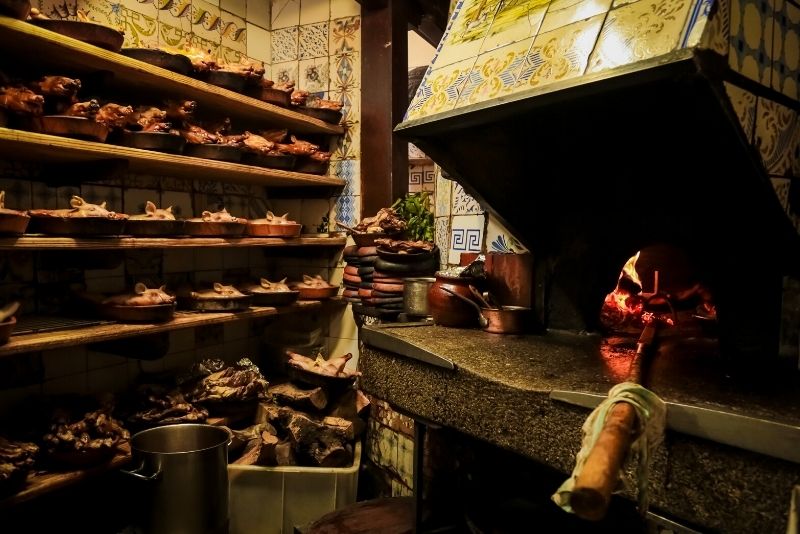 Wielding the coveted title of the world's oldest restaurant, founded in 1725, Sobrino de Botín is an essential stop on any Madrid food tour.
A beloved local institution, this humble eatery has welcomed the likes of Ernest Hemingway and Orson Welles over the years, all of whom have left their mark with signed photos adorning the walls.
While there are plenty of traditional dishes to choose from, the must-try item on the menu is the lechon asado — whole suckling pigs (and lambs) that, 3-4 times per week, are prepared and roasted in the traditional Castilian way in their 18th-century oven.
Pair it with a glass of red wine from the Sobrino de Botín cellar and you're in for a real treat.
You'll find this iconic eaterie tucked away on Calle de Cuchilleros, just around the corner from the Plaza Mayor.
63 – See Spanish folklore come to life at the Puy du Fou España amusement park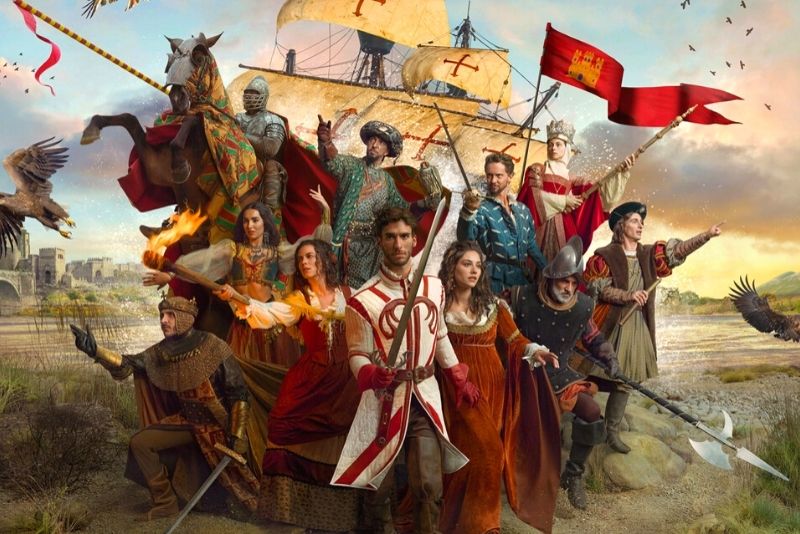 A recent addition to the Spanish tourist scene, located over in Toledo, Puy du Fou España
is far from your typical theme park. Feeling like you've stepped back in time, visitors meander through 4 themed historic villages with a play at the center of each — from royals seeking a truce with birds of prey to Columbus' crew on the Santa Maria, there's plenty to experience here.
Then, at sunset, it all climaxes at The Toledo Dream which takes the audience through over 1,500 years of Spanish history with incredible special effects.
And with no fewer than 29 different eateries – from traditional Spanish taverns to medieval restaurants, beer-slinging bars, and some of the sweetest treats money can buy at Los Helados de Florinda – you won't go hungry, either!
Puy du Fou España is located about an hour's drive from Madrid, making it a perfect day trip for those looking to add a little bit of adventure to their Spanish vacation.
Looking for hotels in Madrid?
Where you're pinching pennies or looking to splash out, this buzzing Spanish capital has accommodation to suit every budget. From stylish hotels fit for royalty to Airbnbs in the city center to luxury apartments and boutique, centrally-located stays, you're spoiled for choice when it comes to choosing from the best places to stay in Madrid.
Oozing 5-star luxury, the Mandarin Oriental Ritz is housed within a grandiose 1910 property, with its very own posh spa, caviar bar, and Michelin-starred restaurant (Deessa); while the Four Seasons Hotel Madrid, with its panoramic rooftop terrace and a refreshing pool, is perfect for those looking to take in some of the best views of the city.
For something a little more budget-friendly, there are plenty of Madrid hostels that won't break the bank. For instance, Hostel One Paralelo has clean and comfortable dorms, great for socializing with fellow travelers; while Cats Hostel Madrid Sol, located in the Central Madrid neighborhood, has private rooms for pennies on the dollar (read: euro).
The trendy Room Mate Oscar is a great mid-range option, with bright and colorful rooms, located right in the heart of Gran Via, while the affordable and cheerful Hostal Zamora is just a few minutes walk from the city's main square. Urban G.L. is known for its stunning art deco touches, a wonderful alternative to the typical stays, and last but not least, the Relais & Châteaux Orfila is set within a 19th-century building that's as beautiful as it is luxurious.
No matter your accommodation needs or budget, Madrid has a place for you to stay!
Where to next?
So, you've ticked off the main haunts, and you've made your way down your list of things to do in Madrid. But who says your vacation has to end here? If you're looking to add a few more stops to your Spanish sojourn, consider taking a day trip from Madrid to one of these fantastic destinations:
– Barcelona: Spain's second-largest city is located on the Mediterranean coast, about a five-hour train ride from Madrid. This cosmopolitan city is known for its stunning architecture, world-class museums, sun-kissed beaches, and oh-so-delicious food.
– Valencia: The third-largest city in Spain, Valencia is located on the country's southeastern coast. This historic city is home to several UNESCO World Heritage Sites, and combines history and culture with soft, sandy beaches and eclectic nightlife.
– Malaga: The capital of the Costa del Sol region, Malaga is located on the southern coast of Spain. This sunny city is infamous for its towering Alcazaba, as well as its markets, the Gibralfaro castle, and the delicious seafood.
– Segovia: Just an hour north of the city by train, this UNESCO World Heritage Site is famous for its Roman aqueduct and fairy-tale castle.
– Toledo: Also an easy day trip from Madrid by train, this former capital of Spain is a medieval city with plenty of history and charm to explore. Believe it or not, the entire city is a UNESCO World Heritage Site, with fascinating insights around every corner.
– El Escorial: Located about an hour northwest of Madrid by bus, this massive palace complex was built in the 16th century by King Philip II. Today, it serves as a museum and is one of Spain's most popular tourist attractions.
– Salamanca: just 2 hours by train, Salamanca is a university town steeped in history. Its Old City has been declared a UNESCO World Heritage Site (sensing a pattern?), and its Plaza Mayor is one of the most beautiful in all of Spain (and the nightlife is absolutely buzzing).
And if you're happy to jump the border, Lisbon and Porto are two of Europe's most underrated cities, offering a more affordable experience that most of their Western European counterparts.
Final thoughts
Thanks for checking out our collection of amazing things to do in Madrid!
If you have anything else that you'd like to add to the list, feel free to leave a comment below.
So, what are you waiting for? Start planning your Madrid day trip today!
As always, safe and happy travels!