A day trip to El Escorial from Madrid will transport you back in time, to a world of palaces and monasteries. This royal complex is one of Spain's most famous attractions, and the architecture will take your breath away.
During your tour, you'll learn about the history of the site as well as explore the beautiful grounds. Highlights of a visit to El Escorial include the mausoleum of the kings and the lavish Renaissance palace.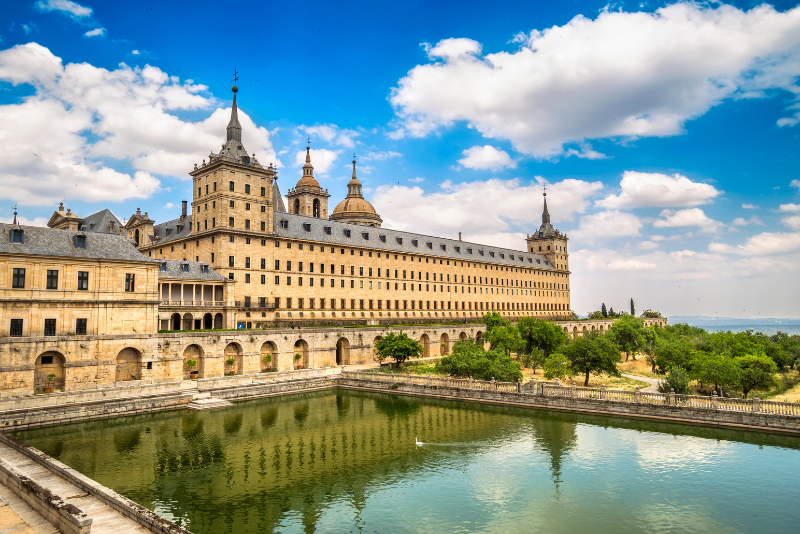 Here's all you need to know about El Escoria, one of the most exciting day trips from Madrid.
How to get to El Escorial from Madrid?
The town of San Lorenzo de El Escorial is found in the mountains of Guadarrama in central Spain. You can enjoy a day trip to El Escorial by road, either with a guide or by independent travel.
From Madrid to El Escorial by car
The journey to El Escorial from Madrid takes about an hour, making it an ideal destination for a day tour. Paid street parking is available nearby.
You'll need to take the A6 north out of the capital, before coming off at junction 47. Then, just follow the M600 into El Escorial.
From Madrid to El Escorial by public transport
You can travel between Madrid and El Escorial on buses 661 and 664 from the Moncloa station. The trip takes around an hour.
The local C8A train departs regularly from the Atocha station in Madrid – this also takes an hour.
Guided tour to El Escorial from Madrid
The easiest way to visit El Escorial from Madrid is on a tour. All your transport logistics will be taken care of, and you'll have an experienced guide on hand to elevate your experience.
Guided day tours to El Escorial last around 5 hours. If you want to add on a visit to Segovia or Toledo, you'll have a full day out.
How much does the entrance ticket to El Escorial cost?
You can buy tickets for the Royal Site of San Lorenzo of El Escorial online, or in person at the entry gate. If you're visiting on a guided tour, entrance to the main monuments at El Escorial is often included.
General Admission
Adult: €12
Child (aged 5 – 16 years): €6
Student (up to 25 years): €6
Senior (aged 65+ years): €6
Child (under 5 years): Free
Persons with disabilities plus one carer: Free
Identification may be required for concessionary tickets so make sure you have this to hand.
European Union and Latin American residents are given free access to the site on Wednesdays and Sundays during summer, between 3 PM and 7 PM.
Audio guides can be rented for €5, or you can download the interactive map app to your phone for €4.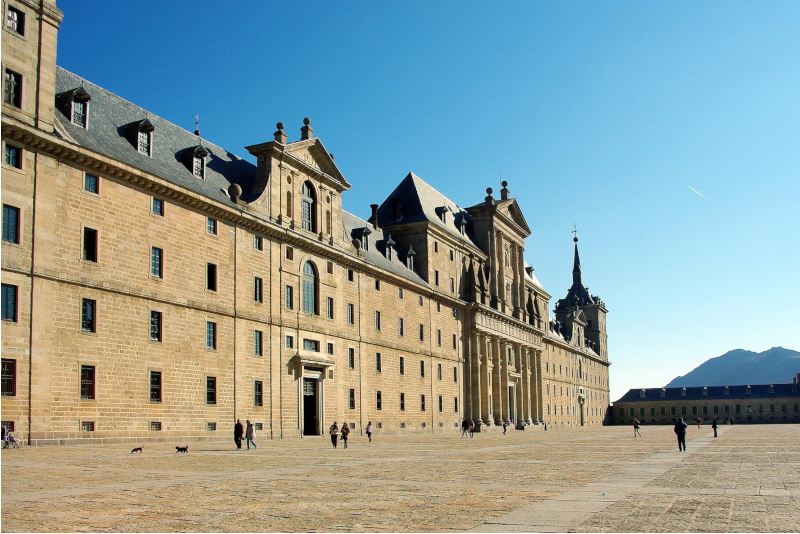 What is the typical itinerary?
Most jaunts to El Escorial begin at a central meeting point in Madrid unless you've booked a private tour with a hotel pickup. You'll set off from the capital by minivan or coach, depending on the size of your group.
After about an hour on the road, you'll arrive in El Escorial where a guided tour of the royal complex awaits. You'll get to see the monastery, the palace and the mausoleum during your visit.
The majority of day trips to El Escorial from Madrid also take in the nearby Valley of the Fallen. It's just a few minutes away by road. Here, you'll see the monumental mountainside cross before touring the basilica and vaults.
Some excursions then head back to Madrid, but if you've booked a full-day tour that includes Segovia or Toledo, the adventure continues. Segovia is 50 minutes away while Toledo is a 1.5-hour drive.
On arrival in your city of choice, you'll be treated to a guided walking tour of the historic center. Some trips include lunch in a traditional restaurant or free time to source your own sustenance.
At the end of your visit, you'll be transferred back to your original starting point in Madrid.
What kind of tours are available to go to El Escorial?
There are several different types of guided day tours to El Escorial. You just need to decide whether you want to travel in a group or with a private guide.
Small group guided tours to El Escorial plus Valley of the Fallen from Madrid
The most popular way to explore is on a small group day trip to El Escorial from Madrid. You'll be traveling with up to 24 other participants, making it a sociable yet personal affair. Group travel keeps the cost down, so you'll have more to spend on the rest of your Madrid vacation.
You'll be accompanied by a local guide who will teach you about El Escorial and show you the best vantage points. These tours fit a lot into just a few hours so you'll feel like you're getting your money's worth. A visit to the Valley of the Fallen is usually included as it's just up the road.
Guided day tour to El Escorial plus Valley of the Fallen and Segovia or Toledo from Madrid
These El Escorial day trips are the same as the one above, just with a bonus visit to either Segovia or Toledo. After exploring El Escorial and the Valley of the Fallen, the excursion continues to either Segovia or Toledo. Here, you'll enjoy a walking tour and lunch.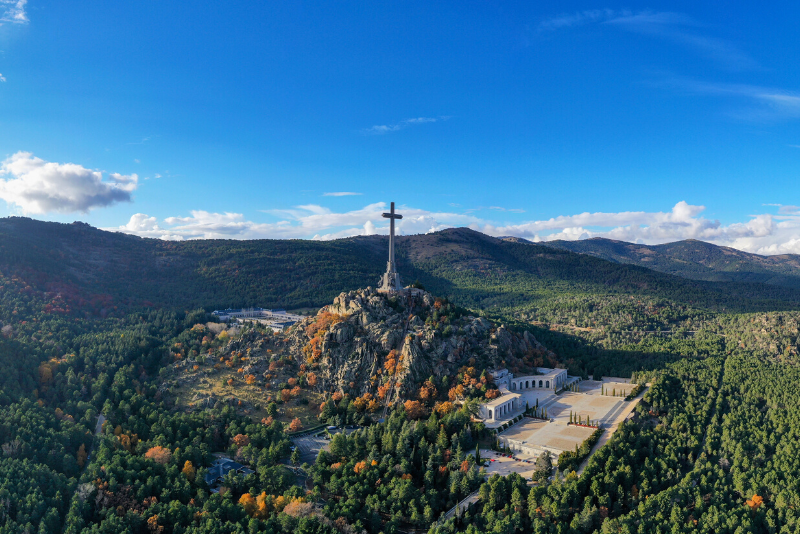 This is a full day so expect to spend around 10 hours out and about. It's a long trip but you'll be visiting multiple attractions and seeing plenty of beautiful Spanish countryside along the way.
Private tour to El Escorial from Madrid
If you fancy a more luxurious experience, then book a private day tour to El Escorial from Madrid. You'll be treated like royalty from the moment you're collected from your hotel.
Having an exclusive vehicle for just your group means the schedule can be tailored to your interests. Speak to your guide about what you feel are the most important elements of the day. You'll be able to avoid the crowds and ask all the questions you like.
How much does a day trip to El Escorial from Madrid cost?
For a small group day trip to El Escorial that also takes in the Valley of the Fallen, expect to pay €50 per person. Want to add a visit to Segovia or Toledo? Then the price rises to €100 for a full day out. Hotel transfers are not usually provided on group tours.
Private El Escorial excursions start at €450 per person for a 5-hour guided trip. Hotel pickups, an exclusive guide and attraction tickets are included. If you're traveling with friends, tours are available for €830 for up to seven people. This works out at just €120 per person for a full group.
What will you see and do?
Sitting in the foothills of the Sierra de Guadarrama, El Escorial is known as the eighth wonder of the world. The focus of your El Escorial day trip from Madrid will be the vast royal complex.
This majestic building is home to a monastery, a palace and a royal mausoleum – all under the same roof. Expect to come across lots of cloisters and towers, as well as sweeping staircases and marble chapels. The architecture is outstanding, and you can't help but be wowed by the attention to detail.
El Escorial was constructed in the 16th century by King Philip II. It served as a tomb for the Holy Roman Emperor Charles V, as well as a royal residence and place of prayer.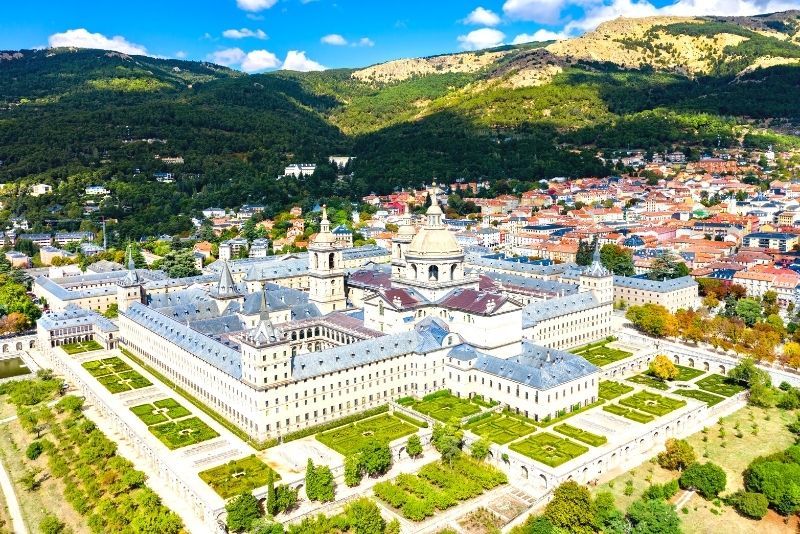 Today, the El Escorial Monastery is a designated UNESCO World Heritage site and is one of the most visited attractions in the country. Inside, you'll discover a wealth of Spanish Renaissance heritage, as well as elegant courtyards and fountains.
You can explore the grand halls and chambers, as well as the monastery and grounds. There is also a library and college here, each decorated with exquisite frescoes by notable Spanish artists.
The Royal Mausoleum is of particular interest – it's the final resting place of many Spanish monarchs. Funerals of important figures are still held in the basilica to this day.
What are the opening times?
You can visit El Escorial all year round. The opening times are as follows:
Summer (April – September): Tuesday to Sunday, 10 AM – 7 PM
Winter (October – March): Tuesday to Sunday, 10 AM – 6 PM
Last admission is 1 hour before closing. As with many attractions across Spain, the El Escorial complex is closed on Mondays.
When is the best time to visit El Escorial?
El Escorial day tours are possible at any time of year. Summer is the most popular season, but it can get very hot during the afternoons.
To avoid the busiest months come in spring or fall when the weather is still warm, and the crowds are smaller. Winter can be chilly, but this is a great time for a bit of tranquility.
What are the other day trips from Madrid?
Travel tips
Book your El Escorial day trip well ahead of your visit as places are limited and can fill up fast in summer.
Most people spend a couple of hours exploring the monastery and palace. Comfortable footwear is recommended as you'll be doing lots of walking.
You can't take food or drink inside the monuments. Photography and filming are also not permitted in the buildings.