Welcoming over 10 million visitors a year, the Spanish capital of Madrid overflows with opportunities for tourists to soak up what Iberian culture is all about: food, history, and the great outdoors – not to mention Flamenco.
But if you're looking to escape the hustle and bustle of Madrid and get a taste for some of Spain's smaller, more intimate towns, Seville is only a short train ride away.
Seville is a friendly little city replete with history, culture and charm. Hop on the high-speed train, or join one of the expert-led Seville multi-day trips from Madrid, and start exploring this vibrant and colorful southern city.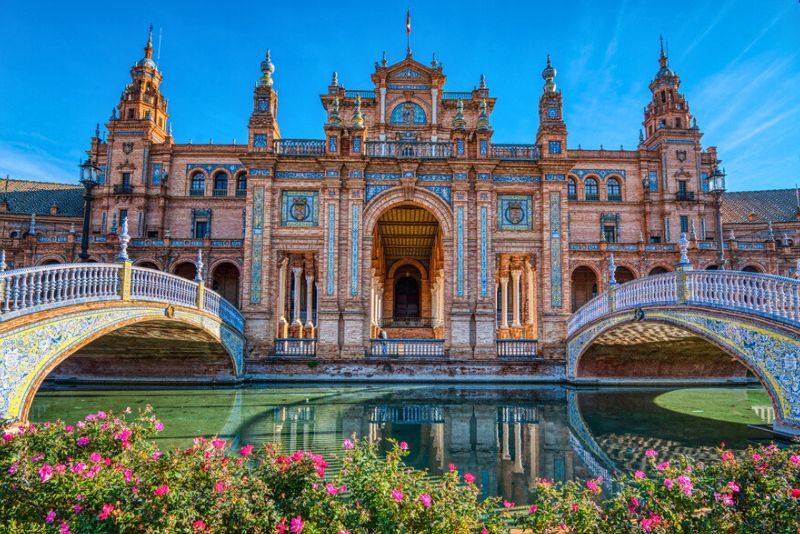 Here's all you need to know about Seville, one of the most exciting multi-day trips from Madrid.
How to get to Seville From Madrid?
Seville is beautifully nestled in the heart of Andalusia, a culturally rich region located in the southern part of Spain. This charming city is situated on the banks of the Guadalquivir River, just an hour and a half from the southern Portuguese border.
From Madrid to Seville by car
If you prefer the freedom of the open road, you can drive from Madrid to Seville. It's an approximately 5-hour journey, covering around 535 kilometers. You have two equidistant routes to choose from; one that takes you through some picturesque Spanish countryside, and the other that goes through smaller cities like Córdoba. If you drive, go down one route and back up the other for a broader experience.
From Madrid to Seville by public transport
For a more convenient and time-efficient way to get from Madrid to Seville, you can take the high-speed AVE train from Madrid's Puerta de Atocha Train Station to Seville's Santa Justa Station. It takes around 3 hours, making a couple stops along the way, typically in Ciudad Real, Puertollano and Córdoba.
While not as fast, you can also take a bus. Trips are cheaper than trains but take around 6-7 hours.
Guided tour to Seville From Madrid
The most popular and hassle-free option to get you from Madrid to Seville is a pre-organized guided tour. These tours not only include convenient hotel pickup and drop-off, but you'll also have an expert guide to help you make the most of your trip. Most tours include stops at monuments like the Alcázar, Torre del Oro and Seville Cathedral for a comprehensive look into the city's history and culture.
The benefit of a guided tour is that they can also span multiple days, allowing you to see other places like Caceres, Córdoba, Granada and Toledo, to name a few.
What is the typical itinerary?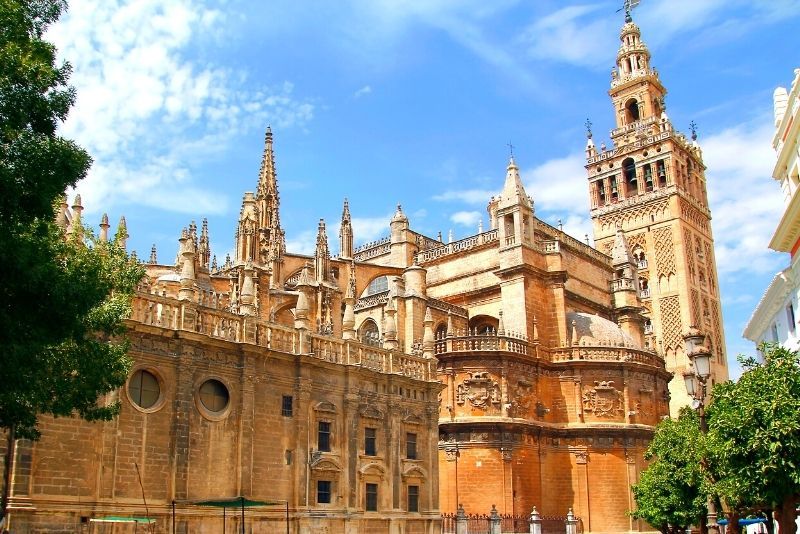 Every tour provider will have a slightly different itinerary depending on how many days your guided tour lasts. However, the typical itinerary for a Madrid to Seville guided tour usually starts off with an early morning pickup from your hotel. After a comfortable drive through the Spanish countryside, you'll arrive in Seville where you can explore its iconic monuments and attractions.
Your guide will typically take you on a walking tour of the city's major sights, such as the Seville Cathedral and its Alcázar, plus other lesser-known gems like the Torre del Oro fortress and the Plaza de Toros bullfighting right. You'll also usually have some free time to visit museums, sample some of the city's unique cuisine, or take a boat ride along the Guadalquivir River.
If your tour lasts for multiple days, you may have an opportunity to visit nearby cities like Caceres, Córdoba, Granada and Toledo. Each of these cities has its own unique history and culture.
At the end of your journey you'll either be driven back to Madrid or given a ticket for a high-speed train.
What kinds of tours are available to go to Seville?
There are several different types of multi-day tours available for visitors who want to explore Seville and the smaller towns surrounding it.
Seville Day Trip from Madrid by High-Speed Train with Tickets
A great option if you're short on time, this private tour will get you from Madrid to Seville and back in one day. The tour includes round-trip tickets on the high-speed train, hotel pickup, and a 4 to 5-hour tour of Seville. During the tour, you'll get to explore some of Seville's top sites — including skip-the-line access for the Cathedral and the Alcázar — with personalized attention that isn't possible in a larger group tour.
2-Day tour to Córdoba and Seville from Madrid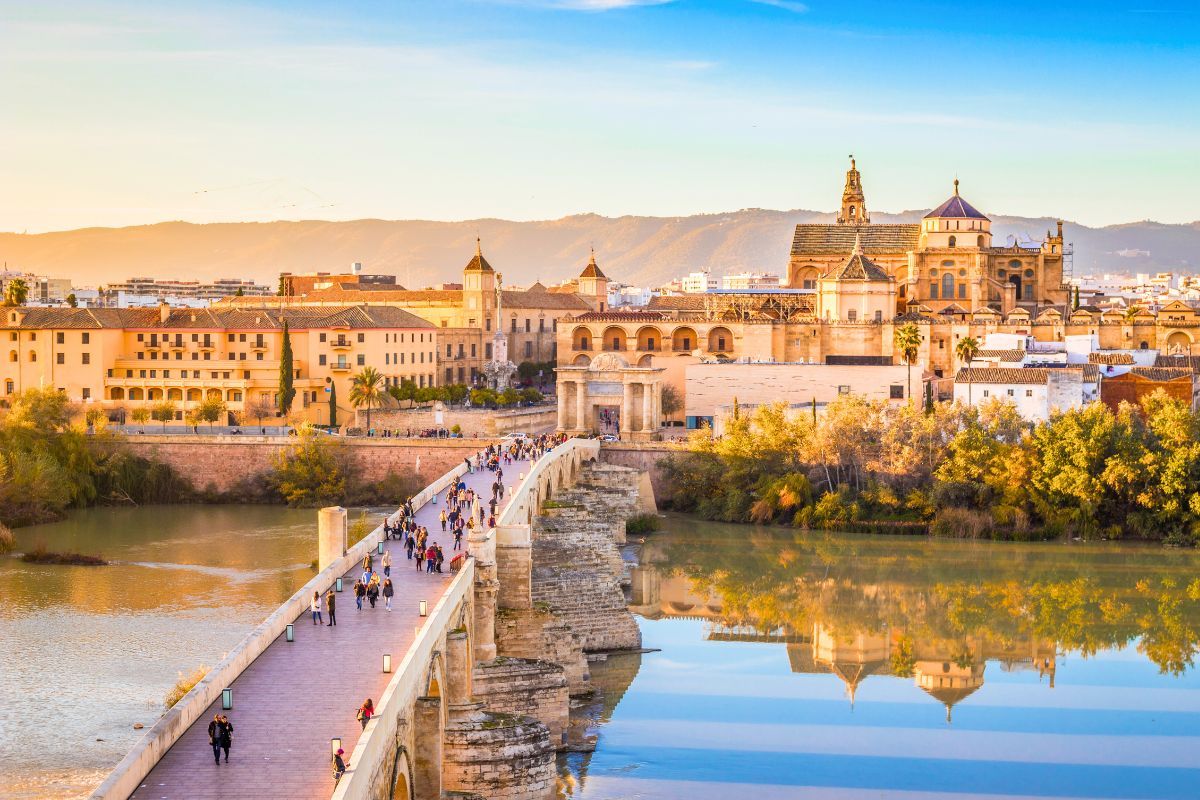 On day one, this 2-day tour from Madrid takes you to Córdoba, where you can explore the Old Town and visit its famous Mezquita (mosque). From there, you'll head to Seville for an evening of dining and entertainment.
On day two, your guide will show you the city's iconic sights — including the Santa Cruz neighborhood and the Alcázar palace complex. After the tour, you'll return to Madrid in the evening.
2-Day tour to Caceres and Seville from Madrid
Similar to the Córdoba and Seville tour, this kind of tour will take you from Madrid to a pair of southern cities over the course of 2 days. You'll get to explore the old city of Caceres — a World Heritage Site — and see its 15th-century walls, cobblestone streets and Roman ruins before exploring Seville.
3-Day guided tour to Caceres, Seville and Costa del Sol from Madrid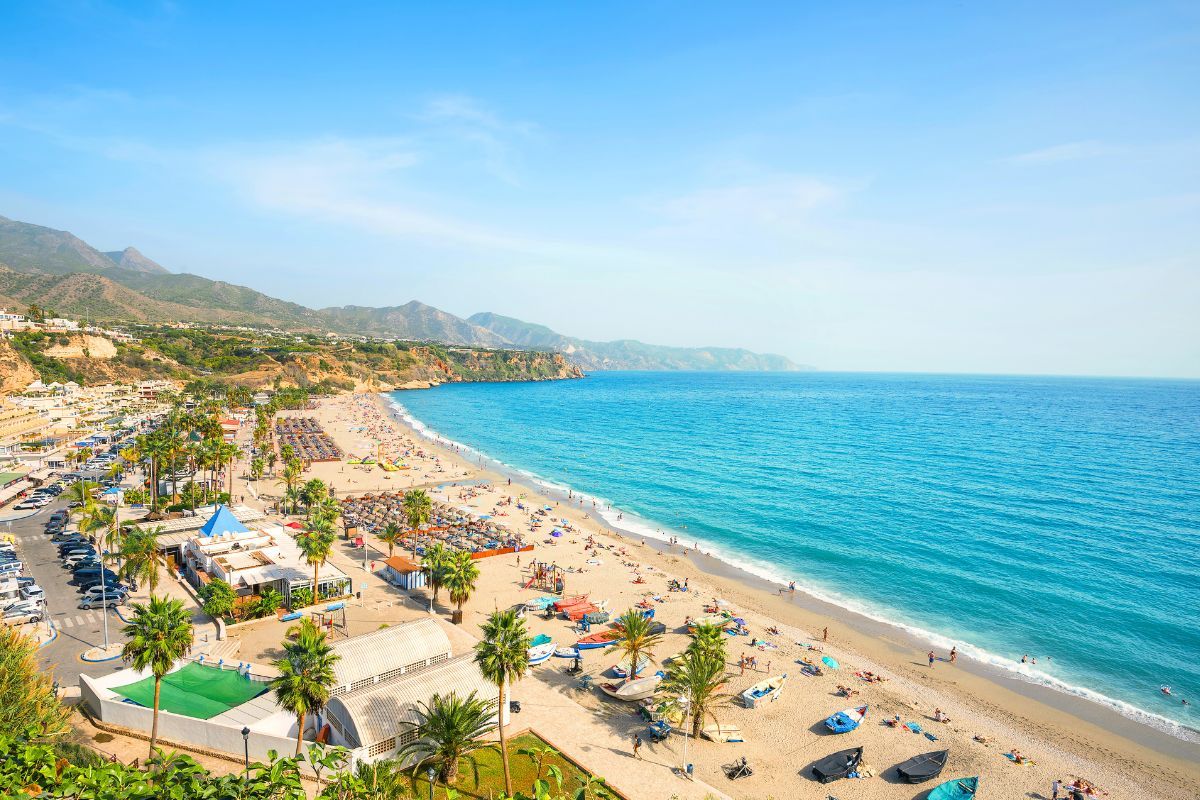 Suited to those who have more time, this 3-day tour ticks off all of the main Caceres and Seville attractions, with extra time for shopping, sightseeing and enjoying the nightlife.
However, you will also have the chance to see the Costa del Sol region, stopping at a couple of small coastal towns along the way.
4-Day Guided Tour Córdoba , Seville, Granada and Toledo from Madrid
A more comprehensive tour, this 4-day trip from Madrid takes you to four of Spain's most iconic southern cities: Córdoba, Seville, Granada and Toledo.
You'll have the opportunity to explore the cities' historical quarters — including Cordoba's UNESCO-listed old town — as well as admire some of Spain's most impressive monuments, such as the Plaza de España in Seville and the Alhambra palace in Granada.
A guide will also be on hand to show you the best places to eat, shop and experience local culture throughout the trip.
8-Day Spain Tour from Madrid: Cordoba, Seville, Ronda, Costa del Sol, Granada and Toledo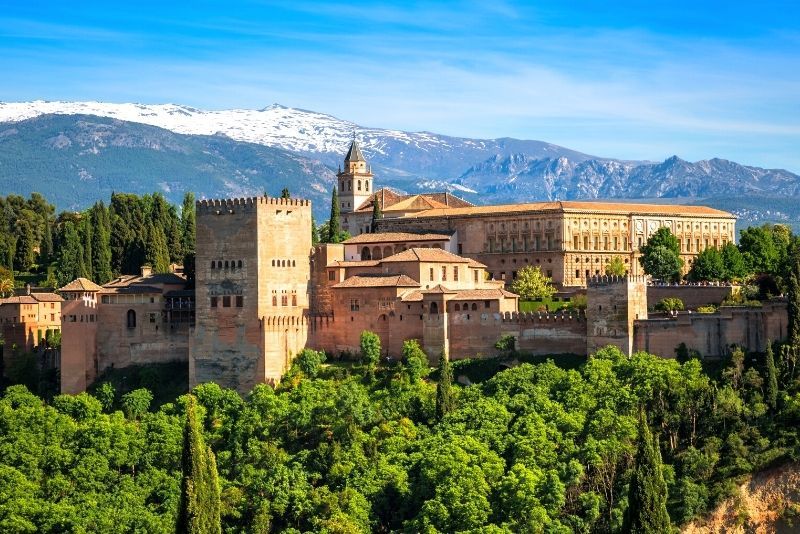 The biggest multi-day trip of them all, this comprehensive 8-day tour is the perfect way to see all of southern Spain's famous cities and regions at once without having to worry about any of the logistics.
You'll visit the historic towns of Córdoba, Seville, Ronda, Granada and Toledo, as well as take in some stunning beaches along the Costa del Sol coast. There will be plenty of opportunities to shop for souvenirs, enjoy Spanish food, and check off all the must-see sights.
How much does a multi-day trip to Seville from Madrid cost?
The price of a multi-day trip from Madrid to Seville will depend on how many days you want to spend and the type of tour you choose.
Small-group tours lasting 2-day tours are the cheapest, ranging between €320 and €370, while 3-day tours cost upwards of €385 per person for a group of 15 people.
A private 1-day trip costs €450 per person but gets cheaper with more people in your group and includes your high-speed train ticket.
Finally, a 4-day tour costs around €560 per person for a group of 15 while the big 8-day tour costs over €1,000 per person for a maximum of two adults in a group.
What will you see and do?
During multi-day trips to Seville from Madrid, you'll be able to explore the city's famous monuments and historic quarters, such as the Real Alcázar Palace, the Cathedral of Seville and the Plaza de España.
From its historic Barrio Santa Cruz neighborhood to the grand architectural monuments, Seville is alive with culture. It's also home to some fantastic tapas restaurants, many flavors of classic Spanish gazpacho, and a slew of outdoor activities, like horseback riding and kayaking.
Depending on how long your tour is, you'll also likely visit a few other cities in the southern part of the country. This could include captivating cities like Cordoba, Caceres, Granada, Toledo, and the charming seaside towns along the Costa Del Sol.
You can generally expect to have some free time to explore Seville and the different cities as well.
When is the best time to visit Seville?
The best time to visit Seville is in spring (March to June). The temperatures are mild and the flowers are in full bloom, especially the orange blossoms which Seville is famous for. The city also hosts two of its most renowned events during this time: Semana Santa (Holy Week) and Feria de Abril (April Fair).
Are there any tours to Seville from other cities in Spain?
Yes, there are tours departing from other cities in Spain:
Travel tips
Seville is quite pedestrian-friendly, especially the historic areas. There are also many bike lanes, and you can easily rent bicycles, making it a great way to explore the city.
There are countless tapas bars where you can try a variety of small dishes. It's a great way to sample a wide range of Spanish cuisine. Don't forget to try local specialties like "flamenquín" and "salmorejo".
Summers can be scorching, so lightweight, breathable clothing, hats, and sunscreen are essential. If you're visiting religious sites, ensure you dress respectfully – shoulders and knees should be covered.