Segway tours in Madrid are a unique way to take in the sights, and you'll cover more ground than you would on foot. Whether it's your first time on a segway or you're a fully-fledged rider, these trips are sure to get the heart pumping.
As you trundle through Madrid, architectural landmarks and leafy parks are all on the agenda. If you want to tick off multiple places in a short time, these adventures take some beating.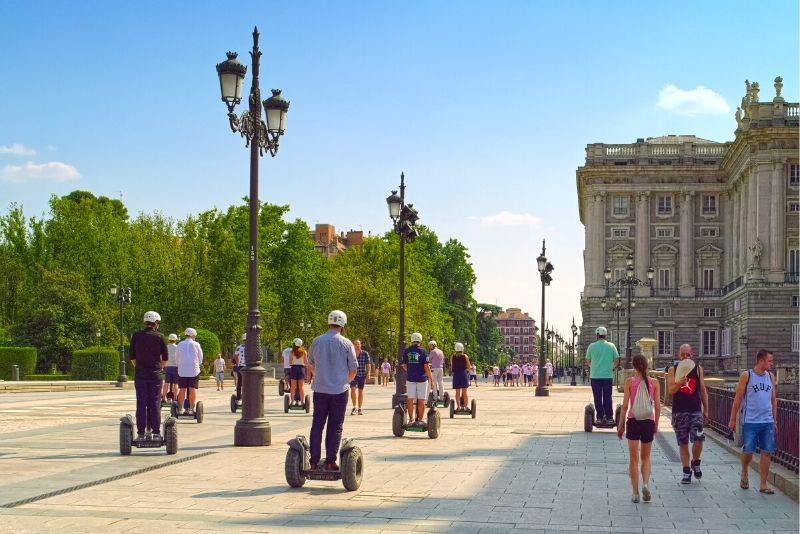 Here's all you need to know about Segway tours, one of the most captivating options for sightseeing tours in Madrid.
What are the best segway tours in Madrid?
Sightseeing segway tours in Madrid
The most popular Madrid segway excursions are these small group tours. Rolling along with like-minded travelers is a great way to keep costs down and make new friends.
These experiences take place in different locations across the city, so choose a trip according to where you want to explore.
After a quick briefing and practice ride, you'll begin your two-wheeled foray into the city. The guide will be up front, so all you have to do is follow. Once you've gained some confidence, the streets are yours to conquer.
You'll either venture into the old town to see the cathedral and Royal Palace, or the new town for icons like the Prado Museum. Pose for selfies in plazas and enjoy a short break beside the city's most famous landmarks.
Some tours take in Retiro Park instead, which offers a different perspective of Madrid.
Once you've completed your sightseeing loop, you'll return to the starting point so you can continue exploring on foot.
Private segway excursions in Madrid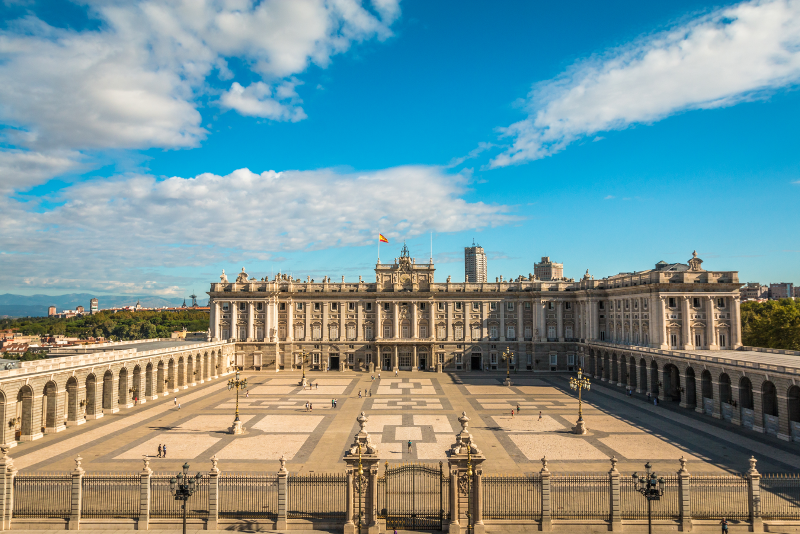 For something a little more exclusive, private tours give you greater flexibility and independence.
You'll have the guide all to yourself and can even design your own itinerary if you wish. These trips are great for travelers who aren't fans of group excursions.
Your adventure begins when you meet your guide – usually, this is at a convenient central location in Madrid.
There will be a short introductory session so don't worry if it's your first time on a segway. Then, once you've mastered your balance, it's time to head off into the city.
You'll trundle along behind your guide, using safe routes to avoid the traffic. As well as taking in major sights you will discover a few hidden gems along the way.
The Royal Palace, the Prado Museum and the Temple of Debod often feature on these Madrid segway tours.
There will be stops during the ride for you to take photos and have a breather. The tour finishes back where you started.
Which places are seen?
Historic center
Madrid's historic heart is the setting for many segway tours. The atmospheric streets make a great backdrop to your excursion, and you'll turn lots of heads as you ride by.
If it's your first visit to the city, this is a great way to see some of the major attractions. Keep your eyes peeled for favorites like the Almudena Cathedral, the Royal Palace and the Plaza de Ópera.
New town
A handful of segway trips in Madrid focus on the new town and some of the lesser-known yet still spectacular city sights. This is a good option if you've already enjoyed a Madrid walking tour of the old town and want to see something different.
Highlights of a ride around the new town include the Prado Museum, Plaza Santa Ana and the Church of Jeronimos.
Retiro Park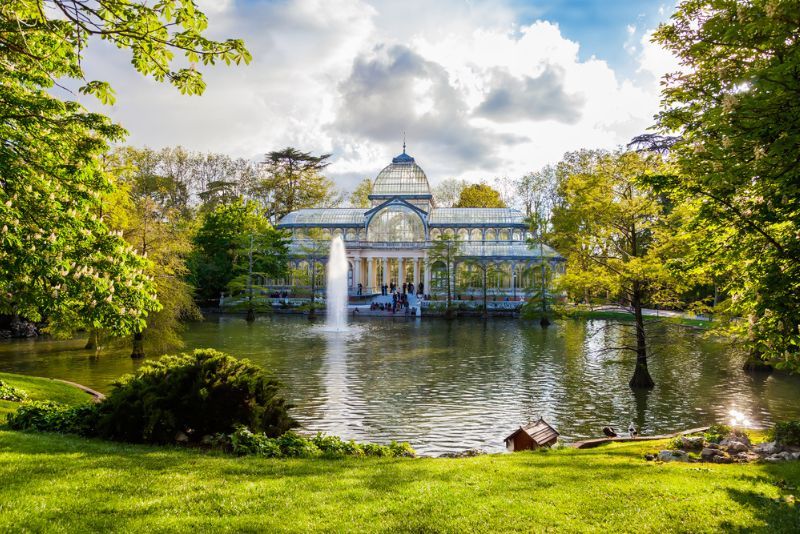 Retiro Park is the largest green space in Madrid. Designed as a UNESCO World Heritage site, this tranquil haven is home to several monuments, sculptures and fountains. It's a great place for a stroll and often features on Madrid city tours.
As you wheel around the park, you'll see the majestic Velázquez Palace and the Glass Palace. The latter was built as a greenhouse for exotic plant displays from the Philippines. See if you can spot Madrid's oldest tree as you glide along the trails.
How much do segway tours in Madrid cost?
Segway tours in Madrid are an affordable way to explore the city, with hour-long rides that won't break the bank.
The small group excursions operate with between eight and 15 participants on each session. Expect to pay €30 per person for a 1-hour trip, €40 for 1.5 hours and €50 for 2 hours.
Private hour-long Madrid Segway rides start at €60 for two participants. This increases to €100 for 2 hours and €150 for 3 hours. You'll have an exclusive guide as well as a say in the itinerary.
What is included?
All the equipment you need is provided on Madrid segway tours, including a helmet and segway rental. Basic training is given before you set off with your guide so that you'll feel confident and safe during the trip.
Insurance is included too, and some providers offer rain ponchos if the weather is wet. Transportation to the starting point is not generally offered, even on private excursions.
Where does it start?
Hotel pickups aren't provided on Madrid segway excursions, so you'll need to find your way to the meeting place. Luckily, these are always in a handy location close to public transport.
Common starting points include Avenida de Menéndez Pelayo beside Retiro Park, Calle de Santiago in the old town and Santa Ana Square.
How long does it last?
Trips typically last around an hour, which is plenty of time to enjoy the ride and get the hang of your segway. If it's your first time, an hour is probably long enough.
Some segway tours in Madrid last up to 2 hours – these excursions cover more ground and take in more sites. They are perfect for more experienced riders and those who want to sightsee to the max.
When is the best time for a segway tour in Madrid?
Madrid segway rides tend to be scheduled between 10 AM and 6 PM so it's easy to fit one into your itinerary. Whatever time you choose, you'll have a blast.
For a quieter experience, book a morning tour when the streets will be less busy. It gets hot here in summer, so avoid the afternoons in July and August if you can.
Travel tips
It's a good idea to book segway tours in Madrid online so you can search for the cheapest prices.
Flat walking shoes are a must to ensure you have a comfortable ride. Take water, sunglasses and sunscreen if you're visiting in summer.
For safety reasons, rider weight should be between 35 kilograms and 125 kilograms.
If you've enjoyed exploring on two wheels, Madrid bike tours are also highly recommended.