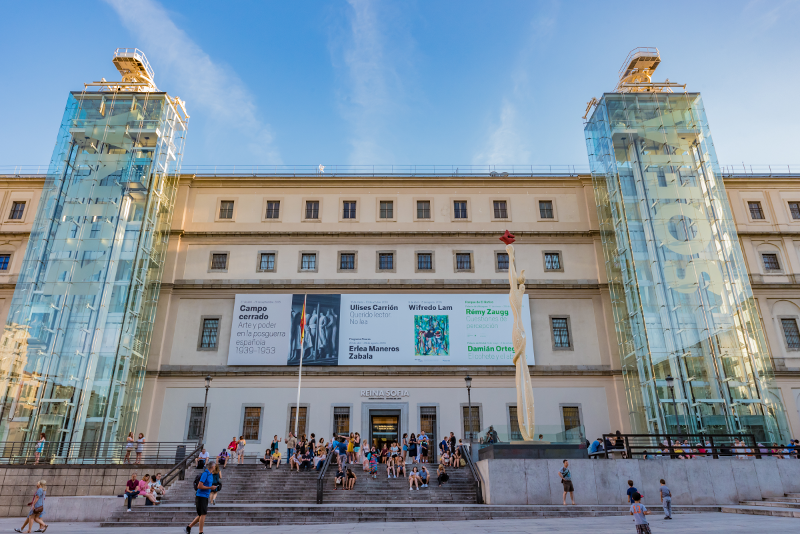 Visiting the Reina Sofia Museum in Madrid is an absolute must. If you are reading this page, you are probably looking to book Reina Sofia Museum tickets. Learn more about tickets price, how to book online and skip the line, combined tickets, and some useful travel tips.
As one of the most magnificent museums in the city, it's on the top of the list for many visitors, and so it can get pretty busy and crowded, but booking tickets ahead of time can help you make sure that you have a great experience, without any worries or lengthy wait times.
On this post, you will find a complete guide to getting tickets for the Reina Sofia Museum in Madrid, including:
As the home of Pablo Picasso's ground breaking artwork, Guernica, and many other world-famous paintings, a trip to the Reina Sofia Museum is a rewarding and memorable one. Get ready to discover some of Madrid's finest modern art collections, with a visit to this fantastic cultural institution.
Click on the following link if you wish to book Reina Sofia Museum tickets right now.
How much do Reina Sofia Museum tickets cost?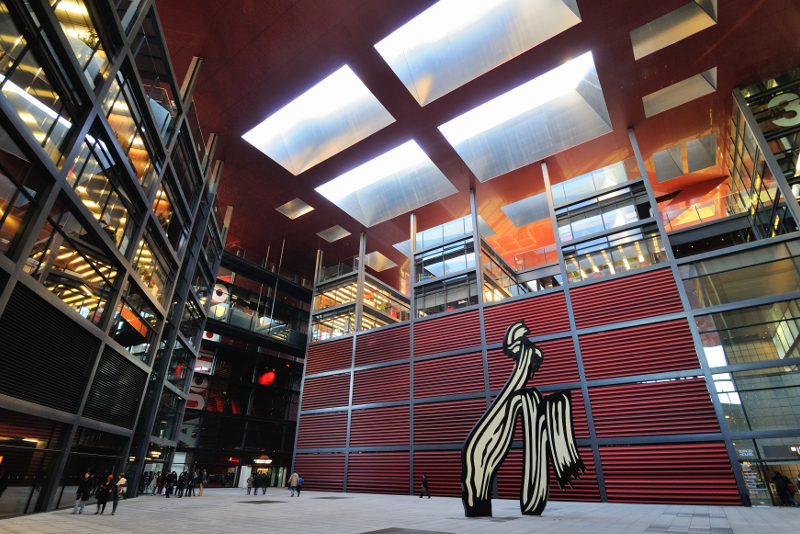 Tickets for the Reina Sofia Museum cost €10 when purchased at the box office, and €8,90 when purchased online.
Audioguides are available at the ticket office for the price of €4,50 extra.
Entrance is free for visitors under 18 years old, seniors 65+ and students under 25 years old (with a valid ID).
How do you book Reina Sofia Museum tickets in advance? How do you skip the line?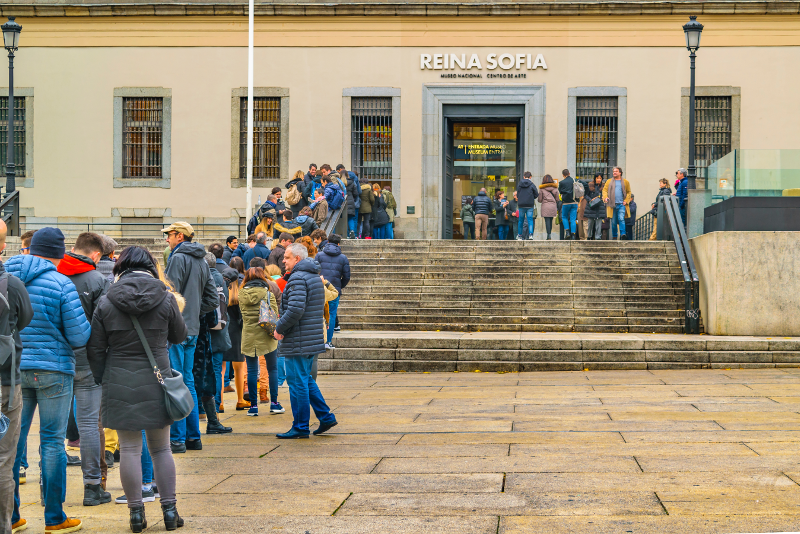 The Reina Sofia Museum is one of Madrid' most visited museums and the waiting line can be incredibly long during peak hours. We strongly recommend you to book your Reina Sofia Museum tickets online in order to avoid long waiting time at the entrance gate.
You will also save some money (€1,10 per ticket) as tickets purchased online ar cheaper than onsite.
Advance tickets for Reina Sofia Museum can be booked via the official website or through online providers such as Headout and Tiqets. Compare prices to find the best deal.
Are there any combined tickets including Reina Sofia Museum tickets and other museums?
It's a great idea to combine tickets for the Reina Sofia Museum with another museum in Madrid, to get the best value experience, and make sure you don't miss anything during your visit. The Prado Museum and the Thyssen-Bornemisza Museum are the two other most visited museums in Madrid.
Reina Sofia Museum + Prado Museum: discover the best of two of the most important art collections in Madrid, with an inspiring tour of the famous collections of each museum.
Reina Sofia Museum tickets + Thyssen-Bornemisza Museum: explore the wealth of culture in Madrid's "Golden Triangle" with a fascinating tour that combines two beautiful attractions in one trip.
Paseo del Arte
If you wish to visit the Reina Sofia Museum, the Prado Museum and the Thyssen-Bornemisza Museum during your trip to Madrid, consider booking the "Paseo del Arte" (Art Walk): it allows you visit the top three art galleries with a single ticket and save you a great deal of money and time.
Are there any Reina Sofia Museum guided tours? Are they worth it?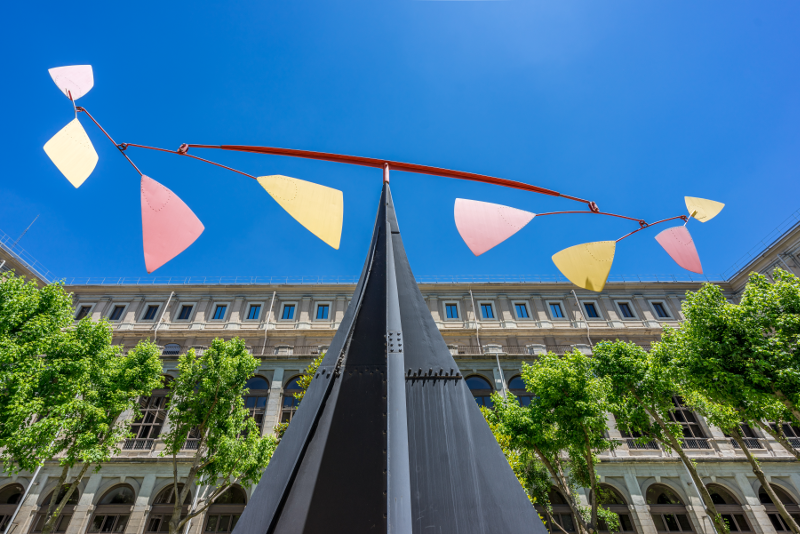 With a wealth of famous artworks in its expansive collection, a guided tour of the Reina Sofia Museum is certainly one of the best ways to experience a trip there. There are lots of advantages to choosing a guided tour, including:
Avoid the long lines: getting into the Reina Sofia Museum usually involves a long wait in the lines, before having to deal with busy crowds once you get in. With a guided tour however, you can leave aside the thought of waiting for ages, because your guide will already have your tickets for you, and you can go straight inside, without any waiting time involved.
Get to the heart of the collections: there are so many rewarding and incredible artworks in the museum, but it can sometimes be hard to see them all, or even find them! The advantage of having a guide is that your guide will take you around and make sure you get to see all of the most famous artworks, without missing anything important.
Learn something new: there is so much to learn and discover at the Reina Sofia Museum, and having an expert as your guide is really one of the best ways to explore it. You'll learn more about the individual artworks, the artists and even the history of the museum, and with the chance to ask questions, you can have a wonderful, personal experience.
Is it possible to visit the Reina Sofia Museum for free?
There are selected times and days when you can visit the Reina Sofia Museum for free.
During the week, it is open for free between 7 pm to 9 pm on open days, and between 1:30 pm to 7 pm on Sundays.
It is also open for free all day on April 18, May 18, October 12 and December 6.
Free tickets are for individual members of the public only, and cannot be booked for groups.
What will you see?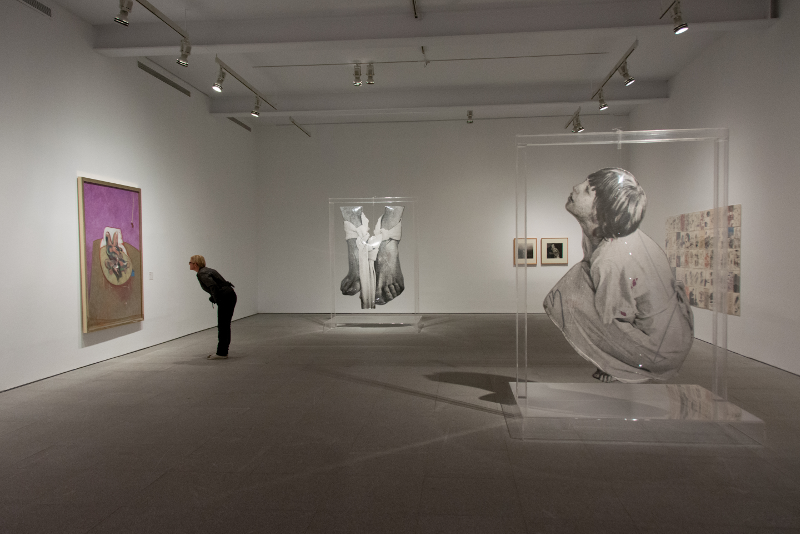 The Reina Sofia Museum is Spain's largest museum of 20th century art, and houses over 2,000 works of art from famous artists across Spain, and around the world. It forms part of the "Golden Triangle" in Madrid, a group of some of the most illustrious art institutions in the city, and attracts thousands of visitors daily. As one of the most popular attractions in Madrid, it is well worth a visit.
Build on the site of the first ever hospital in Madrid, the building of the museum is itself very impressive, with a striking modern design, and good accessibility for visitors of all needs. But it's inside where you'll find the real treasure – and with works from renowned artists including Pablo Picasso, Salvador Dali, Francis Bacon and many others, the museum will give you a fantastic tour of the most important figures in modern art.
Some of the most important paintings in the collection include the groundbreaking artwork, Guernica, depicting the horrors of the Spanish Civil War. While this exhibit is always busy, it's worth taking the time to experience this moving artwork in person. There are also many stunning masterpieces of surrealism, by the master of surreal art himself, Dali.
As well as its huge collection of paintings and sculptures, the Reina Sofia Museum also boasts an extensive free-access library thousands of books and multimedia, which is worth seeing for the size alone, as well as the chance to explore the rich history of Madrid and the rest of the country through the centuries.
After a visit inside, it's worth relaxing on the expansive lawns outside the museum, which offer the perfect place to soak up the atmosphere around it.
What is the best time to visit the Reina Sofia Museum? How can you avoid the crowd?
The Reina Sofia Museum is often busiest during the early part of the day, from morning until early afternoon. Free periods can also be very crowded, especially on weekday evenings. Saturdays are very busy all day, and wait times can be extremely long. To avoid the crowds, it's best to visit during the late afternoon between 3 pm to 5 pm on weekdays.
One of the most famous artwork's in the collection, Picasso's Guernica nearly always has heavy crowds around it. In order to get a good view, it's worth planning a visit towards the latter end of the day, or simply waiting your turn.
What are the Reina Sofia Museum opening hours?
The Reina Sofia Museum in Madrid is open 6 days a week and closed on Tuesdays. It is open between 10 am to 9 pm for all days apart from Sundays, when it closes early at 7 pm.
The ticket office closes 30 minutes before closing time, and galleries will be closed 15 minutes before closing time.
On Sundays, the ticket office closes at 2 pm.
The museum is closed on public holidays, including January 1, January 6, May 1, May 15, November 19, December 24 and 25, and December 31.
Travel tips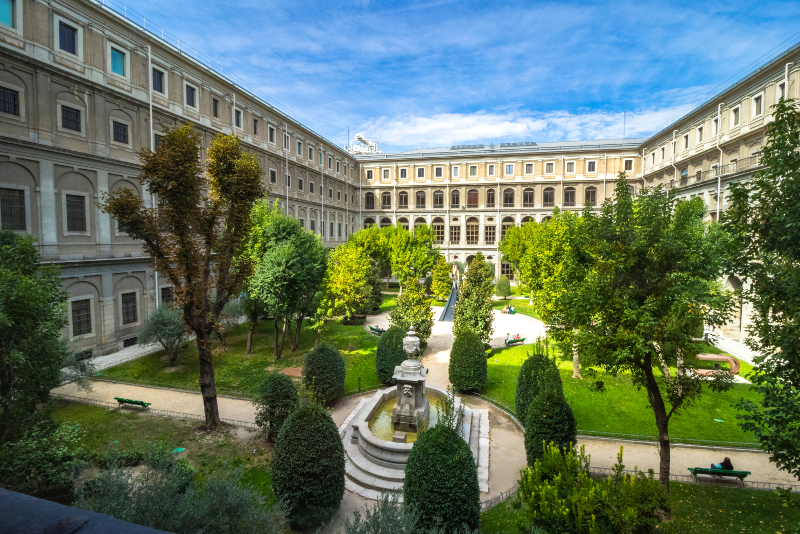 The Reina Sofia Museum is one of the top art museums in Madrid, housing an illustrious collection of world-renowned modern art, including several works by Pablo Picasso, Salvador Dali and Joan Miro. The museum is enormous and easy to get lost in, so it's worth making sure you allow plenty of time to explore it at your leisure, and see all the artists you hope to catch. If you can, it's a good idea to check out the location of different rooms and famous artworks before your visit, so you can plan your way around in advance.
The museum is highly accessible and easy to get to and get around. The building itself is a stunning example of architecture, and the museum has a great café and restaurant inside, so if you can, it's worth allowing time to relax around the museum after your visit, before you head off.