Experience the "prettiest walled city of Avila" nestled on the bank of river Adaja as you embark on an Avila day trip from Madrid! Explore the "Town of Stones and Saints" adorned with the ancient Romanesque architecture that leaves your eyes wandering helter-skelter, and your soul spellbound with its naturally picturesque persona.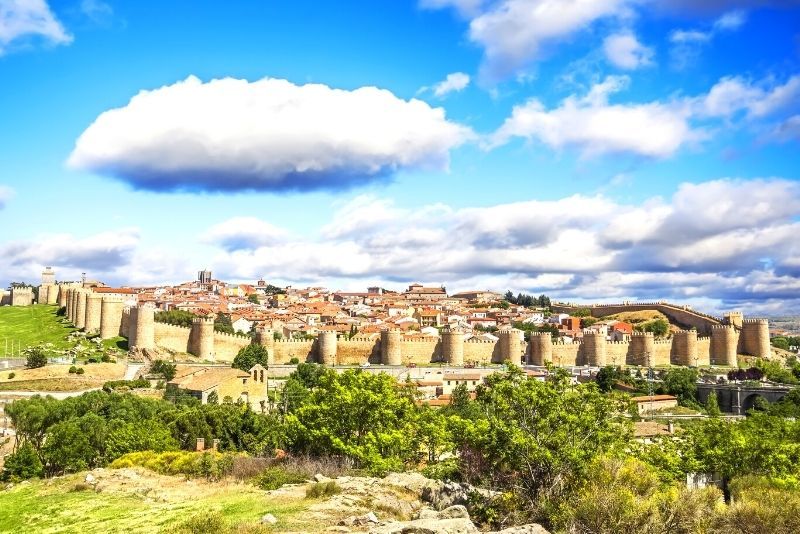 Witness the magic of the fortified cathedral of the 12th century engineered in a Gothic style that runs all through the lanes of the city. With an 8,200-foot-long wall and 90 fortified towers surrounding it, unveil the essence of the most ancient and entirely fortified complex in Spain. And after satiating your cultural quest, fill up your guts with the delectable T bone steak in one of the exquisitely decorated restaurants.
How to get to Avila from Madrid?
After deciding what type of tour you are interested in for an Avila day trip from Madrid, the next step is to determine how you'll get to the destination. You have a few options:
By Car: If you flew into Spain your only option is to rent a car. You shouldn't have a problem finding an appropriate service in Madrid. However, you may find following directions in a foreign country awkward and stressful.
By Bus: Another worthy option is to consider a guided tour of Avila that includes transportation to and from Madrid. Bus tours offer a lot of benefits, and you get a good deal considering you don't have to drive or refuel a personal vehicle.
How long does it take to get from Madrid to Avila?
It takes close to an hour and a half to make it to Avila from Madrid. There is one primary route that takes you to Avila, with an opportunity to detour west toward Segovia if you are visiting both places on the same day. Overall, expect about three hours of round-trip travel time.
How much does a Avila tour from Madrid cost?
Planning your Avila day trip from Madrid begins with tour type. There are a few different selections to pick.
Guided tours may include multiple stops or a single route to Avila. There are a series of combined tours related to Avila. Two of the most popular are Avila and Segovia or Avila and Salamanca.
Regardless of your choice, you will appreciate having a local and knowledgeable guide serving as your tour master. Feel free to ask as many questions as come to mind! Guided tours range from 60€ to 80€ depending on the tour package.
When is the best time to visit Avila?
Avila has its warmest months of the year between June and August. The summer season is also peak travel season with the highest concentrations of people. The spring and fall are prime times to travel to Spain if you can afford to take your time off during those seasons.
What are the best things to see and do in Avila?
Avila is a place with a detailed and important history. As a result, there is no shortage of things to do in the area. Here are activities to consider for your Avila day trip from Madrid:
Sightseeing
Avila introduces many monuments and landmarks not long after arrival to the city Orson Welles has described as the place in the world he would have most likely wanted to call home. Popular attractions include The Walls of Avila, Avila Cathedral, Basilica de San Vicente, and Convento de San Jose.
Museums
Avila is full of history. As a result, the ancient medieval town features several places to learn more about its past. Popular stops include the Museum of Avila, Museum of la Encarnacion, Museum of the Cathedral, and Museum of Santa Teresa.
Every Spanish community follows some of the hallmarks of the country when it comes to cuisine while offering some different variations. Avila is no different as it offers some unique dishes distinct to the region. Try the "Judias del Barco" or "Yemas de Santa Teresa" for a change of pace.
Are there any other famous places to visit nearby Avila?
Along the way to Avila, you might encounter some other famous places to visit.
Toledo
Toledo is not on a direct route to Avila from Madrid yet you'll notice plenty of tours that combine the two excursions into one trip. Though it makes for a long day, it is worth adding the extra detour of Toledo. The melting pot city offers its own unique culture with plenty of history.
Segovia
Segovia is closer to Avila compared to Toledo and therefore makes an opportune stop along the way to your final destination. Segovia is also a place very rich in history and culture. There are plenty of landmarks to see there as you learn more about the deep history of Spain.
Salamanca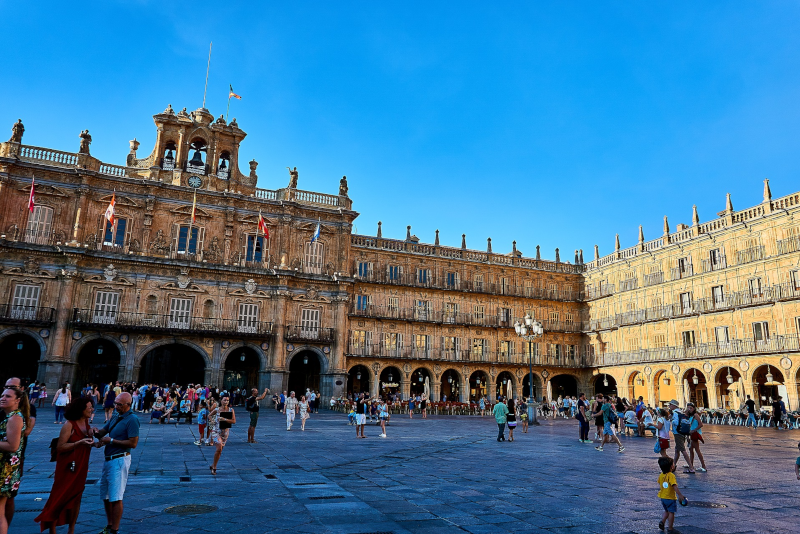 With top-rate history, culture, delicious local food and stunning attractions, Salamanca is a UNESCO World Heritage city and a must visit for any travelers. Situated just two hours north-west of Madrid, Salamanca is the ideal stop on the way from Madrid to Avila.
Alta Manzanares Basin Regional Park
Alta Manzanares Basin Regional Park is between Madrid and Segovia as you make your way north to Avila. Though it requires a detour, you may find it worth seeing the protected natural area. It is ideal for outdoor enthusiasts that want to see wildlife and a wide range of ecosystems.
Travel Tips
Book a tour in advance. Tours that leave Madrid for day trips are popular because it is the prime way for travelers to leave the city for a day if they don't have a rental car. Tours can sell out so book early to confirm your spot.
Package your tour with other destinations for the best deal. Combined tours or guided tours offer a ton of perks for an affordable price. You get to see more than one city with popular stops like Segovia and Toledo well worth the extra costs.
Bring enough supplies to last all day. While your tour may include lunch, you still might want to bring snacks to hold you over until a meal. Bring lots of water and protection from the sun or weather.