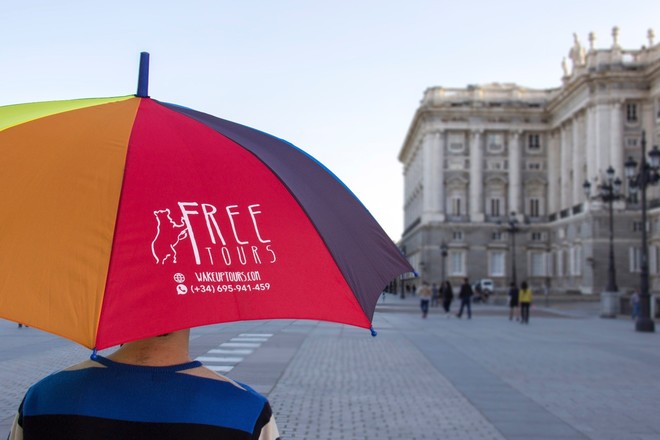 The historical gems and buzzing streets of Spain's capital make Madrid a superb location to explore on foot. With world-class art, iconic landmarks, and an imaginative food scene, the contrasting districts of Madrid bring the city to life with a vigor that will leave you wanting more.
You can take in all the main sights on a free walking tour in Madrid, as well as learning about the culture and heritage of this fascinating destination.
How do free walking tours in Madrid work?
The best way to really get to know the city is by taking one of the free tours in Madrid and exploring the streets on foot with a knowledgeable local guide.
These tours have no prices attached. Instead, participants tip the guide after their tour if they have enjoyed the excursion. Make sure you take some cash so you can pay what you feel the experience is worth.
How much should you tip for a free walking tour in Madrid?
Although these walking tours of Madrid are free, it is customary for visitors to tip the guide at the end. Most participants choose to give between €10 and €15 per person, but some prefer to offer more if they feel they have had a particularly enjoyable time.
Do consider the length of the tour and the knowledge of the guide, and tip accordingly.
What are the best free walking tours in Madrid?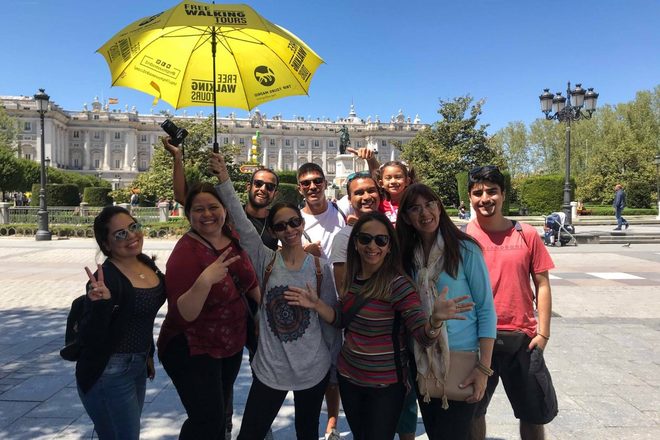 There are lots of different free walking tours in Madrid. Some tours take you exploring in the most distinctive city districts, while others have a specialist theme.
Classic Madrid Free Walking Tour
If it is your first time in Madrid, then this tour is an excellent introduction to the city. It covers many of the major sights and delves into local history to give you a flavor of life here in times gone by.
The tour begins in the medieval areas of El Madrid de los Austrias and El Madrid de los Borbones. You will explore the old streets and squares, and visit landmarks such as the Plaza Major, the Segovia Viaduct, and the Royal Palace. This free walking tour in Madrid also takes in the Plaza de la Ville, the Opera House, and the traditional market at Mercado de San Miguel.
Ancient Madrid Free Walking Tour
Get to know the Habsburg Quarter, an iconic and much-loved area with an inviting blend of tradition and modernity. Here you will learn about monarchies, dictatorships, and democracies set against a backdrop of historical streets, manicured gardens, and tempting eateries.
Discover the origins of Madrid, and how it has been shaped over centuries by kings, saints, and bandits, as well as by war and peace. Allow yourself to be drawn into the stories and legends that surround these streets and come away with a real understanding of what Madrid is all about.
Barrio de las Letras Free Walking Tour
Go back in time to the 17th and 18th centuries and discover the Madrid of the past through its palaces and plazas. Be entertained with the stories of intrigue, comedy, and romance surrounding Madrid's most famous writers, and learn about the characters who have helped shape the city.
This tour begins at the Mariblanca Statue at the Puerta del Sol, before continuing to the Royal Academy of Fine Arts and the church of Las Calatravas. Then it is time to enter the Barrio de las Letras, the bohemian quarter of the old town where writers and artists have gathered in cafes for centuries.
In this literary meeting place, you can really feel the history beneath your feet around every corner. Stroll down Calle de la Cruz, check out the Spanish Theater, and the splendid Palace of the Dukes of Santoña.
Money Heist Free Walking Tour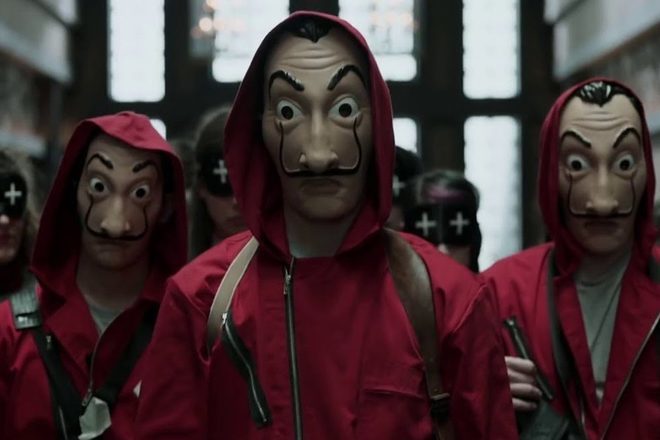 If you are a fan of the world-famous Netflix series Money Heist, this free tour is perfect for you. Your local guide will take you through the locations where the series was filmed and you will recognize many familiar places.
Moreover, the tour's itinerary covers some districts of Madrid (the most luxurious ones) which are quite unknown by many visitors. Your guide will show you some hidden gems of those districts.
Civil War Free Walking Tour of Madrid
For anyone interested in Spanish history, the Civil War tour sheds light on one of the most significant European conflicts in living memory. Explore key sites with a history specialist and get to know the battlefields and the areas known as "no man's land" that were pivotal locations during the war.
Listen to stories about key figures like General Franco and Vicente Rojo, as well as encountering the paths of literary characters such as Ernest Hemingway.
Spanish Inquisition in Madrid Free Walking Tour
Join a history expert on a free walking tour of Madrid and learn about the origins of one of Europe's most mysterious and gruesome institutions.
Visit the main areas of the city where the courts of this oppressive regime took place and listen to stories about figures on both sides of the bench.
Magic and Mystery in Madrid Free Walking Tour
For something a bit different, follow your local guide around the city, listening to tall tales of witches, sorcerers, and magic that make up the mysterious underworld of Madrid.
On this evening tour, you will hear stories about paranormal events, possessed children, and spooky goings-on as you wander through the historic streets. If you truly want to experience a unique side of Madrid, then this is it.
Haunted Madrid Free Walking Tour
Discover the sinister side to Madrid on this free walking tour that will take you into the depths of the city, searching for haunted houses, chilling legends, and echoes of the past.
During this tour, Madrid's dark secrets will be unraveled, and you will learn about unsolved crimes that many years later will still send a shiver down your spine. This hair-raising yet light-hearted evening ghost tour will certainly show you a rather different side to the city.
Forgotten Women of Madrid Free Walking Tour
See the highlights of Madrid while learning about the lives of some of the most significant female figures in the history of the city. Explore the places where these intelligent women fought for their rights and lived strong lives in the face of adversity.
Characters such as Isabel II, the Duchess of Osuna, and Joan of Austria have all left their mark on the city, just waiting for future generations to hear their stories.
In which languages are free walking tours in Madrid operated?
Free tours in Madrid are available in English and, of course, Spanish. English is commonly used, so you should have no problem finding the right tour to join.
There are also free walking tours in Madrid conducted in Italian, although these are fewer in number, so you have to search a bit harder to find them.
Where do free walking tours in Madrid start?
Free tours in Madrid start at various meeting points across the city center, depending on the area you will be exploring.
Make sure you check the tour instructions and take note of the directions before you head out on your excursion.
How long do free walking tours in Madrid last?
Tours in Madrid generally last around 2 hours, with some taking up to 3 hours and others just 1.5 hours.
Think about how long you want to be on your feet to help decide which tour is best for you. The walking pace will be leisurely, so the experience will not be strenuous.
When is the best time to join a free walking tour in Madrid?
The best time to go on a free walking tour in Madrid is during the morning or late afternoon when the temperature is pleasant, and the crowds are smaller.
Evening tours usually start around 8 pm. This is a great time to see the city streets and landmarks illuminated.
Joining a walking tour on your first day in Madrid is a fun and easy way of getting to know your way around. You can also pick up handy restaurant ideas from the guides.
Should Madrid free walking tours be booked online?
Free walking tours in Madrid are among the most popular ways to explore the city, so it is a good idea to plan ahead. Reserve your place for the day and time that you prefer by booking online before your visit.
Participant numbers are limited, so the group can move easily through the streets. Make sure you book your Madrid tour online, so you do not miss out.
There is no charge for booking free tours in Madrid online, and no credit details are required. Cancellation is, of course, free should your plans change.