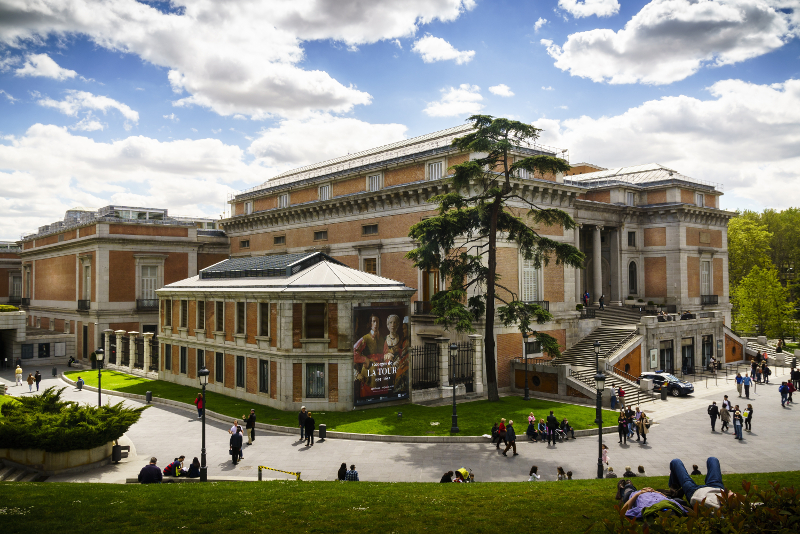 Are you looking for the best way to get your Prado Museum tickets? Find out all about how much they cost, how to skip the line with advance tickets, who is eligible for discounts, what you will see, and more!
On this post, you will find a complete guide to getting tickets for the Prado Museum in Madrid, including:
Home to the Spanish Royal Collection and thousands of paintings, drawings and sculptures, the Prado Museum gives you up close and personal access to some of Europe's greatest masters, including Goya, Reubens and El Greco, and the chance to see some of the world's most iconic works of art in the flesh.
Click on the following link if you wish to book Prado Museum tickets now.
How much do Prado Museum tickets cost?
Prado Museum tickets price for single entry is 15 €.
Prado Museum tickets price for single entry including a Prado guide book is 24 €.
Prado Museum tickets price 'Two visits within a year' is 22 €.
Prado Museum tickets include access to the permanent collection and temporary exhibitions shown on the date of the visit.
Add 0,50 € per ticket processing fee if you book online.
Who is eligible for a discount?
Discounted tickets are available for 7.5 €. This is available for individuals over 65 years old, members of large families and youth card holders.
There is a free entry for everyone aged under 18 years old, journalists, tour guides, disabled visitors, and students aged between 18 to 25 years old.
How do you book Prado Museum tickets in advance? How do you skip the line?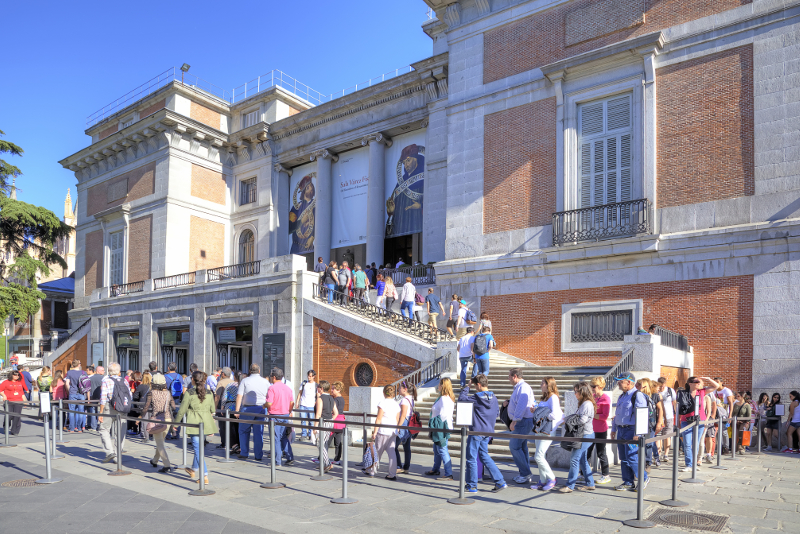 You should aim to purchase your Prado Museum tickets online and in advance in order to avoid long waiting time at the entrance gate. The Prado Museum is one of Madrid' busiest attractions and the waiting line can get incredibly long.
You can either book your Prado Museum tickets online from the official site or from an online travel agency. It is best to compare prices between several providers before booking as discounts and deals are sometimes available and can save you some money.
Are there any combined tickets including Prado Museum tickets and other attractions?
Choosing a combined ticket can be a wonderful way to see the best of Madrid, including the Prado Museum and other unmissable attractions into one ticket. Why not try one of the following packages:
Are there any Prado Museum guided tours? Are they worth it?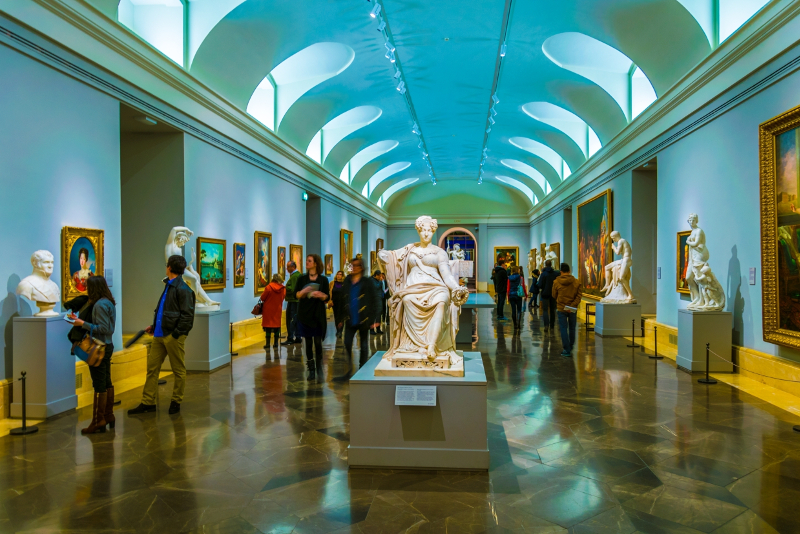 With such a wealth of masterpieces from Europe's finest artists in its collection, it can be hard to see them all in one trip – but a guided tour can be a great way of making sure you get to experience all of the important pieces in the museum's collection, as well as saving valuable time by skipping the line. There are lots of advantages to booking a guided tour when you visit the Prado Museum:
See the best artworks: With thousands of artworks, it can be hard to decide what to see, but having your very own guide means that you won't miss the most important works in the collection. Discover the best of the collection's leading artists, including Velazquez, Goya, Bosch and many others, with commentary to give you a special insight into the stories behind each piece.
Avoid the crowds: it can get quite hectic with so many visitors around you, so make sure you have a great experience during your trip, by touring with a small or private group. Your guide will lead you around and give you plenty of opportunities to ask questions, while you can enjoy the tour without feeling overwhelmed by the busy environment.
Enjoy walking straight in: when there are long, tedious lines to wait before you can even go inside, it can feel pretty good knowing your tickets are already with your guide, and you can just walk straight past the crowds to go inside!
You may pick:
Prado Museum guided tours with skip the line tickets : make the most of your visit with a well planned tour around the key attractions, and the chance to avoid the lines, letting you go straight inside.
Prado Museum private tours: with a specialist guide to lead you through the collection, a private tour is a fantastic way to learn more about your favourite artists, as well as discover something new.
Is it possible to visit the Prado Museum for free?
There are selected dates and times when the Prado Museum offers free entry to the museum. Free entry periods can be extremely busy, so wait times for tickets can be much longer. Entry is free during the following times:
Every day from Monday to Saturday, between 6pm – 8pm
Sundays and holidays from 5pm to 7pm
November 19 – Museum Day, when the Prado offers free entry all day
There is also free entry for everyone aged under 18, journalists, tour guides, disabled visitors, and students aged 18- 25.
What will you see?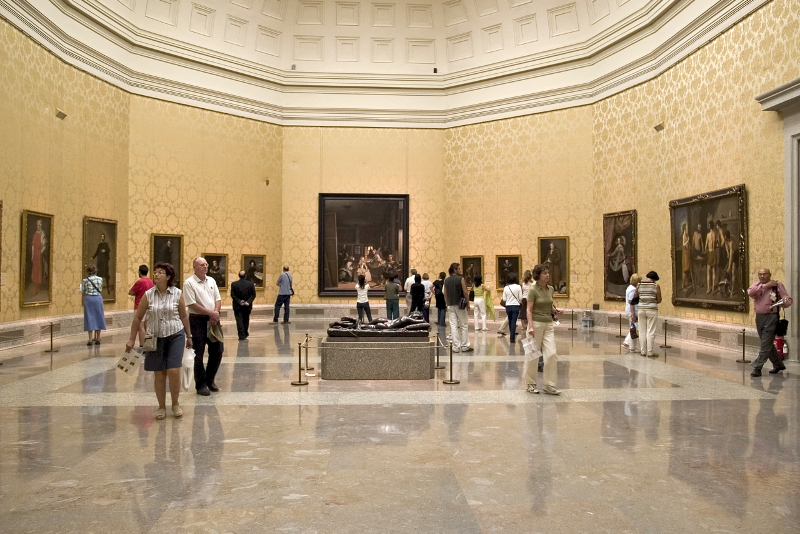 The Prado Museum is Madrid's biggest and most illustrious art institution, and with over 7,000 paintings and sculptures in its collection, it's easy to feel a little overwhelmed by it. It's best to decide ahead of your visit which particular collections or sections you might like to explore, find out where your favourite artworks are, and leave plenty of time for your visit to take it all in at a leisurely pace.
The building itself was designed in the 18th century, to house the Royal Museum of Paintings and Sculptures. The permanent collection dates back to the 12th century contains numerous masterpieces by groundbreaking European artists, including Bosch, Raphael, El Greco and many more.
In its Renaissance section, of its most well known treasures include the Garden of Earthly Delights by Hieronymous Bosch, and Fra Angelico's Annunciation, as well as a collection of works by Raphael. Upstairs, you'll find a vast section dedicated to the Spanish Golden Age, with a variety of artists from the 16th and 17th centuries, as well as some of the important figures that influenced them, including Ruben and Titian. The Prado is renowned for having one of the world's best collections of works by Titian, so it's well worth dedicating some time here.
Finally, one of the most fascinating and interesting works to check out in the museum is Goya's Black Paintings. Originally painted directly on to the walls of his house at the end of his career, these dark and powerful paintings give an intriguing insight into the artist.
While you're free to explore the museum however you like, to make your visit a bit easier, the Prado also offers laid out routes, that are designed to take 1, 2 or 3 hours. These can be a great way of seeing some of the best of the museum, when you're short on time or don't want to get lost.
Are Prado Museum tickets included in any attraction city passes?
Entry to the Prado Museum is included within a couple of city passes: the Madrid City Pass and the Art Walk (Paseo del Arte) Pass. Both allow you to skip the line and enter the museum.
The Madrid City Pass includes entrance to the Prado and many other attractions, as well as free travel on the hop on, hop-off city bus, and airport transfer by taxi to your hotel. It also includes discounts on a variety of other attractions and excursions.
The Art Walk pass allows entrance to the main collections of the 3 most important museums of Madrid: Prado Museum, Reina Sofia Museum and Thyssen Bornemisza Museum.
What is the best time to visit the Prado Museum? How can you avoid the crowd?
The Prado Museum is one of Madrid's top must-see destinations and so can get very busy during the daytime, and especially during the free periods in the evening.
To avoid crowds, it's best to go first thing after opening, or alternatively between 2pm – 5pm, which is traditionally a siesta period and hence a little quieter. Booking in advance can help skip waiting times, so check out the offers available on TourScanner to help you get the most from your visit.
What are the Prado Museum opening hours?
The Prado Museum is open between 10 am to 8pm on Mondays to Saturdays, and 10 am to 7 pm on Sundays.
The Museum is closed on January 1, May 1 and December 25, and has restricted opening hours on January 6, December 24 and 31, when the museum closes early at 2pm.
Exhibits also close 10 minutes before closing time, and you will be asked to leave.
Travel tips
As one of Madrid's most popular destinations, the Prado Museum can get extremely busy, so to make the most of your visit it's best to plan ahead. Booking tickets in advance can save you from spending long periods waiting in line, so check out TourScanner for the best ticket package for you.
It's also worth looking at the museum website and deciding which exhibits you'd like to see beforehand, so that you don't miss any of your favourites. Plan to spend about 4 hours at least as it can take a while to get around the museum.
The Prado is a very large museum and has multiple entrance points, but tickets are only available at two of them: Puerta de Goya Alta, which has an automated machine selling full price tickets only, and Puerta de Goya Baja, which sells the full range of tickets. If you have pre-booked tickets you may be able to save on waiting to go in, and use one of the other entrances.