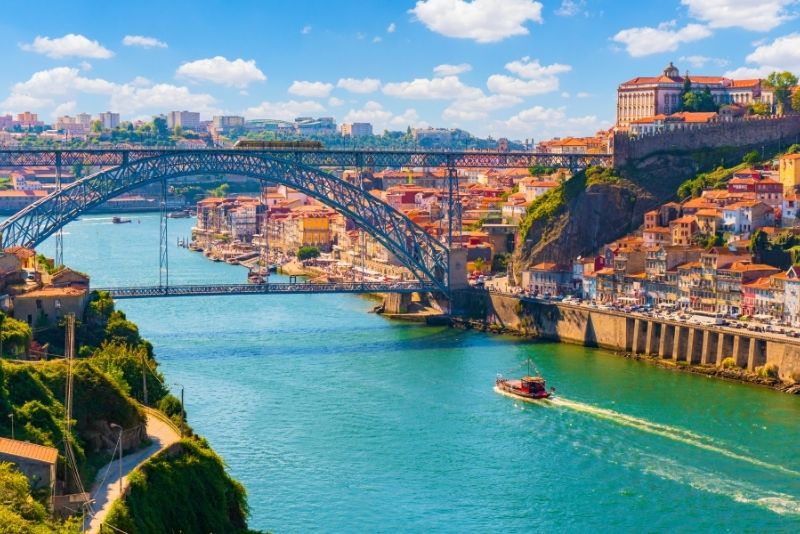 World-class art museums? Check. More wine than you could drink in a lifetime? Check. Stunning year-round weather, drool-worthy local dishes, and more architectural landmarks than you could imagine? Check-check-check.
The second-largest city in Portugal but not second-placed in terms of beauty by any means, Porto is teeming with exciting history and culture. It boasts one of the world's most impressive collections of art nouveau buildings, many of which are still in use today; winding cobblestone streets flanked by pastry shops, art galleries, and underground bars, and a glistening Duomo River waterfront lined with cafés and restaurants.
So whether you plan on partying till the sun comes up, learning about the inspiration behind Harry Potter, getting a little tipsy on a wine tour in Gaia, or simply quenching that culture thirst by checking off the local markets and museums, you'll find no shortage of things to do in Porto.
1 – Admire the Porto Cathedral (Sé do Porto) on a walking tour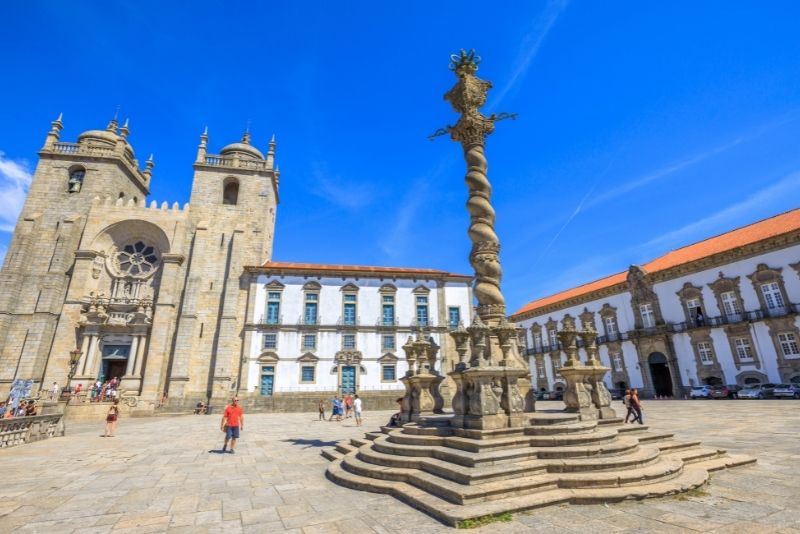 Dating all the way back to the 12th century, the iconic Romanesque Porto Cathedral is the city's most important church, located near São Bento Station at one of the highest points in the City of the Bridges.
To reach it you can either take a long but pleasant walk up through the old town or join an often-free guided walking tour, where you'll likely pass by one of the city's most beloved photography hotspots: the old Largo da Pena Ventosa square, where colorful houses surround it enchantingly.
You've been warned: Porto is full of hills, so be sure to lace on a pair of sturdy, comfy shoes!
2 – Cruise down the UNESCO-recognised Douro River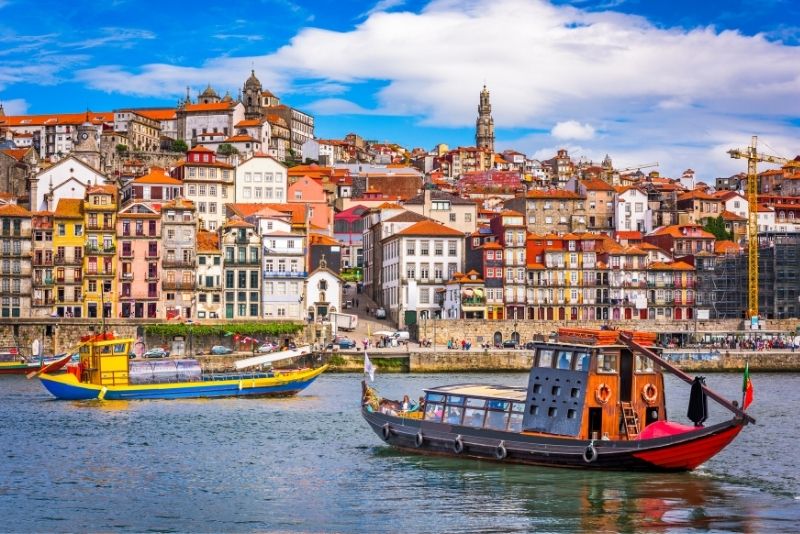 The sparkling Douro River is Porto's magical poster child (particularly when sailing underneath Ponte Luís I), winding its way through the city to empty into the Atlantic in one direction, and skirting through the green rolling hills of the vineyard-laden, UNESCO-listed Duoro Valley.
So, what better way to see it both than taking a cruise down the calm waters themselves? There are dozens of different cruises available, from ½-day trips (including lunch and wine tasting) to full-day adventures that transport you to places like Regua or the wine town of Pinhão, or the quicker 6 Bridge Cruise in the main Porto area.
3 – Soak in the view from Miradouro da Vitória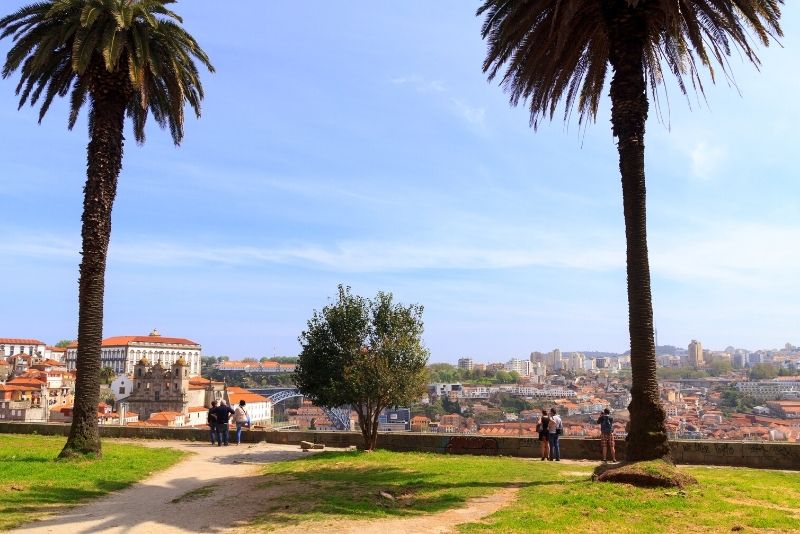 One of Porto's most rewarding experiences is to take the winding, narrow road up above the city center and discover a serene panorama that stretches for miles over gleaming blue rivers and red terracotta rooftops.
Popular for tourists and romantics alike, the Miradouro da Vitória sits on a hilltop on Rua da Bataria da Vitória, offering the picture-perfect sunset spot.
Portugal has many other worthwhile viewpoints to discover – including the Clerigos Tower and the Mosteiro da Serra do Pilar terrace (which we'll circle back to later) — but this one still takes top billing on the basis that it's totally free!
4 – Cross the river for a wine-tasting adventure!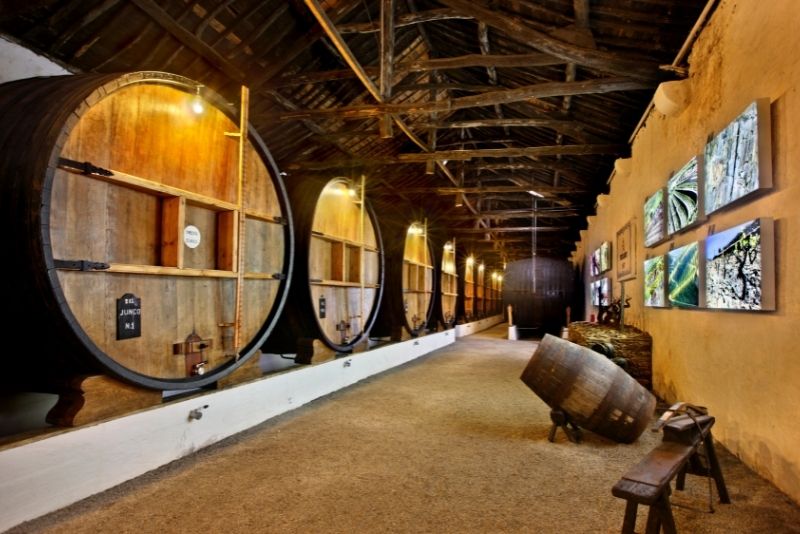 Porto is home to one of the world's most iconic wines: port wine, and if you want to learn more about this intoxicating drink (in an educational rather than inebriating sense, that is), then consider joining one of the numerous tours — including boat cruises — which will show you where it all.
The Cálem wine cellar is known nationwide, while Ferreira, Graham's Lodge, and Real Companhia Velha each boast spectacular blends and rich history (many of which are across the river in Vila Nova de Gaia, not Porto, technically). Most wine tours will stop into at least a couple of the main cellars, so you can compare some of the city's best!
Better yet, pair it with a cheese tasting too. Of course, there are plenty of romantic boat cruises that including tastings too — an experience that wine connoisseurs won't want to pass up.
5 – Rest those legs with a hop-on hop-off bus tour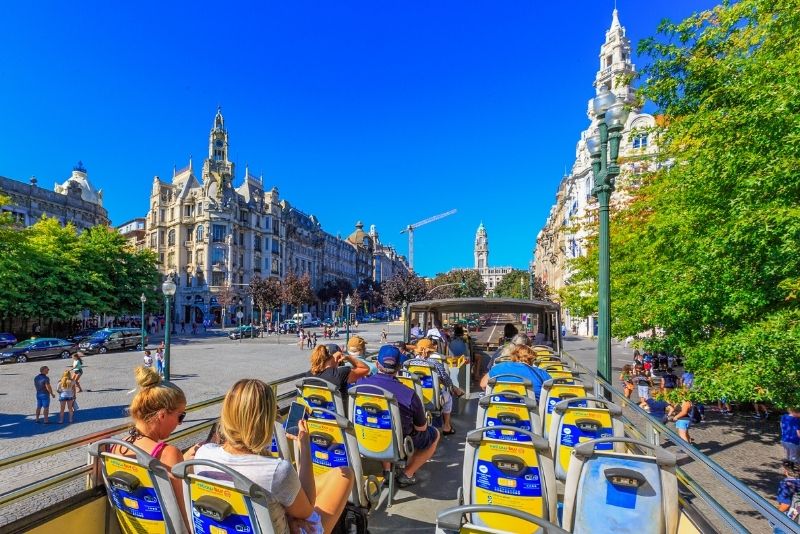 With steep hills in every direction, it won't take long for the legs to get a little weary in this vibrant city. So, if you're short on time and want to squeeze as much in as possible, or simply want to give the legs a rest while seeing some of the top attractions, the hop-on-hop-off bus — as well as the more authentic Guindais Funicular that goes from top to bottom rather than around or the traditional Tram tour — is a wonderful way to do so,
Along the way, you'll get to see all of Porto's major attractions, such as the Stock Exchange Palace (Palácio da Bolsa), São Bento Railway Station, Clérigos Tower (Torre dos Clérigos), and plenty more.
6 – Climb the Clérigos Tower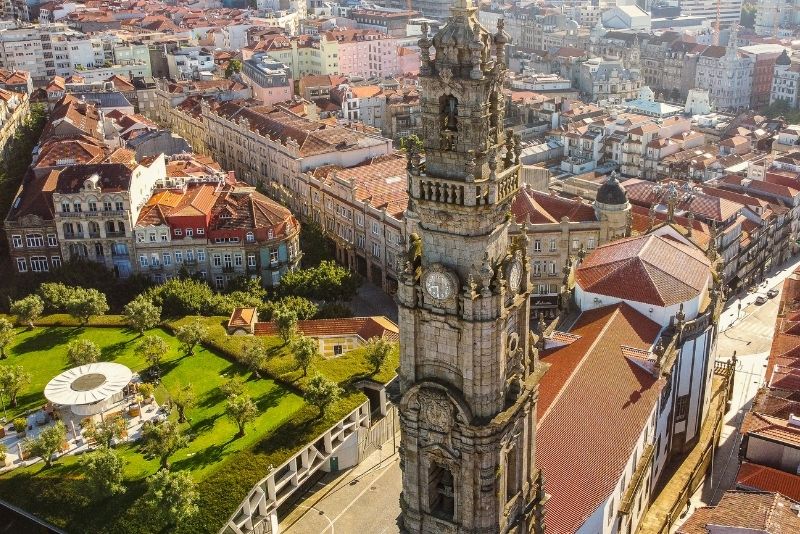 Finding itself on thousands of postcards, the Clérigos Tower (Portuguese: Torre dos Clérigos) is a historic Baroque tower standing some 75 meters above the Clérigos Church — making it the tallest of its kind nationwide.
And, since its sticks out from the streets like a sore thumb, the views from its top (the one you climb the 200 spiral stairs) are a must-see, offering panoramas of Porto's skyline and the hills that surround it, as well as a simple yet intriguing exhibition that dives into the history of the tower's architects and residents.
While you're there, be sure to step inside the Clérigos Church which is even more historic than its tower counterpart and regularly wows visitors with its engulfing domed ceiling.
7 – Feel the magic at Gomes Teixeira Square, the birthplace of Harry Potter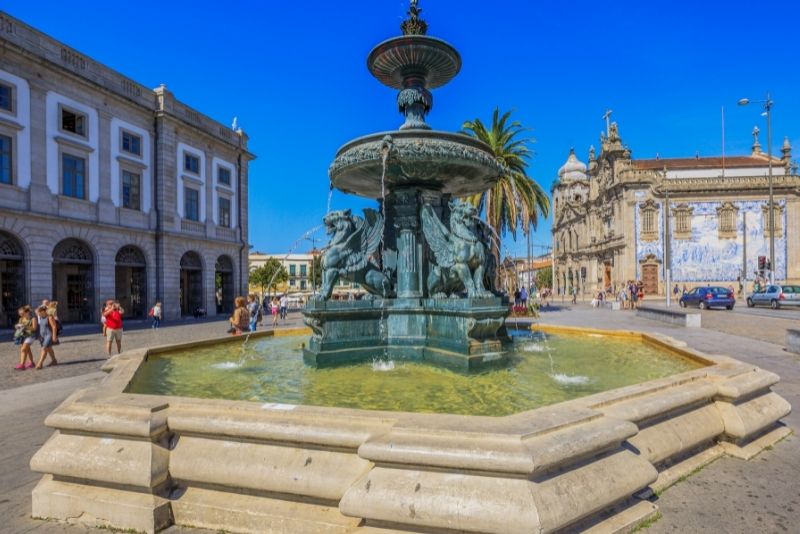 If you're a big Harry Potter fan, then this is one of the places in Porto that shouldn't be missed.
Located behind the Jardim de João Chagas and a stone's throw from the aforementioned Clérigos Church, Gomes Teixeira Square – or Praça de Gomes Teixeira in Portuguese – is a vibrant place where JK Rowling used to sit for hours on end, writing the famous novel series on its benches and in its cafes.
Plenty of free walking tours stroll by, with friendly, energetic guides thrilled to share more stories of how Hogwarts and its tales were inspired by this gorgeous city. Just to give you a taste; the impressive lion fountain, Fonte dos Leões, gave birth to the Gryffindor house symbol, while the university students' black-cape uniform inspired the Hogwarts robes!
In addition to being rich in history and pop culture, Gomes Teixeira Square is also home to two side-by-side churches with a fascinating rivalry, the Rectory of the University of Porto.
8 – See a live Fado show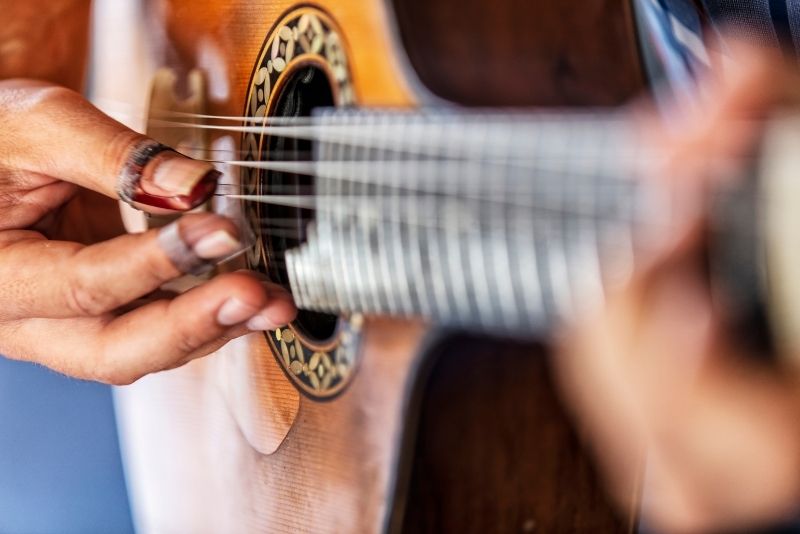 Mellow yet enchanting, soft yet emotive, Fado, Portugal's national music and song style has its roots in the 1820s. With a melancholic tone that reflects the Portuguese soul, it perfectly encapsulates life experiences such as love loss or homesickness.
And while many bars around town offer Fado as background music, one of the best ways to experience this traditional style is by attending a dinner show at revered spots like Casa de Guitarra, Ideal Clube, Calem wine cellars, or Casa de Mariquinhas.
Hot tip: For the best bang for your buck, consider a package that also includes a city tour and wine tasting.
9 – Cycle around the historic Ribeira District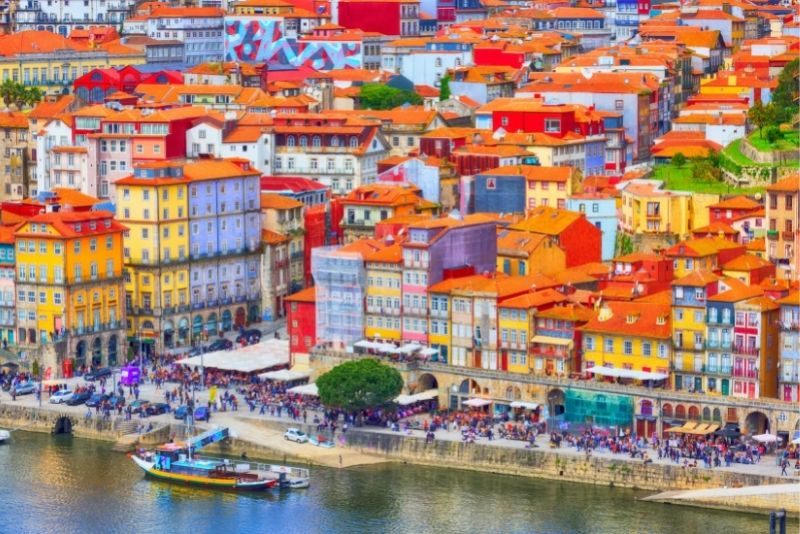 An area beloved by tourists and locals alike, the Ribeira district is the oldest in all of the city and a well-deserving UNESCO World Heritage site. The narrow streets and colorful houses will make you feel like you stepped back in time to when this was an important trading port, filled with commerce and merchant ships from around Europe.
If history's not your thing, no worries; the Ribeira district is also home to some of Porto's finest bars and restaurants, no shortage of live entertainment (particularly in summer), and the spectacular, double-decker Luís I Bridge.
On leisurely-paced biked tours (don't fret about the hills, they're e-bikes!), expect to pass by quintessential locations like the 14th-century Casa do Infante house, always bustling Ribeira Square, and the touristy yet beautiful Cais da Ribeira (waterfront area).
10 – Take a day trip to the Douro Valley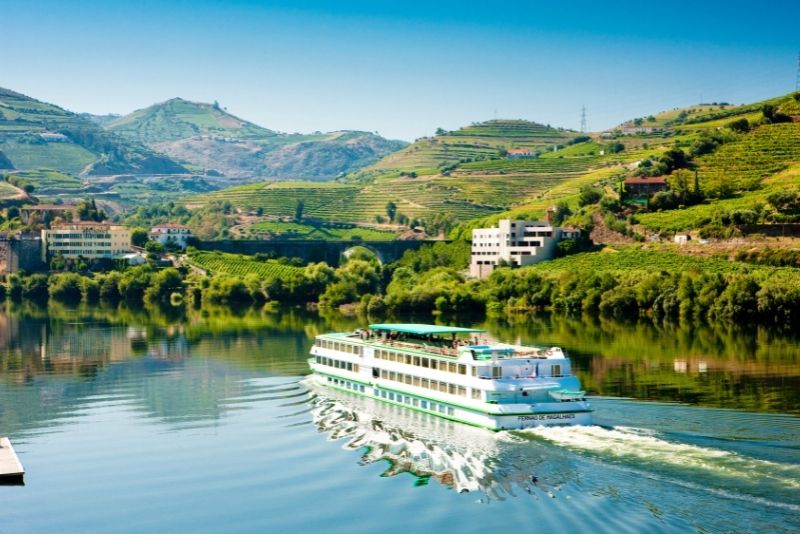 About as postcard-worthy as they come, with its rolling hills, plentiful wineries, ever-charming Douro Historic Train, and the long list of Quintas (estates), the Douro Valley is a must-see.
Thanks to its unique microclimate and soil, this area has been famous for wine production for centuries; nowadays its dozens of vineyards have become best-known for their dry reds, but there's a little bit of everything on offer.
Whether you're a nature-lover looking for fresh air and a change of pace from Porto itself, a wine connoisseur wanting to sample the good stuff at the source, or a bit of both, pre-organized day trips include all of the best bits (plus lunch and a cruise!).
11 – Explore the Palácio da Bolsa
Back in the hustle and bustle of Porto now, the Palácio da Bolsa is a magnificent neoclassical building and stunning example of mid-19th-century Portuguese architecture — no wonder it's become the most visited monument in northern Portugal.
Originally built as the city's stock exchange, the UNESCO-listed palace now houses a range of beautifully decorated rooms, a grand staircase, and huge wall paintings.
The Arab Room, as well as the central courtyard called Pátio das Nações, are each spectacular — keep in mind, however, that you can only access the interior during the 30-minute guided tours.
12 – Lace on the hiking boots at Peneda-Gerês National Park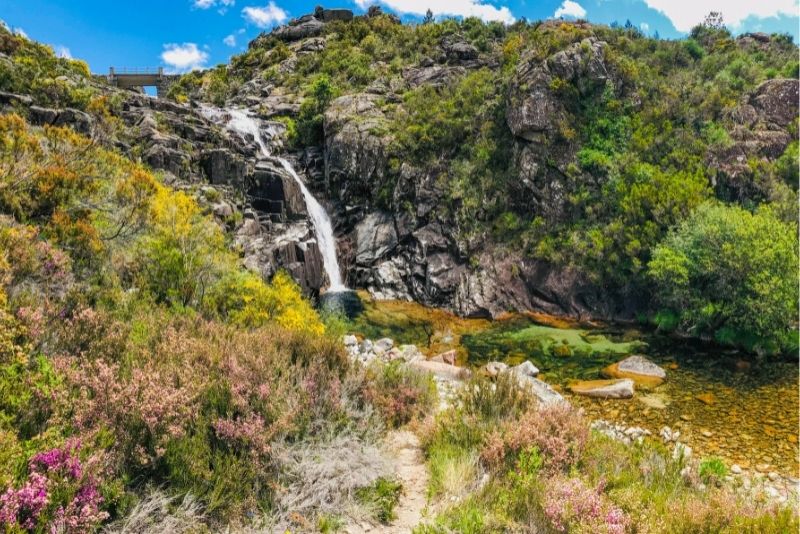 While there are many national parks in Portugal, Peneda-Gerês is special for its remote location and mostly untouched natural habitat near the Spanish border.
This means visitors can expect to find lush forest scenery, crystal clear rivers with the occasional waterfall, stunning rock formations, picturesque mountain villages like Lindoso or the spa town of Gerês, and a ton of outdoor activities to keep you busy.
Whether you're after a chilled-out Jeep tour where you can simply sit back, relax, and enjoy the sites, or something a tad more thrilling like some hiking, kayaking, or canyoning, this beautiful slice of Mother Nature has got you covered.
13 – Take a day trip to Santiago de Compostela & Minho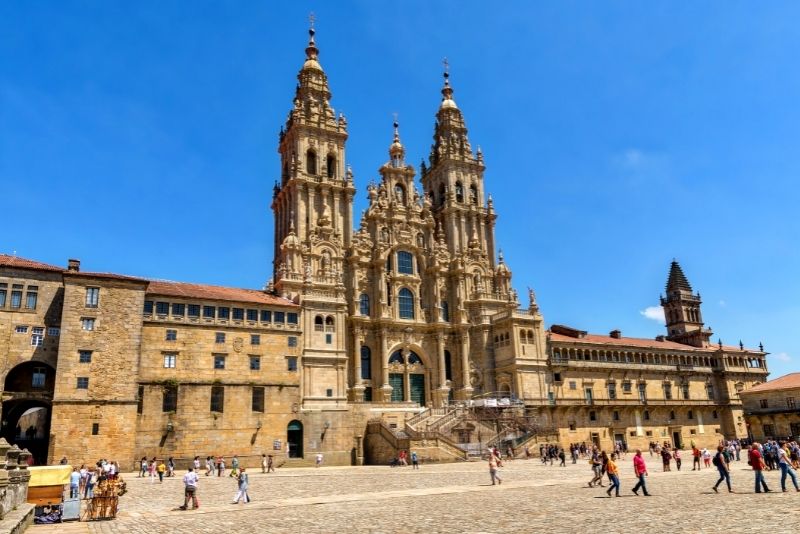 If your idea of a great vacation is not only exploring a city but the vast landscapes which surround it, then a visit to the Minho region is a must for any Portuguese trip.
This charming corner of northern Portugal has it all, from historical towns like Guimarães and Braga (Portugal's religious capital) to medieval castles along with scenic countryside drives, picturesque vineyards near the resort town of Viana do Castelo, world-class surf spots at Praia do Cabedelo, and the dramatic coastline of Costa Verde.
You could easily spend a week here — that said, a day trip is more than enough time to see all the major highlights. Many excursions also include a stop at Santiago de Compostela, just across the border in Spain, a beautiful historic pilgrimage city.
14 – Visit the São Bento Station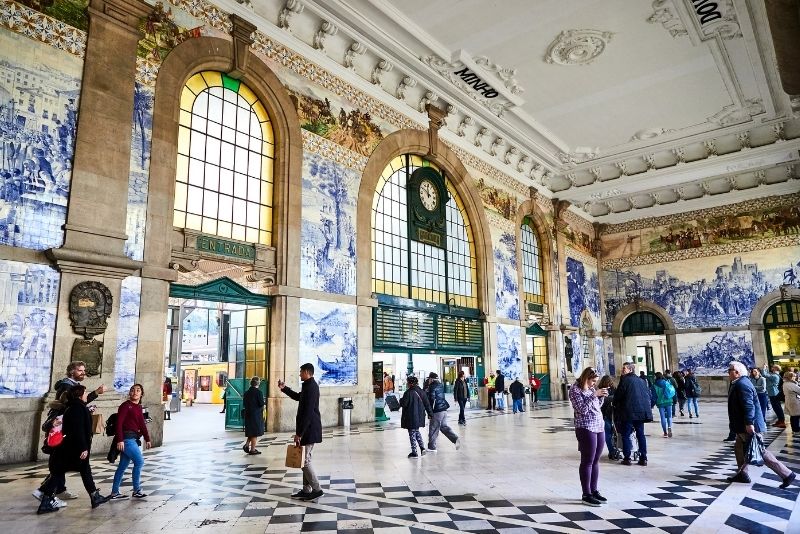 Regularly impressing visitors with its blue azulejo tiles, the São Bento train station is one of Porto's most famous landmarks (as well as acting as the city's main train station), and a wonderful example of Portuguese neo-Manueline architecture.
Most free walking tours will quickly step inside the colossal station, but make sure you take a moment to appreciate the gorgeous facade from outside as well, especially since it's one of Porto's most photographed buildings.
15 – Admire the side-by-side Carmo & Carmelitas Churches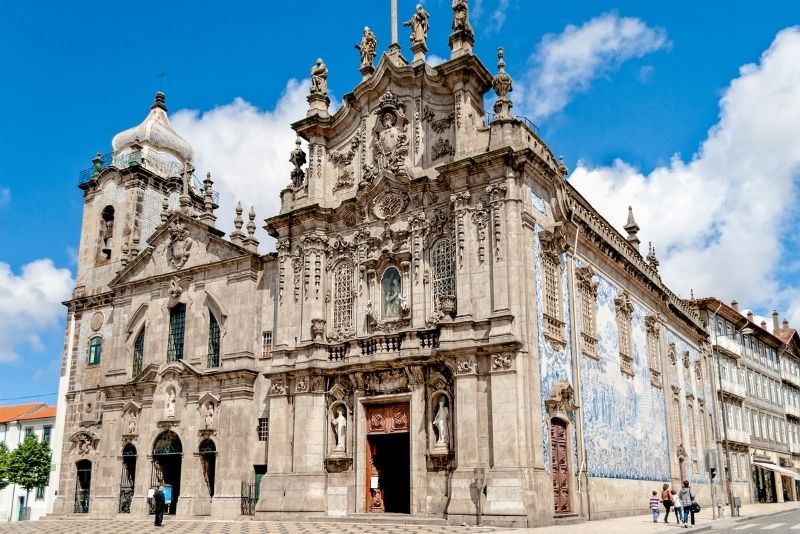 At first glance, this curious landmark might appear as one of the biggest churches you've ever seen. But, look a little close and you'll notice that it is, in fact, two separate churches, build on either side of the world's narrowest house.
The baroque-style Carmo Church (on the right) boasts intricate tile art on its outer walls; Carmelitas (on the left), on the other hand, which is about a century older, is known for its wonderful altar woodcarvings.
Perhaps the most interesting part about these brotherly churches is their history and relationship, a competition of sorts that many walking tours dive into further.
16 – Walk across the Dom Luis I Bridge (and back again)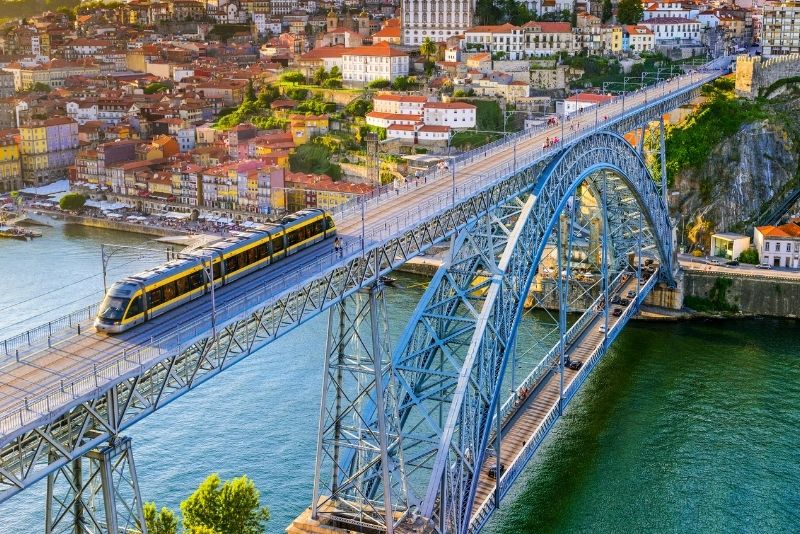 Designed by none other than Gustav Eiffel, the brains behind the eponymous tower in Paris, the Luiz I Bridge is the most famous bridge in Porto, offering a stunning view of both the city and Douro River below.
What truly separates this incredible bridge from most is the fact that it has — any guesses? — two levels! You can walk across one way, admiring the city from above with a pastéis de nata in hand, and stumble across the lower level later that evening after a glass or two or port for a more upbeat, street-level vibe.
17 – Get your culture fix at the Museu Nacional de Soares dos Reis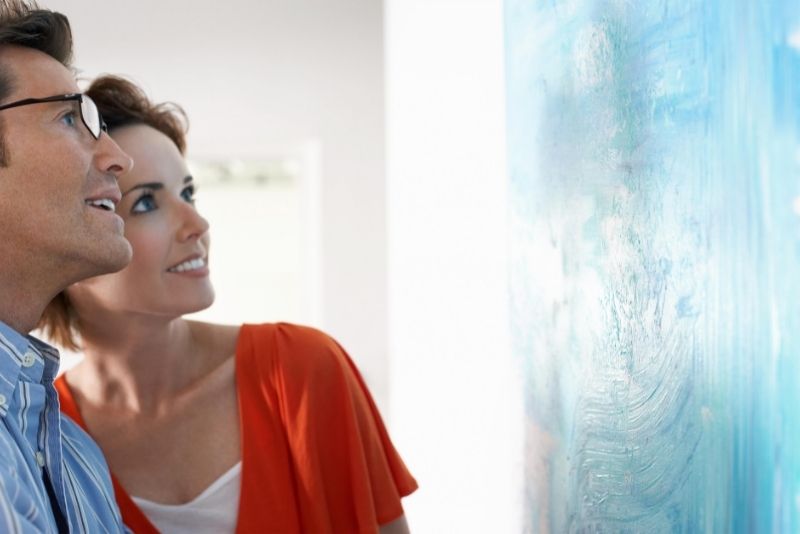 One for the art lovers, the Museu Nacional de Soares dos Reis is a world-class museum and former palace that showcases the best of Portugal's rich artistic history, with over 600 works spanning nearly three centuries housed in a building that's more than two hundred years old!
The collection includes paintings by renowned Portuguese artists like Domingos Sequeira and Vieira Portuense, as well as modern artists and musicians like Júlio Resende (driver behind Fado-Jazz)
However, the main event is the wonderful collection of Porto-born sculptor Soares dos Reis.
18 – Spend the day up north in Braga and Guimarães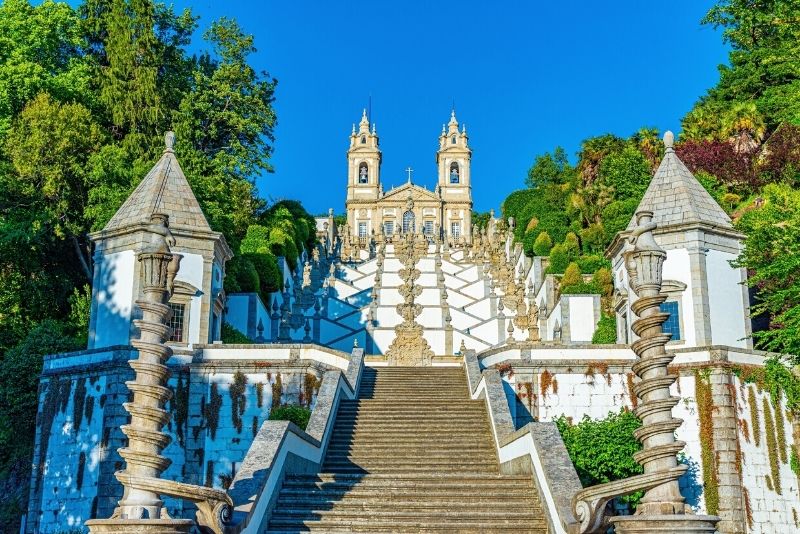 While both cities got a brief mention earlier as part of a Minho highlights package, each historic city is well and truly worthy of its own day-trip.
Arguably the two best-preserved medieval cities in Portugal, both were declared UNESCO World Heritage Sites for their cultural significance.
Braga is the country's most important religious center and home to a handful of millennia-old churches, one of which, the Diocese of Braga, dates back to the 3rd century; while Guimarães, dubbed the "cradle of the Portuguese nationality", played a pivotal role in Portugal's formation and development.
Whether you prefer a small-group or VIP tour (with a delicious lunch), a visit to these northern cities is one of the best things to do in Porto.
19 – Take the kids to Sea Life Aquarium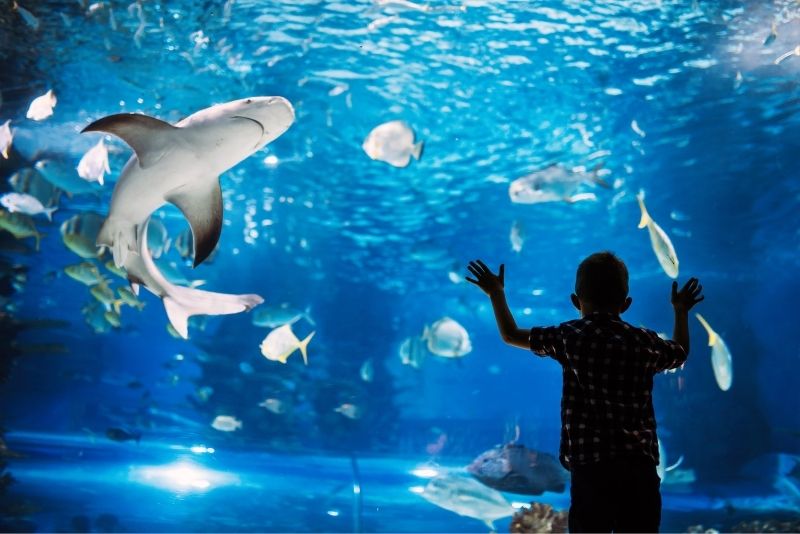 Located north of the main haunts near Matosinhos Beach (a great spot for low-key surfing and tanning) this aquarium is a fantastic place for all ages and can be easily accessed by jumping on the 500 bus route or the touristy Linha 1 tram route.
Home to over 3000 species, including sharks, turtles, rays, and penguins, a trip to this Porto attraction is perfect for family fun.
For the ultimate day out, consider a VIP upgrade that includes a turtle feeding!
20 – Wander around the Crystal Palace Gardens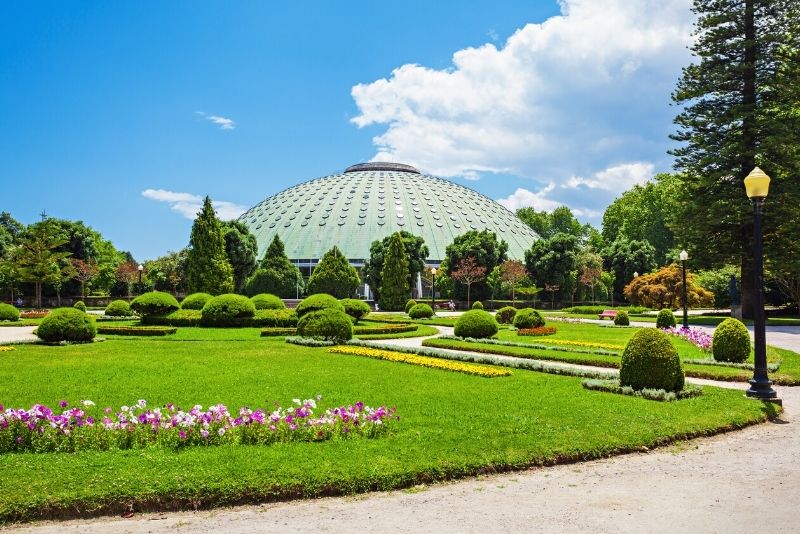 A beautifully textured and thought-out green space with manicured gardens that sparks resemblances to a mini Versailles garden, the Crystal Palace Gardens are perfect for a relaxing afternoon stroll.
This enchanting garden, which sits right behind Super Bock Arena, promises a wonderful sunset-viewing opportunity, as well as plenty of picnic and chill-out spots.
Hot tip: while you're there, take some time for both the Romantic Museum and Port Wine Museum!
21 – Segway down Avenida dos Aliados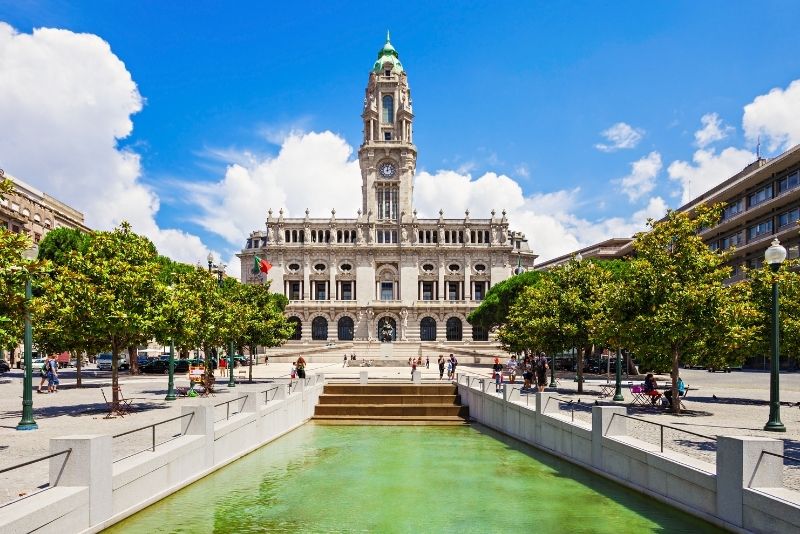 A sloping boulevard teeming with historic buildings, tourist-favorite cafes and restaurants, and a truckload of hotels, banks, and boutiques, it's worth spending some time checking out this happening street — not to mention the always bustling Liberty Square and the foreboding Porto City Hall building.
Forget about walking around on foot though; one of the best ways to do this is with a fun, rolling Segway tour. With so many hills around the city, the modern machines will certainly take the burden off those legs for a couple of hours… with a friendly, knowledgable guide to boot.
22 – Stop to smell the roses at the Porto Botanic Garden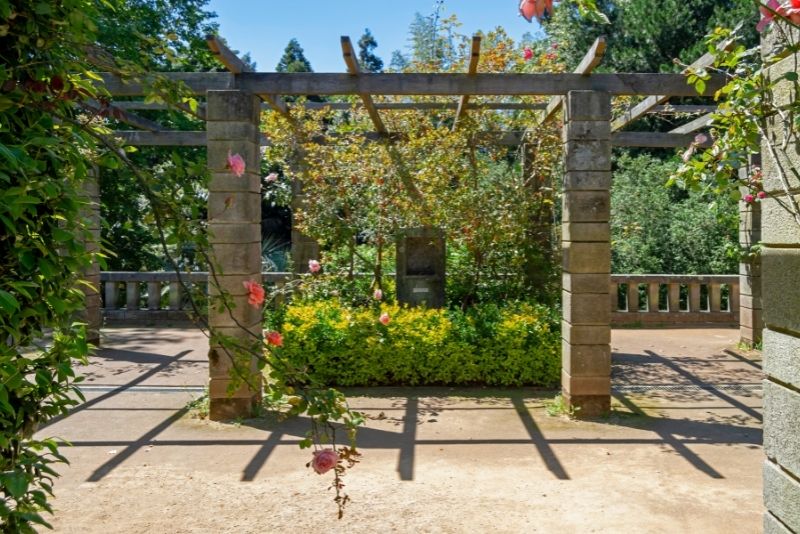 With thousands of plant species (including some rare and endangered specimens) housed within its lush grounds, the Porto Botanical Garden is neither large nor meticulously maintained, but it manages to exude a unique charm and therefore sells itself as a relaxing place to spend an afternoon.
A perfect spot to unwind after a morning of exploring, this urban oasis is open daily from 9am – 6pm (from 10am on weekends).
23 – Grab a book from Livraria Lello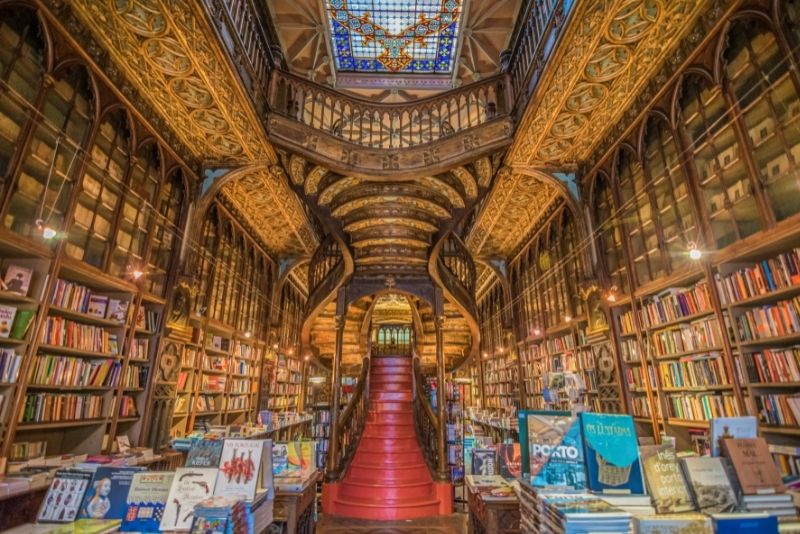 One of Porto's most beloved cultural spots, Livraria Lello is a must-see for any book lover. An independent bookstore selling both new and second-hand titles in an unpretentious setting, it has become something of an institution since opening its doors in 1881.
Not only is it one of the world's oldest bookstores, but it's also considered the most beautiful, with inspirational ties to Harry Potter, said to have been the source of inspiration for JK Rowling's penned magical library.
24 – Check out the Tram Museum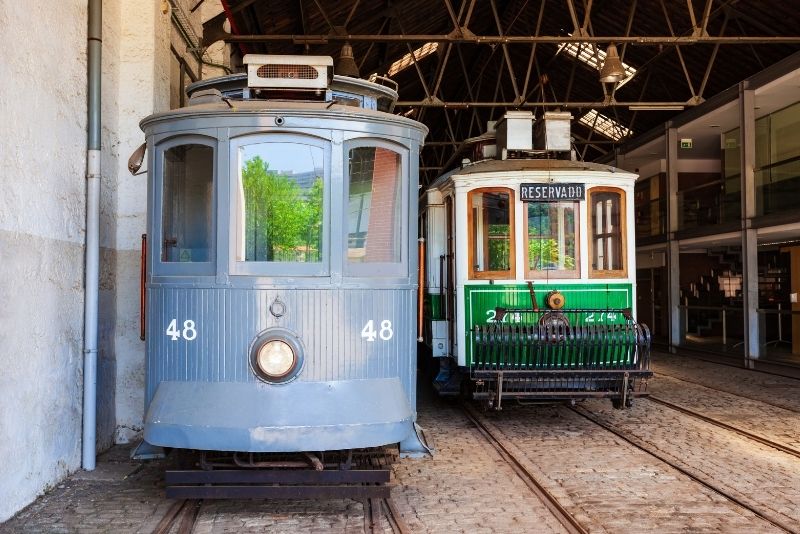 Sitting walking distance from the vibrant riverfront boardwalk (though not the busiest area of it), this unique Porto attraction features restored trams and trolleys dating back decades (though there are some modern models as well).
With a friendly guide on hand to tell the history of each vehicle, as well as the original warehouse depot in which it sits, it's hard not to be swept up in the past!
Hot tip: while tickets are usually around 8 euros, you'll get a nice discount if you have a valid tram ticket!
25 – Head down to Aveiro for a day trip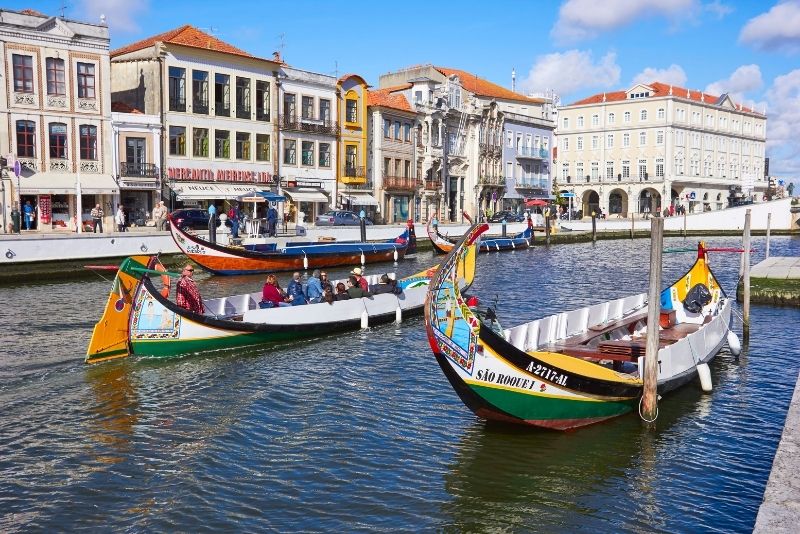 An hour south of Porto by car or bus (therefore an ideal stopping point if driving to Lisbon), Aveiro is a picturesque fishing village filled with gilded church domes and colorful houses lining the riverfront.
Known as Portugal's Venice thanks to its sparkling, crisscrossing canals that snake through town, it also boasts one-of-a-kind architecture (including its Forum mall and old train station), plenty of museums and, and some seriously delicious seafood.
For the most hassle-free and budget-friendly trip, consider a pre-arranged tour that also includes a stop at Costa Nova and Coimbra, as well as a traditional Moliceiro river cruise.
26 – Explore the beachside Matosinho district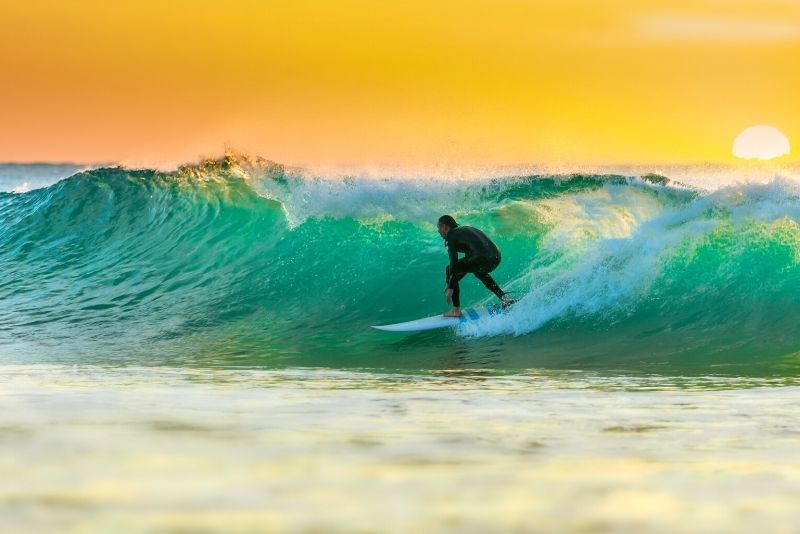 For seafood lovers and surfers alike, a visit to Matosinhos, easily accessible by public transport from the main Porto area, is an absolute must.
Though technically not Porto itself (definitely part of the Greater Metropolitan Area), this former fishing village just north of downtown has become a quick favorite for its uber-fresh fare and authentic atmosphere at unbeatable prices.
Before stuffing your face or riding the waves with a private or small-group surf lesson, be sure to stop into the Fort of São Francisco, take a stroll around City Park, and check out the beloved giant-jellyfish-like She Changes sculpture by the water (AKA the Anémona).
27 – Spend the afternoon at the Serralves Foundation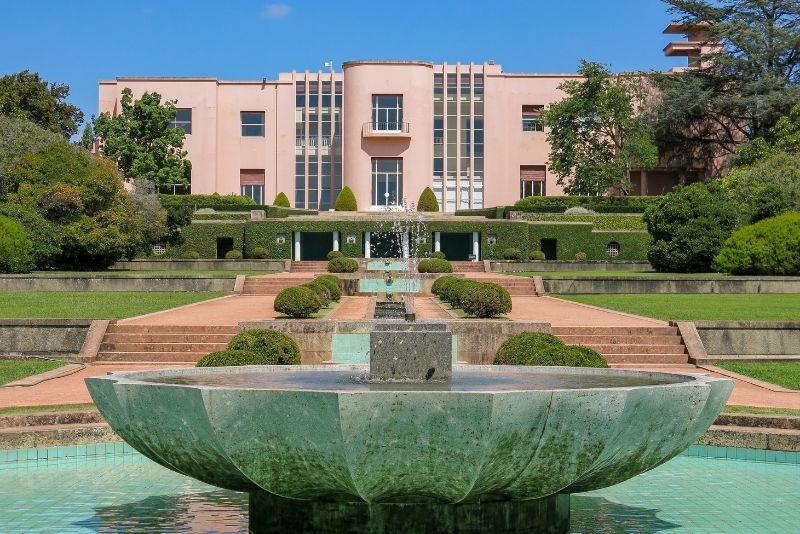 Home to over 4300 diverse works and sprawling, stunning gardens, the Serralves Foundation — which features a Contemporary Art Museum, park, Art Deco villa, and House of Cinema — welcomes over a million visitors every year, making it a strong contender among the lists of most-visited art museums in the world.
Located in the city's leafy ex-pat suburb of Foz do Douro, not only does it offer an extraordinary contemporary art collection, but also a sculpture-stuffed botanical garden and Tree Top Trail perfect for a casual stroll.
28 – Conquer Arrábida Bridge on the Porto Bridge Climb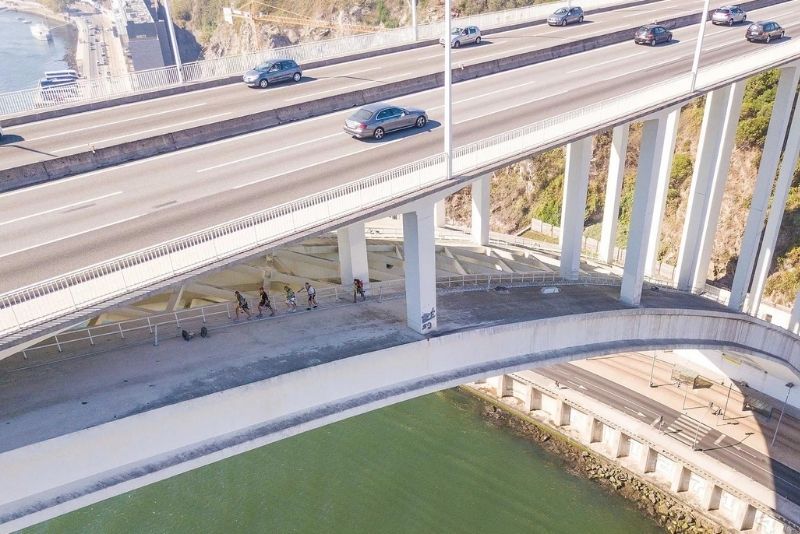 Thrillseekers, listen up, cause this one's tailor-made for you.
While typically only open to vehicles, the Arrabida Bridge, which sits some 65 meters above the river below, offers adrenaline-chasing visitors the chance to climb its main supportive arch. Porto Bridge Climb takes you through 262 nerve-wracking steps up and then down what is the city's only official 20th century National Monument.
Hot tip: if you're up for a picturesque walk, it takes about 40 minutes to stroll alongside the Gaia side of the river from the Luís I Bridge to the Arrábida Bridge.
29 – Fasten your seatbelt for a buggy tour!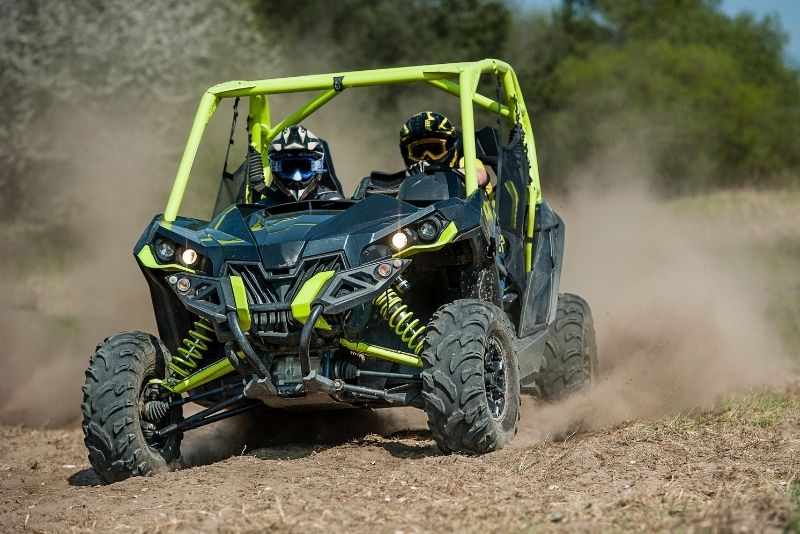 Another great option for the adventure-inclined, buggy tours head off the beaten track and into the rugged wilderness beyond the city limits.
Depending on your tour of choice, besides the obvious off-road thrills, you might also get the chance to stop into Castro of Monte Mozinho (AKA 'City of the Dead') and Quintandona (a preserved Rural Village), and pass family-run vineyards along the way.
30 – Learn about ancient explorers at World of Discoveries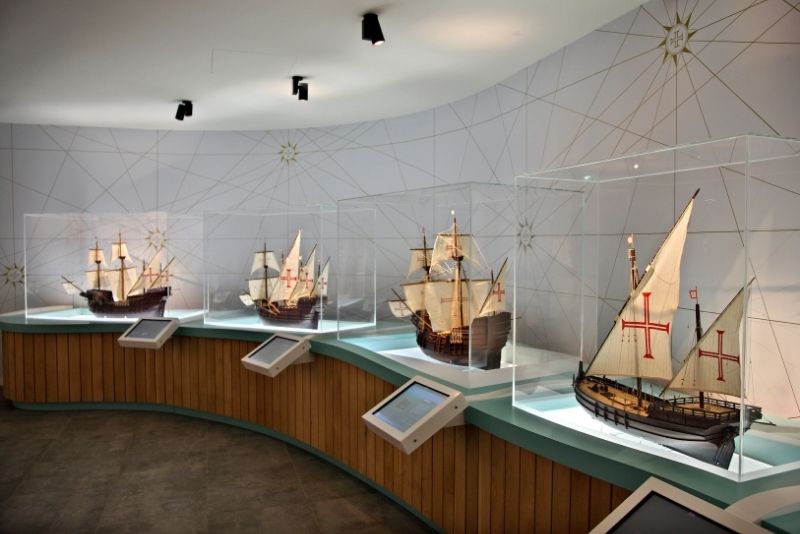 Part theme park, part museum, Porto's World of Discoveries attraction pays homage to Portugal's rich history in nautical exploration, re-enacting the remarkable journey of 15th and 16th-century explorers —  a must-visit staple for any history buff or culture vulture.
Complementing the host of interactive displays, the real highlight is the 20-minute boat ride through the jungle that tours around different parts of the world.
While a fun experience for kids, it's also packed to the brim with historically significant information that adults are sure to love too.
31 – Spend a day at the zoo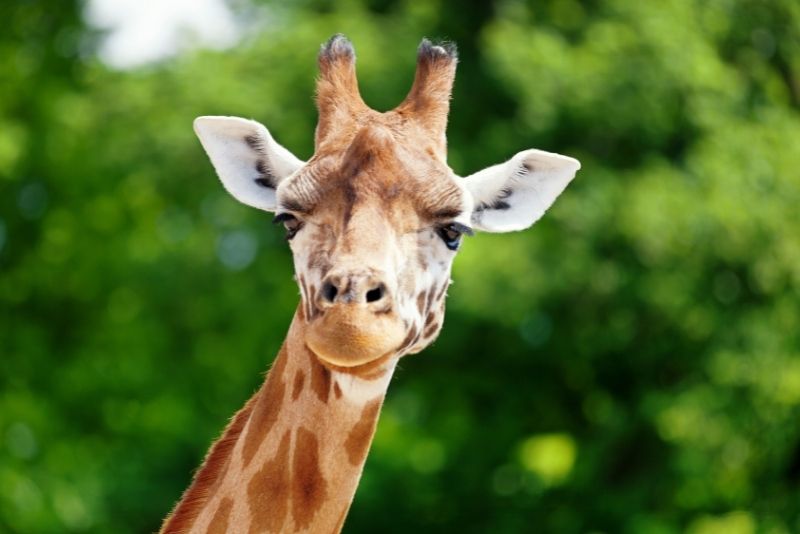 When traveling with kids in tow, there's no better way to make their day than by visiting one of Porto's ever-popular zoos where hundreds of animals of all shapes and sizes await (many of which you can learn more bout through live feedings and trainer shows).
The Santo Inácio Zoo, just 10 minutes away from Porto, in (Vila Nova de) Gaia houses rare wildlife like snow leopards and Burmese pythons, while Maia Zoo, about a 15-minute drive north, is known for its nature conservation teachings, reptile house, and fun-filled sea lion show.
32 – Check out the FC Porto Museum at Dragão Stadium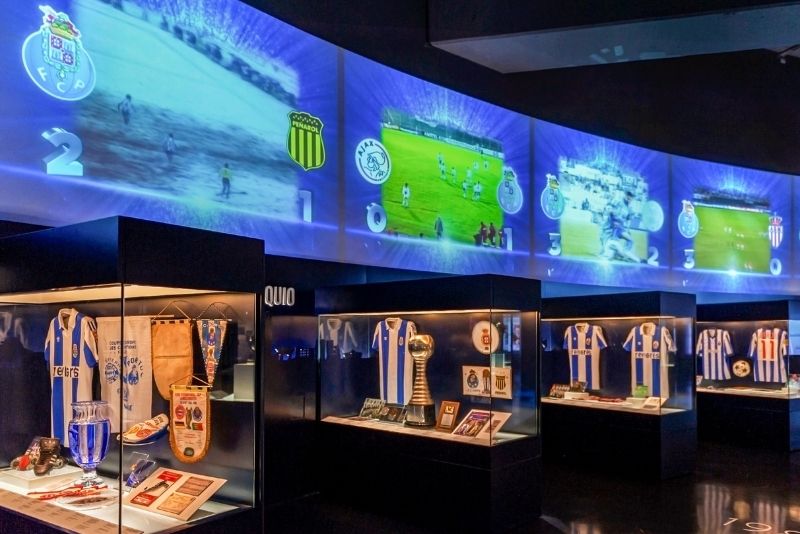 Sports fans, listen up!
A visit to the 50,000-seat Dragão Stadium, otherwise known as Estádio do FC Porto or just 'The Dragon', is a must for anyone looking to get out and experience the lively atmosphere of one of Europe's most decorated football clubs.
While regularly hosting games from Portugal's top-tier Primeira Liga league, FC Porto fans can also tour the on-site museum, full of trophies and other memorabilia, or go behind the scenes and explore the clubrooms and pitch.
33 – Go on a day tour to Fátima and Coimbra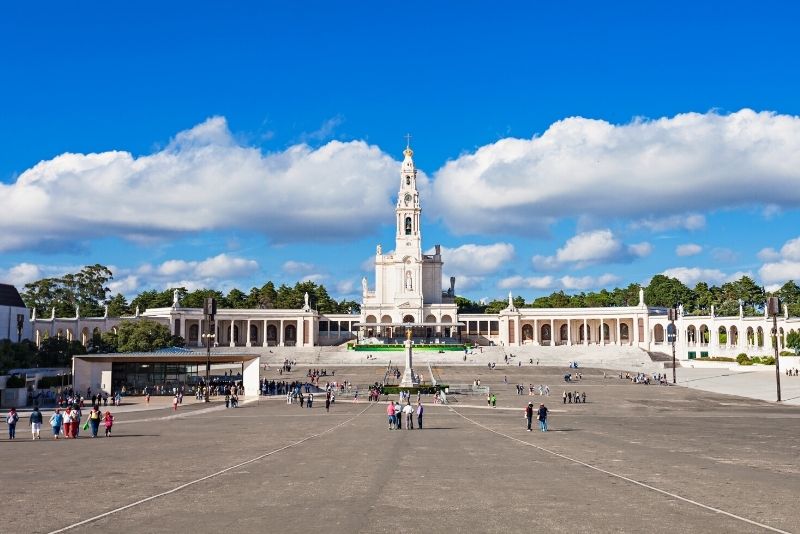 Located about 140km from Porto, Fátima is one of the most visited religious pilgrimage sites in all of Europe, and for good reason.
In addition to being blessed with some of Portugal's finest historical and religious monuments — the Basílica de Nossa Senhora do Rosário de Fátima, to name the most celebrated — the town also sits in the hills of Santarém, with nature never too far away.
Often combined with Fatima on a day trip, Coimbra is a charming little riverfront university town that acted as the formed nation's capital and is also home to one of the oldest universities in the world, the Universidade de Coimbra.
With stacks of history associated with both towns, a guided tour is definitely recommended.
34 – Admire the art at the Misericórdia Museum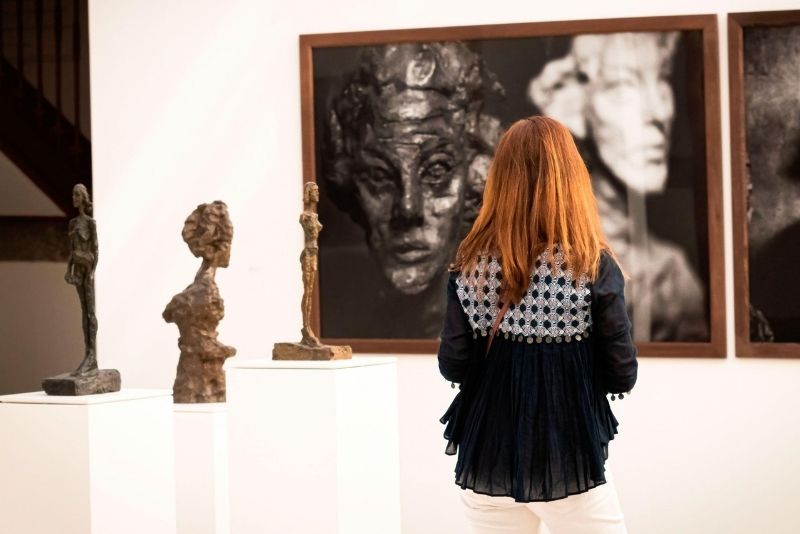 Sitting on the historic Rua das Flores, the Misericórdia Museum (which is connected to an impressive church) is a Porto landmark that's fully deserving of its status as one of the city's most visited attractions, even for its facade alone.
While doused in history, today it houses some fascinating artifacts from Portugal's history, including a strong collection of 16th-century religious paintings, sculptures, and silverware — the highlight, of which, is arguably Rui Chafes' curvaceous eye-catching sculpture, 'My Blood is Your Blood'.
35 – Explore the Foz do Douro neighborhood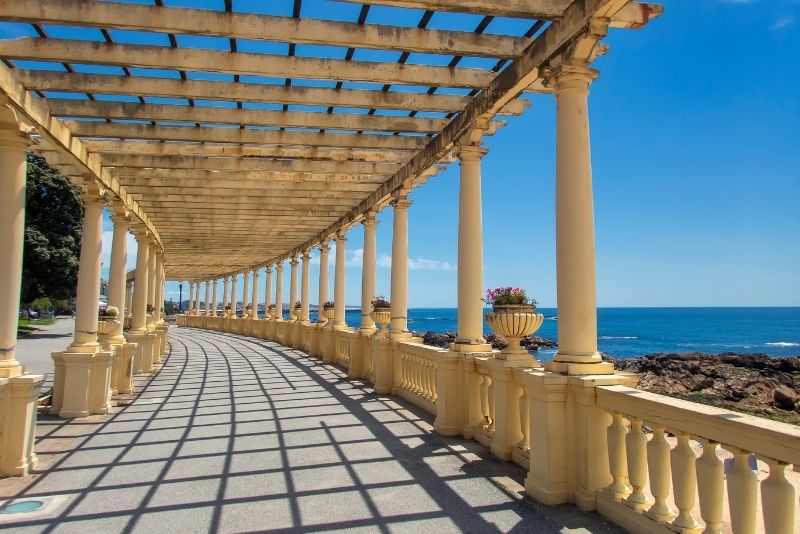 Beloved by ex-pats and tourists alike, the Foz do Douro neighborhood is a large waterfront area that's been transformed over the years into an outdoor haven of bars, restaurants, and shops.
In addition to its regularly lively yet not-overwhelming atmosphere, the area also boasts a selection of noteworthy landmarks: the Pérgola da Foz is a peaceful seaside promenade, and the Fortress São João Baptista at the confluence of the Atlantic and Duomo provides a unique look back at what was once a dominating 16th-century defense stronghold.
While exploring the area, don't forget to check out the Felgueiras Lighthouse, or kill a couple of hours with a stop at the Passeio Alegre Garden for a game of overly competitive mini-golf.
36 – Traverse alleyways with a street art tour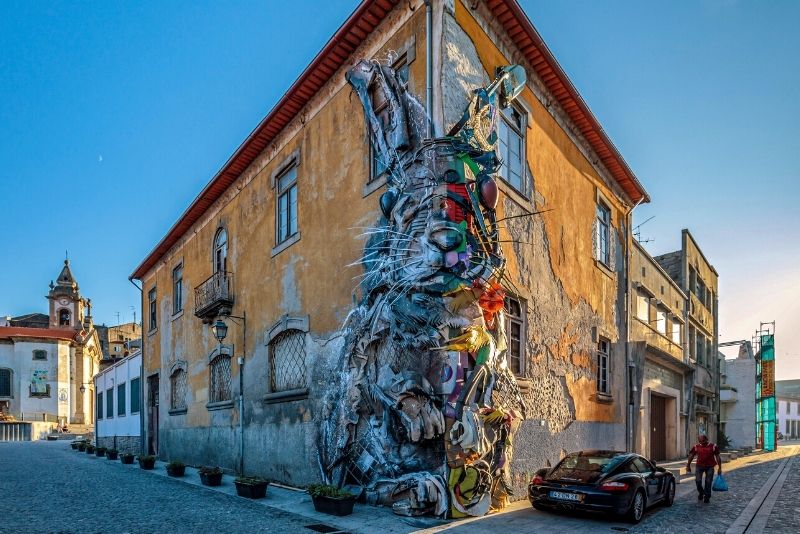 Food and history aside, Porto also has a strong street art scene, with the most picturesque walls often tucked away off the beaten track.
Just like any other European city worth its salt, Porto also hosts an impressive amount of contemporary murals that are spread across several districts in the center.
While there are numerous engaging tours available to explore this aspect of Porto culture — which is typically associated with the hipster scene — it's not too difficult to find these works on your own, either.
37 – Check out the city's other remarkable churches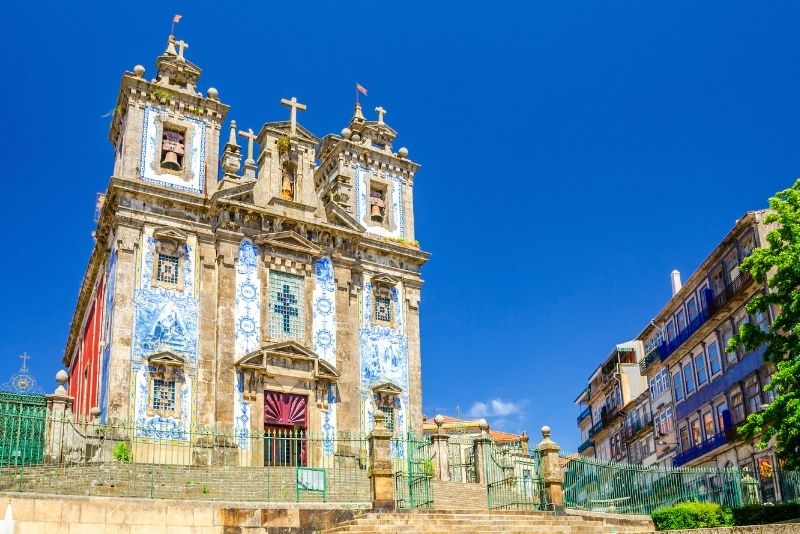 We'd be here for hours if we tried to list off all of the churches in this magnificent city, so if you've already meandered by the Clérigos Tower and Porto Cathedral, here are a few more worth checking out!
Church of Saint Ildefonso near Batalha Square dazzles with its distinctive azulejo tile facade; the gothic, UNESCO-listed Church of São Francisco dates back to the 13th century and is enormous, to put it simply; the Church of Santa Clara while humble from outside boasts a remarkable interior bejeweled by impassioned 17th-century artists; and the Church of Our Lady of Lapa has a rather bizarre focal point… the heart of King Pedro IV.
38 – Find your balance on a stand-up paddleboard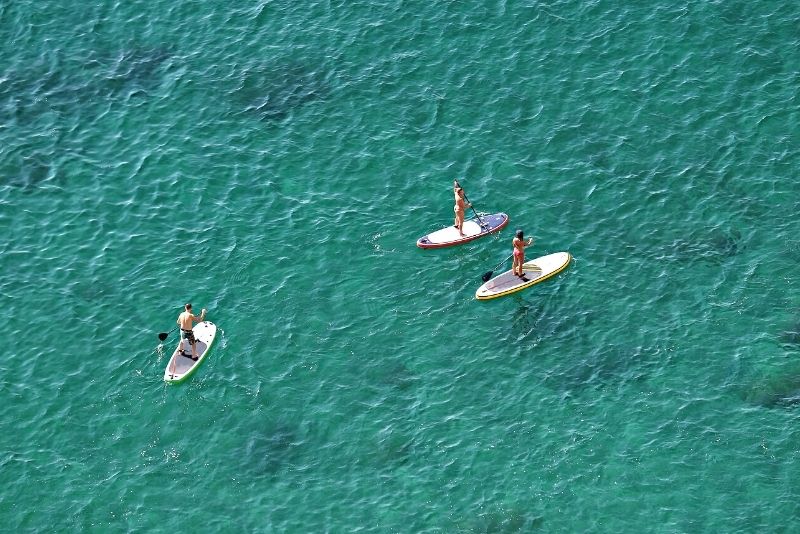 Typically taking place at Matosinhos beach, but also at various quiet points along the Duoro River, SUP (stand up paddleboarding) promises to be both a fun and relaxing way to experience the great outdoors (after you manage to get your balance, that is).
With friendly instructors on hand, even if you have little experience with SUP, you'll soon be standing tall and slowly gliding along the river's calm waters — a brilliant way to soak in that year-round sunshine.
39 – Spot sections of the Fernandina wall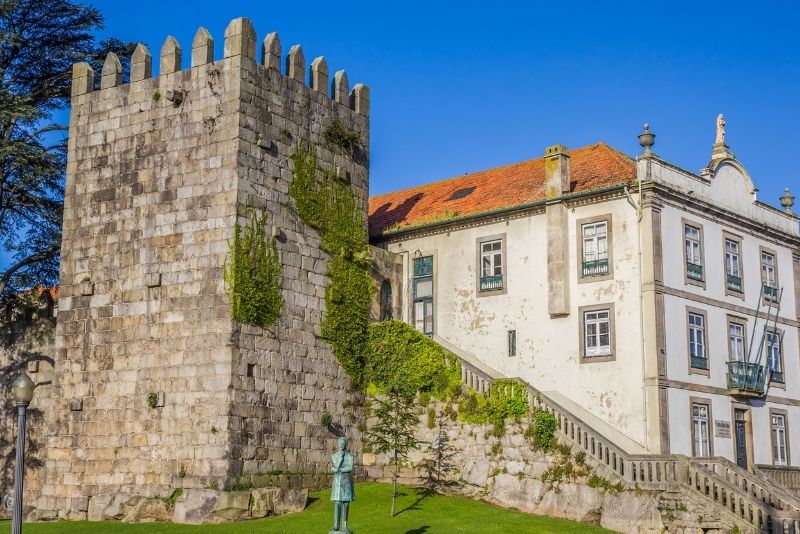 The Fernandina Wall is a perfect example of the city's rich cultural heritage; in fact, this collection of fortifications dates back to the 1300s, with plenty of upgrades and expansions (and crumbles) along the way.
You could easily spend a week wandering the city and not notice it. Why? Because much of the ancient walls are seamlessly integrated into the buildings of the old town.
That said, the main section of the wall, and certainly visible, is the Guindais wall and tower next to the Guindais Funicular.
40 – Stuff your belly on a food tour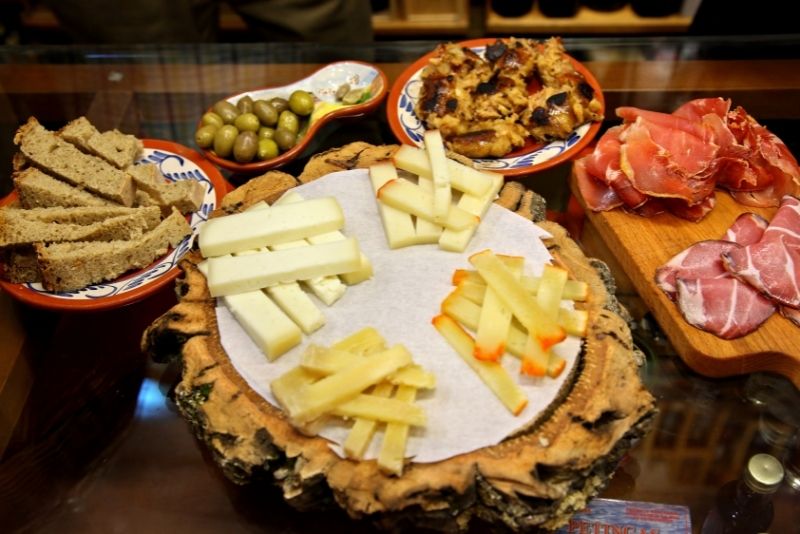 Of course, Porto is also a foodie haven.
While the city's restaurant scene has exploded in recent years — with more and more spots vying for culinary excellence each day — there are plenty of walking tours that will lead you through the old town while teaching you about traditional dishes.
Regardless of which tour you opt for, expect to dig into a host of quintessential Porto dishes and snacks like Francesinha, a local sandwich stuffed with pork and covered in melted cheese; Bacalhau, a friend and salted cod; pastéis de nata, the custard tarts that are synonymous with the nation; or alheira sausages… just to name a few.
41- Race against the clock in an escape room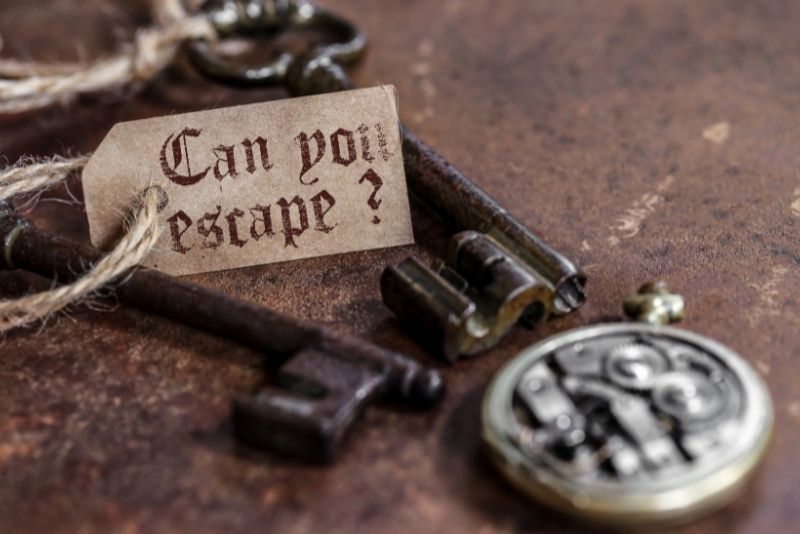 You're locked in a room with your friends/colleagues and must solve puzzles to escape. It's the latest craze taking over Porto, where you can choose from an array of rooms.
Some are themed on books or movies like Stranger Things (at White Rabbit Escape) while others harness the power of VR or revolve around local traditions like 'Port Wine Sabotage' at Porto Exit Games — either way, you'll require teamwork, quick thinking, and plenty of wit to crack the codes before time runs out!
On the occasional rainy day, it's a fun, interactive way to pass a couple of hours.
42 – Pop into the Portuguese Centre for Photography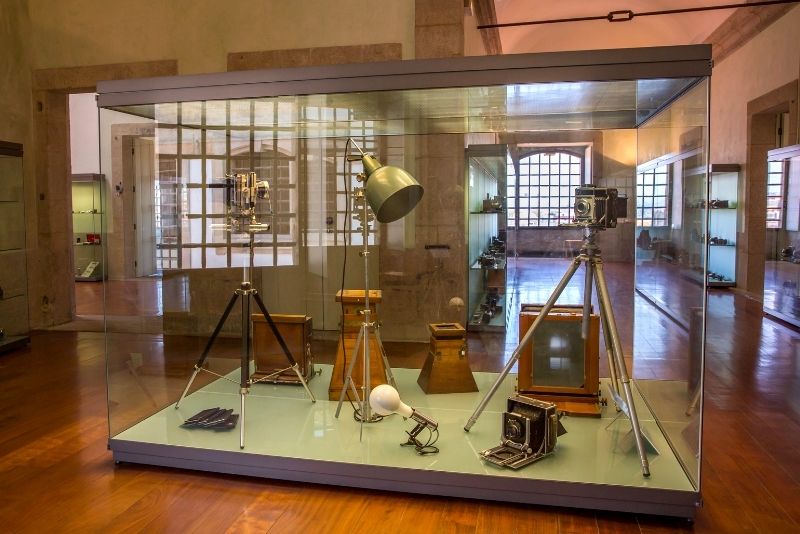 The Portuguese Centre for Photography is located in a huge dark stone building; Porto's historical prison, the Cadeia da Relação, where prisoners were once held on their way to exile.
Today it's home to some fascinating exhibitions and serves as a museum dedicated to photography.
Though you'll find occasional local-themed exhibits (such as the work of two nationally-esteemed photographers Emilio Biel and Domingos Alvão), there's also a spectacular collection of cameras that make you appreciate the evolution of the medium.
43 – Run around town with a scavenger game!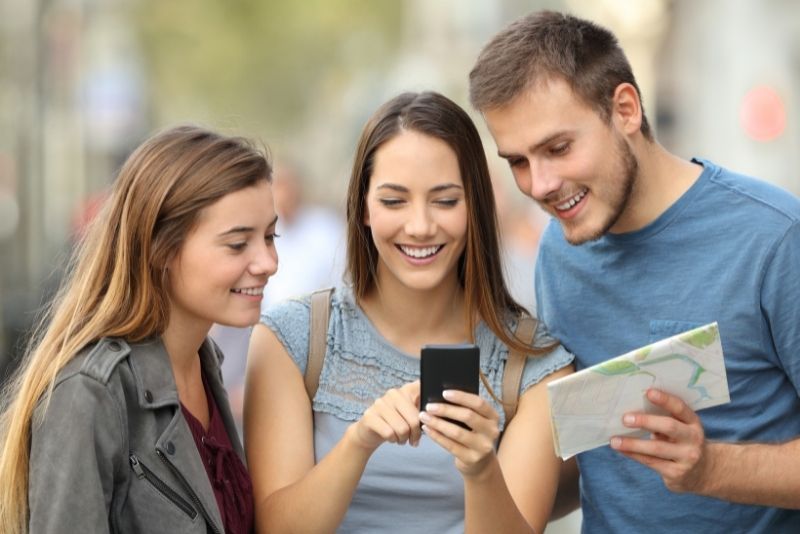 Sick of run-of-the-mill walking tours? Want something a little more past-faced and interactive? Then try one of Porto's scavenger hunts, a surefire way to unlock some of Porto's best-kept secrets.
Porto (as well as Gaia) is home to several different game companies that offer a range of themed Amazing Race-style games from the convenience of your phone. As you solve riddles and clues along the way, you'll be sure to stop into not only must-see landmarks but also off-beat bars and hidden alleyways.
44 – Take a seat at the world-renowned Majestic Café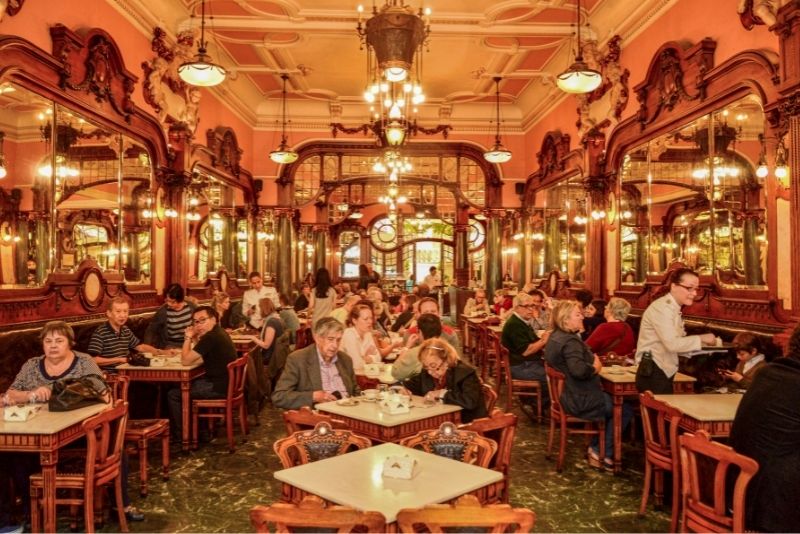 True to its name, it's not just the service that's majestic at Majestic Café.
At this traditional café/restaurants, which has been voted as one of the top 10 most beautiful cafes in the world (according to LocalPorto), you can expect to find shimmering chandeliers, an aura of luxury, and glamourous decorative touches in every direction.
While the food is notoriously impressive too, even if just for a cup of coffee, add it to the top of your list of things to do in Porto.
45 – Turn up the romance with a candlelight concert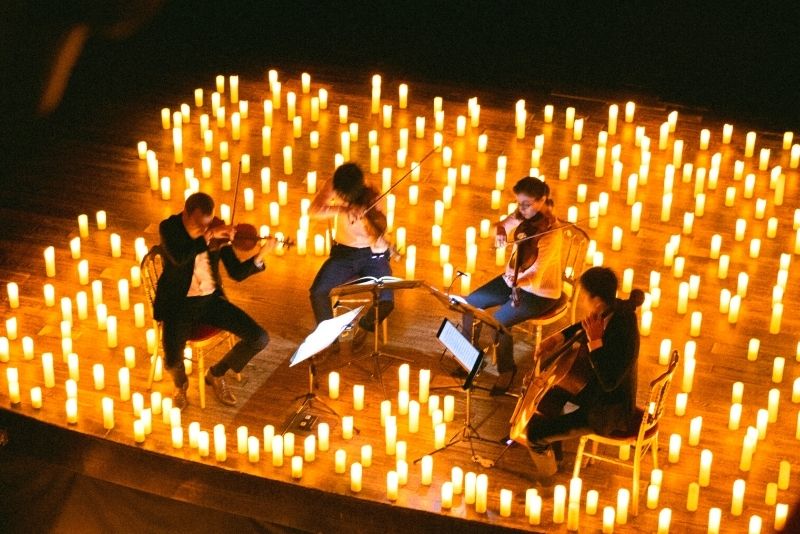 On the hunt for something romantic? Looking to impress your better half?
A charming, relaxing candlelight concert — one that takes place in any number of historic, beautiful palaces and music venues — ought to do the trick.
With a range of genres and routines to choose from, from Mozart classics to jazz or the tunes of Andrew Lloyd Webber, it's hard to go wrong.
46 – Explore the hidden gems of Vila Nova de Gaia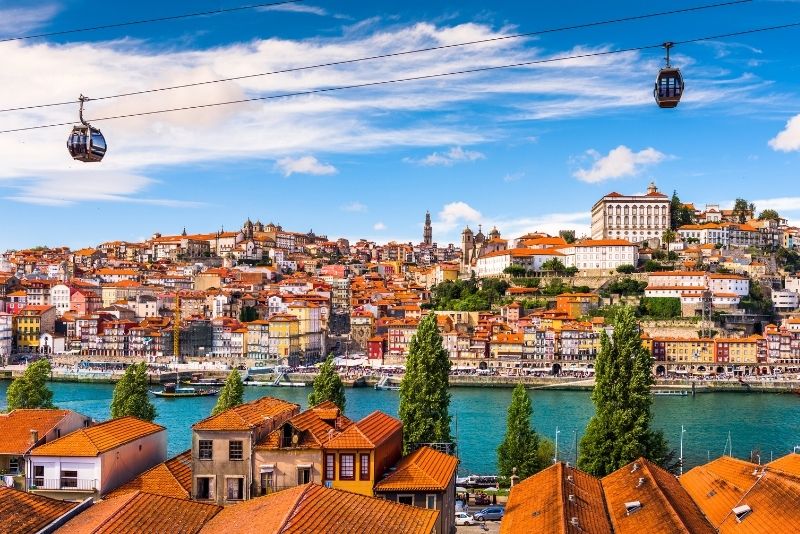 One of those fascinating facts that most people don't realize until they see Porto first-hand is that most of the city's most famous Port wine cellars are not, in fact, in Porto; they're across the river in Vila Nova de Gaia (called Gaia, for short), where stunning views of Porto itself await.
Besides hopping around the wine cellars on the riverwalk (scroll up to #4) and checking out the UNESCO-listed Monastery of Serra do Pilar, deeper into the city you'll find a host of noteworthy landmarks including the peaceful Jardim do Morro garden or the Parque Biológico de Gaia.
After breathtaking views? Then look no further than the Gaia Cable Car.
47 – Treat yourself to a Pastel de Nata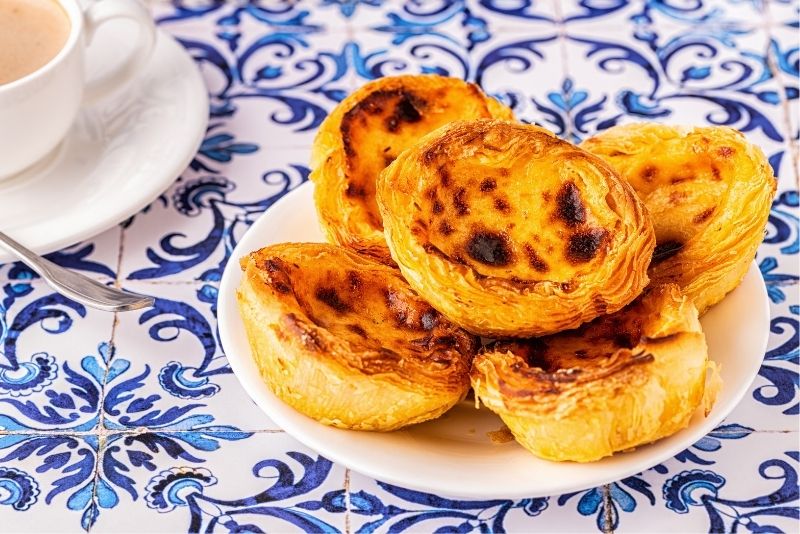 Portugal's signature sweet treat, the Pastel de Nata (or custard tart) is a baked delight that can be found just about everywhere in Porto.
Made from a rich egg-based pastry and topped with cinnamon and powdered sugar (or chocolate, occasionally), you can pick up this delicious snack pretty much anywhere. However, locals swear by the historic Confeitaria do Bolhão next to the Mercado do Bolhão (market) as well as the Manteigaria Bakery on Rua de Alexandre Braga 24.
The new kid in town, however, Fábrica da Nata, which has only been serving the delicacy since 2016, has already climbed the ranks and is considered one of, if not the best.
48 – Enjoy a breath of fresh air at the S. Roque House & Garden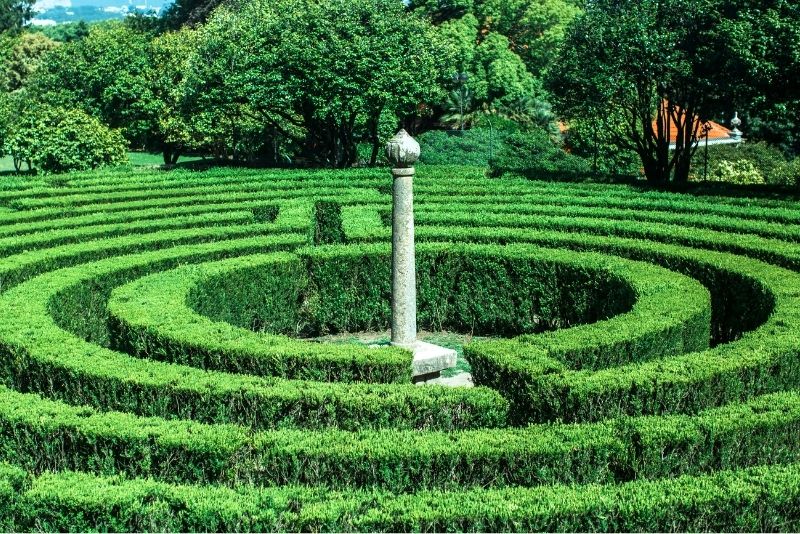 Another one of those essential things to do in Porto, particularly for nature and architecture lovers, is the São Roque House & Garden — a perfect excuse to ditch the main tourist area and explore the suburbs beyond.
Organized in a rather unique way (you'll see what we mean), the property is very family-focused and you can expect to find a handful of activities for kids and adults alike, such as a playground, hedge maze, fountains and ponds, and a lovely camellias zone.
49 – Dive into an immersive experience at the Immersivus Gallery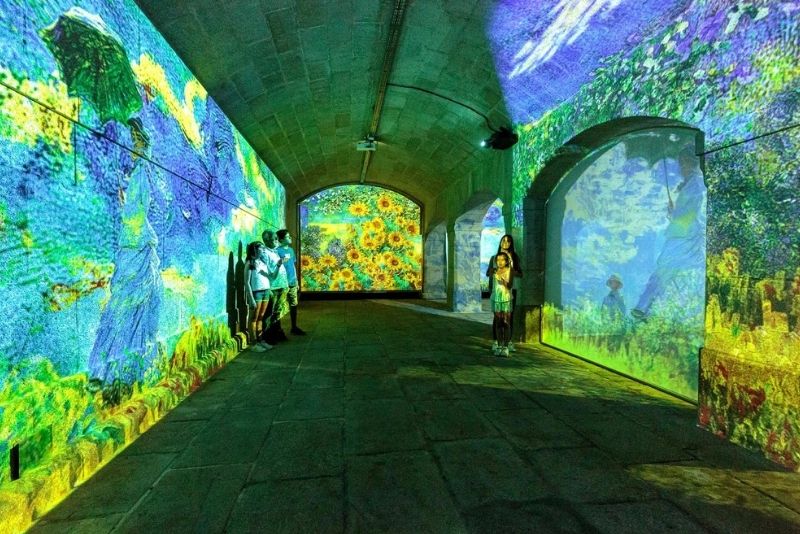 Not your average art gallery, the Immersivus Gallery is all about bringing visitors as close to the action as possible.
Where traditional art gallery meets 21st-century technology, this new-age Porto staple transports visitors into a 360-degree world of wonder complete with light shows, narration, art (like Monet, Michaelangelo, and Da Vinci), and history (through 'Porto Legends – The Underground Experience').
50 – Catch a movie at the Coliseu do Porto Theatre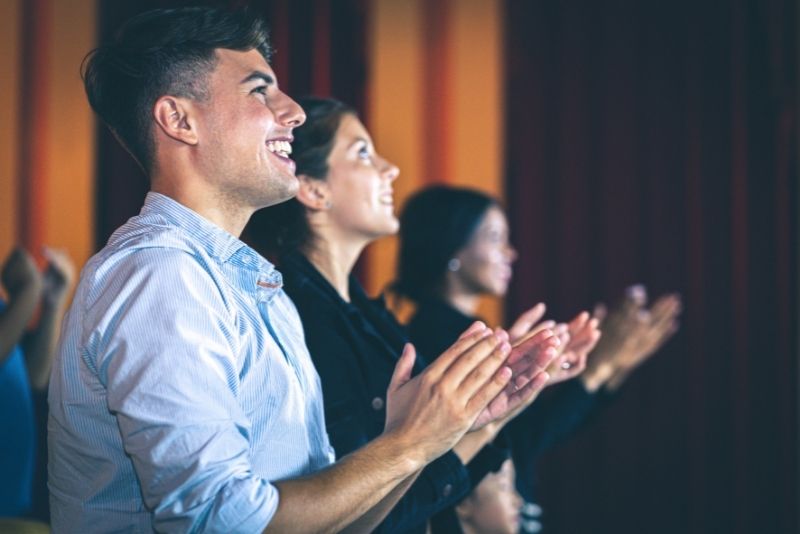 A huge cinema and concert hall housed inside an Art Deco building, the Coliseu do Porto Theatre is one of the city's biggest cultural hubs and a must for movie buffs.
The theater opened in 1941 and has housed an exciting array of blockbuster films and live shows ever since — check the website to see what's on during your visit and enjoy the show!
51 – Wet your whistle with a beer tasting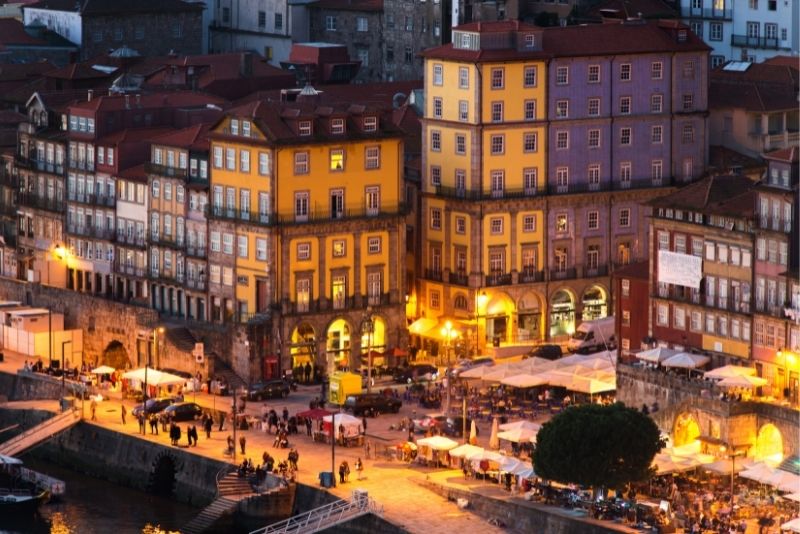 If port wine isn't your thing (or you've already had a few too many sweet reds), a social beer-tasting tour is a perfect alternative.
With a group of like-minded thirsty travelers, you can enjoy an afternoon exploring Porto's beer scene and learning about its history through lively commentary from your guide as well as getting to taste a handful of different types (including the infamous Super Bock) along the way — all included in the tour price!
52 – Sit front row at the Casa da Música or simply admire the architecture
Serving as a cultural hub and the new home of the National Orchestra of Porto, the Casa da Música is an iconic concert hall located in the suburbs on Boavista, within walking distance of the Praça de Mouzinho de Albuquerque
The world-renowned venue regularly hosts concerts by leading international orchestras and musicians — but it's also open to visitors during the day so you can check out all of its luxurious design details.
53 – Dine (or drink) with a view at The Yeatman hotel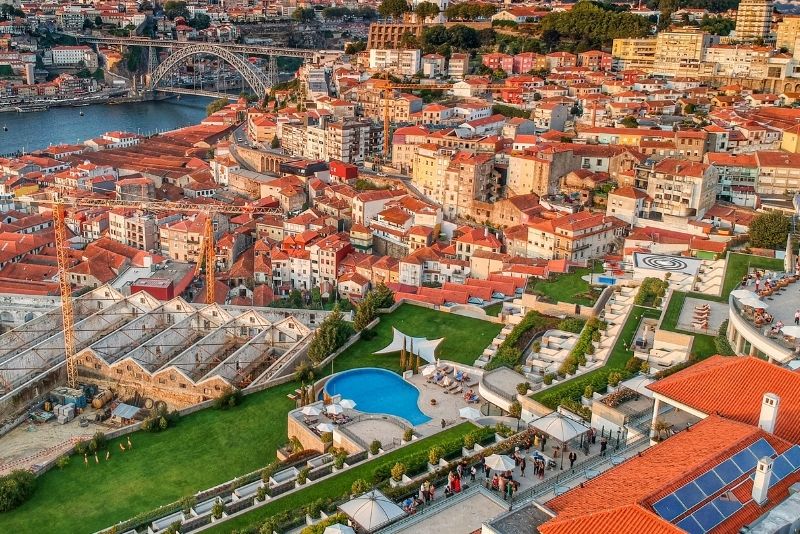 A modern take on a historic wine lodge, the Yeatman is an exquisite boutique hotel and restaurant with one of Porto's most exclusive eateries, The Yeatman Gastronomic Restaurant.
The hotel, namely Dick's Bar & Bistro, features panoramic views over the city from its rooftop bar — it's not very big but certainly worth having at least one drink here to admire those incredible sunset colors!
54 – Don the apron for cooking classes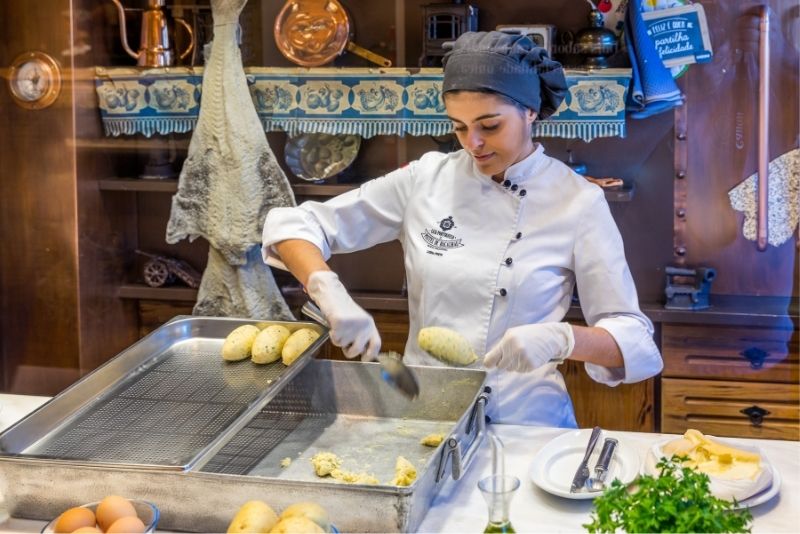 A rare cultural insight, why not take your love for food to the next level with a series of hands-on cooking classes in Porto, where you'll learn everything from traditional Portuguese dishes to modern cuisine?
Wherever possible, local ingredients are used and all recipes are taught by professional chefs or local home cooks, with plenty of wine flowing throughout the entire experience and a 3-course meal to boot!
55 – Wander the rows of stalls at the Bolhão Market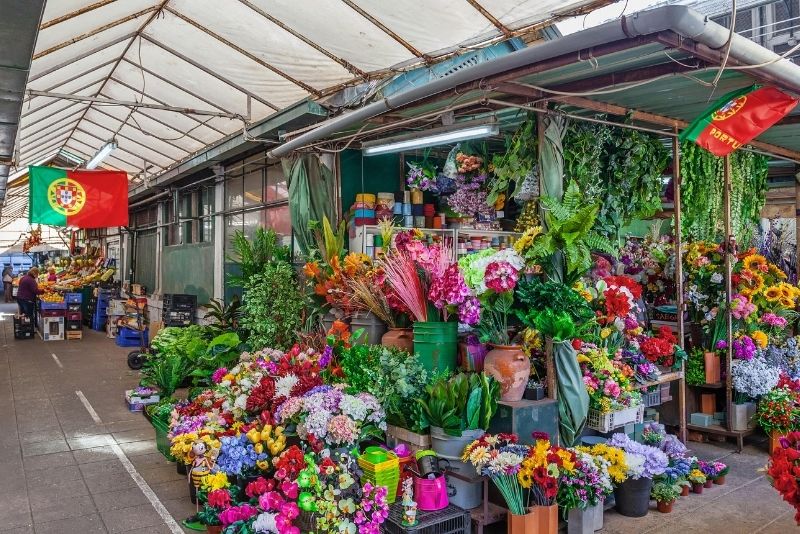 One of Europe's oldest and most iconic food markets, Bolhão Market is a hub for all those with an appetite. Even if you're not peckish, the lively atmosphere and chance to mingle with the locals are reason enough to check out this popular place.
From stalls of fresh produce to butchers chopping up meat on street corners to handmade Pasteis de Nata and the freshest fruit, this bustling city center landmark has everything you'll need for the perfect Portuguese meal — even if it's just ingredients or a cup of coffee!
56 – Enjoy the views from Virtudes Garden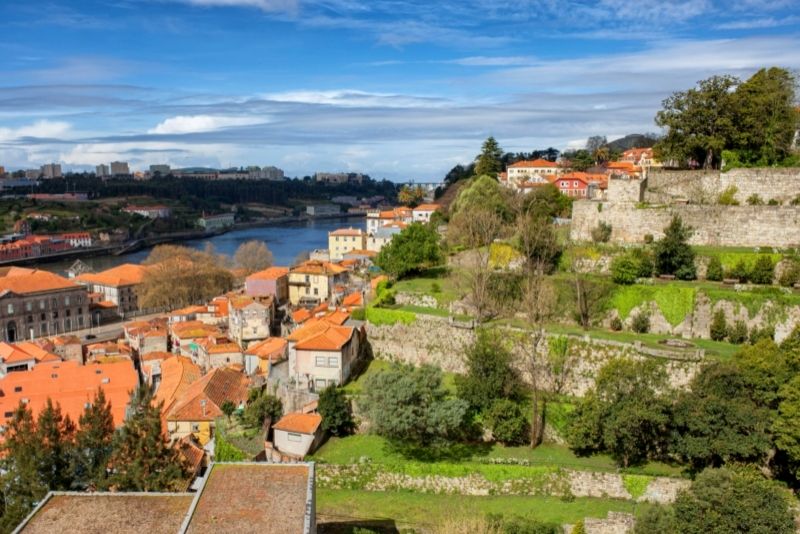 This peaceful haven is one of Porto's most beautiful gardens, serving as the perfect escape from the bustling city center.
As well as being a small and quiet place to relax with flowers and trees galore, Virtudes Garden also offers some incredible views over the river below — another ideal sunset spot.
The best part? Due to its split-level landscape, it's impossible to have someone block your view!
57 – Dig into a heavy Francesinha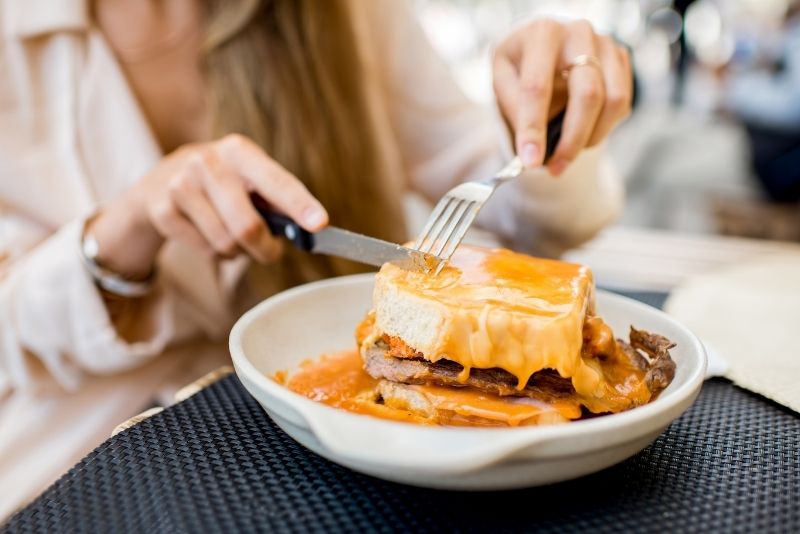 It's not all port wine and Pasteis de Nata in Porto — a classic dish that is always a must-try for first-time visitors to the city, or indeed Portugal itself, is Francesinha.
This hearty sandwich is made from layers upon layers of cured ham, fresh sausage and steak topped with copious amounts of melted cheese and served alongside other fixings like fries or chips — all soaked in an incredible tomato sauce!
While the dish is dotted all over town, some of the most famous and popular spots to try include Cafe Santiago, Lado B, Cervejaria Brasão, and Capa Negra II.
If you're counting calories, it might be wise to skip this one…
58 – Shop till you drop on Santa Catarina Street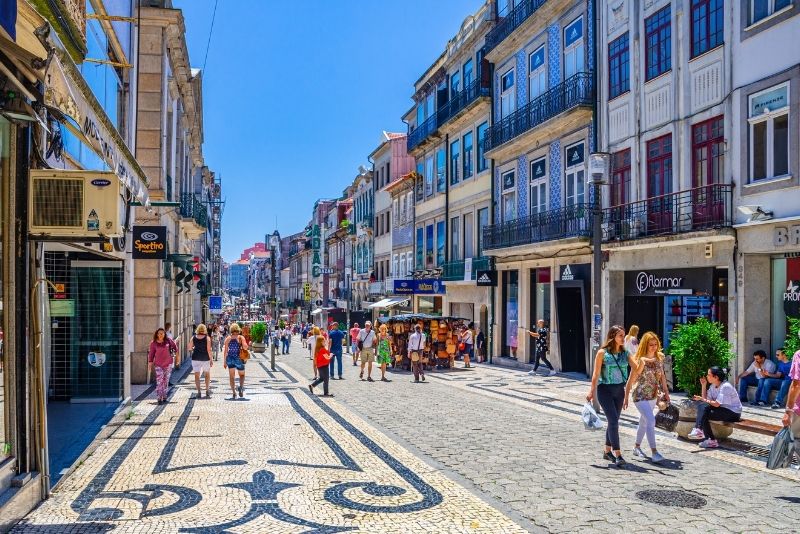 A vibrant pedestrian street packed with cafes, shops, and restaurants that are surrounded by pretty flower boxes and colorful buildings, Santa Catarina is a great place to wander and take in the local architecture and atmosphere — or even grab some ice cream or a new pair of kicks.
Make a note to check out Capela das Almas (Chapel of Souls), sticking out like a sore thumb due to its gorgeous azulejos tiles all over the walls.
59 – Let your hair down on a pub crawl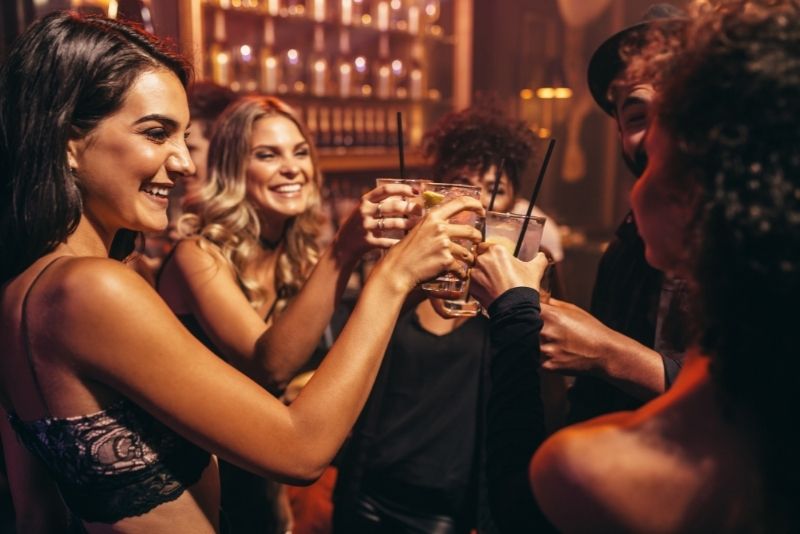 Porto is famous for its epic pub crawls — so why not join in on the fun! It doesn't matter if it's your first time or tenth, as long as you've got plenty of Portuguese wine and Bock flowing through your veins, you'll make plenty of new friends and what the wild nightlife is all about.
Hot tip: if you decide to venture out solo or with friends — in which case, head straight for Galeria de Paris Street — be mindful that locals start the party a lot later than most, so arrive any earlier than 10.30 and you'll most likely find the bars sparse with people.
60 – Party it up at the annual São João Festival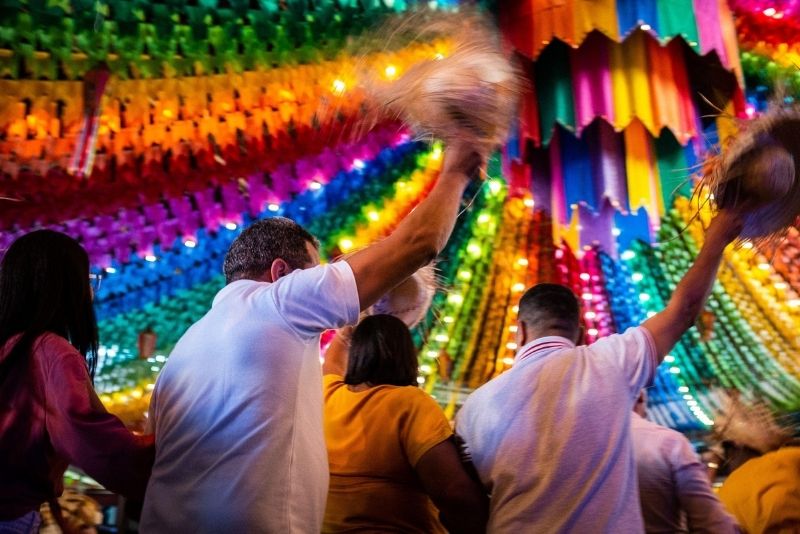 If you're umming and ahhing about when to visit Porto, here's a tip: go in the summer, and line up your trip with the night of June 23rd — for centuries, that date in the calendar has been when the riverside city comes alive with fireworks, street parties galore, live music, and an atmosphere that can only be witnessed to be truly understood.
As far as food goes, expect to see plenty of grilled sardines and peppers (with wine and Super Bock beer, of course) up for grabs.
61 – Spend a night in the Freixo Palace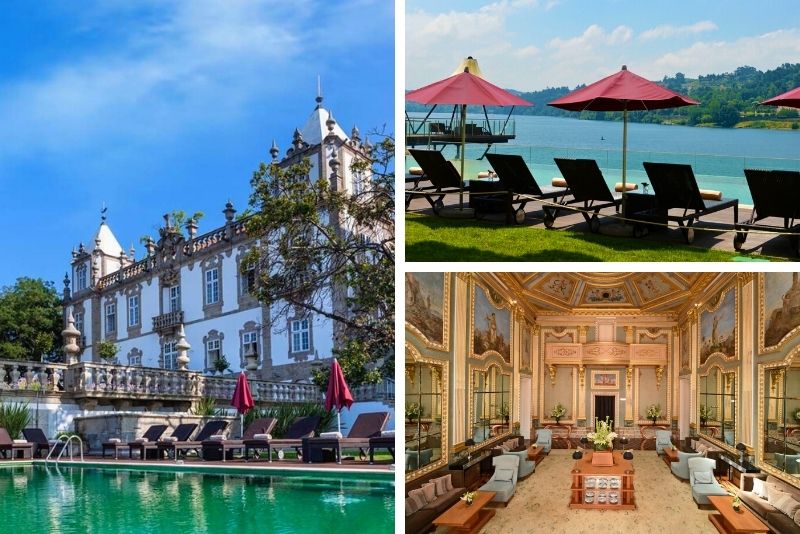 An iconic landmark in Porto that is steeped in history, the Freixo Palace was built back in the 18th century and has since transitioned from an opulent abode to a 5-star hotel, with its floor-to-ceiling luxury still well and truly on display.
While the rooms are exquisite and service impeccable, it's hard to go past the infinity pool that dished up fantastic views of the River Douro as the real highlight.
Even if just for a night, if you want to treat and pamper yourself (yes, there are spa facilities), book a room at this palace.
62 – Snap a selfie from the Mosteiro da Serra do Pilar terrace to end your trip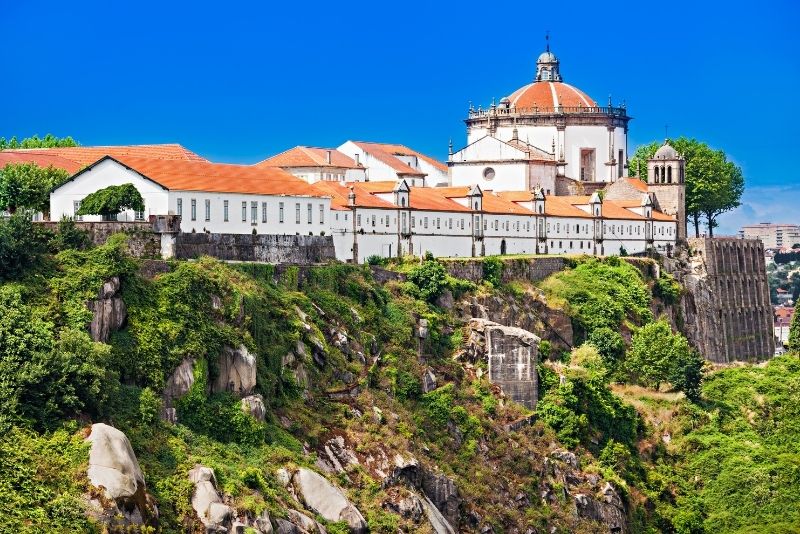 We said we'd circle back to this terrace, and here we are. While most high viewpoints look from Porto onto Gaia, the Mosteiro da Serra do Pilar terrace does the opposite, providing a unique perspective and picture-perfect moment.
If, after ticking off all the main attractions, you need a selfie to remember your trip by and show off to your friends, look no further than the monastery's rooftop.
How to find the best hotel in Porto
Whether you're a penny pincher or a luxury seeker, Porto is teeming with noteworthy hotels and hostels. We're almost spoiled for choice, so, how do you know which one will be right for you?
The answer is simple: do your research and read the reviews from past travelers. Thankfully, you don't need to do all the research yourself, because Booking.com has already done it! The industry-leading hotel booking website has put together a list of the top hotels in Porto for every kind of traveler, so you don't have to spend hours reading reviews.
Plus, if you want to stay at revered places like the Intercontinental Porto, Sheraton Porto, Crowne Plaza, or Flores Village, you'll find the best prices on Booking.com too.
Seeing the city on a budget
If you're worried about not breaking the bank (read: stay in a hostel like the Bluesock Hostel), then Porto offers a wonderful tourist-oriented program called the Porto Card.
With one purchase, you get free and unlimited public transport use, free entry to 6 of the city's main haunts, and discounts up to 50% on restaurants, stores, experiences, guided tours, and plenty more.
Or better yet, see the city for FREE!
We've mentioned free walking tours already, but it needs to be highlighted that, in Porto, they've been known to be of exceptional quality.
Tourists rave that the guides are friendly, passionate, and knowledgeable, always willing to give insider tips on the best places to eat, and the best things to do in Porto.
A range of themes is covered, from the historical to the cultural and even a few ghost stories. Just remember to leave a tip at the end, if you felt the tour was worthwhile.
Remove the stress — book an airport transfer
You've packed your bags, landed at Porto Airport, and touched down in a new, exciting destination. Now what? Getting around in a new city can be quite stressful if you don't have an idea of how public transport works. Thankfully, many travelers are thrilled to know that there's plenty of airport transfer options that take all the hassle out of arrival.
The driver will meet you at the arrival gate and, if traveling as a group, it's usually a cheaper per-person option than transport tickets.
Thanks for checking out our collection of things to do in Porto! Next stop, the Portuguese capital? Don't miss our list of fun things to do in Lisbon.
Well, that's a wrap. If you have anything you'd like to add to the list, feel free to leave a comment below. Happy travels!