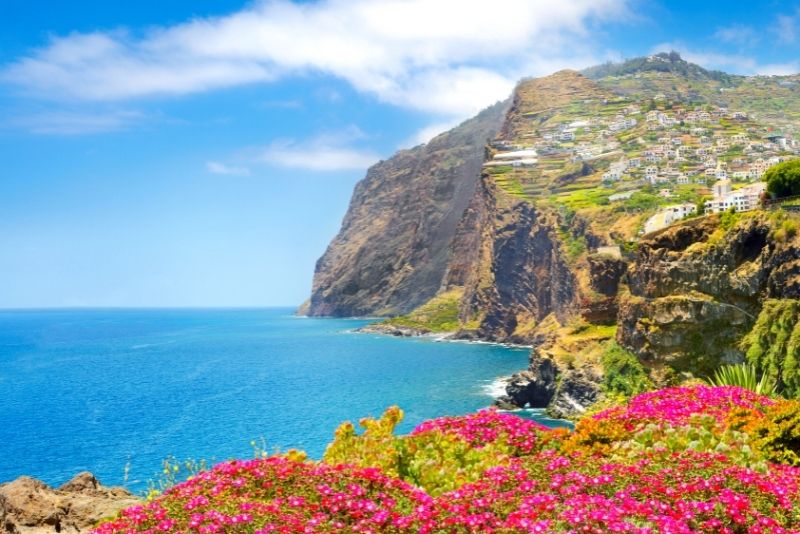 A tropical European paradise that sits off the coast of Africa, and a heavily underrated tourist destination, the idyllic Portuguese volcanic archipelago of Madeira — which is so much more than just Cristiano Ronaldo's home — won't remain a hidden gem for much longer.
Boasting a subtropical climate with warm temperatures year-round, lush rainforests full of manmade Levadas (aqueduct systems perfect for hiking), amazing golden and black-sand beaches; and some truly unmatched wineries (and Poncha, if you're after something stronger), this island oasis can deliver adventure, culture, and history in spades.
With a range of wonderfully unique things to do in Madeira, by the time you get through this list, you'll be itching to book your island vacation!
1 – Hike the Vereda do Areeiro trail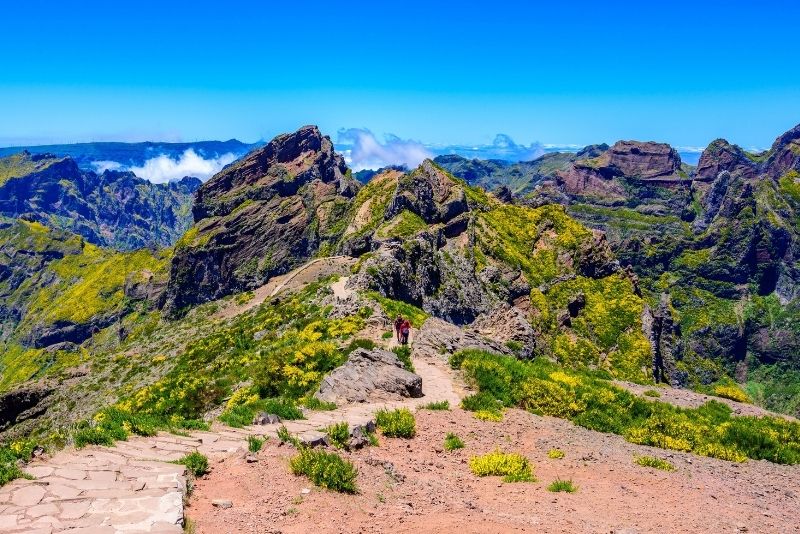 A non-negotiable for hikers who love a challenge, the popular, beautiful Vereda do Areeiro trail snakes about 7.4 km (typically taking 3.5 hours to complete) between Pico Ruivo and Pico do Arieiro — the two highest points on the entire volcanic island — covering tunnels, steep slopes, and stairs built into the rockface that look like they climb straight up to heaven.
With peaks soaring above the clouds as high as 1861 meters, on clear days you can take in breathtaking views of the peaks and villages below, spotting several endemic species of birds and wildlife along the way.
Hot tip: while you can always trek it yourself, consider joining a sunrise tour that includes hotel pickup and dropoff.
2 – Go dolphin-watching!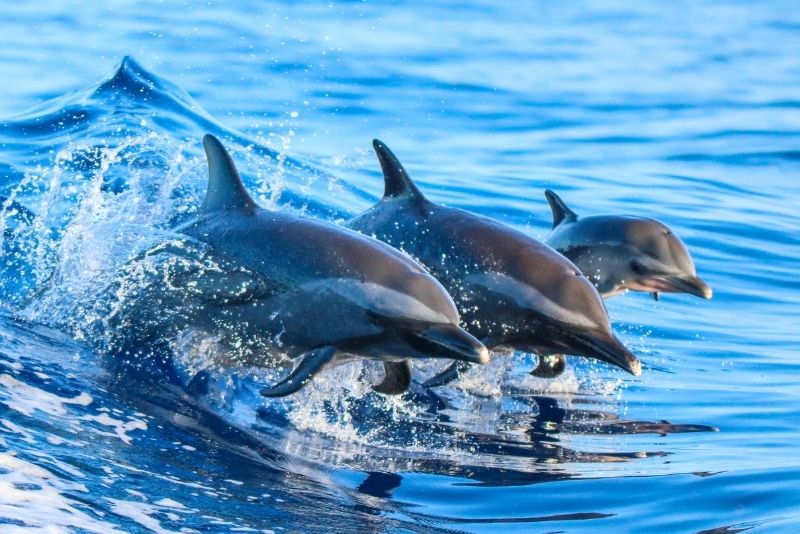 Articulate, friendly bottlenose dolphins are one of Madeira's most captivating features, so it makes plenty of sense why several tour companies offer dolphin watching boat trips that set out from the main area of Funchal to find these majestic creatures in their natural habitat — either via a luxury catamaran or high-octane speedboat (depending on the size of your group).
Whichever vessel you choose, remember: while dolphins can be seen throughout the year, sightings are more frequent between May and September — which also happens to be peak season for whale-watching as well!
See also: 10 best boat tours in Madeira
3 – Tick off the main attractions with a hop-on hop-off bus ticket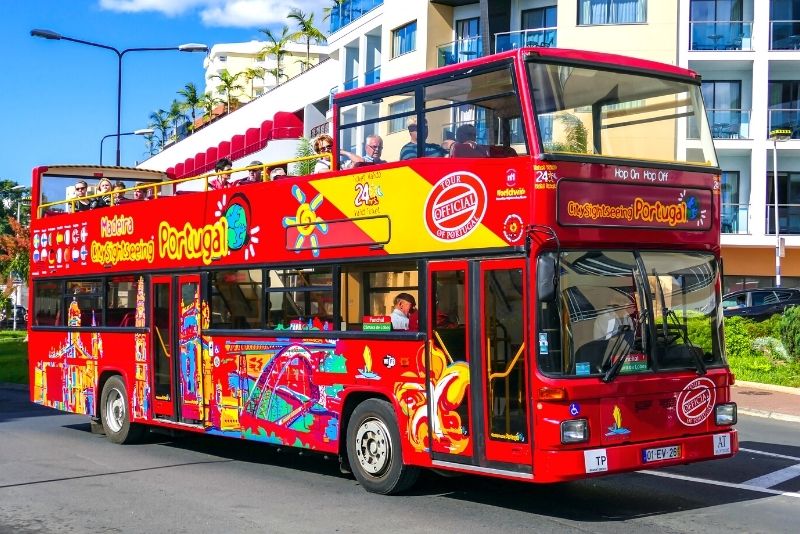 A great way to discover both Madeira's city-central hotspots and the many natural wonders off the beaten track, hop-on-hop-off bus tours are a low-cost solution for people who want to tick off all the main Funchal attractions without putting in too much legwork.
With looped routes offered in multiple areas on the island, you can simply sit back and relax on the upper deck and enjoy the audio narration as you pass by the Museum of Wine and Doca do Cavacas boardwalk on the Funchal Tour Circuit; the Casino and Lavradores Market on the Camara de Lobos Circuit; or the famous 580-meter-high Skywalk on the Camara de Lobos route.
If time is of the essence, a bus tour is one of the bests things to do in Madeira.
4 – Stop to smell the roses at the Madeira Botanical Garden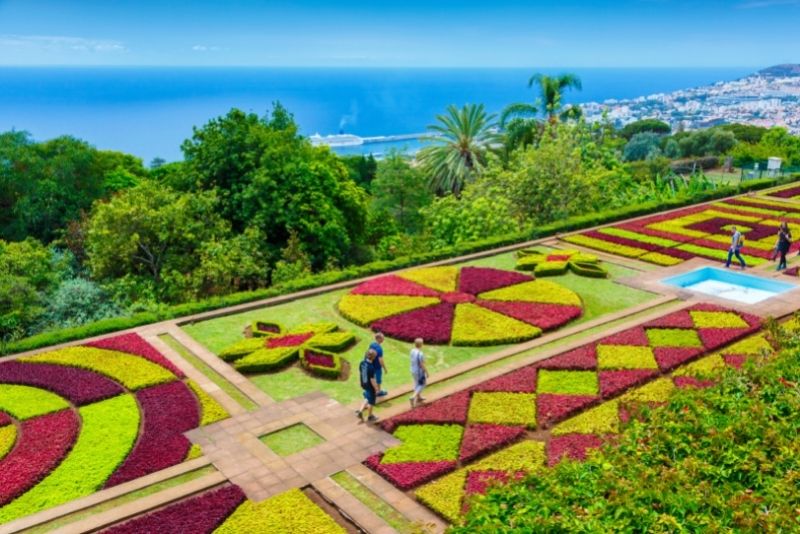 A lush green haven in the heart of Funchal, Madeira Botanical Garden is a peaceful oasis that's perfect for escaping the hustle and bustle of the main tourist haunts.
With over two thousand different colorful and native species flown in from all over the world, spread across 35,000 square meters, the garden is a paradise for plant lovers and those who simply enjoy the peaceful surroundings.
Hot tip: If you're after unbeatable views, take a ride on the Botanical Garden Cable Car up to the village of Monte. The 15-minutes round-trip presents breathtaking scenery of Funchal bay, the João Gomes River, and the vibrant Gardens.
5 – Get out of town with a 4X4 jeep tour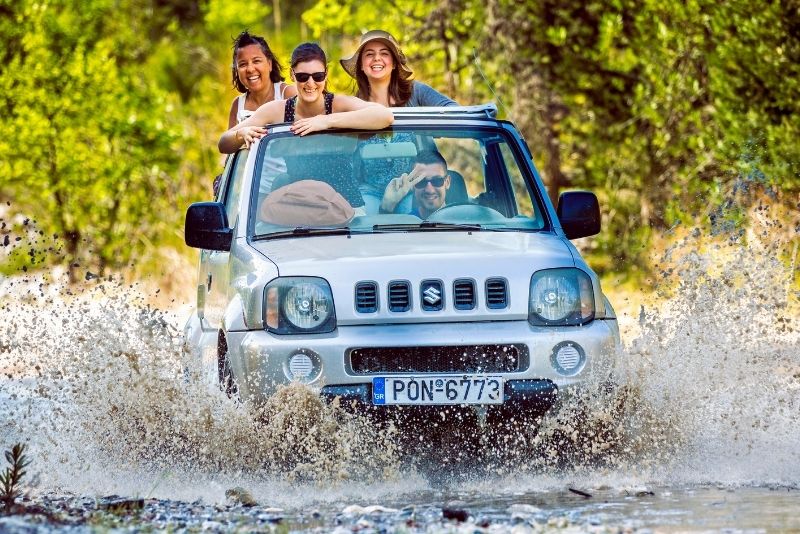 A great way to experience the dramatic changes in terrain as you move from one corner of Madeira Island to another, jeep tours are an exciting and adventurous option for those who want a truly unique and high-thrills Funchal sightseeing activity.
Offering both off-road adventures and more conventional half-day trips on sealed roads throughout beautiful coastal areas outside Funchal, jeep tours typically include hotel pickup and drop-off, a bilingual guide to provide insight on the spectacular scenery you'll pass by en route, as well as stops at wineries, the Skywalk, the 25 Fountains Levada Walk and plenty more, depending on your tour of choice.
6 – Take a dip in Porto Moniz's volcanic swimming pools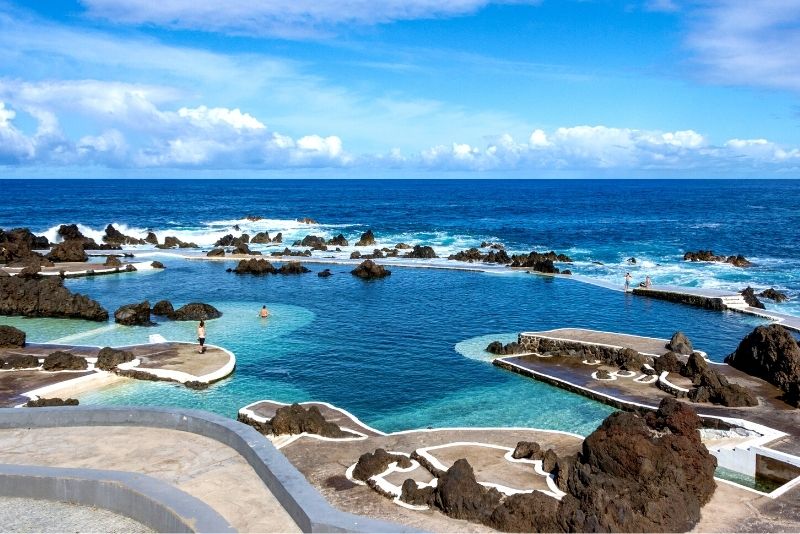 One for nature lovers, Porto Moniz is a tranquil coastal town on the northwestern edge of Madeira Island that's home to one of Europe's most stunning natural phenomena: volcanic pools.
With calm and clear waters that contrast perfectly against the wild sea on the other side of the wall, the natural saltwater pools offer a chance for weary travelers to relax and rejuvenate while enjoying the calming views of the Atlantic beyond.
7 – Explore Funchal's historic old town with a walking tour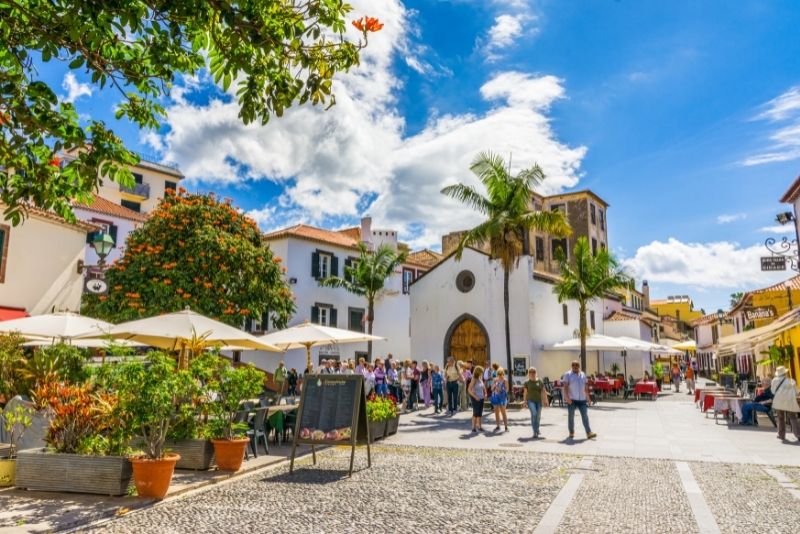 While there's nothing wrong with a touristy car ride, the colorful, cobbled streets and cozy alleys of Funchal's old town (AKA Zona Velha) are best explored on foot for the full effect.
Despite each day offering up something slightly different depending on what's happening in and around town, most walking tours will make stops at the Farmers Market, the 500-year-old St Claire's Monastery, the white-walled Church of St Peter (known for its colored tiled bell tower) and, if you're thirsty, a cellar door or two.
Note: if you join a free tour, make sure to leave a tip if you found it worthwhile.
8 – Abseil down cliff faces on a canyoning trip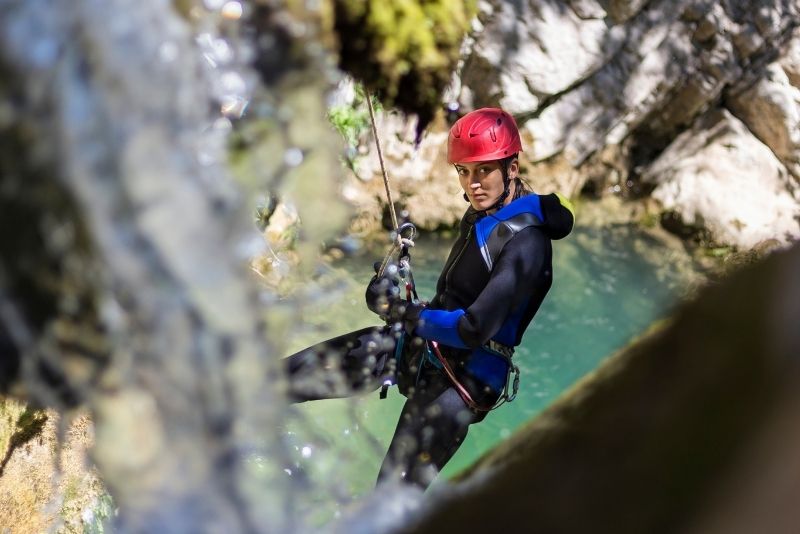 An exhilarating and challenging activity reserved for the fit and brave, canyoning in places like Ribiera das Calas, Ribiero Frio (cold river) or the 15-meter-high cliffs above Ribeira do Cidrão in Nun's Valley is a once-in-a-lifetime experience.
A combination of hiking, swimming, and climbing with waterfalls along the way, this heart-racing sport is a great option for adrenaline junkies looking to explore Madeira's natural terrain at its most raw.
9 – Hike to the summit of Pico Ruivo before sunrise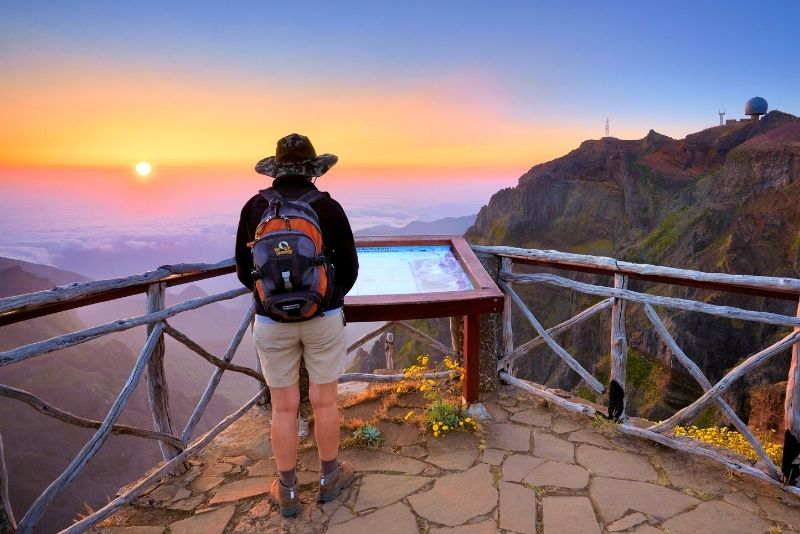 The most iconic hike on Madeira Island, a sunrise walk up to the top of Pico Ruivo is an unforgettable experience sure to light up any social media feed.
This challenging trek takes around 90 minutes, starts in Santana (about an hour's drive from Funchal), and requires a decent level of fitness as you pass through tunnels, along narrow paths, and occasional steep sections.
Catch the first rays of light as they crest over Funchal Bay from what's officially the highest point on the island, 1861 meters.
10 – Sign up for a Monte Sledge toboggan ride!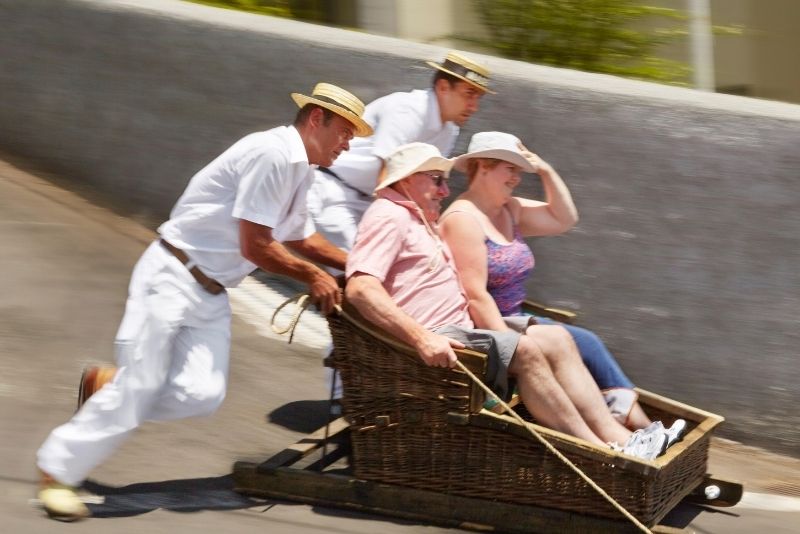 Forget taxis and busses. Why not slide down the streets of Monte on the most famous transport method available: baskets? Resembling a wicker basket crossed with a shopping cart, the Monte Sledges are as much about sightseeing as they are an adventure.
Over about 10 minutes and two kilometers, two friendly drivers will push and steer the sledge down a series of winding streets between Monte — it's high-speed, unique, and one of the quintessential things to do in Madeira.
11 – Take a day trip to stunning Porto Santo island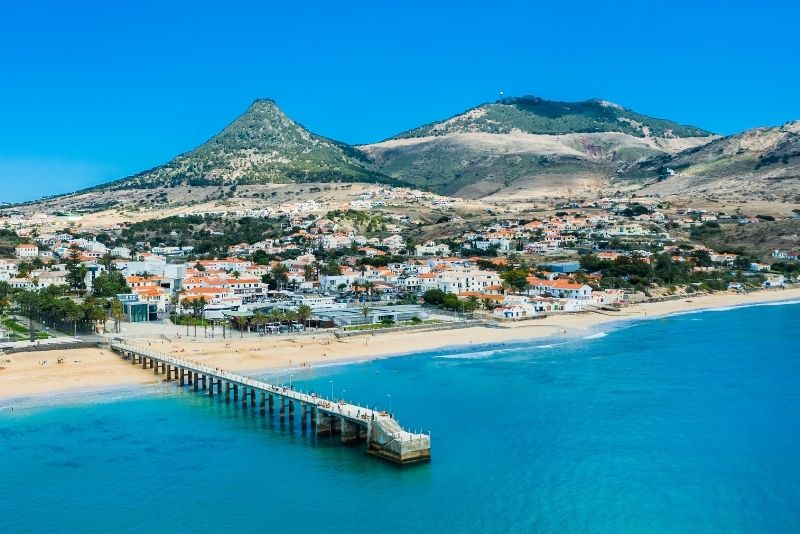 Madeira's smaller but no less beautiful sister island, Porto Santo is home to long-stretching golden beaches, contrasting turquoise waters, and one of the world's most aesthetic golf courses.
About 2 hours and 30 minutes by boat Funchal harbor (or a short plane ride, if you book a seaplane transport!), this laid-back island offers up some incredibly picturesque sights that are best enjoyed on foot.
While there's no shortage of activities on the island — Christopher Columbus House Museum, the Pedreira viewpoint, stand-up paddleboarding, and a 9km-long golden sand beach — it's the incredible 10-meter-high Pico de Ana Ferreira rockface that steals the show.
12 – Don't [do] look down at the Cabo Girão viewpoint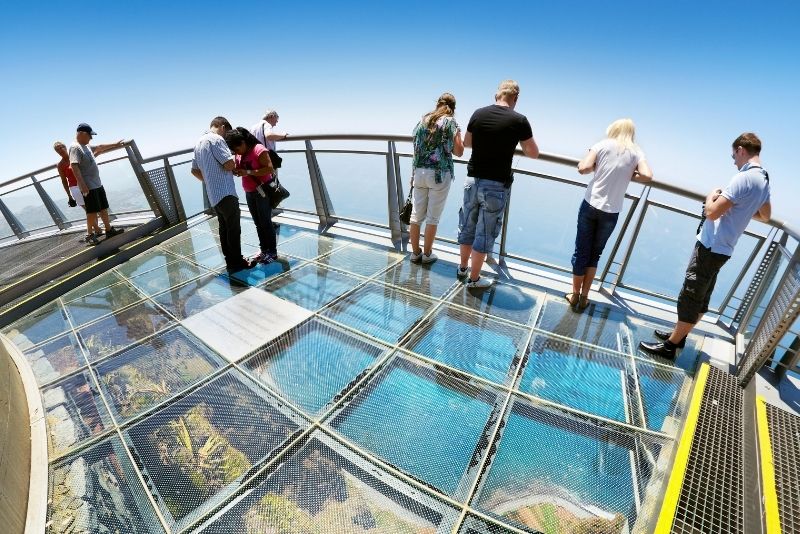 Once you've seen one viewpoint, you've seen them all. Right? Wrong! Madeira's Cabo Girão cliff-top view takes the cake for not only being incredibly picturesque (and unsurprisingly popular) but also offering up an unparalleled heart-racing experience. Why? Because, as the world's second-highest sea cliff, it dishes up a startling 500-meter drop from the glass-floored skywalk into the blue waters below.
While the region is popular for hikers, most tourists prefer to check off Cabo Girão as part of a half-day exploring the area in a 4×4 or old-school VW.
13 – Kick off your day at the CR7 Museum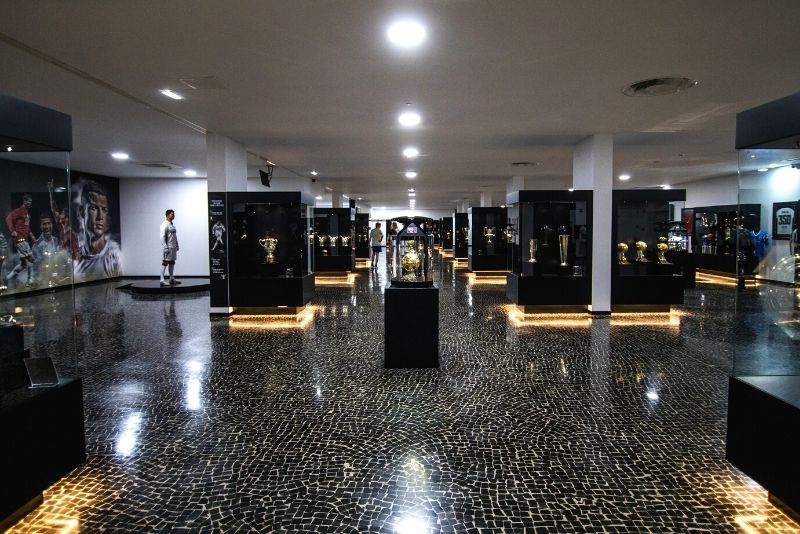 Whether you're a football fan or not, there's no denying that Portugal is one of the world leaders in producing A-grade players — well, one, in particular, comes to mind: Cristiano Ronaldo.
At Ronaldo's very own CR7 museum in the main area of Funchal, sports-mad visitors can browse through iconic photographs of his career, watch highlight videos and hear about his story, and take a selfie with a wax statue replica.
Full of memorabilia, the museum also showcases Ronaldo's trophies (which he won at Nacional, Sporting, Manchester United, and Real Madrid), Ballons d'Or, and Golden Boots.
Still craving more Ronaldo action? Since the famed striker/wingman grew up on Madeira, a range of Cristiano Ronaldo tours showcase where he lived, played football and hung out.
14 – Hike the breathtaking 25 Fountains trail in Rabaçal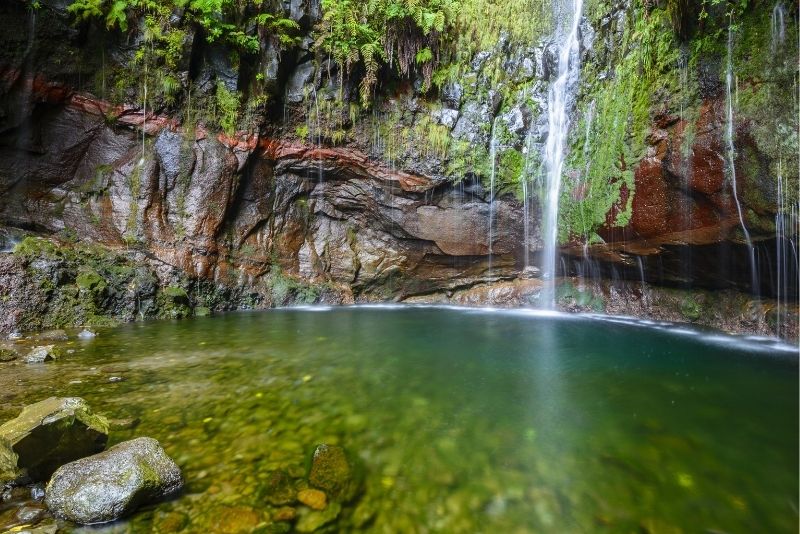 Hiking trails on Madeira are full of impressive waterfalls and lush greenery, but none offer such a sensory experience as Rabaçal's 25 Fountains trail.
Starting in Rabacal, and taking about 4 hours and 30 minutes to hike, the roughly 11km circuit is filled with some stunning sights and sounds: natural lagoons, laurel woods, endemic flora and fauna, and, of course, the 25 water features you can count along the way.
Hot tip: The best way to explore the UNESCO-listed laurel forest is with a local guide. This way, you'll be picked up from your hotel and will learn all about the scenery as you stroll through it.
15 – Stroll around the Valley of the Nuns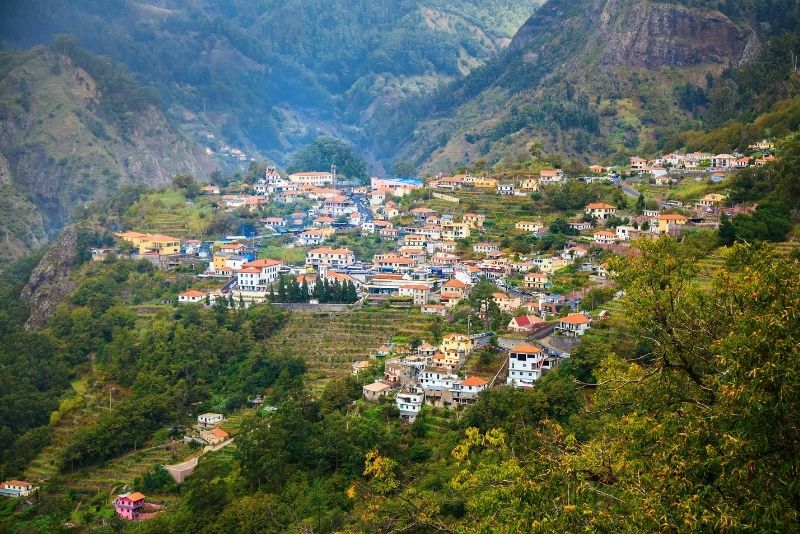 Hidden away in the crater of an extinct volcano about 25 minutes by car from Funchal, the Valley of the Nuns (Curral das Freiras) is as postcard-worthy a village as they come, sandwich between two towering, near-identical mountains.
At the valley's mouth, you'll come across the 16th-century Santa Clara Convent, built as a refuge from pirates. These days, you won't find many nuns around, but there's plenty of souvenir stalls, restaurants (Sabores do Curral), and great views to appreciate.
If you're up for a decent walk, get dropped off at the  Eira do Serrado viewpoint and then walk down toward the town.
16 – Walk along the Ponta de São Lourenço cliffs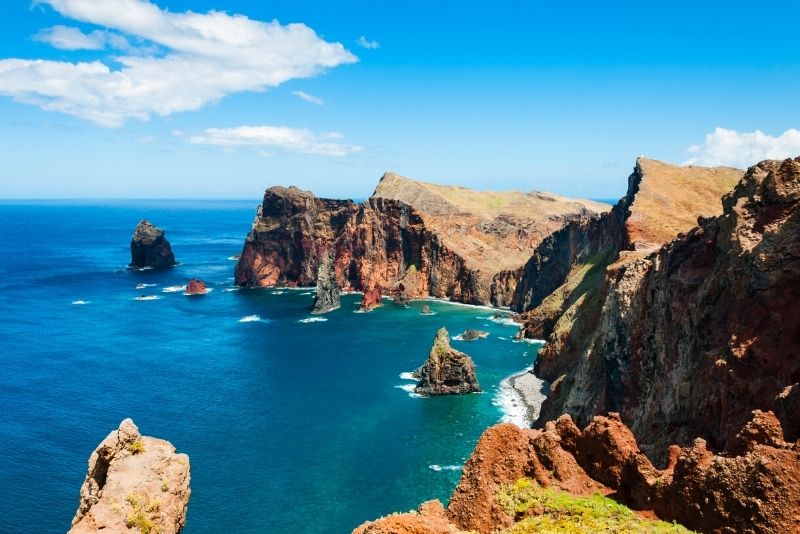 Skirting out into the water as the island's easternmost point, the long and thin Ponta de São Lourenço peninsula, with its jagged rocks and striking color contrasts is a Madeira must-see.
In the area, you'll find popular walking trails (just don't get too close to the edge), a lighthouse, a plethora of Madeiran lizards, unique birds, and friendly wildlife, and a cafe at the end to recharge the batteries.
The main hike — Vereda da Ponta de São Lourenço — takes about two and a half hours (although you can take a boat to the end if you prefer), but the chance to dive in the Sardinha port at the end makes it all worthwhile.
17 – Admire the Christ-King statue at Garajau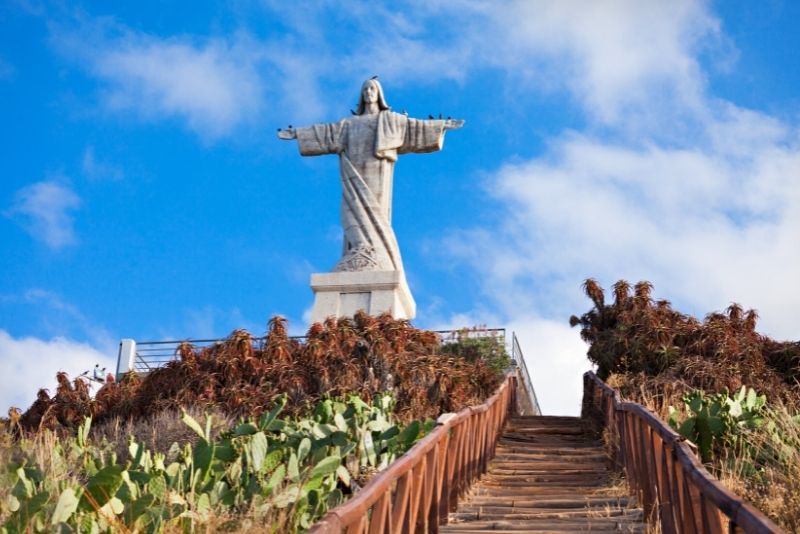 Overlooking the water at the Ponta do Garajau viewpoint since 1927 (although at 15 meters tall, not nearly as tall as its counterpart in Rio de Janeiro) the Christ-King statue — and simply the viewpoint itself — is a must-see in the south of Madeira, about 20 minutes from Funchal by car.
After snapping a couple of selfies at the impressive structure, jump on the cable car down to Garajau Beach and lap up the sunshine.
18 – Visit the traditional Santana houses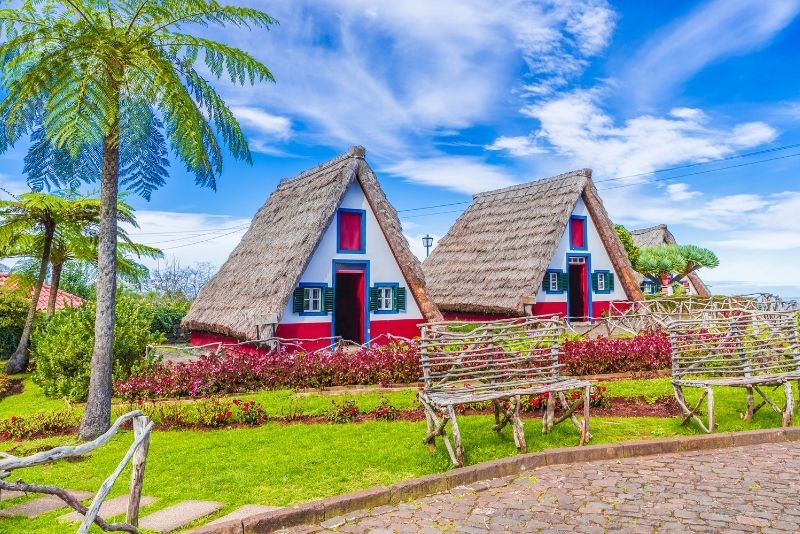 Santana, a small and charming parish in the north of Madeira full of apple, pear, and cherry orchards, has some fascinating history to discover.
The first thing you'll notice about Santana is its unusual, triangular-roofed houses: traditionally painted red and white with dark brown wooden beams, the stone houses really are quite something.
On their own, the A-frame houses are charming, however, for the most memorable experience, consider choosing a full-day tour of the north which squeezes in visits to places like Pico Arieiro and the Laurissilva Forest.
19 – Step back in time at the Natural History Museum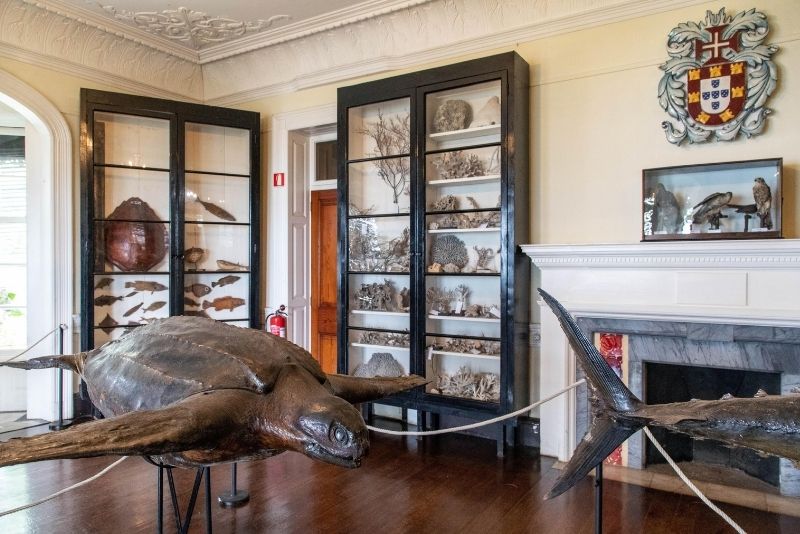 Found inside the São Pedro Palace in Funchal (a great example of Portuguese civil architecture), the Natural History Museum of Madeira is a cultural gem that's well worth a visit — as the oldest museum in Madeira archipelago, its reputation precedes it.
The museum holds over 41,000 specimens and artifacts from all around the world — everything from shells to minerals, stuffed birds to local paintings, and thousands of different animal species.
Before you leave, make sure to take a look around the 560-square-meter Aromatic and Medicinal Plants Garden, where dozens of medicinal, native, and aromatic plants create a jungle-like experience.
20 – Go scuba diving!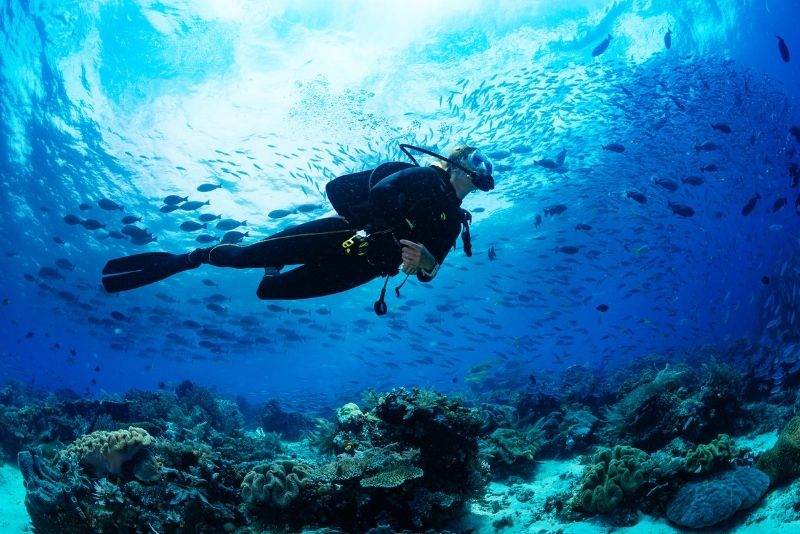 For scuba divers, Madeira is a mecca — and it's easy to see why. Warm waters (regularly above 20 degrees Celsius) make the island perfect for snorkeling or diving between February and November, and there are hundreds of sites to explore on your next dive holiday.
There's Ponta de São Lourenço, which boasts marine encounters including dolphins and stingrays; the coasts off Porto Santo island, another favorite for sea life spotting; Quinta do Lorde where total newbies can sign up for a Zero gravity experience (a "Try Dive"), and even the confined comfort of the Madeira Aquarium!
No matter your level of experience, there's a dive for everyone on this paradise island.
21 – Immerse yourself in nature Queimadas Natural Park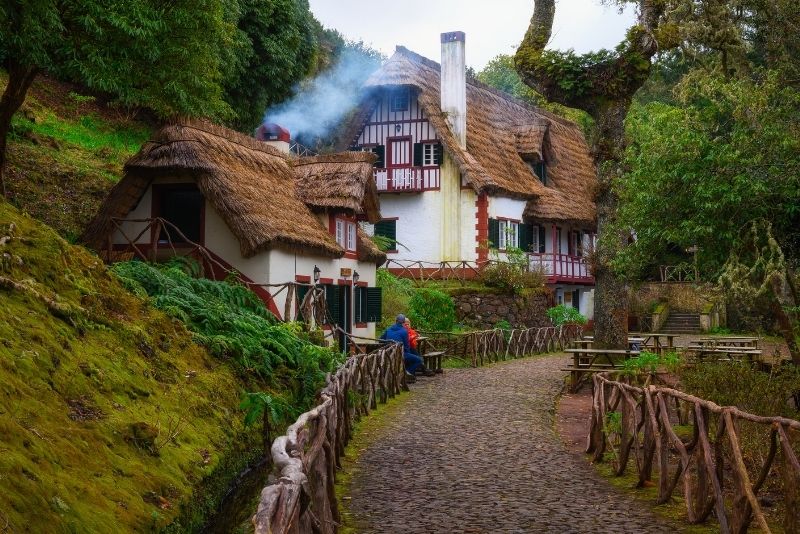 About 45 minutes drive from Funchal, the Queimadas Natural Park on the island's north, with its dense vegetation, engulfing forests, and impressive volcanic rock formations promises a great day out in the open air for all ages.
To be expected, this lush park offers some of Madeira's best hiking trails — including the 4-hour, 7.3-mile Levada do Caldeirão Verde trek which dishes up spectacular vistas over the village of São Jorge.
22 – Drive along the scenic VE2 coastal route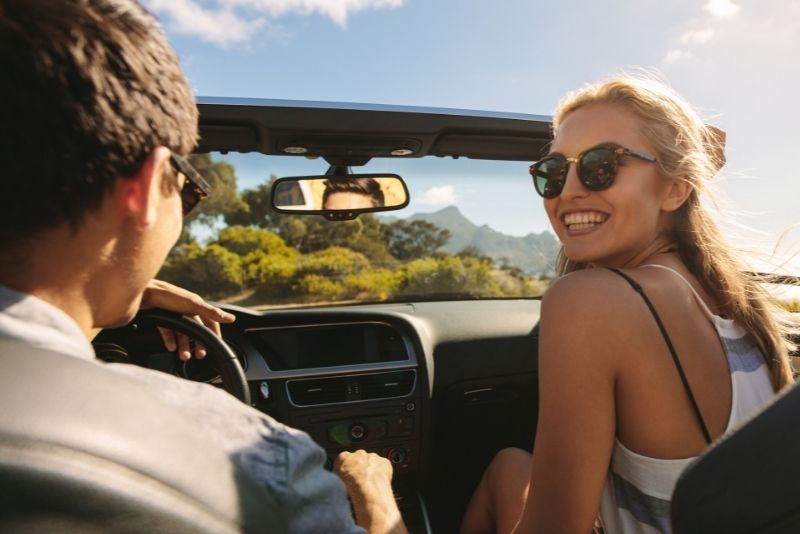 Connecting the island's north with northwest near Porto Moniz, the coastal VE2 road is one of the most spectacular driving routes in Europe, winding along cliffs with nothing but shimmering waters and towering rockfaces as far as the eye can see.
If you can secure yourself an open-top convertible, crank that stereo, let the wind rush through your hair, and just enjoy the view!
23 – Sign up for a surfing lesson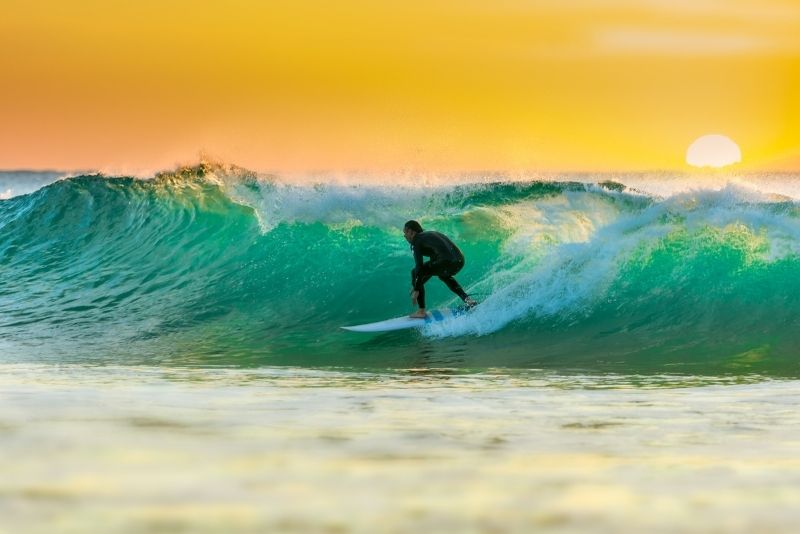 If you've ever wanted to give surfing a try, Madeira is the perfect place. Not only are there a handful of main surf spots on the island — like Porto da Cruz and Jardim Do Mar — that offer quiet coves for beginners to learn their craft without too many waves crashing down on them, but there's also no shortage of friendly locals delighted to show you the ropes.
Looking to hang ten on something a little bigger? Then consider hot spots like Ponta Pequena, Paul do Mar, and Fajã da Ovelha, all great for the more experienced.
24 – Stroll around the Monte Palace Tropical Garden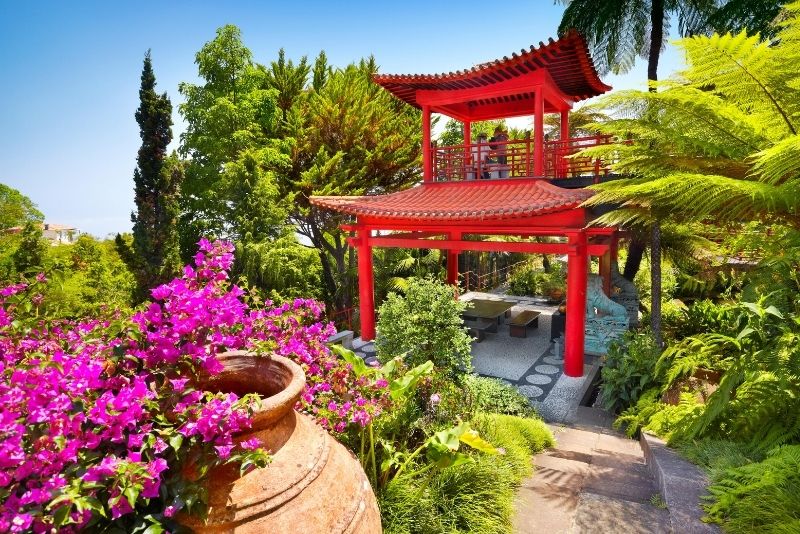 A sprawling 70,000-square-meter tropical garden filled with over 100,000 species of plant life from around the world, the Monte Palace Tropical Garden offers a unique insight into exotic flora and fauna.
And while it's not as flashy as some other attractions on Madeira, what you'll find here instead is a quiet, calm space to admire the beauty of plants and flowers in an environment far removed from the hustle-and-bustle outside — and grab a cheap cup of coffee from the on-site cafe while you do so.
Hot tip: The Garden is best accessed by hopping on the cable car (scroll down to #28).
25 – Walk behind a waterfall on the Levada Nova trail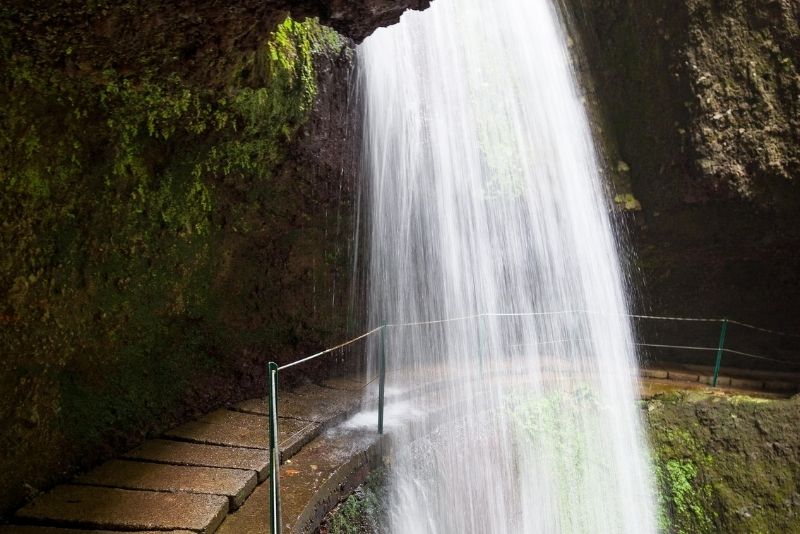 A relatively easy (and stunning) walk, the Levada Nova trail near Ponta do Sol takes you on a journey through stunning countryside and historical sites, passing over the villages of Ribeira Brava and through sugar cane farms and longstanding properties.
While each tour and hike differ slightly, you can expect to walk close to six kilometers over the course of about two hours.
For anyone looking for more of a challenging hike, the Levada do Moinho to Levada Nova trail is 13.5 kilometers long and a worthy test of endurance.
26 – Soar above Funchal with a paragliding adventure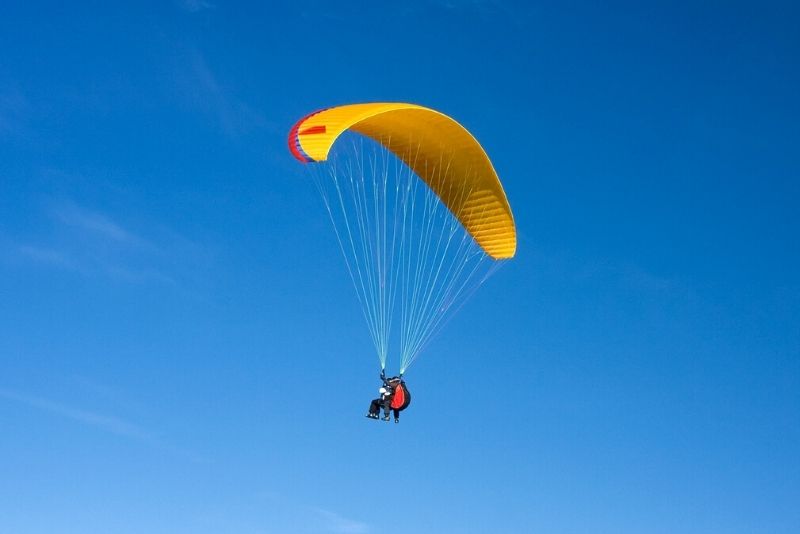 If you're looking for an adrenaline rush, look no further than a paragliding adventure over the rugged Madeira coastline.
With locations around the island in places like Funchal, Arco da Calheta, and Porto Moniz, the adventure companies offer top-of-the-line equipment and a seasoned guide who will handle all of the controls — for you, it's all about tagging along for the ride and soaking in that stunning bird's eye view!
27 – Get cultured at the Contemporary Art Museum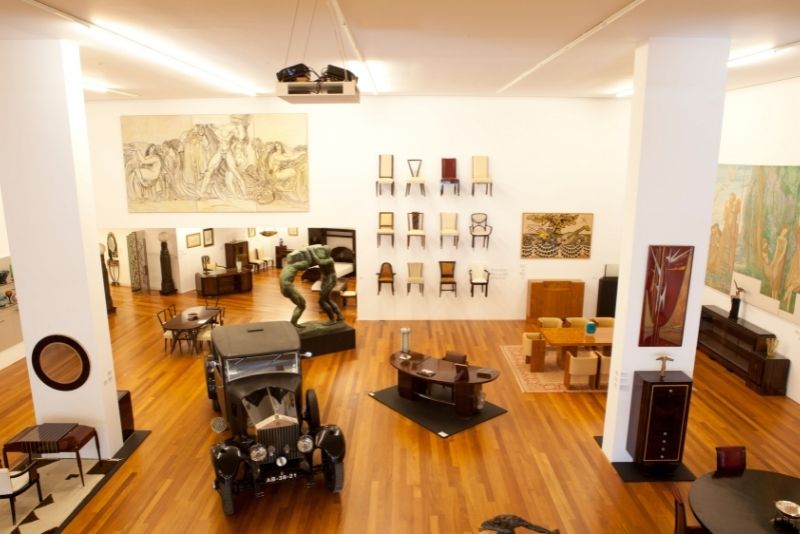 For a new take on the traditional art museum experience, head over to Madeira's award-winning contemporary art museum. About 30 minutes from Funchal, the underrated tourist attraction offers a fascinating insight into modern-day Portuguese artists, with collections spanning from the 1960s up to the 2020s.
Hot tip: Since the museum also hosts a range of musical performances, plays, and lectures, check the website before visiting to see what's on.
28 – Ride the famous Funchal Cable Car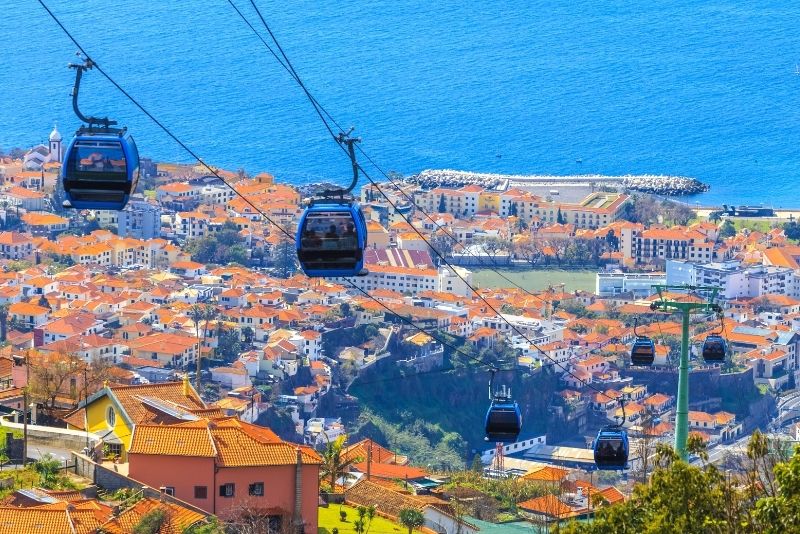 Tired feet? To avoid the long, winding trek up to Monte or down into Funchal proper while simultaneously maximizing your views of Madeira's rugged landscape, consider hopping on board the cable car instead!
Offering a majestic transition from urban Funchal by the sea to lush hills and sprawling green slopes the higher you go, the 3200-meter, 20-minute journey is nothing short of magical.
But the fun doesn't end there; at the top, check out the Monte Palace Tropical Garden, Museum of Semi-precious Stones, Church of Our Lady of Monte, take a stroll around Monte Municipal Park, and, of course, don't forget to ride the traditional basket toboggan!
29 – Snap a selfie at the Véu da Noiva Viewpoint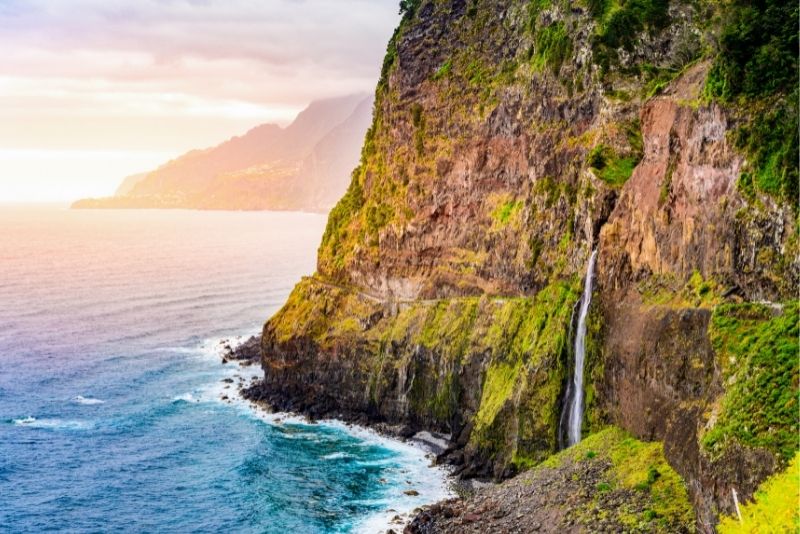 Located in Seixal, the Véu da Noiva viewpoint is sure to light up any Instagram feed, offering panoramic views of Madeira's north-western coast and a cascading waterfall that flows into the blue ocean below.
To get here, simply follow the old road between Seixal and São Vicente, and while you're in the area, consider making a day of it by stopping at Porto Moniz, Seixal Beach, and the Seixal Natural Pools.
30 – Head to the Vereda dos Balcões lookout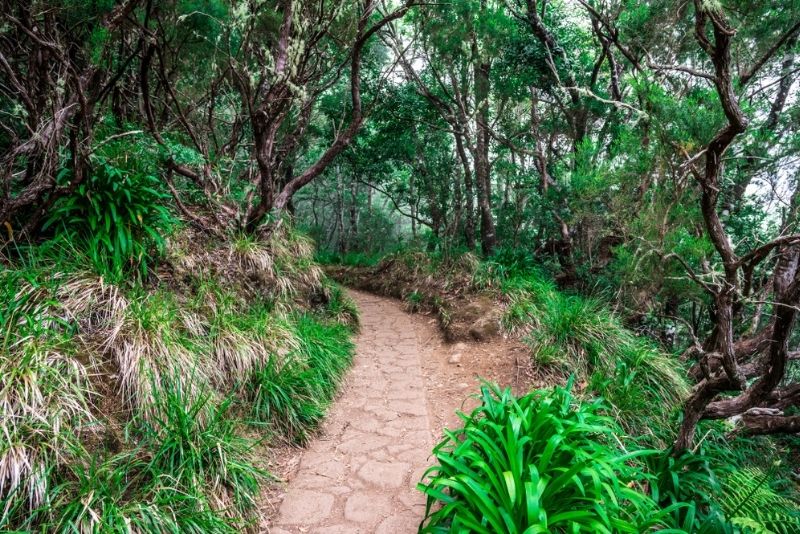 At just 1.4 kilometers one way, the simple yet stunning Vereda dos Balcões walk dishes up postcard-worthy views of the highest peaks of the island.
Located near Ribeiro Frio, the trail is short and sweet and perfect for all ages.
While you're there, pop into the Ribeiro Frio Fish Hatchery for a souvenir, and keep your eyes peeled for some of the island's resident firecrest birds (small with a  bright orange crown).
31 – Learn about local sea life at the Madeira Aquarium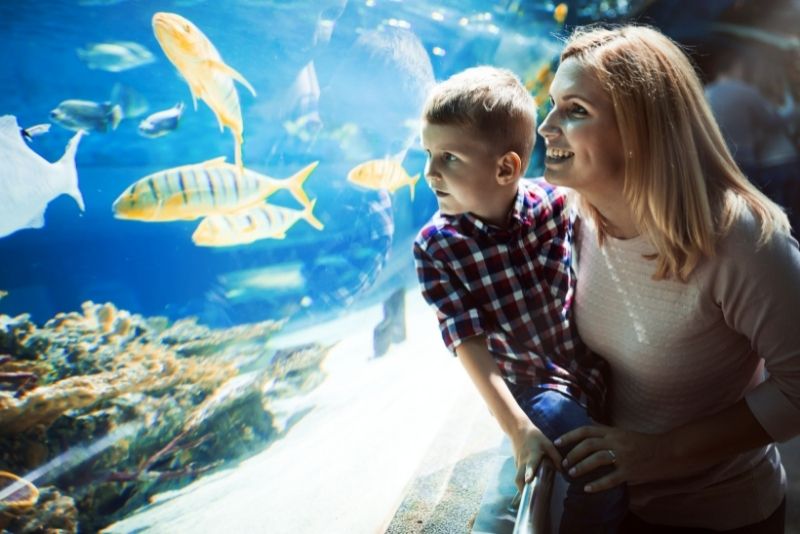 A trip to Madeira wouldn't be complete without a visit to the small, unique Aquarium located in the São João Baptista fort replica in the northern village of Porto Moniz.
With an impressive variety of native marine life from all over the region (some of which can also be found in the Azores) spread throughout 12 pools, it offers visitors young and old to get up close and personal with over 90 different species
There's even a touch pool where visitors can get closer than ever before! For the ultimate up-close experience, sign up for a tank dive!
32 – Admire the Funchal Cathedral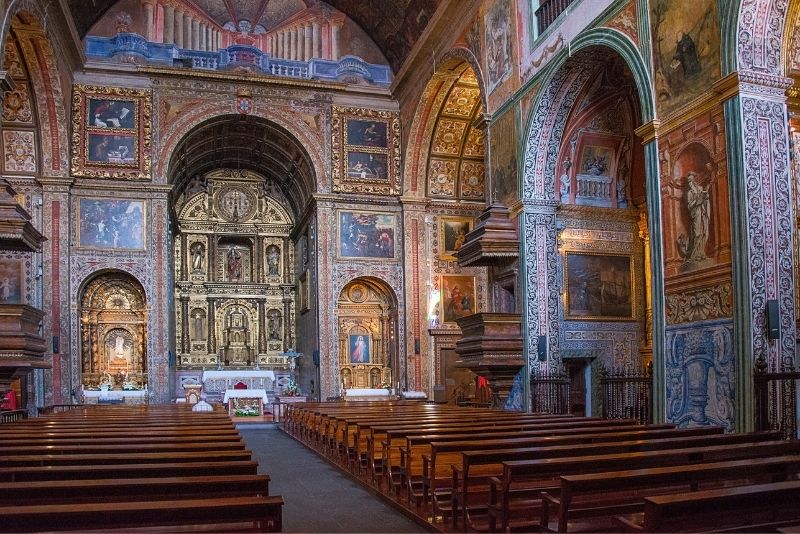 Dating back to the island's initial colonization, the imposing, late-fifteenth-century Funchal Cathedral rises in the center of Madeira's capital city, standing tall over the surrounding buildings.
Technically named The Cathedral of Our Lady of the Assumption in Sé, the often postcarded Gothic building features impressive stained glass windows, gilded woodwork pieces, and paintings perched high atop the walls, as well as several religious artifacts.
If you don't want to go out of your way to check it out, simply join a Funchal city tour — most of which will walk past the landmark.
33 – Walk the Levada do Caldeirão Verde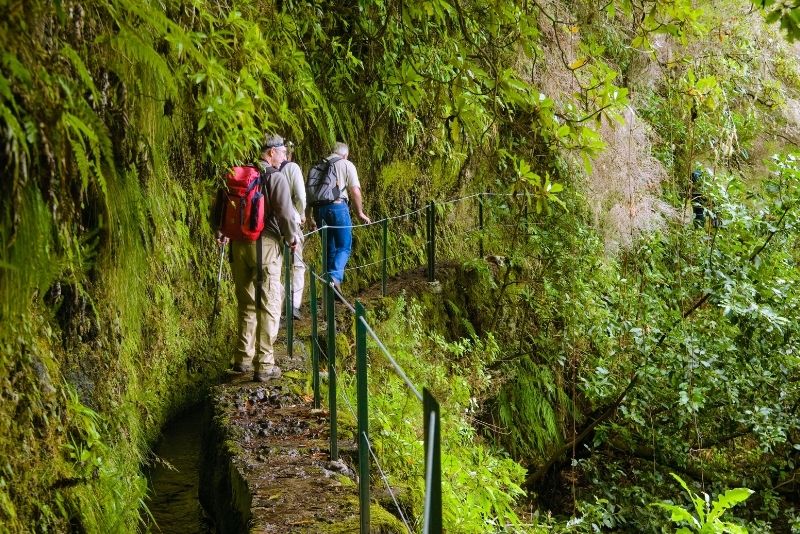 One of the essential things to do in Madeira for nature lovers, the Levada do Caldeirão Verde (man-made water channel) is a popular half-day hiking trail that ducks through tunnels with an abundance of greenery and stunning views along the way.
While the route is about 6.25 kilometers to Caldeirao Verde and another 6.25 back, it's not too steep, making it a perfect activity for families.
If you don't feel like planning, private and small group tours can take all the hassle out of the experience.
34 – Jump on a mountain bike!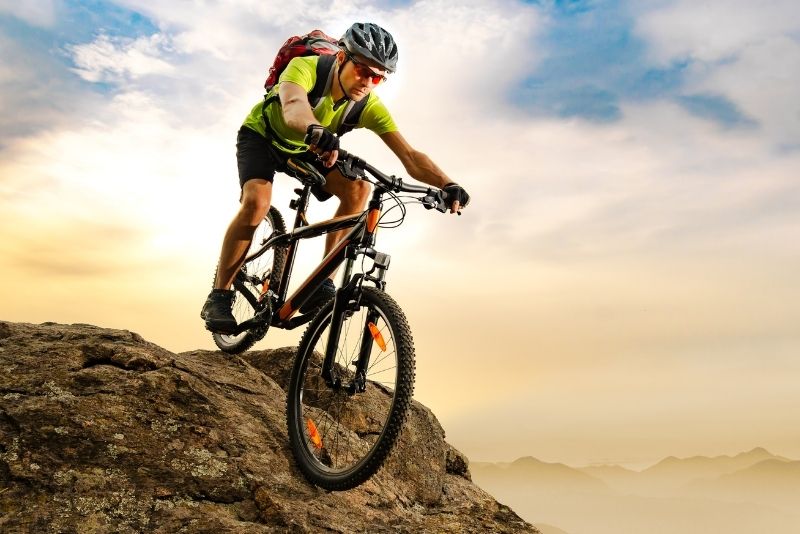 Whether you opt for the mountain bike (sure to burn a few calories) or the dirt bike (perfect for the adrenaline junkies), Madeira's trails are the perfect place to get your heart racing.
The lush, green landscapes around the island — from manmade levadas like Levada da Serra or the Pico do Arieiro mountain peak — are a constant reminder of why so many people choose this island for their lifestyle escape, receiving over 300 days of sunshine throughout the year!
Can't choose where to begin? Why not ride through the UNESCO-listed Laurisilva (laurel forest), untouched nature known for its rich biodiversity?
35 – Get drenched by Angel's Waterfall
Not to be confused with the world's tallest waterfall in Venezuela, the Cascata dos Anjos Madeira is one of the most famous in Madeira, and for good reason. The local people call it's 'the only free car wash on Madeira' because you can drive on the E.R.101 road (or walk, if you're brave enough) directly underneath it!
Just 5 minutes from the Cais da Ponta do Sol (a great viewpoint), it's a must-see along the island's southwestern coast.
36 – Learn all about the island at the Madeira Story Centre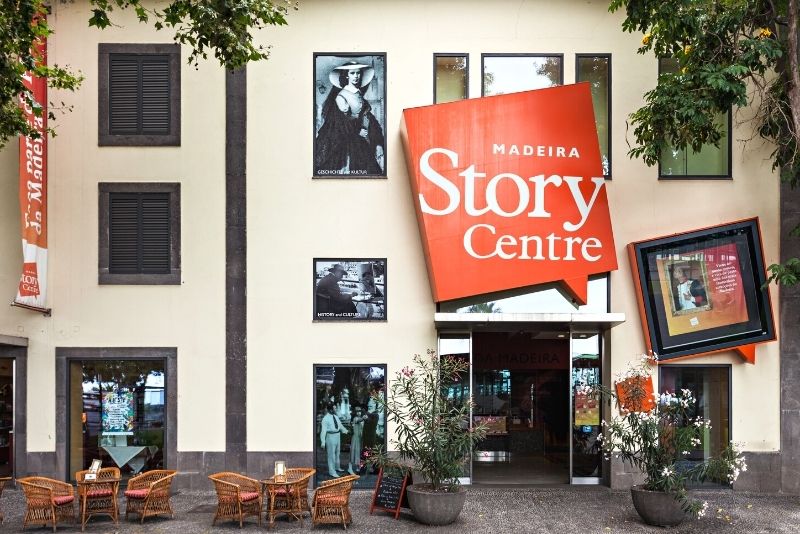 Found in the heart of Funchal's Old Town, the Madeira Story Centre is an insightful museum that, through an array of interactive exhibits, dives into the history and culture of this little-known island, exploring its discovery, war with pirates, volcanic origins, and plenty more.
After checking out the displays, a bistro with a terrace awaits — the perfect spot to rest the legs and dig into an authentic Portuguese meal.
37 – Wander around the colorful Palheiro Gardens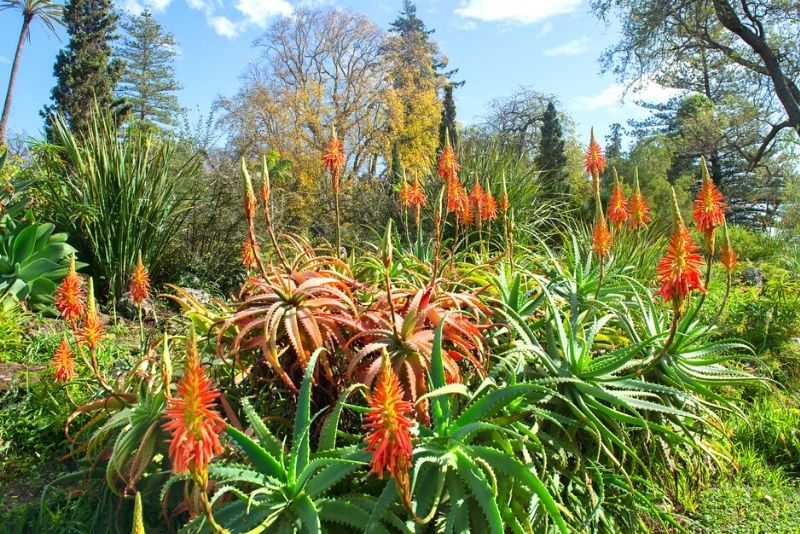 One of the most beautiful gardens in Madeira, the 14-hectare Palheiro Gardens (found perched atop the hills to the east of Funchal) is a lush paradise where you can wander past fountains and ponds, wildflowers, and more than 650 species of exotic plants.
It's also home to a charming tea house in the so-called Ladies' Garden, just one of many themed areas in the relaxing, nature-filled space.
38 – Get your balance on a stand-up paddleboard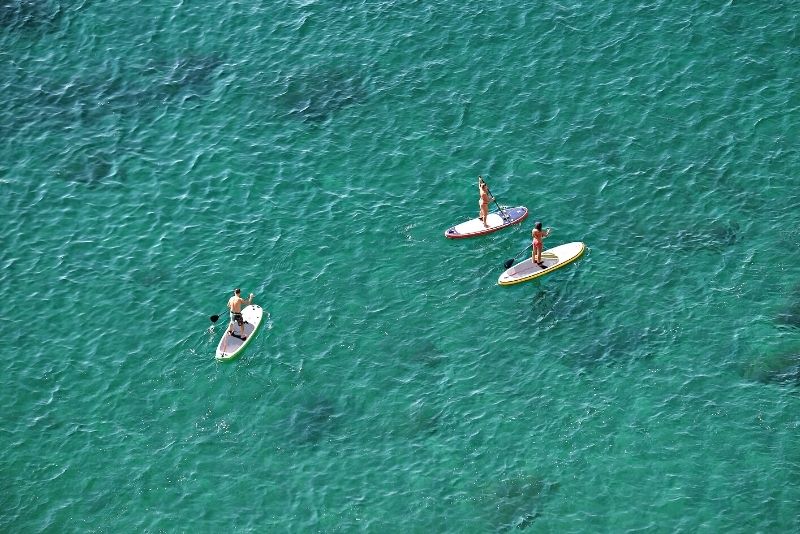 Madeira is known for its crystal clear waters, making the island a haven for water sports fans. One of these activities that are incredibly popular on Madeira (and, frankly, has taken the world by storm in recent years)? Stand-up paddleboarding (SUP)!
Many tour operators offer group paddling sessions around Funchal Bay or out to the Garajau marine park sea where you can catch stunning sunset views over the island. Or, of course, you can simply rent your own board and go at your own pace.
39 – Explore the Sacred Art Museum of Funchal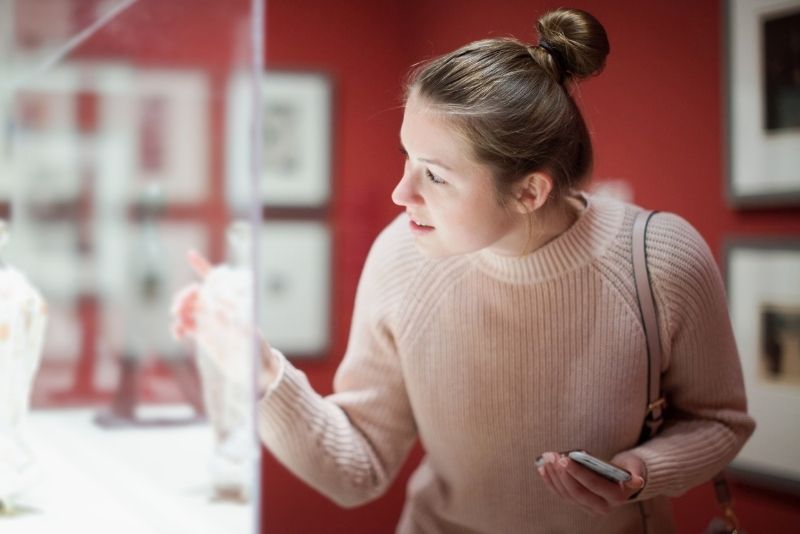 Hidden away in the 16th-century former Bishop's Palace in the heart of Funchal, the Sacred Art Museum is home to one of Portugal's finest collections of religious art, displaying an eclectic selection of sculptures, jewelry, traditional clothing, paintings, and gold and silver artifacts dating back to the 1400s.
Open Monday to Friday from 10 am to 5 pm, it's the ideal spot to kill an hour or two before digging into a hearty lunch at the nearby Rei da Poncha.
40 – Get the low-down at the Madeira Film Experience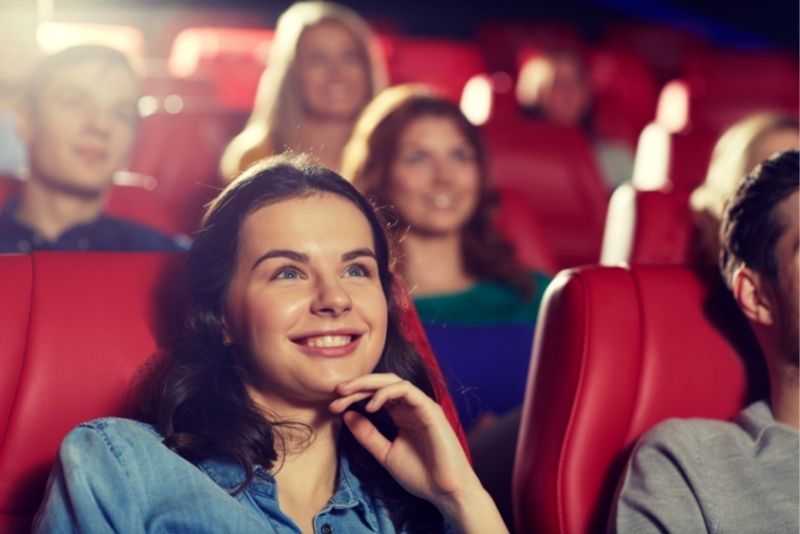 The latest addition to the island's growing list of attractions, Madeira Film Experience provides the ideal 30-minute introduction for any island vacation, creatively explaining the 600 years of history of this beautiful archipelago.
Plus, thanks to its location inside the Marina Shopping Center, there's plenty of food and retail therapy nearby to make an afternoon of it.
41 – Join a quad tour!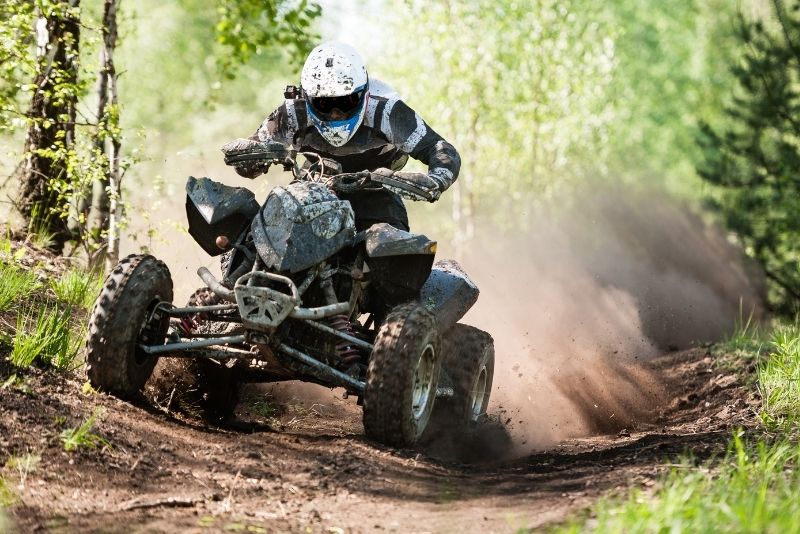 Adventurers, take note.
Quad tours are a hugely popular activity on Madeira, allowing you to explore the island's rugged trails and beautiful views at your own pace, away from the hordes of tourists and well and truly off the beaten track.
Most of these companies will offer you pick-up from your hotel or hostel in Funchal before dropping off again once the tour is done. This way, you can explore enchanting areas like the Valley of the Nuns, Pico Ruivo (the island's higher peak), and Balcões de Ribeiro Frio without having to worry about transport.
42 – Spend the day at the Madeira Theme Park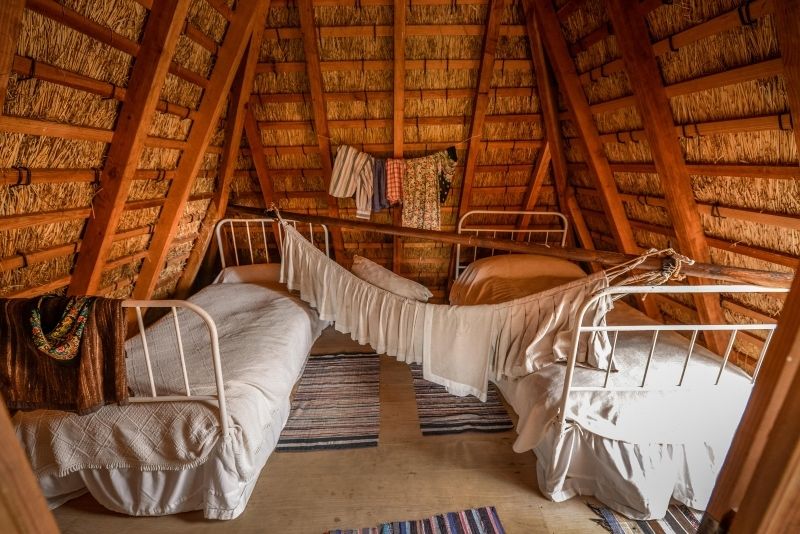 Located in Santana, up north, the fascinating Madeira Theme Park is not your typical Ferris wheel and bumper car style theme park — it's a great place for families or groups looking to learn about the island's traditions, embrace nature, and appreciate wider Portuguese history.
Despite the educational approach, there's still plenty of activities: train rides, boat rides, a cinema, and a playground, just to name a few.
43 – Get buzzed with a Poncha tasting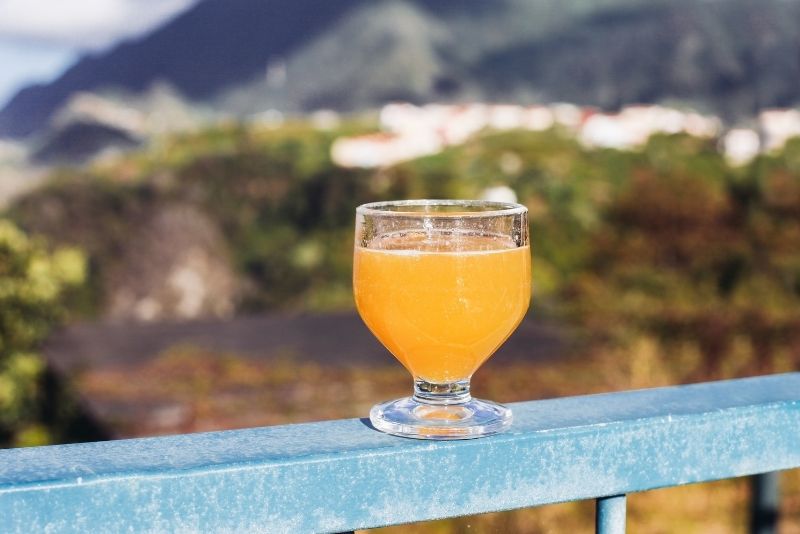 Madeira's fortified wine may be the island's most famous export, but self-appointed foodies can't leave without sampling a few of the other local treats.
One of them is Poncha! A traditional drink made from aguardiente (strong alcohol), lemon juice, honey, and orange juice (or lemon juice – try both), this sweet cocktail has origins dating back to the 16th century.
For arguably the most mouthwatering Poncha in town, make a beeline for Rei da Poncha in Funchal or Taberna da Poncha in the adorable town of Serra De Agua. Or, get the best of both worlds with a dedicated tasting tour!
44 – Drift around corners at the Faial Karting Track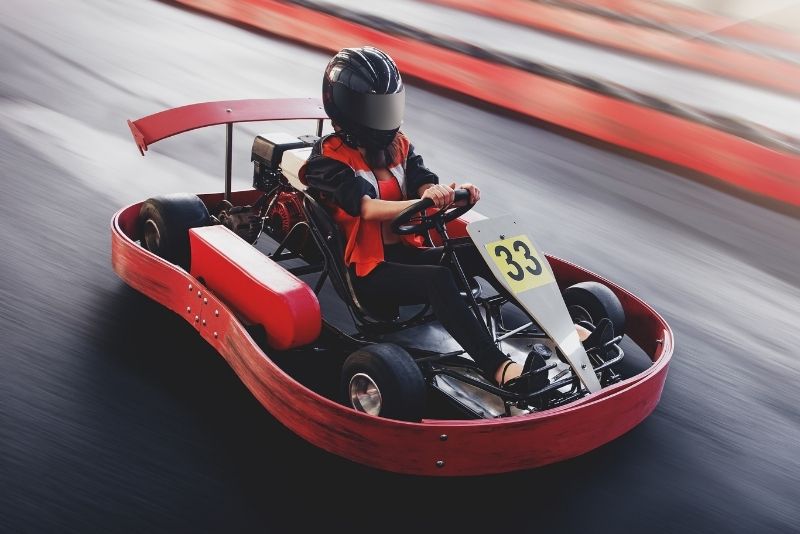 For those looking for something a little more (a lot more!) adrenaline-fuelled, Madeira's Karting Track is the place to be. With its 1040-meter-long asphalt track full of sharp bends, technical hairpins, and long straights to put the pedal to the metal, it's a great open-air activity to get the blood pumping.
What's more, thanks to its location close to Santana, it's seldom crowded and the views are splendid.
45 – Get away to Fajã dos Padres
Straddling the sea on the island's southern coast, Fajã dos Padres is a collection of quaint cottages built on the grounds of an organic farm (that offers fruit tasting).
Known for its quiet beach, cable car (that's the only way to get down the 300-meter cliff to the property), and on-site restaurant, it sells itself as a unique, off-beat attraction well worth exploring.
46 – Stuff your face on a Funchal food tour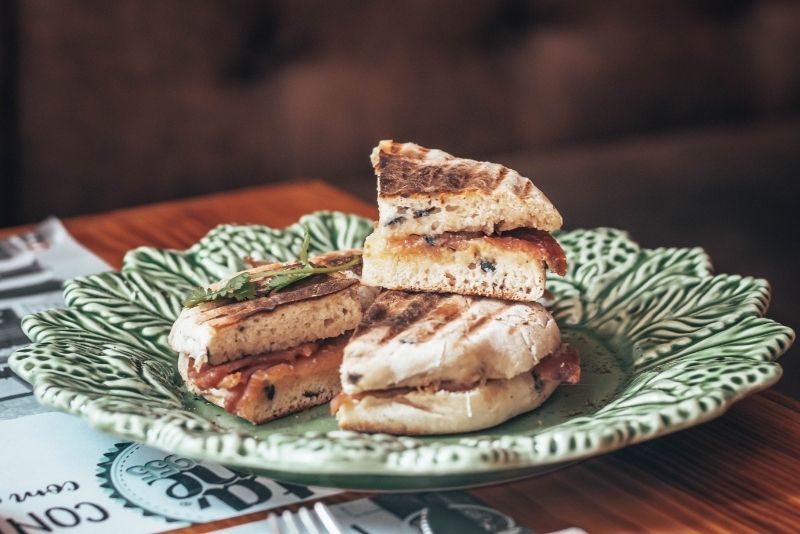 Offer a smorgasbord of delicious food at crowd-favorite restaurants, secret eateries, and streetside vendors, Funchal foodie tours give hungry visitors a chance to dig into Madeira's culinary delights while exploring the city's cobbled streets on foot.
Led by an expert local guide who'll introduce you to the hidden gems of the city center, expect to chow down on everything from crêpes to honey cake, Espetada Madeirense (beef skewers), Bolo do Caco (a traditional bread), tropical fruits, and wash it all down with locally-made wine or Poncha.
47 – Check out the Madeira Whale Museum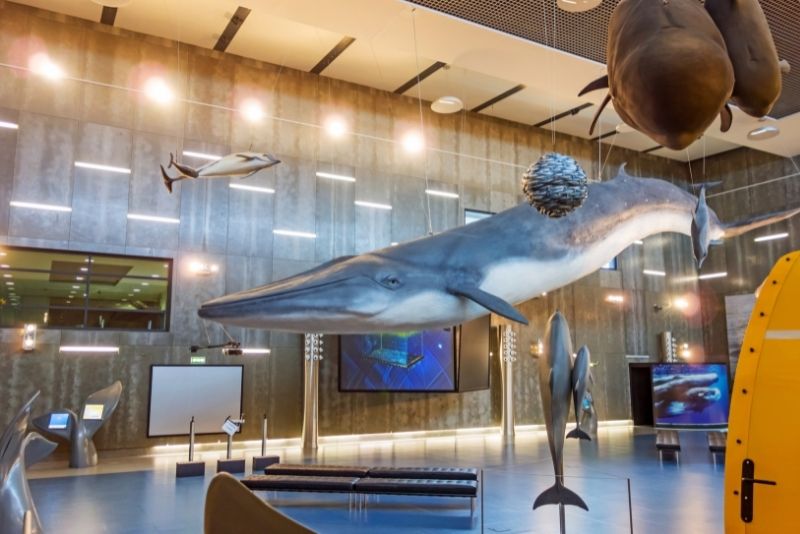 One of the more eye-opening things to do in Madeira for visitors — marine enthusiasts or otherwise — the Whale Museum (or Museu das Baleias) is located in Caniçal on the east coast and offers an unfiltered portrayal of the whaling industry through lifelike models, real tools and artifacts, and interactive displays.
Far from being totally about the industry itself, the museum also dives into the importance of marine life preservation, using 3D footage to tell fascinating stories.
48 – Witness a traditional folklore performance in Calheta Village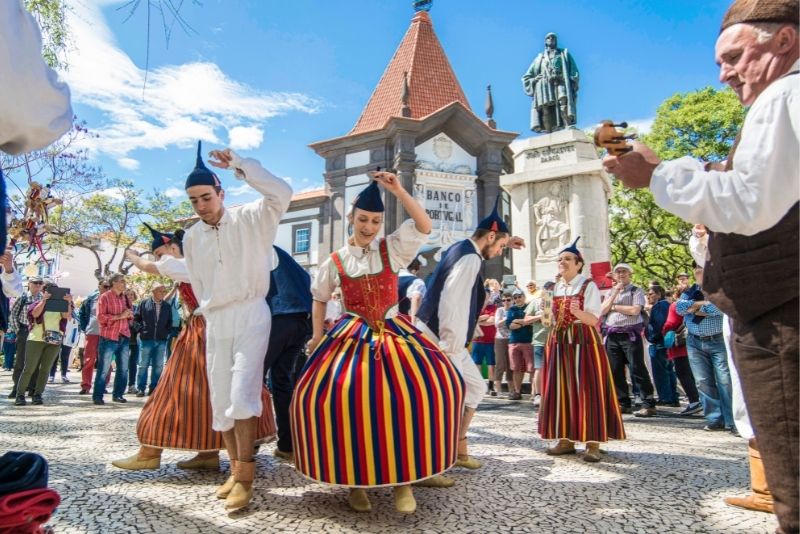 One for the culture vultures, learning about Madeiran folklore through song and dance (usually the Bailinho da Madeira) while exploring the charming Calheta village is another one of Madeira's highlights.
The group, having won the prestigious '7 Wonders of Popular Culture' award for its importance on Portuguese entertainment, has become famous for their live shows which are held at several spots throughout Calheta.
For the full experience, opt for a ticket that includes dinner with drinks (and hotel drop-off, so you can drink to your heart's content).
49 – Sample the island's best wines with an official tasting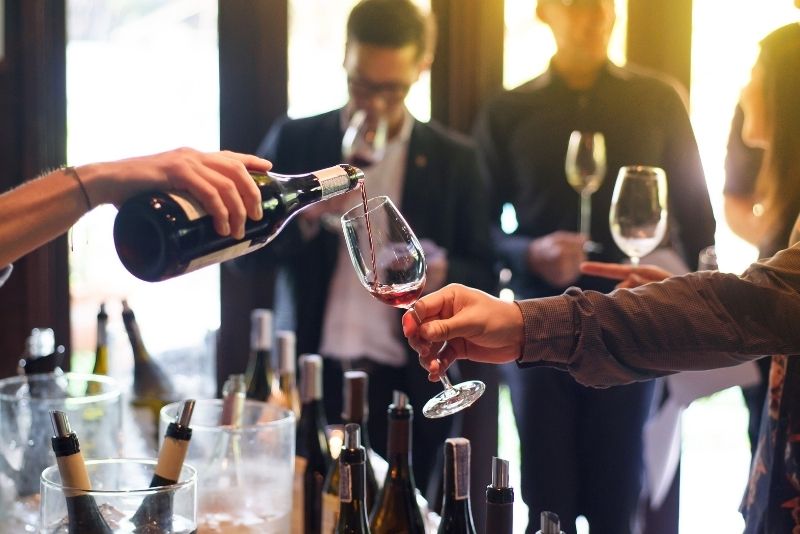 One for the thirsty travelers, Madeira's eponymous, distinctive fortified wine is as central to the culture as any food or drink, regularly found at bars and restaurants across the island.
If you're looking for a good place to wet your whistle, it's hard to look past Blandy's Wine Lodge. However, if your idea of a good time is sampling as many of the island's notable blends in one go, a locally-led wine tasting tour is the way to go.
50 – Take a dip at Seixal's black sand beach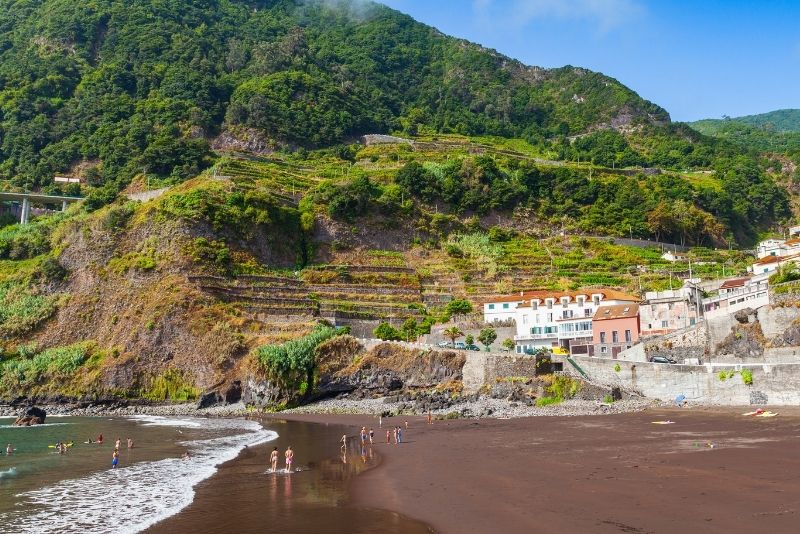 A must-visit for beach bums and avid photographs, Seixal is a fine stretch of black sand that's known to be one of the island's most picturesque spots.
Safe and popular for both swimming and surfing, with lush mountains as the backdrop and at the foot of Seixal town, it's a must-visit, plain and simple.
As a little bonus, unlike a lot of the island's beaches, Saixal has no entry fee.
51 – Snap your new profile pic at the 3D Fun Art Museum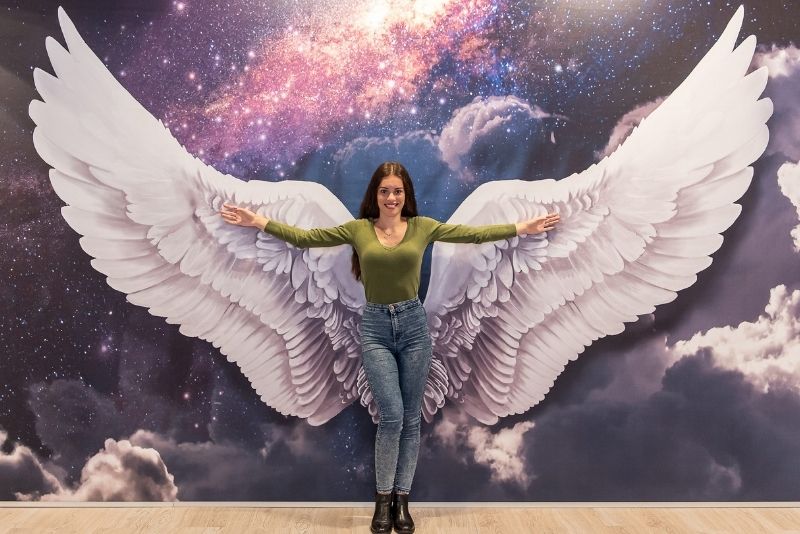 A wondrous place where optical illusions come to life, this fascinating Funchal attraction features over 40 head-scratching, entertaining, and eye-catching rooms sure to stop the scroll and make your friends at home jealous.
From 3D photos that make it seem like you have a dinosaur as a pet to puzzling brain-teasers, it's a great spot for the entire family to enjoy.
52 – Spot stalactites in the São Vicente Caves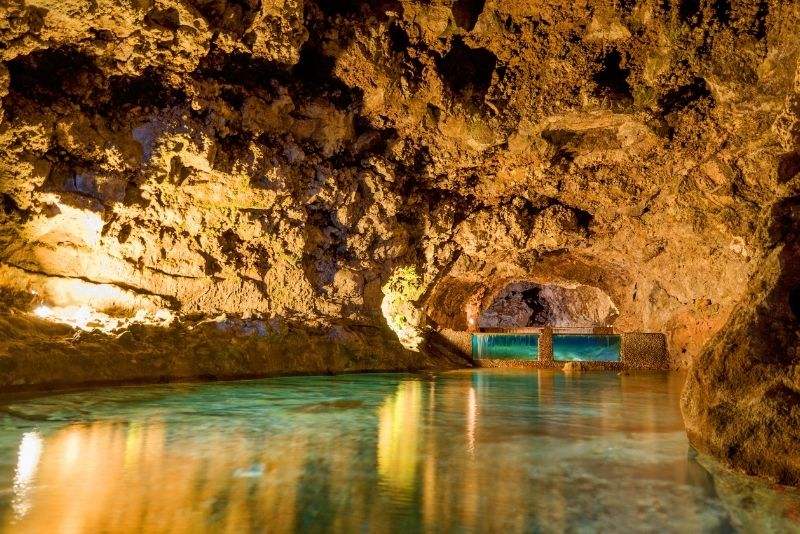 Any keen spelunkers out there?
Looking to get underground and explore some of Madeira's finest natural formations via a series of winding tunnels that date back to volcanic eruptions 890,000 years ago? Then São Vicente Caves is the place to be.
Located in the eponymous city on the northern coast, the underground route traverses about one kilometer beneath the surface, complemented by the Volcano Center that explores the fascinating development and history of the region.
53 – Explore Ribeiro Frio Natural Park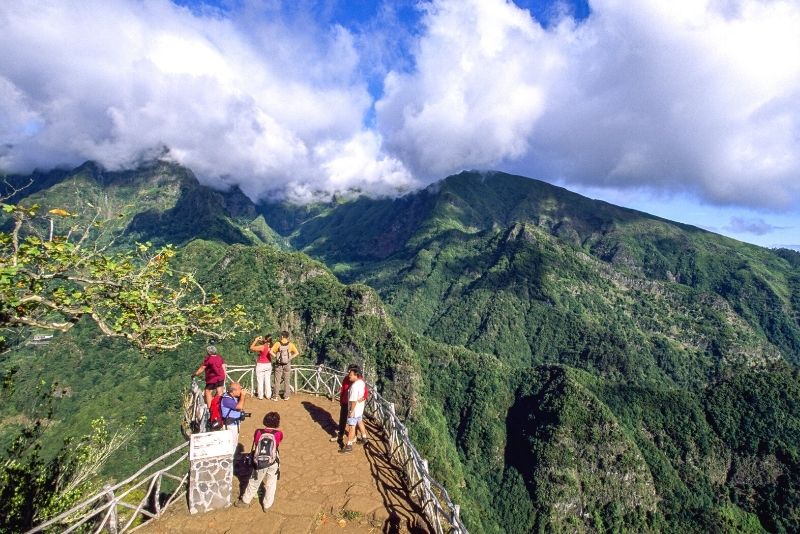 For a day trip that'll show you the very best of Madeira's beauty, make a beeline for Ribeiro Frio Natural Park — a natural oasis home to hiking trails, kilometers worth of Levadas, waterfalls, the magnificent Laurissilva forest, and stacks of unique wildlife.
With lush greenery and several different trails to explore from mild to more challenging, this stunning spot up near Santana is (usually) best visited on a pre-organized trip that includes transportation, lunch, and guided walks.
54 – Stop by the Câmara de Lobos fishing village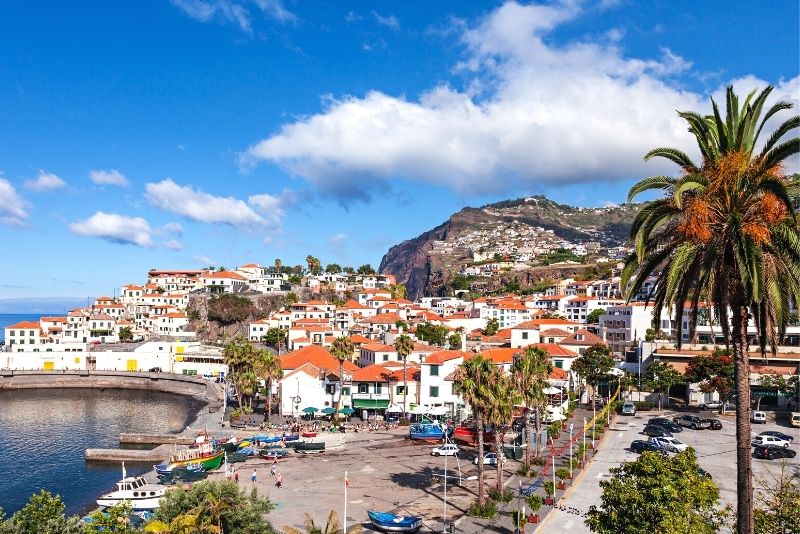 A beautiful fishing village about 10 kilometers west of Funchal (an easy taxi ride away) with an idyllic setting, Câmara de Lobos is a picturesque and cultured spot on the southern coast that's worth visiting for its long history, colorful boats docked at the bay and fresh-as-can-be seafood.
The rolling hills beyond are full of banana and cherry plantations, the high palm trees give off a tropical vibe, and the Catfish drying by the beach is a unique (albeit slightly creepy) sight as any.
55 – Get a little wet in the Garajau Nature Reserve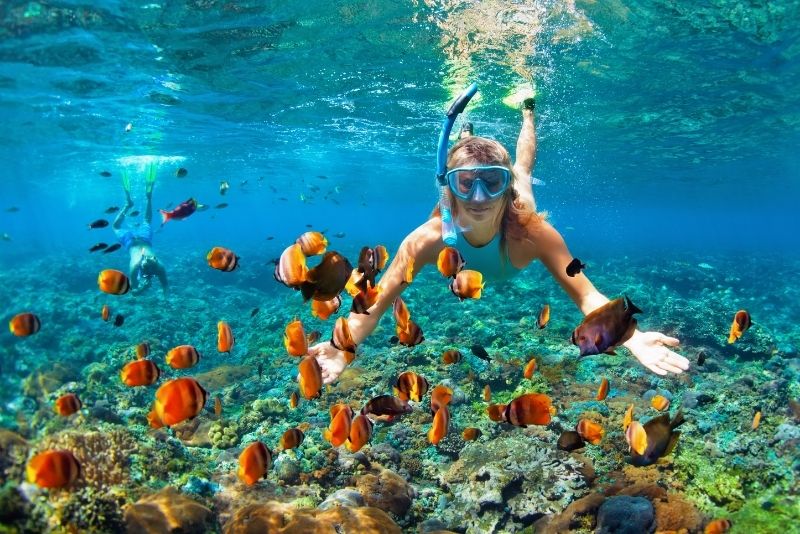 With a dramatic backdrop of majestic cliffs; and warm, cobalt waters crashing into the island's south coast, Garajau Nature Reserve is the go-to spot for exploring Madeira's wildlife-abundant oceans. With that in mind, it's no surprise that it's become a haven for snorkeling and scuba-diving adventures.
If you'd prefer to stay (mostly) dry, you'll find a plethora of kayaking tours available too (just don't forget a hat!).
56 – Play a round of golf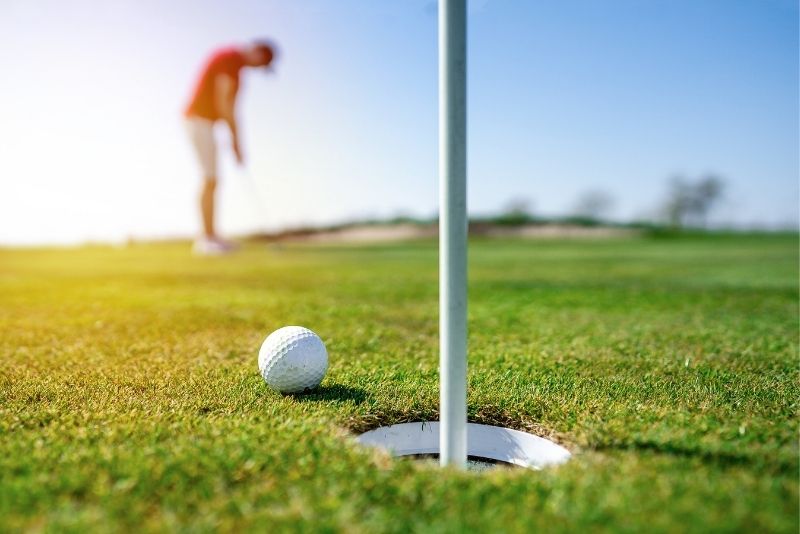 A surefire way to drive jealously into all your putter friends back home, Madeira's two main courses — Palheiro Golf in Sao Goncalo and the Santo da Serra Golf Club in Machico — dish up scenery that needs to be seen to be believed.
With 18 and 27 holes respectively, made up of well-manicured fairways with blue waters and jagged mountaintops as the backdrops, you'll be wanting to play a second-round in no time.
Can't decide which one to go to? Palheioro also offers a luxe hotel and spa, while Santo, thanks to its remote location, is usually quieter.
57 – Cool off at the Madeira Aquapark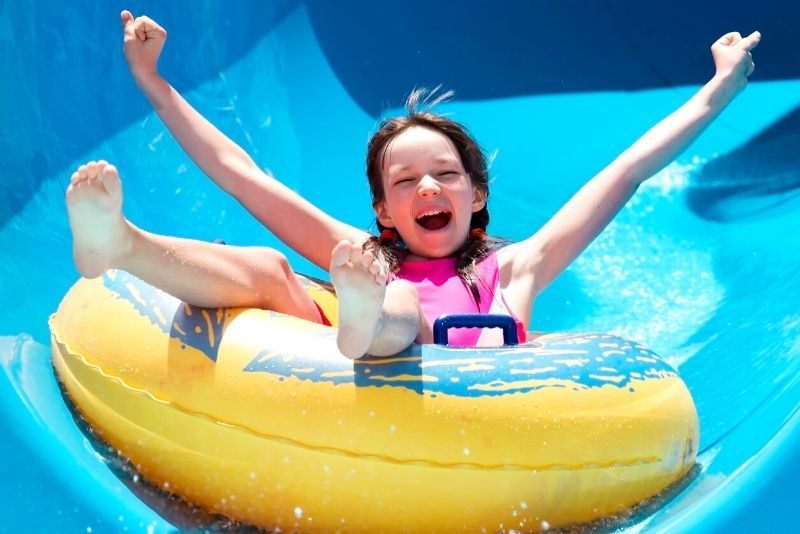 As a family-friendly spot in Santa Cruz, Madeira Aquapark is an awesome warm-weather destination that's home to a handful of gentle waterslides and shallow pools perfect for little ones.
Not to be dismissed as a kids-only park, there's also a bar, restaurant, and occasional DJs spinning the decks.
58 – Sit front row for a traditional dinner and show (folk or fado)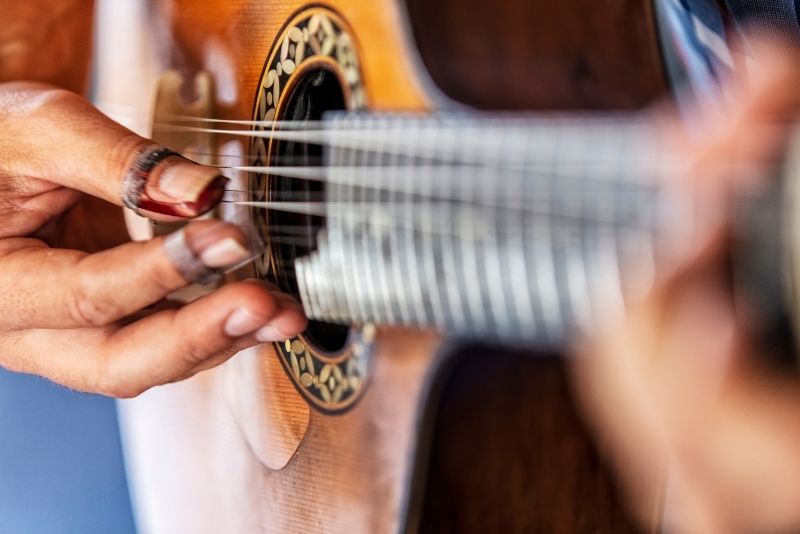 A vibrant and exciting way to experience traditional Portuguese culture, a night out at either a Fado or folk show promises to be an unforgettable evening.
Typically performed Funchal (or occasionally near Calheta Village, as mentioned in #48), expect live music and folk dancing throughout most parts of the set meal (and plenty of drinks), and traditional costumes to boot.
59 – Roll out the picnic blanket at Santa Catarina Park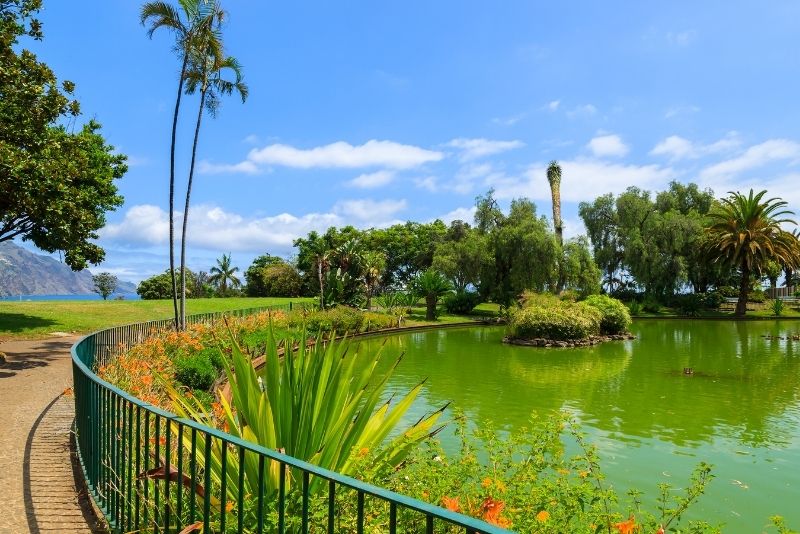 A lush green space selling itself as the ideal place to read a book, throw down a picnic rug, or simply soak in the stunning views of Funchal Bay, Funchal's enormous Santa Catarina Park has been a magnet for locals and tourists alike for decades.
With a labyrinth of winding paths; an artificial pond that's home to ducks, swans, and fish alike; plenty of benches for resting tired feet after exploring the park on foot or bike (two-wheeled vehicles are permitted inside), and a playground for kids, it's a necessary addition to the bucket list.
60 – Book a table in advance at Leeno's Bar & Restaurant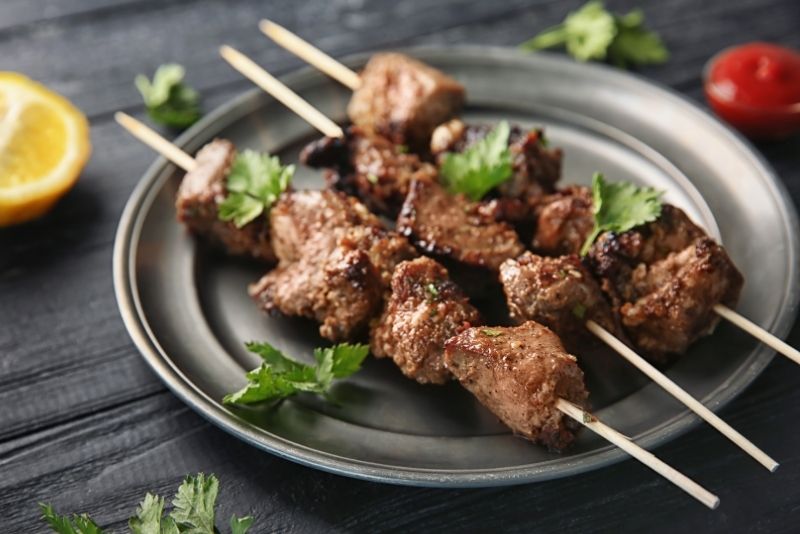 A happening eaterie located on Funchal's main drag (Rua de Leichlingen), Leeno's Bar & Restaurant is a popular pit stop for its impeccable meals, generous portions, and excellent service.
Serving up everything from traditional Portuguese dishes to chicken kievs and grilled prawns, not to mention various meat skewers off the grill, it's a great choice when wanting a hearty, authentic meal.
61 – Sample fresh foods at the Lavradores Farmer's Market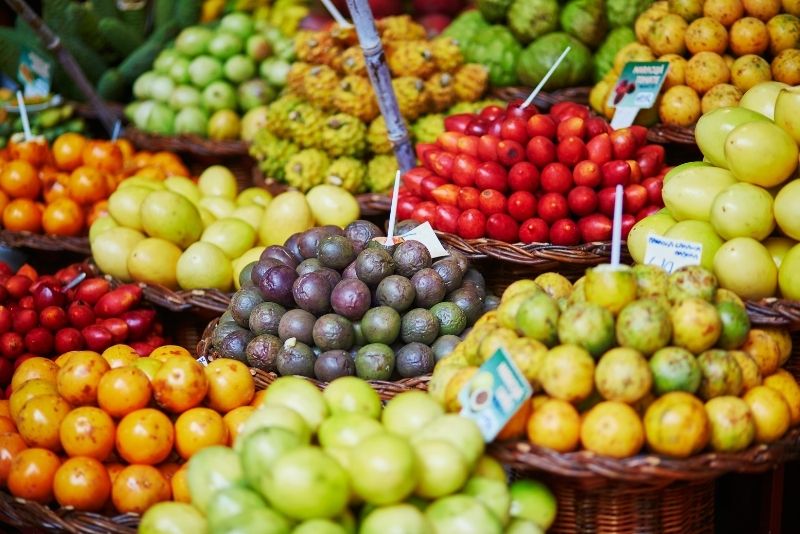 Open every day, the vibrant  Lavradores Farmer's Market has been a staple Funchal meeting and shopping point for over 80 years.
With lots of stalls selling fresh produce, including fruit, veggies, and fish; cheese and meat products; not to mention a handful of artisans selling pottery goods or handmade soaps that are ideal for gifts back home, there's no way you'll be leaving empty-handed.
62 – Hop around the rooftop bars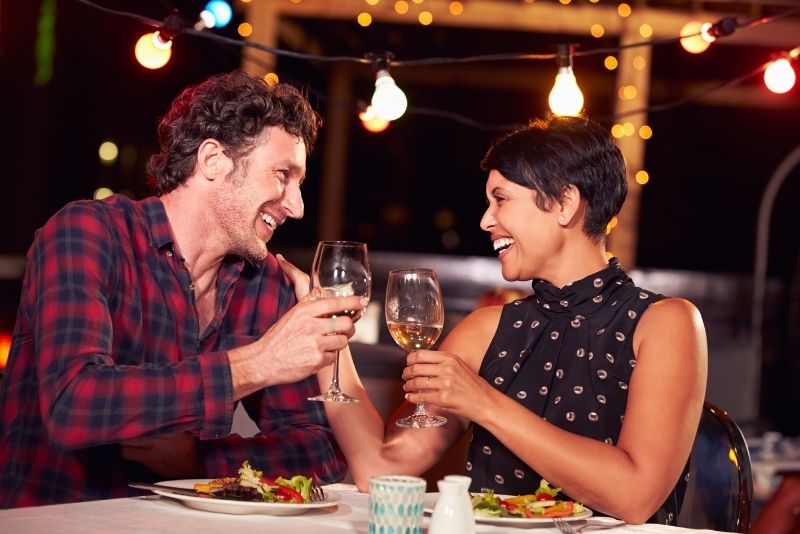 With several rooftop bars in Funchal offering dramatic views over the port — made even more inspiring when the sun goes down — don't miss out on sipping cocktails under the stars at one of these stellar spots.
Located on top of the CR7 Pestana Hotel, Off-Side offers classic and signature cocktails in jugs to share and no shortage of sangria; atop Belmond Reid's Palace, the candlelit Villa Cipriani is relaxing and romantic, albeit a little more pricy; 360º Bar at The Vine Hotel boasts an infinity pool (for hotel guests), and Terrace Bar on the roof of the Sé Boutique Hotel regularly hosts jazz music and cinema screenings in its colorful, grassy setting.
Looking for a romantic night out? Then Pretas at the Castanheiro Boutique Hotel should be high on the list thanks to its sophisticated atmosphere and exotic drinks.
63 – Try your luck at the Casino da Madeira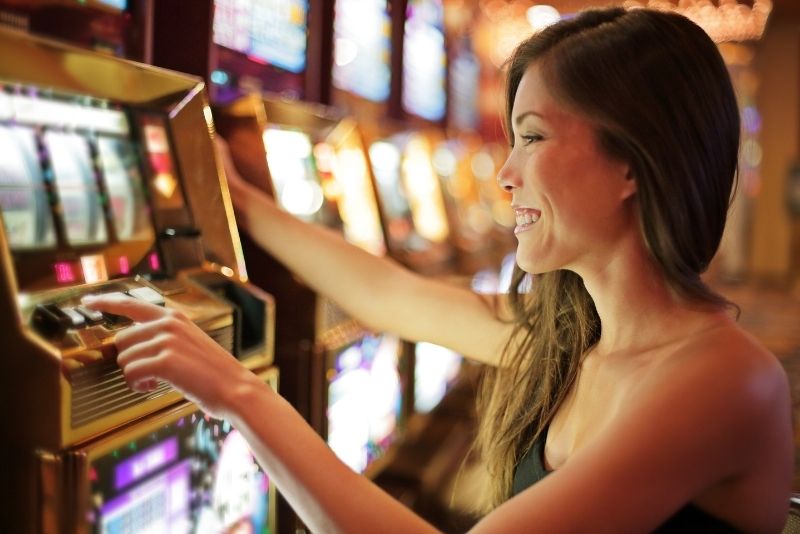 Looking for a fun night out? Then put your money where your mouth is at the Madeira Casino Royale, a happening nightlife spot just 5 minutes from the center of Funchal. With hundreds of slot machines, live poker tables, and regular music performances, it's no wonder this spot has been luring in Funchal visitors since 1976.
Not a fan of gaming? No worries! The casino also hosts the revered Copacabana nightclub plus two restaurants and three bars to get the liquid confidence brewing.
64 – Embrace the atmosphere of the Flower Festival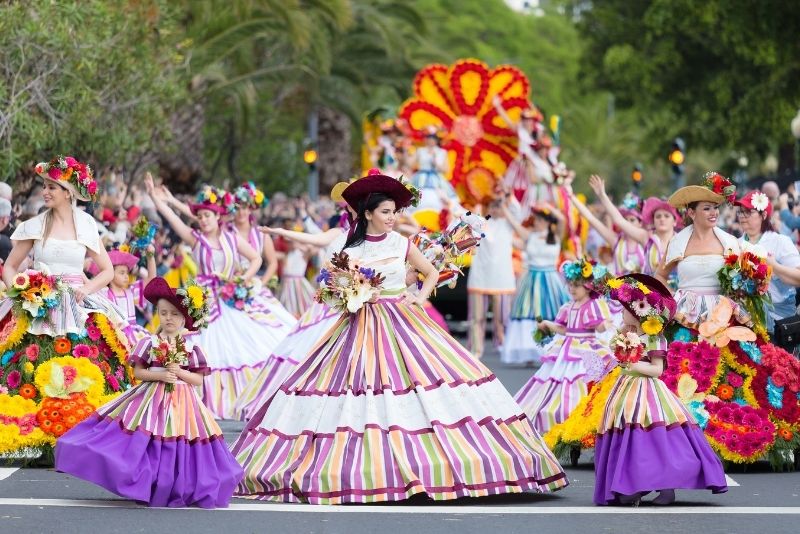 The Madeira International Flower Festival is a riot of color and scent, drawing visitors from all over the world to Funchal during the first week in May* to experience Funchal come alive.
With lavish flower arrangements displayed all over the streets; a flower exhibition at the Praça da Restauração; and the annual, extravagant parade full of floats and music (operating since 1979), there's truly no better time to visit.
(*dates are traditionally in May, with altered dates in 2020 and 2021 for obvious reasons)
65 – Join in on the New Year's Eve celebrations!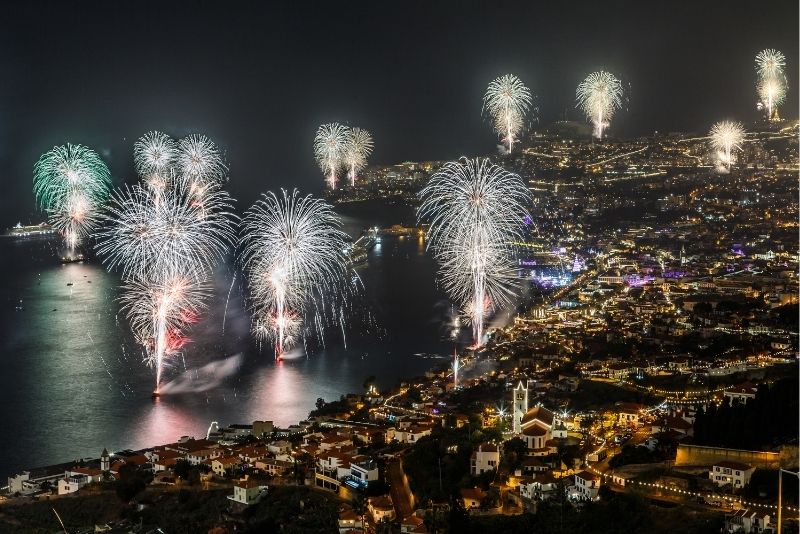 Spending the holidays in Maderia? Then don't miss out on the island's spectacular New Year celebrations. Make no mistake, this is no typical Times Square countdown or typical firework display: Madeira boasts the Guinness World Record for the Largest Pyrotechnic Performance in the world, an 8-minute show that needs to be seen to be believed.
The bars will be pumping, the drinks flowing, and the sky will be illuminated like no tomorrow. While the best views are captured from the harbor on a boat party, so long as you find yourself in Funchal on NYE, you've done alright.
Where to stay in Madeira?
There are plenty of places to stay in Madeira, from quaint guesthouses and boutique hotels to bare-bones hostels or luxury resorts overflowing with opulence and sophistication. With a wide range of different types of accommodations available, finding the right place isn't as straightforward as it seems. Thankfully, Booking.com has done all the work for you, with a huge range of options to suit any traveler.
Need a recommendation?
For luxury in Funchal, consider Reid's Palace, A Belmond Hotel; the Royal Savoy; the Savoy Palace; or the Castanheiro Boutique Hotel (known for its rooftop bar).
On the flip side, if you're wanting affordability, look no further than the Vitorina Corte Guesthouse or Funchal Design Hotel.
Hot tip: book an airport transfer
Beloved for their convenience, pre-arranged airport pickups will take you from the airport to your hotel in no time at all, without any fuss or headaches!
Funchal Airport (otherwise known as Cristiano Ronaldo International Airport) is just a 15-minute drive from the city of Funchal or less than an hour to anywhere else on the island, but if you don't want to waste time or money taking a taxi back and forth, check out all of the transfer options available.
Plus, the drivers are more than happy to give out a few local tips to start your adventure.
Final thoughts
Thanks for checking out our collection of things to do in Madeira! If you have anything you'd like to add to the list, feel free to leave a comment below.
Where travel next? Check out our collection of fun things to do in the Azores Islands, Lisbon and Porto.
Start booking your adventure now. Bon voyage!