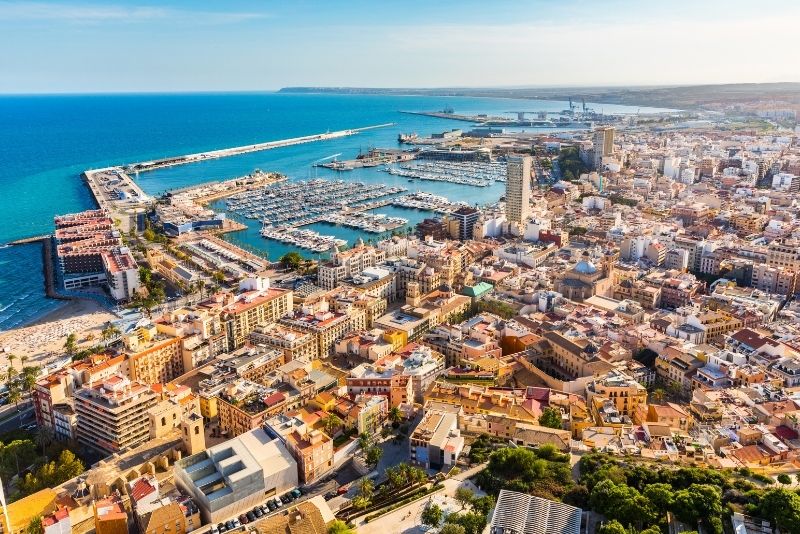 Located on Spain's Costa Blanca, Alicante is a great family destination and has some excellent attractions in and near the town.
For the past 7,000 years (give or take), this charming spot has hosted a range of different cultures; and its natural beauty is a strong draw in and of itself!
As one of the oldest cities in the country, its streets tell an amazing story of human civilization, from nomadic groups and Roman emperors to a series of political regimes.
Nowadays, it offers a nice mixture of relaxing daytime vistas and boisterous nightlife, plus a whole series of unique spots to explore.
With its rich history, there are many intriguing sites to visit — castles, old churches, museums and natural wonders.
With its sun, sea and sand in abundance, Alicante golden Mediterranean beaches are a summer paradise for leisure-seekers looking to relax and unwind in the sun.
The Explanada de España with its vibrant beach bars, al-fresco dining and lively nightlife compose the city's heart and soul during the summer months.
Ready to plan your trip? Let's discover the most fun things to do in Alicante.
1 – Discover Santa Barbara Castle on a walking tour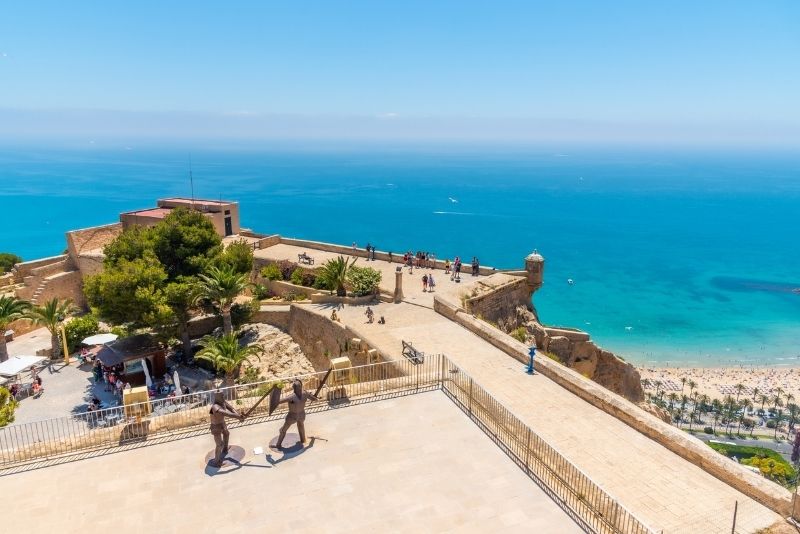 You have to see the views from Alicante's Santa Barbara Castle. This spectacular fort was constructed between the 9th and 13th centuries when the area was under Muslim control. The strategic position of the castle affords clear views over the town and out to sea.
The castle is open to the public for tours and there are lifts inside Mount Benacantil to make the trip accessible to everyone. Take in the picturesque views and discover the history of this amazing building during your time in Alicante.
After you've quenched your thirst for knowledge, quench your literal thirst with a beer tasting!
2 – Take a photo of Casa Carbonell
Built by a successful local entrepreneur in the early 1920s, Casa Carbonell is one of La Explanada's stand-out landmarks. Visitors to the city would be forgiven for thinking that it was a royal palace or some kind of grand municipal building but it was constructed as a home.
It-s old-fashioned architecture, classical features and waterfront location make it a popular photo destination in the city. It now houses shops and restaurants on the ground floor, offices on the second and luxury apartments on the top two floors.
3 – Sail away on a boat tour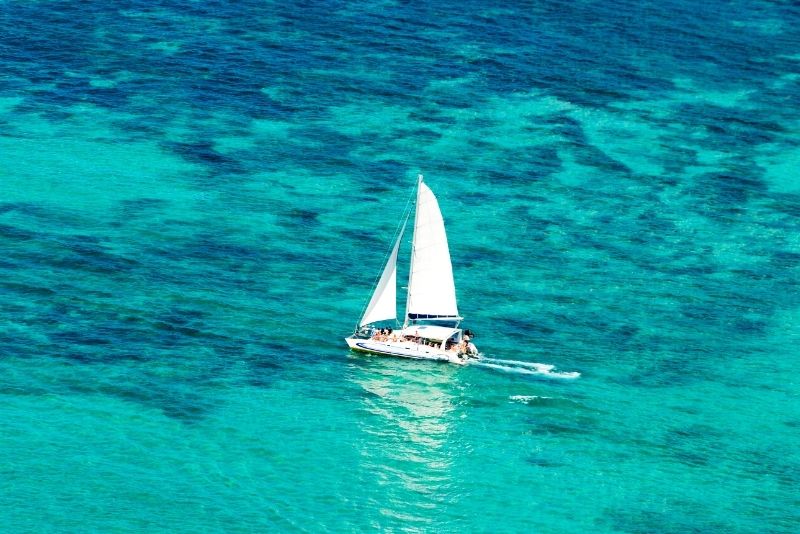 Whatever kind of boat tour you're into you can find it in Alicante from hands-on sailing trips and snorkeling excursions to relaxed cruises with food and music. Take the time to relax and hit the water on one of these fun boat tours.
Travel in an old-fashioned sailing yacht or an up-to-the-minute catamaran for a truly unforgettable experience. Explore the serene waters just outside the city and the small islands which are just waiting to be discovered.
4 – Float with the clouds on a paragliding trip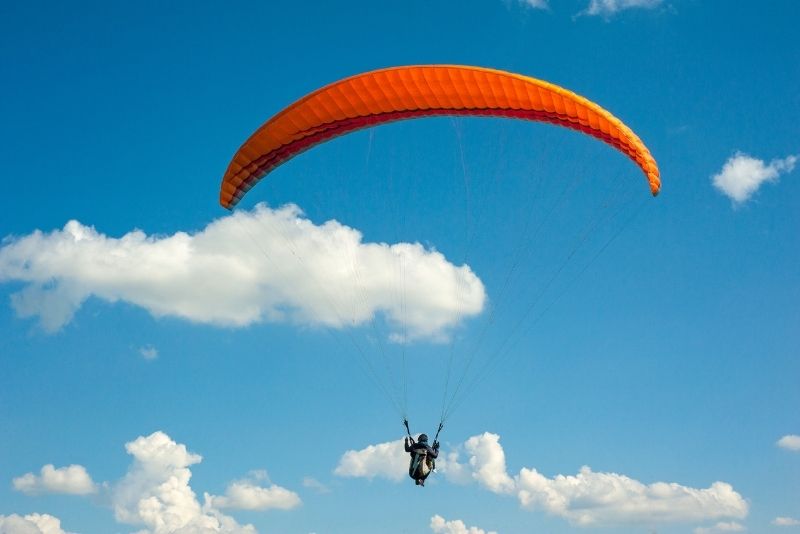 The sun, sea and sand and those warm Mediterranean breezes make paragliding in Alicante an exhilarating thrill. This is an ideal thing to do for all you adrenalin junkies. The best thing about taking a tandem paragliding flight with a professional is you can just relax, lean back and take in the sights.
Float high above the sparkling blue waters and golden sandy beaches of Costa Blanca. See the coastline in a unique and invigorating way. These flights are suitable for first-timers and although it may be your first paragliding experience it probably won't be your last.
5 – Promenade on the Explanada de España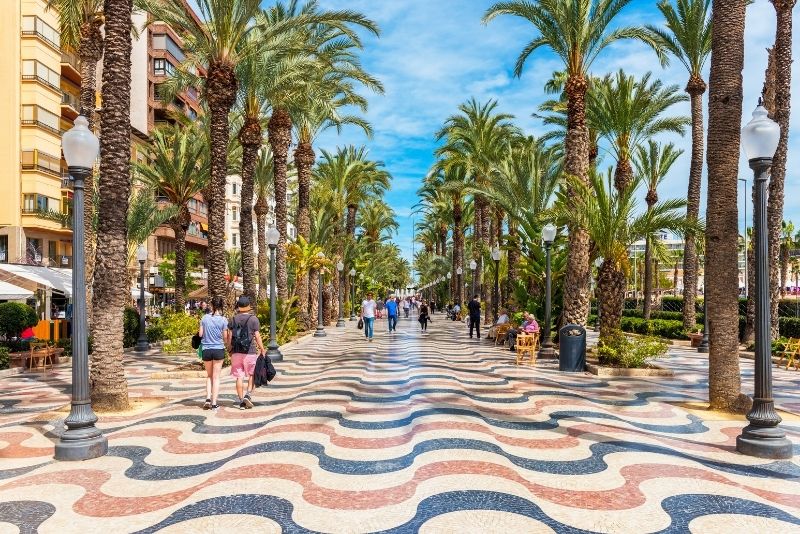 The palm-lined Explanada de España is one of the most popular locations in Alicante. Running parallel to the waterfront along the path of the old sea wall, the Explanada is one of the nicest places to walk in the city. It has grand buildings, a yacht marina, a selection of restaurants and delightful sea breezes.
The striking mosaic decorations of the walkway are constructed from over 6 million tiles which form a repeating wave pattern. Some places worth checking out on the street include Casa Carbonell, Casa Lamaignere and Canalejas Park which has some very old and gnarly-looking ficus trees.
6 – Enjoy a wine tour and tasting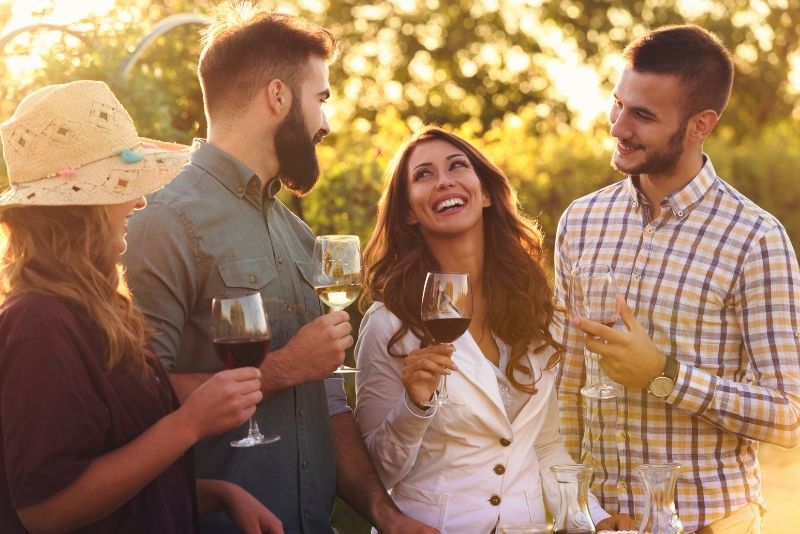 Curious about the wines of Alicante and how they differ from other Spanish regions? Why not take a vineyard tour and discover the traditions and processes that go into making the district's best wines. Head to the wine region of Vinalopo and see the methods for yourself.
Try a selection of local wines, and snacks, and learn what makes them distinct. Enjoy the area's best wines in the place of their birth and talk to knowledgeable wine producers about their craft.
Along with the fantastic flavors, these excursions are a great way to learn more about the local agriculture… a pretty unbeatable combination!
7 – Swim with sea lions at Mundomar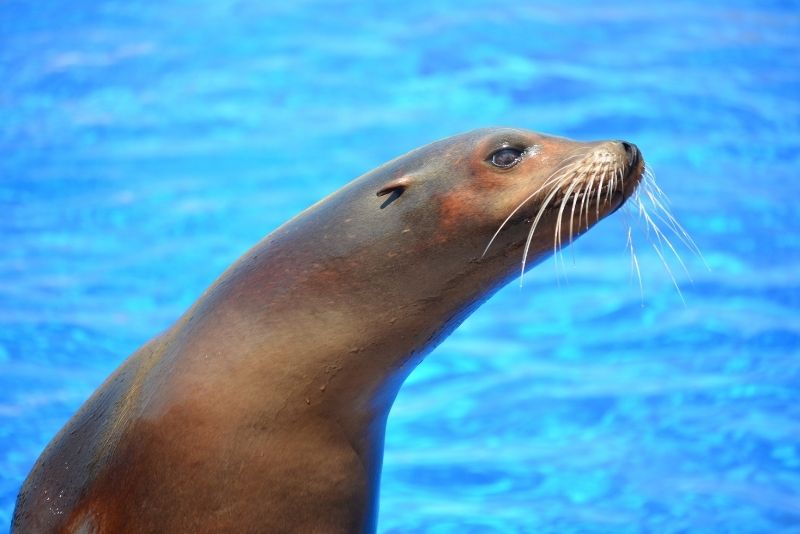 Looking for fun things to do with the kids while in Alicante? Mundomar is designed with kids in mind. The park is home to cute and furry primates, radical reptiles and dazzling tropical bird species that will keep everyone enthralled.
There's a bunch of fun animal experiences to try out. Ever wanted to go swimming with sea lions or see what the life of a dolphin trainer is like? Mundomar has you covered. You can also pose for photos with the resident parrots and make a souvenir you'll really love.
8 – Go horse riding through the mountains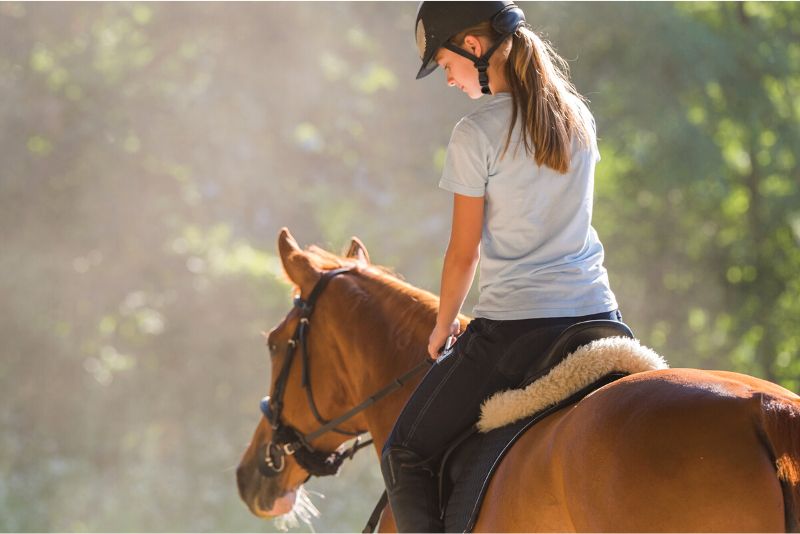 The scenery around town is famously stunning, and one of the best ways to experience it at length is on horseback!
These rides offer a whole new perspective on the region and its natural treasures, from windswept cliffs to beautiful beaches.
Hop aboard your trusty steed and enjoy these stretches of wilderness, with expert guides providing plenty of interesting commentary as you ride.
Simultaneously relaxing and invigorating, this tour will help you connect with the local natural sphere in a deeper way – horses included!
9 – Enjoy the melodies during candlelight concerts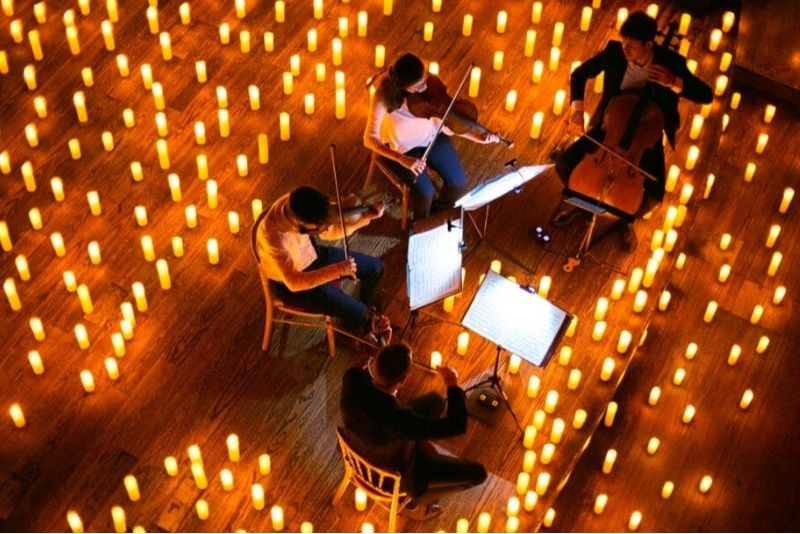 Held in spectacular venues all over the city, these concerts combine world-class music with a relaxing, intimate atmosphere.
Sit back and enjoy the sweet sounds of the orchestra, as hundreds of candles flicker around you. And just wait until you hear what programs they have to offer!
White there are some traditional symphonic performances, this series is known for its elegant take on more modern catalogs, from film scores to globally renowned rock and pop bands.
Grab a seat, breathe deeply, and let yourself be transported!
10 – Say your prayers at Santa Iglesia Concatedral de San Nicolás de Bari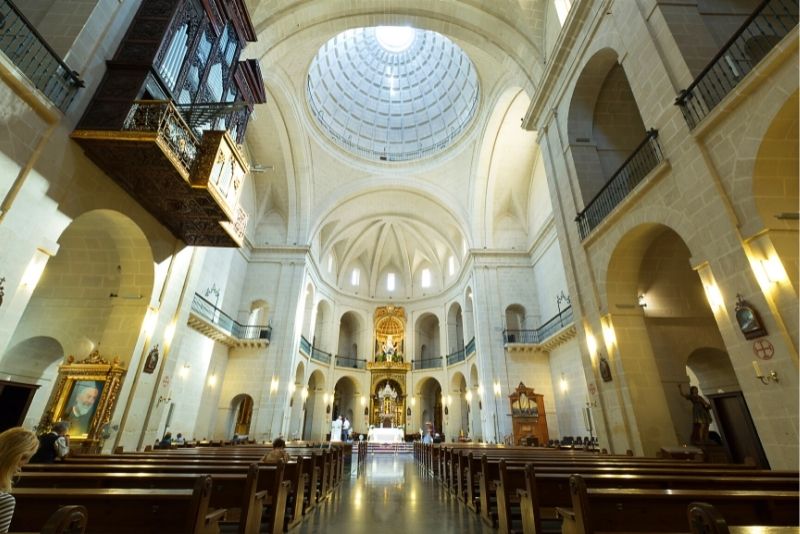 This very unornamented cathedral was mostly constructed in the early 17th-century. It was designed by Agustin Bernardino, a student of the famous Spanish architect Juan de Herrera and sits on top of an older religious site that previously contained a mosque.
Parts of the building, including the cloister date back to the 15-century and feature a more gothic style. The Chapel of the Holy Communion is worth a look as it is recognized as one of the most exquisite examples of Spanish Baroque architecture.
11 – Indulge yourself on a tapas food tour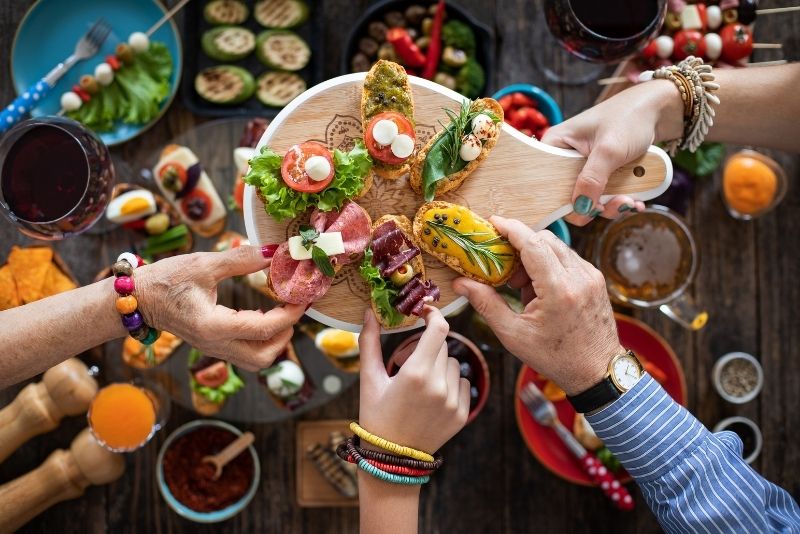 Tapas, the most quintessential of Spanish dishes deserves special attention during your time in Alicante. There is good tapas and there is bad tapas though, right? Step away from the tourist traps and visit the places where locals go to eat.
Visit a few of the best local eateries and sample delicious local foods and drinks. If you want to scratch beneath the surface of the local culture this is a great way to do that.
As you nibble on thin slices of prosciutto and plump olives impaled on toothpicks, you'll get to learn all about the city's booming culinary culture, and maybe get some inspiration for where to go next!
12 – Day trip to Tabarca Island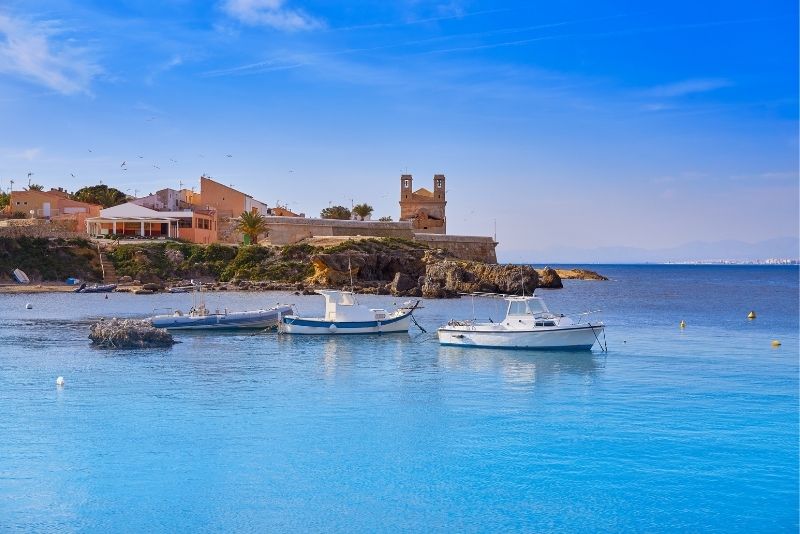 Just off the coast of Alicante is the small archipelago known as Tabarca Island. Consisting of the island of Tabarca and the islets of La Cantera, La Galera and La Nao, Tabarca is just over a mile long. It has some historic walls from an 18th-century fortification and an attractive fishing port to explore.
Take some time out to enjoy the seclusion of this tiny island. Explore its unspoiled coves and beaches and take a dip in its transparent waters. The island has a town with some great restaurants and visitors should definitely try the local specialty known as "caldero."
13 – See the palms at El Palmeral Park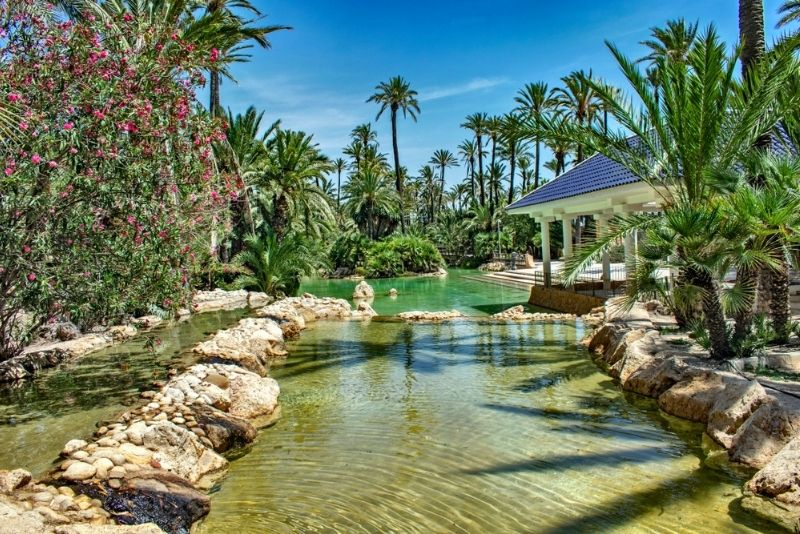 A lush oasis just outside of the city center. Part of Europe's largest palm forest, El Palmeral Park is a beautifully landscaped spot with shady palms, flowing waterfalls and brightly colored hibiscus flowers.
Aside from its fair share of palm trees, check out the large collection of desert plants such as yucca and cacti. The park also has a small cafe to sit at and soak up the ambiance with a drink or two.
It's an especially great option if you're traveling with kids, with playgrounds, sports fields, and even a zipline to provide hours of entertainment!
14 – Cool off at Terra Natura zoo and water park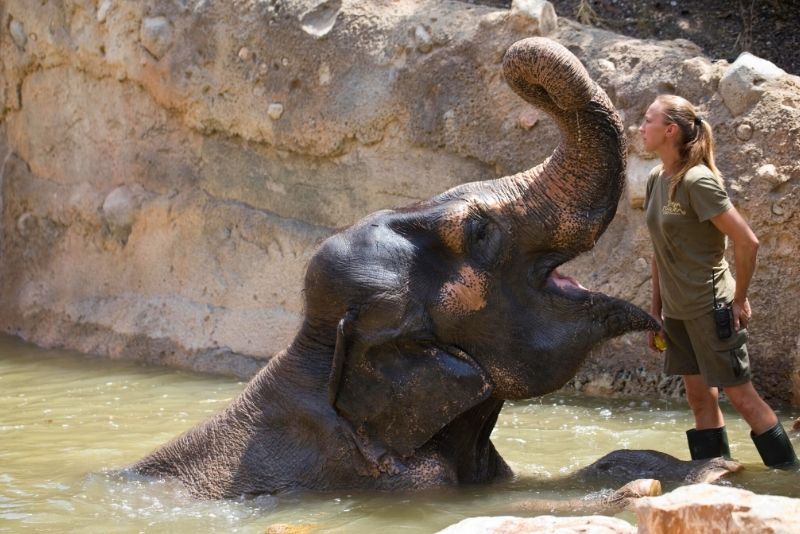 There's a splashing good time waiting at Terra Natura water park and zoo. The zoo houses many creatures, including poisonous tarantulas, dart frogs and rattlesnakes as well fuzzy llamas and ocelots.  Its larger mammals are nothing short of glorious and include elephants, rhinos and tigers.
When you've checked out the creatures, you can cool off in the water park. Ride some of the thrilling slides or chill out by the waterfalls, there are lots to do here for the whole family.
15 – Venture through the via ferratas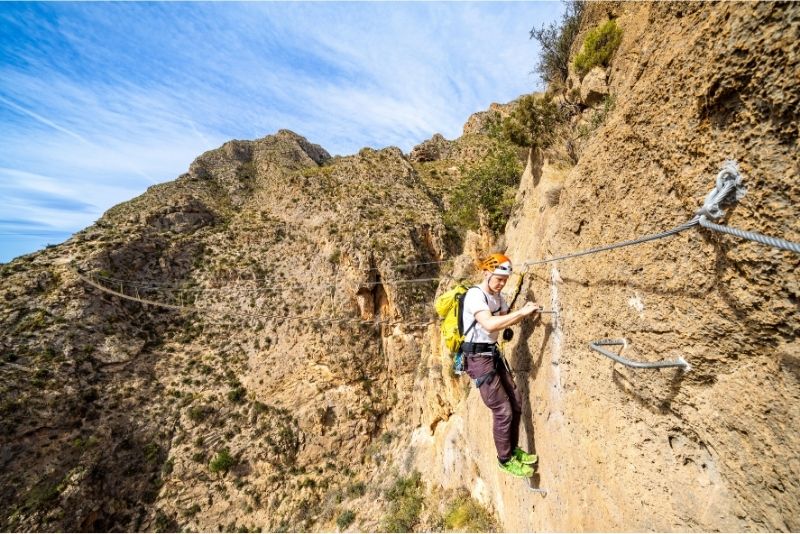 This is one of those activities that truly provides something for everyone!
While these rock climbing routes are certainly full of adventures and exciting challenges, they also make the process a whole lot safer than normal, courtesy of rails and harnesses.
Get your rock climbing fix on some truly spectacular routes!
16 – See the ruins of Castell de Sant Ferran (Castillo de San Fernando)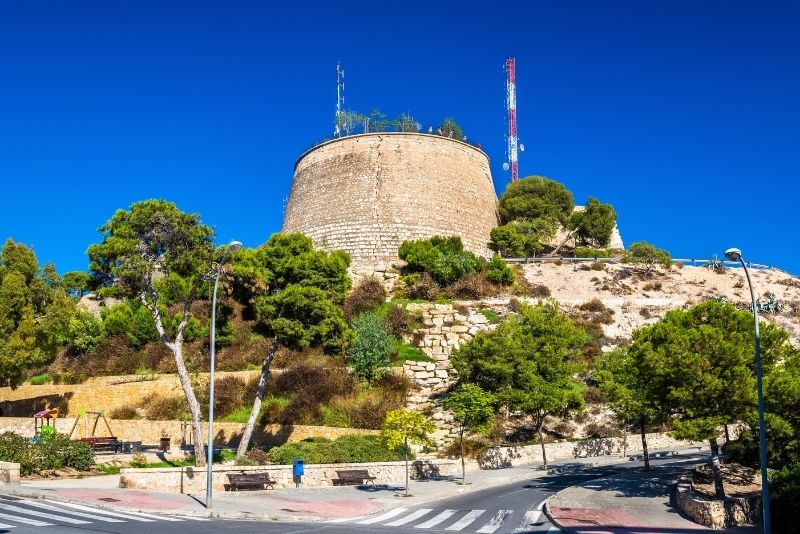 The neoclassical Castle of San Fernando was built in the early 19th century during the Peninsular War. It was established so as to protect the city from an overland attack. According to records, the castle was built quickly and poorly and began to crumble shortly after.
It never saw proper use as a fortress but served as a prison until 1939. It is now a city park and the ruins are open to the public to explore. It is a bit of a walk but the impressive views from the top of the hill make it worthwhile.
17 – Power through the waves by jet ski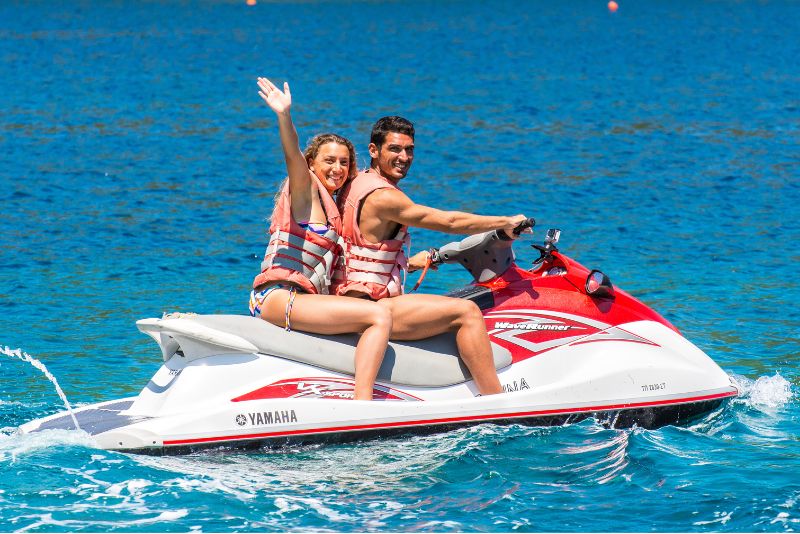 Want a little more adrenaline in your sightseeing? Grab a jet ski and start exploring!
These zippy, fun-filled vehicles are perfect for getting out and about, offering a little more range – and excitement! – than some other methods.
See the sights, race your friends, and enjoy an unforgettable vantage point as you navigate your flashy vehicle through the water.
If you want to get even more adventurous, you can cruise over to nearby coastal hotspots such as Tabraca, Torrevieja, and Portichol.
18 – See Picassos at MACA Contemporary Art Museum of Alicante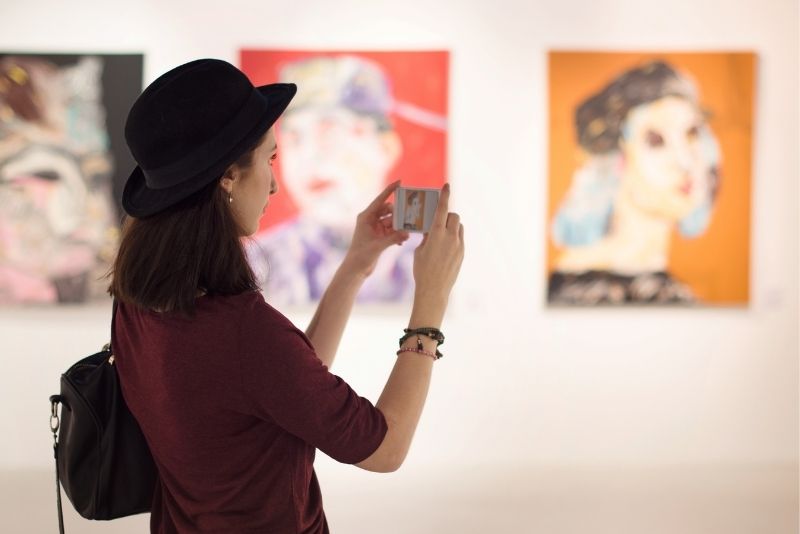 The collection at MACA includes significant works by modern Spanish artists, including Pablo Picasso, Joan Miró, Salvador Dali and Juan Gris. Many of the works were collected by renowned Spanish artist Eusebio Sempere throughout his lifetime and even include works by Sempere himself.
The museum venue itself is noteworthy as it is Alicante's oldest civil building and has been used as a city hall, granary and jail in its long 400-year plus lifespan. A trip to MACA is a great thing to do for those interested in the country's best-renowned modern artists.
19 – See the Imperial Palm Tree at Huerto del Cura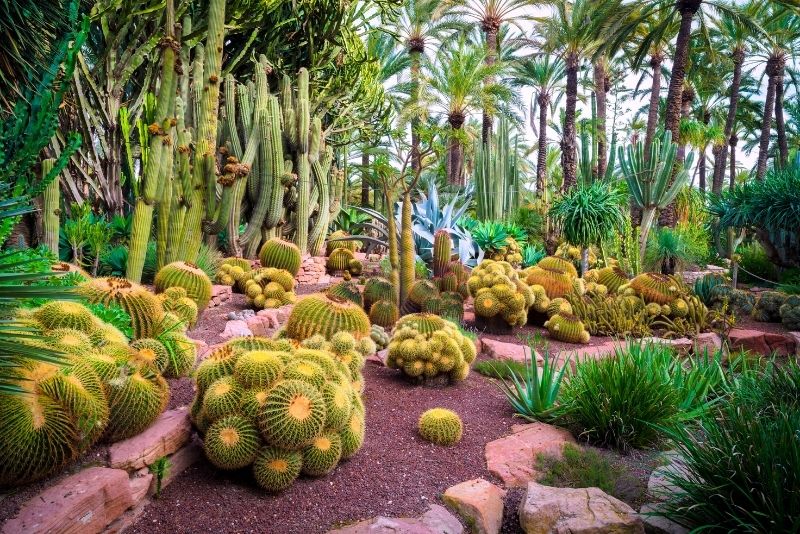 Alicante's Huerto del Cura is an artistic garden of national importance. The garden is home to the 180-year-old Imperial Palm Tree, named for Empress Sissi of Austria who visited the garden in 1894. There is a permanent photo exhibition dedicated to this rare and majestic tree within the park.
The garden also contains many sculptures, ponds, ornamental plants and a garden house that features a rare use of palm timber in its construction. The Huerto del Cura is nearby Parque El Palmarar.
20 – Go bungee jumping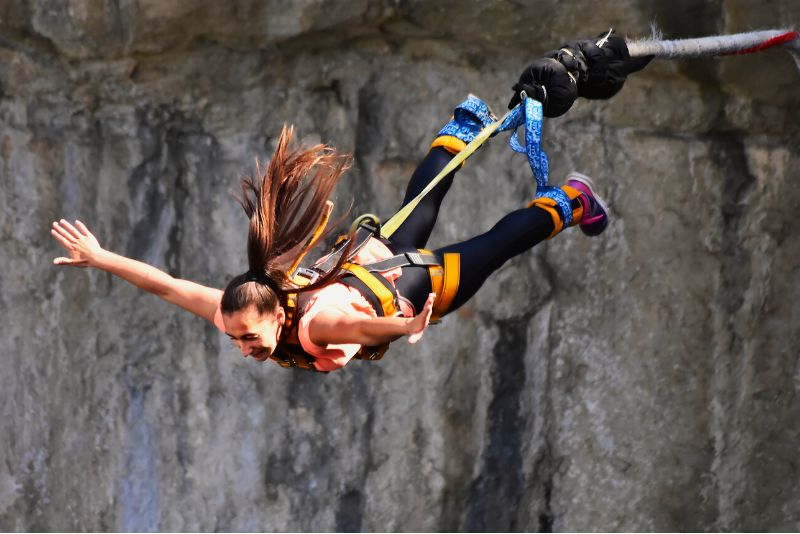 Picture it: you're standing high up in the air, enjoying the spectacular view… and then you jump off the ledge!
Don't worry, this isn't some dystopian thought experiment; it's just a round of bungee jumping!
After ascending the 164 foot platform, you'll be strapped to a cord and given the rundown by your instructor. And then… it's leapin' time!
As you spring off the top, you'll quickly feel the tension of the rope safely pulling you back… but not before you get the thrill of flight, plus a bit of a bounce!
21 – See the city's oldest church, the Basilica of St. Mary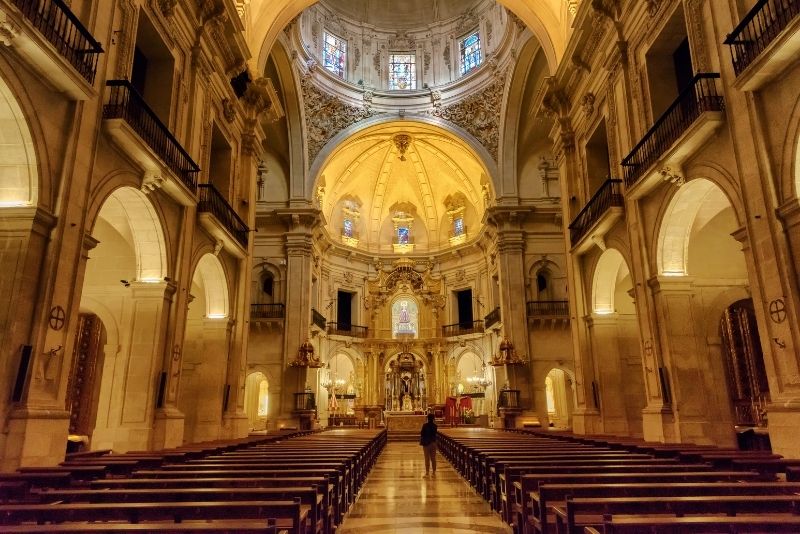 If you like historical religious sites, you're in luck. The Basilica of St. Mary is the city's oldest active church and was built between the 14th and 16th-centuries. It features some eclectic styles with an ornate baroque facade, gothic arches and rococo altar.
Though tucked a little out of the way, St. Mary's is worth a visit to take in the peaceful ambiance and exquisite decor. The outside features an image of the Virgin Mary by local sculptor Juan Bautista Borja, a student of Leonardo Julio Capuz.
22 – Explore the marine world on a scuba diving tour
The only thing better than checking out the water from above? Going under it, of course!
The scuba diving in the region is famously fabulous, with a stellar combination of clear waters and abundant wildlife to enjoy.
Whether you're new to the sport or a seasoned seagoer, you'll find plenty of great sites to enjoy here!
As you descend below the waves, keep an eye out for the diverse, colorful animal residents of this balmy Mediterranean paradise, which features one of the first protected marine reserves in the country.
23 – Explore the Archaeological Museum of Alicante (MARQ)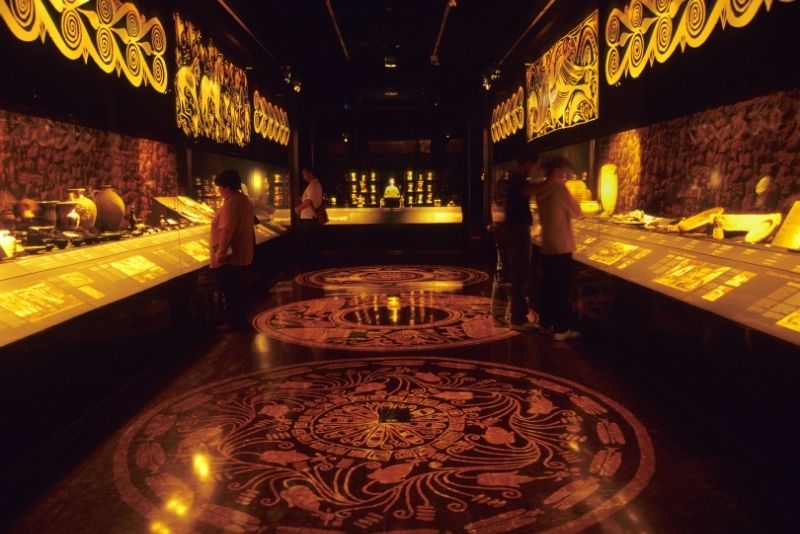 Due to its position in Europe, Alicante has often been at the center of major historical events. The city has been heavily influenced by a number of ancient civilizations such as the Greeks, Romans and Moors who all occupied this area at some time.
The Archeological Museum is the best place to visit to truly understand the story of the city. See fascinating artifacts collected over thousands of years of the city's history, including many Greek and Roman items. This is a must-see for lovers of history.
24 – Discover the Lonja de Pescado museum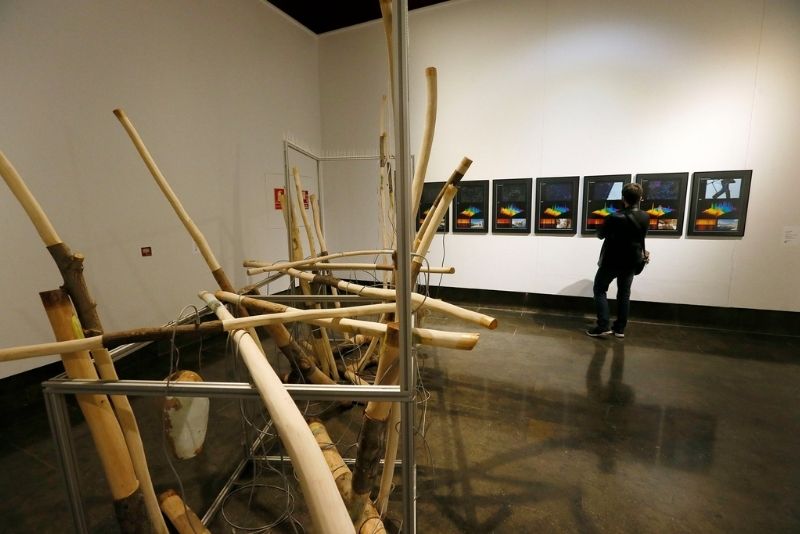 Anjother of Alicante's interesting museums and exhibition spaces is the Sala de Exposiciones de la Lonja del Pescado. The museum has a program of exhibitions that changes throughout the year.
Previous exhibitions have included a retrospective of the paintings of Vincent Van Gogh, a reconstruction of the Titanic with reproduction items from the ship and the photographs of Alex Amorós.
And be sure to take some time to explore the building itself; with its Arabic designs throughout the interior and exterior, it is a monument to the multicultural history of the region.
25 – Get moving on a bike tour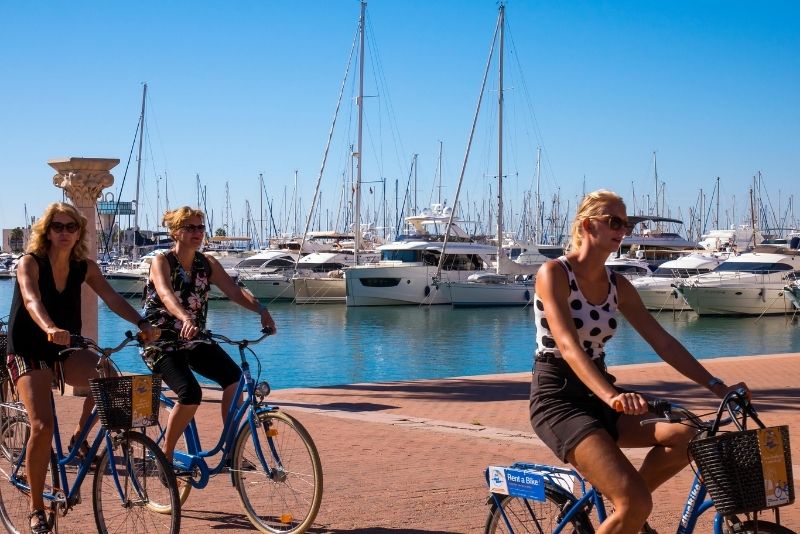 One of the most fun things to do in Alicante is to take a bike tour of the city. Not only is it one of the most eco-friendly ways to get around it also gives you access to the less-traveled parts of town.
Take one of these fun guided tours and get up to date on the city's history and culture from a knowledgeable local guide. Hit up the most famous spots, including the Old Town, La Explanada and the Town Hall and discover the best places to shop, eat and party in Alicante.
26 – Check out the views from La Ereta Park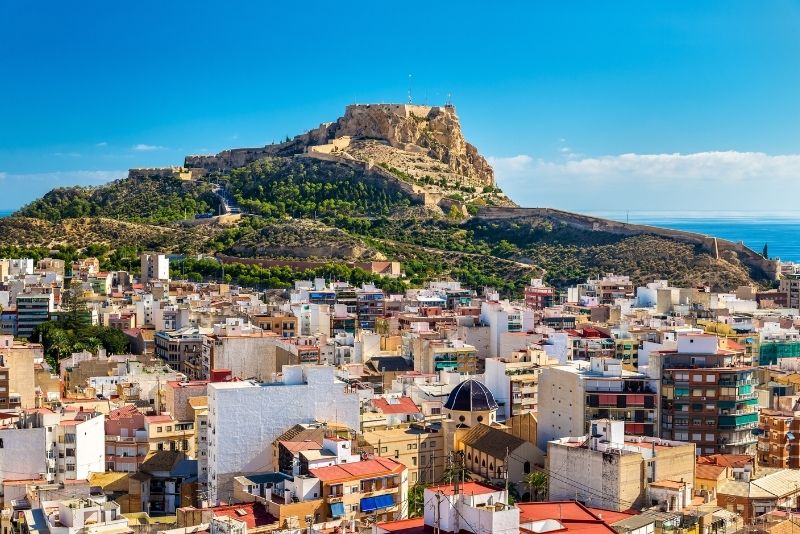 On the slopes of Mount Benacantil, near Santa Barbara Castle, is where you can catch some of the best views of the city. This is where La Ereta Park can be found which is nearly seven hectares of pathways, epic vistas and natural Mediterranean landscapes.
The park has cooling fountains and shady benches to relax on, as well as some small cafes and a restaurant. You can reach the park via a short walk through the Bairro de Santa Cruz — where the views are definitely worth the walk up.
27 – Get educated at Gravina Museum of Fine Arts (MUBAG)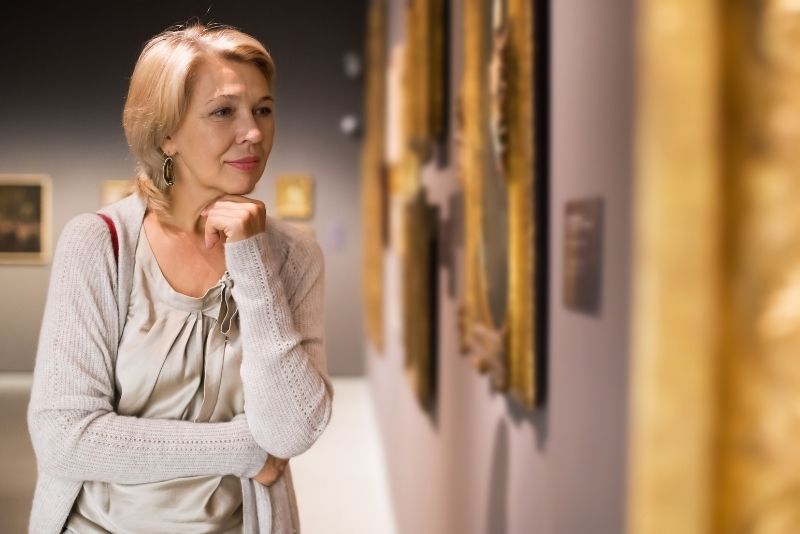 Looking for cultural things to do in Alicante? MUBAG, the city's museum of fine arts would be a great place to start. Located in the grand Palacio del Conde de Lumiares, it has over 500 works by mostly Spanish artists, many local, from the last 200 years.
The museum has a permanent collection and also temporary exhibits which vary throughout the year. It is conveniently close to the Museum of Contemporary Art and admission is free. It's definitely worth a visit for those interested in the region's fine art scene.
28 – Dive into coasteering… literally!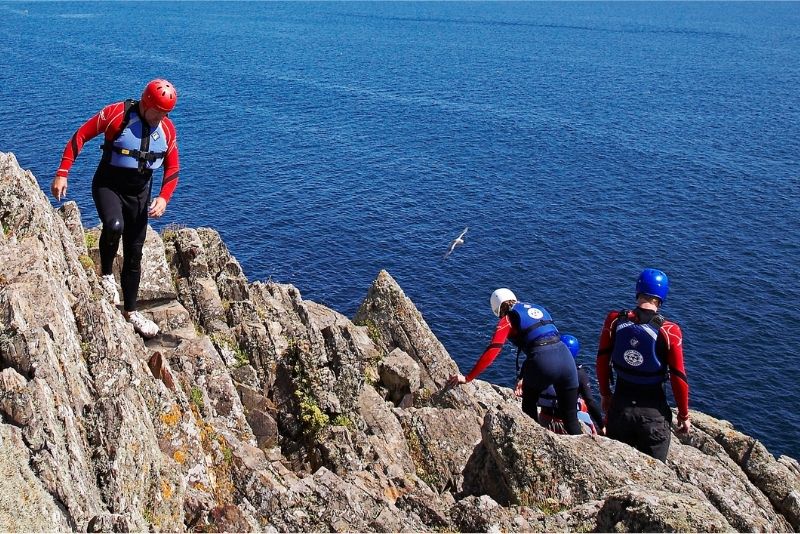 If you want a little extra excitement with your snorkeling tour, why not start it by jumping off a cliff?
Coasteering takes the classic sport of canyoning and gives it an oceanic twist – in this case, leading you along the cliffs, waterways, and landscapes of the Villajoyosa area.
And of course, you cap it all off by snorkeling through the clear currents to see who lives beneath the waves!
29 – Float with the birds on a parasailing trip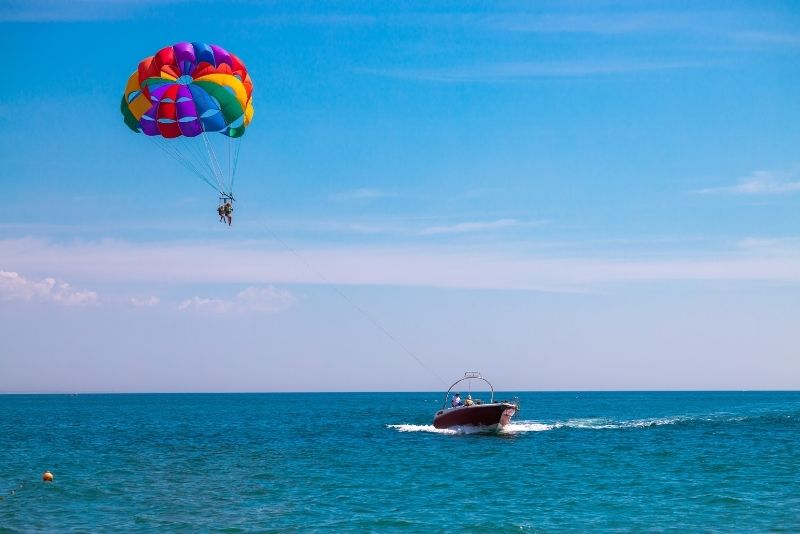 Sitting on the beach is great but soaring above the beach is even better! Parasailing in Alicante is a must-try activity for all lovers of flying and extreme sports. Feel the sea breeze in your face as you float high above the sandy beaches of the Mediterranean.
First-timers may be surprised how peaceful parasailing actually is while you are up in the air. Parasailing can be enjoyed as a group activity too as each parachute is able to hold five people simultaneously.
30 – Eat like a local at Mercat Central d'Alacant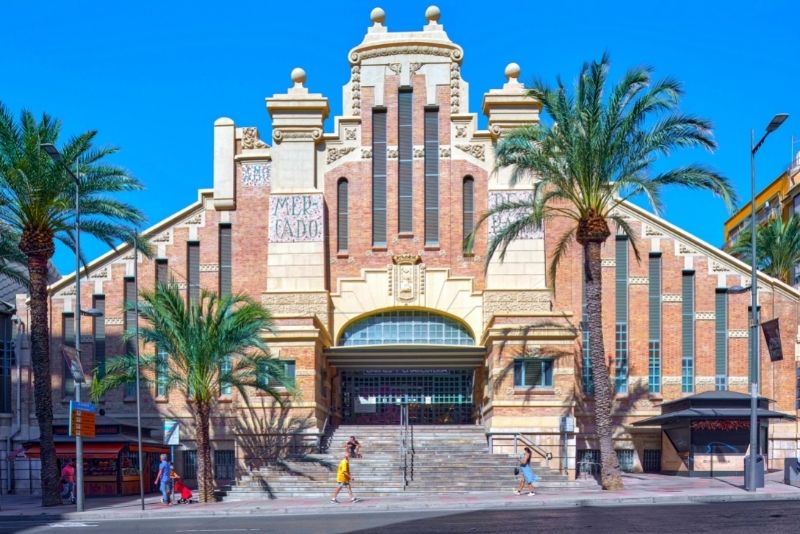 For the freshest seafood in town check out the stalls at Alicante's Central Market. The building itself is a beautiful redbrick construction that looks more like a church than a market. Lovers of great Mediterranean foods and ingredients will be in their element here.
Freshly-caught fish, newly-baked bread and great quality meats, vegetables and cheeses of all varieties are on offer. Try the local dishes and flavors but be sure to arrive early as many stalls may be closed by 1 p.m.
31 – Head out on a kayaking adventure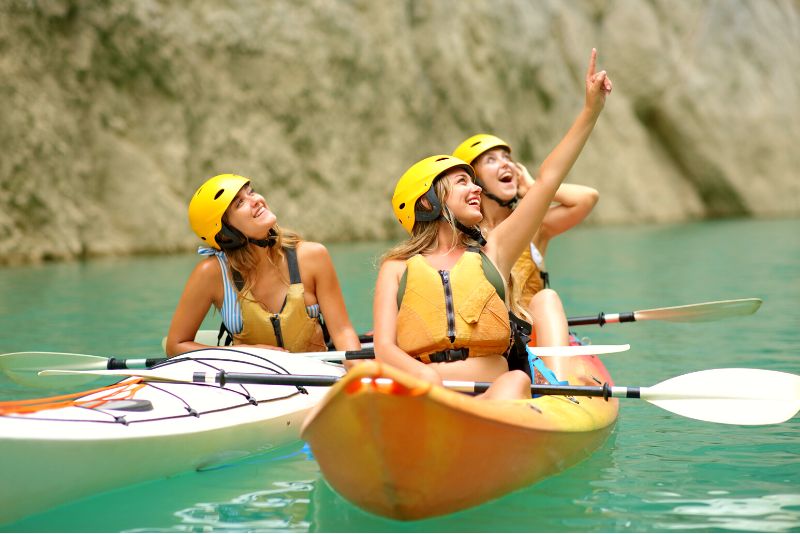 Back on the surface, you can put your sense of adventure – and your arms! – to the test with some kayaking.
As you paddle through the crystal-clear waters, you'll be able to explore secluded caves, awesome snorkeling sites, and beautiful bays, all at your own pace.
And for an equally awesome experience with a similar watercraft, try canoeing!
The main difference is that these boats are paddled by a group, rather than individually; and it makes it a perfect option for families!
32 – Stroll through the streets of Santa Cruz neighborhood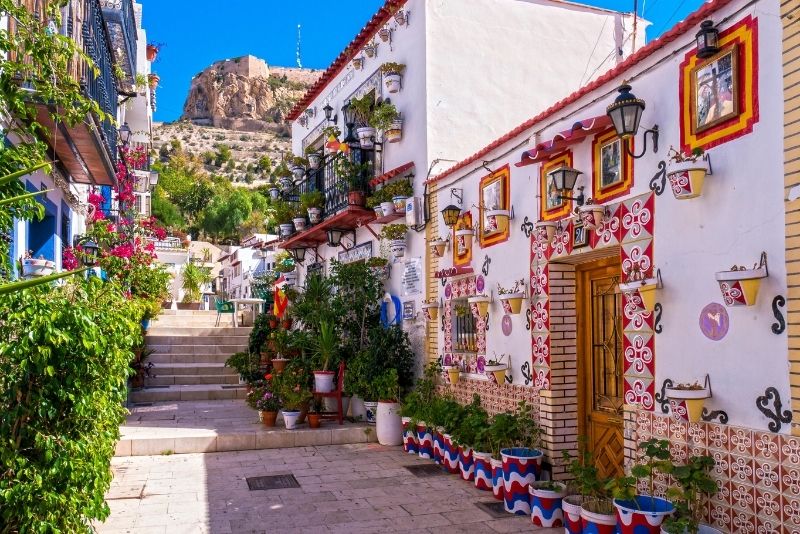 Considered one of Alicante's most attractive neighborhoods, Santa Cruz has maintained its traditional feel. Colorful tiles decorate the exteriors of buildings and narrow streets and alleyways open up to unexpected views of the city.
Santa Cruz is the center of the city's Casco Antiguo or Old Town and is best explored on foot. If you are lucky enough to be in the neighborhood for Easter, expect lots of decorations and festivities, including an elaborate Holy Wednesday Procession.
Throw in Moorish architecture, stunning oceanside views, and plenty of places to eat and drink, and you have a neighborhood that stands above the rest!
33 – Ride the VertiGo at Aqualandia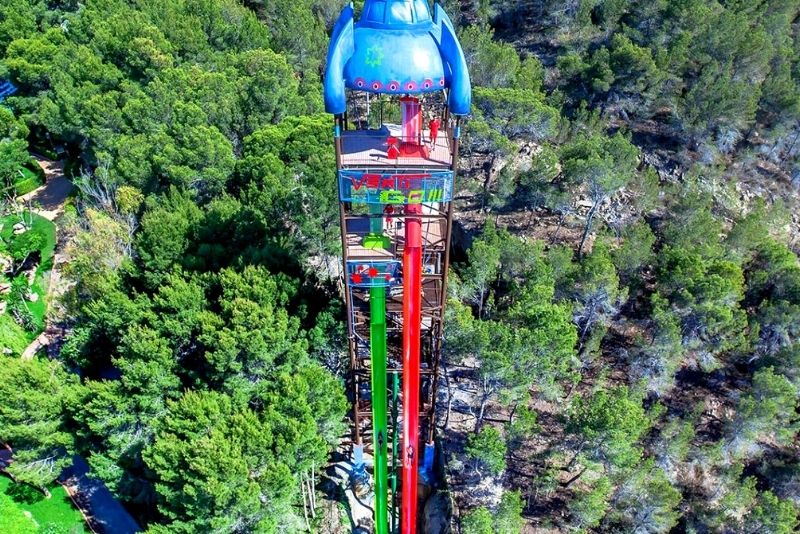 Aqualandia is home to Europe's highest waterslide, the aptly named VertiGo. This knee-tremblingly high waterslide towers 30-meters above the park and riders can easily reach speeds of 100 km/h. Daredevils only need to apply for this one.
Aqualandia also has plenty of water-based fun for everyone else to enjoy. Adventureland and Laguna offer safe places for infants to splash around and play. There's also river rapid rides, cascades and jacuzzis for stronger swimmers. You have to check this place out during your time in Alicante.
34 – Tour the Canelobre Caves on a day trip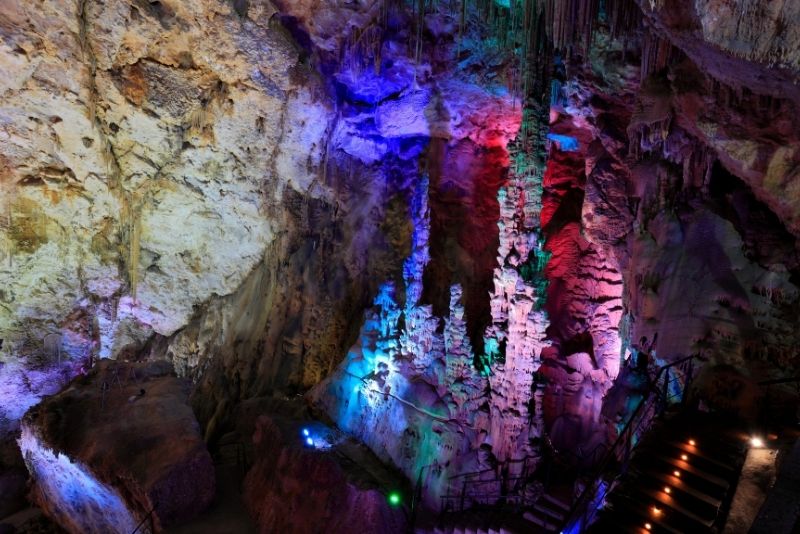 Are you crazy for caves or gaga for grottos? Then you have to check out the amazing Canelobre Caves on a day trip from Alicante. These cavernous miracles of nature will awe and astound you with their impressive rock formations.
See ancient features formed over millennia, including stalagmites and stalactites and naturally occurring crystals. Take a guided tour of the Canelobre Caves and see one of the highest caverns in the country. Don't miss this spectacular natural phenomenon during your time in Alicante.
35 – Get out and up on the local rocks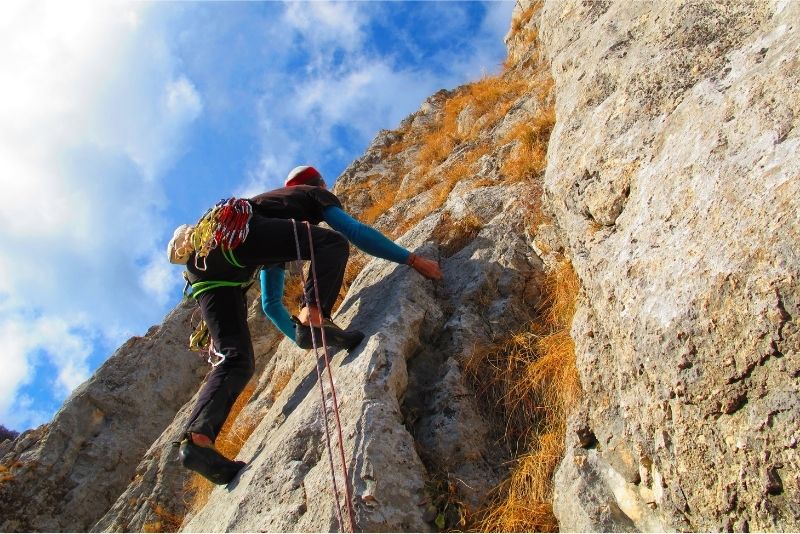 When you're ready for more of a traditional climbing experience, the local rocks and mountains await you!
Guided expeditions give you the thrilling chance to try some rock climbing out on actual rocks, many of them attached to some of the world's most pristine mountainsides.
There are even some kid-friendly options to get your littlest explorers oriented!
36 – Head under the sea on a snorkeling adventure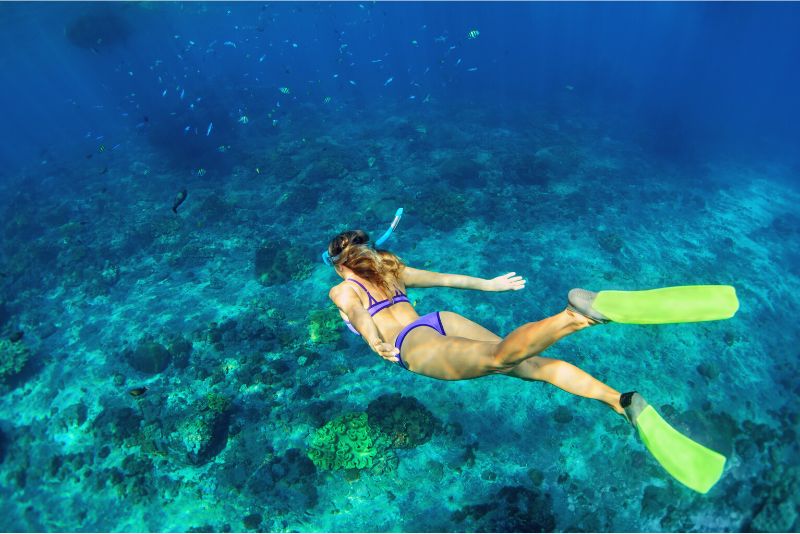 While you may not be able to go as deep as you would whilst scuba diving, snorkeling is still a great way to enjoy the watery wonders of Alicante!
Isla de Tabarca's protected areas are a particularly popular stop, with eye-catching corals and oodles of fish to admire as you swim.
But any local excursion will provide great views and a chance to spot some phenomenal creatures.
As an added bonus, these trips can often be combined with other adventures, such as kayaking or stand-up paddleboarding.
37 – See the moor's face on Monte Benacantil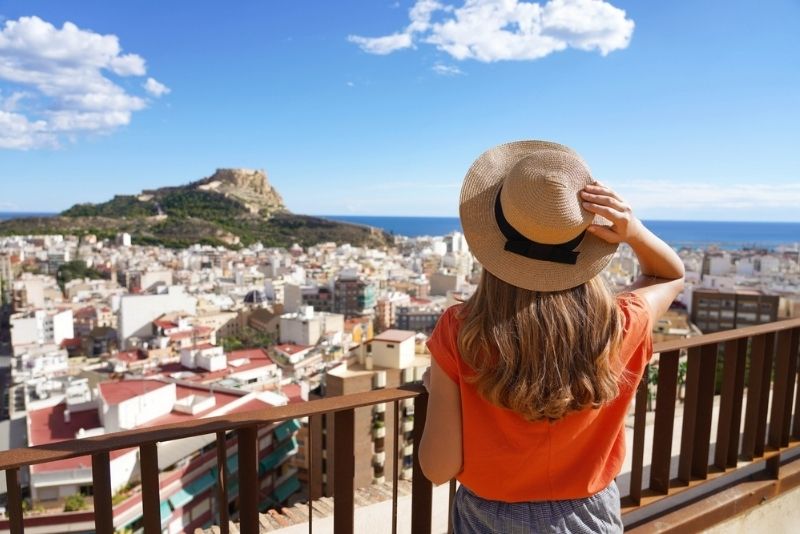 Monte Benacantil looms over the city of Alicante and offers some of the best views in town. The monte is home to Santa Barbara Castle, which perches on the top, as well as Ereta Park and the historic surrounding neighborhoods of Santa Cruz and Raval Roig.
On the southwest face of Monte Benacantil is a rock formation known as La Cara del Moro, or the moor's face. Legend has it that a Muslim King who lived in the castle was petrified into the mountain as punishment after his daughter leaped to her death.
38 – Enjoy the rides at Pola Park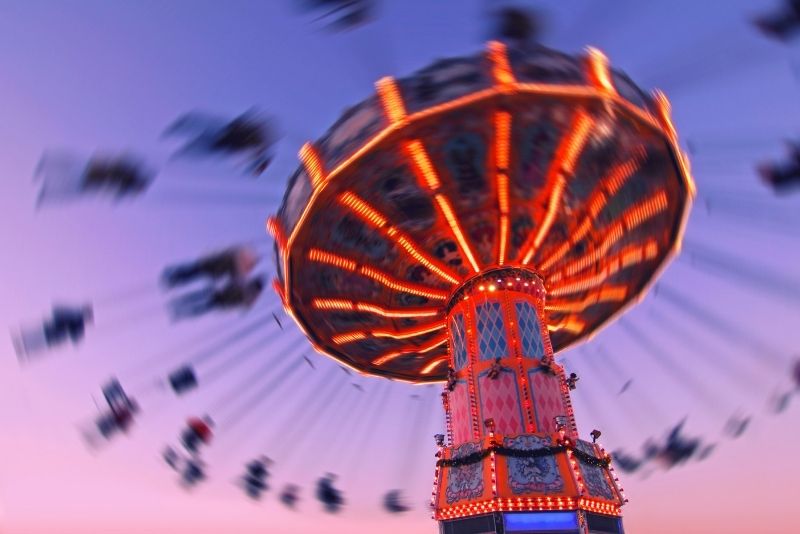 If you're looking for fun things to do with the kids in Alicante, Pola Park is definitely it. With over 30 different attractions, everyone is sure to have a great time. Whether you are a thrill-junkie seeking rollercoasters and haunted houses, or just prefer a serene boat ride around the lake, Pola Park has you covered.
There are rides for smaller children to enjoy, as well as mini-golf and a games arcade so you can play all day. Entry to the park is free which makes this a great value attraction.
39 – Take a day trip to Villajoyosa & Altea villages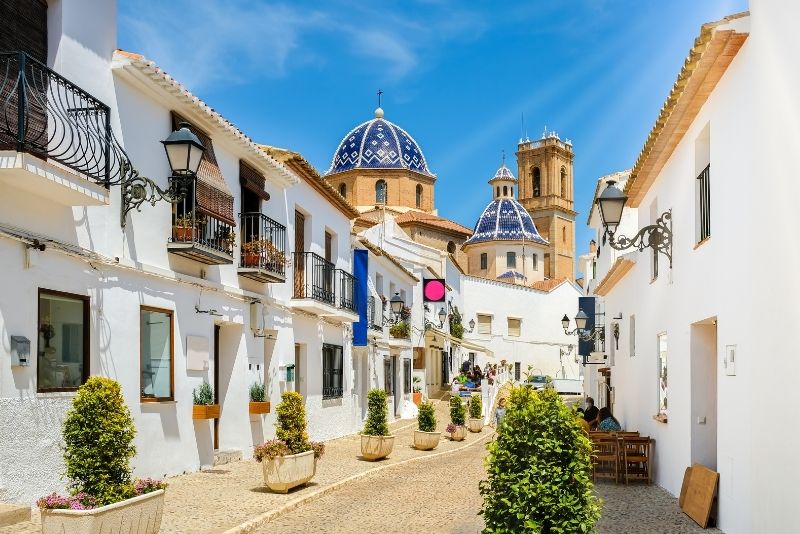 Within a short distance from Alicante are two of the region's most picturesque villages. A trip to Villajoyosa, with its quaint and colorful buildings and historic center, is sure to be one of the highlights of your time in Alicante. Visit a small family-run chocolate factory and try the traditional delicacies of the town.
The narrow cobbled streets of Altea's old town and its distinctive blue-roofed church are full of character. The village's main plaza also has wonderful views of the surrounding sea and mountains. Don't miss these villages on your trip to Alicante if you're looking for cultural things to do.
40 – Virtually sail the seven seas at The Ocean Race Museum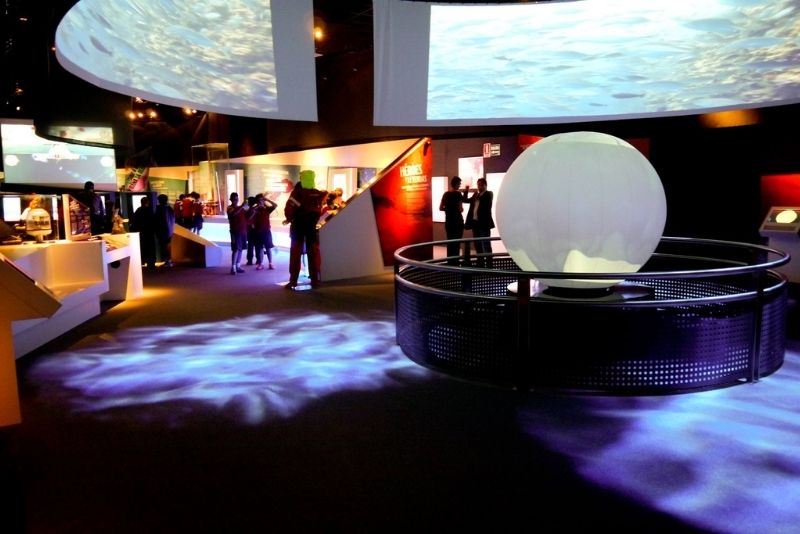 The Ocean Race, for those who don't know, is a round-the-world boat race that has been taking place for the last 45 years. Alicante's Ocean Race Museum is the world's only museum dedicated to this monumental event.
Since the monumental competition starts right here in town, it follows that the institution devoted to it would be equally spectacular!
Discover the race's record times, heroes and legends in this unique multimedia exhibition. See what life is like onboard for the crew and learn all about the state-of-the-art vessels that undertake this grueling expedition. Admission is free.
41 – Make memories on an airplane tour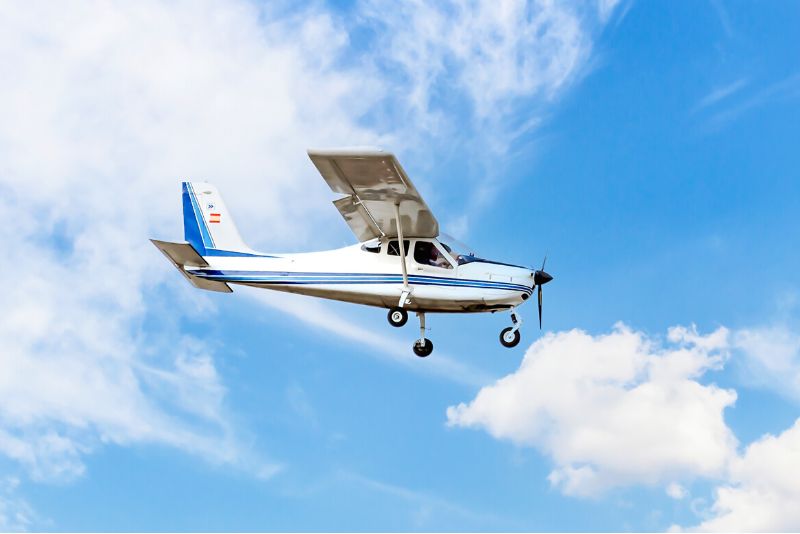 From the moment your aircraft takes off, you'll find yourself blown away by the views – and the adventure!
Airplane tours are known for their spectacular scenery and thrilling flight patterns, and these small, lightweight specimens offer a great perspective on the world below.
Watch the beaches and buildings unfurl beneath you, as your pilot points out areas of interest that can't be properly appreciated from the ground.
It's a truly breathtaking adventure – and one that will utterly change your point of view!
42 – Delve into the area's caves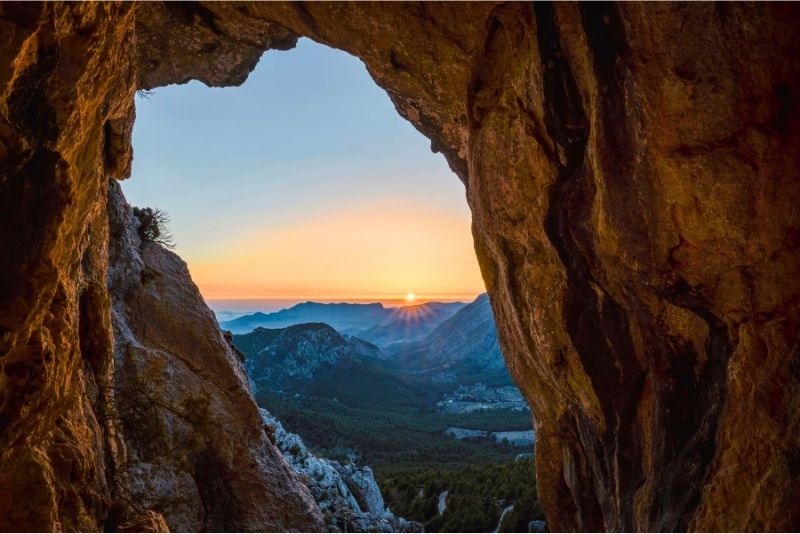 They're big and small, dark and bright, deeply mysterious and wonderfully welcoming – you'll get some of everything with a cave visit!
Entering these ancient stone chambers feels almost holy – unsurprising, considering that some of the spaces once served as places of worship -, and whether you're climbing and walking or kayaking and swimming, the journey through them is an experience in its own right!
43 – Take a picnic at Parque Lo Morant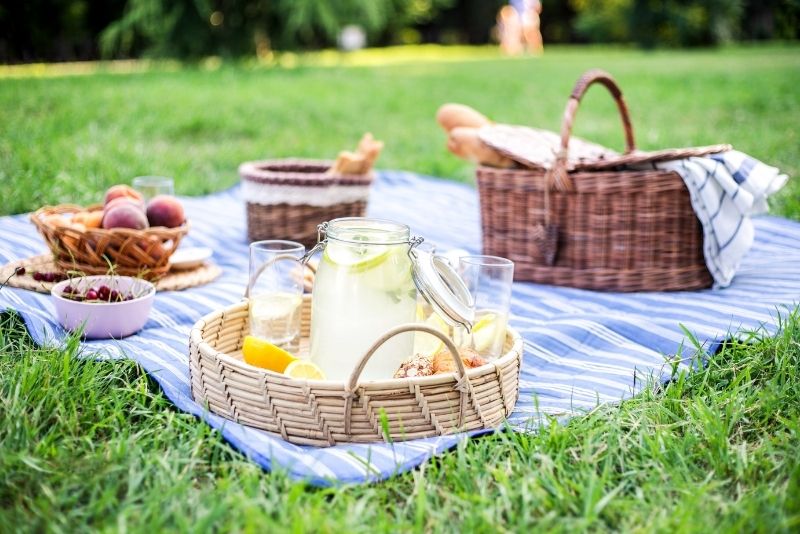 Away from the busy center, Parque lo Morant is a green oasis and a perfect place to spend a relaxing afternoon. Morant is the largest public park in Alicante and has games facilities, including areas for petanque and croquet.
It also has children's play areas so you can relax while the kids burn off some energy. Take a picnic with you and explore the park's amphitheater and diverse plant species which includes large varieties of cacti.
With a great mixture of nature, culture, and leisure, it's one of the coolest spots in town!
44 – Spot superyachts at Marina Deportiva del Puerto de Alicante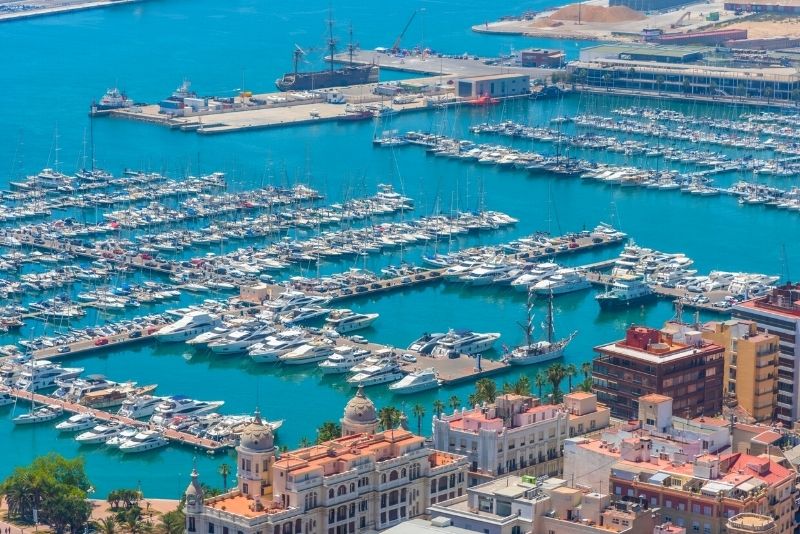 The Marina Deportiva is a bustling hub of activity with vessels of all sizes coming and going throughout the day. The surrounding area has lots of nice bars and restaurants that cater to the many yacht and sailboat owners and their crew.
This is a great place to stroll and check out the many luxurious superyachts which line the pontoons. It is also one of the best places to dine on an evening due to the fantastic views over the harbor and fresh sea breeze.
45 – See the wild nature of El Castell de Guadalest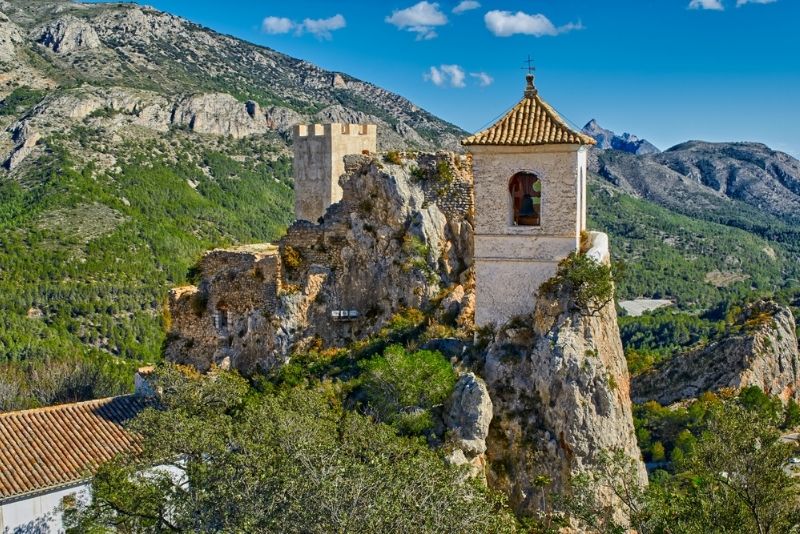 Exploring the picturesque mountain town of Guadalest is one of the best day trips from Alicante. Stray from the well-trodden path and discover the rugged nature, towering ruined castle and traditional village of El Castell de Guadalest.
Visit the valley of Guadalest and its enchanting scenery, including the waterfalls and cascades of Las Fuentes del Algar and the fountain spring of Los Chorros. Guadalest is also home to the Antonio Marco Dolls House Museum and what is thought to be the world's largest collection of salt and pepper shakers. Strange but true!
46 – Discover the unusual Santuario de Santa María Magdalena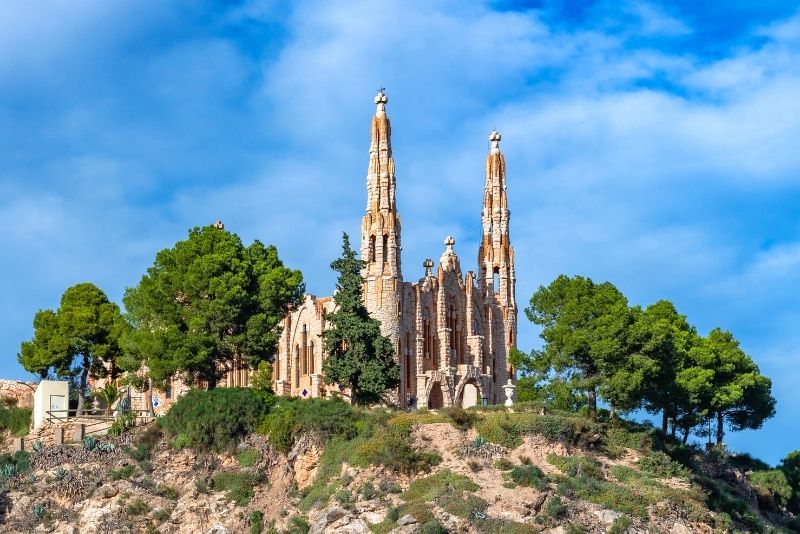 A half-hour ride from Alicante is the town of Novelda where you can find, among other things, The remarkable sanctuary of Santa María Magdalena. The town is a popular stop-off on the Camino de Santiago route and this church is the main reason.
Though it looks old and fairly rustic, its design is heavily influenced by Catalan Architect Antoni Gaudi, who designed Barcelona's iconic La Sagrada Familia. The region is well known for its quarries and the church features a unique organ made entirely from local marble.
47 – Try canyoning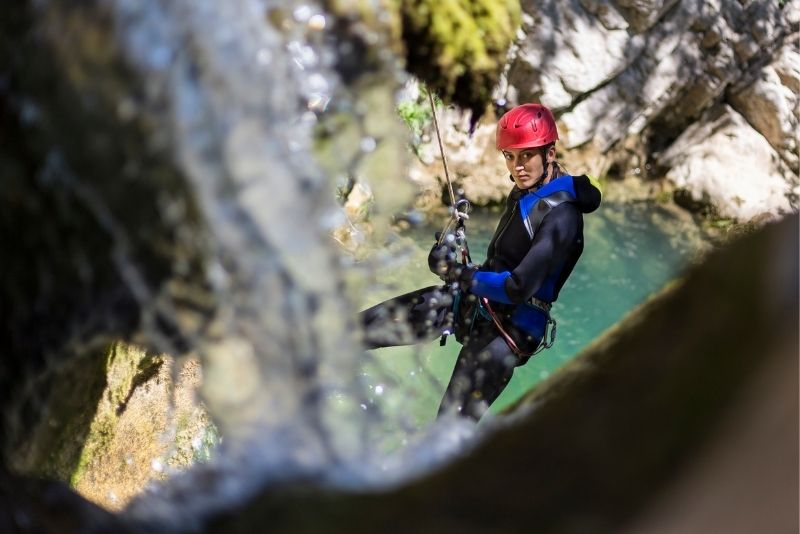 The gorge of L'Estret de les Penyes near Alicante is the local center for canyoning. Don your helmet and suit and prepare to get wet in these adventure excursions over rocks and through cold mountain pools.
Perfect for first-timers and veteran explorers alike, it offers the chance to get up close and personal with your natural surroundings… and get some excitement along the way!
Visitors can enjoy rappelling down a series of rock faces that increase in height, one of which goes through a 15-meter waterfall. These canyoning trips are suitable for all abilities and especially great for beginners and first-timers. What are you waiting for?
48 – Grab a table at the best restaurants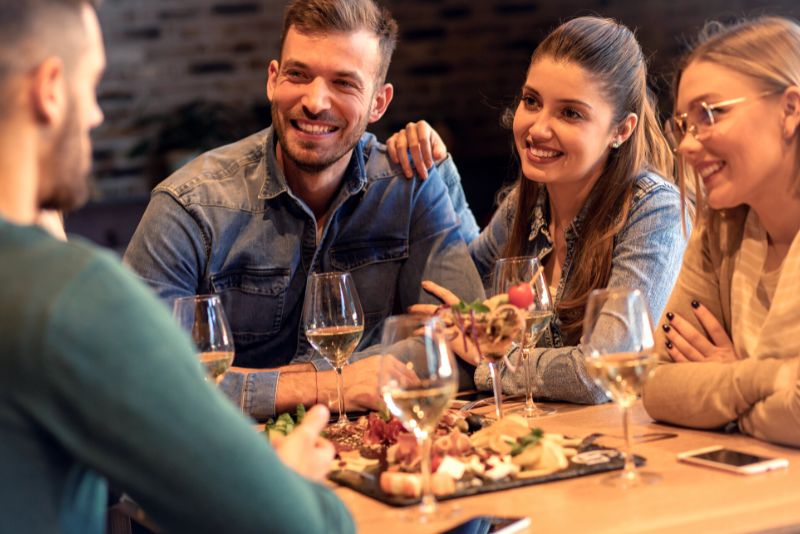 From highscale to low-key and everywhere in between, you'll find no shortage of great eateries in town!
Enjoy dishes full of organic ingredients at Nou Manolin, or the Nordic-style offerings at Populi. Sample some seafood at Restaurante Casa Julio, or excellent salads and meat dishes at La Crispeta.
Nibble tapas at La Taberna del Gourmet, or enjoy tea and Middle Eastern meals at Mish Mish. And don't miss El Portal Alicante, which provides world-class ambience and phenomenal, multi-course menus.
49 – See the cheetahs at Río Safari Elche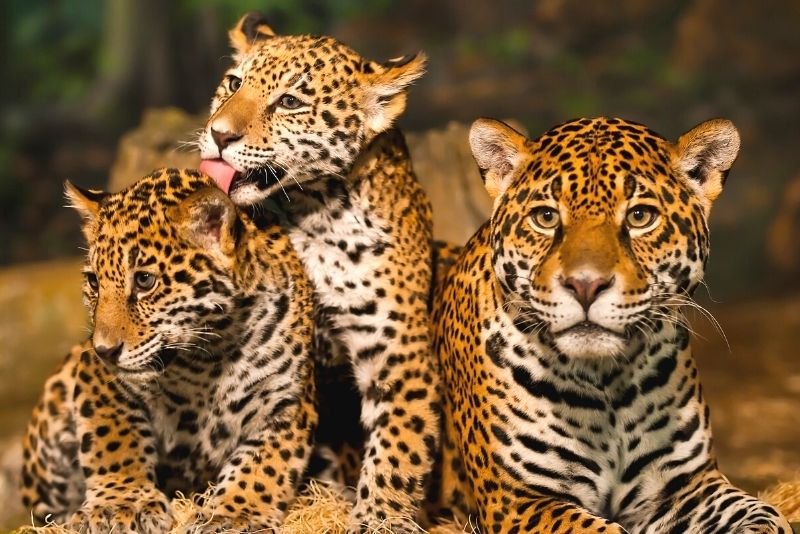 Elche's Rio Safari offers an African Savannah experience in the heart of Alicante. Take a safari train ride and see exotic creatures from all around the world. The park has large elegant carnivores, including tigers, cheetahs and lions that will have you in awe.
Get up close to giraffes, hippos and primates of all sizes. Lemur feeding time, in particular, is a wild event to behold and the parks orangutans and gibbons are something to behold. A trip to Rio Safari is a fun thing to do if you've got younger children.
50 – Explore Alicante on a atv tour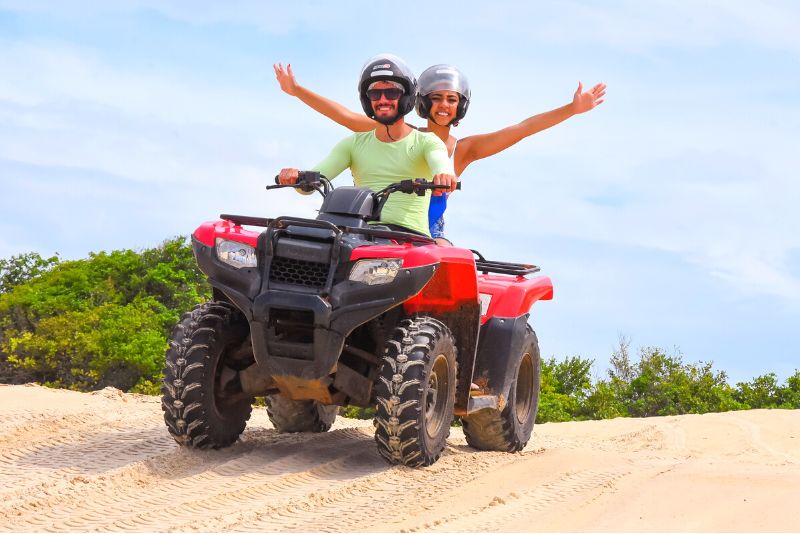 Travelers, start your engines! Quad tours offer a great opportunity to go off the beaten path and enjoy some unique scenery… plus, they're pretty fun to navigate!
From vibrant forests to thrilling dirt trails, every bend in the road offers a new adventure on this wild, wonderful drive.
Buggy tours provide a similar level of excitement, with a slightly different vehicle; designed more like Jeeps, they offer multiple seats per vehicle, so you and your travel buddies can enjoy the ride together.
It'll be a drive to remember!
51 – Explore the old town of Elche and Palmeral of Elche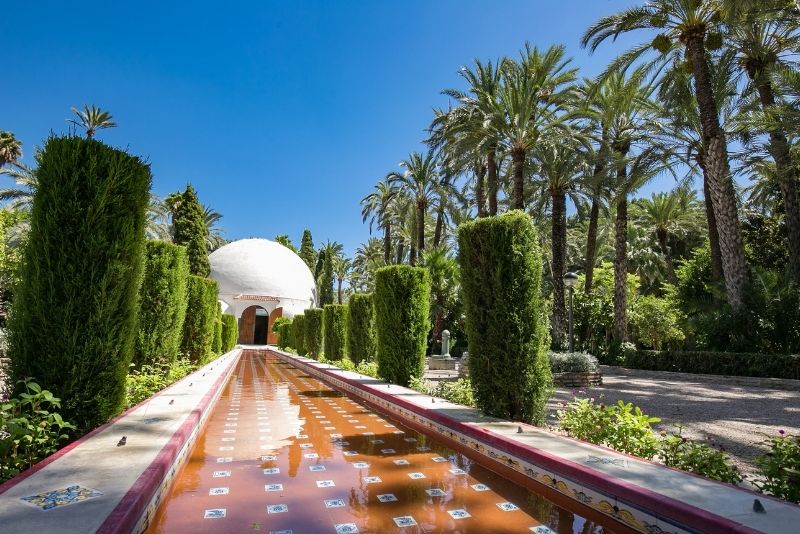 Elche is famous for its historic old town known as the "Vila Murada" or walled city. It's worth taking a tour of the old town to see the many historic buildings, including impressive palaces, defensive towers and mysterious basilicas.
Elche is also home to the Palmeral of Elche, the largest plantation of date palms in Europe. The Palmeral infrastructure was created around the 10th-century when the area was under Arab rule but the first palms may have been planted much earlier in Roman times. Check out this UNESCO World Heritage Site if you're looking for fun things to do outdoors near Alicante.
52 – Catch a show at Teatro Principal de Alicante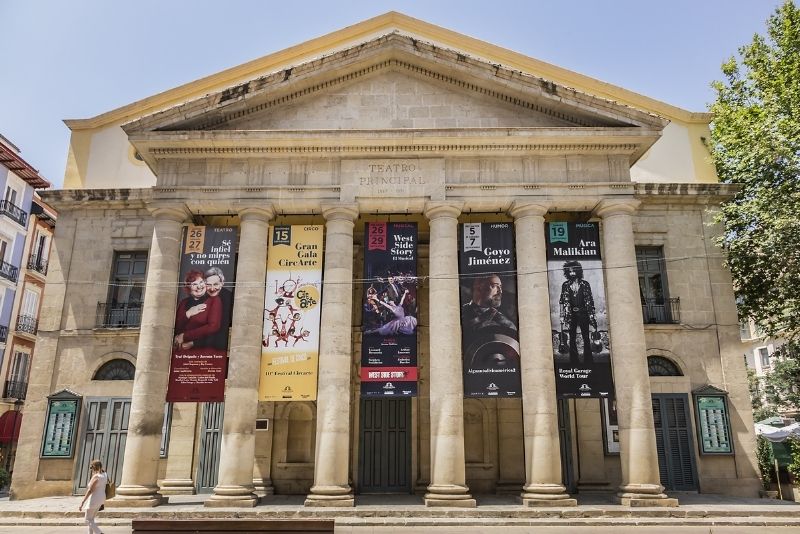 The Teatro Principal is a very classic and comfortable theatre in the city center. It puts on a variety of performances throughout the year, including a special program for kids, as well as musicals, comedy, and even live music.
Since it was first built in the 1840s, this magnificent space has served as one of the cultural gems of the city, as well as a home for fresh talent.
This is the place to go if you enjoy a night out at the theater. Most shows are performed in the Spanish language though there are often tribute bands performing popular music in English.
53 – Fly through the air with some zip lining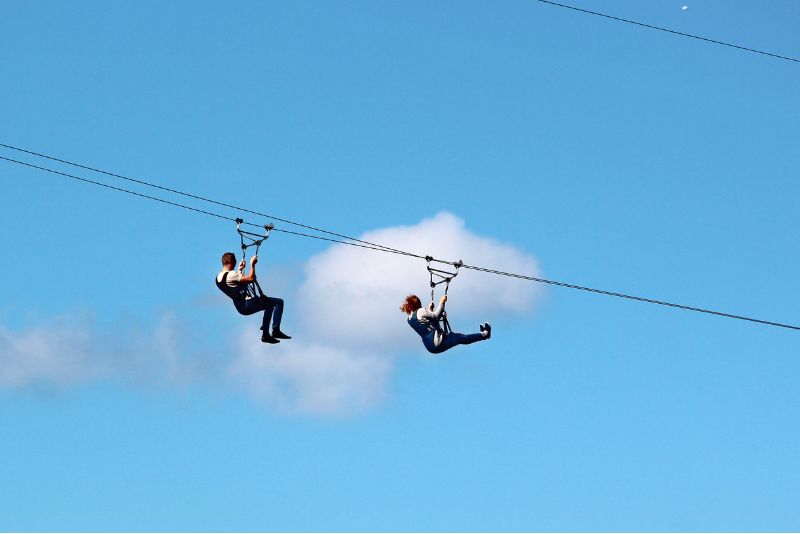 Want to see the world from up high, at thrilling speeds?
Ziplining will send you flying – and leave you begging for more!
The local zip parks are great for the whole family, with a variety of courses and lines offering excitement galore.
Zoom through the air at breakneck speed, enjoying the scenery whizzing by; then get a somewhat slower view as you walk or climb to your next spot.
There are plenty of other adventures on-site as well, including paintball, quad rides, and even some climbing walls!
54 – See the figures that didn't burn at Museu de Fogueres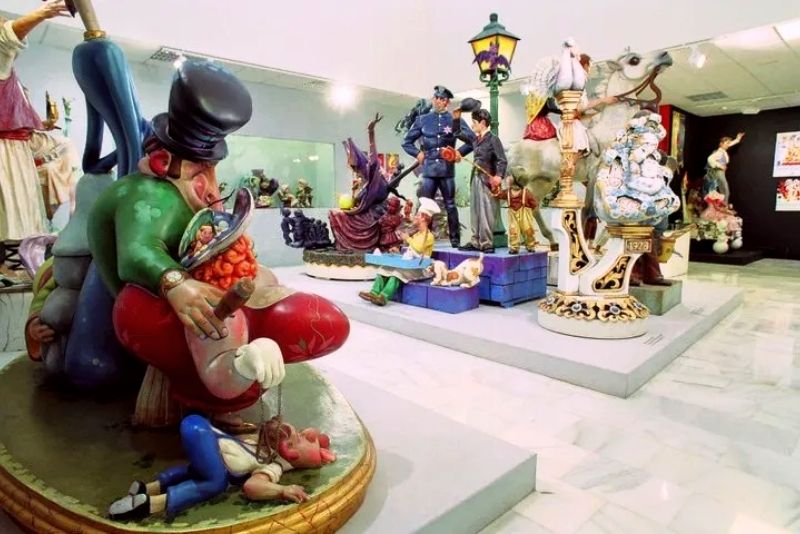 Every year in Alicante the whole city celebrates with a big fiesta in which they honor the Bonfires of Saint Joan. Many elaborate figures are constructed from paper-mache and paraded through the town. At the end of the precession, the beautifully constructed figures are burned in a huge bonfire.
The Museu de Fogueres has all the figures that were voted too wonderful to destroy. If you are looking for fun things to do in Alicante, a trip to this museum might be just the thing you're looking for. It's very quirky, lighthearted and kids will definitely love it.
55 – Catch the latest blockbuster at the Cines Yelmo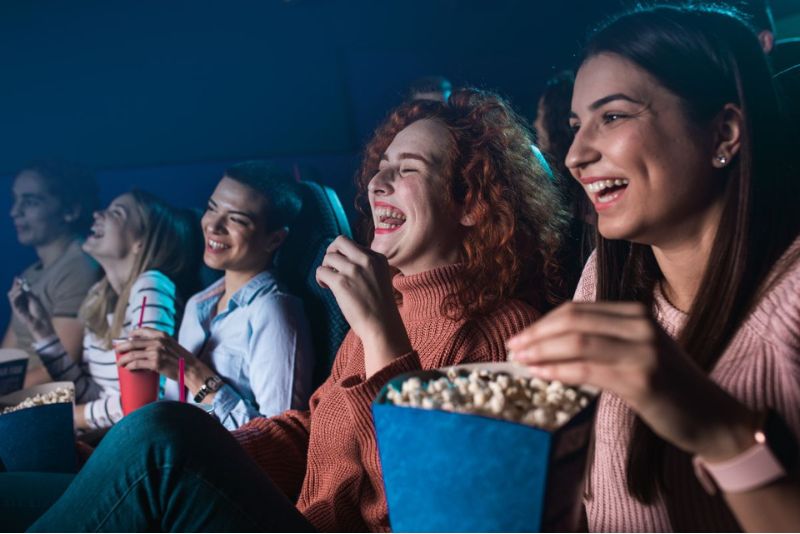 When you feel the urge to catch a flick, you can't do much better than this classy joint!
Located in a local shopping mall, this gorgeous theater offers all of the latest hits, with state-of-the-art sound and visuals to make the whole experience even more memorable.
While there are several cinemas in town, the combination of quality technology and close proximity to other attractions makes this the perfect place to enjoy a little bit of movie magic during your visit!
56 – Try other amazing water sports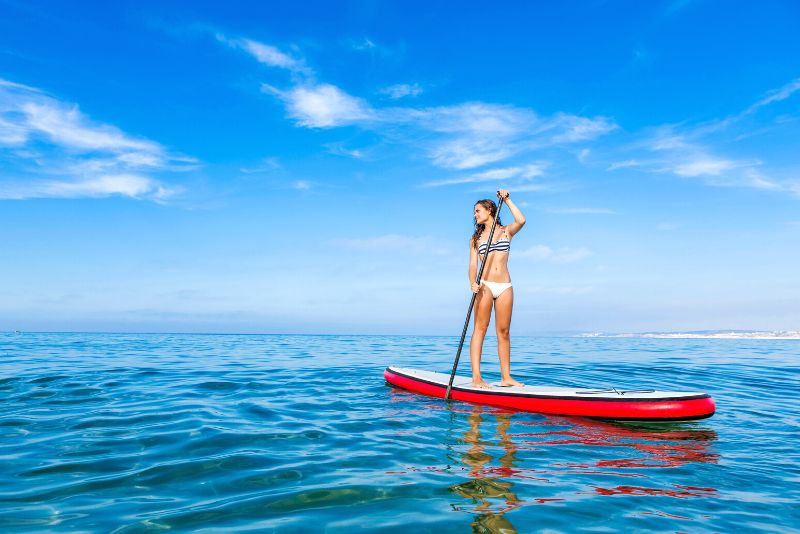 More watersports? Yes, please!
No matter what type of aquatic athletics you enjoy, you'll find plenty of outlets in this seaside paradise!
Book some surf lessons and learn the art of catching a wave, or enjoy some calmer currents with a bit of stand-up paddleboarding.
On windy days, you can easily spend hours perfecting your kitesurfing game; and on mellower afternoons, you can get a little futuristic with flyboards, which will propel you up and over the water in fine fashion.
Stock up on sunscreen and swimwear, because you'll feel like a fish after your visit!
57 – Play a round of golf on world-class courses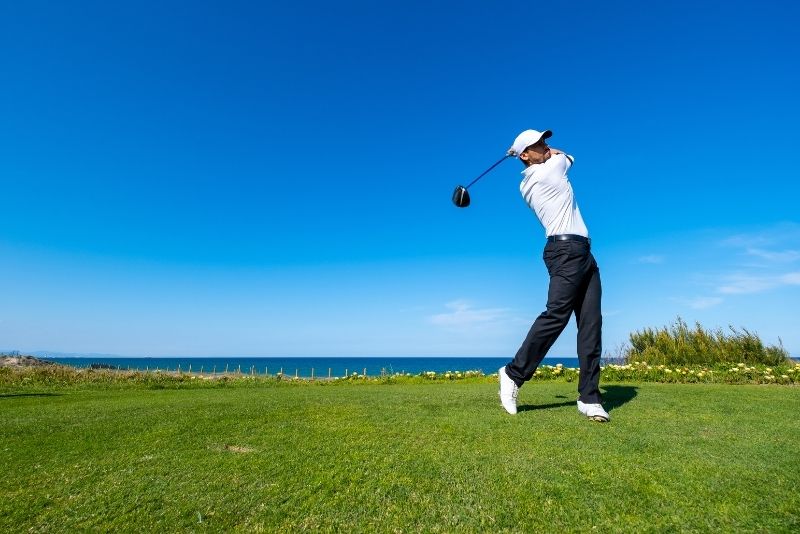 Alicante isn't short of excellent golf courses. The year-round pleasant weather also means you can be ready to tee off whenever you feel like it. La Finca is definitely the highlight of the cities courses. The surrounding area and views are nothing short of spectacular and the facilities are excellent.
Other popular courses on the Costa Blanca include Aleda Golf, Melia Villaitana Golf Club, Font del LLop Golf Resort and Vistabella Golf. Your biggest problem will be choosing which of these beautiful courses to visit next.
58 – Learn the art of paella with a cooking class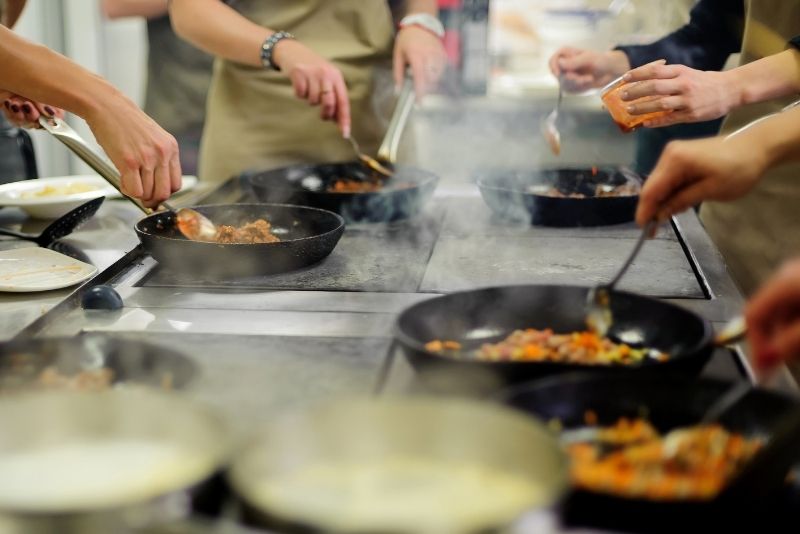 Immerse yourself in a truly local experience and take a cooking class in Alicante. Uncover the culture of the city through its most popular dish, paella, and learn the secrets to creating authentic Spanish cuisine.
This massive, savory dish is always fun to prepare – and even more fun to share!
Meet born and bred locals who will show you where to pick up the freshest ingredients and what to look out for. Take the chance to chat and socialize over a glass of wine at these fun cooking classes in the historic city.
59 – Jump around at Urban Planet children's amusement center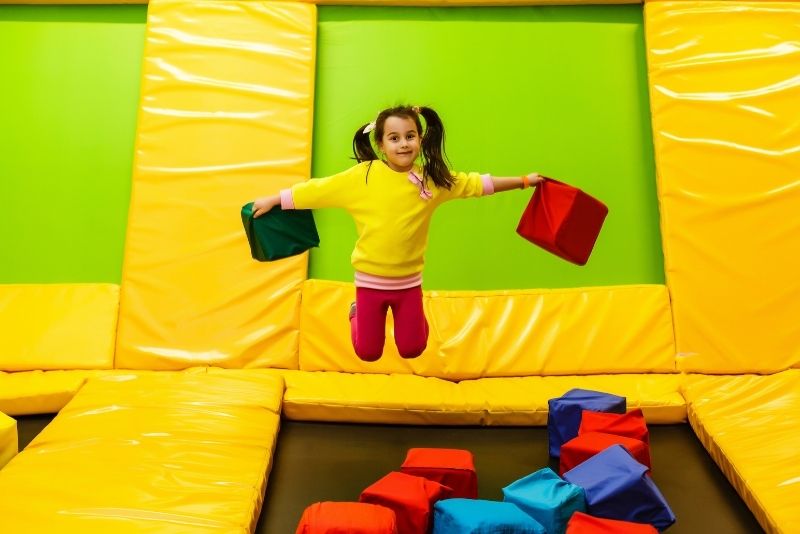 Urban Planet is a wall-to-wall indoor fun park! If you're looking for fun things to do with the kids while in Alicante you have to check this place out. With rooms full of trampolines, kids are encouraged to jump, flip and leap in a safe controlled environment.
Score a slam dunk as you spin through 180-degrees or backflip into a foam pit, this place is so much fun! Best of all Urban Planet is also suitable for adults so you can get in there and show 'em how it's done.
60 – Sunbathe at El Postiguet Beach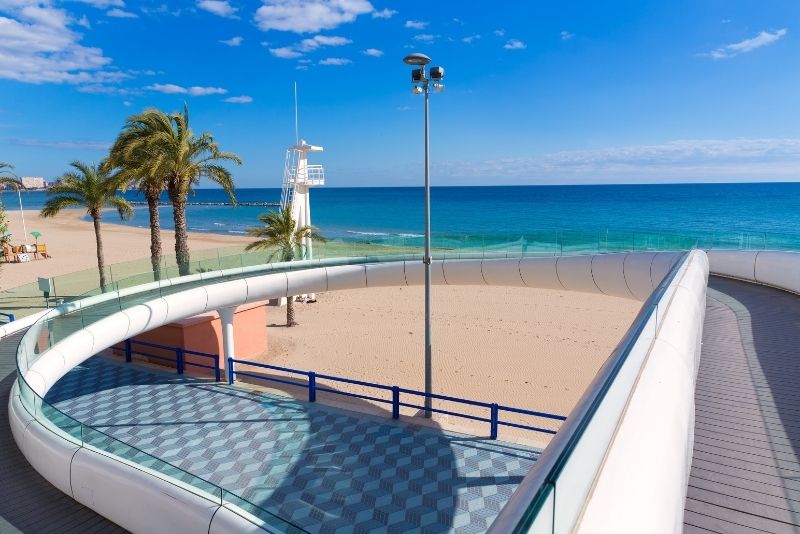 Conveniently located near Alicante's Old Quarter, El Postiguet is the city's main beach. It is known for its soft golden sands and gentle waters which are ideal for swimming. The beach has sports facilities, including volleyball courts and there's always something happening through the summer months.
There are even some nice play areas nearby for smaller travelers to enjoy some fun in the sun!
The nearby boardwalk has some great cafes, restaurants and vendors where you can grab a snack or coffee. As it is in the city, this beach can get very busy in the summer months.
61 – Drink all night at Marmarela Mediterranean Cocktail Club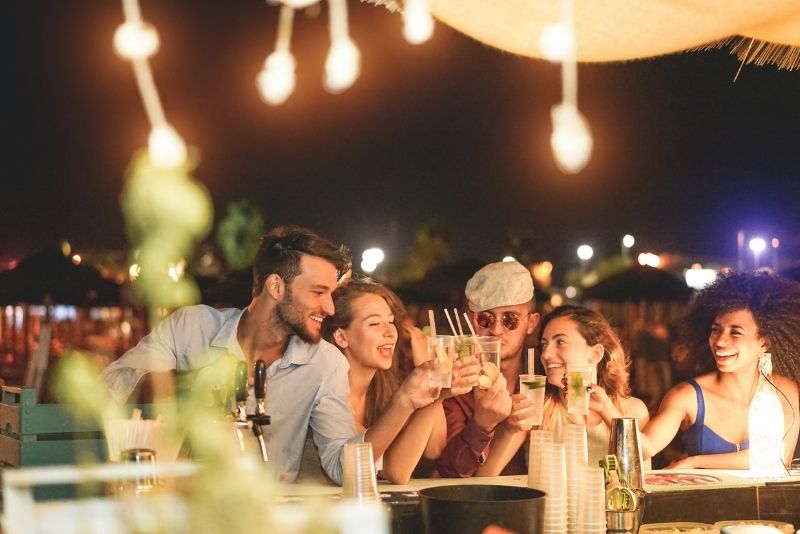 Cocktail bar, Club, Restaurant, or Pool bar? Marmerela is all of these. This waterfront club is the place to be in Alicante and if you're in search of the city's nightlife, start here. Somewhat hidden away near the marina dock, Marmarela offers a sophisticated menu at a reasonable price.
The club portion of this venue complex hosts regular DJs and all-night parties. One of the best things about Marmerela is its close proximity to the sea and the fantastic views it offers. You have to check this place out!
62 – Party with the locals at a festival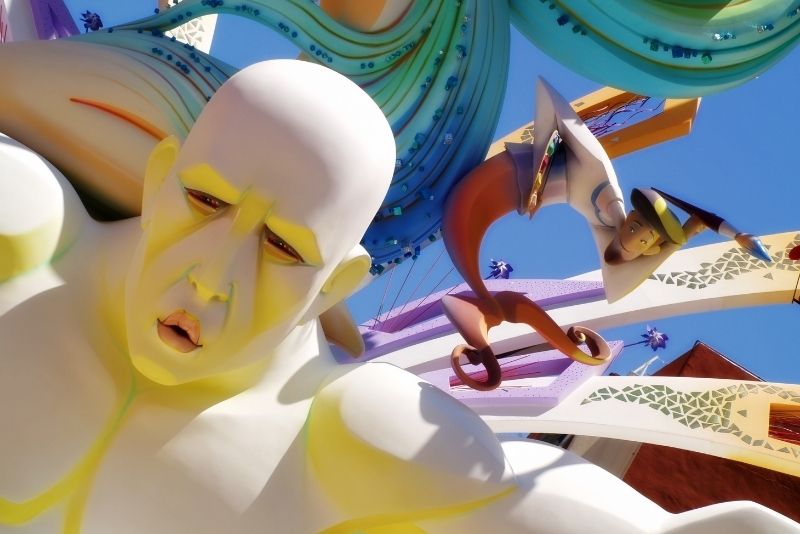 Alicante has some fantastic festivals and there are many which occur throughout the year. If you are lucky enough to be there toward the end of June you may catch the Fogueres de Sant Joan Festival where paper mache figures are paraded through the town and then ceremoniously burned in a bonfire.
The town really goes all out for the Easter Holy Week festivities which include decorations and many parades. There are also festivals celebrating historic battles of the area and the city's Carnival celebrations in late February/March are really something to behold.
63 – Experience the nightlife in Alicante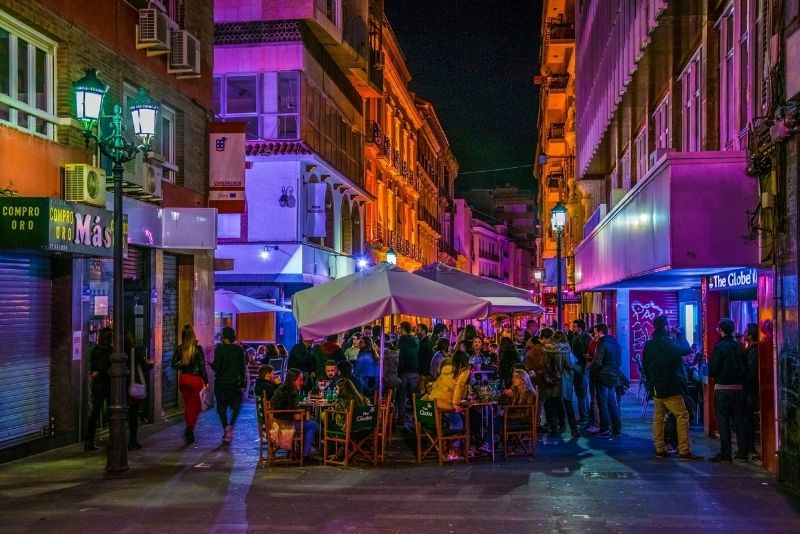 Whether you're looking to grab a quiet drink or to dance the night away to some thumping beats you can find it in Alicante. The cities best-known clubs for modern electronic music are Metro Dance Club, Confetti and Magma Club. If punk and metal is your thing check out Marearock bar which has a great chilled atmosphere and a good selection of drinks.
The El Barrio neighborhood is the perfect place for those seeking a more relaxed evening. Visitors will find a selection of great bars and clubs to enjoy the evening in this historic part of the city.
You can also enjoy the varied rooms and themes of globally-focused Club Concerto, or the phenomenal cocktails and mellow atmosphere of Code Social Club.
How to get to Alicante?
You can conveniently fly right into town and arrive at Alicante Airport, a nice regional hub for travelers.
Be sure to arrange your transfers beforehand, so that you can avoid the hassles of public transit or taxis.
These fast, reliable services will help your whole trip get off to a good start!
Where to stay in Alicante?
With its rooftop bar, soothing spa, and gorgeous architecture, Hospes Amerigo provides a truly glamorous experience – plus unforgettable views!
And scenesters will love Eurostars Lucentum, which is walking distance from ports, restaurants, markets, and all the other trappings of local life.
Port Alicante City & Beach offers fun for the whole family, with pools, a playground, and an adjacent golf course ideal for squeezing in a few rounds between the rest of your activities.
And at Hotel Albahia Alicante, you can try a new workout at the gym, test your skills on the tennis court, or stroll over to neighboring attractions like theme parks, shopping centers, and the Santa Barbara Castle.
You can also book a stay at Daniya Alicante, which boasts great meals, a refreshing swimming pool, and a complex of gardens perfect for relaxing after the day's exploits.
Visiting Alicante on a budget?
Get some fresh air – and equally fresh facts – on a free walking tour!
Explore hidden treasures and the unique aspects of classic attractions all over town, and indulge in some delightful cultural activities along the way, such as nougat tastings.
Remember to wear good shoes and come with lots of questions – and some cash to tip your guide!
Where to go next?
Whether you keep exploring the Mediterranean region or choose to head inland, you'll find plenty of other phenomenal places to visit in Spain!
Embark on epic hiking trips, gaze at surreal architecture, absorb the stories of a dozen different cultures, and enjoy cutting-edge museums and galleries. And of course, we can't ignore the amazing food and drinks – that's half the fun of a Spanish vacation!
Want to stick close to Alicante?
Head North and discover the popular seaside resort town Benidorm – famous for its high-rise buildings, sandy beaches, and vibrant nightlife.
Party like a rockstar (then sleep in the sun) in Ibiza, one of the most fascinating and fun-filled destinations in Europe. Or take things down a notch in Valencia, where outdoor adventures and exciting learning opportunities blend together at every turn.
There are also tons of great multi-day trips in the region that offer something for every taste. From scuba diving to wine tastings, camping to kitesurfing, there are plenty of opportunities to explore the area further – and fall even more in love with it!
Final thoughts
As you alternate between heart-pounding fun and tension-easing beach days, you'll feel tempted to chuck your passport and stay in this town forever!
And with so many amazing things to do in Alicante, you'll have plenty of motivation to make a return trip – or several!
So swing by and see what this Spanish jewel has to offer!
Happy travels!