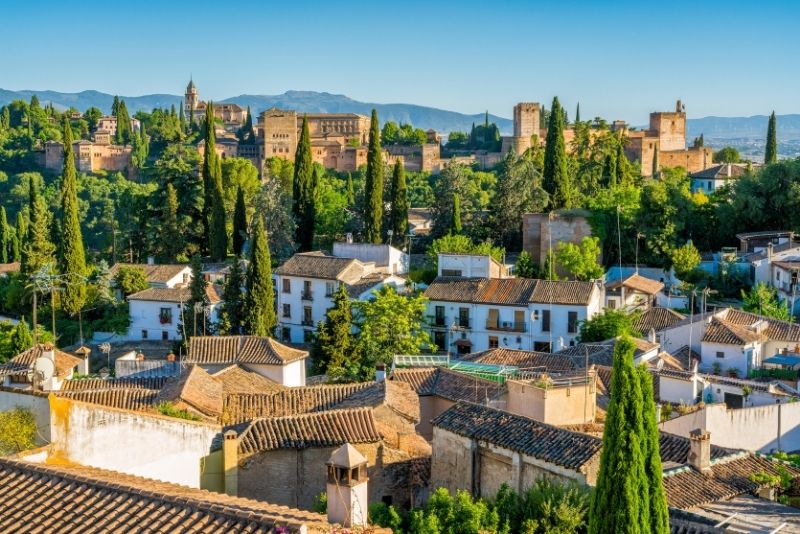 Spain's southern region, from its glistening Iberian coast to its rugged Sierra Nevada mountain range, is a melting pot of activity and adventure. Throw in a diverse mix of Islamic, Arabic, and Spanish culture; plus cobbled pathways, traditional tapas bars, trendy hangouts, and eclectic artwork, and then you've got yourselves one of its true urban gems: Granada.
Hardly notice the hours slipping by as you mill around the picture-perfect old town streets, passing by buildings boasting architecture remnant of its centuries-old past.
Founded in the 13th, over the decades the city has seen its fair share of influences — evident in buildings, town squares, underground spas and monasteries. From Baroque to Renaissance to Moorish to Gothic, investigate a world of design
Forming the capital of the province of Granada, travel from within the (historic) city walls down to the coastline dotted with traditional villages, and drive the ever-scenic Tropical Coast road.
If you're on the hunt for things to do in Granada, whether you're an adventurist, foodie, thrill seeker, culture vulture, wine snob, or a combination of them all, you'll be spoiled for choice in this underrated Spanish city.
1 – Make Alhambra your first stop
Perched atop a dramatic plateau overlooking the gorgeous city, the Alhambra is an awe-inspiring fortification — both palace and fortress — whose history originally dates back to the 9th century as a former Roman dwelling, although most of its modern structure was developed in the 1200s.
Spread throughout the iconic UNESCO Heritage-listed landmark you'll find the multiple palaces: Alcazaba is known for the sweeping views over the Albaicín quarter; Nasrid Palace, often considered the highlight of Alhambra, is a lavish Moorish royal residence; and Royal Palaces (famous for their Court of the Myrtles and Court of the Lions, as well as lavish interiors) dot the grounds, exuding opulence and history.
To cap it off, the Museum of Alhambra dives into the historical context of this infamous, must-see site.
Read more about Alhambra tickets price and Alhambra Tours.
2 – Wander around the Generalife gardens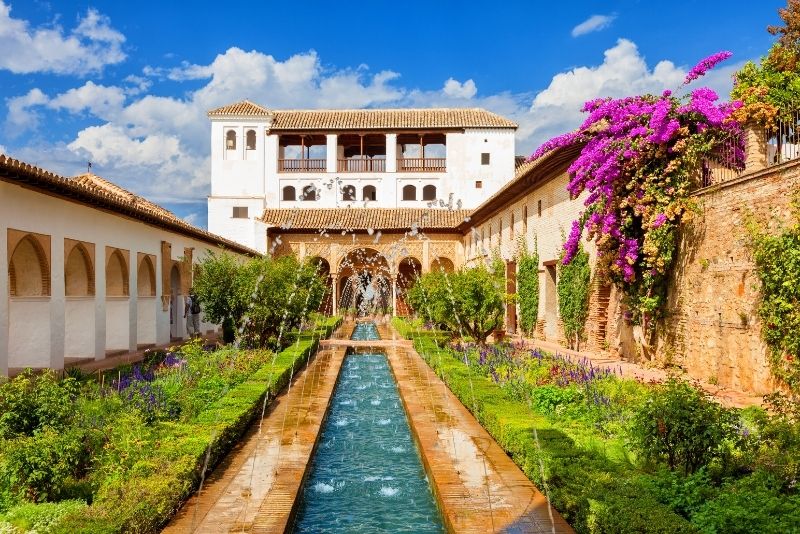 Adjacent to the Alhambra, Stunning and sprawling, the Generalife is an extensive garden complex, originally developed in the 1300s. As one of the oldest surviving Moorish gardens in Spain, it would serve as a tranquil haven if not for its popularity among history-curious visitors.
Spread over acres amidst stunning mountain scenery dotted with olive groves and orchards, this charming retreat offers a plethora of sectional attractions to explore, with guided tours available for a more in-depth look at the location's coveted past.
The Gardens can be visited by day or by night (slightly cheaper if opting for the latter), with discounts available if you book online and combine your ticket with Alhambra
3 – Step inside the Cathedral of Granada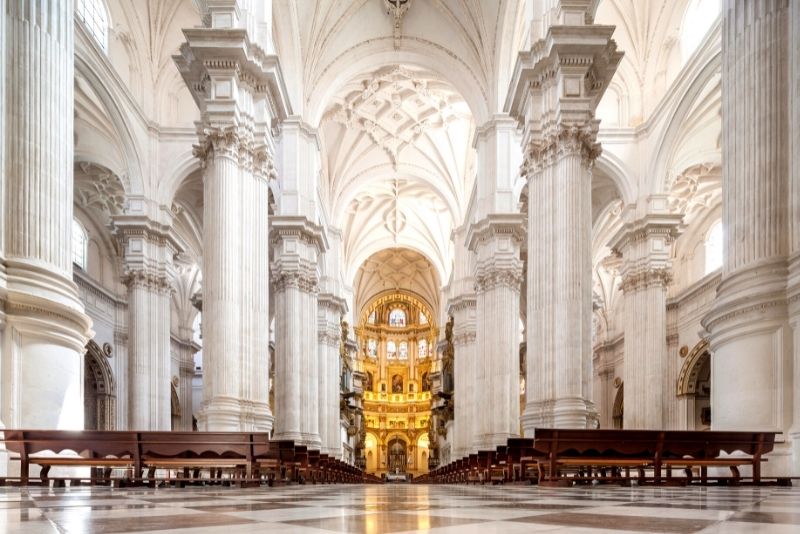 Constantly finding itself on postcards, the Catedral de Granada is a stunning Gothic-cross-Renaissance cathedral built in the 16th century and boasting an ornate interior — considering that it took 180 years to build, you'd expect some special, and it certainly lives up to that expectation.
Though its impressive exterior features spires and towers that soar upwards into Granada's skyline, it is within where this attraction truly shines: from foreboding rising columns to huge vaulting ceilings, the famous Door of Forgiveness and intricate stained-glass windows, many awe-inspiring elements make this a must for anyone visiting the city.
4 – Wander the streets of ancient Albaicín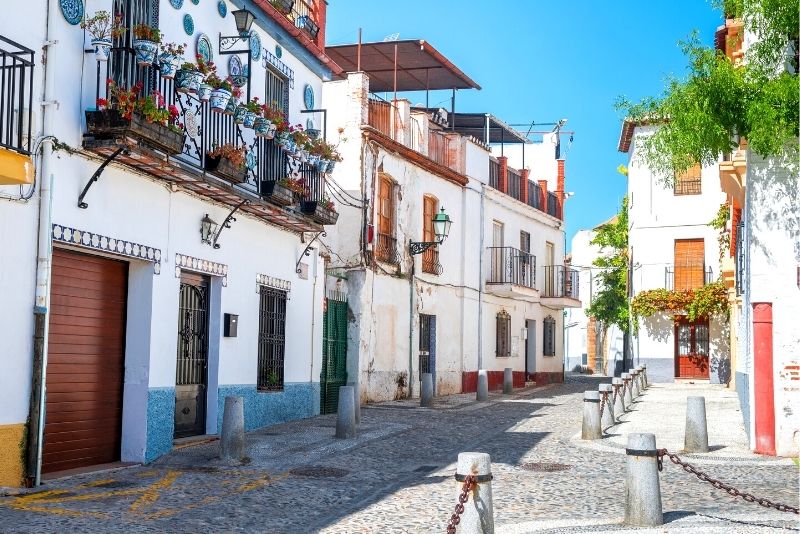 Explore the winding streets of Albaicín, a unique district that was once on the outskirts of Granada but now sits nestled within its walls, famed for its zigzagging Moorish age streets and eclectic colorful mix.
This quaint and colorful enclave is home to an atmospheric maze of whitewashed houses and characteristic flat-roofed buildings — you'll find it dotted with some gorgeous plazas and squares, as well as a slew of shops, restaurants and bars.
Whether you take a guided tour or wander around solo, make sure to pass by the Dar al-Horra, a 15th-century Nasrid palace that sits atop the highest part of the Alcazaba Qadima fort.
5 – Soak in the view from Alcazaba Tower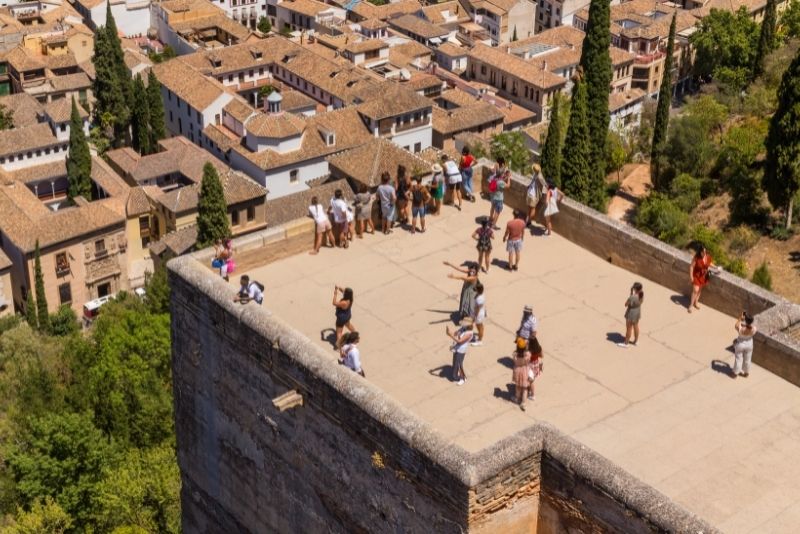 As you wander the mesmerizing Alhambra grounds, it's impossible to miss the Alcazaba Tower.
Its main watchtower, Torre de la Vela, serves up a postcard-worthy view of Granada, the Alhambra itself, and its surrounding mountains — including the breathtaking Sierra Nevada.
Soaring 27 meters high and famous for its bell, a photo from the observation platform in this 12th Century lookout is one of the essential things to do in Granada.
6 – Pretend to be Sherlock and try Scavenger Games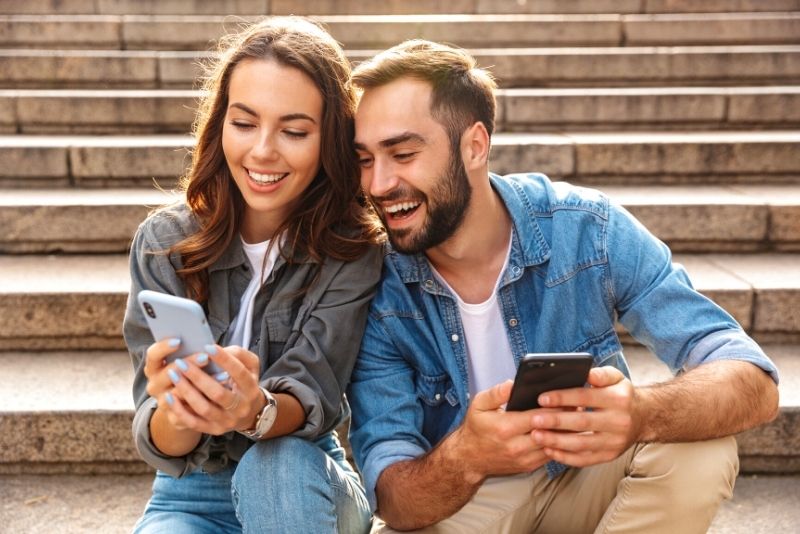 It's time to put on your thinking caps if you're keen to attempt one of the exciting and enthralling scavenger games around Granada!
Not only bucket loads of fun, but this is an awesome way to get to sightsee the city at the same time — plus a great option if you're traveling with a large group and one or two don't enjoy visiting city sites as much.
What's required? Two or more players, a smartphone and a bit of brains. You'll be given one clue at a time, each guiding you to various monuments and landmarks. As you solve one riddle, you'll find the next, and so on, until you reach the end … It's kind of like an escape room meets the Amazing Race.
Alhambra palace, Basilica of San Juan de Dios, Granada Cathedral and Puerta de la Justicia (Gate of Justice) are some examples of the places you'll cover over the course of two hours.
7 – Traverse the alleys of Alcaicería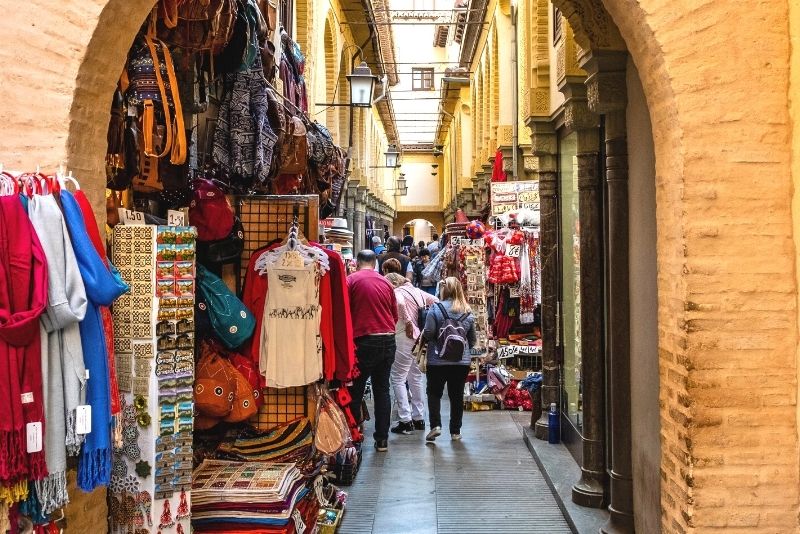 Granada is full of winding alleyways, but none are quite as evocative as the Alcaicería.
This fascinating mix between market and maze was once home to many Moorish silk-weavers, who brought their trade with them when they moved here some centuries ago; today it functions primarily as a shopping district.
Whether you're after local delicacies, authentic souvenirs, or just want to have a wander and soak in the noise and charm, this is one of the most atmospheric spots in Granada.
8 – Feel the rhythm of Sacromonte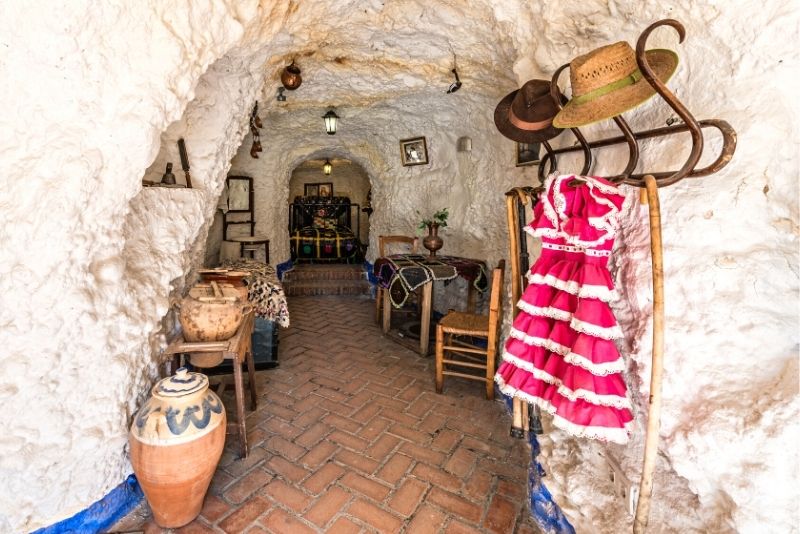 Love a spot of flamenco? Then you'll love Sacromonte, a district on the eastern outskirts of Granada that is home to some truly sensational live performances.
The area was once a gypsy neighborhood and it's not hard to see why: its winding alleyways are filled with impromptu music from buskers or folk musicians alike.
Renowned for its collections of large caves at the base of the mountain, history-curious visitors are drawn to the Sacromonte Caves Museum. Meanwhile, if its killer views and exquisite architecture you're after, look no further than the Abadía del Sacromonte (Sacromonte Abbey) at the top of Mount Valparaíso.
9 – Visit the incredible Cordoba Mosque on a day trip
One of Spain's best attractions, sitting about two hours from Grenada by car (or train) in the city of Cordoba, its eponymous mosque is widely appreciated as one of the most spectacular Moorish architecture monuments in existence.
Built originally in the eighth century by Moorish ruler Abd-ar-Rahman before being expanded by proceeding Muslim and Christian rulers, with its towering archways, dazzling dome, horseshoe-arched prayer section, sprawling floors and ivory decorations, this mosque is truly a sight to behold.
A UNESCO-listed Spanish icon, it's an essential Granada day trip option.
See also; Fun things to do in Cordoba
10 – Take a tour of the Fundacion Rodriguez-Acosta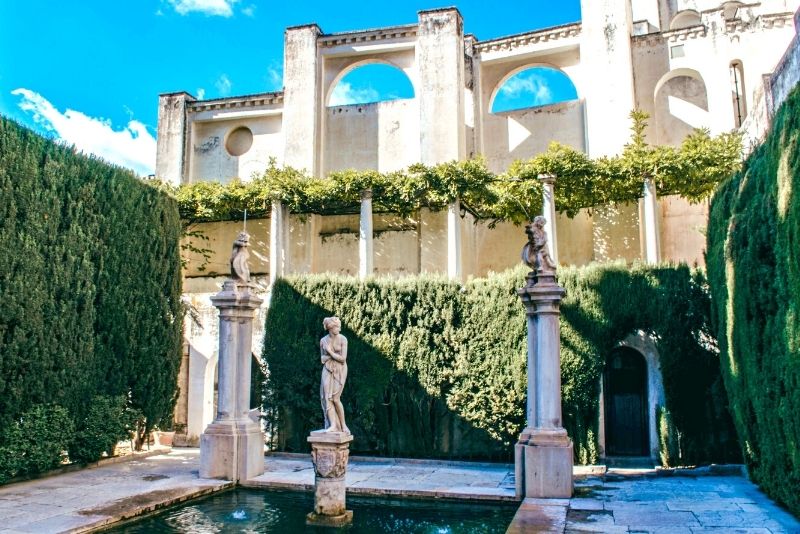 Sitting on the Realejo hill and named after the eponymous Granada-born modernist artist, the Fundacion Rodriguez Acosta is a breathtaking combination of outdoor museum, viewing platform and garden, home to an impressive collection of sculptures.
Spread throughout its romantic gardens, visitors will find beautiful ponds, Palomino frescoes, statues, Baptist carvings, and, perhaps most curiously, a section of hidden tunnels.
Keep in mind: the Foundation can only be seen as part of a guided tour.
11 – Watch the sun go down at the San Nicolas Viewpoint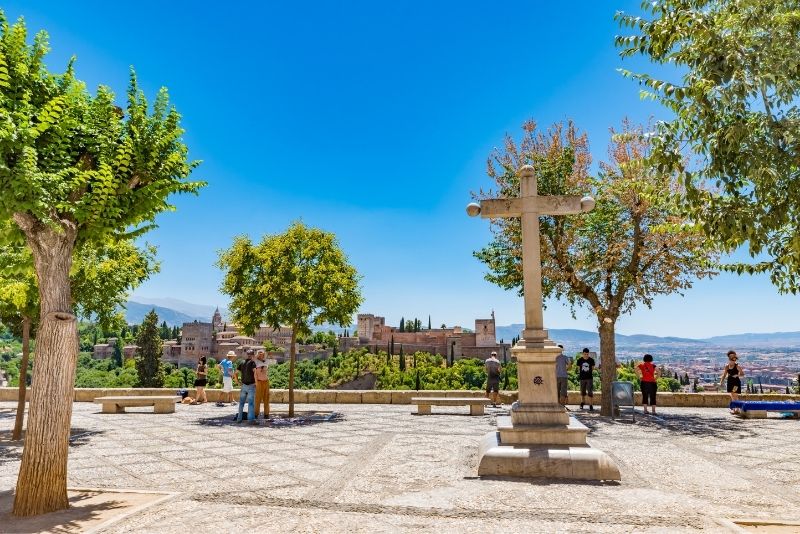 Hunting for a remarkable photo backdrop? Look no further than the Mirador de San Nicolas, site of a centuries-old viewpoint that offers one of the most iconic views of Granada: you'll tower over the Alhambra and its gardens, with the jagged Sierra Nevada as the backdrop.
More than just a lookout, the area also has restaurants with terraces for foodies (perfect for tapas and some wine) and the 16th-century Church of San Nicolás for history buffs.
Hot tip: head up to the lookout in the late afternoon and early evening, just before sunset — that's when it truly dazzles.
12 – Visit the Monasterio de Nuestra Señora de la Asunción "La Cartuja"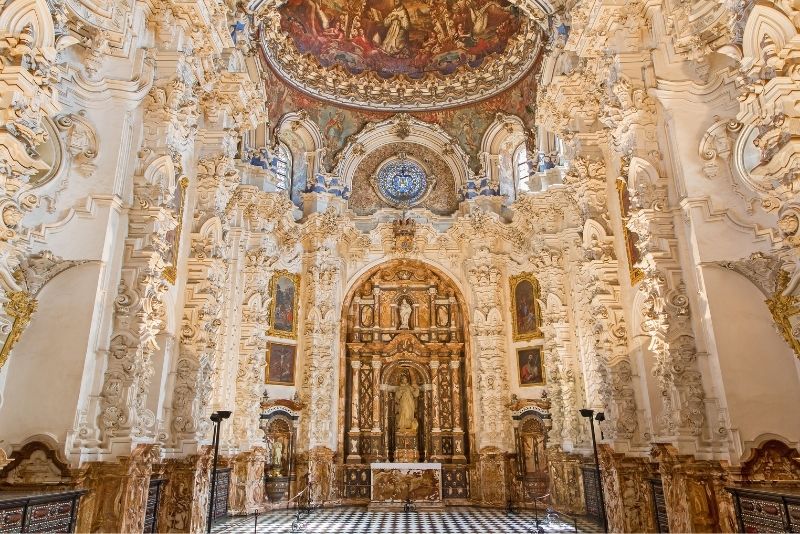 While the name might be a handful – in fact, most people just call it Monasterio Cartuja — the Monasterio de Nuestra Señora de la Asunción "La Cartuja" is a perfectly beautiful Baroque-style monastery that gives visitors an idea of what life was like in medieval times.
Set within sprawling green gardens and made up of wonderfully decorated golden rooms filled with priceless artworks, this stunning site offers a window into the past – it's definitely one to add to your list if you're looking for something a bit different.
13 – Join a locally-led bike tour!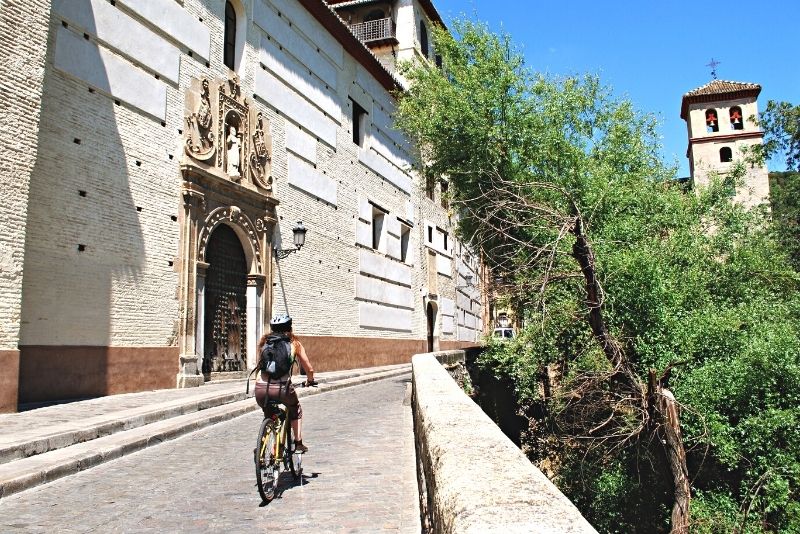 If you want to explore beautiful Granada beyond the tourist hot spots (and get a bit of exercise in), then there is no better way than on a good old-fashioned bike!
With an extensive network of cycle paths, this lovely Spanish city has become increasingly bike-friendly in recent years — and there are several tour companies that offer educational and adventurous guided city biking tours for visitors, veering off the beaten track and into more residential neighborhoods in search of hidden gems.
14 – Stuff your face on a food tour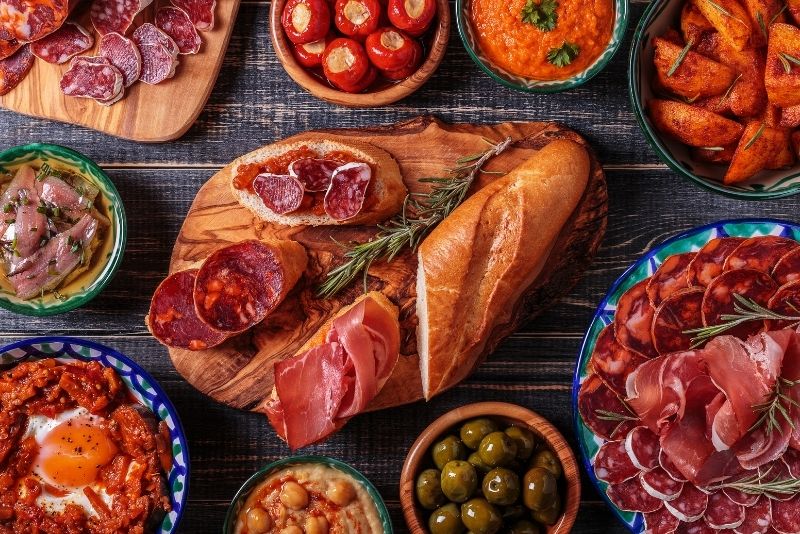 Foodies, listen up! It's no secret that the people of Granada are passionate about their food, so why not taste all of the city's traditional dishes and modern adaptations yourself?
With a number of local guides offering both bespoke cooking experiences and walking food-themed tours for visitors looking to delve deeper into Andalusian gastronomy beyond tapas and typical restaurant fare, rarely do travelers leave disappointed (or empty-stomached!).
Of course, with all that food — like Habas con Jamón or the award-winning Queso Montefrieño goat cheese — there's ample wine and sangria to wash it all down.
15 – Check out the Royal Chapel of Granada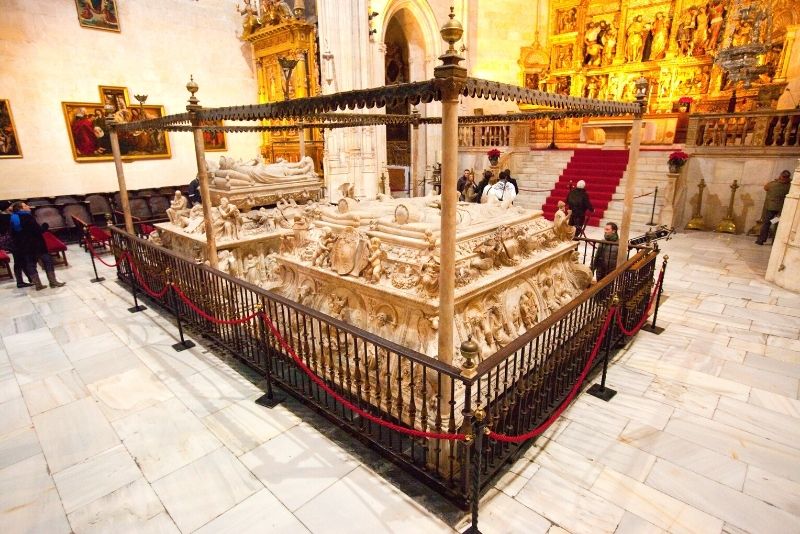 Another site steeped in history, the Royal Chapel of Granada is a stunning Baroque-inspired cathedral that sits within the palace complex where two pertinent Spanish figures — Queen Isabella and King Ferdinand — lie buried.
Besides the tombs and ancient significance, the Chapel is famous for its ornate, gilded interior, which contains a museum of paintings and artifacts considered extremely valuable belongings of the Catholic Monarchs.
16 – Learn about Granada's Muslim past at the Palacio de la Madraza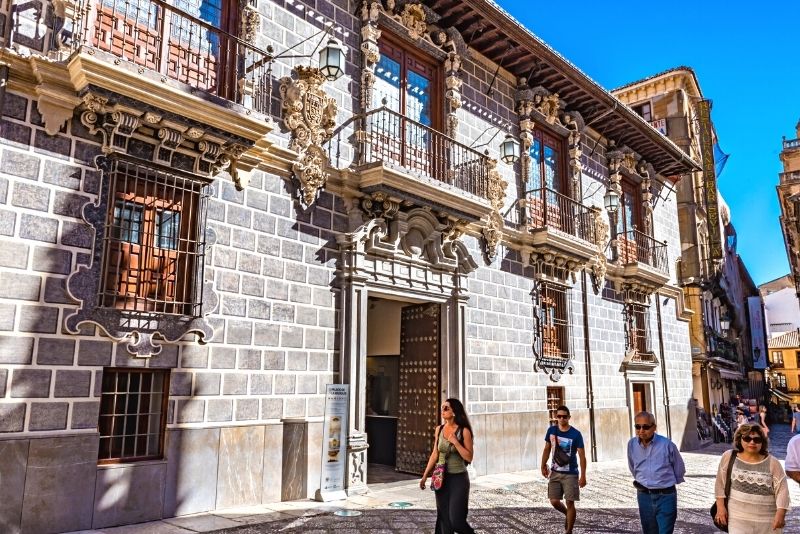 If you're looking for a glimpse into Granada's Islamic history, then this gorgeous palace-meets-mosque is one of the most important sites in the city.
Built between 1349 and 1362, Palacio de la Madraza was once part of an Islamic university — making it not only an incredible historic site but also a unique museum where visitors can learn about Islamic culture and history.
Today, it acts as part of the University of Granada, a noteworthy destination in its own right.
17 – Tick off the main haunts with a hop-on hop-off bus tour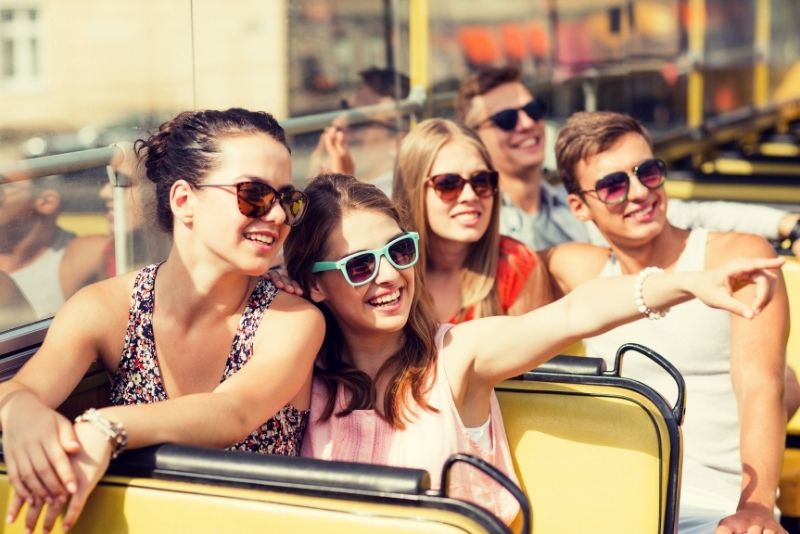 Trying to get a sense of the city's geography and major attractions? Then Granada's hop-on hop-off bus tour is an absolute must!
There are two different routes with their own dedicated buses for visitors to choose from, which roll through the city stopping at essential attractions like the Alhambra, Plaza de Toros, Plaza Nueva, Albaicín, and Mirador de San Cristóbal – just to name a few.
Hot tip: if you're looking to get a glimpse of the area's nightlife, the even City Centre tourist tram route is a great place to start!
18 – Walk beneath the Puerta de las Granadas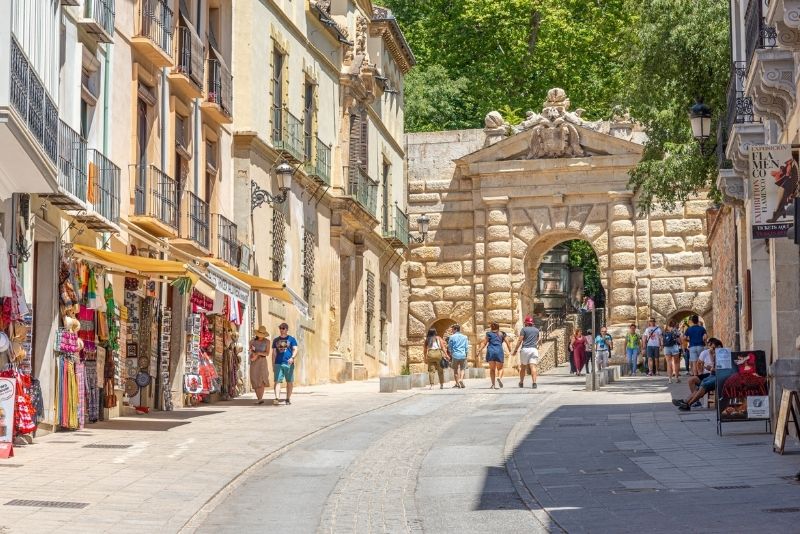 Translated to Gate of the Pomegranates, this gorgeous, Roman triumphal arch gate (in fact, there are three arches in total) is a true Granada icon.
Part of the original Moorish wall, the Puerta de las Granadas sits at the entrance of the Forest of the Alhambra which leads to the Nasrid palace — and its history is just as impressive as its design.
Keep in mind that many of the city's free walking tours will stroll past this landmark.
19 – Take a day trip to the Caves of Nerja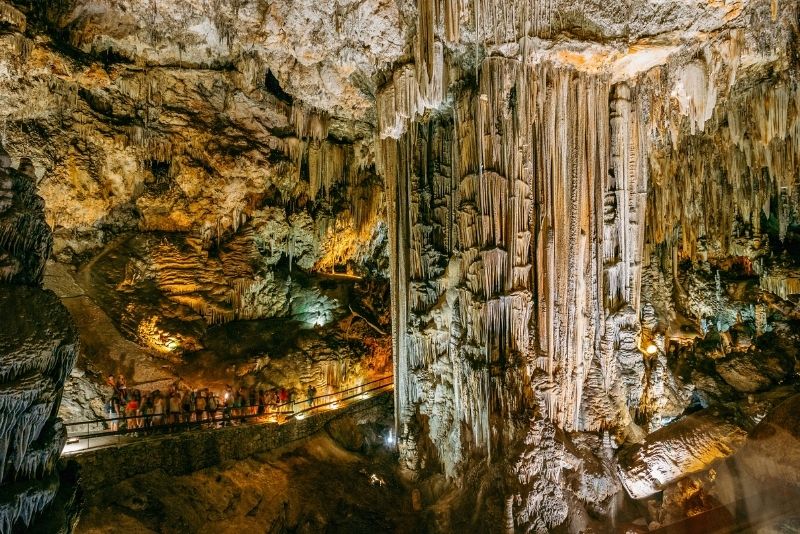 Sitting about halfway between Granada and Malaga, Nerja is one of the many small coastal towns in Andalucía with an abundance of natural beauty. More famously, however, it's also home to a wealth of caves.
The most notable for visitors are the Caves of Nerja, located just outside town and stretching for some 5 kilometers.
Besides the fascinating geology which is explored on guided tours, the Caves also play host to classical music concerts and occasional festivals!
En route to witnessing the caverns filled with stalactites, stalagmites and rock paintings, you will drive the ultra-scenic Tropical Coast road, also known as Costa Tropical.
Whether you've rented out a car or are part of a tour, the way to reach the Caves from Granada is along here. Take advantage of the beaches littered along this coastline, or stop by one of the local villages and towns, like Salobrena for example.
20 – Meet the animals at Biodomo Granada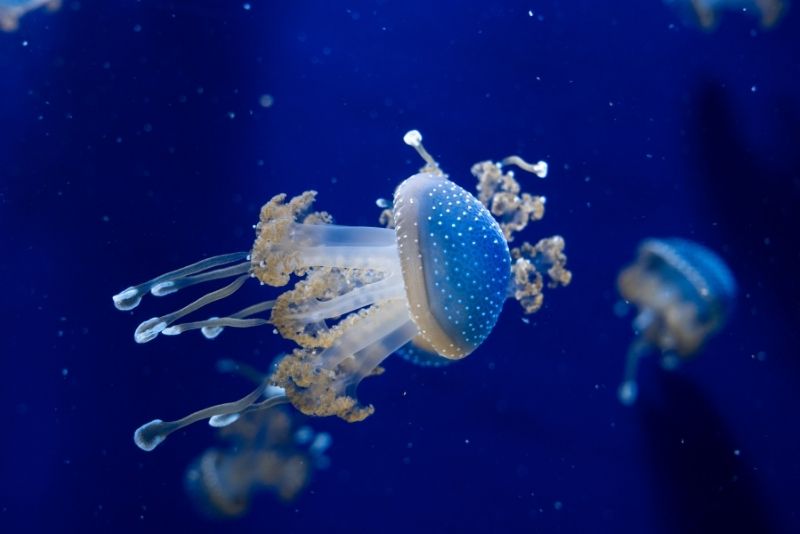 Any wildlife lovers out there? One of the best ways to learn about Granada's biodiversity — marine life, land animals, insects and plants — is at Biodomo Granada, a lovely city zoo that allows visitors not only to see its vast array of animals up close but also allows them to learn all about local habitats, environment conservation and research methods.
Located right next to the Genil River, it's the perfect afternoon activity before a blissful sunset riverwalk stroll.
21 – Sail around Granada during boat tours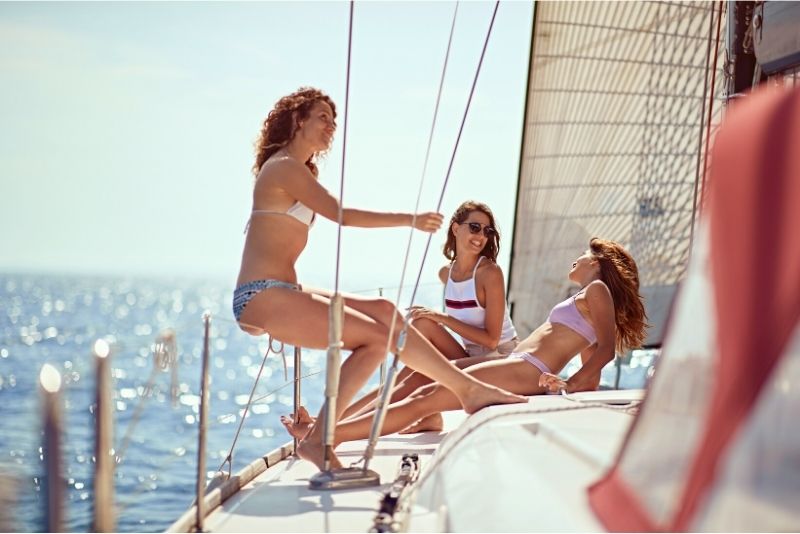 From cruising around at sunset to a luxe lunch on board a stylish catamaran for the afternoon, you can't go wrong with a boat tour, and lucky for travelers to Granada, there are plentiful to choose from …
Spend half the day sailing along the Costa Tropical, cruising past the bays and beaches that dot the coastline — make sure to keep an eye open for dolphin spotting! Lunch on deck is usually included.
Or opt to take a boat tour on a traditional 12-seater sailboat for a few hours and head out to Caliza, Cantarriján Beach or the Maro Cerro Gordo nature reserve to see the famed cliffs.
Hey, couples; a sunset boat venture adds all the romantic feels. Step onto your Bavaria 37 Cruiser Sailboat and head off into the sunset, toward La Herradura.
For those with a skipper's license, boats are available to rent out for a couple of hours or the entire day for a private venture out at sea.
22 – Head to Seville for a day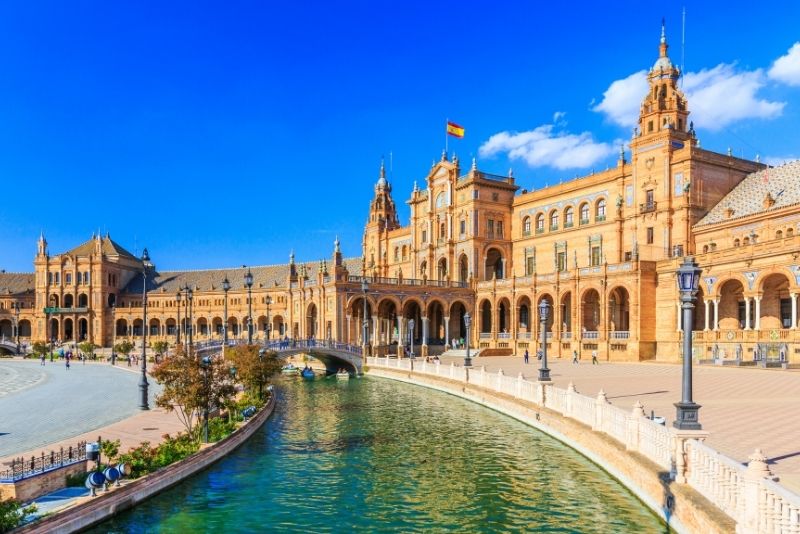 One of Spain's most vibrant cities (and fabled to have been built by Hercules himself), known for its flamenco music and dance scene as well as the annual Feria de Abril festival, Seville is one of Andalucía's biggest draws as well as its capital city.
Visitors flock to this southern city each year not only because it has a great cultural heritage but also for its excellent food, beautiful architecture and fun nightlife.
While you're there, consider checking out the Seville Cathedral, Real Alcazar de Sevilla, Barrio Santa Cruz (Jewish quarter), or catching Seville FC in action!
Discover the most fun things to do in Seville.
23 – Understand nature and astronomy at Parque de las Ciencias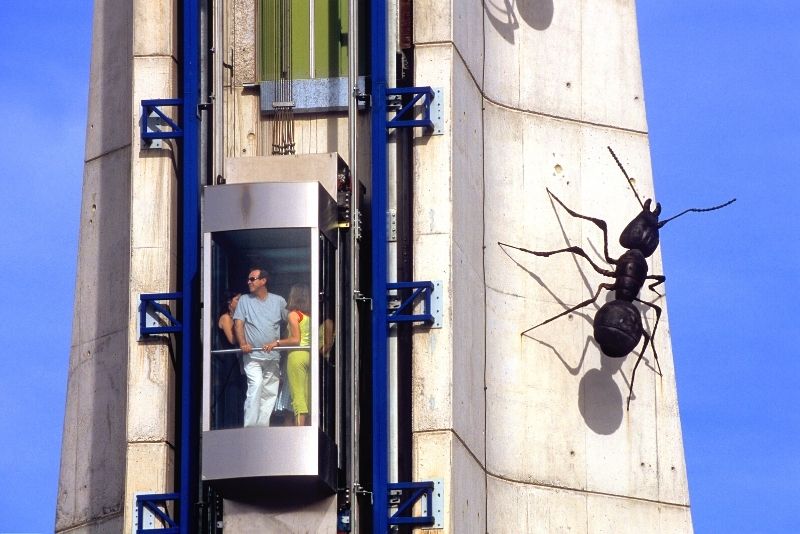 Welcoming more than 700,000 curious visitors a year — adults, kids and families alike — the Science Park is one of the most popular educational attractions in Granada, diving deep into a multitude of fascinating scientific themes like nature, astronomy, the human body, optical illusions, and a host of rotating exhibits to boot.
With dozens and dozens of interactive exhibits (plus workshops, exhibitions and lectures), it's a treat for anyone who loves a hands-on experience!
24 – Check out Las Alpujarras on a day trip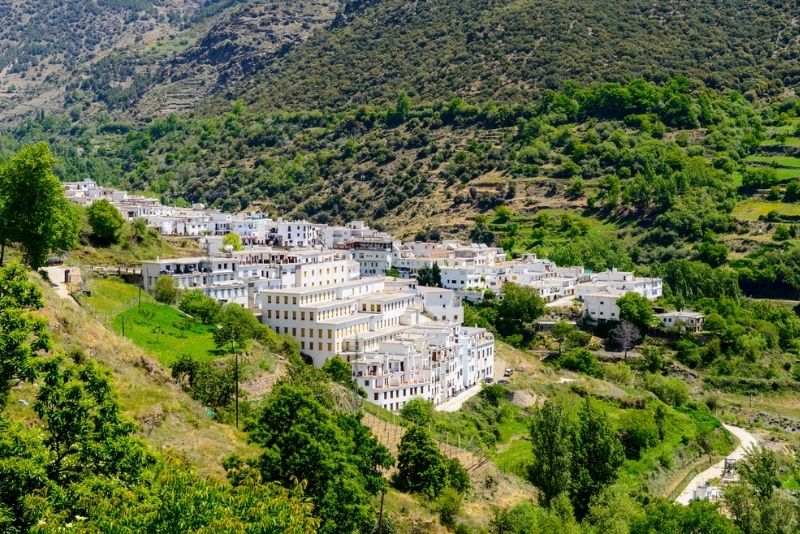 One of the most picturesque and traditional spots in all of Andalucía, Las Alpujarras is a collection of rustic yet charming white mountain villages that line the valleys and deep gorges of the Sierra Nevada's southern flank.
After checking out the villages, consider heading out for a hike; a series of well-trodden paths traverse through the hills and connect the towns to one another.
Of course, if you don't feel like figuring out an itinerary, a range of pre-organized day tours can take all the hassle out of your journey.
25 – Check out Carmen de los Mártires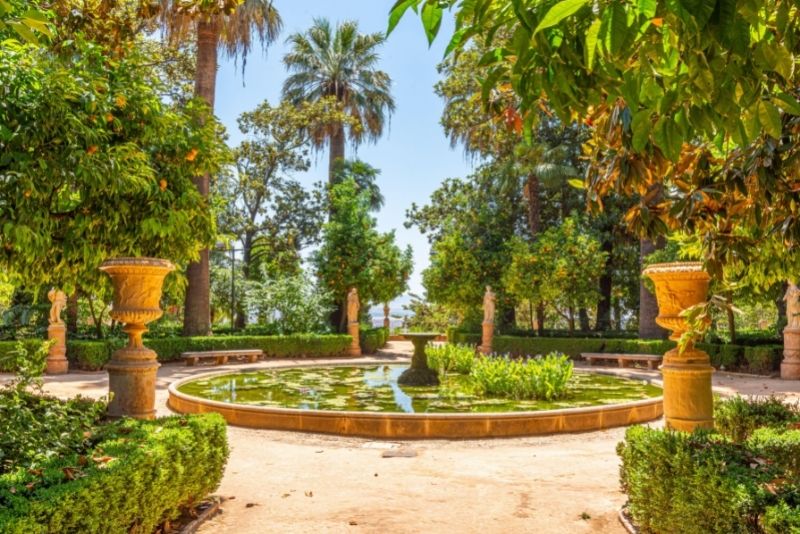 Nestled within the Alhambra, Carmen de los Martires (which translates to Carmen of the Martyrs) dates back to the 19th century — even earlier in fact, if you consider the former convent which stood on its grounds — and offers lush, dreamlike gardens, a spectacular view of the city, and a rare insight into the city's history and culture.
At just over seven hectares, there's plenty of room to wander around and soak in the tranquil atmosphere on those sunny days — and if you're lucky enough, you might spot a peacock or two!
26 – Roll around town with a segway tour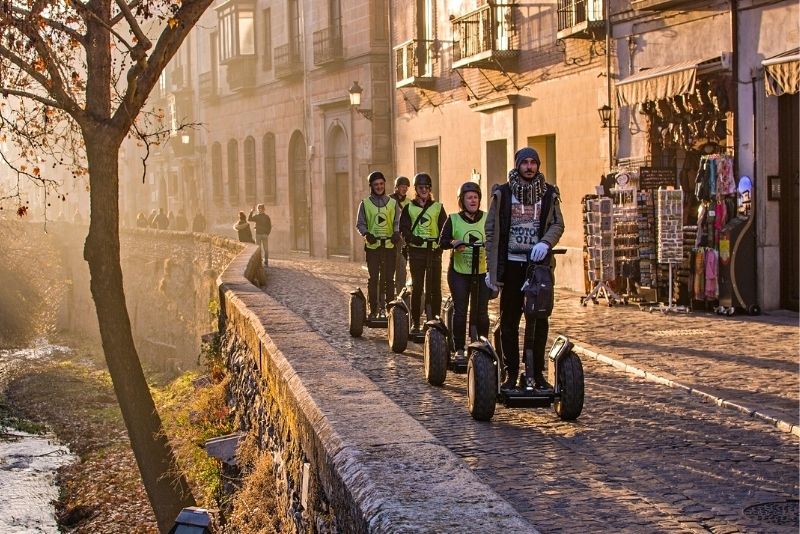 Sick of walking up and down those hills at a snail's pace? Why not join a Segway tour then?
Easier than you think to get the hang of, these two-wheeled self-balancing electric scooters are widely used throughout Europe and make for an ideal way to explore Granada's medieval sites at a much quicker (and more fun!) speed than usual.
Led by in-the-know locals and typically lasting around two hours, you'll not only zoom through the city's main attractions but also learn plenty along the way!
Looking for something different? Consider an off-road Segway tour instead!
27 – Tour the spell-bounding Monastery of San Jeronimo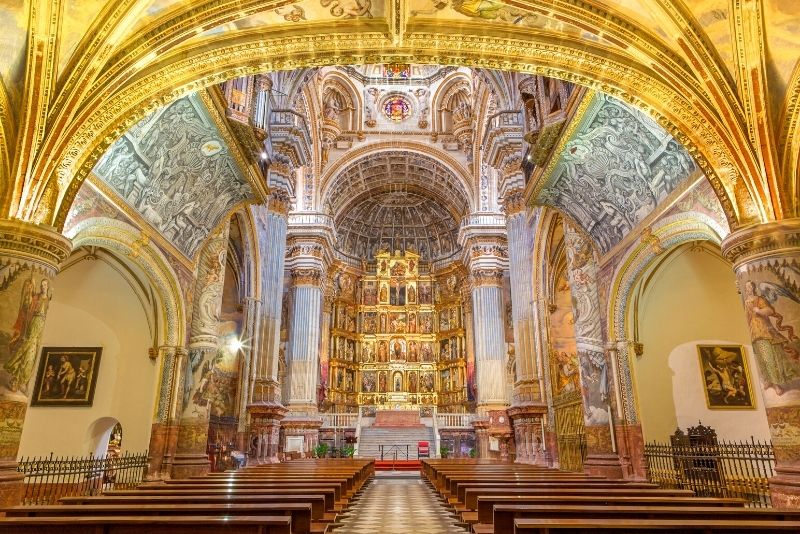 When it comes to the best-preserved monasteries in all of Spain, San Jeronimo is a revered choice — and one that doesn't disappoint.
Originally built in the early 1500s, the Renaissance-style is nothing short of stunning; with bright and fragrant orange trees scattered through its gardens and a royally decorated interior full of intricate archways, mosaics, murals and artwork, it's constantly spoken of as one of the quintessential things to do in Granada.
While the Monastery is open Monday to Sunday to explore at your own pace, a Sunday guided tour (usually at 11 am) comes highly recommended.
28 – Stroll down the Paseo de los Tristes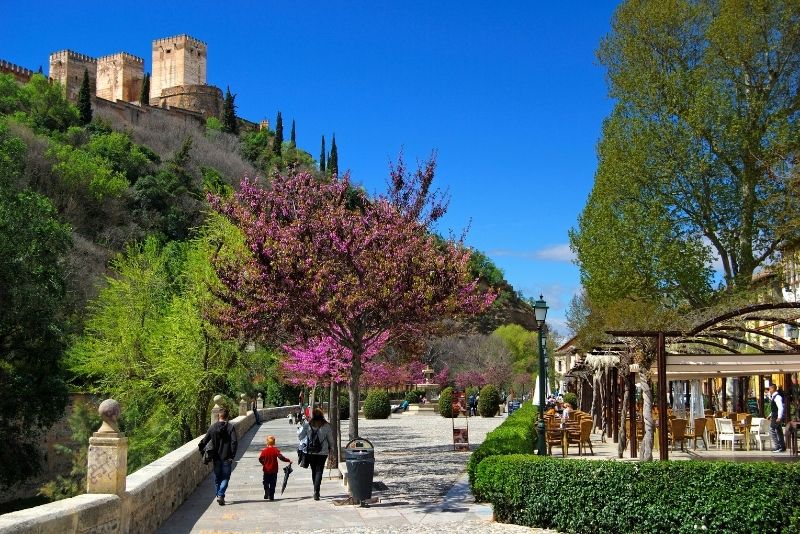 A picturesque river walk in the center of Granada, Paseo de los Tristes is steeped in 400+ years of history and is a popular choice for locals and tourists alike — especially during springtime when it comes to life with its blossoming flowers, festive atmosphere, and unmatched Alhambra views.
While easily visitable on your own, a range of locally-led walking tours will also stroll through this area, with fascinating history tidbits out the wazoo.
29 – Hike the Los Cahorros trail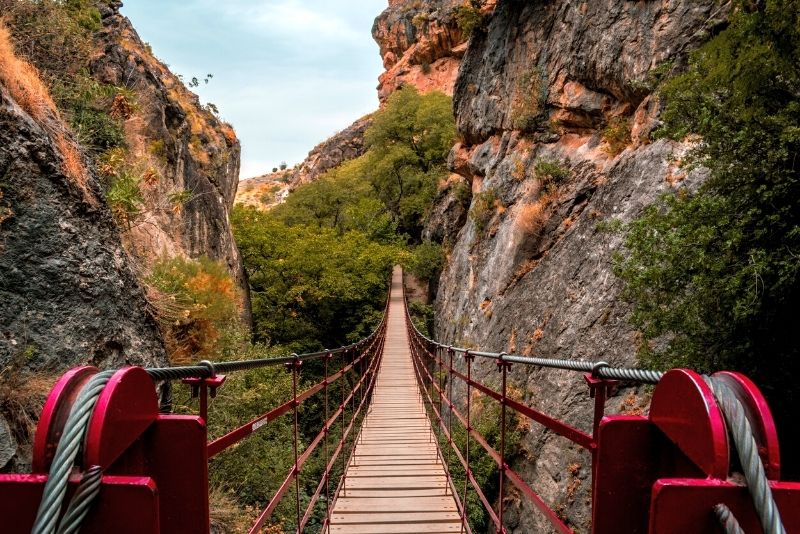 A little more strenuous than the average Granada activity, hiking through Los Cahorros is an arduous but rewarding experience.
Specifically, the Los Cahorros route is just 8 Kilometers from Granada's center and Alhambra, making it an easy half-day experience.
However, boasting unforgettable adventures during any season (we're talkin' snowshoeing through the Sierra Nevada in the winter or crossing the famed Cahorros bridges and passing by waterfalls in the spring), no shortage of guided tours escape the hustle and bustle of city life and journey into Spain's beautiful natural countryside.
30 – Find freshly prepared tapas at La Botillería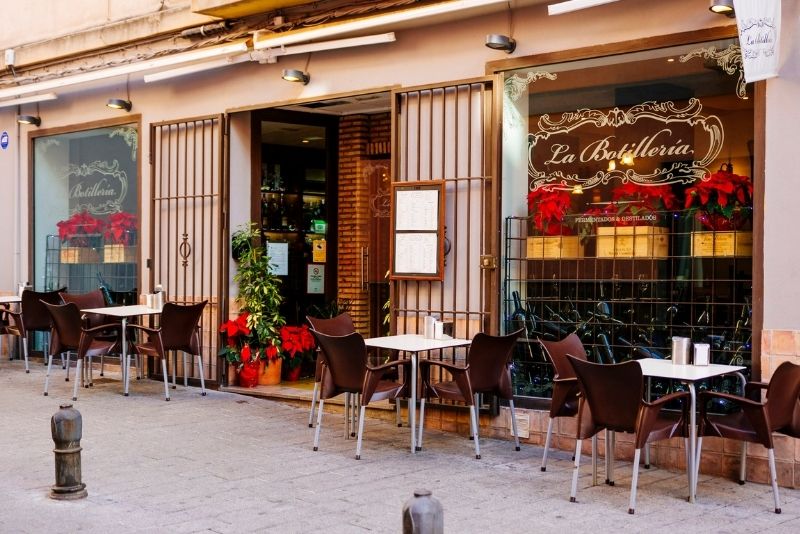 What do you think of when you hear the word 'tapas'? For many travelers, it's an opportunity to try some traditional Spanish culinary delights.
When in Granada, though, consider venturing away from your typical tapas bars and into La Botillería instead — an underrated staple stocking tasty Andalusian wines and all the classics tapas: slider burgers, pork cheeks, chicken casserole, and Iberian ham plates just to name a few.
31 – Unwind at a hammam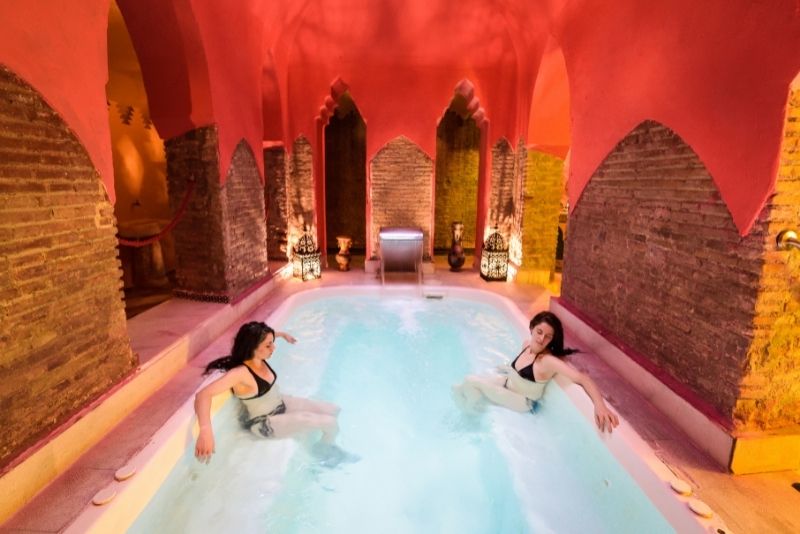 All about serenity, relaxation, and rejuvenation, the traditional Arab Hammam spa experience gives you a much-needed dose of zen following a few days of exploring or flying.
While there are a few to choose from, the most famous hammam is undoubtedly Al Andalus — located next to the Darro, it provides cold-hot therapy, massages, and a whole lot more.
32 – Grab a paddle and try out kayaking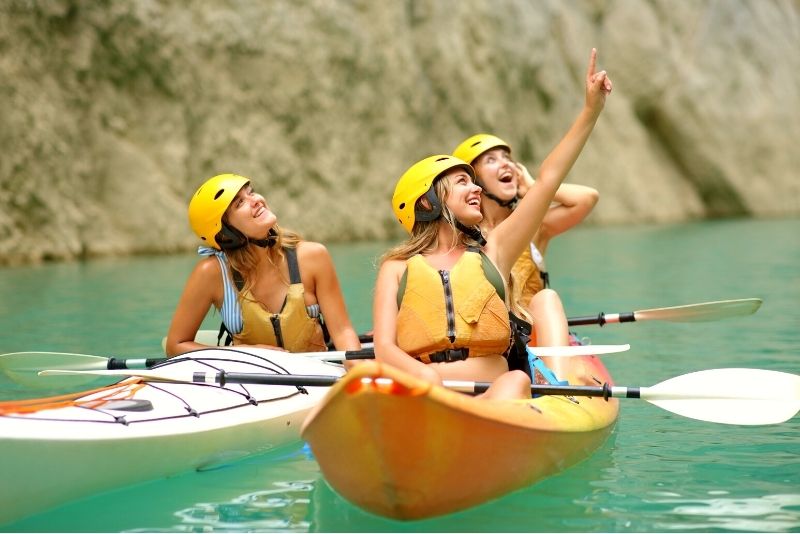 Whilst days are filled with investigating the incredible architecture — from Baroque to Renaissance — if you're searching for an activity that offers a reprieve from the city, head down to the coastline and go kayaking.
There are quite a few options when it comes to kayaking tours, varying in time and location.
Most excursions last between two to three hours, and the beaches and caves around La Herradura are a popular pick for many. Kayaking is available from Playa Calaiza beach (at the Cerro Gordo Nature Reserve) as well.
If you prefer calm bodies of water to the ocean, you can kayak around Quéntar Reservoir, Cubillas Reservoir or the Negratín Reservoir instead.
Gliding across the water is great and everything, but for those keen on exploring the world underneath you, consider an amazing snorkeling experience. There are tours that combine kayaking and snorkel time into one expedition too.
33 – Saddle up for a horse riding adventure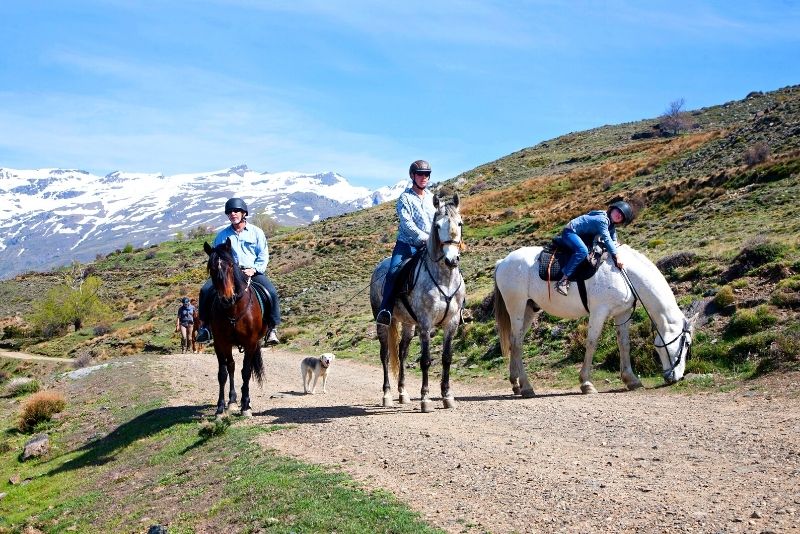 Giddey up! If you're a fan of the great outdoors and one who prefers to do things the old-fashioned way, there's no better way than going horseback riding across Granada's gorgeous countryside.
With ranches catering to all ages and experience levels located within 30 minutes drive of the city center at the foothills of Sierra Nevada (and often offering hotel pickup), it's certainly one of the more underrated things to do in Granada.
34 – Step back in time at El Bañuelo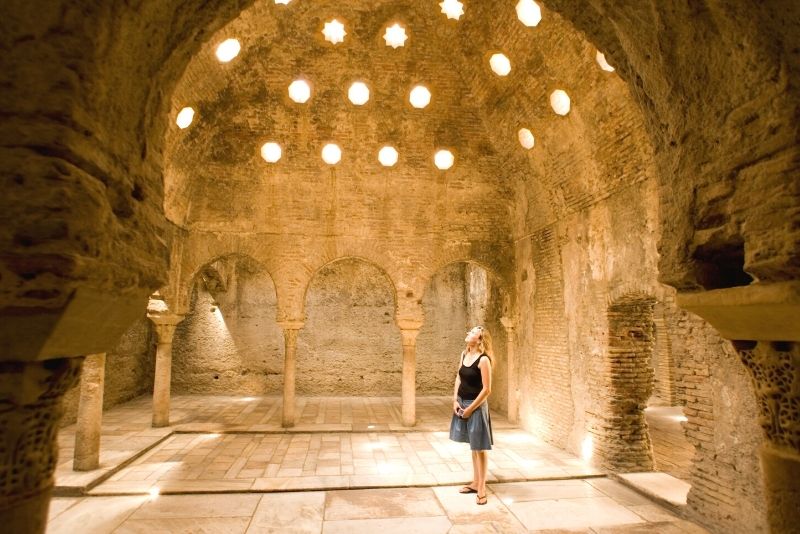 Skipping over to the other side of the Darro, El Bañuelo (also known as the Hammam al-Yawza) is another delightful little spot to relax, unwind, and get that much-needed R&R — or, at least, it used to be.
Today, it acts more as an open-aired museum, showcasing the ruins and traditions of the baths which, remarkably, date back all the way to the 11th century — a step back in time awaits in what is the best-preserved public Arab baths.
35 – Soak in the vibe of Carrera del Darro Street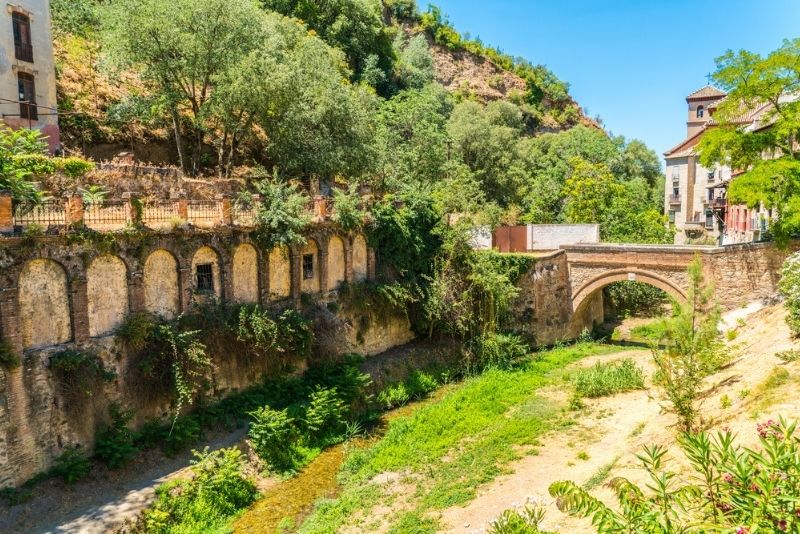 Laid with cobblestones and exuding romance and beauty, with cafes and shops all around you, the Carrera del Darro is one of the most picturesque streets in all of Granada.
As you would expect, it's also home to a number of well-known — including El Bañuelo (see above) — but what really makes this street special is its vibrant air and central location.
Look one way and you can admire the Alhambra palace atop a hill; look the other and you can explore a hidden labyrinthine of alleys leading to the Albaicín.
36 – Head to the Sierra Nevada on a day trip (in a jeep tour, perhaps)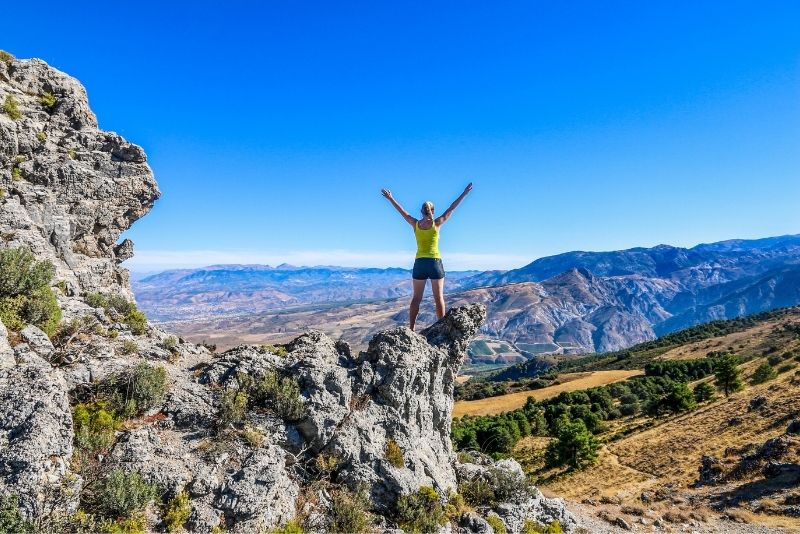 Any adrenaline junkies out there? Well, you might want to look into a jeep tour of the Iberian Peninsula's Sierra Nevada mountains!
Specifically designed for those seeking a rush of thrills and some more serious off-road action on your way up to Granada's highest peaks (over 2800m high), it doesn't get any better than this!
While tours differ slightly depending on your preference, typically, starting from Granada with hotel pickup included, you'll be taken through picturesque villages and the forests of Andalucia before arriving at the bright turquoise waters and rolling hills of Spain's most revered mountain range.
37 – Marvel at the art-lined ceilings of the Basílica de San Juan de Dios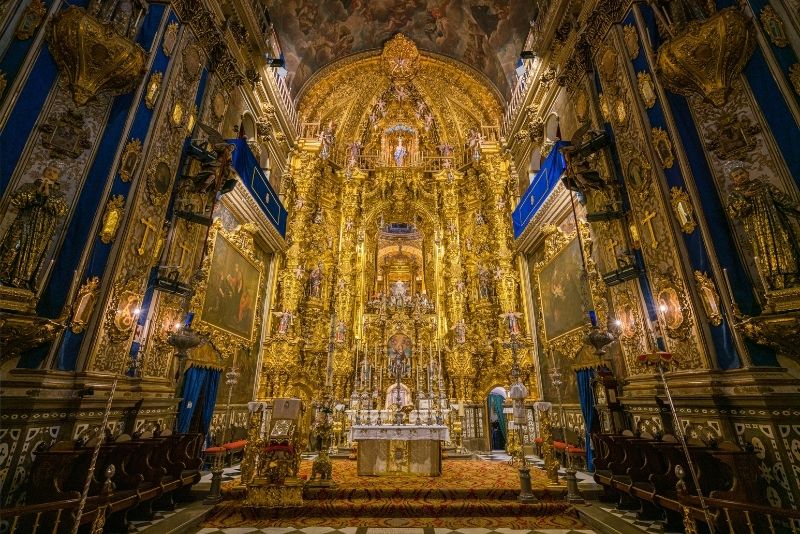 One of the most eclectic and inspiring churches in all of Andalucía, the Basilica de San Juan de Dios is truly a hidden gem — often overlooked due to its proximity to the Real Monasterio de San Jeronimo, albeit purely to the detriment of those who choose to do so.
Dating back to the mid-1700s and within walking distance of the city center, the Baroque landmark is most renowned for its detailed frescoes and enchanting, decorated dome.
38 – Love all the fun had during Quad Tours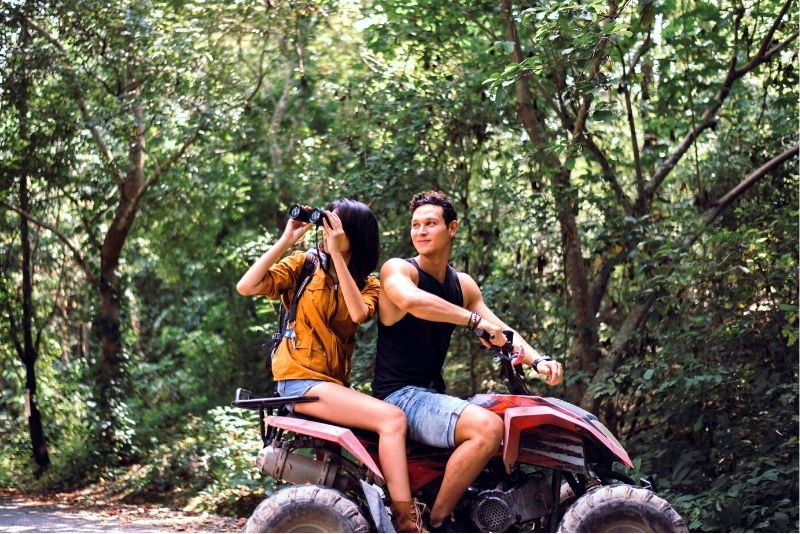 Are you in the mood for a bit of an adrenaline rush? Then it's time to helmet up, rev those engines and head off on an epic quad tour through mountainous terrain, passing gorgeous rivers and over hidden pathways.
One, 1.5 and two hours of riding time are offered, and different ATV adventures trek through various parts of Granada.
Zoot around rocks and dusty slopes sporting native fauna in Sierra de Lújar, or other parts nearby like the arid hills of Guadalfeo Valley close to Sierra Nevada National Park.
Some expeditions cruise to Junta de los Ríos (Junction of Rivers) where two rivers meet, and with waterfalls to swim in!
If the idea of a quad bike sounds too daunting, or you're here as a family of four with young travelers, consider epic buggy tours! Just as fun, you're seated inside a four-wheeler with an open cage around you.
You can drive your own quad, or buggy, or play passenger whilst a professional takes the wheel and you just enjoy the ride — and thrills.
39 – Discover the marine life when scuba diving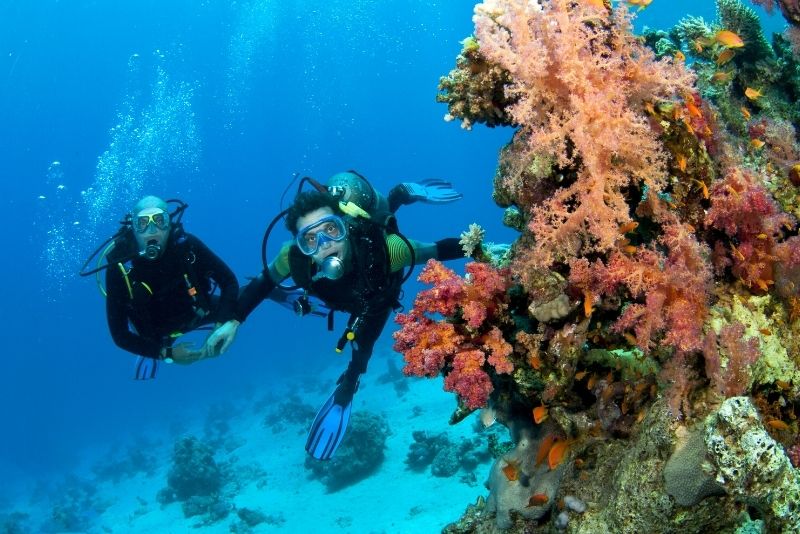 One for the mermaids and lovers of the deep blue sea; a surreal experience you can have is when scuba diving. Heading meters down into the ocean, your eyes open to a world like you've never seen before …
Whether you're a newbie or a seasoned diving pro, take your pick from a multitude of scuba diving adventures around Granada province.
If you've never tried scuba before, and aren't yet qualified, there are many centers around that offer PADI-open water courses, followed by dive time in the water. These range from 1.5 hours to five hours.
Swim to submerged sea caves or spot the special Posidonia marine plant (which flowers and blooms underwater) around the waters of Calahonda.
Get schooled with an introduction to scuba diving at the Peñón de Salobreña nature reserve, and diving around La Herradura is popular too. Or, find coral, interesting rock formations and the seabeds along the Almuñecar coastline.
Note: Remember, the city of Granada is inland, so clock in driving to the coastline into your travel time.
40 – See what events are happening at Fermasa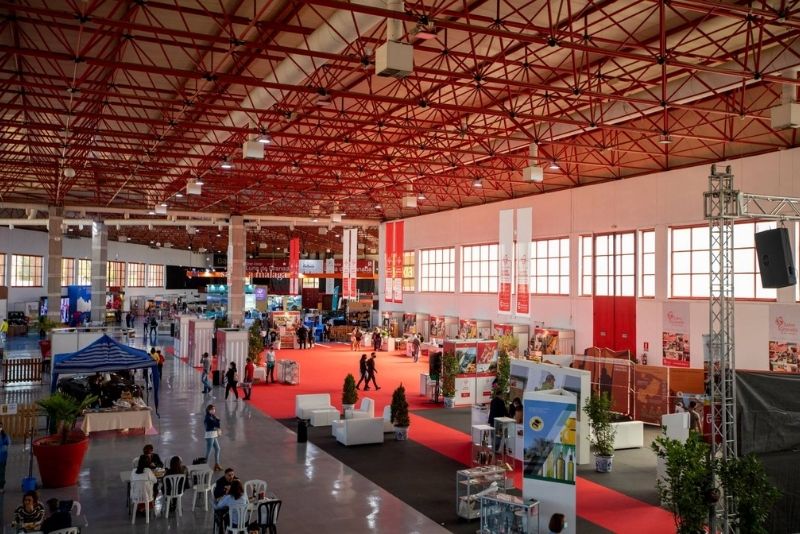 Officially named the Feria de Muestras de Armilla but abbreviated to Fermasa to avoid the mouthful, this 60,000 square meter venue is Granada's trade show epicenter, regularly welcoming different themed events throughout the calendar years.
Located on the southern side of the city, a stone's throw from the Rio Monachil (Monachil River), there's plenty to see in the area to complement the diverse roster of main events — check the website to see what's happening during your visit.
41 – Set aside a day to hike the Caminito del Rey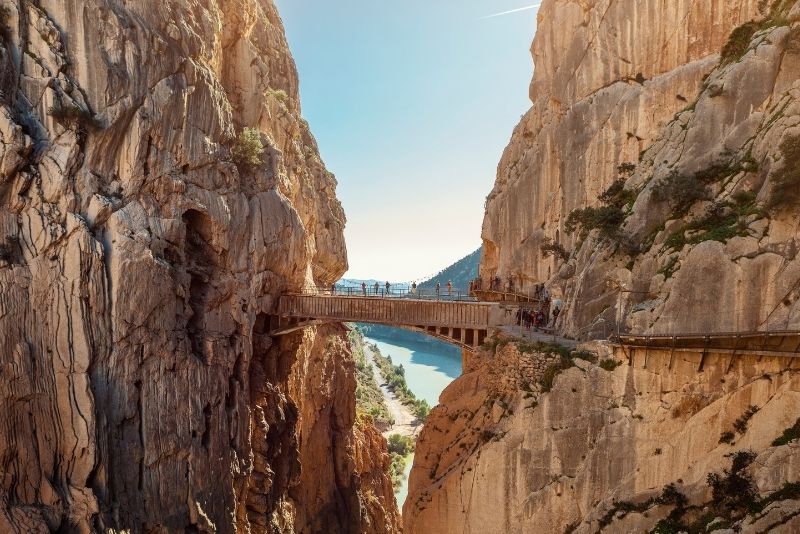 This short yet stunning hike — taking about three hours on average to walk the entire 7.7-km-long trail — is one of the most popular day trips from Granada.
Because the trek is one-way, starting in Ardales and finishing at the El Chorro village, it's best to tackle the hike with an official tour that organizes all of the logistics (and a few snacks).
Make no mistake though; this is no walk in the park: some parts of the traverse 100 meters above the river below!
42 – Enjoy the greenery of Parque Federico García Lorca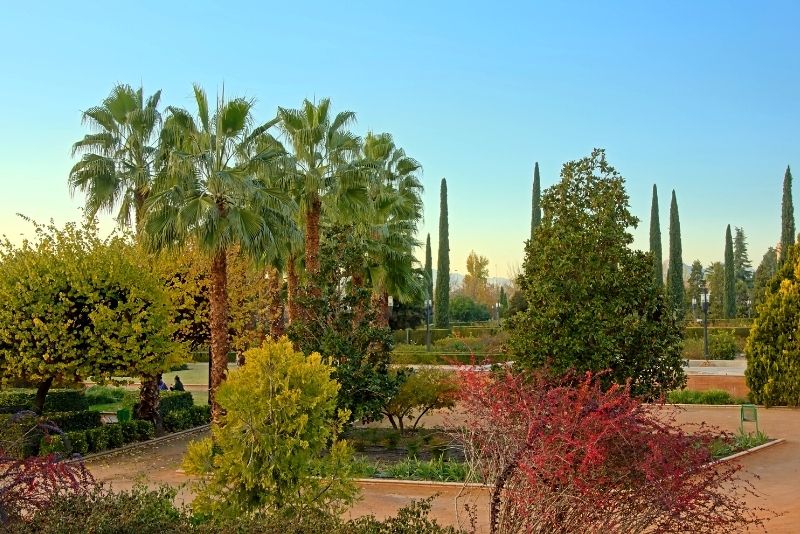 A touch of respite in a bustling city and a wonderful spot to relax in the shade, Parque Federico García Lorca is located on the western side of the city, home to the Huerta de San Vicente museum — the summer home of former famous poet Federico García Lorca.
The park is also home to a small pond, fountains, rose garden and an abundance of flowers — perfect for picnics!
Keep in mind that, while free, it's only open when the sun's up.
43 – Stop into the Corral del Carbón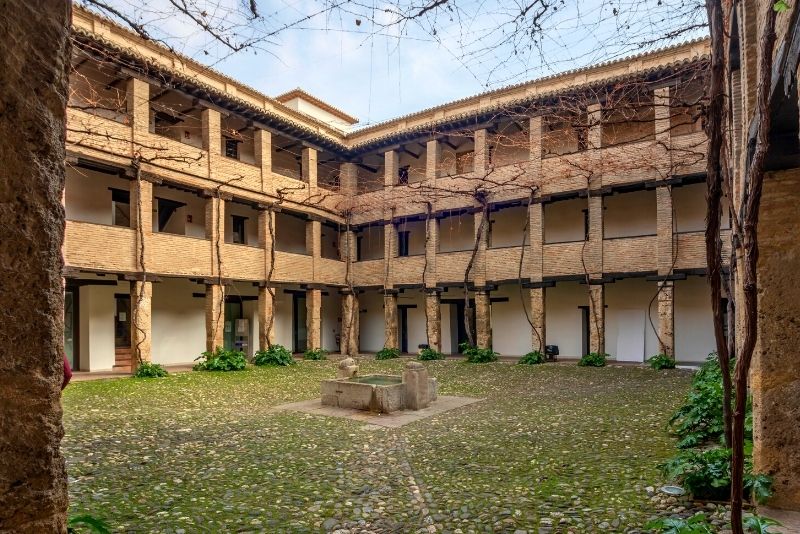 Vibrant and colorful, not to mention historic (dating back to the 14th century) the Corral del Carbón used to be a former corn exchange and accomodating that's now been converted into a mix of urban park and monument.
With the coveted claim to fame of being the oldest Andalusi landmark in Granada, located smack-bang in the middle of the main area, this small but picturesque spot is both easily accessible and essential.
44 – Go white-water rafting!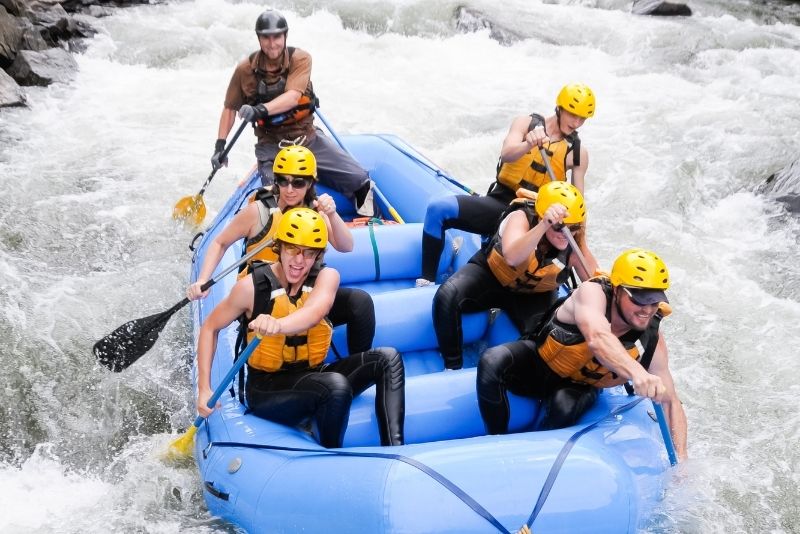 While the Rio Verde is the go-to for canyoning, if it's a heart-racing rafting adventure you're after, make a beeline for either the Genil or the Gualfalfeo rivers, where rushing whitewater and dramatic (yet family-friendly) rapids await.
Thanks to many different courses along the rivers, there's something for every difficulty level.
45 – Sip back on cocktails or sangria at the rooftop bars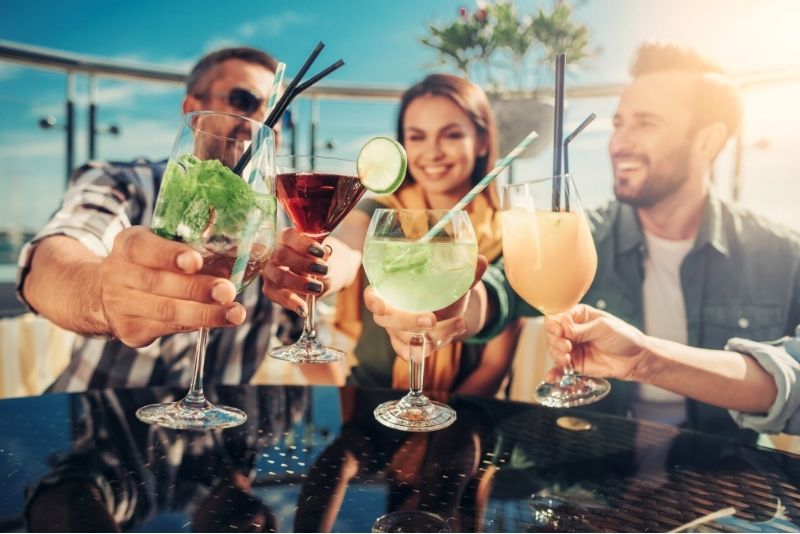 If you're in the mood for a few drinks after hours of wandering the streets or spending the day swimming and snorkeling, grab a couple of cocktails at a rooftop bar for views, booze and good vibes.
Chill out on the wooden deck, or relax around with a drink in hand at B-Heaven (at the Barceló Carmen), favored for its 360-degree vistas over the Sierra Nevada mountain range, Granada city and the Torre de la Vela watch tower in Alhambra.
Smack bang in the middle of Granada's old town, Monasterio Chill Out is a trendy rooftop locale, with views sweeping over the city. Grab cocktails around sunset hour.
There's always something cool happening over at Lemon Rock, from art-filled events to live music. The rooftop bar is on the top floor, and this jaunt is favored by bohemian souls and 20 to 30-something-year-old travelers.
46 – Jump in a hot air balloon ride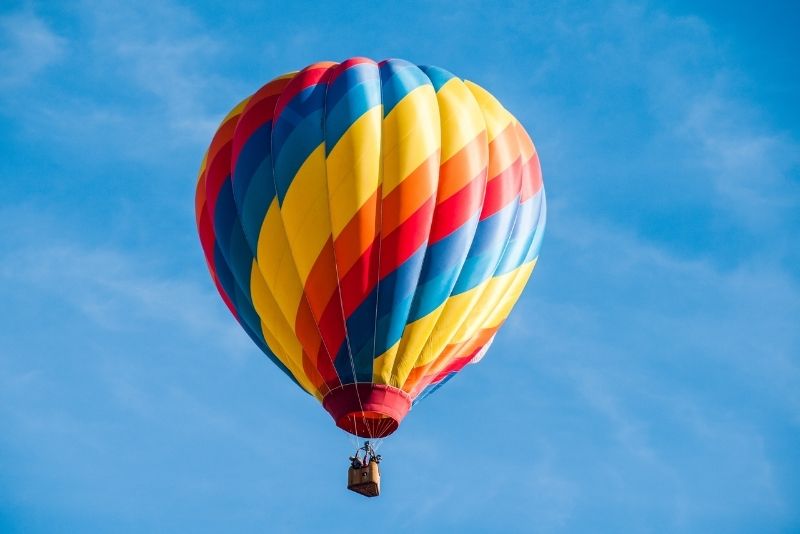 If you're seeking a bird's-eye view of the Alhambra, the city, and its surrounding natural beauty, there aren't many more thrilling ways to do it than onboard a hot air balloon.
Despite the early morning wakeup, floating above the hillside in an open wicker basket as the sun comes up while taking in all the magnificent views is definitely something worth adding to the bucket list.
And, to top of the experience, expect a hearty Andalucian breakfast with a glass of Champagne once you've touched back down!
47 – Learn about ancient punishment at the Palacio de los Olvidados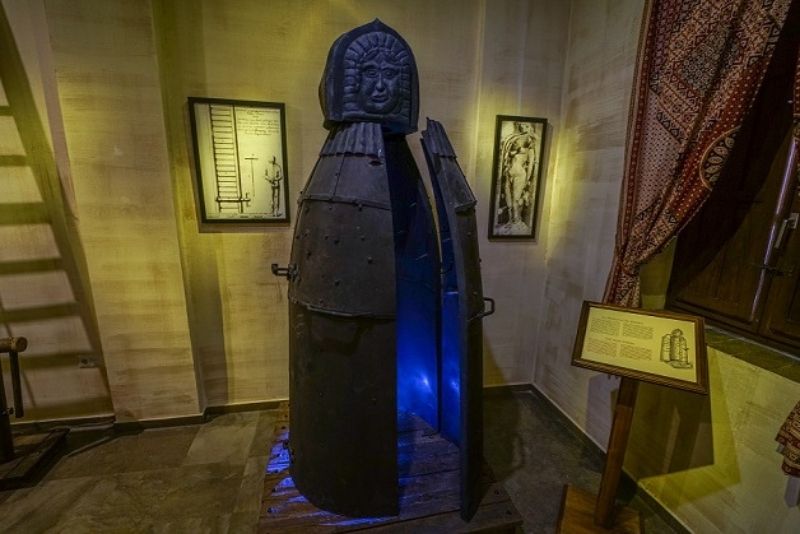 Translating eerily to the "Palace of the Forgotten", this unusual museum that overlooks the Alhambra explores a rather peculiar combination of themes: on the one hand, it showcases a wonderful Flamenco art collection complete with interactive experiential elements and, on the other hand, it provides a somber look at Europe's former relationship with torture, public humiliation and capital punishment.
The electric chair is a regular eyecatcher, likewise the human cages.
48 – Go canyoning along the Rio Verde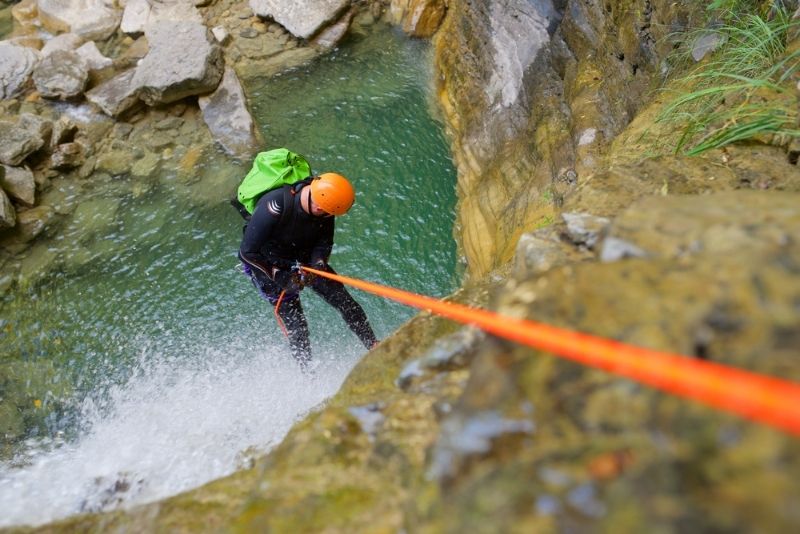 Outdoor adventurers, this one is for you! The Rio Verde, skirting from the Sierra Nevada National Park down to the Alboran Sea is one of the most stunning spots to go canyoning in Andalucía.
Just a short drive away from both Granada and Málaga, and famed for its paradise turquoise waters, this spot is perfect for adrenaline-junkies who aren't afraid of getting wet 'n' wild!
With a range of canyoning tours are available at different points along the river, simply choose your preferred thrill level and budget and quench that thirst for adventure!
49 – Get a little wild on a tapas and bar crawl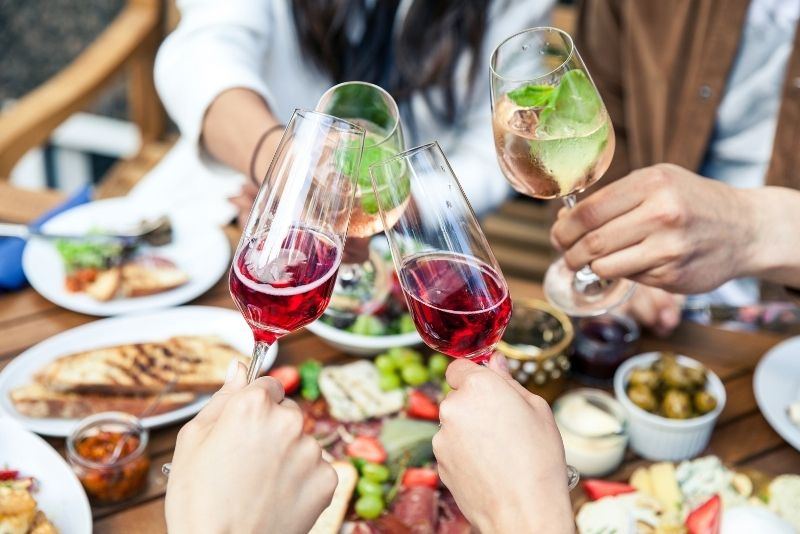 Hungry? Thirsty? Then you've come to the right place!
With its roots firmly planted in Andalucian culture, tapas bars — and therefore, for tourists, tapas tours — are a big part of what makes eating out in Granada such an inviting proposition. Not only do they offer a wide range of traditional and modern dishes, but also a mighty fine selection of wines, cervezas and sangria to complement your meal.
Of course, if you're looking to get a little wilder, why not opt for a dedicated pub crawl? Fellow thirsty travelers await, making it a great way to socialize and meet a few locals!
50 – Stay at least one night at the Alhambra Palace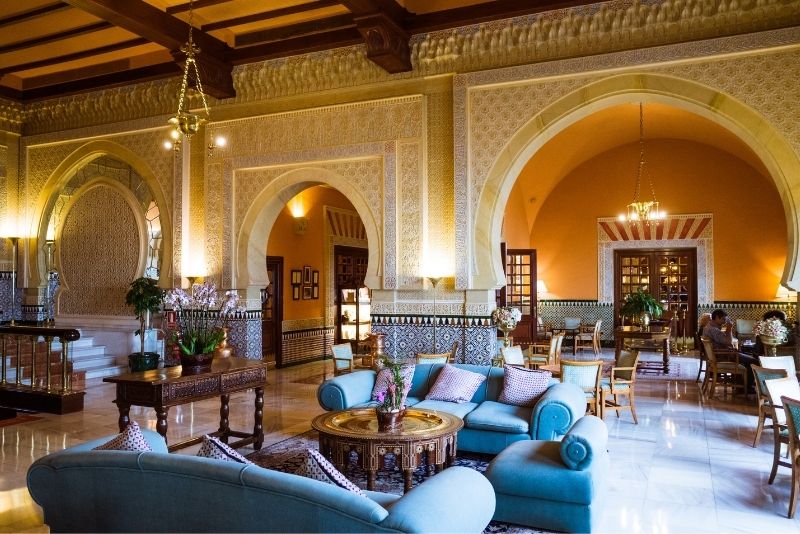 The dramatic plateau that is Alhambra has received its fair share of attention in this list of things to do in Granada. So if you're after one of the utmost luxurious accommodation options for visitors within a stone's throw of the great landmark, look no further than the stylish, Moorish-inspired rooms of the Hotel Alhambra Palace.
The popular accommodation is overflowing with historical architectural elements, houses a noteworthy à la carte restaurant that serves both Mediterranean and International fare, and sits within walking distance to the Albayzín quarter as well.
51 – Feel all the goosies during Candlelight concerts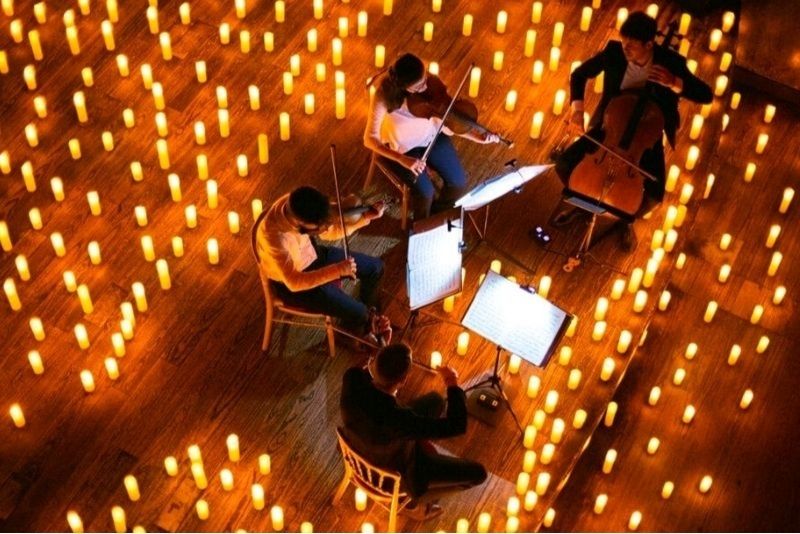 It's true, couples do love traveling to Granada, but it's easy to see why. Romance dances through the air, steeped in history and all the Renaissance feels. If you're traveling with your honey, candlelight concerts are truly special, offering something incomparable to the usual touristy picks.
Imagine this … You arrive at a unique location in time for a concert, but it's not the regular venue setup you'd be expecting … Dotting the room are hundreds of soft, glowing candles flickering all around you.
As the show unfolds, sit back in your darling's arms and enjoy — the ambiance is contagious.
There are a handful of these magical candlelight concerts to choose from in Granada. Witness a string quartet pay tribute to 'The Best of Hans Zimmer' at the Palacio de Santa Paula, or either a tribute to Queen or 'Vivaldi's Four Seasons' at the same location.
52 – Go paragliding!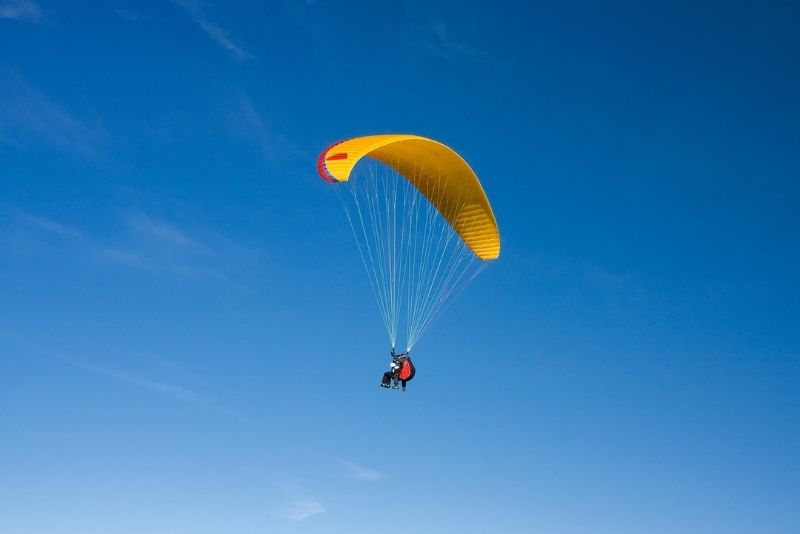 A stone's throw from the Iberian Peninsula's highest peaks, paragliding over greater Granada and the snow-capped summits and rolling hills of the Sierra Nevada is an exhilarating way to see the area.
With a maximum flight altitude of over 1,300 meters, you'll have plenty of time to admire the UNESCO Biosphere below, soaking in the brilliant contrast of green mountains, blue water, and sandy golden coastline.
Never been paragliding before? Fret not! A tandem instructor will be with you every step of the way.
53 – Foodies, explore the fine dining scene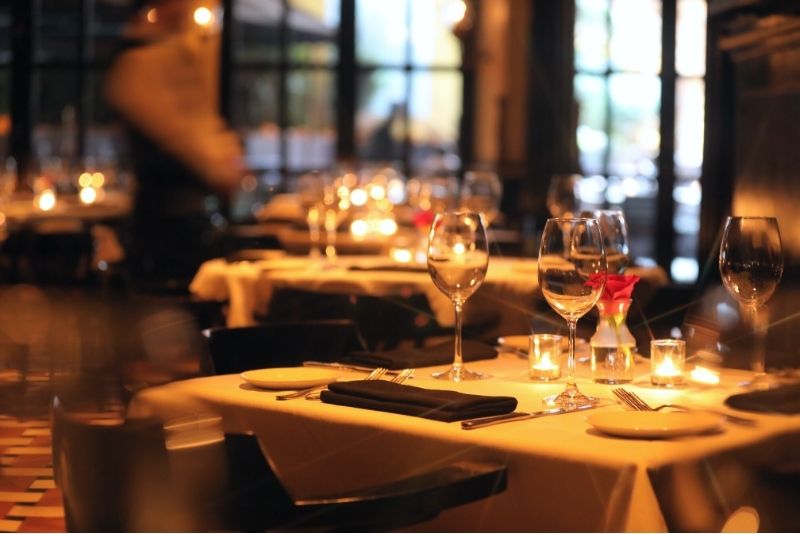 Spain is one European country much-loved for its flair and flavor when it comes to food, and besides the mouth-watering tapas to find on every corner, there are some impeccable restaurants to try out in Granada.
All with an official 'Michelin Point of View' mention, here are some of the best in town.
Located inside a 19th-century building, María de la O is inspired by the produce and ingredients of Granada, with a focus on a full gastronomic experience.
Diners arriving at Arriaga are treated to (beautifully-presented) plates of food that pay homage to the 'New Basque Cuisine' style of cooking. Situated on the top floor of the Memoria de Andalucía museum, the views and location are unparalleled!
Motivated by emotion, tradition and the culture felt and captured in Granada, Faralá offers three tasting menus to choose from based on these principles. You can add a pairing option to each for an extra charge.
Serving guests since 1989, Le Bistró by El Conjuro has a more relaxed atmosphere than some of the other "fine-dining" restaurants, however, the dishes all pack a massive flavor punch, popping with color.
Using seasonal, locally sourced ingredients (and sometimes international products), and showcasing the finest cooking techniques, Cala impresses all that arrive.
54 – Experience a live Flamenco show!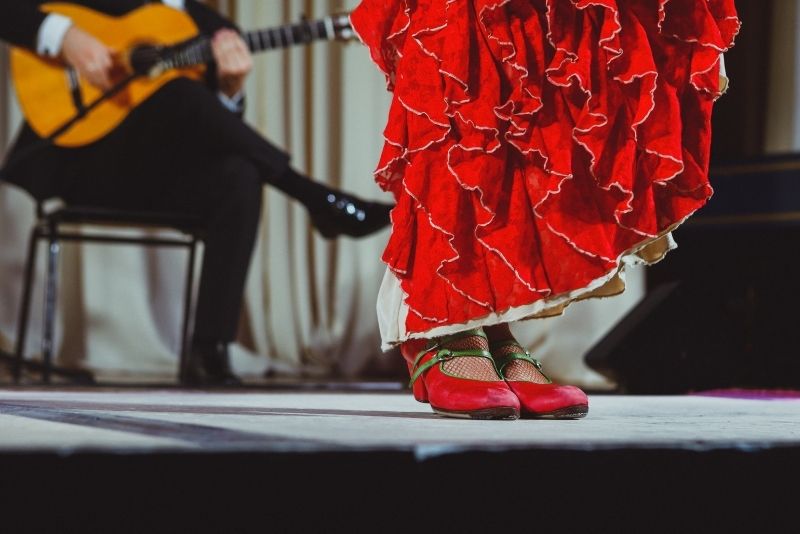 If you're looking for a more cultured evening of entertainment, you simply can't miss one of Granada's excellent flamenco shows.
With venues and theaters across the city, there really is something to suit every taste — from casual tapas bars where you can enjoy an informal show with friends while sipping on sangria; to world-class flamenco palaces where you can enjoy a full evening of entertainment complete with a three-course meal.
Need some suggestions? Jardin de Zoraya is a traditional Andalusian restaurant and local favorite, while La Alborea is the go-to for a more high-end concert experience.
How to get to Granada?
Rather than try to understand Granada's transport system or negotiate with taxi drivers, some travelers prefer to take all the hassle out of arrival by pre-arranging an airport transfer instead. The friendly driver will meet you at the arrivals hall and assist you to your car, and thanks to their inside tips, it's a great way of getting an overview of what the city has to offer.
Where to stay in Granada?
Offering everything from 5-star resorts and historic palace hotels to quaint B&Bs, budget-friendly hostels, and more, there is a bed for every traveler of every budget in Granada.
Need some suggestions? If you're on the hunt for all-out luxury, Parador de Granada oozes modern sophistication, Hospes Palacio de los Patos offers enormous rooms with jacuzzis to boot, and the Alhambra Palace Hotel dishes up unbeatable views.
For something more mid-tier, yet still boasting all the amenities you could ask for, the Sercotel Palacio De Los Gamboa offers excellent value, Catalonia Granada shows off with a rooftop pool and terrace, while the Eurostars Catedral is centrally located and full of upscale touches.
Pinching pennies? Consider the ECO Hostel, Granada Old Town Hostel, or 4U Hostel.
Visiting Granada on a budget?
With so much in walking distance of the city center, you can tick off the majority of the city's postcard-worthy attractions on a free walking tour. An array of excursions, led by friendly and charismatic locals traverse through a host of eclectic and historic areas: Albayzin, Sacromonte, Alhambra, and Realejo, just to name a few.
Keep in mind that, while free, you should leave your guide a tip.
Where to go next?
Whilst you may feel like you could spend forever in this culturally-enriching city donned in art and glorious architecture, there are plenty of other destinations in the south of Spain to explore, like Almeria, Malaga, Cádiz and Seville.
Looking for a unique mix of history, culture, and natural beauty? Head to Almeria, a must-visit for history buffs. Highlights include the 10th-century Alcazaba fortress, the Cathedral of Almeria. For oudoor seekers, don't miss the stunning beaches of Cabo de Gata-Nijar Natural Park. Additionally, the city is also known for its delicious tapas, particularly the locally caught fish dishes, making it a foodie's paradise.
There are many other fun things to do in Malaga (a 1.5 journey from Granada); famed for being the birthplace of none other than Picasso! It's a glorious mixture of art-meets-culture-meets-resort beach days. Not far from the city at all, it's a perfect pick for a day trip or your next overnight endeavor.
As one of the oldest cities in Europe, don't leave Cádiz off of your itinerary. There's a sleepy, magical feeling about this coastal town, and you'll lose the hours exploring its historic old center. It's a three-hour drive from Granada.
Seville is for the hopeless romantics, and romance oozes from the cobbled streets and alleyways. Visit the palace and sip back on the biggest glasses of sangria at a corner cafe. The timing between Granada and Seville is 2.5 hours.
A great way to travel to many destinations in Southern Spain in a short amount of (organized) time is by choosing multi-day trips. Within a few days (depending on the duration that suits you), journey to Seville and back, or to Sierra Nevada over two nights.
Final thoughts
From exploring ancient architecture to villas to hidden alleys lined with boutique stores and tapas bars, Granada delights in every aspect.
Have you traveled here before? What are some of your favorite things to do in Granada? Do you have a beloved spot with the best sangria for example? Share with us in the comments, we love hearing from our readers.
As always, happy travels!