The Portuguese capital has tons going on with beautiful architecture, old buildings and an easily accessible coastline. However, some of the most exciting destinations are located just outside the city.
Go on a day tour from Lisbon to Sintra for the rugged beauty of this delightful hilltop town and its mountains, forests and fantastical palaces. Read on to find out more about what you can see, how to get there, ticket prices and when to go.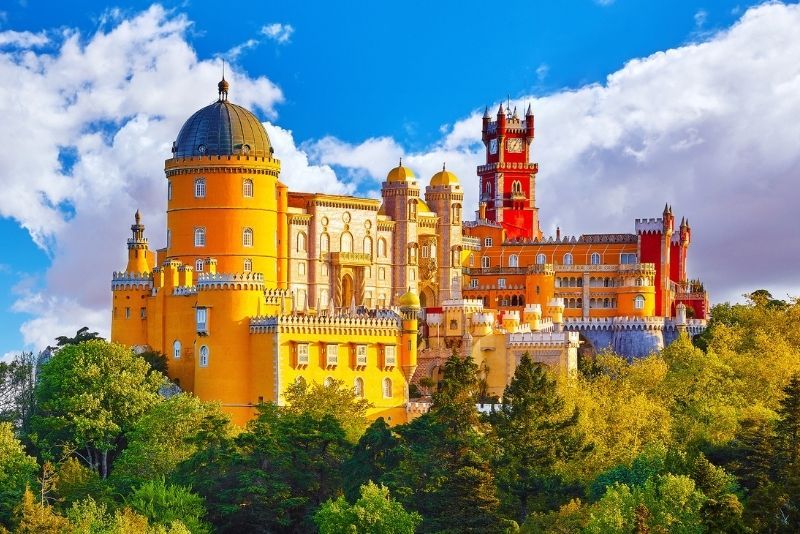 Here's all you need to know about Sintra, one of the most exciting day trips from Lisbon.
What will you see on a day tour from Lisbon to Sintra?
National Palace of Sintra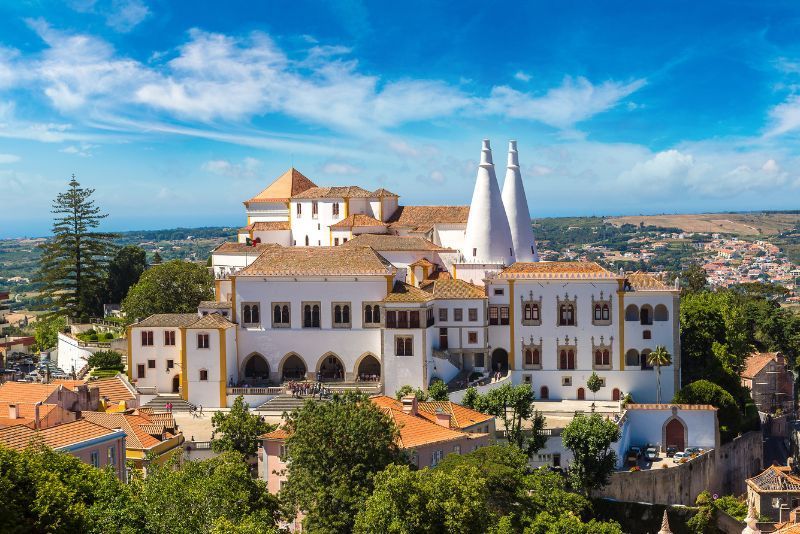 Located along a beautiful stretch of the Atlantic coast north of Lisbon is the hillside town of Sintra. It is one of the most picturesque spots in the country and a place ripe for exploration. There are opulent palaces, pastel-coloured villas, ancient castles, exotic gardens and stunning forests and parks.
One of the foremost attractions in Sintra is the National Palace of Sintra, which is regarded as one of Portugal's best preserved medieval royal residences. Visit here and delve into Sintra's history, seen through this palace dating back to the 15th century.
Pena Palace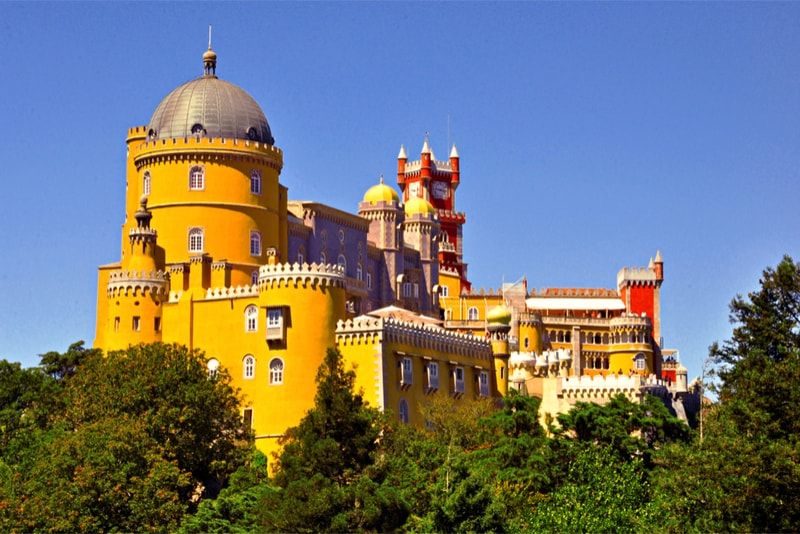 Pena Palace or the Palacio Nacional de Pena is a magnificent 19th-century building on top of the hills of Sintra. This fairytale-like palace was constructed by German architect, Baron Wilhelm Ludwig von Eschwege on the site of a medieval chapel dedicated to Our Lady of Pena.
It is an extravagant structure with brightly coloured façades, decorative battlements and statues of mythological creatures. After marvelling at the 19th-century Romanticism architectural style, tour the sumptuous rooms of the equally lavish interior.
Pena Park
Surrounding Pena Palace is the green-covered grounds of Pena Park. This oasis of natural beauty spreads out for more than 200 hectares and encompasses secret paths, pavilions, lakes, exotic trees and ancient forest. Stroll through the attractive landscape which is also dotted with several buildings.
Among them is the Chalet of the Countess of Edla, also known as the House of Indulgence. It was commissioned by King Ferdinand II and his future second wife as a private summer residence.
Quinta da Regaleira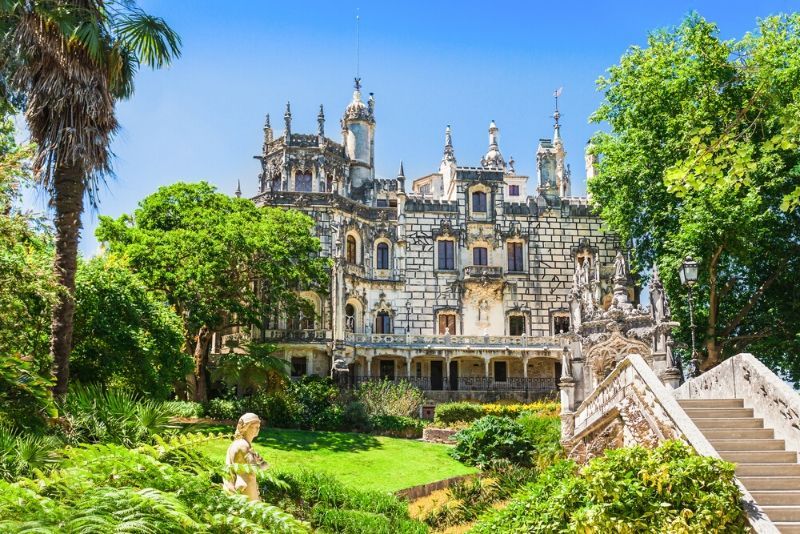 The Quinta da Regaleira looks like something out of a fantasy film, an early 20th-century Gothic palace of gargoyles, turrets, hidden tunnels and enchanted gardens. A wealthy Portuguese businessman commissioned the construction of this UNESCO World Heritage Site at the beginning of the last century.
After studying the building's exterior, step inside to tour such ornate rooms as the dining room and the Octagonal Room. Go into the Kings Room and look up at the ceiling adorned with portraits of kings and queens. Stroll through underground walkways and walk down the Initiation Well, a subterranean well with a twisting stairway that descends 27 metres into the ground. Other highlights include The Gods Promenade, an alley with statues of classical gods such as Venus, Ceres and Hermes.
Monserrate Palace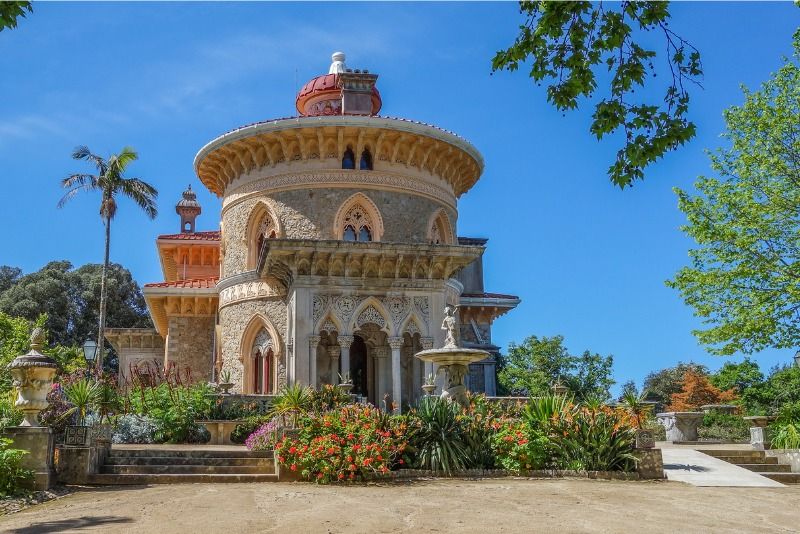 Long a refuge for writers, Monserrate attracted countless artists with its Romantic appeal and gardens. The Monserrate Palace was constructed in the 19th century, reflecting the myriad architectural influences seen in Lisbon.
Step inside the palace and admire the intricate details that bring to life the city's cultural heritage, or explore the gardens home to numerous exotic species.
Castle of the Moors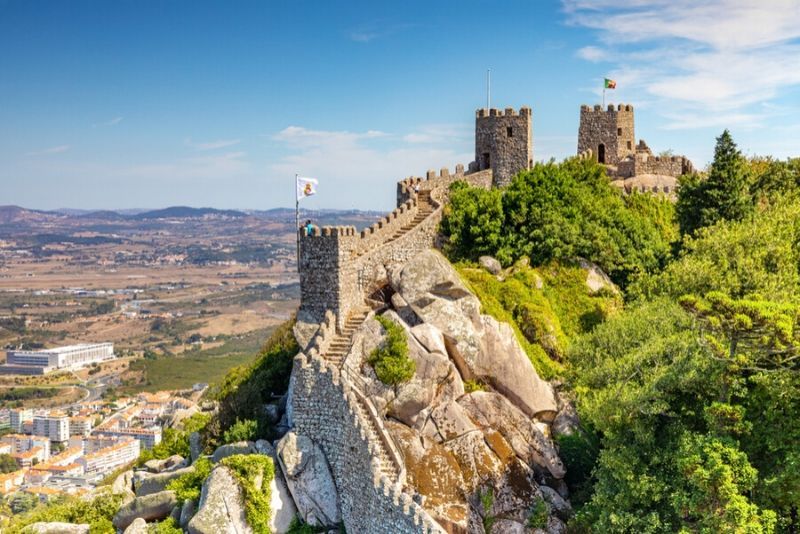 Towering above the palaces of Sintra is the Castle of the Moors, a 10th century fortification built during the Moorish ruling of the Iberian Peninsula.
Walk along its walls for stunning views of Sintra, and discover architectural elements such as the Door of Betrayal, silos, castle keep, the Royal Tower and Islamic neighbourhood.
Queluz Palace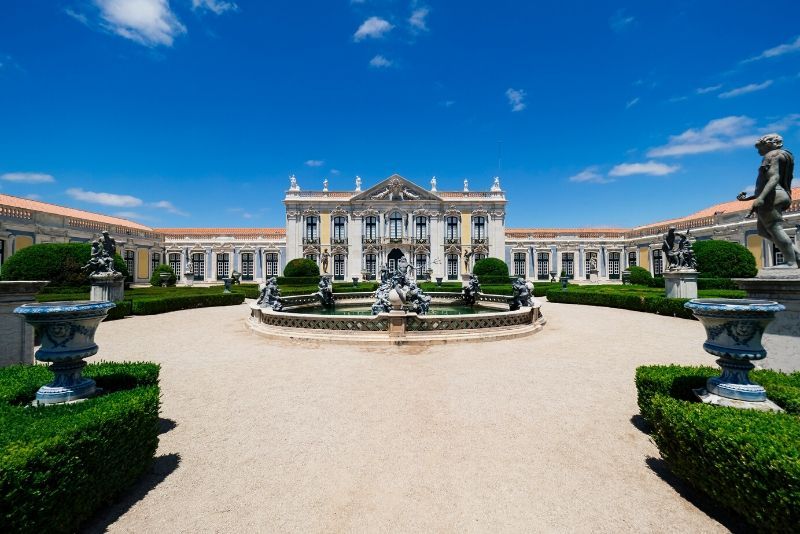 Situated between Lisbon and Sintra, Queluz Palace served as a royal residence and features opulent and stately rooms and gardens. You can tour its interiors and gain insight into the history of the royal family.
With its Rococo, Baroque and Neoclassical elements, Queluz Palace is an excellent stop on your day trip and a foray into the country's architectural history.
Hiking
On the way from Sintra to Cascais, you will stop by Cabo da Roca, the westernmost point of mainland Europe. It is a rugged cape perched on top of a cliff 150 metres above the sea. Go on a hiking excursion along coastal trails in the Parque Natural de Sintra-Cascais and enjoy panoramic views of the coastline and Serra de Sintra. The sunsets seen from here are truly breathtaking.
How much does a Sintra tour from Lisbon cost?
You can explore Sintra on a guided tour starting from Lisbon without having to dig deep into your pockets. Many reasonably priced tours introduce you to Sintra's most famous sights and include transportation from Lisbon. The average price for an 8-hour tour is between €50 and €80 per person.
Some of these include skip-the-line tickets to the Pena Palace, saving you a lot of time and hassle at the resort town's most popular attractions. If you travel to Sintra by train, bus or private car, you buy single entrance tickets to the Pena Palace to visit it on your own.
The most expensive tours are private multiday excursions for small groups of people.
How can you get from Lisbon to Sintra?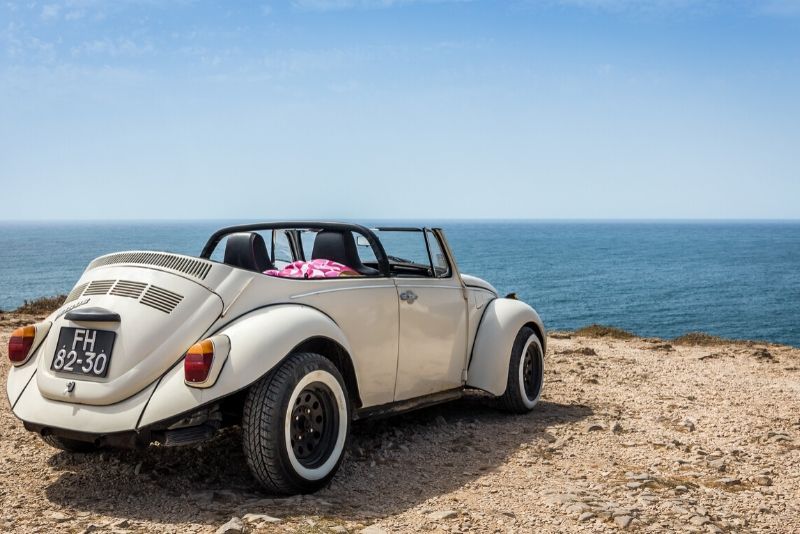 Sintra is located approximately 30 kilometres west of the Portuguese capital. When you book a day tour from Lisbon, you will be taken to Sintra by air-conditioned vehicle.  Pick up and drop off will either be from your accommodation or a designated meeting point. Other options include a full-day tour by VW Beetle and a jeep safari through forests, on dirt roads and along the edges of cliffs.
The attractive hilltop town can also be reached by road and rail from Lisbon. The fastest route by car is on the A37 which takes about 30 minutes, depending on traffic. If you prefer to travel by rail, take the direct train from Rossio Station to Sintra. The journey time is just under one hour.
How long are the day trips from Lisbon to Sintra?
There are day trips of varying durations. The majority are for one day or eight hours, but shorter and longer excursions are also available. For example, there is a half-day Sintra tour from Lisbon as well as a 5-hour guided visit. If you want to spend more time exploring, consider two and three-day private tours.
Some tours include the visit of Cascais or multiple attractions in Sintra. Therefore the duration may vary.
When is the best time for a day trip from Lisbon to Sintra?
The best time for your excursion from Lisbon to Sintra is either in the summer, spring or autumn. Sintra is atop of a hill, not so far from the ocean and surrounded by forest. Therefore, temperatures are never very high, and the climate is pleasant.
Try to visit Sintra during the morning, because in the afternoon (especially in winter) the sun can fall behind the hill and Sintra gets a shadow from early afternoon. Instead, during the morning, you will not have this problem.
Are there any tours to Sintra from other cities in Portugal?
Yes, there are tours departing from another city in Portugal:
Travel Tips
You will most likely be doing a fair amount of walking during your day trip from Lisbon to Sintra so wear a comfortable pair of shoes.
Bring some bottled water and snacks with you in case your tour doesn't provide them.
During the summer months, the Pena Palace is quite busy. Therefore, you might prefer visiting at other times of the year when the crowds are smaller.
The Pena Palace sits on top of a steep hill. If you want to avoid the 50-minute uphill walk from the train station, take the 434 bus. It departs from the station and stops close to the palace grounds. If you book a tour from Lisbon, you will be conducted to the Pena Palace.
If you are travelling during the summer, bring sunscreen, sunglasses and a hat with you.
Visit Sintra during the morning, since it can get dark soon during the afternoon, especially in winter months.