Nestled in opulent gardens with plant species from every corner of the globe there lies another world waiting to be discovered.
It's a place where a host of architectural influences are bent to serve the will of one man, the visionary behind this exceptional building.
The man in question is Francis Cook — and the best way to explore the building he poured his soul into is with a couple of Monserrate Palace tickets.
Today, the visionary is gone, but his singular creation remains — drawing visitors from all over the world to come and marvel at Monserrate Palace's eclectic beauty.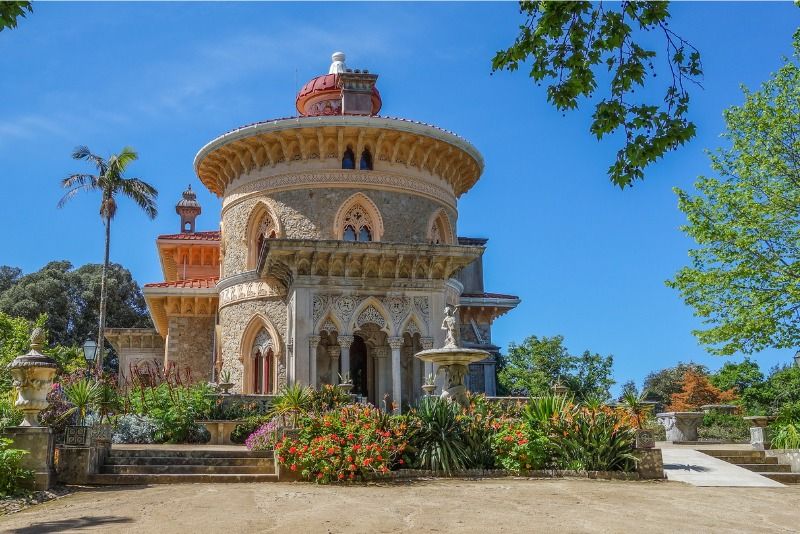 Here's all you need to know about Monserrate Palace tickets, one of the most exciting attractions in Lisbon.
How much do Monserrate Palace tickets cost?
Monserrate Palace tickets are reasonably priced making the palatial grounds a great option for a day out.
Adults (aged 18 to 64): €8
Children (aged 6 to 17): €6.50
Seniors (aged 65 and over): €6.50
Young children (aged 0 to 5): free
There's also a bundle ticket available costing €26 for a family of two adults and 2 children, translating into a saving of €3.
How to skip the line
Monserrate Palace is one of the most visited sites in Sintra — meaning that long queues to purchase tickets are common, especially during the peak tourist months.
A skip-the-line Monserrate Palace ticket solves this issue by allowing you to enter straight into the building without queuing. It also protects you and your fellow travelers from tickets being sold out.
Who is eligible for discounts?
Aside from discounts for seniors and children, holders of a Lisbon City Card also qualify for a discount of up to 15%. Persons with disabilities get 70% off their entrance fee and if a caregiver is essential, the carer may enter for free.
Should you book in advance?
Absolutely. The Monserrate Palace is extremely popular, especially during Portugal's peak tourist season which stretches from July to August.
Booking your tickets in advance means you'll be guaranteed entry, even during these very busy periods. There are also skip-the-line Monserrate Palace tickets available, which further add to a pleasurable tour experience.
What are the best Monserrate Palace tours?
Choosing the best Monserrate Palace tour ultimately comes down to how you want to explore the mesmerizing building and its lush gardens.
If you choose to travel to the palace on your own, you should opt for the audio tour or the in-house private group tour — depending on the size of your party.
If you want to enjoy the comfort of having your travel and tour arrangements taken care of for you, you should consider a half or full-day tour to Monserrate Palace from Lisbon.
Monserrate Palace self-guided audio tour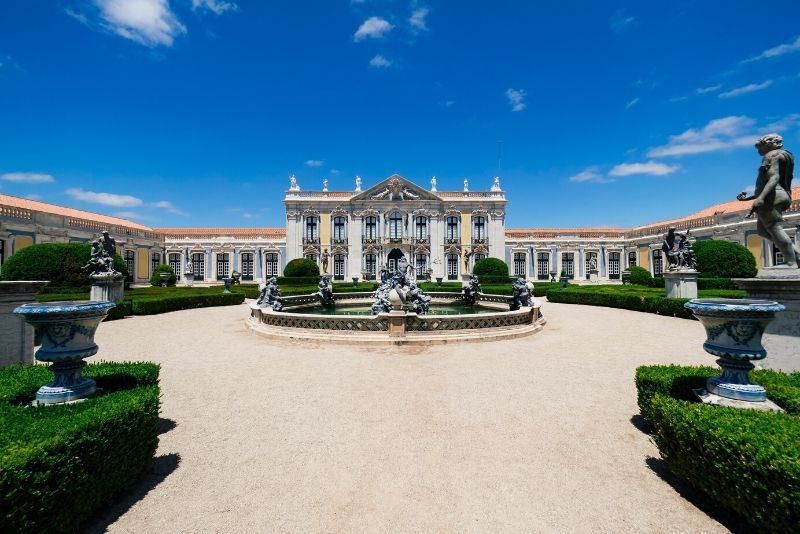 A self-guided tour of Monserrat Palace and its grounds is one of the most popular options — mainly because the audio guide is an inexpensive extra when purchasing your skip-the-line palace tickets.
The guide is easy to follow and it will lead you through the palace while illuminating details that would usually get lost in the rich decor.
The guide comes as an app on your phone, so you will need to take your own headphones. The language options available are Portuguese, English, Spanish and French and it costs €1 per download.
For an additional €3, you'll gain access to all the audio guides of the destinations in the Parques de Sintra — including the National Palace of Sintra, Pena Palace, Queluz Palace and the Convent of Capuchos.
Half-day private Monserrate Palace tour from Lisbon
This tour starts with a pickup from your place of residence in Lisbon and an airconditioned drive to Sintra.
After a quick stop to explore Sintra's historic center, where the National Palace of Sintra is located, it's off to the main destination — the Monserrate Palace and its stately grounds.
With your guide's expert help, you'll proceed to explore the ground and discover tree and plant species from across the globe. Variety is the name of the game in this garden — a sentiment echoed in Monserrate Palace's interior.
The building styles and decor are an exotic mix of European, Indian, and Morrocan — all blending together to create something fantastical.
Are there any combined tickets or tours including Monserrate Palace and other attractions?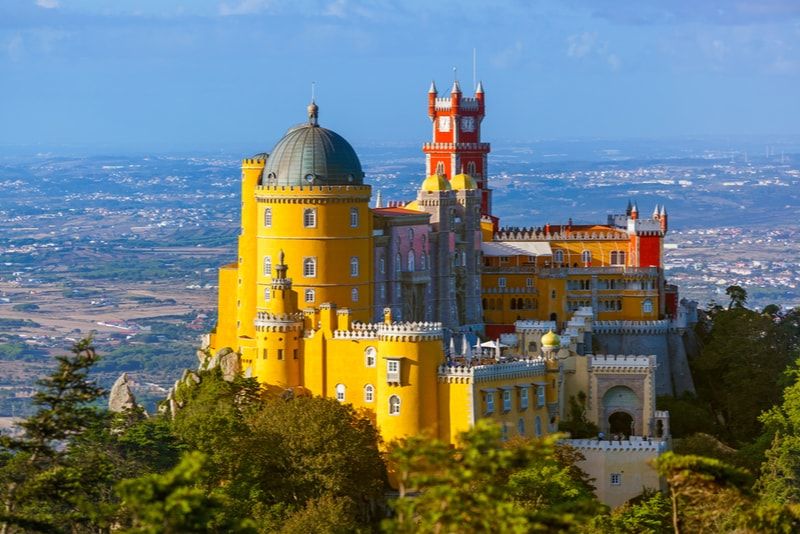 Combining two activities or attractions is a great way of saving time and money — especially when exploring an area like Sintra which features so many destinations
Private Monserrate Palace and Sintra day trip from Lisbon with wine tasting
If you want to discover some of the best wines that this area of Portugal has to offer, you should consider a wine-tasting and Monserrate Palace combination tour. From Lisbon, your first stop is Sintra where you'll get to explore the Sintra National Palace.
After Sintra, you explore the palace and grounds of Monserrate before heading to the cellars of Colares to enjoy some regional wines. With your thirst for exploration and experience now well and truly quenched, you'll head back to Lisbon after a truly memorable day.
Full-day group tour to Monserrate Palace plus Quinta da Regaleira and Cabo da Roca
This full-day tour from Lisbon pulls out all the stops as it aims to visit all of the essential attractions that Sintra has to offer. You'll start by heading to the enigmatic Quinta da Regaleira, one of the last palaces built by the monarchy.
Explore the symbolism that's woven into its very fabric before heading to Monserrate Palace. Explore the park and get lost in the building's elaborate arches and designs.
Finish your day by exploring Sintra's dramatic coastline, while visiting natural sites like Cabo da Roca and Boca do Inferno — before heading to the coastal town of Cascais for some of the best seafood in all of Portugal.
What will you see inside?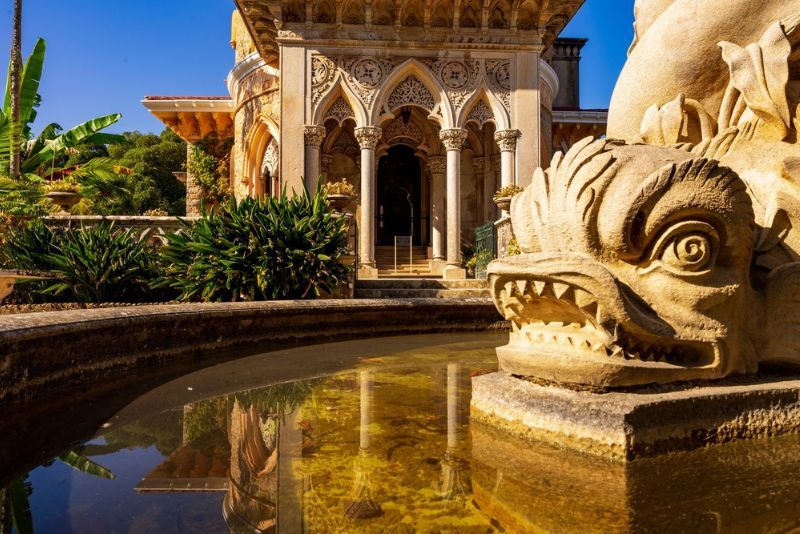 The building that today bares the name Monserrate Palace was originally constructed in the 16th century as a hermitage. However, its true character only came to life when an Englishman called Francis Cook acquired the grounds.
Originally a trader and art collector, he poured his vision into the building and the grounds — creating the spectacular blend of influences you can still see today.
Visitors to the Monserrate Palace can explore the palatial gardens where tree and plant species from all around the world can be found. After that, they can turn their attention to the astonishing building and the rooms of the house — spending some time to find the perfect photo to commemorate the visit.
How to get there?
Monserrate Palace is roughly 30 kilometers northwest of Lisbon's city center, making it a 40-minute drive via the A37 motorway. There are also public transport options available, and the entire journey will take just over 1.5 hours.
The most convenient way of exploring Monserrate Palace and Sintra as a whole is with a Sintra full-day tour from Lisbon.
What are the opening times?
The Monserrate Palace is open daily from 9:30 AM to 6:30 PM. Travelers need to enter the palace by 5:30 PM, which is the cut-off time for the last admissions. The ticket office closes for lunch from 12 PM to 1 PM daily, but automated ticket booths can still be used.
When is the best time to visit the Monserrate Palace?
The best time of year to visit the Monserrate Palace is from March to early May and again from late August to October. During these months you'll still enjoy great weather with fewer fellow visitors.
The Palace is best visited during the middle of the week with Wednesday and Thursday registering the lowest number of travelers. Early morning and late afternoon are the least busy times of the day.
Travel tips
Take extra snacks and water.
Allow a couple of hours to explore the grounds in full.
It's best to arrive early in the morning and explore the palace before exploring the park and grounds.
Be sure to have relevant cards to qualify for discounts.
It is worth considering booking a day trip from Lisbon to explore all Sintra has to offer.