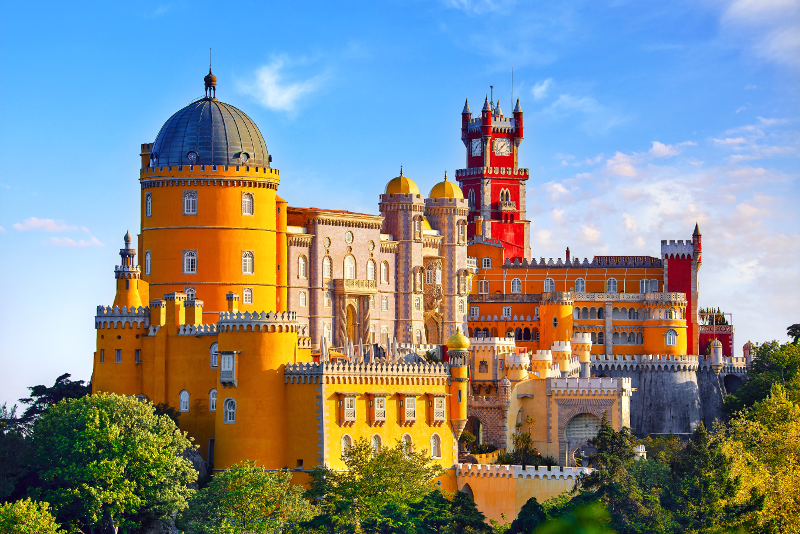 Looking to book Pena Palace tickets? No trip to Lisbon would be complete without visiting the stunning Pena Palace. Located high in the beautiful hills of Sintra, it is one of the most visited monuments in Portugal. Learn more about Pena Palace tickets price, combined tickets, guided tours, travel tips, and more.
You will find on this page a complete guide to getting tickets for the Pena Palace in Sintra, including:
Built in the 19th century, the palace and the surrounding park around it, is a captivating and magical construction, boasting incredible views over the region, as well as a serene and charming place to enjoy a day out.
Don't feel like reading ahead? Click on the following link if you are ready to book Pena Palace tickets right now.
How much do Pena Palace tickets cost?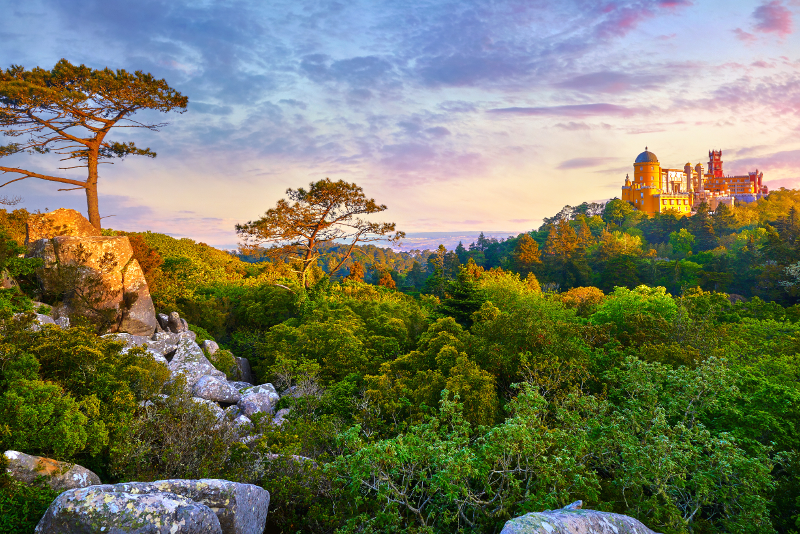 There are two options for tickets for visitors to Pena Palace in Sintra. You can either purchase a "Palace and Park" ticket, which includes access to the park, grounds, outer terraces of the palace and the staterooms within, or a "Park" only ticket. You may find tickets price below.
Pena Palace & Park tickets price:
Ticket for adults (18 – 64 years old) – €14
Ticket for children (6 – 17 years old) and seniors (over 65 years old) – €12.50
Family ticket (2 adults + 2 children) – €49
Ticket for adults (18 – 64 years old) – €7.50
Ticket for children (6 – 17 years old) and seniors (over 65 years old) – €6.50
Family ticket (2 adults + 2 children) – €26
How do you book Pena Palace tickets online? How do you skip the line?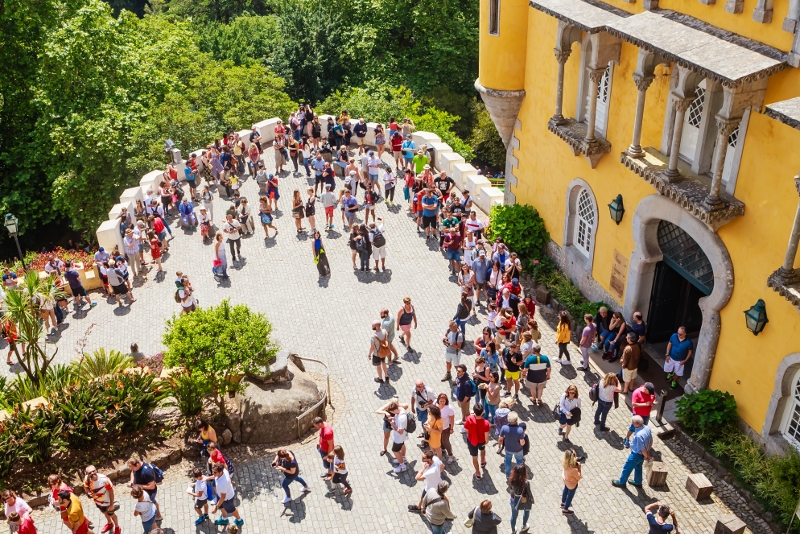 Pena Palace is one of the finest tourist attractions in Portugal but also the most visited one. As you may know, it is often crowded with long queues at the entrance gate. This is why we strongly recommend you to book your tickets online in advance so you don't waste your previous holiday time.
You may book your tickets on the official website or though an online travel agency such as Tiqets or Getyourguide. Use TourScanner's search to compare the different deals available online so you can save money and time.
Are there any combined tickets including Pena Palace tickets and other attractions?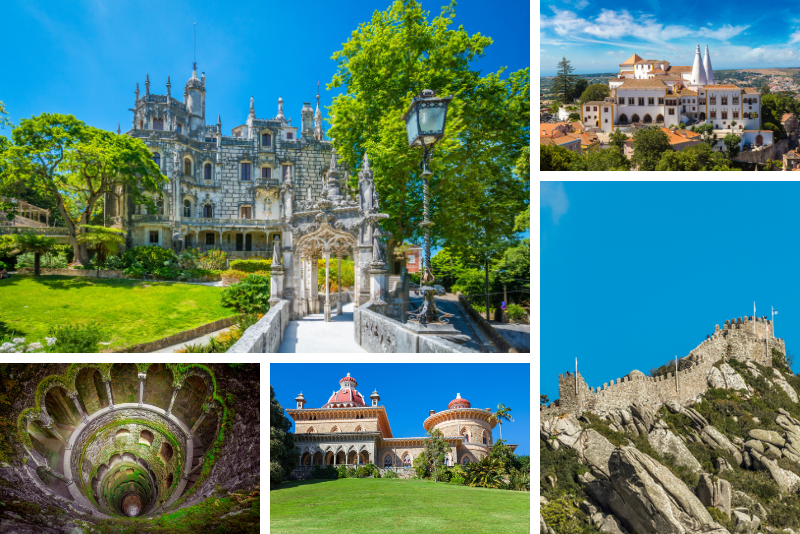 With its rippling mountains, beautiful forests, exotic gardens and breathtaking palaces, Sintra is a must-do day trip from Lisbon. You may find below a list of other places to visit in Sintra, with the links to buy the tickets:
For a great value experience when you go to Sintra, choosing a combined ticket can be one of the best ways to make the most of your stay, and ensure you get to see all of the major attractions in the area.
If you are traveling from Lisbon, you may also consider visiting the seaside town of Cascais and Cabo de Roca.
There are a lot of combined tickets and organized day trips available online. Make sure to compare all the deals so you can pick the one that suits best your needs.
Are there any guided tours? Are they worth it?
Absolutely! Guided tours have numerous advantages, including:
Make the most of your time: When you're short on time, it can sometimes feel stressful to try to fit everything in. But by booking a guided tour, you won't waste any time on the way from Lisbon or between attractions in Sintra. Instead, maximise your stay and get the best value out of it with a guided tour. Get picked up from your hotel in Lisbon and enjoy the day with your tour guide leading the way.
Skip the lines: avoid the wait time to get inside with pre-booked tickets with your guide. Booking a guided tour in advance means that you don't have to worry about what time you'll eventually get inside, or how much time you'll be able to spend there, as you can go straight in and explore.
Learn more: Sintra is a beautiful, natural landscape and it's well worth seeing its many attractions. A guided tour is one of the best ways to visit, as your guide will often take you around the region to show you the highlights, making sure you have a truly memorable and lovely experience.
Decide what to see: there are a lot of attractions to visit in Sintra but also nearby such as Cascais or Cabo da Roca. Choose the sites you really want to visit and your tour guide will plan an itinerary accordingly.
There are many travel websites selling guided tours online. We recommend you to take some time to compare all the offers so you can book the best one according to your needs.
Is it possible to visit the Pena Palace for free?
There are occasional events when entry to the Pena Palace and parks is available for free. On July 4, the Palace is featuring a special nocturnal event, where the grounds will be opened at night from 8 pm to midnight, and entry is offered for free, when visitors make a donation of food.
It is always worth checking on the official website ahead of your visit, to find out if there are any special events or promotions on.
What will you see?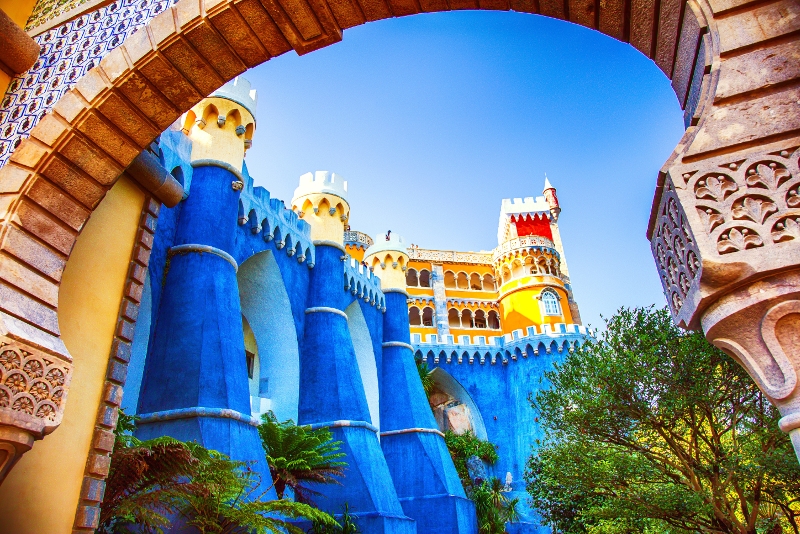 Pena Palace in Sintra is one of Portugal's most renowned tourist attractions, with a stunning historical palace located at the top of the magnificent steep hills surrounding the town of Sintra. The attraction is composed of the palace itself, and the park around it, and both are well worth a visit.
The site of the Pena Palace dates back to the 15th century, when a sanctuary was built there alongside a medieval chapel already located there. While the original construction was ruined over the following centuries, it was restored as a beautiful Romantic building by King Ferdinand II, who turned the ruins of the monastery into a colourful and fantastical palace, that served as the summer home for the Portuguese royal family. Drawing on architecture from many influences including Moorish and medieval styles, the result is beautiful and unique. With a striking exterior of red and yellow, the palace stands out distinctly against the lush greenery around it.
When visiting the Pena Palace, you should take time to explore both the outside grounds and terraces, and the interior staterooms if possible. Outside, you'll discover all kinds of highlights, including a sundial cannon, that would be used to mark noon every day, and a magnificent clock tower. As you walk around the terraces, you'll also have a chance to see the many different architectural influences up close, including the dramatic vaults and arches, gateways and a traditional drawbridge. Inside the palace meanwhile, you can have a glimpse into the past, with a tour of the royal dining rooms, kitchens, and chapel, as well as the sumptuously decorated royal private chambers. Inside, you'll come across all kinds of fascinating artefacts and items, that reveal a little of what life was like for the royal family, and their many attendants.
It's also worth taking time to relax around the surrounding park outside the palace. The stunning park covers over 200 hectares, and is filled with a diverse and exotic range of plant life, as the King ordered trees and plants from all over the world to be planted there. These include North American Sequoia, Chinese gingko, ferns from Australasia, and more. With a complex labyrinth of paths to walk around, you should take your time to soak up the shade and lovely atmosphere. And of course, the stunning height of the hills, towering over the region at over 450 metres tall, mean that you can experience some fantastic views across the area.
What is the best time to visit the Pena Palace? How can you avoid the crowd?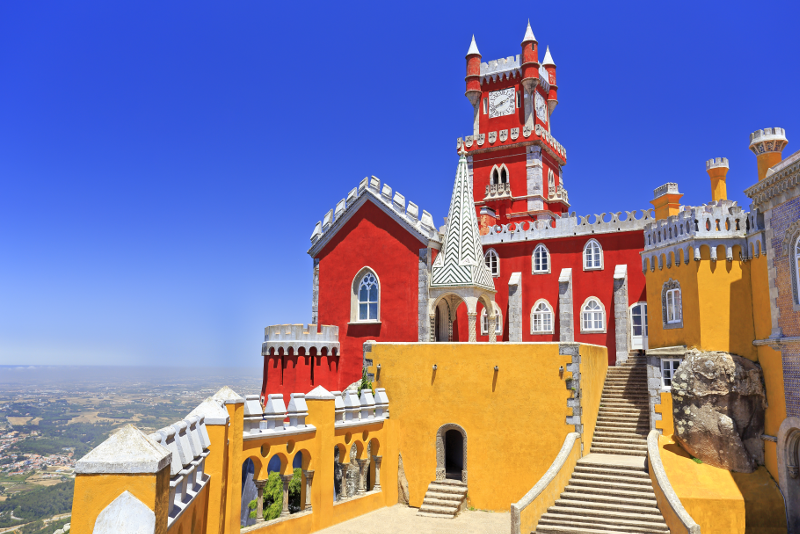 The Pena Palace is extremely busy during the peak summer months, between April to September. It is most busy from 10:30 am to 3 pm, when coach tours often arrive. You should avoid visiting the interior of the palace during busy periods, as it can get extremely crowded inside.
To avoid the crowds, it's best to plan your visit for early morning or later in the day.
What are the Pena Palace opening hours?
The Pena Palace is open between 9:30 am to 8 pm during the summer season, and between 10 am to 6 pm during the winter season. It is open 7 days a week through the year.
Last admission and tickets for the park is an hour before closing time, and 30 minutes before closing time for the palace.
Travel tips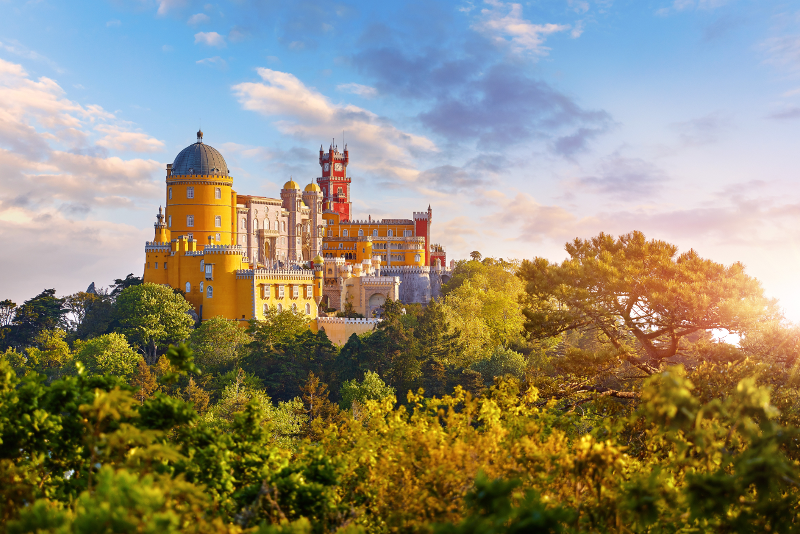 If you wish to visit several attractions during your trip to Sintra, we recommend you to start your day with a visit to the Pena Palace and the other sites later in the day. You will avoid the crowds.

The Pena Palace in Sintra is located at the top of a very steep hill, and it can take about 50 minutes to an hour to walk from the main station in Sintra. If you'd prefer to avoid the strenuous hike, the 434 bus runs from the station close to the palace grounds.
The palace grounds or park area do not have much to offer in the way of food and drink, so it's best to eat and drink in the main town centre in Sintra.
Wear confortable shoes and don't forget to bring a hat and sunscreen especially during summer.