Lisbon, the capital city of Portugal, is a breathtaking city that is fast becoming one of the top destinations in Europe.
The Tagus River flows through the heart of the city and is a key attraction for visitors looking to indulge in a slower pace of sightseeing.
A Tagus River tour offers an incredible opportunity to explore Lisbon's stunning waterfront, picturesque hillsides, and iconic landmarks, all from the comfort of a luxurious boat.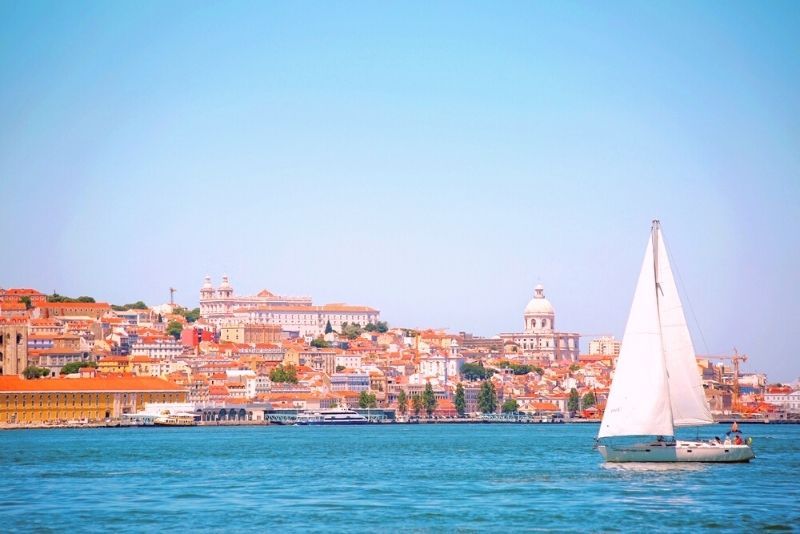 Here's all you need to know about Tagus River, one of the most captivating sightseeing options in Lisbon.
What are the best Tagus River tours in Lisbon?
These are the most popular Tagus River tours you can look forward to.
Tagus River sailboat cruise
Hear the sails billow in the breeze as you take a leisurely 1 or 2-hour sightseeing tour on the Tagus River. Your guide will share stories of the city's notable landmarks while you sip on a refreshing drink onboard a luxury sailboat.
These tours can be scheduled for the morning, afternoon or evening, the latter of which offers remarkable sunset views across the Atlantic. You can also book it on a sailboat or a catamaran.
Tagus River cruise on a traditional vessel
For a touch of charm and authenticity, take a Tagus River tour on a traditional vessel. Hop onboard an exquisitely hand-painted sailboat to see Commerce Square, the waterfront, Castelo de São Jorge, Belém Tower and more.
You can choose from a short 45-minute cruise or a more comprehensive 105-minute cruise, covering all the major sights of Lisbon's waterside.
There is also a lovely 2-hour sunset cruise where you can enjoy some complimentary white wine as the sun dips below the horizon.
Tagus River speedboat tour
This Tagus River tour is for the thrill seekers. Take to the water in a rigid inflatable boat and zoom through the river as you discover the beauty of Lisbon.
This 1-hour tour winds down at sunset, giving you a chance to admire the stunning spectacle framed by the 25 de Abril Bridge.
Boat Party on the Tagus River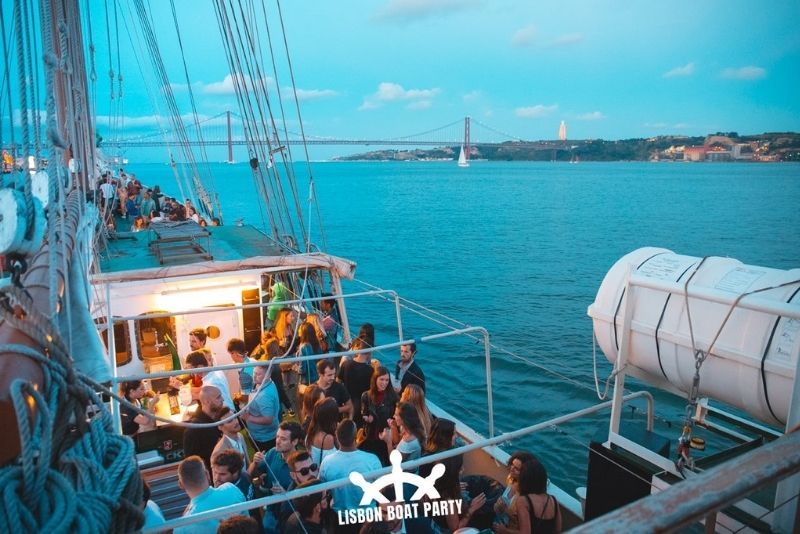 Combine a sightseeing trip with a lively boat party with this Targus River tour. Swim in the river, catch some rays on the deck, sip on cocktails and dance into the sunset.
This lively half-day tour is overflowing with good times and memorable moments.
Segway tour along the Tagus River
Landlubbers and adventure enthusiasts will love this alternative way to enjoy the river.
You will glide along the banks of the Tagus to enjoy the best sights of the Belém district, exploring the architecture, landmarks and history of one of the city's most colorful areas.
It is a 3-hour tour that covers much more ground than a walking tour but you have the benefit of still being outdoors.
How much do Tagus River tours in Lisbon cost?
The shortest Tagus River tour is on the traditional Portuguese vessel and you can expect to pay €15 per person for a 45-minute trip. For a longer tour, book the 105-minute trip for €25 per person or take a 2-hour sunset tour for €35 per person.
A basic Tagus River cruise or sailboat trip costs €20 per person and you will see several of the city's most remarkable angles on this 1-hour experience.
The same tour will cost €40 per person for a 2-hour experience.  You can also book this as a private tour where you will pay €300 for a group of up to 10 people.
A speedboat tour on the Tagus River is also €25 per person while the Tagus River boat party costs €60 per person but it includes your refreshments.
The thrilling experience of a river-side Segway tour costs €75 per person and the tour lasts 3 hours.
What is included?
All the Tagus River tours in Lisbon are accompanied by a guide. There will be onboard commentary, an audio guide or a private guide pointing out all the significant landmarks along the way.
Some Tagus River cruises add a little extra spoil with a welcome drink to help you find your sea legs. Sunset cruises also usually include a drink and some tours can be upgraded to include champagne.
The Tagus River boat party includes lunch onboard and all your alcoholic refreshments for the afternoon.
Where does it start?
Many of the Tagus River sailing tours start from the small Bom Sucesso Marina in the Belém district. There are a few other small marinas along the river and some tours leave from Doca de Belém or Doca Da Marinha.
How long does it last?
There are many Tagus tour options to choose from and you can go on a tour that lasts anywhere from 45 minutes to 2 hours.
The longest Tagus River tour is the boat party tour that lasts from noon to sunset. A Segway tour lasts 3 hours.
When is the best time for a Tagus River tour in Lisbon?
The Tagus River flows west, making it the best place to enjoy the iconic Lisbon sunset. There are tours in the morning and afternoon too, each jam-packed with beautiful sights to see. You can even take a tour after dark to see Lisbon's skyline lit up.
A river cruise is a fabulous way to end your visit to Lisbon, leaving you with an unforgettable impression of the city.
Travel tips
Take motion sickness medicine at least 30 minutes before departure if you suffer from sea sickness.
Arrive at your dock 15 minutes early to avoid any delays in departure time.
Bring your ID along if you want to enjoy the alcoholic beverages supplied onboard.
Some tour operators specify that passengers must wear comfortable shoes.