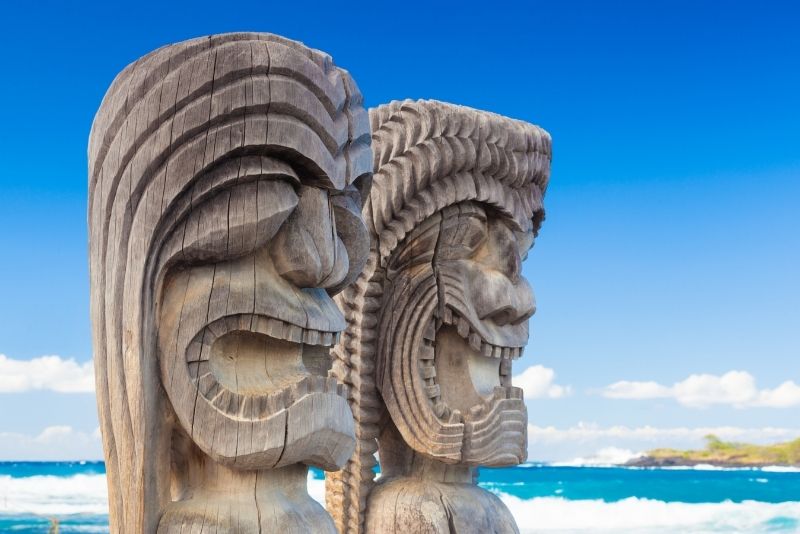 For decades, Hawaii has sported the reputation as the Pacific paradise — and as any traveler who's been fortunate enough to visit will attest, even that glorifying name doesn't do this archipelago justice.
From unforgettable adventure opportunities like ATV riding and zipline courses to cultural insights like Luau shows and street art tours, not to mention the near-endless list of unmatched hiking trails, you'll never run out of incredible things to do in Hawaii.
If you need a hand curating your bucket list for an upcoming adventure to Maui, Kauai, the Big Island, or Oahu (or all of the above), you've come to the right place.
MAUI ISLAND
The second-largest of the Hawaiian islands, Maui is teeming with beauty, nature, pristine beaches, and incredible things to do — as you're about to learn…
1 – Visit the moon-shaped Molokini Crater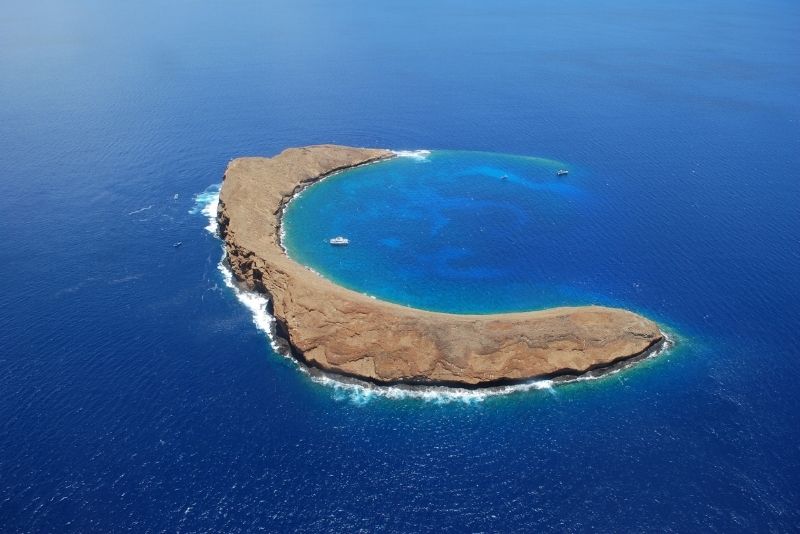 A small islet that resembles a crescent moon, the Molokini Crater is a popular slice of nature for both photographers and outdoor explorers.
Despite being uninhabited, it's a crowd favorite destination for snorkeling, jet boating, and diving, with short and full-day tours available (most of which depart from Maalaea Harbor.
2 – Snorkle with your favorite animals at Turtle Town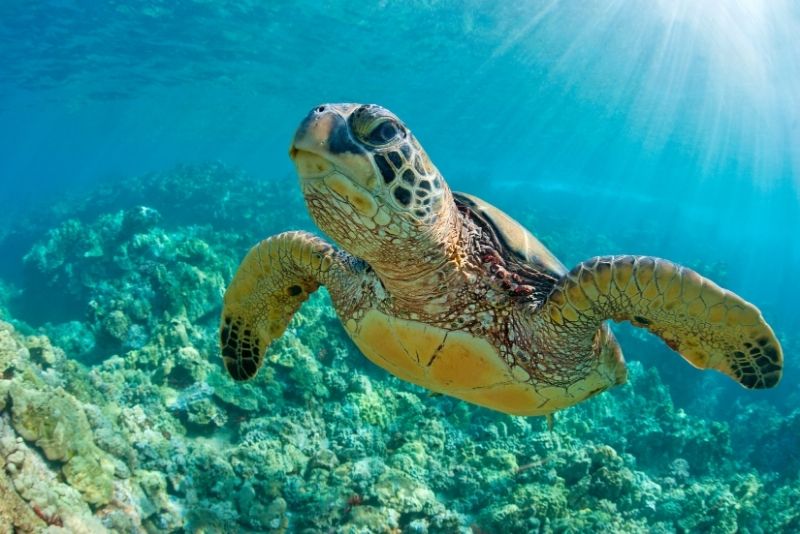 As its name suggests, Turtle Town is full to the brim with sea life — Hawaiian green sea turtles, to be specific.
Whether you opt for a full-day tour that includes lunch and a stop at the Molokini Crater, or visit the area solo (perhaps for a relaxing kayak or a day tanning on the beach), it's a must for Maui visitors.
3 – Be a paniolo for a day on a horse riding adventure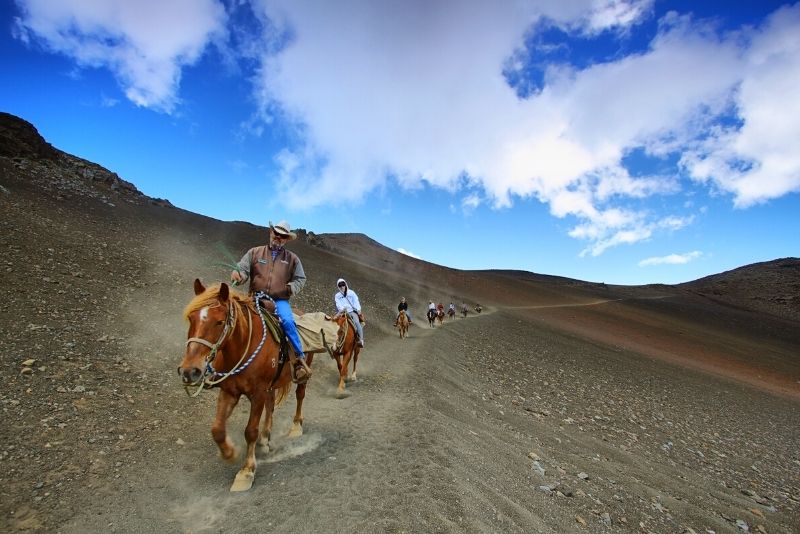 With so much of Maui (and Hawaii, in general) covered in forest and volcanoes, there is only so much that can be seen by tour bus or car.
So, why not get off the beaten track and explore Maui as the locals did in the old days — on horseback!
The oceanfront trails, in particular, are adored by visitors.
4 – Go on a whale watching adventure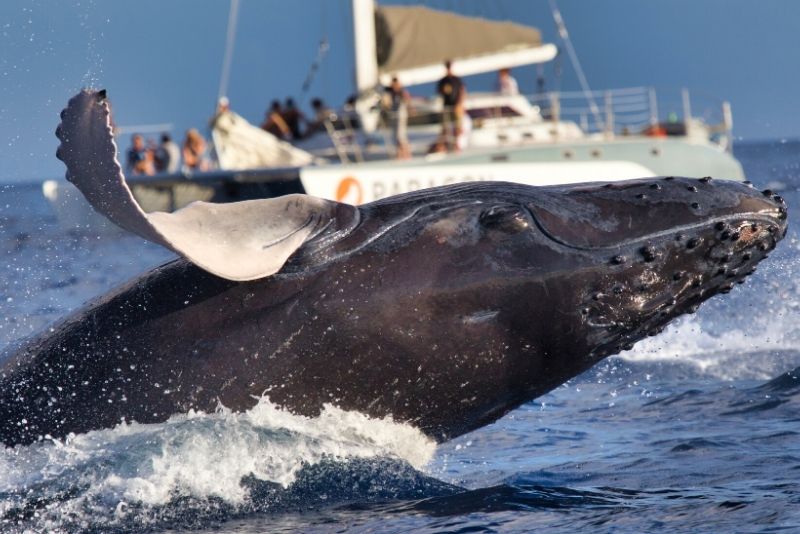 Every year whales make their way to Maui for mating season, and if you're lucky you might catch a glimpse of these marvelous creatures in their natural element!
Whether you opt for a large tour from Lahaina or a private excursion from Kaanapali beach, watching mother whales teach their calves how to breach the surface of the water is nothing short of magical.
On your journey, the knowledgeable guides will tell you anything you want to know about whales (or Hawaii, in general).
5 – Breathe in the fresh air at Haleakala National Park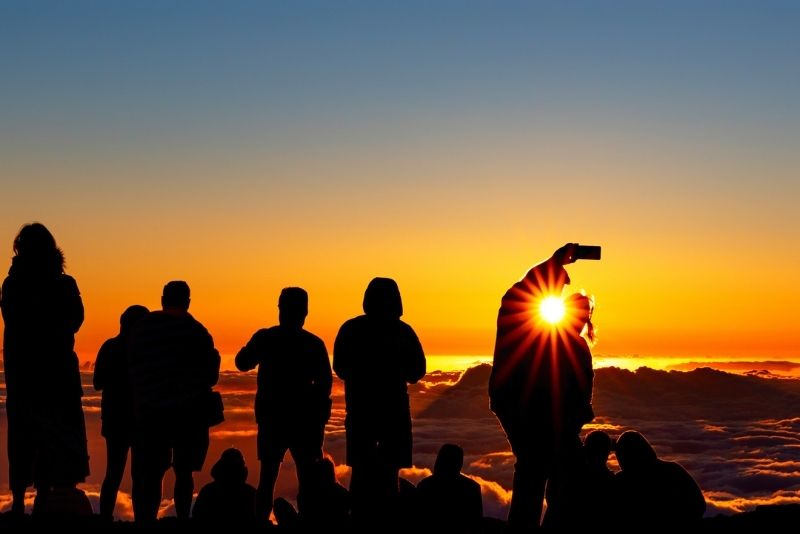 Adventure enthusiasts, rejoice! The Haleakala National Park has pretty much everything you need to have a day filled with fun and thrills!
Start your day by watching the sunrise from the peak of Mt. Haleakala before choosing between a bike riding tour around the park or an afternoon ziplining through the treetops.
6 – Take the scenic route on the road to Hana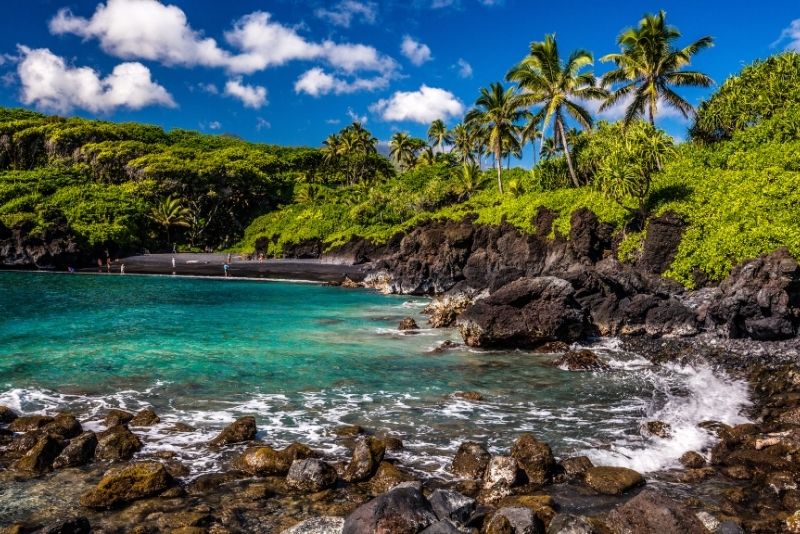 The road to Hana is often described as the road to paradise — and that, ladies and gentlemen, sums up this beautiful drive in a nutshell.
While some tourists opt to go at the winding route alone, there are group tours available that make sure you get to see all the wonderful sights along the way.
7 – Travel first class on a Maui airplane tour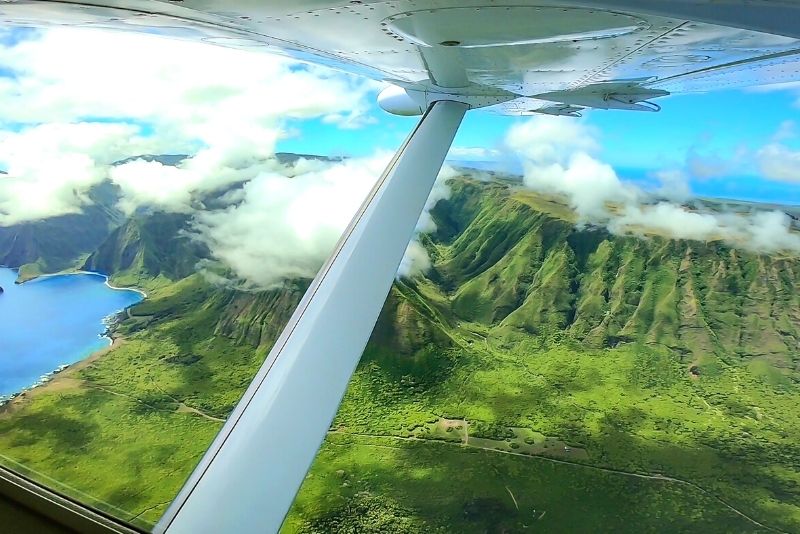 This is definitely the most exciting way to get the best views of the island!
Don't worry, you don't need to know how to fly — there are experienced pilots who will take you on your own private tour (and, if you're lucky, let you momentarily take the controls).
Not only will visitors get to see all the beauty of the island from the bird's eye view, but the pilot will share all kinds of tidbits about the local geology and culture along the way.
8 – Travel back in time on a Hawaiian Outrigger Canoe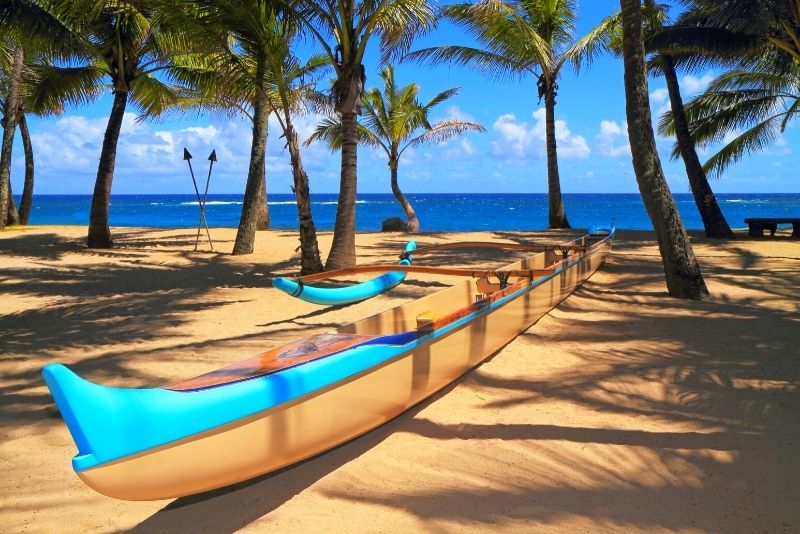 An outrigger canoe is an important part of Hawaiian history and culture — and now tourists have been invited to try it for themselves!
Learn about the rich Polynesian traditions as you are led on your outrigger canoe by an expert guide — not only is it a great day to learn but also to see the marine life swimming gracefully around you in the waters below (did someone say turtles?).
9 – Snorkel & spot friendly dolphins at Lanai Island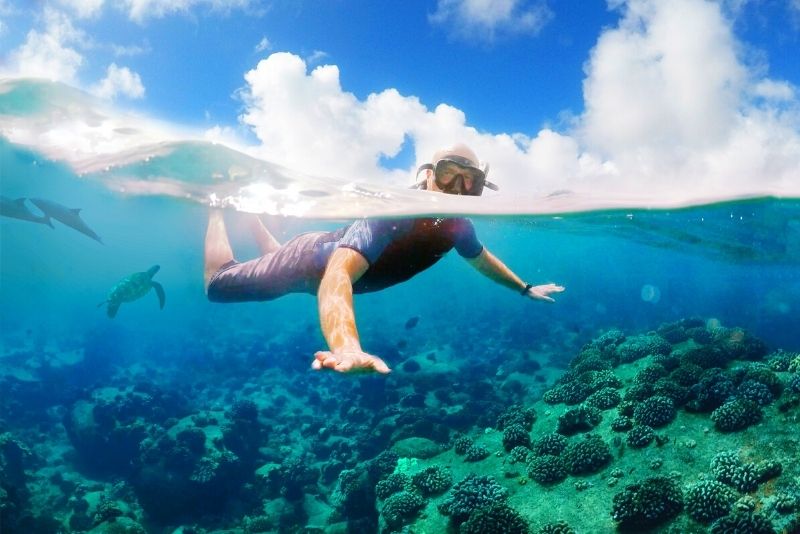 Lanai Island is known as the home of dolphins, so why not take the chance to see them up close?
Depending on your preferences, sign up for a snorkeling tour if you want to see the dolphins within arm's reach (but don't touch, of course), or just go for a cruise on the crystal clear waters and try to spot the dolphins from afar.
Either way, it's a must-do activity.
10 – Race through the air on a zipline adventure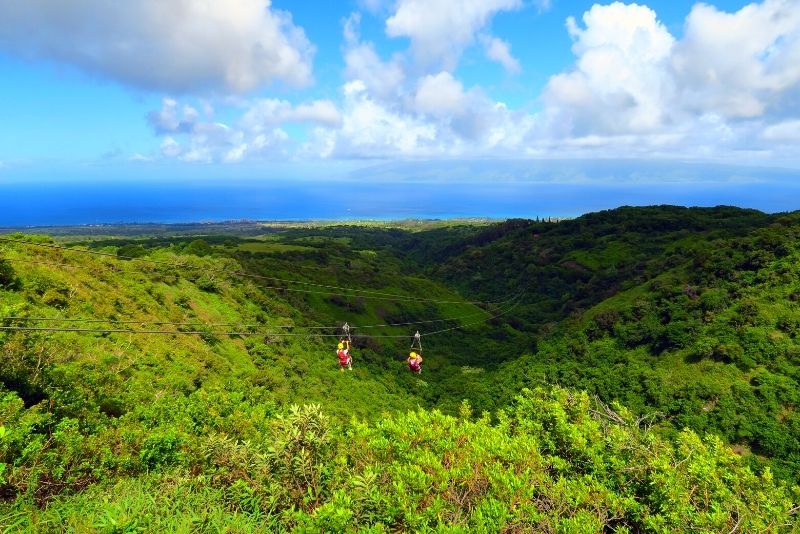 Are you an adventure fiend? Then this is the perfect activity for you!
As any thrillseeker will tell you, Maui has some of the best ziplines in the world, and there are countless to choose from.
You can find tours that have 5, 6, 7, or 8 ziplines that zoom above the canopy, with volcanoes and sparkling oceans in view too!
11 – Immerse yourself in Polynesian culture at a Luau show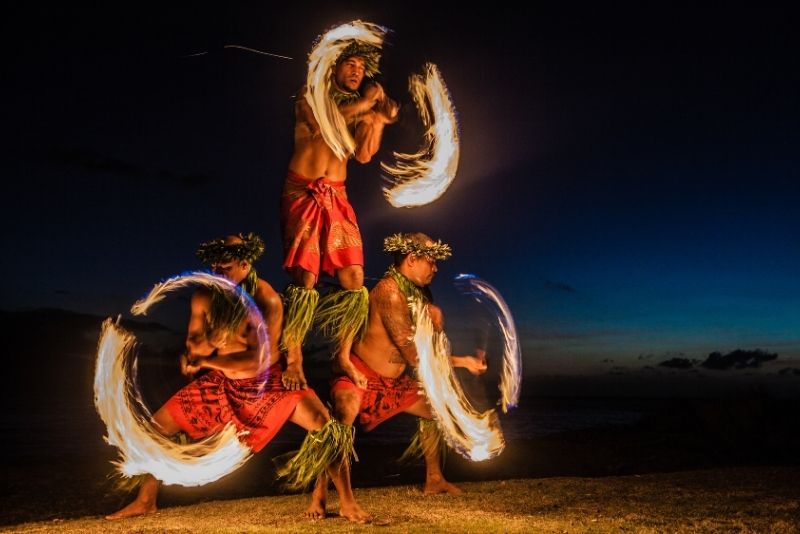 Experiencing a Luau show is considered one of the best things to do in Hawaii and, understandably, is a must for all visitors (whether staying on Maui or any of the islands).
Enjoy a buffet of traditional food and drinks, listen to traditional music, and watch as dancers perform exotic dances native to their culture.
It is a once-in-a-lifetime experience and one of the best ways to learn about the Hawaiian people.
12 – Plunge into the depths of the ocean on an Atlantis submarine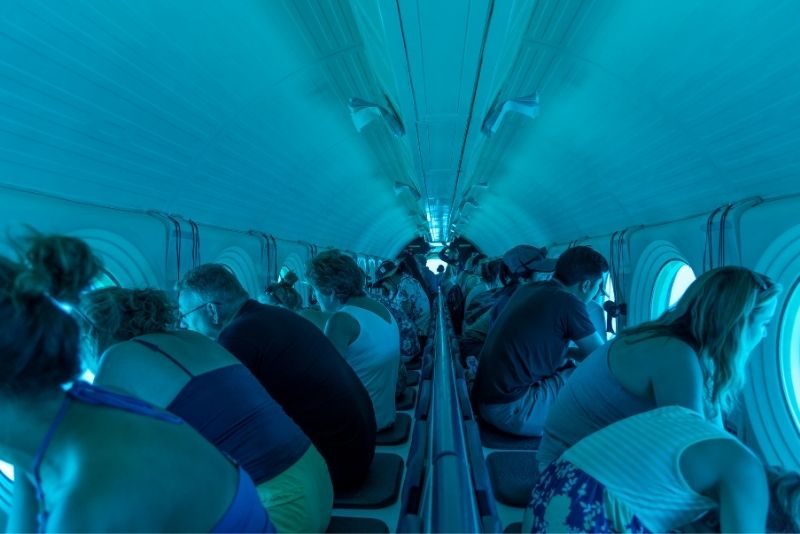 For the best chance to spot colorful marine life without actually getting wet, look no further.
On an Atlantis submarine tour, guests dive over 100 feet below the water's surface, discovering hidden gems and rich sea life in every direction.
Camera at the ready; visitors regularly spot schools of fish, sharks, and even whales!
13 – Get your adrenaline pumping on a jet boat ride (just like in Baywatch)!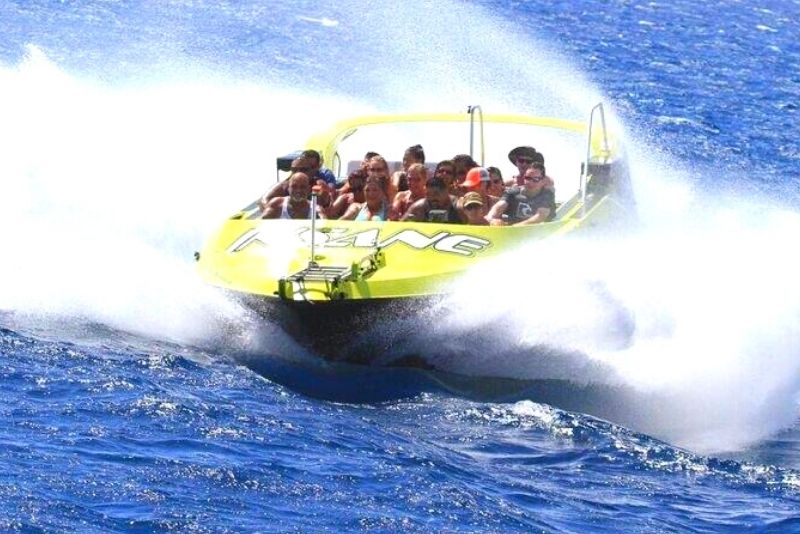 Explore unique locations around Maui on a thrilling jet boat tour!
With the 20-foot vessel capable of reaching hair-raising speeds of up to 50 miles per hour, the bumps, drifts, and sharp turns are guaranteed to get your heart racing!
Depending on your schedule, choose between a one, two, or three-hour tour (whatever floats your boat).
14 – Wet your whistle at e Ocean Vodka Organic Farm and Distillery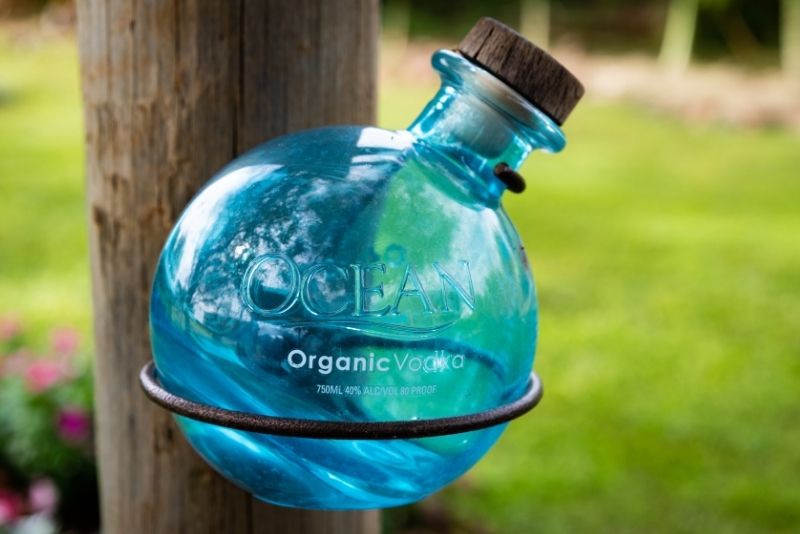 Does anyone fancy a drink? For the chance to combine a refreshing cocktail and learn a thing or two at the same time, make a beeline for the Ocean Vodka Organic Farm and Distillery!
On a guided tour, guests can stroll the gorgeous farm, discover how they cultivate more than 30 sugarcane varieties, and learn all about their sustainable farming practices.
15 – Become an expert at spearfishing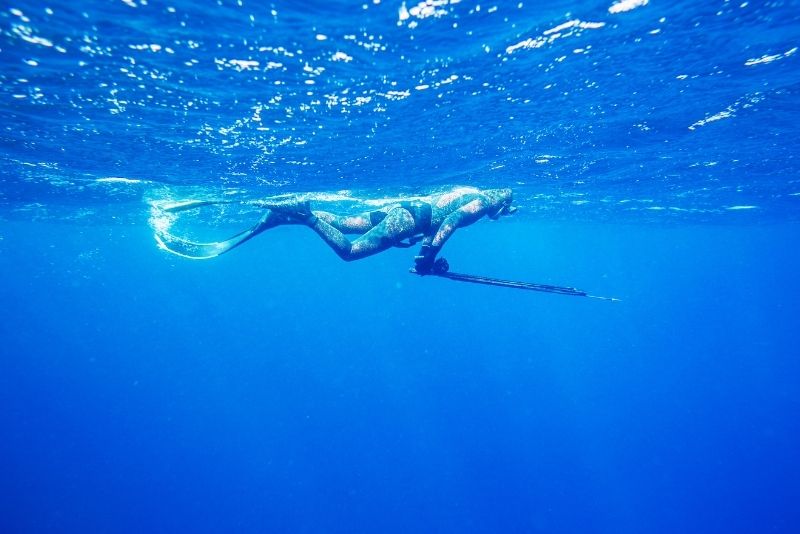 No experience is necessary to go spearfishing in Maui as the professionals there will help you learn everything you need to know! Professional divers will also teach visitors proper breathing techniques.
It's worth noting that these spearfishing tours only catch fish that are considered to be invasive species to Mau.
16 – Push the envelope and go canyoning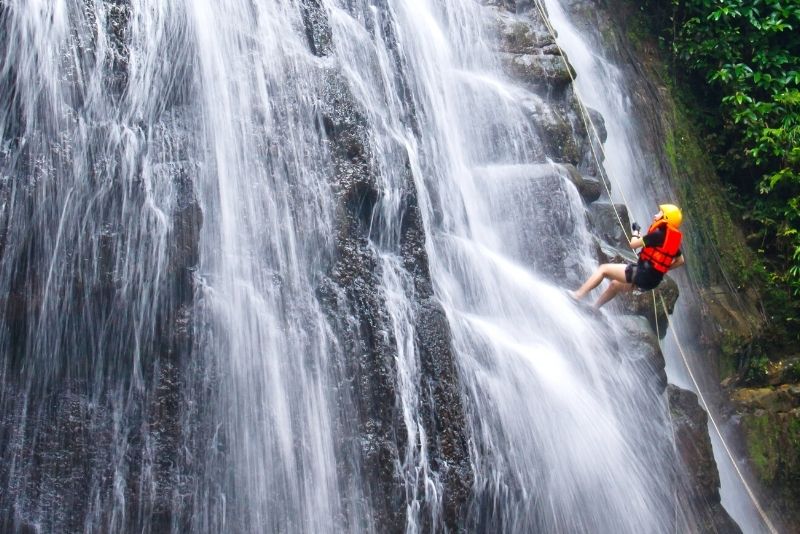 Looking for a way to make your vacation exciting? Canyoning is the answer!
Maui is full of stunning cliffs and waterfalls just waiting to be explored, and there's no need for prior experience either, as there are professional guides who will teach you everything you need to know.
With adventures for all skill levels, this is one way to turn up the thrills on your vacation!
17 – Learn about marine life at the Maui Ocean Center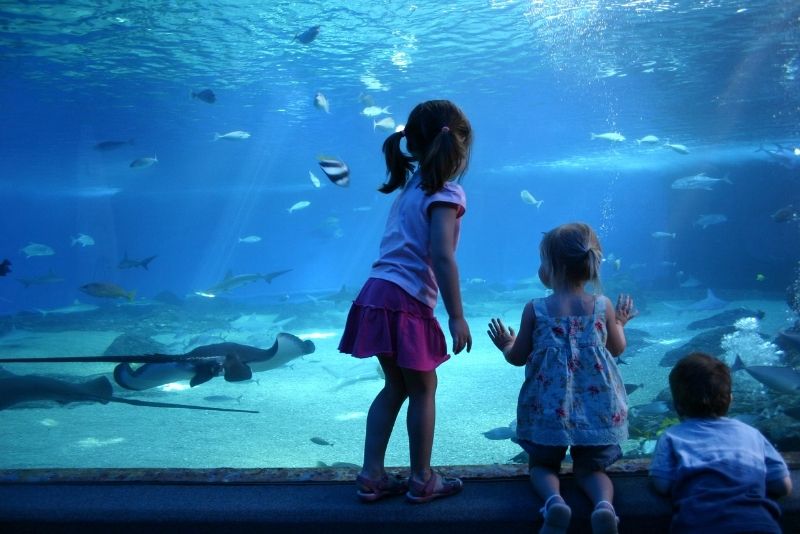 While you can catch a glimpse of marine life at Maui while exploring the island, the best way to learn about all these stunning creatures is to visit the Maui Ocean Center.
Some of their exhibits include a live coral reef, a turtle lagoon filled with the famous Hawaiian green sea turtles, and a 35-foot tunnel where sharks swim freely above.
18 – Find peace at the Kula Botanical Gardens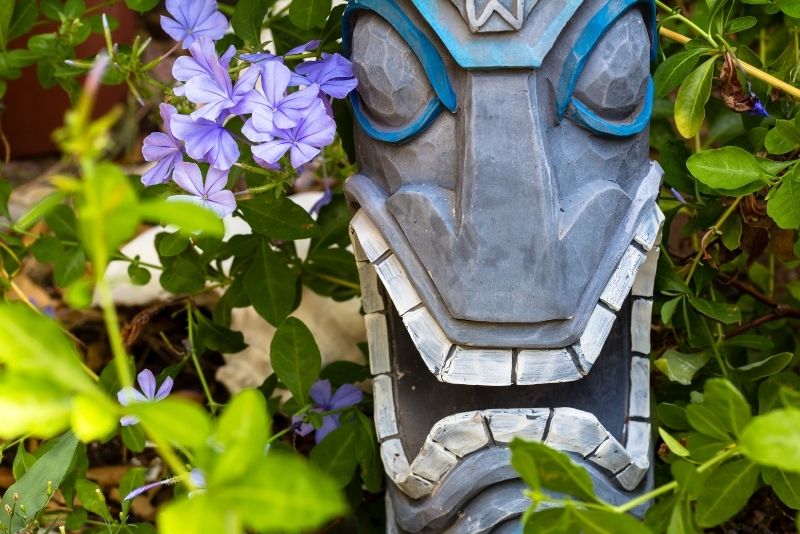 Thousands of tourists flock to the Kula Botanical Gardens each year, and there's no need to wonder why; this stunning 8-acre garden is filled with hundreds of unique and colorful plants.
Not only are the plants absolutely gorgeous but there are also waterfalls around the garden which make it even more magical.
OAHU ISLAND
Despite only being the third-largest island in the state, Oahu is the most populous of the bunch, home to a sparkling Honolulu skyline, an abundance of outdoor activities, a fascinating history (as the home of Pearl Harbor), and plenty more.
19 – Visit a famous Dole Pineapple Plantation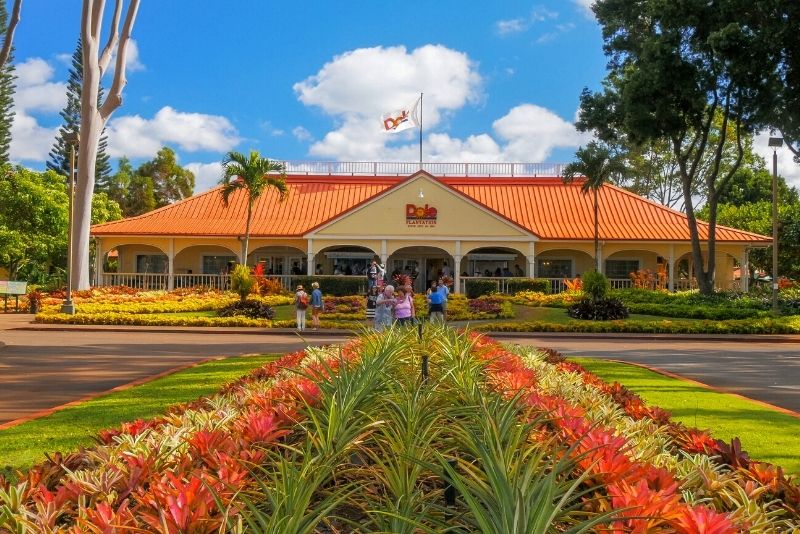 It goes without saying that Dole Pineapples are famous for being sweet, juicy, and a favorite snack for locals all over the archipelago. So, why not see first-hand where they're grown?
Hot tip: combine a plantation visit with a full-day tour — that way, after grabbing a tasty and refreshing snack, you'll be able to see the whole island as well!
20 – Go kayaking around the Mokulua Islands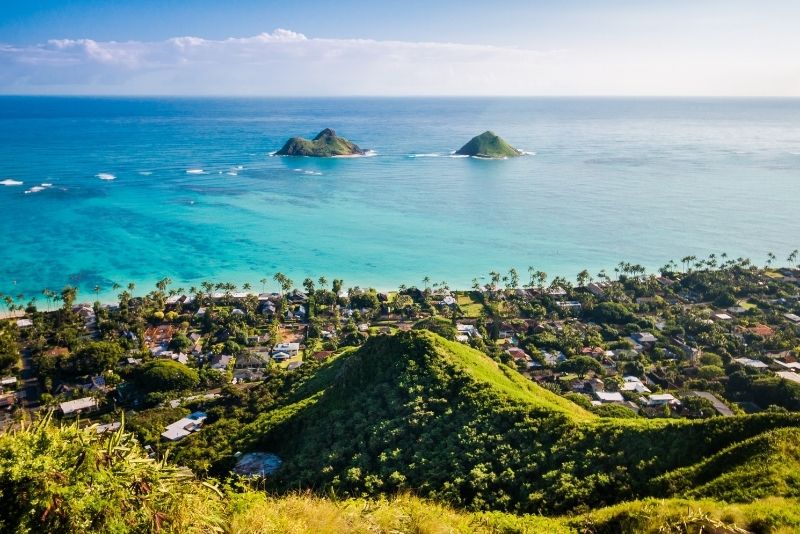 If you're after some fresh air, why not explore the pristine Mokulua Island waters with a relaxing kayaking trip?
While some visitors choose to venture to neighboring islands, others prefer to stay nearby and uncover the hidden beaches.
The swells are calm (so it can truly be a peaceful and relaxing experience) not to mention that marine life is also abundant in these waters.
21 – Plan a romantic sunset sailing trip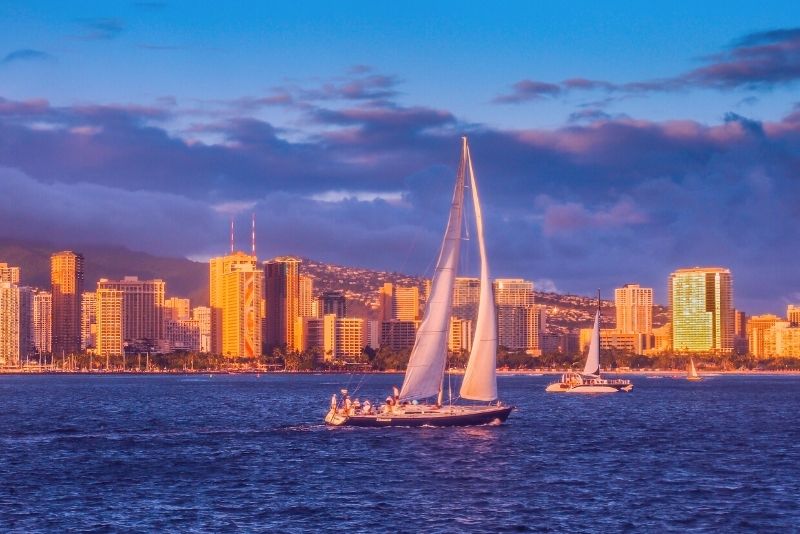 Whether you want to plan a cute sunset trip with your better half or book a group adventure with unbeatable views, there are sailing trips available to suit every taste.
Up the romance by going on a private sunset sailing trip and popping a bottle of champagne, or enjoy the day drinking cocktails with friends on a boat. As you'll see, the options are endless!
22 – Learn to surf like the pros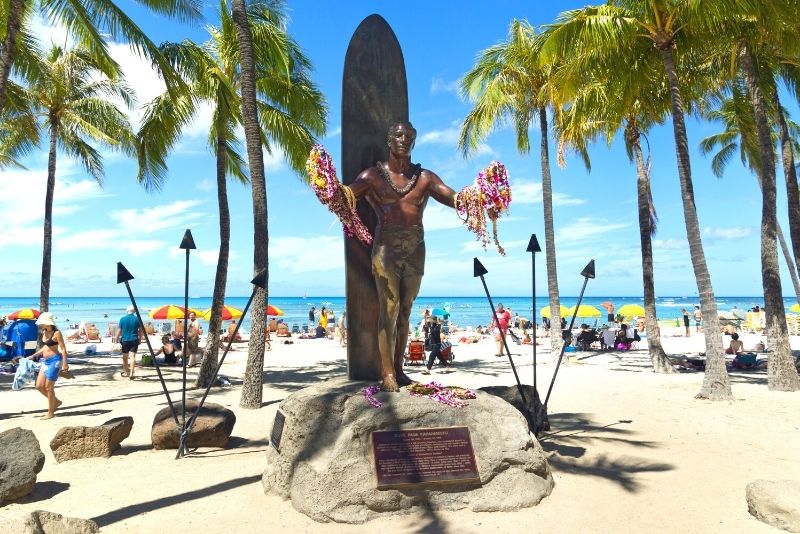 Learn to surf in the same place as the legend himself, Duke Kahanamoku — the man who once popularized surfing.
There is no need for prior experience; surfers and instructors are available all over the island, offering lessons to both beginners and pros.
23 – Swim with sharks on a shark cage diving tour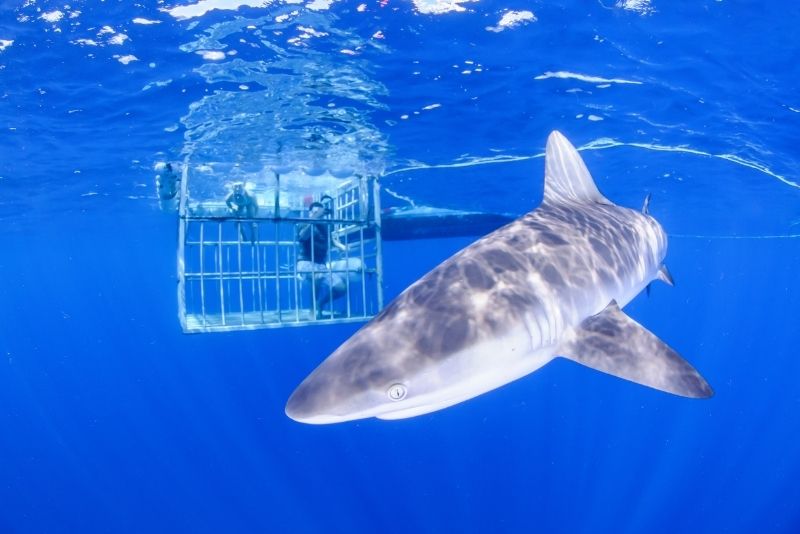 If you love living life on the edge, one of the best things to do in Hawaii has got to be swimming with sharks (from the safety of a cage, of course)!
Only the most daring of travelers have what it takes to get up close to these majestic (albeit intimidating creatures), so the question is… are you one of them?
24 – Set sail and go dolphin watching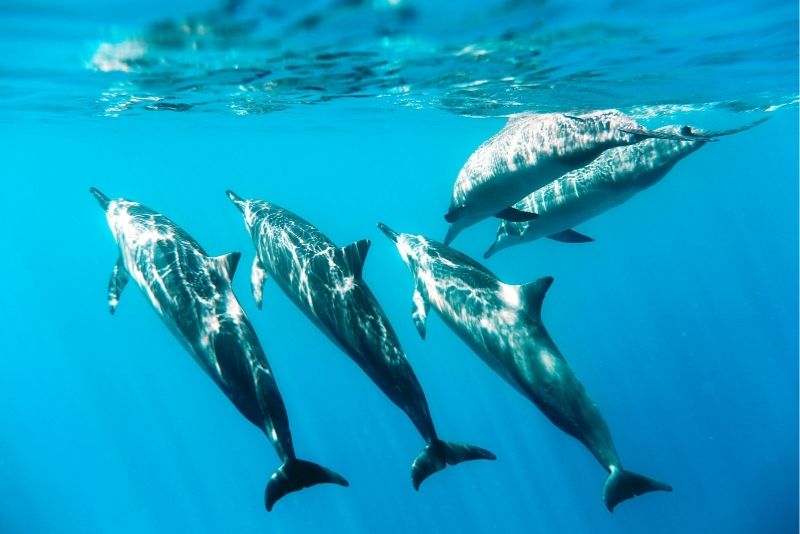 As the home of Hawaiian spinner dolphins, bottlenose dolphins, and spotted dolphins, a wildlife-spotting tour is a magical experience that can be fun for those of all ages.
Set sail with either a group or private tour; and watch as they gracefully swim through, frolic, and jump around in the blue waters.
It is definitely a bucket list item for visitors, so be sure to make it a high priority.
25 – Fill up your belly on a food tour!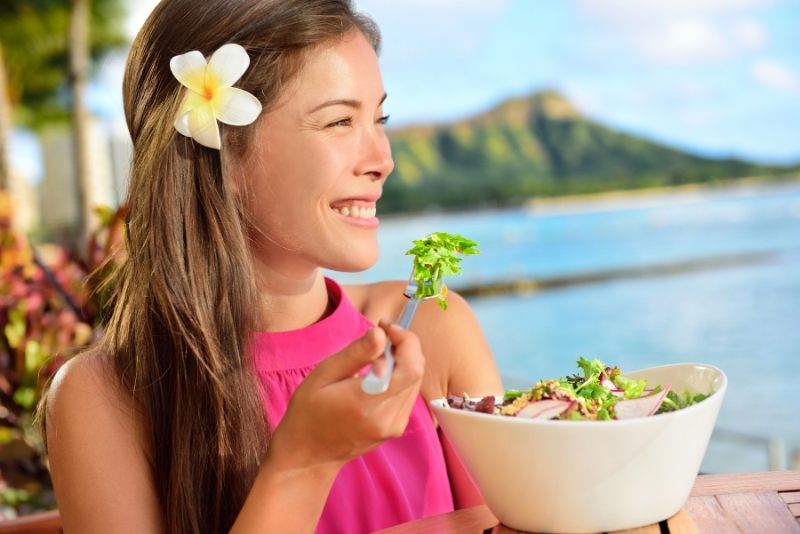 Foodies, listen up: going on a food tour is the best way to sample and try all the authentic Hawaiian snacks available on the island — so add it to the bucket list!
Not only will tourists get to try authentic meals, but they will also get to explore all the local hotspots, cafes, and bars that most run-of-the-mill tourists rarely set foot within.
26 – Experience Polynesian culture at a Luau show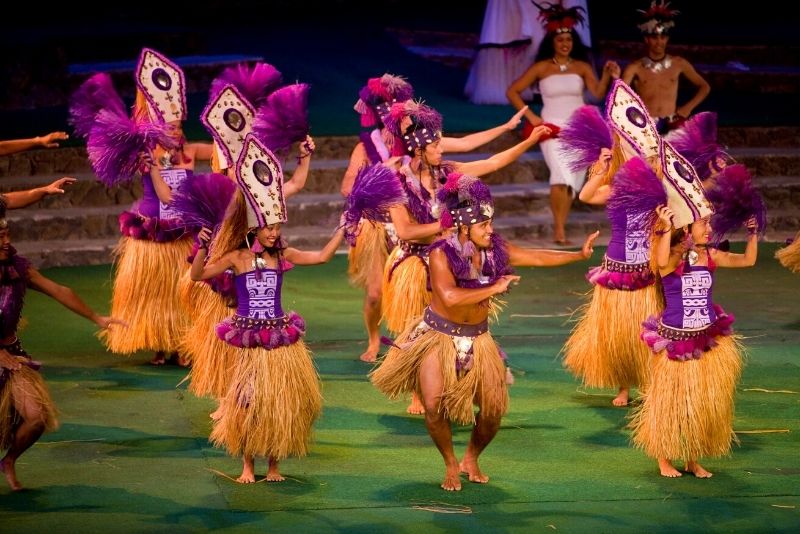 If there is one thing every traveler to Oahu must do, it's to experience a Luau show first-hand.
Besides the generous buffet chock-full of traditional food and refreshing drinks, there's also a spectacular show of dancing and entertainment.
27 – Try night snorkeling with manta rays!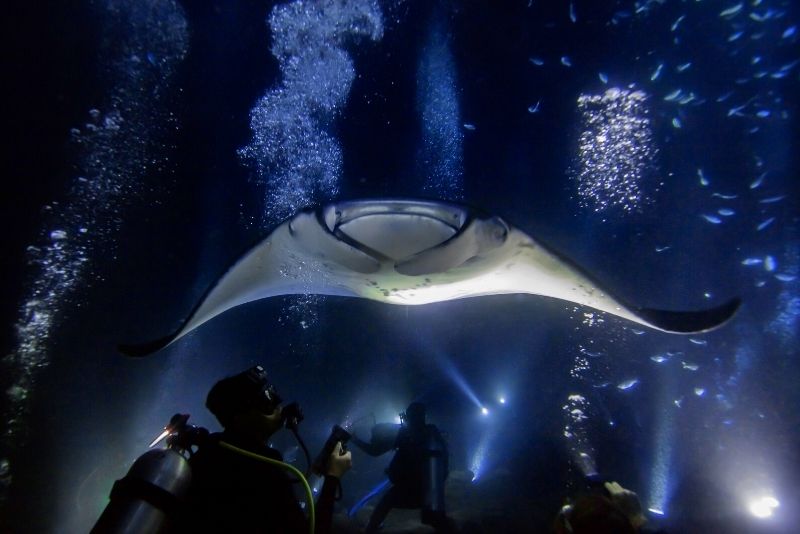 Going night snorkeling is an experience that you can't get anywhere else; doing so with manta rays swimming beneath you — that's on another level entirely!
Fluorescent lights illuminate the water, turning it into a glistening kaleidoscope of colors — it's a magical activity you won't soon forget.
28 – Wine and dine on a sunset cruise (with a show!)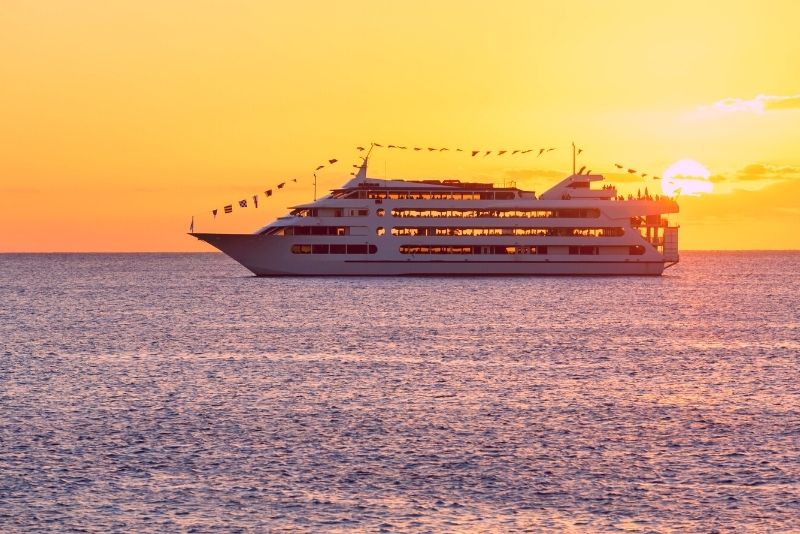 Boredom is not an option on a sunset-and-show cruise!
After tucking into the great 3-course meal (with the freshest seafood), sit back and enjoy the live entertainment — all part of a wonderful 3-hour cruise.
Hot tip: book on a Friday! These tours include a fireworks show, and it doesn't get better than that!
29 – Take an unforgettable hike up the Stairway to Heaven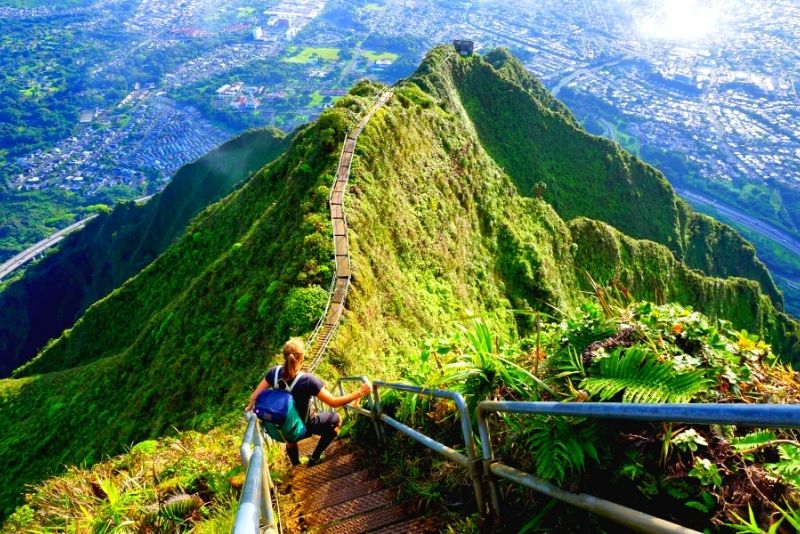 [CLOSED right now]
The stairway to heaven is one of the island's greatest attractions.
First built in 1942 by the U.S navy, it has now become one of the most famous attractions on the island.
The Stairway itself has 3,922 steps, but it is currently forbidden to hike on. Luckily, there are hiking tours from which tourists can view it from a safer location.
30 – Visit the number-one-rated Bishop Museum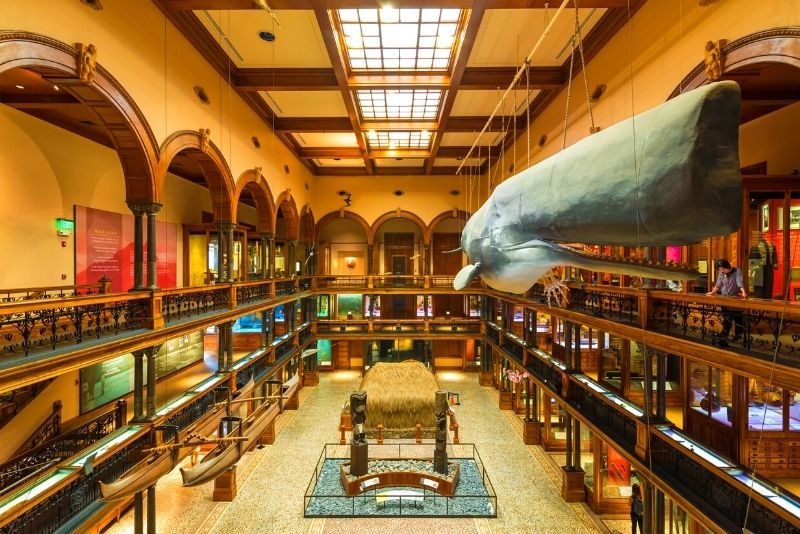 The Bishop Museum has been considered one of the top-rated attractions for tourists on the island for a long time, and for good reason.
The exhibits are a great way for visitors to learn about the rich cultures and traditions that the people on the island once had and still have today.
To top it all off, the museum also boasts a wickedly-cool live lava demonstration!
31 – Travel back in time at the Hawaii Army Museum Society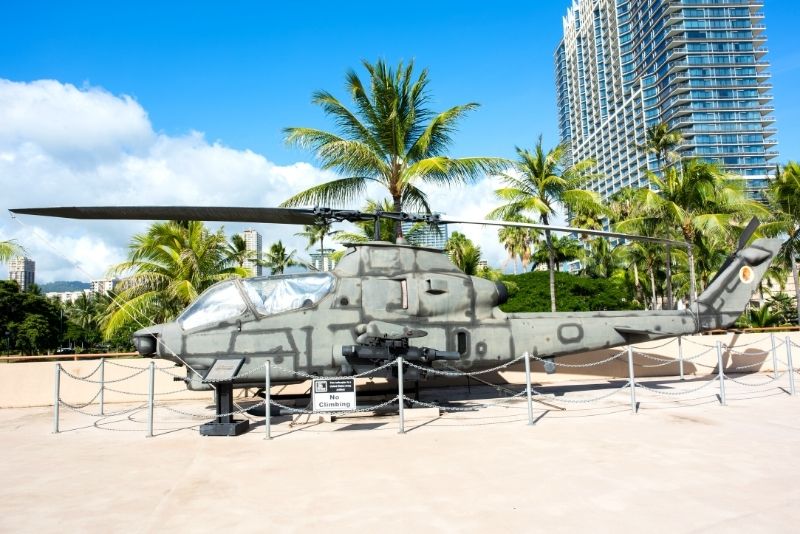 The Hawaii Army Museum Society has exhibits that are rich with history and knowledge; visitors will uncover exhibits dedicated to Hawaiian warfare, Hawaii's Japanese Americans, the Vietnam war, a gallery of heroes, and much, much more.
It's the perfect place to learn the history and facts of the island that you likely wouldn't have otherwise discovered.
32 – Meet unique animals at the Waikiki Aquarium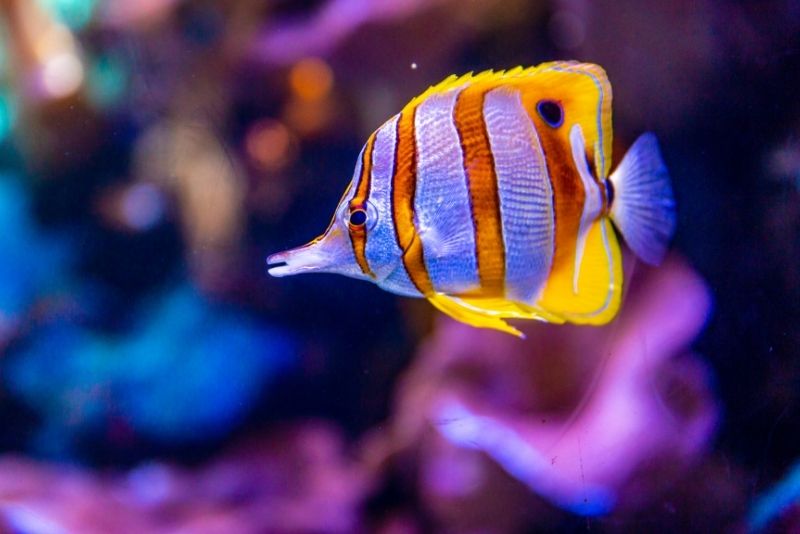 While most tourists know about the dolphins and turtles that surround the island, the Waikiki Aquarium is home to many lesser-known species.
Visitors of all ages can get a close look at seahorses, seadragons, giant clams, coral fish, Hawaiian monk seals, jellyfish, and plenty more.
33 – Discover wonderful art at the Hawaii State Art Museum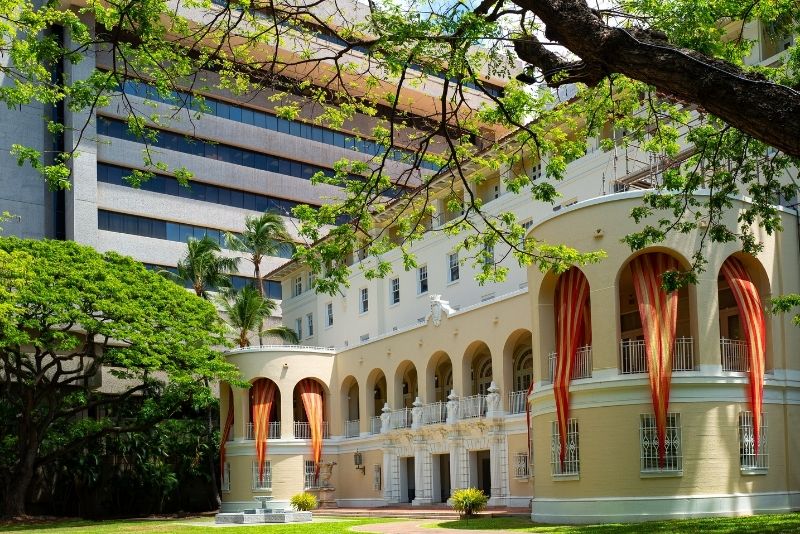 Calling all art lovers! The Hawaii State Art Museum is home to some of the best art on the island and is a must-see for anyone visiting Honolulu.
While the art is impressive, it's also home to the so-called 'sculpture garden', an oasis in its own right.
Luckily for us, admission is free, so you won't need to break the bank.
34 – Get lost in the colors at the Honolulu Museum of Art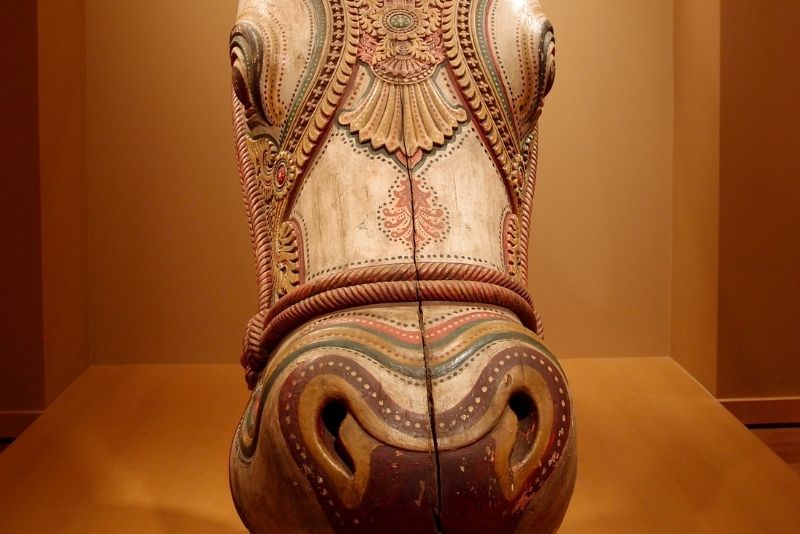 Honolulu Museum of Art (also known as HoMA) is renowned for hosting some of the most colorful and fun art exhibits on the island.
The displays are always changing; the museum curates art from both local and worldwide artists, so you never know what exciting piece you might see here.
After wandering around, recharge the batteries at the on-site cafe or soak up the sun in the courtyard.
35 – Feel like royalty at Iolani Palace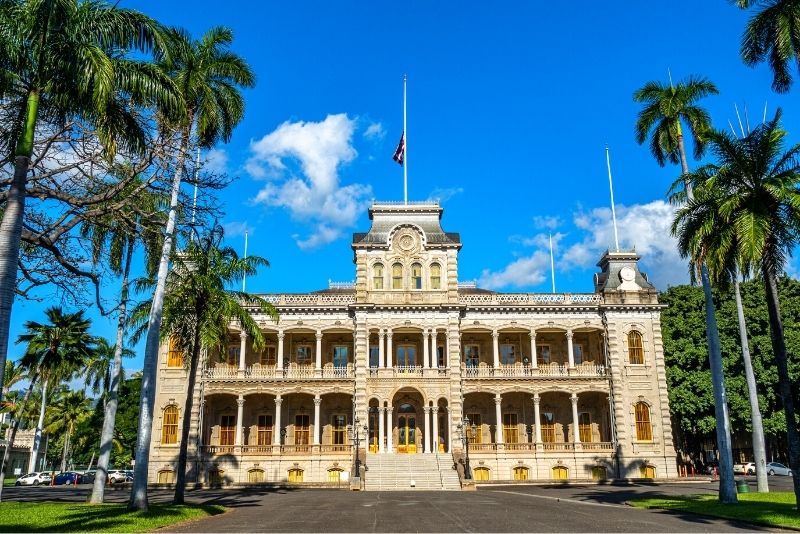 A place where tourists can discover the interesting history between Hawaii and Japan, Iolani Palace is the former home of King Kalakaua and his sister, Queen Liliuokalani — to this day, most of their belongings remain untouched.
There are many different options when it comes to tours, just keep in mind that there is a dress code.
36 – Be dazzled by the Friday night fireworks at Waikīkī Beach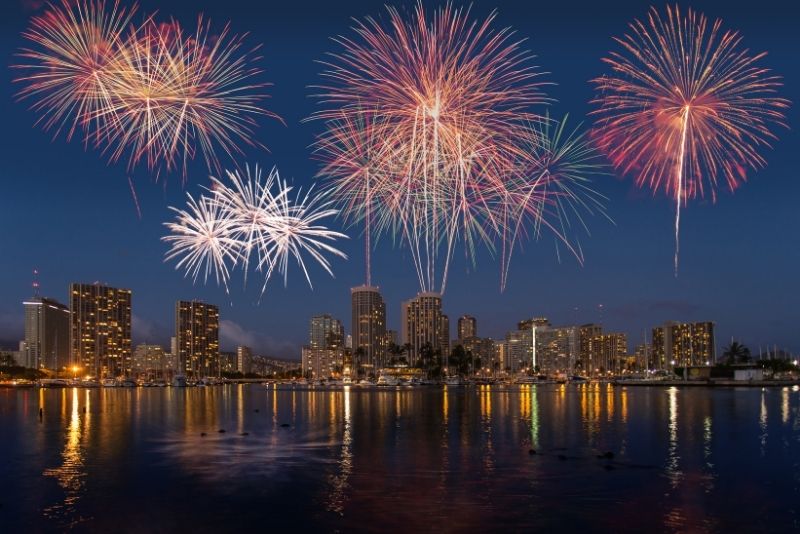 Get ready for a night filled with magic as the sky on Waikīkī Beach gets lit up by a spectacular fireworks show!
Visitors can choose between sitting on the beach and watching the night sky, or booking one of the many dinner cruise options available.
If opting for the latter, you'll be able to enjoy dinner, drinks, and a great show.
37 – Watch a thrilling surf competition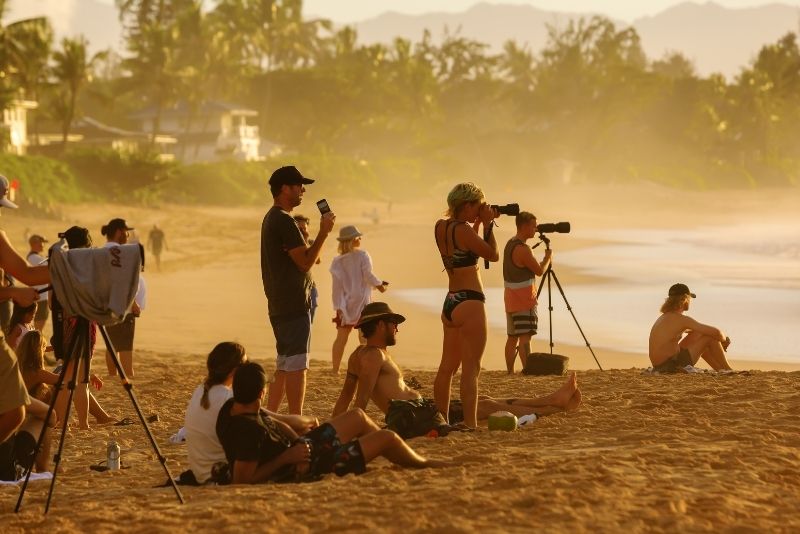 While most tourists have the option to take surf lessons, why not watch how the professionals do it?
There are many competitions that are held by Vans, Billabong, Quicksilver, and plenty more — just make sure to check the dates and cross your fingers that they line up with your trip.
38 – Meditate at the Byodo-In Temple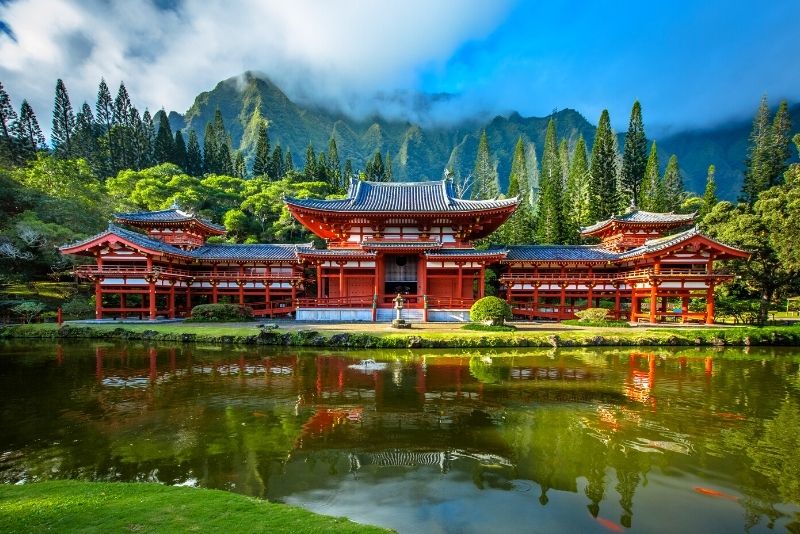 The Byodo-In Temple was first built in 1968 to commemorate 100 years of Japanese immigrants first coming to Hawaii — today, its architecture remains magnificent as it welcomes people from all faiths to meditate and pray.
It is the perfect place to relax, breathe in some fresh air, and find that much-needed zen after a few busy days.
39 – Scuba dive to ruins and shipwrecks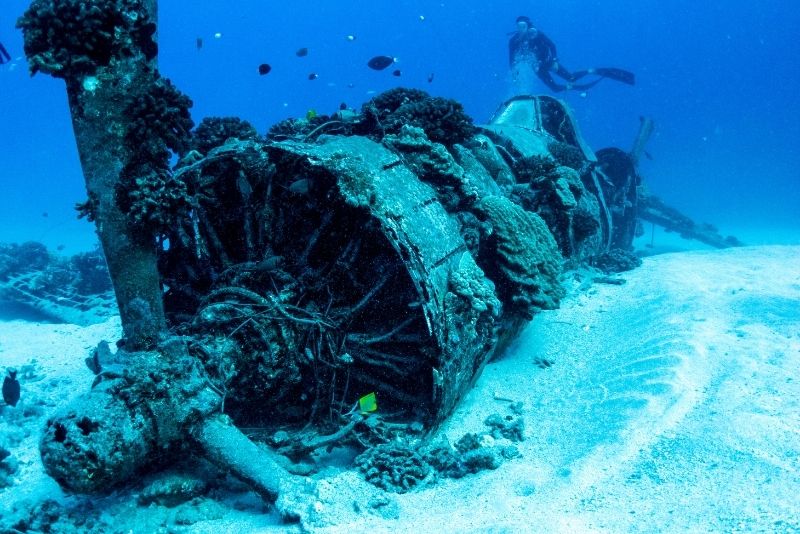 While there are many options available to tourists for diving (including swimming with sharks, exploring the coral reefs, and scuba diving tours for beginners), tourists can also opt to go 'wreck diving'.
Guided tours take travelers diving into areas flush with forgotten wreckages, marine life, and undersea ruins — and best of all, no experience is necessary.
40 – Discover the hidden beauty of Hanauma Bay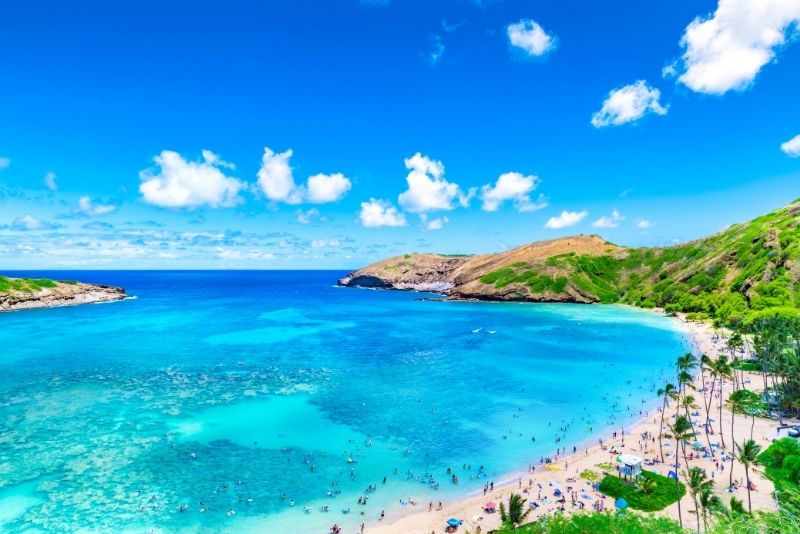 Hanauma Bay and the North Shore is home to the most stunning white sand beaches and sapphire blue waters imaginable (see for yourself!), and rarely do tourists never visit, making it well and truly a hidden gem.
After soaking up the sunshine, check out the nearby Turtle Town and grab a bite to eat at one of the numerous restaurants in the area.
41 – Venture up the Diamond Head crater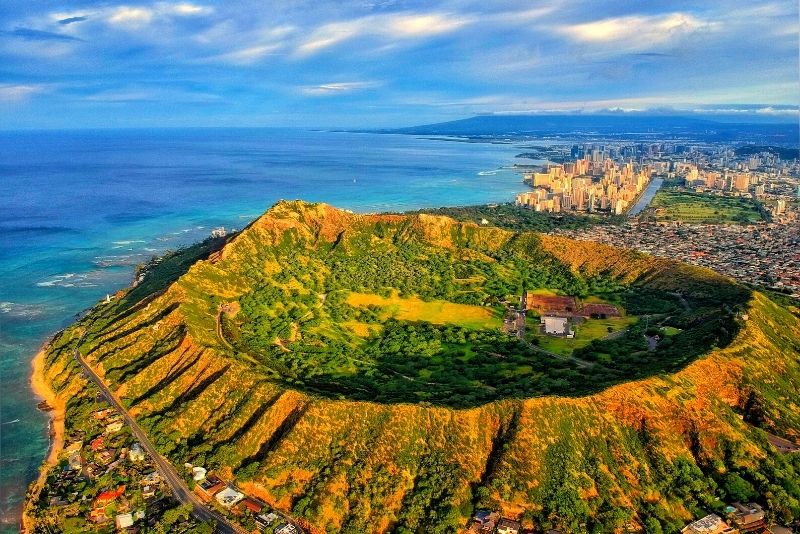 Arguably the most famous landmark on the whole island, it's widely believed that Diamond Head was formed over 300,000 years ago when it erupted violently.
Of course, scientists believe that it is dormant now and will never erupt again which makes it safe to hike up (luckily for us).
At just 30 minutes, the hike is short and sweet and ideal for all ages.
42 – Visit the exotic animals at Honolulu Zoo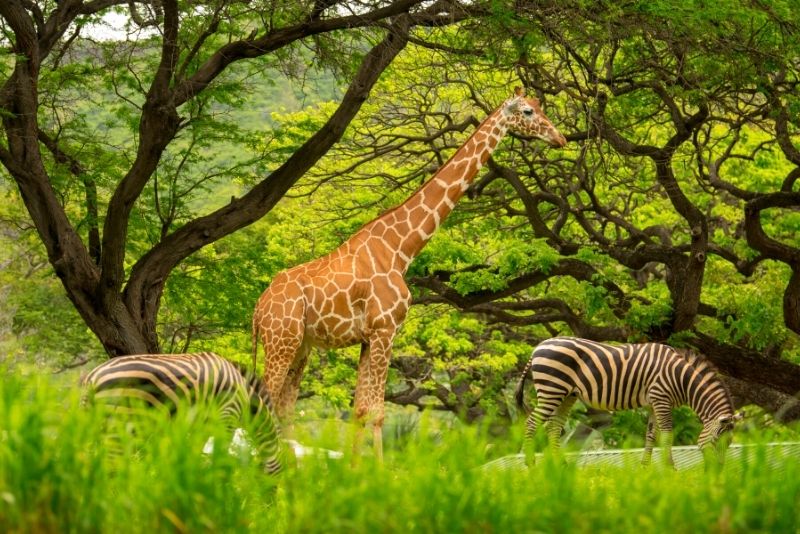 The Honolulu Zoo is home to many varieties of amphibians, birds, reptiles, and mammals — say hello to the snakes, alligators, elephants, monkeys, giraffes, tigers, cheetahs, and hippos, just to name a few.
It's a great way to spend the day with the whole family, particularly if you opt to take part in one of the many educational programs.
43 – Play a round of golf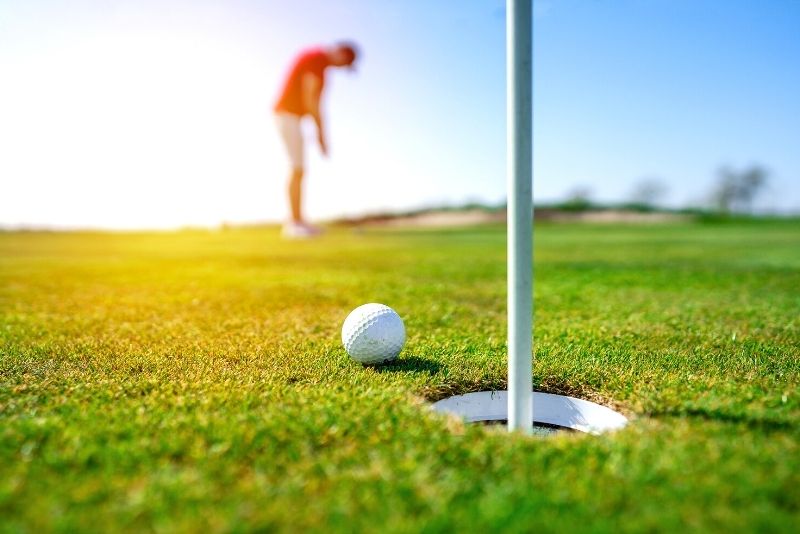 Hawaii is home to some of the best golf courses out there, no questions asked.
Not only do visitors get to play where the pros play, but they also get to take in the breathtaking scenery that every course has to offer.
All up, Hawaii is home to over 70 different golf courses that both amateurs and pros can enjoy — on Oahu specifically, consider checking out Turtle Bay Golf & Resort, the state-owned Kahuku Golf Course, or the Hawaii Prince Golf Club in Ewa Beach.
44 – Spend the day kayaking along Kailua Beach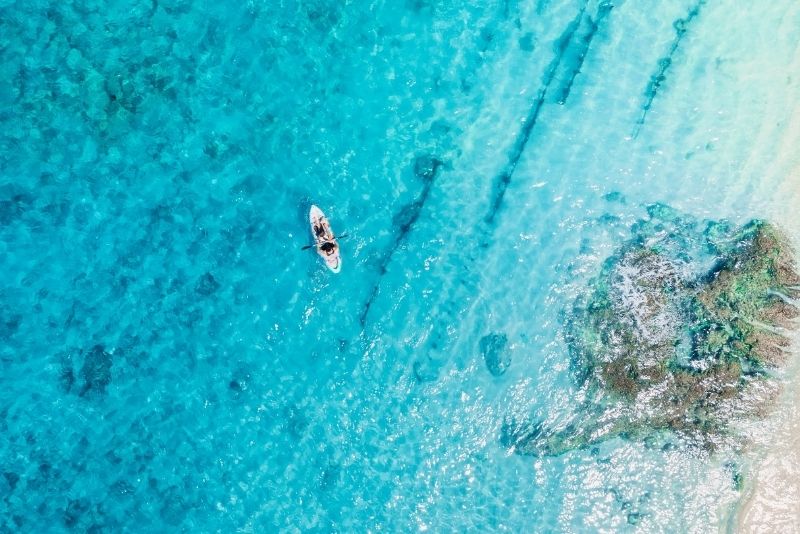 Kayaking on the coast of Kailua Beach can give tourists a great way to see the famous Hawaiian green sea turtles, not to mention the famous bird-nesting sanctuary nearby.
Guided tours provide guests with all the kayaking equipment, so simply bring yourself and a can-do attitude!
45 – Check out the Battleship Missouri Memorial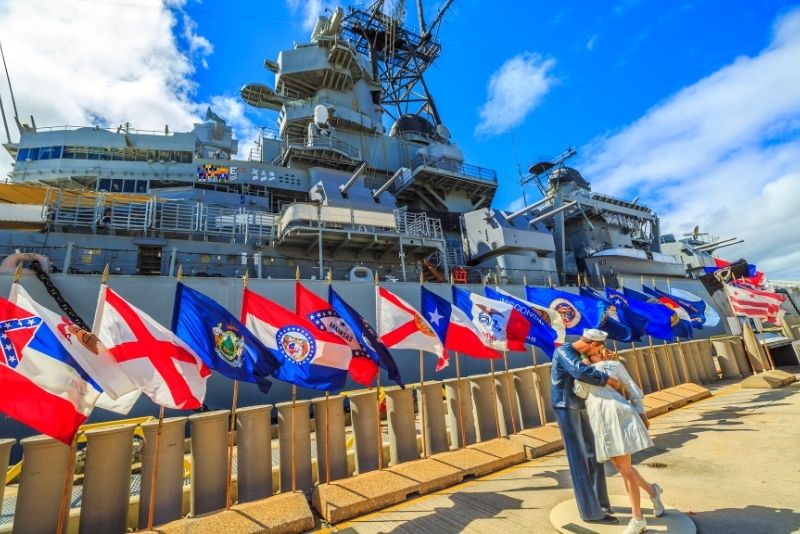 If you're a history buff then this place screams "must-visit". Nicknamed the "Mighty Mo, the battleship (besides being a real navy ship) is a floating dedication to the soldiers and history of WW2.
There are many tours available where you can understand the drama and tragedy of Pearl Harbor and the historic Japanese surrender that took place — or, more simply, explore at your own pace.
46 – Visit the USS Arizona Memorial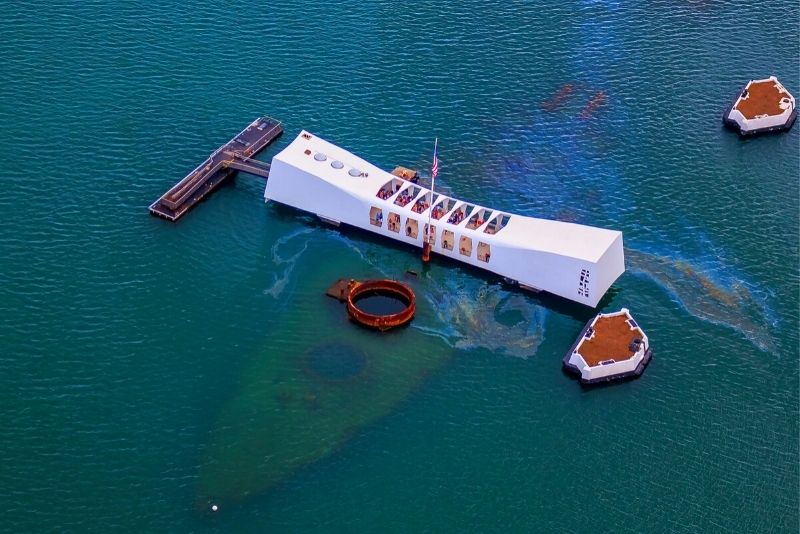 Free for all visitors, due to its significance in American history, the USS Arizona Memorial is undoubtedly one of the most essential things to see in Hawaii.
Marketing the resting place of over 1100 former soldiers, the memorial is a somber reminder of the nation-shaping tragedies of decades gone by.
47 – Discover the world of aviation at the Pearl Harbor Aviation Museum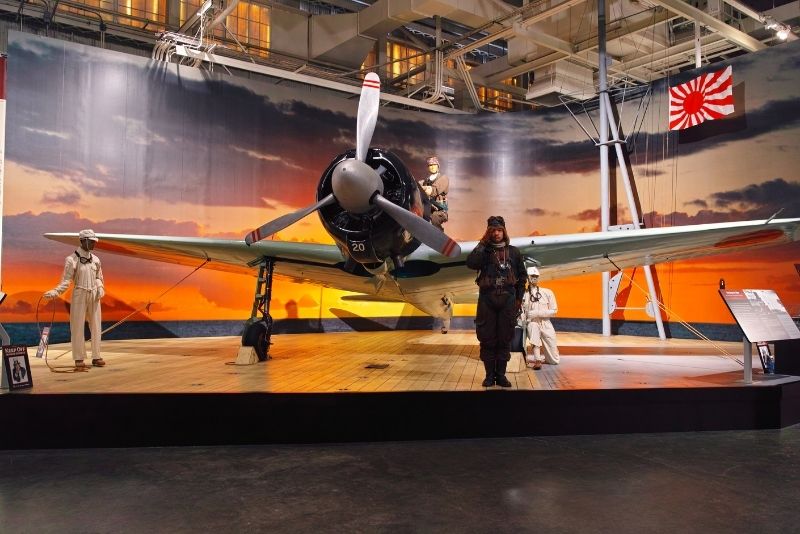 The Pearl Harbor Aviation Museum is home to artifacts, collections, and original hangars that were used all the way back in WW2.
After reliving history and spending the day learning about American efforts in Pearl Harbor, check out some of the interactive exhibits and try your hand at taking the controls in the flight simulator.
48 – Walk the decks of history at the USS Bowfin Submarine Museum & Park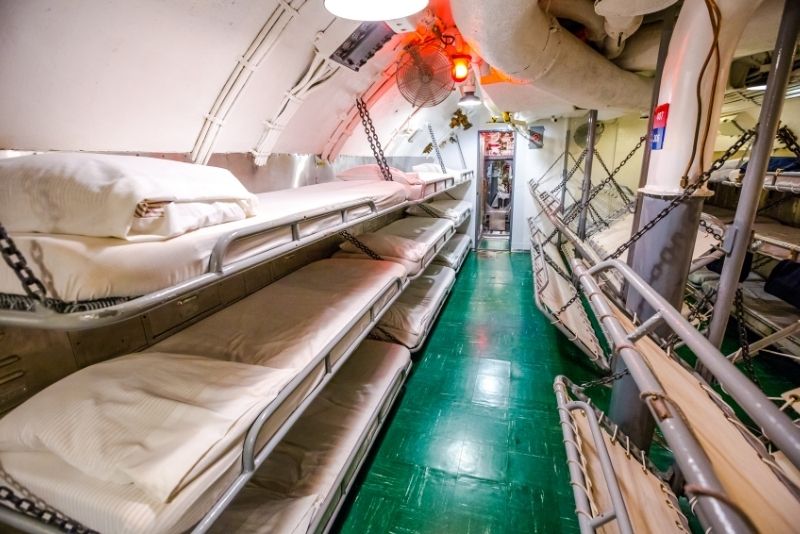 The USS Bowfin Submarine Museum & Park provides guided tours to guests who wish to learn more about the history of this place.
Visitors can watch videos about the fateful events at Pearl Harbor as well as listen to narrated displays throughout the museum.
49 – Experience a piece of Hollywood and visit Jurassic Park (Kualoa Ranch)
One for the movie buffs, the sprawling Kualoa Ranch is home to the famous sets that Jurassic Park, Pearl Harbor, and Magnum P.I were filmed in.
The set in question is full of delicately green forests teeming with wildlife, with heaps of options available to tourists including ATV rides, train rides, and even zip lines adventures.
50 – Step inside the Polynesian Cultural Center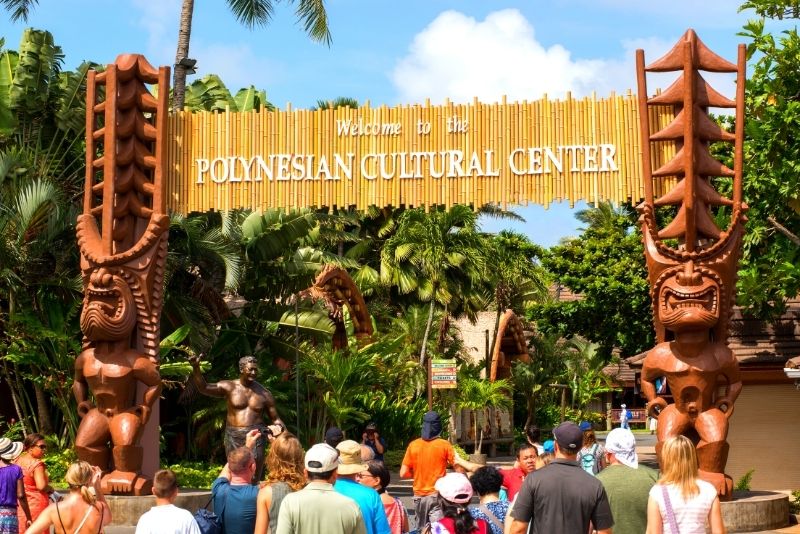 The Polynesian Cultural Center is a great place for tourists to visit if they want to completely immerse themselves in the rich history and culture of the Polynesian people.
As any former visitor will attest, it's definitely one of the best things to see in Hawaii — so be prepared to spend a few hours wandering around and learning.
51 – Go on a unique Honolulu street art tour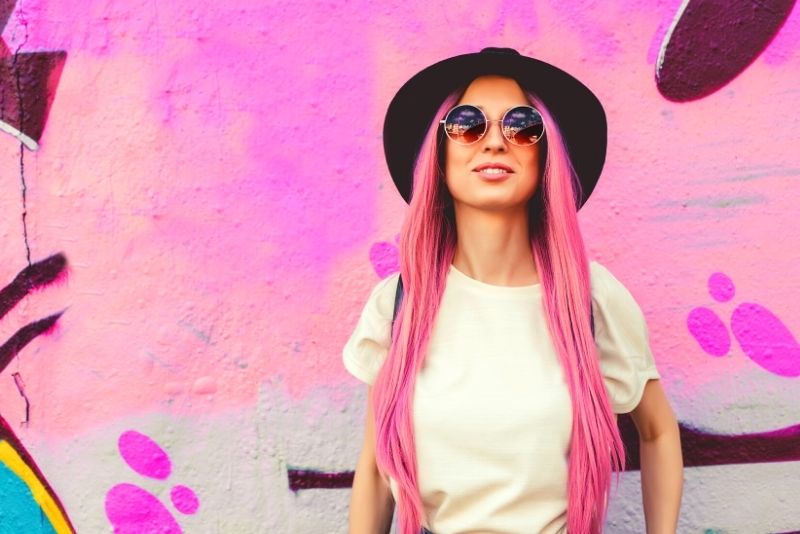 Hoping to get off the beaten track? Then a Honolulu street art tour is one way to explore the sights that many tourists seldom get to see.
These unique tours venture to back alleys and showcase some of the best street art Honolulu — scratch that, Hawaii — has to offer, and each stop makes for great photos to take back home.
If you're looking for ways to make your social media pop, photos on this tour will do exactly that!
52 – Bask in the sun on the North Shore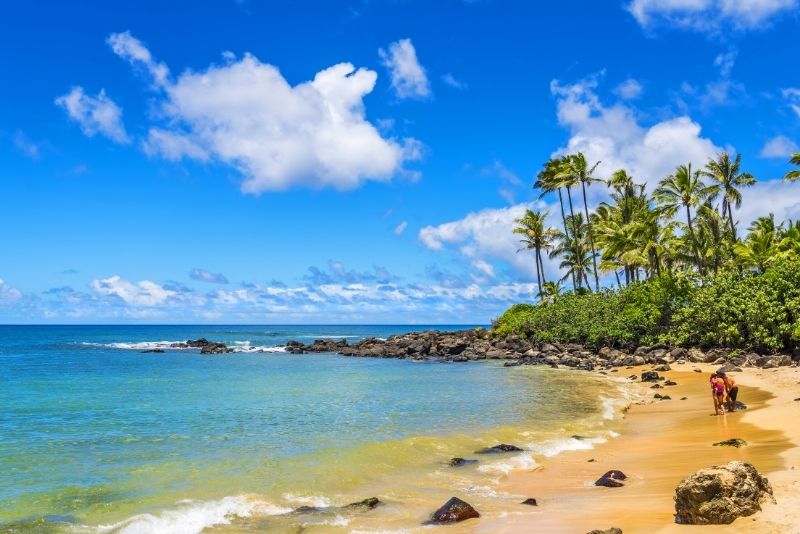 White sandy beaches that last for miles, glistening blue waters, cliff jumping spots, diving tours, and ziplines, the North Shore is the shining gem of Oahu.
With endless activities available for the whole family — both adventurous and relaxing — it's no surprise that most visitors want to spend the whole day here.
53 – Go on a thrilling ride at Wet'n'Wild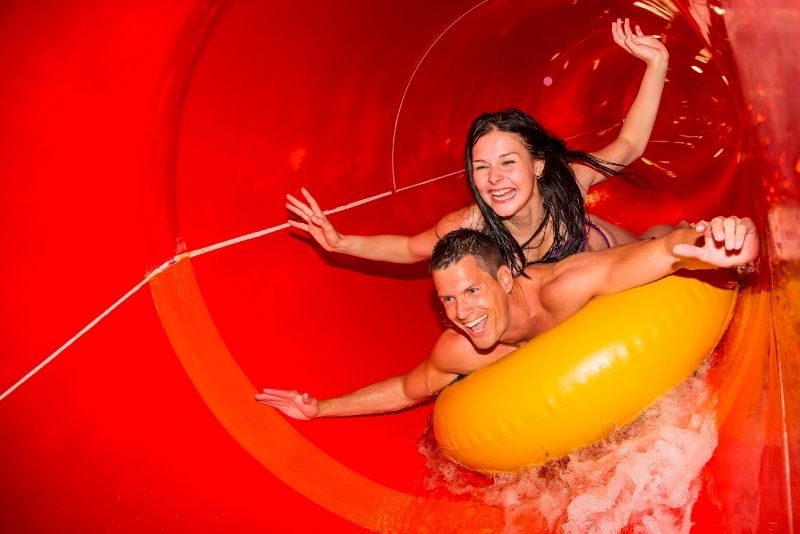 Traveling with kids? Then take note: Wet'n'Wild is one of the most-visited family-friendly attractions in Oahu.
The park is filled with rides that are fun for the whole family (like the Island Racers and Raging River), and there are plenty of stops to shop and eat as well.
There are even Luau shows available, but it's best to book ahead to make sure you get a seat!
KAUAI ISLAND
Often referred to as the 'Garden Island', Kauai is known for the lush forest that encompasses the majority of its surface. If you're on the hunt for outdoor adventure, Kauai is the place to be.
54 – Waimea Canyon State Park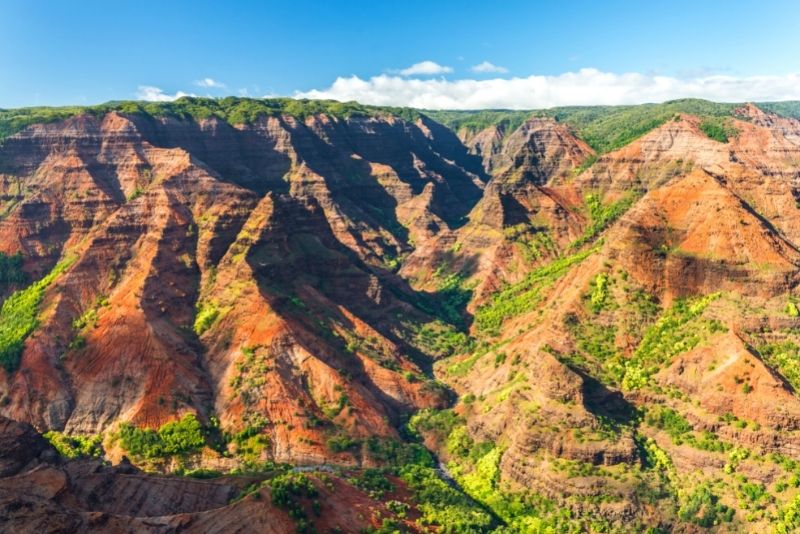 Spanning a whopping 1,866 acres with drops of up to 3,000 feet at various points, locals and tourists alike have begun referring to this place as "the Grand Canyon of the Pacific" — and as soon as you see it first-hand, you'll understand why.
The easiest way to get a taste of the area is to visit from Waimea, driving down Hawaiʻi state road 550.
As for hiking; the Cliff Trail is a short, easy hike that includes an overlook of the canyon, while the Koaie Canyon Trail is much longer, featuring swimming holes along the way.
55 – Learn about sugarcane-based drinks at the Koloa Rum Company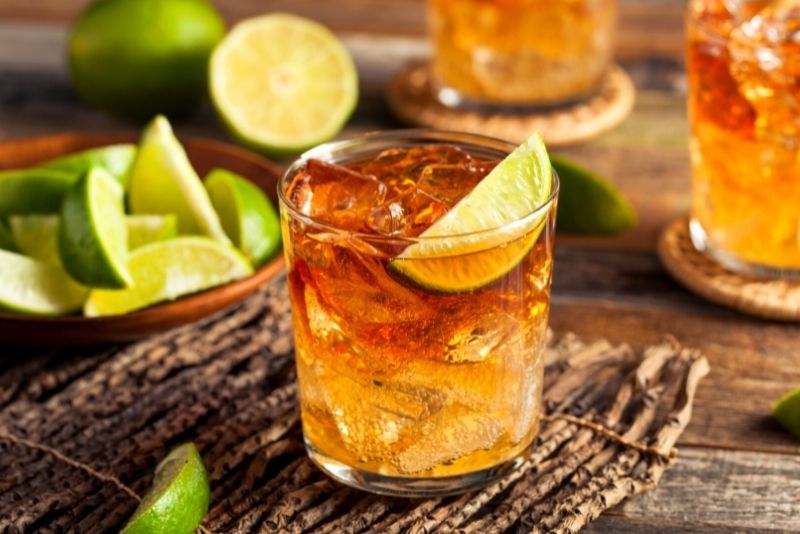 Who's thirsty? Offering insightful tours into their brewery every hour (just be sure to book in advance), the Koloa Rum Company is a staple when it comes to things to do in Hawaii — especially considering that it's the only licensed distillery on the island of Kauai.
Besides the chance to taste one (or two, or five) different kinds of rums, this watering hole also sells a range of sweet treats.
56 – Grab a seat on the Kauai Plantation Railway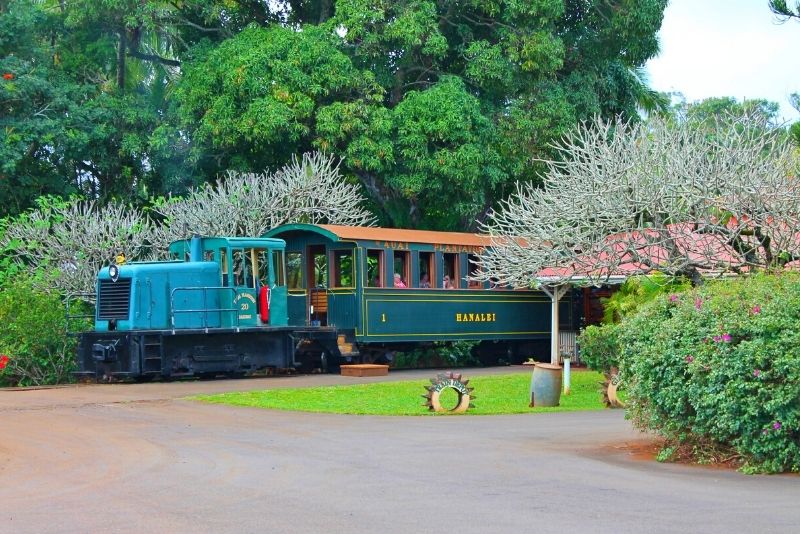 As this educational train travels through a range of landscapes each more impressive than the last (orchids, farmlands, and forests, to name but a few), there's no shortage of impeccable photo opportunities.
It's not just about beauty though; the open-air train will venture all over the historic 105-acre Kilohana Plantation, with plenty of live and informative narration along the way.
Lasting for just 40 minutes, it's an easy addition to any day out in the Kilohana area.
57 – Take a dip in the Queen's Bath swimming hole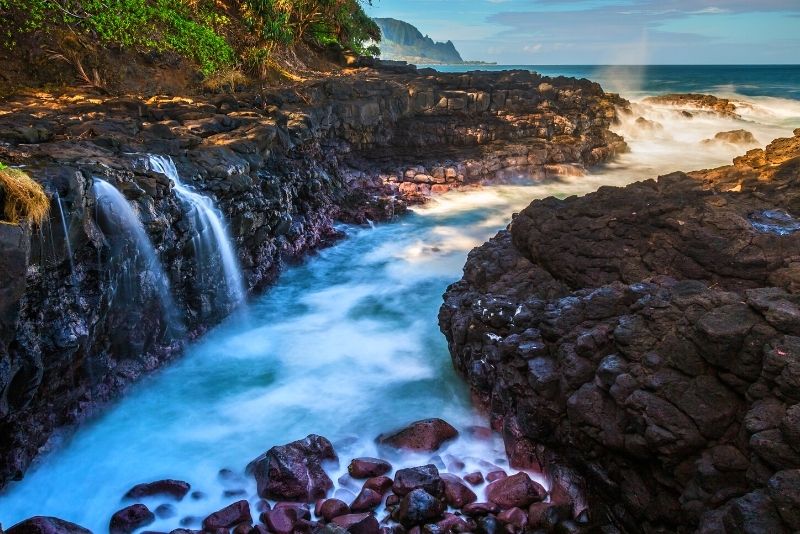 Located in Princeville on Kauai's northern shore, this natural tide pool (which often plays host to colorful fish) is a popular swimming spot — particularly on those toasty July and August afternoons.
Just an easy 10-minute stroll from the car park (which includes a waterfall along the way), it's no wonder that this pristine slice of Mother Nature is considered one of Princeville's favorite summertime attractions.
58 – Raise the energy levels at the Kauai Coffee Company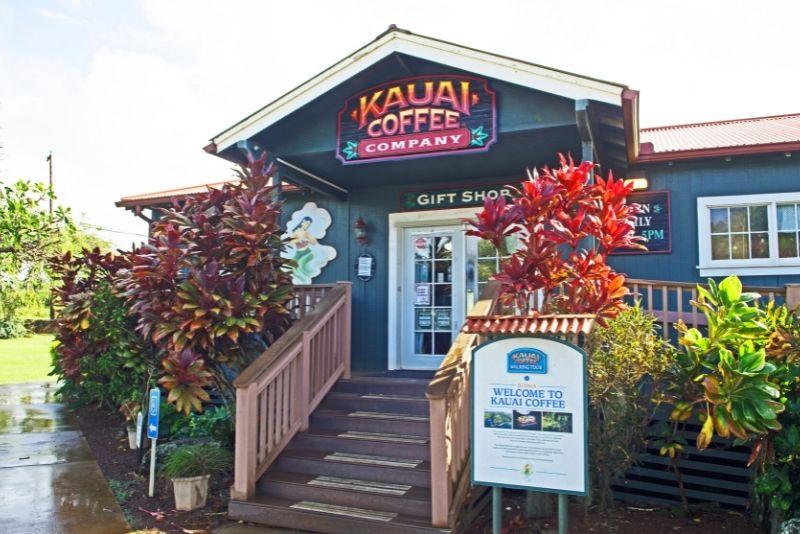 For anyone who relies on a cup of Joe to start the day, be sure to add the Kauai Coffee Company — arguably the premier coffee destination in the entire state — to your Hawaiian bucket list.
Besides the unique volcanic soil beans, this place also boasts a stunning estate, a gift shop chock-full of fun souvenirs to take home, and, of course, an on-site cafe.
59 – Trek one of the many trails in Kokeʻe State Park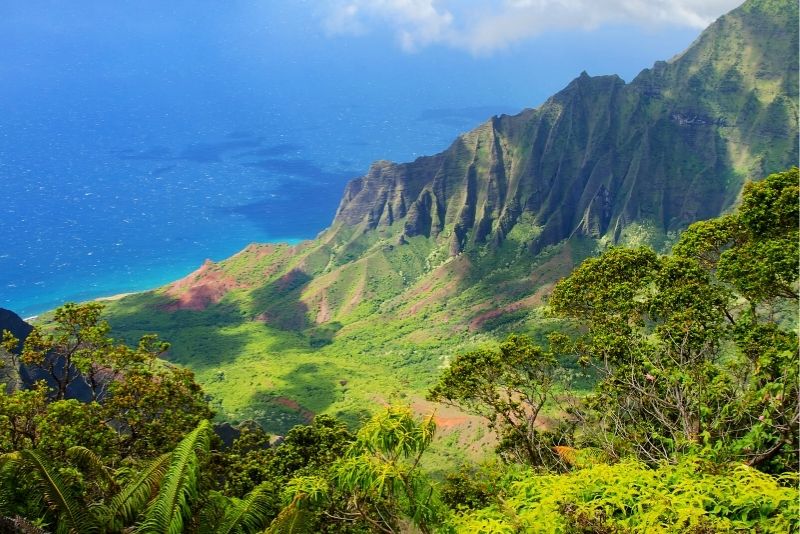 Covering the northwestern section of the island, Kokeʻe State Park is teeming with stunning flora and fauna — and has no shortage of hiking trails either (like the Alakai Swamp Trail, Awaʻawapuhi Trail, and Kawaikoi Stream Trail, just to name a few).
If an outdoor hike isn't on the menu, you could also check out the visitor center and/or museum, each of which offers plenty of geological and cultural insights.
60 – Visit the breathtaking Napali Coast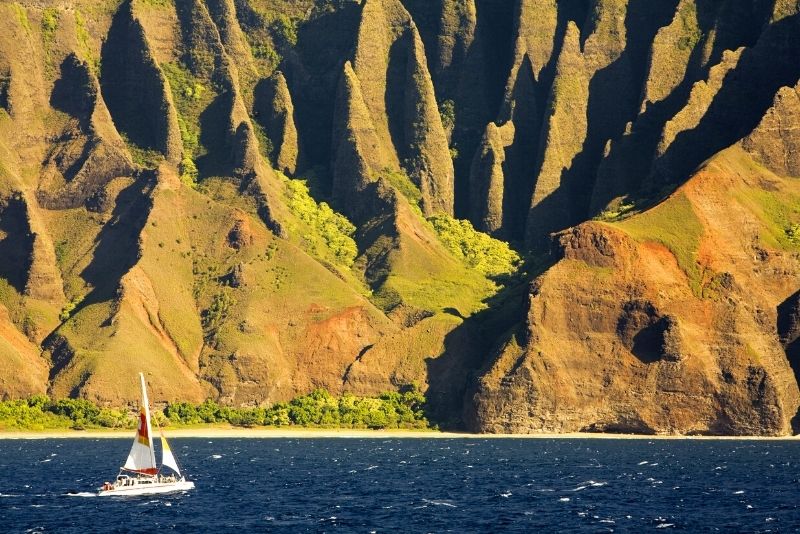 Ask anyone who's made the trip to this coastline before and they'll admit, very few places on Earth can compare to the beauty and serenity of the Napali Coastline — seriously, this place looks like a cross between Jurassic Park and Pandora.
While the area is renowned for its towering sea cliffs juxtaposed by gushing waterfalls, it's also home to great beaches (like the sandy Kalalau Beach and Ke'e Beach), plus ample snorkeling and sailing opportunities.
61 – Take a boat cruise out to Ni'ihau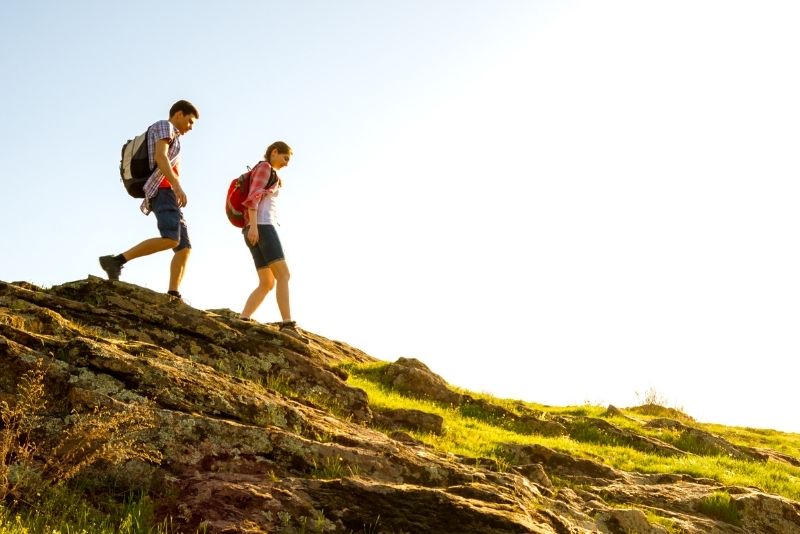 As its own island about 17 miles southwest of Kauai, Ni'ihau presents as one of the most exciting yet underrated day-trip destinations.
While setting foot on the island is difficult, there are a number of sailing and helicopter tours that will get you within striking distance.
62 – Immerse yourself in unique plants at the National Tropical Botanical Garden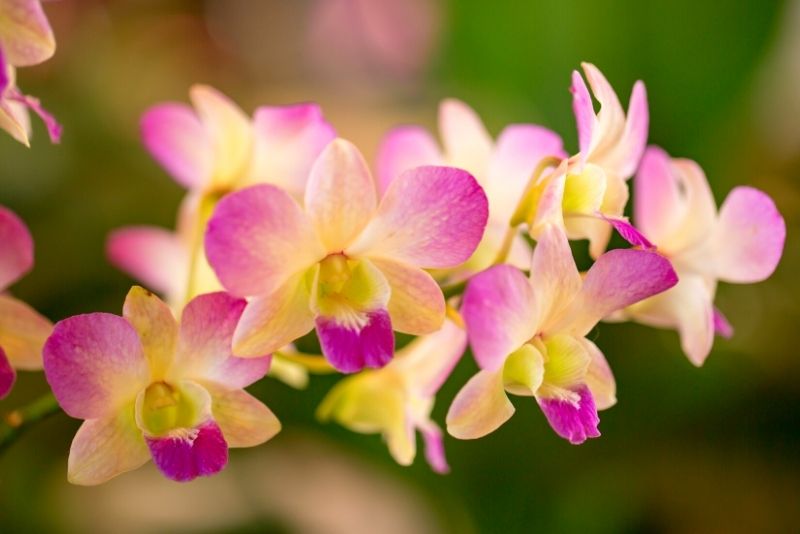 Boasting the title of the "leader of plant conservation and research in the Pacific", it should come as no surprise that the National Tropical Botanical Garden is overflowing with exceptionally curated local, international, and rare flora.
The reviews say it all: this is one of the very best botanical gardens in the country and, as a result, easily one of the essential things to do in Hawaii.
63 – Drive through the all-encompassing tree tunnel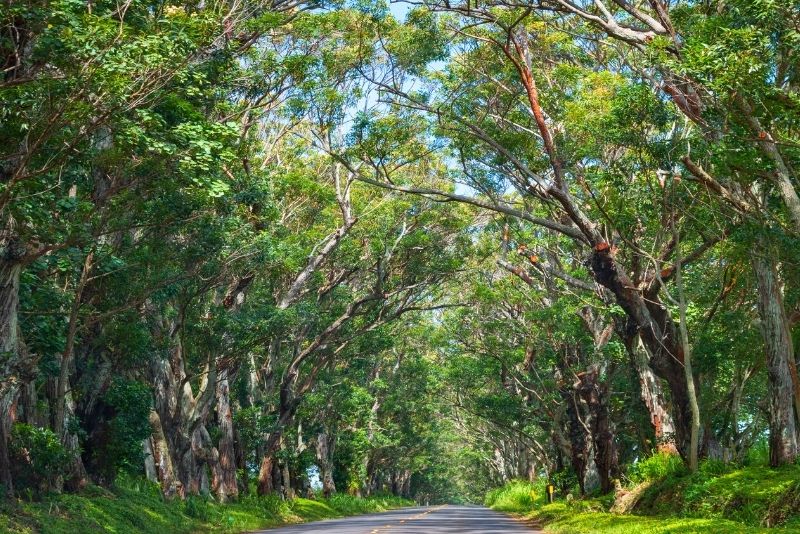 How's that for a picture-perfect backdrop!
This roughly one-mile stretch of Tree Tunnel on Maliuhi Road (made up of over 500 eucalyptus trees) has been standing for over 150 years and is growing in popularity as a tourist must-see with each passing day.
Simply put, this is Mother Nature at her best.
BIG ISLAND (ISLAND OF HAWAII)
Ideal for nature lovers who want to escape the large crowds, there's never a scrimmage for fresh air on the Big Island. From the snowy Mauna Kea to its many sizzling beaches, the diversity of activities here is second to none.
64 – Hawaii Volcanoes National Park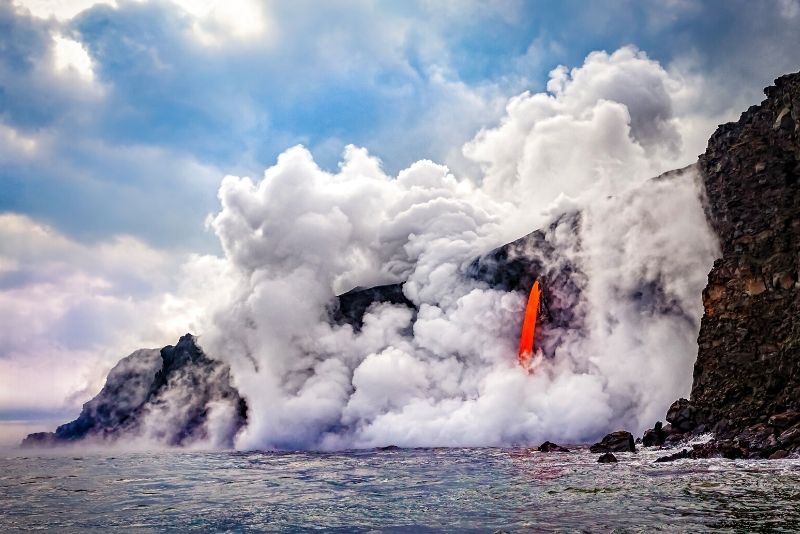 With the official claim to fame of not only being a stunning piece of land, but a World Heritage Site too, the Hawaii Volcanoes National Park is flush with grand cliffs, hiking trails, waterfalls, and, of course, volcanic action.
Throw in a selection of volcano steam vents, fumaroles, lava fields, and lava-formed arches (all formed thanks to the park's two active volcanoes, Kīlauea and Mauna Loa) and it's a no-brainer when it comes to creating the Hawaii bucket list.
65 – Soar over the island with a helicopter tour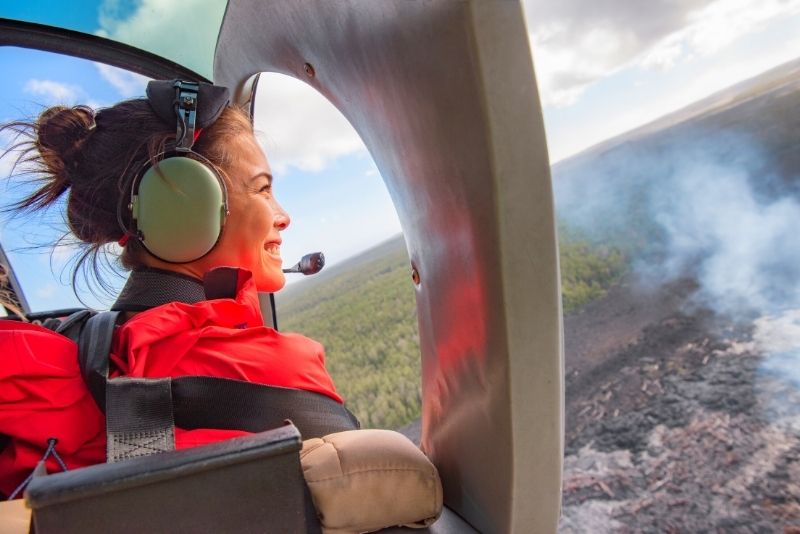 While there are endless things to see in Hawaii from the ground, the only way to truly appreciate its sprawling beauty is from above.
In a helicopter tour, besides soaking in unforgettable views of forest, ocean, and volcanoes, guests are also taught about the islands' ecology and history thanks to the always-friendly and highly knowledgeable pilots.
66 – Set sail on a dolphin-watching trip!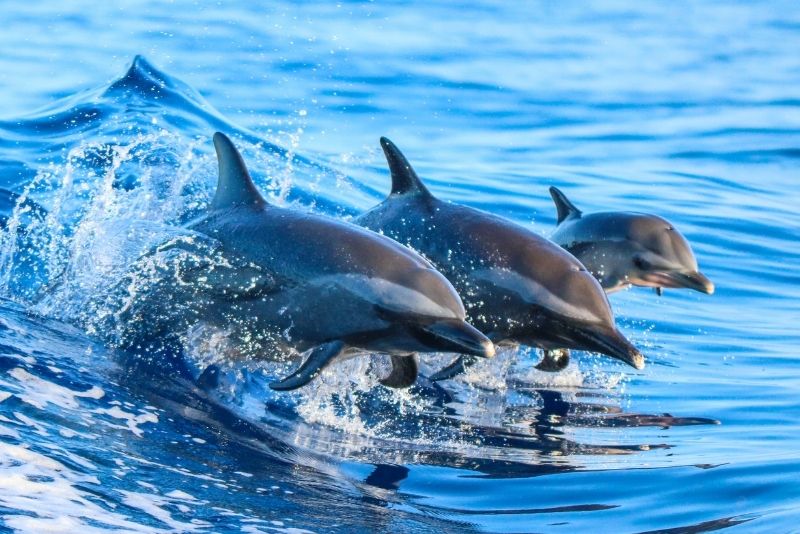 Besides the chance to see some of nature's most bubbly and friendly creatures in their natural habitat, travelers embarking on dolphin-watching tours (depending on which specific tour you choose) can also explore hidden caves, snorkel with vibrant sealife, and sip a cocktail or two along the way.
With all the gear provided, plus the option for hotel pickup/dropoff, it's one of the best things to do in Hawaii.
67 – Attempt to balance on a stand-up paddleboard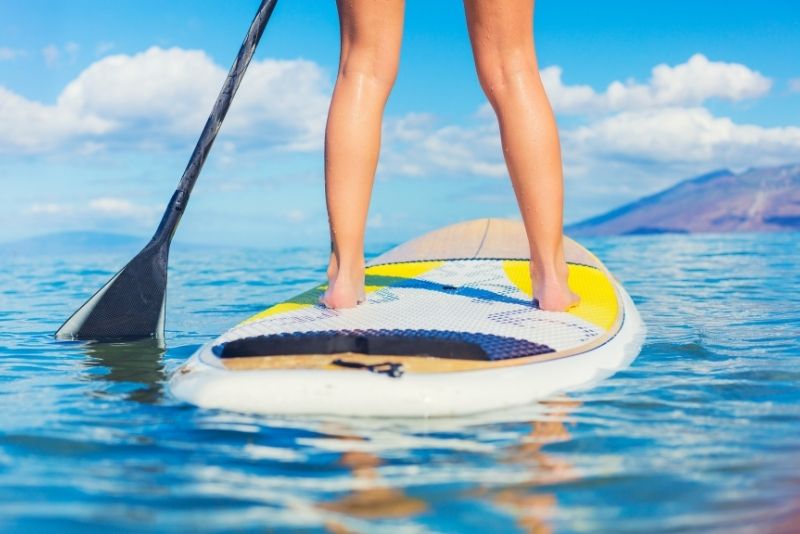 If you've never tried your hand at this trendy new sport (or even if you have), there's no better place to jump on a board than on the crystal-clear waters of Hawaii!
Sign up for a lesson, join a group tour in places like Coconut Island or the Wailoa River, or simply rent your own board by the hour — either way, a great afternoon under the sun awaits!
68 – Try your hand at deep-sea fishing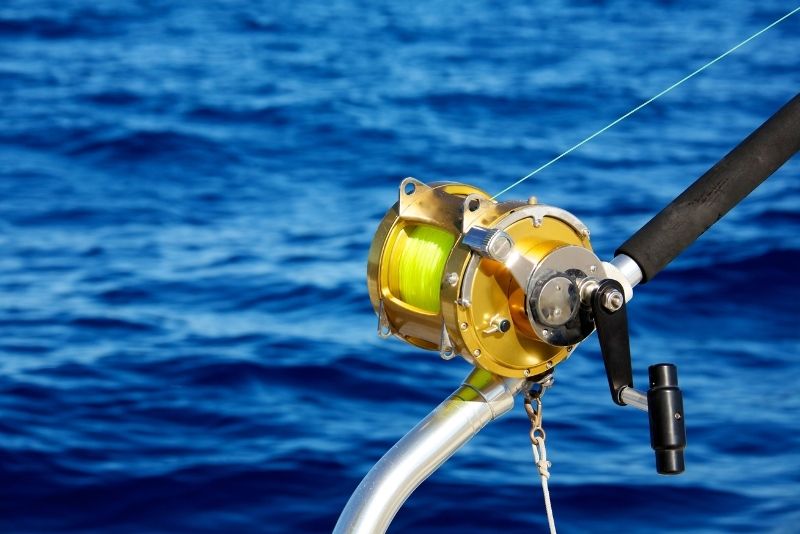 The Kona Coast is abundant with fish, and the locals know all of the premier destinations to reel them in!
If you want to meet a few friendly new faces (or save a few bucks), join a group tour; if you want a private, VIP experience and are prepared to fork out a little extra cash, consider chartering your very own boat!
69 – Explore the stunning Waipio Valley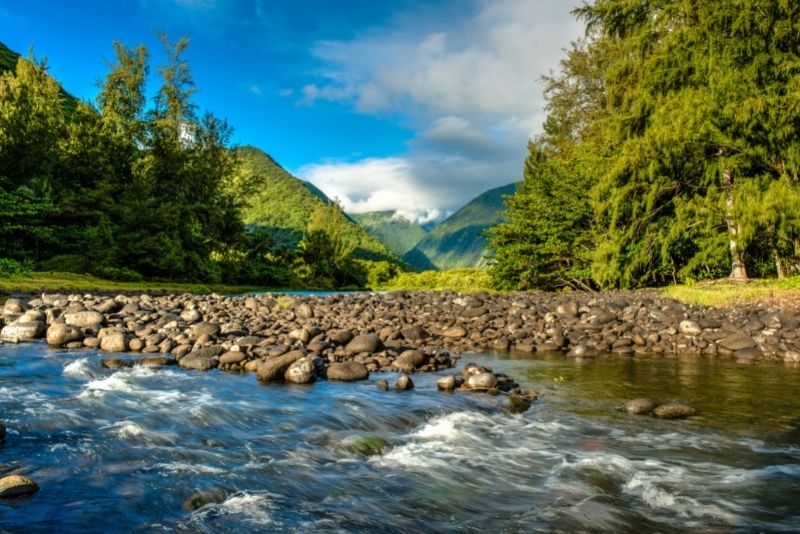 Camera at the ready — with incredible landscapes nestled in the Kohala Mountains — like the Hi'ilawe Falls and the Akaka Falls (just to name a couple) — the Waipio Valley is one of the most picturesque places on the Big Island.
Besides a few hours exploring beautiful surroundings, guided tours also offer the chance to learn about the rich history of the region, ride an ATV, or even tackle a zipline or two.
70 – Enjoy the views on a Sailing tour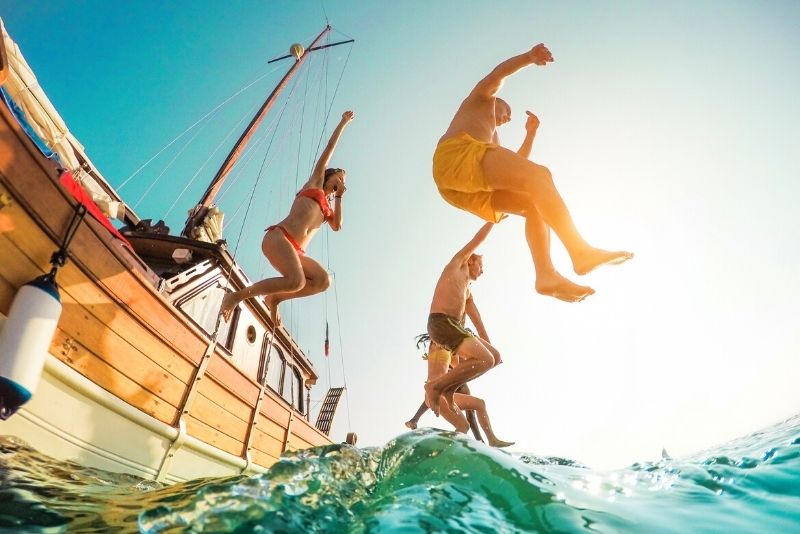 With no shortage of half-day and full-day choices, so long as you're not vulnerable to a bit of seasickness, a sailing tour off the coast of the Big Island is an absolute must.
Why? Because the views — with towering cliffs, vibrant colors, and lush forest — are absolutely astonishing.
Check out the Captain Cook Monument and keep an eye out for dolphins and whales along the way!
71 – Conquer the easy hike in Akaka Falls State Park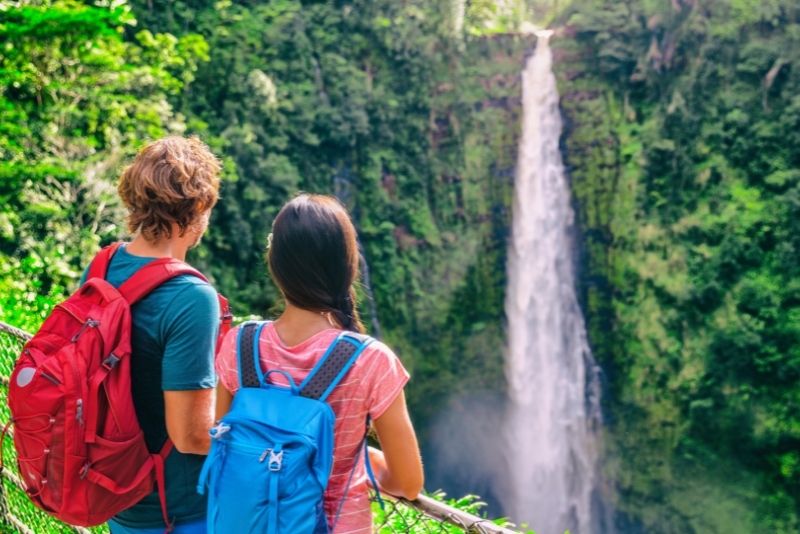 You'd assume that a nearly-450-foot waterfall would be tucked away from the main roads, a few hours' hike away from any main areas. Well, think again.
The Akaka Falls — a towering, cascading waterfall about 10 miles north of Hilo — are accessible via a fairly short and paved walk, that can be tackled in under an hour.
Note: a small entry fee of $5 per person is required (but totally worth it).
72 – Spot the turtles on Black Sand Beach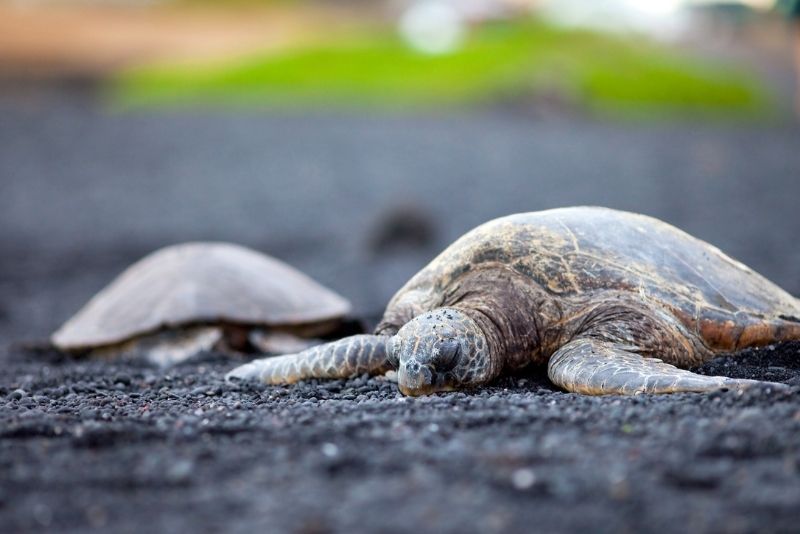 On any given vacation day, a trip to a black sand beach is a great day under the sun and a  surefire hit for the 'gram.
However, at the aptly-named Black Sand Beach on the Kohala Coast, there's yet another reason beckoning visitors from near and far: the hundreds upon hundreds of giant sea turtles who frequent these shores.
If you need just one more reason to visit, the area also boasts an exclusive selection of multimillion-dollar mansions to marvel at.
73 – See an inner-city waterfall: Rainbow Falls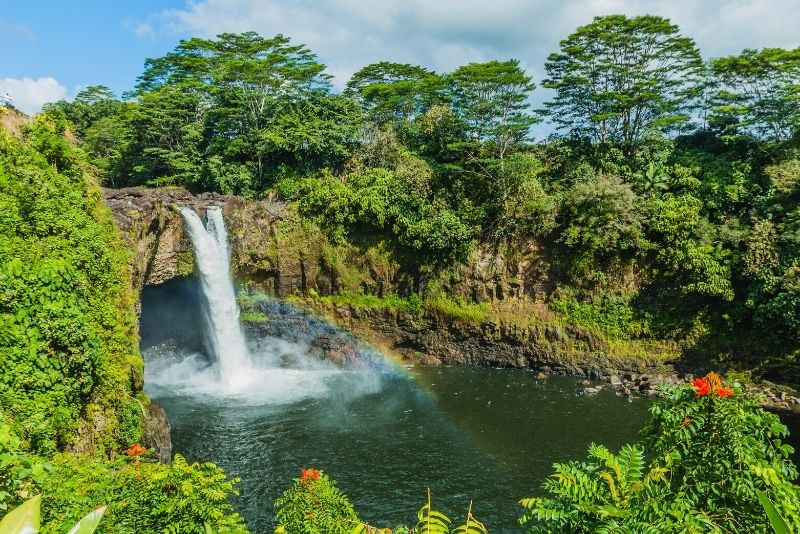 A simply gorgeous waterfall that hides just a short stroll away from the parking lot, the enchanting Rainbow Falls present as a great option for visitors who want to see a cascading waterfall but don't have the time or physical strength to embark on a multi-hour hiking trail.
Just a five-minute drive from the center of Hilo, it's also easily added to any itinerary.
74 – Work on the tan at Manini'owali Beach in Kua Bay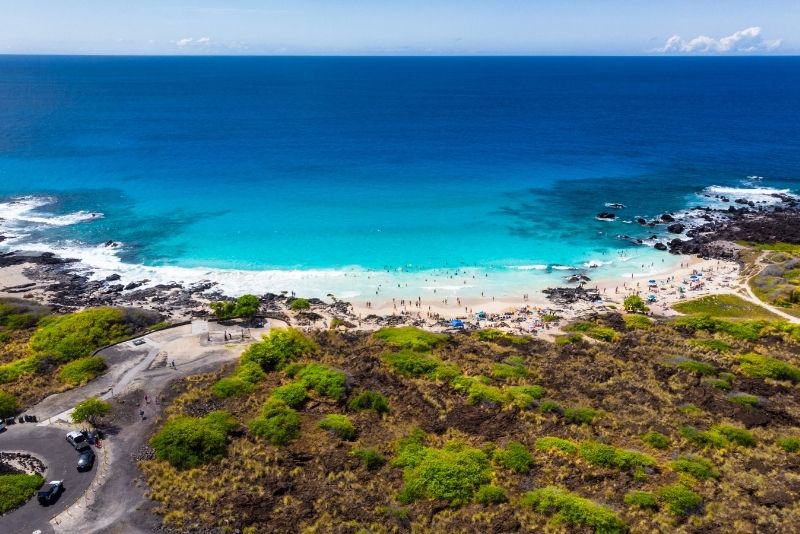 Showcasing waters as blue as blue can be and fine white sand, Manini'owali Beach is nothing short of heaven on Earth.
Located at Kua Bay, just north of Kona, it's a wonderful spot for snorkeling when the waters are calm, however, can also produce some enormous waves during the winter months (perfect for you surfers out there).
Hot tip: visit during the week as Manini'owali Beach can become a little crowded on the weekend with locals.
75 – Take a trip to Hāpuna Beach State Park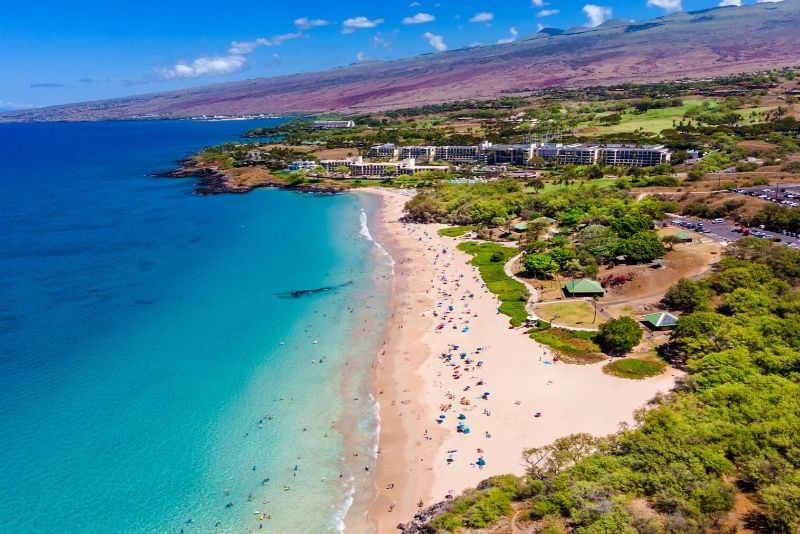 A blissful Kohala Coast oasis that's quickly gaining popularity as one of the Big Island's best beaches, Hāpuna is a crowd favorite for bodysurfing, sunbaking, surfing, and a relaxing picnic.
Unlike a lot of the smaller beaches on the island, this place has lifeguards stationed on the sand, making it an excellent choice for tourists and families.
76 – Unwind at the Liliʻuokalani Park and Gardens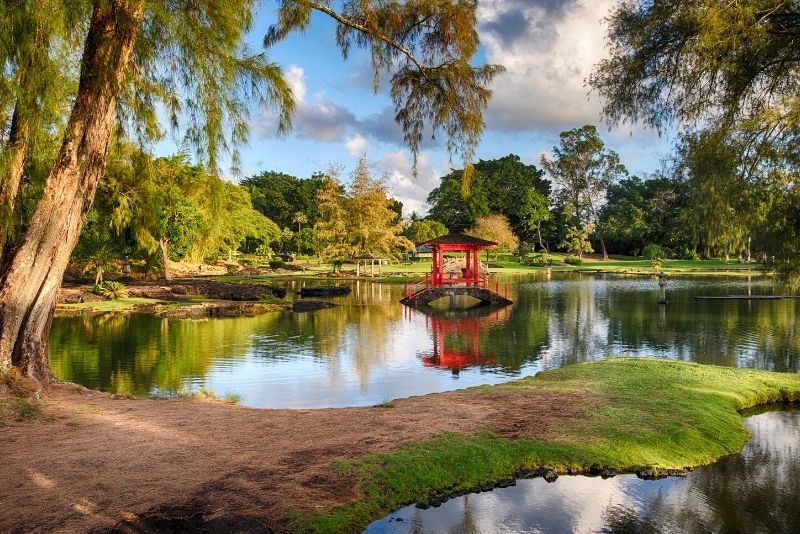 As a joint project between Japan and Hawaii, it's fair to say that very few places can compare to the Liliʻuokalani Park and Gardens in Hilo.
Dishing up some of the most unique outdoor plants and trees, not to mention the quaint Japanese bridges and statues, it's a wonderfully peaceful place to let an hour or two pass by.
If you're looking for something to do next, the gardens sit a stone's throw to the ocean!
77 – Spend the afternoon at the Pu'uhonua O Hōnaunau National Historical Park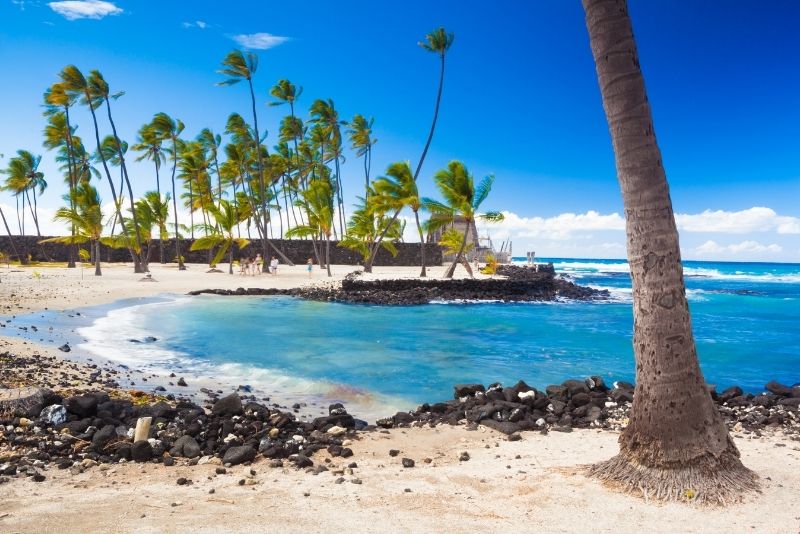 Spanning across a large section of the south Kona coast (on the western side of the Big Island), Pu'uhonua O Hōnaunau is aplenty with well-manicured gardens, unique wooden statues, and historic temples — all set in front of the sparkling ocean backdrop.
The park boasts an easy yet beautiful coastal walk and regularly welcomes food trucks.
78 – Meet the locals at the Hilo Farmers' Market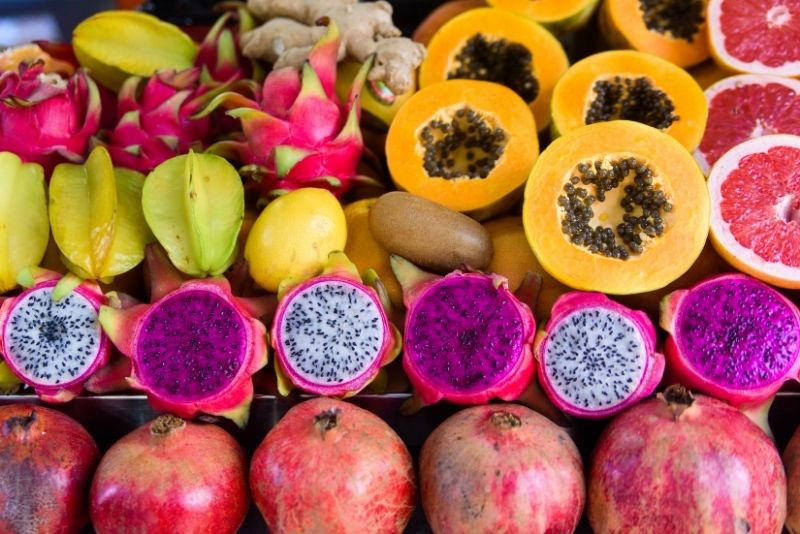 For the chance to meet some of the islands' friendly residents, taste some delicious local staples, or pick up a few souvenirs for friends and family back home, the Hilo Farmers Market is a great spot to visit.
Unlike most farmers' markets, this one is open 7 days a week  (from 10 until 2), so there's plenty of time to squeeze in a visit.
79 – Visit the family-friendly Ocean Rider Seahorse Farm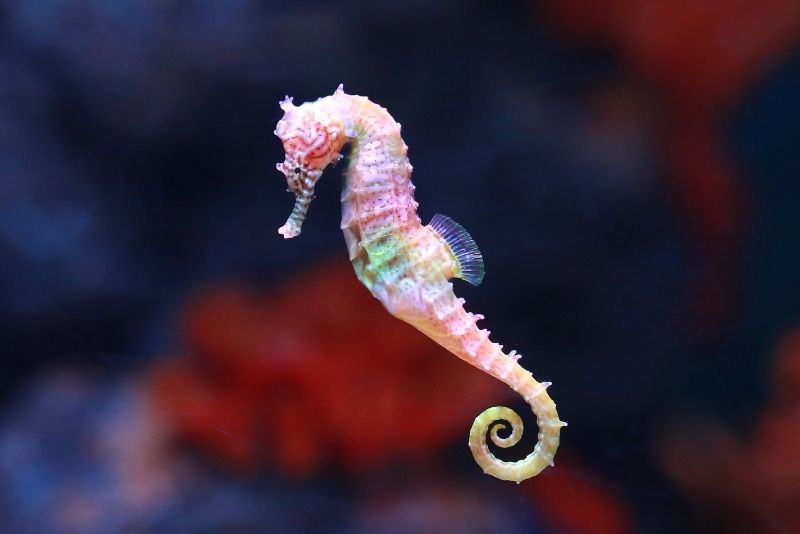 A surefire hit for those both young at age and young at heart, the Ocean Rider Seahorse Farm provides a unique opportunity to meet some of the ocean's most forgotten (yet most beautiful) creatures.
While you can wander around at your own pace, the farm does provide tours if you're looking to learn a little more about the local sea life.
80 – Meet the parrots at the Panaewa Rainforest Zoo and Gardens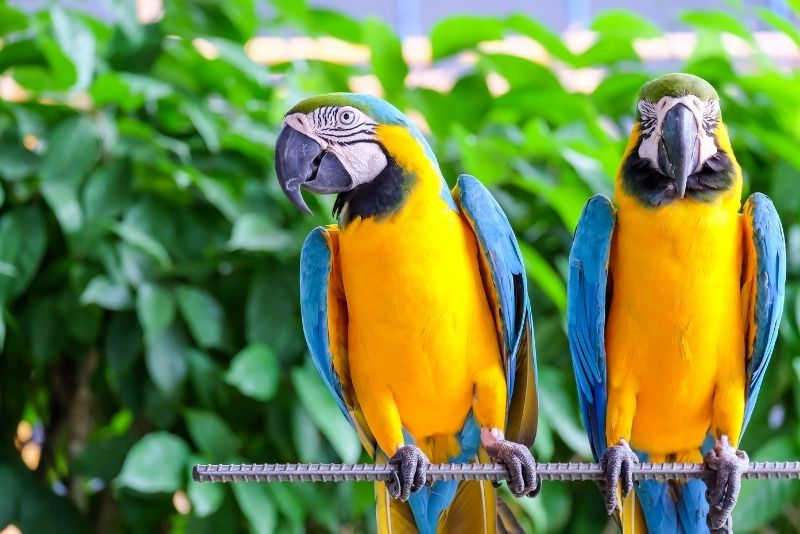 With the claim to fame of being the only tropical zoo in the United States, the Panaewa zoo is home to an array of exciting spider monkeys, cheeky lemurs, plenty of nene geese (the Hawaiian State bird), and more than 80 other unique animal species.
Besides the wide range of friendly creatures, the Pana'ewa zoo also hosts a botanical garden rich in biodiversity.
81 – Visit the Hawaii Tropical Bioreserve and Garden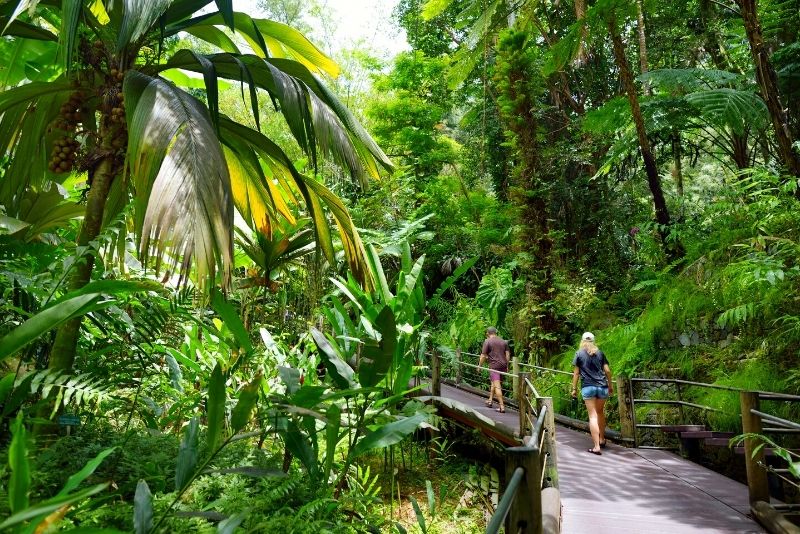 A slice of paradise, these stunning nonprofit gardens are made up of over a mile of walking trails, each one teeming with thousands upon thousands of local and international plants.
Just a 10-minute drive from Hilo, it's one of the essential things to see in Hawaii.
Hot tip: arrive early so that you can wander through the different sections (and not feel rushed).
82 – Check out the unique Papakolea Green Sand Beach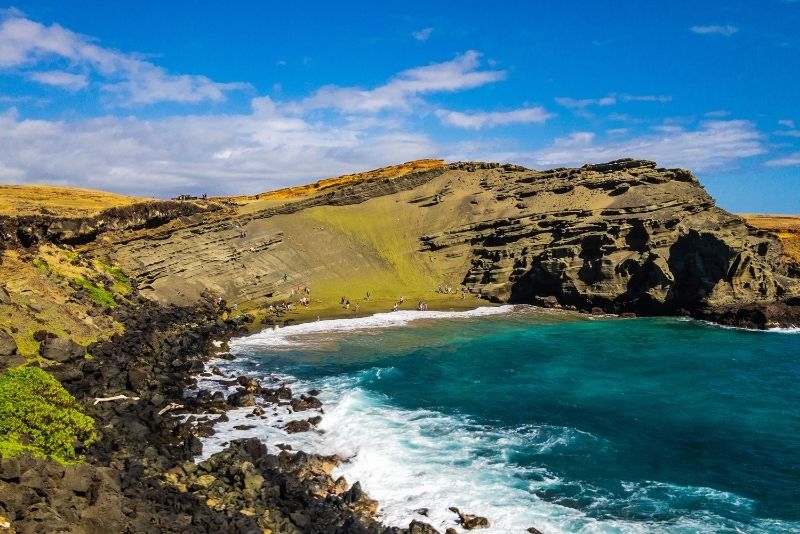 While reaching this hidden gem requires a short but doable hike, the vistas at the end are more than worth it.
A truly unique location, as its name suggests, Papakolea Green Sand Beach dishes up a remarkably colored shoreline — one of only four of its kind in the world.
Located not too far from South Point on the Big Island, it's an ideal spot for swimming, hiking, or just soaking up those dazzling Hawaiian summer rays.
83 – Hike the Captain Cook Monument Trail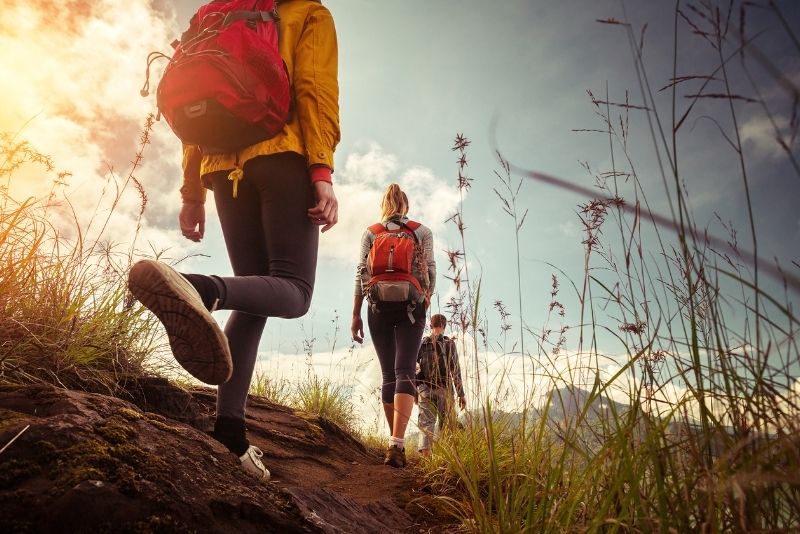 Spanning roughly 1.8 miles each way, with a 1,300-foot change in elevation along the way, the Captain Cook Monument Trail is a moderately strenuous trek — but one with some of the most appreciated views in the region.
With sheer sea cliffs that drop down to beautiful crystal-clear waters, plenty of tidepools, and, of course, the famous monument, there's no shortage of beauty to behold.
84 – Go spelunking in the Kula Kai Caverns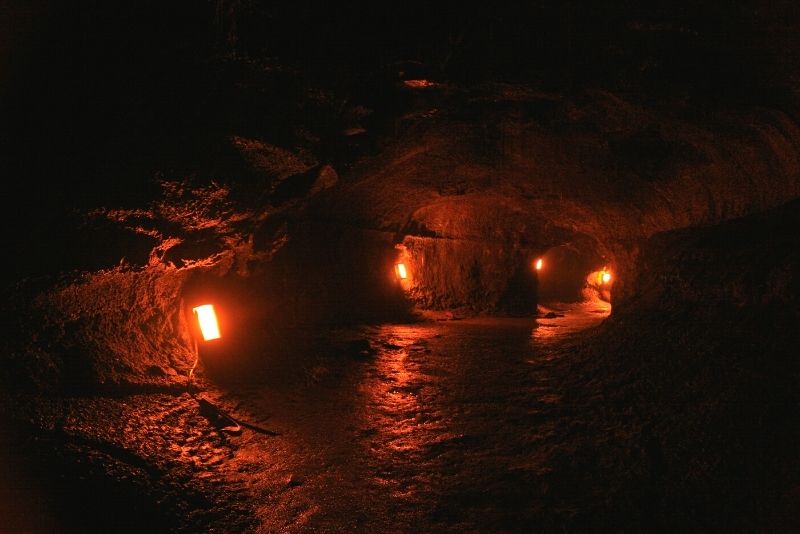 Showcasing miles upon miles of 1000-year-old lava tubes, the Kula Kai Caverns (on the south side of the Big Island) are hastily gaining popularity as a must-see adventure destination.
Once you're strapped up with a helmet and a headlamp, experienced guides will take you on a journey deep into the caves, pointing out all of its fascinating geological features and outlining how ancient Hawaiians once used the caves for shelter.
85 – Venture into the centuries-old Kaumana Caves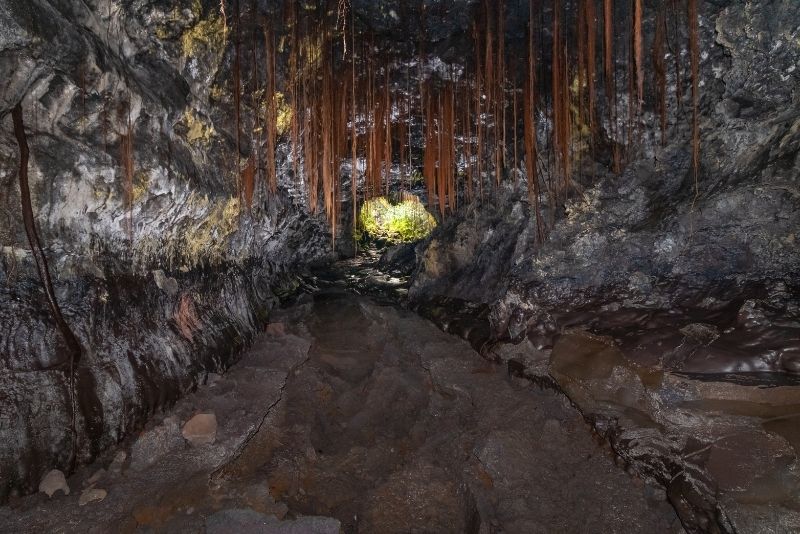 If you're hoping to tick off a lava tube from the bucket list but want to avoid the crowds,  the Kaumana Caves are the answer.
While the caves themselves form part of a 25-mile cavern system, only the entrance is accessible, so it'll make for a quick and certainly-worth-it stop.
Hot tip: bring a flashlight or headlight and wear good hiking shoes — it can be a little slippery!
86 – Experience bird watching at the Hakalau Forest Reserve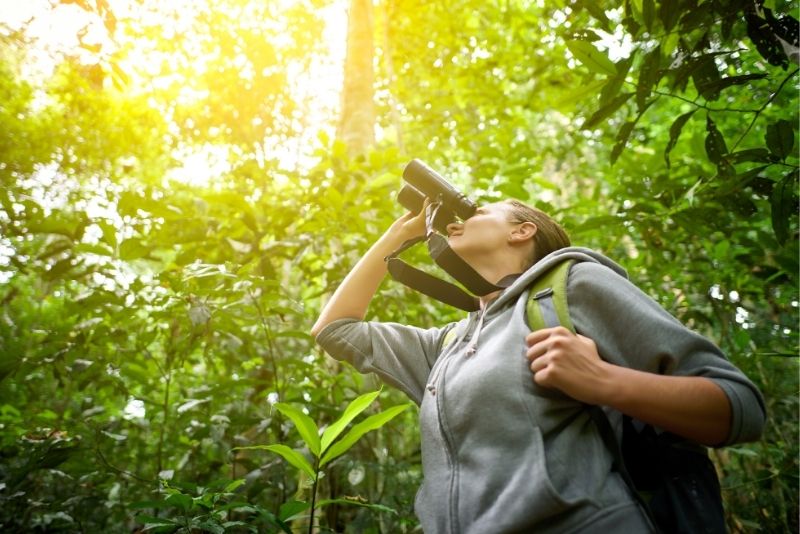 For the rare chance to discover little-known native plants and animals (including those happy-faced spiders that took the internet by storm), the
For aviary enthusiasts, thanks to its collection of 14 native bird species (8 of which are endangered), this protected reserve is one of the best things to see in Hawaii.
Due to its status as a protected area, guided tours are essential.
87 – Make a beeline for beautiful Kohala Mountain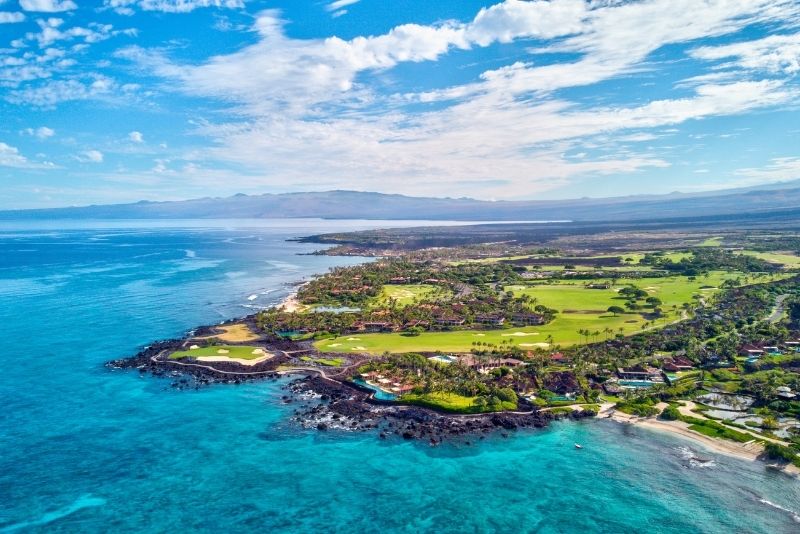 If fresh air and adventure are the name of the game, Kohala Mountain is the place to be.
Zipline between treetops; trek from waterfall to waterfall; hike up to an intimidating volcano caldera, or see it all from a birds-eye view with a quick helicopter flight.
No matter how you choose to tackle Kohola mountain, with so many different private and group tours available, you won't leave disappointed.
88 – Explore the Lava Tree State Monument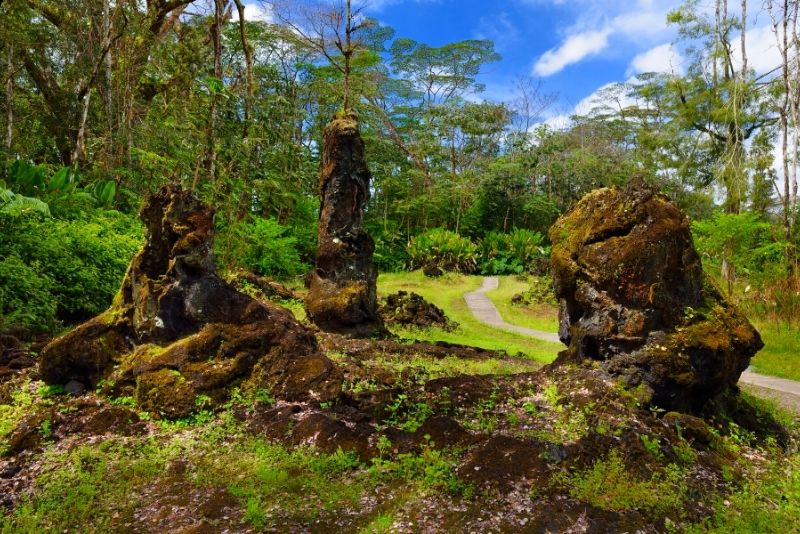 Where towering trees once stood, today stand their unique remnants, encapsulated in lava after an eruption some 230 years.
Despite the petrified-looking lava trees taking center stage, the area is booming with orchids, birds, and colorful blossoms in every direction.
Located just 3 miles from the town of Pahoa on the island's eastern side, the entire walk is less than a mile (and totally free!), making it a trail perfect for all ages and levels of physical fitness.
89 – Take a dip in the 'Hot Ponds'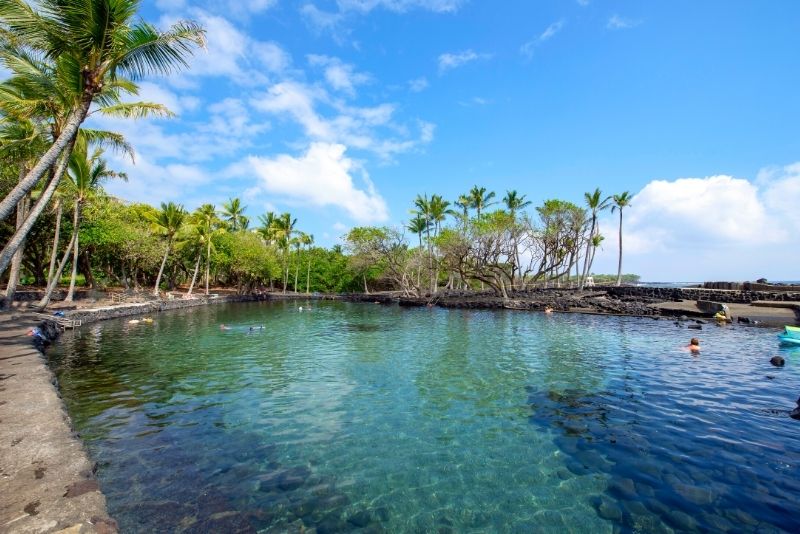 Since the Big Island sits on volcanic land, many of its rocks are heated by magma, causing flowing water to bubble to toasty temperatures — in other words, we get relaxing and reinvigorating natural spas!
Visit the Ahalanui hot Ponds, much appreciated by tourists and locals alike. Another crowd favorite, the Pohoiki hot springs at the black-sand Isaac Hale Beach Park in Puna offers five different ponds to choose from.
90 – Wet your whistle at the Kona Brewing Company Pub & Brewery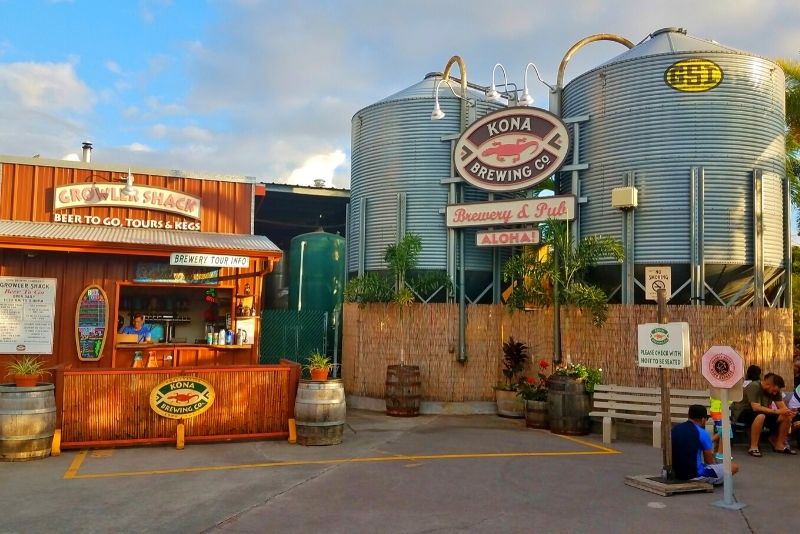 If you've spent the day tackling various hiking trails are wanting nothing more than a hearty feed and a refreshing beer (or three), look no further than Kona Brewing Company.
With so many options on the menu — most of which, like the Big Wave golden ale or tropical Hanalei Island IPA, are hand-brewed on site — the most popular way to try everything is with a tasting flight.
After chowing down on a pizza, for those looking to learn more about the brewing process, the facility also offers guided tours.
91 – Stroll through the incredible Thurston Lava Tube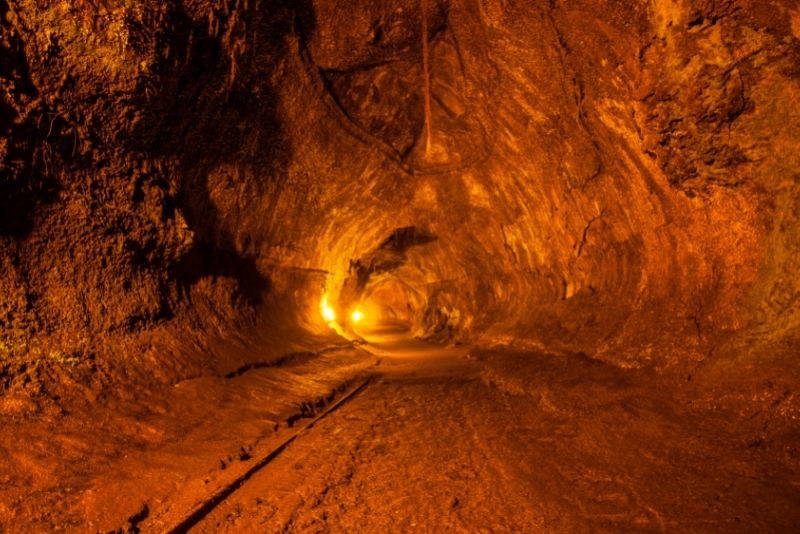 It might be dimly lit and a little eerie (especially after 8pm when the lights go out), but still, the Thurston Lava Tube is as spectacular a natural creation as they come.
Dating back over 500 years, the 450-foot-long lava-formed tunnel (which sits high atop the Kilauea Crater at an altitude of 3,900 feet) is often regarded as one of the best things to see in Hawaii.
92 – Hike the Kilauea Iki Trail in Volcanoes National Park (and walk on a volcanic crater lake!)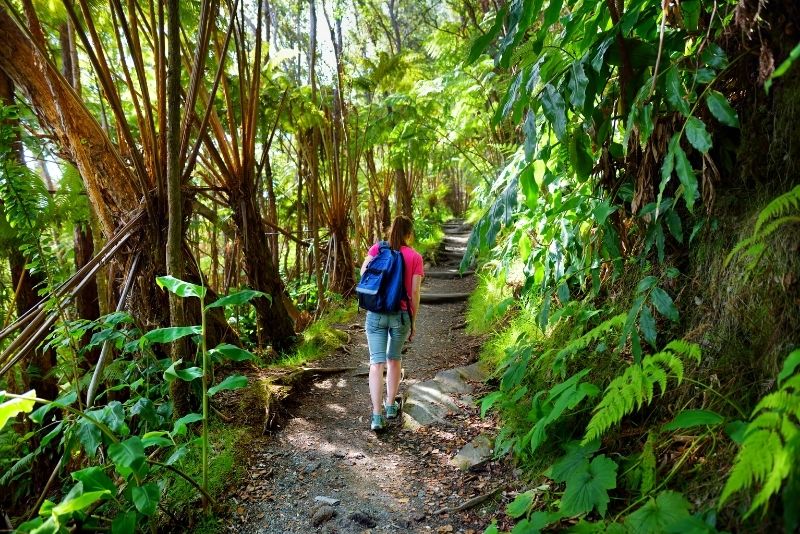 A 4-mile hike that takes between three and fours hour to complete, the Kilauea Iki Trail delivers a scenic delight, transitioning from rainforest and rocky crater lake in the blink of an eye.
Besides the plethora of natural beauty on offer along the route, there's plenty to be learned as well; a number of signposts along the way showcase the dramatic story of the 1959 eruption.
93 – Spend a couple of days around Kealakekua Bay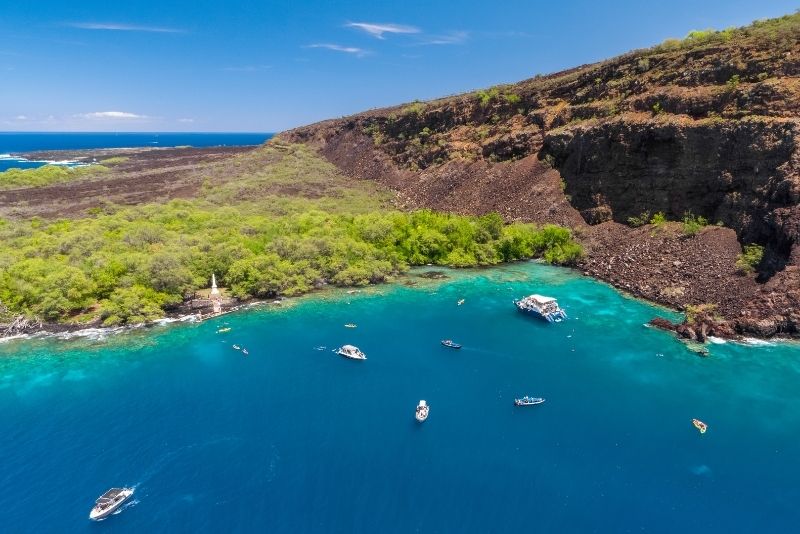 With a coastline deserving of a postcard, Kealakekua Bay on the Kona coast is flush with adventure tours, relaxation activities, and everything in between.
This beautiful slice of nature offers up private and group outings for snorkeling, hiking, diving, and kayaking, plus plenty of boat cruises too.
No matter your time restraints, budget, or appetite for adventure, there's a Kealakekua Bay tour suitable for every kind of traveler.
94 – Wine, dine, and enjoy the view on a dinner cruise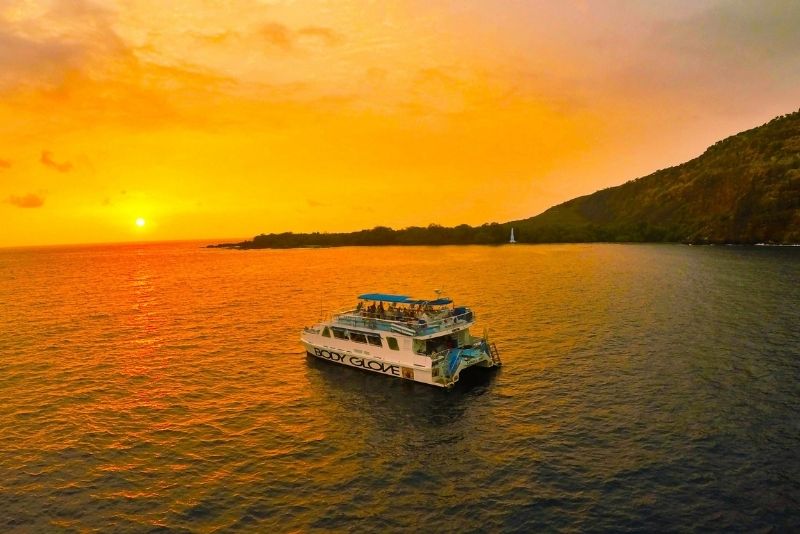 Did someone say spectacular sunset views? Over the span of about three hours, guests can enjoy a tantalizing Hawaiian-style buffet dinner as they're transported past more than 50 points of interest, with fresh seaside air all the way through.
With the educated voice of a local historian echoing over the PA, not only will a dinner cruise delight the senses (taste and sight, to be specific), but you'll probably walk away having learned a thing or two as well!
95 – Cool off with some Hawaiian shaved ice!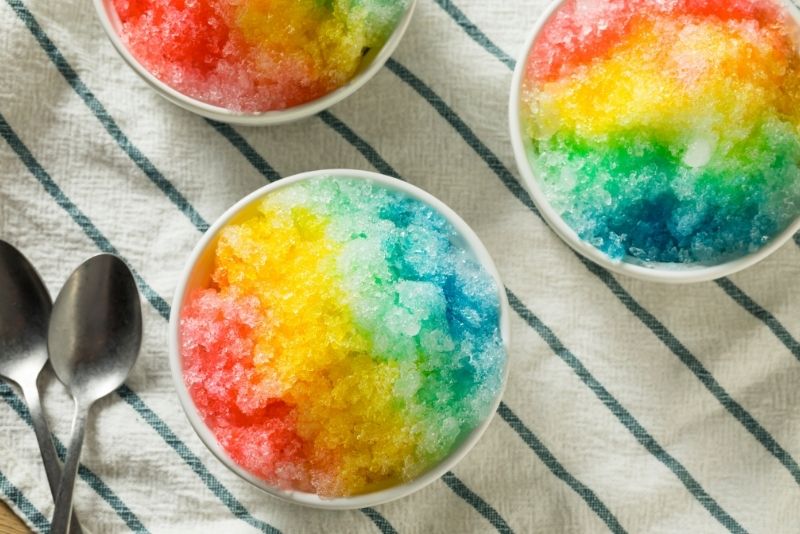 Otherwise known as kakigōri; or to a lot of the world, a snow cone (however, it's not quite the same consistency), the traditional Hawaiian shave ice is a staple treat for locals.
While you'll be spoiled for choice with vendors never too far away, for the pick of the bunch, be sure to try Kula Shave Ice in Hilo and Scandinavian Shave Ice (AKA Scandi's) in Kailua Kona.
96 – Taste a Hawaiian Poke Bowl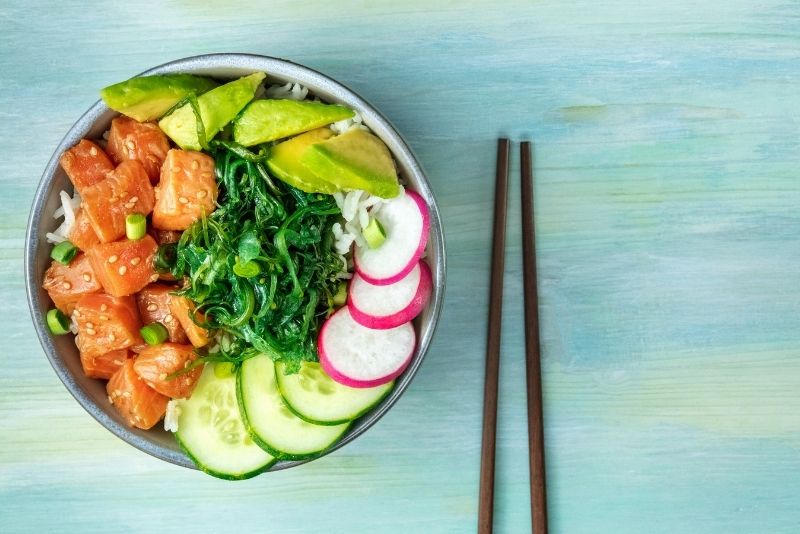 Despite the rest of the world quickly catching onto the trend, the best poke bowls, by far, remain here, on the shores of Hawaii's Big Island.
Need help finding the best spots? Da Poke Shack is a hidden gem in Kailua-Kona (and former holder of the title of Yelp's Best Restaurant in the United States); Suisan Fish Market is a crowd favorite on the eastern side in Hilo, and it's near impossible to go wrong at Pau Hana Poke in Kailua-Kona.
97 – Try a Spam Musubi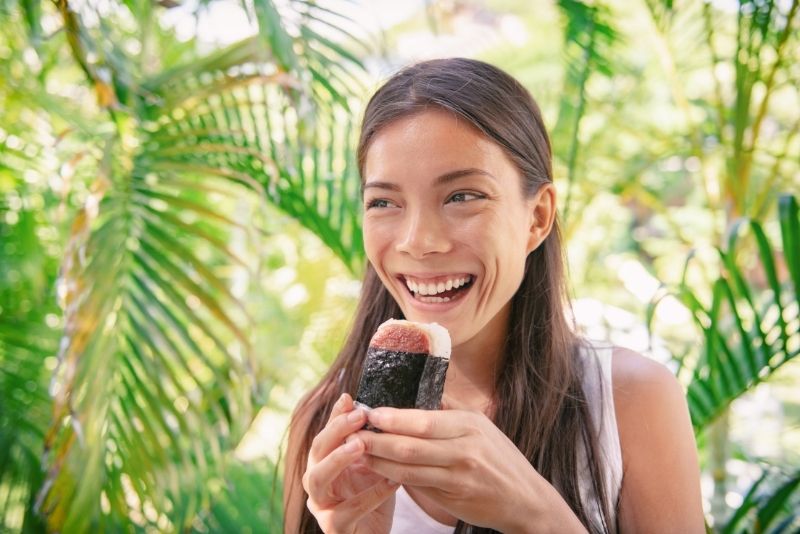 Yes, that kind of Spam.
Despite the frequently bizarre reactions where tourists hear what they're eating, Spam Musubi — essentially a serve of sushi made with Spam — is a very popular snack across the state.
Even if solely for the novelty, it's a must-try; the tasty treats can be found at Kawamoto Store in Hilo, the L&L Hawaiian BBQ chain restaurants, and even at most gas stations.
98 – Try all of the local delicacies thanks to food trucks!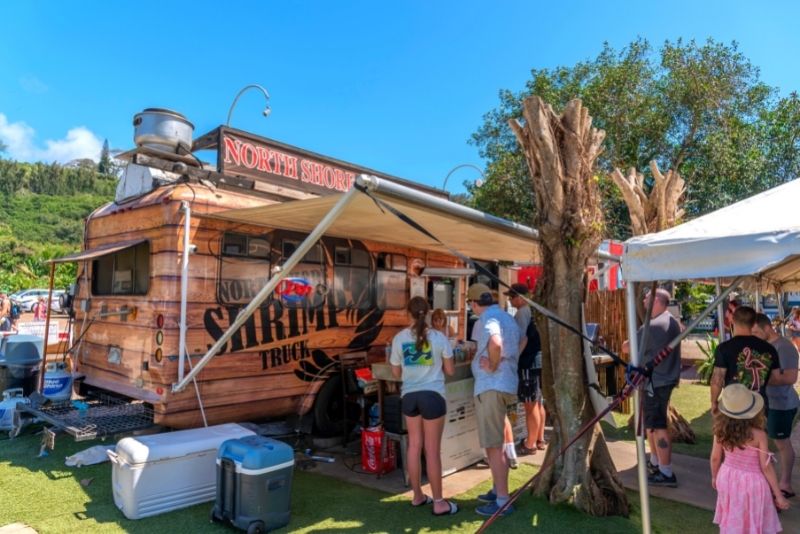 With mouth-watering specialties like succulent Kalua pork, spicy Jamaican jerk chicken, and finger-lickin' fish tacos never too far away, visitors and well and truly blessed by the Hawaiian food truck scene — not just on the Big Island, but all over the archipelago!
Even though it's near-impossible to go wrong, a couple of the more celebrated names include the Rendezvous Hawaii Food Truck and Cool Runnings Food Truck — both located in Kailua-Kona.
99 – Embark on a Mauna Kea stargazing tour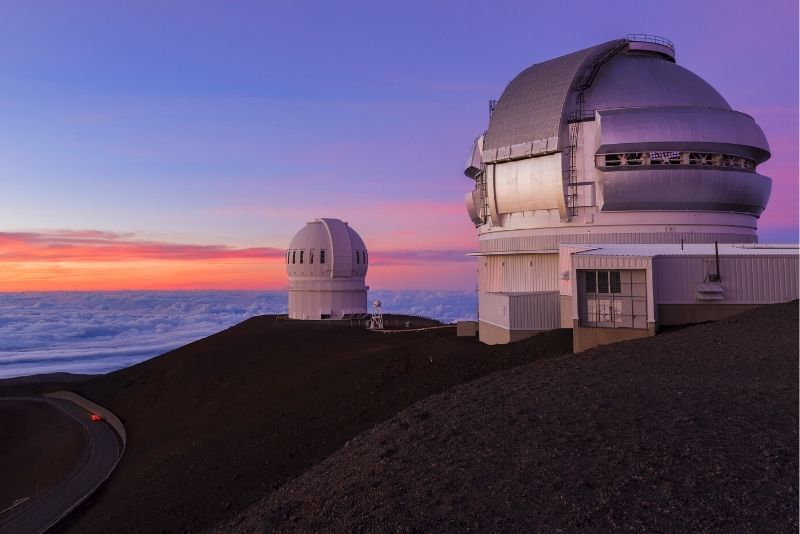 With light pollution in Hawaii being almost non-existent (except for a little bit in built-up Honolulu), there is arguably no place more perfect for a night under the stars than here, at Mauna Kea on the Big Island.
With a guide leading you all the way, visitors will be escorted to the prime vantage points and taught all about the constellations above.
The W.M. Keck Observatory on the summit is a worthy visit too, if time permits.
Are you looking for accommodation?
If you're planning on staying anywhere on the Big Island, Oahu, Kauai, or Maui, there are so many wonderful places to choose from. For all of the best hotels, hostels, homestays, and overnight tours, check out the comprehensive list below.
We hope you've enjoyed our selection of things to do in Hawaii (and if you've made it this far, well done — you're in for an amazing adventure!).
If you are looking for more ideas for a specific island, don't miss our lists of things to do in Maui, things to do in Oahu, things to do in Kauai, and things to on the Big Island.
Wondering which Hawaii island is ideal for your holiday? Make sure to read our guide: Best Islands in Hawaii to Visit – Which One to Choose?
If you have any other must-see suggestions, feel free to let us know in the comments!
As always, happy travels.