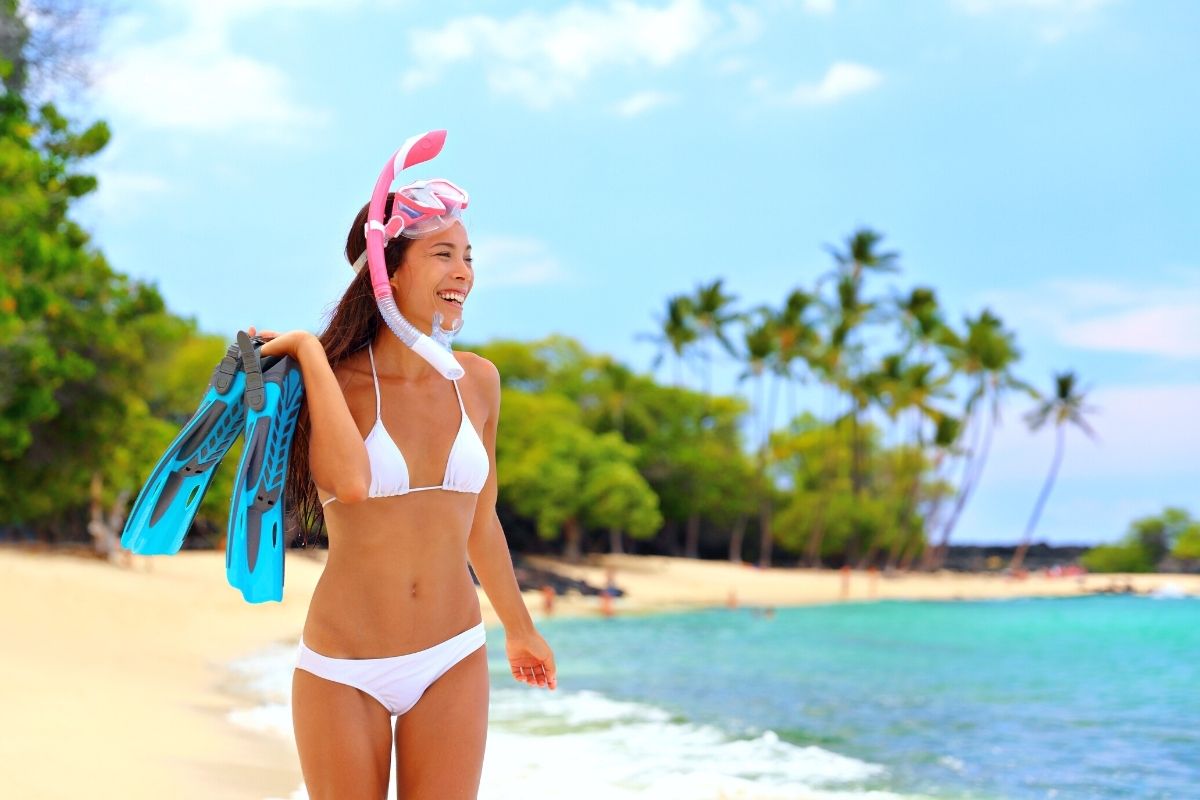 With its famously temperate climate and stunning natural landscapes, Maui, Hawaii is a true slice of paradise. And if you're looking for some exhilarating outdoor activities to enjoy while you're there, snorkeling is always an excellent option!
The island's clear, relatively warm tides offer the perfect venue for some aquatic sightseeing, with a wide variety of fish, marine mammals, and even sea turtles frequenting the waters.
And with unique rocks, stunning shorelines, and even volcanic craters serving as backdrops, each trip is a powerful visual experience.
So grab your fins and mask, and dive into the best snorkeling spots in Maui!
Best snorkeling spots along Maui West Coast
With its excellent shops, world-class dining options, and splendid hotels, the west coast of Maui is one of the most tourist-friendly areas on the island.
It's also packed with great snorkeling areas, from kid-friendly beaches to world-famous spots filled with adventurous wildlife-viewing opportunities.
This is the ideal section of the island for adventurous types to snorkel in, as well as those seeking unforgettable natural experiences with easy access to the island's other amenities.
1 – Honolua & Mokuleia Bay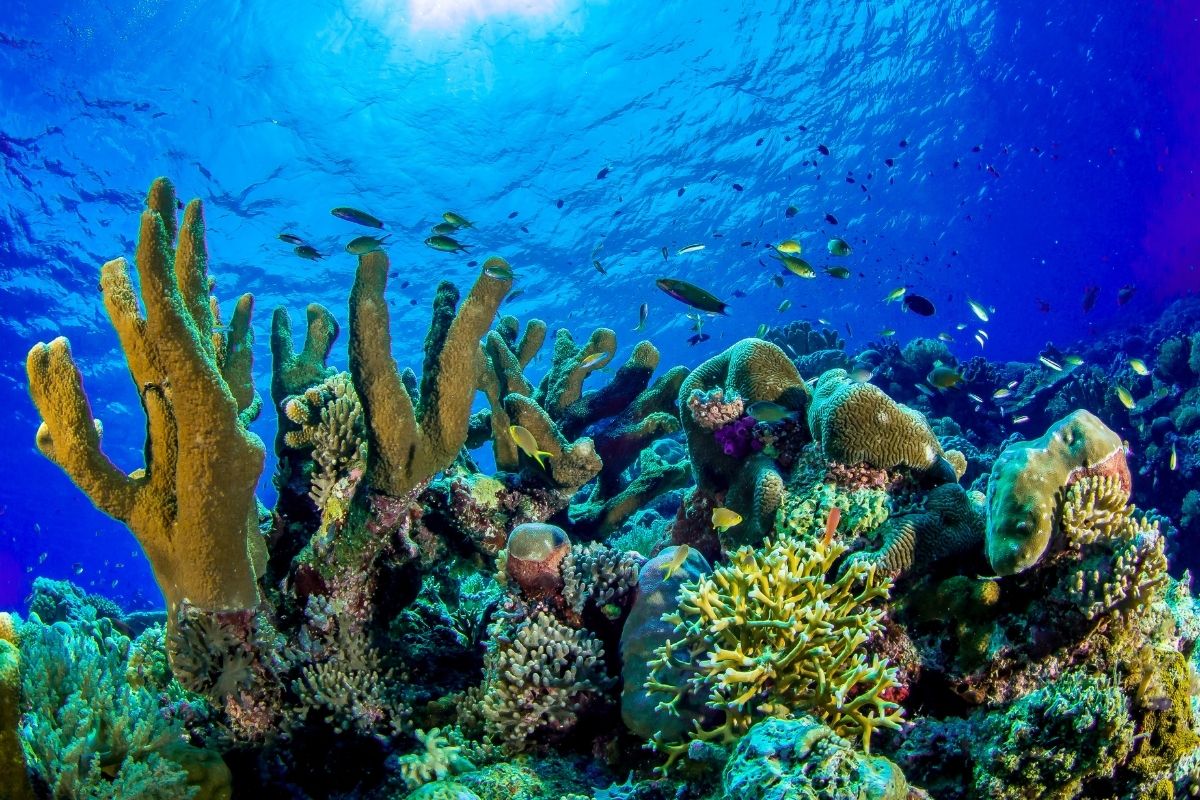 Slung along scenic Highway 30, the neighboring shores of Honolua and Mokuleia Bay offer two distinct snorkeling experiences.
Mokuleia cuts a striking figure, with sandy shoreline giving way to healthy coral and striking lava formations. While its lack of amenities and choppier currents make it more suited for adults than kids, it offers some remarkable sights, with its huge rocks playing host to tons of fish and healthy coral.
Meanwhile, Honolua features a somewhat siltier beach, with lots of cool little caves and rocks to admire as you get further out. Getting there is a bit of an adventure in and of itself; after hiking through a lush forested area, you can hop in the water and start swimming, watching your surroundings get clearer and more vivid with each stroke.
You can also book a boat tour if you want to get out to the prime snorkeling locations even faster. Best of all, if the weather's good (and if you're feeling ambitious), you can actually swim between the two spots!
And while you're in the area, be sure to stop by Slaughterhouse Beach, which boasts terrific views and gorgeous, pounding surf. The currents are better for strong swimmers, but trust us, the awesome coves and potential eel and octopus sightings will make it well worth your while!
2 – D.T. Fleming Park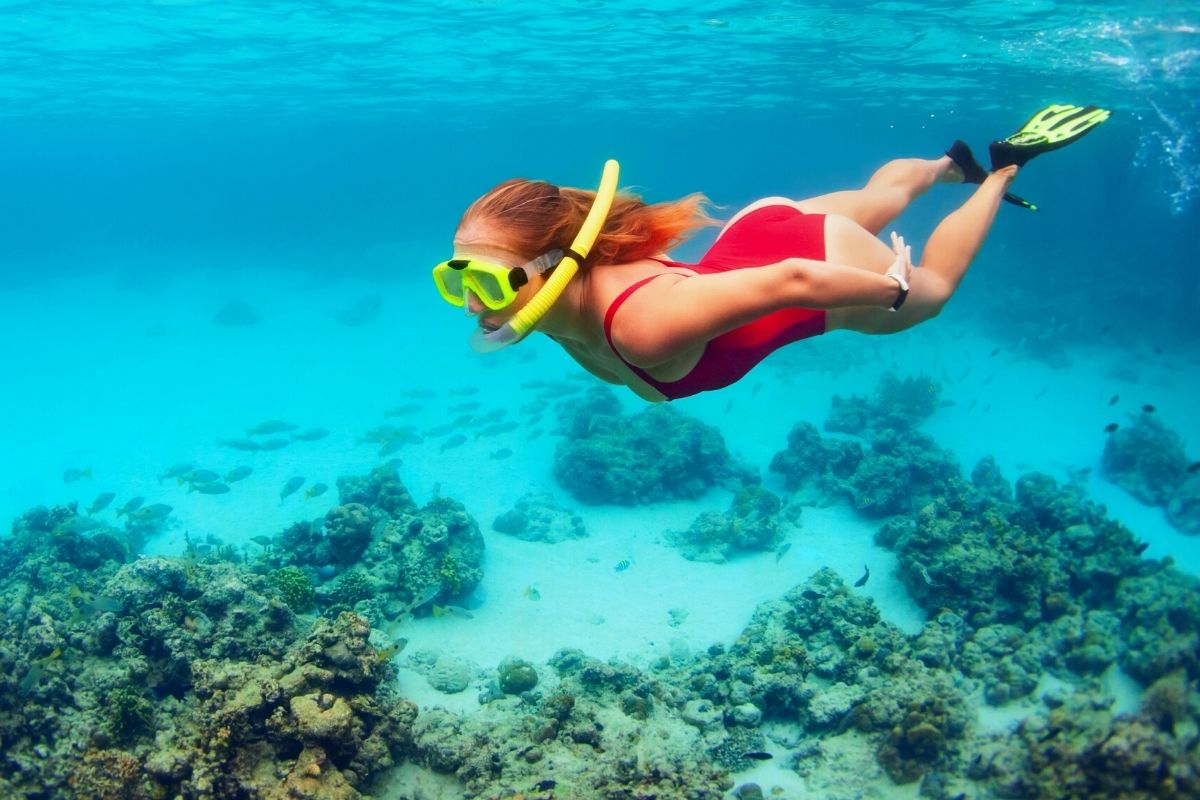 Tucked alongside several other prime beaches on Honokahua Bay, D.T. Fleming Park is renowned for its swimming and surfing opportunities. But once you get a little bit away from the powerful waves, you'll find some excellent spots for sightseeing.
Because the beach is somewhat less developed, you won't get hit with the big crowds that frequent some of the other spots. But it still offers some great onshore amenities for you to enjoy between swims; the grills make a perfect place to cook up a beachside meal!
Along with its amazing views, the park has an authentically Hawaiian history; it was named after David Thomas Fleming, who helped popularize the growth of pineapples on the western side of the island.
You'll soon see why this spot has been widely considered to be one of the best beaches in town!
3 – Kapalua & Napili Bay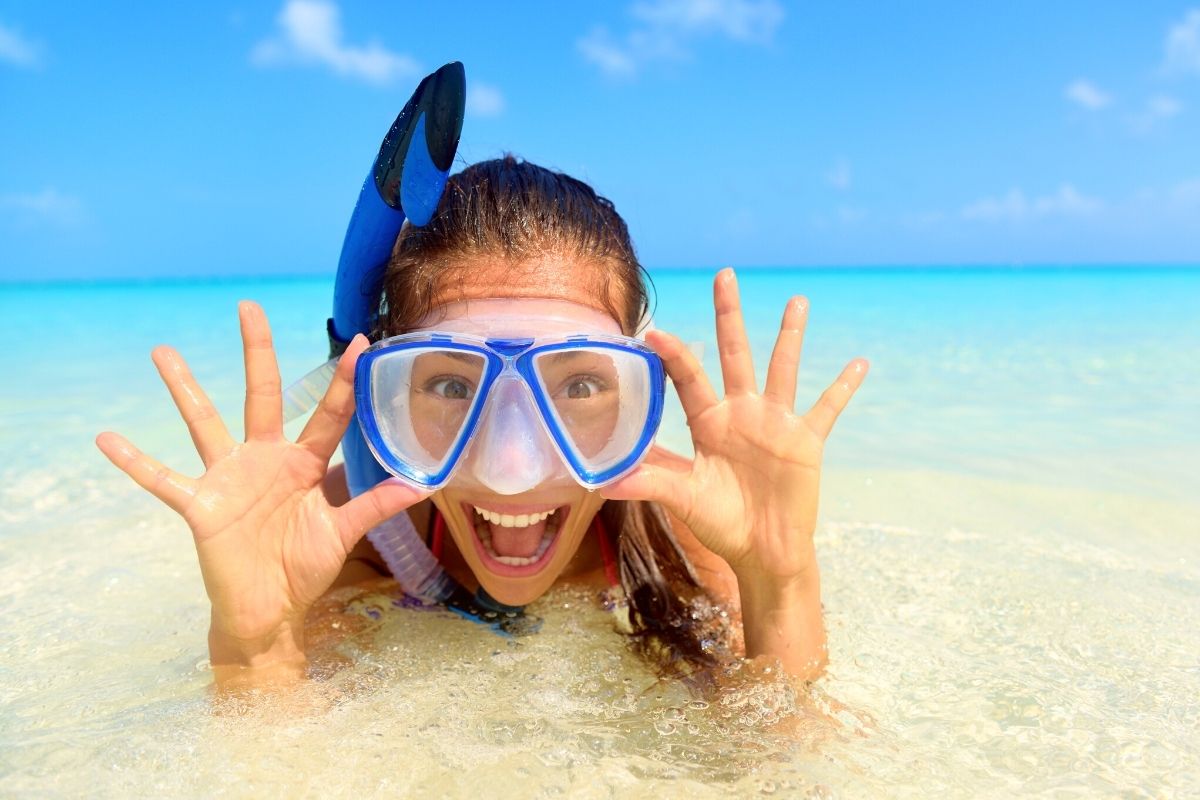 Another dynamic duo on the western side of the island, Kapalua and Napili Bay boast mellow waters, great tourism infrastructure, and plenty of wildlife-viewing opportunities.
Napili is a lively, family-friendly destination, with calm, shallow waters get more and more rewarding as you swim further from shore. Keep an eye out for Moorish Idols and Wrasses as you swim; as you head back to shore, you can check out some smaller sea life in the many excellent tide pools nearby.
Meanwhile, Kapalua has clocked some fabulous sightings of its own, with beautiful fish, lively sea turtles, and beautiful sea snakes making frequent appearances. You might even catch a glimpse of the Hawaii state fish, Humuhumunukunukuapua'a – try saying that five times fast!
It's located in a sheltered cove, which makes it an excellent spot for kids and newbies to take to the water; experts recommend keeping to the right of the main rocky outcrop for the best viewings.
Because both bays are surrounded by lava flows, they're spared most of the tumult of more open areas, making it easy to explore at your leisure. Whichever of these neighboring options you choose, you'll be treated to a wonderful mix of sun, sea, and serenity!
4 – Honokeana Bay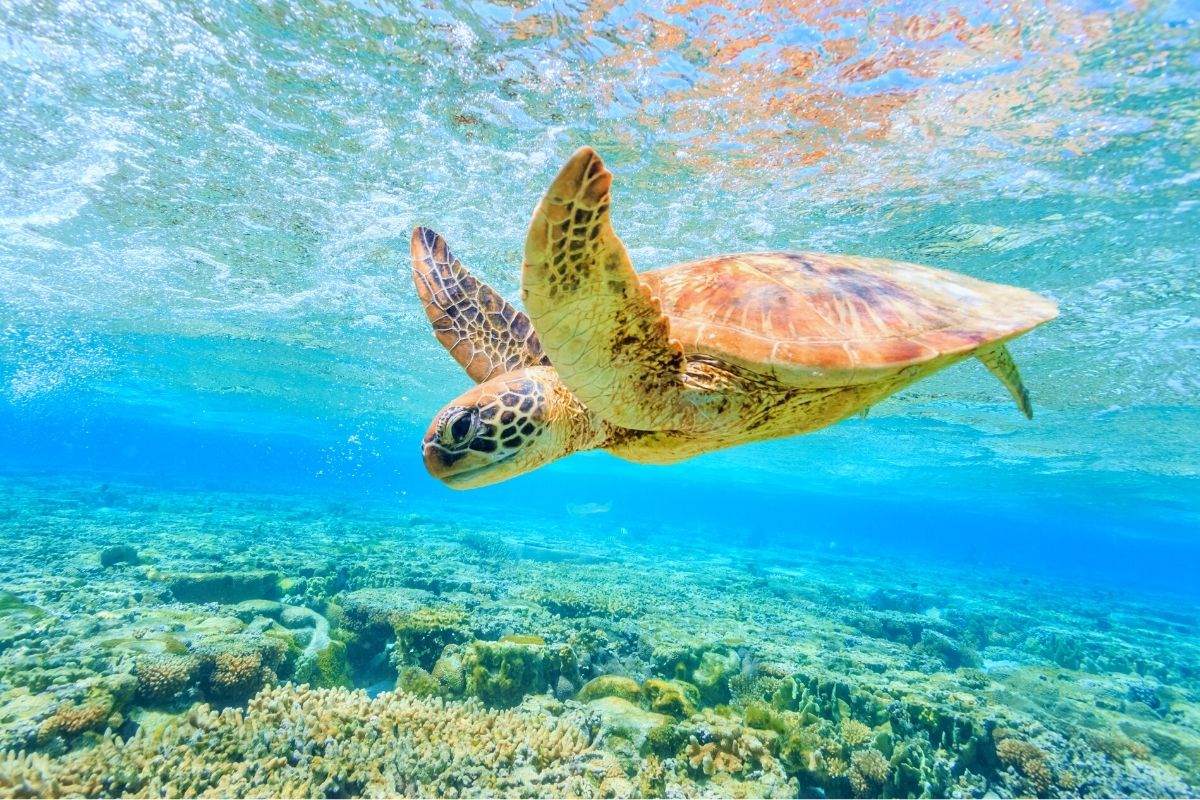 With its secluded location and beautiful nearby trails, Honokeana Bay is something of a hidden gem. This picturesque spot is just 15 minutes north of Lahaina, one of the main tourist hubs of the island.
Smaller and quieter than many of its neighbors, it's a popular stop for swimming and underwater photography, and you're likely to have it largely to yourself. Along with the stunning scenery, it's a pretty good place to spot sea turtles!
The charming marine reptiles often swim through the gentle currents, and with great visibility in the water (especially earlier in the day), you'll probably be able to see quite a few of the creatures doing their thing.
Just remember: this is the sea turtle's home, so if you see them while you're out there, be respectful and keep your distance!
5 – Kahekili Beach Park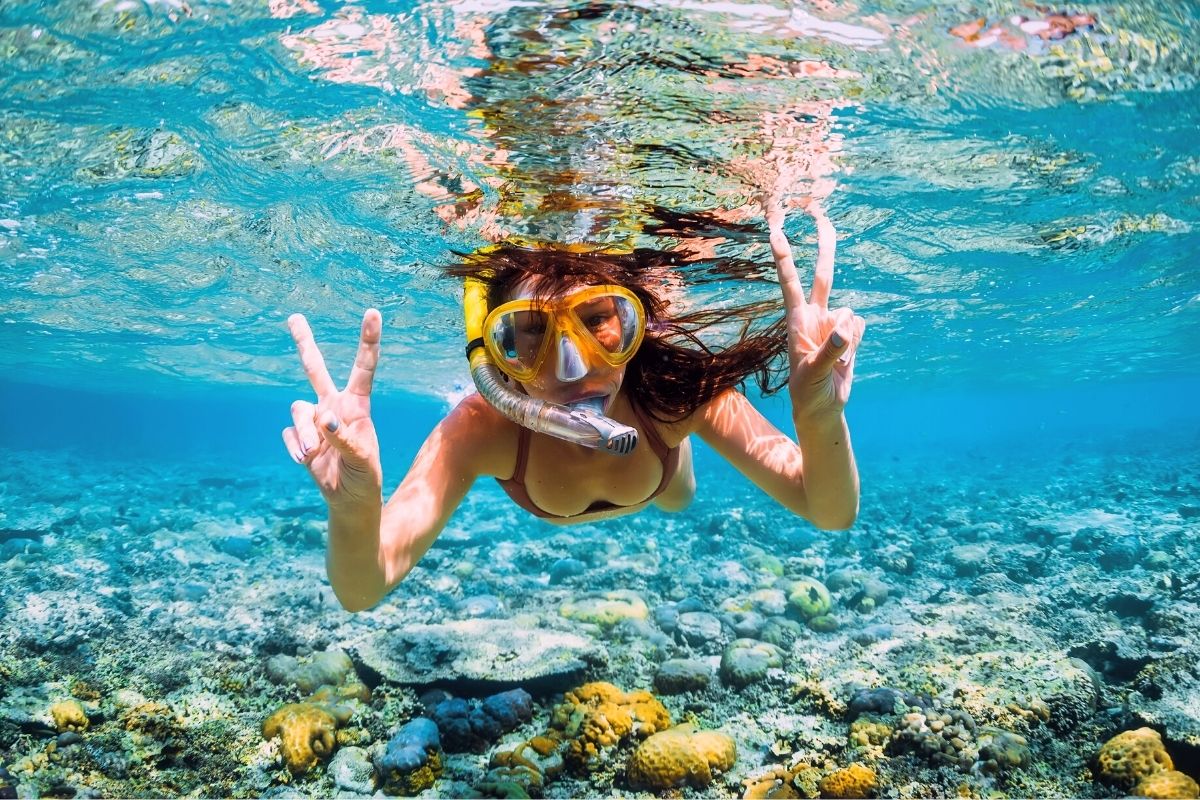 There are plenty of great snorkeling spots in Maui that are at or near the resorts, but few of them offer such wide-open shores as Kahekili Beach Park.
This lovely area, also known as "Airport Beach," is located on the northern end of Ka'anapali Beach Resort, a renowned luxury hotel complex. With its easily accessible waters and a stunning set of reefs, it makes for an easy entry point, with lots of room to float and explore.
Keep an eye out for triggerfish, eels, and other tropical fish weaving through the water. If you happen to be there during whale season, you might even hear the majestic creatures singing beneath the waves!
The beach itself is also a great place to kick back and unwind, with lots of picnic spots and easy access to nearby eateries. Enjoy all the benefits of a relaxing beach day, with convenience thrown in!
6 – Ka'anapali Beach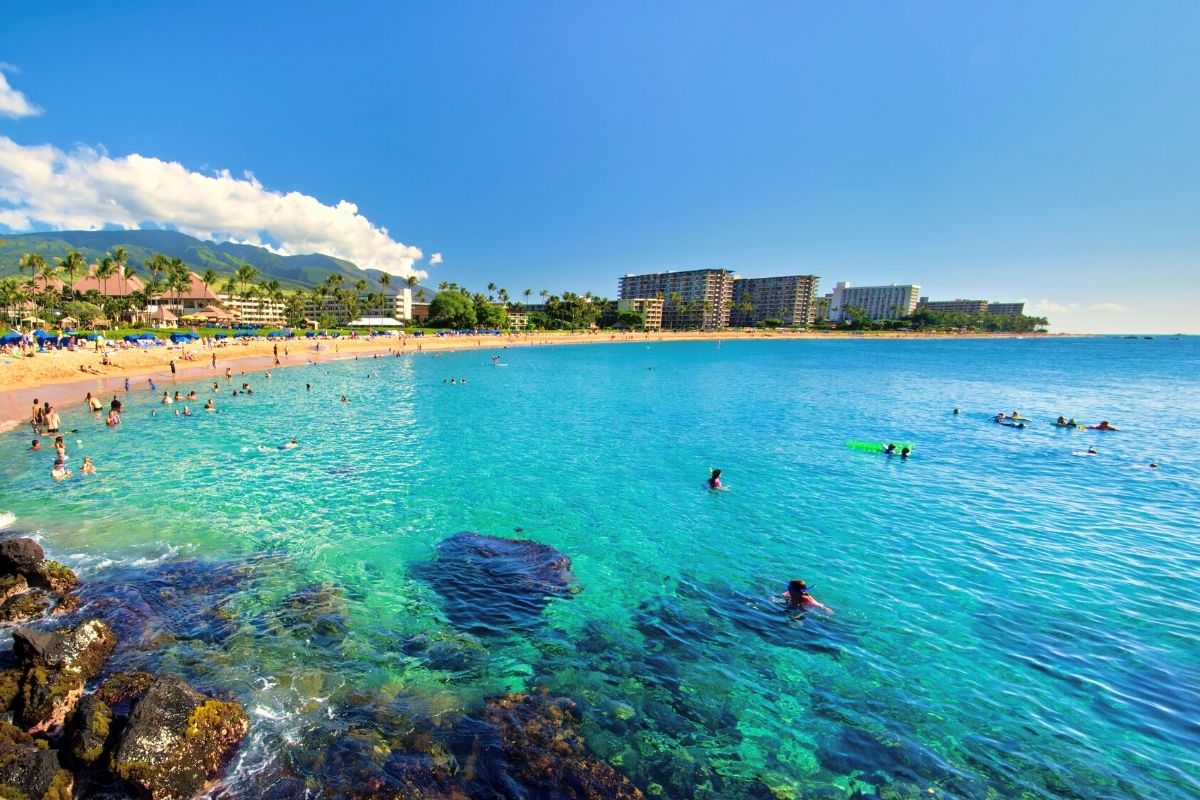 Just up the way from Kahekili Beach Park, Ka'anapali Beach is definitely more crowded; but given the amount of awesome adventures that you can have here, it's unsurprising!
One of its coolest attractions – both for snorkelers and observers – is Black Rock, a jaw-dropping lava formation that's also great for cliff jumping. According to ancient legends, this was the spot where spirits of the dead made their final leap to the realm of the afterlife!
Even if you don't hop off the ledge, you'll be able to enjoy great views of this craggy volcanic formation as you swim around. It's also a popular spot for boat tours, with tons of great options for every interest.
Set out on a whale-watching tour to look for migrating humpbacks, while onboard naturalists teach you all about the animals' unique habits. Or head out later in the day for a memorable sunset cruise, taking in spectacular evening colors while local musicians serenade you with live songs.
And, of course, there are plenty of great snorkeling tours that you can book as well, which will take you around to some of the best spots for seeing turtles and fish… and maybe even some dolphins!
7 – Wahikuli Wayside Park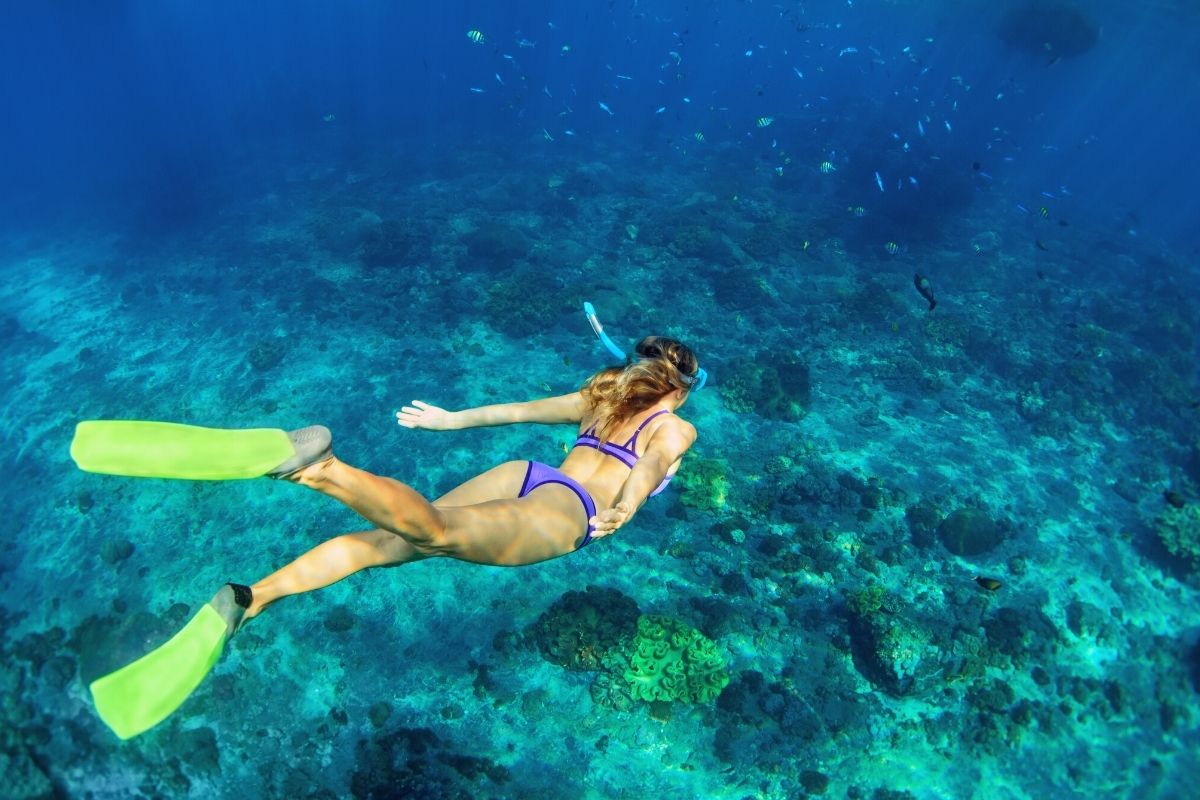 Another great potential turtle-spotting area is Wahikuli Wayside Park, which is tucked between Kaanapali and Lahaina.
Framed by eight acres of green space, palm trees, and walking paths, this beloved public area is well-known as a readily accessible place to see some of the finest wildlife on the island.
Along with frequent sea turtle sightings, you'll also have plenty of opportunities to admire the beautiful, healthy reef up close. And because the spot is only ten feet deep, it makes a great option for younger or less experienced swimmers.
The space also earns points for convenience; its location right off of highway 30 makes it perfect for motorists, and it's close enough to Lahaina to be an easy option for cruise ship passengers looking for a quick snorkeling trip between other excursions.
While you're in the area, be sure to head a little bit north, to visit Hanakao'o Park, which offers a nice sandy stretch and a great shorebreak.
After taking some time to meet the underwater residents, check out some of the other cool features scattered around this local hotspot, including a beautiful and contemplative historic cemetery that houses the graves of immigrant laborers from the early 20th century.
8 – Mala Wharf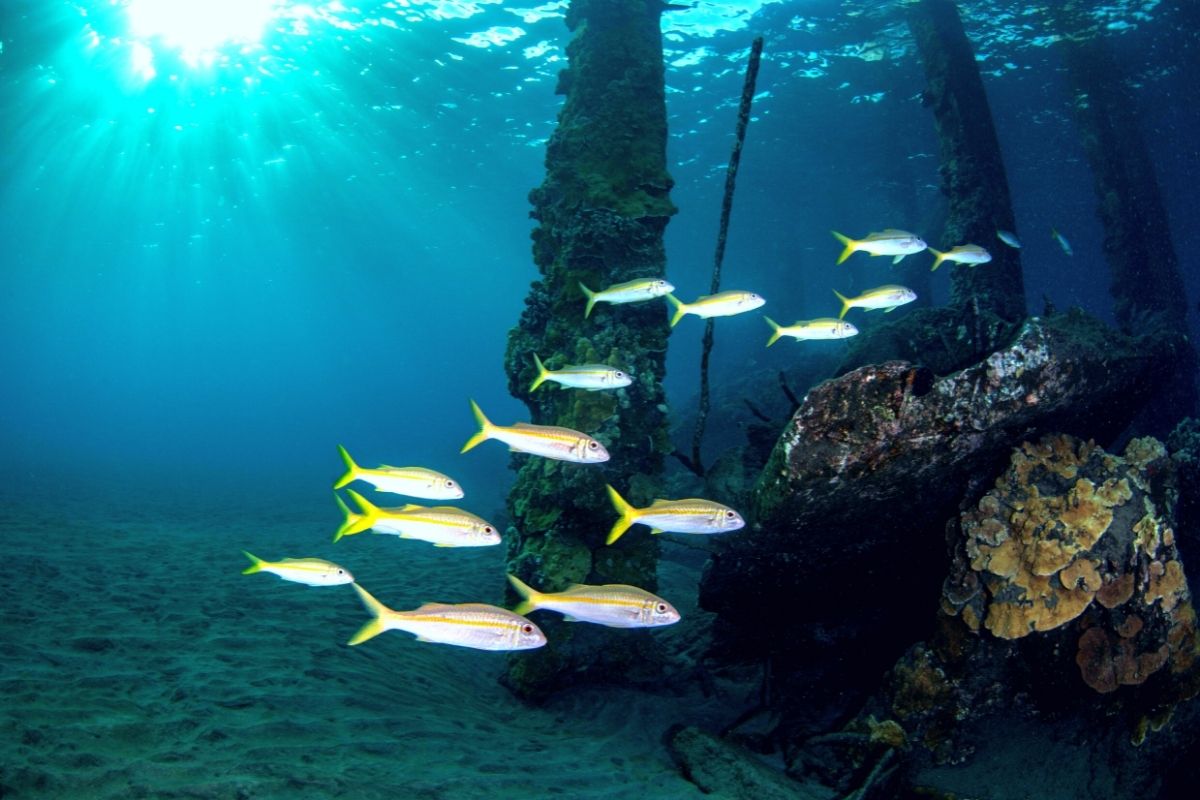 If you're looking for great Maui snorkeling spots with easy access to town, Mala Wharf's got you covered! This charming little boat harbor is right in the middle of Lahaina, and it serves as a perfect example of a blessing in disguise.
Although it was never successful in its original purpose as a major commercial shipping pier, its many pilings and unique structures make perfect homes for turtles and sharks. Take a boat out for some great visibility, or walk right into the water from the shore – you'll be swimming with the aquatic locals in no time!
Be aware that smaller vessels still frequently come and go from the pier, so you'll need to keep an eye out as you're snorkeling. But it's well worth it for those amazing visuals!
9 – Baby Beach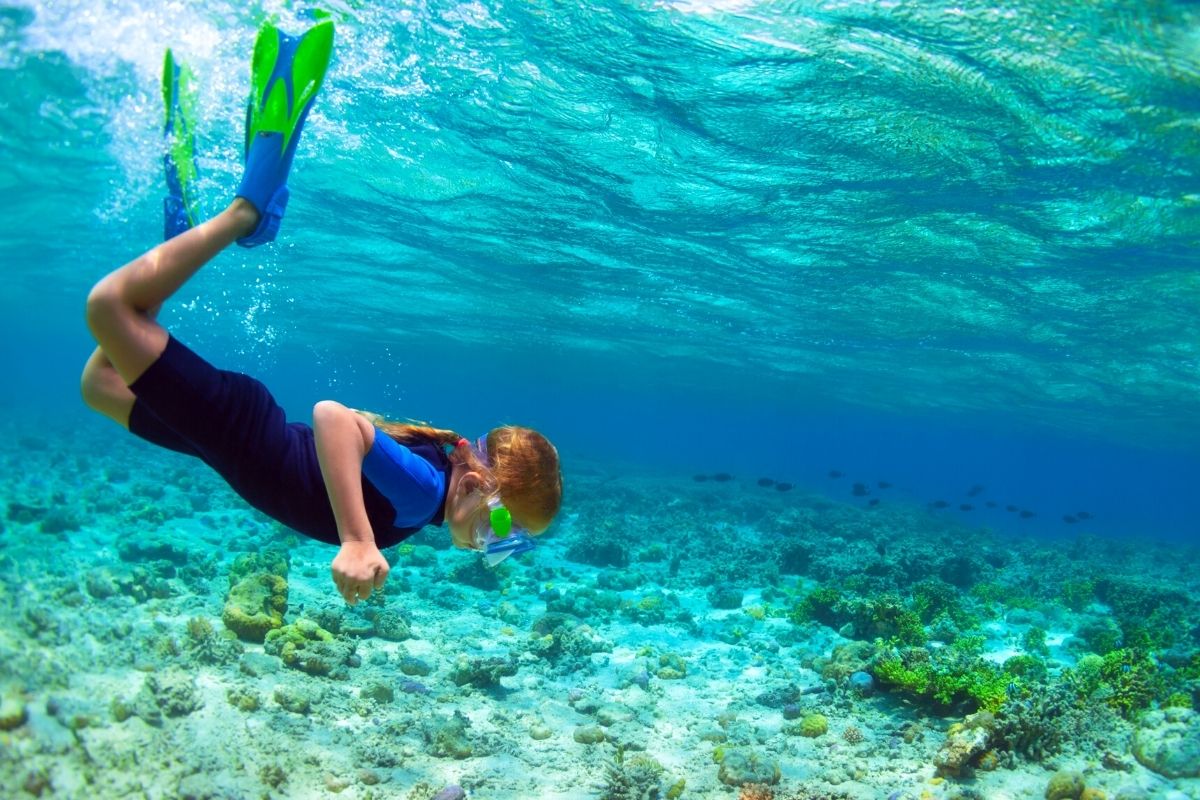 Just next door to the wharf, Baby Beach offers a classic seaside experience with a vast array of awesome water activities, including some of the most popular snorkeling areas within the town of Lahaina.
With calm currents and a shallow, sandy entry point, it's another great snorkeling option for families, especially those with small children.
Admire the coral formations and keep an eye out for cool critters as you explore this watery world – it's another good spot to look for whales during their travel season. And for those looking to go even deeper (literally), the area's also excellent for scuba diving!
If you're new to the sport, this is the perfect place to learn, with warm waters, phenomenal visibility, and cinema-worthy seascapes teeming with the sort of sea life most of us only dream of seeing.
And if you're a little more experienced, you can join a small group tour to a submerged pier to look for turtles and rays, or descend 85 feet into the Lanai Cathedral, a fantastical underwater realm of sea caverns, lava formations, and tunnels.
If you want to add a little extra pizzazz to your snorkeling experience, head over to nearby Lahaina Harbor for some combo excursions. Blend your snorkeling with a boat tour, and learn all about the culture and natural history of the area before diving in.
This is the perfect place to try some unique watercraft; enjoy the stellar scenery and the fresh sea breezes aboard a traditional sailboat, or hop aboard a semi-submarine to watch the underwater world go by through the huge windows, coming face to face with urchins, sea stars, and crabs as you glide through the sea.
You can also pair your snorkeling excursion with some dolphin-watching tours, and enjoy the playful antics of these beloved animals out at sea… before jumping in to swim alongside them!
10 – Lanai Island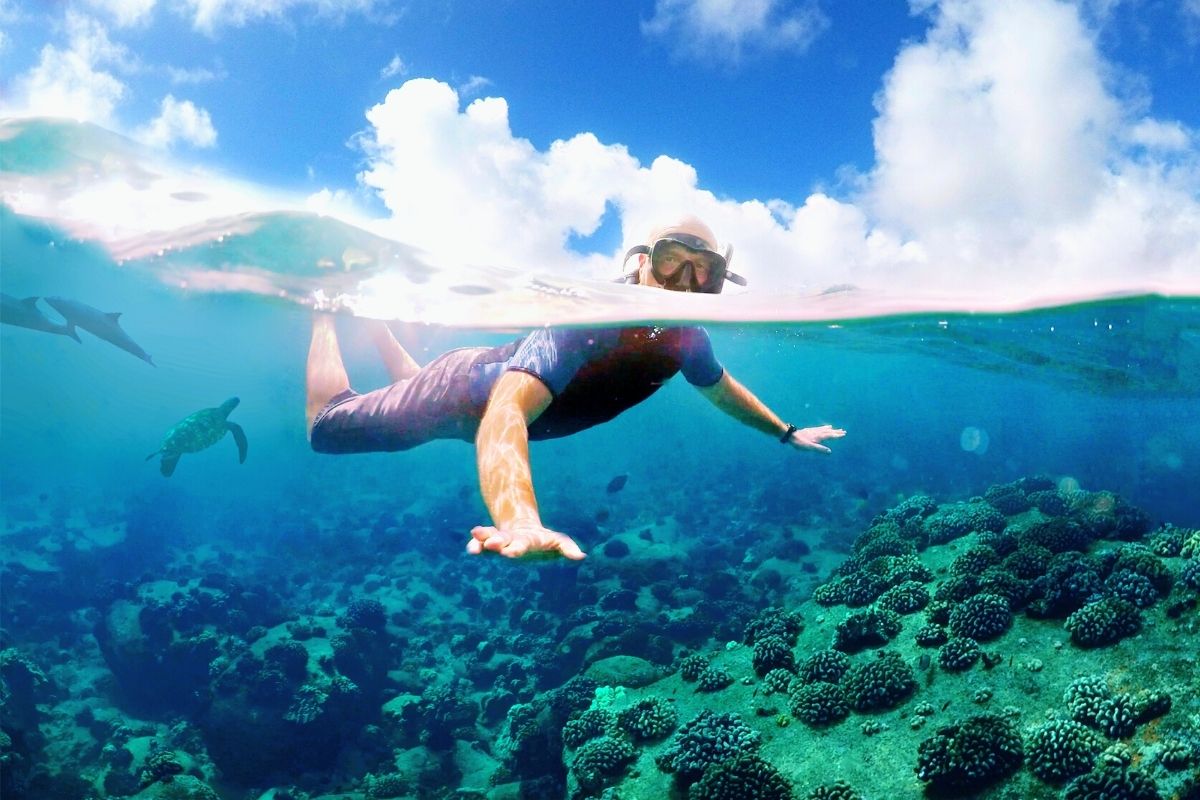 While there are plenty of great snorkeling spots in Maui proper, some of the best sites can be found on neighboring Lanai Island. Just nine miles off the coast, this charming little enclave is the smallest inhabited island that can be seen by tourists, and it boasts a healthy mix of luxury and rural assets.
While four-wheeling, horseback riding, golf, and relaxing at the high-class resorts are all popular options here, the water is a pretty major draw as well. With snorkeling tours regularly departing from Lahaina Harbor, you can enjoy all the best spots that this lovely little place has to offer, and still be back in time for dinner.
Stop off at various spots around the island to look for spinner dolphins, green sea turtles, and other denizens of the deep, all moving through crystal-clear waters that look like something out of a nature documentary.
If you're lucky, you may even catch a glimpse of the beautiful and elusive Hawaiian monk seal! Along the way, you can also enjoy some world-class scenery, including beautiful sea caves and under-the-radar beaches that offer a uniquely secluded island experience.
And of course, it's also a wonderful place to scuba dive, with the famous Lanai Cathedral offering plenty of exciting areas to explore.
Descend to depths of up to 85 feet as you explore the First and Second Cathedrals, while sunbeams highlight the entire scene in exquisite detail. You'll be able to explore rocks, caverns, and other amazing remnants of the area's previous volcanic activity – and see plenty of fish, of course!
No matter how far into the water you go, Lanai's fabulous seas are sure to be a highlight of your trip!
11 – Launiupoko Beach Park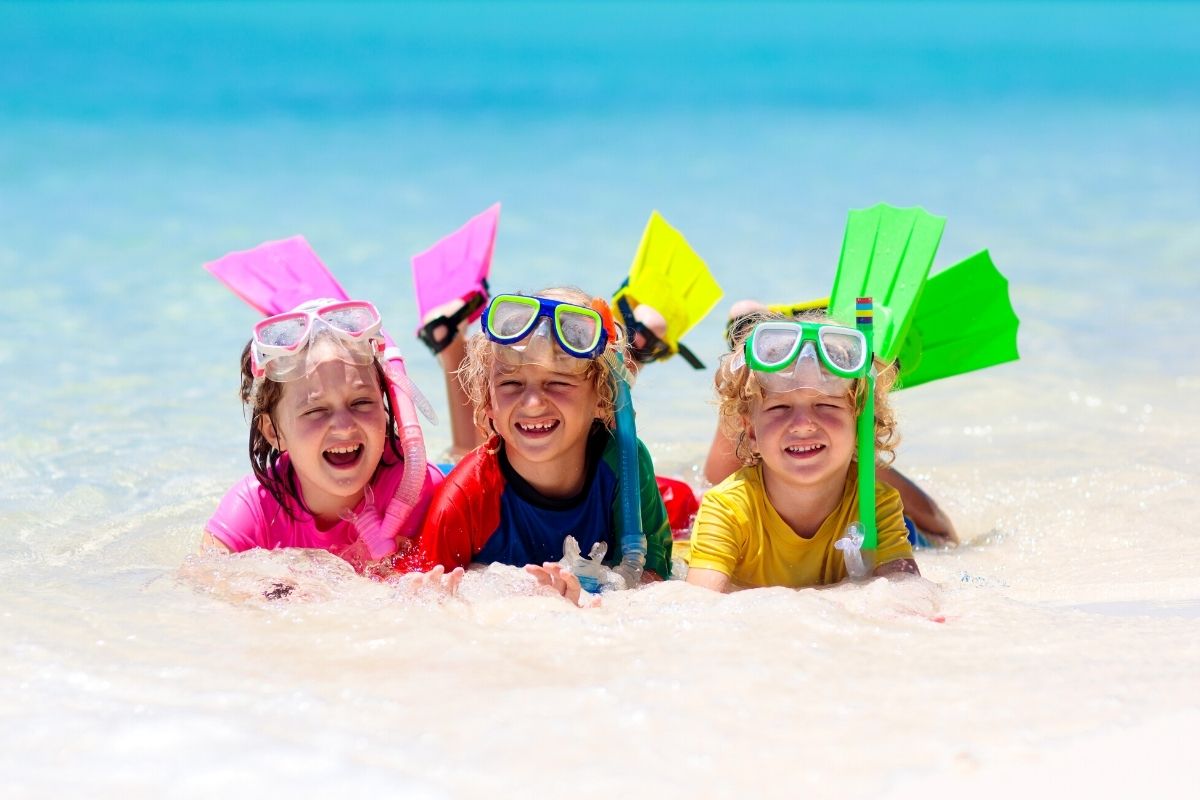 If you like a nice variety of watersports during your vacations, then be sure to head over to Launiupoko Beach Park. This lovely area is great for surfers and paddleboarders, with consistent but mellow waves that make it ideal for learning the sports.
It's also a great place to do some swimming, and younger visitors will love frolicking in the wading pool that's naturally formed near the beach. While it may not be one of the most famous snorkeling spots in Maui, it still offers some nice stretches of water to explore, and the chance to spot the occasional turtle.
If you're visiting during the winter, keep an eye towards the water as you stroll along the shore; you just might spot some whales!
Throw in tranquil beaches, gorgeous coconut trees, and unforgettable sunsets, and you have a place that the whole family can enjoy, all within walking distance of the main hub of Lahaina.
12 – Olowalu Mile Marker 14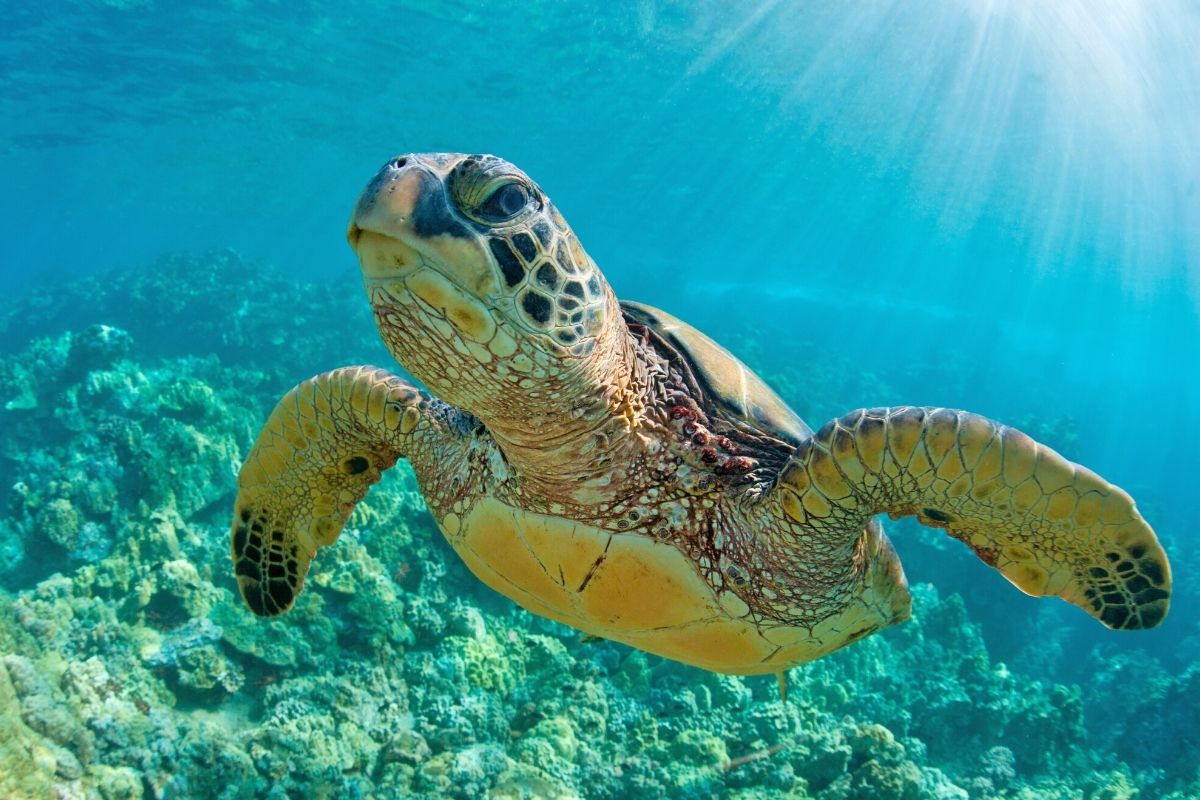 If you want another nice beginner snorkeling spot and don't mind a little drive, pack up your gear and head down the road to Olowalu!
Also known as Mile Marker 14 for its position along Route 30, this rustic site has calm, shallow waters with beautiful scenery to enjoy as you swim. Keep an eye out for the corals, and enjoy a peaceful experience that will get you ready for other great spots to come!
Bear in mind that because of its more rural location and lack of facilities, this spot is more about the sporting activities than relaxation; while there is a beach at the site, it's not nearly as wide or suited to lounging as some of its neighbors.
But it's well worth it for the gorgeous, open waters and complex reef system teeming with sea creatures, all right off the main road. It's a little piece of tranquility, conveniently located en route to other attractions.
13 – Coral Gardens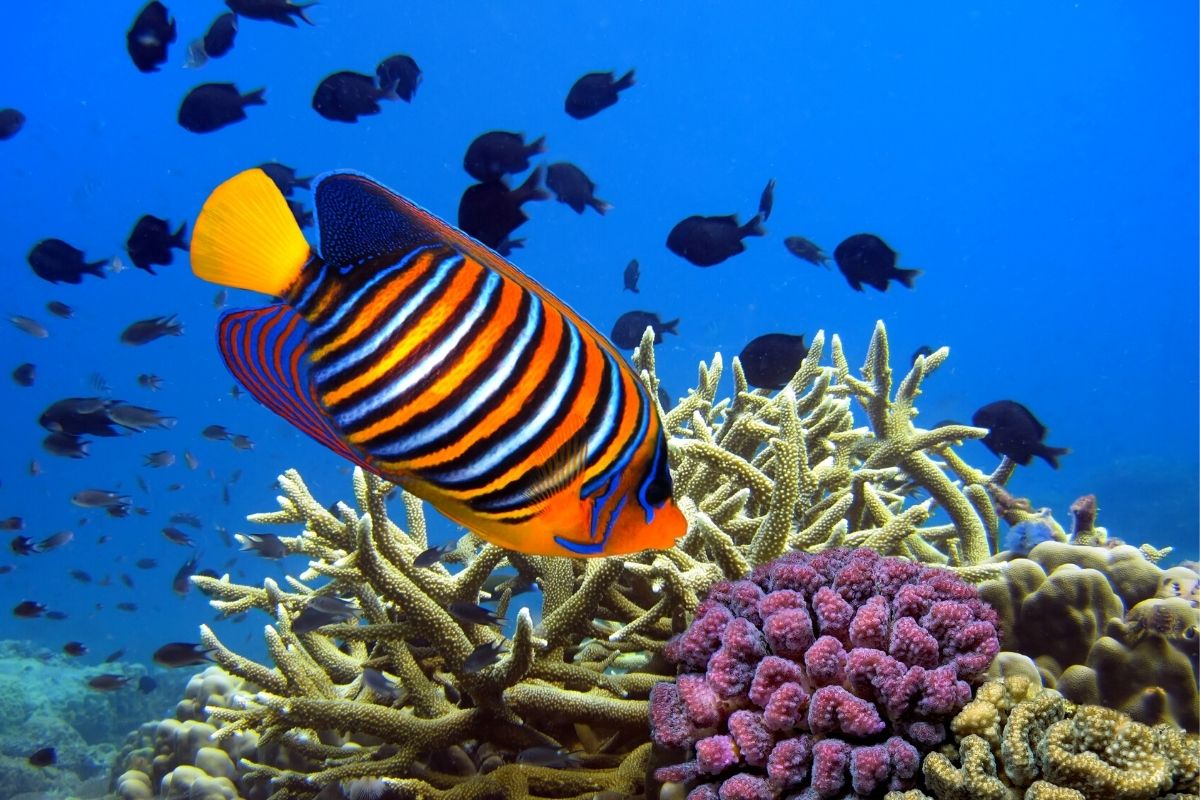 As the name suggests, Coral Gardens is a fantastic place to spot big, beautiful coral formations in all of their colorful glory. But this piece of Pacific paradise is also home to plenty of sea turtles and a whole range of brightly hued fish.
The snorkeling location is a little way out from shore, so you'll need a boat to get there – but trust us, it's well worth it.
With the breathtaking West Maui Mountains in the background, the beauty begins to take hold even before you're in the water, but once you're swimming, you'll be in a whole other world!
Admire the unusual formations along the ocean floor – remnants of a volcanic eruption from half a million years ago – as you keep an eye out for some of the hundreds of species that call the area home, from eels and octopus to parrotfish, angelfish, and manta rays.
Once you've spent an afternoon exploring this vibrant blend of geology and biology, you'll soon see why it's considered one of the best snorkeling spots in Maui – and the planet!
Best snorkeling spots along Maui South Coast
Like its west coast counterpart, South Maui features plenty of great beaches, clear water, and dynamic wildlife – all prime ingredients for a great snorkeling experience.
It's considered the "dry" side of the island, with plenty of sunshine and clear conditions to help bolster its outdoor activities.
In between snorkeling trips, tee off at the golf courses or spoil yourself at some of the deluxe hotels – this is an area known for some of the island's fanciest enclaves.
14 – Kamaole Beach Parks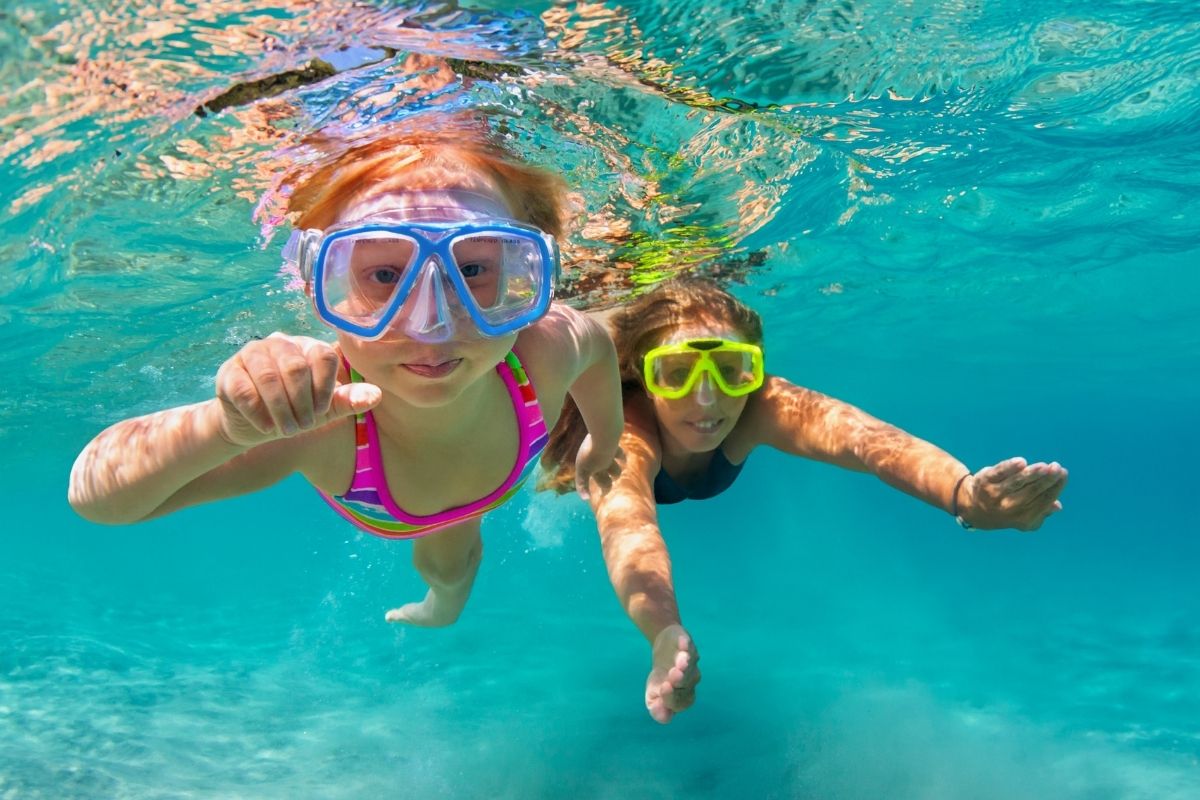 As you start heading south, you'll quickly encounter the terrific trio of Kamaole Beach Parks I, II, and III. Divided by a series of rock formations, these gorgeous bits of scenery are ideal for strapping on a snorkel and sightseeing.
As with a lot of places, you'll be able to spot some of the best wildlife near the craggy areas and caves, where there are plenty of places for the animals to establish their homes. While you're exploring Kamaole Beach Park I, be sure to stop by Charley Young Beach, a local favorite.
This postcard-perfect stretch of sand is great for families, and the north reef is a popular place to see turtles. Best of all, it's much quieter than the other nearby areas, so you can have the waters largely to yourself.
You can also fish, swim, paddleboard, or just relax on this fantastic shoreline and dream of your next excursion.
15 – Keawakapu Beach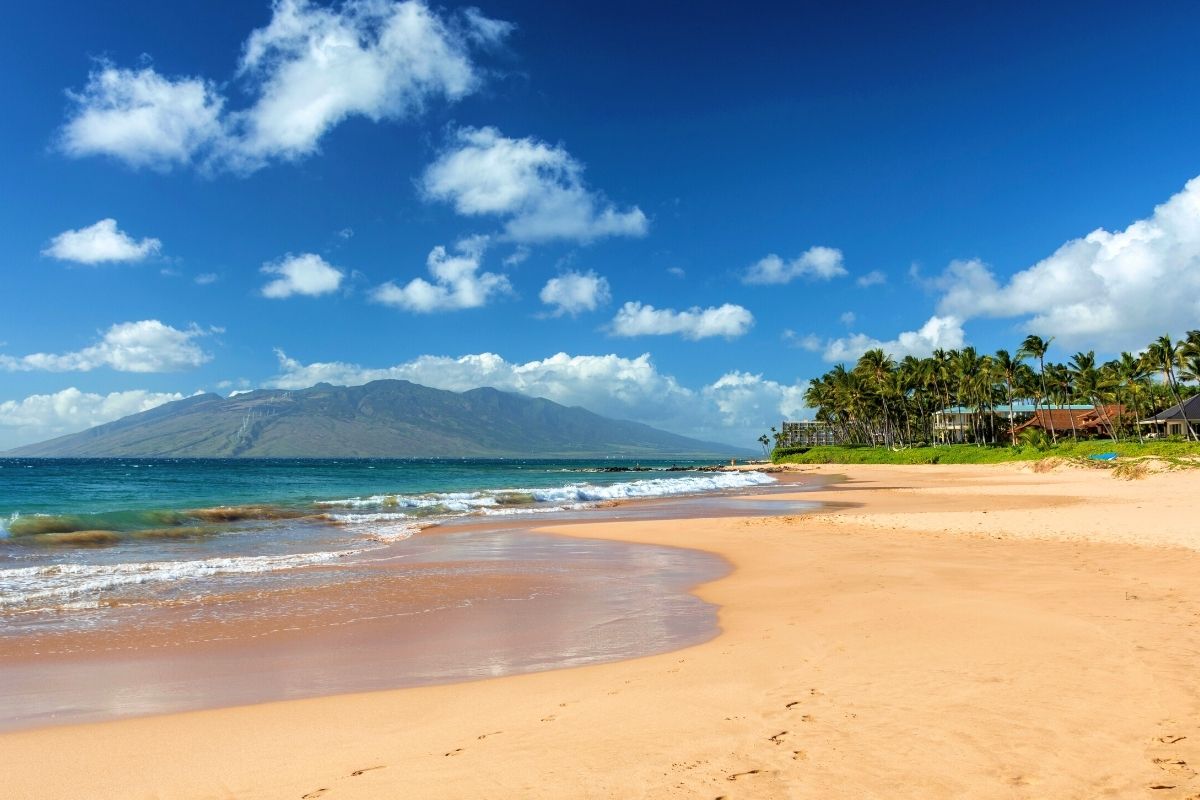 Keawakapu Beach may only be 0.7 miles long, but that little place really packs a punch. Along with beautiful currents and great visibility that define many of its neighbors, it also boasts one of the most unique reefs around – one made entirely of junk!
The formation got its start in 1962, when scientists determined that the surrounding area could benefit from an artificial reef.
The project started with several cars that were stripped of their toxic parts and dropped to the ocean floor, providing an unorthodox set of homes and hiding spots for the local animals.
Today, the collection also includes tires, concrete pieces, and even an entire fishing boat! This unusual system of industrial scraps is not only visually distinctive, but also serves as a fascinating human-made ecosystem.
Best of all, it helps buffet the shore from bigger waves, which, in turn, helps the natural elements of the area replenish faster. Take some time to explore this unique reef for yourself, then go check out the rest of the beautiful scenery.
If you're looking for other things to do in the area, this is also a great beach for boogie-boarding!
16 – Ulua Beach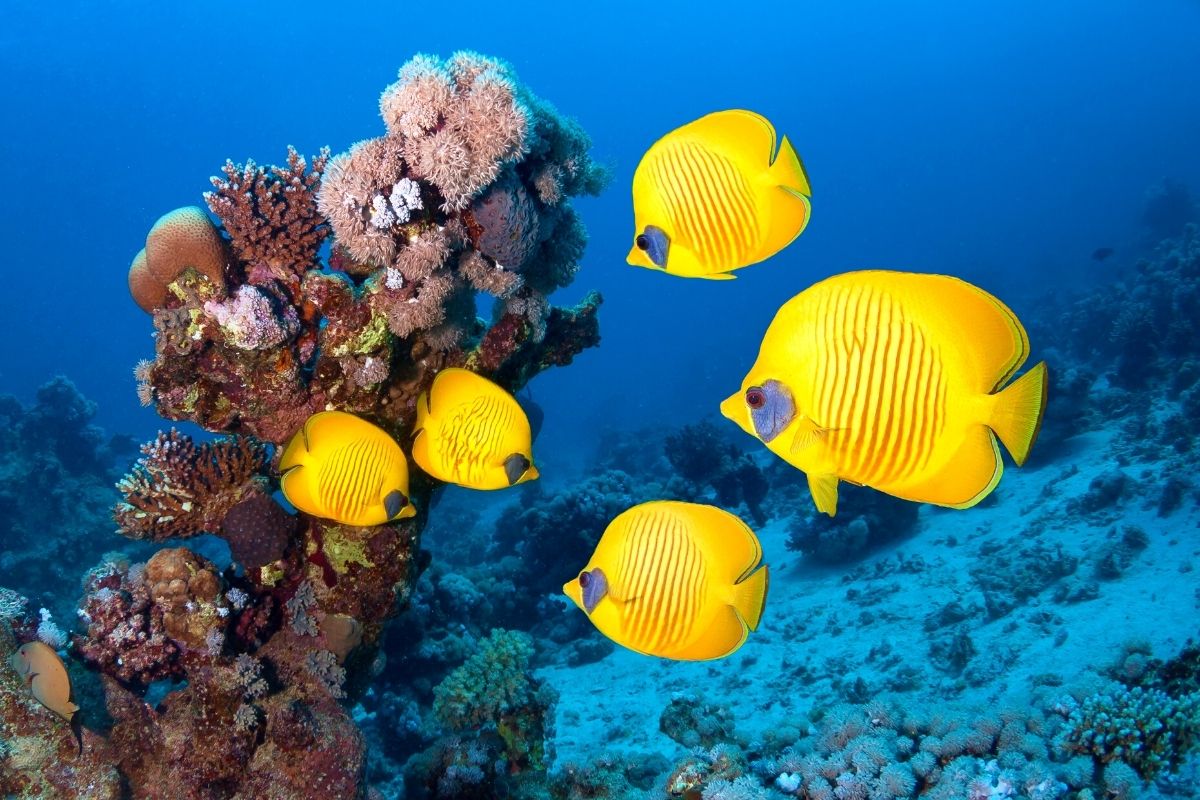 Even by the high standards of the Maui area, Ulua Beach's biodiversity is pretty phenomenal! Check out frogfish, goatfish, crabs, and nudibranchs as you snorkel around this beautiful spot, which is filled with lively reefs.
The area also melds into nearby Mokapu Beach, so you can get the best of both worlds as you explore the open waters between these scenic areas. Mokapu is a similarly idyllic beach, with shorelines great for strolling and water that's perfect for a dip.
Although it sits right in front of the Andaz Wailea Hotel, there are still some nice, quiet sections where you can go for a dip without all of the hustle and bustle.
For the best snorkeling views, try heading south, around the rocky sections. Whether you choose one beach or explore the areas in between, this is a fantastic spot to enjoy the local scenery – and if you can, stick around for the sunset!
17 – Wailea Beach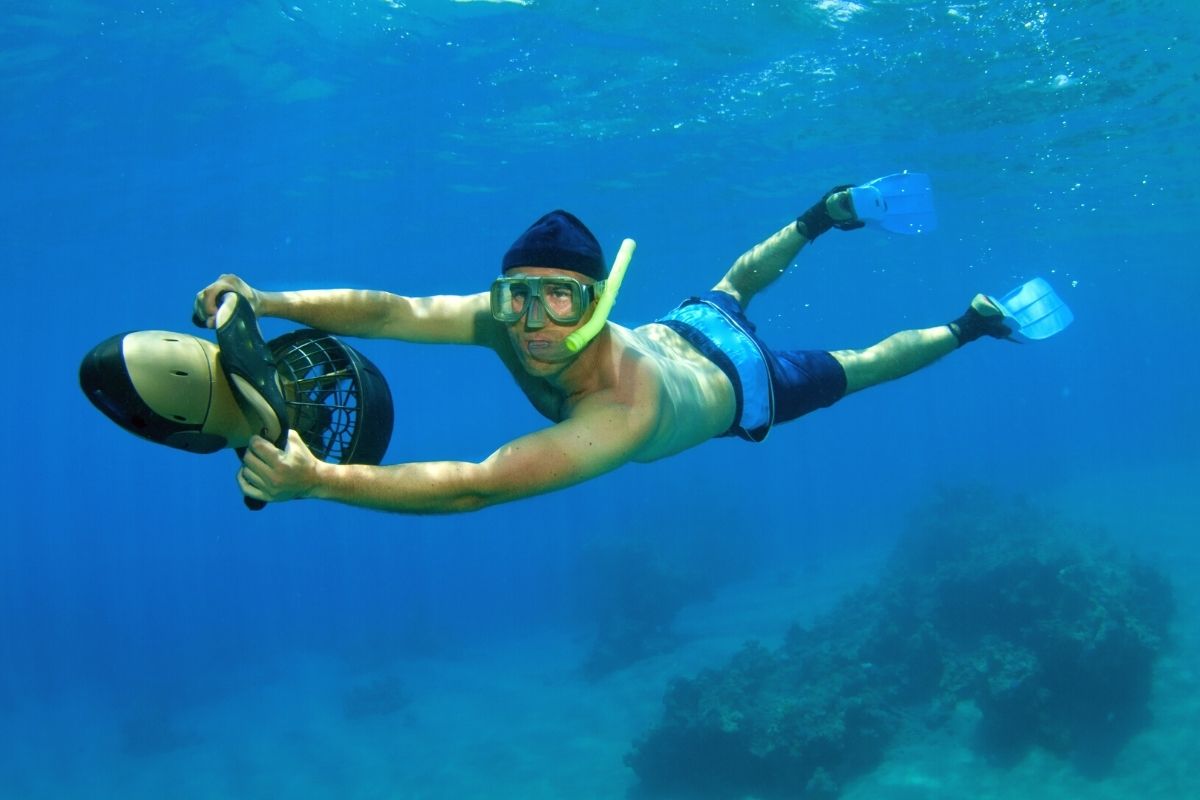 Sure, you may have snorkeled before… but have you ever done so by sea scooter? Well, at Wailea Beach, you can try out this truly unique way of seeing the underwater world!
These small, propeller-driven machines are an awesome way to see the sights, helping you dive beneath the surface and cruise along underwater just like a fish might!
The experience is amazing in and of itself, and it also makes it easier to spot diverse creatures such as eels and manta rays. This is also the place for another unique excursion of a very different style: outrigger canoeing.
Climb aboard one of these traditional Hawaiian vessels and paddle out to sea, keeping an eye out for turtles and other colorful marine life while your guide teaches you the nuances of Polynesian culture.
It's a terrific blend of nature and culture that will help you see this wonderful area in a whole new way! You can also kayak, swim, body surf, or just kick back in the sand and people-watch on this iconic shoreline.
18 – Polo Beach
Polo Beach might be a little busier than some of its counterparts, but its vibrant marine life makes it well worth a visit.
It's best explored during the morning and/or high tide, when you can easily swim straight out; do keep in mind that the bottom is rocky, and can be a little trickier to navigate.
Once you're out there, you'll be able to enjoy some of the same clear waters and beautiful conditions as many of its contemporaries. But if the water's a little rougher, no need to despair; you can still try out bodyboarding or paddleboarding!
The shore itself is also ideal for families, with plenty of picnic spaces and some nice shady spaces to relax. The beach is easily accessible from Kihei, and if you happen to be staying at the Kea Lani Beach Hotel, it's just a few steps away from the entrance!
19 – Palauea Beach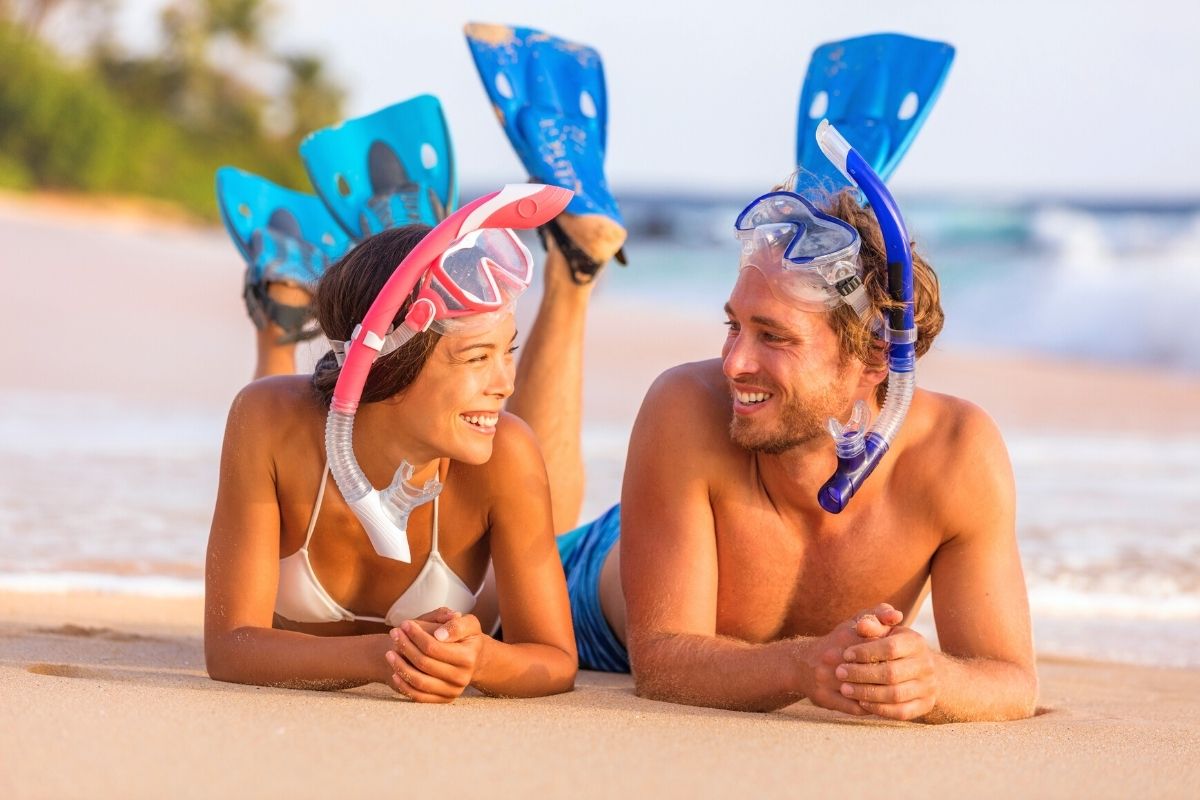 For a beautiful spot with more of a local feel, head over to local favorite Palauea Beach.
Located in a quiet neighborhood, this fabulous stretch of sand is also referred to as "white rock beach," and because of its secluded position, it's generally more populated by homeowners and their guests than by tourists.
With plenty of tropical fish and gorgeous lava formations, it's a wonderful place to swim and relax, without the hustle and bustle of nearby hotspots like Polo Beach.
As is standard for these sites, the very best views tend to be around the rocky areas; in this case, the southern end is particularly popular.
While it can sometimes be tricky to navigate past the private homes and yards, it's well worth it to experience some of the most underrated snorkeling in Maui. And you might even get to see some turtles while you're out there!
20 – Po'olenalena Beach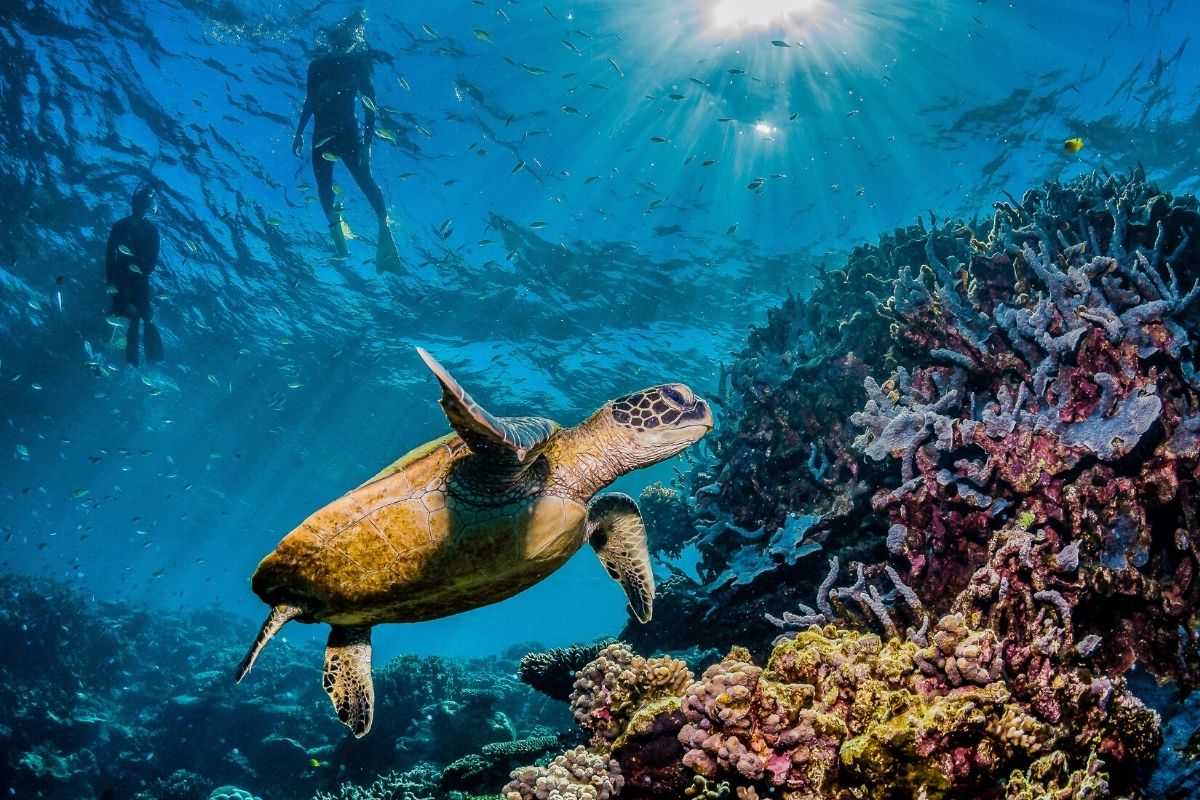 If you like variety in your Maui snorkeling spots, then head over to Po'olenalena Beach, which boasts several superb spots to choose from. They're all situated in and around the rocky areas off of the main shore, and offer lots of great wildlife-viewing opportunities.
Swim out along Middle Rocky Point and gaze down at surreal scenes filled with vibrant reefs and amazing sea life. Keep an eye out for wrasses, parrotfish and unicorn fish, along with barracudas, oysters, urchins, and sea stars.
Meanwhile, the Left End offers views up to 25 feet deep, where you can admire the distinctive shapes of the corals below. Keep an eye out for sea turtles getting the algae cleaned off their shells, courtesy of some of the local tang fish.
It's a unique and charming sight – ecology at its finest! Then pop over to nearby Chang's Beach, a quieter spot with plenty of animals and mellow waters. Enjoy the quiet atmosphere of this residential area, and snorkel more to the left of the reef for the best viewing options.
Po'olenalena is another longtime community hangout, and even by the high standards set by other nearby beaches, the scenery is incredible, with long stretches of pristine sand and beautiful rock formations.
It's little wonder that this is a popular area for weddings!
21 – Makena Landing Park & Five Caves
From whale watching and kayaking to paddleboarding and, of course, snorkeling, Makena Landing Park has it all!
With volcanic rocks providing shelter from the strongest currents and some diverse areas, this is one of the best spots on the island for extended snorkeling tours. Hop from one gorgeous destination to another, and pair your trip with other amazing excursions like whale and dolphin watching.
Take a spin on a paddleboard or a kayak before strapping on your mask and hopping in the ocean – it's one of the coolest ways to maximize your time on the water!
North of the park, experienced divers can venture into Five Caves, a spectacular complex of caverns that offers a glimpse into the beautiful, complex world of the wider ocean.
Its intricate natural formations make it perfect for spotting more elusive animals like reef sharks, eels, and maybe even octopus! The caves themselves are especially popular for more adventurous individuals, with a lot of nooks and crannies to explore.
But even if you're not going that far, you can still get a taste of the area's spectacular beauty when you pop on your fins and check out the mellower currents nearby.
22 – Maluaka Beach (Turtle Town)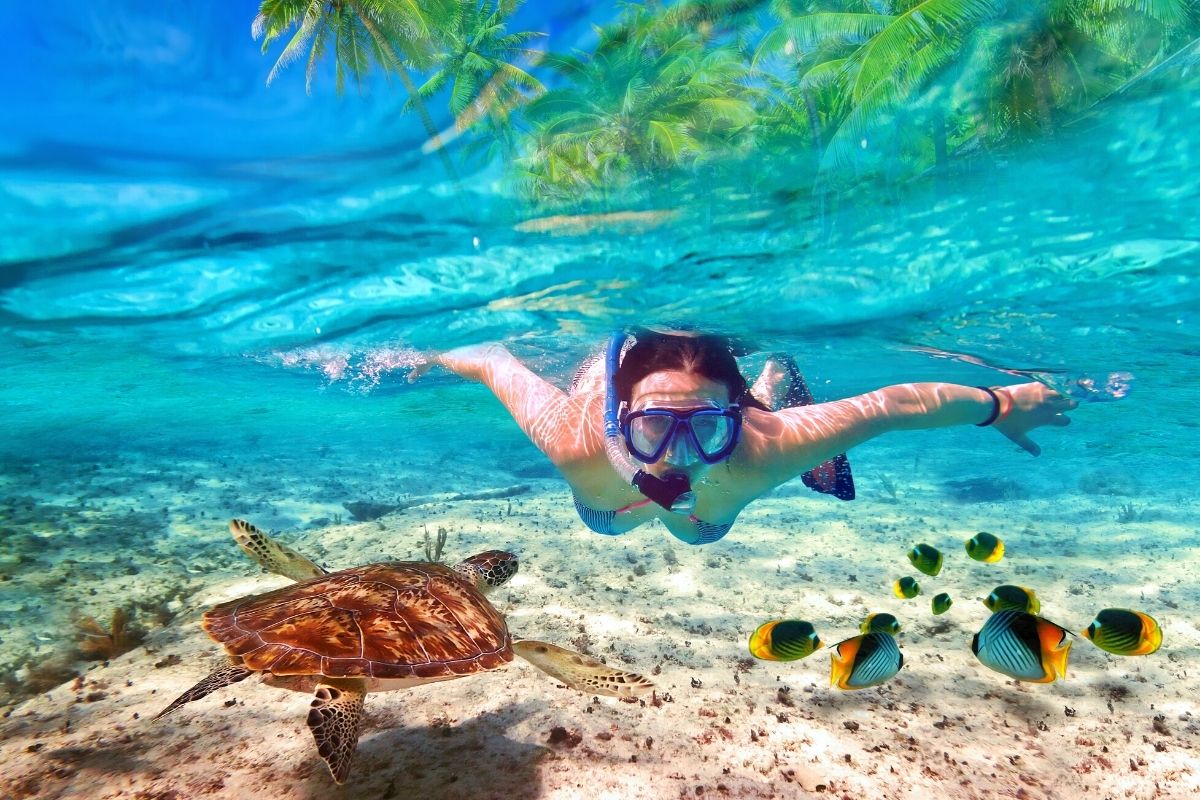 There are lots of great places to spot turtles, but it's hard to go wrong with a place called "Turtle Town"! One of the most beloved snorkeling spots in Maui, this beloved area is, of course, best known for its lively marine reptiles.
And because it tends to draw fewer crowds than some of the other turtle-heavy spots, you can get some unparalleled opportunities to swim alongside groups of these beautiful creatures.
Although there are a few different spots that are considered to be the entry point for this particular site, Maluaka Beach, which is 20 minutes south of Kihei, is the primary one.
Alongside the oodles of turtles, you may catch glimpses of some other dynamic locals, from angel fish and moray eels to octopus and even humpback whales!
If you want to really experience these wonders up close, venture out with a group tour, where you might also pass by such gorgeous sites as Molokini Crater, a chunk of an extinct volcano that now serves as a dynamic marine habitat.
Seeing the many creatures that swim below the surface – or soar above it – is an experience that you won't soon forget!
23 – Makena State Park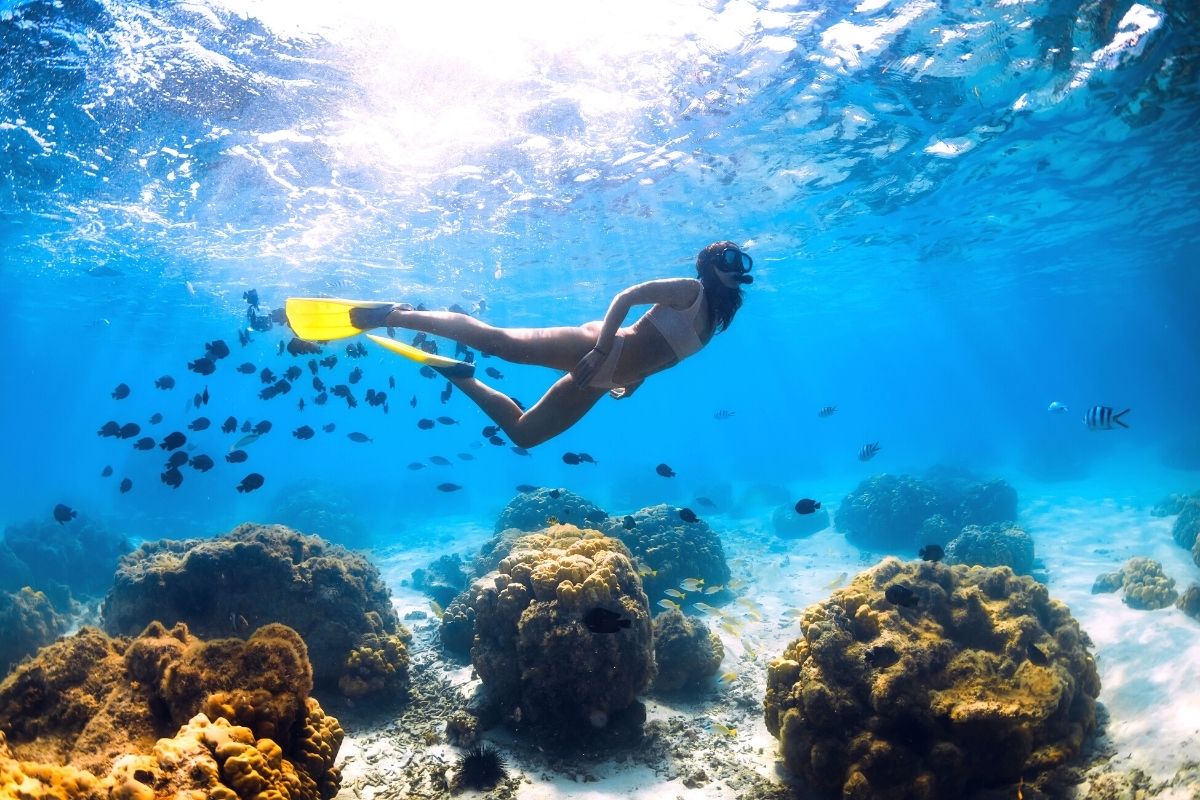 For a great selection of diverse coastlines, make your way to Makena State Park. This gorgeous public land boasts a nice assortment of beaches, all of which are ideal for donning some fins.
Big Beach – which is also known as Makena Beach and Oneloa Beach –  lives up to its name, offering tons of space and a pristine atmosphere that makes it perfect for swimming and relaxing. The area is its own form of ecological paradise, with mostly empty shores and waters that will let you have the wildlife all to yourself.
Meanwhile, Pu'u Ola'i Beach, which also goes by "Little Beach," is a small-but-mighty stretch of sand with some lovely walking trails, as well as great water access. It's also a nice place to visit the magnificent Pu'u Olai cinder cone, which you can hike up if you want to enjoy some truly spectacular views of the surrounding beaches.
Just next door, Oneuli Beach's jaw-dropping black sand is only matched by its awesome geological formations and bustling corals and reefs. After you've had your fill of snorkeling, you can paddleboard, kayak, or look for whales, all while enjoying the superb landscapes and utter beauty of this wonderful region.
24 – Molokini Crater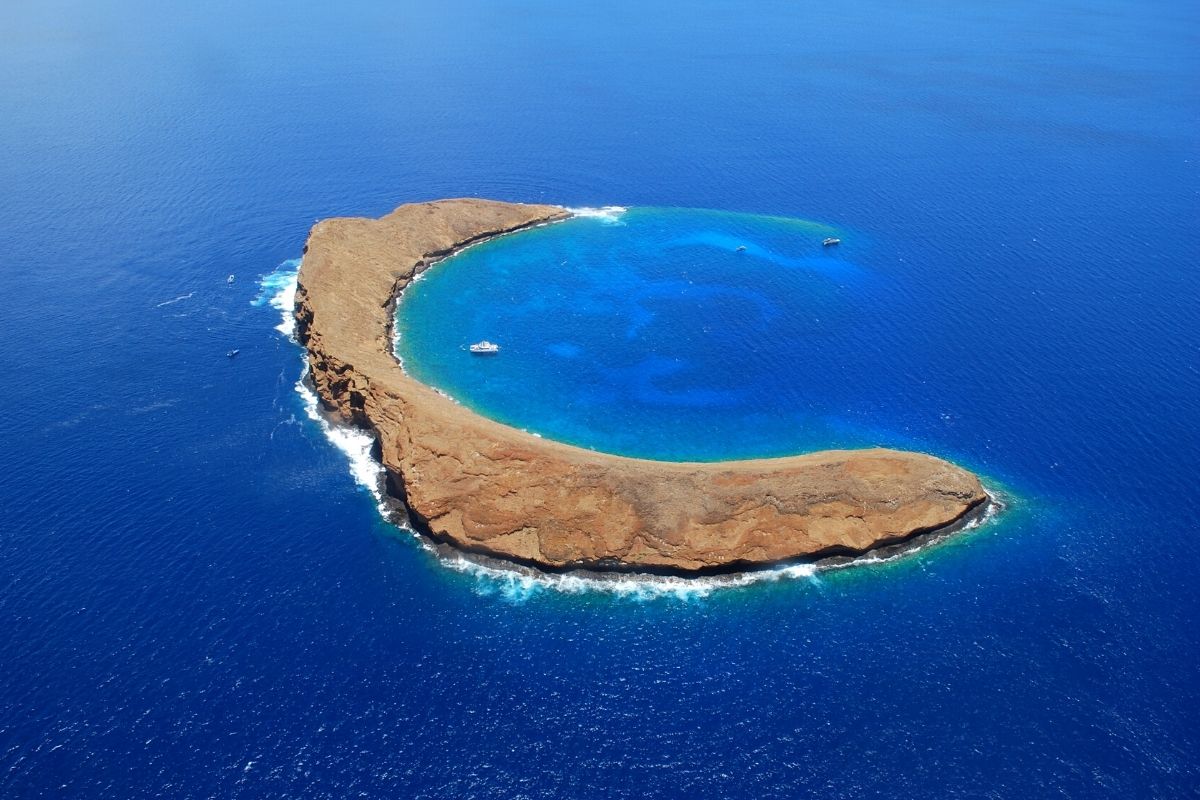 The visually stunning Molokini Crater isn't just cool to look at – it also makes a great environment for sea creatures!
With its distinctive crescent shape and rich geological history, this stunning strip of land juts out of the water and gives just a taste of the wonders below, where the unique soil and rock structures make a dream home for many beloved local species.
The area once served as a fishing site and a testing ground for bombs during the Second World War, before earning protected status as a home for marine life and various species of birds.
It's also a great spot for sailing and sightseeing, so grab your sunscreen and prepare for an amazing day out on the water!
25 – Ahihi-Kinau Reserve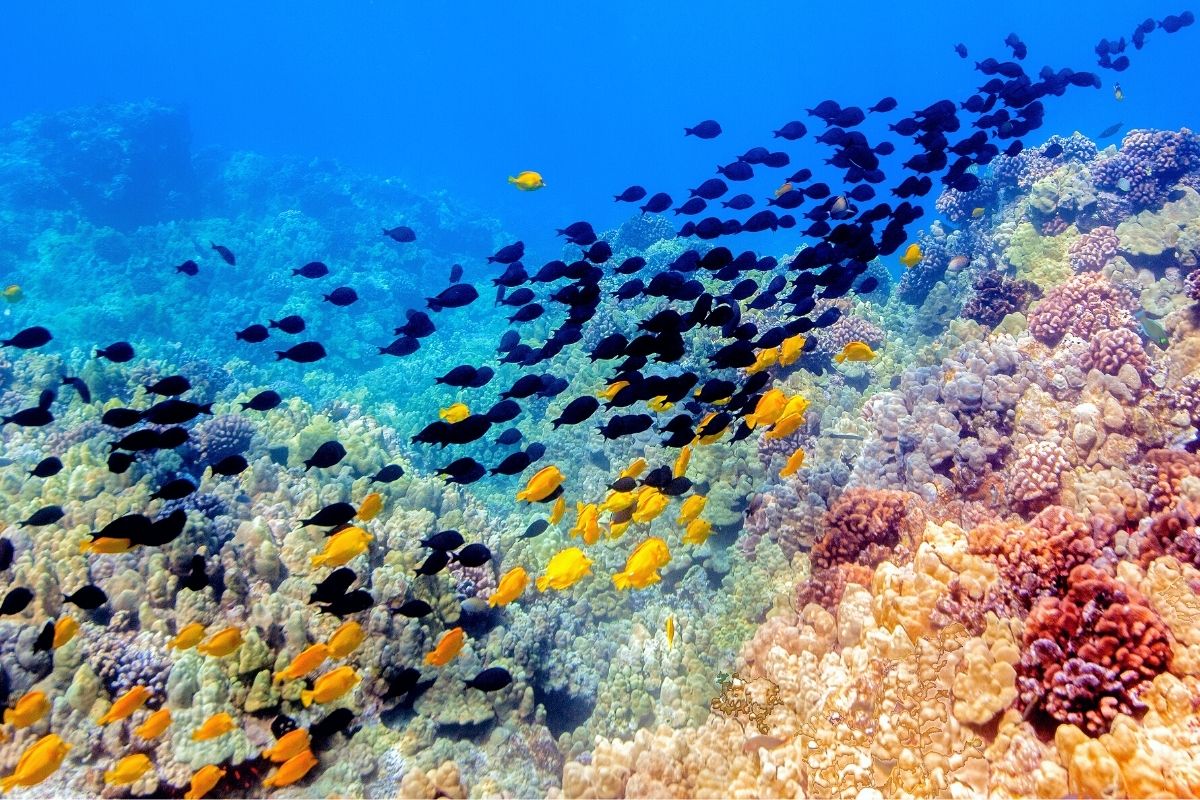 Do you dream of swimming over tons of tangs? Then hit the water at Ahihi-Kinau Reserve, whose crystalline currents and protective measures make it the perfect place to spot massive schools of various tropical fish going about their daily lives.
Along with the aforementioned tangs, this is one of the only natural homes of the beautiful Hawaiian cleaner wrasse, whose purple and yellow hues make it a must-see.
Another great spot near the reserve is La Perouse Bay, which is best known for its rocky shores formed by the most recent eruption of the Haleakala volcano.
Along with plenty of snorkeling options, this historic area, which was first explored in the 1700s, also features fishing shrines, canoe hales (traditional houses), archaeological complexes, and lots of beautiful but challenging hiking trails.
Check out some amazing monuments to the Indigenous population as you explore the area, before heading down to the water itself. Once you're there, be mindful of the sharp rocks, and enjoy some truly phenomenal swimming!
Best snorkeling spots along Maui East Coast
Generally speaking, the best snorkeling spots in Maui are between the West and South coasts, where the water tends to be calmer and more stable. East Maui, on the other hand, has powerful, unpredictable currents, making most of its waters unsuitable for the sport.
If you do want to try snorkeling on the East Coast, Hana Bay is the only spot that's regularly recommended, although you may have some luck at Waiʻānapanapa State Park as well.
But even if the conditions aren't good for snorkeling, you'll still be able to enjoy some gorgeous scenery, fascinating history, and a wide variety of other outdoor activities – not to mention one of the most famous roads on the whole island!
26 – Hana Bay Beach Park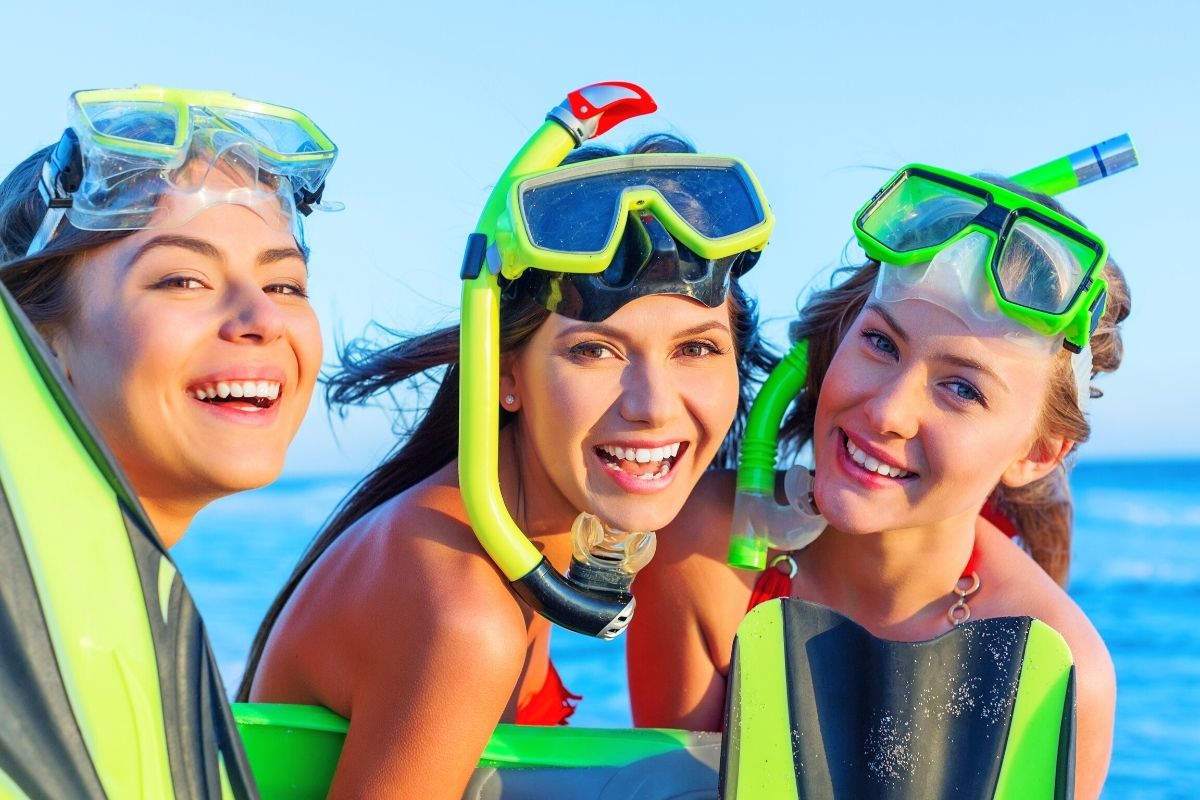 While this beautiful park is still prone to unstable currents like the rest of the area FIX, calm days will reward you with up-close views of fish, turtles, and more. Hop in near the pier for the best water conditions, then take some time to enjoy the stunning black sands of the shore.
As an added bonus, the Road to Hana, which leads directly to this gorgeous spot, is considered one of Hawaii's – and the world's – most scenic drives, winding through the famously lush scenery with plenty of great stops along the way.
And even though the snorkeling is not quite the same as on other parts of the island, it can still be a nice place to hop in, provided that the weather is good. It's also an excellent area for swimming, kayaking, and outrigger canoeing, so no matter when you go, you'll have the opportunity for some watery fun!
27 – Waiʻānapanapa State Park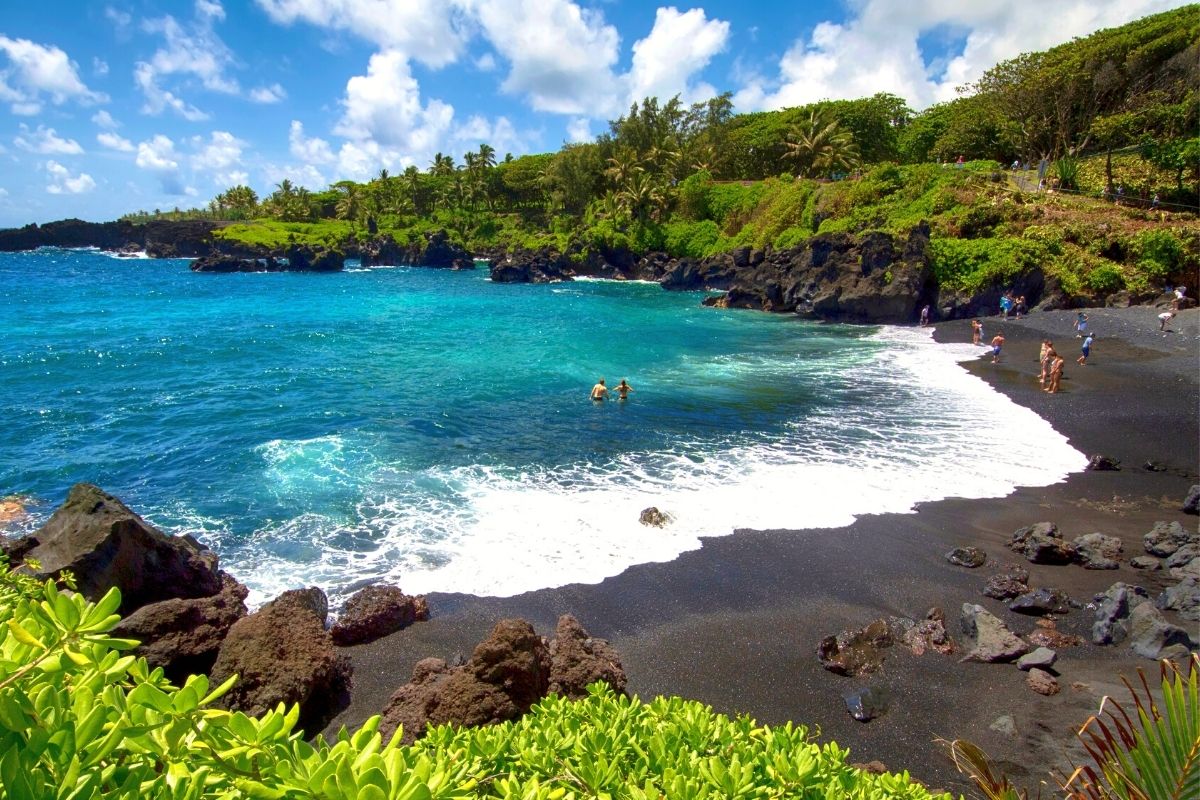 Much like Hana Bay, Waiʻānapanapa State Park is a potential East Coast snorkeling option if the water is calm. It's also another great place to enjoy some beautiful stretches of black sand, as well as a seabird colony, the ruins of a religious temple, and lush, vibrant tropical forests.
Black Sand Beach is probably the most popular area, both for photo opportunities and potential swimming options. It also plays a prominent role in ancient Hawaiian mythology; according to legend, the princess Popoalaea once hid out in a nearby sea cave to avoid her abusive husband.
If you're looking for additional activities out of the water, there are tons of terrific hiking trails around, with terrain that offers just the right combination of excitement and challenge to navigate.
You can also check out the natural stone arches, explore the winding lava tubes, or pay your respects at the historic graveyard, which features many traditional Japanese burial sites.
Because the whole park is on the rural side, it offers something of a rustic getaway, where you can really absorb the beauty of the Hawaiian wilderness. If you really want some quality time with this iconic landscape, you can even book a campsite here! It's the perfect place to unwind and get in touch with nature.
Best snorkeling spots along Maui North Coast
Much like the East Coast, there aren't many snorkeling spots in North Maui; it's better known for more adrenaline-driven activities, such as windsurfing, ziplining, and surfing, as well as its mellow, small-town vibes.
But if you do happen to be on that part of the island, and really have a hankering for some snorkeling, then there are a couple of places that have potential.
Again, keep in mind that the weather and other conditions can severely impact whether or not it's safe to snorkel, so keep an eye on the elements before heading in!
28 – Kanaha Beach Park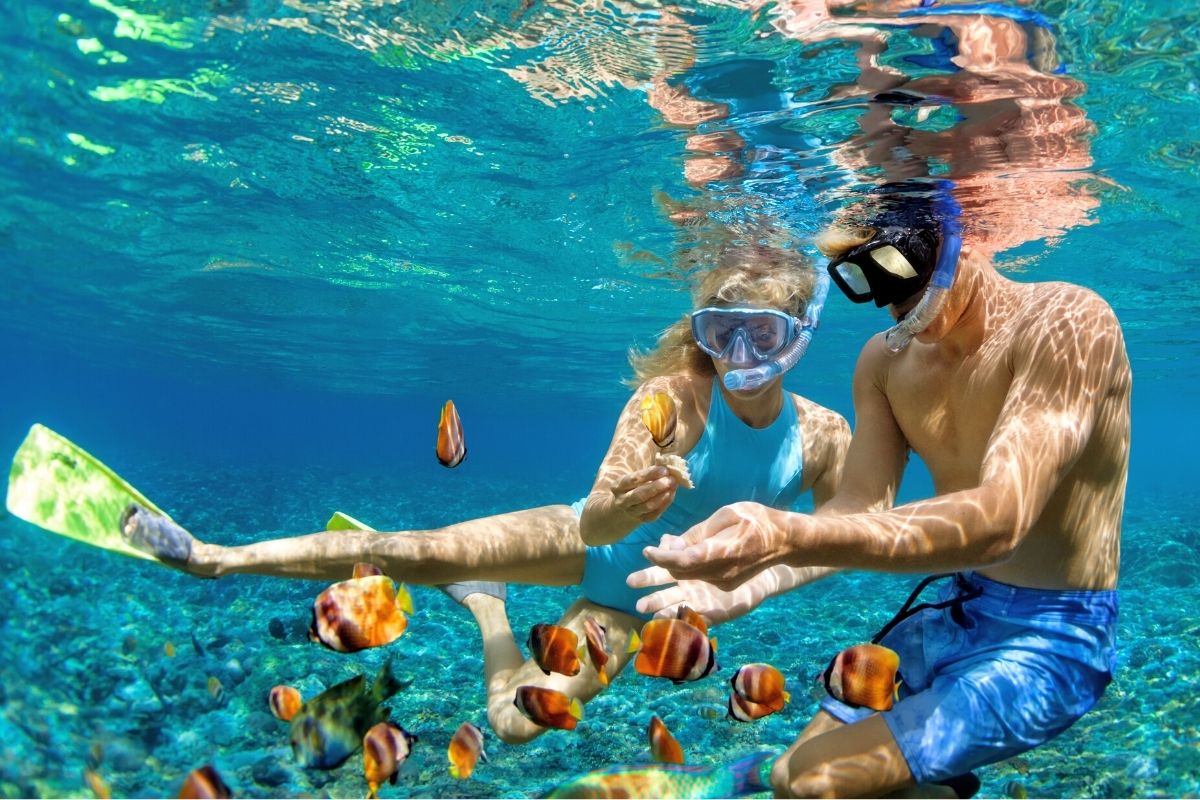 From its powdery white sand to its terrific sporting opportunities, Kanaha Beach Park offers a healthy dose of the traditional seaside experience – with some twists. The two miles of shoreline here are perfect for strolling, sitting, or swimming, and if the water's on the calmer side, it's well worth venturing in to give some snorkeling a try.
The visibility is generally best during the drier months, as rain tends to stir up dirt and create a cloudy runoff from the river. But if the sun has been out, and the weather has remained stable, you can hop in and take a look at the many charming fish that tend to congregate in this sheltered area.
And even if the breezes are overzealous, never fear; this is considered one of the best places on the planet for kitesurfing and windsurfing, so you can add even more sports to your roster!
You can also bike, canoe, play volleyball, or set up camp in one of the many scenic areas, enjoying the stunning climate and peaceful rhythms of the sea.
29 – Kaulahao Beach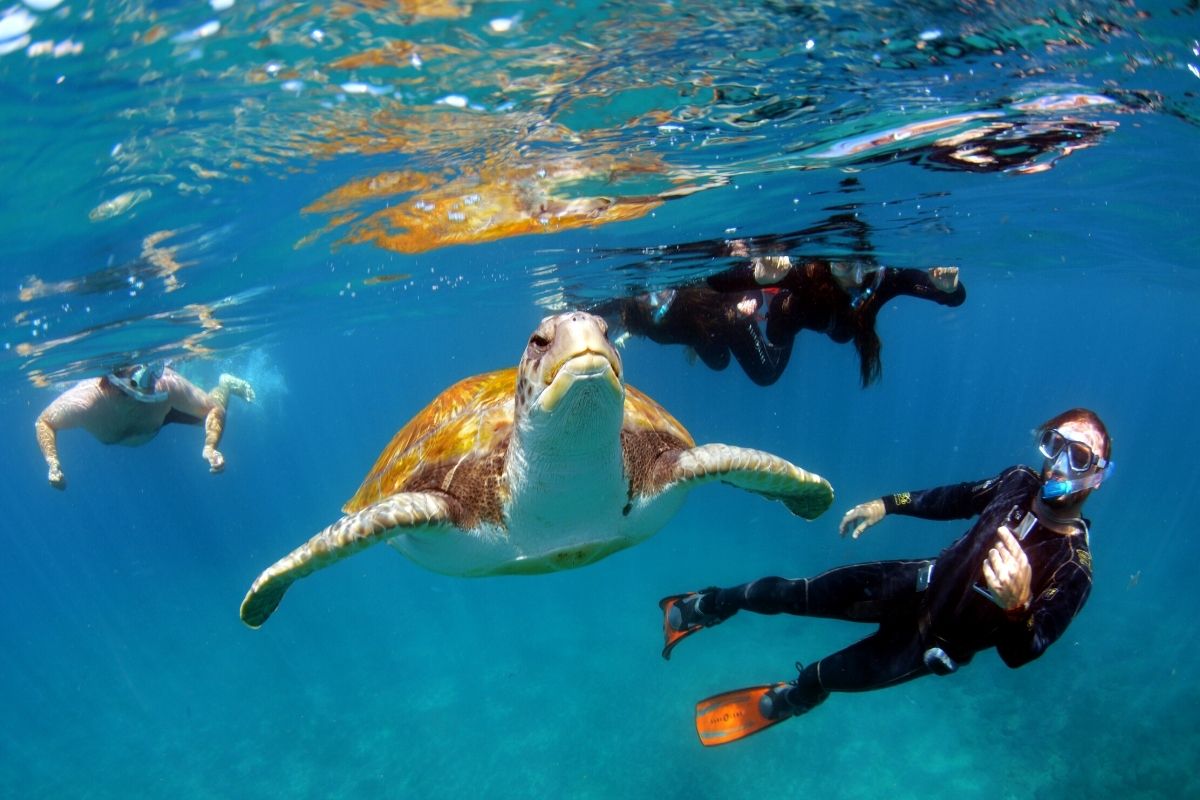 If you're looking for some good spots to see turtles on the northern part of the island, take a trip to the lovely enclave of Kaulahao Beach.
This hidden gem has plenty of great opportunities to spot your oceanic friends in and out of the water, as well as some absolutely stunning sunsets. While the water might be a bit tumultuous, you'll probably be up close and personal with the critters – keeping a respectful distance, of course!
It's also a popular option for underwater photography, so make sure that you bring your camera with you; the water can be unpredictable, but hey, that just adds some fun to the picture-taking!
While turtles are the main attraction here, you might catch a glimpse of local fish swimming about as well, and with walk-in access from the shore, it's one of the more easily reachable Maui snorkel spots, particularly on this side of the island.
Once you've doffed your fins for the day, you can try to catch a wave with the surfers that frequent the area, or head into the nearby town of Paia, a famed hippie enclave with a mellow art and tourism scene.
30 – Ho'okipa Beach
Last, but certainly not least, on our list of prime Maui snorkeling spots, there's the postcard-worthy stretch of Ho'okipa Beach, which has a relaxing atmosphere and plenty of great places to check out.
Located just off of the Road to Hana, it's another great place for turtle-watching, as well as some excellent surfing. As a snorkel site, it's admittedly challenging; with its choppy waters, imposing lava rock shelf, and fragile reef system, the beach does not always lend itself well to excursions.
But these same attributes also make it a unique and compelling spot to visit, and if the weather and conditions are good, you may still be able to float right alongside some turtles, and enjoy the visibility of the stunning blue water.
And like its other North Coast counterparts, there are countless amazing activities to try in between snorkeling sessions.
It's another great windsurfing destination as well, often considered one of the best spots on the whole island for the sport. And if you're looking for more of a traditional surfing experience, mornings tend to be an ideal time to catch a wave or two.
When you're finally ready to unwind, you can picnic, snag some fresh local seafood, and enjoy the beautiful sunset vistas on this magnificent island.
How to reach those snorkeling spots?
Because this activity is so popular on the island, there are plenty of different companies to choose from when it's time to book an excursion.
You can use our search engine to find the tour that works best for your group, including optional add-ons, different trip combinations, specific locations around the area, and more.
While you're searching, keep in mind that many Maui snorkeling spots are extremely famous, and tours tend to fill up quickly, especially in the high season. So start researching well in advance, and book your preferred options as early as you can!
Final thoughts
While there's no shortage of awesome things to do in Maui, snorkeling is probably one of the most exciting; and it's certainly one of the best ways to explore the region's distinctive ecology.
It's a wonderful way to see the area's unique geology and striking wildlife up close, with views that would put National Geographic to shame. And with famously warm, clear waters, the swimming experience is almost as good as the things that you'll see.
Although not every part of the island is equal in terms of good sites, you're pretty much guaranteed some great scenery and the possibility of an underwater adventure at each one.
And with so many other amazing activities in the surrounding areas, you'll be able to experience the very best of what this beautiful island has to offer, no matter how good the swimming conditions are.
Whether you're an aficionado or a total newcomer, snorkeling in Maui is truly unlike anywhere else in the world.
Take a breath and dive into adventure – the sea is waiting for you!