Located just across the way from Maui (Hawaii's second-largest island), Lanai is virtually untouched. It's also known as "The Pineapple Isle" thanks to its past pineapple plantation.
Today, it's renowned as being an ocean lover's paradise. Spend your day pretending to be part of the marine world, snorkeling or diving its crystal ocean. Here's your chance to spot manta rays and turtles, and explore its thriving reef.
Enjoy once-in-a-lifetime experiences and go Humpback whale and Spinner dolphin spotting. Cruise the turquoise waters and lap up the unique archipelago around you when you book a majestical day tour to Lanai Islands from Maui.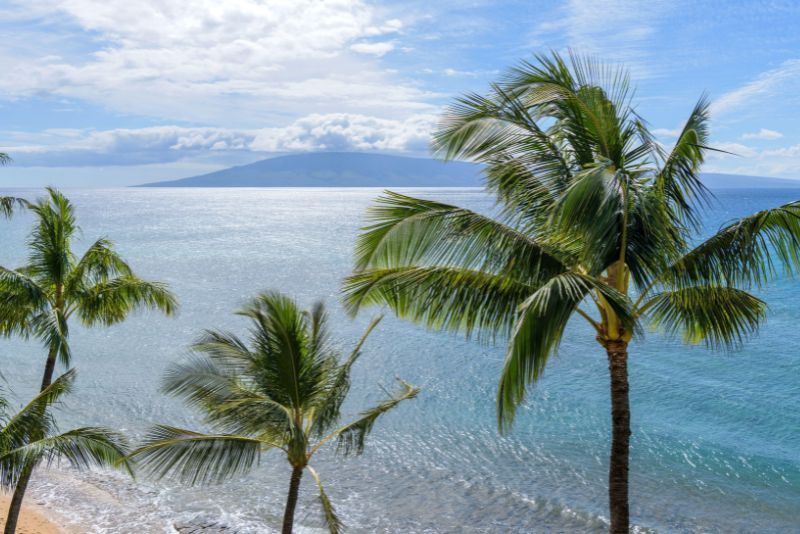 How to get to Lanai Island from Maui?
Situated in Hawaii's Auau Channel, Lanai Island is located 14 kilometers across from Maui.
From Lanai Island to Maui by ferry
You cannot drive directly from Maui to Lanai Island. Your option is either via water or air. Catch a local ferry from Lahaina Harbor in Maui directly through to Lanai's Manele Harbor. The ferry takes from 50 minutes to an hour and offers round trips roughly five times a day.
From Lanai Island to Maui by plane
Catch a small chartered flight into Lanai. Fly from Maui's Kahului Airport (OGG), landing in Lanai Airport (LNY). From the airport in Lanai, get a taxi transfer and all water expeditions need to be booked separately.
There are multiple local airlines that fly from Maui to Lanai Island, and this option entails a more expensive cost.
Guided tour to Lanai Island from Maui
Meet at the designated departure point in Maui. For example, some meeting points are the Lahaina Harbor, while others depart from Kaanapali Beach. Hop on board a private boat like a Catamaran and head for Lanai Island. You stop off at not only the island, but the guided tours include snorkeling opportunities. After a day around Lanai, transfer back to your original departure point in Maui.
What is the typical itinerary of a day tour to Lanai Island from Maui?
Ocean enthusiasts, begin your day tour to Lanai Island from Maui either down at Kaanapali Beach or Maui's Lahaina Harbor. If you've opted for a full day out, your journey starts in the early morning.
Heading immediately onto the waters, set sail for Lanai Island and take in the unreal aquatic scenes that surround you. Look deep into the waters to watch Spinner dolphins, manta rays and sea turtles — and if you're lucky, in certain seasons whales can be spotted.
You will anchor off for one to three snorkeling stops (tour dependent). Some popular spots include Manele Bay and Shark Fin Bay.
As you check out the underwater marine world, pop up and marvel at the 91-meter-high red cliffs and caves surrounding you. Enjoy lunch on deck like a BBQ feast. You might even cruise past the famous World War II Liberty Shipwreck.
Full-day tours to Lanai also make time for guests to put their feet on land and explore Lanai Island itself. Your three hours on Lanai are considered free time and travelers are left to wander, explore, eat and shop. Arrive at Lanai's harbor and take a quick scenic walk to Hulopo'e Bay for snorkeling in the tidal pools.
When time is up, hop back on board and sail back to Maui. You are dropped off at your original departure point.
What kinds of tours are available to go to Lanai Island?
There are different tours offered from Maui to Lanai Island and each is catered to suit your specific travel needs. Some tours include onboard bars and music, while others have boats with water slides and ocean rafts. Tours vary in length.
Guided day tours to Lanai Island from Maui
Start your morning in Maui where you depart for Lanai Island on the waters. Enjoy a full seven to eight hours out at sea. Have breakfast on board and travel to three snorkel spots around Lanai Island spotting dolphins along the way.
Sail past Lanai's coastline and take lunch on deck. Return back to Maui in the late afternoon. You can also rent a Yamaha Sea Scooter to help you zoot underwater. All snorkel gear is included.
Half-day trip to Lanai Island from Maui
Head out from Maui and begin your tour to Lanai Island on a catamaran. Instead of a full day out in the sun, enjoy four to six hours out at sea with two snorkel stops in between. Swim with colorful fish, look out for green sea turtles and back on board check for Spinner dolphins passing by. Have your lunch and head back to Maui.
Private jet boat charter to Lanai Island from Maui
If you've never had the opportunity to see whales in real life before, consider this three-hour power ride around Lanai Island from Maui. Hop on board a custom-made jet boat (maximum capacity is 18 guests) and whizz around the island.
Get your adrenaline pumping as you twist and turn on the waters. Revel in witnessing whales during Humpback Whale season, and in the off-season, you will be taken to a spot where Spinner dolphins swim in their pod instead.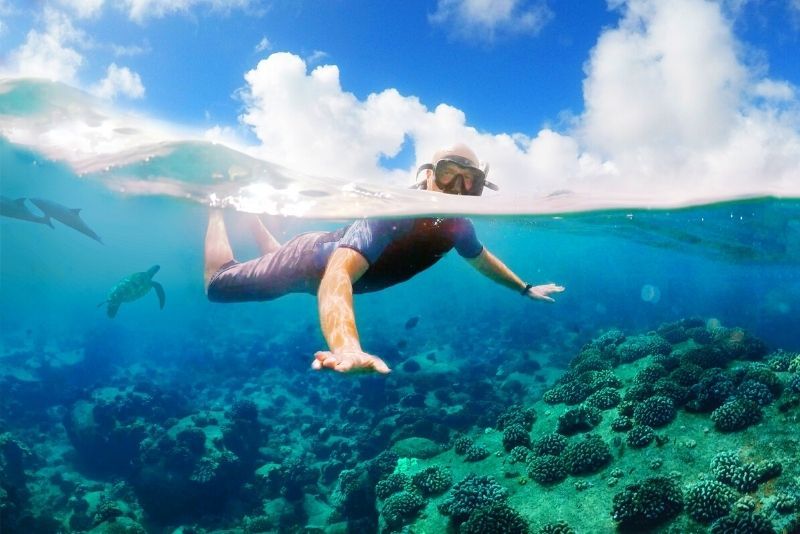 Private dive trip to Lanai Island from Maui
Super serious diving enthusiasts get your fix and enjoy a 4.5-hour long diving trip around Lanai Island. Leave Maui for Lanai Island and learn about the local environment and what you will see.
Take part in a two-tank trip guided by experienced diving instructors who happen to also be trained biologists/ecologists. Explore the water renowned for its cathedral dive spots. All diving equipment is provided, as well as a continental breakfast.
Private flight tour to Lanai Island plus Molokai from Maui
A completely different experience from the rest, take a tour in the sky of Lanai Island with a chartered flight from Maui. Here, you have the chance to take control and fly the plane. You will cross Molokai Island where Jurassic Park III was filmed and then land on Lanai Island. From Lanai, transfer to the Four Seasons hotel on the island for lunch and then fly back to Maui.
How much does a tour to Lanai Island from Maui cost?
A half-day tour to Lanai Island is the most affordable option and costs between US$100 and US$150. This price varies depending on factors like the type of boat your tour uses, group size and amount of meals included, among others.
A private chartered guided tour to Lanai Island will set you back US$6,500 for 15 guests. Onboard you will be able to enjoy facilities such as private showers and underwater sea scooters!
A diving trip to Lanai Island from Maui starts from US$200, and the price changes depending on specifics like a two-tank trip.
Special tours from Maui to Lanai Island, such as a chartered flight tour, start from US$1,000.
What will you see and do on Lanai Island?
The tiny island is home to local residents, and most of the activities revolve around the ocean. Apart from the copious snorkel and scuba diving opportunities, spend a few hours trying to spot the regional wildlife from whales to birds. Divided by North and South Lanai, take your pick places to visit on the island.
Puupehe
Also known as Sweetheart Rock, this natural attraction stands proudly in the middle of the ocean between Manele and Hulopo'e Bay. It rises 25 meters out of the water and is steeped in traditional mythical folklore.
Hulopo'e Beach Park
Spend time snorkeling and swimming in the tidal pools, and tanning at Hulopo'e Beach, shaped like a crescent moon (located within Hulopo'e Bay in the south). Sometimes, you can spot dolphins from the shore.  
Polihua Beach
Away from the crowds, this hidden beach bay in the north is a bit more difficult to reach than the rest. It's untouched and you can organize to take a 4-wheel drive to reach Polihua Beach.
Keahiakawelo
Feel like you're on planet Mars, as you drive 45 minutes from Lanai City to Keahiakawelo. Also known as "The Fire of Kawelo," the hilltop is covered in uniquely shaped red rocks and boulders. Take in the views and when it's clear, you can see Oahu and Molokai islands from this viewpoint.
Manele Golf Course
Located at the Four Seasons Hotel, perfect your backswing at this 18-hole course with its Jack Nicklaus design. Built next to the ocean, engulf the views at this ambient range.
Kaunolu Village
Once a thriving local fishing village, check out ancient ruins on Lanai Island at this prehistoric Hawaiian fishing village.
When is the best time to visit Lanai Island?
Open all year round, Lanai offers travelers something unique in different seasons.
For the warmest weather to enjoy beach days and comfortable snorkel and diving conditions, visit between June and Nov. The island winds are most chilled during this time, which is ideal for boat tours.
If you're especially coming to Lanai Island to spot the Humpback Whales, the season for whale watching runs from Dec 15 to May 15.
Travel tips
Arrive 30 to 45 minutes early before your scheduled departing time.
Bring a towel, sunscreen, sunhat, sunglasses and other sun protection gear.
Wetsuit tops are not included in tours, but there are some available to rent.
Snorkel and boat excursions are not recommended for pregnant guests or those with back problems.
Some tours have an age limit, so check prior to booking.