There is no better place to do shark diving than in Oahu, where you can find some of the most diverse shark populations in the world.
During your tour, you'll be able to see how these magnificent creatures swim and hunt up close. You'll also learn about their ecology and behavior. Shark diving tours in Oahu provide you with an experience that you'll treasure for a lifetime.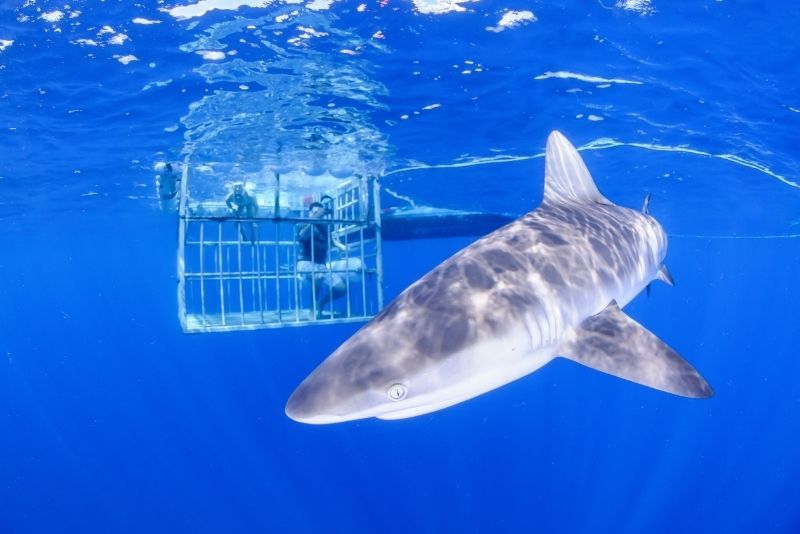 Here's all you need to know about shark diving, one of the most exhilarating water activities in Oahu.
What are the best shark diving tours in Oahu?
Shark cage dive in Oahu
Cage dives are a great way for those who are a little uneasy around sharks to get closer with the remarkable beings. While shark attacks are uncommon, you can feel at ease knowing you're protected from a bite by an aluminum cage.
You'll travel off the north coast of Oahu to a prime shark-spotting location. From the deck of your boat, you'll be able to see different species of the creature. You can spend the remainder of your tour admiring an array of sharks from the boat, however, you'll also have the opportunity to head down into the cage.
Descending into the ocean, you'll have visibility of up to 200 meters, which gives you plenty of opportunity to spot any sea creatures heading your way. The North Shore is home to several species of sharks, including the hammerhead, tiger, Galapagos and sandbar sharks. You can spend your time distinguishing the sharks apart by their head shapes, snouts and fin heights.
Cageless shark diving tour in Oahu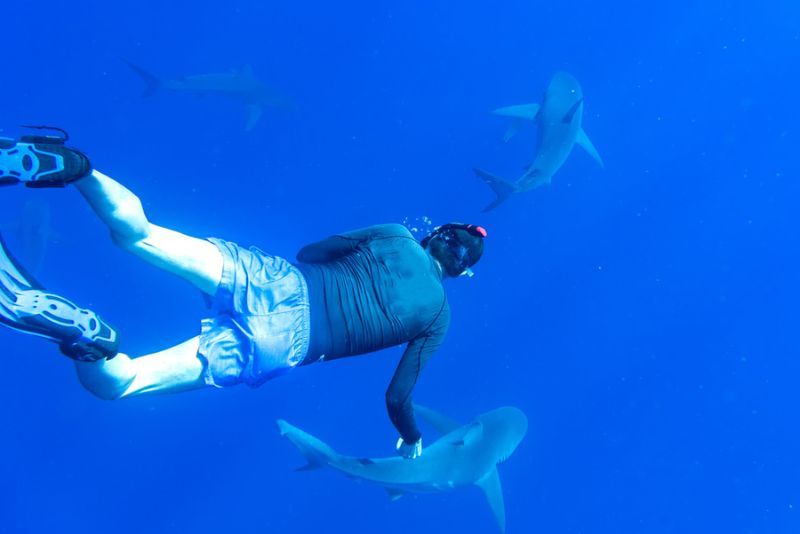 If you want to experience the spectacular beings without bars, try diving with sharks in the open sea. With marine biologist guides, you'll don your mask and head into the water to look out for the misunderstood creatures. The tour guides are passionate about marine conservation and will educate you on the many wonders of sharks.
There's no need to be scared as you swim among tiger and Galapagos sharks, as both rarely attack humans. While sensational media may have you believing otherwise, attacks on humans from these species are usually accidents. You can soak up the magical experience, safe in the knowledge that a professional guide is watching your interaction. As you dive, a photographer will capture you up close with the giant fish.
Pelagic shark dive tour in Oahu
On this open water shark diving tour in Oahu, you'll have the opportunity to see additional wildlife. As you travel towards the perfect location for spotting sharks, you can keep an eye out for the dolphins and humpback whales that frequent the waters.
Once you've reached your destination, you'll slip into the water in search of a shark experience. There are a plethora of shark species that call this stretch of ocean home. These include gray reef sharks and scalloped hammerhead sharks — which are known for their curved heads with a pronounced notch in the center.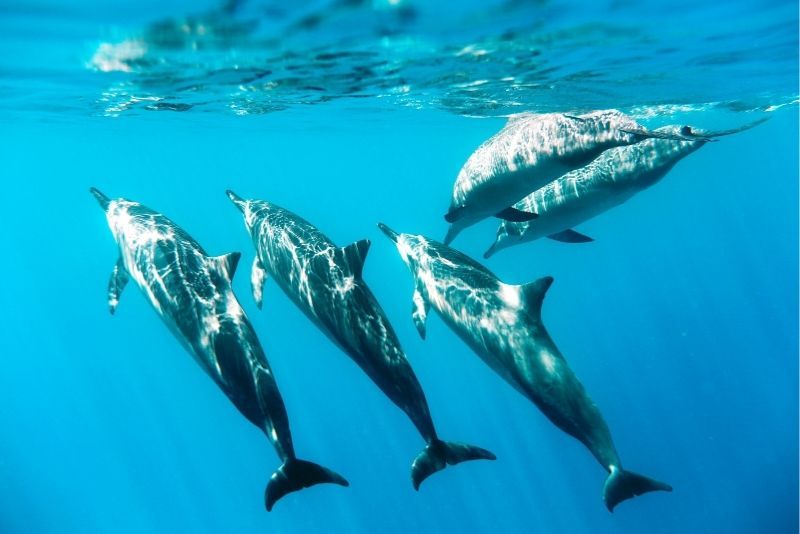 How much do shark diving tours in Oahu cost?
If you wish to participate in a cage dive, you'll pay between US$75 and US$140 per person. Those on the pricier side enable you to have more time in the cage.
Cageless and pelagic shark diving tours in Oahu cost between US$150 and US$160 per person.
What is included in a shark diving tour in Oahu?
On a shark diving tour in Oahu, you'll have an experienced guide with you at all times. They will teach you how to interact safely with the spectacular beasts and are on hand in case you have any questions.
All equipment is provided for you, such as snorkel masks.
In some instances, there will be a photographer capturing your experience underwater. You'll then be able to purchase photos of your tour for an additional cost.
Where do shark diving tours in Oahu start?
Most swimming with sharks experiences in Oahu begin at the Hale'iwa Boat Harbor, located on the North Shore. The best way to reach the harbor from the rest of the island is by renting a car for the day. Alternatively, you can catch a taxi from the main cities, such as Waikiki.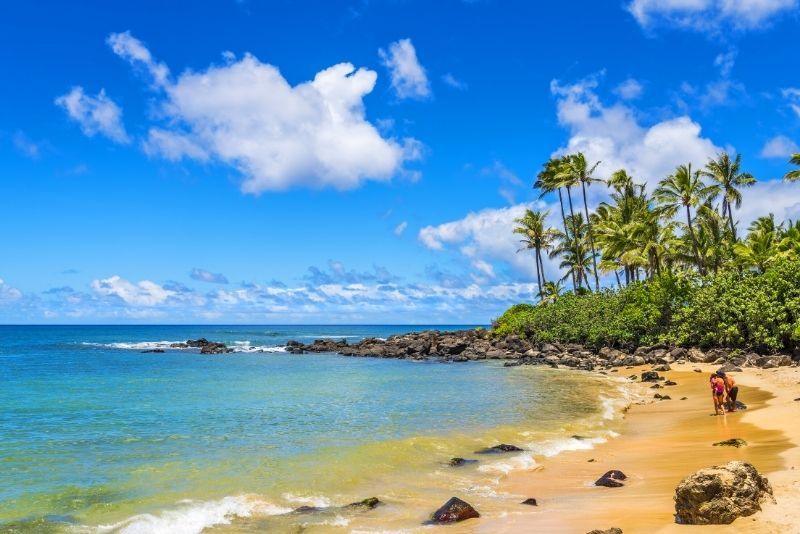 How long do shark diving tours in Oahu last?
Generally, shark diving tours in Oahu last between 1.5 and 2 hours. Bear in mind that some of this time will be spent traveling by boat to your destination and participating in a safety briefing.
When is the best time for a shark diving tour in Oahu?
Oahu shark spotting tours begin at a variety of times throughout the day. However, the ocean conditions are at their most favorable during the morning, when the water is relatively calm. Sharks also tend to be more active during the early hours.
Plan your shark diving adventure for the summer months, between April and October. During this time, the waves are milder, making for a safer and more enjoyable trip with better visibility.
Is it safe to take a shark diving tour in Oahu?
Shark diving tours in Oahu are safe for most travelers. You'll have an experienced professional with you at all times to read the situation and ensure your well-being. However, those with serious medical conditions are recommended against participating.
Are children allowed on a shark diving tour in Oahu?
Generally, children over the age of 2 are allowed to participate in a shark diving tour in Oahu, accompanied by their parent or guardian. However, each tour provider has different requirements, so check the conditions of your preferred excursion before booking.
What happens in case of bad weather?
Shark diving tours require calm and dry conditions. If the weather prohibits your excursion from going ahead, it will be rebooked for another day. If this isn't suitable, you can request a full refund.
Which other water activities can be done in Oahu?
Travel tips
If you experience seasickness, take the appropriate medication before your tour to enable it to take effect.
Sharks are famously misunderstood. Approach any shark diving tour with an open mind, and allow yourself to be wowed by the breathtaking sea creatures.
Apply reef-safe sunscreen before your excursion.