Explore the crystal clear waters around the island and see these majestic ocean dwellers in the wild by taking one of many dolphin watching cruises in Oahu. Visitors are also likely to spot whales, tropical fish, and sea turtles.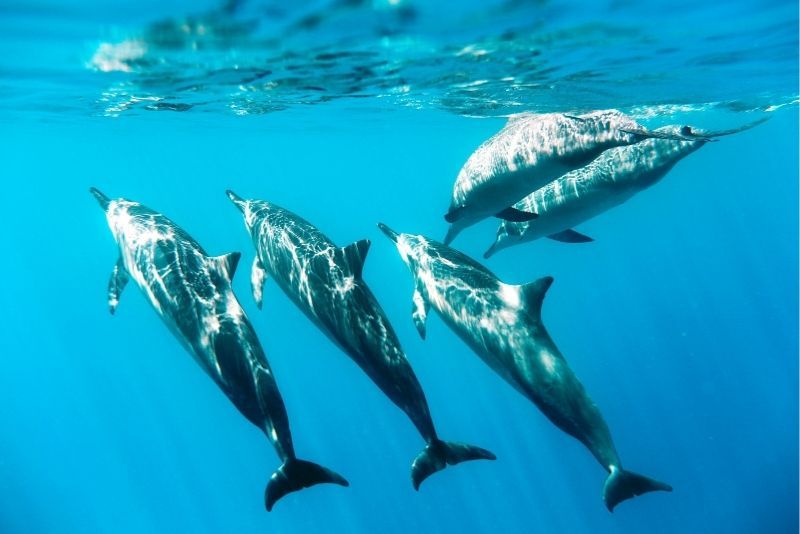 You will find all the information you need about dolphin watching cruises, one of the most fantastic outdoor activities in Oahu, below.
What are the best Dolphin Watching tours in Oahu?
Waianae dolphin watching and snorkel excursion
It's guaranteed you'll spot a dolphin as you set off around the coast in this small group tour. You will see some spectacular sights including a vast array of marine life and the scenic coastline, snorkel in Hawaii's most stunning reefs and learn about these creatures in their own habitat.
Snorkel cruise with dolphins and seasonal whale watching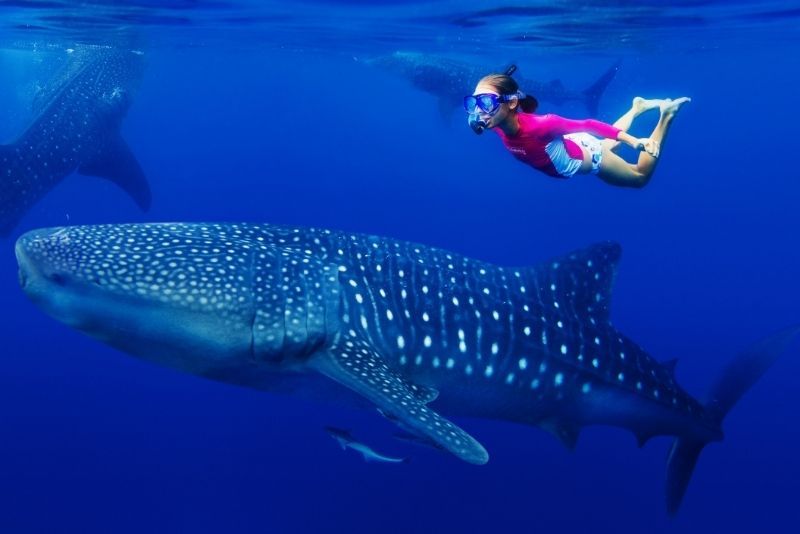 From December to May, the chances are high that you'll see both dolphins and amazing humpback whales. The group size maxes out at 15 guests, so you won't be crowded on this cruise. Check out the spinner dolphins from the boat and snorkel with tropical fish and turtles.
Dolphin watching and snorkeling catamaran cruise
With up to 42 passengers you will have plenty of company as you take in the breathtaking views of the sea and coastline around you. For sea-sick travelers, this boat is bigger so you'll be more comfortable.
Watch the dolphins swim and play up close before jumping in for a snorkeling look at the marine life.
Private cruise plus swimming with dolphins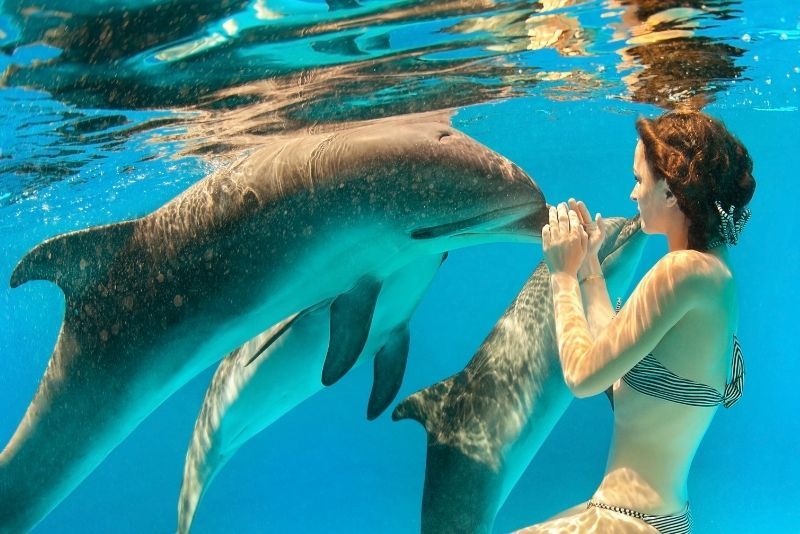 Take an exclusive private dolphin watching cruise for you and your group, or set up an intimate excursion for two. This tour offers privacy and control over your cruise that most tours do not. Learn about the dolphins and other majestic sea creatures that call Oahu home.
How much do Dolphin Watching tours in Oahu cost?
The cheapest tour is the dolphin-watching and snorkeling catamaran cruise, costing around US$160 per person.
A Waianae dolphin-watching and snorkel excursion as well as a snorkel cruise with dolphins and seasonal whale watching are both priced at around US$200 per person.
A private cruise plus swimming with dolphins costs around US$3750, for a group of up to 15 people. This comes down to US$250 per participant at maximum capacity.
What is included?
All tours include snorkeling gear, an educated guide, and dolphin watching from a boat. Some tours include food and drinks, with additional hotel pickup and drop-off.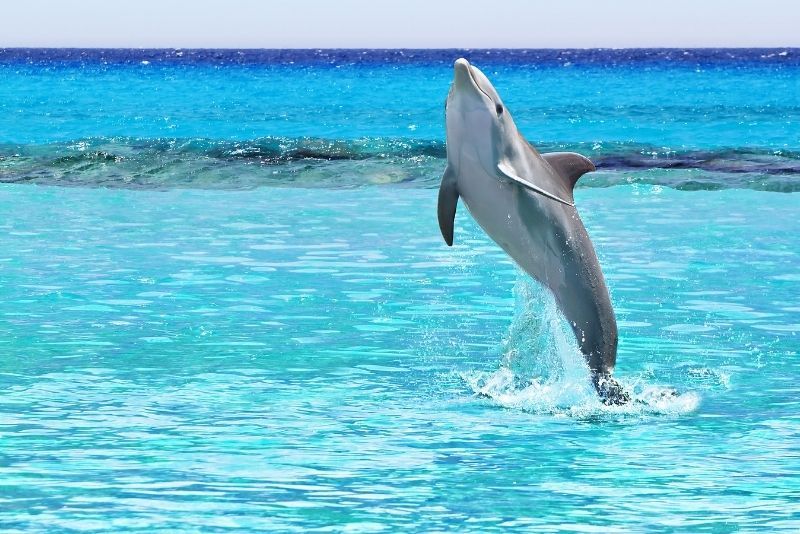 Where does it start?
If you are staying in a nearby area, your tour will include pickup and drop-off from your hotel. Other tours meet at the docks or at the small boat harbor.
How long does it last?
Your dolphin watching tour will generally last around 3 hours, with plenty of time to watch dolphins from your boat.
When is the best time for a Dolphin Watching tour in Oahu?
The best time to take a dolphin watching tour in Oahu is between December and May so you can see the humpback whale migration.
Dolphins are the most active in the morning so, for the best sightings, it is recommended to take your tour during this time.
Are there any combo tours available with Dolphin Watching in Oahu?
You can combine your dolphin watching tour with entry to the Sea Life Theme Park to swim with dolphins. Check out these amazing creatures up close and personal. You will learn all about them as you interact for a truly unforgettable experience.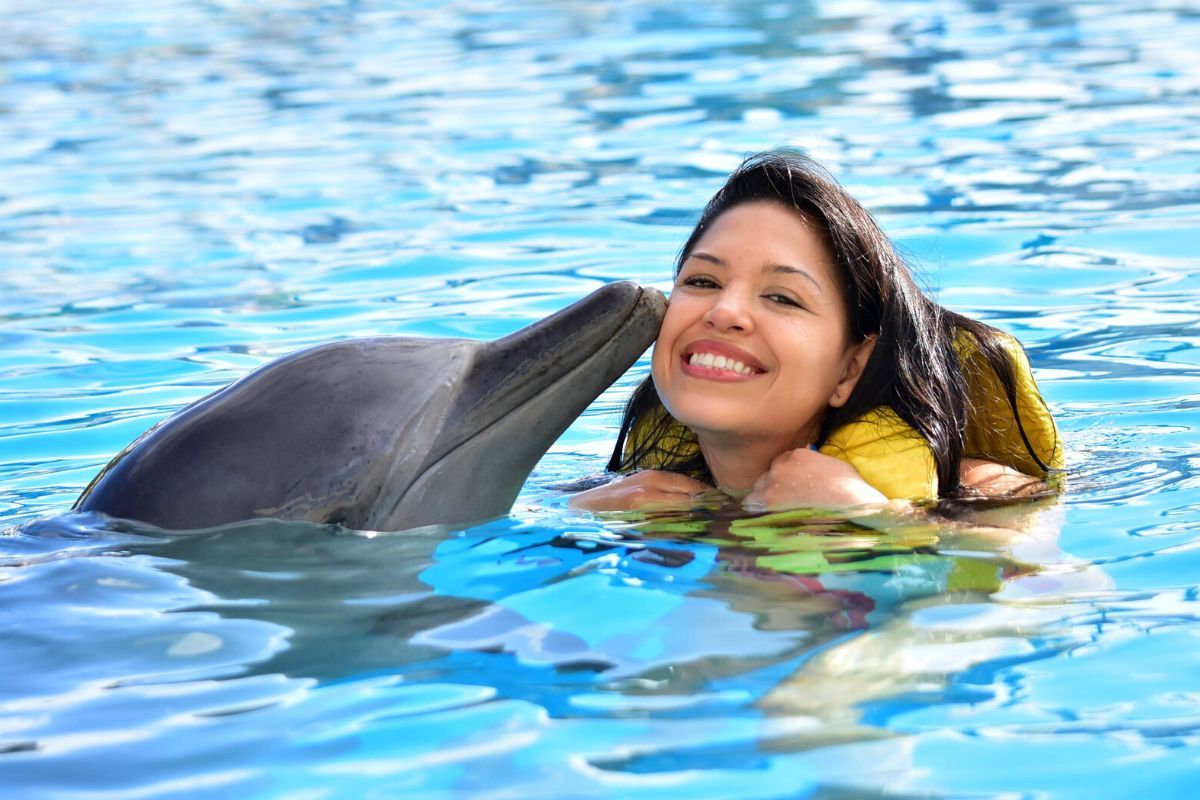 What happens in case of bad weather?
In case of bad weather, many tours may cancel their dolphin watching excursions. If this does happen, you will be given a refund or your tour will be rescheduled for another day.
Which other water activities can be done in Oahu?
Travel tips
You may not be able to participate in this tour if you have a heart problem or a serious medical condition. It is also not suitable for children under 4 years old.
Some tours offer a free second trip if you do not see any dolphins while you are out on the water. Make sure you check beforehand if this applies to your tour.