Turtles are one of the world's most fascinating and beloved sea creatures. Most species of turtle are endangered and spotting them in the ocean is a rare treat.
One exception to this rule is Turtle Canyon off the coast of Oahu, where Hawaiian Sea Turtles also known as Green Sea Turtles float above the shallow reef and are cleaned by the many smaller reef-dwelling fish.
If you book a Turtle Canyon snorkeling cruise in Oahu, you are pretty much guaranteed to twirl around the ocean alongside these graceful aquatic reptiles.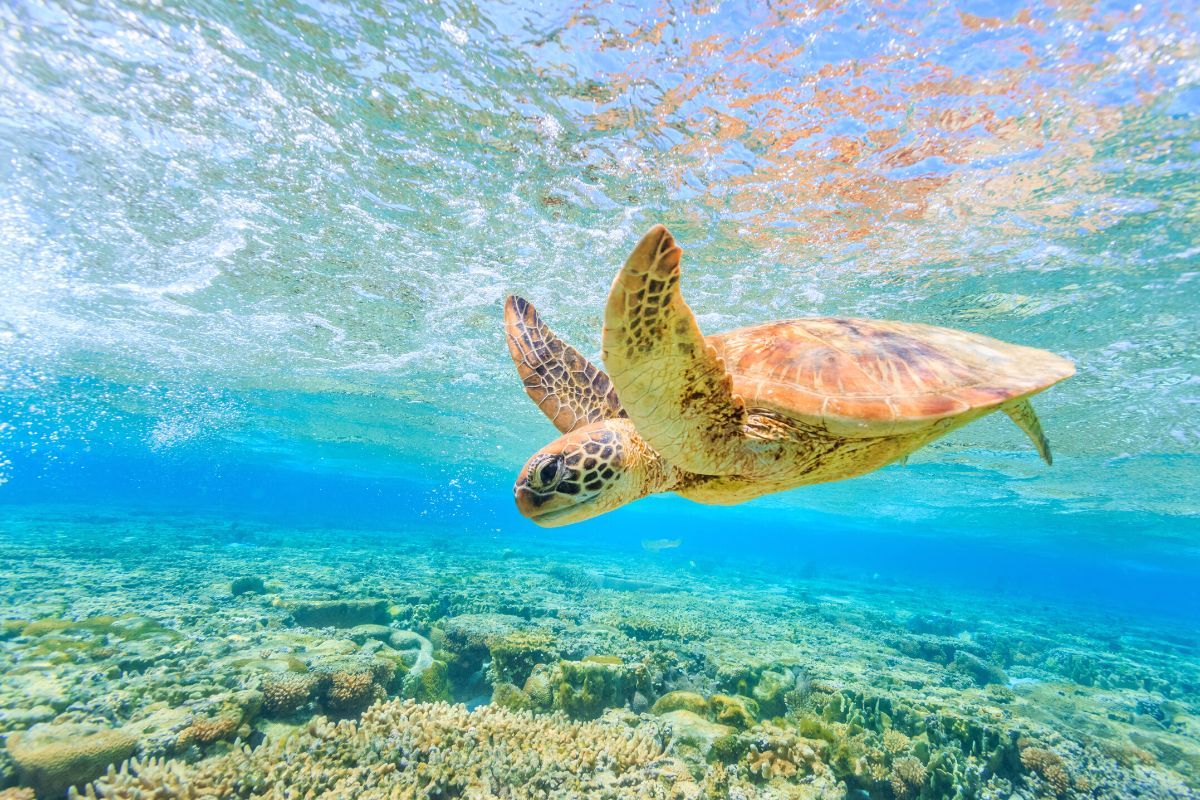 A once-in-a-lifetime opportunity, a Turtle Canyon snorkeling cruise is the perfect choice for outdoor activities in Oahu.
Where is Turtle Canyon located in Oahu?
Turtle Canyon is located on the southern shore of Oahu, Hawaii, about 2.5 kilometers off the coast of Waikiki. If you are staying in Honolulu, Waikiki and the harbor are around a 10 minute drive away.
What are the best Turtle Canyon snorkeling tours in Oahu?
The biggest differences between Turtle Canyon snorkeling cruises are the size of your group, tour length and the time of day the tours operate. Once on the reef, you will be exploring beneath the surface alongside participants from other tours.
If for any reason you do not see turtles while snorkeling, your tour operator will give you the opportunity to book a place on another trip at no cost.
Catamaran Turtle Canyon snorkeling cruises
On a catamaran Turtle Canyon snorkeling cruise, you will board your vessel, the 'Honi Olani' with as many as 80 other passengers and enjoy a festive atmosphere as you sail for around 15 minutes to your spot above the canyon reef.
You have a choice of a morning or midday tour and will have plenty of time to snorkel and scout the reef for turtles and other tropical marine life.
While relaxing and enjoying some refreshments onboard the catamaran, keep your eyes open for marine mammals like dolphins and whales that may be passing by.
Small-group Turtle Canyon snorkeling cruises
Small-group Turtle Canyon snorkeling cruises run up to 3 times a day. Your cruise will host no more than 20 passengers per departure and you will be able to relax and appreciate the Hawaiian coastline from another perspective as you head to Turtle Canyon.
After exploring the reef and observing the turtles and the fish that live among the coral, you will have some leisure time to sunbathe on floating platforms before heading back to shore.
How much does it cost?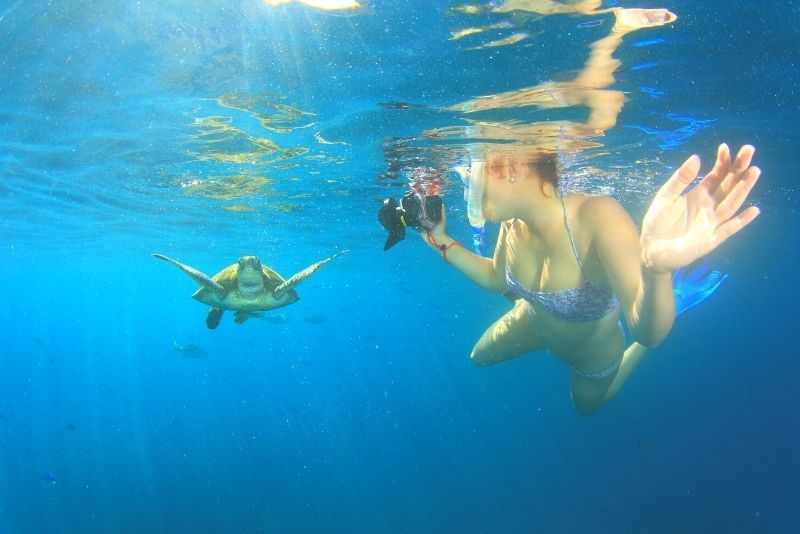 A 2-hour early morning catamaran cruise to Turtle Canyon costs from US$220 per person while a 3-hour midday cruise including lunch starts at US$330 per person.
A 2-hour small-group Turtle Canyon snorkeling cruise will cost you around US$85, while a 4-hour tour starts at US$100 per person.
Scheduled tours depart every 3 hours, from around 8 AM until the early afternoon.
What is included?
On a catamaran snorkeling cruise to Turtle Canyon, all snorkeling equipment, professional guide, snacks and unlimited non-alcoholic beverages are included. You will also receive two drink tickets for a selection of wine, sparkling wine, beer or cocktails. If you have booked a lunch cruise, your cruise will also include a deli lunch.
If you would prefer a smaller group cruise, the activity usually includes a snorkeling guide, all necessary equipment and light refreshments and snacks onboard the boat.
Where does it start?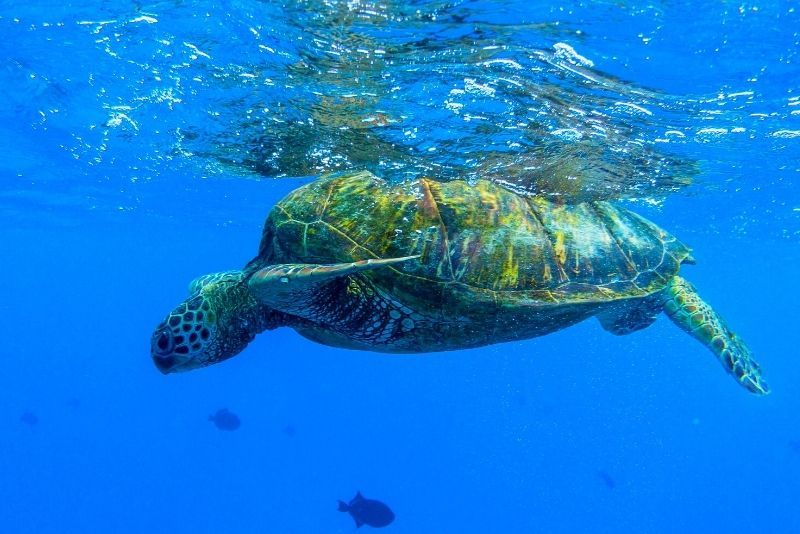 Most Turtle Canyon snorkeling cruises depart from one of the slips at the Kewalo Basin Harbor. You will either be asked to make your way to the slip or asked to meet at the tour operators offices on the pier.
How long does it last?
The typical duration of a Turtle Canyon snorkeling cruise is 2 hours. Midday cruises that include lunch last for 3 hours, but you can opt for a 4-hour tour if you would like to spend a little more time beneath the waters at this unique site.
When is the best time for a Turtle Canyon snorkeling cruise in Oahu?
Summer is the best time for Turtle Canyon snorkeling excursions as the waters are calmer. Between 11 AM and 1 PM is also best for turtle viewing as they are more active in the warmer hours.
If you're lucky, during the summer months you may even see a turtle that has made its way onto the beach to warm up.
Which other water activities can be done in Oahu?
Travel tips
Book your tour well in advance to avoid disappointment.
Pack sunscreen, sunglasses, a towel and a hat.
Save your alcoholic drinks for after your time in the water.
Ask about hiring a GoPro to capture your underwater experience.
Remember some cash if you would like to tip your crew.