Step into a prehistoric world of lush rainforests, dramatic coasts, and ancient culture as you explore the Kualoa Ranch Private Nature Reserve. This wild and remote land in northern Oahu is one of Hawaii's top visitor attractions.
Use your Kualoa Ranch tickets to walk in the footsteps of dinosaurs as you tour movie filming locations. Then embark on an ocean adventure to secret islands where sea turtles play.
How much do Kualoa Ranch tickets cost?
There is no single Kualoa Ranch entrance fee, just prices for the individual tours that you will enjoy onsite. Here are the costs for the top experiences available at Kualoa Ranch:
Hollywood Movie Sites Tour: Adults $56, Children (3-12 years) $39
Jurassic Adventure Tour: Adults $147, Children (3-12 years) $73
Ocean Voyage Adventure: Adults $54, Children (3-12 years) $39
Jurassic Valley Zipline: All participants $183
Horseback Riding Tour: Adults $152, Children (10-12 years) $94
Multi-passenger ATV Raptor Experience: Adults $152, Children (5-12 years) $73
Jungle Expedition Tour: Adults $54, Children (3-12 years) $39
The Kualoa Ranch tickets price includes all taxes and fees, and the minimum age for participants on most tours is three years.
For the ultimate adventure, there is an immersive tour that combines three of the most exhilarating experiences. The Kualoa Ranch rate for this option is $157 for adults, and $105 for children. It includes movie set tours, jungle expeditions, and lunch.
Should you book Kualoa Ranch tickets in advance?
We highly recommend booking your Kualoa Ranch tickets in good time before your visit. This is one of the most popular attractions on Oahu and tours often sell out several weeks in advance.
By reserving a place ahead of your vacation, you will also be able to choose the best dates and time slots to suit your schedule.
What will you experience at Kualoa Ranch?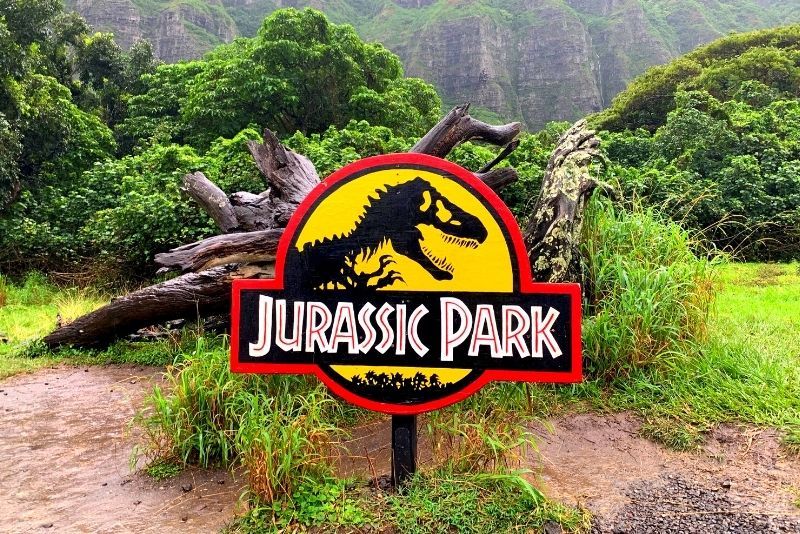 Kualoa Ranch entry is only available on a guided group tour as this 4000-acre estate is a designated private nature reserve. All Kualoa Ranch tours last between 1 hour – 2.5 hours, depending on which activity you choose.
Your expert local guide will tell you about the history of Hawaii, including stories of the legendary paniolos (cowboys), as you explore the inspiring natural locations around the reserve.
Options for Kualoa Ranch guided tours include visiting movie sets, enjoying adventure activities, and exploring the coast by catamaran. Here are the top experiences on offer:
Hollywood movie sites tour
The most coveted Kualoa Ranch tickets are for the movie tour, where you will journey through tropical rainforests and dramatic valleys in search of some of Hollywood's most iconic filming locations. This is a land of monsters and mysteries, where over 200 blockbusters have been shot since the 1950s!
Traveling by vintage school bus, you will discover scenes from Kong Skull Island, Finding 'Ohana, Jumanji, Godzilla, and of course Hawaii Five-O. The stars of the show are locations from the Jurassic Park franchise, including the dinosaur paddocks and the vast prairie where the prehistoric giants roamed free.
Adventure activities
The forests of the Ka'a'awa Valley are a paradise for energetic explorers, with several activity experiences that take you into the heart of this lush wilderness.
Feel the thrills on a zip lining adventure, as you fly along seven lines suspended high in the trees. Meanwhile, horseback riding tours offer one of the most authentic ways to discover the Kualoa Ranch, with visits to World War II bunkers and superb views of the Pacific.
Adrenaline junkies can get behind the wheel of a multi-passenger ATV and head off-road to explore the more remote reaches of the estate.
Ocean discovery voyage
On this sea tour, you will set sail around the beautiful Kaneohe Bay and drink in views of the sacred Kanehoalani mountain. Secret islands, remote beaches, and turtle spotting are all highlights of this relaxing trip.
Kualoa Ranch tickets for the ocean voyage include a 20-minute fishpond boat tour and a 45-minute catamaran excursion.
Where is the Kualoa Ranch located?
The Kualoa Ranch is situated 45 minutes by road from Honolulu, up on the northeastern coast of Oahu. It's easy to reach if you are traveling by car, using the H1 then routes 63 and 83 before heading along the coast.
Want to travel by bus? There are several routes running between Honolulu and the Kualoa Ranch, with stops near many major Waikiki Hotels.
When is the best time to visit the Kualoa Ranch?
If you time your Kualoa Ranch visit between April and September, you will enjoy warm temperatures and little rain. To avoid the crowds, come in the shoulder seasons in spring or fall.
It can rain a lot during winter from December through to March, but this is when the lush landscapes spring to life so it can be a beautiful time to travel. Just pack a poncho!
Which other attractions can be visited in Oahu?
Travel tips
Book your Kualoa Ranch ticket in advance so you can compare prices online and bag the best time slots.
Tours last up to 2.5 hours so why not book several for a full day of adventure?
Watch movies like Jurassic Park, Jumanji, and Finding 'Ohana and see if you recognize the filming locations during your Kualoa Ranch tours.
If you want to store luggage, there are lockers at the entrance which can be rented for $5 per day.
Tours go ahead during rain or shine (unless the weather is particularly hazardous), so you might want to take a rain jacket or poncho just in case.