If you want to explore the diverse waters that surround the breathtaking island of Oahu, then a kayaking tour is for you. You can follow the shoreline, dipping in and out of secret coves, or follow sea turtles as they travel through the open water.
Kayaking tours in Oahu enable you to safely interact with sea creatures while protecting their natural environment and learning about the delicate ecosystem of the island.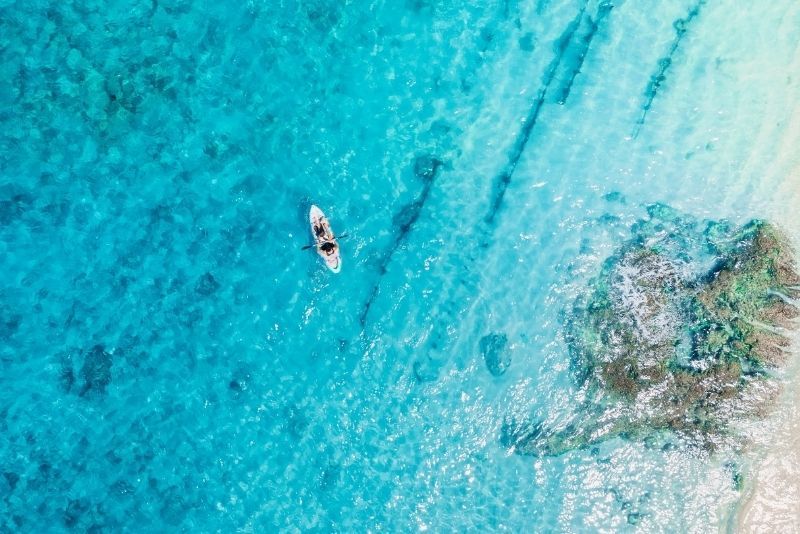 You will find below all you need to know about kayaking tours, one of the most fun outdoor activities in Oahu.
What are the best kayaking tours in Oahu?
Guided Kailua kayak tour
As you paddle out from the shores of Kailua, you'll see your destination — the Mokulua Islands — come into view. The name translates to "two islands" in English and they are often referred to as the "twin islands" on Oahu.
Both of the Mokulua Islands are seabird sanctuaries and are home to an array of tropical birds, such as the wedge-tailed Shearwater.
Drifting through the waters of Kailua Bay, you'll visit secret coves and spectacular spots that only locals know. You'll have the opportunity to snorkel through the clear waters off the coast and see species that include Hawaiian green sea turtles and Hawaiian monk seals.
You'll also learn about sustainable tourism and how you can interact with sea creatures while preserving their habitat. Do your bit for the environment and collect marine plastics, as you kayak through the bay, which naturally take over 450 years to decompose.
Oahu kayak rainforest river tour
If you want to experience Oahu's incredible lush greenery, take a kayaking tour that travels through the rainforest. Surrounded by aged trees and towering hills, you'll lazily kayak along the river witnessing the joys of mother nature. As you paddle, you'll hear the sounds of the rainforest, which may include the endemic Hawaiian goose called nene.
Kayaking is easy to pick up, and you and your partner will guide yourselves along the river in a tandem kayak for two. En route, you'll have the opportunity to make a splash into the water from a rope swing. As your tour is self-guided, you'll feel like the only people in the world, as you travel past the verdant mountains and tree-lined river banks of Oahu.
How much do kayaking tours in Oahu cost?
Oahu kayaking trips vary in price, depending on which area of the island you'd like to explore. Single-person kayak rental can cost from €50 for half day, while tandem kayak rental for 2 hours cost around €75 per person.  
You'll pay approximately US$80 per person for a kayaking tour in Oahu that travels through the rainforest.
If you wish to kayak through Kailua Bay to the Mokulua Islands, you can expect to pay between US$110 and US$270 per person. Tours that include surfing cost around US$200 per person.
What is included in a kayaking tour in Oahu?
While some kayaking tours in Oahu are self-guided, the majority include a local guide who is an expert at kayaking. You'll be provided with a kayak, as well as safety equipment including a life jacket.
If your trip includes snorkeling, you'll be provided with a mask as well.
Many tours also include refreshments or lunch.
Where do kayaking tours in Oahu start?
Oahu kayaking tours usually depart from the bay you'll be exploring. Depending on the excursion you select, this could be Waikiki Beach or Kailua Bay.
You'll be informed of the meeting point before booking so that you can arrange your transportation ahead of time.
Occasionally, tours include a complimentary pickup service from select hotels across the island.
How long do kayaking tours in Oahu last?
Typically, kayaking tours in Oahu last between 3 and 5 hours. This gives you plenty of time to explore part of the tropical island from the water.
If you have less time to spare, you can participate in a 2-hour tour. You will see less of Hawaii's natural wonders, but you'll still enjoy the experience of paddling through the island's calm waters.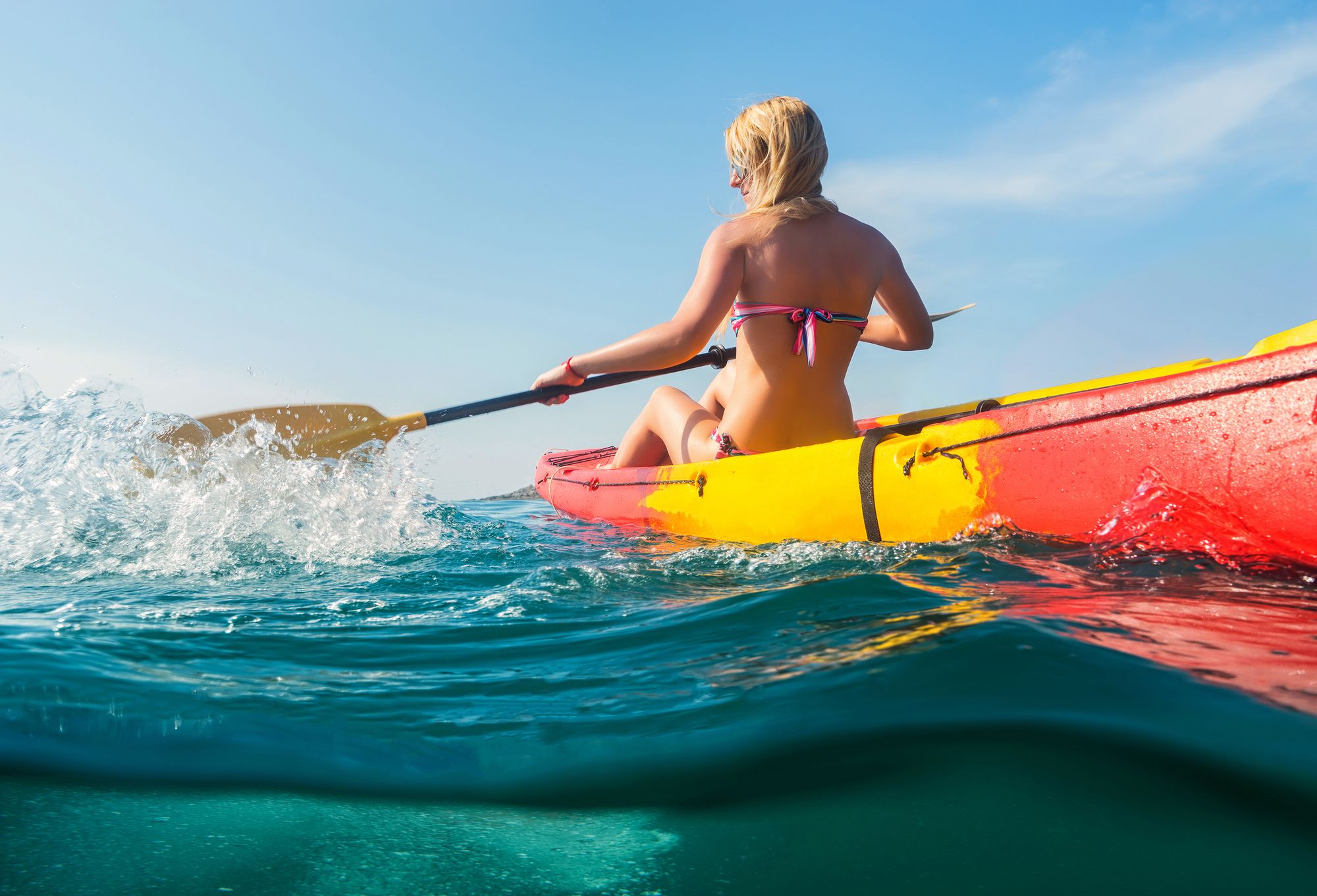 When is the best time for a kayaking tour in Oahu?
The best time to take a kayaking tour in Oahu is during the dry season — from April to October. During these months, the seas are calmer, making the water friendlier for both expert and beginner kayakers.
You can participate in a kayak excursion at any time of day. However, try heading out in the morning while the weather is mild.
Are there any combo available with kayaking tours in Oahu?
Kayak, snorkel and surf tour in Oahu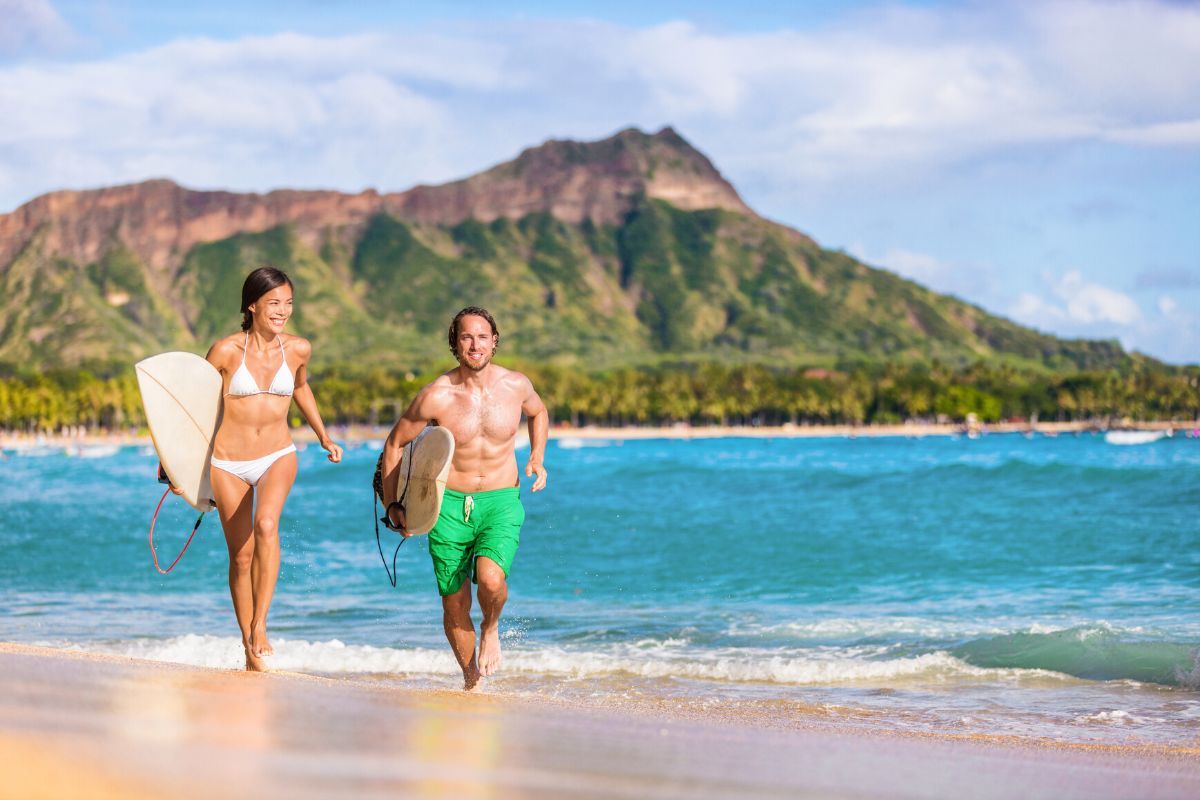 On this tour, you'll try your hand at a selection of water sports such as surfing in Oahu's famous spots, alongside your local guide. You can choose to paddle out of Waikiki on a paddleboard or kayak towards Turtle Canyon — a prime snorkeling spot.
After swimming alongside Hawaiian green sea turtles, you'll head to a shipwreck, which is abundant with tropical creatures. Before you return to Waikiki Beach, you'll try Hawaii's iconic sport — surfing — and attempt to catch some waves.
Are children allowed on a kayaking tour in Oahu?
All tours differ in their age restrictions. While some excursions welcome children from the age of 4, others prohibit those under age 10 from joining in. Check your preferred tour's limitations before booking.
What happens in case of bad weather?
Kayaking tours in Oahu require dry and calm weather in order to operate. If the weather prohibits your excursion from going ahead, you'll be able to reschedule for another day. If this isn't possible, you'll be issued a full refund.
Which other water activities can be done in Oahu?
Travel tips
Apply plenty of sunscreen regularly, as the sunrays are much stronger on open water than on dry land.  
No need to worry if you're a beginner in kayaking, as your instructor will show you the basics before setting off.
If you have any dietary requirements, inform your tour provider upon booking if your package includes a meal.