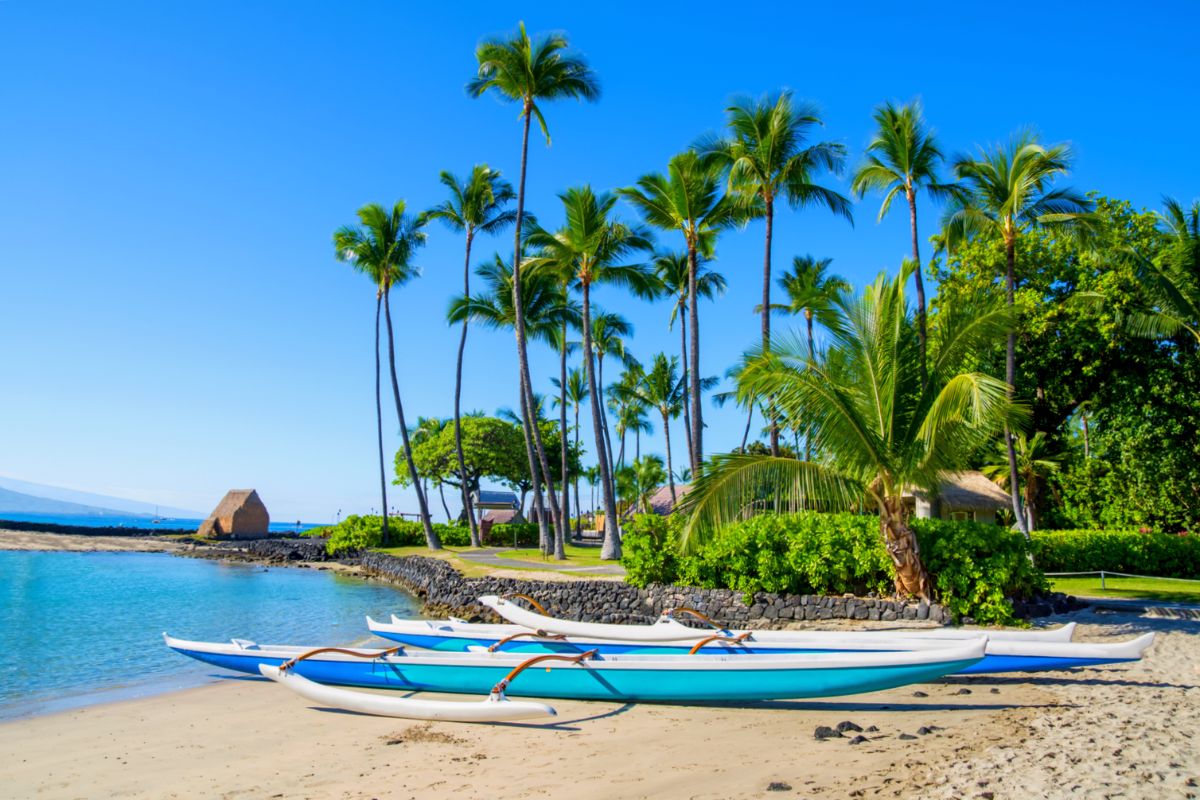 Epitomizing the raw beauty, endless adventure, and friendly atmosphere that Hawaii is all about, Kona has been welcoming travelers for decades. Situated on the Big Island's west coast, this charming little town is framed by white-sand beaches, emerald mountains, and dramatic volcanic landscapes.
Sitting in the shadow of the ominous Hualalai volcano, the historic Kailua-Kona region was once a retreat for Hawaiian royalty. These days, it's better known as a playground for outdoor enthusiasts, with ample opportunities for hiking, biking, snorkeling, world-class surfing, and scuba diving. And with some 40 miles of rugged coastline hugging Hawaii Island's western shores, that's just the tip of the iceberg when it comes to things to do in Kona.
Culture vultures and history buffs will find plenty to love in Kailua-Kona as well. The town is home to a number of excellent museums, art galleries, and historic sites, while the surrounding greenery (like the Kaloko-Honokohau National Historical Park) blends history with nature, with petroglyphs and thatched roofed houses, like very few areas can.
Shopaholics can browse the myriad of independent boutiques and shopping centers in search of that perfect Hawaiian souvenir. And foodies will be spoiled for choice with the abundance of fantastic restaurants serving up everything from oh-so-fresh seafood to traditional Hawaiian fare.
So whether you're looking for a relaxing beach vacation at this oceanfront playground or an action-packed adventure exploring the island's lush interior, or something in between, Kailua-Kona offers activities for everyone. Ready to start exploring? Let's dive into 51 of the best things to do in Kona, Hawaii.
1 – Explore the Kailua-Kona town to get your bearings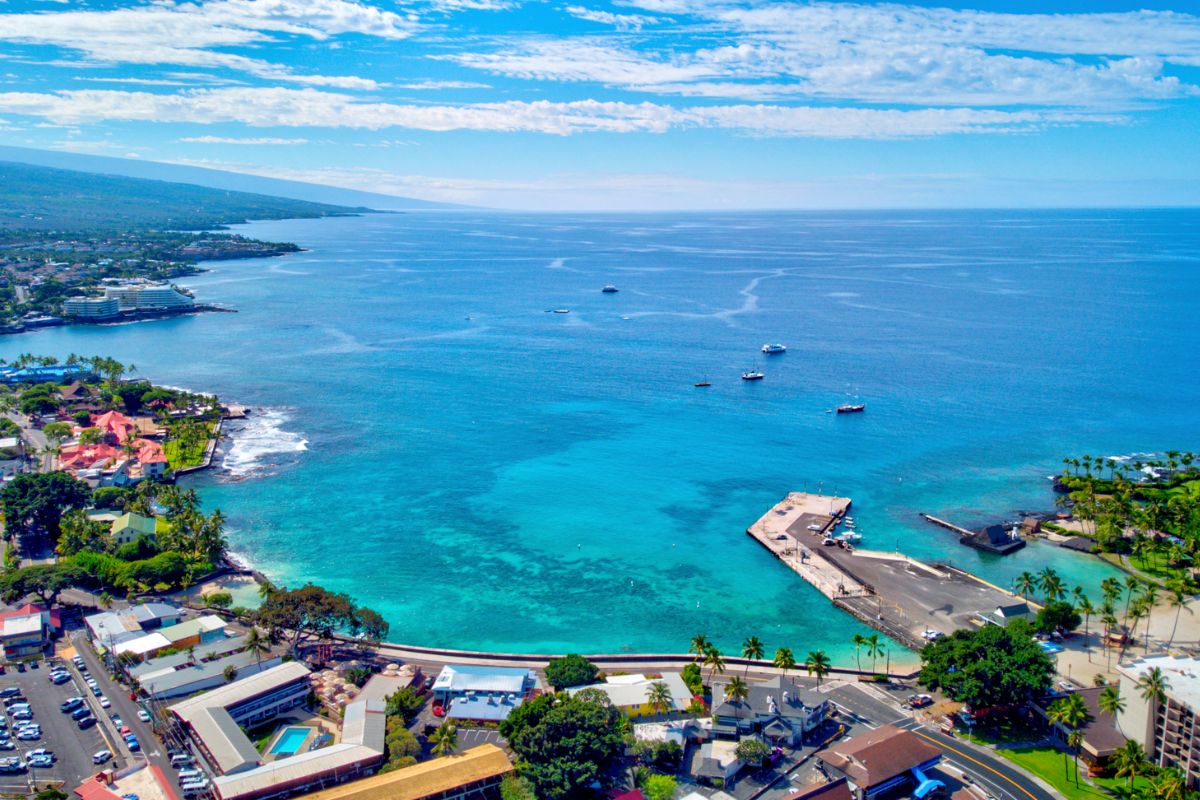 The vibrant heartbeat of the Kona Coast, acting as the home base for Big Island travelers, and often the first point of call (thanks to its proximity to the island's main airport), Kailua-Kona town is where you'll find most of the shopping, dining, and nightlife options. The waterfront area around Ali`i Drive is especially popular with visitors, as it offers some excellent oceanfront restaurants serving up fresh seafood (more on that later).
While golden beaches, world-class waves, and lush green mountains may be the first things that come to mind when you think of Hawaii, the state's rich culture and history are on full display in Kailua-Kona too; more than just a pretty face, Kona was founded by King Umi in the 1500s and thus boasts a rich, complicated past, serving as the religious and political capital of Hawaii for several hundred years.
These days, the town has morphed into a melting pot of cultures, with a vibrant food scene, excellent museums and art galleries, and plenty of historic sites to explore.
A good place to kickstart your historic town walkabout – Kona is, after all, a town made for walking – is the Hulihe`e Palace, a beautiful royal residence that was once the vacation home of Hawaiian royalty. These days, it's open to the public and houses an excellent museum with artifacts and exhibits detailing the history of Hawaii and the royal family. From there, the Mokuaikaua Church awaits – built in 1820 and considered the oldest Christian church in Hawaii.
For a taste of local art and culture, head to the Kona Oceanfront Gallery or the Kailua Village Artists Gallery, which showcase rotating exhibitions of work by local artists, or the Island Breeze Luau, where you can admire a traditional Hawaiian dance and fire-walking show while tucking into a delicious luau dinner.
When it comes to shopping, Kailua-Kona town doesn't disappoint, from high-end designer boutiques to souvenir shops selling t-shirts and Hawaiian coffee. For locally made arts and crafts, head to the Kona Inn Shopping Village, located in the center of town, or the Alii Drive Shopping Center, where you'll find several excellent galleries and shops.
And if you're looking for fresh produce, head to the Kona Farmers Market, held every Wednesday and Saturday morning.
As you can see, this historic town is so much more than just a centuries-old history lesson — and we haven't even touched on the sun-kissed beaches yet…
2 – Start the morning at the Mountain Thunder Coffee Plantation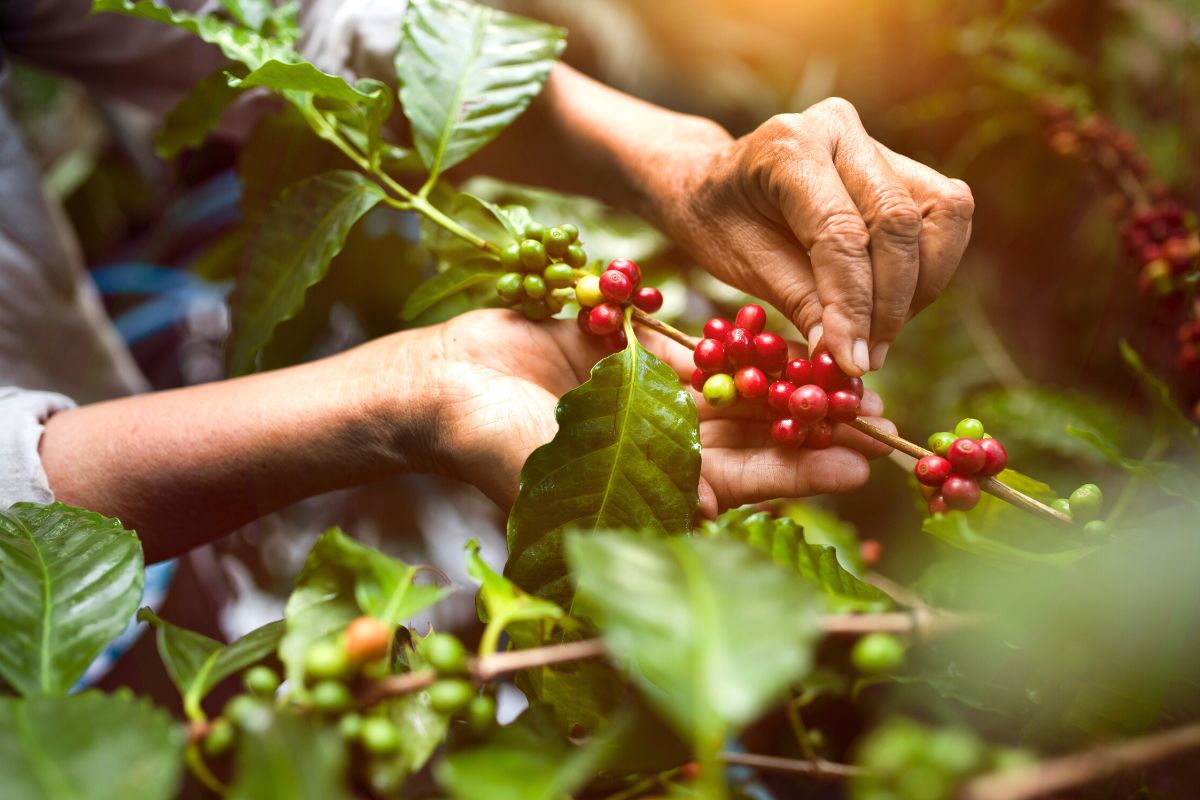 For coffee lovers, a visit to the Big Island wouldn't be complete without a stop at one of the many local coffee plantations. And while there are several excellent options to choose from, it's hard to go past Mountain Thunder Coffee Plantation as one of the frontrunners, located just outside Kailua-Kona town, a winding 20-minute drive up into the mountains,
With free 20-minute tours of the roastery and plantation (every half hour from 9:30 AM until 3:30 PM, 7 days a week), you can follow the locals around as they explain the workings of the plantation, from the coffee trees themselves through to the roasting and packaging process, as well as learning about how fruit is milled and dried to produce green coffee. Of course, there'll be free coffee samples along the way.
Once you've got your coffee fix, make sure to check off the Self-Guided Lava Tube & Nature Walk – a highlight reel of Hawaiin horticulture and wildlife (keep your eyes peeled for chameleons, parrots, and butterflies) with scenic views of the coast to boot.
Interesting handicrafts (and to-go coffee) are aplenty at the on-site store, while the plantation's Roast Master Experience Tour – a 90-minute hands-on with the master roaster – is ideal for a group of coffee connoisseurs.
Hot tip: Mountain Thunder is sandwiched in between the Kona Cloud Forest Sanctuary and Hawaii Laser Tag, so depending on what kind of day you have in mind, the area has plenty to choose from to make an afternoon of it.
3 – Go snorkeling with giant manta rays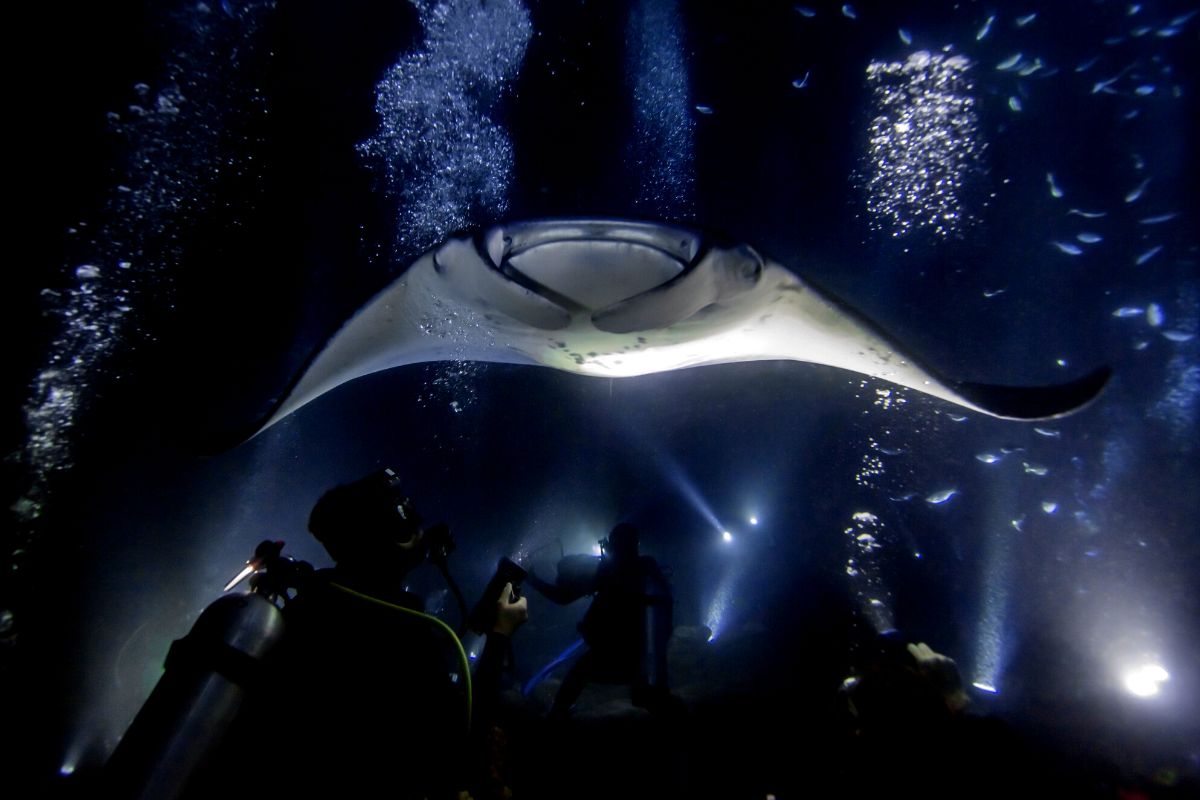 Blessed by close to 40 miles of coastline, with warm waters, soft white-sand beaches, and excellent conditions for snorkeling and diving, it's no wonder Kailua-Kona is one of Hawaii's most popular tourist destinations for offshore activities – namely, swimming with manta rays.
A bucket-list experience for many, there are several reputable tour operators in town that offer manta ray snorkeling trips, departing (usually) from the Honokohau Marina just north of Kailua-Kona town.
Typically, the rays congregate around four particular areas: Kaukalaelae Point (but most people know it as Manta Village), Manta Heaven in Makako Bay, and the Kohala Coast resort (plus the Manta learning center in the Sheraton Kona resort).
Although most of the sites are within 100 yards of shore, due to the rocky volcanic coastline, they are best accessed by boat — thankfully, manta ray snorkeling tours are not hard to find!
After meeting at the dock, you'll board a small boat for the short ride out to the snorkeling area, where you'll drop anchor and slip into the water with your snorkel, mask, and fins. Even if you've never snorkeled before, the guides will give you a quick lesson on how to use the equipment and what to expect.
Looking for an extra special experience? Consider a night snorkel – easily one of the most magical and surreal things to do in Kona. These moonlit swims – often combined with a sunset sail – provide a more intimate interaction with the manta rays as they come to feed on the plankton attracted to your dive light.
4 – Zipline over rugged jungle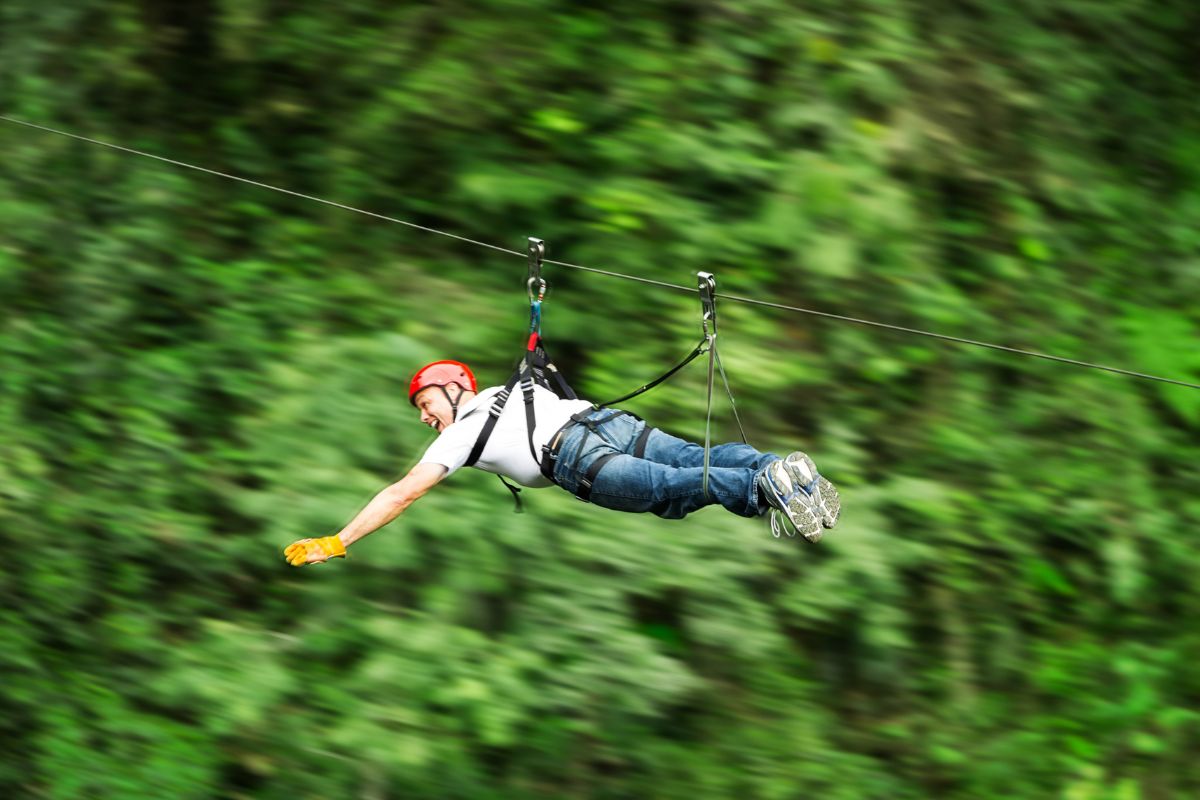 Craving an adrenaline rush? Comprising lush canopies, rolling hills (read: volcanos), and plunging valleys, the Big Island is one of the best places in Hawaii – if not the US – for ziplining.
With nearly a dozen different options to choose from, there's a tour to suit every thrill seeker, whether you're looking for the longest zip line on the island (nearly 2,700 feet long!), or prefer your ziplining with a side of river rafting or waterfall rappelling.
Curiosity sparked by the latter? The 9-line 'Zip-N-Dip Experience' is a popular excursion for a reason: set around the Umauma River (and Umauma Falls), this adventure haven combines the zipline circuit with a 200-foot (60-meter) suspension bridge, kayaking and stand-up paddleboarding, and a hearty lunch — about 4 hours all up.
On the northwestern corner of the island, a handful of zipline courses are located in North Kohala, about an hour's drive north of Kailua-Kona. Here, not only will you get to fly high above some of the most gorgeous tropical scenery Hawaii has to offer, but you'll also learn about the island's history and culture from your expert guides too.
Despite its moniker, almost anywhere on the Big Island can be accessed from Kona in under 90 minutes – so you've got the full bounty of experiences to choose from. Plus, with pickup and drop-off from your resort included in most tour prices, you won't have to worry about renting a car or navigating unfamiliar roads.
5 – Pay a visit to the unique Kona Salt Farm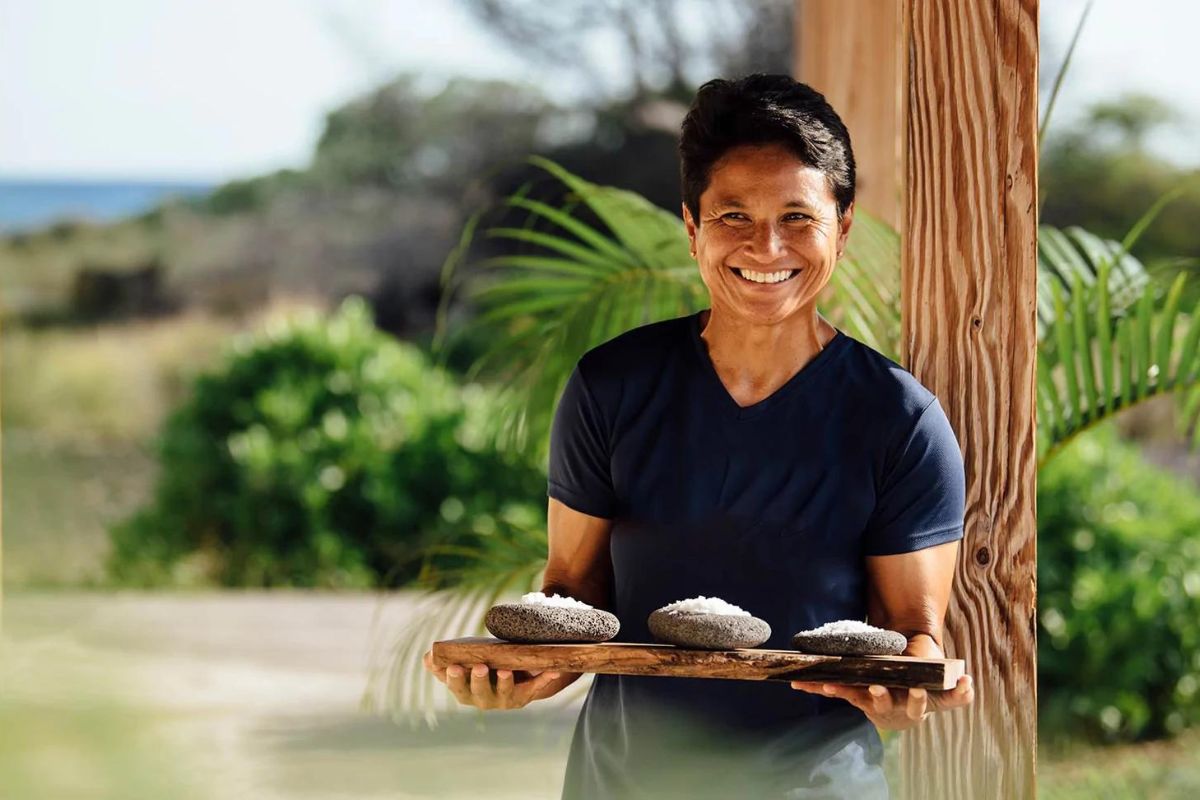 Proudly being the only salt farm on the Big Island, Kona Salt Farm — which sits on 7 acres of oceanfront space at the beautiful Kona Keahole Point — is a great place to learn about the production of salt and how it's used in everyday life, not just for cooking.
Harvesting salts and minerals from deep on the ocean floor (some 2,000 feet below the surface), a visit to this unique attraction dives into the behind-the-scenes salt harvesting process of one of the highest quality finishing salts in the world, from start to finish, exploring topics like hand-harvesting and solar evaporation.
Now very much a tourist attraction (due to the rare mineral-rich product seldom found elsewhere), the Kona Salt Farms runs regular tours for those wanting who want to learn about the process and taste some gourmet salts at the end.
Led by a local salt farmer, you'll discover tidbits about the history of The Hawaii Ocean Science and Technology Park; the importance location plays in creating top-tier salt; why deep ocean water is different, and an overview of different types of salt (from smoked to flavored to those you didn't know existed!)
And, of course, you'll have the chance to sample the very best batches alongside refreshing Hawaiian fruits and vegetables.
Before you go, be sure to pop into the onsite store, where you can create your own salt gift set for the folks back home and grab a couple of bottles of the Deep Ocean Magnesium Sparkling Mineral Water.
6 – Sample fresh fruits at the Kona Farmers Market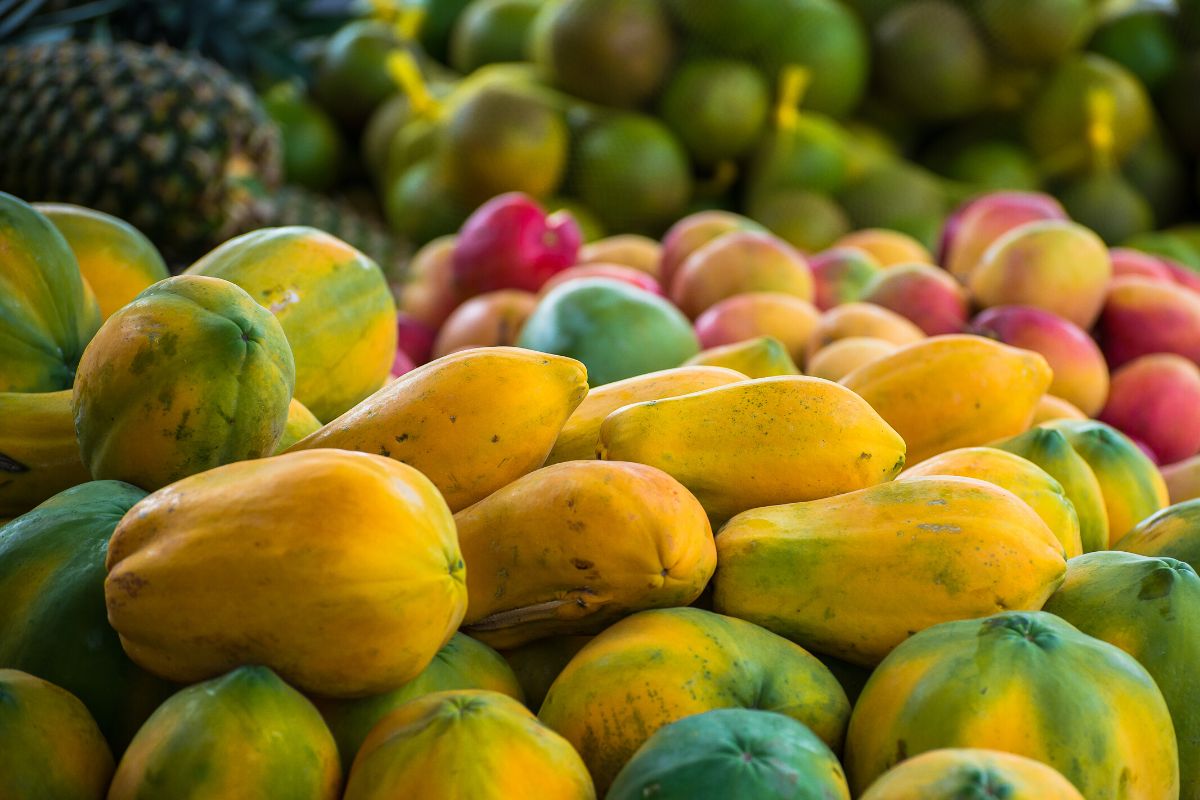 A wonderful chance to not only sample the very best of what the island has to offer but also get a real taste of Hawaiian culture by meeting the lovely locals, the Kona Farmers Market should be top of your list when it comes to things to do in Kona.
Open-air and set up in the heart of downtown on Ali'i Drive, this vibrant market is an atmospheric locale that's great for stocking up on fresh produce (try the mangoes!), handcrafted gifts, and tasty Hawaiian snacks like shave ice and mochi.
You'll also find a wide range of local arts and crafts on sale, from wood carvings to jewelry, so it's near impossible to walk away empty-handed. All up, more than 40 different vendors line the stalls each week, serving up everything from locally-made honey and fragrant flowers to infamous Kona coffee, enormous macadamia nuts, handmade bread, and a host of exotic (and colorful) fruits hard to come by elsewhere.
One of the best things about the Kona Farmers Market is that it's held all year round, come rain or shine, so you'll always have the opportunity to explore this unique slice of Hawaiian life no matter when you visit. Held every Wednesday and Saturday from dawn until dusk, strolling around the market is the perfect way to spend a leisurely morning or afternoon before trudging onto the beach (just a 1-minute walk).
7 – Head down to beautiful Kealakekua Bay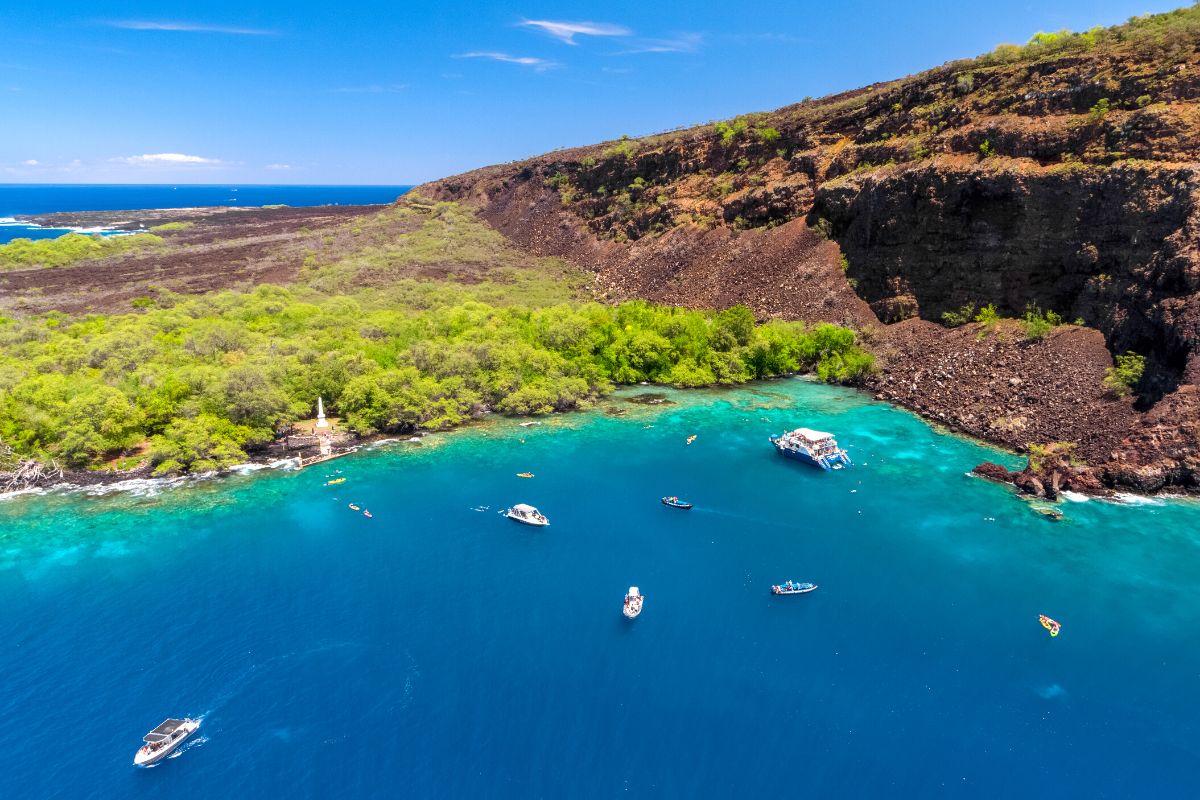 A picturesque piece of paradise that deserves its spot on many social media feeds, Kealakekua Bay is one of the most popular natural regions within arm's reach of Kona, thanks to its dramatic cliffs, crystal-clear water, and abundance of coral and marine life.
Located on the west coast, an easy 12-mile drive south of Kona, the historical site marks the spot where none other than Captain James Cook landed. Today, it's a protected marine reserve and home to an array of colorful fish (including occasional appearances from the endangered Hawaiian Monk Seal and pods of spinner dolphins), thriving coral gardens, and even a few shipwrecks make this one of the best snorkeling spots on the Big Island.
With its dramatic coastline, serene setting, and a plethora of both adventure and relaxation activities available, it's no wonder Kealakekua Bay is such a popular (yet seldom busy) spot with locals and tourists alike.
Whether you want to go snorkeling, swimming, tuck into a sunset dinner, laze around on the bow of the boat, or simply take in the stunning views from the cliffs above, this is one of the best places to do it.
If you're not much of a swimmer, don't worry – there are still plenty of things to do in Kealakekua Bay. From exploring the interpretive center at Napo'opo'o Beach Park to checking out the Hikiau heiau (sacred temple) dedicated to the Hawaiian god, or hiking the short but sweet Captain Cook Monument Trail (just under a mile).
Hot tip: the most basic snorkeling trips are 2-3 hours (equipment included), however, to make a day of it, consider one of the combination tours that also checks off quintessential items like coffee plantations, bee farms, and waterfalls.
8 – Take a dip at Magic Sands Beach Park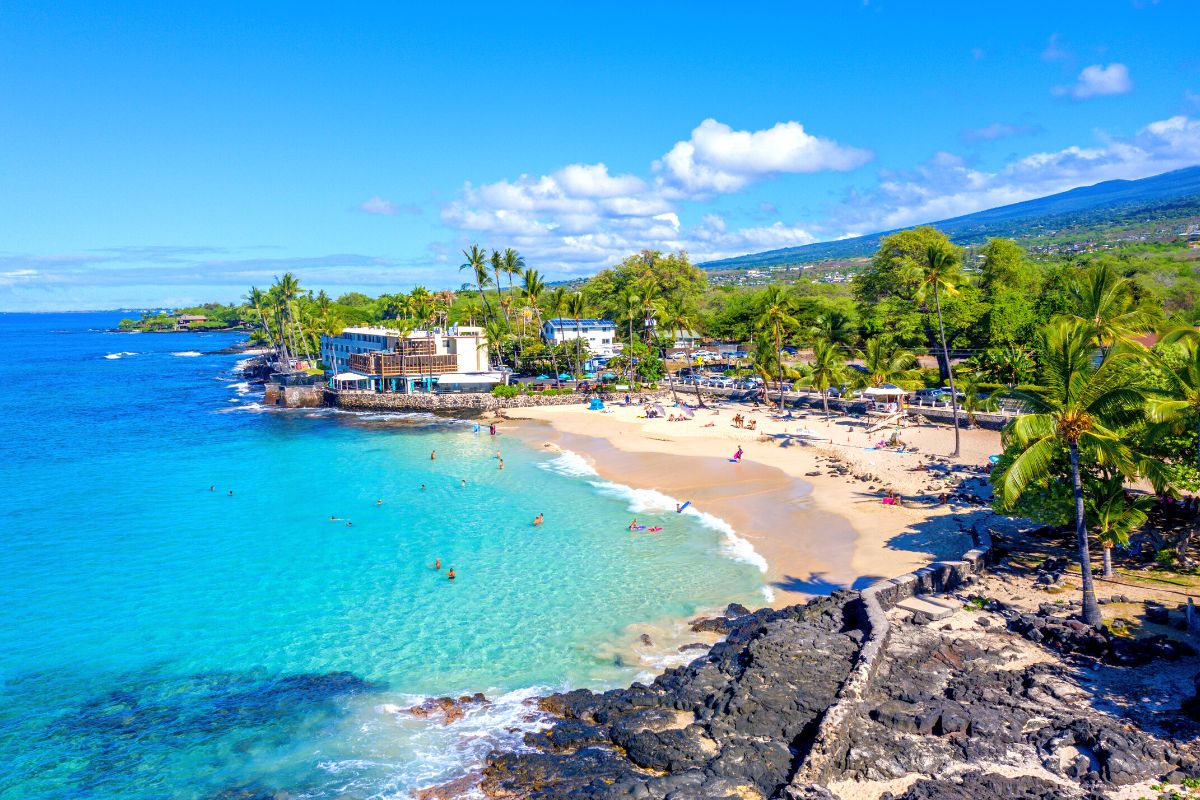 With a name like that, it's no wonder this place is so popular with families!
A wide, sandy crescent beach situated on the outskirts of Kailua-Kona town, Magic Sands (or La'aloa Beach Park as it's also known) is one of the most idyllic spots on the island for swimming, sunbathing, and simply taking in the views on the epic sunsets.
While it's not quite as big as some of the other beaches on this list, what Magic Sands lacks in natural beauty, it more than makes up for with its world-famous bodyboarding waves and excellent beginner surf conditions. Plus, with lifeguards on site (not to mention restrooms, showers, picnic areas, and a volleyball court) and Magics Beach Grill just around the corner, it makes for a wonderful family affair.
Just 10 minutes down the coast from the historic town of Kona (about 4 miles), this little beach park is the perfect place to unwind after a morning of exploring.
Fun fact: the name originates from the beach's tendency to totally vanish overnight due to the high winter surf. By day, it's a family-friendly stretch of golden sand under the shadows of palm trees; by night, the ocean trudges the sand away, unveiling the dark lava rock below.
9 – Learn about some fascinating creatures at the Ocean Rider Seahorse farm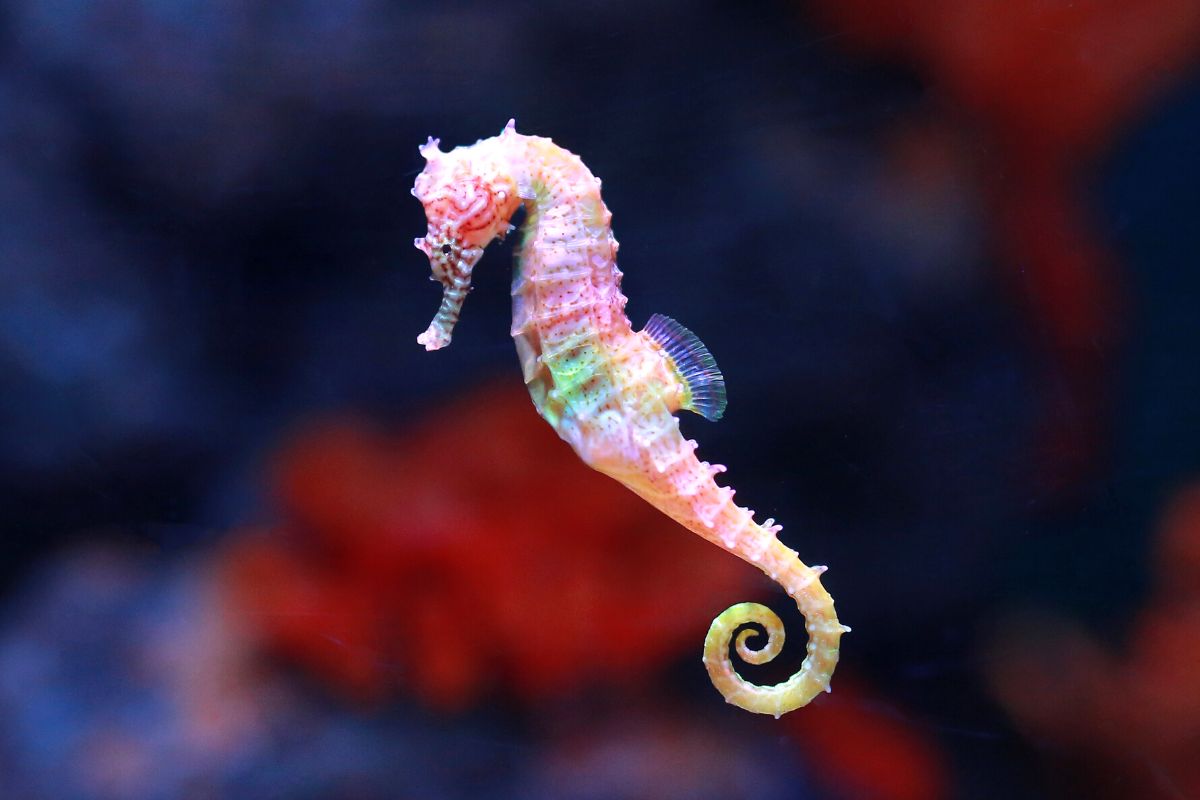 Far from your typical tourist attraction, the Hawaii Seahorse Farm is unique in its allure, exploring the little-known world of these magical ocean-dwelling creatures.
Set on the Big Island's northwestern coastline in Kailua-Kona town, the Ocean Rider farm offers visitors an up-close look at these gentle giants as they go about their everyday lives – from eating and socializing to giving birth and (of course) swimming around in their tanks. Operating since 1998 under the mission to save the seahorse and the coral reefs in which they live, rest assured that your visit here will be both educational and eco-friendly.
With over 25 different species to admire (and thousands of individual seahorses all up), from the incredible leafy seadragon to the blindingly fast tiger tail seahorse, this is a place that's sure to fascinate kids and adults alike.
While you're there, be sure to pick up some souvenirs from the on-site gift shop. Selling everything from hoodies to earrings, key chains, bath toys, and plush toys – all themed around, you guessed it, seahorses – there's something for everyone (and every budget). And with proceeds going towards reef conservation efforts in Hawaii,
Insightful tours of the 3-acre oceanfront farm are available daily. Visitors can choose between group tours and those more private, as well as sign up for surf safari lessons if you're looking to add some adventure to the menu. Either way, as America's only seahorse aqua farm, don't miss out on this one-of-a-kind experience on your trip to Kona!
10 – Spend a day exploring Kaloko-Honokōhau National Historical Park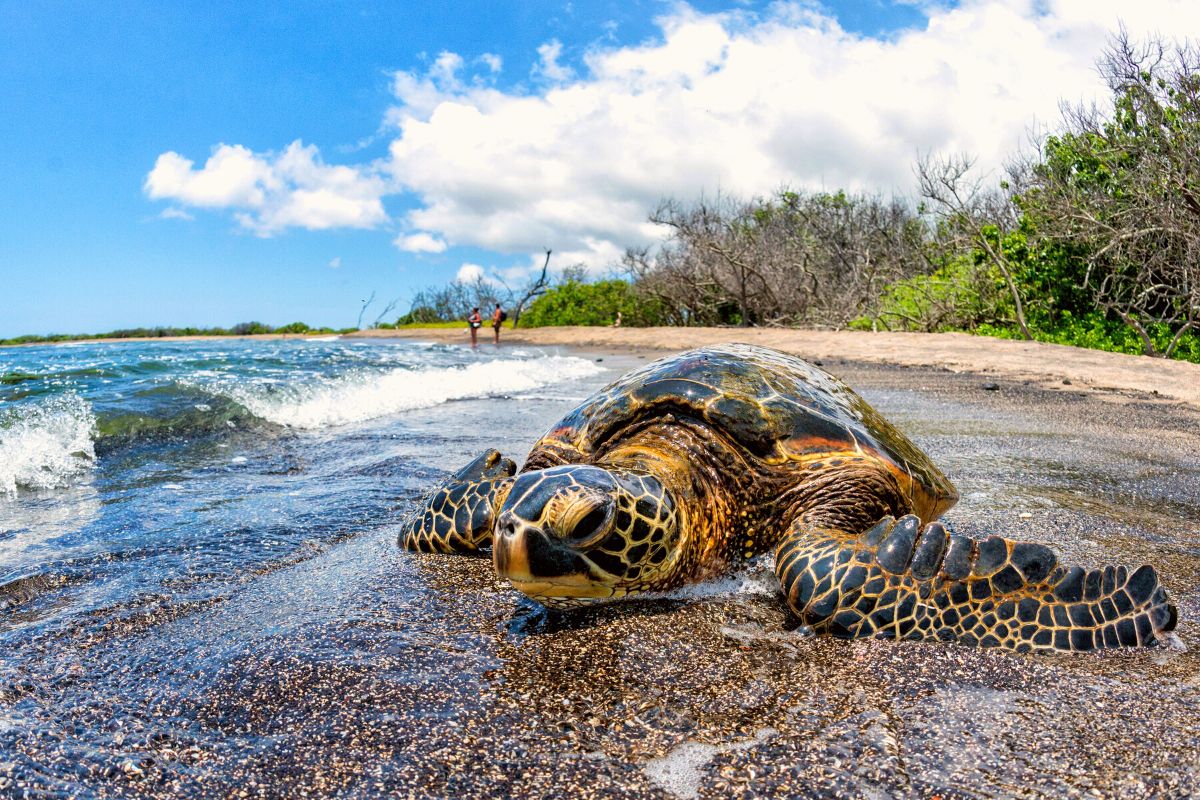 Spread across the stunning Kaloko and Honokōhau coastline on the Big Island's western tip, this national historical park is a must-visit for anyone with an interest in Hawaiian culture and history.
Covering over 1,100 acres of coast and rainforest, and designated as a National Historic Landmark in 1962, Kaloko-Honokōhau tells the story of an ancient Hawaiian settlement – thought to be one of the first on the island – through its many archaeological ruins, including heiau (temples), fishponds, and petroglyph fields.
A visit here will transport you back in time to a different era; one where Hawaiian royalty would have fished and hunted alongside their people, all while surrounded by natural beauty at every turn.
Made up of distinct units – namely the ancient fishponds of Kaloko, and the sandy beaches and ancient settlements of Honokōhau – the park is home to an incredible array of natural and cultural features.
Feeling adventurous? A popular activity here is, unsurprisingly, snorkeling. The clear, calm waters (usually protected by rocks) offer up excellent visibility (up to 100 feet on a good day!) of a colorful underwater world just waiting to be explored. Keep your eyes peeled for tropical fish, sea turtles (these guys wander onto the shores too!), and, if you're lucky, humpback whales (which can be seen offshore from December to April).
Not sure where to start? Pop into the informative visitors center to chat with the local experts and get your bearings. From there, it's up to you – will you hike the coastline, explore the ancient ruins, or take a dip in the ocean?
11 – Swim with vibrant sealife at Two Step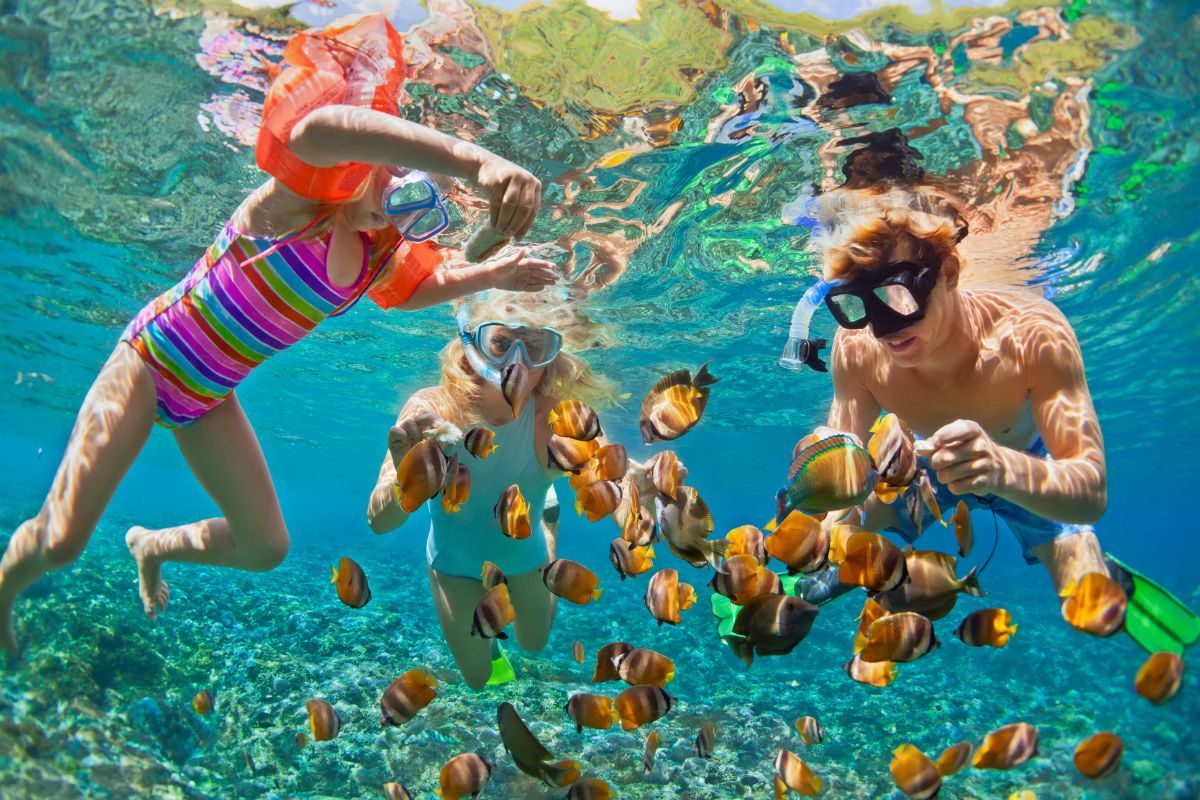 Resembling something straight out of a postcard, Two Step is an idyllic spot for a sunset swim – and one that's relatively unknown to tourists.
Tucked away on the Big Island's southwestern coast, about 12 miles south of Kailua-Kona, this little beach is a conglomerate of turquoise waters, coral reefs, and – if you're lucky – turtles and dolphins swimming around just offshore. With its dramatic cliffs and secluded location, just past the Captain Cook Monument (see #10), it's no wonder this place has become a top-rated snorkeling destination.
If you prefer to lounge around on the sand, there's a spot at the northern end of Honaunau Bay (where you'll also find dive shops if you need to pick up gear) that's tailor-made for whiling away an afternoon under the sun.
For the adventurous souls, make your way further down to the lava rockpools, where, renowned by locals, the snorkeling and beginner diving opportunities are prime. Due to the lack of sand, the water is free from silt – making for exceptional visibility in every direction.
While you're in the area, save a few hours to explore the neighboring Pu'uhonua O Honaunau National Historical Park. Steeped in history, this former place of refuge was once used by Hawaiian royalty and commoners alike; these days, wander along the shoreline and admire reconstructed village huts, check out ancient burial grounds, or tackle the myriad easy hiking trails.
12 – Check out the Kanaloa Octopus Farm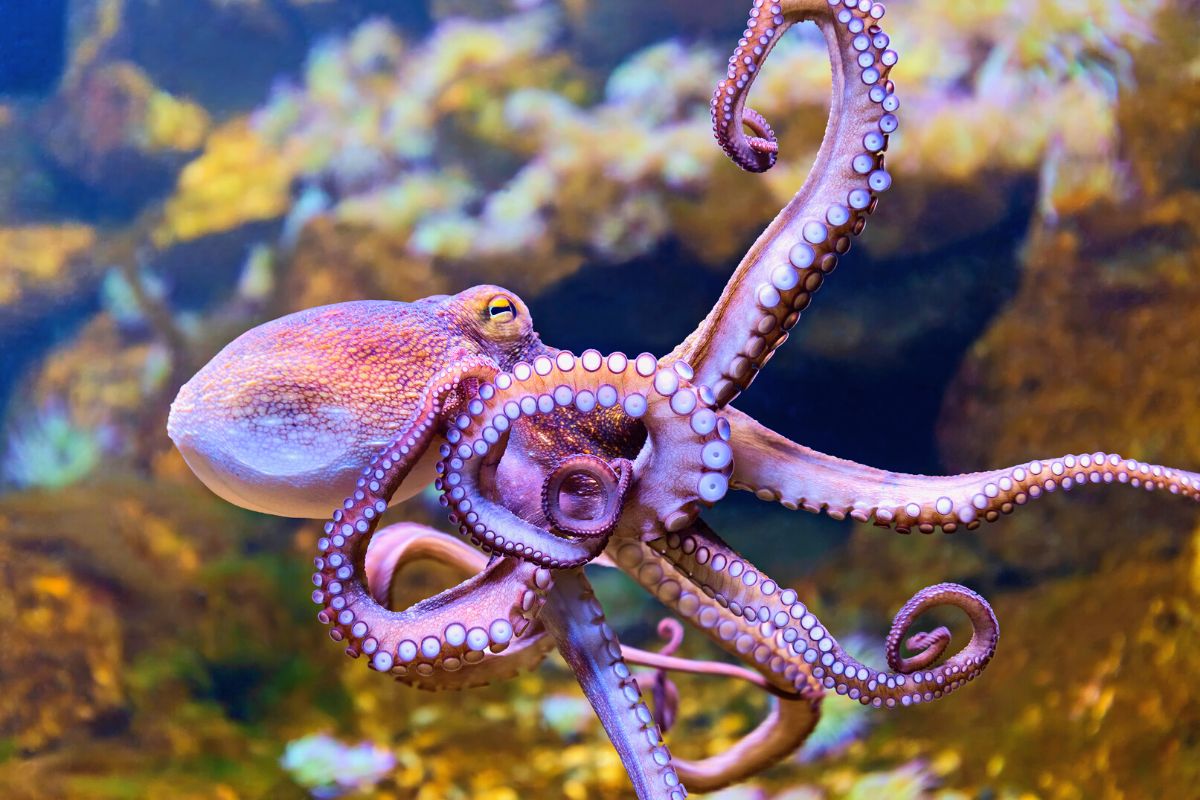 This is one for the animal lovers. Situated on the Big Island's northwestern coast, in Hilo Bay, Kanaloa Octopus Farm is – as you may have guessed from the name – a conservation-focused research facility that specializes in breeding octopuses to repopulate the surrounding oceans.
What that means is that you'll find hundreds of octopuses (or 'octopi', if you prefer), of all shapes and sizes, from the tiniest baby to the biggest, baddest adult – many of which you can meet up close and touch!
Though you can't actually swim with the octopuses here, you can take a group or private tour of the facility and learn all about these fascinating creatures from the experts who work here. You'll learn all about these incredible creatures; how they're bred, what they eat, and why they're so important to the marine ecosystem, and also get the chance to see them being fed. If you're lucky, witness one of them squirting ink at one of their fellow tank-mates too.
Sure, it's certainly one of the more unconventional things to do in Kona, but that's exactly why it deserves a spot atop the bucket list.
Hot tip: thanks to its location just north of Kona, right next to the airport, a visit is cleverly combined with the Kona Sea Salt attraction and/or the Ocean Rider Seahorse Farm next door!
13 – Hop on board a Captain Cook Monument sailing tour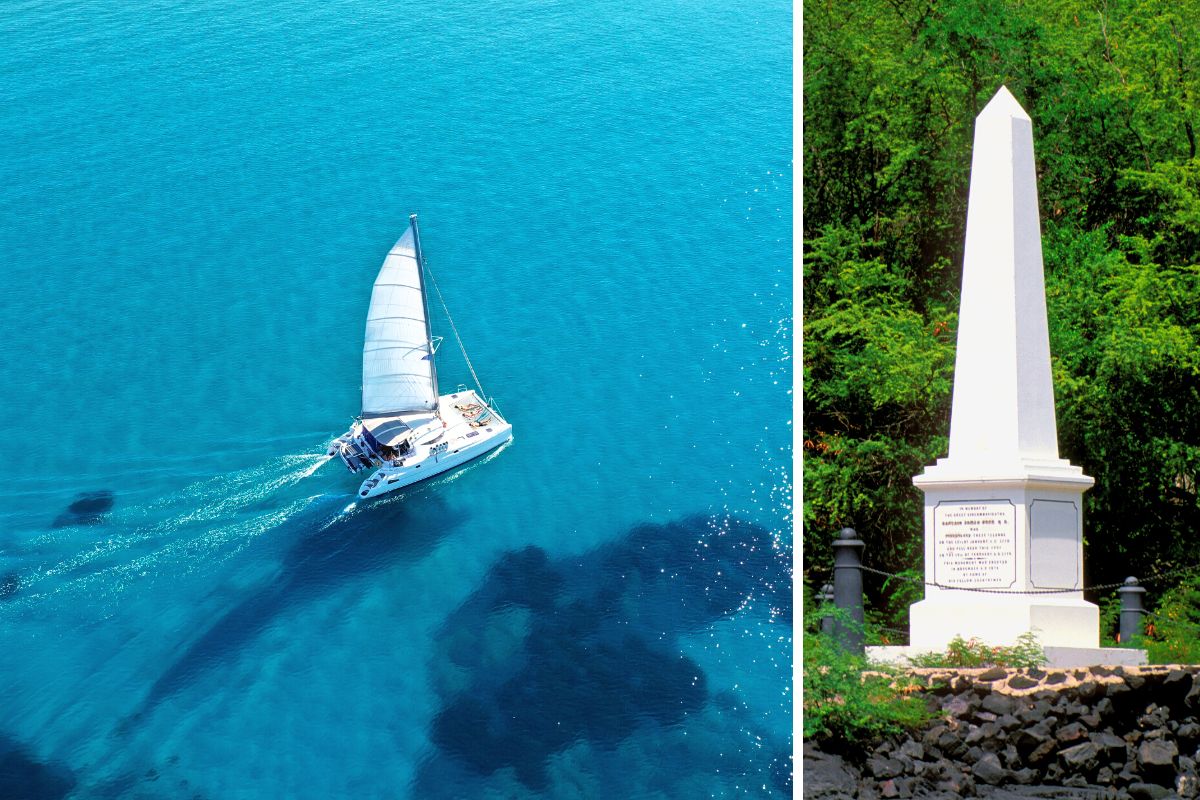 The mainland-based monument in Kaloko-Honokōhau National Historical Park (see #10), this Captain Cook-related attraction is – without a doubt – one of the most unique things to do in Kona.
Standing at 27 feet tall, the white obelisk was erected in 1874 to mark the spot where Captain James Cook first landed on Hawaii's shores back in 1778. Today, reachable via hike or boat ride, you can wander around the base of the monument, learning all about the local maritime history, and checking out some incredible views of the coastline along the way.
For all your land-dwellers, take note of the Captain Cook Monument Trail. Starting from Napoopoo Road in the town of Captain Cook, this challenging 4-mile out-and-back will take you through native forest and out to the rocky shoreline where you can see the monument in all its glory, surrounded by sparkling ocean waters. Allow about 2 and a half hours if you plan on hiking, and remember to bring plenty of water and sunscreen.
If you prefer a more comprehensive (and relaxing) experience, on the other hand, consider a sailing excursion instead. With options spanning catamarans, sailboats, glass-bottom boats, and even kayaks – some of which also include live music, romantic dinners, or even the chance to see dolphins and whales – there's something for everyone.
Just be sure to book in advance, as these tours often fill up quickly!
14 – Soak in some nature at the Kona Cloud Forest Sanctuary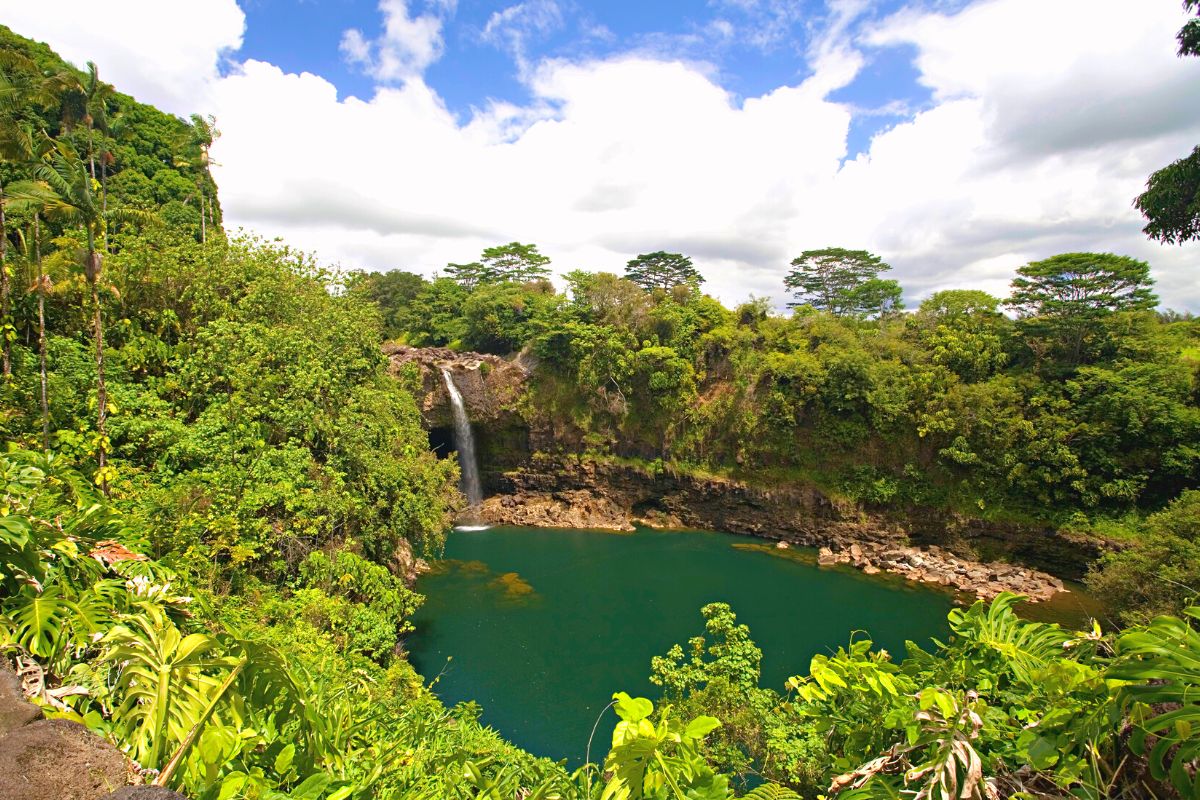 Covered almost entirely with native plants, this lush forest is one of the most biodiverse ecosystems on Earth.
Nestled atop Mount Hualalai and spread across some 70 acres, at an elevation of just over 3,000 feet above sea level, the Kona Cloud Forest Sanctuary is home to some of Hawaii's rarest and most endangered bird species, as well as several thousand different types of native plants (including over 100 varieties of bamboo, and gigantic tree ferns that tower close to 30 feet high).
As the only tropical cloud forest in the United States, a visit here is an absolute must for any nature lover, with miles of hiking trails to explore, and a variety of different plant and bird species to discover. If you're lucky, you might even spot one of the resident Hawaiian honeycreepers!
There are also several ranger-led tours available if you want to learn more about the forest and its inhabitants, though these need to be booked in advance.
The question on everyone's mind: what's a cloud forest? Contrary to most rainforests where moisture comes from rainfall, cloud forests – like this one in Kona – experience a majority of their precipitation from dense fog or low-hanging clouds, thanks to their high elevation.
15 – Join a whale-watching adventure!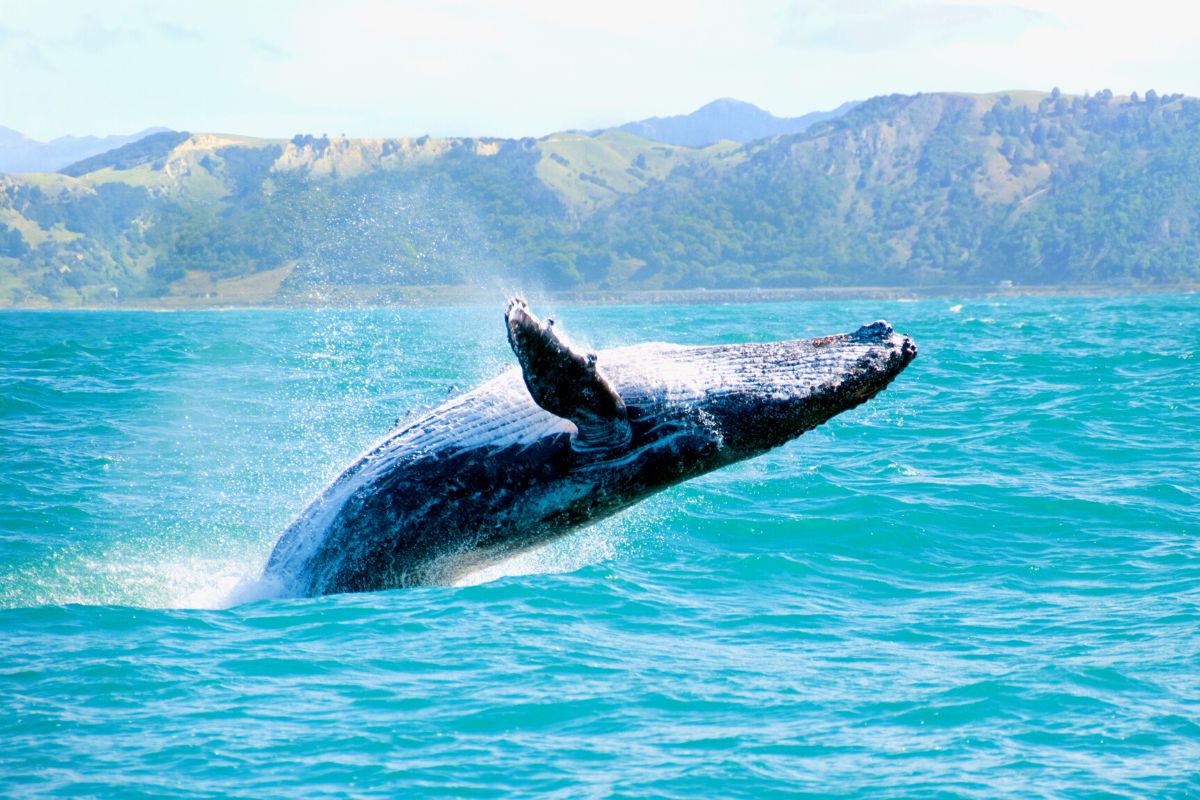 Known as Mother Nature's majestic, gentle giants, humpback whales have long been a popular draw for tourists in Hawaii.
Each year, between December and April, more than 8,000 of these beautiful creatures make the long journey from their summer feeding grounds in Alaska all the way to the warm, shallow waters around the Hawaiian islands, where they mate and give birth. As a result, winter is prime time for whale watching in Kona – though you might be able to spot them as early as October, and as late as May.
There are a number of different ways to go about it, from chartering a private boat to going on a snorkeling or diving excursion, to taking a whale-watching cruise (which will typically depart from Honokohau Harbor). No matter how you choose to do it, though, seeing these incredible animals in person – whose size, at almost 50 feet long, is always astounding – is an experience sure to leave a mark.
Whale watching isn't just restricted to the water either. Head up to the Kohala Coast on the northwest side of the island for a spot of land-based whale-watching from one of the myriad viewpoints, where you can often see them breaching (leaping out of the water).
16 – Wet your whistle with a beer tasting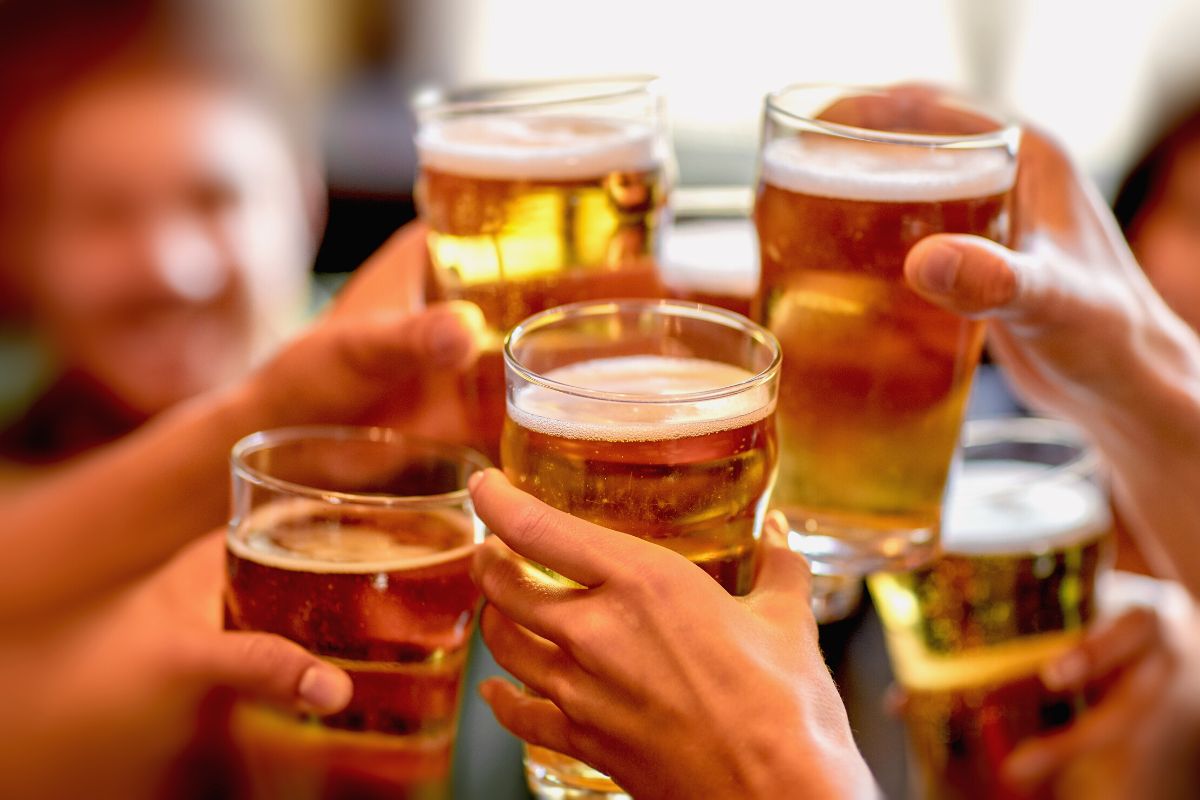 One for the thirsty travelers; if you're looking to kick back and epitomize the notion of vacation, an ice-cold beer (or three) is a wonderful way to do it.
While Hawaii isn't renowned for its beer scene, there are a few local breweries worth checking out if you're in Kona. The big one is Big Island Brewhaus in Waimea (the highest elevation brewery on the island), which offers 12 local beers on tap (try the Imperial Red or the Macadamia Nut Brown Ale) as well as fresh margaritas and sizzling Mexican meals.
There's also Kona Brewing Company – which, as the name suggests, brews a range of Kona-centric beers like the Hanalei Island IPA (made with passionfruit, orange, and guava) and the Mai time Light (brewed with orange, pineapple, and lime). With brewery tours offered too, you can learn all about the brewing process, and sample some of their delicious concoctions afterward.
Community-owned Ola Brew, which is located in the heart of Kona town, rounds out the list of notable watering holes, combining its menu of locally-made beers with hard teas and ciders.
For something a little different, there's also Kona Wine Market, which sells wines from all over Hawaii (including a few from the Big Island), as well as a range of local cheeses and meats, should you want to take something back to the hotel.
17 – Step back in time at Hulihe'e Palace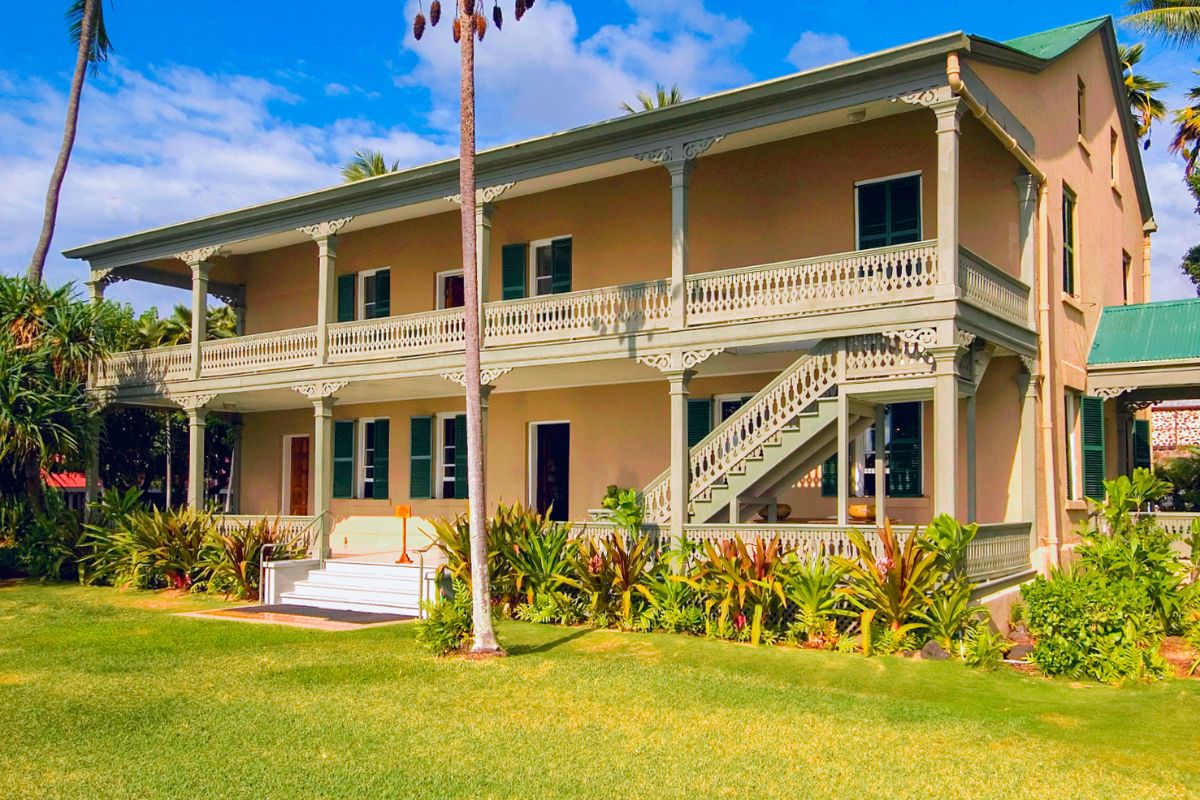 An important part of Hawaiian history that dates all the way back to 1838, Hulihe'e Palace was the summer residence of Hawaii's royal governors, last inhabited by King David Kalakaua and Queen Kapiolani.
These days, the palace is open to the public as a museum, showcasing a range of Victorian-era artifacts from Hawaii's past – including furniture, portraits, feather work, Hawaiian quilts, and other items belonging to the royal family. Dedicated to preserving that history, the palace serves as a time capsule into a bygone time.
The building itself is an excellent example of 19th-century architecture, with beautiful woodwork both inside and out. As you explore the 6 different, grand rooms, you'll learn about the various royals who once occupied them, and get a better sense of the lifestyle they led. The lush gardens aren't to be forgotten either.
Hulihe'e Palace is located on Ali'i Drive, right on Kailua Bay, and is open from Wednesday to Friday for pre-arranged guided tours, or Saturdays for walk-ins and self-guided tours.
18 – Sign up for a ghost tour… if you dare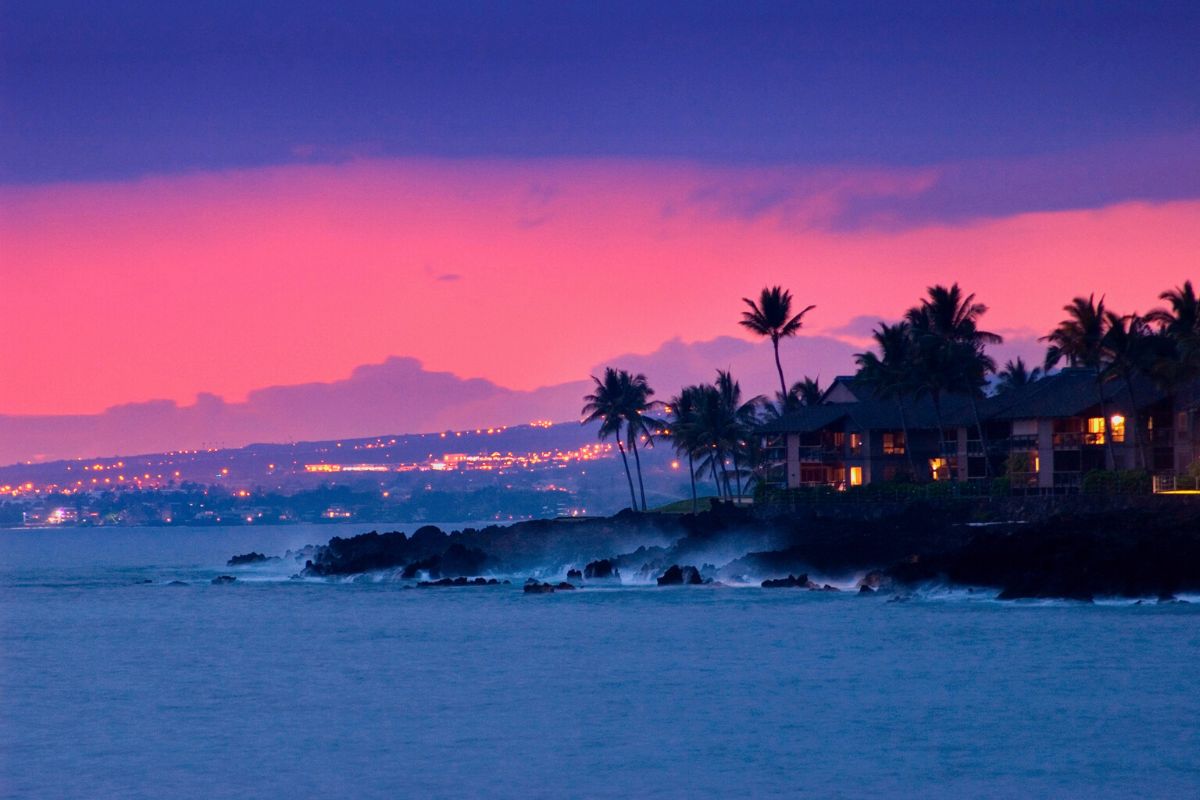 Got an inkling for the paranormal? A curiosity for the otherworldly? A desire to get your heart racing?
Stunning by day, mysterious by night, Kona is far more than meets the eye. As the home of several eerie sights – from the Hulihe'e Palace and Mokuaikaua Church to the luakini heiau (sacrificial temples) – it's no wonder that this destination has become a hotspot for ghost tours.
One of the most popular is the Kona Ghost Tour, which takes you on a spooky walking tour of historic Kailua Village, where you'll hear tales of sacrifice, crime, and unexplained events from your knowledgeable and tone-setting guide.
Expect to hear tales of how King Kamehameha I transitioned into the afterlife at Kamakahonu Beach, how the ghostly "lady in white" haunts the Hulihe'e Palace, and hear the details and tribulations of Hawaii's civil war.
For the ultra brave, extra tours operate out of Hilo too, on the other side of the island.
19 – See turtles and rays on a submarine tour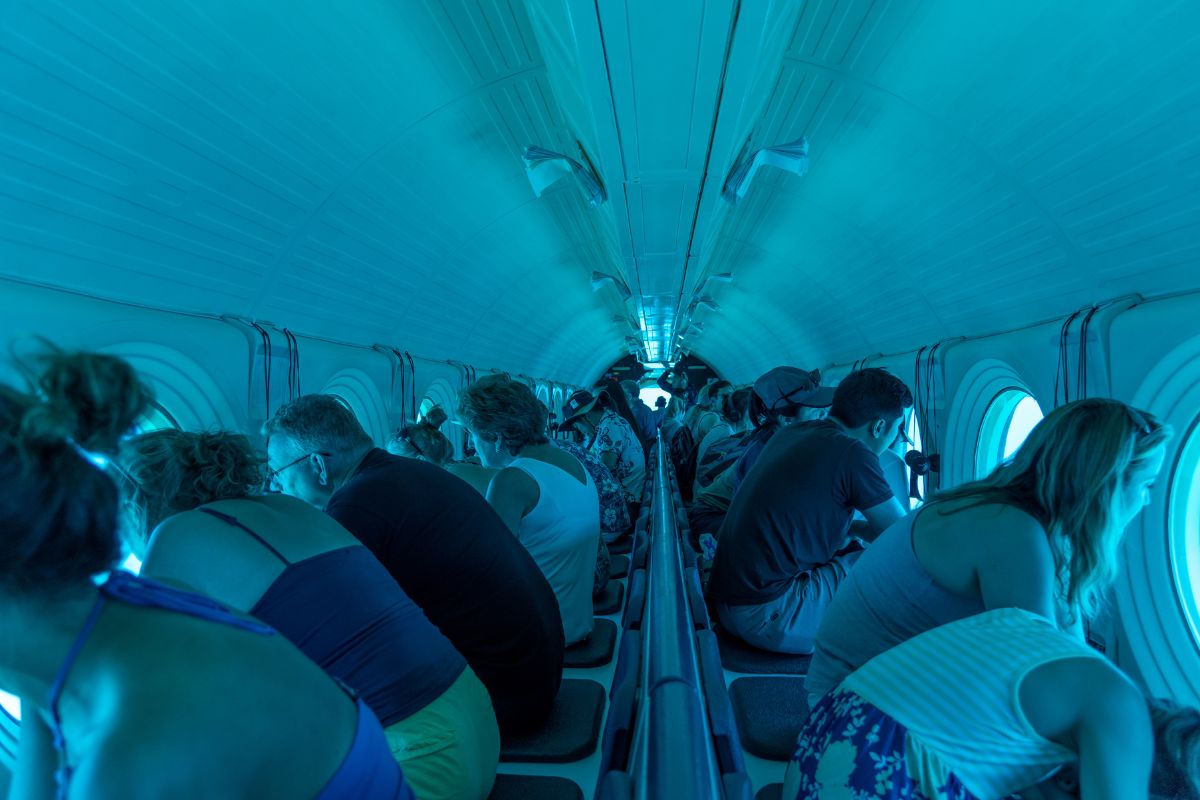 Thanks to its translucent aquamarine waters (created by the lava rock acting as a filter of sorts), the Big Island is one of the best places in Hawaii to explore the underwater world – and if you don't want to dive or snorkel (each of which has restrictions), there's no better way to do it than on a submarine tour.
On the Hawaii Atlantis Submarine, you'll descend more than 100 feet below the surface, right into the belly of the thriving deep-sea landscape. As you glide past the 25-acre coral reef and through schools of tropical fish, your captain will provide insightful commentary on all of the vibrant marine life (potentially including sharks) you see before you.
With options for hotel pick-up and drop-off, the hassle's taken care of for you – just be sure to book in advance.
20 – Explore the Puuhonua-o-Honaunau National Historical Park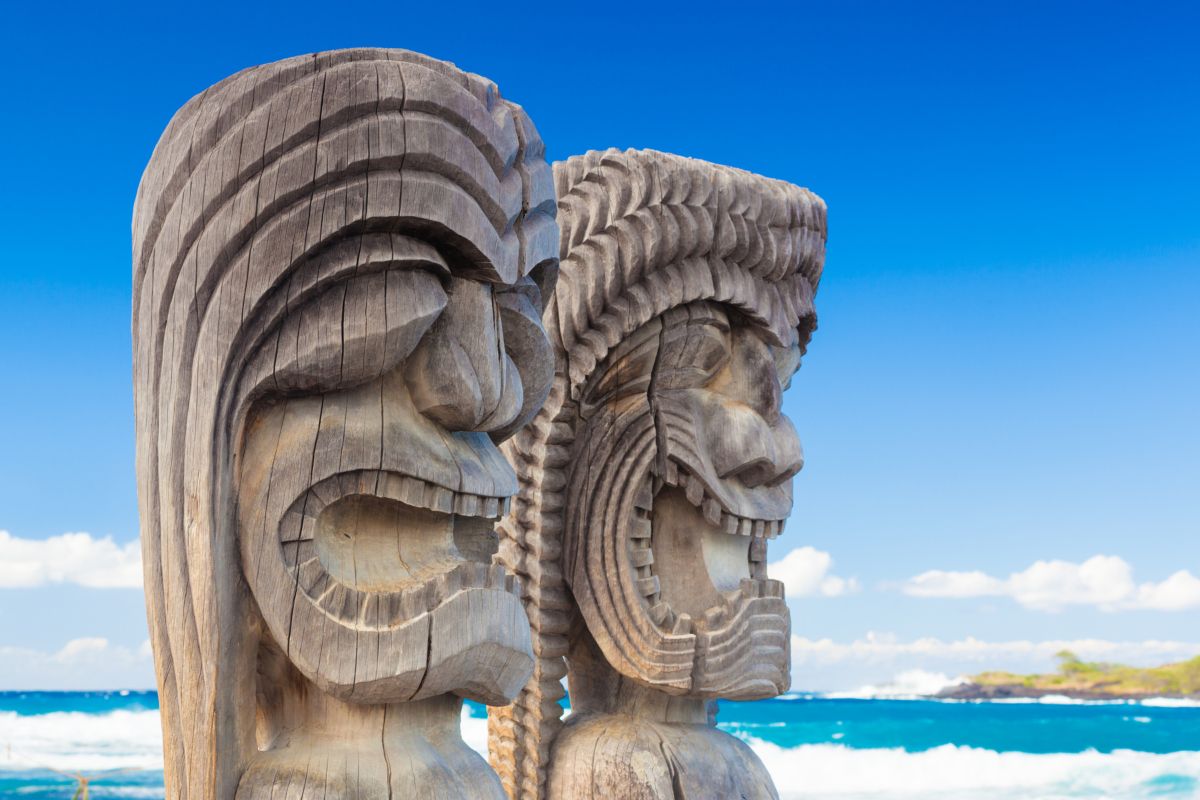 Providing fascinating insights into the way ancient Hawaiians lived, the Puuhonua-o-Honaunau National Historical Park takes visitors on a journey through time.
A "puuhonua" was a place of refuge and sanctuary in old Hawaii, where anyone who had broken a kapu (sacred law), committed a crime, or been defeated in battle could go to avoid punishment. This particular puuhonua was once the most important on the Big Island, as it was the final stop on the Ala Loa, an ancient road that stretched for more than 80 miles across the island.
At the park, you can see a replica of an old Hawaiian village, complete with traditional hale (huts), temples, and petroglyphs. You can also learn about Hawaii's rich culture and history through the various exhibits on a self-guided tour (be sure to check out the 12-foot-high, 18-foot-thick Great Wall), or take a peaceful stroll through the beautiful gardens or black lava rock shoreline.
Covering some 180 acres, Puuhonua-o-Honaunau National Historical Park is located on the South Kona Coast, just past Two Step (see #11) and not too far from the Captain Cook Monument, and is open daily from sunrise to sunset.
21 – Tour the Original Hawaiian Chocolate Factory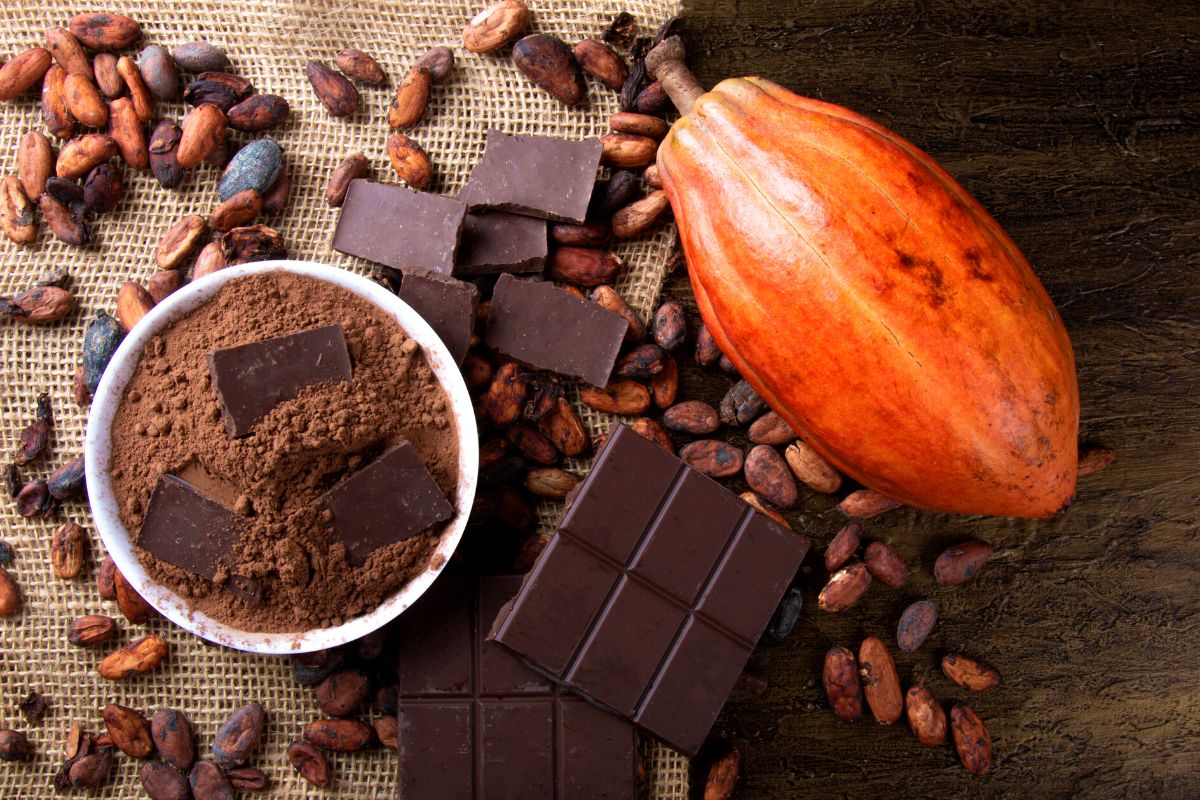 Sweet-toothed travelers, take note.
Operating since 1997 under the love and care of Pam and Bob Cooper, the Original Hawaiian Chocolate Factory is the oldest and largest chocolate manufacturer in Hawaii, and the first to use only 100% Hawaiian-grown cocoa beans.
You can tour the factory (usually at either 9 am or 11 am timeslots, Wednesdays and Fridays) to see how it all happens, learning about everything from the history of Hawaii's chocolate scene, to the cultivation of cacao trees and cocoa beans, and the art of making gourmet Hawaiian chocolates.
Of course, tasting is a non-negotiable. After you've watched the chocolate being made right before your eyes, you'll be able to sample some of the finished product (spoiler alert: it's delicious), before popping into the on-site store for a range of chocolate-themed products, including soaps, sauces, roasted cacao nibs, and seasonal specials.
Are your cravings not quite crushed? Just around the corner, you'll find the Puna Chocolate Company, another chocoholic paradise that offers educational (and delicious) tours as well as the beloved Coffee and Cacao Hike on Wednesdays.
22 – Go scuba diving!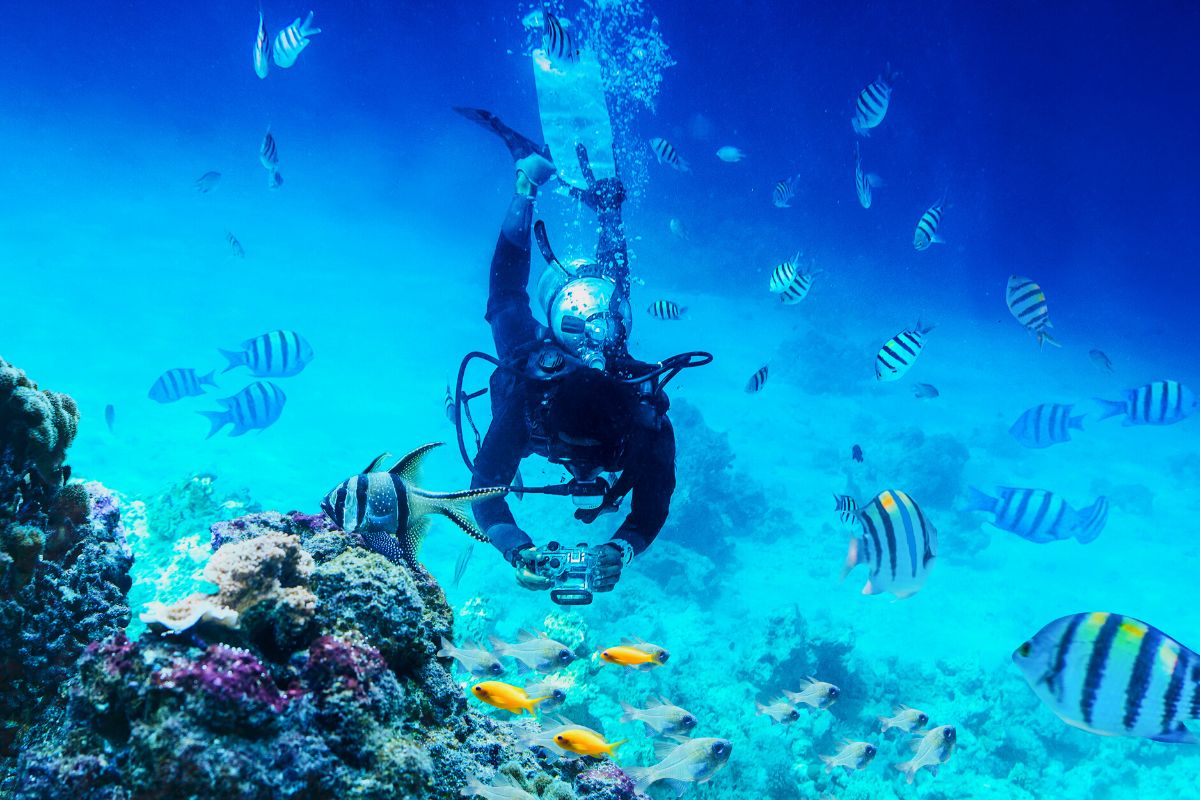 Teeming with marine life in some of the clearest waters you'll find in the archipelago – thanks largely to the lava-formed coastline – Hawaii Island, and the Kona coast, in particular, is a scuba diving paradise.
While all of the islands have great dive sites, the Big Island's Kealakekua Bay is particularly special. Just offshore from Captain Cook Monument (see #13), this marine sanctuary is home to an array of tropical fish, coral, and turtles, not to mention the occasional dolphin or manta ray.
If you're not a certified diver, no problem – there are plenty of operators in Kona (and Hilo) that offer lessons and certification courses dives for all levels, so you can explore the underwater world even if it's your first time.
For the more advanced, consider tackling a blackwater dive. World-famous for the manta ray night dives, in which you'll descend into the inky depths to see these gentle giants feeding on plankton, blackwater diving with companies like Big Island Divers is an otherworldly experience not to be missed.
23 – Stop by the Kona Hawaiian Quilt Museum and Gallery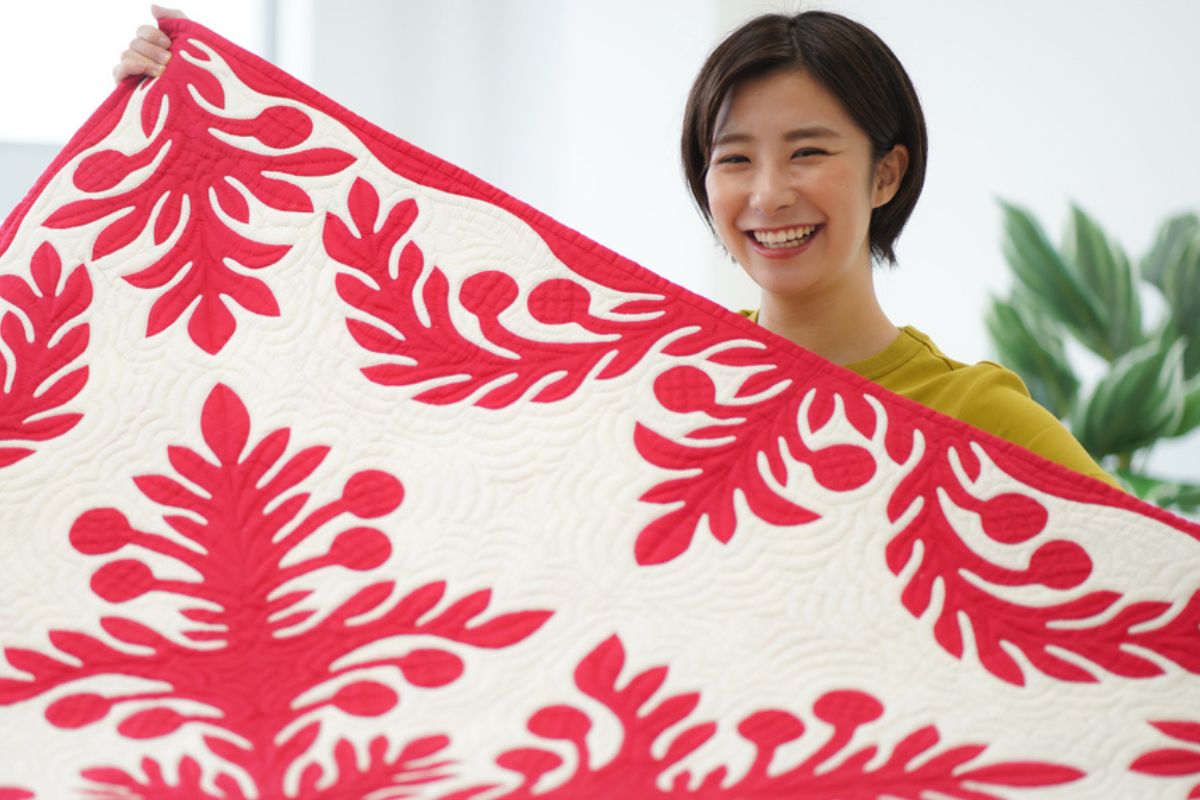 A perfect alternative activity for a rainy day, the Kona Hawaiian Quilt Museum and Gallery provides a unique insight into a little-known aspect of the local culture, and a traditional craft that's been past down through generations.
The museum's collection of over 60 quilts dates back to the late 1800s and includes both contemporary and traditional Hawaiian designs, many of which are island-themed, as well as a range of other quilting styles from around the world.
In addition to admiring the beautiful displays like the Hawaiian Flag Quilt and the exquisite work of Sylvia Pippen, you can also join in one of the occasional family-friendly scavenger hunts or check out a traveling quilt show.
Worthy of an hour, The Kona Hawaiian Quilt Museum and Gallery is open Monday to Friday from 10 am to 5 pm, and Saturday from 10 am to 4 pm.
24 – Soak in the sunshine at Keauhou Bay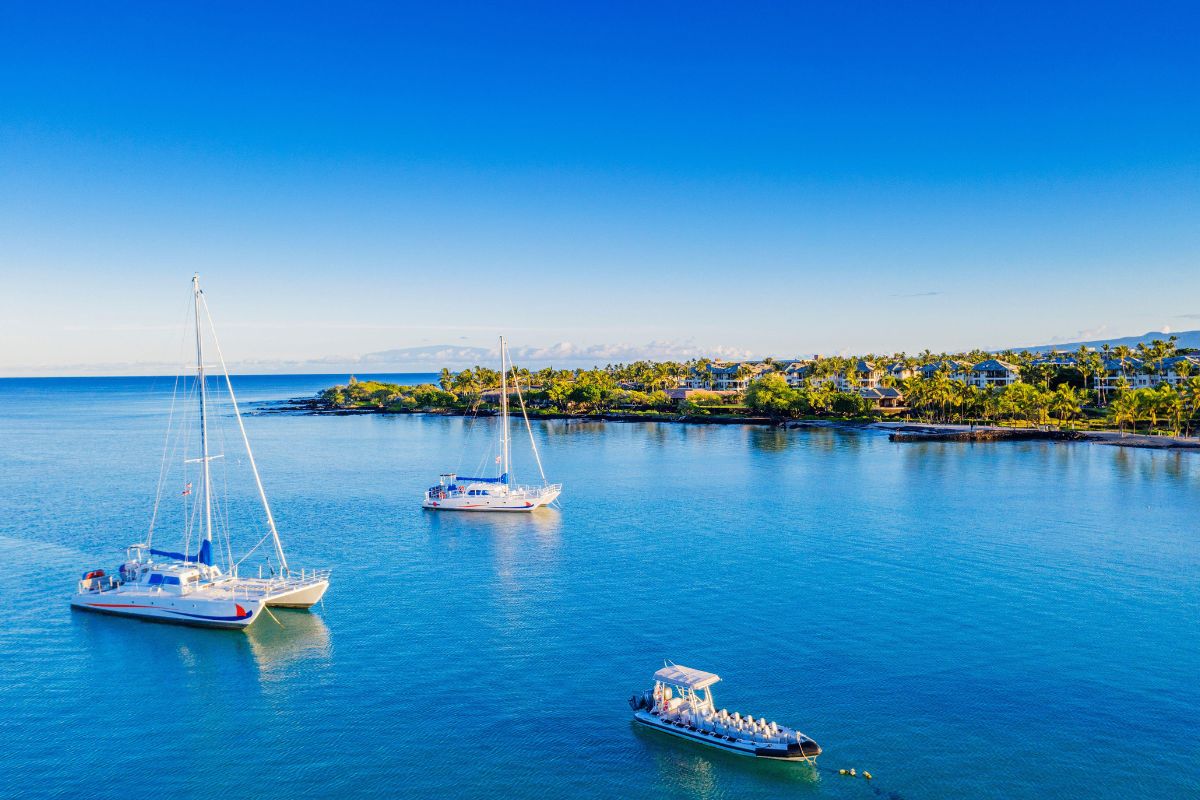 A hot spot for water sports – namely kayaking, paddle boarding, snorkeling, and diving, as well as fishing – Keauhou Bay is a beautiful stretch of coastline that's teeming with marine life.
The sheltered bay is perfect for those who want to explore the underwater world, and there are plenty of operators offering kayak and snorkel tours, as well as lessons for beginners. While you're in the water, keep your eyes peeled for turtles, tropical fish, and even the occasional manta ray.
On land, there's a lovely walking path that takes you up to the Keauhou Shopping Center too — a great place to grab a bite or do some souvenir shopping or check out the Keauhou Farmer's Market on Saturday mornings.
Conveniently located just a 15-minute drive south of the historic town, the bay neighbors other notable attractions like King Kamehameha III's birthplace, the Keauhou Holua Slide, and the Kona Country Club golf course, should you want to make a day of it.
25 – Get a whole new perspective with a helicopter tour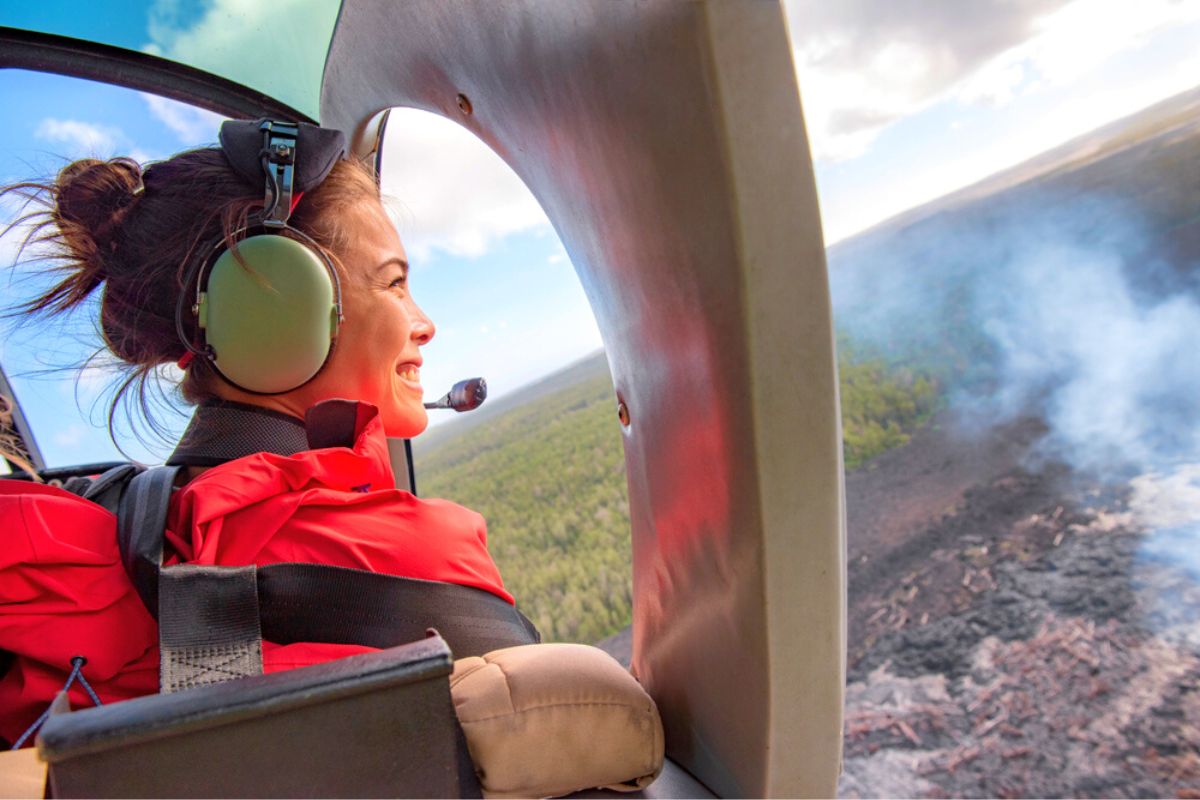 From street level, Kona – and the Big Island – is charming, lush, and verdant, with a bounty of enthralling places to explore. But to really appreciate the island's unique, rugged volcanic landscape, you need to see it in all its glory from above.
And there's no better way to do that than on a helicopter tour with Blue Hawaiian Helicopters. Offering both doors-on and doors-off options (for the more adventurous), these myriad tours provide an aerial perspective of some of Hawaii's most iconic features, including the forbidding Kilauea volcano, the world's most active volcano, as well as the dramatic lava flows of bygone years, tumbling cliffs, and misty rainforests in the distance.
You'll also fly over rainforests, waterfalls, black and golden sand beaches, and witness the stark visual contrast between deep green forest and bright blue coastline. With multiple departure times throughout the day, it's one of those things to do in Kona that's well worth shelling out for.
26 – Revitalize yourself with a visit to the Menehune Coffee Company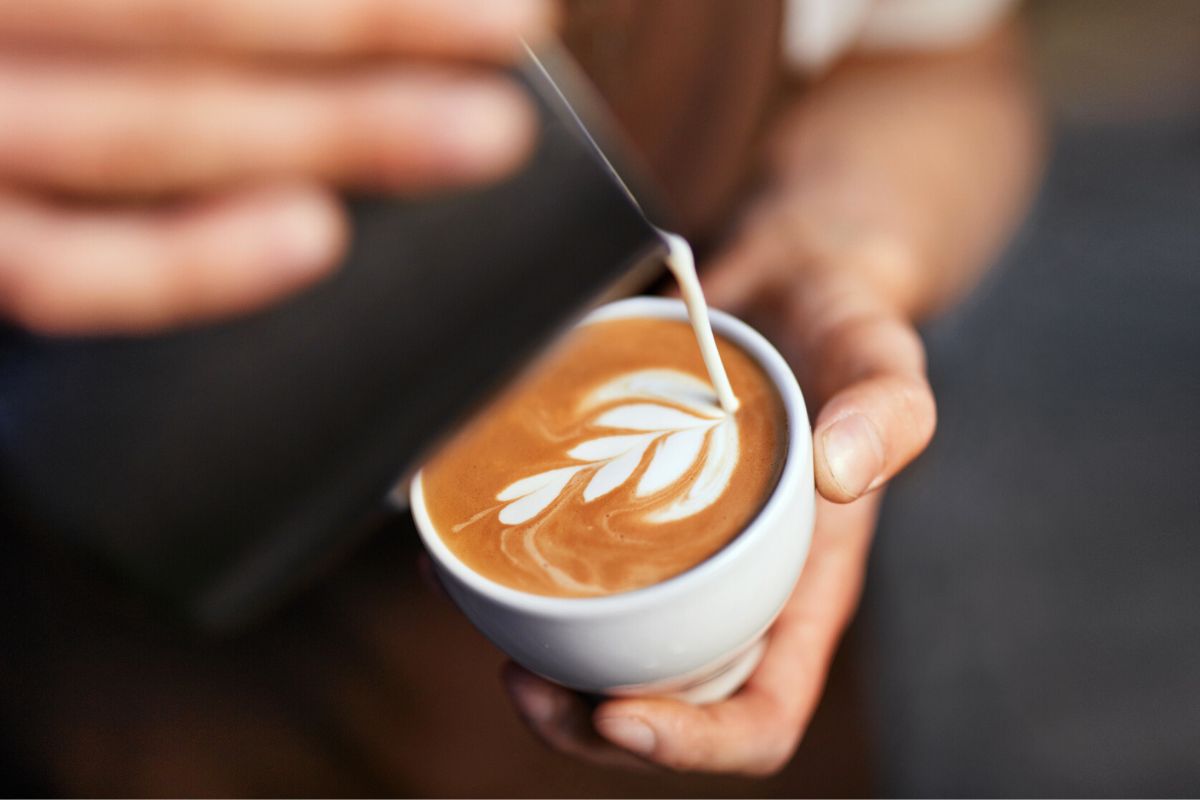 A beloved local institution, Menehune Coffee Company is the place to go for a delicious cup of joe, and some delectable Hawaiian-style pastries to boot.
With two locations to choose from – one being a coffee shop overlooking the Kailua Pier in the heart of Kailua Kona, and the other a restaurant down in the town of Captain Cook – this family-run business has been roasting its own coffee beans for decades.
While it uses only the finest locally-grown ingredients, it's the stories of the Menehune people (mythological Hawaiian race – not too distant from the more famous leprechauns) intertwined with its history that makes it particularly special.
Stop by for breakfast or lunch and try one of their famous sandwiches (the Holo Holo is a must), or pick up a bag of freshly roasted beans to take home with you. With delicious, 100% Kona-grown coffee, freshly baked treats, and huge portions, what's not to love?
27 – Sample the local delicacies on a food tour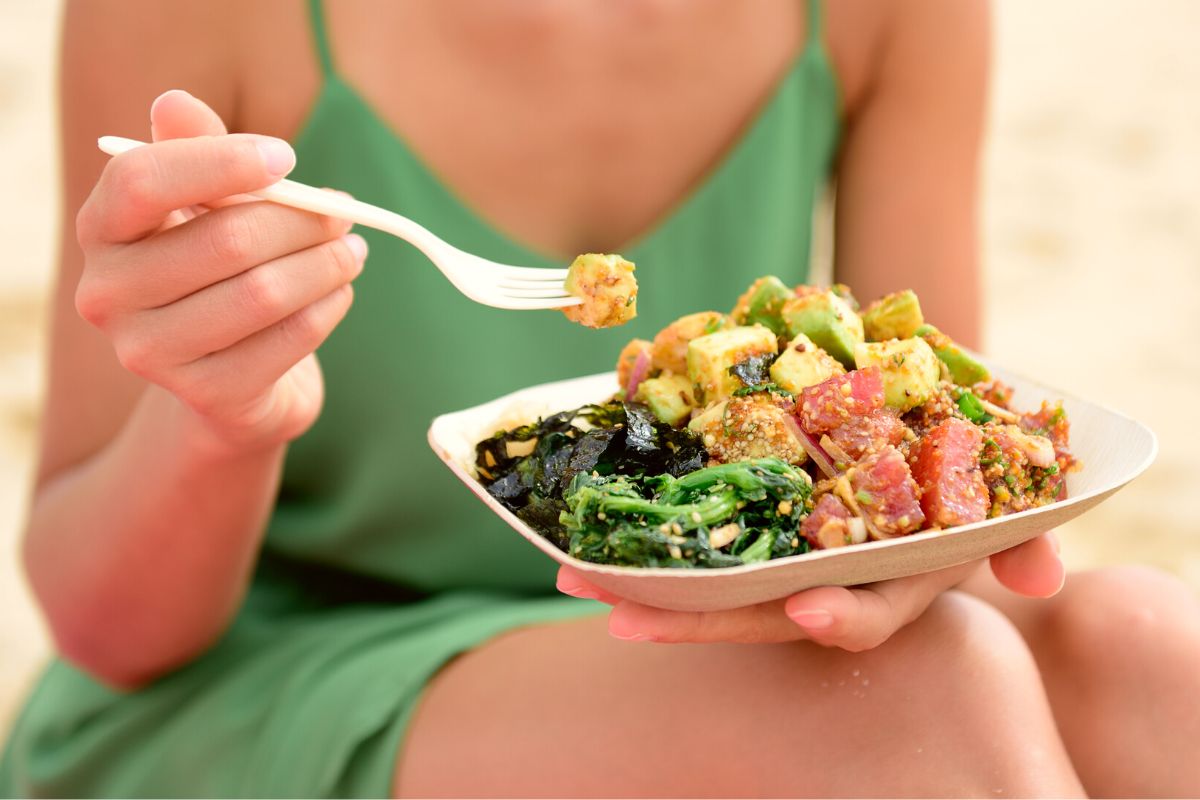 An authentic Hawaiian experience wouldn't be complete without sampling the local cuisine, and there's no better way to do that than on a food tour, led by a local, that ventures off the beaten track into the beloved hole-in-the-wall eateries that most tourists are yet to discover.
On the Kona Food Tour, you'll not only get to try some of Hawaii's most iconic dishes – think poke bowls, Hawaiian sweetbread, and shave ice – but you'll also learn about the history and culture of the island through its food. From traditional Hawaiian fare steeped in Polynesian roots to more contemporary fusion cuisine that takes inspiration from the diverse range of cultures represented on the island, it's a culinary journey not to be missed.
While there are food tours all over the archipelago, on Kona-specific gastronomy adventures, hungry travelers can expect to stop at over half a dozen different eateries, including a chocolate farm, an award-winning ice cream parlor, and a local seafood market. You'll have a chance to mix craft cocktails, pass by the Kailua Pier, Ahuena Heiau temple, Hulihe'e Palace, and Mokuaikaua Church (the oldest in Hawaii) – with a refreshing scoop at Gypsea Gelato to finish it off!
28 – Play a round of golf on the world's most dramatic fairways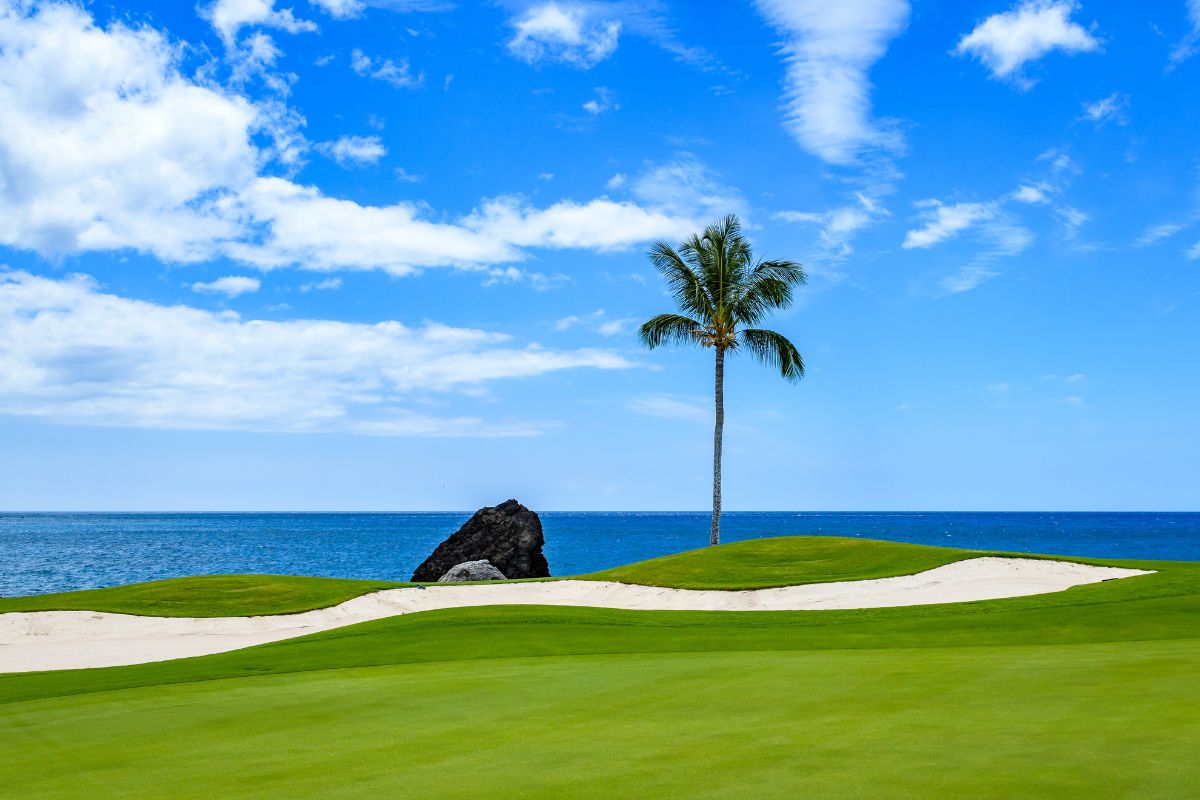 Boasting some of the lushest rolling greens in the USA, Big Island is a haven for golfers of all levels, with no fewer than 16 different courses to choose from.
Whether you're looking to practice your swing at an affordable municipal course or take on a championship-level challenge at one of the island's private clubs, there's something for everyone. And with year-round sunshine and temperatures hovering around a balmy 80 degrees, bad days are few and far between.
Known for its forest atmosphere – a contrast to most of the coastal courses – Makalei Golf Club (18 holes, par 72) is one of the area's more affordable options. If you're after a more luxurious experience, the world-renowned Mauna Kea Golf Course up in Waimea should be at the top of your list – just be sure to book in advance, as tee times fill up fast!
About a 15-minute drive from historic Kona town, the Kona Country Club showcases wide, lush fairways, and sparking views of the Pacific juxtaposed with black trails of ancient lava flow. Meanwhile, the inland Makani Golf Club, which sits in the shadows of the Mauna Kea volcano, some 3,000 ft. above sea level, holds its own as one of the island's most picturesque.
Not to be overlooked, the par-72 Hualalai Golf Course – a Jack Nicklaus Signature design – boasts 7,100 yards of green fairways, black lava, and ocean views. However, it's reserved only for guests of the Four Seasons Resort.
29 – Cruise around the island in style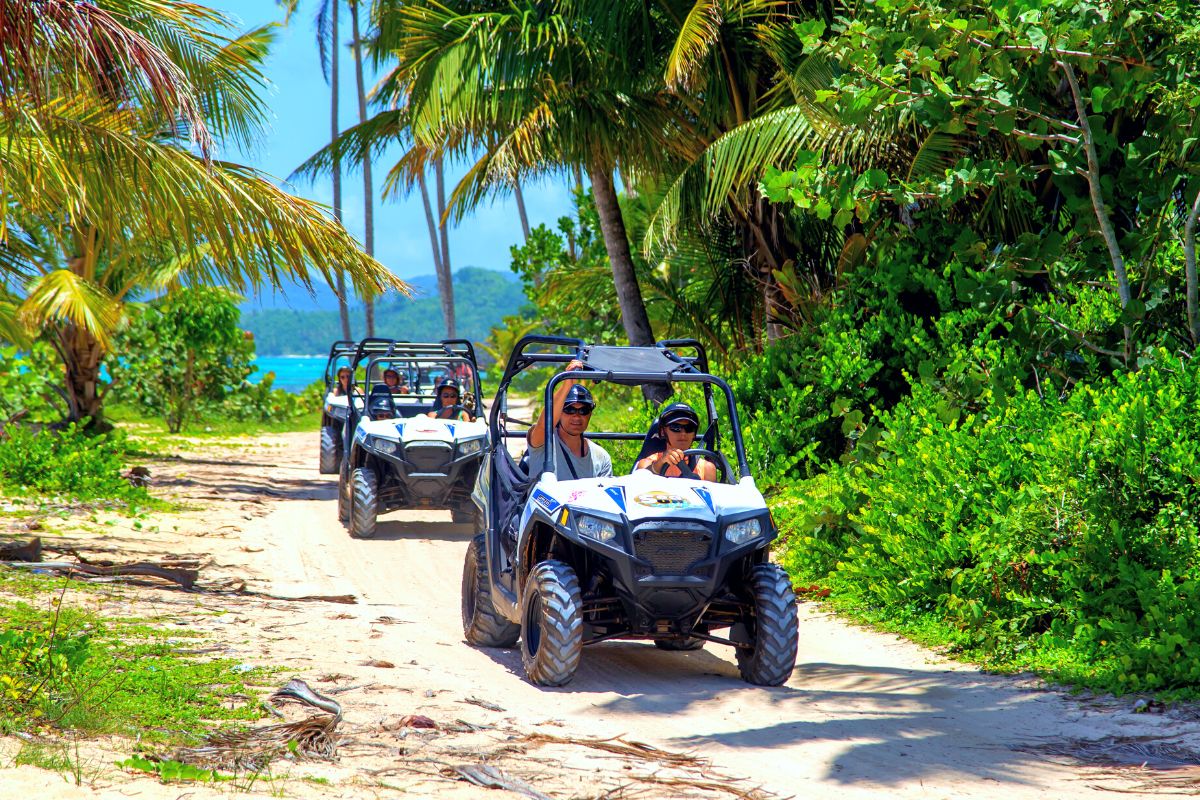 Ditch the tour bus and forget about any rigid itinerary — instead, book yourself your own VW Manx-style buggy for the day (either 8 hours or 4 hours) and explore Hawaii's Big Island at your own pace.
Available in four colors (note: all are stick-shift, except the green one), these bad boys may not be the quickest way to get around, but being low to the ground and open-roofed, they sure are a lot of fun. Plus, with a cooler, beach chairs, a beach umbrella, towels, USB chargers, and bluetooth speakers included, you'll have everything you need for a day of exploring.
The island's your oyster, however, a popular choice is to drive north up the coast to the Hapuna Beach State Recreation Area, all the way up to the Kohala Historical Sites State Monument on the island's far northwestern corner (where views of Maui await).
30 – Embark on a dolphin-watching cruise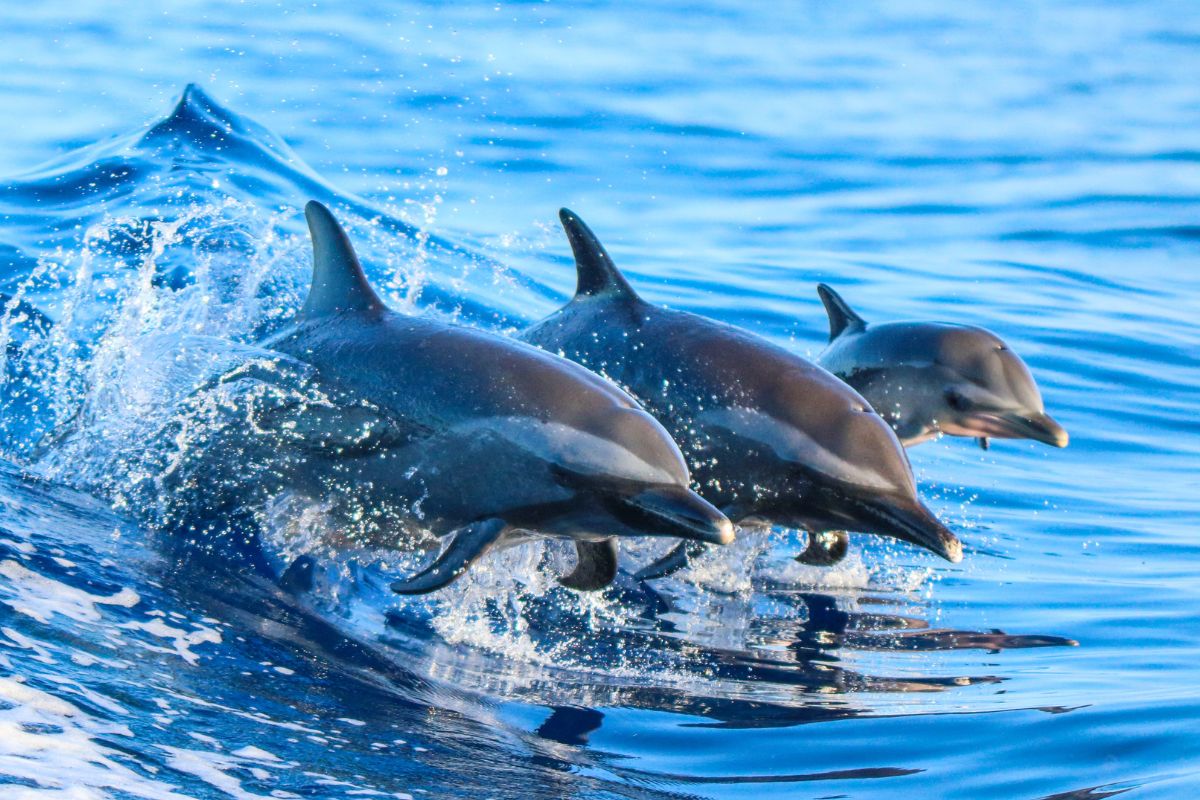 While the migrating humpbacks bear most of the attention, there are resident populations of spinner and spotted dolphins that can be seen all year round!
Options are aplenty for seeing these bubble creatures in their natural habitat, including coastal lookout points, kayaking, snorkeling, and even SUPing (stand-up paddle boarding).
But for those who want to just sit back, relax, and let someone else do the hard work, there are a number of dolphin-watching cruises leaving from both Kohala Coast and Kona daily. These trips not only guarantee sightings but also come complete with an informative guide to share interesting facts and stories about Hawaii's amazing marine life.
Plus, with some cruises offering full-service cash bars, hearty BBQ lunches, and snorkeling equipment should you want to jump in the water too, they really are the complete package.
31 – Hike part of the Ala Kahakai National Historic Trail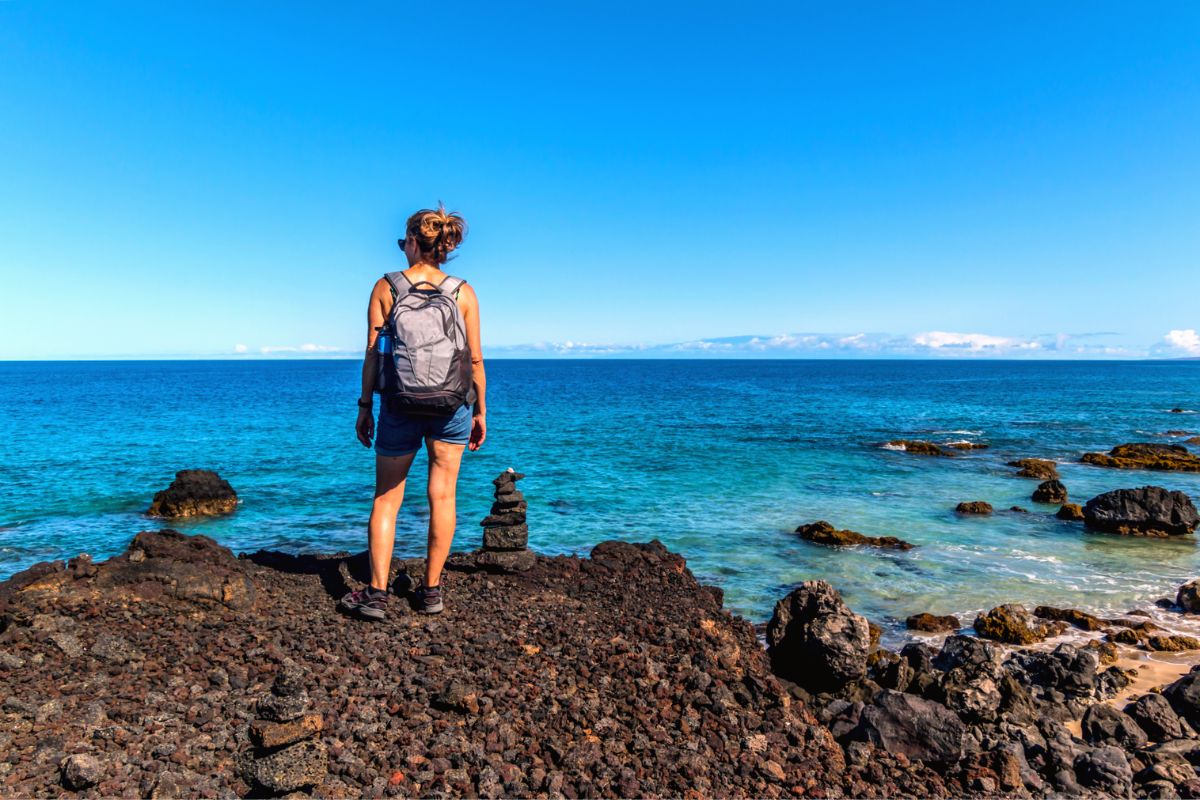 Spanning a whopping 175 miles, essentially looping around the entire island (and then some), the Ala Kahakai National Historic Trail – or nearby parts of it, at least – is one of the best things to do in Kona for adventurous souls looking to get off the beaten path.
A favorite section of the trail for most visitors is the stretch from Hapuna Beach to Spencer Beach Park, where you'll find dramatic lava landscapes, secret coves, and pristine beaches along the way – and you'll quickly understand where the Trail by the Sea moniker comes from. Kaloko-Honokohau National Historical Park is a great starting point, likewise Kekaha Kai State Park.
The trail, which was established in 2000, is made up of a network of ancient footpaths that were once used by Native Hawaiians to travel between coastal villages and religious sites. These days, it's a great way to see some of the island's most untouched coastline and natural beauty.
32 – Learn the basics of surfing
It wouldn't be a rundown of Hawaiian activities if we didn't mention surfing, now would it?
While the North Shore of Oahu often steals the spotlight when it comes to big waves and pro surfers, Hawaii's Big Island is no slouch in the surfing department either. In fact, some of the best breaks on the island are found in Kona.
From beginners' waves like those at Kahalu'u Bay and Pine Trees (Kohanaiki Beach Park) to more advanced spots like Lyman's, Banyans Beach, and Kohanaiki Beach, there's something for everyone. Not to mention, the water temperature is pretty much perfect year-round – no wetsuit required!
If you're new to surfing or just want to brush up on your skills, surf schools are a dime a dozen in Kona. They'll provide you with everything you need, from boards and leashes to rash guards and sunscreen, and can even help arrange transportation to and from the beach.
33 – Mingle with the monkeys at the Three Ring Ranch Exotic Animal Sanctuary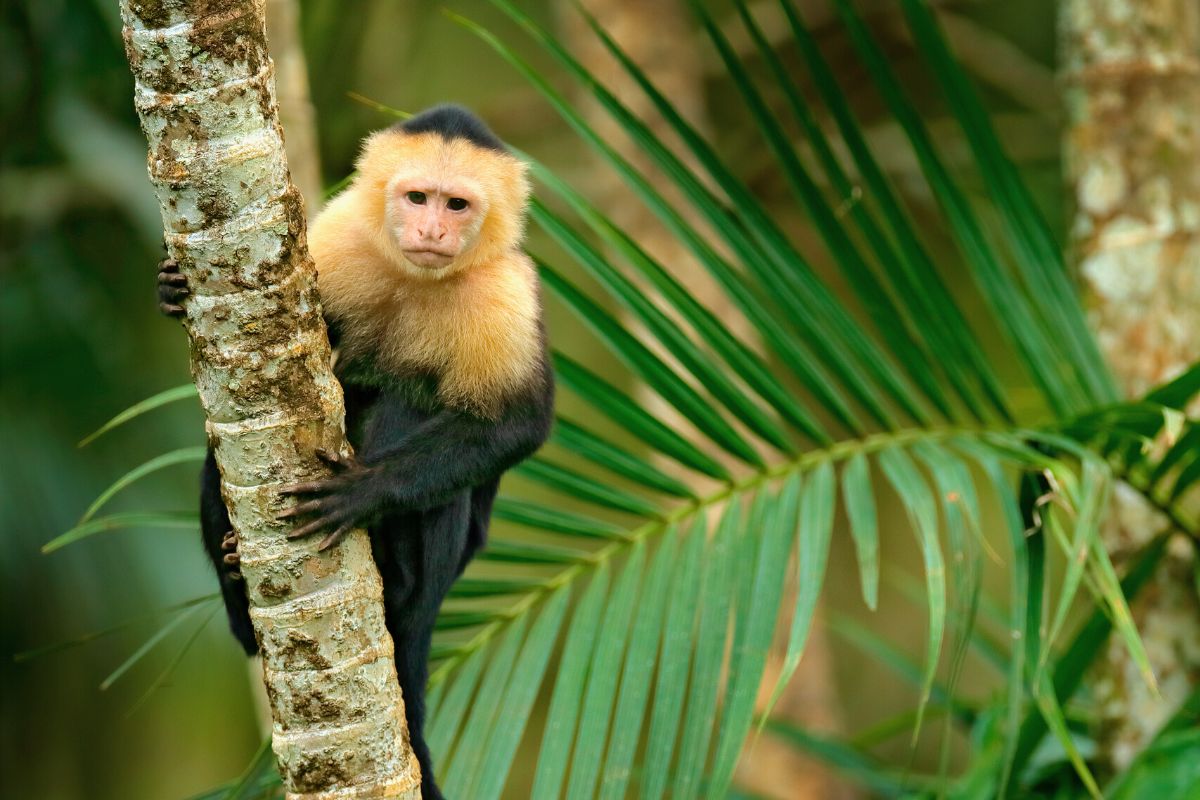 A non-profit organization started in 1998, and the only accredited one of its kind in Hawaii, the Three Ring Ranch Exotic Animal Sanctuary brings together a slew of animals from all over the world – think reptiles, hawks, owls, monkeys, ostriches, horses, chinchillas, flamingos, and zebras – and provides a safe haven for injured, rescued or neglected exotics.
Situated on nearly 5 acres of land in Kailua-Kona, the Sanctuary is run by incredibly knowledgeable and passionate staff who are more than happy to share their love and insights of animals with visitors.
In addition to providing a much-needed safe space for these creatures, the Sanctuary also offers educational tours and opportunities for animal lovers to get up close and personal with some of the residents, learn about their stories, and even have the opportunity to feed them!
34 – Catch your own dinner; opt for a fishing charter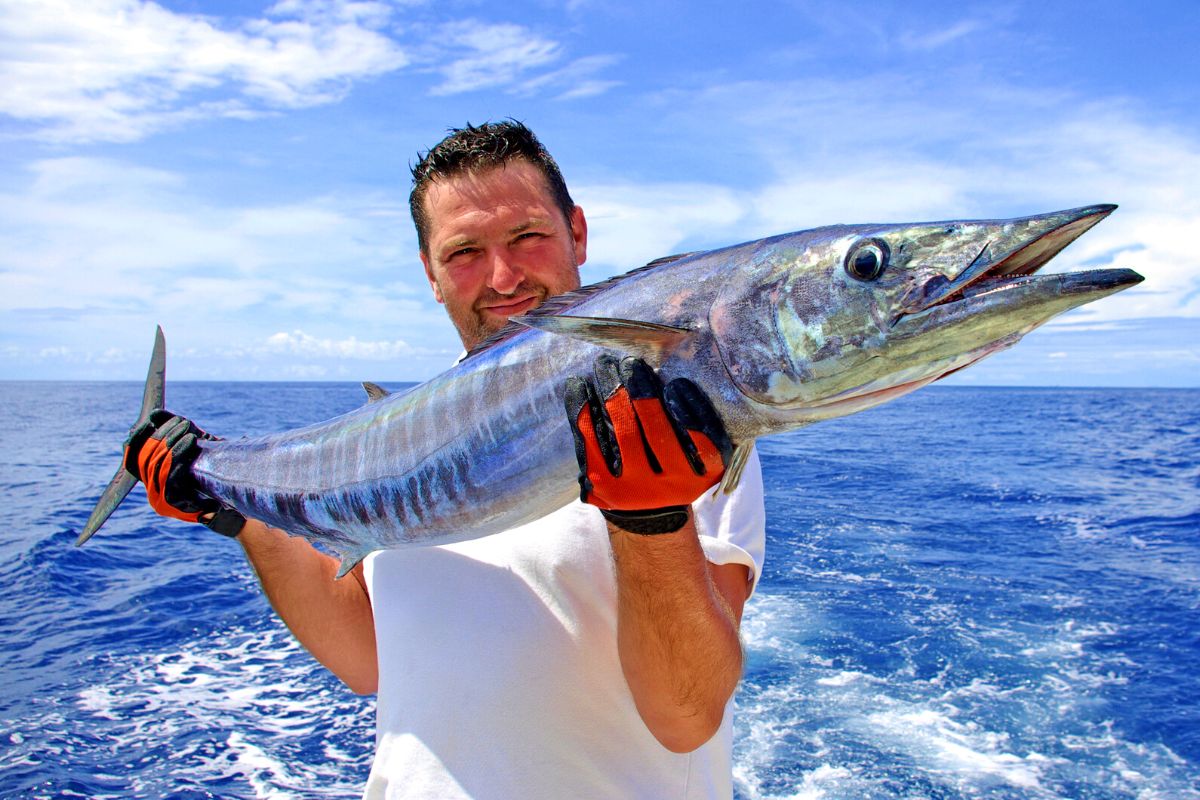 A favorite destination for big game anglers from all over, the waters off Kona are teeming with marlin, sailfish, tuna, mahi-mahi, ono, and more. If you're up for an adventure and are craving a day in the great outdoors, away from the rest of the tourists, a fishing charter on the open waters is one of the best things to do in Kona.
Not only will you get to enjoy some of the best deep-sea fishing Hawaii has to offer, learning the ropes of how to catch, identify, and clean your fish from knowledgeable skippers, but you'll also get to experience the stunning beauty of the Big Island from a whole new perspective, admiring the dramatic coastline from afar.
Most charters last between 4 and 8 hours and can be customized to accommodate your schedule and preferences – hitting up multiple anchor points throughout the day.
Prefer to stay on dry land? The Kailua Pier, right in the heart of town, is a great place to cast your line and try your hand at some good old-fashioned pier fishing.
35 – Take a day trip to the spectacular Pololu Valley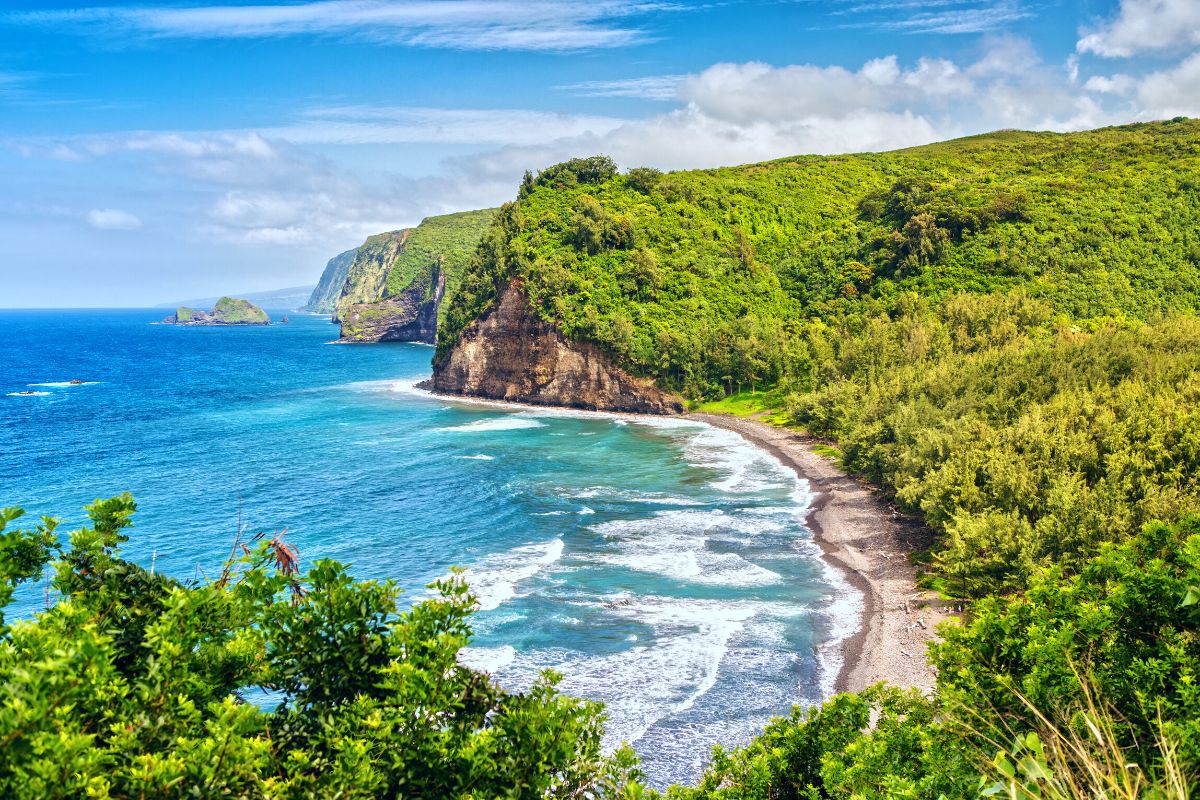 Tucked away on the northern tip of the island, reached via a meandering drive through lush rainforests and past cascading waterfalls, is one of Hawaii's most breathtaking natural wonders – Pololu Valley, the northernmost of the 7 Kohala volcano-carved valleys.
A short but steep 0.6-mile Pololū Trail hike (about 25 minutes) down a red dirt trail leads to the coastline, where you'll be rewarded with sweeping views of the dramatic cliffs that surround you, as well as the pristine black sand beach and cracking turquoise waters.
This is a place of true serenity and natural beauty (hence why it was chosen as the backdrop for The Lost World: Jurassic Park), where you can truly get away from it all and feel like you're a million miles away from civilization. If you're looking to escape the hustle and bustle of Kailua-Kona for a day, this is the perfect spot.
Prefer not to hike? The simplest way to check off this stunning slice of nature is to drive to the lookout point (literally the end of the road) for the views, which sits almost 500 feet above the valley floor.
36 – Pick up some souvenirs at the Kona Inn Shopping Village
Brimming with charming boutiques, art galleries, jewelry stores, surf shops, and restaurants, the Kona Inn Shopping Village is a beloved Kona locale for a spot of retail therapy or to simply while away an afternoon people-watching and soaking up the atmosphere.
The village dates back to the late 1920s when it was built as a simple accommodation for early-wave tourists, and though it has undergone many changes over the years, it still retains its old-world charm.
One of the highlights of the Shopping Village is, without a doubt, the Kona Inn Restaurant or Kona Canoe Club, which has been serving up delicious Polynesian fare since 1972 and is famed for its giant horseshoe-shaped bar and sweeping ocean views (plus top-tier Mai Tai cocktails).
Other great places to eat in the Shopping Village include Island Lava Java for coffee and fresh breakfast, Huggo's on the Rocks for lunch or dinner with a view, and the Kona Coffee Café. On a rainy day, or in case you need to pick up some souvenirs for the crew back home, it's one of the top things to do in Kona.
37 – Witness lava flows, craters, and possible eruptions in Hawaiʻi Volcanoes National Park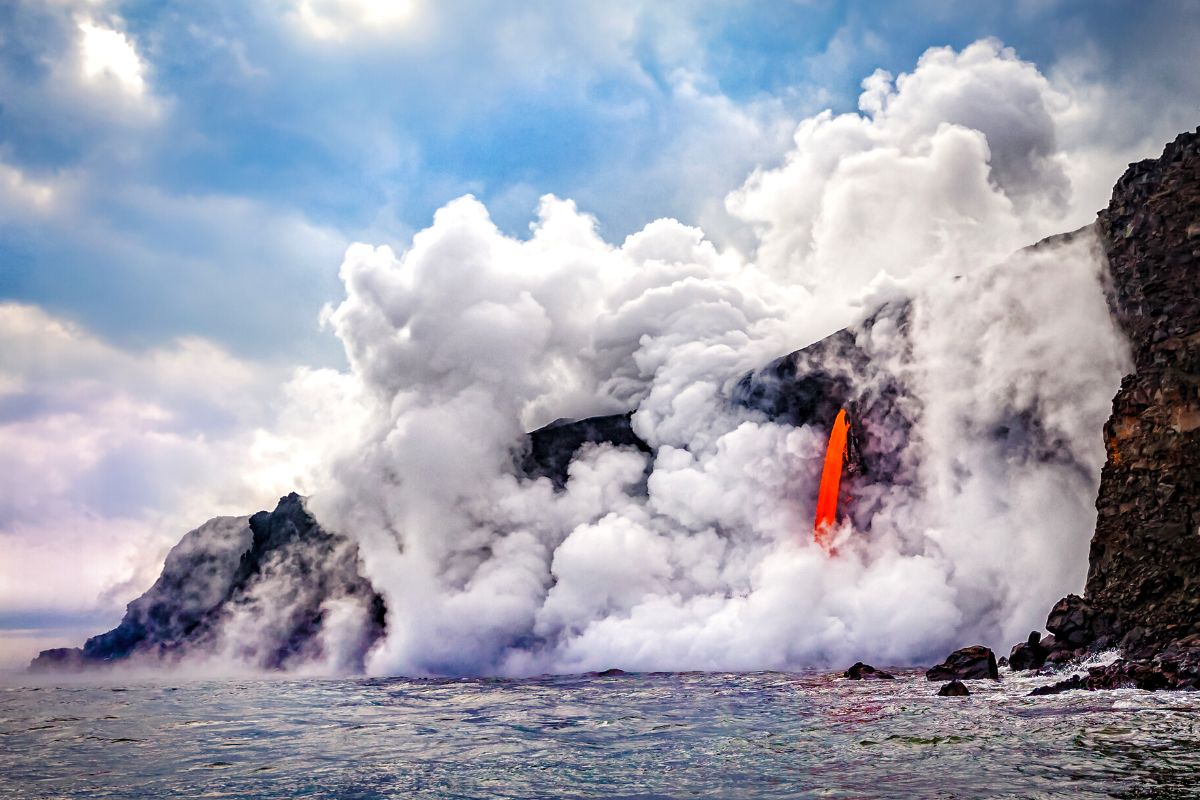 Powerful and awe-inspiring, Hawaii Volcanoes National Park is a raw insight into the very heart of the Hawaiian Islands – quite literally.
The park, which covers an impressive 505 square miles on the Big Island's southeast coast, is home to two of the most active volcanoes in the world – Kilauea and Mauna Loa (the latter, rising to an elevation of 13,677 feet, is Earth's largest volcano).
Get up close and personal with these natural wonders on a lava hike (the Mauna Loa Trail is the top choice)), or take a guided tour of the lava tubes, craters, and steam vents. You can also drive through the park to get to some of the most popular lookout points, or opt for a helicopter tour for a bird's-eye view of the otherworldly landscape.
If time permits (private tours can be customized to suit your preferences), check out the Ka'ū Desert, a region of unusual lava formations; stop by the dense tree fern forest, and learn a thing or two at the museum at the park headquarters.
No matter how you choose to explore it, Hawaii Volcanoes National Park is an absolute must-do on any trip to the Big Island. Just be sure to check conditions before you go and pack layers for all weather conditions.
38 – Take that perfect photo at Pele's Well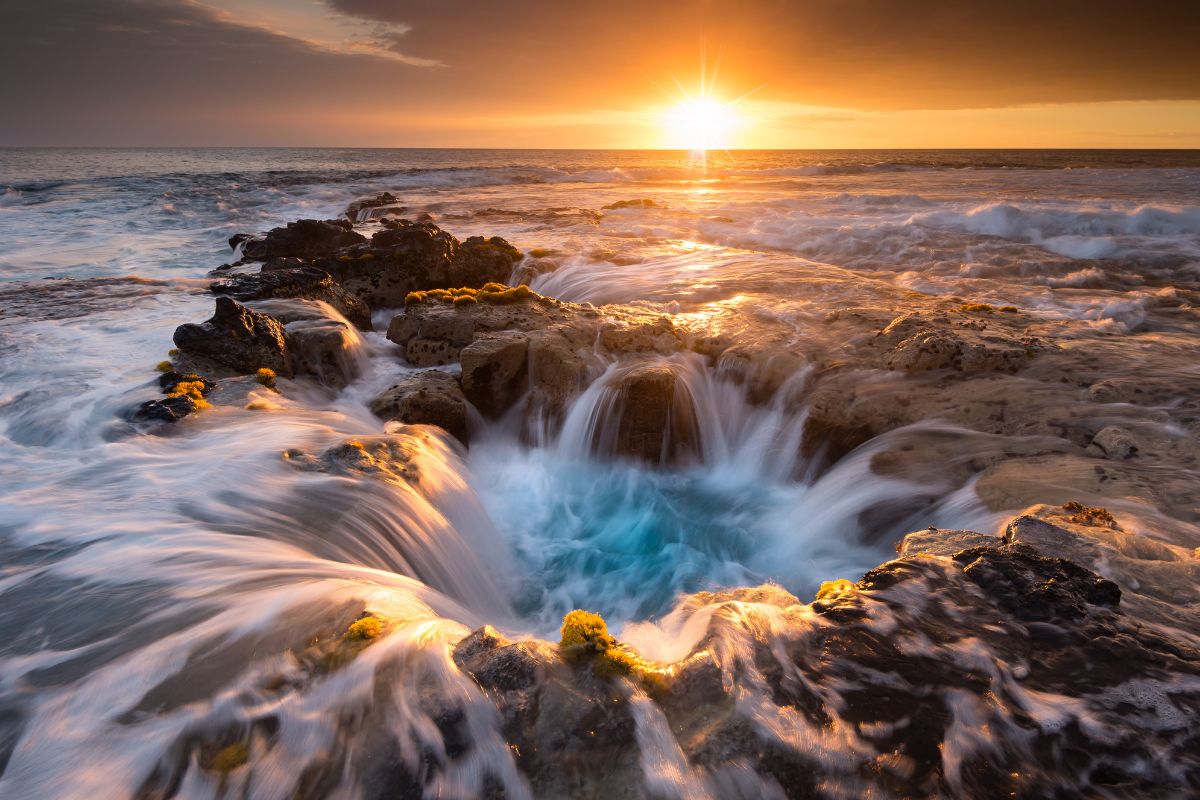 Proving the power of the ocean and looking like a sinkhole right underneath the water, Pele's Well is a natural 10-foot-deep pool created by lava flow, resulting in a tempest of constantly churning – yet somewhat unpredictable, so be careful – whitewater.
The well gets its name from Hawaii's goddess of fire, and while you can't swim in the well (the water is brackish), you can certainly enjoy the show. Unsurprisingly, the unique landscape has become a hot spot for photographers, with long-exposure shots guaranteed to turn out beautifully thanks to the still water and volcanic backdrop.
You'll find Pele's Well at Wawaloli Beach, about six miles north of Kona, making it an easy addition to any day of exploring the coastline.
39 – See the island from above with an airplane tour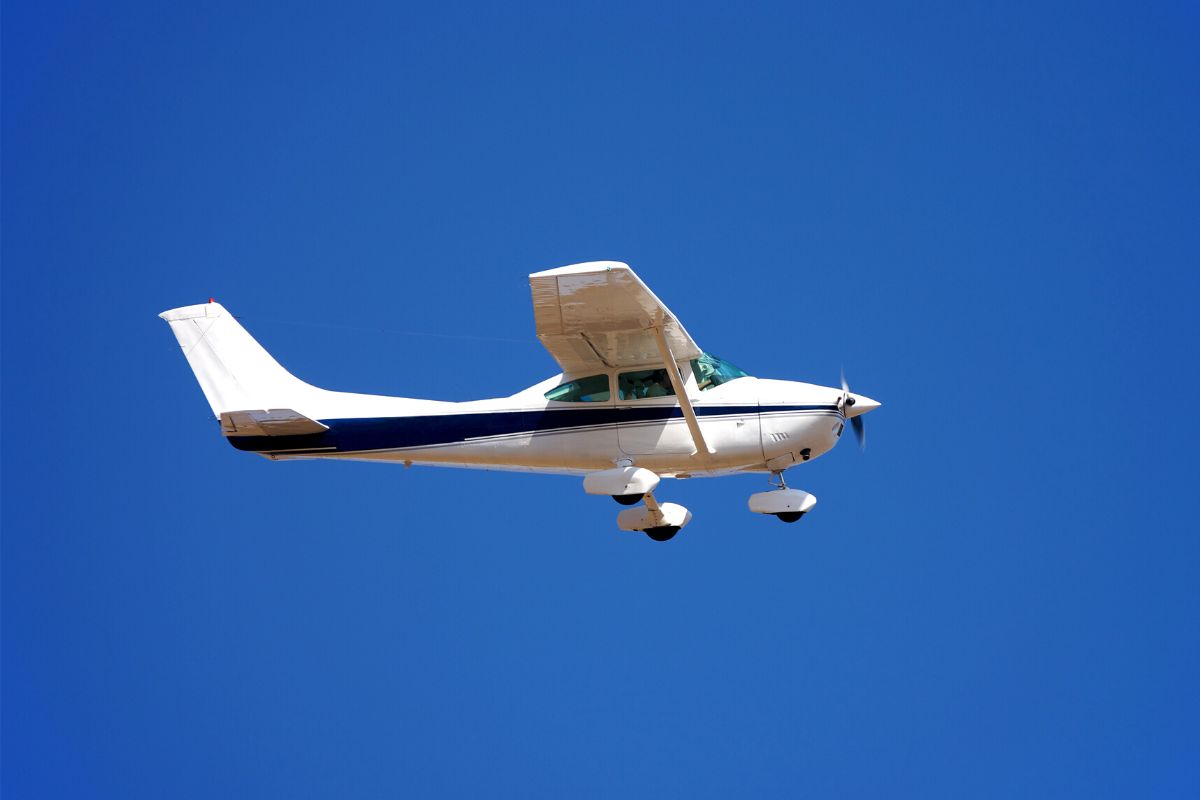 Take to the skies for a different perspective of Hawaii as you soar above the verdant landscapes, steep ocean cliffs, crashing waves, and ancient (active) volcanoes on an airplane tour.
As you ride shotgun with a knowledgeable local guide, you'll learn all about the history (including the creation of the volcanic landscape) and culture of both the Kohala and Hamakua coasts, as well as get insider tips on the best places to eat, drink, and explore once you've touched back down.
Depending on which tour you choose (they usually last about 30 minutes), you might even have time to land on a remote beach or private airstrip for a complimentary coffee or tea before jetting off again.
40 – Learn about local history at the Kamakahonu National Historic Landmark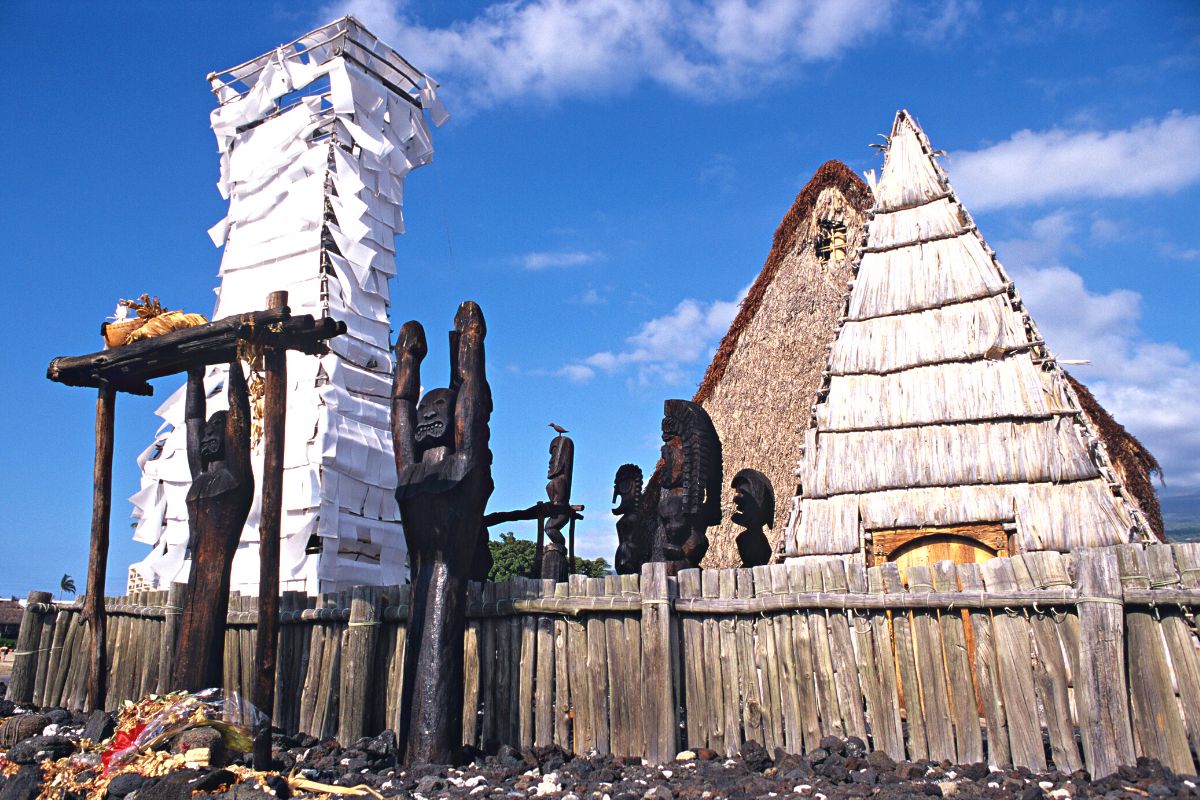 An important part of Hawaii's history, Kamakahonu National Historic Landmark was once the residence of King Kamehameha I – the first monarch to unify the Hawaiian Islands.
The landmark, which is located on the grounds of the Ahuena Heiau temple in Kailua-Kona, right on the waterfront, preserves the site where King Kamehameha the Great lived from 1813 until his death in 1819.
Today, Kamakahonu is home to a small selection of reconstructed buildings that provide an insight into the bygone centuries: the notable thatch-roofed prayer house is the Hale Mana, the tallest structure is the Anuu, the oracle tower, and the Hale Pahu, or House of Drums rounds out the trio.
Keep in mind: While you can't go inside, the nearby lobby of the Kona Beach Hotel displays a number of traditional Hawaiian artifacts relevant to the local history, while the Courtyard by Marriott King Kamehameha's Kona Beach Hotel offers guided tours with more information.
41 – Pop into the lovely Kona Oceanfront Gallery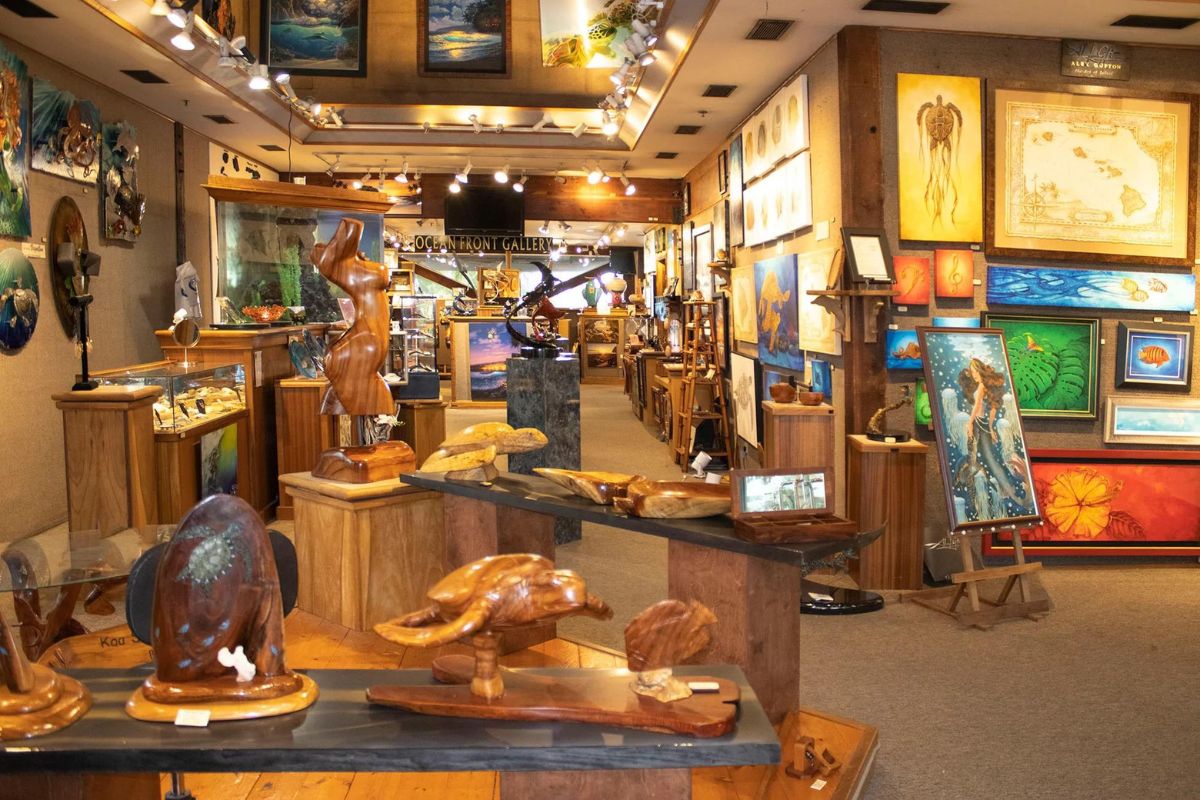 Full of uniquely Hawaiian paintings, prints, carvings, jewelry, sculptures, metalwork, and glass art, and often considered the Big Island's premier fine art showcase, the Kona Oceanfront Gallery embodies the vibrant, creative spirit of Hawaii.
The 50+ artists (like Steve Barton, Vicki Penney-Rohner, Alex Gupton, Walfrido Garcia, Wang Ge, and Heather Brown) represented in the gallery – the majority of whom are local – have a deep connection to their work, with each piece on display (depicting landscapes, animals, and people in a variety of intricate styles) telling a story about Hawaii's culture, natural beauty, and history.
With such a wide range of styles and mediums on display, most of which are for sale, the gallery, which is located right next to the Kona Farmers' Market, makes for an enjoyable, art-filled afternoon — especially if combined with a visit to the Kailua Village Artists Gallery down the road.
42 – Step back in time at the H.N. Greenwell Store Museum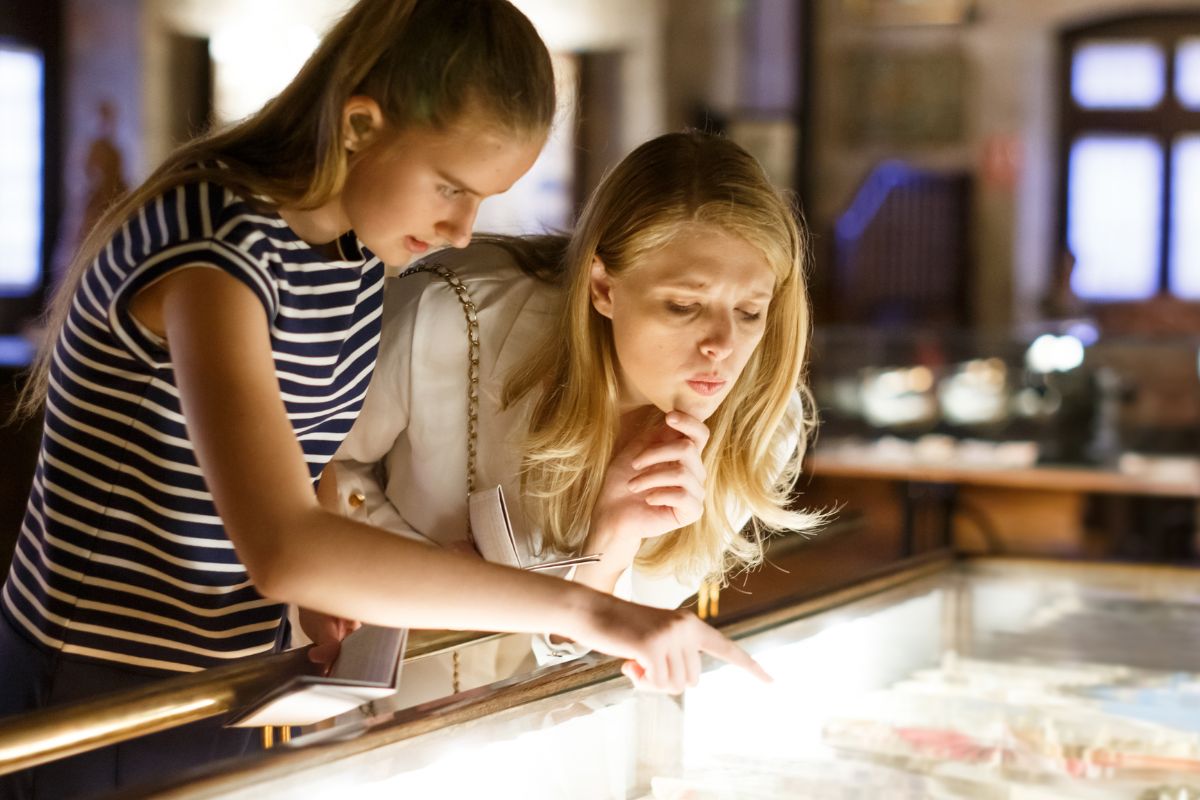 A Kona institution, built from lava rock, and standing and serving the local populations since 1870 (which, back then, was largely made up of immigrants), the H.N. Greenwell Store Museum feels like a journey back in time to a late 19th-century general store, where replicas of old goods (like barrels of molasses and lead and coffee, crochet yarn, vintage signs, all meticulously detailed and restored even down to the labels on the tin cans) line the walls and floors.
In addition to being able to explore every nook and cranny of this historic landmark – which is one of the best-preserved examples of a general store in Hawaii, one that was primarily used to supply to area's farming and ranching community – visitors can also learn from the educational staff in period costumes.
As both the oldest surviving store in Kona and one of the oldest buildings in Hawaii, the 1,000-square-foot H.N. Greenwell Store Museum showcases a less touristy part of town, providing an excellent insight into the state's history and culture.
Hot tip: visit on Thursday, when folks line up to buy hot Portuguese sweet bread made it the old stone oven.
43 – Trek through the fascinating Puakō Petroglyph Park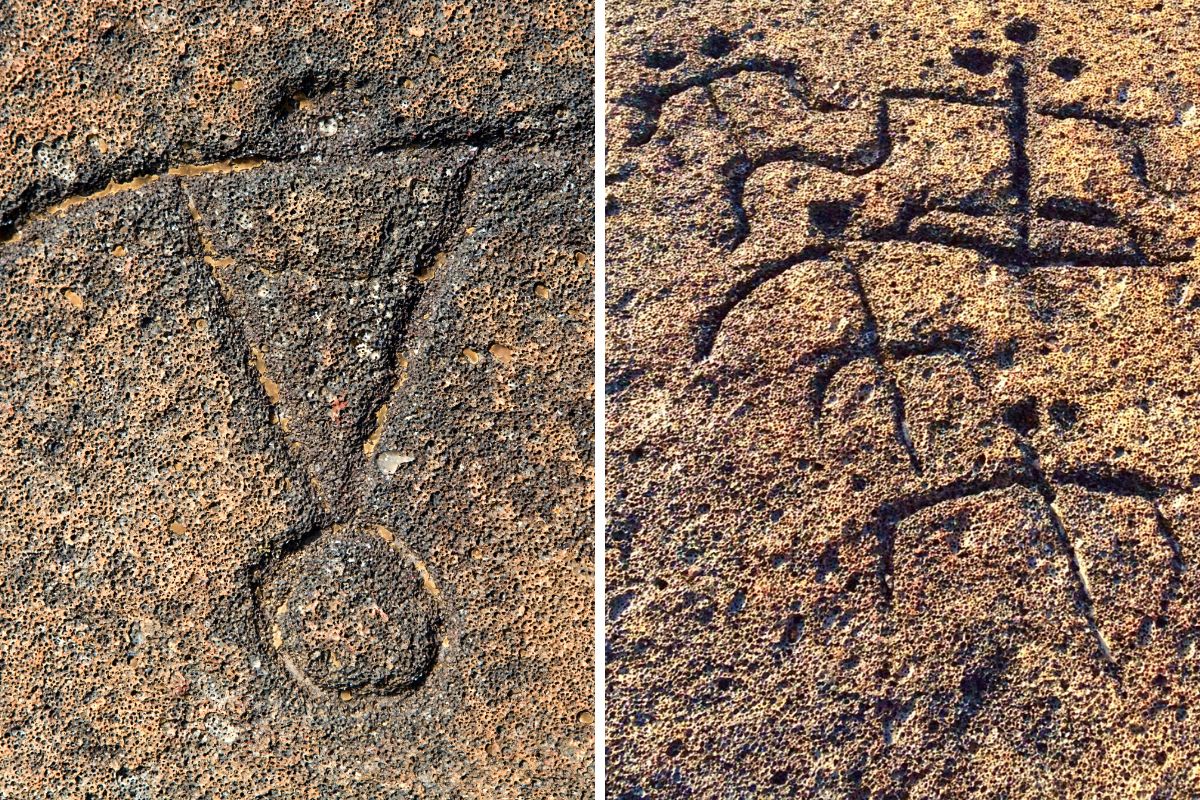 Dating all the way back to the 13th century, the Puakō Petroglyph Park is home to over 3,000 diverse ancient carvings (or petroglyphs), which were carved into lava flows by the native Hawaiian people who once inhabited this land.
The park, which is located about 40 minutes drive north of Kailua-Kona, in Waimea, regularly impresses visitors with its history and beauty, with many of the carvings (depicting things like animals, people, canoes, and geometric shapes) still remaining in pristine condition.
A great place to stretch your legs, the park is best explored on foot via the easy, hour-long walking trail. A 1.2-mile round-trip journey inland from Holoholokai Beach Park, the Malama Trail twists its way through the verdant, subtropical jungle before emerging at the petroglyph field, where you can get up close to see the close to 1200 petroglyphs in all their glory.
While it goes without saying not to touch these ancient carvings, you're more than welcome to run your hands down the replicate section toward the beginning of the trail.
After admiring the ancient carvings, consider taking a little on-foot detour to the beach (or walking the 0.4-mile connector trail) to the Fairmont Orchid Resort, where sea turtles and rays come out to play at dusk.
44 – Tantalize the tastebuds at The Vanillerie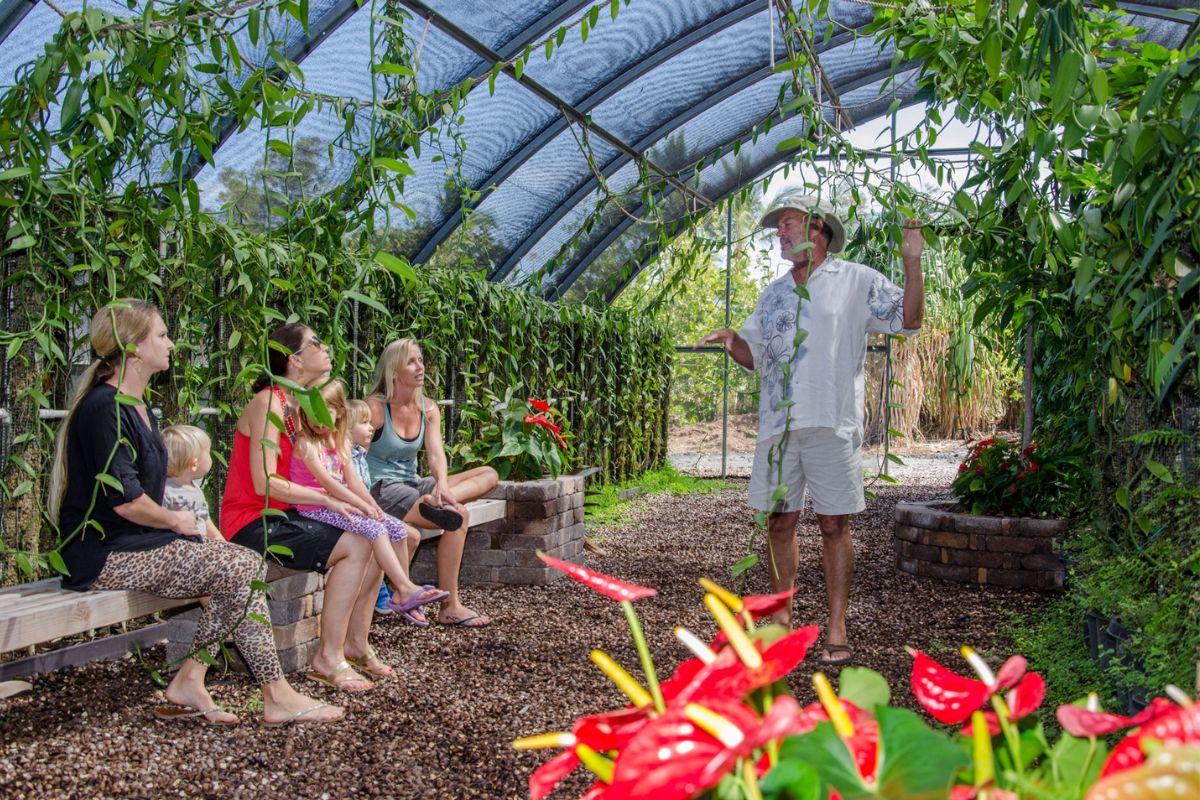 A rare opportunity to see the inner workings of a vanilla farm (and learn all about the lengthy, complicated process of growing and harvesting one of the world's most popular spices), The Vanillerie isn't just a quintessential foodie destination, but thanks to its stunning grounds, charming greenhouse, and colorful foliage, it's also a great place to relax and take in the natural beauty of Hawaii.
Situated on 11 acres of land in the Ka'u district (about an hour drive from Kailua-Kona), The family-owned Vanillerie is open for insightful tours led by owners Guy and Jeannie Cellier, who will guide you through the plantation and explain everything there is to know about growing vanilla, and its myriad unexpected uses.
Of course, you'll also get to sample some of the eclectic products made on-site, including vanilla sugar, salt, coffee, tea, body creams, scrubs, extracts, and oil – all of which are available for purchase in the gift shop. The most beloved treat, however, is almost always the locally made vanilla ice cream.
The Vanillerie is open for walk-in visitors on Tuesday and for tours Wednesday to Friday (at 10 am and 12 pm), with the cost of admission being $20 per adult and $10 for the little ones.
45 – Laze around on Manini'owali Beach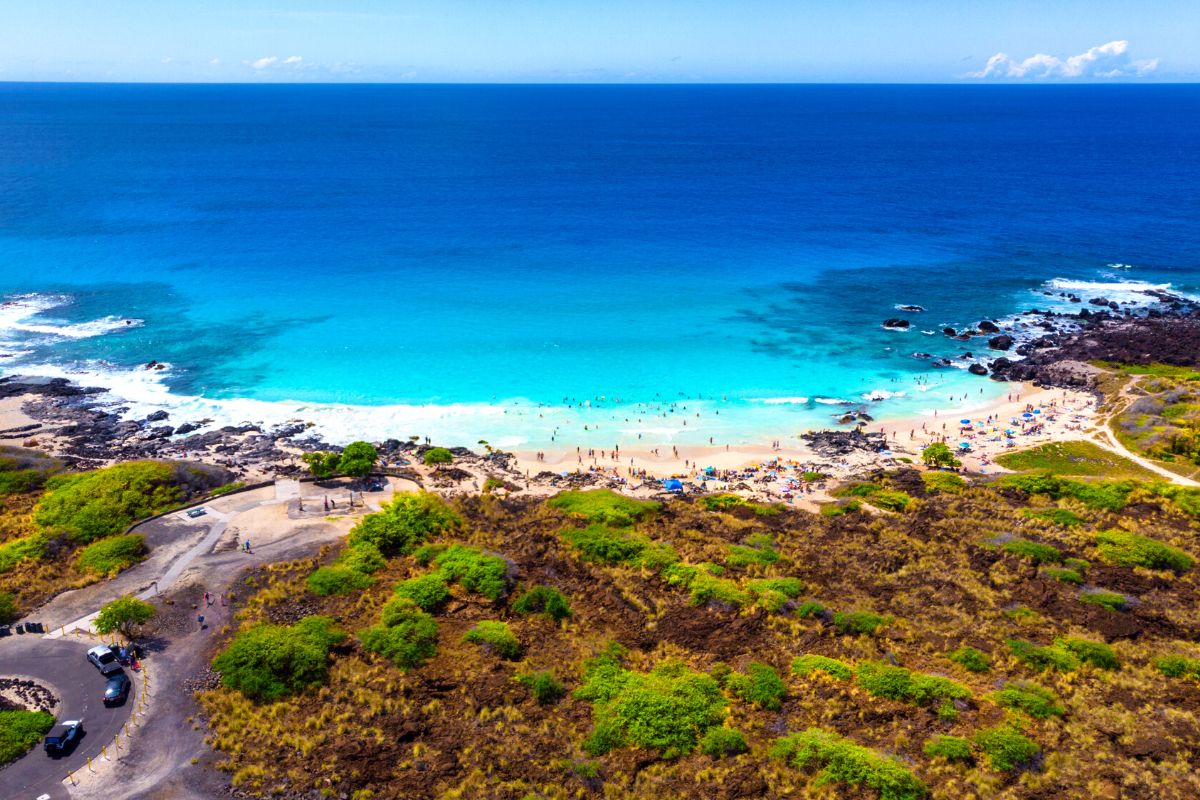 A quiet, rather secluded alternative to some of the more crowded beaches on this list, Manini'owali Beach – also known as Kua Bay – is a beautiful white sand stretch that's perfect for swimming and snorkeling, sunbathing with a good book, and relaxing with the family, taking in the oh-so-stunning views of the turquoise blue waters (and occasional sea turtles!).
Situated on the northwest coast of the Big Island inside the Kekaha Kai State Park (about a 25-minute drive from Kailua-Kona), Kua Bay is down the road from Makalawena Beach (another excellent spot for swimming and snorkeling, although bigger a little more popular thanks to its lava pools) and, complementing the lifeguard tower, the waters here are generally calm and gentle, making it a good choice for families with small children.
Since Manini'owali beach is a tad more difficult to reach than other nearby white sand beaches (requiring a short walk from the parking lot), crowds are often limited to locals and in-the-know tourists – which means more space for you to enjoy!
Driving from Kona? Consider a stop at The Vanillerie along the way (see #44)!
46 – Have a feast at one (or more) of Kona's best restaurants
Boasting a unique blend of traditional and modern fusion flavors; everything from classic American comfort food and fresh seafood, to Hawaiian-style poke bowls and vegan-friendly fare – it's no wonder Kailua-Kona is considered a culinary hotspot.
Whether you're in the mood for a casual bite or an upscale dining experience, there's sure to be something to tantalize your taste buds. Here are just a few of our favorite places to eat in Kailua-Kona:
Island Lava Java: A local institution, The Lava Java is the perfect place to enjoy a leisurely breakfast or lunch with a freshly squeezed juice or 100% Kona coffee, complete with stunning ocean views. Be sure to try the fresh fish tacos!
Pine Trees Café: One of the few buffet-style restaurants on the island, Pine Trees Café offers an inventive menu of healthy bowls, salads, and wraps, made with locally sourced ingredients (can't go wrong with the famous Homemade Stew).
Huggo's On The Rocks: For a truly memorable dining experience, look no further than Huggo's On The Rocks. Located right on the water's edge, this popular fine dining spot is perfect for watching the sunset with a cocktail in hand, while enjoying contemporary Hawaiian cuisine and live entertainment.
Kona Brewing Company: A must-visit for beer lovers, Kona Brewing Company offers a variety of tours and tastings, so you can learn all about the brewing process while sampling some of their delicious brews. Be sure to try the Pipeline Porter!
Big Island Grill: A favorite with locals and visitors alike, the centrally-located Big Island Grill is a wonderful place to enjoy a laid-back lunch or dinner. The menu features all your favorite Hawaiian staples, like kalua pork, loco moco, and mahi mahi, as well as burgers, sandwiches, and salads.
Da Poke Shack: A staple of the Kailua-Kona food scene, Da Poke Shack is beloved for its fresh seafood poke bowls. With a menu that includes everything from classic ahi poke to more adventurous options like octopus or jumbo shrimp, you won't walk away on an empty stomach.
Kona Inn Restaurant: serving up tantalizing Polynesian fare since 1972, the Kona Inn Restaurant is an iconic spot for dinner, complete with live music and occasional hula dancers. Be sure to try the mai tais – they're legendary!
The Fish Hopper: Seafood lovers will feel right at home here, where fresh catches are served up daily alongside succulent steaks. With sweeping ocean views, it's a top-tier date spot too.
Jackie Rey's Ohana Grill: A slew of cocktails and wines complements the variety of bite-size appetizers (pupus) and fresh, locally sourced seafood at Jackie Rey's Ohana Grill, with happy hour deals that are friendly on the wallet.
47 – Check off the main highlights with a Circle Island tour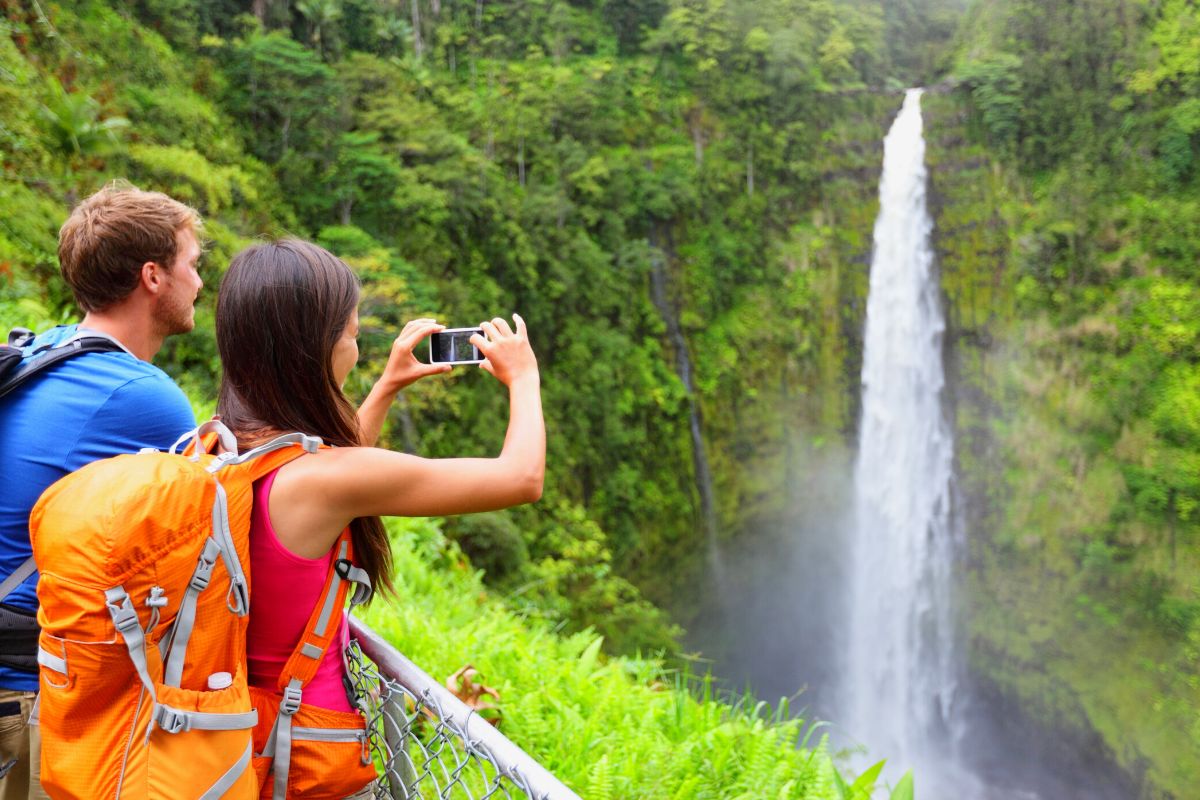 Want to tick off a wide range of the quintessential things to do in Kona in one day, without the hassle of driving or public transport? Then you need to book a place on one of the many Circle Island tours that leave from Kailua-Kona town daily.
A number of different companies offer these comprehensive day trips, which will generally take in all (or most) of the following postcard-worthy locales: the Captain Cook monument at Kealakekua Bay, the Hawaii Volcanoes National Park (including the Kilauea Iki Crater Overlook, the Steaming Bluffs and the Kilauea Caldera), Rainbow Falls, Punalu'u Black Sand Beach, quaint Hilo town on the island's eastern flank, Akaka Falls State Park, and the Waipio Valley Overlook.
And, depending on your tour of choice, odds are you'll pop into the Mauna Loa Macadamia Nut Factory, Big Island Candies in Hilo, and Bay View Farm (coffee farm) – with lunch, drinks, and insightful commentary provided all the way through.
Lasting between 11 and 12 hours, these full-day chock-full-of-fun jaunts are great value for money, particularly popular for those short on time.
48 – Get a little romantic on a sunset dinner cruise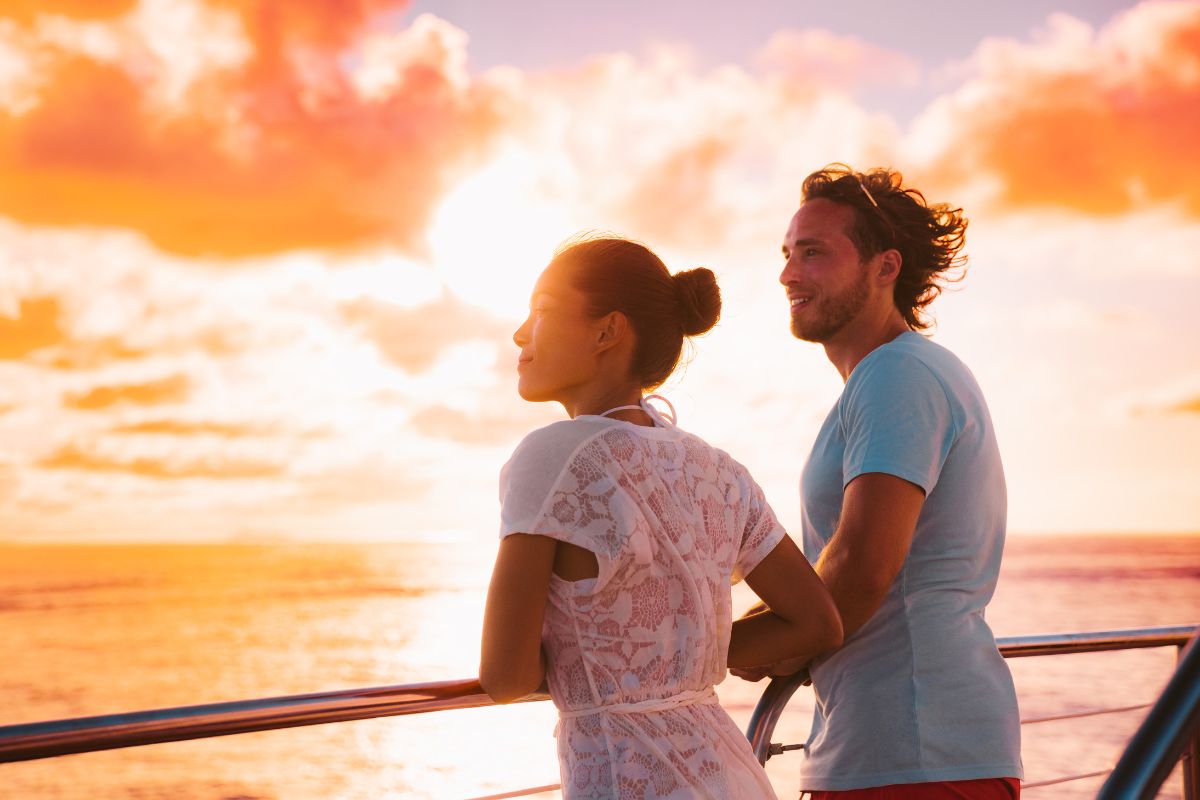 Epitomizing romance with orange-tinted skies, a warm sea breeze, and the twinkling lights of Kailua-Kona town and the surrounding coastline in the distance, a sunset dinner cruise should definitely feature on any couple's list of things to do in Kona.
These magical evening excursions, all of which serve up an array of delicious Hawaiian dishes and appetizers as you sail into the sunset, typically last around three hours as they make their way down the coast, traveling close to 12 miles all the way toward the Captain Cook monument.
Throw in live entertainment (live music or traditional dancers), a complimentary cocktail, a fully-stocked bar, and insightful narration by a local historian tour guide as you pass by close to 50 natural and manmade points of interest, and you've got yourself quite the memorable evening.
49 – Get off the beaten track; visit Big Island Abalone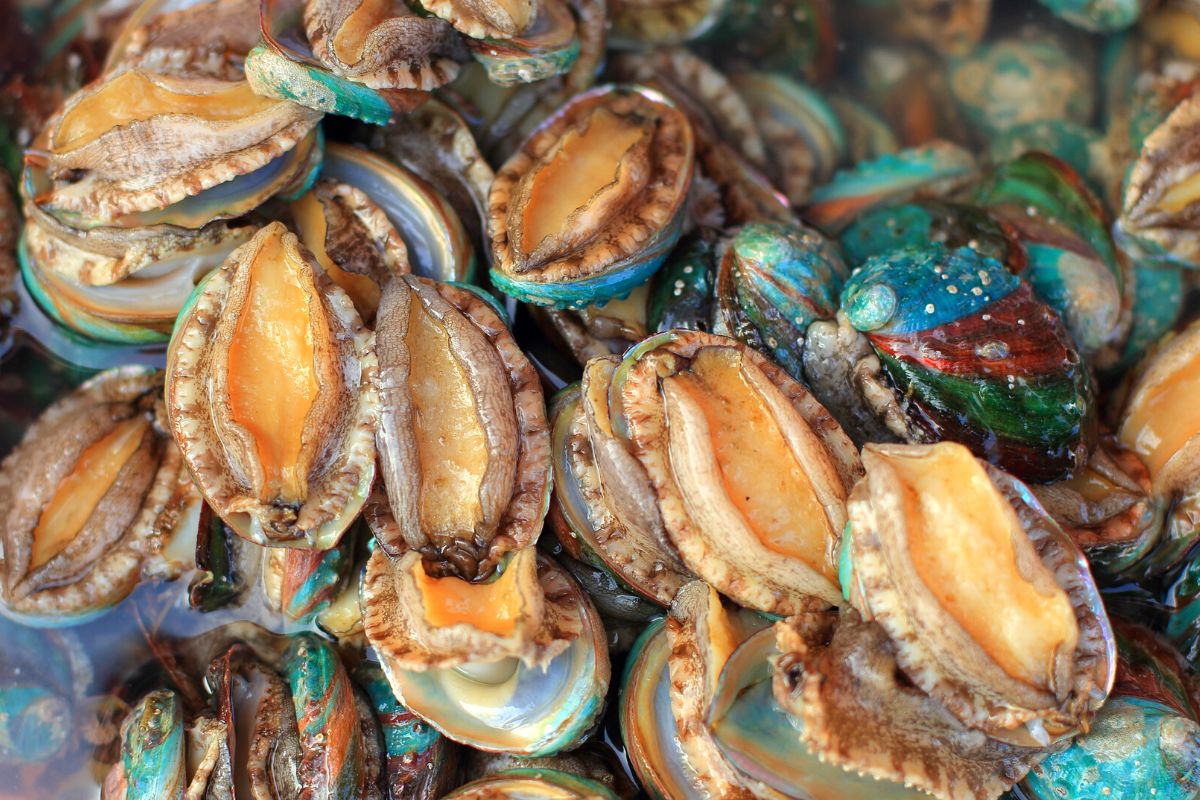 Officially the largest abalone (shellfish) aquaculture farm in the country, Big Island Abalone is certainly one of the more peculiar things to do in Kona – but for a unique insight into a little-known side of the local culinary culture (it's a staple in many high-end Hawaiian restaurants), it's worth a visit by any means.
Better yet, sign up for one of the staff-led guided tours! Not only will you learn stacks about the farm's history and operation, as well as the biology of this quirky Japanese Ezo shellfish, but you'll also get to see – and even taste, when grilled – the abalone in its various stages of production.
Insightful tours run Monday through Friday at 12.15 pm with both Japanese- and English-speaking tour guides.
You'll find Big Island Abalone right next to Wawaloli Beach Park, around the corner from both the Ocean Rider Seahorse Farm and the Kanaloa Octopus Farm.
50 – Go stargazing at the Mauna Kea summit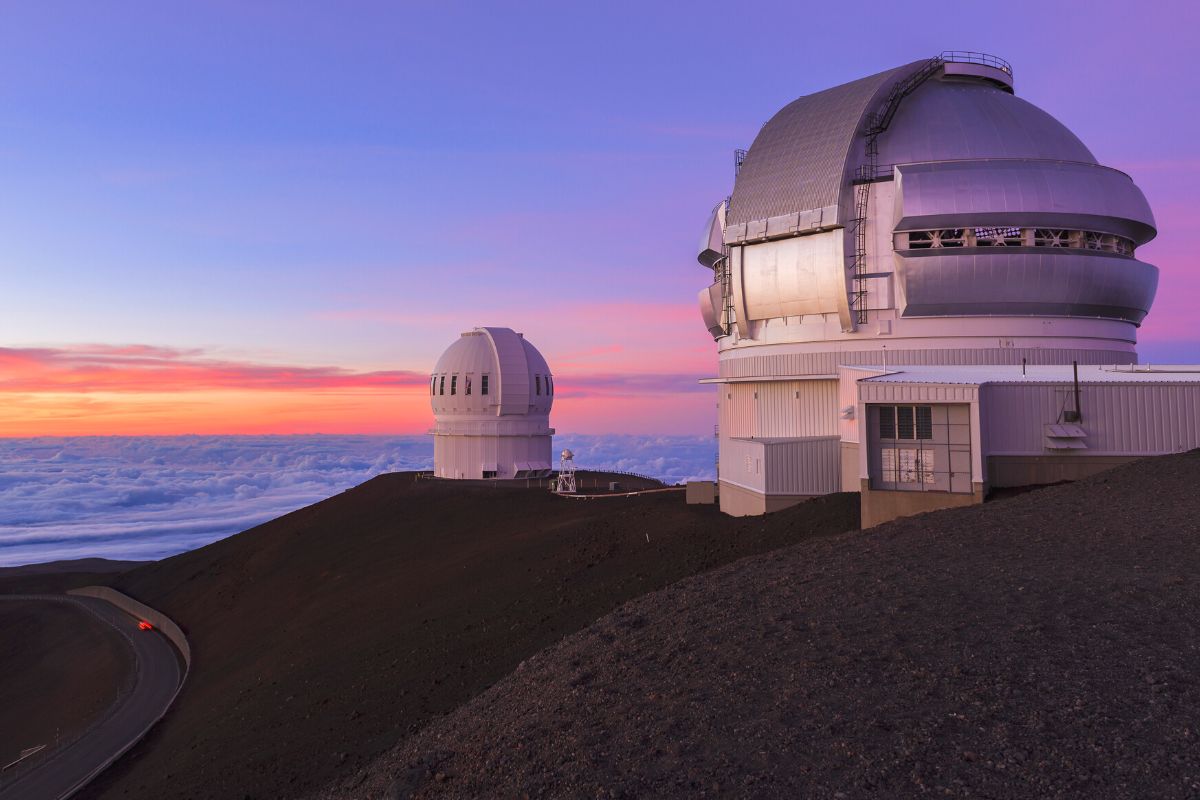 You've got stargazing, and then you've got stargazing on the world's tallest sea mountain and Hawaii's highest vantage point; the Mauna Kea Summit (just beating out its neighbor, Mauna Loa, by some 125 feet).
At almost 13,800 feet above sea level (and 33,000 feet from the bottom of the ocean floor), the Mauna Kea Observatory is unrivaled in terms of its astronomical vantage point, with its oft white-capped summit providing a chilly change of scenery from the lush rolling hills, ultramarine coastline, and dense forests.
With that in mind, it's little wonder that conquering this dormant volcano is one of the most popular things to do in Kona – particularly for those who have a keen interest in astronomy and want to learn more about the brilliant constellations, planets, and other galaxies visible from atop.
A professional research station (for obvious reasons), the Mauna Kea Observatory boasts 13 different telescopes operated by no less than 11 different countries, including the world's largest observatory for optical, infrared, and submillimeter astronomy.
While these summit telescopes are reserved for research, visitors can still mount the summit and appreciate the twinkling, diamond-filled sky, or take part in one of the free nightly stargazing sessions (from 6 to 10 p.m) held by the Mauna Kea visitor center (where, by the way, you'll find publically usable telescopes).
With no light pollution, and friendly night-sky experts pointing out the most interesting stars, planets, and galaxies, it's an experience that's suitable for the whole family. Just make sure you dress warmly!
Hot tip: while stargazing tours can be as quick as two hours, visitors who want to make the most of their journey can also opt for a longer combination day tour that ticks off places like Kilauea National Park and the Akaka Falls hiking trail,
51 – Enjoy a high-energy Luau show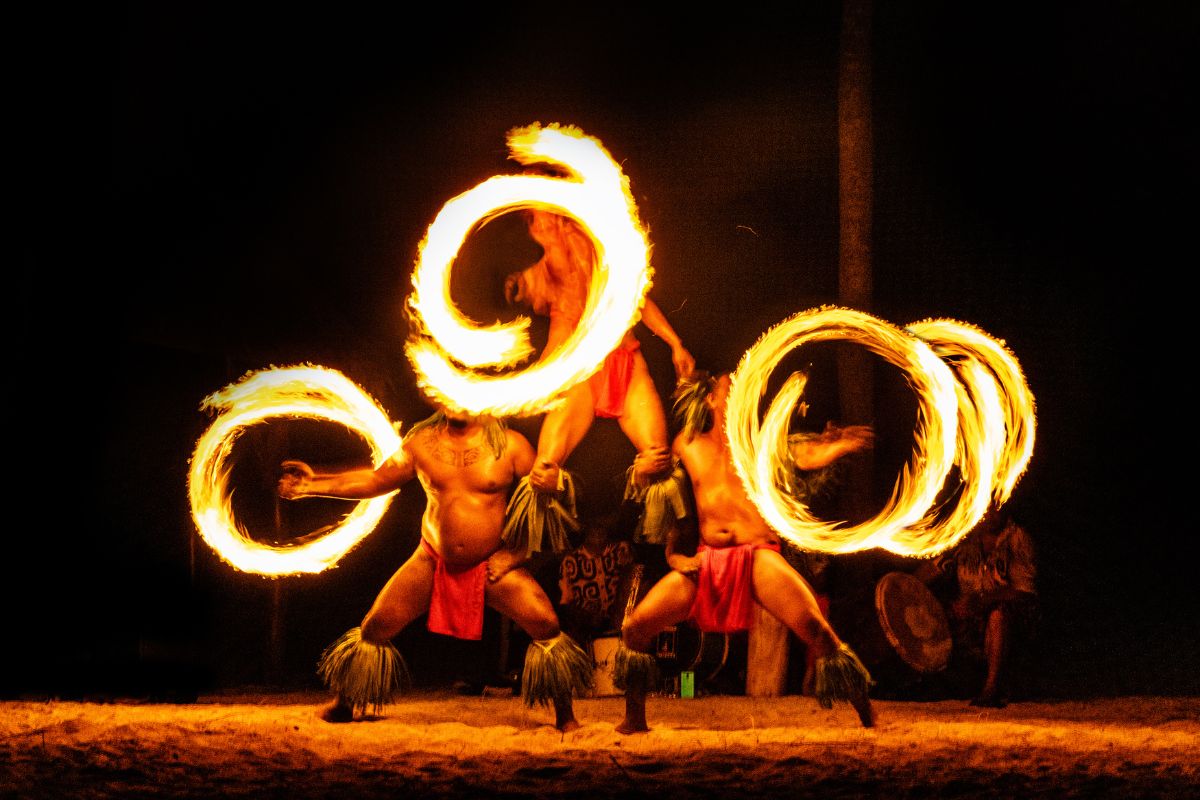 Sure, it's a little stereotypical, and arguably quite cliche, but attending a traditional Hawaiian luau show is nevertheless an experience not to be missed while in Hawaii – and there are few better places to enjoy one than the historic Kamakahonu Royal Luau Grounds in Kailua-Kona town.
You don't go to Paris and not see the Eiffel Tower; you don't go to New York and avoid Central Park; just like you don't go to Kona without booking in a traditional luau show!
So, what is a luau? It's a Hawaiian feast (traditionally featuring roasted pig – or kalua pua'a – as the centerpiece) that's often accompanied by upbeat drum music, fire, and high-energy Polynesian dance performances — collectively, a feast for both the eyes and the belly, and a wonderful insight into the rich local culture of bygone centuries (thought to date back at least 200 years).
You'll find luau shows all over the archipelago, but if you're looking for festive things to do in Kona, the Voyagers of the Pacific Lū'au as well as Island Breeze Luau are hard to pass up.
The former, located at the Royal Kona Resort and overlooking the water, features an impressive buffet-style meal with all the Hawaiian staples (think poi, lomi salmon, sweet potato, taro rolls, and haupia – a coconut pudding), as well as an award-winning show that culminates in a Samoan fire knife ritual.
Meanwhile, the latter sits in the heart of town on the shores of Kamakahonu Bay, and comes with an open bar and pre-show interactive stations like henna tattooing and games.
How to get to Kona?
Tucked away on the western coast of the Big Island, the town of Kailua-Kona is about a 45-minute drive from Hilo International Airport (ITO), and can also be reached via a short flight from Honolulu International Airport (HNL) – Hawaii's main and often cheapest-to-reach airstrip – on the smaller Hawaiian Island of Oahu.
Of course, Kona also has its own little airport, although there are only a handful of international flights that operate in and out of here.
For those traveling from the US mainland, direct flights into Kona International Airport (KOA) fly from Seattle, Los Angeles, San Francisco, Oakland, Phoenix, Dallas/Fort Worth, Denver, and Portland – otherwise, you'll likely have to make a connection.
Despite assumptions, ferry services between islands are few and far between (currently only available between Maui and Lanai). So to travel between all the other Hawaiian islands, you need to fly.
Once you've arrived on this paradise island, getting around is relatively easy, with car rental companies, tour operators, taxis, and the cheap yet limited public hele-on-bus all offering services to the town's main attractions. If you're planning on driving yourself, note that most rental companies will require you to be at least 25 years old and hold a valid driver's license from your home country.
Where to stay in Kona?
Whether you're after 5-star luxury, complete with all the pampering bells and whistles (think: spas, fitness centers, restaurants, and bars), or something a little more low-key that won't break the budget, there's accommodation to suit all tastes and budgets in beautiful Kailua-Kona.
Here are some of our top picks for places to stay in town:
The Fairmont Orchid Hawaii – Set on 32 acres of lava-rock landscaped gardens overlooking the Kohala Coast, this luxury resort comes complete with a serene lagoon-style pool, full-service spa, five mouthwatering restaurants (plus bars), and a pristine private beach.
Courtyard by Marriott King Kamehameha's Kona Beach Hotel – If you're looking for accommodation right on the white sand, this is the place for you. Facing Kamakahonu Bay in the heart of Kailua-Kona town, the hotel also has its own lagoon-style infinity pool and is within walking distance of the Hulihe'e Palace, while also offering catamaran tours, parasailing, and kayak rentals.
Four Seasons Resort Hualalai – despite being further out of town (about 15 miles up the coast), this lavish resort is well worth the extra effort, thanks to its stunning oceanfront setting, complete with black lava rocks and palm trees. With seven pools, 250 rooms, multiple golf courses, water sports activities (like snorkeling), and a reputation at the sole AAA Five Diamond Rated Resort in Hawaii, it's hard to go past the Four Seasons.
Hilton Waikoloa Village – Also located on the sunny Kona Coast, 25 miles north of Kona, this 62-acre oceanfront resort boasts an impressive array of facilities, including multiple freshwater pools (one of which is adults only), a 175-foot waterslide, 20,000 square feet of retail shops, tennis courts, and a golf course.
Where should you go next?
You might have checked off all the quintessential Kona attractions – but this sleepy coastal town is just the beginning! You've come all this way, so make sure to spend a few days on the other side of the island exploring all the things to do in Hilo – from hiking through the Akaka Falls State Park to lazing around on black sand beaches or tackling the thrilling jungle ziplines.
Trust us, it's worth the journey! And when you're done, hop on a plane and check out one of these other amazing places in Hawaii:
Maui: Famous for its dramatic coastline, lush rainforests, and stunning beaches, Maui combines adventure, relaxation, and culture into one incredible island experience.
Oahu: As the most populous of all the Hawaiian islands, Oahu is unsurprisingly home to a diverse range of activities and attractions, from Honolulu's bustling city streets to world-famous Waikiki Beach and historic Pearl Harbor.
Kauai: The "Garden Isle" is unsurprisingly one of the most beautiful places in Hawaii, with verdant rainforests, pristine beaches, and towering cliffs that will take your breath away. As the backdrop of many a Jurassic Park movie, it's sure to please any dino-loving adventurer.
Need a hand creating your ultimate Hawaii bucket list? Once you've seen the best things to do on the Big Island, read our comprehensive guide on the best things to do in Hawaii. From helicopter flights to volcano hikes, plantation tours, Jurassic Park adventures, bustling street markets, fascinating museums and galleries, historical sites, food tours, and more, we've got you covered.
Final thoughts
With so many amazing things to do in Kona, you'll be spoilt for choice during your stay on the Big Island. From taking part in traditional Hawaiian ceremonies and feasting on delicious local cuisine, to exploring the island's natural wonders and getting up close and personal with some of its resident wildlife, there's something for everyone in this vibrant town.
So what are you waiting for? Start planning your trip to Kailua-Kona today!
What are some of your favorite things to do in Kailua-Kona? Let us know in the comments below. As always, happy travels!