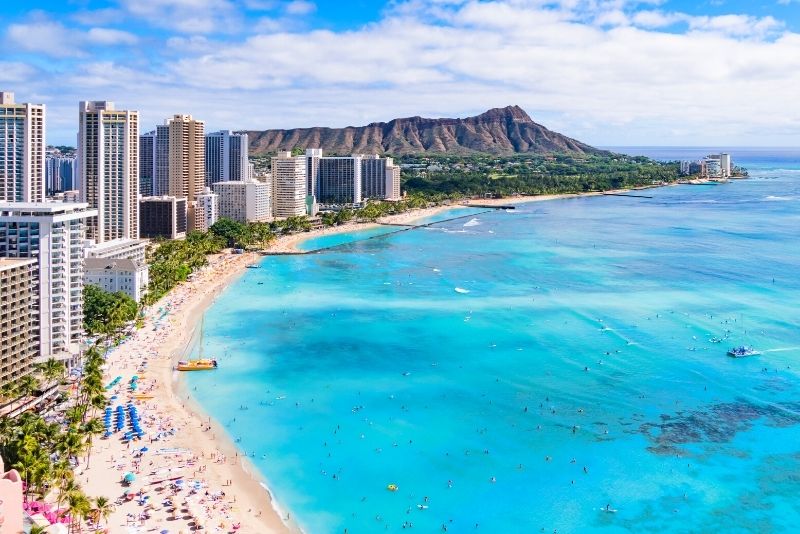 Oahu might only be the third-largest Hawaiian island, yet it boasts arguably the most diverse, exciting, and unforgettable list of experiences across the entire archipelago.
From historic battle sites like Pearl Harbor to incredible hiking opportunities and stargazing spots; Jurassic Park tours; and plenty of beaches, snorkeling, and diving spots, you'll never run out of things to do in Oahu.
1 – Float on a kayak along Kailua Beach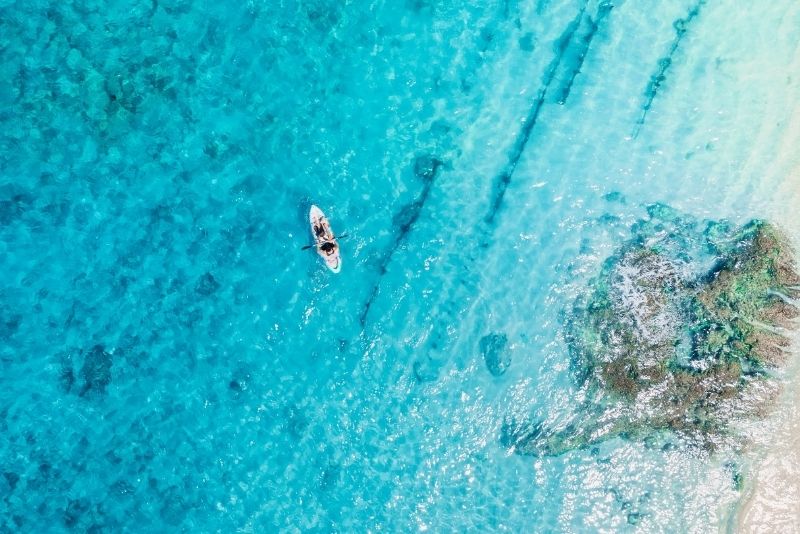 As anyone who's ever visited Kailua Beach on the island's eastern shore will tell you, it's pretty much the closest thing to paradise on Earth.
With transparent waters, white sands, and year-round warm weather, there's no excuse to leave this place off the itinerary.
Besides swimming and snorkeling, a kayak tour around the area is a great way to soak in all of Kailua's beauty.
2 – Learn about the iconic attacks at the Pearl Harbor National Memorial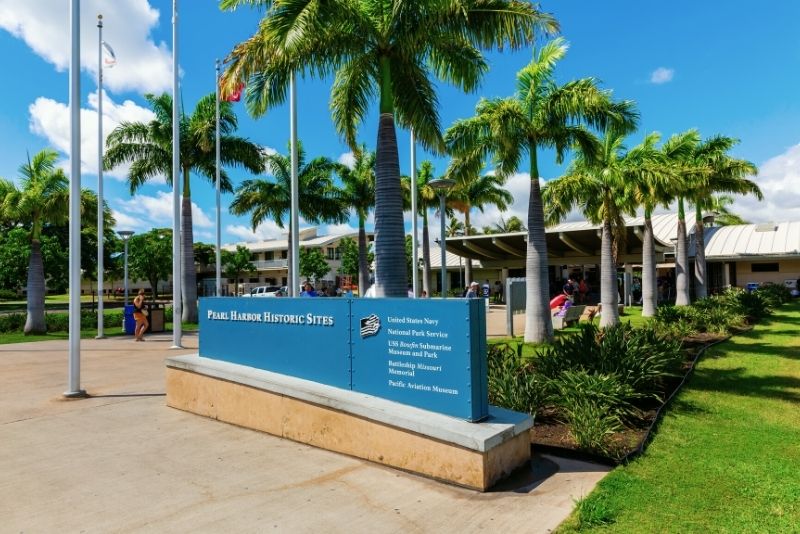 Whether you see the USS Arizona Memorial, Battleship Missouri Memorial, just walk around the city, or all of the above, no trip to Oahu is complete without a day exploring the site of the tragic Pearl Harbor attack.
Now one of the area's most popular tourist attractions, the landmarks here are powerful and fascinating, and with so many tours to choose from, there's something for everyone.
3 – Visit the Battleship Missouri Memorial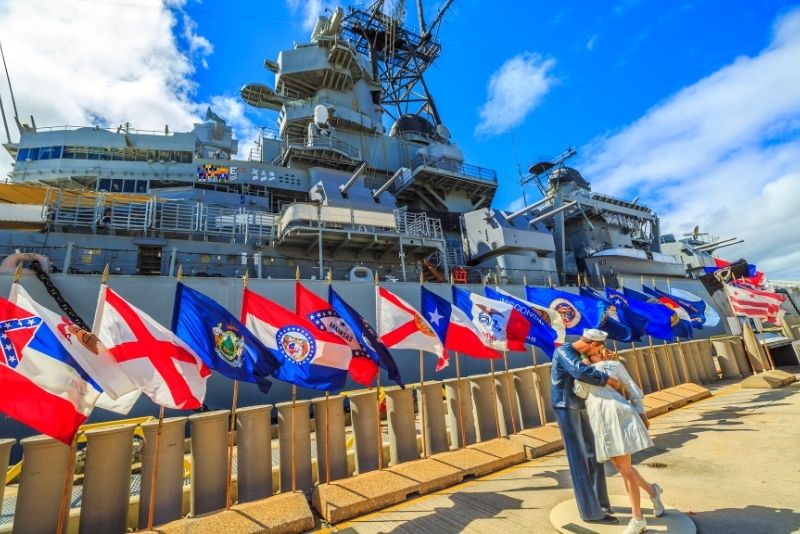 Open from Tuesday to Saturday from 8 am to 4 pm, the Battleship Missouri Memorial at Pearl Harbor is one of the most historically relevant things to do in Oahu.
One for the history buffs, a tour on this great ship will teach you all about the "day of infamy", the sinking of the USS Arizona, and Japan's formal surrender.
4 – Pay your respects at the USS Arizona Memorial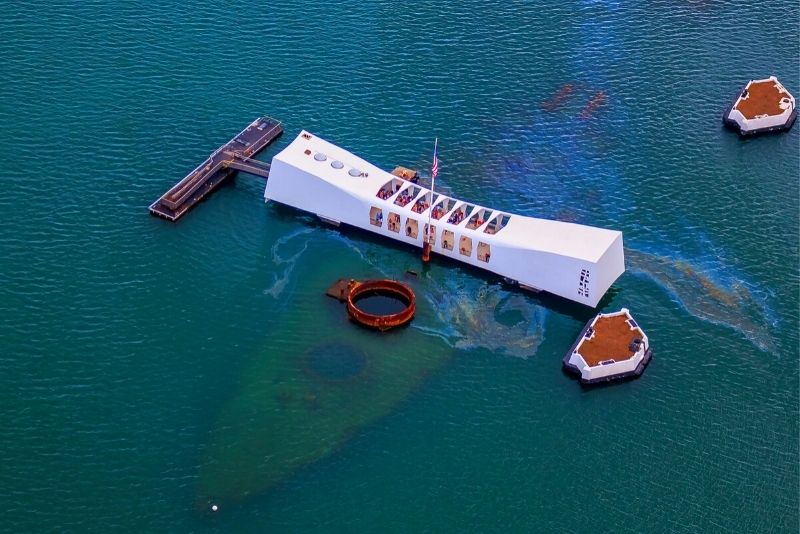 A sobering, eye-opening tribute to the over-1100 sailors and Marines who lost their lives in the Pearl Harbor attack back in 1941, the iconic Pearl Harbor memorial — officially known as the USS Arizona Memorial — is a must-see for anyone visiting the area.
Depending on your time and budget, you can choose to visit it as a standalone activity or combine it with a city tour (for the best bang for your buck).
5 – Explore the Pearl Harbor Aviation Museum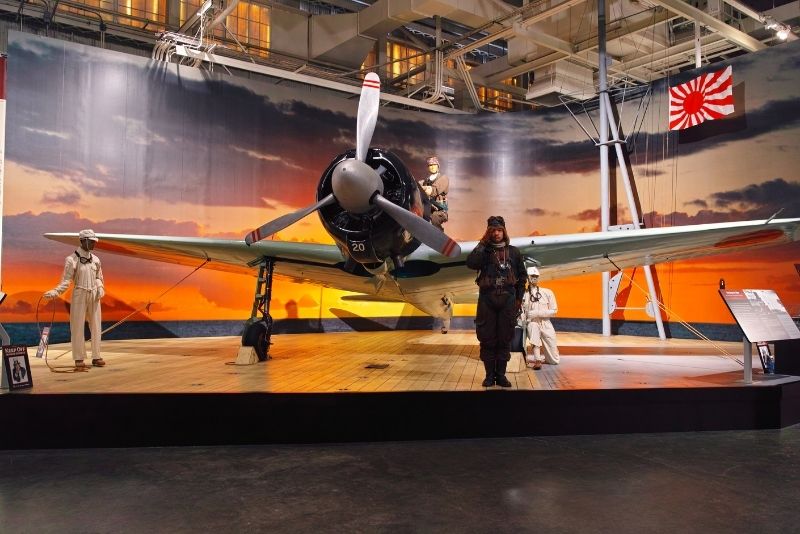 Located within the walls of an authentic WWII-era hangar, the Pearl Harbor Aviation Museum provides a fascinating insight into the famous attack, with a focus on the planes involved.
Besides the equipment and artifacts, the museum also features a gift shop, cafe (themed like the 1940s), and state-of-the-art flight simulators.
6 – Climb aboard the USS Bowfin Submarine Museum & Park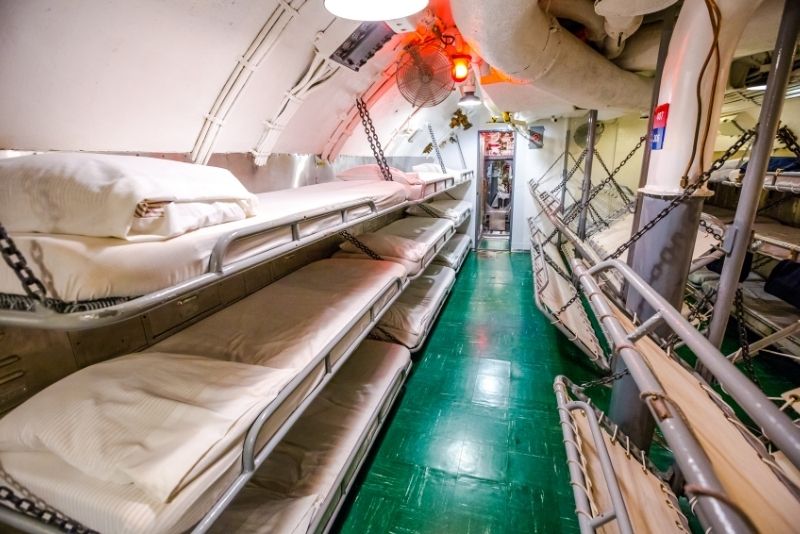 Showcasing a collection of intriguing insight into the history of US submarines, this popular attraction — located around the main Pearl Harbor sights — gives travelers the chance to explore a WW2 submarine first-hand, made all the more fascinating with an audio tour, educational infographics, and friendly staff.
7 – Fight off raptors at Jurassic Park (Kualoa Ranch)
Film buffs, get excited! If you're ever wanted to see a T-Rex in the flesh, or walk in the shoes of Adam Sandler and Drew Barrymore in 50 First Dates?
Besides being the backdrop for films like Jurassic Park (and nearly 70 others), Kualoa Ranch is also an adventure destination, spanning some 4000 acres!
Sure, you could tour the infamous movie sites in an ATV, but for the REAL thrill, why not combine it with a zipline tour?
It's the perfect blend of adventure and pop culture, and easily one of the best things to do in Oahu.
8 – Feel like a local at the Polynesian Cultural Center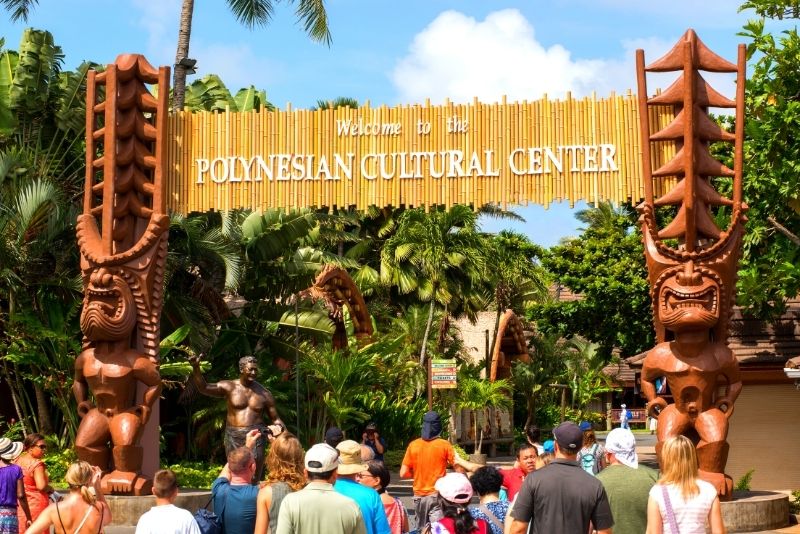 Hawaii isn't just beaches and volcanoes; the paradise archipelago also boasts a rich, unique culture — one that every tourist would be remiss to ignore.
At the Polynesian Cultural Center – a mix of cultural theme park and living museum – this attraction brings the Polynesian spirit to life through a mix of six villages, luau celebrations, and a fascinating evening show.
9 – Race against the clock in an Escape Room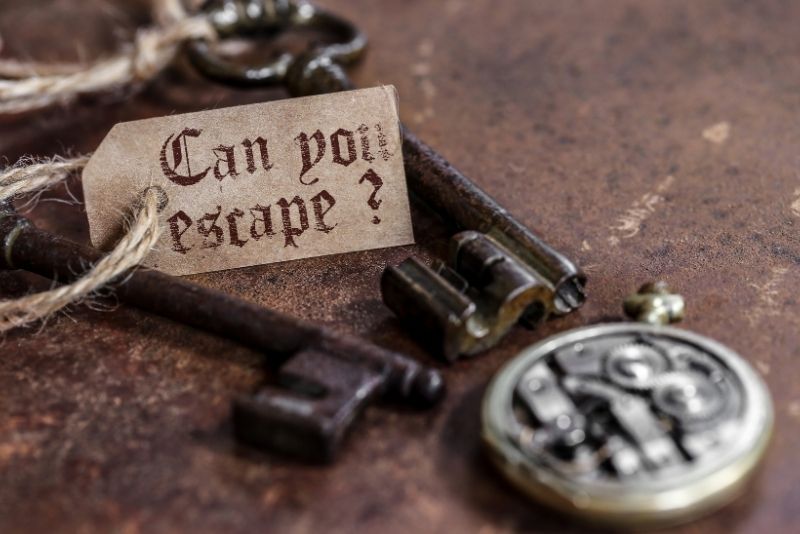 Ready to put on your detective hat? Keen to prove, once and for all, who holds the title of being the greatest puzzle-solver in the family? Well, now's your chance.
With several different themed escape rooms dotting the island, these air-conditioned, indoor activities are a great, interactive way to escape the sun for a couple of hours.
10 – Admire the Honolulu street art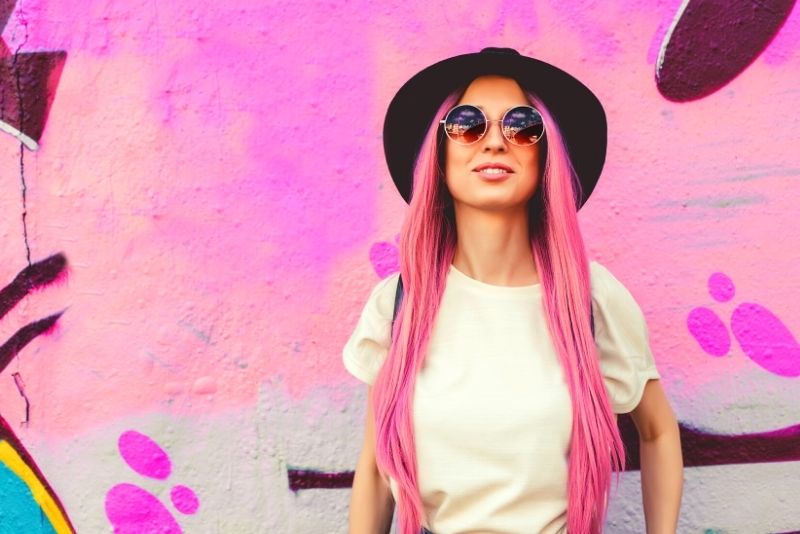 If you're looking for things to do in Oahu, or, more specifically, things to do in Honolulu that are off the beaten track, look no further.
Led by a local who brings with them decades' worth of Hawaiian knowledge (and plenty of recommendations), a street art tour provides travelers with a chance to experience an untampered, authentic side of the island.
11 – Take a tour of Circle Island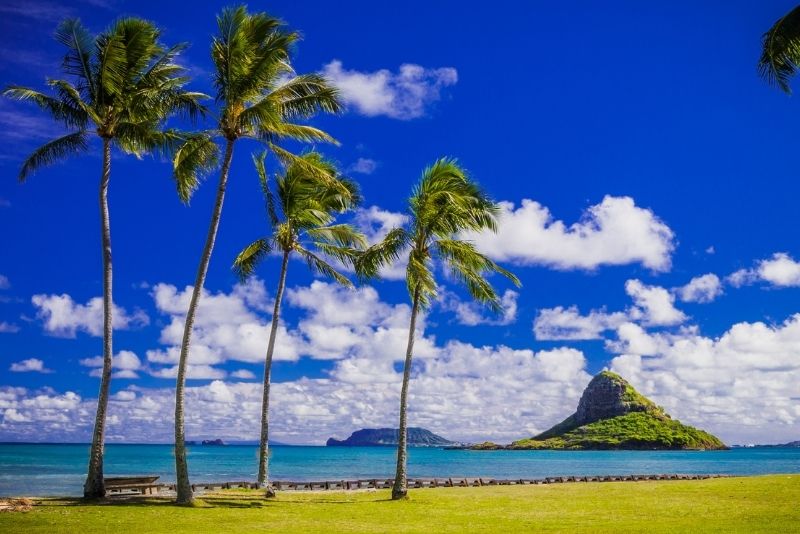 For a chance to hit the water and get off the main island, a Circle Island tour is a proven crowd favorite — and for good reason!
With the chance to swim and snorkel alongside ocean wildlife, as well as visit the famous Amelia Earhart Lookout Point and the Halona Blowhole, it's a wonderful day out in Mother Nature's pristine waters.
With hassle-free pickup and drop-off arrangeable from your hotel, it's a no-brainer for outdoor enthusiasts.
12 – Spot the wildlife at the North Shore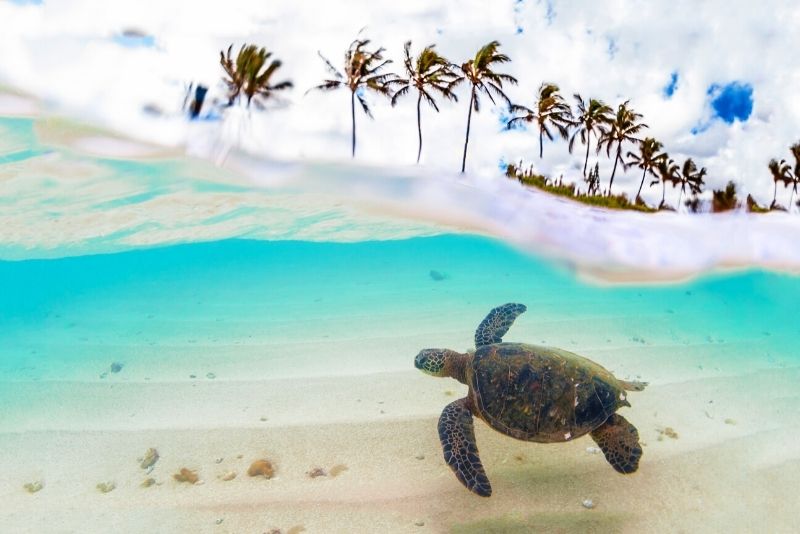 Often combined with Circle Island tours, the North Shore is a haven for sea life, amazing beaches, and adventure activities.
If working on your tan is a little too slow-paced for your liking, make your way down to the North Shore for ziplining, cliff jumping; or, perhaps the most daring of them all… shark diving.
13 – Try a local staple at the Dole Pineapple Plantation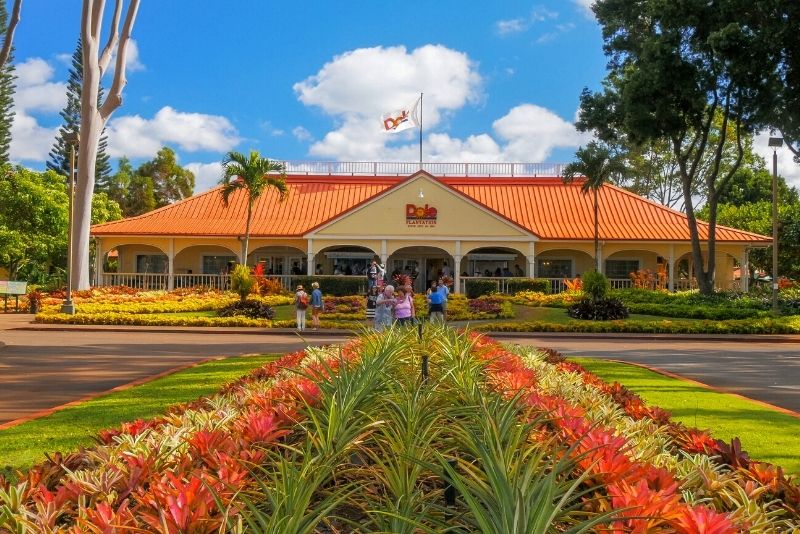 With some of the most mouth-watering pineapple you'll ever taste, as well as a Pineapple Garden Maze and Train Tour, the Dole Plantation (about a 45-minute drive north of Honolulu), has been delighting peckish tourists for decades.
For the best bang for your buck, and the most hassle-free way of ticking off a few must-see landmarks (like Pearl Harbor and the Polynesian Cultural Center), consider booking a combo tour!
14 – Take a photo of the Mokulua Islands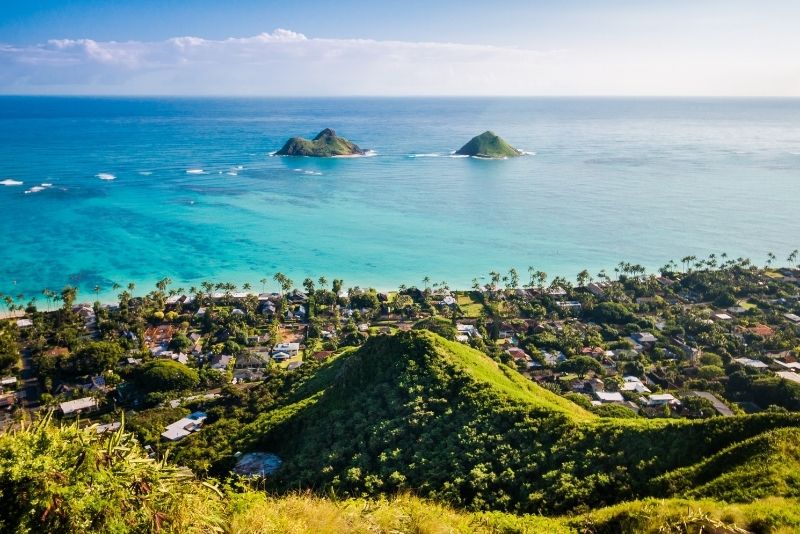 Less than a mile off the mainland at Lanikai Beach on Oahu's windward coast, the pair of Mokulua Islands make up one of Hawaii's most photographed natural phenomena.
Besides being a photogenic duo, the virgin islands (inhabited only by birds and the occasional seal) and provide amazing kayaking and snorkeling opportunities, as well as plenty of lovely rock pools in which you can cool down on those hot days.
15 – Hike to the Manoa Waterfalls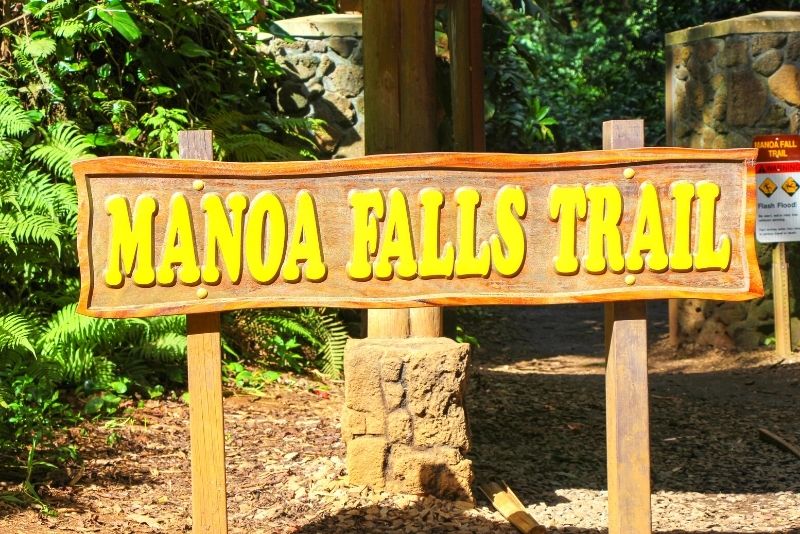 A cascading 150-foot-tall waterfall, the Manoa falls are as foreboding as they are beautiful.
But while they'll make for the perfect picture backdrop, swimming in the pools below is typically discouraged.
Despite that, the area's hiking trails, picnic areas, and panoramic views are nothing short of extraordinary.
16 – Snorkle in the aptly-named Turtle Canyon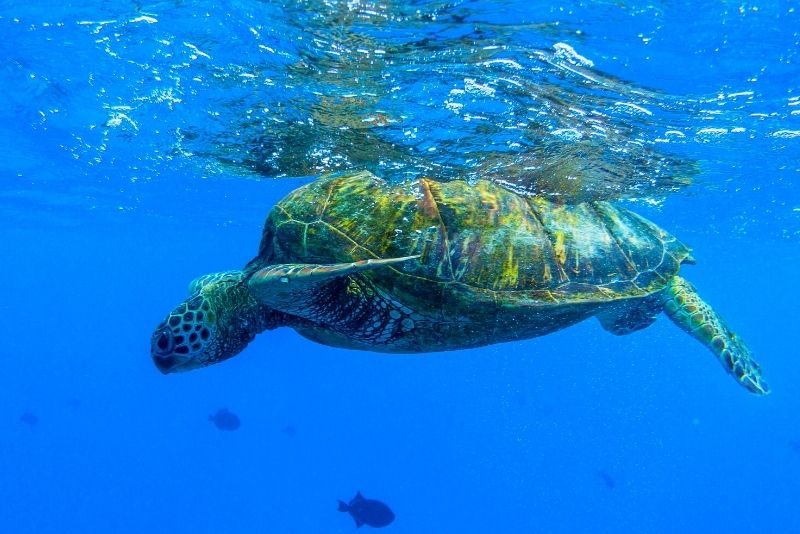 With a name like Turtle Canyon, we'll let you take one guess what you'll find beneath the surface at this heaven-on-Earth!
After sailing away from Waikiki on the bow of a luxury catamaran (or private boat, if you prefer), travelers arrive at the calm Turtle Canyon waters, where thousands of green sea turtles (and an abundance of other vibrant marine life) call the place home.
17 – Go sailing at sunset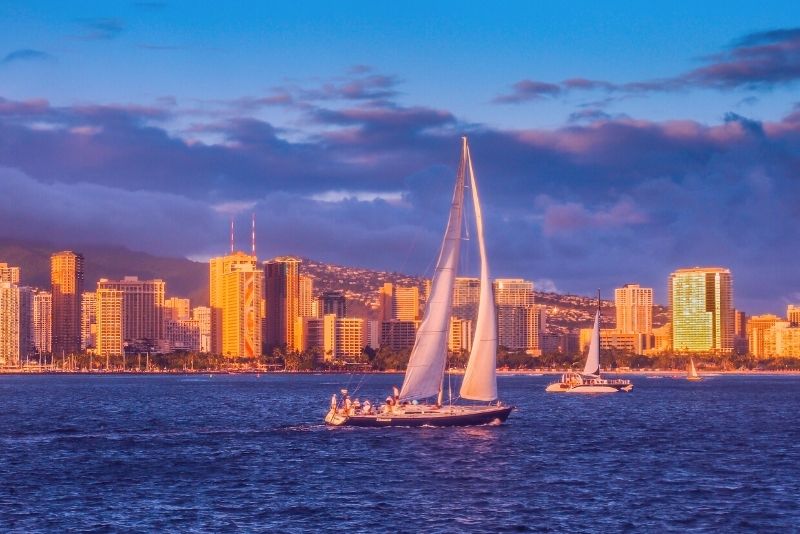 Nothing beats a Hawaiian sunset, it's as simple as that.
And while there are plenty of spots on Oahu to catch the brilliant hues of a Pacific dusk, the premier vantage point is undoubtedly from the ocean, with the peak of Waikiki in the distance.
On a romantic sunset sail, not only will you soak in the views, but you'll also be greeted by live music, excellent food, and a glass (or three) of your favorite wine.
18 – Join a glass-bottom boat tour in Waikiki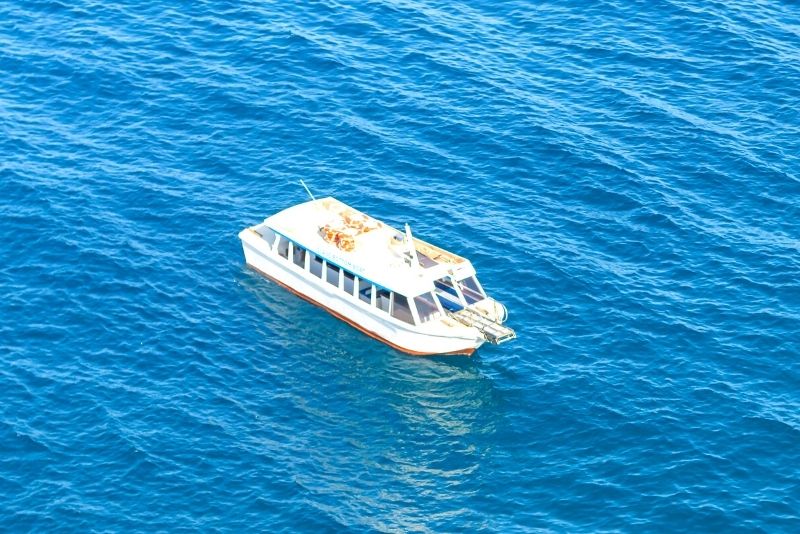 Want to see first-hand all of Hawaii's vibrant sealife but don't want to get wet? Taa-daa, say hello to the glass bottom boat tour!
As you cruise over tropical reefs on your customized catamaran, keep an eye out for the region's famous green sea turtles, dolphins, and schools of all kinds of fish.
If you're looking for an extra special experience, why not upgrade to a package that includes an all-you-can-eat buffet?
19 – Learn to surf!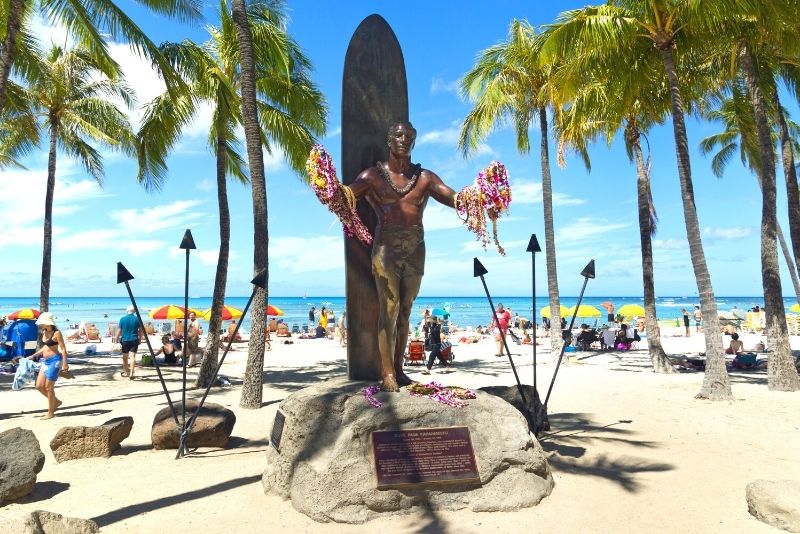 Walk in the shoes of Duke Kahanamoku — the father of modern surfing and three-time  Olympic gold medalist — as you tackle the waves in what is arguably the surf capital of the world, Oahu.
Whether you're after private, semi-private, or group lessons (or just renting your own board), and regardless of if you're a seasoned pro or a complete newbie, there's a swell suitable for everyone.
20 – Come face to face with the ocean's apex predators with a shark diving experience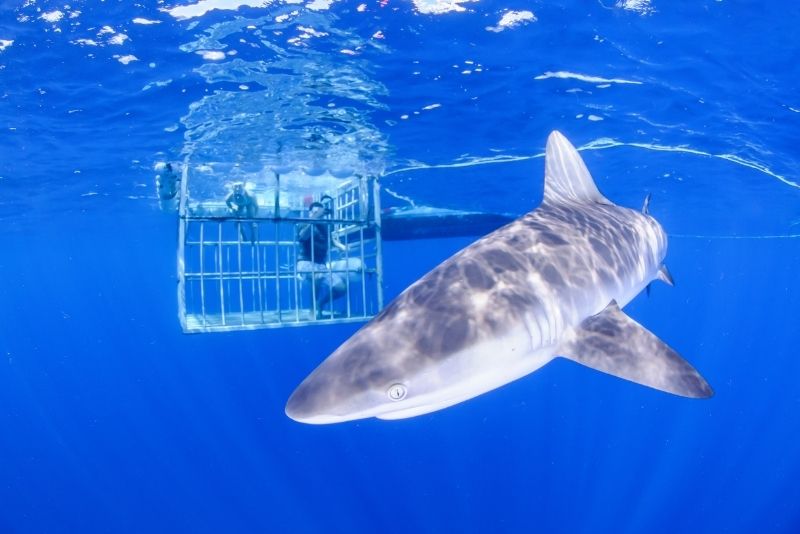 Reserved only for the bravest of the brave, a shark-diving experience is a one-way ticket to exhilaration, heart-pumping adrenaline.
As you stand protected behind the thick iron bars of a submerged cage, you'll be absolutely transfixed by the sheer size of these Galapagos sharks and sandbar sharks.
Safety, of course, is also the utmost priority.
21 – Soar over the island with a helicopter tour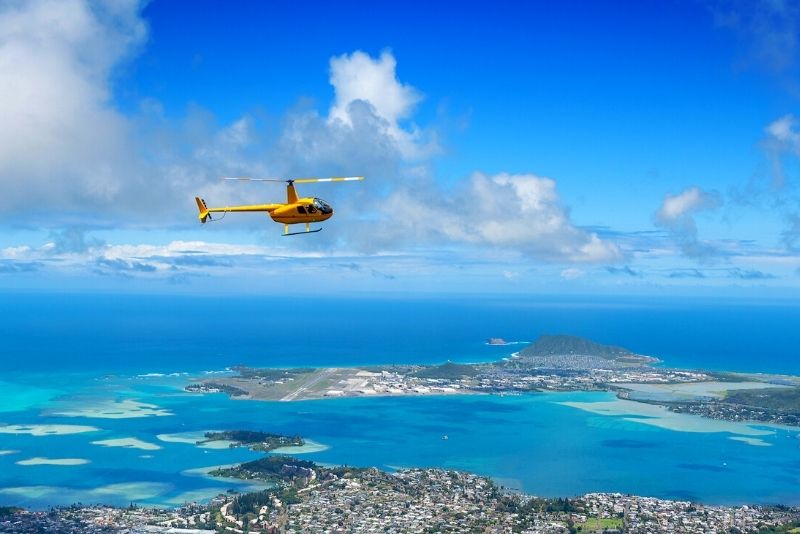 Since Oahu (and its neighboring islands) are so geographically diverse, with lush forest, towering volcanoes, built-up resort towns, and endless coastline, a birds-eye view of the area is about as magnificent as it can get.
Simply choose your ideal duration and location, buckle up, and enjoy the panoramic views on offer from thousands of feet up!
22 – Go whale-watching!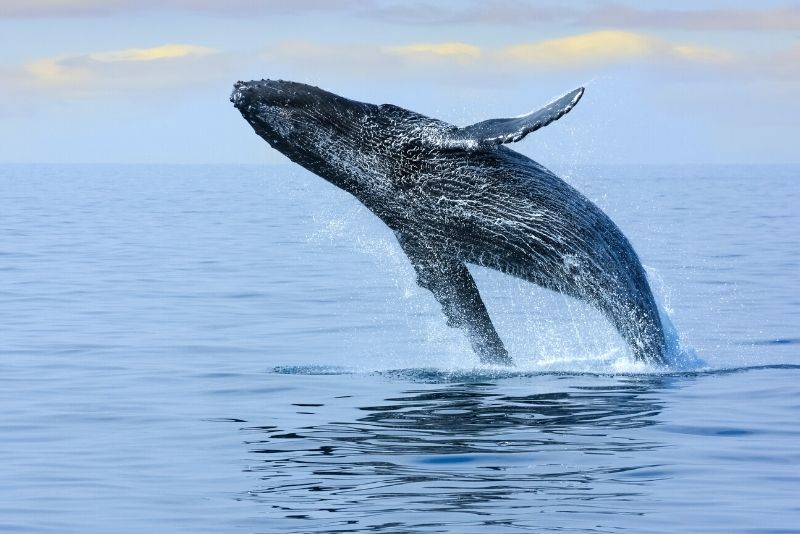 A perfect activity for the whole family, a whale-watching adventure takes travelers off the mainland and into the heart of mother nature's nearby shores, where not only seasonal whales, but also dolphins jump up to say hello.
From December through to April, thousands of humpbacks make the journey to the warm Hawaiian waters — so make sure to charge the batteries!
23 – Zipline above lush foresty
Thrillseekers, look no further. With a range of ziplining options spanning everything from 500 feet long to 2,400 feet long, the adventure opportunities are second to none.
Besides rappelling at high speeds over lush jungle (including over Jurassic Park), experiences can also feature ATV riding, a farm visit, sky bridges, boardwalks, and plenty more.
24 – Embark on a dolphin-watching trip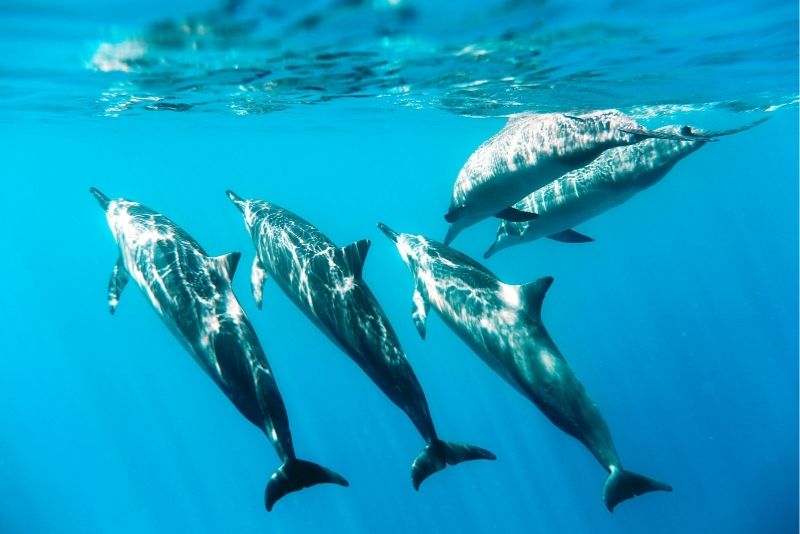 For a chance to get up close and personal with some of nature's friendliest, bubbliest creatures, Oahu has got you covered.
With half-day tours that typically include two snorkeling stops, snacks, and transit to and from the mainland, dolphin-watching excursions are always a hit.
25 – Gallop along the beach with a horse riding adventure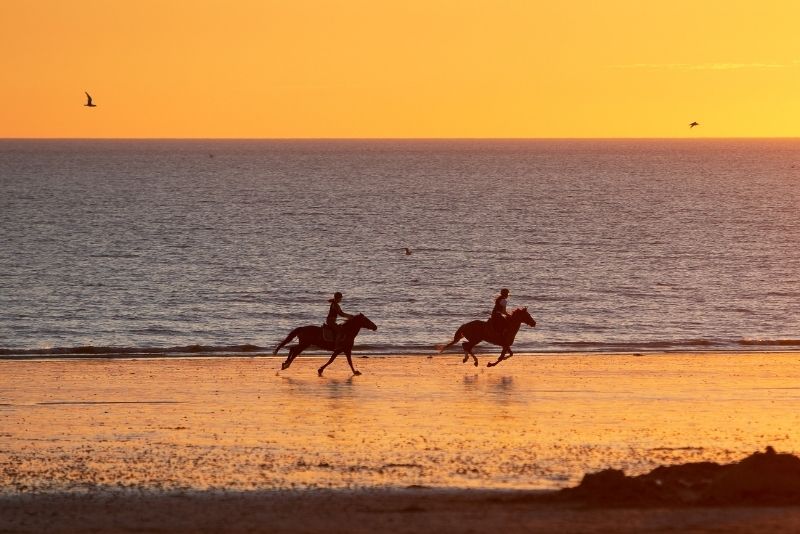 Giddy-up! The Hawaiian countryside is flush with beauty, and there's no better way to experience the sights, sounds, and smells than on the back of a trusty steed across a mix of sandy trails and open grazing fields.
With tours ranging from one to three hours in length, there's an option to fit into any traveler's itinerary.
26 – Sign up for a bike tour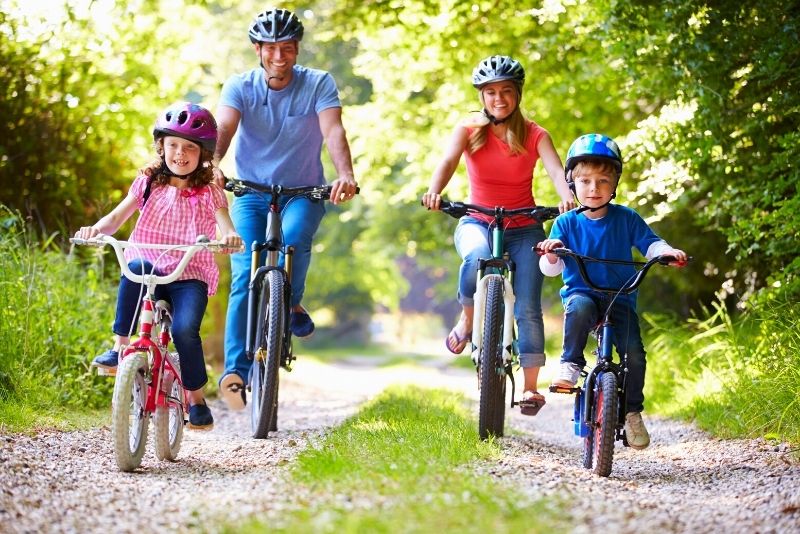 Step one, pick your location: Historic Honolulu, Kualoa Ranch, Manoa Valley, or any of the other tourist-favorite destinations.
Step two, hop on board a two-wheeler (push or electric, it's up to you) and let a local guide steer you around town, pointing out all of the flora and fauna, notable landmarks, and must-eat restaurants!
27 – Parasail over the brilliant shoreline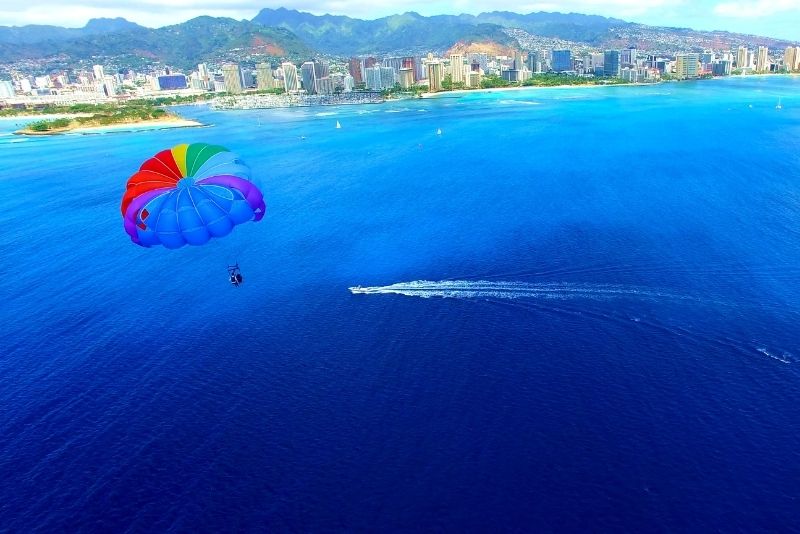 With hundreds of miles of sparkling coastline and a topography covering everything from towering volcanoes to seemingly neverending Forrest, Oahu is undoubtedly best viewed from above.
Even if you've never parasailed before, don't fret — with an experienced instructor riding tandem, all you'll have to do is relax and enjoy the panoramic views!
28 – Try your hand at stand-up paddleboarding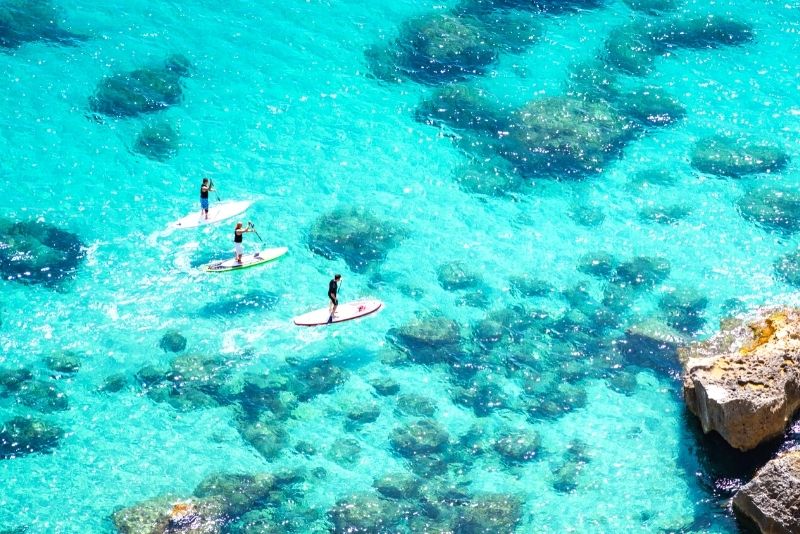 An activity that promises to be both relaxing and a great workout, stand-up paddleboarding is one of the most popular ways to explore the historic Anahulu stream in Haleiwa, where, as the home of the Green Hawaiian Sea Turtles, sightings are almost always guaranteed.
For something a little more left-field, why not try SUP yoga… at night!
29 – Ride through Jurassic Park on an ATV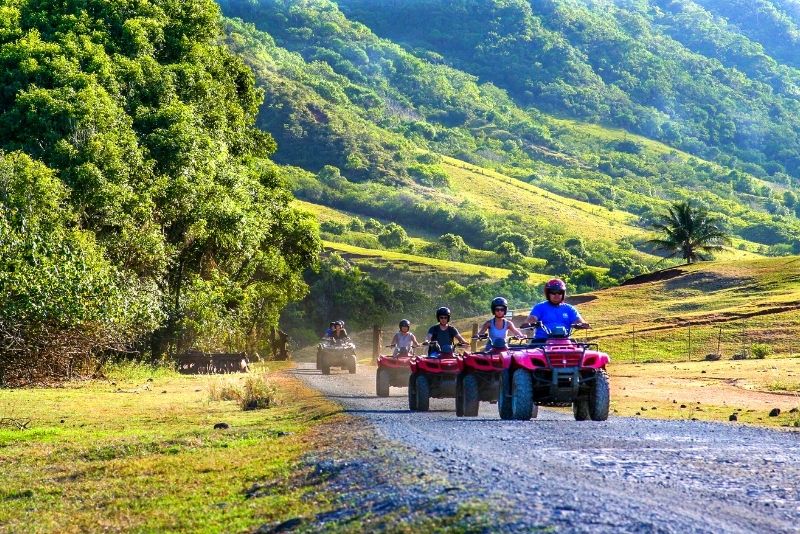 Let the rev of the engine transport you into a trance of adrenaline and you scoot through Oahu's heavy forestry on a quad bike!
But this isn't just any forestry, this is the location of none other than Hollywood's very own Jurassic Park!
Or, better yet, combine it with a half-day adventure that includes not one, not two, but SIX ziplines!
30 – Step into a traditional outrigger canoe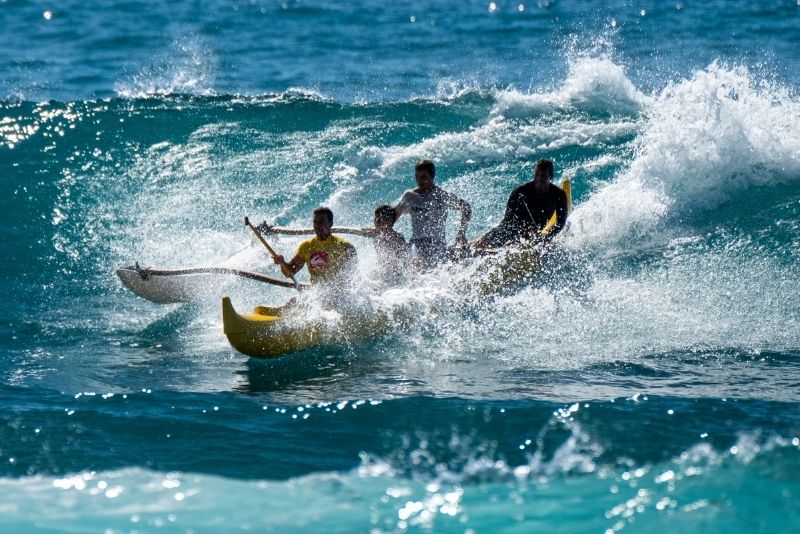 There's an abundance of ways to explore Waikiki's pristine coastline, although arguably none are more authentic than on a traditional Kamoauli outrigger canoe.
Depending on your tour of choice, you can find yourself snorkeling, exploring nearby islands, learning all about local culture, and listening to Hawaiian music.
31 – Feed the soul on a food tour!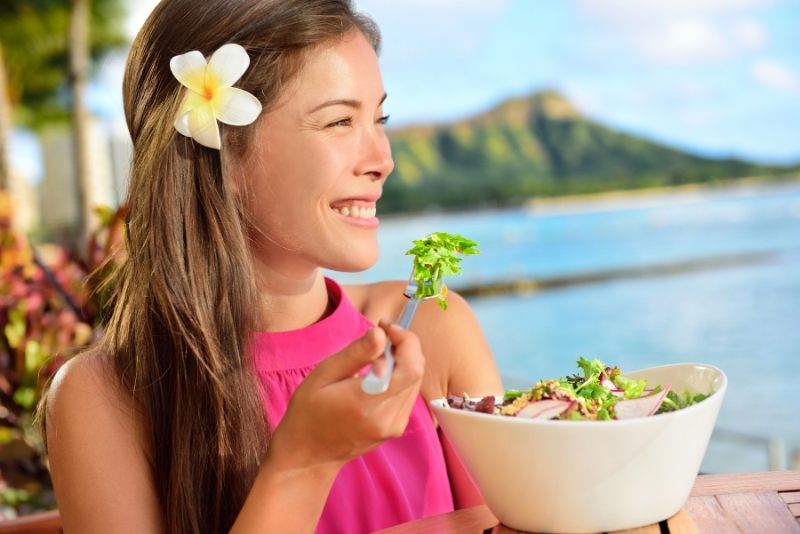 With some of the richest and unique flavors across the entire United States, it'd be remiss of any savvy traveler to miss out on an Oahu food tour.
Whether you're staying in Honolulu or a little further out, there are always locals willing to show off the area's hidden gems and treat you to plenty of Loco moco, Laulau, or the state's famous Poi.
32 – Spend the day at Sea Life Park
As a combination of marine mammal park, bird sanctuary, and aquarium, the ever-popular Sea Life Park has been welcoming and delighting visitors of all ages for many years now.
Thanks to the park's conscious focus on education and conservation, in addition to the opportunity to get up close and personal with some of nature's most beautiful creatures, it's also a fascinating learning experience.
33 – Experience a must-see Luau show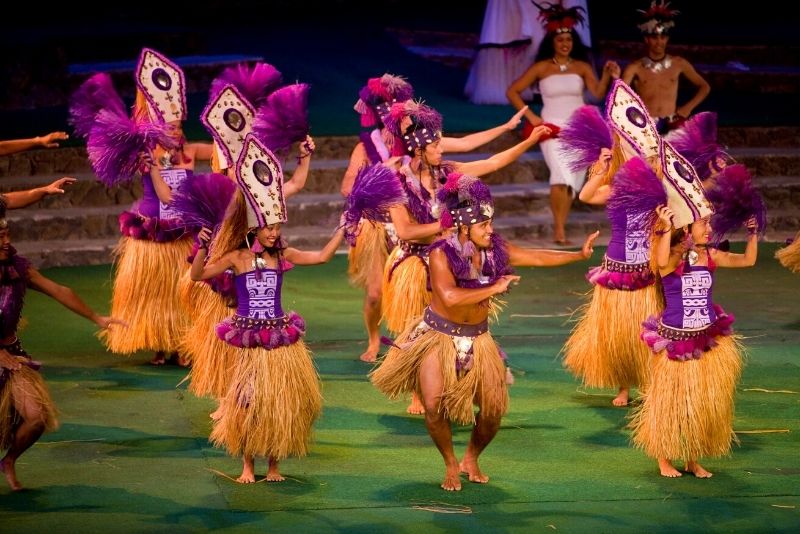 It might be somewhat stereotypical, but that doesn't detract from the fact that seeing a colorful, high-energy Luau show is one of the essential things to do in Oahu!
The enthralling shows usually run for around 2 hours — up to 4 if you opt for the buffet dinner add-on — but can be combined with full-day excursions for the best bang for your buck.
34 – Try beach or sunset yoga on the Waikiki oceanfront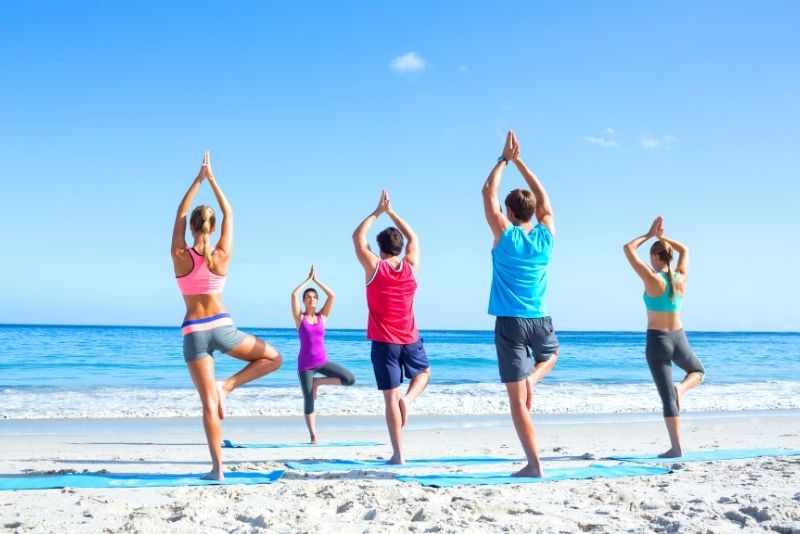 You're on vacation, after all, so why not take the opportunity to relax and recharge?
With a Waikiki beach yoga class, not only do travelers appreciate the chance to slow down, but they also get to soak in the blissful sunset as it bounces off the Pacific.
Feeling a little more energetic? Consider combining the experience with a guided run too!
35 – Pamper yourself with a massage or spa day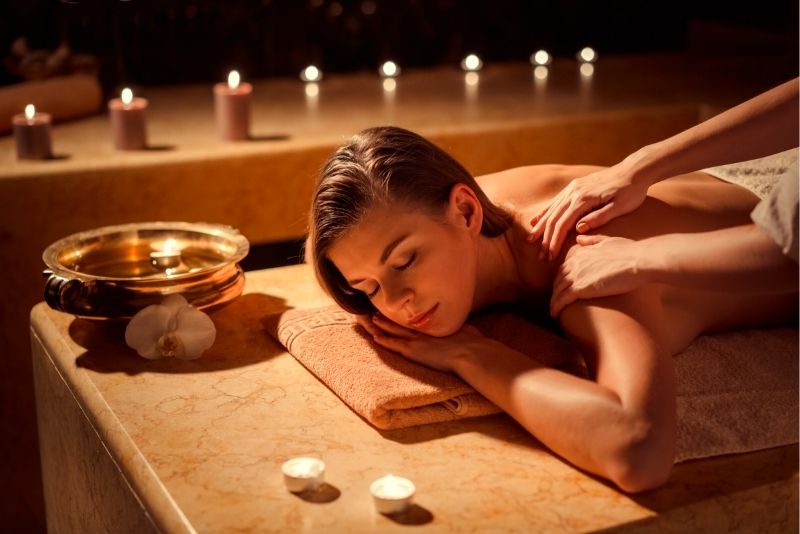 Alright, time to absolutely unwind!
If your neck's a bit sore after the plane ride, or if you simply need an hour to destress, then any of aromatherapy, a hot stone massage, or foot reflexology ought to do the trick (available for solo travelers or couples!).
If you're craving an entire day of relaxation, there are plenty of notable day spas — The Four Seasons or Herbox Spa, just to name a couple.
36 – Snorkel with manta rays… at night!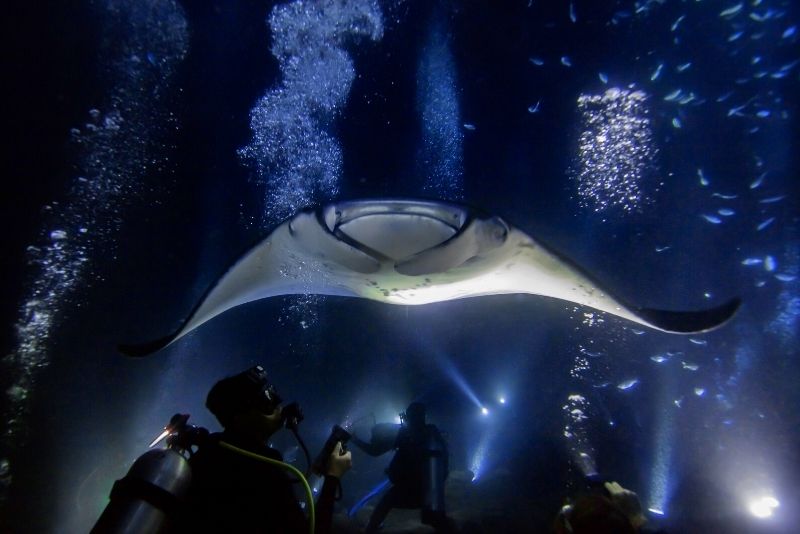 For an experience that promises to be truly unforgettable, grab your snorkel, swimmers, and suncream and head out to the stunning Kona Coast, the exclusive home of Hawaiian Spinner dolphins and Manta Rays.
While daylight snorkeling is always a great choice, at night, with a stark visual contrast provided by the lights, the immersion gets turned up a notch.
37 – Join an Oahu submarine scooter adventure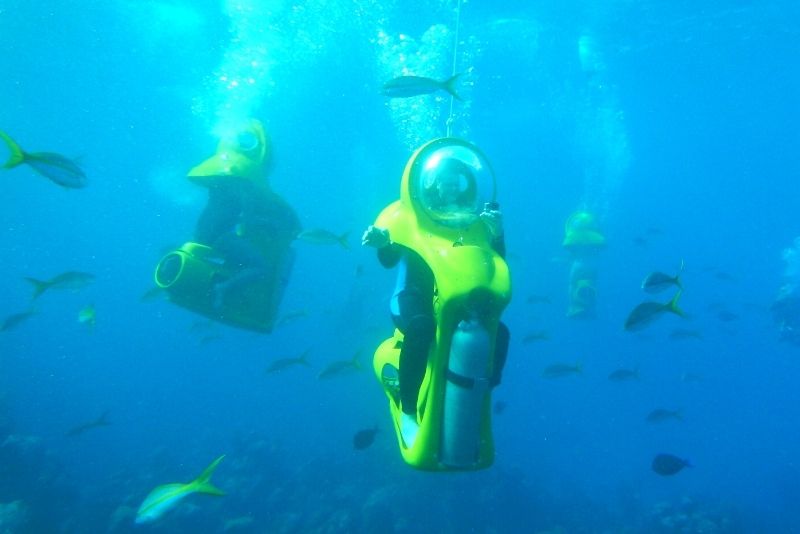 The hassle-free scuba diving alternative that anyone can do (no PADI license required), a Submarine Scooter takes visitors below the surface in a unique oxygen suit and within arm's length of green sea turtles and schools of tropical fish.
With common locations including Diamond Head Crater and Maunalua Bay, native marine life is abundant.
38 – Play a round at a world-class golf course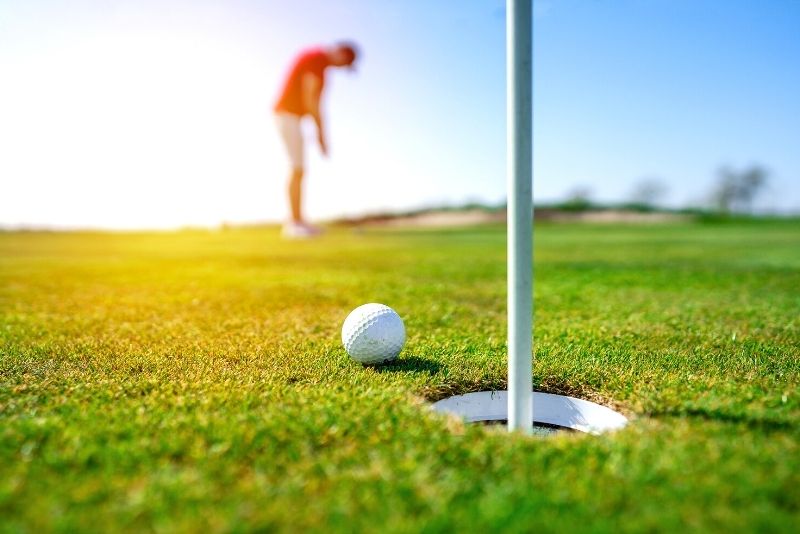 The beauty of the third hole at Mauna Kea needs to be seen to be believed; Hapuna's backdrop of the shimmering blue Pacific is nothing short of extraordinary, and the Palmer Course is arguably the gem of Oahu's North Shore.
These make up just a sliver of the world-class courses on offer, making Oahu and must-visit for any golf fan.
39 – Book a table on a sunset & show cruise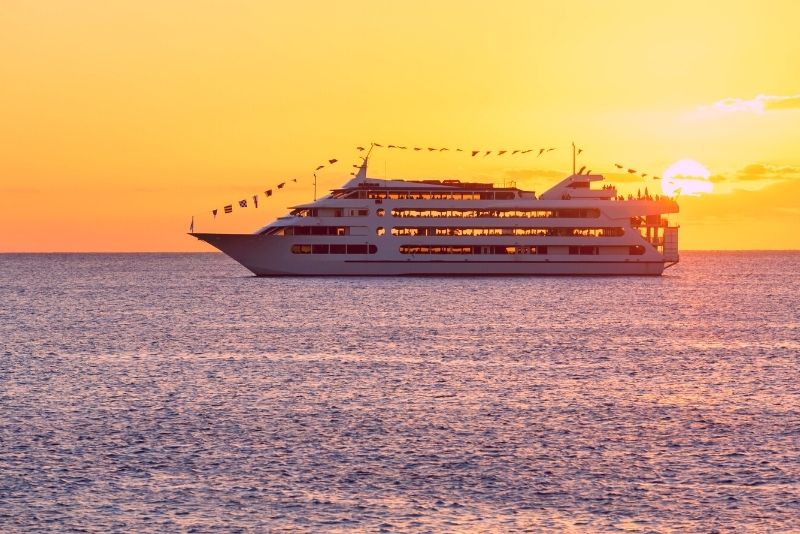 With a heavenly three-course meal including fresh crab and juicy steak, plus live entertainment (the "60 Years of Aloha" spectacle) and pristine views from departure to docking, a sunset cruise is a wonderful activity for couples, families, or both!
Hot tip: book a cruise on a Friday for a little extra excitement (fireworks and an additional hour of sailing!).
40 – Sign up for a cooking class!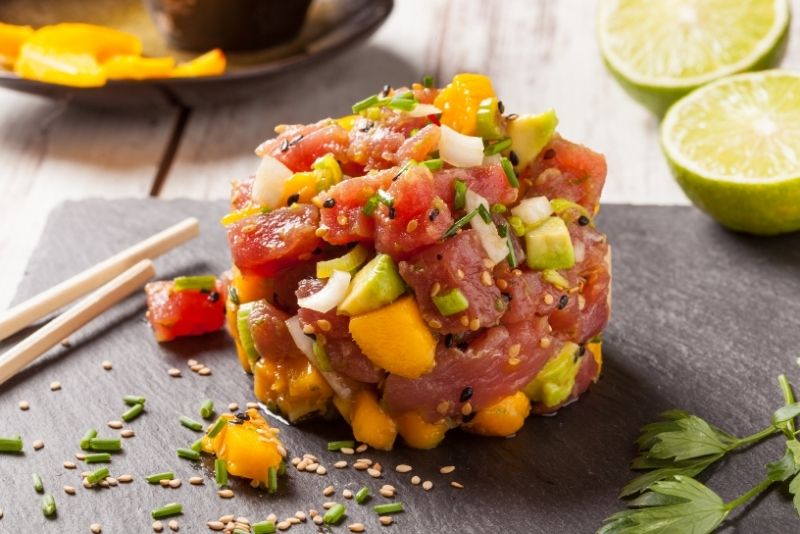 Sure, you could (and probably will) eat Loco moco, Laulau, and Poi till your heart's content, but what happens after you leave this paradise island?
Fret not, because you can take these meals with you by learning to cook the recipes for yourself!
Led by experienced local chefs, not only is a cooking class a delight for your tastebuds, but they're also excellent social events (especially when the wine's included!).
41 – Visit the Hawaiian Music Hall of Fame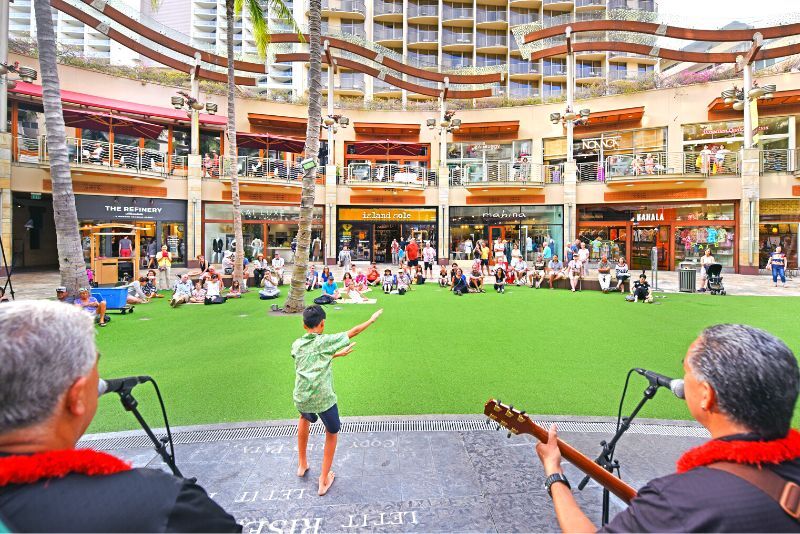 The Hawaiian Music Hall of Fame features an interactive and free exhibition, The Royal Room.
This self-guided exhibition, staffed by volunteers traces Hawaiian music's Golden Age and honors its Four Royal Composers, Nā Lani ʻEhā.
The Royal Room also offers history and classes to learn the Hawaiian art of feather work, such as making a flower out of feathers and more.
42 – Conquer the Stairway to Heaven hike (closed)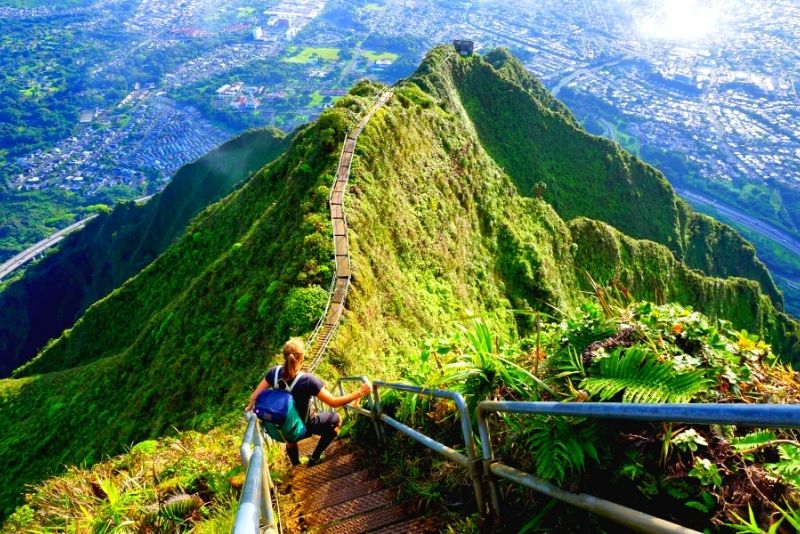 Please note that the Stairway to Heaven hike has been permanently closed.
Move over, Machu Picchu! One of the world's most spectacular hikes is, without a shadow of a doubt, the Stairway to Heaven trek.
The 3,922 steps were initially constructed during World War II as a means for soldiers to access the radio antenna, but have since provided one of the most challenging and rewarding hikes on the planet (which often results in standing the clouds!).
43 – Go behind the scenes on a 'Hawaii Five-0' TV tour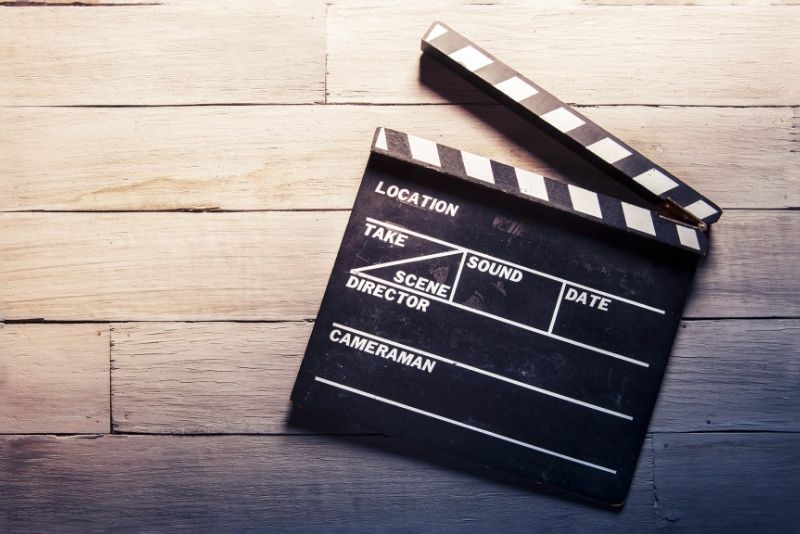 Do we have any passionate TV fans in the house?
As you let the show-obsessed guide take you on a journey around the island, you'll be able to visit famous locations like the Hawaii Film and Sound stage and McGarrett's House (the iconic Oahu Bayer Estate).
A sit-down lunch and hotel pick-up are also included, so all you need to do is go with the flow and enjoy the day!
44 – Ride a jet ski!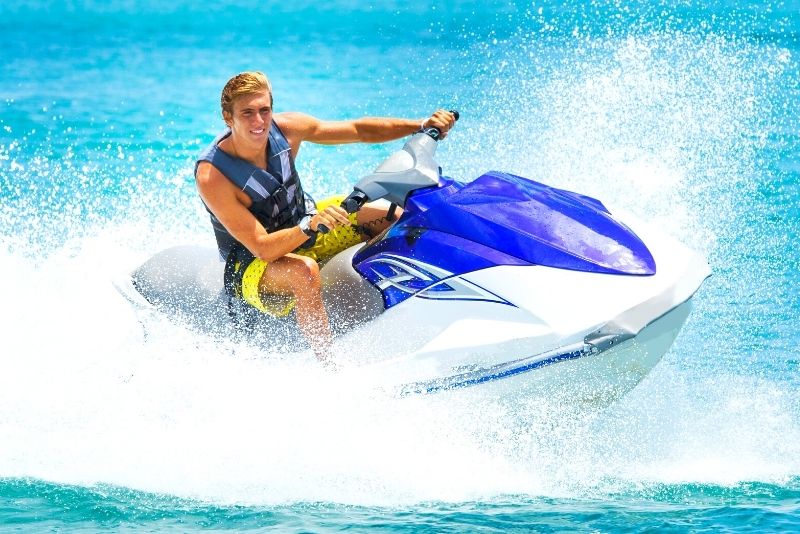 If you've never been on a jet ski in your life, then there's no better place to tick it off the bucket list than the stunning shores of Oahu!
Whether you're staying in Honolulu, Waimanalo, Kailua, Pearl City, or anywhere in between, a jet ski rental facility is never too far away.
For beginners, you can have a local show you the ropes until you feel comfortable steering yourself.
45 – Spend an afternoon at the Bishop Museum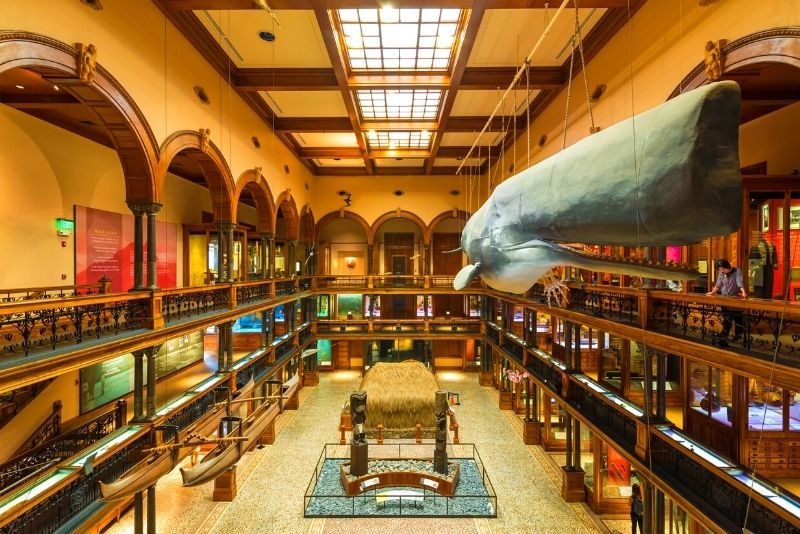 With the proud claim to fame of being Hawaii's largest museum dedicated to the history of both the archipelago and the ocean in which it sits, the Bishop Museum is a regular hit with history-savvy travelers.
Originally founded in 1889, and set in a marvelously grand estate, the museum's walls are an attraction in and of themselves.
Be sure to check out the live lava demonstration!
46 – Take a Ukulele Lesson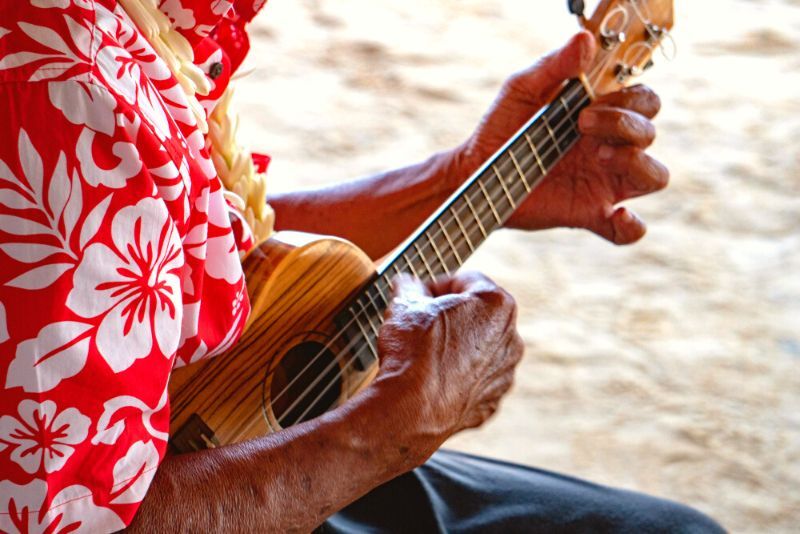 The Ukulele is a huge part of Hawaiian culture, and this store not only sells them but also offers free daily lessons!
Descendant from a traditional Honolulu musical family, selling ukuleles since 2000, and with three ukulele instruction books written, the teacher/owner of The Ukulele Store, Tyler Gilman has toured and led workshops around the world.
This is a great traditional place to learn to play the Ukulele, and who knows, maybe take one home with you!
47 – Get buzzed at the Koʻolau Distillery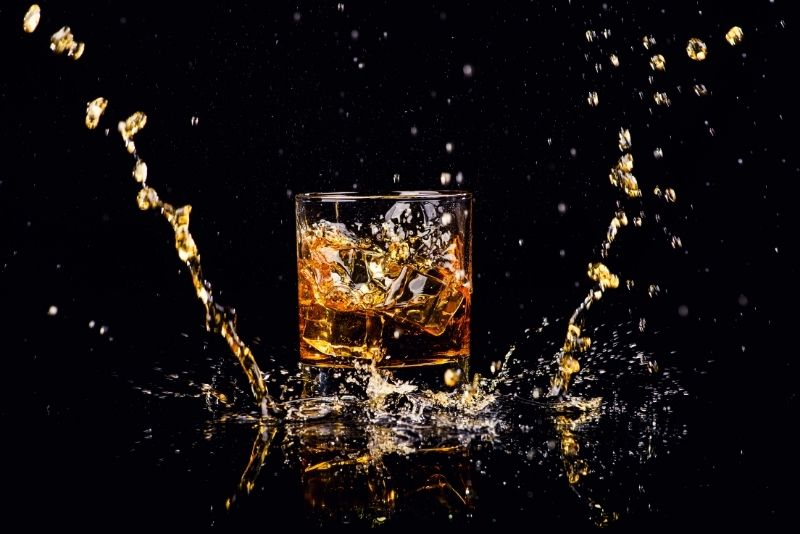 After all that snorkeling and hiking, a drink goes down a treat!
At the Koʻolau Distillery — officially the only artisan whiskey distillery on the island — travelers love the personal touch and friendly service.
Once you've heard all about the step-by-step process of making the beloved Old Pali Road Whiskey, you'll be able to sample a few of the best sellers — all of which are made using Hawaiian waters.
48 – Explore a local farm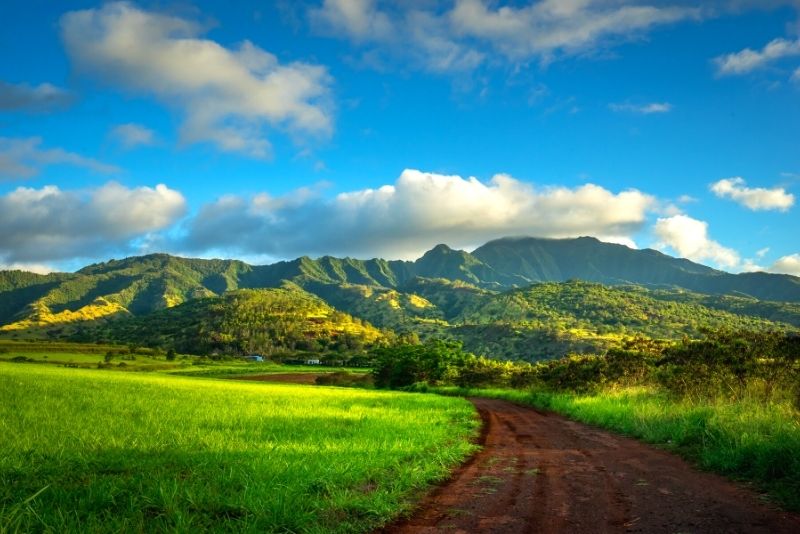 Hawaiian farmland is something truly special, and an eye-opening change of scenery compared to the tourist-trodden beaches.
With plenty of different tour options available — including zipline farm tours, farm-to-table lunch experiences, hiking tours, or trolley tours — there's an itinerary to suit every style of traveler.
49 – Wander through Queen Emma's Summer Palace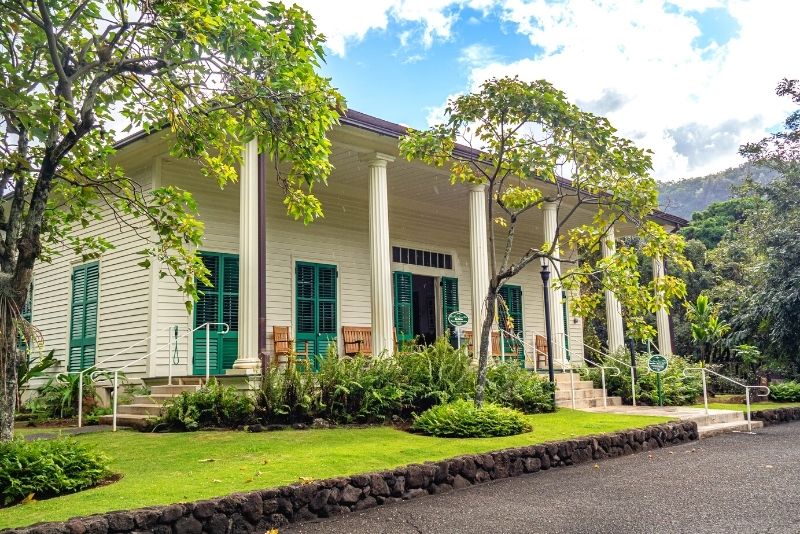 As the former summer retreat for Queen Emma of Hawaii and a longstanding Hawaiian icon ever since, this incredible 19th-century landmark (operated by the Daughters of Hawai'i) now houses an educational museum, focusing largely on the history of the royals.
With passionate guides sharing fascinating tales, it's always a highly-regarded experience.
50 – Learn how royals lived at Washington Place
A sprawling Greek Revival palace in Honolulu, flanked by over three acres of lush, green gardens; Washington Place offers tours explaining the history of the house, and stories of its former residents — including both royals and governers.
Hot tip: Free tours are usually offered on Thursday mornings.
51 – Check out the Hawaii Army Museum Society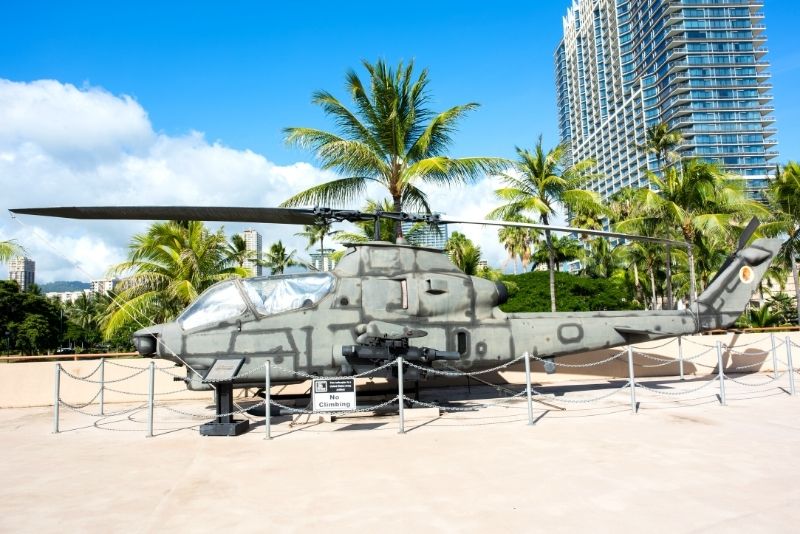 A former WWII battery that was transformed into an educational space in 1976, the Hawaii Army Museum Society is an absolute must-see for anyone interested in the history of war or the military.
With genuine army vehicles (you can't miss the helicopter) plus uniforms, weapons, artifacts, and plenty more, it's a great way to spend a couple of hours out of the sun.
52 – Admire the sea life at the
Waikiki Aquarium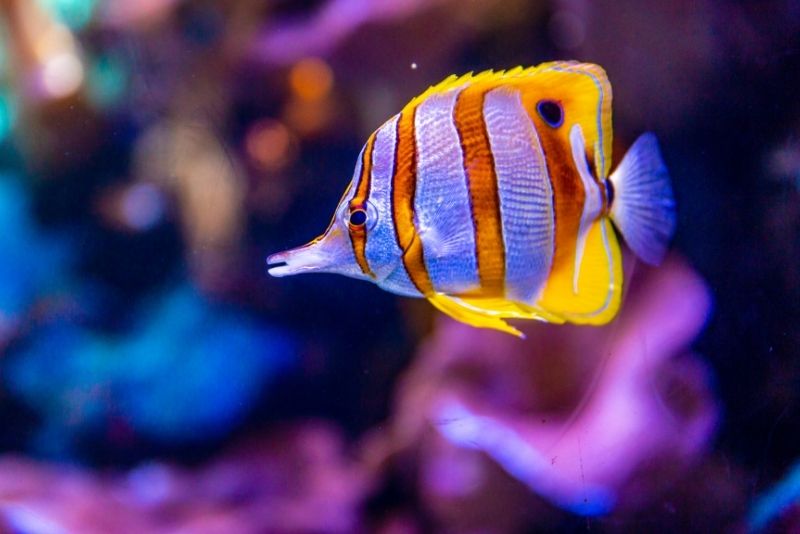 A wondrous activity for young and old, the Waikiki Aquarium boasts the title of the second-oldest public aquarium in the United States (behind New York), opening originally in 1904.
With both an outdoor section and an indoor one, the center showcases monk seals, tropical fish, sharks, jellyfish, and plenty more.
Before you leave, make sure to check out the Edge of the Reef exhibit.
53 – Get cultured at the Hawaii State Art Museum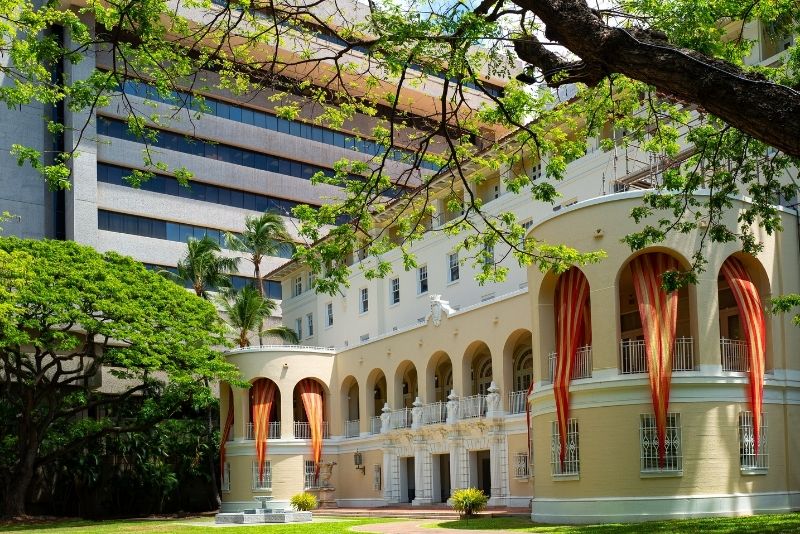 Art lovers, if you're looking for things to do in Oahu that are indoors, educational, and pleasing on the eye, look no further.
In the well-manicured museum you'll find an urban oasis teeming with sculptures, meanwhile, the official displays span everything from modern Hawaiian art to traditional paintings, with a rotating calendar of special exhibits.
54 – See famous artists' work at the Honolulu Museum of Art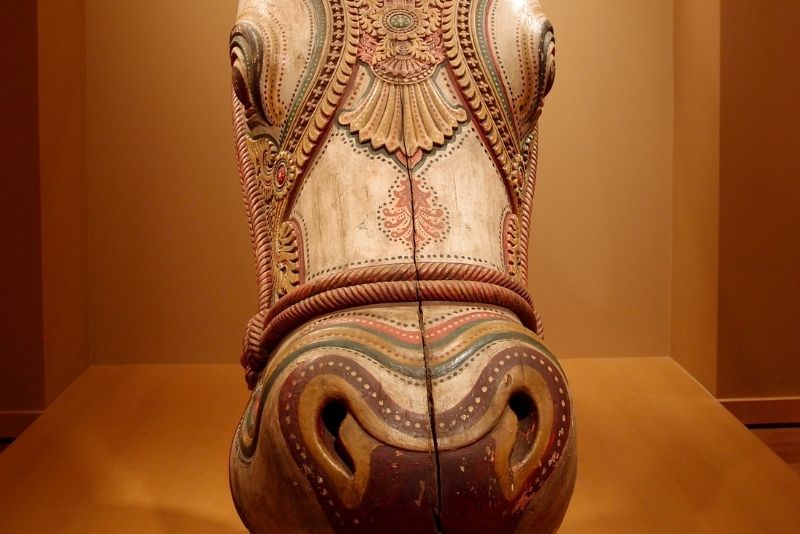 Originally founded way back in 1922, the crowd-favorite Honolulu Museum of Art houses the largest art collection in the state, with a vast collection that highlights the spectacular works of renowned artists from near and far — with a few names you might just recognize: Hokusai, van Gogh, Gauguin, Monet, Picasso, and Warhol, to name a few.
55 – Learn about Hawaiian heritage at the Iolani Palace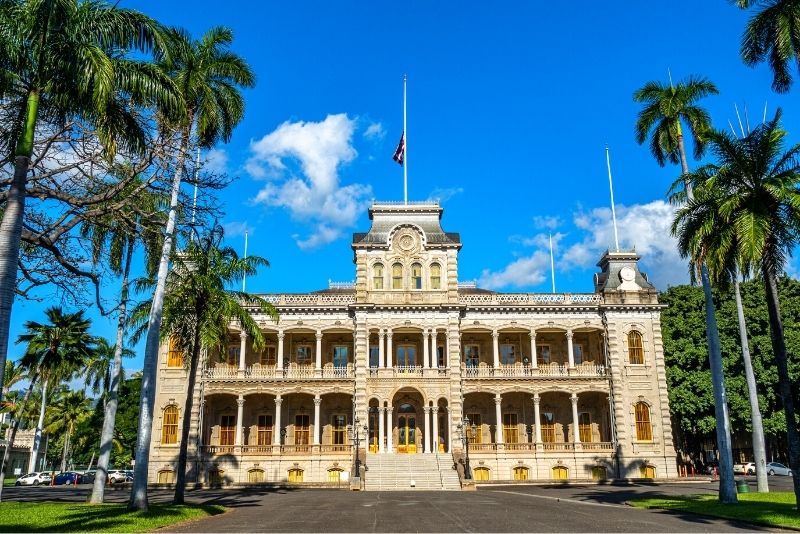 As the home of Hawaii's last reigning monarchs, Iolani Palace holds a special place in local Hawaiian culture.
While it was originally built in 1882 by King Kalakaua, today it operates as a tourist hot spot, with a number of guided tours roaming through the magnificent and opulent mansion.
If you're looking to immerse yourself in Hawaii's royal heritage, this is the place.
56 – Step back in time at the Hawaii Plantation Village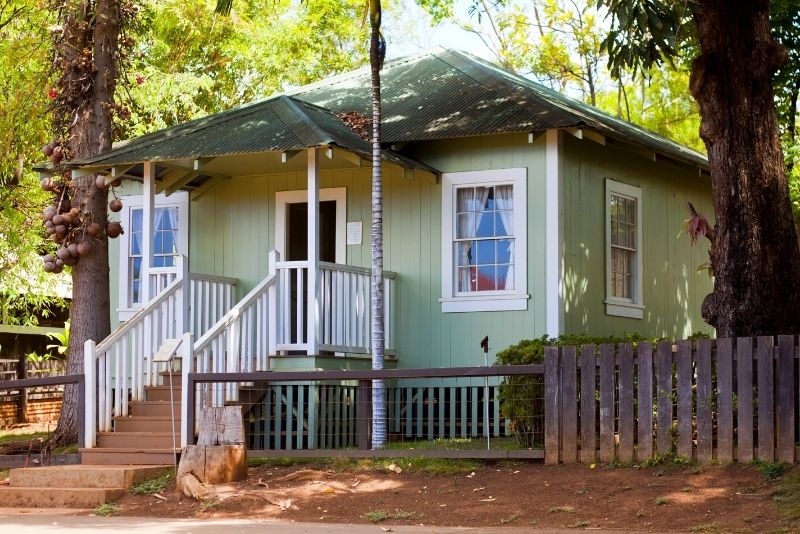 Ready to take a step back in time?
With a calming botanical garden and a recreated village that boasts 30 restored buildings, plantation structure replicas, an infirmary, a bathhouse, and plenty more, a trip to this outdoor museum is considered one of the best things to do in Oahu.
57 – Spend a day exploring the Waimea Valley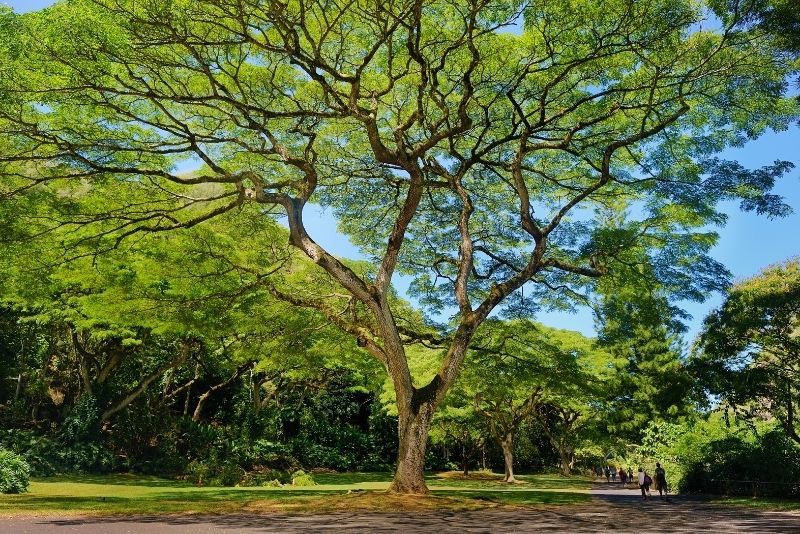 As you'll quickly realize, Mother Nature really knows how to put on a show in the Waimea Valley!
The expansive slice of greenery that stretches from the mountains to the sea hosts a variety of events (be sure to check the calendar), plus a selection of blissful flora and fauna, stunning waterfalls, and hiking trails!
58 – Go fishing!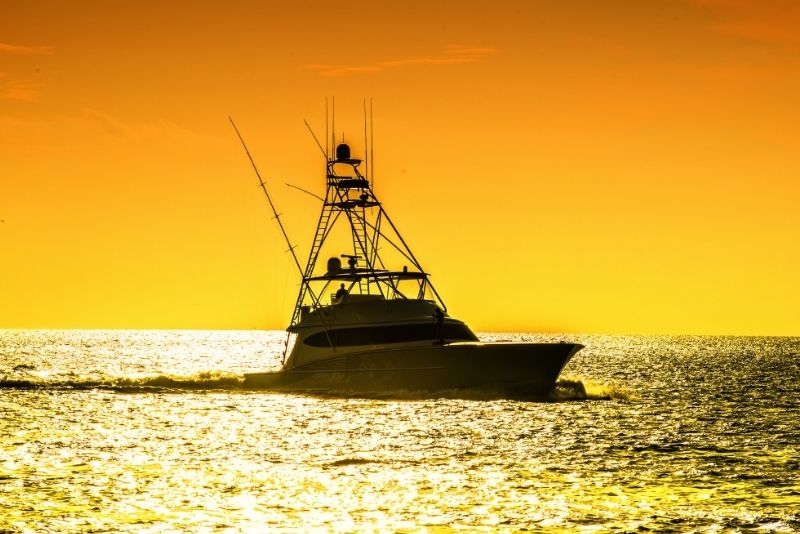 Led by captains who boast decades worth of experience navigating the Hawaiian waters, a chartered fishing tour looms as an exciting day out for anyone interested in the sport — whether a total newbie or a seasoned veteran.
Choose from half-day or full-day experiences, public or private, and prepare to reel in plenty of mahi-mahi, ono, tuna, and Pacific blue marlin.
59 – Dive beneath the surface on an Atlantis submarine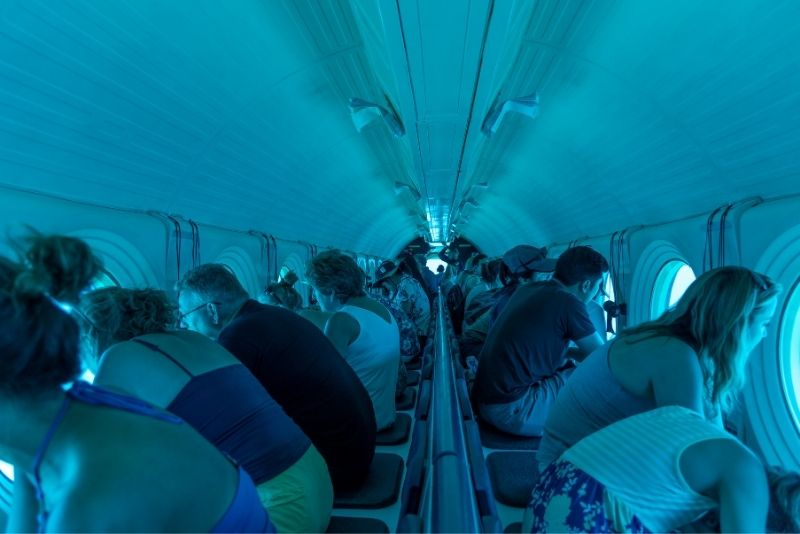 Want to get up close and personal with green sea turtles, sharks, yellow tangs, and eels? Then look no further!
Secured in the comfort of either Atlantis' 48-passenger or 64-seater submarine, guests will descend 100 feet beneath the surface of the ocean, where the marine ecosystems dazzle, delight, and amaze.
60 – Go skydiving in (arguably) the world's most beautiful dropzone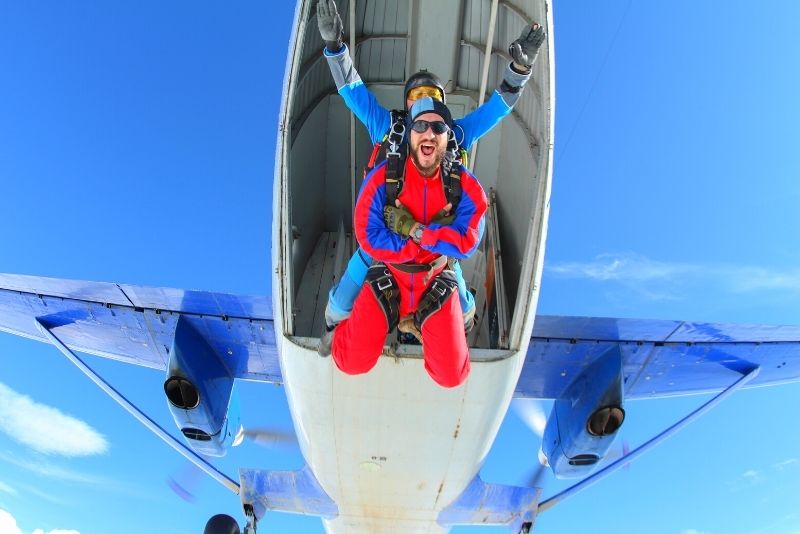 Okay, who's ready for the ultimate thrill?
Nothing quite gets the heart race and the blood pumping than freefalling from over 12,000 feet above the ground at break-neck speeds of 120 miles per hour!
Moreover, there's arguably by location more suitable to do it than the pristine coastline, deep blue waters, and lush green forest of Oahu.
So, are you brave enough?
61 – Soar above Honolulu in a glider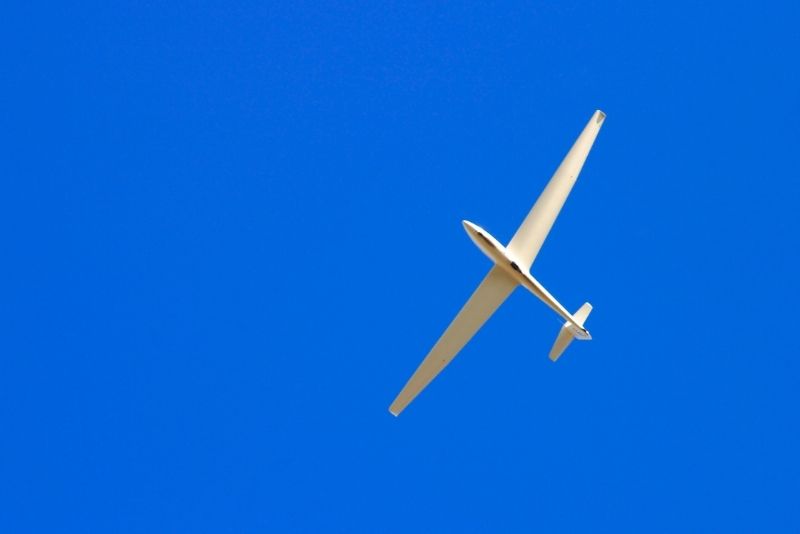 Allow the beautiful scenery of the North Shore to greet you from thousands of feet above the shimmering Oahu shores (with sometimes-visible whales) as you zoom through the skies in a traditional glider.
With a friendly, professional pilot taking the joystick, all you have to worry about is snapping those selfies.
If you're after a little more adventure, ask for the aerobatic flight option.
62 – Get toe-tappin at Blue Note Hawaii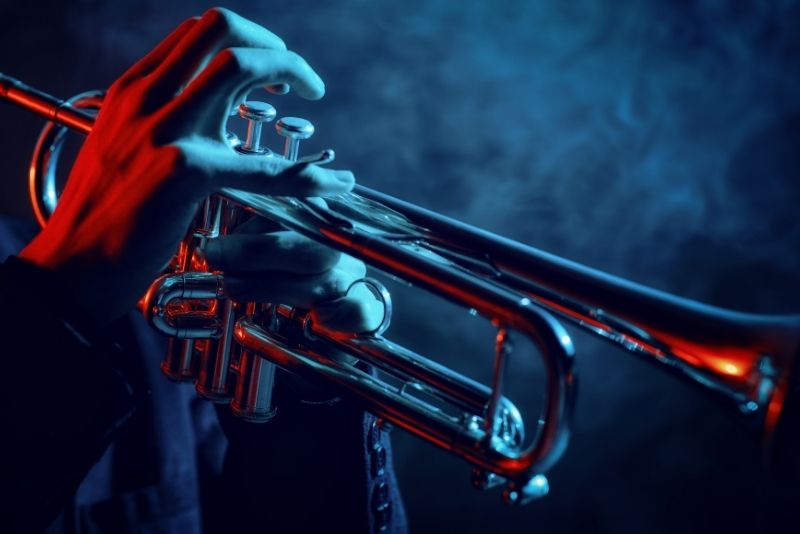 Often considered one of the world's best jazz clubs, Blue Note operates a number of locations in major cities.
Yet while they all have their own claims to fame, it's hard to compete with the warm air, friendly staff, and ever-relaxing vibes at the Honolulu spot.
Check the event calendar to see what tickles your fancy (but honestly, it's all incredible) and be sure to taste the Blue Note Hawaii Martini while you're there.
63 – Satisfy the cravings at one of many shrimp trucks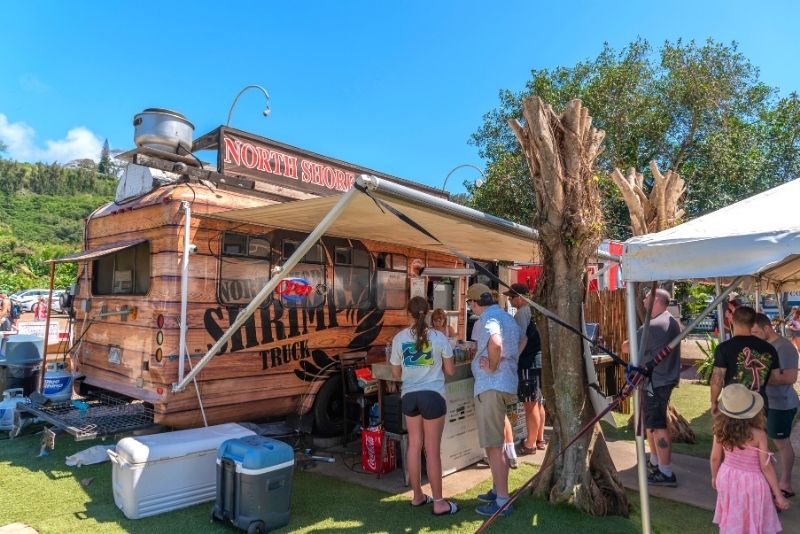 It's time to unleash your inner Forrest Gump, everyone. No matter where you're staying, a tantalizing shrimp truck is never too far away.
Home of one of the best scampi shrimp plates on the island, Giovanni's Shrimp Truck (usually over in Haleiwa or Kahuku) is a must-visit; Romy's Kahuku Prawns & Shrimp Truck is always busy (for a good reason!); and Big Wave Shrimp Truck, besides its noteworthy staple dishes, also offers steak and short ribs plates. So, who's hungry?
64 – Hike the Koko Crater Arch at sunrise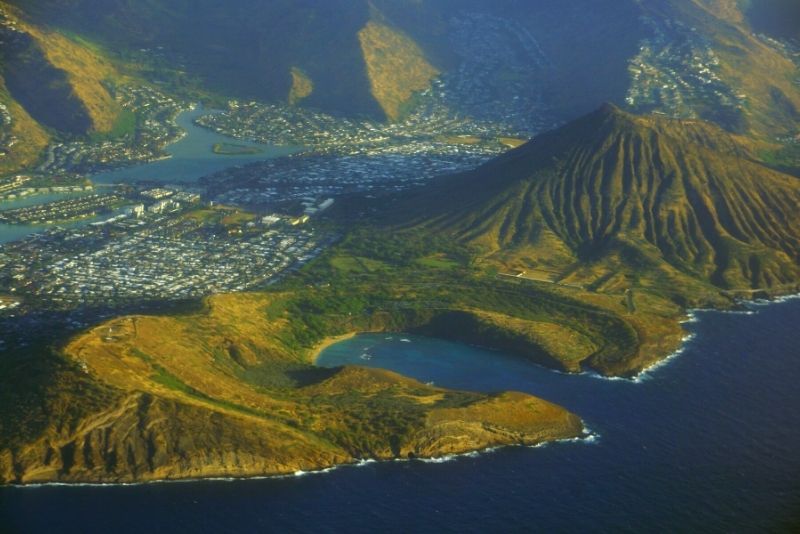 Nature lovers, this one's for you.
This hike might fall short of a mile in distance, but in the two hours it takes to complete it you'll rise some 1,028 feet in elevation along an abandoned railroad trail.
While the hike, which features over 1000 steps, is certainly challenging, the views at the end — unobstructed vistas from the top of Koko Head Crater — are worth it.
65 – Watch the Waikīkī Beach Friday night fireworks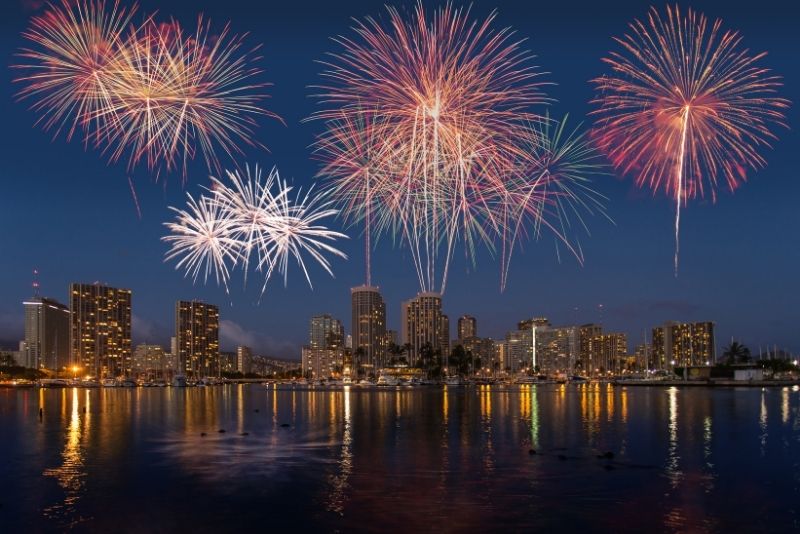 As if Waikīkī Beach couldn't be more impressive, every Friday night the Hilton Hawaiian puts on a glorious firework display.
Best viewed from the South Oahu's glimmering ocean, travelers love soaking in the sights while on a BYOB cruise or a romantic dinner cruise aboard a luxury catamaran.
66 – Watch a surf competition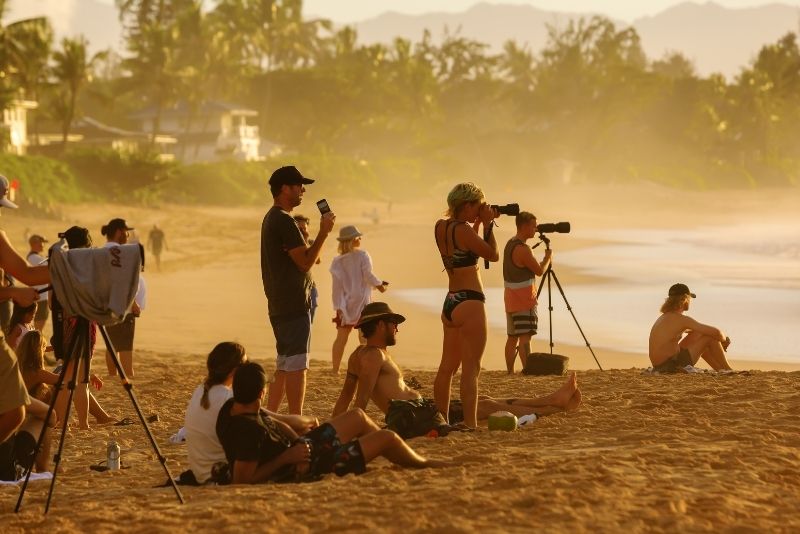 Regardless of whether you personally hit the waves or not, surf competitions on Oahu — particularly the North Shore of the island — are an unforgettable spectacle.
With 20-feet-tall barrelling waves, beautiful sunshine year-round, and some of the most exciting talent in the world congregating to ride the whitewater at the legendary Banzai Pipeline.
67 – Watch the cliff divers at Spitting Cave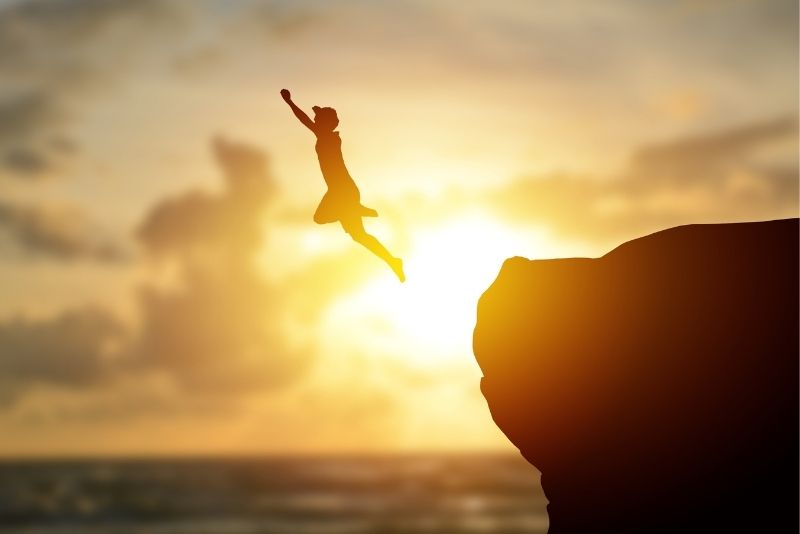 If you're after relaxation, the Spitting Cave of Portlock in Honolulu offers a great view of the ocean (and whales in the colder months) with a calming air to soak it all in.
In those days with rough surf conditions, the blasts from the cave add another exciting visual.
However, if you're after thrills, Spitting Cave has a special secret: cliff jumping.
The cliffs drop down about 70 feet into the water, although be aware of the risks and make sure to watch the professionals jump before even considering doing so yourself.
68 – Visit the Byodo-In Temple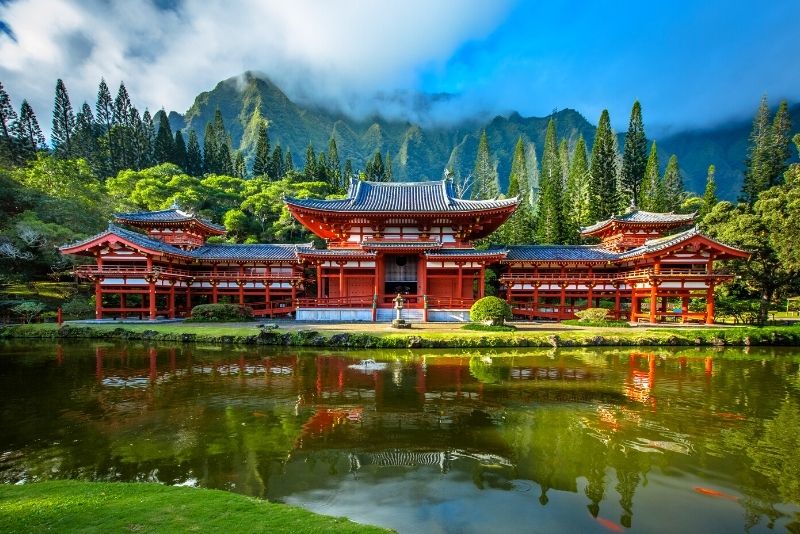 Nestled at the foot of the Ko'olau Mountains in the stunning Valley of the Temples Memorial Park, the Byodo-In Temple was established to commemorate the 100th anniversary of the first Japanese immigrants to Hawaii.
Today, it serves as a Buddhist temple with short paths to wander and ample spots for calming meditation. If you're after serenity, this is the place.
69 – Dig into an acai bowl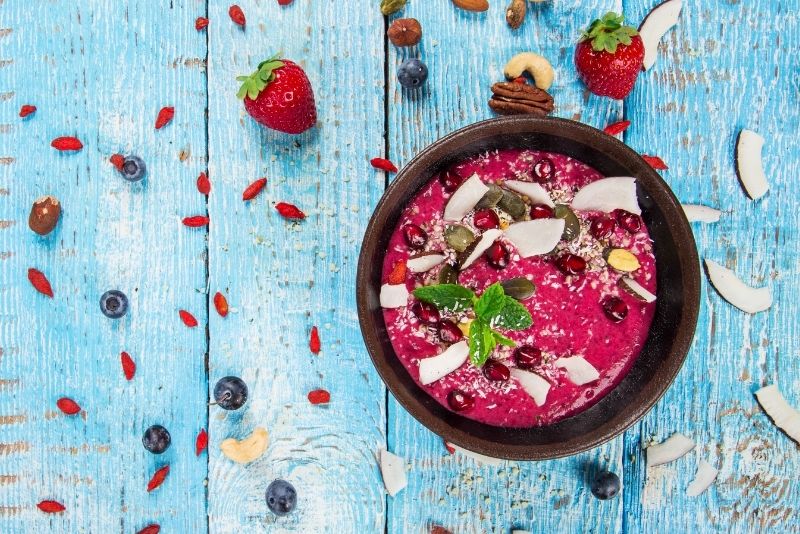 Even though Acai Bowls hail from Brazil, you'll be hard-pressed to find a more delicious serve than on the Hawaiian islands.
Da Cove Health Bar near Diamond Head is a crowd favorite for students; The Acai Monkey at Lanikai Juice offers a special peanut butter twist, and the bowls at the Heavenly Island Lifestyle cafe in Honolulu are as visually appealing as they are delicious!
70 – Scuba dive through shipwrecks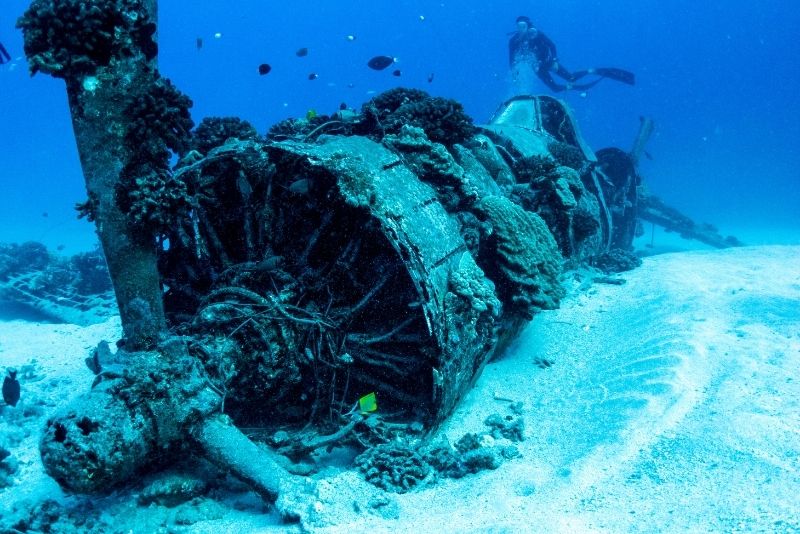 Besides the chance to scuba with turtles, sharks, and schools of vibrant fish, the archipelago also offers a range of famous shipwrecks to explore for those already holding PADI certification.
On professionally-led expeditions, divers will get to see infamous sunken vessels like the YO-257, San Pedro, and the Korean Sea Tiger fishing vessel — all in warm, life-filled waters.
71 – Visit the Kaniakapupu Ruins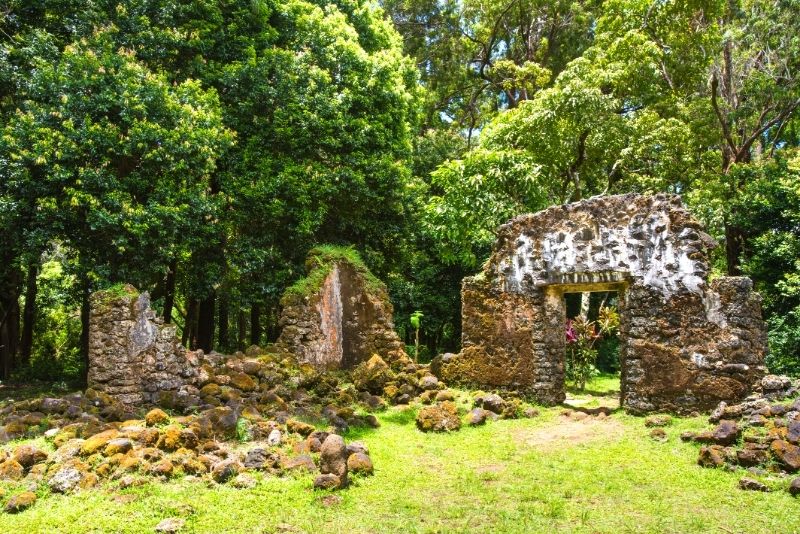 Tucked away in the middle of a lush bamboo forest, the Kaniakapupu Ruins — otherwise known as the summer home of King Kamehameha III — are the highlight of a short but popular hiking trail not too far from Honolulu.
There's also a beautiful waterfall at the end (but make sure to wear waterproof shoes!).
72 – Feel the thrill of a jetpack ride!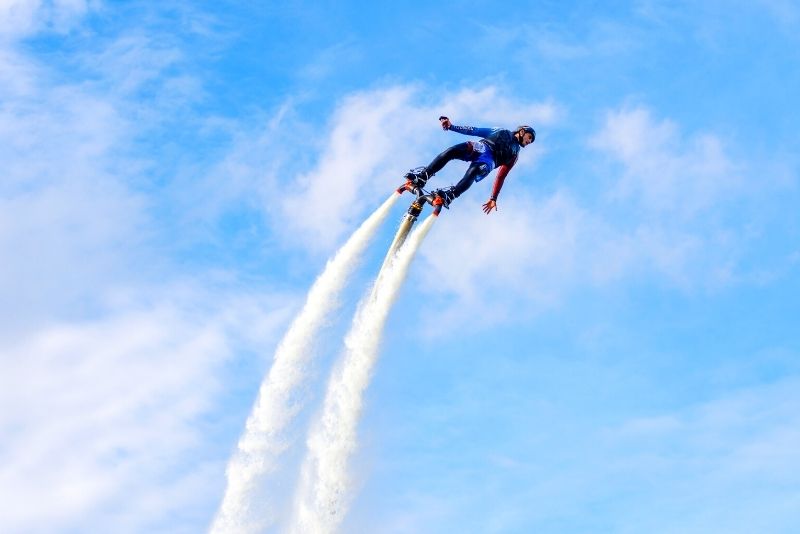 With the power of water thrusters on your back, you really will feel like you're flying!
As one of the world's most popular and exciting new water sports, visitors from near and far are making beelines for flyboard and jetpack rental outlets.
Besides the thrill of the activity, you'll also be greeted by excellent views of the Kai coastline, Koko Crater, and the Ko'olau Mountain Range.
73 – See the sacred Kukaniloko Birth Stones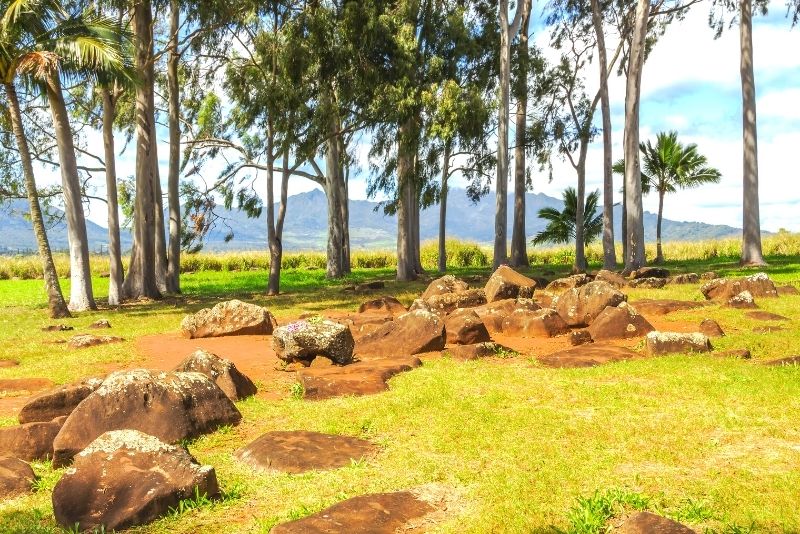 Carrying a strong cultural and historical significance, the Kukaniloko birthing stones were placed in a spot where ancient residents believed the life force of the land was strong.
Given its history, it's a popular attraction for travelers wanting to learn more about local culture and heritage. However, since this area is highly sacred, the utmost respect for the land is expected.
74 – Cool of with some Waiola Shave Ice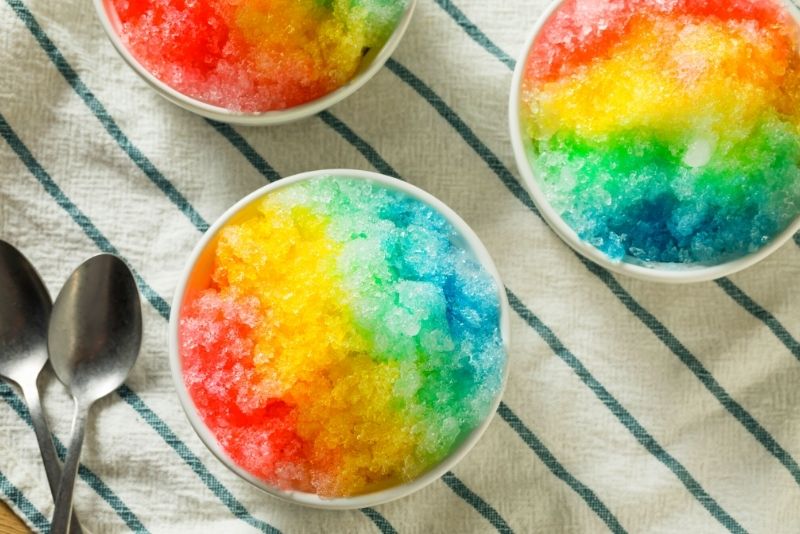 Unlike the rest of the United States, Hawaii isn't big on ice cream.
Instead, if locals aren't enjoying an acai bowl, they're keeping cool with a traditional and simple cone of Shave Ice. Ask any Honolulu resident: there's no joint more famous for a dessert than Waiola Shave Ice.
While it's a little off the beaten path it's definitely worth the extra time to get there!
75 – Try the Malasadas at Leonard's Bakery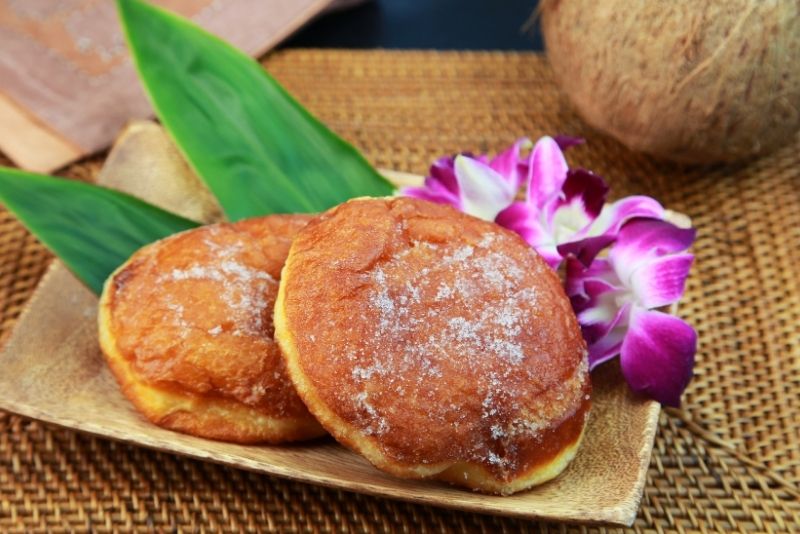 The famous Honolulu home of Malasadas (a hole-less Portuguese-style doughnut coated in sugar) and Malasada Puffs, Leonard's Bakery has been putting smiles on faces and treats in stomachs since 1952.
The warm, fresh, and tasty treats are ever-popular with locals and tourists alike, and a must-try for any foodies visiting Oahu.
76 – Meet the locals at the Kaka'ako Farmers' Market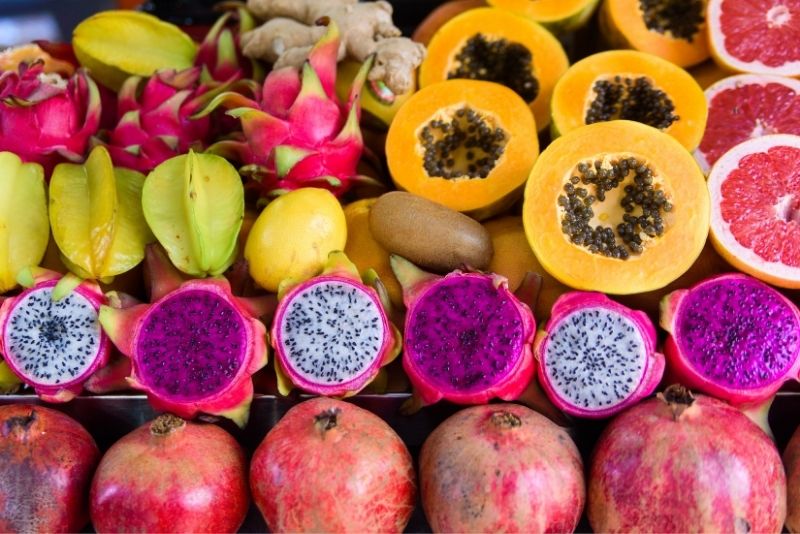 Held every Saturday in the heart of Honolulu from 8 am to 12 pm, the Kaka'ako Farmers' Market — thanks to its fresh produce, friendly locals, and unique vendors and souvenirs — is a surefire hit for travelers.
With live music enhancing the atmosphere, even if you're not after any food, it's still a great option for a morning wander.
77 – Stroll through botanical gardens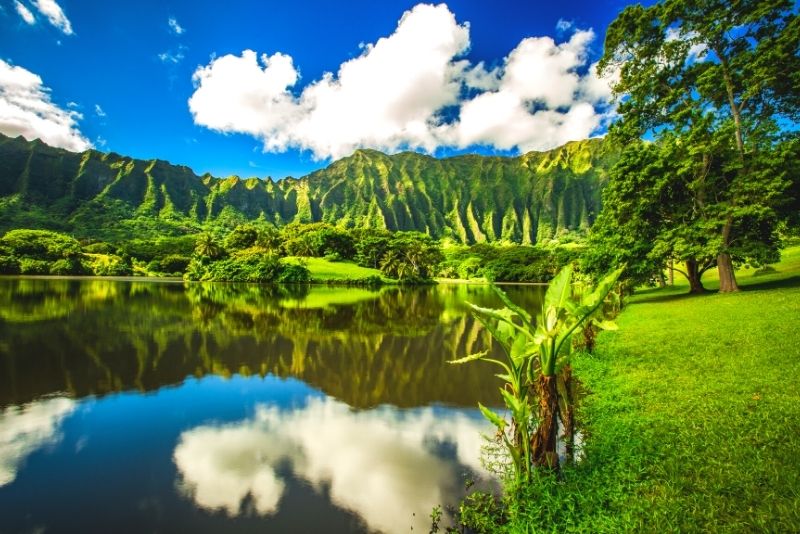 Even though Oahu is a natural oasis in and of itself, its reputable botanical gardens — namely Ho'omaluhia and Wahiawā — takes the peaceful scenery up another notch.
The former, over in Kaneohe features plantings from major tropical regions around the world grouped geographically, and you can camp there! Meanwhile, the latter offers both self-guided and group tours through its 400 acres.
78 – Snorkel at Hanauma Bay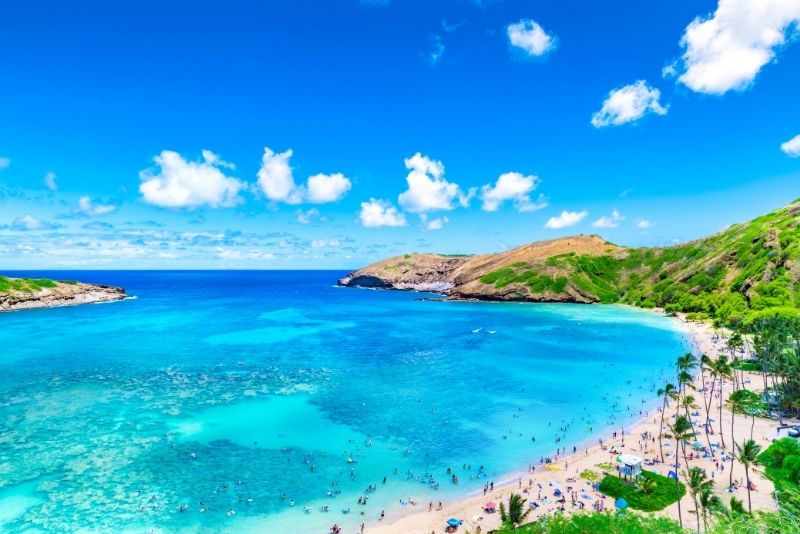 Considered the premier snorkeling destination on the island, Hanauma Bay is teeming with colorful sea life; warm, clear waters; shallow reefs, and terrific views.
Since this popular spot often gets busy as the day goes on (which makes parking a struggle), a guided experience is recommended — plus, that way, all the equipment, and transportation is included!
79 – Walk the Makapu'u Lighthouse Trail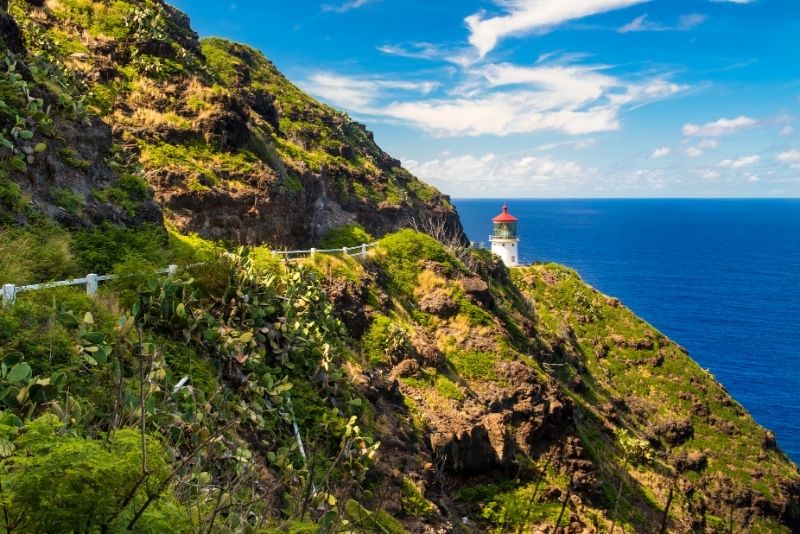 A picturesque lighthouse straddling the windward coast, Makapu'u dates back to 1909.
The hike is accessible for all ages; pick up from Waikiki hotels is often included, and you'll also be blessed with views of the Halona Blowhole and — if you're lucky — humpback whales!
Make it a solo activity or combine it with a day trip to Kailua Beach — either way, it's a great adventure.
80 – Visit the National Memorial Cemetery of the Pacific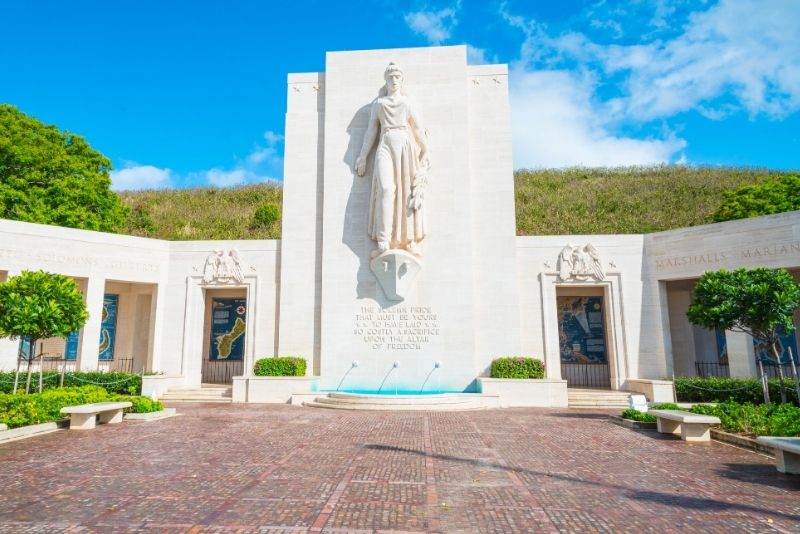 A sobering experience that really opens up your eyes, this Honolulu-based public cemetery hosts over 34,000 graves.
With exceptionally manicured gardens, beautiful wall mosaics, and a calm atmosphere, it's a unique change of pace from the busy beaches and shopping strips.
Hot tip: follow the road to the top where fantastic views of Honolulu await
81 – Hike up Diamond Head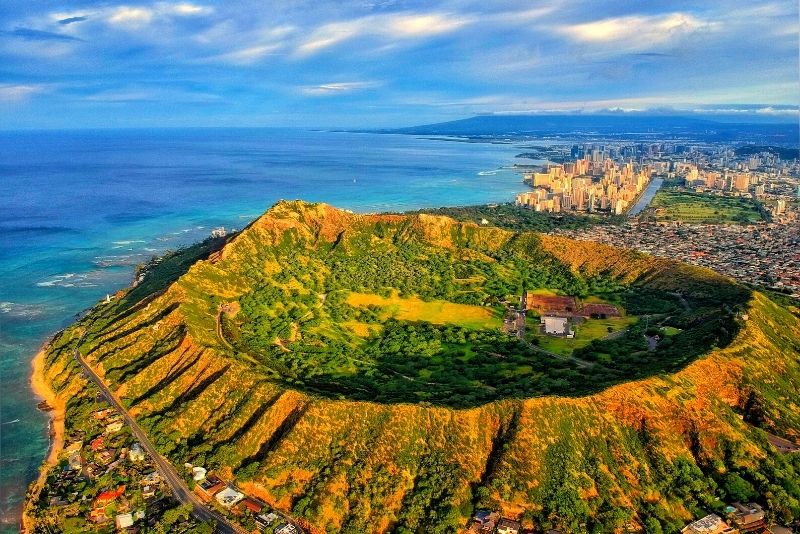 A saucer-shaped crater formed nearly 300,000 years ago as the result of an enormous volcanic eruption, Diamond Head now stands tall above Honolulu, welcoming thousands of adventure-inclined tourists year after year.
Formerly a strategic military lookout in the early 1900s, these days, Diamond Head serves as one of Oahu's many popular hiking destinations. No matter your ability, there's a trail suitable for everyone.
82 – Shop till you drop in Honolulu!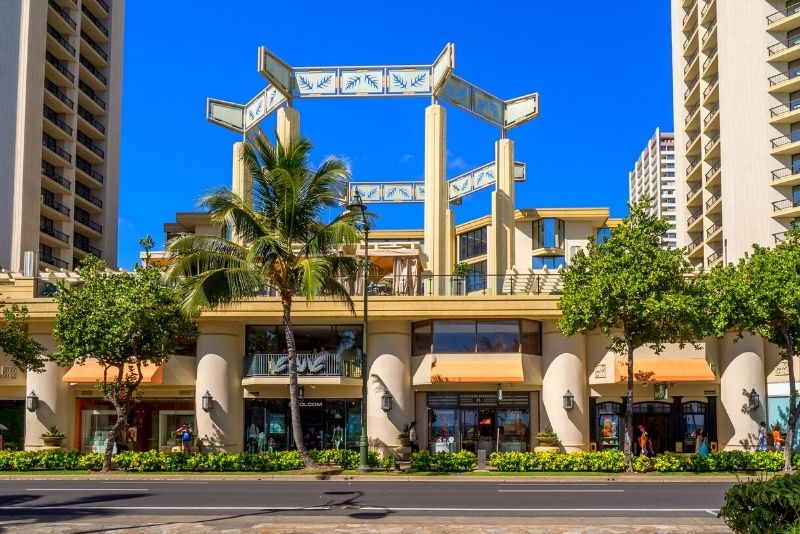 Attention, shopaholics!
If you're staying near Kalakaua Ave in Honolulu, you'll quickly realize why tourists make a beeline for the Royal Hawaiian Center: with over 110 renowned retailers as well as restaurants, and even rotating live entertainment, it's a popular day out.
On the other hand, near the beaches of Ala Moana you'll find the open-air Alamo Ana Center — an equally worthy shopping strip!
83 – See the giraffes at Honolulu Zoo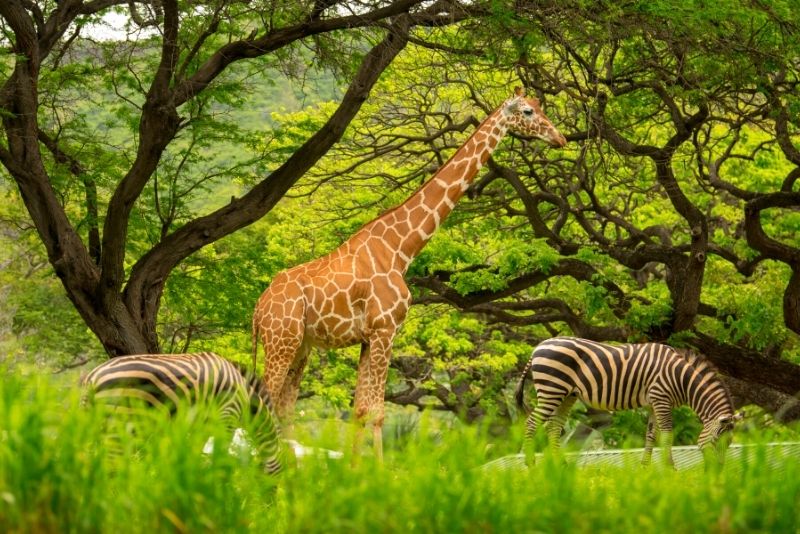 If you're on the hunt for things to do in Oahu to entertain both kids and adults, the 42-acre Honolulu Zoo is a great option.
Located at the end of Waikiki (towards Diamond Head), the zoo showcases animals of all different walks of life: the park hosts over 64 reptile species, 38 mammals, and 160 different types of birds, with plenty of live feedings and educational shows throughout the day.
84 – Wander the streets of Chinatown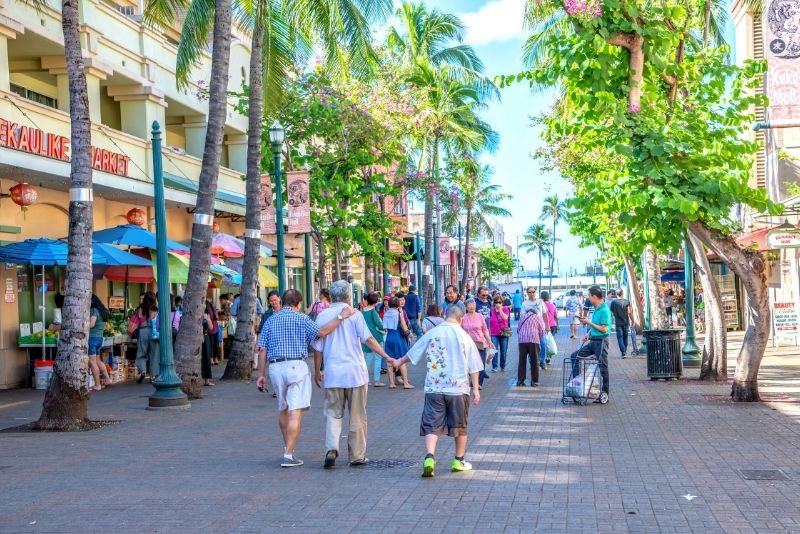 Complementing Hawaii's longstanding, rich Polynesian culture, Oahu also plays host to a vibrant and eclectic Chinatown!
Covering a whopping 15 blocks in Honolulu, Chinatown offers a selection of markets (check out the Oahu Market on King Street), art galleries, theatres, gardens, and a temple.
Of course, the list of notable restaurants (check out Lucky Belly and Royal Kitchen) and second to none.
85 – Explore Honolulu with a scavenger game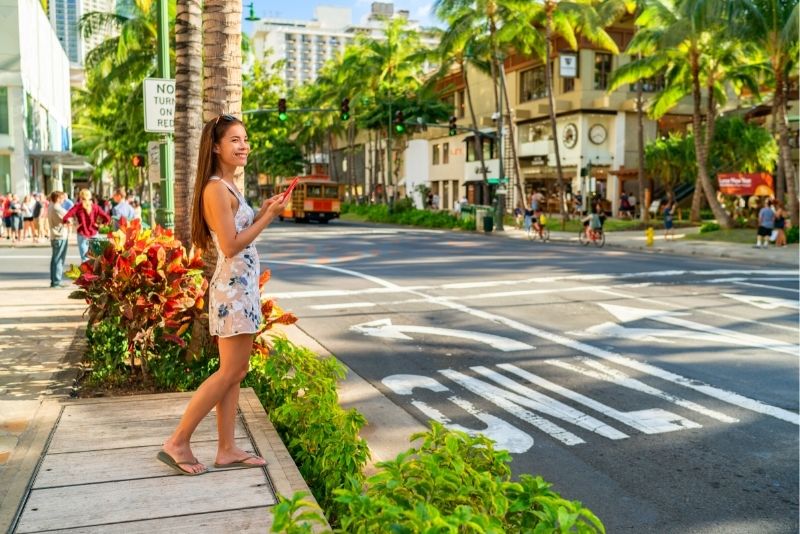 For when exploring a city at a leisurely pace becomes too mainstream, why not take it up a notch with a fast-tracked adventure around the city?
With challenges to complete, riddles to solve, and an easy-to-use app running the show, a scavenger game not only takes you to places like the hidden gems of Waikiki, but also makes it fun and exciting all the way through!
86 – All Aboard the Hawaiian Railway at Ewa Beach
As one of the most unique things to do in Oahu, the Hawaiian Railway flies under the radar on tourists' bucket lists; alas, a journey in the historic locomotive along the picturesque seaside track is always a wonderful day out.
As the only historic railroad on the island of Oahu, with a Toy Train Museum and plenty of narration along the 2-hour trip, it's a worthwhile half-day trip.
87 – Join a Segway tour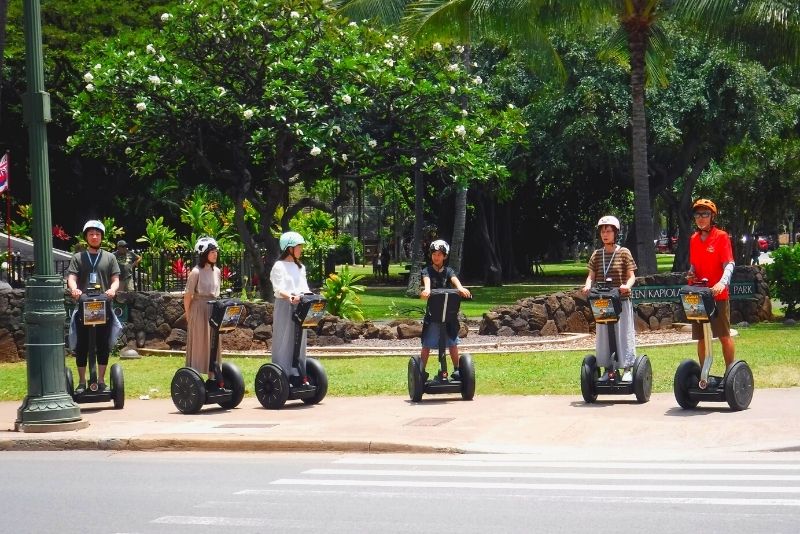 Walking around cities can be tiresome — especially when, like the main towns around Oahu, they're built near VOLCANOES — so, sometimes, the most efficient and most enjoyable way to explore is on a Segway.
A fun, relaxing experience suitable for the whole family, Segway tours operate through Honolulu's historic area, Chinatown, Waikiki, and even along several beaches.
88 – Go stargazing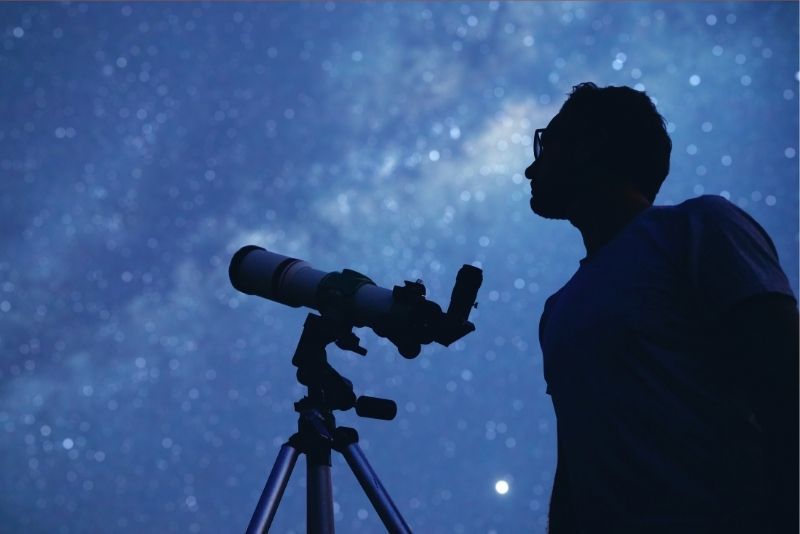 After ticking off all the touristy things to do in Oahu, there's no better way to cap off your trip than with a night under the unobstructed sky, with nothing but shimmering stars to transfix your gaze.
With little light pollution, anywhere on the island provides sparkling views; however, experts suggest taking a trip up to Mount Tantalus, where at over 2,000 feet high, it not only offers a stunning sky view, but also views of Downtown Honolulu.
Consider a Go Oahu Pass
Bargain hunters, take note! If you're planning your Oahu or Honolulu trip, the GO Oahu Card is a great option.
A GO Oahu Card provides discounts (often up to 55%) on multiple attractions and things to do in Oahu, including everything from museum entrance tickets to hiking tours, and visits to places like Pearl Harbor, the Polynesian Cultural Center, Dole Plantation, and plenty more!
Consider an airport transfer
You're on vacation, after all, so why add unnecessary stress of finding a taxi or a shuttle bus last-minute?
Ditch the hassle and book an airport transfer in advance — not only will you save time and money (especially if traveling in a group), but you'll also be greeted by a friendly local holding up a sign with your name on it!
Looking for somewhere to stay? Check out the best hotels in Oahu for a range of accommodation options on this beautiful island.
Visiting other Hawaiian islands? Don't miss our selections of things to do in Maui, things to do in Kauai, things to do on the Big Island, and our bucket list of the best things to do in Hawaii.
We hope you've enjoyed our selection of things to do in Oahu, Hawaii! If you have any other must-see suggestions in Oahu, feel free to let us know in the comments!
As always, happy travels!