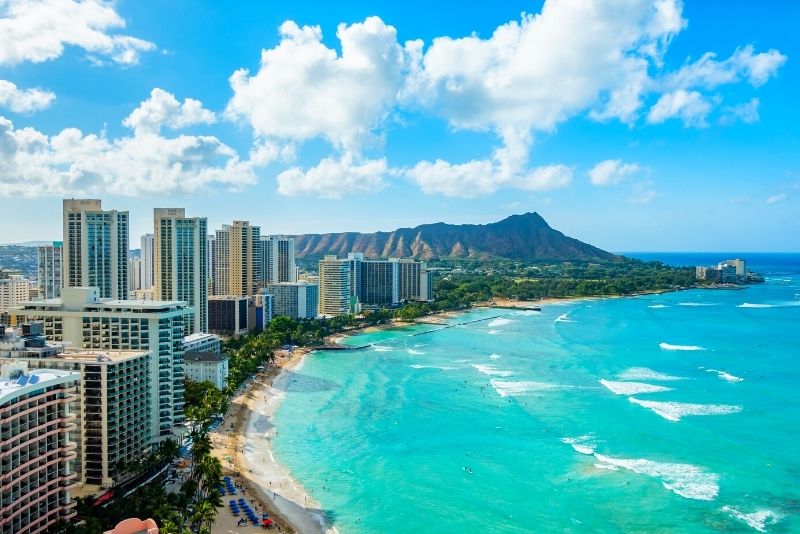 The crown jewel of Oahu's economy and a globally-adored gateway to stunning coastlines, world-class hikes, historic ruins, and centuries-old cultural experiences (Luau show, anyone?), the beachside city of Honolulu is as remarkable as they come.
Sandwiched between warm Pacific waters (perfect for diving and snorkeling), the foreboding Diamond Head crater, and a long list of touching museums and memorials in Pearl Harbor, it's fair to say that the list of things to do in Honolulu is vast enough to suit any kind of traveler.
Enough yapping — it's time to start planning your island adventure!
1 – Visit the huge Bishop Museum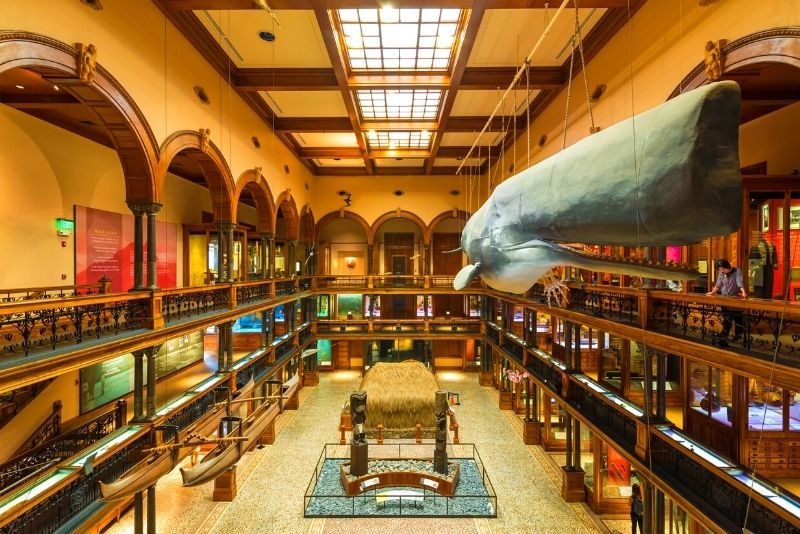 The Bishop Museum is considered — in fact, officially rated — one of the island's premier tourist attractions, and it's not hard to see why!
Featuring thousands of artifacts spanning centuries, with dedicated exhibits covering Hawaiian art, gods, legends, and beliefs; plus a planetarium and a Native Hawaiian Garden, this is your chance to learn more about Hawaii than you ever thought possible.
It's a wonderful way to learn about the rich cultures and traditions that many people in Hawaii cherish today — and if that weren't enough, the museum also features a live lava demonstration!
2 – Take your better half on a sunset (& show!) cruise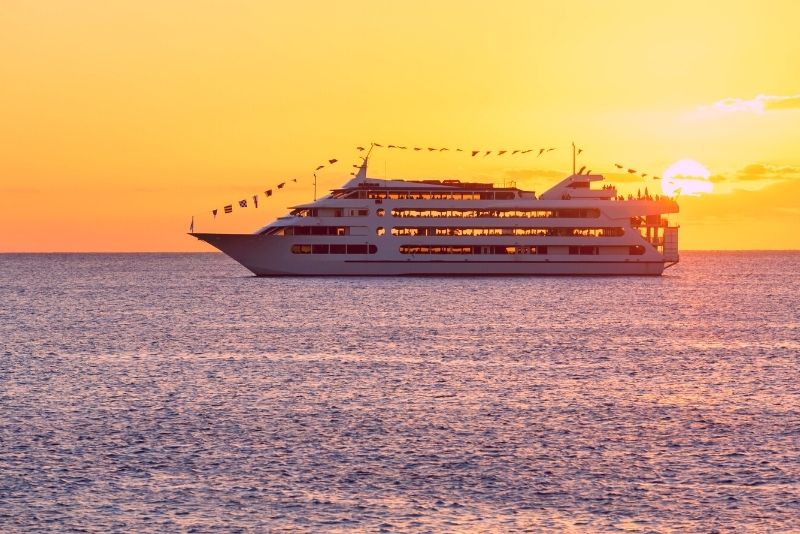 One for the traveling couples; no matter the time of year, with its glowing sunsets, warm air, and fresh ocean air, an evening cruise is sure to spark up some romance.
Cruises typically include a delectable 3-course meal, friendly and knowledgeable cruise staff, and onboard live entertainment!
If it lines up with your trip, try to book on a Friday for the included fireworks show!
3 – Get busy with a cooking class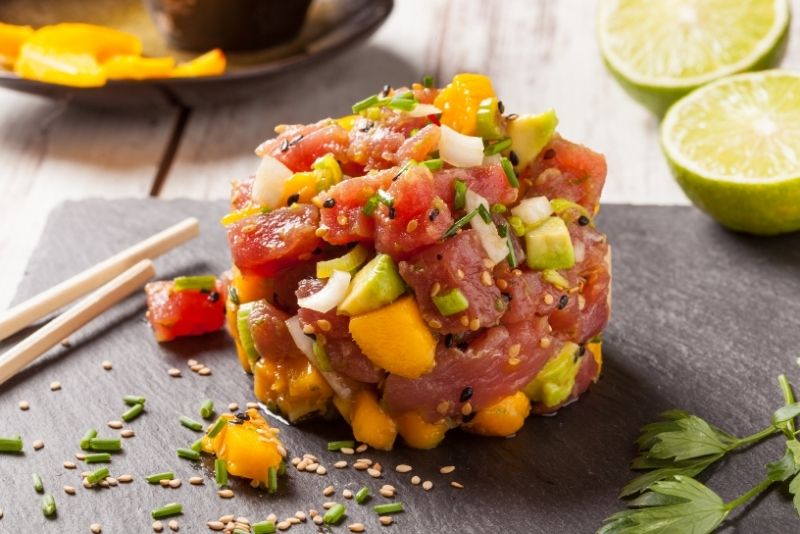 So long as it isn't a plate full of Spam Musubi, learning how to cook a staple Hawaiian dish is something you can proudly show off to your friends back home.
Depending on your schedule and time of year (thus affecting the seasonality of the dishes you'll cook), your intimate cooking class could feature anything from poke to manapua or authentic fresh seafood.
Of course, if cooking isn't your jam, you could always just eat and eat and eat on a food tour (hint: check out the one run by food expert Lanai Tabura!).
4 – Keep an eye out for raptors at Jurassic Park (Kualoa Ranch)
For the cinephiles among us, look no further than Kualoa Ranch!
As the real-life set for blockbusters like Jurassic Park and Pearl Harbor, along with Magnum P.I, the cinematic nostalgia here is dialed up to 11.
But that's not all; the ranch also offers ATV excursions, train rides, and high-speed zip lines adventures, all excellent opportunities to explore some of Hawaii's most gorgeous forested mountainsides.
5 – Head to the Polynesian Cultural Center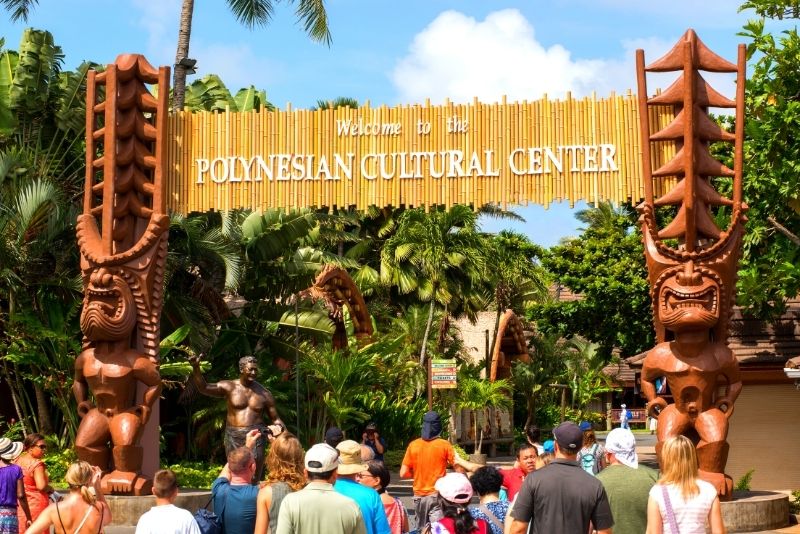 As the ultimate family destination and a must-see for any visitor to Oahu, it's no wonder this place is regarded as the #1-rated attraction on the island.
Nestled on the windward side of the island, this interactive museum is home to more than 150 authentic structures from all over Polynesia. Alongside displays featuring traditional clothing, dances, and cuisine (like kava), visitors are invited to participate in workshops and demonstrations of the various customs.
6 – Race against the clock in an escape room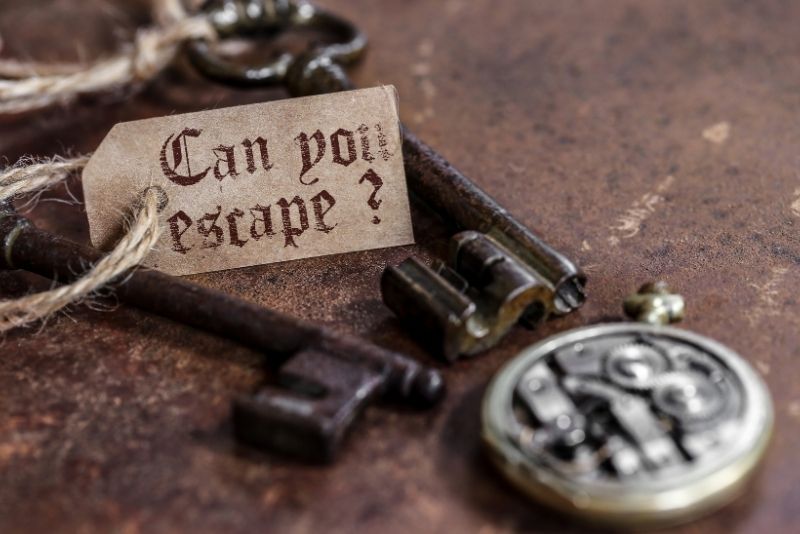 High-tech Escape rooms are a blast — especially when they're set in, say, a hidden temple or a creepy asylum!
You'll need all the teamwork, problem-solving, and out-of-the-box thinking you can muster up in order to solve the case and make it out— the only question is, can you crack the clues before time runs out?
7 – Browse the city's street art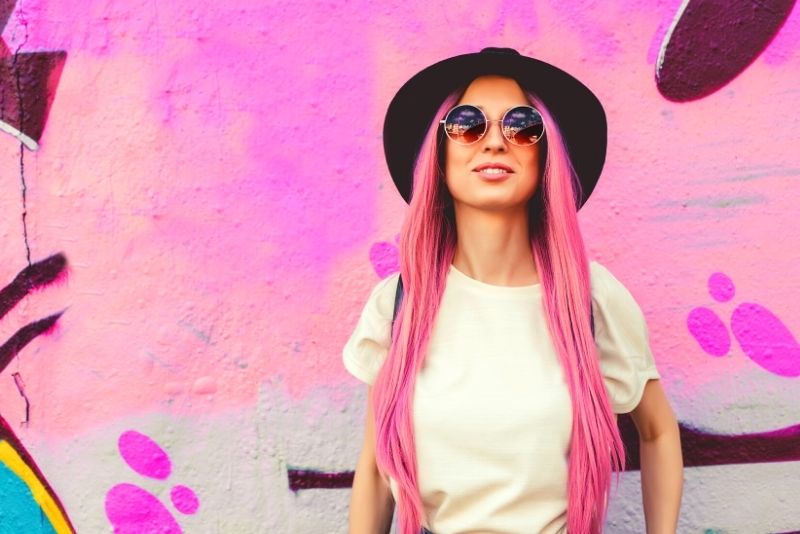 Alongside being a photographer's dream destination, as one of the most creative and culturally rich cities in Hawaii, Honolulu has no shortage of stunning street art.
On dedicated graffiti and mural tours (led by friendly, cheery locals), visitors are guided through some of the city's best-known alleys, taking away eye-opening insights into the island's underappreciated love affair with art.
8 – Head underwater with a scuba diving excursion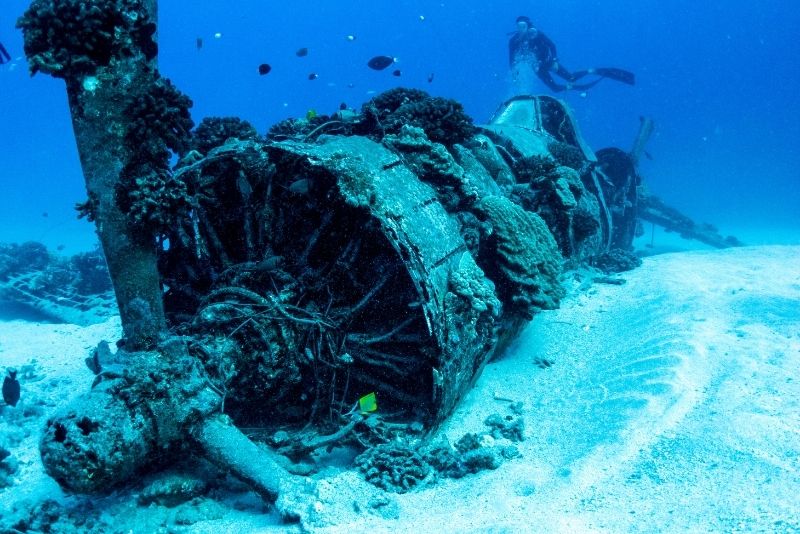 Enough with the boat tours… it's time to dive BENEATH the surface. While there are many options available to tourists for diving, as well as introductory dive sessions for beginners, adventure-seeking travelers can also opt for a day of 'wreck diving'.
Guided tours of shipwrecks take travelers underwater where they will find a variety of marine creatures and slowly eroding vessels.
If deep-sea diving is a little too intimidating, there is no shortage of snorkeling alternatives.
9 – Check out the highly-photographed Mokulua Islands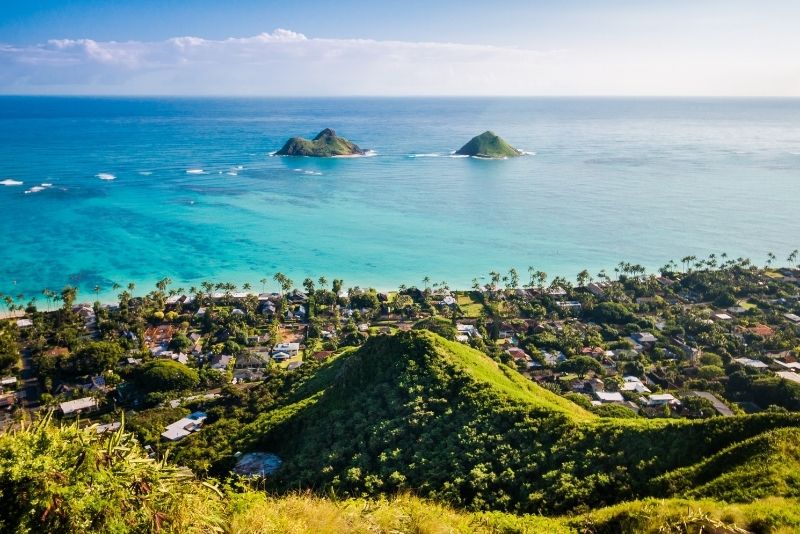 Nestled at the mouth of Kaneohe Bay, this cluster of two small islets is a favorite with locals thanks to its abundant marine life and calm waters.
With miles-long stretches of golden beaches on these serene islands, as well as plenty of snorkeling and exploration opportunities, it's easy to see why locals prefer they remain a "hidden gem".
10 – Stop into a Dole Pineapple Plantation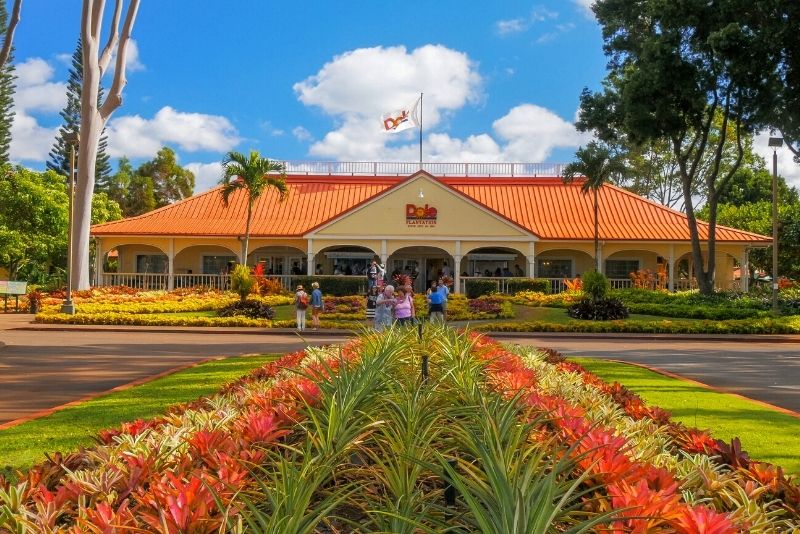 Dole Plantations are a dime-a-dozen in Hawaii, but this one is particularly special.
You'll be able to take a free walking tour through the plantation grounds and orchards (along with tasting as many of their famous products as you can handle), before heading up to the gorgeous Pineapple Garden for some serene views.
Hot tip: combine a plantation visit with a full-day Circle Island tour!
11 – Sign up for a North Shore excursion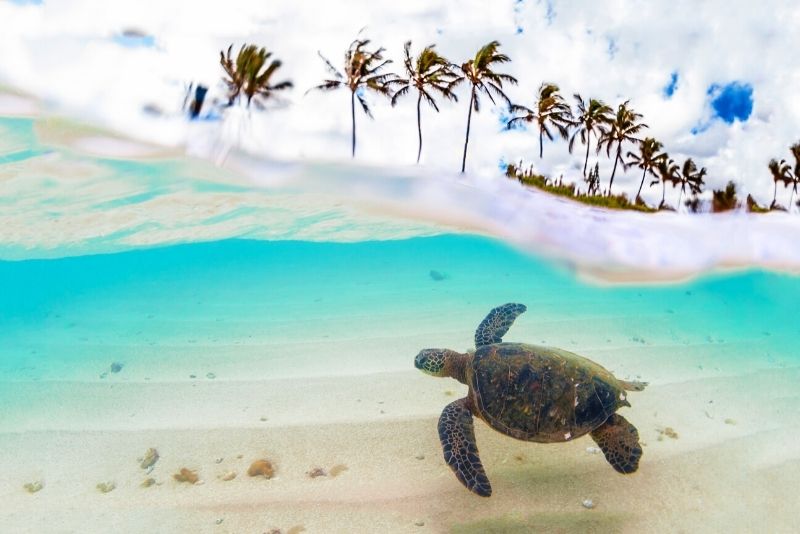 With seemingly never-ending sandy beaches, sparkling waters, and no shortage of adventure (ziplines, cliff jumping, or diving), the North Shore has something perfect for the whole family.
If you're looking to explore the cool, rugged coastline of Oahu's North Shore — a destination with an undeniable surfer vibe and surf-loving locals that call it home — then a pre-arranged tour is the way to go.
12 – Cool off at the Manoa Waterfalls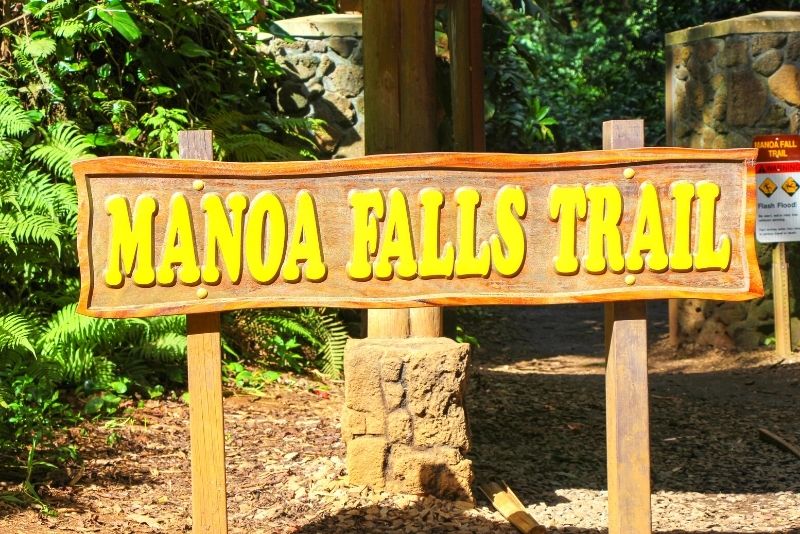 A few minutes outside of Honolulu, you'll find this prime example of Mother Nature's lushness and beauty.
Superb views aside, these falls are a popular attraction thanks to their accessibility (there is an easy-to-navigate trail leading up from the parking lot) as well as its huge variety in plant life and wildlife — not to mention the various waterfalls and pools to explore.
13 – Soar over the island in a helicopter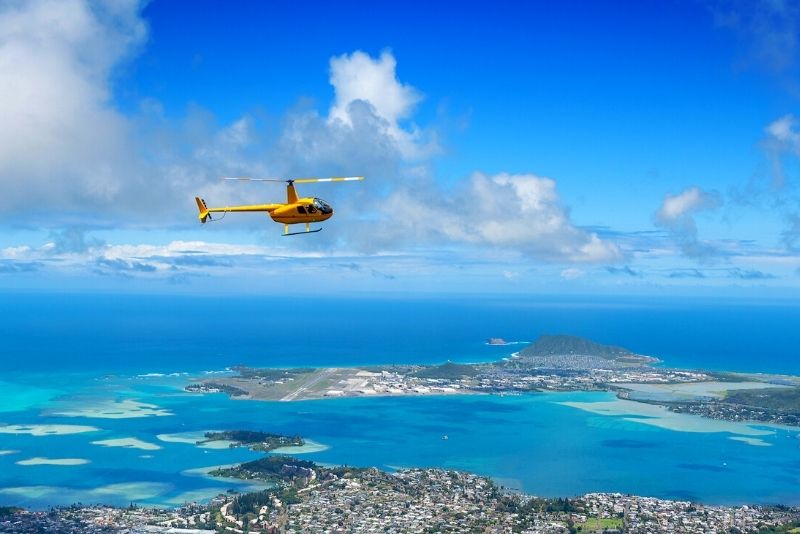 What better way to see one of Mother Nature's most picturesque islands than from above, right? As you ride shotgun in a helicopter, expect sweeping views of the entire region, from the high-rise buildings of downtown Honolulu to Diamond Head Crater and beyond.
With a range of flight lengths available, there's an option for both the penny pinchers and the big spenders.
14 – Join a glass-bottom boat tour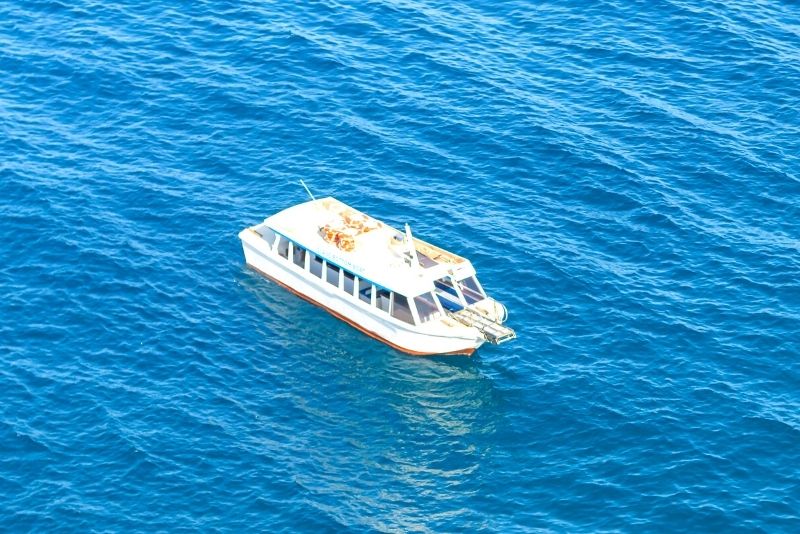 Craving the delight of seeing spinner dolphins and massive turtles up close but can't be bothered getting wet? Enter: the glass-bottom boat tour!
Sightseeing is thirsty work, right? Well, depending on which tour you choose, you can BYO booze and refreshments to make the day all the more relaxing — it is vacation, after all!
15 – Follow in the footsteps of Duke Kahanamoku; go surfing!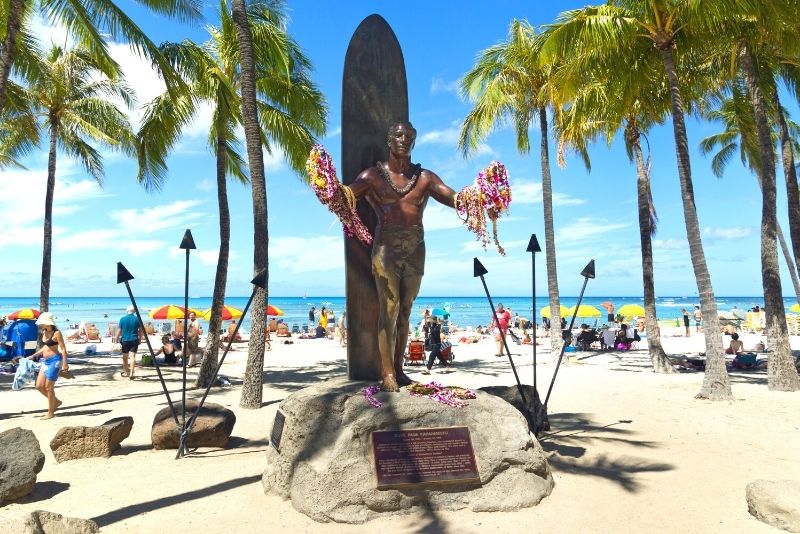 Surfing is a quintessential Hawaiian pastime, and with so many beaches to choose from (Kailua Beach in Kona or Haleiwa Town on the North Shore, just to name a couple) it would be near impossible not to find your perfect wave.
While the state has an intimidating reputation for all-star swells, there's really no need for prior experience; instructors are available all over the island, offering lessons to beginners and pros alike.
16 – Take a moment of silence at Pearl Harbor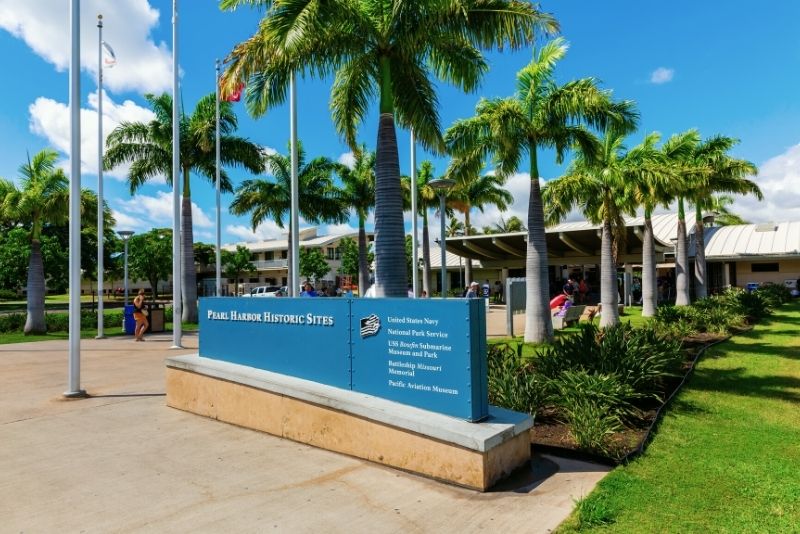 As one of the most historically important locations not just statewide, but nationwide, Pearl Harbor carries stories and significance unmatched by many other American monuments.
With plenty of eye-opening activities in the area, including a VR experience, the Battleship Missouri Memorial, the USS Arizona, and the tear-jerking museum, a guided tour that covers the whole area and offers Honolulu pickup and drop-off is your best bet.
17 – Pay respects at the Battleship Missouri Memorial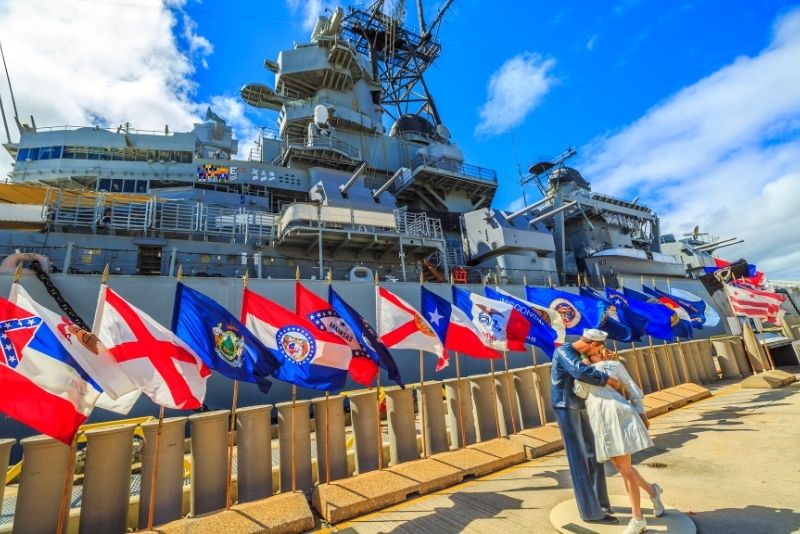 Dubbed the "Mighty Mo", this 900-foot-long behemoth of a battleship acts as a floating dedication to the soldiers, stories, and history of WW2, with a focus on the tragic bombing of Pearl Harbor in 1941.
While visitors are more than welcome to explore at their leisure, expert-led daily tours provide next-level insights into the events of the past — so it's well worth opting for a guided option.
18 – Visit the USS Arizona Memorial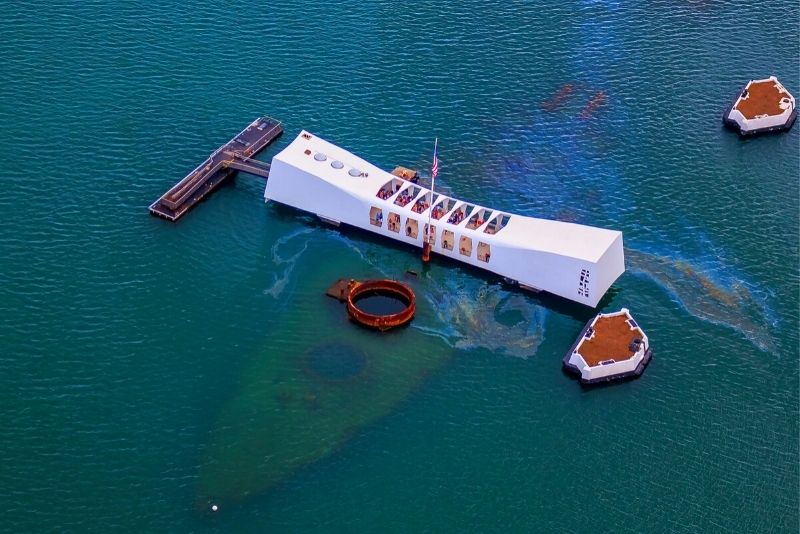 Built floating on the water, over the top of the remains of the sunken USS Arizona battleship, this somber memorial signifying the resting place of nearly 1200 soldiers that lost their lives in the nation-shaping tragedy.
For history buffs, the Memorial is undoubtedly one of the essential things to do in Honolulu (well, near Honolulu, technically).
19 – Take the controls at the Pearl Harbor Aviation Museum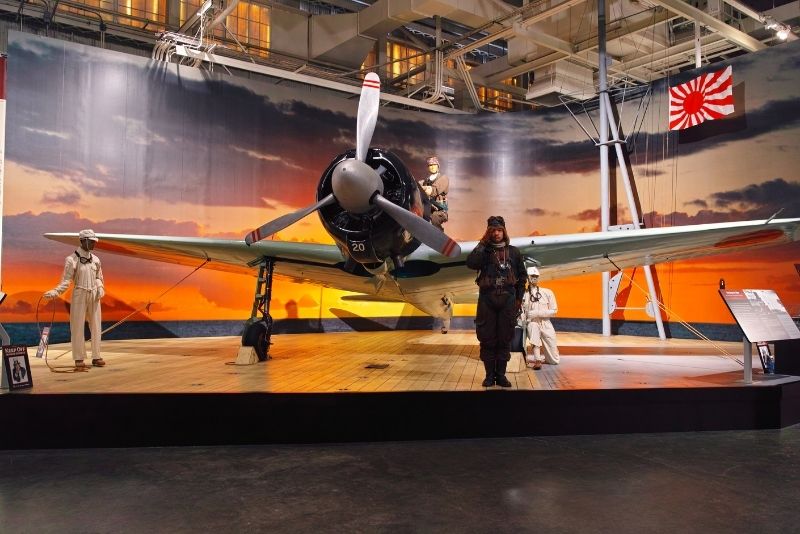 Displaying hundreds of unique artifacts and collections, and a selection of original hangars that were used back in WW2, the Pearl Harbor Aviation Museum provides fascinating insights not only into the development of aircraft over the decades but also the role they played in modern wars.
Far more than just a selection of displays, the Museum also houses interactive exhibits and the crowd-favorite flight simulator.
20 – Check out the USS Bowfin Submarine Museum & Park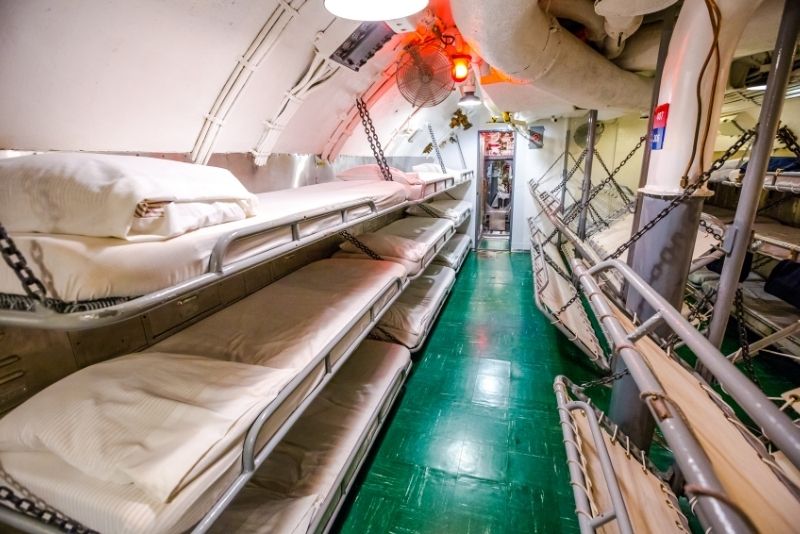 Another Pearl Harbor-related attraction that dives into the history and significance of the area and its stories, the USS Bowfin Submarine Museum & Park offers educational videos about the fateful events, plus narrated displays and guided tours.
However, what this museum does particularly well is showcases the history of American submarines — with that said, for Navy and boat enthusiasts, it's a non-negotiable.
21 – Go shark diving on the North Shore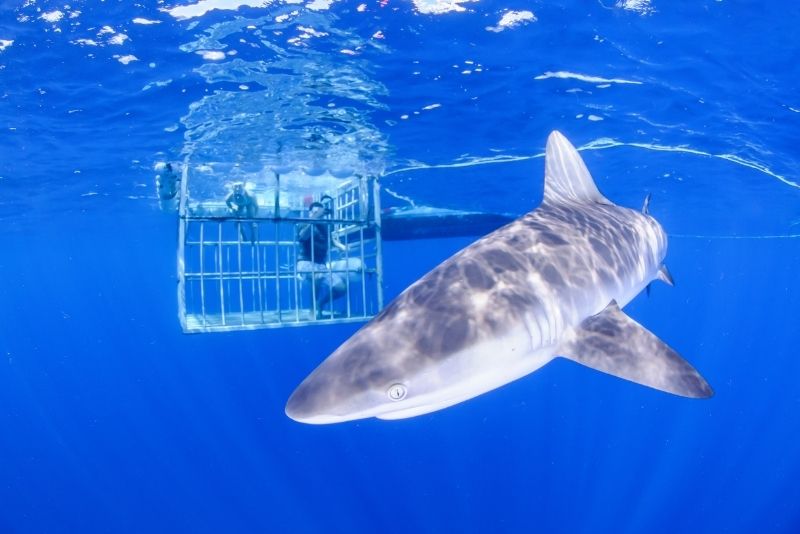 A few miles off the coast of Oahu's North Shore, divers can find themselves in a unique and exciting environment — one that is full of wild and intimidating (albeit usually friendly) sharks!
The waters are warm and clear (meaning good visibility), the cage diving sessions are safe and led by qualified instructors, and the memories are unforgettable.
22 – Climb to the top of Diamond Head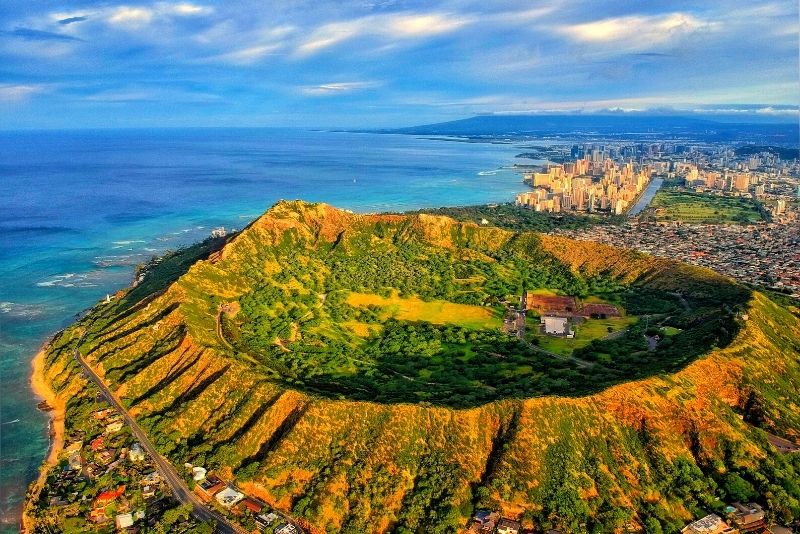 What better way to get your heart pumping than planting your flag (figuratively) atop the summit of Diamond Head?
This landmark is all about that killer view: sweeping ocean views, a 360-degree panorama of Honolulu, and glimpses of the Koolau mountain range in the distance.
A range of tours includes a hike (or drive past) of Diamond Head, so set your budget and take your pick!
23 – Grab the binoculars and go whale-watching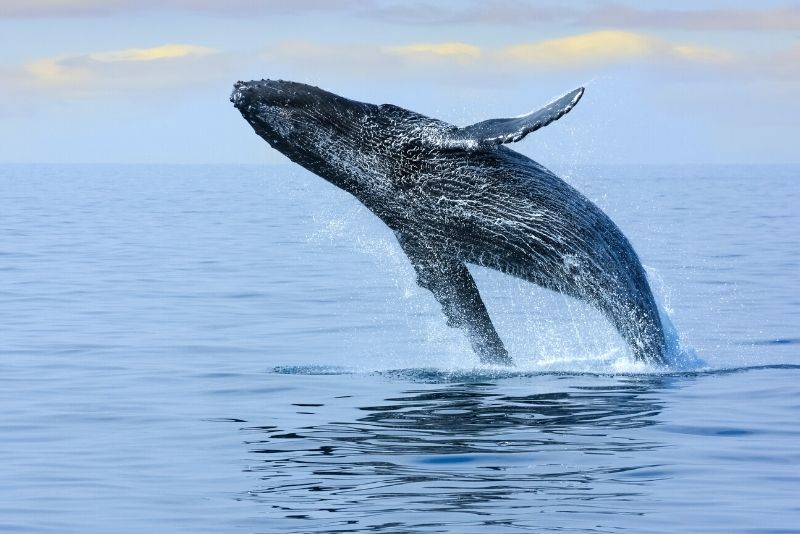 Calling all animal lovers! While it's possible to see humpback whales from most points on the island, depending on the time of year, there are a few locations that offer far better odds of spotting these majestic creatures — and the local tour guides know exactly where those spots are.
Let the experts do all the work; simply jump on the boat, enjoy the drinks and snacks, and wait for the gentle giants to appear.
24 – Go on a high-speed adventure through the jungle
One of the most exhilarating things to do in Honolulu lies outside of the city limits — any guesses? How about zip-lining at high speeds through lush, green, seemingly endless jungle!
With so many options to choose from, ranging from multi-line courses in the North Shore to 900-feet-long lines in the Jurassic Valley, or the Coral Crater Adventure Park, you'll be spoiled for choice.
25 – Set sail at sunset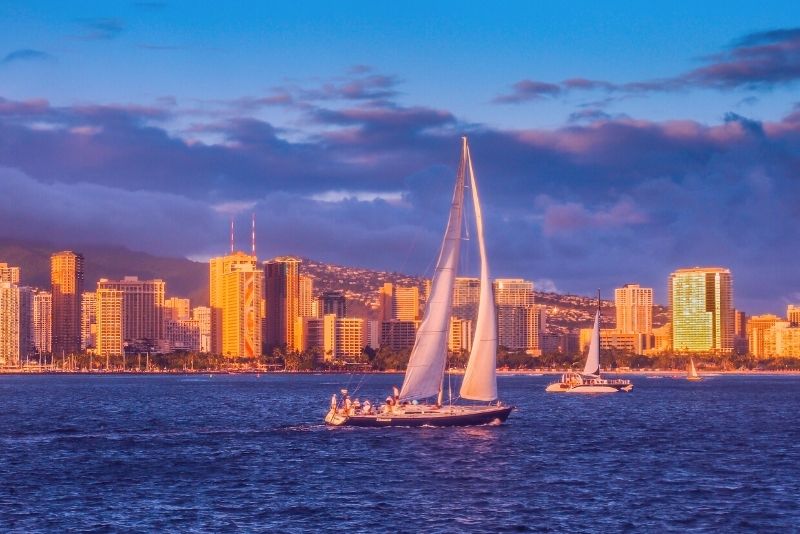 Hey you, Mister Romantic… take note!
Nothing quite screams perfect evening like popping a bottle of champagne on a luxury catamaran en route to Diamond Head or digging into some wine and cheese with views of the stunning Waikiki lights in the distance.
Whether you plan on sipping cocktails with friends or impressing your better half with a romantic evening, there's never a poor reason to book a sunset sail.
26 – Ride a horse through the wilderness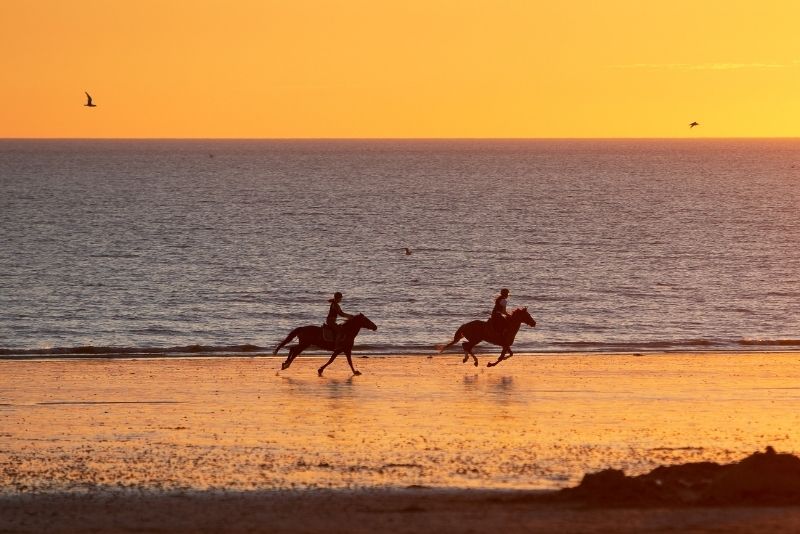 Saddling up a trusty steed on any vacation is an adventure; horse riding on Hawaii's beautiful beaches, Paniolo style, well that's another level of excitement altogether!
With scenic landscapes as your backdrop and gentle horses with seasoned riders to show you the ropes, these excursions guarantee fond memories.
Depending on which outdoor adventure you choose, it might include a hearty dinner, tree planting experience, or a ride through the famed setting of Jurassic Park: Kualoa Ranch.
27 – Cycle around Waikiki!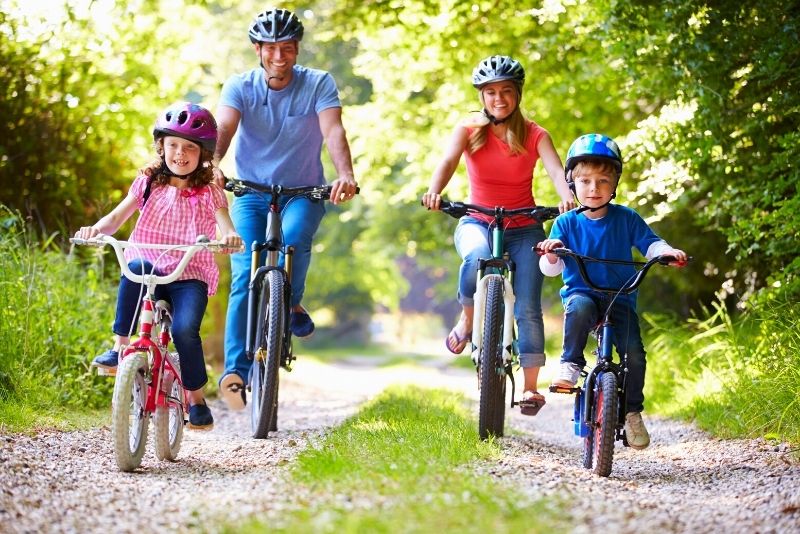 Escorted around town by friendly local residents, riders are able to see all that this laid-back beach town has to offer: world-class shopping on Kalakaua Ave., an aerial view from Diamond Head Crater, with plenty of time at breathtaking beaches to snap a selfie or two.
In Honolulu itself, pick a food-themed, history-themed, or mountain biking route; outside the city, why not try an e-bike tour in Kualoa Ranch?
28 – Go parasailing over Maunalua Bay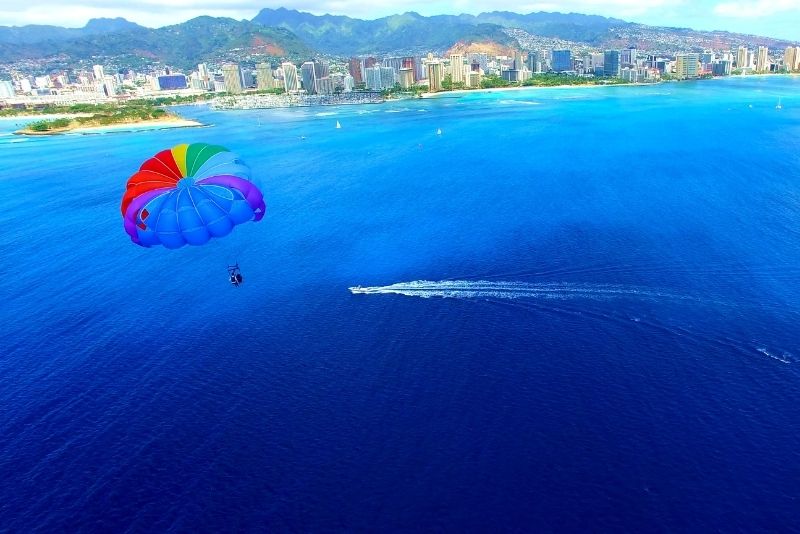 Take to the skies and let the salty ocean breeze carry you away!
With a Honolulu parasailing (not to be confused with paragliding) adventure, you'll soar over Maunalua Bay, taking in sweeping views of Honolulu and its signature landmarks before landing on some secluded beach for a well-deserved refreshment.
29 – Get balanced on a paddleboard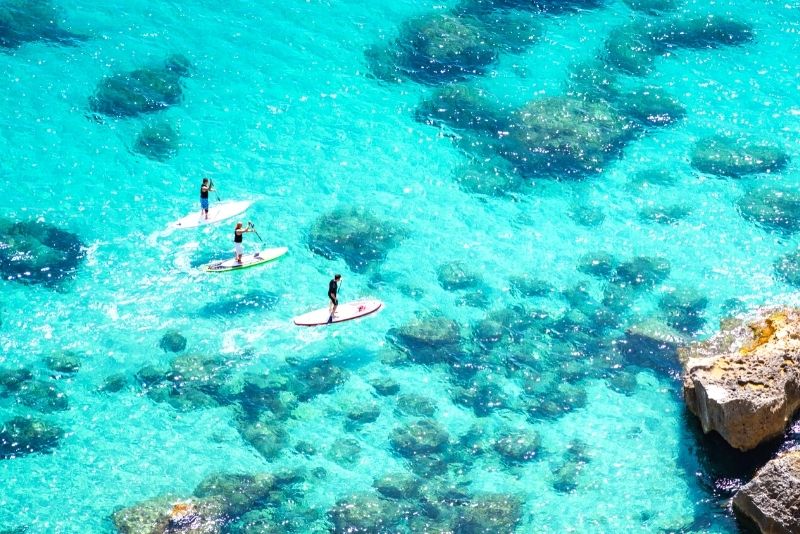 A wonderful way to soak in the serenity of the picturesque Oahu landscapes (once you've got your balance, that is) stand-up paddleboarding is a constant delight for locals and tourists alike.
While Honolulu has no shortage of rentals and group excursions (including SUP yoga and night paddling), since Oahu is so small, even places like the Aanahulu stream in Haleiwa, on the other side of the island, are accessible in less than 45 minutes.
30 – Join an ATV tour!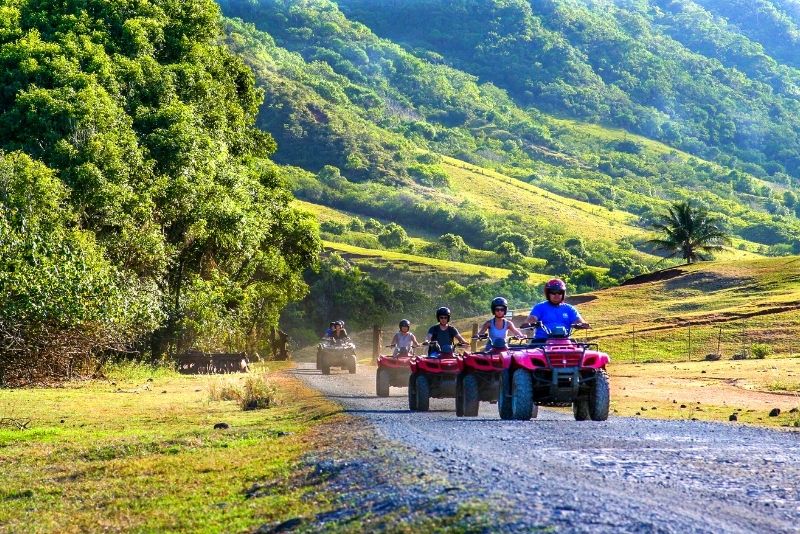 No matter where you find yourself around the island (remember, it's pretty small), you'll find a variety of exciting ATV tours perfect for all experience levels.
Whether you're seeking a leisurely ride through the countryside or an adrenaline-fueled adventure in Kualoa Ranch, there's plenty to choose from.
31 – Catch some Waikiki waves in a traditional outrigger canoe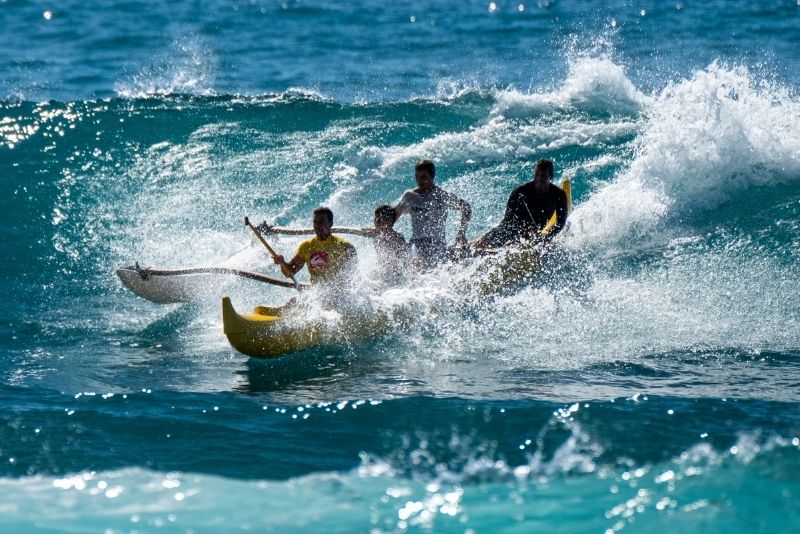 Even though stand-up paddleboarding is taking all the modern-day attention, why not grab a couple of friends and opt for something a tad more thrilling: surf some waves at Waikiki Beach in a traditional outrigger canoe!
The views of Downtown Honolulu and Diamond Head are worth the cost alone!
32 – Tantalize the tastebuds on a Honolulu food tour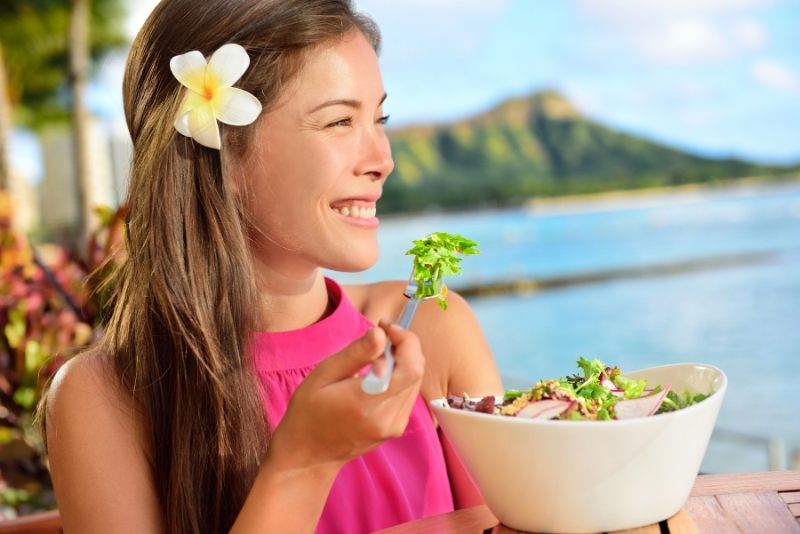 Foodies, listen up:
Hopping around gastronomic-centric 'hoods like Chinatown, Ala Moana, and famous Waikiki, local guides will introduce you to authentic meals as well as local hotspots, cafes, and bars off the beaten track.
Can't wait to see what's in store? In that case, expect to sample island staples like Spam Musubi and Kalua Pork, traditional dishes like Poke, and the decades-old treat of Hawaiian Shaved Ice.
33 – Swim with dolphins at Sea Life Park
Found out in Waimānalo, about a 30-minute drive from Honolulu, Sea Life Park is the perfect place for animal-lovers of all ages.
Featuring over 100 different species of water, land, and air-based critters, you'll get to meet turtles, otters, penguins and so much more in this top-rated aquatic habitat.
For a few extra bucks, the Dolphin Experience is a great add-on, while the KaMoana Luau show on Sundays, Tuesdays and Fridays is a crowd favorite.
34 – Shop till you drop at the Ala Moana Center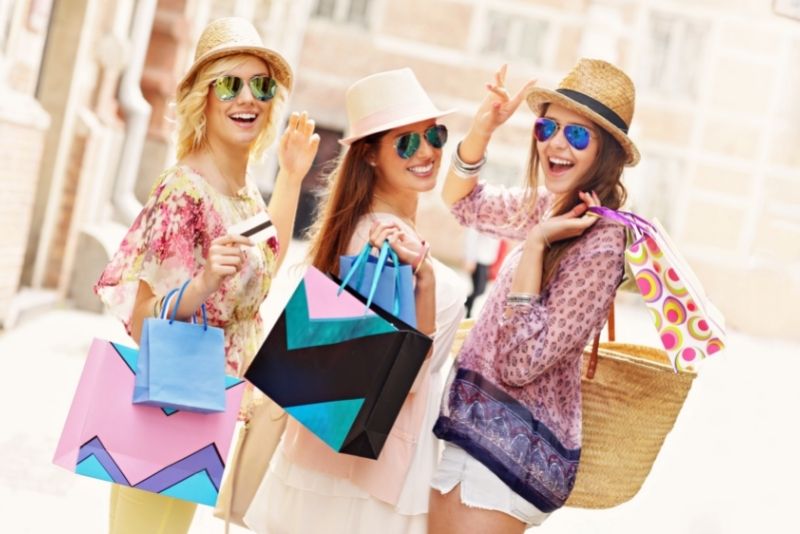 This gorgeous, vast, four-story mall is considered to be a staple of Honolulu's economy, offering something for everyone across its 350 stores.
From high-end boutique shops (think Chanel and Dior) to sprawling retail chains, this is a one-stop-shop for anyone with souvenir shopping on their agenda!
35 – Relax and unwind at a spa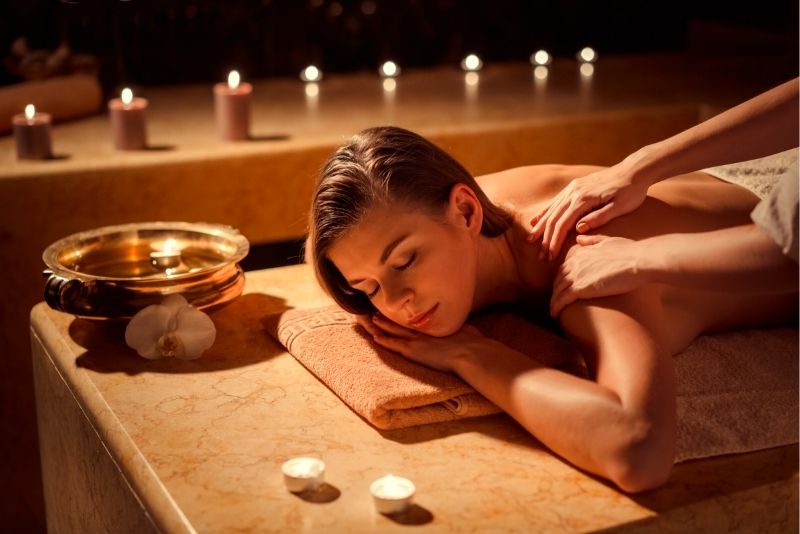 Sure, Hawaii is chock-full of one-of-a-kind adventure activities, but don't forget why you're there in the first place: you're on vacation!
And vacation means relaxation, so take your pick from one of the dozens of spas across Honolulu (and wider Oahu) offering hot stone massage, facials, couples massages, aromatherapy, Swedish massages, reflexology, or the local tradition of Lomi Lomi massage.
36 – Snorkel with manta rays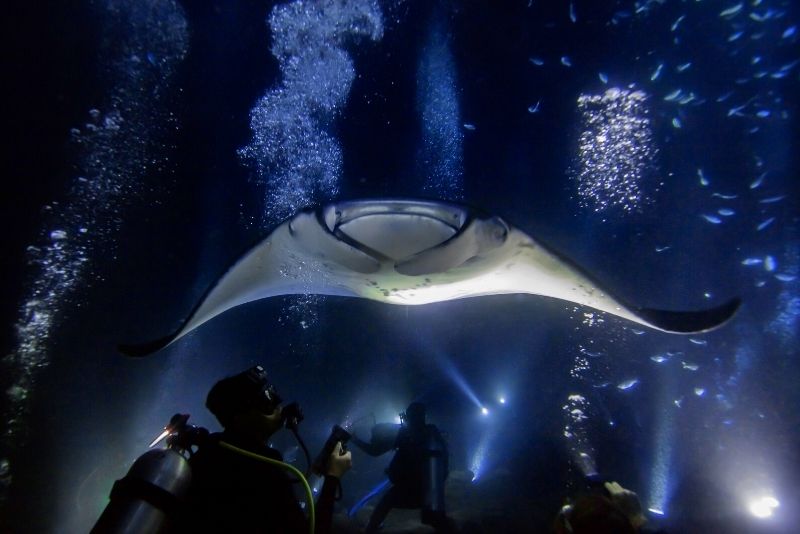 The sparkling blue waters off Honolulu's coast are teeming with wildlife, but if you're after a quality snorkeling session — complete with more friendly manta rays than you can count — then the Big Island's Kona Coast is the place to be (so long as you don't mind extending your trip to explore another island).
A stomping ground for both spinner dolphins and manta rays, the vibrant coast delivers an astounding snorkeling experience by day… and, for the more adventurous, by night.
37 – Head underwater on a submarine scooter adventure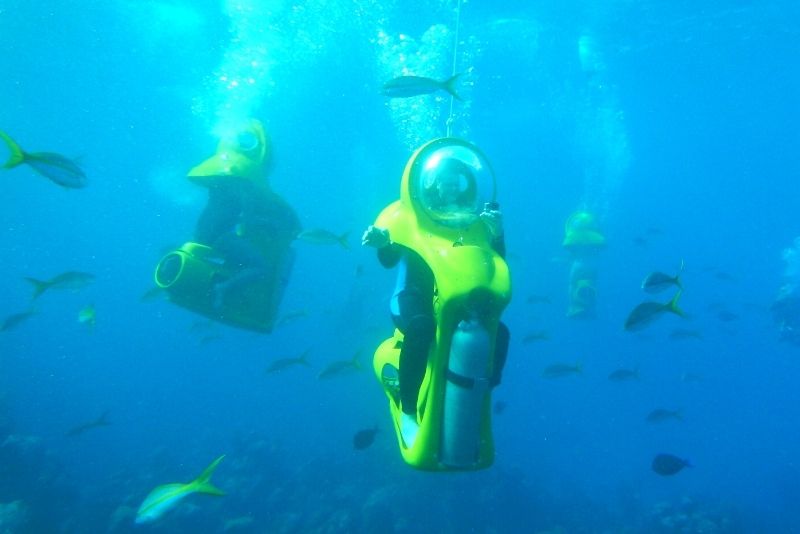 Snorkel and dive with marine life in the crystal clear Oahu waters aboard a submarine scooter — a modern activity perfect for those who want to get up close and personal with some of Hawaii's most beautiful creatures without getting wet!
Not only will you see fish, turtles, coral reefs and other tropical sea life, depending on the chosen dive spot, you might also get the chance to explore a sunken shipwreck.
To top it off, en route to the dive point, you'll have plenty of time to kick back on the catamaran and enjoy the views of the Diamond Head and the Koolau mountain range from afar.
38 – Practice your swing on a golf course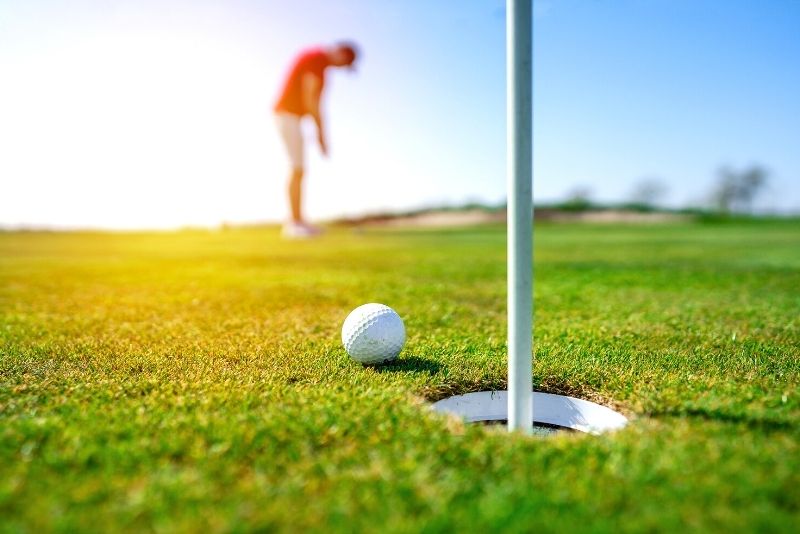 Hawaii is home to some of the best golf courses out there, no questions asked.
Not only do visitors get to play where the pros play, but they also get to take in the breathtaking scenery that every course has to offer.
All up, Hawaii is home to over 70 different golf courses that both amateurs and pros can enjoy — on Oahu specifically, consider checking out Turtle Bay Golf & Resort, the state-owned Kahuku Golf Course, or the Hawaii Prince Golf Club in Ewa Beach.
39 – Conquer the Stairway to Heaven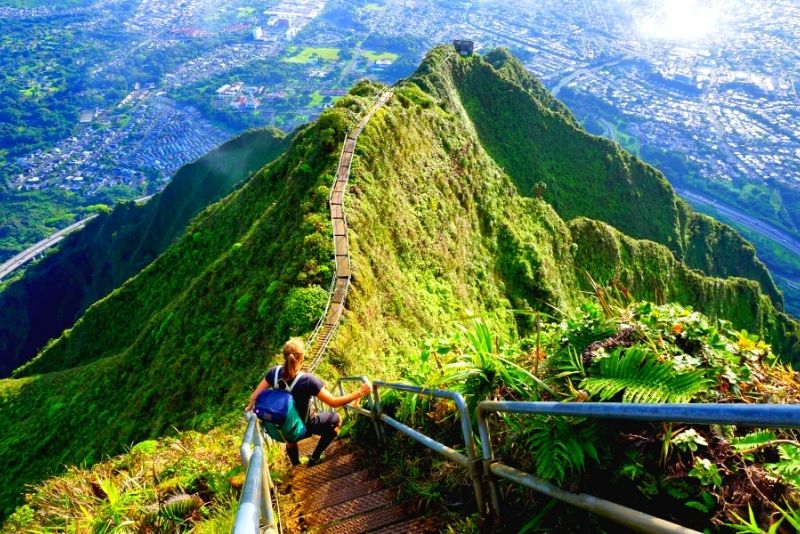 Seriously, how about that view!
Formerly one of the island's most rewarding (yet intimidating) attractions, the Stairway to Heaven scrapes the clouds at 2,480 high.
First built in 1942 by the U.S navy, the grueling Stairway, as expected, is quite the hike: 3,922 steps, to be exact — a trail which soldiers frequented to access the radio antenna at the summit.
However, its legality is questionable; to avoid disappointment, book a guided hiking tour (which will probably take the alternative Kaulana'ahane trail).
40 – Take a 'Hawaii Five-0' TV tour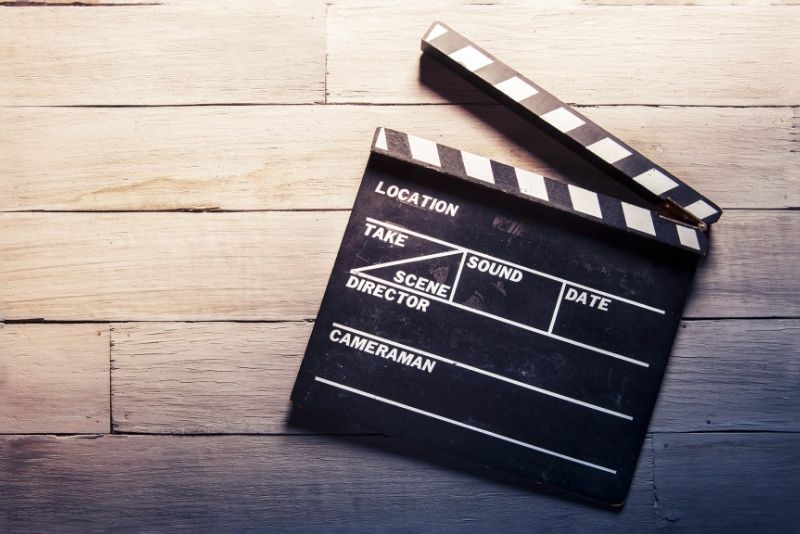 One for the TV binge-watchers, dedicated Hawaii Five-0 tours takes tourists around the island to a range of locations that featured on the sun-drenched crime show.
Led by a local guide (and fellow diehard fan), you'll be treated to stops at the Diamond Head lookout, the Hawaii Film and Sound stage, and McGarrett's House estate (the Oahu Bayer Estate).
Lunch, pick-up and drop-off are included, so why not give it a shot?
41 – Kayak on the waters of Kailua Beach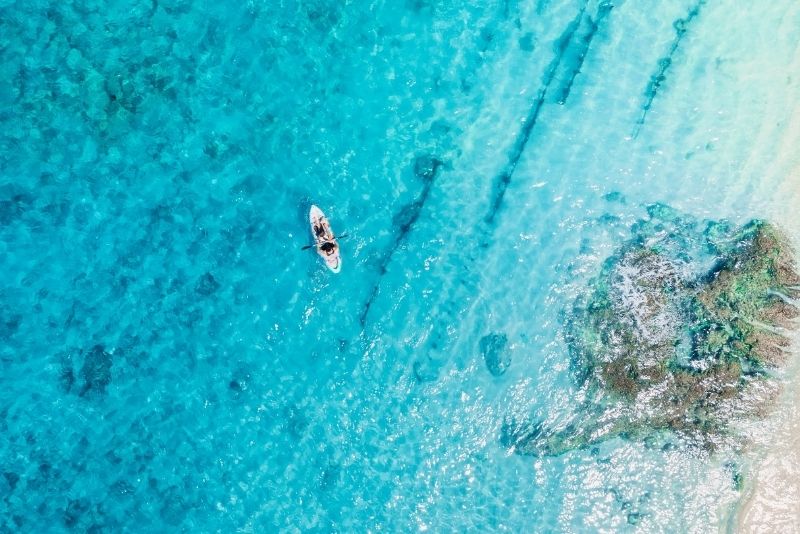 Situated on the island's east shore, the postcard-worthy Kailua Beach dazzles with its vibrant blue waters and soft white sands. While a day spent working on the tan is never a bad option, the premier way to appreciate this area's true beauty — plus see the famous Hawaiian green sea turtles and nearby bird-nesting sanctuary — is with a kayak tour!
Unless you plan on renting your own kayak, all pre-arranged tours provide the kayaking equipment and a guide, promising an enjoyable hassle-free experience.
42 – Get sippin' at the Koʻolau Distillery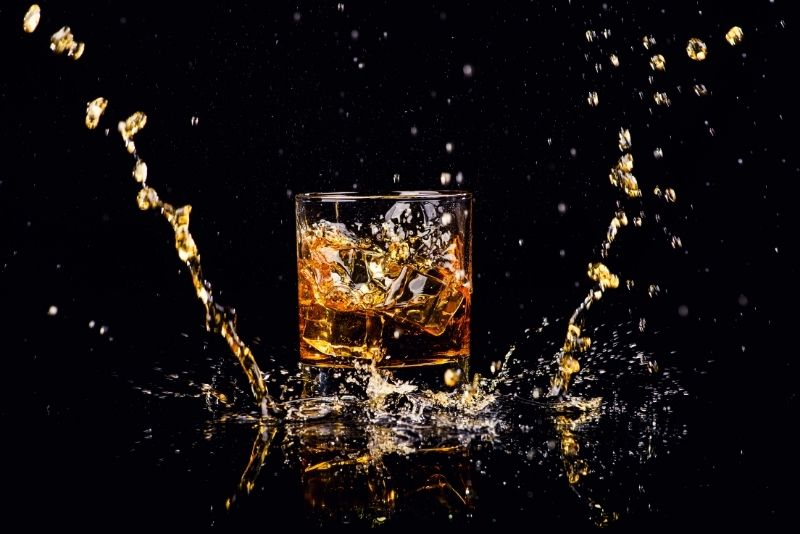 The Koʻolau Distillery Tour is a splendid option for those looking to take the edge off and get a little wild!
Located on the outskirts of Kailua, on the island's east coast, this distillery offers tours with fascinating insights into how it makes its signature product — Old Pali Road whiskey.
Visitors will be taken on a journey through the entire process, from assembling ingredients to bottling and labeling — and, of course, every tour concludes with some samples.
43 – Head to a local farm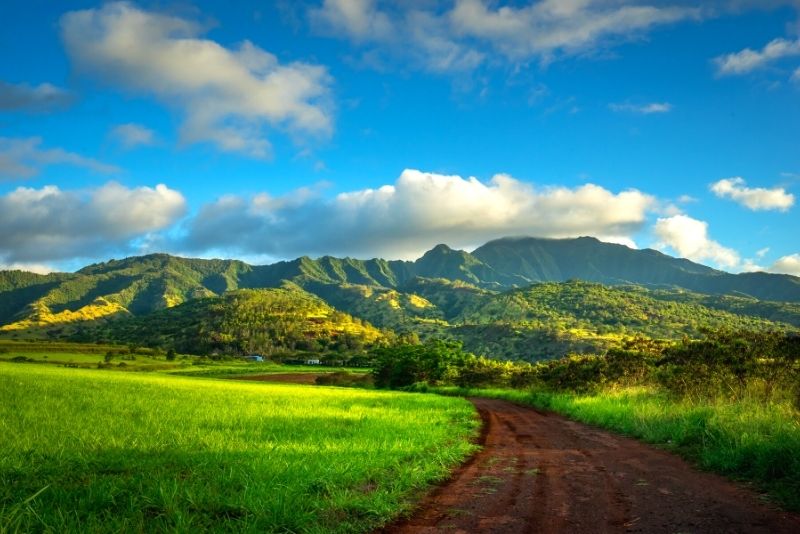 If you've never heard of voluntourism, here's the gist: volunteering + tourism! Simple, right?
At charming places like the Menehune Enterprises Farm or Tsue's Farm, visitors can take a chance to give back to the community by learning about local agriculture and getting down and dirty for a couple of hours.
While rewarding, it's not the only part of the adventure: farm voluntours also often include a visit to the North Shore for some well-earned relaxation on the beach.
44 – Go deep-sea fishing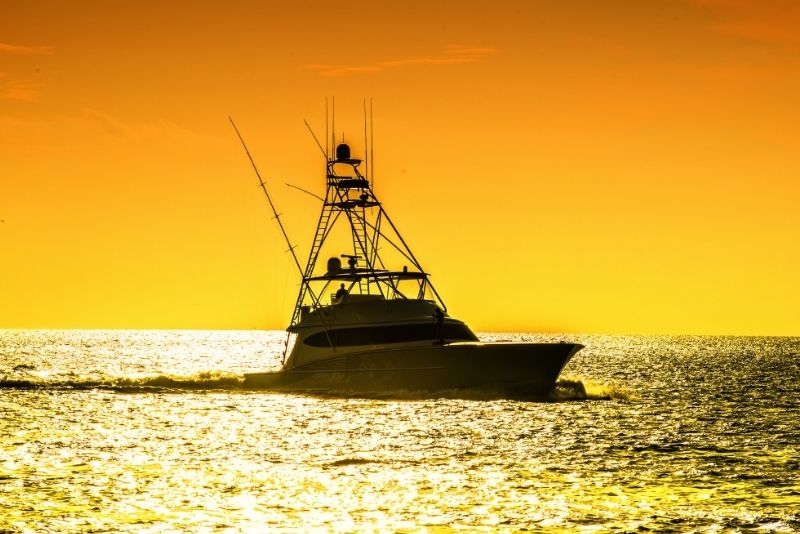 The warm Hawaiian waters are a playground for all the fishing enthusiasts out there, teeming with creatures big and small.
For a social outing (and the budget-friendly option), join an expert-lead group tour — you'll be given everything you need: given bait, tackle, an ice chest (for your catch), lunch, snacks, and drinks,
On the flip side, if you're after luxury and that VIP feeling, why not charter your very own vessel?
Either way, make sure the camera's charged; you might catch a glimpse of exotic birds, turtles, dolphins or other wildlife along the way!
45 – Snap a photo of the Koko Crater Arch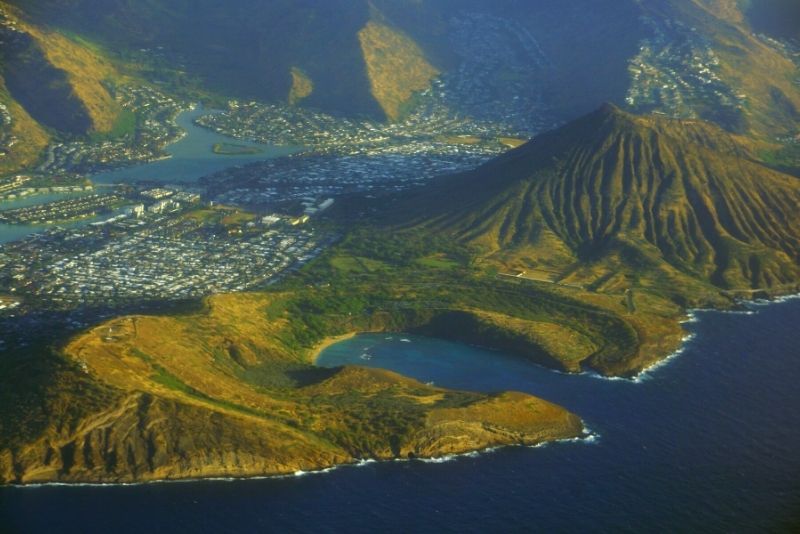 As one of the most recognizable natural formations on Oahu, this sizeable hole inside a volcanic cone was formed by lava flowing out to create an opening that's 300 feet high!
If you're looking for some exercise and adventure near Waimea, it's a very accessible hike (just a 0.9-mile loop trail).
The reward at the end: that stunning 360-degree view of the sun setting over the horizon, is sure to light up the 'gram.
46 – Enjoy the Waikīkī Beach Friday night fireworks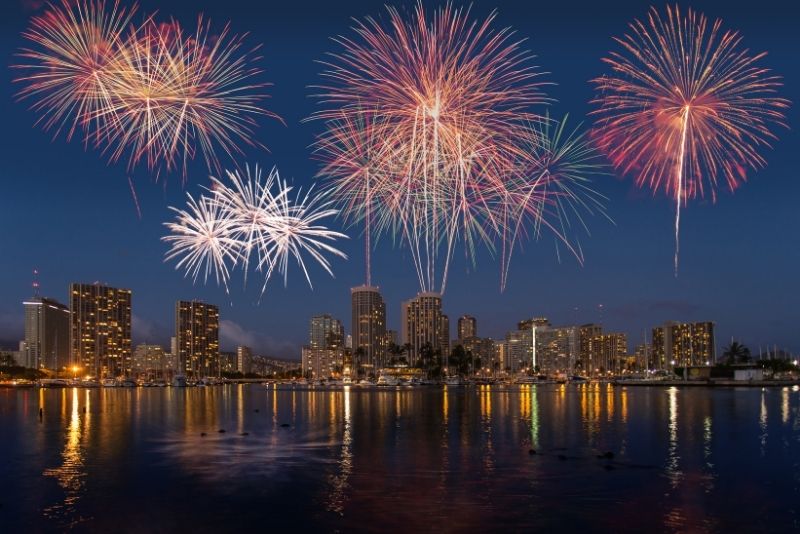 For a slice of magic in the air, Waikīkī Beach is the picture-perfect place to roll out a picnic blanket on the sand and catch some mesmerizing fireworks.
Visitors have two enjoyable options for viewing: sit on the beach or book a seat on a multi-course dinner cruise — either way, you're guaranteed a memorable night!
47 – Take a Circle Island tour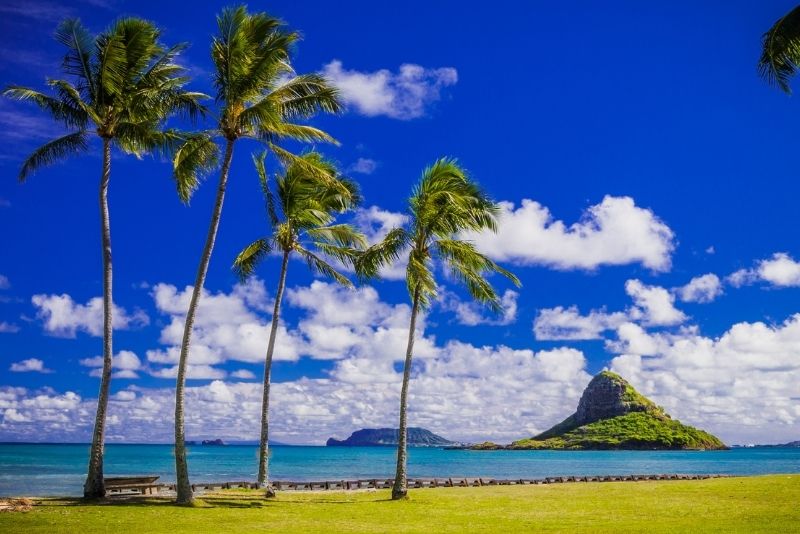 Not to be confused with an actual island, the Circle Island tours essentially circle the main haunts of Oahu, typically starting at the sandy beaches of Waikiki, skirting past Diamond Head Crater, and along miles and miles of pristine coastline.
For the best bang for your buck, opt for a tour that also includes access to a few of Honolulu's most iconic attractions in one exciting day (like the Byodo-In Temple, the Dole Plantation, or a snorkeling segment).
48 – Try the uber-popular jetpack water sport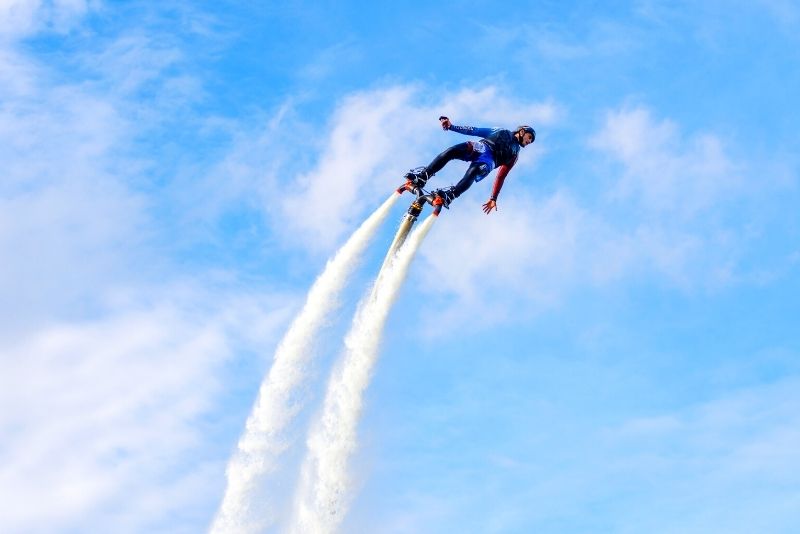 Ever thought about what it would be like to fly? The Jetpack Ride (also known as the 'flyboard') might just be the experience you're looking for!
This jet-powered ride is not only a high-octane way to appreciate Honolulu's skyline from afar, but also offers an exhilarating and invigorating thrill that will leave you feeling on top of the world.
49 – Snorkel at Hanauma Bay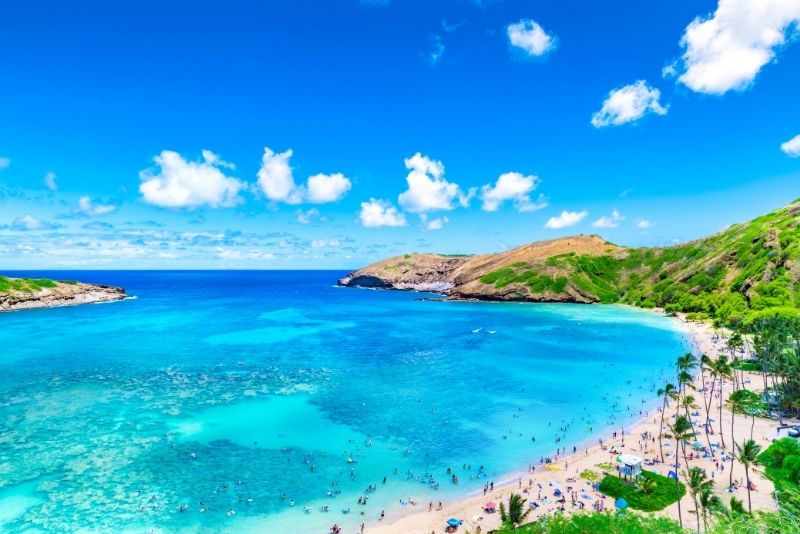 As one of Hawaii's most popular attractions, this bay is famous for its calm waves and shallow entry point, and, as you can see, its vibrant aquamarine waters.
It offers a perfect place to explore colorful coral formations on a snorkel excursion; not to mention an opportunity to spy sea turtles in their natural habitat or work on the tan on the soft sand.
50 – Walk the Makapu'u Lighthouse Trail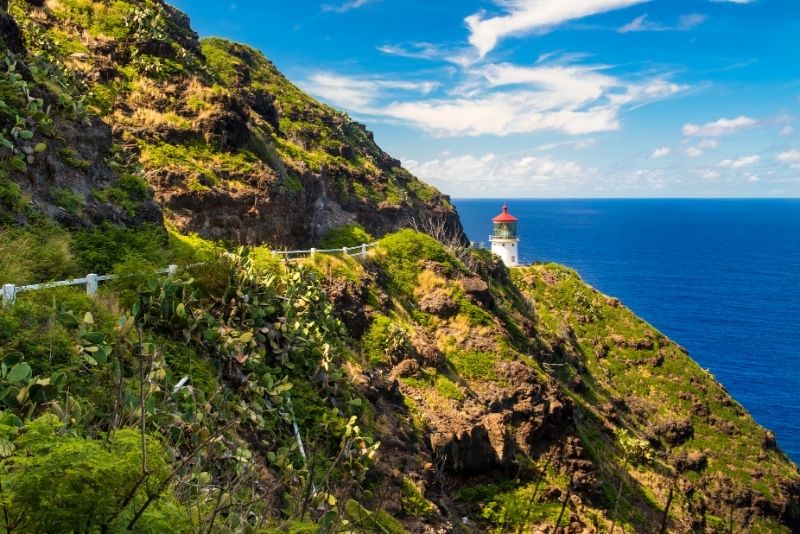 There's a lot to be said for the scenic view atop Makapu'u Lighthouse, boasting a stellar vantage point over the southeastern coast and sparkling ocean.
The 3.5-mile hike up is a rigorous one, but you'll will be rewarded with sweeping views of Oahu's Koko Crater and Koko Head.
Hot tip: since this is one of the island's most trafficked hikes parking can be difficult, so try to arrive in the morning.
51 – Swim with Hawaiian green sea turtles at Turtle Canyon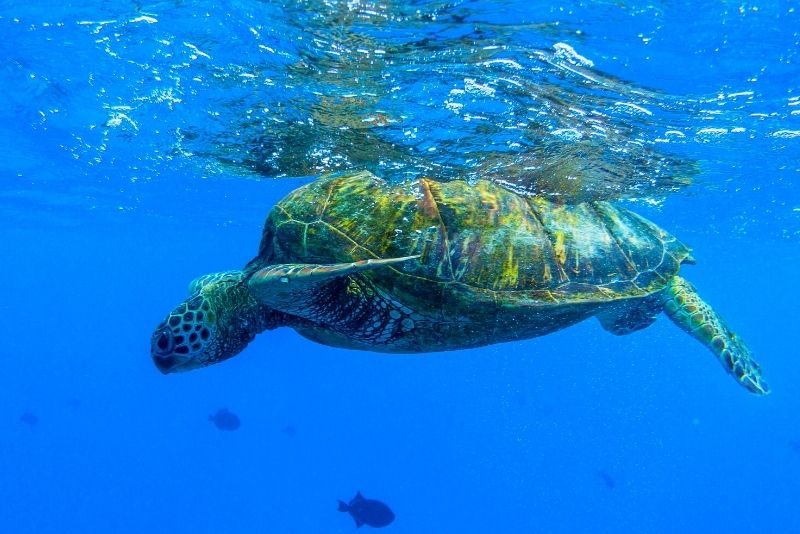 While you might get lucky and spot some friendly wildlife when out and about, the only way to guarantee Hawaiian green sea turtles sightings is by booking a snorkeling tour in the warm waters of Turtle Canyon.
With both private and small-group adventures available, there's something for every budget.
52 – Race around town with a scavenger game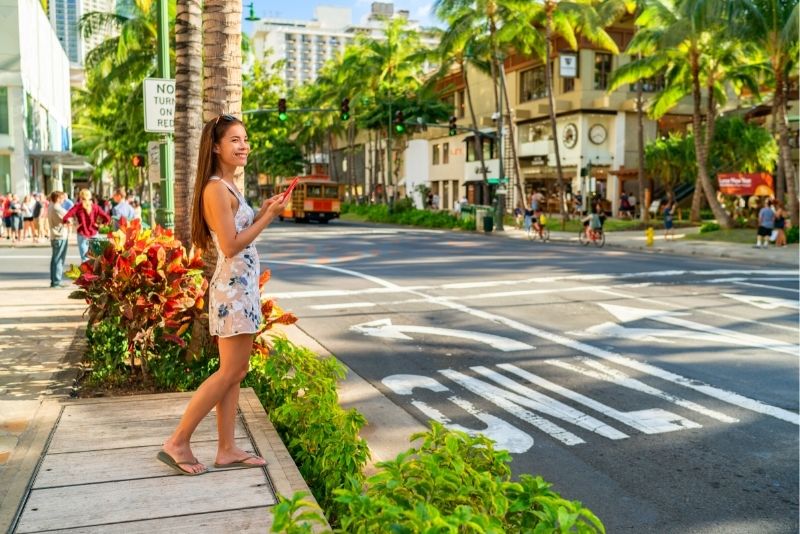 An alternative way to see the Honolulu (or specifically Waikiki), these Amazing Race-style scavenger hunts are perfect for ticking off the must-see attractions in an interactive, problem-solving way!
The fun takes visitors to various quintessential landmarks as well as hidden gems, with themed adventures like 'murals and legends' also available.
53 – Grab a snack at the Kaka'ako Farmers Market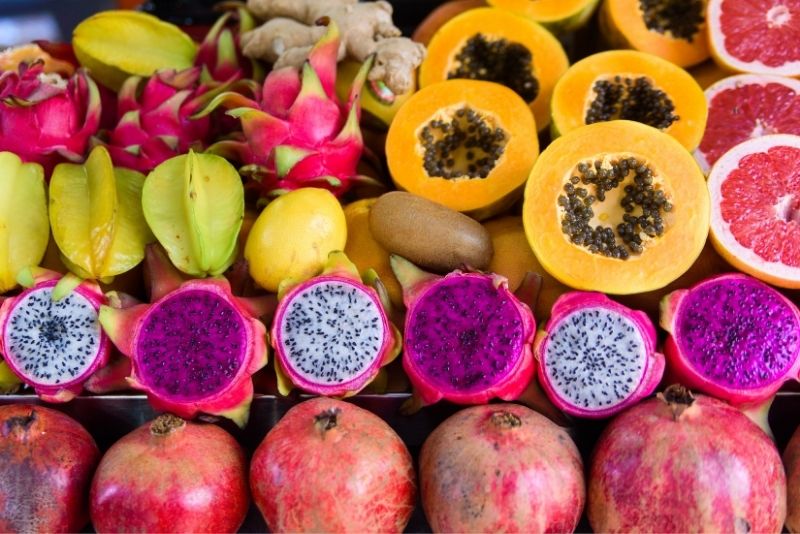 It's not hard to find a place for fresh produce in Honolulu — still, the Kaka'ako Farmers Market is one of the city's most popular.
Every Saturday morning till noon at the Ward Warehouse, locals gather with their basketfuls of groceries — almost all of which is grown or curated on Hawaiian soil.
The market presents a true taste of the islands, with everything from fresh-picked coffee beans to sweet pineapples and, of course, no shortage of free samples!
54 – Zip around town on a segway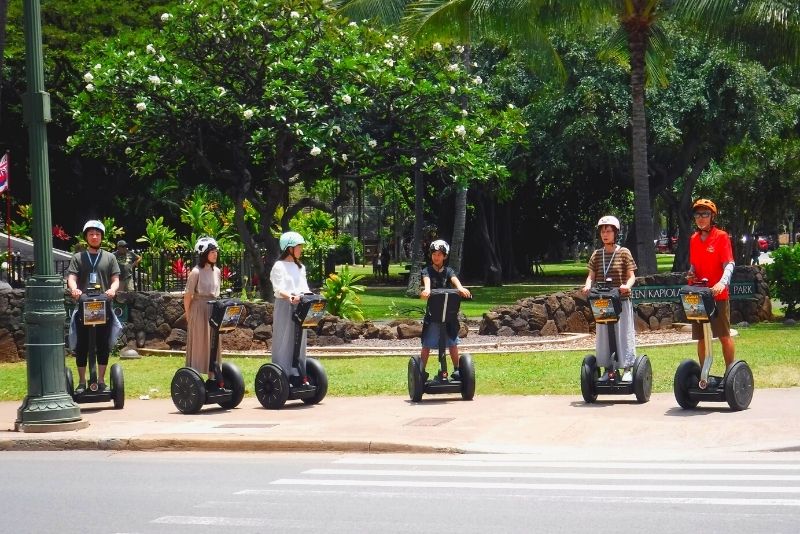 Free walking tour? Forget about it! Segways are the way to go in Honolulu.
These two-wheeled marvels deliver a unique means of seeing Oahu's most famous landmarks, with tours available for groups and solo travelers alike.
A variety of routes means there's something for everyone: from exploring backstreets in Waikiki to cruising down the coast, these eco-friendly two-wheelers are sure to please.
55 – See the sacred Kukaniloko Birth Stones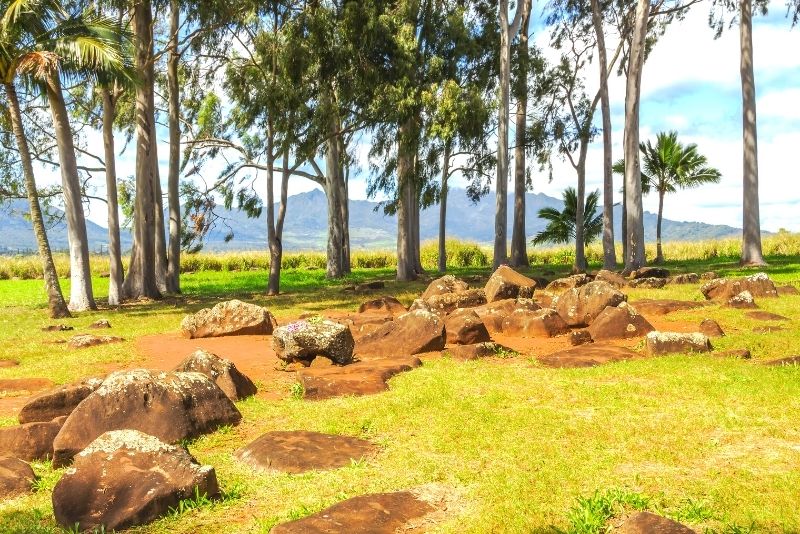 Found in a 5-acre field off the Kamehameha Hwy in Wahiawa, the Kukaniloko Birth Stones consist of 180 lava-rock stones — together, they form what is widely considered one of Oahu's most significant ancient cultural sites.
The Birth Stones aren't too far from the Wahiawa township, a wonderful spot to grab a bite for lunch after respectfully admiring the landmark.
56 – Check out the Kaniakapupu Ruins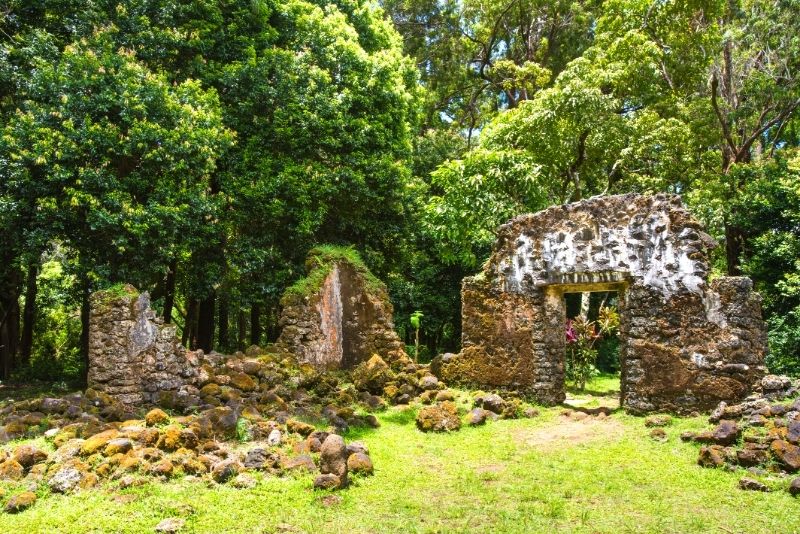 Also known as the summer home of King Kamehameha III, the Kaniakapupu Ruins are a treasure of Hawaiian history. As a site that has been on the National Register of Historic Places for decades, it's also one of Oahu's most appreciated local sites.
You'll need to take a small hike (more of a flat path, in reality) to get to the ruins, but with a natural bamboo tunnel and cute stream along the way, there's no reason to complain!
Note: Entry to the area is now by permit only, so be sure to plan the trip in advance and double-check its viability to avoid disappointment.
dlnr.hawaii.gov/blog/2016/06/23/nr16-119/
57 – Get some zen at the Byodo-In Temple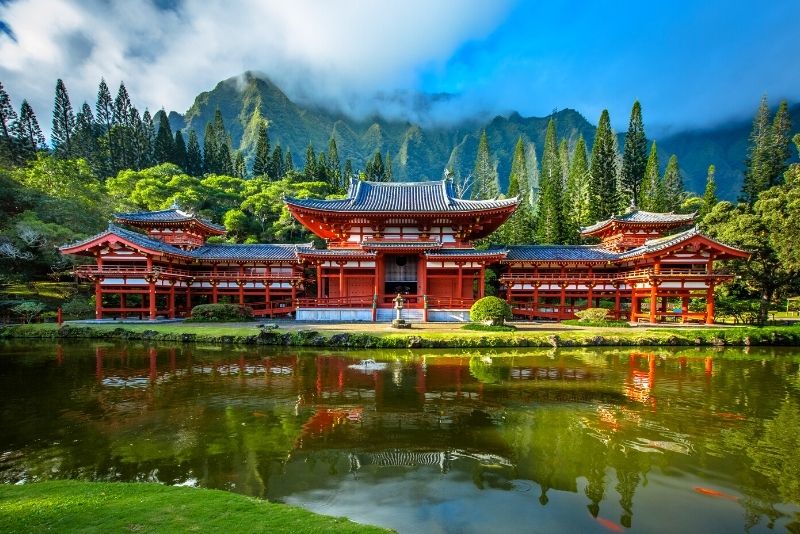 The stunning Byodo-In Temple was first built in 1968 to celebrate 100 years of Japanese immigrants coming to Hawaii — today, its architecture remains imposing as it welcomes people from any faith to meditate, rejuvenate and pray.
After a few busy days touring Waikiki or sipping Piña coladas, it's the ultimate place to get some much-needed R&R.
58 – Enjoy some live music at Blue Note Hawaii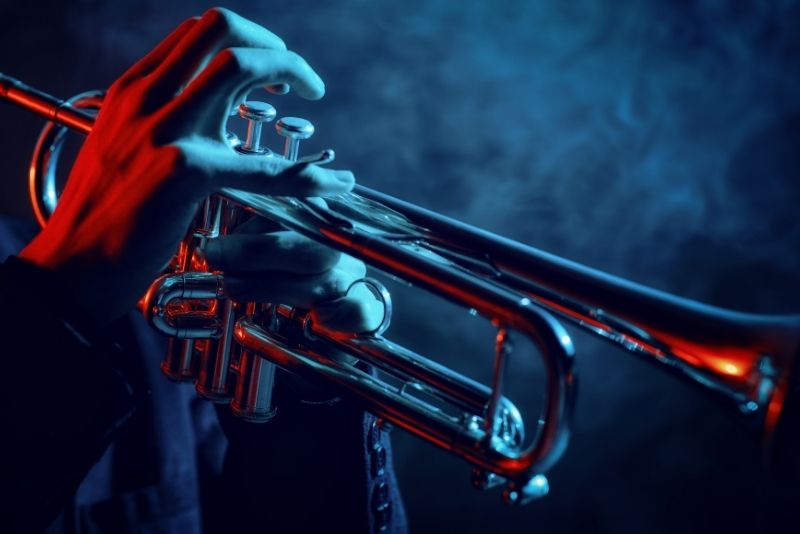 A toe-tapping franchise mirroring those in New York, Milan, Beijing, and Tokyo, Blue Note Hawaii delivers endless nights of seductive melodies, great food, and free-flowing drinks to tie it all together.
Since opening on Kalakaua Ave in Honolulu, the venue has attracted a steady stream of regulars who are drawn to its authentic live jazz and intimate vibes.
Check the website to see who's taking center stage during your trip!
59 – Sit back and enjoy a Luau show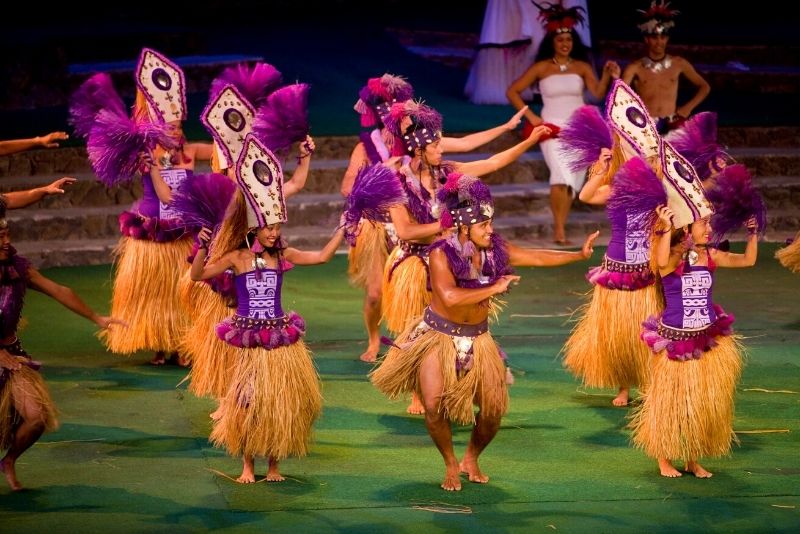 It might be stereotypical, but attending a traditional luau show — with its eccentric dancing, flaring fire, and upbeat drumming — is absolutely one of the non-negotiable things to do in Honolulu.
While the Polynesian Cultural Center on Oahu's North Shore is renowned as the front-runner, a performance at Paradise Cove or in the Waimea Valley promises to be just as memorable.
Looking for more activities in Oahu? don't miss our selection of fun things to do in Oahu.
Looking for a place to stay? There are a lot of options if you're looking for accommodation in Honolulu.
You can never go wrong with a room near Waikiki Beach, close to the world-famous Ala Moana Shopping Center and central to a plethora of restaurants and attractions (and the beach, of course).
If you're looking for a more local, budget-friendly experience, there are plenty of hostels that will save you a pretty penny.
Whether you're after 5-star amenities or just a bunk-bed (since you'll be at the beach all day) a comparison site like Booking.com offers the widest range at the best prices.
Need a ride from the airport? Waiting in line to find the cheapest price on a taxi is NOT something that you want to do after traveling all day in a cramped economy seat.
We've got a solution: If you book an airport transfer, your driver will be waiting for you at the airport with your name written on a placard (fancy, hey!). Relax in the backseat, don't worry about parking or traffic, and you'll be on Waikiki Beach in no time.
We hope you've enjoyed our selection of things to do in Honolulu! If you have any other must-see suggestions, feel free to let us know in the comments!
Aloha and happy travels!