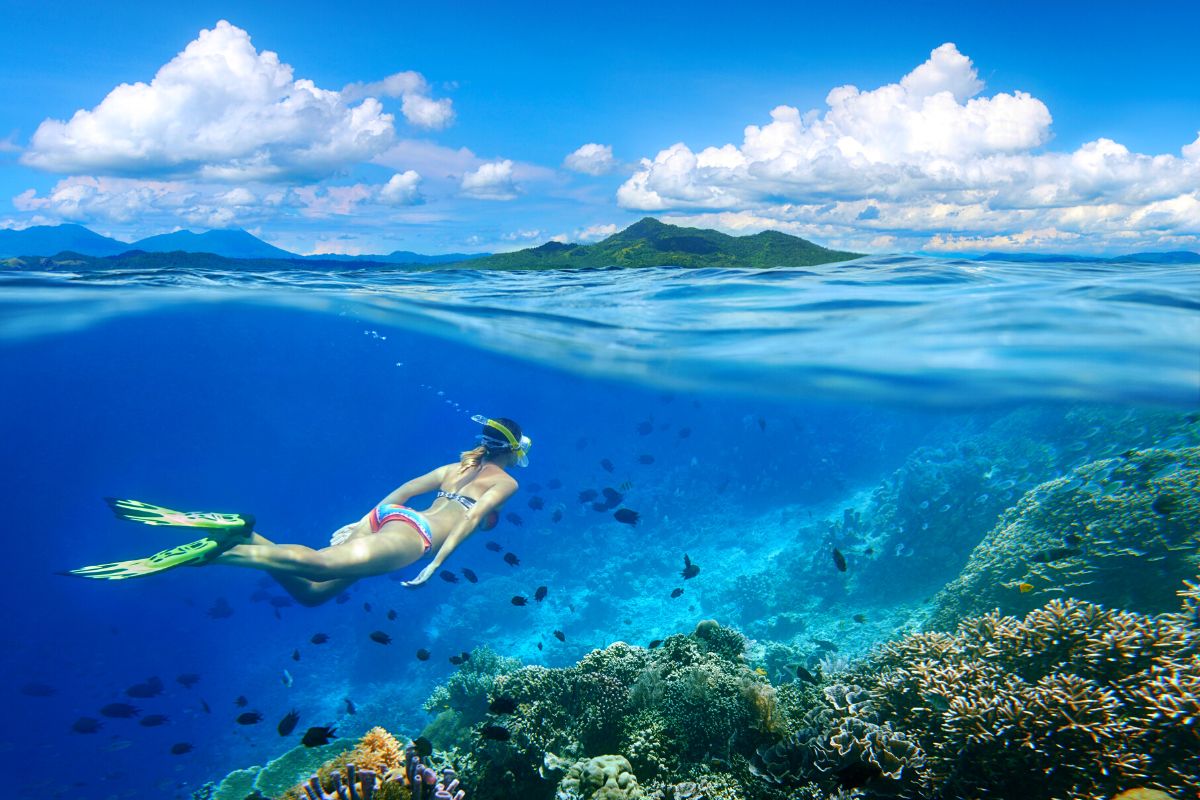 Hawaiian green sea turtles, tropical fish, moray eels, and rainbow corals are just a hint of the impeccable underwater world thriving in the North Pacific Ocean surrounding Oahu island.
Among the many things to do in Oahu, snorkeling is one of the most loved activities by travelers — and it's easy to see why.
Dotting its coastlines are powder white beaches, tall palm tree island scenes and some of the most crystal-clear waters around Hawaii. It's here that healthy reefs flourish and diverse marine life calls the warm waters home.
Different parts of the island each have their own unique snorkel appeal. Choose the coast that most fascinates you among the pick of snorkeling spots in Oahu, grab your gear and get exploring.
Best snorkeling spots along Oahu North Coast
A famed surfing hot spot in Oahu, the North Coast (nicknamed North Shore) also boasts some of the most abundant marine life on the island thanks to its wild terrains. This means the snorkeling is fabulous, but take caution in winter when the big swells roll in.
1 – Kuilima Cove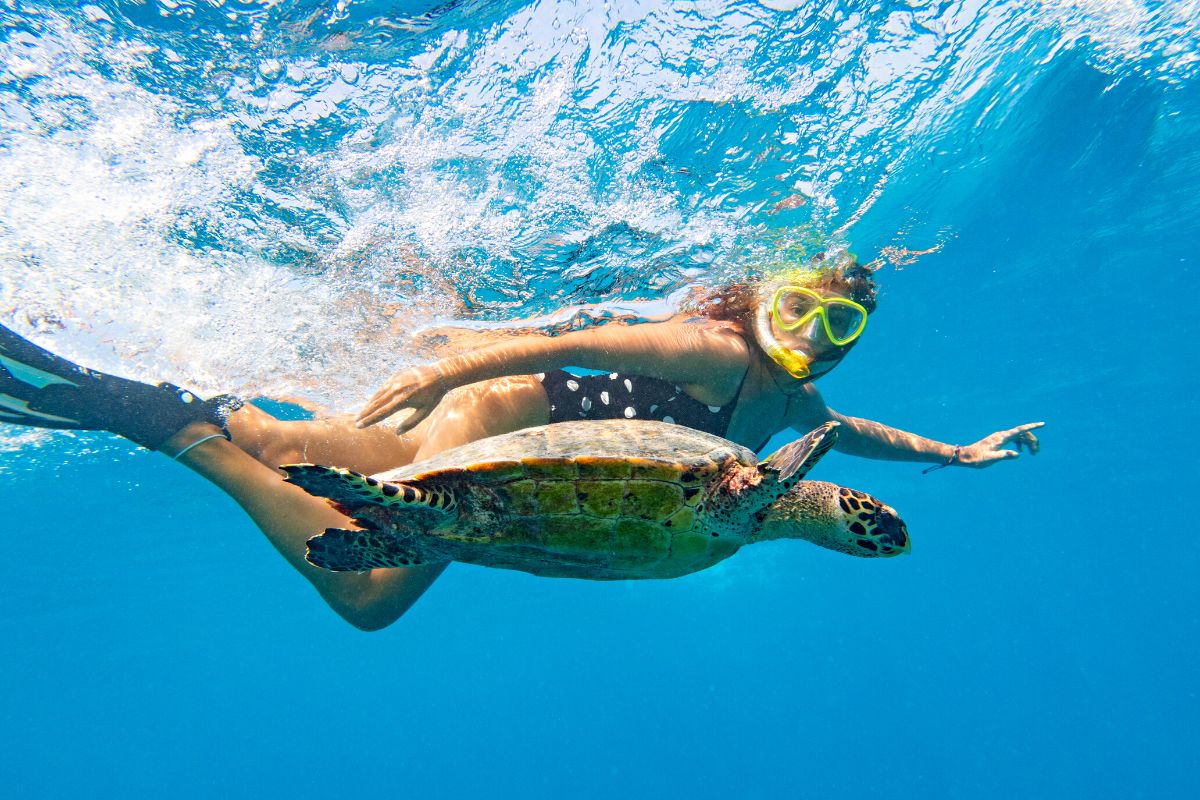 Crystal-clear waters, an offshore reef and a calm ocean make Kuilima Cove a mega-popular snorkel spot, especially if you're on vacay with younger children or have never tried snorkeling before.
The bay area is naturally protected by the land surrounding it, forming an ocean cove. Expect ample beach space made of soft sands and the ocean is super easy to access right from the shore.
Entering the water, be wary of the rocks close to the sand. However, this shallow area is home to schools of tropical fish to see while snorkeling.
Looking for a place to spot Hawaii's beloved green sea turtles? Kuilima Cove is also known as Turtle Beach. Turtle Bay Resort is the hotel just behind the beach, hence its other local nickname.
Especially early on in the day, you can witness sea turtles, and they even wander up onto the beach. As it gets crowded here in the afternoons, arrive in the morning for the best experience.
2 – Sunset Beach Park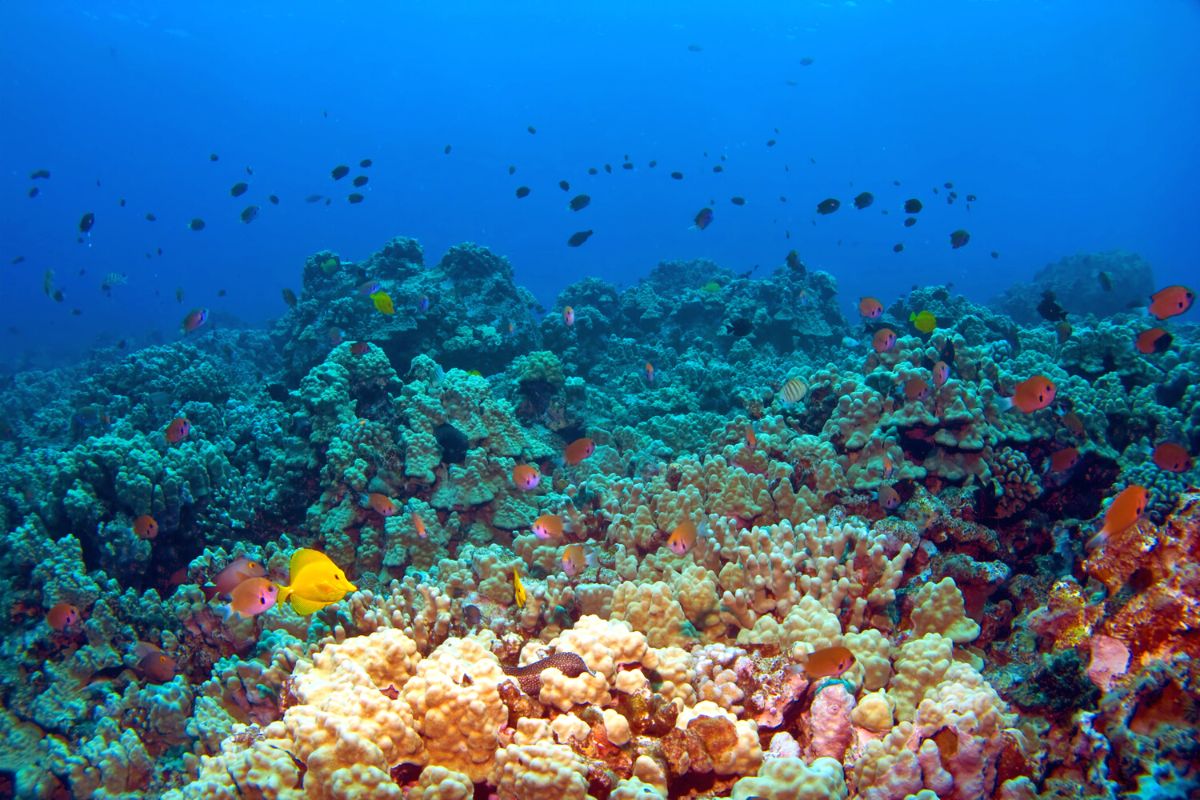 Heading to Oahu's North Shore? Sunset Beach Park is a name that's well-known in Oahu, both for snorkeling opportunities and among the surf community.
Arriving at the beach you'll be greeted by a typical tropical island scene, with long stretches of beach, palms swaying or tipping toward the ocean and a stunning open bay area for snorkeling.
The entry point is from the shore and you can begin the underwater fun right from here with loads of coral to spot. The waters get deeper relatively quickly the further out you swim, and there are sandbanks with drops close from the onshore. Also, take caution of the reef as you swim out.
Stay clear of snorkeling in winter as Sunset Beach Park is a renowned surf spot in Oahu, especially during this season when some big waves roll in.
3 – Shark's Cove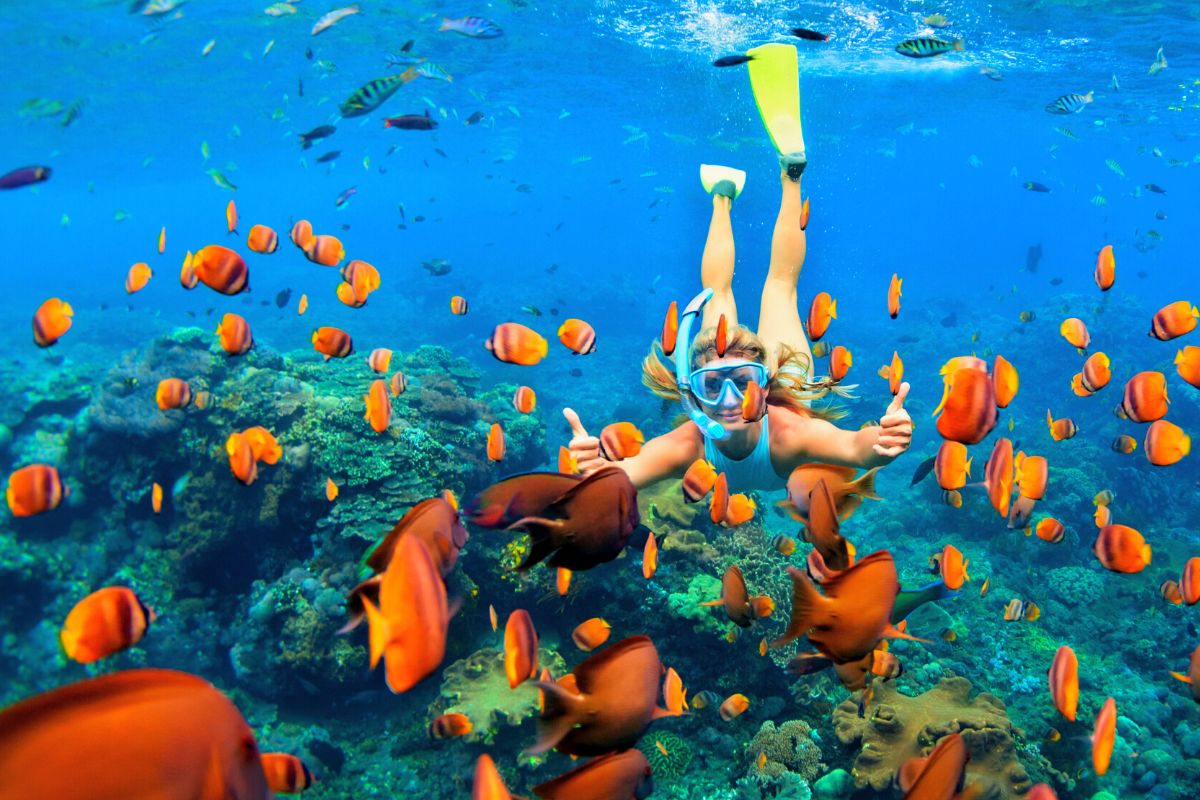 A scattering of beach boulders and rocks creates snorkeling opportunities at Shark's Cove right from the shoreline.
There isn't the biggest beach area here, and the crowds come to play in the tidal pools, exploring rockery corners and crevices… Spot Mr. Crab, colorful fish, eels and more crustaceans swimming around the calm, undisturbed waters.
Most of the action happens in the main tidal pool, however, more to the right-hand side (where there is no rocky wall protection barrier), the waves don't stay as flat, but the marine life gets better and better the further away from the rockeries you are.
As one of Oahu's three Marine Life Conservation Districts, regardless of your positioning you're bound to spot schools of fishies moving past you.
Best to keep this snorkel spot for summertime as winter sees harsher conditions and strong currents roll into the North Shore side. There are plentiful rocks both in and around Shark's Cove, so wear aquatic shoes.
P.s. In case you were wondering about the name, there's no need to fear. There aren't any sharks in the bay, rather, it was nicknamed after its shape — which is said to resemble the outline of a shark.
4 – Three Tables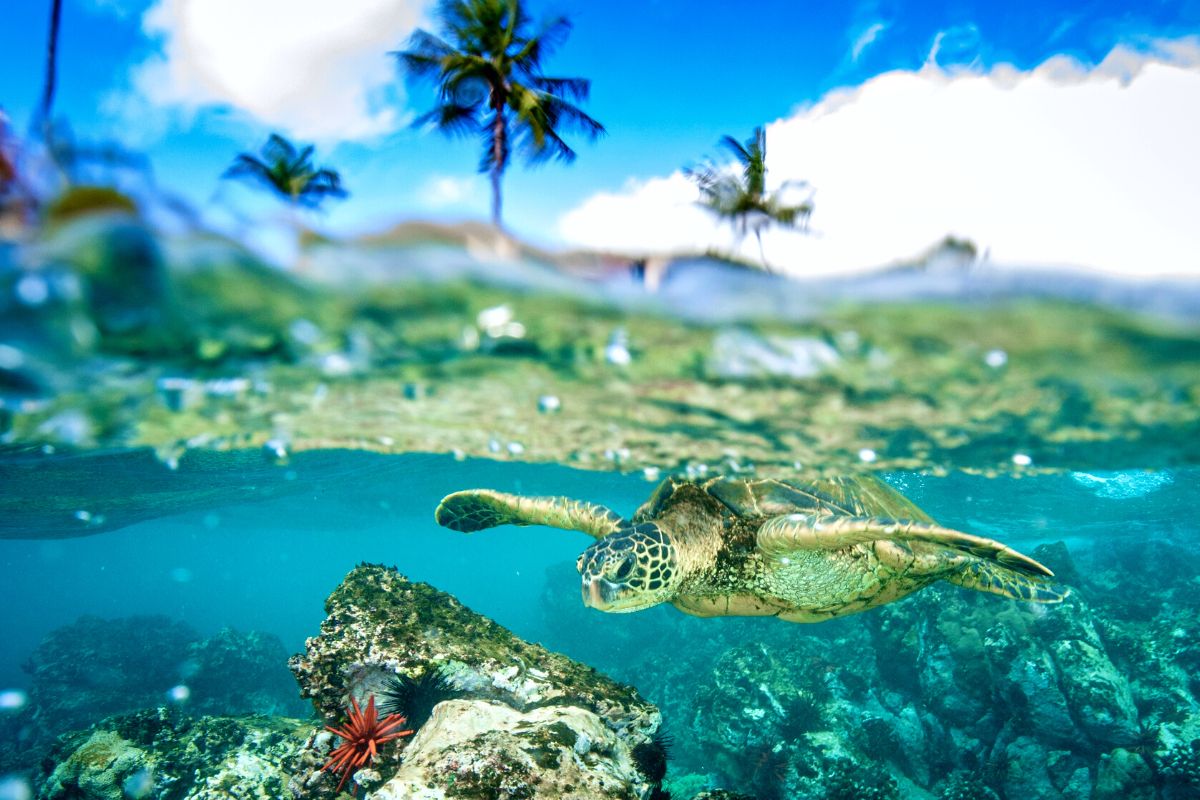 Arriving at Three Tables to snorkel, put on your goggles and gear, and then straight from the shore, head to the three tabular reefs in front of the sands — which is what gives this snorkel spot its nickname.
It's renowned for its abundant healthy corals, which means that, naturally, its reef teems with aquatic life. Many have been fortunate to spot green sea turtles and some even manta rays from the furthest reef.
Seemingly not as overcrowded as some other snorkeling destinations, the small stretch of beach sands provides enough space away from the water for relaxing or building sandcastles, and there are plenty of trees dotted around to provide shade.
Forming a part of the Pūpūkea Marine Life Conservation District, the waters in this part of Oahu are filled with native marine life, including some of Hawaii's endangered species. Fishing in these parts is forbidden and thanks to this, its aquatic ecosystems thrive.
It's suitable for beginner snorkelers, as well as families with young children, but there is no lifeguard on duty so be extra vigilant when there's a strong swell, particularly in winter.
5 – Waimea Bay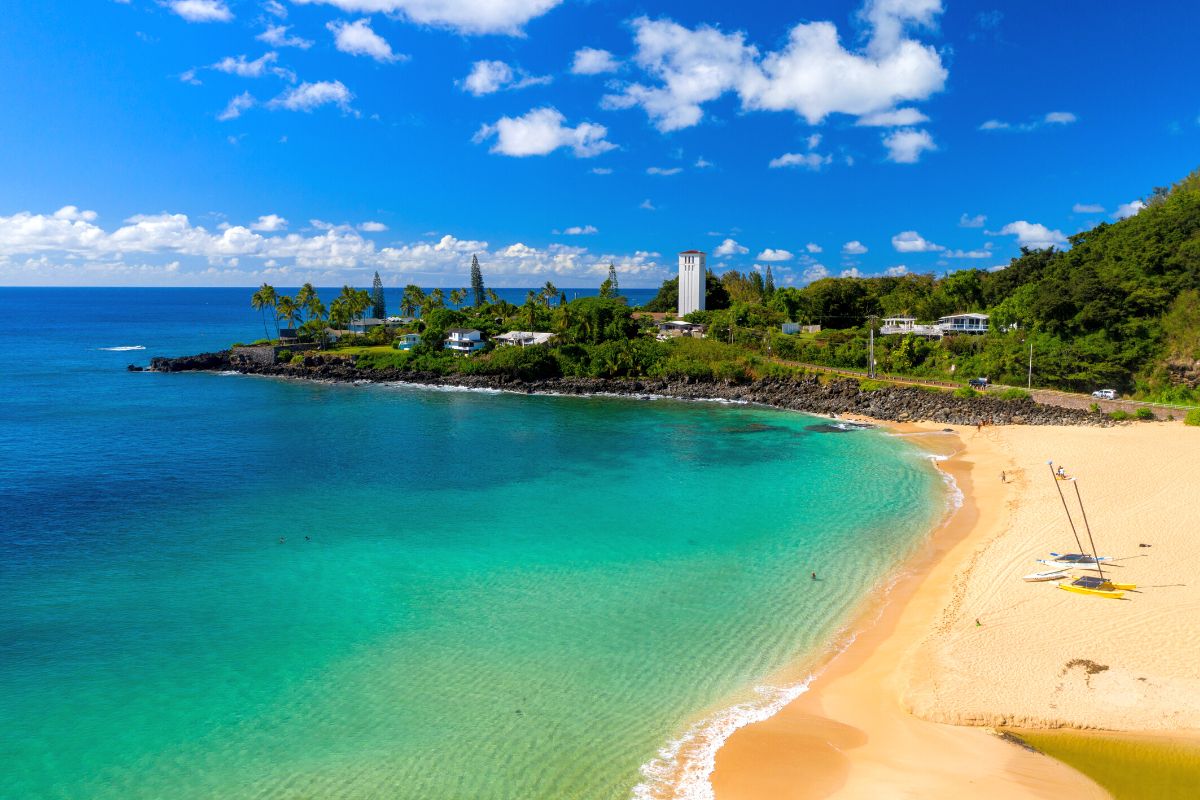 Easily waste away the hours at gorgeous Waimea Bay, famed for its transparent waters, massive beach and snorkeling opportunities.
Enter the water from the shore with no obstacles in your way and only soft sand banks underneath your feet. The waters here are so calm, some days the ocean really does look like a swimming pool!
A standout feature is 'The Rock', a giant ocean boulder that sits smack bang in the middle of the bay, stretching from the sand into the sea.
It's not only popular for chilling on the rock with a bunch of mates, but rock jumping and climbing are popular activities. Plus, there are also tunnels under the rock which you can swim through with the fish.
But for the best snorkeling at Waimea Bay, check out the areas on the far ends on both sides of The Rock.
Exploring the crystal clear waters, uncover an abundance of sea turtles that live around here, as well as dozens of schools of fish and other marine species. Dolphins are also known to make an appearance now and then in front of Waimea Bay.
6 – Laniakea Beach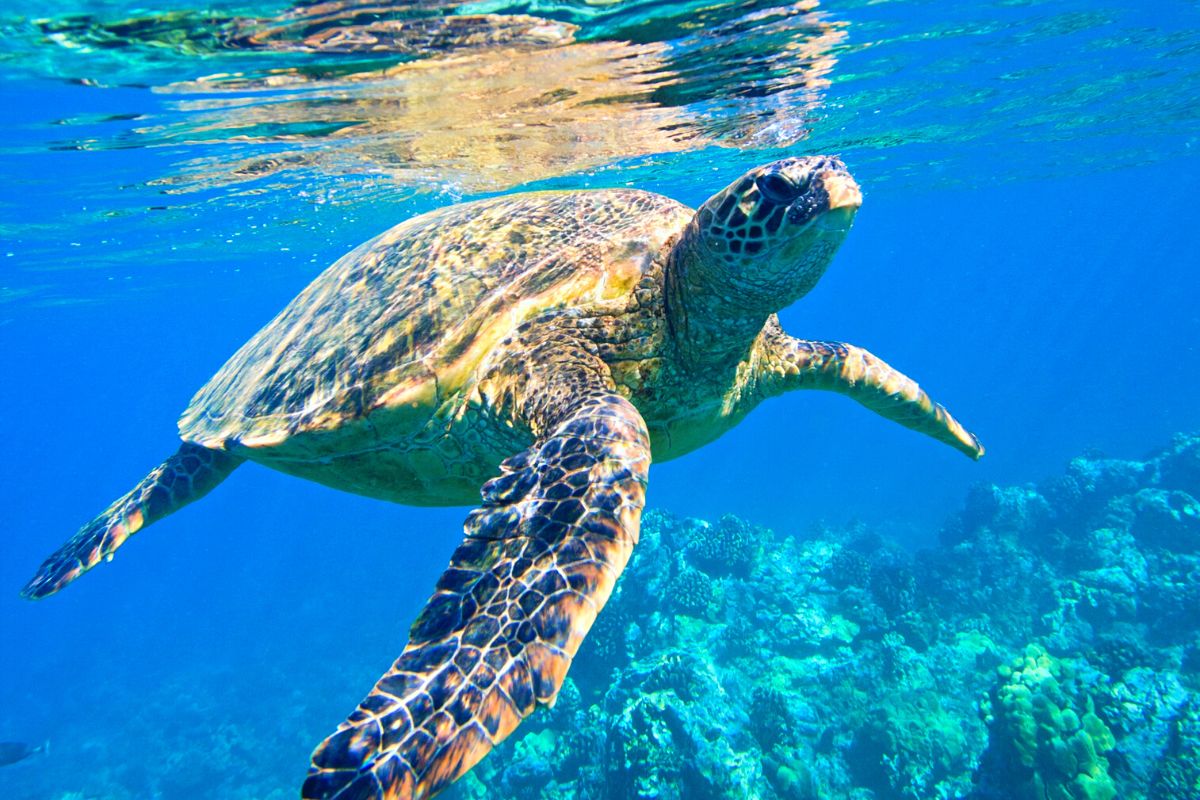 Is it a beach boulder or turtle?! Nicknamed "turtle beach" and for good reason, for an almost guaranteed chance to witness Hawaiian green sea turtles up close in the north, visit Laniakea Beach.
Parts of the beach have open bays and other bits are laden with rocks, creating natural coves for snorkeling (more to the right-hand side). Another location popular with families, there's ample soft sand for chilling out, and tall palms lend a reprieve from the beating sunshine.
On a good day the ocean sparkles bright blue, boasting see-through waters… but when the conditions are a bit rougher, save the snorkeling for another spot as this messes with visibility.
Not only staying in the waters, but the turtles also walk up onto the shore — make sure you don't mistake one of them for the rocks on the beach! On that note, be respectful of these creatures and keep your distance from them if spotting them beached.
7 – Puaʻena Point Beach Park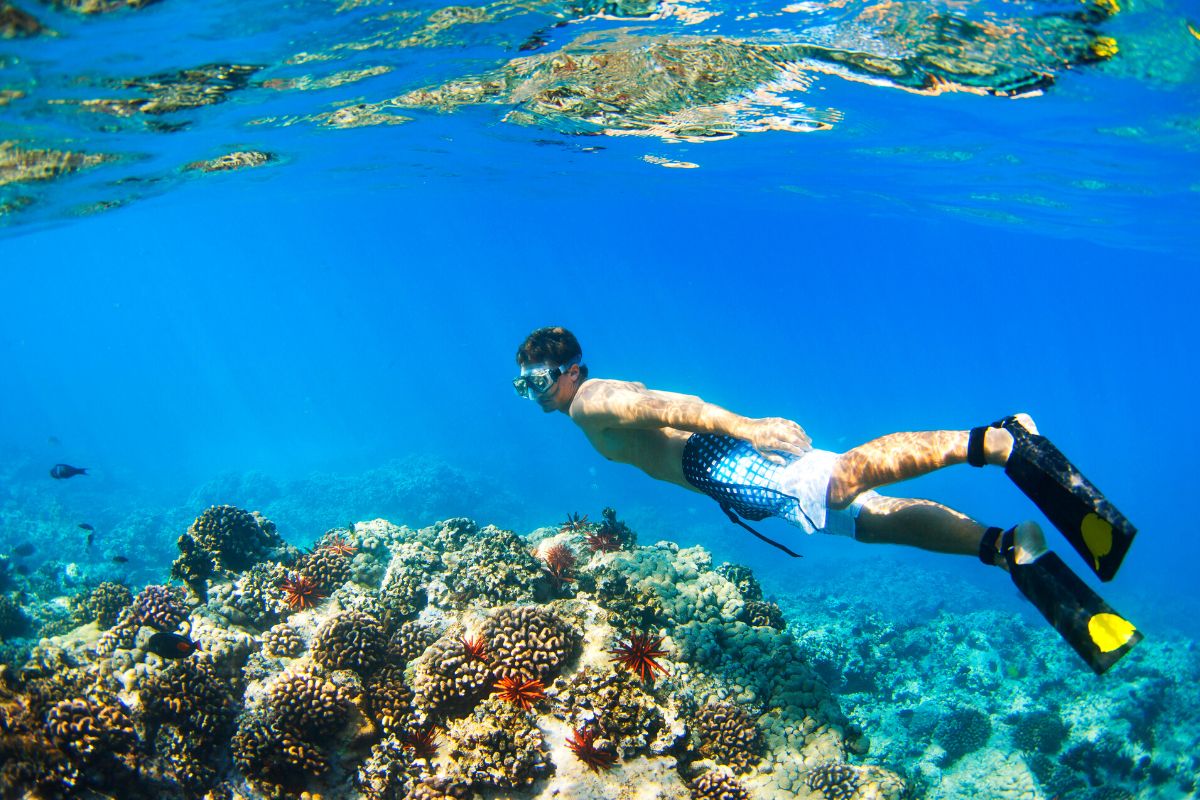 Opt for the road less traveled and you might just find you're a winner in the end. Usually decorated with beginner surfers, Puaʻena Point Beach Park is also a good snorkel pick in the summer thanks to its lagoon-like appearance.
At times, the water closest to the beach area is only ankle-deep, so it's ideal for moms and dads with little kids who are super keen to look at the fish underwater. But do take care; there are some sandy patches to walk on once you're in the water, but there are equal amounts of rocks to navigate around.
There are other parts of the North Coast where the ocean is a brighter shade of blue, but the waters aren't overly busy at Puaʻena Point. This increases your chances of seeing more marine life while snorkeling undisturbed.
With that said, in winter the conditions change and there is some wave commotion that happens — this is when the surfing crowds arrive!
8 – Waialua Bay
A square formation of rocks creates a massive tidal pool at Waialua Bay, lending itself as a great snorkel option.
Sheltered by these beach boulders, the shallow pool is ideal for beginner and leisure snorkeling enthusiasts, as well as children. There are also rocks inside the natural pool, so beware.
(Scuba diving off the coast of Wailua Bay is even more popular, and dive spots sit right in front of the bay where big marine life swim around these waters.)
For more snorkeling, head to Haleʻiwa Beach — a five-minute drive from Waialua Bay. Say hello to turtles at Haleʻiwa Aliʻi Beach Park which swim right up to the shore, and even onto the sands.
The best snorkeling happens closest to the onshore line, so your chances of swimming with turtles are high — but don't forget to keep a distance. Be careful around the waters as the reef is not deep at all. Look out for sea urchins and avoid standing on the reef and its living ecosystems, including corals.
Another tip for scuba divers, Haleiwa Trench is located at Haleʻiwa Beach and can be accessed past the lifeguard towers. Apart from snorkeling and scuba, shark diving excursions start at the harbor at Haleʻiwa Beach… If you dare!
9 – Aweoweo Beach Park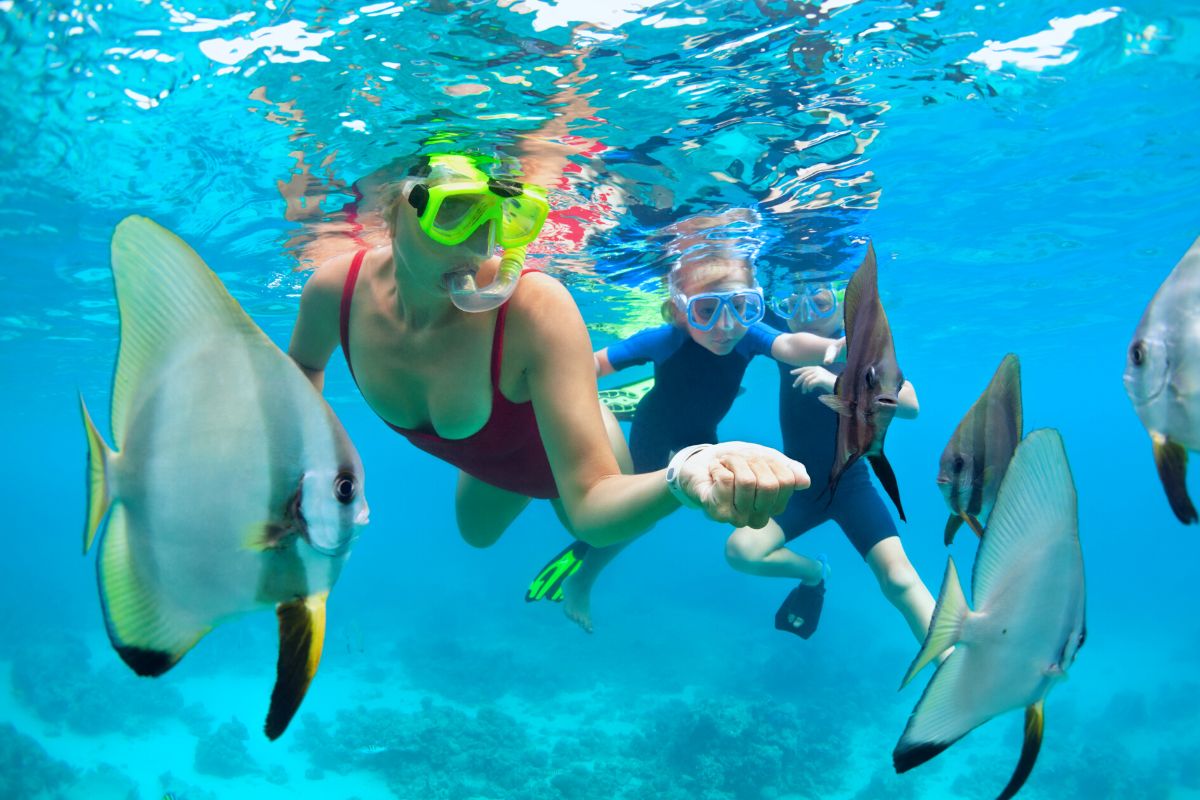 Boasting both tranquil waters and atmosphere, Aweoweo Beach Park is the perfect pick for travelers looking to escape the crowds and snorkel a more untouched part of the North Coast.
Out of the snorkeling spots in Oahu, this is another location that's popular for turtle sightings. The reef starts close to the onshore and rocks covered in sea moss, seaweed and corals dot the ocean floor.
It's around these that you can scope the sea turtles as well as the inhabitants of fish that live in between the rockeries.
Take note: the further from the beach you swim out, the deeper the water gets. Be aware of your surroundings if you're not a strong swimmer or are snorkeling with little ones.
Take underwater photos in the transparent ocean, and enjoy a picnic on some of the softest white sands after your snorkeling fun.
Best snorkeling spots along Oahu West Coast
Escape the hustle and bustle of Oahu along the West Coast, more commonly referred to as the "Leeward Coast." Pristine beaches, lagoon-like oceans and fewer crowds lend themselves as top factors for an epic snorkel time.
10 – Kaʻena Point State Park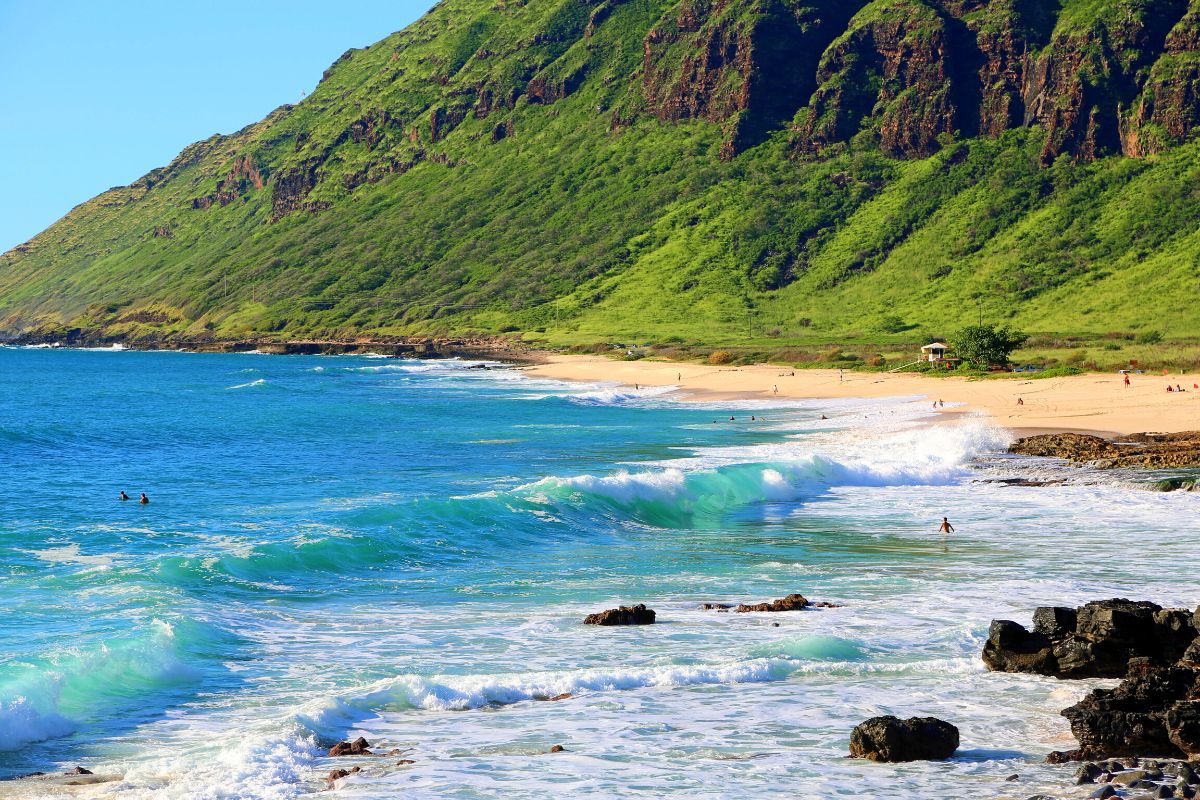 Make your way to the westernmost part of Oahu and discover Kaʻena Point State Park, engrossed in local history and with many folklore stories to tell.
It's believed when souls leave the earth, they come to this tip of the island to do so. Apart from the tales, this beach park is loved for its snorkeling among the wild and rugged-looking terrains and underwater landscapes.
Leading to the main beaches pass by fields, sand dunes and even a cute seal or two. Once here, the beach space is massive and stretches around corners, it seems to never end.
There are beach boulders strewn all across the sands, in different shapes and sizes, and there are sandy patches in between. These rocks lend themselves to some shade.
Hunt down expanded sandy areas to the north side (Mokuleia), where there are fewer boulders, or head to the west end of the park to Keawa'ula to snorkel (famous for its sunsets as well).
Reaching both beaches requires a bit of walking along designated trails inside the park but the snorkeling is worth it.
11 – Mākua Beach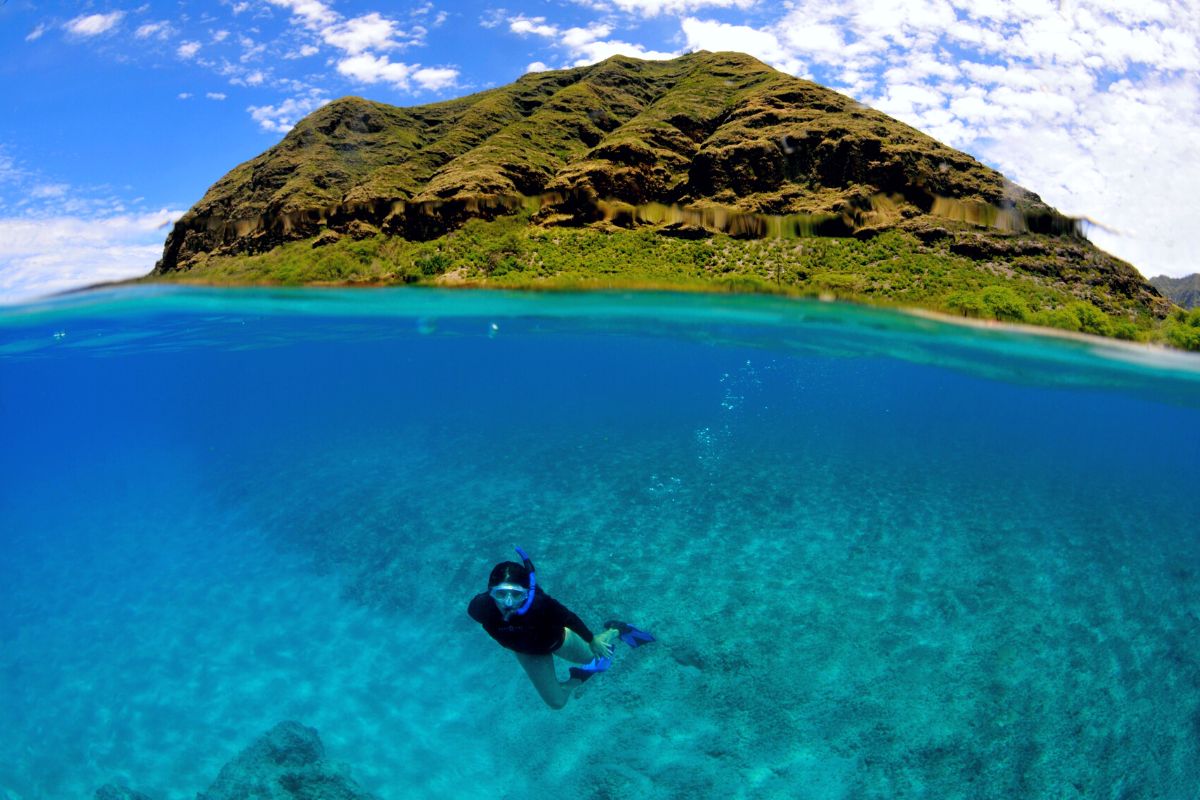 It truly feels like you're on a deserted tropical island somewhere, and with hardly anyone ever in sight, enjoy the snorkeling (and scenery) of Mākua Beach all to yourself.
Surrounded by Makua Valley and the Waianae Mountain Range, the golden sand beach boasts amazing snorkeling. It remains a secluded spot meaning that the reef in this part of Oahu gets to thrive as it's left undisturbed.
Also known as Tunnels Beach, there are two main snorkeling spots around Mākua Beach. From a sandy entry point into the water, veer off slightly to the left or straight in front of you (called Ha'ena Point).
The reef that runs along the coastline closest to shore is great for spotting a plethora of fish species like arc-eye hawkfish, parrotfish, triggerfish, shoals, tang and many other types among its crystal-clear waters.
But beware of the sudden drops which can reach down a few meters deep — so, you will need to be somewhat of a good swimmer for this location.
If venturing further out into the lagoon area, expect to find the same, and Hawaiian monk seals are also known to pass snorkelers in these parts of Oahu. Also loved by local surfers, there are strong currents here that are not suitable for snorkel-time, so check prior.
12 – Mākaha Beach Park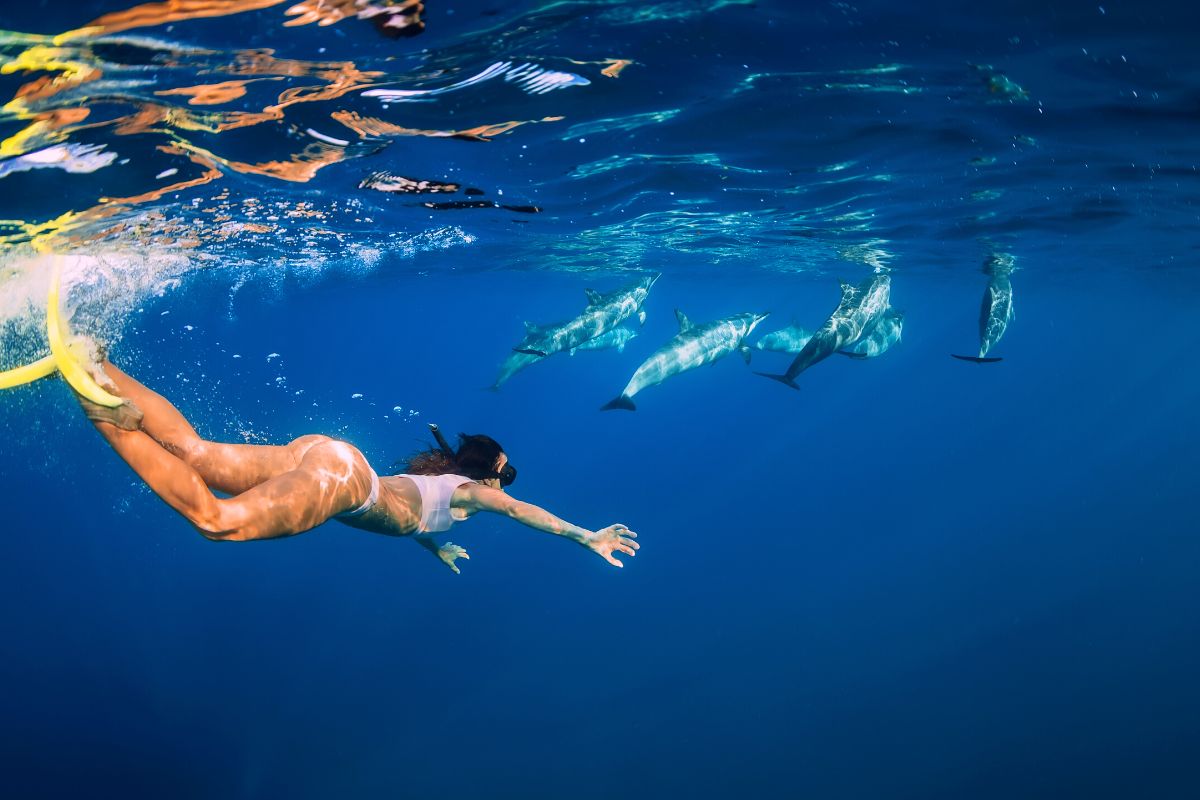 It's true; you can pretty much always check a fish or two whizzing through the waters and swimming in tidal pools on (most of) Oahu's beaches, but Mākaha Beach Park is slightly different.
During snorkel expeditions you will be able to see a few fish here, however turtles and dolphins are the main attraction.
Enter the water from the soft sands directly in the middle of the beach. (Take note, on either side of the bay are rocky areas, and the reef is right up on the shore. Wear aquatic shoes if exploring these parts, and do not stand on the live reef.)
The further away from the shoreline you swim, the better your chances of spotting some serious marine life. This flat beach seems to stretch on for miles and is also a fabulous choice for a summer beach day.
Hunting down something extra special? Five minutes from Mākaha Beach Park, dolphin-watching tours start at Waianae Harbor. Enjoy a three-hour dolphin spotting expedition around these West Coast waters.
13 – Kahe Point Beach Park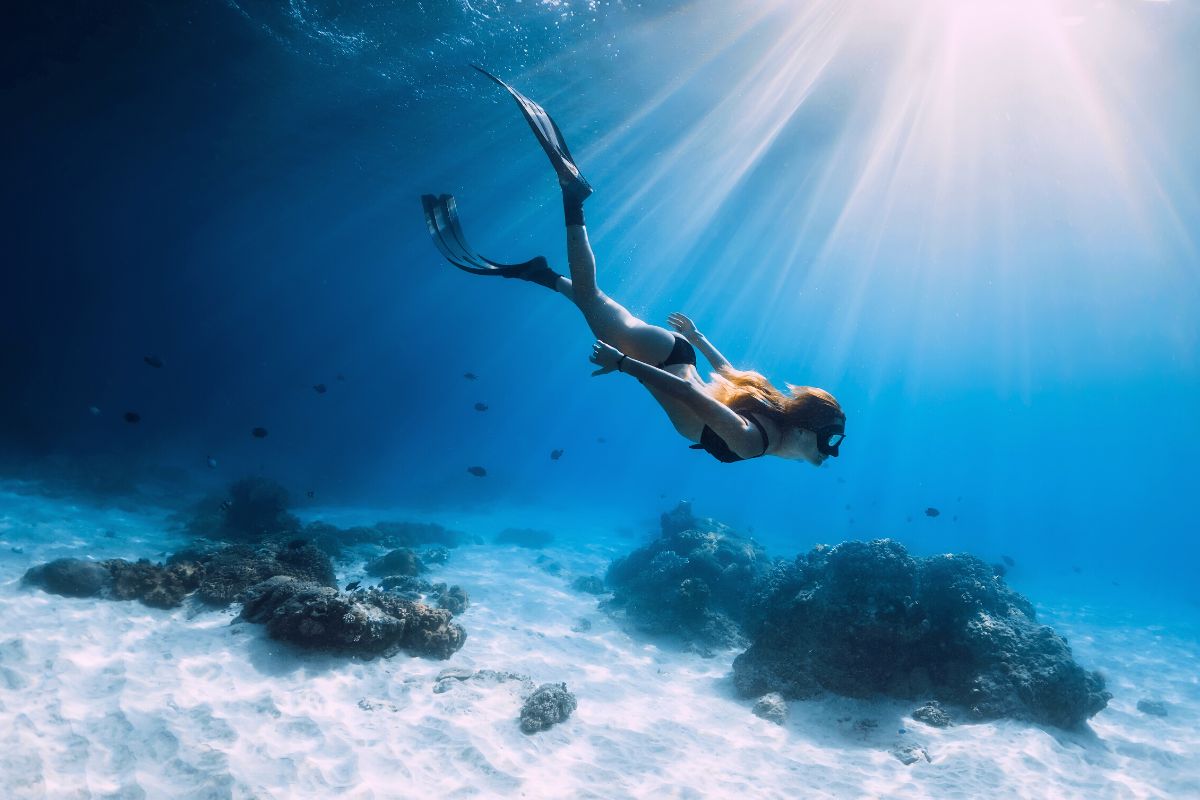 Get this… Electric Beach (officially Kahe Point Beach Park) gains its local nickname because of its positioning in front of a power plant. The warm waters that flow from the plant into the ocean lure in a whole bunch of different and interesting aquatic life.
This is one of the main reasons why the beach park attracts tons of (advanced) snorkelers and divers to the area. While the beach itself is not overly massive, it's the snorkeling underwater that counts, and this is another hotspot for turtle sightings.
Travelers who have never tried snorkeling, save this option for the experienced. The south side of the beach is known as 'Kahe Point' and is your best bet for spotting marine creatures.
To reach this reef where the snorkel action happens, swim out (about one meter) from the shore. Also note, once here the reef suddenly drops with a known depth of up to 14 meters.
Skip the winter snorkeling at Electric Beach when powerful currents arrive — even if you are a pro.
14 – Ko'olina Lagoons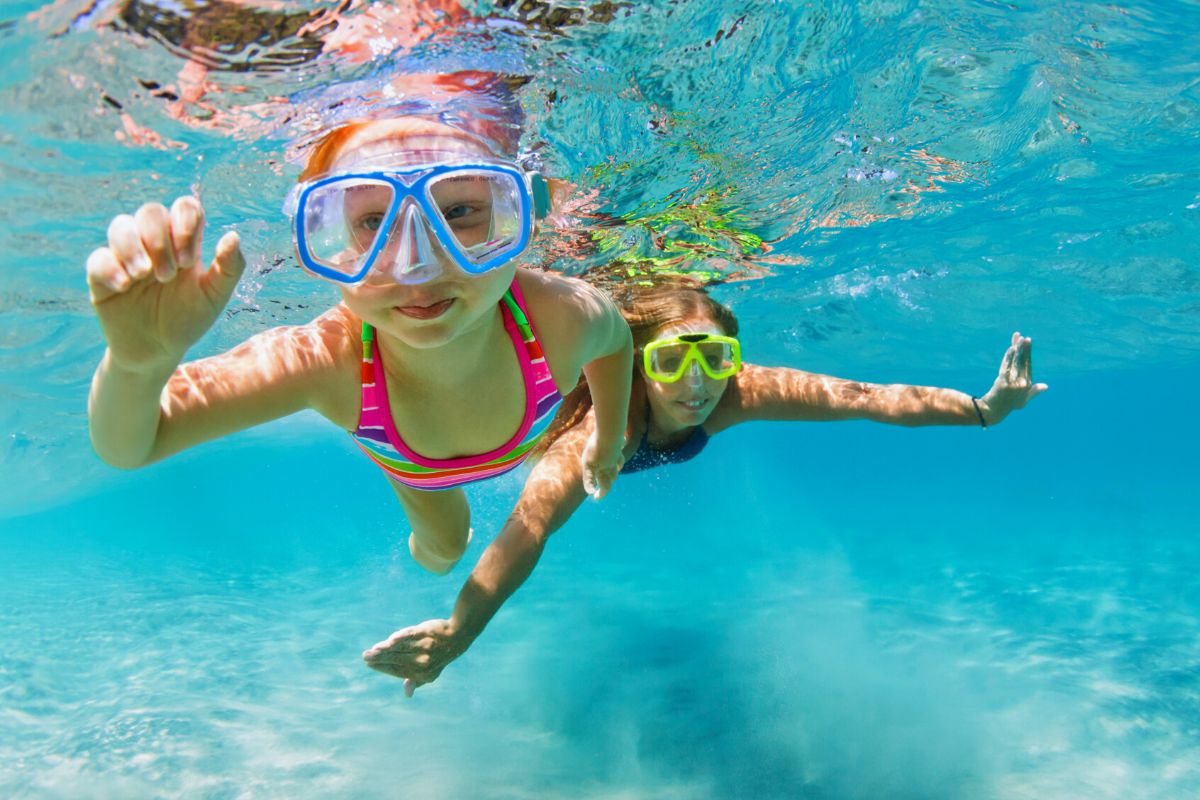 Calling all families to the (man-made) Ko'olina Lagoons; comprising four lagoons, walk from one lagoon to the next along soft sands and jump into the pool-like snorkeling and swimming bays.
These water bays were built in a way to ensure natural water flows in and out of the lagoons from the ocean sitting directly in front.
Boasting ever-calm, flat waters, the half-circle coves are ideal for young children (including toddlers) and beginner snorkelers who want to try one of the island's most popular activities.
During your underwater excursion, look out for schools of tropical fish or crustaceans nipping into the sandbeds. (As the Ko'olina Lagoons are man-made, there is unfortunately no coral.)
Arrive here early to avoid the crowds. The lagoons are not gigantic and when it becomes busy, the water isn't as clear from all the movement, and loads of tourists splash around the bays.
Best snorkeling spots along South Oahu Coast
Home to tourist hubs like Waikiki (a beachy neighborhood in Honolulu), the south coast of Oahu is a travel hotspot. There's a strew of beaches great for snorkeling, and thanks to their convenient location, are favored by those keen on snorkel time close to the accommodation.
15 – Turtle Canyon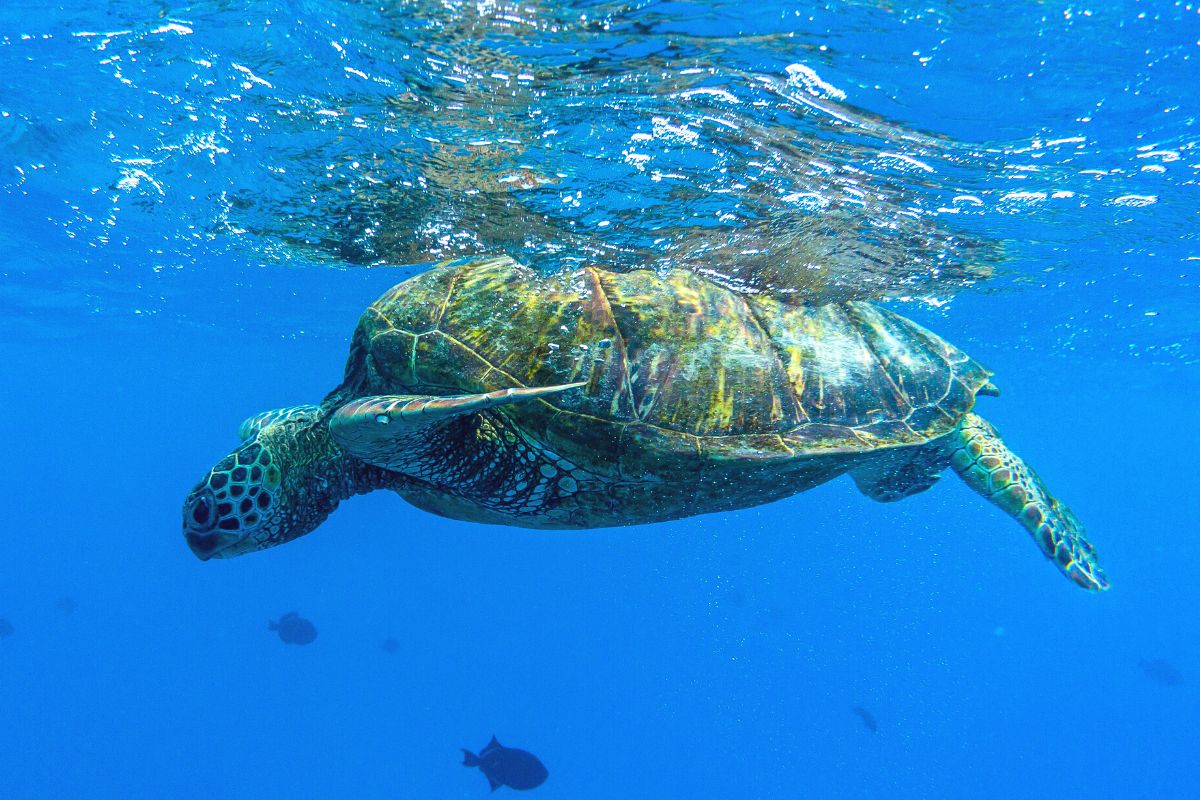 You guessed it, Turtle Canyon is, indeed, named such for a reason and among all of the snorkeling spots in Oahu, this is one of the best (and most popular) places to swim with Hawaiian green sea turtles.
Unlike the rest, the famed snorkel location isn't reachable from the beach. Instead, you will need to take a boat tour out to Turtle Canyon and the snorkeling starts here. Turtle snorkeling expeditions embark from Kahanamoku Beach in Waikiki and last around three hours.
Down to business; the snorkel spot is surrounded by shallow waters on the Ko Olina Coast, so snorkeling is suitable for all levels. Upon arriving, jump offboard at Turtle Canyon and snorkel up to the sea turtles.
While cruising on the ocean, keep an eye open for other aquatic animals like spinner dolphins, octopuses and whales (during whale season from December to April).
P.s. In case you were wondering, you cannot swim from Kahanamoku Beach to Turtle Canyon as it is only accessible via boat, but this tour is by far one of the best things to do in Honolulu!
16 – Waikiki Bay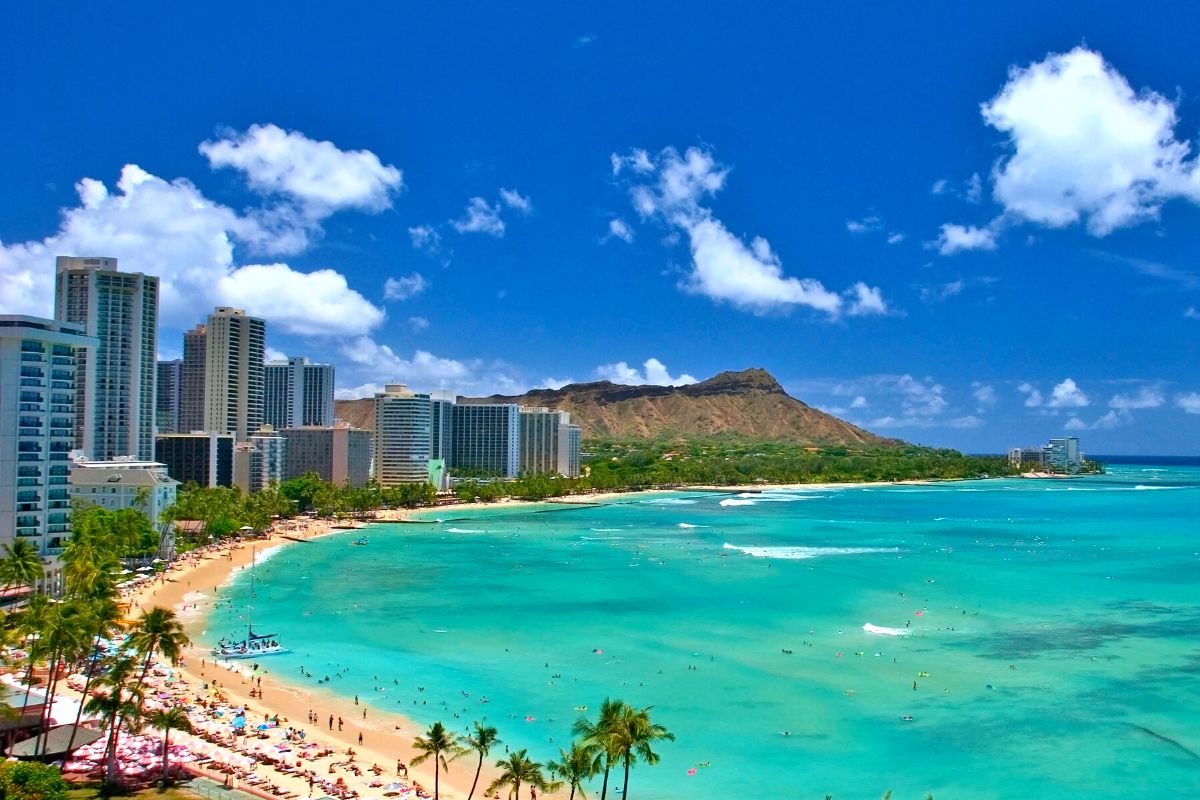 There are many fun things to do in Waikiki, but one of the best activities is arguably snorkeling with tropical fish and turtles, and thanks to each beach's close proximity, you can dedicate the day to beach-hopping filled with snorkeling.
Fun fact: Waikiki Beach consists of eight different stretches of ocean and sandy areas, and each one is named differently. This means, there are technically eight beaches, and some of them are great for snorkeling.
Queens Beach (known as Queen Kapiolani Beach or Kapiolani Park Beach) is a good spot for all levels — when the waters are calm. There is a lifeguard on duty at the beach too, so you can rest easy if here with kids.
Close to the shore witness reef fish, moray eels, barracuda, small octopus and Hawaii's state fish known as humuhumunukunukuāpuaʻa, or more simply, the reef triggerfish.
The second Waikiki beach great for snorkeling is Sans Souci Beach, smaller in size and crowds in comparison to Queen's. It's another spot in Oahu that looks like a swimming pool and is family-friendly.
Most of the immediate bay area in front of the beach is followed by soft sandbanks and this part is perfect for children. However, if you head further out to the reef, the best snorkeling is here and it begins to get rocky.
17 – Waiʻalae Beach Park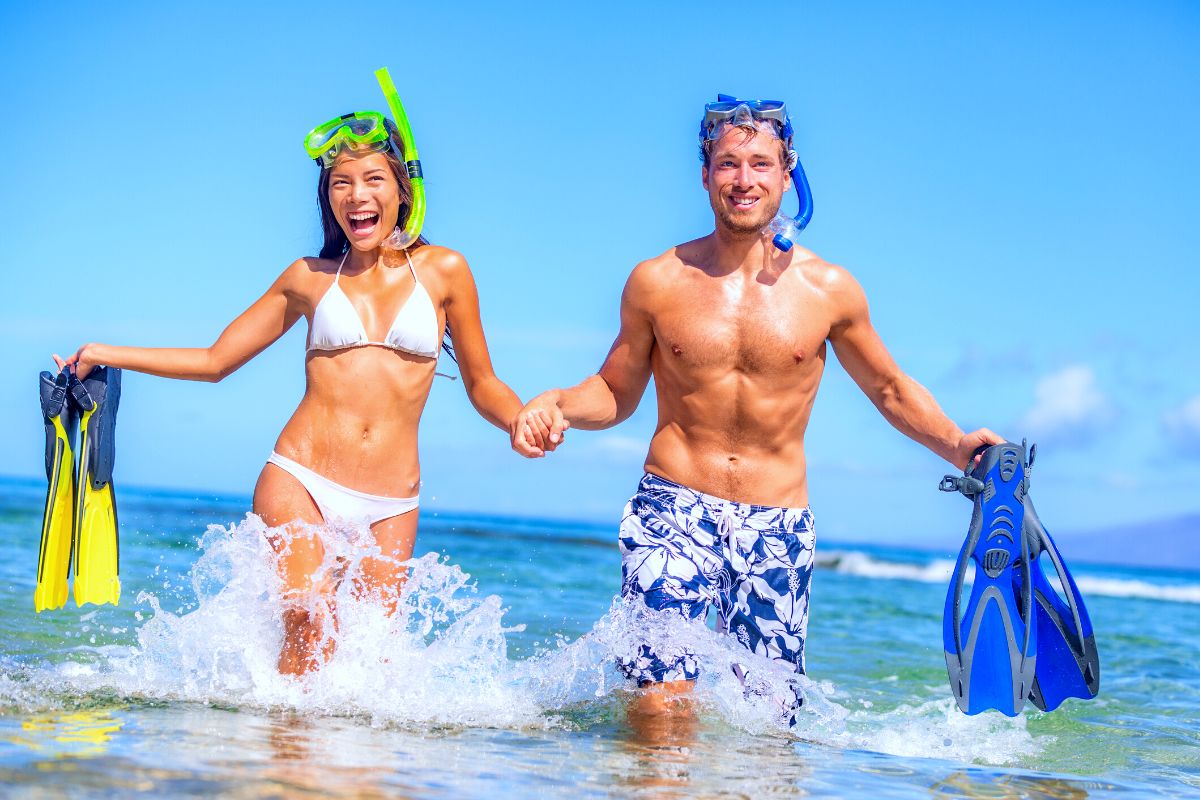 Heading just slightly outside of the Waikiki district, Wai'alae Beach Park has a unique setup where the mouth of the Wai'alae Stream meets the ocean and the water flows directly into the sea.
Dotted with tall palms, white sands and a flat, light azure-colored ocean, it's picture-perfect.
A shallow reef sits in front of the sands and when the tides pull back, more of this is exposed. You can easily enter the bay from the shoreline, but be aware of the rocks jutting out around the reef. It's advised to wear water shoes or snorkeling flippers here.
Located in the sea on one side of the beach is a man-made island. You can swim up to it, but you will need to first pass over the reef to do so. Once you do cross over the reef, the waters become instantly deeper and it's around here you can scope sea turtles.
Wai'alae Beach Park is in front of the Kahala Hotel & Resort, which is a bonus as there is always plenty of parking space. It's one of the South Shore's more intimate settings. Not visited by many tourists, it's an admired engagement shoot and wedding ceremony destination too.
18 – Maunalua Bay Beach Park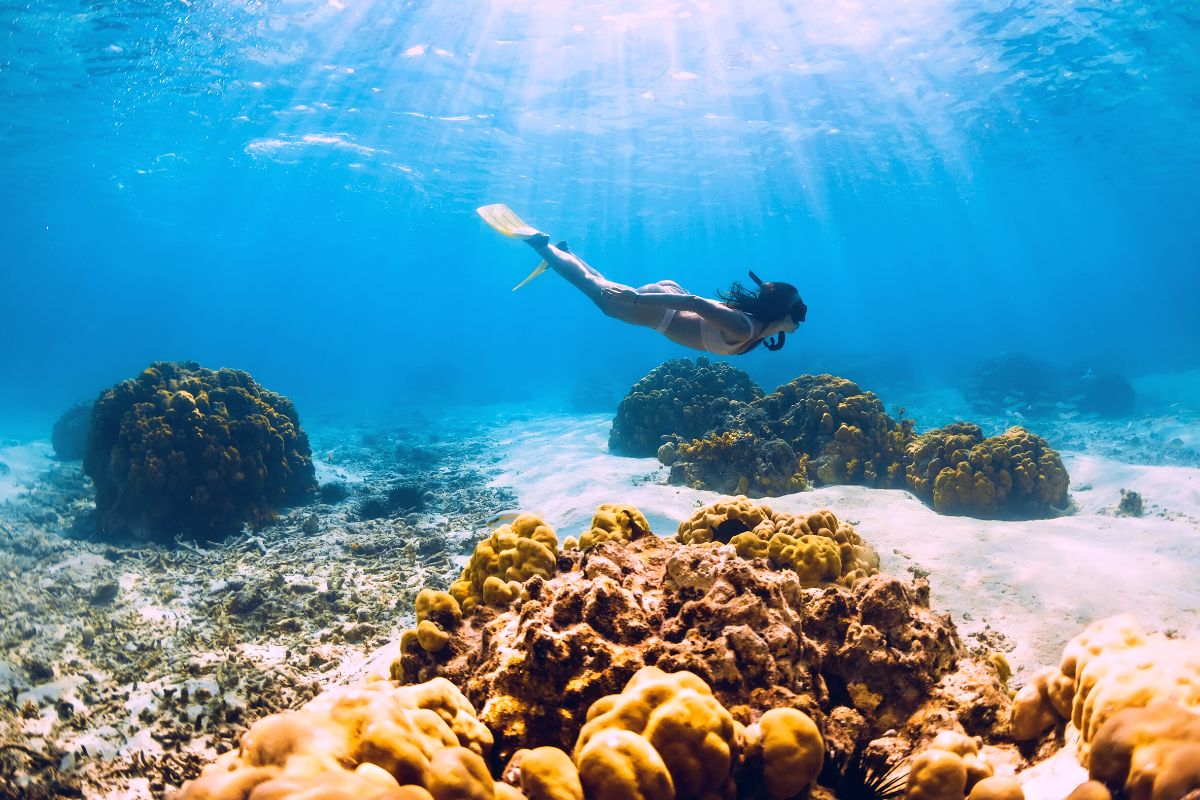 Loved by all sorts of water sport enthusiasts, Maunalua Bay Beach Park is frequently visited by snorkelers thanks to its super placid waters.
This is a good choice if you've never snorkeled before as the ocean never seems to say hello to any waves. Wad into the North Pacific on a soft sandy floor directly from onshore and begin snorkeling.
There is a separate part of the bay where motorized water vehicles play and head out to sea. Submarine scooter tours also favor Maunalua Bay and take visitors below the surface in a unique oxygen suit.
Plus, around Maunalua Bay are some epic dive spots and wrecks! Located between Diamond Head and Koko Head on Hawaii Kai Drive, it's often busy.
19 – Hanauma Bay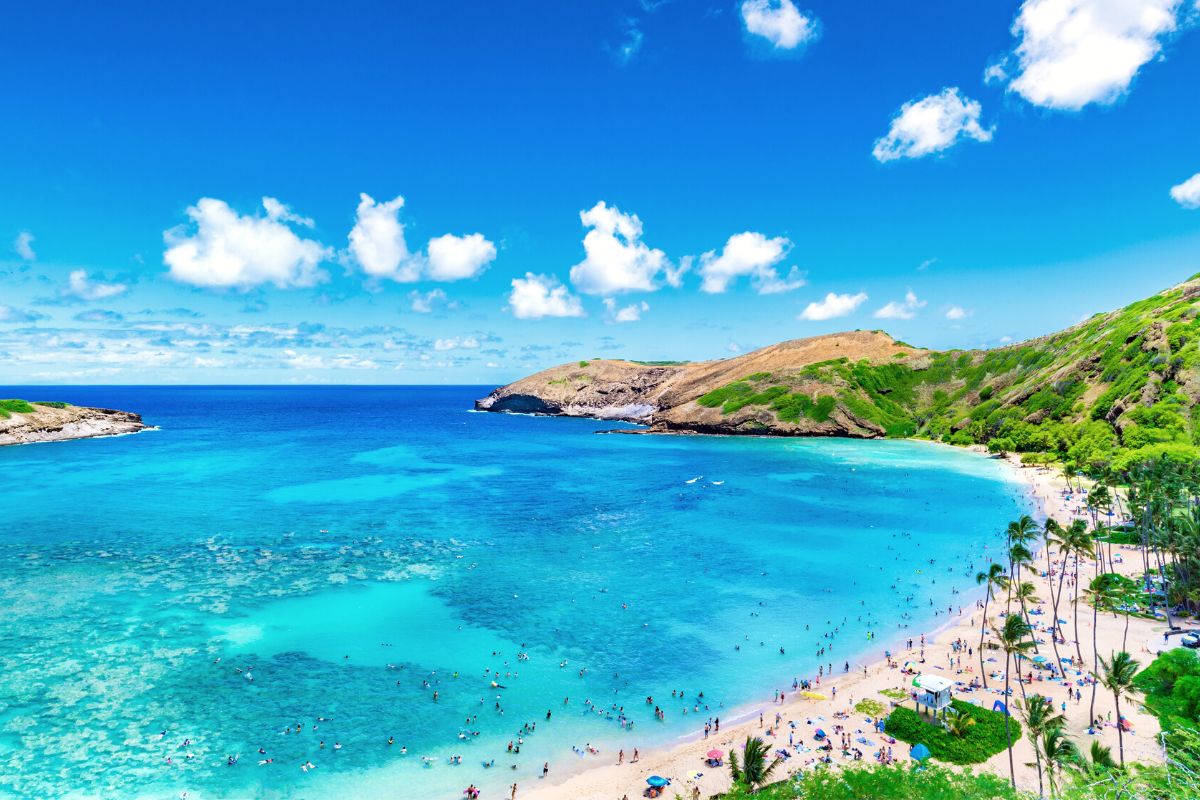 Hanauma Bay is a treat for all snorkelers, offering a multitude of different snorkel locations dotted along the bay — each one varying in difficulty.
Famous for its calm waves, shallow entry point, and vibrant aquamarine waters, it's a dazzling locale for exploring colorful coral formations on a snorkel excursion. There is also the opportunity to spy sea turtles in their natural habitat, and snorkeling is easily accessible right in the bay (which you can swim into straight from the shore).
Along the curved-shaped bay, you'll find access points of just sandbanks or other parts where rocks and reefs start from the shore, creating mini tidal pools in between.
Because there's a variety of snorkeling sections dotted along this coastline, it's a popular spot for beginners. Situated 20 minutes from Honolulu, the picturesque bay is an ideal location for a day trip filled with TLSea.
Forming a part of Hanauma Bay Nature Preserve, extreme efforts are made to protect the ecosystems around these parts, so you can expect a thriving marine world at Hanauma Bay.
Best snorkeling spots along Oahu East Coast
Heading away from the crowds again, journey to the Windward Coast, i.e. the Oahu East Coast. The island's winds blow in from the eastern side and this part of Oahu is known for its lush landscapes, wildlife and oceans that look like postcards.
20 – Lanikai Beach Park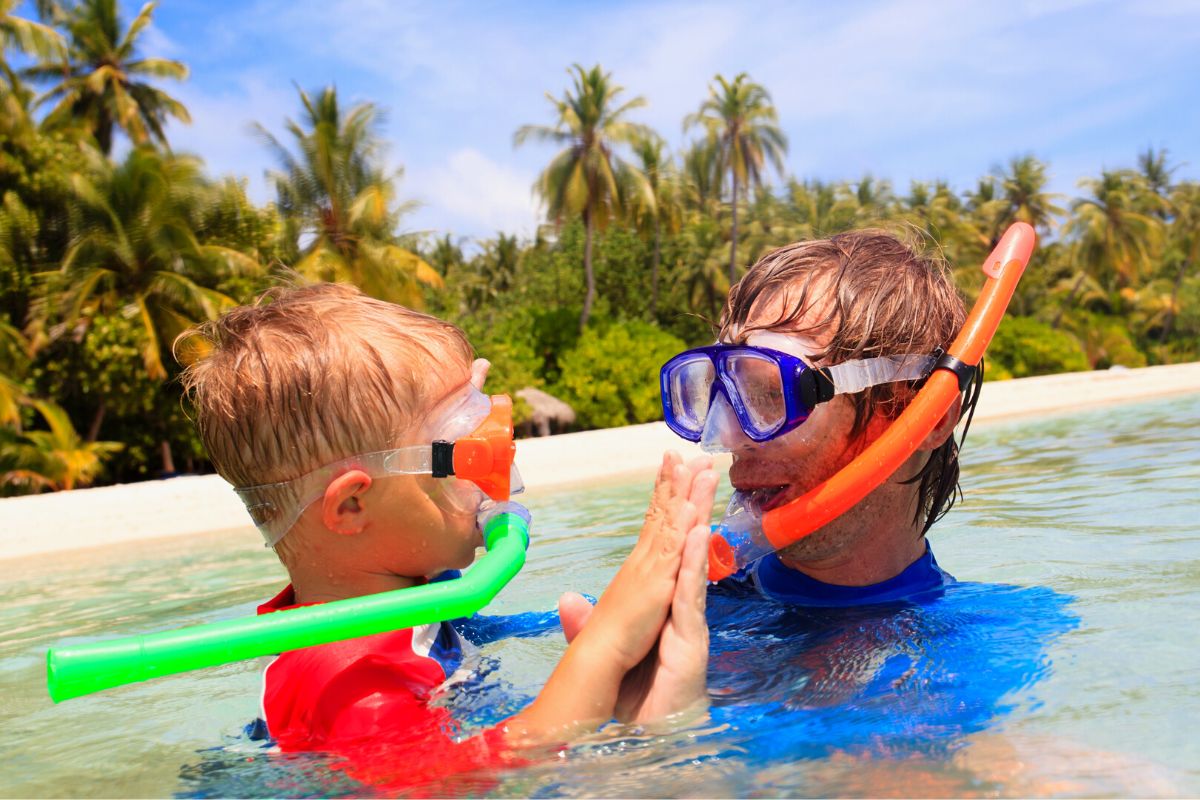 Soft powdery sands, low waters, small rock pools and easy access into the ocean from the shoreline make Lanikai Beach a fan favorite among traveling families.
Especially loved by younger children and beginner snorkelers, the reef is protected and so no massive swells hit the beach. Sometimes, however, the underwater isn't the clearest when the beach is busy because of the fine white sand particles which interfere with visibility.
When coming to the surface of the water for a break, admire the famous Na Mokulua Islands straight up ahead.
The "Mokes", as the two islands are affectionately called, also have some incredible snorkeling opportunities. To reach the isles you will need to boat across either by local transport or try kayaking here.
Kayaking to the islands can take between 45 minutes to two hours, depending on your fitness level and sea conditions. Along the journey, jump off your kayak with your snorkel gear on and look under the sea.
For keen snorkelers, visit both snorkel locations around Lanikai during a day trip to the Mokulua Islands and all transport, including boat transfers, is taken care of.
21 – Kailua Beach Park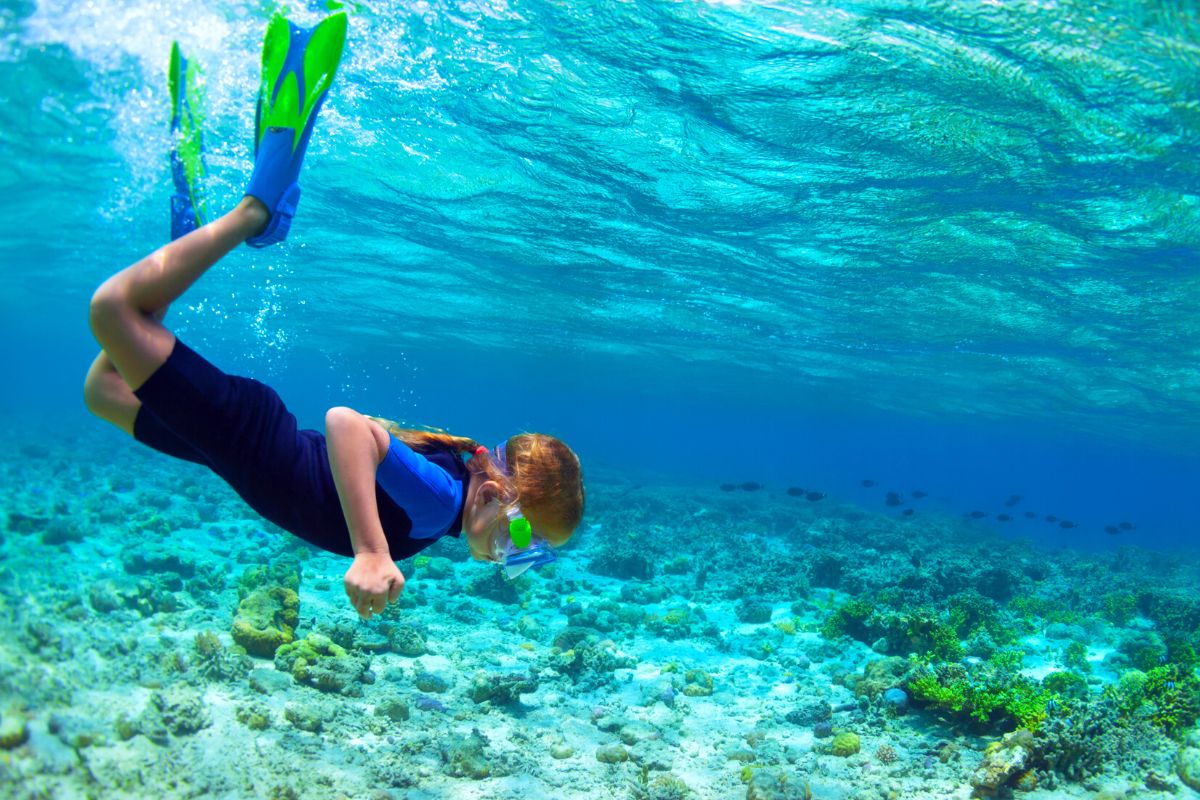 With sand so soft it just falls through your fingertips, Kailua Beach Park is another fine example of one of the Windward Coast's exquisite beach settings… The color of the ocean here is extra magnificent.
Most of these beaches comprise powdery beach areas which extend to the ocean with few rocks and beach boulders. This means that fewer fish live in these parts as there is little place for them to feed, or hide.
But it does mean there are no obstacles or sharp reef tips standing in your way during your snorkel time, and getting into the ocean at Kailua Beach is a chilled endeavor. For these reasons, Kailua Beach Park is also popular with travelers just grasping the snorkel-concept, or those on vacation with the kids.
Like Lanikai Beach, you can also join a kayaking tour from Kailua Beach to the Na Mokulua Islands for more snorkeling adventures.
22 – Secret Beach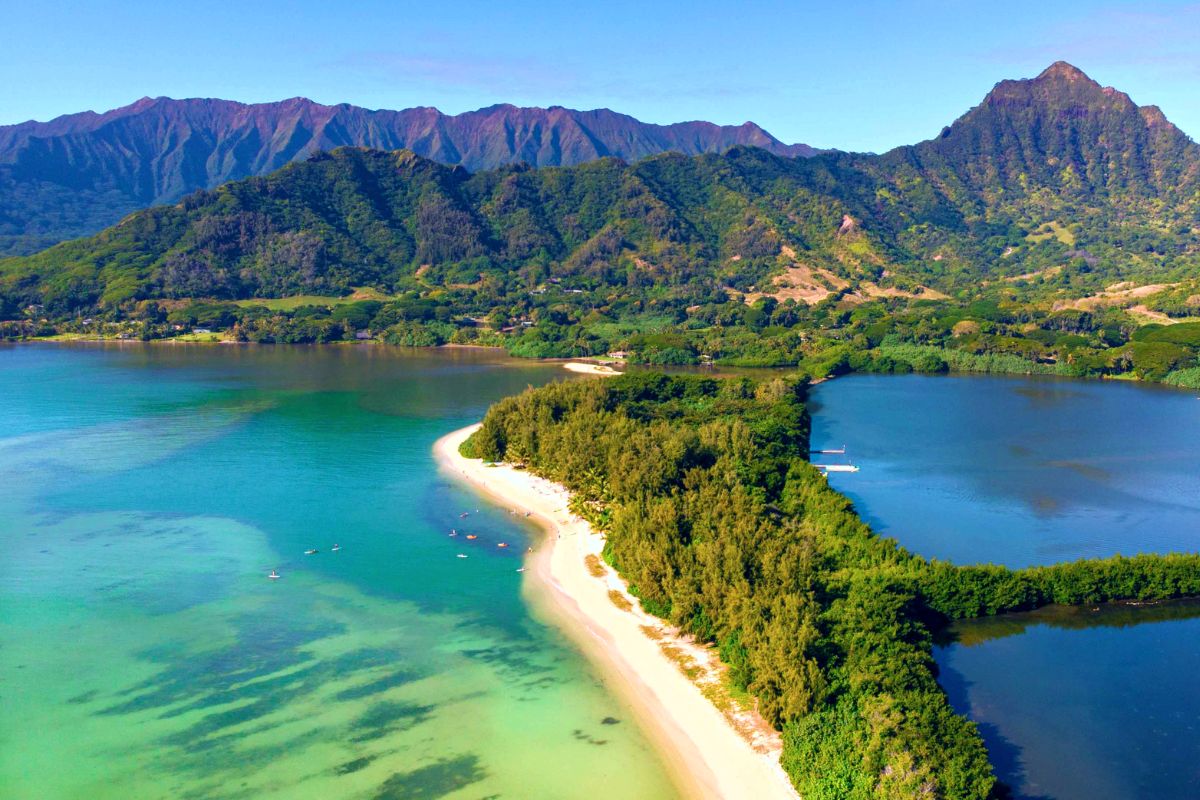 Famous as the backdrop to some of our biggest blockbuster movies like Jurassic Park and 50 First Dates, Kualoa Ranch is an adventure-inducing private outdoor park and the home of Secret Beach.
To access the snorkel spot you will have to first travel to Kualoa Ranch. Arriving, book a Secret Island beach adventure. It includes snorkeling as well as the chance to try out other water sports if you're keen like swimming, canoeing and boat rides.
The easiest way to get to Secret Beach is through the private park but it guarantees a beach and ocean that are well-maintained and looked after. A healthy ecosystem equals great snorkeling.
23 – Heʻeia State Park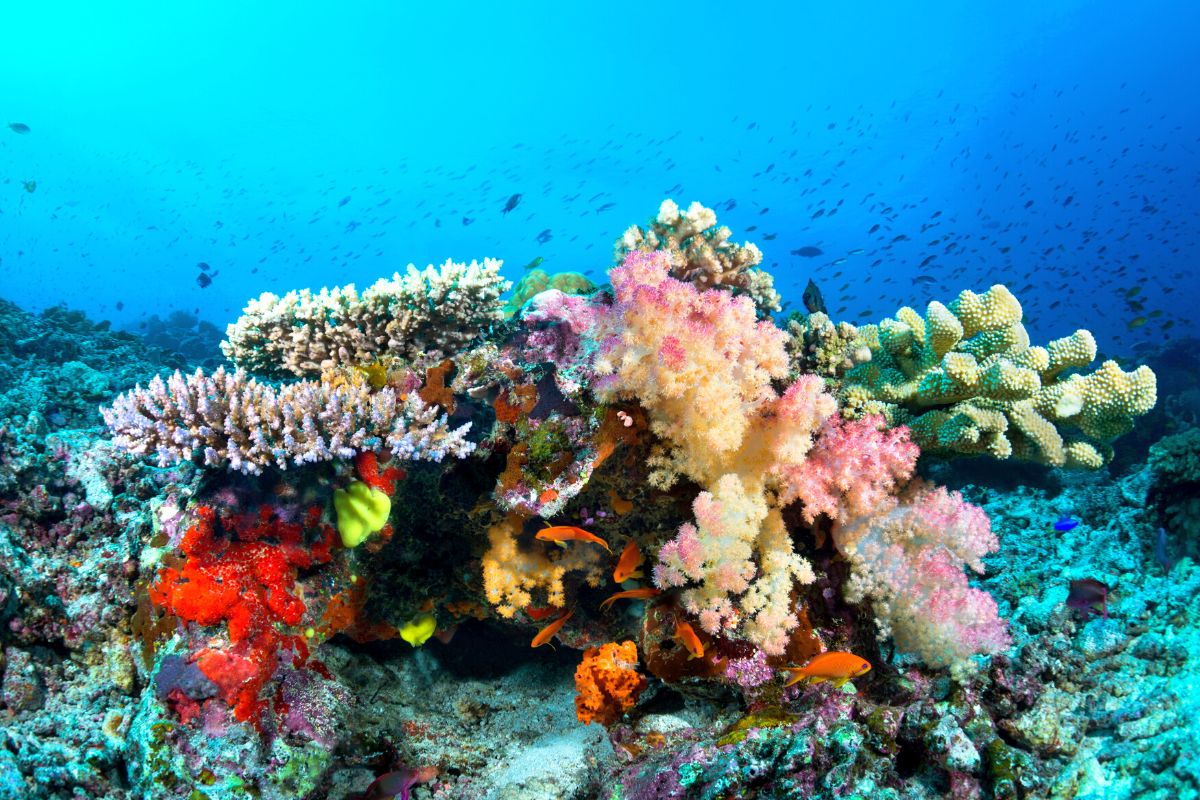 This dedicated national park is encompassed by the Ko'olau Range mountains and is located within the massive Kāne'ohe Bay.
Head to Heʻeia State Park's beachy waterfront, put on your snorkel gear and prepare for the breathtaking underwater scenery.
Protected by local authorities as well as communities, the ongoing effort is constantly put into preserving the ocean around here and its aquatic life. There are even educational programs run by volunteers on the beach — so get involved!
Wild and sizely rainbow corals line the reef beds and the area boasts a diverse marine world. Like most of the beaches on the East Coast, Heʻeia State Park sports smooth seas and strong currents are blown away.
Some other popular beaches that make up Kāne'ohe Bay include Ahu O Laka, Mokoliʻi Island and Sugar Mill Beach.
24 – Kaneohe Sandbar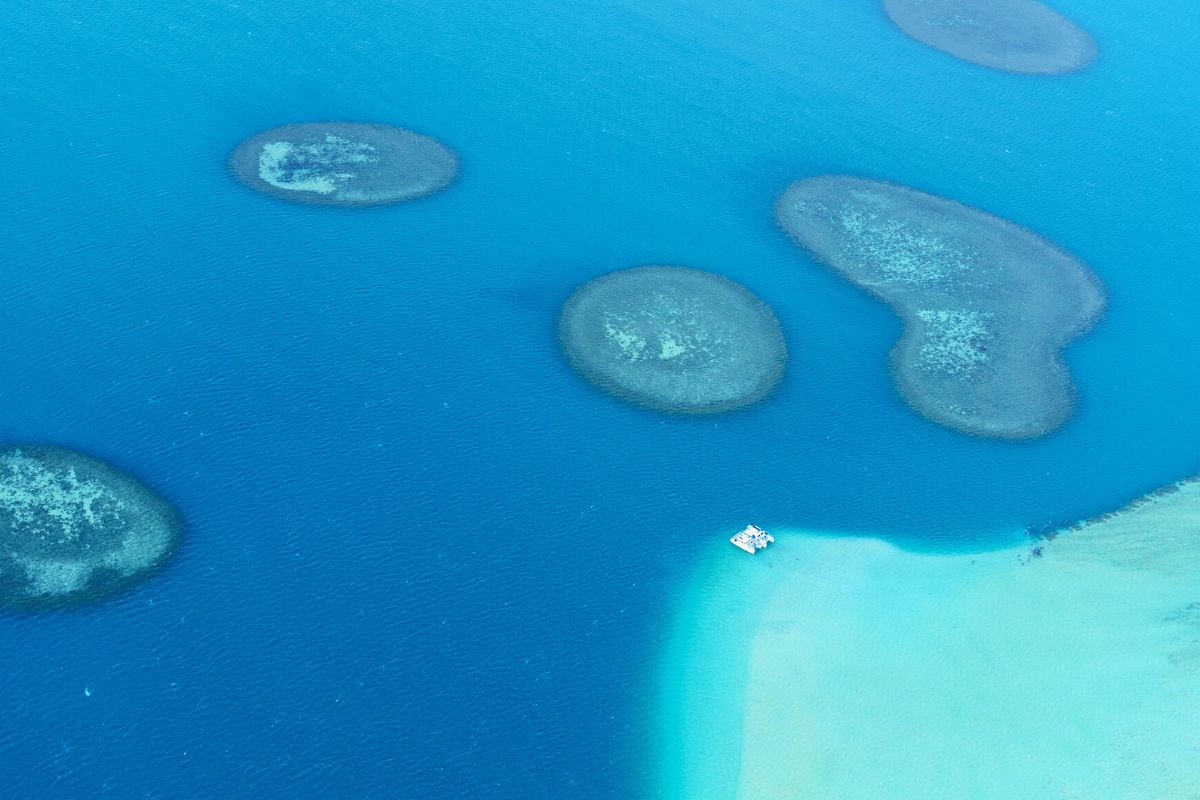 Speaking of, Ahu O Laka, more commonly known as Kaneohe Sandbar is also situated in Kāne'ohe Bay. If it appears familiar, you may have seen this hidden gem on Instagram feeds, and it's easy to understand why.
Smack bang in the middle of the bay is a snow-white natural sandbar formed against the lagoon's reef. You can actually chill on the natural sandbank and easily snorkel in the ocean around it.
Thanks to its makeup, the water around the sandbar is extremely shallow and so it's suitable for all-level snorkel enthusiasts. During high tide, the water levels can rise waist-deep. To get to Ahu O Laka you need to kayak or catch a boat ride across.
As a highlight attraction, there are many boat tours to Kaneohe Sandbar which provide a convenient option for snorkeling here.
Spend a few hours or half the day exploring the pristine ocean and all the tropical fish, for example, flounders, that roam around here including some larger marine animals like turtles. The reef along the sandbar is pretty exceptional and many healthy corals thrive.
25 – Kualoa Regional Park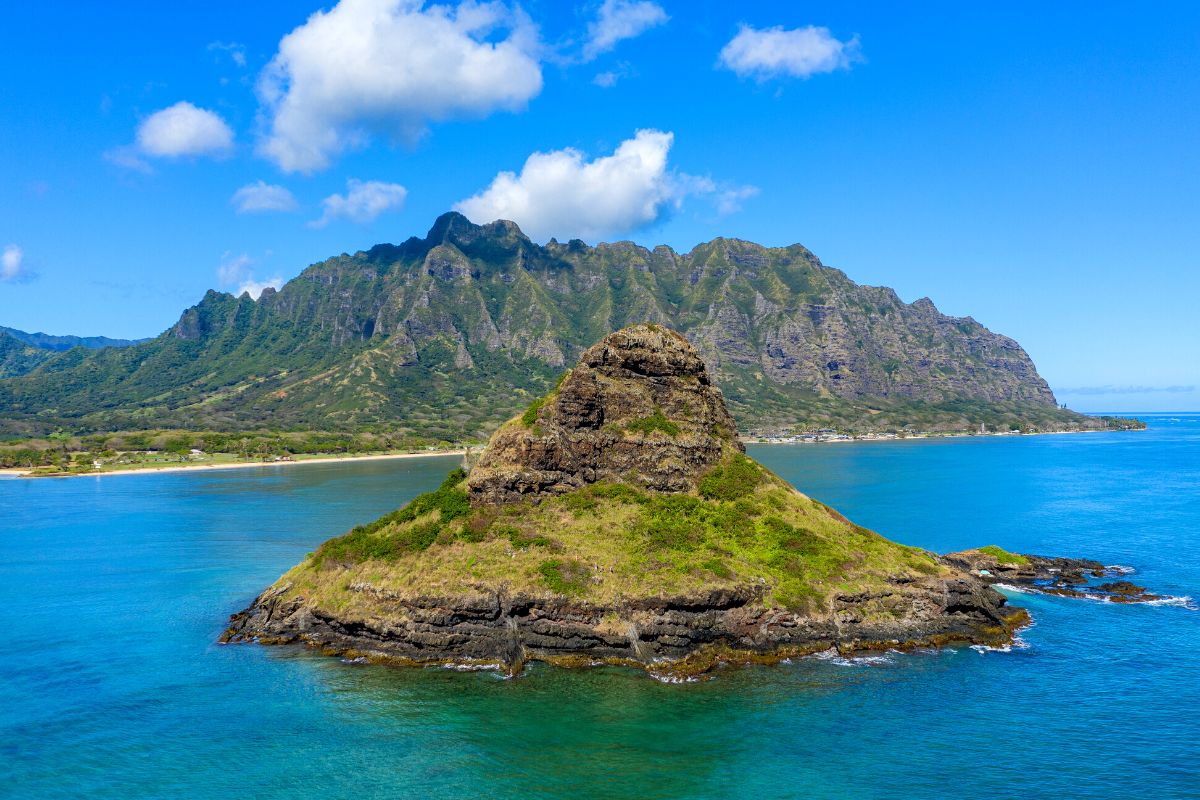 Directly in front of a large green grassy area with picnic tables and shady trees is the beach part of Kualoa Regional Park, known as Sugar Mill Beach.
A narrow sandy stretch continues down a strip and a calm ocean sits in front, also constituting part of Kāne'ohe Bay. The water visibility here is usually quite good and clear on most days, and a view of Mokoliʻi Island (nicknamed Chinaman's Hat) greets you from the shoreline.
You'll be welcomed by a shallow reef, but take precautions against sharp rocks along the water's edge and between the reef. Venturing past here you can enjoy some more snorkeling and the occasional octopus backward swimming.
How to reach those snorkeling spots?
Snorkeling in Oahu is one of the island's most favored activities. To keep up, there are a multitude of companies offering snorkeling tours in Oahu and each tour differs slightly in details (like timing, tour duration, inclusivities, etc).
Decipher among them using our search engine to compare all of these snorkel expeditions and pick the one that best fits your travel needs.
Final thoughts
Snorkeling in Oahu is a magical experience, and while you're here, one that should not be missed. With snorkel spots suited for all levels, there's no excuse really
Enjoy the tropical island's beauty, both on land and under the sea. Have you got a secret snorkeling spot in Oahu to share? Let us know in the comments below.
Happy snorkeling and safe travels to Hawaii!