Kauai might only be the fourth largest island in the Hawaiian archipelago, but in terms of its beauty, attractions, and culture, it's arguably number one.
Whether your ideal vacation consists of outdoor adventures (zipline tours, rafting, surfing, or hiking), relaxation and pampering (spa days and beach days), or culture and history (museums, local restaurants, Luau shows, or traditional horse riding), there is absolutely no shortage of things to do in Kauai.
If it's always been a dream of yours to snorkel the deep waters, home to magnificent sea creatures, get the chance to swim with sea turtles and schools of tropical fish as you discover an underwater paradise.
Witness dolphins dancing through the waters on dedicated boat tours, or go on an awe-inspiring whale-sighting excursion.
Hunting down waterfalls or mermaid sea caves is highly encouraged! Explore canyons, visit tropical plantations, meander botanical gardens and even more awe-inspiring scenery.
Learn about local traditions, sample native produce at the markets, eateries and food tours, and deep dive into the island's heritage at temples and galleries.
So, what are you waiting for? Start planning your next adventure to this heaven-on-Earth!
1 – Sail on the beautiful Na Pali coast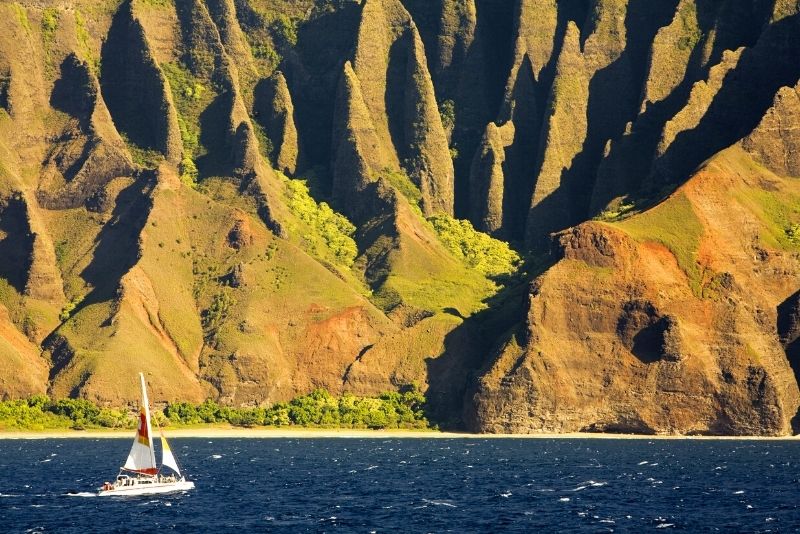 The Na Pali coast is known for its dazzling waterfalls, secluded beaches, and intriguing sea caves.
Don't worry, you don't have to know how to sail to enjoy the Na Pali coast — just sign up for a sailing tour that includes the captain.
Plenty of tourists even get an up-close and personal look at the marine life — none more entertaining than the turtles and dolphins.
2 – Enjoy a romantic sunset dinner cruise!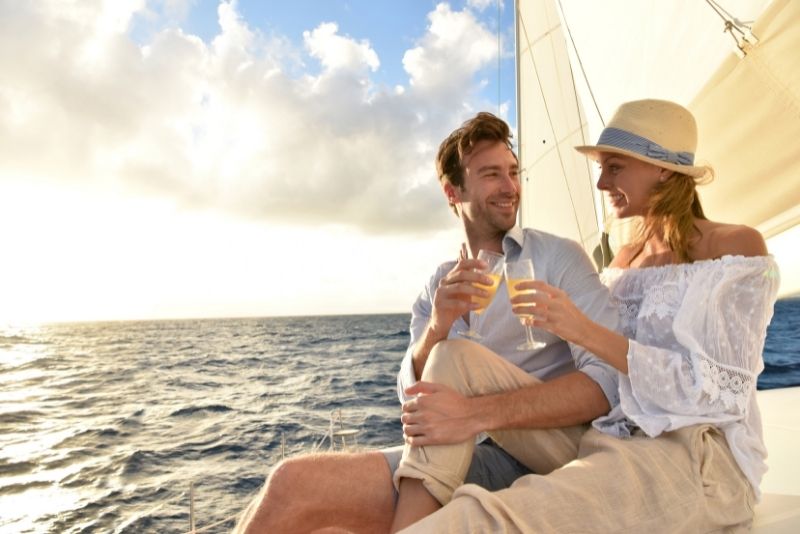 Looking for a way to spice up the romance on your couples' vacation?
Well, a sunset dinner cruise is one way to do it! Enjoy the radiant sunset while you cruise along the Na Pali coastline, with nothing but glistening views as far as the eye can see.
Not only will you get to witness the beauty of the island but you'll also be treated to dinner and drinks along the way.
3 – Go snorkeling amongst colorful fish!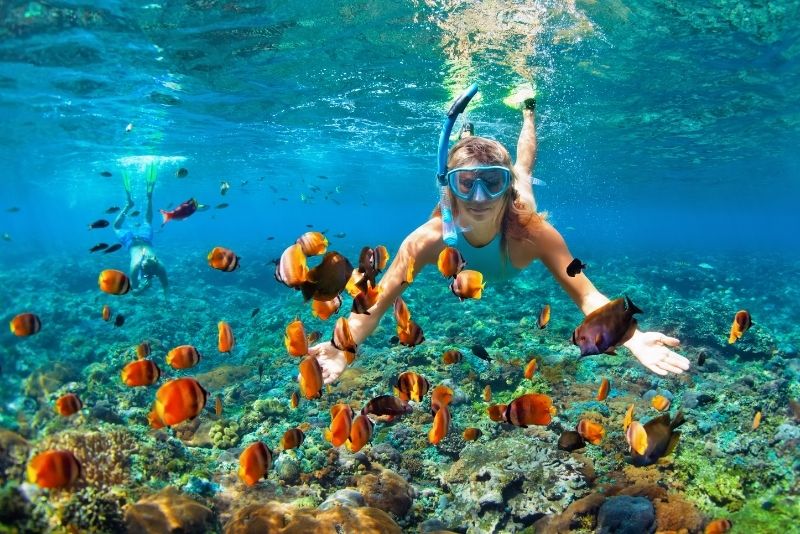 Get up close and personal with the marine life on the Kauai coast with an always-enjoyable snorkeling adventure.
Whether you're a beginner or seasoned expert, snorkeling tour companies accept everyone. In fact, it can be a great day out for the whole family as the kids can join in as well.
Unravel a multitude of dazzling snorkel excursions and enjoy two hours, half a day or a full eight hours out at sea, navigating the waters onboard a catamaran, for example, and guided to the best snorkeling spots on the island.
Cruise along the Nā Pali Coast among jutting sea cliffs and look out for the humuhumunukunukuapua'a (Hawaii's national fish), spot sea turtles at Hanalei Bay, or sail over to the "forbidden island", Niihau, to see dolphins and in season, humpback whales.
There are snorkel adventures to choose from along the southern coast from where the fun begins at the reef closest to the shoreline, and no boat trip is required. Witness schools of tropical fish, sea urchins and rainbows of coral.
Other beaches to go snorkeling with easy access from the beach sands include Tunnels Beach (great for families with a shallow reef in front); Haena Beach Park on the North Shore; Lydgate Beach Park (with two protected lagoons) and Anini Beach.
4 – Go on a kayaking adventure on the Wailua River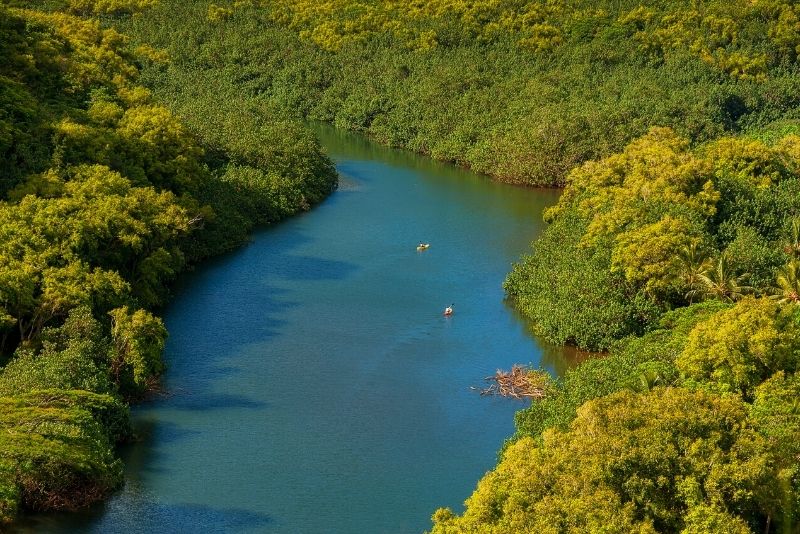 Spend the day exploring and kayaking at the Wailua river and falls.
Most tours will include kayaking, swimming, and hiking, so make sure to bring a decent pair of outdoor shoes (no fresh kicks today, unfortunately).
Typically, to make life easier, lunch and drinks are provided as well.
Hot tip: ask your guide nicely and you may even get to venture into the Fern Grotto — a former space reserved only for royalty!
5 – Marvel at the 46-meter-tall Opaekaa Falls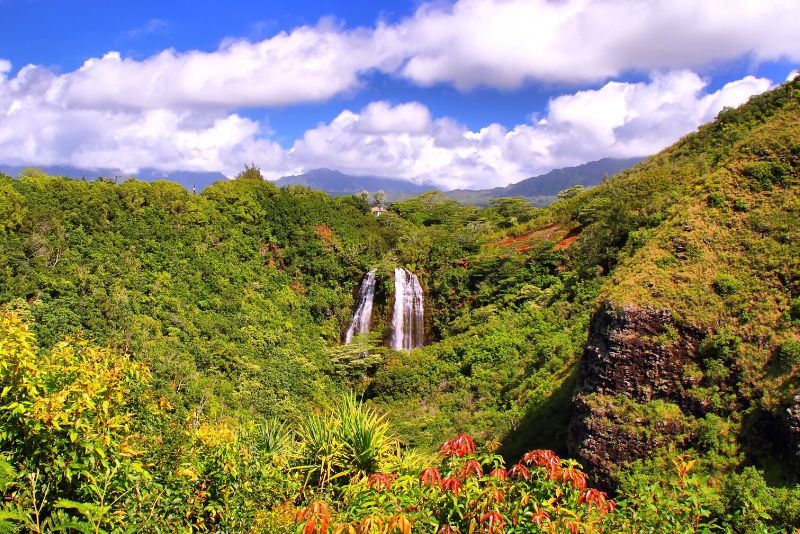 Go chasing waterfalls, more specifically Opaekaa Falls and be treated to the Hawaiian jungle-esque scenes you've been dreaming of. Nicknamed 'Hidden Falls', there are individual cascades next to one another that flow into the lush forestry and seem to disappear.
For the chance to marvel at the natural site, there are tours that bring travelers close enough to a designated viewpoint for photo-taking. However, if you're set on seeing the waterfall up close, consider hiking to the natural attraction.
Take note: The only way to reach the once-secret fall is first to travel along the sacred Wailua River, and then venture off through the dense rainforest until you reach your destination.
While you're in the area, stop by Kamokila Hawaiian Village. Step back in time and explore native settlements from hundreds of years back and enjoy authentic activities. Located on the river, you can rent canoes from here for a closer paddle time to reach the walking trail to the waterfall.
6 – Get a bird's eye view of Kauai on an airplane tour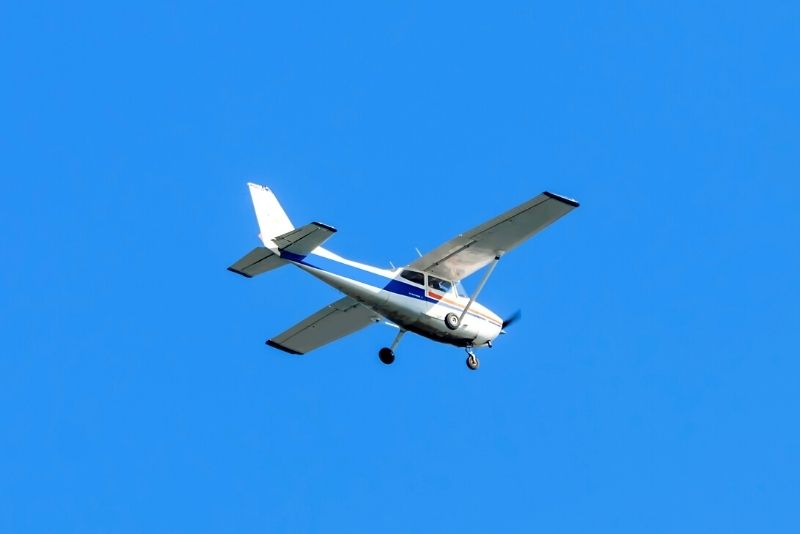 Marvel at the beauty that Kauai has to offer in a relaxing airplane tour. Kauai isn't called the "island of paradise" for nothing, and in an airplane tour, you will understand exactly where that moniker was born.
Enjoy the breathtaking views of the crystal waters, seemingly endless greenery, and brilliant waterfalls as you glide through the air in style!
7 – Get face to face with turtles while scuba diving!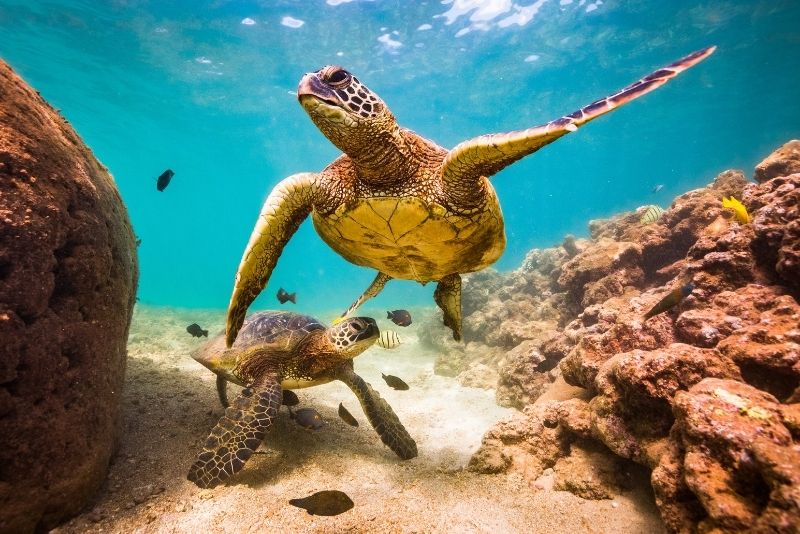 Are you ready to dive deep into the ocean and marvel at Kauai's vibrant sea life?
With so many different tours available — including tours for those who have never been scuba diving before and also tours for certified divers — there's a day out suitable for every level of experience.
Keep your eyes peeled — lucky divers often are greeted by the famous Hawaiian green sea turtles!
8 – Appreciate Mother Nature at the Kilauea Lighthouse and Wildlife Refuge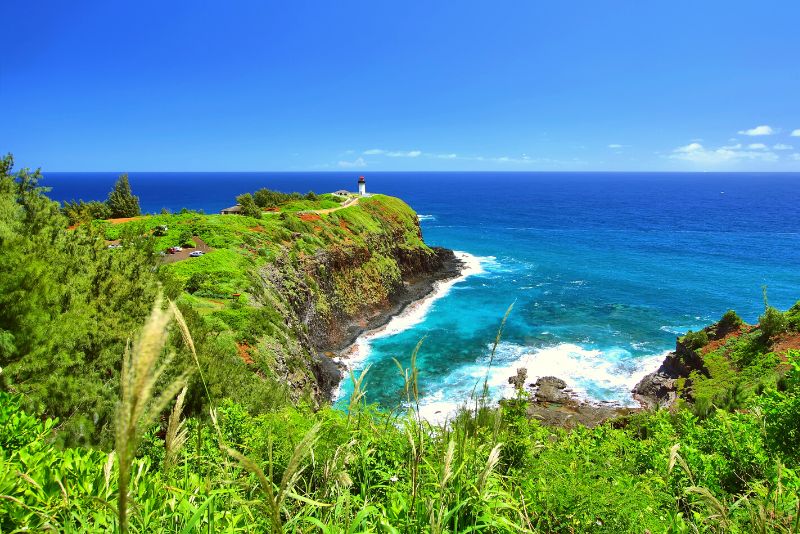 From the oceanic views to the birdwatching opportunities, the lonely Kilauea Lighthouse sits on the edge of a seaside cliff and is a fantastic photo opportunity.
Traveling to the North Shore, pass through Kilauea town — which is a fabulous stop on its own — and make your way to the iconic lighthouse that has been guiding sailors ever since 1913.
Reaching the parking lot, walk along a 200-meter-long boardwalk (wheelchair friendly too) until you reach the Daniel K. Inouye Kīlauea Point Lighthouse, as it's officially known.
The surrounding area forms part of the Kīlauea Point National Wildlife Refuge (founded in 1985 to aid in the protection of seabirds and other wildlife's natural habitat).
Bird enthusiasts; keep an eye open for the Laysan albatross, the red-footed booby with its shimmering beak, and the cute white-tailed tropicbird, among others, and you can enjoy whale-watching here from December to April.
9 – Ride the waves at one of the surf beaches!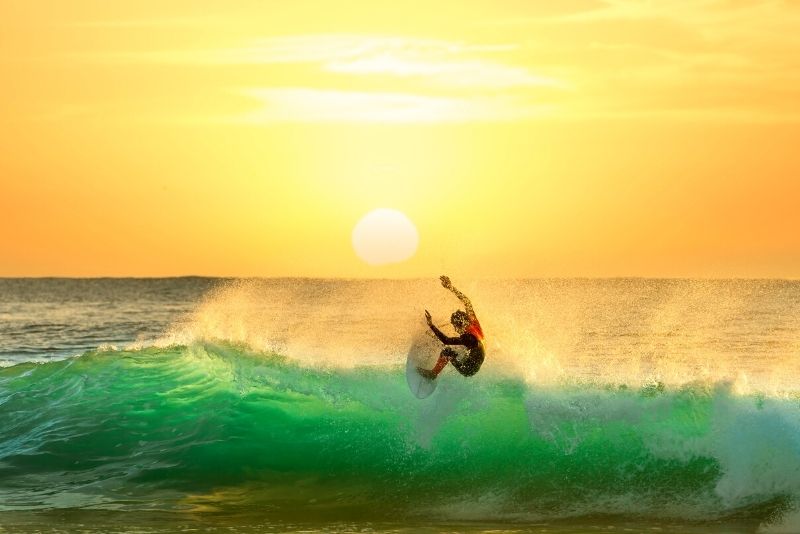 Surf's up, people! It's common knowledge that Hawaii is THE place people go to make their dream of surfing a reality.
Luckily for travelers, there are many private and group lessons available when it comes to learning how to surf — so even if you're not ready to tackle the monster waves, you can still hop on a board.
Ask the locals and they'll advocate for Hanalei Bay: with consistent waves, beautiful views, and family-friendly facilities, it's considered one of the best surf spots on the island.
10 – Swim like royalty at the Queen's Bath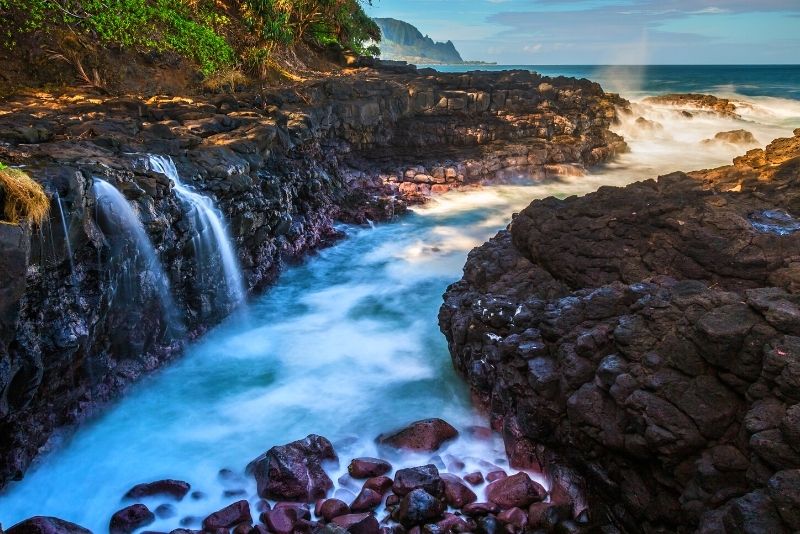 Despite what you might think, the Queen's bath isn't some sort of royal bathtub — rather it's a very unique tide pool that not many people know about (which means smaller crowds)!
Dwarfing the common swimming pool in size substantially, the Queen's Bath is, believe it or not, actually a giant sinkhole that is surrounded by rocks — still, tourists and locals can't get enough.
Just make sure that you check the forecast for the day before you go swimming to ensure conditions are safe.
11 – Keep your eyes peeled for whales and dolphins!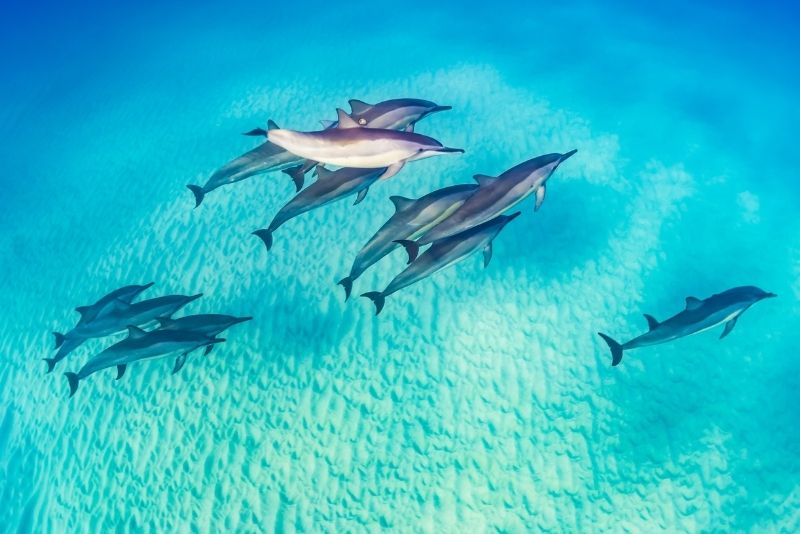 There are no two ways about it: a whale and dolphin-watching activity is one of the best things to do in Kauai, Hawaii.
Take a tour, cruise around, and keep the camera at the ready for these gentle giants.
Most tours last around 3 hours (with refreshments included) and — since the guide narrates a lot of information about these marine mammals — also feature an educational element.
12 – Take an off-road adventure in an ATV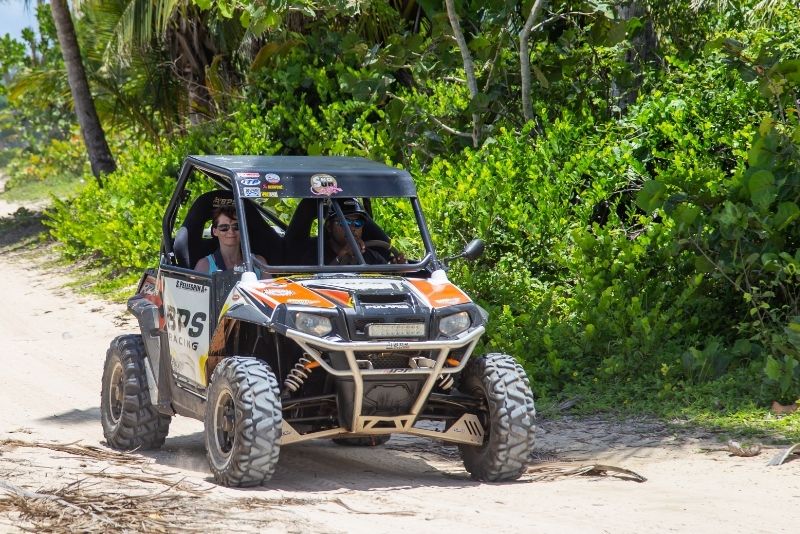 Not only can an off-road adventure in an ATV be packed full of adrenaline, but it will show you the rich history of the island as well.
With so many different places and terrains to visit (depending on which tour you choose), you could find yourself walking if the shoes of our favorite heroes from Jurassic Park or Indiana Jones!
13 – Treat yourself to Hawaiian Shave Ice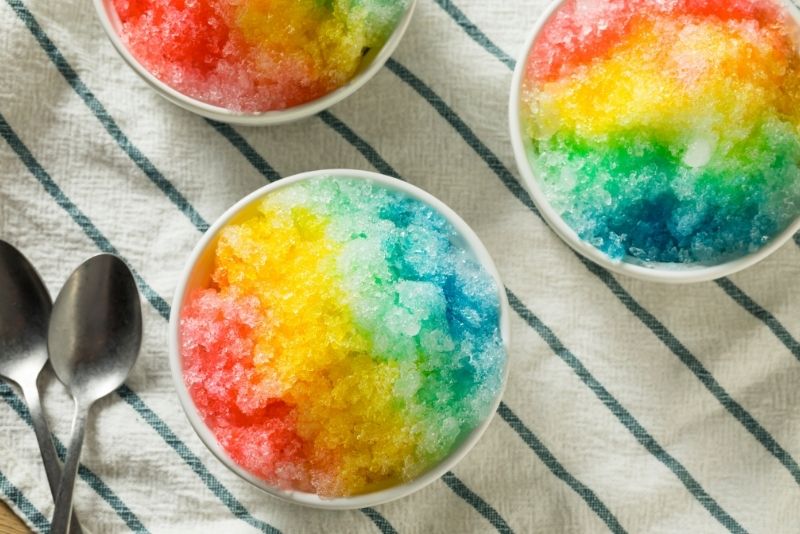 Hawaiian shaved ice is a classic local dessert — if you've got a sweet tooth, make sure trying this staple sits high atop your list of things to do in Kauai!
Typically, the tasty treat consists of shaved ice and some kind of flavored syrup.
It's the perfect treat to cool yourself down on a hot day, and, thankfully, is served by countless places on the island.
14 – Explore the forbidden island of Niihau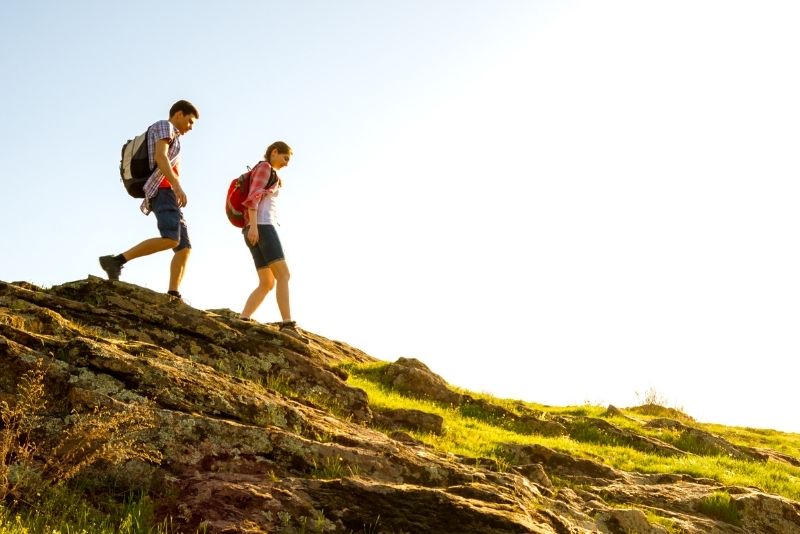 Take a trip and uncover the great secrets, legends, and mysteries of the island of Niihau!
Besides the rich history of this hidden island, the area also boasts stunning waterfalls, underwater caves, and endless green terrain to get lost in.
With tours usually lasting about six hours, most travelers opt to make a whole day out of it.
15 – Hunt down the caves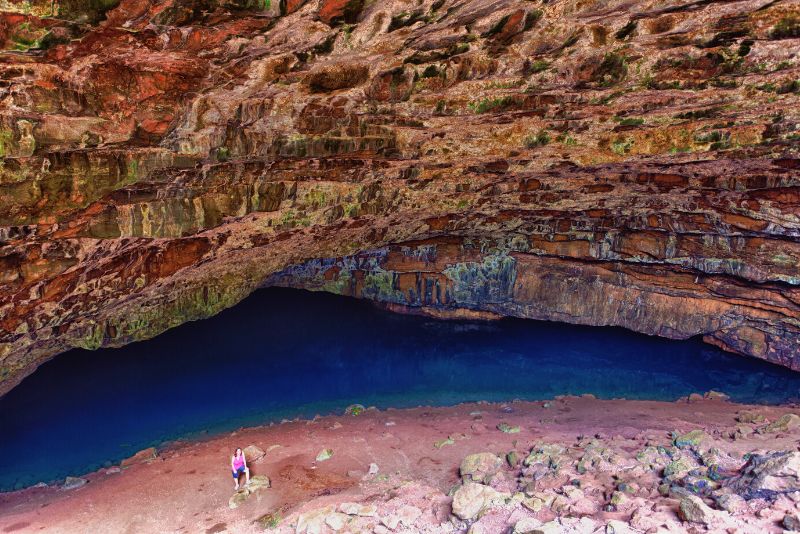 There's something so intriguing about entering a cave … perhaps it's our natural primitive instincts that come out to play? … Get to experience an abundance of different types of natural voids in Kauai and there are a few awe-inspiring enclaves to discover.
Located in the same area, both Waikanaloa Wet Cave and Waikapalae Wet Cave showcase turquoise blue waters and feel like you're entering a scene from The Little Mermaid.
Called "wet caves" because they're filled with water, the caves are refueled from underground springs. Swimming is prohibited.
Close by and just off the highway past mile marker nine, take a tour around the large Maniniholo Dry Cave which once acted as a secret tunnel.
There are myths and legends surrounding its origin or choose to believe the more logical explanation of its beginnings stringing it to the effects of natural erosion.
Admire the largest limestone cave in Hawaii at Makauwahi Cave Reserve. Set up as a living museum, investigate a preserved archaeological site containing fossils, and great conservation efforts have been made to sustain the natural environment here.
16 – Sample tasty treats on a food tour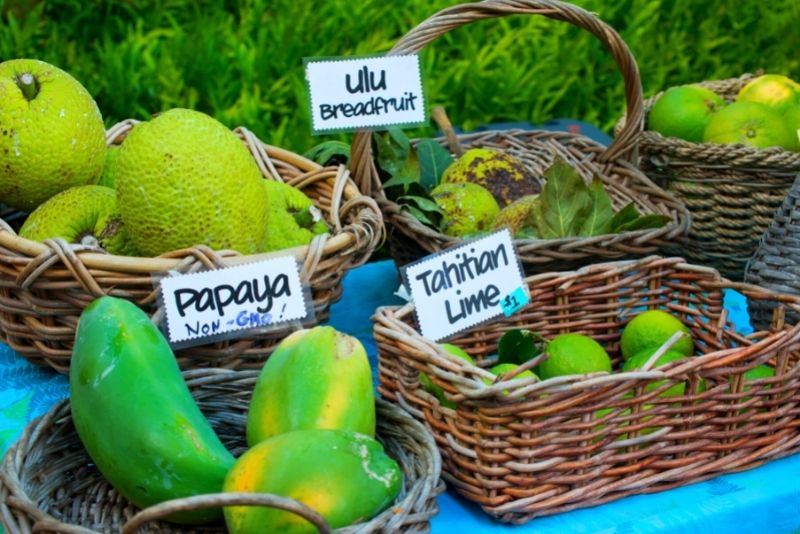 A food tour is a perfect way to sample all the local delicacies that Kauai has to offer — go where the locals go and eat all the delicious food that the locals eat!
Most food tours, run by Kauai residents, not only show off the island's best restaurants, bars, and cafes, but also provide a range of cultural and historical insights along the way.
17 – Immerse yourself in Polynesian culture and go to a Luau show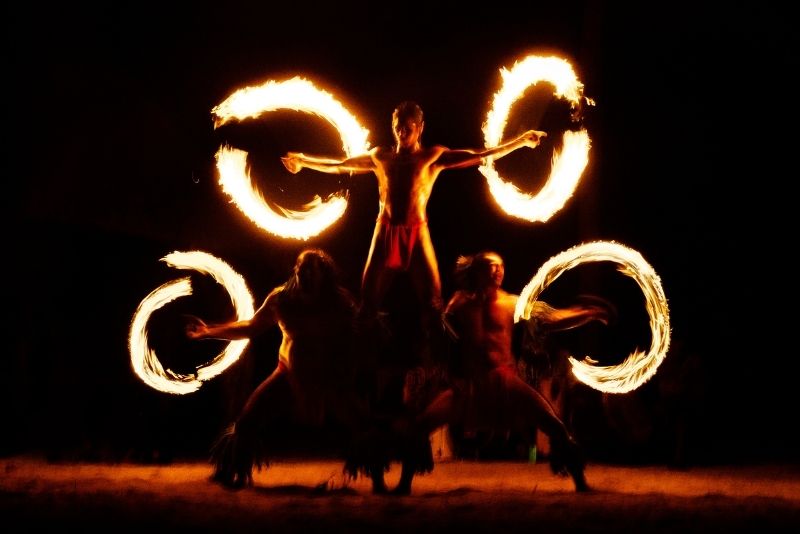 A luau show is a perfect way to experience Polynesian cultures and traditions — hands-down, it's one of the most exciting things to see in Kauai. Luau shows usually include hula dancers, traditional fire knife dancing, and plenty more.
Watch in awe and enjoy a buffet of drinks and local dishes — with incredible dance and entertainment, it's an absolute must for travelers and tourists!
Heading into the Wailua River Valley, a night at fourth-generation Smith's Family Garden Luau promises an evening laden with traditions. Putting on the authentic banquet show for more than 50 years, they truly honor ancient customs.
Become mesmerized by the Hawaiian hula dance, Tahitian drum dances and the Samoan fire knife dance whilst feasting on dishes usually reserved for the occasion, such as succulent roast pig and chicken adobo.
Swapping lush gardens for an open-air pavilion, Lu'au Kalamaku is another fabulous option for watching a Luau show in Kauai — located on a historic plantation in Lihue.
Dressed in full costume, learn the story of "Kalamaku" through song and dance, with a buffet filled with customary dishes. Up the experience a notch and book a luxurious four-course meal instead, with premier show seats included.
18 – Memorialize your vacation with a photo tour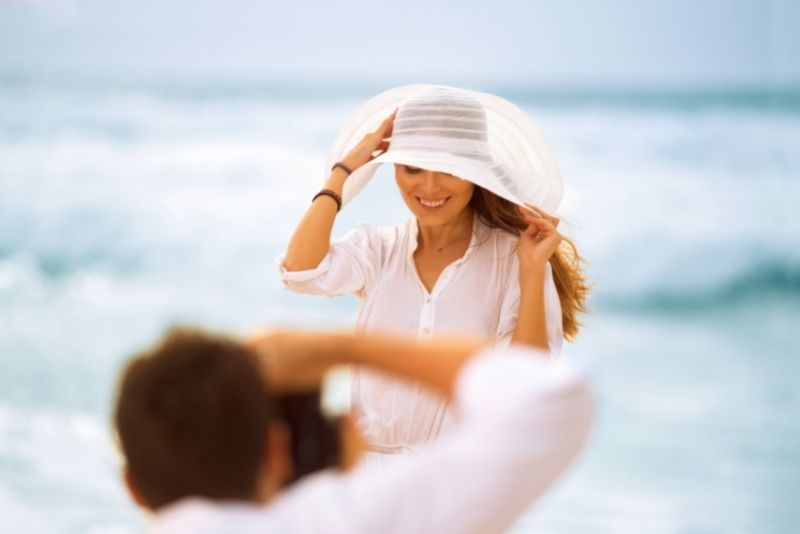 Who's ready to explore and discover the most gorgeous photogenic landscapes that Kauai has to offer?
A professional photographer will give you tips on how to take the best photos of these places (and take photos of YOU, of course).
If you don't have a professional camera or any experience behind the lens, don't fret; camera phones also work for this tour.
19 – Take jealousy-evoking pictures at the Spouting Horn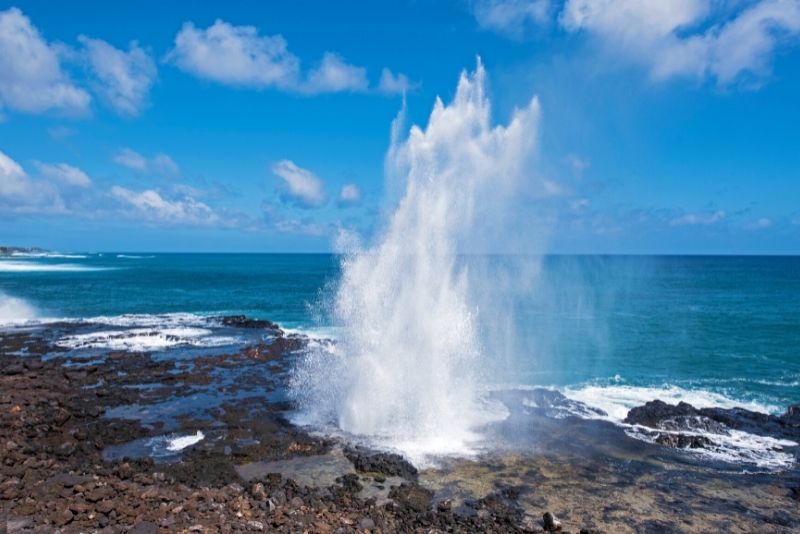 A blowhole that finds itself on postcard after postcard, the Spouting Horn is easily one of the most photographed places in Kauai.
It can be quite a spectacular sight to see when the water comes through it and bursts into the air (at heights of up to 50 feet!), so don't forget to stop and take a picture in front of it!
Located on the southern coast, it's the perfect activity to combine with a trip to Old Koloa Town.
20 – Spend the day playing Golf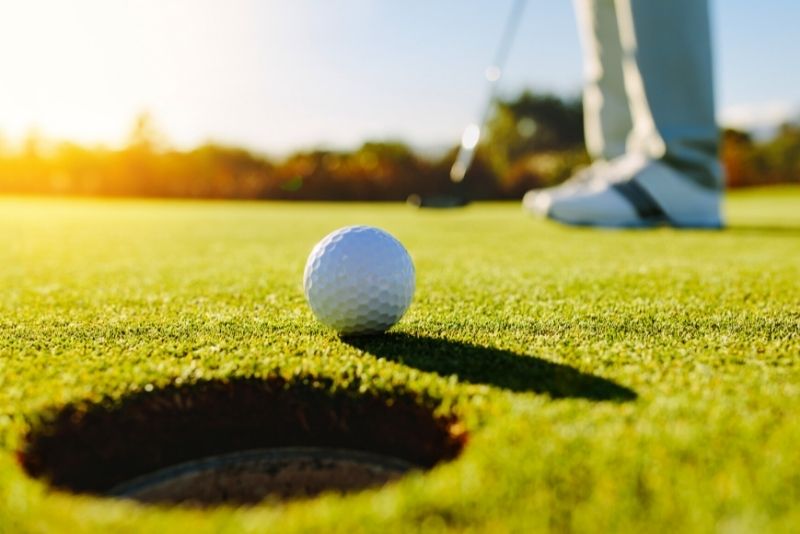 If you're a fan of the fairway, this is for you.
There's arguably no more relaxing day than an afternoon riding around in a golf cart on one of the island's many golf courses; Some tourist favorites include the Hokuala golf course, Poipu Bay resort golf course, Puakea golf course, Kukuiolono golf course, and the Princeville Makai golf club.
Most of these courses have drinks and mouthwatering food available, but more importantly, offer stunning views of the ocean.
21 – Take a stroll in the National Tropical Botanical Garden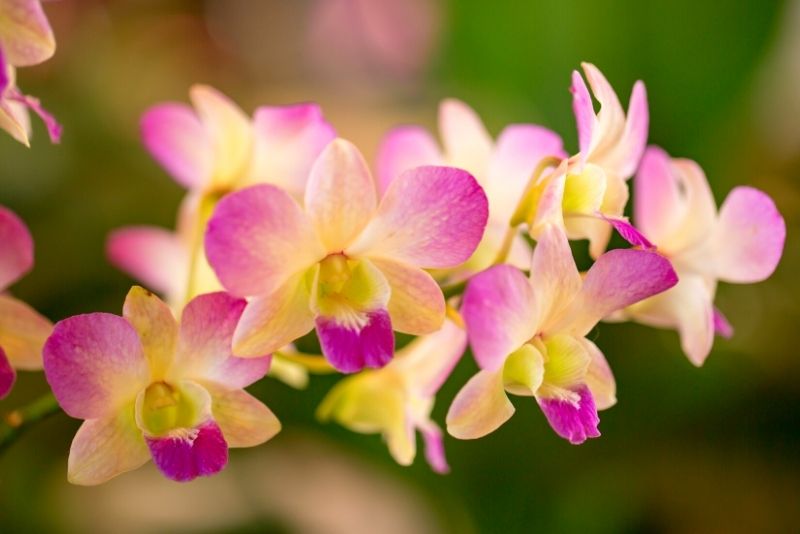 Expand your knowledge of the botanical heritage in the picturesque gardens on Kauai island with a visit to this vibrant, diverse garden!
There are many knowledgeable tour guides available that can provide ample information and insights on the local flora and fauna, and they'll be happy to talk all day about the island's culture and heritage too.
Take note: If you're planning on taking a tour of the Allerton Garden and the MacBryde Garden (which every visitor absolutely should), advanced bookings are required.
22 – Enjoy picturesque views of the Waimea Canyon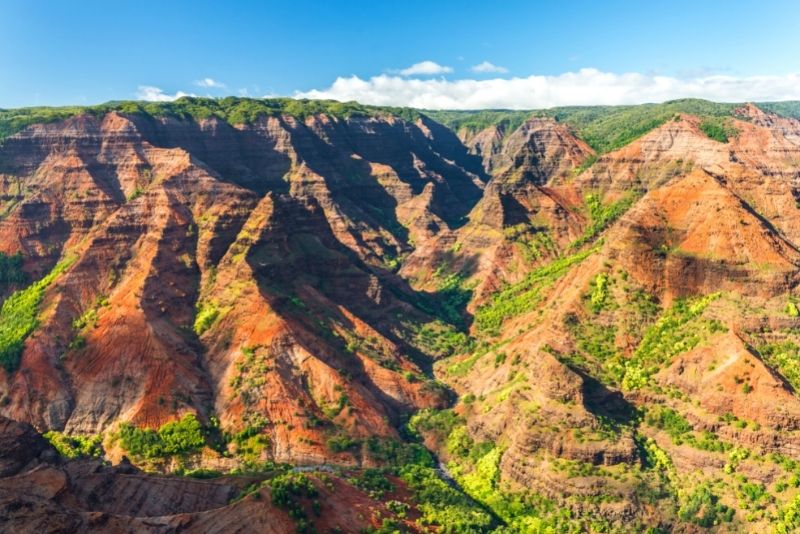 Fun fact: at approximately ten miles long and up to 3,000 feet deep, the absolutely enormous Waimea Canyon holds the title of the second-largest canyon in the United States!
There are many different choices available — take your pick of airplane or helicopter flight, bus tours, and private tours; each option has its own benefits and offers its own breathtaking views of the canyon.
23 – Hike 1800 feet over the ocean on the Kalalau Trail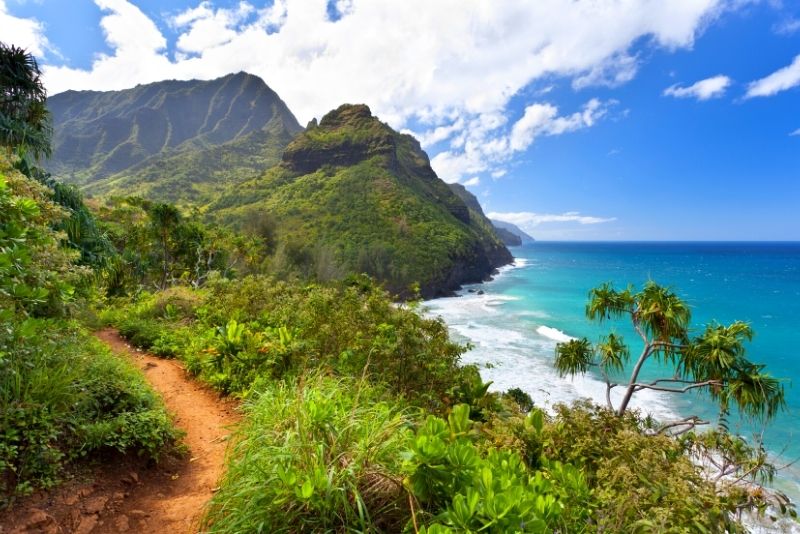 For the ultimate view, take a scenic hike on the Kalalau trail all the way up to the Kalalau lookout.
This challenging hike is almost 11 miles long and treks through all sorts of terrain — the arguable highlight being a private beach!
Make sure to pack good hiking shoes for this trail! It is strenuous, however, according to the thousands of previous hikers, definitely worth it — as the views are absolutely stunning!
24 – Visit Na 'Aina Kai Botanical Gardens & Sculpture Park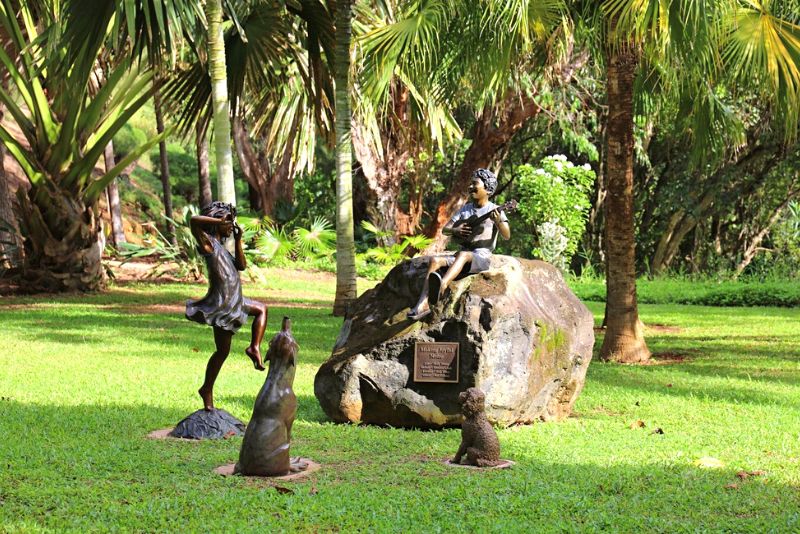 Kauai is a natural delight in itself, and greenery surrounds you tenfold. Get to learn more about the native plants and flora at the Na 'Aina Kai Botanical Gardens & Sculpture Park.
What first started out as a personal project has extended far beyond that, and the now public garden is an extension of the owners' love for the local land, island and culture.
Throughout the years, the gardens have been added onto, creating more space for guests to wander around. Mosey through the manicured Poinciana Maze, with hidden pockets and hedges of fruit trees.
Also located inside this Formal Garden is the Ka'ula Lagoon, filled with koi and a Japanese teahouse on the water's edge. Paying ode to the founder's time spent in New Mexico, the International Desert Garden is home to desert fauna and flora.
Recreating an authentic Hawaiian village, take a gander around the miniature version displaying an ocean, native landscapes and homes. Another standout feature of the botanical gardens is its bronze sculpture collection.
Littered throughout the park, there are human, animal and fantasy renditions.
The Children's Garden is open once a month on a Saturday.
25 – Taste the flavors of Hawaii at the Koloa Rum Company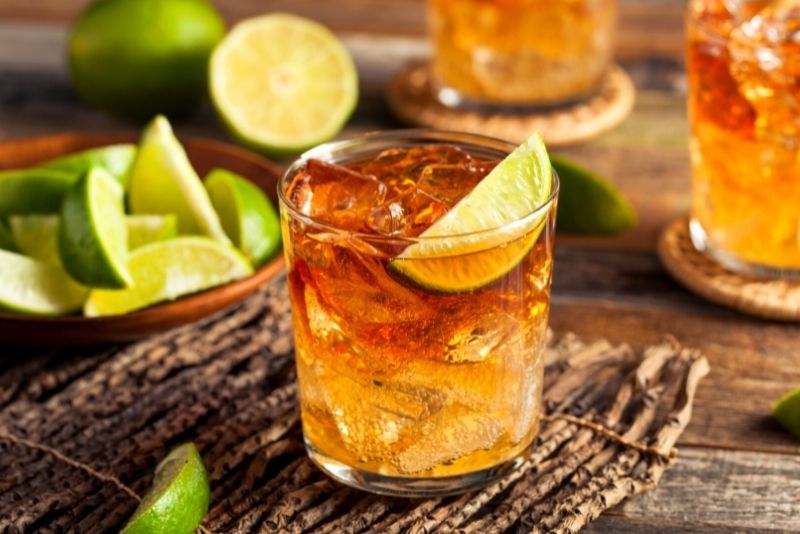 Rum is the staple of most tropical cocktails, so why not go to the place where these flavors originated? That's right, none other than the Koloa Rum Company!
A unique, fascinating distillery, Koloa offers tours of their brewery every hour, where visitors can taste a selection of different rums and sweet treats.
Remember to book in advance as there are only limited spots for each tour.
26 – Ride the train at the Kauai Plantation Railway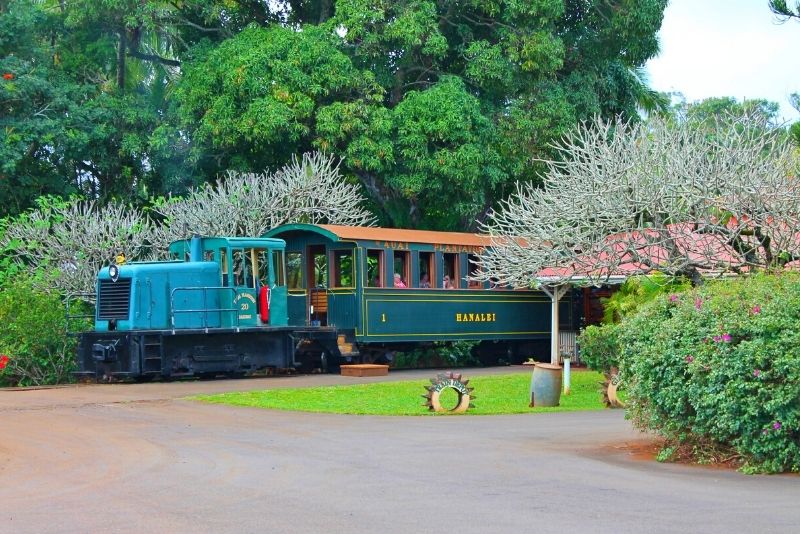 Looking for an experience that's both educational and interactive? Look no further!
Learn about the history of Hawaii on this relaxing 40-minute train ride, during which the well-versed tour guides will talk about centuries gone by on the island and point out the important destinations that the train scoots past.
Camera at the ready — the train travels through orchids, farmlands, and forests, so there's plenty of views to enjoy!
27 – Saddle up for a horse riding adventure!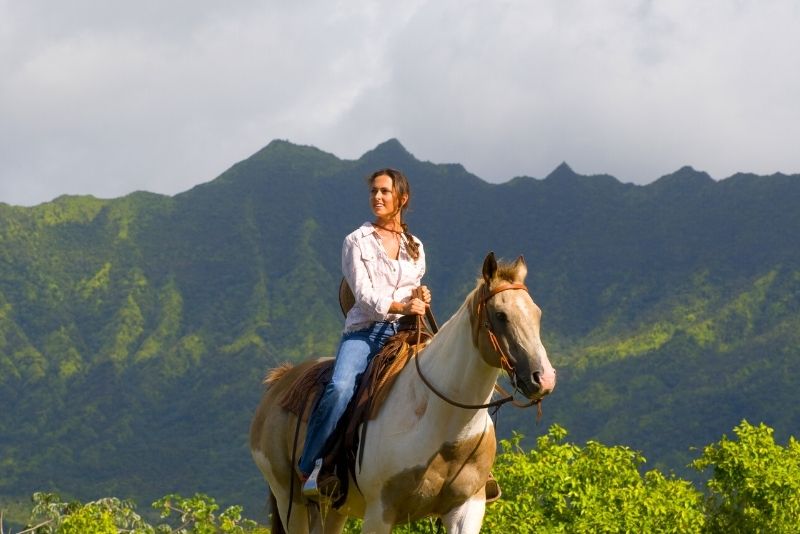 There are many places in Kauai that offer scenic horseback riding tours on the island.
But if you're a total newbie, there's no need to worry; if you have no experience trotting on a mighty steed, the horses are well trained and the experienced tour guides allow you to go at your own pace, pressure-free.
Enjoy stunning views, winding trails, and fresh air all the way through.
28 – Eat (too much) chocolate as you stroll the Princeville Botanical Gardens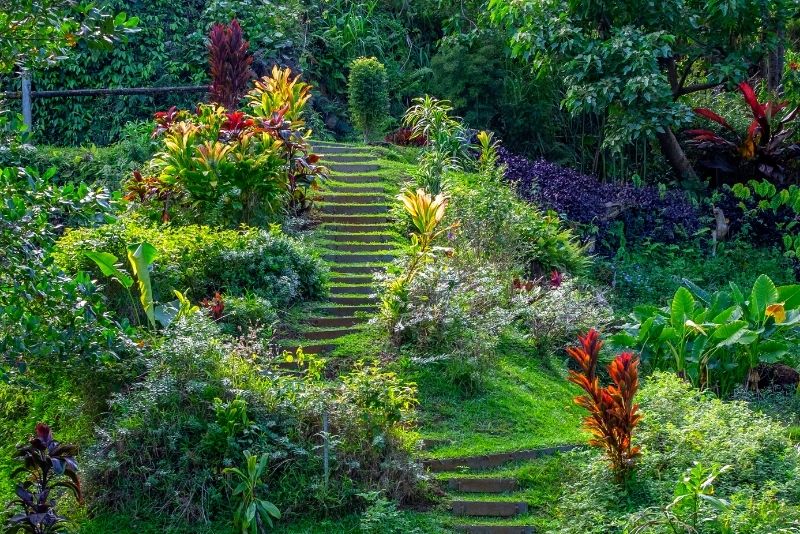 Chocolate and flowers are the ultimate romantic package and the Princeville Botanical Gardens has both these things in spades!
Most tours last about 3 hours, with friendly guides sharing information about all the plants in the garden.
If you're feeling peckish there are plenty of local fruits to sample, as well, of course, as a chocolate tasting — all of which is made from local cacao trees.
29 – Swim at the relaxing Poipu Beach Park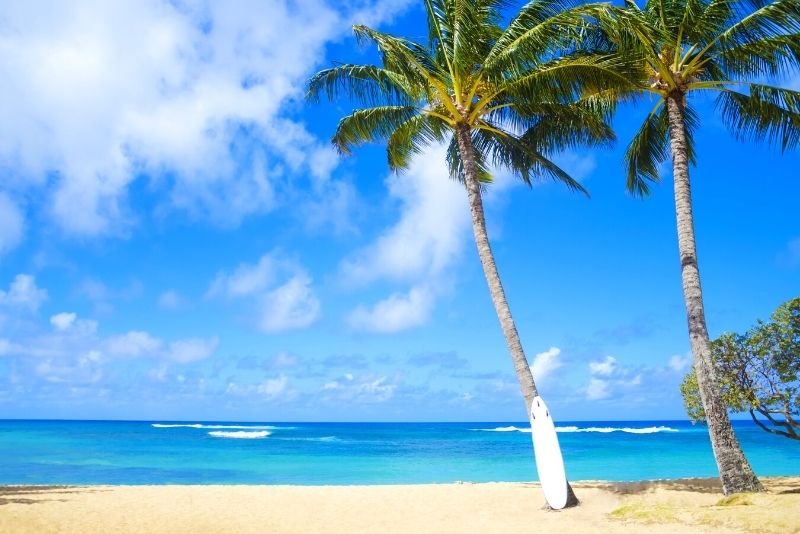 Spend a day in the sun and frolic in the crystal clear waters at Poipu beach park — easily one of the most beloved things to do in Kauai.
This beach is a hidden gem among the locals, and we all know what that means: almost no tourists!
It is also renowned as a spot where visitors are often greeted by turtles and seals, so make sure to charge the camera batteries!
30 – Be amazed by the art at the Kauai Museum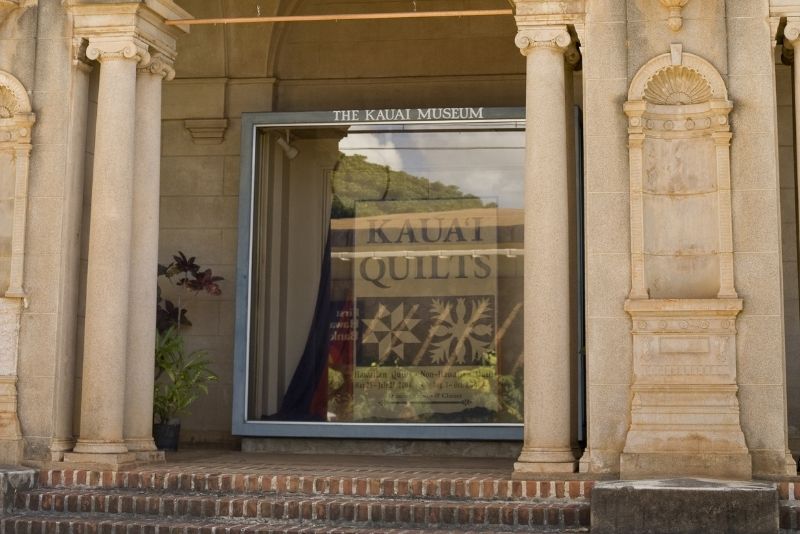 Art lovers, rejoice! Showcasing a mix of both indigenous and immigrant art (inspired by Hawaiian heritage), visitors are always enjoying the amazing exhibits at the Kauai Museum.
For those interested in history, a number of the displays also feature artifacts relating to the indigenous people of the area.
On those rainy days, it's the perfect educational and fun place to spend the day, and arguably one of the most fascinating things to see in Kauai.
31 – Get lost on the Maha'ulepu Heritage Trail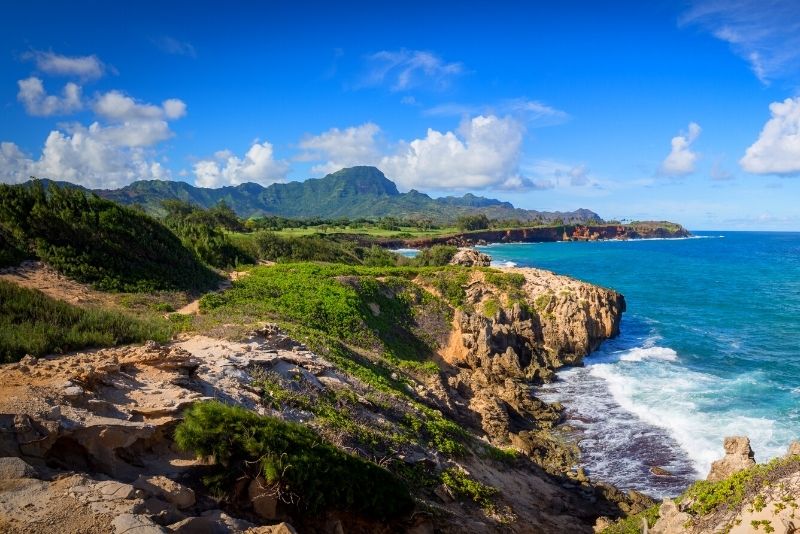 The Maha'ulepu Heritage Trail offers many different kinds of attractions, so there is sure to be something for almost everyone!
Visitors can spend the day putting on the golf course, or hike along the beautiful trail.
The trail itself has plenty of paths that go down to the ocean, however, regardless of which path you take, make sure to check out the stunning Shipwreck Beach!
32 – Feel transported at the Waioli Huiia Church (Wai'oli Hui'ia Church)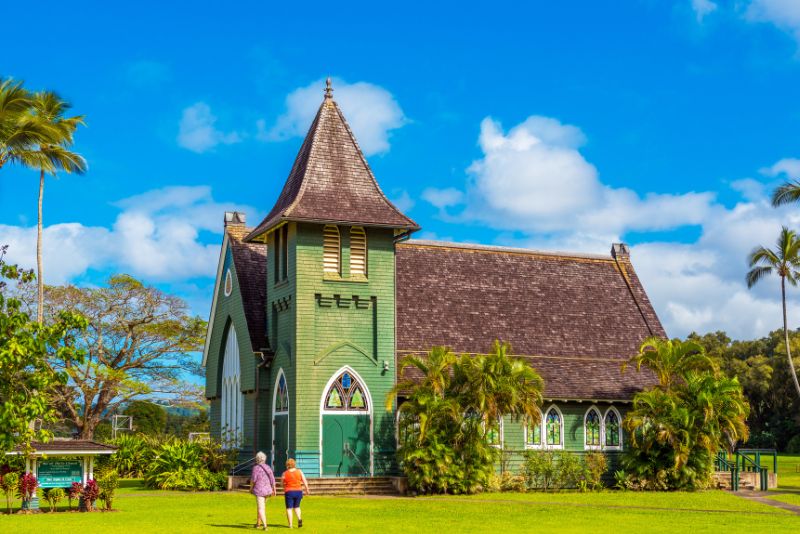 Dating back to the 19th century, stop by Waioli Huiia Church — now considered a historic city landmark and officially the oldest church on the island.
Arriving at the church feels like peeking into the past, and once you catch hold of the green exteriors, stained-glass windows, and remnants of American Gothic architecture, you can't help but feel its allure.
Established by Christian missionaries in 1837, the original church is now called the Mission Hall, and in front of it sits the Wai`oli Church which was built in 1912, replacing the original as the main congregational building.
Apart from the design, check out original features, items and pieces of furniture once used by the founding families.
The new church was built with a belfry tower, and the old Mission Bell (given to the missionary in 1843 and previously housed in the original belfry behind the first church) was relocated here.
33 – Spend the day at Old Koloa Town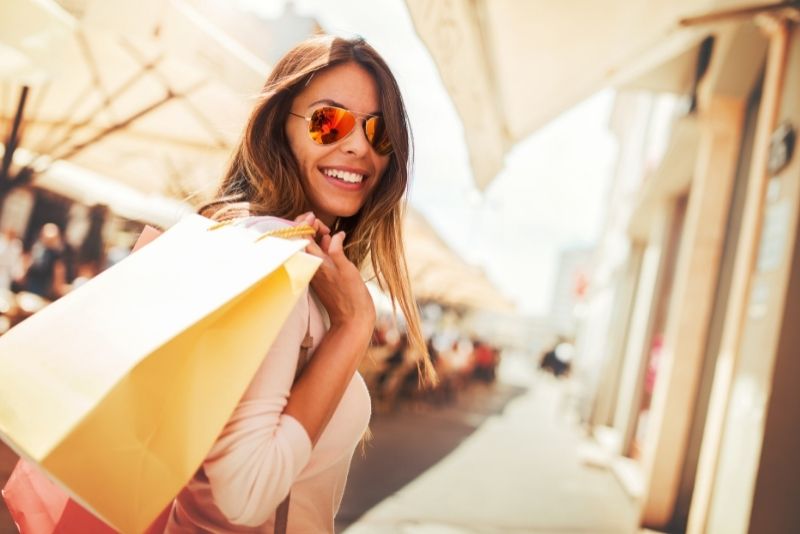 As one of the most underrated places to see in Kauai, Old Koloa Town is loved by tourists and locals alike.
Boasting a plethora of different activities to do and landmarks to see, this quaint little town has plenty to offer:
There are art galleries, jewelry stores, gift stores, clothing stores, restaurants, cafes, and so much more!
34 – Reel in a trophy fish!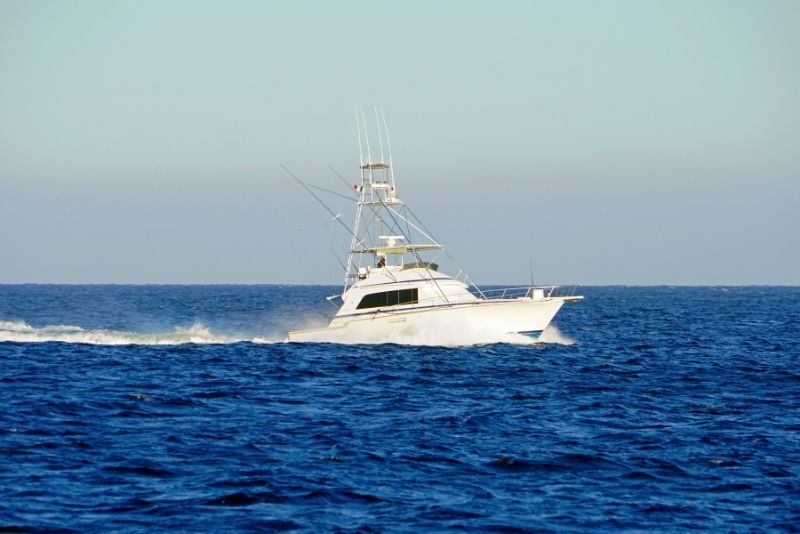 Kauai is known for its abundant marine life, so it makes sense that it's renowned around the world by fishing enthusiasts.
If it's always been a dream of yours to catch a trophy fish, then you've come to the right place.
Jump on board the 45-foot yacht, enjoy the views along the way, and let the tour guides show you all of the most popular fishing spots in the area — and more importantly, how to reel in a catch!
35 – Grab a hot cup of coffee at the Kauai Coffee Company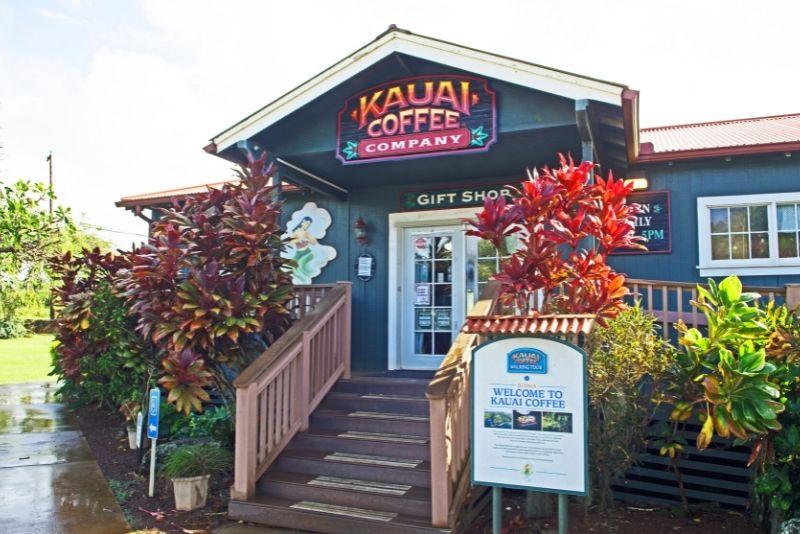 If you're on the hunt for gifts for the family, the Kauai Coffee Company is a great place to pick up a souvenir before you leave this paradise island.
Spend the day on a tour around their orchard, learning all about how their beans are grown and made, before wrapping up the day with a nice cup of coffee at the estate.
Love the taste? There are plenty of take-home bags available for purchase.
36 – Soar over the island with a helicopter tour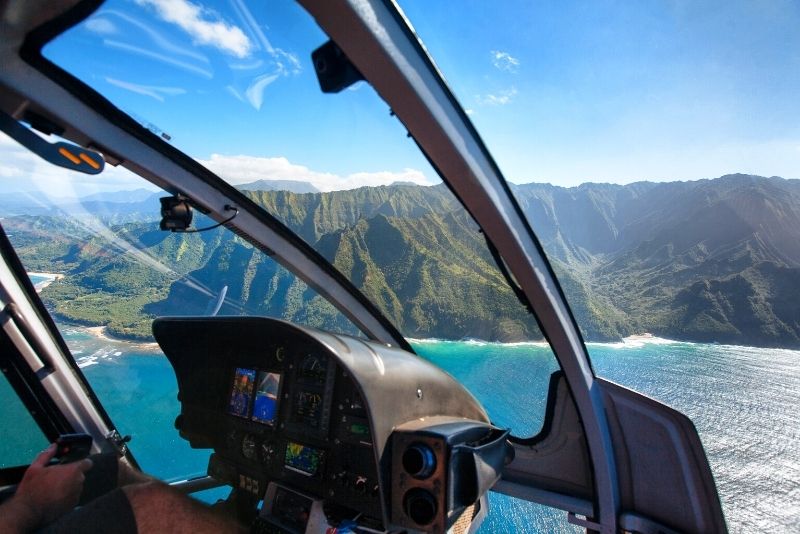 If you want to get the best views of this remarkable island, then strap yourself in for a once-in-a-lifetime helicopter tour across the skies!
Most adventures last about 50 minutes, boasting highlights like the gorgeous Manawaiopuna falls (which you'll see up close).
Movie buffs, rejoice; you'll be pleased to know that the tour includes a visit to the one and only Jurassic Park set!
37 – Hike the trails in Kokeʻe State Park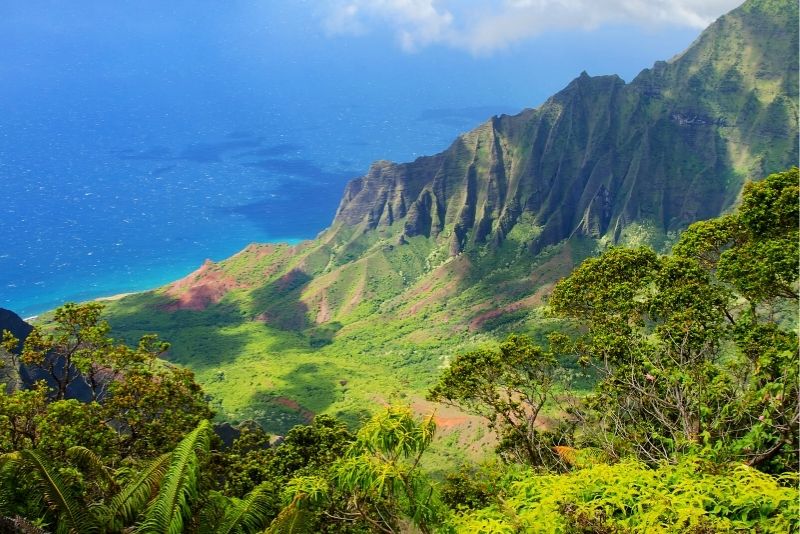 Nature lovers, this one's for you; take in a breath of fresh air and gaze in awe of the scenic views at Koke'e State Park!
This beautiful slice of Mother Nature, which spans the northwest side of the island, has a wide selection of hiking trails — and if you're not sure which to take, the friendly staff at the visitor lodge will point you in the right direction.
Feel like some time indoors? There is also a museum that is rich with history and artworks from the local people.
38 – Foodies appreciate the Hanalei Farmers Market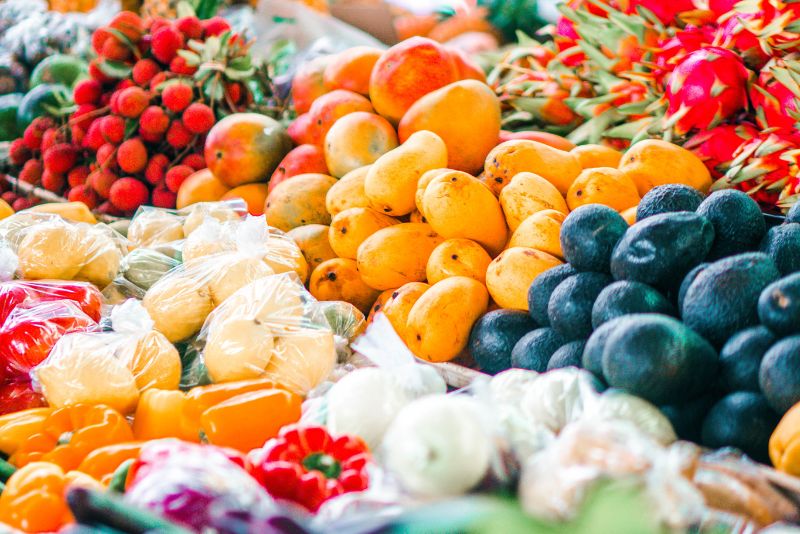 With lands as lush as Kauai, the tropical produce that grows in these parts is amazing and a visit to Hanalei Farmers Market is a great way to sample these delights.
Comprising over 50 stalls when full capacity, spend your Saturday morning tasting the freshest mangoes, rambutans, carambola (commonly known as star fruit), papaya, dragon fruit, pineapples, and even the famously stinky durian.
Grab a fresh coconut drink and meander through the stalls set across a grassy park off Malolo Road in Hanalei.
Apart from the fruit, there are fresh veggies and other organic goods to buy, as well as vendors selling handmade products and handicrafts. Shop for art prints or boutique fashion items, woven baskets, shellac jewels, and more.
If you've arrived extra hungry there are plenty of stalls selling cooked and prepared meals and bites for on-the-go.
39 – Soak up the sunshine at Hanalei Bay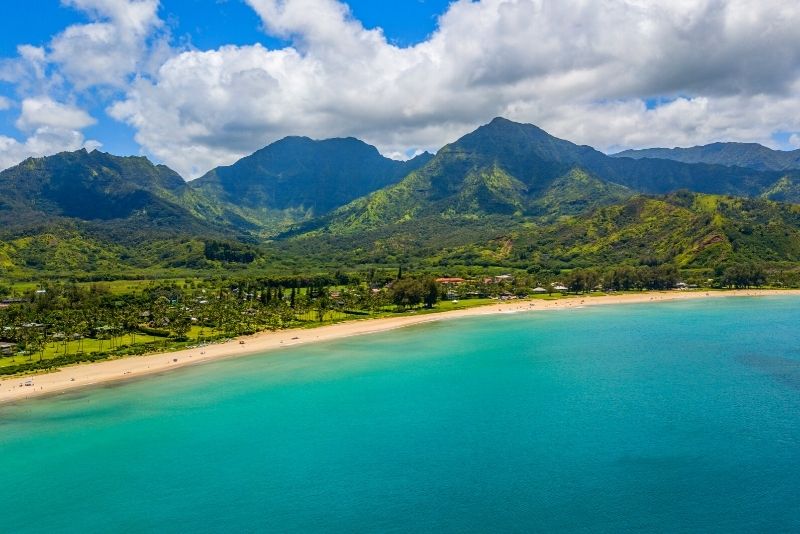 Stretching almost 2 miles, Hanalei Bay is the largest bay on the north shore of the island; chock-full of wildlife, pristine beaches, and beloved eateries.
Thanks to its diversity of attractions and soft, walkable sand, it's become a popular spot among local surfers and tourists alike.
After riding the waves or perfecting the tan, there are plenty of shops and restaurants in the area to help transition afternoon into evening.
40 – Embrace the serenity at Kauai's Hindu Temple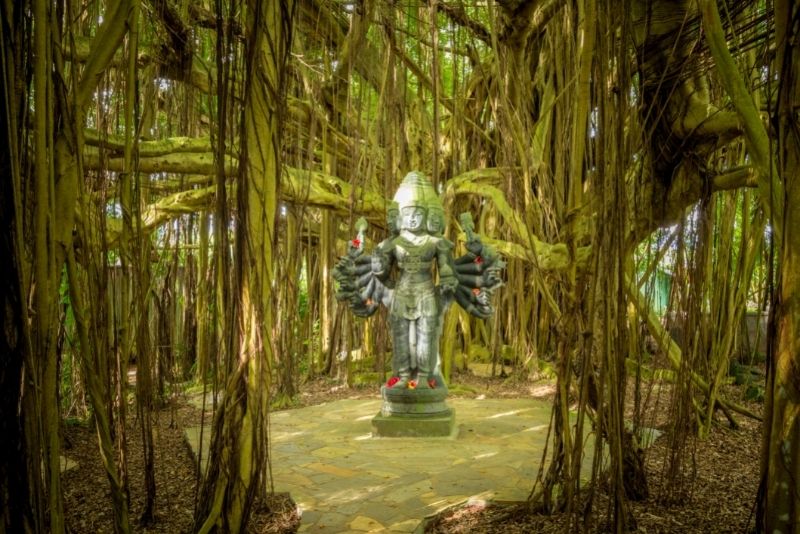 Surrounded by beautiful tropical gardens, the Kauai Hindu temple is a traditional south-Indian-style monastery, and one of the most serene, peaceful places on the entire island.
Despite housing more than two dozen monks, the temple remains open to tourists.
If, after a few days of hiking or surging, you simply need to relax and get some peace and quiet, there's no better place.
41 – Dig into a delicious (and nutritious) Hawaiian Poke Bowl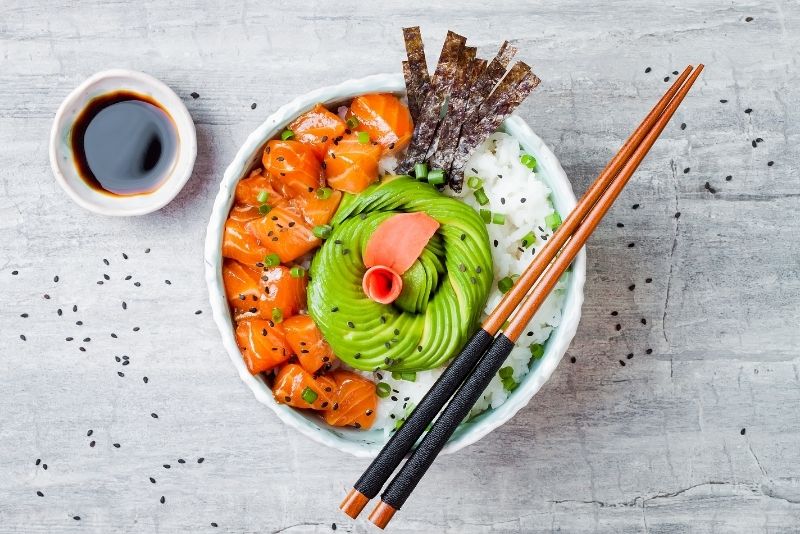 Typically consisting of raw fish and greens topped over white rice, the Hawaiian poke bowl is not only enjoyed by the people of Hawaii but has rapidly become a favorite for foodies all over the world!
But you haven't *really* had a poke bowl until you've tried one here, in Kauai. Luckily for us, there's an endless list of places on the island that serve it.
42 – Trek the Sleeping Giant trail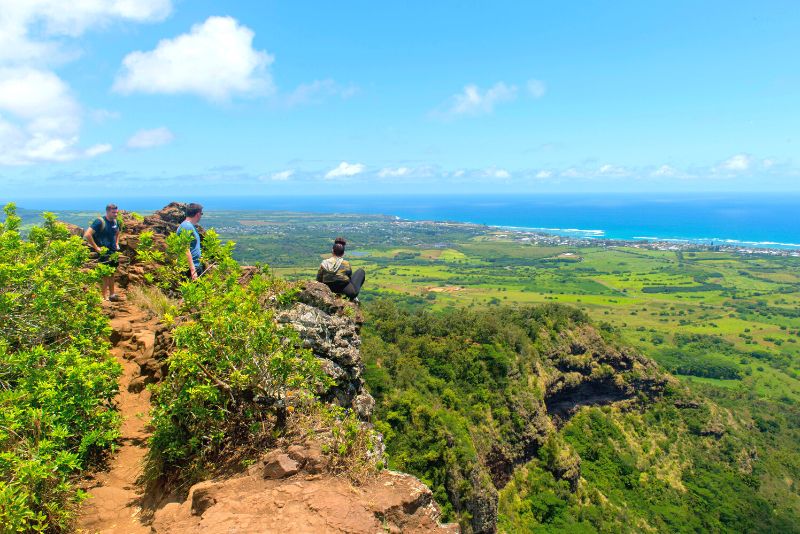 One of the most important things to take note of before you hike the Sleeping Giant trail is that there isn't one, but two trailheads, separated as the Sleeping Giant East Trail and the Sleeping Giant West Trail.
Although the western trail is shorter in distance (roughly 2.7 kilometers), it's considered a trickier hike than the east trail, with steeper inclines and more difficult terrain to conquer.
The eastern trek is longer, clocking in just under 5.5 kilometers of hiking, but not as strenuous as the western trailhead.
Walk through a forestry of pine trees bought over by the famous Captain Cook and be treated to views from the top along the Sleeping Giant West Trail, or spot wildlife and native plants during the Sleeping Giant East Trail, ending with coastline vistas.
Both trails are spectacular for a sunrise trek, but take caution after rainfall as the pathways become muddy.
43 – Grab a bite to eat at the local food trucks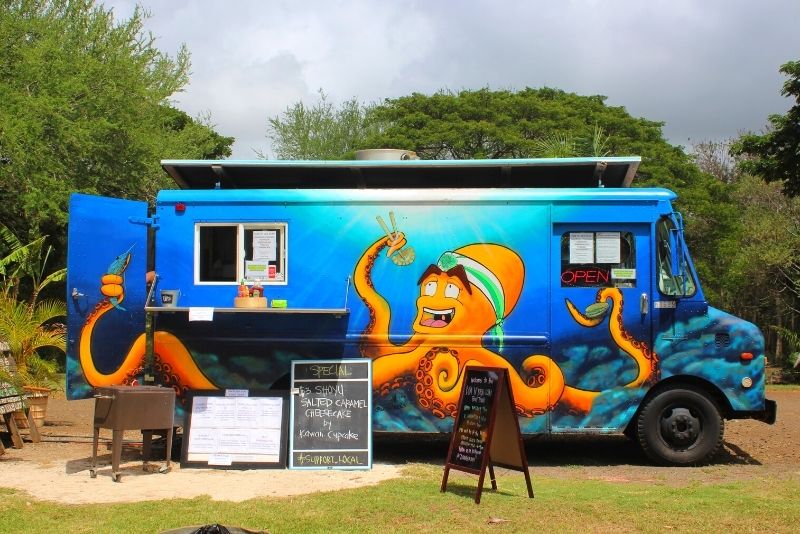 Street food has become popular all over the USA in recent years, and Kauai is no different.
With such a large variety of food trucks in the area, you'll be spoiled for choice; choose from taro milkshakes, spicy coconut shrimp, ahi fish burritos, coffee, fried chicken, and so much more.
Don't forget to save room for shaved ice for dessert!
44 – Go off the beaten track on a tubing adventure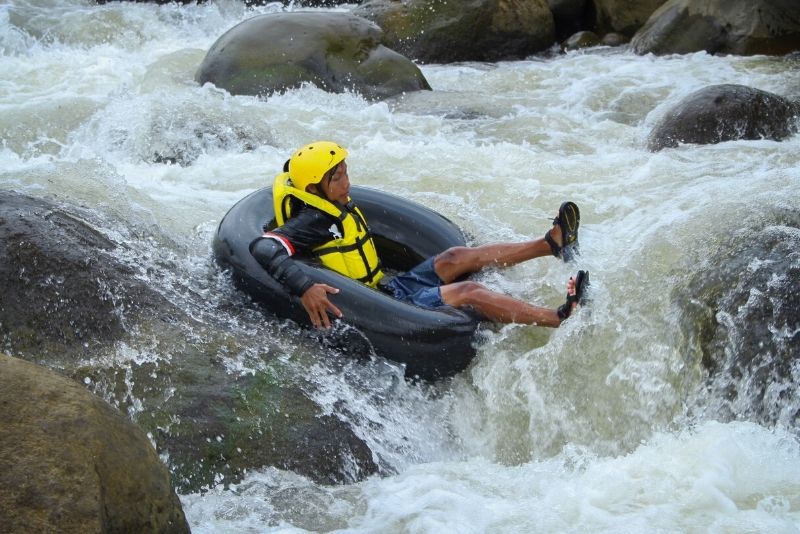 A surefire hit for the entire family, tubing is an adrenaline rush (in a calm sort of way) that lets you see parts of Kauai that you might not otherwise get the chance.
As you travel along the slow-moving waters, deep into the mountains and greenery, take a second to appreciate the untouched slice of nature engulfing you — the scenery is, without a doubt, one of the most incredible things to see in Kauai.
Tubing tours are open to everyone, including kids. Kauai Backcountry adventures can make your trip one to remember!
45 – Enjoy drinks at the best beach clubs and bars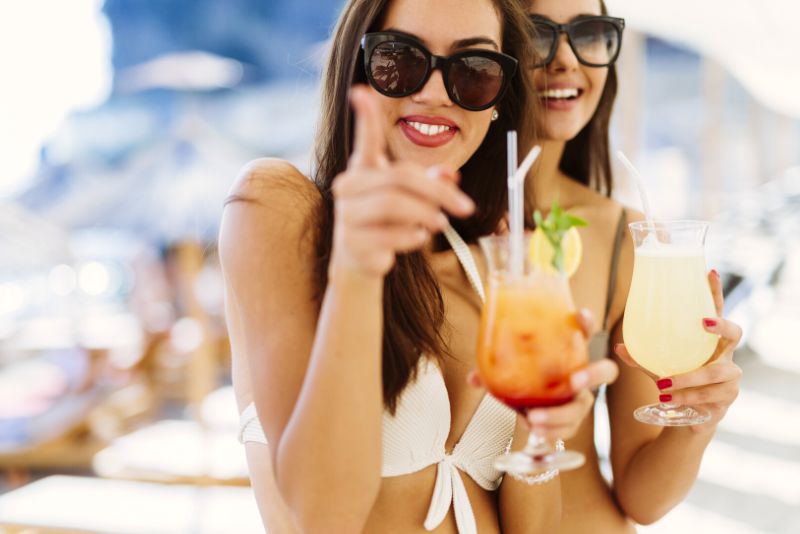 It's time to sit back, relax and enjoy the aloha spirit and island vibrations at one of Kauai's best beach clubs and bars.
Grab a cocktail with your feet in the sand at Lava Lava Beach Club, and take advantage of happy hour from 3 PM to 5 PM.
For a sophisticated affair, enjoy drinks (and dinner) at RumFire Poipu Beach overseeing the ocean. Specializing in exclusive rums from around the world, test out their selection for yourself.
Named after the father of surfing himself, Duke's Kauai is set in front of Nawiliwili Bay, and the laid-back ambiance is well-loved by travelers, with daily live music.
Enjoy a traditional fire lighting ceremony or catch a luau show at Marriott's Kauai Beach Club on Kalapaki Beach. Order sushi and cocktails from Stevenson's Library at the Grand Hyatt Kauai Resort & Spa, and then make your way down to the Seaview Terrace for the best oceanic views.
46 – Learn to shoot at Kauai Sporting Clays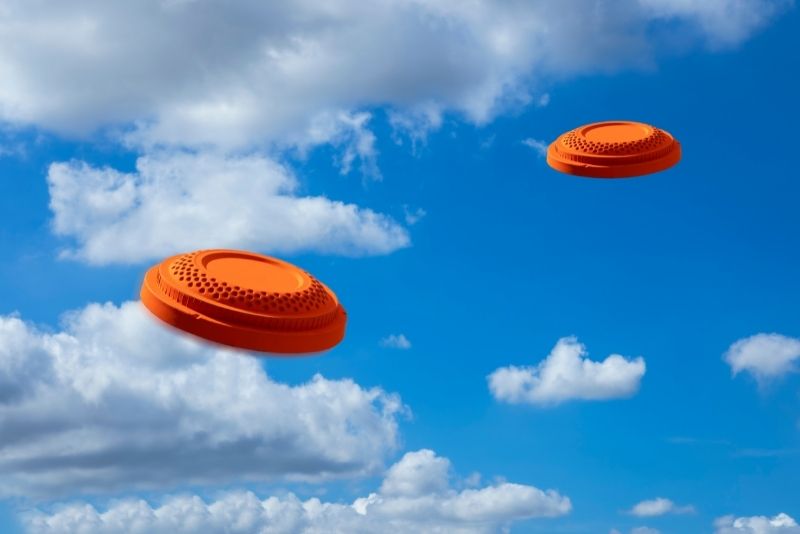 Even complete amateurs can have an unforgettable time at Kauai Sporting Clays.
There are courses set up for beginners and experienced shooters, with a conscious dedication to safety.
For something a little more unique, the center also offers tours in the dark where guests can shoot targets (with a little bit of friendly competition, of course).
47 – Fly through the air on a zipline adventure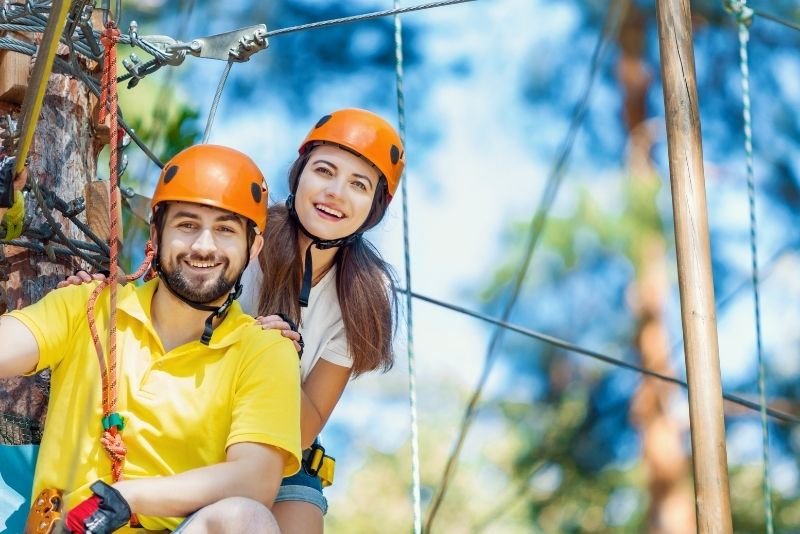 Strap into a harness and get ready to ramp the adrenaline into overdrive!
Going on a zipline adventure in Kauai (and by adventure, we mean it, with zipline after zipline traversing above the lush forest canopy).
As you soar above this island oasis you'll reach incredible speeds, you'll be able to take in a different perspective of the area while admiring the contrast between the vibrant blue ocean and the lush greenery.
48 – Join a relaxing downhill cycling trip!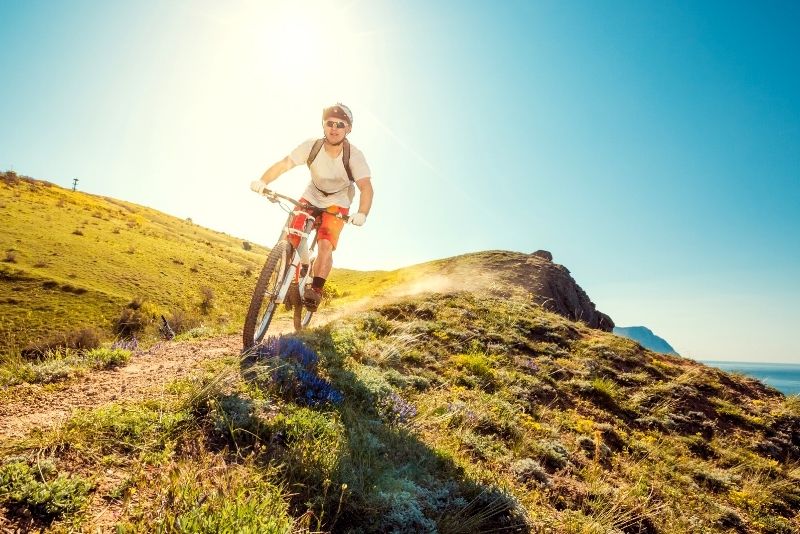 Downhill cycling is the perfect way to stay active without breaking much of a sweat!
As you cycle at your own pace, enjoy the views of the Waimea Canyon, hidden valleys, and sparkling waters; with the wind rushing through your hair the whole way through.
With companies like Keko Kauai offering a wide range of experiences, a bike tour it's a great way to enjoy the fresh air.
49 – Explore the wilderness with a canyoning adventure!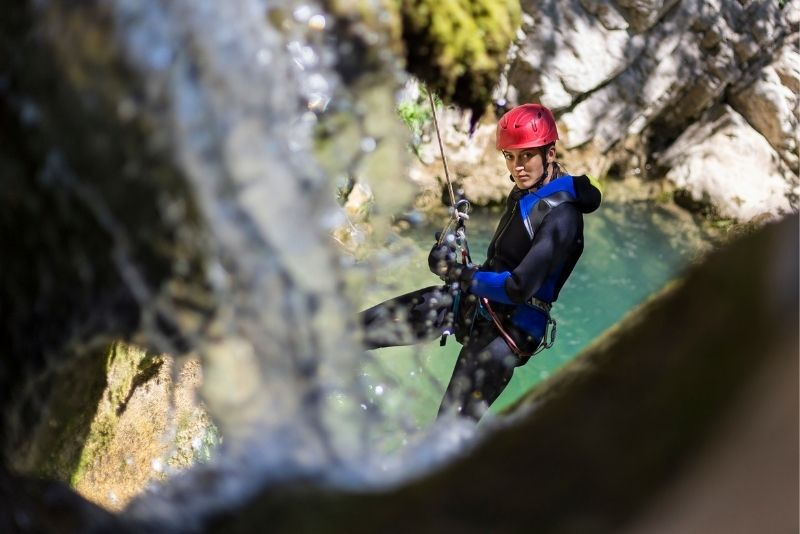 Requiring nerves of steel, canyoning in Kauai is definitely for the more adventurous of you out there!
Take a hike through the thick rainforests and propel down waterfalls with a trusted tour guide and instructor, soaking in the peaceful surrounding and endemic wildlife along the way.
As a welcomed change from the tourist hot spots, canyoning is considered one of the best things to do in Kauai.
How to get to Kauai?
Hosting both domestic and international flights, Lihue Airport is the island's only major airport, and this is where travelers first land. Prior to visiting Kauai, pre-organize and book airport transfers for your time of arrival to the island. As you touch down and exit the gates, your private driver awaits to transport you directly to your accommodation in Kauai.
Where to stay in Kauai?
Wondering what your best accommodation options are during your time on the island? Here are some of the best options around…
With contemporary finishes and rooms and suites are done up in a warm oceanic palette, the Grand Hyatt Kauai Resort & Spa is the epitome of luxury — golf courses and spa included.
Boasting an excellent beachfront locale, wake up to the sounds of the waves rolling in at Poipu Beach during your stay at the boutique Koa Kea Resort.
For a fabulous setting, on-site facilities and service, check into The Royal Sonesta Kaua'i Lihue. The resort is also on the beachfront, and has the most insane guest swimming pool in town!
Enjoy morning beach yoga, lounge in the pool or celebrate your Big Day at the Sheraton Kauai Coconut Beach Resort.
If you prefer a stay that's fully equipped, the villas at The Westin Princeville Ocean Resort Villas are plush and comfy, with their own kitchen, living room, separate bedroom and private bathroom.
Where to go next?
After you're done exploring all there is to do and see in Kauai, make your way to the other destinations as there are many things to do in Hawaii. If you have the time, travel to at least one other island.
Home to iconic sites like Pearl Harbor and Kualoa Ranch where the famous Jurassic Park was filmed, Hawaii's third-largest isle is not only magical but there are unending fun and unique things to do in Oahu
Boasting the most gorgeous sunsets and a distinctly laid-back feel, enjoy experiencing a plethora of romantic expeditions and dreamy things to do in Maui.
Adventurers and thrill-seekers love visiting Hawaii's largest island, offering plenty of sightseeing and things to do on the Big Island to tick off your bucket lists.
Final thoughts
If you're seeking adventure or a bit of romance, the things to do in Kauai have a way of making everyone's heart a little happier, whether it's that local aloha spirit or just being submerged by nature, there's no feeling quite like it.
What are some of your best memories while traveling to Kauai or your favorite sites to check out? Share your thoughts with us in the comments, we'd love to hear them.
Happy and safe travels.