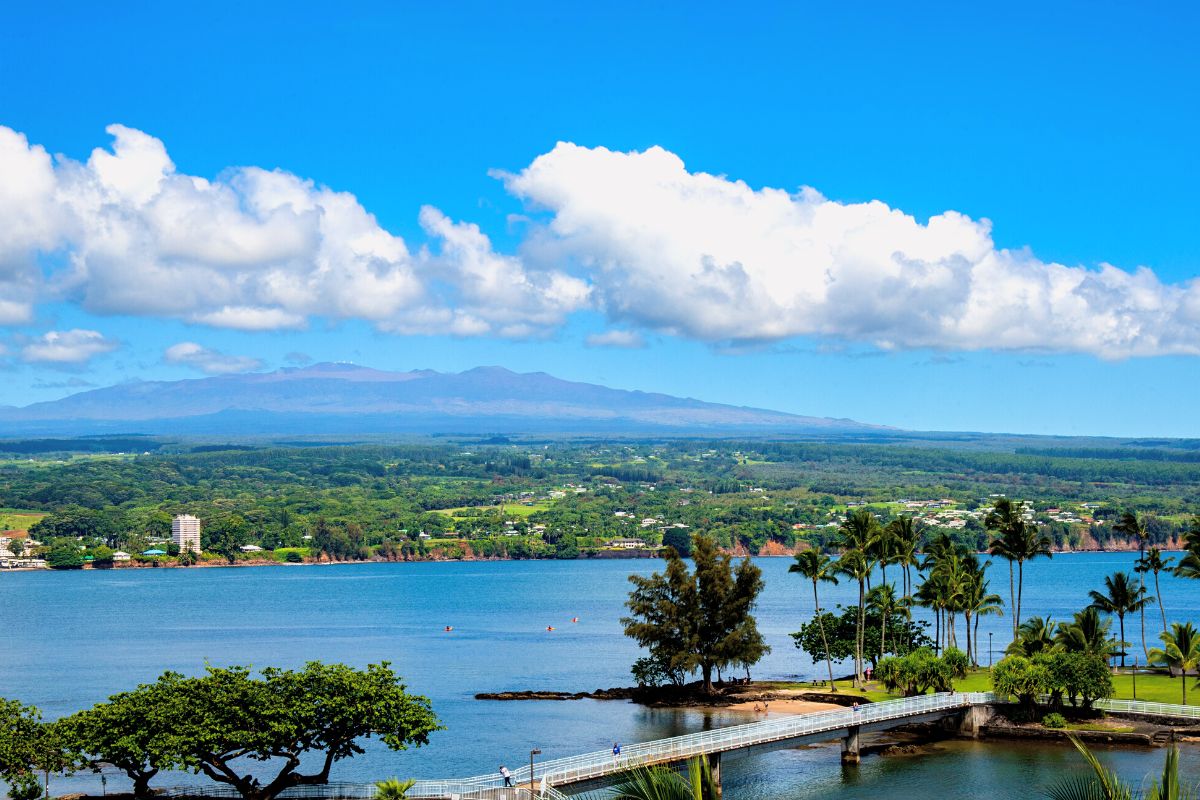 Where beautiful sun-kissed beaches and dramatic waterfalls coexist with charming independent boutiques, historic farmers' markets, and friendly locals (not to mention hearty traditional fare), the Big Island's eastern town of Hilo boasts a rare ability to blend nature with culture; as a direct result, it welcomes hundreds of thousands of tourists every year who come in search of a quieter side of Hawaii.
Make no mistake, though; quiet in no way means boring – with chances to zipline above rugged forests, scuba dive with manta rays, and stare into the abyss of volcanic craters (among a slew of other activities), this underrated destination will surprise and delight even the most well-traveled individual.
Of course, sitting in the shadow of the renowned Hawaii Volcanoes National Park, Hilo sells itself as a wonderful launching pad for all of Mother Nature's Hawaiian feats — from the towering Mauna Kea (the world's tallest mountain when measured from its oceanic base) to the bubbling lava fields of Kilauea, one of the most active volcanoes on Earth. And while there's no denying that Hilo's natural surroundings are indeed spectacular, the town itself — with its quaint shops, delicious eateries, and lush gardens — is also well worth exploring.
Throw in lesser-known landmarks like Rainbow Falls State Park, the peaceful ornamental Liliuokalani Gardens, the historic Lyman Mission House and Museum (a natural history wonderland), the Boiling Pots (basalt-lava rock pools), and the annual Merrie Monarch Festival – where traditional Hawaiian hula, arts and crafts, and music come out in full force every April – and you've got the makings of one seriously special vacation.
So whether you're looking to commune with nature or learn about Hawaii's rich culture (or both!), if you consider yourself an in-the-know traveler, Hilo should definitely be right up there toward the top of your Hawaiian bucket list (because there's so much more to this stunning archipelago than Waikiki and Honolulu).
So, without further ado, here are 37 of the most fun and unusual things to do in Hilo, Hawaii — what are you waiting for? Start planning your adventure today!
1 – Kayak around beautiful Hilo Bay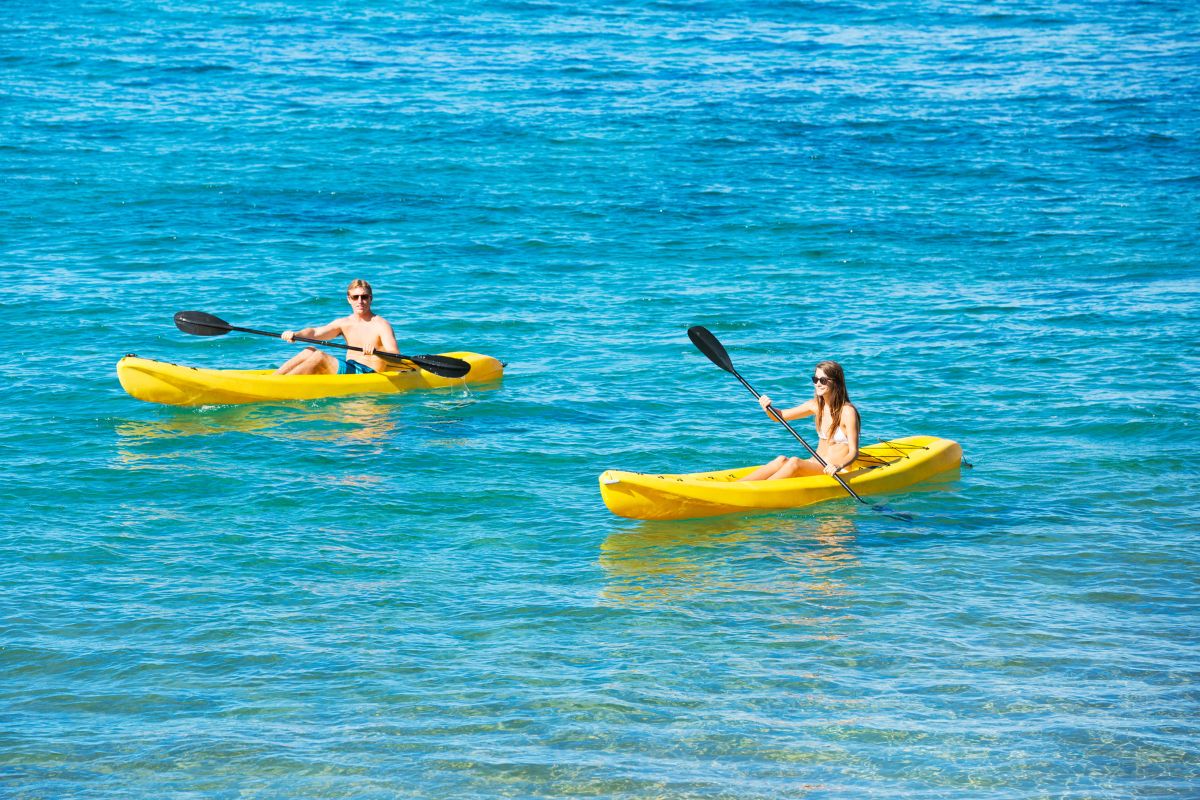 Thanks to its dramatic coastline, year-round sunshine, and crystal clear waters (not to mention the diverse and vibrant sealife scuttling around just below the surface), kayaking on this paradise island delivers an experience like no other. And Hilo Bay is one of the best places to do it, with a number of operators offering tours that range from two hours to combination affairs that are spread across an entire day.
Whether you make your way down the Wailoa River, which stretches 16 miles from Hilo Bay to the Pacific Ocean and features landmarks like the King Kamehameha Statue and Japanese-style bridges en route, or opt for a paddle around Coconut Island (a small islet located just offshore), you're in for a treat. Led by a knowledgeable local, you'll be sure to learn plenty about the environments, species, and cultures that make Hawaii oh-so-special as you go.
Just be sure to bring your sunscreen, as you'll want to spend as much time as possible enjoying Hawaii's stunning natural beauty.
Hot tip: any kayaking tour is worth its weight in gold, however, for something extra special (and more independent, if that's your jam), opt for a clear-bottom kayak rental.
2 – Join a Kilauea Volcano bike tour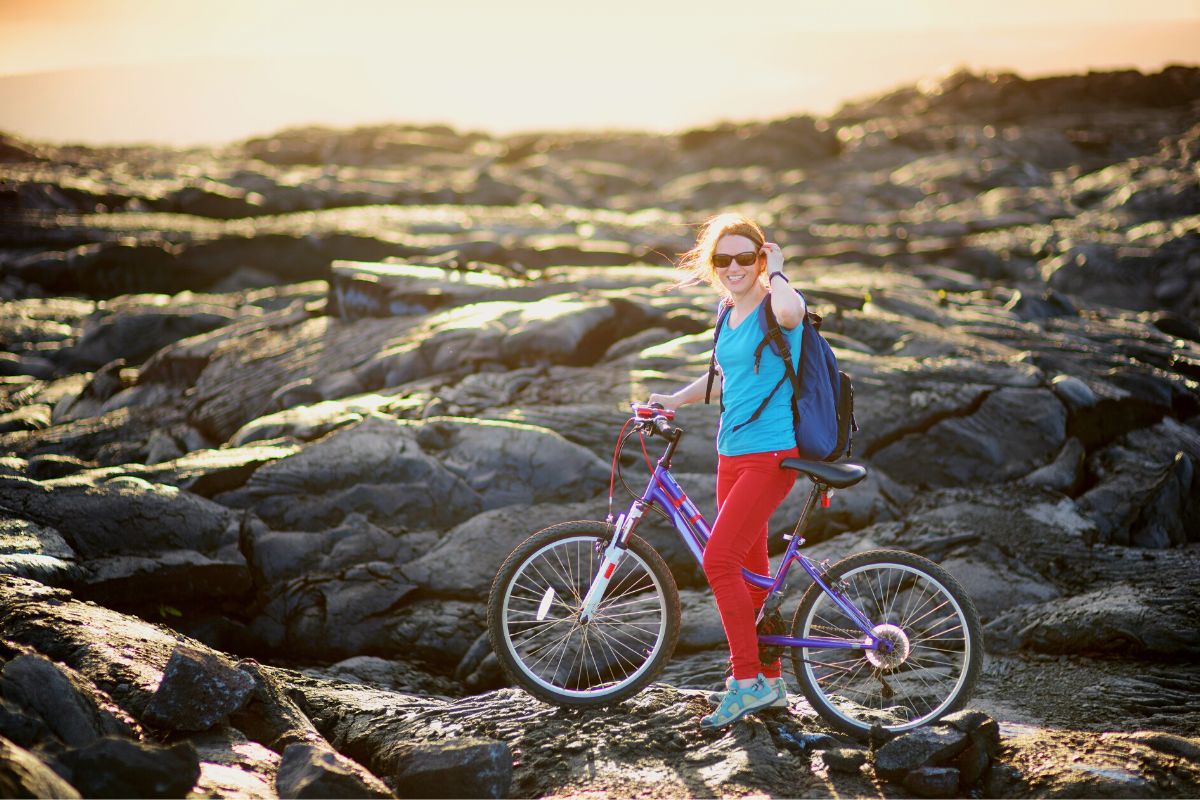 Towering well over 4,000 feet above sea level, the foreboding, lava-spurting Kilauea volcano is one of the most popular attractions on Hawaii's Big Island. And with a reputation for being one of the most active volcanoes on Earth, erupting almost continuously from 1983 to 2018, with regular fire shows even now, it's easy to see why.
While countless adventure-seeking travelers opt to join one of the myriad hiking groups that make their way to Kilauea's summit each day (typically taking about 2 to 3 hours, with the option to see the Thurston Lava Tube along the way), those looking for something a little different and who want to cover more of the area instead go for a guided bike tour around the volcano's rugged base.
During your Kilauea Volcano bike tour, you'll not only get to experience the raw power of one of nature's most awe-inspiring phenomena up close and personal, but you'll also learn about the area's fascinating history and ecology from your expert guide.
You'll get to see all of the natural highlights that the volcano has to offer, from the steam vents and sulfur banks to the lava fields (which are otherworldly, to say the least), as well as – depending on your package of choice – tucking into a hearty, authentic Hawaiian lunch or dinner, and contrasting the volcano landscapes with lush jungle and sparkling coastline.
The best part? Thanks to the e-bikes, the uphill sections are a breeze, leaving you plenty of energy to take in the incredible views.
3 – Satisfy your sweet tooth at Lavaloha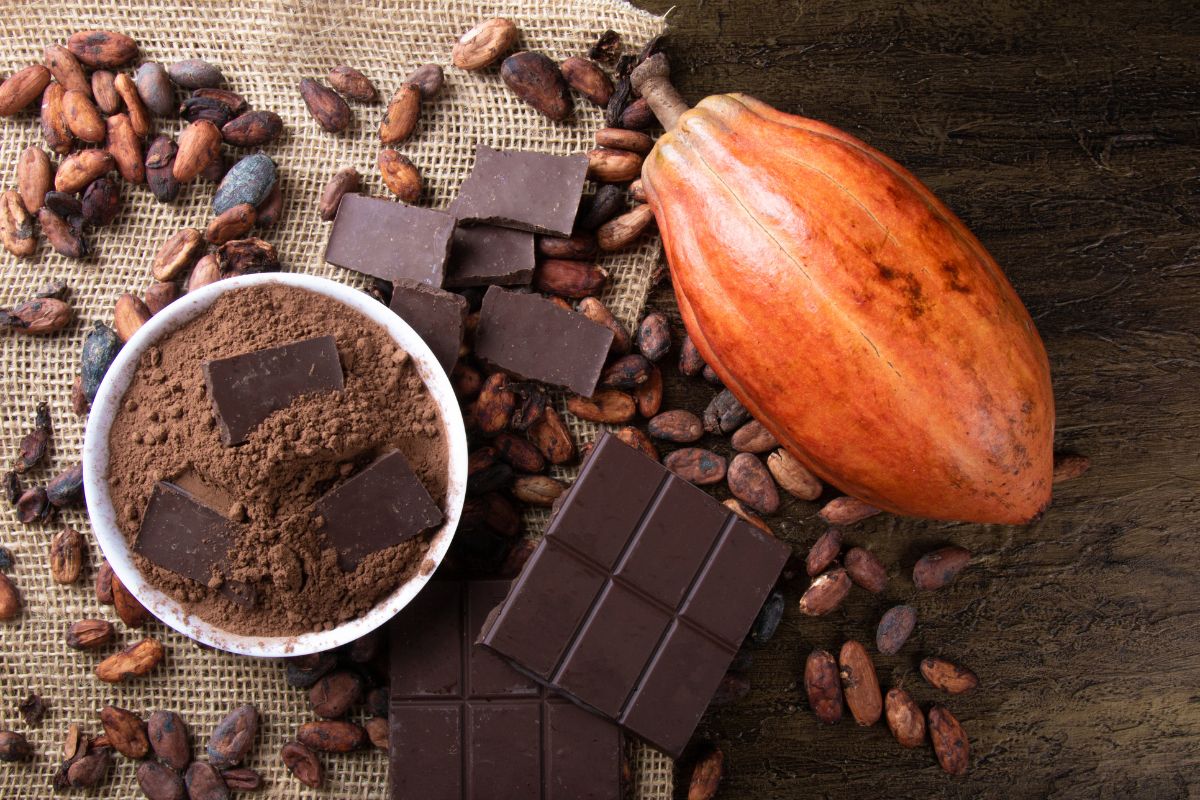 Just 10 minutes from downtown Hilo, perched upon the slopes of Mauna Kea, a sweet tooth's paradise awaits. Growing 100% local, mouthwatering chocolate is the name of the game at Lavaloha, one of the myriad chocolate farms dotted across this rugged island.
Spread across close to 100 acres, this delectable destination not only produces single-origin chocolate bars, Cacao fruit, chocolate nibs, and other chocolatey treats, but also runs several fun and informative tours that are open to the public.
During your expert-led Lavaloha tour, you'll learn all about the fascinating process of growing and harvesting cacao (the key ingredient in chocolate), from bean to bar, get to see the machinery up close, and have the chance to hop on an open-aired buggy to wind your way through the rows of cocoa trees, admiring the sweeping views over Hilo and the ocean beyond. And, of course, what chocolate tour would be complete without getting to try some finger-licking samples along the way?
As the premier American state for chocolate production (thanks to its unique climate), you won't find melt-in-your-mouth products of this caliber elsewhere. Pop into the gift store on the way out to grab some treats to go, as well as browse the variety of other locally-made products like salts and artwork.
4 – Mingle with the locals at the Hilo Farmers Market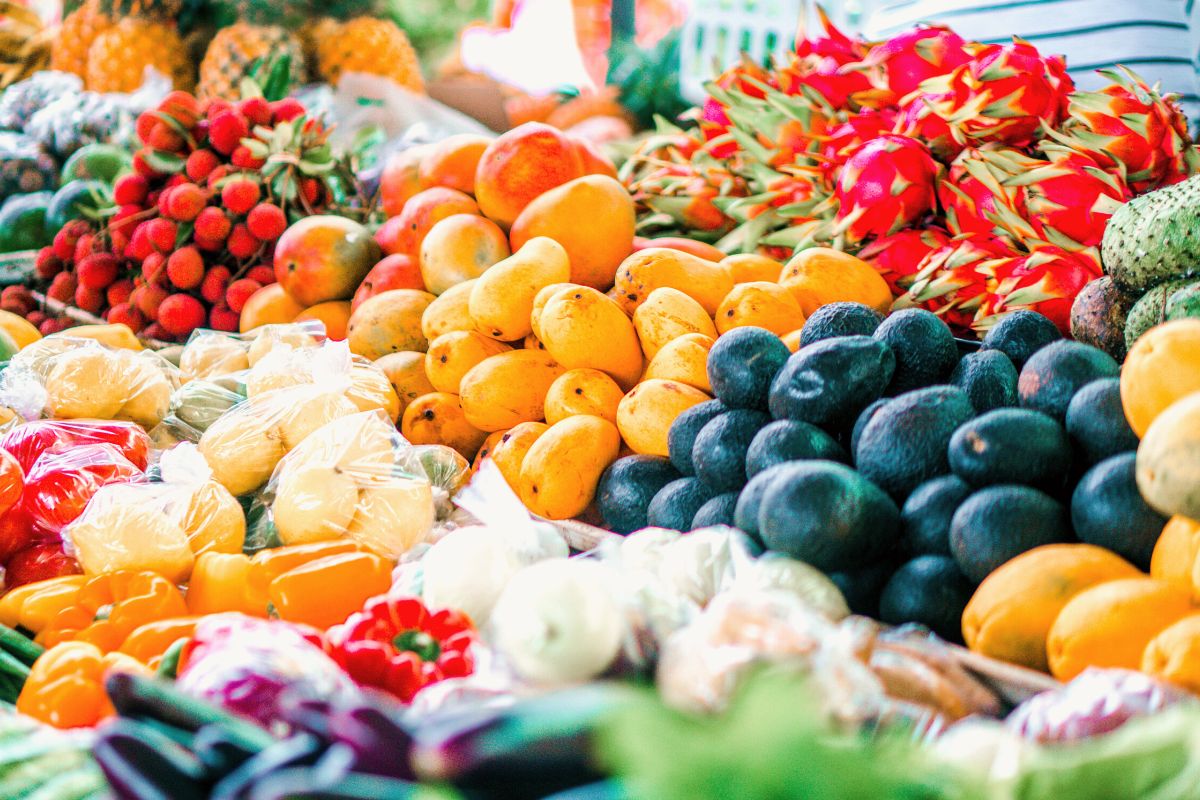 A wonderful opportunity to mingle with the locals and get a lay of the land when it comes to local food, flowers, crafts, and plants, the Hilo Farmers Market sells itself as one of the quintessential things to do in Hilo for any first-time visitor to the area.
Originally held every Wednesday and Saturday from dawn until dusk in downtown Hilo (on Mamo Street, between Kamehameha Avenue and Bayfront Highway), this vibrant market has heard the cry of the public and is now open seven days a week from 7 am to 3 pm, with the original days now being the "big market" days, attracting more vendors and, justifiably, more locals.
When the weather's primed, this eclectic market comes to life with over 200 stalls (about the same size as the Sunday Maku'u Farmers Market in Pahoa), selling everything from colorful, fresh, exotic fruit and vegetables to island jams and jellies and macadamia nuts (many of which are chocolate covered) Homemade arts and knick-knacks (like wind chimes, etched glass, and koa wood treasures) fill the craft section, while jewelry, clothes, and even locally-roasted coffee round out the bustling, diverse selection.
If you're looking for a souvenir that's unique to Hawaii and will support local artisans, this is definitely the place to find it. You'll also get to try some delicious snacks like fresh coconuts, mangoes, bananas, and – when in season – enormous and oh-so-sweet papayas and pineapples! Even if you're not peckish, the Hilo Farmers Market is worth a stroll for the experience and atmosphere alone.
Despite being the biggest, this Hilo staple is far from the only market in the area. For an energizing coffee and a freshly made breakfast every Saturday, the farmers market in Mountain View – just 25 minutes away in the beautiful Volcano Heritage Corridor – features fresh veggies, eggs, and homemade tamales, as well as organic coffees and teas. Open Saturday between 9 am and 2 pm, it's a terrific brunch spot.
About 15 minutes south of Hilo sits the Keaau village Farmers Market. Known for its local flare (as opposed to touristy), prices here are typically lower than those at the Hilo farmers market. Open Tuesday through Saturday, its undisputed highlight is Ma's kitchen where the grass-fed burgers fly off the grill.
Selling exclusively 100% Hawaiian-grown products, the Kinoole Farmers Market (about 10 minutes away from downtown, tucked into the suburbs) is another one that screams 'hidden gem'. Loved by locals but often overlooked by visitors, the market complements its fresh fare with occasional presentations on topics like meditation.
Rounding out the options, the Hilo Town Market lights up the foreshore on Friday nights, bringing together an eclectic mix of local arts, crafts, and cuisine from all over the world. With a real community feel (and an awesome setting), plus food trucks and live music, it's not to be missed.
5 – Learn about nature's power at the Pacific Tsunami Museum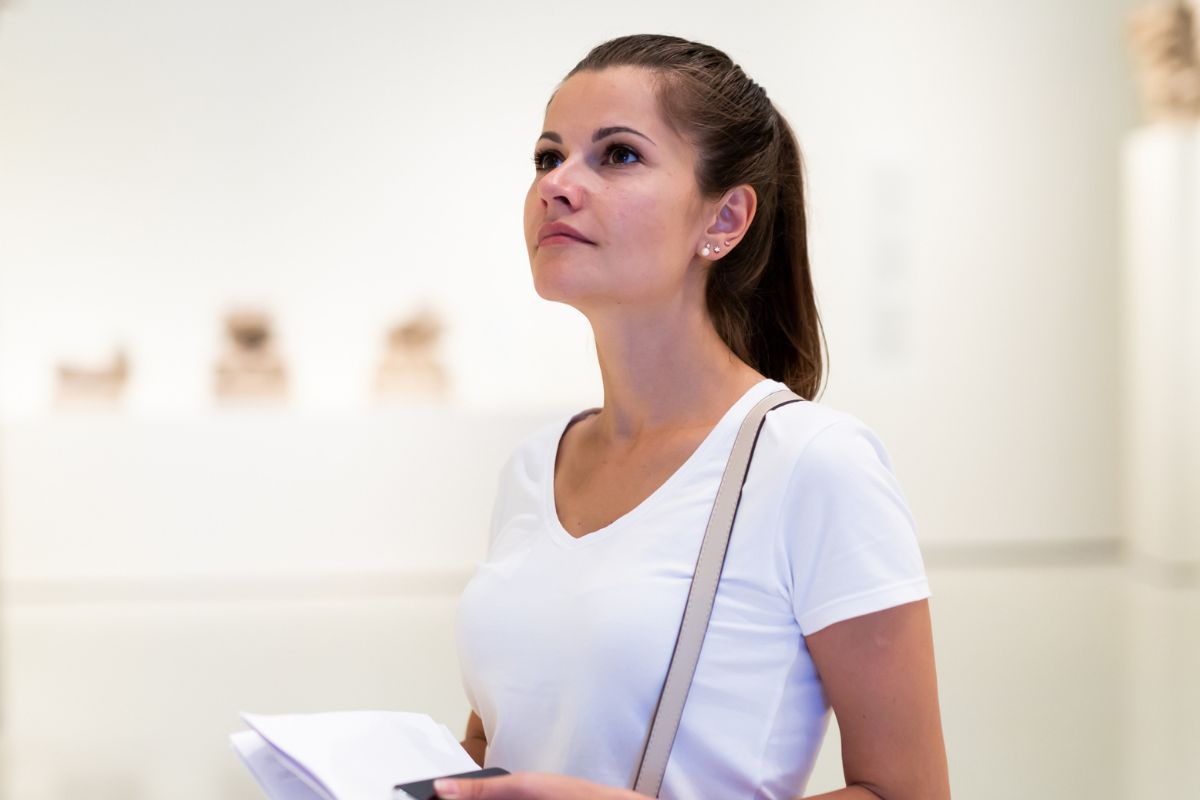 Back in 1946 and 1960, the Hawaiian region, and specifically the city of Hilo, bore the brunt of two devastating tsunamis – the "Pacific" and the "Chilean". The small but mighty Pacific Tsunami Museum – which you'll find on Kamehameha Avenue, overlooking (perhaps somewhat eerily) the calm waters of the Pacific – tells the stories of these two disastrous events and the many tidal waves which came before them, aiming to both promote public tsunami education for generations to come, and to preserve the local history of the generations before us (serving as a living memorial of sorts).
Featuring all kinds of artifacts and educational elements (like an interactive earthquake map and a wave machine – both surefire hits with the youngsters), as well as a series of videos that recount the local 1960 tsunami (some told from the perspective of the local survivors), plus insights into global events like the 2004 Indian Ocean earthquake and tsunami, this poignant museum is an eye-opening, sobering, and ultimately fascinating insight into one of nature's most destructive forces.
Affordable to enter and with friendly, expert docents on hand who are eager to educate, this little museum is certainly worth an hour for anyone wandering along the city's main waterfront.
Keep in mind: the museum is closed on Mondays.
6 – Stroll around the Japanese Liliuokalani Gardens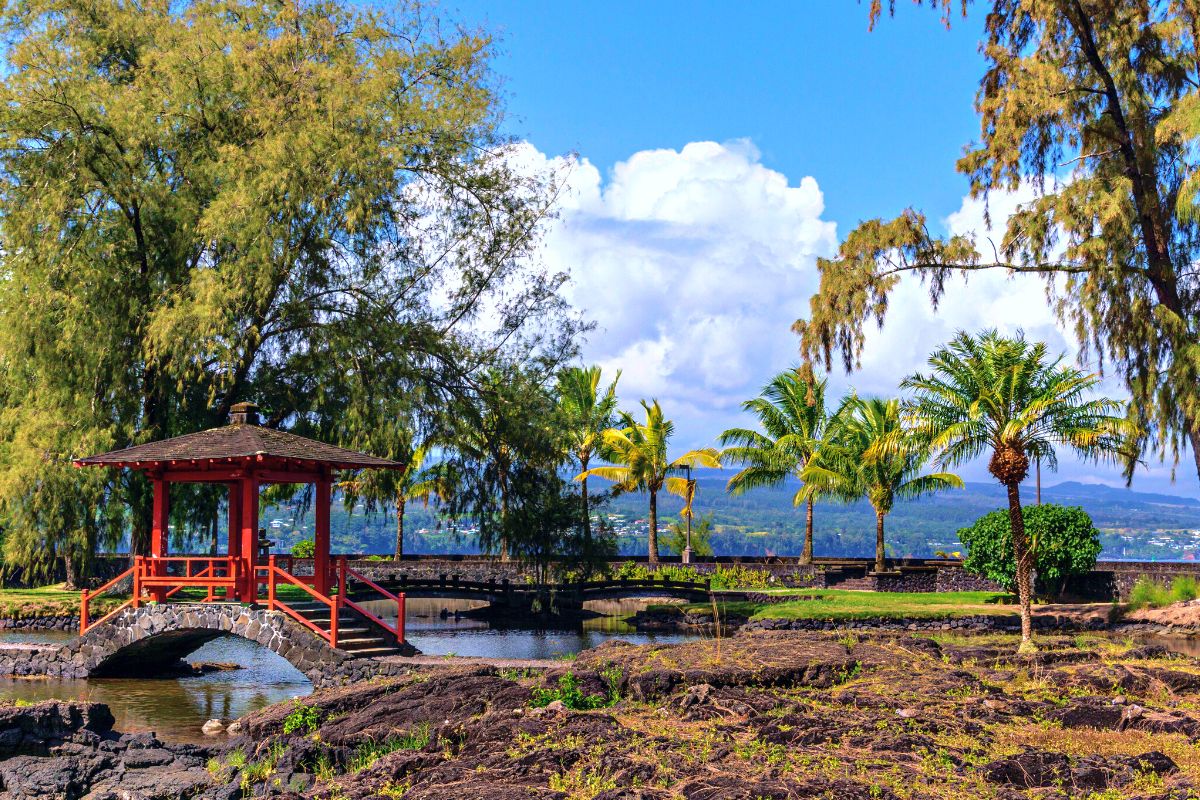 A charming slice of greenery nestles along Banyan Drive – and it's one of the most popular tourist attractions in Hilo. Built back in 1917 to honor Hawaii's last reigning monarch, Queen Liliuokalani (the only queen the US has ever had), these 25 acres of well-manicured gardens feature Japanese bridges, koi ponds, a lotus pond, and a beautiful pavilion, as well as an array of colorful flowers.
The Edo-style gardens were the queen's favorite spot in Hilo, and it's easy to see why – they offer respite from the city bustle and are utterly serene, and serve as the largest of their kind outside of Japan itself. Take a seat on one of the benches dotted around the grounds and enjoy the peace, or stroll along the paths admiring the flowers; regardless, Liliuokalani Gardens is a wonderful place to while away an hour or two.
On those sizzling summer days, the towering trees – some of which date back to the times of Queen Lili'uokalani herself – provide ample shade, dwarfing the striking red torii gate which stands at the gardens' entrance.
Thanks to their location on the Waiakea Peninsula, you're blessed with magical views of Hilo Bay and the rolling distant hills too. And with the Hawaiian Hilo Hotel, Hilo Bay Cafe, and Suisan Fish Market all within walking distance, you'll find plenty to do in the area.
7 – Take a short hike to Akaka Falls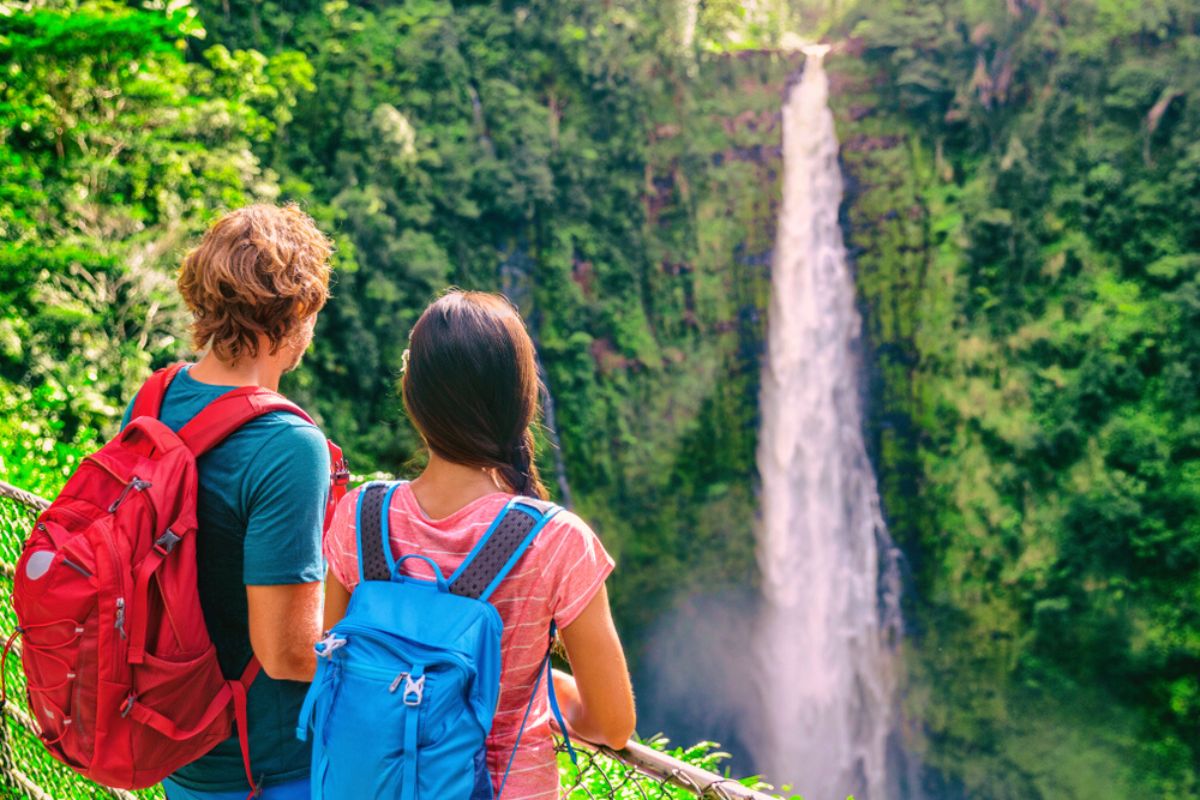 A little piece of rainforest just 10 miles north of Hilo, Akaka falls State Park is one of the best places on the Big Island to experience Hawaii's natural beauty. Home to a 442-foot waterfall (one of four on the island), lush vegetation, bamboo groves, and hiking trails, it's an excellent spot for a quick nature fix. To put that in perspective, it's more than two and a half times taller than Niagara Falls.
The main trail through the park leads you first to Kahuna Falls, before reaching the star of the show: Akaka Falls, crashing down into a pool below. The soundtrack to your hike is provided courtesy of the many birds that flit through the treetops – keep your eyes peeled and you might even spot one or two!
The trail is an easy 0.4 miles and takes around 15 minutes to complete, making it a great option if you're short on time. With that said, it can get crowded during peak times (around midday), so try to arrive early or later in the day to avoid the worst of the crowds.
Admission to Akaka Falls State Park costs $5 per vehicle, but with plenty of open spots to roll out a picnic blanket, you can certainly make a half-day of it.
8 – Soar above the landscape with a helicopter tour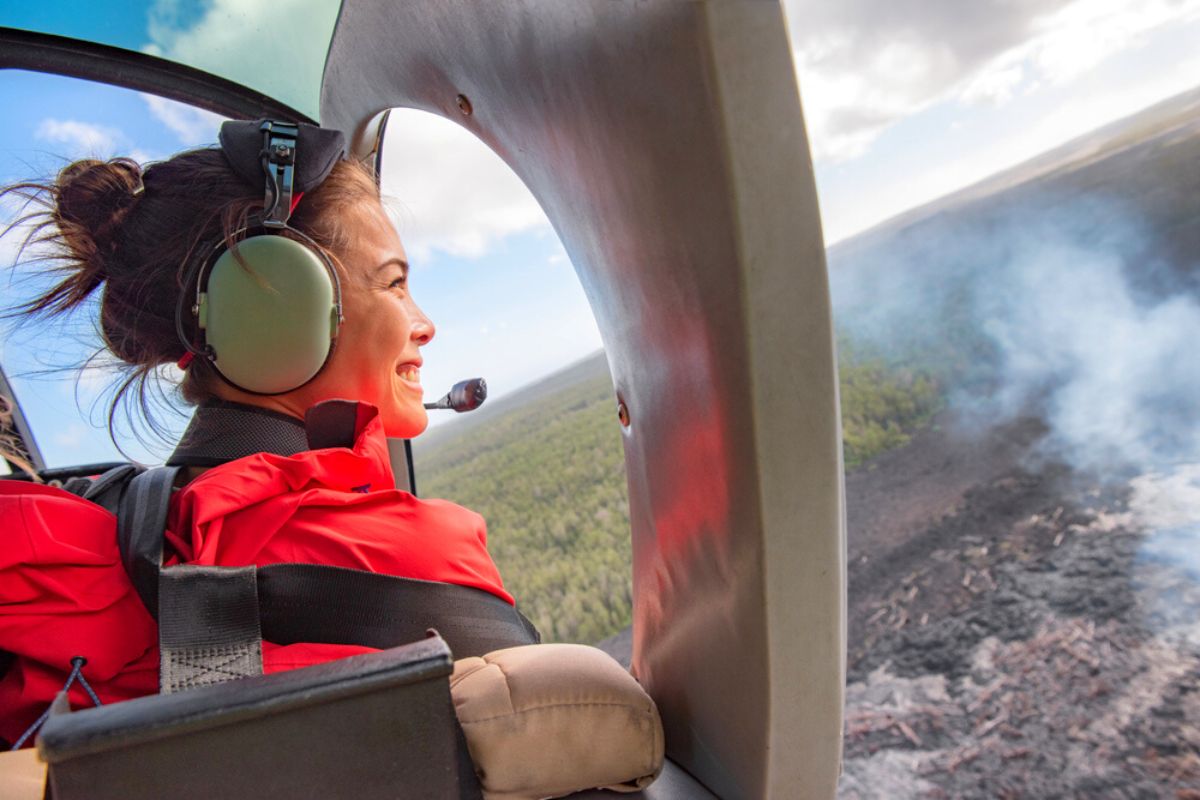 From the street level, Hilo impresses with its natural beauty. But from above, the grandness is taken up a level simply stunning. A bird's eye view of the city, the sparkling coastline, and the verdant rainforests that surround it is an experience not to be missed – and there are plenty of helicopter tour operators in town eager to show you the best of Hilo from up high.
And after you've appreciated the historic town, it's onward to the star attraction: the Hawaii Volcanoes National Park, otherwise aptly known as the Circle of Fire. Highlighted by the Kilauea and Mauna Loa volcanoes – the former being one of the most active volcanoes on Earth and the latter being the largest active volcano on the planet – it's a sight that needs to be seen to be believed.
But while the lava flows, craters, and twisting Wailuku River are certainly impressive, it's the scale of it all that will really take your breath away. From up in the air, you'll get a true sense of just how big these volcanoes are, and how they've shaped the landscape of the island over thousands of years.
With insightful geology and history-focused commentary the whole way through, and options for either morning or afternoon departures
Looking for that next level of thrills? Consider one of the doors-off options, where the wind in your face and unobstructed views are sure to leave a lasting memory.
9 – Wet your whistle at the Hilo Brewing Company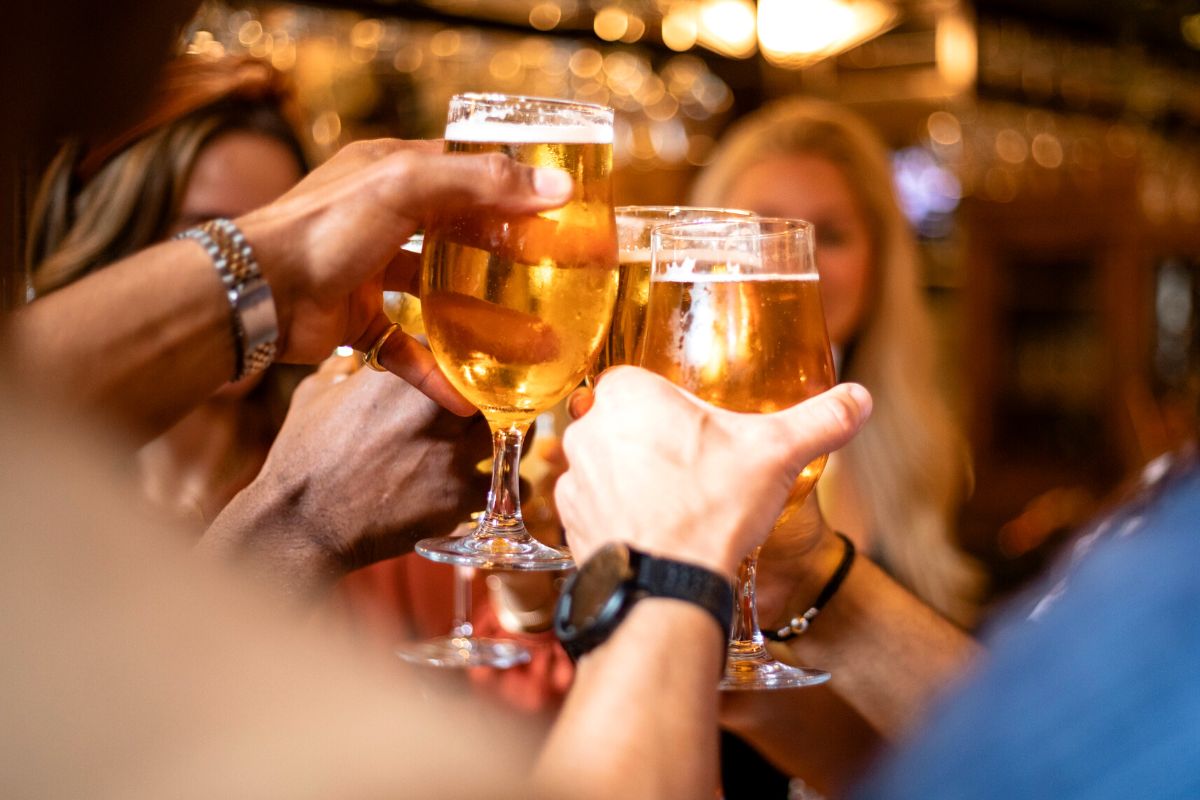 Looking for things to do in Hilo to recharge the batteries after a day of exploring or hiking? Why not head to the Hilo Brewing Company for a few refreshing, ice-cold, handcrafted brews?
100% crafted on the Big Island using notably crisp Hawaiian water, the locally-adored Hilo Brewing Company is a relatively new addition to the scene, having only opened its doors in 2018. Since then, however, thanks to its diverse selection of thirst-quenchers — Volcano Red Ale, Mauna Kea Pale Ale, Tsunami IPA, Hilo Golden Ale, and the Humpback Island Lager, to cover most bases — the brewery has become a go-to spot for locals and visitors alike.
Situated less than 10 minutes drive from the heart of downtown, it's easy enough to reach as well. With ample outdoor seating, an intimate indoor taproom that offers tastings, and a selection of great food to boot, it ticks all the boxes for a perfect evening out.
10 – Spend a day exploring Wailuku River State Park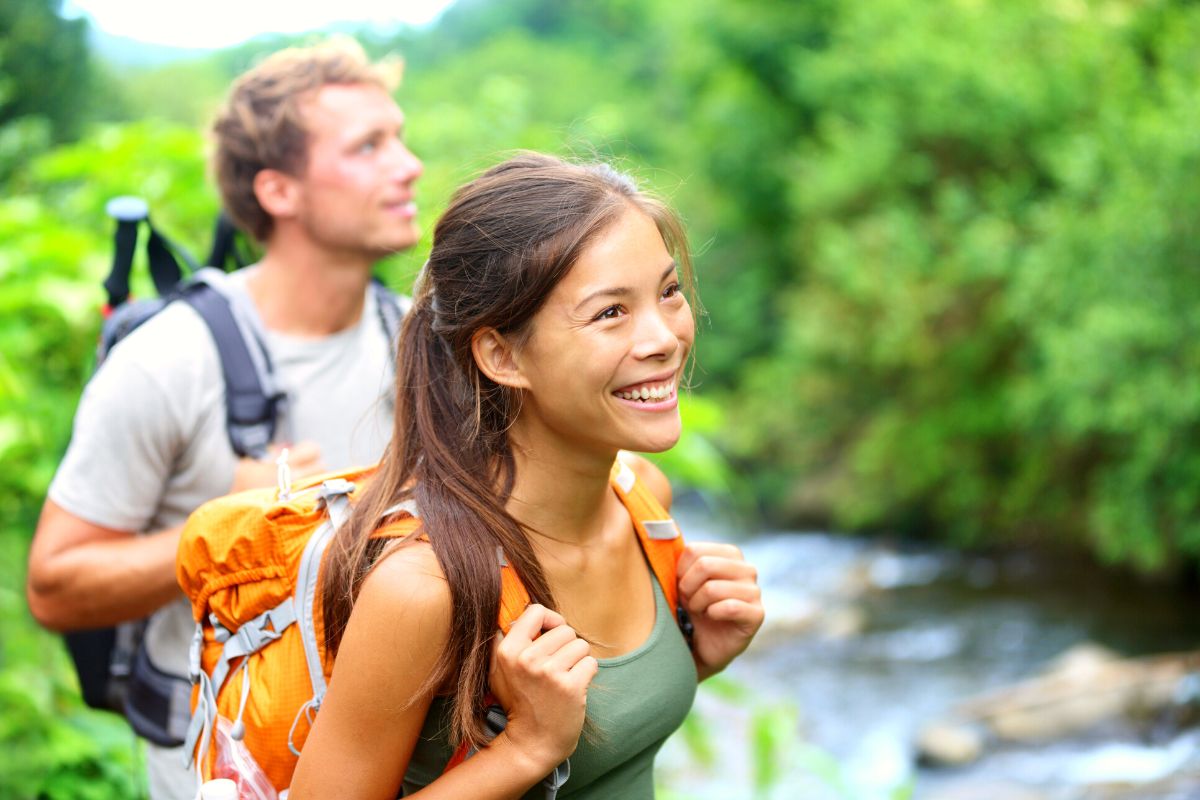 Casting a shadow over the historic town of Hilo, thanks to its location straddling the eastern side of the foreboding Mauna Kea volcano, is the Wailuku River State Park.
And despite it sitting at close to eleven thousand feet above sea level and covering close to 16 acres, it's most famous for two particular attractions; Rainbow Falls (otherwise known as Waianuenue Falls) and the Boiling Pots.
The former is a magnificent 80-foot waterfall that tumbles down above a cave – a photographer's delight – and routinely casts a vibrant rainbow over its cascading waters. Meanwhile, the latter is a series of bubbling pools and natural jacuzzis that have been formed by years of lava flows and erosion.
Aptly nicknamed the Boiling Pots, this bubbling, burbling body of water is actually a series of natural freshwater pools and cascades formed by cooled lava flows over centuries. It's one of the most unique things to see in Hilo, and definitely worth a visit if you're in town – just 2 miles outside of town, it's an easy addition to any day of exploring.
Hot tip: while you won't be disappointed any time of day, Rainbow Falls is best viewed in the morning, when the spray's rainbow effect is more pronounced.
11 – Snap a few photos at Rainbow Falls
Located inside the Wailuku River State Park, Rainbow Falls is one of the most popular tourist attractions in Hilo.
As its name suggests, the waterfall is known for creating a rainbow effect when the sun shines through the spray. The best time to see this phenomenon is early in the morning, before the crowds arrive.
And while you can easily make your way to the State Park on your own (see #10), for the best bang for your buck and to see more of what the Big Island has to offer in one go, consider one of the combination adventures that hits up Volcanoes National Park and Rainbow Falls in one sitting (and, if you want to take it one step further, a package that throws in the Japanese Liliuokalani Gardens and gorgeous Richardson Black Sand Beach for good measure!)
Starting with pickup from your Hilo hotel (or port), these multi-activity adventures are led by in-the-know locals who'll not only show you the ropes but share insider tips and stories about the places you're visiting along the way. And, with all activities and entry fees included in the packaging price, it's a great option for those who want to make the most of their time on the island without any hassle of organizing!
12 – Embrace local traditions at the East Hawaii Cultural Center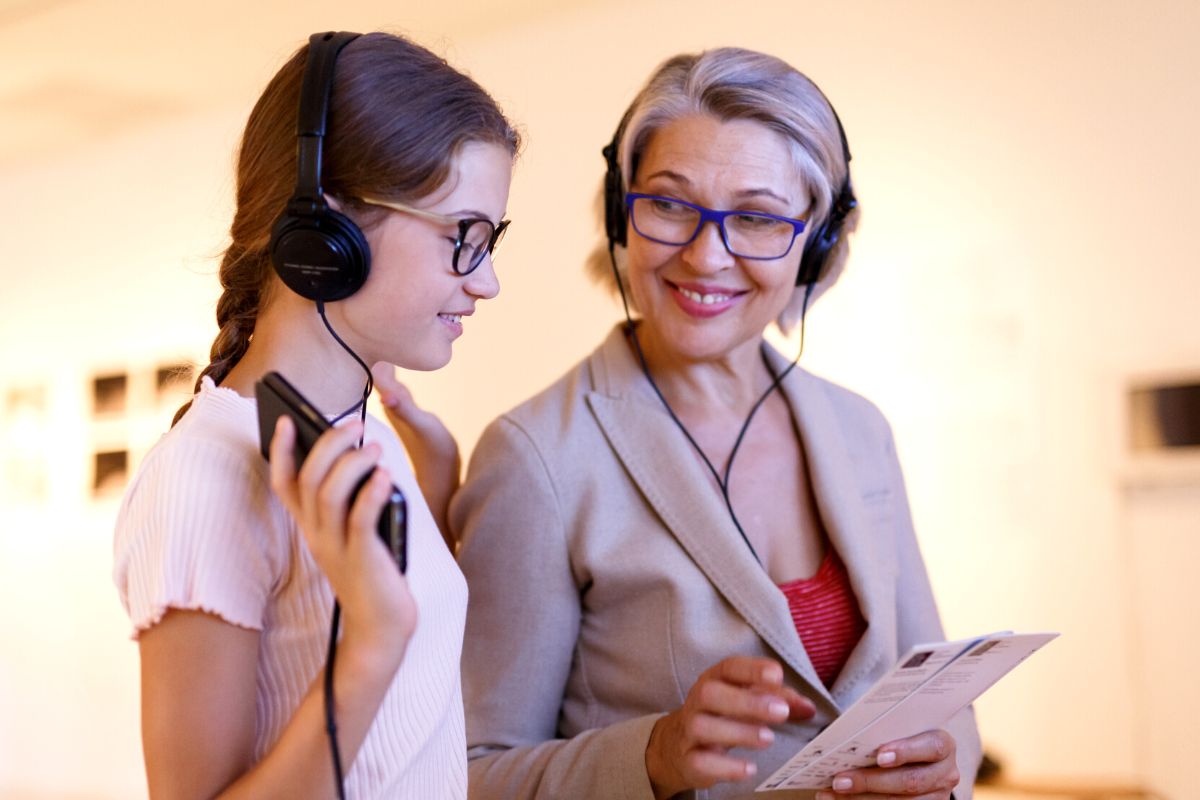 While Big Island's dramatic natural landscape bears the brunt of the attention, it's not exactly a secret that Hawaii's culture and arts scene is thriving.
And, in Hilo especially, opportunities are aplenty to get a taste of the local creative talent on display. The East Hawaii Cultural Center – a longstanding downtown institution found within the Old Police Station – is one such entertaining place, with rotating exhibitions that showcase everything from photography and painting to sculpture, theatre, and fabric art; all of which – in one way or another – roll back the curtain of life, history, and culture on Hawaii and its people.
There's also an onsite cafe serving up healthy, locally-sourced meals (the perfect place to refuel after a morning of exploring), as well as regular events and workshops that are open to the public. Best of all, admission is free (although donations are appreciated)!
With a variety of plays, music performances, cabaret shows, animation workshops, interactive classes, sculpture exhibitions, and multiple Youth Arts Series displays, whether you're an art lover or just looking for something fun to do, the East Hawaii Cultural Center should definitely be on your Hilo radar — just check the website in advance to see what's on during your visit.
13 – Check out the animals at the Panaʻewa Rainforest Zoo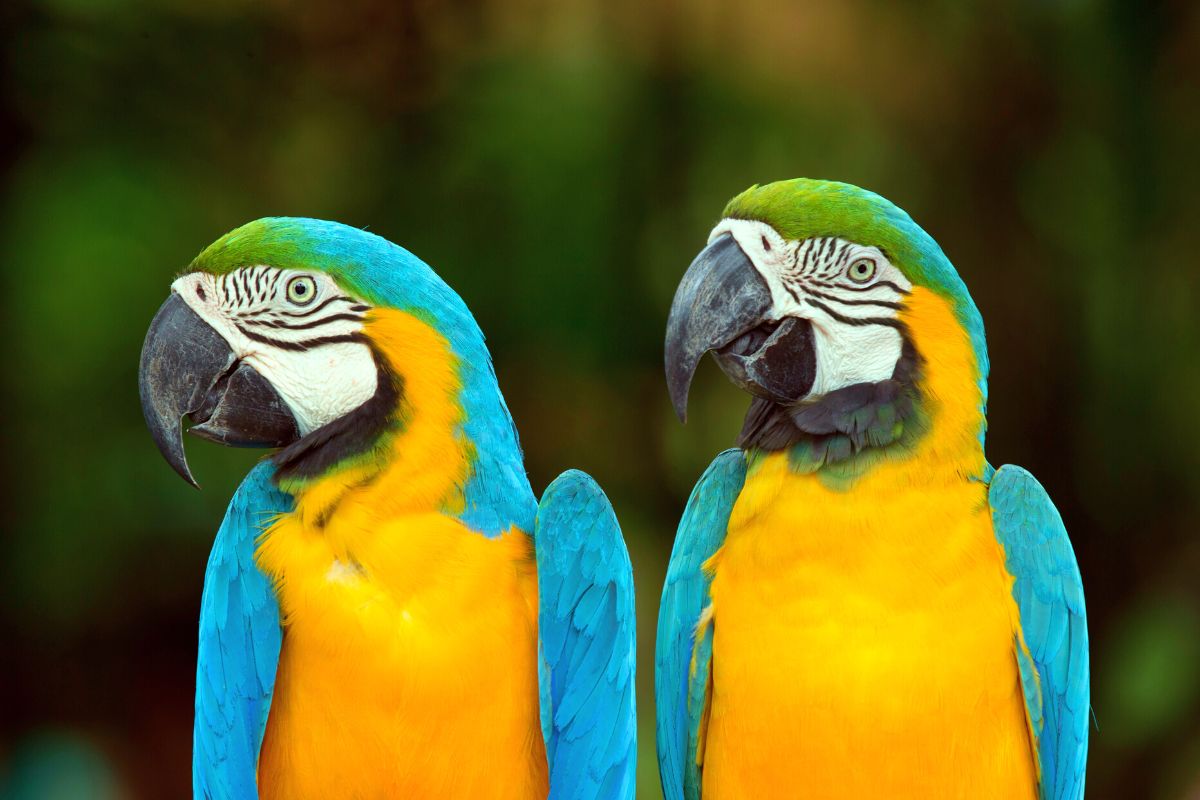 Wielding the title of the only tropical zoo in the United States, the Panaʻewa Rainforest Zoo, with more than 80 species of all different shapes and sizes, is unsurprisingly one of Hilo's most beloved family attractions.
Spread across 12 acres, about 4 miles from the hustle of Hilo, and free to enter for all, this unique zoo meets botanical garden has been welcoming starstruck animal lovers since 1978; these days, it's home to a slew of animals that you won't find in too many other zoos, especially not in Hawaii; think spider monkeys, the nene goose (Hawaiian state bird), toucans, llamas, marmosets, snapping turtles, two-toed sloths, lemurs, and even white Bengal tigers!
Throw in a butterfly house, a reptile zone, an amphibians section, a playground, and a petting zoo (which is also free), and you can easily spend an entire day here, especially if you take advantage of the onsite picnic tables and BBQ grills.
Open daily from 10 am to 3 pm, this family-friendly destination also boasts a diverse selection of flora, with no less than 100 varieties of palms. So, nature lovers, add it to the top of your list of things to do in Hilo!
14 – Marvel at the world's most active volcanoes in Hawaii Volcanoes National Park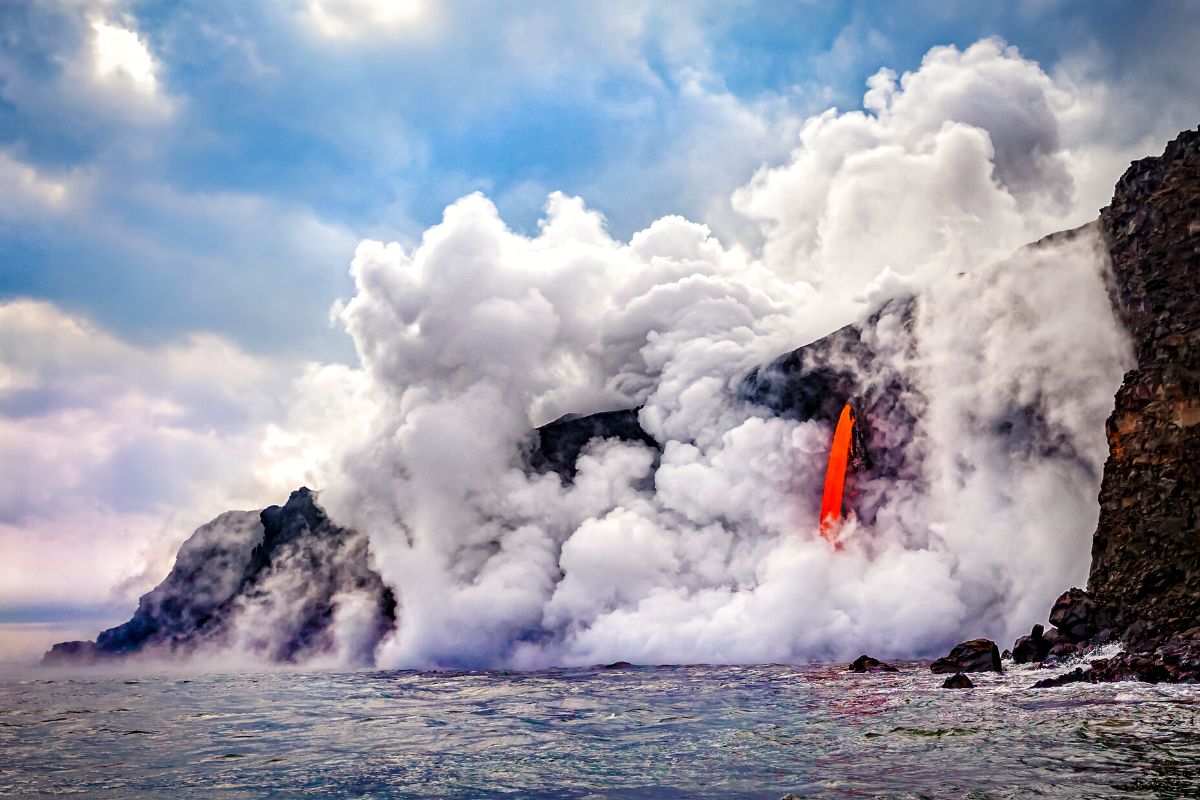 Captivating visitors from all over the world, Hawaii Volcanoes National Park is a rare slice of nature that's as dramatic, diverse, and eye-opening as it is famous – thanks to its countless activities, it's justifiably of the most popular attractions on Big Island – scratch that.. in Hawaii, period.
A UNESCO World Heritage site that's home to two of the world's most active volcanoes (Kilauea and Mauna Loa – magnificent individually; mesmerizing as a duo), as well as a constantly evolving landscape of lava fields, rainforests, craters, caves, and steam vents, there are few places on Earth quite like it.
Covering an impressive 335,000 acres (almost the size of the entire island of Oahu), this vast national park stretches from sea level right up to the 13,677-foot summit of Mauna Loa (the largest mountain on earth when measured from its base on the ocean floor) — making it one of the more diverse ecosystems in the world.
Whether you're keen to explore it all on foot (there are more hundreds of miles of hiking trails to discover across a range of microclimates – the Kilauea Iki Trail being a crowd favorite), by bicycle, on horseback, or even from the vantage point of a helicopter, this impressive slice of Mother Nature is a non-negotiable visit during your time in Hawaii.
Hot tip: to make the most of your time on the Big Island, opt for a multi-activity day tour. Besides getting to experience the mighty volcanoes, combination tours also typically stop at local coffee plantations, pop by waterfalls, and even visit black, green, and white sand beaches — talk about ticking everything off the Hilo bucket list in one day!
15 – Wander over to Coconut Island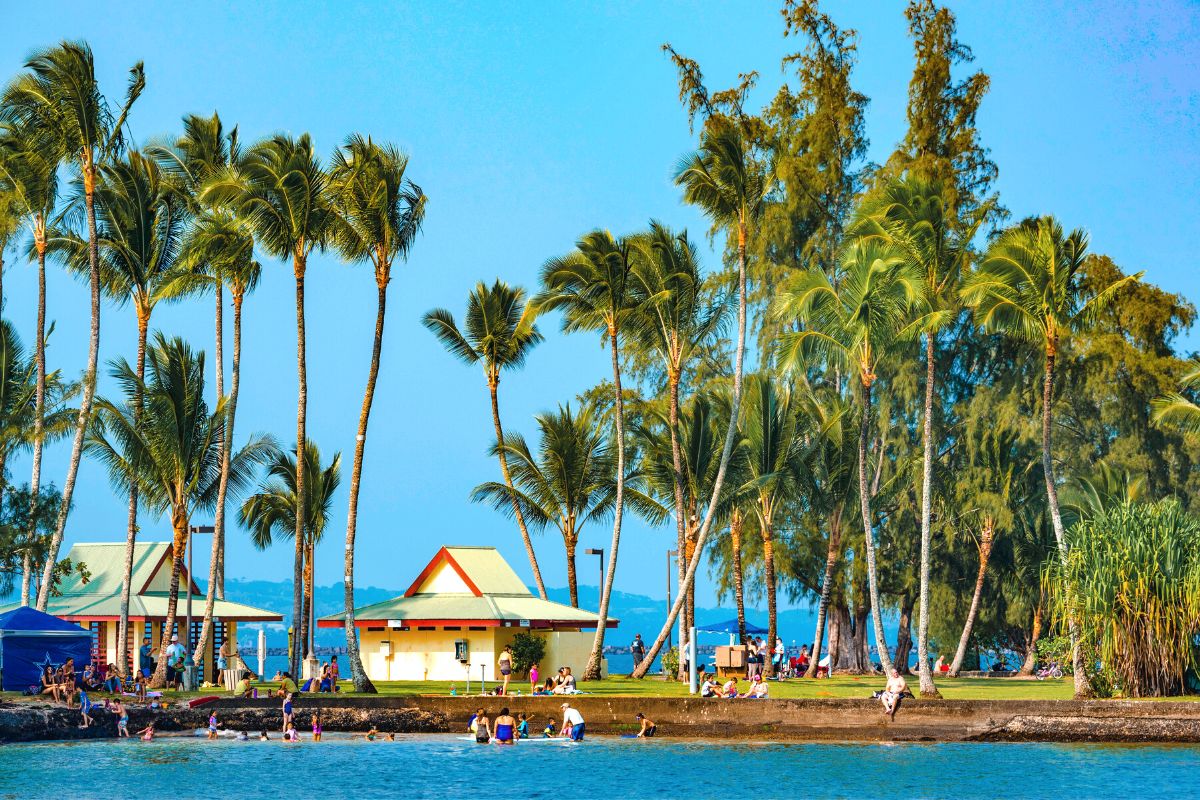 Just a short stroll along a footbridge from the Lili'uokalani Park and Gardens – a beautiful Japanese garden full of bridges, koi ponds, and bonsai trees – you'll find Coconut Island (Moku Ola), a tiny islet that's home to a palm tree-lined beach, a pavilion, and some of the best views in Hilo.
A popular spot for swimming (and jumping into the water from the raised 10- and 20-foot towers), fishing, and picnics, this lovely little island is also a great place to watch the sunset; unobstructed by buildings or trees, the views from here of Hilo Bay and Mauna Kea are simple, charming, and peaceful – on a clear day, you can even make out Mauna Kea and Mauna Loa volcanoes behind the town.
On the island, you'll find two sandy beaches – sheltered by the Hilo pier, they're calm, safe, and make for great swimming spots, especially if you're traveling with kids.
While the Lili'uokalani Gardens are the obvious choice for a follow-up activity, it's far from the only notable attraction in the area. After meandering through the park, you could visit the Tsunami Clock of Doom monument to learn about Hilo's gripping history with tsunamis; take a stroll down Banyan Drive, lined with massive banyan trees that have been here for close to a century; play a round of golf at the Naniloa Course, or escape the crowds with a wander through Reeds Bay Park — all within 5-10 minute walk of each other.
16 – Cool off at Honoli'i Beach Park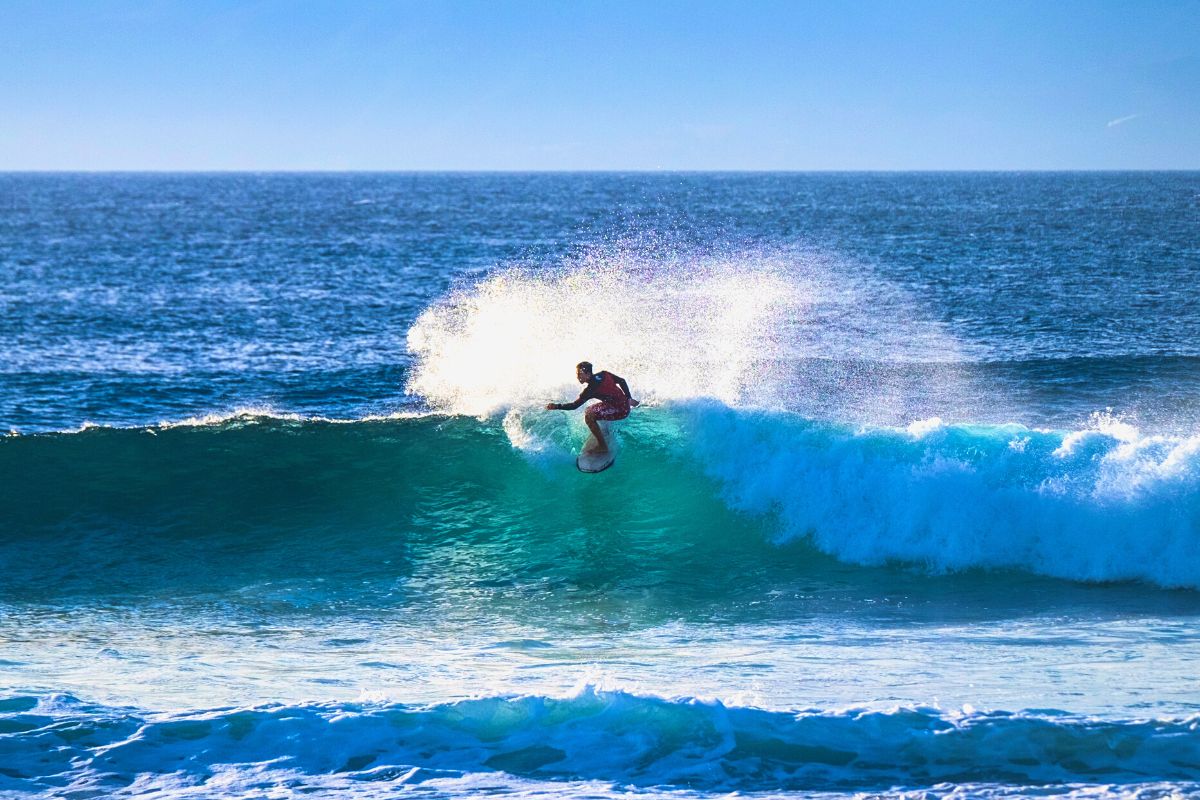 Welcoming surfers, swimmers, and sunbathers from all over the world, the picturesque black-sand Honoli'i Beach Park not only delivers a visual feast but is also one of the best places on the island to catch a wave.
A favorite among both locals and visitors, this secluded little cove is great for swimming, boogie boarding, and body surfing; when the conditions are just right, the waves are usually between 4 and 5 feet high – excellent conditions for beginners and intermediate surfers. And, for peace of mind, when the conditions are a little on the choppier side, a lifeguard is always on duty.
If you're not keen on getting in the water, you can always enjoy the view from one of the many picnic tables lining the beach; or if you're feeling active, there are also a few hiking trails nearby that lead up to lookouts. Just be sure to pack plenty of water and sunscreen – and if you are planning on hanging ten, sand shoes (due to the endless pebbles) are recommended.
At the northern end of the beach, you'll find a natural pond that serves as a top swimming spot for families. Meanwhile, the lookouts from atop the hill provide the perfect vantage point to take in the coastline. With restrooms, showers, and roadside parking all available, you're easily taken care of.
Not a confident surfer? Fret not! Group and private lessons are available all over the island (although more popular in Kona on the west coast), so you can learn the ropes from a local before hitting the waves.
While you're there: Honoliʻi Beach Park is a little off the beaten track, a couple of miles (or about a 5-minute drive) up the coast. If you're making your way from the center of town, consider extending the trip to visit the Hawai'i Plantation Museum, Hawai'i Tropical Bioreserve & Garden, or Hilo Shark's Chocolate Farm – all family-friendly attractions just 5 minutes further down the road.
17 – Join a whale-watching adventure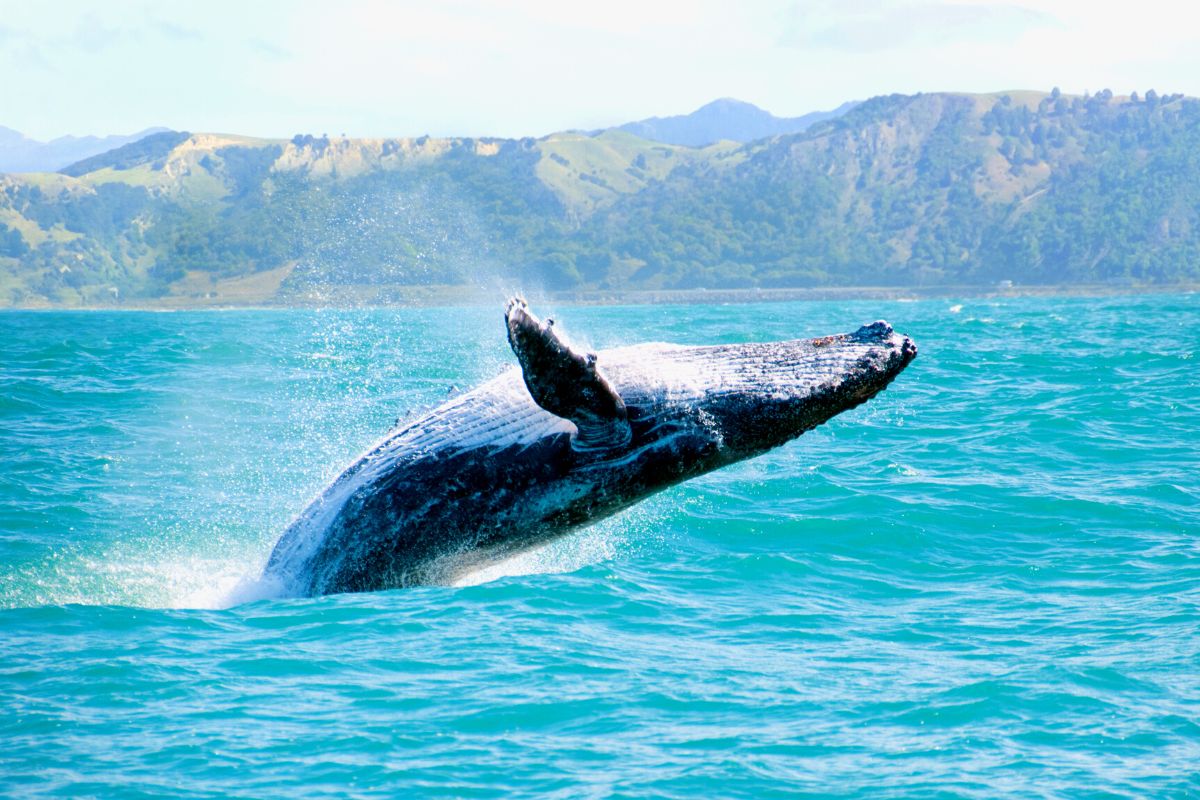 One of Mother Nature's most magnificent feats, every year, some 12,000 humpback whales make the long journey from their breeding grounds in Alaska to their winter calving grounds off the coasts of Hawaiʻi – and with miles and miles of unobstructed shoreline, the Big Island is one of the best places in the world to see these marvelous creatures in their natural habitat.
While the best time of year to see them is typically between January and March, they can be spotted as early as November and stay as late as May; so, if your travel dates are flexible, try to time your trip around when the whales are in town. That being said, even if you miss them, there's still plenty of other marine life to see – including turtles, manta rays, and dolphins.
You'll find several different ways to go about whale watching. Many people opt for a boat tour on a luxury catamaran or a smaller speedboat (or, if you're feeling fancy, a private sailboat), which will give you the best chance of getting up close and personal with these gentle giants.
Typically departing from Kona (which is about a 90-minute drive, from the island's east to west), these roughly-three-hour adventures make their way out into the open ocean in the heart of the calving grounds, where you're almost guaranteed to see breaching and tail-slapping. With hydrophones on board giving you the chance to listen in on their mysterious "songs", and a naturalist guide sharing all kinds of interesting facts, it's an unforgettable experience for the whole family.
If you're not keen on being out on the open water, whale-watching opportunities from land exist too — many lookout points along the Kohala Coast (on the island's northwest side) offer dramatic views of breaching and tail-slapping right from the shoreline. The Puukohola Heiau National Historic Site, Lapakahi State Historical Park, and Kapa'a Beach Park are three of the most notable viewpoints.
18 – Step back in time at the Lyman Museum and Mission House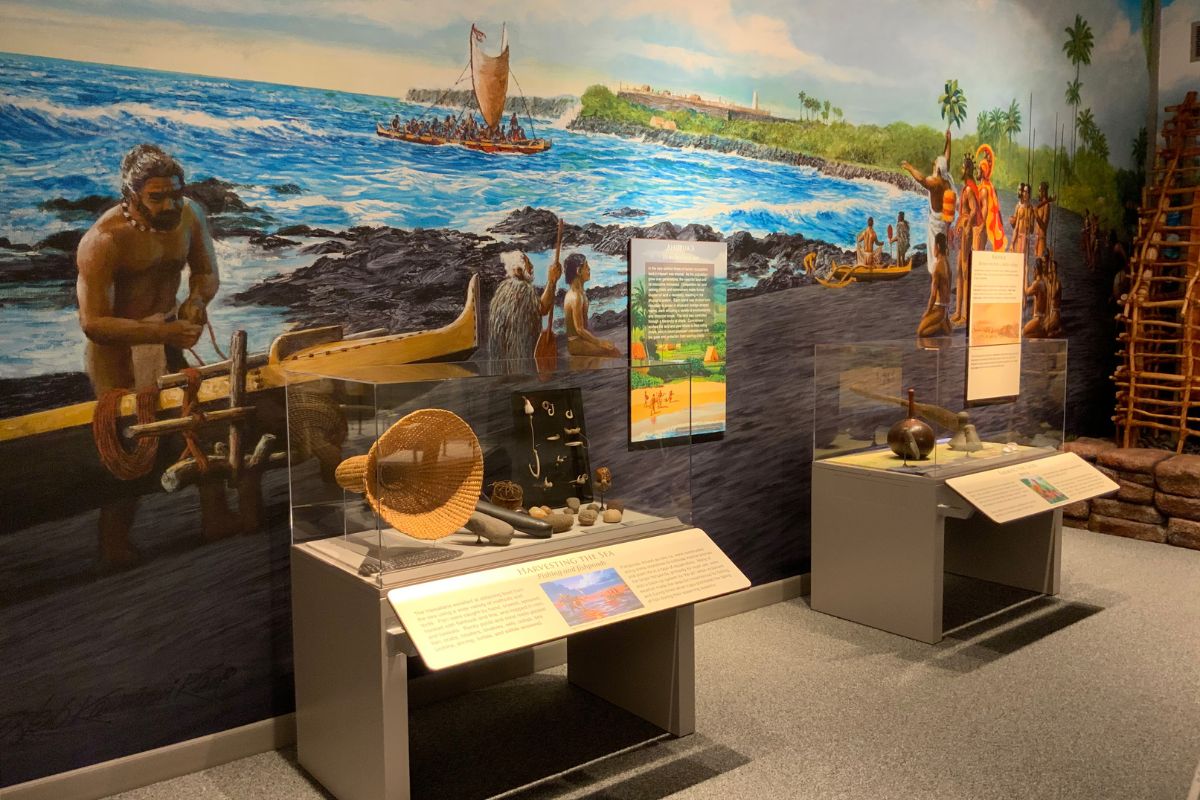 Hilo's take on a natural history museum, the Lyman Museum and Mission House is an interesting stop for anyone interested in the area's geology, flora, and fauna – selling itself as a wonderful change of scenery if you want to break up the outdoor activities.
As the name suggests, the Smithsonian-affiliated museum is actually two attractions in one. The first, the Lyman Museum, was founded in 1931 by missionary and philanthropist David Lyman and houses many permanent exhibitions on the history of Hawaiʻi Island, from its formation over millions of years ago to its role in World War II. After an hour or so of exploring the exhibits, which dive into everything from the area's volcanoes to its sugar plantations, immigrant groups, flora and fauna, and more (with a special collection of shells and minerals), you'll walk away with a thorough understanding of the archipelago's history, its people, and its culture.
The second part of the museum is the Mission House, a beautifully-restored 19th-century New England-style (dating back to 1839) home that was once owned by the Lyman family. Today, it's furnished to look as it would have in 1839, and offers an insight into what life was like for early American missionaries in the Hawaiian Islands. With insightful docent-guided tours available, it's a fascinating step back in time.
The underrated Lyman Museum and Mission House is located on the corner of Haili and Kapiolani Streets, in Downtown Hilo, less than a 10-minute walk from the shoreline, and is open during the week (closed on weekends) from 10 am to 4.30 pm. At just $3 for a guided tour, it's certainly one of the more affordable things to do in Hilo for history buffs.
19 – Add the lesser-known Pe'epe'e Falls to the list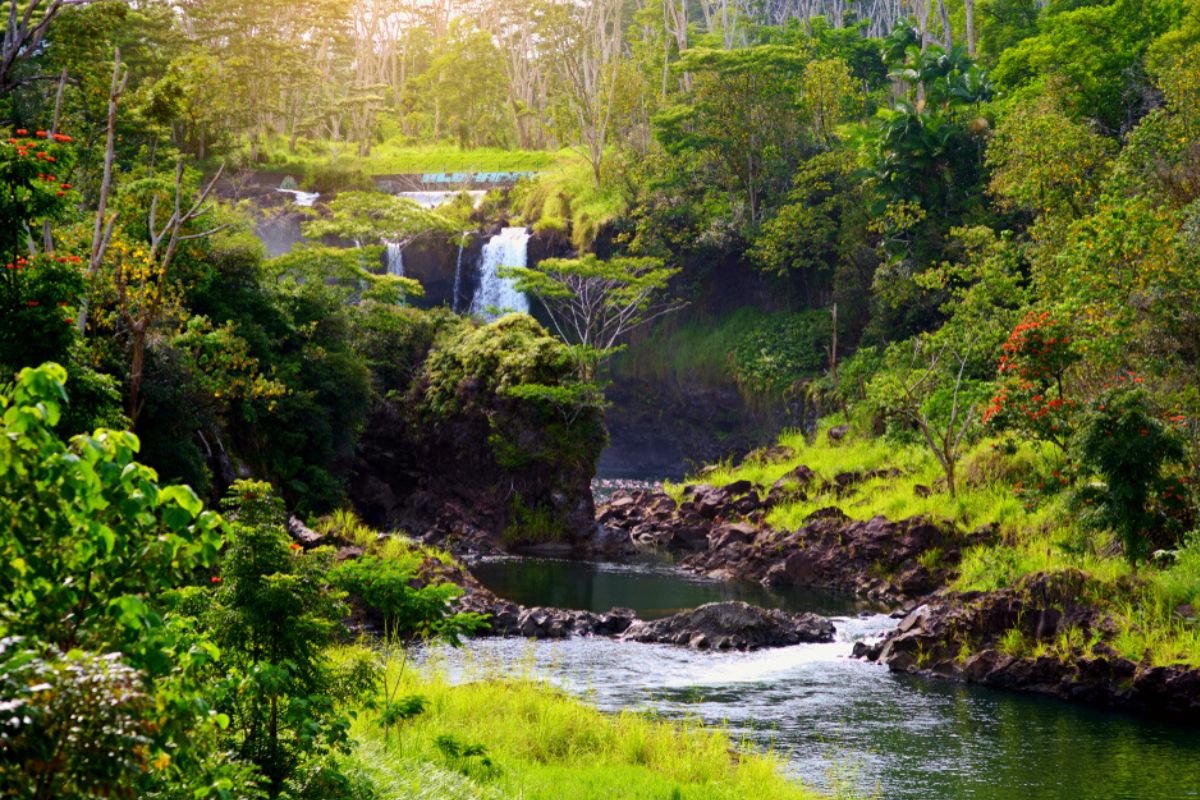 Cascading 80 feet (24 meters) over a black lava rock face into a deep pool below, Pe'epe'e Falls regularly finds itself on social media posts thanks to its picturesque setting and proximity to the main Hilo haunts.
Tucked away in a forest Reserve (the Wailuku River State Park (see #10), to be precise), the waterfall is conveniently just 10 minutes inland from downtown Hilo, making it an easy outdoor activity to add to any sunny day. The roughly 40-minute hike to the falls is downhill and requires a little bit of rock skipping, but families tackle it routinely, and the peaceful, seldom-crowded watering hole is well worth the calories burned.
While the tumbling waterfall itself is lovely (especially after rain, when water flow is at its strongest), what's really impressive about Pe'epe'e Falls is the series of natural pools that have been carved into the lava rocks at its base over time. These pools, which are shaded by a lush canopy of trees and filled with fresh mountain water, make for the perfect spot to relax and cool off on a hot day – and yes, you can swim in them!
You'll find this lesser-known waterfall about 1.5 miles upstream from its more famous cousin, Rainbow Falls, and just around the corner from the Boiling Pots. Collectively, the trio makes for a wonderful afternoon in nature, and an easy addition to any Hilo itinerary.
If you're looking for outdoor, adventure-focused things to do in Hilo but don't want to follow the beaten path, Pe'epe'e Falls is a top choice.
20 – Head underground at the magnificent Kaumana Caves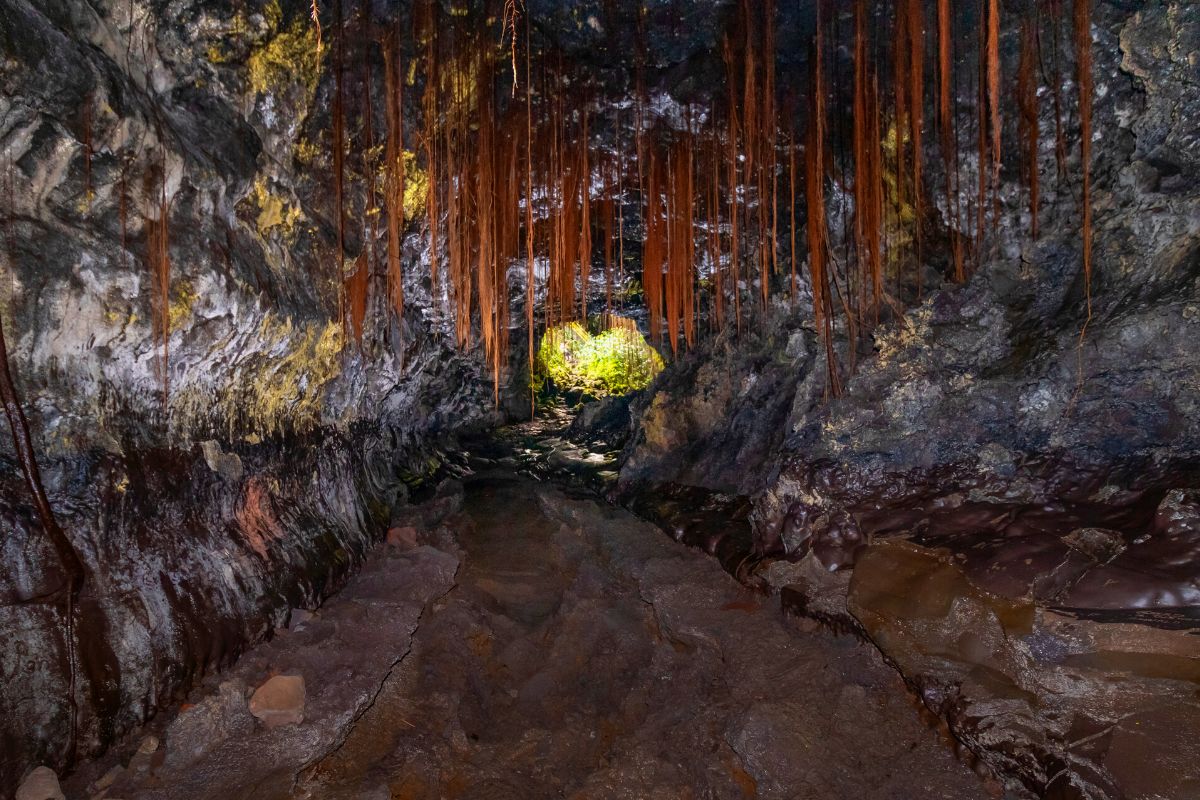 Created off the back of 19th-century lava flow from the foreboding Mauna Loa volcano, the spectacular Kaumana Caves are spread across more than 25 miles worth of underground tubes, filled with lava stalactites and stalagmites, dramatic lava formations, hanging vines, verdant plantlike, and the occasional bat or two.
The caves, which you can reach by descending your way through a collapsed skylight, sit about 4 miles from downtown Hilo, are free to visit, and are open daily from sunrise to sunset. However, as the caves are unlit and there are no handrails, they're not recommended for those with a fear of enclosed spaces or who aren't confident on their feet.
While most people only venture into the first few hundred yards of the cave (which is plenty), if you're feeling adventurous and have a head torch, you can explore as deep as you want. Just be sure to let someone know where you're going before setting off!
Make sure you have a good flashlight or headlamp (at least 2 sources of light are essential), wear sturdy shoes (because the hardened lava can act as slippery glass), and watch your head – there is a couple of moments where you'll need to duck and weave through some small spaces.
This isn't a kitschy tourist trap or a run-of-the-mill forest walk – this is a real lava cave, in all its eerie, otherworldly glory. And as the reviews and past travelers attest, it's one of the most incredible things to do in Hilo.
To find the trailhead, head inland from Hilo on Waiamuenue Avenue. After about a mile, you'll find a fork in the road. Turn right if you want to stop at Rainbow Falls – otherwise, continue driving down Kaumana Drive for 3 miles until you see the signs for the caves.
21 – Take the family to the Mokupāpapa Discovery Center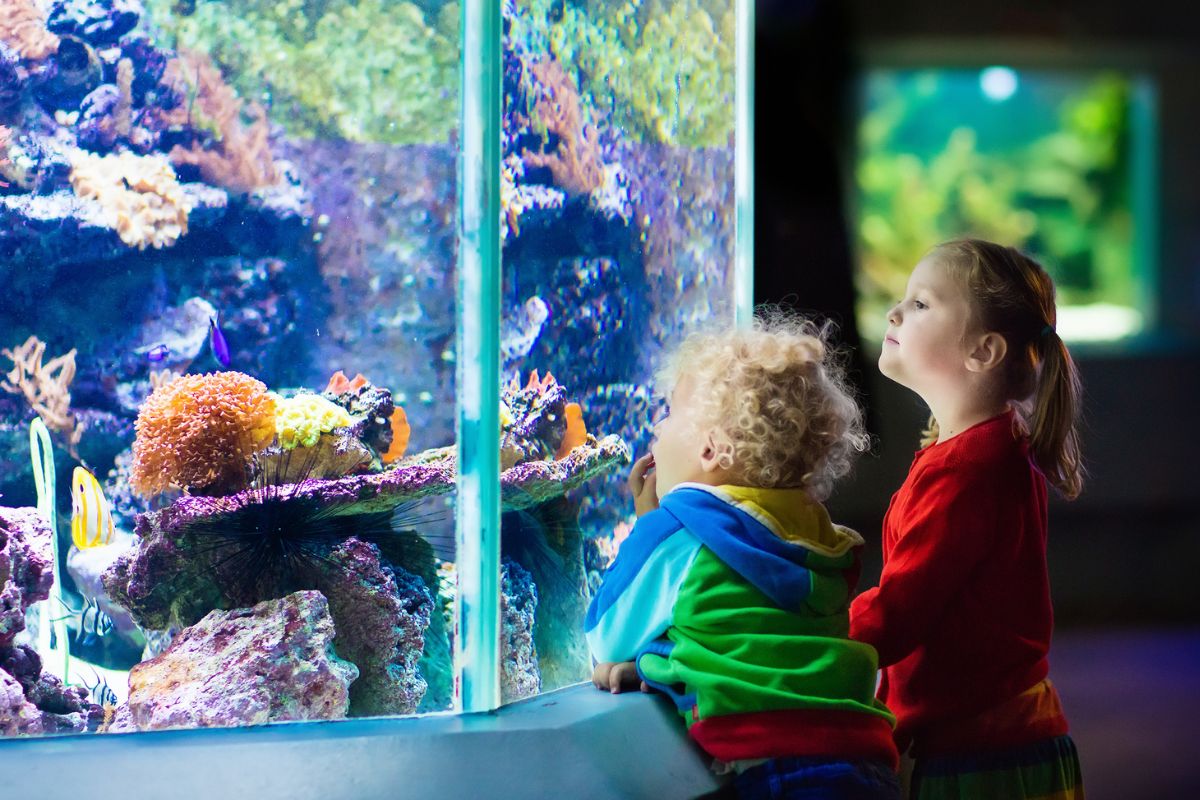 Equal parts educational and entertaining, the Mokupāpapa Discovery Center blends interactive exhibits with hands-on learning opportunities to create a fun and informative introduction to the Northwestern Hawaiian Islands, a remote archipelago made up of coral atolls, reefs, and shallow seamounts – in particular, its marine life, ecology, and culture.
Situated on the waterfront in downtown Hilo, right next to the Pacific Tsunami Museum (the perfect one-two punch activity, perhaps?), the free museum is largely geared toward kids but can certainly hold the attention of visitors of all ages for a good hour or two.
As you wander through the century-old Koehnen Building, admiring lifesize models of wildlife, and watching the vibrant creatures swim around the 3,500-gallon saltwater aquarium, you'll learn all about everything from endangered Hawaiian monk seals to the area's thriving coral reefs, and the endemic fish from Papahānaumokuākea.
Open Tuesday through Saturday from 9 am to 4 pm, this family-friendly attraction provides fascinating insights – through interpretive panels and special events – into a little-known section of Hawaii – where over 7000 marine species call home.
22 – Zoom down a zipline (or nine)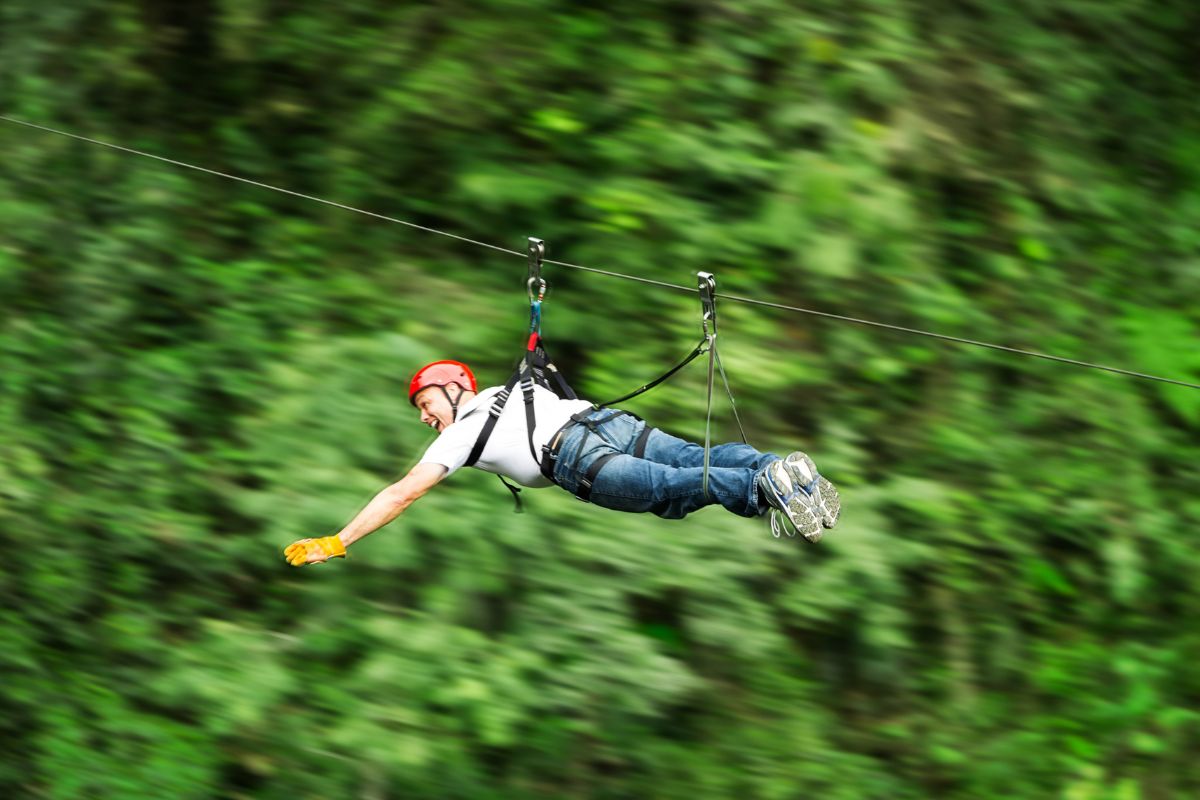 As an island – scratch that, an entire state – covered in lush rainforests, it's no surprise that Hawaii is home to some of the best ziplining experiences in the world. And while you can find excellent canopy tours on several of the islands, including Maui, Kauai, and Molokai, the Big Island's zipline scene is widely considered one of (if not the) best.
With a handful of choices spread across the island, ranging from 30 feet high to 200 feet high; from single-line adventures to entire courses with multiple zip lines, there's a zipline experience for everyone on the island – be that a family looking for some fun in the sun, or thrillseekers and daredevils wanting to surge the adrenaline into overdrive.
While the Kohala Zipline is a fan favorite for those staying out on the western side of the island (Kona), you'll find most of the top-tier zipline courses within striking distance of Hilo, on the eastern side.
Take Umauma Falls (the 'The Umauma Falls Experience'), for example. Spanning over 2 miles, made up of no less than 9 different lines, this outdoor experience lets you soar over 14 waterfalls, walk across a suspension bridge, and (if you feel up to it) take a swim in the waterfall or spend some time in a kayak too!
Then there's Hawaii Zipline Tours just next to Akaka Falls State Park on the Honomu Coast – featuring 7 ziplines, including one that zooms you over the 250-feet-tall KoleKole waterfall, it's an adventure enthusiast's delight.
On the Hamakua Coast, about 20 minutes north of Hilo, you'll find Botanical World Adventures – another prime choice for those staying on the east side of the island – where you can zip past towering bamboo forests, over rushing rivers, and through a dense tropical jungle on 8 ziplines in total.
So whatever your ziplining style or preference may be, whether that's a 3-hour Zipline-only excursion or a full-day affair that also includes oceanfront treks or waterfall swims, there's sure to be an option for you on the Big Island.
23 – Soak in the scenery of the Wailoa River State Recreation Area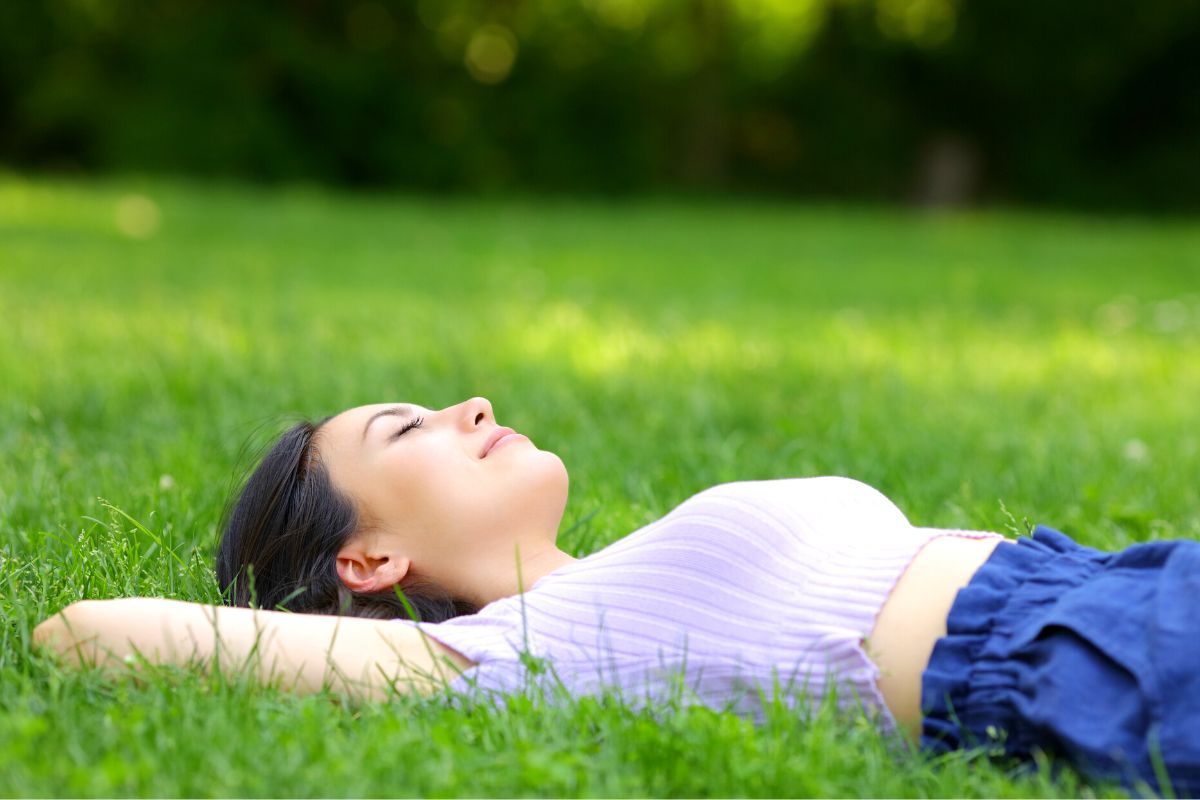 A charming section of Hilo's waterfront, the Wailoa River State Recreation Area (which you might also hear referred to as the Wailoa River State Park) sells itself as a wonderful place to spend an afternoon if you're looking to escape the (relative) hustle and bustle of downtown.
The park spans some 130 acres in total, made up of manicured gardens, open grassy areas primed for picnics or games of frisbee, and a lovely riverside walking/jogging path that stretches for close to a mile.
But the real star of the show at Wailoa River State Recreation Area is the stunning Wailoa River itself – meandering its way through the center of the park, shaded by towering trees and lined with colorful flowers, it's easy to spend an hour or two just aimlessly wandering along its banks, taking in the peaceful scenery. You might spot kayaks or fishers out on the river too, enjoying the calm waters.
Head to the far southern end of the park to discover to aptly-named Giant Banyan Tree, then make your way to the western side to pop into the Wailoa Art Center – open Monday through Friday, this hidden gem is actually Hawaii's largest local artist exhibition space, with collections routinely diving into local landscapes, customs, and history.
Don't forget to check out the Tsunami Memorial and Korean War Memorial, and the King Kamehameha Statue before you go – standing 18 feet high and perched in the foreground of palm trees and flowers, it's one of the most Instagrammable spots in town.
24 – Spot sea turtles at Carlsmith Beach Park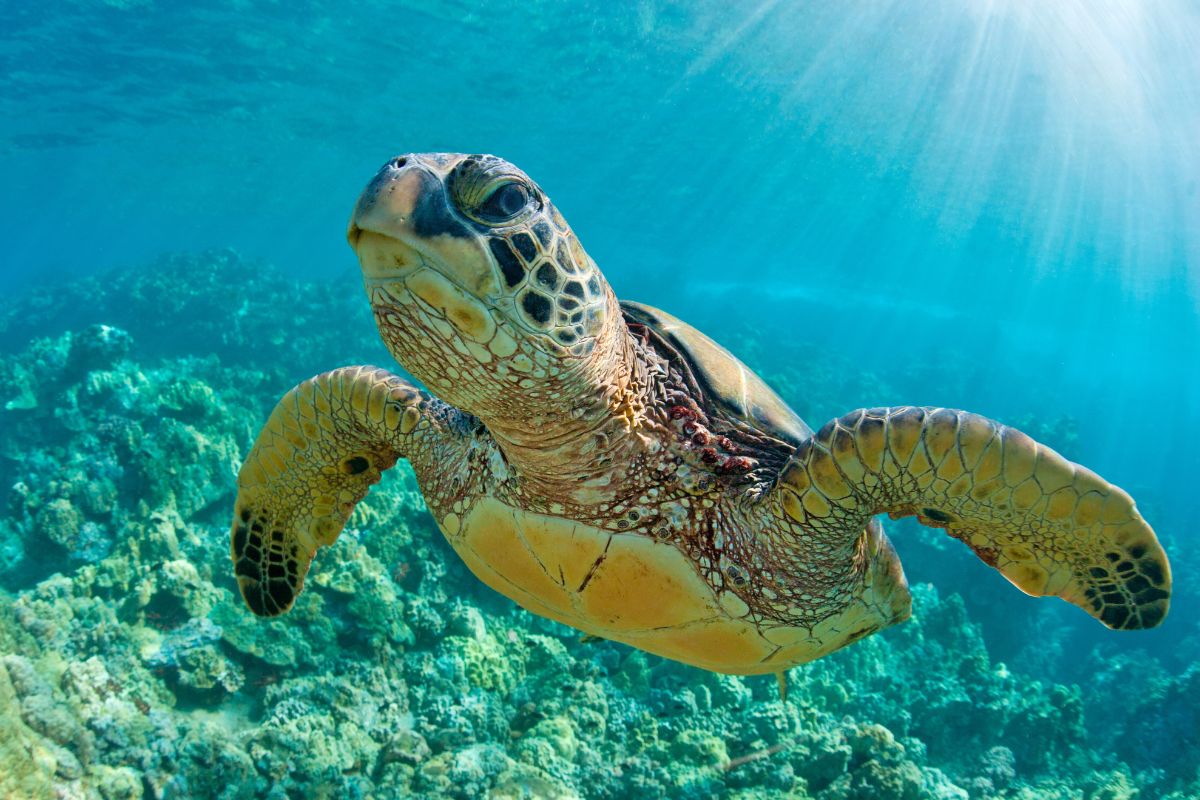 A hotspot not only for local swimmers and snorkelers looking for warm, clear waters, but also for the friendly resident sea turtles, delightful Carlsmith Beach Park is one of those Hilo spots reserved for in-the-know travelers… until now.
Sitting right next to the airport, about a 10-15-minute drive from Hilo's main downtown haunts, this unconventional beach doesn't have a sandy shoreline; but rather a well-manicured lawn where you can roll out a towel (or a picnic blanket).
Thanks to the lava rocks and surrounding reefs, Carlsmith has become somewhat of a naturally protected swimming lagoon, making it a great place for snorkeling on the Big Island if you've got kids in tow. Despite the calm waters, for extra peace of mind, a lifeguard is on duty on weekends and holidays; with restrooms, showers, covered pavilions, barbeque grills drinking taps, and picnic tables on site ensuring you won't have to wander too far.
Sure, the coconut palms and tropical plants are scenic, but it's the Green Hawaiian Sea turtles that really make Carlsmith special – often seen sunbathing on the rocks or swimming in the lagoon, it's not uncommon for them to approach swimmers and snorkelers too, so keep your eyes peeled (but don't touch!).
Hot tip: while you're in the area, add Richardson's black sand beach to the itinerary, and consider stopping at The Seaside Restaurant and Aqua Farm for a classic surf 'n' turf feed on the way back.
25 – Discover the mysteries of the Milky Way at the Imiloa Astronomy Center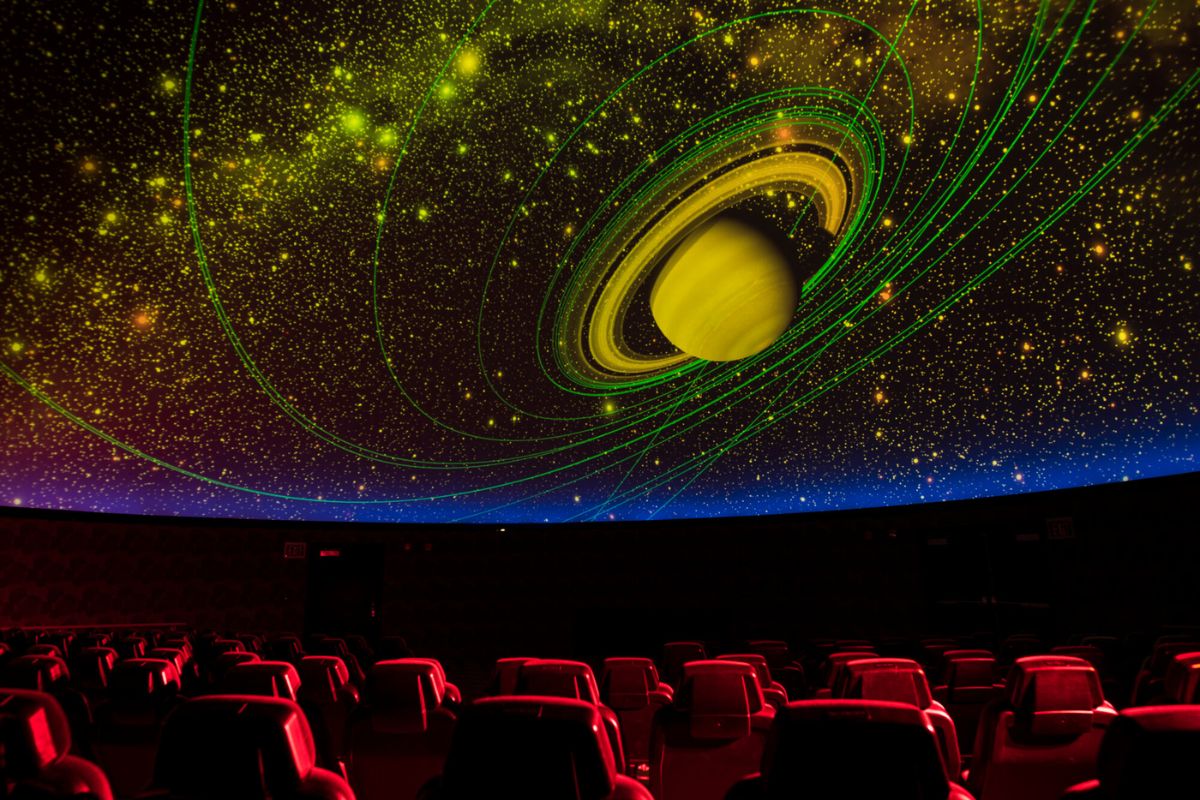 Where light pollution is effectively zero, Mauna Kea and Kīlauea are the perfect places to stargaze… but if you're looking for something a little more educational (and indoors), the insight-packed Imiloa Astronomy Center at the University of Hawaiʻi at Hilo should be at the top of your list.
Opening to the public in 2006 after half a decade purely as a private research center, this unique institution is dedicated to exploring the cultural and natural history of astronomy in Hawaii, with interactive exhibits, and guided tours all helping to bring the science to life.
Start your Imiloa experience in the Native Hawaiian Garden of Wisdom – home to over 100 different species of indigenous plants – before making your way inside to learn about traditional Polynesian navigation techniques (you might be surprised how much the stars played a role), the formation of the Hawaiian Islands, and Mauna Kea's significance in the global astronomical community (it's home to 13 different telescopes!).
Be sure to catch one of the planetarium shows too (included in the price of a ticket) – with a state-of-the-art projection system and 360° domed ceiling, they offer an immersive way to learn about everything from the Big Bang to the art of constellations, with signature shows 'Maunakea: Between Earth and Sky' and 'Skies Above Hawaii' being surefire hits.
To wrap up your visit, stroll around the outdoor garden to admire the diversity of plants, and enjoy a hearty meal at the on-site Skygarden Restaurant, which dishes up excellent views of Hilo Bay.
26 – Walk around the peaceful and colorful Nani Mau Gardens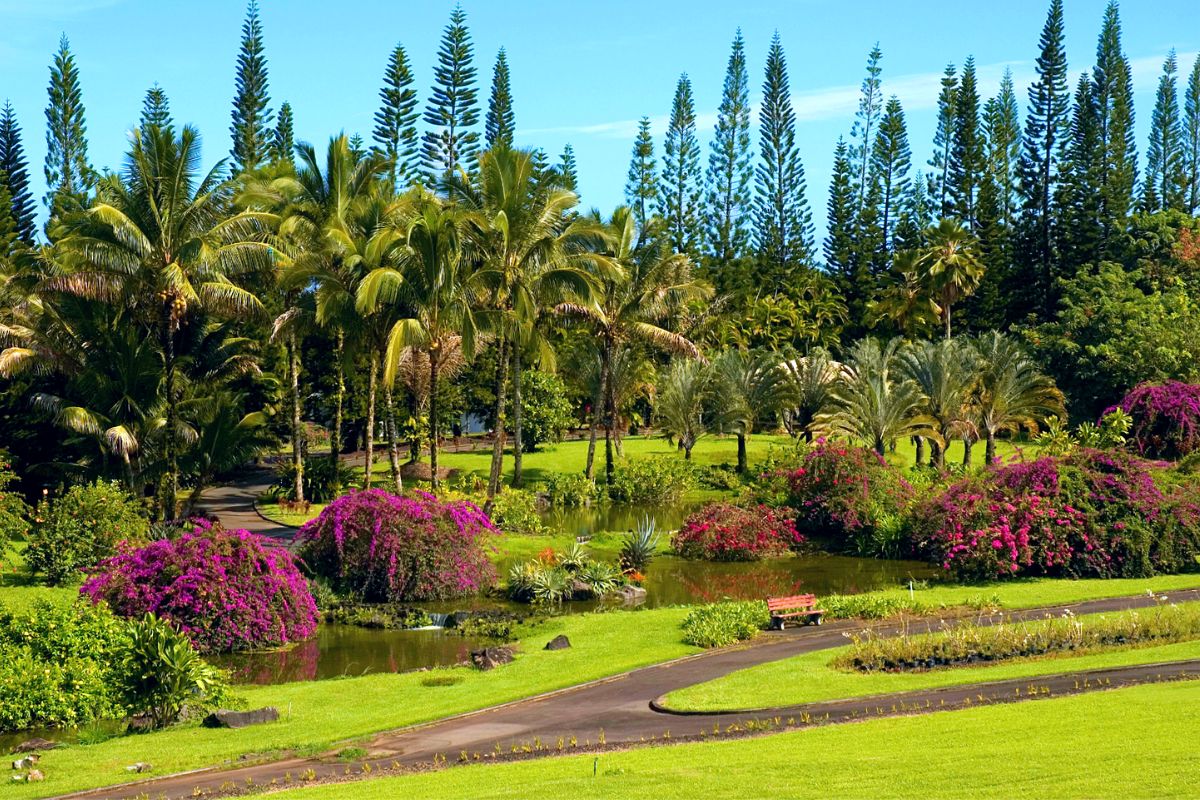 Formerly a beautiful papaya-growing operation (hence the name, which translates to 'forever beautiful'), this 22-acre botanical garden is now home to over 2000 different species of vibrant tropical plants… and counting.
Situated just outside of Hilo town proper, about 3 miles from the main digs, Nani Mau Gardens is a riot of color and fragrance, with fruits, flowers, vegetables, trees, orchards, and herbs all crammed into every nook and cranny.
A photographer's delight, this wonderful array of flora is also a popular spot for weddings and celebrations, with the picturesque gazebo and koi ponds providing a stunning backdrop for those all-important vows.
When it comes to taking in the sights, you can either set off on a self-guided or narrated guide tour; or simply explore at your own pace. A gift shop and all-you-can-eat buffet lunch round out the main attractions, with the latter being a great way to refuel after a morning of exploring (just be sure to book ahead – and note that it comes with free garden entry too).
Open every day from 10 am until 3 pm, at $10 for adults and $5 for the youngsters, Nani Mau epitomizes the beauty of tropical Hawaii and justifiably deserves a spot on the Hilo bucket list
27 – Practice your drive at the Hilo Municipal Golf Course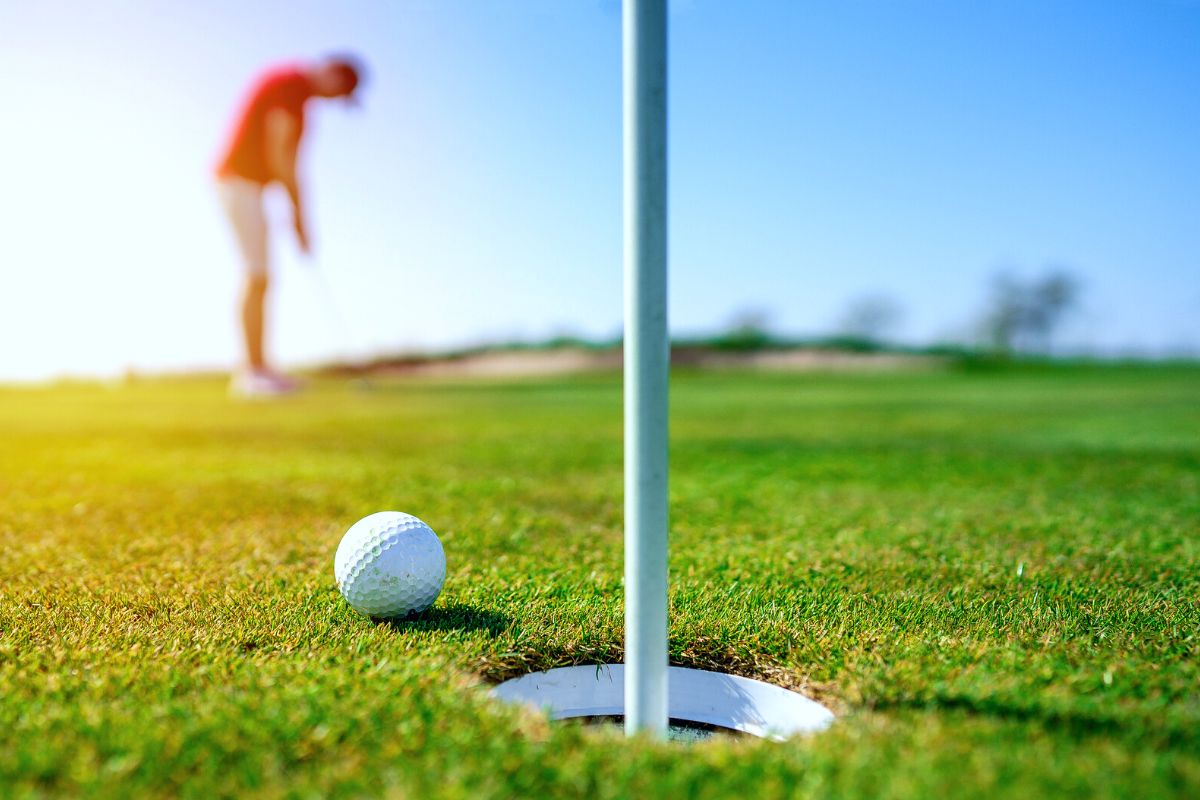 Craving a day out on the fairways? Need to practice your drive? Fortunately for all of you golf nuts, the Hilo Municipal Golf Course is open to the public and offers up a challenging 18-hole round with some of the most breathtaking views in town.
Situated just a 10-minute drive from the buzz of Kamehameha Avenue, this par-71 course stretches out over 6,325 yards, with various tee levels accommodating players of all abilities.
Not only are the fairways well-manicured and the greens fast, but there are also plenty of water hazards and slopes to keep things interesting – and with the majestic Mauna Kea volcano looming large in the background, you really will be spoiled for choice when it comes to photo ops.
At just $44 with carts included, you won't find too many more affordable rounds in Hawaii. Pop into the nice restaurant attached to the main clubhouse for a post-fairway feed, and don't forget to stop by the pro shop on your way out for some souvenir golf balls or a new glove.
28 – Try snorkleing at Onekahakaha Beach Park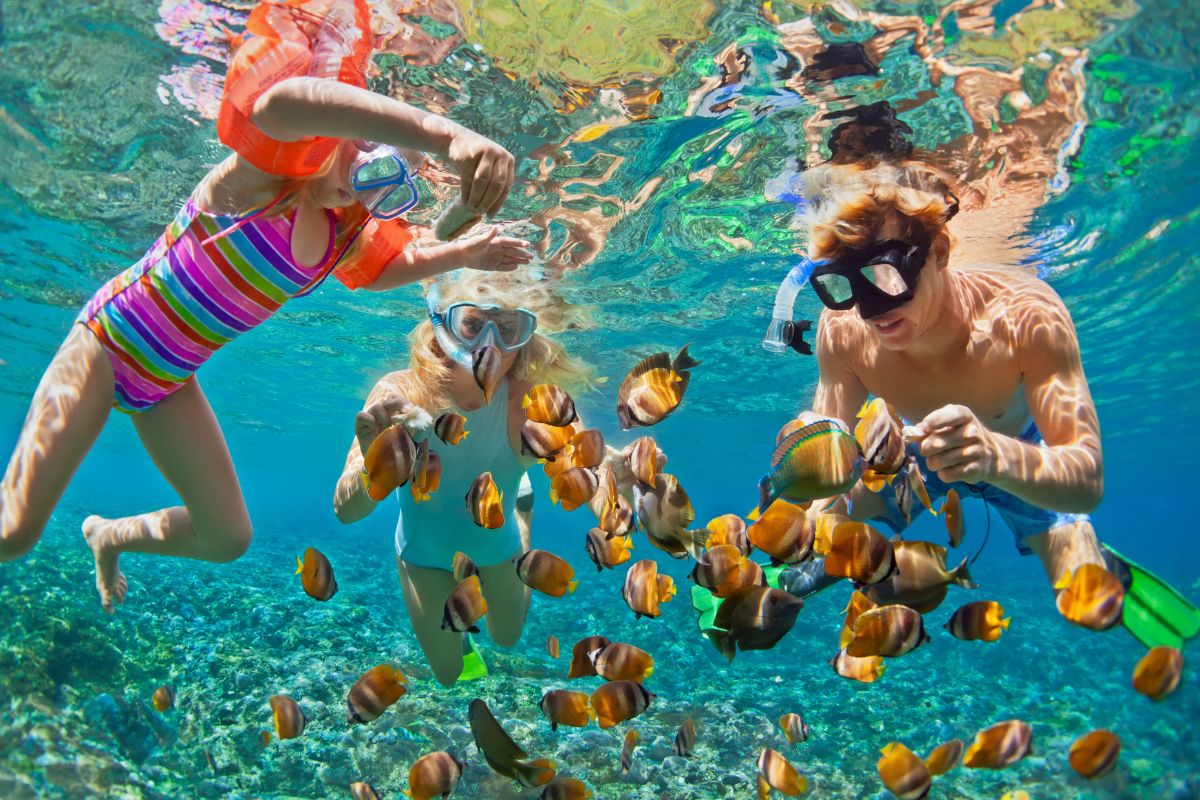 Straddling the foreshore of Puhi Bay, this gorgeous white-sand beach is shallow, soft, and protected by a natural lava rock seawall, making it an ideal place to relax and unwind for galavanting families.
Just a cruisey 10-minute drive down Kalanianaole Street, right next to the airport (a little bonus if you like watching the planes come into land), Onekahakaha Beach Park is nature's version of a swimming pool, and has something for everyone.
A large grassy area is great for picnicking and ball games, while the beach itself is primed for swimming, boogie boarding, sunbaking, and lazy afternoons in a hammock with a good book. The tide pools are often teeming with fish and other sea critters (including the occasional Hawaiian Green Sea Turtle), making them a hit with the little ones, and there are even shaded gazebos should you want to put together a lunchtime spread!
Want to combine this stop with another one the kids are sure to love? After drying off, head south for about 30 minutes and you'll find yourself at Mimi Wonderland – Hawaiian Paradise Park. A quirky little spot renowned for its collection of sculptures and miniatures, this place is sure to fire up the imagination.
29 – Stop to smell the roses at the Hawaii Tropical Botanical Garden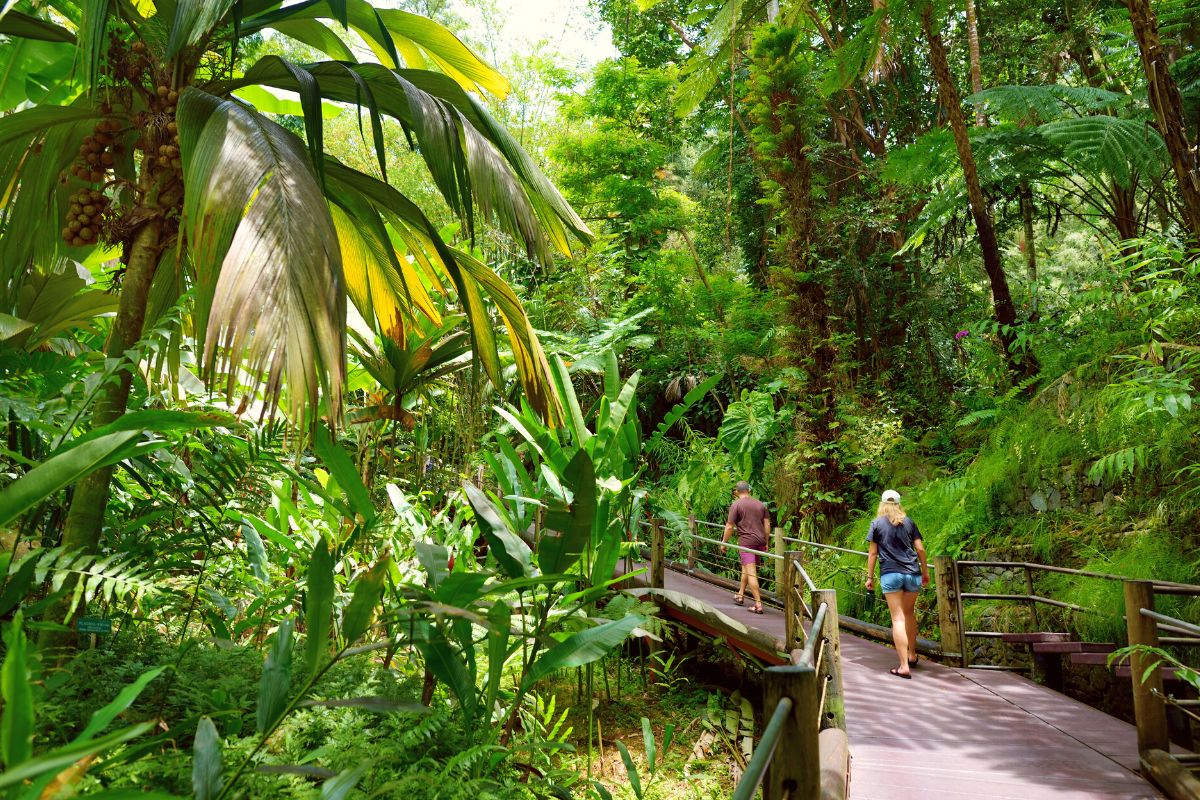 Looking to escape into a wonderland of exotic plants and pristine waterfalls? You can do just that at the Hawaii Tropical Botanical Garden, a pristine slice of nature located a couple of miles drive north of Hilo town in Papaikou.
Founded in 1984 by Dan Lutzenberger, and slowly built upon since, this 17-acre section of plenty paradise is home to over 2000 species of tropical plants, many of which are native to Hawaii, as well as a whole host of animals, including colorful parrots, scarlet ibis, and red-footed boobies.
Wander along the twisting nature trails through the lush gardens at your own pace, listening to the birds singing and the waterfalls crashing as you take in some of Mother Nature's finest work.
Don't miss a stop at the three-tiered Onomea Falls; be sure to check out the mango and coconut trees (some of which are more than 100 years old and, expectedly, enormous), and snap a few photos at Lilypad Lake and the Onomea Bay lookout point.
30 – Admire stunning photography at Extreme Exposure Fine Art Gallery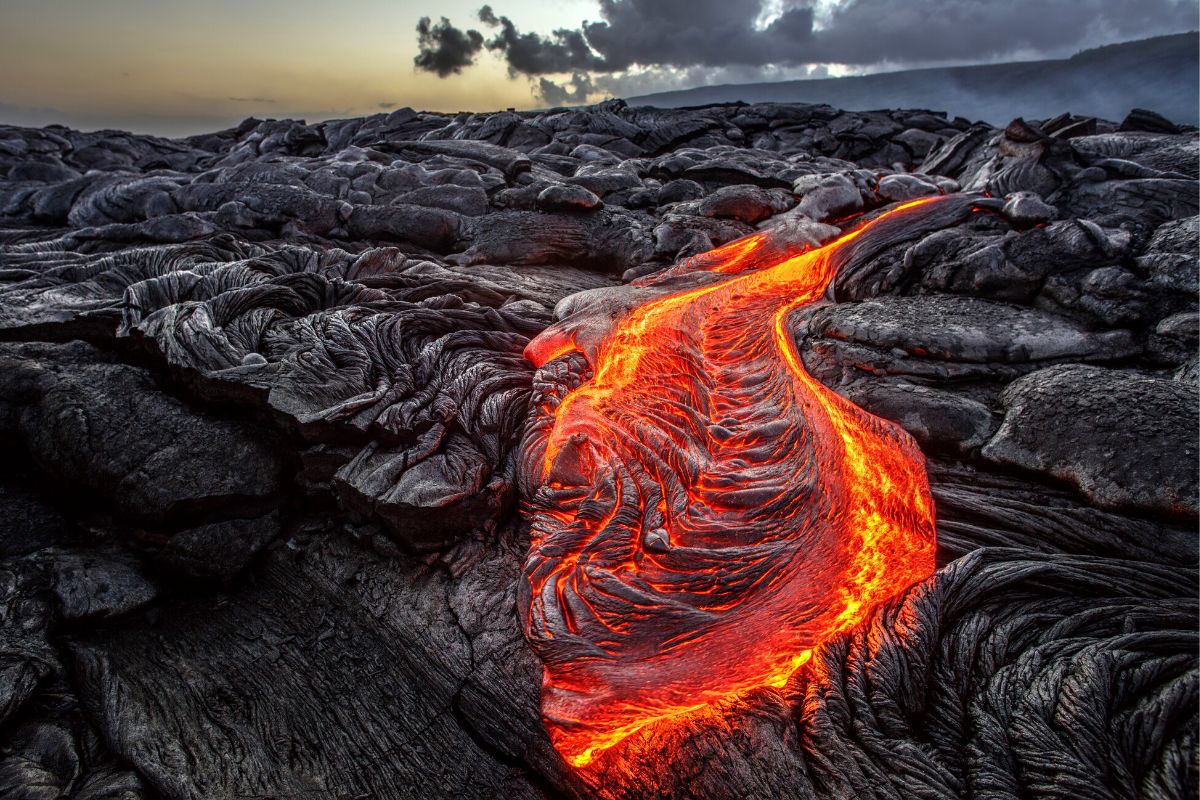 Sitting smack-bang in the middle of historic Hilo town on Kamehameha Avenue is Extreme Exposure Fine Art Gallery, a local favorite that has been showcasing the creative work of Big Island's very best artists – namely photographers – for years.
With a huge range of mediums on display – from paintings and photography to hand-carved woodwork, detailed ceramics, and avant-garde sculpture – there's something to suit everyone's taste, and the knowledgeable staff are always on hand to provide background information and answer any questions you might have.
Whether you're in the market for a new piece of art or simply enjoy browsing and taking in some local culture, Extreme Exposure Fine Art Gallery is definitely worth a visit. If, for nothing else, because of the absolutely stunning images of the island's two volcanoes. Capturing the raw power and aesthetic beauty of Kilauea and Mauna Loa — their explosions, lava flow, Pāhoehoe, and water fusions — is no easy feat, but the photographers here make it look like a walk in the park, with stunning results that will have you in awe.
31 – Treat yourself with a visit to Hawaiian Crown Chocolate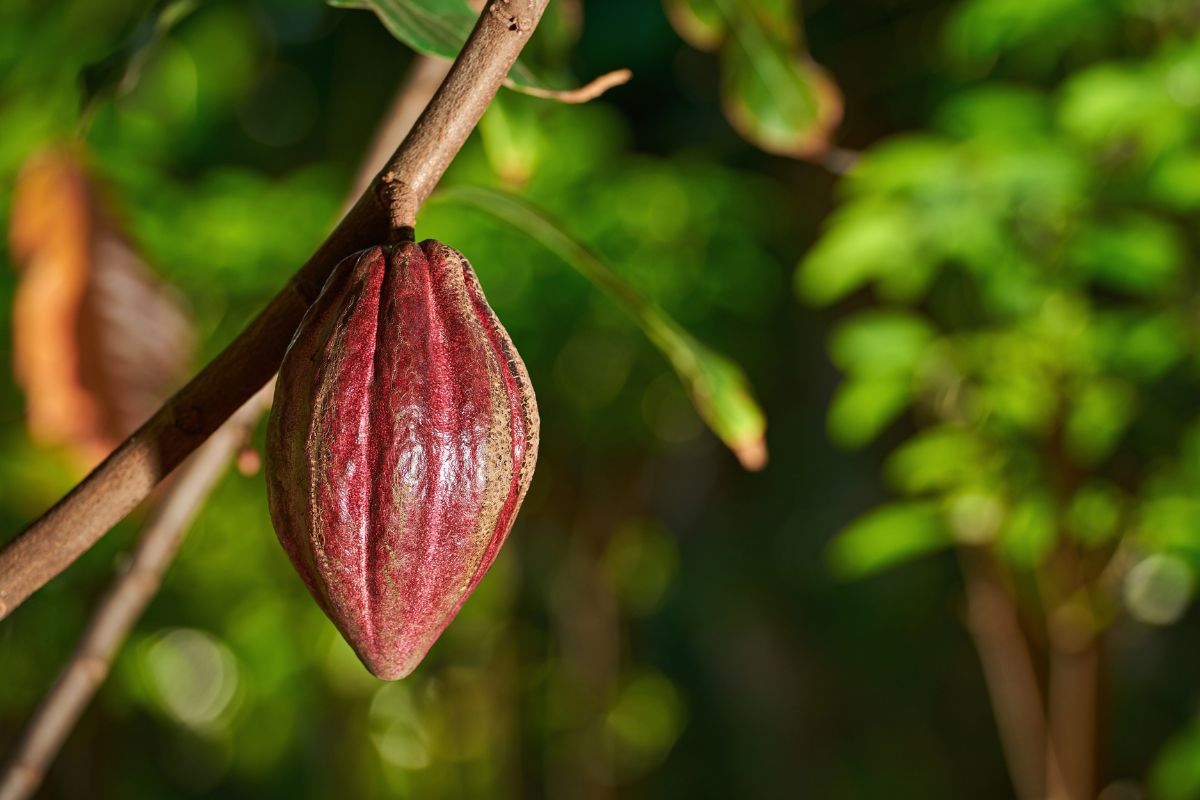 Any sweet-toothed travelers out there? Tucked away just behind the Hilo Farmers' Market on Kilauea Avenue, is a dessert lover's heaven on earth: Hawaiian Crown Chocolate – a small-batch chocolate company that's been whipping up some of the most delicious treats on the island since 2009.
Famous for being "200% Hawaiian" – meaning 100% grown and 100% manufactured right here in Hilo – this farm-cross-factory uses only the finest locally-sourced ingredients in all of its products, from milk and cream to honey, coconut, coffee, and fruits.
The result? A range of chocolate that's both sinfully delicious and unique to Hawaii, with concoctions like Macadamia Nut Truffles, Hawaiian Sea Salt Bars, Pineapple and Coconut Dark Chocolate Bars, and Ka'u Coffee Krunch, to name a few.
Sampling the delicacies is one thing, but to really dive head-first into the world of Crown, the guided tour is quintessential. Led by one of the resident chocolatiers, you'll learn all about the company's history and how chocolate is made from bean to bar. You'll be treated to a behind-the-scenes look at the factory floor, and traverse your way through the cacao, apple banana, and breadfruit trees throughout the property.
Of course, no visit to Hawaiian Crown Chocolate would be complete without indulging in a little retail therapy; pick up some take-home packs from the store or grab a European Style Hot Chocolate to go!
32 – Go stand-up paddleboarding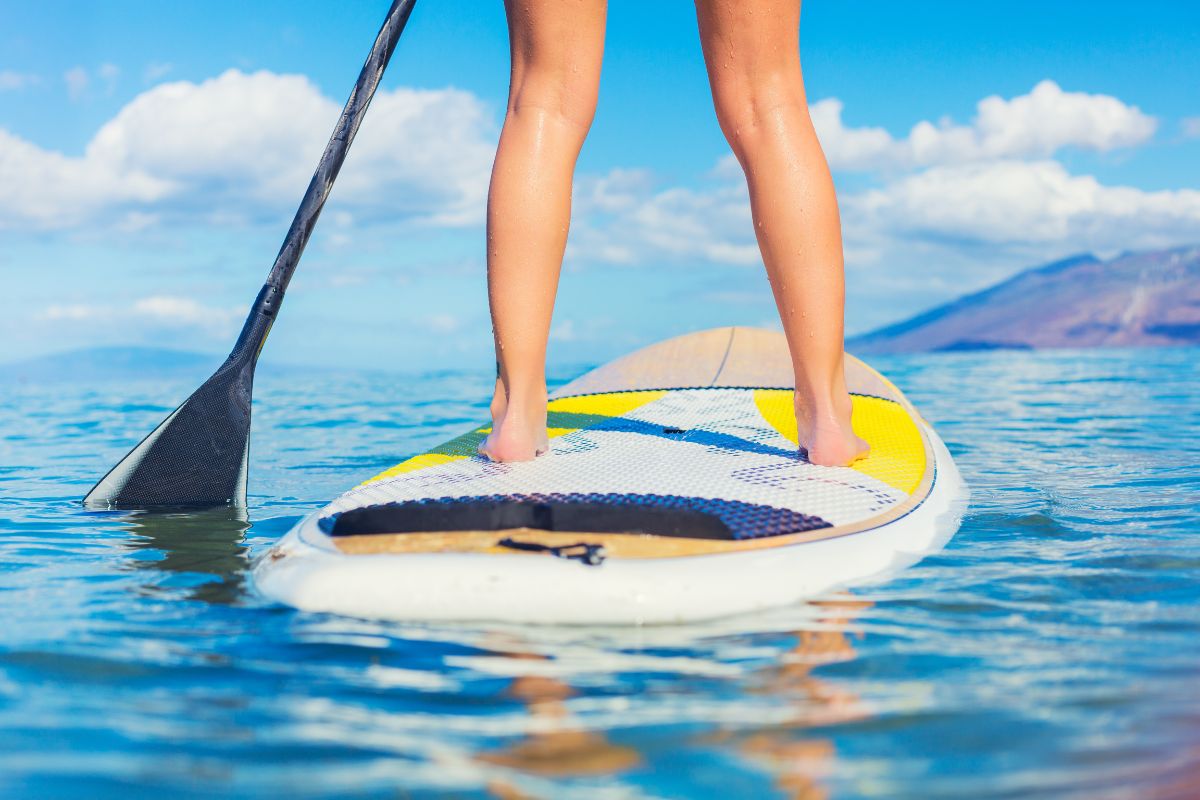 Certainly not as easy as it looks, yet always a hoot once you get the hang of it, stand-up paddle boarding (SUP), despite being an age-old tradition, has swept across the globe in the past decade, with Hawaii often hailed as the birthplace of modern-day SUP.
With that in mind, what better place to give it a go than on the Big Island's east coast, with its beautiful calm waters, lush tropical surroundings, and gentle waves? Hilo is chock-full of top-tier SUP sup – from Richardson Beach Park and Leleiwi Beach Park to Onekahakaha Beach Park and Carlsmith Beach Park – all of which offer stunning panoramas, perfect for a leisurely paddle or an invigorating workout.
If you're new to the sport and don't have your own equipment, fear not! There are plenty of reputable SUP companies in Hilo that will be more than happy to set you up with everything you need, from boards and paddles to wetsuits and life jackets.
And once you're out on the water, if you find yourself in need of a little guidance or assistance, you can choose from one of the guided expressions with a friendly local. Lasting around 2 hours, the guided adventures usually stick around Hilo Bay and the Wailoa River, stopping off at notable landmarks like the King Kamehameha Statue, Coconut Island, and Banyan Drive (which overflows with the largest tree species outside of Africa).
Whether you're a seasoned pro or a complete novice, stand-up paddle boarding is an excellent way to explore Hilo from a whole new perspective!
33 – Have a relaxing day at Richardson Ocean Park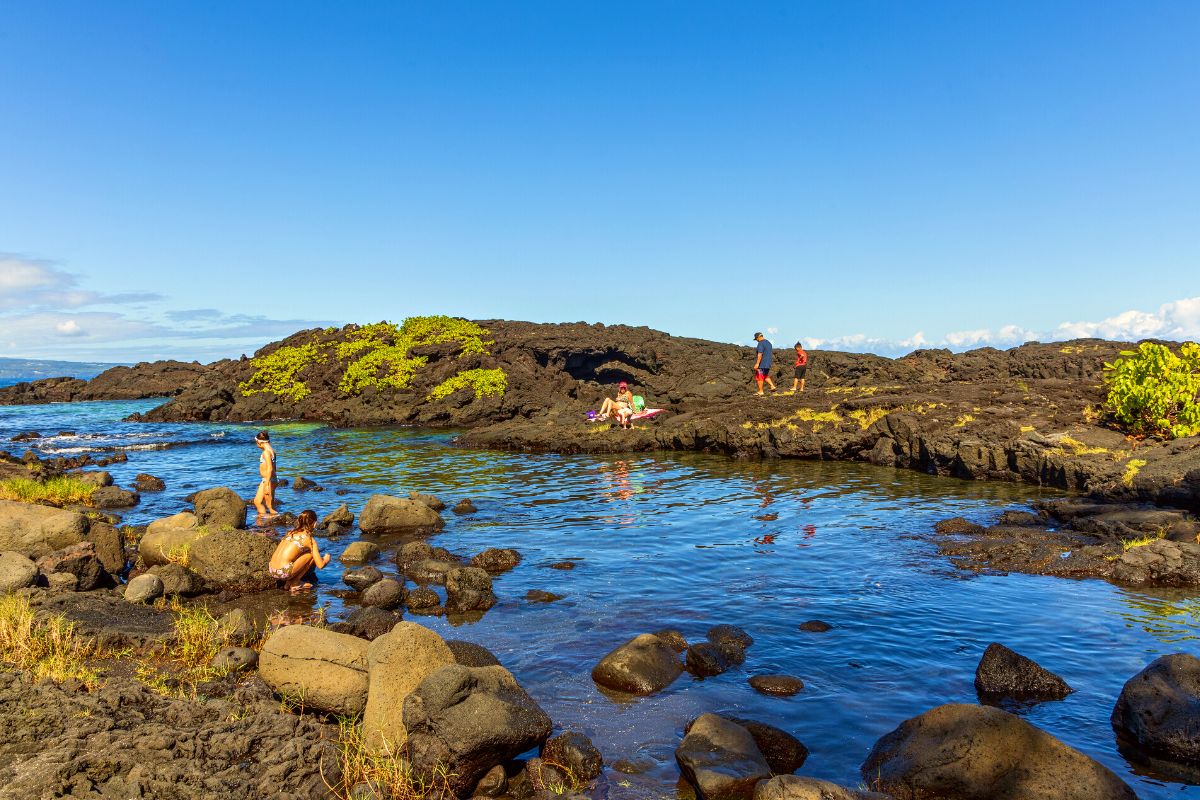 Calm, relaxing beaches in the Hilo area are a dime a dozen. But if you want something unique – say, the only black and green sand within striking distance of the town – there's only one name that comes to mind.
Enter Richardson Ocean Park: a beautiful, secluded spot located just south of Hilo on the Hawaii Belt Road, about 10 minutes from downtown. This public park is famous for its dramatic coastline, formed by lava flows from Mauna Loa and Hualalai volcanoes that have cooled and solidified over time. The stunning black sand is a result of the lava meeting the ocean, while the greenish-hued grains are olivine crystals that have been weathered and eroded from the volcanic rock.
Ideal for sun-seeking families, the natural rocky barrier that surrounds the park's shoreline provides a sheltered swimming and snorkeling area with virtually no waves, making it ideal for young children and beginners. Topping it off, the tide pools (which attract myriad wildlife) and the contrasting colors make for some great photo ops.
Although Richardson Ocean Park has all you need in terms of amenities (picnic areas, showers, restrooms, and lifeguards), you'll find it seldom crowded, making it one of the top things to do in Hilo for families on sunny summer days.
34 – Go fishing!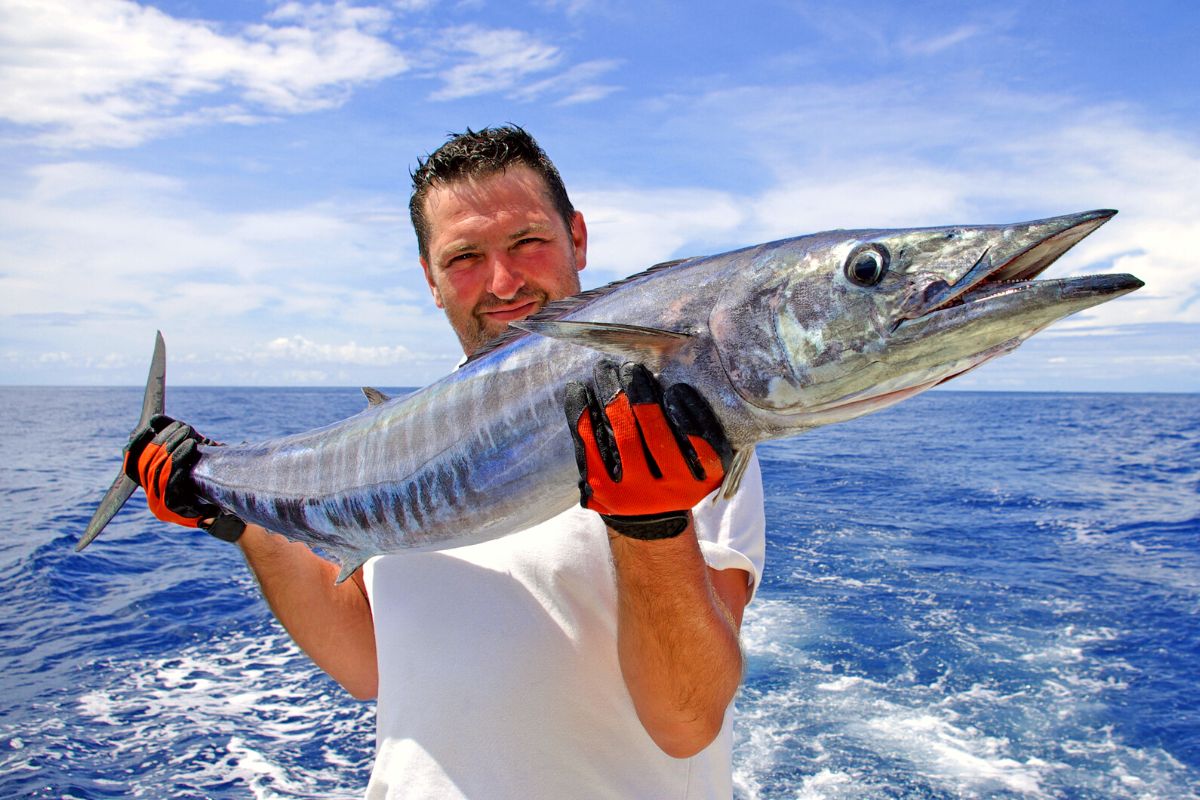 With hundreds of miles of coastline, it's no surprise that fishing — be that from a charter, off a pier, or along the Wailuku River – is one of the most popular things to do in Hilo, especially for locals, being such a longstanding cultural tradition in this part of the world. Whether you're after big game fish like marlin, tuna, and mahi-mahi or inshore species such as snapper, black triggerfish, and grouper, there are ample opportunities to cast a line and reel in a whopper.
Need a little assistance? No problem! Hilo is home to several reputable charter companies that will be more than happy to take you out for an unforgettable day on the waves. From there, it's up to you whether you want to keep your catch for dinner or release it back into the wild. Choose from half-day or full-day trips, and be sure to bring along your camera to document your success!
Known as one of the world's premier spots for deep-sea fishing, Hawaii is a Mecca for anglers from all over the globe. So if you're ever going to try the sport for the first time, this is the place.
35 – Road trip! Check off at least one of these scenic drives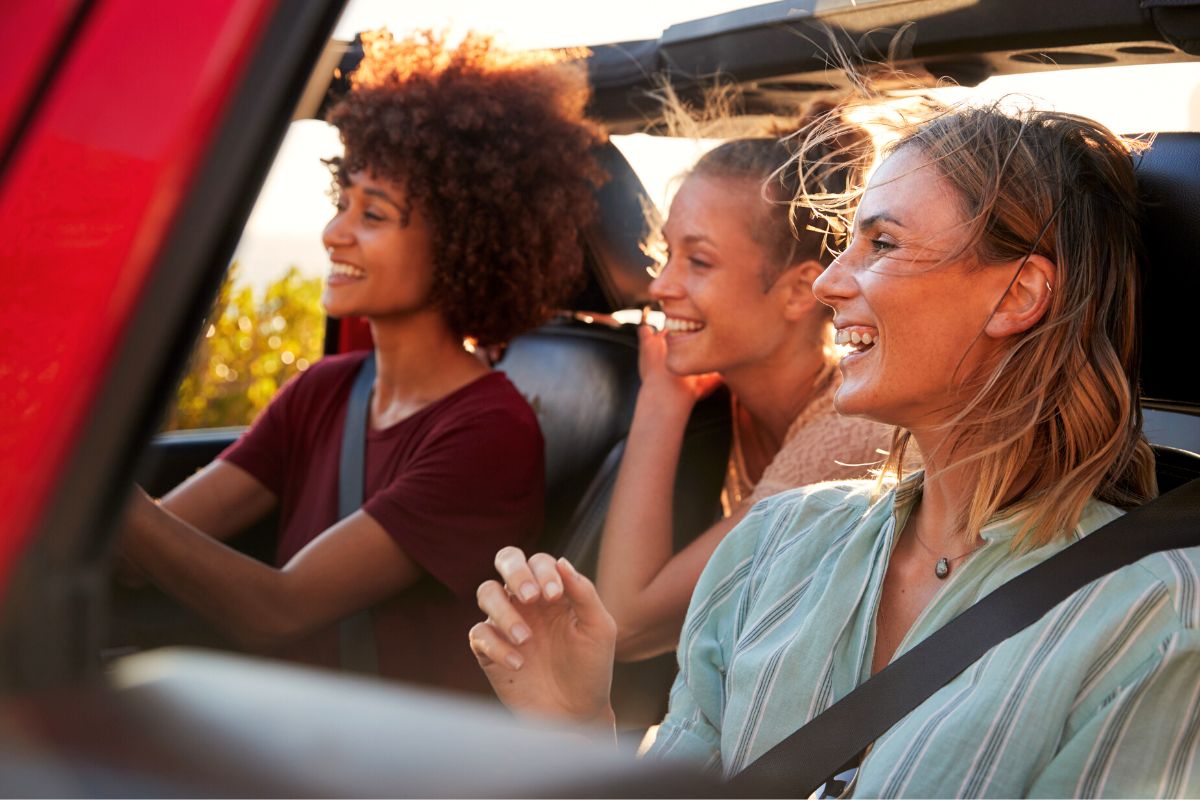 Did someone say road trip? With the tunes blasting, the refreshing sea breeze in your hair, and the warm kiss of the Hawaiian sun on your skin, one of the best ways to see everything that the island has to offer is by taking a scenic drive.
Thanks to its diverse ecosystem and changes in elevation, Hawaii is absolutely teeming with natural beauty of all kinds, from towering waterfalls and lush rainforests to dramatic coastlines and black lava fields. And while you could easily spend weeks exploring all the different routes, or even simply do a lap of the island on the main coastal roads (Highway 11 and Highway 19), if you're short on time, the following collection act as the highlight reel.
Starting in Hilo's backyard, the Pepe'ekeo Scenic Drive is short and sweet (hence the nickname, Four Mile Drive), densely packed with engulfing rainforests, plunging waterfalls, and wonderful coastal lookouts. The Hawaii Tropical Botanical Gardens sit halfway along the route, if you fancy a quick stop. If you venture south from Hilo instead, you'll come across the Kapoho Kalapana Road Scenic Drive (in Puna). also known as "Red Road", this dramatic route traverses the coastline past beach parks and through overhanging canopies that make even the sunniest of days feel a little cooler.
How about a route that combines inland with the coast? Arguably the most celebrated mountain drive is the Mountain Road from Waimea to Hawi – Highway 250. Winding its way up the flanks of Kohala Mountain, you'll be blessed with views of the peaks of Mauna Kea, Mauna Loa, and Hualalai, and on a clear day, even Maui in the distance.
For the volcano experience, tackle the Chain of Craters Scenic Drive – one of two main roads within Hawaii Volcanoes National Park that descend from Kilauea's summit back down to sea level. With ancient lava flows, petroglyphs, and deep craters to explore, not to mention the Holei Sea Arch and Thurston Lava Tube en route, these road trips serve as one of the most unique things to do in Hawaii.
And while drives from Kona's coffee country aren't to be overlooked either, it's State Route 200 – the Ala Mauna Saddle Road or simply Saddle Road – that gets the final nod. Winding its way for 54 miles from downtown Hilo t Highway 190 just outside Waimea (and also acting as the shortest route from Hilo to Kailua-Kona), this rollercoaster of a road is the only way to cross Hawaii Island's massive central mountains.
Along the way, you'll traverse rainforests, pastures, and even lava fields — one of the few places on earth where you can go from rainforest to desert within a timeframe of 45 minutes. At its highest point, 6,632 feet, its emptiness resembles a "moon-like landscape" – a big contrast to the lush, green valleys below.
36 – Dine at the area's best restaurants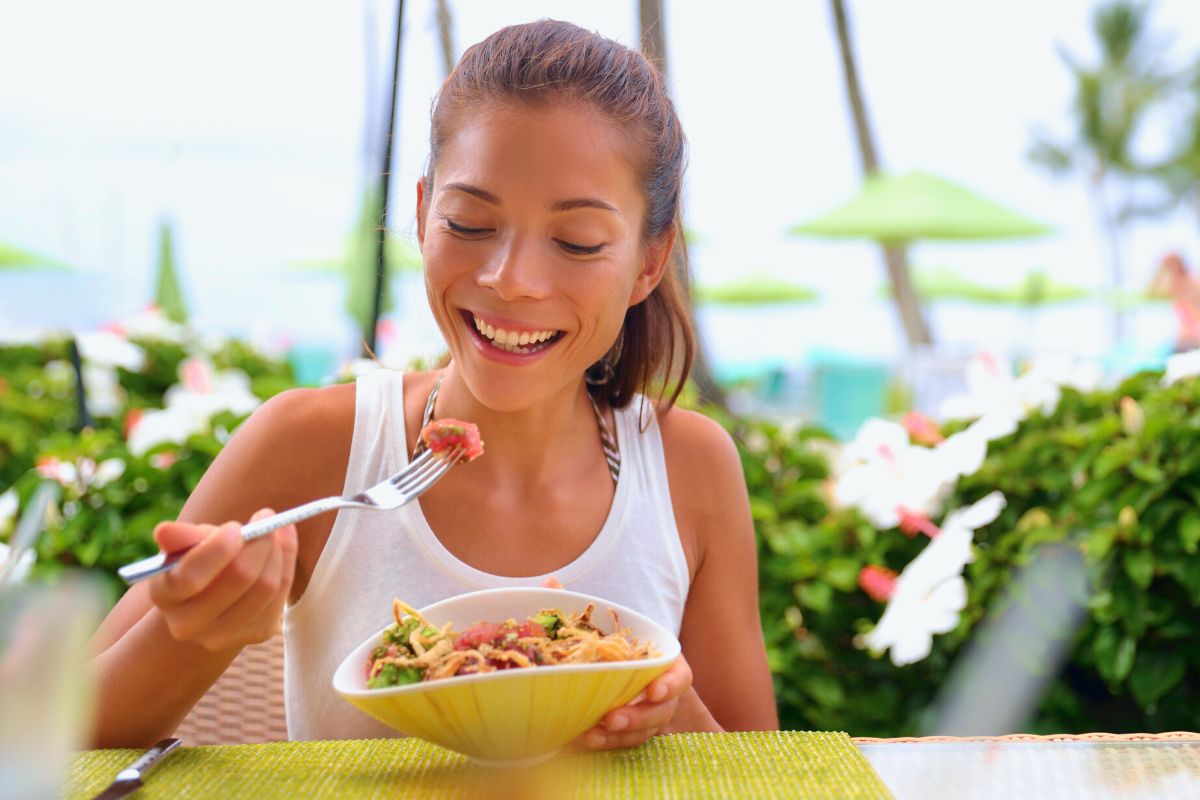 Mixing traditional Hawaiian fare with contemporary Pacific Rim cuisine, and peppered with international influences thanks to immigrants and ex-pats arriving over the years, Hilo's culinary scene is different from what you'll find in Honolulu (and obviously a world away from mainland US cuisine) but certainly no less delicious. Locals will tell you that some of the best food on the island can be found right here, and once you've sampled the impressive portions at some of Hilo's most coveted restaurants, it'll be hard to disagree.
So where should you go? Start with Café Pesto, a Kamehameha Avenue institution serving up wood-fired pizzas, homemade plates of pasta, and inventive desserts (try the cheesecake with lilikoi sauce) alongside colorful cocktails in an oh-so-charming waterfront setting since 1988.
Just up the road is Pineapple's Island Fresh Cuisine, where you can enjoy locally-sourced dishes (including fresh seafood) at what claims to be the only open-air restaurant in Downtown Hilo. Another local favorite is Ken's House of Pancakes, a 24-hour local dive that's been around for over 50 years (since 1971) and is especially beloved for its giant pancake stacks (duh), which are served all day long.
If you're after something a little fancier, stop by Hilo Bay Cafe for inventive (often organic) dishes (try the mushroom pot pie) and lovely waterside views to boot, or Suisan Fish Market, where you can get your seafood to go or eat at one of the picnic tables overlooking Hilo Bay. And for those mornings when you need a little caffeine hit (or afternoon pick-me-up), head to Cafe 100 (the home of Hilo's famous Loco Moco – a meal of rice, hamburger patty, gravy, and fried egg) or Hilo Shark's Coffee Shop for some seriously good brews and ice cream to boot.
Paul's Place and Moon and Turtle round out the crowd favorites, each locally owned and offering their own unique twist on fresh Hawaiian favorites.
37 – Go stargazing atop the Mauna Kea volcano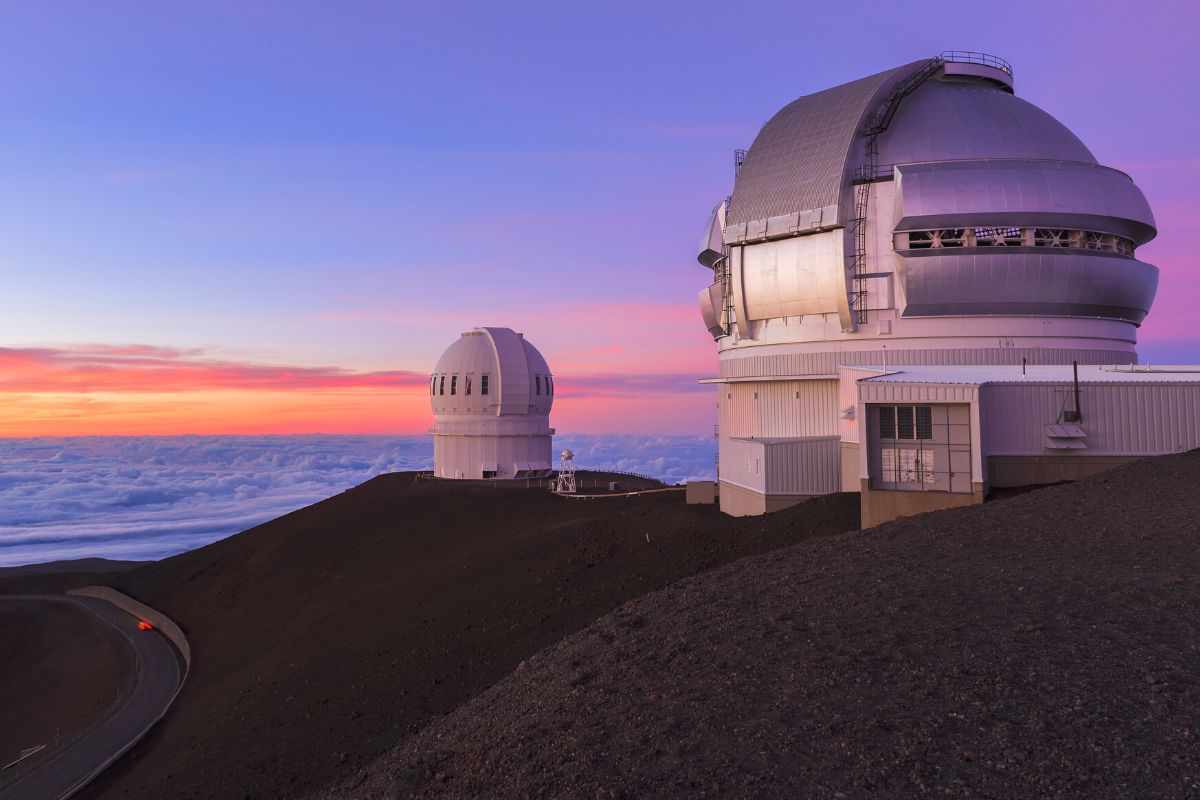 All over the Hawaiian Islands (with the small exception of Honolulu), the night skies are some of the darkest in the US, making them ideal for stargazing and astrophotography. And while there are plenty of great spots to do just that on Maui, Kauai, and even Lanai, it's Hawaii Island that takes the cake when it comes to astronomy.
That's because Mauna Kea – the island's highest point at 13,796 feet – is home to some of the world's most important astronomical observatories. In fact, there are 13 telescopes on Mauna Kea (including the famous Keck Telescopes, the world's largest optical and infrared telescopes), making it one of the best places on the planet for stargazing upon the majestic Milky Way.
And while the starry night can be appreciated from various points across the island, the best way to do so is with a twilight guided tour.
After being picked up from your Hilo hotel in a comfortable, air-conditioned van or 4×4, your guide will take you on a breathtaking journey up to the summit, chatting all about the history of Mauna Kea and its importance to Hawaiian culture along the way.
Once you're at the top, as the sun starts to set, you'll be able to take in the 360-degree views and learn about the various constellations, planets, and stars visible in the night sky.
With various packages available — some of which include a stop at the Onizuka Center for International Astronomy Visitor Information Station, or a private picnic dinner at the Humuula Sheep Station — there's a tour to suit everyone. Just be sure to book in advance (and layer up!) as spots fill up fast!
How to get to Hilo?
Located on the east side of Hawaii Island (also known as the Big Island), Hilo is the island's largest town, its capital, and its main transportation hub.
Hilo International Airport (ITO) is located just a few miles outside of town and offers direct flights to Honolulu (Oahu) and Kahului (Maui), as well as Los Angeles on the US mainland – about a 5-hour flight.
The town can also be reached by car from Kailua-Kona (located on the island's west side), which is a roughly one-and-a-half-hour drive. With direct flights, Kona connects to a small handful of other major US cities like San Francisco, Phoenix, Denver, and northern Canadian neighbor Vancouver.
Where to stay in Hilo?
Hunting for a luxury experience with pampering, relaxation, and high-end amenities at every turn? Or would you rather something more traditional and authentic, with a focus on local culture and history?
Luckily, Hilo has accommodations to suit every taste and budget. If you're looking for a splurge-worthy stay, the Grand Naniloa Hotel – a Doubletree by Hilton is hard to beat. With its oceanfront location, spacious rooms and suites, outdoor pool, a golf course, and multiple bars and restaurants, the Grand Naniloa has everything you need for a comfortable stay in Hilo.
For something slightly more affordable (but no less luxurious), check out the Castle Hilo Hawaiian Hotel. Also located on Hilo Bay and right next to the Liliuokalani Garden, this hotel boasts an outdoor pool, spa, fitness center, and several restaurants, including the delectable Whiskey Steak Wine steakhouse.
If you're traveling on a budget, the Hilo Bay Hostel is a great option. Located in a historic circa-1913 building in Downtown Hilo, this hostel offers dorm-style and private rooms, as well as a communal kitchen, lounge area, and outdoor patio. Guests also have access to bikes for exploring the town.
No matter what your budget or travel style, Hilo has a place for you to stay. So, what are you waiting for? Start planning your trip to this small town with big personality today!
Where to go next?
After checking off all of Hilo's must-sees, you might be wondering what to do next. If you're looking for more places to explore and things to do on Big Island, here are a few ideas:
Head to Kailua-Kona: Located on the west side of Hawaii Island, Kailua-Kona is a popular destination for adventure seekers and beach lovers alike. The coastline, dotted with black lava rocks, is ideal for snorkeling, swimming, and stand-up paddleboarding, while the town's historic sites like the Hulihee Palace offer a glimpse into Hawaii's royal past. The variety of things to do in Kona is certainly impressive.
If you're island-hopping, Oahu is the logical next step from Hawaii Island. After all, it's the most populous of the Hawaiian Islands and home to Honolulu, the state capital. While Honolulu is certainly worth a visit (be sure to check out Waikiki Beach and Diamond Head State Monument), don't forget to explore the rest of the island too. From world-famous surf spots to stunning hiking trails, Oahu is teeming with activities.
Then there's Maui, a stunning island with an even more stunning coastline. Maui is often referred to as the "Valley Isle" due to its pair of verdant, lush mountain ranges – between which sit most of the villages. The island is home to Haleakala National Park, a must-see for any nature lover, as well as the famed Road to Hana, a winding coastal drive with breathtaking ocean views.
And last but not least is Kauai. A Jurassic Park backdrop and the "Garden Isle," Kauai is the perfect place to get away from it all and immerse yourself in nature. With its dramatic cliffs, pristine beaches, and lush tropical rainforests, Kauai is Mother Nature at its finest.
Collectively, these destinations make up the best things to do in Hawaii. If you're not sure where to start, this ultimate bucket list is sure to have something that tickles your fancy.
Final thoughts
For those looking to explore the island's volcanic landscapes, Hilo is the perfect base. Located just a short drive from Hawaii Volcanoes National Park, as well as other popular attractions like Rainbow Falls and Boiling Pots, Hilo makes it easy to tick all of the Big Island's must-sees off your list.
But Hilo is more than just a gateway to the island's natural wonders. With its own unique history, culture, and cuisine, Hilo offers visitors a chance to experience a different side of Hawaii.
So, whether you're looking to hike through lava fields, relax on black sand beaches, or taste your way through Hilo's vibrant food scene, be sure to add this small town to your Hawaiian island-hopping itinerary, and check off as many of the quintessential things to do in Hilo as possible while you're there.
Got more suggestions? Feel free to share your favorite Hilo activities in the comments below!
Aloha and happy travels!