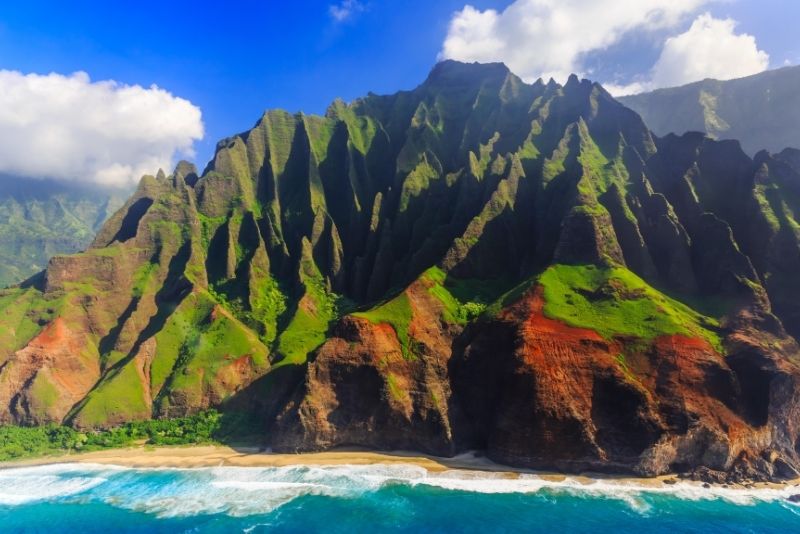 Wondering what Hawaii island is best for your vacation?
The Hawaii Islands are worth a thousand visits, but if you're planning a once-in-a-lifetime trip, you'll want to make the most of it.
There's a destination here for everyone that best suits one's personality and needs – whether it's surfing, sightseeing, getting an adrenaline fix or relaxation.
Hawaii has eight major islands and four of which – Oahu, Maui, Kauai and Big Island (Island of Hawaii) – are much loved by tourists.
Many have returned several times and others have never left, deciding to call it their new home.
Here's a brief guide to help you pick the best Hawaii island and help you plan your dream vacation.
1 – What is the best Hawaii island for couples?
Our ideal Hawaii island for couples: Maui
Abounding with natural beauty and unspoiled beaches, Maui is a perfect getaway for newlyweds and lovers.
Romantic couples who enjoy sharing moments on the beach and admiring beautiful scenery choose to spend their honeymoon here.
Watch the sunrise from the peak of Haleakala, a volcanic landscape that makes up three-thirds of the island. It stands over 3,000 meters above sea level and you can drive to the summit or hike to it.
Begin a romantic evening here by settling down to watch the sunset — after all, Haleakala is Hawaiian for "house of the sun" — then, stay for stargazing and catch a glimpse of the Milky Way on clear nights.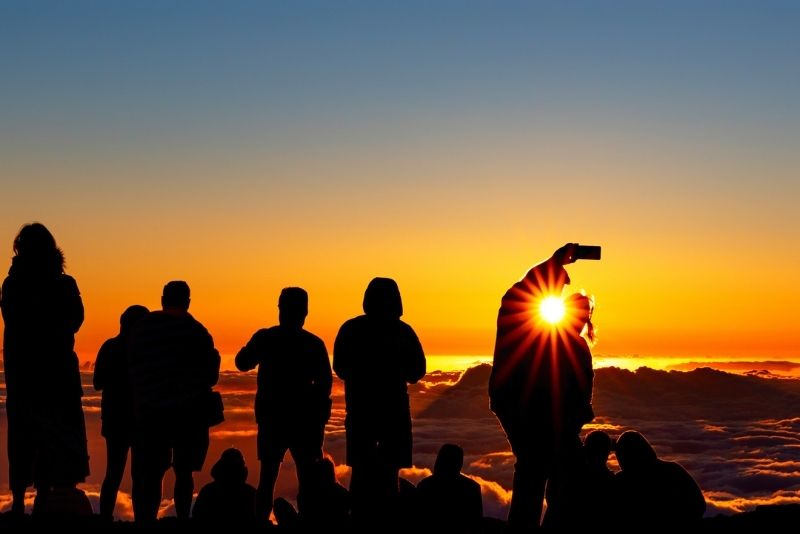 On the slopes of Haleakala, you can find the Kula Botanical Gardens showcasing different plants from all over the world, including those native to Hawaii.
Stroll along the rustic paths surrounded by colorful flowers and vegetation. Appreciate the landscape of unique rock formations, ponds and wandering ducks.
Visit a few other botanical gardens on the island and discover more of Hawaii's native and rare plant species. Found near the northwest coast, Maui Nui Botanical Garden is dedicated to preserving not only the abundant plants but also its cultural heritage.
Wander around this 6-acre garden with plants growing on a coastal sand dune habitat. Take a tour with a resident guide to learn how the Hawaiians use the native plants in their lives, such as for nourishment, cure and livelihood.
You can also watch a demonstration of xeriscaping and other ways of conserving water, as well as their cultural and environmental traditions.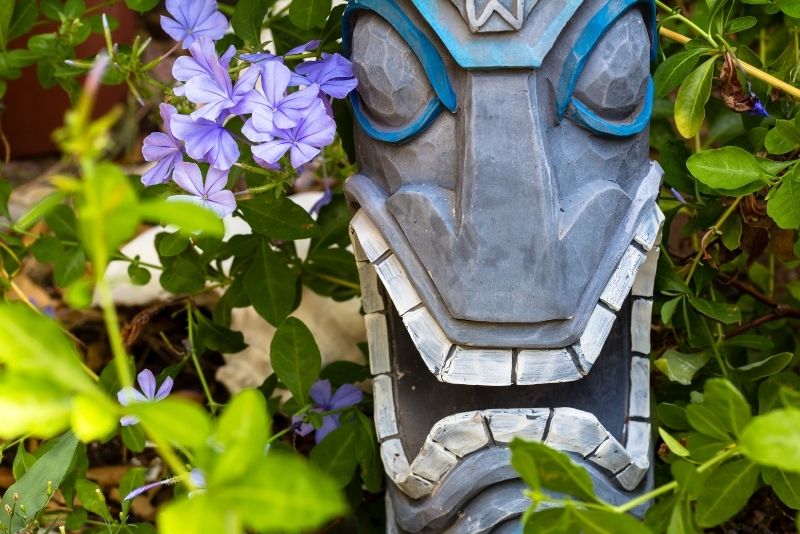 See more of the island's greenery and feel the magic while driving the Road to Hana, where trees line both sides and form a twisted tunnel with their branches and leaves.
Make the most of your drive by checking out some picturesque sights to spend a moment and take some photos. Spot the best ocean views, walk barefoot on the black sand beach or take a dip below the waterfalls.
Visit the Garden of Eden Arboretum to appreciate more of nature's gift while walking hand in hand. And, if you do love hiking together, follow a short loop at Waikamoi Ridge Trail where you can also take a picnic.
Learn the tales behind those interesting places from the locals and make sure to ask them where to have the best banana bread — one of the world's most delicious comfort food that Maui is also famous for.
There are more of these tree tunnels in the Hawaiian Islands, including the Maliuhia Road in Kauai and Nu'uanu Pali Drive and Round Top Drive in Oahu.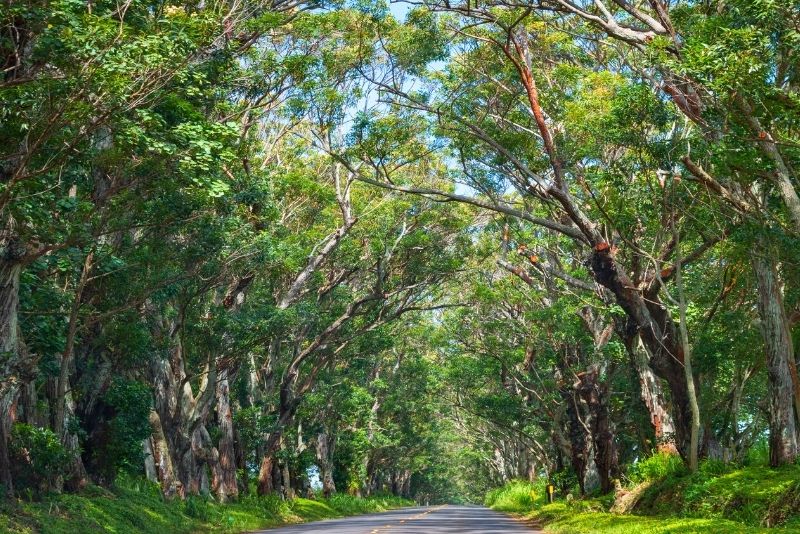 If you're up for a little adventure with your special someone, snorkel at the Molokini Crater and see the abundant colorful marine life up close. Wind up your day with a romantic sailing trip or sunset cruise with a cocktail in hand.
This moon-shaped islet is also a famous site for whale watching and diving. Formed during a volcanic eruption over 200,000 years ago, Molokini is one of the few natural calderas in the world.
For couples looking for dazzling scenery and a refreshing atmosphere, take a morning boat trip to the area and enjoy a continental breakfast included in some tours. Catch a glimpse of dolphins swimming in the clear water, known to be visible up to 180 feet below.
If you're looking for something different, try snuba which is a combination of snorkel and scuba diving. Using a regulator connected to an air supply, you can dive deeper and longer than you could when snorkeling. There's no need for certification like with scuba.
For adventure-seeking couples, take up the challenge of a kayak trip for two to the crater. Admire the curious tropical sea creatures and rare plant species, some of which can be found only here.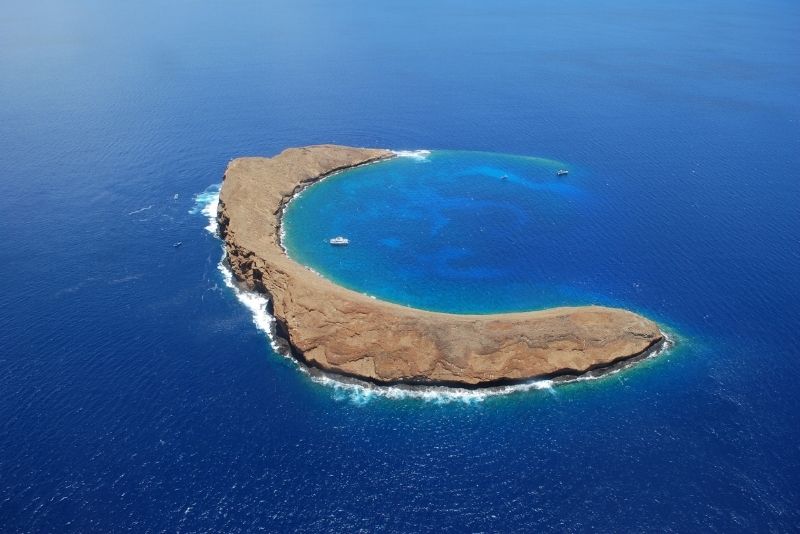 Maui is a short boat ride away from the nearby private island of Lanai where you can lay on the sand side by side with your partner in serenity.
Two of the most essential things to do here are visiting the cat sanctuary and dining in a traditional Hawaiian structure for outdoor living known as Lanai.
You can also stay overnight here in the luxurious Four Seasons resort or camp at Hulopoe Beach Park if you're on a budget.
See  also: fun things to do in Maui, Hawaii
2 – What is the best Hawaii island for a family vacation?
Our ideal Hawaii island for a family vacation: Oahu and Kauai

Home to the state capital Honolulu, Oahu offers a vibrant atmosphere with loads of attractions and fun things to do with kids – such as Jurassic Park in Kualoa Ranch where you can ride ATVs and try zip lines.
Oahu is also famous for Waikiki Beach, a favorite spot among Hawaiians, where the waves are ideal for surf lessons. Hike towards Diamond Head, the summit of the dormant volcano Leahi, for the most scenic views over Honolulu.
See rare aquatic animals at Waikiki Aquarium – established in the 1900s and the second-oldest aquarium in the US. Get a closer look at the Hawaiian monk seal which is endemic to the islands but is now critically endangered.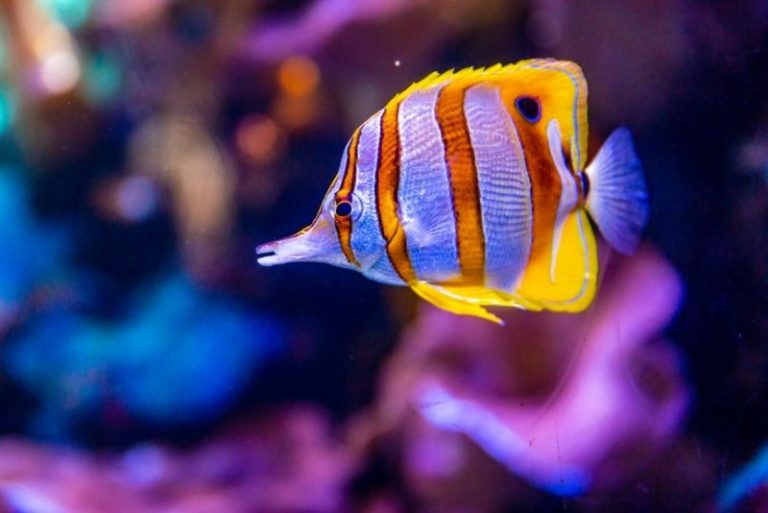 Meet more animals at Honolulu Zoo and discover exotic reptiles like the Komodo dragon, gharial or fish-eating crocodile, and tegu lizards. See different weird-looking frogs such as the ornate horned frog, dyeing poison dart frog and Surinam toad.
The zoo is also home to mammals from all over the world such as the aardvark endemic to Africa, Orangutans from tropical forests and lemurs only found in Madagascar. You can also find many birds here in different colors, including the king vulture, wrinkled hornbill and Victoria crowned pigeon.
If you're curious about the daily routine of these animals, take an exclusive morning safari tour to have the zoo all to yourself — yes, including the African Savanah area. You can also feed the giraffes while listening to inside stories from the staff.
See also: best things to do in Honolulu
When you're here on a Saturday, join a two-hour twilight tour to observe the animals in their night routines, as some of them prepare to sleep while others are just waking up.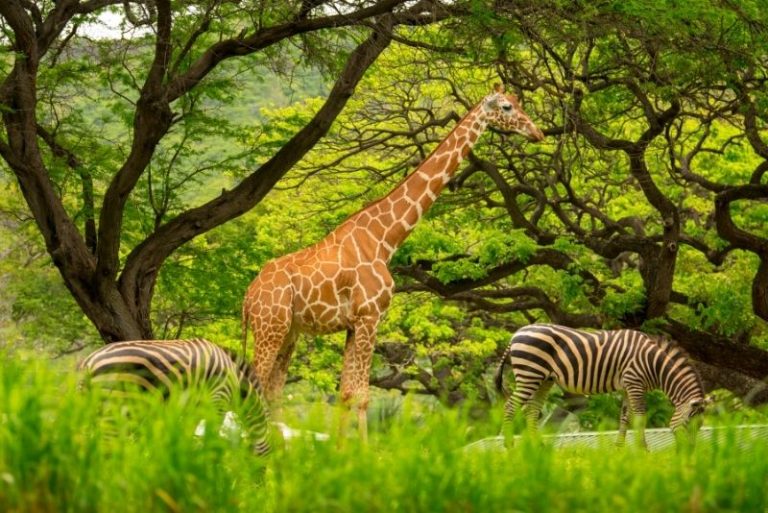 Make the most of your family bonding time at Wet 'n' Wild Hawaii with exhilarating pool slides and water cannons suitable for all ages and bravery levels — try the Surf Slider or Volcano Express.
In summer, you can watch blockbuster movies under the stars while floating on a tube in the giant wave pool.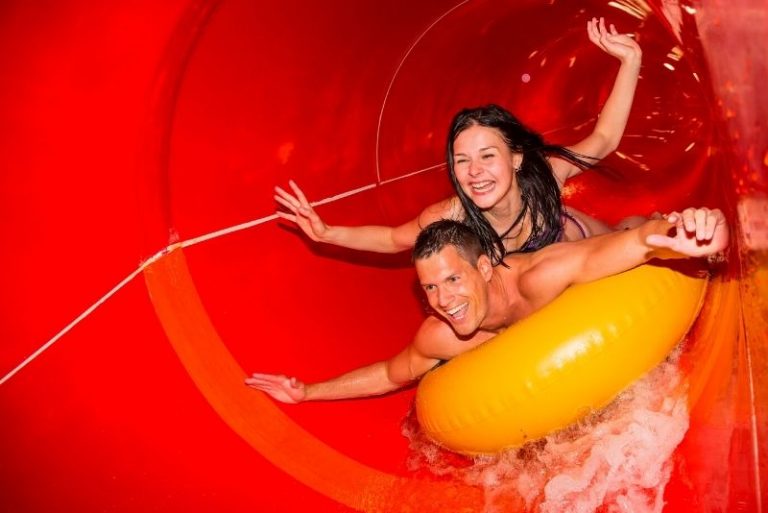 If you want some time off from the urban hustle, visit Aulani, A Disney Resort and Spa, in Kapolei, for the water park and coral reef adventures, and a luau – Hawaiian party with traditional dishes and entertainment.
There are also a lot of family-friendly beaches and hiking trails in Kauai, another ideal island to visit with kids.
You can be more adventurous and have a thrilling experience while being close to nature. Go tubing down old canals and hand-dug tunnels, or zip line across a lush bamboo grove at Kauai Backcountry Adventures. It's a great way to know the island and witness its beauty through an extraordinary experience.
Ride the Plantation Train at Kilohana to explore the island's old sugar cane plantation and have a taste of the harvests along the way. Take the children to the farm to feed the pigs and goats, then head to the plantation house for a refreshing drink.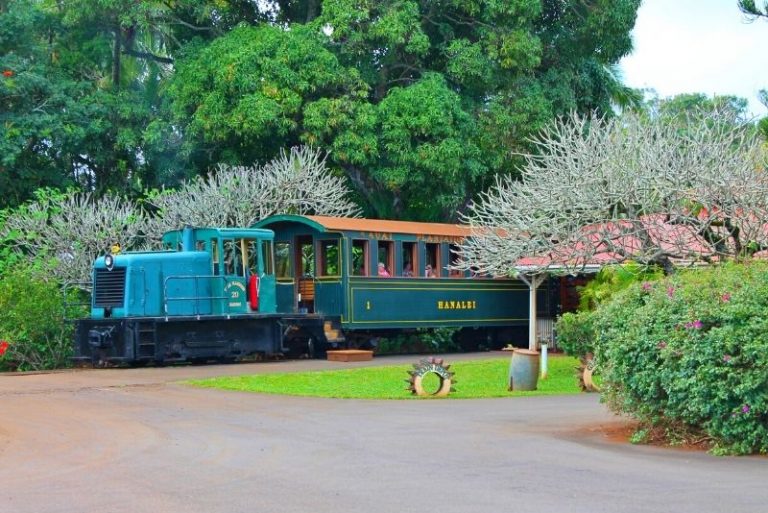 At Na Aina Kai Botanical Garden in Kalihiwai, kids can wander in the hedge maze, feed fish in the pond and play in a treehouse at the Children's Garden.
Also a sculpture park, this botanical garden has one of the largest collections of bronze sculptures in the country — you can find statues in every part of this 240-acre garden, with the highlight as the Athabasca Village.
Hop on a tram that narrates and stops wherever you want, or take a self-guided tour to discover some features of the garden, including a Japanese teahouse and several sculptures.
Anaina Hou Community Park in Kilauea is also a fun place to bond with kids. Play minigolf with exciting obstacles while being surrounded by beautiful plants native to Hawaii. Food trucks are also available within the vicinity so you can grab some food and enjoy a full day playing.
There's also a dedicated playground whose design reflects the history of Hawaii with structures imitating a sailing canoe, volcanoes and a plantation train.
This community park also hosts events such as Ahi Lele Fire Show every Wednesday which depicts the Hawaiian traditions of fire dancing and storytelling. If you're here on a Saturday, visit the Farmers Market to see and try some produce and handmade crafts from Kauai.
See also: fun things to do in Oahu, Hawaii
3 – What is the best Hawaii island for outdoor adventures?
Our ideal Hawaii island for outdoor adventures: Big Island and Maui

The Big Island is BIG on ATV rides, thanks to the World Heritage Site Hawaii Volcanoes National Park. Explore its lava-formed landscape and rugged offbeat paths on these adventurous four-wheeled bikes.
The national park includes two of the world's most active volcanoes — Mauna Loa which is over 4,000 meters above sea level and considered as the "greatest volcanic mass on earth," and Kilauea which is 1,250 meters high.
The landscape has evolved and changed constantly due to several volcanic eruptions, offering exciting obstacles to cross on a quad bike. It's also home to rare and endemic bird species and giant ferns, so make sure to make some stops to take a glimpse.
Find your way to the waterfalls nestled in Waipio Valley, as you scramble through the forests of Kohala.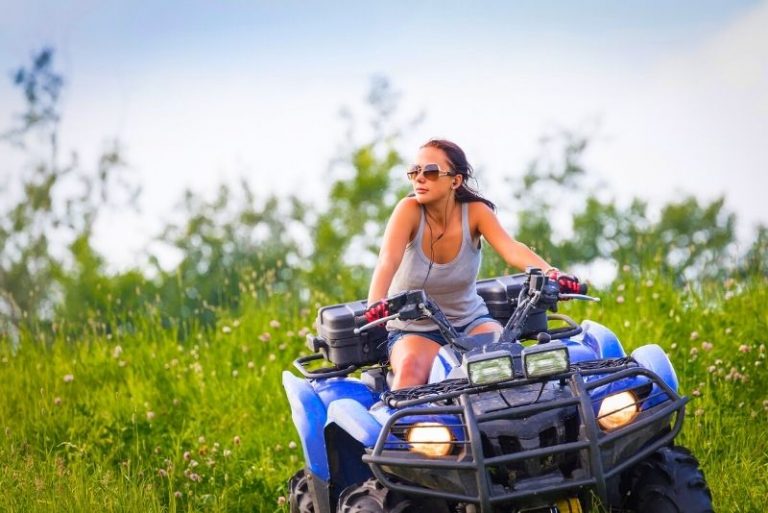 The mountains, volcanoes and valleys in Maui present marvelous views and trails, making it a great destination for outdoor activities.
Roam around the countryside of Maui in an exhilarating off-road journey on an ATV or quad bike. Drive along dusty paths and conquer rough terrains, while you are surrounded by panoramic views.
Venture through the terrains of the West Maui Mountains on horseback and view the gushing waterfalls from afar. Ride onwards to the beach and canter (if you're experienced) in front of the Pacific Ocean.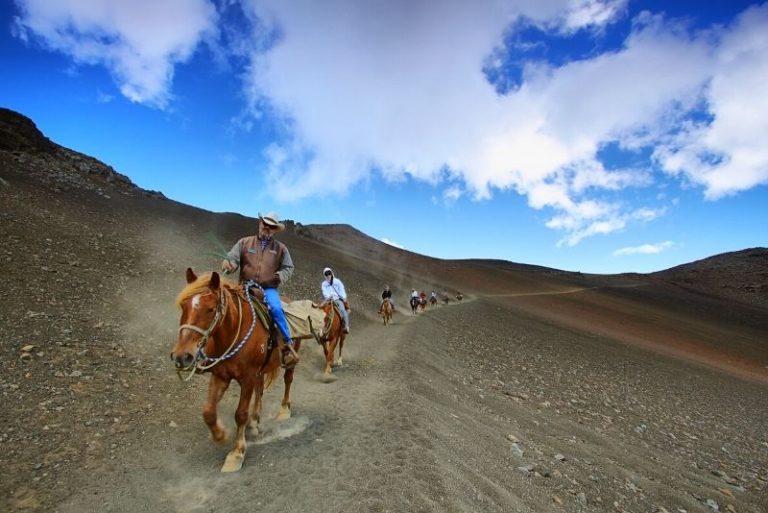 Roam around the countryside of Maui in an exhilarating off-road journey on an ATV or quad bike. Drive along dusty paths and conquer rough terrains, while you are surrounded by panoramic views.
Rent a bike and ride up to 23 miles starting outside the Haleakala National Park at 6,500 feet high and downhill at your own speed. Keep your momentum towards the North Shore and take a break at fruit stands.
Along the route, you can stop to zip line up to seven runs then continue cycling until you reach the tranquil town of Haiku.
Maui is a great place to spend all day outdoors! Aside from zipline, you can also hike rainforest trails and swim waterfalls. There's a huge swimming hole at Twin Falls which is about a mile hike on a paved track.
A short hike off the roadside leads to Waikamoi Falls where you can swing on a rope and jump the cliff of the waterfall side (for those who are brave and physically fit).
If you're into camping, head to Waianapanapa State Park where you can park a campervan or stay in one of the cabins. A sheltered volcanic coastline, the park is an ideal getaway from busy city life and being active outdoors.
It features a forest, a religious temple, blowholes and a black sand beach. Try shore fishing or hike the trail that takes you to water caves and do some exploring.
See  also: fun things to do on the Big Island, Hawaii, fun things to do in Kauai, Hawaii
4 – What is the best Hawaii island for historical and cultural experiences?
Our ideal Hawaii island for historical and cultural experiences: Oahu
What better place to learn Hawaiian history and culture than Oahu, the most populated island in Hawaii? Dubbed "the gathering place," it's home to the historic Pearl Harbor embedded between the mainland US and Japan.
Revisit the attack on Pearl Harbor in 1941 and see the aircraft and exhibits in the hangars at the Pearl Harbor Aviation Museum.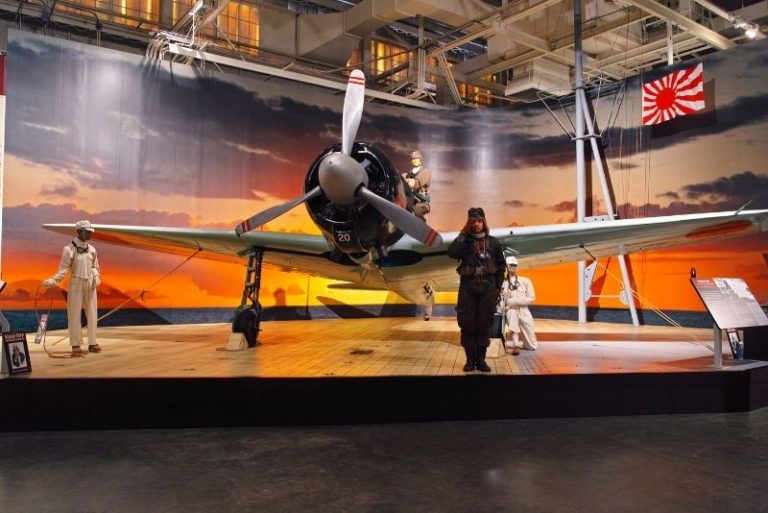 Don't miss the Battleship Missouri Memorial where the Japanese surrendered, and the USS Bowfin Submarine Museum and Park to get a full story of World War II.
The Battleship Missouri Memorial was constructed in the middle of the war and designed as a fast warship. It had survived kamikaze attacks and retaliated against the Japanese soldiers.
In September 1945, the Japanese surrendered on the decks of the USS Missouri, formally ending the horrendous war in human history.
Nicknamed the Pearl Harbor Avenger, the USS Bowfin launched a year after the Pearl Harbor attack. Spending most of its time within enemy waters, the submarine made nine war patrols until the end of WWII.
Now anchored in Pearl Harbor, the USS Bowfin serves as a museum of US naval history and the heroic deeds of fleet submarine crew famously known for "Silent Service."
See also: Pearl Harbor tickets price, best Pearl Harbor tours
Visit the Bishop Museum to see its extensive collection of artifacts and photos related to Hawaiian and other Polynesian cultures.
For fine arts lovers, the Honolulu Museum of Art has the largest permanent collection in Hawaii with thousands of artworks from all over the globe.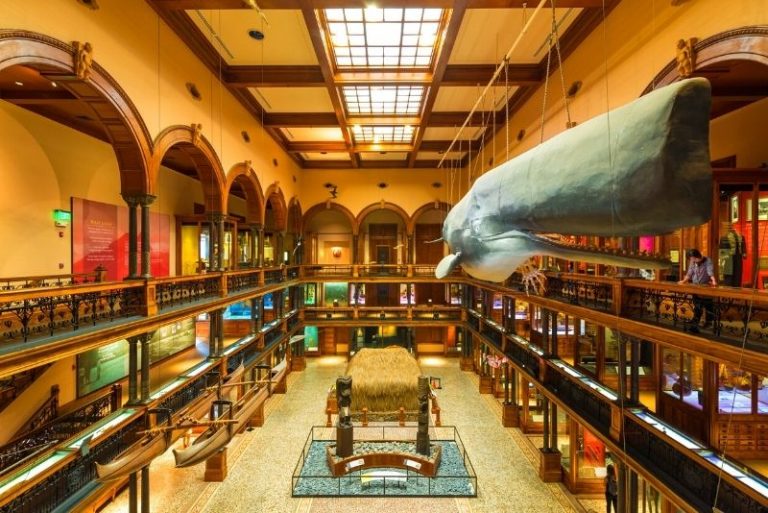 The Polynesian Cultural Center offers a deep immersion in the Polynesian culture with six villages depicting the island nations – Hawaii, Tonga, Tahiti, Fiji, Aotearoa and Samoa.
In every village, you can watch a series of 20-minute presentations and experience their culture through music and games. Get interesting facts and stories from the villagers who are happy to answer all your questions about their origins and traditions.
Discover the art of weaving in the Hawaiian village and the Maori's war dance and facial tattoo in the village of Aotearoa. Learn how to do the hula in no time with free lessons within the area.
You can get a temporary tattoo at the Fijian Village, as you learn how to make coconut oil. Learn the techniques of weaving fish and cooking bananas at the Samoan Village. Find out how they make their dome-shaped buildings without using nails.
Witness a wedding and learn some dance moves at the Tahitian Village. You can also taste delicious coconut bread and try pole fishing or throwing a spear.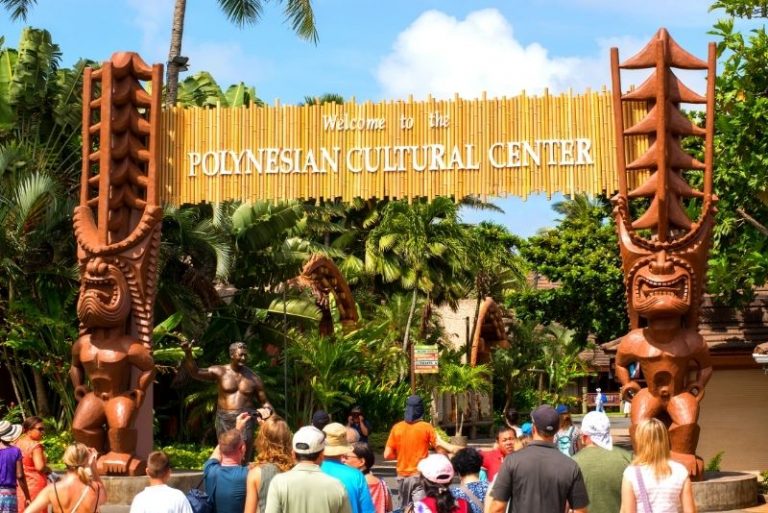 In the village of Tonga, admire the ornaments and architecture at the Queens Summer House where you can experience how to royal. You can also have a go with an outrigger canoe which the Polynesians used a long time ago, and play the Tongan version of a shuffleboard game known as lafo.
Dine and watch a show performed by Polynesian people themselves, and take home some souvenirs from the Hukilau Marketplace.
Get outside in the fresh air and tour the Dole Pineapple Plantation, also known as the "Pineapple Experience."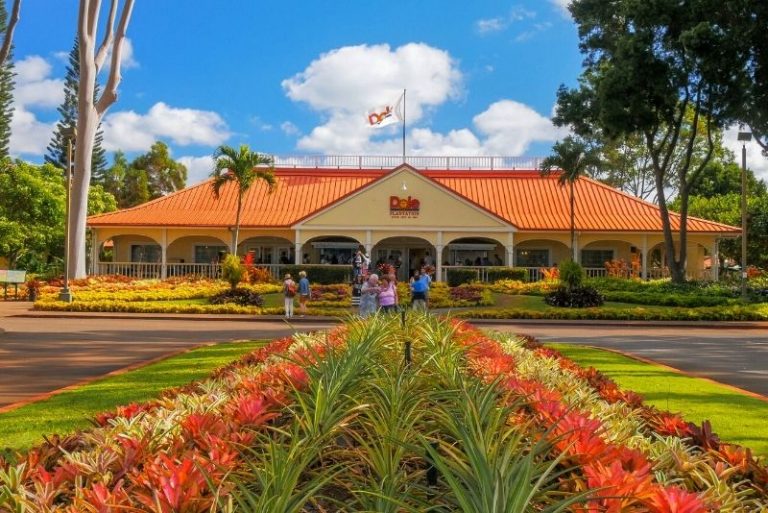 See the origins of this iconic island fruit, ride the Pineapple Express Train and puzzle your way out of the world's largest garden maze.
5 – What is the best Hawaii island for adrenaline seekers?
Our ideal Hawaii island for adrenaline activities: Big Island
What could be more thrilling than flying over the craters of two of the most active volcanoes in the world – Kilauea and Mauna Loa on the Big Island? Perhaps walking inside a lava tube!
Take a helicopter tour to witness the bubbling hot lava of the Kilauea volcano that last erupted in 2018. Get a closer look at the black sand beaches on the Kohala Coast as a result of the eruption.
See the most scenic vistas of the Kilauea caldera and crater of Halemaʻumaʻu which collapsed during the eruption. Feel the volcano breathing with the hot steam oozing from the Wahinekapu known as Steaming Bluff.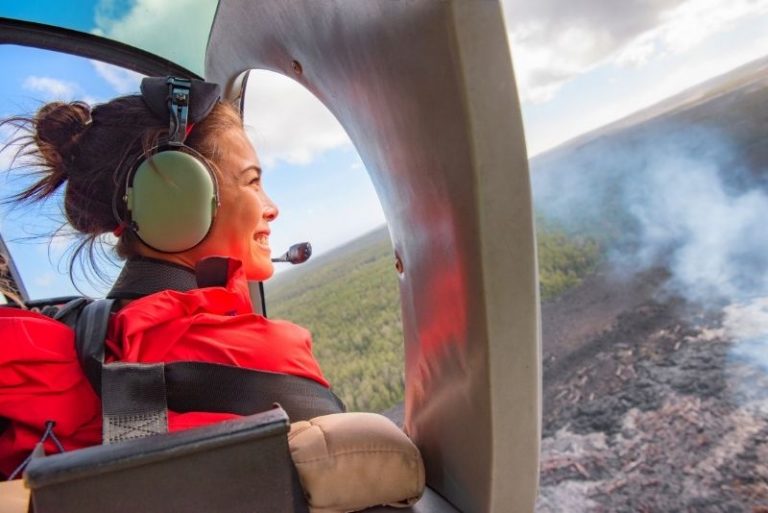 Hop on a four-wheel drive for a spectacular ride to see hidden craters, and walk inside an impressive lava tube at the Hawaii National Volcanoes Park.
Thurston Lava Tube, also known as Nahuku which means "the protuberances" in Hawaiian, was discovered in 1913 full of lava drippings. This 500-year-old tube was formed when a river of molten lava stopped flowing and left an empty cave.
Hike the lava tube from Crater Rim Drive and catch the sound of the birds, as you enter a part of the rainforest abundant with native species and is an excellent site for birdwatching.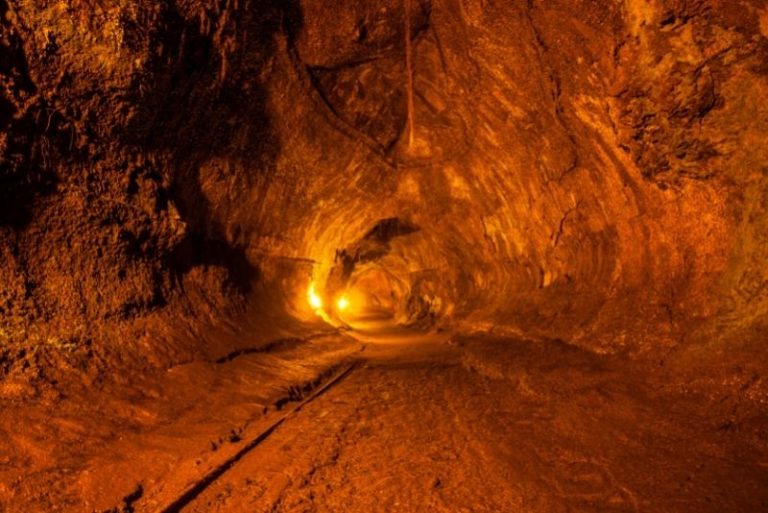 Why not see another crater with a short day hike? Access Keanakako Crater along Old Crater Rim Drive starting from the Devastation Trailhead. The crater was formed due to several collapses of Kilauea's summit from the 1500s to the 1700s.
As you trek to the crater, glimpse some crevices and fissures brought by numerous earthquakes due to the summit collapse in 2018. From here, view the summits of Mauna Loa and Mauna Kea on a clear day.
Big Island's lush forests and landscapes make it an enticing place for adrenaline seekers. Zipline through the thick jungle canopy past waterfalls and rocky valleys.
Oahu also offers zip line adventures and extreme ATV rides, but another exhilarating thing to do there is shark diving. Swim with these massive dangerous creatures up close — but from the safety of a dive cage.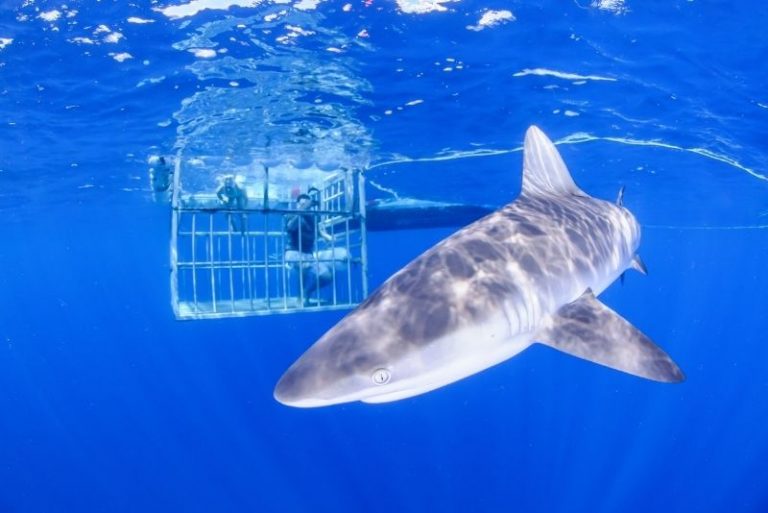 Submerge into the clear waters up to 600 feet deep and face these most feared sea creatures which can be up to 15 feet long. Some tourists saw as many as 30 sharks in one go! Perhaps, you'd get the hang of it after seeing plenty of them.
You may also spot different shark species such as gray reef, sandbar and hammerhead, as well as Galapagos sharks.
Oahu's North Shore is also a perfect choice for those who want to join surfing competitions or simply enjoy riding waves.
This iconic surf destination has been a favorite with traveling pros and locals alike for nearly 70 years.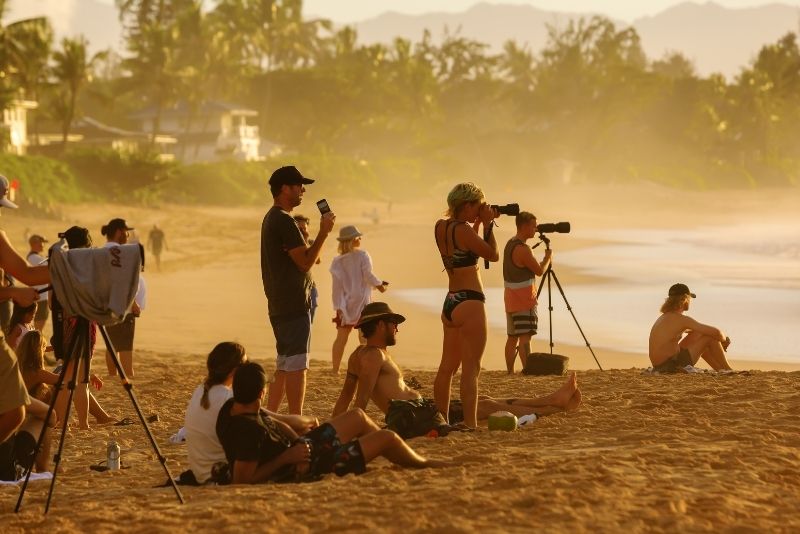 Spanning 17 miles on the north side of Oahu, this coastline has hosted competitions for pro surfers and is known for its pipeline and giant waves that can be as high as 30 feet.
North Shore has produced world-famous surfers who were to take on killer waves like Eddie Aikau, who began as a lifeguard on the beach and became a hero for saving more than 500 people.
Offering a mellow lifestyle with local vendors and surf shops, it has been a favorite destination for those who want to try surfing. This spot is also ideal for snorkeling, kayaking and stand-up paddleboarding even for beginners.
6 – What is the best Hawaii island for budget travelers?
Our ideal Hawaii island for budget travelers: Oahu
Oahu is the most budget-friendly place to visit in Hawaii, ideal for traveling solo or with friends. With so many hotels and attractions on the island, you can have fun without hurting your pocket.
Enjoy swimming, sunbathing, trail hiking and strolling around town, among other free things to do in downtown Honolulu.
Most of the places and attractions to visit that are worth every penny are located in Honolulu and Waikiki. There's public transportation and plenty of taxis so you may not need to rent a car.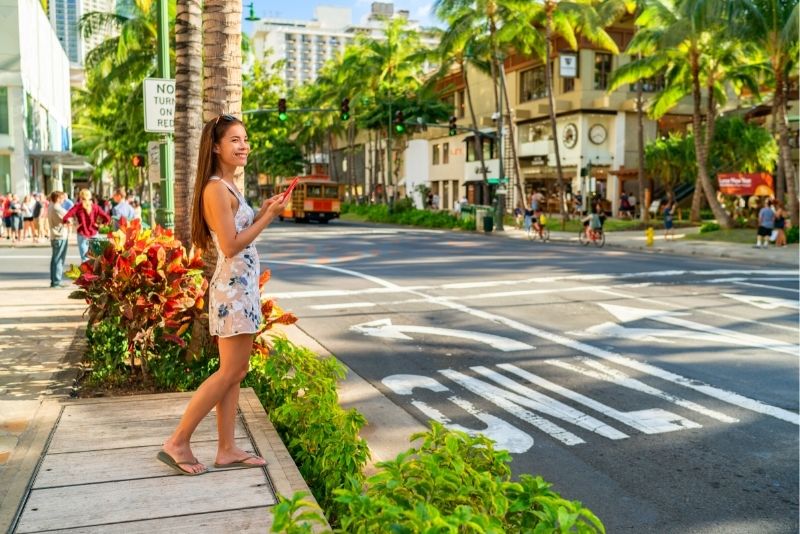 You can save a lot of money in getting around Honolulu with TheBus public bus service using a one-day or monthly pass. Although it doesn't cover the North Shore and central areas, it can go westward at the Pearl Harbor and the Windward Coast.
Another option is to take a hop-on-hop-off bus with the Waikiki Trolley which stops at hotels for pickups and offers a seven-day pass and three different lines.
The ocean line covers the east coastline and stops at attractions, including Diamond Head, and the city line brings you to historic downtown Honolulu. Meanwhile, the most prominent is the pink line with a double-decker bus that runs from Waikiki to Ala Moana Center with stops at specific hotels.
There are plenty of restaurants that have delicious dishes at a good value. You may be surprised to get a hearty and tasty Hawaiian meal for under $10.
If you don't want to have all your meals at a restaurant, there are many groceries and convenience stores in the downtown district where you can get healthy ready-to-eat meals. You can also get a wide selection of beers and liquors if you want to continue drinking at your place.
Oahu is a haven for farmers' markets where you can pick up some fresh fruits. Why not get your vegetables and cook later if your accommodation includes an equipped kitchen? Making your own meals using local ingredients is one of the most authentic experiences in Hawaii.
While hotels are not the best deal for budget travelers, there are other lodging options in Waikiki that are within a short walk to the white sand beach.
Shared rooms, guesthouses and homestays can be an excellent choice, as some have swimming pools and are situated next to the waterfalls or scenic views. It's also a great way to mingle with the locals and experience living in their houses.
For a comfortable stay at reasonable prices, Aqua Oasis, Ala Moana Hotel and Ramada Plaza by Wyndham Waikiki are highly recommended.
7 – What is the best Hawaii island for nightlife?
Our ideal Hawaii island for nightlife: Oahu and Big Island

With the largest population in the Hawaiian Islands and the most bustling city, Oahu remains the best island to go for drinking and clubbing.
Nightclubs and tiki bars sprawl along the coastlines of Honolulu and Waikiki, serving island favorite cocktails and beers. Whether you want to party on the sand or on the dance floor, Oahu has enough venues lined up for a remarkable evening.
As the sun goes down, stroll along the Waikiki Wall and pick the most inviting bar on the beachfront. Bars here have a wide array of music selections such as reggae, light jazz and R&B to name a few. There are also karaoke bars for those who want to sing their hearts out, and sports grill and bars for a rowdy night.
Make sure to try the world-famous mai tai cocktail and watch hula dancers perform in the beat of Hawaiian drums. This tradition was once banned by the authorities in the 1800s but regained its significant role in government events after almost a century.
If you prefer to party all night but in a laid-back style, the Big Island is relatively easy-going compared to Oahu. It has a fair share of restaurants, breweries and pubs with live entertainment.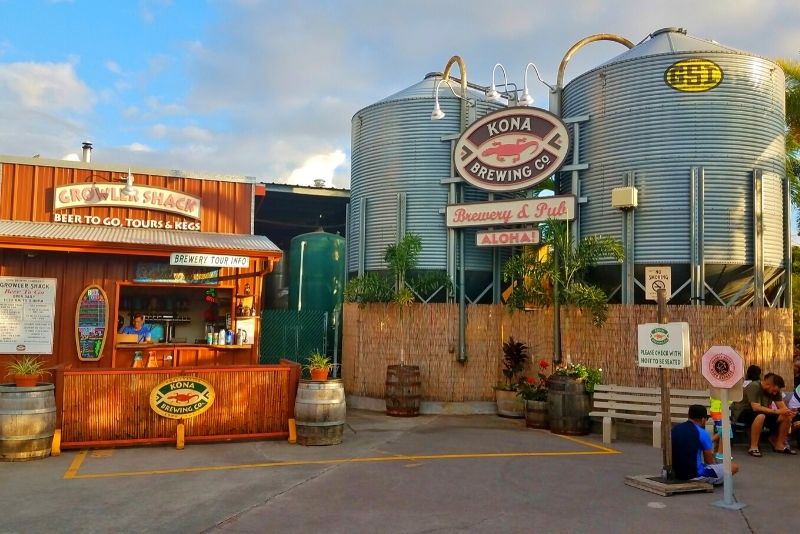 Established in 1994, the Kona Brewing Company had its first brewery in Kailua-Kona on the Big Island — with its first brewpub next to it. Continuously thriving to reflect the "Aloha" spirit of Hawaii and its culture, the company has become one of the world's best sellers of craft beers.
Contrary to the notion that there's not much nightlife on Big Island, there are a few bars and events hosted by the resorts that have kept the nights alive. You can find live music and entertainment, luaus and movie screenings every night in different venues.
While Oahu can be full of lights and hosts big crowds, the Big Island boasts its dark sky from less light pollution. Who says you can't indulge in a bottle of beer while stargazing?
In the island's capital, Hilo, there are a number of fascinating pubs which mostly catered to locals. This can be your chance to sample some of their favorites and hang out with Japanese, Korean and Filipino communities. It's sure to be a great night!
8 – What is the best Hawaii island for foodies?
Our ideal Hawaii island for foodies: Maui, Oahu and Kauai

Food lovers can go anywhere in Hawaii to satisfy their palate whether they crave meat or want some plant-based meals. Some of the best restaurants can be found in Maui, such as Mama's Fish House in Paia and Lahaina Grill.
Food trucks are scattered in Honolulu serving local favorites such as Spam Musubi, a traditional snack of sliced spam on top of a block of rice wrapped in nori sheets. Musubi variations can include barbecued pork, grilled chicken and tuna.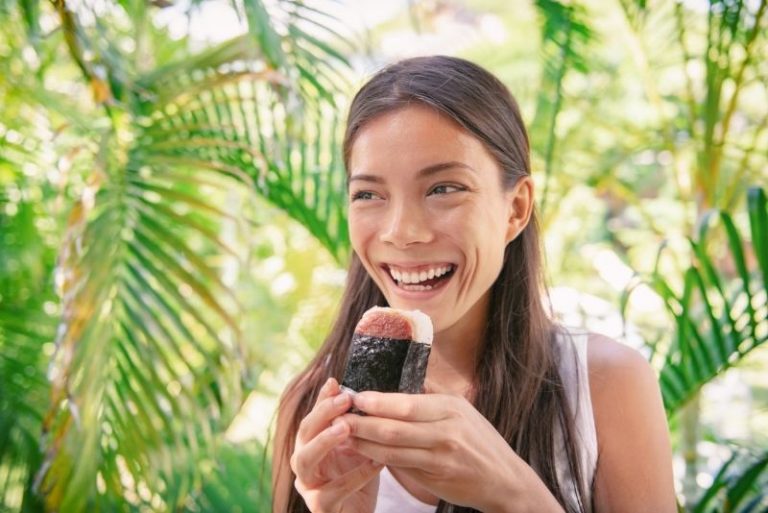 Poke bowls are available everywhere in Oahu, however, Kauai has its own version of this staple dish which is worth trying.
It's made of sliced or diced raw tuna and octopus usually served as an appetizer with rice, seaweed and onions. A delicacy that originated from Japan, this dish was invented by fishermen as their snacks while at sea.
Now, it's a staple dish in Kauai and all over Hawaii. Try its variations using avocado, teriyaki sauce, cucumber, fried onions and any seasonal ingredients available.
Make sure to try kakigōri which is a block of shaved ice with vanilla, banana or strawberry syrup – a refreshing snack on a sunny day. It's popular on the North Shore where people go surfing.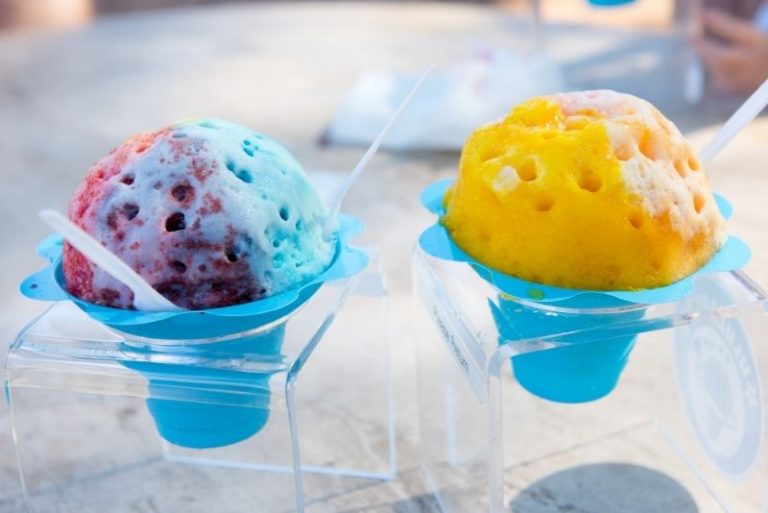 For those who love fresh farm produce, Maui is famous for its roadside stores and farmers markets such as Upcountry Farmers Market and Hana Fresh Farm Stand – where you can pick up tropical fruits and vegetables.
Kauai has an abundant history of exceptional cuisines blended with flavors from around the world. Modern twists of traditional foods provide an exciting experience for many foodies.
A good representation of cultural blends is Saimin which is a noodle soup dish usually with some pork, eggs, spam or fishcakes. For rice lovers, you may like Loco Moco, a plate of rice topped with a burger with an egg sheathed in delectable gravy.
Try Lomi Lomi, a dish similar to Poke but made of smoked salmon instead of raw tuna served with sweet onions and tomatoes. Finish your meal with fried dough balls sprinkled with sugar known as malasadas, a Portuguese treat introduced to the island.
Another widely known traditional dessert is Poi, a mashed taro root that can be baked into sweet desserts or eaten as it is. The island grows export quality crops such as pineapple, coffee and coconut, which you can buy from local businesses.
9 – What is the best Hawaii island for nature lovers?
Our ideal Hawaii island for nature lovers: Kauai and Big Island

Nicknamed as the "Garden Isle," Kauai comes first in terms of natural beauty among the major islands in Hawaii with unspoiled forests and picturesque waterfalls.
If you're looking for uninterrupted nature minus the tourist crowds, cruise along Na Pali Coast, snorkel with turtles or join a whale and dolphin watching tour.
Named after "pali" which is Hawaiian for a cliff, Na Pali Coast is a showcase of nature's magnificent work of art.
Natural forces from waterfalls and rushing streams continue to form the rugged narrow valleys, while powerful waves etch the cliffs. Storms have left marks with rocky sea caverns and submerged tunnels.
Now called the Napali Coast State Wilderness Park, it was once home to the first Polynesian settlers in Hawaii.
You can find age-old Hawaiian remains from the early islanders, such as temples, graves and terraced fields where they grew root crops such as taro — a vital part of the Hawaiian diet.
Take up the challenge to hike and explore the Kalalau Trail, nearly 20 kilometers long from Ke'e Beach to Kalalau Beach. It's not easy though so be prepared and plan your adventure properly.
Kayak on the Wailua River and discover underwater caves and captivating terrains on the island of Niihau.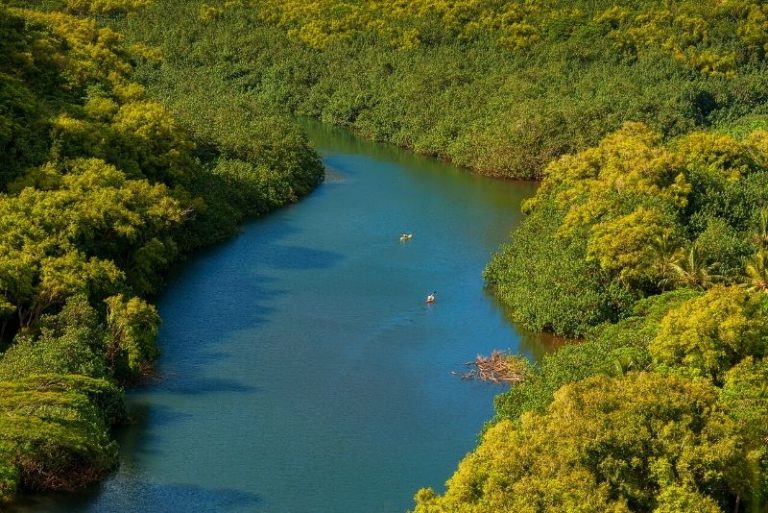 Hike the Waimea Canyon, the second-largest in the US, or admire the dramatic red soil landscapes on an airplane tour. You could also mountain bike downhill all the way to the Pacific and watch the sunset.
If you're a spelunking enthusiast, visit the Kula Kai Caverns on the Big Island, then go stargazing at the summit of Mauna Kea – the second-highest island peak in the world.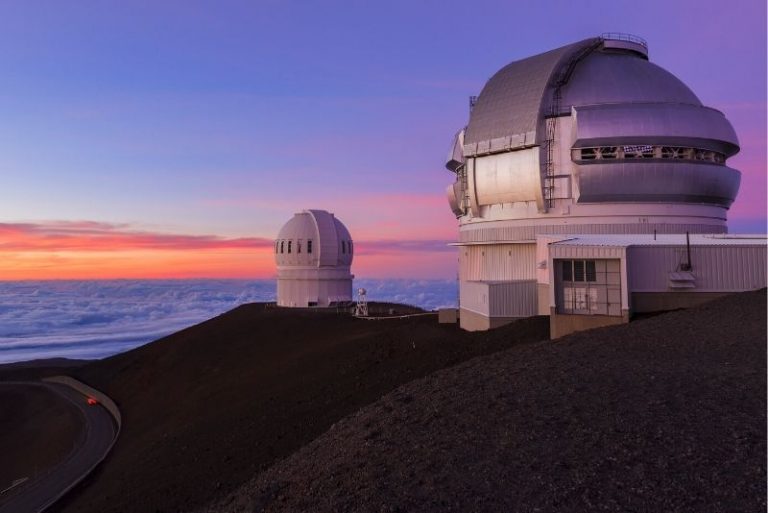 Because of its unique high altitude environment, the summit is host to more than 10 astronomical observation facilities.
Aside from black sand beaches and hot steam created from volcanic eruptions, Big Island also has rainforests, exquisite terrains and incredible scenery. Those who seek nature's prowess to heal and revive can spend days or perhaps months on this island.
After exploring the Hawaiian Volcanic National Park or hiking the Hilo Forest Reserve, cool down and refresh at the Akaka Falls State Park.
In less than an hour's walk, you can reach two impressive cascades – the continuously flowing Kahuna Falls and the epic Akaka Falls which drops from a height of over 400 feet. Along the way, relish the attractive wild orchids, ferns and bamboos that surround you.
On a sunny day, you can see beautiful colors in the spray over Rainbow Falls, which can be found near Wailuku River State Park, a short drive from downtown Hilo.
One of the best-loved places to visit while in town, it is known to have many legends surrounding it — such as the story of the goddess Hina who is said to live in a cave behind the falls and is the mother of demi-god Maui.
10 – What is the best Hawaii island for first-timers in Hawaii?
Our ideal Hawaii island for first-timers: Oahu
Spend your first Hawaiian vacation in Oahu to have the best all-around experience of what the Hawaiian Islands have got to offer. It's got a little of everything and something for everyone.
Aside from being the most accessible for visitors and affordable for budget travelers, Oahu maintains its pristine beaches and verdant scenery alongside the lively and bustling Honolulu.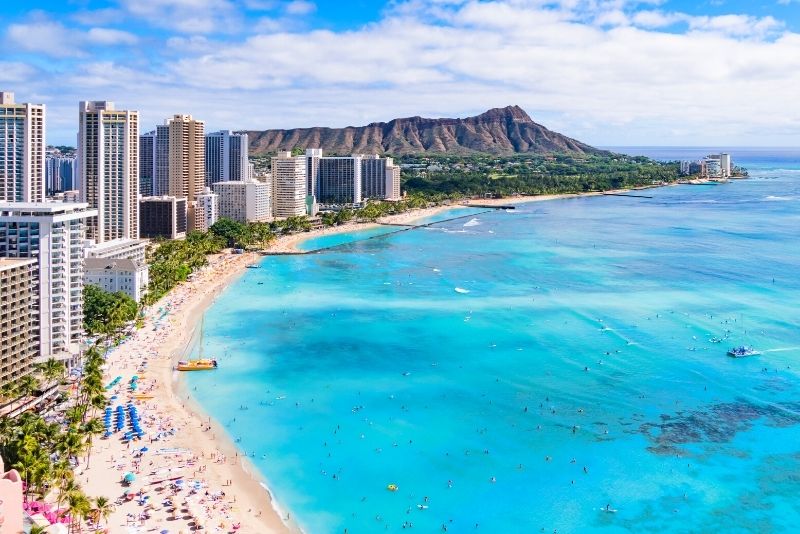 It's home to major museums and the famous Pearl Harbor, whose historic role has contributed to the cultural diversity of Hawaii.
The island has also been used as a filming location for blockbuster movies such as Jurassic Park, Godzilla and Hunger Games.
Make sure to visit the North Shore for your dream surf waves and Waikiki Beach for the white sand, paddle boarding, parasailing, sportfishing, tiki bars and luaus.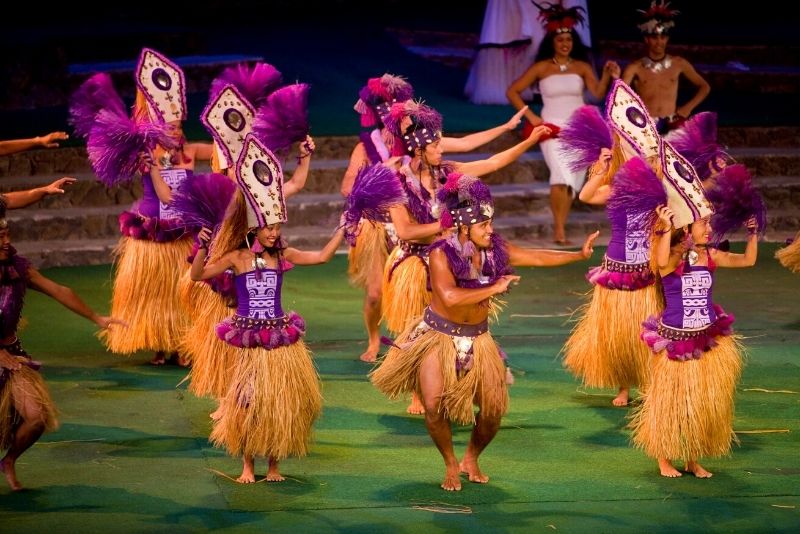 Known for its inventive and fresh seafood dishes, Oahu has plenty to surprise even the most seasoned foodies. Sample the classic Poke bowl and island favorites such as Kalua pig. Dine in modern Hawaiian restaurants pushing the boundaries of traditional dishes.
The island also has the most vibrant nightlife of all its neighbors. Drink in intriguing bars in the capital city Honolulu ranging from rowdy Irish pubs and sports bars to chilled reggae joints and karaoke clubs.
However, don't just stay in the city, as there's so much on the island to explore. Hike to the nearby waterfalls, kayak along the river and scale dormant volcanoes. Hawaii is the land of adventure!
Hopefully, we answered all the questions you may have and helped you pick the right Hawaii island for your ideal vacation.
If you have decided to visit several islands, make sure to check out our list of the best things to do in Hawaii.
Do not hesitate to comment below if you have any questions.
Happy travels!