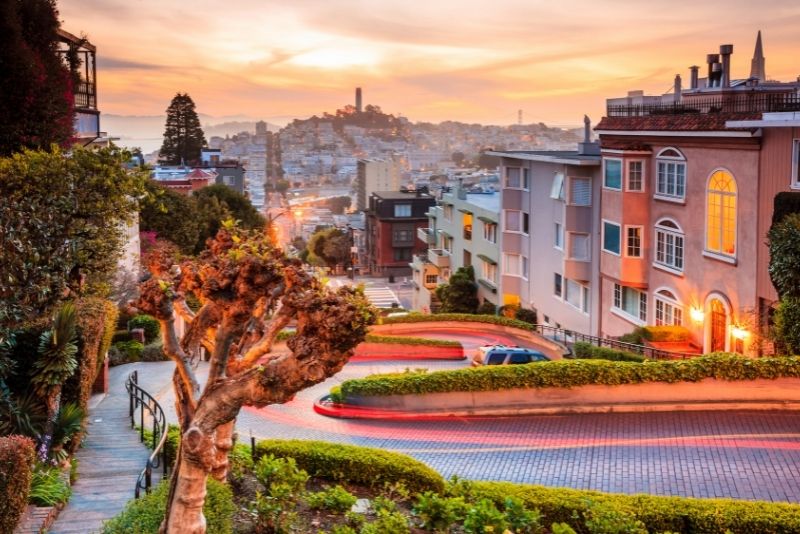 There's no doubt that San Francisco — the sparkling, windy, artsy, and culture-rich metropolis by the bay — is one of the most popular tourist destinations in all of California.
The Golden City, so-called for the 1849 California Gold Rush (and of course, the beautiful golden sunsets) is a vibrant melting pot of hipsters and hippies, artists and technology, and everything in between.
Postcard-worthy landmarks like the Golden Gate Bridge, Alcatraz Island, Fisherman's Wharf, and Silicon Valley might be the most immediately recognizable San Franciscan icons, but the city has built just as much of a reputation for world-class food, entertainment, sport and culture — all in all, from the waters of the bay to the lively city districts, there's always something for visitors to do, with an array of hidden and lesser-known treasures to discover around every corner (here's an example: bet you didn't know San Francisco is one of the top three cities in the United States for murals!).
So, whether you are the outdoorsy type, or your ideal holiday involves staying inside and sampling the local cuisine, San Francisco offers adventures of all kinds.
If you're looking for some must-see attractions and activities that are a bit off the beaten path, here are things to do in San Francisco to get you started.
1 – Cross the Golden Gate Bridge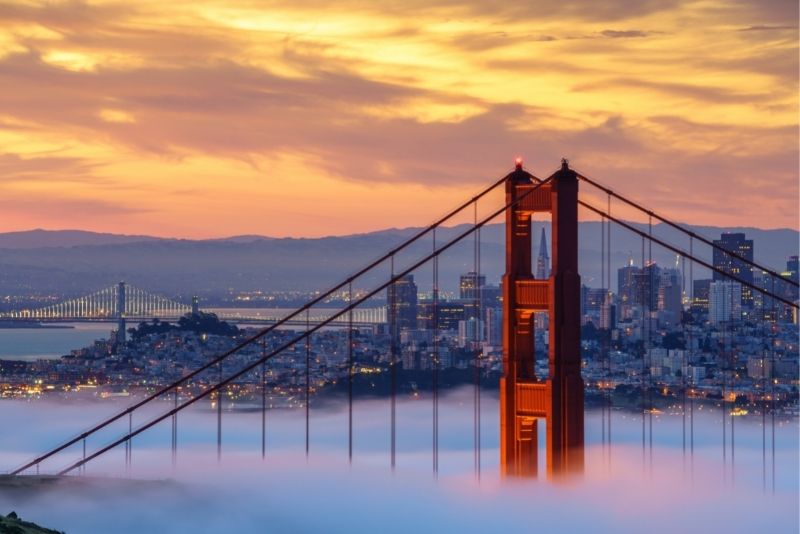 You can't think of San Francisco without thinking of the Golden Gate Bridge. It's not hard to see why – the 1.7-mile-long bridge is an incredible feat of human engineering, even having the distinction of being named as one of the Seven Wonders of the Modern World.
Connecting the city of San Francisco to Marin County in Northern California, the GGB was first built in 1933 and remains a must-see for visitors to the bay.
Day tours to Sausalito — an idyllic town right across the bay from San Francisco with stunning waterfront views — will get you across, whether it's on your feet, pedaling through on a bike tour, or even sailing in from the sea.
See also: Best San Francisco tours.
2 – Do your time at Alcatraz (and escape whenever you like)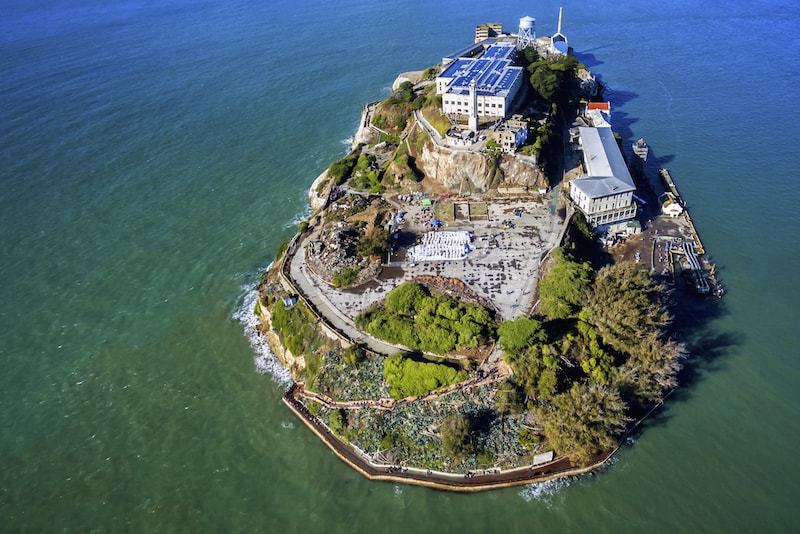 The infamous high-security island prison of Alcatraz has cemented a reputation as an iconic part of American folklore.
Tourists think so too, with TripAdvisor once rating it the number one tourist destination in the entire United States (take that, Empire State Building!).
Built on a rock in the freezing waters of San Francisco Bay, Alcatraz was reserved for only the most hardened criminals – and the rumors of a few managing to escape the inescapable have fascinated pop culture for decades.
Now, the prison sees more than 1.3 million visitors per year, providing a glimpse into life as an Alcatraz inmate and making you wonder if anyone really did make it out alive.
Hot tip: opt for the audio tour, which provides thrilling insights into the minds of hardened criminals of old.
See also: Best Alcatraz tours.
3 – Climb the mosaic of the 16th Avenue Tiled Steps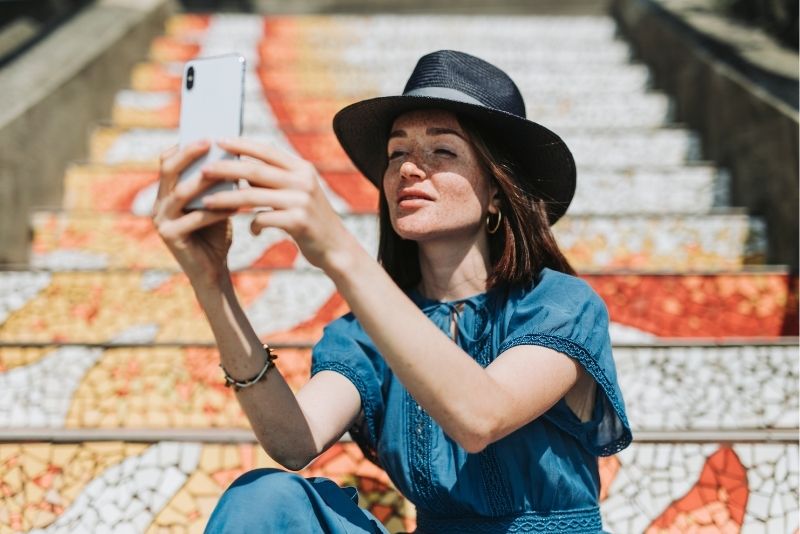 The 16th Avenue Tiled Steps take you from sea to stars, with vibrant mosaic tiles flowing up 163 steps in San Francisco's Golden Gate Heights.
Built back in 2003, the artwork is a collaboration from neighborhood artists Aileen Barr and Colette Crutcher, with residents sponsoring handmade named tiles to fund the project.
The result: a beautiful interactive art piece that brought the entire community together!
The steps are a hidden gem on 16th Avenue, in the city's Inner Sunset district, where you'll find all kinds of people, and all kinds of restaurants (the Asian and Mexican joints are top-notch), cafes and bars.
4 – Witness some of Mother Nature's finest on a Yosemite day trip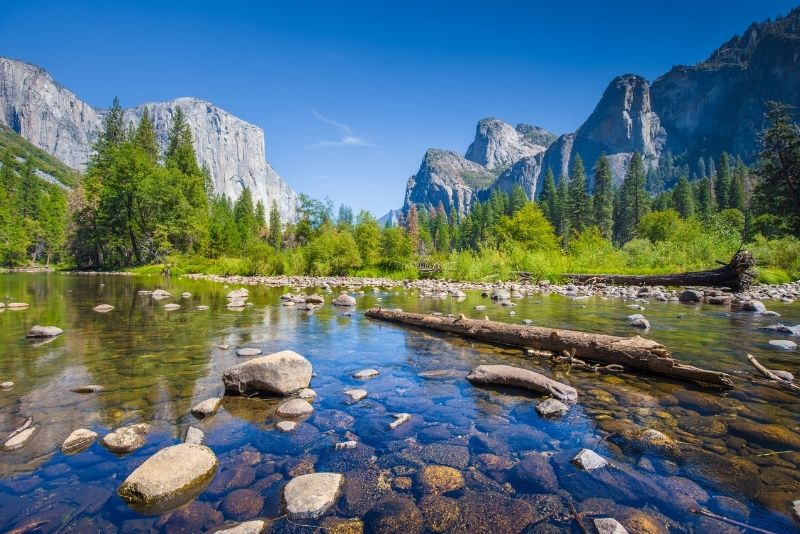 When you've ticked off most of the things to do in San Francisco and need to get out of the city and amongst nature, there are few places in the world better than Yosemite National Park.
In just over three hours you'll be enjoying the stunning panoramic views of colossal granite summits and lush tree-filled valleys of this World Heritage Site.
Take a day tour full of hiking and see first-hand the unforgettable shape of the Yosemite Half Dome, the powerful Yosemite Falls and the towering Giant Sequoia trees before returning to SF to relax once more — after six to seven hours of walking, you'll probably need it.
Hot tip: while myriad travelers rent their own wheels, the most hassle-free option is a guided tour that includes both pick-up and drop-off from San Francisco (plus, you'll save on gas).
See also: best day trips from San Francisco.
5 – Zig-zag through Lombard Street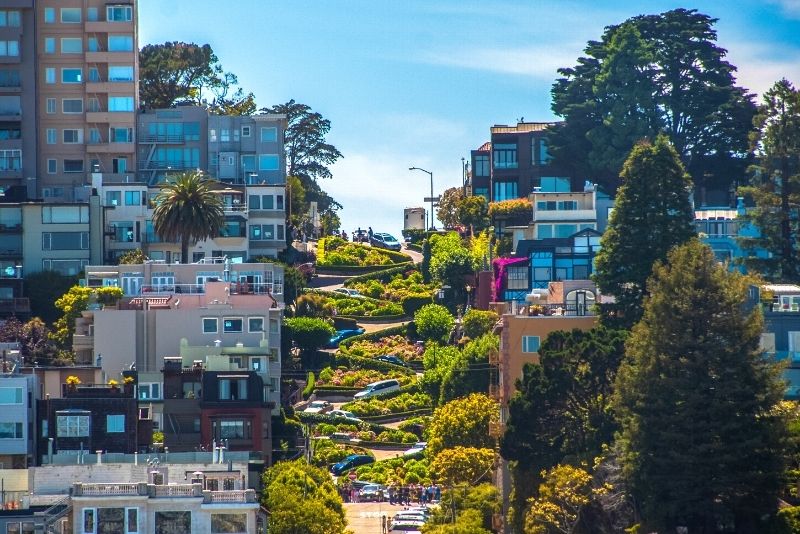 Life's full of twists and turns, but few places are as crooked as the infamous Lombard Street. Featuring no less than eight hairpins, the road is renowned for picturesque flower-filled gardens and postcard views.
Curious travelers can stroll through or drive down, which is a little easier now the street is one-way only.
And, if you're interested in learning about the area's rich history, why not hop in a GoCar and visit the Golden Gate Bridge at the same time?
Sponsored placement
Discover San Francisco's secrets with a City Exploration Game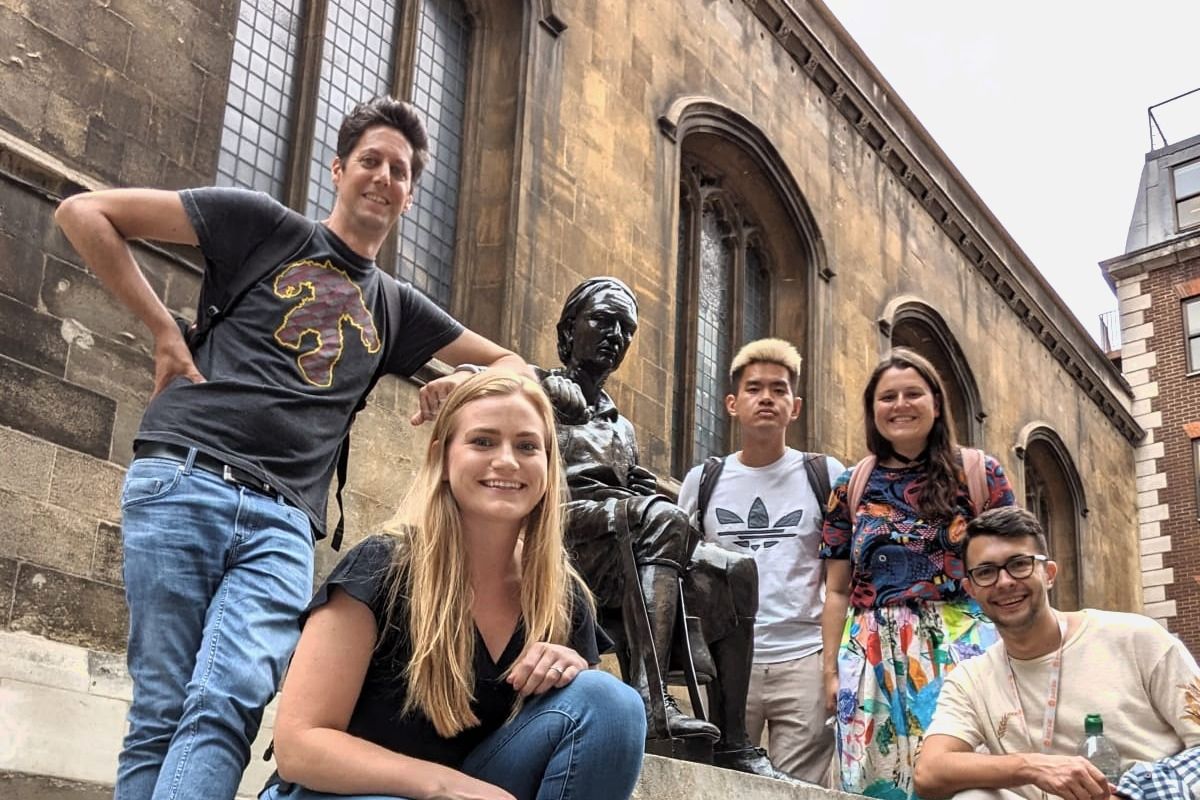 Discover the secrets of the San Francisco on this immersive urban exploration game. Work together to solve location-based clues as you're led through unique and amazing places.
A mystery walk similar to an escape room but outdoors!
Your team will receive clues on their phones that, once deciphered, will guide them around a route that showcases it's secret sights and great pubs/bars/coffee-stops. The routes are all walking distance and clues get you working together and interacting with the city surroundings to find the answers, no prior knowledge required.
Make the day your own as you solve clues and challenges as a team; with friends, family or colleagues. Get competitive – race to the finish and set a leader board time, or simply go at your own pace and soak it all in.
Monthly challenges are available for teams to submit pictures/videos of their experience to win prizes each month.
Activity is a mix of; outdoor escape room, treasure/scavenger hunt, walking tour
Prices start at $20/person, tickets can be used on any day and they have a 'love it or your money back' guarantee! CityDays awaits.
6 – Celebrate Asian history at the Asian Art Museum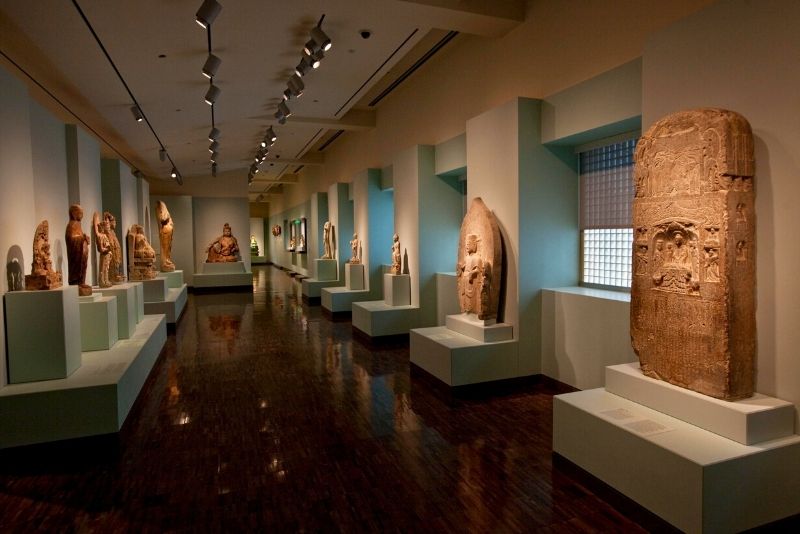 Connecting art with life, the Asian Art Museum is one of the world's finest collections of artwork from the entire Asian continent.
With more than 18,000 works spanning a diversity of cultures including from Turkey, India, China, and the Philippines, you'll find a world-class range of paintings, sculptures, bronze works, textiles and more.
The remarkable collection spans over 6,000 years of complex history, from ancient civilizations to contemporary technological marvels — making it a quintessential SF outing for culture vultures and art-lovers alike.
Check it out in the heart of the city's Civic Center, and learn a thing or two about another culture.
7 – Challenge your mind an escape game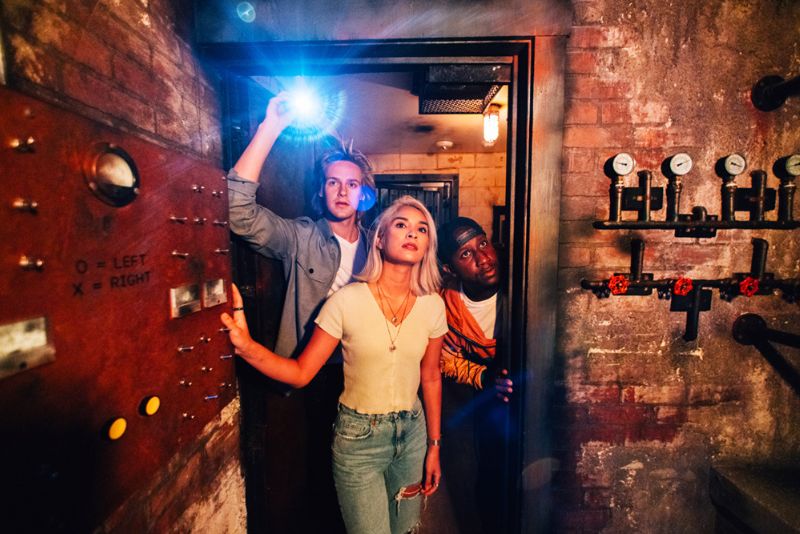 Any budding detectives in the house?
If you prefer your bids for freedom a little closer to shore, San Francisco is home to a range of clever and exciting escape room challenges.
Look for clues, solve riddles, and get that "I ESCAPED!" feeling. All games at The Escape Game have multiple rooms, you can for unlimited clues, and there are 'wow' moments around every corner!
Partner with strangers or choose anywhere up to 11 of your most trusted friends, and see if you can make it out in time.
With two convenient locations – one in Downtown and the other in the iconic Fisherman's Wharf district – The Escape Game offers an unparalleled escape room experience.
8 – Hop on and hop off a big city tour bus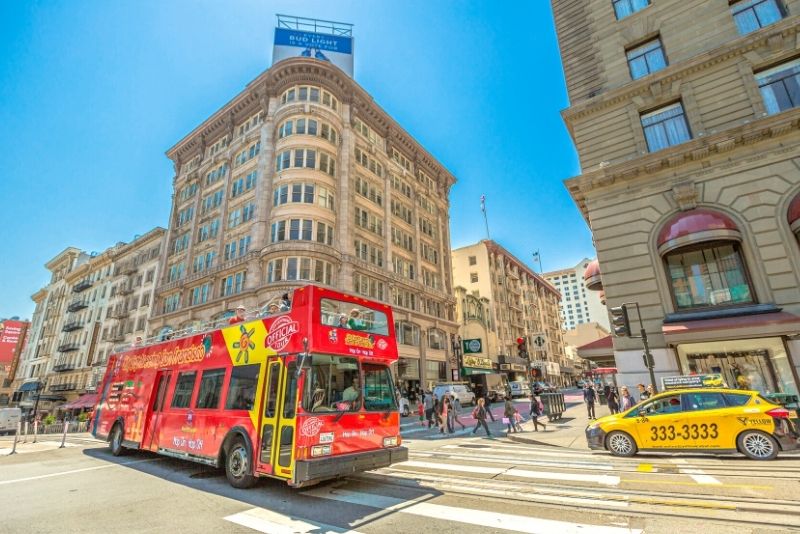 Short on time or don't feel like mapping out all the essential things to do in San Francisco?
Experience the best of this wondrous metropolis at your own pace with a hop-on-hop-off sightseeing bus pass instead!
Simply choose your day and take the time to visit each landmark for as long or as little as you need, jumping back on the bus when you're ready to go.
Buses feature live English commentary for all the city's famous and most interesting destinations, with no less than 20 stops in the loop.
As a little bonus, included with the ticket is entry to Alcatraz (plus a self-guided audio tour), a walking tour, and an hour-long panoramic night tour.
Hot tip: Hire a bike for an hour and cycle along the Golden Gate Bridge in between bus stops.
9 – Enjoy a vino or two on a Napa and Sonoma Valley day trip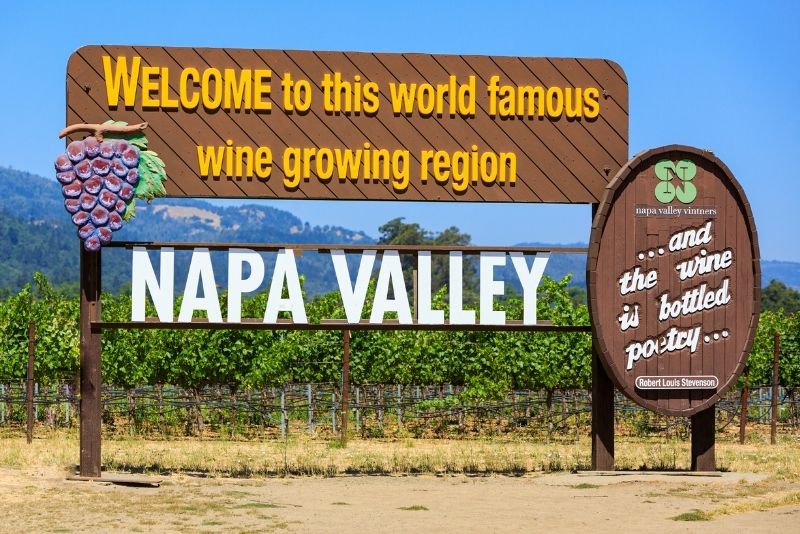 The world-famous wine country of Northern California is a picture-perfect landscape of rolling hills and sun-kissed vineyards — and plenty of reasons to get a little tipsy.
So, make sure to take a full day to experience both Napa and Sonoma Valleys and sip on some of the finest reds, whites and rosés in the world.
Obviously, sampling the local product is a number one priority, so the best way to tour the valleys is on a charter bus.
Guides will take you through the history of the region, from the first Spanish winemakers to tricks of the trade of contemporary wineries.
Whether you're finding your palate or a refined sommelier, there's a glass with your name on it.
See also: best Napa Valley wine tours and fun things to do in Napa Valley.
10 – Breathe in the fresh air at Golden Gate Park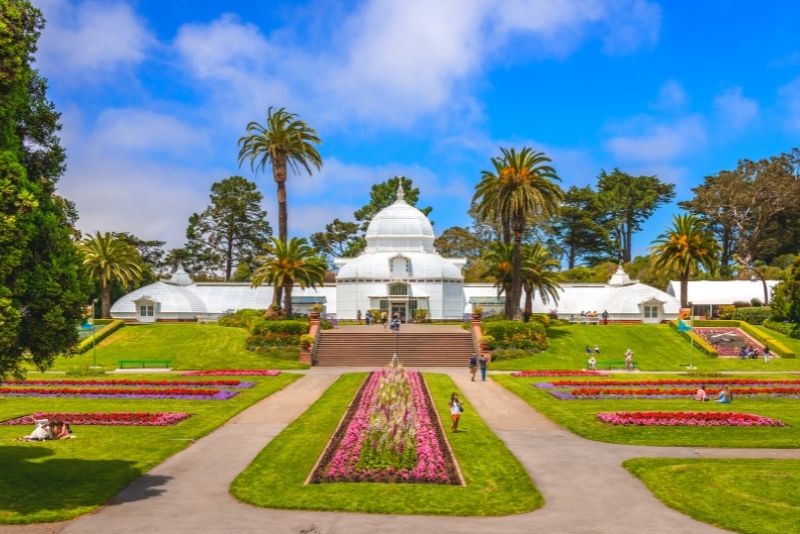 A grassy oasis amidst the hustle and bustle of the city, right in the heart of San Francisco sits the Golden Gate Park, where over 1,000 acres of perfect lawns, crystal lakes, and all manner of rare, beautiful plants await.
A hotspot for weddings, seasonal events, and nature lovers, the park sees millions of visitors every year.
Check out the incredible rainforest ecosystem display at the California Academy of Sciences, explore the history of American art at the de Young Museum, or get lost in the petals at the Conservatory of Flowers!
When you need to rest those weary legs after a day or two of walkabout, you can find zen at the Japanese Tea Garden – built in 1893, it's the oldest of its kind in the US.
Sponsored placement
Experience a live concert by candlelight in SF Bay Area
Catch live performances on piano, violin and cello of classical music and tributes to your favorite modern bands and musicians, from the Beatles and Fleetwood Mac to the soundtracks of Warner Bros. films and the Zelda video game series. Candlelight concerts take place in scenic venues across the city that don't typically host concerts and events for an unforgettable backdrop to live renditions of your favorite tunes.
11 – Admire the magnificent Grace Cathedral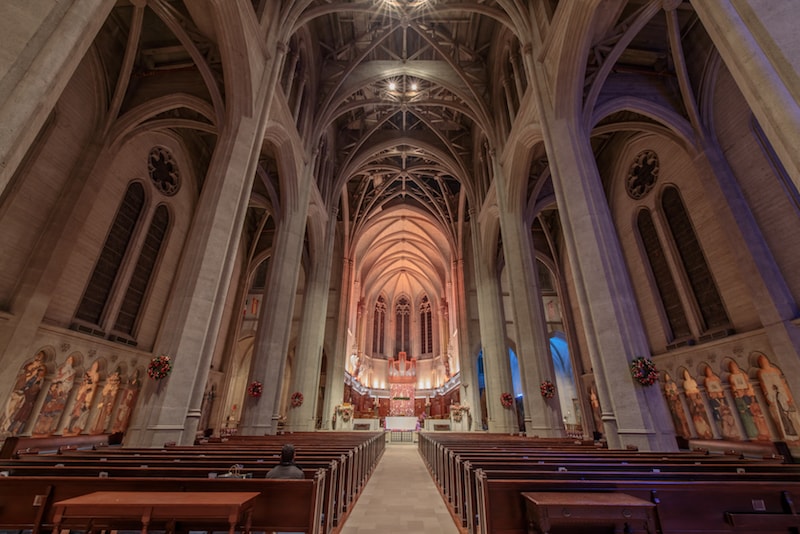 With its soaring towers, stained glass, and stunning mosaics by famous painter Jan Henryk de Rosen, Grace Cathedral is a sight to behold whether you consider yourself an architecture buff or not.
Constructed in the mid-20th-century, this house of prayer is a local institution and the cathedral church of the Episcopal Diocese of California — above all else though, it's a marvelous feat of engineering.
Visitors can attend church services, take a grand tour of the building, or simply appreciate the French Gothic architecture from the surrounding Nob Hill.
Don't forget to check out the cathedral entrance — the iconic Ghiberti doors are replicas of Florence Baptistery's "Gates of Paradise".
12 – Cruise along the coastline on a Monterey & Carmel day trip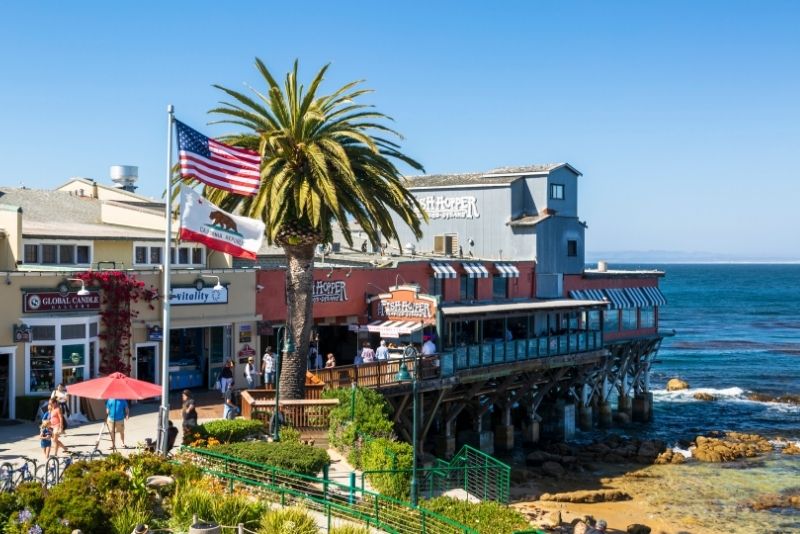 As if the area wasn't already dishing up enough raw beauty, two of California's most picturesque seaside cities are just a jaunt down the highway: Monterey and Carmel.
Take the bus or rent a car on the 17-Mile Drive through the beautiful and laid-back Monterey Peninsula and explore the coastal community of Monterey, complete with quiet beaches, super fresh seafood, and all manner of colorful aquatic life going about their business.
While you're there, keep a lookout for blubbery sea lions, seals, and otters, or see why they call it the "whale watching capital of the world" on a dedicated whale-watching tour!
And, of course, don't forget to round off your day trip with a stop at the idyllic Carmel-by-the-Sea. Besides the historic Carmel Mission and numerous art galleries, it's rated as one of America's top beach towns.
13 – Meet the ocean locals at the Aquarium of the Bay!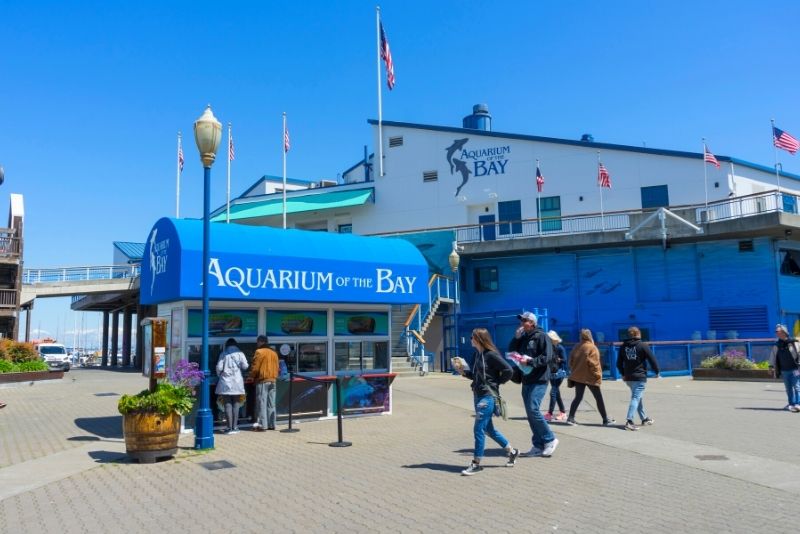 Lovers of marine wildlife can say hello to over 20,000 critters of all shapes and sizes at the Aquarium of the Bay.
Situated at Pier 39 between Fisherman's Wharf and the Alcatraz ferry, you can experience life under the sea in massive walk-through glass tunnels, surrounded by colorful schools of shape and size.
See first-hand the diversity of Northern California's marine creatures, from sharks and rays to jellyfish and octopi — you might even see an otter or two too!
A general admission ticket provides access to all main exhibit areas, many of which are interactive.
14 – Confirm San Francisco's reputation as a foodie paradise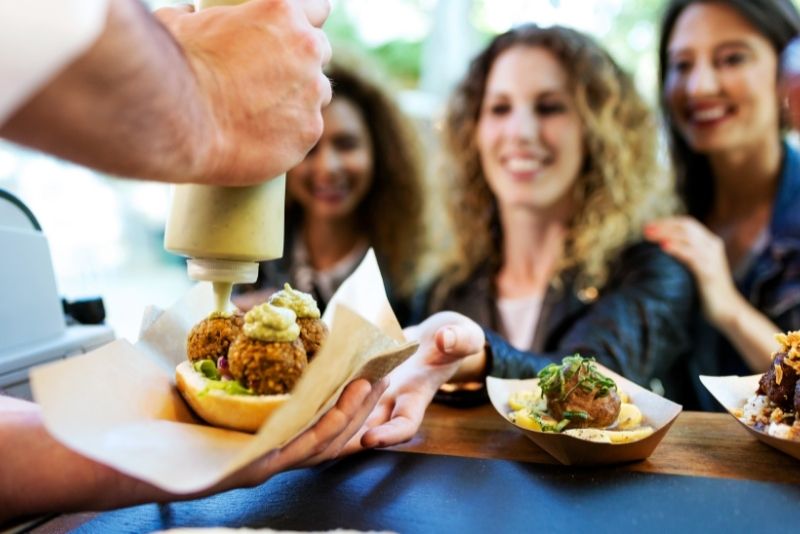 From the taste of Asia in Chinatown to the Italian delights at North Beach, it's easy to see why San Francisco is a renowned mecca for foodies.
Rather than taking it by chance, countless food tour options will take you to top mouth-watering locations across the city.
As the locals will no doubt tell you, often the very best places are a little harder to find. Walk off the beaten track on a Secret Food Tour of the Mission District (just one example of many different noteworthy gastronomic tours), and you'll uncover a select few.
While you're there, check out the stunning streetside murals and try a Mission-style burrito – the region is famous for it.
15 – Roll through on a San Francisco Cable Car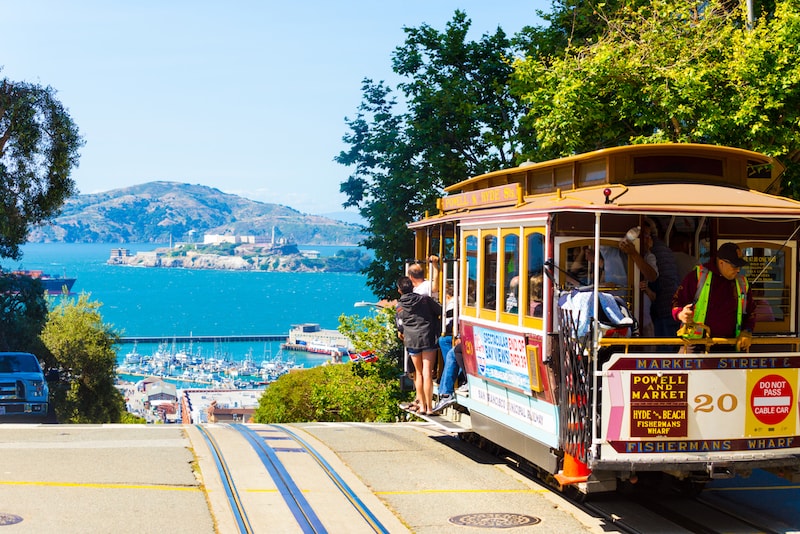 There's no more traditional way to see San Francisco than from a cable car.
A slice of SF history, these iconic vehicles offer an up-close view of some of the city by the bay's most famous landmarks, including Fisherman's Wharf, Chinatown, and Golden Gate Park.
First used nearly 150 years ago, cable cars were a transportation staple until the 50s, when buses and subways began to take over.
Now, they're an old-school opportunity to experience rolling through the hills as San Franciscans once did way back yonder.
A surefire hit for history buffs and engineering enthusiasts, anyone interested in how cable cars became entwined with the city's identity should stop by the Cable Car Museum in Nob Hill!
16 – Stop and smell the roses at the San Francisco Botanical Garden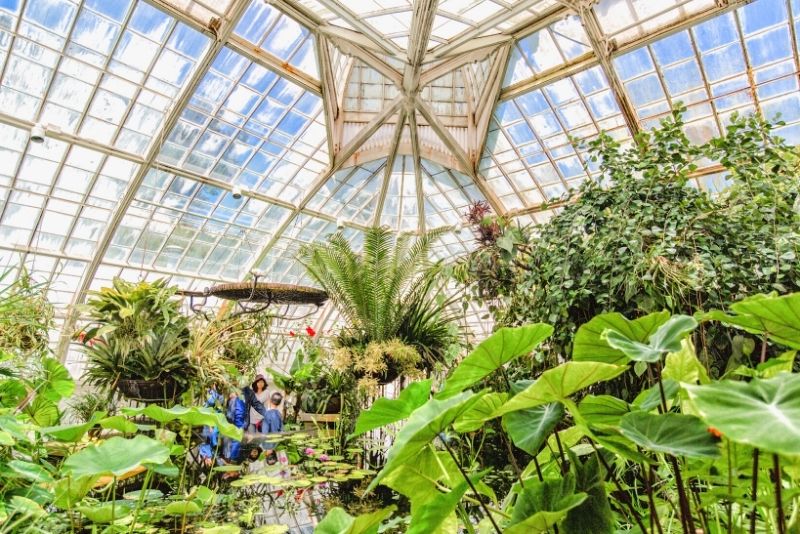 Dubbed a one-of-a-kind urban oasis, the San Francisco Botanical Garden sits in Golden Gate Park and offers a stunning collection of more than 8,000 different types of plants from every corner of the globe.
Reconnect with nature in this living museum, spanning over 55 acres of pristine horticulture, and celebrate the amazing growth potential of coastal California.
Fun for the whole family, the Garden opens daily at 7:30 am and holds regular events throughout the year, so there's always something unique on the calendar.
17 – Sail the Bay and take in the view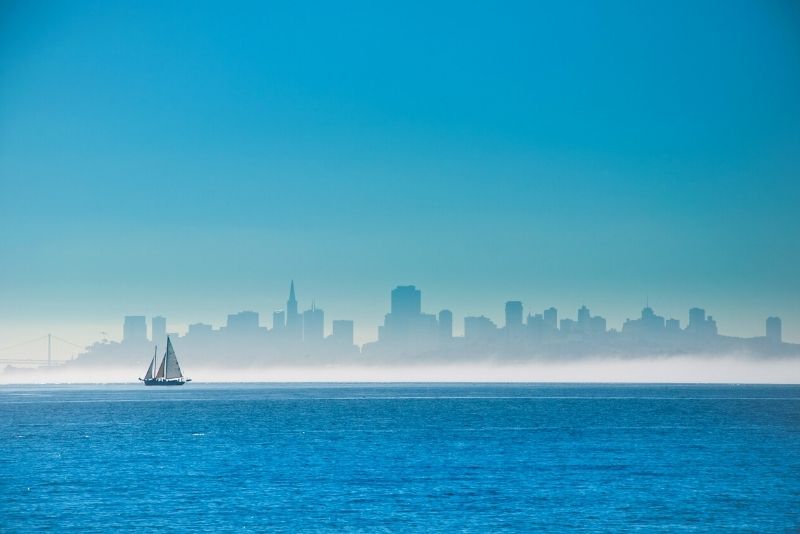 With strong, consistent winds all year round, San Francisco is a premier sailing destination.
The waters of the bay provide a different perspective to the many landmarks of the city, from the Golden Gate Bridge and Alcatraz Island to the vibrant waterfront and city skyline.
Whether you're an experienced tacker or brand new to the world of sailing, there are plenty of opportunities to catch the wind and shoot the breeze with other San Francisco sailors.
Go in summer for the biggest currents, and check the weather forecast to plan for perfect conditions!
See also: San Francisco boat tours – which one is best?
18 – Broaden your horizons at the California Academy of Sciences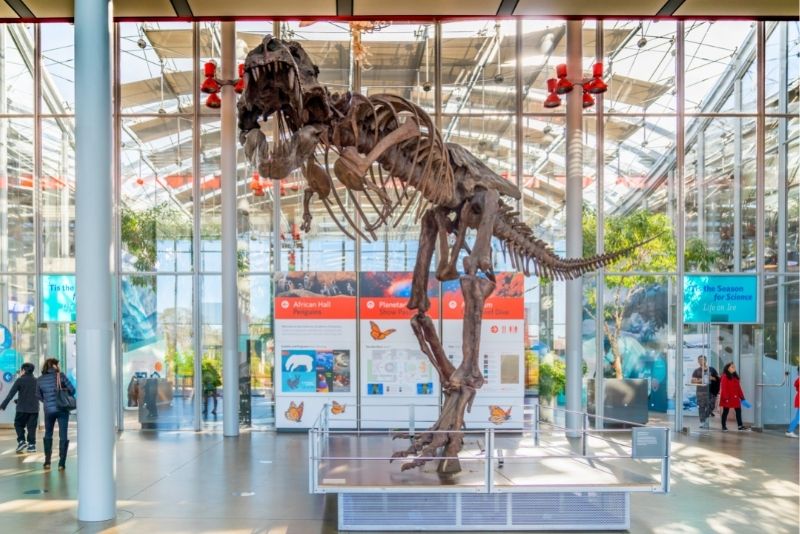 A one-of-a-kind facility comprising an aquarium, planetarium, rainforest, and natural history museum, the California Academy of Sciences is a must-see for anyone who likes to learn.
Located in Golden Gate Park, the Academy is filled with interactive and engaging exhibits designed for science lovers of all ages.
Take in the sights and sounds of the four-story rainforest, watch the penguins splash around in African Hall, and discover the secrets of the universe in the digital dome theater of the planetarium.
An exclusive VIP tour gives you access to the secrets of the Academy's Living Roof, but a skip-the-line ticket lets you bypass those dreaded holiday queues.
19 – Marvel at the towering Transamerica Pyramid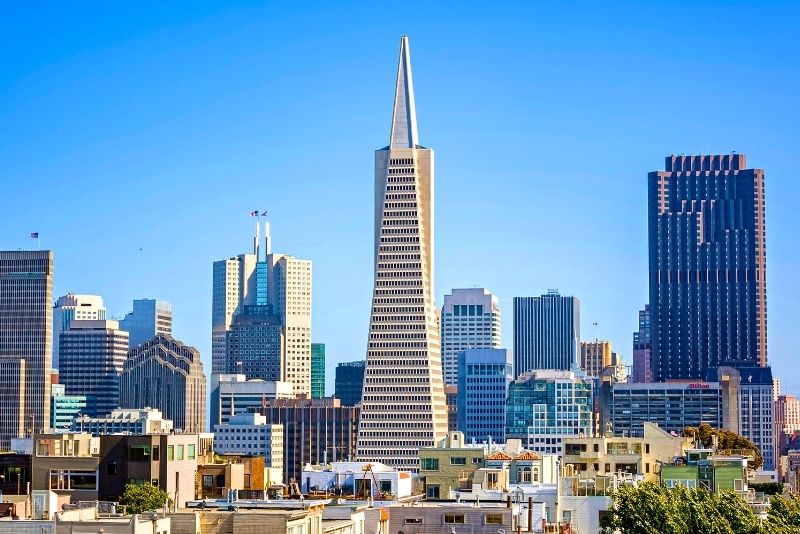 It's easy to spot this pyramid-shaped tower jutting out of the San Franciscan skyline.
Designed by architect Willian Pereira and completed in 1972, it was once the tallest skyscraper in the city with no less than 48 floors (now it's the second tallest, behind the gigantic Salesforce Tower).
Today, the popular center features a shopping mall, restaurants, and a love theater, and is the home of Transamerica Corporation.
It's open to the public, so you're welcome to visit and enjoy the views of San Francisco Bay.
20 – Say buongiorno to Little Italy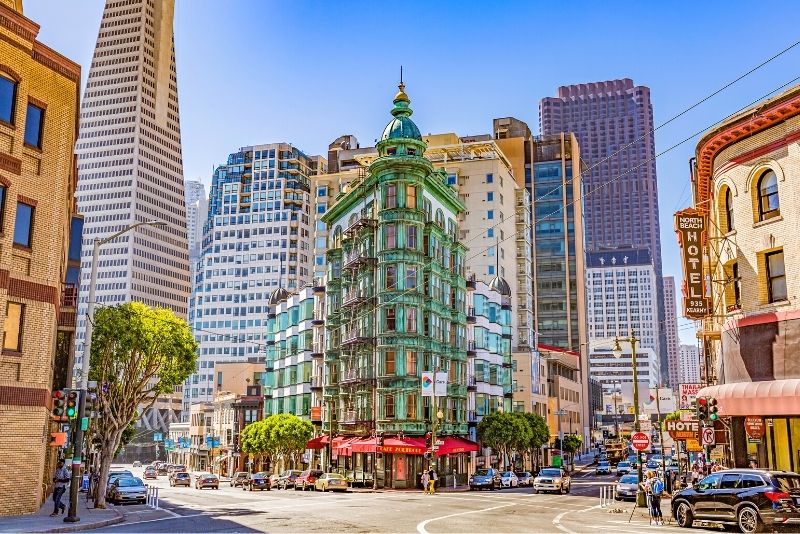 It's a 13-hour flight from San Francisco to Italy, so if you're pressed for time it's recommended to just visit the city neighborhood of North Beach.
Known as "Little Italy", North Beach can be found between Fisherman's Wharf and Chinatown and is packed full of cafes, pizzerias (don't miss the multiple award-winning Tony's Pizza Napoletana), and gelato sellers.
These real Italian businesses offer a truly authentic experience, with many of the shopkeepers and restaurateurs (or their parents) migrating from Italy in the mid-1900s.
You might want to take a walking tour to burn off all that pasta – it's voted one of America's best foodie tours, with tasty samples and history galore.
21 – Kick back at Mission Dolores Park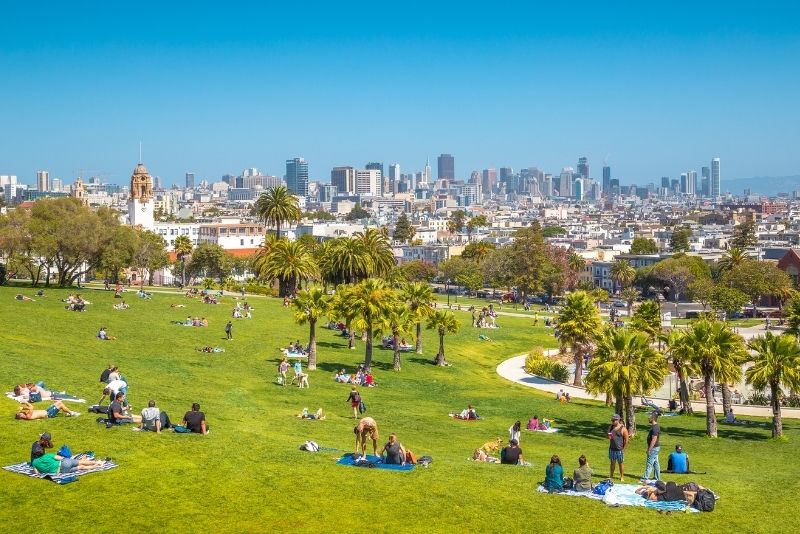 Mission Dolores Park, known by the locals as simply Dolores Park, is an amenity-filled public space just east of Twin Peaks.
A popular hangout for San Franciscans, the sunny park features large grass areas, picnic tables perform for soaking in the summer sun, multi-purpose fields and courts, and at the top of the park, a fantastic view of downtown.
After checking out what is a great spot for dog walking, people watching, sunbathing, and outdoor relaxation, leave an hour or two to explore the surrounding Mission District, one of the city's trendiest neighborhoods where cafes, bars, and restaurants are in abundance.
22 – Ride (and learn!) in a self-guided GoCar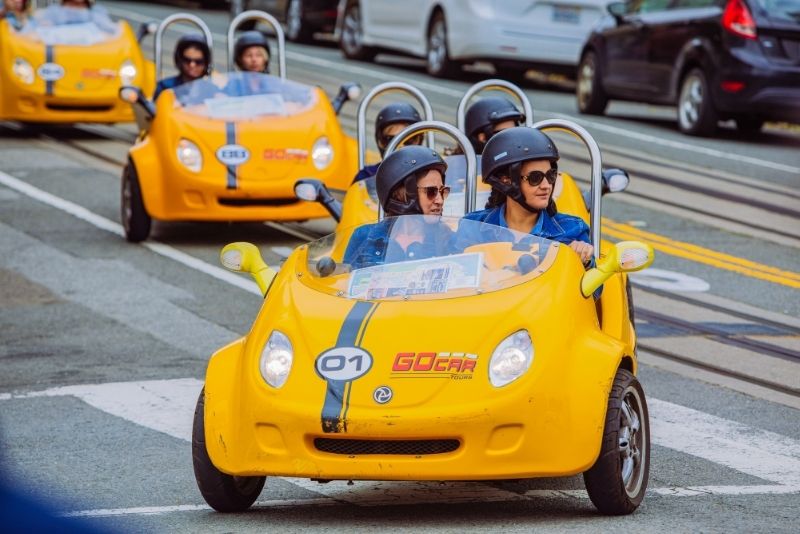 A car and a tour guide all in one, the GoCar was named by Time Magazine as "one of the coolest inventions of the year." Still need more convincing?
Jump in and drive around at your own pace, while the GoCar provides engaging and up-to-date commentary on your California surroundings — like KITT from Knight Rider, but smaller and yellow.
Simply pick the topless three-wheeler up at Union Square or Beach Street near Fisherman's Wharf, and the GoCar will navigate wherever you'd like to go.
Just remember they only fit two people.
23 – Test your film knowledge on a movie sights tour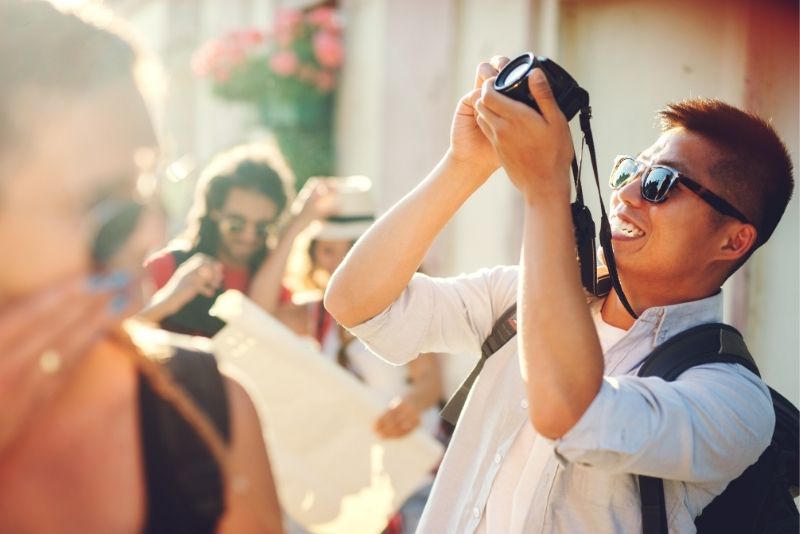 Consider yourself a bit of a film buff?
San Francisco features prominently in thousands of movies and series, and keen eyes will be able to identify iconic scenes from movies such as The Princess Diaries, Dr. Doolittle, Full House, Dirty Harry, and many, many, many more.
Rather than stumble across locations, see all the Tinseltown landmarks in one go, by jumping on a tour
From the air-conditioned comfort of the tour bus, expect to be shown the sights by a professional actor-turned-guide, visiting landmarks in all the major neighborhoods including Nob Hill, Union Square, Civic Center, and Fisherman's Wharf.
Or, hit the sidewalk on a walking tour and put yourself in the scene. And cut!
24 – Be transported to Ancient Rome at the Palace of Fine Arts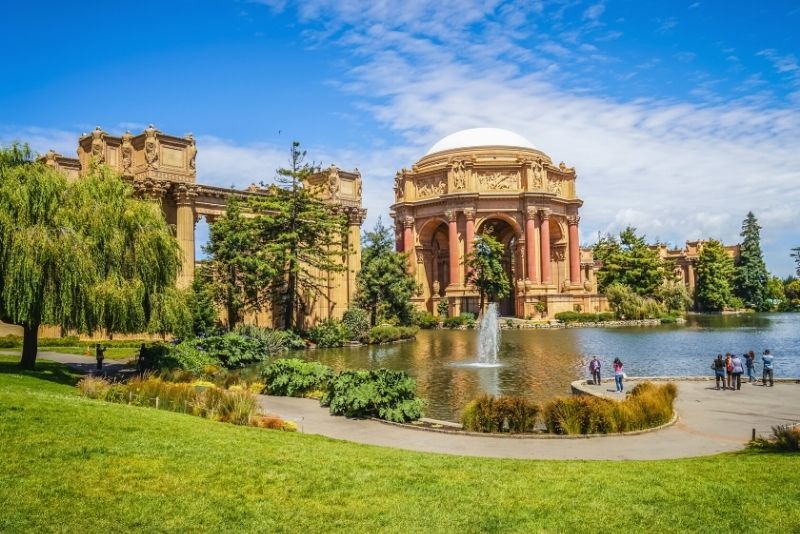 Built by renowned Bay Area architect Bernard Maybeck, this distinctive domed building is a homage to Greco-Roman architecture and a beloved Northern Californian landmark.
The Palace of Fine Arts was originally designed as a temporary display during the Panama Pacific Exposition world fair in 1915, but it made such a good impression that the city decided to keep it.
Visitors can find the Palace in the city's Marina District overlooking a lagoon, where it remains an immensely popular wedding and photography destination (and, frankly, it's not hard to see why).
And along with its architectural glamor, the space also hosts tons of live events, making every trip to the space a unique and exciting experience!
25 – Satisfy your chocolate cravings at Ghirardelli Square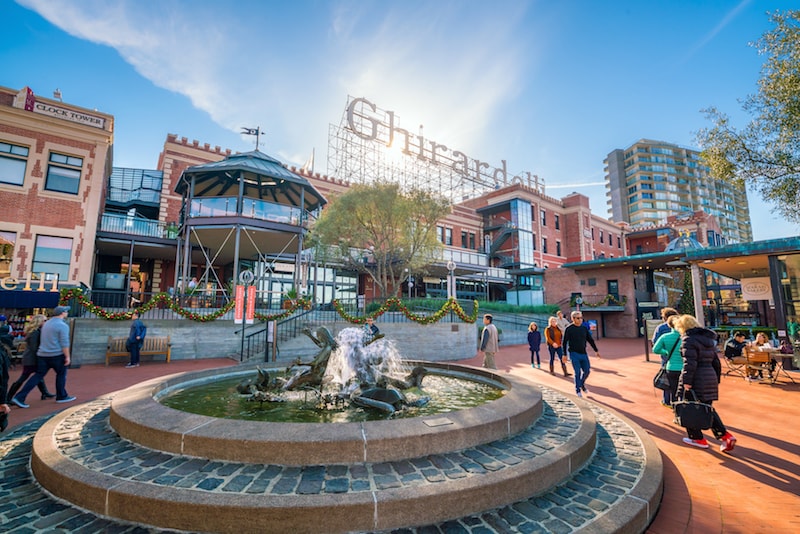 Love chocolate? What about history?
If you said yes to both, you're in for a treat. Ghirardelli Square is a block of redeveloped 19th-century buildings, including what was once the Ghirardelli Chocolate Company – first launched in 1849 by Italian immigrant Domenico Ghiradelli (yes, 1849 was a great year for San Francisco).
Today, it's a quaint preserved collection of shops, restaurants, and of course, Ghirardelli's famous chocolate.
Even if you're not a chocoholic, you're sure to find something you like – the ice cream sundaes are hard to resist.
26 – Entertain the whole family at Six Flags Discovery Kingdom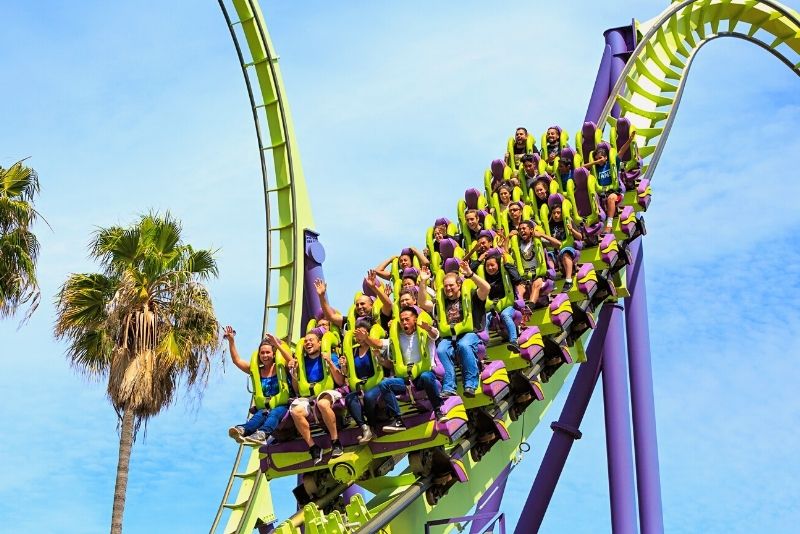 Who wouldn't want to visit the Thrill Capital of Northern California?
Welcoming millions of adrenaline junkies year after year (don't miss the Superman Flight for a real heart-stopper), the 135-acre Six Flags Discovery Kingdom is the country's only "combination theme park", with an oceanarium, wildlife park, and over 45 rides and attractions for every level of thrillseeker (not to mention no shortage of eateries and live entertainment).
Located just over half an hour north of San Francisco city in Vallejo, away halfway to Napa, Six Flags Discovery Kingdom is the perfect remedy for bored kids of all ages (yes, adults too).
Hot tip: while most travelers opt for day tickets, if you plan on visiting a couple of times throughout the year, season passes deliver the best bang for your buck.
27 – Check out the Painted Ladies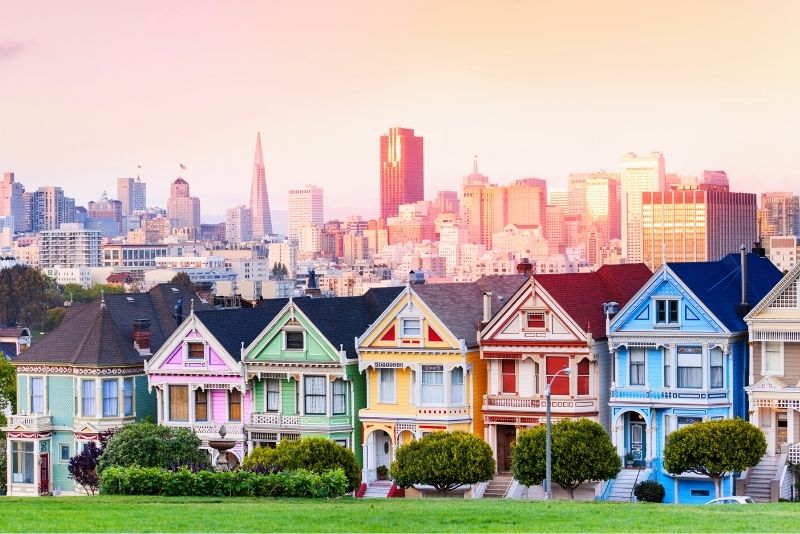 For a quick history lesson, in San Francisco during the Victorian era, it was tradition to paint houses in bright, distinctive colors — luckily for architecture-loving travelers, a few of these historic buildings have been meticulously preserved to this day.
Known as "Postcard Row", the Painted Ladies are a collection of homes climbing up the hill across from Alamo Square Park and easily hold the claim to fame of being one of San Francisco's most photographed locations.
With the city skyline in the background, the neat row of colorful homes has featured in countless movies, ads, and tourism brochures.
For prime photo conditions, have your camera ready at sunset. There are plenty of walking, bus, and biking tours that stop by the Painted Ladies – with some even venturing inside.
28 – Jump on a Segway and glide down Fisherman's Wharf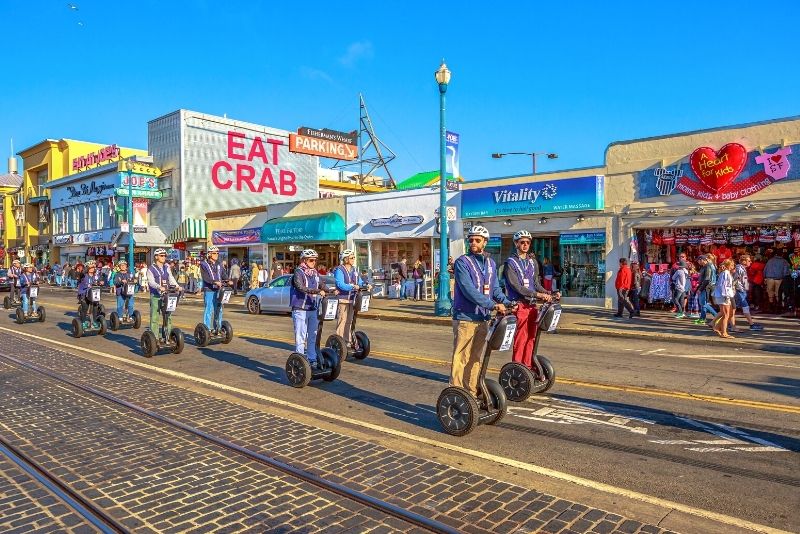 A bustling hub of restaurants and waterfront attractions, Fisherman's Wharf is not just one of San Francisco's most popular tourist destinations – it's one of the busiest in the entire western United States.
Pier 39 is a must-see, with two stories of dining, shopping and entertainment, with a backdrop of the Bay and a chance to see the wharf's famous sea lions. You can also catch a ferry to Alcatraz from here.
Sure, you could spend a day walking around, but the best way to cover the most ground is on a Segway. Don't forget to stop at Boudin Bakery for some of their famous sourdough bread!
See also: Fun things to do in Fisherman's Wharf, SF
29 – Read, learn and discover at City Lights Booksellers & Publishers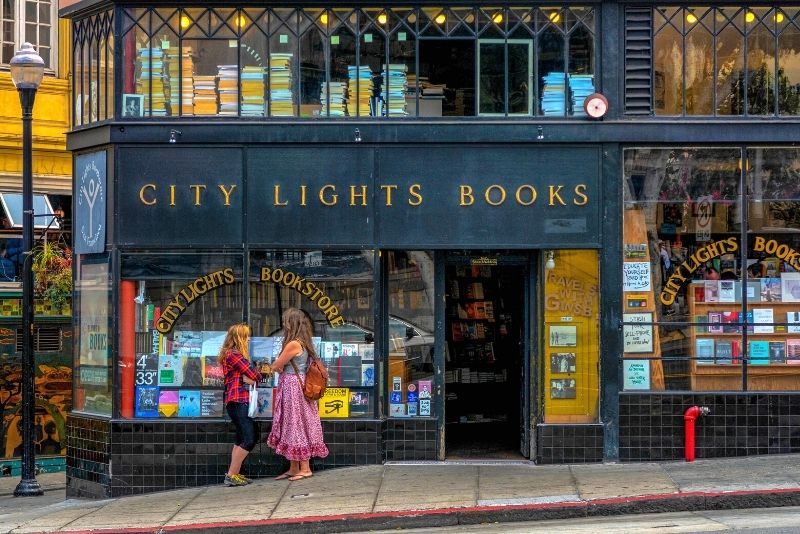 Calling all bookworms and bibliophiles! The literary marketplace of City Lights is one of the most vibrant and diverse in the United States, full of new, used, and rare books of every genre.
First built in 1953, this independent bookstore has a history of the alternative, a meeting place for intellectuals, beatniks, and curious minds.
City Lights also hosts readings, signings, and other events that are sure to appeal to any book lover.
Spanning three full floors, you're sure to uncover some reading treasure here.
30 – Find new animal friends at the San Francisco Zoo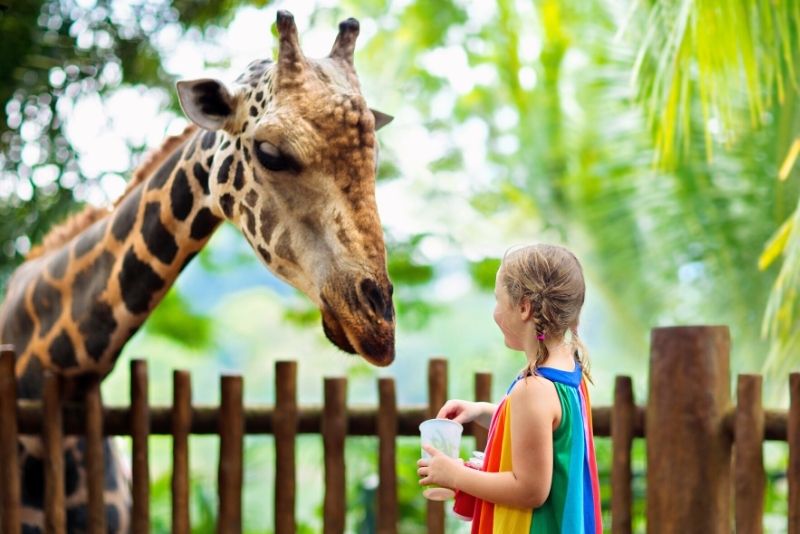 Home to over 2,000 creatures big and small from all corners of the globe, there's bound to be an exotic animal you've never seen before at the San Francisco Zoo.
Families can meet the big cats of the African savanna, see the largest colony of Magellanic penguins out of the wild, and get up close and personal with a few farm animals at the petting zoo.
The tigers and reptiles are always a crowd favorite, likewise the trainer-led shows, and everyone loves the Little Puffer steam train.
Day tickets are available, but you can get the most out of your day by combining a zoo trip with a tour of the nearby Muir Woods National Monument.
31 – Explore the woodlands of the Presidio of San Francisco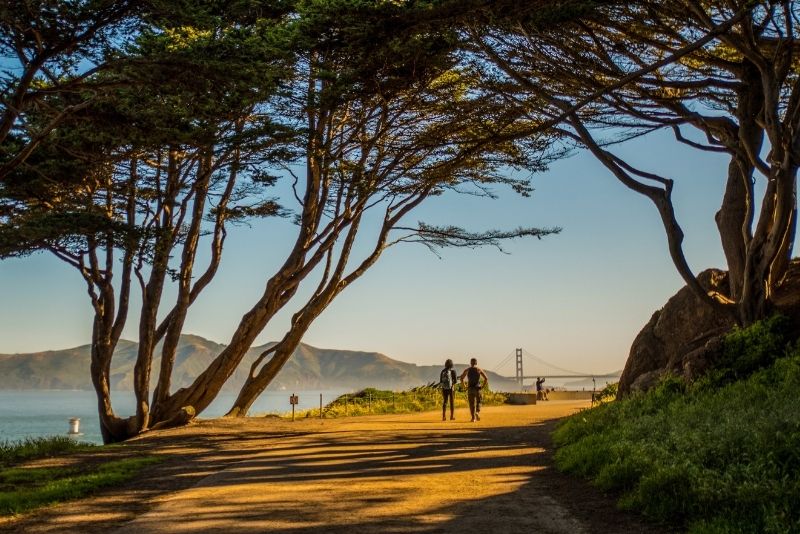 At the very top of San Francisco sits the Presidio, one of the most popular national parks in America.
A former military post, the 1491-acre Presidio now attracts families, adventurers, and history lovers alike.
Take a bus up and experience some of San Francisco's best hiking and biking, the historic Presidio golf course, a selection of great beaches, and some of the finest scenic views in the city.
Or, if you'd prefer to have all this at your doorstep, there are plenty of top hotels in the Presidio, too.
32 – Immerse yourself in seven floors of creativity at the Museum of Modern Art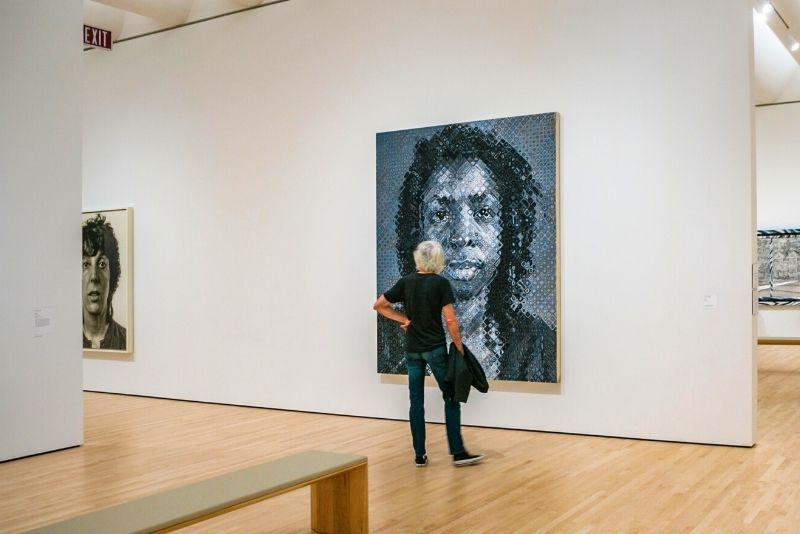 As one of the largest collections of modern and contemporary art in the entire world, and surely one of the best museums in San Francisco to visit, it's easy to spend hours perusing the 33,000 plus pieces at SFMOMA.
There is artwork of every size, shape, and medium, from paintings to sculptures, photography, design, and more.
Seasonal exhibitions feature a fascinating range of guest artists, so there's always something new and exciting to see.
If you need to take a well-earned break, you can get your food and coffee fix from the museum's two restaurants and a cafe.
Best of all, entry is free for art-lovers under 18.
33 – Walk among the redwoods in Muir Woods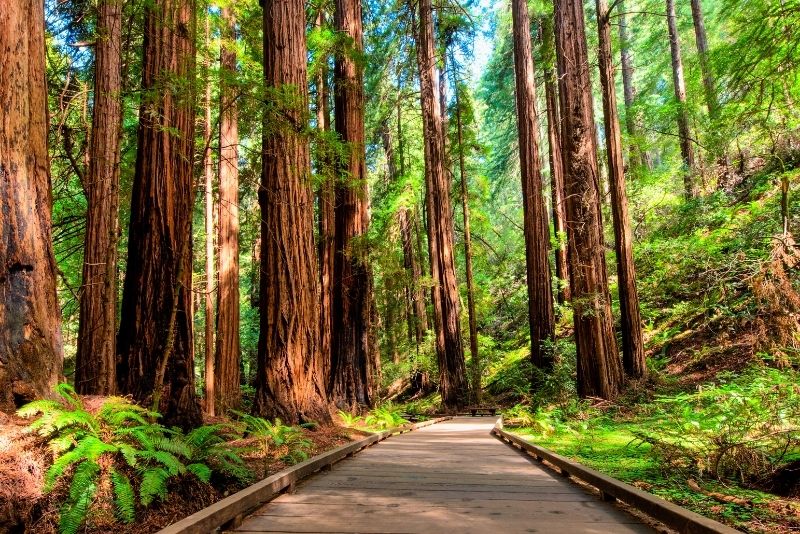 If you go down in the woods today, you'd better take a camera.
11 miles north of the Golden Gate Bridge you'll find Muir Woods, a world-famous (yet still wildly underrated) United States National Monument that brings in over 1.5 million visitors every year.
The protected land is one of the few remaining old-growth coastal redwood forests in the Bay Area; something about walking through the world's tallest trees and slow-flowing rivers just has an amazingly calming effect.
Easy to add into any 2 or 3-day itinerary, Muir Woods is less than an hour by car and is included in many group tours.
For all of you thirsty travelers, combine it with a trip to Wine Country to really indulge the senses.
These spectacular trips are often combined with visits to Sausalito, a delightful little town that's just across the bay from the action, but feels like its own world, with biking trails, acclaimed eateries, and a rainbow of houseboats in the bay creating a one-of-a-kind atmosphere.
See also: Muir Woods tours – Everything you need to know
34 – Experience China in North America's oldest Chinatown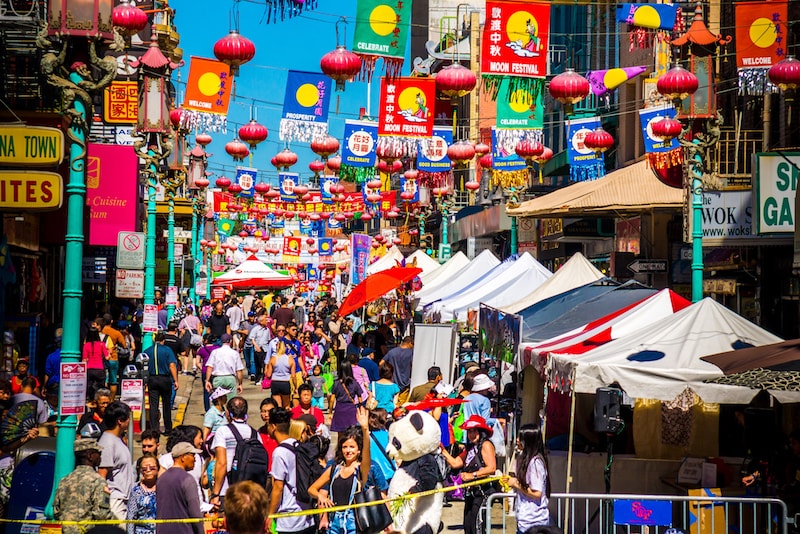 Not just the oldest, but one of the largest, too – San Francisco's Chinatown is a feast for the senses, filled with vibrant colors, delicious food, and plenty of noise.
Discover the culinary delights of Chinatown's tiny alleys on a walking tour, where you can watch master fortune cookie makers and learn traditional Chinese cooking techniques.
Depending on your itinerary, you can combine your tour with an exploration of North Beach, downtown, or even Alcatraz. Just be warned of the crowds – Chinatown gets more visitors each year than the Golden Gate Bridge, so it's best to join a tour to avoid the tourist traps and head to the real gems.
35 – Soar through the clouds on an airplane tour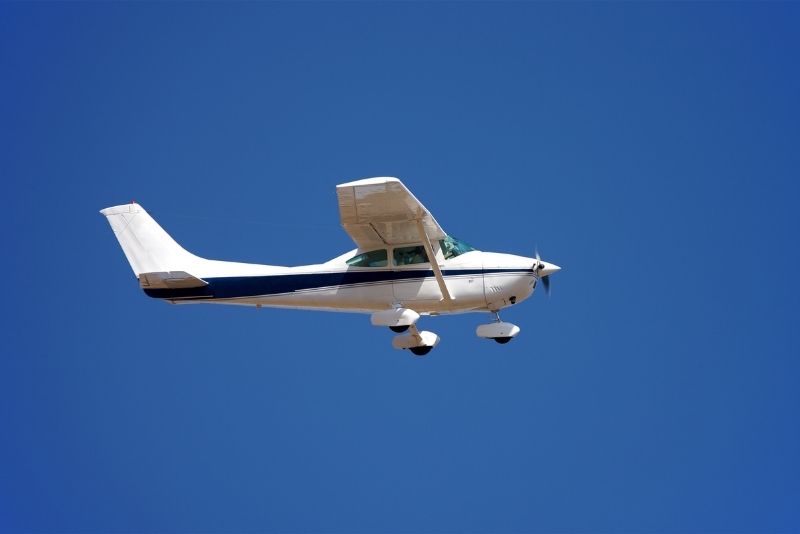 Sometimes, the best seat in the house is far above it.
Airplane tours are a truly unique way to appreciate San Francisco, with unforgettable aerial views revealing the city and all its attractions in a new light.
Not many people can say they've seen the Golden Gate Bridge from the sky.
Get on a seaplane and float over the bay, watch the sunset over the horizon, and enjoy a glass of champagne. Does it get any better? (hint: no, it does not).
36 – Travel through time at the Musee Mecanique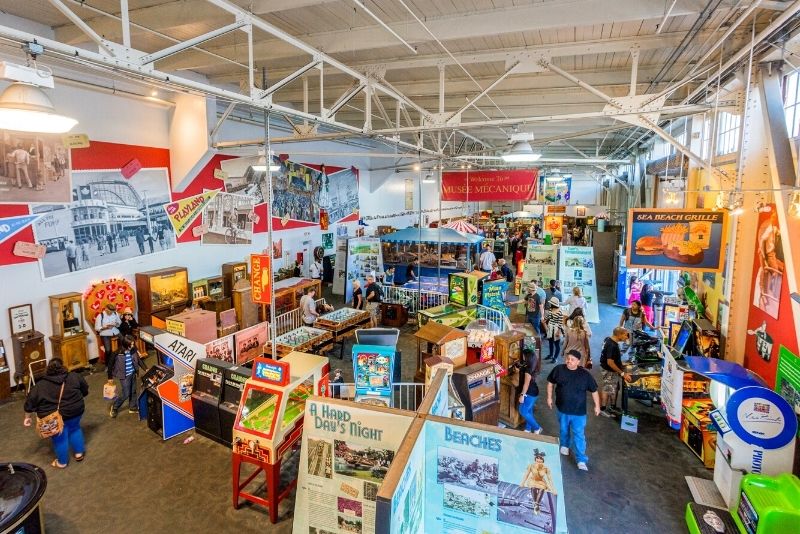 One of the world's largest privately-owned collections, the Musée Mécanique (or Mechanical Museum, in English) features over 300 machines sure to pique the interest of any history-savvy vacationer.
From antique slot machines to penny arcades and other 20th-century artifacts, the range is both diverse and wonderful.
A popular spot for a rainy day, the museum has been in operation since 1912 with founder Edward Zelinsky starting his collection at just 11 years old.
Today, it fills two buildings along Pier 45 of Fisherman's Wharf – and there's always a friendly attendant nearby to help find your way and learn more about what sits before you.
And the best thing? Besides being open all year long, admission is totally free!
37 – Reconnect with nature at the Yerba Buena Gardens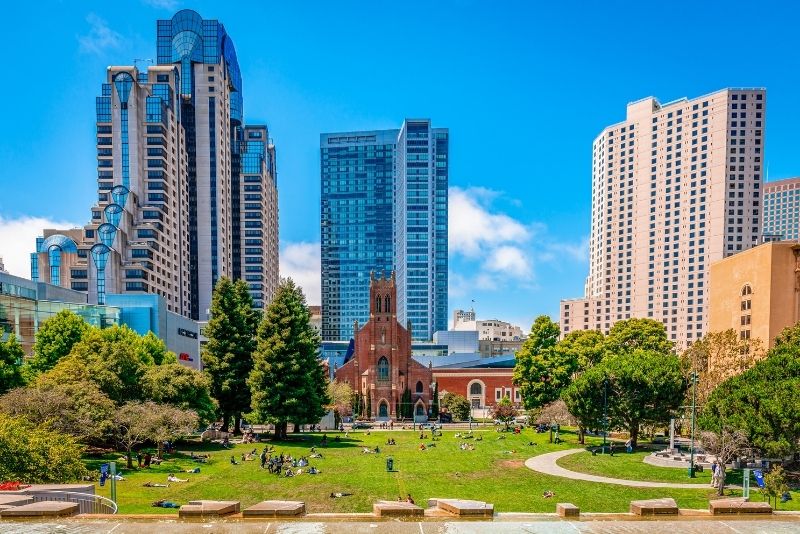 A family-friendly destination, the Yerba Buena Gardens are a green-filled getaway of pristine lawns and shady trees.
Visit the Museum of Modern Art, check out the many sculptures and art installations, or watch the waterfall at the Martin Luther King Jr. Memorial (yep, there's a waterfall).
Even if it's just a picnic with your friends, there's always something in the Gardens to do.
Over five acres in size, you can find the Yerba Buena Gardens in central downtown, with expectedly amazing skyline views.
38 – Enter a celebrity haven at Madame Tussauds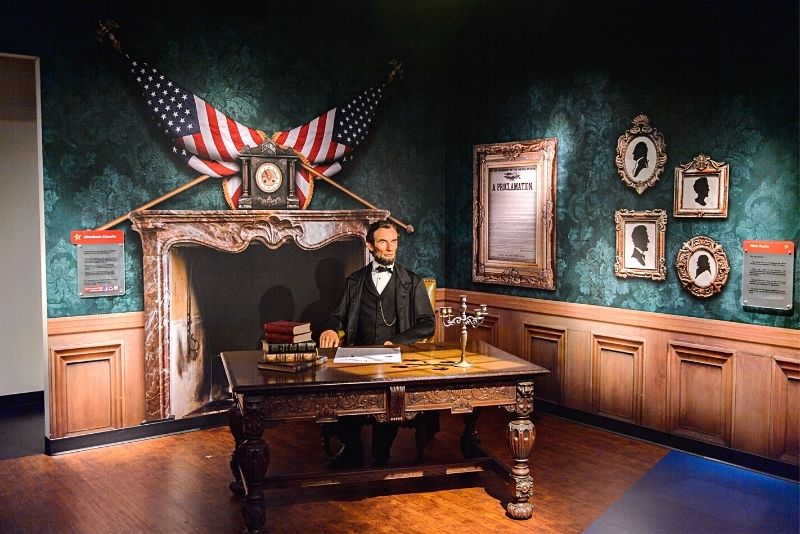 It's not often you're given the opportunity to see all your favorite celebrities in one place.
Madame Tussauds' world-famous wax museum is a family-friendly display of some of the greatest icons of film, music, sports, and business.
Snap a pic with the likenesses of Leo DiCaprio, Barack Obama, Beyoncé, Muhammad Ali and a whole lot more, as well as a collection of local San Franciscan celebrities – but shh, these famous Bay Area names are a secret!
No ropes or boundaries mean you can literally rub shoulders with the greats.
39 – Back the Niners at Levi's Stadium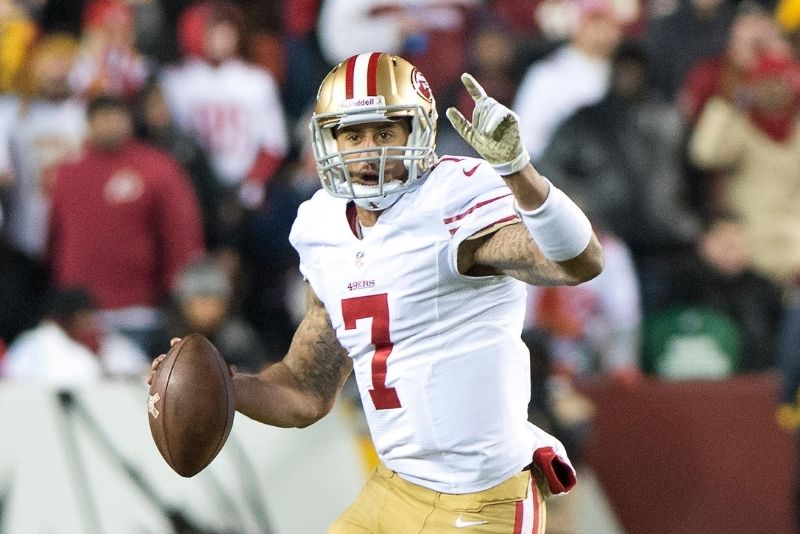 Sports fans, listen up!
The San Francisco 49ers are one of the most successful franchises in the history of American football, and if you want to see them on their home turf, it's off to Levi's Stadium in Santa Clara, just over 45 minutes south of San Francisco by car.
Being in Silicon Valley, it's no surprise that the stadium is outfitted with tech – think, WiFi in every seat so you can tweet plays and order food.
There's plenty of memorabilia to immerse yourself in the history of the beloved 49ers and their greatest players, including Steve Young, Jerry Rice and Joe Montana. If you're a fan, it's definitely worth the trip.
40 – Visit the tech capital of the world, Silicon Valley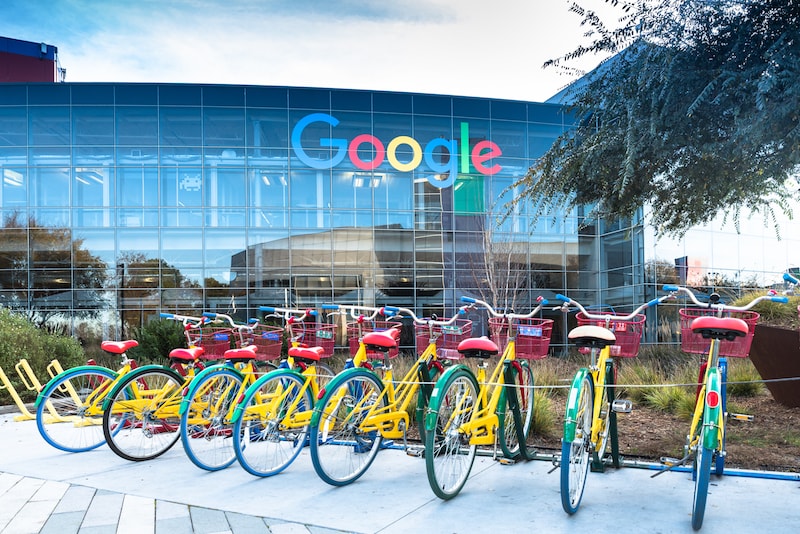 What do the likes of Apple, Google, Facebook, and Twitter all have in common? They're based in the tech capital of the world, Silicon Valley.
If you're interested in the giants that built the modern digital world, a Silicon Valley tour will give you a behind-the-scenes look into how these companies operate and the people who make them successful.
Private tours provide much-needed insight and commentary, and many also give the opportunity to visit the renowned Stanford University.
Budget half a day for the full Silicon Valley experience – on top of the tech, there's great food and cultural attractions, too.
41 – Keep the magic of childhood alive at Children's Fairyland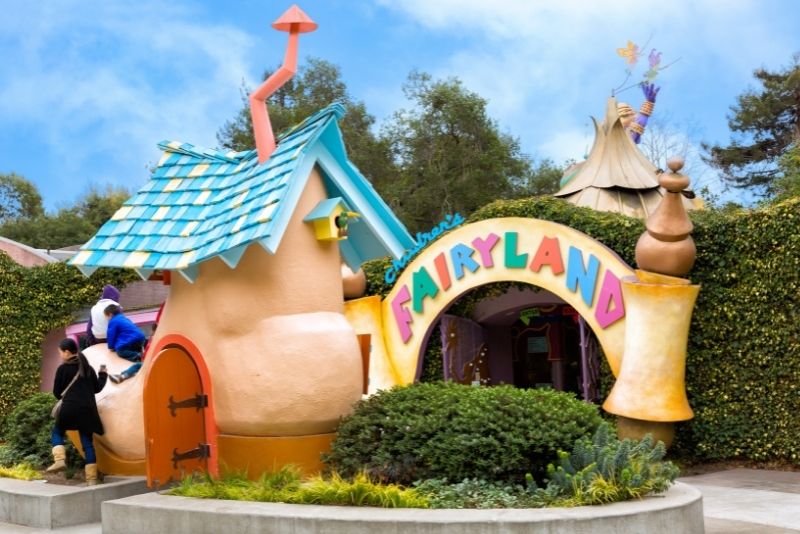 The fantastical Children's Fairyland is a wonderful place for kids to play, learn and listen to stories.
Located on Lake Merritt in Oakland, a short 15 minute trip from hilly downtown, this storybook world was actually one of the first themed parks in the country and even influenced Walt Disney in creating Disneyland.
Children's Fairyland is filled with traditional fairytale charm and imagination, with rides, puppet shows, a theater, and more — all in all, it sells itself as one of the best things to do in San Francisco for anyone with kids in tow.
Be sure to budget a few hours to get the full experience.
42 – Hear the ocean calling at the Wave Organ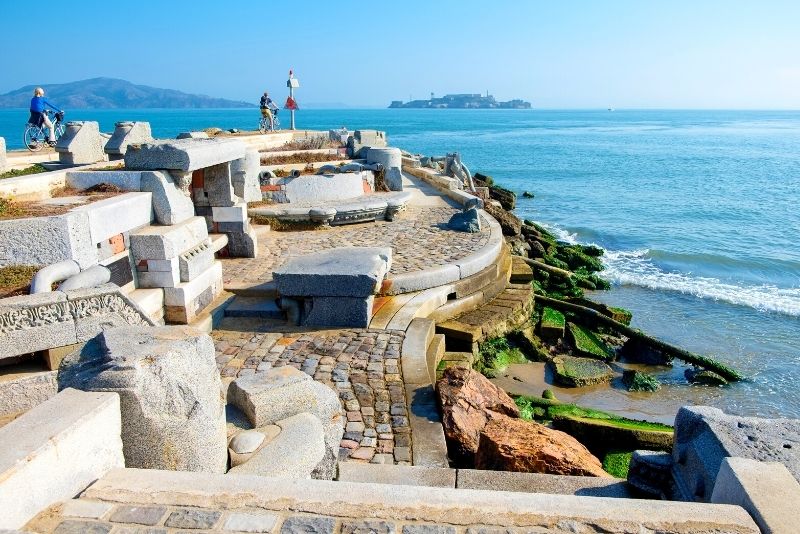 Remember listening to the ocean through a shell? Now imagine if that shell was a massive organ.
The Wave Organ is an acoustic sculpture on a jetty in San Francisco Bay, designed to magnify the sounds of the sea.
Activated by the air pressure created by the wave's movement, this collection of pipes plays a deep, gurgling, restless melody that is both calming and eerie.
The Wave Organ is best enjoyed on a windy day when the waves are high, but even if there's not much of a sea breeze going, it's worth the trip to see this incredible piece of architecture and listen to nature's music.
It's an easy walk from Marina Boulevard and the perfect spot for a bit of quiet reflection.
43 – Learn about the man behind the classics at the Walt Disney Family Museum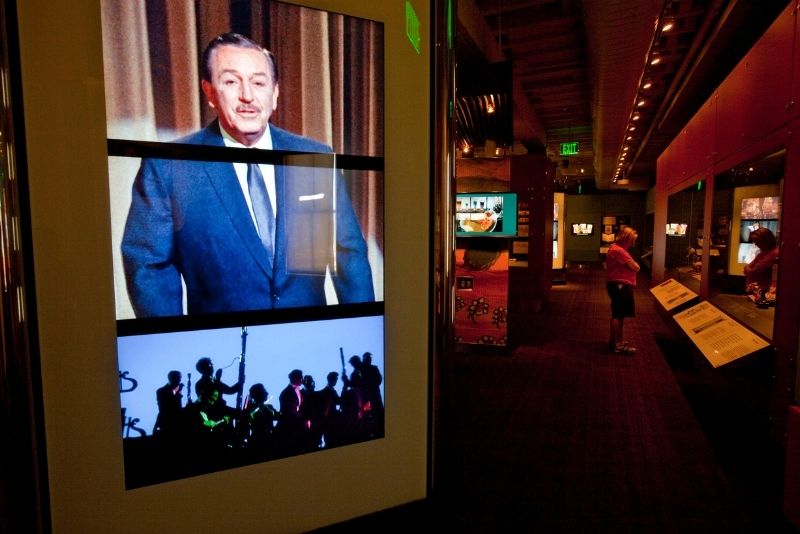 A chance to get to know the animator who influenced so many lives, the Walt Disney Family Museum is 40,000 square feet of exhibits on everything from Walt's early life to the creation of Disneyland.
Full of magic and wonder, there are interactive displays, a section on Pixar, and even narration from Walt himself. And of course, you'll learn about the creation of Mickey and his friends – oh, boy!
The museum is located in the historic Presidio district in the northernmost point of the San Francisco peninsula, where you'll find plenty of other family-friendly attractions as well.
44 – Have your mind blown at the Museum of 3D Illusions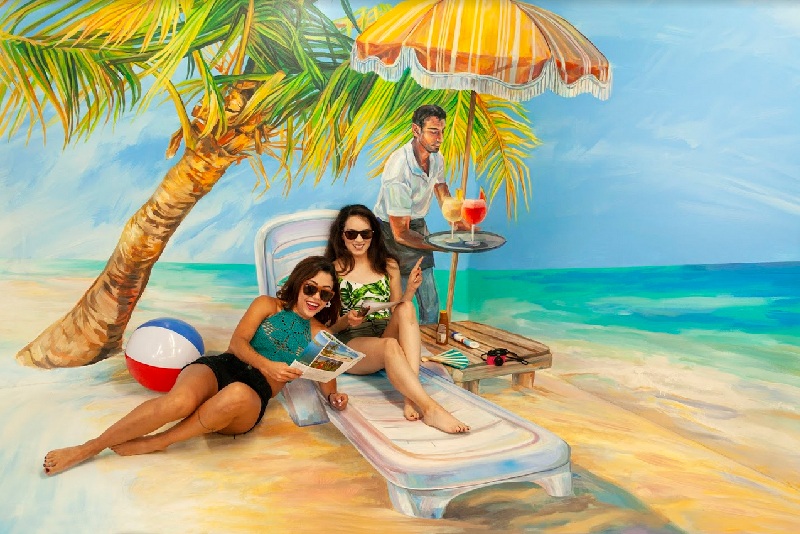 Over 40 mind-bending interactive installations from some of the world's best artists will have you questioning your eyesight at this family-favorite San Fran attraction.
Located right next to Fisherman's Wharf, tickets provide access to every exhibit, making for a great option to spend an hour in one of the city's most tourist-friendly areas.
Make sure your phone has space, because you'll be taking hundreds of photos of you and your friends flying on a magic carpet, floating in a bubble, crushing sports cars with fly kicks, and walking on mountain peaks.
You can even let out a little frustration in the Smash It room.
45 – Catch a ball game at Oracle Park, home of the San Francisco Giants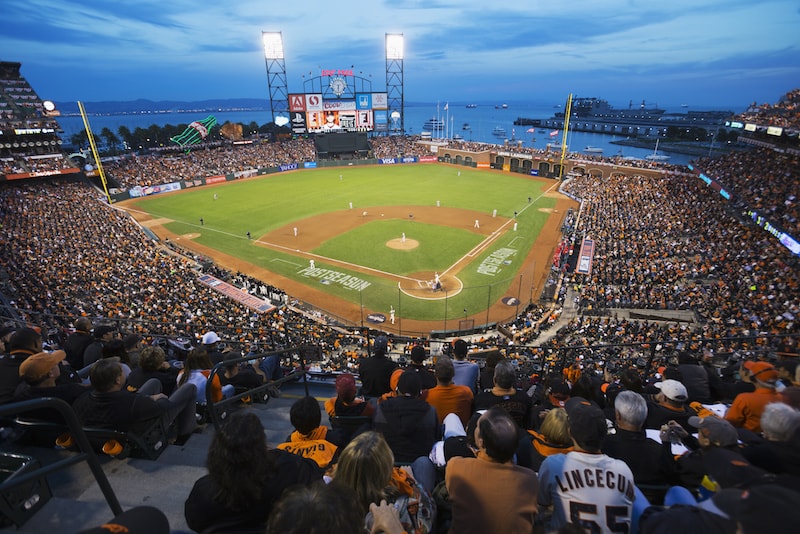 For the true SF local experience, the rule is you have to enjoy a game at Oracle Park.
From the nine-foot statue of Willie Mays to the (surprisingly) great food menu and, of course, the backdrop of San Francisco Bay, there is little wonder why Oracle Park is frequently named the top baseball stadium in the country.
Take a pre-game tour of the stadium, meet some Giants fans and soak in the history of this premier ballpark.
It's a quintessential San Francisco day out and, of course, the Giants always have a chance of winning.
46 – Feel the sand under your toes at the beach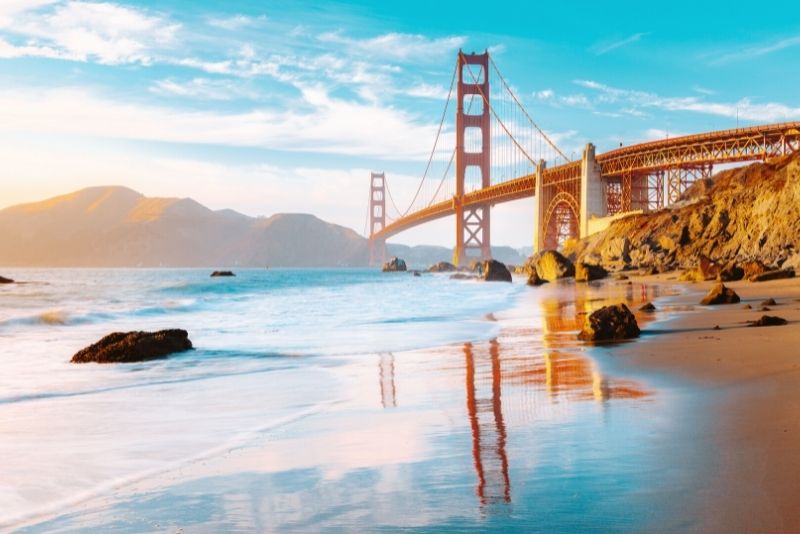 Despite being known as the "City by the Bay", San Francisco is home to a surprising selection of world-class beaches, with both serene coastal pockets within the city limits and idyllic getaways a short trip from town.
So, where to start? Ocean Beach is San Francisco's longest shoreline and sits on the city's western border. Though a popular destination, with white sands and dramatic rocky outcrops, it's so wide it rarely feels crowded.
For a picnic or stroll with a view, the mile-long Baker Beach offers a backdrop like no other – the Golden Gate Bridge in all its glory. Note: At one end, clothing is optional!
If you want somewhere more private, just south of the city is the charming Gray Whale Cove, with postcard views, whale watching opportunities and tide pools to explore.
And, of course, the stunning shores of Monterey and Carmel are just a short drive away.
Looking to enhance your already magical experience?
Enjoy the scenery with a romantic round of horseback riding, or try one of the city's more adventurous sports with a round of surf lessons.
47 – Hunt for treasure in a city-wide scavenger game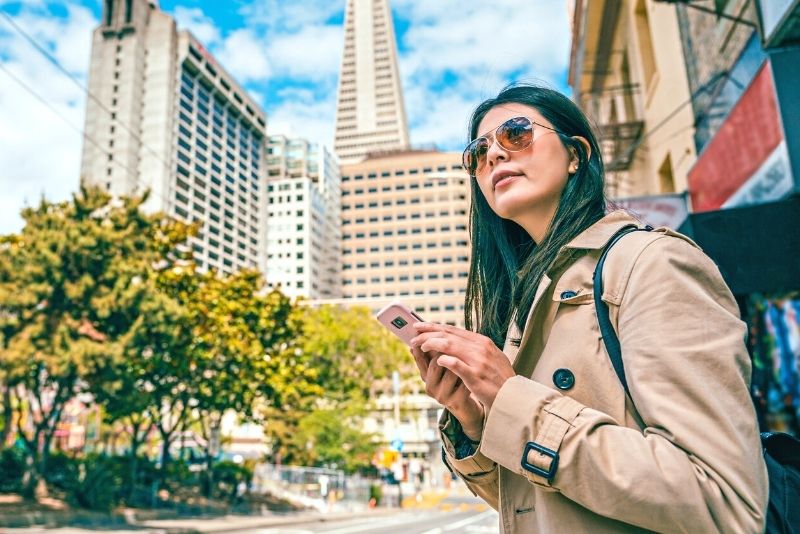 One unique way to explore the city and see myriad things to do in San Francisco all at once is by turning the streets into a giant game board!
A gamified walking tour adds an extra level of excitement, and you'll be solving clues with a guide (or a virtual guide) while you trek the neighborhood to find the prize.
Some scavenger hunts only require a ticket and a smartphone, while others provide written or picture-based hints.
If you like challenges, games and surprises, these family-friendly tours are perfect for groups and let you really interact with both the essential landmarks and hidden gems.
48 – Snap some panoramic pics from the observation deck of Coit Tower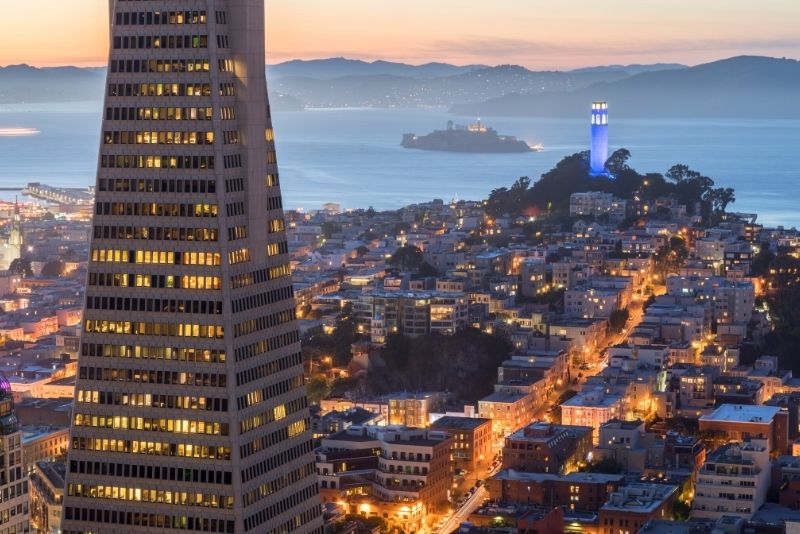 Once the tallest structure in the city, the distinctive Coit Tower on top of Telegraph Hill has been a staple of the San Francisco skyline since 1933.
Inside, you can find all kinds of murals from 26 artists, which you can learn more about on a tower tour.
For the breathtaking 360 degree views, you'll need to get a ticket and ride the elevator up to the observation deck.
Snacks, treats and coffees are available at the nearby Coit Tower Cafe.
49 – Treat your palate on a wine tour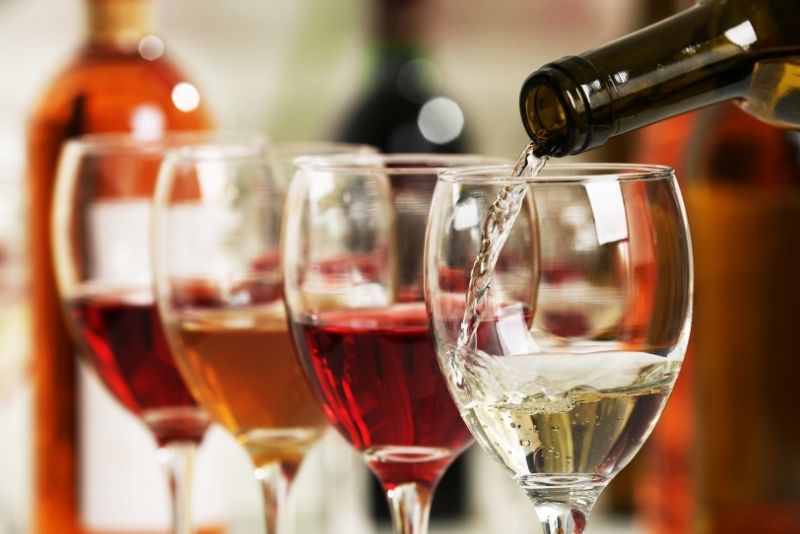 On the doorstep of Napa and Sonoma Valley – California's world-famous wine country – there are plenty of exciting destinations for wine lovers in San Francisco.
Many tours will visit the rolling hills of both valleys in one on a day trip, giving you a taste of some of the best wineries from each region.
Of course, there is no shortage of local winemakers dotted throughout the city and its surrounds, and you can even do tastings on the bay itself. Really, the hardest part is narrowing it down.
50 – Go skydiving (with or without the plane)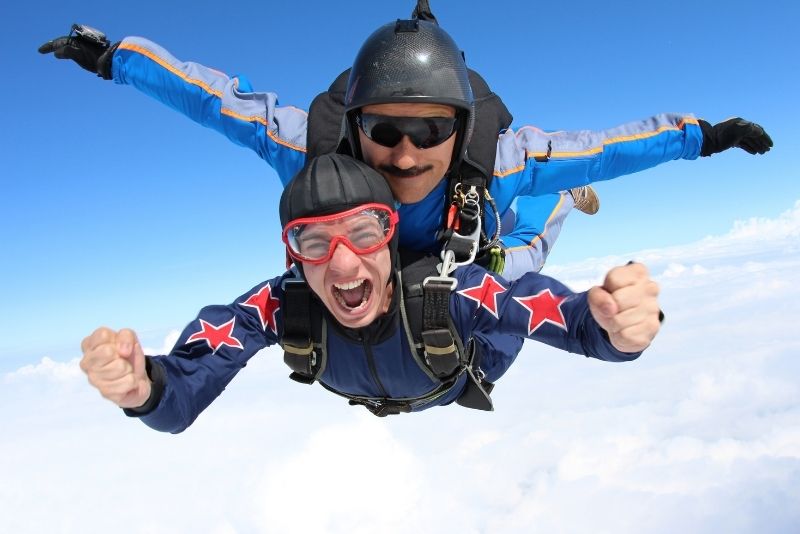 Ever wanted to take a leap of faith and go hurtling to the earth at up to 120 miles per hour?
For adrenaline junkies, there's nothing quite like skydiving.
Book a jump anywhere from 10, 12, even 18,000 feet in the air, giving you that little bit longer in exhilarating freefall before the slow and graceful (hopefully) trip back down.
Skydiving in San Francisco has the added perk of sweeping Californian vistas stretching to the horizon as you fall.
Or, you can even skip the plane trip altogether, and skydive the modern way – indoor skydiving inside a vertical wind tunnel — if one 60-second freefall isn't enough, iFLY San Francisco Bay lets you have two.
51 – Appreciate two periods of art at the Fine Arts Museums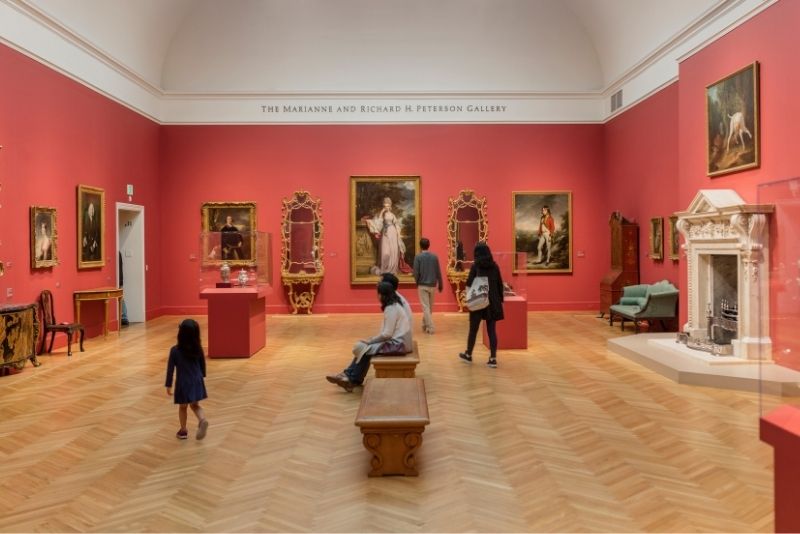 The Fine Arts Museums of San Francisco are two museums from the same organization that could not be more different.
The de Young Museum in Golden Gate Park is a sleek, contemporary collection of modern, African, and Oceanic art, while the classic French-style architecture of the Legion of Honor in Lincoln Park houses art from across European history.
Combined, they are a tour de force of artistic skill and iconic pieces – but you might want to tour them separately to properly take it all in.
52 – Make a splash at California's top water parks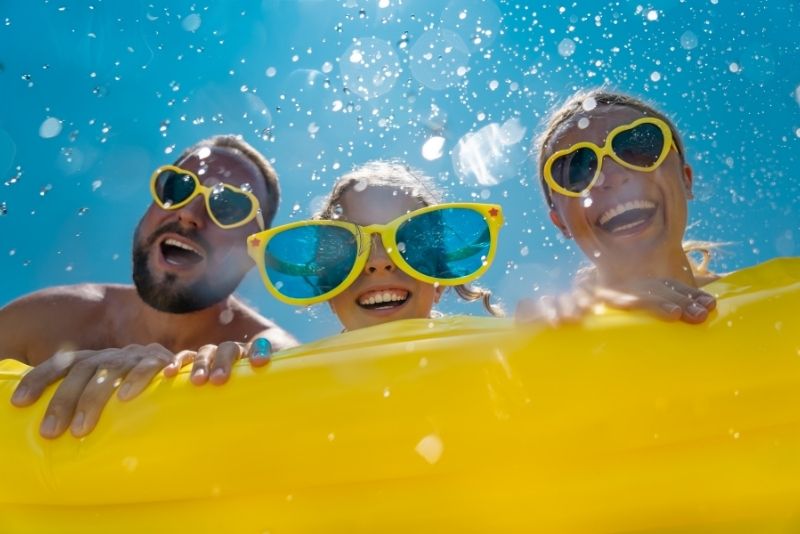 If you're looking for family things to do in San Francisco with kids, you're spoiled for choice, with a range of great water parks.
In Concord, around half an hour east of SF, you'll find Six Flags Hurricane Harbor, a perfect getaway on those sizzling summer days, featuring 25 thrilling water slides and no shortage of spots to cool off.
Meanwhile, 40 miles south-east in Fremont is Aqua Adventure Waterpark, a 3-acre fun-packed day out that is something of a hidden gem.
Then, last but not least, south of the city in San Jose, the South Bay Shores Waterpark is part of California's Great America, offering a wide variety of rides and entertainment, plus a lazy river and splash pads for the little ones.
53 – Check out the action at the Chase Center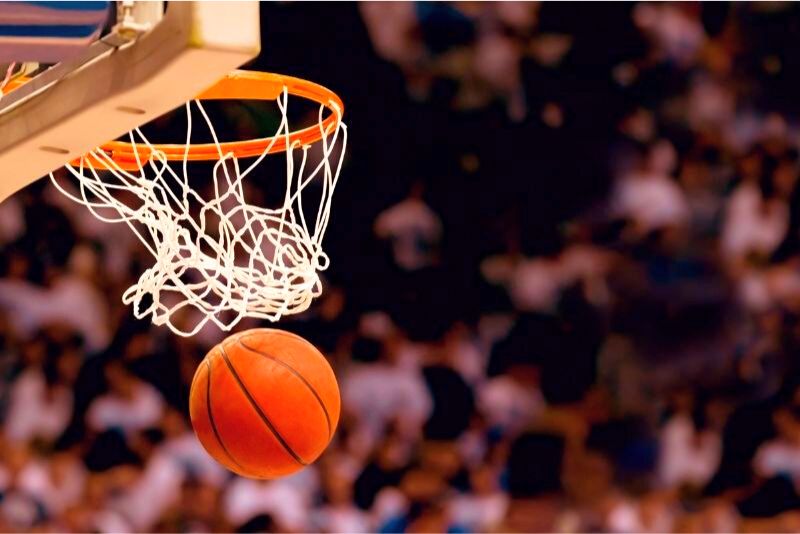 Even if March Madness has passed, the Chase Center is still the place to be!
As the home of the Golden State Warriors, it's a worthy pilgrimage point for NBA fans, with tons of matches throughout the season.
But the massive arena is also home to a number of other live events throughout the year… especially musical ones!
Stevie Nicks, Bruce Springsteen, and Paramore are just a few of the acts that have packed the stage here, along with other entertainment heavyweights like Cirque Du Soleil.
Whatever the occasion, this spacious venue will offer you a show to remember!
54 – Get drawn into some creepier history on a ghost tour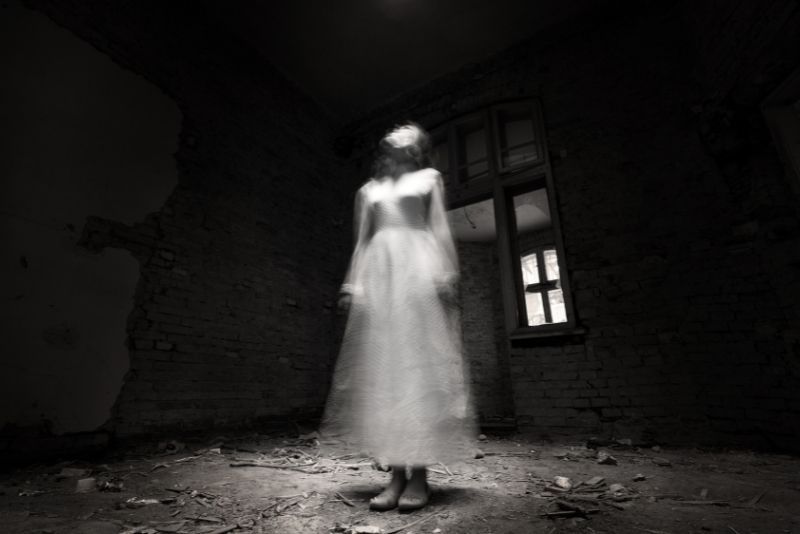 When a city boasts such a long and varied history, it figures that it would have some pretty otherworldly stories in its repertoire.
So as you're making lists of all the guided excursions that you want to go on, don't forget to throw some ghost tours in!
Roam through the city's most famous neighborhoods after dark, while your guide regales you with spooky stories from centuries gone by.
From grizzled gold prospectors to victims of the 1906 earthquake to much more recent – and deeply mysterious – deaths all over the area, each story sheds some light on the city's complex history – including the diverse people that have called it home.
Enjoy your trip through the metropolis's spectral side!
55 – Put on your best flare pants for the Love Tour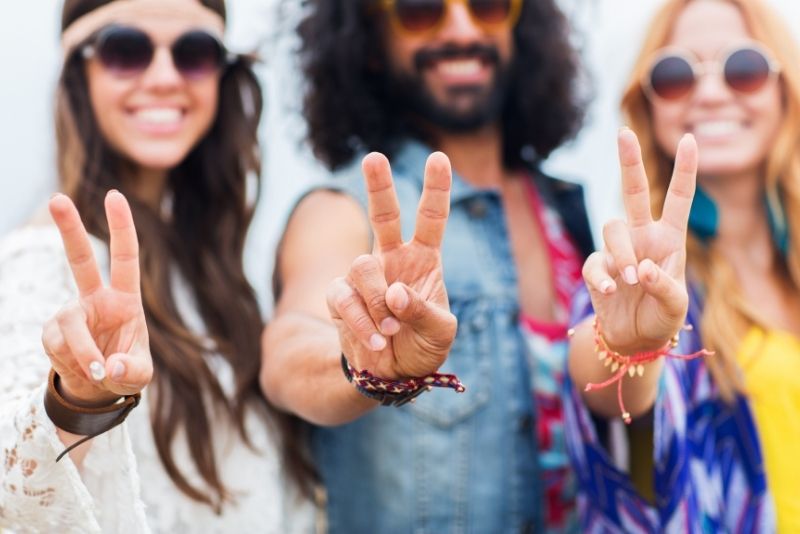 With a hippie past and a hipster present, San Francisco has always been a city for trendsetters (and ignorers).
The Love Tour pops you on a VW bus straight out of the 70s and takes you through SF's most cultural neighborhoods and landmarks, including the homes of artists like The Grateful Dead, Janis Joplin, and Jimi Hendrix.
If there is a special place in your heart for the psychedelic era, this is a great way to spend two hours, with a knowledgeable and passionate tour guide who is sure to have some great stories to share.
56 – Hop on a ferry to Angel Island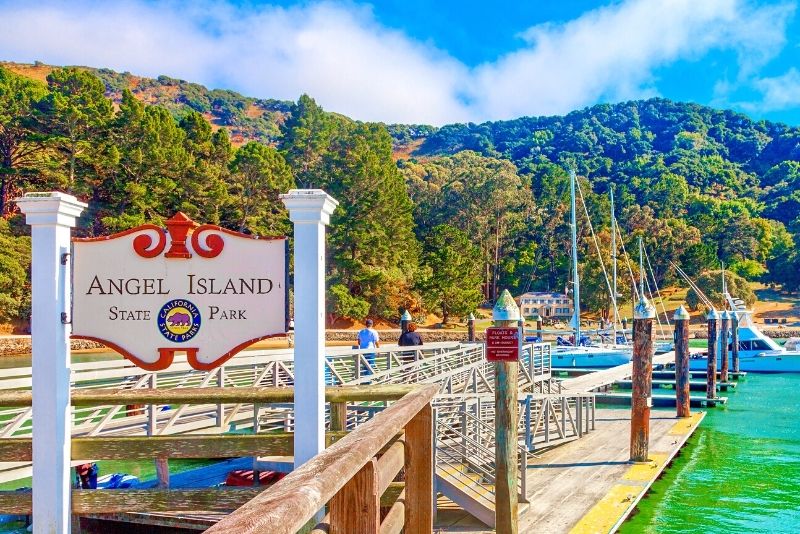 A California Historical Landmark, Angel Island (being an island) is only accessible by ferry, and you can get there in about 30 minutes from San Francisco.
Once a military base, once an immigration station, these days it's a popular spot for picnics, hiking, biking, and enjoying 360-degree views of the Bay Area.
You can ride an open-air tram, dive into the island's Civil War history, and enjoy a bite from the Angel Island Cafe. Make sure to try the barbecue pork sandwich, it's a crowd favorite!
57 – Practice your drive at a Bay Area golf course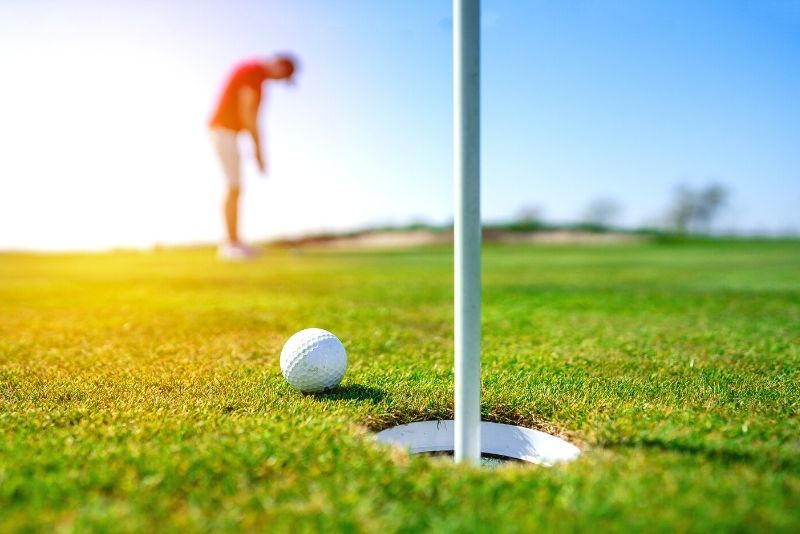 Lush courses dot the entire Golden State, so, as expected, there are plenty of options for golfers of all skill levels in San Francisco and the surrounding area.
For a green with a view, Lincoln Park is hard to beat, the open public golf course offering a stunning backdrop of the Golden Gate Bridge.
Presidio Golf Course, one of the oldest and best courses on the West Coast, is located in the heart of the city and has hosted everyone from Teddy Roosevelt to Joe DiMaggio.
Meanwhile, over at the Oakland Hills Country Club, South Course is a course of a legendary pedigree.
Then there is TPC Harding Park, host of multiple elite championships and world tournaments.
You can also stroll through the lovely and historical links of the Olympic Club, which have been a haven for golfers for nearly a century.
Or head over to Golden Gate Park Golf Course, a world-famous green with breathtaking ocean views to keep you company whilst you putt.
58 – Sample ice-cold brews at a beer tasting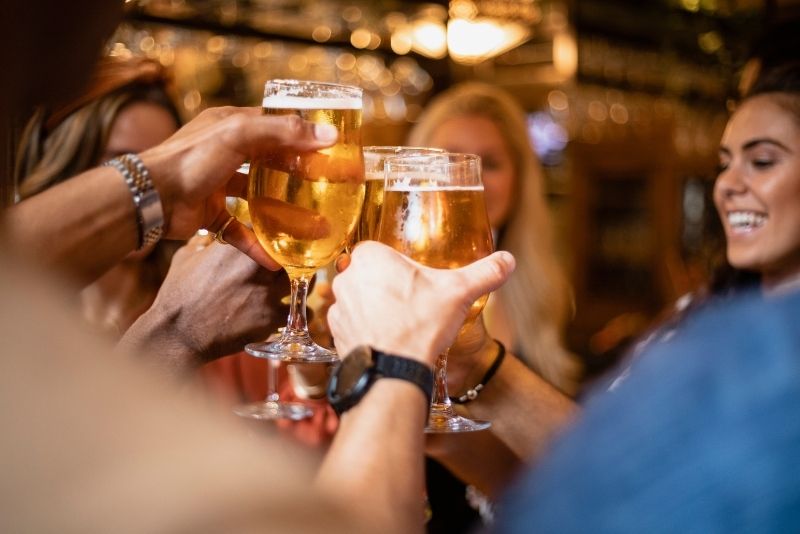 Beer lover? You're in luck, because San Francisco is considered one of America's top ten beer cities.
With local landmarks like Anchor Steam Brewing (established in 1896!) and newer favorites like Fort Point Beer Company, there's guaranteed to be something you like on tap.
Embark on a walking craft beer tour, or combine your beer tasting with a trip to Napa Valley.
If you're interested in adding a prison visit, the Alcatraz and Walking Craft Beer Combo Tour was rated the #2 Beer Tour in the USA by TripAdvisor!
59 – Engage your senses at the Exploratorium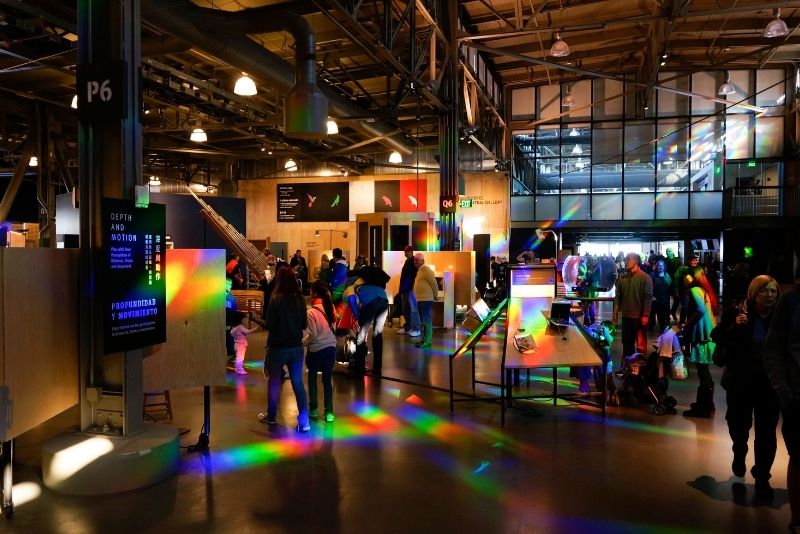 A one-of-a-kind museum on Pier 15, the Exploratorium is a place to let your curiosity run free.
Explore your perspective with interactive, inquiry-based exhibits across six indoor and outdoor galleries.
This is the kind of place that will have the kids talking for months, while, adventurous adults can attend the After Dark 18+ sessions every Thursday.
Looking to save a few bucks? A San Francisco Explorer Pass lets you choose a combination of SF attractions, including the Exploratorium, and is a great way to lock in a few things to do at once!
60 – Let the kids get creative at the Children's Creativity Museum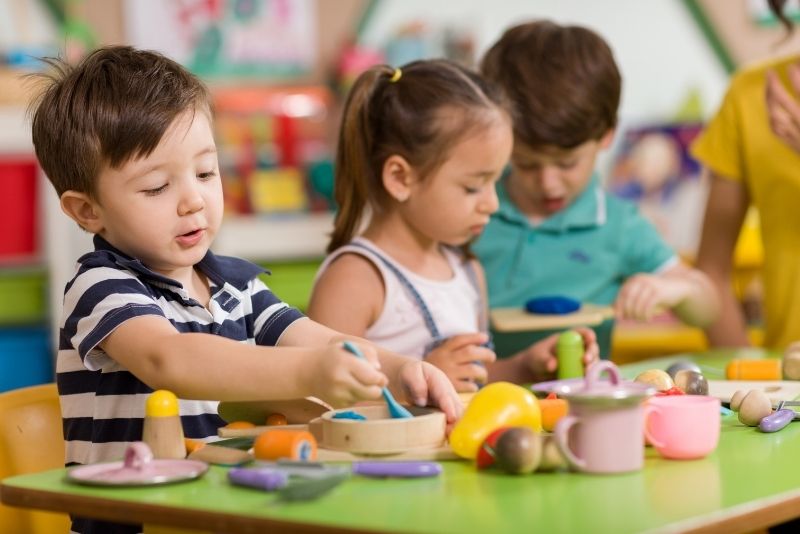 Give little hands and minds the confidence to create at the Children's Creativity Museum, a local favorite (welcoming over 100,000 people every year) when it comes to things to do in San Francisco for traveling families.
Located within Yerba Buena Gardens and designed for children between 2 and 12, the participatory art museum features workshops and exhibits so kids can produce their own media, from stop-motion movies to expressions of music.
With plenty of hands-on exhibits, the youngsters will be able to learn new skills, expand their thinking, and who knows – maybe even spark a lifelong passion.
61 – Indulge your taste buds at The Ferry Building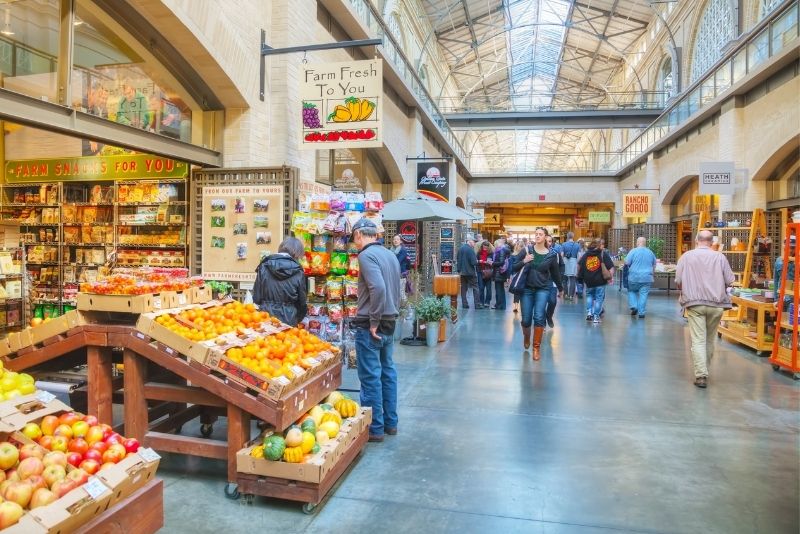 Sure, the Ferry Building is home to San Francisco's ferry terminal, but it's also so much more.
A historic landmark with a massive clock tower, the building boasts a wide variety of shops and some of San Francisco's most delicious cuisine.
At the locally adored Ferry Building Marketplace, you'll find sweets, treats, cheeses, coffee, pastries and wine (from Napa and Sonoma among others, of course), and you can take home a haul of Northern California's best produce.
It couldn't be easier to get to the Ferry Building – it's a central transit hub of the city's neighborhoods.
62 – Score a (mini) hole in one at Urban Putt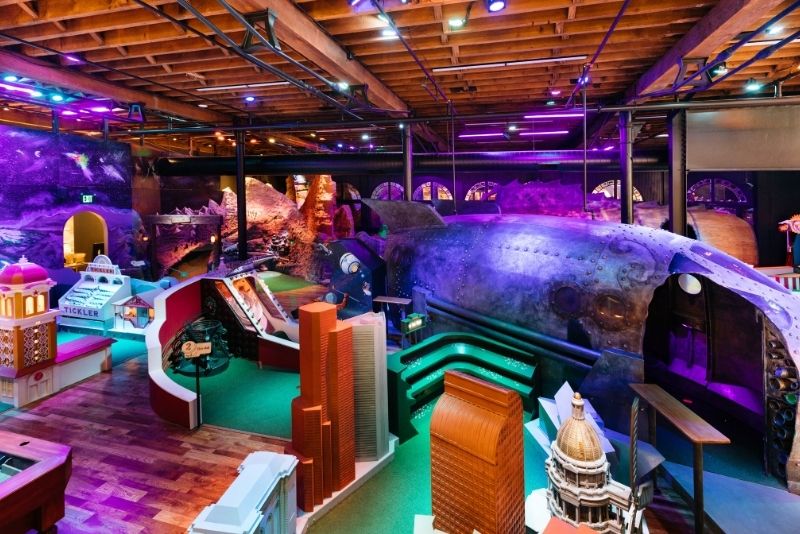 Like golf but not into all that walking? Mini golf is your answer, and Urban Putt is one of the best places to do it.
This imaginative indoor mini-golf course is set up like a city, with 14 themed holes that will test your putting ability.
Urban Putt is a great place to spend an hour (or two) with friends or family.
And if you work up an appetite, they have a fantastic selection of food and drinks at the clubhouse – including cocktails. You can find Urban Putt in the Mission district.
63 – Wine, dine and dance on a dinner cruise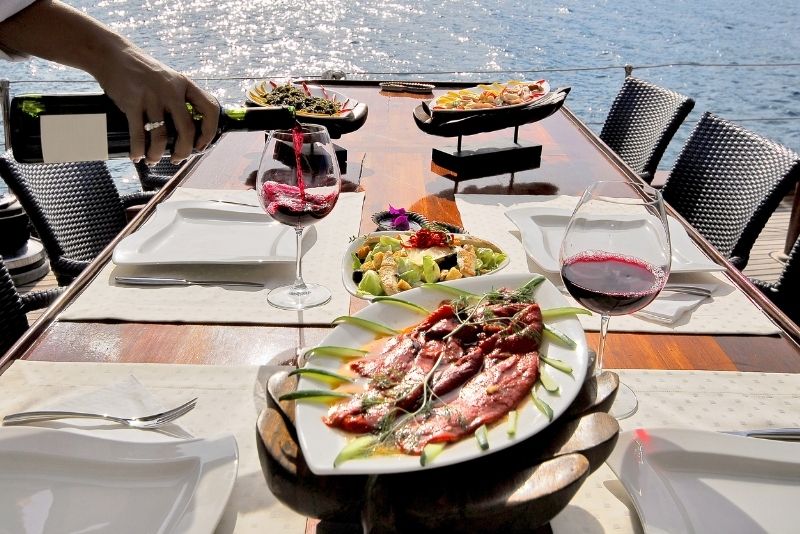 Breakfast lets you start the day right, and lunch keeps you going – but no meal has potential quite like dinner.
Will you have it at a winery? On a sunset cruise? Pair it with an adrenaline-filled activity, like water biking, or a helicopter tour? Or even with a dance?
Whether it's with family, friends, or a romantic someone special, San Francisco offers all this and more, giving you plenty of delicious, fresh, and locally-sourced dinner options to round off a perfect day.
Hot tip: Romantic Things to Do in San Francisco for Couples
64 – Order a drink and a view at a rooftop bar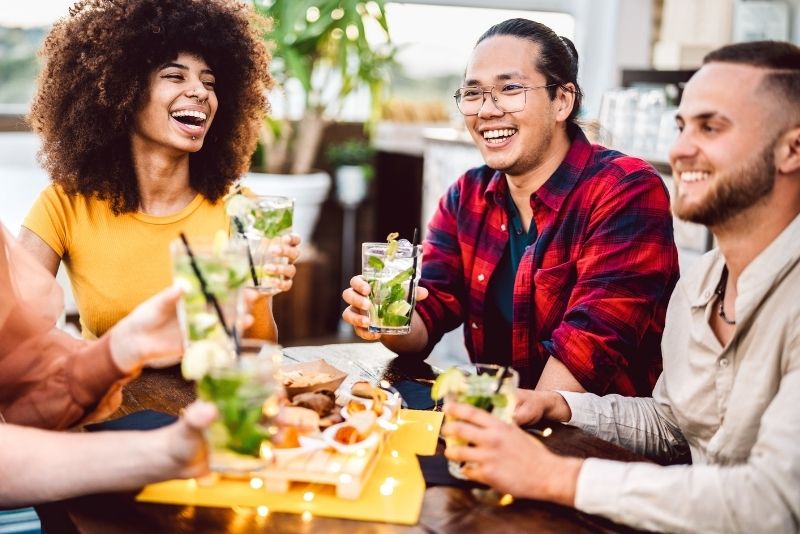 For a culinary experience like no other, Top of the Mark sits on the 19th floor of the Mark Hopkins hotel and offers celebrity-approved cocktails with a superb outlook from the venue's sky lounge.
Over on top of the Moscone Center and Gardens, B Restaurant and Bar is renowned for its menu, rooftop terrace, and the best Happy Hour in San Francisco.
In the Mission, El Techo has been voted one of the city's best restaurants and offers soul-satisfying pan-Latin American cuisine.
Charmaine's Rooftop Bar & Lounge sits 120 feet above Market Street and is the perfect blend of European terraces and coastal Californian vibes.
Plus, Rooftop 25 is one of the city's trendiest new venues, atop the 25 Lusk restaurant in SoMa.
65 – Rise early and watch the sun come up at Twin Peaks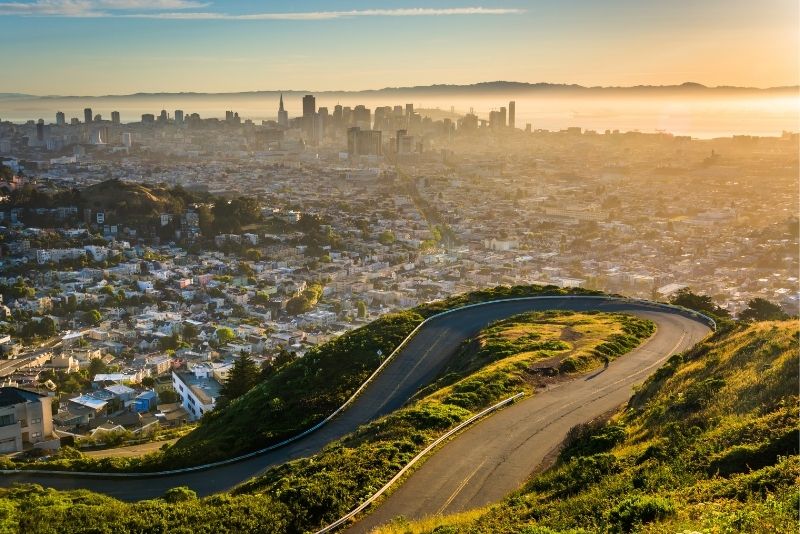 No, not the David Lynch series – these peaks refer to two hills (Eureka and Noe) that offer unmatched 180-degree views of the city.
Sitting at an elevation of 925 feet, the Twin Peaks are only about a 20-minute ride from downtown and feature prominently on many tours across San Francisco.
You can ascend the two towering peaks across a 0.7-mile hiking trail, or press on further to Glen Canyon's Islais Creek around 1.8 miles away.
Popular among locals and tourists alike, this Creeks to Peaks trail is a great way to escape from the metro and experience the rolling landscape as it once was.
66 – Head to the theater for the evening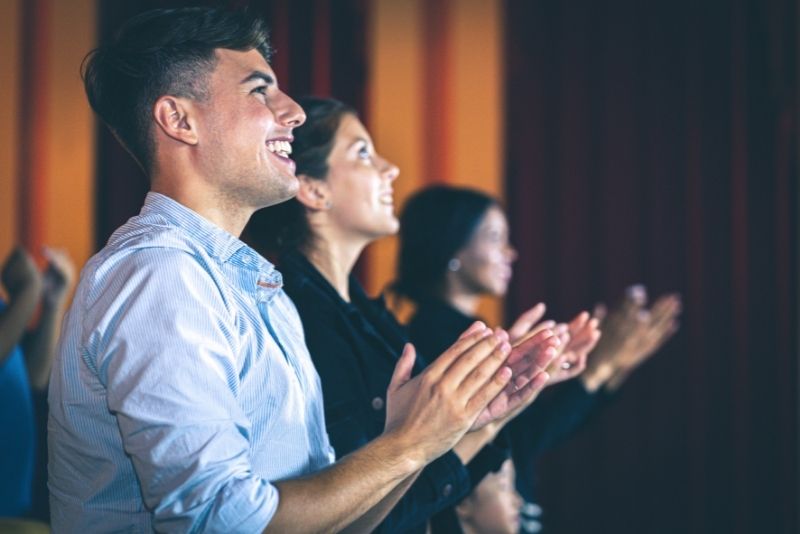 From Broadway-style productions to arthouse indie shows, San Francisco's Theater District is a theater lovers delight.
The elegant Orpheum Theater was built in 1926 and is one of the last remaining atmospheric theaters in the world, with a starry sky that twinkles on cue.
Two blocks away, the equally grand Golden Gate Theater is one of the city's oldest and is a stunningly elegant piece of architecture, while the much-loved 1,600-seat Curran has hosted some of the biggest theater shows in history.
In neighboring districts, you'll find The War Memorial Opera House, home to the San Francisco Opera since 1932, and the pioneering Audium, a one-of-a-kind immersive theater of sound.
67 – Pay your respects at the USS San Francisco Memorial and visit the Lands End Lookout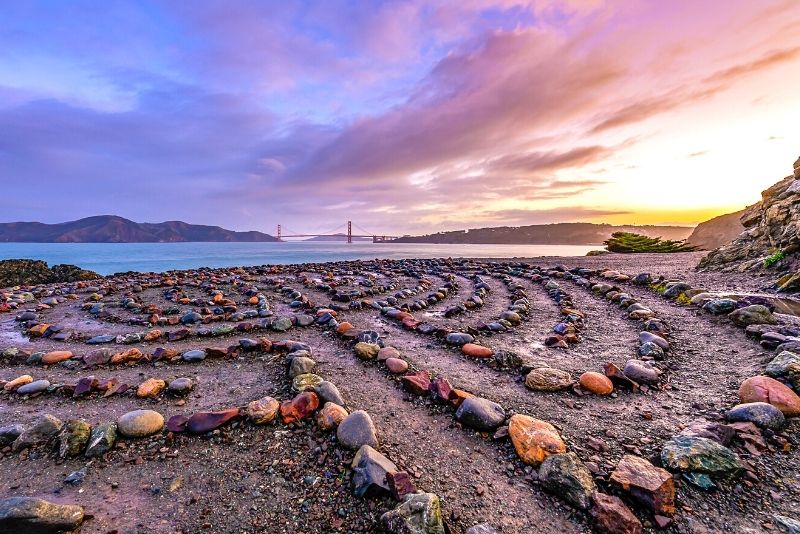 Named for its location at the end of the northwestern peninsula, the rocky trails of Land's End wind offer incredible vistas of the Golden Gate Bridge, Marin Headlands, and the Pacific Ocean.
For over a century, Land's End Lookout has been a favorite spot for visitors and locals alike.
Far from just a stellar viewpoint, the location also has a rich history, highlighted by the USS San Francisco Memorial which commemorates the November 12, 1942 sinking of the USS San Francisco cruiser by a Japanese submarine during World War II.
While in the area, pop into the ancient Sutro Baths, the fascinating ruins of what was once the largest indoor swimming establishment in the world!
68 – Shop 'til you drop at Union Square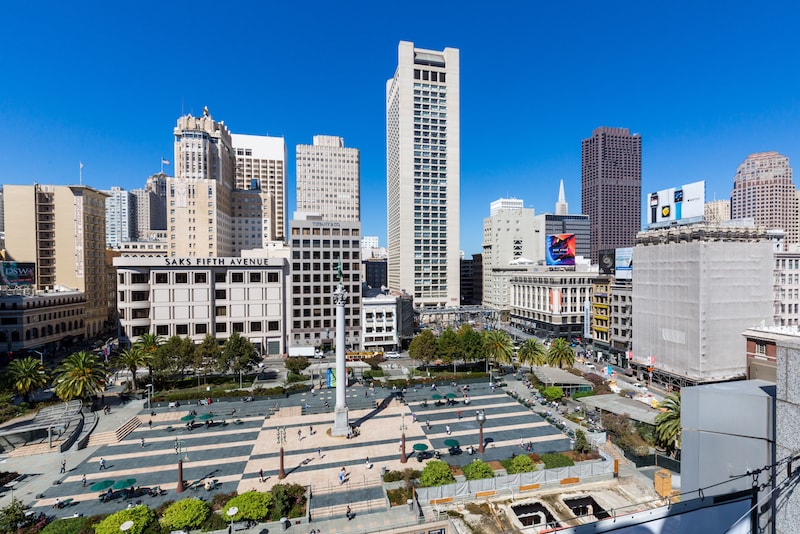 Shopaholics, listen up! It's easy to lose hours and hours in the retail precinct of Union Square.
Right in the heart of downtown, it's a smorgasbord of high-end shopping and dining options for every style and taste – one of the largest collections in the entire United States!
You'll also find the Powell Street cable cars, the American Conservatory Theater, the Martin Lawrence Art Gallery, and at the center of it all, the iconic Dewey Monument statue of Nike (the goddess, not the shoes).
With so much to see and do, you could spend a whole day here without even batting an eyelash.
69 – Watch the sun go down on a serene bay cruise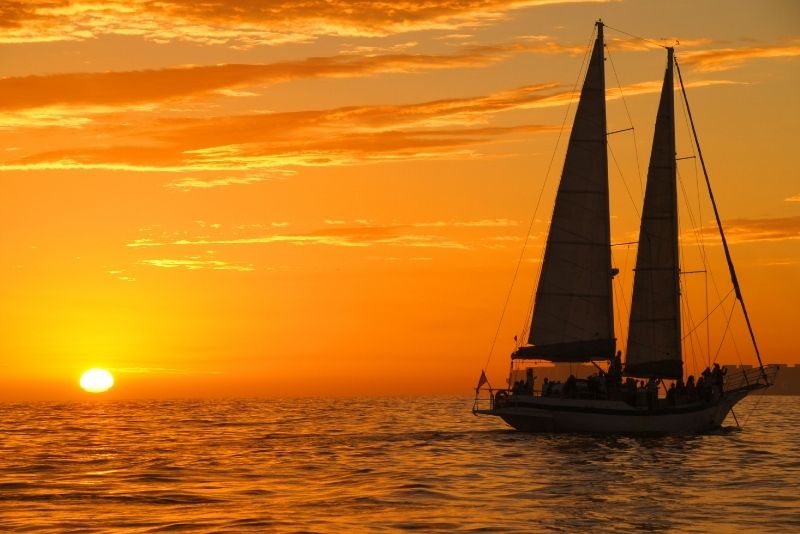 With such iconic vistas on such beautiful waters, the only way to make San Francisco Bay more picturesque is by viewing it at sunset.
Luckily, there is no shortage of cruises that sail the bay at sundown, meaning you can watch the Golden State really turn golden, drink in hand.
Watch the city slowly light up as you glide across the waters to Alcatraz Island and under the Golden Gate Bridge, or simply circle the bay — it's one of the quintessential things to do in San Francisco.
For a truly romantic evening, a twilight tour aboard a luxury catamaran is an experience you won't soon forget.
70 – Spend a day on the boardwalk at Pier 39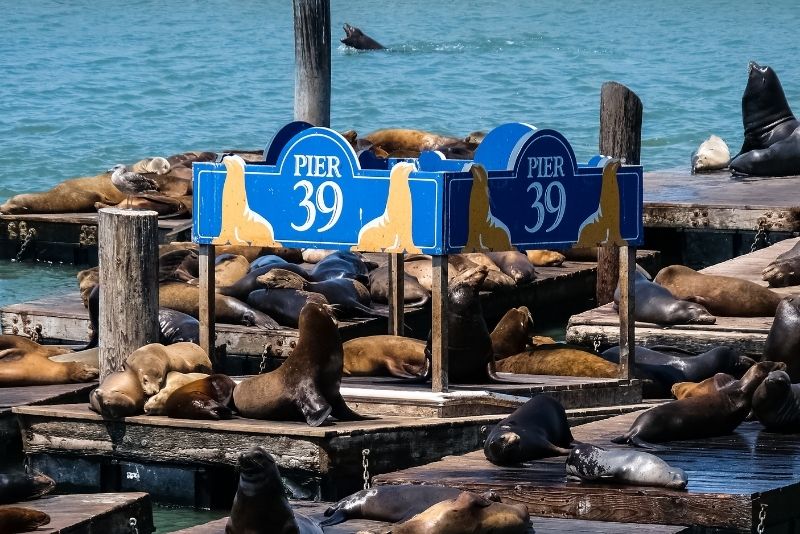 If San Francisco had a Vegas Strip, it would be Pier 39.
A premier entertainment district on the edge of Fisherman's Wharf, Pier 39 is one of the most visited tourist attractions in San Francisco, spanning two levels of dining, shopping, and activities.
Millions visit the Pier every year, swinging past to watch the famous California sea lions, ride on the classic carousel, take in the iconic views of SF landmarks, or sip on a waterfront beverage (or five).
Budding explorers should go and get lost in Magowan's Infinite Mirror Maze, a mind-bending series of hallways and reflections.
To save a few bucks, a tourist-friendly Pier 39 pass will let you do all the top attractions at once.
71 – Take to the skies on a helicopter tour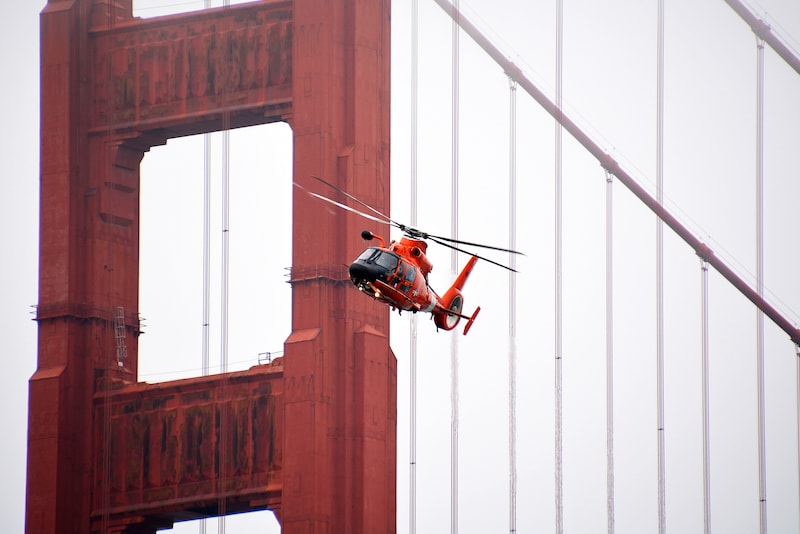 Once you've seen the city from the ground and the sea, the only thing left to do is fly.
A helicopter tour will have you soaring over San Francisco city and give a bird's eye view of the best landmarks.
Check out Alcatraz, the underrated Bay Bridge, the iconic Golden Gate Bridge, Angel Island, and the city's famous districts from up on high, with bonus commentary and even choreographed music (depending on your tour).
It's a first-class flight experience, so make sure you take a camera.
Helicopter tours start both morning and afternoon from multiple city-central locations, with varying flight times to suit all budgets.
72 – Strap on a pair of roller skates at the Church of 8 Wheels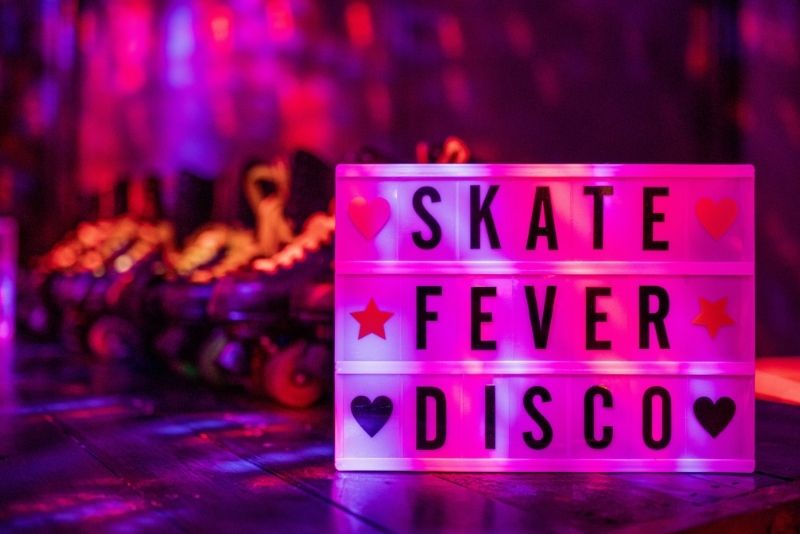 You're never too old to roller skate, and the Church of 8 Wheels is proof.
This funky roller disco in the Bay Area is open to anyone who wants to learn, with beginner ramps and classes from expert teachers.
For veteran skaters, there are more challenging obstacles and plenty of opportunities to show off your skills.
As the name might suggest, the skatepark is located in an abandoned church – and the atmosphere is second to none.
Super friendly staff, great tunes, and disco lights will ensure you have a good time.
73 – Relax and heal at a life-giving spa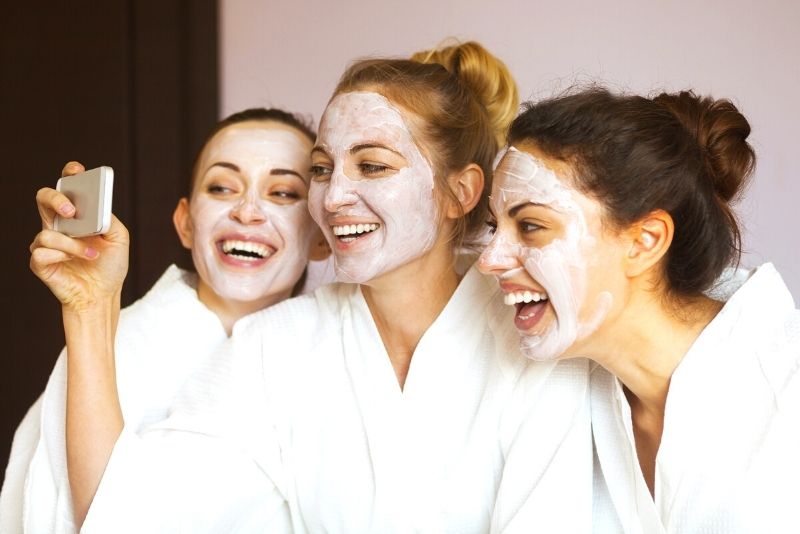 Done everything else? You've earned a spa visit.
Treat yourself and sink into a day spa, with a range of packages designed to have you feeling refreshed and renewed.
Head to Imperial Spa to enjoy exfoliating treatments and unique clay-based saunas, or enjoy the rooftop hot tub at Bamford Wellness Spa.
Try the scrubs and Korean-style massages at Pearl Spa & Sauna, or go full indulgence with the varied treatments at Remede Spa, which offers a luxurious, customizable itinerary with every visit.
74 – Indulge in the best local bars – or a city pub crawl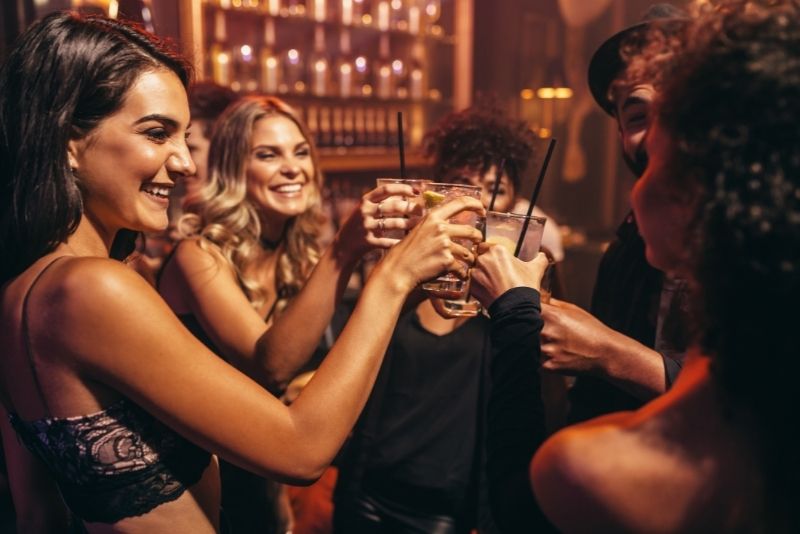 It's a timeless combination, and you can sample some of the best in North Beach on a Pizza & Pub Crawl tour experience.
Make sure there's room in your stomach to sample California-style pie, clam pizza and much, much more.
If you can't go past a little good old-fashioned competition, the Let's Roam scavenger hunt app puts a spin on the traditional pub crawl with challenges and prizes up for grabs.
Pick some friends and aim for the crown!
And if you want a somewhat mellower experience that doesn't skimp on the quality drinks, there are plenty of knockout bars around the city to try!
Enjoy an intimate setting and rotating cocktail menu at Bar Nonnina, or a classy beverage at Farley, which offers stunning views of the Golden Gate Bridge.
You can also sample the house specialties and elegant mid-century trappings of Moongate Lounge, or the eclectic lineup at El Rio, where ping-pong, karaoke, and live music are just some of the things that you can find on any given evening.
75 – Party through the night at a San Francisco club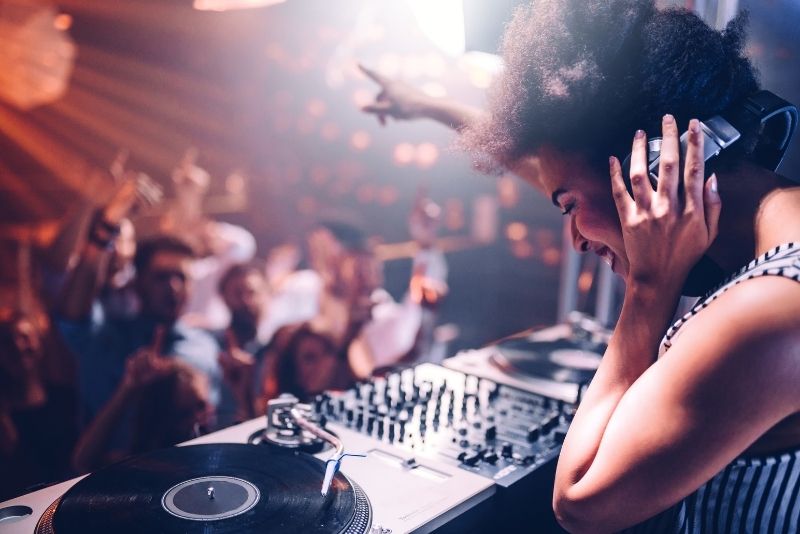 No matter your style or scene, if you're looking to dance the night away, San Francisco has a nightclub to suit – with the hottest locale being South of Market Street (SoMa).
The SoMa staple DNA Lounge has been open for three decades and features four dance floors, two stages, and seven bars. The party never sleeps here.
Nearby, The Great Northern is a dose of 70s glam, with 30-foot ceilings and regular LGBTIQ events.
Then there's Monarch, the vintage-style venue that offers fun cocktails and a Prohibition vibe. A popular after-work haunt, it has spaces for every mood.
How to get to San Francisco?
San Francisco Airport is conveniently close to the city, and the perfect place to start or end your trip.
And while there are public transit options that head into town, airport transfers are a great way to make the whole process easier.
Skip the hassle of logistics, and enjoy an easy ride to your next adventure!
Where to stay in San Francisco?
Hotel Nikko San Francisco will have you feeling like a ritzy local in no time, with City Hall and Union Square a short walk away, and plenty of places to eat and sip cocktails back at the hotel itself.
Or head down to Riu Plaza Fisherman's Wharf, where you can enjoy excellent Californian cuisine and beverages, then amble over to Pier 39 to enjoy some of its endless attractions.
Club Quarters Hotel Embarcadero will have you feeling like a bigshot in no time, whether you're working out in its top-notch gym or strolling out the door and right onto the waterfront.
And at Handlery Union Square Hotel, you can spend the day exploring nearby sites like the Aquarium of the Bay and the Museum of Modern Art, then saunter back for a leisurely afternoon dip in the outdoor pool.
You can also enjoy the old-school charms of Cow Hollow Inn and Suites, which features easy access to all of the shops, restaurants, and other amenities of the Marina District.
Visiting San Francisco on a budget?
Designed specifically to help tourists get around the city and tick off the main haunts, both the Go San Francisco Card offer the best bang for your buck if you plan on seeing a number of museums or joining several tours.
To see the city from a local's perspective, it sure helps to have a local leading the way — that's why San Fran's array of free walking tours (just remember to leave a tip), are always popular among penny-pinching tourists.
You'll hear stories from locals that you won't read online, you'll venture off the beaten track, and you'll discover the real side of the Golden Gate city.
Where to go next?
Take some time to drive, fly, or hop aboard the train, and check out the endless array of things to do in California!
This sweet and sunny state has more unique ecosystems, dynamic cities, outdoor getaways, and remarkable history than you can shake a stick at – and there's no better time to start exploring!
Looking for some attractions close to the Golden Gate City?
Head a little bit south to Monterey, where literary history and a great golf scene coexist with family-friendly adventures and some truly unparalleled oceanic activities.
Or head east to the great art, boisterous nightlife, and quirky charm of Sacramento; the lush wineries and casual atmosphere of Napa Valley; or the stunning views and endless outdoor adventures of Lake Tahoe, which can be explored even further with various multi-day trips.
And if you have some extra time (and a gambling side), head across state lines to Reno, the capital of Nevada, which has drawn dreamers, adventurers, and casino fans for decades.
Final thoughts
From its earliest days, this stunning city has been a haven of culture, innovation, and out-of-the-box thinking.
And it's all of these qualities – plus natural scenery that puts most major metropolises to shame – that makes the many things to do in San Francisco so unique and thrilling.
So grab a hunk of sourdough and come on over!