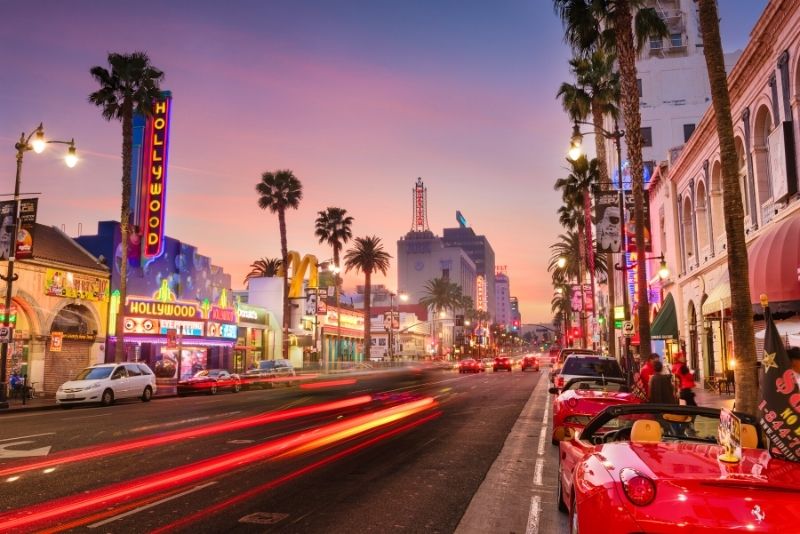 Marvelous and sun-kissed year-round with a selection of natural and manmade attractions as diverse as anywhere on the continent, California is a place where dreams come true for explorers and adventures, art-lovers and foodies, and heat-seeking beachgoers alike (it's not called the Golden State for no reason).
Across this slice of West Coast paradise, you'll uncover world-famous theme parks — Orange County's Disneyland and Knott's Berry Farm, Hollywood's Universal Studios, and San Diego's Sea World — and spectacular landscapes which range from scorching deserts to towering Redwood forests and lush oceanside National Parks, plus the foreboding Yosemite granite cliffs, shimmering Lake Tahoe, and everything in between.
For the culture vultures, both Los Angeles and San Francisco are teeming with museums, galleries, and a seemingly never-ending list of festivals and events, while romantic getaways can be enjoyed wine tasting in Napa Valley or checking out the beaches and cliff-lined coastline around Santa Barbara, Monterey, or Carmel.
And, of course, make sure to add the quintessential California road trip, a drive along the picturesque and winding Pacific Coast Highway (or PCH for short), to your list of things to do in California.
How this article works: we'll start off in Northern California using San Francisco as a base, then we'll make the long journey down to the greater San Diego area, with a few necessary detours along the way. Enjoy!
SAN FRANCISCO, NORTHERN CALIFORNIA & INLAND NATIONAL PARK
Kickstarting our journey around the Golden State is the hilly, vibrant, and beautiful city by the bay: San Francisco. From the historic Golden Gate Bridge to the eclectic nightlife, delicious eateries in Chinatown and Little Italy, and notoriously inescapable Alcatraz Prison, the diversity of things to do in San Francisco is as impressive as any major American metropolis.
1 – Visit an engineering marvel: the Golden Gate Bridge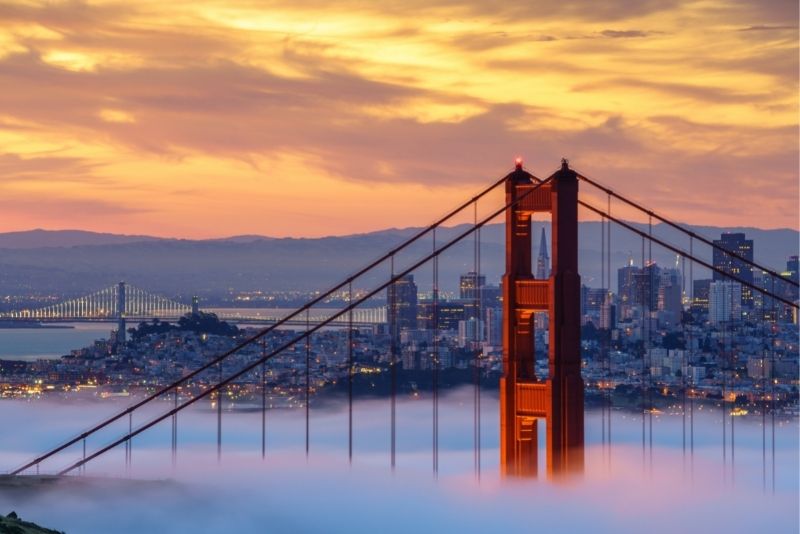 The most iconic bridge on the West Coast (and, arguably, across the world), San Francisco's Golden Gate has been delighting visitors for the better part of a century (dating back to 1937, to be exact).
Bright orange by day yet shimmering golden when the sun sets, this engineering marvel, back when it was completed, held the title of both the tallest (227m or 744 feet) and longest (8,981 feet or 2,737 meters) suspension bridge in the world.
Besides the spectacular views of the bay available from the bridge itself, some of the best spots for checking out the landmark include Baker Beach, Fort Point, and Hawk Hill; moreover, pedestrians and cyclists can also take advantage of the Golden Gate National Recreation Area, which offers miles-upon-miles of biking and hiking trails with unparalleled vistas of the area.
Plenty of tourist-focused biking, bussing, or catamaran tours make their way over (or under) the bridge — simply pick your poison and enjoy one of the most unforgettable experiences in San Francisco.
2 – Wander the same halls as Al Capone on Alcatraz Island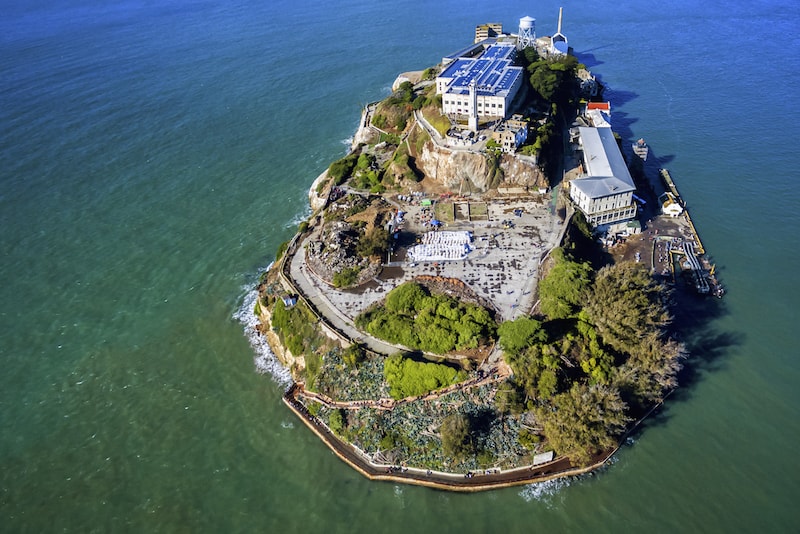 Home to a prison so notorious that it has been featured in countless films, books, and television shows over the years, Alcatraz Island is unsurprisingly one of San Francisco's most popular tourist destinations.
Boasting a rich and complex history, properties on the island were first purchased by the US government in the mid-1800s as part of a military fortification program, with the famous federal prison opening in 1934 after being remodeled from its previous use as a military barracks.
These days, thanks to state-of-the-art audio tours and well-maintained cell blocks it provides a fascinating insight for more than 1.3 million visitors per year into what life was like as a federal prisoner during the 1930s to 1960s.
Check the different Alcatraz Island tickets price and the best Alcatraz Island tours, each offering a unique spin on this truly fascinating attraction!
Even if history isn't your thing, to overlook the chance to enjoy incredible vistas of the bay and downtown skyline would be criminal.
Hot tip: find out how to get Alcatraz Last Minute Tickets.
3 – Explore the lakes and meadows Golden Gate Park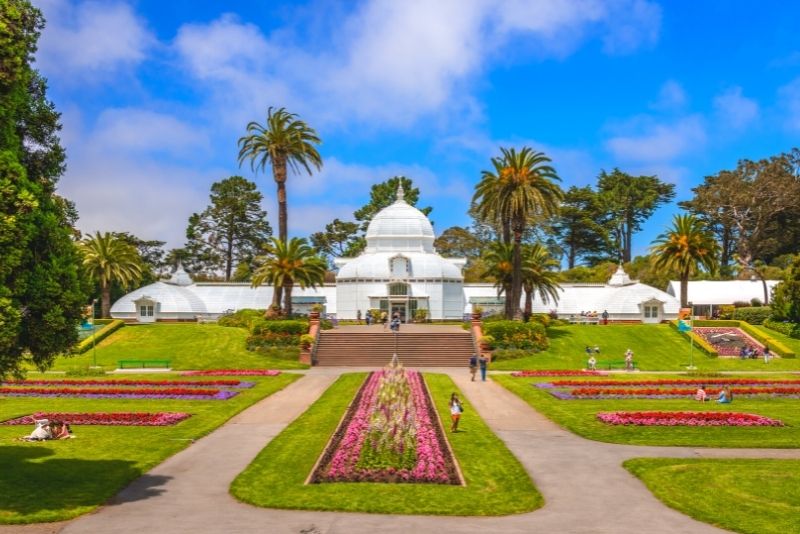 One of the city's best-known green spaces and the West Coast's answer to New York's Central Park — and bigger than Central Park, in fact — Golden Gate Park is a sprawling urban oasis that manages to combine serenity and spectacle in near-perfect harmony.
Boasting attractions such as the Japanese Tea Garden; de Young Museum; California Academy of Sciences (don't miss the three-story rainforest exhibit and planetarium shows); more butterflies than you could count in what is the western hemisphere's oldest glass and wood Victorian greenhouse, and a host of other cultural landmarks, you can easily whisk away an entire day in its grounds.
4 – Relax and unwind at the Japanese Tea Garden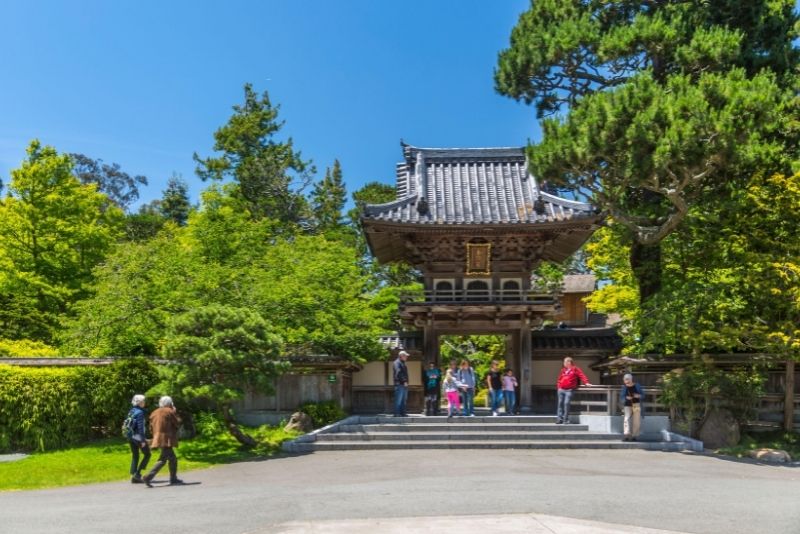 Tucked away on the eastern side of Golden Gate Park, the Japanese Tea Garden is a peaceful escape from city life.
Home to koi ponds, pagodas, and an authentic tea house where you can enjoy matcha green tea in traditional style, it's not just beautiful but also one of San Francisco's most beloved cultural attractions.
And, for all of you history buffs, the garden was built by Makoto Hagiwara back in 1894, making this oasis of zen officially the oldest publically-accessible Japanese garden open in the country (and, for a fun fact, the first place to serve fortune cookies).
5 – Spend a day or two hopping between the art museums in San Francisco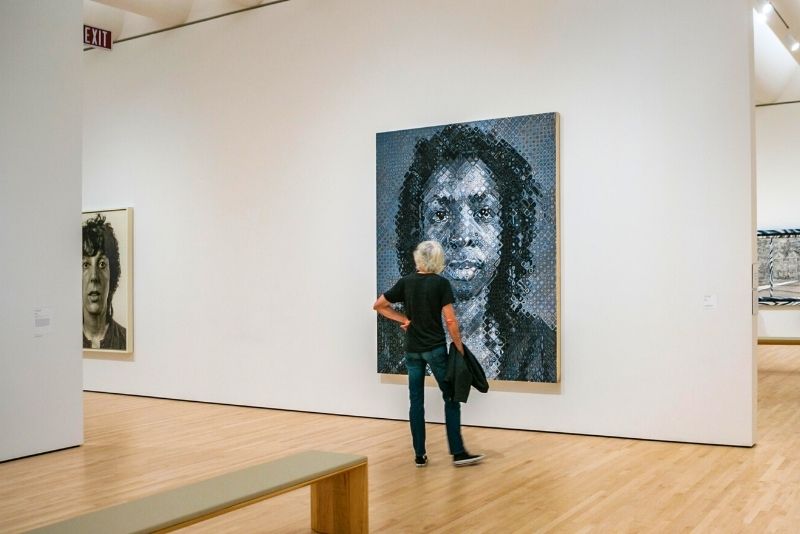 Known as one of the best museums in San Francisco, the De Young Museum offers a full range of art, intentionally piquing the interest of many to see what's inside. The Legion of Honor is where you can see the new exhibits, displaying art in various ways and from different artists.
Check out a combo ticket that grants you access to both museums with one ticket!
The San Francisco Museum of Modern Art is one of the country's largest museums as well as one of the finest in San Francisco not to miss. Check out some of the trippy, and interactive art using a wide variety of mediums.
Stop in for a tour of the Asian Art Museum, and see how Asian artists across the world have created art that tells their story, history, and struggle in thought-provoking ways.
6 – Learn about our world at the California Academy of Sciences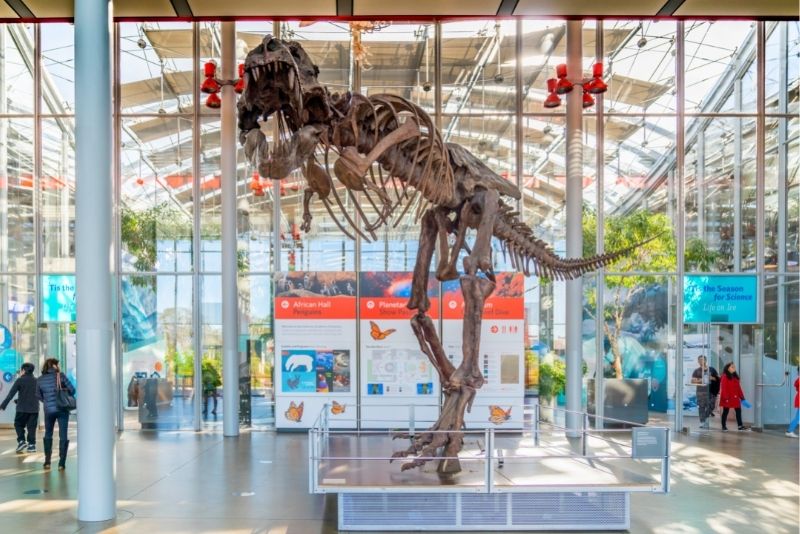 Admired and respected around the world, the California Academy of Sciences is a renowned research center that's been entertaining visitors since 1853. Over the decades, it's grown to house no less than 46 million scientific specimens — that number alone making it one of the biggest natural history museums on the planet.
Kickstart your day with a stop into the Steinhart Aquarium where touch tanks, educational feeding shows, shark tunnels, and a giant octopus tank await; then learn all about the Milky Way and beyond at the Morrison Planetarium.
Immerse yourself in the engulfing sounds and smells of nature at the Osher Rainforest, and finish off the trip with insights into dinosaurs, animals, and human evolution at the Kimball Natural History Museum.
Hot tip: if visiting during peak season, consider a skip-the-line or VIP pass to get the most out of your experience.
7 – Take the family to the Exploratorium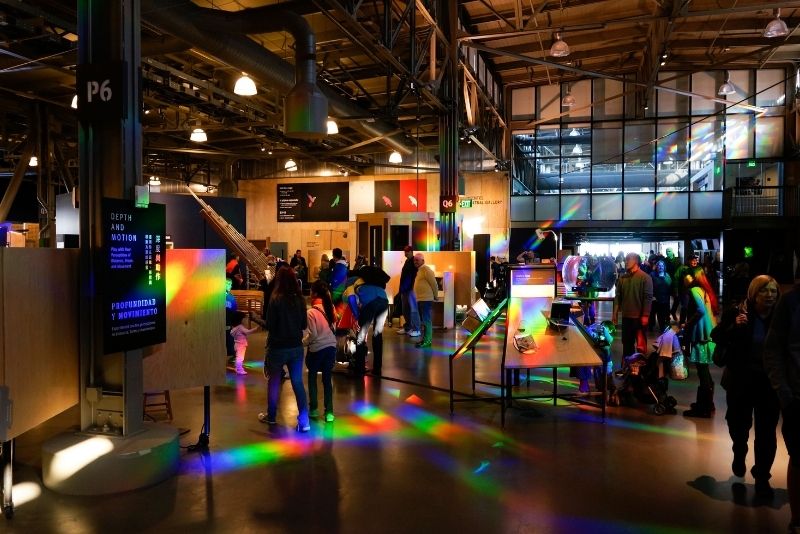 Highly interactive and designed for kids and adults alike, the Exploratorium at the historic Pier 15 is a science museum like no other — dubbed a scientific funhouse, it provides a space to joyfully learn, play, and experiment simultaneously.
Across six equally-impressive spacious zones, the facility boasts hundreds of exhibits on topics ranging from human biology to the physics of music, plus a range of deep dives into art and human perception — all in all, this place is guaranteed to get your creative juices flowing.
Don't miss the Tactile Dome, a blacked-out adventure space where you're invited to crawl, climb, and slide your way around, harnessing only your sense of touch as a guide!
8 – See what's on at Union Square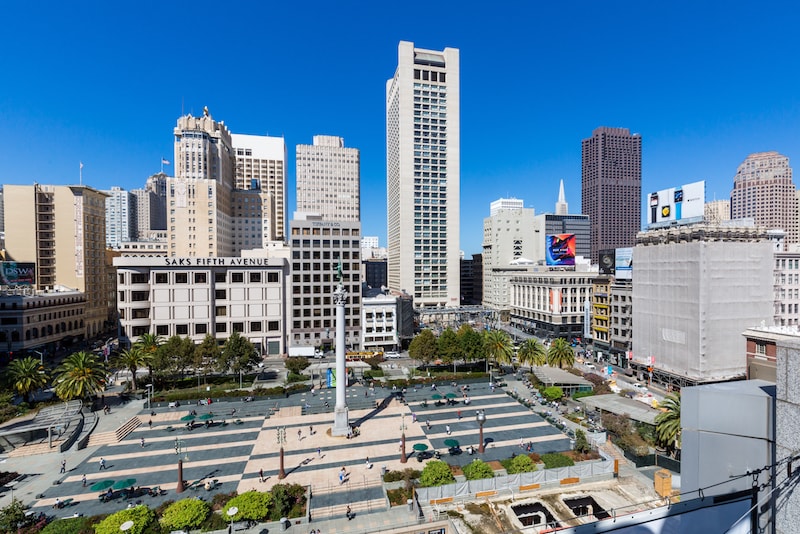 If you're looking for a place to people-watch in downtown San Francisco, Union Square is the spot.
Bustling with locals and tourists alike — plus regular food carts and street performers — this public plaza is surrounded by high-end stores like Tiffany & Co. and Saks Fifth Avenue, as well as art galleries, theaters, and some of the city's most iconic hotels.
In the colder months, the Square transformer into a winter wonderland with an Ice Skating rink and Christmas decorations; while the indoor mall stays open year-round for all your shopping and eating needs.
9 – Get a taste of ancient Rome at The Palace of Fine Arts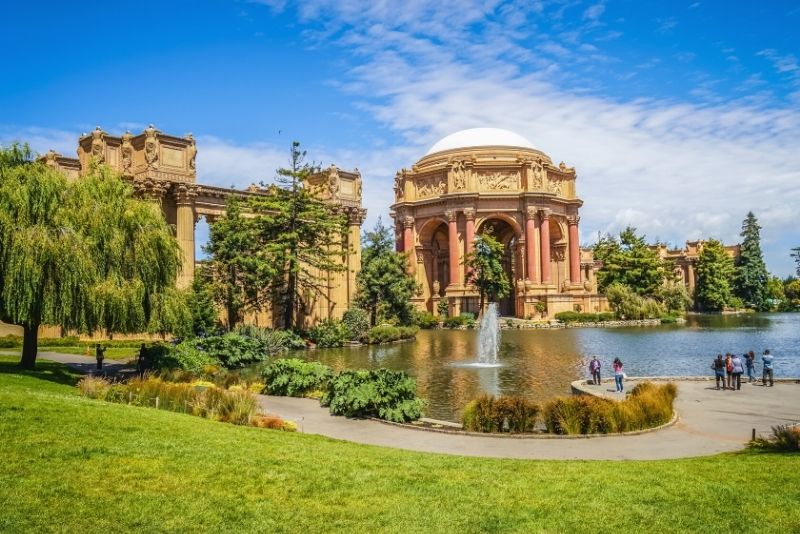 If you're an architecture buff, or even just appreciate beautiful things, the Palace of Fine Arts in San Francisco is well worth a visit.
Originally constructed for the 1915 Panama-Pacific International Exposition and inspired by the ruins of ancient Rome, this imposing Roman and Greek Revival structure has withstood the test of time (plus several earthquakes) and remains one of the city's most popular tourist attractions.
The palace hosts a variety of musical concerts inside its theater space, from classical music, and opera, to classic rock, and even conferences, so be sure to check out the schedule!
Wander around and take in the ornate details, see a show at the onsite theater, or stop for a picnic on the lawns by the lagoon — either way, it's definitely a spot worth lingering in.
10 – Meet the sea lions at PIER 39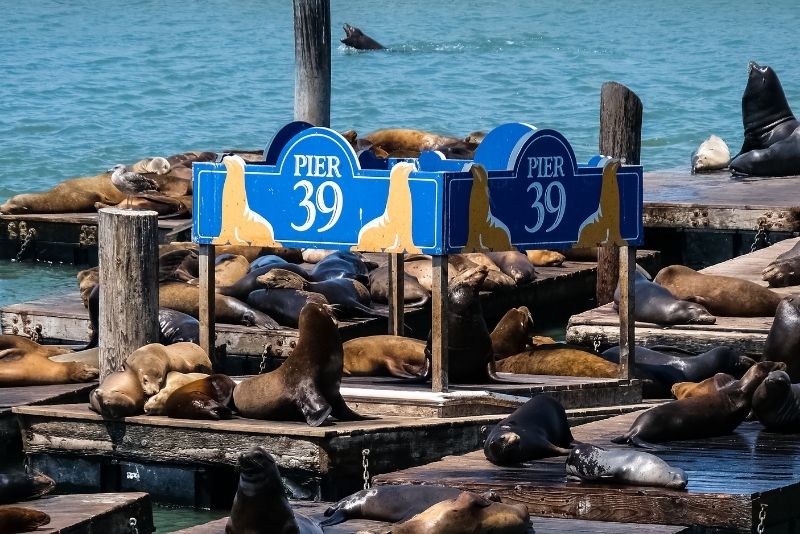 In the heart of Fisherman's Wharf, PIER 39 is a vibrant 45-acre waterfront marketplace (and pier, of course) that offers an array of attractions and activities to keep visitors of all ages entertained for hours on end.
From street performers to seafood restaurants, souvenir shops to boat cruises, there's plenty on offer at this iconic spot overlooking the Bay Bridge.
If you're after thrills, try the 7d Experience of Bay Plunge ride; if traveling with kids, make a beeline for Magowan's Infinite Mirror Maze or the Aquarium of the Bay; and don't miss the herds of sea lions that laze around of the decks!
11 – Satisfy your inner foodie at the Ferry Building Marketplace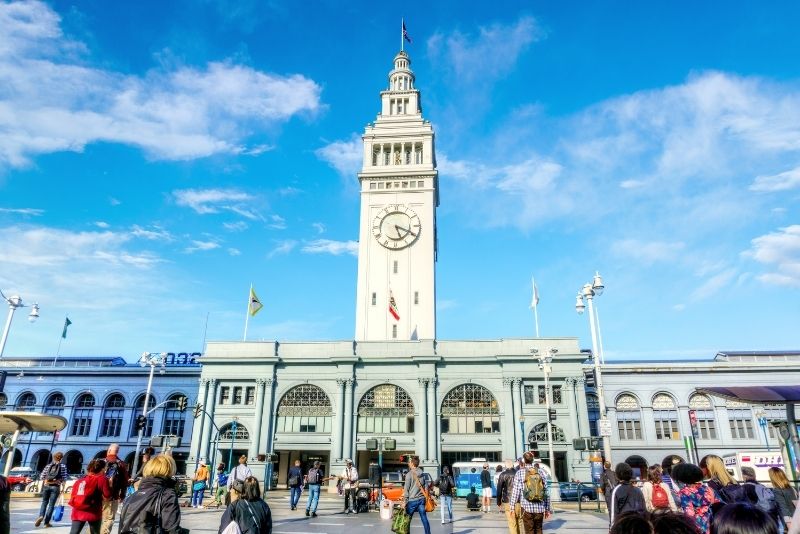 If you've got a sweet tooth, chuck the Ferry Building Marketplace on your San Francisco (or California) to-do list!
Located on the shores of the bay, signposted by a historic 245-foot-tall clock tower, and overlooking the impressive Bay Bridge, this indoor market is home to some of the most delicious foodie finds in the city.
From artisanal cheese shops to fresh-baked bread, chocolate boutiques to gourmet coffee stalls, there's something to tantalize everyone's taste buds.
Plus, there are regular farmers' markets and food festivals held here (check the website to see what lines up with your trip) — a wonderful opportunity to get to know some of the locals.
12 – Drive down famous Lombard Street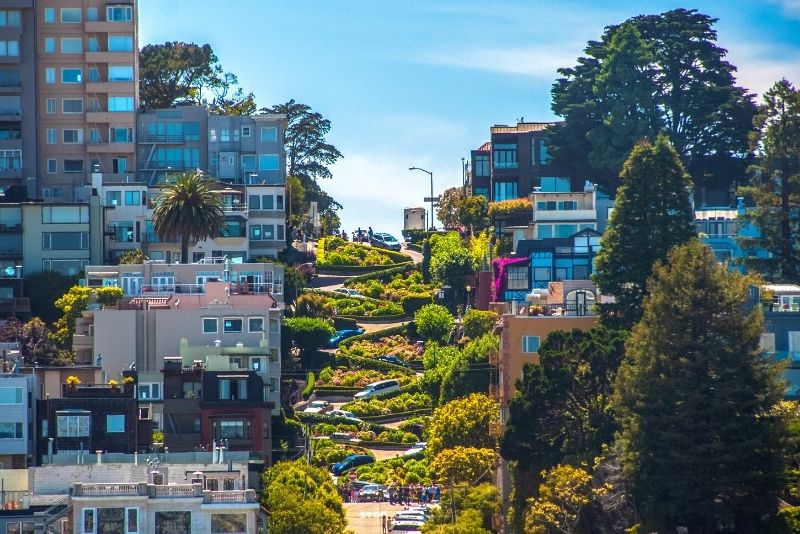 A squiggly, curvy, downright bizarre slice of bitumen that's been dubbed "the most crooked street in the world", San Fran's Lombard Street is a hair-raising, one-way thoroughfare that's best experienced by car.
Originally built as a shortcut for residents of the Russian Hill neighborhood, this 600-foot, eight-turn stretch has now become a major tourist attraction, and for good reason — it's a total blast to drive down (or even just walk down if you're feeling adventurous).
Hot tip: be prepared for heavy traffic, especially on weekends – visit during the week outside of rush hour times for the smoothest drive.
13 – Enter a cartoon world at the Walt Disney Family Museum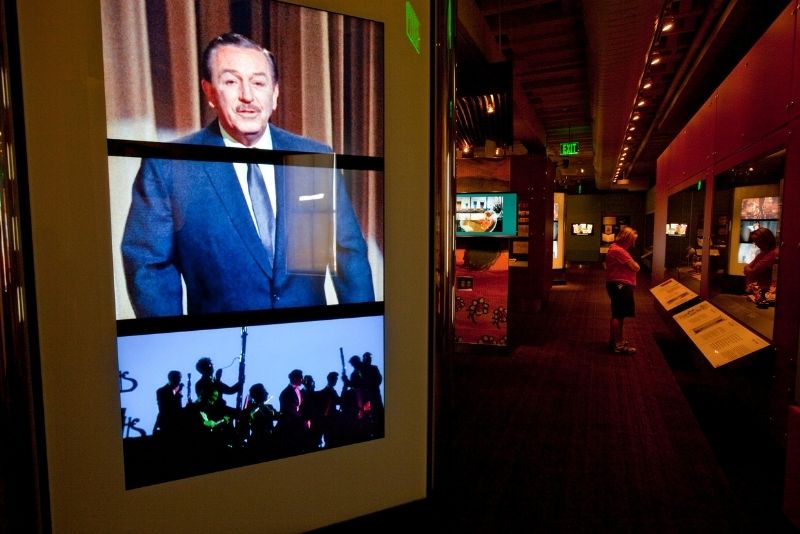 A quintessential stop for anyone traveling with kids in tow, the Walt Disney Family Museum is a one-of-a-kind tribute to the life and legacy of America's favorite storyteller, complete with interactive exhibits, rare artifacts, and whimsical screenings of classic Disney movies.
Not to be overlooked — and highlighted through a number of exhibits — are the extraordinary artists that brought his stories to life, as well as the displays narrated by Walt himself!
Located in the Presidio, it's a stone's throw from Golden Gate Beach and Crissy Field – two great spots to snap that iconic selfie.
14 – Enjoy the San Francisco Bay views from Coit Tower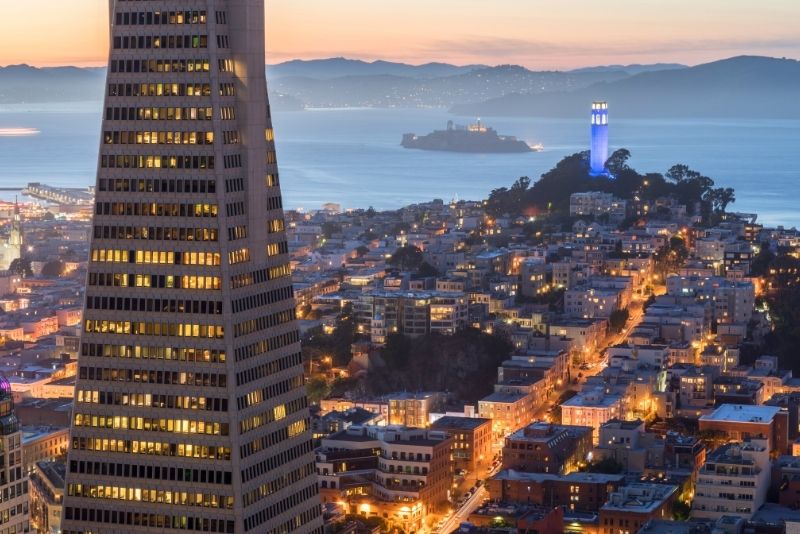 If you find yourself in the Telegraph Hill neighborhood and are looking for an iconic view of the city, make your way to Coit Tower.
Named after Lillie Hitchcock Coit, a local philanthropist who donated the funds to build it in 1933, this 210-foot Art Deco tower offers 360 degrees of uninterrupted sightseeing.
Tickets can be purchased at the tower itself, or online in advance, and include access to the observation deck as well as a guided tour of the historical building.
However, even if you don't head up the tower itself, the views from the publically-accessible base platform are still top-notch!
Be warned, however, you'll be walking up a few hills to get there!
15 – Hit up the sands of Baker Beach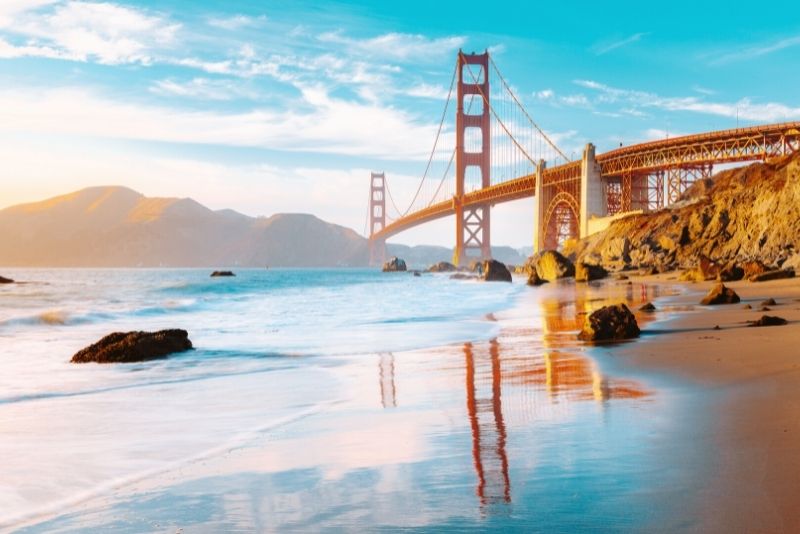 A locally beloved slice of fresh air on sunny days, Baker Beach is one of the most popular spots in San Francisco for locals and visitors alike, thanks to its stunning location right next to the Golden Gate Bridge.
So pack a picnic lunch, bring your swimsuit and take a walk along the beach, or just relax on the sand and admire the rugged Presidio cliffs which surround you.
Keep in mind that, during summer, parking can be a little tricky, so consider taking Bus to save the hassle.
16 – Take your picture in front of the Painted Ladies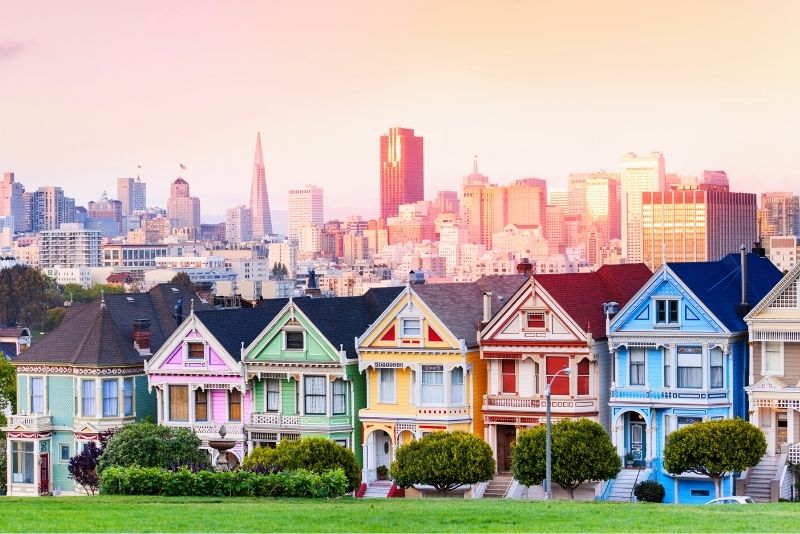 Take in the view of the iconic row of 6 Queen Anne-style homes known as the Painted Ladies, along with the gorgeous backdrop of the modern San Francisco skyline – in one take.
Visit the park right across from the famous homes, Alamo Square Park, and plan a picnic with a view many would kill for. Used in a variety of TV shows and films, the Painted Ladies has become a hot item on many visitors' lists of places to see in San Francisco.
To really capture this sight in the best lighting, make sure to visit during sunset. This is when the glow of the sun drenches the houses.
Check out a Painted Ladies tour giving you access to the iconic homes from history to a house tour!
17 – Check out the skyline from Twin Peaks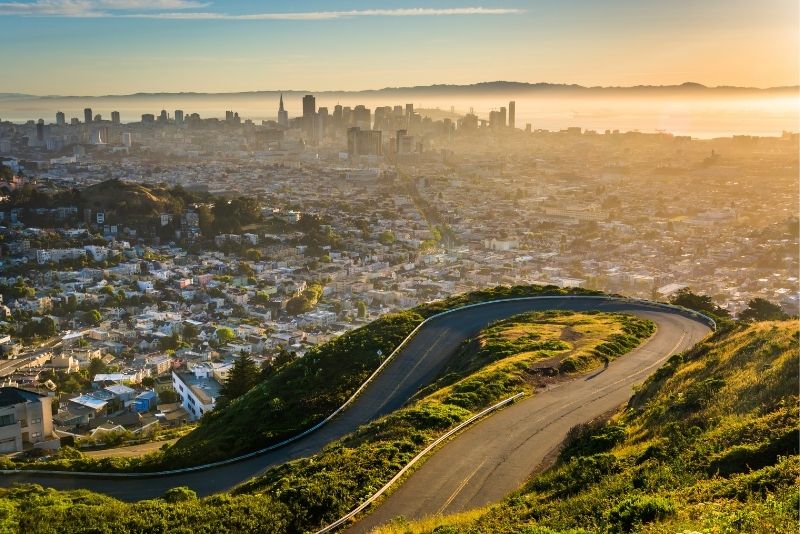 Tucked away deep in the suburbs, the Twin Peaks are a pair of hills towering nearly 1,000 feet above downtown San Francisco that offer some of the most spectacular views in the Bay area.
Whether you're up for a challenging hike to the summit or just want to drive up and take in the sights, a trip to Twin Peaks is quintessential San Francisco, especially on clear days when you can see all the way across the Bay.
If you prefer to take the hassle out of organizing the trip, there are several half-day guided hiking tours to choose from.
18 – Marvel at the landscapes of Point Reyes National Seashore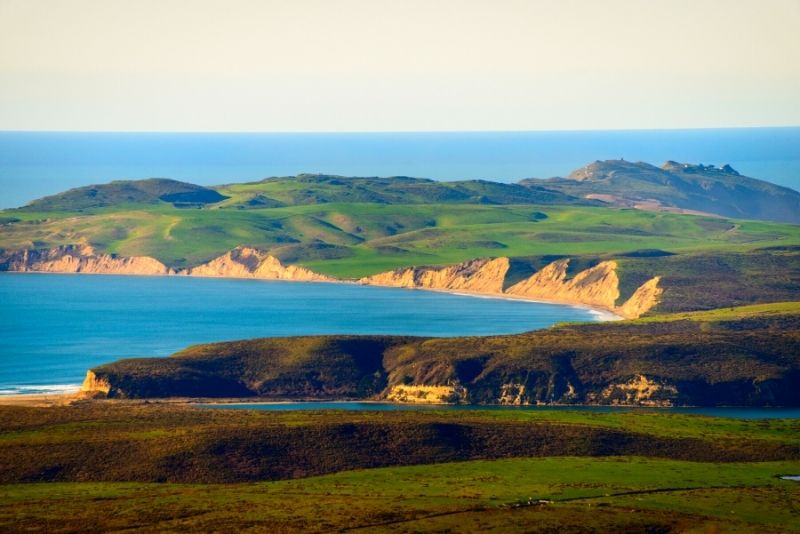 With rolling hills, dramatic cliffs, and pristine beaches that contrast one another in picture-perfect fashion, the 71,000-acre Point Reyes National Seashore — sitting about an hour north of San Francisco — is a beautiful stop on your travels up or down the California coastline.
From kayaking in Tomales Bay to admiring the postcard-worthy 1870 Point Reyes Lighthouse, or hiking the many trails which lead through forests and open meadows, there's plenty of opportunity for outdoor enthusiasts of all levels here. And if you're feeling lucky, keep an eye out for elk, deer, coyotes, and even bears!
Consider yourself a foodie? Then opt for one of the many farm tasting tours in the area!
19 – Stare up in awe in the Muir Woods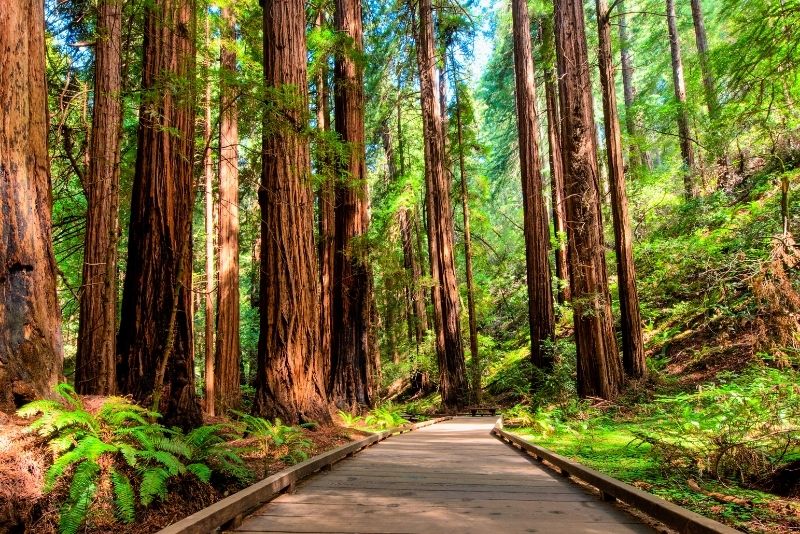 A shining example of Mother Nature's best work, the Muir Woods National Monument is a 554-acre woodland, located roughly 12 miles north of San Francisco, that offers the perfect day trip for hikers and nature lovers alike.
With its towering redwoods reaching up to 300 feet high — some as old as 1000 years — Muir Woods provides an incredible glimpse into California's past with such ancient trees still standing today.
The best way to enjoy the beauty of the tall redwoods is on a day tour from San Francisco. Many times day tours will include a stop in Muir Woods plus another destination – 2 trips in 1!
While touring the park, you'll learn that the towering forest is home to hundreds of species of birds, wildlife, and an impressive amount of plant life — all amidst a quiet serenity that can only be found in such unspoiled settings.
Hot tip: for all of you thirsty travelers, consider booking a pre-arranged tour that also includes some wine-tasting time in nearby Napa!
20 – Check out the dump-turned-tourist-attraction that is Glass Beach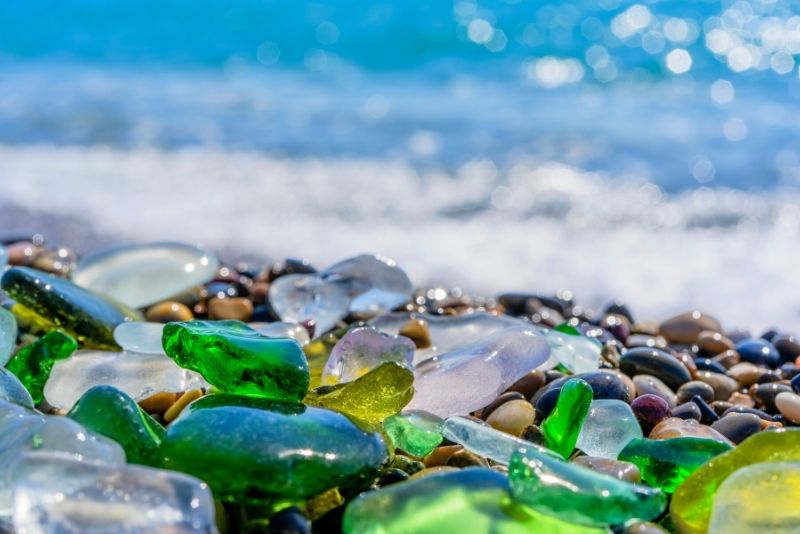 A landscape photographer's Heaven on Earth, Glass Beach — which is found in Fort Bragg, about 3 hours north of San Franciso — dazzles visitors with its vibrant, colorful sand.
In fact, as the name suggests, it's not sand at all, but a vast collection of colorful and reflective sea glass that's been smoothed by the elements over time to resemble bright pebbles.
Although it's not exactly a place for swimming (for obvious reasons), a stroll along its shoreline makes for an excellent afternoon or morning activity.
Of course, make sure to wear shoes.
21 – Check out the lava rocks at Lassen Volcanic National Park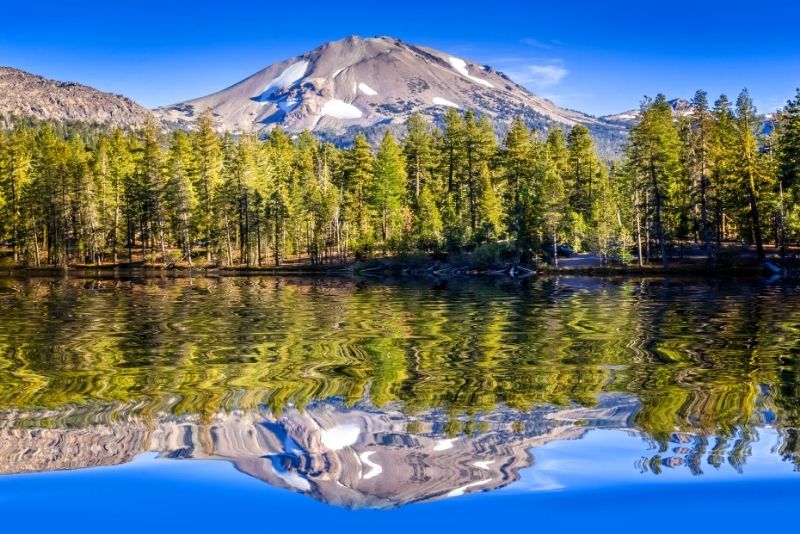 The only national park in California that's dedicated to volcanoes, Lassen Volcanic National Park is a fascinating (and photogenic) look into all four types of volcanoes: with shield, composite, cinder cone, and plug domes all spread across its 105,000+ acres.
Aside from exploring the geologic features on foot or bike — including boiling mud pots, clear mountain lakes, natural hot springs, and even an active volcano — visitors can enjoy fishing, camping, cross-country skiing, and more in this lesser-known corner of California.
22 – Join a boat tour of the San Francisco Bay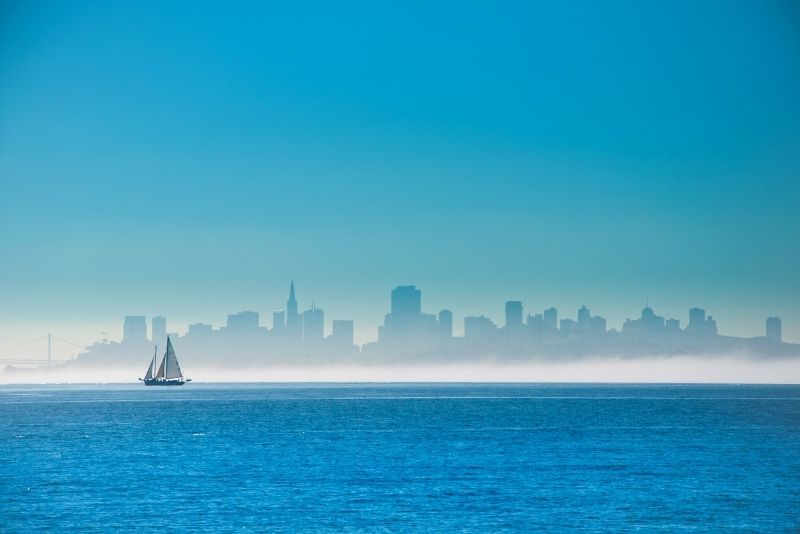 On what is arguably the world's most famous bay, there are a plethora of boat tours to choose from — luxury catamarans, speedboat adventures, wildlife-spotting tours, fishing trips, party boats, and a whole lot more — but no matter which one you decide on, you're sure to get an eyeful of some of the most picturesque scenery in California.
Whether it's Alcatraz Island that has your attention or an up-close look at the area's bridges, make sure to add a San Francisco Bay boat tour to the top of your list of things to do in California!
23 – Try world-famous wines in the Napa & Sonoma Valleys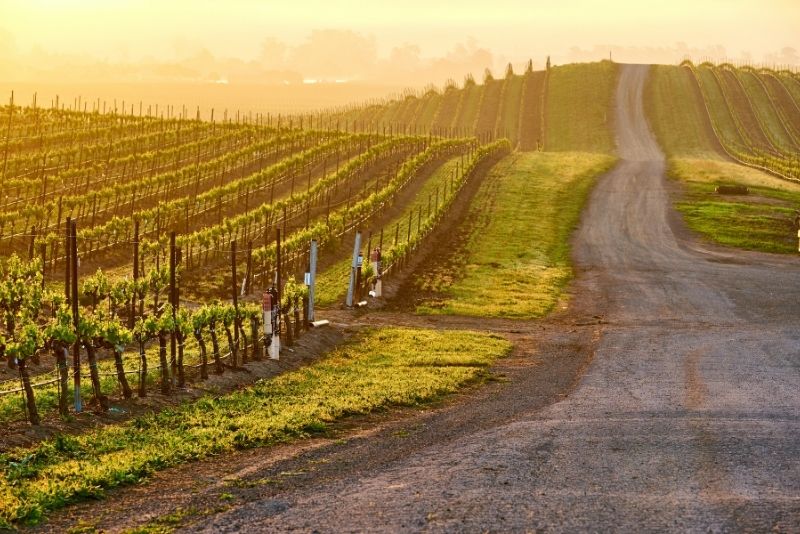 With more than 800 wineries, plus award-winning restaurants and unforgettable natural scenery, a day trip to the Napa Valley (and next door's Sonoma Valley) is a northern California staple.
Located just an hour north of San Francisco, this lush wine country is home to quaint villages, rolling hills, and postcard-worthy landscapes that will take your breath away. Better yet, many of the wineries offer tours and tastings (and some have gorgeous outdoor patios perfect for picnicking), so you can really get a feel for all that the region has to offer.
Not sure where to start? It's hard to go past the Castello di Amorosa winery as one of the area's best, built, as the name suggests, inside a castle!
Make sure to explore the best Napa Valley wine tours, to take your Napa experience to the next level! From hot air balloons to gourmet trains – you're in for a wine-derful treat!
If you're planning on a longer trip, here is our complete list of fun things to do in Napa Valley.
24 – Immerse yourself in the beauty of Yosemite National Park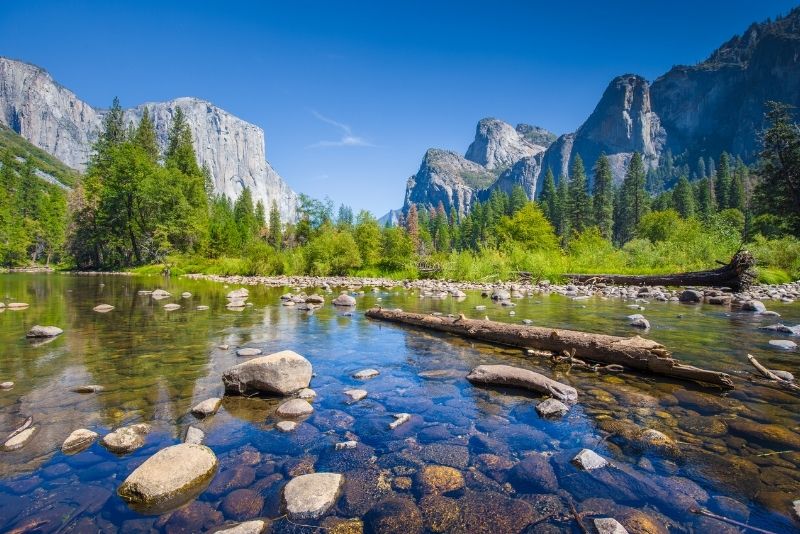 A UNESCO World Heritage Site and one of the most popular National Parks in North America, few other places on Earth can compare to Yosemite.
From its snow-capped peaks, ominous El Capitan rockface, and thundering waterfalls (don't miss the Yosemite Falls Trail) to its sprawling Yosemite Valley (arguably best seen from the Tunnel View lookout) and ancient forests, this jaw-dropping, wildlife-abundant park is home to some of the most incredible scenery on the planet.
What's more, with over 280 hiking trails to choose from (about 30 of which are ideal for families), there's something for everyone — whether you're a seasoned outdoorsman or a first-time camper.
For stellar views overlooking the valley, consider the easy 1-mile walk to Glacier Point. Alternatively, on those sizzling summer days, the short trek to the base of the 620-foot-tall Bridalveil Fall Trail delivers a refreshing splash.
Looking for a real challenge? While significant training is required, the thrill of conquering the elusive Half Dome hike is unmatched.
And that, folks, is just the tip of the iceberg — with so much to see and do, a guided tour comes highly recommended.
25 – Step back in time at Bodie State Historic Park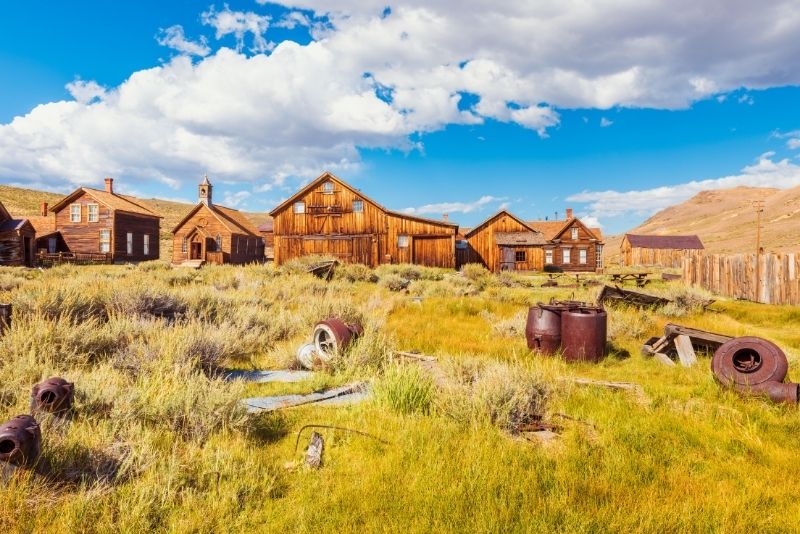 A former booming gold mining town that's slowly become a paradise of sorts for historians and ghost hunters alike, Bodie State Historic Park is a fascinating glimpse into California's Wild West past.
Once home to around 10,000 residents, the now-abandoned town has been carefully preserved in its state of arrested decay, making it one of the most well-preserved ghost towns where stories of a decorated past and historic buildings are aplenty.
At just $8 for adults and $5 for children, it makes for an affordable and worthy addition to any trip out to the inland Yosemite area.
26 – Watch a baseball game at Oracle Park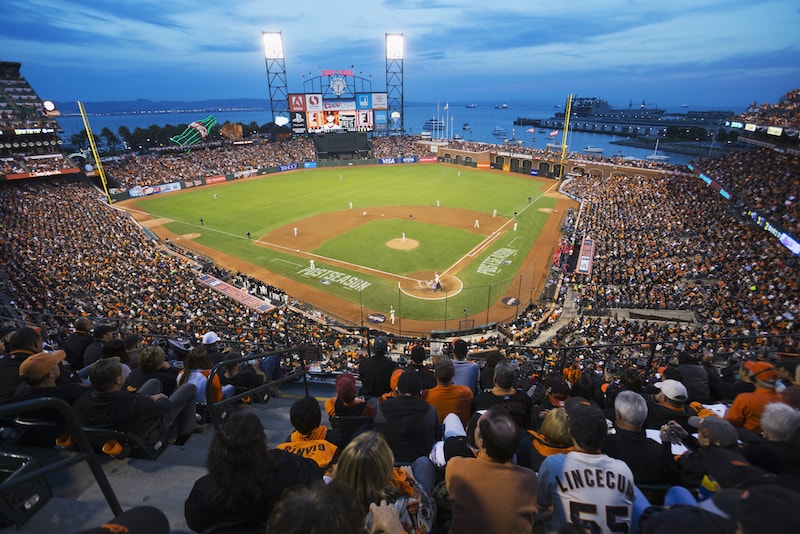 Home to the locally beloved Giants, who have won eight World Series titles in the past, Oracle Park is a San Francisco sporting Mecca, boasting a great view from all angles thanks to its sunken field design and state-of-the-art stadium technology.
Throw in concession stands, a vibrant atmosphere, and plenty of on-site bars and souvenir shops, and you've got yourself a great day out!
While the baseball season typically runs from late March or early April to October, it's easy to get into the sporting spirit year-round thanks to the behind-the-scenes stadium tours.
27 – Drive through the foreboding Redwood National and State Parks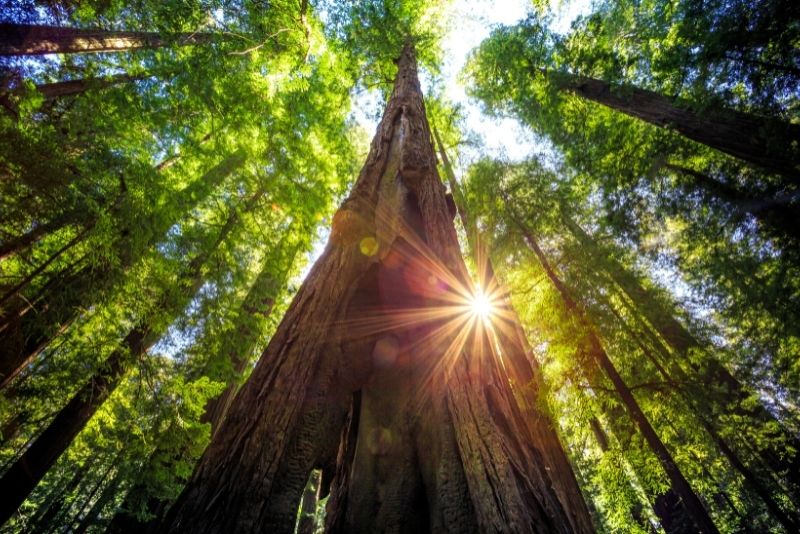 The spectacular Redwood Parks — which not only house the world's tallest trees but also dish up plenty of walking trails, nature-spotting, bike paths, and camping spots — have long been an underrated slice of natural California.
Want to learn about the unique landscapes? Join a free ranger-led program! Hunting for amazing views? Then look no further than Klamath River Overlook or Fern Canyon.
Or, if it's a scenic drive you're after, plug the Coastal Drive into the GPS: this 8-mile road twists and turns its way past a range of Pacific Ocean viewpoints (including the beloved Highbluff Overlook) and historic spots like the WWII Radar Station.
Well and truly off the beaten track, the Parks are just below the Oregon border, about 5 hours from San Francisco.
28 – Be mystified by San Jose's Winchester Mystery House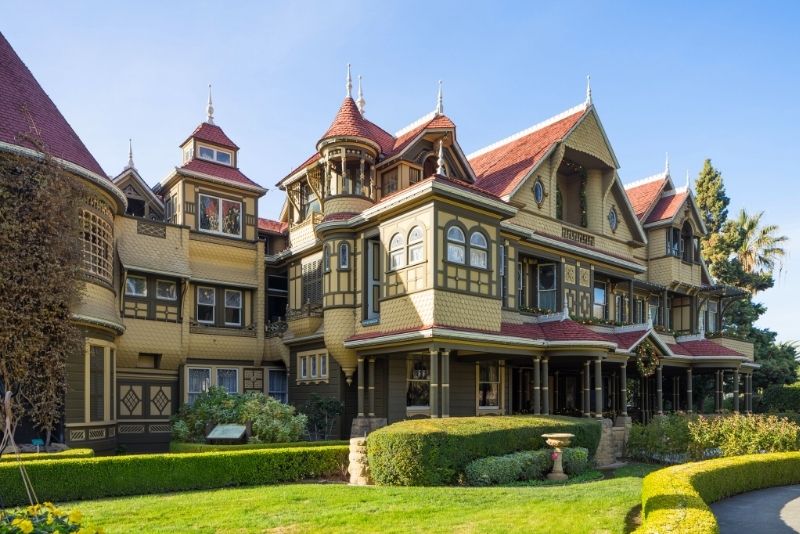 The Winchester Mystery House in San Jose – about an hour south of San Francisco — is a crowd favorite for anyone with a love not only of architecture but also a love of the bizarre and unexplained.
Built by Sarah Winchester (of famous rifle fame), this sprawling California mansion was under non-stop construction for 38 years and today stands proudly with no less than 160 rooms including 40 bedrooms and 40 twisting staircases — each with fascinating stories to tell.
Besides the allure of the house itself, you'll also come across an ax-throwing area, the quirky Victorian Gardens, and a range of events.
The House is open daily for the regular mansion and estate tours; however, for the paranormal experience, opt for the Explore More Tour.
29 – Ride the coasters at California's Great America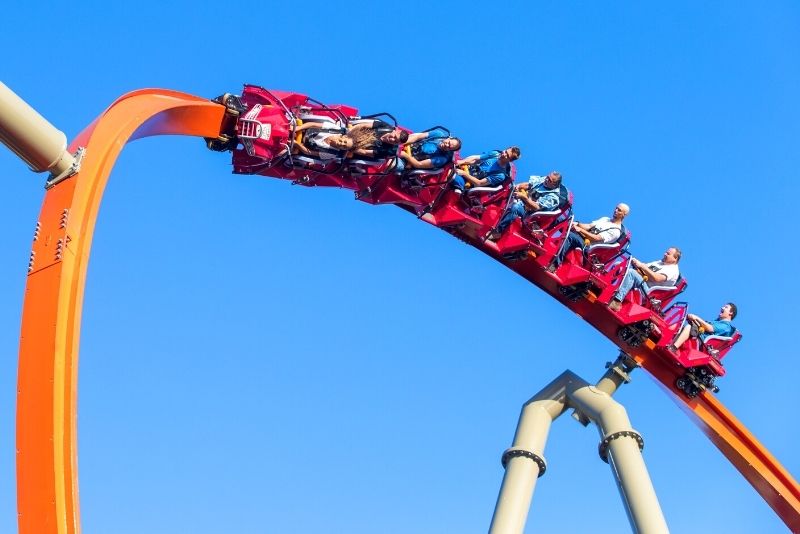 If you're looking for a fun-filled day out with the kids, California's Great America is hard to beat. With over 50 rides and attractions, there's something for everyone at this Santa Clara (next to San Jose) amusement park.
From heart-pounding roller coasters like RailBlazer (a rare single-rail steel coaster), The Patriot and Flight Deck, to family favorites like the Rip Roaring Rapids and dodgem cars — not to mention the regular entertainment with Snoopy and the rest of the Peanuts gang — a great day out is all but guaranteed.
Ideal for the hot summer days, with lazy rivers and waterslides to boot, the onsite South Bay Shores Waterpark offers hours of splashtastic fun!
Moving on from the greater San Francisco area, let's explore some of the other fascinating things to do in California — down the coast, and inland!
SACRAMENTO
The state capital that showcases longstanding Gold Rush-era traditions and architecture, now-modernized Sacramento is teeming with far more culture, art, and attractions than meets the eye.
And, despite its inland location (which often means it becomes swept under the rug), the selection of nature-centric excursions is as long as any city on this list. Make sure to discover our complete selection of fun things to do in Sacramento.
30 – Learn about the Gold Rush in Old Sacramento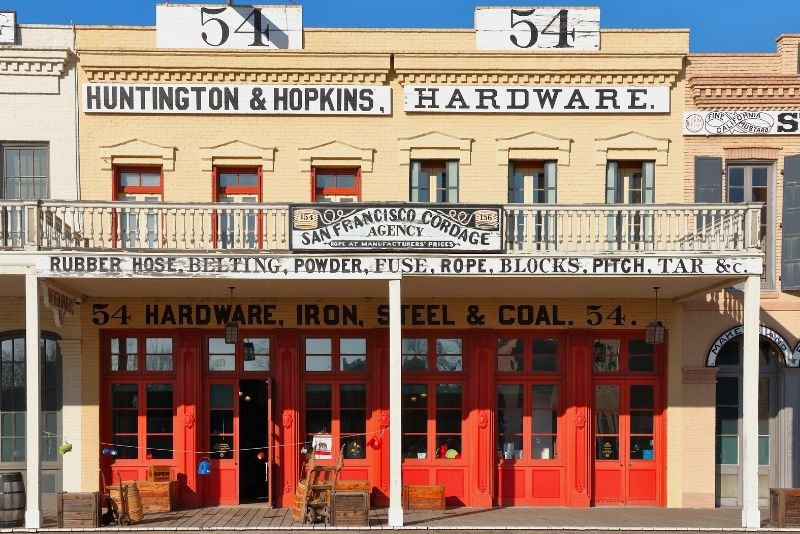 The area of the city that was the former base for the area's Gold Rush, straddling the eastern bank of the Sacramento River, this historic district is now a living museum of century-old buildings and architecture that have been painstakingly preserved and restored to their former glory.
In addition to its many shops, restaurants, and museums (including the California State Railroad Museum), not to mention the charming waterfront promenade, Old Sacramento also puts on a stack of seasonal events – so there's always something new and exciting to discover.
If you'd prefer, rather than mozy around at your own pace, join a free walking tour or an audio-guided tour to learn all about the evolution of the city.
31 – Visit the exhibits inside the California State Capitol Museum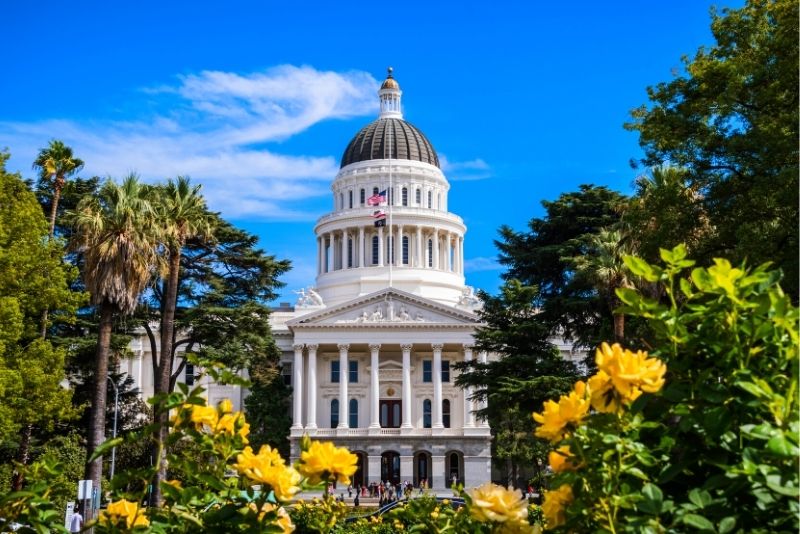 Learn about the state of California inside the California State Capitol Museum, whether you're interested in learning about the ins and outs of the state government, the architecture of the building itself, or the interesting history behind the state's symbols.
Step inside to see the beautiful California Poppy mosaic flooring, take note of the state seal, what it symbolizes, what the grizzly bear means, and why the word "Eureka" means so much in the state of California.
Brimming with tons of historical and interesting information and little-known facts, you'll surely enjoy all there is to see and learn throughout the exhibits.
The museum is open every day Monday-Friday, from 9:00 AM-5:00 PM. Tours are available between 10:00 AM-4:00 PM, as well as tours of Capitol Park.
32 – Visit the California State Railroad Museum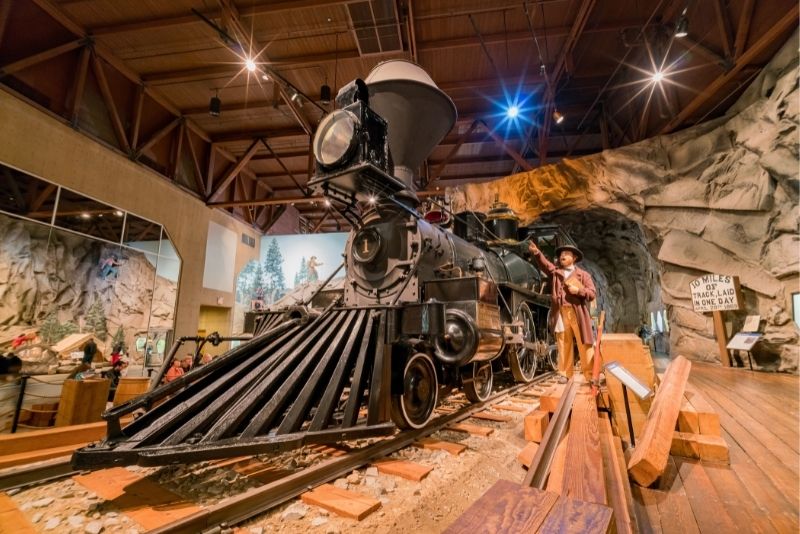 With a massive collection of locomotives, passenger cars, freight cars, and other railroad equipment, the California State Railroad Museum offers visitors an up-close look at California's fascinating railroading history and the role that transport has played in shaping the modern world.
Showcasing dozens and dozens of educational and interactive exhibits, including the film-famous Polar Express and 1,000 vintage toy trains, plus historic engines that offer guests rides around the area, it's easy to see why families flock here on a daily.
LAKE TAHOE
Straddling the Nevadan bords about 2 hours from Sacramento or 3 and a half from San Francisco, Lake Tahoe has been a favorite getaway destination for Californians and visitors alike for decades.
We'll touch on some of the highlights, however, make sure to check out our dedicated list if you want to dive deep into the variety of things to do in Lake Tahoe.
33 – In the summertime, take it slow by the Lake Tahoe shoreline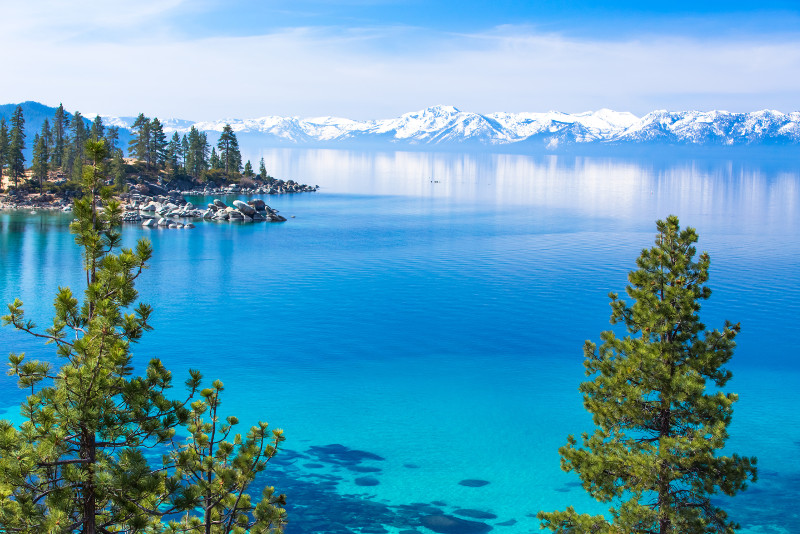 With crystal clear waters, towering peaks, and a laid-back atmosphere, the waters of Lake Tahoe are a feeding ground for nature-loving tourists looking to soak up the summer sun.
Whether you're looking to enjoy some quiet time fishing or paddleboarding on the glassy surface, take on one of the area's many hiking trails (including the popular Rubicon Trail), or just relax in the sun with a good book, Lake Tahoe delivers summertime excitement (or much-needed R&R) in spades.
And, of course, in the wintertime, it becomes a haven for snow bunnies looking to carve up some powder.
34 – In wintertime, head to the ski resorts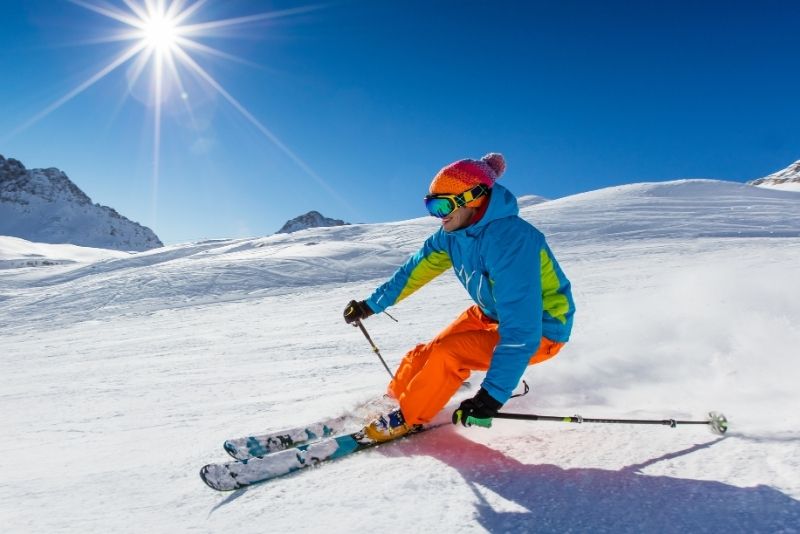 The go-to snow getaway for California and Nevada residents alike, Lake Tahoe offers no shortage of ski hills — some big and ideal for experts, some small and poised for beginners — to practice skiing, snowboarding, or tubing.
The Northstar California Resort in Truckee is known for less steep slopes (great for newbies). Over in South Lake Tahoe, to complement its 97 trails, Heavenly boasts a lively base village in earshot of the Tahoe casinos. Palisades (AKA Squaw Valley), on the other hand, is the largest ski resort in California and a favorite for expert skiers and boarders; although the freestyle skiers will typically head to the challenging runs at the Kirkwood Mountain Resort.
And last but not least, true to its name, Mammoth Mountain Ski Area hits a summit of over 11,000, which equates to absolutely spectacular views.
35 – Admire the colorful granite cliffs at Emerald Bay State Park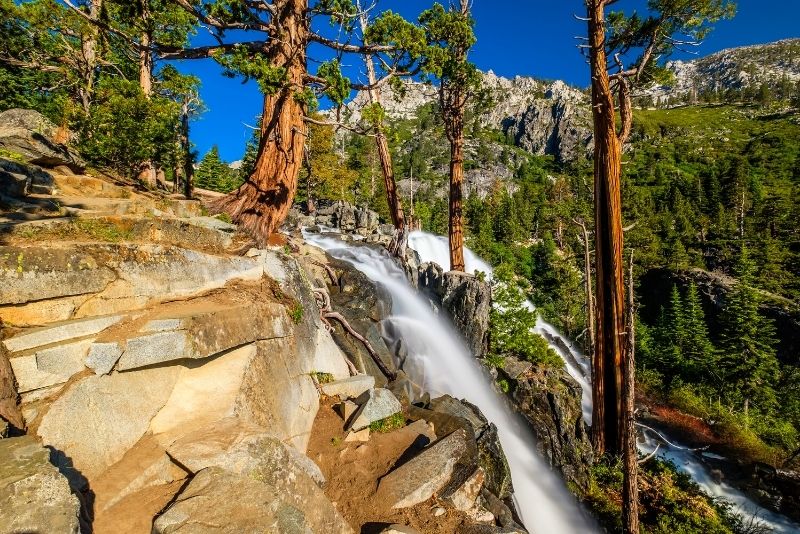 Surrounding the green-tinted waters of Emerald Bay, which juts out from the southwestern side of much-larger Lake Tahoe, this State Park offers a range of activities, from hiking to kayaking to biking.
For daytrippers, there are plenty of picnic tables and beaches to choose from, while overnighters can find a handful of amenity-equipped campsites too.
For all of you water-dwellers, make sure to hop a boat out to Fannette Island. And although you'll have to bring or rent your own equipment, snorkeling and diving at the dedicated Underwater Park is free.
SANTA CRUZ
Straddling the shores of Monterey Bay, about 90 minutes drive south of San Francisco about 45 minutes north of Monterey itself, Santa Cruz is famous for its entertaining combination of surfable sandy beaches, towering redwood forests, diverse foodie scene, and longstanding wine history.
36 – Spend some time at the Santa Cruz Beach Boardwalk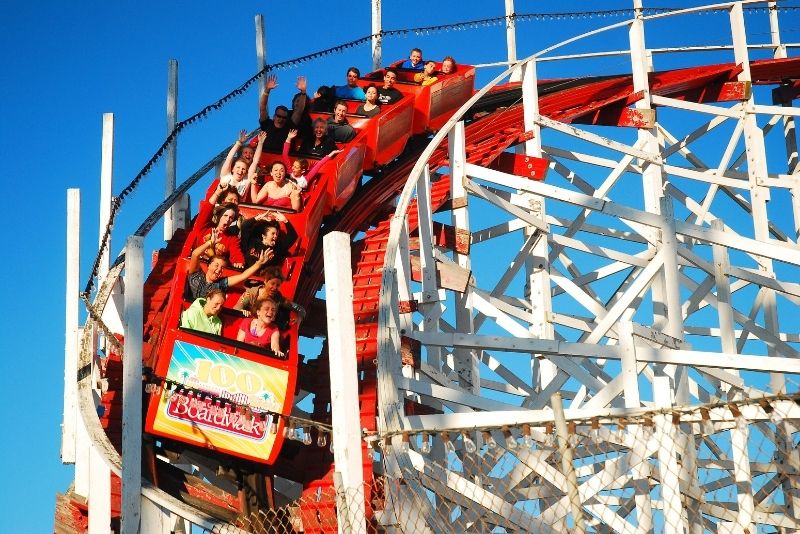 The focal point of the coastal city, and a top spot for fishing and whale watching, the Santa Cruz Wharf is teeming with vibrant activities, dining, and entertainment.
Undoubtedly the area's main event, the Beach Boardwalk — which, besides being a boardwalk, is also a theme park — dates back to 1907, making it one of California's oldest amusement parks, with classic roller coaster rides like the Giant Dipper roller coaster and the Looff Carousel still in operation today and delighting guests of all ages day in, day out.
Throw in laser tag, mini-golf, an array of restaurants, and arcade games, and you've got yourself a marvelous day out. Plus, entry to the park is free, so there's no excuse not to check it out!
MONTEREY & CENTRAL CALIFORNIA
Oozing history and natural beauty, Monterey on the Pacific Coast — about 2 hours drive south of San Francisco and five hours north of LA — has earned its stripes as both the Whale Watching Capital of the World and California's First City.
So whether you're after a journey through time, a wonderful wildlife show, or just some good old family entertainment, this infamous spot has got your covered. Don't miss our list of fun things to do in Monterey for a complete experience.
37 – Meet the penguins at the Monterey Bay Aquarium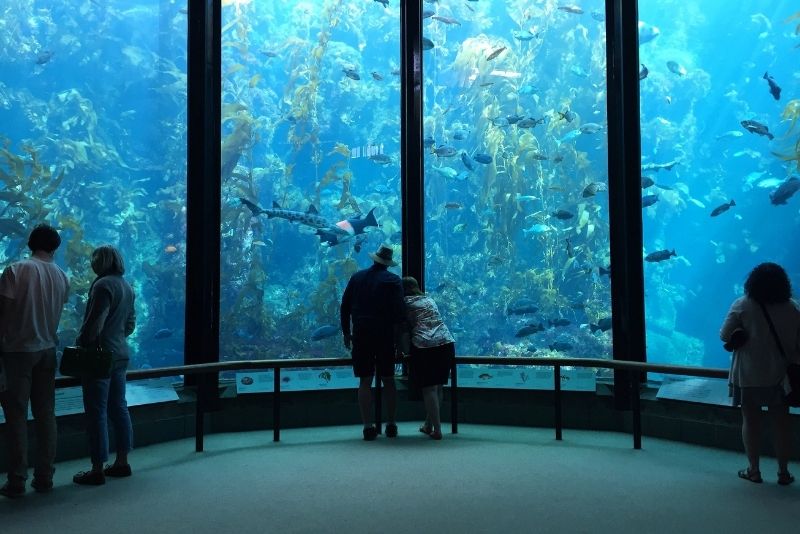 Monterey Bay, California's second-largest bay by area after San Francisco, is known for its abundance of sea life — many of which can be viewed at this wonderful aquarium!
Home to over 35,000 creatures representing more than 550 species — including jellyfish, octopi, sea otters, and more — this coveted family-friendly attraction has been a magnet for tourists for decades, wowing visitors with its Open Sea exhibit (home to hammerhead sharks) and the penguin paradise that is the Splash Zone.
Besides its vast array of tanks and exhibits, there are also daily talks, feedings, and educational workshops, making it an ideal spot for a rainy day.
38 – Browse the shops at Monterey's Old Fisherman's Wharf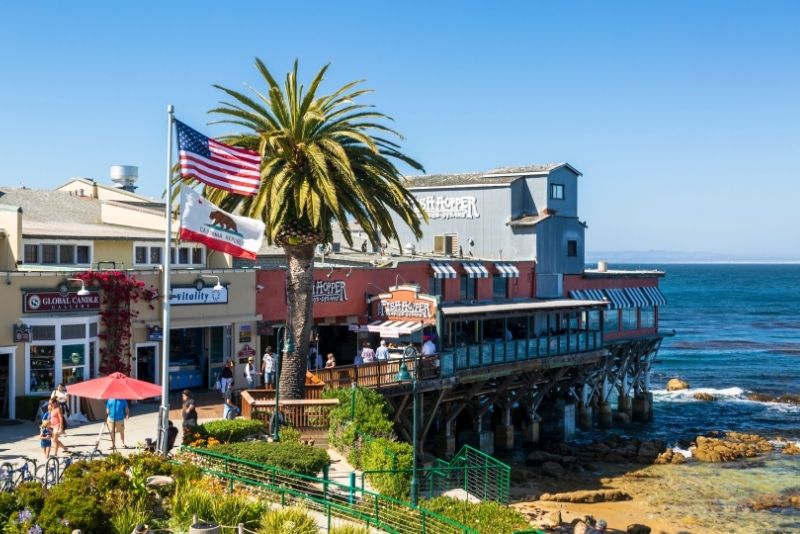 At nearly 200 years old, Monterey's iconic Old Fisherman's Wharf is seafood, sunset, and souvenir Mecca, offering everything from fishing and sailing charters to live theater shows, salt-water taffy outlets, street performers, whale-watching trips, and restaurant menus sure to tantalize the tastebuds.
Seldom dull, the Wrarf makes for a splendid place to people-watch, snap photos of the picturesque harbor, and enjoy a delicious seafood dinner (for the crowd favorites, check out the Chowder House and the Old Fisherman's Grotto Restaurant)
And, for all you shopaholics, the wharf is also home to a variety of shops, selling everything from local wines and cigars to souvenirs and jewelry, so be sure to take your time browsing around!
39 – Go whale-watching!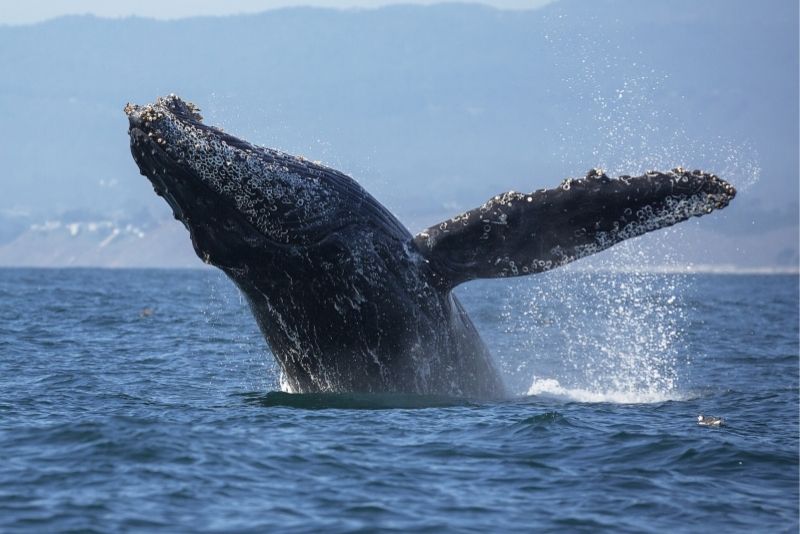 Certainly one of the most popular activities in California during the summer months as the gentle giants make their annual migration, whale watching is a must for any nature lover.
Close to San Francisco, Monterey Bay is a haven for these awe-inspiring ocean dwellers; further down the Pacific coast, Dana Point, Santa Barbara, and San Diego are equally impressive hot spots.
With both budget-friendly group tours and private, VIP excursions, there's something for every kind of traveler.
40 – Take a hike at Pinnacles National Park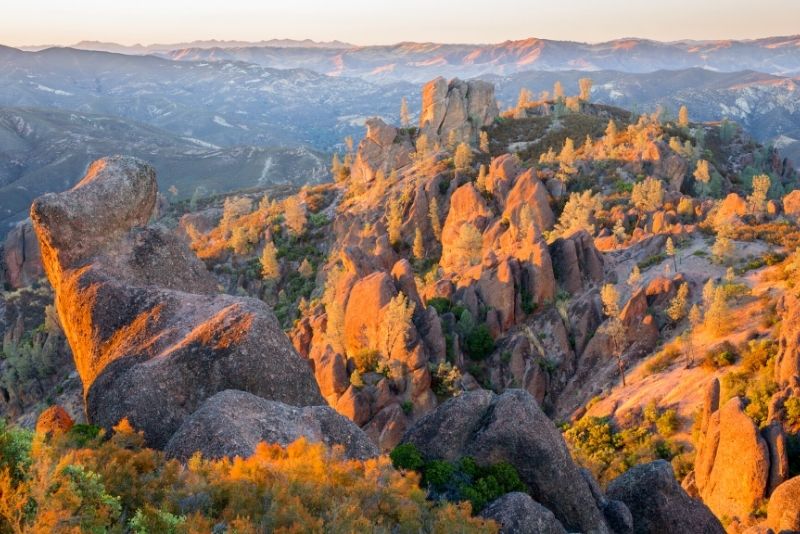 Colorful and mesmerizing, Pinnacles National Park, located about a two-hour drive from San Francisco and an hour inland from Monterey, is an archeologist's heaven on earth, home to the remains of an ancient volcanic field that erupted over 23 million years ago — which, as you'll see, has created some truly remarkable natural formations.
Offering unparalleled scenic views in every direction, especially during the spring when the wildflowers contrast the red, rocky cliffs, the Park boasts over 30 miles of hiking trails suitable for all experience levels.
41 – Cross the Bixby Creek Bridge at Big Sur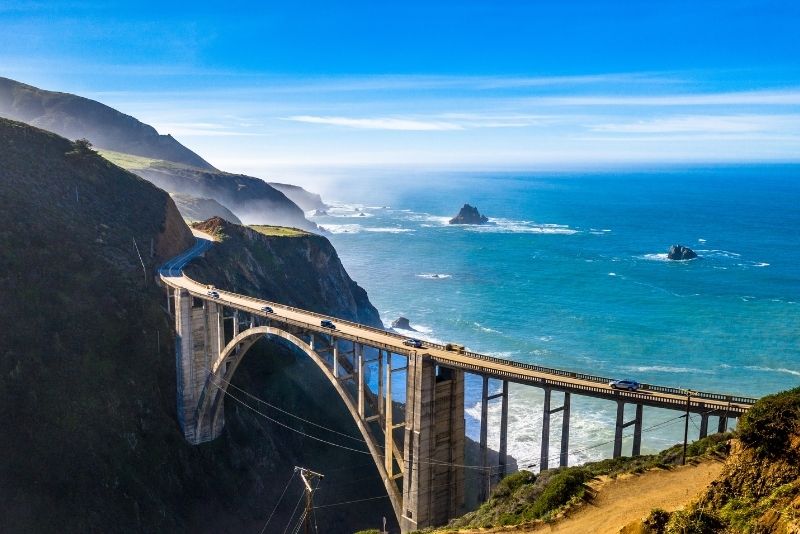 As postcard-worthy a bridge as any, Bixby Creek on Big Sur's Highway 1 — about 18 miles south of Monterey — is a sight to behold, crossing the mouth of the steep canyon and standing proud at some 260 feet above the Pacific Ocean.
Featured in numerous movies and TV shows over the bygone decades, it's easy to see why this bridge has become an unofficial emblem of California.
While there's no denying that the view from the bridge itself is stunning, those looking for an even more epic perspective should pull off the highway just north of the bridge for the best photo op.
42 – Be humbled by nature at Sequoia National Park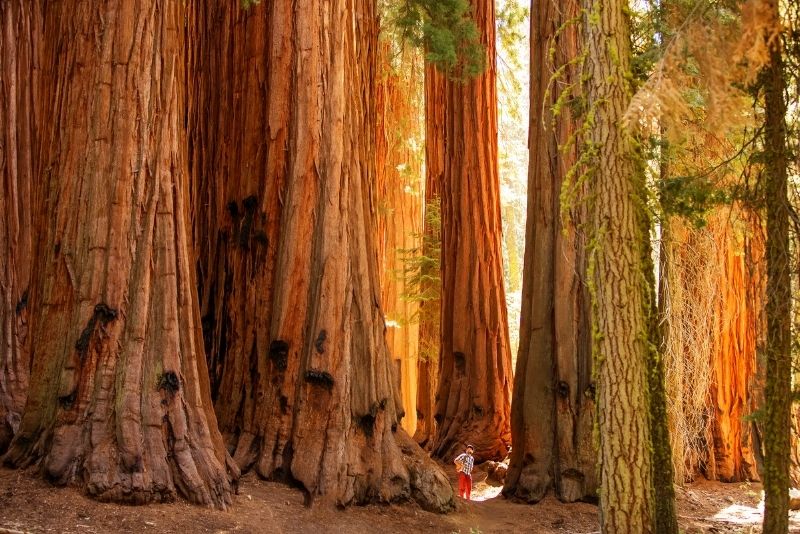 A brilliant display of Mother Nature's talent, a day spent in the Sequoia National Park is regularly considered one of the most grounding and enchanting things to do in California, offering visits the chance to relax, unwind, and get a break from big city life.
With its towering sequoias (the world's largest trees) including the famous General Sherman Tree, miles upon miles of hiking trails (the  Big Trees Trail and Tokopah Falls Trail are both excellent options), and an abundance of wildlife, the park has something to offer everyone.
Looking for a spot to soak in all of the area's beauty? Look no further than Moro Rock.
43 – Visit the sprawling Hearst Castle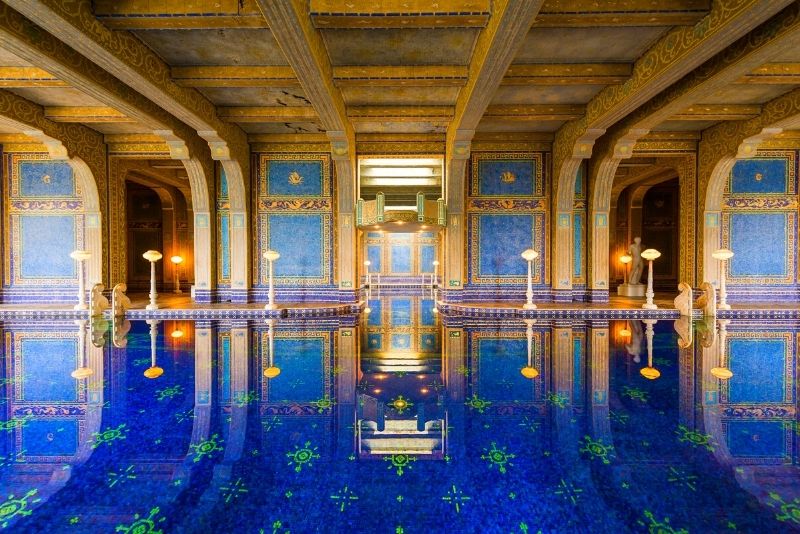 A bonafide spectacle and an example of what billionaire status can achieve, William Randolph Hearst's famous estate is a real-life Disneyland castle.
Designed by architect Julia Morgan in 1919 and taking nearly 30 years to complete, the result is an astonishing mix of Spanish, Moorish, Italian Renaissance, and Gothic Revival styles, all set atop a hill overlooking the stunning Central Coast countryside.
Surrounded by 250,000 acres (Hearst essentially owned land as far as the eye could see) on California's Central Coast near San Simeon, the vistas on the drive to the top are just as, if not more impressive than the castle itself.
44 – Explore the rare landscapes of Death Valley National Park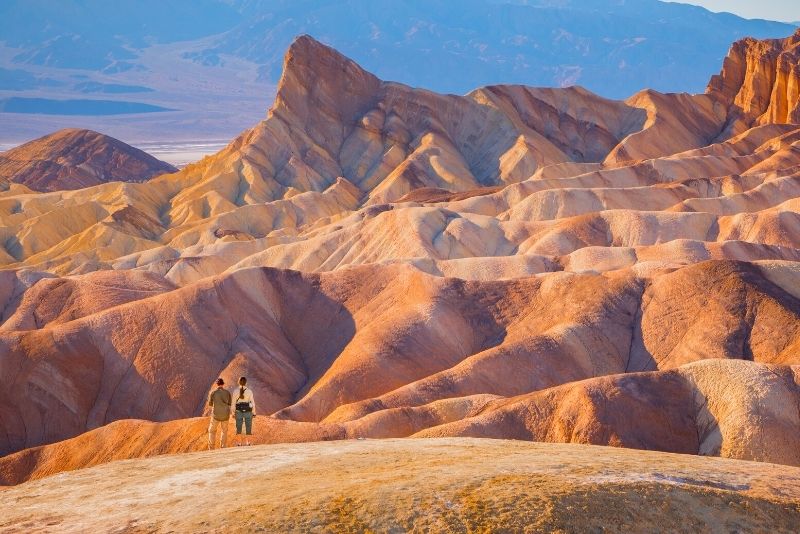 With a moniker like that, and a reputation of dry desolateness that long proceeds it, Death Valley beckons visitors with its unique and eerie landscapes.
As the hottest, driest, lowest National Park on the globe, you'd expect nothing but desert – contrary to that stereotype, Death Valley actually sports a range of wildlife (unique to the area, of course) and activities: race down the Sand Dunes near Stovepipe Wells, take a scenic drive, or tackle one of the many mountain biking routes.
If you're looking to get the perfect shot of Death Valley, head to Zabriskie Point. The walk only requires a ¼ mile hike to reach them from the parking lot.
This goes without saying, but be sure to check the weather forecast beforehand and plan appropriately.
45 – Check out the inhospitable Badwater Basin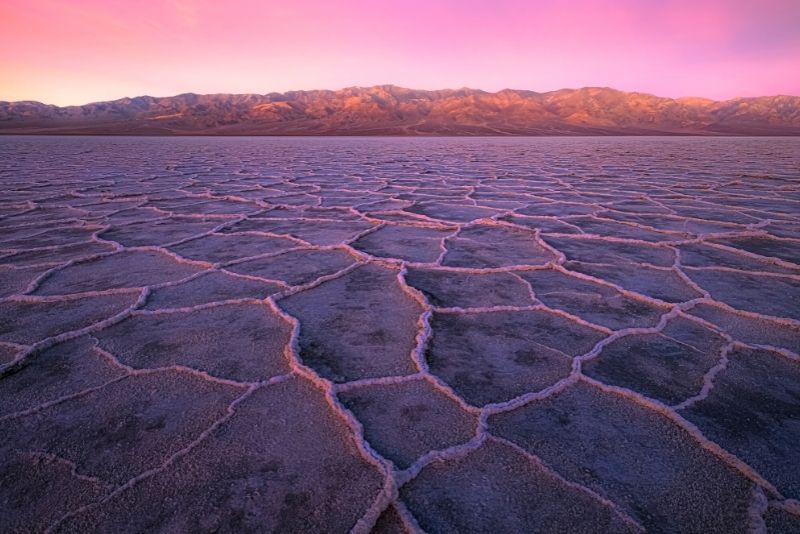 Death Valley is one of the most inhospitable environments on Earth, but that doesn't mean it's not worth a visit (quite the contrary, in fact).
Located in Eastern California and straddling the border with Nevada, one of Death Valley's most unique landscapes is Badwater Basin: spanning nearly 200 square miles, it's officially the lowest point in North America at 282 feet below sea level.
Here, you'll be treated to nothing but white plains as far as the eye can see — making for some rather curious perspective photos!
46 – Make a stop in stunning Santa Barbara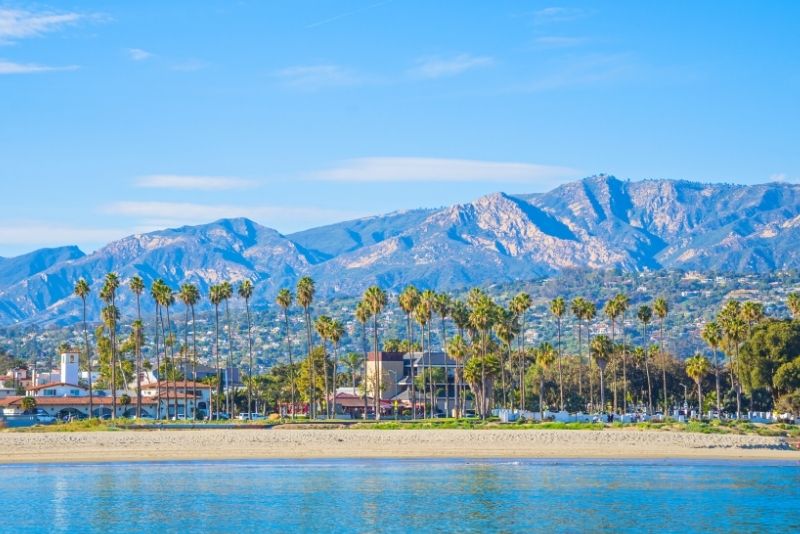 A seaside town with a Spanish colonial flair, Santa Barbara is an undeniable charmer and a popular tourist destination for good reason!
With excellent weather year-round, stunning coastal views, lovely architecture, the 18th-century Mission Santa Barbara, top-notch restaurants, and wineries, you'll be spoiled for choice.
As the self-proclaimed American Riviera, it's no surprise that Santa Barbara is a great place to explore not just by tour bus or car, but on two wheels too, with miles of bike paths winding through wine country and the town itself.
For an especially picturesque ride, pedal (or walk) along the waterfront from Stearns Wharf to East Beach.
Check out our other article that dives into all of the city's restaurants, bars, beaches, museums, and much more, if you're looking for more fun things to do in Santa Barbara.
47 – Get off-grid at the Channel Islands National Park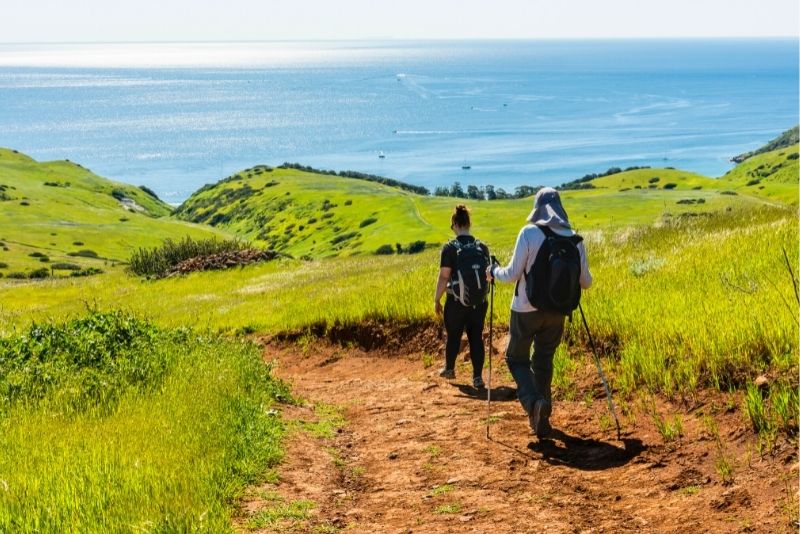 Located just off the coast of Southern California (best accessed from Santa Barbara), Channel Islands National Park offers visitors not only an extraordinary glimpse at some of America's most diverse wildlife (including over 50 species of mammals and 200 types of birds) but also a chance to escape from it all into an oasis of five different islands.
With its secluded beaches, stunning views across the Pacific Ocean, deep canyons, and rocky cliffs, the park is unsurprisingly a favorite for hikers, campers, birdwatchers, divers, snorkelers, and kayakers.
Tale note: since there are few services on the islands, planning is essential. That said, it's the area's remoteness that makes it so special.
LOS ANGELES, ORANGE COUNTY & BEYOND
As we continue our way south down the Pacific Coast, our next stop is a metropolis like no other. Famous for its theme parks (Disney, Universal, and Knott's Berry Farm), Tintestown fever, thriving party scene, and long stretches of sandy beach, there's more than enough things to do in Los Angeles and its surroundings than most first-time visitors could ever imagine.
If, after checking out the options in this article, you're still hunting for Hollywood activities then feel free to check out our comprehensive guide of fun things to do in Los Angeles.
48 – Take a day trip to Catalina Island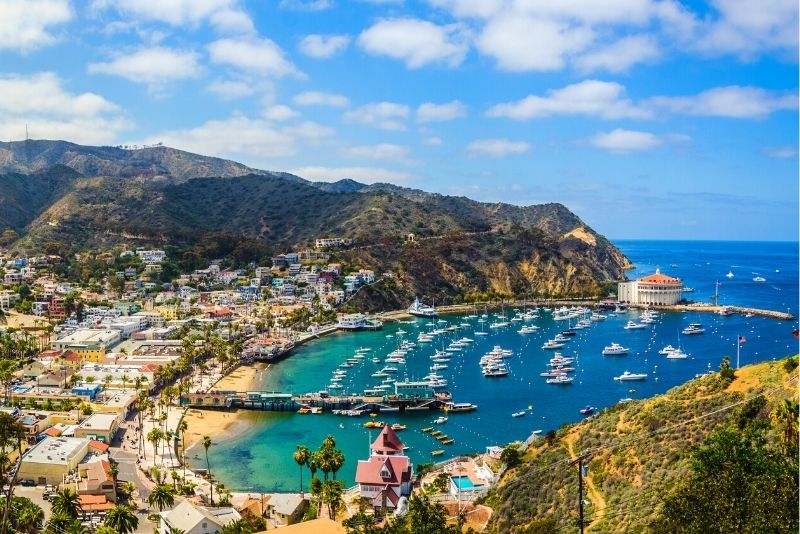 Just off the coast of Los Angeles, Catalina Island – or just Catalina, as locals call it – is a jewel in the Pacific Ocean, only about 22 miles from the mainland and easily accessible by ferry, helicopter, or seaplane.
What awaits visitors is an island with a bit of everything: world-class golfing at Avalon's Catalina Island Golf Course, a historic casino, a bustling party scene in Avalon Town (the island's main settlement), quiet and secluded animal-filled coves, an underwater park for snorkeling enthusiasts, hiking trails and sun-kissed beaches to boot.
Due to the island's isolation, most travelers prefer a pre-organized tour that includes food, transport, and a host of different activities (fishing, ziplines, and hikes, to name but a few).
49 – Stop into LA's world-famous Getty Museum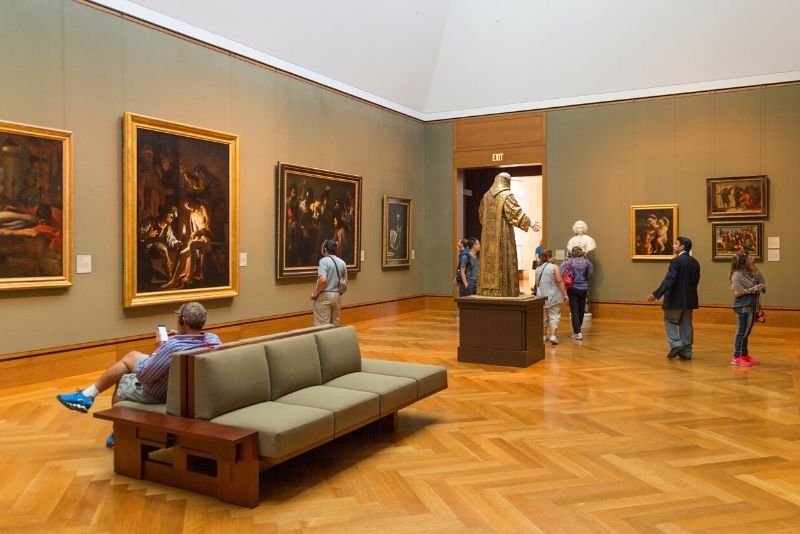 An essential for any culture vulture stopping into Los Angeles, the notorious J. Paul Getty Museum is internationally-renowned for its comprehensive collection of art from the medieval period to the present day, with everything from paintings and sculpture to manuscripts and decorative arts on display.
The museum is housed in two stunning buildings alongside its sprawling, well-manicured gardens.
And, thanks to its location in the lavish Pacific Palisades hills, the views of the LA Basin below are second to none.
With dozens of tours available to explore the museum inside and out, it's no wonder that this museum is considered to be one of the best museums in Los Angeles.
50 – Eat your heart out at Grand Central Market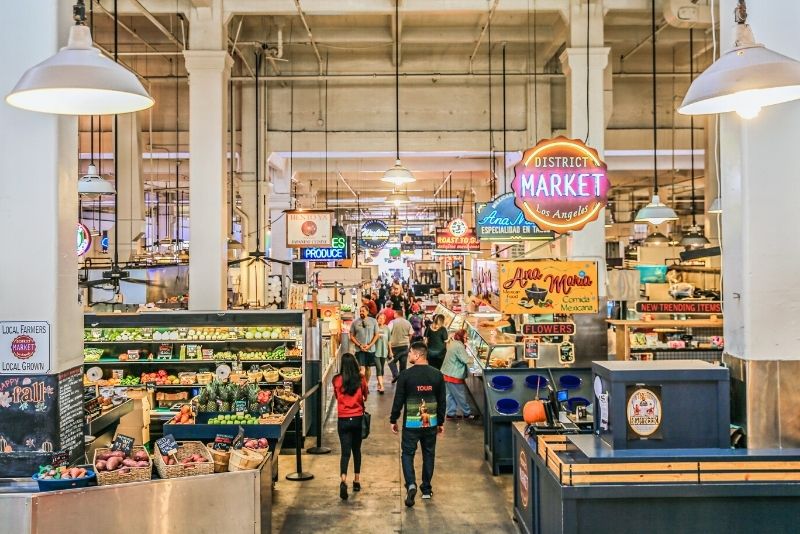 Are you carving some carnitas tacos? What about an Asian tea sandwich like a Moon Rabbit or a lobster roll?
You can find all of these food items, and then some when you visit Grand Central Market. The market is located in the heart of downtown Los Angeles, and features a grand variety of foods to indulge in, whether it's lunch, dinner, dessert, coffee, or more!
After you've had your fill of incredible food, make sure to check out the different activities that take place at the market. From movie screenings, to live music, a bazaar, and open art spaces – this market does more than food.
Parking is available near the market at the cost of $4 USD for the first 90 minutes.
51 – Join a Los Angeles celebrity homes tour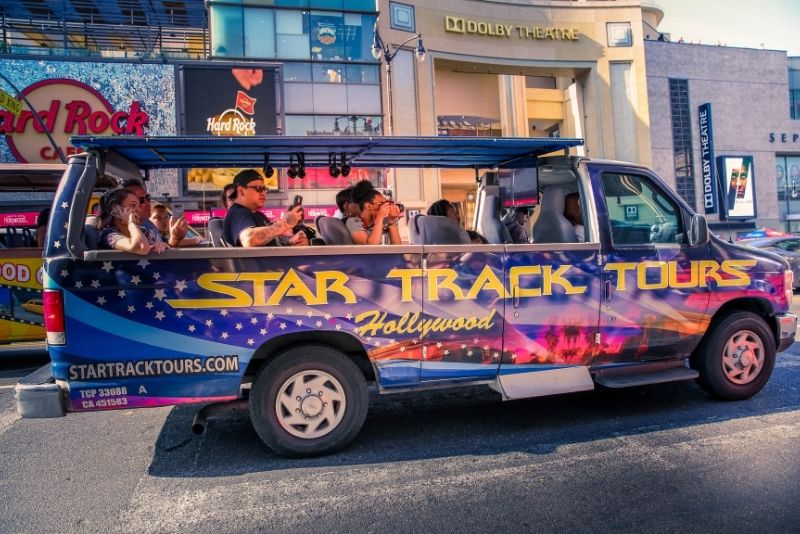 You're in Tinseltown, after all, so why not scoop up the chance to see where some of the entertainment industry's most famous names call home?
Throughout the rolling Beverly Hills where multi-million-dollar houses are the norm to Bel Air and the Hollywood Hills, there are several companies offering celebrity home tours.
You might not get to see much more than the front gates and maybe a peek at the gardens, but it's still an interesting (and very touristy LA) way to spend an afternoon.
Plus, these open-air activities also cruise down Hollywood Boulevard and Sunset Boulevard, allowing you to tick off a range of other famous landmarks.
52 – Spend a couple of hours at The Broad Museum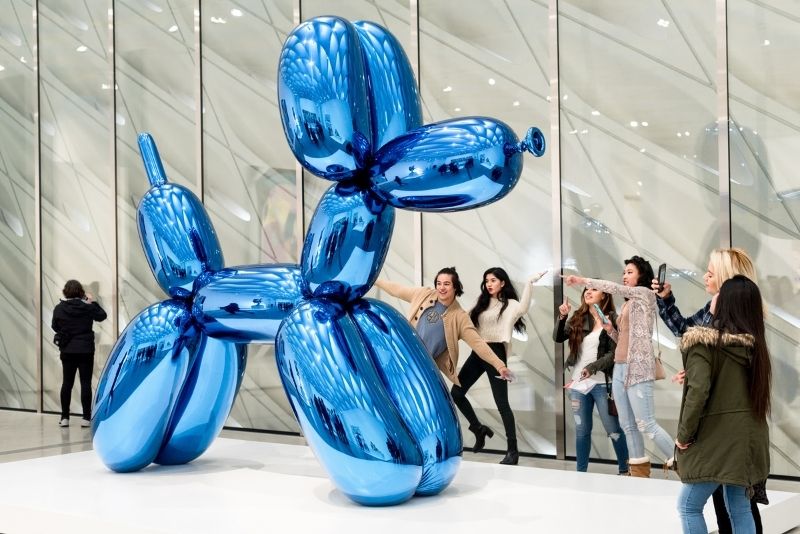 The latest addition to the city's booming museum scene is The Broad, which opened its doors on Grand Avenue downtown in 2015.
The diverse, peculiar (in the best way possible) collection comprises some 2,000 works of art by more than 170 artists – including the likes of Jeff Koons and Ed Ruscha.
And best of all, entry is totally free!
53 – Check Universal Studios Hollywood off the bucket list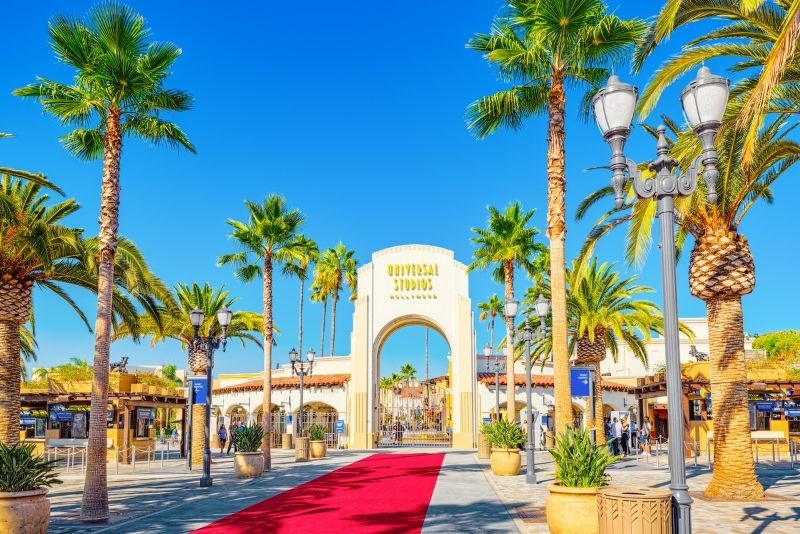 What's not to love about a theme park that celebrates Hollywood?
Featuring attractions based on some of the most iconic film franchises in history, including Jurassic Park and Back To The Future, Universal Studios offers something for movie buffs of all ages.
And if you're feeling brave enough – or just have an extra-adventurous side! – be sure to check out their new rollercoaster ride: The Wizarding World Of Harry Potter™ attraction is everything Hogwarts fans could ask for.
Throw in costumed characters (look out for Spongebob and Homer Simpson), and a film studios backlot tour and showcases where films like Jaws, Psycho, and The Grinch were filmed, and it's no wonder that this family-friendly park welcomes over 9 million visitors every year!
Make sure to check these incredible activities, known to be some of the best theme parks in California, as well as a few ones nearby not to miss!
Hot tip: find out cheap Universal Studios Hollywood tickets. 
54 – People-watch at the Venice Beach Boardwalk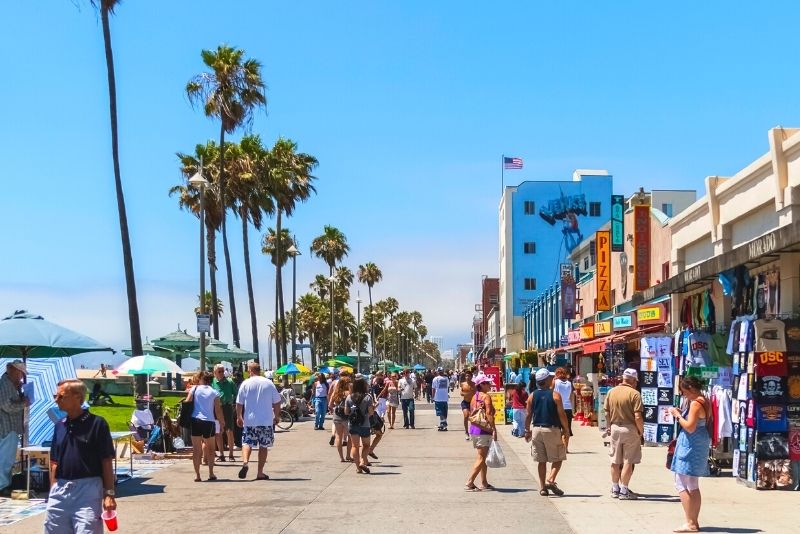 Consistently buzzing with street performers, volleyballers, rollerbladers, gym junkies (at Muscle Gym Beach), sun-seekers, and no shortage of visitors, the 2-mile-long Venice Beach Boardwalk is California's beachfront tourism epicenter, home to hundreds of eateries, street vendors, bars, and souvenir shops.
While some enjoy nothing more than renting a bike or a pair of skates and zooming down the boardwalk, others prefer a locally-led tour that uncovers the area's hidden gems and tells plenty of fascinating stories about what has become a beacon of art and free speech over the decades.
55 – Pop into the Los Angeles County Museum of Art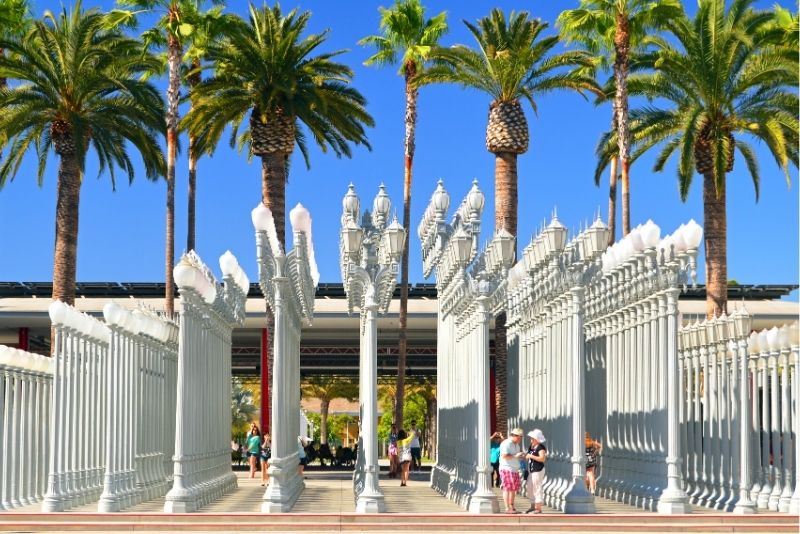 Full of not just traditional fine art but also modern pieces from edgy artists such as Takashi Murakami and Ai Weiwei, the Los Angeles County Museum of Art (LACMA) is a treasure trove for any art lover.
The Urban Light installation has heralded itself as an unofficial symbol of the city; beyond that, you'll find over 150,000 quirky, thought-provoking pieces on display.
With a reputation for pushing boundaries (perfect examples of which can be found in the Art + Technology Lab), the best-known feature is Urban Light, which has unofficially become an LA icon.
56 – Go surfing or stand-up paddleboarding!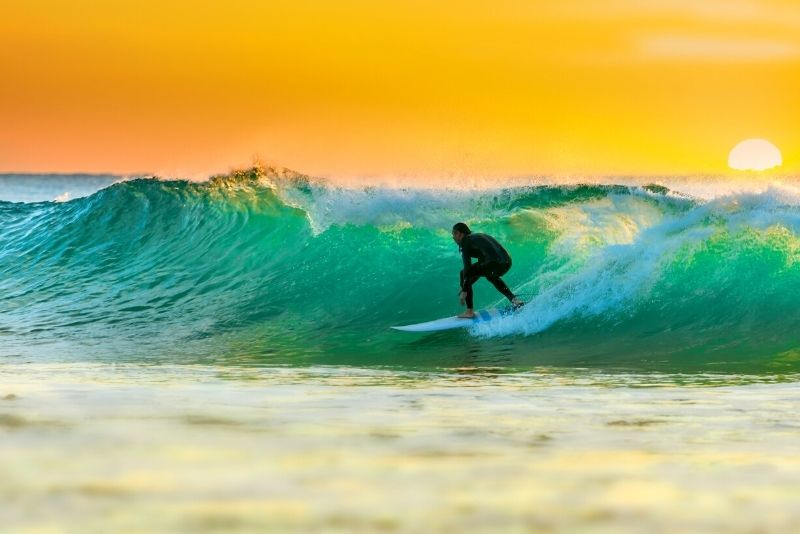 With hundreds upon hundreds of miles of sparkling coastline and warm waters, and year-round sun (particularly in Southern California), it's no wonder that surfing and stand-up paddleboarding (SUP) are so popular in the Golden State.
Whether you're a beginner or an experienced surfer, there's a wave waiting for you somewhere; San Diego and Orange County are particularly popular areas, but Malibu, Santa Cruz (Steamer Lane), and Monterey (particular Asilomar State Beach) also have some world-class waves.
In the Los Angeles area, Newport Beach, Huntington Beach (dubbed Surf City USA), and Venice Beach dish up great swells, while Manhattan Beach is another great place for beginners to catch their first wave.
For all you seasoned pros, some of the state's most powerful waves are found at Mavericks in Half Moon Bay.
57 – Wander down the Hollywood Walk of Fame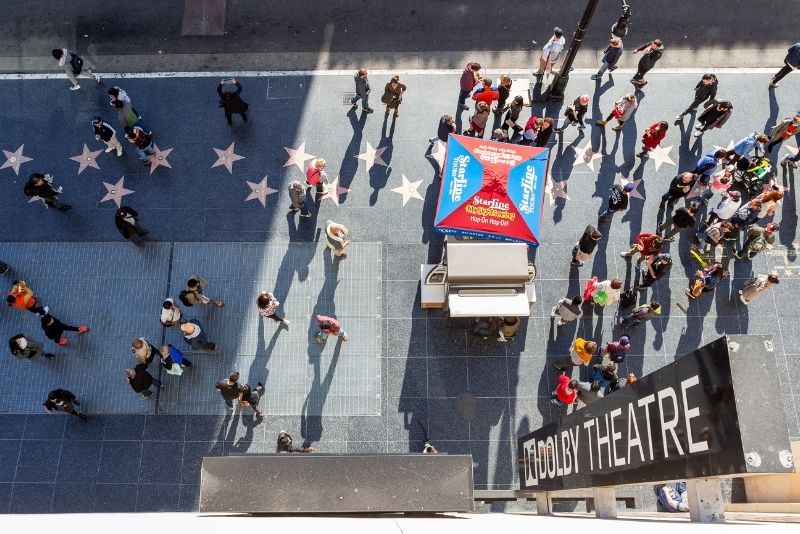 Stretching 1.3 miles down ever-buzzing Hollywood Boulevard, the Walk of Fame is an iconic tourist attraction that's home to more than 2500 stars dedicated to some of the biggest names in showbusiness.
From late legends like Marilyn Monroe and Elvis Presley to modern-day megastars like Robert Downey Jr. and Meryl Streep, take a stroll (or better yet, a selfie) along this famous stretch and see who you can spot!
Plus, with no shortage of street performers, theaters, and tourist attractions along the way, boredom isn't an option.
58 – Feel the thrill of indoor skydiving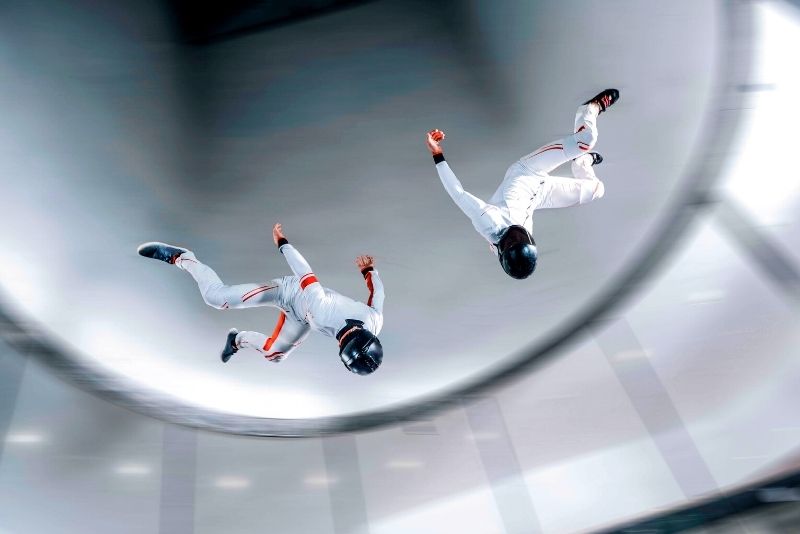 Craving a giant adrenaline rush but not quite ready to leap out of a plane from 14,000 feet above the ground? Fair enough, it's hard to blame you. Still, a genuine freefall thrill is still achievable at one of the city's several indoor skydiving centers!
Using a state-of-the-art wind tunnel, you'll be able to experience the same sensations as skydiving – the flips, the wind, the excitement – without having to worry about a thing!
There are locations all over California, but visitors often head to iFly Hollywood due to its central location on the Universal CityWalk/
59 – Snap a selfie in front of the Hollywood Sign
Iconic being an understatement, the 45-foot-tall Hollywood Sign towers above the Hollywood Hills.
This world-famous landmark is not only famous for its size and shape but also because it's appeared in countless films as well as music videos and advertisements over the years, inspiring replicas all over the globe.
And while you can't get up close and personal with these spectacular letters, there are plenty of ways you can see them from afar: drive through Griffith Park, tackle the main Griffith Observatory hike, or hop on one of many tours that take place every day.
Looking for more activities? Check out our full selection of things to do in Hollywood.
60 – Catch a film at the TCL Chinese Theatre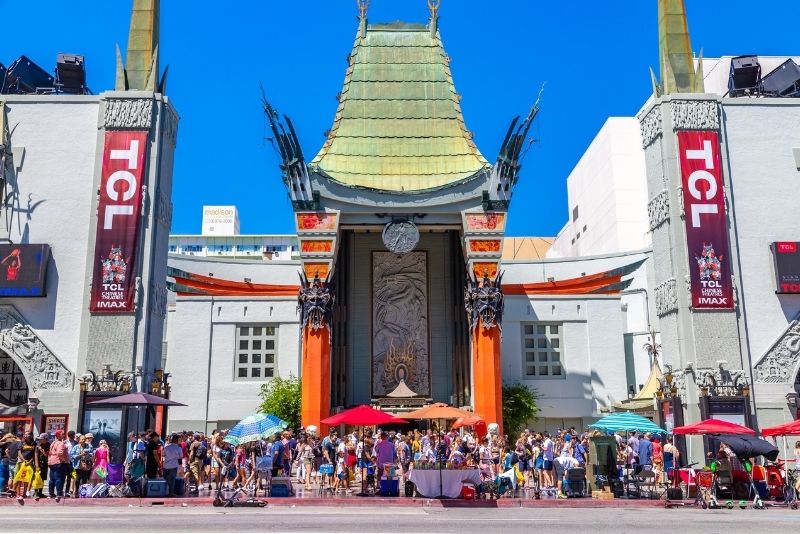 Arguably the world's most well-known cinema, Hollywood's TCL Chinese Theatre (also known as Grauman's Chinese Theatre) is best known for its unique courtyard where visitors can compare their hands and feet with the cement imprints of some of cinema's biggest names.
Step inside for a behind-the-scenes tour where you'll discover a beautifully decorated lobby that plays host to regular screenings throughout the year, from the latest blockbusters to opening night events and cult classics.
Plus, with the world's largest IMAX auditorium, rest assured that you're in for one hell of a spectacle.
61 – Rev that engine at the Petersen Automotive Museum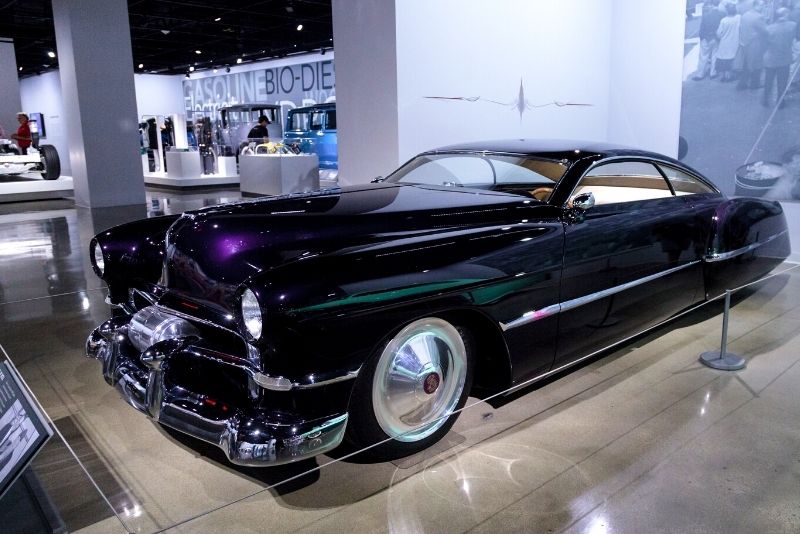 Petrolheads, listen up!
Los Angeles' Petersen Automotive Museum, which features more than 300 vehicles in themed exhibits such as sci-fi movie cars, supercars, race cars, and electric vehicles, is a must-see for automobile enthusiasts.
More than just a jazzed-up garage, the Museum details how these (and other) cars have impacted American life and culture over the 20th and 21st centuries.
If the vintage rides inspire you, the Forza Motorsports Experience offers guests the chance to feel the thrills and speeds of a real (albeit simulated) race!
62 – Go behind the scenes with a Warner Bros. Studio Tour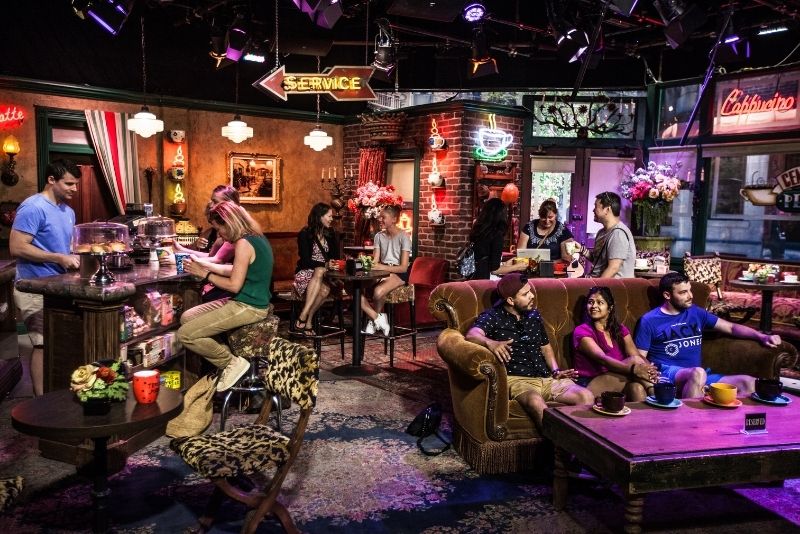 Warner Bros. Studio Tour Hollywood, a behind-the-scenes look at where the magic of movies is made, offers guests the chance to explore sound stages, sets, and props from some of their favorite films and TV shows.
From The Big Bang Theory to Friends to Harry Potter, there's something for everyone on this popular tour (which takes about three hours).
And for those who want an even more in-depth experience, Warner Bros. also offers Deluxe tours that last six hours, pop into costume and prop rooms, and include a hearty lunch!
Tucked away in Burbank (next to Hollywood), the 110-acre backlot is a little quieter than the likes of Universal, yet no less interesting or enjoyable by any means.
63 – Mingle with meerkats at the Los Angeles Zoo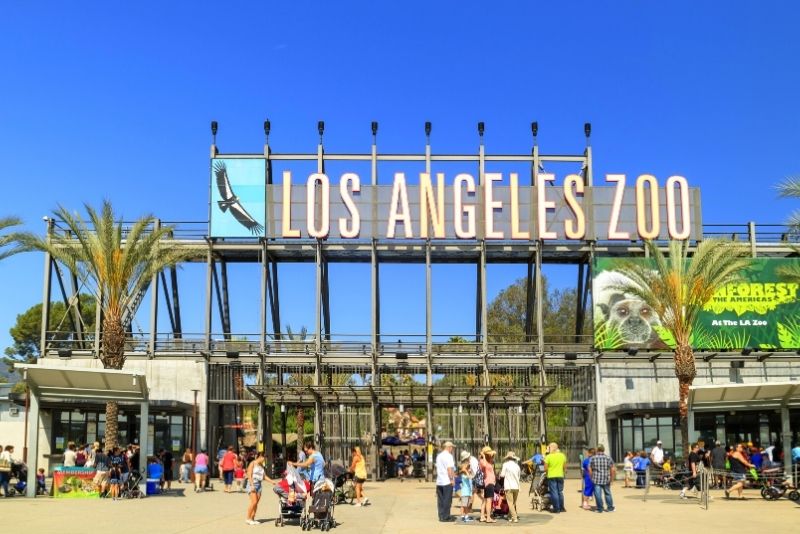 A longstanding Griffith Park favorite for kids and adults alike, the LA Zoo plays host to over 1,100 animals of all shapes and sizes — from elephants and orang-utans to slithery snakes, komodo dragons, and everything in between — with live feedings, meet and greets, and a botanical garden to boot.
Kids will love the face painting and caricature artists, while visitors of all ages are sure to learn a thing or two about conservation at the California Condor Rescue Zone.
Hot tip: if traveling during the holiday season (December and January), don't miss the L.A. Zoo Lights display, an enchanting mix of wildlife and wonder!
64 – Experience the world of dinosaurs at the La Brea Tar Pits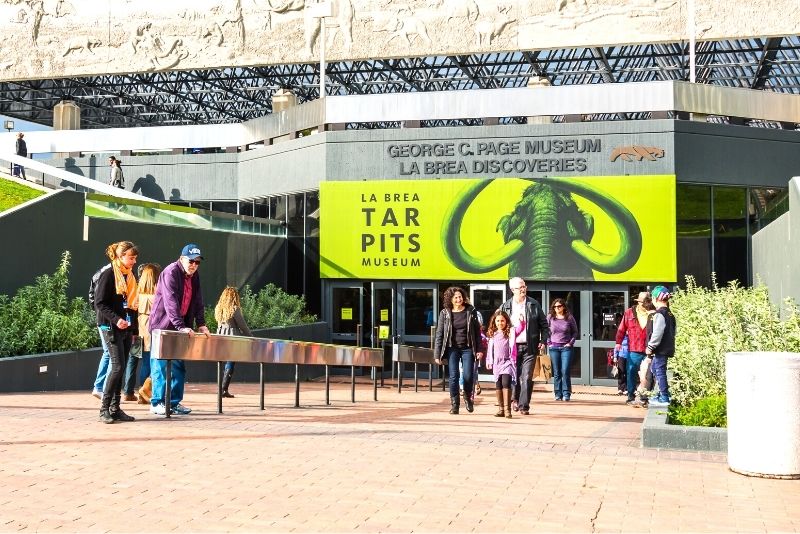 A rare urban archeological zone, the La Brea Tar Pits offer a glimpse into Southern California's prehistoric past with its trove of fossils and artifacts from some of the earth's first inhabitants, including saber-toothed cats, mastodons, wooly mammoths, dire wolves — even remains from our earliest human ancestors.
In addition to this outdoor exhibition space packed full of dino bones, you'll also find the Page Museum complete with hands-on displays for kids as well as ongoing research conducted by paleontologists who hope to uncover more about these fascinating creatures that once roamed our planet.
65 – Get your art fix at the Hammer Museum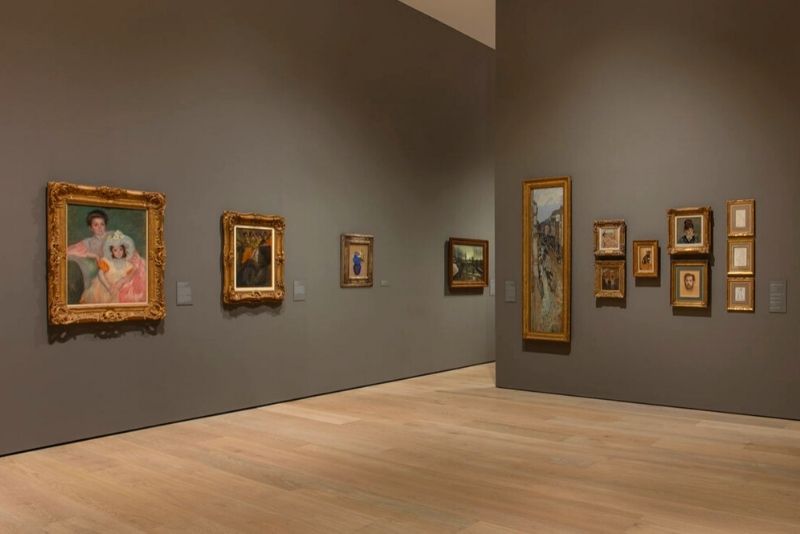 A shining light of the prestigious UCLA (University of California, Los Angeles), the free-to-enter Hammer Museum combines classic art with a modern twist through a diverse collection of exhibits designed to admire, question, and critic social standings.
In its contemporary collection, you'll find the world of over 100 post-World War II international artists; while the Franklin D. Murphy Sculpture Garden boasts over 00 head-scratching pieces spread across five-acre of lush greenery.
And, with over 300 free programs year-round (from film screenings to lectures, readings, and controversial panel discussions), there's always something worth checking out.
66 – Hear the country's best musicians at the Walt Disney Concert Hall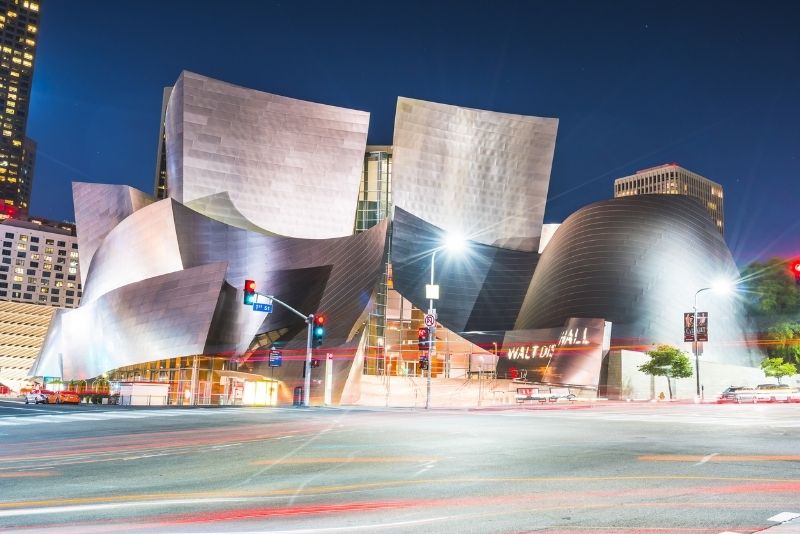 Sticking out from the downtown cityscape like a sore, silver thumb, the Frank Gehry-designed Walt Disney Concert Hall is home to none other than the world-famous LA Philamthopic, one of the nation's – scratch that, the world's – most renowned orchestras.
Known for its excellent acoustics and lavish interior, the Hall is the local go-to for sophisticated jazz, classical and contemporary music performances — and it makes for the perfect date night!
67 – Ride the carousel at Santa Monica Pier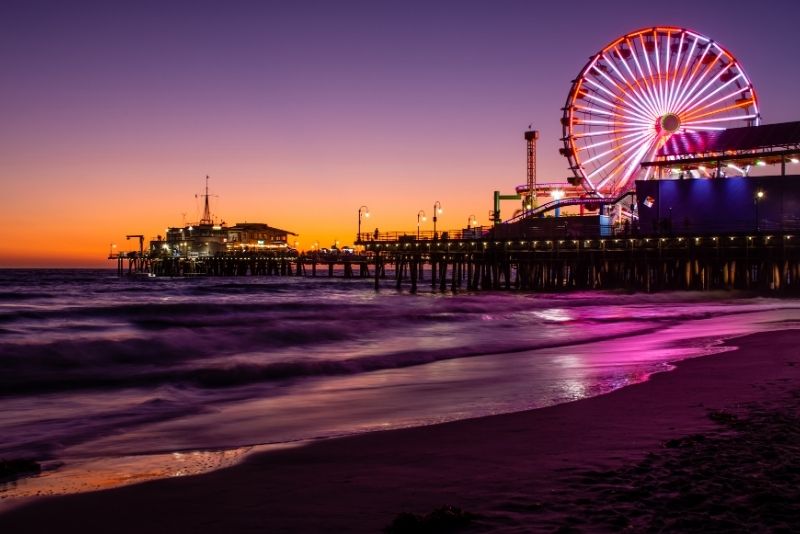 If there's one place that screams L.A., it's the Santa Monica Pier. This historic landmark has been delighting visitors since 1909 with its amusement rides, colorful games, and delicious food options.
Walk the pier for free, or purchase a wristband to ride all the attractions as many times as you like (the Ferris wheel is a must-do). And if you're visiting in the summertime, don't forget to cool off with a quick dip in the waters of Santa Monica State Beach!
And, with plenty of history and stories up its sleeves (being the first concrete pier on the West Coast), a guided tour is never a bad option.
68 – Cheer on the LA Lakers (or Clippers) at Crypto Arena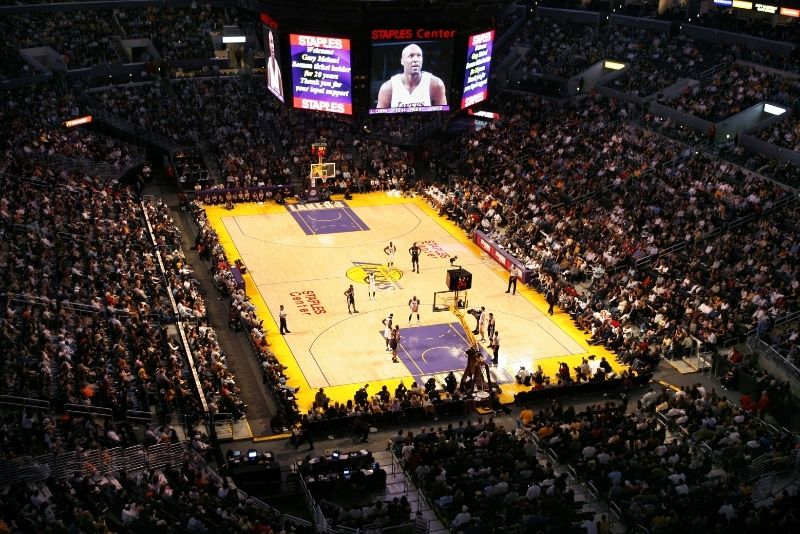 After a day of exploring all that Hollywood and LA have to offer, there's nothing quite like taking in a basketball game at Crypto Arena (formerly known as the Staples Center).
Home to both the LA Lakers and LA Clippers, this iconic arena is also where you'll find major music concerts and other top-tier events throughout the year — simply check the roster to see who'll be gracing center stage (or center court) during your visit.
Besides the chance to soak in the electric live-action, diehard sports fans can also join a behind-the-scenes stadium tour.
69 – Discover the Milky Way at the Griffith Observatory in Griffith Park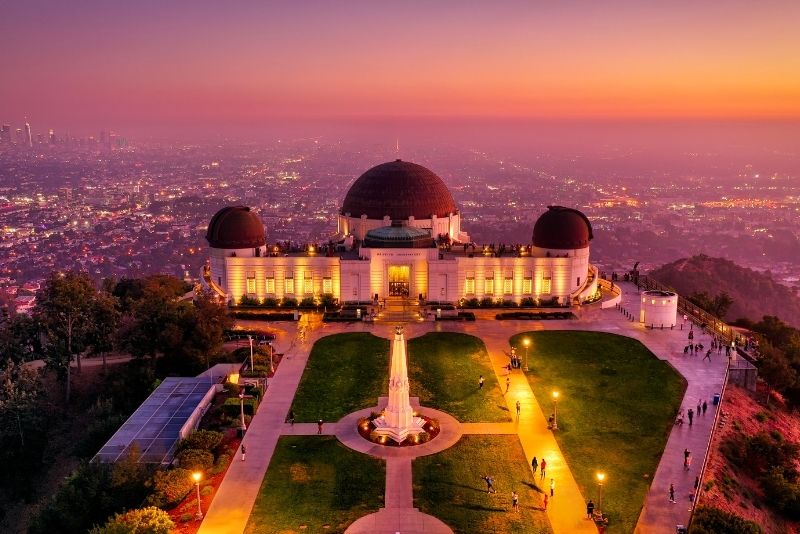 Located on an elevated perch, this iconic observatory offers stunning views of the shining lights of Los Angeles and beyond. With exhibits detailing the history and science of astronomy, not to mention a planetarium, it's no wonder that the Griffith Observatory is one of the most celebrated things to do in California!
Looking to burn a few calories? For a new and equally impressive perspective, venture along one of the many trails that crisscross Griffith Park — and, at more than five times the size of Central Park in New York, rest assured that there are plenty to choose from!
70 – Feel the G-force at Six Flags Magic Mountain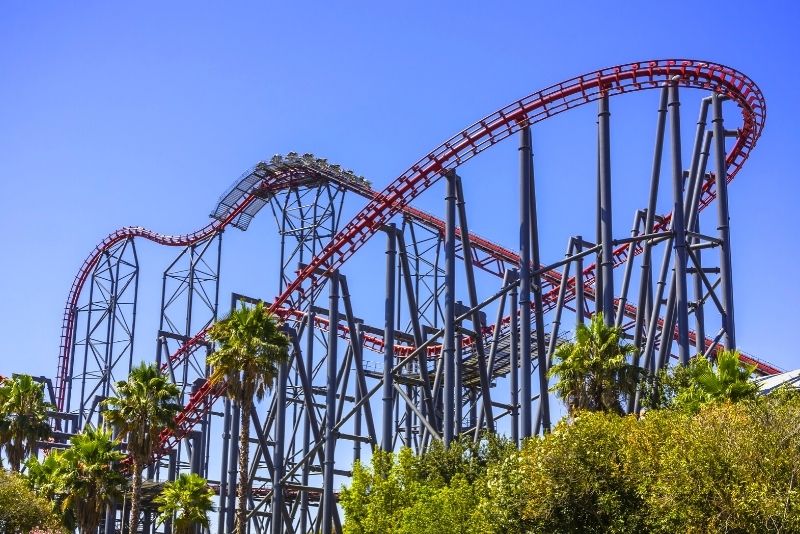 One for the adrenaline junkies, Six Flags – justifiably dubbed the Thrill Capital of the World – dishes up g-force, excitement, and twists and turns in spades with some of the most exhilarating roller coasters on the West Coast!
The park, which was originally founded in 1971, has been thrilling guests for decades with its now 19 world-class coasters, a variety of family attractions and water rides, as well as several dining options from fast food to sit-down restaurants.
For those who want their thrills up close and personal, make sure to visit during autumn's Fright Fest, where you'll find 16+ Mazes, scare zones, and roaming monsters that scream Halloween.
71 – Check out The Huntington Library, Art Museum and Botanical Gardens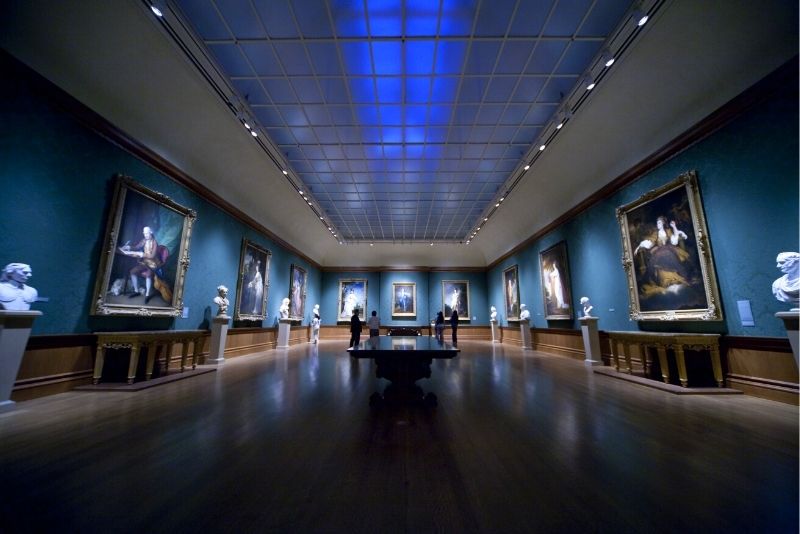 Long before you even step inside this sprawling complex in San Marino (about 10 miles from downtown LA), the 120 acres of breathtaking gardens will have already entranced you.
Here, you'll find the Chinese garden, the largest of its kind outside of China; The Desert Garden, one of the world's biggest cacti collections; the Japanese Garden complete with replica houses and bridges; the colorful and enchanting rose garden, and no less than a dozen more unique zones.
Beyond its beauty and charm though, inside lies an impressive art collection focusing largely on 18th century European and American artists as well as a huge library of rare books and a quaint tea room.
72 – Spot celebs in Malibu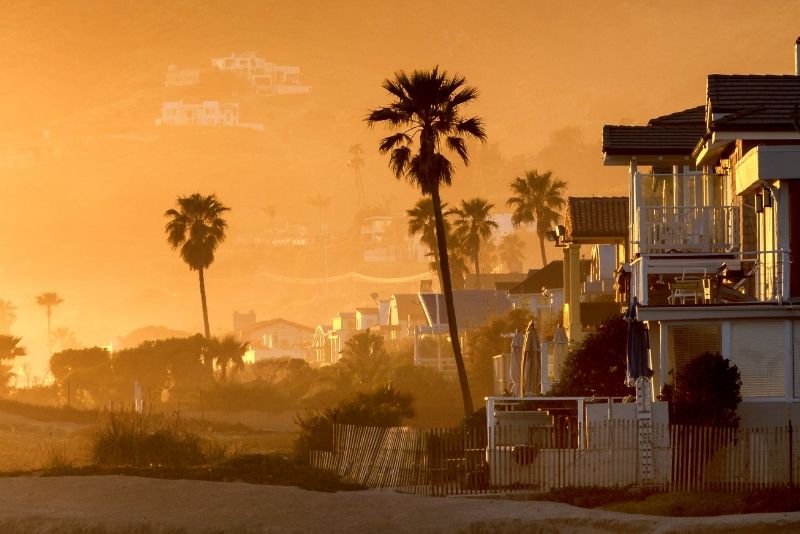 Straddling the shimmering Pacific less than an hour's drive from both Los Angeles and Santa Barbara, Malibu is a beachside paradise that boasts some of the most stunning coastal views in California.
With its wide sandy beaches, jaw-dropping mansions, cliff-top walking trails with panoramic ocean vistas, and notorious party spots – not to mention a high concentration of celebrities – it's unsurprisingly one of the most popular tourist destinations in the state.
Take a hike, learn to surf, go paddle boarding or paragliding, join a cycling winery tour, or head off-road with a 4X4 adventure — as you can see, there's no shortage of diverse activities on offer here.
73 – Head to Long Beach's Aquarium of the Pacific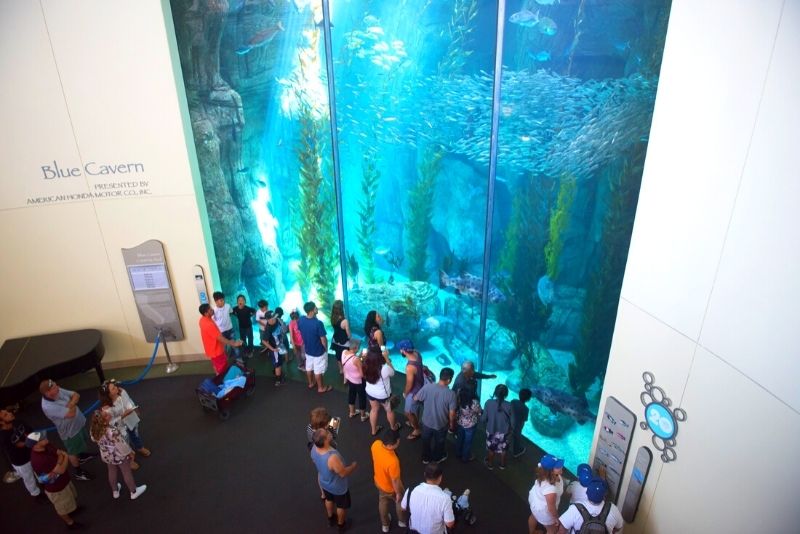 If you're a fan of marine life, then the Aquarium of the Pacific, as what is officially the largest aquarium in Southern California, is a must-visit attraction.
With over 100 different exhibits housing more than 12,000 animals of all shapes and sizes including many endangered animals, you'll get to see sea creatures from all around the world in their natural habitats — and, in some cases, touch them!
There are also fun interactive displays for kids that teach them about ocean conservation efforts, not to mention live feedings, educational workshops, and even the chance to sleep in a giant fish tank – so there's something for everyone!
Whether you're a kid with wonder, or you just have the wonder, a trip is in order to explore the many fun things to do in Long Beach.
74 – Climb aboard the RMS Queen Mary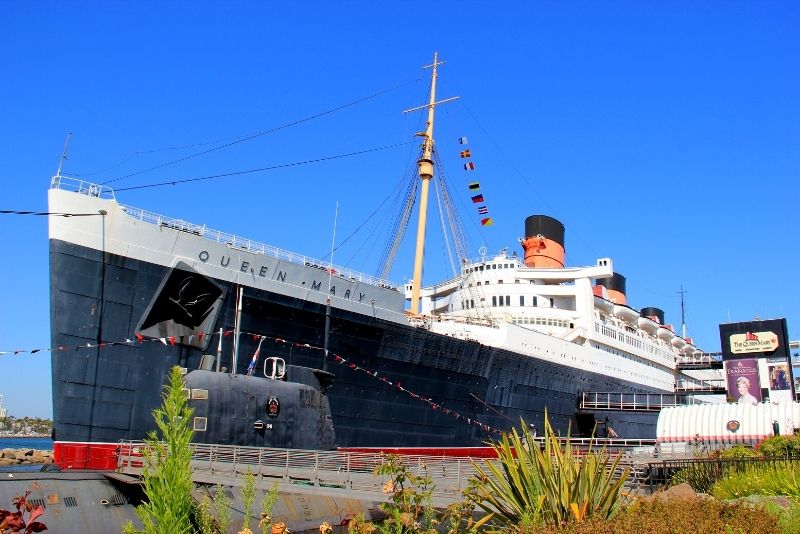 The RMS Queen Mary, permanently moored in Long Beach and now a hotel, conference center, and museum, is one of the most iconic names in the maritime world.
Built in 1936 as one of the world's most luxurious ocean liners, she sailed the oceans for decades before retiring in 1967. since then, she's been open to tourists, where visitors can explore her decks, cabins, restaurants, and even engine rooms; learn about her history at the on-site museum, or even join a royally scary ghost tour!
Hot tip: wear your walking shoes — at 15% longer and 28% wider than the Titanic, this boat is truly enormous.
75 – Be transported to Europe in little Solvang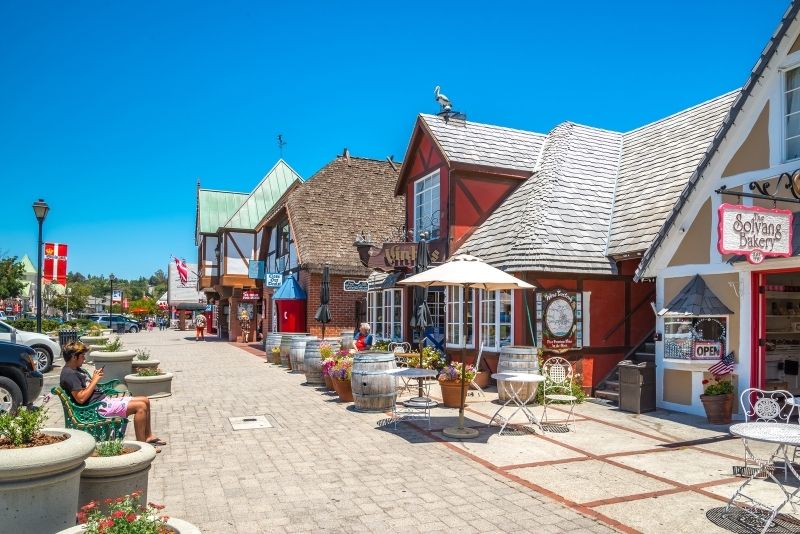 A quaint little town in the Santa Ynez Valley wine country about halfway between Los Angeles and San Francisco, Solvang is known as "The Danish Capital of America."
This is because it was founded in 1911 by a group of Danish immigrants who were looking for a place to recreate their homeland. And recreate it they did, with charming houses painted in bright colors, a Hans Christian Andersen statue, windmills, and even a replica of Copenhagen's Round Tower.
Today, Solvang is a popular tourist destination for those looking to experience a slice of Europe (complete with traditional food and drink) without having to leave the US, as well as for wine lovers who come to sample the local vintages.
76 – Head out to sea on a dolphin-watching cruise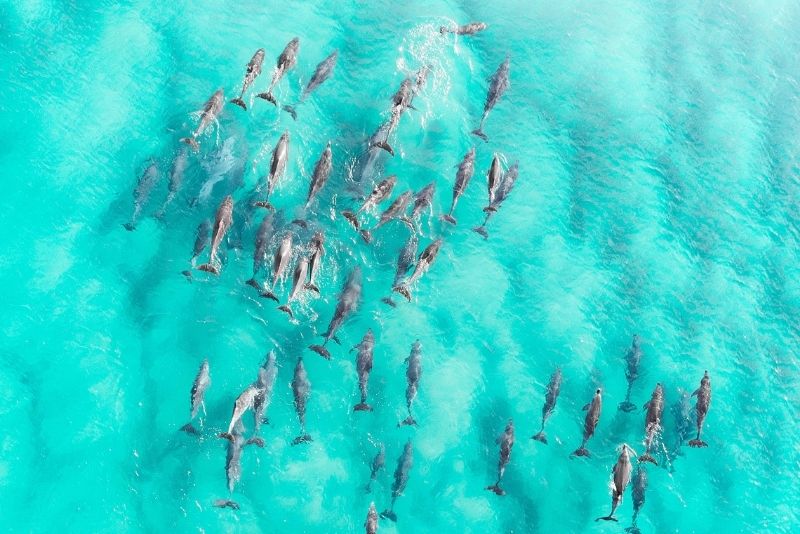 Whether you find yourself in Newport Beach in Orange County, Mission Beach in San Diego, Dana Point, or anywhere in between, rest assured that pods of bubbly dolphins are never too far away – and, in all likelihood, neither are whales or sea lions!
With the option for adrenaline-pumping speed boats, relaxing catamarans, private yacht charters, and even romantic dinner cruises, there's something for every budget and every style of traveler.
77 – Meet Snoopy and the gang at Knott's Berry Farm
Originally a humble berry farm, Knott's is now a thrill-seeking Mecca, hosting no less than 160 acres of adrenaline-fueled roller coasters and an on-site waterpark to boot.
Boasting an impressive lineup of roller coasters that includes Silver Bullet, GhostRider – the tallest and longest wooden coaster on the West Coast – and Xcelerator (to name but a few), it's also a great spot to catch some shows, take in the seasonal festivities (the Halloween scene is epic) or enjoy the old-fashioned atmosphere of Camp Snoopy.
Feeling peckish? Make sure to stop into Mrs. Knott's Chicken Dinner Restaurant — home of the finger-lickin' fried chicken that helped put this theme park on the map.
78 – Sparkle the night away at a candlelight concert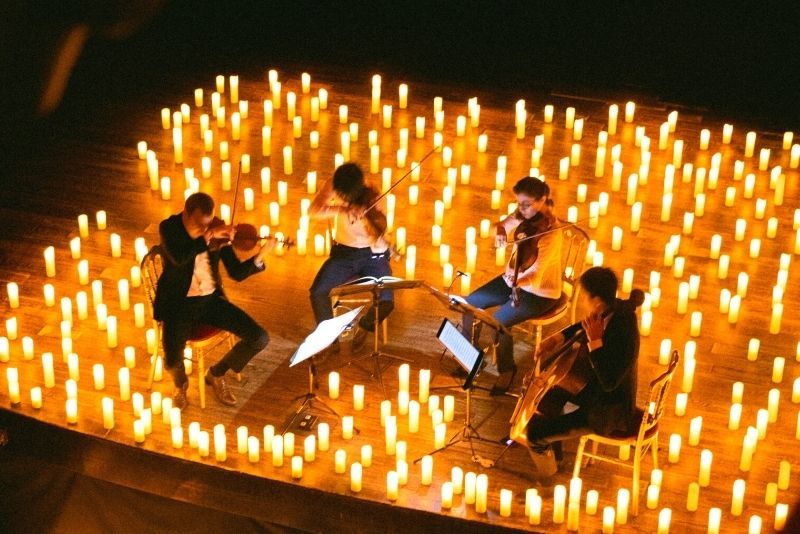 Take your music listening experience to the next level, and enjoy a candlelight concert experience taking place throughout some of the most beautiful music venues in Los Angeles.
Listen to a classically trained group perform versions of your favorite songs from your favorite movie soundtracks at the Oscars Nominated Scores and Songs concert or a musical tribute concert to Lauryn Hill's music or Beyonce!
The possibilities are endless, not to mention listening to the music inside a musical space full of little glowing candles.
Make sure to purchase tickets ahead of time on their website, and get ready for one of the most memorable musical experiences of your life.
Pro tip: It's a perfect date night idea!
DISNEYLAND RESORT
Comprising Disneyland proper, California Adventure, and Downtown Disney, plus a host of luxurious and brilliantly themed hotels (like Grand Californian Hotel & Spa) Aneheim's world-famous Disneyland Resort needs no introduction.
Okay… maybe a little introduction: It's a place where magic comes to life, where worries are forgotten, and where kids and adults alike can rejoice in everything from high-octane coasters to whimsical character parades, oversized snack foods, and everything in between.
Located in Orange County just 35 minutes from Los Angeles (although always leave time for that dreaded rush hour traffic) or 90 minutes from San Diego, it's undeniably one of the quintessential things to do in California.
If you're looking for more things to do in Orange County, feel free to check out our comprehensive list.
79 – Wander around the Downtown Disney District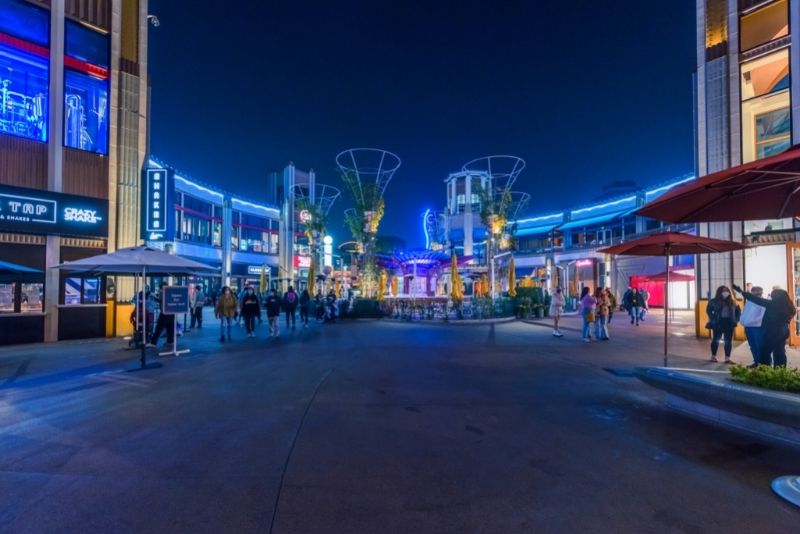 Free to roam around, and the gateway to the two main parks, Downtown Disney hosts everything from high-end luxury brands to character-themed stores, all sorts of restaurants (from quick bites to restaurants with menus that could feed a small army), and even a 24-hour AMC movie theater.
If you're looking for some fun outside of the parks, this is the place to be! And, it's also where you'll find the famous and modern Disneyland Hotel, known for its timeless artwork, and themed rooms and waterslides.
80 – Meet Mickey and friends at Disneyland Park…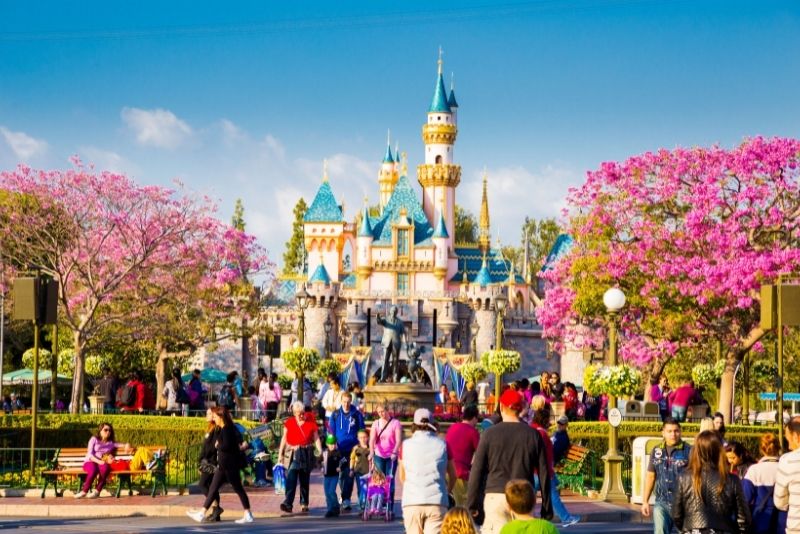 Disneyland sells itself as being The Happiest Place On Earth, and honestly, it's hard to disagree. From the moment you walk through the gates, you're transported into a world of magical rides, enchanting attractions, and beloved characters.
There's something for everyone at Disneyland, from thrilling roller coasters (don't miss Space Mountain) to family-friendly rides (It's a Small World is a classic) to delightful character meet-and-greets.
Kickstart your day in Fantasyland and Tomorrowland, or go on Wild west adventures in Frontierland and Adventureland. And don't forget to stop by Disneyland's two main streets – Main Street USA and Buena Vista Street – for shopping, dining, souvenirs, and a whole lot of fun!
Before you leave, make sure to check out the nightly Fantasmic fireworks spectacle — a visual spectacular that truly embodies all the wonder and magic that Disney is about.
81 – … then park-hop to Disneyland California Adventure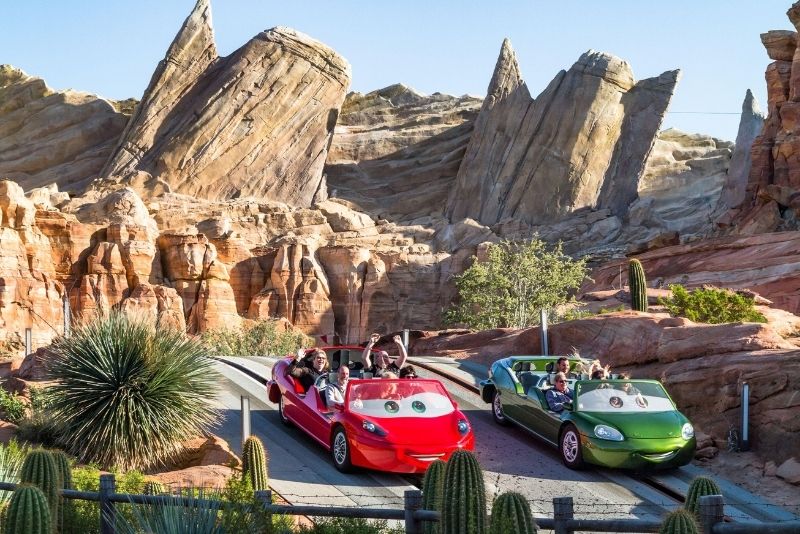 Right across the road from Disneyland, here, you'll find all the magic of Disney fused with a California, Pixar, and Hollywood twist.
Besides a host of your favorite rides and attractions from Disneyland parks around the world — like CarsWorld (home of the Radiator Springs Racers ride), Mickey's Fun Wheel, and Toy Story's Midway Mania — you'll also discover some uniquely Californian experiences like Soarin' Over California (a simulated hang-gliding experience over iconic landmarks) and Hollywood Land.
There are also plenty of places to eat and drink, plus shopping and entertainment districts, making it easy to spend an entire day — or more!
Hot tip: for the best bang for your buck, grab a Park-Hopper ticket to move between the two parks whenever you like.
82 – Spend a night at Disney's Grand Californian Hotel & Spa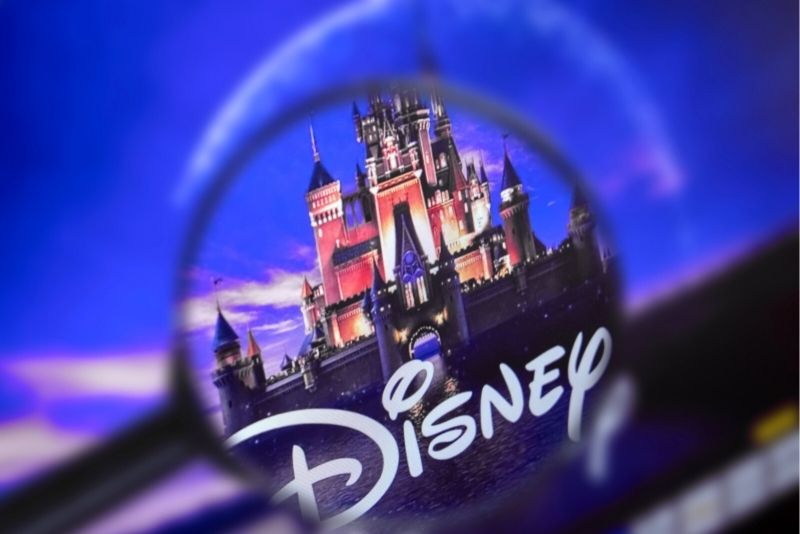 An upscale luxury hotel that takes up the north end of Downtown Disney, and offers stunning views over Disneyland Park right from your room balcony (as well as some truly excellent themed rooms), Disney's Grand Californian Hotel & Spa is one of the more popular (and magical) accommodations in the are.
Beyond its convenient location, it also sports its own spa, offering pampering body treatments, massages, and salon services; a water park, home to themed pools and exciting slides; and plenty of award-winning dining options, including Napa Rose and the Storytellers Cafe, where you can dine alongside Disney's most iconic names.
PALM SPRINGS
A perfect place to soak up the sun and escape the large crowds of LA, San Diego, and Orange County, Palm Springs is a historical and celebrity-frequented desert oasis that's home to some of California's most luxurious resorts.
Thanks to its elevation (it sits at over 1000m above sea level), the weather here is pretty much perfect all year round.
It's about 2 hours drive from both San Diego and Los Angeles, and, thanks to its proximity to both the San Jacinto Mountains and Joshua Tree National Park, if you ever run out of exciting things to do in Palm Springs, just hop in the car and explore the great surroundings!
83 – Take a ride on the Palm Springs Aerial Tramway

Dishing up jealousy-evoking views like no tomorrow, the Palm Springs Aerial Tramway is a unique way to take in the stunning desert landscape, as it ferries passengers from the valley floor right up into the peaks of the San Jacinto Mountains.
At the top, you'll find a range of hiking trails, the fine-dining Peaks restaurants (with stellar views to boot), and an insightful museum.
Hot tip: it might sound silly, but bring a jacket! Because of the remarkable altitude change, the sizzling desert transitions to snow-capped peaks.
84 – Meet cheetahs at The Living Desert Zoo and Gardens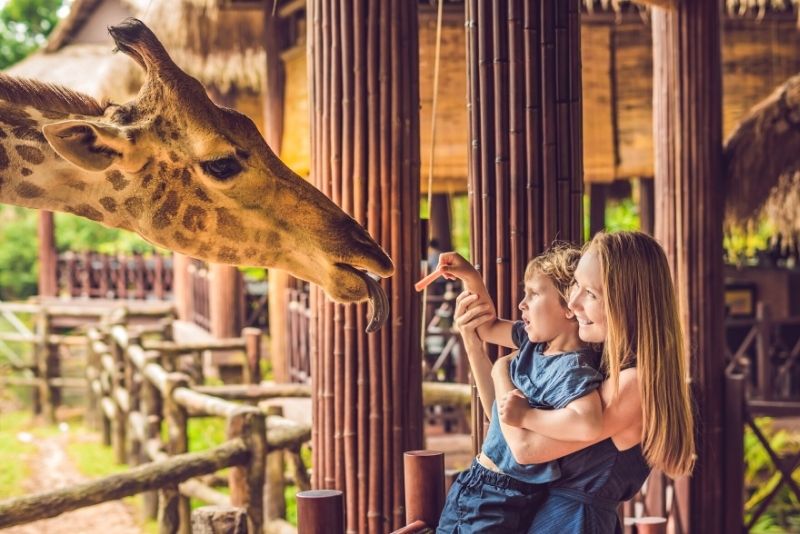 Regularly rated as one of the country's top 10 zoos, The Living Desert Zoo and Gardens – about 30 minutes from Palm Springs – is an awesome way to learn more about the animals of North America, as well as take in some gorgeous desert scenery.
The educational and entertaining family-friendly attraction is one of California's most popular day trip destinations for good reason: it offers insightful animal shows; a chance to admire some 500 critters from 150 species; and a chance to feed the giraffes.
Throw in the botanical garden which is filled with thousands of plants from all around the world in different themes zones (such as the Mojave Desert or McDonald Butterfly and Wildflower Garden) and you've got yourself a spectacular day out.
85 – Immerse yourself in the beauty of Joshua Tree National Park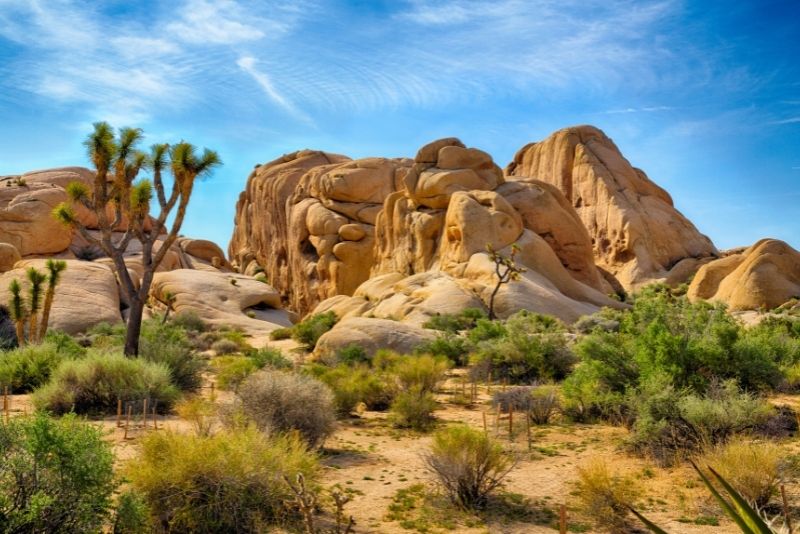 A favorite destination for climbers, hikers, and stargazers alike, Joshua Tree National Park is a vast and otherworldly landscape of twisted rock formations and the iconic Joshua trees (which give the park its name).
At over 800,000 acres big, there's plenty to explore in this park – so much so that you could spend multiple days here without seeing everything.
Highlights include the  1-mile loop trail in the Hidden Valley; Keys View for epic sunset panoramas; and Barker Dam, a great spot for a nature hike and bighorn sheep-spotting.
SAN DIEGO
Sun-kissed San Diego is a city that offers the best of both worlds: a thriving downtown and miles of beautiful coastline.
Located on the coast in Southern California, a stone's throw from the Mexican border (which means scrumptious food around every corner) San Diego is a perfect destination for anyone who wants to enjoy the laid-back lifestyle of beach life while still having access to hundreds of cultural attractions and events.
Despite flying under the radar in comparison to LA and San Francisco, the diverse selection of things to do in San Diego speaks volumes about its tourist-friendly atmosphere.
86 – Cruise around San Diego Bay in a jet boat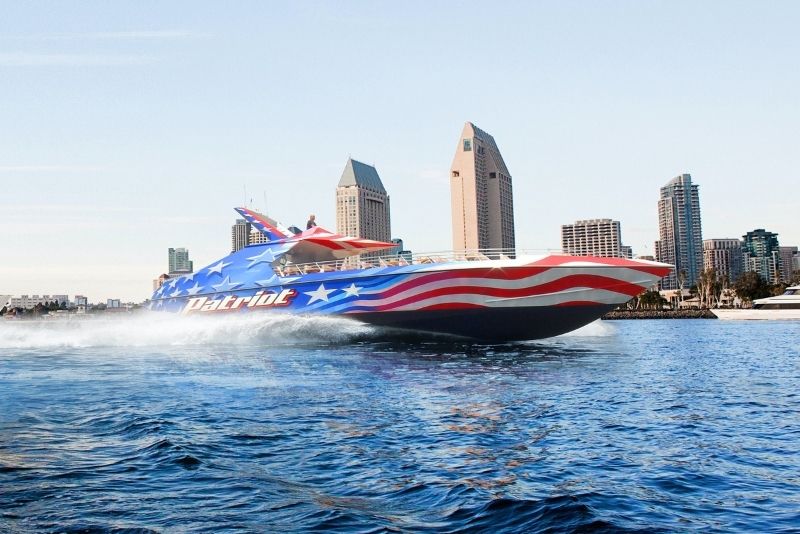 A high-speed adventure guaranteed to get the heart rate up, jet boat tours offer a unique and exhilarating way to explore the city's iconic harbor.
Holding up to 30 passengers, the jet boats – which can reach speeds of up to 45 mph – zip around San Diego Bay, taking in views of the USS Midway Museum, Coronado Bridge and Coronado Island, and downtown skyline.
For the best value for money, consider combining the Bay experience with a GoCar experience, or rent your own 2-person speedboat for a little bit more privacy.
87 – Take the youngsters to LEGOLAND California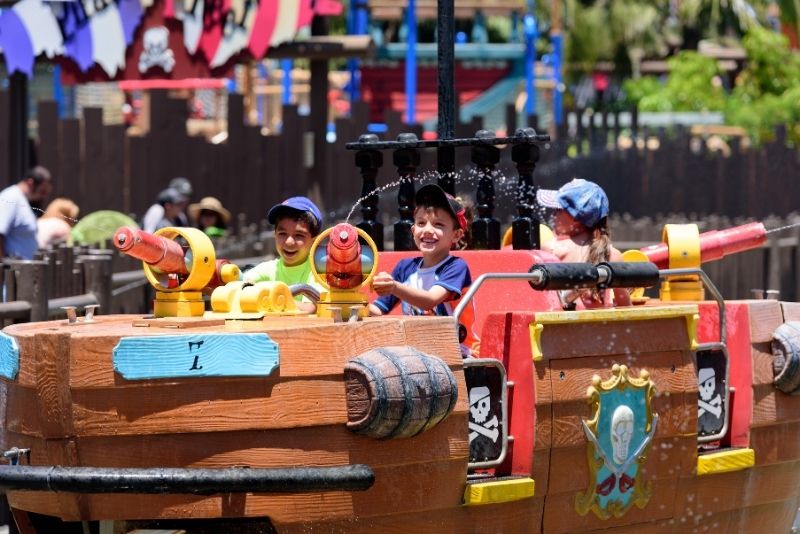 If you're looking for a fun day out that will keep the kiddos entertained, LEGOLAND California is non-negotiable.
The theme park – about 30 minutes north of San Diego and open all year round – is made up of over 60 rides, shows, and attractions themed around LEGO bricks, including a 10-acre water park and the recently-added Lego Movie World.
Although it's aimed at families with children aged under 12 years old, there's plenty for adults to enjoy too (not least the impressive Miniland USA section which recreates famous US landmarks entirely from LEGO bricks).
Hot tip: book a combination ticket online that grants access to the SEA LIFE aquarium to save a few bucks.
88 – Hang out with hippos at the San Diego Zoo Safari Park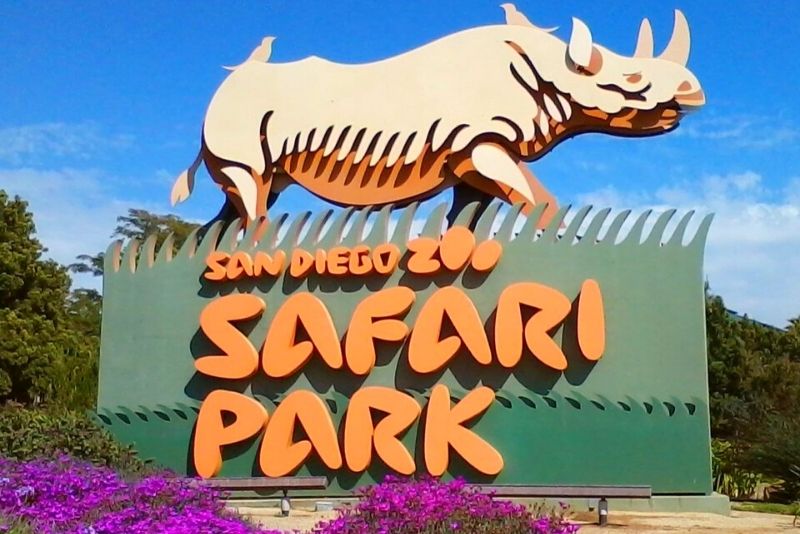 Not to be confused with the San Diego Zoo in Balboa Park (scroll down to find out about that one), the San Diego Zoo Safari Park sits over near the city of Escondido and holds its own as one of the world's leading zoological gardens.
Playing host to over 3,000 animals representing close to 300 species, and situated on 1,800 acres in Southern California's beautiful Anza-Borrego desert, this zoo offers visitors a chance to get up-close and personal with some of Earth's most majestic creatures.
Different from your traditional zoo, the Safari Park is all about, well, safaris, offering visitors the chance to hop in a cart or off-road vehicle to drive past the likes of elephants, tigers, and rhinos as they meander around spacious fields.
89 – Walk the trails in Torrey Pines State Reserve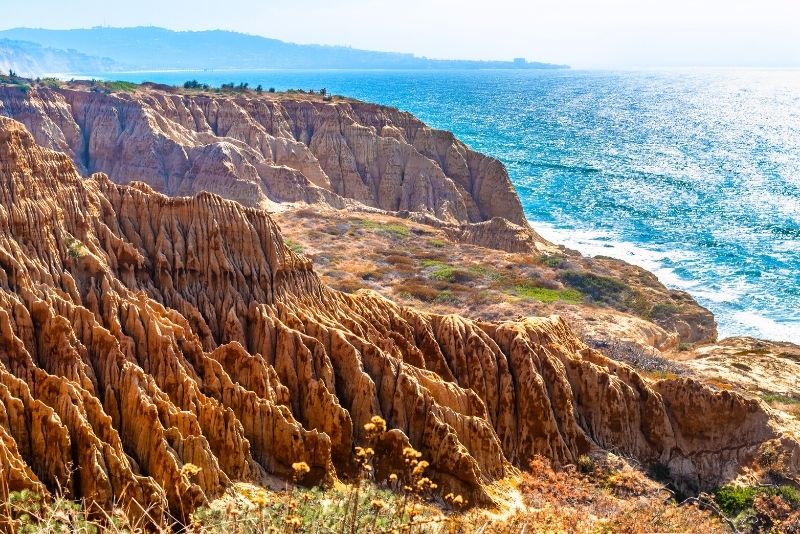 The Torrey Pines State Reserve is one of the most unique and beautiful nature preserves in all of California, if not the United States.
Located just north of San Diego's La Jolla – a wealthy beach town that's home to some of the city's swankiest hotels and best snorkeling spots – the reserve spans over 2,000 acres and is best known for its dramatic landscape of twisting canyons, ridges, and cliffs overlooking the Pacific Ocean.
Hiking trails snake their way through the park, providing visitors with plenty of opportunities to take in views of the coastline, as well as rare flora and fauna including Torrey pines (duh), cacti, and coastal sage scrub.
If you're looking to get off the beaten track, this is the spot.
90 – Soak in the views from the Cabrillo National Monument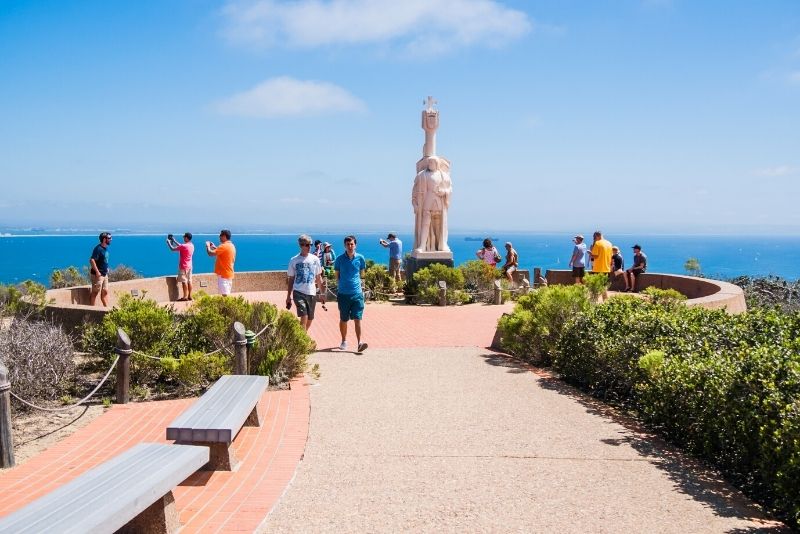 Straddling the cliff face on San Diego's Point Loma Peninsula (where you'll also find the Old Point Loma Lighthouse), the Cabrillo National Monument combines history with beauty.
On the one hand, the towering structure commemorates when Juan Rodríguez Cabrillo discovered the region in 1542. On the other hand, the platform dishes up breathtaking views of the harbor, Coronado Island, and San Diego skyline.
While you're there, consider a stroll along the nearby Bayside Trailhead for more stellar views and a chance to stretch your legs.
91 – Kayak through La Jolla Cove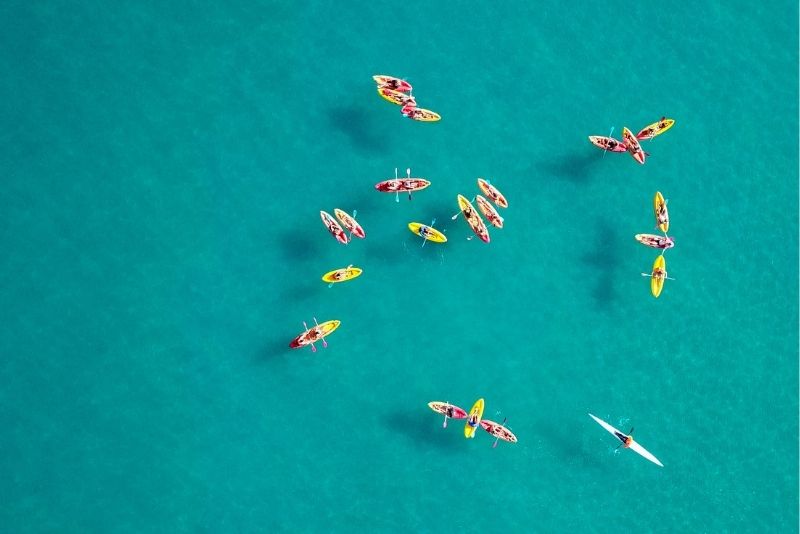 Just north of Mission Beach (within walking distance, in fact) olla Cove is one of the most photographed spots in all of Southern California, and for good reason – it's downright gorgeous.
Flanked on either side by dramatic cliffs that rise up out of the Pacific Ocean, La Jolla Cove is teeming with colorful sea life and blubbery sea lions, making it the ideal spot to kayak or snorkel.
Either rent your own equipment or join a locally-led guided tour (kayak, walking, or segway) to learn all about the local beach and wildlife culture — regardless, make sure to add La Jolla to the top of your summer list of things to do in California!
92 – Meet Shamu and the orcas at SeaWorld San Diego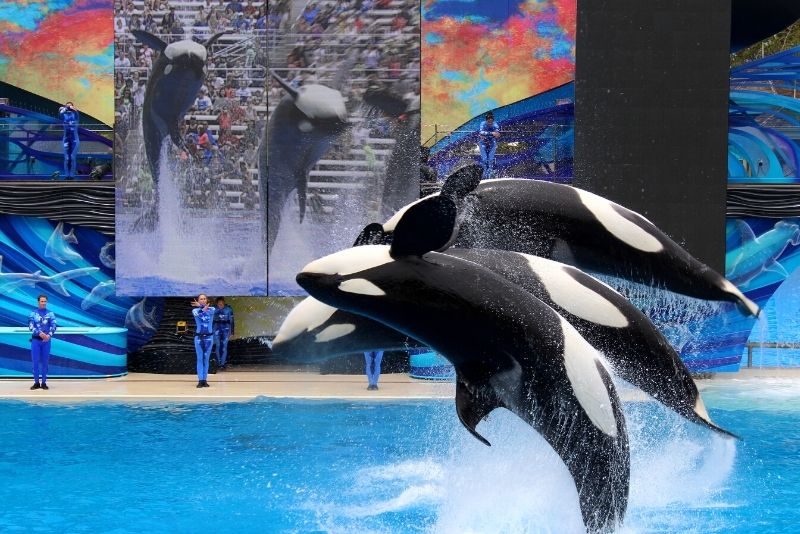 Just a few miles down the road from Mission Beach is another of California's most popular theme parks: SeaWorld.
Featuring roller coasters, water rides, and animal shows (including the spectacular Orca show), is a great place to spend a day if you're looking for some family fun.
For all your adrenaline junkies, make a beeline for the all-new Emporer coaster where a drop of more than 150 feet awaits! Animal lovers, consider upgrading to one of the many up-close VIP encounters with dolphins, penguins, sloths, or California sea lions!
93 – Explore sunny San Diego's Balboa Park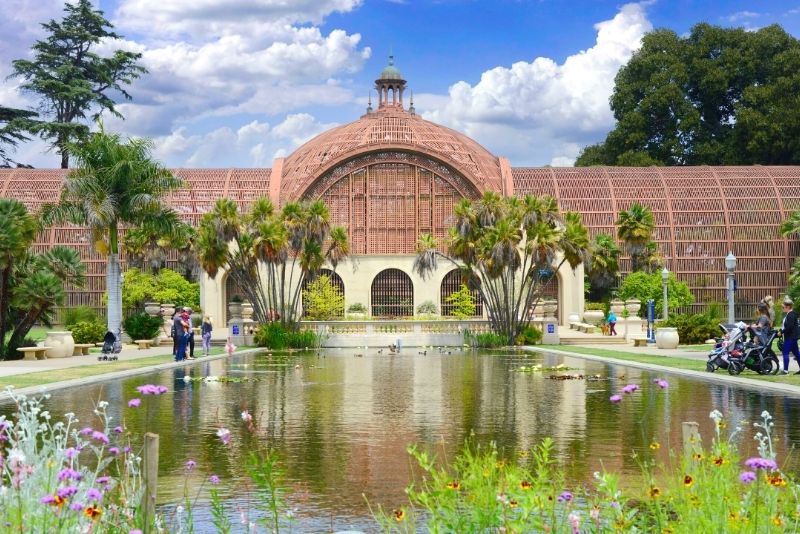 Imagine a park that has it all — museums, gardens, trails for hiking or cycling, performing arts venues, and a centuries-old historic town. Well. that is just what you'll find at beautiful Balboa Park.
Stretching over 1200 acres of land in the heart of downtown San Diego (and home to more than 16 art, science, and culture museums), this unique city-owned space was built around several Spanish Colonial Revival style buildings and houses some impressive collections of art, not to mention plants and nature.
What's more, with so many different things to do here on offer year-round, including restaurants, festivals, and live concerts, there's something for visitors of all ages!
94 – Climb aboard an actual aircraft carrier at the USS Midway Museum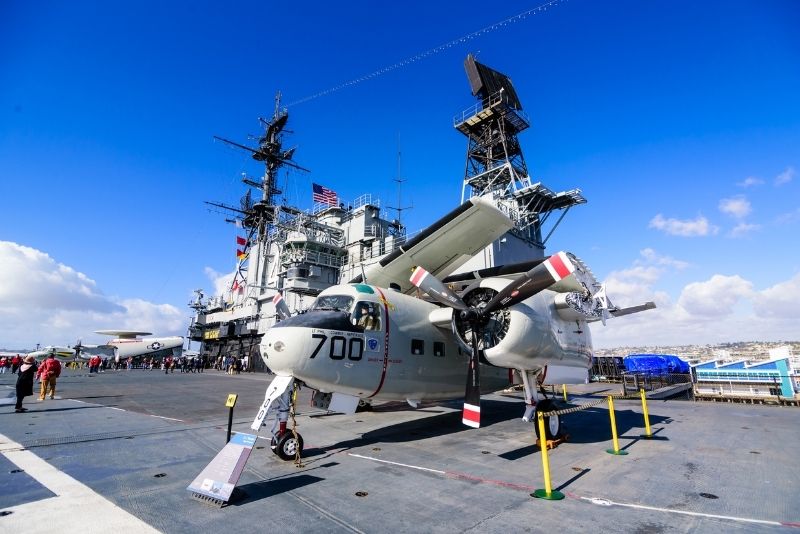 Boasting a longstanding and rich military history, there are few better places to learn about the US Navy than here, in San Diego Bay.
The USS Midway Museum is teeming with both educational and interactive exhibits, spanning everything from World War II to today's Navy SEALS.
The interactive simulators are a surefire hit for the youngsters, while the onboard aircraft provide plenty of thrills for aviation enthusiasts.
95 – Admire the metal sculptures near the Anza-Borrego Desert State Park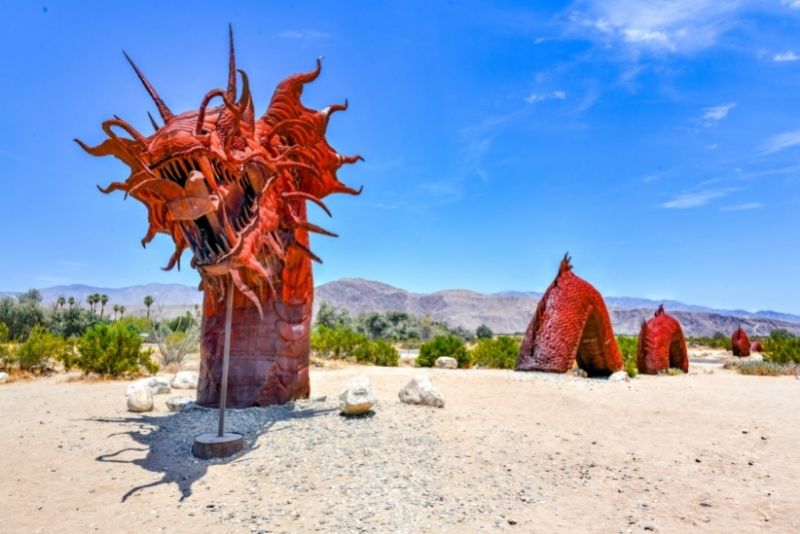 About halfway between San Diego and Palm Springs sits Anza-Borrego Desert State Park – the largest of the California State Parks.
Spread across this enormous slice of land you'll find dry, jagged landscapes, ample wildlife, and colorful blooming flowers in the springtime.
For hikers, the Palm Canyon hike and the Slot hike are surefire delights, while the roads which crisscross the Park invite stellar views from dawn to dusk (if you can arrange it, cruise around in a convertible to soak in the warm desert air!).
If you're not sure where to start, the Visitor Center staff are always friendly and helpful too.
96 – Spend a day at the infamous San Diego Zoo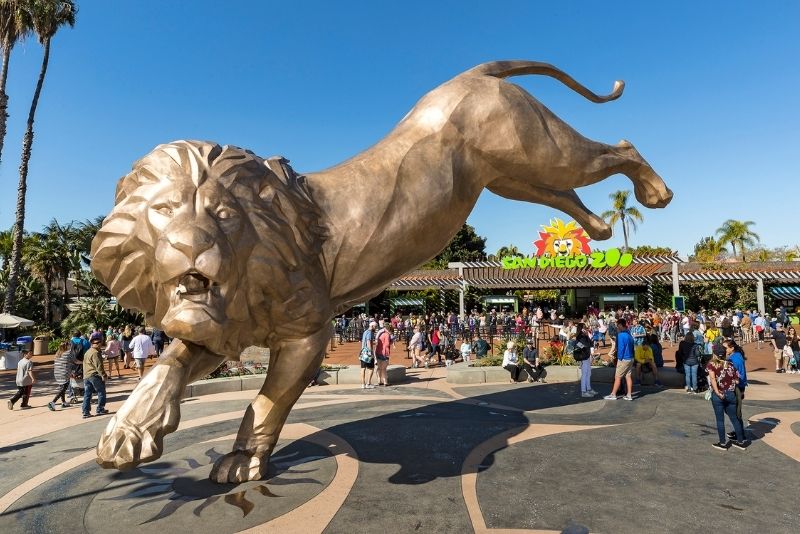 As one of the most renowned zoos in the world, the San Diego Zoo needs little introduction.
Nested in the heart of Balboa Park (a stone's throw from a host of other attractions) the zoo is home to more than 12,000 animals (including pandas!), acres of botanical gardens, and a wide range of interactive exhibits — it's easy to whisk away an entire day meeting the cute and cuddly critters which call this place home.
Enjoy the array of food and drink options, check out a live trainer display, and don't miss the chance to take a spin on the aerial gondola ride for an overview of the entire park!
ACROSS THE GOLDEN STATE
97 – Sign up for a hot air balloon ride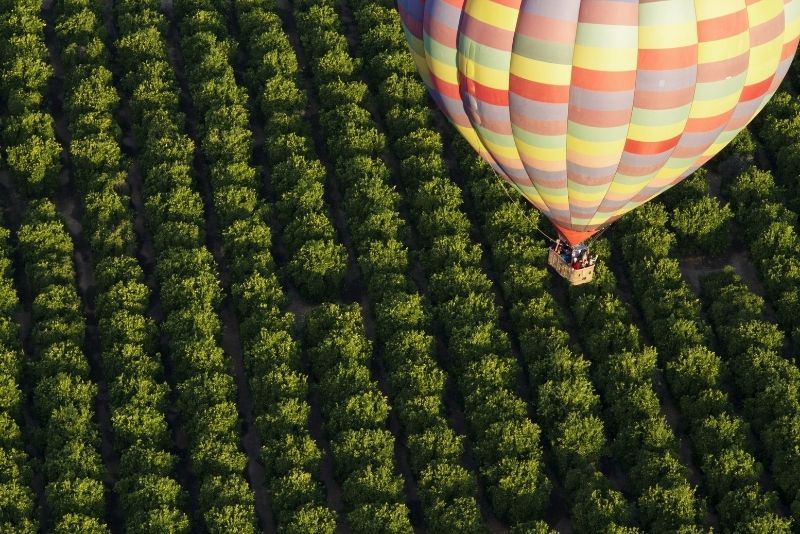 Whether in NoCal or SoCal, if you're looking for an unforgettable way to experience California's diverse natural landscape, look no further than a sunrise or sunset hot air balloon ride.
Most companies offer rides starting early in the morning, including a champagne toast (or two) as part of the experience and a friendly guide who'll wax lyrical about all the marvelous sights below.
With options available in Napa, Santa Rosa, Temecula (near San Diego), and Sacramento (just to name a few), a sky-high flight is never too far away.
98 – Shop till you drop at an outlet mall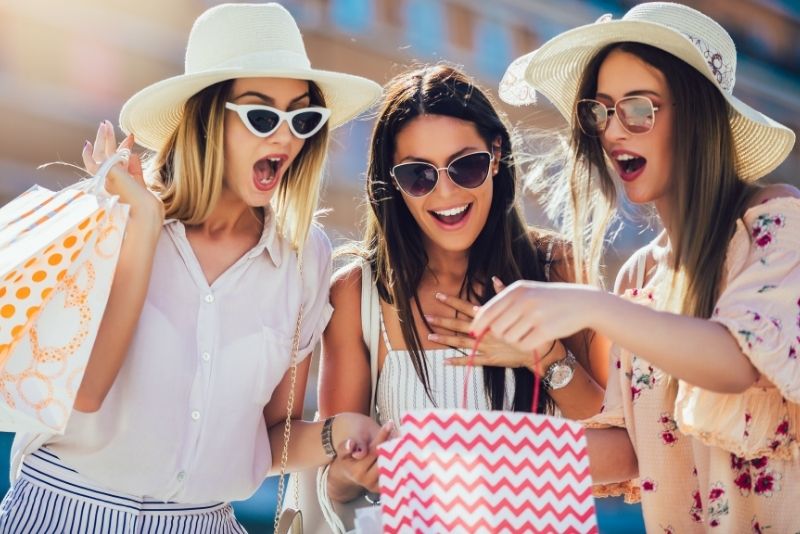 It's no secret that Californians love a regular dose of retail therapy, and whether you're in San Fransico, San Diego, or anywhere in between, you're never too far away from a good old-fashioned bargain.
In the Los Angeles area, forget about the overpriced Grove and Rodeo Drive — both the Camarillo Premium Outlets and Citadel Outlets deliver hundreds of luxury names at discount rates. If you can't find what you're looking for, the 200+ stores at San Bernadino's Inland Empire Outlets should have you covered.
In San Diego, the 120 brands at Las Americas Premium Outlets are a crowd favorite, while the San Francisco Premium Outlets deliver another 180 stores (and will transport you from Downtown).
Rounding out the list are the 130 storefronts at the Desert Hills Premium Outlet, near Palm Springs; and The Outlets at Orange, a convenient stop for anyone in the Disney area.
99 – Attend some of California's best festivals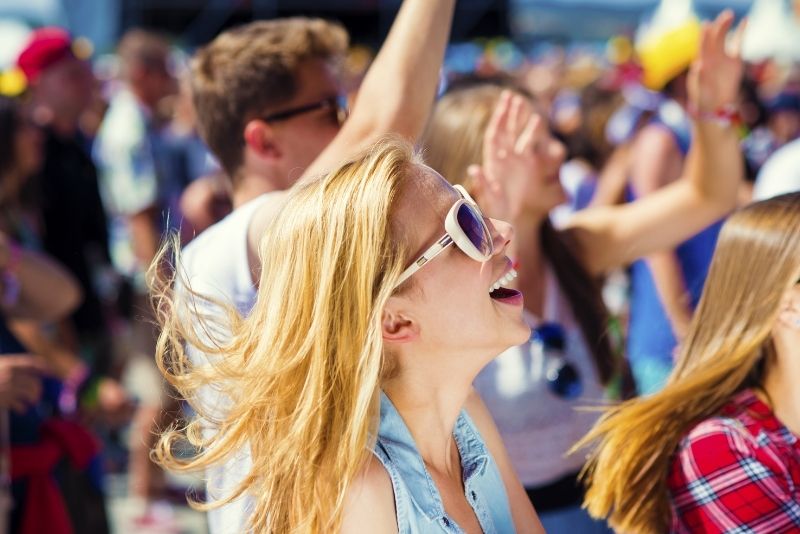 While Coachella holds the crown for the most well-known of the regular California festivals (a multi-day music event taking place in Coachella Valley near Palm Springs in April), it's far from the only notable event.
Throughout the year, crowds come together to dance, play, eat, read, and everything in between:
In March, the Festival of Whales in Dana Point beckons nature-lovers. Foodies, take note of the Los Angeles Food & Wine Festival in August, Pebble Beach Food & Wine Festival in April, and California Strawberry Festival in Oxnard in May.
Meanwhile, up in Santa Barbara, the annual Old Spanish Days Fiesta has been running for close to a century and presents extravagant parades, diverse performances, and plenty of food every June.
Where to stay in California?
Enjoy a night's stay at the luxurious Handlery Union Square Hotel in San Fransisco, featuring close proximity to the Aquarium of the Bay and the Museum of Modern Art. The hotel itself offers extraordinary comfort, care, and attention by the highly trained staff at the hotel.
Arguable the Golden State's most famous and historic hotel, the Victorian-style Hotel del Coronado (Curio Collection by Hilton) on San Diego's Coronado Island has been dazzling guests with opulent touches since opening in 1888.
Check out the amenities at Arden Star Hotel in Sacramento, beloved by many visitors new and returning. The California State Capitol is only a few minutes away by car, as well as a few other important sights. Relax after a day of sightseeing in Sacramento at the outdoor hot tub.
Those looking for a historic hotel in LA won't want to miss the Hollywood Historic Hotel. Just a 5-minute walk from Paramount Studios, and a few minutes away from the Walk of Fame. The hotel itself has maintained its 1920s charm, while the rooms have all the modern amenities they need for a comfortable night's sleep.
Visiting California on a budget?
Make your dollar stretch with free walking tours! No matter which big city you're in, a walking tour will be available and ready to take you on a stroll through the city's best sights.
Check out the Go San Fransisco Card, the Go Los Angeles Pass, and the San Diego CityPass, offering a variety of discounts for food, public transportation, and up to 40% off attraction entries.
Final thoughts
We hope you've enjoyed our list of the best things to do in California, and that you've seen just a slice of all that you can get up to while you're in the Golden State.
From the fantastic wine in Napa to the amusement park fun and Hollywood glamour of Los Angeles, get ready for a memorable adventure through the west coast!
Happy travels!