The state of California is famous for many places, including Los Angeles, San Francisco, and its fantastic beaches. It is perhaps, however, Yosemite National Park that trumps everything and stands as the most impressive site in California. This is why a day trip to Yosemite National Park from San Francisco is so popular among those visiting the state of California.
Dramatic landscapes, diverse outdoor activities, meadows, granite summits (twice the height of the Empire State Building), unspoiled scenery, and calming lakes are on offer at Yosemite National Park. This is a place to lose yourself and witness amazing wonders of the world.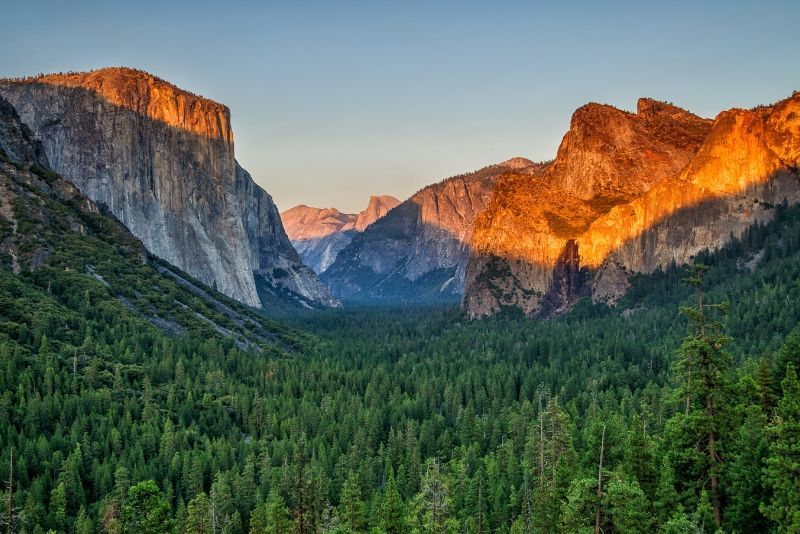 You will find below everything you need to know about visiting Yosemite National Park, one of the best day trips from San Francisco.
What are the best places to visit in Yosemite National Park?
Half Dome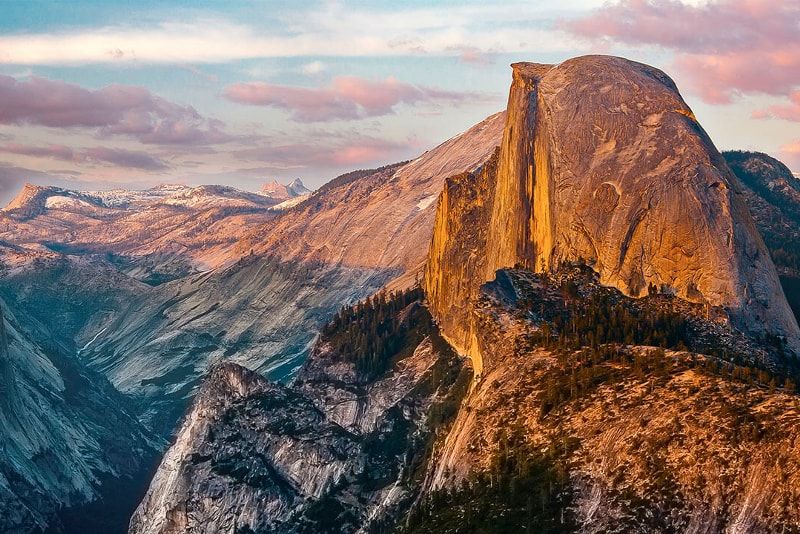 An unforgettable and life-changing experience, hiking expeditions of Yosemite's Half Dome Cables stands up there with one of the best things to do at Yosemite National Park. The trail is around 14 to 16 miles long and is not for the faint-hearted. During your ascent, expect to see 900 feet of spectacular waterfalls and panoramic vistas that look so good you won't believe your own eyes.
Waterfalls
The waterfalls make Yosemite National Park tours from San Francisco so impressive. Watch as water pours down in the most picturesque of settings. Popular waterfalls at Yosemite include Vernal Fall, Nevada Fall, Bridalveil Fall, and Yosemite Falls. The latter is the highest waterfall in the park, dropping a total of 2,425 feet from the top.
Yosemite Valley
Yosemite Valley is one of the most visited areas of Yosemite National Park. Stretching nearly 13km from east to west, Yosemite Valley features granite walls more than twice the size of the Empire State Building. The valley is carved by glacial dynamics and weathering erosion that spans an incredible 30-million years. More than four million people visit Yosemite Valley each year.
Glacier Point
If you aim to see incredible views while on your Yosemite National Park tour from San Francisco, then head to Glacier Point. It provides a commanding view of Yosemite Valley, Half Dome, Yosemite's high country, and Yosemite Falls. It's also part of some of the most popular trails in the park.
El Capitan
El Capitan is more than 3,000 feet above the valley floor and three times as high as the Eiffel Tower. Its iconic granite walls dominate part of Yosemite Valley, and it is one of the most iconic sites at the park. Visitors are often moved to tears because of its sheer beauty and majesty.
The Ahwahnee
Yosemite's distinctive AAA four-diamond hotel is known for its stunning interior design and architecture, acting as the perfect complement to the beauty of the park. While your tour may only be for the day, it's worth visiting the hotel for a picture or two. Stop off at the gift shop before you leave, and take home your own slice of Yosemite memorabilia.
Bridalveil Fall
The first waterfall most visitors see at Yosemite National Park is Bridalveil Falls, which plunges 620 feet. The waterfall flows all year round, and during the spring the spray can be strong enough to get onlookers wet, so make sure you wear the appropriate attire.
Mirror Lake
Mirror Lake is actually a large pool in Tenaya Creek and is particularly popular because the base of Half Dome shines against it and creates picturesque reflections. Mirror Lake is also one of Yosemite's most popular swimming spots. There's not much climbing to get to the lake, making it a perfect destination for novice hikers.
Tunnel View Outlook
Those who go on Yosemite National Park tours from San Francisco for the views should head to Tunnel View Outlook. Here, you can marvel at the most famous sights of Yosemite Valley. Expect to see El Capitan and Bridalveil Fall, plus Half Dome in the background.
Tuolumne Meadows
As one of the largest high-elevation meadows in the Sierra Nevada, Tuolumne Meadows sits at 8,600 feet. To access it, you need to pass some of the roadless wilderness known in the United States. Tuolumne Rivers is part of the meadows and was declared a Wild and Scenic River by US Congress in 1984.
How to get to Yosemite National Park from San Francisco?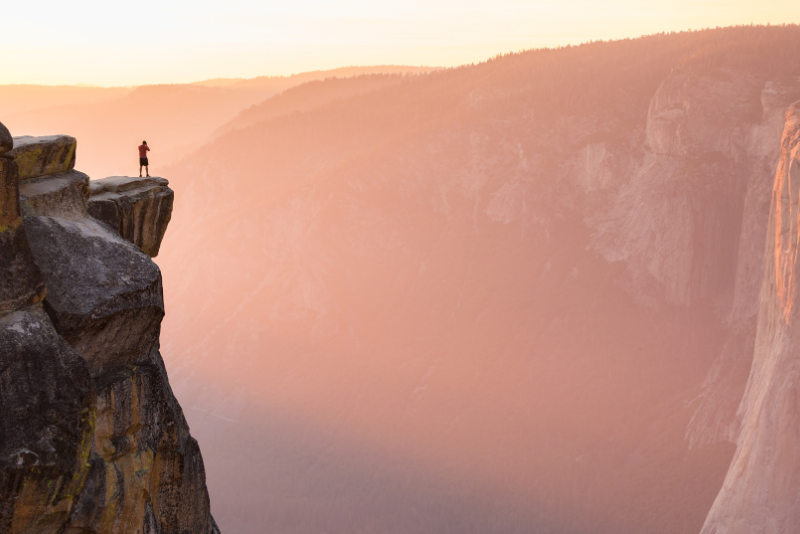 It takes a little over three hours to get to Yosemite National Park from San Francisco by car or bus. Most Yosemite National Park tours from San Francisco include transport, which is often a bus or coach ride. The overall distance is around 270km. There is a train service on the Amtrak, though it's a long journey due to there being no direct schedule.
How much does a day trip to Yosemite National Park from San Francisco cost?
If you're planning a trip from San Francisco to Yosemite National Park, expect to pay between US$160 and US$200 for a day trip. This will typically include transport, park entrance fee and a guide, though it's best to check the details of each tour with the operators. If you're planning on visiting with a 2-day or 3-day tours, prices vary and start around US$400.
When is the best time to visit Yosemite National Park?
The different seasons offer a variety of experiences at Yosemite National Park, and it really depends on what you're looking for. For the valley and majestic waterfalls, it's best to go in the months of May and June. Backpackers and hikers will enjoy the summer months of August, which offer the most nature-friendly trails as weather conditions tend to be calm.
September is a cooler time of year with fewer crowds, making it a good month to wander the park in less crowded atmospheres. Winter is the least popular time of the year, though it does offer plenty of snow which can look spectacular.
Are there any tours to Yosemite National Park from other cities in the United States?
Yes, there are tours departing from other cities in the United States:
Travel tips
There is so much to see in the vast lands of Yosemite National Park, and it's a good idea to plan ahead and identify which sites are most important to you.
Yosemite National Park tours from San Francisco with a guide provide the chance to learn about the park. It's best to see the most popular attractions, such as El Capitan, Yosemite Valley and the waterfalls on offer.
Make sure to bring a camera so that you can take plenty of snaps.