Looking for the best events and attractions in San Diego?
San Diego is jam-packed with fun things to do. From great outdoor activities to awesome nightlife and culture, San Diego has it all!
We have put together this complete list of fun and unusual things to do in San Diego so you can explore what San Diego has best to offer.
Have fun!
1 – See whales up close like never before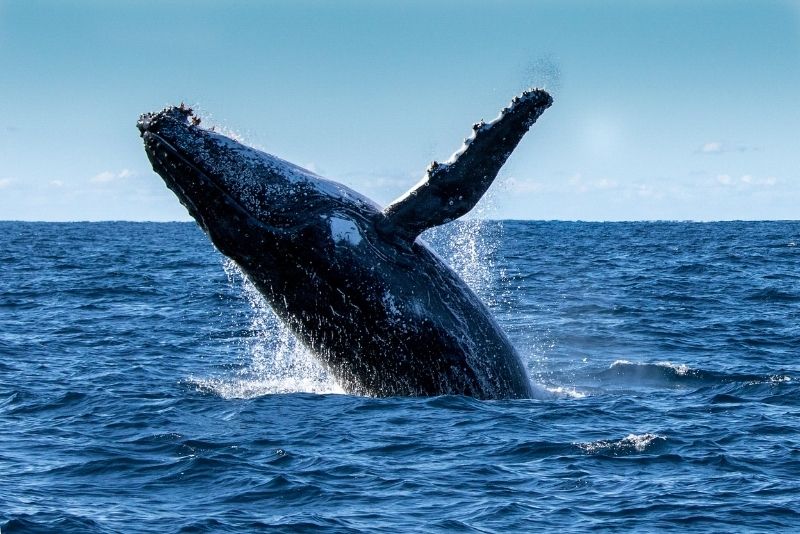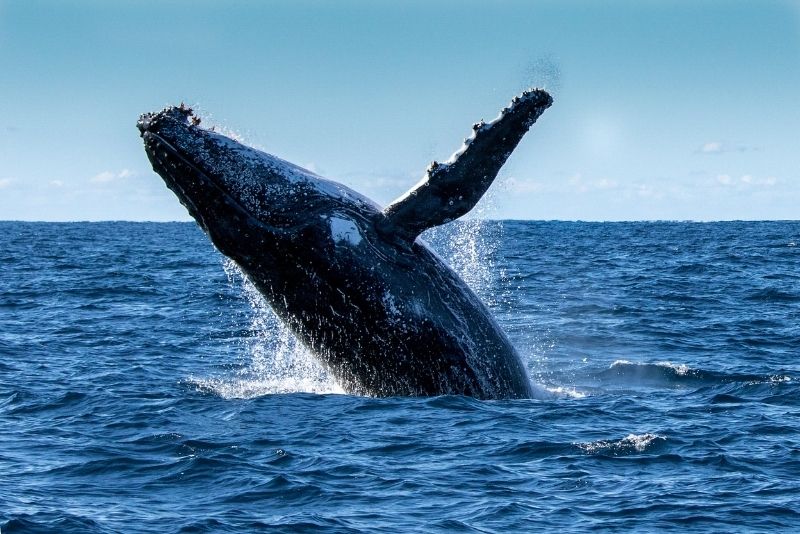 While in San Diego, don't miss the chance to take a whale-watching boat tour. Admire peaceful whales and graceful dolphins off of California's beautiful coast, an unforgettable and unique experience.
2 – Experience a hot air balloon ride over the vineyards of Temecula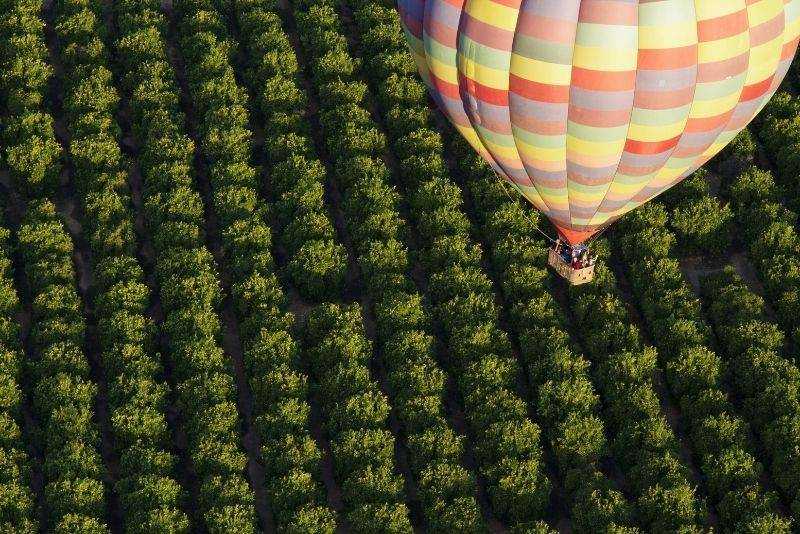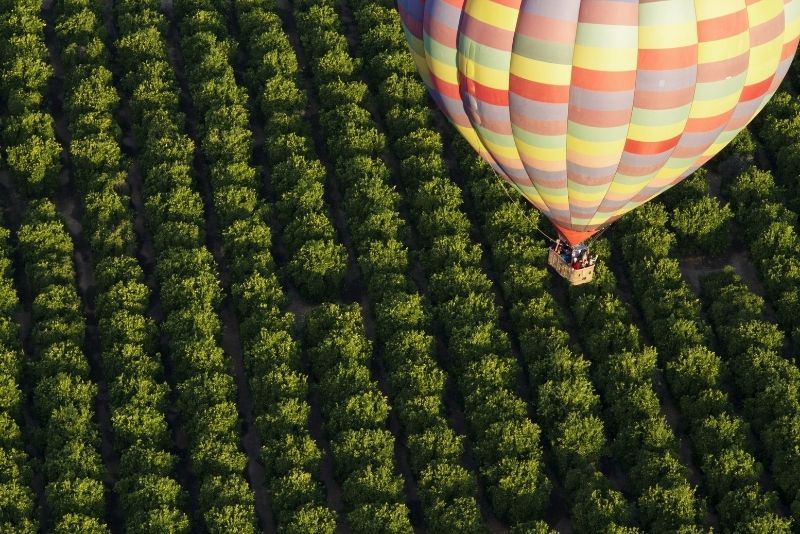 Experience serenity and peacefulness while soaring over the beautiful vineyards of Temecula in a hot air balloon tour with Compass Balloons. This is the most magical and surreal way to admire the San Diego region.
3 – Sail across the beautiful San Diego Bay at sunset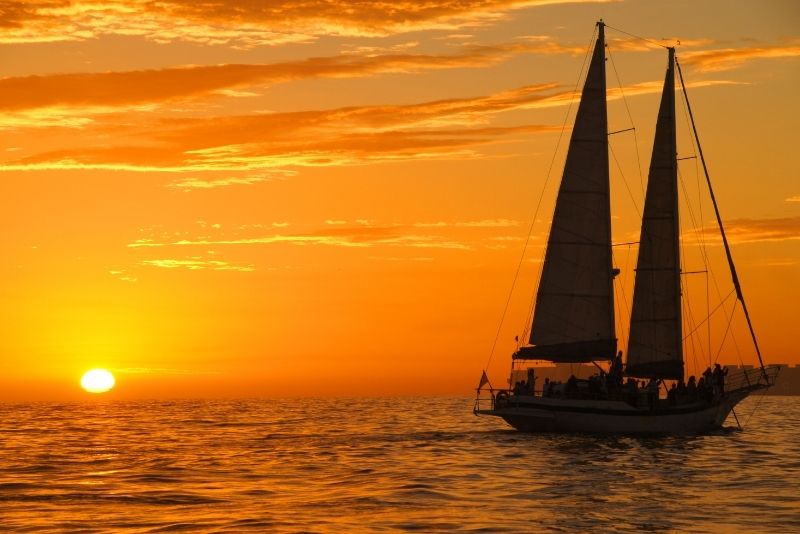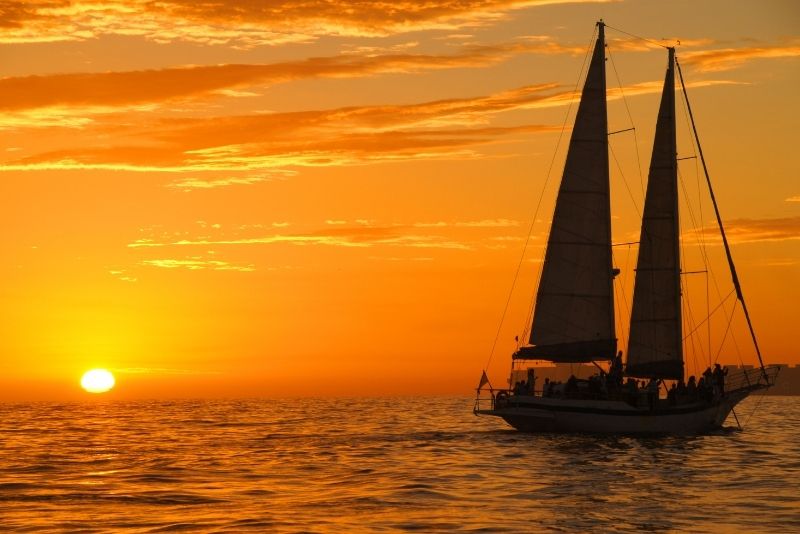 If you've already seen San Diego's sites on foot, then opt for an alternative perspective of the city on a romantic sunset sailing cruise. Glide along the waters of San Diego Bay and admire the sunset over one of Californian's most beautiful cities.
4 – Taste local cuisine at Liberty Public Market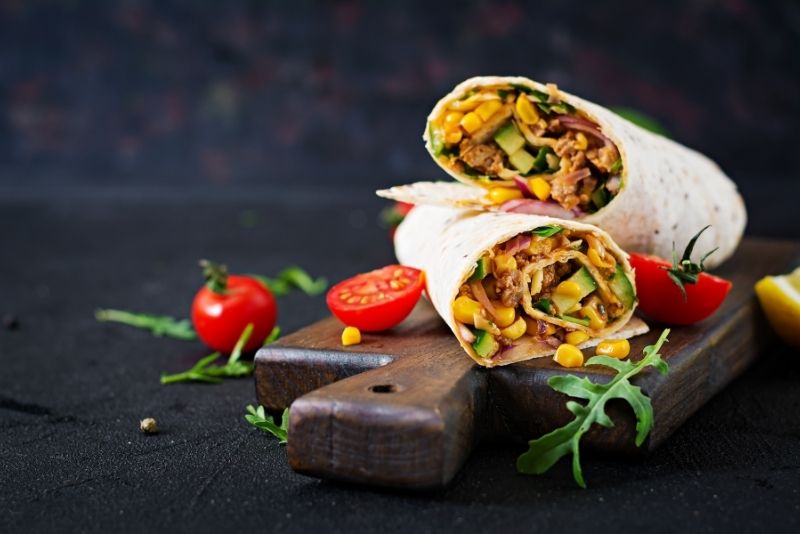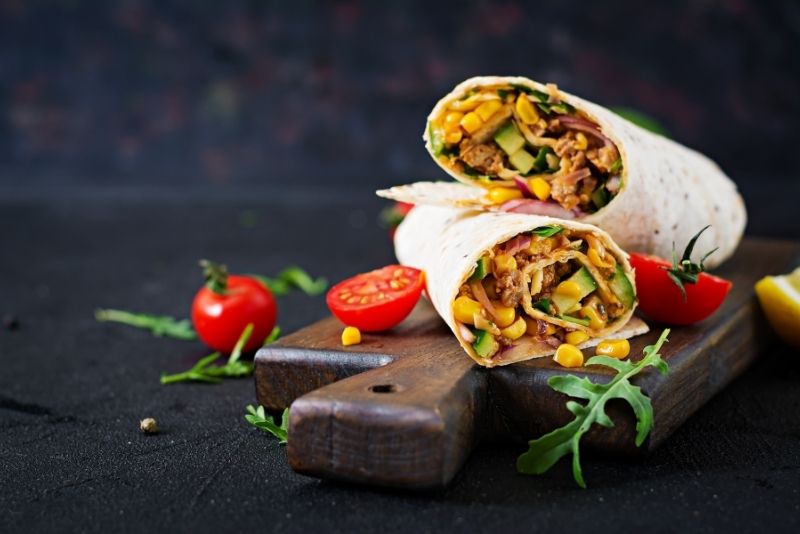 Visit Liberty Public Market and enjoy a dining experience that will satisfy any craving. Located within the Arts District of Liberty Station and featuring more than 30 independently run food stalls, you will find the best of San Diego cuisine under one roof.
5 – Spend a day exploring the award-winning San Diego Zoo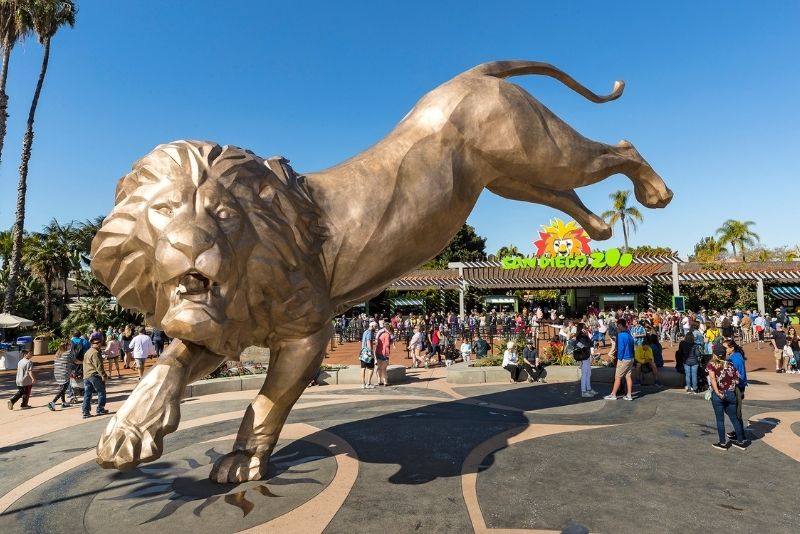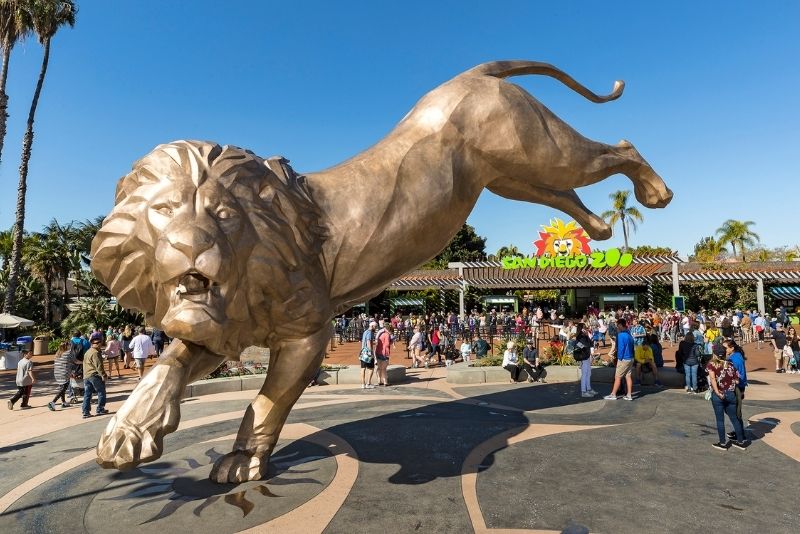 A visit to the San Diego zoo is a fun day out for adults and children alike. Discover thousands of wild animals including lions, koalas, pandas, elephants, polar bears, and more. Take a ride on the Skyfari aerial tram and admire animals in a thoughtfully built and landscaped environment.
6 – Go on a thrilling jet boat adventure across San Diego Bay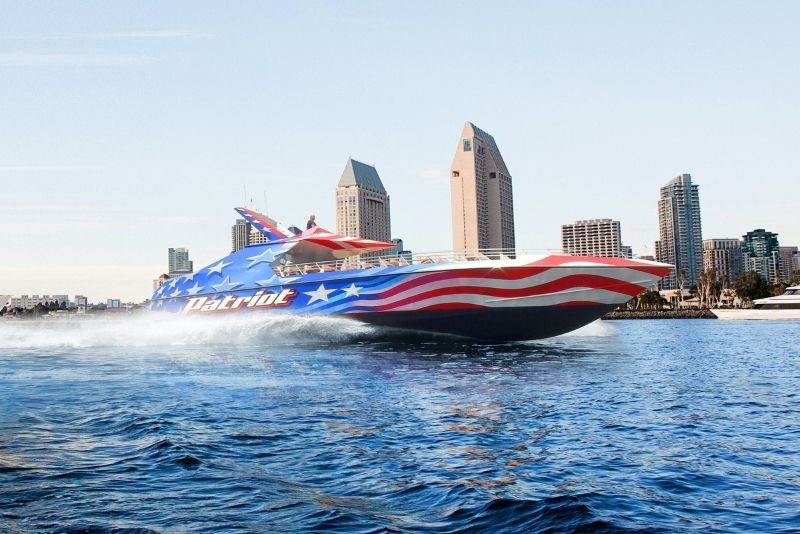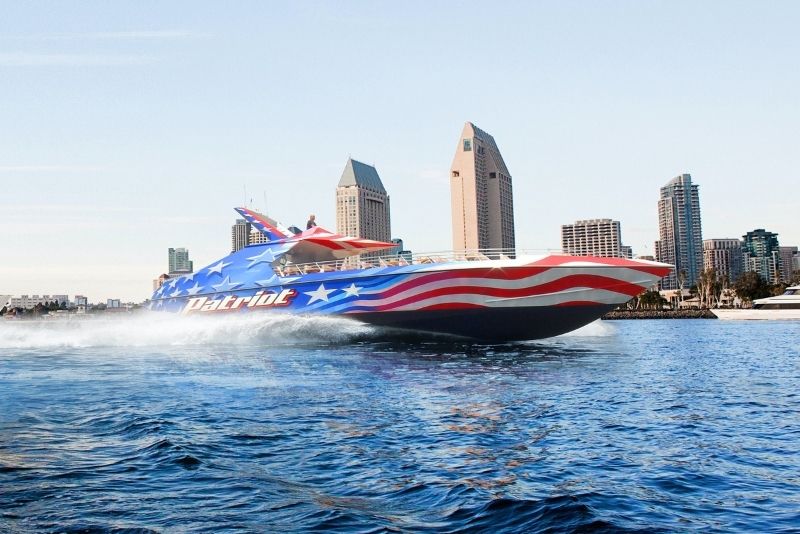 Looking to get your heart racing? Escape the crowds and zoom around San Diego Bay on a jet boat ride while seeing famous landmarks from the water.
7 – Loop, roll and zip your way across the San Diego skies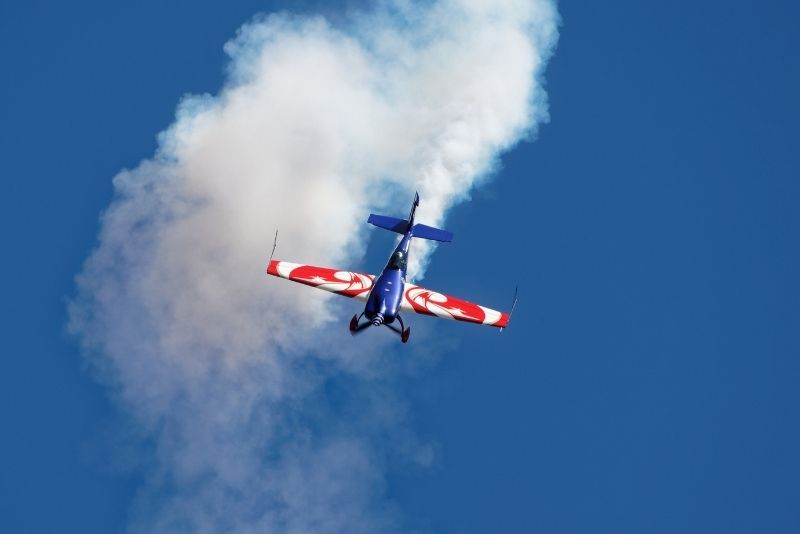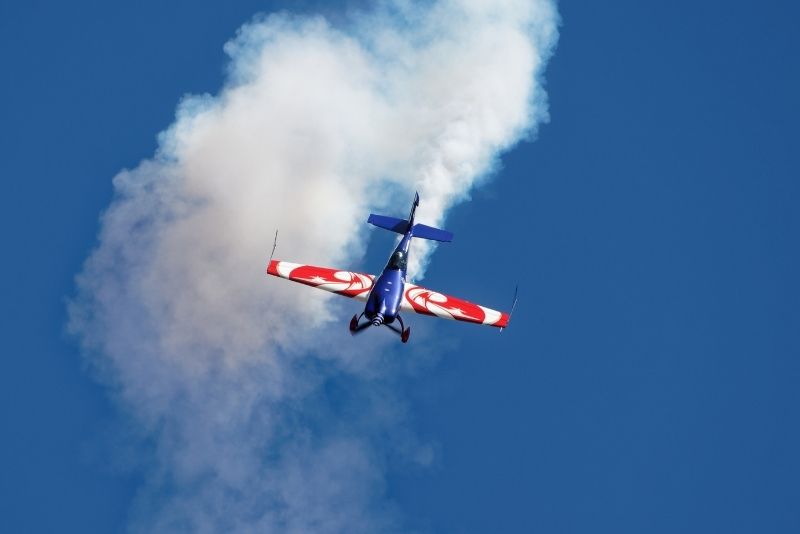 San Diego Sky Tours offers aerobatic flights, an experience like no other. Get up high and get a taste of aerobatic flying while enjoying fantastic views of San Diego's famed coastline.
8 – Jump in a GoCar and tour San Diego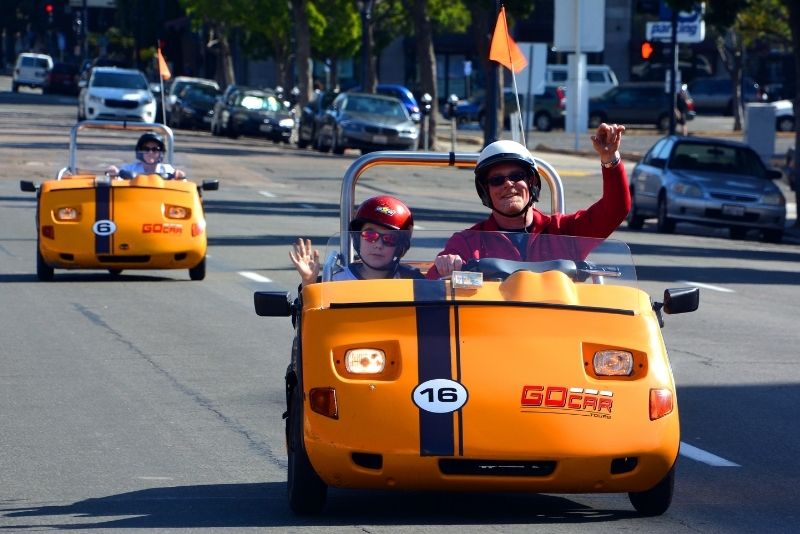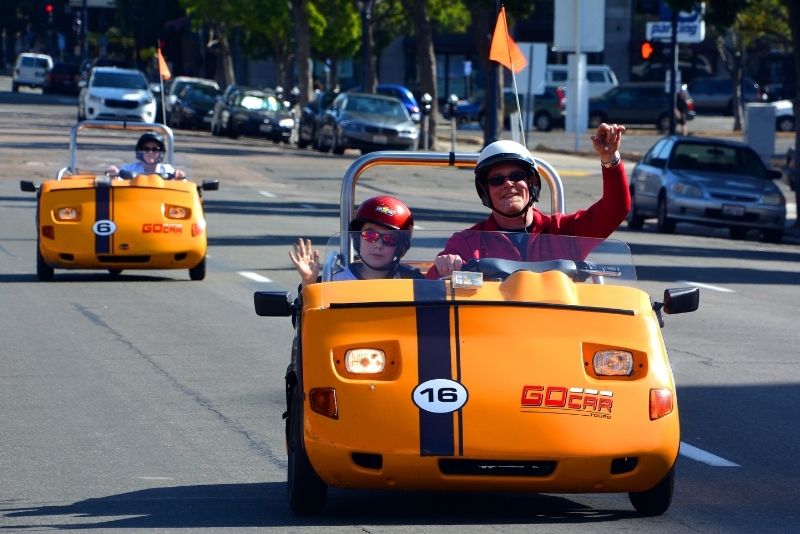 Hop into the world's first GPS-guided car and discover San Diego's finest landmarks. Cruise through the historic Gaslamp Quarter, ramble around the beautiful Balboa Park and travel back in time in Old Town.
9 – Immerse yourself in a world of wonder at the Fleet Science Center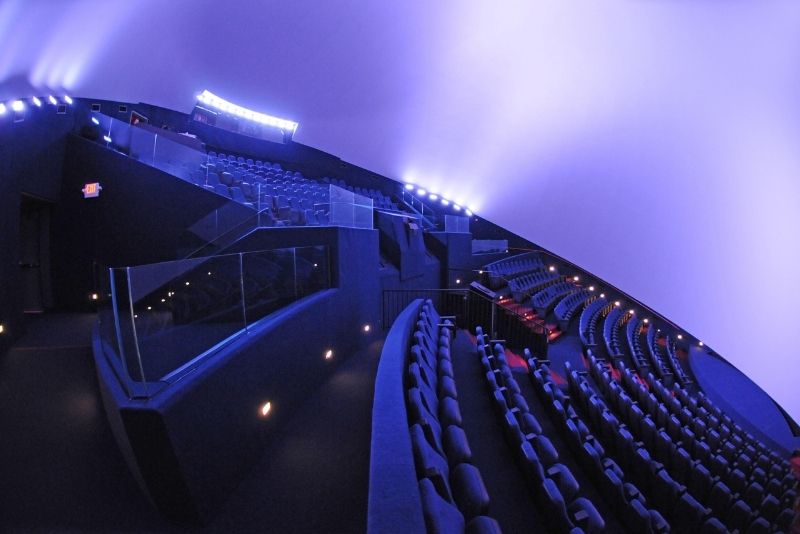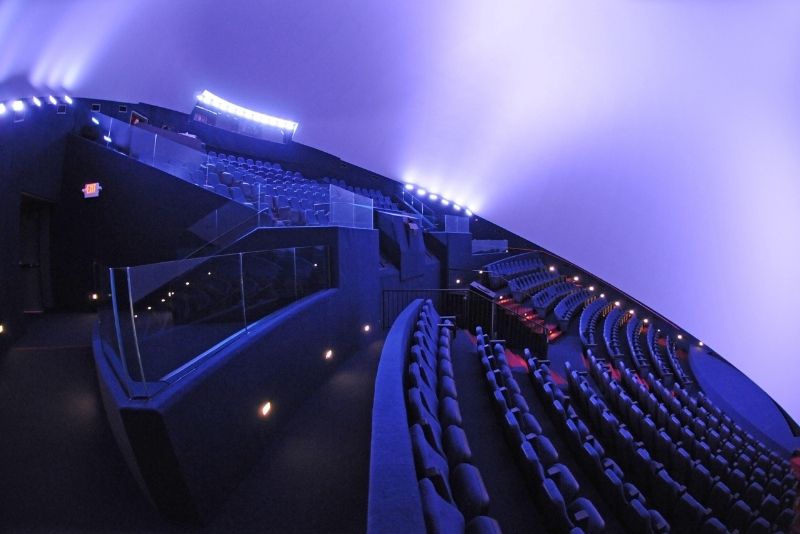 Investigate exciting science topics at the Fleet Science Center. Situated in Balboa Park, it includes a hands-on science museum as well as the world's first IMAX Dome, combining serious learning with hands-on fun.
10 – Sign up for a truly unique segway experience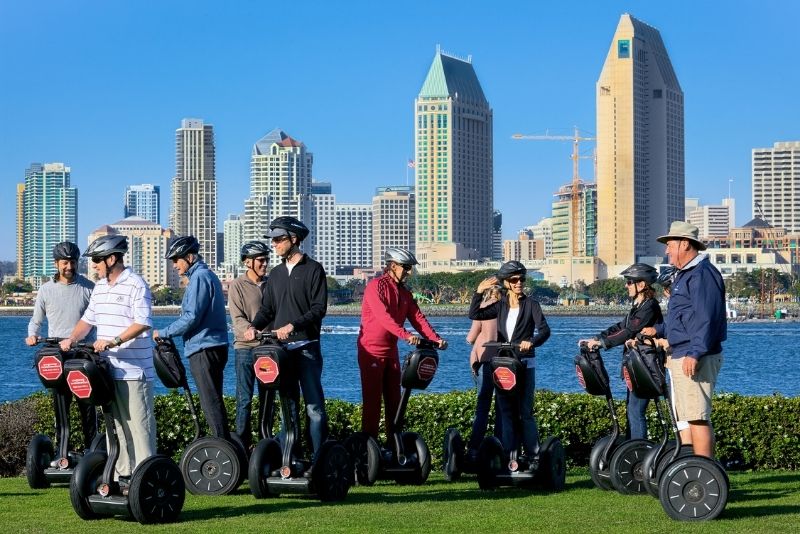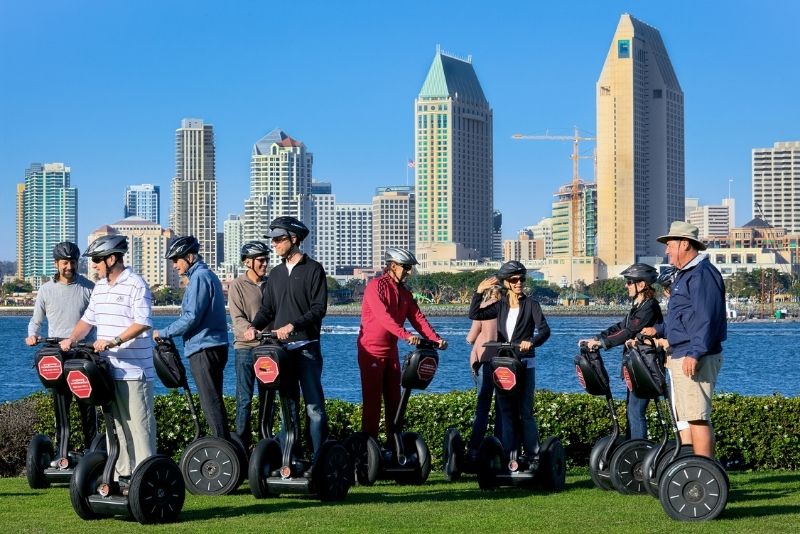 Visit San Diego's landmarks on a segway tour with plenty of photo opportunities. Navigate effortlessly through the streets with fun and excitement, and learn facts and history about the city from your professional guide.
11 – Experience the best of beach life at Coronado beach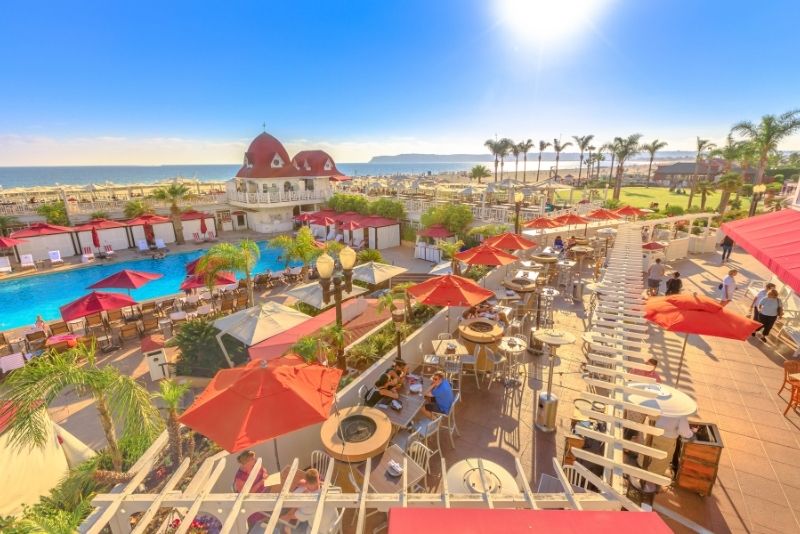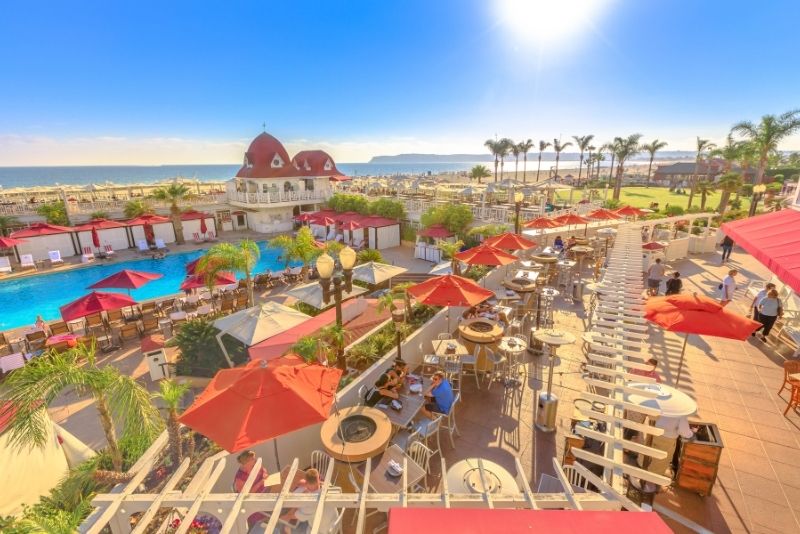 Home of the famous Hotel Del Coronado and regularly voted as the best beach in the USA, Coronado Beach is where beach life comes to life. In addition to world-class spas, fun surf camps, and awesome outdoor activities, Coronado Beach is home to amazing beachfront events all year long.
12 – Have a good laugh at one of San Diego's Comedy Clubs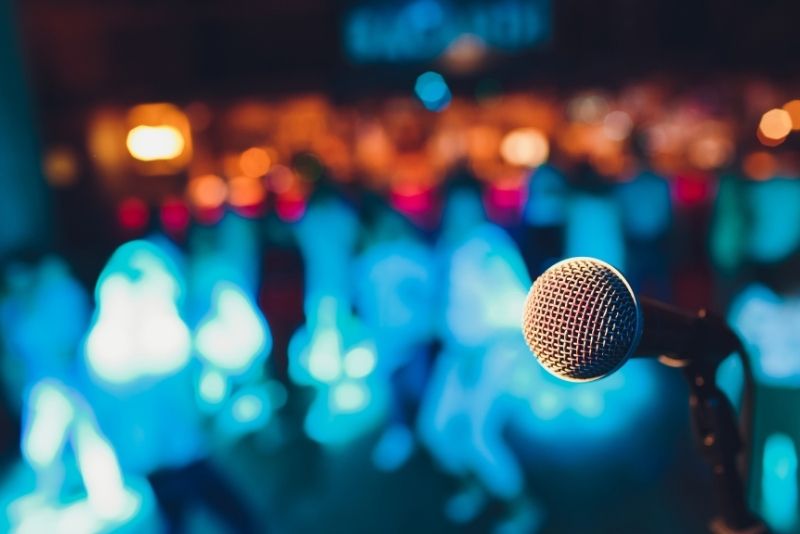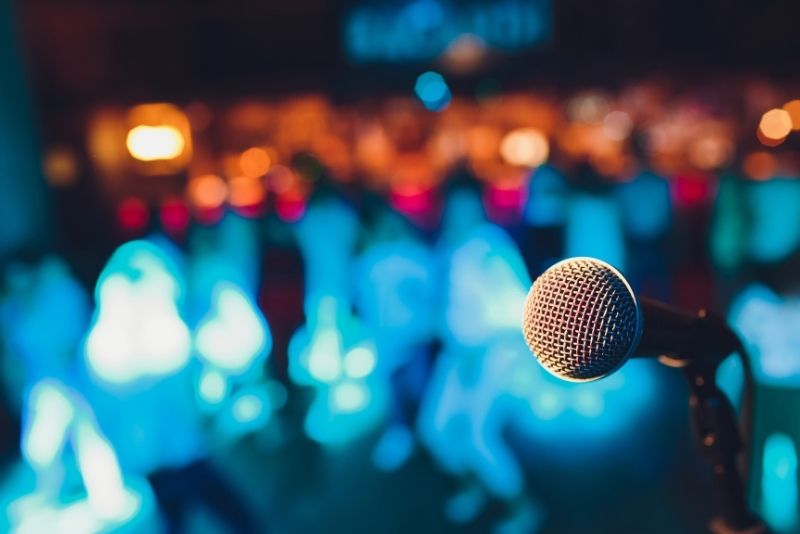 From emerging comedians to established artists, San Diego's comedy scene is a serious business. San Diego has some of the best comedy clubs in the United States, including The American Comedy Co., National Comedy Theatre, The Comedy Club at Pechanga, Sycuan Live & Up Close, and The Comedy Store to name a few.
13 – Go on a deep-sea fishing trip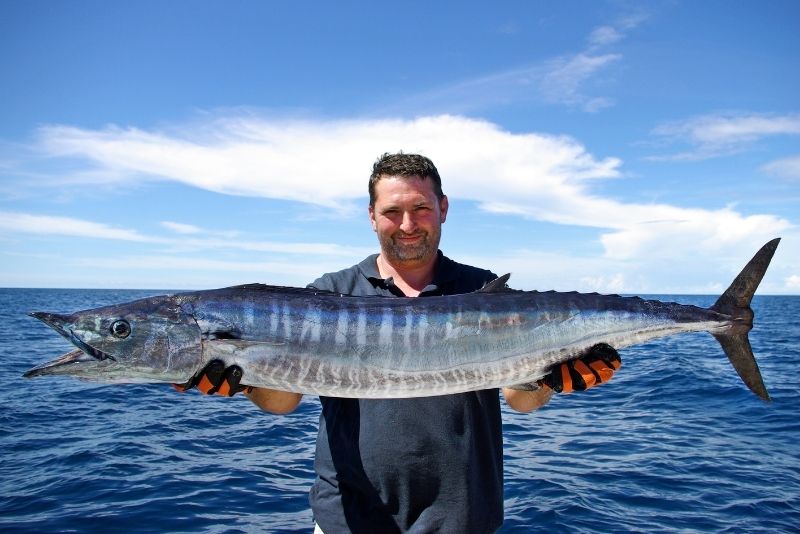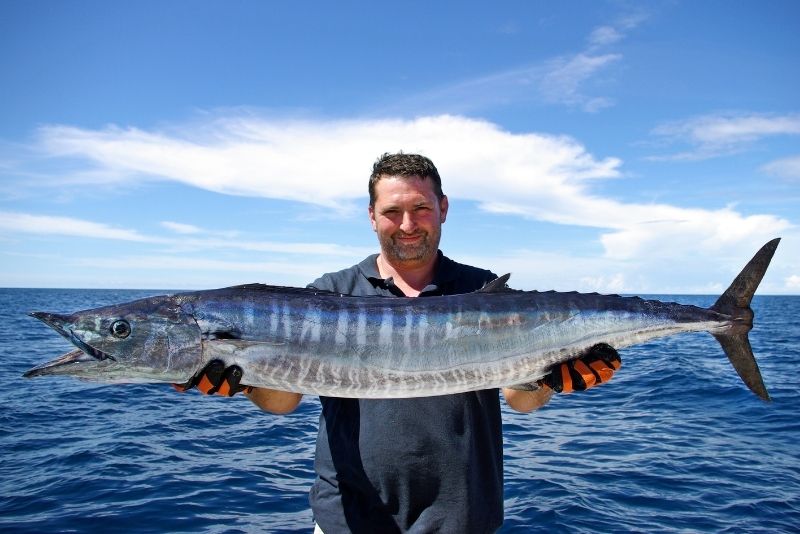 H & M Landing offers deep-sea fishing trips off the coast of San Diego since 1933. Experience a fantastic fishing trip on a wonderful boat with an expert crew and experience the thrill of deep-sea fishing with your friends or family.
14 – Plan a quick trip to Tijuana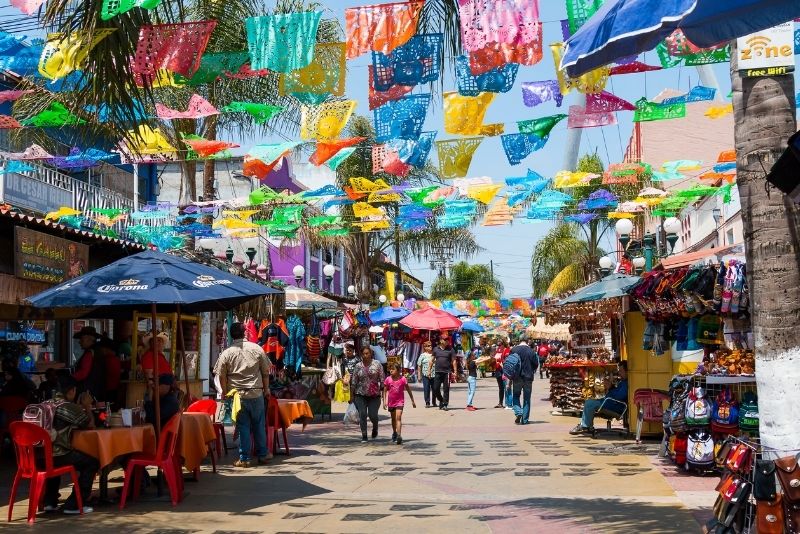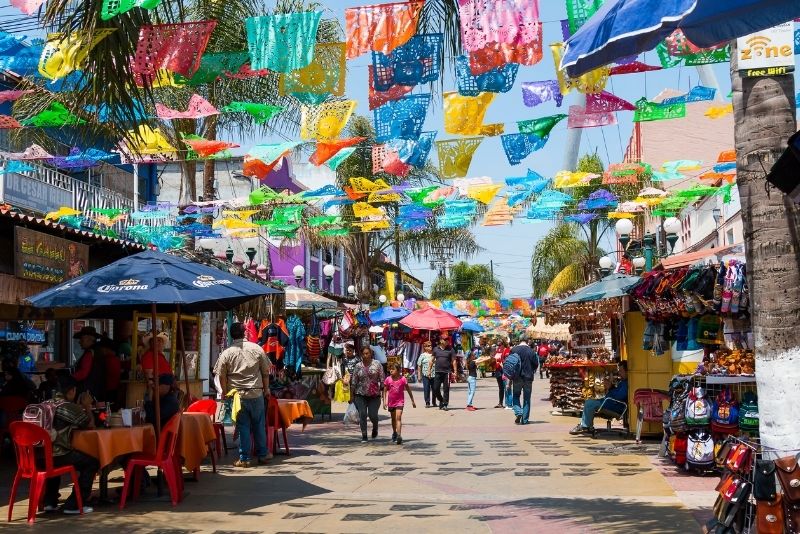 Sitting just 20 miles south of San Diego, Tijuana is a fun place to go for a day ride: stroll along Avenida Revolución, discover its unique culinary and craft beer scenes, or admire its amazing urban art street. This city is more than just a party town.
15 – Explore La Jolla Underwater Park by kayak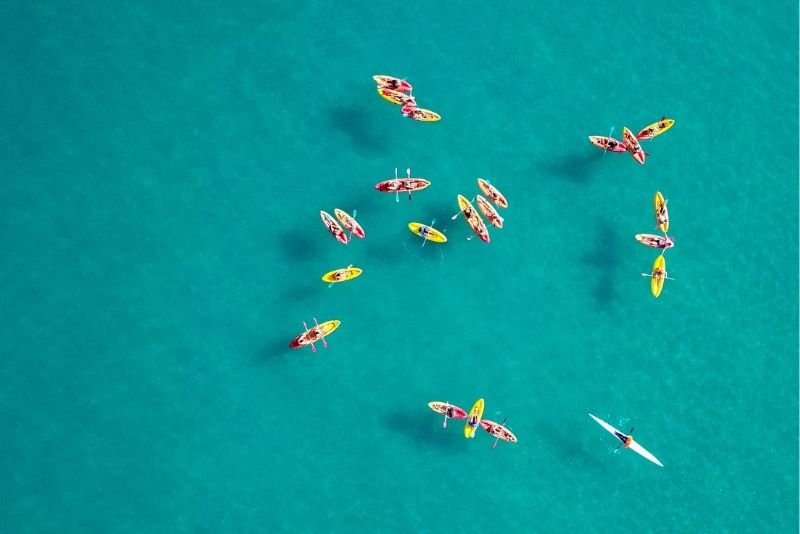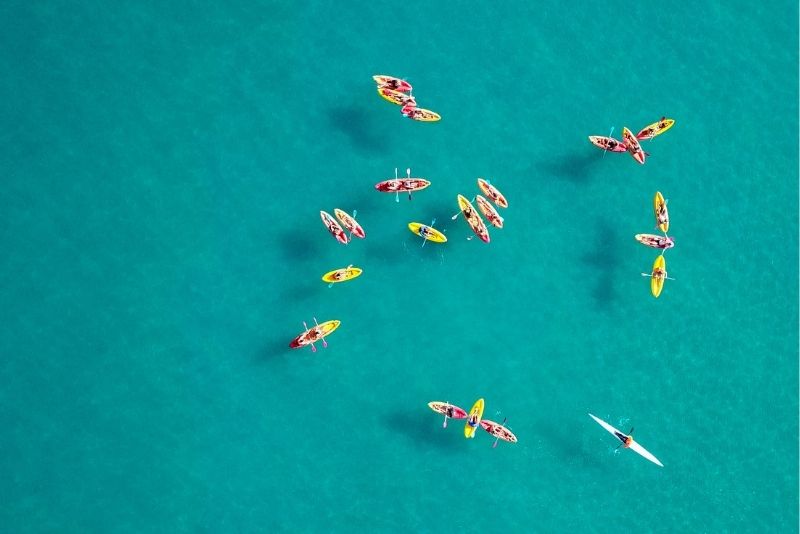 Spanning 6,000 acres across the ocean floor in San Diego, La Jolla Underwater Park is a popular destination for kayakers and snorkelers. Kayak out to the best spot for snorkeling and spot local wildlife, such as sea lions and sea turtles.
16 – Enjoy a relaxed Harbour sightseeing cruise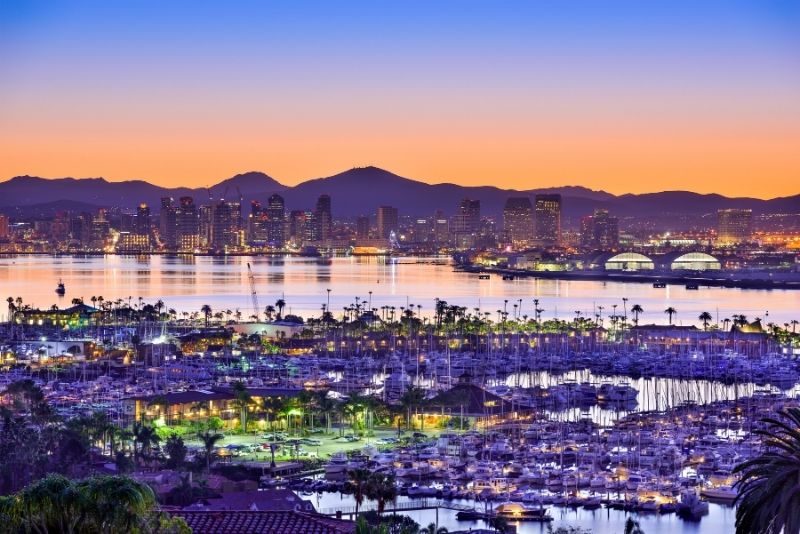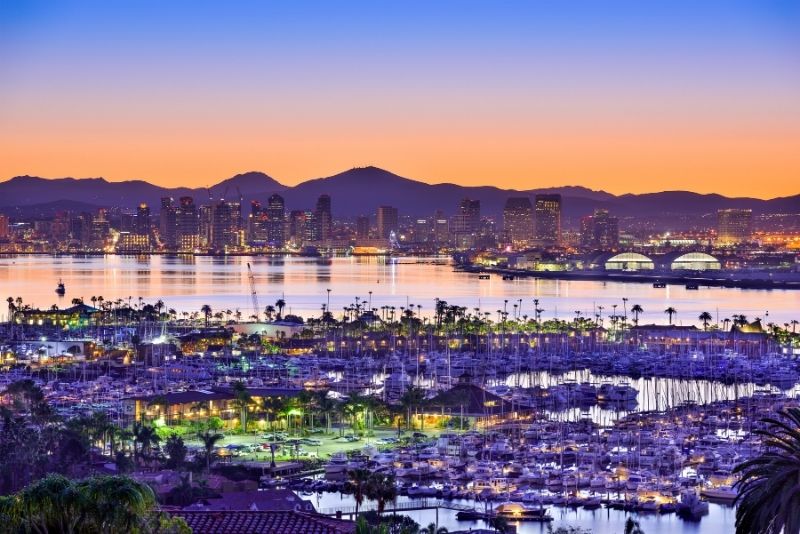 Jump on a sensational cruise and marvel at the multi-million dollar views of San Diego Harbour. Opt for a sightseeing cruise or a romantic dinner cruise and see San Diego's finest landmarks from the water.
17 – Feel the thrill of indoor skydiving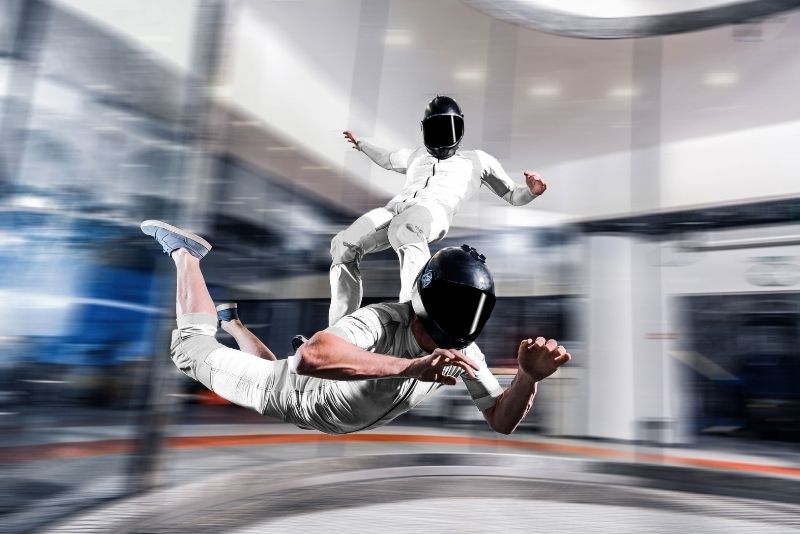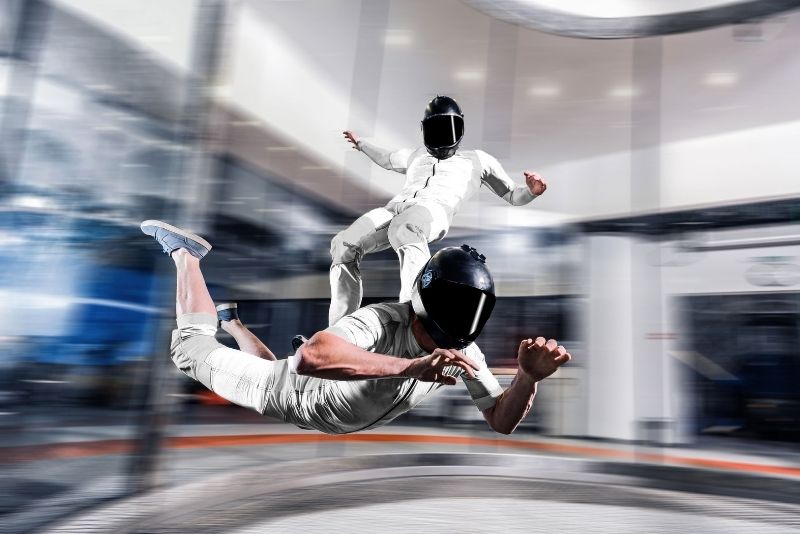 Visit iFly San Diego at Mission Valley and experience the genuine adrenaline-rush of indoor skydiving. Feel the fantastic rush of freefall without having to leave the ground.
18 – Experience life at sea by visiting the USS Midway Museum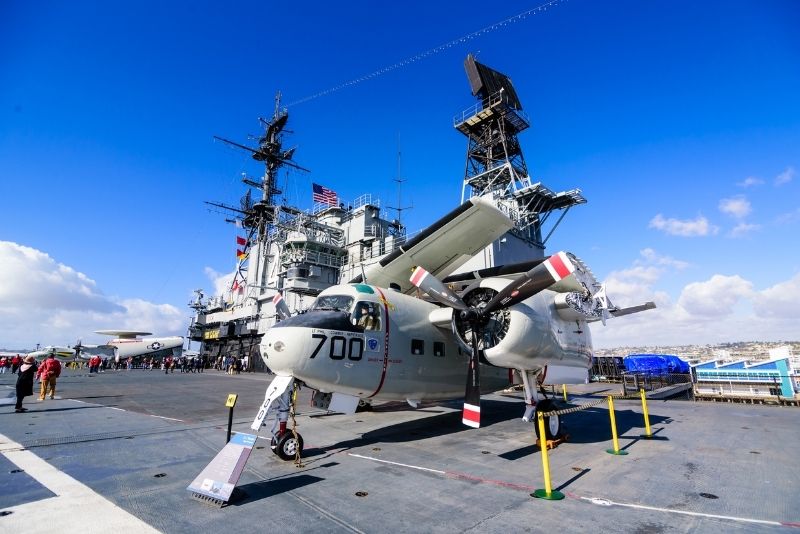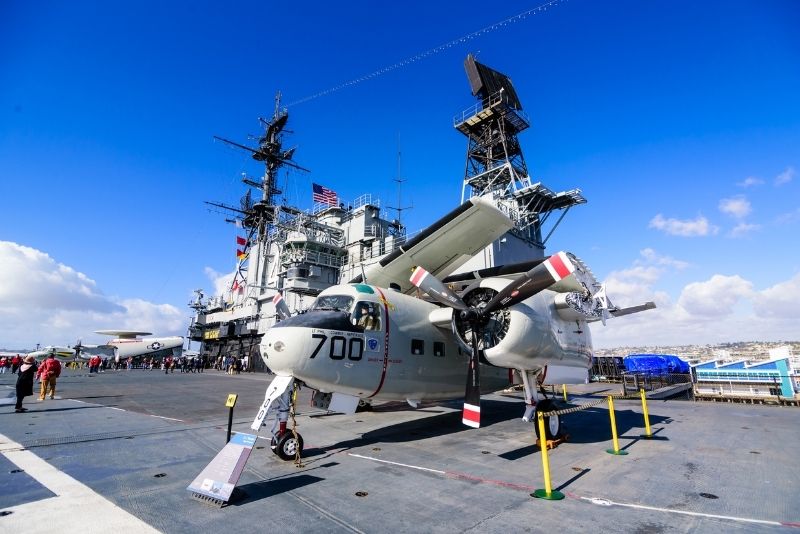 Discover the most visited floating ship museum in the country and immerse yourself in over 50 years of world history. Explore 60 exhibits, view short films that give you the chance to relive historic war moments, and take to the skies in the flight simulators.
19 – Experience beach horse riding at Imperial Beach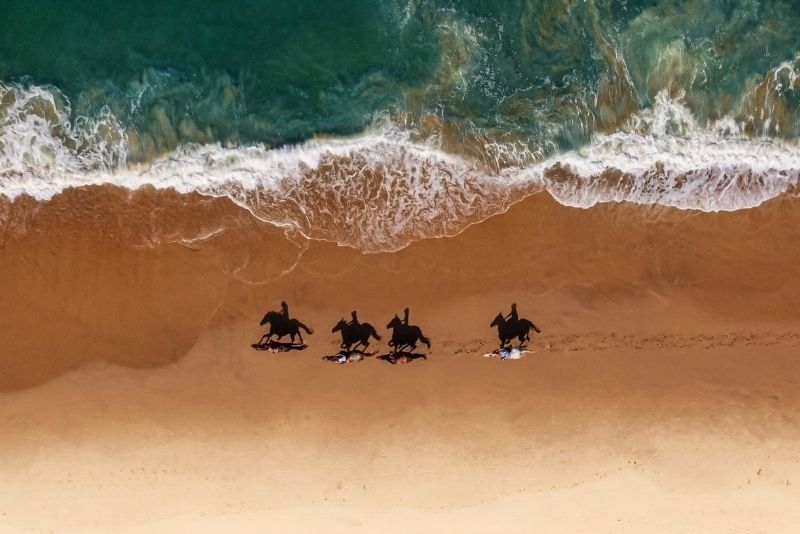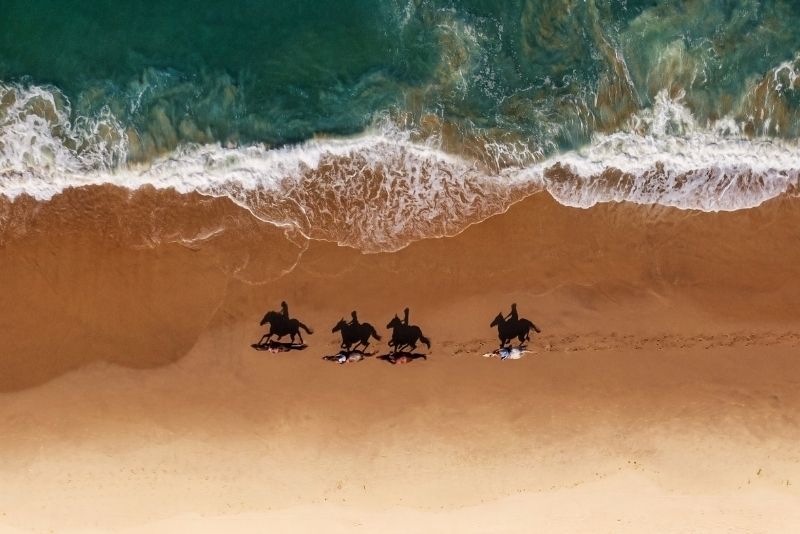 Have you ever wanted to ride a horse on a beach? Pony Land offers a unique and fun horseback riding experience for you and your whole family. The beach rides take place on Imperial Beach, which is situated at the very south end of San Diego County, the only place allowed to enjoy horseback riding on the beach in San Diego.
20 – Come and cheer at Petco Park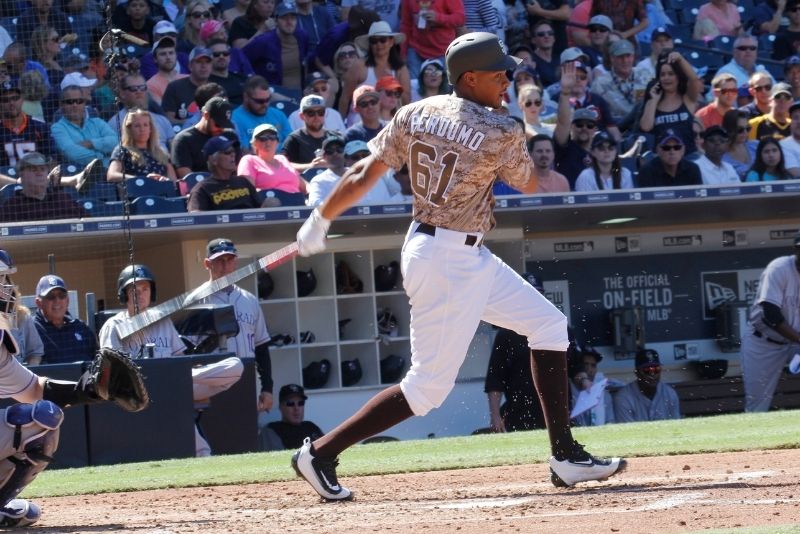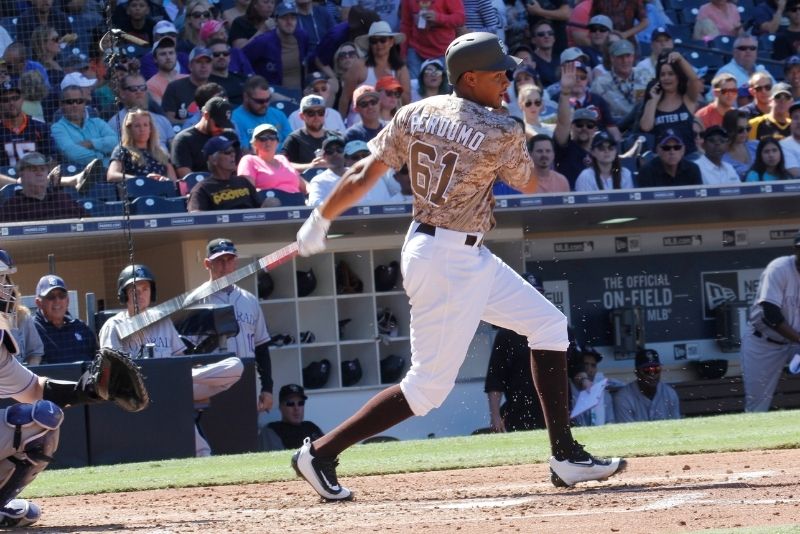 Head to Petco Park and enjoy a fun game of baseball. Home to the San Diego Padres baseball team, Petco Park is a venue like no other, offering the best sight lines in baseball with fantastic views of San Diego.
21 – Explore the natural history of southern California at the Natural History Museum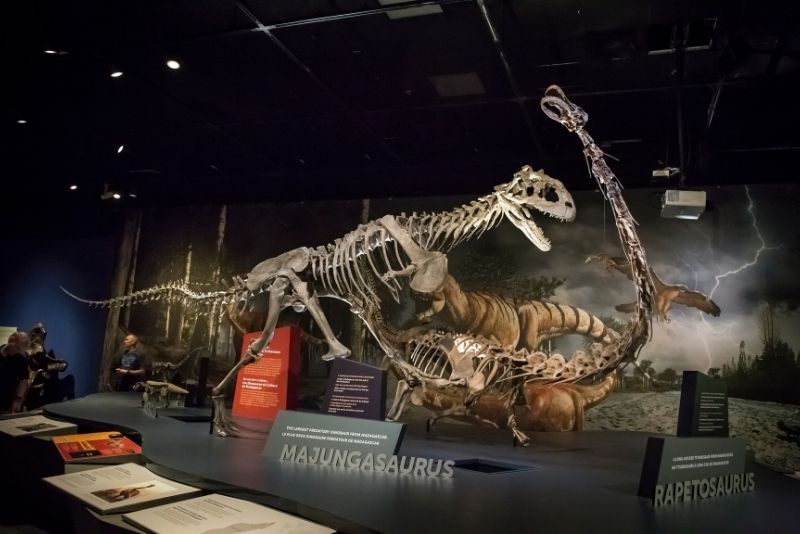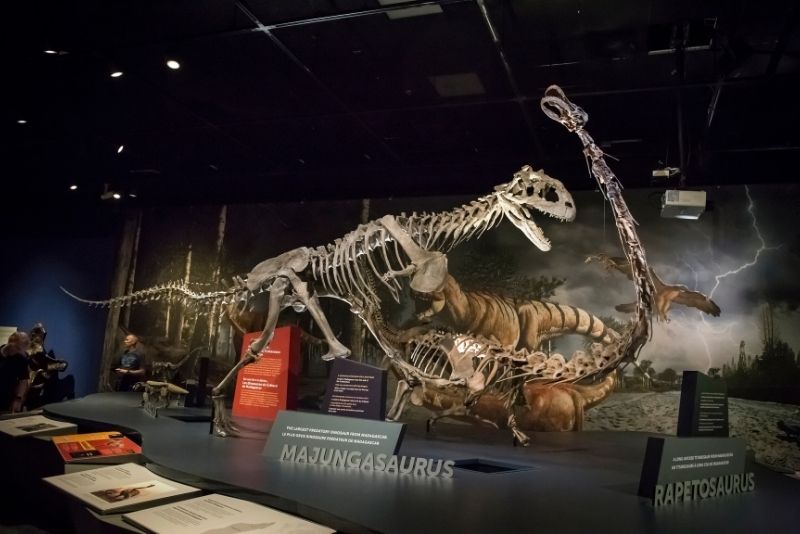 Journey through time at the San Diego Natural History Museum and learn how life on earth has evolved through the centuries. Home to a variety of intriguing exhibits, the museum is a great place to learn about nature and the environment.
22 – Enjoy golfing at Torrey Pines Golf Course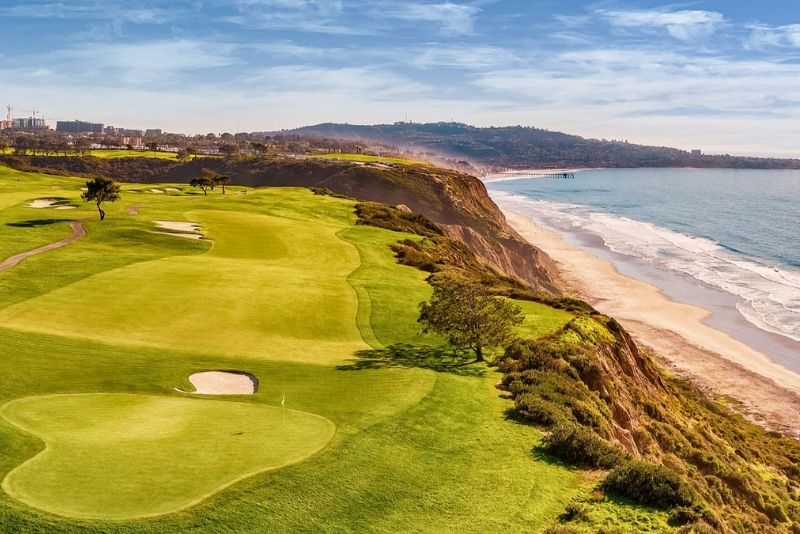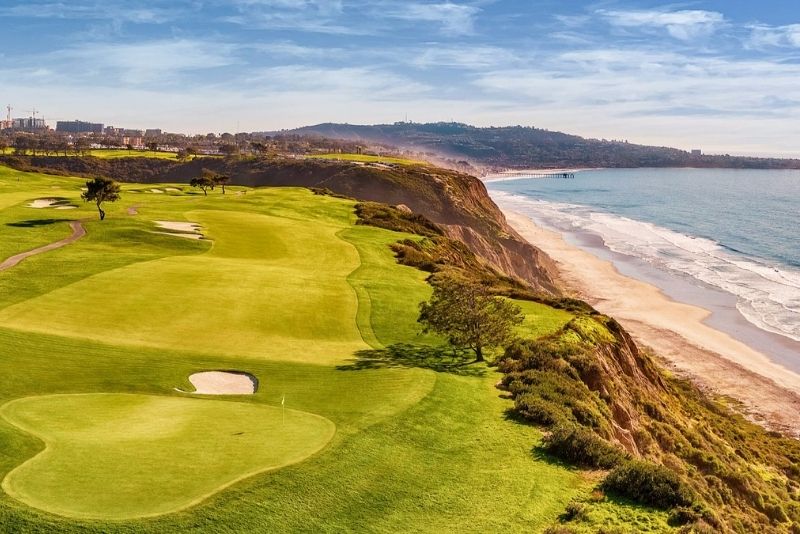 Situated 20 minutes from San Diego downtown, Torrey Pines Golf Course is a 36-hole municipal public golf course, renowned for its spectacular oceanfront setting, as well as its challenging play.
23 – Go behind the scenes of an authentic San Diego brewery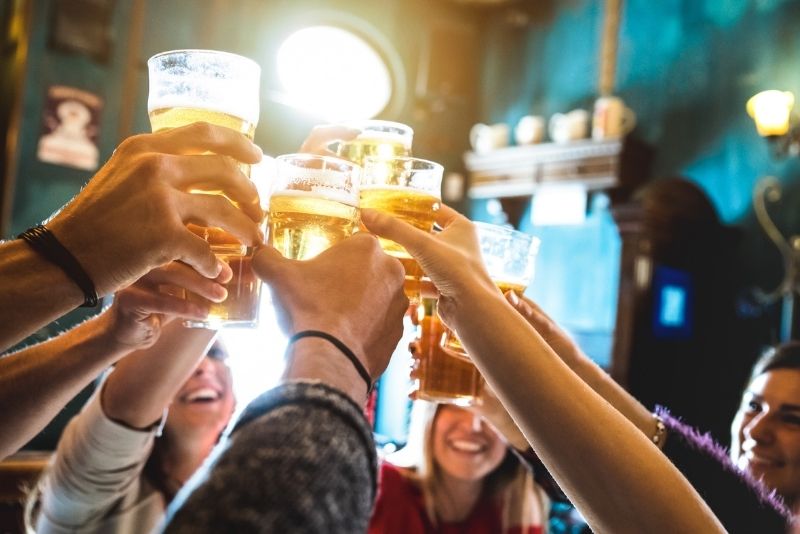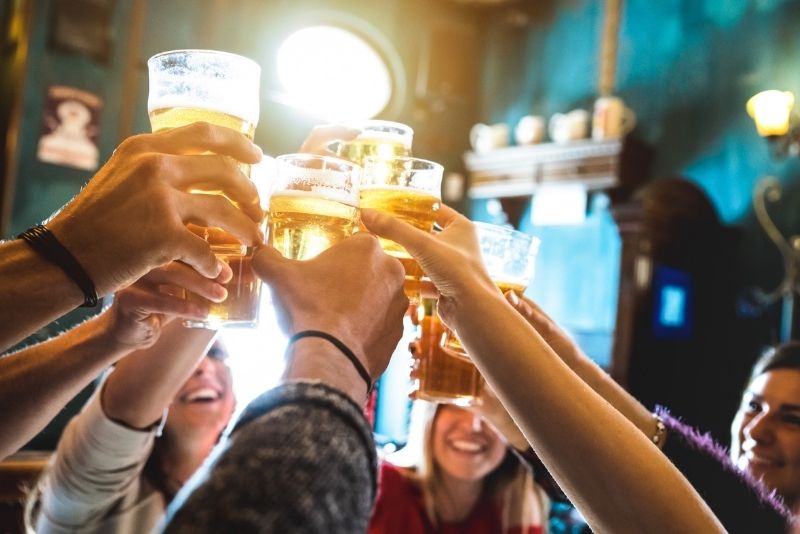 Are you a beer lover? Take a tour, explore the brewing process and the ingredients used to create delicious beers, and sample some of the city's most famous brews.
24 – Make a splash in San Diego Bay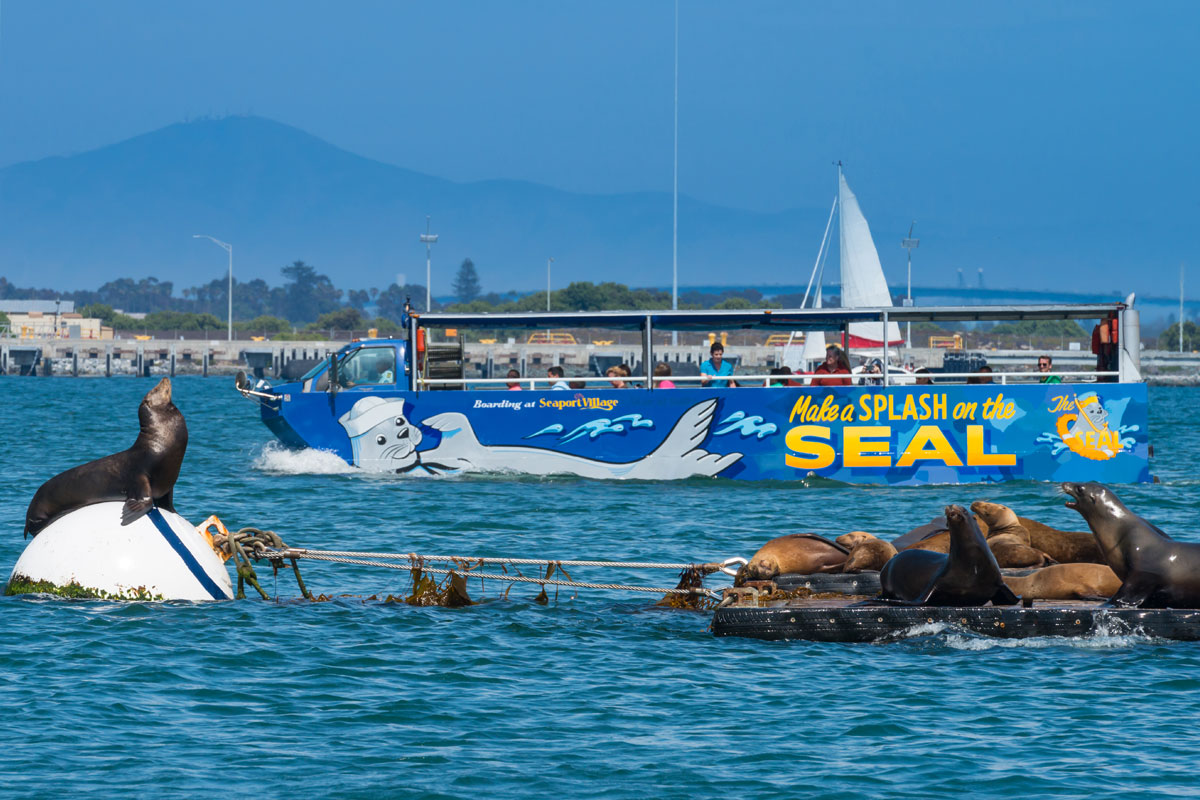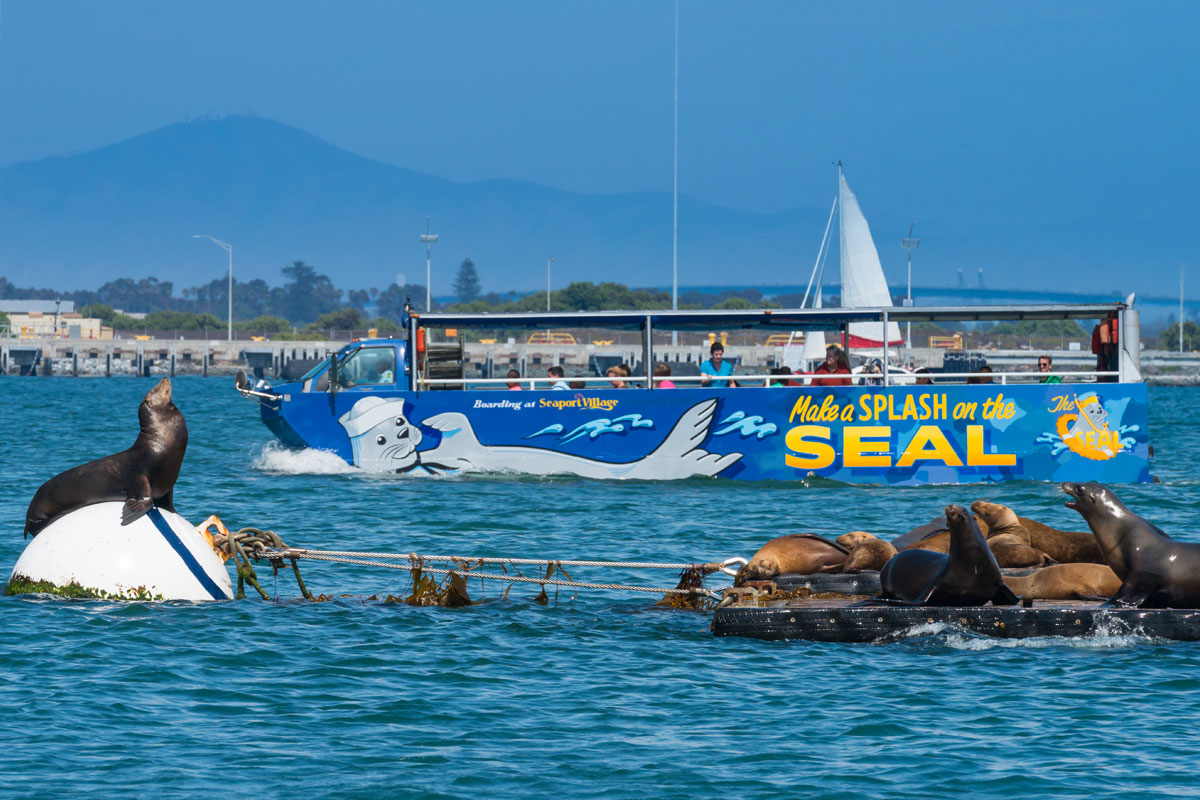 Explore San Diego by land and river, without leaving the comfort of your own seat. Journey to San Diego Bay's Shelter Island, spot dolphins and sea lions, and see top San Diego attractions.
25 – Fall in love with the flavorful Mexican cuisine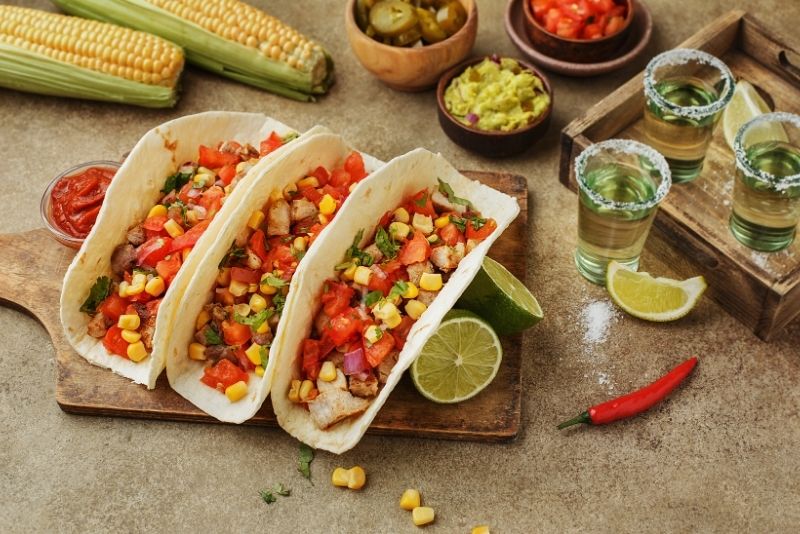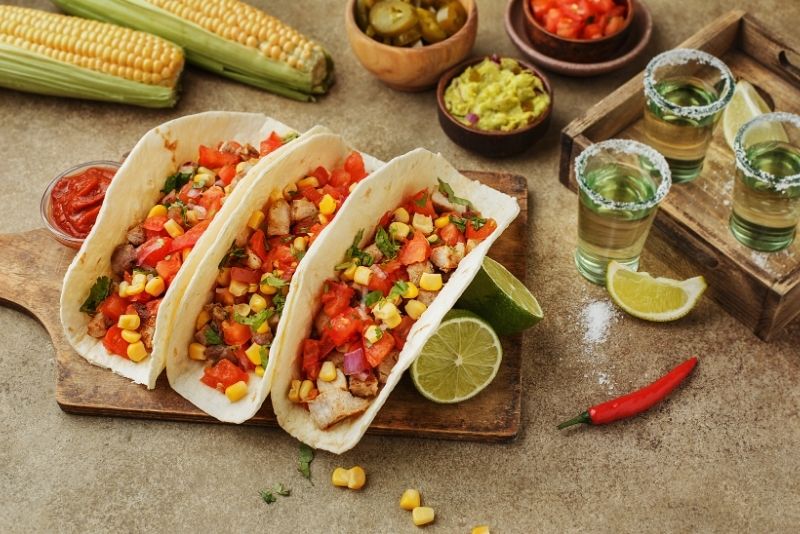 Are you a real foodie? Explore the Old Town get and a taste of Mexico in San Diego's most historic neighborhood. Sample some authentic Mexican cuisine and choose from a vast selection of tequila varieties while you enjoy a captivating walking tour of the Old Town.
26 – Let the good times roll in San Diego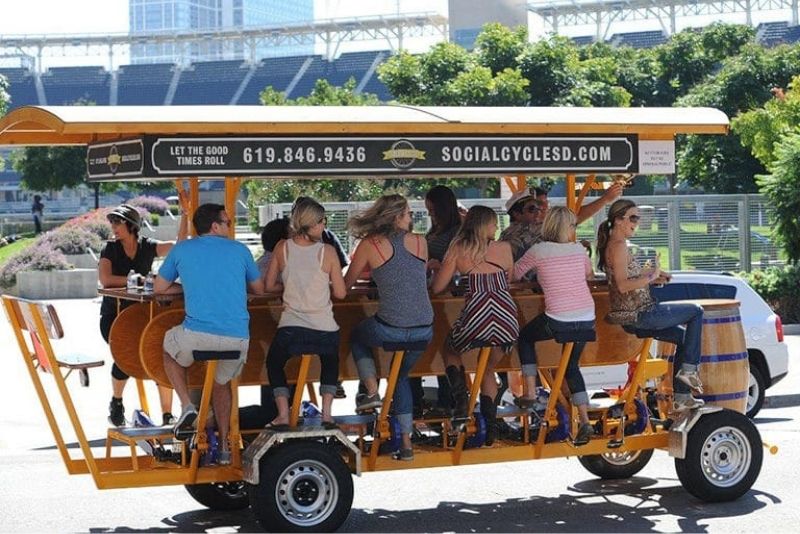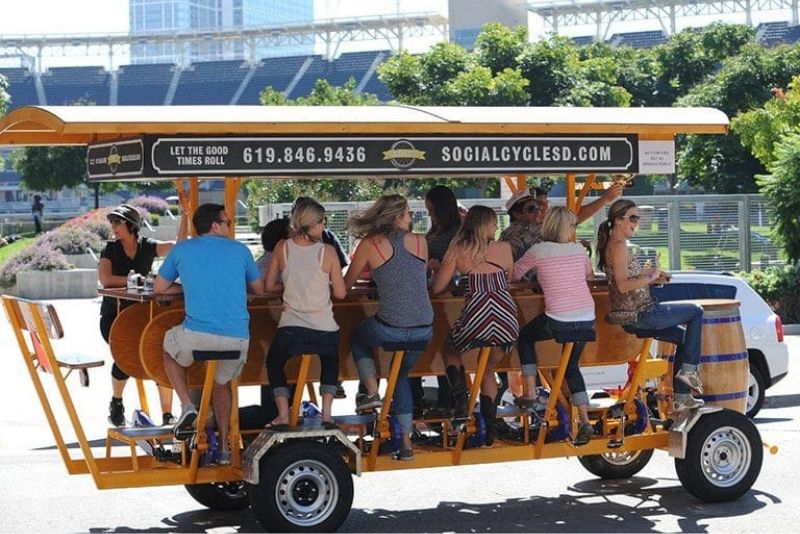 Social Cycle lets you combine sightseeing with a fun drinking session. Enjoy drinking with your friends when cycling across the lovely streets of San Diego. This is the ideal activity for stag and hen parties, birthdays, or any sort of celebration. Gather your friends and enjoy sightseeing in San Diego while drinking cold beers.
27 – Discover the world of aquatics at SeaWorld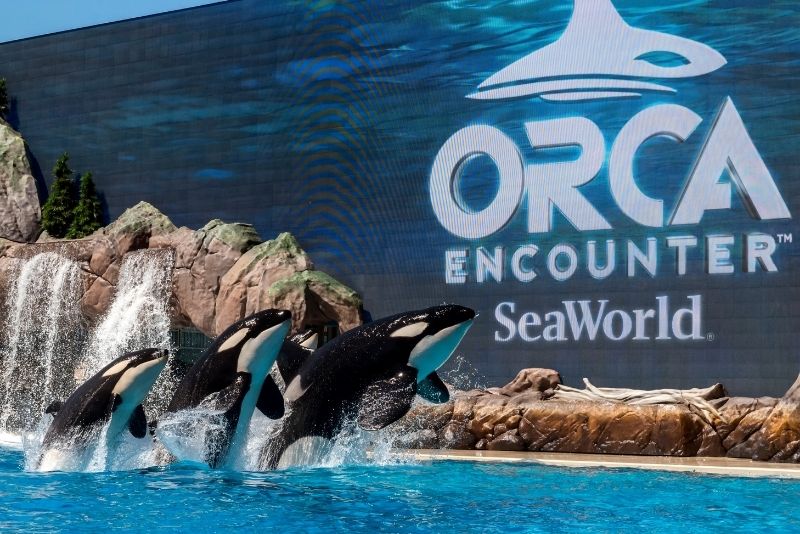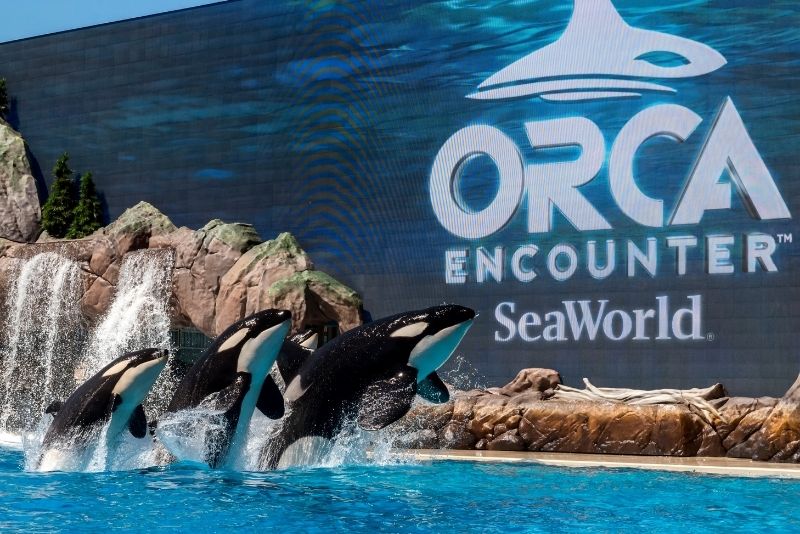 SeaWorld San Diego offers up-close animal experiences, extraordinary aquatic shows, and wildlife-inspired thrill rides. Come face-to-face with fascinating marine mammals and learn about marine animal conservation efforts.
28 – Explore the wonderful world of Legoland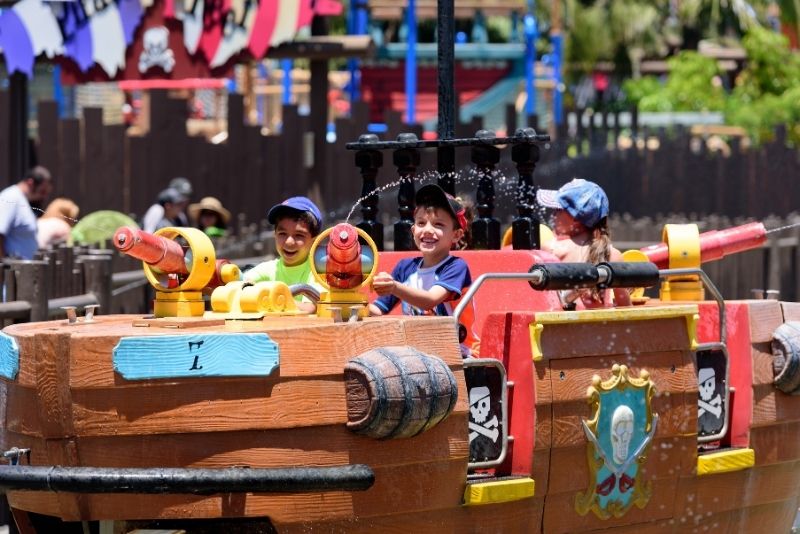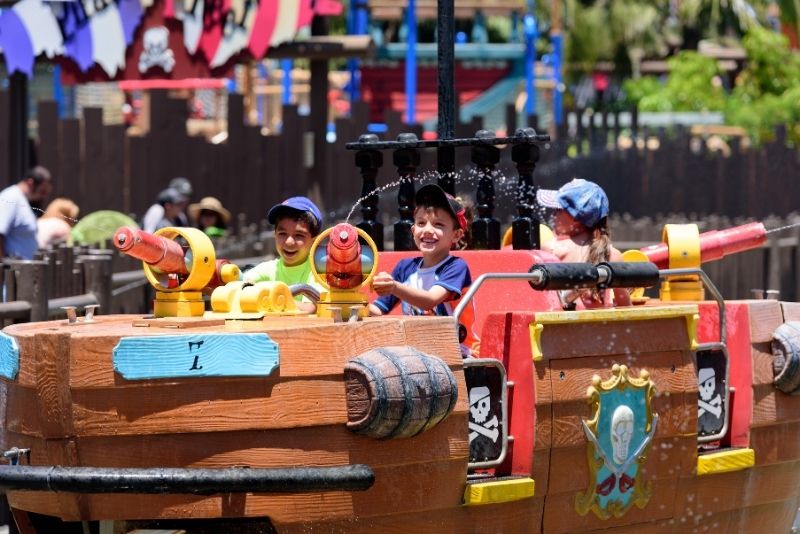 With tons of exciting rides and attractions, fantastic live shows, a fun aqua park, and a fascinating aquarium, Legoland California is a budding brick builder's paradise.
29 – Shop more for less at Las Americas Premium Outlets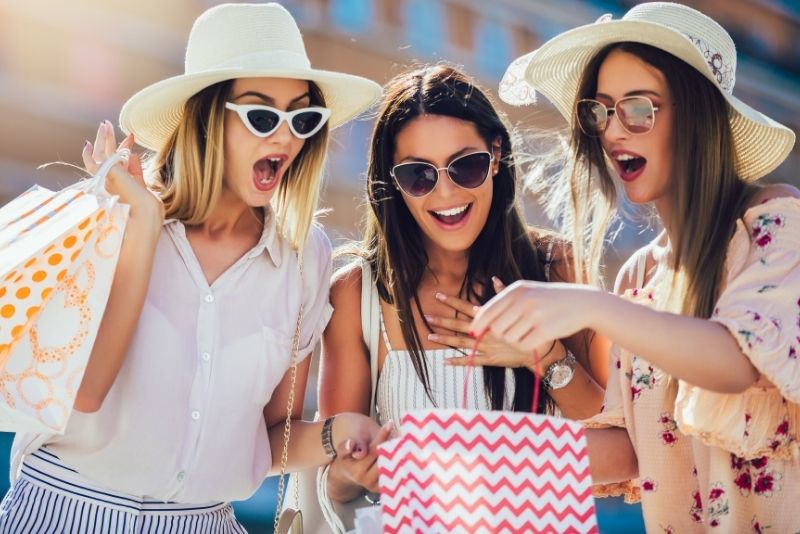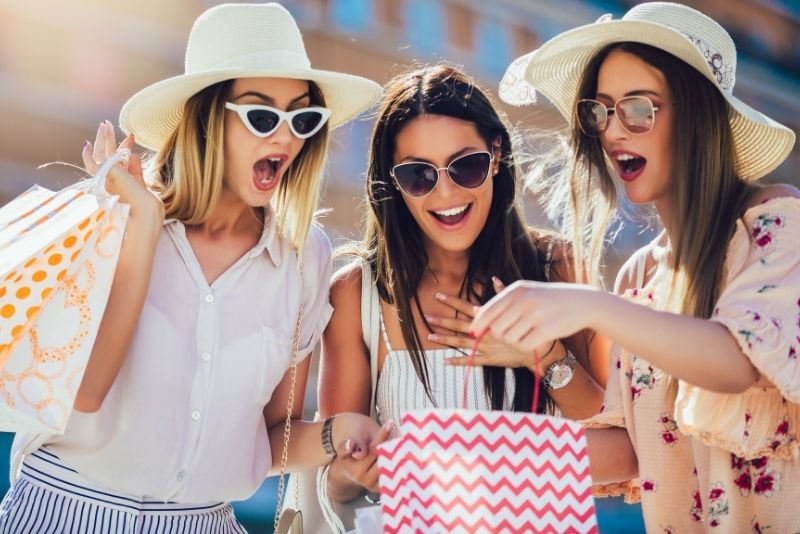 Las Americas Premium Outlets features exceptional brands like Tommy Hilfiger, Adidas, Banana Republic, Calvin Klein, and more. Stroll through a beautiful outdoor shopping plaza and enjoy huge savings.
30 – Try paragliding in Torrey Pines State Reserve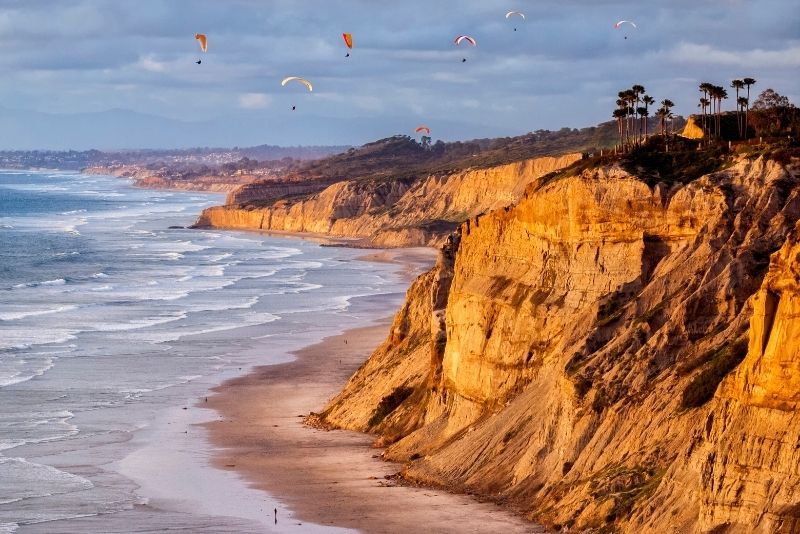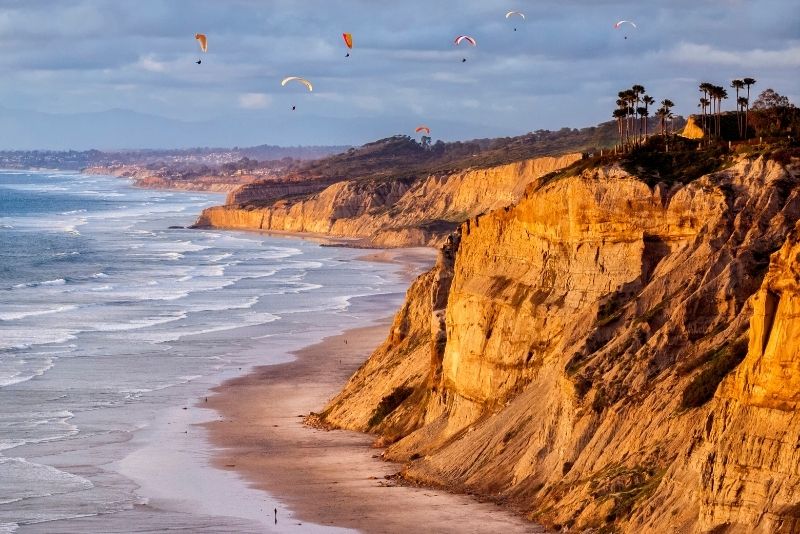 With nearly 100 years of flying history, the Torrey Pines Gliderport is San Diego's premier location for paragliding. Book a tandem flight and soar the skies above La Jolla's rugged seaside cliffs.
31 – Discover Sunset Cliffs Natural Park, one of San Diego's true coastal gems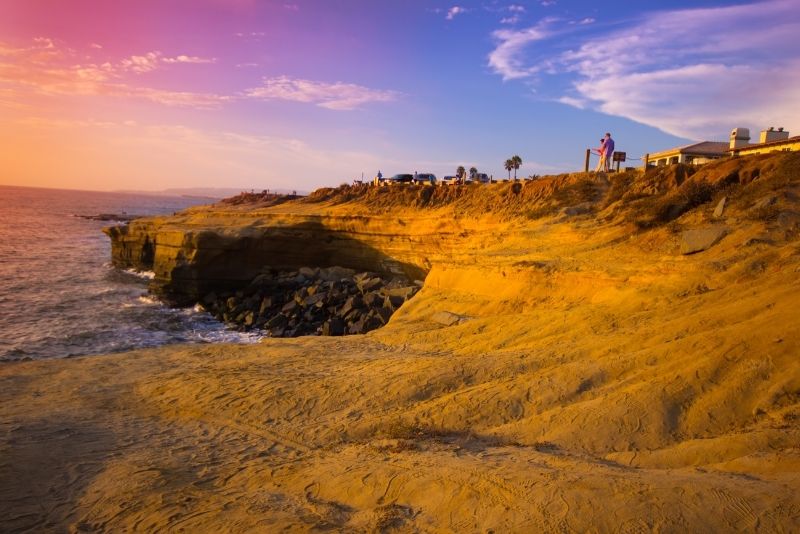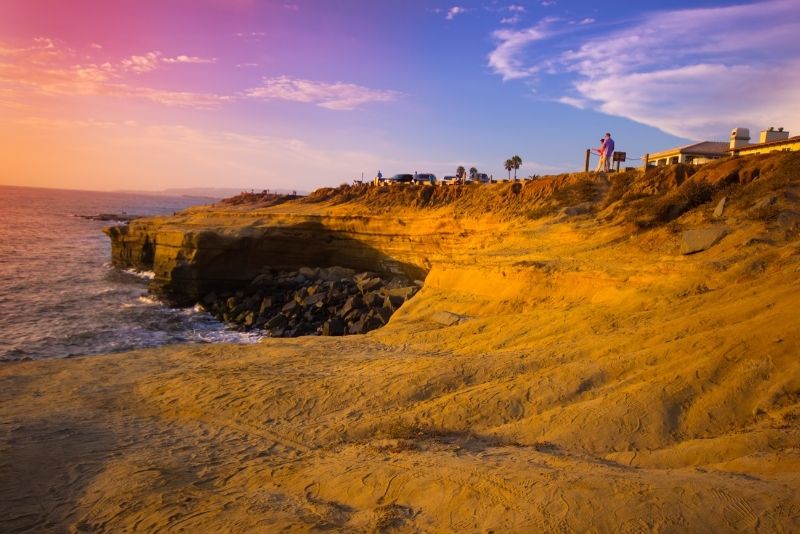 Sunset Cliffs Natural Park is a lovely steep hillside park ideal for spending part of a day hiking, playing in the tide pools, fishing, or just hanging out and enjoying the scenery.
32 – Take a journey through humankind's exploration of space at the Air & Space Museum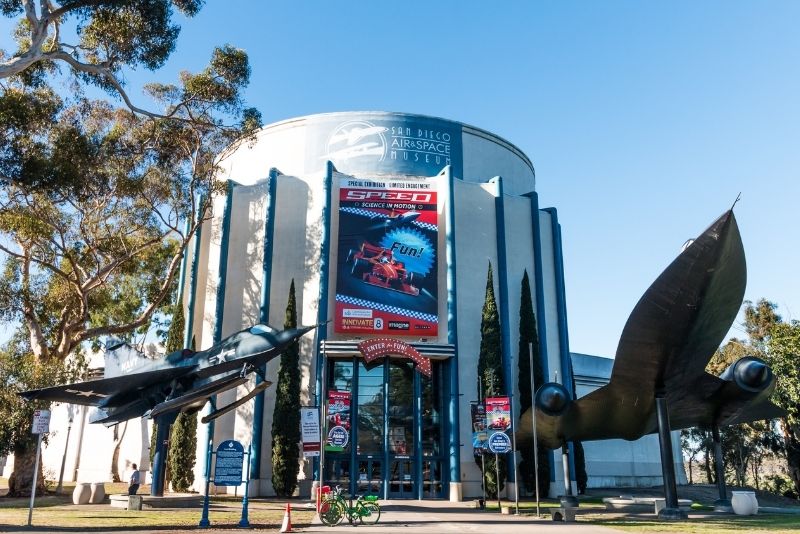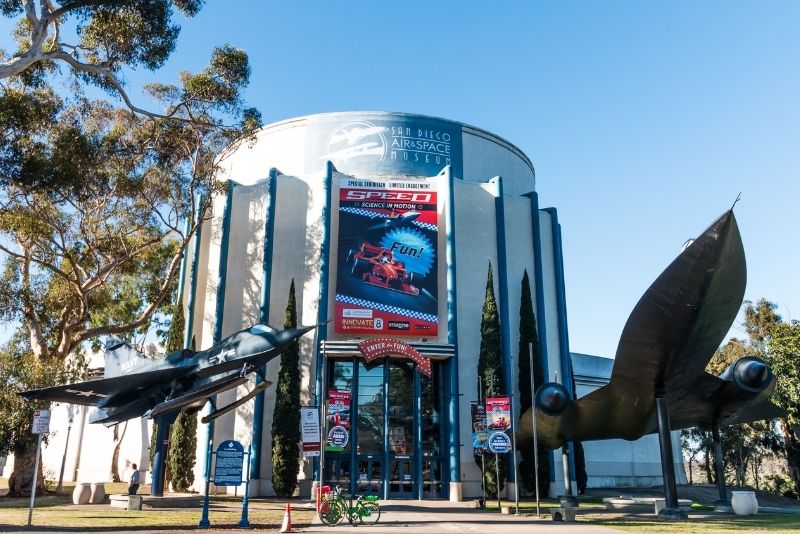 No trip to San Diego is complete without visiting the Air and Space Museum. Admire a collection of historic aircraft and spacecraft from all over the world and enjoy a fun and fascinating learning experience.
33 – Explore the most popular trails in Cabrillo National Monument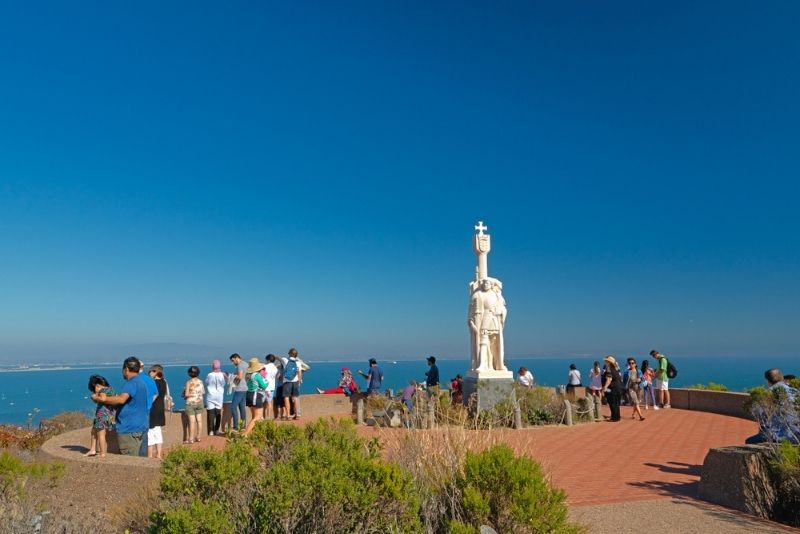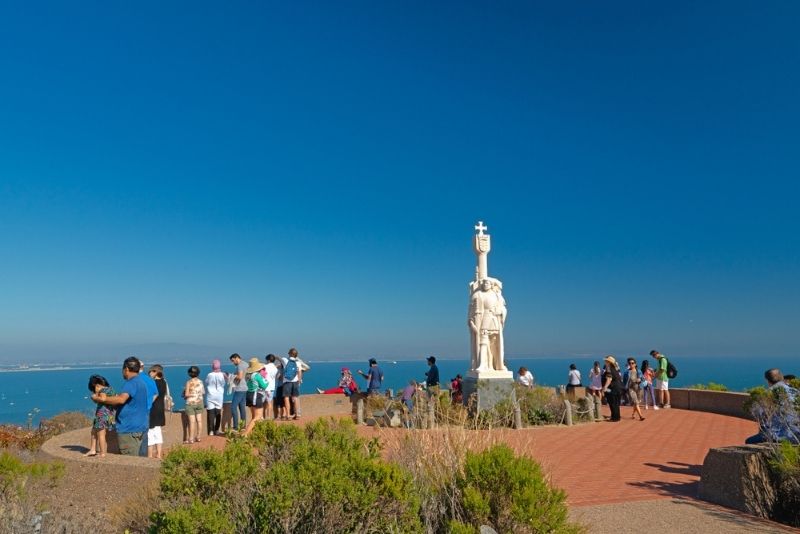 Situated at the southern tip of the Point Loma Peninsula, Cabrillo National Monument offers tremendous views of the San Diego region, and excellent opportunities to explore the natural and historical history of San Diego. Hiking, tide-pooling, and whale watching are popular activities.
33 – Taste locally brewed ales and delicious burgers at Waterfront Bar & Grill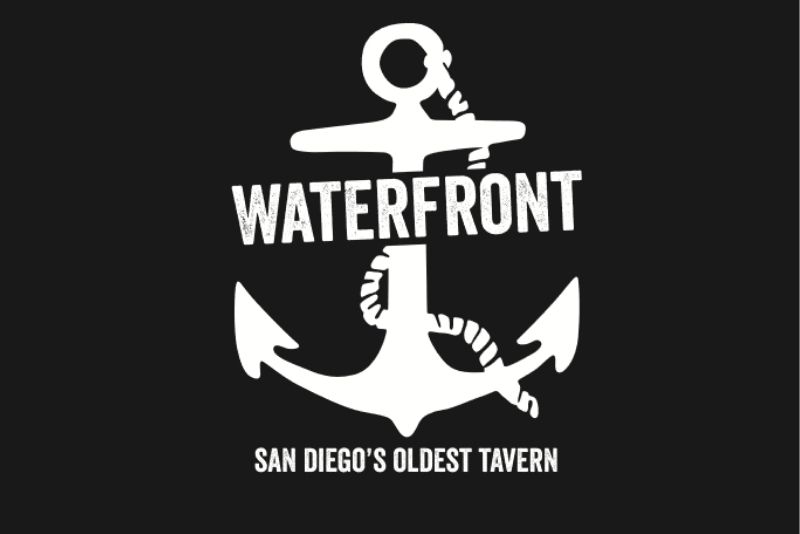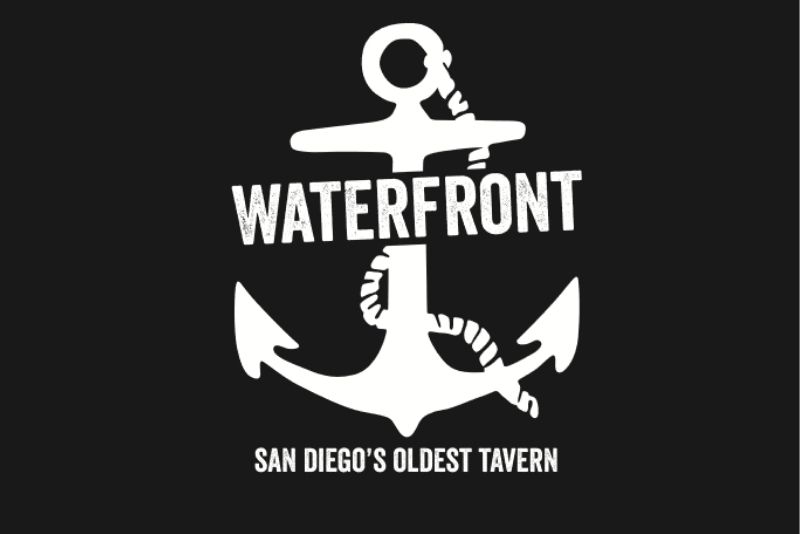 Looking for a fun place to eat? Take a stroll down Little Italy and head to Waterfront Bar & Grill, one of San Diego's most dynamic food and drink scenes. Enjoy awesome food and delicious cocktails with great music and atmosphere.
34 – Explore San Diego's vibrant street art scene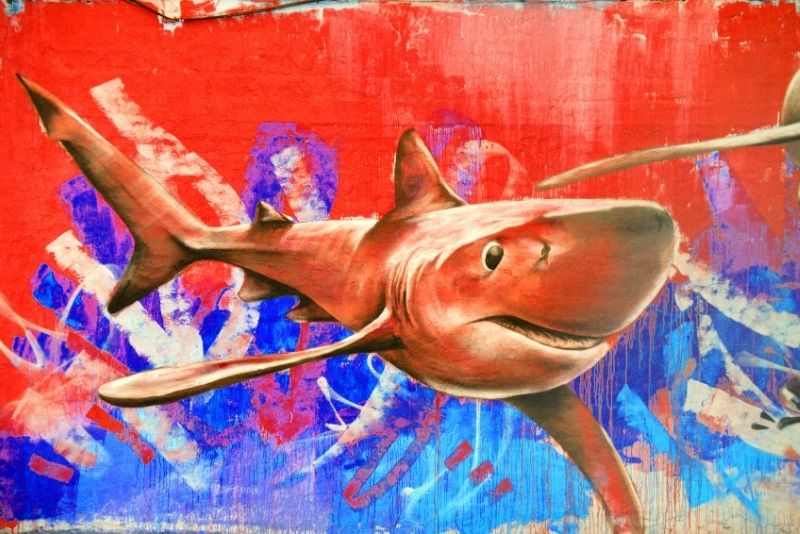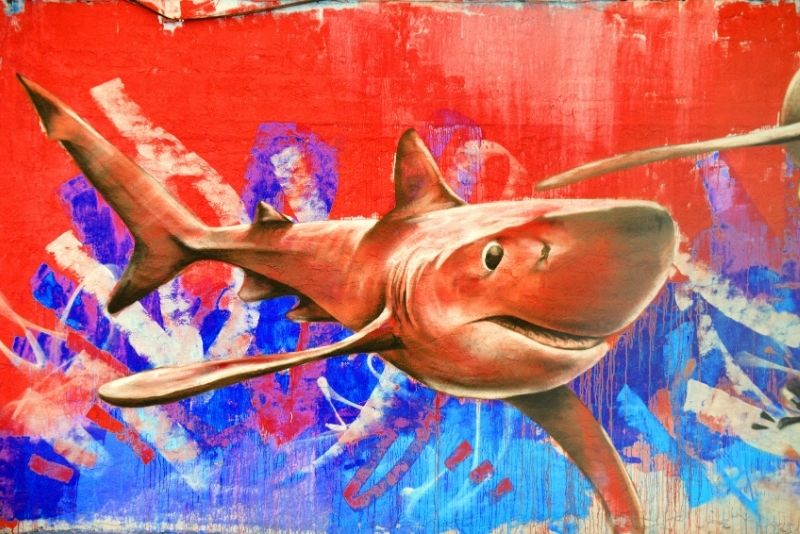 You don't have to visit museums to see amazing art in San Diego. The city is a virtual outdoor art gallery full of stunning murals, ideal to learn about San Diego's history and culture.
35 – Listen to a performance of the San Diego Symphony at Copley Symphony Hall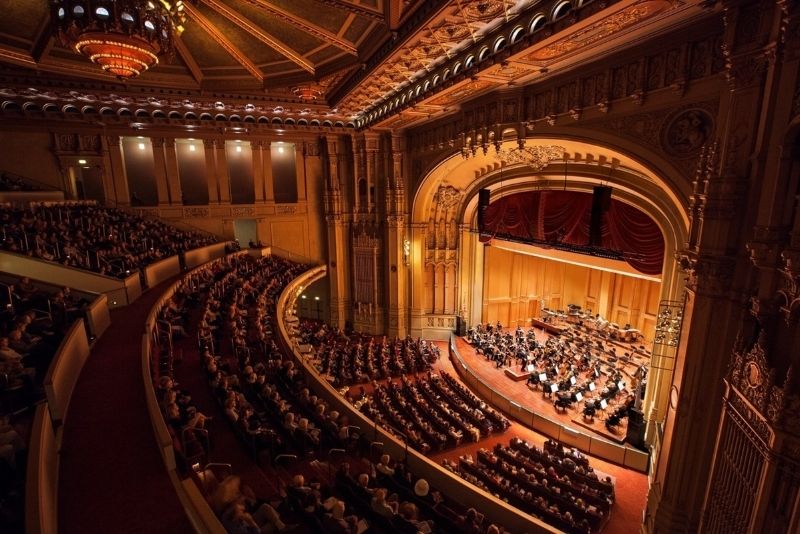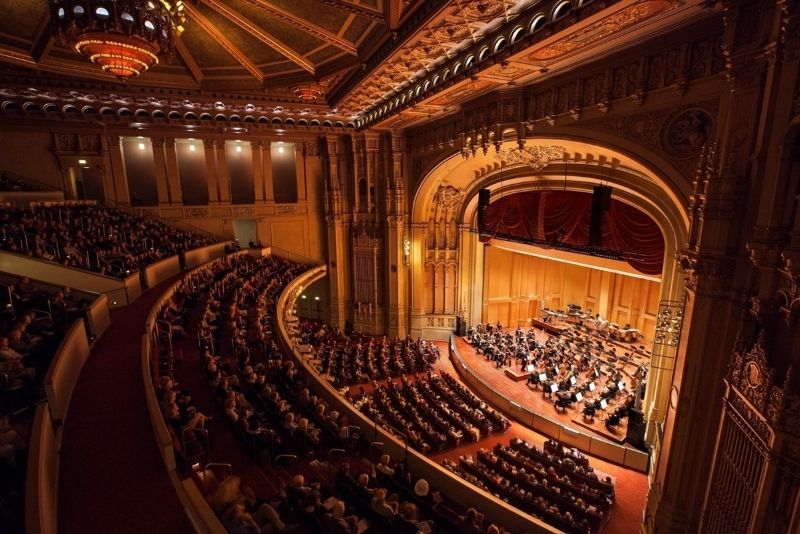 The San Diego Symphony performed its first concert in 1910 and has since become one of the finest classical music venues in California, a must-visit for every classical music lovers.
36 – Experience the thrill of driving your own speed boat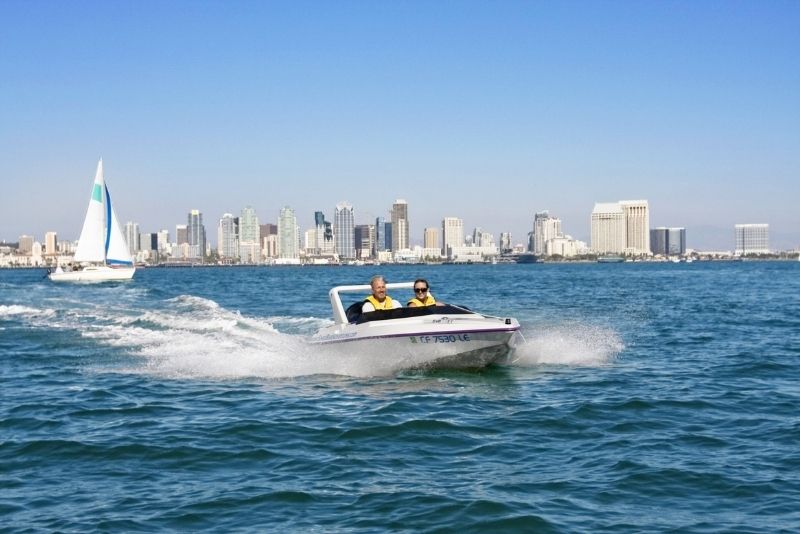 Experience the thrills and spills of an incredible boat tour. Drive your own 2-seater speedboat around San Diego Bay and experience an adventurous trip away from the crowds.
37 – Get awe-inspiring views of San Diego on a thrilling helicopter tour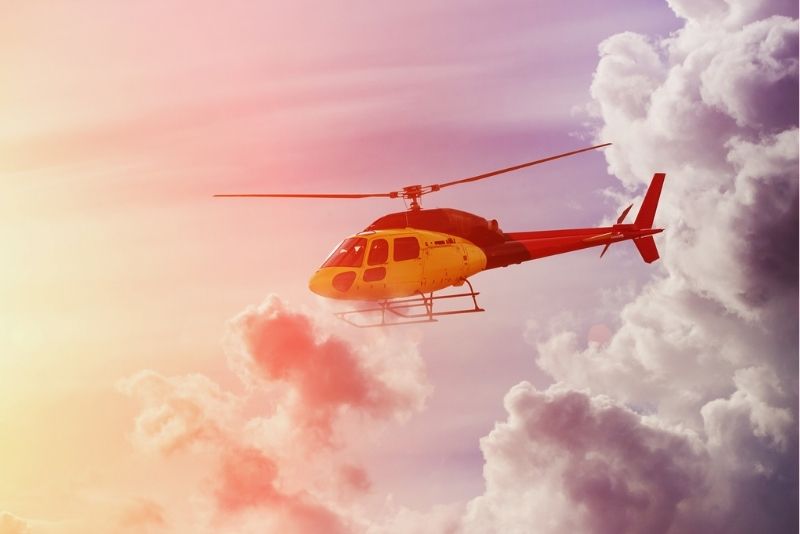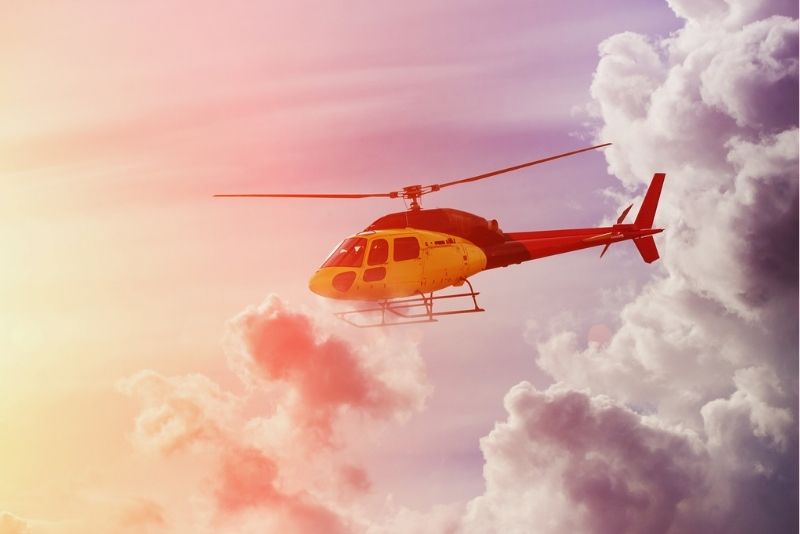 If you want to go sightseeing in style, discover San Diego from the sky with Corporate Helicopters. As you soar above the city, take a look at all San Diego has to offer. Marvel at the stunning skyline of San Diego, fly past Ocean Beach Pier, and get up close to sights like SeaWorld and Del Mar Racetrack.
38 – Fly like Iron Man or swim like a dolphin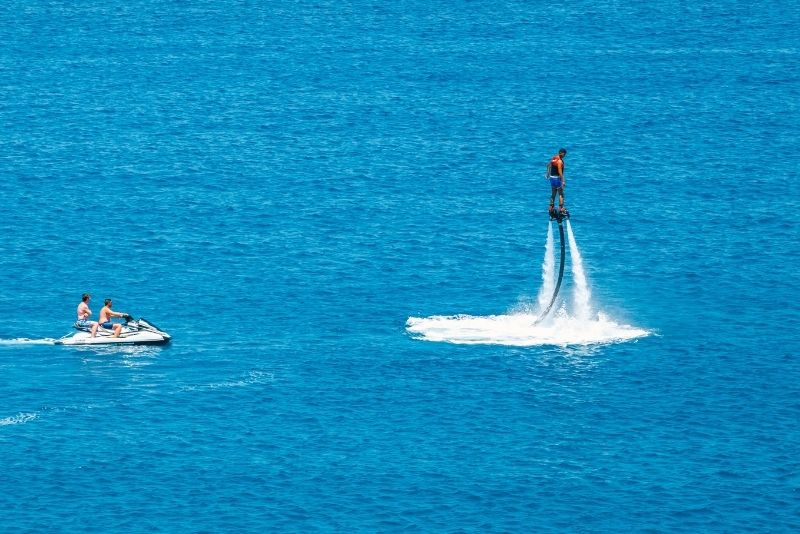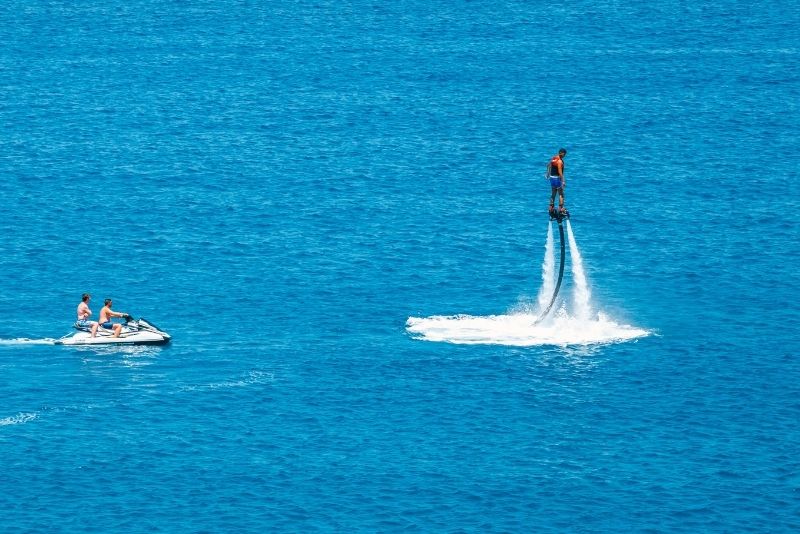 Looking for some fun water sports to experience in San Diego? Visit Mission Bay Sportcenter and experience the adrenaline rush of flying over the waters of San Diego, a one of a kind adventure you're not soon to forget.
39 – Go fishing at the Ocean Beach Pier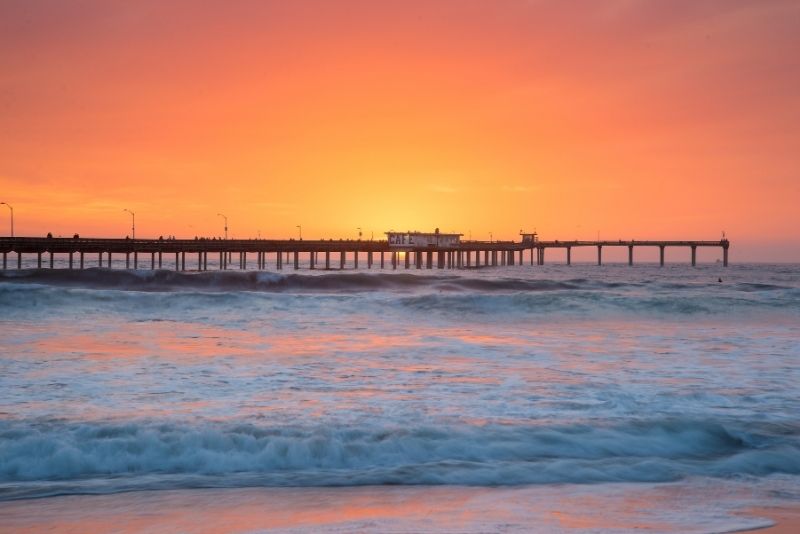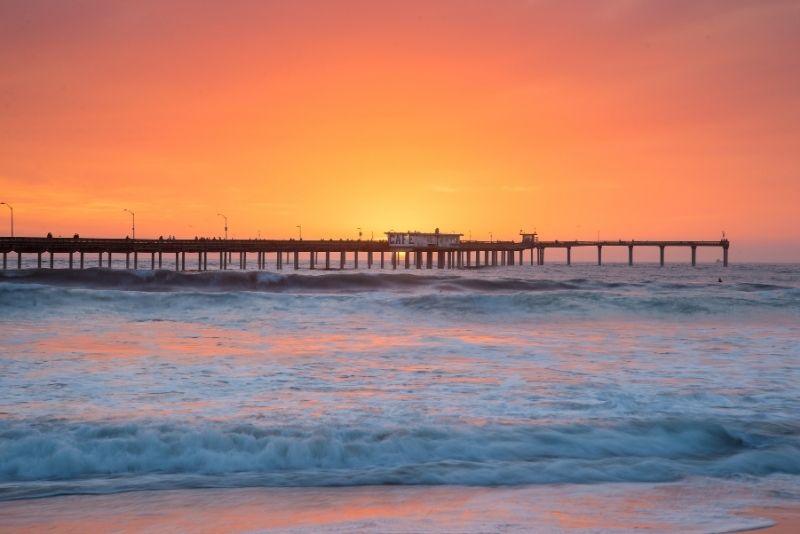 Pier fishing is a lot of fun. Come either early morning or sundown, choose the right bait, and catch halibut, bass, and other fish. You do not need a fishing license to fish from San Diego's Ocean Beach Pier, just a good fishing rod.
40 – Glide through the water at high speed on a jet ski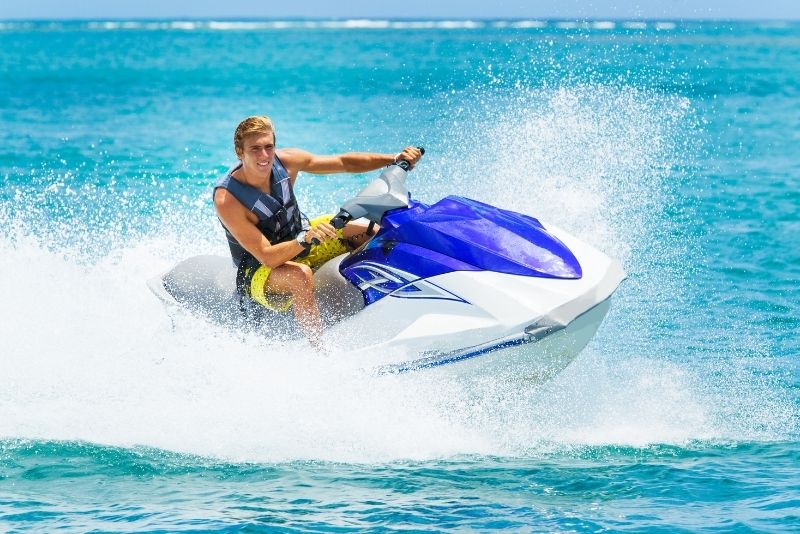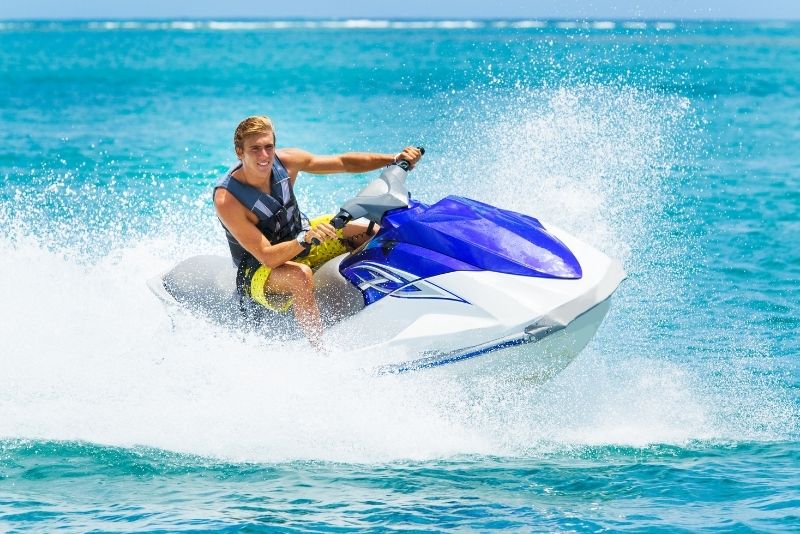 Hop on board a jet ski and zoom through San Diego's waters. Visit San Diego Bay Adventures and enjoy the thrill of a jet ski ride around the beautiful San Diego Bay.
41 – See wild animals roaming free at the San Diego Zoo Safari Park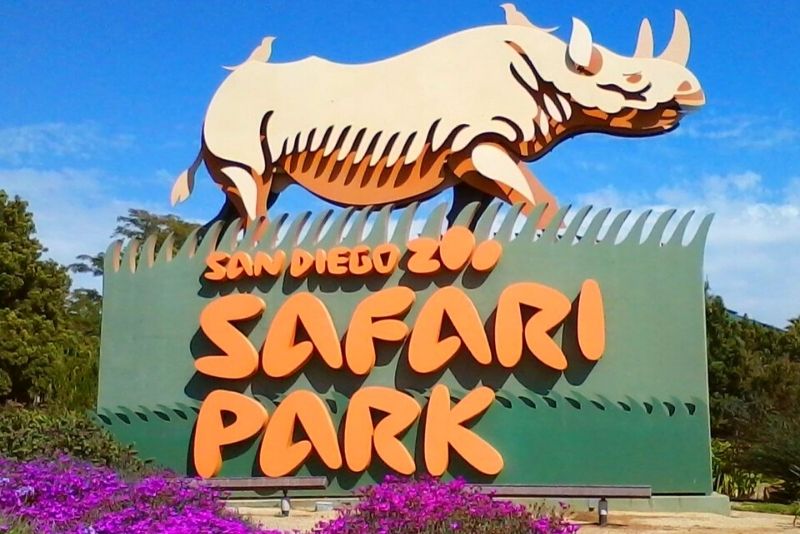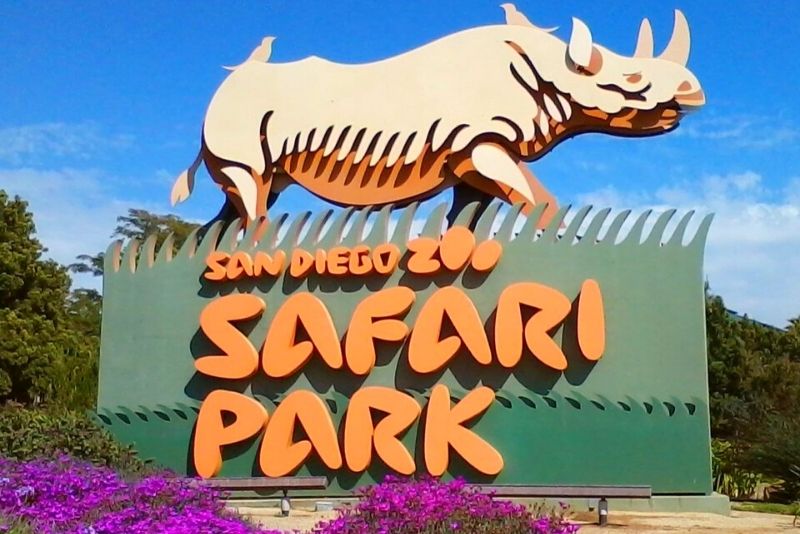 Explore 1,800 acres that are home to over 4,000 species of wild animals roaming free. Get nose to nose with lions, admire the majestic California condor, see stunning African elephants, you will enjoy an adventure of a lifetime in San Diego's gigantic safari park.
42 – Visit local wineries in Temecula wine country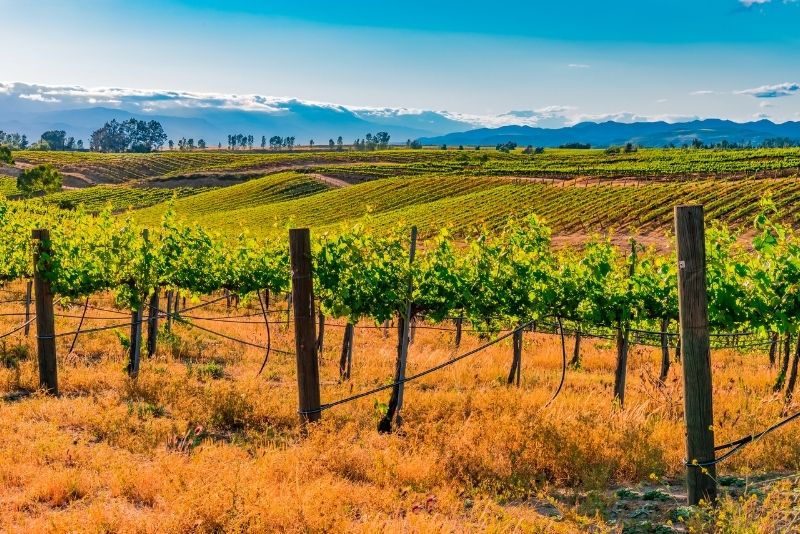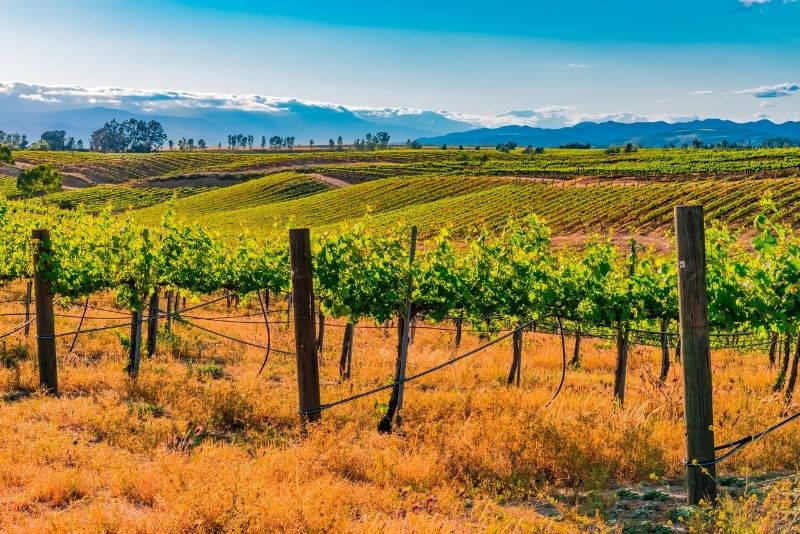 Explore the prestigious Temecula region, learn about the history of winemaking in the region while touring wine cellars, and spend the day sipping on some of the best Californian wines.
43 – Experience diving at La Jolla Cove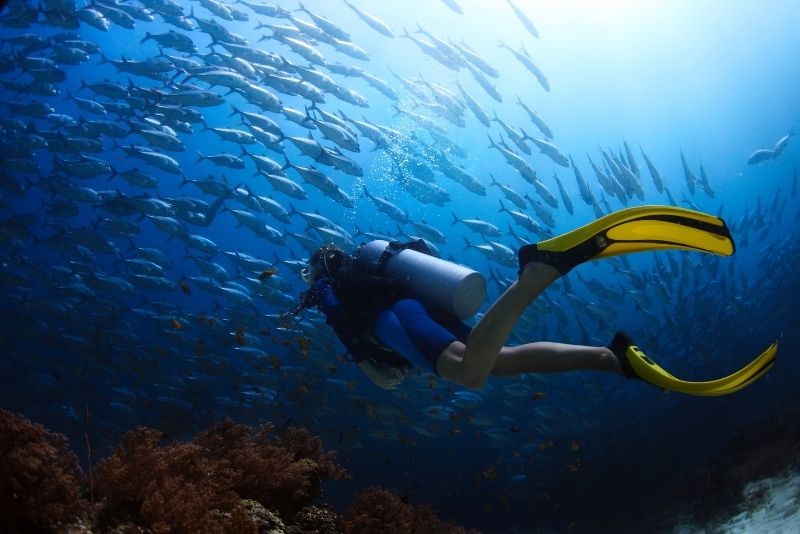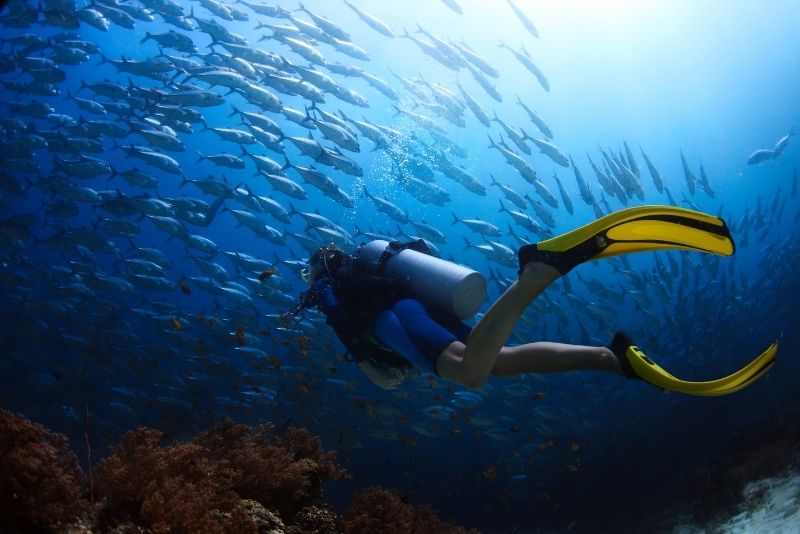 San Diego region is a nautical playground for humans and animals alike. From amazing sea lions to stunning leopard sharks, La Jolla Cove is particularly a fabulous place to scuba dive.
44 – Learn about the history of the automobile at the Automotive Museum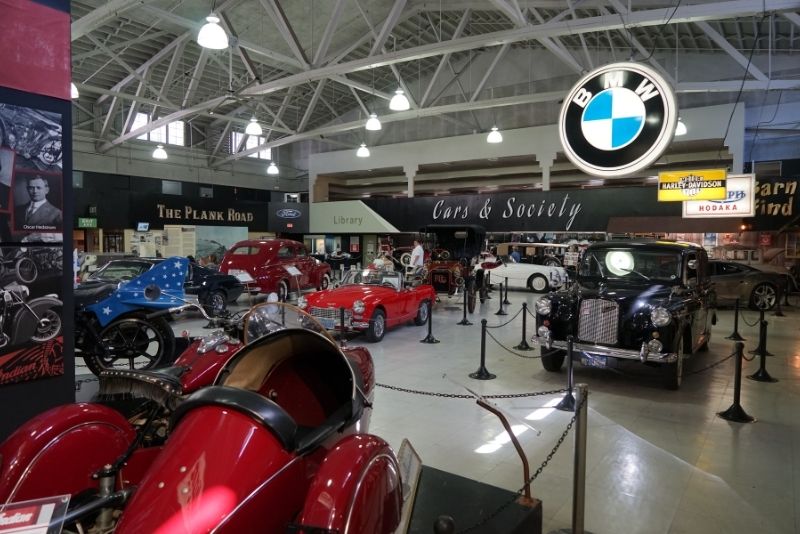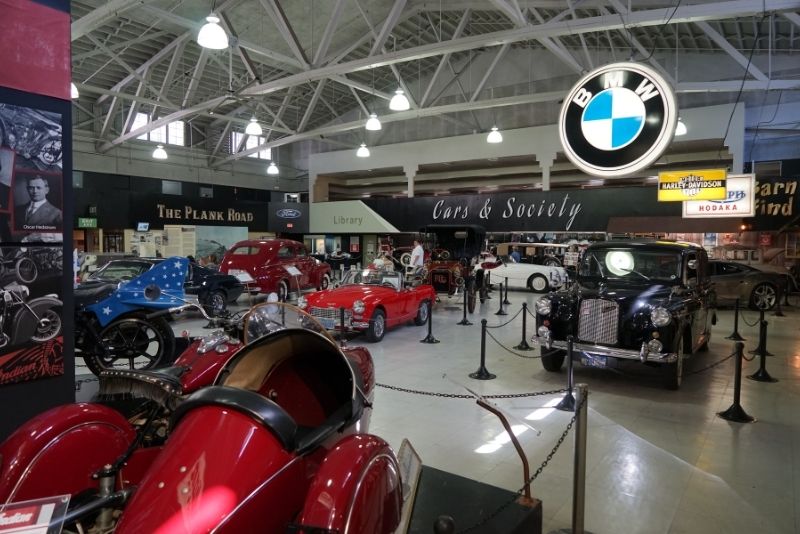 Featuring automotive culture from around the world, the San Diego Automotive Museum offers a nostalgic look at the extraordinary vehicles of the 20th-century.
45 – Visit the amazing Birch Aquarium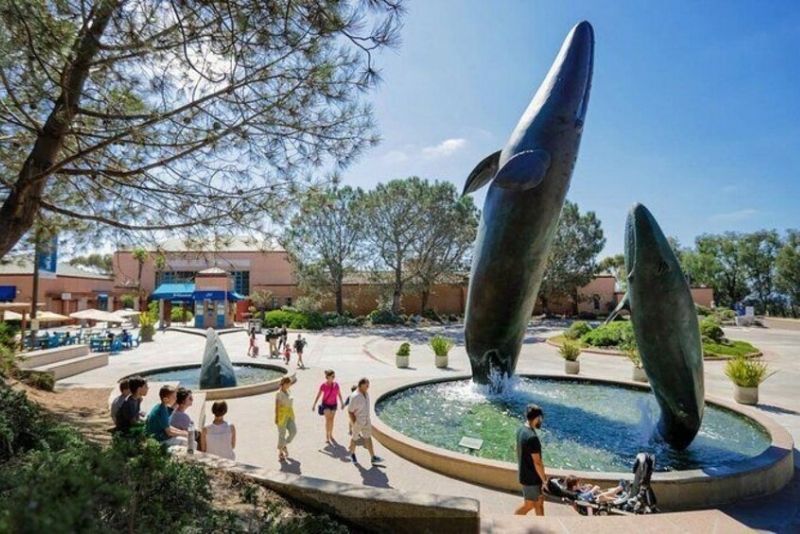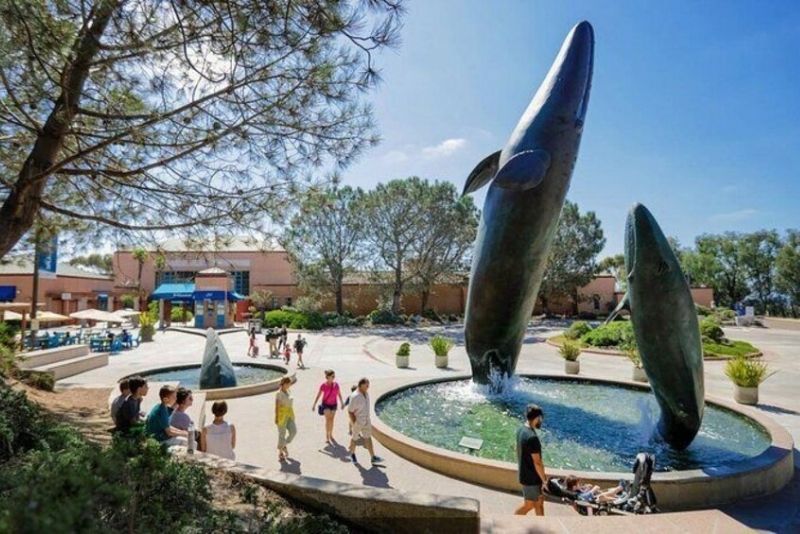 Embark on an underwater adventure with the family at Birch Aquarium and see thousands of local marine animals and wildlife species in 60+ aquarium habitats.
46 – Pedal your way on the ultimate cruise on the waters of San Diego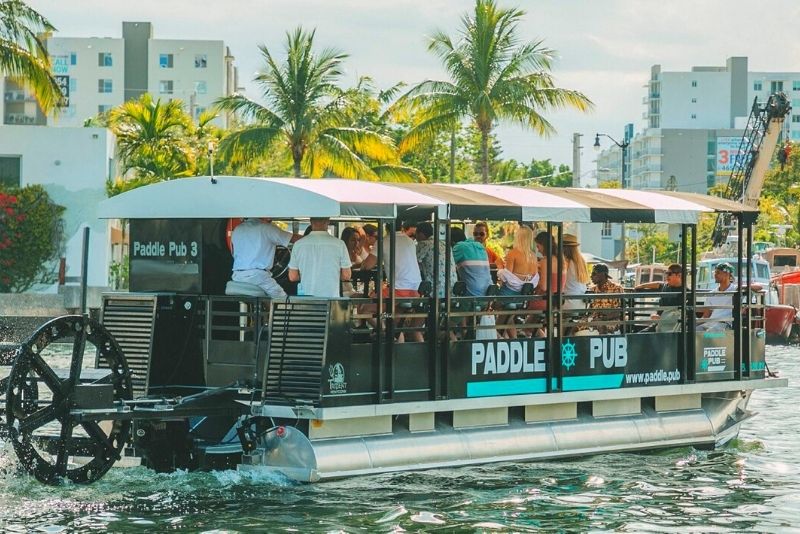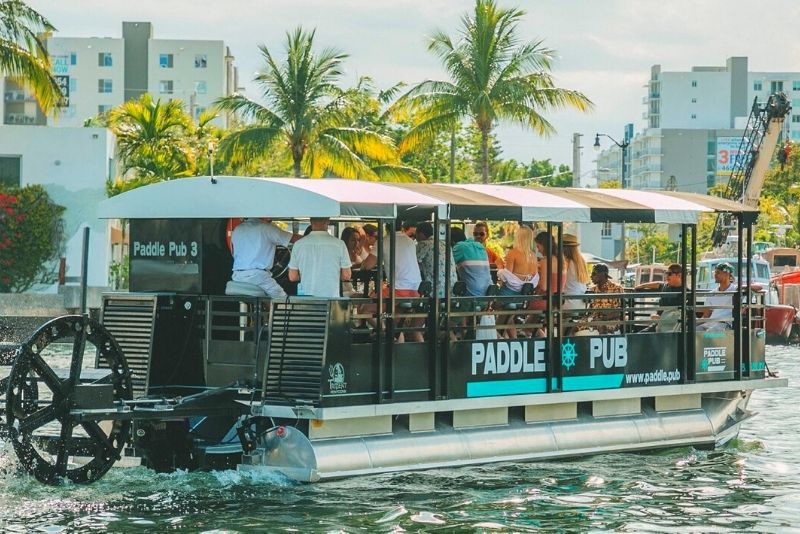 Experience a real floating party with Paddle Pub. Whether you are celebrating a bachelorette or bachelor party, a birthday, or just want to try something different with a group of friends, it is one of the most fun ways to visit San Diego.
47 – Head into the Anza-Borrego Desert on a quad bike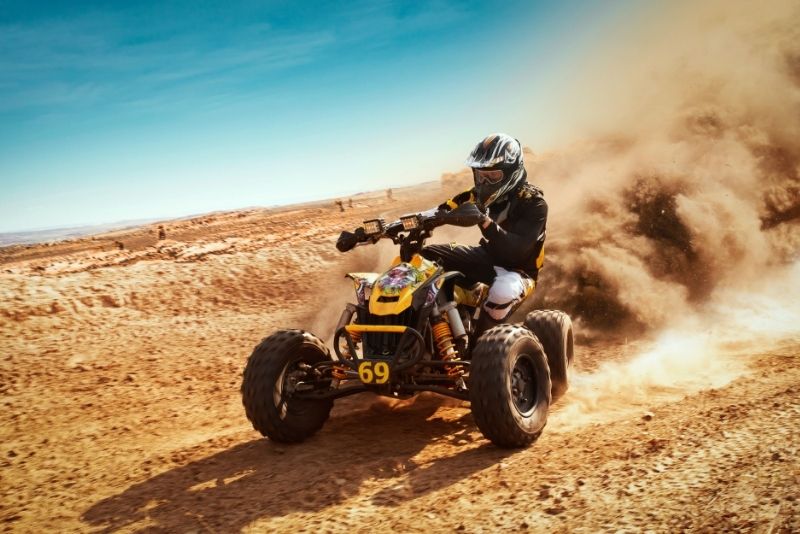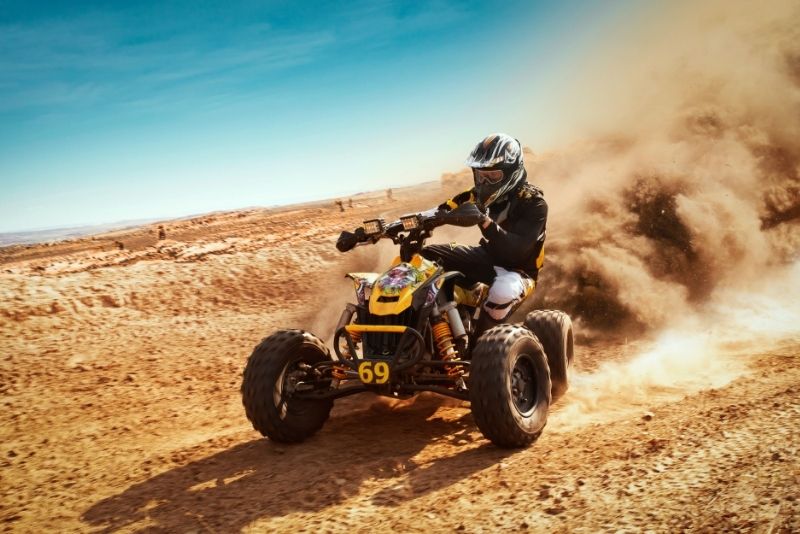 Experience the thrills of driving an ATV in the desert and discover the wild side of San Diego. Run by San Diego Dune Tours, this adventure is packed with fun at every turn, one of a lifetime experience you shouldn't miss.
48 – Experience hot tub cruising and relax with your friends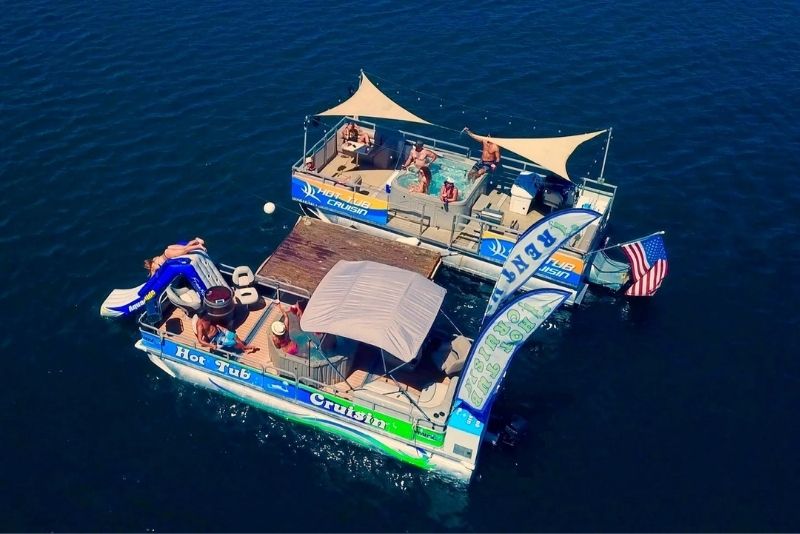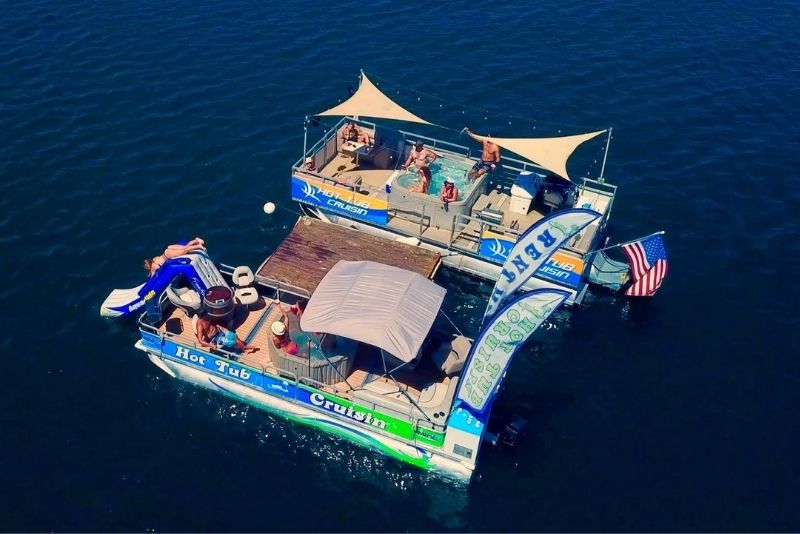 Looking for some unique and fun things to do in San Diego? Whether you're a local, new in town, or just passing through, you will love the unforgettable experience of hot tubbing on a boat.
49 – Sail back into history at the Maritime Museum of San Diego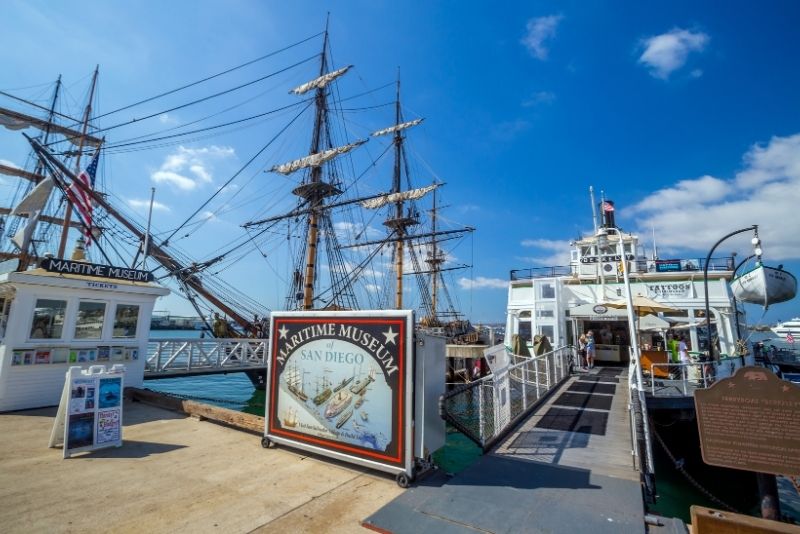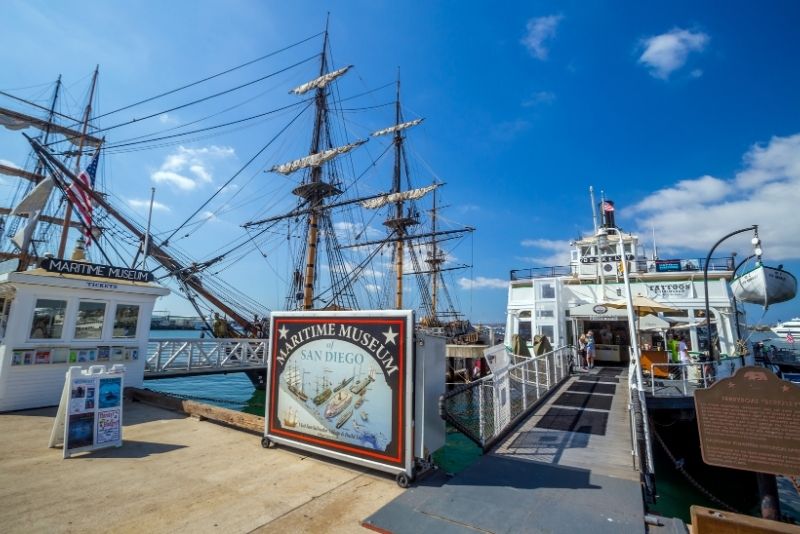 From fantastic sailing ships to classic yachts and Navy submarines, discover one of the largest collections of historic sea vessels in the United States.
50 – Challenge yourself with a skydive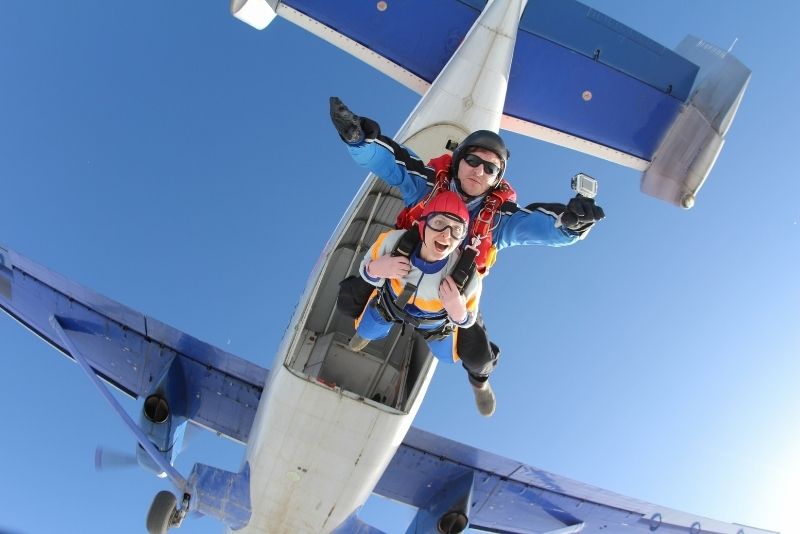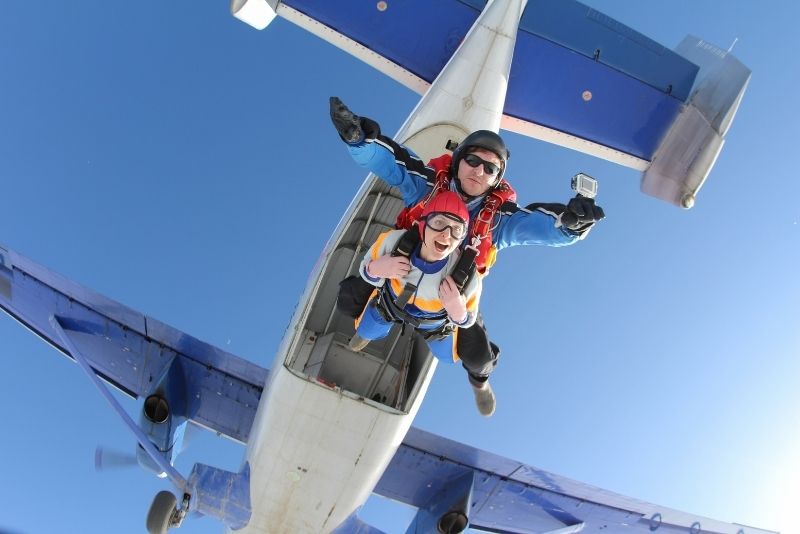 Looking for a unique addition to your San Diego vacation? Get the thrill of a lifetime at Skydive San Diego. Dive from up to 15,000 feet and experience the thrill of freefall for up to an insane 60 seconds, traveling at speeds of over 120 mph.
51 – Have fun at Aquatica aquapark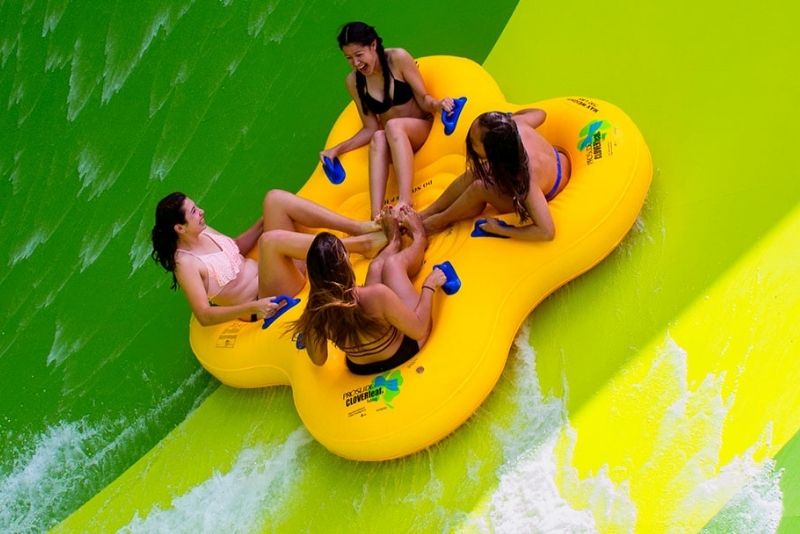 San Diego might be famed for its long sandy beaches, but it also offers fantastic theme parks. Part of the SeaWorld experience, Aquatica offers splashes galore in the form of an exciting aquapark with many thrill slides designed to get your heart racing.
52 – Pull on some rain boots and go tide pooling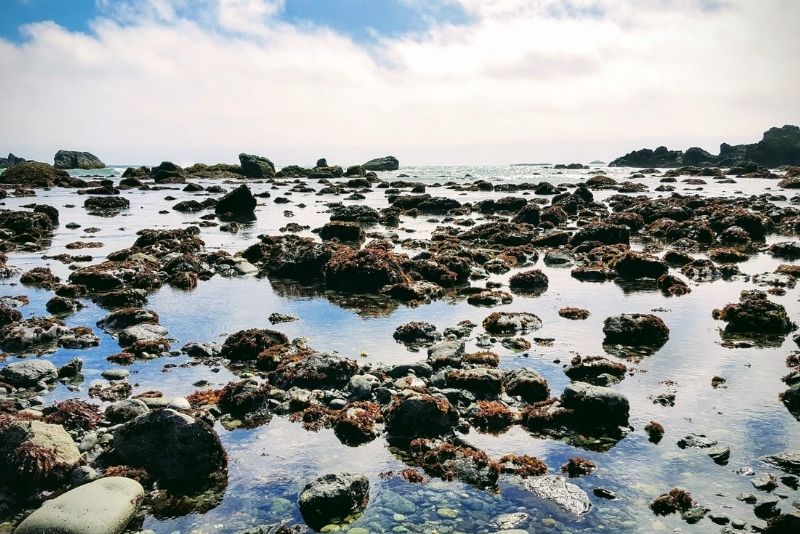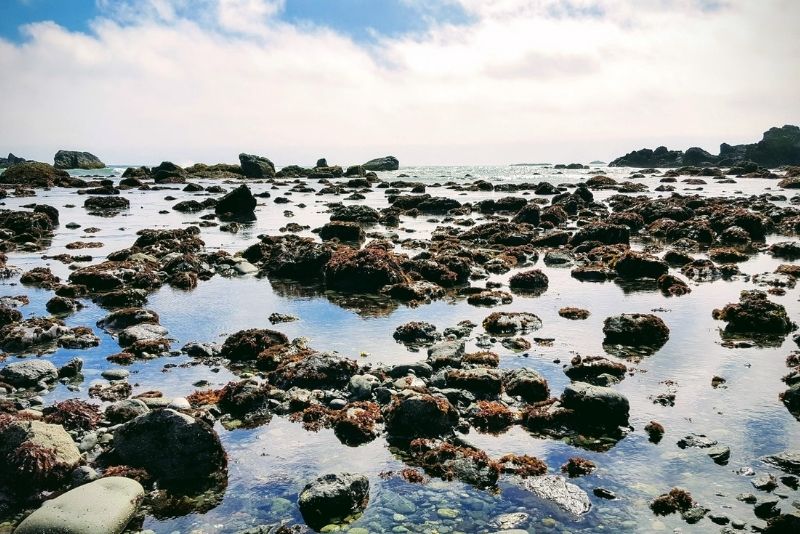 There are a number of fine spots in San Diego to view a variety of fascinating tide pool residents, including Cabrillo National Monument Tide Pools, Sunset Cliffs Natural Park, Birch Aquarium at Scripps, and Swami's State Beach Tide Pools to name a few.
53 – Sip on refreshing beach craft cocktails at Cannonball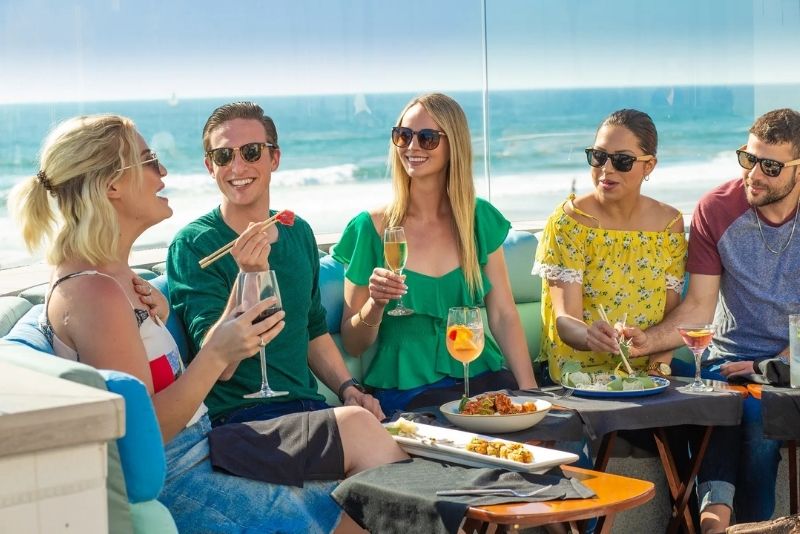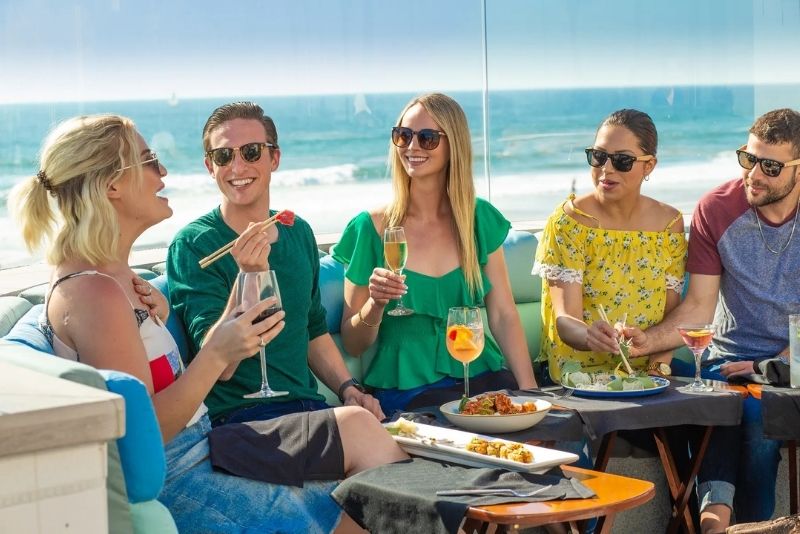 Sample Japanese delicacies by the sea at Cannonball, San Diego's largest oceanfront rooftop, and enjoy the stunning beachfront views. With a service just as spectacular as the view, this is the best place in San Diego for a delicious seafood dinner.
54 – Experience an injection of excitement and buzz at Belmont Park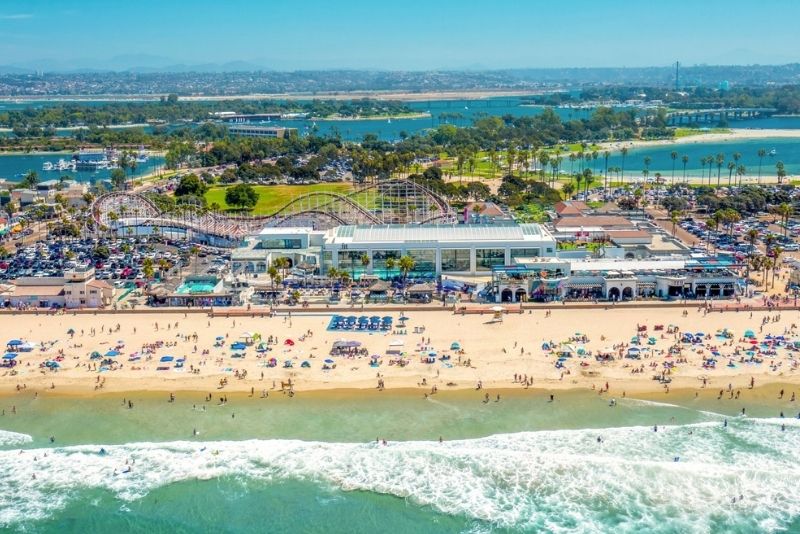 Situated along Mission Beach, Belmont Park is a historic oceanfront amusement park, nothing short of a journey into the land of adrenaline. Experience a wide range of thrillful attractions, from roller coasters to bumper cars and zero-gravity rides.
55 – Get your party on at Gaslamp Quarter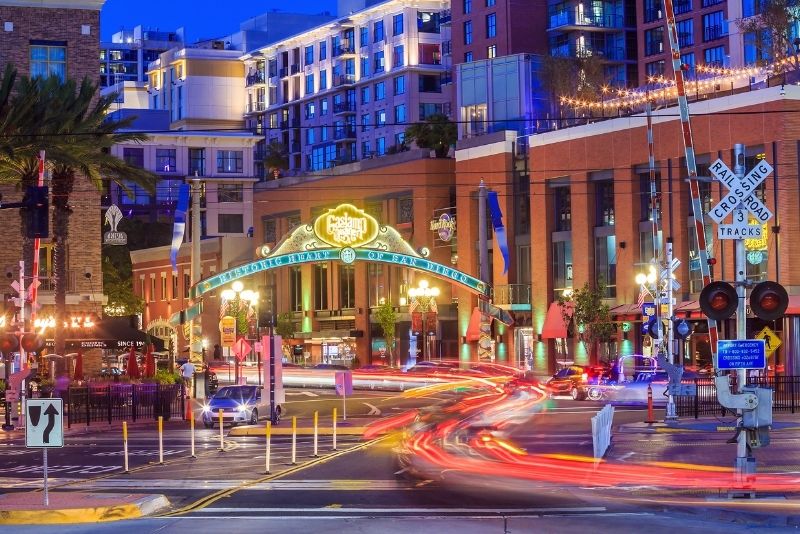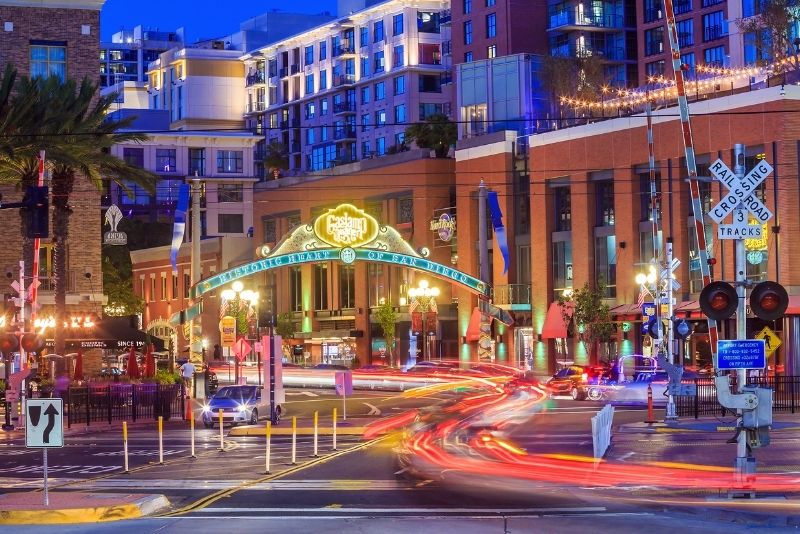 A night out pub crawling with your friends is one fun way to spend the weekend. Located in the heart of downtown San Diego, Gaslamp Quarter is the place to be when it comes to nightlife.
56 – Enjoy live music at Belly Up tavern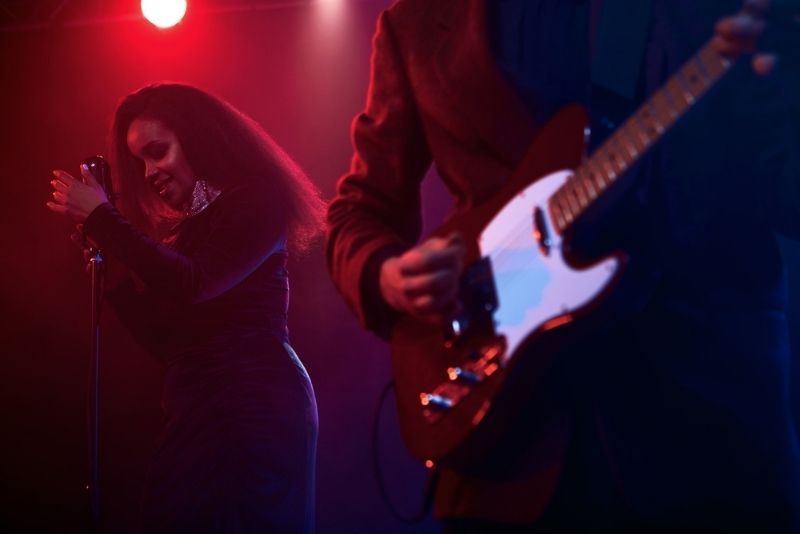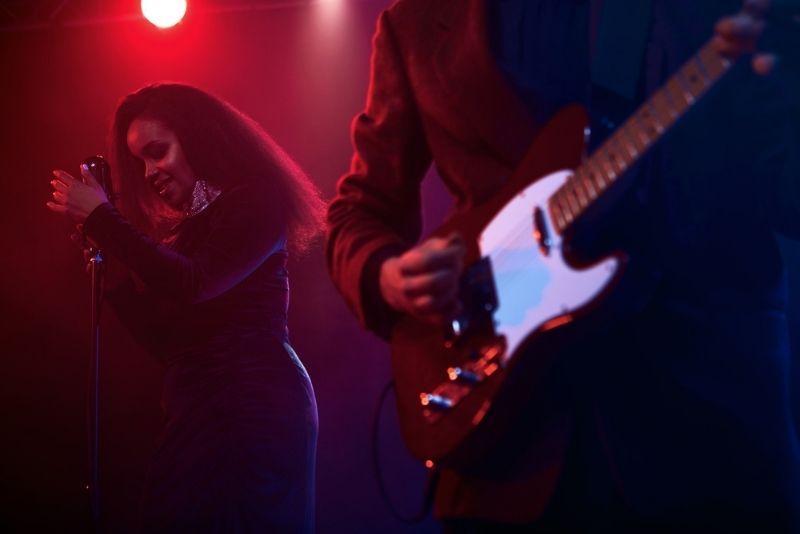 Looking for a cool place to catch a live music performance? San Diego has one of the most exciting music scenes in the United States. Check out the popular venue Belly Up, well-known for showcasing talented artists and legends like John Lee Hooker, BB King, and the Black Eyed Peas.
57 – Explore Mission Trails Regional Park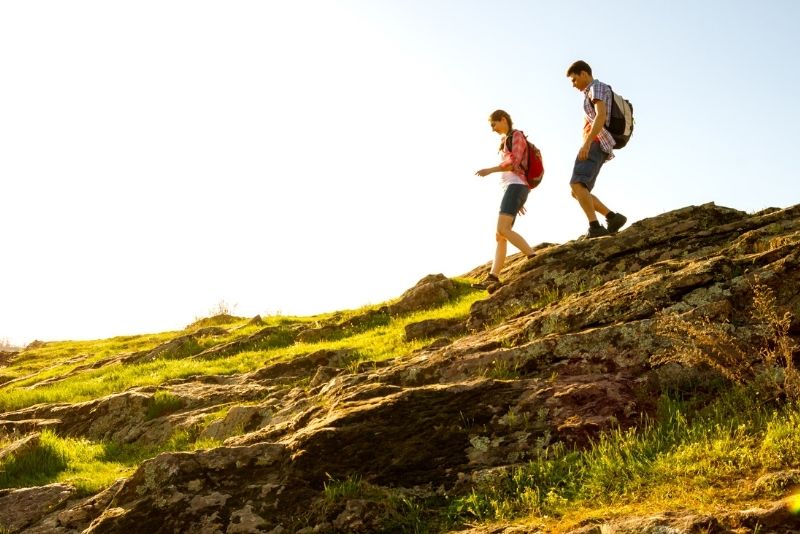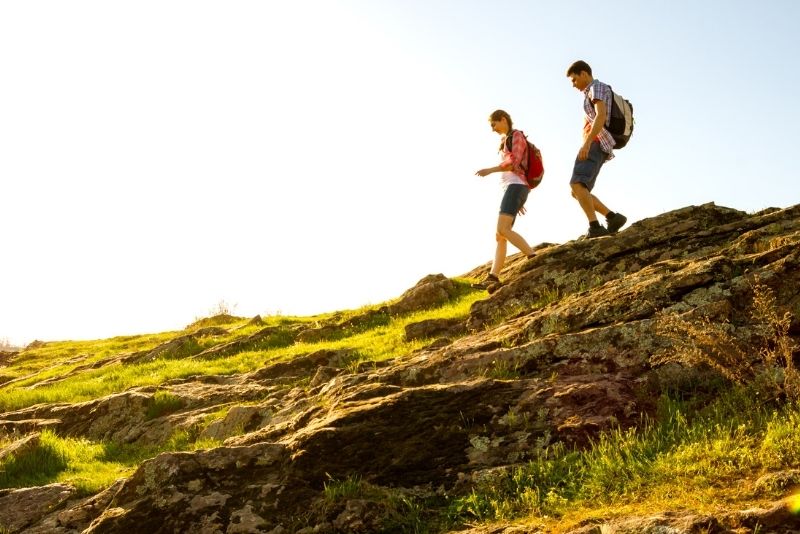 Encompassing more than 8,000 acres, Mission Trails Regional Park is a nature lover's paradise, offering hiking trails suitable for all experience levels, and providing a great natural escape from the hustle and bustle of San Diego city.
58 – Watch live plays at Old Globe Theatre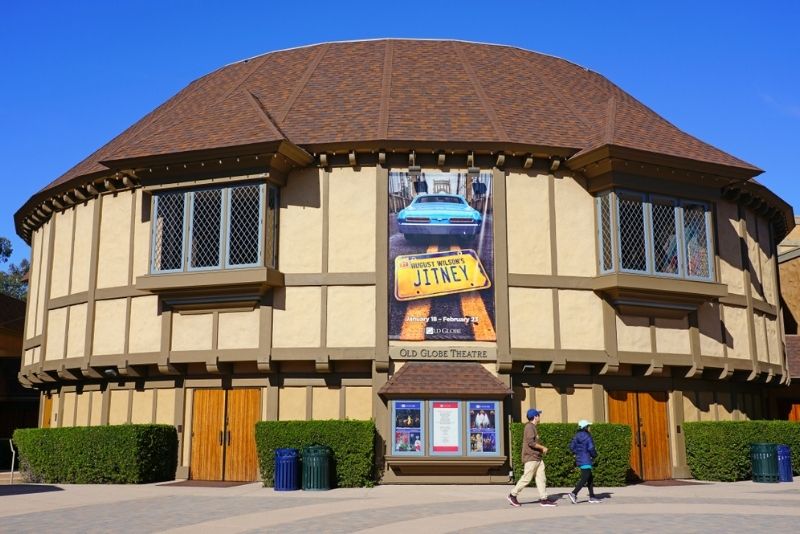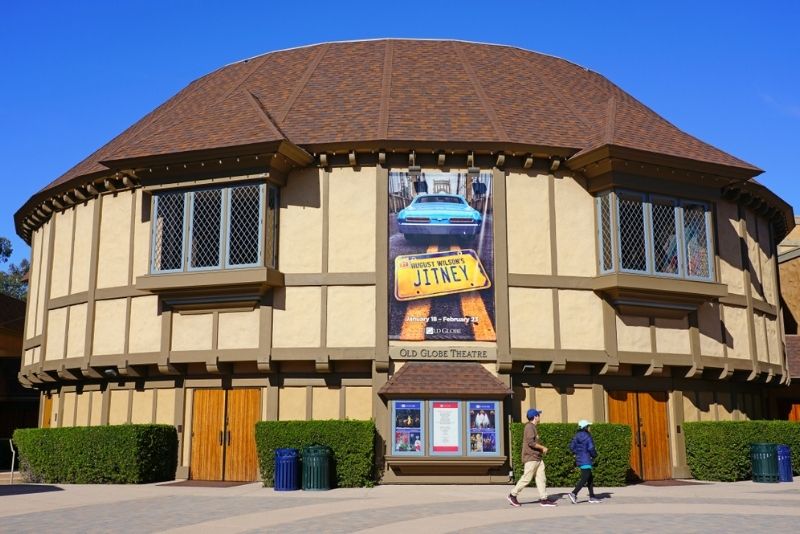 Located in Balboa Park, the award-winning Old Globe Theatre is one of the city's most important cultural attractions for over 75 years. Check the upcoming calendar, pick your favorite performance, and enjoy the show!
59 – Learn the art of riding ocean waves at La Jolla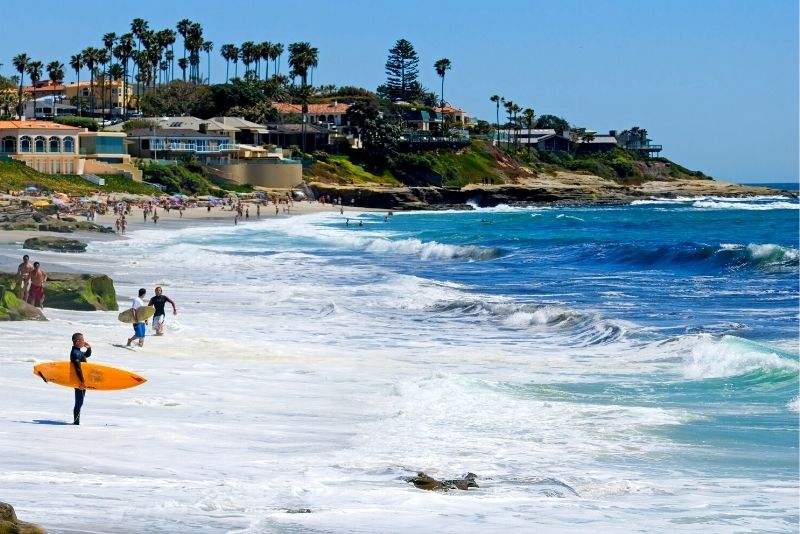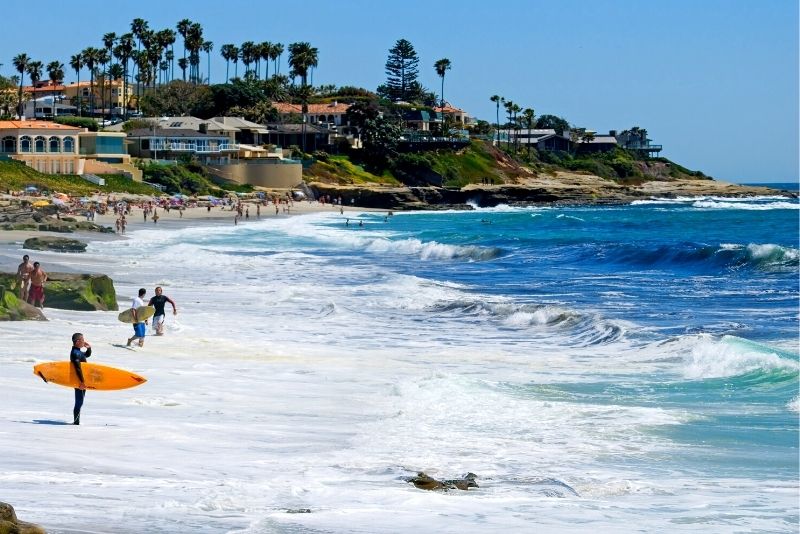 La Jolla is renowned as one of the world's premier surfing destinations. Get to know the ocean and learn how to surf on California's best-surfing beach.
60 – Enjoy an afternoon stroll at Seaport Village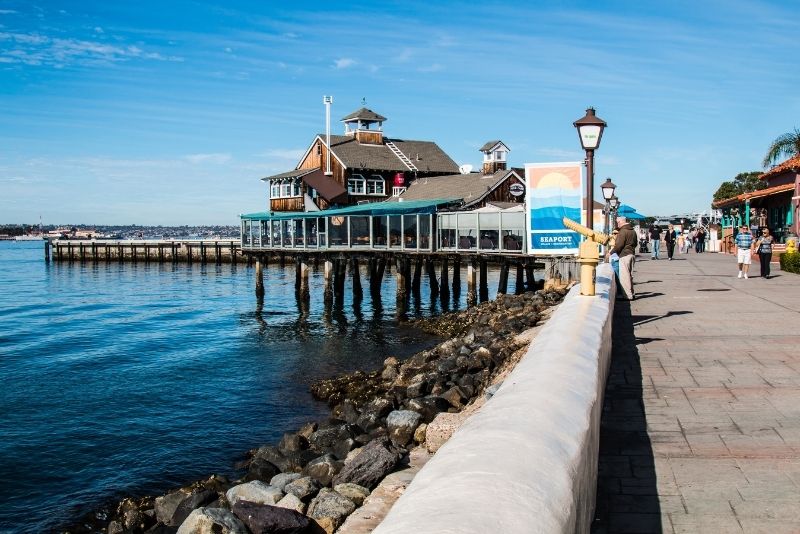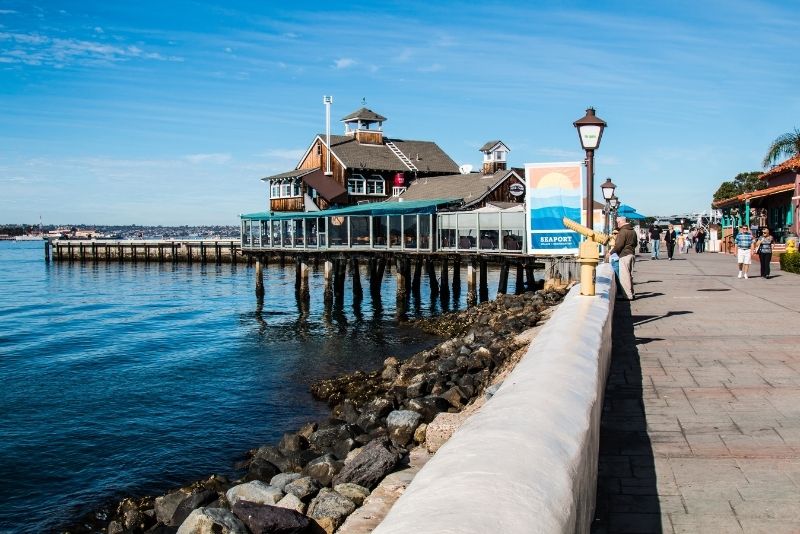 Seaport Village offers amazing dining options, unique shopping, and awesome live music events, bringing San Diego's waterfront to life.
61 – Spend a full day in the magical world of Disney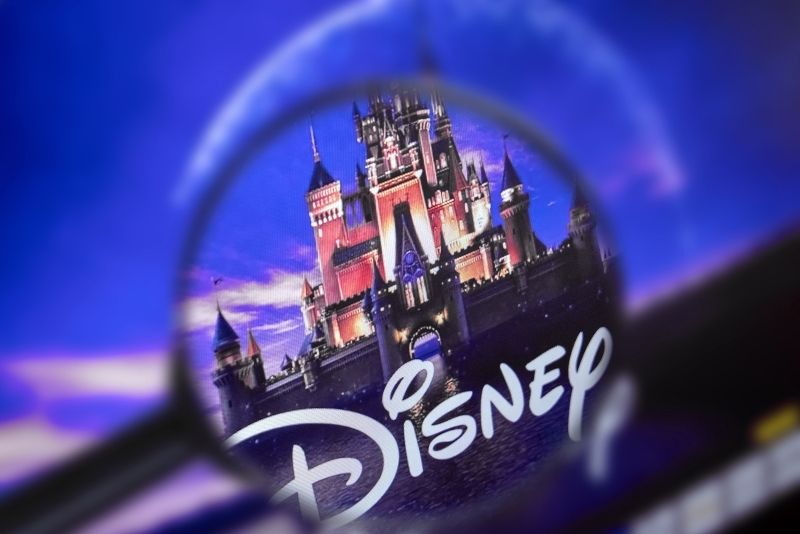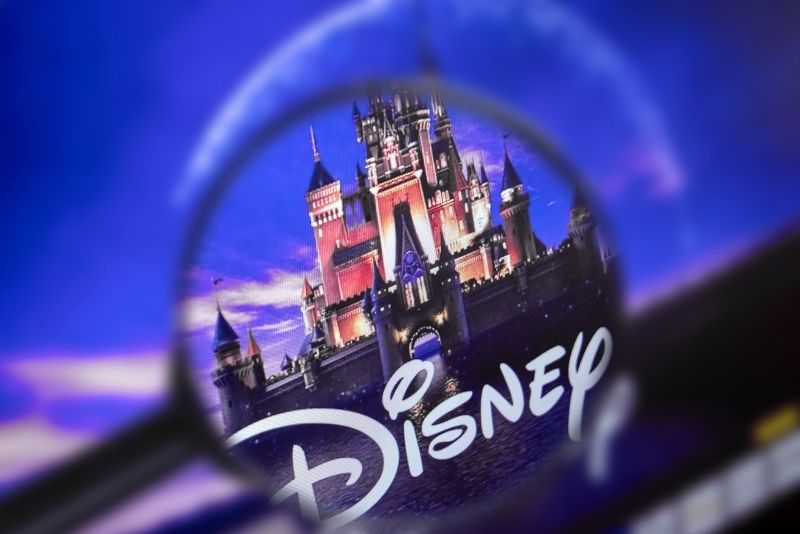 Embark on a scenic drive north and visit Disneyland Resort, only 90 mins away from downtown San Diego. Offering 2 world-class theme parks, Disneyland Park and Disney California Adventure Park, Disneyland Resort boasts some of the world's leading theme-park attractions.
62 – Bet on horse racing at Del Mar Racetrack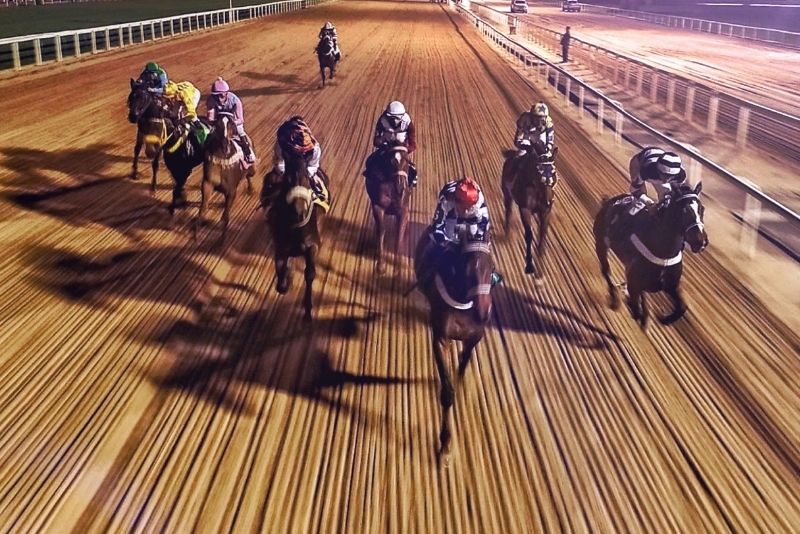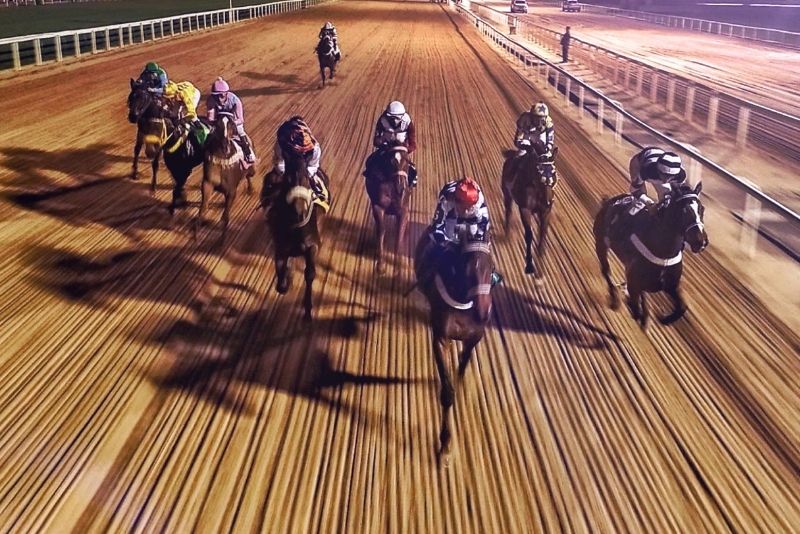 Make the most of your evening in San Diego and see a horse race at Del Mar Racetrack. Horse racing at Del Mar happens Wednesday through Sunday, from mid July to early September.
63 – Go out at The Observatory North Park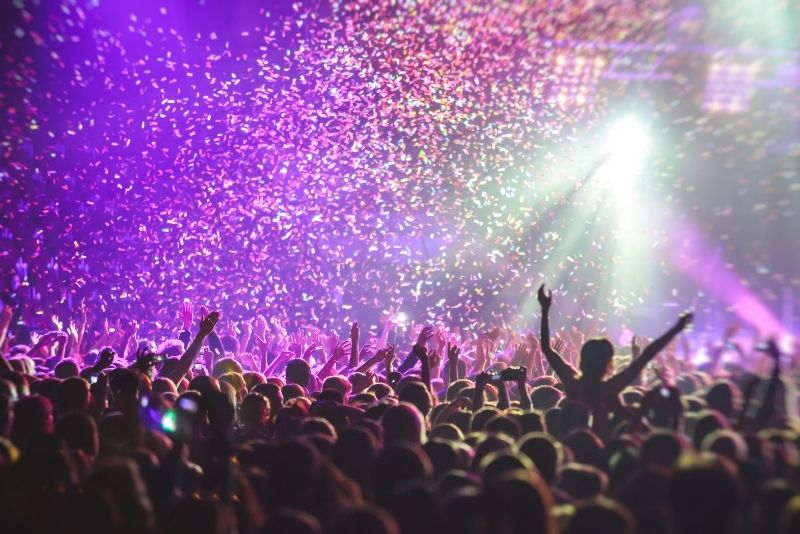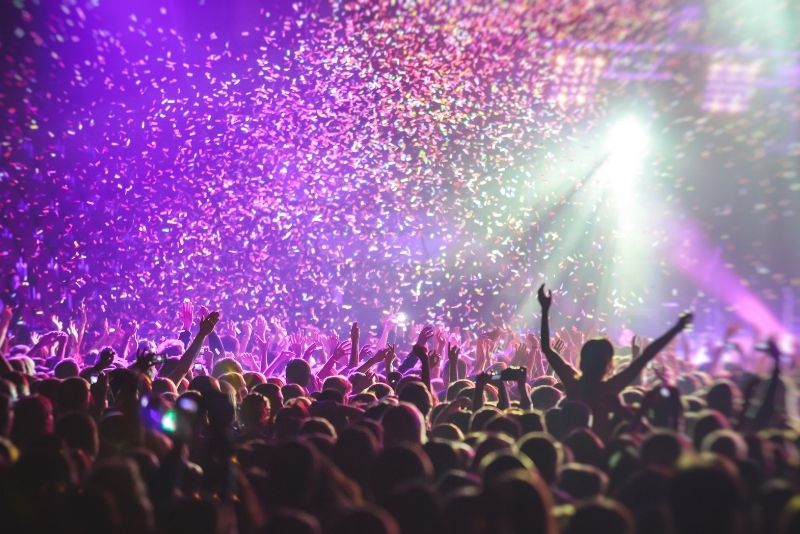 Are you a rock music fan? When it comes to rock music in San Diego, you can guarantee that the Observatory North Park has got your back.
64 – Spend the evening at Mister A's, a feast for the eyes and the stomach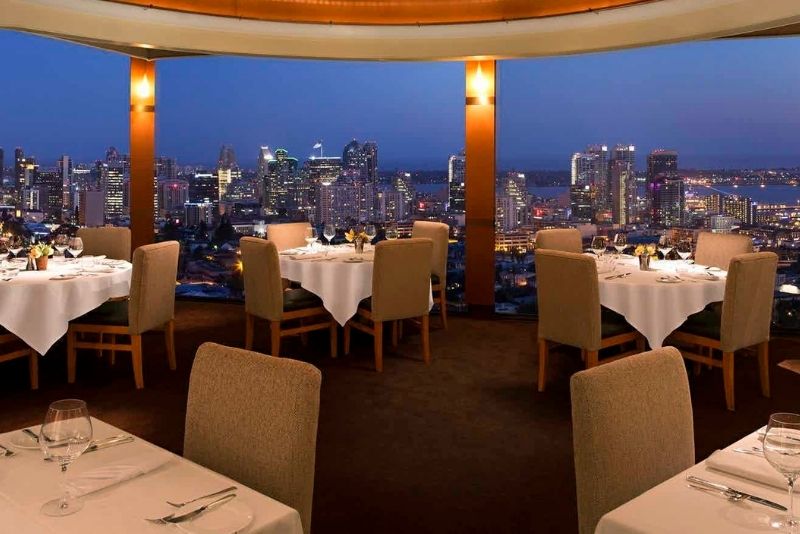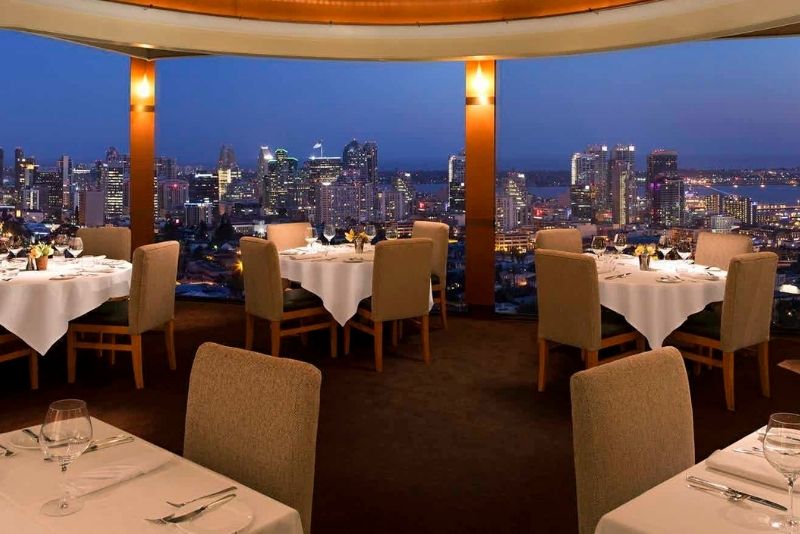 Looking for a romantic place to dine with your loved one? Escape the city crowd and venture up to Mister A's, the best restaurant in San Diego with a view.
65 – Take drinking to the next level at ALTITUDE Sky Lounge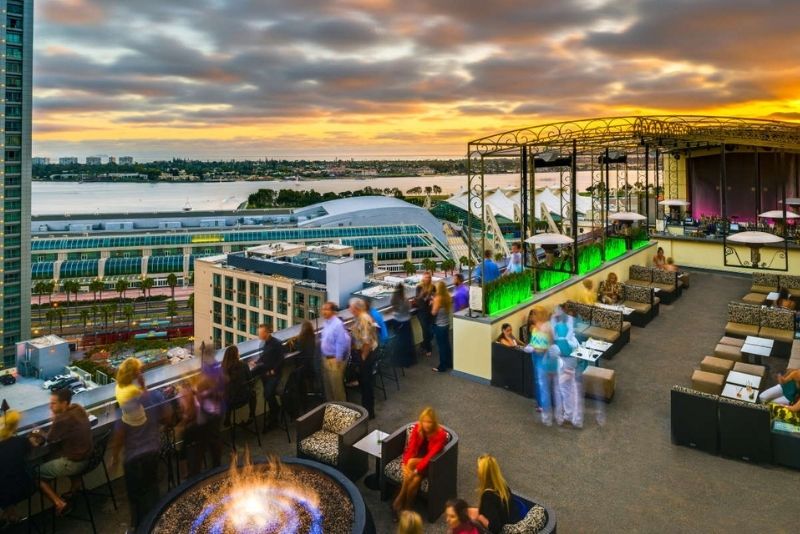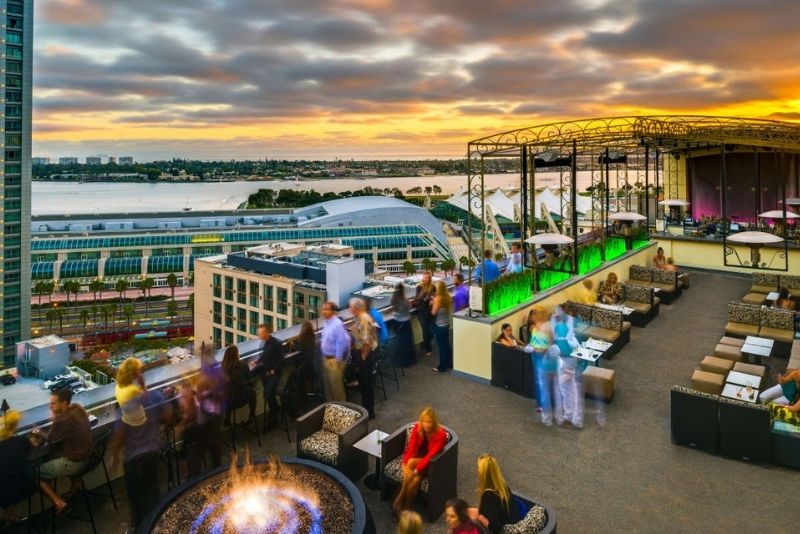 Perched 22 stories above the historic Gaslamp District in downtown San Diego, ALTITUDE Sky Lounge boasts unparalleled panoramic views of San Diego.
66 – Don't miss the Humphreys Concerts By The Bay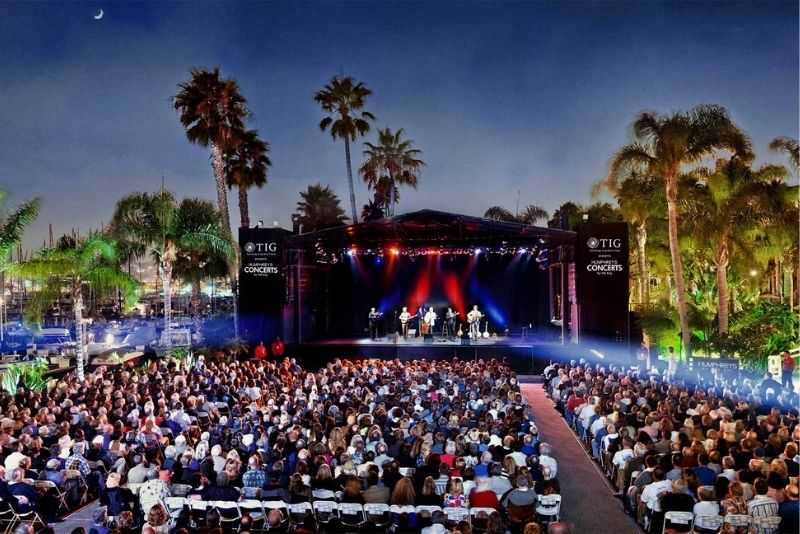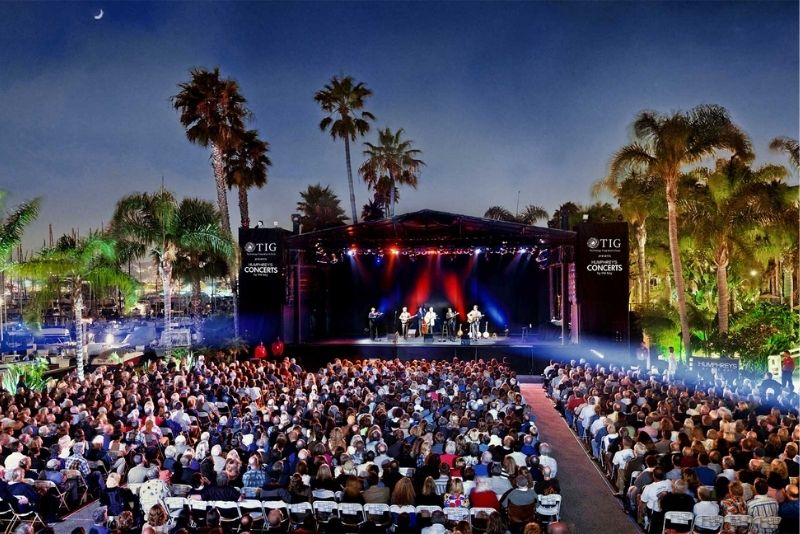 Located on Shelter Island, Humphreys Concerts By The Bay has been a San Diego summer tradition for the past 40 years, showcasing the biggest names in music history including Willie Nelson, Stevie Wonder, Jackson Browne, and Bob Dylan to name a few. The season runs from April to October.
We hope you enjoyed our selection of fun things to do in San Diego. Do not hesitate to comment below if you have other fun activities in San Diego to recommend.