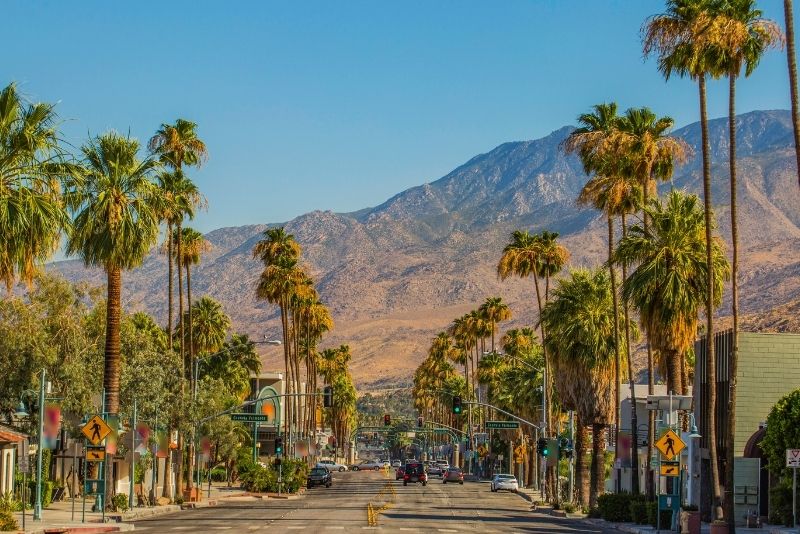 Despite getting mighty toasty in the summer, Palm Springs has been a phenomenally popular vacation destination for decades, frequented not only by California locals but by its A-lister celebrities as well.
Straddling a desert unique in beauty and biodiversity, and right next door to Joshua Tree National Park, there are tons of things to do in Palm Springs for the adventurer.
Of course, for those after something more low-key, there's plenty of opportunities to spend an afternoon relaxing at your hotel's pool; strolling through downtown and window shopping, people-watching, or dining on delicious Mexican food; visiting one of the many spa resorts, or golfing at some of the most scenic courses in Southern California.
As you can tell, Palm Springs truly embodies the vacation mentality.
1 – Hike your way through Joshua Tree National Park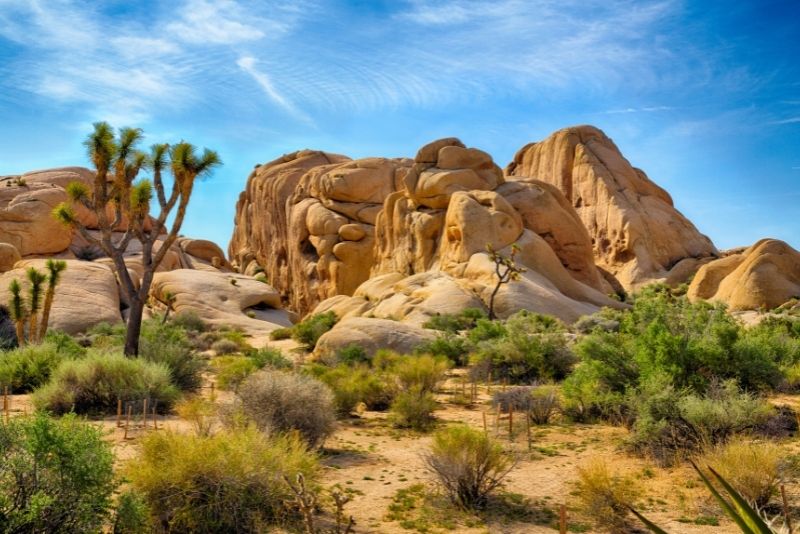 Outdoor lovers, rejoice!
Enjoy spectacular wonders of nature as you hike through the blended ecosystems of both the Mojave and Colorado deserts; navigate through the unique rock formations of the Hidden Valley Nature Trail, and behold the famous fifty-foot wide Arch Rock or the seemingly endless mountain vistas of Keys View.
Guided tours offer detailed looks into this area's unique geological and biological features, including, of course, its beautiful namesake trees.
2 – Soar over the cliffs on the Palm Springs Aerial Tramway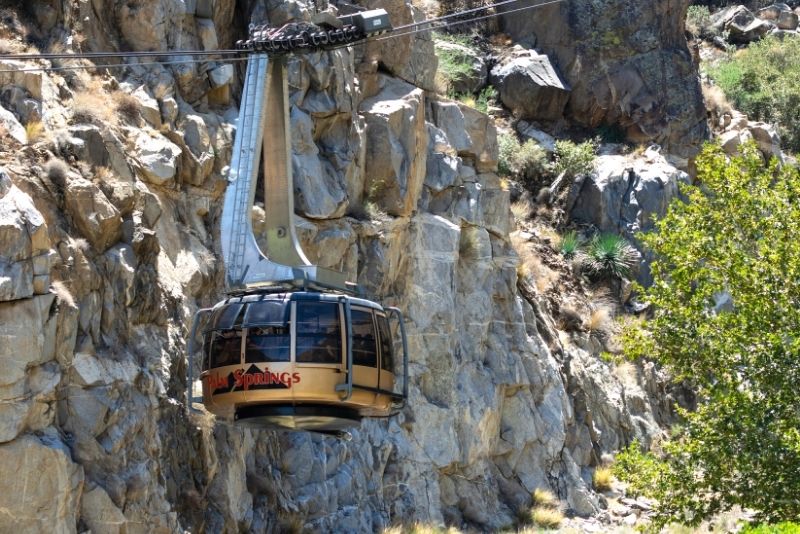 Boasting the moniker of the "World's largest rotating tram car", the two-and-a-half-mile journey across the cliffs of Chino Canyon is enhanced by your tram car's slow, peaceful rotation, effectively giving you panoramic views of the spectacular valleys below.
The journey ends at Mt. San Jacinto State Park at an elevation of 8,516 feet — once there, you'll stumble across observation decks, restaurants (with a view), and gift shops, and over 50 miles of hiking trails!
3 – Visit the San Bernardino National Forest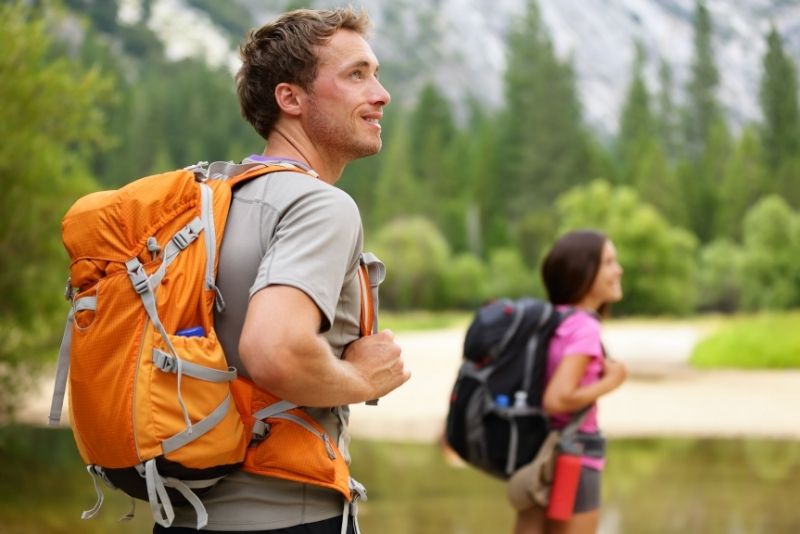 Encompassing over 800,000 acres of diverse woodlands (watch out for picnic basket-swiping bears though), San Bernardino National Forest offers visitors all the standard adventure activities such as hiking, fishing, and camping, sprawled out across seven official unique wilderness areas with a wide range of differing ecosystems.
You'll marvel at the dazzling array of tree species and animal life such as bighorn sheep, bald eagles, California black bears, and horned lizards. Don't forget your camera!
4 – Take a jeep tour of the San Andreas Fault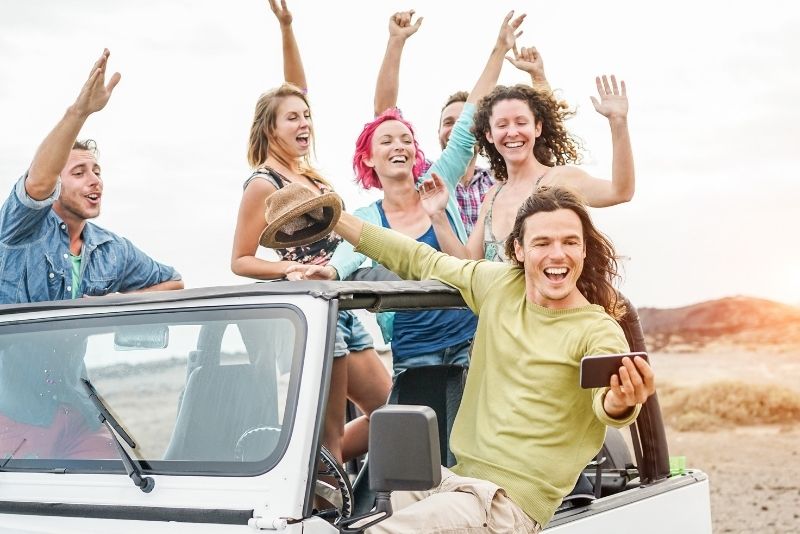 If you've ever dreamed of going off-roading in the desert, here's your chance!
As you hop inside a jeep and tour the famous San Andreas fault in the Palm Desert, you'll be shown the wonders of the twisted rock mountains and deep canyons, and learn all about how the Native American Cahuilla people thrived in such a harsh environment.
With a friendly guide leading the way, they'll be happy to answer any questions about the local animals and geology too.
5 – Takeoff to the Palm Springs Air Museum!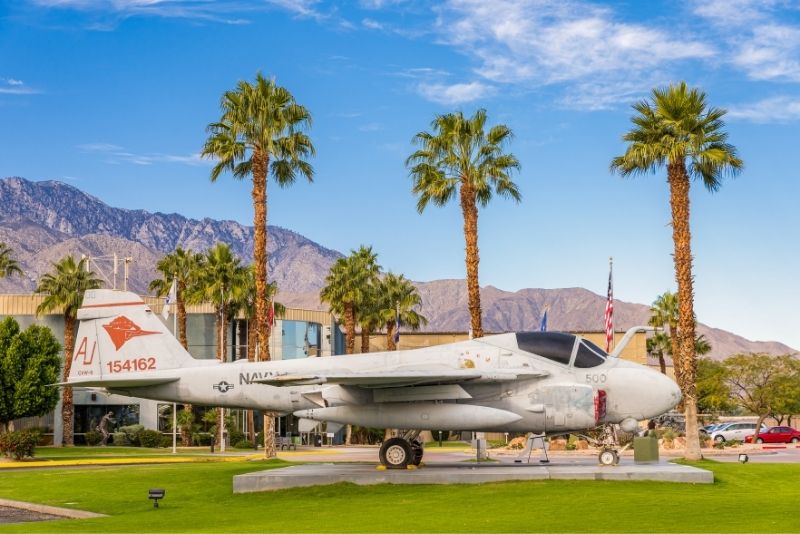 Boasting more than 70 aircraft on display in both 86,000 square feet of hangers and 40,000 square feet of outside tarmac, aviation enthusiasts and history buffs alike are bound to love this amazing museum dedicated to preserving vintage World War II and Korea/Vietnam era aircraft.
For those wanting to learn not only how to operate a plane, but the history of them too, the Palm Springs Air Museum houses a dedicated research library and education center, as well as several flight simulators to tickle your flight fantasies!
6 – Hike through Mount San Jacinto State Park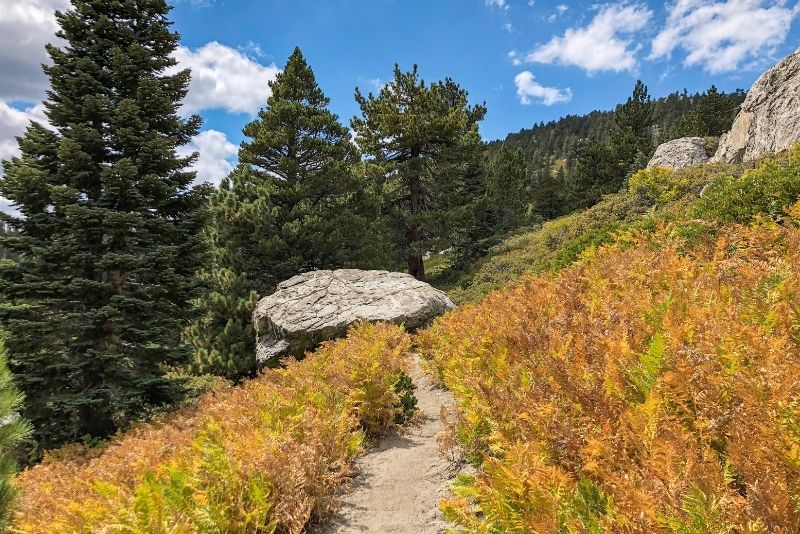 As the second-highest mountain range in Southern California, Mount San Jacinto takes you almost 11,000 feet above sea level, dishing up breathtaking views of San Jacinto's majestic granite peaks and surrounding alpine forests in the process.
On top of the array of hiking trails, the bravest of visitors sleep under the stars in one of two drive-in campgrounds.
Keep in mind: Permits are needed to take advantage of most park areas, so be sure and check the website for how to acquire one.
7 – Go rock climbing!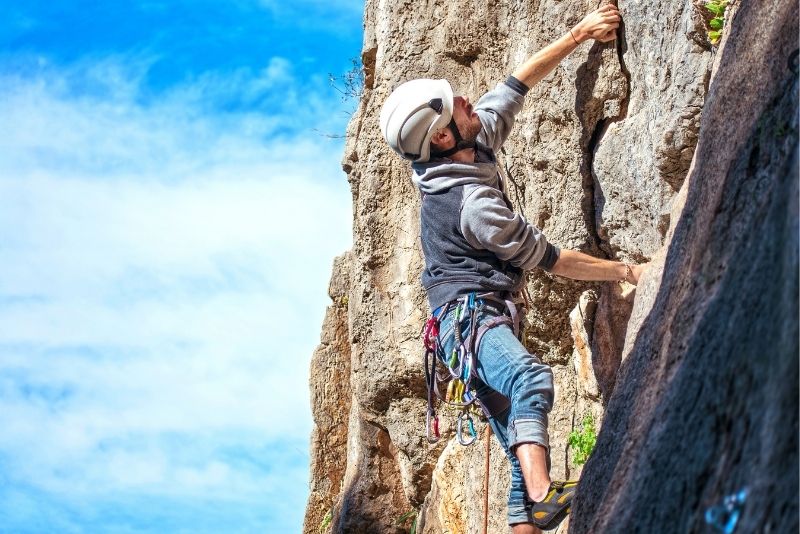 An adrenaline-surging activity for both newbies and seasoned climbers alike, there's plenty of indoor as well as outdoor climbing spots in Palm Springs.
For kids and beginners, head to somewhere like Boomers (mentioned above). However, for the out-and-out thrill-seekers, it's worth joining a dedicated outdoor rock climbing tour — a high-octane adventure that takes you into the heart of Joshua Tree National Park where you'll be scaling the rock face by rope.
8 – Walk the Palm Springs Walk of the Stars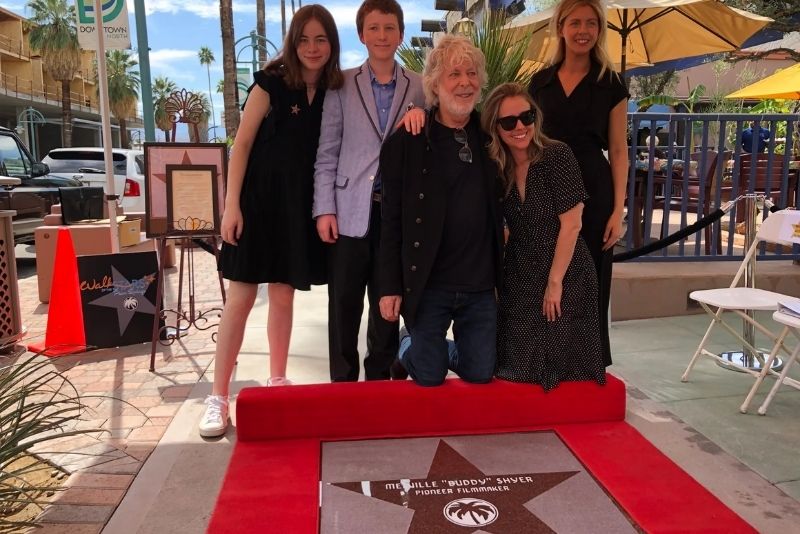 For anyone with an obsession with the celebrity world, add this underrated attraction to the top of your list of things to do in Palm Springs.
A Hollywood-style walk of fame infused with a local flair, the Walk of the Stars honors notable entertainers, humanitarians, civic leaders, architects, artists, authors, and athletes who have called wonderful Palm Springs their home over the decades.
Honorees have included big names like Dwight D. Eisenhower, Truman Capote, Arnold Palmer, Elizabeth Taylor, and Marilyn Monroe, but also featured are community leaders, local war heroes, and more.
9 – Ride a bike or a Jeep through the Indian Canyons!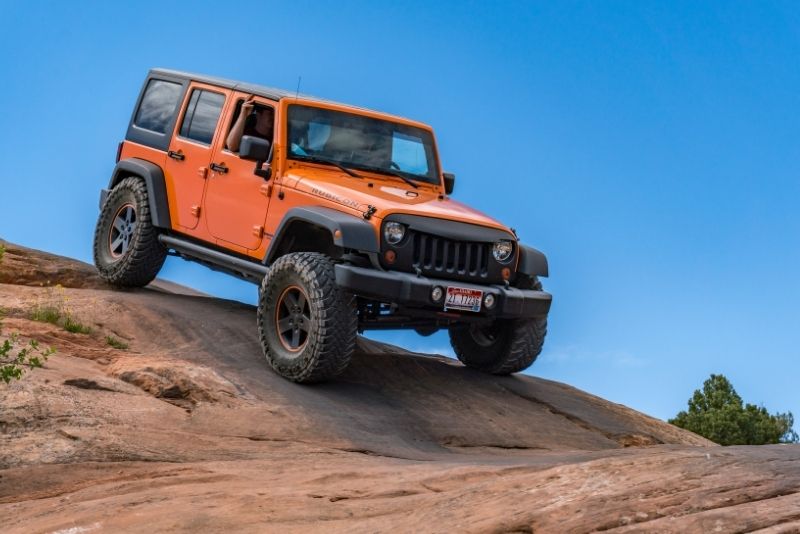 A crowd favorite destination for adventure lovers and outdoor enthusiasts, the Indian Canyons are home to stunning rock formations and tranquil palm tree oases, dotted across the ancestral home of the Agua Caliente Band of Cahuilla Indians.
On 3-to-4-hour tours, expect to learn all about the rich history and culture of the Cahuilla people, discover a hidden water cave or two, or grab a souvenir at a tribal trading post.
When the mercury's sizzling, the boutique ice creamery stop after the main part of the tour is a godsend.
10 – Explore the Palm Springs Art Museum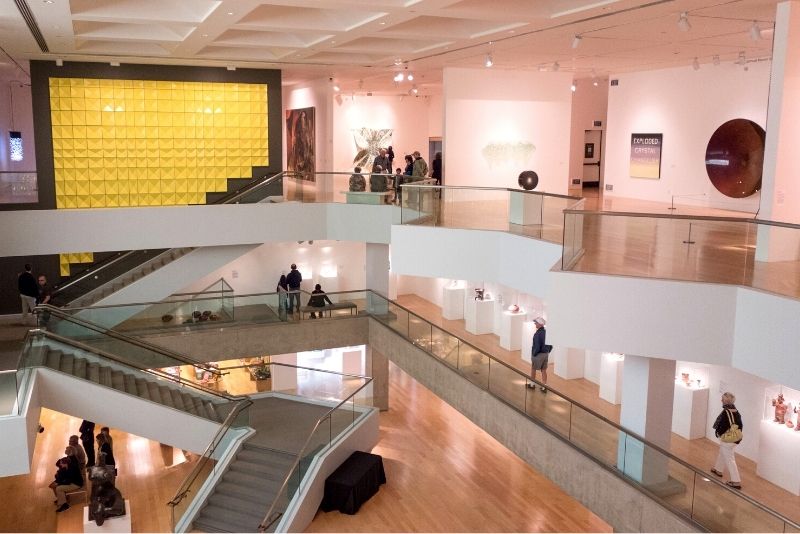 For anyone looking to quench their thirst for culture, why not take in the exquisite collection of over 12,000 works of modern and contemporary art, architecture, and design on display at the Palm Springs Art Museum?
Permanent and rotating exhibits celebrate the unique history and culture of the area in the hopes of creating "transformative experiences that expand our understanding of ourselves and the world." Sounds intriguing…
Hot tip: Check the website to see if there are any one-off performances taking place at the 433-seat Annenberg Theater during your visit.
11 – Test your wits in an escape room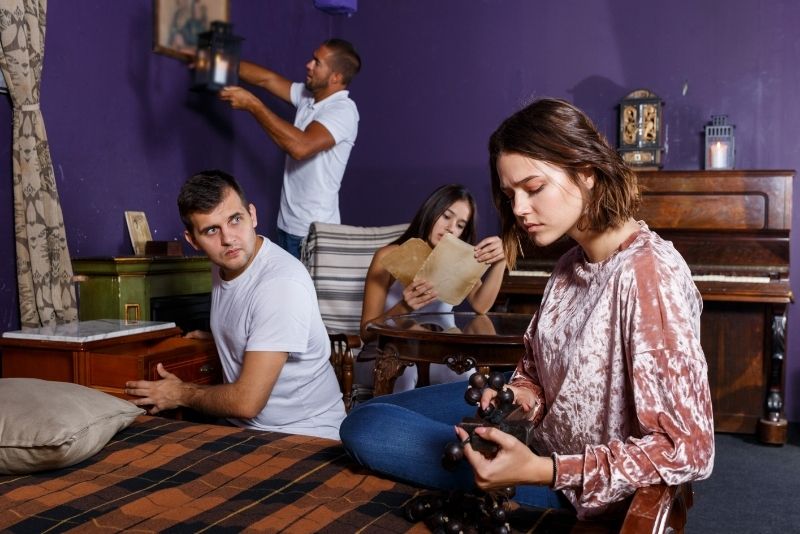 A quintessential activity for all the budding Sherlock Holmes out there, some of the largest and most popular escape room games in Southern California await your problem-solving expertise!
With six escape adventures to choose from, Escape Palm Springs offers challenging, family-friendly, team-building fun for all: You and friends or family might pull off the bank heist of the century, flee the doomed Titanic, save a wizarding school from an evil spell, or help Scotland Yard capture Jack the Ripper!
12 – Connect with nature at Coachella Valley Preserve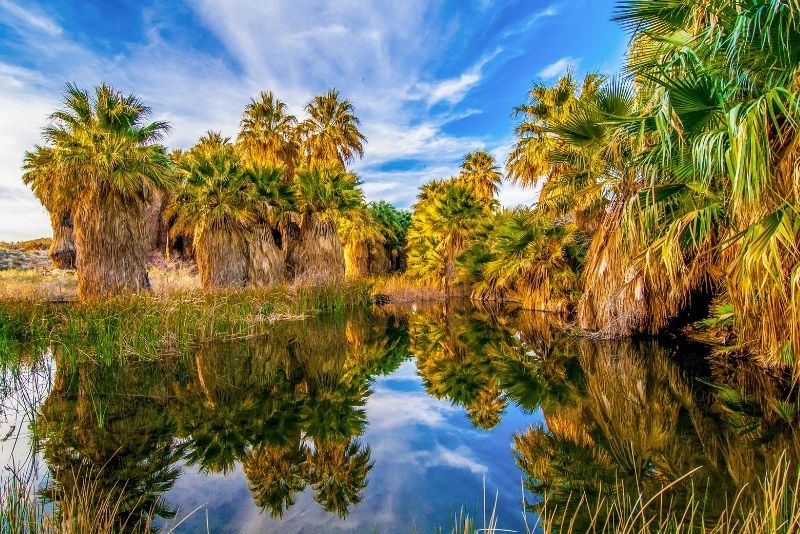 The Coachella Valley Preserve system is nearly 4,000 acres of protected land dedicated to the conservation of some of California's most sensitive natural ecosystems.
The preserve was originally designed to protect the endangered Coachella Valley fringe-toed lizard, a cute little critter you might spot skipping through the glittering white sands on one of several hiking trails!
As you stroll through the humble slice of Mother Nature, you'll also encounter the Thousand Palms Oasis, which promises to live up to its name.
13 – Feed the giraffes at The Living Desert Zoo & Gardens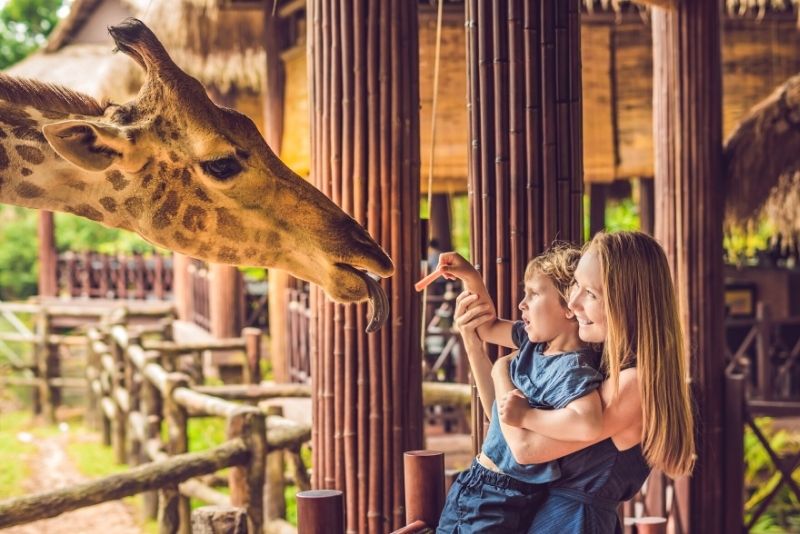 For over 50 years, the Living Desert Zoo and Gardens has been dedicated to wildlife conservation research and habitat protection.
Not only will you gaze in wonder at animals from around the world, but the interactive features are sure to delight and entertain children and adults alike — You can pet and corral the goats, feed the giraffes, sit front row for an engaging wildlife wonder show, and much more!
14 – Marvel at the spectacles of Tahquitz Canyon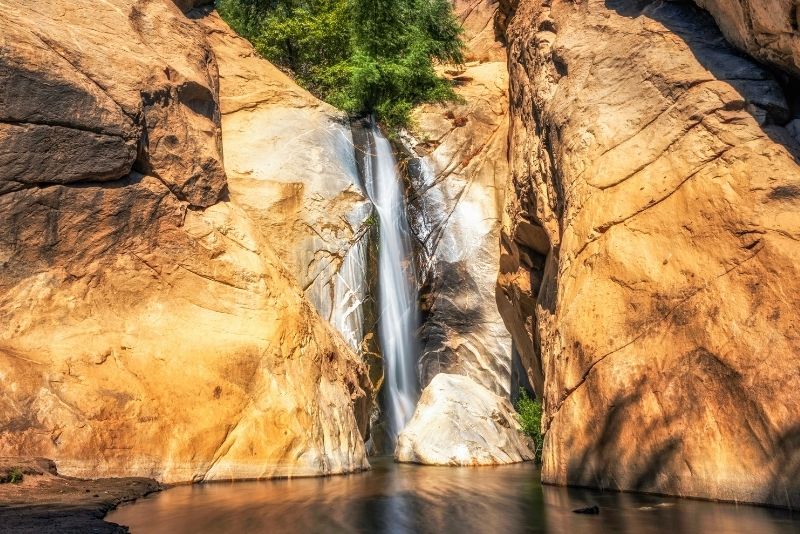 Like the aforementioned nearby Indian Canyon, Tahquitz Canyon is part of the rich cultural history of the Cahuilla Indians, who have a Reservation home here.
On any visit to the picturesque Tahquitz Canyon, you can come across features including a spectacular 60-foot waterfall, ancient Indian irrigation systems, and beautiful rock art, not to mention unique wildlife.
Fun fact: The canyon is named for a legendary shaman whose story can be viewed in a dedicated theater room at the visitor center.
15 – Spend the afternoon at Ruth Hardy Park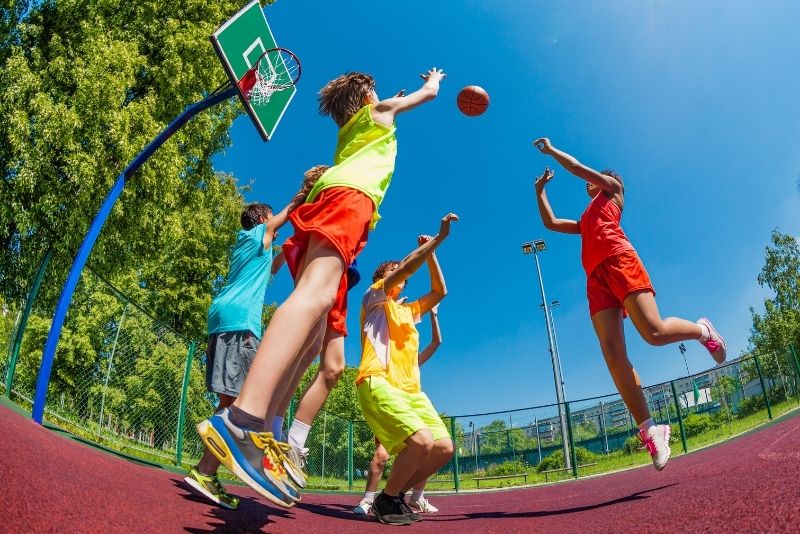 Sprawling across 22 acres, the well-kept greenery of Ruth Hardy Park is a great backdrop for relaxing and enjoying the picnic facilities, and soaking in that sweet summer sun (but wear sunscreen and a hat, of course).
Or, if you'd rather blow off some steam, why take advantage of the tennis, volleyball, or basketball courts?
If traveling with kids, it's also a popular place to let the youngsters run amok on the playgrounds.
16 – Peddle through Palm Springs on a bike tour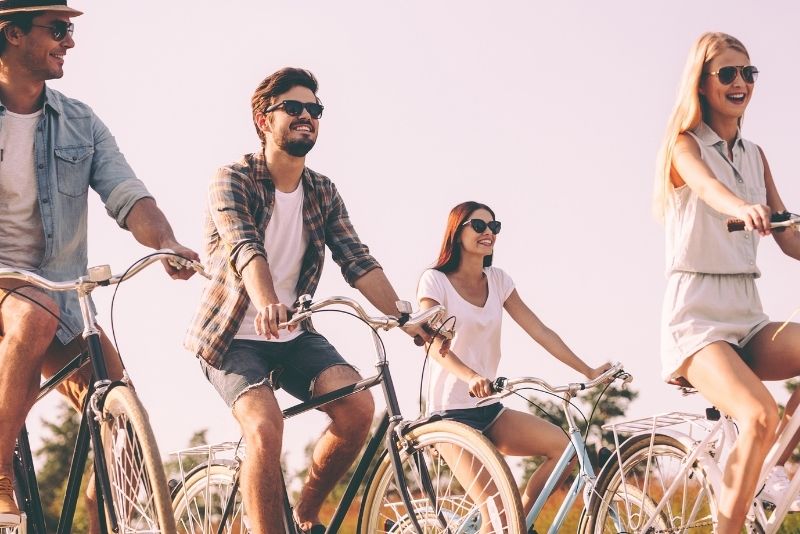 Strap on your helmet, hop on your mountain bike, and ride through the incredible, scenic desert landscapes!
Take an amazing downhill ride through the San Andreas fault, cycle through the Indian canyons, or just ride with the breeze while your tour guide supplies historical anecdotes and point out the native wildlife along the way.
With a variety of bike tours suitable for riders of varying ages and abilities, you'll be sure and find the one that suits your needs.
17 – Savor the greenery at Moorten Botanical Gardens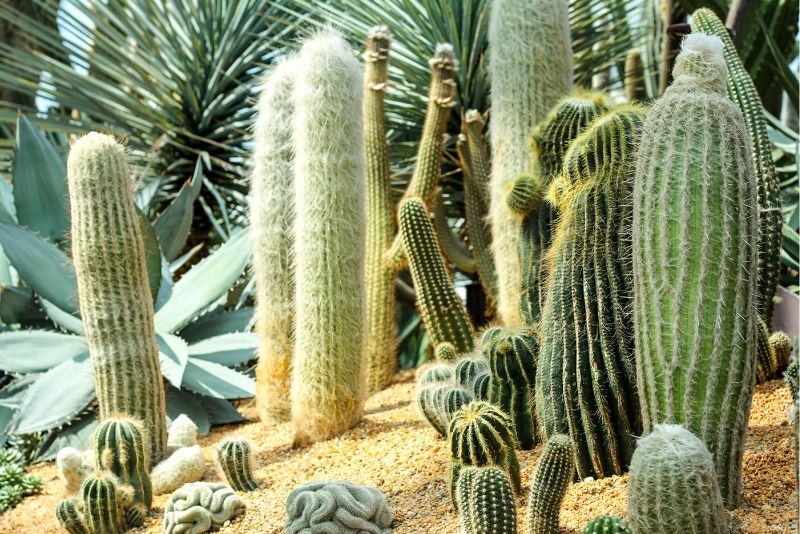 A great place to improve your botanical knowledge and snap amazing nature photos, this privately-owned arboretum has been welcoming guests since way back in 1938 (long before Palm Springs was all the rage).
The Moorten Botanical Gardens — which are a self-described "living museum" containing over 3,000 varieties of desert plants, trees, and spikey cacti — sit within the tranquil confines of the Palm Grove Oasis and are surrounded by a handful of impressive nature trails.
18 – Feel the Jurassic vibe of the Cabazon Dinosaurs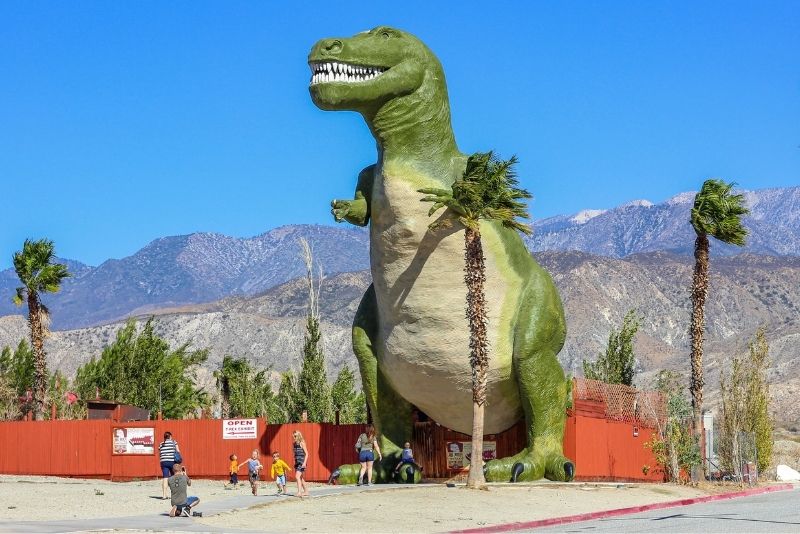 A highly postcarded Palm Springs icon, you could easily say that no trip to Palm Springs would be complete without paying a visit to these Jurassic giants at Cabazon Dinosaurs.
The famous outdoor attraction boasts more than 50 life-size dinosaur statues — some now donning fresh colorful skins — and a quirky souvenir gift shop.
If you're scratching your head thinking, I swear I know that place…, you may recognize it from its appearance in the cult classic film Pee-Wee's Big Adventure!
19 – Test your stamina at Palm Canyon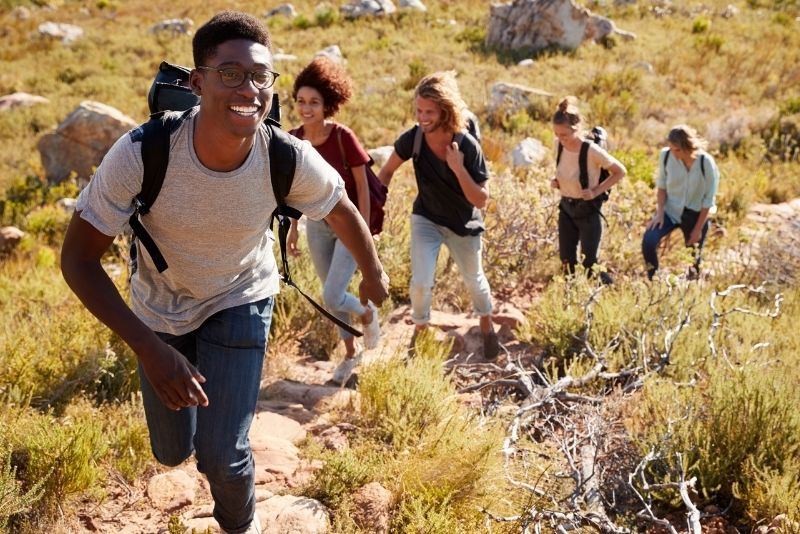 A popular bucket list activity for expert hikers, outdoor lovers thrive on this strenuous (albeit beautiful) desert hike that ends at the largest Palm Oasis in North America.
The Palm Canyon trail begins at 4,000 feet and descends a further 3,200 feet along 16 miles of trail.
Hot tip: Be sure to hit the Trading Post to pay the entry fee, don't forget to pack some water, sunscreen, and snacks, and consider the advice to hike during the winter and spring months.
20 – Enjoy the spectacular RoboLights show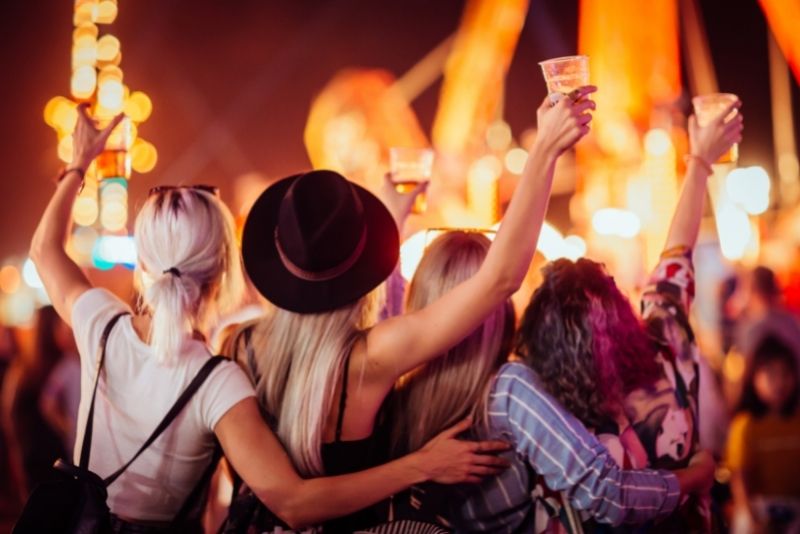 This extraordinary four-acre light display was created by artist Kenny Irwin, designed to make visitors feel as if they've stepped into a parallel dimension featuring illuminated robots and rocket sleds — think sci-fi vibes, lasers, flashing lights, immersive music, and all that jazz.
Boasting displays made from approximately 1000 tons of donated junk, this unique attraction has been featured on Conan O'Brian, The Learning Channel, and the BBC Travel Channel.
With that kind of fame and reputation, you're sure to be dazzled at RoboLights!
21 – Spot celebrities on the Legends & Icons Tour!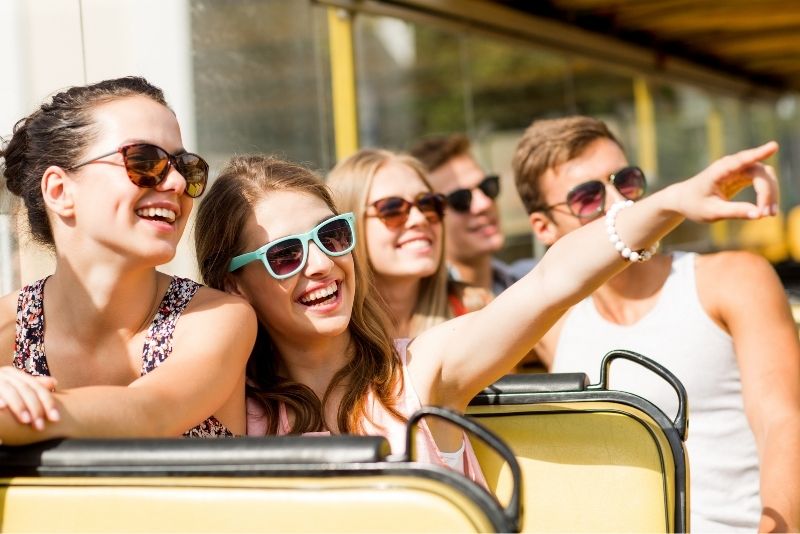 A must for the pop culture fanatics, the Legends & Icons Tour gives visitors the chance to climb aboard the coach and spend ninety minutes exploring what the locals call "Little Hollywood."
You'll not only get to see the homes once occupied by Golden Age Legends like Marilyn Monroe, Bob Hope, and Frank Sinatra, but also those of big-ticket stars currently shining on the silver screen.
As a little bonus, the tour also drives by several other Palm Springs landmarks like the Plaza Theatre and the Art and Air Museum.
22 – Be Amazed at Cabot's Pueblo Museum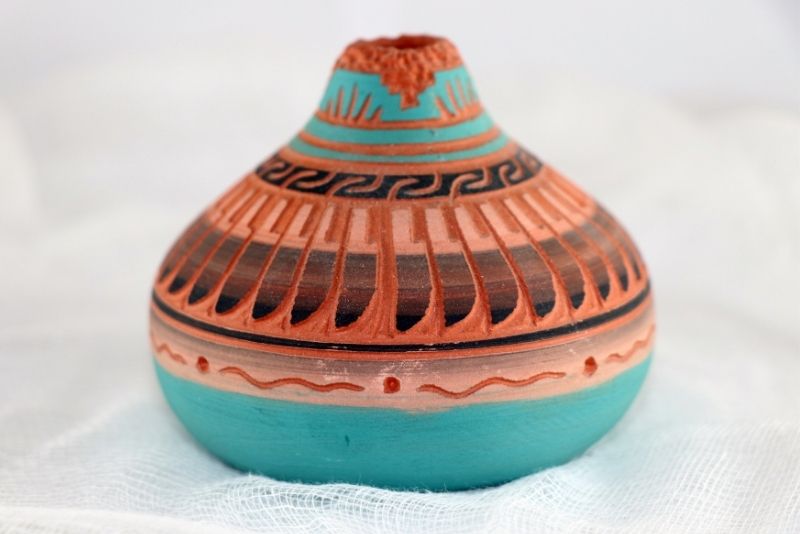 This extraordinary museum is housed in a large, authentic Hopi-style pueblo structure built by Cabot Yerxa, an early pioneer of the Colorado Desert.
Inside Cabot's Pueblo Museum you'll find artworks and artifacts from American Indian and Alaska Native cultures as well as memorabilia of early desert homesteader life.
With 5,000 square feet spread out over four stories and 35 rooms to explore, a couple of hours can fly by.
23 – Throw down a picnic rug at DeMuth Park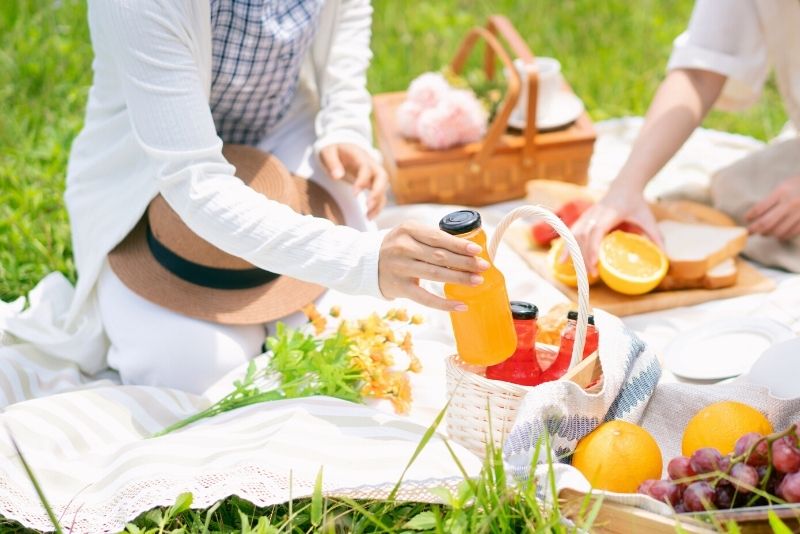 DeMuth Park holds the current bragging rights as the city's largest at 61 acres.
Within the sprawling open green spaces are tennis courts, soccer fields, baseball diamonds, and 12 courts for playing the increasingly popular game of Pickleball.
Still not convinced? There's also a fitness facility where you can dance, practice yoga, or take a karate class; playgrounds and picnic areas, and even a community garden plot where locals learn how to cultivate their own vegetables.
24 – Visit the International Banana Museum!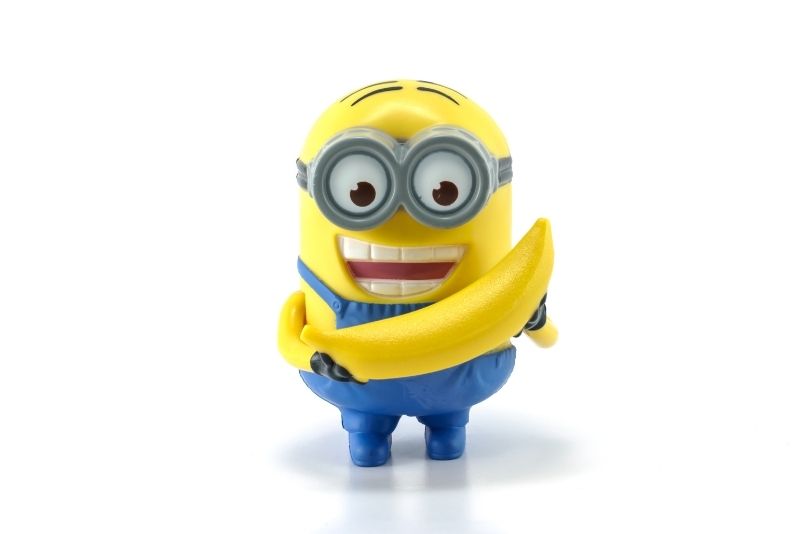 Devotees of one of nature's most "a-peeling" fruits will have a "bunch" of reasons to love the Banana Museum, home to an incredible 25,000 banana-related items.
Guests are encouraged to literally "go bananas,' as they take in the eye-catching displays. You'll even get the chance to dress up in full banana costumes for photos in front of a giant banana statue.
Consider stopping here before you "split" Palm Springs!
(there goes out pun quota for the day… but seriously, it's one of the most unique things to do in Palm Springs, and a wonderful activity for anyone looking to get out of the sun for an hour or two.)
25 – Bring fido to the Palm Springs Dog Park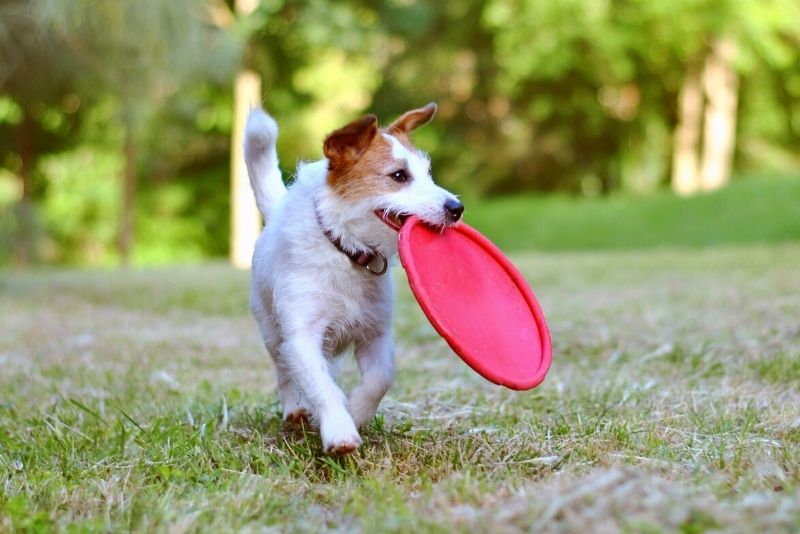 An eco-friendly park that offers picnic tables and benches made from recycled materials, plus plenty of shade, your canine friends will rejoice as they run around 1.6 acres of fenced-in rolling grass!
In case your little fur baby is too intimidated by the likes of Great Danes and Rottweilers, there's a separate play area for small dogs.
26 – Put on the chef's hat for a (French) cooking class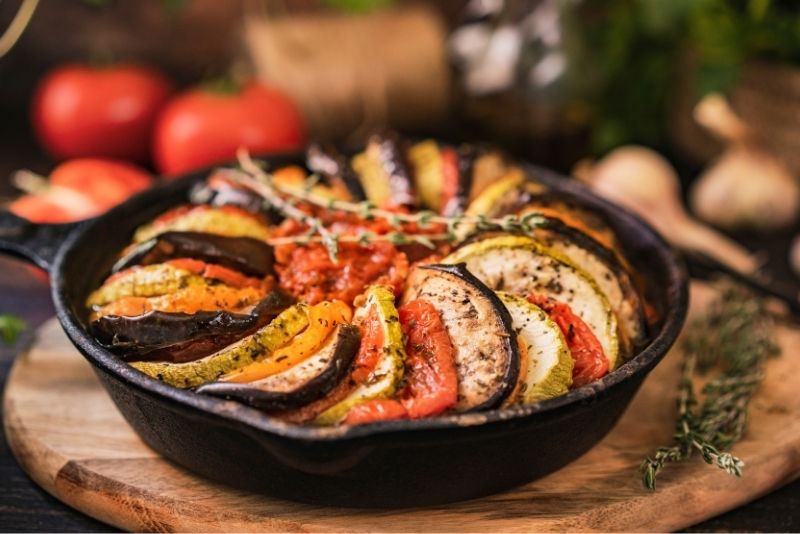 Haut French cuisine might not be the first thing that leaps to mind in Palm Springs, however, thanks to French ex-pats who've made the journey over to sunny California, visitors can learn to whip up a mouthwatering Parisienne feast!
Led by a friendly local (and taking place in their local home kitchen too), you'll learn how to put together your own three-course meal, including dessert, so you can have your cake and eat it too!
While the menus change depending on seasonality, dishes like Ratatouille or Poulet au romarin are typical starters, Gratin de Chou-Fleur a common main, and Tarte Bourdaloue a typical sweet treat to cap off the day!
27 – Spend the day at Castle Park!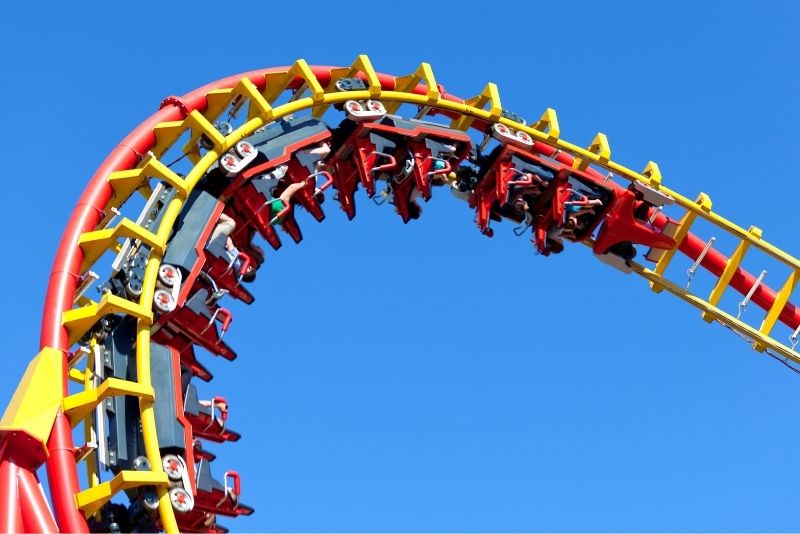 Palm Springs' own Castle Park in Riverside is a combination of an amusement park and a family-friendly resort, with waterslides for those toasty summer days to boot.
With up to 35 rides including bumper cars, roller coasters, carousels, and not one, not two, but four 18-hole Miniature Golf courses – plus an arcade for kids who'd rather skip out on all that fresh air – there's plenty here for thrill-seeking youngsters.
If you happen to be visiting around Halloween, grab a special ticket for the spook-tackular event!
28 – Check out the Lucille Ball Statue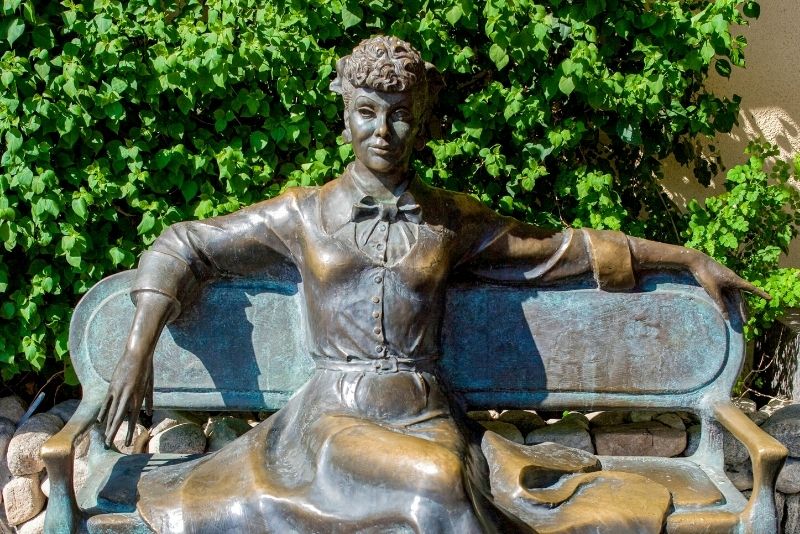 A frequently stumbled-upon surprise in downtown, the Lucille Ball Statue is a life-size bronze statue of the actress and comedienne, famed for her roles in classic TV series I Love Lucy.
Whilst you're strolling the downtown area, why not grab an ice-cream or pop into one of the nearby bars to enjoy some much-needed shade!
29 – Have a fun family time at Boomers Palm Springs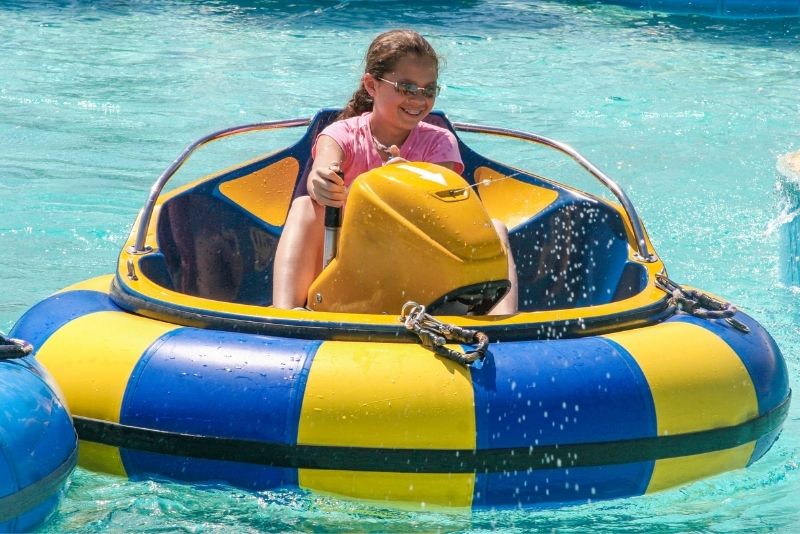 A surefire hit for anyone traveling with squirmy youngsters, this popular amusement park boasts a host of attractions for kids and adults alike, including go-karts, bumper cars, bumper boats, a rock-climbing wall, a handful of thrill rides, and the added bonus of batting cages.
Set inside a cheesy castle exterior, Boomers Palm Springs it's extra fun for anyone into their knight and princesses.
30 – Jump around at Get Air Trampoline Park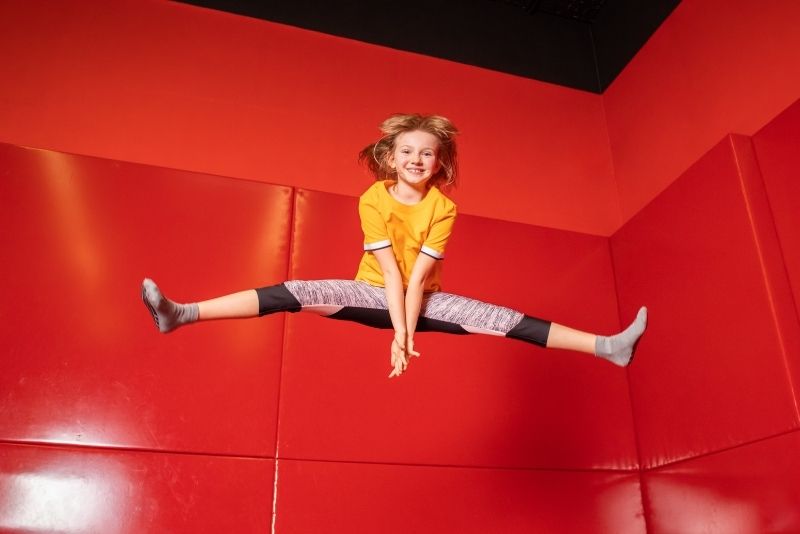 Always wanted to learn how to backflip? Now's your chance.
While much more tiring than it looks in the pictures, trampolining is always a great time for kids and adults alike; with a foam pit, freestyle area, dodgeball zone, kiddy play area, on-site cafe, slackline, slamball, and ninja activities, Get Air Trampoline Park is the place to go for those who are sick of sitting on their butts all day!
31 – Take a tour of the Sunnylands Center and Gardens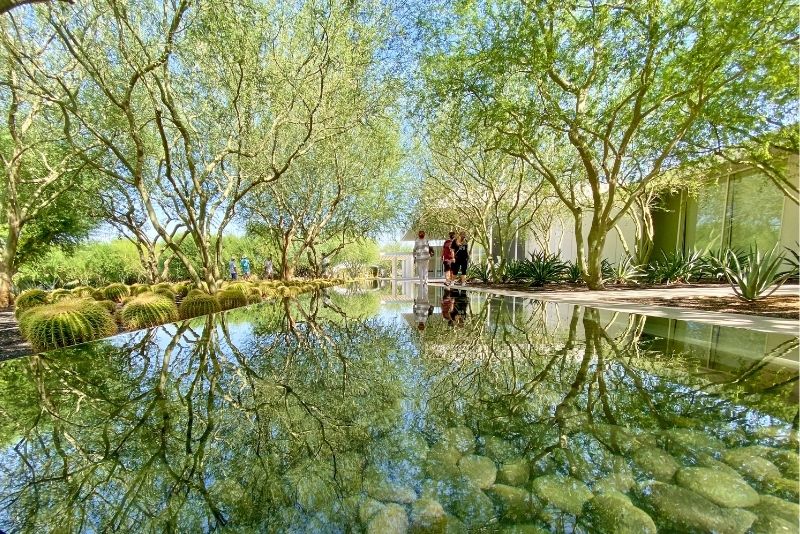 Occupying a former estate and home of the late Walter Annenberg, Sunnylands Center & Gardens is a must-see for history buffs and nature lovers alike, acting as a tranquil retreat for anyone in need of some fresh air.
While primarily now a meeting place for international leaders looking to solve some of the world's more pressing issues, it also offers tours of its beautifully manicured gardens as well as art exhibitions, films, and educational programs.
32 – Practice meditation… in a cave!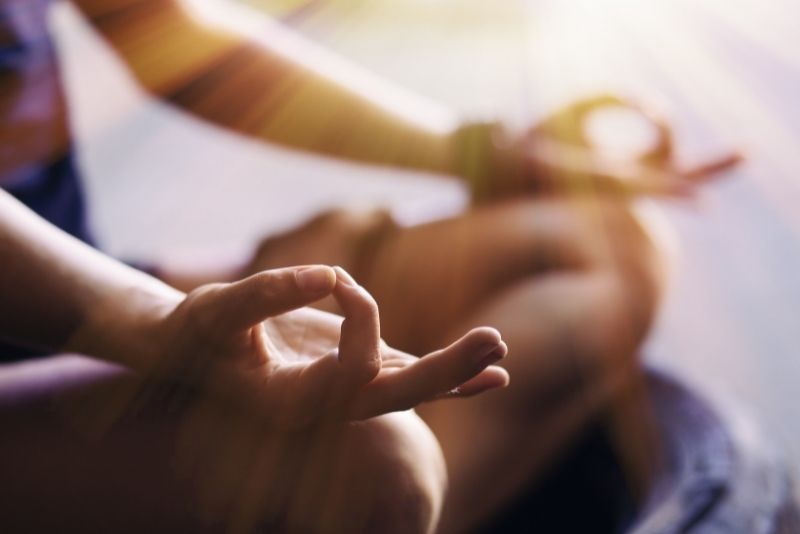 Speaking of a tranquil oasis, why not take an hour or two out of your day to meditate in the cool darkness of a naturally formed cave, hidden among the mountains and deserts of Joshua Tree outside Palm Springs?
The experience is sure to be both spiritually refreshing as well as physically rejuvenating, so come prepared with snacks for afterward!
33 – Check out the Baby On The Move sculptures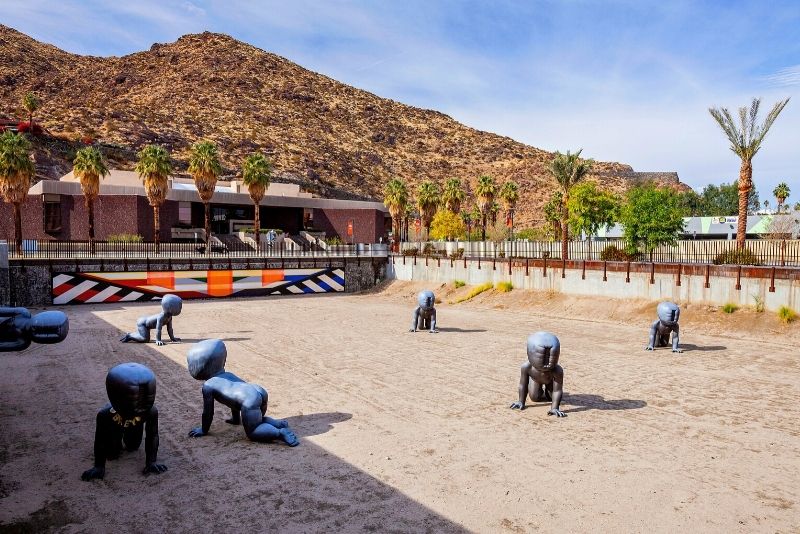 A peculiar homage to the famous crawling babies statues designed by David Černý on display in Prague, these enormous sculptures are a quick must-see for anyone wandering around downtown.
Remarkable, each baby is a whopping 11 feet long, 9 feet high and weighs somewhere between 200 and 300 pounds, made to look like they're crawling around a giant sandpit. Quirky, hey!
34 – Pop into the World Famous Crochet Museum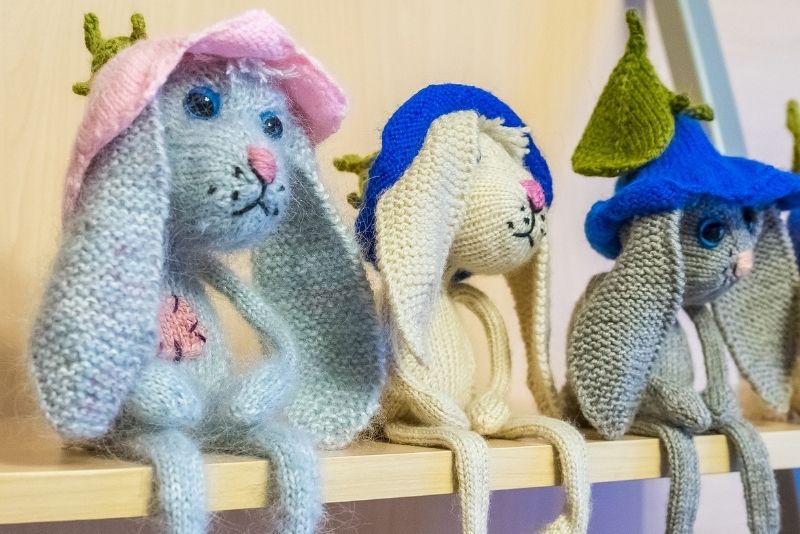 Far from a typical museum, and certainly falling short of 'world-famous', this bizarre yet cute attraction in Joshua Tree, about 45 minutes drive from Palm Springs, sits in a converted photo booth, housing a colorful selection of fun and beautifully made animals, dolls, and other curious trinkets.
Since it's so small, it doesn't take long to see everything and the World Famous Crochet Museum can easily be quickly added to any day trip to nearby Joshua Tree National Prak.
35 – Have a BBQ at the Lake Cahuilla Recreation Area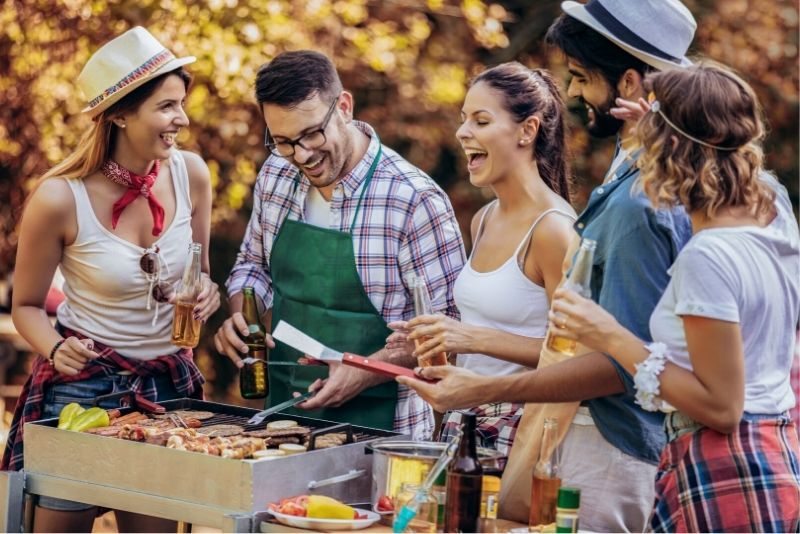 As well as being a noteworthy fishing spot teeming with marine life, Lake Cahuilla is, more generally, a wonderful day out for anyone looking to get some fresh air and stretch their legs.
The picture-perfect 710-acre park boasts hiking and horseback riding trails, nearly 100 different campsites, boat rentals, and a handful of shady picnic tables and BBQ spots.
36 – Check out the giant Spider Volkswagen sculpture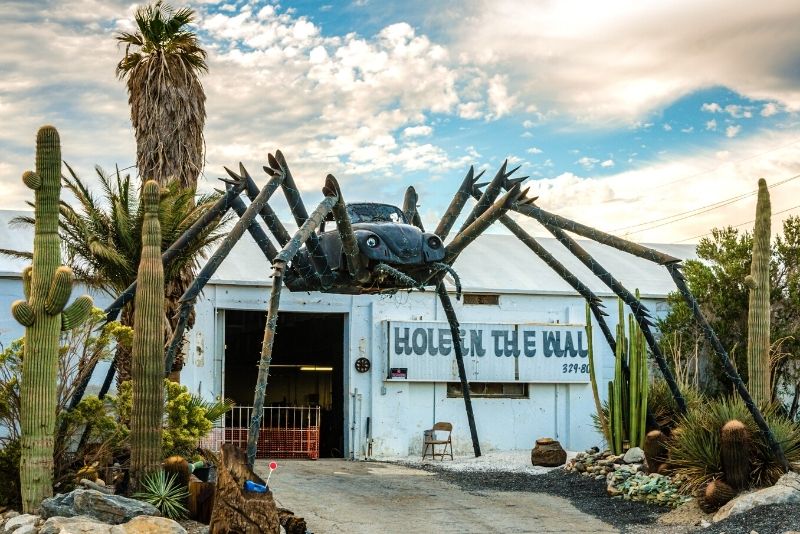 Now there's something you don't see every day! Looking like something stripped straight out of a sci-fi movie, the totally bizarre sculpture of a VW beetle-turned giant spider plays gatekeeper to now-abandoned Hole in the Wall Welding shop.
While not something you'd go out of your way to visit, it's a comic photo op for anyone driving past… so long as you're not arachnophobic.
37 – Join a scavenger hunt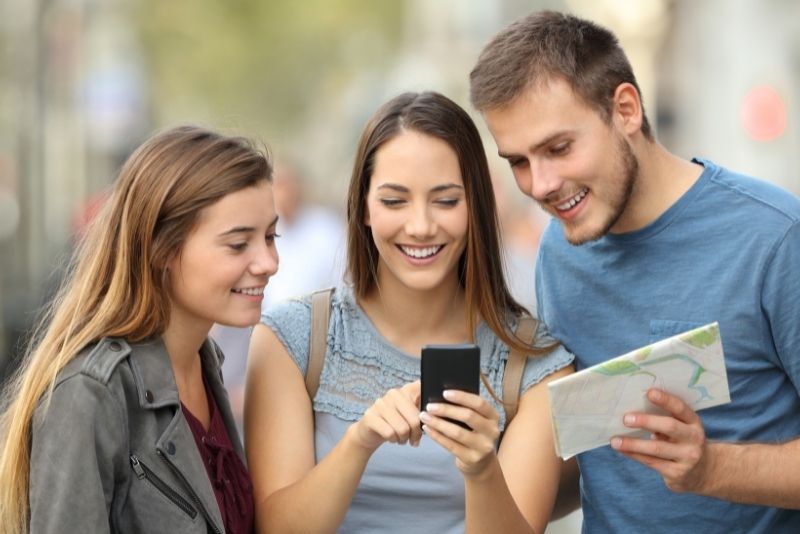 Think you're a bit of a detective in the making? Now's your chance to prove it — put on your detective hat and join one of several local Palm Springs scavenger hunt adventures!
As you use your sleuthhound senses to help you tour historic places and other notable points of interest, you'll need to solve creative challenges and out-of-the-box riddles, as the smartphone-led games send you searching for clues in and around the Hidden Valley.
For couples or small groups who prefer to avoid the typical walking tours, there's guaranteed fun to be had!
38 – Step inside the famous Elvis Honeymoon Hideaway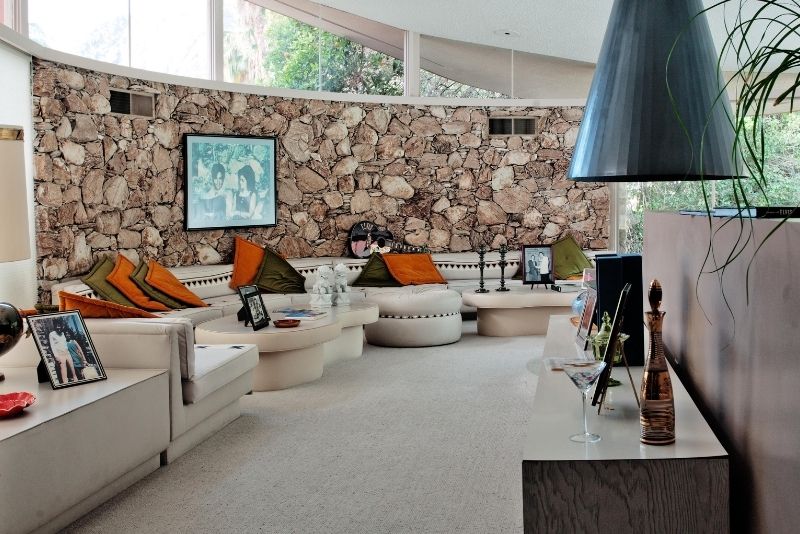 The King of Rock n' Roll himself stayed in this magnificent Palm Springs home with his wife Priscilla after their wedding back in May 1967 — just one of many examples of incredible mid-century modern architecture in the local area.
The original master bedroom remains largely untouched, with plenty of unique artifacts on show, not to mention the 64-foot wrap-around couch.
39 – Admire the folk art at the Noah Purifoy Outdoor Desert Art Museum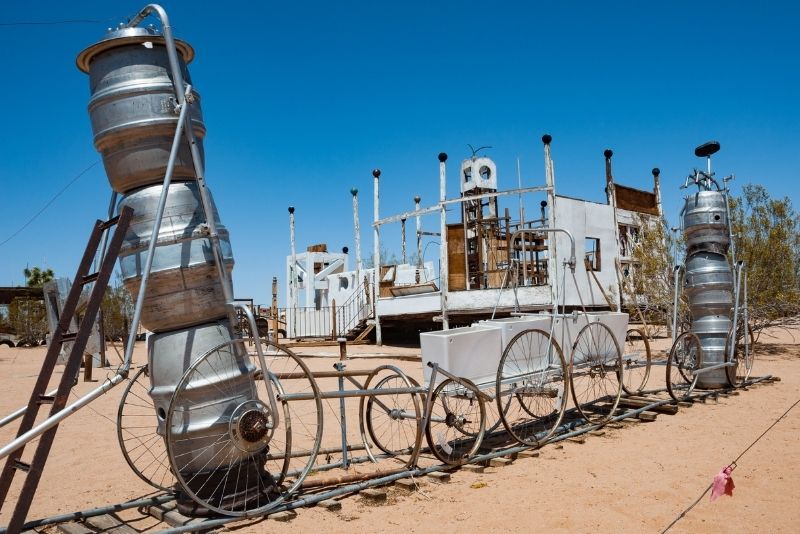 Located about a 45-minute drive outside of Palm Springs in the town of Joshua Tree, this unique desert art museum serves up dozens upon dozens of beautiful outdoor sculptures and installations.
Created by late artist and sculptor Noah Purifoy, all of the works at the Outdoor Desert Art Museum are made from mostly recycled materials he found while dumpster diving.
Some stand alone in the landscape, others have been strategically placed to create imaginary geometrical shapes that stretch far over your head. It's a totally surreal experience you're unlikely to forget, and best of all, it's free of charge!
40 – Pay respects at the Desert Holocaust Memorial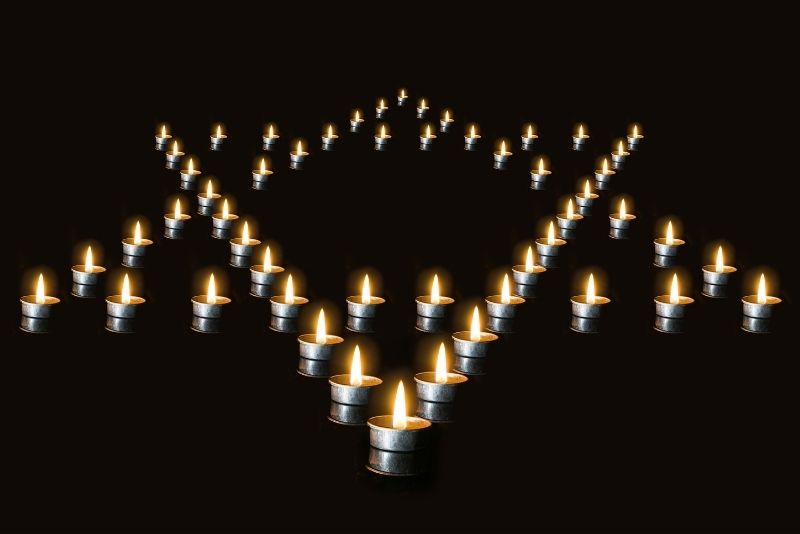 A moving, highly emotive memorial, this site is dedicated to the victims of one of history's darkest and most heinous events — that being, the Holocaust.
While the plaques and the stories and names which are carved into them are undoubtedly tear-jerking, it's the memorial's centerpiece that has the most powerful effect: seven larger-than-life bronze figures, which represent the diverse people who were impacted — often sent to camps — during WWII.
41 – Snap a pic at the Sonny Bono Statue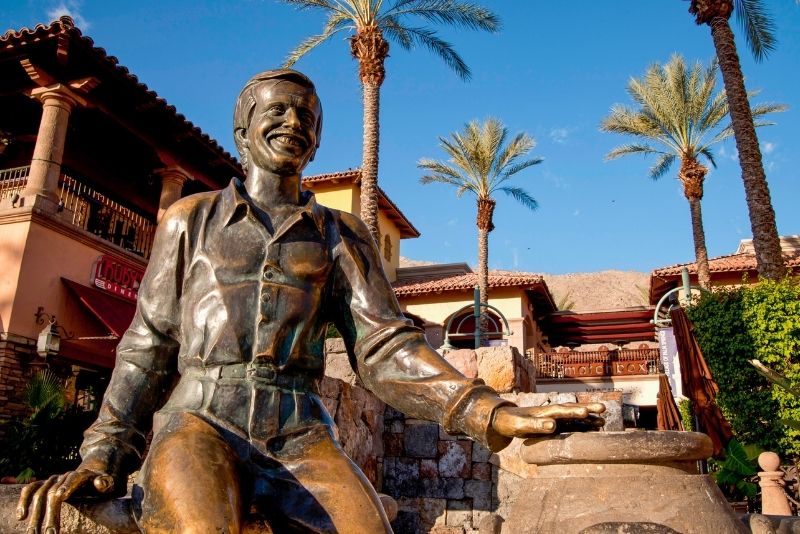 Located right in the heart of downtown, this quirky little statue has become a bit of a local favorite over the years, honoring the official Representative who helped put Palm Springs on the tourism map in the late '80s and early '90s.
Sonny Bono served the area for almost 20 years, before tragically dying in a skiing accident in 1998. Now, visitors flock to this little statue from all over the world — and it's become an unofficial spot where tourists like to take photos of each other.
42 – Do something different: take a windmill tour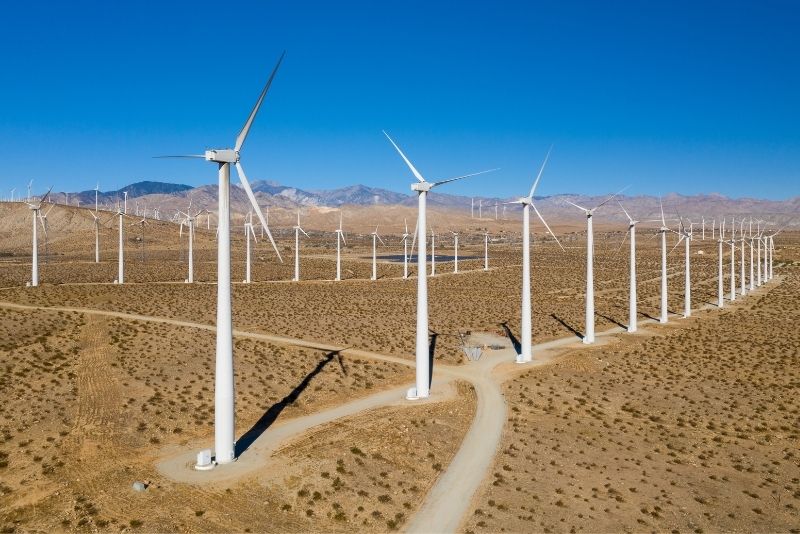 On a unique, self-guided Windmill Tour through the Coachella Valley, you'll get to see some of the best-preserved windmills in all of California.
These wonderful structures are scattered throughout the desert landscape surrounding this picturesque but quirky town — and each one has its own part to play in the state's move toward renewable energy.
The highlight? You can get up close and take pictures of the turbines, which are MUCH bigger than most people realize.
43 – Grab a wacky souvenir at the Antique Galleries of Palm Springs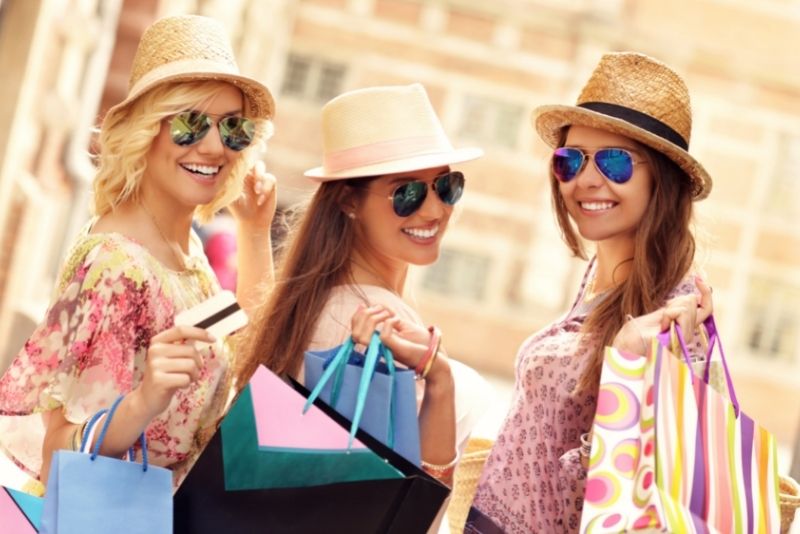 This place is almost like a museum of furniture and design — but it's not owned by the state or city, so everything here is for sale.
Basically, what you'll find at the Antique Galleries of Palm Springs are dozens upon dozens of antique vendors all crammed into one two-story building, selling everything from barware to one-of-a-kind lamps, jewelry, knick=knack, and everything in between.
44 – Visit Agua Caliente Cultural Museum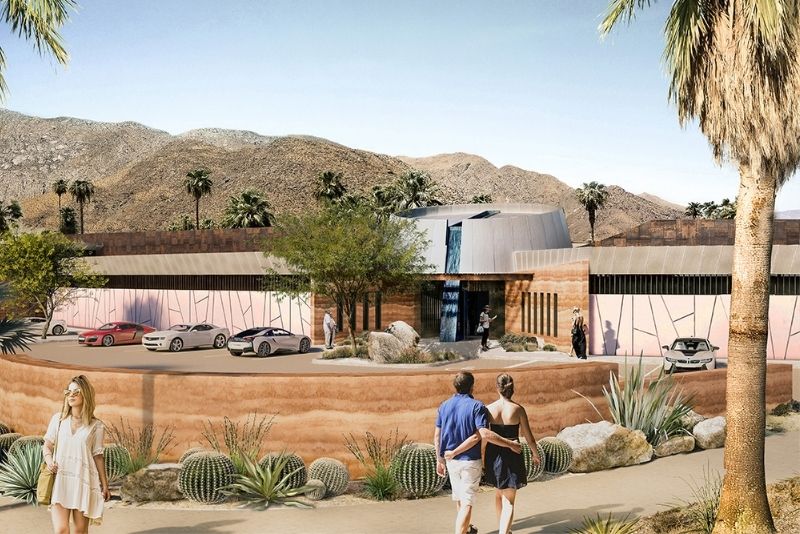 A little bit of the past, this museum dives into details of Palm Springs' historic inhabitants, with five different exhibit areas dedicated to telling different chapters in the story of the Agua Caliente people.
From exhibits detailing their history in California to beautiful Native-made art, books, jewelry, and clothing, you'll get a real sense of how these people lived in years gone by.
Located within the Agua Caliente Plaza, the Agua Caliente Cultural Museum is also footsteps away from The Spa at Séc-he (a noteworthy hot spring).
45 – Take a walking tour with the Palm Springs Historical Society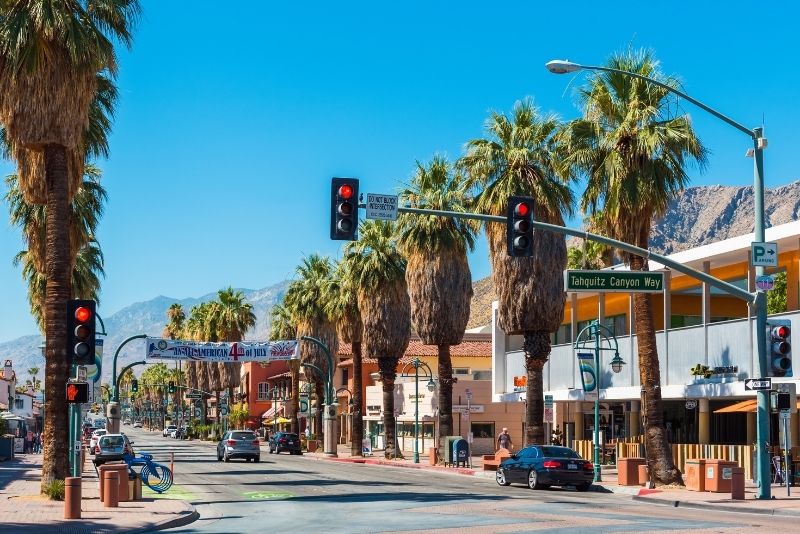 Easily one of the unmissable things to do in Palm Springs for history buffs, the non-profit Historical Society operates under the mantra of preserving and showing the city's brilliant and decorated past.
Offering five different walking tours: Golden Era, Heart of the City, Frank Sinatra's Neighborhood, Biking, and Modernism Week specialties, there's something for everyone.
46 – Play a round of golf!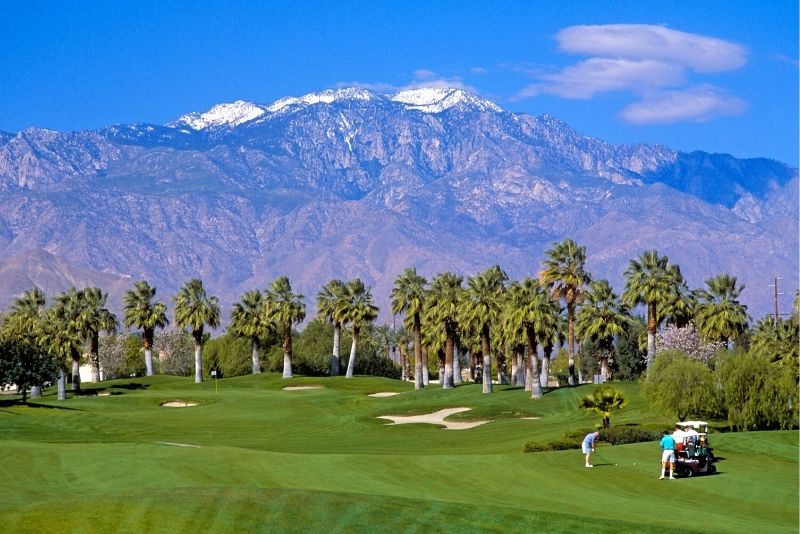 A city known for its great golf courses, Palm Springs has more than a dozen different public and private tracks to choose from — all of which are open year-round.
Can't decide? We'll help you out:
The Mountain Course at La Quinta Resort & Club, nested between towering cliffs, is one of the most visually spectacular courses in California; the Escena Golf Club is a Jack Nicklaus-designed green that provides great band for your buck, and the SilverRock Resort is blessed with rare shade in the shadows of the Santa Rosa Mountains.
47 – Step back in time at √General Store Museum
Sitting on a quiet street in downtown Palm Springs, this little stand-alone museum is all about preserving the history of 1930s General Store culture in California and beyond.
With thousands of nostalgic items including vintage packaging, old advertisements, primitive tools, and an extensive collection of lunchboxes — you'll be transported back to your childhood before long!
48 – Let the youngsters loose at the Children's Discovery Museum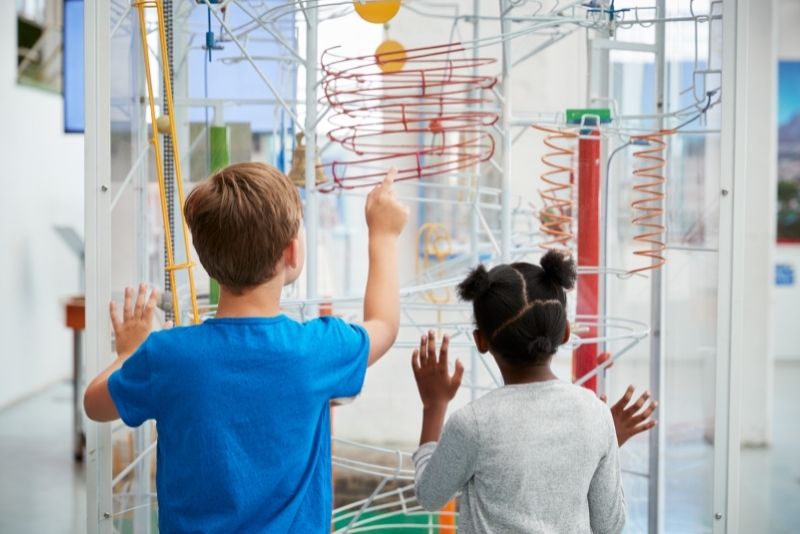 A quintessential activity as far as things to do in Palm Springs with kids is concerned (especially when they're bored of lazing by the pool), the Children's Discovery Museum offers a host of interactive exhibits (like Build Your Own Race Car) that encourage learning through play.
With a focus on science, technology, engineering and math, there's something to keep everyone entertained at this educational hotspot!
49 – Dip in the pool at the Ace Hotel & Swim Club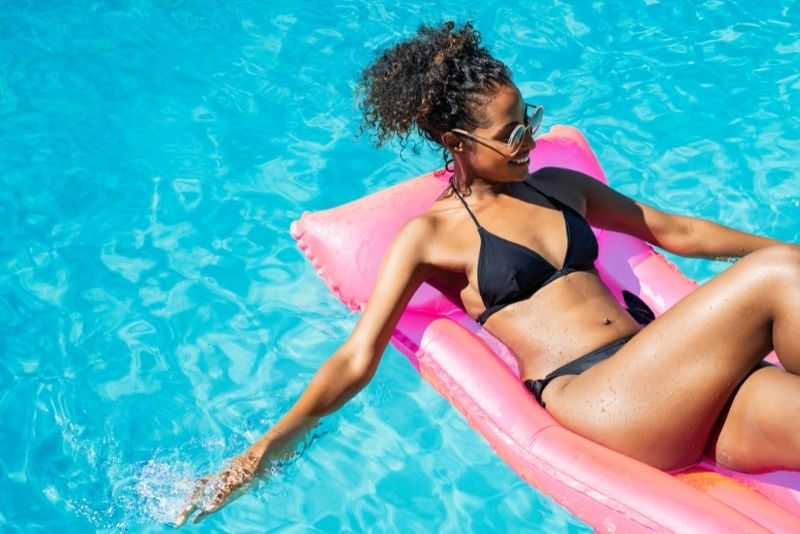 Starting at the top, Ace Hotel & Swim Club is a great hotel with an unbeatable rooftop pool (one of two) that boasts great vibes all day long, perfect for taking in views of Palm Springs and its surrounding mountain peaks.
Inside you'll find rooms that embrace mid-century design (think pops of color and lots of curves), as well as amenities like air conditioning, spa treatments, gourmet restaurant & bar, and much more.
It's also just a few-minute walk from the Moorten Botanical Garden, if you're looking for a change of scenery.
50 – Grab dinner and a drink at The Tropicale Restaurant & Lounge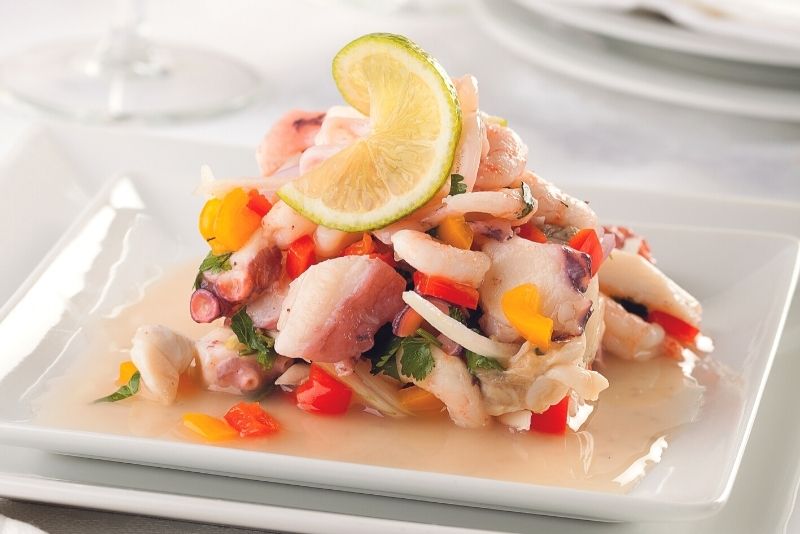 A mid-century style bar decked out with retro fittings and a neon-lit exterior, this hip eatery is all about chic vibes, Pacific Rim flavors, and tasty bites.
Offering a diverse menu, you'll find lots of ceviche and skewers to enjoy, plus gorgonzola-crusted filet mignon and lip-smacking Kailua Barbecued Pork Chops.
And, at night, The Tropicale Restaurant & Lounge turns into one of Palm Springs' hottest party spots, with handcraft cocktails flowing in all directions.
51 – Soak in the vibrant air at Village Fest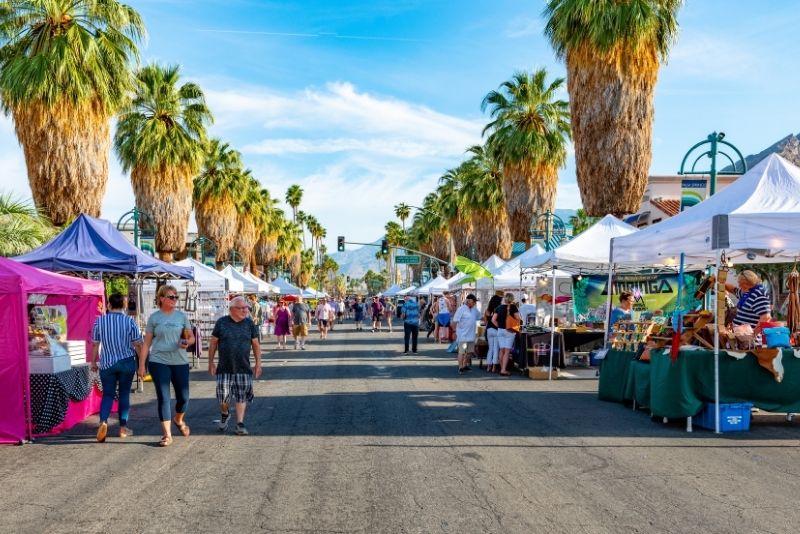 A favorite Palm Springs tradition, Village Fest is a weekly celebration of the city's heritage and culture that takes place every Thursday evening from April to October.
With live music, dancing (including West Coast Swing), street performers, over 100 different vendors, and plenty more, it's an upbeat end to your day in this desert paradise.
52 – Sip a margarita (or two) at Las Casuelas Terraza!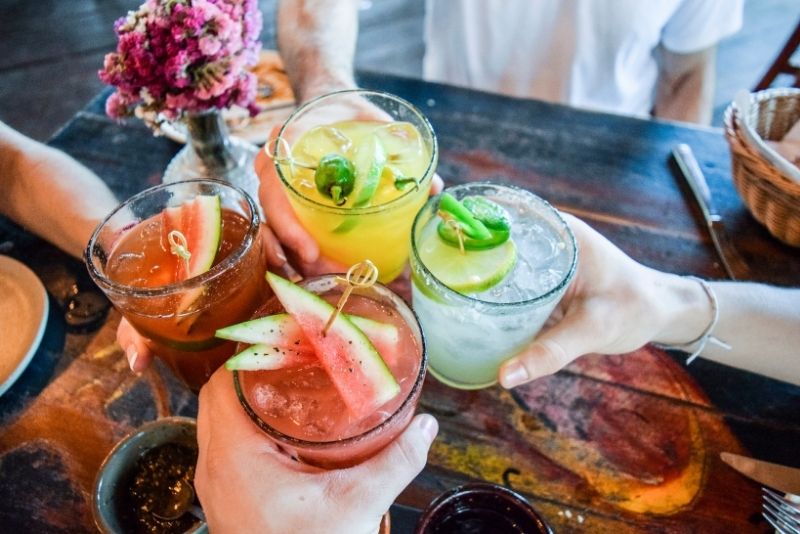 Foodies, listen up.
One of the most popular restaurants for brunch, lunch, and dinner in Palm Springs, this renowned eatery is situated smack-bang in the middle of downtown, offering Insta-worthy views of the mountains from its outdoor tables.
Featuring Mexican-inspired cuisine and an extensive drinks menu (try something like their famous margarita), plus frequent live mariachi music, Las Casuelas Terraza is the perfect place to turn dinner into drinks!
53 – Pamper or play at the Agua Caliente Resort Casino Spa Rancho Mirage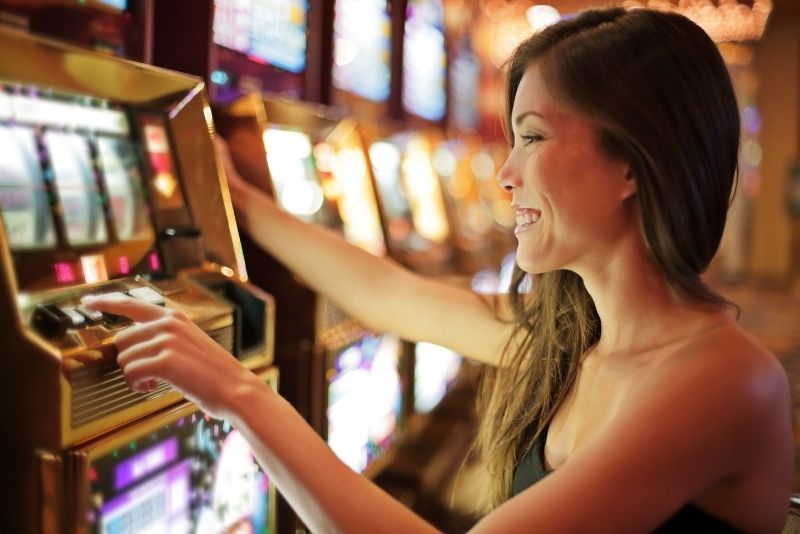 A good place to try your luck, if you're looking for things to do in Palm Springs with some high-stakes games, Agua Caliente Casino Spa Resort offers a huge range of Vegas-style machines and tables, as well as no shortage of live entertainment, restaurants, and bars.
Besides the typical casino amenities, Agua Caliente (hot water) also boasts an outdoor hot spring and a plethora of relaxation sessions (massage, facials, and spas, just to name a few).
54 – Book a table at Elmer's Restaurant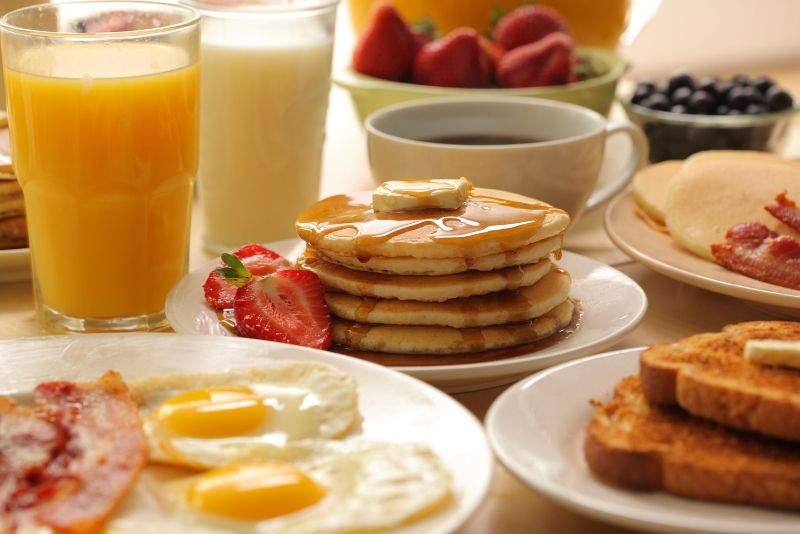 A beloved breakfast eaterie that's been serving up comfort food and diner classics since the 70s, Elmer's is a Palm Springs staple that you'll often see movie stars taking their snaps at (with poster-size photos of celebrities around the dining room, perhaps the secret to its success?).
From hearty breakfast all day long to traditional American fare like burgers piled high with gooey cheese slices, fried chicken wings dipped in ranch dressing, and their famous peanut butter pancakes, there's plenty to choose from for both sweet and savory palates.
55 – Sit down for dinner and a show at The Purple Room Supper Club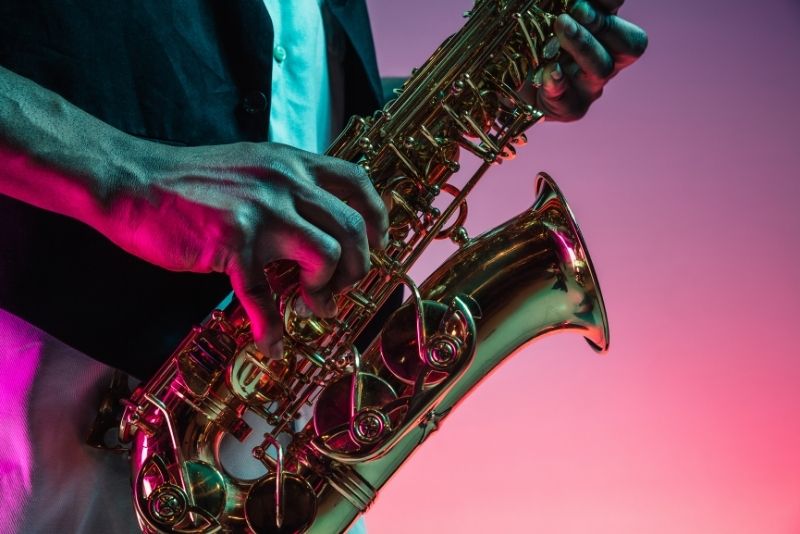 A sophisticated night out, The Purple Room Supper Club features an upscale dining experience in a swanky setting.
With live music and talented performers regularly performing jazz tunes or comedy shows just for your entertainment (and with strong, colorful drinks flowing all evening long), it's the perfect place to grab dinner, get tipsy, and dance into the early hours.
56 – Get buzzed on a 'pedal pub'!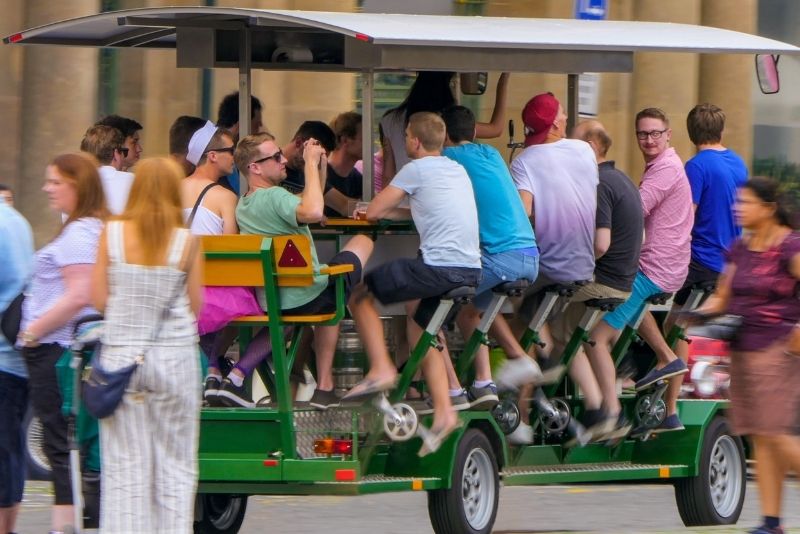 One for the partygoers and travelers looking to unleash their wild side, the pedal pub is the perfect social lubricant for anyone wanting to meet fellow thirsty tourists.
With a group of friends or even solo (if you're feeling brave), hop on the back of one of these multi-person bikes and pedal (or don't) your way around town while drinking whatever beverage takes your fancy! With plenty of icebreaker games run by the host, there's never a dull moment.
Need a place to stay? Before you can dive head-first into the plethora of things to do in Palm Springs — hiking trails, golf courses, history tours, and the like, you should probably arrange a place to sleep, don't you think?
The visitor-favorite desert city boasts plenty of places to stay ranging from hostels that cost under $50 per night up to luxury resorts with prices soaring into the hundreds over dollars per night, and, of course, everything in between.
Whether you're after a 5-star resort like the Hyatt Regency Indian Wells Resort & Spa or the Avalon Hotel and Bungalows… or a party hotel like the Renaissance Palm Springs, Hotel California, or Ace Hotel, Booking.com has got you covered.
Want to save the hassle? Have you arranged airport transfers? You're on vacation, after all, so why deal with the hassle of a taxi driver, public transport, or rental car company? In true VIP style, with a pre-booked airport shuttle service, a chauffeur will pick you up at the airport and whisk you off to your luxurious Palm Springs hotel.
If traveling as a family, a pre-arranged airport transfer is often the cheapest option too.
We hope you've enjoyed our selection of things to do in Palm Springs! While you're in California, why not extend your trip and spend a couple of days working on the tan on the San Diego beaches, going celeb-spotting in LA, or hanging out with Mickey and the gang at Disneyland?
Or, if you're feeling super wild, Las Vegas is only 4 hours away by car…
If you have any other must-see suggestions, feel free to let us know in the comments! As always, happy travels.